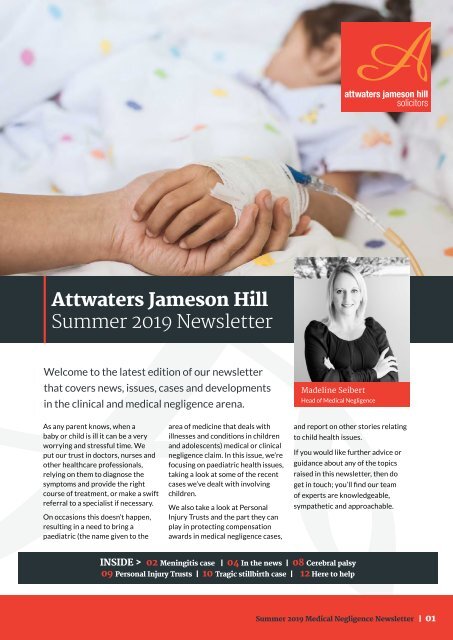 Attwaters - Medical Negligence newsletter
Create successful ePaper yourself
Turn your PDF publications into a flip-book with our unique Google optimized e-Paper software.
Attwaters Jameson Hill

Summer 2019 Newsletter

Welcome to the latest edition of our newsletter

that covers news, issues, cases and developments

in the clinical and medical negligence arena.

Madeline Seibert

Head of Medical Negligence

As any parent knows, when a

baby or child is ill it can be a very

worrying and stressful time. We

put our trust in doctors, nurses and

other healthcare professionals,

relying on them to diagnose the

symptoms and provide the right

course of treatment, or make a swift

referral to a specialist if necessary.

On occasions this doesn't happen,

resulting in a need to bring a

paediatric (the name given to the

area of medicine that deals with

illnesses and conditions in children

and adolescents) medical or clinical

negligence claim. In this issue, we're

focusing on paediatric health issues,

taking a look at some of the recent

cases we've dealt with involving

children.

We also take a look at Personal

Injury Trusts and the part they can

play in protecting compensation

awards in medical negligence cases,

and report on other stories relating

to child health issues.

If you would like further advice or

guidance about any of the topics

raised in this newsletter, then do

get in touch; you'll find our team

of experts are knowledgeable,

sympathetic and approachable.

INSIDE > 02 Meningitis case | 04 In the news | 08 Cerebral palsy

09 Personal Injury Trusts | 10 Tragic stillbirth case | 12 Here to help

Summer 2019 Medical Negligence Newsletter | 01
---
Justice and £4m in damages

achieved for brain-damaged child

In this tragic case, a child

developed pneumococcal

meningitis which

was not identified by

an NHS doctor at the

Princess Alexandra

Hospital, Harlow.

As a result, the child suffered

severely impaired hearing and brain

damage, memory deficit and learning

difficulties. A Court of Appeal decision

in this case was handed down two

years ago, and the case has finally

been settled, with damages of £4m

awarded.

Medical advice sought

In September 2003, the child (who

was just 13 months old) became ill.

Her young mother gave her Calpol

and hoped that her temperature

and cold would pass. However, her

symptoms persisted. As it was a

Saturday, she sought advice from

the out-of-hours GP service and was

advised to continue with the same

course of treatment.

After a terrible night and the

emergence of a new symptom –

severe vomiting – she received a

home visit from an out-of-hours

GP who suggested that she should

continue with the same course of

treatment. When the child appeared

to begin fitting at 4am, paramedics

were called, and she was taken as an

emergency by ambulance to Princess

Alexandra Hospital.

Failure to

correctly

ascertain the

facts

The A&E Registrar who

attended her recorded that

the child was 'alert and well'.

Her mother maintains that

she was extremely unwell

and could not possibly have

been described in these terms.

The doctor did not record

that her mother had called an

ambulance, or that she had

been brought into hospital

by paramedics.

The Judges found that if

the doctor had known this

information, she would have

noted it and referred the child

to a paediatrician.

02 | Summer 2019 Medical Negligence Newsletter
---
Grounds for Appeal

Our Head of Medical Negligence,

Madeline Seibert, felt strongly that

the initial verdict of the case was

wrong and, together with the child's

family, took the case to the Court of

Appeal.

They did so on the basis that historytaking

is essential to how an A&E

doctor decides what course of

treatment should be pursued. In this

case, the A&E doctor breached her

duty of care to the child because she

should have elicited the fact that the

mother had brought the child into

hospital via an ambulance because

she thought she had suffered a fit.

The doctor's responsibility

It is not the patient's job to try to

ascertain what facts are and are not

important to a treating doctor. In

general, the seniority of the doctor

must be matched to the task being

allocated, and if a more senior

opinion is needed to assess the

patient's state of health, then this is

what should happen. In this case, the

child should have been referred to a

paediatrician.

In the Appeal, Lady Justice Thirlwall

stated that

"it is for the doctor in A&E to use

appropriate techniques to elicit

why the patient is there at that

time".

She noted that contrary to normal

practice, the ambulance, paramedic

and triage notes were not with the

A&E front sheet that was given

to the doctor when she assessed

the child in A&E. The failure to

make this important information

available to the doctor had not

been explained. For that reason,

Lady Justice Thirlwall stated that

"it is not easy to see how this can

be excused".

Justice and damages

On achieving the victory and

subsequent settlement, Madeline

Seibert commented:

"This Court of Appeal decision

means so much to the child's

parents. Doctors failed to

recognise that the child was

developing the life-threatening

condition, pneumococcal

meningitis. If she had been

admitted to hospital and seen

by a paediatrician, her condition

could have been successfully

treated. Her mother did

everything she could to help her

daughter; instinct told her that

her daughter was seriously ill,

but no one seemed to listen".

Although the damages awarded are

substantial, it has to be remembered

that the child has been left with severe

disabilities and will need specialist

care for the rest of her life. The money

will be managed on behalf of the child

by the Court of Protection.

Summer 2019 Medical Negligence Newsletter | 03
---
In the news

Our Medical Negligence team, headed by Partner Madeline Seibert, reviews

some of the recent paediatric health stories currently making the news headlines.

Shortage of medical staff, including paediatricians, causing concerns

The NHS, Europe's largest employer, has a workforce of 1.1 million, but

100,000 jobs remain unfilled. The crisis is most acute in nursing, where there

are around 40,000 vacancies. Paediatricians, oncologists and doctors are

also needed, with nearly 9,000 vacancies currently unfilled.

paediatrician, and could result in life

threatening conditions being missed

by A&E. I believe more needs to be

done by the government to try and

accommodate for the shortage of

doctors amongst a growing number

of patients".

government has said it will set

out plans for early years support

in a forthcoming green paper on

prevention.

Nadia Saber says...

"According to a survey by Pulse,

the GP magazine, the average wait

to see a GP is 13 days. Last week

it was announced by the NHS that

they intend to recruit from overseas

to make up for the shortfall in GPs.

But it's not only GPs that are in

such short supply. Many crucial

specialties, including paediatrics,

emergency medicine and mental

health, are struggling with severe

staff shortages.

This can have catastrophic

consequences for patients, especially

young children who may have to

wait up to six months to see a

Children

'failed in first

1,000 days'

say MPs

The Health and Social Care

Committee says that not enough

support is provided in the early years

to give children the best start in

life. It warns that cuts to children's

centres, health visiting and parent

support services have left children

vulnerable. It urged the government

to pay for extra contact with health

visitors beyond the age of twoand-a-half.

Adverse experiences

in childhood have been shown to

increase the chances of poor health

and development later in life. The

Ivan Moody says...

"Cuts in funding can lead to

mistakes being made by already

overworked health professionals.

I strongly believe that by investing

more in health centres, health visits

and other child support services, it

will reduce the claims made against

the NHS and in the long run

save money".

04 | Summer 2019 Medical Negligence Newsletter
---
EpiPen shortage 'worrying'

The makers of the adrenaline injection

pen, which is used to treat severe and

life-threatening allergic reactions, say

that the continuing supply problems

are due to manufacturing issues.

The Department of Health said they

were working with the manufacturers

to "resolve the supply situation as

quickly as possible". They said limited

supplies were being closely managed.

Our advice: If you have concerns about

your child's EpiPen Junior 150mcg,

please follow this link to a letter

of advice from Aidan Fowler, The

National Director of Patient Safety.

Global measles

resurging, WHO warns

Measles is a highly

contagious disease that

in severe cases can lead

to complications such as

blindness, pneumonia

and infection and

swelling of the brain.

There has been a worldwide

resurgence of measles, with many

countries experiencing "severe and

protracted" outbreaks, last year,

a report warns.

Team update: In the last month, Public

Health England has warned of an

outbreak of measles in Hertfordshire

and Bedfordshire, with some primary

schools emailing parents to warn

them. A number of GP surgeries have

contacted families whose children

have not had the MMR vaccination.

Clinical trials for medical cannabis

for children

Talks are underway about setting

up clinical trials into medicinal

cannabis. The move towards trials of

the medication means that leading

medical experts in the UK will examine

a large number of plant-based

medicines, so they can gather evidence

to show which medicinal cannabis

products react well with various types

of epilepsy and seizures. Based on the

outcome, this means that children

could be given the chance to see if

medicinal cannabis works for them.

Genome sequencing

promises new era

in oncology

All children with

cancer in England

will be offered whole

genome sequencing

from this year in a

move that will enable

a more comprehensive

and precise diagnosis

and access to more

personalised treatments.

NHS England's long-term plan

says that this will reduce the use of

harmful drugs and interventions,

support increased access to clinical

trials, and reduce the number of

young patients who have health

problems caused by chemotherapy

and radiotherapy.

World Health

Organization

(WHO) data shows

a 30% rise in cases

in almost every

region of the world.

Experts say the measles vaccine

can save millions of lives, but that

complacency and a rise in fake news

about the safety of the vaccine have

led to some parents not getting their

children vaccinated.

Craig Knightley says...

"I believe that if these clinical

trials show that the prescription

of medical cannabis is of benefit

to children, then it is important

for it to be made readily available

throughout the country on the

NHS, and not just for those who

can afford to pay for it privately".

Joanne Westbrook says

"We welcome the introduction of

genome sequencing for children

with cancer, as anything that can

reduce the risk of unnecessary

treatment in children must

be beneficial".

• >>

Summer 2019 Medical Negligence Newsletter | 05
---
Marked rise in type 2

diabetes in young people

Type 2 diabetes can lead to a range

of health problems such as heart

disease, strokes and kidney problems.

The condition occurs when the body

cannot produce enough insulin to

regulate blood sugar levels. It can be

linked to obesity.

The number of children

and young people being

treated for Type 2

diabetes in England and

Wales has gone up from

507 to 715 in four

years, new figures show.

More than three-quarters were also

obese, according to the NHS data.

Child health experts said the rise was

"alarming" and the childhood obesity

epidemic was "starting to bite".

A Department of Health and Social

Care spokeswoman said: "We've

invested billions in public health

services and have already removed the

equivalent of 45 million kilograms of

sugar from soft drinks every year. Our

new childhood obesity plan will now get

children exercising more in schools, and

reduce their exposure to sugary

and fatty foods".

• >>

James Sherwin says...

"Too many children are being

diagnosed with Type 2 diabetes.

One of the major issues is that

special offers at supermarkets too

often relate to unhealthy foods.

We would encourage supermarkets

not only to provide free fruit to

children (which a number of them now

do) but also to ensure that special

offers relate to fruit and vegetables

rather than less healthy foods".

Melatonin use in children who can't

sleep prompts safety warning

Children and young people in England

are being given the hormone Melatonin

to help them sleep, prompting concern

that there is little evidence of its longterm

effectiveness or safety.

Melatonin, which is produced naturally

by the body, has been authorised for

use by people aged over 55. It has been

hailed as a less addictive alternative to

insomnia drug treatments.

Despite the fact it is not licensed for use

by any other age group, 117,085 people

under 18 were given Melatonin to aid

sleep in the 2017-18 financial year. In

the first four months of the current

financial year, 69,280 prescriptions

were given to under-18s.

Experts have expressed concern

that the hormone may be being

overprescribed by paediatricians due to

the fact that there are few alternatives

to support children with insomnia.

Madeline Seibert says...

"Our concern is that Melatonin

is being prescribed unnecessarily

and doctors should carefully

consider the reason for the

child's inability to sleep. Children

lose sleep for many reasons

and Melatonin should never

be a substitute for healthy

sleep practices, a regular, ageappropriate

and consistent bedtime

and bedtime routine, no caffeine,

and no electronics or screens

before bedtime".

Paediatric patients lose sleep in

noisy wards

Sick children lose more than an

hour's sleep per night on noisy

hospital wards, according to new UK

research, which suggests it could

harm their recovery. It has been

found that when children lose sleep

in hospital, their pain threshold is

lower, they are more emotional and

may have lowered immune defences.

The study carried out at

Southampton Children's Hospital

found that the noise on paediatric

medical wards exceeded the

30-decibel maximum recommended

by the World Health Organization

(WHO) and was significantly louder

than in their bedrooms at home.

They noted that this problem had

come to light despite the fact that

reducing noise at night in hospitals

was a key performance target for

NHS trusts.

06 | Summer 2019 Medical Negligence Newsletter
---
Ivan Moody says...

"We're pleased to note that

Southampton Children's Hospital

has now implemented various

steps to alleviate this problem,

including an "8 is late" policy,

whereby the lights are dimmed

at 8pm and a flag is raised on

each ward to remind everyone

about bedtime, the end of

visiting hours for the day, and

the need to switch off electronic

entertainment or use headphones.

They also use red torches to

check on children at night rather

than bright white lights. We

would encourage other hospitals

to implement the changes

incorporated in Southampton".

All medicines can cause unwanted

side effects. Many side effects are

mild, but some can be serious and

even life-threatening. That's why

it is important to report suspected

side effects, especially in infants and

children, as well as during pregnancy

and when breastfeeding. Children

and infants can react differently to

medicines than adults. It's important

for parents and carers to read the

medicine's patient information leaflet

and ensure they are giving it in the

right dose.

Dr Max Davie, Officer for Health

Promotion for the Royal College

of Paediatrics and Child Health

(RCPCH), said:

Despite some children sharing a

health condition, a one size fits

all approach to medicine does

not work when prescribing their

medication. It's important that

healthcare professionals work

with children and their families to

report all side effects, no matter

how big or small, to ensure

children have access to high

quality treatment options that

are best suited to their needs.

Nadia Saber says...

"We strongly believe it is important

for doctors to look at the "whole

picture" and not just concentrate

on one or two symptoms or

side effects. Failing to obtain a

complete history from a child or

their parents, or ignoring parts

of the history which the doctor

thinks are less relevant, can have

life-changing consequences for the

child. Doctors should be careful

not to simply prescribe what they

consider the "normal" medicine

without considering whether it

might not be the correct course of

action for that child".

Help make medicines

safer in children and

during pregnancy

Under its Yellow Card

Scheme, the Medicines

and Healthcare

products Regulatory

Agency (MHRA) wants

to encourage wider

reporting of the side

effects experienced by

patients taking medicines.

Summer 2019 Medical Negligence Newsletter | 07
---
£14.4m settlement for girl left

with cerebral palsy

Cerebral palsy is caused

by abnormal development

of the brain or damage to

the developing brain at

birth, affecting a child's

ability to control his or

her muscles.

It hinders the body's ability to move

in a coordinated way. It also can

affect other bodily functions that

involve motor skills and muscles

such as breathing, bladder and bowel

control, eating, and talking.

It is estimated that one in 400

babies born in the UK have a type

of cerebral palsy. The Office for

National Statistics figures indicate

that with an annual birth rate

in England and Wales of around

700,000, there may be as many as

1,700 new cases of cerebral palsy in

children each year.

Award for brain damage at birth

In this tragic case, an 11-year-old girl

who was left with dyskinetic cerebral

palsy after suffering a serious brain

injury at birth has been awarded

more than £14m in damages.

The girl, who cannot be named,

but is referred to as MXX in legal

documents, suffered the injuries as

a result of failings in care during her

birth at The Royal London Hospital

in Whitechapel in May 2007.

Her mother had previously given

birth by caesarean section and this

labour was therefore to be a trial

of vaginal birth after caesarean

(VBAC), which carries an enhanced

risk of uterine rupture and must

be monitored extremely carefully.

However, this extra level of care was

not afforded to MXX's mother and

she suffered a rupture to her uterus.

NHS trust response

The Chief Executive at Barts Health

NHS Trust wrote to MXX's mother in

2007 to offer his sincere apologies,

acknowledging the obstetric care

provided during her labour was not

to a standard that the family was

entitled to expect.

In 2012, the Trust also admitted that

the time of MXX's delivery should

have been 20 minutes earlier than was

actually the case. The delay resulted

in the child suffering severe brain

damage that could have been avoided.

The neurological damage caused

during her birth has meant that MXX

has been unable to lead a full and

independent life. She suffers with

coordination issues and has significant

learning difficulties. She will require a

lifetime of specialist care.

Substantial settlement approved

At the Royal Courts of Justice in

January, Her Honour Judge

Walden-Smith approved a settlement

of £14.4m. This encompasses a lump

sum payment of £4.4m plus annual

payments to cover the cost of care,

support, specialist therapies and

accommodation throughout

MXX's lifetime.

08 | Summer 2019 Medical Negligence Newsletter
---
Personal Injury Trusts

If you or your child have been

awarded compensation for personal

injury or medical negligence, you

might find that you're no longer

eligible to receive certain

means-tested benefits. This is

where Personal Injury Trusts have

an important role to play.

How they work

When a client is in the process of

receiving an interim payment, or has

received a final compensation award

in a medical negligence claim, it is

important that they are advised as

to how best to protect and manage

their monies.

Failure to place a settlement into

an appropriate Trust, or with the

Court, could adversely impact on

the client's entitlement to meanstested

state benefits and/or local

authority funded care. This means

that their settlement monies could

be quickly depleted without being

used for their intended purpose: to

compensate the claimant for the

injuries they have sustained.

Managing the award

Setting up a Trust can be particularly

important when dealing with claims

on behalf of minors. Where the child

will have capacity on reaching 18,

a Personal Injury Trust can be set

up for their benefit. The Trustees

of the Trust, usually including a

Professional Trustee, can manage

the damages award to maximise it

for the child's benefit later on in life,

all whilst removing the damages

award from the local authority's

consideration when assessing the

client's eligibility to means-tested

state benefits, or state funded care.

The Court of Protection

If a child is unlikely to, or will not

have capacity to, manage their own

affairs on reaching 18, monies can

be paid into the Court of Protection,

with a Deputy acting on their behalf.

There are limited circumstances

where Personal Injury Trusts may

be set up for claimants who lack

capacity, but they will require

further Court approval and it will

need to be proven that a Trust is in

the claimant's best interests.

Why Personal Injury Trusts are

increasingly used

Without a Personal Injury Trust

or involvement with the Court of

Protection, claimants may have

their benefits reduced or stopped on

receipt of a damages award.

Both options offer protection and

flexibility for the monies awarded,

however the Court of Protection

will only become involved in limited

circumstances. When the threshold

for Court of Protection involvement

is not met, a Personal Injury Trust

offers much greater flexibility to

the claimant and their Trustees, as it

allows for the money to be invested

with appropriate advice from

independent financial advisors.

As with all litigation involving a

minor, the settlement of any claim,

along with any Personal Injury Trust,

will need to be approved by the

Court, but Judges are increasingly

willing to approve Personal Injury

Trusts for a child when it can be

shown that proposed investments

will benefit the child by attracting

an advantageous rate of return

on the damages award and where

a Professional Trustee will be

appointed.

If you would like

advice on Personal

Injury Trusts, call us

on 0203 871 9258

or email

medneg@attwaters.co.uk

Summer 2019 Medical Negligence Newsletter | 09
---
A tragic stillbirth that

could have been avoided

Every year, more than

3,500 mothers

experience a stillbirth,

a terrible tragedy for

any family to bear.

But discovering that the loss of their

child was avoidable makes it even more

heartbreaking for parents and their

loved ones.

In this sad case, we were instructed

in a clinical negligence claim arising

from the stillbirth of our client's son in

September 2017. Unfortunately, the

stillbirth occurred in June 2014, and

as there is a statutory limit of three

years to start a compensation claim for

stillbirth negligence, on the face of it

the time limit had expired.

The argument we put forward

We argued that shock and grief,

coupled with the reassurances

provided by the hospital's staff in

various meetings, led our client to

believe that no act or omission on

the part of their staff had occurred

that would or could have altered the

outcome for her son.

However, concerns raised by her

mother resulted in our client making

an application for copies of the hospital

records. This culminated in a Letter of

Complaint being sent in March 2017.

It was not until our client saw a

Serious Incident Investigation report

in September 2017 that she had any

knowledge of a possible act or omission

on the part of the staff that may have

contributed to her son's stillbirth.

We immediately sent off a Letter of

Notification followed by a Letter

of Claim.

Allegations of negligence

This was our client's second child, the

first having been born by caesarean

section due to foetal distress and

other problems.

Our client was over 41 weeks pregnant

when her son was delivered via forceps

in June 2014. There were no signs of

life on delivery. Resuscitation measures

were undertaken but tragically her son

did not respond.

Our case

The essence of our case was a failure to

expedite delivery. The Serious Incident

Investigation Report clearly identified

the following failings

in care: -

• Lack of clear directions for staff

regarding the duration of foetal

monitoring twice weekly

• Our client was not seen by an

obstetrician between 37 and 40

weeks of her pregnancy

10 | Summer 2019 Medical Negligence Newsletter
---
• There was no foetal surveillance

via Cardiotocography (CTG) for

a period of 13 days

• There was a lack of continuity of

care; our client saw the Obstetric

Locum Registrar and not the

Consultant as per the Trust's policy

• There was no evidence of a care

plan or evidence of a consultation

with the Birth Choices Consultant

• Recordings of elevation in her

blood pressure did not prompt

expected management or

obstetric referral

• There was a lack of awareness

of "the whole clinical picture"

• There was a failure to consider

the need for senior obstetric

input, or follow their own policy in

relation to Obstetric Consultant

involvement in timing and mode

of delivery

The Trust's response

The Trust accepted our arguments

regarding limitation, and agreed

not to argue that the claim had not

been brought in the appropriate

period. It went on to admit that the

management plan should have been

arranged, and our client should have

been seen by a consultant at 37

weeks. It also admitted that, but for

the sub-standard care, there would

have been an earlier birth, and the

stillbirth could have been avoided.

Valuing and settling the claim

We obtained psychiatric evidence,

to show the impact the Trust's

negligence had on our client.

We drafted a Schedule of Losses,

including funeral expenses, loss

of earnings for both her and her

husband, and purchases made in

advance of the birth. We sent the

Trust our expert evidence and the

Schedule of Loss, which totalled just

under £50,000, and successfully

negotiated a settlement of £40,000

in October 2018.

Our approach

Many Medical Negligence solicitors

are understandably reluctant to take

on cases where the limitation period

is about to, or as in this case, has

expired.

At Attwaters Jameson Hill we will

always strive to help our clients,

even if they approach us at a late

stage. We appreciate there can often

be good reasons why they don't

contact us shortly after the negligent

act has taken place. In this case it

would have been easy to advise the

client that their claim was too late,

but we saw it had good prospects of

success and wanted to ensure that

the mother was compensated for the

terrible loss she had suffered.

Summer 2019 Medical Negligence Newsletter | 11
---
Here to help

Our Medical Negligence team is on hand to talk about your

healthcare issues and answer your questions. So, if you'd like

a confidential discussion, please call us on 0203 871 9258, or

email us at medneg@attwaters.co.uk.

Madeline Seibert (fourth from left) with her Medical Negligence team.

For further information and advice contact us at:

Rothwell House | West Square | Harlow | CM20 1LQ

0330 221 8855 | enquiries@attwaters.co.uk

www.attwatersjamesonhill.co.uk

Hertford Ware Harlow Loughton

Attwaters Jameson Hill is authorised and regulated by the Solicitors Regulation Authority

(Recognised Body number 51886)

12 | Summer 2019 Medical Negligence Newsletter