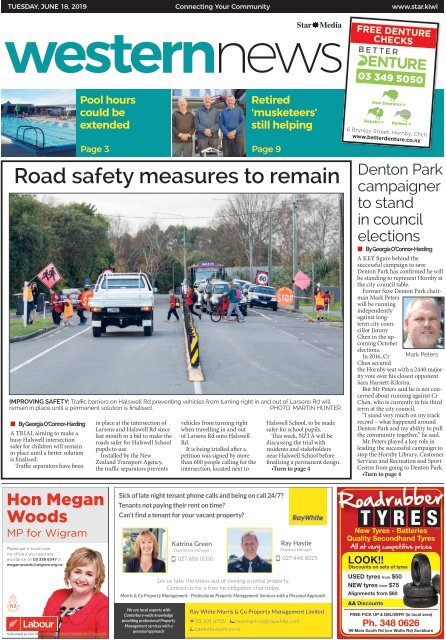 Western News: June 18, 2019
You also want an ePaper? Increase the reach of your titles
YUMPU automatically turns print PDFs into web optimized ePapers that Google loves.
TUESDAY, JUNE 18, 2019

Connecting Your Community

www.star.kiwi

FREE DENTURE

CHECKS

03 349 5050

Pool hours

could be

extended

Page 3 Page 9

Retired

'musketeers'

still helping

Road safety measures to remain

IMPROVING SAFETY: Traffic barriers on Halswell Rd preventing vehicles from turning right in and out of Larsens Rd will

remain in place until a permanent solution is finalised.

PHOTO: MARTIN HUNTER

• By Georgia O'Connor-Harding

A TRIAL aiming to make a

busy Halswell intersection

safer for children will remain

in place until a better solution

is finalised.

Traffic separators have been

Please get in touch with

my office if you need any

assistance on 03 338 6347 or

megan.woods@wigram.org.nz

Authorised by Hon Megan Woods, Shop 6, McCathy St, Christchurch

in place at the intersection of

Larsens and Halswell Rd since

last month in a bid to make the

roads safer for Halswell School

pupils to use.

Installed by the New

Zealand Transport Agency,

the traffic separators prevents

vehicles from turning right

when travelling in and out

of Larsens Rd onto Halswell

Rd.

It is being trialled after a

petition was signed by more

than 600 people calling for the

intersection, located next to

Sick of late night tenant phone calls and being on call 24/7?

Tenants not paying their rent on time?

Can't find a tenant for your vacant property?

Katrina Green

Operations Manager

027 606 0030

Halswell School, to be made

safer for school pupils.

This week, NZTA will be

discussing the trial with

residents and stakeholders

near Halswell School before

finalising a permanent design.

•Turn to page 4

Ray Hastie

Property Manager

027 448 8225

Let us take the stress out of owning a rental property.

Contact us for a free no obligation chat today.

Morris & Co Property Management - Professional Property Management Services with a Personal Approach.

We are local experts with

Canterbury-wide knowledge

providing professional Property

Management services with a

personal approach

Ray White Morris & Co Property Management Limited

03 331 6755 morrispm.nz@raywhite.com

canterburypm.co.nz

New Dentures >

Repairs >

Relines >

6 Brynley Street, Hornby, Chch

www.betterdenture.co.nz

Denton Park

campaigner

to stand

in council

elections

• By Georgia O'Connor-Harding

A KEY figure behind the

successful campaign to save

Denton Park has confirmed he will

be standing to represent Hornby at

the city council table.

Former Save Denton Park chairman

Mark Peters

will be running

independently

against longterm

city councillor

Jimmy

Chen in the upcoming

October

elections.

In 2016, Cr

Chen secured

Mark Peters

the Hornby seat with a 2440 majority

vote over his closest opponent

Sara Harnett-Kikstra.

But Mr Peters said he is not concerned

about running against Cr

Chen, who is currently in his third

term at the city council.

"I stand very much on my track

record – what happened around

Denton Park and my ability to pull

the community together," he said.

Mr Peters played a key role in

leading the successful campaign to

stop the Hornby Library, Customer

Services and Recreation and Sport

Centre from going to Denton Park.

•Turn to page 4

Roadrubber

T Y R E S

New Tyres - Batteries

Quality Secondhand Tyres

All at very competitive prices

LOOK!!

Discounts on sets of tyres

USED tyres from $50

NEW tyres from $75

Alignments from $60

AA Discounts

FREE PICK UP & DELIVERY (in local area)

Ph. 348 0626

99 Main South Rd (cnr Watts Rd) Sockburn

LTD
---
2

Tuesday June 18 2019

Latest Christchurch news at www.star.kiwi

WESTERN NEWS

from the editor's desk

news

THE LOCAL body elections continue to

heat up with Mark Peters announcing he is

standing for the city council (see page 1).

Peters has his eyes set on the Hornby

Ward seat, held by long-time councillor

Jimmy Chen, who is seeking his fourth term.

Chen will be a tough nut to crack. He is a very good campaigner,

who gets out and door-knocks. Winning three elections

is no mean feat; it is testimony to his support.

But I think he might have a fight on his hands this time. There

was huge public support in Hornby for the Save Denton Park

campaign.

Peters will use that as platform for obvious reasons.

Looks like we will get a contest and that's good for all.

– Barry Clarke

get in touch

GENERAL INQUIRIES Ph 379 7100

CLASSIFIED ADVERTISING Ph 379 1100

Star Media, a division of Allied Press Ltd

PO Box 1467, Christchurch

starmedia.kiwi

NEWS

Georgia O'Connor-Harding

Ph: 021 910 730

georgia.oconnor@starmedia.kiwi

ADVERTISING

Alana Powell

Ph: 962 8753

alana.powell@starmedia.kiwi

First hand history lesson

Villa Maria College student Brooke Harrison met with Rob

Hamill while studying the Cambodian genocide.

Page 5

sport

Plenty of restrings to his bow

Tony Ralfe was recognised for 51 years of involvement in his

favorite sport at the Canterbury Tennis Awards..

Page 19

community events

Warm up with crafts

Encourage learning through a love for stories. Storytimes is an

interactive programme including stories, rhymes, craft and play!

Page 23

The best-read local newspaper, delivered to

18,190 homes every Tuesday

Templeton, Islington, Hei Hei, Broomfield, Halswell, Oaklands,

Westlake, Hornby, Wigram, Sockburn, Church Corner, Ilam,

Russley, Hyde Park, Avonhead, Riccarton Park, Riccarton.

HAVE YOUR SAY

We're planning for

the future of our

water services

Our Water. Our Taonga.

We'd like to hear your views on our Draft

Integrated Water Strategy, open until 14 July

Find out more

ccc.govt.nz/ourwater

or visit one of our service centres

3 issues $20

6 issues $44.50

10 issues $65

Kelvin McMillan

SUBSCRIPTIONS

FREEPHONE

0800 77 77 10

rugbynews.co.nz
---
WESTERN NEWS Latest Christchurch news at www.star.kiwi

Tuesday June 18 2019 3

News

Pool hours could be extended

• By Georgia O'Connor-Harding

THOSE HOPING to catch an

early morning swim over the

summer in Halswell may have

their wish granted.

The Halswell-Hornby-

Riccarton Community Board

has asked the city council to

investigate a number of options

for extending

the Te Hāpua

Halswell pool's

hours.

A seminar

on extending

the pool hours

Anne

Galloway

was held with

the board last

Tuesday.

City council

staff are still finalising options

for the pool's opening hours.

One of the options, raised by

city councillor Anne Galloway,

suggested the pool opens

from 6am-6pm on weekdays

excluding Fridays. On Fridays

the pool would be open from

6am-9pm.

On weekends, she would like

to see the pool open from 9am-

9pm.

The hours of the summer pool,

which will re-open in November,

are currently 11.30am-7pm.

"We really want the pool

Discover Christchurch's

best pet

accommodation

• Daycare - all breeds

• Long stay/short stay

Call now to

book in your

fur baby,

inspections

welcome

anytime!

ALAMEDA

KENNELS & CATTERY

271 Dyers Road | Ph 384 1297

www.alameda.nz

hours to reflect the need in

the community. Halswell is

a rapidly growing area and a

facility that should be available

to as many people who wants to

use it," Cr Galloway said.

The board is considering

granting $35,000 towards the

trial. It has asked city council to

report back on the costings of

extending the pool hours.

Cr Galloway said it did not

CARS • BOATS • TRUCKS • CARAVANS • TRAILERS

• 4WDS • ELECTRIC & HYBRID VEHICLES

• Starter Motors

• Alternators

• Central Locking

• Electric Windows

• ABS & Airbags

• Stereos/Alarms

• Batteries

• Tuneups

• Engine Management

want the trial to impact the

rates and to get extra funding

it would need to investigate

applying for other funds.

She said the other issue raised

was the availability of lifeguards

for the extended hours.

"Most of the lifeguards

that work at the pool are

university students and they

get work over the holidays . . .

how do we fill those positions

For Everything

AUTO ELECTRIC

YOU NAME IT WE FIX IT

AAE

Amazing

Auto

Electric

USUALLY

SAME DAY

SERVICE

WE ARE HERE

65 Coleridge St, Sydenham 65 Coleridge St

Coleridge St

Ph. 379 4250

www.amazingautoelectric.co.nz

Gasson St

Wordsworth St

Brisbane St

LONGER

HOURS: The

Halswell-

Hornby-

Riccarton

Community

Board has

asked city

council

staff to

investigate

having the

Te Hapua:

Halswell

Summer

Pool open

from

6am on

weekdays in

the summer.

when people go back to

university?" Cr Galloway said.

A report considering options

is scheduled to go to the

community board on June 26.

•HAVE YOUR SAY: What

hours would you like to see

the Te Hāpua Halswell pool

extended to? Email your

views to georgia.oconnor@

starmedia.kiwi

The revolution

in heat pumps

is here now!

The Fujitsu e3series

The brilliant

heat pumps from Fujitsu

e1 : efficiency

e2 : environment

e3 : economy

FREE consultation from your local

Accredited Heat Pump Expert

Phone today: 03 381 6950

INSERT DEALER DETAILS HERE

Local

News

Now

In Brief

Fire rages, homes at risk

SOCKBURN SCHOOL SITE

The untidy state of the old

Sockburn School site was

raised at the Halswell-Hornby-

Riccarton Community Board at

its meeting on Tuesday. Board

member Natalie Bryden will

write to Greater Christchurch

Regeneration Minister Megan

Woods in a bid to get the old

school building demolished. Ms

Bryden said if nothing is achieved

she will write to the Ministry

of Education. Western News

reported last week the MOE has

no plans to demolish the building.

SPRING WATER

Free spring water direct from

an aquifer is now available at

Burnside Park. People can fill

clean containers with up to

20-litres of water, which is not

treated with chlorine and is tested

regularly to make sure it meets

New Zealand Drinking Water

Standards. The water is drawn

from a depth of 200m.

BUILDING DEMOLITION

The demolition of the former

Sockburn Vehicle Testing New

Zealand building has started.

The work begun last week and is

expected to take six weeks. The

building, between Main South

and Blenheim Rds, has been a

target for vandalism after it closed

in 2012 due to quake damage.

The revolution in heat pumps is here now!

Website: www.pshc.co.nz

Finance available

The brilliant e3 series

heat pumps from Fujitsu

e1 : efficiency

e2 : environment

e3 : economy

Fujitsu's Catechin Filters are

approved by the Asthma and

Respiratory Foundation NZ's

Sensitive Choice ® programme.

Email: info@pshc.co.nz

FG1441
---
4 Tuesday June 18 2019

Latest Christchurch news at www.star.kiwi

News

Study into crossing safety

•From page 1

NZTA senior traffic and safety

engineer David Scarlet said the

feedback has been mixed, but

school children and people operating

the crossing near the school

feel safer.

But he said there have been a

number of issues raised by residents

and road-users following a

survey carried out by NZTA.

This includes there already being

limited options to join onto

Halswell Rd and increased journey

times and distances.

Mr Scarlet said the pilot layout

will stay in place until a permanent

solution is made because

it offers an improved degree of

safety for school children.

Daily traffic counts show about

11,500 vehicles use Halswell Rd

(in the vicinity of Larsens Rd)

daily.

While no crashes have

been recorded at the

intersection in the last five

years – a minor and noninjury

crash was recorded

about 20m north of the

junction.

Halswell School principal

Stuart Cameron said

the school was "really

pleased" in how the trial

has made the crossing safer for

pupils to use.

His views were backed by

BUSY ROAD: This week the New Zealand Transport Agency will

be discussing with residents and stakeholders near Halswell

School permanent solutions for the Larsens Rd/Halswell Rd

intersection.

Halswell resident Melanie

Rushton, who created the petition,

saying there has definitely been an

"improvement."

But she said equally

it has caused some

other issues including

vehicles performing U-

turns where Halswell Rd

meets with O'Halloran

Dve.

Ms Rushton, who has

a son at the school, said

before the trial was put

in place, the junction

was becoming more dangerous

every day.

"I have seen two or three near

Stuart Cameron

misses at that intersection with

children crossing the road on

their own. I have seen cars driving

really atrociously through that

crossing as well," she said.

Ms Rushton recalls witnessing a

"terrifying" moment when a child

was almost hit while trying to use

the school crossing when a van

failed to stop.

City councillor Anne Galloway

said the important thing is the

safety issue is being addressed.

She said before the restrictions

were put in place, vehicles turning

right out of Larsens Rd were

turning directly into the school

crossing.

•From page 1

Out of the campaign, the

Greater Hornby Residents'

Association was formed, which

Mr Peters is a member of.

Mr Peters believes he has a

good chance at winning against

Cr Chen.

"I take my hat off

to Jimmy, he has responded

to the raising

of issues in good stead

to get things done he

has worked hard to get

things done.

"The October count

will be what counts

and if the people of

Hornby want a change from

Jimmy's representation then

they will vote with their feet

and put in the person they

want," Mr Peters said.

City councillor Jimmy Chen

welcomed Mr Peter's bid.

"This is a democratic election,

and it is good the people

of Hornby have a choice," he

said.

Cr Chen, who will be

running under The People's

Choice, said he has been an

effective city councillor and

wants to make sure Hornby is

well-represented.

He said his best achievements

Local

News

Now

Fire rages, homes at risk

Residents' association

member to stand for council

Jimmy Chen

WESTERN NEWS

have been keeping the Hornby

mega-facility on budget, advocating

the Hornby Service

Centre has 40 hours per week

and launching the city council's

Multicultural Strategy.

Cr Chen's goals for the next

term is to ensure the Hornby

facility is built on Kyle

Park and lobbying to improve

Hornby's roading,

footpath and wider traffic

issues.

Mr Peters said it is time

to remove politics from

Hornby and focus on

outcomes for residents.

As well as Cr Chen, the

current Hornby representatives

are Mike Mora and Natalie

Bryden – all who are aligned

with The People's Choice.

"The ward is very much tied

down by a party line . . . local

body politics is really not the

place to be having party block,

it is more an area where people

need to have an independent

mind."

Mr Peter's key concerns is

the suburb's infrastructure

has been neglected for too

long, ensuring the new

Hornby mega-facility is built

at Kyle Park and keeping rates

affordable.

Schools not for everyone!

Is school not working for your teen?

ULTIMATE CAREER DECIDER / SECURITY & FORCES PREP /

DIGITAL MEDIA & DESIGN / BUSINESS ADMIN & TECHNOLOGY /

WEB DEVELOPMENT / SOFTWARE DESIGN / EARLY CHILDCARE

www.studywithus.co.nz

VISION & TRAINME

CAMPUS

INFO NIGHT

DATE: 26 th June 2019

TIME: 7:00pm

CHRISTCHURCH CAMPUS

50 Hazeldean Road,

Addington

50 Hazeldean Road, Addington, Christchurch | 0800 834 834

$53,000 WORTH OF PRIZES TO BE WON!
---
WESTERN NEWS Latest Christchurch news at www.star.kiwi

Tuesday June 18 2019 5

News

Hamill offers first-hand history lesson

• By Georgia O'Connor-Harding

MOMENTOUS: Villa Maria College student Brooke Harrison

had a history lesson to remember when she met Rob Hamill. ​

WHEN BROOKE Harrison first

began studying the Cambodian

genocide, she never expected she

would meet the New Zealander

whose brother was tortured and

killed by the Khmer Rouge.

It was a momentous history

lesson for the Villa Maria

College student, who had the

opportunity to Rob Hamill, a

former New Zealand international

rowing representative. His

achievements include winning a

silver at the 1994 World Rowing

Championships and a Commonwealth

Games gold.

While researching the assignment,

she came across

documentary Brother Number

One, which tells the story of Mr

Hamill's older brother Kerry,

who was killed by the Khmer

Rouge in 1978 after accidentally

straying into Cambodian waters

on his yacht.

The genocide was carried out

by the Khmer Rouge regime

under the leadership of Pol Pot.

Between 1975 to 1979 it was estimated

1.7 to two million people

were murdered.

Wanting to find out more,

Brooke, 17, decided to email

Hamill – and to her surprise received

a reply in about one hour.

Hamill happened to be travelling

through the city on June 5

to Methven and arranged a time

to meet with Brooke.

Brooke said it was inspiring

how open and willing Hamill

was to share his story about his

brother.

"He revealed that is how he

got into rugby and eventually

rowing which he became very

successful at. I'm very grateful

that I got the opportunity to talk

to someone so closely related to

such a horrific event," she said.

Brooke wanted to study the

genocide after her mother,

aunt and grandparents went to

Cambodia several years ago and

had came back "shocked" and

"moved" by its history.

She said what stuck with her

most from studying the project

was how severe the genocide was

and yet not something people

know a lot about.

"I couldn't comprehend

how violent and torturous the

genocide was which is why it is

even harder to stomach that one

of our own was killed there,"

Brooke said.

She asked Hamill questions

about what it was like to testify

against Kang Kek Lew, the former

leader in the Khmer Rouge

movement, how he coped with

losing his brother and the response

his family received from

the community.

"Going into it I was actually

quite nervous to talk to him

about it because the last thing

I wanted to do was make him

feel uncomfortable . . . but as he

started talking I realised he was

really open to talking about it,"

Brooke said.

Since researching the project,

Brooke has come to the realisation

of how important learning

about history is.

"What I have learnt from

studying this project is how easy

it is for people to turn a blind

eye to something that seems so

distant from them . . . it wasn't

until meeting with Rob I realised

how close to home the genocide

really was".

Local

News

Now

Fire rages, homes at risk

Community

group gets

new patrol car

THE HORNBY Community

Patrol has acquired a new patrol

car to mark its 25 th anniversary

of operations in the western

suburbs.

Patrol chairman Ken Chamberlain

said the patrol is celebrating

25 years of helping make

the city safer along with the

Christchurch South Community

Patrol, City to Sumner Community

Watch and the North City

Community Patrol.

All were set up in 1994 to help

police keep communities safer.

"We wanted to do something

to advance our effectiveness to

mark the occasion and we decided

to fundraise and buy a newer

car," Mr Chamberlain said.

Its "elderly patrol" car has been

used for more than 15 years and

needs replacing, he said.

"Our patrol has a responsibility

to keep our patrollers safe and

the new car is much better at doing

that. Our new Suzuki Vitara

has more safety features than

all our previous patrol cars put

together," Mr Chamberlain said.

The Hornby aatrol covers

from Sockburn to the Halswell

Quarry, Templeton and

Yaldhurst.

THE RUSSLEY VILLAGE

Final Apartments Available From $495,000

HOLLY LEA VILLAGE

New Apartments Now Under Construction

russleyvillage.co.nz

03 357 9392

73 Roydvale Ave,

Christchurch

For enquiries contact

Wayne Thompson

STYLISH DESIGN,

CONTEMPORARY RETIREMENT LIVING

Making your retirement move is easy when it's to one of these sought after locations.

Located on the site of the old Russley Hotel, The Russley Village is set within eight acres of award-winning

gardens and grounds. The centrepiece of The Russley Village is its purpose built resident community facility,

The Homestead where you will find Abode Café & Brasserie, a cinema, library, arts & crafts space and hair salon.

The Village scooped two prestigious awards for this state-of-the-art, multi-purpose building at the recent

New Zealand Commercial Project Awards. The Ashley Suites, our boutique care facility and serviced

apartments, is due to open in October/November and will provide residential care up to hospital level.

Holly Lea Village is nestled in the heart of Fendalton within beautifully tailored grounds. The village has recently

undergone a major refurbishment and has just released the first stage of new apartments with construction

planned to commence in early 2019. The Morven apartments, comprising of eight spacious two bedroom

apartments, are architecturally designed with comfort and safety in mind and offer the latest in contemporary

retirement living.

hollylea.co.nz

03 351 2679

123 Fendalton Rd,

Christchurch

For enquiries contact

Juliane Brand
---
6 Tuesday June 18 2019

Latest Christchurch news at www.star.kiwi

News

WESTERN NEWS

Local

News

Now

Fire rages, homes at risk

School projects in community spotlight

• By Georgia O'Connor-Harding

THERE IS no savvier generation

when it comes to using social

media than a generation of

millennials.

That is why instead of Riccarton

High School staff desperately

trying to maintain an online

presence, it was better for the

students to do the job instead.

Two years ago, the school

established a media and advertising

division – which is aimed at

informing, celebrating and promoting

to the community what

is happening at the school.

From the formation of the

group, one of the popular media

ideas to form is the Humans of

Riccarton.

Based on the famous photoblog

Humans of New York, the

blog of students aims to celebrate

and share thoughts, opinions

and stories of Riccarton High

School students.

Deputy principal Lisa Heald

and teacher in charge of MAD

said it was just one of the social

media platforms the students do.

The students between the years

of 11-13 run the school's Facebook,

Snapchat and Instagram

page.

They produce articles for the

school's newspaper, organises Ka

Pai videos to celebrate students

doing good things around the

Grace Ward: I don't believe in holding something against

someone because what happens happens and people

should just move on. There is no point in dwelling on things

and holding it against yourself or other people so you should

move on from it because life is too short to hold grudges

against people. I think it is much better to focus on yourself

and the people around you.

Orion Chau: I really like people that give first and continue

to give without expecting anything in return. I think wanting

to help is just basic human nature, and you feel so much

happier when you help someone, when they are happy so

are you. People I look up to are the people who just don't

care about what people think. Once you start caring you

begin to limit how far you can go, your goals are no longer

yours but the people around you. If you want something

make it happen. ​

school and writes a weekly report

on the school.

"They were all things we

couldn't do as well or as fast as

the students so we thought why

don't we get the students to do

it," Ms Heald said.

She said the work is a threehour

weekly course – but the

students would put in anywhere

Muskaan Lal (left): What I enjoy in life is travelling and

meeting new people. Because when you travel you hear

many different experiences from many different people

and see the world from a different viewpoint and you get

to reflect on how you view the world yourself, it helps you

really grow as a person.

Therese Yamit: There are three things that I feel are

important in life. Family, friends and passion. Family because

they are always there to tell me what to do or not do and

they are always there for me, friends because the company

you get from them that makes you just forget about other

stuff and it's nice to be with someone you can talk to and

impact you in a positive way, and passion because you

are just in this little space where you feel like you can be

yourself.

between five to 12 hours in spite

of there being no NCEA credits

available.

"Social media is their world. So

many schools are trying to block

it and stop it and we thought let's

go with it. Let's use it in a really

positive and powerful way and

teach our school community that

is what it is about," she said.

6 Ardnave Lane, Kintyre Estates 9 Ardnave Lane, Kintyre Estates

This home offers three double

bedrooms, with a large ensuite,

family bathroom and seperate

toilet.

The living area is open plan with

great indoor/outdoor flow out

onto a private patio area, perfect

for outside dining and

entertaining. There is a gorgeous

modern kitchen with plenty of

storage and a stunning Granite

bench-top, soft close drawers,

Fisher & Paykel oven and

dishwasher plus a gas cooktop

and a large walk-in pantry.

This four bedroom home will

not disappoint!

This home also features an

ensuite, family bathroom and

seperate toilet and a large

living area is open plan with

great indoor/outdoor flow out

onto the patio area. There is a

modern kitchen with cupboards

galore, soft close drawers,

Fisher & Paykel oven and

dishwasher plus a gas cooktop.

The stunning benchtop is Black

Granite with an adjoining lower

laminated bench.

Don't miss out on viewing these beautiful

properties in the prestigious Kintyre Estates

subdvision... get in touch today!

ENTERPRISE HOMES LTD

enterprisehomes.co.nz | 03 348 5189

sales@enterprisehomes.co.nz
---
WESTERN NEWS Latest Christchurch news at www.star.kiwi

Tuesday June 18 2019 7

News

Bid to crack down on 'cruising' delayed

• By Georgia O'Connor-

Harding

HELEN BROUGHTON'S bid

to crack down on anti-social

behaviour around Deans Ave has

been pushed back again.

The Halswell-Hornby-

Riccarton deputy chairwoman

withdrew her formal motion

calling for increased police

enforcement of "cruising

behaviour" on the avenue.

Mrs Broughton opted to use

the term "cruising behaviour"

after board chairman Mike

Mora raised concerns about the

term "boy racer".

Mr Mora said the city council

has a "no cruising bylaw" in

place, not a "boy racer" bylaw.

At last week's board meeting,

Mrs Broughton removed her

motion so it could be re-worded

to allow the board to talk to

police directly about cruising

behaviour in the area, as well as

security concerns once the police

presence around the mosque is

reduced.

In her original motion, Mrs

Broughton only asked the

board to write to police about

its concerns over cruising

behaviour.

Her amended motion will now

be brought back for the board

to discuss at its next meeting on

June 26. Mrs Broughton's first

attempt to have her formal

motion on "cruising behaviour"

approved was made on May 28,

but the board agreed it would

stay on the table until its June 11

meeting.

However, in her updated

motion, Mrs Broughton wants

the board to talk to police

about their security plans.

She said she wants to raise the

issue because the board wasn't

invited to a meeting between

Deans Ave residents, Greater

Christchurch Regeneration

Megan Woods, police and a

city council representative on

June 6, in which a range of

security concerns were discussed

regarding police lifting their

presence.

Said Mrs Broughton: "We

weren't there at that meeting.

PUSHED

BACK: A

formal

motion

aiming to

crack down

on anti-social

behaviour

around

Deans Ave

will be

changed.

Therefore if the police are talking

about security issues we want

that to be part of our discussion

with them."

Canterbury Metro Area

Commander Superintendent

Lane Todd would not discuss

their security plans.

But he did say the police

presence outside the mosque

will remain in place for the

foreseeable future.

Local

News

Now

Young graduate

may have

set record

Fire rages, homes at risk

A 23-YEAR-OLD Commerce

graduate may be the youngest

woman to have earned her

doctorate in Canterbury

University's almost 150-year

history.

According to accessible data,

since 1959 only 25 students have

been recorded as graduating

with a PhD aged 23, and Natasha

Mazey of Avonhead is the only

female in this cohort.

Born in 1995, Dr Mazey graduated

at age 23 with a Commerce

PhD in accounting information

systems.

"It was a roller coaster ride,

and certainly wasn't intentional.

I have always been curious to

learn and enjoyed study that

challenged me. I got lost in it

while at UC and I took the opportunities

that came. My curiosity

kept driving me to do and learn

more.''

Her academic supervisor,

Stephen Wingreen, describes Dr

Mazey as the ideal student.

"She's the kind of student every

supervisor wants. Natasha was

the model PhD student. She

was an amazing student – super

motivated, super intelligent and

she made all the right decisions,"

Dr Wingreen said.

eat your

favourite

foods

again!

Don't be restricted by your teeth

233 Riccarton Road,

Phone 341 5419

The Partial Denture People

Kapuka Lane, Kennedys Bush

SECTION PRICES REDUCED… Now range from $305,000–$405,000

sold

sold

sold

sold

sold

Your agent, Your home, Your future

LICENSED SALES CONSULTANT REAA 2008

P 027 777 0411

Here is a special opportunity to build your own mini estate

in the boutique subdivision of Kapuka Lane set in Kennedys

Bush. Each section will offer commanding views of the rural

country side and winery below. Each site has been designed

with care to protect the view from the building platform

and with the spaciousness of each site you can select where

to place your new home to ensure maximum sunshine with

maximum views. This is a chance to have a taste of country

life with city living benefits. Kapuka Lane consists of eleven

sections (two of which are sold), each having a gently

sloping building platform and facing to bask in the evening

sun. The majority of the sections are gently sloping with the

larger sections that have a steeper part still retaining a large

potential easier sloping area to build your home. Ranging in

price from $305,000 to $405,000 and in size from 1500m²

to 3983m² and each title issued, immediate possession is

available to give you the opportunity to begin your new

dream home.

KEEP YOU AND

YOUR BUMP

FLU-FREE

Getting the flu shot every year

is the best protection against

the flu for you both

Flu shots are FREE for pregnant Canterbury residents

from your GP team or some pharmacies.

Check out www.flufree.co.nz for more info and flu facts.
---
8 Tuesday June 18 2019

Latest Christchurch news at www.star.kiwi

WESTERN NEWS

Kirkwood Intermediate

Sports and Technology Update

Sports

We always participate in the Inter-Intermediate

competitions, covering a wide range of sporting

activities. Even though we are one of the smaller

Intermediate Schools in Christchurch, we have

one of the highest participation rates. As a school

we are well known for the courtesy, co-operation

and sportsmanship of our teams and we value this

highly.

This term we have enjoyed starting our winter

sports programme which includes: Netball,

Football, Rugby, Hockey and Table Tennis.

Throughout the year we also participate in the

Cross Country, Intermediate School's Duathlon,

Athletics, Swimming, Basketball, Korfball, Rhythmic

and Artistic Gymnastics and Mountain Biking.

Our classes also compete for the Kirkwood Sports

Shield. This involves classes in Year 7 and Year 8

playing each other in various sports for the right to

hold the shield.

Technology

Technology education at Kirkwood explores how, beginning with a need or opportunity, new products are

developed and how new developments impact on our world. Students gain knowledge and skills essential for

all kinds of careers and for everyday life.

As well as experiencing a variety of technology classes, our students are able to choose special interest

technology extension classes including coding arduino microchips, robotics, 3D printing, special engineering

projects, Maori carving and food competitions.

Hard Materials - Students work with wood, metal and plastics to develop a range of hands-on skills.

Foods Room - Special breakfast lessons encourage students to make healthy choices.

Soft Materials - Students follow a design process to create original projects.

Electronics - To learn the technological process students work with electronic components.

Remember, you

are welcome to our

Open Day & Night

on Tuesday 2 July

9.00am – 12 noon &

7.00pm – 8.30pm

Come and have a

look at what our

children are doing.

Don't forget, our Open Day/Night is on Tuesday 2 July 2019.

Please visit our website www.kirkwood.school.nz for information and to

download an enrolment form or ring the office on 348 7718.

Phil Tappenden,

Principal

260 Riccarton Road, Christchurch

Email: school.information@kirkwood.school.nz

Phone 03 348 7718 Fax 03 348 1085

www.kirkwood.school.nz
---
WESTERN NEWS Latest Christchurch news at www.star.kiwi

Tuesday June 18 2019 9

News

Retired 'musketeers' still helping

• By Jess Gibson

A TRIO of retired friends –

dubbed "the three musketeers"

– were recognised for their

services to Ronald McDonald

House on Monday.

David Chappie, of Avonhead,

Neil Fleming (Ilam) and Gus

Gale (Belfast), all former

teachers, received an award

from Volunteering Canterbury

for their work over the past five

years.

They meet every Wednesday

morning to help with a range

of tasks at Ronald McDonald

House on Cashel St, such as

keeping the grounds tidy,

fixing toys, washing waste bins,

plumbing and electrical repairs.

Said Mr Chappie: "I was

surprised because we certainly

don't come here to look for any

accolade, we come here because

it's a worthwhile organisation

that we have heard about that we

could help at ground level."

"The people here are so

accommodating and making

everyone feel so welcome. The

families are going through a

tough patch in their lives but

there's a joy all the way from

the staff to the mums and dads

and the kids being picked up

and cuddled. There's a quality

here I don't think you would

find in many other institutions.

It's a quality based on love

and concern for one's human

beings."

Ronald McDonald

House offers support and

accommodation to families with

children in hospital.

The three musketeers' shared

background in education adds

up to a total of more than 120

years at primary, secondary and

university level.

VOLUNTEERS: Friends

and former teachers David

Chappie, Neil Fleming

and Gus Gale meet every

Wednesday to undertake

odd jobs at Ronald

McDonald House.

Said Mr Fleming: "In those

years we have accumulated

some useful skills that Ronald

McDonald House finds helpful."

Mr Fleming started

volunteering to use up his excess

energy.

Mr Chappie and Mr Gale

agreed to help "on one

condition" – after each

morning's work they go out for

lunch and a beer.

"We decided to set a pseudochallenge

by limiting our choice

of lunch place to new or recently

changed venues. We range

widely with a requirement that

the selected venue has to serve

beer and it has to be new to us,"

Mr Fleming said.

He said each lunch is spiced

with recollections from their

friendship, which has lasted at

least 10 years.

"Some (stories) stray from

the truth but have greater

entertainment value," he said.

Local

News

Now

Fire rages, homes at risk

DIG IN: Fendalton-Waimairi-

Harewood Community Board

member Aaron Campbell with

his wife Kazumi.

Quarry planting

project on way

to 10,000 goal

THE GOAL to plant 10,000

natives at Halswell Quarry Park

this year is under way.

More than 2000 plants have

been placed in the ground by

60 people. One of several city

council-organised plantings on

June 5 coincided with Arbor Day

and World Environment Day.

Two more planting projects are

planned this month.

Fendalton-Waimairi-Harewood

Community Board member

Aaron Campbell said the next

planting day at the park will be

on Saturday to mark National

Volunteer Week.

"It's expected there will be a

big turnout for this, starting at

10am," he said.

Check your details

are up to date.
---
10 Tuesday June 18 2019

Latest Christchurch news at www.star.kiwi

New gender

neutral loos

for students

• By Tatiana Gibbs

THE SOUTH Island's largest

high school will soon have a

gender neutral bathroom.

Burnside High School is

following a nationwide trend

of being inclusive by planning

a gender neutral toilet facility,

which is due to be completed

next month for use in term three.

Principal Phil Holstein said

the move was in response to

students who wanted a gender

diverse space where they feel

comfortable. The new bathroom

will be in the school's central

block.

"This is a big step for us in

order to acknowledge and

recognise our gender neutral

students," Mr Holstein said.

Burnside High follows

Beckenham Primary School

and Lincoln High School,

which also have gender neutral

bathrooms.

The trend has been supported

by the Ministry of Education,

which has funded the facility at

Burnside High. The school has a

total roll of about 2500 students

and has a LGBTQ+ club, which

has been in place for four years.

Teacher in charge of the club

Karen Healey said Burnside

High has students who feel

"uncomfortable using bathrooms

that don't match their gender

identity."

Burnside High

Irish dancer's

work pays off

• By Georgia O'Connor-Harding

EMME Stephenson (right)

dreams of one day travelling the

world with an international Irish

dancing company.

Since she was seven, the

Burnside High School student

has been in love with the unique

dance form – and when she is

not at school she spends her time

training.

The hard work is beginning

to pay off, with Emme, 13,

selected to attend the Australian

International Oireachtas Irish

Dance Competition on the Gold

Coast next month.

It will be Australia's largest

Irish dancing event, attracting

more than 800 competitors from

all over the world and up to 600

spectators each day.

There are three rounds in each

competition – a hard shoe round;

light shoe round; and recall

round for the top dancers of the

competition.

It won't be the first time

Emme has taken part in the

competition; she qualified to

compete last year.

While she didn't make the

recall round last time, she was

listed as New Zealand's top

dancer in her age group.

Although New Zealand's Irish

dancing scene is small, Emme,

who attends the Swarbrick Irish

Dance school, aims to make a big

name for herself nationally and

internationally.

"I love doing it. I just

find it really fun to do. I like

competing and the friends that

you meet. It has pretty much

taken over my life," she said.

She was ranked fifth in the

New Zealand National Irish

Dance Championships for

her age group last year, which

qualified her for the Australian

competition.

In 2017, Emme represented

New Zealand, along with a team

of dancers, at the World Irish

Dancing Championships in

Dublin and finished 34th.

Her next goal is to compete at

an international competition in

solo dancing.

Her mother Pip Stephenson

said Emme is determined, hardworking

and committed to going

as far as she can in Irish dancing.

She said dancing has taught

her time-management and selfdiscipline,

which has helped her

to achieve good results at school.

SCHOOLS

WESTERN NEWS
---
WESTERN NEWS Latest Christchurch news at www.star.kiwi

Tuesday June 18 2019 11

Margaret Stoddart Retirement Village

Serviced apartment available now

A sunny serviced apartment studio is available now.

Serviced apartments are located in the heart of the

village, with easy access to the lounge, dining, and

other amenities.

As well as help with daily living, such as

housekeeping, you'll enjoy a Delicious home-cooked

main meal in the dining room, plus morning and

afternoon tea. We also have care packages

available to suit your needs.

Priced at $295,000, secure your new

home today!

To discuss your retirement living options

or learn more about this apartment

please phone Michelle on 337 6500

23 Bartlett Street, Riccarton
---
12 Tuesday June 18 2019

Latest Christchurch news at www.star.kiwi

WESTERN NEWS
---
WESTERN NEWS Latest Christchurch news at www.star.kiwi

Tuesday June 18 2019 13

Your Local Views

'Helping neighbours meet'

Delamain Residents'

Association chairman Geoff

Holland writes about how

you can get involved in the

community and the impact

work at the Yaldhurst Park

Subdivision is having on the

area

GET TO know your neighbours

– they are nice, friendly people.

Swap telephone numbers.

If you know they are away,

keep an eye on their property,

perhaps feed their pets.

Plants have been stolen from

front gardens in Delamain, so

keep watch for any suspicious

behaviour – and report it.

To help neighbours meet, we

hold successful neighbourhood

week barbecues in Delamain

Park.

A community beautification

project is also being set up to help

maintain the special features of

our area, such as the "gateways"

at Little Oaks Drive and Jarnac

Boulevard, the monoliths

under the transmission lines on

Buchanans Rd and the fringes of

the Paparua Stream.

We started by removing the

sign on Jarnac Boulevard which

had been tagged. We are also

planning an inspection in the

next few weeks to identify issues.

Keep an eye out for a notice

about this – you are very

welcome to participate.

Let us know if you are keen

by emailing delamain.residents.

association@gmail.com.

And make sure you read our

newsletter. We also send out

email notices on city council

matters that affect us, and

weather and road condition

warnings from Neighbourhood

Support. If you would like to get

these, email me and you will be

added to the list.

One issue to consider is how

work at the Yaldhurst Park and

Buchanans Rd subdivisions

CONCERNED:

The Delamain

Residents'

Association is

concerned work at

the Yaldhurst Park

Subdivision may

negatively impact

on the area.

PHOTO: MARTIN

HUNTER

may negatively affect Delamain.

It is not appropriate for trucks

involved in the work to use

Jarnac Boulevard.

The size, noise and dust are

not appropriate for a residential

street, and traffic safety could be

compromised.

If you have any issues or

concerns over this, let us know.

We also highlighted the

fire risk of the long grass over

summer and a developer mowed

much of it.

An issue with parking on

our narrow streets has been

raised too. The rubbish trucks

have difficulty getting through

Delamain.

It's not a major issue, but

in the event of a fire, the

consequences could be serious.

Think about how you park, as

marking no stopping areas could

seriously affect the amenity of

your street.

Fendalton centre may

get more services

• By Jess Gibson

THE FENDALTON Library and

Service Centre may soon be a

one-stop shop.

The city council is considering

expanding the service centre

to offer postal services, bill

payments and Metro card

purchases.

Fendalton-Waimairi-

Harewood Community Board

chairman Sam MacDonald

requested the upgrade as the

building is currently receiving

$1.1 million in renovations to the

interior and exterior.

"When you're spending money

to redo the library like that, we

should do it right."

The building is set to reopen

on July 29.

Since the closure of the

Fendalton Post Shop in 2015, the

centre has been providing basic

postal services.

"There are five schools within

close proximity to the library,

including two large secondary

schools – Burnside High School

and Christchurch Boys' High

School. (The community board)

believe that having the option to

purchase Metro cards from the

service centre would be of great

convenience to our residents,"

he said.

"We are also conscious of the

needs of our older residents, who

often prefer to pay their bills in

person rather than online."

CONVENIENCE: Sam

MacDonald has asked

the city council to look at

expanding the services

offered at the Fendalton

Library and Service Centre.

PHOTO: MARTIN HUNTER

A response from chief

executive Karleen Edwards said

the city council is in discussion

with NZ Post about providing

bill payment services within the

Fendalton area.

"Proximity of other NZ Post

plus centres and customer

demand are considerations that

they will investigate further," she

said.

An update is expected by the

end of the month.

Dr Edwards said the city

council is also in discussion with

Environment Canterbury over

Metro card services to cover

gaps in coverage.

"Further work is under way

to identify high demand areas

and the development of an

appropriate rollout strategy."

School's not

for everyone!

Is school not working for your teen?

GAIN

NCEA

CREDITS

TXT

'STUDY' TO:

027 557 8839

studywithus.co.nz

career

Ultimate

Security

digital media

Business Admin

Early Childhood

Web Development

Software Design

VISION &

TRAINME

CAMPUS

INFO NIGHT

decider

& forces

prep

26 th June 2019

7:00pm

50 Hazeldean Road,

Addington

ENROL

NOW!

50 Hazeldean Road, Addington

0800 834 834 www.studywithus.co.nz

*conditions apply
---
14

Tuesday June 18 2019

Latest Christchurch news at www.star.kiwi

WESTERN NEWS

FREE

DOUBLE PASS

Valid for 2 adults, children under 12 are free!

Friday, Saturday or Sunday

Present this coupon or take a photo on your phone.

$

t

in

Be inspir

Friday Saturday Sunday

JUNE 28 - JUNE 30 | 10AM - 5PM | HORNCASTLE ARENA
---
WESTERN NEWS Latest Christchurch news at www.star.kiwi

Tuesday June 18 2019

15

53,000

o be won in prizes

cluding an EV car worth $40,000!

Thousands of ideas

under one roof!

Over 100 exhibitors showcasing the latest

ideas and trends for your lifestyle

See the amazing innovative

outdoor/indoor living display

Explore the new Eco Zone

filled with sustainable

and eco friendly products

ed

Experience yummy FREE tastings

at Taste Corner

Free, informative seminars all weekend

WIN A

$40,000

NISSAN LEAF
---
16 Tuesday June 18 2019

Latest Christchurch news at www.star.kiwi

News

New zones to inspire

AS THE WAY we live changes,

so too does The Star Home and

Living Show – it is keeping up

to date with latest design and

technology.

Events manager Lisa Lynch says

she is excited about two

new zones which have been

created for this year's event that

will inspire and hopefully get

people motivated about the way

they live.

"The Innovative Living Zone

switches thinking – not just

planning your space, but planning

how you wish to feel in your

space," she says.

"It will showcase the latest in modern,

urban, cosmopolitan home and

landscape designs to transform your

space – inside and out."

This zone will include an

interactive, innovative living

design area, where you can sit

and have a coffee and be

inspired by new and creative

ideas for your home, by talking to

the specialists about your dreams.

The Eco Zone will showcase

CONCEPTS: The

Innovation Zone

which will feature

at The Star Home

and Living Show

at Horncastle

Arena later this

month.

PHOTO: MAYFAIR

PARK

LANDSCAPES

everything you need to know

about sustainable living. Here

you will find a range of ideas you

can introduce into your home to

make it more environmentally

friendly.

"We have self-watering

vegepods, synthetic grass, solar

technologies and of course

electric vehicles with the chance

of one lucky attendee driving

away in a free EV car worth

$44,000."

The Star Home and Living

Show will be held from 10am

to 5pm at the Horncastle Arena

from Friday, June 28, to Sunday,

June 30.

•Turn to page 14 for a free

entry voucher for you and a

friend.

THE FIGHT to end period

poverty is under way.

The Fill-a-Bag fundraiser

for The Good Fund is being

held in 16 locations nationwide

throughout June.

Kimberli Schuitman, cofounder

of The Good Fund, is

hosting the Christchurch event

from 2-4pm on June 22 at the

Landsdowne Community Centre.

Ms Schuitman said the

fundraiser pulled together two

things that were extremely

important to her.

"Period poverty is rife in New

Zealand and by talking about

it we can break down taboos

and create an awareness around

this cycle of poverty that keeps

children from achieving their

learning milestones. It is about

ensuring menstruating people

in New Zealand have easy and

affordable access to sustainable

and more comfortable menstrual

products," she said.

She said The Good Fund was

seeking donations of children's

clothing that would be given to

families in need.

It was also looking for bags

recycled from online grocery

orders that would be given on

arrival to fill with baby clothes.

"The fundraiser is an

WESTERN NEWS

Local

News

Now

Fire rages, homes at risk

Dual role for

Fill-a-Bag fundraiser

important event in bringing

Christchurch communities

together to share baby clothes,

catch up with friends and raise

awareness of period poverty

in our community," said Ms

Schuitman.

Due to the success of the

first Fill-a-Bag in Hamilton in

March that raised over $3000,

Schuitman is hoping for similar

success in Christchurch.

All proceeds raised will go

towards The Good Fund that

helps New Zealand women

nationwide have a choice to

access and be educated on reusable

sanitary products. There,

women can buy sustainable

sanitary products or apply for

a Good Fund rebate to get discounted

products.

Entry is $10 and everyone is

welcome from parents, guardians

to grandparents, Ms Schuitman

said. There will be a lot of

other fun stuff happening as well

as an information table about

reusable menstrual products.

Donations of childrens

clothing ages 0-5 years can be

dropped off to 175a Waltham

Rd from 9-2.30pm weekdays or

email My Cup at hello@mycup.

co.nz for drop-off points outside

of these hours.

The Christchurch Art

Show is six this year!

And will be the biggest Christchurch

Art Show yet with an exciting variety

of sculpture and art work available.

The Lawson's Dry Hills People's Choice award is on. The public

vote on the top ten artworks for the most popular choice. Each

top ten selling artist from 2018 has created a signature work

for this award. The works are revealed on opening night. This

award is very popular, and we look forward to seeing the new

works on the award wall.

Opening Night is an exclusive preview of the exhibition, guests

have prior option to purchase before the show opens to the

public. Mingle with artists and art lovers. There will be live

music, nibbles, wine, cheeseboards.

On the show days public can view and buy original quality

artworks from established and emergent artists. We have

hundreds of artists and thousands of artworks priced from $50

- $6,000. No day is ever the same, as the exhibition constantly

changes. As each artwork sells new works are hung in their

place. If you find something irresistible then please locate

one of our staff who will help you with a purchase. There is a

free wrapping service to protect your precious art on the way

home, free parking and a café and bar onsite.

On Saturday night the 22nd June food trucks are parked up at

the show from 5pm - 8pm – you can come out and have your

dinner at the art show!

Don't miss this visual extravaganza!

Show Days $5 online

Door sales $10 ea

$8 gold card and student ID

Under 10 yrs free

Go to www.chchartshow.co.nz for all ticket sales.

SHOW DAY TICKETS - 50% OFF ONLINE

TICKETS ON SALE NOW AT

www.chchartshow.co.nz
---
WESTERN NEWS Latest Christchurch news at www.star.kiwi

Tuesday June 18 2019 17

Apartments

available

now

Choose your

retirement

lifestyle

at Bupa

Parkstone

Open home weekend

Saturday 22 June & Sunday 23 June

1pm - 3pm

Bupa Parkstone offers you independent living within a

likeminded community. Our modern one and two bedroom

apartments are warm and spacious. One bedroom

apartments are priced from $350,000 and two bedroom

apartments from $420,000. Come to our open homes this

weekend, or call Lorenzo on 03 974 8349 to find out more.

Call (03) 974 8349 or 021 820 280

2 Athol Terrace, Ilam, Christchurch

www.bupa.co.nz/parkstone
---
27

18 Tuesday [Edition datE] June 18 2019

Latest Christchurch news at www.star.kiwi

keep it local

WESTERN NEWS

and support businesses in your community

New drycleaning outlet

in convenient location

Maxwells Drycleaning is the largest

drycleaning and commercial laundry

operation in Christchurch.

Following the newest addition of the

Addington branch located at 330 Lincoln

Road they now provide seven retail stores

conveniently located around Christchurch

city.

Alongside the accessibility of the new

location, Maxwells Addington offers the

simplicity and ease of a "drive-through"

service, making it even easier to drop off

your drycleaning. Proud to be Canterbury's

number-one drycleaner, Maxwells believe

in providing extraordinary customer

service and a top-quality experience and end

product that customers can rely on. They

continue to invest in the latest technology

to ensure that they are delivering the best

product and service.

Maxwells are 100 per cent locally owned

and operated, and are committed to

making a positive impact for their people,

community, economy and environment.

Creating a legacy and being responsible for

managing the impact on the environment

and the community, they are committed to

providing a sustainable and eco-friendly

service with a light footprint.

For the benefit of the wider community,

Maxwells partner with Dress for Success,

whose goal it is to empower women

to achieve economic independence by

providing a network of collection points,

clothing and resources for events.

Indulge in...

Our gorgeous range of..

sandwiches, paninis, bagels,

scones, slices, muffins,

quiches, sausage rolls & pies,

coffee and more!

CATERING AVAILABLE!

Gorgeous Food

specialist bakery

OPEN SATURDAY

7am - 1.30pm

66-68 Springs Rd Ph: 344 6044 Email: gorgeousfood@xtra.co.nz

Open Monday-Friday 6am-3.30pm www.gorgeousfood.co.nz

Designer Fashion

New Zealand's Largest

Recycled Clothing Retailer

94 Shands Road, Hornby

Open 7 days 10am - 4pm

• Designer Brands

• Family Clothing

• Menswear

• Footwear

• Bric-a-brac

• Books

• Household Goods

• Workman Outdoor Clothing

• See the Retro Section

AND Formal Wear

See Our

HUGE

Selection!

3000

items

arriving

daily!

New Store Conveniently Located On Lincoln Road Now Open

A: 330 Lincoln Rd, Addington

Ph: (03) 338-3312

it's time to gear up!

FOR THE SKI SEASON

WE HAVE THE

LATEST STOCK

Extensive range of ski clothing

& accessories - helmets,

goggles, clothing & gloves

Open 7 days

dressmart HOrnby, main sOutH rd

pH 03 344 5304

E: office@maxwellsdrycleaning.co.nz

W: maxwellsdrycleaning.co.nz

Advertising enquiries Alana Powell | Ph: 962 8753 | alana.powell@starmedia.kiwi
---
WESTERN NEWS Latest Christchurch news at www.star.kiwi

Tuesday June 18 2019 19

Plenty of restrings to his bow

• By Gordon Findlater

TONY RALFE was recognised

for 51 years of involvement

at the Bishopdale Tennis

Club by receiving the Ian

Jones Memorial Award at the

Canterbury Tennis Awards.

Ralfe, who is approaching 70,

has been made a life member by

Bishopdale, Wilding Park and

Canterbury Tennis. For almost

34 years he has also owned and

operated a sports shop at Bishopdale

Mall. However, he is currently

trying to sell Bishopdale

Sports World with the idea of

taking to the road with his tennis

racket stringing machine.

"I'll just keep a stringing

machine and trot round the

country and Wilding Park,

picking up the odd thing when

there's a tournament on," said

Ralfe.

"In smaller places like

Greymouth or Kaikoura

if you break a string on

Saturday morning you can't

get it restrung, but: "I used

to play veterans and take the

machine with me. You can

restring between games quite

comfortably."

Ralfe isn't just accustomed

to doing restrings for talented

juniors and veteran players,

every January he travels to

Auckland for the ASB Classic

where he has serviced rackets

for the world's best players

including Serena Williams.

SPORT

"I went this year. I may have

had my swansong. I've had 15

years up there and I'm getting

too old for it now. The hours are

long and it's fairly tough work,

but I haven't fully decided yet,"

said Ralfe.

Award winners:

Personality of the year – Dylis

Hancox and Sue Dennis.

Junior female player of the year

– Abby Mason

Junior male player of the year –

Reece Falck

Club coach of the year – Gareth

Robb

Performance coach of the year

– Andrew Falck

Volunteer of the year – Gordon

Collingwood

Administrator of the year –

Megan Bruynel

Ian Jones memorial award –

Tony Ralfe

Player of the year – Tessa Mc-

Cann

Club of the year – Waimairi

Tennis Club

LARGER THAN LIFE: Tony

Ralfe has been recognised

for 51 years of involvement

at the Bishopdale Tennis

Club by receiving the Ian

Jones Memorial Award at the

Canterbury Tennis Awards.

•More sport, p20

PHOTO: MARTIN HUNTER
---
20 Tuesday June 18 2019

Latest Christchurch news at www.star.kiwi

Silver medal exceeds expectation

• By Gordon Findlater

JUST ONE team practice

the night before leaving for

Mongolia didn't get in the way

of Ashley Strawbridge and her

New Zealand team winning

silver at the FIBA Under 18 3x3

World Cup.

The 17-year-old Rangi Ruru

Girls' School basketballer was

part of the New Zealand team

along with Sharne Pupuke-Robati,

Tayla Dalton and Charlisse

Leger-Walker who outdid expectations

to reach the final of

the tournament in Ulaanbaatar,

Mongolia, before falling to the

United States.

"I'm still riding the high, it's

been really cool to have people

at school ask about and be able

to share the experience," said

Strawbridge.

The team had next to no

experience playing 3x3 basketball,

but were selected on their

strengths from the five-aside

game which would translate

well to the high intensity 3x3

format.

New Zealand, seeded 15th,

went into the tournament

with little expectation in the

20-strong World Cup.

However, they finished

second in their pool with wins

over Hungary (16-9), Russia

(14-2) and Poland (21-4). Their

only pool loss came against the

United States 11-20.

"The fact we got to the quarter

ACCOMPLISHMENT: Ashley

Strawbridge has returned

from Mongolia with a silver

medal from the FIBA Under

18 3x3 World Cup ​

finals was amazing in itself,"

said Strawbridge.

In the quarter-finals they

SPORT

defeated Japan 14-12 in an extremely

tight match which went

to overtime. The win set up a

semi-final with No. 1 ranked

China, which New Zealand

swept aside 21-15 before going

down to the United States 13-

19 in a more than respectable

performance.

"When we first played them

we were like: 'Oh my god we're

playing America'," said Strawbridge.

"In the final we knew we had

no pressure and all eyes were on

them."

Strawbridge's biggest contribution

to the Kiwi effort came

on the defensive end which saw

her touted as one of the best

defensive players at the tournament.

She says the biggest challenge

came against the United

States.

"They are just so quick, so it

felt really good any time you

could stay in front of them and

stop them from scoring," she

said.

Strawbridge will now

turn her attention to

representing New Zealand

in the five-a-side game at the

Oceania Championships in

Noumea, New Caledonia, from

August 19-24.

Lawson establishes

bowling team of Saints

• By Gordon Findlater

HORSE AND Jockey owner

Gary Lawson will headline

Christchurch's new Bowls3Five

team the Elmwood Saints.

The Saints will take on seven

other clubs from around New

Zealand over eight weeks of

competition in Auckland starting

in October. The competition will

be broadcast live on Sky Sport

three nights a week.

Last year Lawson was part of

the Sky commentary team during

the competition. However, with

the competition expanding from

six to eight teams and Sky signing

up to broadcast it for another

three, he's now opted to put

together a team of his own.

"I went to the [Elmwood]

committee and said I'd like to put

a team together. They were right

behind it, so we put our proposal

together," said Lawson.

Joining Lawson will be Mandy

Boyd, Jan Shirley, Steve Ditford,

Lance Pascoe and Bev Morel –

who is in her late 70s. Two further

team members will be named

before the competition begins.

"It's great for our sport having

prime time TV three times a

week. We can't ask for much

more, it's what the game's needed

for a long time," said Lawson.

"The idea for us is to have a real

good crack at the title."

Last year Canterbury rugby

WESTERN NEWS

NEW CHALLENGE: Publican

and former bowling world

champion Gary Lawson.

icon Alex Wyllie was part of

the Woodend Jets team with

Na Katae and Jenny Anderson.

However, the team went winless

during the competition which

saw them relegated.

"The idea of the whole thing

was to show people who don't play

bowls that it's a game anyone can

play . . . I think this year they're

trying to strengthen some of the

sides to make them just a little

more competitive," said Lawson.

The name Elmwood Saints

was inspired by Elmwood Park

Bowling Club's amalgamation

with St Albans-Merivale. Lawson

hopes the club's members and

Christchurch people will rally

behind the team.

Lawson is currently in Australia

where he will represent the

Blackjacks at the Asia Pacific

Championships on the Gold

Coast from Tuesday to June 28.
---
nk

ets or

g

WESTERN NEWS Latest Christchurch news at www.star.kiwi

Tuesday June 18 2019 21

LIQUID

SELF SERVICE

LAUNDROMATS

• From $4 a dry

• From $4 a wash

WASH 2 MINK

BLANKETS OR

DUVETS

FOR ONLY $8

HOT WATER &

EXTRA LARGE

WASHERS

AVAILABLE

Dry up to 14kg from $4

in only 25 minutes!

Save Time &

Electricity

WASH & DRY

ALL YOUR

LAUNDRY IN

UNDER 1 HOUR

from

$

4.00 WASH $ 4.00 DRY

for 20 mins

• 16 dryers

• 12 washing machin

• Fast Dryers

• Sports Gear

• Mink Blankets

• Duvets

• Bedding

• Washers

• Domestic

Laundry

only

loads r

r only $10

SYDENHAM

289 Colombo Street

HORNBY

47 Carmen Road

(Gasoline Alley Site)

RICHMOND

345 Stanmore Road

ARANUI

319 Pages Road

BURWOOD

261 Burwood Road

WOOLSTON

713 Ferry Road

rts Gear

nkets

Next to Gasoline Alley C

Carmen & Waterloo Rds

Carmen & Waterloo Rd

HOON HAY

17 Halswell Road

RANGIORA

65 Percival Street

y!! Next to Gasoline Alley C

ALL SITES OPEN 7 DAYS, 5AM-11PM

www.liquidlaundromats.co.nz

Carmen Rd, Hornb

47 Carmen Rd, Hornb

47

OVER 70 LOCATIONS NATIONWIDE

(Corner Carmen &
---
22 Tuesday June 18 2019

Latest Christchurch news at www.star.kiwi

FOCUS ON HEALTH

Dilo Oil

the remarkable

skin rejuvenator

Until Rachel Hunter's popular TV

series "TOUR OF BEAUTY" Dilo Oil was

relatively unknown being one of the bestkept

secrets of the Pacific Islands. It may

however be the number one natural beauty

oil available as it possesses powerful natural

skin regeneration, anti-aging and healing

properties.

According to ethnobotanist Chris

Kilham, Dilo (pronounced dee-low) Oil

is a powerful skin regenerator as it is one

of the most effective agents in promoting

the regeneration and formation of new

tissue, thereby accelerating wound healing

and the growth of healthy skin. Dilo Oil

is super-absorbing and nourishing and

can penetrate all three layers of the skin,

offering exceptional cell hydration and

regeneration. As well as this, Dilo Oil has

potent anti-inflammatory, antimicrobial,

antifungal and antioxidant properties.

Traditionally, Dilo Oil is used to keep

the skin young and youthful and for just

about any skin complaint. Some of the

conditions for which it is considered

helpful include abrasions, cuts and cracks,

acne and acne scars, pimples, blemishes,

stretch marks, wrinkles, blisters, burns

(including chemical and radiation),

diabetic sores, rashes, shaving irritation,

dry or scaly skin, eczema, psoriasis,

dermatitis, herpes sores (cold-sores), insect

bites and stings, rheumatism, pain, sciatica,

shingles, sunburn, rosacea, athlete's foot,

skin eruptions, warts, skin ulcers and sores,

nappy rash and almost any other skin

ailment and often with incredible results.

Many beauty and skincare products

on the market today contain unnatural

ingredients that can be toxic and may even

contribute to disease. Generally the benefits

are exaggerated and often only temporary

or camouflage. Marshall's Dilo Oil is 100%

pure and certified organic. It has been coldpressed

from the Dilo nut and contains

absolutely no additives. Polynesians and

Southeast Asians have revered Dilo Oil for

centuries believing it to be a sacred gift of

nature and the Gods. Dilo Oil contains a

unique blend of fatty acids that stimulate

and supports the skins natural healing

process through the growth of new healthy

skin tissue. It is a remarkable product we

highly recommend to everyone. A 50ml

bottle is $19.90 and 100ml only $32.50.

Further information is available from

the Natural Health Advisers at Marshall's

Health & Natural Therapy, 101 Seaview

Road, New Brighton, Phone: 388-5757.

We are always happy to help!

NATURAL HEALING & BEAUTY OIL

As seen on Rachel Hunter's Tour of Beauty

Revered for centuries by Polynesians & Southeast Asians for its remarkable skin

anti-aging & healing properties, Dilo oil comes from the nut of the sacred Dilo

tree, "the tree of a thousand virtues". Dilo oil is often called the beauty oil as it

can penetrate all three layers of the skin offering exceptional cell hydration &

regeneration. It has a unique ability to stimulate the growth of healthy skin cells

& this gives it powerful anti-aging & healing properties that can help reduce

lines, blemishes, scars & damage to the skin. It also possesses

anti-inflammatory, antimicrobial, antifungal & antioxidant properties.

Dilo Oil Supports

• Anti-aging & skin regeneration, helps reduce lines,

blemishes, scars & stretch marks GREAT GIFT

• Skin hydration

• Skin repair & growth, helps feed the skin & stimulate healthy new cells

• Wound healing & skin protection from bacteria, viruses & fungus

• Most skin problems, rosacea, pimples, ulcers & sores, acne, psoriasis,

eczema, dermatitis, rashes, blisters, skin eruptions, warts, insect bites &

stings, athlete's foot, burns, nappy rash etc.

• Joint & muscular pain

Bringing You the Best in Natural Health

AMAZING

PRICES

100% PURE & ORGANIC

50ml

only $19.90

only $32.50

100ml

AMAZING ISLAND

MIRACLE OIL

- WE ARE ALWAYS HAPPY TO HELP! -

MAIL ORDER AVAILABLE

MARSHALLS HEALTH & NATURAL THERAPY

CONSULTING - PRESCRIBING - DISPENSING - MANUFACTURING - MEDICAL HERBALISTS

101 SEAVIEW RD, NEW BRIGHTON • PH 03 388 5757 • Email: enquiry@marshallshealthshop.co.nz

Inflammation

an underlying factor in just about

every chronic health condition!

Inflammation can have a major impact

on our health and quality of life. It is a

sign our body is aggressively trying to

protect and heal itself. Common signs of

inflammation can be redness, pain, heat,

swelling and stiffness. Acute inflammation

is the short term inflammation when you

bang your knee or hurt your back. Chronic

inflammation is a disease that can affect

our overall health and life expectancy.

It is conditions like arthritis, allergies,

asthma, inflammatory bowel disease,

eczema, diabetes, cancer, Alzheimer's and

in fact most diseases. An example of the

seriousness of chronic inflammation is that

inflammation in the arteries causes plaque

to build up in the arteries that leads to

hardening of the arteries or atherosclerosis.

If this plaque continues to build it reduces

blood flow to the organs. This causes blood

pressure to increase. The next danger

especially with raised blood pressure is

some of the plaque can break off forming

a clot that can block blood flow. These clots

are responsible for the majority of heart

attacks and strokes.

Natural supplements like turmeric

(curcumin), boswellia, Artemisia, omega-3

fatty acids, cider vinegar, magnesium, msm

and vitamin-C can play an important part

in reducing inflammation and speeding the

healing process.

Curcumin is the active ingredient in

turmeric. The problem is there is only a

Inflammation affects our quality of life. It is associated with pain, swelling,

heat, redness & stiffness. Inflammation is a part of most diseases even

the aging process. These diseases include: Eczema, Asthma, Allergies,

Cardiovascular, Alzheimer's, Cancer, IBS, Arthritis, Thyroid, Diabetes &

many more. Natural anti-inflammatories effectively reduce inflammation

at its source while also stopping the initiation of inflammation in the first

place. This leads to a faster more efficient healing process & a better

quality of life.

GOOD HEALTH TURMERIC EXTRA STRENGTH:

Provides powerful natural health & anti-inflammatory support. Excellent for

pain, swelling, stiffness & joint issues. Contains scientifically researched

CurcuWin Turmeric that offers enhanced absorption by more than 46X.

Also includes AKBA Boswellia & Sweet wormwood both highly effective

natural supplements.

Bringing You the Best in Natural Health!

WESTERN NEWS

small amount in the spice and you would

have to have a large amount to obtain much

benefit. Scientists have thru developed

special concentrated supplements that

offer enhanced absorption. CuruWin as

used in Good Health TURMERIC EXTRA

STRENGTH is clinically proven to be

46 times more absorbable than standard

turmeric supplements. It offers powerful

health support.

Boswellia (Indian Frankincense herb) has

been used for centuries in Asian countries

for chronic inflammation and other

diseases including certain cancers. Good

Health TURMERIC EXTRA STRENGTH

contains a potent extract of Boswellia.

Good Health TURMERIC EXTRA

STRENGTH also contains Artemisia annua

or Sweet Wormwood. Artemisia has been

shown to possess anti-inflammatory, antiviral,

antioxidant, antimicrobial, joint and

cartilage support benefits. It is also being

researched for use in cancer treatments as it

has been found to promote apoptosis (cell

death) of cancer cells, without harming

healthy cells.

Omega-3 fish oil also offers powerful

anti-inflammatory benefits without the side

effects of prescription anti-inflammatory

drugs. It also offers numerous health

benefits.

Natural supplements can be highly

beneficial in supporting your good health.

At Marshall's Health and Natural Therapy

our experienced Natural Health

Advisers can help you choose

the right supplements for you

as everyone is different. We

can advise you on the best

times to take the supplements,

the right dosage and how to

obtain maximum benefits.

We specialise in helping you

optimise your health through

correct supplementation, diet

and lifestyle. Often it is the

small changes that can make a

huge difference. Better health

can be achieved naturally.

Further information is

available from the Natural

Health Advisers at Marshall's

Health & Natural Therapy, 101

Seaview Road, New Brighton,

Phone: 388-5757. We are

always happy to help!

Natural iNflammatioN relief

For a better quality oF liFe!

Super Prices

30 capsules only

$33.90 Save

$8.00

60 capsules only

$58.90 Save

$9.00

90 capsules only

$69.90 Save

$22.60

180 capsules only

$129.80 Save

$55.20

270 capsules only

$179.70 Save

$97.80

MARSHALLS HEALTH & NATURAL THERAPY

CONSULTING - PRESCRIBING - DISPENSING - MANUFACTURING - MEDICAL HERBALISTS

101 SEAVIEW RD, NEW BRIGHTON • PH 03 388 5757 • Email: enquiry@marshallshealthshop.co.nz

- WE ARE ALWAYS HAPPY TO HELP! -

MAIL ORDER AVAILABLE
---
WESTERN NEWS Latest Christchurch news at www.star.kiwi

Tuesday June 18 2019 23

JP Clinics

Tuesday, 10am-1pm

A justice of the peace will

be on-site to take declarations,

affidavits and affirmations,

witness signatures on documents

and certify document copies.

They can also witness citizenship

applications and rates rebate

applications.

Te Hāpua: Halswell Centre and

Upper Riccarton Library

Citizens Advice Bureau

Monday, Wednesday,

Thursday, Friday 11-5pm and

Tuesday 2-5pm at Papanui and

Wednesday, Thursday, Friday

and Monday, 11am-5pm. Hornby

on weekdays, 9am-5pm

The Citizens Advice Bureau

provides free and confidential

advice to everyone. It takes the

time to listen to you and equip

you with information, options

and support.

The Village Presbyterian

Church and Community Centre,

cnr of Papanui Rd and Franks St,

Papanui and Hornby Library

Babytimes – Bilingual

English/Mandarin

Tuesday, 11-11.30am

Encourage learning through

language. Babytimes is an

interactive programme including

rhymes, songs, stories and

Email georgia.oconnor@starmedia.kiwi

by 5pm each Wednesday

play in English and Mandarin

Chinese. This is a free session.

Te Hāpua: Halswell Centre

Family History Help

Wednesday, 11am-1pm

Are you interested in family

history (genealogy)? A volunteer

from the Canterbury branch

of the New Zealand Society

of Genealogists is available to

help with your family history

questions.

Upper Riccarton Library

Mahjong Group

Wednesday, 1-3pm

Interested in playing Mahjong?

Learn to play Mahjong at the

library. For beginners and

advanced players alike. If you

have your own set take it along.

Upper Riccarton Library

Scrabble Club

Wednesday, 1.30-3.30pm

Have a way with words? Go

along when you can and join the

library's friendly Scrabble club.

Some boards provided, but feel

free to take your own.

Te Hāpua: Halswell Centre

UR Club

Wednesday, 3.30– 4.30pm

Go and join the fun in an after

school club. Open to all schoolaged

children, there are stories,

crafts, games and more.

Upper Riccarton Library

Chinese Book Club

Wednesday, 6.15–7.15pm

Chat about favourite reads,

discover new titles and authors,

make friends and share your

life experiences with other

enthusiastic readers.

Upper Riccarton Library

GenConnect

Thursday, 1-2pm

Connecting generations by

sharing knowledge. Questions

about your iPad, smartphone or

tablet? Want to know how to use

Skype, Facebook, or share your

photos with family or friends?

What is an app and what are the

best ones? Ask an "expert."

Upper Riccarton Library

Hornby Library Book

Discussion Group

Thursday, 2-3pm

For those who love reading

and want to share in discussion

with other friendly book lovers.

The group subscribes to the Book

Discussion Scheme so there is a

cost involved.

Hornby Library

Korean Book Club

Friday, 6-7pm

The Korean Book Club meets

on the second Friday of the

month. Go and share your ideas

with other Korean book lovers.

Upper Riccarton Library

Makerspace

Saturday, 1.30-3pm

Join us for some fun activities

every week at the Makerspace.

BOOK TIME:

Encourage

learning through

a love for stories.

Storytimes is

an interactive

programme

including stories,

rhymes, craft and

play. This is a free

session run during

school term times.

The session will

be held Saturday,

June 22, 11am–

noon, at the Upper

Riccarton Library. ​

There will be a variety of

activities and fun to be had for

all ages.

Te Hāpua: Halswell Centre

Drop in Chinese Art Club

Sunday, 10.30am–noon

Take your own brushes,

ink, paint, and paper. Join the

club and work on calligraphy

and brush painting. For ages

10 and up. Only during term

time.

Te Hāpua: Halswell Centre

WāKōrero/Storytimes

Monday, 10-10.30am

Encourage learning through

a love for stories. Storytimes

is an interactive programme

including stories, songs, rhymes

and play.

Upper Riccarton Library

"Thank you! For everything.

There are no words."

Alison

This week we are celebrating National Volunteer Week. Across New Zealand,

more than 11,000 Fire and Emergency volunteers help keep their communities

safe. fireandemergency.nz/volunteer

FNZ0016_180x263_2
---
24

Tuesday June 18 2019

REAL ESTATE

Latest Christchurch news at www.star.kiwi

WESTERN NEWS

Perfect point of view

2a Foxfield Lane, Westmorland

Auction: Thursday 4 July 2019, Unless Sold Prior

4 bedrooms | 3 bathrooms | 3 toilets | 1 living room | 1 dining room | 3 car-garage | 3 off-street parks | Listing Number: BE193312

With spectacular views across to the

Southern Alps this home is in the perfect

location. With a reserve in front and to the

side you will never be shut out from your

vista.

Designed by Paul Foley, this spacious and

elegant modern home has much to offer the

discerning buyer, from its construction of

Hebel and cedar to the space within.

An ideal entertainers' kitchen and large

living areas will delight along with the four

bedrooms and three bathrooms. The bonus

of three car garaging should seal the deal

for the serious buyer.

With my clients downsizing, call now to

view - you won't be disappointed!

Open Homes: Wednesdays 4:45pm -

5:30pm, Saturdays 2:00pm - 2:30pm and

Sundays 16 June 2:00pm - 2:30pm until

auction.

Auction: Thursday 4th July 2019

from 12:00pm Harcourts Grenadier 98

Moorhouse Avenue (Unless Sold Prior)

See you at the open homes or to arrange

a private viewing of this property call

Debbie Pettigrew on 027 777 0411

from Harcourts Grenadier Beckenham

(Licensed Agent REAA 2008) or phone

the office 337 1316.

growing with you June 2018 | 100%

Plants For

winter wow

Cool Choices

For Colour

& Contrast

From swamp

to sea views

The journey

begins with sarah

the Gardener

$7.90 incl. GST

Snap it up

Enter our annual

Birdlife Photo

Competition to win

great prizes!

clear the air

Why groWing

indoor PLAnTs is

so good for you

give it a grow

from gArLic

To chinese

ArTichokes,

We hAve your

groWing TiPs

covered

the latest releases

into the rose world

+ rose care

through winter

The magazine for

gardeners who like to get

their hands dirty

SUBSCRIBE FROM

$43. 50*

*6 issues/6 months

SUBSCRIPTIONS FREEPHONE

0800 77 77 10

WWW.GARDENER.KIWI
---
2

WESTERN [Edition NEWS datE]

Latest Christchurch news at www.star.kiwi

Tuesday June 18 2019 25

HOME & HEATING

Get rid of

dampness in

your house

Now with the colder and wetter weather

on its way, home owners are focusing on

ways to make their homes comfortable,

warm and healthy for their families

throughout winter. Rising damp is an issue

that affects many of our older properties

which suffer from poor, or no, insulation.

In Canterbury especially, post-quake, many

people have relocated to homes that suffer

from rising damp which can be associated

with health problems. Independent tests

have shown that up to 40 litres of water

can rise from the ground and enter a

house every day, leading to mildew, mould,

condensation and musty smells. Moulds

can produce various allergic reactions

and the frail, elderly and very young are

especially vulnerable.

Canterbury Foam Concrete Ltd is a

locally owned and operated firm. The

team understands the problems caused

by rising damp and are there to help.

They will come to your damp home

and pump a lightweight, flowable foam

concrete under your timber floored home.

Specially adapted for our New Zealand

conditions and applications it provides a

layer of protection against rising moisture.

An unexpected benefit that the team at

Canterbury Foam Concrete have noticed

recently, is that many owners of properties

which had underfloor foam concrete

installed, reported that it also provided

protection against liquefaction after

the earthquakes.

Contact Canterbury Foam Concrete

Ltd now for your free, no obligation

quote and complimentary appraisal of

your underfloor ventilation needs. Phone

03 376 4608 or 0508FOAMCO for more

information.

Does your range

hood suck?

Whether it plain sucks, or whether it

doesn't suck enough, or even if it is a noisy

sucker - Smooth-Air can help.

Smooth-Air can either improve your

current range hood, or custom build to

your specifications.

"We can take your attractive but noisy,

underperforming range hood and retrofit

it with one of our whisper quiet remote

extraction fans." says Richard Jack,

Regional Manager of Smooth-Air, "We

have fans which can sit in the ceiling space,

or outside on your wall or roof to make it

extra quiet."

In-house testing showed a difference of

20dbA (decibels) between a remote fan

from Smooth-Air and a common in-hood

fan range hood. This corresponds to a

quadrupling in perceived noise level.

Range hood conversions include removal

of existing fan and rewiring for new remote

fan. Your local sparky can easily carry out

installation of the new fan.

For kitchens not suited to a standard

range hood, Smooth-Air can manufacture

and powdercoat a bespoke range hood to

match your décor. Custom built range

hoods have the benefit of being designed

specifically for your house.

As well as being whisper quiet, Smooth-

Air's remote fans are powerful - sucking

out cooking smells and moisture so they

don't circulate around your home.

Moisture in your home can cause mould

and mildew on your walls and furnishings.

It is also bad for the health of the occupants.

Household cooking is a major source of

internal moisture, therefore an effective

kitchen extraction system can make a

significant difference to internal moisture

levels.

Smooth-Air can also help with other

forms of ventilation, such as bathroom

extraction, condensation reduction or

whole house ventilation.

Contact Smooth-Air on 0800 SMOOTH

(0800 766 684) to ask how they can help

you with your kitchen extraction, as well

as any other ventilation requirements.

Smooth-Air

Ventilation Equipment Suppliers

to

trade

&

retail

Smooth-Air has a wide range of

ventilation equipment to bring

fresh air into your home.

T. 03 376 4608

E. info@foamconcrete.nz

W. www.foamconcrete.nz

Domestic

Commercial

Industrial

HEAT PUMP

SALE NOW ON!

Amazin' WINTER Specials!!

Remote Extraction Fans

• We will offer you the best quality brands and

option of heat pump for your home/business

• Providing Heat Pump solutions for over 17 years to Cantabrians

• We personally guarantee all our products & installs for 5 years

(providing annual maintenance has been completed)

Range Hood Cupboard Inserts

Phone us today for your free consultation & quote

41A SHAKESPEARE RD, WALTHAM

PHONE 03 366 0525

www.enviromaster.co.nz

"A local team for local people"

0800 SMOOTH

(0800 766 684)

sales@smooth-air.co.nz

264 Annex Rd

Riccarton

Christchurch

03 343 6184

Monday - Friday

7.30am - 5pm

www.smooth-air.co.nz
---
26 Tuesday June 18 2019

Latest Christchurch news at www.star.kiwi

WESTERN NEWS

If you want more information about an item or to contact a

seller, visit www.postanote.co.nz and search the ID#

White Fancy Fantail Pigeons

Luxury Export US(Lexus GS300)

Lister Auto Truck

Enamel Cooking Pan

Sofa Bed Lounge Suite

Holden Commodore Ute

See Seller

ID 29462

$4,500

ID 28759

$1,500

ID 29455

$40

ID 29444

$200

ID 29437

$5,500

ID 29315

Cooking Thermometer/Timer

5 Saddleback Cross Piglets

Ladies Bike

Homebuilt Motorbike Trailer

New Holland TNFA

Husqvarna Model RB150

$25

ID 29434

$80

ID 29421

$150

ID 29410

$2,000

ID 29411

$15,000

ID 29404

$1,200

ID 29388

Fisher Monotec Skis

Heater! Never Been Used!

Double Tandem Horsefloat

GSXF Katana 750

1999 Mazda 323

Self-contained Motorhome

$40

ID 29360

$15

ID 20365

$4,000

ID 29208

$3,000

ID 28979

$2,400

ID 28586

$70,000

ID 25071

Mercedes A190

2 Leather Couches

Ariki Crucifix on Paua Base

Konig Snow Chains: 185-60 R14

Kymco Scooter 50

Honda XR250 3S Baja

$4,500

ID 25721

$900 each

ID 25821

$50

ID 25681

$65

ID 29350

$600

ID 28782

$3,500

ID 28716

2005 Honda Accord Euro PC800 the "Baby Gold Wing"

Teapot Ornaments

Vintage Metal Travel Trunk

Mazda 2L, 5- speed Manual

Racing Training Bike

$5,800

ID 27950

$4,000

ID 27814

$5

ID 10011

$150

ID 29284

$1,999

ID 24943

$90

ID 29259

Childrens Wooden Rocker

Double Tandem Horsefloat

Ferris 400S Zero Turn Mower

1965 Ford Zodiac

Xbox 360 — 3.2GB

1962 Ford Thunderbird

$20

ID 29210

$4,000

ID 29208

$8,200

ID 29206

$36,000

ID 29186

$200

ID 15022

$20,000

ID 29149

Factory-built American Motorhome

Rover L45

Gas Heater/Gas King

Toyota RAV4 2.0P SUV CVT

Cot Quilt

Suzuki Boulevard

$90,000

ID 29146

$1,200

ID 29153

See Seller

ID 29048

$24,000

ID 29033

$75

ID 29030

$6,000

ID 29016

2171096chch
---
• By Sophie Cornish

WORKSAFE NEW Zealand

Brighton's Hawke St car park.

Coastal-Burwod Ward city

counci lor David East wants

WorkSafe to pre sure the car

park's private owners into

a "trip and vehicle" hazard.

WorkSafe chief inspector

a se sment southern Da ren

Surf club move

Safety at Work Act 2015, "as a

to rebuild on new site

undertaking."

Mr Handforth said WorkSafe

Cr East abou the car park.

"WorkSafe has completed

an a se sment visi to the site

to advise them that it is their

responsibility to manage their

risks a propriately."

Different parts of the car park

are owned by various people

and the Coastal-Burw od

Community Board recently

around health and safety.

Cr East said the bi gest i sue

in the past has b en ge ting in

touch with the landlords and

owners and ge ting them to

High-tech Cleaning

friendly cleaning products.

Temperature Contro led Drying

Re-oiling & Rejuvenating

Same Day Pick Up & Drop O f

agr e to anything. "The board

a difficulty in co-ordinating

said the le ter.

are required.

Convenient Location

Drop blinds into us by 9am, at

30 Cashel Str et (near the

Fitzgerald end), and co lect

them a th end of the day.

New Blind Sales Priced from $30

per blind

Ph 3 7 0 70,

30 Cashel St,

Christchurch

• By Georgia O'Co nor-Harding

GR ENDALE SCHOOL pupils

have taken a step back in time,

s eing first hand what men and

horses l oked like during war.

The New Zealand Mounted

Rifles Charitable Trust president

Mark A pleton and member

Mike Donaldson t ok their

horses to the sch ol on Monday,

Li ter library

River working group

Problem areas for li ter

revealed

Rebuilding a healthy

ecosystem in the Selwyn River

Ja z Competition.

• By Sophie Cornish

THE ST Andrew's Co lege big

band had extra incentive to

win a the National Youth Ja z

Competition – ba s player, Tom

Fastier, co lapsed and died the

to undertake work.

Cr East said there had b en

a "number of incidences" in

WE ARE OPEN

Mon - Fri

8. 0am to 5. 0pm

in a bid to educate pupils on the

sacrifice their ancestors made in

World War 1 and World War 2.

Mr A pleton and Mr Donaldson

a rived a the sch ol dre sed

in World War 1 uniforms while

their horses Tommy and Kruze

wore 1 0-year-old sa dles donated

to the trust.

The presentation is a prelude

christchurch east

Ca l to make an

a pointment

P: 384 9459

Pool plans for Edgeware

Designs for ind or learner's

p ol revealed

www.national.org.nz

themselves which had gone

unreported.

"I've always though that it

or senior citizens perhaps

Loca ly Owned

Authorised by Jo Hayes

Unit 6/950 Fe ry Road, Christchurch

day before the competition

began.

"Tom was a ba s player from

Cashmere High Sch ol who was

playing with our big band this

year. He had a strong chance of

wi ning best ba s player a the

to the Gr endale Recreation Reserve

Management Commi t e's

upcoming Anzac Day service.

As a tribute to those who

served, members of the trust wi l

ride horseback to the service.

Mr A pleton said it was

important children were

educated on what soldiers

wen through during World

Cyclist's helipad bid

Serious crash gives new

perspective on ride to hospital

• By Gordon Findlater

DEAN CALVERT (above)

returned from the United

Kingdom last w ek after

festival as he was a very a complished

musician," head of music

Duncan Ferguson said.

"We were delighted to win, but

it was bi tersw et," he said.

St Andrew's won the most

outstanding big band title a the

tri ping in those potholes and

He is confiden the new

a proach wi l bring results.

"I think the WorkSafe

lever that we are l oking for."

Joy Butel AREINZ - Dip.R.E.

Land size

Garage

Land size

Bedr om

Alistair Hazeldine

Garage

Land size

Bedr om

850m

Carport

Bathr om

Carport

Bathr om

Car pad

Lounge

Car pad

Lounge

4 2 1

Boat pad

Boat pad

2.5

Dining

Land size

Bedr om

Mobile: 021 353 280 | Phone: 0 384 7950

Email: joy.butel@harcourts.co.nz

Toilet

Shower Study

P ol

Te nis court

1 2 3 4 5 6 7 8 9 10 1 12 13 14

850m

Garage

Bedr om

Carport

4

2

Bathr om

1

Car pad

Lounge

2.5

Dining

Garage

850m

Carport

Bathr om

Toilet

Shower Study

Car pad

Lounge

4 2 1

Boat pad

2.5

Dining

Toilet

Shower Study

P ol

Te nis court

1 2 3 4 5 6 7 8 9 10 1 12 13 14

P ol

Te nis court

1 2 3 4 5 6 7 8 9 10 1 12 13 14

850m 4 2 1 2.5

Boat pad

Dining

Toilet

Shower Study

P ol

Te nis court

1 2 3 4 5 6 7 8 9 10 1 12 13 14

Mobile: 027 572 1 5 | Phone: 0 384 7950

Email: alistair.hazeldine@harcourts.co.nz

w.harcourtsfe rymead.co.nz

Cartwright steps downs

Community board chairman

stays true to his word

New pi za joint

Fire and Slice fina ly se to

open in Sumner

June 29 - July 1

EXHIBITORS BOOK NOW

vanessa.fleming@starmedia.kiwi

021 914 565

competition in Tauranga.

The band dedicated it se to

Tom, who died while on his way

to Cashmere High on March 27.

His death was po sibly related to

a medical event.

•Turn to page 9

ge ting closer than mos to

Joseph Parker in the build up

to his world heavyweigh title

unification fight with Anthony

Joshua in Cardiff.

• By Georgia O'Co nor-Harding

A CRACKDOWN on mobile

traders acro s the districts could

be l oming.

However, the public has li tle

interest in having input into the

i sue.

Only eight submi sions were

received for a potential bylaw

aimed at regulating commercial

activities in public places.

The district council wi l be

holding a hearing for the Public

Places Bylaw and Policy on Commercial

Activities and Events in

Public Places.

A hearing i scheduled to be

held on Thursday.

The bylaw comes as an increasing

number of mobile traders

are s eking to operate in Selwyn,

especia ly during the summer

months.

In the past year, the district

council has received five inquiries

about se ting up a mobile busine s

on private or public land.

A report said there are two

str et operators in Darfield, a

coff e cart is parked beside the

railway in Ro leston, and a pi za

cart visits Lincoln w ekly betw en

September-May along with a Thai

f od truck.

•Turn to page 7

20 Tuawera Te race, Clifton Hi l - $980, 0 3 2 2 2

• By Emily O'Co ne l

call 332 4004 TexT 027 537 0567

230 BarringTon sTreeT

www.denturesouth.co.nz

Restore your oiled CEDAR BLINDS with ou re-oiling service.

Rejuvenate your lacquered CEDAR BLINDS

High-tech Cleaning

We clean and repair a l types of blinds –

Venetians, Cedar, Verticals, Ro ler, Ho lands,

Romans and Pleated – with environmenta ly

friendly cleaning products.

Temperature Contro led Drying

Re-oiling & Rejuvenating

Fabric Blinds - such as Austrian and Roman

Same Day Pick Up & Drop O f

We o fer a same-day, pick up an drop o f

service for mos types of blinds. B okings

are required.

Convenient Location

Drop blinds into us by 9am, at

30 Cashel Str et (near the

Fitzgerald end), and co lect

them a th end of the day.

New Blind Sales Priced from $30

Grenadier Real Estate Ltd MREINZ is a Licensed Agent Under the Real Estate Agents Act 2 08

has proven himself to be a cut

above his Au sie rivals at an

international competition.

Elite Meats owner Corey

Winder was named in the a l

War 1 and World War 2.

But he said the presentation

didn't go into t o much detail

and was more of a "show and

te l" to make them aware of what

the soldiers l oked like.

Children were shown the type

of kits horses were required to

wear in the war.

•Turn to page 7

Mr Winder and his team, the

Pip Su ton BCM (Marketing)

Residential Sales & Development

Specialist - Licens e Salesperson

Next Step Realty Limited

Licensed (RE A 2 08)

Mobile: 027 24 9524

DI: 03 421 8417

Email: pip.su ton@raywhite.com

includes W olston butcher

in the competition.

He said the cha lenge started

as a "transtasman test match"

seven years ago.

The preparation for this

year's World Butchers' Challenge

was intense as the team

members met in Auckland

Loca ly Owned

Denton Park a tracts more

Drop blinds into us by 9am, at

30 Cashel Str et (near the

Fitzgerald end), and co lect

The former New Zealand

title-holder trave led with his

father George and brother

Bryce to London ahead of the

fight where they spen time

them a th end of the day.

New Blind Sales Priced from $30

• By Sophie Cornish and Julia Evans

THE PAPANUI-I nes

Community Board has taken the

rare step of starting a petition

to figh the city council over

funding.

Signatures are being co lected

in a bid to get funding for a community

facility in Shirley.

It comes after the city council

removed funding for the centre

pla ned for Shirley Rd, near the

intersection with Hi ls Rd. This

was the site of the former community

centre, which was badly

damaged in the February 2,

20 1, earthquake.

The removal o funding

prompted community board

chairwoman Ali Jones to threaten

to stand down, citing it as her "die

in the ditch" project.

Ms Jone said the board's role

is to represen the community,

and by gathering signatures from

residents, it was fulfi ling that

role.

"One of the roles of a community

board is to represent and act

as advocate for the interests of its

community and this is what we

are doing. The LTP and a nual

plans are a l about lo bying the

council."

•Turn to page 5

per blind

Barks • Peastraw • Composts - we su ply the best available

A gregates - Chip, Round and Basecourse

Pavers & Schist products • Pungas

Decorative Stones & Landscaping Rocks

Trailer Hire first hour fr e with purchase

• Bag & Bulk - pick up or delivered

Ph 3 7 0 70,

30 Cashel St,

Christchurch

David, Carol & Mike

Traffic plan at The Brae

Bid to ease traffic on busy,

na row str et

with Parker in the build up.

Mr Calvert, 47, comes from a

boxing mad family.

•Turn to page 6

WE ARE OPEN

Mon - Fri

8. 0am to 5. 0pm

journey

AND

HARDFILL

DUMPING

Phone: 03 384 6540

Your local

hi l and

seaside

specialist.

P: 384 7950 M: 0274 318 960

E: alison.carter@harcourts.co.nz

LICENSED SALES CONSULTANT RE A 2 08

W ekdays 7.30am-5pm. W ekends 8.30am-3pm

www.dyersroadandlandscapes.co.nz

GRENADIER

• By Sarla Donovan

THE OWNERS of Sumner's Cave

Rock Apartments ar expecting the

Earthquake Commi sion to sign-off

on a se tlement agr emen this w ek.

Body corporate chairman Mike

White said the group had gone

into mediation with IAG and EQC

on February 20, and signed off

on a deal with IAG on February

2 – coincidenta ly seven years

to the day after the February 2,

20 1, earthquake. However, they

are waiting for EQC to sign the

agr ement.

"Given that EQC actua ly drafted

the agr ement, there' l be no

problem with them doing that."

The apartment suffered damage

in the February and June, 20 1,

earthquakes and were demolished in

late 2012. In 2016, IAG's offer of the

difference betw en indemnity value,

$10 mi lion, and the sum insured,

$16 mi lion, was rejected by the body

corporate.

The mediation agr ement

prevented Mr White from disclosing

the se tlement amount, but he said it

involved the two parties paying "a bit

more money than they'd wanted to

earlier."

•Turn to page 6

Loca ly Owned

High-tech Cleaning

friendly cleaning products.

Temperature Contro led Drying

Re-oiling & Rejuvenating

every two months for lengthy

Same Day Pick Up & Drop O f

said coming second against 1

result.

"To get second behind Ireland

are required.

Convenient Location

Drop blinds into us by 9am, at

30 Cashel Str et (near the

Fitzgerald end), and co lect

them a th end of the day.

New Blind Sales Priced from $30

be ahead of Australia is an

even bi ger thing for us," he

said.

But Mr Winder admires the

Loca ly Owned

Ro ler Blinds cleaned

from as li tle as $20

per blind

Ph 3 7 0 70,

30 Cashel St,

Christchurch

Ro ler Blinds cleaned

from as li tle as $20

per blind

Ph 3 7 0 70,

30 Cashel St,

Christchurch

Driver hazard?

blasts Yaldhurst Rd island

PHOTO: MARTIN HUNTER

Australian team.

"Those guys over there

[Australia] are on top of their

game, they do a g od job," he

said.

"And it just showcases that

New Zealand has got some

of the best butchers in the

world," he said.

since the age of 19.

WE ARE OPEN

Mon - Fri

8. 0am to 5. 0pm

8047287 A

8214716 A

WE ARE OPEN

Mon - Fri

8. 0am to 5. 0pm

LOOK

Used tyres from

told Western News the submi sion

would likely o pose Fulton Hogan's

plan.

"You can just about guarant e

it . because we [the commu-

community.

•Turn to page 5

New Tyres - Ba teries

Discounts on sets of tyres

AA

Discounts

LOOK

New tyres from

155

FR E PICK UP & DELIVERY (in local area)

x 13

LTD

PHOTO: MARTIN HUNTER

WESTERN NEWS Latest Christchurch news at www.star.kiwi

Tuesday June 18 2019 27

Classifieds Contact us today Phone our local team 03 379 1100

For Sale

CLASSICAL, Brass

band, 45's , 78's and lps,

make an offer

ph 027 549 0048

Public Notices

HALSWELL

TENNIS CLUB

AGM

Sunday 30th June

at 5pm

Craythorne's

Public House

344 Halswell Road

All Welcome

Notice of AGMs

The Annual General

meetings of Abbeyfield

ChCh Inc. will be held

as follows:

• Abbeyfield Hornby

Wednesday 26 June 2019

4.00pm in the Hornby

Community Centre (in

the Library complex),

Goulding Ave, Hornby

• Abbeyfield Wigram

Saturday 28 June 2019

2.00pm at Rhodes

Abbeyfield House,

22 Erling Ziesler Lane,

Wigram

Wanted To Buy

AAA Buying goods

quality furniture,

Beds, Stoves, Washing

machines, Fridge Freezers.

Same day service. Selwyn

Dealers. Phone 980 5812

or 027 313 8156

TOOLS Garden,

garage, woodworking,

mechanical, engineering,

sawbenches, lathes, cash

buyer, ph 355-2045

ADVERTISE YOUR BUSINESS HERE

Situations Vacant

Online Editor

Star Media is seeking

an online editor

to join its award

winning newsroom.

The appointment will coincide with a

refreshed and new-look online news site

being launched to market.

You will be the champion for our site

and responsible for sourcing and loading

content to engage our target audience

each week.

TUESDAY, APRIL 10, 2018 Loca ly Owned

www.star.kiwi

Page 3 Page 13

The successful applicant will need to have an excellent knowledge of

Canterbury, its issues and people.

You will need to work as part of our team, making quick decisions under

pressure each day

Key duties will include:

• Assisting in the relaunch of the new website

• Co-ordinating and sourcing content and local news

• Ensuring content is up to the minute, fresh and factual for our target audience

• Co-ordinating within our business divisions promotional and paid content

• The continuous development and improvement of our digital platforms

The successful applicant will ideally have experience in growing audience to an

online news platform and must have a full New Zealand driver licence.

The position will be filled as soon as the right applicant is found.

If you want to be part of a progressive media company,

please email your CV to:

Barry Clarke, Editor In Chief - barry@starmedia.kiwi

Gardening

& Supplies

A GARDEN OR

LANDSCAPING TIDY

UP? Shrub, hedge &

tree pruning, Lawns,

Gardening, consistently

reliable general property

upkeep, Dip. Hort. 10

yrs experience, One off

tidy ups or on-going

service. Nick's Garden

Maintenance. Keeping

your garden beautiful.

Free Quote. Ph. 942-4440

& 022 264 7452

Phone for further details

(03) 379 1100

has b en a proached in a bid to

fina ly repair the potholes in New

repairing the potholes which are

Handforth said it may be able to

take action under the Health and

person conducting a busine s or

is aware of the concerns raised by

and is engaging with the owner

New Brighton surf club opts

wrote to them about its concerns

a preciates that multi-ownership

of the parking space may present

repair/resurfacing but felt obliged

to pa s these concerns onto you,"

One reply has b en received so

far from an owner who is wi ling

to discu s the i sue. However, a l

the owners would have to agr e

jo

hayes

New bid to fix potholes

Action looms

on Hawke St

car park

the car park of people injuring

has b en quite amazing that we

haven't had any serious a cidents

doing themselve some damage."

HAZARD: Coastal-Burw od Ward city counci lor David East wants WorkSafe New Zealand to put pre sure on the Hawke St car

park owners to fix the dangerous potholes. PHOTO: GILBERT WEA LEANS

BLINDS .Cleaned, Repaired & Restored .

Restore your oiled CEDAR BLINDS with ou re-oiling service.

Rejuvenate your lacquered CEDAR BLINDS

We clean and repair a l types of blinds –

Venetians, Cedar, Verticals, Ro ler, Ho lands,

Romans and Pleated – with environmenta ly

Fabric Blinds - such as Austrian and Roman

We o fer a same-day, pick up an drop o f

service for mos types of blinds. B okings

Ro ler Blinds cleaned

from as li tle as $20

www.blindcare.co.nz SCAN QR code for Info >

TUESDAY, APRIL 10, 2018 www.star.kiwi

Page 3 Page 5

WEDNESDAY, APRIL 1, 2018 Loca ly Owned

www.star.kiwi

Page 3 Pages 10 & 13

HISTORY: Pupils have taken a step back in time learning about what

SW ET SOUNDS: St Andrew's Co lege year 12 students Lewis Edmond and Je na We ls performing a the 41st National Youth

New Zealand soldiers and horses l oked like in World War 1. Abi P oler,

5, sits on Kruze, alongside Mounted Rifles Charitable Trust president

Mark A pleton. PHOTO: MARTIN HUNTER

Bittersweet win for St Andrew's big band

involvement may prove to be the

Pupils learn about role of war horses

Mobile

Service

Available

WEDNESDAY, APRIL 1 2018 www.star.kiwi

Board

launches

petition

to get new

community

facility

BLINDS .Cleaned, Repaired & Restored .

MAgic on clifton

TEAM

BUTEL

Grenadier Fe rymead

Four Seasons Realty

Page 3 Page 5

Former champ hooks

up with Parker in UK

AN U PER Ri carton butcher

star team a the World Butchers'

Cha lenge in Northern Ireland.

Mobile

traders

could

face

regulation

New sections

selling now

Star Media is a division of Allied Press.

Trades & Services

CARPET

CLEANING

sPECIAL

3 Rooms & hALLwAy

fRom $59.00

over 20 years experience

027 220 2256

HOUSE

CLEARING

Are you

moving house

or trying to

downsize?

Call All Clear

Canterbury. We work

with you to recycle,

sell and dispose of

unwanted items.

Ph: 03 260 0934

or 021 078 4553

raewynlcooke@gmail.com

www.allclearcanterbury.co.nz

BATHROOM

Renovations, complete

service from start to finish,

free quotes, ph Dave 027

334 4125

BEST BATHROOMS

full renovations

specialists, LBP builder,

free quote, all building

property maintenace ph 03

383 1927or 027 245 5226

ciey@xtra.co.nz

**************

CARPET & Vinyl

Laying. Exp. Repairs,

uplifting, relaying,

restretching. Email

jflattery@xtra.co.nz ph

0800 003 181 or 027

2407416

ElECTRiCiAn

Registered, electrical

installation and repairs,

Gorbie Electrical, ph 021

026 73375 or 03 322 4209

PAinTinG

Indoor / Outdoor, over 30

yrs exp, same day quotes,

ph Steve 021 255 7968

Ro ler Blinds cleaned

from as li tle as $20

www.blindcare.co.nz SCAN QR code for Info >

There's no be ter place to se tle out wes than at Falcon's Landing. Pop in to our sales and

information office, 17 Branthwaite Drive, this Thursday, Friday or Sunday from 1pm to 3pm

to find out more. Contact us on 03 741 1340 or mail enquiries@yoursection.nz anytime.

Mega centre f edback

submi sions than Cathedral

Page 3 Page 5

Dyers Road Landscape

& Garden Supplies

We wi l deliver!

SOIL

183 Dyers Rd, Bromley • OPEN 7 DAYS

Alison Carter

TUESDAY, APRIL 10, 2018 www.star.kiwi

Cave Rock

Apartments'

owners

expect EQC

sign-off

this week

Pedaling acro s NZ

Stroke survivor finishes long

TUESDAY, APRIL 10, 2018 www.star.kiwi

Pure South Sharp Blacks, which

Jeremy Garth, finished second

Page 7 Page 10

From New World Ferry Rd

to second in the

world

Fishin' for w eds

•

• By Emily O'Co ne l

It was the firs time Mr Garth met in Auckland

By

every

Emily

two

O'Co ne l

Mr Garth hopes to own a

months for THE lengthy HALSWE w ekend L-Hornbyand

he was "rea ly proud" of practices. Ri carton Community Board

to be a cut above the rest in an how the team performed.

Mr Garth, who has b en a

international competition. "We produced some top quality

products and came away competition Templeton. brought back his "In two years' time, we' l be

butcher for 14 years, said the and on the 2020 cha lenge.

New World Fe ry Rd butcher

pa sion for the Mayor job. Lia ne Dalziel told going the back to try and win the

Pure South Sharp Blacks, re-

ha py," he said.

"Doing a l thi stuff and title," he said.

The preparation for this year's

U per Ri carton butcher Co-

ideas, it just brings that flair

Ireland.

intense as the team members back for you," he said.

South Sharp Blacks team.

qua ry.

Board chairman Mike Mora

had competed in the cha lenge

butcher shop of his own someday

but says for now he wi l fo-

A WOOLSTON butcher proved

has b en given the gr en cus ligh on to ge ting mor experience

o pose the pla ned qua ry near

Jeremy Garth and his team, the with a g od result so we're very

board on Thursday it had the okay

cently came second a the World

m eting new from people, the city s eing council new to make a

Butchers' Cha lenge in Northern World Butchers' Cha lenge was

submi sion if Fulton Hogan rey Winder a plies was part of the Pure

for a resource consen to create a

Children's event at risk if The

Groynes' lakes not cleaned up

GLOBAL STAGE: Woolston butcher Jeremy Garth back home after his team came second in the World Butchers' Cha lenge.

BLINDS .Cleaned, Repaired & Restored .

AWARD-WINNING: Corey Winder is back home after his team came second in the World Butchers' Cha lenge .

Restore your oiled CEDAR BLINDS with ou re-oiling service.

Rejuvenate your lacquered CEDAR BLINDS

We clean and repair a l types of blinds –

Venetians, Cedar, Verticals, Roller, Ho lands,

Romans and Pleated – with environmenta ly

Fabric Blinds - such as Austrian and Roman

w ekend practices. Mr Winder

We o fer a same-day, pick up an drop o f

service for mos types of blinds. B okings

other countries was a "fantastic"

was a huge achievement and to

www.blindcare.co.nz SCAN QR code for Info >

Community board member

Elite butcher cut above the world

Your best choice

in the West

Restore your oiled CEDAR BLINDS with ou re-oiling service.

Rejuvenate your lacquered CEDAR BLINDS

High-tech Cleaning

We clean and repair a l types of blinds –

Venetians, Cedar, Verticals, Ro ler, Ho lands,

Romans and Pleated – with environmenta ly

friendly cleaning products.

Temperature Contro led Drying

Re-oiling & Rejuvenating

Fabric Blinds - such as Austrian and Roman

Same Day Pick Up & Drop O f

We o fer a same-day, pick up an drop o f

service for mos types of blinds. B okings

are required.

Convenient Location

www.blindcare.co.nz SCAN QR code for Info >

Mr Winder has b en a butcher

BLINDS .Cleaned, Repaired & Restored .

$ 40

Mobile

Service

Available

ca l 32 4 04 TexT 027 537 0567

230 Ba ringTon sTr eT

www.denturesouth.co.nz

Community

board get

permission

to oppose

Templeton

quarry

nity board] don't believe qua ries

should be so close to residential

areas," he said.

Mr Mora said he wasn't sure if

the city council would endorse the

board' submi sion.

"I'd like to think so because the

city council has had their eyes

open as we l ove recent years over

the crysta line silica risk," he said.

Mr Mora said the community

board wi l be "representing and

advocating" for the Templeton

T Y R E S

Quality Secondhand Tyres

A l at very competitive prices

Ph 348 0626

5

$ 70

9 Main South Rd (cnr Wa ts Rd), Sockburn

Mobile

Service

Available

ca l 32 4 04 TexT 027 537 0567

230 Ba ringTon sTr eT

www.denturesouth.co.nz

60km/h

Dyers Pass

speed

limit from

early next

month

A NEW 60km/h sp ed limit and

double ye low lines wi l be in

place on Dyers Pass Rd by early

May.

The sp ed limit change was

a proved by the city counci last

w ek.

A decision to paint double yellow

lines on the stretch betw en

Summit Rd and the Sign of the

Takahe was earlier made by the

Spreydon-Cashmere Community

Board.

Bu the Banks Peninsula Community

Board decided against

ye low lines on the Summit Rd-

Governors Bay section due to the

road's na rowne s and general

condition.

The changes are designed to try

and reduce the crash rate.

Insta lation of the double

ye low lines, the new sp ed limit

signs and raised centre line pavement

markers wi l begin in mid

April.

The work i scheduled to take

place betw en April 15-18, 2-26,

29 and May 2.

While the work is done, Dyers

Pa s Rd wi l be closed to traffic

from the Sign of the Takahe to

Governors Bay betw en 7pm and

6.30am.

Trades & Services

PAinTinG

& Decorating Wingfields

Contracting, all interior

& exterior painting & all

forms of interior plastering

& jib fixing, ph Mark 021

171-1586

PlUMBER

A Top Plumbing job

completed at a fair price,

prompt service, all work

guaranteed, Ph Brian 960-

7673 or 021 112-3492

ROOFinG REPAiRS

Fully qualified, over 40

yrs experience. Ph John

027 432-3822 or 351-

9147 email johnchmill@

outlook.com

ROOFinG REPAiRS

Fully qualified, over 40

yrs experience. Ph John

027 432-3822 or 351-

9147 email johnchmill@

outlook.com

SPOUTinG ClEAninG

Spouting Unblocked,

Cleaned Out and Flushed

Out. Call Trevor 332 8949

or 021 043 2034

STUMP GRinDinG

Best price guarantee Tony

0275 588 895

TilER/CARPEnTER

35 years exp, no job

too small. Ph Ross 027

4311440.

TilinG

Flooring - Splashbacks -

Wall incl tile removal, reg

master tiler, ph Dave 027

334 4125

T.V. SERViCE CEnTRE

Repairs, tvs, microwaves,

audio amps, soundbars.

.Aerial & satellite

installations, kitsets, 480D

Moorhouse Ave, ph 03 379

1400

VHS ViDEO TAPES

& all camera tapes

converted to DVD, video

taping special occasions,

www.grahamsvideo.co.nz

ph 03 338-1655

Trades & Services

GLAZING

Twisty Glass & Glazing LTD

• Mirrors • Pet door specialists

• Splashbacks

THE CAT DOOR MAN

ALL BROKEN WINDOWS

Phone Cushla or Darren Twist

03 352 6225 or 027 352 6225

junk

WINDOW TINTING

tintawindow

advanced film solutions

99% uv block

fade protection

heat control

reduce glare

25 Years Experience

Trades & Services

Why go to the Dump? Junkman comes to you!

Items too big for the rubbish bin?

Or too heavy for you to move?

Junkman comes to FROM

you & takes it away $

65 *

*Prices vary depending on items and volume – minimum charge $65

BUILDING

Creed Building

Contractors

New homes

Additions and Alterations

Repairs and Maintenance

027 439-5520 03 322-8541

Trusted in Canterbury

for over 40 years

Painters and Decorators Ltd

Canterbury Owned and Operated

A husband and wife team

Specializing in:

• Roof Painting

• Interior/exterior

residential

• Small commercial

painting

PAINTERS

Noel 027-411-3596

kemp.painters@gmail.com

kemp painters and decorators

0800 586 5626

www.junkman.co.nz office@junkman.co.nz

We offer

free quotes

Quality not

Quantity

YOU COULD

BE HERE

Let us help take

your business to

new heights

Advertise your business

in our Trades and

Services column.

For assistance phone

Vicky on 03 364 7419

plumbING AND GAS

• Gas fitting – servicing, new, renovations

• Gas hot water installs

• Gas cookers and gas fires

• Kitchen / Bathroom renovations

• Backflow testing and installs

• Filtration – whole house, kitchen tap

• Domestic maintenance

Email: james@plumbingandgashq.co.nz

Text: 021 174 9265

0800 H20 LPG

privacy films

frosting designs

non-darkening films

Workmanship Guaranteed

Lifetime Warranties on Most Films

UV

block

4 2 6 5 7 4

DISCOUNT FOR

SUPER GOLD CARD

HOLDERS!

FREE QUOTES

Travlon

Coachlines

Free Quotes Canterbury and Districts

03 365 3653 0800 368 468

Tours

CHARTER & TOUR

Travlon

Coachlines

Travlon Coachlines

School Run to some

private schools

ex Selwyn/Halswell area

"Wide range of coaches

"Wide

and buses for

School range of Run coaches to some and buses

for Charter

private schools

& Tour"

ex Selwyn/Halswell area

www.travlon.co.nz | Phone: 03 325 2959

"Wide

Email:

Phone: range

info@travlon.co.nz

03 325 of coaches 2959
---
28 Tuesday June 18 2019

Latest Christchurch news at www.star.kiwi

We're your local...

WESTERN NEWS

HIRE

EQUIPMENT

DEPOT & TRADE STORE

TRADE & DIY EQUIPMENT

Power Trowels

Concrete Vibrators

Plate Compactors

Tamping Rammers

Grout Pumps

Floor Grinders

Angle Grinders

Hammer Drills

Rotary Hammers

Power Cutters

Concrete Mixers

Power Generators

Waterblasters

Steam Cleaners

Temporary Fencing

Cones & Barriers

Air Compressors

Trash & Sub Pumps

Dust Extractors/Vacs

Wheelbarrows

Post Drivers

Core Drills

Laser Levels

Diesel Heaters

Dehumidifiers

Carpet Fans

Soff Cut Saws

Brick & Tile Saws

Hydraulic Jacks

Panel Props

Chainsaws

Tarpaulins

Nail Guns

Drywall Sanders

Airless Paint Sprayers

Wall Paper Steamers

Chemical Sprayers

Gib Lifters

Tile Chippers

Electrical Accessories

Roadsaws

...and lots more!

Screw Guns

ACCESS & HEIGHT SAFETY

Mobile Scaffolding

Roof Edge Protection

Scissor Lifts

Cherry Pickers

Safety Harnesses

Single Axle Trailers

Tandem Trailers

Roof Anchors & Connectors

Roof Ladders/Walkers

Platform & Step Ladders

Extension Ladders

Confined Space Equipment

TRAILERS

FREEPHONE

Flatdeck Trailers

Waterblaster Trailers

0508 447 348

for Quotes & Bookings!

Personal service...if we haven't got it we'll find it for you!

Hours Monday to Friday 7am - 5.00pm

72 Treffers Rd Wigram

www.totalsitesupplies.co.nz

CAN'T

COME IN?

We can bring

it to you!