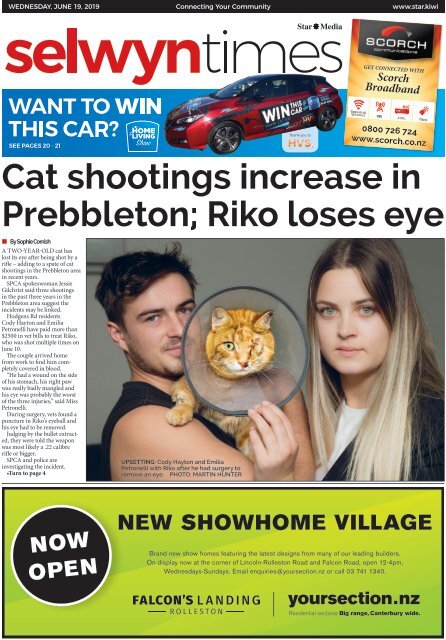 Selwyn Times: June 19, 2019
Create successful ePaper yourself
Turn your PDF publications into a flip-book with our unique Google optimized e-Paper software.
WEDNESDAY, JUNE 19, 2019

Connecting Your Community

www.star.kiwi

GET CONNECTED WITH

Scorch

Broadband

Thank you to

0800 726 724

www.scorch.co.nz

Cat shootings increase in

Prebbleton; Riko loses eye

• By Sophie Cornish

A TWO-YEAR-OLD cat has

lost its eye after being shot by a

rifle – adding to a spate of cat

shootings in the Prebbleton area

in recent years.

SPCA spokeswoman Jessie

Gilchrist said three shootings

in the past three years in the

Prebbleton area suggest the

incidents may be linked.

Hodgens Rd residents

Cody Hayton and Emilia

Petronelli have paid more than

$2500 in vet bills to treat Riko,

who was shot multiple times on

June 10.

The couple arrived home

from work to find him completely

covered in blood.

"He had a wound on the side

of his stomach, his right paw

was really badly mangled and

his eye was probably the worst

of the three injuries," said Miss

Petronelli.

During surgery, vets found a

puncture in Riko's eyeball and

his eye had to be removed.

Judging by the bullet extracted,

they were told the weapon

was most likely a .22 calibre

rifle or bigger.

SPCA and police are

investigating the incident.

•Turn to page 4

UPSETTING: Cody Hayton and Emilia

Petronelli with Riko after he had surgery to

remove an eye. PHOTO: MARTIN HUNTER

NOW

OPEN

NEW SHOWHOME VILLAGE

Brand new show homes featuring the latest designs from many of our leading builders.

On display now at the corner of Lincoln-Rolleston Road and Falcon Road, open 12-4pm,

Wednesdays-Sundays. Email enquiries@yoursection.nz or call 03 741 1340.
---
2 Wednesday June 19 2019

Latest Christchurch news at www.star.kiwi

from the editor's desk

news

SELWYN TIMES

SOMEONE IN Prebbleton doesn't seem to

like cats.

That's assuming (a word banned in this

newsroom) the person who has been shooting

cats is from Prebbleton.

Riko was shot just under two weeks ago.

It was probably lucky to survive given the slug taken out was

from a .22 calibre or more powerful weapon.

Riko was shot multiple times and was lucky to survive. He lost

an eye and the injuries have cost his owners a lot of money in vet

bills.

Police have a key suspect who has been interviewed. But no

charges have been laid, indicating that elusive bit of evidence is

not there.

Someone though just might have an idea who it is. The police

are waiting for your call.

- Barry Clarke

get in touch

GENERAL INQUIRIES Ph 379 7100

CLASSIFIED ADVERTISING Ph 379 1100

Star Media, a division of Allied Press Ltd

PO Box 1467, Christchurch

starmedia.kiwi

NEWS

Gordana Rodden

Ph: 027 367 6277

ADVERTISING

Lynette Evans

Ph: 364 7434

lynette.evans@starmedia.kiwi

Internet connects war families

Seventy-eight years after the Battle of Crete, two families have

come together, 48 hours after a Facebook posting went online.

Pages, 12, 13 & 14

sport

Once were Crusaders

Former flanker Johnny Leo'o is in the spotlight.

Page 23

community events

Board games club

Head along to the Lincoln or Rolleston libraries on Sunday,

1.30-3pm, and have fun with other board game players.

Page 36

The best-read local newspaper, delivered to

20,015 homes, RDs and farms every Wednesday

Ladbrooks, Tai Tapu, Leeston, Lincoln, Southbridge, Prebbleton,

Halswell, Rolleston, Templeton, Burnham, West Melton, Darfield,

Kirwee, Arthur's Pass.

WWW.

Your fresh food people.

OUR weekly specials

Broccoli ............................................................................99

c

each

.99

kg

.99

kg

c

each

.99

each

.99

each

.99

kg

.99

kg

jazz apples .................................................................. 1

taylors gold pears .................................... 1

leeks .........................................................................................99

xl crown pumpkins ........................................ 2

brushed agria 5kg .......................................... 4

beef ribeye roasts ..................................... 24

rolled beef roasts .................................. 9

chicken boneless

thigh fillets .......................................................... 14

havoc boneless pork

shoulder roasts ............................................ 9

All our fresh meat is 100% NZ FARMED. specials VAlid 17th june - 23rd june 2019.

ONLY AVAILABLE AT RAEWARD FRESH HAREWOOD RD, TOWER JUNCTION

.CO.NZ

.99

kg

.99

kg

Fall in love

with your

favourite furniture

all over again!

• Recover your chairs and couches

and save money!

• Excellent range of fabrics

• Quality workmanship guaranteed

• Free quotes available

• Over 30 years experience

Somerfield Upholstery Ltd

The revolution

in heat pumps

is here now!

FURNITURE RECOVERY SPECIALIST

before

after

6/47 Sonter Road, Wigram | Ph 021 251 6200 | 349 0456

The revolution in heat pumps is here now!

The Fujitsu e3series

The brilliant

heat pumps from Fujitsu

e1 : efficiency

e2 : environment

e3 : economy

Website: www.pshc.co.nz

Finance available

FREE consultation from your local

Accredited Heat Pump Expert

Phone today: 03 381 6950

INSERT DEALER DETAILS HERE

The brilliant e3 series

heat pumps from Fujitsu

e1 : efficiency

e2 : environment

e3 : economy

Fujitsu's Catechin Filters are

approved by the Asthma and

Respiratory Foundation NZ's

Sensitive Choice ® programme.

Email: info@pshc.co.nz
---
SELWYN TIMES Latest Christchurch news at www.star.kiwi

Wednesday June 19 2019 3

ON SALE NOW

News

• By Gordana Rodden

A CYCLIST on the way to

work suffered a punctured lung,

broken ribs and grazes when

he was struck by a hit-and-run

driver.

Mark Mateara, 59, would have

suffered life-threatening injuries

if he wasn't wearing a helmet,

police say.

The Lincoln resident was

cycling along Springs Rd just past

the Prebbleton roundabout when

he was hit by the car at 6.20am on

Monday, June 10.

He was knocked out and when

he woke he was surrounded by

passersby who had called an

ambulance.

Senior Constable Glen

Tweedie wants anyone who saw

a silver four-door sedan driving

erratically in the area at the time

to come forward.

"Police would like to remind

all cyclists about the importance

of wearing a helmet. This

incident highlights the fact that

they can be a lifesaver," said

Tweedie.

Mr Mateara was wearing a

hi-vis vest, had a red flashing

light on his helmet and another

on the back of his bicycle.

"My helmet and bike are pretty

munted now. I might keep them

as a souvenir though," said Mr

Mateara.

He had experienced several

near misses before, but nothing as

serious as last week's incident.

He says if the driver of the

vehicle came forward he wouldn't

waste his breath on them.

"It's the easiest word in the

world to say, sorry. But whether

you actually mean it is another

thing."

•If you saw a silver sedan

driving erratically early in

the morning of June 10 at

Prebbleton, phone Senior

Constable Tweedie on 347

9248.

HIT-AND-RUN: Springs Rd,

just past the Prebbleton

roundabout, where Mark

Mateara was knocked off his

bike.

HYPNOTIST

Hit-and-run leaves

cyclist with punctured lung

HYPNOTIST7.30pm SAT 22 JUNE

LINCOLN EVENT CENTRE

liveinlincoln.nz

Road funding

cuts could

affect projects

• By Gordana Rodden

FUNDING CUTS to planned road

improvements will be discussed at a

meeting between the district council

and the New Zealand Transport

Agency this week.

NZTA has chopped $11 million

out of three major intersection

improvements in the district.

This could mean that the district

council has to find the shortfall.

Mayor Sam Broughton said this

could impact on other projects.

It comes as the district council

adopted its Annual Plan last week

which will mean on average a six per

cent increase in rates.

Mr Broughton said the NZTA cut

would put "pressure on some of our

roading projects and will be a key

focus of future budgets."

"Following that discussion we will

have a better idea of what action may

need to be taken around our own

council priorities," he said.

Mr Broughton said the Annual

Plan had focused on providing the

services and facilities the community

said they wanted last year and rates

reflected this.

ROLLESTON OFFICE

78A Rolleston Drive, Rolleston

Richard Gray

rcg@meareswilliams.co.nz

Kate Warren

kcw@meareswilliams.co.nz

Anita Molloy-Roberts

am@meareswilliams.co.nz

T: (03) 374 2547

Offices also located at:

Lincoln – 43 Gerald Street

Christchurch – 225 Papanui Road

Darfield – 28 South Terrace

Winter Propet Range

instore now

RiccaRton

37 Main South Road

RedcliffS

2 augusta Street

MaRShlandS

427 Marshland Road

Shoes are only available at

37 Main South Road clinic

daRfield

darfield Pharmacy

Ph 348 7910 | www.feetfirst.co.nz

now servicing

oXfoRd

Rechargeable hearing

aids....Available NOW

Need hearing aids? Already wear hearing aids?

GET YOUR HEARING SORTED LOCALLY!

Full range of hearing aids available, with funding options to suit.

Call for a no obligation chat or book a free baseline hearing check today -

Ph. 03 390 2332

36 Tennyson Street, Rolleston | Darfield | Leeston | Lincoln | www.sincockhearing.nz
---
4 Wednesday June 19 2019

Latest Christchurch news at www.star.kiwi

News

Owners impacted by shootings

•From page 1

Senior Sergeant Pete Stills said

a person had been spoken to in

relation to the shootings but no

one has been charged yet.

SPCA spokeswoman Jessie

Gilchrist said four jobs of this

nature have been reported since

December. These were in Waiau,

Springston, Belfast and Prebbleton.

"There were three jobs in

Prebbleton reported in the last

three years. The locations of

these incidents could possibly

suggest that there is a link."

Mrs Gilchrist said for cases

like this, it is typically very difficult

to gather enough evidence

to prove who the offender is.

Meanwhile, Adam Leatherhead

said his family, including

his two daughters, age 11 and

13-years-old, are still impacted

by the loss of their cat, Midnight,

after he was shot on two separate

occasions.

In January 2017, two-year-old

Midnight was shot with a .22

calibre bullet and his back left leg

was amputated

Almost a year later, Midnight was

shot again, this time in his front left

leg. He had to be put down.

"I don't think the kids ever got

over it . . . it's had a real impact

on us. It's exceptionally upsetting,"

said Mr Leatherhead.

Mr Leatherhead said the vet

RECOVERING:

Kirsty Sewell's

eight-year-old

son Lachlan

with their cat

Kylo, who

was shot in

December.

CRUEL: One of the bullets that hit Riko

bills as a result of the shootings absolutely fine. It cost $4000 in

were close to $2000.

vet bills though."

The family live less than five "It's horrible, I wish they

minutes from Mr Hayton and would catch whoever it is. I'd

Miss Petronelli.

like them to pay for the vet bills,

Also living nearby is Kirsty as a minimum. Because all up

Sewell and her family, whose cat there's at least $7000, that might

Kylo was shot in November. stop them," said Mrs Sewell.

The two-year-old had a "major •Want to help Riko? Make

fracture" after being shot in the a donation at https://

leg.

givealittle.co.nz/cause/rikothe-pirate-cat

"He's still got his leg and he is

Young musicians on

stage for Tourette's

• By Gordana Rodden

SEVEN YOUNG musicians from

Selwyn will open for Tiki Taane

and Hollie Smith at Brainwaves,

a fundraising concert for the

Tourette's Association New

Zealand.

Lincoln guitarist Ben

Ritchie and five-piece rock

band 16 Sundays (Lincoln and

Springston) will perform at the

concert at the Isaac Theatre Royal

on July 6.

Five young people with

Tourette's syndrome will also

make up one of the support acts

called The Lunatics. Lincoln's

Analise Twemlow will sing with

the band.

The concert will serve as an

awareness event to highlight the

abilities of people living with a

neurological disorder, while also

raising funds for the association.

Tourette's Association New

Zealand executive director Robyn

Twemlow said young people with

neurological disorders are often

viewed in a negative way.

The money raised will fund

the association's annual Camp

Twitch, which brings together

young people from across

the country with Tourette's

syndrome. This year the camp

SELWYN TIMES

GOOD CAUSE: Will Lawrence,

Angus Cooper, Sophie Moore,

Analise Twemlow, Zoe Tate

and John McCormick will

perform at the fundraising

concert 'Brainwaves'.

will be held at Living Springs on

Banks Peninsula.

•The association is

offering readers a double

pass to the concert. The

first person to email robyn@

tourettes.org.nz will win

the tickets. Alternatively

tickets for Brainwave can be

purchased through Ticketek

from $25.

PROSTATE CANCER

SUPPORT GROUP

Establishing a support group in Selwyn for

men and their families who are living with a

diagnosis and treatment for Prostate Cancer.

Co-ordinators Chris & Dianne Ward

Phone: 027 437 1254

Email: selwyn@prostate.org.nz

For more information call 0800 477 678

Organised by the Prostate Cancer Foundation of New Zealand

www.prostate.org.nz

MEEting

26 June

7.30pm

Lincoln Events Centre,

tod Lounge,

Meijer Drive,

Lincoln

HEAT PUMP

SALE NOW ON!

Amazin' WINTER Specials!!

• We will offer you the best quality brands and

option of heat pump for your home/business

• Providing Heat Pump solutions for over 17 years to Cantabrians

• We personally guarantee all our products & installs for 5 years

(providing annual maintenance has been completed)

Phone us today for your free consultation & quote

41A SHAKESPEARE RD, WALTHAM

PHONE 03 366 0525

www.enviromaster.co.nz

"A local team for local people"

Specialists @ Individuality

• Focus on sustainability

• Award winning family owned business

• Proven reputation of quality

• Full architectural design package

NATIONAL "HOY" WINNER plus GOLD RESERVE 2016

View our display home

Phone Jesse 021 701 265

or visit www.jdhomes.co.nz

Canterbury
---
SELWYN TIMES Latest Christchurch news at www.star.kiwi

Wednesday June 19 2019 5

New trial to help police

find dementia patients

• By Gordana Rodden

POLICE ARE trialling a

new system which they

hope will make it easier to

reunite dementia sufferers

and their families when

they go missing.

Sergeant

Alex

Pickover

said it was

often a very

stressful

situation

when police

Alex

Pickover

Phil

Schroeder

found

dementia

sufferers

who did

not know

where

they were

meant to

be or who

should be

contacted

to return

them home.

So he

has initiated a system

involving the Rolleston

Medical Centre and

Rolleston Central Health.

Dementia patients from

these healthcare providers

can now complete a form

with the contact details

of three friends or family

members alongside a photo

of themselves.

This information is then

transferred to the police

system, and an alert is

created for the patient's

profile.

"The new system will

speed this [process] up, and

we will be able to identify

the person's family quicker.

This will reduce the

distress and anxiety levels

for the sufferer and family,"

Sergeant Pickover said.

Rolleston Central Health

doctor Phil Schroeder

endorsed the idea, saying

REUNITED:

A new

system

is being

trialled

to find

dementia

sufferers

when they

go missing

and bring

them back

to their

families.

"it makes every sense in the

world."

"We hear in the media

every so often of instances

where a family member has

been lost completely and it

tears at the heart strings of

a community."

Dr Schroeder hopes

the system will help put

family's minds at ease.

If the trial proves

successful and there is

sufficient demand to

warrant it, the system

will be rolled out across

Selwyn with the possibility

of it being introduced

nationwide. There is also

potential for the system to

work at rest homes.

Pams Fries 1kg

$

2 99 ea

Quality Bakers

Nature's Fresh

Bread 700g

$

3 19 ea

Shore Mariner

Fish Bites 400g (includes

Tempura Battered)

$

5 99 ea

Bluebird Original

Cut Chips 150g

INSTALLED: ARTIST IN RESIDENCE

DIGITAL ART

Lemons Loose

Product of New Zealand

$

2 99 kg

$

1 99 ea

Leeston Library

24–28 June, 11am–5pm

Join Erica Sklenars as she explores the intersection of science, technology and

art. With the aid of 3D printers Erica invites the community to create pieces of

art that respond to the modern library environment.

Cadbury Chocolate

Block 150-190g

ARTIST TALK

Tuesday 25 June, 6.30–7.30pm

$

2 99 ea

Mac's

6 Pack 330ml Bottles

$

13 49 pk

WORKSHOPS

Friday 28 June, 3.30–5.30pm

Saturday 29 June, 11am–1pm

For more information and to book visit selwynlibraries.co.nz.

Fresh NZ Quality

Mark Prime Beef

Mince

$

10 99 kg

Broccoli

Product of New Zealand

$

1 99 ea

www.foursquare.co.nz

facebook.com/FourSquareNZ

selwyn.govt.nz

Specials available South Island only from Monday 17th June until Sunday 23rd June

2019 or while stocks last. Wine and beer available at stores with an off licence. Wine

and beer purchases restricted to persons aged 18 years old and over.
---
6 Wednesday June 19 2019

Latest Christchurch news at www.star.kiwi

SELWYN TIMES

$

27
---
SELWYN TIMES Latest Christchurch news at www.star.kiwi

Wednesday June 19 2019 7

News

Forum on quake experiences

Local

News

Now

Fire rages, homes at risk

• By Gordana Rodden

DAME SILVIA Cartwright will

front a public forum in West

Melton next week to hear about

people's experiences with EQC.

Dame Silvia, who is heading

the Public Inquiry into the

Earthquake Commission,

will discuss the 7.1 magnitude

Darfield

earthquake on

September 4,

2010, which

caused severe

damage.

EQC

received

about 160,000

Silvia

Cartwright

claims in the

three months

following the

quake. The

amount was compounded by the

February 22, 2011, earthquake.

Prior to the quakes, the highest

number of claims received

by EQC was 10,500, after the

1968 7.1 magnitude Inangahua

earthquake on the West Coast.

Minister for Greater

Christchurch Regeneration

Megan Woods highlighted the

importance of the public inquiry

to learn from Canterbury's

experiences with EQC.

"The insurance system as a

LESSONS: Dame Silvia Cartwright will be talking to people in

West Melton next week about their experiences with EQC after

the September 4, 2010, earthquake.

whole, including EQC's role in

that system, needs to be ready to

deliver services to those affected

by the next big event – whenever

or wherever it happens," she said.

Dame Silvia said changes

which have been suggested to her

already presented clear themes.

EQC's damage assessment

process, managed repair process

and claims management were

issues people said needed

revision.

"I'm looking forward to

hearing from people in the

Selwyn district who may have

had property damage and EQC

claims arising from the Darfield

earthquake, or from other

subsequent events," Dame Silvia

said.

"I'm also keen to hear from

people who have had a role in the

recovery, such as those working

with or alongside EQC."

It is evident from the stories

shared with her that people and

families are still living with the

lasting impacts of the event and

its aftermath, Dame Silvia said.

"I appreciate it's often not

easy to revisit difficult past

experiences, but I hope people

will do it for themselves and for

others who will face the effects of

natural disaster in the future."

The public inquiry will

provide recommendations

to the governor-general with

suggestions about how EQC

can improve claim management

experiences in the future.

•The Selwyn forum will be

held at 6pm on June 27 at

the West Melton Community

Centre.

New cinema

to open at

Lincoln pub

LINCOLN BAR The Laboratory

will open a cinema in August.

Alterations to The Laboratory's

courtyard have started and a

boutique cinema, which will

show the latest films, will be

created.

The Apollo Lincoln will have

15 seats, including one for

wheelchair users. The venue

on West Belt will be licensed

with movie-appropriate snacks

available.

The cinema will be open from

Tuesday to Sunday, with about

four screenings a day. Alongside

the latest releases, Apollo

Lincoln plans to host special

screenings of old favourites and

themed evenings. Tickets will

be available to purchase online

or over the bar for $17, with

discounts offered to seniors and

students for daytime screenings.

Your trusted guide

Consumer's Guide to Hearing Aids 2019

Get your FREE copy now.

New Zealand's only independent hearing aid guide,

featuring all the latest models and their prices.

EXCLUSIVE TO

tritonhearing.co.nz

CALL TODAY

0800 45 45 49
---
8 Wednesday June 19 2019

Latest Christchurch news at www.star.kiwi

News

Local

News

Now

SELWYN TIMES

Fire rages, homes at risk

Teen's Cambodian genocide study

Research

leads her to

Rob Hamill

• By Georgia O'Connor-Harding

WHEN BROOKE Harrison first

began studying the Cambodian

genocide, she never expected to

meet the New Zealander whose

brother was tortured and killed

by the Khmer Rouge.

It was a momentous history

lesson for

the Rolleston

teenager,

who had the

opportunity

to interview

former New

Zealand rower

Rob Hamill.

While

Brooke

Harrison

researching

her

assignment,

she came across the

documentary Brother Number

One, which tells the story of Mr

Hamill's older brother Kerry,

who was killed by the Khmer

Rouge in 1978 after accidentally

straying into Cambodian waters

on his yacht.

The genocide was carried

out by the regime under the

leadership of Pol Pot. Between

1975 to 1979, it was estimated

1.7 million to two million people

were killed.

Wanting to find out more,

Brooke, 17, who attends Villa

Maria College, decided to email

Mr Hamill – and to her surprise

received a reply in about one

hour.

Mr Hamill happened to be

travelling through Christchurch

to Methven and arranged a time

to meet.

Brooke said it was inspiring

how open and willing Mr Hamill

was to share the story about his

brother.

"He revealed that is how he

got into rugby and eventually

rowing, which he became very

successful at. I'm very grateful

that I got the opportunity to

talk to someone so closely

related to such a horrific event,"

she said.

Brooke wanted to study

the genocide after her mum,

aunty and grandparents went

to Cambodia several years ago

and came back "shocked" and

HORROR:

Brooke

Harrison

interviewed

Rob Hamill

for her

project on the

Cambodian

genocide,

which was

carried out

by the Khmer

Rouge from

1975 to 1979.

"moved" by the history of the

country. She said what stuck

with her most from studying

the project was how severe

the genocide was and yet not

something people know a lot

about.

"I couldn't comprehend

how violent and torturous the

genocide was, which is why it is

even harder to stomach that one

of our own was killed there,"

Brooke said.

She asked Mr Hamill what it

was like to testify against Kang

Kek Lew, a former leader in the

Khmer Rouge movement; how

he coped with losing his

brother; and the response

his family received from the

community.

"Going

into it, I was

actually quite

nervous to talk

to him about

it because

the last thing

I wanted

to do was

make him feel Rob Hamill

uncomfortable

. . . but as he

started talking,

I realised he

was really

open to talking

about it,"

Brooke said.

Since

researching

the project,

Kerry Hamill

Brooke has

realised how important it is to

learn about history.

"What I have learnt from

studying this project is how easy

it is for people to turn a blind

eye to something that seems so

distant from them . . . it wasn't

until meeting with Rob I realised

how close to home the genocide

really was."

0800 324 678

www.dcis.co.nz

run out sale

nZ's best-selling heat pump ever!

WaS $2,799

noW $2,349 inStaLLed *

Ge42 hiGh WaLL heat pump

*Basic back to back installation

book your free appointment today!

ROLLESTON

Storage

Under New Management

• Assorted Unit Sizes, Individually Alarmed

• No Bond Required

• 24/7 Security Card Access

• 1 ST MONTH FREE with Every 6 Month Lease

BEST VALUE

LOCAL STORAGE

RESIDENTIAL

or COMMERCIAL

CALL FREE

0800 765 978

108 Izone Drive,

Rolleston

For more information visit www.rollestonstorage.co.nz

ILLINOIS DR

RAILWAY ROAD

WARDS ROAD

IZONE DRIVE

IZONE DRIVE

TWO CHAIN ROAD

WESTLAND PL

DETROIT DRIVE

ROLLESTON

Storage

IZONE DRIVE

IZONE DRIVE

LINK DRIVE

JONES ROAD

MAIN SOUTH ROAD

HOSKYNS ROAD

HOSKYNS ROAD
---
SELWYN TIMES Latest Christchurch news at www.star.kiwi

Wednesday June 19 2019 9

PHARMACY

FITNESS

GIFTS &

HOMEWARE

HEALTH &

BEAUTY

FOOD SERVICES FASHION

EXCITING NEW

RETAILERS

OPENING SOON

YourLocal LUXURY

NEW BUSINESSES ADD MORE VARIETY AT ROLLESTON SQUARE.

In the heart of Rolleston, there are more than 30 specialty

stores & more exciting retailers opening soon!

9Round | ANZ | ASB ATM | BNZ | Caci Clinic | Coffee Culture | Corianders

Couplands | Countdown | Fascino Shoes | Hachi Hachi | Harcourt's | helloworld | Hell Pizza

Highgate Hair | Industria | Lazeez Mediterranean | The Nail Bar | Noel Leeming | Pita Pit

Postie | Ray White Rolleston | Robert Harris | Rolleston Bakery | Rolleston Central Health

Rolleston Drycleaners | Rolleston Eye Optometrist | Rolleston Florist and Gifts | Rolleston Haircuts

Snap Fitness | St Pierre's Sushi | Subway | Unichem | Viva La Moda | The Warehouse | Westpac

70-76 Rolleston Drive, Rolleston

9 Masefield Drive

Find Us On

Find out more:

rollestonsquare.co.nz

03 347 9192
---
10 Wednesday June 19 2019

Latest Christchurch news at www.star.kiwi

SELWYN TIMES

Warmth

is within

reach this

winter

Get at least 67% of the

cost of insulation covered.

Find out if you are eligible.

A Warmer Kiwi Homes grant is a big deal. It could save you

at least 67% of the cost of ceiling and underfloor insulation

and give you a warm and comfortable home this winter.

To be eligible for a Warmer Kiwi Homes grant you will need to:

• be the homeowner (owner-occupier) of a home built before 2008, AND

• have a Community Services Card or SuperGold Combo card, OR

• own and be living in a home in an area identified as lower-income.

Call 0800 358 676 or visit www.energywise.govt.nz

to use the checklist to see if you are eligible. A service provider

will then be in touch to provide a quick assessment and quote.
---
SELWYN TIMES Latest Christchurch news at www.star.kiwi

Wednesday June 19 2019 11

Your Local Views

More road project funding cuts

Amy Adams

Selwyn MP

IN MY role as the MP for

Selwyn, I often correspond with

the NZTA making inquiries on

behalf of local residents about

planned safety improvements

and raising concerns about parts

of the roading network that are

not working well.

I was shocked to learn recently

that the NZTA has pulled funding

from a further three roading

projects in Selwyn, including

safety improvements at the

Shands/Blakes Rds and Springs/

Marshs Rds intersections.

This is the second wave of cuts

to roading projects in Selwyn after

the NZTA denied funding for

a dozen other badly needed road

safety improvements that had

been recommended for funding

in the 2018-2021 National Land

Transport Plan, including the intersection

of SH73 and Weedons

Ross Rd in West Melton.

It is unacceptable that the

NZTA is now saying it can't even

fund projects that it had previously

agreed to fund.

I am deeply concerned that

this decision not to fund these

important safety improvements

will result in more serious accidents

and potentially even

fatalities on our region's roads.

Given the impact of the Southern

Motorway extension on the

surrounding roading network I

believe it is more important than

ever that the identified improvements

to the wider roading

system proceed.

It appears this outrageous

decision is a consequence of the

failure of the current Government

to adequately prioritise

road safety improvements.

While the Government has

claimed that road safety is one of

its highest priorities, it has actually

cut funding to the sector.

We are all paying more in fuel

taxes – even those who cycle, use

public transport or have electric

vehicles pay more for goods and

services whenever suppliers raise

their prices to cover increasing

fuel costs.

FUNDING CUT: The Weedons Ross Rd and State Highway 73

intersection at West Melton.

Unfortunately we have not

seen these tax dollars allocated

to new, high quality roads that

are safe to drive on at 100km/h.

Instead the Government has

cancelled or delayed major

transport projects that were

in the pipeline, including the

proposed upgrade of State Highway

1 between Rolleston and

Ashburton.

The money that should be

being spent on improving our

roads is going into trains, trams

and everything else and the Associate

Transport Minister Julie-

Anne Genter seems to think the

answer to improving road safety

lies in making everyone drive

more slowly.

While I have previously

advocated for reduced speed

limits where appropriate, such

as around schools, drastically

cutting speed limits across the

whole roading network is not

a sensible approach to road

safety. This approach would

further isolate people outside of

our major cities and impact on

our economy by hindering the

movement of freight.

A reader shares an opinion on

open road speed limits

N G Smith – I have been reading

reports that open road speed

limits may be reduced and it has

me wondering what the promoters

base this on?

Over the last month I have

driven about 1000km around the

narrow lanes, and single carriage

way roads in Southern England,

all with a 60mph (100km/h) limit,

in comparison NZ roads are far

superior in both visibility and surfaces

and with very light traffic.

To date I have yet to see an

accident, or any car with dents,

perhaps people concentrate more

as they are aware of other road

users and the need to be alert at all

times?

Dropping limits will cause boredom,

sleepiness and frustration

and the perennial slow drivers will

continue to tailgate both trucks

and cars and then speed up to

close gaps should faster traffic try

to pass and pull in safely, failing in

this basic requirement is probably

the major cause of head on collisions

and fatalities.

Perhaps we should keep the traffic

and economy going forward by

reviewing the limits upwards and

educate the slower drivers to stay

left and allow plenty of space for

following cars to pass safely.

Failing to do this should attract

similar penalties to those charged

with exceeding the limit.

Keep the traffic and economy

moving by opposing this nonsense.

JOIN US NOW!

See website for details

NEW BALANCE

Mid Year Clearout. $50 footwear (selected styles).

50% off most apparel. Selected styles only.

While stocks last. 50% offer applies to original outlet prices.

BENDON

Massive Mid-Year Sale. Lingerie sets from $20, all

sleepwear for $25 and selected swimwear 2 for $50.

While stocks last. Selected styles only

TIMBERLAND

TOMS end of season sale. All TOMS now $30.

13 June to 24 July.

STYLES MAY DIFFER TO IMAGE SHOWN

BONDS

End of season storewide sale. 40% off marked prices.

T&Cs apply.

MERRELL

Take an additional 20% off all apparel & last pairs of

footwear. While stocks last

UNDER ARMOUR

40% off all footwear. 2/$100 and 2/$160 hoodie

and joggers. T&Cs apply.

YD

Up to 75% off storewide. T&Cs apply.

Sign up to Smart Deals & be in the monthly draw for a $100 Dress-Smart gift card!

Be one of the first to hear about the latest deals, sent straight to your inbox each week!

CHRISTCHURCH 409 Main South Road, Hornby

www.dress-smart.co.nz

Open 10am-5pm, 7 Days 03 349 5750
---
12 Wednesday June 19 2019

Latest Christchurch news at www.star.kiwi

News

SELWYN TIMES

Family connects with Cretans who

FAMILY: Prebbleton's Brian Wright holds memorabilia collected

by his late father, Arthur Wright, during and after World War 2.

PHOTO: MARTIN HUNTER

100%

CAPITAL gAIN

TO THE RESIDENT

• By Sophie Cornish

WITH ONLY their first names,

one photo and the internet,

it took less than 48 hours to

connect two families brought

together by war, 78-years-ago.

Emma Ebrahim was left in

disbelief when she discovered

the Kalogeri family, descendants

of the people who helped hide

her grandfather, Arthur Ernest

Wright, from the Nazis following

the Battle of Crete in 1941.

Through the power of Facebook,

a post from Mrs Ebrahim's

private Facebook page with only

a photo and their first names,

Irene, Tasos and Nicolas, reached

a Greek media outlet.

"Help . . . do you know these

people from Crete? . . . We hope

that someone may know this

family so we can learn more about

them and meet their descendants.

Without their help the next three

generations would not be here,"

Mrs Ebrahim wrote on Facebook.

In an almost unbelievable turn

of events, the wife of the chief editor

was the daughter of Nicolas,

one of the children of the family

who had helped her grandfather,

almost 80 years ago.

Nicolas was 16-years-old when

he met 22-year-old Mr Wright

and is still alive today at age 89.

He told his family he remembers

Mr Wright.

$1,000 fULLY

REfUNDAbLE

DEPOSIT

E S T A T E

Phone. 03 421 7796 | Email. sales@woodcroftestate.co.nz

WOODCROFT WAY, 28 KENDON DRIVE, ROLLESTON, CANTERBURY

REMEMBERING: A note on the back of this photo was used by

Emma Ebrahim to track down her grandfather's rescuers from

World War 2. It reads: To our friend Arthur, Irene-Tasos-Nicolas.

In order to remember our island Crete and our country Greece.

"I posted it on Tuesday (last with her husband and two sons.

week) and I had heaps of messages.

My brain was buzzing, it said to me, 'we are going to find

"Emma is very determined, she

was like I could feel the energy of that family,'" said Brian.

all these people thinking about Like most soldiers, Mr Wright

me. By the time I went to bed on told his family little about his

Thursday I just knew I was going time during the war.

to find them," said Mrs Ebrahim. It wasn't until his final years

Mr Wright's son, Brian Wright, when he shared stories that

of Prebbleton, will now travel his family discovered he was a

to Crete in September with Mrs prisoner of war.

Ebrahim (his daughter) to meet Mrs Ebrahim has been

Nicolas and his family.

interviewed by multiple Greek

The former Christchurch news outlets which have picked

woman now lives in Melbourne up the story.

INVESTMENT IN YOUR RETIREMENT AND

REAP THE REWARDS IN ROLLESTON

Now

offering free

standing villas:

$560,000

3 Beds, 2 Baths,

double garage,

173m2.

ROLLESTON'S NEW REgISTERED RETIREMENT VILLAgE

• Initial weekly fee of $75 includes rates, insurance, grounds maintenance and

window washing

• Gated community and emergency call button in each villa

• Two & three bedroom villas with single/double garage from $450,000

• There will be an on site manager and a pavilion and bowling green

• Show Home now open Monday to Friday 10am to 2pm

• After hours viewing by appointment call Corinne 021 292 1141

www.manorgroup.co.nz
---
SELWYN TIMES Latest Christchurch news at www.star.kiwi

Wednesday June 19 2019 13

helped Kiwi soldier during WW2

They are expecting a warm

welcome in Crete and have been

told excitement levels are high for

the meeting.

"Everybody over there is so

excited that we are coming. I have

heard that the people of Crete are

very thankful for what the New

Zealanders and other allies tried

to do to save their island from the

Germans," said Brian.

When the war broke out in

1939, Mr Wright and his older

brother George volunteered and

were sent to Burnham Military

Camp.

On January 5, 1940, Mr Wright

and George, both members of the

20 th Infantry Battalion, boarded

the troopship Dunera, bound for

Egypt.

They later sailed to Greece,

where they fought until retreating

to Crete.

On May 20, 1941, Germany

launched Operation Mercury, one

of the most dramatic battles of

World War 2, which later became

known as the Battle of Crete.

As German forces looked to

take control of Crete, more than

half of the allies were evacuated

to Egypt by the Royal Navy and

the remainder were forced to

surrender or join the Cretan

resistance.

Mr Wright was left stranded

in Crete and taken prisoner

alongside another solider, Stanley

Hughes.

George became ill in Crete and

was transported home.

"From what we know, he was

very unwell when the Germans

arrived and it seems strange

but basically they just bundled

him back to New Zealand. He

obviously wasn't considered a

threat because he was so ill," said

Brian.

In a book, One Soldier's War:

The Campaigns of Greece, Crete,

Western Desert Egypt and Italy,

by Stanley Hughes, Mr Hughes

shared part of his journey in

Crete with Mr Wright.

Starvation played a big part

during their time in the war, with

POWs only fed one bowl of soup

twice daily.

In the evening of June 22, Mr

Wright and Mr Hughes escaped

the prison camp through the

fence and disguised themselves

among olive trees, aware the area

was being patrolled by German

guards.

They then travelled on foot

for many days, hiding in the

forest and in caves. They often

received small amounts of food

from locals willing to take the

risk.

Eventually they arrived in a

village named Cambos.

•Turn to page 14

EARLY DAYS: Arthur Wright,

22, in Egypt in 1940. He

travelled on the troopship

Dunera from New Zealand to

Egypt before being sent to

Greece.

What was the Battle of

Crete?

•Crete is the largest island

of Greece, located south

of the mainland in the

Mediterranean Sea.

•It became a German

target following its rapid

occupation of the Greek

mainland in April 1941.

•There was more

than 42,000 British,

Commonwealth and Greek

soldiers on the island,

including about 7700 New

Zealand soldiers.

•Just after dawn on May 20,

1941, Germany launched

Operation Mercury, in Crete,

one of the most dramatic

battles of World War 2.

•It was the first occasion

where German paratroops

were used en masse, the

first mainly airborne invasion

in military history. There was

about 22,000 paratroopers

and mountain troops.

•After day one, the Germans

had suffered heavy

casualties and the Allied

troops were confident they

would defeat the invasion.

•The next day, through

communication failures,

the Allies hesitated and the

Germans gained control

of an airfield in western

Crete, enabling them to

land reinforcements and

overwhelm their defensive

positions in the north.

•The battle lasted for 12

days before Allied forces

then withdrew to the south

coast. More than half were

evacuated to Egypt by

the Royal Navy and the

remainder surrendered or

joined the Cretan resistance.

•About 2180 New

Zealanders became

prisoners of war and

another 671 were killed.

•Some Allies took to the

hills, sheltered by the

Cretans who, to this day,

remember New Zealand's

role in the battle.

•It was the first occasion

during World War 2

where German troops

encountered widespread

resistance from a civilian

population.

•As most Cretans wore no

uniforms or insignia, the

Germans felt free of all

of the constraints of the

Hague Conventions and

killed hundreds of armed

and unarmed civilians.

Vietnam, one great experience

Helloworld Rolleston owners and Kirwee residents Paul

and Sue Robinson recently returned from a conference in

Vietnam, where they also took part in a unique tour of the

battlefields and tunnels with Matt McLachlan Battlefield

Tours in Southern Vietnam.

Matt McLachlan is a war historian and has a world-renowned

knowledge of battlefields where New Zealanders and

Australians fought from the Western front to the Pacific.

This was especially poignant for Sue as her father served

in Vietnam, and they were able to visit areas where he was

stationed.

This particular tour focused on areas such as Nui Dat and

the New Zealand and Australian Combat Base from 1966 to

1971. It included extensive investigations and exploration

of the surrounding tunnels along with an in-depth review

and attendance at Long Tan, where New Zealanders and

Australians were on patrol with a mere 108 soldiers, who held

off an overwhelming force of 2500 North Vietnamese.

"The complete tour was a moving experience," says Paul.

"The exploration of the Cu Chi Tunnels and learning about the

way the North Vietnamese lived and understanding how they

conducted war manoeuvres was quite impressive."

"It was amazing to learn how these tunnels contained living

quarters and hospitals as well as communication centres

and supply routes throughout the Vietnam War," Paul adds.

"These tunnels have been in existence since 1948, following

a conflict with the French before the Americans entered the

war. To see how they linked to other areas and even across

into Cambodia was quite staggering."

Vietnam is a growing destination and those looking at heading

over there to experience the culture and wonderful landscape

should definitely tag on a unique tour. Paul and Sue's visit

included a crazy Vespa tour, which sees over nine million of

"the family car" in and around the greater Saigon area.

"There's a total lack of road rules," says Paul, "but somehow

in all the organised chaos it all works, traffic lights are

merely a suggestion yet we saw no accidents, I don't know

how but it just seems to work…go figure. The Vietnam trip

was one great experience!"

FROM

12 DAY ESCORTED

BATTLEFIELD TOUR

$

3450pp

TWIN SHARE

Departs: 24 Nov 2019

Includes:

• 11 Breakfasts and some dinners and lunches

• Accommodation

• Deluxe Coach Transportation

• Flights from HCMC to Hue, and Denang to Hanoi

• All entrance fees

• Expert Historian guide

HELLO

CYCLE

TOUR

VIETNAM

ESCORTED

BATTLEFIELD

TOUR

helloworld Travel Rolleston

14 NIgHT CYCLE TOUR

rolleston@helloworld.co.nz

$

3750pp

TWIN SHARE

Departs: 12 April 2020

Includes:

• Accommodation in well-appointed and

reliable hotels

• Comfortable geared bikes

•Support Crew & backup vehicle

Rolleston Sq, 72 Rolleston Dr

03 974 2010

*Conditions: Limited spaces available, prices may change and are subject to availability at the time of booking. A non-refundable deposit of $1000 is required to secure your place within 7 days of booking. Final payment is due no later than 90 days

prior to departure on your tour unless otherwise specified. Cancellation fees apply. Further conditions apply, please ask your helloworld Travel professional for full terms and conditions. HW3545_A4
---
14 Wednesday June 19 2019

Latest Christchurch news at www.star.kiwi

News

Phil Murfitt

ORTHODONTIST

Weekly Orthodontic

Clinic in Rolleston

Clinics are held at the

Rolleston Dental Centre, Tennyson Street

To book an appointment with

Phil or Mark, please call 03 3754418.

www.philmurfitt.co.nz

oN sAle Now!

Now only

$35.80

Plus $5 P&H per copy

AvAilAble from stAr mediA:

Level One, 359 Lincoln Road

Addington, Christchurch

Phone 379 7100

Prisoner until end of war

•From page 13

They stayed on the outskirts,

sleeping in the forest a short

distance from the houses as

German soldiers raided homes

in the night, trying to find allied

soldiers.

"Among the people who

visited us daily were the

Kalogeri family who appeared

to be a well educated business

type family," said Mr Hughes.

The Germans weren't just

targeting the allies, they also

brutalised innocent Cretans,

killing many in order to set an

example of what would happen

if they were caught hiding the

enemy.

Flyers were dropped all over

the island requesting soldiers

who were on the run to surrender,

or they would be treated

as a spy.

Eventually, Mr Wright

handed himself over to German

forces, in fear of getting his new

friends in trouble.

Mr Wright remained in Crete

as a prisoner until December

1941. He was then transported

by boat to Salonika and cattle

truck to Stalag VIIIB, a prison

camp in Lamsdorf, Germany.

His work experience and

knowledge with trees before the

war proved helpful, and he was

used to train the other soldiers

for work, gaining him privileges

REMEMBRANCE: Arthur

Wright leads his brother

George during a 20-year

reunion march in New

Zealand.

of more food and Sundays off.

In January 1945 in freezing

conditions, Mr Wright took

part in a long march to

Czechoslovakia.

In May, they were told the

Americans were 30km away

and Mr Wright waited for the

allies to arrive.

He was a POW until May 8,

1945.

Eventually, Mr Wright was

repatriated to England in a

Lancaster bomber and after a

month's leave, returned to New

Zealand.

Mr Wright went on to marry

and raise two sons while living

in Papanui

and working as a motor

mechanic for the Ministry of

Works.

He passed away in 2016, 21

days before he turned 100.

New zones

to inspire

AS THE WAY we live

changes, so too does The Star

Home and Living Show – it is

keeping up to date with latest

design and technology.

Events manager Lisa Lynch

said she is excited about two

new zones, which have been

created for this year's event

to inspire and hopefully get

people motivated about the

way they

live.

"The Innovative Living

Zone switches thinking – not

just planning your space, but

planning how you wish to feel

in your space," she said.

"It will showcase the latest in

modern, urban, cosmopolitan

home and landscape designs to

transform your space – inside

and out."

This zone will include an

interactive, innovative living

design area, where you can sit

and have a coffee and be

inspired by new and creative

ideas for your home, by

talking to the specialists about

your dreams.

The Eco Zone will showcase

everything you need to

SELWYN TIMES

know about sustainable living.

Here you will find a range of

ideas you can introduce into

your home to make it more

environmentally-friendly.

"We have self-watering

vegepods, synthetic grass,

solar technologies and, of

course, electric vehicles with

the chance of one lucky

attendee driving away in a free

EV car worth $44,000."

The Star Home and Living

Show will be held from 10am

to 5pm at the Horncastle

Arena from Friday, June 28, to

Sunday, June 30.

•Turn to page 20 for a

free entry voucher for you

and a friend.

"Thank you! For everything.

There are no words."

Alison

This week we are celebrating National Volunteer Week. Across New Zealand,

more than 11,000 Fire and Emergency volunteers help keep their communities

safe. fireandemergency.nz/volunteer

FNZ0016_180x263_2
---
SELWYN TIMES Latest Christchurch news at www.star.kiwi

Wednesday June 19 2019 15

Townhouse

available now!

Available now is a newly refurbished

two-bedroom townhouse priced at $490,000.

This townhouse is north-east facing, with

a spacious living area and your own patio.

Independent living combines the best of both

worlds – the freedom to come and go as you

please, with the security and companionship

of the village community.

There is so much for residents to enjoy, including

amenities such as an all-weather bowling green,

indoor heated swimming pool, spa, library, gym,

hair and beauty salon, and much more. You will

have more time to do what you really love.

Fixed weekly fee for

life – guaranteed*

Continuum of care

Deferred management

fee capped at 20%

For more information please phone

Susie on 338 7696

5 Corbett Crescent, Halswell

*Some conditions apply
---
16 Wednesday June 19 2019

Latest Christchurch news at www.star.kiwi

News

Peacocks moved before

they could be shot

• By Louis Day

NINE peacocks were relocated

from the Port Hills last week

after five were shot.

The peacocks have been

relocated to a farm in

Marlborough. However, seven

peacocks remain.

The relocation effort comes

after a neighbourly dispute

between Janelle Wills, who feeds

the wild peacocks, and farmer

Sue Stubenvoll, who does not

want them wandering on to her

property.

In February, Ms Stubenvoll

sent a legal letter to Miss Wills,

saying she had the right to

shoot the peacocks under the

Impounding Act. She gave Miss

Wills four weeks notice.

Last month, Ms Stubenvoll

arranged for someone to shoot

five peacocks which were on

her property. She then skinned,

roasted and ate one of them for

dinner. Ms Stubenvoll said she

has not decided whether she will

shoot more.

News of the incident appalled

local residents, with some taking

to the community Facebook

group 'Lyttelton – Ain't No Place

I'd Rather Be' to vent their anger.

Ms Stubenvoll then called the

police after she was branded a

RELOCATION: Nine peacocks

have been moved from

the Port Hills to a farm in

Marlborough after five were

shot last month.

murderer by various residents.

She said the culling was to

prevent the peacocks eating

the rare gecko and skink

populations which live on the

farm.

Celebrity chef Richard Till

even appeared to cook and eat

one of the peacocks on Seven

Sharp. Miss Wills said she did

not watch it.

She said she was still losing

sleep after five of the peacocks

were shot.

"It is still very stressful because

we don't want to wake up to

more dead," she said.

Miss Wills said she needs

more time to relocate the

remaining seven.

Dumbstruck by the Wiggles

WOW, WHAT a week.

I never thought I would have

got so excited to see a children's

show, but I'm re-living my

childhood vicariously through my

daughter.

Laura and I took Vittoria to

the Wiggles last week and it was

amazing. I kind of feel like the

first parent to see Shrek when

I say there was definitely some

jokes in there for the adults too,

which is why I liked it so much.

It's not just because I like the

songs and stuff.

It was a big surprise for

Vittoria, not that it was hard to

keep it from her, and it totally

blew her little Wiggle-loving

mind. Honestly, it was watching

her love it which really made it

for me.

I so wish I had managed to

get it on film, but when they

came out on stage her wee mouth

fell open so wide you could've

driven the big red car right on in

there.

The running theory for me

and Laura is that Vittoria was

struggling to comprehend

that her favourite colourful

Australians were actually real.

Dancing along with her was a

blast, she knows a bunch of the

actions and at home she even

gets excited if you say the word

"Wiggles" while standing near the

TV.

Only thing was, she

OVERWHELMED: Vittoria

doing hand motions with the

Wiggles.

VITTORIA

& Matt

occasionally just clammed up and

sat there dumbstruck. She was

clearly a little overwhelmed by the

whole thing.

To be fair, her Wiggles

experience had exploded from

SELWYN TIMES

watching them on Netflix to

dancing along in a room chock

a-block full of other hyperactive

Wiggles fans while the real deal

Wiggles sang on stage.

By the end of the show she had

her head around it.

I can't wait for them to do

another show here, it'll be

interesting to see how Vittoria

would go on the second round.

To cap the week off, Vittoria

and I have moved out to North

Canterbury for a few days to look

after my mum and step-dad's

place in Waikuku while they're

away on holiday.

It's just us two and two small

dogs hanging out in my home

town/village. It's going to be great

and likely a challenge.

I've never really been a

stay-at-home dad alone, with

zero back-up at any point during

the day.

So look forward to an update

on how that goes.

•Former Star Media

journalist Matt Salmons has

become a stay-at-home

dad. We follow his journey

weekly.

Join Corrections for a job you can be proud of.

Become a Corrections Offi cer, Probation Offi cer or Case Manager.

Find out more at careers.corrections.govt.nz

or call 0800 4FRONTLINE 0800 437 668

FAR_09044

calving days

Farmlands

Leeston

26 th June

8.00am-5.00pm

Farmlands

Darfield

27 th June

7.30am-5.30pm

Farmlands

Ashburton

28 th June

8.00am-5.00pm

Join your local Farmlands store as we get

you set for the upcoming calving season.

Threaded and

Pull Through

Peach Teats

104513, 118622, 135878

Terms and Conditions apply. Pricing valid at Farmlands Leeston, Darfield and Ashburton on the dates specified.

$

3 .29

save

$

1 .37

Virkon S

Disinfectant

2.5kg

107060

$

149 .00

save

$

49 .95
---
SELWYN TIMES Latest Christchurch news at www.star.kiwi

Wednesday June 19 2019 17
---
18 Wednesday June 19 2019

Latest Christchurch news at www.star.kiwi

LINEBREAK

compREssIoN gEAR

25 %

oFF*

oFF*

*FoR A LImITED TImE oNLY – oFFER ENDs 30 TH JUNE

LINEBREAK compression gets oxygen-rich blood

from your heart to your muscles faster which means

they perform better. Getting fresh blood into the

muscle means getting nasty by-products out, for

example- lactic acid. This is one-way compression

Improves your Performance.

LINEBREAK garments also Control Your Body

Temperature in hot and cold conditions. When you sweat

in the heat, our fabric draws the sweat to the surface of

the garment and spreads it over the entire garment to

increase your evaporation surface area.

LINEBREAK – Increase your performance, reduce

the risk of injury and recover effectively.

magnitudesportsnz

magnitude sports

mon – Fri 9am – 5.30pm sat 9am – 4pm sun 10am – 4pm

55 Faringdon Blvd, Rolleston | ph 03 3470146

Lincoln Combined miss out

against high-flying St Bede's

SPRINGSTON continued

their perfect run in the

Ellesmere premier rugby

competition with a 21-20

win over Darfield on

Saturday.

The result means

Springston can all but

lock in a semi-final spot

with a win over Burnham-

Dunsandel-Irwell on

Saturday.

LINCOLN University took

their first step towards

retaining the Hawkins

Trophy with a 38-7 win

over New Brighton in

the top six of the metro

premier rugby competition

on Saturday.

New Brighton scrapped

hard at home but struggled

to compete against the

Rams finesse and fortitude.

Rameka Poihipi showed

both. The second-five put

in a spot-on kick after

BROADFIELD A finished

the first round of the

Selwyn premier netball

competition with a perfect

record after their 56-53

win over Greenpark A.

Coming into Saturday's

final round one fixtures,

Broadfield A were

already assured top spot.

However, they faced their

toughest task to date

against Greenpark A,

which finished in second

spot.

Meanwhile, Prebbleton

A were unable to find

SPORT

Meanwhile, Lincoln

climbed to third on the

table with a 15-10 win over

Waihora in an entertaining

rivalry match.

•Results: Lincoln

15, Waihora 10; West

Melton 26, Rolleston 12;

Southbridge 66, Hornby

12; Prebbleton 15, BDI 12;

Springston 21, Darfield

20.

Rams win top six rugby encounter

Jim Doyle reports on Lincoln University's game against New Brighton

5min for Ngane Punivai to

score off a New Brighton

touch.

Then early in the second

half, he weighted a chip

kick perfectly, ran onto it

himself, and was away to

the line. Antonio Shalfoon

capped a typically strong

game with a crash-over

try near the end. Right on

time the Rams stretched

the New Brighton defence

beyond breaking point

for substitute wing Brian

Broadfield A top premier netball

table, Prebbleton A relegated

their first win and went

down to Lincoln A 34-56.

They will now drop to the

premier two grade, while

West Melton will move up

to the top division after

going undefeated in the

opening round of premier

two.

West Melton face a

tough ask in their first

round two match against

Greenpark A. However,

they will be no easy beats

if they can continue their

impressive defensive work,

which saw them concede

SELWYN TIMES

Captain Wil Gaulter

helped Lincoln

Combined give

UC Championship

high-flyers St

Bede's College a

run for their money

during a 12-17

loss at Lincoln

High School on

Saturday. After

going down

5-12, a late first

half try saw the

teams head into

the break at

12-12. A lone try

to St Bede's in

the second half

gave them the

spoils. Lincoln

Combined will host

Marlborough Boys'

College at Lincoln

High School in

round eight on

Saturday at noon.

PHOTO:

ANGELA JONES

PHOTOGRAPHY

Perfect run for Springston

•Points: Springston 24,

Southbridge 20, Lincoln

18, Waihora 17, Darfield

15, West Melton 15,

Prebbleton 12, BDI 11,

Rolleston 0, Hornby 0.

•Saturday draw:

Lincoln v Southbridge,

BDI v Springston,

West Melton v Waihora,

Hornby v Rolleston,

Prebbleton v Darfield.

Matoramusha to dart in at

the corner while the home

side's Nathan Ah Kee was

in the sin-bin.

•Scorecard: Lincoln

University 38 (Ngane

Punivai 2, Fletcher

Morgan, Rameka Poihipi,

Antonio Shalfoon, Brian

Matoramusha tries; Sam

Gilbert 4 conv) beat

New Brighton 7 (Louis

Harmon try; Scott Allin

conv). HT: 19-0.

fewer than 36 goals per

match on average.

•Results: Lincoln

A 56, Prebbleton

A 34; Southbridge

A 44, Greenpark B

41; Broadfield A 56,

Greenpark A 53.

•Points: Broadfield

A 20, Greenpark A

13, Southbridge A 13,

Lincoln A 9, Greenpark

B 9, Prebbleton A 0.

•Saturday draw:

Greenpark B v Lincoln

A, Broadfield A v

Southbridge A, West

Melton A v Greenpark A.
---
SELWYN TIMES Latest Christchurch news at www.star.kiwi

Wednesday June 19 2019 19

Thank you for

helping your

Fall Zones

community

To all of you who have had your

trees trimmed before they became

a problem, thank you for keeping all

the families in your community warm,

happy, healthy and connected.

You can be proud of the fact that you have allowed your

neighbours to stay warm, cook dinner and even charge

their mobile phones. You may not have realised that what

you've done has had much impact, but from all of us here

at Orion, we just want to say thank you.

Notice and Growth limit zones

B

A

Power line voltage A. Growth limit zone B. Notice zone

66,000 volts 4.0m 5.0m

33,000 volts 2.5m 3.5m

11,000 volts 1.6m 2.6m

400/230 volts 0.5m 1.5m

We're not exaggerating.

On our network, 10-20% of all unplanned power outages are

caused by trees — including vegetation — coming into contact

with power lines. Other than this, fire damage to property from

branches sparking in dry conditions and serious injury from

electrocution from contact with trees touching power lines are

also possible consequences of not maintaining your trees.

How close is too close?

While most damage is caused by trees falling on power lines,

significant risk exists from trees merely touching them. This risk

increases the higher the voltage of the power line.

The minimum distances that must be maintained between trees

and power lines, as defined in the Electricity (Hazards from

Trees) Regulations 2003, are outlined in the diagrams above.

All vegetation should be kept out of the growth limit zone and

preferably the notice zone.

Sometimes it may not be practical to have a tree trimmed at the

rate at which it grows and unfortunately, this means it may need

to be removed. Other situations may require trees to be removed,

most commonly when they are at a high risk of falling due to

disease or adverse weather events.

Where do I start?

Before you begin, remember to keep yourself, and those around

you, safe. We recognise that not everyone is experienced in tree

trimming and are happy to advise you on what to do. We can arrange

for trees near power lines to be trimmed at your expense, however

we recommend you hire professionals to safely carry out the work.

If you or someone working for you intends to work within four

metres of power lines, a close approach consent is required from

Orion before you start. As a tree owner, you may be liable for any

damage caused by carrying out trimming or felling of trees.

Will I be fined if I don't comply?

If a cut or trim notice is given to you and you fail to have the tree

trimmed and/or advise us of the time and location of the trim

without a reasonable excuse, this is an offence. This will make you

liable for a fine not exceeding $10,000. If the offence continues,

you will be liable for a further fine of not more than $500 for every

day or part day during which the offence continues.

More info can be found on our website and if

you have any questions or notice any trees

touching power lines in your area, please call

us on 03 363 9898 or 0800 363 9898.

oriongroup.co.nz

Orion New Zealand owns and operates the electricity distribution

network in central Canterbury between the Waimakariri and Rakaia

rivers and from Canterbury coast to Arthur's Pass.
---
20

Wednesday June 19 2019

Latest Christchurch news at www.star.kiwi

Selwyn Times

FREE

DOUBLE PASS

Valid for 2 adults, children under 12 are free!

Friday, Saturday or Sunday

Present this coupon or take a photo on your phone.

$

t

in

Be inspir

Friday Saturday Sunday

JUNE 28 - JUNE 30 | 10AM - 5PM | HORNCASTLE ARENA
---
Selwyn Times Latest Christchurch news at www.star.kiwi

Wednesday June 19 2019 21

53,000

o be won in prizes

cluding an EV car worth $40,000!

Thousands of ideas

under one roof!

Over 100 exhibitors showcasing the latest

ideas and trends for your lifestyle

See the amazing innovative

outdoor/indoor living display

Explore the new Eco Zone

filled with sustainable

and eco friendly products

ed

Experience yummy FREE tastings

at Taste Corner

Free, informative seminars all weekend

WIN A

$40,000

NISSAN LEAF
---
22 Wednesday June 19 2019

Latest Christchurch news at www.star.kiwi

SELWYN TIMES

Kirkwood Intermediate

Sports and Technology Update

Sports

We always participate in the Inter-Intermediate

competitions, covering a wide range of sporting

activities. Even though we are one of the smaller

Intermediate Schools in Christchurch, we have

one of the highest participation rates. As a school

we are well known for the courtesy, co-operation

and sportsmanship of our teams and we value this

highly.

This term we have enjoyed starting our winter

sports programme which includes: Netball,

Football, Rugby, Hockey and Table Tennis.

Throughout the year we also participate in the

Cross Country, Intermediate School's Duathlon,

Athletics, Swimming, Basketball, Korfball, Rhythmic

and Artistic Gymnastics and Mountain Biking.

Our classes also compete for the Kirkwood Sports

Shield. This involves classes in Year 7 and Year 8

playing each other in various sports for the right to

hold the shield.

Technology

Technology education at Kirkwood explores how, beginning with a need or opportunity, new products are

developed and how new developments impact on our world. Students gain knowledge and skills essential for

all kinds of careers and for everyday life.

As well as experiencing a variety of technology classes, our students are able to choose special interest

technology extension classes including coding arduino microchips, robotics, 3D printing, special engineering

projects, Maori carving and food competitions.

Hard Materials - Students work with wood, metal and plastics to develop a range of hands-on skills.

Foods Room - Special breakfast lessons encourage students to make healthy choices.

Soft Materials - Students follow a design process to create original projects.

Electronics - To learn the technological process students work with electronic components.

Remember, you

are welcome to our

Open Day & Night

on Tuesday 2 July

9.00am – 12 noon &

7.00pm – 8.30pm

Come and have a

look at what our

children are doing.

Don't forget, our Open Day/Night is on Tuesday 2 July 2019.

Please visit our website www.kirkwood.school.nz for information and to

download an enrolment form or ring the office on 348 7718.

Phil Tappenden,

Principal

260 Riccarton Road, Christchurch

Email: school.information@kirkwood.school.nz

Phone 03 348 7718 Fax 03 348 1085

www.kirkwood.school.nz
---
SELWYN TIMES Latest Christchurch news at www.star.kiwi

Wednesday June 19 2019 23

Leo'o goes from understudy to teacher

• By Gordon Findlater

FORMER openside flanker

Johnny Leo'o spent five years

at the Crusaders as an

understudy to arguably our

greatest All Black.

Now he's passing on

knowledge from his playing days

to the next generation.

Leo'o, 40, is a health and fitness

teacher and director of rugby

at St Thomas of Canterbury

College. In April 2002, he made

his Crusaders debut before going

on to make 48 appearances. He

also scored six tries for the side

between then and the end of the

2007 season.

While at the Crusaders,

Leo'o won Super Rugby titles

in 2002, 2005 and 2006. But he

was perhaps unlucky to be an

openside in the same team as

Richie McCaw.

"The timing probably wasn't

the best," said Leo'o.

"When I was playing it was

probably a negative, but at the

same time having someone

like that to measure yourself

up against gave me a lot of

motivation to get fitter because

he's a machine. I've got a lot of

respect for him because he's a

great man and I learnt a lot off

him as well."

Leo'o grew up in Invercargill,

where he didn't start playing

rugby until age 12.

"I was quite a skinny kid –

mum was too scared I was going

to get hurt and thrown around.

MENTOR: Johnny Leo'o in his role as director of rugby at

St Thomas of Canterbury College.

The old man was always bringing

home registration forms but she

would always put the brakes on

that very quickly," said Leo'o.

He moved to Christchurch

with his family as a teenager and

attended Aranui and Hillmorton

high schools before playing first

XV rugby at St Bede's College.

At the end of 2001, Leo'o found

out he was going to become

a professional player with the

Crusaders. Until that point, he

had held down part-time jobs

while playing in the NPC for

Canterbury, which included

social work, lifeguard patrol,

groundsman work and picking

onions.

"Anyone that's picked onions

before will know it's hard work

. . . all the boys would be going

to do weights at the gym and I'd

just go onion picking. I probably

got stronger than they were,"

said Leo'o.

One of Leo's fondest memories

during his time at the franchise

was when he was named to start

in his first match.

"I got told and thought the

coaches were making a joke,

•Great players have come and gone from the Crusaders

over the years. Selwyn Times continues to catch up with

some of them.

because Richie had been starting

the whole year," said Leo'o.

"I even went and hit Richie up

and he didn't know what was

going on."

While he did start on

several occasions, Leo'o is best

remembered by fans as for

bringing a spark off the bench.

"I loved the razzle-dazzle style

of throwing the ball around. As a

loose forward, I loved playing in

the centres and getting my hands

on the ball and looking for offloads.

We had guys like Marshy

[Justin Marshall] and Razor

[Scott Robertson] who loved to

play like that as well."

Part of that playing style is

likely to be why he also spent

two years on the international

sevens circuit with New Zealand

between 2000 and 2001.

Off the field, Leo'o says there

was no shortage of laughs and

pranks being played within the

Crusaders squad.

"There was a stage when a lot

of socks were getting cut. You'd

go to put your socks on after a

match and your foot would go

right through the sock," said

Leo'o.

"There was also times when

someone's shirt would have the

selves cut off or dyed pink. No

matter how hot you got at the

after match it meant you couldn't

take your blazer off.

"Marshy was always involved

with that. Ben Hurst, Caleb

Ralph and the Mauger boys

played some good ones as well

. . . it was always in the spirit of

having fun and we did have a lot

of fun."

Following his stint with the

Crusaders, Leo'o spent seven

years in France playing for

Racing 92. He then returned

to Christchurch and spent

two years working at the New

Zealand Institute of Sport before

taking up his current role at St

Thomas'.

"I always wanted to get

involved in youth and sports,

even cultural stuff. I'm also

heavily involved in my Samoan

church," he said.
---
24 Wednesday June 19 2019

Latest Christchurch news at www.star.kiwi

SELWYN TIMES

Long journeys

to new home

Long-time Selwyn residents and new arrivals joined the ranks of new New Zealanders this month.

A group of 25 people from nine different countries including South Africa, the Philippines, Korea

and India became citizens at the Council's monthly citizenship ceremony last week. Rachel

Henderson, from England, was one of a number of people taking up citizenship after a long time

of calling New Zealand home—telling the room she had decided after 30 years here that it was

time to make it official.

Among the newer arrivals was Martin Kovac, from Slovakia. Mr Kovac met his wife, who is

from Darfield, while the pair were working in the UK. After two years of travelling in Europe they

decided to take a trip back to New Zealand, encouraged by family and the offer of work. Though

Mr Kovac admits New Zealand wasn't quite what he expected.

"In my eyes it's in the middle of the middle of the ocean, it's green, I thought New Zealand was

like Fiji or something."

Despite not turning out to be his tropical island dream, he says the pair fell in love with New

Zealand as they spent their first year travelling the country. Six years later the couple are settled

in Doyleston and with a baby on the way Mr Kovac says it made sense to fully embrace his new

home as a Kiwi.

International artist going digital in Leeston

Selwyn residents will get a sneak peek at the excitement of 3D as part of a feast of digital art next week.

Three 3D printers will be at Leeston Library next week for people to try them and discover as part of the

fun being brought by digital artist Erica Sklenars.

From Monday to Saturday Ms Sklenars, the artist in residence at Leeston Library, will be using the

printers, projections and film to make art. An interactive artist, she is inviting people to watch her work,

join in and maybe see their work printed and walk away with a souvenir.

The Kiwi artist will also be giving a talk on Tuesday about her work pushing the bounds of technology

to make art. Ms Sklenars has worked around the world, including touring with New Zealand band The

Black Seeds and fashion label Nom*D, and putting on a show for Weta Workshop. Her most recent

work was as an artist in residence in Hong Kong.

On Friday and Saturday people will be able to get their hands on the 3D printers. Ms Sklenars will be

hosting two workshops where she will be guiding participants through the process of turning a digital

idea on a screen into a three dimensional artwork.

Bookings are required for the workshops, visit selwynlibraries.co.nz.

The Modern Māori

Quartet played to a

sold out crowd at

the Lincoln Event

Centre on Saturday

15 June as part of

the Council's Matariki

celebrations. The

group were supported

by local acts

Aporonia Arahanga,

Sista Waitoa and

Project Miere.

Vote 2019: candidate

nominations opening soon

Thinking about standing for the Council or Malvern Community

Board this year? It's time to start planning and getting organised for

the upcoming elections.

Council chief executive David Ward says Selwyn is blessed with

many community-minded people who give their time generously in

local clubs, sports, committees and community organisations.

"Now's the time for these community leaders to consider using their

skills in local government," he says.

"Standing for local government is a great way for people to take

the next step, and have a meaningful say on the issues that directly

affect their communities.

"It's also an excellent opportunity to develop their leadership skills."

Mr Ward says it's important that communities are supported by a

diverse group of representatives with the skills, abilities and training

to respond to major community issues.

"In Selwyn especially, we face some critical decisions in the coming

years about how we respond to our continuing growth – what

facilities and services are important, and how we prioritise our

spending to benefit the whole district.

"These are the issues that get debated around the council and

community board table, and our residents want to feel confident

their representatives will make the best decisions. We also hope

that with a good selection of capable and enthusiastic candidates,

even more people will be encouraged to vote this year."

In Selwyn, elections will be held for the mayor and 11 councillors,

along with five members of the Malvern Community Board.

Voters will also vote for representatives on the Mid Canterbury

Constituency of the Canterbury Regional Council (Environment

Canterbury) and the Canterbury District Health Board.

Nominations for candidates open on 19 July and close on 16 August.

Voting papers will be delivered in late September and voting closes

on Saturday 12 October.

Anyone considering becoming a candidate

can find out more by downloading the

candidate handbook from the Council

website at selwyn.govt.nz/elections or

attending a candidate information evening

on Thursday 4 July, at 7pm, at the Council

offices in Rolleston.

Time to register your dog

It's that time of year again when all dog owners must ensure that

their dogs are registered.

Dog registrations are due from 1 July, with discounted registrations

fees available for July. A re-registration notice will arrive in your

inbox or letterbox by 1 July. Payment can be made online, by

internet banking or at a Council service centre.

All dogs older than 3 months must be registered every year (July–

June). The fine for an unregistered dog is $300.

Fees collected from registration help to fund the Council's 24/7 dog

control operation. This includes community education and the Dog

Smart programme in schools, along with enforcement activities,

operating the dog pound and providing free microchipping for the

district's dogs.

If paid by 31 July 2019, the discounted registration fee applicable is:

· $10 Administration/Owner fee

· $30 for each dog owned by

the same person and held at

the same locality.

Payment after 31 July 2019 the

full registration fee applicable is:

· $15 Administration/Owner fee

· $40 for each dog owned by the

same person and held at the

same locality.

Change of address

If you have changed your email

address or postal address since

last year's registration, please

contact Animal Control on 03

347 2910 so that your details

can be confirmed.

Council Call

Selwyn District Council

Norman Kirk Drive, Rolleston

Ph 347 2800 or 318 8338

Rolleston Library

Rolleston Drive, Rolleston

Ph 347 2880

Darfield Library & Service Centre

1 South Terrace, Darfield

Ph 318 8338 or 347 2780

CC190619
---
SELWYN TIMES Latest Christchurch news at www.star.kiwi

Wednesday June 19 2019 25

Notices

APPLICATIONS OPEN FOR

HERITAGE FUND 2019

This year's Heritage Fund is

now open for applications. The

fund aims to encourage and

assist owners to maintain and

enhance heritage buildings

and with work required on

protected trees. It is open to

residents and ratepayers of the

Selwyn district. Priority is given

to buildings, trees and items

listed as 'heritage' under the

Selwyn District Plan. For more

information and to download an

application form, go to selwyn.

govt.nz/heritagefund2019,

or contact us: heritagefund@

selwyn.govt.nz. Applications

close on Wednesday 17 July.

MICROCHIPPING

If your dog was first registered

after 30 June 2006 and is not a

working dog, the law requires

him or her to be microchipped.

A clinic will be held on Friday 5

July at the following places:

· Lincoln: 9–9.30am

· Leeston: 10.15–10.45am

· Darfield: 11.30am–12pm

· Rolleston: 12.45–1.15pm

Microchipping will not take

Meetings

Public Forums: Council,

Community Board and local

committee meetings are open

to the public. Time is available at

the start of meetings for people

to speak on matters of concern.

Please notify Bernadette Ryan

or your local committee at least

three days before the meeting.

Township, Hall and Reserve

Committees: To list or make

changes to meeting details, email

meeting.changes@selwyn.govt.

nz or phone 347 2800 or 318

8338 by 9am Wednesday the

week before publication.

COUNCIL & COMMUNITY

BOARD

District Plan Review Committee

Wed 26 Jun 9am

West Melton Community and

Recreation Centre

Selwyn Waihora Zone

Committee

Tue 2 Jul 2pm

Lincoln Event Centre

Property Committee

ON THE

ROADS

place if wet. If you have

any questions regarding

microchipping, please contact

Tracey Wheeler on 347 2800.

SELWYN DISTRICT PLAN

CHANGE

Plan Change 59

GW Wilfield Private Plan

Change, proposed Living WM

South Zone, West Melton

Public Notice Summarising

Submissions and Calling for

Further Submissions

A summary of the submissions,

along with a copy of the original

submissions, on the above

proposed change to the Selwyn

District Plan are now available

for viewing electronically at

all Council Service Centres,

Libraries and on our website

(selwyn.govt.nz). A hard copy of

this information is available for

viewing at Council's Rolleston

Headquarters. The public notice

(published in the Public Notices

section of The Press, on 5 June

2019), explaining how to make

a further submission and who

is eligible to make one, is also

available in these places.

Further submissions must be

Wed 3 July 10am

West Melton Community and

Recreation Centre

Audit & Risk Subcommittee

Wed 3 Jul 3pm

West Melton Community and

Recreation Centre

DISTRICT COMMITTEE

MEETINGS

Coalgate Township Committee

Tue 25 Jun 7.30pm

Coalgate Fire Station

Darfield Recreaton &

Community Centre

Management Committee

Mon 1 Jul 7.30pm

Darfield Recreation Centre

Darfield Township Committee

Thur 20 Jun 7.30pm

Darfield Library Meeting Room

Doyleston Community

Committee

Wed 3 Jul 7.30pm

Doyleston Hall, Osborne Park

Glenroy Community Hall

Darfield and Kirwee Wastewater –

initial community feedback

limited to matters either in

support of or in opposition to an

original submission made on the

above Plan Change.

The closing date for further

submissions on these plan

changes is 5pm Thursday 20

June.

For further information regarding

this plan change or the process

outlined above, please contact

Rachael Carruthers, Strategy

and Policy Planner, on (03) 347

2800, (03) 318 8338 or pc59@

selwyn.govt.nz.

DARFIELD KIRWEE WASTE

WATER CONSULTATION

The Council is seeking feedback

from the community on the

possible development of a

wastewater scheme for Darfield

and Kirwee. A meeting with

businesses will be held at

Darfield Library and Service

Centre on Thursday 27 June

2019 at 1pm and a public

meeting at the same location

at 6pm. If you wish to attend

either please RSVP at water.

manager@selwyn.govt.nz. A

drop-in session will also be held

on Saturday 29 June 2019 at the

same venue from 10am–1pm.

Committee

Tue 18 Jun 7.30pm

Glenroy Community Hall

Leeston Community Committee

Mon 1 Jul 7.30pm

Leeston Library

Leeston Park Committee

Mon 24 Jun 7.30pm

Leeston Park Pavilion

Rolleston Community Centre

Management Committee

Thur 27 Jun 7pm

Rolleston Community Centre

Rolleston Residents Association

Mon 24 Jun 7pm

Rolleston Community Centre

Sheffield-Waddington

Community Committee

Thur 20 Jun 7.30pm

Sheffield Fire Station

Springston Community

Committee and Springston

Reserve Committee

Wed 19 Jun 7.30pm

Errol Tweedy Pavilion,

Springston Reserve

The Council is seeking feedback from the community on the potential development of a reticulated

wastewater system for Darfield and Kirwee.

The first phase of public feedback, open until Friday 12 July 2019, will help to determine whether a new

system is needed or not.

If the project goes ahead, it will replace privately-managed, on-site wastewater treatment and disposal

systems. Any construction is not expected to begin until 2028–2033, and is part of the 30-year

infrastructure strategy 2018–2048.

The Council has completed some early investigations into the issues faced with wastewater collection,

treatment and disposal for Darfield and Kirwee along with potential servicing options.

For more information and to complete the online submission form, go to selwyn.govt.nz/dkwastewater.

On the roads this week

Surfacing work will be carried out on Coaltrack Road and Kerrs Road until Friday 21 June.

Traffic management will be in place at this time.

Footpath construction will be taking place on Forbes Road from Michaels Road to School Road, Michaels

Road from Old Tai Tapu Road to Forbes Road, Birchwood Close, Prebblewood Drive from Trents Road to

Dewar Lane and Edward Street from Millstream Drive to Southfield Drive until Friday 21 June.

Selwyn Events

SATURDAY

22

JUNE

SATURDAY

22

JUNE

TUESDAY

25

JUNE

SATURDAY

29

JUNE

FRI AND SAT

28 & 29

JUNE

UNTIL

4JULY

UNTIL

7JULY

Child Restraint

Installation Checks

Selwyn District Council carpark,

Rolleston, 10am–12pm

Come and get your child car seat

checked by a qualified technician and

enjoy a sausage sizzle. Our Car Seat

Champions will be providing advice

and able to answer any queries you

have. Tea, coffee and bread donations

for the Ellesmere Foodbank are

greatly appreciated. To book a slot

email roadsafety@selwyn.govt.nz.

Matariki

Lincoln Library, 10am–4pm

Enjoy the district's Matariki

celebrations with a Matariki story time

and shared kai at 10.30am, a weaving

workshop with Ngāi Tahu artists from

11am–2pm, have fun at the creative

activity station or just stop in to see

the stars projected in the library.

Artist Talk

Leeston Library, 6.30–7.30pm

Digital artist Erica Sklenars will be

discussing her work, giving an indepth

talk on making community

art using a variety of mediums and

working around the world.

Patternmaking Workshop

Rolleston Community Centre,

10am–3pm

This workshop will have an expert

showing you how to create a draft

pattern from your favourite garment

and use it to fashion your own version.

Equipment and light refreshments

provided. Please bring your favourite

garment to adapt and your own lunch.

$30 for library card holders, $40 for

non-card holders. Bookings essential

at Eventbrite.co.nz. Recommended

for adults 18 years and over.

3D Printer Workshops

Leeston Library, Friday 3.30–

5.30pm, Saturday 11am–1pm

Get hands on with creating and using

3D printers. Artist Erica Sklenars will

guide participants through the process

of turning a digital idea on a screen into

a three dimensional artwork. Bookings

required, visit selwynlibraries.co.nz.

Limited spaces available.

Matariki photography

exhibition

West Melton Community and

Recreation Centre

See some amazing photographs of

the night sky from members of the

Canterbury Astronomical Society. See

selwyn.govt.nz/matariki for times.

Ewe Beauty II

Down by the Liffey Gallery

An exhibition from Southern Felters, a

Canterbury-based creative

fibre group, who will be exhibiting an

array of their felt objects. Open Wed–

Thur 11.30am–2.30pm and Fri–Sun

10am–4pm.

For information on listing a community event visit

www.selwyn.govt.nz/councilcall

Leeston Library & Service Centre

19 Messines Street, Leeston

Ph 347 2871

Lincoln Library & Service Centre

Gerald Street, Lincoln

Ph 347 2876

(03) 347 2800

Darfield call free 318 8338

www.selwyn.govt.nz

SelwynDistrictCouncil
---
26 Wednesday June 19 2019

Latest Christchurch news at www.star.kiwi

SELWYN TIMES

It takes plenty

of sausage

sizzles to be a

Canterbury local...

Now you can get there

with just one card.

At Challenge, we value your business, and we

value being local. That's why we've found a way

to say thank you, as well as giving you a great

way to contribute to your local community.

Join now at mychallenge.co.nz.

My Challenge. Locals get it.

Earn

points

Save

on fuel

Terms & conditions apply

Give

to your

community

mychallenge.co.nz

CX-9 integral part

of pamper package

THE OFFER of a pamper

package at Hanmer Springs

was too good to turn down

– hot pools, spa, massage

and an overnight stay all

included.

The car my wife and I

drove to the township in

was a Mazda CX-9 and it fitted

the occasion, it is quiet,

refined and superbly comfortable

on the undulating

North Canterbury roads.

The seven-seat CX-9 is

not new, the latest generation

sports utility vehicle

landed in New Zealand in

2016; however, it has had a

bit of a refresh and a high

grade variant has been

added to the line-up. There

are now three models,

rounding out with what

Mazda label Takami.

Takami is something you

are going to hear a lot more

about from Mazda, it adds

just that little bit of extra

sophistication, sitting over

and above Limited variants

and, as in the CX-9's

case, add several features

such as nappa leather trim,

rosewood panels and aluminium

trim items.

These sit on top of what

would ordinarily be a wellspecced

vehicle in the first

instance.

Those familiar with the

CX-9 pre-2016 will relate to

the feisty V6 engine which

characterised the line-up.

That has long gone, today's

CX-9 has a turbocharged

2.5-litre four-cylinder

engine.

If the thought of a

turbocharger has you a

little perplexed, you need

not be concerned. The

turbocharger is low boost,

and the engine, and its

management protocols,

are structured so that the

engine works consistently

in the area of low revs. Sure,

it will meet the 6000rpm

red-line with little provocation;

however, there is

a strong, flat torque curve

which meets its maximum

at 2000rpm (420Nm). Add

in 170kW at just 5000rpm,

the realisation is that the

engine is going to work

tirelessly at low speed.

Power is transferred

through a traditional sixspeed

automatic transmission.

This is another area

Mazda does really well, the

ratios and the shift management

system work well

with the low revving nature

of the engine, the gaps

between gears are filled

through the turbo boost,

while acceleration is clean

and smooth.

The CX-9 is no slouch,

even without working hard

it will still accelerate to

100km/h in 8.8sec, and will

make a highway overtake

in 4.7sec. On our journey

MAZDA CX-9 TAKAMI: High grade trim and

specification over and above Limited.

north I made use of several

overtaking opportunities

and always enjoyed that

solid mid-range punch that

you get from a big fourpotter

and the boost from a

turbocharger.

Interestingly, the CX-9

gets a driver-selectable

sport mode, but even

without the heightened

engine urgency it is still

responsive. I didn't use

sport mode much, but far

preferred to let the engine

operate at its area of greatest

efficiency.

• Price – Mazda CX-9

Takami, $67,895

• Dimensions –

Length, 5075mm;

width, 1969mm;

height, 1747mm

• Configuration

– Four-cylinder,

four-wheel-drive,

2488cc, 170kW,

420Nm, six-speed

automatic.

• Performance –

0-100km/h, 8.8sec

• Fuel usage –

8.8l/100km

The benefit of the engine's

low revving nature is also

that of fuel economy. It's

no surprise the CX-9 is

thrifty, Mazda's SkyActive

programme leans towards

efficiency, and it claims an

8.8-litre per 100km (32mpg)

combined cycle average,

which fits well with the

9.2l/100km (31mpg) readout

during our journey. At

100km/h the engine is turning

over at just 2000rpm

in sixth gear, offering a

7.8l/100 (36mpg) instantaneous

figure.

Considering the CX-9

weighs in rather tubby at

just on two-tonne, these

figures are impressive and

are a credit to the Mazda

engineers who, for a long

time now, have been plugging

away at driveline

Motoring

Ross Kiddie

efficiency. All CX-9 models

are now four-wheel-drive,

which makes it's economy

even more remarkable.

The 4WD set-up will

take you off-the-beaten

track without being fully

classified as an off-roader.

However, with a ground

clearance figure of 220mm,

it does have useful off-theseal

capability.

Personally, I see the alldrive

function as a medium

to glean grip on all surfaces,

the CX-9 has an on-road

feel which is quite reassuring,

it feels tightly connected

to the road surface, and

even in the wet there is

surety through the steering

which must be considered a

safety feature. On that subject,

the CX-9 easily qualifies

for a five-star Australasian

New Car Assessment

Program safety rating.

My wife never travels

light, but her suitcase was

no match for the cavernous

cargo area. With the rear

seats folded flat that area

measures up to 810-litres;

if you are seven-up then

that area is compromised to

230-litres, but that matters

little, the CX-9 is very

much a competitive battler

in the large SUV category.

As much as I liked the

detailing in the Takami

grade, I'd be an entry-level

buyer, at $59,695 against

$67,895 you are getting

a lot of value for money.

However, I fully appreciate

that SUV buyers like

all the bells and whistles,

and that's what you get

with CX-9 Takami, it is a

luxury car at an affordable

price. For the record, the

non-Takami Limited grade

comes in at $65,295.

I have a certain affinity

with Mazda, there's one in

the Kiddie garage, I like the

way the product is quality

built and the technology

constantly surprises me.
---
SELWYN TIMES Latest Christchurch news at www.star.kiwi

Wednesday June 19 2019 27

Dine in comfort

and style.

$

28/wk

Duke

Dining Chair

$165

BUY NOW. PAY IT IN 6

Vintage

Dining Table

NOW $399

$

67/wk

The smarter way to shop!

Shop

Online

Nationwide

Delivery

Finance

Options

targetfurniture.co.nz

Cnr Blenheim & Curletts Rds, Christchurch

Ph: 0800 TARGET (0800 827438)

Offers and product prices advertised here expire 24/06/19.

Sale excludes Manchester and Accessories.
---
2

Wednesday [Edition datE]

28 June 19 2019

Latest Christchurch news at www.star.kiwi

SELWYN RURAL LIFE

SELWYN TIMES

Providing shelter or

shade reduces adverse

impact of winter weather

Diesel Blower Heaters

• An industrial diesel powered blower heater, which is

ideal for warming a large area.

• Clean burning technology and diesel economy allow it

to operate for up to 14 hours on a single tank.

• Designed especially to keep operation noise to an

absolute minimum.

• Plug the heater into a standard three pin plug power

point and turn the thermostat to the desired heat

setting and the burner starts automatically and will

continue operation until it reaches the preset heat

setting, automatically turning itself off and on as

required to maintain the temperature.

• A truly powerful, versatile and economical heater

30 kW - $795.00 GST incl

50 kW - $895.00 GST incl

Tuatara Machinery Ltd • 291 Weedons Ross Road

Tel. 03 347 4956 • Mob. 0274 770 070

www.tuataramachinery.co.nz

New Zealand's temperate climate means

farmers produce world-class livestock

from grass-based outdoor systems. High

standards of animal welfare are a key part

of any successful, sustainable livestock

enterprise, and farmers take great pride in

managing their stock in the best possible

way, to produce high quality products.

Keeping grazing livestock at a

comfortable temperature makes good

sense for both animal welfare and

productivity reasons, especially at times

of the year when livestock are vulnerable

to either very hot weather or cold, wet,

windy conditions. This includes when

animals are heavily pregnant, around

lambing and calving, and immediately

post-shearing.

By providing shelter or shade, the

farmer can reduce adverse impacts on

livestock, mitigate the risks and impacts

of the weather on farm productivity and

HON AMY ADAMS

MP FOR SELWYN

Working hard for our communities

If you would like to sign up for

my newsletter please visit:

www.amyadams.co.nz

CONTACT

P 03 344 0418

E selwynoffice@parliament.govt.nz

Funded by the Parliamentary

Service and authorised

by Amy Adams, 829 Main

South Road, Templeton,

Christchurch.

enhance the reputation of the livestock

industry in the eyes of the public and

consumers. Planting trees or live shelter

also creates a more pleasant living

and working environment, enhances

biodiversity, prevents erosion, improves

water quality, and improves the value of

the property both in economic terms and

recreational use.

Sheltering against cold, wet and windy

weather can benefit livestock productivity

and welfare in a number of ways:

• Better food conversion efficiency and

increased growth rates – more shelter

means less energy spent keeping cool or

warm

• Better survival chances for young

lambs and calves

• Reduced stress on vulnerable animals,

such as heavily pregnant ewes and cows,

or any sheep post-shearing

• Better pasture growth and utilisation –

warmer temperatures encourage growth;

animals will graze more evenly over

widely sheltered areas

• Reduced drying of pastures reduces

moisture loss

• Better reproductive performance –

rams and bulls, especially lowland breeds,

will perform better in more sheltered

environments.

Shade too can contribute to animal

welfare and productivity, reducing the risk

of heat exhaustion and sunburn.

More information is available

at Beef + Lamb New Zealand

including a recently produced

fact sheet called "Shelter,

Maintaining the welfare and

productivity of sheep and cattle

on drystock farms" available

in the Knowledge Hub on their

website at www.beeflambnz.com.

3 TRUCKS

3 CARS

3 LUBES

3 SERVICING

3 FLEET WORK

3 BOATS

3 DIESEL INJECTOR

3 & PUMP SERVICING

3 ENGINE TUNING

Mon-Fri 7am-5pm

Sat 8am-12pm (WOFs only)

3 BRAKES

3 MAXXIS TYRES

3 WHEEL ALIGNMENTS

3 BATTERIES

3 WOFs

3 CAMBELTS

AND MUCH

MORE!

839 Jones Road, Rolleston P.O. Box 16 Rolleston

Phone Simon on 347 7110 or Mobile 027 272 9213

Canterbury

Timber & Hardware

WIRE SPECIAL

2.5mm Hi Performance Wire 25kg 650m coil $85.00

3.15mm Hi Performance Wire 25kg 408m coil $91.47

4.00mm Hi Performance Wire 25kg 253m coil $98.67

All prices are Including GST

Call in today for your free quote!

NEW ENTRANCE: 167 Manion Road, Rolleston

Jason Pester P 03 347 7465 F 03 347 7032 E jason@cthl.co.nz

Mon-Fri: 7am-5pm Saturday: 8am-12pm

Canterbury

C T H Timber & Hardware

We are here
---
SELWYN TIMES Latest Christchurch news at www.star.kiwi

Wednesday [Edition June 19 datE] 2019 293

SELWYN RURAL LIFE

Sound environmental

farm management

needn't cause grief

The new effluent system

It has been two years since Marv

Pangborn had his dairy farms and support

properties near Rakaia audited by an

independent farm environment plan

auditor, and the outcome of today will

affect his farming business going forward.

At his last audit, Marv received two B

grades and one A grade for his Selwynbased

farms. The audit showed he needed

to check the efficiency of all irrigation

systems, improve effluent storage and

pond management, and undertake

a quantitative assessment of the soil

moisture status on the run off block to

meet an A grade standard.

With the goal of achieving three A

grades this year, Marv had some work to

do.

Under the Canterbury Land and Water

Regional Plan, all consented farms in

Canterbury are required to have a farm

environment plan (FEP) which identifies

on farm risks and sets out how the farm is

going to manage its environmental impact.

All FEPs must be audited by an

independent auditor and the results are

reported to Environment Canterbury or

an irrigation scheme as part of its consent

conditions. Farms achieving a C or D

grade are considered non-compliant and

are required to be audited more frequently,

while farms achieving an A or B grade

are compliant and are audited once every

two to four years depending on consent

conditions.

Farm auditor Alison van Polanen first

met Marv two years ago and is revisiting

his farms understand what changes to

infrastructure and management have been

made since his last audit.

"Our role is to understand the

parameters each farm operates within and

assess its progress towards meeting good

management practices. We do this through

a combination of discussions, reviewing

records and an on-farm assessment.

"We advise farmers of solutions, but

rather to identify when something isn't

meeting good management practice. If a

farmer seeks further clarification we can

provide examples of what and how we

have seen other farmers achieving good

management practice, but it's the farmer

who determines what is appropriate and

relevant for their farm system," Alison

says.

In the past two years leading up to this

farm audit, Marv has spent hundreds

of thousands of dollars upgrading his

effluent ponds and irrigation system as

well as investing in bucket testing and

soil moisture monitoring in the hopes of

reaching that A grade.

Overlooking his old effluent storage

system, Marv reflects on how things have

changed.

"Back when we got our previous effluent

system, we could get no one to help us

design it - there was no one doing it.

There was no effluent calculator and we

designed it too small with only about 7-8

days storage which we thought was lots,

because we were coming from a system

where we only had one day storage," he

says.

This year, he installed a new effluent

system which now includes 30 days

storage.

On his run-off paddock, he shows

Alison how he's made changes to the way

he irrigates. At the last audit, he only had

one pivot, but now he's using a fixed grid

and two pivots and has found land has

been much more productive.

"The farm used to be irrigated in a 16-

day round with 50ml of water at a time;

now we're using 5 ml at a time but more

frequently which has helped with the

leaching. We use half as much water than

what we used to, and the land has been

more productive."

Having reviewed Marv's farm

environment plans, nutrient budgets and

other data as well as viewing changes he's

made to infrastructure on farm, Alison

was able to award him three A-grades.

"Receiving an A grade was pleasing as

it showed we are on the right track and

means that I do not have to spend the time

and money on an audit for another three

years," Marv says.

For more information

on farm audits see

www.canterburywater.farm.

Farmer Marvin Pangborn and

farm auditor Alison van Polanen

on Marv's Selwyn farm.

WINTER TYRE SALE

BUY 1

GET 1

HALF

PRICE*

Bridgestone Tyre Centre - Rolleston

847 Jones Road, Rolleston

03 347 4702

Visit us us at: at: Cnr Your Main nearest South Rd local & Barters Totalspan Rd, Templeton franchise | Ph 344 0331

* Valid until 30 June 2019. On selected Bridgestone and Firestone tyres.

Conditions apply. For details visit us in-store or see www.bridgestonetyres.co.nz.
---
30 Wednesday June 19 2019

Latest Christchurch news at www.star.kiwi

Gardening

Local

News

Now

SELWYN TIMES

Fire rages, homes at risk

Strawberries can be grown anywhere

STRAWBERRIES are one of the

most popular edible plants to

have in the garden. And it's not

hard to work out why.

They're tasty of course. But

they have a couple of other great

factors going for them. They can

be eaten straight from the garden

– always a plus.

But more importantly they can

be grown just about anywhere. It

really doesn't matter what size of

garden you have or whether you

even have a garden at all.

Strawberries can be grown in

almost anything – a cut off drainpipe,

a planter box, in the garden

bed, in a hanging planter and

more.

As long as they can see the sun,

and your garden bed or 'planter'

is well-drained, you can expect

great growing results.

Strawberries are best planted in

June or July. Or, if you live down

south, probably best to wait until

August when the soil is a little

warmer.

As with all plants, soil preparation

is important. Strawberries

prefer a soil pH of 5.8 to 6.2,

which is slightly acid, so you

shouldn't need any lime.

You can enrich the strawberry

bed by digging in potash and

composted vegetable matter to

provide a boost of food for the

$45

Screened soil

MAINSCAPE

Garden Supplies

Making your great outdoors greater

SCREENED TOPSOIL

Rollout Lawn

per m³

+ gst

Preparation

Free Delivery

for 5m³ loads

Spray-on

Mainscape Garden Supplies

is the home of Supa Soil

50/50 Screened soil &

Compost mix

Check out the rest of our landscape supplies online

www.mainscapegardensupplies.co.nz

Call us now

021 241 7908

1543 Springs Rd Lincoln

plants as they grow, and fowl

manure to reduce the pH.

Planting in a pot or container?

Use a top quality potting mix and

for an extra boost of goodness

apply a liquid fertiliser to the mix.

Before planting raise your garden

bed by mounding the soil.

This will encourage circulation,

drainage and can add depth to

shallow soil.

Plant your seedlings around

the edges of your garden or pots

to encourage the strawberries

BACKYARD CRITTERS

to hang over the sides and prevent

the fruit from touching the

ground and rotting.

Dig a hole 10cm deep and place

the seedling inside. A deep hole is

required to give the roots plenty of

room to spread out and grow but be

careful not to bury the plant. Pack

the soil firmly around each seedling.

Plant each seedling around 300mm

apart from the next.

Once planted it's important

to keep them well watered at all

times. When the weather starts to

warm up during spring it's a good

idea to surround the seedlings

with peastraw or newspaper to

help keep away weeds and retain

water. The more moisture they

get the juicier the fruit will be.

Place netting or wire over you

plants when they begin to produce

fruit. This will block out

birds and ensure you get to eat

the strawberries yourself.

In spring, add another dose

of general fertiliser to your

strawberries to encourage sturdier

plants that are more disease

resistant heading in to the warmer

months.

Then sit back and wait till

Christmas to enjoy the sweet sensation

of your own hard work.

Once your strawberry harvest

has finished, if you're using

hanging baskets or similar

containers, it's best to pull out

your strawberries and plant new

ones after a year to freshen up

the soil (don't forget to use new

potting mix).

But if they're in your garden,

your strawberry patch will last

a couple of years. After this you

can simply use a combination of

your runners and new plants to

create a new patch.

Mike Bowie is an ecologist who specialises in entomology (insects and other invertebrates). Each

week he introduces a new species found in his backyard at Lincoln. His column aims to raise

public awareness of biodiversity, the variety of living things around us. Check out the full list of

invertebrates found at

http://naturewatch.org.nz/projects/backyard-biodiversity-bugs-in-lincoln

A EUROPEAN fly that has now spanned

most of the world is the lesser house

fly known scientifically as Fannia

canicularis.

THis 4-6mm fly is smaller and slimmer

than the common house fly and has

the characteristic behaviour of silently

circling in the middle of the room

around lampshades.

THe fly is hairy and the male of the

species has pale yellow bands on its

abdomen.

During its two to three-week life

expectancy, females can lay up to 20,000

white eggs in batches of about 50.

Eggs have wing-like flanges that allow

them to float in liquid medium. Animal

excrement, compost and kitchen waste

are common places for larvae.

It is also known as a species associated

with myiasis or fly strike where eggs laid

on live sheep develop into maggots that

eat into the flesh.

THis usually starts around the rear end

of sheep where excrement or dags create

a suitable environment to establish.

TASTE:

Strawberries

should be

planted in

June.

Needing Landscaping?

• Landscape Design

• Decks/Pergolas/Paving

• Irrigation Systems

• Plant Supply & Planting

• Ready/Hydro/Artificial Lawn

• Digger & Truck Hire

The Landscape Specialists

Prompt and professional service by experienced staff

Phone: 03 349 4363

Email: greenscapes@xtra.co.nz

www.greenscapes.co.nz
---
SELWYN TIMES Latest Christchurch news at www.star.kiwi

Wednesday [Edition June 19 datE] 2019 31 3

HOME PROFESSIONALS

Choose your

new flooring

in your own

home

Recarpeting your home may be one of the biggest

undertakings you as a homeowner will make when

it comes to updating your décor.

BEFORE

AFTER

It is one thing to view carpet and hard

flooring samples in a shop. It is another

to have the samples brought to you where

they can be viewed in your own home,

surrounded by your furniture and colour

schemes, making it wonderfully easy.

That is the advantage Harrisons Carpet

brings to the market.

"As a mobile carpet retailer I am able to

bring a wide range of flooring samples to

your home, from Solution Dyed Nylon

and Wool carpet to Vinyl Planking and

Laminate, all from proven suppliers," says

Amanda Wilson.

For six years, Amanda has owned and

operated Harrisons Carpet Canterbury

Country covering the Selwyn district.

The combination of the quality flooring

products Harrisons supply and a genuine

interest in her clients has Amanda loving

what she does.

"It's a real privilege to be invited into

people's home and the trust they put in

me."

Initial consultations are done over the

phone or online at the Harrisons website,

www.harrisonscarpet.co.nz and a mutually

convenient time is scheduled for Amanda

to visit you.

"I really enjoy working in the Selwyn

district. It's a beautiful office to work from,"

she says.

With laser technology and smart devices,

measuring and quoting is a simple, quick

process, done on the spot for you. Carpet

is chosen, arrangements are made to

move furniture – you can do it yourself

or Harrisons offers a competitively

priced service – and the installation takes

place. This is usually carried out over no

more than one or two days, as quickly

and conveniently as possible, with fully

qualified, professional installers.

As part of her service, Amanda is

always available to offer advice and tips,

suggestions on décor and you also have the

satisfaction of buying from a local business

owner.

There is a wealth of information on

the Harrisons website including detailed

profiles of the flooring products available,

regular specials to help with budgeting, a

buying guide with important questions to

ask yourself, details about guarantees and

warranties and finance options with either

GE Finance or QCard.

Contact Harrisons Carpet on

0800 421 001 or visit our website

www.harrisonscarpet.co.nz to arrange a

consultation with Amanda.

YOUR LOCAL FLOORING EXPERTS

AND WE COME TO YOU AT A TIME THAT SUITS

At Harrisons Carpet you'll always get the

best advice and best price from your

locally owned and operated Harrisons

expert. We'll come to you with our vans

full of over 500 carpet samples plus a

range of other flooring options.

OUR

PRICE

PROMISE

Why Harrisons?

• It's easy, we're mobile, so we come to you

• We provide free designer colour and style advice

• Huge range of the latest carpets and vinyls to

suit all decors and budgets

• Our price promise*

• Get Fly Buys with every purchase

• Finance options available (Q Card, GEM Visa)

*See website for details

GARAGE DOORS

The Genuine

Custom Made Garage

Door Professionals

0800 661 366

info@custommade.co.nz

Amanda Wilson - Owner

Harrisons Carpet,

Canterbury Country

FOR A FREE IN-HOME CONSULTATION

0800 103 004

harrisonscarpet.co.nz

See you at your place TM

Auckland • Christchurch • Wanaka

www.custommade.co.nz

Our Services

• House Re-Wiring

• Garden Lighting

• New Builds

• Mitsubishi Heat Pumps

• Office Re-Fits

• Internet & Telephone

• TV Aerials

• Spa Pool Installation

• Industrial Installation

• Electrical Safety

Certificates

Mobile 021 22 77 275

Web juiceelectrical.co.nz

Email greg@aelectrical.co.nz

03 379 6644

PO Box 7778,

Sydenham,

Christchurch 8240

PATIOS - OUTDOOR AREAS - CAR PORTS

Shadecraft is a locally owned company who specialise in shade and weather

protection products to enhance your homes design and use of outdoor areas.

SHADE SAILS – UMBRELLAS – ALL WEATHER CANOPIES

ShadeCraft (SI) Ltd

0800 742332 • Cell 0274 981239 • www.shadecraft.co.nz
---
32 4 Wednesday [Edition datE] June 19 2019

Latest Christchurch news at www.star.kiwi

HOME PROFESSIONALS

SELWYN TIMES

How to choose the best

heating for your home

Choosing the best type of heating for your home

during winter is not an easy task, particularly when

there are so many options available.

It pays, in more ways than one, to think

carefully about how big an area you need

to heat, do you want it warm all the time

or is it just overnight like in a bedroom,

where a smaller electric heater would

work. It will always be difficult to heat an

entire home from a single source.

For larger living areas it is worthwhile

investing more money pay for a fixed

heating source with lower running costs

such as a heat pump, flued gas heater, wood

or pellet burner. By identifying the square

metres need for the heating means that

you can then look at the manufacturers'

recommendations and size the heating

source from their instructions.

Check the local council regulations

for what heat sources you are allowed

as there are different rules for those less

than 2ha in size from properties that are

more than 2ha.

As far as wood fires are concerned

make sure you have the right size for your

needs. All fires need to be run hot so if

the fire is too hot for the room you are

in running it with a small fire can lead to

problems.

Most clean air fires will not achieve an

overnight burn. If this is important there

are some low and ultra low emission

burners that will achieve this.

If you like the effect of a fire but are over

the hassle of buying and stacking wood

and cutting kindling then consider pellet

fires. They are convenient, you control the

heat and they are wi-fi capable meaning

they can be operated remotely.

Running costs of all heating options

can vary a lot depending on your fuel

price and how well you use and maintain

your heating appliance.

Always talk to a specialist retailer, they

have the knowledge and experience to

assist your decision making process.

Controlled heat

all night long

472 Blenheim Road, Sockburn Phone: 03 343 1651

Open: 8:30am – 5pm | Saturday 10am – 1pm

NEW ULTRA LOW EMISSION BURNER

CAN BE INSTALLED INTO ANY HOME

www.heatstore.co.nz

BRAND NEW SHOW HOME NOW OPEN IN

BRANTHWAITE, ROLLESTON

WEDNESDAY TO SUNDAY 12PM - 4PM

2 Reuben Avenue, Rolleston

Modern design, home & land

packages available, friendly team

www.generation.co.nz/christchurch

Like us on Facebook: Generation Homes Christchurch
---
SELWYN TIMES Latest Christchurch news at www.star.kiwi

Wednesday [Edition June 19 datE] 2019 33 5

HOME PROFESSIONALS

Beautiful lawns

BEFORE

make a difference to

how your home looks

A beautiful well looked after and maintained lawn can really

set off your home and makes a huge difference to how it looks.

Canterbury Lawns are specialists in great looking

lawns whether it is an instant roll-out lawn or

hydroseeding. Their roll-out lawns use top quality

products and are locally sourced.

Hydroseeding is a cost effective option and can

still be applied during the cooler months but may

take longer to seed depending on the location and, of

course, the weather.

Hydroseeding is a spray-on application of water,

grass seed, wood fibre mulch, fertiliser and tackifier

(a glue which holds the mix to the surface it is sprayed

on). This method give the best chance for the seeds

to germinate and become your beautiful green and

luscious lawn.

Canterbury Lawns owners Zac and Ashley Swale

live locally and can give the best advice on growing the

perfect lawn. Watering is key and Zac recommends

having an automated irrigation system installed

to make the job easier, more convenient and more

efficient in terms of water use. He is happy to provide

advice regarding the best type of sprinklers for your

property's needs.

Winter is a great time to take advantage of a quieter

period and utilise Zac's other areas of expertise ahead

of summer with getting a head start on landscaping

and tidying up or refreshing the look of your property.

The services of Zac and his team are wide and

varied and can cater for all your needs including

pruning, tree trimming, site clearing and preparation,

patios, paving, decking or getting boxing ready for

concreting.

Canterbury Lawns not only works close to home

on residential properties but also specialise in

commercial and larger-scale work, bringing to any

job a high level of both expertise and enthusiasm.

Zac and the team are also specialists in erosion

and dust control for both commercial and residential

areas. Their hydroseeder can hold large quantities at

a time making the job more efficient and they can

source top quality products to suit each job.

For more information phone Zac on

027 456 7777 or visit their website at

www.canterburylawns.co.nz.

AFTER

These before and after photos show how

a lush lawn transforms a property straight

away.

For all your lawns and

landscaping this winter

• Locally owned &

operated

• Residential &

commercial lawns

• Hydroseeding

• Instant roll out lawn

• Full lawn preparations

• Site clearing

• Erosion and dust

control

• Irrigation

• Posthole boring

Call us today to discuss all your lawn

and landscaping requirements

Phone 347 4000 or 027 456 7777

Email zac@canterburylawns.co.nz

www.canterburylawns.co.nz

• Driveway gates • Pedestrian gates

• Sliding gates • Swing gates

• Louvered gates • T & G gates

• Aluminium frames with timber infill

No obligation

free measure

& quote

• Fencing aluminium or timber

• Full gate automation systems

• Keypads • Video intercom

For the Outdoor Space

of your Dreams...

Paving, Irrigation, Lawns, Planting,

Fences, Pergolas, Water-features,

Outdoor fires, Raised Vege beds,

Decks, Artificial grass & more...

Ph: 0508 4 gates (0508 442 837) 03 325 4397

E: info@townandcountrygates.co.nz

Town and Country Gates

www.townandcountrygates.nz

Call Aaron & the team today!

Phone: 03 347 4422 or 021 542 402

Email: Aaron@theoutdoorspace.co.nz

www.theoutdoorspace.co.nz
---
6

[Edition Wednesday datE]

34 June 19 2019

Latest Christchurch news at www.star.kiwi

HOME PROFESSIONALS

SELWYN TIMES

Ways to save

power during

winter

It is expensive to heat your home during

the winter so keeping the cold air out and

the warm air in can help save costs. Here

are some simple ideas that might help

reduce your winter power bill.

Draw curtains at dusk to keep the heat

from the day in and consider installing a

DIY window insulation kits which reduces

the loss of heat through the windows.

Try and stop draughts throughout the

home by adding special tape around

windows and doors, making sure windows

fit their frames and placing door snakes or

draught excluders at the bottom of doors.

Turn your heaters off when you are not

there including heat pumps and set your

heater thermostat to 18 or 20 degrees. Close

any doors to make the area you want to heat

smaller. Do not use unflued gas heathers

as they can release toxic fumes and make

your house damp. Cheap portable electric

heaters are safer and cost less to run.

Air your home by opening windows and

doors a few times a day to let the moisture

escape and sleeping with your bedroom

window open a crack also lets out the

moisture that naturally builds up over the

night. Dry clothes outside where possible

as moisture from wet clothes on indoors

airing racks will end up in your home.

Turning lights off when you are not using

them is an easy way to save energy around

your house and replace incandescent light

bulbs with energy efficient LEDs - and save

$100 or more a year on electricity in your

house.

Heating water is expensive so using less

hot water will help reduce your energy bills.

Using an efficient showerhead still gives you

a great shower, but uses much less water. To

check the flow rate of your shower, put a

10 litre bucket under the shower. If it fills

in less than a minute at normal showering

temperature, your showerhead is wasting

water. An efficient showerhead has a flow

rate of 9 litres per minute, or less.

Reduce your shower times. A 15 minute

shower costs around $1 while a five minute

shower costs around 33 cents. Use cold

washes for your laundry as most washing

machines and detergents clean well using

cold water. A hot water wash can use 10

times more electricity than a cold wash.

Finally turn off those appliances left on

standby including televisions, stereos, game

consoles and computer equipment.

Making simple changes now can go a

long way to reducing your power bill over

the colder months.

Lagoon

Pools

03 349 2160

0800 92 72 82

Canterbury Ltd

• Quotations for water system designs and water testing

• Pipes, valves, fittings sales

• Filtration supply and installation

• Pump service, repairs and maintenance

• Bore flush and development

• Bore pump sales, servicing and maintenance

• We also sell, service and repair most

pump brands including sewage pumps

NEW LOCATION

551 Halswell Junction Road

0800 GRUNDFOS / 0800 478 633

For sales and service or

after hours service call

Jason 021 649 944

or Mike 021 560 044

www.pumps-filters.co.nz

Established in 1987, Southern

Woods has been growing millions of

quality plants for over a generation.

Talk to our knowledgeable team

about fruit trees for your next

project.

- New Zealand Natives - Specimen Trees

- Landscaping Plants - Ornamentals

- Free Expert Advice - Delivery Nationwide

Visit our new plant centre - Open 7 days

Preorder your

Fruit Trees now.

Over 100x varieties

available this winter

1002 Robinsons Road - Between Templeton & Rolleston 0800 800 352 southernwoods.nz
---
SELWYN TIMES Latest Christchurch news at www.star.kiwi

Wednesday [Edition June 19 datE] 2019 357

HOME PROFESSIONALS

Gutter guard

extends life of

your spouting

The warm winter weather to date means

that those annoying autumn leaves are still

falling and clogging up the spouting. The

solution is a Gumleaf Gutter Guard.

"Leaf litter remains damp and acidic and

that wrecks the spouting," says Rohan Rudd

from Gumleaf Gutter Guard.

"By having a gutter guard installed, the life

of the spouting is extended to the life of the

roof."

Snow can also damage spouting, and

again Gumleaf Gutter Guard will protect the

spouting by spreading the load, Rohan says.

The Gumleaf Gutter Guard also helps

with preventing birds from nesting in the

spouting during spring. The eggs and young

chicks attract vermin which can then get

inside roof cavities and rats and mice can

then chew through wiring creating a fire

hazard, he says.

Gumleaf Gutter Guard is an effective way

of preventing birds from making nests in

the spouting, and perching on the spouting

and soiling walls and windows with their

droppings, while also protecting tank water

from being contaminated, ensuring the

safety and quality of the water supply.

Developed in Australia more than 20

years ago, Gumleaf Gutter Guard has been

providing a quality and effective solution

in New Zealand for the last decade, Rohan

says. Much of his work comes from repeat

business, with customers happy with both

the product quality and the service he

provides.

Customers requesting a quote will receive

it within 24 hours, and Rohan says he will

"go anywhere to provide a quote".

He is also available Monday to Saturday to

speak to customers who call him.

"Even if I am working on a job, I will talk

to anyone who calls me," he says.

Once a quote is accepted, the job is started

within 10 days, with installation on an

average sized house taking one to two days.

Rohan also does any necessary minor repair

jobs on the roof at the same time.

To discuss your requirements with

Gumleaf Gutter Guard, phone 0800 486

532, or email rohan@gumleaf.co.nz.

BEFORE

AFTER

STOP leaveS

birds, snow, hail & vermin from

blocking up your spouting

Quality materials: BHP Colorbond steel mesh with unique patented louvre

will even keep out pine needles. Will not rust or sag with age or load.

10 year warranty, range of colours.

Proven in Australia & New Zealand over the last 15 years.

FOR SAFE, PURE DRINKING WATER

FROM YOUR ROOF.

NOW AVAILABLE: STAINLESS STEEL MICO MESH

Call Rohan anytime Mon-Sat for a

no-obligation assessment & quote

03 982 8850 0800 486532 www.gumleaf.co.nz

Sharon CroftS

LandSCape d e S ign

• Consultations • Design Concepts • Planting Plans

P. 329 6229

M. 0274 311 558

s-crofts@xtra.co.nz

www.sharoncrofts.co.nz

BOWRANDA

ROOFS

For a free Measure & Quote PH 0800 26 26 20

● Immediately increase the value of your home

● Manufactured to custom specifications

● A permanent, sheltered outdoor space

● Strong and durable frame constructed of powdercoated

aluminium and stainless steel

● Square profile complements NZ residential architecture

● Option to enclose with outdoor blinds

● Eliminate 99% of harmful UV light

● Achieve your outdoor vision

A Lifestyle Choice

www.bowranda.co.nz
---
36 Wednesday June 19 2019

Latest Christchurch news at www.star.kiwi

Babytimes

Lincoln, Wednesday, 9.30-

10am, and Rolleston, Thursday,

9.30-10am

Share rhymes, stories and

songs which support your baby's

early language development,

communication and social skills.

Bring a blanket. Aimed at those

aged up to one, but older siblings

are welcome. Free, weekly

sessions, term-time only.

Lincoln and Rolleston libraries

Rhymetimes

Rolleston, Wednesday, 9.30-

10am, Lincoln, Tuesday and

Friday 9.30-10am, Leeston,

Tuesday, 10-10.30am, Darfield,

Tuesday, 10.30-11am, West

Melton, Tuesday, 10-10.30am

Stories, songs, rhymes

and bubbles make up this

Rhymetimes session, which is

designed to assist with early

language development. Aimed at

children aged one to three. Free,

weekly sessions, term-time only.

Rolleston, Lincoln, Leeston and

Darfield Libraries, West Melton

Community and Recreation

Centre

Adults Book Club

Leeston, Wednesday 10-11am;

Saturday, 2-3pm, Rolleston,

Thursday, 6.30-8pm

Book discussion groups are a

SATURDAY, 7.30PM

JOHN

McCABE

LIVE MUSIC

Email anan.zaki@starmedia.kiwi by 5pm

each Wednesday

fun and popular way to expand

your reading subjects, meet

people in your area and share

your thoughts and ideas about

reading.

Leeston and Rolleston libraries

Storytimes

Leeston, Thursday, 10-10.30am,

Darfield, Friday, 10-10.30am,

Lincoln, Thursday and Sunday,

10.30-11am, West Melton, Friday,

10-10.30am, Rolleston, Sunday

10.30-11am, and Tuesday, 9.30-

10am

Enjoy the magic of stories,

activities and songs at a preschool

Storytimes session. Share

the joy of reading and make new

friends. Aimed at three to fiveyear-olds.

Free, weekly sessions,

term-time only.

Leeston, Darfield, Lincoln

and Rolleston libraries, and

West Melton Community and

Recreation Centre

Lego Club

Tuesday, 3.30-4.30pm

Have some fun with Lego,

led by experts from the House

of Bricks. Drop-in only, with

limited spaces, no bookings

taken. Recommended for

primary school-aged children.

Children under-eight must be

accompanied by an adult. Free.

Rolleston Library

SUNDAY, 1.30PM

Heart of the

Country

$6 ENTRY

FAMILY FRIENDLY DINING

COMING UP

SUNDAY 7 JULY

FROM 1.30PM

FAMILY

A

L

DAYA

Jo's Karaoke,

Bouncy Castle, Lollies,

Face Painting, Balloons

FREE FOR MEMBERS

PINK FLOYD

Go along to the Board Games Club on Sunday, 1.30-3pm, to

play a variety of exciting games. Suitable for people new to

board games, as well as regular players. Recommended for

school-aged children (11-18). Drop-in, no bookings required.

Rolleston and Lincoln Libraries.

Justice of the Peace Clinics

Rolleston, Monday, noon-1pm,

Lincoln, Tuesday, 10am-1pm,

Darfield, Wednesday, 11.30am-

12.30pm

A justice of the peace will

be available to members of

the community to witness

signatures and documents,

certify document copies, hear

oaths, declarations, affidavits

or affirmations, as well as sign

citizenship, sponsorship or rates

rebates applications.

Darfield, Lincoln and Rolleston

libraries

Children's Book Club

Thursday, 3.30-4.30pm

Share your latest reading

PARENTS

Do you have a son or daughter

interested in horse riding?

✭ We run courses every weekend.

✭ 2, 5 & 7 day School Holiday courses.

✭ Private lessons available

Monday to Friday

✭ An alternative to private horse ownership.

✭ Opportunity to compete on our horses.

✭ Opportunity to join Pony Club.

Fully supervised, fun & educational.

2064941

711 Island Rd View Hill, OXFORD 7495

03 312-4309 www.kowhai.co.nz

SELWYN TIMES

adventures, see the new books

that have arrived at the library,

participate in an activity and

have a snack. For those aged five

to 11.

Leeston Library

Markets

Darfield Market: Saturday,

9am-1pm, opposite Challenge

Darfield, South Tce

Market@254: Saturday,

9.30am-1pm, rain or shine, 254

Lawford Rd, West Melton

Lincoln Farmers and Craft

Market: Saturday, 10am-1pm,

Gerald St

Leeston: Saturday 9.30am-

12.30pm, 75 High St

Running groups

Rolleston Road Runners:

Monday registration from

6.15pm for a 6.30pm start. 2.5km

and 5km options in Foster Park,

next to the gravel car park

Lincoln Road Runners:

Tuesday registration from

5.40pm for a 6pm start. 3km

or 6km options. Starts outside

Coffee Culture on Gerald St

Malvern Road Runners:

Tuesday registration from

5.45pm for a 6pm start. 1.8km,

3km and 6km options. Meet at

McHughs Plantation

Ellesmere Road Runners:

Wednesday registration from

5.45pm, starts at 6pm. 3km or

6km walk or run. Starts from

Leeston Physiotherapy

Foster Park Run: Saturday

from 7.50am. Free weekly timed

5km run, jog or walk. Register at

www.parkrun.co.nz/foster and

don't forget your barcode. Starts

at Foster Park in Rolleston

WOF

Only $50

• Courtesy cars • oil changes • tyres & batteries

• Brake & clutch repairs • transmission flush service

• Full mechanical repairs • Petrol & diesel servicing

FitzgeRald MotoRs

PHONE 03 349 7813

We've shifted now located at

Unit 8,193 Waterloo Road, Hornby

(6 doors down from our old site)

MID WEEK

MEAL DEALS!

CLUB CAFÉ

LUNCH SPECIAL

ONLY

$12

ROAST OF THE DAY

WITH VEGES

-OR-

FISH OF THE DAY

WITH CHIPS & SALAD

TUESDAY

WEDNESDAY

THURSDAY

MIDDAY TO 2PM

ADD A DESSERT

FOR JUST $5

BRING A GUEST!

SATURDAY 13 JULY

TICKETS $25 AT

CLUB OFFICE

SATURDAY 10 AUGUST

BRENDAN DUGAN

FAMILY & FRIENDS

Tickets $25

H ORNBY

WORKINGMEN'S

CLUB

ph 03 349 9026

17 Carmen Rd, Hornby

www.hornbywmc.co.nz

Members, guests & affiliates welcome

'Famous for their roasts!'

SENIORS SPECIAL

Two courses: $

22

Soup/Roast or Roast/Dessert

Special available lunch only

Monday - Saturday 12pm - 2.30pm

Conditions apply

FAMILY FRIENDLY

Kid's Special

Two courses

Great Kids menu plus

designated play area.

$

13

RESTAURANT & CAFÉ

Open daily from 6.30am - Breakfast, Lunch & Dinner

The

RACECOURSE HOTEL

& Motorlodge

118 Racecourse Rd, Sockburn,

Christchurch. Ph 03 342 7150

www.racecoursehotel.co.nz
---
SELWYN TIMES Latest Christchurch news at www.star.kiwi

Wednesday June 19 2019 37

Classifieds Contact us today Phone our local team 03 379 1100

Animals Livestock/Supplies

STOCK FOOD

A Vegetable Produce

Processor in Hornby has

vegetable waste available

on a daily basis that is

suitable for stock food.

If interested or would like

to know more please

phone 349 3136.

Caravans, Motorhomes

& Traliers

CARAVAN Wanted to

buy. Up to $5000 cash

today 027 488-5284.

CARAVAN or POP TOP.

Wtd. Ph 027 3066544

TRAILER.

Briford or similar wtd. Ph

027 3066544

Classic Cars & Motorcycles

Farm Equipment

YARD SALE

Sat 22 June

IH684 w Loader, Bucket,

reversible forks,MF

Grubber, MF Roller,

Duncan 4F Plough,

Burnetts Tip Trailer, Posts

Wire netting, Electric

Fencing, Treated Timber,

Toyoace Truck. 284

Greenpark Road. Ph 325

5848 or 022 025 5848

Firewood

DRY OM PINE.

6 cub metres $595.OM

Bluegum/OM Pine 50/50

mix $695. Ph 027 2977563

Towing

AUTO ELECTRICIAN

Ellesmere

Auto

Electrical

• Air Conditioning • Alternators

• Starter Motors • Wiring Repairs

• Diagnostics • Lighting • Batteries

Mobile Auto Electrician

022 644 9664

Farmlands Card Accepted

Caravans, Motorhomes

& Traliers

CARAVAN Wanted to

buy. Up to $5000 cash

today 027 488-5284.

CARAVAN or POP TOP.

Wtd. Ph 027 3066544

TRAILER.

Briford or similar wtd. Ph

027 3066544

For safe, damage free

car transportation

call Ashley's Tow Taxi

Special care for special cars

ASHLEY'S TOW TAXI

Breakdown & Relocation

0800 TOW TAXI • 0800 869 8294

Firewood

FIREWOOD

Old Man Pine

Dry Split Wood

$300 / Trailer Load

Ph: 027 228-5644

ADD SOME

COLOUR

TO YOUR ADVERT!

Footwear

Down at your heels? We

can't change your luck but

we can guarantee you'll be

well heeled .For repairs to

all types of shoes, boots

and bags drop them into

Cobbler Glenn's Agent:,

Magnitude Sports 55

Faringdon Boulevard,

Rolleston, Its cheaper to

repair than replace

SCHOOL Shoes worn

out? Extend their life with

new heels, back linings,

stitching and patching.

Drop them into Cobbler

Glenn's Agend: Magnitude

Sports, 55 Faringdon

Boulevard, Rolleston

Gardening

& Supplies

ellesmere

lions

Pea straw

now available

We deliver:

Small bales $6

Medium squares

(equivalent of

10 small bales)

$50

Contact

alex Hayward

03 324 4094

Heating

Log Fires

Pellet Fires

Heat Pumps

Sales

Service

Installations

Free Quotes

03 343 1651

472 Blenheim Rd

www.heatstore.co.nz

SHELTERBELT TRIMMING

Boundary

Trimming

Call Tony Dempsey

Phone 03 325 3256

Mobile 0274 323 943

Livestock & Poultry

BROWN Shaver Pullets,

friendly, happy and fully

vaccinated hens. Due to

start laying in about 1

month, so ideal time to buy

to allow them to settle into

their new home, happy to

take orders or buy them

now, $30 ea, ph 03 327

9495 or txt 021 861 732

Red Shaver yearling hens

sell $10 each.Also bantam

pullets & hens. Ph 325-

4273

Funeral Directors

Select Services

DRIVEWAYS

HARRIS

BULLDOZING LIMITED

5.3Kw Console

Heat Pump

$2680

Price includes;

Wifi

Standard Installation*,

6 Years Parts and Labour

Warranty, Compliance and

Safety Certificate.

* Obligation free site visit maybe required

for correct sizing and placement.

Select Services

Full Site and

Lawn Preparation

Landscaping

Roll Out Lawn

Irrigation

Free QuoteS

Contact Scott

0800 4 GRASS or

03 347 5555

sprayongrass.co.nz

• Driveways

• Car Parks

• Lifestyle Blocks

• Site Clearing

& General

Earthmoving

Mark 021 345 571

or Paul 021 705 996

Email harrisbull@xtra.co.nz

www.harrisbulldozing.co.nz

All Work Guaranteed

Please phone for a free quote

AUTUMN SPECIAL

Installation • Sales • Maintenance

Heat Pump Specialist (Registered Electrician)

Stu Masters: 027 472 7955 airconmasters@xtra.co.nz

Select Services

Need a hand?

✤ Lawns & Edges

✤ Landscaping

✤ Gardening

✤ Hedge Trimming

✤ Handyman Jobs

✤ Casual or One Off

Phone Mike Lineton

022 341 8848

Your local

Selwyn District

GARDENER/

HANDYMAN

Select Services

MUDROCK

Cartage Ltd

We're in your area now!

MORE THAN JUST CARTAGE....

We Offer:

• Grading of shingle driveways

• Chip seal, Asphalt and Concrete driveways

• Excavations – Foundation dig outs, trenching,

site scrapes and general earth works

• Farm works – laneways, construction and

maintenance

• Retaining walls • Soak holes

• Horse Arenas • And much more……

Please phone for a free,

non-obligation quote

Phill Baikie 027 390 7778

Trev Murdoch 027 431 7504

To Let

RENT ME!

Ideal as an extra

bedroom or office.

no bond required

Bellamy's

Furniture

Furniture made to

order and restoration

by tradesman with

35yrs experience.

PH Stephen

021 073 2624

Fully insulated and double glazed for warmth.

Three convenient sizes from $70 a week:

Standard 3.6m x 2.4m

Large 4.2m x 2.4m | Xtra-large 4.8m x 2.4m

Visit our website

www.justcabins.co.nz

for display cabin locations

www.justcabins.co.nz

Trades & Services

BUILDING REPAIRS

GIB STOPPING | FENCING

YARD CLEARING / CLEAN UP

SMALL DIGGER WORK

DRIVEWAYS & CONCRETE REPAIRS

RC MAINTENANCE

no job too small

LTD

Trades & Services

ROSS CHESTNUT

ROSS Owner CHESTNUT

/ Operator

Owner / Operator

021 969 654

021 969 654

ross@rcmaintenance.co.nz

ross@rcmaintenance.co.nz

PO Box 92010

PO Box 92010

Farringdon, Rolleston

Farringdon

Rolleston 7650

Trades & Services

Lawn mowing

Hedge trimming

Gardening

Weed eating

Spraying

and much more

Call Todd

0212059543

toddmc.greenacres@gmail.com

EST.

1979

ARTHUR'S

Roof & Property

Moss Kill & Proof

Silicone Sealing

Roof Repairs

40% off

03-347-2635

arthursroofandproperty.co.nz

ELECTRICIAN

YOUR

LOCAL REGISTERED

ELECTRICIAN

Lifestyle

Guys

Royce 027 432 0891

Brendan 022 342 8806

lifestyleguys@yahoo.com

DiscounteD

Flooring

carpet + Vinyl

Mobile service

Phone

Ben Wilson

Flooring

For a Free

measure & quote

027 343 3260

yourfloors.nz@gmail.com

ACE HIGH

PLUMBING

All Plumbing

Gasfitting

Drainlaying

Blocked Drains

Log Fires,

Wetbacks

Gas Hotwater

Phone

021 454 864
---
38

Latest Christchurch news at www.star.kiwi

Wednesday June 19 2019

SELWYN TIMES

Classifieds Contact us today Phone our local team 03 379 1100

Trades & Services

concrete & paving

• Driveways

• Earthquake repairs

• New Home Specialists

• Patios & Paths

tel: 0508 873 7483

email: sales@affordableconcrete.co.nz

www.affordableconcrete.co.nz

TAI TAPU TYRES

53 Main Rd Tai Tapu

Ph. 03 329 6767

Will better any

other quoted price

Stockists of Kumho, Goodride and

Petlas Tyres, for all cars, 4WD, bikes,

tractors and trucks.

Driveways

SWAINS

KIWI KERB

(Since 2005)

Over 22 Years Experience

Quality

Workmanship

• Driveways

• Kerb &

Channel

• Garden Edging

Freephone: 0800 081 400

swainskiwikerb@gmail.com

•Re Roofing

•Roof Repairs

•Spouting

Approved Age Concern provider

Over 30 years experience

Licensed Building Practitioner

N A BARRELL

ROOFING LTD

Ph: 349 9778 or 0275 389 415

Email: nabroofing@xtra.co.nz

Trades & Services

Excavations

• Driveways

• Car Parks

• Site Cleaning

• Demolition

• Farm Tracks

• Drain Cleaning

• Stump & Hedge

Removal

• Ashpalt Concrete

Wide range

oF TruckS

For a Free Quote

on your next project

Phone Steve on 021 338 247

or 325 7922

No job to big or small.

Supply carpet, underlay and garage carpet.

Experienced in installing second hand carpet.

Carpet samples.

Free measure and quote!

Call David 0272319931

www.davidfarmercarpetlayer.co.nz

Non-Service Cremation $2,050

Commital service with cremation $3,950

Chapel service with cremation $6,500

Family burial service from $3,900

Just Funerals, a family owned and

operated company with qualified,

registered and experienced staff.

Phone 0800 804 663 - 24 Hour Availability

Email: info@justfunerals.co.nz

christchurch.justfunerals.co.nz

East West Fencing Ltd

• Residential

• Security

• Rural Fencing

• Tennis Courts &

Swimming Pools

• Chip Seal Driveways

• Diggers – 2 Ton

up to 20 Ton

• Excavators

• Bobcat & Drilling

• For Posthole &

Fence hole

• Post Driving

• Post & Rail

• Horse Arenas

•Sheep & Cattle Yards•

Free

QuoTe

Phone: Paul 027 588 6009 or

Brad 027 376 0237

Email: eastwestfencing@xtra.co.nz

All Your Fencing Needs

www.ewfltd.co.nz

• Irrigation • Drainage • Driveways • Auger Hole Drilling • Land Clearing & Development

• Culvert Installation • Construction Site Works • Tree & Hedge Removal • Concrete Breaker

Phone Mike: 027 272 8058 OR 03 324 4323 A/H

g.m.contracting@xtra.co.nz www.gmcontracting.co.nz

Trades & Services

mobility scooters

Get on to

our service

database

for service

when you

want it...

We come to you!

Custom

modifications

available

Visit us:

29 Shakespeare Road, Waltham

Open Monday to Friday, 8:30am – 5pm

03 366 8815 | www.mobilitysystems.co.nz

Trades & Services

BUILDER

Local builder with 35

years exp in all types of

building - from concrete

work to finishing. Also

some gib stopping and

painting. Selwyn based.

High quality work with

careful attention to detail.

Happy to quote. Phone/

Txt Bruce 027 274

2792. Licensed Building

Practitioner (LBP).

BUILDER QUALIFIED

Decks, T & G Flooring,

Villa Restoring, New

Homes, Weatherboards.

Free Quotes. Bennet &

Sons Ltd Sam 027 496-

9362 or Tony 027 224-

0374

CARPENTER

HANDYMAN

Small Job Specialists,

Carpentry, Repairs,

Decking & Maintenance,

40 years experience, no

job too small, Ph Warren

03 322-1103 or 027 697-

8541

CARPET & VINYL

LAYINg

Exp. Repairs, uplifting,

relaying, restretching.

Email jflattery@xtra.co.nz

ph 0800 003 181 or 027

2407416

CONCRETE CUTTINg

Affordable Concrete

Cutting with Quality, and

removal work. Free quote.

No job to small. Phone 027

442-2219, Fax 359-6052

a/h 359- 4605

FENCINg

Quality timber fencing -

gates & repairs, ph Ryan

027 951 8892

Wanted To Buy

TOOLS Garden,

garage, woodworking,

mechanical, engineering,

sawbenches, lathes, cash

buyer, ph 355-2045

TOOLS Garden,

garage, woodworking,

mechanical, engineering,

sawbenches, lathes, cash

buyer, ph 355-2045

Trades & Services

LANDSCAPINg

Paving, Lawns, Irrigation,

Decking, Fencing.

Kanga & small digger

services. Check out Squire

Landscaping on facebook.

FREE QUOTES. Ph

Arthur 347-8796, 027

220-7014 Edwin 027 220-

7154

MASONRY

DAMAGED

MASONRY?? Rock and

Blocks Work Ltd for all

your brick, block and tile

laying needs. Friendly

service Licensed Building

Practitioner phone Devon

on 021 375-888 or 03 329-

5511

RJB PLUMBINg

Renovations, New Houses,

Hot Water Cylinders,

Kitchens Bathroom

Upgrades, Laundries,

General Maintenance ,

Water Filters. Phone Mark

0278690026

SHEEP SHEARINg

MOBILE

Fast friendly professional

service. 25 yrs exp.

Shearing, drenching, hoof

trimming etc. Call Shaun

021 204 1274

STUMP gRINDINg

Best price guarantee Tony

0275 588 895

TILINg

Flooring - Splashbacks

-Wall incl tile removal, reg

master tiler, ph Dave 027

334 4125

WINDOW CLEANINg

Brown & White Ltd.

Family owned since 2001.

Ph Paul 027 229 3534

Tours

Vehicles Wanted

CAR REMOVALS

$$CASH PAID$$

CARS, VANS, UTES

& 4X4 WANTED

NZ OWNED

AND

OPERATED

FOR

24 YEARS

We use world class vehicle

depollution systems

0800 8200 600

www.pickapart.co.nz

Public Notices

Out of Zone Places at

Lincoln High School for 2020

The Board of Trustees has determined that

it will take up to fifty out of zone students,

across all year levels, for 2020. This

number is an estimate only and the actual

number of places will not be known until

the pre-enrolment of in-zone students has

been completed.

Lincoln High School

Board of Trustees

Public Notices

Board of

Trustees Election

Declaration of

Parent and Staff

Election Results

Parent

representatives

Public Notices

DECORATORS

Board of

New Paint • Re

TrusTees Wallpapering •

elecTion

Repairs • Featur

Floor & Roof Pa

declaration Spray of Paint

Parent and

Light

staff

Comme

Restoring Tim

election results

Parent representative

votes:

Selwyn based but

votes:

Cairns, Nicholas 156 service the whole of Ca

Aitken, Daryl 76

Hodgkin, Emma 129

www.andertondecorators.co.

Bull, Andrew 80

McAlevey, Fiona 91

www.facebook.com/andertondecora

Haycock, Iain 66

Shepherd-Wills,

Ngaire 151 027 724 Kearns, 6846 Dave 027 PAINTIN 65

Worner, Kate 119

Kleehammer, Angela 80

Binding, Vincente 74

Lynch, Damian 69

Sisson, Stephanie 47

Invalid Votes: 6

Invalid vote 1

I hereby declare

the following duly

elected:

Nicholas Cairns

Emma Hodgkin

Fiona McAlevey

Ngaire Shepherd-

Wills

Kate Worner

Staff representative

votes:

At the close of

nominations, as there

was only one valid

nomination received.

I hereby declare Katie

Morriss duly elected

Susan Meares

Returning Officer

i hereby declare the

following duty elected

Daryl Aitken

Andrew Bull

Iain Haycock

Angela Kleehammer

Damian Lynch

staff representatives

votes:

Aldridge-Neal, Mandy 5

Seeley, Lisa 14

I hereby declare Lisa

Seeley duly elected

Signed

Jill Banbury

Returning Officer
---
• By Sophie Cornish

WORKSAFE NEW Zealand

has b en a proached in a bid to

Brighton's Hawke St car park.

Coastal-Burwod Ward city

counci lor David East wants

WorkSafe to pre sure the car

park's private owners into

a "trip and vehicle" hazard.

WorkSafe chief inspector

a se sment southern Da ren

Surf club move

Safety at Work Act 2015, "as a

undertaking."

Mr Handforth said WorkSafe

New Brighton surf club opts

to rebuild on new site

Cr East abou the car park.

"WorkSafe has completed

an a se sment visi to the site

and is engaging with the owner

to advise them that it is their

responsibility to manage their

risks a propriately."

Different parts of the car park

are owned by various people

and the Coastal-Burw od

Community Board recently

around health and safety.

Cr East said the bi gest i sue

in the past has b en ge ting in

touch with the landlords and

owners and ge ting them to

High-tech Cleaning

friendly cleaning products.

Temperature Contro led Drying

Re-oiling & Rejuvenating

Same Day Pick Up & Drop O f

agr e to anything. "The board

a difficulty in co-ordinating

said the le ter.

are required.

Convenient Location

Drop blinds into us by 9am, at

30 Cashel Str et (near the

Fitzgerald end), and co lect

them a th end of the day.

New Blind Sales Priced from $30

per blind

Ph 3 7 0 70,

30 Cashel St,

Christchurch

• By Georgia O'Co nor-Harding

GR ENDALE SCHOOL pupils

have taken a step back in time,

s eing first hand what men and

horses l oked like during war.

The New Zealand Mounted

Rifles Charitable Trust president

Mark A pleton and member

Mike Donaldson t ok their

horses to the sch ol on Monday,

Li ter library

River working group

Problem areas for li ter

revealed

Rebuilding a healthy

ecosystem in the Selwyn River

Ja z Competition.

• By Sophie Cornish

THE ST Andrew's Co lege big

band had extra incentive to

win a the National Youth Ja z

Competition – ba s player, Tom

Fastier, co lapsed and died the

One reply has b en received so

the owners would have to agr e

to undertake work.

Cr East said there had b en

a "number of incidences" in

WE ARE OPEN

Mon - Fri

8. 0am to 5. 0pm

in a bid to educate pupils on the

sacrifice their ancestors made in

World War 1 and World War 2.

Mr A pleton and Mr Donaldson

a rived a the sch ol dre sed

in World War 1 uniforms while

their horses Tommy and Kruze

wore 1 0-year-old sa dles donated

to the trust.

The presentation is a prelude

christchurch east

Ca l to make an

a pointment

P: 384 9459

Pool plans for Edgeware

Designs for ind or learner's

p ol revealed

www.national.org.nz

the car park of people injuring

themselves which had gone

unreported.

"I've always though that it

has b en quite amazing that we

or senior citizens perhaps

Loca ly Owned

Authorised by Jo Hayes

Unit 6/950 Fe ry Road, Christchurch

day before the competition

began.

"Tom was a ba s player from

Cashmere High Sch ol who was

playing with our big band this

year. He had a strong chance of

wi ning best ba s player a the

to the Gr endale Recreation Reserve

Management Commi t e's

upcoming Anzac Day service.

As a tribute to those who

served, members of the trust wi l

ride horseback to the service.

Mr A pleton said it was

important children were

educated on what soldiers

wen through during World

Cyclist's helipad bid

Serious crash gives new

perspective on ride to hospital

• By Gordon Findlater

DEAN CALVERT (above)

returned from the United

Kingdom last w ek after

festival as he was a very a complished

musician," head of music

Duncan Ferguson said.

"We were delighted to win, but

it was bittersw et," he said.

St Andrew's won the most

outstanding big band title a the

tri ping in those potholes and

He is confiden the new

a proach wi l bring results.

"I think the WorkSafe

lever that we are l oking for."

Joy Butel AREINZ - Dip.R.E.

Land size

Garage

Land size

Bedr om

Alistair Hazeldine

Garage

Bedr om

850m

Carport

Bathr om

Carport

Bathr om

Car pad

Lounge

Car pad

Lounge

4 2 1

Boat pad

Boat pad

2.5

Dining

Land size

Bedr om

Mobile: 021 353 280 | Phone: 0 384 7950

Email: joy.butel@harcourts.co.nz

Toilet

Shower Study

P ol

Te nis court

1 2 3 4 5 6 7 8 9 10 1 12 13 14

850m

Land size

Bedr om

Garage

4

Carport

2

Bathr om

1

Car pad

Lounge

2.5

Dining

Garage

850m

Carport

Bathr om

Toilet

Shower Study

Car pad

Lounge

4 2 1

Boat pad

2.5

Dining

Toilet

Shower Study

P ol

Te nis court

1 2 3 4 5 6 7 8 9 10 1 12 13 14

P ol

Te nis court

1 2 3 4 5 6 7 8 9 10 1 12 13 14

850m 4 2 1 2.5

Boat pad

Dining

Toilet

Shower Study

P ol

Te nis court

1 2 3 4 5 6 7 8 9 10 1 12 13 14

Mobile: 027 572 1 5 | Phone: 0 384 7950

Email: alistair.hazeldine@harcourts.co.nz

w.harcourtsfe rymead.co.nz

Cartwright steps downs

Community board chairman

stays true to his word

New pi za joint

Fire and Slice fina ly se to

open in Sumner

June 29 - July 1

EXHIBITORS BOOK NOW

vanessa.fleming@starmedia.kiwi

021 914 565

competition in Tauranga.

The band dedicated it se to

Tom, who died while on his way

to Cashmere High on March 27.

His death was po sibly related to

a medical event.

•Turn to page 9

ge ting closer than mos to

Joseph Parker in the build up

to his world heavyweigh title

unification fight with Anthony

Joshua in Cardiff.

20 Tuawera Te race, Clifton Hi l - $980, 0 3 2 2 2

• By Emily O'Co ne l

AN U PER Ri carton butcher

has proven himself to be a cut

above his Au sie rivals at an

international competition.

Elite Meats owner Corey

Winder was named in the a l

call 332 4004 TexT 027 537 0567

230 BarringTon sTreeT

www.denturesouth.co.nz

Restore your oiled CEDAR BLINDS with ou re-oiling service.

Rejuvenate your lacquered CEDAR BLINDS

High-tech Cleaning

We clean and repair a l types of blinds –

Venetians, Cedar, Verticals, Ro ler, Ho lands,

Romans and Pleated – with environmenta ly

friendly cleaning products.

Temperature Contro led Drying

Re-oiling & Rejuvenating

Fabric Blinds - such as Austrian and Roman

Same Day Pick Up & Drop O f

We o fer a same-day, pick up an drop o f

service for mos types of blinds. B okings

are required.

Convenient Location

Drop blinds into us by 9am, at

30 Cashel Str et (near the

Fitzgerald end), and co lect

them a th end of the day.

New Blind Sales Priced from $30

TEAM

BUTEL

Grenadier Real Estate Ltd MREINZ is a Licensed Agent Under the Real Estate Agents Act 2 08

War 1 and World War 2.

But he said the presentation

didn't go into t o much detail

and was more of a "show and

te l" to make them aware of what

the soldiers l oked like.

Children were shown the type

of kits horses were required to

wear in the war.

•Turn to page 7

Cha lenge in Northern Ireland.

Mr Winder and his team, the

Pip Su ton BCM (Marketing)

Residential Sales & Development

Specialist - Licens e Salesperson

Next Step Realty Limited

Mobile: 027 24 9524

DI: 03 421 8417

Licensed (RE A 2 08)

Email: pip.su ton@raywhite.com

• By Georgia O'Co nor-Harding

A CRACKDOWN on mobile

traders acro s the districts could

be l oming.

However, the public has li tle

interest in having input into the

i sue.

Only eight submi sions were

received for a potential bylaw

aimed at regulating commercial

activities in public places.

The district council wi l be

holding a hearing for the Public

Places Bylaw and Policy on Commercial

Activities and Events in

Public Places.

A hearing i scheduled to be

held on Thursday.

The bylaw comes as an increasing

number of mobile traders

are s eking to operate in Selwyn,

especia ly during the summer

months.

In the past year, the district

council has received five inquiries

about se ting up a mobile busine s

on private or public land.

A report said there are two

str et operators in Darfield, a

coff e cart is parked beside the

railway in Ro leston, and a pi za

cart visits Lincoln w ekly betw en

September-May along with a Thai

f od truck.

•Turn to page 7

includes W olston butcher

Jeremy Garth, finished second

in the competition.

He said the cha lenge started

as a "transtasman test match"

seven years ago.

The preparation for this

year's World Butchers' Challenge

was intense as the team

members met in Auckland

Loca ly Owned

Denton Park a tracts more

submi sions than Cathedral

Drop blinds into us by 9am, at

30 Cashel Str et (near the

Fitzgerald end), and co lect

The former New Zealand

title-holder trave led with his

father George and brother

Bryce to London ahead of the

fight where they spen time

them a th end of the day.

New Blind Sales Priced from $30

• By Sophie Cornish and Julia Evans

THE PAPANUI-I nes

Community Board has taken the

rare step of starting a petition

to figh the city council over

funding.

Signatures are being co lected

in a bid to get funding for a community

facility in Shirley.

It comes after the city council

removed funding for the centre

pla ned for Shirley Rd, near the

intersection with Hi ls Rd. This

was the site of the former community

centre, which was badly

damaged in the February 2,

20 1, earthquake.

The removal o funding

prompted community board

chairwoman Ali Jones to threaten

to stand down, citing it as her "die

in the ditch" project.

Ms Jone said the board's role

is to represen the community,

and by gathering signatures from

residents, it was fulfi ling that

role.

"One of the roles of a community

board is to represent and act

as advocate for the interests of its

community and this is what we

are doing. The LTP and a nual

plans are a l about lo bying the

council."

•Turn to page 5

per blind

Barks • Peastraw • Composts - we su ply the best available

A gregates - Chip, Round and Basecourse

Pavers & Schist products • Pungas

Decorative Stones & Landscaping Rocks

Trailer Hire first hour fr e with purchase

• Bag & Bulk - pick up or delivered

Ph 3 7 0 70,

30 Cashel St,

Christchurch

David, Carol & Mike

Traffic plan at The Brae

Bid to ease traffic on busy,

na row str et

with Parker in the build up.

Mr Calvert, 47, comes from a

boxing mad family.

•Turn to page 6

WE ARE OPEN

Mon - Fri

8. 0am to 5. 0pm

AND

HARDFILL

DUMPING

Phone: 03 384 6540

Your local

hi l and

seaside

specialist.

Stroke survivor finishes long

journey

P: 384 7950 M: 0274 318 960

E: alison.carter@harcourts.co.nz

LICENSED SALES CONSULTANT RE A 2 08

W ekdays 7.30am-5pm. W ekends 8.30am-3pm

www.dyersroadandlandscapes.co.nz

GRENADIER

• By Sarla Donovan

THE OWNERS of Sumner's Cave

Rock Apartments ar expecting the

Earthquake Commi sion to sign-off

on a se tlement agr emen this w ek.

Body corporate chairman Mike

White said the group had gone

into mediation with IAG and EQC

on February 20, and signed off

on a deal with IAG on February

2 – coincidenta ly seven years

to the day after the February 2,

20 1, earthquake. However, they

are waiting for EQC to sign the

agr ement.

"Given that EQC actua ly drafted

the agr ement, there' l be no

problem with them doing that."

The apartment suffered damage

in the February and June, 20 1,

earthquakes and were demolished in

late 2012. In 2016, IAG's offer of the

difference betw en indemnity value,

$10 mi lion, and the sum insured,

$16 mi lion, was rejected by the body

corporate.

The mediation agr ement

prevented Mr White from disclosing

the se tlement amount, but he said it

involved the two parties paying "a bit

more money than they'd wanted to

earlier."

•Turn to page 6

Loca ly Owned

Fishin' for w eds

High-tech Cleaning

friendly cleaning products.

Temperature Contro led Drying

Re-oiling & Rejuvenating

every two months for lengthy

w ekend practices. Mr Winder

said coming second against 1

Same Day Pick Up & Drop O f

result.

"To get second behind Ireland

was a huge achievement and to

be ahead of Australia is an

even bi ger thing for us," he

said.

But Mr Winder admires the

are required.

Convenient Location

Drop blinds into us by 9am, at

30 Cashel Str et (near the

Fitzgerald end), and co lect

them a th end of the day.

New Blind Sales Priced from $30

Loca ly Owned

Ro ler Blinds cleaned

from as li tle as $20

per blind

Ph 3 7 0 70,

30 Cashel St,

Christchurch

Ro ler Blinds cleaned

from as li tle as $20

per blind

Ph 3 7 0 70,

30 Cashel St,

Christchurch

Driver hazard?

Community board member

blasts Yaldhurst Rd island

PHOTO: MARTIN HUNTER

Australian team.

"Those guys over there

[Australia] are on top of their

game, they do a g od job," he

said.

"And it just showcases that

New Zealand has got some

of the best butchers in the

world," he said.

Mr Winder has b en a butcher

since the age of 19.

WE ARE OPEN

Mon - Fri

8. 0am to 5. 0pm

8047287 A

8214716 A

WE ARE OPEN

Mon - Fri

8. 0am to 5. 0pm

LOOK

Used tyres from

told Western News the submi sion

would likely o pose Fulton Hogan's

plan.

"You can just about guarant e

it . because we [the commu-

should be so close to residential

community.

•Turn to page 5

New Tyres - Ba teries

Discounts on sets of tyres

AA

Discounts

LOOK

New tyres from

155

FR E PICK UP & DELIVERY (in local area)

x 13

LTD

PHOTO: MARTIN HUNTER

SELWYN TIMES Latest Christchurch news at www.star.kiwi

Wednesday June 19 2019 39

Public Notices

Board of

TrusTees

elecTion

Declaration of Parent

and Staff Election

Results

Parent Representatives'

votes:

Fraser Collie 36

Lisa Dermott 35

Nick Draper 56

Ross Hector 21

Shaun Pont 48

Simon Scoulding 27

Stuart Taylor 14

John Woodham 37

Invalid Votes 2

I hereby declare the

following duly elected for

the 3 available positions:

Nick Draper

Shaun Pont

John Woodham

Staff Representative:

At the close of nominations

as there was only one valid

nomination received I

hereby declare:

Ali Duncan duly elected

Kathy Hely

Returning Officer

Situations Vacant

CLEANERS

REQUIRED

Rolleston Area

OFFICE CLEANING

Monday - Friday

6 - 8pm

We are looking for cleaners

to join our commercial

cleaning team.

You will need to pass a

Security Check and you

MUST have your own

transport.

Must be eligible to work

in New Zealand.

Please email your

Application to

csc@totalcanterbury.co.nz

or phone 338 9056

Visit our website:

totalcanterbury.co.nz

Please advise which job

when emailing your CV.

Classifieds

Situations Vacant

DRIVETECH LTD

"TRAINING TOMORROWS DRIVERS TODAY"

HEAVY TRAFFIC CLASSES 2, 3, 4 & 5

FROM FULL CAR (Class 1)

TO FULL TRUCK (Class 2) in 2 days

(Road code & pre-assessment driving training provided)

FORKLIFT ENDORSEMENT (F & OSH)

Train with a knowledgeable experienced Assessor that will

work with you through your theory and practical steps.

Driving Related Health & Safety Training

Passenger, Logbook & Load Security Training

OTHER COURSES/LICENCES & ENDORSEMENTS AVAILABLE ARE:

Vehicle Recovery, Wheels, Tracks, Rollers & Dangerous Goods

Courses in Christchurch, Invercargill,

Cromwell & Mosgiel daily.

Other areas by arrangement

INTEREST FREE TIME PAYMENTS

(Terms & Conditions apply)

FREEPHONE 0508 2 37483

or 03 348 8481, 027 510 0684

info@drivetech.co.nz / www.drivetech.co.nz

ADVERTISE YOUR

BUSINESS HERE

Phone for further details

(03) 379 1100

Contact us today

Online Editor

Star Media is seeking

an online editor

to join its award

winning newsroom.

The appointment will coincide with a

refreshed and new-look online news site

being launched to market.

You will be the champion for our site

and responsible for sourcing and loading

content to engage our target audience

each week.

TUESDAY, APRIL 10, 2018 Loca ly Owned

www.star.kiwi

Page 3 Page 13

The successful applicant will need to have an excellent knowledge of

Canterbury, its issues and people.

You will need to work as part of our team, making quick decisions under

pressure each day

Key duties will include:

• Assisting in the relaunch of the new website

• Co-ordinating and sourcing content and local news

• Ensuring content is up to the minute, fresh and factual for our target audience

• Co-ordinating within our business divisions promotional and paid content

• The continuous development and improvement of our digital platforms

The successful applicant will ideally have experience in growing audience to an

online news platform and must have a full New Zealand driver licence.

The position will be filled as soon as the right applicant is found.

If you want to be part of a progressive media company,

please email your CV to:

Barry Clarke, Editor In Chief - barry@starmedia.kiwi

Entertainment

fina ly repair the potholes in New

repairing the potholes which are

Handforth said it may be able to

take action under the Health and

person conducting a busine s or

is aware of the concerns raised by

wrote to them about its concerns

a preciates that multi-ownership

of the parking space may present

repair/resurfacing but felt obliged

to pa s these concerns onto you,"

far from an owner who is wi ling

to discu s the i sue. However, a l

jo

hayes

New bid to fix potholes

Action looms

on Hawke St

car park

haven't had any serious a cidents

doing themselve some damage."

HAZARD: Coastal-Burw od Ward city counci lor David East wants WorkSafe New Zealand to put pre sure on the Hawke St car

park owners to fix the dangerous potholes. PHOTO: GILBERT WEA LEANS

BLINDS .Cleaned, Repaired & Restored .

Restore your oiled CEDAR BLINDS with ou re-oiling service.

Rejuvenate your lacquered CEDAR BLINDS

We clean and repair a l types of blinds –

Venetians, Cedar, Verticals, Ro ler, Ho lands,

Romans and Pleated – with environmenta ly

Fabric Blinds - such as Austrian and Roman

We o fer a same-day, pick up an drop o f

service for mos types of blinds. B okings

Ro ler Blinds cleaned

from as li tle as $20

www.blindcare.co.nz SCAN QR code for Info >

TUESDAY, APRIL 10, 2018 www.star.kiwi

Page 3 Page 5

WEDNESDAY, APRIL 1, 2018 Loca ly Owned

www.star.kiwi

Page 3 Pages 10 & 13

HISTORY: Pupils have taken a step back in time learning about what

SW ET SOUNDS: St Andrew's Co lege year 12 students Lewis Edmond and Je na We ls performing a the 41st National Youth

New Zealand soldiers and horses l oked like in World War 1. Abi P oler,

5, sits on Kruze, alongside Mounted Rifles Charitable Trust president

Mark A pleton. PHOTO: MARTIN HUNTER

Bittersweet win for St Andrew's big band

involvement may prove to be the

Pupils learn about role of war horses

Mobile

Service

Available

WEDNESDAY, APRIL 1 2018 www.star.kiwi

Board

launches

petition

to get new

community

facility

BLINDS .Cleaned, Repaired & Restored .

MAgic on clifton

Grenadier Fe rymead

Four Seasons Realty

Page 3 Page 5

Former champ hooks

up with Parker in UK

star team a the World Butchers'

Mobile

traders

could

face

regulation

New sections

selling now

Star Media is a division of Allied Press.

Ro ler Blinds cleaned

from as li tle as $20

www.blindcare.co.nz SCAN QR code for Info >

There's no be ter place to se tle out wes than at Falcon's Landing. Pop in to our sales and

information office, 17 Branthwaite Drive, this Thursday, Friday or Sunday from 1pm to 3pm

to find out more. Contact us on 03 741 1340 or mail enquiries@yoursection.nz anytime.

Mega centre f edback

Page 3 Page 5

Dyers Road Landscape

& Garden Supplies

A WOOLSTON butcher proved

•

• By Emily O'Co ne l

It was the firs time Mr Garth met in Auckland

By

every

Emily O'Co

two

ne l

Mr Garth hopes to own a

had competed in the cha lenge months for THE lengthy HALSWE w ekend L-Hornby- butcher shop of his own someday

but says for now he wi l fo-

and he was "rea ly proud" of practices. Ri carton Community Board

to be a cut above the rest in an how the team performed.

Mr Garth, who has b en a cus on ge ting mor experience

international competition. "We produced some top quality

products and came away competition Templeton. brought back his "In two years' time, we' l be

butcher for 14 years, said the and on the 2020 cha lenge.

New World Fe ry Rd butcher

Jeremy Garth and his team, the with a g od result so we're very pa sion for the Mayor job. Lia ne Dalziel told going the back to try and win the

Pure South Sharp Blacks, re-

ha py," he said.

"Doing a l thi stuff and title," he said.

The preparation for this year's

from the city council to make U per a Ri carton butcher Co-

World Butchers' Cha lenge was ideas, it just brings that flair

Ireland.

intense as the team members back for you," he said.

South Sharp Blacks team.

qua ry.

Board chairman Mike Mora

cently came second a the World

Butchers' Cha lenge in Northern

We wi l deliver!

SOIL

183 Dyers Rd, Bromley • OPEN 7 DAYS

Alison Carter

TUESDAY, APRIL 10, 2018 www.star.kiwi

Cave Rock

Apartments'

owners

expect EQC

sign-off

this week

Pedaling acro s NZ

TUESDAY, APRIL 10, 2018 www.star.kiwi

Pure South Sharp Blacks, which

Page 7 Page 10

From New World Ferry Rd

to second in the

world

has b en given the gr en ligh to

o pose the pla ned qua ry near

board on Thursday it had the okay

m eting new people, s eing new

submi sion if Fulton Hogan rey Winder a plies was part of the Pure

for a resource consen to create a

Children's event at risk if The

Groynes' lakes not cleaned up

GLOBAL STAGE: W olston butcher Jeremy Garth back home after his team came second in the World Butchers' Cha lenge.

BLINDS .Cleaned, Repaired & Restored .

AWARD-WINNING: Corey Winder is back home after his team came second in the World Butchers' Cha lenge .

Elite butcher cut above the world

Restore your oiled CEDAR BLINDS with ou re-oiling service.

Rejuvenate your lacquered CEDAR BLINDS

We clean and repair a l types of blinds –

Venetians, Cedar, Verticals, Ro ler, Ho lands,

Romans and Pleated – with environmenta ly

Fabric Blinds - such as Austrian and Roman

We o fer a same-day, pick up an drop o f

service for mos types of blinds. B okings

other countries was a "fantastic"

www.blindcare.co.nz SCAN QR code for Info >

BLINDS .Cleaned, Repaired & Restored .

Calling for exhibitors

weddingshow

Sunday 25th August, 2019 Air Force Museum, Christchurch

To exhibit at this fantastic show, please email mark.sinclair@starmedia.kiwi for more info.

Your best choice

in the West

Restore your oiled CEDAR BLINDS with ou re-oiling service.

Rejuvenate your lacquered CEDAR BLINDS

High-tech Cleaning

We clean and repair a l types of blinds –

Venetians, Cedar, Verticals, Ro ler, Ho lands,

Romans and Pleated – with environmenta ly

friendly cleaning products.

Temperature Contro led Drying

Re-oiling & Rejuvenating

Fabric Blinds - such as Austrian and Roman

Same Day Pick Up & Drop O f

We o fer a same-day, pick up an drop o f

service for mos types of blinds. B okings

are required.

Convenient Location

www.blindcare.co.nz SCAN QR code for Info >

$ 40

Mobile

Service

Available

ca l 32 4 04 TexT 027 537 0567

230 Ba ringTon sTr eT

www.denturesouth.co.nz

Community

board get

permission

to oppose

Templeton

quarry

nity board] don't believe qua ries

areas," he said.

Mr Mora said he wasn't sure if

the city council would endorse the

board' submi sion.

"I'd like to think so because the

city council has had their eyes

open as we l ove recent years over

the crysta line silica risk," he said.

Mr Mora said the community

board wi l be "representing and

advocating" for the Templeton

T Y R E S

Quality Secondhand Tyres

A l at very competitive prices

Ph 348 0626

5

$ 70

9 Main South Rd (cnr Wa ts Rd), Sockburn

Mobile

Service

Available

ca l 32 4 04 TexT 027 537 0567

230 Ba ringTon sTr eT

www.denturesouth.co.nz

60km/h

Dyers Pass

speed

limit from

early next

month

A NEW 60km/h sp ed limit and

double ye low lines wi l be in

place on Dyers Pa s Rd by early

May.

The sp ed limit change was

a proved by the city counci last

w ek.

A decision to paint double yellow

lines on the stretch betw en

Summit Rd and the Sign of the

Takahe was earlier made by the

Spreydon-Cashmere Community

Board.

Bu the Banks Peninsula Community

Board decided against

ye low lines on the Summit Rd-

Governors Bay section due to the

road's na rowne s and general

condition.

The changes are designed to try

and reduce the crash rate.

Insta lation of the double

ye low lines, the new sp ed limit

signs and raised centre line pavement

markers wi l begin in mid

April.

The work i scheduled to take

place betw en April 15-18, 2-26,

29 and May 2.

While the work is done, Dyers

Pa s Rd wi l be closed to traffic

from the Sign of the Takahe to

Governors Bay betw en 7pm and

6.30am.

Show

home

Guide

Homes by Parklane

"Standout Homes for an

Outstanding Price"

Flemington, Lincoln

6 Craig Thompson Drive

Thurs & Fri 1pm - 4pm

Sat & Sun 12pm - 4pm

Wigram

2 Harvard Avenue

Mon to Fri 9am - 5pm

Master Builders House of the

Year 2017 Gold Reserve Award

Winning Showhome

(03) 341 3000 or 029 201 2453

www.homesbyparklane.co.nz

Signature Homes

Rolleston

97 Ledbury Drive, Faringdon.

Open Wed to Sun 12pm - 4pm

Prestons Park

37 & 39 Prestons Park Drive

Marshland, Chch both Open Wed

to Sun 12pm - 4pm

Show Room/Office:

31 Watts Road, Sockburn

0800 8444 88 or 03 3427788

www.signature.co.nz

Jennian Homes Canterbury North

Rolleston

7 Lemonwood Drive, Faringdon

Wednesday to Sunday, 12pm - 4pm

Rangiora

9 Westpark Boulevard

Wednesday to Sunday, 12pm - 4pm

www.jennian.co.nz

First Homes - Christchurch

St Albans

39 Sherborne Street

Open Tuesday to Saturday

10am - 4pm

021 575 545

chchsales@firsthomes.co.nz

www.firsthomes.co.nz

To advertise in

The Showhome Guide

Contact Elaine: (03) 364 7436

elaine.moon@starmedia.kiwi
---
40 Wednesday June 19 2019

Latest Christchurch news at www.star.kiwi

M-A

MATSON & ALLAN

REAL ESTATE LIMITED

'The

Selwyn

Experts'

SELWYN TIMES

Residential

Lifestyle

Rural Property

Licensed REAA2008

ROLLESTON - 79 Newman Road

OWNERS SAY "SELL IT!"

• Built in 2015

• The ultimate starter property

• Four bedrooms

• Ensuite

• Large open plan living area

• Reputable appliances

• Underfloor heating kitchen/bathroom

• Low maintenance and easy care

• Great location

• Good parking

ROLLESTON - 3 Loeb Place

LUXE LIVING INDOORS AND OUT

• 220m 2 brick home on section

• Three double bedrooms, WIR, ensuite, bathroom

and separate toilet

• Sleek modern kitchen, WIP, quality appliances

and cabinetry

• Spacious open plan living with separate lounge

• Separate XL laundry, study nook

• Excellent indoor/outdoor flow, great outdoor

space

• Located in the much desired Levi Park

Jackie Derrick Mb 027 636 3576

jackie@marealestate.co.nz

OPEN HOME

Viewing: Sun 1.30pm – 2pm

Price: $469,000

View: www.marealestate.co.nz/MA0566

OPEN HOME

Price: Neg over $615,000

View: www.marealestate.co.nz/MA0560

ROLLESTON - 551 Springston

Rolleston Road

SMART LIVING + PARKING APLENTY

• 223m 2 brick home on 777m 2 section

• Four double bedrooms, main with WIR and ensuite

• Smart modern kitchen, WIP, quality appliances

• Spacious open plan living with separate lounge

• Family bathroom, separate toilet and laundry

• Ducted heating, TV and data ports throughout

• Great outdoor living, 67m 2 Kwila deck with

LED lighting

• Internal and external speakers

• Landscaped garden with irrigation

• Double internal access garage

• Off street parking for additional vehicles

TEMPLETON - 13A Runnymede Drive

SUNNY SPACIOUS LIVING &

CONVENIENT LOCATION

• Stylish kitchen with reputable appliances, WIP

• Spacious light filled living areas

• Four double bedrooms

• WIR, ensuite, bathroom, separate toilet & basin

• Excellent indoor/outdoor flow for entertaining

• Private north facing 502m2 section

• Convenient location to local amenities

• Easy access to CBD, airport, Rolleston & Burnham

Jo Barrett Mb 021 859 006

jo@marealestate.co.nz

OPEN HOME

Viewing: Sun 12.00 – 12.30pm

Price: Neg Over $602,000

View: www.marealestate.co.nz/MA0564

OPEN HOME

Viewing: Sun 11.00 – 11.30am

Price: Neg over $535,000

View: www.marealestate.co.nz/MA0572

NEw LISTINg

Jo Barrett Mb 021 859 006

jo@marealestate.co.nz

Jo Barrett Mb 021 859 006

jo@marealestate.co.nz

ROLLESTON - East Maddisons Road

1000M 2 SECTIONS – AN

ENDANGERED SPECIES

• Titles out now

• Only two sections left

• North facing aspects

• Fully serviced to boundary

• Internal boundaries fenced

• Sensible covenants to protect your investment

Price: Neg over $240,000

View: www.marealestate.co.nz/MA0374

Andrew Taylor Mb 027 435 5930

andrew@marealestate.co.nz

ROLLESTON - 11/487 weedons Road

THIS IS THE ONE YOU HAVE BEEN

WAITING FOR

• 4ha farmlet

• Positioned in private, secure & landscaped setting

• Modern 2 story dwelling

• 2 double bedrooms, 1 bathroom downstairs &

master bedroom with ensuite upstairs

• Open plan living/kitchen

• Great indoor/outdoor flow

• Fully lockable implement shed with concrete

floor &power, single garage & lean to off house

• Good fencing & excellent shelter belts around the

perimeter & internal parts of property

• Situated right in the heart of thriving &

expanding neighbourhood

• 5min to Rolleston, 7min to Lincoln Townships &

15min to Hornby

Viewing by appointment welcome

Price: By negotiation

View: www.marealestate.co.nz/MA0539

Chris Flanagan Mb 027 433 4657

chris@marealestate.co.nz

DARFIELD - wards Road, Charing Cross

DARFIELD - Creyke Road

FINAL REMINDER

38.5 HA IRRIGATED BARELAND

• Centre Pivot Irrigation

• CPW Water

• Three Bay Hay/Implement shed

• Reticulated Stock water

• Cattle Yards

• Nutrient report available

Deadline sale: Offers to be

presented on or before wednesday

26th June 2019

View: www.marealestate.co.nz/MA0569

Chris Flanagan Mb 027 433 4657

chris@marealestate.co.nz

TORLESSE ESTATE

• 11 x 1 Hectare blocks

• Power, telephone, fibre and town water

• Close to all Darfield amenities

• Titles issued

• 4 Sold, 3 Under offer

Price: $250,000 per block.

View: www.marealestate.co.nz/MA0542

Chris Flanagan Mb 027 433 4657

chris@marealestate.co.nz

ROLLESTON PH: 03 347 9949 LEESTON PH: 03 324 3704 DARFIELD PH: 03 318 8204 www.marealestate.co.nz

Chris Flanagan

027 433 4657

Andrew Taylor

027 435 5930

Jackie Derrick

027 636 3576

Jo Barrett

021 859 006

Stephan Knowler

027 229 9522

Cameron McRae

027 769 6696

Paul Robinson

021 277 2690

Juliet Flanagan

027 490 8019

Connie van der Klei

021 449 174
---
THe BeST PRoPeRTieS AcRoSS

THe SeLWYn DiSTRicT

INSIDE

PUBLiSHeD eVeRY WeDneSDAY

Week commencing WeDneSDAY, 19TH JUne , 2019

Idyllic setting in a fabulous location

Fabulously located in the heart of the Rolleston

Township is this immaculate and well-presented

property. The intelligent design of this quaint home

includes a spacious north facing open plan living/dining

area that has a door opening out to a private outdoor

courtyard. The light filled kitchen offers ample storage

complemented with reputable appliances including

a gas hob and looks out to both the backyard and

picturesque tree lined street.

All three bedrooms are generous in size with the master

bedroom being further complemented by a walk in

robe and ensuite. The well-appointed centrally located

main bathroom is spacious in size with neutral décor.

The section is well established with mature gardens

and a conveniently located garden shed. Other special

features of this home include; heat pump, pop up

irrigation and carpet is laid in the double internal access

garage.

The location is very convenient and is in easy walking

distance to shops, supermarkets, bus stops, schools

and the other fabulous amenities that the Rolleston

Township offers. Don't delay on this one.

M-A

MATSON & ALLAN

REAL ESTATE LIMITED

Asking price

$485,000

www.marealestate.co.nz/MA0568

Jackie Derrick

Contact:

M 027 636 3576

E jackie@marealestate.co.nz

39 OthellO DrIve, rOllestOn Open hOme sun 2.15 – 2.45pm

M-A

MATSON & ALLAN

REAL ESTATE LIMITED

Thinking of Selling?

For Trusted Reputation, Local Knowledge and Experience

M-A

MATSON & ALLAN

REAL ESTATE LIMITED

Chris Flanagan

027 433 4657

Andrew Taylor

027 435 5930

Jackie Derrick

027 636 3576

Jo Barrett

021 859 006

Stephan Knowler

027 229 9522

Cameron McRae

027 769 6696

Our agents are highly experienced, passionate about property and know the market they are working in.

Call today, we would be delighted to assist with a free no obligation appraisal and to discuss your options.

ROLLESTON P: 03 347 9949 | DARFIELD P: 03 318 8204 | LEESTON P: 03 324 3704 | www. marealestate.co.nz

Paul Robinson

021 277 2690
---
2

Four Seasons Realty 2017 Ltd | Licensed Agent REAA 2008

Contributor to realestate.co.nz

Your home for local property

harcourts.co.nz
---
3

Four Seasons Realty 2017 Ltd | Licensed Agent REAA 2008

Contributor to realestate.co.nz

harcourts.co.nz

Your home for local property
---
4

2

2

verdecopark.co.nz

"

There's

nothing else

like it."

- Mike and Kathie G, Passionate Locals

Set in one of Canterbury's most desirable locations, Verdeco

Park is located only steps from the charming township of

Lincoln. A premium land parcel uniquely and purposefully

designed to magnify the connection between nature,

happiness and healthy living, empowering residents to

achieve, fuller, richer, healthier lives. In celebration of its

natural parkland surrounds, the green spaces have been

thoughtfully designed to be a great place to meet the

locals, catch up with friends and feel part of an eco-friendly

community.

Visit Verdeco Park and discover where to build your dream

home.

Native Plantings

Electric Car Station

Community Orchard

A Healthier Eco Future

Build A Better Lifestyle

Stage 1 & 2 Selling Fast

144

145

143

5339m2

$440,000

142

4635m2

$430,000

146

5272m2

$455,000

141

4739m2

$435,000

200

3766m2

$375,000

140

5200m2

147

201

199

4264m2

$405,000

202

4125m2

$410,000

148

$439,000

139

3237m2

$365,000 138

3155m2

$370,000

198

4044m2

$395,000

204

5771m2

$455,000

203

4089m2

$405,000

137

3301m2

$375,000

149

5206m2

$455,000

181

3418m2

$349,000

136

3050m2

$390,000

184

4293m2

$410,000

STAGE TWO

151

150 6020m2

5002m2

$450,000

180

3375m2

$349,000

182

5350m2

$455,000

183

5693m2

$455,000

205

185

4015m2

$395,000

$470,000

179

3806m2

$4365,000

4070m2

$410,000

206

3100m2

$360,000

STAGE ONE

153

152

4466m 2

$425,000

154

155

LINCOLN UNIVERSITY

156

158

157

173

2

3046m

$349,000

178

174

3158m 2 177 176 175

$349,000

3115m 2 3220m 2

$349,000

$349,000

159

172 171

3050m 2

$349,000

160 161

170

163 164

162

3874m 2

$400,000

165 166

169

4000m 2 4158m 2

$399,000

$395,000

Sold

Under Contract

Stage One

115 114

3227m 2

$349,000

168

4060m 2

$4410,000

116

5000m 2

$450,000

117

5000m 2

$450,000

Remaining sections from Stage One

are still available with titles due mid

2019. Sections range from 640m² –

6000m² priced from $205,000.

All remaining sections are zoned TC1.

32

61

60

59

107

58

112

113

750m

111 687m 2 2

$209,000

110 687m 2 $213,000

687m

109

2 $213,000

$213,000

687m 2

$213,000

688m 2

$213,000

108

57

56

55

54

Stage Two

53

52 51

85

50

86

49

87 88

7

943m 943m 2 89

$239,000 $239,000

With earthworks underway, Stage Two

is now available.

Stage Two sections range from 3000m²

– 6000m² priced from $349,000.

30 of these 32 sections are zoned TC1.

738m 2 6 803m 2

$205,000 $210,000

90

5

1000m

$240,000

SPRINGS ROAD

Site office open Saturdays & Sundays 12.00 - 2.00pm

1472 Springs Road, South of Lincoln University

Natalie McLean 027 943 6413

natalie.mclean@harcourts.co.nz

Four Seasons Realty 2017 Ltd | Licensed Agent REAA 2008

Ross Mitchell 027 222 9495

ross.mitchell@harcourts.co.nz

Four Seasons Realty

Four Seasons Realty 2017 Ltd | Licensed Agent REAA 2008

Your home for local property
---
5

REAL ESTATE SPECIALISTS

51 Charlbury Drive, Rolleston

ONE MORE LISTED

150 Lowes Road, Rolleston

Perfectly Positioned - Seriously Selling!

Offering a perfect fit for contemporary lifestyles

this four-bedroom family home with 3 car

garaging offers excellent levels of comfort and is

conveniently positioned near a wealth of amenities

in central Rolleston, including the in-zone Clearview

Primary School.

Instantly appealing and beautifully presented,

this home enjoys a tastefully decorated interior

along with well-maintained gardens which are fully

fenced and ample of off-street parking for all the

toys. Our vendors are serious about selling and you

are encouraged to contact Mike today to arrange

your viewing.

ENquIRIES OvER $539,000

OffERS OvER $469,000

Walk to Lemonwood Grove!

Superbly crafted by Golden Homes & ticking the boxes for contemporary living, this low-maintenance 3

bedroom home will reward its new owner with comfort and convenience. Constructed in 2017 the elegant

interior which is neutral throughout offers an attractive backdrop to family life and is perfect for you to

add your personal touch! Central to everyday living is the modern kitchen which integrates seamlessly with

the living & dining space, while outside, the garden has been designed with minimum upkeep in mind. The

master bedroom is suitably equipped with an ensuite and a walk-in robe, and a double garage provides

ample storage options whilst there is also off street parking for 2 cars.

A picture of good taste and neatness, this property is presented to the market with determination. Contact

Mike or Elyse today for more information.

543 Drain Road, Doyleston

ENquIRIES OvER $640,000

The Living is Easy!

With room for the kids to roam, swim and play

tennis, this spacious, comfortable 4 bedroom, 2

bathroom family home on 12654sqm offers all the

freedom of a country lifestyle within 40 minutes

of the city. Neutral with beautiful timber accents

throughout, this home caters for hours spent in the

sun with a superb north-facing outdoor living area

with a fabulous decked swimming pool, plus a grass

tennis court for family tournaments.

A standalone double garage plus additional sheds

provide ample storage space for the vehicles &

tools. Situated within a few minutes' drive of Leeston

village, the good life awaits! Contact Mike now to

arrange your viewing.

68 Rolleston Drive, Rolleston

0800 645 346

www.oneagencyres.co.nz

Mike Goatley

027 249 5561

Stephen ferguson

021 224 2000

Elyse Campbell

021 187 6217

Deepak Gangar

021 227 9563

Nicola Curtis

Administrator

Julz Sibbe

Administrator

Real Estate Specialists Ltd Licenced REAA (2008)

RURAL | LIFESTYLE | RESIDENTIAL

BRUCE BAY 4667 Haast Highway

Mahitahi Lodge Accommodation

Are you looking for a lifestyle change away from the

current treadmill? Or a top end hide away? This could

be the life changing decision you have been looking

for giving you access to some of the best fishing and

hunting to be had in NZ. Well-established

accommodation business now into its 12th year of

operating as a top end lodge with the current clientele

being self-drive professional people from the

Netherlands, UK and the USA. Visit the Lodge website

and get a taste of what could be yours at

www.mahitahilodge.co.nz

$790,000

Plus GST (if any)

Rob McGregor

M 021 334 469

E rob.mcgregor@pggwrightson.co.nz

TAI TAPU Cossars Road

Tai Tapu's Best Bare Land Holdings

Five separate titles on offer, in a supreme location with

stunning panoramic views and common sense

covenants to protect your investment. Lot 3 has the

bonus of flat paddocks complementing the elevated

building site. All blocks have their own entrances.

• Lot 1 and 2 - SOLD

• Lot 3 - 5.5937 hectares accessed off Otahuna Road

• Lot 4 - 5.255 hectares accessed off Otahuna Road,

includes a seven-bay hay/deer shed

• House block - 4.068 hectares includes a large

homestead in established sheltered grounds

PRICE BY NEGOTIATION

Plus GST (if any)

VIEW By Appointment Only

Sam Davidson

M 027 488 8269

E sdavidson@pggwrightson.co.nz

pggwre.co.nz/CHR30315

pggwre.co.nz/CHR26884

PGG Wrightson Real Estate Limited, licensed under REAA 2008

Helping grow the country
---
6

Hastings McLeod Limited Licensed under the Real Estate Agents Act 2008 6 Tennyson Street ROLLESTON rolleston@pb.co.nz 03 929 0306

Just Like New and Open to View

Brand Spanking New!

$490,000

WEB ID LEU68760

SOUTHBRIDGE

144 High Street

This wonderful family home is now under construction

in the new `Bellfield` subdivision within the Southbridge

township. This lovely home will offer 4 bedrooms

including Master with ensuite and walk-in robe, central

bathroom, separate toilet, open-plan living and 2 car

garaging. Southbridge is handy to favourite

fishing/white baiting spots and the local beach and

lagoon. The township also offers a great sportsground,

local pool, cafe, shops and primary school. Easy driving

to both Christchurch and Ashburton.

VIEW By Appointment

4

NEW LISTING

WEB ID DFU68670

KIRWEE

21 Walter Place

VIEW Sunday 23 Jun 2.30 - 3.00pm

Projecting an engaging street-side aesthetic with an

attraction that's magnetic comes a home where larger

family living and relaxed entertaining combine in a quiet

Kirwee cul-de-sac. Sure to excite the socialites featuring

a modern chef's kitchen with a walk-in pantry and four

sets of sliders accessing twin patios off open plan

dining/family room and segregated lounge. Classy and

contemporary in family-friendly Kirwee within walking

distance to town and domain while the kids will love

having the primary school on the back boundary.

Amy Jones

Mobile 021 077 9945

amy.jones@pb.co.nz

Modern Value for Money!

$619,000

BUYERS $475,000+

WEB ID ROU68730

ROLLESTON

42 George Street

Wanting a spacious, modern home without the price

tag? Freshly repainted and with brand new carpet

throughout you can sit back and enjoy the benefits of

this 3 bedroom home without breaking the budget.

Check out these features:

•Double-glazed

•Modern kitchen with gas cooking

•Master with WIR, ensuite and external access

•Heat pump

•New carpet throughout

•Freshly repainted to most of the interior

VIEW By Appointment

4

2

2

NEW LISTING

My Kind Of Spicy!

NEW LISTING

Urban convenience

Penny Dadson-Clausen

Mobile 027 895 5943

Office 03 929 0306

pennyd@pb.co.nz

$710,000

WEB ID ROU68654

ROLLESTON

28 Jean Archie Drive

This 5 bedroom family home is under construction and

awaiting a new family. She is high-spec`d and has

spacious open-plan living and dining.

A separate theatre lounge incorporating a study

nook/office. Spacious kitchen with Bosch appliances and

large windows that overlook the reserve opposite.

Watch your kids play in the reserve while you cook them

up a treat. Separate scullery to store all the yummies

with quality joinery. Sun bathes this hottie from sunrise

to sunset, plenty of outdoor living space flowing out

from family areas.

VIEW By Appointment

Penny Dadson-Clausen

Mobile 027 895 5943

Office 03 929 0306

pennyd@pb.co.nz

BUYERS $649,000+

WEB ID ROU68644

ROLLESTON

768 Selwyn Road

If you are looking for a high-spec, contemporary family

home with a peaceful rural feel then look no further.

Brand new and offering 252m2 of luxury, style and 3 car

garaging with secure off-street parking to envy, you'll be

blown away by what's on offer here. The beautifully

tiled entrance draws you through to the stunning

kitchen and living area. A true entertainers delight, with

free-standing oven, stone benchtops and a large butler's

pantry with sink. The open plan living area offers the

space and comfort you expect from a wonderful family

home.

VIEW By Appointment

2

2

5

2

2

Sarah Yeates

Mobile 027 447 2719

Office 03 929 0306

sarahy@pb.co.nz

3

4

NEW LISTING

Amy Jones

Mobile 021 077 9945

amy.jones@pb.co.nz

2

2

NEW LISTING

Sarah Yeates

Mobile 027 447 2719

Office 03 929 0306

sarahy@pb.co.nz

2.5

3

Starting up,slowing down?

DEADLINE SALE

WEB ID ROU68613

TEMPLETON

6 Van Dieman Close

A perfect home for either of those looking at starting up

or slowing down. A fantastic location, positioned down

a quiet cul-de-sac with the bonus of the local park just

across the road. The afternoon sun just streams in

through the generous separate living room, giving

natural warmth and light and a great place to sit in the

bay window seat enjoying a good book. The open plan

kitchen/ dining/living is spacious and flows out to the

patio area through the ranch slider to enjoy the indooroutdoor

VIEW Saturday 22 Jun 2.30 - 3.00pm

DEADLINE SALE closes Thursday 20th

June, 2019 at 6.00pm, (unless sold prior)

Great family home!

BUYERS $579,000+

WEB ID ROU68463

LINCOLN

5 Perthshire Crescent

Situated in a lovely quiet cul-de-sac surrounded by other

quality homes is this fabulous family home backing onto

the reserve. Let me take you for a guided tour, starting

with good off street parking, easy care yard with

manicured gardens, large entrance way leading down

the hall to the open plan kitchen dining areas with

excellent street and reserve views and capturing all day

sun. The kitchen is in the heart of the home and has

great storage and heaps of bench space for those of you

who like entertaining.

VIEW Sunday 23 Jun 2.30 - 3.00pm

3

4

NEW LISTING

Angela Hunt

Mobile 021 548 777

angela.hunt@pb.co.nz

1

2

NEW LISTING

Angela Hunt

Mobile 021 548 777

angela.hunt@pb.co.nz

2

2

pb.co.nz
---
7

Hastings McLeod Limited Licensed under the Real Estate Agents Act 2008 6 Tennyson Street ROLLESTON rolleston@pb.co.nz 03 929 0306

Stand out from the crowd

$619,000

WEB ID ROU68436

ROLLESTON

9 Thames Drive

My motivated vendors have reduced the price to meet

the market!With a custom plan, designed to capture

sunlight all day long, 9 Thames Drive in Faringdon is the

perfect family home for those who are looking for a bit

more quality throughout! Stunning and practical Torlys

floating wooden flooring, which flows through from the

entrance and fills the living, dining and kitchen, creating

a warm and inviting open plan living space. If you are

looking for a great all-round home with room both

inside and outside for the kids, this property should be

at the top of your list to view!

VIEW Sunday 23 Jun 1.30 - 2.00pm

Standout on Stanford

DEADLINE SALE

WEB ID ROU68567

ROLLESTON

39 Stanford Way

Proudly presenting another exceptional build by R&B

Builders, this exquisite near new home offers the special

touches that make it stand-out from the crowd, a home

that will withstand the test of time, one you'll be proud

to call your own!

• Expansive main living with separate lounge

• Bright sunny modern kitchen with WIP

• Brilliant all-day sun-drenched aspect

• Fantastic decks & Barbeque area

View to see why this standout will be so popular!

VIEW Sunday 23 Jun 1.30 - 2.00pm

DEADLINE SALE closes Thursday 20th

June, 2019 at 1.00pm, (unless sold prior)

OPEN HOME

Angela Hunt

Mobile 021 548 777

angela.hunt@pb.co.nz

Generational Living BUYERS $699,000+

WEB ID ROU67281

ROLLESTON

35 Thames Drive

This immaculate and stylish home is the one you have

been waiting for! If you are looking for a home that

satisfies great location, the need of space, fantastic

design and options a plenty then look no further than

35 Thames Drive. Four main bedrooms encompass this

home with the fifth bedroom in its own self contained

living space. With a seemingly endless list of features,

this great property is one you must not miss!

VIEW By Appointment

4

2

2

OPEN HOME

Strategic Location

Michael Robb

Mobile 027 436 7106

Office 03 929 0306

michael.robb@pb.co.nz

$1,100,000 + GST (IF ANY)

WEB ID DFR67420

DARFIELD

120 Kimberley Road

A productive, large, 22.6310ha lifestyle property

situated in an absolutely strategic location, right next to

the Darfield town boundary.

A warm, modern three-bedroom home, positioned

perfectly for sun and shelter, with privacy still ensured,

whilst being next to town. Only three years old, the

home boasts a large open-plan kitchen/living area, three

double bedrooms and a fully-lined internal access garage

which could easily become a fourth bedroom. A real

asset to the home is the 20m heated indoor lap pool

with enough surrounding area for your own private

gym.

VIEW By Appointment

3

2

2

5

3

April Nicholls

Mobile 027 737 6474

april@pb.co.nz

3

2

Gareth Cox

Mobile 021 250 9714

gareth@pb.co.nz

1

1

Congratulating

our Top Agents

Top Listing & Selling Sales Consultant*

Angela Hunt, Residential/Lifestyle Sales Consultant

M 021 548 777 | P 03 929 0306 | E angela.hunt@pb.co.nz

Top Selling Sales Consultant*

Michael Robb, Residential/Lifestyle Sales Consultant

M 027 436 7106 | P 03 929 0306 | E michael.robb@pb.co.nz

*May 2019

If you want results, then talk to your

award winning local Sales Consultants today

pb.co.nz
---
8
---
9
---
10
---
11
---
12

YOUR RAY WHITE

TOWN & LIFESTYLE TEAM

THE RESIDENTIAL SALES TEAM

Big Red

Business Owner

027 224 4733

Sarah Booth

Business Owner

027 527 8258

Emma George

Business Owner

027 555 0568

Nick Booth

027 306 3186

Steve Morgan

027 438 3035

Leanne Morgan

027 596 9968

Nicola Bray

027 755 8846

Dawn Pollard

022 073 7580

Helen Lee

027 503 9219

Nick Hallpike

027 527 8259

Trina Rea

027 424 6901

Judith Heke-Sunnex

027 603 3862

Leisa Webster

027 722 5537

Amanda Cherry

027 340 6955

Robyn Duthie

027 460 2192

Dwayne Bloomfield

021 163 9874

Frank Dowle

027 528 0480

Lisa Kingston

027 387 8775

Felicity Darling-Croton

027 779 9006

Glenda Crawford

027 309 0115

Zelda Potgieter

022 311 6931

Bruce Pyott

027 202 6119

Mandie Ashwell

027 552 4478

Melissa Warrington

027 279 4362

Melanie Elliot

027 635 2643

Tanya Marillier

027 383 3844

THE PROPERTY MANAGEMENT TEAM

Paul Clement

027 522 8210

Emily Pyatt

021 663 700

Debbie Drewett

03 974 1011

Andrea Wright

03 325 7298

Lucy Campbell

03 974 1012

We sell more homes in Selwyn than any other company.

Call us for all your real estate needs.

We live local. We support local. We love local.

Rolleston 347 9988 | West Melton 347 9933 | Lincoln 325 7299
---
13

Due to continued success as Selwyn's leading

Real Estate team, we need more homes to

satisfy these genuine waiting buyers.

Please, if you can help, call us today!

Rolleston

3 bedroom home

Land size approx 500m2

Price up to $530,000

Contact

Big Red Shefford 027 224 4733

brendan.shefford@raywhite.com

Rolleston

3 bedrooms plus office

(office/bedroom to be by front door)

2 living areas

Price up to $600,000

Contact

Glenda Crawford 027 309 0115

glenda.crawford@raywhite.com

West Melton/Weedons

2-4ha lifestyle properties

Floor area 200m2 - 300m2

Price $800,000 - $1,200,000

Contact

Frank Dowle 027 528 0480

frank.dowle@raywhite.com

West Melton/Weedons/

Burnham/Kirwee

4ha approximately

Smaller home okay

Price $630,000 - $730,000

Contact

Frank Dowle 027 528 0480

frank.dowle@raywhite.com

Lincoln

3 bedrooms, new build

High spec kitchen, ducted heat pump

Section around 500m2

Price up to $600,000

Contact

Helen Lee 027 503 9219

helen.lee@raywhite.com

West Melton

4-5 bedrooms

2000m2 section minimum

3 car garaging

Price $900,000 - $1,100,000

Contact

Melanie Elliott 027 635 2643

melanie.elliott@raywhite.com

West Melton

4 bedrooms

2 living rooms

Section 1000m2 minimum

Price $780,000 - $820,000

Contact

Melanie Elliott 027 635 2643

melanie.elliott@raywhite.com

Rolleston College Zone

Lifestyle 5-10 acres

New or refurbished home

4 bedrooms, 2 bathrooms

Price low $900,000's

Contact

Leisa Webster 027 722 5537

leisa.webster@raywhite.com

Rolleston

4 bedrooms, 2 bathrooms

4000m2 - 5000m2 section

Lifestyle property with vege gardens

Price up to $900,000

Contact

Leisa Webster 027 722 5537

leisa.webster@raywhite.com

Darfield/Kirwee

Section

Able to have a cottage placed on it

Price up to $150,000

Contact

Dwayne Bloomfield 021 163 9874

dwayne.bloomfield@raywhite.com

Rolleston

3 bedrooms, good living, large master

Extra parking for camper van

Smaller garden

Price low - mid $500,000's

Contact

Leisa Webster 027 722 5537

leisa.webster@raywhite.com

Rolleston

4 bedrooms. 2 bathrooms

Section 750m2

Ambrose Estate

Price $520,000 - $550,000

Contact

Leisa Webster 027 722 5537

leisa.webster@raywhite.com

Rolleston

3 bedrooms, 2 bathrooms

2 car garaging

Section 450m2

Price $475,000 - $515,000

Contact

Big Red Shefford 027 224 4733

brendan.shefford@raywhite.com

West Melton

4 bedrooms

Room to park a campervan

Section up to1500m2

Price $700,000 - $900,000

Contact

Melanie Elliott 027 635 2643

melanie.elliott@raywhite.com

Leeston & Surrounds

3-4 bedrooms

Section 3000m2 plus

Price $400,000 - $550,000

Contact

Tanya Marillier 027 383 3844

tanya.marillier@raywhite.com

Dunsandel

3 bedrooms

Section approx 1000m2

Price $300,000 - $450,000

Contact

Big Red Shefford 027 224 4733

brendan.shefford@raywhite.com

Rolleston

3-4 bedrooms

Tiled bathrooms

New or near new, easy care section

Price up to $540,000

Contact

Sarah Booth 027 527 8258

sarah.booth@raywhite.com

West Melton

4 bedrooms

2 bathrooms

Land 2-4 hectares

Price $750,000 - $900,000

Contact

Big Red Shefford 027 224 4733

brendan.shefford@raywhite.com

West Melton/Prebbleton/

Lincoln

4-5 bedroom large high spec home

Land 2000m2 - 5000m2

Price up to $1.3 million

Contact

Mandie Ashwell 027 552 4478

mandie.ashwell@raywhite.com

Rolleston

3-4 bedrooms

Section 400m2 - 800m2

Price up to $530,000

Contact

Mandie Ashwell 027 552 4478

mandie.ashwell@raywhite.com

Are you considering selling? Do you have a property that matches one of these descriptions?

Contact us now for a no obligation appraisal

If you want to get SOLD, call us TODAY

Ray White Rolleston 347 9988 | Ray White West Melton 347 9933 | Ray White Lincoln 325 7299

rwrolleston.co.nz | rwwestmelton.co.nz | rwlincoln.co.nz

Ray White Town & Lifestyle Real Estate Limited Licensed (REAA 2008)
---
14

NEW LISTING

Glentunnel 15 Railway Terrace

Lincoln 20 Carnaveron Drive

Plans already done - start

building now

Here's your chance to work with our client builder who

has designed this three-bedroom architectural home

which incorporates exceptional style and function, set

on a landscaped 1,011sqm section. Although

considerable thought has gone into the entire

package, alterations can still be made.

bayleys.co.nz/559349

3 1 2 2

Asking Price $485,000

View by appointment

Fee Ensor 021 705 014

fee.ensor@bayleys.co.nz

WHALAN AND PARTNERS LTD, BAYLEYS, LICENSED REAA 2008

Spectacular!

Presenting a distinctive and enduring panache factor

this home offers the best of city elegance and country

ambience. Positioned on a compact 635sqm (approx)

sized section this brand new 352sqm (approx) house

offers stunning vistas from all areas. On offer here is an

ingenious layout, complete with features rarely found

including his and hers walk-in robes, opulent

bathrooms and a raft of integrated appliances.

Complete with lush landscaping and window

furnishings, it is ready for you to move into and enjoy.

Are you going to become the owner of this

spectacular home?

4 2 2 3

Price by Negotiation

View Sun 2-2.30pm or by appointment

Urszula Bedggood 027 338 7889

urszula.bedggood@bayleys.co.nz

WHALAN AND PARTNERS LTD, BAYLEYS, LICENSED REAA 2008

bayleys.co.nz/559840

NEW LISTING

Boundary lines are indicative only, showing 2 titles of 4.

Oxford 60 Depot Road

Templeton Corner of Curraghs Road and Maddisons Road

Hilltop haven with

spectacular views

Country proportions within a short drive from Darfield

or Oxford. An incredible opportunity for families,

those who want to work from home or those who

want a slice of the great outdoors on the doorstep.

Immaculately presented 6.6ha property with great

options. Currently being used as a B&B. Internal triplecar

garaging with large four-bay shed with workshop.

The outlook is priceless with secluded garden and

private alfresco courtyard.

bayleys.co.nz/5510172

5 2 5 3

Deadline Sale (unless sold prior)

4pm, Thu 4 Jul 2019

3 Deans Ave, Chch

View Sun 12.30-1.15pm

Nick Wilson 021 917 047

nick.wilson@bayleys.co.nz

WHALAN AND PARTNERS LTD, BAYLEYS, LICENSED REAA 2008

Strategic land holding

A strategic 70ha landholding in four separate titles,

within close proximity to Christchurch, Rolleston and

West Melton, sees this property well-positioned for

the future. There is immediate upside for a new owner

if desired as the Inner Plains zoning provides the

opportunity to subdivide down to 4ha lots. The

property includes a well maintained permanent

material home and an older cottage, woolshed, yards,

six- bay hayshed's, five-bay hayshed, shed/garage,

stable complex, feedstore, Skyline garage and silo.

bayleys.co.nz/559836

3 2 1 2

Deadline Sale (unless sold prior)

4pm, Thu 11 Jul 2019

3 Deans Ave, Chch

View by appointment

Ben Turner 027 530 1400

ben.turner@bayleys.co.nz

Craig Blackburn 027 489 7225

craig.blackburn@bayleys.co.nz

WHALAN AND PARTNERS LTD, BAYLEYS, LICENSED REAA 2008

bayleys.co.nz
---
2

[Edition datE]

Building on a budget

Building your own home is one of the biggest investments of a lifetime and with

a few clever tips we show you how to make the most of what you can afford.

Get smart with your money to achieve

your dream home without compromising

on what's really important.

Consider buying a large plot of land with

friends or family which you can split into

smaller lots. Many great

locations tend to cover

more ground, so get the

stunning harbour view

you dream of by sharing

the cost with someone you

don't mind having as a

neighbour.

Opting for lowmaintenance

building

materials, like vinyl siding

and metal roofing saves in

the long run. Although

they may be more

expensive to install you

will save money on future

repairs, replacement or

repainting.

Using salvaged and recycled

materials and componentry

from the abundance of

demolition sites around the

city not only adds valuable

character to new builds, but

can save money, too.

For the safety and security

of your home, don't skimp on structural

elements, doors and windows. Buy the

very best you can afford and, together

with your architect or builder, determine

other areas you could save on to allow for

a few luxuries.

It's important not to waste valuable cash

on overbuilding. Look carefully at the

existing properties in the area and be

Deciding exactly

what you want

and then sticking with

it will ensure you stay

on budget, on time,

and all with

minimal stress.

aware that building a home that is bigger

and better than those of your neighbours

will not necessarily equate to a fair price

if and when it's time to sell. instead, the

value of your build will be determined

by the lower-priced homes

around it.

The experience of a wellqualified

contractor is an

invaluable asset in any

building project. Not only

will you have recourse

should anything go wrong,

but their experience in

the industry means they

will have established

relationships with suppliers

and subcontractors, whom

they trust to deliver the best

workmanship possible.

Keep a close eye on

construction allowances as

your home is being built

to ensure you are getting

what you asked for and

what you paid for. if you

had initially agreed on

using a specific brand, for

example, then don't settle

for less, unless you discuss

a cost adjustment with your

builder or contractor.

Many a building project has snowballed

out of control in the financial department

due to changes being made to the design

and materials once building is already

underway. Deciding exactly what you

want and then sticking with it will ensure

you stay on budget, within your expected

time frame, and all with minimal stress.

NEW LISTING

Southbridge 105 Bullocks Road

Idyllic country retreat

Set amongst beautiful established grounds on

13,820sqm. This property showcases two homes, a

standalone 'man cave' and an array of outbuildings.

The main dwelling is a refurbished character 1920s

villa and the second is a modern Stonewood Home.

Both homes capture the sun and are suitably

equipped with log burners and heat pump air

conditioning. This property offers endless possibilities

and is well suited for grazing and equestrian activities.

bayleys.co.nz/5510249

8 3 2 2

Asking Price $825,000

View Sun 1-2pm

Suzy McPherson 027 695 0519

suzy.mcpherson@bayleys.co.nz

Nicky Butler 027 751 1801

nicky.butler@bayleys.co.nz

15

WHALAN AND PARTNERS LTD, BAYLEYS, LICENSED REAA 2008

NEW LISTING

Boundary lines are indicative only

Boundary lines are indicative only

Boundary lines are indicative only

Tai Tapu Lot 2 Gerkins Road

Spectacular!

A wonderful opportunity to secure this significant land holding offering the most amazing views across the

Canterbury Plains to the Southern Alps. The 28.7410 hectare property is nestled in the hills above Tai Tapu offering a

wonderful peaceful environment yet is only 25 minutes to Christchurch City. The 30-year-old (approximate) pine

forest gives the new owners plenty of options. This is a fantastic location to build your new home and create a

unique playground with easy city convenience.

Think to the future with this property and its possibilities!

bayleys.co.nz/5510220

Deadline Sale (unless sold prior)

1pm, Wed 17 Jul 2019

View by appointment

Chris Jones 027 220 5043

chris.jones@bayleys.co.nz

Sam Sidey 027 346 3500

sam.sidey@bayleys.co.nz

WHALAN AND PARTNERS LTD, BAYLEYS, LICENSED UNDER THE REA ACT 2008
---
16

FREE

DOUBLE PASS

Bring this to the Home & Living Show Friday, Saturday

or Sunday to receive free entry.

Valid for 2 adults children under 12 are free!

Be inspired

With thousands of ideas

Friday Saturday Sunday

JUNE 28 - JUNE 30 | 10AM - 5PM | HORNCASTLE ARENA

$53,000

TO BE WON IN PRIZES

INCLUDING an EV car worth $40,000!
---
2

[Edition datE]

17

Property Market Update

with Property Brokers

Buyers attracted to Leeston

Penny, Tony (Branch Manager) and Angela.

Solid activity boosted by a steady

stream of new residential housing

subdivisions has meant Rolleston has held

the real estate limelight in recent years.

While other parts of Selwyn have been

quieter, market activity has increased

since the beginning of the year. Towns like

Leeston saw large increases in sales in the

first quarter, with confidence remaining

high through April and May.

Tony Quayle, Branch Manager for

Property Brokers says people are attracted

to towns such as Leeston as they offer the

opportunity to get more for their money

with properties generally more affordable

than the equivalent home or section in

Rolleston.

After the abnormality created by the

earthquakes where an initial shortage

of homes saw a rise in property values,

capital gains have stabilised with more

moderate gains. The massive increases of

four to five years ago are no longer there.

In Leeston, property prices have also been

steady, reflecting the quieter

market throughout the country.

"With Rolleston now moving

into offering smaller lots, people

are considering other towns in

the district. While the Leeston

market had been quieter, there

is now more interest in the area

as buyers can secure a larger

section or newer home for less,"

suggests Tony.

Rolleston's newer subdivisions

mostly feature

sections of 500-700sqm in

the $170,000-$200,000 price

bracket. The equivalent land in

Leeston usually sells at a lower

price though land availability

is limited with some section

releases like the Clausen Avenue

development.

In Leeston, a budget of

$500,000 can secure a newer

four bedroom home on a larger

section. Older homes like a

120 year old cottage or villa

and newer existing homes may

sell for between $320,000 and

$400,000. With fewer homes in this price

bracket in Rolleston, first home buyers

seeking a larger home and section are

looking to move further out.

"People are choosing to go to Leeston

as the properties available offer value

for money in a smaller rural town," says

Angela Hunt, Residential Salesperson for

Property Brokers.

Angela and her colleague Penny

Dadson-Clausen both live and work in

the area.

"We've had tremendous support from

locals who like to support other locals and

the new Property Brokers' Leeston branch

gives people more choice," adds Angela.

Angela and Penny have been very busy

in the first half of the year. She says many

people selling are often upsizing while

others may be purchasing in another part

of the district. A number of buyers are

also moving out from the city, especially

first home buyers who are attracted by the

opportunity to have more for their money.

SITE

109
---
2

18

[Edition datE]

Marketing your property –

what does it mean?

Marketing a property is

more than presentation

and advertising.

Conceptually, marketing is

identifying what prospective buyers

are looking for then providing this. For

example, larger homes and sections

may appeal more to families. Young

couples starting out, generally have

tight budgets leading them to smaller

properties, while older people may be

looking to downsize.

Brand new has a particular appeal

however there will always be a market

for established homes. Having a

picture in your mind of the type of

buyer will help in determining the

features to emphasise.

If repairs and maintenance need

to be carried out before putting the

property on the market, seek the

advice of a real estate agent. They

can advise on what tasks are worth

completing and what might be

unnecessary expense.

Installing a new kitchen or changing

the carpet may lift the house but will

the expense be recouped in the sale

price? On the other hand, modernising

an outdated kitchen or bathroom

could make a huge difference to

the look of the place. Avoid going

overboard unless the capital value of

properties in the area justifies this.

Real estate agents are in contact with

prospective buyers so aware of what

they are looking for. Draw on their

expertise and advice to help make the

most of the selling opportunity.

Establishing a relevant and fair price

for a property is important. Most

agents calculate this based on the price

properties in the area have sold for,

and what a particular property has to

offer. A unique or exceptional property

may justify a higher price, though

run-down properties can gain more

than they appear to merit. This might

be due to the area or other factors that

suggest a good investment.

When promoting a property, mix it

up and be creative so your property

stands out from the rest. TradeMe

is a must; checked by most people

looking to buy. Present the features the

property offers as benefits to potential

buyers.

Erect a sign outside the property.

People stop and look at photographs

and this might spark sufficient

interest for them to visit an open

home. Spending a fortune on massive

advertising campaigns in every media

might seem a way to attract potential

buyers but may be an unnecessary

expense without the return. A better

philosophy could be a little often.

This will depend on the value of the

property, your budget and how best to

reach target buyers.

Buyer perception is also significant.

For example, properties that sit for a

while can become stale. Resting the

property by taking it off the market for

a short time, then relisting perhaps in

spring or when sales in the area appear

to lift a little, can make a difference.

However, if a property does not sell

immediately there is no need for panic

or dropping the price. It may simply be

that the right buyer has not yet come

along. If the mix is right your property

will sell.

If a property does not sell

immediately there is no need for

panic or dropping the price.
---
19

this Week's

1.00pm – 1.30pm

1.00pm – 1.30pm

11.00am – 11.30am

11.30am – 12.00pm

11.45am – 12.30pm

12.00pm – 12.30pm

12.00pm – 12.30pm

12.00pm – 12.45pm

12.30pm – 1.00pm

12.45pm – 1.15pm

1.00pm – 1.30pm

1.00pm – 1.30pm

1.00pm – 1.30pm

1.00pm – 2.00pm

1.15pm – 1.45pm

1.30pm – 2.00pm

1.30pm – 2.00pm

1.45pm –2.15pm

2.00pm – 2.30pm

2.00pm – 2.45pm

2.30pm – 3.00pm

2.30pm – 3.30pm

2.45pm- 3.30pm

3.00pm - 3.30pm

10.30am – 11.00am

11.00am – 11.30am

11.00am – 11.30am

11.00am – 11.30am

11.15am – 11.45am

11.15am – 11.45am

11.15am – 11.45am

11.15am – 11.45am

11.30am – 12.00pm

11.30am – 12.00pm

11.30am – 12.00pm

11.30am – 12.00pm

11.30am – 12.00pm

11.30am – 12.00pm

thursday 20th June

5 Chandler Way, Rolleston

Harcourts Rolleston

155 Memorial Ave, Burnside

Ray White Rolleston

saturday 22nd June

6 Charles Major Road, Rolleston

Harcourts Hornby

34 Bavaria Drive, Rolleston

Harcourts Lincoln

17 Bridge Road, Greendale

Harcourts Rolleston

58 Shadbolt Lane, Rolleston

Harcourts Hornby

1406 Leeston Road, Doyleston

Property Brokers

85 George Noble Road

(475b Yaldhurst Road), Yaldhurst

Harcourts Hornby

36 Marshs Road, Templeton

Harcourts Hornby

72 Withells Road, Avonhead

Harcourts Lincoln

17 Mountain View Place, Leeston

Property Brokers

83 Highsted Road, Bishopdale

Harcourts Rolleston

51 Clydesdale Way (off Carnaveron Drive), Lincoln

Harcourts Hornby

2/ 108 Holmes Road, Tai Tapu

Harcourts Hornby

5 Chandler Way, Rolleston

Harcourts Rolleston

46 Vernon Drive, Lincoln

Harcourts Hornby

2 Rossington Drive, West Melton

Ray White West Melton

12 Eaton Place, Lincoln

Harcourts Lincoln

7 Alexandrina Street, Marshland

Harcourts Rolleston

17 Stationmasters Way, Prebbleton

Harcourts Hornby

6 Van Dieman Close, Templeton

Property Brokers

52 Bells Road, West Melton

Harcourts Rolleston

20 Woodside Common, Westmorland

Harcourts Lincoln

29 Hartford Street, Burnside

Ray White Rolleston

sunday 23rd June

963 Rakaia Selwyn Road, Southbridge

Ray White Rolleston

155 Memorial Ave, Burnside

Ray White Rolleston

31 Jean Archie Drive, Rolleston

Ray White West Melton

13A Runnymede Drive, Templeton

Matson & Allan Rolleston

6 Widdowson Road, Rolleston

Ray White Rolleston

222 Rolleston Drive, Rolleston

Ray White Lincoln

54 Preston Avenue, West Melton

Ray White West Melton

16 St James Street, Southbridge

Matson & Allan Leeston

34 Bavaria Drive, Rolleston

Harcourts Lincoln

5 Melville Place, Rolleston

Harcourts Rolleston

10 Bonecrusher Street, Lincoln

Ray White Lincoln

11 Ennerdale Row, Rolleston

Property Brokers

9 Lloyds Close, Rolleston

Property Brokers

22 Navy Loop, Rolleston

Ray White Rolleston

12.00pm – 12.30pm

12.00pm – 12.30pm

12.00pm – 12.30pm

12.00pm – 12.30pm

12.00pm – 12.30pm

12.00pm – 12.30pm

12.00pm – 12.30pm

12.00pm – 12.30pm

12.00pm – 12.30pm

12.00pm – 12.30pm

12.00pm – 12.45pm

12.15pm – 12.45pm

12.15pm – 12.45pm

12.15pm - 12.45pm

12.15pm – 12.45pm

12.15pm – 12.45pm

12.15pm – 12.45pm

12.30pm- 1.00pm

12.30pm – 1.00pm

12.30pm – 1.00pm

12.45pm – 1.15pm

12.45pm – 1.15pm

12.45pm – 1.15pm

12.45pm – 1.15pm

1.00pm – 1.30pm

1.00pm – 1.30pm

1.00pm – 1.30pm

1.00pm – 1.30pm

1.00pm – 1.30pm

1.00pm – 1.30pm

1.00pm – 1.30pm

1.00pm – 1.30pm

1.00pm – 1.30pm

1.00pm – 2.00pm

1.00pm – 2.00pm

1.00pm – 2.00pm

1.15pm – 1.45pm

1.15pm – 1.45pm

1.15pm – 1.45pm

1.15pm – 1.45pm

1.30pm – 2.00pm

1.30pm – 2.00pm

1.30pm – 2.00pm

58 Shadbolt Lane, Rolleston

Harcourts Hornby

28 Goodland Place, Rolleston

Ray White Rolleston

17 Quartz Drive, Rolleston

Ray White Rolleston

23 Lloyds Close, Rolleston

Ray White West Melton

2 Corriedale Lane, West Melton

Ray White West Melton

3 Wardell Street, Wigram

Ray White West Melton

7 Alexandrina Street, Marshland

Harcourts Rolleston

27 High Street, Leeston

Matson & Allan Rolleston

4 Thomas Street, Kirwee

Matson & Allan Darfield

551 Springston Rolleston Road, Rolleston

Matson & Allan Rolleston

85 George Noble Road

(475b YaldhurstRoad), Yaldhurst

Harcourts Hornby

9 Charlbury Drive, Rolleston

Ray White Rolleston

5 Chandler Way, Rolleston

Harcourts Rolleston

9 Kinglear Drive, Rolleston

Ray White Rolleston

13 Othello Drive, Rolleston

Ray White Rolleston

18 Beak Street, Rolleston

Ray White Rolleston

5 Barnsley Crescent, West Melton

Ray White West Melton

38 Bradbury Avenue, Rolleston

Property Brokers

10 Seymour Drive, Rolleston

Ray White Rolleston

4/ 545 Maddisons Road, Weedons

Harcourts Rolleston

72 Withells Road, Avonhead

Harcourts Lincoln

37 Brookside Road, Rolleston

Ray White Rolleston

90 Lowes Road, Rolleston

Matson & Allan Rolleston

1121 Leeston Road, Irwell

Matson & Allan Leeston

479 Southbridge Dunsandel Road, Leeston

Ray White Lincoln

9 Ledbury Drive Rolleston

Ray White Rolleston

27 Falcon Road, Rolleston

Ray White Rolleston

742 East Maddisons Road, Rolleston

Ray White Rolleston

788 Weedons Ross Road, West Melton

Ray White West Melton

14 Blunden Road, Lincoln

Harcourts Lincoln

83 Highsted Road, Bishopdale

Harcourts Rolleston

51 Clydesdale Way (off Carnaveron Drive), Lincoln

Harcourts Hornby

904 Hoskyns Road, West Melton

Matson & Allan Rolleston

105 Bullocks Road, Lincoln

Bayleys Canterbury

2/ 108 Holmes Road, Tai Tapu

Harcourts Hornby

4/271 Bealey Avenue, Christchurch Central

Harcourts Rolleston

3028 Coaltrack Road, Coalgate

Matson & Allan Darfield

11 Thames Drive, Rolleston

Ray White Rolleston

17 Roydon Drive, Templeton

Ray White Rolleston

11 Markham Way, Rolleston

Ray White Rolleston

95 Genesis Drive, West Melton

Harcourts Rolleston

28 Tauhinu Avenue, Lincoln

Ray White Rolleston

14 Beaumont Drive, Rolleston

Ray White Rolleston

1.30pm – 2.00pm

1.30pm – 2.00pm

1.30pm – 2.00pm

1.30pm – 2.00pm

1.30pm – 2.00pm

1.30pm – 2.00pm

1.30pm – 2.00pm

1.30pm – 2.00pm

1.30pm – 2.15pm

1.45pm –2.15pm

1.45pm – 2.15pm

1.45pm – 2.15pm

1.45pm – 2.15pm

2.00pm – 2.30pm

2.00pm – 2.30pm

2.00pm – 2.30pm

2.00pm – 2.30pm

2.00pm – 2.30pm

2.00pm – 2.45pm

2.15pm – 2.45pm

2.15pm – 2.45pm

2.15pm – 2.45pm

2.15pm – 2.45pm

2.15pm – 2.45pm

2.15pm – 2.45pm

2.30pm – 3.00pm

2.30pm – 3.00pm

2.30pm – 3.15pm

2.30pm – 3.00pm

2.30pm – 3.00pm

2.45pm – 3.15pm

2.45pm – 3.15pm

2.45pm- 3.30pm

3.00pm – 3.30pm

3.15pm – 3.45pm

3.15pm – 3.45pm

3.15pm – 3.45pm

3.30pm – 4.00pm

3.30pm – 4.00pm

3.30pm – 4.00pm

3.45pm – 4.15pm

4.00pm – 4.30pm

20 Ruby Drive, Rolleston

Ray White Rolleston

15 Pasadena Place, Harewood

Ray White West Melton

39 Stanford Way, Rolleston

Property Brokers

9 Thames Drive, Rolleston

Property Brokers

44A Stonebrook Drive, Rolleston

Harcourts Rolleston

79 Newman Road, Rolleston

Matson & Allan Rolleston

40 Shelley Street, Rolleston

Harcourts Rolleston

21 Brook Street, Southbridge

Farmlands Real Estate

226 Corbetts Road, Springston

Farmlands Real Estate

12 Eaton Place, Lincoln

Harcourts Lincoln

247 The Lake Road, Irwell

Matson & Allan Leeston

734 East Maddisons road, Rolleston

Ray White Rolleston

26 Rossington Drive, West Melton

Ray White West Melton

784 East Maddisons Road, Rolleston

Matson & Allan Rolleston

14 Hungerford Drive, Rolleston

Ray White Rolleston

4B Coppell Place, Hoon Hay

Harcourts Rolleston

21 Anaru Road, Lincoln

Harcourts Lincoln

20 Carnaveron Drive, Lincoln

Bayleys Canterbury

17 Stationmasters Way, Prebbleton

Harcourts Hornby

13 Aua Street, Lincoln

Ray White Lincoln

6 Kemble Drive, Rolleston

Ray White Rolleston

6 Claw Place, Rolleston

Ray White Rolleston

70 Othello Drive, Rolleston

Ray White Rolleston

53 Maxwell Street, Riccarton

Ray White Rolleston

39 Othello Drive, Rolleston

Matson & Allan Rolleston

51 Oak Tree Lane, Rolleston

Ray White Rolleston

20 Full Moon Lane, Rolleston

Ray White Rolleston

52 Bells Road, West Melton

Harcourts Rolleston

5 Perthshire Crescent, Lincoln

Property Brokers

50 Andesite Drive, Rolleston

Harcourts Rolleston

51 Jacks Drive, West Melton

Ray White West Melton

47 Hungerford Drive, Rolleston

Ray White Rolleston

20 Woodside Common, Westmorland

Harcourts Lincoln

670 Springston Rolleston Road, Rolleston

Harcourts Lincoln

12 Oak Tree Lane, Rolleston

Ray White Rolleston

3 James Hight Drive, Halswell

Ray White Rolleston

223 Brookside Road, Rolleston

Ray White Rolleston

17 Brittan Drive, Rolleston

Ray White Rolleston

4 Fountain Place, Rolleston

Ray White Rolleston

3 Derek Anderson Place, Halswell

Ray White Rolleston

238 Brookside Road, Rolleston

Ray White Rolleston

85 Ridgeway Ave, Rolleston

Harcourts Rolleston

FOR FULL

DETAILS OF ALL

OPEN HOMES,

PLEASE CONTACT

THE REAL ESTATE

COMPANIES

RAY WHITE

ROLLESTON 03 347 9988

www.rwrolleston.co.nz

WEST MELTON 03 347 9933

www.rwwestmelton.co.nz

LINCOLN 03 325 7299

www.rwlincoln.co.nz

FARMLANDS www.farmlands.co.nz

FARMLANDS LINCOLN 03 325 2889

FARMLANDS LEESTON 03 324 3189

FARMLANDS DARFIELD 03 317 9070

PROPERTY BROKERS ROLLESTON

www.propertybrokers.co.nz

ROLLESTON 03 929 0306

HARCOURTS

www.fourseasons.harcourts.co.nz

HARCOURTS HORNBY 03 349 9919

HARCOURTS ROLLESTON 03 347 4711

HARCOURTS LINCOLN 03 662 9933

PGG WRIGHTSON CANTERBURY

03 318 7850, www.pggwre.co.nz

MATSON & ALLAN

www.marealestate.co.nz

ROLLESTON 03 347 9949

DARFIELD 03 318 8204

LEESTON 03 324 3704

MIKE PERO ROLLESTON

03 347 1111, www.mikepero.com

BAYLEYS

CANTERBURY 03 375 4700

www.bayleys.co.nz

GLASS MILES

CHRISTCHURCH 03 343 5178

www.glassmiles.co.nz
---
20