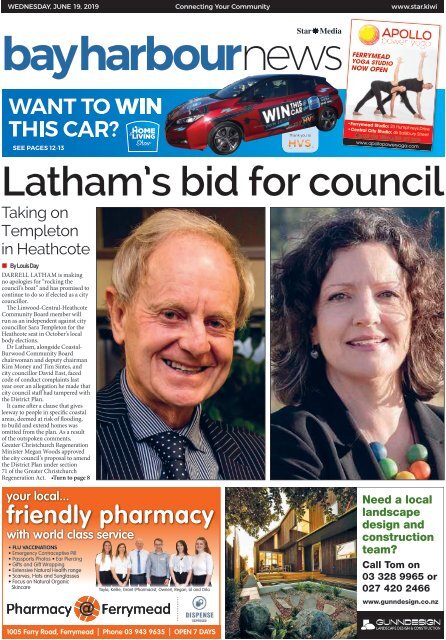 Bay Harbour: June 19, 2019
Do you know the secret to free website traffic?
Use this trick to increase the number of new potential customers.
WEDNESDAY, JUNE 19, 2019

Connecting Your Community

www.star.kiwi

FERRYMEAD

YOGA STUDIO

NOW OPEN

Thank you to

•Ferrymead Studio: 23 Humphreys Drive

•Central City Studio: 46 Salisbury Street

Ph: 021 055 1884 or 027 227 2026

SEE PAGES 12-13

www.apollopoweryoga.com

Latham's bid for council

Taking on

Templeton

in Heathcote

• By Louis Day

DARRELL LATHAM is making

no apologies for "rocking the

council's boat" and has promised to

continue to do so if elected as a city

councillor.

The Linwood-Central-Heathcote

Community Board member will

run as an independent against city

councillor Sara Templeton for the

Heathcote seat in October's local

body elections.

Dr Latham, alongside Coastal-

Burwood Community Board

chairwoman and deputy chairman

Kim Money and Tim Sintes, and

city councillor David East, faced

code of conduct complaints last

year over an allegation he made that

city council staff had tampered with

the District Plan.

It came after a clause that gives

leeway to people in specific coastal

areas, deemed at risk of flooding,

to build and extend homes was

omitted from the plan. As a result

of the outspoken comments,

Greater Christchurch Regeneration

Minister Megan Woods approved

the city council's proposal to amend

the District Plan under section

71 of the Greater Christchurch

Regeneration Act. •Turn to page 8

your local...

friendly pharmacy

with world class service

• FLU VACCINATIONS

• Emergency Contraceptive Pill

• Passports Photos • Ear Piercing

• Gifts and Gift Wrapping

• Extensive Natural Health range

• Scarves, Hats and Sunglasses

• Focus on Natural Organic

Skincare

Tayla, Kellie, Grant (Pharmacist, Owner), Regan, Lil and Orla

Need a local

landscape

design and

construction

team?

Call Tom on

03 328 9965 or

027 420 2466

www.gunndesign.co.nz

1005 Ferry Road, Ferrymead | Phone 03 943 9635 | OPEN 7 DAYS
---
PAGE 2 BAY HARBOUR

Latest Christchurch news at www.star.kiwi

Wednesday June 19 2019

get in touch

DO IT ONCE - DO IT RIGHT

•Retaining Walls

•Drain-laying

•Driveways

•Trenching

from the editor's desk

I FEEL a big contest coming on for the

Heathcote Ward seat at the local body

elections in October.

Today, we reveal Linwood-Central-

Heathcote Community Board member

Darrell Latham is looking to take the next

step up in local politics (see page 1).

He has been a vocal community board member for the past

three years. He was also part of the group that took the city

council on over the District Plan and flooding issues, which led

to code of conduct complaints against them.

But their actions effectively forced the city council to change

its tune and amend the District Plan.

The ward's sitting councillor, Sara Templeton, has had a good

first term, so an arm-wrestle for votes looms.

– Barry Clarke

GENERAL INQUIRIES Ph 379 7100

CLASSIFIED ADVERTISING Ph 379 1100

Star Media, a division of Allied Press Ltd

PO box 1467, Christchurch

starmedia.kiwi

NEWS

Jess Gibson

Ph: 021 914 169

jess.gibson@starmedia.kiwi

ADVERTISING

Jo-Anne Fuller

Ph: 364 7425

jo.fuller@

starmedia.kiwi

•Over 60 years

professional

experience

•Modern

Machinery

The Christchurch branch of Civil Construction Ltd

takes great pride in delivering high quality civil

works, drainage and general contracting solutions

through the Canterbury region.

Rob Davison

Ph: 021 225 8584

rob.davison@

starmedia.kiwi

Our success is built on obtaining respect

and repeat business for our honesty,

skills and innovation.

For enquiries and a free quote contact

Peter on 03 344 2596

peter@civilconstruction.co.nz

www.civilconstruction.co.nz

PARENTS

Do you have a son or daughter

interested in horse riding?

✭ We run courses every weekend.

✭ 2, 5 & 7 day School Holiday courses.

✭ Private lessons available

Monday to Friday

✭ An alternative to private horse ownership.

✭ Opportunity to compete on our horses.

✭ Opportunity to join Pony Club.

Fully supervised, fun & educational.

2064941

news

711 Island Rd View Hill, OXFORD 7495

03 312-4309 www.kowhai.co.nz

Icy dip not just for fun

Find out why the Scarborough Dippers will plunge into

freezing cold water every day in July.

Page 4

sport

Must-win for Bays

The task is simple for Ferrymead Bays – beat Cashmere Technical

on Saturday and they're into the Southern Football League.

Page 17

community events

Knit 'n' Yarn

Take your knitting, crochet or other portable craft project and

enjoy time with crafters at the Lyttelton Library, 10am-noon.

Page 16

The best-read local newspaper, delivered to

10,056 homes, RDs and farms every Wednesday

Brookhaven, Heathcote, Ferrymead, Redcliffs, Mt Pleasant,

Sumner, Lyttelton, Diamond Harbour, Governors Bay, Akaroa.

weekend big

breakfast

June/July special

Clip this coupon & bring in

8.30am-11.30am

Saturday & Sunday

Big Breakfast

2 for $30

Bookings essential

fishermans wharf

39 Norwich Quay, Lyttelton

03 328 7530 fishermanswharf.nz

Tuesday to Sunday Lunch and Dinner

Saturday & Sunday Breakfast

Join Corrections for a job you can be proud of.

Become a Corrections Offi cer, Probation Offi cer or Case Manager.

Find out more at careers.corrections.govt.nz

or call 0800 4FRONTLINE 0800 437 668
---
Wednesday June 19 2019

Latest Christchurch news at www.star.kiwi

News

Inquiry into cruise ship impacts

BAY HARBOUR

Local

News

Now

In Brief

PAGE 3

Fire rages, homes at risk

ECan expects

draft report

next month

• By Louis Day

AN INVESTIGATION into the

environmental impact of cruise

ships in Akaroa is under way.

The report, being conducted by

the Cawthron Institute on behalf

of Environment Canterbury,

will outline the

impact of cruise

ships and provide

recommendations

on how to

minimise them. A

draft is expected

Jim Dilley

Harry

Stronach

by the end of next

month.

ECan regional

harbourmaster

Jim Dilley said

the results of the

inquiry could

potentially

influence the

size of cruise

ships entering

Akaroa in the

future.

ECan initiated

the inquiry after naval architect

Harry Stronach highlighted

cruise ships in Akaroa were

tree trouble?

call us 384 9630

www.fourseasonstreecare.co.nz

DISTURBANCE: An investigation into the environmental impact of cruise ships on Akaroa

Harbour is under way.

likely to be in breach of harbour

regulations.

The Regional Coastal

Environment Plan limits seabed

disturbance to a total of 50m 3

in any three-month period for

any coastal area outside an

operational port.

Akaroa Harbour is not classed

as an operational port.

Mr Stronach said any ship

YOUR LOCAL

ACCOUNTANT

I COME

TO YOU

Financial Statement Preparation

Tax Preparation & Compliance

Xero & MYOB Specialist

that is more than 40,000 gross

tonnes – of which 90 per cent of

the cruise ships visiting Akaroa

are – is likely to cause a seabed

disturbance at least 10 times the

permitted level, per visit.

This would be a breach of the

Resource Management Act's

section 338. Every person who

commits an offence against this

section could be sent to prison

for up to two years or fined

$300,000. Organisations can be

fined up to $600,000.

Mr Dilley told Bay Harbour

News ECan acknowledges cruise

ships operating in Akaroa are

likely to be in breach of the

RMA.

However, he said without any

evidence, enforcement action

was not warranted.

RATES INCREASE

Akaroa residents could see their

rates bills increase by up to $520

over the next four years. The

potential rise comes after the city

council signed off on an annual

targeted rate of $130 to help fund

the Akaroa Health Centre. The

targeted rate would pay for $1.3

million of the $5.9 million health

centre. However, the amount of

the annual fixed charge could

lessen over the four-year period

depending on funding for the

health centre.

SPEED LIMIT CHANGES

Public consultation is now open

on planned speed limit decreases

in Sumner. The city council is

proposing to change the speed

limit in Sumner Village from

50km/h to 30km/h and slow

traffic on residential roads to

40km/h. The plan will be open

for consultation until July 8.

Submissions can be made at

www.ccc.govt.nz/the-council/

consultations-and-submissions/

haveyoursay.

SHELLFISH LIMIT

A public meeting on shellfish

harvesting in the Avon Heathcote

Estuary will be held today at the

Mt Pleasant Community Centre

at 7.30pm. The sustainability of

the daily cockle and pipi limit

will be discussed.

HAVE YOUR SAY

We're planning for

the future of our

water services

t h e t r e e p e o p l e

f o u r s e a s o n s t r e e C a r e

Steven Clarke Ltd. 7 Margot Lane

Mount Pleasant, Christchurch

Phone 03 384 4633 Cell 021 677 670

steven@sclarke.co.nz

Our Water. Our Taonga.

We'd like to hear your views on our Draft

Integrated Water Strategy, open until 14 July

National Award Winners for Innovation & Design with Glass

Find out more

ccc.govt.nz/ourwater

or visit one of our service centres

●Showers

●Mirrors

●Glass Splashbacks

●Glass Doors

(sliding or hinged)

●Glass Balustrades

Mention

this ad

and receive

FREE

Ezi-clean

on your

shower glass

Untreated

Treated

Phone 03 384 3077

View our website www.glassforce.co.nz

Email Gabrielle@glassforce.co.nz

Kelvin McMillan
---
PAGE 4 Wednesday June 19 2019

BAY HARBOUR

Latest Christchurch news at www.star.kiwi

It takes plenty

of sausage

sizzles to be a

Canterbury local...

Now you can get there

with just one card.

At Challenge, we value your business, and we

value being local. That's why we've found a way

to say thank you, as well as giving you a great

way to contribute to your local community.

Join now at mychallenge.co.nz.

My Challenge. Locals get it.

News

New reporter for Bay Harbour News

BAY Harbour News has

a new reporter – Jess

Gibson.

Jess takes over

from Louis Day,

who is staying

with the Star

Media group

(publisher of Bay Harbour

News), and has moved

onto The Star.

• By Louis Day

THE Scarborough Dippers

will plunge into freezing

cold waters every day in

July to raise money for

lighting on the Cave Rock

signal tower.

An article in last week's

Bay Harbour News reported

on a plan from the Sumner

Redcliffs Historical Society

to reinstall the lighting on

the tower's mast.

After the article was

brought to the attention of

the Scarborough Dippers

the group decided to donate

the money they make this

year towards the lights.

Scarborough Dipper

Sandra Taylor said this

was more than just about

raising money for the lights,

but also raising awareness

around mental illness.

"Historically, the signal

tower guided boats to safety

and were a shining light in

the darkness welcoming

sailors home. We would like

these lights to be a metaphor

for those struggling in

the darkness that is mental

illness", she said.

This is the third year the

dippers have raised money

for a local cause.

Last year they raised

$1300 for a public-use

defibrillator for the Sumner

Lifeboat.

Sumner Redcliffs

Historical Society member

Toni Pengelly was delighted

with the support shown

from the dippers.

She thought the focus on

mental health was a nice

touch.

"I'm sure all of us have

suffered or know someone

close to us who is struggling

with some sort of

mental illness," she said.

Jess, a product of the

Canterbury University

post graduate

journalism school,

has been with Star

Media since just

before Christmas,

reporting on the

Nor'West News.

Said Jess: "I'm really

looking forward to working

on Bay Harbour News

and connecting with the

people and organisations

that live in the area."

So if you want to get

hold of Jess for a chat

about what's happening

in the Bay Harbour News

area phone her on 021 914

169 or email jess.gibson@

starmedia.kiwi

Dippers will raise money

for signal tower lights

CHILLY: The Scarborough Dippers during a winter

plunge last year.

"It's a privilege to live in

Sumner where there is an

extraordinarily high level

of community involvement

with many individuals

committing their time,

expertise and often finances

to improve our community

and our environment."

•Donations can be made through the Scarborough

Dippers annual appeal page – www.facebook.

com/Scarborough-Dippers-Annual-Appeal-Page-

634110457088958/?epa=SEARCH_BOX

Don't be left out in the cold

Call today for a FREE property appraisal

Earn

points

Save

on fuel

mychallenge.co.nz

Terms & conditions apply

Give

to your

community

We have active buyers keen to find their dream home, and

yours could be the answer.

Find out what your home could be worth to eager buyers

trying to find their next home in this area with a free property

appraisal. I look forward to guiding you through your options

and discussing our latest marketing ideas available.

For professional real estate advice

call Chris today.

Chris Moores

Harcourts Grenadier Ferrymead

1020 Ferry Road

P: 03 384 7950 | M: 027 588 4440

E: chris.moores@harcourts.co.nz

GRENADIER

Licensed Sales Consultant REAA 2008
---
Wednesday June 19 2019

Latest Christchurch news at www.star.kiwi

BAY HARBOUR

PAGE 5

News

Residents concerned

not enough is being

done to prevent flooding

17 th to 23 rd June 2019

• By Louis Day

MONCKS BAY residents

do not think the city

council is doing enough

to prevent major flooding

happening again.

Last year in February

during the king tides,

Cliff St was flooded with

seawater

which

gushed

through the

drainage

outlet at the

end of the

street.

Ian Wyllie

This

resulted in

trees, plants and hedges

dying.

City council land

drainage manager Keith

Davison said there was no

guarantee seawater would

not flood the street again in

a similar event to last

year's.

However, he said it

was unlikely that a similar

event would happen again.

"At the time it [February

2018 king tides] was

thought to not be greater

than a one in 10,000 year

event and therefore not

one that we routinely aim

to protect against," Mr

Davison said.

I am humbled and

grateful to the wonderful

people who came to my

aid after a bike accident

on St Andrews Hill Rd on

Tuesday morning, June 4.

Special mention to the

young mother with a baby,

the gentlemen redirecting

traffic, those active in

keeping me warm and

safe while waiting for the

ambulance.

Sick of late night tenant phone calls and being on call 24/7?

Tenants not paying their rent on time?

Can't find a tenant for your vacant property?

CONCERNING: Seawater bursting through the

drainage outlet at the end of Cliff St.

He said the city council

would not be changing

its approach and would

continue to check the outlet

four times a year as it has

done for the last 21 years.

The drain is not checked

before predicted storm

events.

Cliff St resident of 20

years Ian Wyllie did not see

this as good enough and

thought it was time for a

change of approach.

"There is nothing to stop

the same thing happening

I am fortunate that

although I have no memory

again whenever the

circumstances align again,"

he said.

Linwood-Central-

Heathcote Community

Board member Darrell

Latham found this

concerning.

"Marriner St outlets are

now to be checked prior to

storm events and Cliff St

residents should expect the

same level of service given

their experience of seawater

flooding via the drainage

system," he said.

Mt Pleasant's Cheryl Melrose thanks some good Samaritans who came

to her aid on St Andrews Hill Rd

of the incident, medically

I escaped serious injury.

There was nothing

random about your

willing acts of kindness.

And as I have no means

of contacting you directly

but I hope to reach you

all through this form of

media.

Once again my

heartfelt thanks and

appreciation.

$

13 99

kg

$

6 50

ea

Sealord Hoki

Fillets 300-480g

(Excludes Premium)

2 for

$

3 50

Bluebird Delisio

or Doritos Corn

Chips 140-170g

$

34 00

pk

Fresh NZ

Lamb Leg Roast

Speight's Gold Medal

Ale or Summit Ultra

24 x 330ml Bottles

$

2 30

kg

$

5 80

ea

$

1 99

ea

Starburst

Family Bag

104-180g

$

12 99

ea

Loose Dole

Ecuadorian Bananas

WW Salted Butter

500g

Katrina Green

Operations Manager

027 606 0030

Ray Hastie

Property Manager

027 448 8225

Stoneleigh 750ml

(Excludes Rapaura,

Latitude & Wild Valley)

Let us take the stress out of owning a rental property.

Contact us for a free no obligation chat today.

Morris & Co Property Management - Professional Property Management Services with a Personal Approach.

svbhn1906

We are local experts with

Canterbury-wide knowledge

providing professional Property

Management services with a

personal approach

Ray White Morris & Co Property Management Limited

03 331 6755 morrispm.nz@raywhite.com

canterburypm.co.nz

Owned &

operated

by locals

SuperValue Lyttelton, Sumner

For inspiration visit SuperValue.co.nz |

While stocks last at SuperValue Lyttelton and Sumner only.

Please drink

responsibly
---
PAGE 6 Wednesday June 19 2019

BAY HARBOUR

Latest Christchurch news at www.star.kiwi

GREAT WINTER

READS INSTORE

NOW!

NEW RELEASES

GREAT READS INSTORE NOW

Burger Wellington Cookbook

The best burgers from NZs culinary capital

by Lucy Corry

2018 marked the ten-year anniversary of Visa Wellington

On a Plate and what better way to celebrate, than with a

collector's cookbook!

Burger Wellington has long been an integral part of the

Visa WOAP experience and we've gathered together 47

burger recipes from some of its most celebrated eateries.

Grill, flip, and of course, eat your way through past

winners, fan faves, the wackiest and most delicious

burgers of Burger Welly.

Apollo 11 - The Inside Story

by david Whitehouse

The amazing inside story of Apollo 11 - The Right Stuff for

a new generation.

In celebration of the 50th anniversary of the Apollo 11

moon landing, David Whitehouse brings you the inside

story of the astronauts, NASA engineers and political rivals

that brought an end to the Space Race. Fifty years ago in

July 1969, Apollo 11 became the first manned mission

to land on the moon, and Neil Armstrong the first man

to step onto its surface. US President Nixon called it the

greatest week since creation.

In the most authoritative book ever written about Apollo,

David Whitehouse reveals the true drama behind the mission,

telling the story in the words of those who took part - based

around exclusive interviews with the key players.

Hawking

The Man, The Genius and The Theory of

everything

by Joel Levy

Hawking explores the life and work, explaining the

breakthroughs at the cutting edge of cosmology,

from the Big Bang to black holes, and the ups and downs of

Stephen Hawking's extraordinary and often turbulent life.

The death of Stephen Hawking in March 2018 brought to a

close one of the most remarkable and inspiring

scientific life stories of all time. This in-depth and

comprehensive biography covers both the well-known aspects of his celebrated life and work,

as well as the personal elements of his life, that make his astounding triumph over disability

and his titanic achievements all the more impressive.

No Man's Land: the untold story of

automation and QF72

by Kevin Sullivan

A gripping account of how a major air disaster was averted,

by the captain and former Top Gun pilot

Instinctively, I release my pressure on the sidestick. Out of

my subconscious, a survival technique from a previous life

emerges: Neutralise! I'm not in control so I must neutralise

controls. I never imagined I'd use this part of my military

experience in a commercial airliner ... On routine flight

QF72 from Singapore to Perth on 7 October 2008, the

primary flight computers went rogue, causing the plane to

pitch down, nose first, towards the Indian Ocean - twice.

The Airbus A330 carrying 315 passengers and crew was

out of control, with violent negative G forces propelling

anyone and anything untethered through the cabin roof.

In No Man's Land, the captain of the flight tells the full story for the first time. It's a

gripping, blow-by-blow account of how, along with his co-pilots, Sullivan relied on his

elite military training to land the gravely malfunctioning plane and narrowly avert what

could have been a horrific air disaster.

1005 Ferry rd

Ph 384 2063

while stocks last (see instore for terms and conditions)

Barry & kerry
---
Wednesday June 19 2019

Latest Christchurch news at www.star.kiwi

BAY HARBOUR

PAGE 7

News

Quality Bakers

Nature's Fresh

Bread 700g

$

3 19 ea

RESCUE: Operational crew member Bjorn Stankowitz tests out the new jet ski.

Trusts help Sumner Lifeboat

get $35k in new equipment

THE SUMNER Lifeboat

Institution has $35,000 in

new equipment thanks to

the generosity of two

long-standing benefactors.

The JI Urquhart Trust

granted $20,000 for a jet

ski and trailer and The

Southern Trust has

funded a $15,000

Kubota tractor.

To pay homage

to the JI Urquhart

Trust, which has

helped keep the

institution afloat

for eight years, it

has called the jet ski

Urquhart Trust

Rescue.

Said coxswain Blair

Quane: "This year, when

they heard we were looking

for funding for a jet ski,

they gave us extra to cover

this purchase."

Blair Quane

"We are very, very

grateful to these trusts.

Both have helped Sumner

Lifeboat to save lives over

the years and their help

with this project will make

a difference for several

years to come," Mr Quane

said.

"Our old jet ski

named Southern

Trust Rescue was

funded by The

Southern Trust 12

years ago. It has

served us well, but

reached its limits.

Our first priority

was to replace the old

motorbike for towing the

jet ski with a small but

strong, more stable tractor

that would enhance safety

even with the old jet ski."

Operational crew

member Bjorn Stankowitz

has been testing the tractor

and jet ski, and helping

train other crew members.

"The jet ski a little

beauty," he said.

"The Kubota has more

power and the driver has

better control. It is easier to

turn so it is easier to get it

out of the garage and that

means we can get the jet

ski onto the water more

quickly."

The new jet ski is

longer and stronger

than the previous machine

and Mr Stankowitz said

it is more responsive and

is also more stable in the

water.

"It's also easier for the

second person to hold on

so the helmsperson can

go faster without the crew

getting exhausted," Mr

Stankowitz said.

Pams Fries 1kg

Lemons Loose

Product of New Zealand

$

2 99 ea

$

2 99 kg

Cadbury Chocolate

Block 150-190g

$

2 99 ea

Shore Mariner

Fish Bites 400g (includes

Tempura Battered)

$

5 99 ea

Mac's

6 Pack 330ml Bottles

Bluebird Original

Cut Chips 150g

$

1 99 ea

$

13 49 pk

Port company 'very close' to

Woolstore announcement

• By Louis Day

THE WOOLSTORE in

Lyttelton could be close to

being filled.

"We are very close to

being able to publicly

announce the plans for the

Woolstore, which will be

an exciting development for

Lyttelton," said Lyttelton

Port Company marketing

manager Simon Munt.

However, Lyttelton

residents are not convinced.

Mr Munt told Bay Harbour

News it was close to making

an announcement in

January.

Said Lyttelton

Community Association

chairman Ken Maynard:

"They have been saying

something has been coming

soon for months or has it

been years?"

"They have always

been close to making an

announcement so I will

believe it when I see it."

The building has been

empty since it opened in

October. Discussions with

the same developer have

been ongoing since last

year.

Mr Munt admitted

discussions were taking a

bit longer than expected.

"It is important to get

these agreements right, so

that we can ensure that the

development is an enduring

one that delivers the best

possible outcome for the

future of Te Ana."

Fresh NZ Quality

Mark Prime Beef

Mince

$

10 99 kg

Broccoli

Product of New Zealand

www.foursquare.co.nz

$

1 99 ea

facebook.com/FourSquareNZ

Specials available South Island only from Monday 17th June until Sunday 23rd June

2019 or while stocks last. Wine and beer available at stores with an off licence. Wine

and beer purchases restricted to persons aged 18 years old and over.
---
PAGE 8 BAY HARBOUR

Latest Christchurch news at www.star.kiwi

Wednesday June 19 2019

News

New zones to inspire

AS THE WAY we live changes,

so too does The Star Home and

Living Show – it is keeping up

to date with latest design and

technology.

Events manager Lisa Lynch

said she is excited about two

new zones, which have been created

for this year's event to inspire

and hopefully get people motivated

about the way they

live.

"The Innovative Living Zone

switches thinking – not just

planning your space, but planning

how you wish to feel in your

space," she said.

"It will showcase the latest in

modern, urban, cosmopolitan home

and landscape designs to transform

your space – inside and out."

This zone will include an

interactive, innovative living

design area, where you can sit

and have a coffee and be

inspired by new and creative

ideas for your home, by talking to

the specialists about your dreams.

The Eco Zone will showcase

CONCEPTS: The

Innovative Living

Zone, which will

feature at The

Star Home and

Living Show at

Horncastle Arena

later this month.

PHOTO: MAYFAIR

PARK

LANDSCAPES

everything you need to know

about sustainable living. Here

you will find a range of ideas you

can introduce into your home to

make it more environmentallyfriendly.

"We have self-watering

vegepods, synthetic grass, solar

technologies and, of course,

electric vehicles with the chance

of one lucky attendee driving

away in a free EV car worth

$44,000."

The Star Home and Living

Show will be held from 10am

to 5pm at the Horncastle Arena

from Friday, June 28, to Sunday,

June 30.

•Turn to page 12 for a free

entry voucher for you and a

friend.

Battle for Heathcote

city council seat

starts to heat up

•From page 1

Dr Latham thought it was

time for a change.

"Council in many cases

have been too slow to sweat

the small stuff for their

ratepayers," he said.

"It is fine to have a vision

for stadiums, cycleways

and other million dollar

projects. However, residents

want their basic needs met

first. These needs include

pothole-free footpaths,

operational drainage systems,

a functional water supply,

better roads and wellmaintained

parks to name

but a few."

He faces strong

competition from Cr

Templeton who beat

incumbent Paul Lonsdale in

2016 by 1585 votes to claim

the Heathcote seat.

Mr Lonsdale was the only

city councillor standing for

re-election not to retain his

position.

Cr Templeton, who is a

member of the Green Party,

will run as an independent

because she believes party

politics does not belong in

local government.

She is confident ahead of

the elections and welcomes

Dr Latham's challenge.

"I think that I have been

accessible, approachable and

accountable and I think the

community really appreciates

that," she said.

The former high school

teacher was the Hagley

Ferrymead Community

Board and Heathcote Valley

Community Association

chairwoman, and she helped

set up the Heathcote Village

Project and village garden

before being elected to the

city council.

Cr Templeton said she

wants to play a role in the

city's response to climate

change.

"I have a lot of things that

I want to achieve at council

and I will be working hard

to retain my seat. When I

look at my children and their

future city, and their future

planet, I know that the task is

just too important to not put

my hand up."

NEW

LOCATION

95 Gasson St

The Automotive Lamp Specialists

New and Used Lamps for Cars, Trucks,

Vans, 4WD and Motorhomes

PH 0800 225 483 | 95 Gasson Street, CHRISTCHURCH

HEAT PUMP

SALE NOW ON!

Amazin' WINTER Specials!!

• We will offer you the best quality brands and

option of heat pump for your home/business

• Providing Heat Pump solutions for over 17 years to Cantabrians

• We personally guarantee all our products & installs for 5 years

(providing annual maintenance has been completed)

Phone us today for your free consultation & quote

41A SHAKESPEARE RD, WALTHAM

PHONE 03 366 0525

www.enviromaster.co.nz

"A local team for local people"

Visit our new website: www.min.nz

With thriving communities and

picturesque views,

the bays are truly spectacular

COASTAL REAL ESTATE SPECIALISTS

We'll help you live the dream.

Min Sarginson Real Estate Ltd. specialises in homes, sections and

rental properties in the spectacular Lyttelton Harbour bays, and

coastal suburbs of Christchurch, New Zealand.

We'll make it so easy for you. All our sales consultants live in the

area – we can give you valuable insights into life in our thriving

coastal communities.

This is an exciting time; of promise, optimism, and opportunities

never anticipated pre-quakes. Beachfront, or hillside with

grandstand views, find the property of your dreams:

Lyttelton | Diamond Harbour | Governors Bay | Cass Bay

Charteris Bay | Church Bay | Purau Bay | Port Levy | Northshore

Southshore | New Brighton | Heathcote | Sumner | Redcliffs

Scarborough | Mount Pleasant | Clifton

Call Min Sarginson Real Estate Ltd. for free, no-obligation advice. Lyttelton: 03 328 7273, lyttelton@min.nz or Church Bay: 03 329 4161, churchbay@min.nz
---
Wednesday June 19 2019

Latest Christchurch news at www.star.kiwi

BAY HARBOUR

PAGE 9

News

Creativity using hands and loom

SUMNER'S SARAH Kerr is a

creative at heart.

The 25-year-old has cerebral

palsy, which affects body movement

and co-ordination – but

her condition doesn't hold

her back at Handmade Studio

Charitable Trust.

Handmade Studio is a craft

co-operative shop where people

with disabilities can weave,

loom, stuff and sew to create a

variety of items – and 90 per

cent of the money from each

sale goes back to the person who

made it.

Sarah has been working at

Handmade Studio since 2015,

and says she loves it because it

doesn't matter that she has a

disability.

"It doesn't matter that my legs

don't work, because it's all hand

stuff," she said.

"It's varied and interesting,

and you look at something and

go: 'Wow, I made that'."

Sarah works four-and-a-half

days a week and spends a lot of

her time turning wool into fabric

using a loom.

"It's mostly hand stuff,

and any leg movements are

big movements, so I can do

that."

"I can't do sewing on the

machines, and if I do hand-sew

it has to be rough stuff. But I

HANDS ON: Sarah Kerr is not letting cerebral palsy kerb her creativity.

can tack – you can be the worst

sewer in the world and still

make it work."

And Sarah says it's more than

just work – she met her best

friend at Handmade Studio.

Supervisor Toni Parker-

Adams said there is often up to

12 people working in the

studio each day, and the

friendships that have formed

are just as important as the

work itself.

"They feel safe here, and they

have a good group of friends.

Some of them have been coming

for 20-odd years. It's sort of like

a coffee group on a bigger scale,"

she said.

Handmade Studio Charitable

Trust is supported by Rata

Foundation, which recently

approved a grant of $10,000

towards operating costs.

Signal box

repair

being priced

• By Louis Day

THE RETAINING wall

protecting the historic railway

signal box in Lyttelton will be

rebuilt.

The city council is currently

pricing the project.

City council heritage programme

manager Richie Moyle

expected the pricing of the rebuild

to be completed by the end of this

month.

The rebuild of the wall has been

on hold due to the vessel Kia Ora

impeding access. The 121-yearold

yacht had been sitting on the

corner of Norwich Quay and

Donald St for more than 20 years.

Lyttelton Port Company disposed

of the vessel in May due to it deteriorating

beyond repair.

In 1994 the signal box was

relocated from the Lyttelton rail

tunnel to its present site on Gladstone

Quay. It was constructed to

accommodate new signals that

were bought into operation on

July 29, 1906.

It ensured that trains ran safely,

over the correct route and to a

proper timetable.

By 1986, Lyttelton port's signal

box was one of just 11 still in

use and was officially closed on

September 15, 1991.

JOIN US NOW!

See website for details

NEW BALANCE

Mid Year Clearout. $50 footwear (selected styles).

50% off most apparel. Selected styles only.

While stocks last. 50% offer applies to original outlet prices.

BENDON

Massive Mid-Year Sale. Lingerie sets from $20, all

sleepwear for $25 and selected swimwear 2 for $50.

While stocks last. Selected styles only

TIMBERLAND

TOMS end of season sale. All TOMS now $30.

13 June to 24 July.

STYLES MAY DIFFER TO IMAGE SHOWN

BONDS

End of season storewide sale. 40% off marked prices.

T&Cs apply.

MERRELL

Take an additional 20% off all apparel & last pairs of

footwear. While stocks last

UNDER ARMOUR

40% off all footwear. 2/$100 and 2/$160 hoodie

and joggers. T&Cs apply.

YD

Up to 75% off storewide. T&Cs apply.

Sign up to Smart Deals & be in the monthly draw for a $100 Dress-Smart gift card!

Be one of the first to hear about the latest deals, sent straight to your inbox each week!

CHRISTCHURCH 409 Main South Road, Hornby

Open 10am-5pm, 7 Days 03 349 5750

www.dress-smart.co.nz
---
PAGE 10 BAY HARBOUR

Latest Christchurch news at www.star.kiwi

Wednesday June 19 2019

News

HAPPY AS: Deputy

chief fire officer

Barry Craw, senior

firefighter Jeremy

Palmer, station

officer Frank

Watson, chief fire

officer Bob Palmer

and firefighter

Mark Patterson

entertain the

crowd at the Big

Quiz night.

Diamond Harbour dairy

raises $13k for fire brigade

• By Jess Gibson

TWO STORE owners have been

key drivers in fundraising more

than $13,000 for the Diamond

Harbour Volunteer Fire

Brigade's new support vehicle.

The brigade has been slowly

raising the $50,000 needed for

the vehicle for almost four years.

But with help from Diamond

Harbour On The Spot store

owners James Grant and Laura

Palmer, the brigade has almost

doubled the amount it has raised

to date and is now almost at

$30,000.

On the Spot organised a

sell-out Big Quiz night at the

community hall on Saturday.

Mr Palmer said the decision

to support the brigade was a "nobrainer."

"We see the amount of work

that these men and women

put in on top of their normal

everyday jobs. If we were going

to support anyone major in the

community it was them."

The brigade has struggled in

the past to effectively deal with

calls out to rural areas, farms,

forestry areas and areas which

only have tracks for four-wheeldrive

vehicles.

Fire chief Bob Palmer said

ever since On the Spot stepped

in to help with the fundraising,

the "profile of the brigade has

blossomed in the community."

"It's fantastic. This quiz has

raised our profile enormously,

which has resulted in people

contacting us and asking how to

donate towards the vehicle," he

said.

•To donate to the Diamond

Harbour Volunteer Fire

Brigade, phone Bob Palmer

on 027 240 1515.

Dumbstruck by the Wiggles

WOW, WHAT a week.

I never thought I would have

got so excited to see a children's

show, but I'm re-living my

childhood vicariously through my

daughter.

Laura and I took Vittoria to

the Wiggles last week and it was

amazing. I kind of feel like the

first parent to see Shrek when

I say there was definitely some

jokes in there for the adults too,

which is why I liked it so much.

It's not just because I like the

songs and stuff.

It was a big surprise for

Vittoria, not that it was hard to

keep it from her, and it totally

blew her little Wiggle-loving

mind. Honestly, it was watching

her love it which really made it

for me.

I so wish I had managed to

get it on film, but when they

came out on stage her wee mouth

fell open so wide you could've

driven the big red car right on in

there.

The running theory for me

and Laura is that Vittoria was

struggling to comprehend

that her favourite colourful

Australians were actually real.

Dancing along with her was a

blast, she knows a bunch of the

actions and at home she even

gets excited if you say the word

"Wiggles" while standing near the

TV.

Only thing was, she

OVERWHELMED: Vittoria

doing hand motions with the

Wiggles.

VITTORIA

& Matt

occasionally just clammed up and

sat there dumbstruck. She was

clearly a little overwhelmed by the

whole thing.

To be fair, her Wiggles

experience had exploded from

watching them on Netflix to

dancing along in a room chock

a-block full of other hyperactive

Wiggles fans while the real deal

Wiggles sang on stage.

By the end of the show she had

her head around it.

I can't wait for them to do

another show here, it'll be

interesting to see how Vittoria

would go on the second round.

To cap the week off, Vittoria

and I have moved out to North

Canterbury for a few days to look

after my mum and step-dad's

place in Waikuku while they're

away on holiday.

It's just us two and two small

dogs hanging out in my home

town/village. It's going to be great

and likely a challenge.

I've never really been a

stay-at-home dad alone, with

zero back-up at any point during

the day.

So look forward to an update

on how that goes.

•Former Bay Harbour News

journalist Matt Salmons has

become a stay-at-home

dad. We follow his journey

weekly.

Seven retirement villages

in Canterbury

HAVE YOUR SAY

Akaroa's 130 year old

wharf needs replacing

Share your ideas to help us design a new wharf.

Tell us what's important to you, what works well with

the current wharf and what could make it better.

We want to get it right!

Feedback closes Wednesday 26 June

ccc.govt.nz/haveyoursay

• Halswell • • Rangiora •

• Mairehau •

• Beckenham • • Riccarton • • Papanui • • Hornby •

www.rymanhealthcare.co.nz • 0800 000 290
---
Wednesday June 19 2019

Latest Christchurch news at www.star.kiwi

BAY HARBOUR

PAGE 11
---
Page 12

BaY HaRBOUR

Latest Christchurch news at www.star.kiwi

Wednesday June 19 2019

FREE

DOUBLE PASS

Valid for 2 adults, children under 12 are free!

Friday, Saturday or Sunday

Present this coupon or take a photo on your phone.

$

t

in

Be inspir

Friday Saturday Sunday

JUNE 28 - JUNE 30 | 10AM - 5PM | HORNCASTLE ARENA
---
Wednesday June 19 2019 BaY HaRBOUR Page 13

BaY HaRBOUR

Latest Christchurch news at www.star.kiwi

53,000

o be won in prizes

cluding an EV car worth $40,000!

Thousands of ideas

under one roof!

Over 100 exhibitors showcasing the latest

ideas and trends for your lifestyle

See the amazing innovative

outdoor/indoor living display

Explore the new Eco Zone

filled with sustainable

and eco friendly products

ed

Experience yummy FREE tastings

at Taste Corner

Free, informative seminars all weekend

WIN A

$40,000

NISSAN LEAF
---
2

PAGE 14 BAY HARBOUR

Latest Christchurch news at www.star.kiwi

Wednesday June 19 2019

[Edition datE]

keep it local

and support businesses in your community

Air, Sea & Land

Gallery and Framing

Simply put the clues in the name…

Air, Land & Sea is a unique Lyttelton

gallery where the focus is on

aviation, automotive, maritime and

rail themes. The fascinating display

includes die cast model cars, artwork

depicting seafaring vessels and cars,

trains, books, and Christchurch's

largest range of barometers by German

brand Fischer, still made in the Black

Forest area of Germany. So, if you're

looking for that for that certain gift for

your man…or lady, there are plenty of

unusual items to choose from here…

plus they also offer a professional

picture framing service.

Lyttelton Picture Framing in

London Street offers high-quality

picture framing at realistic prices.

Malcolm Carne has owned and

operated the business for 20 years

and has the qualification to undertake

all types of framing – he is a Guild

Commended Framer (GCF), which is

a British qualification in conservation

framing.

"Conservation framing is about

making sure the artwork is preserved

inside the frame, including fitting UV

glass to prevent sunlight damaging

it," Malcolm says.

He stocks an extensive selection

of mouldings to suit all types of

artwork whether prints or originals,

ranging from beautiful ornate styles

to the modern Scandinavian style of

frame.

To complement the artwork and

the frame, Malcolm has mounts in

a wide range of colours, and he is

happy to advise customers on the

right frame and mount to set off the

artwork.

That artwork may not necessarily

be a two-dimensional piece –

Malcolm also frames memorabilia

such as medals or other precious

objects a customer may want to

display on the wall.

He carries out all the framing

on the premises, with most jobs

completed within two weeks, as long

as the moulding is available from the

manufacturer, he says.

Air, Sea & Land is located at 32

London Street, Lyttelton and is

open Monday to Friday from 9am-

5pm and Saturday from 9am-1pm.

BP 2go Redcliffs is NOW OPEN!

HIKING BOOTS

& SHOES

YOUR LOCAL

ONE-STOP-SHOP

● FUEL

● CAFE

● CAR WASH

● EV CHARGER

●DOG WASH

● TRAILER HIRE

● VEHICLE REPAIRS

& SERVICING

(WORKSHOP

OPENS IN JULY)

Buy 5

Barista

crafted

coffees

6th FREE

Buy 4

BP Mega

Ultra Wash

5th FREE

Aviation Automotive

Maritime Rail Military

Artwork, books, models and more.

Lyttelton Framing

Quality Picture Framing by UK qualified conservation

framer. Very competitive prices and all work is guaranteed.

32 London Street, Lyttelton | Ph. 03 328 7350

E. anchorfinearts@xtra.co.nz

FERRYMEAD

• Mathematics

• Reading

• Spelling

• English

DOES

YOUR CHILD

NEED SOME HELP?

ENROL THEM TODAY!

• Sciences

• NCEA Subjects Y11-13

• Preparation for school

entrance test

For men, women

and children

From

$79.95

to $250

47c Garlands Road, Woolston

Phone 389 3431

www.thefootwearfactory.co.nz

Redcliffs

170 Main Road, Redcliffs, phone 03 384 7954

www.bp2goredcliffs.co.nz www.facebook.com/BP2goRedcliffs

Spend $40 or more on fuel and swipe your registered AA Smartfuel or AA Membership card.

Discount is up to 50 litres. See AAsmartfuel.co.nz for terms and conditions.

FREE

AssEssmEnt

Unit 1/27 Waterman Place, Ferrymead

(just off Ferry Rd) | Phone 384 1188

www.kipmcgrath.co.nz

WE ARE OPEN

Monday - Friday 7am-4pm &

Saturday 7am - 2pm

8 Norwich Quay, Lyttelton

Phone: 03 328 9004

Follow us. Glamour Cake on Facebook

and Breeglamourcake on Instagram.

Advertising enquiries Jo Fuller | Ph: 027 458 8590 | jo.fuller@starmedia.kiwi
---
Wednesday June 19 2019

Latest Christchurch news at www.star.kiwi

BAY HARBOUR

PAGE 15
---
PAGE 16 Wednesday June 19 2019

BAY HARBOUR

Latest Christchurch news at www.star.kiwi

Bays must win to make SFL

• By Gordon Findlater

THE TASK is simple for

Ferrymead Bays in their pursuit

Southern Football League

spot – win against Cashmere

Technical on Saturday and

they're in.

Bays go into Saturday's final

round of the Mainland Premier

League in fifth spot on the

table. The top five teams in the

MPL will gain spots in the SFL.

However, if Bays fail to win

a tough match against Tech,

both Coastal Spirit and Selwyn

United could leap-frog them.

Coastal and Selwyn are just one

point behind Bays.

"We know what we need to

do and it gives us a bit of focus

going into the week," said Bays

co-coach Neil Murphy.

Bays will be underdogs in the

match against Tech.

Tech have already wrapped

up the MPL title. However, Bays

will take confidence from being

the only team to defeat them in

the league this season, which

they did 2-1 in the opening

round.

"They'll not want to have that

repeated and obviously we'll use

that as confidence . . . we hope

to strengthen the side this week

from previous weeks – we've

had a few players away," he said.

Bays also want to put a 1-11

thrashing at the hands of

Nelson Suburbs behind them.

A somewhat depleted side travelled

to Nelson at the weekend

for their third round Chatham

Cup match.

Suburbs scored three early

goals before Jesse Ruwhui made

it 1-3. However, the match

quickly got away from Bays

before the end of the first half.

Just months before the first

round of the MPL, Bays were

struck an almighty blow with

the departure of their former

coach Danny Halligan to

Sumner scrum dominates Belfast in the mud

MUD BATH: Sumner's scrum flourished in wet conditions during

their 8-3 win over Belfast at St Leonards Square on Saturday.

PHOTO: ROZELLE MAY

• By Gordon Findlater

BIG TASK:

Ferrymead Bays

can book a spot

in the Southern

Football League

with victory

over Cashmere

Technical

on Saturday.

PHOTO:

MIDFIELD

SPORT

PHOTOGRAPHY

Christchurch United. His departure

was followed by half of

Bays' first team, many of whom

followed Halligan to cash-rich

Christchurch.

Given the circumstances,

qualifying for the SFL would be

deemed a success for Bays.

"At the start of the season, if

you'd have said it would come

down to the last game where we

have a chance of qualifying, I'd

have taken it," said Murphy.

•Bay's match against Cashmere

on Saturday kicks off

at 2.45pm at Garrick Park,

Woolston.

SUMNER GOT their bottom six

premier rugby campaign off to a

winning start with an 8-3 victory

over Belfast in a mud bath at St

Leonards Square.

Dominance at scrum time and

forcing the opposition

to make errors in their

own half were the keys

to Sumner's control

throughout what was an

otherwise uninteresting

match due to terrible

conditions.

Sumner opened the

scoring midway through

the first half through

fullback Charles Oswald.

Following a dominant scrum,

Sumner were awarded a penalty

advantage, which gave them a

licence to flick a hail Mary pass

Martin

Dodgson

• By Gordon Findlater

SUMNER PROP Samuela

Tawake will play on the national

stage after being snapped up by

Manawatu for the upcoming

Mitre 10 Cup season.

The 120kg tighthead was

offered a two-year deal with

Manawatu last week, and will

relocate to Palmerston North

next month. The 22-year-old

has been with Sumner for four

years and made his Mitre 10

Cup debut for Canterbury off

the bench last year. He hopes the

move to Manawatu will present

an opportunity to become a

regular player in the competition

and at a higher level.

"It's always been the goal

to play Mitre 10 and then go

further. If I want to do that I

need to be playing Mitre 10

consistently," said Tawake.

Tawake relocated to

Christchurch in 2015 after

receiving a rugby scholarship

at Christ's College. He then

returned to Fiji for a short

period before returning to

Christchurch and plying his

trade with Sumner. He says the

club has played a major role in

his development as a player.

to Oswald, who then dummy

passed an inside flick and scored

in the corner, taking out the

corner flag in the process.

Coach Martin Dodgson

pointed out the performance of

Oswald as a key to restricting

Belfast to just three points.

"He had some huge kicks

to keep them down in one

corner and our dominance

at the set piece made

it hard for them to go

anywhere," said Dodgson.

Sumner were without

regular halfback Hayden

O'Donnell due to injury.

However, it created the

perfect opportunity for

recently arrived Englishman

James Elliot to make his premier

debut.

"If ever you're going to get

a perfect time for a Northern

SPORT

Prop bound for Manawatu

BIG PROP: Samuela Tawake

has been picked up by

Manawatu for the Mitre 10

Cup. ​

"They've been with me

through my ups and downs...

They've been really key for

me in terms of giving me

hope. Sumner has been really

important in terms of getting me

to where I am now," he said.

Tawake also said a shift in his

approach to the game has helped

him. "The mental approach for

me is to dominate and be the big

man wherever it is on the field,"

said Tawake.

Hemisphere halfback to come

in and make his debut, it's on a

cold, wet, windy day. He's been

around the block enough to

know when to slow the game

down and when to kick," said

Dodgson.

Wesley Mauafu also returned

from Auckland to make his first

appearance of the season by

starting on the wing.

There was also a win for

Sumner's division two side

against Belfast 12-10.

Meanwhile, the Sharks went

down to Sydenham 7-41 in the

classics division. The Sumner/

Suburbs under-16 girls team

had a close fought 22-27 loss to

Prebbleton.

•On Saturday, Sumner

will host lowly Canterbury

University. Kick off at St

Leonards Square is at 2.45pm.

$53,000 WORTH OF PRIZES TO BE WON!
---
Wednesday June 19 2019

Latest Christchurch news at www.star.kiwi

BAY HARBOUR

PAGE 17

Dine in comfort

and style.

$

28/wk

Duke

Dining Chair

$165

BUY NOW. PAY IT IN 6

Vintage

Dining Table

NOW $399

$

67/wk

The smarter way to shop!

Shop

Online

Nationwide

Delivery

Finance

Options

targetfurniture.co.nz

Cnr Blenheim & Curletts Rds, Christchurch

Ph: 0800 TARGET (0800 827438)

Offers and product prices advertised here expire 24/06/19.

Sale excludes Manchester and Accessories.
---
PAGE 18 Wednesday June 19 2019

BAY HARBOUR

Latest Christchurch news at www.star.kiwi

Sumner Centre Book

Discussion Scheme

Today, 11am-noon

For people who love reading

and want to share in discussion

with other friendly booklovers.

Subscribes to the Book

Discussion Scheme so there is a

cost involved.

Matuku Takotako: Sumner

Centre

Matariki Toi – Community

Art Project

Today, 3.30-4.30pm

During Matariki, a community

art project runs in libraries

so residents can explore their

creative sides. The project aims

to create a star box or wishing/

remembrance star. Materials

are supplied, all you have to do

is bring your creativity. This is a

free event, no bookings required.

Lyttelton Library

A Very Pleasant Playgroup

Tomorrow, 9.30-11.30am

Drop-in playgroup for preschoolers

and their grown-ups.

Stay for the whole session or

drop-in when it suits.

Mt Pleasant Centre

Makerspace

Tomorrow, 3.15-4.45pm

Go along to the library for

fun with technology and crafts.

Different activities every

Email louis.day@starmedia.kiwi by 5pm

each Wednesday

month. Free, no bookings

required. All kids welcome,

although young children may

need a grown-up to come too.

Matuku Takotako: Sumner

Centre

JP Clinic at Little River

Tomorrow (Little River), 11am-

12.30pm, and Saturday, 10amnoon

(Sumner)

A justice of the peace will

be available to members of

the community to witness

signatures and documents,

certify document copies, hear

oaths, declarations, affidavits

or affirmations, as well as sign

citizenship, sponsorship or rates

rebates applications. There is no

charge for this service.

Little River Library and Matuku

Takotako: Sumner Centre

One Stitch at a Time

Tomorrow, 10am

All are welcome from people

who have never crafted and

aren't sure it is for them to

experienced crafters who feel

like a bit of a chat while they

sew, knit and weave.

Mt Pleasant Centre

Tai Chi

Friday, 7-8.30pm

This is a gentle exercise for

people of all ages and fitness

levels, bringing many health and

other benefits. All are welcome

to attend this weekly class. Phone

Lucida for more information on

022 697 7420.

105 Bridle Path Rd

Weaving Light from the

Mountains to the Sea

Friday, Saturday and Sunday,

10am-4pm

An exhibition of stunning

photographs by Diamond

Harbour photographer Steve

Howard, including familiar

places and remote high country

landscapes.

Stoddart Cottage Gallery, 2a

Waipapa Ave, Diamond Harbour

Shoreline Toastmasters

Monday 7.30-9pm

Nervous about speaking?

Gain confidence by practicing

speaking, listening, learning

and laughing in a warm,

friendly non-threatening

environment.

Mt Pleasant Yacht Club

Akaroa Craft Group

Monday, 1.30-2.30pm

Go along and join the very

friendly Akaroa Craft Group.

Sit in comfy chairs and have a

relaxing chat while working on

your craft project. Share skills in

a wide range of crafts, including

needlework, knitting, quilting,

handicrafts, making dolls, teddy

bears and spinning.

Akaroa Library

Wā Pēpi: Babytimes

Tuesday, 10.30-11am

An interactive programme,

including music, movement,

rhymes and a story. Free.

Recommended for children aged

under two-years-old.

Matuku Takotako: Sumner

Centre

Mt Pleasant Walking Group

Tuesday and Thursday,

9.30am

A mix of flat and hill walks for

people with a medium level

Check out Knit

'n' Yarn today,

from 10am-noon,

at the Lyttelton

Library. Bring your

knitting, crochet

or other portable

craft project and

enjoy time with

other crafters.

Have a look at the

range of books

to get ideas for

your next project.

Free, no bookings

required.

Beginners

welcome.

of fitness. Walks are in

nearby areas and further

afield. There will be carpooling

with shared costs. For more

information, phone Judy 384

1269.

Various locations

Loopy Tunes Preschool

Music

Tuesday, 9.30am

Go along to this communitybased

pre-school music and

movement group where

children sing and dance and

enjoy social interaction. Cost is

$2 per child.

Sumner: Matuku Takotako:

Sumner Centre

Big Book Sale

Saturday, 10.30am-2.30pm

Grab some great winter

reads. Bargain prices at 50c

for children's books, and adult

fiction from $1.

Main Rd, Redcliffs, opposite

New World
---
Wednesday June 19 2019

Latest Christchurch news at www.star.kiwi

BAY HARBOUR

PAGE 19

Thank you for

helping your

Fall Zones

community

To all of you who have had your

trees trimmed before they became

a problem, thank you for keeping all

the families in your community warm,

happy, healthy and connected.

You can be proud of the fact that you have allowed your

neighbours to stay warm, cook dinner and even charge

their mobile phones. You may not have realised that what

you've done has had much impact, but from all of us here

at Orion, we just want to say thank you.

Notice and Growth limit zones

B

A

Power line voltage A. Growth limit zone B. Notice zone

66,000 volts 4.0m 5.0m

33,000 volts 2.5m 3.5m

11,000 volts 1.6m 2.6m

400/230 volts 0.5m 1.5m

We're not exaggerating.

On our network, 10-20% of all unplanned power outages are

caused by trees — including vegetation — coming into contact

with power lines. Other than this, fire damage to property from

branches sparking in dry conditions and serious injury from

electrocution from contact with trees touching power lines are

also possible consequences of not maintaining your trees.

How close is too close?

While most damage is caused by trees falling on power lines,

significant risk exists from trees merely touching them. This risk

increases the higher the voltage of the power line.

The minimum distances that must be maintained between trees

and power lines, as defined in the Electricity (Hazards from

Trees) Regulations 2003, are outlined in the diagrams above.

All vegetation should be kept out of the growth limit zone and

preferably the notice zone.

Sometimes it may not be practical to have a tree trimmed at the

rate at which it grows and unfortunately, this means it may need

to be removed. Other situations may require trees to be removed,

most commonly when they are at a high risk of falling due to

disease or adverse weather events.

Where do I start?

Before you begin, remember to keep yourself, and those around

you, safe. We recognise that not everyone is experienced in tree

trimming and are happy to advise you on what to do. We can arrange

for trees near power lines to be trimmed at your expense, however

we recommend you hire professionals to safely carry out the work.

If you or someone working for you intends to work within four

metres of power lines, a close approach consent is required from

Orion before you start. As a tree owner, you may be liable for any

damage caused by carrying out trimming or felling of trees.

Will I be fined if I don't comply?

If a cut or trim notice is given to you and you fail to have the tree

trimmed and/or advise us of the time and location of the trim

without a reasonable excuse, this is an offence. This will make you

liable for a fine not exceeding $10,000. If the offence continues,

you will be liable for a further fine of not more than $500 for every

day or part day during which the offence continues.

More info can be found on our website and if

you have any questions or notice any trees

touching power lines in your area, please call

us on 03 363 9898 or 0800 363 9898.

oriongroup.co.nz

Orion New Zealand owns and operates the electricity distribution

network in central Canterbury between the Waimakariri and Rakaia

rivers and from Canterbury coast to Arthur's Pass.
---
PAGE 20 Wednesday June 19 2019

BAY HARBOUR

Latest Christchurch news at www.star.kiwi

Warmth

is within

reach this

winter

Get at least 67% of the

cost of insulation covered.

Find out if you are eligible.

A Warmer Kiwi Homes grant is a big deal. It could save you

at least 67% of the cost of ceiling and underfloor insulation

and give you a warm and comfortable home this winter.

To be eligible for a Warmer Kiwi Homes grant you will need to:

• be the homeowner (owner-occupier) of a home built before 2008, AND

• have a Community Services Card or SuperGold Combo card, OR

• own and be living in a home in an area identified as lower-income.

Call 0800 358 676 or visit www.energywise.govt.nz

to use the checklist to see if you are eligible. A service provider

will then be in touch to provide a quick assessment and quote.
---
Wednesday June 19 2019

Latest Christchurch news at www.star.kiwi

BAY HARBOUR

PAGE 21

CX-9 integral part of pamper package

Motoring

Ross Kiddie

THE OFFER of a pamper

package at Hanmer Springs was

too good to turn down – hot

pools, spa, massage and an

overnight stay all included.

The car my wife and I drove

to the township in was a Mazda

CX-9 and it fitted the occasion, it

is quiet, refined and superbly comfortable

on the undulating North

Canterbury roads.

The seven-seat CX-9 is not new,

the latest generation sports utility

vehicle landed in New Zealand in

2016; however, it has had a bit of

a refresh and a high grade variant

has been added to the line-up.

There are now three models,

rounding out with what Mazda

label Takami.

Takami is something you are

going to hear a lot more about

from Mazda, it adds just that little

bit of extra sophistication, sitting

over and above Limited variants

and, as in the CX-9's case, add

several features such as nappa

leather trim, rosewood panels and

aluminium trim items.

These sit on top of what would

ordinarily be a well-specced vehicle

in the first instance.

Those familiar with the CX-9

pre-2016 will relate to the feisty

V6 engine which characterised

the line-up. That has long gone,

today's CX-9 has a turbocharged

2.5-litre four-cylinder engine.

If the thought of a turbocharger

has you a little perplexed, you

need not be concerned. The turbocharger

is low boost, and the

engine, and its management protocols,

are structured so that the

engine works consistently in the

area of low revs. Sure, it will meet

the 6000rpm red-line with little

provocation; however, there is a

strong, flat torque curve which

meets its maximum at 2000rpm

(420Nm). Add in 170kW at just

5000rpm, the realisation is that

the engine is going to work tirelessly

at low speed.

Power is transferred through a

traditional six-speed automatic

transmission. This is another area

Mazda does really well, the ratios

and the shift management system

work well with the low revving

nature of the engine, the gaps between

gears are filled through the

turbo boost, while acceleration is

clean and smooth.

The CX-9 is no slouch, even

without working hard it will still

accelerate to 100km/h in 8.8sec,

and will make a highway overtake

in 4.7sec. On our journey north

I made use of several overtaking

opportunities and always enjoyed

that solid mid-range punch that

MAZDA CX-9 TAKAMI: High grade trim and specification over and

above Limited.

you get from a big four-potter and

the boost from a turbocharger.

Interestingly, the CX-9 gets a

driver-selectable sport mode, but

even without the heightened engine

urgency it is still responsive.

I didn't use sport mode much,

but far preferred to let the engine

operate at its area of greatest efficiency.

The benefit of the engine's low

revving nature is also that of fuel

economy. It's no surprise the

CX-9 is thrifty, Mazda's SkyActive

programme leans towards

efficiency, and it claims an 8.8-litre

per 100km (32mpg) combined

cycle average, which fits well with

the 9.2l/100km (31mpg) readout

during our journey. At 100km/h

the engine is turning over at just

2000rpm in sixth gear, offering a

7.8l/100 (36mpg) instantaneous

figure.

Considering the CX-9 weighs

in rather tubby at just on twotonne,

these figures are impressive

and are a credit to the Mazda

engineers who, for a long time

now, have been plugging away

at driveline efficiency. All CX-9

models are now four-wheel-drive,

which makes it's economy even

more remarkable.

The 4WD set-up will take you

off-the-beaten track without

being fully classified as an offroader.

However, with a ground

clearance figure of 220mm, it

does have useful off-the-seal

capability.

Personally, I see the all-drive

function as a medium to glean

grip on all surfaces, the CX-9

has an on-road feel which is

quite reassuring, it feels tightly

connected to the road surface,

and even in the wet there is surety

through the steering which must

be considered a safety feature.

On that subject, the CX-9

easily qualifies for a five-star

• Price – Mazda CX-9

Takami, $67,895

• Dimensions – Length,

5075mm; width, 1969mm;

height, 1747mm

• Configuration – Fourcylinder,

four-wheel-drive,

2488cc, 170kW, 420Nm,

six-speed automatic.

• Performance –

0-100km/h, 8.8sec

• Fuel usage – 8.8l/100km

Australasian New Car Assessment

Program safety rating.

My wife never travels light, but

her suitcase was no match for

the cavernous cargo area. With

the rear seats folded flat that area

measures up to 810-litres; if you

are seven-up then that area is

compromised to 230-litres, but

that matters little, the CX-9 is

very much a competitive battler

in the large SUV category.

As much as I liked the detailing

in the Takami grade, I'd be an

entry-level buyer, at $59,695

against $67,895 you are getting a

lot of value for money. However,

I fully appreciate that SUV buyers

like all the bells and whistles, and

that's what you get with CX-9

Takami, it is a luxury car at an

affordable price. For the record,

the non-Takami Limited grade

comes in at $65,295.

I have a certain affinity with

Mazda, there's one in the Kiddie

garage, I like the way the product

is quality built and the technology

constantly surprises me.

"Thank you! For everything.

There are no words."

Alison

This week we are celebrating National Volunteer Week. Across New Zealand,

more than 11,000 Fire and Emergency volunteers help keep their communities

safe. fireandemergency.nz/volunteer

FNZ0016_180x263_2
---
PAGE 22 BAY HARBOUR

Latest Christchurch news at www.star.kiwi

Wednesday June 19 2019

REAL ESTATE

Living the dream…

56 Purau Port Levy Rd, Purau Valley, Lyttelton Harbour

Price: $799,000

4 bedrooms | 2 bathrooms | 2 living rooms | 2 car garage | Listing Number: 8885

A charming, delightful 1950's bungalow set

on nearly 1 acre of flat and very productive

land. North facing, sheltered, sunny and

private, this charming home is in excellent

order throughout having been loved and

carefully maintained over the years.

The top level of the house comprises 2

living areas, a large modern farmhouse style

kitchen with plenty of storage, a massive

master bedroom with adjoining bathroom

and a single bedroom currently used as an

office.

The master bedroom opens onto a covered

North facing verandah with a cosy coveredin

area with a day bed, the perfect place to

enjoy the afternoon sun, peace and birdlife

and to while away a few hours. Downstairs,

(externally accessed) are 2 double bedrooms,

bathroom and a kitchenette/dining area so

semi self-contained, perfect for extended

family or teenagers.

This is a rare opportunity to purchase in

the beautiful picturesque Purau Valley and to

obtain a small manageable holding like this is

really one of a kind.

The land is a mixture of lawns, gardens

and the most established and productive

orchard I have ever seen, with many many

fruit trees established vege beds and native

plantings. There is excellent access, a large

double garage, greenhouse and other useful

sheds and most importantly excellent water

supplies.

My vendors are retiring very reluctantly

and have loved every minute of the 10 years

they have spent here.

Purau Bay is approximately 30 minutes'

drive from Christchurch, making it a highly

desirable destination as it is so useable being

close to Christchurch.

Properties in this lovely valley and by

such a safe swimming beach are defying all

the odds and selling fast generally as they

come up very seldom. Excellent swimming,

boating, walking and stunning sunsets on

the hills, quick and easy access to Lyttelton

via the Diamond Harbour ferry (approx. 5

mins), local shops, cafés and bar make this a

fun filled place to visit.

Properties here make an excellent

investment and Purau Bay and valley is a

truly magical place to live.

To view this home contact Tim

Dunningham of Min Sarginson Real Estate

(Licensed Agent REAA 2008), phone 027

651 5474 or 329 4161

growing with you June 2018 | 100%

Plants For

winter wow

Cool Choices

For Colour

& Contrast

From swamp

to sea views

The journey

begins with sarah

the Gardener

$7.90 incl. GST

Snap it up

Enter our annual

Birdlife Photo

Competition to win

great prizes!

clear the air

Why groWing

indoor PLAnTs is

so good for you

give it a grow

from gArLic

To chinese

ArTichokes,

We hAve your

groWing TiPs

covered

the latest releases

into the rose world

+ rose care

through winter

The magazine for

gardeners who like to get

their hands dirty

SUBSCRIBE FROM

$43. 50*

*6 issues/6 months

SUBSCRIPTIONS FREEPHONE

0800 77 77 10

WWW.GARDENER.KIWI
---
• By Sophie Cornish

WORKSAFE NEW Zealand

park's private owners into

a "trip and vehicle" hazard.

WorkSafe chief inspector

undertaking."

Surf club move

Cr East abou the car park.

"WorkSafe has completed

risks a propriately."

and the Coastal-Burw od

around health and safety.

to rebuild on new site

owners and ge ting them to

High-tech Cleaning

friendly cleaning products.

Temperature Contro led Drying

Re-oiling & Rejuvenating

Same Day Pick Up & Drop O f

said the le ter.

are required.

Convenient Location

Drop blinds into us by 9am, at

30 Cashel Str et (near the

Fitzgerald end), and co lect

them a th end of the day.

New Blind Sales Priced from $30

per blind

Ph 3 7 0 70,

30 Cashel St,

Christchurch

• By Georgia O'Co nor-Harding

GR ENDALE SCHOOL pupils

have taken a step back in time,

s eing first hand what men and

horses l oked like during war.

The New Zealand Mounted

Rifles Charitable Trust president

Mark A pleton and member

Mike Donaldson t ok their

horses to the sch ol on Monday,

Li ter library

River working group

Problem areas for li ter

revealed

Rebuilding a healthy

ecosystem in the Selwyn River

Ja z Competition.

• By Sophie Cornish

THE ST Andrew's Co lege big

band had extra incentive to

win a the National Youth Ja z

Competition – ba s player, Tom

Fastier, co lapsed and died the

to undertake work.

Cr East said there had b en

WE ARE OPEN

Mon - Fri

8. 0am to 5. 0pm

in a bid to educate pupils on the

sacrifice their ancestors made in

World War 1 and World War 2.

Mr A pleton and Mr Donaldson

a rived a the sch ol dre sed

in World War 1 uniforms while

their horses Tommy and Kruze

wore 1 0-year-old sa dles donated

to the trust.

The presentation is a prelude

christchurch east

Ca l to make an

a pointment

P: 384 9459

Pool plans for Edgeware

Designs for ind or learner's

p ol revealed

www.national.org.nz

themselves which had gone

unreported.

"I've always though that it

or senior citizens perhaps

Loca ly Owned

Authorised by Jo Hayes

Unit 6/950 Fe ry Road, Christchurch

day before the competition

began.

"Tom was a ba s player from

Cashmere High Sch ol who was

playing with our big band this

year. He had a strong chance of

wi ning best ba s player a the

to the Gr endale Recreation Reserve

Management Commi t e's

upcoming Anzac Day service.

As a tribute to those who

served, members of the trust wi l

ride horseback to the service.

Mr A pleton said it was

important children were

educated on what soldiers

wen through during World

Cyclist's helipad bid

Serious crash gives new

perspective on ride to hospital

• By Gordon Findlater

DEAN CALVERT (above)

returned from the United

Kingdom last w ek after

festival as he was a very a complished

musician," head of music

Duncan Ferguson said.

"We were delighted to win, but

it was bi tersw et," he said.

St Andrew's won the most

outstanding big band title a the

He is confiden the new

a proach wi l bring results.

"I think the WorkSafe

Joy Butel AREINZ - Dip.R.E.

Land size

Garage

Land size

Bedr om

Alistair Hazeldine

Garage

Land size

Bedr om

850m

Carport

Bathr om

Carport

Bathr om

Car pad

Lounge

Car pad

Lounge

4 2 1

Boat pad

Boat pad

2.5

Dining

Land size

Bedr om

Mobile: 021 353 280 | Phone: 0 384 7950

Email: joy.butel@harcourts.co.nz

Toilet

Shower Study

P ol

Te nis court

1 2 3 4 5 6 7 8 9 10 1 12 13 14

850m

Garage

Bedr om

Carport

4

2

Bathr om

1

Car pad

Lounge

2.5

Dining

Garage

850m

Carport

Bathr om

Toilet

Shower Study

Car pad

Lounge

4 2 1

Boat pad

2.5

Dining

Toilet

Shower Study

P ol

Te nis court

1 2 3 4 5 6 7 8 9 10 1 12 13 14

P ol

Te nis court

1 2 3 4 5 6 7 8 9 10 1 12 13 14

850m 4 2 1 2.5

Boat pad

Dining

Toilet

Shower Study

P ol

Te nis court

1 2 3 4 5 6 7 8 9 10 1 12 13 14

Mobile: 027 572 1 5 | Phone: 0 384 7950

Email: alistair.hazeldine@harcourts.co.nz

w.harcourtsfe rymead.co.nz

Cartwright steps downs

Community board chairman

stays true to his word

New pi za joint

Fire and Slice fina ly se to

open in Sumner

competition in Tauranga.

The band dedicated it se to

Tom, who died while on his way

to Cashmere High on March 27.

His death was po sibly related to

a medical event.

•Turn to page 9

ge ting closer than mos to

Joseph Parker in the build up

to his world heavyweigh title

unification fight with Anthony

Joshua in Cardiff.

20 Tuawera Te race, Clifton Hi l - $980, 0 3 2 2 2

• By Emily O'Co ne l

call 332 4004 TexT 027 537 0567

230 BarringTon sTreeT

www.denturesouth.co.nz

Restore your oiled CEDAR BLINDS with ou re-oiling service.

Rejuvenate your lacquered CEDAR BLINDS

High-tech Cleaning

We clean and repair a l types of blinds –

Venetians, Cedar, Verticals, Ro ler, Ho lands,

Romans and Pleated – with environmenta ly

friendly cleaning products.

Temperature Contro led Drying

Re-oiling & Rejuvenating

Fabric Blinds - such as Austrian and Roman

Same Day Pick Up & Drop O f

We o fer a same-day, pick up an drop o f

service for mos types of blinds. B okings

are required.

Convenient Location

Drop blinds into us by 9am, at

30 Cashel Str et (near the

Fitzgerald end), and co lect

them a th end of the day.

New Blind Sales Priced from $30

Grenadier Real Estate Ltd MREINZ is a Licensed Agent Under the Real Estate Agents Act 2 08

War 1 and World War 2.

But he said the presentation

didn't go into t o much detail

and was more of a "show and

te l" to make them aware of what

the soldiers l oked like.

Children were shown the type

of kits horses were required to

wear in the war.

•Turn to page 7

international competition.

Elite Meats owner Corey

Pip Su ton BCM (Marketing)

Residential Sales & Development

Specialist - Licens e Salesperson

Next Step Realty Limited

Licensed (RE A 2 08)

Mobile: 027 24 9524

DI: 03 421 8417

Email: pip.su ton@raywhite.com

June 29 - July 1

EXHIBITORS BOOK NOW

vanessa.fleming@starmedia.kiwi

021 914 565

• By Georgia O'Co nor-Harding

A CRACKDOWN on mobile

traders acro s the districts could

be l oming.

However, the public has li tle

interest in having input into the

i sue.

Only eight submi sions were

received for a potential bylaw

aimed at regulating commercial

activities in public places.

The district council wi l be

holding a hearing for the Public

Places Bylaw and Policy on Commercial

Activities and Events in

Public Places.

A hearing i scheduled to be

held on Thursday.

The bylaw comes as an increasing

number of mobile traders

are s eking to operate in Selwyn,

especia ly during the summer

months.

In the past year, the district

council has received five inquiries

about se ting up a mobile busine s

on private or public land.

A report said there are two

str et operators in Darfield, a

coff e cart is parked beside the

railway in Ro leston, and a pi za

cart visits Lincoln w ekly betw en

September-May along with a Thai

f od truck.

•Turn to page 7

includes W olston butcher

in the competition.

seven years ago.

The preparation for this

members met in Auckland

Loca ly Owned

The former New Zealand

title-holder trave led with his

father George and brother

Bryce to London ahead of the

fight where they spen time

them a th end of the day.

New Blind Sales Priced from $30

• By Sophie Cornish and Julia Evans

THE PAPANUI-I nes

Community Board has taken the

rare step of starting a petition

to figh the city council over

funding.

Signatures are being co lected

in a bid to get funding for a community

facility in Shirley.

It comes after the city council

removed funding for the centre

pla ned for Shirley Rd, near the

intersection with Hi ls Rd. This

was the site of the former community

centre, which was badly

damaged in the February 2,

20 1, earthquake.

The removal o funding

prompted community board

chairwoman Ali Jones to threaten

to stand down, citing it as her "die

in the ditch" project.

Ms Jone said the board's role

is to represen the community,

and by gathering signatures from

residents, it was fulfi ling that

role.

"One of the roles of a community

board is to represent and act

as advocate for the interests of its

community and this is what we

are doing. The LTP and a nual

plans are a l about lo bying the

council."

•Turn to page 5

• By Emily O'Co ne l

international competition.

Ireland.

per blind

Barks • Peastraw • Composts - we su ply the best available

A gregates - Chip, Round and Basecourse

Pavers & Schist products • Pungas

Decorative Stones & Landscaping Rocks

Trailer Hire first hour fr e with purchase

• Bag & Bulk - pick up or delivered

Ph 3 7 0 70,

30 Cashel St,

Christchurch

High-tech Cleaning

friendly cleaning products.

Temperature Contro led Drying

Re-oiling & Rejuvenating

David, Carol & Mike

Same Day Pick Up & Drop O f

result.

are required.

Convenient Location

Drop blinds into us by 9am, at

30 Cashel Str et (near the

Fitzgerald end), and co lect

them a th end of the day.

New Blind Sales Priced from $30

be ahead of Australia is an

said.

Traffic plan at The Brae

Bid to ease traffic on busy,

na row str et

Loca ly Owned

with Parker in the build up.

Mr Calvert, 47, comes from a

boxing mad family.

•Turn to page 6

WE ARE OPEN

Mon - Fri

8. 0am to 5. 0pm

Ro ler Blinds cleaned

from as li tle as $20

per blind

Ph 3 7 0 70,

30 Cashel St,

Christchurch

journey

how the team performed.

ha py," he said.

Your local

hi l and

seaside

specialist.

AND

HARDFILL

DUMPING

www.dyersroadandlandscapes.co.nz

Ro ler Blinds cleaned

from as li tle as $20

per blind

Ph 3 7 0 70,

30 Cashel St,

Christchurch

Driver hazard?

Australian team.

"Those guys over there

said.

"And it just showcases that

New Zealand has got some

of the best butchers in the

world," he said.

since the age of 19.

WE ARE OPEN

Mon - Fri

8. 0am to 5. 0pm

8047287 A

8214716 A

P: 384 7950 M: 0274 318 960

GRENADIER

LICENSED SALES CONSULTANT RE A 2 08

• By Sarla Donovan

THE OWNERS of Sumner's Cave

Rock Apartments are expecting the

Earthquake Commi sion to sign-off

on a se tlement agr emen this w ek.

on February 20, and signed off

on a deal with IAG on February

2 – coincidenta ly seven years

to the day after the February 2,

20 1, earthquake. However, they

are waiting for EQC to sign the

agr ement.

"Given that EQC actua ly drafted

in the February and June, 20 1,

earthquakes and were demolished in

late 2012. In 2016, IAG's offer of the

difference betw en indemnity value,

$10 mi lion, and the sum insured,

$16 mi lion, was rejected by the body

corporate.

The mediation agr ement

prevented Mr White from disclosing

the se tlement amount, but he said it

involved the two parties paying "a bit

more money than they'd wanted to

earlier."

•Turn to page 6

Loca ly Owned

•

met in Auckland

By

every

Emily O'Co

two

ne l

Mr Garth hopes to own a

practices.

Mr Garth, who has b en a

and on the 2020 cha lenge.

Templeton.

"In two years' time, we' l be

pa sion for the job.

"Doing a l thi stuff and title," he said.

back for you," he said.

South Sharp Blacks team.

qua ry.

WE ARE OPEN

Mon - Fri

8. 0am to 5. 0pm

LOOK

Used tyres from

Board chairman Mike Mora

told Western News the submi sion

would likely o pose Fulton Hogan's

plan.

community.

•Turn to page 5

New Tyres - Ba teries

Discounts on sets of tyres

AA

Discounts

New tyres from

155

x 13

LTD

6.30am.

Wednesday June 19 2019

Latest Christchurch news at www.star.kiwi

BAY HARBOUR

PAGE 23

Classifieds Contact us today Phone our local team 03 379 1100

Computer

Services

VIRUS REMOVAL AND

PC HEATH CHECK

$50.00 With free pick

and delivery within 10km

of Redcliffs. Phone Paul

on 021495577. Microsoft

Certified Pro with 25 years

experience. Visit www.

seracnz.com

Funeral Directors

direct

cremation

service

0800 27 28 29

www.mainland

crematorium.co.nz

Gardening

& Supplies

A GARDEN OR

LANDSCAPING TIDY

UP? Shrub, hedge &

tree pruning, Lawns,

Gardening, consistently

reliable general property

upkeep, Dip. Hort. 10

yrs experience, One off

tidy ups or on-going

service. Nick's Garden

Maintenance. Keeping

your garden beautiful.

Free Quote. Ph. 942-4440

& 022 264 7452

GARDENER

Need your home or

commercial garden tidied

up or renovated or require

long term assistance.

Phone Ruth 326-6663 or

021 272-0303

KATANG

Health & Beauty

Fitness

Tues 9.15am-10.15am

To Let

RENT ME!

Ideal as an extra

bedroom or office.

no bond required

Sumner Community

Centre (above library)

$5 per class.

Concession cards available.

For more info

contact Katrina

381 1704 or

027 4966 845

Trades & Services

PLUMBING &

DRAINAGE

SERVING

CHRISTCHURCH

AND WIDER

CANTERBURY REGION

WITH QUALITY

WORKMANSHIP

AND SERVICE.

PHONE HAMISH BALDWIN

027 636 3499

PLUMBING & DRAINAGE

Gas FittinG & GuttEr CLEaninG

New Skyvac Machine.

Revolutionary gutter cleaning system.

Local business for all plumbing,

drainage & gas work.

Free Quotes

Call Morgan 0223 758 506

Visit our website - www.mtpd.co.nz

Email - morgan@mtpd.co.nz

Select Services

Trades & Services

CARPET & Vinyl

lAying

Exp. Repairs, uplifting,

relaying, restretching.

Email jflattery@xtra.co.nz

ph John on 0800 003 181

or 027 2407416

COnCRETE CUTTing

Affordable Concrete

Cutting with Quality, and

removal work. Free quote.

No job to small. Phone 027

442-2219, Fax 359-6052

a/h 359- 4605

DRywAll

PlAsTERing

from new housing to small

jobs, 32 years experience

Ph.027 666 2174

ElECTRiCiAn

JMP Electrical.

Experienced & registered..

Expert in all home

electrical repairs &

maintenance.Call James

027 4401715

lAwnMOwing

You Grow I Mow.

Free quotes. Ph / text

Chris 021 252 1801

lAwnMOwing

You Grow I Mow. Free

quotes. Ph / text Chris 021

252 1801

PAinTing sERViCEs

Mature, reliable,

conscientious &

experienced, reasonable

rates, no job too small!,

call Ron 027 434-1400

PlAsTERing

inTERiOR

no job too big or too

small, specialise in repair

work & new houses, free

quotes given, over 20 yrs

plastering experience, ph

Peter 027 221-4066 or

384-2574

MUDROCK

Cartage Ltd

We're in your area now!

MORE THAN JUST CARTAGE....

We Offer:

• Grading of shingle driveways

• Chip seal, Asphalt and Concrete driveways

• Excavations – Foundation dig outs, trenching,

site scrapes and general earth works

• Farm works – laneways, construction and

maintenance

• Retaining walls • Soak holes

• Horse Arenas • And much more……

Please phone for a free,

non-obligation quote

Phill Baikie 027 390 7778

Trev Murdoch 027 431 7504

Wanted To Buy

AAA Buying goods

quality furniture, beds,

stoves, washing machines,

fridge freezers. Same day

service. Selwyn Dealers.

Phone 980 5812 or 027

313 8156

Public Notices

Redcliffs School

Board of Trustees

Election

Declaration of Parent

and Staff Election

Results

Parent representative

votes:

Cheryl BRAUER 29

Darren FIDLER 75

Chelsea HALLIWELL 82

Emma LUMB 79

Jeff SMIT 75

Andrea WYLIE 89

Invalid Votes 0

I hereby declare the

following duly elected:

Darren FIDLER

Chelsea HALLIWELL

Emma LUMB

Jeff SMIT

Andrea WYLIE

Staff representative votes:

At the close of nominations,

as there was only one

valid nomination received

I hereby declare Leonia

Ocheduszko duly elected.

Rachael Davis

Returning Officer

ADD SOME

COLOUR

TO YOUR ADVERT!

Situations Tuition Vacant

PIANO LESSONS

Catherine Bracegirdle

DipABRSM ATCL AIRMT

51A Colenso St, Sumner

Ph. 021 044 5102

www.pianoandtheory.co.nz

catherine.bracegirdle@gmail.com

Situations Vacant

Online Editor

Star Media is seeking

an online editor

to join its award

winning newsroom.

The appointment will coincide with a

refreshed and new-look online news site

being launched to market.

You will be the champion for our site

and responsible for sourcing and loading

content to engage our target audience

each week.

TUESDAY, APRIL 10, 2018 Loca ly Owned

www.star.kiwi

Page 3 Page 13

The successful applicant will need to have an excellent knowledge of

Canterbury, its issues and people.

You will need to work as part of our team, making quick decisions under

pressure each day

Key duties will include:

• Assisting in the relaunch of the new website

• Co-ordinating and sourcing content and local news

• Ensuring content is up to the minute, fresh and factual for our target audience

• Co-ordinating within our business divisions promotional and paid content

• The continuous development and improvement of our digital platforms

The successful applicant will ideally have experience in growing audience to an

online news platform and must have a full New Zealand driver licence.

The position will be filled as soon as the right applicant is found.

If you want to be part of a progressive media company,

please email your CV to:

Barry Clarke, Editor In Chief - barry@starmedia.kiwi

has b en a proached in a bid to

fina ly repair the potholes in New

Brighton's Hawke St car park.

Coastal-Burwod Ward city

counci lor David East wants

WorkSafe to pre sure the car

repairing the potholes which are

a se sment southern Da ren

Handforth said it may be able to

take action under the Health and

Safety at Work Act 2015, "as a

person conducting a busine s or

Mr Handforth said WorkSafe

is aware of the concerns raised by

New Brighton surf club opts

an a se sment visi to the site

and is engaging with the owner

to advise them that it is their

responsibility to manage their

Different parts of the car park

are owned by various people

Community Board recently

wrote to them about its concerns

Cr East said the bi gest i sue

in the past has b en ge ting in

touch with the landlords and

agr e to anything. "The board

a preciates that multi-ownership

of the parking space may present

a difficulty in co-ordinating

repair/resurfacing but felt obliged

to pa s these concerns onto you,"

One reply has b en received so

far from an owner who is wi ling

to discu s the i sue. However, a l

the owners would have to agr e

a "number of incidences" in

jo

hayes

New bid to fix potholes

Action looms

on Hawke St

car park

the car park of people injuring

has b en quite amazing that we

haven't had any serious a cidents

tri ping in those potholes and

doing themselve some damage."

HAZARD: Coastal-Burw od Ward city counci lor David East wants WorkSafe New Zealand to put pre sure on the Hawke St car

park owners to fix the dangerous potholes. PHOTO: GILBERT WEA LEANS

BLINDS .Cleaned, Repaired & Restored .

Restore your oiled CEDAR BLINDS with ou re-oiling service.

Rejuvenate your lacquered CEDAR BLINDS

We clean and repair a l types of blinds –

Venetians, Cedar, Verticals, Ro ler, Ho lands,

Romans and Pleated – with environmenta ly

Fabric Blinds - such as Austrian and Roman

We o fer a same-day, pick up an drop o f

service for mos types of blinds. B okings

Ro ler Blinds cleaned

from as li tle as $20

www.blindcare.co.nz SCAN QR code for Info >

TUESDAY, APRIL 10, 2018 www.star.kiwi

Page 3 Page 5

WEDNESDAY, APRIL 1, 2018 Loca ly Owned

www.star.kiwi

Page 3 Pages 10 & 13

HISTORY: Pupils have taken a step back in time learning about what

SW ET SOUNDS: St Andrew's Co lege year 12 students Lewis Edmond and Je na We ls performing a the 41st National Youth

New Zealand soldiers and horses l oked like in World War 1. Abi P oler,

5, sits on Kruze, alongside Mounted Rifles Charitable Trust president

Mark A pleton. PHOTO: MARTIN HUNTER

Bittersweet win for St Andrew's big band

involvement may prove to be the

lever that we are l oking for."

Pupils learn about role of war horses

Mobile

Service

Available

WEDNESDAY, APRIL 1 2018 www.star.kiwi

Board

launches

petition

to get new

community

facility

BLINDS .Cleaned, Repaired & Restored .

MAgic on clifton

TEAM

BUTEL

Grenadier Fe rymead

Four Seasons Realty

Page 3 Page 5

Former champ hooks

up with Parker in UK

AN U PER Ri carton butcher

has proven himself to be a cut

above his Au sie rivals at an

Winder was named in the a l

star team a the World Butchers'

Cha lenge in Northern Ireland.

Mr Winder and his team, the

Mobile

traders

could

face

regulation

New sections

selling now

Star Media is a division of Allied Press.

Entertainment

Ro ler Blinds cleaned

from as li tle as $20

www.blindcare.co.nz SCAN QR code for Info >

There's no be ter place to se tle out wes than at Falcon's Landing. Pop in to our sales and

information office, 17 Branthwaite Drive, this Thursday, Friday or Sunday from 1pm to 3pm

to find out more. Contact us on 03 741 1340 or mail enquiries@yoursection.nz anytime.

Mega centre f edback

Denton Park a tracts more

submi sions than Cathedral

Page 3 Page 5

Dyers Road Landscape

& Garden Supplies

We wi l deliver!

SOIL

Phone: 03 384 6540

183 Dyers Rd, Bromley • OPEN 7 DAYS

W ekdays 7.30am-5pm. W ekends 8.30am-3pm

Alison Carter

TUESDAY, APRIL 10, 2018 www.star.kiwi

E: alison.carter@harcourts.co.nz

Cave Rock

Apartments'

owners

expect EQC

sign-off

this week

Pedaling acro s NZ

Stroke survivor finishes long

TUESDAY, APRIL 10, 2018 www.star.kiwi

Pure South Sharp Blacks, which

Jeremy Garth, finished second

He said the cha lenge started

as a "transtasman test match"

year's World Butchers' Challenge

was intense as the team

Page 7 Page 10

From New World Ferry Rd

to second in the

world

Body corporate chairman Mike

White said the group had gone

into mediation with IAG and EQC

the agr ement, there' l be no

problem with them doing that."

The apartments suffered damage

Fishin' for w eds

It was the firs time Mr Garth

had competed in the cha lenge months for THE lengthy HALSWE w ekend L-Hornby- butcher shop of his own someday

but says for now he wi l fo-

A WOOLSTON butcher proved and he was "rea ly proud" of

Ri carton Community Board

to be a cut above the rest in an

has b en given the green cus ligh on to ge ting mor experience

"We produced some top quality

products and came away competition brought back his

butcher for o14 pose years, the said pla the ned qua ry near

New World Fe ry Rd butcher

Jeremy Garth and his team, the with a g od result so we're very

Mayor Lia ne Dalziel told going the back to try and win the

Pure South Sharp Blacks, recently

came second a the World The preparation for this year's m eting new from people, the city s eing council new to make U per a Ri carton butcher Co-

board on Thursday it had the okay

Butchers' Cha lenge in Northern World Butchers' Cha lenge was ideas, it just submi brings sion that if flair Fulton Hogan rey Winder a plies was part of the Pure

intense as the team members

for a resource consen to create a

Children's event at risk if The

Groynes' lakes not cleaned up

GLOBAL STAGE: W olston butcher Jeremy Garth back home after his team came second in the World Butchers' Cha lenge.

PHOTO: MARTIN HUNTER

BLINDS .Cleaned, Repaired & Restored .

Restore your oiled CEDAR BLINDS with ou re-oiling service.

Rejuvenate your lacquered CEDAR BLINDS

We clean and repair a l types of blinds –

Venetians, Cedar, Verticals, Ro ler, Ho lands,

Romans and Pleated – with environmenta ly

every two months for lengthy

w ekend practices. Mr Winder

said coming second against 1

other countries was a "fantastic"

Fabric Blinds - such as Austrian and Roman

We o fer a same-day, pick up an drop o f

service for mos types of blinds. B okings

"To get second behind Ireland

was a huge achievement and to

even bi ger thing for us," he

But Mr Winder admires the

www.blindcare.co.nz SCAN QR code for Info >

Community board member

blasts Yaldhurst Rd island

AWARD-WINNING: Corey Winder is back home after his team came second in the World Butchers' Cha lenge .

PHOTO: MARTIN HUNTER

Elite butcher cut above the world

Your best choice

in the West

Restore your oiled CEDAR BLINDS with ou re-oiling service.

Rejuvenate your lacquered CEDAR BLINDS

High-tech Cleaning

We clean and repair a l types of blinds –

Venetians, Cedar, Verticals, Ro ler, Ho lands,

Romans and Pleated – with environmenta ly

friendly cleaning products.

Temperature Contro led Drying

Re-oiling & Rejuvenating

Fabric Blinds - such as Austrian and Roman

Same Day Pick Up & Drop O f

We o fer a same-day, pick up an drop o f

service for mos types of blinds. B okings

are required.

Convenient Location

Drop blinds into us by 9am, at

30 Cashel Str et (near the

Fitzgerald end), and co lect

www.blindcare.co.nz SCAN QR code for Info >

[Australia] are on top of their

game, they do a g od job," he

Mr Winder has b en a butcher

BLINDS .Cleaned, Repaired & Restored .

$ 40

Mobile

Service

Available

ca l 32 4 04 TexT 027 537 0567

230 Ba ringTon sTr eT

www.denturesouth.co.nz

Community

board get

permission

to oppose

Templeton

quarry

"You can just about guarant e

it . because we [the community

board] don't believe qua ries

should be so close to residential

areas," he said.

Mr Mora said he wasn't sure if

the city council would endorse the

board' submi sion.

"I'd like to think so because the

city council has had their eyes

open as we l ove recent years over

the crysta line silica risk," he said.

Mr Mora said the community

board wi l be "representing and

advocating" for the Templeton

T Y R E S

Quality Secondhand Tyres

A l at very competitive prices

FR E PICK UP & DELIVERY (in local area)

Ph 348 0626

LOOK

5

$ 70

9 Main South Rd (cnr Wa ts Rd), Sockburn

Mobile

Service

Available

ca l 32 4 04 TexT 027 537 0567

230 Ba ringTon sTr eT

www.denturesouth.co.nz

60km/h

Dyers Pass

speed

limit from

early next

month

A NEW 60km/h sp ed limit and

double ye low lines wi l be in

place on Dyers Pa s Rd by early

May.

The sp ed limit change was

a proved by the city counci last

w ek.

A decision to paint double yellow

lines on the stretch betw en

Summit Rd and the Sign of the

Takahe was earlier made by the

Spreydon-Cashmere Community

Board.

Bu the Banks Peninsula Community

Board decided against

ye low lines on the Summit Rd-

Governors Bay section due to the

road's na rowne s and general

condition.

The changes are designed to try

and reduce the crash rate.

Insta lation of the double

ye low lines, the new sp ed limit

signs and raised centre line pavement

markers wi l begin in mid

April.

The work i scheduled to take

place betw en April 15-18, 2-26,

29 and May 2.

While the work is done, Dyers

Pa s Rd wi l be closed to traffic

from the Sign of the Takahe to

Governors Bay betw en 7pm and

Fully insulated and double glazed for warmth.

Three convenient sizes from $70 a week:

Standard 3.6m x 2.4m

Large 4.2m x 2.4m | Xtra-large 4.8m x 2.4m

To Let

HOMESITTERS Reqd,

lovely homes / pets,

Chch & surrounds. Prefer

retired / not wkng, Ph

Lisa 03 359 2323 www.

townandcountryhomesit.

co.nz

Visit our website

www.justcabins.co.nz

for display cabin locations

www.justcabins.co.nz

To Let

HOMESITTERS Reqd,

lovely homes / pets,

Chch & surrounds. Prefer

retired / not wkng, Ph

Lisa 03 359 2323 www.

townandcountryhomesit.

co.nz

Trades & Services

Landscape

and Garden

Services

Need help with

your garden?

We provide a quality

service for all your

Garden Maintenance

(hedges, lawns,

line trimming, weeding)

and Landscaping needs,

(fencing, paths, drives,

retaining and earthworks).

Full Arborist Service

Ph 021 272 0303

Trades & Services

YOU COULD

BE HERE

Let us help take

your business to

new heights

Advertise your business

in our Trades and

Services column.

For assistance phone

Vicky on 03 364 7419

Calling for exhibitors

weddingshow

Sunday 25th August, 2019 Air Force Museum, Christchurch

To exhibit at this fantastic show, please email mark.sinclair@starmedia.kiwi for more info.
---
PAGE 24 Wednesday June 19 2019

BAY HARBOUR

Latest Christchurch news at www.star.kiwi

DRIFT AWAY.

YOUR WAY.

On an Avalon Waterways river cruise, the possibilities are as wide open as the expansive views. The same company that

reinvented river cruise ships has redefined the river cruise experience. Beyond the widest views on the water is an open

invitation to experience your destination in more ways, in exceptional ways, in your way.

Book a 2020 Europe River Cruise by 27 June to take advantage of special launch pricing,

PLUS receive up to $4,800 Air Credit per couple!*

AIR CREDIT

AIR CREDIT

AIR CREDIT

AMSTERDAM

HOLLAND

Rhine River

COLOGNE

Rhine

Gorge

RÜDESHEIM

WÜRZBURG

14

Main

River

GERMANY

BAMBERG

Main Danube Canal

NUREMBERG

ROTH

$4,800 pc

REGENSBURG

Danube River

SLOVAKIA

PASSAU

DÜRNSTEIN

VIENNA

MELK Wachau

Valley

BRATISLAVA

SALZBURG

BUDAPEST

AUSTRIA

HUNGARY

FRANCE

2

DIJON

BEAUNE

Saône River

PARIS

MÂCON

Beaujolais

Region

7

LYON

VIVIERS

AVIGNON

Camargue

Burgundy

TOURNON

Rhône River

ST. JEAN DE LOSNE

ARLES

Provence

PORT-SAINT-LOUIS

Up to $2,000 pc

GHENT

YPRES

BOSSUIT

North

Sea

East

Flanders

ROTTERDAM

VEERE

MIDDELBURG

ZAANDAM

HAARLEM

7

BELGIUM

BRUSSELS

KINDERDIJK

AMSTERDAM

HOLLAND

Up to $1,300 pc

MAGNIFICENT EUROPE

15 days, Budapest to Amsterdam

Now from $8,745 *

pp twin share, based on 14/04/20 departure

BURGUNDY & PROVENCE

10 days, Paris to Port-Saint-Louis

Now from $5,615 *

pp twin share, based on 29/03/20 departure

TULIP TIME HIGHLIGHTS

8 days, Brussels to Amsterdam

Now from $4,350 *

pp twin share, based on 12/04/20 departure

*Terms & Conditions: Pricing correct at time of printing (14/06/19), is dependent on availability and will be confirmed at reservation. Advertised launch pricing only valid until 27/06/19. Prices

are per person (pp), twin share based on Cat E. or Cat. D Deluxe Staterooms. Air credit values are per couple (pc). Price & Air Credit value is dependent on cruise & departure. Select dates are

not eligible for promotion. Availability will be confirmed at time of enquiry. Offer valid for new 2020 Europe bookings made from 14/06/19 - 27/06/19 (or until sold out). Not applicable to preexisting

bookings. To secure reservation and offer a non-refundable, non-transferable deposit of $500pp/per cruise is required within 7 days of booking (or by 27/06/19; whichever comes first).

Air Credit will be processed as a discount off the booking invoice at time of reservation. Should you cancel or change your cruise, Air Credit becomes null & void and the full cost of any airfare

purchased, or any change fees will be your responsibility. All airline payment & cancellation terms are independent of Avalon. Avalon is not responsible for any booking element of the airfare,

even if SafetyNet Protection has been purchased. Standard Avalon cancellation penalties apply. Air Credit is 100% non-refundable & non-transferable. Offer valid for singles - single supplement

applies. Offer not combinable with any other promotion and can be withdrawn or amended at any time without notice. Additional restrictions apply - see your House of Travel agent.