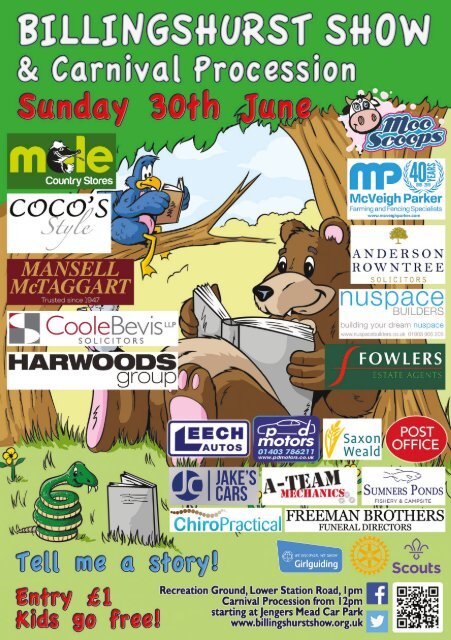 Billingshurst Show Programme 2019
The official programme for the 2019 Billingshurst Show, to be held on Sunday 30th June at the Recreation Ground, Lower Station Road, Billingshurst.
The official programme for the 2019 Billingshurst Show, to be held on Sunday 30th June at the Recreation Ground, Lower Station Road, Billingshurst.
SHOW MORE
SHOW LESS
You also want an ePaper? Increase the reach of your titles
YUMPU automatically turns print PDFs into web optimized ePapers that Google loves.
,

COCO S

Style

50%

OFF

All hair

services

as a NEW client

Call today

Crawley: 01293 888558

Southwater: 01403 738800

Billingshurst: 01403 784848

www.cocos.co.uk

T&C Apply

Bring this flyer with you to claim offer

Not to be used with any other promotion
---
Welcome to the

Billingshurst Show

Sunday 30th June 2019

Once upon a time... Are you sitting comfortably? This year the Billingshurst Show is celebrating

the power of stories, old and new, for children and grown-ups of all ages. We're looking foward to

seeing how imaginatively our theme, Tell Me a Story, has been interpreted by the children on all

the floats and groups in the Carnival Procession. A huge thank you to everyone who took part in

the procession and made such a great effort in preparing the entries.

Stories need authors of course, and we're delighted to welcome two prominent local authors to

the Show: Philip Beicken, author of The Ghosteleers, who will be opening the Show for us, and

Pauline Emsley, author of The Tear Dragon and Rag Doll Lost, who will be reading her books to

children during the Show.

Is there a more famous story than King Arthur and the Knights of the Round Table? The

Spectacular Knights of the Crusades will be joining us in the Arena, complete with castle, featuring

medieval banners and costumes with flaming torches, pyrotechnics and mystic smoke, treating us

to "A Tale of Richard the Lionhearted" as well as "The Legend of King Arthur". Even better, children

can join in, as squires to the knights, village maidens and a Lady of the Day to become Maid

Marion. In the King Arthur show the children can attempt to pull the great sword Excalibur from

the Stone!

Other events in the Arena include welcome return visits from VMA Dance and Horsham Bluebelles,

maypole dancing from Wisborough Green School and an exciting contest organised by Billingshurst

Scouts and Guides. In the Food Court area we're spoilt for choice in terms of music, with

performances from Kieran Blackmore, the Petworth Band, Taygan Paxton and Liam Wakefield.

Our Food Court is open for business throughout

the afternoon, and this year for the first time

we're able to offer contactless payment at the

bar and barbecue, we hope you find this useful.

There's loads going on all over the field - check

out the centre pages for more details.

We would like to say a big thank you to our

sponsors, advertisers, supporters and helpers –

we couldn't do the Show without you. Thanks

also to Billingshurst Parish Council for allowing

us the use of the field.

We hope that you'll wish to keep this

programme as a souvenir of the day and as a

handy guide to some great local services. Have

a great day, and we look forward to seeing you

again next year.
---
Billingshurst Show

Sunday 30th June 2019

Timetable

When? What? Where?

11:30 Kieran Blackmore - music Food Court

11:42 Battle of Britain Memorial Flight Lancaster flypast Above you!

12:15 Carnival Procession leaves Jengers Mead

12:45 Carnival Procession arrives at the Show Ground

12:55 Winners of the Carnival Floats announced Arena

13:00 Formal opening of the Billingshurst Show Arena

13:03 Red Arrows flypast Above you!

13:20 Horsham Bluebelles Arena

13:30 Petworth Band - music Food Court

14:00 Dog Show: Judging starts Dog Show Ring

14:00 Taygan Paxton - music Food Court

14:00 Knights of the Crusades: Rchard the Lionhearted Arena

14:45 VMA Dance Arena

15:00 Liam Wakefield - music Food Court

15:15 Maypole Dancing Arena

15:45 Knights of the Crusades: Legend of King Arthur Arena

16:30 Scouts & Guides Arena

16:50 Raffle & announcement of winners Arena

17:00 Close Arena

Please note that exact times and other details are subject to change - please listen out for

announcements on the field.
---
Billingshurst & Disrtict

Rotary Club

The Billingshurst & District Rotary Club supports both local and international projects by giving our

time for numerous fundraising activities. We are a friendly group of people with a shared passion

for helping others and enriching lives for the better.

We have two ways in which you can get involved:

Why not join us as a Friend of Rotary? No longterm

commitment - get involved in existing

or new projects as your time and inclination

permits. Friends of Rotary meet in The Six Bells

at 7pm on the first Monday in the month. Short

meeting with a drink and crisps if you insist.

This exciting new initiative is growing and we

have a regular core of volunteers now attending

and not only helping with our existing projects,

but developing new projects, specifically focused

on local charity needs.

Just turn up or contact Tony Priestley for more

details:

email: priestleyatp@gmail.com

mobile: 07940 590 237

Alternatively join our club as a full-time

member. We meet on the second and fourth

Monday of each month in The Blacksmiths

Arms in Adversane, where we have a meal

following a speaker or Project Meeting.

Sometimes we wander further afield on social

outings.

Contact Tony Priestley via the above email and

mobile if you are interested in becoming a full

member.

Full details of what we do, including our

forward programme, are on our website, :

www.billingshurstrotary.org

and follow us on Facebook at:

https://www.facebook.com/billingshurstrotary/
---
Girlguiding has been successful in Billingshurst for many years.

The Guides take part in wide range of activities including cooking, Flip Out, ice skating, Geocaching

and rafting on the Wey and Arun canal. We are working now on our new programme which covers

6 main areas: Know Myself, Express yself, Be Well, Have Adventures, Take Action and Skills for

My Future. The girls are having a great time with the new programme and are now all working

towards their Guide Gold Award.

In April the Guides visited the Houses of Parliament in London and were joined on the tour by

Jeremy Quin. This was an amazing experience for us all, we then went to the Met Police to the

horse stables for a tour and this was finished off with a trip to the Guide shop of course!

We go camping a number of times during the year, this year to Petworth Park, a joint camp with

the Guide division and the Scout District. This year the camp celebrated 40 years – lots more fun

including a silent disco on camp! The girls cook on open fires and take part in caving, climbing,

canoeing, crafts and archery.

The Rainbows are having so much fun taking part in Forest School and last term they had a visit

from the Police to complete their Hats Off Badge. The Rainbows are now having an annual

sleepover in the Guide Hut, fun with their friends and camping indoors.

The Brownies have been climbing at Horsham Clip and Climb, participated in badge work, crafts

and cooking. The Brownies have been canoeing at Southwater Park, they had great fun even

getting stuck at the side. After canoeing round the lake they played Head Shoulders Knees and

Bounce (instead of Toes) they jumped (one at a time).

We are always looking for more volunteers – come and join the fun! www.girlguiding.org.uk/joinus

or call 0800 169 5901

Natalie Evans, 2nd Billingshurst Guide Leader

Billingshurst

Guides
---
Billingshurst Scouts

Each week, 1st Billingshurst Scout Group has 150 young people (Beavers, Cubs & Scouts) enjoying

adventurous actives, learning about the world and community around then, whilst rafting, hiking,

camping, shooting, cycling, fire lighting and developing the skills to succeed in life. This can only

happen due to our brilliant volunteers. We have a great team of 20 adults who dedicate at least 2

hours a week to deliver the exciting programme to the children aged from 6 to 14 years.

Volunteering is easier than you think. Whether you can spare an hour a month or a day a year, we

have loads of opportunities both behind the scenes and directly supporting young people. With

full support and training, you can volunteer on a flexible basis. We are always happy to welcome

more adults to the group.

Not only is it incredibly rewarding and great fun, you'll also learn some brilliant skills transferable

to your workplace and further education. We welcome volunteers from every community and

background. You don't need to have been a Scout. You just need to believe in a more positive

future and the difference we can make together.

Volunteer today and help us prepare more young people with Skills for Life.

If you would like your child to join this exciting Scout group, just check out our Facebook site,

where you can contact us at https://www.facebook.com/1stbillingshurstscouts/ or email Zoe, our

Group Scout Leader gsl@1stbillingshurst.org.uk.

Come and say hi, we are running stalls this year that include a bouldering wall, a chance to make a

"s'mores", cake stall, car racing and water powered boats amongst others.
---
Carnival Procession

PETWORTH TOWN BAND

A warm welcome back to old friends from the Petworth Town band - "Everything a friendly,

enthusiastic and entertaining town band ought to be" - who will be performing in the Food Court

area as well as leading the parade. New band members are welcome - please contact Martyn

Streeter on 01798 872530 for further details.

CARNIVAL PRINCESS and ATTENDANTS

Carnival Princess Aimee Garrett aged 8 rides in style with attendant Faith Novell, also aged 8.

They are followed by Flower Girls Isobel Wallace aged 6 & Isla Beale aged 7. Many thanks to

Harwoods and to Peter Hooper for providing the luxury transport for the girls.

BOYS FROM THE MIDNIGHT GANG

Boys from the Midnight Gang Adam and Daniel Evans join us in the Land Rover on another one of

their magical adventures. Thanks to Steve Barlow for providing and also driving the vehicle for us

today.

DAUXWOOD & PARBROOK CUB SCOUTS

1st Billingshurst Cub Scouts are for both boys and girls aged 8 – 10½. We have two thriving packs

that meet on Tuesday and Wednesday evenings. If you are looking for an adventure, want to

learn a new skill, make new friends and have fun, then come and join us.

Please contact our Group Scout Leader Zoe Jenkins at GSL@1stBillingshurst.org.uk.

BILLINGSHURST FAMILY CHURCH

Billingshurst Family Church meets Sundays 10.00am at The Billingshurst Centre. Everyone is

welcome. Come and visit us in our marquee on the Showground.

WAKOOS

WAKOOS was founded by 2 members of staff from the Weald School in 1988, wanting to ensure

children had care during working hours. Wakoos currently provides excellent childcare to around

300 families across its two sites in Billingshurst and Pulborough. As well as a day nursery and preschool

for children from 3 months – 5 years there is also a Breakfast Club, After School Club and

Holiday Club. For more information please visit our website at www.wakoos.co.uk or find us on

Facebook@WakoosC4C.

HORSHAM BLUEBELLES BATON TWIRLERS

A welcome return from Horsham Bluebelles, who will be performing for us in the Arena. Horsham

Bluebelles are a baton twirling and pom pom group. They practice on a Friday at Forest School in

Horsham from 6pm and are always looking for new members from the age of 4.

For more information please email Carol at horshambluebelles@hotmail.com
---
DAUXWOOD PRE-SCHOOL

Dauxwood Pre-school is a small and friendly Pre-School with an Outstanding rating from Ofsted,

for early years 2½ to 4 year olds. We provide a stimulating and challenging learning environment

that meets the needs of each child in a purpose built building and fantastic large natural outdoor

space. Please phone 01403 785212 for further details.

DOWNLANDS SCOUTS

1st Billingshurst Downlands Scout Troop welcomes Girls and Boys 10½ - 14. We meet on Friday

evenings from 6.30 – 8.00pm, having fun learning new skills with the various activities like

shooting, archery, rafting, fire lighting and cooking as well as camping twice a year. If you want to

know more please contact our Group Scout Leader Zoe Jenkins at GSL@1stBillingshurst.org.uk.

We are running the bouldering wall on the show ground, come and say hello and see if you can

make it all the way round

OAKLANDS & CEDARS BEAVER SCOUTS

Oaklands & Cedars Beaver Scouts meet on Mondays and Tuesdays for a busy hour and a half

of scouting fun. New members are most welcome. For more information why not visit us

today at the show at our stand or make contact with our Group Scout Leader Zoe Jenkins at

GSL@1stBillingshurst.org.uk.

SUSSEX GREEN LIVING

Sussex Green Living is a fast growing multi award winning environmental awareness and education

network. They offer lots of local initiatives including talks, education, single-use plastic recycling

schemes and cheap clean energy, and they work with volunteers to run the Horsham Repair Café

and the South East Climate Alliance. Visit their stand or the Horsham Repair Café to learn how

you can reduce your carbon footprint, save money and the planet. Our children are entitled to

inherit a healthy planet, so let's take climate action now. Or visit www.SussexGreenLiving.co.uk.

ST GABRIELS PRE-SCHOOL

St. Gabriel's Pre-School meet at the Church Hall on East Street in term time from 8.30am to

4.15pm daily, with friendly experienced staff to guide and support the children. "To have a

willingness to learn, leads to successes".

We offer 30 hours of free childcare, 2, 3 and 4yr old funding of 15 hours. £4.70 per hour. We

spend 75% of our time outside. Phone anytime 07512 650699 for further details. We guide our

children in their learning and development to provide the best start to school life.

VMA DANCE

The Vicky Michelle Academy of Dance is a friendly dance school holding classes in Rudgwick and

Billingshurst. We offer classes in Ballet, Tap, Modern, Street Dance, Jazz, and Contemporary &

Musical Theatre. Classes available for, pre-schoolers, children and adults. Free trials available.

Contact us via our website www.vmadance.co.uk

BILLINGSHURST RAINBOWS & BROWNIES

The theme for the Rainbows/Brownies floats is 'The Ronald Dahl Books'. Both Rainbows and

Brownies have worked together on the float and always found this event very enjoyable.
---
BUNNY MOTORS (LYONS FARM CARS)

Bunny Motors, the Fiat 500 specialist, was set up in 2016 to help numerous Animal & Cancer

charities. This year we are celebrating the 120th Anniversary of Fiat!

BILLINGSHURST FIRE & RESCUE

We hope also to be joined by the engine from the Billingshurst Fire and Rescue Service, but of

course this will depend upon whether they have any emergency calls they need to attend to on

the day!

ARUN SCOUTS

Arun Scouts will be walking with street collection buckets. Please be generous in your support!

THE KINGS ARMS

Beer garden - family/dog friendly

£3.80 on all ales, Fosters and Amstel

between 11am - 1pm and 5pm - 7pm

Coke & lemonade £1 per half pint

J2O £2

biglight1@sky.com
---
No tall tales

from us...

facts

hoN esty

t r u t h

Let's be honest, estate agents are

sometimes known for works of fiction,

but you won't ever get any tall tales from us!

Have a great day at the Billingshurst Show.

pop in 70 high street, Billingshurst, rh14 9Qs

call us 01403 785288

email billingshurst@mansellmctaggart.co.uk

online mansellmctaggart.co.uk
---
Fun Dog Show

Calling all dogs: make sure your owner enters you in the

Fun Dog Show.

Judging starts at 2pm, entry £2 per dog per class

Nine great classes:

Cutest Puppy

Best Expression

Prettiest Bitch

Most Handsome Dog

Best Veteran

Best Condition

Cleverest Dog

Waggiest Tail

Best Rescue

All classes sponsored by Bone Canis

RUNNER-UP

Sponsored by Farthings Veterinary Group

BEST IN SHOW

Sponsored by Farthings Veterinary Group

Judged by Farthings Veterinary Group and the Carnival Princess

Many thanks to our sponsors!
---
SIX BELLS

50% Monday

All menu food 50% off*

*selected lines only

Fish 'n' Chips Friday

2 Fish 'n' Chips for £12

Thursday Quiz Night

£2 entry

Wheel of Fortune

Free half time Chips

Friday Live Music

Every Friday night

at 9pm-11pm

Saturday Steak Night

2 Rump Steaks for £20

Sunday Roast

1 course £10.95

2 courses £14.95

3 courses £17.50

Every Sunday 12-5pm

76 High Street, Billingshurst, West Sussex, RH14 9QS

Tel: 01403 782124 email: sixbells@innbar.co.uk

http://sixbellsbillingshurst.co.uk
---
Carnival Princess and Friends

Our Carnival Princess this year is Aimee Garrett, who will be accompanied in the Carnival

Procession by attendant Faith Novell. Our two Flower Girls this year are Isobel Wallace and Isla

Beale.

Our patients (from The Midnight Gang by David Walliams) are Adam Evans and Daniel Evans.

Many thanks to Tony Priestley for the lovely picture, showing Albert, Isobel, Lily, Florence, Chloe

and Henry.

The Billingshurst Show

Organised by Billingshurst Rotary Club and Billingshurst Scouts & Guides

Proceeds divided equally between Billingshurst Rotary Club charities (charity no. 1024700) and

Billingshurst Scouts & Guides (charity no. 305886)

www.billingshurstshow.org.uk
---
What's On At The

Who

What

A Chip off the Block

Recycled wood products

A.M. Beauty Clinic

Nail painting & prizes

Age UK Horsham District

Secondhand books

Arun Scouts

S'mores

Billingshurst & District Rotary Club Information

Billingshurst & District Rotary Club Bottle Tombola

Billingshurst Choral Society

Information

Billingshurst Community Partnership Information

Billingshurst Dramatic Society

Information

Billingshurst Family Church

Marquee with games

Billingshurst Lawn Tennis Club

Community tennis

Billingshurst Leisure Centre

Information

Billingshurst Macmillan Group

Cakes, preserves, tombola, crafts

Brownies

Face painting

Brownies

Egg and coin hunt

Bunny Motors

Cars

Canine Epilepsy Support Group

Tombola

Caritas Bookshop @ St Mary's Church Christian book stall

Cherry Blossom Nails & KA Beauty Beauty treatments & products

Chestnut Tree House

Greeting cards & pet toys

Children of Sumatra

Charity products

Coco's Style

Hair things

Dave's Deli

Pre-packed cheeses

Downlands Scouts

Bouldering wall

Friends of Neil

Children's games, knitted goods, tombola

Fun Time Novelties

Soft toys & novelties

Greek Cat Welfare Society

Information

Guides

Hook a duck

Guides

Sweet and soft drinks tombola

Horsham Bluebelles

Baton twirlers

Into The Wild, Forest School

Information

Iron Railway Vineyard

Wine & cider to go

John's Jams of Caterham

Home made jams, chutneys, marmalades & toys

Katy Bacon & Martina Ross

Air-filled foil balloons

Krysia's Artwork

Handmade cushions, peg bags, containers

Lions Club of Billingshurst

Paw Patrol ticket game

Loxwood Joust

Information

Meadow Arts

Handmade jewellery

Mid4Mum Toys & Gifts

Pocket money toys, rocks, crystals, etc.

Molly Coddle Childrenswear

Handmade childrenswear

Mr. Olives

Olives, nuts, baklava, turkish delights

Neighbourhood Watch

Information

Oaklands Beavers & Cedars Beavers Cakes & Herbs

Ometepe Projects

Treasure hunt, children's activities, exhibition
---
Who

Parbrook Cubs & Dauxwood Cubs

Parbrook Cubs & Dauxwood Cubs

Parbrook Cubs & Dauxwood Cubs

Pauline Emsley

Philip Beicken

Presence Décor

QE2 School Horsham

Rainbows

Rainbows

Riverford Organic

Scouts & Guides

SJ Sim Flights

St Catherines Hospice

St Mary's Church

Sussex Green Living

Well Adjusted Health

Billingshurst Show

What

Scalextric race track

Gutter Boat racing

Lego walk of fire

Local author

Local author

Giftware for the home

Tombola, hook the duck etc.

Children's book stall, tattoos

Sweet Tombola, Guess the Sweets in the Jar

Organic food produce for delivery

Hunt the Gnomes

Flight Simulator experiences

General goods, clothing, bric-a-brac

Baby zone

Information

Free back checks

Details correct at time of going to press, subject to change.

Plus loads more!

Flypasts - Giant inflatable - Bungee Trampolines

Dog Show - Zorbs - Animals - Punch & Judy - Rides

Bar - Barbecue - Refreshments - Stories - Gnomes!
---
Sponsored By

Many thanks to all our sponsors,

without whom this show would not be possible!
---
Jim Hills Sports

Established

45 years

Traditional Sports Shop – Vast Stock

"Simply the Best for Service and Price"

MINIMUM OF

20% OFF

PLUS MANY

HALF PRICE BARGAINS

Come and see for yourself!

Open Monday to Friday 9am-5.30pm, Saturdays 8.30am-5pm

Large FREE car park

Hillside Farm, Billingshurst Rd (A272), Coolham, West Sussex RH13 8QN

Check our WEBSITE for details and directions:

Numerous 5H

Reviews

www.jimhillssports.co.uk

e-mail: jimhillssports2@aol.com

Tel. 01403 741116
---
Tel: 01403 785700 www.sussexcarpetbrokers.co.uk

on selected ranges, min 14 sq mtrs

Trade Enquiries Welcome

FREE fitting & FREE underlay

Where the best service and

widest choice will cost you less!

Carpets – Vinyls – Curtains – Blinds

Floorings – Domestic & Commercial

We will beat ANY written

like for like quote

Ample Parking – Easy Access

Showroom: 6 Jengers Mead,

Billingshurst, RH14 9PB
---
LOCKSMITHS

LOCKSMITHS

opening

fifing

replacement

repair

key cufing

no call out charge

01403 782313

07515 150 721

locksmiths@outlook.com

www.rrhodesandson.co.uk
---
LARGE SELECTION OF SLIPPERS

VARIOUS BRANDS OF WELLINGTON

DUNLOP - PADDERS - SHOES

PURSES AND WALLETS

SHOE REPAIRS & KEYCUTTING

LOCKSMITH

PERSONAL SERVICE

ALL SHOE CARE PRODUCTS

FORECOURT PARKING

www.rrhodesandson.co.uk

Are you suffering from

back pain?

Take the first step to a

NEW YOU

and get it sorted

Show Special: 50% off

an initial consultation
---
Forest Litho Printers

L i t h o & D i g i t a l P r i n t i n g

Letterheads Business Cards

Compliment SlipsBrochures

Flyers & Posters

Booklets

Orders

of

Service

Wedding Stationery

Vehicle

G r a phics

Projection Signs

Die Cutting & Numbering

Canvas Prints

Roller Banners

Printed Clothing and Accessories

Forest Litho Printers Ltd.

4 Prime Buildings, Daux Road, Billingshurst, West Sussex RH14 9SJ

Tel: 01403 710359 l Email: info@forest-litho.co.uk

www.forest-litho.co.uk

Design Services