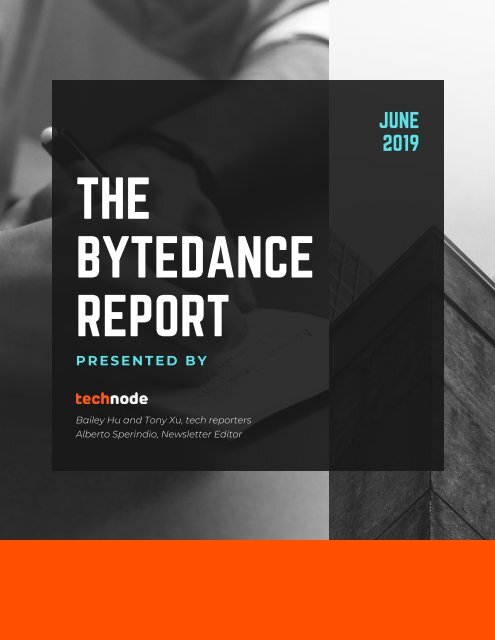 The Bytedance Report 2019 by TechNode
The content of this report was first published in our In Focus: Bytedance Bi-weekly Newsletter for all our TechNode Squared members as part of the exclusive membership benefits. We will continue to develop specialized vertical newsletter as we go so be sure to subscribe to our membership program and be the first to obtain insightful analysis as such. By becoming our member, you will also get to add your voice to the first tech journalism network in China and be immersed with everything tech in China. Visit https://technode.com/become-a-member/ to learn more!
The content of this report was first published in our In Focus: Bytedance Bi-weekly Newsletter for all our TechNode Squared members as part of the exclusive membership benefits. We will continue to develop specialized vertical newsletter as we go so be sure to subscribe to our membership program and be the first to obtain insightful analysis as such.

By becoming our member, you will also get to add your voice to the first tech journalism network in China and be immersed with everything tech in China. Visit https://technode.com/become-a-member/ to learn more!
SHOW MORE
SHOW LESS
Do you know the secret to free website traffic?
Use this trick to increase the number of new potential customers.
JUNE

2019

THE

BYTEDANCE

REPORT

P R E S E N T E D B Y

Bailey Hu and Tony Xu, tech reporters

Alberto Sperindio, Newsletter Editor
---
INDEX

MEET THE TEAM

2

Background

OVERVIEW

CORPORATE

ECOSYSTEM

APP

OUTLINE

PROBLEMS

DEPTH: INDIA

IN

IS BYTEDANCE SUING?

WHO

3

6

23

26

28

29

The content of this report was first

published in our In Focus: Bytedance

Bi-weekly Newsletter for all our

TechNode Squared members as part

of the exclusive membership benefits.

We will continue to develop specialized

vertical newsletter as we go so be sure

to subscribe to our membership

program and be the first to obtain

insightful analysis as such.

PRIVACY

32

By becoming our member, you will also

get to add your voice to the first tech

journalism network in China and be

immersed with everything tech in

China. Scan the QR code above to

learn more!

VIDEO STARS

31

1
---
HU

BAILEY

Reporter

Tech

XU

TONY

Reporter

Tech

SPERINDIO

ALBERTO

Editor

Newsletter

MEET

THE

TEAM

Bytedance is the most valuable

startup in the world. Reportedly

worth $75 billion, the company is

moving rapidly to take its place—if it

hasn't already—among China's tech

establishment.

But it remains relatively mysterious.

Founder Zhang Yiming gives media

interviews only rarely and while

Bytedance's flagship news

aggregator Jinri Toutiao has been

around since 2012, the success of

offerings like TikTok (Douyin in China)

is much newer.

To shed some light on this recently

minted and extremely trending tech

titan, we have designed the world's

first Bytedance-focused newsletter.

2
---
poach; they're paid more than the industry average in

CORPORATE

OVERVIEW

On April 4, The Information compiled a series of

statistics on Bytedance's 40,000-strong workforce

and company structure.

In 2018, it turns out, the company's headcount

doubled to exceed that of Facebook. In addition,

Bytedance employees are reportedly difficult to

China, one Didi executive told The Information.

Ad sales and content monitoring staff each make up a

quarter of Bytedance's workforce.

3
---
Liu Jiehao, an analyst at research group iMedia, told

TechNode that Bytedance's massive workforce makes sense

given its current priorities. "The pursuit of revenue and

valuation will be greater than the pursuit of profit" as the

company gears up for a much-anticipated IPO," Liu said.

As a result, while other Chinese internet tech enterprises face

layoffs and restructuring, Bytedance is still seeing "rapid

growth."

Liu points out that while Bytedance now employs more

people than Facebook, average productivity still lags well

behind the US titan. Despite a troubled year, Facebook pulled

in $55 billion in earnings in 2018 while Bytedance barely

made its roughly $7.4 billion revenue goal, Bloomberg

reported.

Tencent, which employed 54,000 people as of last December,

fell between the two in terms of 2018 revenue (measured in

billions of dollars).

4
---
"When Bytedance's growth enters the mature stage, it

needs to pay more attention to input-output ratio and

generation of actual profit," Liu said.

But retaining thousands of content-monitoring personnel,

at least for the time being, may be a necessity. "Artificial

intelligence technology can reduce pressure for

monitoring to a certain extent," Liu said, but humans are

still needed to check for vulgar and potentially harmful

content across Bytedance's still-growing ecosystem of

apps.

5
---
APP

ECOSYSTEM:

FaceU

A look at Bytedance's

lesser-known apps

Duoshan

Beside the most known apps, the

Bytedance's app ecosystem counts a

good amount of lesser-known

Tomato Novel

glance may not be directly linked to

it.

services and applications that a first

Lark/Feishu

6
---
Content: Selfies, photo-editing

#11 in Photo & Video/Free

Ranking:

Store, May 7)

(App

Released: September 2014

FaceU

Type: Free (in-app purchases)

Similar to: Meitu, MakeupPlus

(MAU as of December 2018, in thousands. (Image credit: QuestMobile, Infogram)

FaceU, acquired by Bytedance-owned Toutiao in February 2018, is the most popular of the

company's three photo-editing apps.

If you didn't already know that Bytedance had multiple photo-editing apps, you could be

excused; after all, their combined footprint—89 million monthly active users (MAU)* in December

2018, assuming each user is unique—was only 15% of the company's estimated total MAU,

according to QuestMobile.

By contrast, Toutiao alone had 240 million MAU, while Douyin had 426 million MAU the same

month.

*All figures for app users in China only.

7
---
Before being snapped up by Toutiao, FaceU had completed three rounds of funding, closing a

Series C in October 2017 worth $50 million, according to Crunchbase.

Based on stats from app intelligence firm Qimai, FaceU has generally remained in the top 10 of

the Apple App Store's free "Photo & Video" category since early 2016. Since being acquired by

Bytedance, it has mostly retained that status, although its ranking in the overall free app category

has seen more volatility.

FaceU is currently linked to Bytedance's relatively new video-social app Duoshan, which

launched in January 2019. The interfaces are similar (see below), and Duoshan users can directly

log into FaceU using their accounts, as well as send pictures to Duoshan contacts. However, the

reverse is not true. Photo- or video-snappers on Duoshan aren't directed to FaceU's enhancement

interface—potentially a lost opportunity for user acquisition.

Left: Upon startup, FaceU users are prompted to log in using Duoshan.

The interfaces of FaceU (center) and Duoshan (right) also look similar.

(Image credit: TechNode/Bailey Hu)

8
---
Type: Free

Content: Social, short videos

#15 in Social/Free (App Store,

Ranking:

7) May

Released: January 2019

DuoShan

Similar to: WeChat, Snapchat

Douyin (left) and Duoshan (right). (Image credit: Douyin, Duoshan)

You may remember Duoshan from a post-launch surge in media coverage which spun it as a potential

"WeChat-killer," a claim that TechNode editor-in-chief John Artman doesn't buy. The app, whose name

can be literally translated as "very shiny," combines a private messaging function with Douyin's

trademark short-video format.

9
---
Since then, however, the hype has died down to a dull roar, as Baidu's search index shows.

Over the last two months, in fact, search volume for FaceU's Chinese name exceeds that for

Duoshan.

Searches for Duoshan (blue) and FaceU (green) in 2019 to date, followed by search volume in

April and May. (Image credit: Baidu)

10
---
FaceU has also had relatively more downloads in the last few months compared with

Duoshan, according to Qimai. Although the photo-enhancement application may be seen as

an attempt to support Duoshan, it's evident that FaceU has a more stable following.

Estimated downloads of FaceU (top) and Duoshan (bottom) since Jan. 21, when Duoshan

launched. (Image credit: Qimai)

11
---
Finally, although Duoshan's rankings are still relatively high in the free social app

category in Apple's App Store, in recent months it has dropped to the #10-20 range

after consistently ranking in the top five from February through early March.

It seems that WeChat needn't check its rearview mirror just yet, although Tencent's

social titan is making moves towards more short-video content.

Since its launch, Duoshan's overall ranking in the free app category has steadily declined. (Image credit: Qimai)

12
---
#2 in Books/Free (App Store,

Rankings:

7) May

Released: January 2019

Tomato

Type: Free (ads)

Novel

Content: Books

Similar to: WeChat Read, Midu

Tomato Novel is not among the 13 apps listed on Bytedance's official website. Its cluttered

user interface isn't nearly as polished as that of Douyin or Duoshan.

In the categories tab, a sharp divide exists between genres targeted toward men ("gaming novels,"

"science fiction") and women ("modern romance"). (Image credit: Tomato Novel)

13
---
Nevertheless, in March, Chinese media outlet Jiemian linked Tomato Novel back to

Bytedance, sparking speculation about the new reading app.

Jiemian noted a marked resemblance to Midu, a product launched by Toutiao

competitor Qutoutiao. Tomato Novel's logo also looks similar to that of WeChat Read,

Tencent's reading app from 2015.

Unlike WeChat Read, however, which promises an ad-free experience and a limited

amount of free content, Tomato Novel appears to actually be paying users to stay inapp.

The icon at the center of the bottom navigation bar is literally labeled "Benefits."

Users who click in are offered monetary rewards for accomplishing tasks, such as

reading for five, 30, or 60 minutes a day.

The app's homepage (left) offers different categories of recommended content. Users receive cash

gifts and rewards for performing different app-related activities (center), and can opt to watch a video

for 30 minutes of ad-free reading (right).

14
---
All content is free, although image and video ads are liberally scattered throughout

the books, disrupting the reading experience. For that reason, as we previously

reported, Tomato Novel has received a fair number of negative reviews from users.

Readers have also complained about low-quality content.

However, no doubt thanks largely to its compensation scheme, Tomato Novel has

remained ranked among the top five free apps in the Books category in Apple's App

Store since March, according to Qimai. As of May 7, its average rating across Apple and

Android stores was a solid 3.6 out of 5 stars.

Since late March,Tomato Novel has consistently ranked highly in the App Store's Books category for

free apps. (Image credit: Qimai)

15
---
Type: Free

#170 in Business, Apple App

Ranking:

(May 21)

Store

Released: Jul. 2018

Lark/

Feishu

Content: Work/productivity

Feishu and its international version Lark were originally created as a productivity platform for

Bytedance employees. Last July, the company debuted the app on the ic and Android stores.

However, it's still not completely public; while anyone can download either version, work

teams must apply to use the app. Lark's functions also overlap with a few major platforms on

the Chinese market.

Competitor: DingTalk

Among free productivity apps, Feishu's biggest competitor is Alibaba's DingTalk. The

platform does occasionally garner complaints from employee-users but its reach is

undeniable. According to the official website, 7 million enterprises use DingTalk.

Last year, DingTalk reported that it had more than 400 million individual users. The platform consistently

ranks at the top of the "free" category of the Apple China App Store's business category.

16
---
Feishu's layout for basic work group chats, as well as the organization and nature of its

features, resemble those of DingTalk—with a few exceptions.

Rankings in the Apple App Store's "Business" category as of May 21 (Image credit: Qimai)

Feishu's layout for basic work group chats, as well as the organization and nature of its

features, resemble those of DingTalk—with a few exceptions.

Feishu (left) and DingTalk (right)

are similar in appearance. Feishu

has a few additional features,

including an option to poll

coworkers in chats and to create

group-wide multimedia

"announcements."

17
---
However, it lacks one of DingTalk's most useful and also most controversial features

—an option to track employees' GPS locations in order to keep them accountable.

In fact, DingTalk offers enterprises an entire suite of built-in optional services, from

online reimbursement to in-app business trip booking. For now at least, Lark only

has the option for enterprises to build their own apps—with sample features

including a punch in/out button, a "bug tracker" for collaborative projects, and job

application submission forms.

Lark offers a sample image of an app that individual businesses can choose to integrate into their platform.

(Image credit: Lark)

18
---
Competitor: WeChat Work

While relatively high-ranking in the Apple China App Store's "Business" category,

WeChat Work hasn't achieved DingTalk's scale. Earlier this month, Tencent said the

three-year-old app had 1.5 million companies registered in its ecosystem, compared to

Alibaba's self-reported 7 million.

It does offer options for employees to apply for business trips and reimbursement,

similar to DingTalk. When clicking into tabs such as "approval," the resulting interface

loads as a mini-program, with a slight lag time.

WeChat Work's main advantage is its connection to its more social counterpart. Upon

download, users are given the option to log in using WeChat accounts and to

automatically connect with existing friends. They can also link an enterprise account to

WeChat, using the work application to chat directly across apps.

The app's overall design remains somewhat clunky, however, and it's missing some of

the functionality of DingTalk. Perhaps for that reason, its ratings across Apple and

Android app stores (3.7) are close to a full point lower than those of both DingTalk (4.5)

and Feishu (4.5), according to Qimai.

In order to apply for

reimbursement, users

must enter a miniprogram

interface to

find an online form.

(Image credit:

WeChat Work)

19
---
Competitor: Google Docs/Shimo

An introduction to Lark's version of Docs. (Image credit: Lark)

One of Lark and Feishu's more interesting features is a collaborative document platform

that seems specifically tailored for tech enterprises. The interface appears to be a blend of

Google Docs, WordPress, and popular Chinese doc-sharing platform Shimo.

It's an interesting alternative to both DingTalk and Enterprise WeChat, which offer users

cloud storage space to share documents. Rather than creating files separately and

uploading them to be shared, Lark users can choose to collaborate directly on documents,

spreadsheets, and even coding blocks.

20
---
Additional features of Feishu's answer to Google Docs (Image credit: Lark)

Not only does that intersect with the coverage of Shimo and Tencent Docs—a Google Docs

lookalike launched last April—but it also creates a potential rivalry with GitHub, which is

massively popular in China and currently partnering with Ping'an Cloud on enterprise

services.

Other features

On the international version Lark, hints of cross-platform partnerships are evident. In the

"Announcements" section of group chats, users can embed YouTube and TikTok videos as

well as files from productivity platform AirTable. They can also add bots from Slack-like site

Trello into group chats, although this feature has no discernable functionality yet.

The integration of features from popular Western platforms could presage partnerships—

and potentially big plans—for Bytedance's first workplace app.

21
---
New products

TechNode: "Released via a Singapore-headquartered subsidiary, Lark Technologies is an

online collaborative platform that combines three functions: calendar, documents, and

chat."

Lark has been Bytedance's internal communication and collaboration platform since

November 2018. Its launch marks a push for a larger share of the Slack-dominated

productivity market. Although features such as slideshows and video conferencing aren't

yet available, Bytedance will reportedly increase the app's team size to 1,000 by the end

of 2019. In addition, Bytedance acquired cloud-based productivity tool Mubu in 2018, 36Kr

reported a few days before Lark's launch.

Jiemian: Bytedance has released the reading app "Fanqie Xiaoshuo," or "Tomato Novel,"

which offers a wide array of free online novels but shows an ad every three pages or so.

The app has received bad reviews for frequent ads and low-quality content, but still ranks

third among the free reading offerings on Apple's China App Store as of April 9, beating

Tencent's WeChat Read

Finally, Bytedance plans to launch a K-12 online education platform by summer 2019,

36Kr reported. The new platform could put to use its experience from two existing, notso-successful

Bytedance education products (aiKID and Gogokid) to become a major

player.

It's also good at picking winners

Bytedance's hits aren't due just to a user-friendly approach. Last year, the company

snapped up American short video app Musical.ly—with its 100 million monthly active

users—and combined it with TikTok to solidify its standing in Western markets.

CNN: "Musical.ly shot to popularity after its 2014 launch. Its predominantly young user

base was drawn to the way the app allowed them to post short clips of themselves lipsyncing

to popular songs."

22
---
OUTLINE:

BYTEDANCE

BET BIG ON AI

FORBES: BYTEDANCE'S "SUCCESS CAN BE ATTRIBUTED

IN LARGE PART TO THE ARTIFICIAL INTELLIGENCE AND

MACHINE LEARNING ALGORITHMS THAT DELIVER

CUSTOMIZED CONTENT FEEDS TO ITS USERS."

Rather than creating content, Bytedance focuses

on curating it. It has invested heavily in AI

technology in order to keep a lead over

competitors.

Forbes: Bytedance's "success can be attributed in

large part to the artificial intelligence and

machine learning algorithms that deliver

customized content feeds to its users."

Synced: Last August "US chipmaker Intel and

Chinese tech pioneer Bytedance announced they

will collaborate on setting up an AI research lab,

talent training, and development of AI

applications."

23
---
BYTEDANCE

BY THE NUMBERS

01

Exponential growth

Since its first valuation at $10 million in

July 2012, Bytedance's value has soared.

The last few years—marked by

Douyin/TikTok's launch (2016) and the

acquisition of Musical.ly (2017)—have seen

particularly rapid growth. Two rounds of

Series D in 2017 nearly doubled the

company's valuation.

02

Fighting for attention

Bytedance's first hit was news app Jinri

Toutiao. Here's how it compares to similar

offerings in China's mobile market, based on

monthly active user (MAU) count in

December 2018. (Do-it-all app WeChat, in

comparison, reached over 1 billion MAU.)

24
---
03

Short video offering

In addition to its hit Douyin, Bytedance

has also spun off Xigua Video and Vigo

Video, whose small-town users overlap

more with Toutiao's audience. In terms

of MAU in December 2018, here's how

they measured up to each other as

well as competitor Kuaishou. Together,

the four apps dominate the short

video sphere in China.

TikTok around the world

04

The top 10 countries where TikTok, the

international version of Douyin, was

downloaded last year are spread out

geographically. India led with 119.3

million downloads, while no other

country surpassed 40 million.

Bytedance also had big losses

The Information: "Last year, after the costly launch of its video app TikTok outside of

China, the company lost $1.2 billion."

As with its user engagement figures, TikTok's retention rate has not been stunning.

With user time already occupied by apps with longer histories and high rates of

engagement, TikTok will find it trickier to retain users in overseas markets the way

Douyin did in China. Losses could further expand in 2019 as Bytedance steps up

marketing efforts for TikTok and other apps targeting overseas markets.

05

25
---
PROBLEMS

Legal disputes

Bytedance has been involved in several lawsuits since its inception, mainly in China but,

recently, facing troubles globally also. While they may have an impact on their reputation,

Bytedance has been able to cope with them every time they rose.

Ongoing legal disputes

TechNode: "Tianjin Binhai New Area People's Court issued a ruling on Wednesday to stop

Bytedance from using user information taken from WeChat and QQ on two of its apps."

Bytedance and Tencent engaged in some acrimonious exchanges on Mar. 24, taking turns

calling each other's claims "nonsense." After the ruling came out, Bytedance said it respected

the ruling but had requested a review. Meanwhile, Tencent seems to have made progress in

efforts to curb—if not stifle—the growth of Douyin and chat app Duoshan. Prior to this case,

Tencent had banned links from Douyin and Duoshan on WeChat and stopped users from

registering accounts for Bytedance apps using WeChat.

Another court ruling on a similar issue was made on Mar. 12, this time in favor of an individual

plaintiff. However, Bytedance said that it had not been notified of the ruling and only learned

about it in news reports.

Techweb (our translation): "If the report from Yicai [the media outlet that broke the news] is

real, then the court didn't follow the basic legal procedures and jumped to the ruling.

Normally, courts aren't so rash," said Li Liang, vice president of Bytedance.

BiaNews: On March 27, in a Jinri Toutiao post, Bytedance vice president Li Liang shared a

screenshot of a court ruling that orders Baidu to apologize and compensate Li for at least one

slanderous online article.

Li's case could help Bytedance gain an upper hand in future disputes. Baidu, however, doesn't

seem to be complying. The search giant was ordered to apologize to Li in a "conspicuously"

placed online announcement within 10 days of the ruling, but so far TechNode has found no

such posts.

Bloomberg: "The three biggest record labels are demanding more money for songs played on

TikTok and its Chinese counterpart Douyin, setting up a showdown with the hugely popular

video apps, people with knowledge of the matter said."

Seeing the potential of the two apps, Universal Music, Sony Music, and Warner Music are

asking for a larger share of the pie. As Douyin and TikTok are highly dependent on music,

Bytedance is unlikely to accept the demands in full. In addition, TikTok still lags far behind its

Chinese counterpart in terms of profitability.

26
---
WHO IS BYTEDANCE SUING?

The $5.7 million settlement is TikTok's highest fine yet

—and perhaps the biggest push yet to comply with

regulations. Children under 13 will be restricted to an

ecosystem where they can only watch video content

specifically curated for their age group.

While the update is certainly an improvement, it

seems to only resolve a legal dispute rather than the

core issue. Young users can easily bypass the

restrictions by entering false birth dates.

Who Bytedance is suing

According to media reports, Bytedance and Tencent

have a storied rivalry. That's reflected in the more than

70 lawsuits that Beijing Bytedance Technology has

filed from 2015 to 2019: Tencent has featured in 27% of

cases brought against companies.

TechNode: "Tech giants Baidu and Bytedance on

Friday filed lawsuits against each other for unfair

competition, with both companies seeking RMB 90

million (around $13 million) in damages and extended

public apologies."

Baidu claimed that Bytedance stole the results from

their search engine for use in news aggregator Toutiao,

and Bytedance accused Baidu of directly using

popular videos from Douyin in a product named

"Simple Search." Although the two companies have

been exchanging lawsuits for some time, their

previous demands have never reached this scale. As

the rivalry between the two companies becomes more

direct due to overlapping features in their products,

Baidu and Bytedance could see increased legal

disputes in the future.

The Verge: "TikTok will no longer allow children under

13 to upload videos, leave comments, build a profile, or

send messages, after a settlement with the Federal

Trade Commission today required the company to

come into compliance with a federal children's privacy

law."

CNET: "We know that a significant amount of children

are being contacted via popular live-streaming apps,

such as TikTok, by abusers who are using them as a

hunting ground," said a spokesperson for the National

Society for the Prevention of Cruelty to Children

(NSPCC) in late February.

More recently, in China Douyin attempted to address

similar problems with a new "youth mode."

On Mar. 4, EEO reports (in Chinese), Douyin launched a

new version with a "youth mode" that limits underage

users to viewing educational content such as videos on

painting and photography. The mode, which can be

turned on and off by parents, also blocks the default

search feature and cash gift function for content

producers.

Just as with TikTok, however, there's no way of making

the mode mandatory.

BBC: "Video-sharing app TikTok is failing to suspend

the accounts of people sending sexual messages to

teenagers and children, a BBC investigation has

found."

Online predators have been a longstanding issue for

TikTok, and Bytedance has repeatedly pledged to

address it. The app, however, still lacks mandatory

verification methods to prevent young children from

using it. That's true even in the US, where the app

significantly restricted the access of users under the

age of 13 after reaching a $5.7 million settlement deal

with the Federal Trade Commission.

In light of the lingering predatory behaviors on TikTok

alone, Bytedance's 10,000 content monitors may still

not be enough.

27
---
IN DEPTH

IN INDIA

How Bytedance pursued localization

to a fault

Following in the footsteps of

smartphone brands like Xiaomi and

Oppo, Chinese apps saw surging

adoption rates in India last year. In

2018, according to a report by

Sensor Tower, 44 of the country's

top 100 Android apps were Chinese.

That places it on par with Indian news app

ShareChat, which launched in 2015 and has in

fact sued Helo for copying its interface.

ShareChat's investors include both Xiaomi and

Beijing VC firm Shunwei Capital, which led a $99

million Series C for the startup in September.

According to data from Sensor Tower, here's how

downloads of Helo, ShareChat, and smaller

competitor Dailyhunt (of which Bytedance's

Toutiao is a minority stakeholder) on Google Play

compared in March.

Among those, Bytedance's short-video apps

TikTok and local-language news curation

platform Helo were standouts. In addition, the

company has launched another short-video app

in India: Vigo Video.

The company supports "lite" versions of all of the

above in India, reflecting the demand for lowbandwidth

editions of apps in emerging

markets.

Helo in particular shows Bytedance's attempts to

localize in India. Launched in June 2018 to cater

to the country's large local-language user base,

which outnumbers its English-language

audience, the app is available in 14 languages.

28
---
WHO IS BYTEDANCE SUING?

Downloads do not necessarily reflect ongoing

use of the app; in December, ShareChat

reported 40 million monthly active users

compared to Helo's 25 million. However, it

seems clear that Helo is ahead in the race to

acquire new users, not least because of

significant spending on promotion.

While falling far short of its Chinese version,

Douyin, in terms of overall adoption, TikTok's rate

of growth in India (60%) surpassed even Douyin's

spurt of popularity in the last months of 2018

(25%).

DAU growth for Douyin and TikTok (millions)

That could be a cause of concern for authorities.

Last November, a Hindustan Times report

pointed out prominent and potentially

inflammatory fake news reports on both Helo

and ShareChat.

As hundreds of millions of Indians proceed to

cast their votes for the 2019 general elections,

Facebook has already come under scrutiny for

not doing enough to stop false reports and hate

speech, in part because its moderation system

targets mainly English content. In 2018,

according to the tracker of the Indian nonprofit

Software Law and Freedom Center, the country

saw 134 internet shutdowns, some of which

included temporary regional bans on Facebook

and other online services. Many were imposed

in order to "curb violence and unrest in conflictridden

areas," according to official explanations.

While Helo seeks to gain users and edge out

competitors like ShareChat, it's unclear whether

the company is spending equal effort on

monitoring its multilingual content.

That leads us back to TikTok, whose fate is

currently being considered in court (see below

for details).

In addition to harboring potential problems,

TikTok's rapidly growing profile makes it a prime

target for a crackdown. As of the end of last year,

it reported 20 million daily active users (DAU),

significant growth from October, when the

company claimed 12.5 million daily active users.

29
---
Legal dispute in India

Reuters: "An Indian court's call for a ban on the popular

video app TikTok will hurt free speech rights, China's

Bytedance Technology Co has said in a request for the

Supreme Court to quash the directive. "

This is the first time that Bytedance's legal strategy in

India has been revealed. The company was already

under fire for spreading harmful content on TikTok, but

in recent months judicial action has intensified.

Bytedance's request was later rejected, indicating that

the country is not likely to give a pass to Bytedance's

inadequate content filters.

TechNode: "'At TikTok, we have faith in the Indian

Judicial system and the stipulations afforded to social

media platforms by the Information Technology

(Intermediaries Guidelines) Rules, 2011,' the company

said in a statement issued to TechNode."

As legal efforts to ban TikTok gained momentum,

Bytedance made some gestures of goodwill, stating

that it removed 6 million noncompliant videos. But this

gesture might not be enough for Indian regulators,

who seem to have lost confidence in the app

maintaining a healthy content ecosystem.

TechNode: TikTok was removed from Google Play and

Apple's App Store hours after an Indian state court

rejected Bytedance's request to stay a ban on the app.

With Android and iOS devices comprising around 80%

of market share in India, the takedown could severely

impact TikTok's performance in its largest market.

Android users can get around the restriction by simply

downloading installation files from other sources, but

the extra step required could significantly slow user

acquisition.

Reuters: "India's ban on popular Chinese video app

TikTok is resulting in 'financial losses' of up to $500,000

a day for its developer, Beijing Bytedance Technology

Co, and has put more than 250 jobs at risk, the

company said in a court filing seen by Reuters. "

Good and bad news

SCMP: "An Indian state court on Wednesday moved to

lift a ban on popular video app TikTok in the country,

two lawyers involved in the case said, in a boost for its

developer Beijing Bytedance Technology Co."

While it suffered losses of up to $500,000 a day during

the ban, Bytedance convinced the court to reverse its

decision to remove its viral short video app from Apple

and Google's app stores just two weeks after it went

into effect. While TikTok did not immediately return to

the two app stores, the state court's decision has put

an end—or, at least, a pause—to legal efforts to ban the

app, which had been gaining momentum in the past

few months.

TechNode: TikTok became available on Apple's App

Store and Google Play after a two-week ban, which

cost the company 15 million first-time users in India.

TikTok came back with a vengeance, surging back to

the top of Google Play's free app charts just a week

after its reinstatement. The app has been encouraging

users to spread the word of its return, offering cash

prizes of $1,445 to three users per day for half a month.

While TikTok still needs to comply with the Indian state

court's decision to implement stricter content filters,

its return to the Indian market—where it has 120

million users—is undoubtedly good news for the

company.

Business Standard: Social media platform Helo has

removed about 160,000 accounts and 5 million posts

from its platform over the last 10 months which were in

violation of the app's community guidelines.

Helo, Bytedance's local-language news app in India,

has been under fire since late last year for spreading

pornographic content and encouraging predatory

behavior. Bytedance's decision to make content on

Helo more compliant could be an effort to prevent

legal disputes similar to those involving TikTok.

30
---
To access Xingtu, however, Liu had to agree to not

publish any of his Douyin content on other platforms.

"With Douyin and other apps, the difference is that on

Douyin the content can grow viewers more quickly.

There is more content and categories of content. To

put it another way, there are more users …"

Video stars:

Getting deep with a Douyin celebrity

Douyin influencers Liu Qikun, left, and Liu Yicun (no

relation), pictured here in March, are known online as

Uncle Beibei and Dao Muxiong. Together, they film

short comedy videos in Beijing. (Image credit:

TechNode/Cassidy McDonald)

"About half a year after I encountered Douyin, I quit my

banking job and came to Beijing to make short

videos."

In 2018 Liu Qikun left Hulun Buir, Inner Mongolia to

pursue a career as a Douyin star.

Like many short-video celebrities, Liu participates in

the app's video challenges to gain followers. In his first

hit, he lip-synced Keith Ape's "It G Ma." After reaching 1

million fans, Liu began receiving invitations from

Douyin to attend offline events with other influencers

and to partner with potential advertisers. Now, two

years after that first video, he has nearly 3 million

followers.

Through "Xingtu" or "Star Tour," Douyin's official

commercial platform for influencers that launched last

year, Liu receives and manages offers from companies.

In addition, Liu says, Bytedance staff introduced him to

advertising opportunities with car information app

Dongchedi, which operates under the company's Jinri

Toutiao brand.

Nevertheless, Liu considers his full-time Douyin-based

career to be relatively rare. He's also noticed a

significant drop in his income from videos over the last

year or so. Due to the growing number of influencers,

individual celebrities now earn less on average, he said.

In August, Liu began working in the talent

management department of a multi-channel network

(MCN), which matches influencers with companies

that seek their services. He advises Douyin celebrities

with followings of 1 million to 10 million on how to

shape their content and attract more advertising gigs.

In Liu's opinion, the lifespan of an average "panentertainment"

influencer without a specialty—such as

makeup tutorials, for instance—is only six or seven

months. "Audiences will suffer aesthetic fatigue," he

told TechNode. Liu himself switches up his style every

three months or so based on trends; his repertoire

includes slapstick humor, imitations of children, as well

as scripted/subtitled stories, all 15 seconds or less.

"If you haven't put out a major hit for a long time, they

might forget about you."

At the MCN where Liu works, influencers often take on

other internet tech-related employment or treat the

app as a hobby.

Still, Liu believes that Douyin's business is a

"sustainable thing, as long as the internet is around."

Just like YouTube elsewhere in the world, Douyin and

similar platforms are bringing influencers and

audience members closer together.

"Before, you wouldn't see what other people's lives are

like, but now you can see it on your phone."

31
---
GETTING PERSONAL

HOW BYTEDANCE IS COLLECTING AND USING DATA

TikTok (US)

TikTok has six different privacy policies based on user

location: Germany, the rest of the EU, India, Russia, the

US, and other countries. Within the US, privacy

policies are further divided up between 13 years and

older users and those under 13.

The variation among policies reflects the varied

implementation of data protection regulations across

the world, including the US Federal Trade

Commission's (FTC) historic $5.7 million legal victory

against TikTok for violating child privacy protections.

To reflect this new reality, the US version of TikTok's

privacy policy was split and updated this past

February. The new US privacy policy states: "If we

become aware that personal information has been

collected on the Platform from a person under the

age of 13 we will delete this information and terminate

the person's account."

Videos and user profiles of under-13 users can no

longer be viewed publicly; nor are those users allowed

to message others in-app, although some personal,

geographic, and "general user data" is collected by

TikTok. Minors in the state of California can request to

have all their personal content removed from the

platform.

As we've pointed out before, however, there are no

binding in-app measures to prevent underage users

from simply lying about their age.

Due in part to these reasons, TikTok scored only 35

points out of 100 ("use with caution") on the

evaluation of its privacy performance by the nonprofit

Common Sense Media. In the "Compliance: following

statutory laws and regulations" category of the report,

TikTok rated only 17. By comparison, Instagram scored

an all-around 39, and also received a 39 for

compliance with regulations.

"It is no secret that tech companies are illegally and

knowingly collecting personal information from

children," said Common Sense Media CEO Jim Steyer

in a February statement shared with TechNode.

Referring to the popular video app that Bytedance

acquired in November 2017 and merged with TikTok

last August, Steyer said: "Musical.ly wasn't the first

company and they won't be the last, which is why we

need the FTC to continue to regularly enforce the

Children's Online Privacy Protection Act and hold

companies accountable in a big way."

In a May editorial on Quartz, media design professor

and data privacy activist David Carroll points out

another major issue with the US version of TikTok.

Before the February update, an older edition of its

privacy policy stated that data belonging to

international users could be shared with "any

member of affiliate of our group, in China."

The new version doesn't clarify whether this is still the

case; in response to Carroll's inquiry, Bytedance

representatives said that US user data is not stored in

China and cannot currently be accessed by the

Chinese government, but didn't confirm the same for

data collected before February 2019.

32
---
Douyin (China)

Douyin's privacy policy is similar to TikTok's US edition

in many respects. For instance, the app states that

with user consent, it may collect personal information,

contacts, video content, and information from

connected third-party social network accounts.

Regarding young users, however, the policy, which

hasn't been updated since October, has much less

clearly delineated regulations.

Some 8,900 Chinese characters into the text of the

terms, the platform states that users under 18 "should

read and agree to this privacy policy" under the

guidance of their parents or guardians.

The policy then states it will protect underage user

information in accordance with domestic law, and will

share and use their data only as permitted by

regulations, parents, or guardians, seemingly placing

all three on the same level. The platform continues by

saying that "if we find" that minors' data has been

collected without parental/guardian consent, they will

try to delete the information as soon as possible.

The rest of the policy also contains repeated mentions

of "relevant laws and regulations."

Similarly: "When you use the identity authentication

feature provided by 'Douyin' software and related

services, we will protect your sensitive personal

information in accordance with the relevant laws and

regulations and/or the requirements of the identity

authentication feature (for example: Sesame

authentication)."

Personal information will not be shared without

consent except in some cases. These exceptions

include national security, national defense, public

safety and health, the "greater public interest,"

criminal cases, and the broad category of "other

circumstances prescribed by laws and regulations."

Under the "canceling your account" section, the policy

states that "we will delete all of your account

information or anonymize relevant information,

except as otherwise stipulated by laws and

regulations."

In case it wasn't abundantly clear that user data is

subject to China law alone, the terms also stipulate:

"We will store personal information collected and

created in the course of domestic operations in the

People's Republic of China, and will not transfer the

above information abroad."

Douyin has a live-streaming component, and livestreamers

are required by Chinese law to

authenticate their identities. The app's privacy policy

states that Douyin may collect users' real names, ID

card numbers, and phone numbers. Later on, the

policy clarifies that users can have most of their data

deleted with the possible exception of real-name

information; users can, however, still email

feedback@douyin.com to request to have it modified.

33
---
products: comprehensive analyses, concise news

The chance to inspire, shape and nurture stories that

A seat at the table as our experienced, cross-cultural

Participation in a members-only Slack channel that

Member discounts to TechNode events: our annual

WANT TO STAY

UP-TO-DATE WITH ALL

TECH IN CHINA?

JOIN OUR TECHNODE SQUARED MEMBERSHIP PROGRAM NOW!

TechNode has the largest team of English-language reporters and editors on

the ground in China. Allow us to bridge the disconnect between myth and reality

and be your window on tech in China so you can make informed decisions. Join

us and a group of like-minded people who want to do more than scratch the

surface of this crucial global business story.

BENEFITS of TechNode Squared

membership:

Full access to our best-in-class quality journalism

reports, and data-driven content based on on-theground

reporting from our reporters around China

matter to our community and wider readership

editorial team and tech-savvy China-curious members

discuss China tech topics that matter

allows for meaningful debate across time zones,

summarized and shared via our weekly members-only

newsletter

Shenzhen; online events and webinars for members

Scan the QR code

above to learn more

Emerge event; regular meetups in Beijing, Shanghai, and

located outside of China

34
---
THANK

YOU!

H A V E A Q U E S T I O N A B O U T T H I S R E P O R T ?

Please contact Alberto Sperindio at alberto.sperindio@technode.com.

M A R K E T I N G A N D E V E N T S C O L L A B O R A T I O N

Please contact Suzanne Loo at suzanne.loo@technode.com.

Our social pages:

/technodechina

www.technode.com