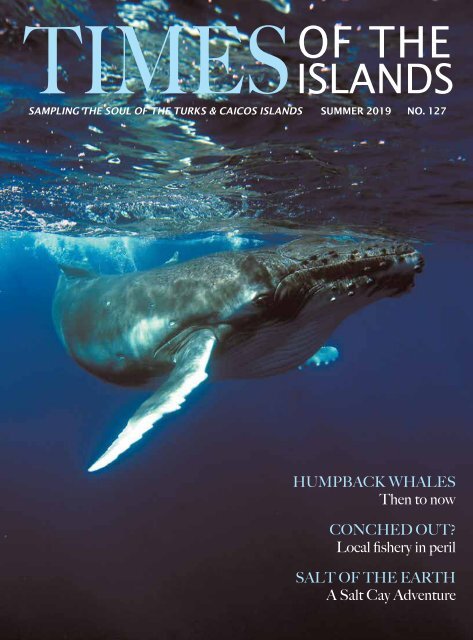 Times of the Islands Summer 2019
Presents the "soul of the Turks & Caicos Islands" with in-depth features about local people, culture, history, environment, businesses, resorts, restaurants and activities.
Presents the "soul of the Turks & Caicos Islands" with in-depth features about local people, culture, history, environment, businesses, resorts, restaurants and activities.
SHOW MORE
SHOW LESS
Create successful ePaper yourself
Turn your PDF publications into a flip-book with our unique Google optimized e-Paper software.
TIMES

SAMPLING THE SOUL OF THE TURKS & CAICOS ISLANDS SUMMER 2019 NO. 127

OF THE

ISLANDS

HUMPBACK WHALES

Then to now

CONCHED OUT?

Local fishery in peril

SALT OF THE EARTH

A Salt Cay Adventure
---
H O W D O YO U L I K E Y O U R L U X U R Y ?

EFFORTLESS? OR BRILLIANTLY UNCONVENTIONAL?

THE SHORE CLUB

THE SHORE CLUB

THE PALMS

THE PALMS

THE SHORE CLUB

The refined sophistication of The Palms on Grace Bay

Beach, consistently honored by travel publications

for its sense of elegance and easy atmosphere. The

savvy chic of the Shore Club, the stunning new gamechanger

on Long Bay Beach. Where whimsy rules and

magic awaits around every corner. Each with a style

and a vibe all its own. Both singular destinations, part

of the Hartling Group's stellar portfolio of luxury resorts

which also includes The Sands at Grace Bay. Your call.

THE COOL SIDE OF CLASSIC

649.946.8666

thepalmstc.com

WRITE YOUR STORY HERE

649.339.8000

theshoreclubtc.com
---
TURKS & CAICOS

Generation

Everyone

Everything's Included for Everyone!

2018

2018

More Quality

Inclusions than

any other Resorts

in the World

At Beaches ® Turks & Caicos, everyone can create their

own perfect vacation. For some, it's the white-sand

beaches and calm waters featuring unlimited land and

water sports. For others, it's the awesome 45,000 sq.

ft. waterpark with surf simulator. There's 5-Star Global

Gourmet TM dining at 21 incredible restaurants, and

non-stop bars and entertainment —and it's always

included. Even the tips, taxes, and Beaches transfers*.

We've even added trend-setting food trucks, new live

entertainment, and re-styled accommodations

… making the World's Best even better for

Generation Everyone.

BEACHES.COM in the U.S. & Canada: 1-800-BEACHES

In the Caribbean: 1-888-BEACHES; In Turks & Caicos 649-946-8000

@beachesresorts

WORLD'S BEST ALL-INCLUSIVE FAMILY RESORTS

21

YEARS IN A ROW AT THE WORLD TRAVEL AWARDS

TM/© 2019 Sesame Workshop

*Airport transfers included. Other transfers may be additional. Beaches ® is a registered trademark. Unique Vacations, Inc., is an affiliate of Unique Travel Corp., the worldwide representative of Beaches Resorts.
---
contents

Departments

6 From the Editor

13 Getting to Know

Chelsea Stubbs

By Kathy Borsuk

Photos By Daphne Roots

16 Eye on the Sky

Let it Rain!

By Paul Wilkerson

30 Creature Feature

A Master of Illusion: The Longlure Frogfish

By Brian Heagney ~ Photos By Sabine Frank,

Humpback Dive Shack, Grand Turk

54 Exploring the Islands

Finding the Salt of the Earth

Story & Photos By Mat Matlack

60 Faces & Places

Caribbean House Evolution 2019

72 About the Islands/TCI Map

77 Where to Stay

78 Classified Ads

80 Dining Out

82 Subscription Form

Features

22 Conched Out?

By Kathleen Wood

40 The Hunt for Whales

By Ben Stubenberg

48 Gentle Giants

Story & Photos By Kelly Currington

TIMES

OF THE

ISLANDS

SAMPLING THE SOUL OF THE TURKS & CAICOS ISLANDS SUMMER 2019 NO. 127

On the Cover

Brian Heagney of The Humpback Dive Shack on Grand

Turk took this photo of a humpback whale this Winter

season. His business specializes in eco-friendly, lowimpact

whale watching/swimming (January to April),

scuba diving, Stingray tours and snorkeling around the

warm waters of Grand Turk and Salt Cay. For more information,

visit humpbackdiveshack.com.

Green Pages

32 "Fingerprinting" Whales

By Cathy Bacon, Mithriel MacKay and

Katharine Hart ~ Photos By Katharine Hart,

Deep Blue Charters

36 All is Not Well

Tissue Loss Disease

Story & Photos By Erin Bowman and

Heidi Hertler

Astrolabe

62 Bold and Unapologetic

Story & Photos By Dr. Michael Pateman and

Vanessa Forbes-Pateman

66 To the Rescue

By Dr. Shaun Sullivan and Dr. Michael Pateman

Photos Courtesy Turks & Caicos National

Museum

EDITOR'S NOTE: OOPS! It was brought to my attention that this image,

appearing on page 36 of the Spring 2019 Times of the Islands was

drastically misidentified. It was not a "clump of tube sponges" but a

Pencil Urchin (Heterocentrotus sp.). Brian Heagney of the Humpback

Dive Shack in Grand Turk comments, "From the image it is clear that

the animal is still alive and it would be considered uncommon to find

them on the beach alive—rather in tide pools and shallow reefs close

to the beach. They can be washed ashore in storm conditions and

soon after death the 'pencils' break away from the body and can be

found while (beach)combing." Amy Avenant of the DECR concurs, adding,

"They do leave behind the loveliest of shells when they 'expire'

and their spines are often sought after for jewelry (not great)." The

error is entirely mine and I appreciate our eagle-eye readers.

MARTA MORTON—WWW.HARBOURCLUBVILLAS.COM

4 www.timespub.tc
---
TurksAndCaicosProperty.com

Windhaven - Long Bay Beachfront

Turks and Caicos investors looking for strong cash flow and a turn key property look no further than

Windhaven, Long Bay Beach villas. This 8 bedroom boutique resort real estate offering is situated on 2.23

acres of prime Long Bay beachfront land with an incredible 155 ft. of pristine white sandy beach frontage.

The entire property has been beautifully designed and impeccably maintained by the current owners.

US$7,200,000

Wymara - Grace Bay Beachfront

Wymara Turks & Caicos suite 1201/02/03 is a contemporary 2nd floor 3 bedroom beachfront condo

on the world famous Grace Bay Beach. This spacious 2,543 sq. ft. luxury suite is composed of a separate

beachfront one bedroom condo, beachfront studio condo, and an ocean view studio condo. An excellent

investment with strong financial returns. Contact Bernadette Hunt for more information on purchasing.

US$2,500,000

Bernadette Hunt

Cell ~ 649 231 4029 | Tel ~ 649 941 3361

Bernadette@TurksAndCaicosProperty.com

Bernadette has lived in the Turks and Caicos

Islands for over 21 years and witnessed the

development and transition of the islands

into a significant tourist destination. Based

on independent figures her gross transaction

numbers are unrivalled. Bernadette

has listings on Providenciales, Pine Cay,

Ambergris Cay, North and Middle Caicos

and is delighted to work with sellers and

buyers of homes, condos, commercial real

estate and vacant undeveloped sites.

Turks and Caicos Property is the leading

independent real estate firm in the Turks and

Caicos Islands with offices located at Ocean

Club West Resort and Ocean Club West

Plaza on the Grace Bay Road.

Bernadette's reputation and success has been

earned over time through her dedication,

enthusiasm and passion for real estate. Her

personal experience as having practiced law

in the islands for more than 10 years together

with owning and renovating a number of

properties means she is well-placed to advise

her customers and developers on what to

anticipate in the purchasing and construction

process.

Bernadette delights in working in the real

estate industry and her humor and energy

make her a pleasure to work with.

Grace Bay - Commercial Land

This offering consists of 2 large vacant commercial lots (parcel 96 & 97) with a total of 1.87 acres in the

heart of Grace Bay, the Turks and Caicos Islands' premier luxury destination. Situated just behind Grace Bay

Road and the Bella Luna Restaurant and about a minute away from the Ritz Carlton (under construction).

A truly excellent Turks and Caicos investment opportunity with endless possibilities to develop.

Please contact Bernadette if you would like

to find out more about owning real estate in

the Turks & Caicos Islands.

US$2,500,000
---
from the editor

KATHARINE HART–DEEP BLUE CHARTERS, GRAND TURK

Yes, this is a trio of whales "waving" their pectoral fins in the waters between Salt Cay and Cotton Cay this winter season. The photo was

taken as part of the TCI Humpback Whale Citizen Science Project. (See page 32.)

Good News, Bad News

Good news: This winter season (2018/19) was excellent for residents, visitors and scientists eager to observe

humpback whales migrating from the northern Atlantic to the Caribbean's warmer waters to give birth and mate. I'm

so pleased at the expansive coverage we are able to provide in this issue of this important seasonal ritual that has

deep roots in history.

Bad news: TCI's conch fishery could be in trouble if active steps are not taken now to protect the country's iconic

mollusk. Be sure to read Kathleen Wood's outline of the situation and suggested remedies.

Good news: On May 1, 2019, TCI's nationwide ban on single-use plastic bags took effect. As someone who was

trained by my mother to use cloth bags for decades (and who endured the strange looks of Provo store clerks for

many years), I am ecstatic! I admire local supermarket chain Graceway IGA for their "Staying Blue" campaign, designed

to encourage shoppers to earn tokens to donate to charities each time they bring or buy a reusable bag.

Bad news: As reported by Heidi Hertler and scientists at the School for Field Studies on South Caicos (page 36),

an unusual disease has been spotted on coral reefs there and on West Caicos. Fortunately, it has been caught early

and could be remedied with the help of research done in other places where it has struck.

Ah! How we must pray for our "groaning" planet! But how thankful I am that we have so many concerned people

doing their "work on the ground" to help save it.

Kathy Borsuk, Editor

timespub@tciway.tc • (649) 946-4788

6 www.timespub.tc
---
With a rich blend of homes, waterfront access and the exceptional service and

world-class resort amenities expertly provided by Grace Bay Resorts, South Bank

is a haven for those seeking to celebrate island life on the untouched south

side of Providenciales on Long Bay. Featuring oceanfront villas, lagoon villas

and boathouses complete with private docks, the six marina and oceanfront

neighborhoods of South Bank offer the ideal residence for you to simply be you.

Prices range from $750,000 to $8m

Register interest at livesouthbank.com

Developed by the

Windward Development Company

www.windward.tc

For more information contact

Nina Siegenthaler at 649.231.0707

Joe Zahm at 649.231.6188

or email: nina@tcsothebysrealty.com

Brand partners:
---
FIVE DISTINCT VILLAGES

TO CHOOSE FROM

1. Key West Village 2. Italian Village

2018

2018

THE WORLD'S BEST

IS NOW BETTERTHANEVER

BEACHES VOTED WORLD'S LEADING ALL-INCLUSIVE FAMILY RESORTS

21

YEARS IN A ROW AT THE WORLD TRAVEL AWARDS

Beaches, waterparks, pools—there's

something for everyone.

MORE QUALITY INCLUSIONS THAN ANY OTHER RESORTS IN THE WORLD
---
3. Caribbean Village 4. French Village 5. Seaside Village

WHERE EVERYTHING'S

INCLUDED FOR EVERYONE

At Beaches ® Turks & Caicos, everyone can create their own perfect day. For some, it's the

white-sand beaches and calm waters featuring land and water sports. For others, it's the

awesome 45,000 sq. ft. waterpark with surf simulator. There's 5-Star Global Gourmet TM

dining at 21 incredible restaurants, and non-stop bars and entertainment —and it's always

included—tips, taxes and Beaches transfers*, too. We've even added trend-setting food trucks,

new live entertainment, and re-styled accommodations … making the World's Best even better.

*Visit www.beaches.com/disclaimers/timesoftheislandsspring2019 or call 1-800-SANDALS for important terms and conditions.

Hang out with some real

characters at Beaches.

Discover a whole world of cuisine with

5-Star Global Gourmet dining.

TM/© 2019 Sesame Workshop

BEACHES.COM • In the U.S. and Canada: 1-800-BEACHES;

In the Caribbean: 1-888-BEACHES; In Turks & Caicos: 649-946-8000 or call your Travel Professional
---
THE WORLD'S BEST IS

BETTER

BEACHES VOTED WORLD'S BEST

21

YEARS IN A ROW AT THE WORLD TRAVEL AWARDS

Beaches ® Turks & Caicos has held the top spot at the World Travel

Awards for two decades by offering families more of everything

on the world's best beach. Every land and water sport, an

awe-inspiring waterpark with surf simulator, 5-Star Global

For more information, visit BEACHES.COM

In the U.S. and Canada: 1-800-BEACHES;

In the Caribbean: 1-888-BEACHES;

Gourmet TM dining at 21 incredible restaurants, and non-stop bars

and entertainment — always included. And now we've added

trend-setting food trucks, new live entertainment, and restyled

accommodations … making the World's Best even better.

In Turks & Caicos:649-946-8000

or call your Travel Professional

TIPS, TAXES AND BEACHES TRANSFERS* INCLUDED

MORE QUALITY INCLUSIONS THAN ANY OTHER RESORTS IN THE WORLD

TM/© 2019 Sesame Workshop
---
Five Distinct Villages

to Choose From

1. Key West Village 2. Italian Village 3. Caribbean Village 4. French Village 5. Seaside Village

THANEVER

Beaches Turks & Caicos

is on the world's

#1 BEST BEACH

by tripadvisor ®

*Visit www.beaches.com/disclaimers/timesoftheislandsspring2019btc or call 1-800-BEACHES for important terms and conditions.
---
TIMES

MANAGING EDITOR

Kathy Borsuk

ADVERTISING MANAGER

Claire Parrish

CONTRIBUTING WRITERS

Amy Avenant, Cathy Bacon, Kathy Borsuk, Erin Bowman,

Kelly Currington, Vanessa Forbes-Pateman, Katharine Hart,

Brian Heagney, Heidi Hertler, Mithriel MacKay, Mat Matlack,

Dr. Michael P. Pateman, Ben Stubenberg, Dr. Shaun Sullivan,

Lisa Talbot, Ziahon Taylor, Paul Wilkerson, Kathleen Wood.

CONTRIBUTING PHOTOGRAPHERS

Almay.com, Erin Bowman, Caribbean House Evolution,

Kelly Currington, Vanessa Forbes-Pateman, Sabine Frank–

Humpback Dive Shack, Katharine Hart–Deep Blue Charters,

Brian Heagney–Humpback Dive Shack, Heidi Hertler,

Istock.com, Mat Matlack, Marta Morton–Harbour Club Villas,

Dr. Michael P. Pateman, Daphne Roots, Ramona Settle,

Turks & Caicos National Museum, Paul Wilkerson.

CONTRIBUTING ARTISTS

Caribbean Climate Outlook Forum,

Wavey Line Publishing

PRINTING

PF Solutions, Miami, FL

OF THE

ISLANDS

Times of the Islands ISSN 1017-6853 is

published quarterly by Times Publications Ltd.

Copyright © 2019 by Times Publications Ltd. All rights reserved

under Universal and Pan American Copyright Conventions.

No part of this publication may be

reproduced without written permission.

Subscriptions $28/year; $32/year for

non-U.S. mailing addresses

Submissions We welcome submission of articles or photography, but

assume no responsibility for care and return of unsolicited material.

Return postage must accompany material if it is to be returned. In no

event shall any writer or photographer subject this magazine to any

claim for holding fees or damage charges on unsolicited material.

While every care has been taken in the compilation and reproduction of

information contained herein to ensure correctness, such information is

subject to change without notice. The publisher accepts no

responsibility for such alterations or for typographical or other errors.

Business Office

Times Publications Ltd., P.O. Box 234,

Lucille Lightbourne Building #1,

Providenciales, Turks & Caicos Islands, BWI

Tel/Fax 649 946 4788

Advertising 649 431 7527

E-mail timespub@tciway.tc

Web: www.timespub.tc

12 www.timespub.tc
---
getting to know

BWIC top student Chelsea Stubbs achieved academic accolades while overcoming

great difficulties at home.

She Will Reap

BWIC student Chelsea Stubbs.

By Kathy Borsuk ~ Photo By Daphne Roots

Let us not grow weary or become discouraged in doing good,

for at the proper time we will reap, if we do not give in.

Most of us are familiar with the Bible verse that tells us that we reap what we sow. It's always uplifting

when we witness a concrete example of this credo in action.

Times of the Islands Summer 2019 13
---
Chelsea Stubbs, the British West Indies Collegiate's

Head Girl, bears an incredible list of academic accomplishments.

She earned the "Top BWIC Student Award

from Year 7 to Year 11" and achieved the coveted place

of "Valedictorian of the Year 11 Class of 2017." Two

years after achieving ten A*s at IGCSE, she has just completed

her final year of the Advanced Level courses in

Mathematics, Biology and Chemistry and achieved all

As in her AS exams. But her greater success came when

she was lauded as "Top in the World for Cambridge

International AS Level Chemistry," achieving the highest

mark in the world in her three Chemistry papers. She did

similarly well in Biology (93%) and Mathematics (94%).

Other accolades include being recognized as the

country's Top Science and Humanities student and Overall

Best Performing Student (shared with Tyrese Saunders)

during the National Academic Awards in January 2019.

During her educational career at BWIC, she has also won

first place in the National Inter-High School Spelling Bee

and first place in the Fortis Science Quiz for three consecutive

years. At the same time, she was a formidable force

on the BWIC softball and volleyball teams, both national

champions.

What does this have to do with sowing? At the same

time as all of this was taking place in 2017, Chelsea's

father, Bennett Stubbs, suffered two massive strokes.

Single-handedly at their home, Chelsea nursed her father

through his illness and recovery, cared for her grandfather

Stanley Stubbs, and ran the household. She traveled

with her dad on hospital visits to the Dominican Republic

(she is fluent in Spanish and was well able to represent

him), as well as to the US for speech therapy.

I can't imagine how hard it must have been for a teenager

to contend with so many responsibilities. However,

Chelsea does not dwell on difficulties; instead, she turns

them into learning experiences. She would undertake

extra studies at school after spending the entire night at

the hospital, tending to her father. When he came home,

Chelsea used the Internet to learn about nursing and

stroke rehabilitation. Through it all, she never questioned

having to do the right thing.

Others have sowed into Chelsea's life, as well, and

are now delighted with her success. Besides her father's

life-long advice to put her best effort towards everything

she does, Chelsea credits her godparents, Mr. and Mrs.

Warren Forde, with setting her sights high. "They always

lifted me up and encouraged me to do well in school. I

wanted to make them proud and show that their support

was not wasted."

Chelsea Stubbs excels in science and will be attending Imperial

College in London this September to study medicine.

After her primary education at B.E.S.T. Institute,

Chelsea was offered a full seven-year scholarship by

Graceway IGA to attend BWIC. Her dream had come true

and she joined the Collegiate in Year 7 (Form 1). BWIC

Principal Sylvie Wigglesworth states, "Her academic brilliance

and high degree of self-discipline were impressive

from day one. She never took anything for granted and

continued on her quest for excellence." Besides being

Chelsea's principal, Mrs. Wigglesworth has been her

mentor for years. Chelsea says, "Madame has been a very

special part of my life and I will never forget how she went

out of her way to help me countless times. I did not know

there could be so much love in the heart of one person."

Chelsea adds that she also received a lot of support

from her Biology and Physics teachers at the Collegiate.

"They made a significant contribution to my success.

They always believed in my abilities and were instrumental

in seeding a deep love for the subjects. They were

constantly taking me beyond the confines of the syllabus,

making science fun and rewarding by placing it into the

context of the wider world."

14 www.timespub.tc
---
BWIC ad May 2019 Times 2_Layout 1 5/22/19 1:17 PM Page 1

During her A levels, although Chelsea did her best to

make good use of her time at school, she inevitably had

to miss some lessons due to being at the hospital with

her dad, preparing for medical school entrance exams,

and flying to England for university interviews. She says,

"I am very grateful to the school and my teachers, espcially

Miss Jones, who have supported me in and outside

school, for understanding my situation and trusting that

I would make up for lost time. I would also like to thank

a benevolent member of the community and his wife for

taking me into their home while my dad was away so

I could have a quiet space to prepare for the Year 12

exams."

What does the future hold for this ever-smiling,

upbeat 19 year-old? Chelsea hopes to use her life experience

to learn to heal others. With a full scholarship from

the TCI Government (as Top National Scholar), she plans

to study medicine and has completed difficult interviews

at Sheffield and Manchester Medical Schools in the UK, as

well as Imperial College in London, one of the most prestigious

schools of medicine in the world. All three have

offered her a place, with Chelsea preferring Imperial, and

anticipating a September start.

Her scholarship bond requires that she return to

TCI to practice medicine for five years and this humble

student has clear ideas on how she wants to "doctor."

She says, "I want to be a general practitioner, talking to

patients, learning about their needs, and then being the

one to send them to the necessary specialist. My goal is

to diagnose disease, especially mental illness, early-on

and treat my patients as whole persons–mind, body and

soul."

Chelsea has engaged in meaningful work experience,

volunteering at the Provo Children's Home and

local Emergency Medical Service. She also shadows Dr.

Bourne and Dr. Menzies at Associated Medical Practices

in Providenciales.

It is clear that Chelsea Stubbs is not a person out for

accolades. She is calm, happy, and very well-rounded. She

plays the flute in the BWIC band, bakes cakes, cupcakes

and brownies and loves to read 20th century history.

She wants to nurture the seeds of opportunity that have

sprouted in her young life. As Chelsea says, "Good things

follow you when you are determined to work hard to

accomplish them." a

By the way, Chelsea reports that her father has made an

excellent recovery and is back to a happy life as normal.

THE GOLD STANDARD OF PRIVATE

SECONDARY EDUCATION IN TCI

Established in 1993 in the heart of Providenciales, the

British West Indies Collegiate provides high quality

education from age 11 through to 18 (Years 7 to 13), based

on the British National Curriculum. The school is an

accredited Cambridge Assessment International Education

Centre for IGCSE and GCE Advanced Level qualifications

as well as a SAT centre. The student population comprises

approximately 160 students, typically made up of 60%

Turks & Caicos Islanders and 40% international students.

Facilities at the Collegiate include four science

laboratories, a 25-unit computer room, an extensive

library, a Sixth Form common room, and Brayton Hall -

our fully-equipped performance centre. We welcome

applications from all age groups. However, placement is

strictly based on performance in the school's entrance

examinations.

A high proportion of the Collegiate's IGCSE and A-Level

graduates consistently achieve distinction with the highest

grades in a range of academic subjects. History has

repeatedly shown that our A-Level graduates prove not

only to be suitably equipped to compete for places in the

world's top universities, but also thrive once they reach

there. Two of our Year 12 students have been the recipients

of the Cambridge Outstanding Learner Awards, "Top in

the world" in Mathematics (June 2015) and "Top in the

world" in Chemistry (June 2018) at Advanced Subsidiary

Level.

Please contact the Principal,

Mrs Wigglesworth. Email: principal@bwic.tc

or call +1 649 941 3333.

We will be happy to give you a private tour of

the school. Website: www.bwic.tc.

______________________

SUPPORT NON-PROFIT

EDUCATION IN TCI

BWIC is a non-profit institution and is always in need of

funds to provide scholarships. We have a small number of

sponsors and donors, but would greatly welcome

additional support. Every scholarship will provide a young

Turks & Caicos Islander access to an outstanding

education. The Collegiate was originally endowed by a

US-registered 501(c)(3) foundation, and donations made

to that foundation for onward transmission to BWIC are

tax-deductible for US citizens. If you are thinking of

contributing to the growth and development of the Turks

& Caicos Islands and its population, a donation to BWIC

is one of the best ways you can help.

Times of the Islands Summer 2019 15
---
MARTA MORTON – WWW.HARBOURCLUBVILLAS.COM
---
eye on the sky

Opposite page: May through July is the first small peak of rainfall in the TCI, followed by the primary rainy season from October to December.

Above: This mid-afternoon rain shower fell on Pumpkin Bluff Pond on North Caicos.

PAUL WILKERSON

Let it Rain!

The annual roller coaster.

By Paul Wilkerson

As a tourist to the Turks & Caicos Islands, I can count on one hand the number of times it has rained

during our stays! Many visitors don't realize what a commodity rainfall is, and how desperately it is

needed here. When it comes to water availability, it is vitally important for the Islands to get frequent rainfall.

Many residents are dependent on "sky juice" captured via roofs and gutters and stored in a cistern

or "tank." When that runs dry, they must purchase "city" water from the desalination plant on island, as

well as bottled water for their everyday use. Besides home use, fresh water is needed for gardens, farms

and animals. In fact, water is one of life's necessities that we take all too much for granted outside of the

Caribbean and other locations where it is often scarce.

Times of the Islands Summer 2019 17
---
MARTA MORTON—WWW.HARBOURCLUBVILLAS.COM

Above: The TCI's primary rain clouds tend to develop over East and Middle Caicos, then move towards Providenciales.

Below: These maps forecasting precipitation for the Caribbean over the next several months are a product of the Caribbean Regional Climate

Center. Its goal is to support the region's socio-economic development by generating suites of climate products and services to inform riskbased

decision-making in climate sensitive sectors. For more information, visit https://rcc.cimh.edu.bb

Thankfully, Mother Nature can help bridge the gap

and bring much needed fresh water to the Islands that

can be captured and utilized in many different ways by

those who live here. Many homes across all of the Islands

utilize cisterns, some of which can be quite large, capable

of holding thousands of gallons of water. Whenever

beneficial rains fall, even if for only a few minutes, these

homes can capture this fresh water through funneling

systems that direct it into home "tanks." Owners can then

utilize that water daily to take care of themselves and

their households. This reduces not only the requirement

for desalinated water, but it also helps keep water costs

lower for owners when rainfall is abundant. And in the

Turks & Caicos Islands, rainfall is a very welcome product!

18 www.timespub.tc
---
Many may be surprised to learn that some parts of

the Turks & Caicos can annually average as much as 40

inches of rain or slightly higher, while other parts average

less than 25 inches. The winners in the rainfall department

are North and Middle Caicos, along with Providenciales.

Those receiving the least amount of rainfall are Grand

Turk, Salt Cay, South Caicos and the smaller cays to the

east of their larger neighbors mentioned before.

There are several reasons why this is likely to occur.

In the 2018/19 Winter issue of Times of the Islands, we

talked about cloud formations and where we normally see

that occur. Thanks to the larger land mass and gradual

upsloping of East and Middle Caicos, we normally see

our primary rain clouds develop in these general areas.

With the ever-present tradewinds coming from the east

and southeast the majority of the time, these clouds will

produce rainfall across North and Middle Caicos and

continue on to produce rainfall over Providenciales and

nearby cays. Visitors to the Islands will note vegetation

appear more lush across North and Middle Caicos and

this is due primarily to the higher amounts of rainfall

these islands experience. Unfortunately for Grand Turk,

Salt Cay and South Caicos, the terrain is rather flat and

therefore don't get the necessary lift in the atmosphere

necessary to produce rainfall. This results in very low

rainfall amounts during the year and very arid conditions

normally.

There are periods of the year when the Turks &

Caicos have what could be called a "rainy season." More

correctly said, it is the time when the Islands experience

their greatest amount of rainfall. TCI usually sees its first

small peak between May and July. This can largely be contributed

to tropical waves and disturbances that move

through the Atlantic Ocean and Caribbean Sea during the

beginning into middle portions of the hurricane season.

In years when the hurricane season is not very active, the

TCI in general will see below-normal rainfall.

The primary rainy season is typically from October

through December, when the Islands can get as much

as 40% of their entire seasonal rainfall. In this instance

however, there are two factors at play that contribute to

this flux in the season. The first factor is the fact that we

are still in hurricane season. Tropical waves will continue

to impact the Turks & Caicos generally until late October

or early November. Most important is the second factor,

and that would be the change to northern hemisphere

fall and winter. As we transition into these seasons, the

jet stream—which is responsible for moving low pressure

systems across the United States—begins to sink south

Simply Septics Blue Loos

SEPTIC

TANK

Installation, cleaning and maintenance.

Call us about long or short term

portable toilet rentals.

649.231.7448

649.231.2366

Times of the Islands Summer 2019 19
---
M Page 1

into the lower portions of the US and at times well down

into the Gulf of Mexico. This allows trailing cold fronts to

routinely swing through the Islands during this time. This

also greatly increases the chances of rainfall. Naturally

once we exit hurricane season and are dependent solely

on systems from the US, the average rainfall falls off once

again for January through April with much drier conditions

as a result.

As tourists, naturally our instinct tells us we don't

want to see rainfall while we are visiting. I propose we

change our thinking. Based on what you have read here,

my hope is that on your next adventure to the Islands, if

you experience rain, take a moment to celebrate with the

Belongers. While that rainfall may cause a small inconvenience

in your day, it is providing life sustainment for

those who call the Turks & Caicos Islands home! a

Paul Wilkerson is an American meteorologist and tourist

who frequents the Turks & Caicos Islands. Along with

his wife and two daughters, the Wilkersons stay actively

engaged with Islanders throughout the year with his

Facebook page Turks and Caicos Islands Weather Info.

DISTRIBUTOR DISTRIBUTOR FOR FOR EVINRUDE && MERCURY MERCURY

OUTBOARDS, PURSUIT WORLD CLASS CAT, CAT,

SUNDANCE AND BOSTON WHALER BOATS

Lures and Live Bait

Marine Hardware & Gear

Fishing Gear & Supplies

Marine Paints & Varnish

Marine Batteries

Sebago Docksiders

& Sperry Topsiders Shoes

BLUE

BLUE

HILLS

HILLS

ROAD

ROAD

PROVIDENCIALES

PROVIDENCIALES

TURKS

TURKS

& CAICOS

CAICOS

ISLANDS,

ISLANDS,

B.W.I.

B.W.I.

PHONE: 649-946-4411

FAX: 649-946-4945

Bringing weather education to schools

The Turks and Caicos Weather Facebook page is

proud to announce that we are working to bring

weather technology to the schools of the Turks &

Caicos Islands. During the last two months, the

weather page launched an initiative to provide

weather stations to schools, with the goal of placing

a weather station into each school on each island.

While this will take some time, I am pleased to

report that as of this writing, four weather stations

have been delivered to the Islands and are being distributed

to a high school on Providenciales, a high

school on North Caicos, the primary school on South

Caicos and the primary school on Grand Turk.

With Hurricane Irma still on everyone's mind,

now is a great time to work with local children to

get them interested in weather and how it impacts

their lives. Through this outreach, students can learn

to track weather conditions using these stations and

can work to build local climatology that may become

useful in the years to come for seasonal impacts.

We would like to thank Tito and Atekah Seymour

for being the hands and feet on the Islands. They

have worked tirelessly to ensure shipment and safe

arrival of the weather stations and coordinated with

the schools to have them delivered or picked up.

We would also like to thank all of our donors on the

weather page! Without their donations, this venture

would not be possible.

If you would like to help us bring weather stations

to the Turks & Caicos Islands, please contact

Paul or Brande Wilkerson at pwilkerson74@yahoo.

com to discuss how you can be a part of impacting

the lives of TCI children. a

Tito Seymour presents a weather station to Vice Principal Beverly

Malcom at the Ira Stubbs Primary School on South Caicos.

20 www.timespub.tc
---
The Leading Private Bank in the Turks and Caicos Islands

Where values are growing

Wealth Management • Bonds/Fixed Income

Investment Strategies • Foreign Exchange

Stocks/Equities • Precious Metals

Fixed deposits/CD's • International Transfers

Turks & Caicos Banking Company Ltd.

The Regent Village, Unit H102, Grace Bay Road, Providenciales

Tel: +649 941 4994

Email: services@tcbc.tc • www.tcbc.tc

Regulated by the Financial Services Commission, Turks & Caicos Islands
---
MARTA MORTON – WWW.HARBOURCLUBVILLAS.COM
---
feature

Opposite page and above: Conch is particularly vulnerable to overexploitation, due to its slow mobility, habitat in shallow, accessible water

and relatively slow growth and reproductive cycles.

MARTA MORTON – WWW.HARBOURCLUBVILLAS.COM

It just wouldn't be the Turks & Caicos without conch. Who hasn't visited without sampling a conch salad,

typically made with meat fresh from the shell, or a bowl of conch chowder, each concoction a reflection

of the cook's creativity? Whether cracked conch, steamed conch, conch 'n' rice, or conch fritters, the

ubiquitous ingredient is a Turks & Caicos tradition, as are photos and artwork of and crafts made from

its pearly pink shell.

Conched Out?

The clock is running out on TCI's conch fishery.

By Kathleen Wood

But all is not rosy when it comes to this beloved mollusk. The collapse of conch fisheries throughout

the region serves as a precautionary tale for TCI's compromised conch.

Times of the Islands Summer 2019 23
---
Earlier in 2019, research spanning decades in the

Bahamas concluded that without significant intervention

and changes to fishing policy, the Bahamian queen conch

Lobatus gigas fishery will collapse within 10–15 years

(Allan W Stoner, Davis, & Kough, 2019). Conch populations

in legal fishing grounds in the Bahamas have declined by

as much as 90%. Even more alarming are declines in protected

areas, where conch are aging and dying out, as

younger recruits are not moving in to replace them.

The Bahamas are just the latest in a series of conch

industry collapses that have been occurring across the

species' range for the past few decades. In Florida, the

conch fishery collapsed more than 40 years ago and has

still not recovered. In 1992, conch was listed under the

Convention on Trade in Endangered Species (CITES) due

to concerns regarding stock depletion from overfishing

and inadequate management. Nevertheless, stocks continued

to decline and by 2004, trade was suspended in

the Dominican Republic, Haiti, Honduras, Antigua and

Barbuda, Barbados, Dominica and Trinidad and Tobago,

based on evidence of declining stock and/or lack of effective

management in those countries.

Conch is particularly vulnerable to overexploitation,

due to its slow mobility, habitat in shallow, accessible

water and relatively slow growth and reproductive cycles.

Under CITES, a country such as the Turks & Caicos Islands

can only export conch if they can demonstrate that such

export is not detrimental to the survival of the species

(Theile, 2005; Truelove et al., 2017). TCI can no longer

honestly make a no-detriment statement to CITES.

The Bahamas findings should set off alarm bells in the

Turks & Caicos, where similar patterns of declining conch

stocks over the past 10 years indicate that TCI's conch

fishery is also in peril. Since 2008, TCI's conch catch has

been reduced by more than 50%. Once-abundant, shallow

water stocks have been all but fished out and fisherfolk

are now forced to move into deeper water, further offshore,

in order to find enough conch to meet a burgeoning

demand. Unlike the Bahamas, TCI does not have meticulously

recorded data over the same time frame from which

to draw conclusive evidence. Unfortunately, this lack of

data has been used as an excuse to maintain the status

quo; however, business as usual, at this time when resolute

action is needed, will likely result in the collapse and

loss of TCI's iconic fishery in a relatively short period of

time. The region is full of examples that serve as harbingers

of this fate.

In 2006, a sweeping assessment of the world's

fisheries stocks revealed a disturbing trend: 63% of the

world's fisheries were being over-fished (Worm et al.,

2009). Six years later, the trend was worsening. Assessed

were 4,713 fisheries worldwide, representing 78% of the

world's fish catch. Of these, only 32% were found to be

in good biological condition (Costello et al., 2016). Both

studies specifically concluded that the "business as usual"

approach to fisheries management was largely culpable

for global fisheries collapse and that without significant

alterations to the status quo, the trend of collapse will

undoubtedly continue.

Numbers don't lie

As with many of the world's collapsing fisheries, the TCI's

management of the conch fishery relies on a quota system,

based on the determination of maximum sustained

yield (MSY). In other words, each year a number is determined

that, in theory, allows for the maximum amount of

conch that can be taken and naturally replaced through

breeding. The use of MSY has been the standard for most

of the world's fisheries for decades; however, a comprehensive

study of fisheries in ten large marine ecosystems

determined that at fishing rates equal to 90% of MSY, at

least 50% of targeted fish stocks were collapsing (Worm et

al., 2009). TCI has been fishing conch at rates above 90%

MSY for at least 15 years.

Even in an ideal world, where MSY is accurately determined

with data from visual surveying of conch stocks

in the field, fishermen cannot necessarily safely remove

close to the MSY figure and be assured that similar numbers

will be harvestable into the future. TCI does not have

accurate visual survey data, although a partial survey was

conducted in 2012–2014, which suggested that TCI's MSY

for conch hovers around 600,000 pounds. Nevertheless,

TCI established a quota of 820,000 pounds of landed,

unprocessed meat, including 500,000 pounds for export

and 320,000 pounds for local consumption.

A recent study looking at fisheries landings in

TCI found that actual conch catch is at least two times

higher than what is being reported (Ulman, Burke, Hind,

Ramdeen, & Zeller, 2016), and that local consumption

alone probably equates to the entire quota. This stark

reality indicates that conch in TCI has been over-fished

for several years. Although many people in TCI blame the

decline of conch stocks on hurricanes, the data demonstrate

that over-fishing is the more likely culprit.

The problems with policy

TCI currently regulates the conch fishery under the

Fisheries Protection Ordinance (FPO) and National Parks

24 www.timespub.tc
---
Ordinance (NPO) in several ways:

• A quota system limits the amount of allowable catch.

• A closed season for export reduces demand from

July 15–November 15.

• Restrictions on size (total shell length of 7 inches,

uncleaned meat weight of 8 ounces and filet weight

of 4 ounces) reduces the taking of juveniles.

• Designation of closed areas protects critical juvenile

habitats and areas for spawning and reproduction.

• A prohibition against using scuba and other

artificial breathing gear limits the amount of conch

that can be harvested at depth.

While TCI's laws and policies to regulate conch were

considered standard when they were developed many

years ago, as with most dated fisheries policies they have

not been sufficient to prevent stocks from declining.

The quota system is inherently flawed because it

doesn't take into consideration the myriad environmental

factors that affect species populations. Healthy habitats,

relationships with other species, and protection during

vulnerable breeding and juvenile life stages are essential

in determining whether a species thrives or fails. Even

when fisheries are well-regulated, with up-to-date stock

assessments to determine MSY, many are collapsing.

Quota systems are now considered outdated and ineffective

on their own, and contemporary fisheries scientists

now propose an ecosystem approach to fisheries and

other conservation management. This takes into consideration

not only the amount of a species to be harvested,

but also the protection of habitat and integration of each

Cays Winter Times 2018_Layout 1 11/14/18 10:30 AM Page 1

species' unique life history.

The current quota for TCI is arbitrary and is not based

CAYS CONSTRUCTION CO LTD

A COMPLETE SERVICE.

Once you have purchased your land

...we take you all the way.

...TO THE KEYS TO YOUR NEW HOME.

We take care of the design,

the building approvals,

the construction management,

and the construction works.

Allow us to design and build your new home.

caysconstruction.com

caysconstruction@aol.com

Times of the Islands Summer 2019 25
---
Times Kevin_Times Kevin 9/18/18 10:51 AM Page 1

TWATIMES_Layout 1 2/16/17 7:49 AM Page 1

Serving international & domestic clients in real estate, property development,

mortgages, corporate & commercial matters, immigration, & more.

TEL 649.946.4261 TMW@TMWLAW.TC WWW.TWAMARCELINWOLF.COM

on any actual data. Data that has been collected suggests

that conch consumed locally are already at or above MSY.

How many conch are there in TCI? Where are they breeding?

What ages are they? Where are the important juvenile

habitats located? We cannot possibly determine how conch

can be sustainably harvested without this information.

Closed seasons can be a highly effective means of

protecting fisheries stocks and are an important component

of an ecosystem approach to management. Typically,

a season closes during the targeted species' breeding season.

For TCI's lobster Panulirus argus fishery, the closed

season falls roughly between April and September, which

corresponds nicely with the time of year when most lobsters

are spawning. The conch closed season from mid-July

to mid-November unfortunately does not correspond well

with the conch's breeding patterns, which typically also

occur during the months from April to September. Conch

are currently being fully harvested during peak breeding

season, which can only have extremely detrimental effects

on the species' capacity to replenish itself. Furthermore,

TCI's closed season is only closed to export. We now know

that the bulk of TCI's conch catch goes to local consumption;

therefore, a season closed to export alone does little

to serve sustainable conch management interests.

Size restrictions are often used in fisheries management

to allow species to reach breeding age before

they are harvested. The hypothesis is that minimum size

restrictions will allow many individuals to make it to reproductive

age and thereby replace those harvested. In the

case of conch, it has been known for many years that most

size measurements cannot be correlated to reproductive

maturity (A. Stoner, Mueller, Brown-Peterson, Davis, &

Booker, 2012; A. W. Stoner & Ray, 1993). Sexually maturity

can be reached when conch are as small or smaller

than the seven inches stipulated under TCI law or when

they significantly larger. A better estimate of sexual

maturity is obtained by measuring shell lip thickness, and

research has shown that a conch shell lip with a thickness

of 15 mm correlates to a 50% probability that the conch

will be sexually mature, with males maturing earlier than

females (Allan W Stoner et al., 2019). TCI's size regulations

for queen conch are therefore biologically dubious,

and a majority are probably being fished out before they

are sexually mature.

Protected areas that are closed to fishing and other

harmful activities are critical components of a sensible

ecosystem approach to fisheries management. In order

to safeguard a species during vulnerable life phases, habitat

for juveniles and spawning should be protected. In

26 www.timespub.tc
---
TCI, only one protected area—the East Harbour Lobster

and Conch Reserve, located off South Caicos—has been

specifically designated for the conservation of conch.

Unfortunately, the designation of this area allows for the

harvest of up to 10 conch by an individual for personal

consumption (Fisheries Protection Ordinance Regulation

13). This loophole has led to the complete depopulation

of conch within the reserve, rendering it practically useless.

Another important site for conch is located between

Little Water Cay and Mangrove Cay. This area is an important

juvenile habitat for queen conch and densities of up

to 1.1/m 2 (the highest recorded in TCI) were previously

recorded (Pardee, 2008). The dredging of the Leeward

Channel and dumping of spoil (Star Island) in the middle

of the area has significantly degraded the habitat, and a

subsequent recent study recorded densities reduced by a

factor of four at this site. The area is also frequented by

tour operators and has been further depopulated from

illegal souvenir collection by unaware visitors.

Other important sites for queen conch include spawning

aggregation areas off Molasses Reef, the Fish Cays and

West Sand Spit, and juvenile habitats within tidal creeks

on East Caicos. These habitats all remain unprotected and

fishing pressure continues, all but ensuring the species'

eventual demise in TCI.

On a positive note, a progressive law under the FPO

[Regulation 9(1c)] prohibits the use of scuba or other

artificial breathing devices while fishing in TCI. Such prohibition

limits the depth at which fishers can catch conch,

since they are harvested via free diving. It has long been

assumed that TCI's unreachable "deep water stocks"

allowed for the replenishment of shallower fishing areas

on the Caicos Banks, and there is likely some veracity to

this belief. Unfortunately, with shallow water stocks now

depleted, fisherfolk are venturing into deeper and deeper

water in search of conch to supply the country's hefty

demand. Exacerbating the situation is illegal fishing by

poachers from nearby Hispaniola. Dominican poachers

notoriously use underwater artificial breathing hookah

apparatuses, specifically to target the deep-water stocks.

These stocks are the last vestiges of the fishery in TCI,

and once they have been fished out, no recovery will be

possible.

What can be done?

When this article is published, the conch fishery will be

closed to export for the closed season. Prior to the opening

of the fishery, several steps should urgently be taken:

Hugh final_Layout 1 5/29/17 1:15 PM Page 1

P

E

R

S

HUGH G. O'NEILL

&

ATTORNEYSN

AT

L AW

P.O. Box 267

Hibernian House

1136 Leeward Highway

Providenciales

Turks and Caicos Islands

B.W.I.

Tel 649-946-4514

Fax 649-946-4955

Email hugh.oneill@hgoneillco.tc

C

CO. O

N

F

I

D

E

N

T

I

A

L

Times of the Islands Summer 2019 27
---
The longest established legal practice

in the Turks & Caicos Islands

Real Estate Investments

& Property Development

Immigration, Residency

& Business Licensing

Company & Commercial Law

Trusts & Estate Planning

Banking & Insurance

1 Caribbean Place, P.O. Box 97

Leeward Highway, Providenciales

Turks & Caicos Islands, BWI

Ph: 649 946 4344 • Fax: 649 946 4564

E-Mail: dempsey@tciway.tc

Cockburn House, P.O. Box 70

Market Street, Grand Turk

Turks & Caicos Islands, BWI

Ph: 649 946 2245 • Fax: 649 946 2758

E-Mail: ffdlawco@tciway.tc

john redmond associates ltd.

architects & designers

construction consultants

project management

p.o.box 21, providenciales, turks & caicos is.

tel.: 9464440 cell: 2314569 email: redmond@tciway.tc

1. A comprehensive visual survey should be conducted

immediately in order to establish an up-to-date population

baseline and stock characteristics.

2. Export should be discontinued until such a time that it

can be determined via factual evidence that such export is

not detrimental to the species, as per CITES requirements.

3. The closed season should be moved to April 1– August

31 in order to be more in sync with conch's spawning

activities. The closed season should also be closed to local

exploitation, so that no conch can be harvested during the

closed season at all.

4. New size regulations, which use shell lip thickness

(minimum 15mm), rather than overall shell length, should

be implemented. The regulations should also require that

conch are landed in their shell for enforcement purposes.

5. Spawning aggregation sites and juvenile habitats

should be comprehensively identified and protected from

exploitation and degradation.

6. Enforcement willingness and capacity to stop illegal

poaching and other infractions of regulations must be

improved. DECR needs the staff, vessels and willingness

to accomplish its mandate.

7. Government should develop economic support incentives

for fisherfolk who will be disadvantaged by new

policies. This could include alternative employment in

infrastructure projects, payment for assistance with visual

surveys and other needed scientific research and training

for the development of alternative livelihoods.

Queen conch has been a cornerstone of TCI's economy

and culture since Lucayan people arrived on these

shores more than 1,000 years ago. In the 19th and early

20th centuries, dried conch was a principal trade good,

transported in traditional sailing sloops and sold in nearby

Hispaniola. After the advent of flash freezing and cold

storage, the industry blossomed into one of the country's

leading exports, contributing millions of dollars annually

to TCI's economy.

TCI's "business as usual" model for managing conch

will result in the collapse of the fishery in a relatively short

space of time. Collapsed conch fisheries across the region

demonstrate that once conch is fished out, it does not

return. TCI's government and fisheries managers can

no longer plead ignorance. We know a crisis is at hand

and only immediate and decisive action will protect what

is left of TCI's legendary fishery. We can but hope that

this administration will be the one that saves TCI's conch

rather than letting it become a sad and preventable footnote

in history. The clock is ticking. a

28 www.timespub.tc
---
RAMONA SETTLE

Immediate and decisive action is required to preserve TCI's iconic conch fishery for future generations.

Times of the Islands Summer 2019 29
---
creature feature

Is it a sponge . . . or a Frogfish? The tiny eyes and mouth give it away.

A hidden gem on the reefs of the Turks & Caicos

Islands, the Longlure Frogfish (Antennarius multiocellatus)

is a demersal (living close to the sea floor),

piscivorous (fish-eating) species that employs crypsis

(ability to avoid being seen) to avoid predation and stalk

its prey at the same time. It has a prickly, usually brightly

colored skin (even yellow, red, pink or blue) and is often

adorned with fleshy or filamentous spinules.

A Master of Illusion

Learning about the fascinating Frogfish.

By Brian Heagney, B.Sc Marine Biology ~ Photos By Sabine Frank

The Frogfish very effectively mimics a harmless invertebrate

sponge on the reef. Rather than regularly visiting

a cleaning station to be groomed as most other reef

fishes do, the Frogfish actually encourages algal growth

on its body to further complement its camouflage. This

amazing fish can also change its color to match the surroundings,

a biological skill called mimesis.

All in all, this multi-faceted approach to camouflage

makes the Frogfish a real master of illusion (and

incredibly difficult to spot). The skin and its stomach are

also extremely distensible, allowing this greedy critter

to engulf prey twice its size. Even more remarkably, it

catches its prey using a "fishing rod."

The first spine of its dorsal fin is highly modified into

a long fishing rod (illicium) that is tipped with a delicate,

feathery lure (esca). This little lure is wriggled enticingly

above the mouth as a bait to attract other fishes that

are then swallowed whole, in a nearly imperceptible

split-second motion, as the Frogfish projects its jaw up

and forward, creating a vacuum to suck its victim inside.

30 www.timespub.tc
---
The Frogfish's pectoral

fins are also modified to have

an elbow joint, allowing it to

strangely plod around the reef

on webbed feet rather than

swimming. Like a lion, the

Frogfish likes to stay close to

its prey and will normally stay

in the same area for several

weeks at a time when the fishing

is good, so once spotted

you can return to try and search

for it again.

If a prey fish should not be

attracted to its lure, the Frogfish

will actually stalk it instead and

it can suck its victims down the

hatch from one body length

away. To top it off, Frogfish are

jet propelled—water sucked in

through the mouth is expelled

through small, circular gill

openings behind the "legs" and

this propulsion is used to hop

The Frogfish actually encourages algal growth on its body to further complement its camouflage.

around the reef in the fashion

of its namesake.

This unique and interesting little fish is a magnificently

rare highlight on any dive and if you can find one

it is extremely rewarding. The last one spotted in Grand

Turk was at 30 feet deep on the Chief Minister's (South)

dive site. There are a number of species of Frogfish that

could be encountered in the Turks & Caicos, including the

Longlure, Splitlure, Dwarf, Ocellated and Sargassumfish.

The most fantastic member of the family globally (for me)

is a toss-up between the Giant and the Hairy.

Have a closer look at the sponges on your next dive

because one of the many amazing wonders of the underwater

world might just be staring right back at you. a

A native of Ireland, Brian moved to the Turks & Caicos

with his wife Sabine in 2016 where they opened the

Humpback Dive Shack on Grand Turk. Brian received his

degree in Marine Biology from the Queens University of

Belfast in 2001 and has been traveling the globe as a

PADI Master Scuba Diver Trainer and underwater photographer

since 2003. He holds an additional qualification

in Tropical Habitat Conservation, is a certified whale and

dolphin guide, a qualified boat captain and a self-taught

outboard engine mechanic.

Times of the Islands Summer 2019 31
---
green pages

newsletter of the department of environment & coastal resources

head office: church folly, grand turk, tel 649 946 2801 • fax 649 946 1895

• astwood street, south caicos, tel 649 946 3306 • fax 946 3710

• national environmental centre, lower bight road, providenciales

parks division, tel 649 941 5122 • fax 649 946 4793

fisheries division, tel 649 946 4017 • fax 649 946 4793

email environment@gov.tc or dema.tci@gmail.com • web https://www.gov.tc/decr/

This humpback whale calf is breaching in the waters of the Turks Bank.

"Fingerprinting" Whales

Using whale sightings by citizen scientists in the Turks & Caicos Islands.

There are few places in the world like the Turks & Caicos Islands where humans can enter the water and

photograph some of the most spectacular, charismatic, and important animals on the planet. The Marine

and Coastal Ecology Research Center (MCERC) is working closely with TCI residents, visitors, and whale

watch operators and their guests who are enthusiastically contributing important data through citizen

science initiatives.

By Cathy E. Bacon M.Sc., Mithriel M. MacKay Ph.D., and Katharine Hart M.Sc.

Photos By Katharine Hart, Deep Blue Charters, Grand Turk

32 www.timespub.tc
---
green pages newsletter of the department of environment & coastal resources

Photographs of humpback whales Megaptera novaeangliae

(and dolphins!) can provide a great deal of

information. There are two primary catalogs for humpback

whale images: HappyWhale (happywhale.com) and

the North Atlantic Humpback Whale Catalogue (www.coa.

edu/allied-whale/research/). Scientists from all over the

globe contribute images to these catalogs in addition to

keeping their own smaller catalogs specific to their areas.

Because the images are curated by dedicated and skilled

scientists, the unique pigment patterns on the underside

of whales' tails (flukes), scars, and other natural markings

can be used in scientific investigations.

The pigment patterns on the flukes are a "fingerprint"

and make it possible to match the images and determine

how far within the Caribbean the whales travel, where

they have been sighted on their feeding grounds in much

higher latitudes, which other whales they are seen traveling

and mating with throughout the North Atlantic, and

so much more.

Citizen Scientists (this could be you) are submitting

snapshots and videos of the humpback whales underwater.

Social media makes it easy to submit photos to

MCERC and, in turn, creates a forum for MCERC's senior

marine biology staff to share information about these

charismatic animals.

The FaceBook group, "Turks and Caicos Islands

Humpback Whale Sightings" (www.facebook.com/

TCIWhales/), was created and is maintained by Cathy

Bacon. Cathy is a Senior Research Associate and co-author

of multiple publications based on the marine

mammal research studies with MCERC. Cathy communicates

directly with the citizen scientists and shares the

exciting matches that their contributions glean. The TCI

Humpback Whale Catalog, maintained by MCERC, submits

images on behalf of citizen scientist photographers and

the research team to the larger repositories. They can be

viewed globally by scientists studying these species.

This past winter (2018/19) alone the citizen scientists,

including whale watch operators, have provided

images that were matched to Samaná Bay or Silver Bank,

Dominican Republic (Joanne Buddle, Alcides Falanghe,

Marks and scars observed in photographs are used by researchers

to identify individual whales in different locations over multiple seasons.

Humpback Dive Shack), Newfoundland (Pat Mezzina,

Joanne Buddle, Ines Moosman, Beth Grassette, Humpback

Dive Shack), and the Gulf of Maine (Sean Brady, Jim Hayes,

Paula Faiferman, Dave Dietze, Jay Lawson, Amy Looby,

Shelley Jensen, Kell Talbot, Katharine Hart—Deep Blue

Charters) helping MCERC to understand movement patterns

and behaviors of migrating whales throughout the

North Atlantic. The data captured by people enjoying

their experience in the TCI is combined with the science

team's data and then shared with other researchers

through publication in peer-reviewed journals and presentations.

The photographers are always acknowledged

as a valued part of the MCERC science team.

Whales, dolphins, and porpoises (cetaceans) in the

TCI are not well studied. Whales and dolphins are often

seen from land and vessels throughout the TCI and while

the tourism industry (from large cruise ships to small tour

Times of the Islands Summer 2019 33
---
green pages newsletter of the department of environment & coastal resources

Images of the tail fluke of humpback whales are useful for identification.

This young humpback whale (above) has a "firework" on its

fluke, making it easy to identify throughout the 2019 season.

operators) recognizes the TCI as an attractive destination

for visitors, the impact to local cetacean populations

is unknown. There is preliminary evidence suggesting

the Turks & Caicos is a significant migratory destination

for North Atlantic humpback whales, as well as other

resident cetaceans. Year-round, Cetaceans have been

sighted nearshore and offshore, including bottlenose dolphin

(Tursiops truncatus), deep-diving offshore species

(sperm whales [Physeter macrocephalus], beaked whales)

and shallow swimming nearshore species (pilot whales

[Globicephala sp.], dolphins).

MCERC is dedicated to providing research and education

opportunities aimed at increasing an investment

in conservation and preservation of healthy marine and

coastal ecosystems. Collaborations with people among

the TCI is a valuable resource for promoting interest,

gathering information, and maintaining an understanding

of the elements most important to residents.

MCERC supports scientific research of marine habitats

and encourages participation of investigators with

a similar mission. In 2017, MCERC began their primary

project in the TCI in collaboration with the Department of

the Environment & Coastal Resources (DECR), investigating

the humpback whales wintering off the Turks Bank.

Humpback whales migrate from the North Atlantic feeding

grounds to lower latitudes throughout the Caribbean

during their winter breeding season (January–April).

An unexpected, yet incredibly important, benefit

of the TCI Humpback Whale Citizen Science Project has

been the increased awareness of global concerns regarding

tourism and its impact on the humpback whales that

are so loved throughout the Caribbean. There has been

a great deal of misunderstanding that visitors are solely

focused on getting as close as possible to the whales.

Tour boat operators in the TCI have access to feedback

from tourists and researchers through the FaceBook

group which is highlighting two very interesting points for

this economically important industry in the archipelago.

First, tourists are more concerned with the well-being

of the whales (especially moms and newborn calves)

than getting too close to whales. Guests seek out whale

watch operators that have responsible approaches to the

whales, and shy away from the aggressive operators who

are perceived as putting whales in danger. This means

that a tour boat operator who chooses the best interest

of the whales over getting too close to the whales will

make more money through positive reviews and tips by

their guests! The FaceBook group has been an effective

way to communicate the best practice for operators and

the positive response from guests.

The second exciting outcome from the TCI Humpback

Whale Citizen Science Project has been the following by

people who love the TCI from near and far and want to

stay connected to the activity of the humpback whales.

It will be interesting to see if people visit TCI as a result

34 www.timespub.tc
---
green pages newsletter of the department of environment & coastal resources

Did you know . . . ?

Wheeland Pond information signs

• Whale "poop" primes the

food chain in all oceans?

• Humpback whales are increasing in numbers

throughout the North Atlantic?

• Whales that die and fall to the bottom of the

ocean create an entirely isolated mini ecosystem?

• Only male humpback whales sing, but we still do

not understand why?

• The Turks & Caicos Islands are a "highway" to

the rest of the Caribbean, and back to the northern

areas?

If you want to learn about these topics and more,

join the Citizen Scientists and the MCERC Senior

Scientists on our FaceBook page and let's chat! a

of reading about this research project that includes the

people who know the country best. The membership to

the group is steadily growing.

Become a citizen scientist

With your help, the marine biologists at MCERC will continue

to build a better understanding of humpback whales

in the TCI, the Caribbean, and the North Atlantic. If you

have been lucky enough to go whale watching in the TCI,

we would love to include your data to the MCERC TCI

Humpback Whale Catalog. The FaceBook group has all

the information explaining how to submit your video and

still images and notes that even a seemingly poor photo

can provide important information. Cathy Bacon and the

rest of the science team can answer your questions.

In fact, the more questions you post in the group,

the more people will learn about TCI humpback whales,

dolphins, turtles, and all topics related to marine biology.

Summer is here and the humpback whales have traveled

north to feed. You can become a citizen scientist while

you organize all those photos you captured this winter.

Join the FaceBook group and submit your video and photos

from any year in the TCI and let's discover if your

photos match a humpback whale observed in the North

Atlantic! a

DECR officials and members of the Clement Howell High School's

Tourism Club stand by the new signs at Wheeland Pond.

The Department of Environment & Coastal Resources

(DECR) collaborated with the Clement Howell High

School's Tourism Club to install information signs at

Wheeland Pond in Wheeland, Providenciales.

The signs, one describing the mangrove ecosystem

and the other encouraging the community to

keep the ponds clean, were installed by the Tourism

Club after the students banded together to create

awareness about the importance of the wetland ecosystem

following the annual World Wetlands Day

clean-up, hosted by the DECR, earlier this year.

DECR Environmental Outreach Coordinator Amy

Avenant said, "We are encouraged to see young people

concerned about the state of our environment

and motivated enough to educate others about it

too!" TCI Minister of Tourism, Environment, Heritage

and Culture Hon. Ralph Higgs added, "I am pleased

to see the collaborative effort between the DECR

and Clement Howell High. This is a worthy initiative

and one that we would like to see happen in schools

across the Turks & Caicos through club memberships

and other means."

The DECR and Clement Howell High's Tourism

Club would like to thank Ms. Tanya Parnell, Mr.

Trevor Lewis of Graceway IGA and the Turks & Caicos

Tourist Board for their support of this initiative. The

DECR would also like to acknowledge the initiative

taken by the students and thanks them for giving

back to their local community and environment. a

Times of the Islands Summer 2019 35
---
green pages newsletter of the department of environment & coastal resources

Clockwise from top: A diseased colony of maze coral (Meandrina meandrites)

is spotted on a research dive.

This colony of brain coral (Diploria labyrinthiformis) shows the blotching

pattern brought on by Stony Coral Tissue Loss Disease.

The disease makes its way across a colony of great star coral (Montastrea

cavernosa).

ERIN BOWMAN

All is Not Well

Tissue Loss Disease a threat to TCI reefs.

Story and Photos By Erin Bowman and Heidi Hertler, Ph.D.

In a time when climate change is wreaking havoc on coral reefs worldwide, the reefs of the Turks & Caicos

Islands remain some of the most resilient and pristine in the Caribbean. They are home to more than 60

species of stony coral that have been building for millions of years, creating the intricate reef systems

known today. As worldwide reef degradation goes, the Caribbean has been the unfortunate epicenter,

with significantly more damage and less recovery than in reefs of the Pacific or Mediterranean. There are

many theories as to why this may be the case and likely it is due to a wide variety of reasons.

36 www.timespub.tc
---
green pages newsletter of the department of environment & coastal resources

Geographically, the Caribbean's location makes

it vulnerable to the tradewinds that blow across Africa

towards the Atlantic, bringing dust and sand particles

from the Sahara along with them. It is thought that these

iron-rich particles carried to the Caribbean reefs increase

the growth of algae, which bloom four times faster than

on Indo-Pacific reefs. Algae compete with corals, which

naturally grow slowly and struggle to outcompete these

large blooms. On top of that, the Indo-Pacific is home to

many more species of coral and fish, including vital herbivores

like parrotfish which graze on algae and prevent

it from taking over and smothering reefs.

Corals thrive in very specific living conditions; water

that gets too hot or too cold, any change in nutrients or

salinity or exposure to too many or too few UV rays all

can cause a coral to be "stressed." Once stressed, the

microalgae living inside of coral polyps called zooxanthellae

are expelled, stripping the coral of its color and

main energy source. This is the phenomenon described

as coral bleaching. Once bleached, a coral is not dead. If

the unsuitable conditions that caused the coral to stress

return to normal in a reasonable amount of time, the

coral can regain its zooxanthellae and return to a healthy,

unstressed state. If the condition remains imperfect, and

does not improve, in a matter of weeks the coral will start

to die, being unable to capture enough food for itself

without its photosynthetic counterpart, zooxanthellae.

Despite the unfortunate state of Caribbean reefs as a

whole, the TCI reefs have somehow managed to remain

in a comparatively healthy state. While various bleaching

epidemics have left their impact, TCI reefs show much

less bleaching than those in Florida or other parts of the

Caribbean. This could in part be due to the deeper nature

of these reefs, where the UV light reaching the corals is

less harsh.

There is also much less human impact in the TCI than

elsewhere in the Caribbean. In the Caribbean, 22 countries

have larger populations than the TCI, which has just

over 36,000 residents as of 2019. South Florida, including

the counties of Miami-Dade and Monroe, where much

reef degradation has been seen, is home to over 2 million

people, so there is significantly less routine exposure to

human impacts at TCI reefs.

Water temperature surrounding the TCI remains quite

stable throughout the year. At its coldest, the water is

about 26ºC (79º F) and at its hottest, it is 29ºC (84ºF).

Stony Coral Tissue Loss Disease makes its way across a colony of

great star coral (Montastrea cavernosa).

This is very different from the waters of South Florida,

in which the temperature fluctuates throughout the year

from 21ºC (69ºF) to 31ºC (87ºF).

The School for Field Studies Center for Marine

Resource Studies (SFS CMRS) on South Caicos has been

diving and conducting research on the surrounding reefs

for the past 30 years. Studies have varied over the years

but largely revolve around the topic of reef health and

monitoring. Now in 2019, for the first time in 30 years,

researchers at SFS have noticed a change in the reefs they

know so well. Suddenly, at multiple sites, corals were

dying; sometimes just one area on an individual coral and

other times entire coral heads. It was noticed immediately

that these corals weren't just bleached, they no longer

showed the fuzzy outline indicating polyps still living

within the coral and only the white skeleton remained.

It was quickly determined that a disease of some sort

must be causing this sudden death of previously healthy

corals. Coral diseases have been studied for years, and

in many cases, researchers have been able to identify the

causes, transmission factors, and solutions to such dis-

Times of the Islands Summer 2019 37
---
green pages newsletter of the department of environment & coastal resources

eases. Whatever was damaging the reefs of South Caicos

however, didn't look or behave like any well-known coral

diseases. Over the past few months, the researchers at

SFS had been hearing about a new disease that is causing

major problems on the Florida Reef Tract, and elsewhere

in the Caribbean.

First reported in Florida in 2014, Stony Coral Tissue

Loss Disease (SCTLD) is killing corals faster and across

more species than any other coral diseases known. Since

2014, it has traveled from northern Miami–Dade County

all the way down the Florida Keys and into the Caribbean

in places like Jamaica, St. Maarten, and now the TCI. The

method by which the disease is transmitted from coral to

coral is unknown, making it extremely difficult to study

or replicate so that methods of putting a stop to it can be

tested. Over half of the stony coral species found on the

Florida Reef Tract are affected by SCTLD, though there

are many factors that influence the likelihood that a coral

will contract the disease (such as the location of the

coral and time of the year.) Many researchers throughout

Florida and the Caribbean are actively trying to pinpoint

the indicators of the disease and the rate at which it progresses,

though it has proven to be a difficult feat as

these attributes may vary by species affected.

SFS CMRS students are collecting

data on coral bleaching and Stony

Coral Tissue Loss Disease near South

Caicos.

In what is widely being

considered an epidemic, the

reefs that are already deteriorating

now are forced to

face this new and deadly disease.

One quality that makes

SCTLD so lethal is that it

functions from the inside

of the coral to the outside.

Typical first signs of SCTLD

on a coral are bands of discoloration

that gradually

begin to turn white and

move across a colony, often

in a circular pattern radiating

out or a line moving

from one side to the other.

By the time any signs show

up on the outside of a coral

though, the disease has

already infected the colony

and begun to do its damage on the inside. Due to the

necrotic nature of the disease, as the coral polyps die,

the tissue begins to deteriorate rapidly and slide off the

colony. Once all living tissue is gone, the coral is left with

only the skeleton, which will eventually be overgrown by

algae.

Since the discovery of the disease off of South Caicos,

SFS researchers and students have worked together to

gather data on affected corals. Knowing the local reefs

gives researchers a better perspective as to how much of

the reef is being affected. Identifying differences between

SCTLD in the TCI and elsewhere can help to narrow down

characteristics of the disease. Any similarities or differences

in affected species, location, or depth may be

useful in identifying the pathogen or transmission vectors

of the disease.

The good news for TCI reefs comes back to their

impressive resilience in the face of the devastation that

the rest of the Caribbean is facing. Compared to conditions

in Florida, SCTLD here has not even made a dent

in our reefs. The fact alone that it took a full five years

from the original outbreak to reach TCI reefs has spared

us from facing the same damage. The coral heads here

that have contracted the disease are isolated from one

38 www.timespub.tc
---
green pages newsletter of the department of environment & coastal resources

another, often with one or more other corals in between

that remain unaffected. This is largely in contrast to

Florida's reefs, where many groups of coral heads can

be seen having died from the disease, though this does

not necessarily indicate that all corals within a group

contracted the disease one right after the other in those

cases.

The work that researchers have been doing in Florida

since the first outbreak will be incredibly useful in the

fight against SCTLD here, in that because of their work

we essentially have a head start on the disease and know

more about it than we would if this was a nameless,

unheard of condition. As of now, SFS is the only team in

the TCI working to gather data on SCTLD, but as word gets

out and more people learn about the possible destruction

this is going to cause our reefs, we are optimistic that

other capable hands will join the fight. Research will not

only help us to minimize the effect of SCTLD on our pristine

reefs, but it can also empower us to prevent reefs

elsewhere in the world from having to experience the

alarming loss seen throughout the Caribbean. a

Sources

ARC Centre of Excellence in Coral Reef Studies. "Coral

reefs in the Indo-Pacific Ocean naturally tougher than

Caribbean reefs." ScienceDaily, 12 July 2012.

Florida Keys National Marine Sanctuary. (2018). Florida

Reef Tract Coral Disease Outbreak: Disease. National

Marine Sanctuaries, NOAA.

Kinane, S. (2019) Florida's devastating coral disease has

spread to the Caribbean: scientist. 88.5WMNF Florida

Public Radio.

Riggs, B. (2006) Coral Bleaching: Bad news and (a little)

good news for Turks & Caicos Reefs. Times of the Islands.

The Museum Turks and Caicos (2019) "The Living Reef."

Turks and Caicos Islands, British West Indies.

Turks and Caicos Reef Fund (2019) "Coral Bleaching."

Turks and Caicos Islands, British West Indies.

Weinberg, E. (2018) Scientists work together to solve a

coral disease mystery in the Florida Keys National Marine

Sanctuary. National Ocean Service, NOAA, Department of

Commerce.

Sea turtle

I am sea turtle.

I am green turtle. I swim far and wide.

Queen in my blue wilderness.

Below the sea, dwelled a beautiful green turtle

(she loved to swim around).

She danced with happiness in her heart

she danced as the sound of the sea rang in her ears.

In the morning, she wandered far and wide: in a

blink of an eye, she could hear all types of honking.

She swam and swam; she stopped and ate a plastic

bag thinking of jellyfish and then–BOOM–the cruise

ship stopped! And an anchor fell as another turtle

passed by. Both turtles dropped down in despair!

Their fins cut and bruised: the turtles cried with

anxiety. Then they heard a big–SPLASH–two girls

swam to the turtles with speed. The girls stopped

with silence They heard a noise–BOOM–and another

one–BOOM–then a–SPLASH. Two strong men came

to help all. All of them together lifted the anchor

and set it somewhere else. They lifted the anchor

slowly and moved it away from the turtles.

Two men lifted the turtles out to the shore…

A few days later, the turtles went into a sanctuary…

they found 56 bags of plastic in them.

We are sea turtles no more.

We are green turtles no more.

We can no longer swim far and wide,

queens of our beautiful blue wilderness.

STOP THIS PLASTIC POLLUTION BEFORE WE LOSE

ALL OF OUR BEAUTIFUL TURTLES!!

This poem was written by Ziahon Taylor,

a Grade 4 student from the International School of

the Turks & Caicos Islands.

She wrote the poem following the school's "Zero

Waste Week" and subsequent DECR visit.

Times of the Islands Summer 2019 39
---
ISTOCKPHOTO.COM
---
feature

ALAMY.COM

Opposite page: It's hard to believe that humpback whales, among the largest creatures on the planet, were hunted almost to extinction less

than 60 years ago. Above: This Anton Otto Fischer painting depicts the almost-unimaginable work of harpooning a whale.

The Hunt for Whales

From harpooning leviathans to holding them dear.

By Ben Stubenberg

"I need everyone's eyes on the water," Captain Kell Talbot earnestly tells the guests on the Deep Blue

Charters whale watching boat three miles east of Salt Cay. "The front of the boat is twelve o'clock, the

back six o'clock. When you see a whale surface, call out your sighting on the clock so we can track it." All

hands on deck peer out in silence over the ripples of a pale blue sea glistening in the morning sun—straining

to catch the first glimpse of the giant cetaceans we know are out there, just below the surface, gliding

over the shallow banks. The palpable thrill of anticipation bonds perfect strangers in a singular quest.

"Look! There! Four o'clock," a watcher cries out. "Oh my God!" All heads turn to see a dark gray arching

back break the surface followed by a spray of vapor and squeals and hollers of jaw-dropping awe. Captain

Kell cuts the engine, letting the boat drift. Suddenly, the 50 foot (15 meter) long humpback, nearly twice

the size of the boat, majestically rockets straight up, almost completely out of the water. Huge flippers

open wide as if to say, "Hello, I see you," before the massive body splashes down spectacularly before us.

Times of the Islands Summer 2019 41
---
That these magnificent creatures, the largest our

planet has ever seen, were hunted almost to extinction

less than 60 years ago hardly seems possible. The consuming

quest for quick riches from slaughtered whales

to fuel the demand for lamp oil, buggy whips, and cheap

meat for an industrializing world might well have denied

us that shared moment of intense common humanity on

the sea—as well as all future generations.

And that should give us pause for what our progeny

may say about us 60 years from now. For even today, notwithstanding

protections, whales face a future as uncertain

and perilous as they did when whalers relentlessly pursued

them across every ocean. In a hopeful twist of fate, however,

the pristine waters surrounding the Turks & Caicos

Islands, that once saw its share of whale hunting, could be

a respite from modern perils, a sanctuary where whales

thrive and perhaps befriend us.

Early whalers

Humans have hunted whales since prehistoric times,

but the story of commercial whaling began in the early

1700s, principally out of the New England fishing town of

Nantucket. Here, ships under the power of wind and sails

fanned out into the eastern seaboard of North America for

what was at first easy pickings. Humpbacks, sperm whales,

and right whales abounded and their numbers seemed limitless.

Hardy sailors perched in crow's nests atop masts

100 feet (30 meters) above the deck scanned the sea for

the same telltale signs as tourists on whale tours do today.

When the bellowing cry of "There she blows" rang

out at the sighting of a whale, the crew below frantically

lowered open whale boats over the side and rowed hard,

guided by pointing arms from the crow's nest. Crouched

at the prow, the strongest and most agile man of the lot

readied his harpoons, essentially modified wooden spears,

about 6 feet (2 meters) long, with one or two metal barbs

near the tip. A bucket held a long coiled rope fastened

tightly to the harpoon shaft, the other end wrapped around

a wooden post built into the boat. The harpooneer, as he

was called, stood and braced himself as the boat closed

in on the prize. The captain signaled for the crew to stop

rowing and use their oars to paddle quietly.

Then, just feet from the giant leviathan and when

seconds counted, the harpooneer lifted his weapon high

above his head and hurled it as straight and deep and true

as he could into the thick blubber of the whale's back so

the barbs held fast. If he was quick and lucky, he might get

off a second throw. As the wounded whale bolted from the

boat using powerful thrusts from its tail, the rope rushed

out, so fast the post smoked from the friction. Sometimes

the rope entangled the harpooneer, severing his leg or

arm or dragging him overboard. Fighting for its own life,

the whale would try to dive down, swiftly towing the boat

toward the horizon up to 23 mph (37 kph) in what became

known as a Nantucket Sleigh Ride. Thrilling as it was terrifying,

the crew hung on, hoping the out-of-control boat

would not be pulled under. The struggle might go on for

30 minutes or more until the whale, exhausted and near

Sometimes whales fight back. There have been at least half a dozen recorded incidents of cetaceans using their massive heads (mainly sperm

whales) to ram whaling ships in apparent acts of fury.

42 www.timespub.tc
---
death, surfaced for one last breath of air. In the bloodsoaked

sea, the whale boat would again pull close, so the

captain or first mate could try to finish off the weakened

whale by thrusting a trident-tipped lance into its belly.

At that point, the crew had to act quickly to bring the

whale back to the mother ship, as whales sink quickly after

being killed. Then begin the arduous and equally dangerous

task of flensing (butchering) and boiling the blubber

for oil. The decks, slick with blood, caused many a whaler

to slip and fall overboard into a frenzy of feeding sharks

below.

By the mid-1700s, New England whaling ships had

reduced the whale populations off their shores, forcing

the whalers to expand their searches further south to

the Caribbean and off the coast of Brazil. As the whales

became scarce there too, whalers sailed around the Horn,

entering the vast Pacific where ships could be away from

home port for years. Typically, a successful whale ship

would catch between 25 and 50 whales. For all the danger

the crew faced—almost every hunt produced some injury

or death—the rewards depended entirely on the favorable

outcome of the voyage, and few got rich. The pay for sailors

was only marginally better than crewing on vessels

carrying cargo. Still, the able-bodied signed up in droves

for the intoxicating adventure and a chance to make a bit

more money.

At whale hunting's peak (1820–1850), whalers numbered

8,000 and killed around 10,000 whales a year. In

the second half of the 19th century, the whaling industry

began to decline as new and less expensive petroleum

products became available. Paradoxically, from 1900–

1999, 2.9 million whales were killed, according to Scientific

American—four times more than were killed in the previous

400 years. Larger whale ships and the perfection of the

explosively charged harpoon that could be mounted and

fired from the ship deck—credited to Norwegian inventor

Svend Foyn—allowed for many more whales to be taken,

though mainly for meat.

Whale attacks

Sometimes the whales fought back. The most famous fictional

account, of course, is the story of the great white

whale Moby Dick by Hermann Melville. He based his epic

treasure of American literature on the true story of the

attack on the Nantucket whaling ship Essex in November

1820 in the South Pacific, more than 1,000 miles off the

coast of Peru. (The story has since made into a major

motion picture, "In the Heart of the Sea", directed by

Ron Howard.) In fact, there have been at least six other

recorded incidents of cetaceans using their massive heads

(mainly sperm whales) to ram whaling ships in apparent

acts of fury: The Pusie Hall in 1835, the Lydia and the

Two Generals in 1836, the Pocahontas in 1850, the Ann

Alexander in 1851, and the Kathleen in 1902. All these

wooden ships came out of New England ports, and all but

the Pusie and the Pocahontas sank.

In the case of the Essex, first mate Owen Chase spotted

a huge sperm whale lying quietly in the distance, the

head facing the ship. After two or three spouts, the colossal

animal made straight for the Essex, ramming its head

into the side of the ship, "with an appalling and tremendous

jar, as nearly threw all of us on our faces." The whale

passed under the ship and then surfaced, allowing the first

mate to see him "smite his jaws together, as if distracted

with rage and fury," and then disappeared. Shortly thereafter,

a crew member cried out, "Here he is making for us

again." Head half out of the water, the whale bore down

once more on the ship, this time striking the bow. Water

rushed in through the busted planks and the Essex began

sinking, so fast that Chase and the crew barely had enough

time to escape in their whale boat.

The Essex captain, George Pollard, who had been out

with another whale boat pursuing and harpooning whales,

returned stunned to see his ship floundering before disappearing

under the waves. Bobbing on the sea in open

20 foot boats with hardly any food or water, the whalers

contemplated what to do next. The captain, just 28 years

old, wanted to head south to the nearest land in Marquesa

Islands and Tahiti, but Chase and others talked him out

of it because they believed cannibals lived there. So they

steered the longer way east to South America, perhaps

the most ironic decision in maritime history. In the weeks

at sea that followed, the crew quickly ran out of what few

provisions they had and began eating anyone who died,

becoming cannibals themselves. On Pollard's boat, when

no one had died for a few days, they drew lots of who

would be killed and eaten. Only eight of the original twenty

survived the harrowing ordeal at sea, including Pollard and

Chase, to tell their stories.

Notably, the gigantic bull sperm whale that rammed

the Essex had not, in fact, been harpooned himself, but

may have reacted to seeing and hearing members of his

pod being attacked. While whales are social creatures and

normally not aggressive, they can be when challenged or

feel the whale family is threatened.

The attack on the Ann Alexander took place in the

same area as the Essex 31 years later on August 20, 1851

(the same year Melville's book was published) with its own

Times of the Islands Summer 2019 43
---
astounding scenario. The ship had launched two whale

boats, one of which harpooned a sperm whale. After a

Nantucket Sleigh Ride, the whale circled back, and with its

huge jaws snapped the whale boat in half, throwing all six

whalers in the water. A second whale boat nearby rescued

them. Meanwhile, a third boat was launched from the Ann

Alexander and headed out to assist. But rather than return

to the ship, the remaining two boats continued to chase

and harpoon the angry whale. Once more, the whale circled

back and crushed the third boat with its jaws, tossing

the whole crew in the water. Again, they were rescued by

the remaining whale boat, now quite crowded, and finally

returned to the ship.

Rather than call it a day, the crew continued to harpoon

the whale from the ship when it swam close, managing to

lodge a harpoon in its head. The whale disappeared below

the surface, but then surfaced to smash its head into the

hull below the waterline, creating a gaping hole. As water

rushed in, the crew re-launched the one remaining whale

boat, barely getting away, but now even more vulnerable

on the open sea with a raging whale. The whale swam off,

however, and two days later another whaling ship spotted

and rescued the whalers.

TCI whale hunts

The first recorded Turks & Caicos Islands whale catch

took place on February 4, 1846 off Grand Turk amid great

rejoicing of the people, according to the Handbook of the

Turks and Caicos Islands by J. Henry Pusey, published in

1897. Pusey writes:

"This gave rise to well-organized whale-fishing companies

at Grand Turk and Salt Cay. Whales were thus

captured every year, a single whale of ordinary size

being sufficient for the entire population to share in

the delicacy of its flesh. Large quantities of train (or

common) oil were obtained from this most remarkable

of the cetaceous order of animals."

Rather than big whaling ships, the Grand Turk

Whaling Company, succeeded later by the Salt Cay Whaling

Company, relied largely on native Turks & Caicos Islanders

using rowboats launched from shore. The whaling company

even placed an ad in the Turks Islands Gazette

and Commercial Reporter on January 3, 1849 calling

for "Headers, Steersmen (harpooneers) and Oarsmen for

the Whale Company's boats for the approaching season.

Those who have pratice (sic) would be preferred."

MAT MATLACK

Taylor Hill on Salt Cay was once a whaling station look-out. The limestone ruins and field walls can still be seen. It is still a good place to

watch whales pass by during the winter months.

44 www.timespub.tc
---
Whalers would often harpoon a calf and keep it alive to attract the mother and other whales, so they too could be harpooned.

KATHARINE HART–DEEP BLUE CHARTERS, GRAND TURK

For decades, the local population directly benefited

from whales caught and killed that could supplement their

meager diets, likely alleviating hunger in view of the poverty

at the time. On February 11, 1871, the Royal Standard

carried a news article telling of a whale capture and what it

meant to the Islands:

"With much pleasure we give place to the Report,

from a correspondent on Salt Cay of the capture of a

whale by the boats of that place. We wish the financial

condition of the colony was more flourishing, so

that a bounty may be given for each whale killed and

brought to shore, as no one, but those who have witnessed

it, knows what a godsend the flesh of a whale

is to a poor community."

The article not only effusively commends the harpooneer

as Mr. John Vose Lightbourn, but goes on to

articulate the pressing need for food.

"What a gift this mass of meat is to the laboring portion

of and the poor and destitute of our Island, who

in consequent of the scarcity and high prices of provisions

have for a long time been deprived of a meal,

and are at present able to put by a good supply of

strong and wholesome food."

Giving us a glimpse into the tenor of the times, Mr.

Pusey recounts the harpooning of a whale calf off Grand

Turk on April 17, 1872.

"The old mother-whale kept so closely during the capture

to her wounded young, that with proper materials

(perhaps indicating need for an additional harpoon)

and cautious management, she also would have been

caught."

Whalers often harpooned a calf and kept it alive to

attract the mother and other whales, so they too could

be harpooned. At this late date in the season, most of

the family of humpbacks had probably begun the 1,500

mile (2,400 kilometer) journey north back to the feeding

waters off Newfoundland and Greenland, leaving the

mother and calf alone. Perhaps the mother lingered just a

few more weeks so they could get stronger before making

the strenuous trek. Yet his matter-of-fact observation,

important enough to include on the now-crumbling, yellowed

pages of Pusey's book, echoes across the ages from

their time to ours. And 147 years later, we feel the torment

of that mother-whale desperately staying with her mortally

wounded calf to the end.

Along with food, the local whaling companies

extracted whale oil that could be barreled and sold. Pusey

tells us that in the month of February 1883, a whale was

caught at Salt Cay that produced 900 gallons of oil. He

also notes that in the same year the head of a sperm whale

was found at Bambarra (Middle Caicos), yielding "several

hundred gallons of sperm oil."

The Salt Cay Whaling Company closed in 1888, but

whaling in TCI apparently did not stop, and may possibly

have continued as late as 1920. According to Salt Cay

Times of the Islands Summer 2019 45
---
native and boat captain Oscar Talbot, based on stories he

had heard from his father and grandfather, "Local Turks

Islanders regularly set out on their own to hunt whales

to supply Salt Cay and Grand Turk with meat, which was

considered the delicacy of the day." Tim Dunn, another Salt

Cay native and whale expert, noted that Taylor Hill, the

highest point in Salt Cay at 74 feet (23 meters), functioned

as a look-out for spotting whales.

Once harpooned, Mr. Talbot said, "The whale would

run for miles and miles pulling the boat along," thus experiencing

a Nantucket Sleigh Ride in TCI style. Mr. Talbot

recalled hearing how one whaler got his foot cut off after

becoming entangled in the outgoing rope, leaving no

doubt that TCI whalers faced the same dangers as other

whalers back in the day.

Typically, the whales would be hauled to "Whale

Island," a spit of land barely above sea level about 200

feet (70 meters) from the shore of Salt Cay's northeast

windward side. There, the whalers cut up and dispersed

meat to the people who would preserve it by first soaking

it in salt water and then leaving it out to dry—necessary in

the absence of refrigeration. "In the late 1800s," Mr. Dunn

said, "Salt Cay had a population of almost 1,000 people

and imported nearly all of its food. So hauling in a massive

whale could feed everyone for months." One can easily

imagine a festive scene of the whole island gathering to

watch the spectacle and anticipating the meal they would

soon enjoy. Only ruins remain of a stone house where this

took place, leaving just enough to step back to the days

when Salt Cay celebrated its intrepid whalers.

Perhaps the most intriguing connection to whales,

however, is the story of Salt Cay islanders dipping their

infant children in the blood of a whale in the belief that

the child would be infused with the strength of the whale.

The ritual was first reported in the 2001/2002 Winter issue

of Times of the Islands, in the story, "Whale Watching" by

Marsha Pardee Woodring, and sourced to long time Salt

Cay resident and TCI historian Josiah Marvel.

While TCI whaling has long gone, the wonderment for

whales never ceased, and neither did the encounters. Mr.

Talbot recalled some 40 years ago when he captained a

sloop from Grand Turk to Salt Cay. Along the way, a whale

unexpectedly headed straight for the boat in a scene right

out of Moby Dick and the Essex. Seeing the aggressive

approach, Mr. Talbot managed to tack the boat away from

the on-coming whale, thereby minimizing the impact. He

then sailed toward a shallow reef where the whale could

not follow, and got away unscathed.

Schoolchildren on Grand Turk and Salt Cay have grown

up with the lore of the whales. When the whales breach

just offshore—especially from Salt Cay where the school

is just 300 feet (90 meters) from the beach—teachers let

students out to witness this gift of nature bequeathed to

them, a childhood memory of astonishment remembered

well into adulthood.

Whaling today

Islands of the Eastern Caribbean—Dominica, St. Lucia, St.

Vincent and the Grenadines, and Grenada—have all hunted

whales at some time. Of these, the small island of Bequia,

the northernmost island of the Grenadines, held on tightest

to the tradition—from 1875 right up to the present.

For most of the second half of the 20th century, whaler

Athneal Ollivierre dominated the hunt, plunging hand harpoons

into the whales just like they did in the 1800s. To

help guide him, Islanders would run along a ridge flashing

mirrors to signal the direction the whale was swimming. As

once happened in Grand Turk and Salt Cay, the captured

whale is even today brought to the shore and divided up

among the community to great rejoicing.

Aboriginal peoples in Greenland, Siberia, and Alaska

also hunt whales throwing hand-held harpoons as their

ancestors did one or two thousand years ago, though

now most use grenades on the harpoons to hasten the

death. But these small whaling communities take very few

whales and hardly threaten the population. Hence, the

International Whaling Commission's (IWC) allowance for

aboriginal whalers, that includes, interestingly, the whalers

of Bequia (though not without skeptics questioning how

"aboriginal" has been applied).

Far more important for the IWC is the protection of

whales from larger scale whaling. Established in 1946, the

IWC develops policies and agreements for whale conservation,

but leaves for individual countries to adopt and

enforce them, such as the US through the Endangered

Species Act. Those efforts, however, are challenged and

undercut by Japan, Norway, and Iceland who claim sustainable

whaling as a cultural heritage. Recently, these

nations increased the catch of minke whales once the IWC

took them off the endangered list. Japan, in particular, has

succeeded in getting an IWC exception to kill whales for

"scientific" research and sell the meat for consumption.

To bolster its position, Japan has provided significant

development aid to some Eastern Caribbean countries. The

unstated quid-pro-quo? Become IWC members and vote

in favor of Japanese government initiatives to allow limited

whaling. For hard-pressed Caribbean island nations,

including St. Vincent and the Grenadines, the choice

46 www.timespub.tc
---
etween whales and a people sinking further into poverty

becomes evident.

The sentiment to protect whales and the proclivity

to kill them clashed openly in 2017, pitting well-heeled

First World people against the hunters. After docking in

St. Vincent, passengers from a Thompson Cruises ship

signed up for a whale watching excursion off the coast. To

their initial delight, they came across a pod of four orcas

(also known as killer whales). As the whale watching boat

approached, a fishing boat arrived and began harpooning

and killing two of the whales in front of the horrified tourists

who, along with their captain, screamed for them to

stop, but to no avail.

Although the incident may put pressure on St. Vincent

and the Grenadines, local pride and defiance of outsiders

who try to tell them what to do may well prevail, at least

for now. Proponents of limited whaling pose a provocative

question: Why should whales, if not endangered, receive

more protection from slaughter than other animals butchered

on an industrial scale with hardly more humaneness?

More to the point: Why do big brainy, anthropomorphic

animals get spared, while the less attractive, dumb ones

that don't beguile us with wonder end up on our dinner

plate without a second thought? Is this not cultural bigotry,

they ask, by nations that once profited mightily from

whales they hunted to the brink of extinction?

A place for whales

The debate over killing whales may soon become moot.

As chemical pollutants in the ocean such as mercury, PCB

and DDT "biomagnify" up the food chain to whales, these

toxins get stored first in the fleshy whale blubber. Then,

in times of stress when food is scarce, the blubber breaks

down to provide an energy supply that in turn releases

the toxins into the rest of the body, causing even greater

toxic concentrations. When whale cows give birth, a significant

portion of the toxins are passed on to the calf that

can severely impact growth and development. According

to OceanCare, an international organization dedicated to

protecting marine wildlife, the mercury, PCB, and DDT levels

exceed thresholds of safe consumption up to 5,000

times, making whale meat unsuitable for humans. Hunting

whales for food, thus, becomes pointless.

Meanwhile, other elements of the modern world

threaten whale populations globally. Drift nets entangle

and kill whales along with other forms of marine life.

Large ship engines disorient whales, whose hearing is their

primary way of navigating the seas and communicating

with other whales, thus interfering with their migration

patterns. More ships on the high seas moving at greater

speeds means more collisions that kill and maim whales

in their path. Sonar testing by the US and other navies

to improve detection of enemy submarines further exacerbates

noise pollution with bursts up to 235 decibels

that can cause whales to beach themselves. The US Navy

has recently placed restrictions on time and place to test

anti-submarine sonar, and Navy warships now broadcast

messages to commercial ships with locations of whale

sightings to reduce collisions. This reduces the killing but

doesn't stop it.

There is some good news amidst the despair.

Humpback whales appear to be recovering in the Turks &

Caicos Islands. The slight increase in numbers of humpbacks

suggests that TCI continues to be a sought-after and

viable habitat where whales can return year after year to

calve and mate during the winter months.

Neither the humpback recovery nor TCI as a "destination"

for these whales can be taken for granted, however.

More cruise ship passengers and other tourists anxious

for the "chance of a lifetime" to see and perhaps swim

with these leviathans has resulted in a corresponding

jump in whale watching boaters without proper training to

approach whales. Too many boats up close put enormous

stress on the humpbacks, particularly mother whales who

have just given birth and need rest to conserve energy for

the trek north.

The time has come for TCI to formally create a National

Whale Sanctuary that protects and nurtures these astonishing

humpbacks. Drawing on the experience of responsible

whale watching operators and marine biologists, a sanctuary

can become an unspoiled space where humans and

cetaceans meet ever so gently. Not incidentally, limited,

upscale whale tourism of this kind also produces substantial

revenue. Few places on the planet can match TCI for

the experience of being with whales who fill us with reverence

and awe, as happened on Captain Kell's boat, but

only if we hold dear this fragile treasure that frequents our

waters. a

Ben Stubenberg (ben@caicunaniki.com.) is a contributing

writer to Times of the Islands with a passion for TCI history.

An avid ocean man, he is the co-founder of the sports

and adventure company Caicu Naniki and the annual

Turks & Caicos "Race for the Conch" Eco-SeaSwim.

Special thanks to the Turks & Caicos National Museum

Foundation, Oscar Talbot, and Tim Dunn for providing

essential materials for this article.

Times of the Islands Summer 2019 47
---
feature

Opposite page: Humpback tails, or flukes, are a way to identify specific whales. Each tail is different from any other, like fingerprints.

Above: It is incredible to see an adult humpback breaching, and when you hear the thunderous boom it makes, you will never forget the sound.

Gentle Giants

Spending a season with the humpback whales.

Story & Photos By Kelly Currington

The stillness of the water is broken and silence gives way to the sound of a low, powerful groan as air

is being expelled from the lungs of a creature at an approximate speed of 200 mph . . . and the spell is

cast. There are few things in this world that truly humble you, make you realize you are just a tiny part

of the greater picture. Being in the presence of a creature weighing up to 40 tons and 40 feet in length

reminds you of this and changes your heart and soul.

Times of the Islands Summer 2019 49
---
Meeting a humpback whale face-to-face, especially a calf, is a moment that will leave a permanent mark on your soul.

Imagine slipping quietly over the side of the tender

into the sea, putting your face in the water and seeing the

silhouette of a massive creature below you. The silhouette

slowly gets more defined as the animal inches towards

the surface for a breath. Your heart stops beating, your

breathing is paused, the only sound you can hear is your

own heart pounding, and every ounce of you is focused

on the movement—a moment that will leave a permanent

mark on your soul. And just when you think that moment

can't get more impressionable, her calf comes into focus.

There are really no words that can describe the feelings

and emotions of that second in time.

When one of these mammoths of the sea makes eye

contact, you feel the awareness and intelligence within

them. You feel their curiosity about you, and their gentleness

in your presence. You know instantly that they could

harm you if they chose to, but feel no fear that they will.

Instead, you are filled with a sense of peace.

These magnificent animals are North Atlantic

humpback whales and they migrate annually from the

northeastern United States and Norway, usually starting

around January, down the eastern coast, through the

Bahamas and around the Turks & Caicos Islands, settling

in the Silver Bank, Navidad Bank, and Samana Bay

off of the Dominican Republic. The migration's purpose

is to mate or give birth depending on the previous season.

They mate one year and give birth the next, and the

return migration is usually complete by the end of April.

They come to these whale sanctuaries to mate and

give birth because there are no predators. They are safe

in these shallow banks to teach their calves how to be

whales and to build their strength for the long migration

back to their feeding grounds up north.

Humpback whales get their name from the distinct

"hump" in their back. North Atlantic humpbacks are distinguishable

from other humpbacks because the topside

of their pectoral fins is white, where others are black.This

white is very visible in the water because it reflects as a

brilliant aquamarine. This is what made it easy for whalers

to hunt them. The space between those two aquamarine

fins was called "the hunter's mark"—if they aimed at that

spot it was almost always a kill. Thankfully these days,

it's simply a beautiful characteristic of these creatures

that whale watchers and scientists get to experience.

50 www.timespub.tc
---
Grand Slam Times Winter 2018_Layout 1 11/14/18 8:36 PM Page 1

Humpbacks have the longest pectoral fins of any

whale, reaching up to one-third of the length of their

body. Humpback tails, or flukes, are also a way to identify

specific whales. Each tail is different from any other,

like fingerprints. Where a humpback is white, it will scar

black, and where they are black, it will scar white, making

each one unique. Another interesting fact is that each

type of whale creates a specific blow, the action of exhaling

at the surface. Very fittingly, the humpback's blow is

in the shape of a heart created by their split "nostrils." As

the exhalation pushes air, water, and oily mucus (snot)

into the sunlight, it creates a rainbow in the mist . . . or

"rainblow."

Operating Provo's Most Famous Vessels

GWENDOLYN, TUNA-IN and WAHOOOOO

See it all at: www.gsfishing.com

CONTACT US: 1-649-231-4420 • info@gsfishing.com

Free Pickup • Drinks and Snacks Included

Catch and Keep Your Fish!

Quote Booking: TOI 002 for 5% Discount...

Ask your Concierge to book online for you!

This close-up of the blowhole shows the whale's split "nostrils."

It is incredible to see an adult humpback pec slapping, tail

slapping, and breaching, and when you hear the thunderous

boom it makes, you will never forget the sound. They

are teaching their young to be whales—these skills will

strengthen them and instill the communication related to

each one of these actions. When the calves are first learning

they are clumsy and awkward, but when they finally

figure it out they will repeat the action over and over and

over again like excited kids who are showing off! So fun

to witness.

The sacrifices the females make to endure this

journey are tremendous. Once they reach the sanctuaries,

they don't eat for months because there is no food

source for them. This causes them to lose up to a third

of their body weight, all while feeding their calves about

150 gallons of fat-rich milk a day. They are trying to give

their calves the absolute best chance of survival during

their return migration, where they will encounter many

threats—the biggest threat being orcas. Orcas hunt baby

humpbacks and kill them solely to eat their tongues. The

mothers know their calves will have to be strong and have

endurance to survive this journey. Other threats they may

encounter are being struck by ships, entanglement in

Times of the Islands Summer 2019 51
---
This humpback whale calf is likely learning to breach under its mother's watchful eye.

nets and debris, ingesting plastic, and starving if something

happens to their mother.

I was privileged to have spent two seasons in the

Silver Bank, guiding and filming these gentle giants, and

my heart and soul were deeply affected. The harsh reality

is that only about 50% of calves survive the migration

back. For those of us who get to know these whales on a

very personal level, this is a sad truth.

During their passage around the Turks & Caicos

Islands the largest numbers come close to Salt Cay, where

you can see them daily from whale watching boats and

from shore, where they are visible breaching. You may

also be lucky enough to have topside encounters and

(possibly) in-water encounters on dives off any of the

islands and cays there.

Even if you don't see them, you will definitely hear

their song underwater. It is a beautiful sound that resonates

through your entire body, you feel it in every organ.

There are many speculations as to why the males sing—

whether it's to attract a mate, to warn other pursuing

males, or just because they enjoy it. The song changes

a little each year and every seven years the song has

changed completely. Hearing this song envelops your

senses. It takes over everything at that moment. You

close your eyes and stop exhaling so you can hear it without

clutter, then open your eyes and try to visually locate

the singer, and no other creature you see at that moment

can thwart your focus on the song.

Some say that the mythical song of mermaids was the

song of the humpback and I can see why—it's mesmeriz-

ing. I have heard their song many times and I can assure

you that every time you hear it, it moves you as intensely

as the first time—it's beautiful and emotional.

The calves are playful and curious with humans under

the watchful eye of their mothers and escorts. They will

come in close to snorkelers, pivot and spin and make eye

contact. They are very interested in what these strange

creatures are in their home. The mothers and escorts

tend to keep their distance and let the calves explore

as long as they feel comfortable. The feeling of having

a 10–15 foot baby approach you, look at you, and connect

on a level that cannot be explained is incredible. You

know you are a tiny piece of the puzzle of life and that

you are experiencing a moment few will ever know. You

will hold on to this moment for the rest of your life.

Humpback whales are powerful creatures who can

completely launch themselves out of the water in what

is called a "breach." They can travel massive distances

using their fluke to thrust them forward at speeds up to

15 mph. Yet they are so aware of their body placement

that they can approach you and move their fins with precision

to not touch you while never changing their body

position.

Another display of their control and intelligence is

what we refer to as "Rowdies" —a group of males pursuing

a single female. The power and determination of

these boys are evident in their displays of dominance and

strength as they challenge each other with massive bouts

of "bubble streaming." This is creating a huge bubble

curtain intended to prevent the other males from being

52 www.timespub.tc
---
able to see the female, breaking another male's breathing

pattern so he will fall behind to catch his rhythm again,

and by bumping each other to break stride.

With all this power, they are also very polite suitors.

The female always leads the chase, and if or when she

slows down or stops, all the males stop and hold their

position until she moves forward again. There is no evidence

that the males ever try to cause mortal injuries to

each other, but instead engage in fairly gentlemen-like

brawling.

Once a male has been successful in wooing his lady

of choice, they start a tender and gentle dance we call the

"Valentine." This dance is extremely physical and textile.

The whales use their pectoral fins to touch each other,

they rub their bodies together and slowly twirl and move

fluently together, keeping contact as if dancing a slow

romantic and passionate dance. (This is the equivalent of

humans holding hands and touching each other in a sort

of foreplay role before the mating starts.) There is very

obvious affection and tenderness between these creatures

and it is an absolute honor to witness. They are in

every sense of the words, Gentle Giants.

Each of the hundreds of encounters I've had in

the Silver Bank with these creatures is special and has

touched me in very intense emotional ways. The one I

will leave you with is an experience I had on a dive in the

Turks & Caicos. It is one that I feel with as much emotion,

power, and intensity today as the day it occurred.

I was on a dive off the northwest point of

Providenciales at a site called Eel Garden. We were about

35–40 minutes into the dive and we had made our way

back under the boat. The faint sounds of the songs in

the distance had serenaded us the entire dive. The sound

comes in and vibrates off the sheer wall and is easy to

hear. At this point, most divers had already started their

ascent, so there were only five of us still down.

We were on top of the edge of the wall when I suddenly

heard the song much louder and closer. I moved

out over the depths and floated in a state of neutral

buoyancy. My vision was suddenly filled with violet blue

movement as a massive school of creole wrasse and blue

runners engulfed me. I had dubbed these violet clouds as

"Purple Rain" because they seem to fall from the surface

like beautiful raindrops all around you. I looked around at

the other divers who had joined me in suspension off the

wall. We all just floated there, weightless and motionless,

paralyzed by the indescribable beauty we were witnessing.

Tears filled my eyes as I watched the purple rain and

listened to the magical sounds of the humpback, and the

one thought that went through my mind was, "If these are

my last moments on Earth, I am at complete peace."

Even though I could not physically see the singer, I

could feel him, and his song moved me because I had

shared the whales' presence and looked them in the eye

and understood their plight. This is the magic of the

humpback whale, gentle giants of the sea.

There are a number of land-based whale watching

operators in the Turks & Caicos that will take you out for

a chance sighting of these mammoths of the sea. Salt

Cay, Grand Turk, and Providenciales are the main islands

for whale watching excursions within the country.

There are only two places in the world where there

are permits to snorkel with these amazing creatures:

the Silver Bank and the Kingdom of Tonga in Polynesia.

In the Silver Bank, you can have these experiences with

the Turks and Caicos Aggressor II, the Turks and Caicos

Explorer, and the Belize Aggressor. They have held

permits for years and are very skilled in sharing these

magnificent creatures with guests. They are more than

just "snorkeling with humpback" charters—they are

educational experiences that will empower you to help

protect these amazing animals and the oceans they call

home. a

Times of the Islands Summer 2019 53
---
exploring the islands

Opposite page: Salt Cay has the TCI's best preserved salt industry remains. Every pond has the low stone walls that divided it into salinas,

where the water was gradually evaporated to produce salt.

Above: At Dunscombe Point there is good snorkeling offshore and a late 1700s cannon from the wreck of the HMS Endymion.

Finding the Salt of the Earth

Discovering the "Old Caribbean" on Salt Cay

Providenciales is an amazing island. It has truly become one of the top vacation destinations for the

Americas and the rest of the world. With its world-class beaches, restaurants and other amenities, it

has everything one could desire in a beach location. But the Turks & Caicos Islands are much more than

"Provo." Many want to experience the "old" Caribbean, which is very hard to find on Providenciales but

the very essence of Salt Cay (www.saltcay.org).

Story & Photos By Mat Matlack

Times of the Islands Summer 2019 55
---
The Tradewinds Guest Suites are oceanfront, with amazing snorkeling a short walk from your front door.

Getting to Salt Cay

Since hurricanes Irma and Maria in 2017 blasted across

the Turks & Caicos, the outer islands have spent the

past 18 months rebuilding. We heard that Salt Cay was

ready for visitors again and we weren't disappointed. The

airport on Salt Cay is limited to smaller planes (a nineseater

to be exact) due to the number of fire trucks on the

island. There isn't direct service from Providenciales on

interCaribbean Airways, so one flies through Grand Turk.

It's a 40-minute trip with some great views of East and

South Caicos from the air. Once aboard the small Otter

to Salt Cay, the flight took three minutes! Caicos Express

Airways may start a direct flight from Providenciales to

Salt Cay later this summer.

Accommodations

We arranged accommodations through Debbie Manos to

stay at Tradewinds Guest Suites (www.tradewinds.tc).

Debbie, an expatriate from Tucson, AZ, picked us up at

the airport and took us on a tour of Balfour Town, the

village on Salt Cay. She is a wealth of knowledge since she

began visiting in 1990 and eventually moved to the isle

in 1996. Debbie was attracted to Salt Cay by the amazing

SCUBA diving and world-renowned whale watching, but

kept returning due to the friendly, welcoming nature of

everyone on the cay.

Eventually she bought and ran local dive shop Salt

Cay Divers for 23 years and also opened the Coral Reef

Bar & Grill where local chef, Enye Guerreir, honed his

skills (more about the amazing food in a bit).

Unfortunately, the Coral Reef's building has been

damaged by swells created by Nor'easters that made it

past the harbor wall damaged during the 2017 hurricanes.

Debbie ran us by one of the three island stores to

pick up some supplies and then showed us to our home

for two nights.

Tradewinds has a lot to offer Salt Cay travelers and

one of the most important things is location. You are

oceanfront! Literally, grab your snorkel and fins, walk 10

yards out your front door and you're feet away from

amazing snorkeling. Tradewinds is also walking distance

to the dive shop, Netty's Variety Store, and favorite island

hangout, Oceanaire Bistro.

Our one-bedroom suite had what we needed to be

comfortable. These suites are well equipped for divers

with a large screened porch to store wet equipment, a

foot bath to clean the sand from your feet and a nice seating

area inside, along with a comfortable place to lay your

56 www.timespub.tc
---
head—until tomorrow morning's adventure on the water!

The suites offer a small kitchenette with fridge, toaster

oven, microwave, toaster, coffeemaker (coffee included!)

and plenty of dishes. The private bath is where you find

the sink and large shower with toiletries. The bedroom

had air conditioning available, but with the island breeze,

we simply kept our windows open. We also enjoyed Wi-Fi

to check emails, upload to Instagram and watch an episode

or two of our favorite sailing vloggers before bed.

The eats

We ate most of our meals at Oceanaire Bistro (oceanairebistro.com).

The restaurant is perfectly located in the

center of town just a few hundred feet from the dock

and dive shop. It offers open-air dining overlooking the

historic salinas and the screened-in dining rooms enjoy

beautiful ocean breezes too. There is a deck with tables

under palm trees where you can enjoy a cold drink with

breakfast, lunch or dinner and a rooftop viewing patio

that provides views of the ocean and most of the island.

Remember Chef Enye? This gentleman's cooking

skills are only surpassed by his smile. Oceanaire Bistro

offers some of the best dining we've had in the TCI. His

red snapper with a tomato-based sauce was delightful

and didn't stand a chance to last on my plate very long.

Shannon, my wife, had the cracked conch for our first

meal and raved about how light and tasty the breading

was. We, of course, had peas 'n' rice with our meals which

also included a salad.

Great food is enough for any restaurant. Add good

service and you'll have a success. When you also include

warm and welcoming personalities to the atmosphere—

you are going to have a winner that lasts the test of time.

Cracked conch and peas 'n' rice—it doesn't get more Turks & Caicos than this—and the meal at Oceanaire Bistro was cooked to perfection.

Times of the Islands Summer 2019 57
---
This view looks towards the old Windmills Plantation hotel on North Beach and across the channel towards Grand Turk.

Owners Bob and Lynn Knobel were regular visitors to

Salt Cay enjoying the diving by day and the community

at night. Porter's Island Thyme was the local restaurant

and bar where all the divers would gather to exchange

stories from the day and to plan tomorrow's adventure.

In a strange turn of events, Bob and Lynn purchased the

closed Island Thyme restaurant to be used as their home.

But, with the urging of Chef Enye and their own realization

that Salt Cay's beloved hangout was gone, the couple

decided to reopen the space as Oceanaire Bistro. We are

so happy they did.

The adventures

We really underestimated all there would be to do on

the island. We aren't certified divers (yet) and we didn't

have our snorkel gear with us—the water was probably

too cold this time of year for Shannon, anyhow. So, what

could we do with 36 hours on this tiny island?

After our morning coffee, we took our golf cart that

Debbie had arranged for us all over the island. We had

several must-see's on our list and began knocking them

out at a pace that allowed us to soak in the vibe of everywhere

we went with intentionality.

Windmills Plantation hotel

We're a sucker for a beautiful beach, so headed to the

old Windmills Plantation hotel ruins on North Beach. The

resort was destroyed in 2008 by Hurricane Ike. But, oh

my, this beach is gorgeous. We could see a cruise ship

across the channel docked on Grand Turk. (There are

no signs of cruise ships on Salt Cay and as Debbie likes

to say, "We have no C's. No cruise ships, no crime, no

crowds, no casinos.") It was sad to see the devastation of

this hotel. We found some pictures of it online during its

heyday and it was beautiful.

Dunscombe Point

Dunscombe Point offers some great snorkeling right off

the shore. There are rock formations and a nice area

to picnic on the beach. Also at this location is a Haitian

boat that wrecked on the island a few months ago. The

incident made international news and created quite the

surprise for local residents when dozens of new faces

showed up on the island.

Flamingos

We understand there are about 36 different types of birds

on the island. Birdwatching is a favorite thing to do for

many Salt Cay travelers. The eastern side of the island is

where the North Creek and South Creek converge into

shallow waters. We passed by the 1795 Government

House on our way to find dozens of flamingos at "the

creek." We loved watching the waves crash against the

rocks protecting the inland waterways and viewing the

beaches literally made of millions of seashells.

Taylor Hill

One of the highest points on the island is Taylor Hill. The

58 www.timespub.tc
---
oad is a bit rough to get there, but our golf cart handled

it well. The small hike up the hill was well worth it

once we saw the views and the ruins were mysterious. It

appears to have been some kind of plantation with hundreds

of man-hours spent clearing the land and building

bordering fences with the rocks. There are about a dozen

rock mounds that are all the same size. Our inquiry of

the locals revealed no concrete information on what the

purpose of the mounds were. Burial mounds? Signal fires?

Voodoo rituals? Alien communiques? These require more

investigation.

Pirate Graves

There is a very nice home on the island that has built

its property wall in a strange arch shape. This was done

in order to go around some existing graves that are

rumored to be of pirates. No one knows who is, in fact,

buried there. The three graves are of different sizes and

could be a man, a woman and possibly a child. You'll

pass by these above-ground graves on your way to the

old lighthouse site on the northwest point.

Lighthouse

The lighthouse is long gone and barely any ruins remain

to mark its previous location. However, there is a newly

installed wooden post on top of the hill which appears

to be the highest point on the island. Nearby is a canon

perched on the edge of the cliff. The ground isn't very

stable there and it was recommended not to get too

close. This remains one of the spots on the island needing

attention after the hurricane. We understand that the

primary school and government buildings are earmarked

to receive government assistance, along with the harbor

which is vital to the community of Salt Cay. We were also

told that Beaches Resorts may be providing support to

get the community gathering space back in shape, but

this has not been confirmed.

Salt Cay Days celebration

We left the morning that begins the annual Salt Cay Days

celebration. This weekend event brings visitors from

other islands to enjoy great music, wonderful eats and

the charm of the old Caribbean.

Getting home

Again, our fantastic host Debbie Manos gave us a ride to

the airport, along with her dogs, including Zorro the potcake.

Our only regret is not having more time. We wish we

could have had a few hours of beach time on the North

The donkeys that roam across Salt Cay are descendants of the animals

that worked during the salt producing days.

Beach and snorkeling on the reef. We wanted to stop by

to meet the lady who still makes salt right from the salinas

and we hoped to spend time with Tim, a descendent

of some of the original salt plantation owners. He is currently

renovating the family home (the White House). The

entire bottom floor was where the salt was kept and the

family lived on the upper floor.

So, break away from the norm for a few days to visit

Salt Cay. (Unless you are a diver or whale watcher — then,

you're going to need at least a week.) Whale watching

season is mid-January through mid-April and the island

now boasts two companies providing tours to see the

humpbacks. Dickenson's store is well stocked where we

found bottled water, almond milk and macaroon cookies!

Bring a sack of carrots for the wild donkeys. They will

love you for it, but don't leave them unattended on your

golf cart. We learned that the hard way! a

Mat and Shannon Matlack hail from Columbia, Missouri.

Avid world travelers and vloggers, the couple has focused

on the Caribbean in recent years. They adopted two potcakes

and have a love for island dogs plus a passion for

protecting the ocean's fragile, yet extremely important,

ecosystem. Their five-year-old daughter sometimes joins

them on the adventures. (Visit TheMatlacks.org).

Times of the Islands Summer 2019 59
---
faces and places

From left: This budding local DJ from the Edward Gartland Youth Centre is learning the ropes with DJ Munro and Caribbean House Evolution

founder Johnny Legend. The festival also welcomes Silky who has established a sterling reputation as an artist through an impressive catalogue

of releases and a long list of club and festival appearances.

Caribbean House Evolution 2019

It's year seven for this four-day house music festival here in Turks & Caicos, held on July 18–21, 2019. The festival

celebrates friends, vacations and house music. Evolving from a small private series of parties in 2012, it now attracts

international DJs, as well as providing the local community and visitors with house music from around the world.

Sponsors include Larry Klein Productions, The Hartling Group, Grace Bay Resorts, Royal West Indies, Somewhere

Café and Lounge, Kalooki's, Wymara Resort and Villas, IGA, The Wine Cellar, Panoply, Glow, Blufin and more. It all

starts with the DJ Workshop for kids from the Edward Gartland Youth Centre and VIP Opening Party at The Shore Club.

Next is the Club Night Party at Sandbox, a Yoga Brunch Session and Sunset Mix at Somewhere Café and Lounge, a

dinner at Wymara, and the ultimate Private Island Beach Party at Water Cay on the final day.

Founder Johnny Legend says, "I'm so thankful to have the support of local businesses and proud to see the festival

grow year on year. For me, music makes all things possible. Each year I introduce new acts and talent found locally and

internationally and I'm always overwhelmed by the response and energy. Funds raised in 2019 will go towards music

equipment for the Edward Gartland Youth Centre's planned music studio. As someone who used music as an escape

From left: New to the festival for 2019, DJ Rashida has played her signature fusion of hip-hop, funk, soul, dancehall

and house around the globe. Local children are eager to learn so they can follow in her footsteps.

60 www.timespub.tc

in my youth, I

understand

its

healing powers. I

can't wait to see

how these talented

kids use the equipment

and studio

to create beautiful

music of their

own." For more

information, visit

www.caribbeanhouseevolution.

com.

Photos Courtesy

Caribbean House

Evolution
---
astrolabe

newsletter of the Turks & Caicos National Museum

front street, p.o. box 188, grand turk, turks & caicos islands, bwi

tel 649 946 2160 • fax 649 946 2160 • email info@tcmuseum.org • web www.tcmuseum.org

One Big Journey

By Michael P. Pateman, Ph.D., Director, Turks & Caicos National Museum

Over the last year, a lot of space

has been dedicated to the development

of the new museum in

Providenciales. That journey has

focused on the physical building,

the role and importance of museums

in communities, and the

future of the National Museum

building. However, there has not

been much discussion of what will

be displayed there.

Under the concept "Five

Galleries, One Big Journey," the

new museum will display a wide

variety of Turks & Caicos history,

heritage and culture in the space of

five galleries:

Entrance and Welcome; Natural

History; Pre-Columbian; Transatlantic Slave Trade and Modern Ethnography.

The stories presented in our galleries intend to take visitors beyond the beach to a curious place,

where they can keep exploring. The exhibitions housed here will change periodically as the Museum

embraces collaborations with fellow institutions and as it seeks to enhance community relations.

A huge part of the new museum is the development of an educational space. We intend to use the

emerging technology of virtual reality to create digital exhibitions and digital learning experiences. Over

the next several editions of the Astrolabe, we will expand on the details. We haven't abandoned Grand

Turk! New and enhanced exhibits are also planned for the Grand Turk museum as well.

In this edition of Astrolabe, the feature article discusses the Museum's new oral history initiative.

This project seeks to allow Islanders to tell their story in their own words. The second article is a collaborative

project with the Museum and longtime contributor Dr. Shaun Sullivan on the Lucayans in the

Turks & Caicos Islands.

This is indeed an exciting time to be a part of the Turks & Caicos National Museum! a

Times of the Islands Summer 2019 61
---
astrolabe newsletter of the Turks & Caicos National Museum

Alton Higgs, "Da Bush Doctor" from Middle Caicos, shared his extensive knowledge of bush medicine as part of "People of the Islands," the

TCI National Museum's new oral history/ethnography project.

MICHAEL PATEMAN

Bold & Unapologetic

People of the Islands in front of the lens.

By Michael P. Pateman and Vanessa A. Pateman

"People of the Islands" is the National Museum's new oral history/ethnography program. This project

seeks to tell the story of "Islanders" of the Bahama Archipelago through their own voice, with a first person

narrative. Oral histories are stories that living individuals tell about their past, or the past of other people.

The purpose of the Museum's research is to attempt to understand what is happening naturally and to

interpret the data gathered to see what implications could be formed regarding the culture and heritage

of the Bahamas and Turks & Caicos Islands.

62 www.timespub.tc
---
astrolabe newsletter of the Turks & Caicos National Museum

MICHAEL PATEMAN

Background linkage

The first island of the archipelago (Eleuthera, in the

Bahamas) was settled by Bermudians looking for religious

freedom in 1647. It wasn't until 1681 that salt rakers

from Bermuda seasonally settled Grand Turk to begin salt

raking. In 1766 the Turks & Caicos were a part of the

Bahama colony and was placed under the administration

of the Bahamian Government. Attempts to integrate the

two distinct communities failed, and in 1874 after the

Great Bahama Hurricane devastated much of the archipelago,

the Turks & Caicos Islands became a dependency

to the British Crown Colony of Jamaica. After Jamaican

independence in 1962, the Turks & Caicos returned to

Bahamian control until Bahamian independence in 1973.

Although the island groups have remained separate

administratively (Grand Turk continued as the administrative

capital of the Turks & Caicos during Bahamian

governance), there are many cultural and familiar relationships

between the islands. Additionally, there have

been multiple migratory periods of large amounts of people

between the island groups. As a result, Bahamians

and "Belongers" share similar ancestry, cultural traditions,

food and dialect. Presently, there are no studies

that explore these relationships—therefore both island

group claim to be the original home of multiple forms of

cultural expressions that are only found in the Bahama

archipelago in its present form.

Boat building, sailing and navigation

Everyone learned to swim, build model boats on the bay

outside their homes and eventually graduated to building

or sailing larger Caicos sloops. For almost 300 years,

the inhabitants of the Turks & Caicos Islands depended

on small sloops for their commerce, fishing and transportation.

These native boats have generally been small

because of limitations imposed on them by the shallow

waters surrounding the Islands and the scarcity of suitable

native wood.

The largest of these sloops were approximately 30

feet overall and were used to haul local products such as

salt, dried conch and sisal to ships anchored offshore.

Additionally, these sloops were used for inter-island

transportation. They regularly traveled to Haiti, the

Dominican Republic and the Bahamas.

Changing commercial needs and modern transportation

between the Islands have made the native sloops all

Boat building was crucial to the development of the Turks & Caicos

Islands. From top: Headley Forbes shares a photo of the last boat he

built. James Dean, a master boat builder from Blue Hills, Providenciales

also participated in the Museum's project.

VANESSA PATEMAN

Times of the Islands Summer 2019 63
---
astrolabe newsletter of the Turks & Caicos National Museum

but obsolete. With this change, the skills associated with

construction and sailing such craft are now possessed by

only a handful of men scattered throughout the Islands.

MICHAEL PATEMAN

MICHAEL PATEMAN

Medicine, music and much more

There was no hospital on the Islands until recently, so

people used indigenous medicine to heal the sick and

wounded. This "bush medicine" was made from herbs,

plants, barks, roots and sometimes animal products.

The various concoctions are said to have abilities ranging

from curing the common cold, improving the chances

of getting pregnant, and even curing cancer. This island

knowledge was passed down through the generations.

Not only was bush medicine passed down through

generational knowledge, but ways of storytelling—specifically

musical traditions—were shared. This musical

cultural expression is originally known as Ripsaw. Oral

tradition in the Turks & Caicos says that it originated

in these islands and spread to nearby islands such as

the Bahamas and has been rebranded as Rake-n-Scrape.

Bahamian oral tradition tells the story in reverse, that

Rake-n-Scrape originated in the Bahamas, especially Cat

Island, and spread to the Turks & Caicos. People of the

Islands will explore these stories further. While we might

not solve the mystery of where Ripsaw or Rake-n-Scrape

originated, we will explore the unique sounds of both

musical forms as told by the musicians themselves.

Engaging the community

This project helps to fulfill one of the major goals of the

Museum—engaging the Turks & Caicos community. One

of the resulting end products, the "People of the Islands"

ethnography film, is a way for the Museum to present and

show understanding of the cultural heritage of the TCI

from the inside out, as we give a voice to the people who

have shaped the country. This documentary will include

dialect via recorded speech by people in the community.

When this speech is in a language unfamiliar or unclear to

the intended film audience, the producers generally use

voice-over translation or subtitles.

"People of the Islands" will be a description of TCI

culture and traditions with a focus on the people who

Opposite page from top: Musician and songwriter Lovey Forbes is one

of TCI's cultural icons. Here he is performing at the Valentine's Cup

Model Boat Races in 2019. Grand Turk native Shirley Brown is a former

nurse and dancer. Museum Director Michael Pateman interviews

Lovie Forbes for the "People of the Islands" project.

VANESSA PATEMAN

64 www.timespub.tc
---
astrolabe newsletter of the Turks & Caicos National Museum

live within the Islands, including their personal adaptation,

their success and an understanding of how culture

shaped this. In as much as cultures are constantly changing,

the history and context (interrelated issues, settings,

environment and social relationships) play important

roles in the lives of individuals in determining the webs

of significance. Ethnographic research is also done in an

attempt to discover patterns in human behavior. One of

the main advantages of the documentary is that it will

help the Museum to identify and analyze research data.

We're conducting other types of studies, which are not

based on in-situ observation or interaction.

According to the American Anthropological

Association, "Anthropologists . . . have obligations to

the scholarly discipline, to the wider society and culture,

and to the human species, other species, and the environment."

Ethnography is the bread and butter of social

(and cultural) anthropological analyses and theories. That

is also why most sociocultural anthropologists do fieldwork.

Life as a Belonger

There's an enduring story to be told from the perspective

of the bold people, called "Belongers," who carved

out a living within these Islands. They contributed to the

economic growth and development by the sweat of their

brows and the art of their hands. Through the knowledge

and wisdom of bush medicine they healed themselves,

passing all this heritage from one generation to the next.

They left an indelible legacy that must not only be told,

but preserved for the future.

We will continue to share the results of this project

in future editions of Astrolabe, social media channels

and ultimately in new exhibitions in both Grand Turk and

Providenciales. Everyone has a story to tell and it is our

goal to collect these stories. a

Museum Matters

Community involvement

Community is defined as a feeling of fellowship with

others as a result of sharing common attitudes, interests

and goals; a group of people living in the same

place or having a particular characteristic in common.

One of the main objects of the Turks & Caicos National

Museum is to promote community involvement with

cooperation, respect and participation. The Museum

is where we want to create a place for the community

to have a feeling of belonging and gain knowledge of

why the Islands are like they are, who has lived here in

the past and what they did and why.

Our mission statement lends itself to the very

meaning of community: "The Turks & Caicos National

Museum is a not for profit organization aimed at

recording, interpreting, preserving and celebrating the

history of the Turks & Caicos Islands and its people."

We offer several community events at both locations

on an annual basis.

Grand Turk children's club

Sponsored by sales of the children's book, Where is

Simon, Sandy?, written by Donna Seim, the club is held

monthly on Grand Turk. Activities include art, crafts

If you have a recommendation for an interviewee

for "People of the Islands," please send us an email at

info@tcmuseum.org.

and projects that focus on the culture, nature, environment

and history of the Turks & Caicos.

The goal is for the children to have fun while learning

more about their past, present and future. Over

the last few months, the Children's Club has presented

storytelling, learning facts about sea life, drawing, coloring

and painting. During the school break in April

(continued on page 70)

Times of the Islands Summer 2019 65
---
astrolabe newsletter of the Turks & Caicos National Museum

Clockwise from top: The South Bank site excavation team included

local volunteers and students, along with archaeologist Dr. Shaun

Sullivan (far right). The circular impressions on this pot sherd are

a decorative motif from the late ceramic period in northwestern

Hispaniola, indicating trade with the Lucayans at the South Bank site.

Students from the BWI Collegiate joined in the excavation.

To the Rescue

Community teamwork investigates early island culture.

By Dr. Shaun D. Sullivan and Dr. Michael P. Pateman ~ Photos Courtesy Turks & Caicos National Museum

In the fall of 2018, local volunteers and students came together in a community effort to record a key part

of the culture of early Turks & Caicos Islanders. They came from nearby homes and schools to search out,

sort and sift ancient artifacts and food remains from the South Bank archaeological site on the western

shore of the Juba Sound estuary.

66 www.timespub.tc
---
astrolabe newsletter of the Turks & Caicos National Museum

Evidence of prehistoric human occupation of the area

around Juba Point was first reported by Theodoor De Booy

in the early 1900s. He was exploring the Islands on behalf

of the Heye Museum of the American Indian in New York

when he found pre-Columbian ceramics and stone artifacts

in caves above the sound behind Long Bay.

Exploring the area downhill from the caves in 1976,

archaeologist Shaun Sullivan came upon Amerindian

ceramics and shell food remains in a grassy area alongside

the original channel for the Caicos Marina, and followed

up with text excavation there in early 1977.

The site was originally recorded as Providenciales–1,

and has come to be renamed the South Bank site.

Radiocarbon dating of charcoal from a firepit encountered

in 1977 provided a calibrated date of AD 1328 +/– 49

years. Imported ceramics encountered indicated contact

with the Amerindians in the Greater Antilles. Locally

made ceramics, Palmetto Ware, were common, classifying

this as a local settled culture, i.e., a Lucayan village site.

Bone remains analyzed at the Florida Museum of Natural

History demonstrated exploitation of fish from the estuary

and near shore environments.

More than 40 years later in the spring of 2018, Sullivan

and Beluga catamaran captain Tim Ainley returned to

the site and found it remarkably undisturbed, in spite

of intervening development surrounding it. A local resident,

Kathi Barrington, wandered by with her dog, and

advised that the site was soon to be converted to housing

and a marina. Concerned by the pending loss of cultural

remains, the developers were contacted.

Coming to appreciate the value of the site, Windward

Long Bay Development Ltd., via Ingo Reckhorn, generously

agreed to fund the bulk of the cost excavations

and analysis to capture key information about the ancient

culture while there was still time. Additional funding and

support came from the Turks & Caicos Reef Fund, the

Anthropological Research Council and Sail Beluga.

A rapid effort was made to inform the local community

of the site's value and recruit participants in the

rescue archaeology effort. We teamed up with Michael

Pateman and Candianne Williams of the Turks & Caicos

National Museum and reached out to Ethlyn Gibbs of the

Turks & Caicos National Trust; Ludmila Fulford of the TCI

Department of Education; Nicole Caesar, Lormeka Williams

and Eric Salamanca of the TCI Department of Environment

and Coastal Resources, Agile LeVin of Visit TCI and Sylvia

Part of each day's work by students and volunteers at the South Bank

site included screening excavated soil to uncover artifacts.

Wigglesworth of the BWI Collegiate.

In early October, with a community outreach response

of a dozen local adult residents and several bright and

energetic students from the Collegiate, we launched our

effort to capture the information locked in the earth. We

began each day gathered around our artifact-sorting tables

in the shade of a high canopy to discuss the practical

tasks ahead for that day, as well as the broader theories

surrounding what we were doing. We discussed the prehistory

of the Islands; Lucayan and Taino Indian cultures;

ancient human migrations; anthropology; archaeology;

and the roles of museums and of public participation in

research to assist in creating a sense of cultural continuity

with the past. There were a lot of questions, and the lively

discussions that ensued helped give meaning to our findings

during the excavations.

The youngsters who participated enlivened the

enterprise considerably. They were enthusiastic and

good-natured. They kibitzed and sang while they worked.

We hosted field trips to the archaeological site for more

than half a dozen local elementary and secondary schools,

representatives of the press, local officials and Governor

Freeman. The visiting students were curious and asked

Times of the Islands Summer 2019 67
---
astrolabe newsletter of the Turks & Caicos National Museum

From top: Museum Director Dr. Michael Pateman worked to excavate

and sample the unusual black earth deposit. It may have been manmade,

the result of prehistoric "composting."

good questions. Some expressed interest in becoming

archaeologists in the future. Community engagement was

a strong part of our plan, and the interaction with schools

and students was an important element of our networking

activities.

We dug a score of test pits across the site to determine

the distribution of the subsurface deposits, and

used those results to chose two particularly rich areas,

one north and one south, for controlled excavations. We

cut down carefully, layer by layer, screening and mapping

the deposits and artifacts we encountered, with the students

and volunteers learning to classify and make note of

the materials recovered. We recorded ceramics by number

sherds and weight, distinguishing between locally made

Palmetto Ware and imported ceramics from the Greater

Antilles to the south; obtained charcoal for radiocarbon

dating; preserved animal bones and identified the number

and species of shell remains. We photographed all the

artifacts.

In both the north and south excavation areas we

quickly encountered distinctive concentrations of carbon-stained,

burned and cracked limestone mixed with

broken conch shells. We have come to recognize these as

"earth ovens" which were open pit, broken stone and shell

lined cooking areas, which are a form of Lucayan cultural

deposit that is widely distributed in the Turks & Caicos

and the Bahamas.

The northern excavation produced some intriguing

soil layers (strata). Working downward, a few centimeters

from the surface we encountered a thin layer of very pale

soil, a mixture of sand and marl, which appeared to have

been carried in from the local estuary and spread on the

surface. It would have produced a smooth walking surface

for the Lucayans.

That pale layer capped living debris (midden) that

quickly transitioned to exceptionally black soil. It was so

black it was literally off our soil color chart. The earth

ovens are dark, but this was darker. Without claiming

exact duplication, we note that in lowland South America

at prehistoric sites there are commonly found man-made

(anthropogenic) soils that are very dark; these man-made

soils are termed "terra preta" or "Indian earth." These terra

preta soils are the result of intentional composting. We

took samples of this black soil from South Bank for analysis.

Michael Pateman focused the excavation effort in the

northern sector on sampling and defining this black earth

feature.

We found ceramic fragments scattered throughout

the deposits. We always study ceramics because they

are sturdy and endure. They have stylistic traits in their

form and decoration that evolve through time and spread

through space via trade and the sharing of styles, which

are passed down and across from potter to potter.

One decorative motif on imported ceramics of note

was wide punctation (circular impressions). This was

found on ceramics excavated in 1977 and in our October

2018 dig. Similar decoration was noted on ceramics recovered

by De Booy over a century earlier at the nearby Juba

Point caves, and a nearly identical decoration was found

on imported ceramics at a contemporaneous site on

Middle Caicos, site MC-12. That decorative motif is known

from the late ceramic period in northwestern Hispaniola.

That zone may therefore have been included in the trade

68 www.timespub.tc
---
astrolabe newsletter of the Turks & Caicos National Museum

network of the Lucayans at the South Bank site.

Today we have methods for extracting information

about diet from ceramics and shell remains. Microscopic

silicon structures from plants (phytoliths) as well as starch

grains, fat remains (lipids) and pollen remain adhered to

some ceramic and shell specimens. We carefully preserved

unwashed ceramics and shells from the South Bank site

for such analysis, which is ongoing at the University of

North Carolina at Wilmington (UNCW) and at the Florida

Museum of Natural History (FMNH). Among the shells

being analyzed at FMNH are clam shells, Codakia orbicularis,

that show edge chipping from when they were

used for scraping, quite possibly for scraping the skins of

tubers, such as manioc.

Locally made Palmetto Ware ceramics have crushed

shell inclusions (tempering) in the clay that help bind

it together. Coming from the volcanic origin islands to

The edge of this clam shell, Codakia orbicularis, shows that it was

likely used for scraping the skins of tubers, such as manioc.

the south, Cuba and Hispaniola, imported ceramics we

encounter contain igneous and metamorphic grit tempering.

In order to analyze the minerals in the import

tempering, and thereby help trace them back to their

point of origin, we have cut very thin sections of those

ceramics, allowing microscopic examination of the minerals.

This is referred to as petrographic analysis, and is

currently being undertaken at UNCW.

Comparable petrographic analysis of ceramics from

the Greater Antilles is just starting to be conducted by

other researchers, so for the moment we have a limited

comparative base. However, that will change as more such

work is done in the islands to the south. In the near future

we will be better able to trace these imported ceramics

back to their hearth zone, and thus have an expanded

picture of the islanders' trade networks.

Local Palmetto Ware often has basketry and mat

impressions. We brought in an expert, Charlene

Hutcheson, to help with analysis of these impressions,

and by extension advance depiction of the basketry and

weaving skills of the Lucayans.

Charcoal samples extracted from the midden were

sent to Beta Analytics in Miami for radiocarbon dating.

The three test results indicated a high probability that the

occupation period of the village was between 1300 and

1440 AD, which is consistent with the radiocarbon date

mentioned from the 1977 dig.

Why settle there? Why settle by the mouth of Juba

Sound? The Sound is a rich natural environment, and the

South Bank site is particularly well located to take advantage

of local resources. The site sits in the lee of the high

ironshore at the south end of Long Bay, where canoes

could be landed in calm waters. It sits on deep sandy soil,

upon which it would have been easy to build the pole and

thatch structures of the Lucayans, and within which the

Amerindians could plant their varied crops. A permanent

surface fresh water source is located to the northeast,

at the base of the hill on which are found the Juba Point

caves. The estuary system of the Sound is rich in shellfish,

and the narrow estuary mouth is a natural tidal funnel for

fish and an ideal location for fish traps. Nearby offshore

are banks that have abundant conch, and the patch reefs

host many fish. The bone and shell remains recovered

from the South Bank site indicate that all these resources

and environmental zones were being exploited.

Analysis is ongoing, but here is where we are, and

what we expect to learn. We are strengthening our

understanding of how the Lucayans interacted with their

environment and utilized resources within it; firm dating

of the site between approximately 1300 and 1440

AD helps place the settlement in the context of regional

cultural development and links to contemporaneous

communities; decorative motifs and mineral content of

imported ceramics are enabling refined modeling of trade

ties and networks; and analysis of food residue on bone,

shell and ceramics will expand our understanding of the

Lucayan diet and of the plant and animal species that they

used to fuel their economy.

The South Bank dig was productive, and could not

have been successful without the contributions of local

officials, students and volunteers. It was a true community

effort. a

Times of the Islands Summer 2019 69
---
astrolabe newsletter of the Turks & Caicos National Museum

Museum Matters (continued)

we had a beach fun day. Children of all ages played

games, swam, snorkeled and had lunch. Where is

Simon, Sandy? books are available in the gift shop at

both Museum locations. Cases and half-cases are also

available for sale at wholesale prices.

Provo Museum gala — new in 2019

The Turks and Caicos National Museum Foundation

(TCNMF), with the invaluable support of the Hartling

Group, corporate Turks & Caicos, hosted our inaugural

fundraising gala at the Shore Club on June 8, 2019

under the theme, "Building for the future, to protect the

past." The goal is to raise funds for the development

of the new National Museum facility in Providenciales.

This event will be the TCNMF's major fundraiser for the

year and will be held annually.

Museum summer camp

The Provo Summer Camp will be held July 8–12 at

the Village at Grace Bay campus. This fun, free camp

explores history through arts, crafts, games, living history

activities and field trips. The camp is another event

sponsored by the sale of Where is Simon, Sandy? books.

Back in the Day — Village at Grace Bay

This event is held annually on the third Saturday in May

in conjunction with International Museum Day. It is a

celebration of the dynamic heritage and culture of the

Turks & Caicos Islands. The Caicos Heritage homestead

comes alive with the "Back in the Day" theme. Step back

in time with dramatic performances, food, music, dance

and traditional craft.

Grand Turk BBQ & conch fritter cook off

This year's inaugural event will be held July 20, withprizes

and bragging rights for the winners! The day will

include live music (Island Vibes Band), food, refreshments,

games for the kids and a raffle with great prizes.

Grand Turk summer eco camp

Every summer in conjunction with the TCI Department

of Environment and Coastal Resources, we offer a

week-long club. Daily activities for the kids include

snorkeling, kayaking, hiking and crafts as they learn

about the Islands' environment. This year's Eco Camp

is August 12–16, also funded by the sale of Where is

Simon, Sandy? books.

History & cultural heritage quiz

This annual event is held each October in Provo to coincide

with Heritage Month. Schools from all the islands

are invited to participate. In addition to the Challenge

Trophy which is kept at the current winner's school,

the 2018 prize included a trip to Jamaica to visit the

UNESCO world heritage sites of Blue and John Crow

Mountain, museums, great houses and other historical

sites. Second prize winners spent the day immersed in

history on one of the Turks & Caicos Islands. All of this

is made possible with our many sponsors.

70 www.timespub.tc
---
astrolabe newsletter of the Turks & Caicos National Museum

Museum Day— Grand Turk

November of each year we celebrate the 1991 opening

of the Turks & Caicos National Museum with

Museum Day. The celebration includes food, music,

raffles and special activities for children. Museum

Day for 2019 is November 2.

Various other events

Both Museum locations occasionally offer "Evening

with the Expert" events. Guest speakers, including

archeologists, historians and authors, present lectures

on their area of expertise specifically about the

Join the Museum

Become a Member of the

Turks & Caicos National

Museum and receive a

year's subscription to Times of the Islands (which

includes Astrolabe), free admission to the Museum

and other benefits.

Senior (62+) $35 • Individual $50

Family/Friend $100 • Sponsor $250

Contributor $500 • Partner $750

We have several options for joining:

Turks & Caicos Islands. Both locations frequently welcome

school groups. The Grand Turk location does

not charge for school group visits and Provo charges

a minimal amount. The Grand Turk museum is creating

a Community Wall Mosaic that reflects all aspects

of island life including history, culture, wildlife and

nature. This will be an ongoing project that will turn

something ordinary into something extraordinary! a

By Lisa Talbot

• Visit the Museum at our Providenciales location at

The Village at Grace Bay or our Grand Turk location

in Guinep House on Front Street.

• Visit our website at

www.tcmuseum.org/membership-support/.

• Send US checks to: Dr. Toni L. Carrell, Friends of

the Turks & Caicos National Museum, 39 Condesa

Road, Santa Fe, NM 87508

*For U.S. residents, support of the Museum may be tax-deductible

if you join via Friends of the Turks & Caicos National

Museum, our affiliated institution and registered 501 (c) (3).

Times of the Islands Summer 2019 71
---
about the Islands

Map provided courtesy Wavey Line Publishing. Their navigation charts and decorative and historic maps of the Turks & Caicos Islands, the

Bahamas, and Hispaniola are available in shops throughout the Islands. Visit www.amnautical.com.

Where we are

The Turks & Caicos Islands lie some 575 miles southeast

of Miami — approximately 1 1/2 hours flying time — with

the Bahamas about 30 miles to the northwest and the

Dominican Republic some 100 miles to the southeast.

The country consists of two island groups separated

by the 22-mile wide Columbus Passage. To the west are

the Caicos Islands: West Caicos, Providenciales, North

Caicos, Middle Caicos, East Caicos, and South Caicos. To

the east are the Turks Islands: Grand Turk and Salt Cay.

The Turks & Caicos total 166 square miles of land

area on eight islands and 40 small cays. The country's

population is approximately 36,500.

Getting here

There are international airports on Grand Turk, North

Caicos, Providenciales, and South Caicos, with domestic

airports on all of the islands except East Caicos.

At this time, all of the major international carriers

arrive and depart from Providenciales International Airport.

American Airlines flies from Miami, Charlotte, Chicago,

Dallas, New York/JFK and Philadelphia. JetBlue Airways

offers service from Fort Lauderdale, Boston and New

York/JFK. Southwest Airlines travels to Fort Lauderdale.

Delta Airlines flies from Atlanta and New York/JFK. United

Airlines travels from Chicago and Newark. WestJet travels

from Toronto. Air Canada offer flights from Toronto.

British Airways travels from London/Gatwick via Antigua.

72 www.timespub.tc
---
Bahamasair and InterCaribbean Airways fly to Nassau,

Bahamas. Flights to: Antigua; Dominica; Cap Haitien

and Port Au Prince, Haiti; Kingston and Montego Bay,

Jamaica; Miami, Florida; Puerto Plata and Santo Domingo,

Dominican Republic; San Juan, Puerto Rico; St. Lucia; St.

Maarten; Santiago, Cuba; and Tortola are available on

InterCaribbean Airways, while Caicos Express travels to

Cap Haitien daily. (Schedules are current as of June 2019

and subject to change.)

Inter-island service is provided by InterCaribbean

Airways, Caicos Express Airways and Global Airways. Sea

and air freight services operate from Florida.

Language

English.

Time zone

Eastern Standard Time (EST)/Daylight Savings Time

observed.

Currency

The United States dollar. The Treasury also issues a Turks

& Caicos crown and quarter. Travellers cheques in U.S.

dollars are widely accepted and other currency can be

changed at local banks. American Express, VISA, and

MasterCard are welcomed at many locations.

Climate

The average year-round temperature is 83ºF (28ºC). The

hottest months are September and October, when the

temperature can reach 90 to 95ºF (33 to 35ºC). However,

the consistent easterly trade winds temper the heat and

keep life comfortable.

Casual resort and leisure wear is accepted attire for

daytime; light sweaters or jackets may be necessary on

some breezy evenings. It's wise to wear protective clothing

and a sunhat and use waterproof sunscreen when out

in the tropical sun.

Entry requirements

Passport. A valid onward or return ticket is also required.

Customs formalities

Visitors may bring in duty free for their own use one carton

of cigarettes or cigars, one bottle of liquor or wine,

and some perfume. The importation of all firearms including

those charged with compressed air without prior

approval in writing from the Commissioner of Police is

strictly forbidden. Spear guns, Hawaiian slings, controlled

Times of the Islands Summer 2019 73
---
drugs, and pornography are also illegal.

Returning residents may bring in $400 worth of

merchandise per person duty free. A duty of 10% to

60% is charged on most imported goods along with a

7% customs processing fee and forms a major source of

government revenue.

Transportation

A valid driver's license from home is suitable when renting

vehicles. A government tax of 12% is levied on all

rental contracts. (Insurance is extra.) Driving is on the

left-hand side of the road, with traffic flow controlled by

round-abouts at major junctions. Please don't drink and

drive! Taxis are abundant throughout the Islands and

many resorts offer shuttle service between popular visitor

areas. Scooter, motorcycle, and bicycle rentals are

also available.

Telecommunications

FLOW Ltd. provides land lines and superfast broadband

Internet service. Mobile service is on a LTE 4G network,

including pre and post-paid cellular phones. Most resorts

and some stores and restaurants offer wireless Internet

connection. Digicel operates mobile networks, with

a full suite of LTE 4G service. FLOW is the local carrier

for CDMA roaming on US networks such as Verizon and

Sprint. North American visitors with GSM cellular handsets

and wireless accounts with AT&T or Cingular can

arrange international roaming.

Electricity

FortisTCI supplies electricity at a frequency of 60HZ,

and either single phase or three phase at one of three

standard voltages for residential or commercial service.

FortisTCI continues to invest in a robust and resilient grid

to ensure the highest level of reliability to customers. The

company is integrating renewable energy into its grid and

provides options for customers to participate in two solar

energy programs.

Departure tax

US $60. It is typically included in the price of your airline

ticket.

Courier service

Delivery service is provided by FedEx, with offices on

Providenciales and Grand Turk, and DHL. UPS service is

limited to incoming delivery.

Postal service

The Post Office and Philatelic Bureau in Providenciales is

located downtown on Airport Road. In Grand Turk, the

Post Office and Philatelic Bureau is on Church Folly. The

Islands are known for their varied and colorful stamp

issues.

Media

Multi-channel satellite television is received from the U.S.

and Canada and transmitted via cable or over the air.

Local station WIV-TV broadcasts on Channel 4 and Island

EyeTV on Channel 5. People's Television offers 75 digitally

transmitted television stations, along with local news

and talk shows on Channel 8. There are also a number of

local radio stations, magazines, and newspapers.

Medical services

There are no endemic tropical diseases in TCI. There are

large, modern hospitals on Grand Turk and Providenciales.

Both hospitals offer a full range of services including:

24/7 emergency room, operating theaters, diagnostic

imaging, maternity suites, dialysis suites, blood bank,

physiotherapy, and dentistry.

74 www.timespub.tc
---
Brew ad May 2017_Layout 1 5/11/17 10:51 AM Page 1

In addition, several general practitioners operate in

the country, and there is a recompression chamber, along

with a number of private pharmacies.

Immigration

A resident's permit is required to live in the Islands. A

work permit and business license are also required to

work and/or establish a business. These are generally

granted to those offering skills, experience, and qualifications

not widely available on the Islands. Priority is given

to enterprises that will provide employment and training

for T&C Islanders.

Government/Legal system

TCI is a British Crown colony. There is a Queen-appointed

Governor, HE Dr. John Freeman. He presides over an executive

council formed by the elected local government.

Lady Sharlene Cartwright-Robinson is the country's first

woman premier, leading a majority People's Democratic

Movement (PDM) House of Assembly.

The legal system is based upon English Common

Law and administered by a resident Chief Justice, Chief

Magistrate, and Deputy Magistrates. Judges of the Court

of Appeal visit the Islands twice a year and there is a final

Right of Appeal to Her Majesty's Privy Council in London.

Taxes

There are currently no direct taxes on either income

or capital for individuals or companies. There are no

exchange controls. Indirect taxation comprises customs

duties and fees, stamp duty, taxes on accommodations,

restaurants, vehicle rentals, other services and gasoline,

as well as business license fees and departure taxes.

Economy

Historically, TCI's economy relied on the export of salt.

Currently, tourism, the offshore finance industry, and

fishing generate the most private sector income. The

Islands' main exports are lobster and conch. Practically

all consumer goods and foodstuffs are imported.

The Turks & Caicos Islands are recognised as an

important offshore financial centre, offering services

such as company formation, offshore insurance, banking,

trusts, limited partnerships, and limited life companies.

The Financial Services Commission regulates the industry

and spearheads the development of offshore legislation.

People

Citizens of the Turks & Caicos Islands are termed

Turk's Head Brewery

Brewery Tours Monday-Friday

11AM, 1PM, 3PM

$15/pp

Enjoy a complimentary selection of local craft beer

after your tour!

Email tours@turksheadbeer.com

Call 649.941.3637 x 1005 to book

www.turksheadbrewery.tc

52 Universal Dr.

Providenciales, TCI

TOUR TASTE SHOP

Island Auto_Layout 1 12/12/17 12:49 PM Page 1

ISLAND AUTO RENTALS

For Quality & Reliable Service

& Competitive Prices

The Cruise Center, Grand Turk

Neville Adams

Tel: (649) 946-2042

Cell: (649) 232-0933 or (649) 231-4214

Email: nevilleadams@hotmail.com

Providenciales

Levoi Marshall

Cell: (649) 441-6737

Email: levoimarshall86@gmail.com

Web: islandautorentalstci.com

Times of the Islands Summer 2019 75
---
"Belongers" and are primarily descendants of African

slaves who were brought to the Islands to work in the

salt ponds and cotton plantations. The country's large

expatriate population includes Canadians, Americans,

Brits and Europeans, along with Haitians, Jamaicans,

Dominicans, Bahamians, Indians, and Filipinos.

Churches

Churches are the center of community life and there

are many faiths represented in the Islands including:

Adventist, Anglican, Assembly of God, Baha'i, Baptist,

Catholic, Church of God, Episcopal, Jehovah's Witnesses,

Methodist and Pentecostal. Visitors are always welcome.

Pets

Incoming pets must have an import permit, veterinary

health certificate, vaccination certificate, and lab test

results to be submitted at the port of entry to obtain

clearance from the TCI Department of Agriculture, Animal

Health Services.

National symbols

The National Bird is the Brown pelican (Pelecanus occidentalis).

The National Plant is Island heather (Limonium

bahamense) found nowhere else in the world. The

National Tree is the Caribbean pine (Pinus caribaea var.

bahamensis). The National Costume consists of white cotton

dresses tied at the waist for women and simple shirts

and loose pants for men, with straw hats. Colors representing

the various islands are displayed on the sleeves

and bases. The National Song is "This Land of Ours" by

the late Rev. E.C. Howell, PhD. Peas and Hominy (Grits)

with Dry Conch is revered as symbolic island fare.

Going green

TCI Waste Disposal Services currently offers recycling

services through weekly collection of recyclable alumi-

num, glass, and plastic. Single-use plastic bags have been

banned as of May 1, 2019.

Recreation

Sporting activities are centered around the water. Visitors

can choose from deep-sea, reef, or bonefishing, sailing,

glass-bottom boat and semi-sub excursions, windsurfing,

waterskiing, parasailing, sea kayaking, snorkelling, scuba

diving, kiteboarding, stand up paddleboarding, and

beachcombing. Pristine reefs, abundant marine life, and

excellent visibility make TCI a world-class diving destination.

Tennis and golf—there is an 18 hole championship

course on Providenciales—are also popular.

The Islands are an ecotourist's paradise. Visitors can

enjoy unspoilt wilderness and native flora and fauna in 33

national parks, nature reserves, sanctuaries, and areas of

historical interest. The National Trust provides trail guides

to several hiking trails, as well as guided tours of major

historical sites. There is an excellent national museum on

Grand Turk, with an auxillary branch on Providenciales. A

scheduled ferry and a selection of tour operators make it

easy to take day trips to the outer islands.

Other land-based activities include bicycling, horseback

riding and football (soccer). Personal trainers are

available to motivate you, working out of several fitness

centres. You will also find a variety of spa and body treatment

services.

Nightlife includes local bands playing island music

at bars and restaurants and some nightclubs. There is

a casino on Providenciales, along with many electronic

gaming parlours. Stargazing is extraordinary!

Shoppers will find Caribbean paintings, T-shirts,

sports and beachwear, and locally made handicrafts,

including straw work and conch crafts. Duty free outlets

sell liquor, jewellery, watches, perfume, leather goods,

crystal, china, cameras, electronics, brand-name clothing

and accessories, along with Cuban cigars. a

76 www.timespub.tc
---
where to stay

Grand Turk

range of daily rates

US$ (subject to change)

number of units

major credit cards

restaurant

bar

air conditioning

phone in unit

television in unit

kitchen in unit

laundry service

pool

on the beach

H

The Arches of Grand Turk – Tel 649 946 2941 190–210 4 • • • • • • •

Bohio Dive Resort – Tel 649 231 3572/800 494 4301 • Web www.bohioresort.com 170–230 16 • • • • • • • •

Crabtree Apartments – Tel 978 270 1698 • Web www.GrandTurkVacationRental.com 210–250 3 • • • • • •

Manta House – Tel 649 946 1111 • Web www.grandturk-mantahouse.com 110–130 5 • • • • • • •

Osprey Beach Hotel – Tel 649 946 2666 • Web www.ospreybeachhotel.com 90–225 37 • • • • • • • • • •

Pelican House – Tel 649 246 6797 • Web www.pelicanhousegrandturk.com 110-130 3 • • • • •

Salt Raker Inn – Tel 649 946 2260 • Web www.saltrakerinn.com 55–140 13 • • • • • • •

Solomon Porches Guesthouse – Tel 649 946 2776/241 2937 • Fax 649 946 1984 75–100 3 • •

Middle Caicos

H

Dragon Cay Resort at Mudjin Harbour – Tel 649 344 4997 • Web www.dragoncayresort.com 325 8 • • • • • • • • •

North Caicos

H

Bottle Creek Lodge – Tel 649 946 7080 • Web www.bottlecreeklodge.com 155–240 3 • •

Caicos Beach Condominiums – Tel 649 241 4778/786 338 9264 • Web www.caicosbeachcondos.com 159–299 8 • • • • • • • •

Cedar Palms Suites – Tel 649 946 7113/649 244 4186 • Web www.oceanbeach.tc 250–300 3 • • • • • • • • •

Flamingo's Nest – Tel 649 946 7113/649 244 4186 • Web www.oceanbeach.tc 175–340 2 • • • • • • • •

Hollywood Beach Suites - Tel 800 551 2256/649 231 1020 • Web www.hollywoodbeachsuites.com 200–235 4 • • • • • •

JoAnne's Bed & Breakfast - Tel 649 946 7301 • Web www.turksandcaicos.tc/joannesbnb 80–120 4 • • • •

Palmetto Villa – Tel 649 946 7113/649 244 4186 • Web www.oceanbeach.tc 225–250 1 • • • • • • • •

Pelican Beach Hotel - Tel 649 946 7112 • Web www.pelicanbeach.tc 125–165 14 • • • • • • • •

Pine Cay

H

The Meridian Club - Tel 649 946 7758/888 286 7993 • Web www.meridianclub.com 800–1300 13 • • • • • • •

Parrot Cay

H

COMO Parrot Cay Resort - Tel 649 946 7788/855 PARROTCAY • www.comohotels.com/parrotcay 550–2850 65 • • • • • • • • • •

Providenciales

G

G

H

H

H

H

H

H

H

H

H

H

H

H

H

H

H

H

H

H

Airport Inn – Tel 649 941 3514 • Web www.airportinntci.com. 140 18 • • • • • • •

Alexandra Resort – Tel 800 284 0699/649 946 5807 • Web www.alexandraresort.com 280–420 99 • • • • • • • • •

The Atrium Resort – Tel 888 592 7885/649 333 0101 • Web www.theatriumresorttci.com 159–410 30 • • • • • • • •

Amanyara – Tel 866 941 8133/649 941 8133 • Web www.aman.com 1000–2100 73 • • • • • • • •

Aquamarine Beach Houses – Tel 649 231 4535/905 556 0278 • www.aquamarinebeachhouses.com 200–850 24 • • • • • • • •

Beaches Resort Villages & Spa – Tel 888-BEACHES/649 946 8000 • Web www.beaches.com 325–390AI 758 • • • • • • • • •

Beach House Turks & Caicos – Tel 649 946 5800/855 946 5800 • Web www.beachchousetci.com 532–638 21 • • • • • • • • • •

BE Beach Enclave – Tel 649 946 5619 • Web www.beachenclave.com see web 24 • • • • • • • •

Blue Haven Resort & Marina – Tel 855 832 7667/649 946 9900 • Web www.bluehaventci.com 250–650 51 • • • • • • • • • •

Caribbean Paradise Inn – Tel 649 946 5020 • Web www.caribbeanparadiseinn.com 162–225 17 • • • • • • • •

Club Med Turkoise – Tel 800 258 2633/649 946 5500 • Web www.clubmed.com 120–225 290 • • • • • • • • •

Coral Gardens on Grace Bay – Tel 649 941 5497/800 787 9115 • Web www.coralgardensongracebay.com 199-449 32 • • • • • • • • • •

Grace Bay Club - Tel 800 946 5757/649 946 5050 • Web www.gracebayclub.com 650–1750 75 • • • • • • • • • •

Grace Bay Suites – Tel 649 941 7447 • Web www.GraceBaySuites.com 99–195 24 • • • • • • • •

Harbour Club Villas – Tel 649 941 5748/305 434 8568 • Web www.harbourclubvillas.com 210–240 6 • • • • •

The Inn at Grace Bay – Tel 649 432 8633 • Web www.innatgracebay.com 179–379 48 • • • • • • •

Kokomo Botanical Gardens - Tel 649 941 3121• Web www.aliveandwellresorts.com 169–299 16 • • • • •

Le Vele - Tel 649 941 8800/888 272 4406 • Web www.leveleresort.com 303–630 22 • • • • • • • •

La Vista Azul – Tel 649 946 8522/866 519 9618 • Web www.lvaresort.com 215–375 78 • • • • • • •

The Lodgings – Tel 649 941 8107/242 6722 • Web www.hotelturksandcaicos.com 175–255 15 • • • • • •

Neptune Villas – Tel 649 331 4328 • Web www.neptunevillastci.com 150–400 10 • • • • • • • • •

Northwest Point Resort • Tel 649 941 5133 • Web www.northwestpointresort.com 196–550 49 • • • • • • • • • •

Ocean Club Resorts - Tel 800 457 8787/649 946 5880 • Web www.oceanclubresorts.com 180–690 191 • • • • • • • • • •

The Palms Turks & Caicos – Tel 649 946 8666/866 877 7256 • Web thepalmstc.com 595–1700 72 • • • • • • • • • •

Times of the Islands Summer 2019 77
---
where to stay

H

H

H

H

H

H

H

H

H

H

H

H

H

H

H

H

H

H

H

Providenciales (continued)

Pelican Nest Villa – Tel 649 342 5731 • Web www.pelicannest.tc 429–857 2 • • • • • •

Point Grace – Tel 649 946 5096/888 209 5582 • Web www.pointgrace.com 424–1515 27 • • • • • • • • • •

Ports of Call Resort – Tel 888 678 3483/649 946 8888 • Web www.portsofcallresort.com 135–210 99 • • • • • • •

Queen Angel Resort – Tel 649 941 8771 • Web www.queenangelresort.com 150–575 56 • • • • • • • • •

Reef Residences at Grace Bay – Tel 800 532 8536 • Web www.reefresidence.com 275-385 24 • • • • • • •

The Regent Grand – Tel 877 288 3206/649 941 7770 • Web www.theregentgrand.com 495–1100 50 • • • • • • • • •

Royal West Indies Resort – Tel 800 332 4203/649 946 5004 • Web www.royalwestindies.com 180–695 92 • • • • • • • • • •

The Sands at Grace Bay – Tel 877 777 2637/649 946 5199 • Web www.thesandsresort.com 175–675 116 • • • • • • • • • •

Seven Stars Resort – Tel 866 570 7777/649 333 7777 – Web www.sevenstarsgracebay.com 365–2400 165 • • • • • • • • • •

The Shore Club – Tel 649 339 8000 – Web www.theshoreclubtc.com 465–4650 148 • • • • • • • • • •

Sibonné Beach Hotel – Tel 888 570 2861/649 946 5547 • Web www.sibonne.com 110–375 29 • • • • • • • •

The Somerset on Grace Bay – Tel 649 339 5900/888 386 8770 • Web www.thesomerset.com 350–1300 53 • • • • • • • • • •

The Tuscany – Tel 866 359 6466/649 941 4667 • Web www.thetuscanyresort.com 975–1300 30 • • • • • • • •

The Venetian – Tel 877 277 4793/649 941 3512 • Web www.thevenetiangracebay.com 695–1175 27 • • • • • • • •

Villa del Mar – Tel 877 345 4890/649 941 5160 • Web www.yourvilladelmar.com 190–440 42 • • • • • • •

Villa Mani – Tel 649 431 4444 • Web www.villamanitci.com 6500–9500 8 • • • • • • •

Villa Renaissance – Tel 649 941 5160/877 345 4890 • www.villarenaissanceturksandcaicos.com 295–650 36 • • • • • • • • •

The Villas at Blue Mountain – Tel 649 941 4255/866 883 5931 • www.villasatbluemountain.com 1200–2500 3 • • • • • • • •

West Bay Club – Tel 855 749 5750/649 946 8550 • Web www.thewestbayclub.com 235–1163 46 • • • • • • • • • •

Windsong Resort – Tel 649 333 7700/800 WINDSONG • Web www.windsongresort.com 275–925 50 • • • • • • • • •

Wymara Resort & Villas – Tel 888 844 5986 • Web www.wymararesortandvillas.com 315–720 91 • • • • • • • • • •

range of daily rates

US$ (subject to change)

number of units

major credit cards

restaurant

bar

air conditioning

phone in unit

television in unit

kitchen in unit

laundry service

pool

on the beach

Salt Cay

Castaway – Salt Cay – Tel 772 713 9502 • Web www.castawayonsaltcay.com 175–265 4 • • • • •

Genesis Beach House – Tel 561 502 0901 • Web www.Genesisbeachhouse.com 1000–1200W 4 • • • • •

Pirate's Hideaway B & B – Tel 800 289 5056/649 946 6909 • Web www.saltcay.tc 165–175 4 • • • • • • •

Salt Cay Beach House – Tel 772 713 9502 • Web www.saltcaybeachhouse.blogspot.com 799W 1 • • • • • •

Trade Winds Guest Suites – Tel 649 232 1009 • Web www.tradewinds.tc 925–1325W 5 • • • • •

Twilight Zone Cottage – Tel 772 713 9502 • Web www.twilightzonecottage.blogspot.com 499W 1 • • • •

The Villas of Salt Cay – Tel 772 713 9502 • Web www.villasofsaltcay.com 150–475 5 • • • • • • • •

H

H

H

G

South Caicos

East Bay Resort – Tel 844 260 8328/649 232 6444 • Web eastbayresort.com 198–1775 86 • • • • • • • • • •

Sailrock South Caicos – Tel 855 335 72513/649 941 2121 • Web sailrockliving.com 600–800 6 • • • • • • • • •

South Caicos Ocean & Beach Resort – Tel 877 774 5486/649 946 3219

Web southcaicos.oceanandbeachresort.com 120–275 24 • • • • •

Hotel & Tourism Association Member

Green Globe Certified

Rates (listed for doubles) do not include Government Accommodation Tax and Service Charge

classified ads

SCOOTER BOBS_Layout 1 8/8/18 10:57 AM Page GBC2017_Layout 1 2/16/17 9:10 AM Page 1

HertzDollar_Layout 1 2/16/17 12:37 PM Page 1

We're here to

make your holiday

the island way...

DEPENDABLE VEHICLE HIRE

SERVICE OFFERED:

Provo & North-Middle Caicos

Office: 946-4684

Amos: 441-2667 (after hours)

Yan: 247-6755 (after hours)

Bob: 231-0262 (after hours)

scooterbobs@gmail.com

www.scooterbobstci.com

Grace Bay Road across from Regent Street

Fun Friendly People

Appreciating Your Business!

941-8500

www.gracebaycarrentals.com

649.941.3910 649.946.4864

Call Us.

Whether it's for the largest variety of

vehicles, or the better prices and

greater service.

www.hertztci.com www.dollarcartci.com

Open 8am to 5pm 7 days.

After hours call

Barry 332.0012 Patrice 332.8602 Sophia 331.9895

78 www.timespub.tc
---
classified ads

Forbes Classified changes due_Layout 1 8/9/18 Deluxe 11:51 A Day Spa_Layout 1 5/28/19 12:43 PM Page

FORBES REALTY TCI

Caicu Naniki_Caicu Naniki classified 8/9/18 12:05 PM Page 1

R e j o u v e n a n c e S p a

"Go Beyond Provo"

Find your dream property on North Caicos,

Middle Caicos, Salt Cay or Pine Cay.

Call or email us today!

Offering an array of luxurious

services both in Spa or Mobile.

Let us bring the ultimate spa experience to you

in the comfort of your villa or hotel.

Tel: +1 (649) 343 6029

deluxedayspatci@gmail.com

www.649luxedayspa.com

Call-Outs

Facial Treatments

For a Beautiful skin

on your special day

r e p a i r - r e f r e s h - r e n e w

6 4 9 - 4 3 2 - 7 5 4 6

Touch of Bliss_Layout 1 8/9/18 11:59 AM Page 1

r e j o u v e n a n c e s p a . c o m

www.ForbesRealtyTCI.com

Sara Kaufman cell: 1-649-231-4884

Ernest Forbes cell: 1-649-247-7599

info@ForbesRealtyTCI.com

Community Fellowship Centre

EcoSeaSwimWinter 2018_Caicu Naniki classified 11/14/18 11:36 PM Page 1

A Life-Changing Experience

Sunday Divine Worship 9 AM

Visitors Welcome!

Tel: 649.941.3484 • Web: cfctci.com

Phone: 649-242-3439 or 649-346-7344

TC Email: Safari_Layout touchofbliss@rocketmail.com

1 8/9/18 3:33 PM Page 1

Newly located at Caribbean Place

PRIVATE TOURS TO

NORTH & MIDDLE CAICOS &

SOUTH CAICOS.

SWIM LESSONS & SWIM SAFARIS.

STAND-UP-PADDLEBOARD

RENTALS & SALES.

5 STAR TRIP ADVISOR RATING

Stop by Swim & Surf Store at

Caicos Cafe Plaza, Grace Bay.

(649) 432-5000

www.caicunaniki.com

Project1_Layout 1 11/27/18 10:34 PM Page 1

Swim Racing

in Grace Bay

"Race for the Conch"

Eco-SeaSwim

1/2 Mile, 1 Mile,

2.4 Mile Events

Saturday

June 29,

2019

(649) 432-5000

Fiona_Layout w w w . 1 e c6/8/18 o s e a12:09 s w iPM m . cPage o m 1

Vacation Villa Rentals

Joanne Phillips, Turks & Caicos Safari

www.tcsafari.com

Call: 1-904-491-1415

Email: tcsafari@tcsafari.com

Brigitte ad Classified_Brigitte 8/25/17 11:50 AM Page 1

JOHN GALLEYMORE

Project Management

Estate Management

Homeowner Representation

Concierge

______

compasstci@gmail.com

1 (649) 232 7083

COMPASS Ltd

D&Bswift_Layout Home Owner Services 1 5/8/18 & Project 7:24 Management AM Page 1

FOR ALL YOUR

RELIABLE AND

AFFORDABLE

RENTAL NEEDS

Tangled Hair Salon

Visit Hidden Treasures Boutique

T&C Veterinary_Layout Open 1 8/9/18 6 days 2:02 per week PM Page 1

Follow us on for cutting, styling and so much more

Instagram

Call 431 4247 (431 HAIR)

@hiddentreasurestci

PORTS OF CALL PLAZA

www.tangledhairsalonprovidenciales.com

Salt Mills Plaza

Grace Bay

Providenciales

The place

for your

vacation

wear

Turks & Caicos Veterinary

NEW Hours/Days

Clinic Hours

Monday thru Saturday

9:00am - 12 noon

Vet on duty Mon, Wed, Thur, Sat.

Ocean 24 Breezy Breeze_Layout Ridge (649) 946 4353 1 4/8/19 10:34 AM Page 1

Caring for your pet as though it

were our own since 1981 Email: tcvets@tciway.tc

Our cleaning solutions are made

from biodegradable materials that

aren't harmful to the environment.

Find our products throughout the

Turks & Caicos Islands.

Call 244-2526

or 241-5584

649-941-8438 and 649-241-4968

autorental@dnbautoparts.com

HOUSEHOLD AND COMMERCIAL CLEANING PRODUCTS

www.oceanbreezetci.com

Times of the Islands Summer 2019 79
---
dining out – providenciales

Amanyara — Amanyara Resort. Tel: 941-8133. Light gourmet

cuisine with menu changing daily. Open 6 to 10 PM.

Angela's Top O' The Cove Deli — Suzie Turn, by NAPA.

Tel: 946-4694. New York-style delicatessen. Eat-in, carry-out,

catering. Open daily 7 AM to 5 PM; Sunday 7 AM to 2 PM.

Asú on the Beach — Alexandra Resort. Tel: 941-8888. Casual

Caribbean and popular international fare. Open daily for 7:30

AM to 10:30 PM. Service indoors, poolside, and at beach.

Baci Ristorante — Harbour Towne, Turtle Cove. Tel: 941-3044.

Waterfront Italian dining. Brick oven pizza. Popular bar. Open

for lunch Monday to Friday 12 to 2 PM and dinner nightly from

6 to 10 PM. Closed Sunday.

Bay Bistro — Sibonné Beach Hotel. Tel: 946-5396. Oceanfront

dining featuring creative international cuisine. Open daily

7 AM to 10 PM. Weekend brunch. Catering and special events.

Beaches Resort & Spa — The Bight. Tel: 946-8000.

All-inclusive resort. A variety of restaurants and bars on premises.

Non-guests can purchase a pass.

Bella Luna Ristorante — Glass House, Grace Bay Road. Tel:

946-5214. Fine Italian dining. Indoor or terrace seating above

tropical garden. Open daily from 5:30 PM. Closed Sunday. Lunch

and pizza in the garden. Private catering available.

Big Al's Island Grill — Salt Mills Plaza. Tel: 941-3797. Wide

selection of burgers, steaks, salads, and wraps in a diner-like

setting. Open daily from 11 AM to 10 PM.

Bugaloo's Conch Crawl — Five Cays. Tel: 941-3863. Fresh

local conch and seafood by the beach. Rum, buckets of beer,

live local bands. Open daily from 11 AM to late.

Cabana Beach Bar & Grill — Ocean Club. Tel: 946-5880.

Casual island fare, burgers, salads, snacks. Open daily from

8 AM to 10 PM. Tropical cocktails with a view of the sea.

Caicos Bakery — Caicos Café Plaza. Authentic French boulangerie.

Fresh-baked breads, rolls, croissants, muffins, quiche,

pastries, cakes. Open 7 AM to 4:30 PM daily except Sunday.

Caicos Café — Caicos Café Plaza. Tel: 946-5278.

Mediterranean specialties, grilled local seafood. Fine wines, dining

on the deck. Open 6 PM to 10 PM Monday to Saturday.

Chicken Chicken — Times Square, downtown Provo. Fast food,

fried chicken, native fare.

Chinson's Grill Shack — Leeward Highway. Tel: 941-3533.

The Islands' best jerk and barbecue, Jamaican pastries. Open

daily 8 AM to 10 PM; Friday to Midnight.

Club Med — Grace Bay Road. Tel: 946-5500. All-inclusive

resort. Buffet-style dining; live show and disco in the evenings.

Non-guests can purchase a daily pass.

Coco Bistro — Grace Bay Road. Tel: 946-5369. Continental

Caribbean cuisine by Chef Stuart Gray under a canopy of palms.

Serving dinner from 5:30 PM daily. Look for the Cocovan airstream

lounge with garden seating or take-away.

Coconut Grove Restaurant & Lounge — Olympic Plaza,

Downtown. Tel: 247-5610. Casual native fare. Cracked conch,

conch fritters, fried fish. Open daily 11 AM to 10 PM.

Coyaba Restaurant — Caribbean Paradise Inn. Tel: 946-5186.

Contemporary Caribbean gourmet cuisine in a private tropical

garden setting. Extensive wine list. Dinner nightly from 6 to 10

PM. Closed Tuesday. Reservations recommended.

Crackpot Kitchen — Ports of Call. Tel: 2313336. Experience

the best of authentic Turks & Caicos and Caribbean cuisines

with local celebrity Chef Nik. Open daily 5 to 10 PM except

Thursday; Happy Hour 5 to 7 PM.

Da Conch Shack & RumBar — Blue Hills. Tel: 946-8877.

Island-fresh seafood from the ocean to your plate. Covered

beachfront dining for lunch and dinner daily from 11 AM.

Danny Buoy's — Grace Bay Road. Tel: 946-5921. Traditional

American pub fare; imported draught beers. Open for lunch and

dinner daily from 11 AM. Happy Hour specials. Large screen TVs

for sporting events. Karaoke.

The Deck — Seven Stars Resort. Tel: 941-7777. All day dining

and cocktails by the water's edge. Open daily 11 AM to 11 PM.

Live music Friday nights.

Drift — West Bay Club. Tel: 946-8550. Open-air beachfront dining.

Creatively used local ingredients. Full bar. Open daily.

Dune — Windsong Resort. Tel: 333-7700. Private beachfront

dining with limited availability. Fresh fare prepared to perfection.

Open daily.

El Catador Tapas & Bar — Regent Village. Tel: 244-1134.

Authentic Spanish tapas with a wide mix of cold and hot plates

meant for sharing. Fun and lively atmosphere. Open daily from

5 PM.

Element — LeVele Plaza. Tel: 348-6424. Contemporary, creative

cuisine in an elegant setting. Open for dinner Friday to

Wednesday 6:30 to 10:30 PM.

Fairways Bar & Grill — Provo Golf Club. Tel: 946-5833. Dine

overlooking the "greens." Open for breakfast and lunch from 7

AM to 4 PM daily; Friday, Saturday and Sunday open until 8 PM.

Great Sunday brunch 9 AM to 3 PM.

Fire & Ice — Blue Haven Resort & Marina. Tel: 946-9900.

Drinks at the Ice Bar, dessert by the fire pits. South Americanmeets-Caribbean

flavors and spices. Open daily 5:30 to 9:30

PM. Closed Wednesday.

Fresh Bakery & Bistro — Atrium Resort. Tel: 345-4745.

Healthy European salads, soups, sandwiches, bakery, pies and

cakes. Gelato. Open daily 7 AM to 6 PM, closed Sunday.

Fresh Catch — Salt Mills Plaza. Tel: 243-3167. Authentic native

cuisine, from seafood to souse. All-you-can-eat seafood buffet

on Wednesday. Open daily 8 AM to 10 PM. Closed Sunday.

Carry-out available.

Garam Masala — Regent Village. Tel: 941-3292. Authentic

Indian cuisine, tandoori charcoal-oven specialties. Open daily

11:30 AM to 3 PM, 5:30 to 10 PM. Dine-in, take-out or delivery.

Giggles Ice Cream & Candy Parlour — Ports of Call &

Williams Storage. Tel: 941-7370. Cones, sundaes, shakes,

smoothies, "Gigglers," ice cream pies and cakes. Pick 'n' mix

candies. Open daily 11 AM to 10 PM.

Gilley's Sky Lounge & Bar — At the airport. Tel: 946-4472.

Burgers, sandwiches, local food. Open daily 6 AM to 9 PM.

Grace's Cottage — Point Grace Resort. Tel: 946-5096. Refined

new menu in the style of a tastefully sophisticated French bistro.

Serving dinner from 6 to 10 PM nightly.

Grill Rouge — Grace Bay Club. Tel: 946-5050. Al fresco bistro.

Diverse menu. Fun cocktails. Open daily for lunch Noon to 3 PM,

dinner to 9 PM.

Hemingways on the Beach — The Sands at Grace Bay. Tel:

941-8408. Casual beachfront bar and restaurant. Fresh fish,

pasta, sandwiches, salads and tropical drinks by the pool.

Oceanfront deck for great sunsets! Open 8 AM to 10 PM daily.

80 www.timespub.tc
---
Hole in the Wall Restaurant & Bar — Williams Plaza, Old

Airport Road. Tel: 941-4136. Authentic Jamaican/Island cuisine

where the locals go. Full bar. A/C dining or outdoors on the

deck. Open daily 7 AM to 9 PM. Pick-up/delivery available.

Infiniti Restaurant & Raw Bar — Grace Bay Club. Tel: 946-

5050. Elegant beachfront dining for lunch and dinner. Gourmet

Euro/Caribbean cuisine; fine wines. Full bar and lounge.

Reservations required.

Island Raw — Le Petite Plaza. Tel: 346-5371. Vegan lifestyle

kitchen, offering fresh, organic, raw, vegan, gourmet. Open

Friday, Noon to 2 PM.

Island Conch Bar & Grill — Bight Cultural Market. Tel: 946-

8389. Caribbean and local cuisine. Open daily 11 AM to 9 PM.

Island Scoop — Grace Bay Plaza. Tel: 242-8511/243-5051.

21 flavors of ice cream made locally. Cones, smoothies, blizzards

and shakes. Open daily, 11 AM to 10 PM.

The Java Bar — Graceway Gourmet. Tel: 941-5000. Gourmet

café serving fresh baked desserts, sandwiches and coffee

delights. Open 7 AM to 8 PM daily.

Jack's Fountain — Across from Casablanca Casino. Tel: 946-

5225. Seafood, steak, unique specialty items in a lively, relaxed

"beach bar" atmosphere. Open 7 AM to 10 PM daily.

Kalooki's Grace Bay — Le Vele Plaza. Tel: 941-8388. The perfect

mix of sweet and spicy Caribbean flavors. New location in

Grace Bay. Open daily 11 AM to 10 PM. Closed Thursday.

Kitchen 218 — Beach House, Lower Bight Road. Tel: 946-5800.

Caribbean cuisine with hints of French and Asian fusion and the

chef's passion for fresh ingredients. Open 8 AM to 10 PM daily.

The Landing Bar & Kitchen — Grace Bay Road across from

Regent Village. Tel: 341-5856. Unique nautical setting for dinner

under the stars. Cocktails, fire pit. Open daily except Tuesday

5:30 to 10 PM.

Las Brisas — Neptune Villas, Chalk Sound. Tel: 946-5306.

Mediterranean/Caribbean cuisine with tapas, wine and full bar.

Terrace and gazebo dining overlooking Chalk Sound. Open daily

8 AM to 10 PM. Take-out available; private parties.

Le Bouchon du Village — Regent Village. Tel: 946-5234. A

taste of Paris. Sidewalk café with sandwiches, salads, tartines,

tapas, dinner specials, wine, cheese, dessert, coffees. Open

daily 11 AM. Closed Sunday.

Le Comptoir Francais — Regent Village. Tel: 946-5234.

French deli, bakery, wine shop. Open daily.

Lemon 2 Go Coffee — Ventura House. Tel: 941-4069.

Gourmet coffeehouse. Sandwiches, muffins, cookies, croissants,

yogurt, salads. Open Monday to Saturday 7:30 AM to 7 PM,

Sunday 9 AM to 1 PM.

The Lounge — Grace Bay Club. Tel: 946-5050. Decidedly hip

lounge. Caribbean-infused tapas, martinis, tropical cocktails,

world music and the finest sunset location in Providenciales.

Lupo — Regent Village. Tel: 431-5876. Authentic Italian "comfort

food." Regional wine list. Dine in or take out ready-made

gourmet meals. Open daily Noon to 3 PM; 5:45 to 9:45 PM.

Magnolia Restaurant & Wine Bar — Miramar Resort. Tel:

941-5108. International cuisine with island flavors, north shore

views. Open for dinner from 6 to 9:30 PM except Monday.

Mango Reef — Turtle Cove. Tel: 946-8200. Fresh local flavors

and seafood, homemade desserts. Open daily 11 AM to 10 PM.

Set price dinner on weekdays. Waterside deck, indoor or patio

dining. Tie-up to dock at Turtle Cove Marina.

Market Café — Blue Haven Resort. Tel: 946-9900. Gourmet

coffees, teas, frozen drinks; fresh breads and pastries; grab 'n'

go salads, sandwiches, smoothies. Open daily 7 AM to 8 PM.

Mother's Pizza — Downtown Times Square. Tel: 941-4142.

Best pizza in the Turks & Caicos, available by the slice or the

island's biggest "large." Open daily 11 AM to 9 PM; to 10 PM on

Friday and Saturday; Noon to 8 PM on Sunday.

Mr. Groupers — Lower Bight and Sunset Ridge Hotel (near airport).

Tel: 242-6780. Serving fresh local seafood straight from

the sea. Open daily 10 AM to 10:30 PM, Sunday 3 to 11 PM.

Opus Wine • Bar • Grill — Ocean Club Plaza. Tel: 946-5885.

International menu with Caribbean flair. Fresh seafood. Serving

dinner nightly 6 to 10 PM. Indoor/outdoor dining. Conference

facility, events, catering.

Outback Steakhouse TCI — Regent Village. Unbeatable

steak cuts complemented by chicken, ribs, seafood, and pasta.

Generous portions, moderately priced, casual atmosphere. Open

Monday to Thursday 3 to 11 PM; Friday to Midnight; Saturday 1

PM to Midnight; Sunday 1 to 11 PM.

Parallel23 — The Palms Turks & Caicos. Tel: 946-8666. Pantropical

cuisine in a setting of casual elegance. Boutique wine

list. Al fresco or private dining room available. Open daily 6 to

10:30 PM.

The Patty Place — Behind Shining Stars; Le Petit Place, Blue

Hills. Tel: 246-9000. Authentic Jamaican patties and loaves. 18

flavors of Devon House ice cream. Open daily 9:30 AM to 10 PM.

Pavilion — The Somerset. Tel: 339-5900. Chef Brad offers a

global palate, interpreted locally. Seafood raw bar. Open daily

for breakfast, lunch, dinner; Sunday Prime Rib special.

Pelican Bay Restaurant & Bar — Royal West Indies Resort.

Tel: 941-2365/431-9101. Poolside restaurant and bar with

Caribbean, French and Asian fare. Breakfast, lunch, dinner daily

from 7:30 AM to 10 PM. Special events each week.

Pepper Town Café — Digicel Cinema, #4. Tel: 246-9237.

Native and Caribbean Dishes. Open daily except Sunday 11:30

AM to 7 PM. Island breakfast on Saturday at 7 AM.

Pizza Pizza — Grace Bay Plaza/Cinema Plaza. Tel: 941-

8010/941-3577. New York style specialty pizzas. Open daily

11:30 AM to 9:30 PM, weekends until 10 PM. Free delivery.

Provence — Le Vele Plaza. Tel: 946-4124. Traditional French

artisan-style cuisine. Fresh pasta, gelato, cheeses, charcuterie,

pastries, desserts. Open daily for breakfast, lunch and dinner.

Retreat Kitchen Vegetarian Café & Juice Bar — Ports of

Call. Tel: 432-2485. Fresh, organic, vegan, vegetarian, gluten-free

fare. Fresh juices, daily lunch specials. Open for lunch

Monday to Saturday, 9 AM to 3 PM. Delivery available.

Rickie's Flamingo Café — Between Ocean Club and Club Med.

Tel: 244-3231. Local fare and atmosphere right on the beach.

Best grouper sandwich and rum punch! Don't miss Curry Fridays

and Beach BBQ Saturdays.

Salt Bar & Grill — Blue Haven Resort & Marina. Tel: 946-9900.

Outdoor seating overlooking the marina. Sandwiches, burgers,

salads, classic bar favorites. Open daily 11:30 AM to 9:30 PM.

Seven — Seven Stars Resort. Tel: 339-7777. Elevated contemporary

cuisine fused with TCI tradition. Open Monday to Saturday,

5:30 to 9:30 PM.

72ºWest — The Palms Turks & Caicos. Tel: 946-8666.

Beachside dining with a family-friendly, Caribbean-inspired

menu. Serving lunch daily; dinner seasonally.

Sharkbite Bar & Grill — Admiral's Club at Turtle Cove. Tel:

941-5090. Varied menu; casual dining. Sports bar/slots. Open

daily from 11 AM to 2 AM.

Shay Café — Le Vele Plaza. Tel: 331-6349. Offering organic

Times of the Islands Summer 2019 81
---
coffees, teas, sandwiches, salads, soup, pastries, gelato, sorbetto,

smoothies, beer and wine. Open daily 7 AM to 7 PM.

Simone's Bar & Grill — La Vista Azul. Tel: 331-3031. Serving

fresh seafood and local cuisine. Open daily 11 AM to 11 PM;

weekends 7 AM to 11 PM. Popular bar!

Skull Rock Cantina — Ports of Call. Tel: 941-4173. The place

for Tex-Mex; daily drink specials. Open daily, 8 AM to Midnight.

Solana! Restaurant — Ocean Club West. Tel: 946-5254.

Oceanfront dining from sushi to burgers. Teppanyaki and Sushi

Bar, engage with the chefs. Open daily 7:30 AM to 10 PM.

Somewhere Café & Lounge — Coral Gardens Resort. Tel:

941-8260. Casual dining with Tex-Mex flair right on the beach.

Cocktails, beers, specialty drinks. Open early to late daily.

Stelle — Gansevoort Turks + Caicos. Tel: 232-4444. Modern

Mediterranean cuisine featuring fresh fish and seafood. Open 6

to 10 PM daily, until 2 AM on Friday with DJ.

Sui-Ren — The Shore Club. Tel: 339-8000. Inspired flavors of

Peruvian-Japanese fusion cuisine with fresh seafood and organic

produce in a unique setting. Open daily.

Thai Orchid — The Regent Village. Tel: 946-4491. Authentic

Thai cuisine; over 60 choices! Dine in or carry out. Open for

lunch and dinner daily.

Three Brothers Restaurant — Town Center Mall, Downtown.

Tel: 232-4736. Seafood and native cuisine. Tuesday night buffet

dinner. Catering services. Open daily, 7 AM to 10 PM.

Tiki Hut Island Eatery — Dockside at Turtle Cove Inn. Tel:

941-5341. Imaginative sandwiches, salads, seafood, Black

Angus beef, pasta, pizzas, fish. Open daily 11 AM to 10 PM.

Turkberry Frozen Yogurt — The Saltmills. Tel: 431-2233.

Frozen yogurt in a variety of flavors, with a large selection of

toppings. Custom donut bar. Open 11 AM to 11 PM daily.

Turks Kebab — At Craft Market on Sand Castle Drive. Tel: 431-

9964. Turkish and Mediterranean fare. Salads, falafel, gyros,

kebabs, hummus. Open for lunch and dinner.

Via Veneto — Ports of Call. Tel: 941-2372. Authentic Italian

dining in a stylish indoor/outdoor venue. Open from 5:30 PM to

late. Closed Thursday. Saturday is Pizza Night!

The Vix Asian Bistro & Grill — Regent Village. Tel: 941-4144.

Contemporary Asian menu with a wok station, dim sum, vegan

specialties and keto dishes. Open daily 7:30 AM to 3 PM; 5 to

9:45 PM. Delivery to select locations. Catering menus.

Yoshi's Sushi & Grill — The Saltmills. Tel: 941-3374/431-

0012. Sushi bar menu plus Japanese cuisine. Open daily Noon

to 3 PM; 6 to 10 PM. Closed Sunday. Dine indoors or out. Carry

out available.

Zest! — Gansevoort Turks + Caicos. Tel: 232-4444. Lunch and

dinner beachfront. Taste of the Caribbean and Americas. Open

daily Noon to 5 PM; 6 to 9 PM. Fisherman's night Wednesday. a

subscription form

VISIT WWW.TIMESPUB.TC TO VIEW CURRENT ISSUE ON-LINE!

TIMES

OF THE

ISLANDS

SAMPLING THE SOUL OF THE TURKS & CAICOS ISLANDS

One year subscription

$28 U.S. addresses/$32 non-U.S. addresses

Name____________________________________________________________________

Date ____________________

Address__________________________________________________________________

City _____________________________________________________________________

State/Province____________________________________________________________

Country/Postal Code_____________________________________________________

E-mail address (not required)_____________________________________________

r New Subscription r Renewal

r U.S. Cheque/M.O. enclosed

Mail with payment to:

Times Publications Ltd., c/o Kathy Borsuk,

247 Holmes Ave., Clarendon Hills, IL 60514

Please allow 30 to 60 days for delivery of first issue.

82 www.timespub.tc
---
PROUDLY SERVING THE ENERGY NEEDS OF THE

TURKS & CAICOS ISLANDS

Our Executive Team

At FortisTCI, we are committed to

providing safe, reliable energy to

fuel the growth of our islands and

meet the needs of our customers.

Eddinton Powell

President & CEO

Ruth Forbes

Senior Vice President of

Corporate Services & CFO

Devon Cox

Senior Vice President of

Operations

And, as the energy landscape

changes, FortisTCI will be here,

delivering even more energy

solutions and building a sustainable

energy future for the Turks and

Caicos Islands.

Nigel Hosein

VP of Energy Production &

Project Management

Rachell Roullet

VP of Technology, Innovation

& Strategic Planning

Allan Robinson

VP of Grand Turk & Sister

Island Operations

www.fortistci.com | 649-946-4313 |
---
LIVE WATERFRONT

The Residence

Parrot Cay

THE FINEST COLLECTION

Condominium | Home & Villa | Land | New Development

649.946.4474 | info@tcsothebysrealty.com | turksandcaicosSIR.com

Venture House, Grace Bay | Resort Locations: Grace Bay Club and The Palms

Each Sotheby's International Realty® office is independently owned and operated.