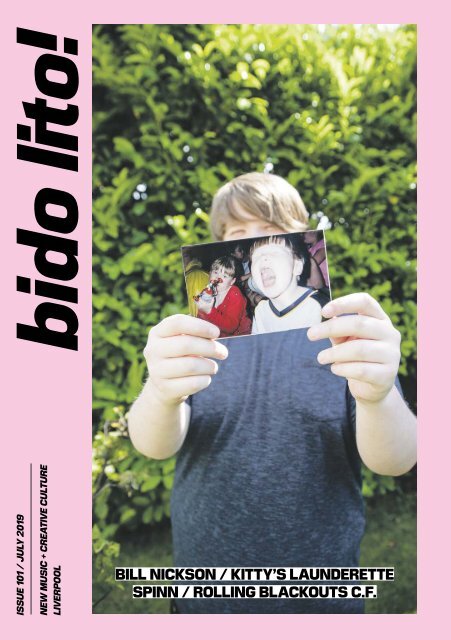 Issue 101 / July 2019
July 2019 issue of Bido Lito! magazine. Featuring: BILL NICKSON, SPINN, MICHAEL ALDAG, KITTY'S LAUNDERETTE, NEIL KEATING, RAHEEM ALAMEEN, KRS-ONE and much more.
July 2019 issue of Bido Lito! magazine. Featuring: BILL NICKSON, SPINN, MICHAEL ALDAG, KITTY'S LAUNDERETTE, NEIL KEATING, RAHEEM ALAMEEN, KRS-ONE and much more.
SHOW MORE
SHOW LESS
Do you know the secret to free website traffic?
Use this trick to increase the number of new potential customers.
ISSUE 101 / JULY 2019

NEW MUSIC + CREATIVE CULTURE

LIVERPOOL

BILL NICKSON / KITTY'S LAUNDERETTE

SPINN / ROLLING BLACKOUTS C.F.
---
facebook.com/o2academyliverpool

twitter.com/o2academylpool

instagram.com/o2academyliverpool

youtube.com/o2academytv

WED 10TH JUL 7PM SOLD OUT

JOHN NEWMAN

SAT 26TH OCT 7PM

THE ESKIES

Fri 2nd Aug

The Fillers

(The Killers Official Tribute)

Sat 14th Sep

Ocean Colour

Scheme

(Ocean Colour Scene Tribute)

Sun 22nd Sep

Rodrigo y

Gabriela

Fri 27th Sep

Skrapz

Sat 28th Sep

Guns 2 Roses

+ Dizzy Lizzy

Sat 28th Sep • SOLD OUT

Red Rum Club

+ The Mysterines

Mon 30th Sep

Gary Numan

+ Kanga

Sat 5th Oct

Definitely

Mightbe

(Oasis tribute)

Tue 8th Oct

Mountford Hall,

Liverpool Guild of Students

Richard Hawley

Fri 11th Oct

Fleetwood Bac

Sat 12th Oct

The Marley

Revival

+ UB40 Tribute Set

Sun 13th Oct

New Hope Club

Sun 13th Oct

Easy Life

Fri 18th Oct

Sea Girls

Thur 24th Oct

Jake Clemons

+ Ben McKelvey

Wed 30th Oct

MoStack

ticketmaster.co.uk

Sat 2nd Nov

Mountford Hall,

Liverpool Guild of Students

Rival Sons

+ The Record Company

Sat 2nd Nov • 9pm

Jo Whiley's

90s Anthems

Fri 8th Nov

MONKS

Fri 8th Nov

Bear's Den

Sat 9th Nov

She Drew

The Gun

Sat 9th Nov

Mountford Hall,

Liverpool Guild of Students

Greta Van Fleet

+ Yola

Sat 9th Nov

Antarctic

Monkeys

+ The Alleys + The Patriots

Fri 15th Nov

Boston Manor

Sat 16th Nov

The Macc Lads

+ Dirt Box Disco

Sat 16th Nov

UK Foo Fighters

(Tribute)

Wed 20th Nov

Fontaines D.C.

Fri 22nd Nov

Absolute Bowie

- Legacy Tour

Sat 23rd Nov

Life

At The Arcade

Sat 23rd Nov

Mountford Hall,

Liverpool Guild of Students

Sam Fender

Sat 23rd Nov

An Evening with

The Steve Hillage

Band

+ Gong

o2academyliverpool.co.uk

11-13 Hotham Street, Liverpool L3 5UF

Doors 7pm unless stated

Sun 24th Nov

Primal Scream

Fri 29th Nov

The Doors Alive

Sat 30th Nov • 6pm

The Wonder Stuff

performing 'The Eight

Legged Groove Machine' &

'HUP' in full

+ Jim Bob from Carter USM

Sat 30th Nov

Pearl Jam UK

Thur 5th Dec

Shed Seven

+ The Twang

Fri 6th Dec

Mountford Hall,

Liverpool Guild of Students

Happy Mondays -

Greatest Hits Tour

Fri 6th Dec

SPINN

Sat 7th Dec

Prince Tribute -

Endorphinmachine

Thur 12th Dec

Mountford Hall,

Liverpool Guild of Students

Daniel Sloss: X

Fri 13th Dec

The Lancashire

Hotpots

Sat 14th Dec

The Smyths

… The Smiths 35

Sat 14th Dec

Ian Prowse

& Amsterdam

Wed 18th Dec

The Darkness

Thur 19th Dec

Cast... All Change

Album

Fri 20th Dec

Cast... Mother

Nature Calls

Album

Sat 21st Dec

Cast... Magic

Hour Album

Venue box office opening hours:

Mon - Sat 10.30am - 5.30pm

ticketmaster.co.uk • seetickets.com

gigantic.com • ticketweb.co.uk

WED 17TH JUL 7PM

LAUREN ALAINA

THUR 25TH JUL 7PM

THE MURDER

CAPITAL

FRI 30TH AUG 7PM

THE FAIM

THUR 5TH SEP 7PM

MORGAN EVANS

SAT 7TH SEP 7PM

EDWYN COLLINS

WED 11TH SEP 7PM

LOVE FAME

TRAGEDY

SAT 14TH SEP 7PM SOLD OUT

THE SNUTS

SAT 5TH OCT 7PM

A BAND

CALLED MALICE

SUN 6TH OCT 7PM

CREEP SHOW

FRI 18TH OCT 7PM

NINE BELOW ZERO

SAT 19TH JUN 7PM

SAINT AGNES

FRI 25TH OCT 7PM

LITTLE COMETS

SUN 27TH NOV 7PM

STRIKING

MATCHES

FRI 1ST NOV 7PM

DAUGHTERS

SAT 2ND NOV 7PM

STONE

FOUNDATION

TUE 12TH NOV 7PM

HUGH CORNWELL

ELECTRIC

WED 13TH NOV 7PM

BLACK LIPS

THUR 14TH NOV 7PM

THE REGRETTES

SAT 16TH NOV 7PM

LONDON CALLING

PLAY THE CLASH

FRI 22ND NOV 7PM

BLOOD RED SHOES

+ GEN & THE DEGENERATES

+ QUEEN KWONG

WED 4TH DEC 7PM

ALDOUS HARDING

TUE 10TH DEC 7PM

THE PAPER KITES

TICKETS FOR ALL SHOWS ARE AVAILABLE FROM

TICKETMASTER.CO.UK

90

SEEL STREET, LIVERPOOL, L1 4BH

EVOL EVOL presents presents

with guests to be announced

with guests to be announced

09.11.2019

O2 Academy 09.11.2019 Liverpool

O2 Academy Liverpool

TICKETS £12 ADVANCE PLUS BOOKING FEES VIA SEETICKETS.COM & TICKETMASTER.CO.UK

@CLUBEVOL @SheDrewTheGun

TICKETS £12 ADVANCE PLUS BOOKING FEES VIA SEETICKETS.COM & TICKETMASTER.CO.UK

@CLUBEVOL @SheDrewTheGun
---
20 July

O 2 Ritz

Curated by

MARY ANNE HOBBS

Featuring

Jlin

Holly Herndon

Aïsha Devi ft. MFO

Klara Lewis

Katie Gately

Produced by Manchester International Festival.

Photos (L-R): Jlin by Mahdumita Nandi; Holly Herndon by Bennet Perez;

Klara Lewis by Hampus Högberg; Katie Gately by Jasmine Safaeian; Aïsha Devi by Emile Barret
---
FREE ENTRY

SUN 21ST JULY
---
What's On

September –

November

Wednesday 4 September 7.30pm – Gods

Thursday 5 September 7.30pm – Heroes

Friday 6 September 7.30pm – Men

Mythos: A Trilogy

by Stephen Fry

Wednesday 2 October 8pm

With Great PowerPoint Comes Great

ResponsibilityPoint

Dave Gorman

Plus support Nick Doody

Tuesday 12 November 7.30pm

Adam Ant

Tuesday 19 November 7.30pm

Calexico and Iron & Wine

Plus Lisa O'Neill

Thursday 17 October 8pm

Music Room

Mad Dog Mcrea

Box Office

0151 709 3789

liverpoolphil.com

LiverpoolPhilharmonic

liverpoolphil

liverpool_philharmonic

Principal Funders

Principal Partners

Media Partner

Thanks to the City

of Liverpool for its

financial support

Image Mythos – Stephen Fry © David Cooper
---
23. - 24. AUGUST 2019 → BANK HOLIDAY WEEKEND

WEEKEND & DAY TICKETS → FUTUREYARD.ORG

BIRKENHEAD TOWN HALL | BIRKENHEAD PRIORY | BLOOM BUILDING | GALLAGHER'S
---
SIDE A: FRIDAY

SIDE B: SATURDAY

BILL RYDER-JONES

STELLA DONNELLY

SZUN WAVES QUEEN ZEE

ANNA CALVI

NILÜFER YANYA

AUDIOBOOKS PIXX

DAY TICKETS

ON SALE NOW!

SQUID • CHARLES WATSON

BLACK COUNTRY, NEW ROAD

SCALPING • JOHANNA SAMUELS

THE INTERGALACTIC REPUBLIC OF KONGO

WILLIE J HEALEY • BILL NICKSON

DIALECT • MUNKEY JUNKEY

STRAWBERRY GUY • SAMURAI KIP

KYAMI • UNCLE JANE • ORGAN FREEMAN

WILD FRUIT ART COLLECTIVE • SPILT

WORKING MEN'S CLUB

POTTERY • AMAROUN • DRY CLEANING

EYESORE & THE JINX

TRUDY AND THE ROMANCE

BRAD STANK • SPQR

BEIJA FLO • SEATBELTS • MEILIR

ANI GLASS • HMS MORRIS

LAURIE SHAW • ALEX TELEKO

LO FIVE • BYE LOUIS

FOXEN CYN • POLYPORES • STORES

NIKI KAND • GINTIS • TORI CROSS

PODGE • THE JAGZ

23. AUGUST 2019

24. AUGUST 2019

FRI

FOREST SWORDS PRESENTS PYLON

A NEW INSTALLATION WITH THE KAZIMIER

SAT

WITH A FURTHER WORLD OF WEIRD WIRRAL WONDERMENT
---
www.liverpoolbandvans.co.uk

info@liverpoolbandvans.co.uk +44 78 544 94764

Cain's Brewery District ● 9 Mann Street ● Liverpool ● L85AF
---
New Music + Creative Culture

Liverpool

Issue 101 / July 2019

bidolito.co.uk

Second Floor

The Merchant

40-42 Slater Street

Liverpool L1 4BX

Publisher/Founder

Craig G Pennington - info@bidolito.co.uk

Editor-in-Chief

Christopher Torpey - chris@bidolito.co.uk

Media Partnerships and Projects Manager

Sam Turner - sam@bidolito.co.uk

Features Editor

Niloo Sharifi - niloo@bidolito.co.uk

Live Editor

Elliot Ryder - elliot@bidolito.co.uk

Digital and Social Media Officer

Lucy Atkins – lucy@bidolito.co.uk

Community Manager

Brit Williams – brit@bidolito.co.uk

Design

Mark McKellier - mark@andmark.co.uk

Branding

Thom Isom - hello@thomisom.com

Proofreader

Nathaniel Cramp

Intern

Georgina Hull

Cover Photography

Keith Ainsworth

Words

Christopher Torpey, Niloo Sharifi, Georgina Hull, Elliot

Ryder, Sam Turner, Cath Holland, Tom Doubtfire,

Laura Brown, Richard Lewis, Harriet Morley, Johnny

Quinn, Huw Livingstone, Julia Johnson, Georgia

Turnbull, Sophie Shields, Joel Durksen, Jennie Macaulay,

Iona Fazer, Sam Taylor, Glyn Akroyd, Jake Penn,

Paul Fitzgerald, Megan Walder, Mark Rowley, Andy

McGlinchey, Bluboy, Amina Atiq.

Photography, Illustration and Layout

Mark McKellier, Keith Ainsworth, Hannah Blackman-

Kurz, SPINN, Neil Keating, Mark Loudon, Maclay

Herriot, Tarnish Vision, Nata Moraru, Carmen Zografou,

Michael Kirkham, Stu Moulding, Jessica Grace Neal,

Lucy McLachlan Glyn Akroyd, John Middleton, Brian

Sayle, Paul McCoy, Georgina Hull, David J Colbran,

Carlos Santos, Milos Sampraga, Robin Clewley.

Distribution

Our magazine is distributed as far as possible through

pedal power, courtesy of our Bido Bikes. If you would

like to find out more, please email sam@bidolito.co.uk.

Advertise

If you are interested in adverting in Bido Lito!, or finding

out about how we can work together, please email

sam@bidolito.co.uk.

Bido Lito! is a living wage employer. All our staff are

paid at least the living wage.

All contributions to Bido Lito! come from our city's

amazing creative community. If you would like to join

the fold visit bidolito.co.uk/contribute.

We are contributing one per cent of our advertising

review to WeForest.org to fund afforestation projects

around the world. This more than offsets our carbon

footprint and ensures there is less CO2 in the

atmosphere as a result of our existence.

The views expressed in Bido Lito! are those of the

respective contributors and do not necessarily

reflect the opinions of the magazine, its staff or the

publishers. All rights reserved.

EDITORIAL

Going by my rough estimations, there were definitely

a few more people out on the streets for Liverpool

FC's Champions League victory parade than were

out in Birkenhead for Tranmere Rovers' League

Two Play-Off victory celebrations six days prior. Just a handful

fewer, I'd say, maybe the odd half a million or so… I was there in

Hamilton Square for Tranmere's civic reception, and though we

didn't have quite the pomp of Liverpool – nor the glitter cannons,

the multiple buses of millionaire superstars, the pyro or quite

as extensive an arsenal of annoying chants (Zoum Bakayogo's

rendition of "Oh Birkenhead!" aside) – we still enjoyed it for what

it was. It may have been quaint, but it was ours.

I watched the Liverpool FC parade on the endless scroll

of news updated and Instagram posts – I even heard the

fireworks on The Strand from the other side of the river. Perhaps

I was still on Cloud Nine following Tranmere's back-to-back

promotions, but I felt a similar kind of warmth from watching

these celebrations taking place across the city. As a football fan,

it's hard not to feel a bit envious when watching these things,

wishing it was you and your team; but I actually felt weirdly

proud from the city's point of view. Here was a team at one

with the place it was representing, the players and fans feeding

off each other, and bringing out all that is good about Scouse

exceptionalism (NB – if you haven't read Laura Brown's excellent

The Problem With Scouse Exceptionalism article on Liverpool

Long Reads yet, do so; it's excellent). Here, also, was the world's

media with their eyes trained on the city; and huge numbers of

visitors basking in the positivity.

Now, this strain of Liverpool culture is one that's easy to

package up and sell around the world. Indeed, it's done very

well by LFC, so much so that they can command such a global

FEATURES

12 / BILL NICKSON

Memories on a Polaroid. The winsome artist who is following a

tradition of great Liverpool singer-songwriters.

14 / KITTY'S LAUNDERETTE

The washhouse-cum-community space on the border of Everton

and Anfield is the newest member of a crop of social enterprises

across the Merseyside area.

18 / READ IT IN BOOKS

Publicist to the stars, Mick Houghton, recounts some of the

wisdom picked up from decades working with some of pop's – and

Liverpool's – most notorious acts.

22 / WHISC AT 35

From behind their unassuming façade on 120 Bold Street, the

quiet heroes of WHISC have been offering advice and support to

generations of Liverpool's women.

24 / ARAB FUTURISM

What does the future look like if you fear you won't exist? Laura

Brown asks if we see the privilege in our ability to think it will

always be better tomorrow.

REGULARS

10 / NEWS

30 / SPOTLIGHT

33 / PREVIEWS

audience. But it's far from the only form of culture the city

has, and my mind started to wonder about the visitors and

well wishers present at the parade, and how much they knew

about the city's many different strands of culture. Did they visit

Homebaked when they made their pilgrimage to Anfield, or

stop by Kitty's Launderette to look in on the workshops? Did

they stop by Squash for a cuppa, pick up some souvenirs at the

Granby Street Market or swing by Output gallery to see work

by local artists? How, indeed, can you grasp the multitude of

conversations and ideas that make a place what it is, even if

you're just passing through?

I'm pretty sure that I already knew the answer to this question

– but it was upon reading Emma Warren's brilliant book Make

Some Space that the answer became crystallised. We document

what happens – the small and the big, the glitzy and the decidedly

un-trendy – so that we can piece together a much richer story.

We give a voice to those movements and people that might not

always have their voice heard over the tumult. We bring together

what happens on the streets, in the minds of the doers and behind

closed doors, laying down the stories and myths of the future – the

things that don't make it so readily into Twitter streams or onto

newspaper front pages. Documenting your culture is a way of

preserving it, making it real. That's why our monthly cycle of Bido

Lito! feels so important: because there are so many stories to keep

telling, such a rich tapestry of life contributing to our society, that

we need a repository for them that can be accessed by anyone

who wants to know more about the living culture that surrounds

us. We all have our part to play as documenters of this. !

Christopher Torpey / @CATorp

Editor-in-Chief

20 / SPINN TOUR DIARY

With a fresh new album in their back pocket, Liverpool's jangle

pop darlings SPINN hit the road to charm the rest of the UK.

26 / DIGITAL LOVE

Artist Harriet Morley delves into her experiments with

programmed communication, showing how new modes of

communication have complicated human relationships.

28 / NEIL KEATING

Huw Livingstone meets the man quietly shaping the aesthetic of

Liverpool's favourite spots and our Instagram feeds, one mural at

a time.

32 / ROLLING BLACKOUTS

COASTAL FEVER

"We've always tried to make pop music from what we have lying

around"

34 / MARY ANNE HOBBS

"In my heart, it's the avant-garde that excites me the most"

40 / REVIEWS

54 / ARTISTIC LICENCE
---
NEWS

Future Yard Additions

Anna Calvi

You've got the date in your diary and the early Friday dart from

work sorted – now all you need to plan your FUTURE YARD

festival weekend is a breakdown of which artists you're going to

see at the Birkenhead festival on August bank holiday weekend

(23rd and 24th August). The Bard of Wirral himself, BILL

RYDER-JONES, headlines Friday's activity, joined by underground

Aussie star STELLA DONNELLY and head-spinning nu jazz trio

SZUN WAVES. Strident queen of cinematic gothic rock ANNA

CALVI headlines proceedings on Saturday, joined by a string

of 2019's hottest talent – NILÜFER YANYA, PIXX, POTTERY

– with Ninja Tune's FOREST SWORDS unspooling his brand

new sound and percussion installation PYLON over both days

at Merseyside's oldest standing building, Birkenhead Priory. A

selection of experimental Welsh artists are among those acts

joining the bill – MEILIR, ANI GLASS and HMS MORRIS among

them – with a world of weird Wirral wonderment also promised.

Day and weekend tickets are now available from futureyard.org.

Leviathan, Yeh We All Want One

Shezad Dawood's epic film series LEVIATHAN comes to

the Bluecoat this summer as part of a season examining

society and migration. Presented alongside paintings, resin

sculpture and woven textiles, Leviathan follows migratory

patterns between Europe and Africa. The works combine

marine biology, climate change, political systems and mental

health to show how human activity and marine ecologies are

intertwined. The first four chapters of Leviathan premiered

in Venice in conjunction with the 57th Art Biennale. The

work has developed, adapted and grown across exhibitions

and screenings in Wales, the Netherlands and Italy, before

reaching the Bluecoat for a major exhibition charting

Dawood's ambitious project.

Leviathan by Shezad Dawood

The World Of Keith Haring

Keith Haring

In collaboration with Tate Liverpool, Soul Jazz Records are releasing a

stunning new collection entitled The World Of Keith Haring featuring

music influential to the New York street artist Keith Haring, including Fab

5 Freddy, Yoko Ono, Gray (Jean-Michel Basquiat's group), The Jonzun

Crew, Larry Levan, Pylon, Johnny Dynell and many others. The World

Of Keith Haring is released to coincide with the presentation of the first

major exhibition in the UK of Keith Haring's work, which is running now

at Tate Liverpool until November 2019. Keep your eyes and ears peeled

for an exclusive playback of this record coming soon!

Design For Life

Blown away by the talent on display at Liverpool John

Moores University's Art and Design Degree Show, we

have drafted in design students to lend their expertise to

the poster for the monthly Bido Lito! Social. This month

CALUM JONES has put together the graphic for our July

Social at Sound Food And Drink, featuring OHMNS.

Calum's Rock n Roll Youth Culture project stood out

among the great work in the degree show at the John

Lennon Art And Design Building last month (see review

on page 44) and made him the perfect candidate for July's

raucous rock show at Sound. You can find more of Calum's

work at calumjonesdesign.weebly.com.

Total Bike Forever @ The Merchant

Globe-trotting DJs and producers Tim Stephens and Adam

Faulkner have just completed a 12-month cycle trip across the

world, stretching from London to Tokyo – and they're playing a

DJ set in Liverpool to celebrate their return. Under their TOTAL

BIKE FOREVER banner, the pair set themselves a task of writing

an album while travelling the world, taking inspiration from their

surroundings and people they met along the way. They've been

documenting this with a series of brilliant vlogs and a number of

groove-laden podcast mixes, which you can find at bidolito.co.uk.

Cycle down to The Merchant after work on Friday 28th June to

hear a special set from Tim and Adam where they'll be debuting

some new material.

Station To Station

Merseyrail Sound Station

The third semester of Merseyrail Sound Station is underway with

an array of talented artists taking part. The group of musicians

– including Eggy Records' ANA MAE, fast-rising stars GEN AND

THE DEGENERATES and psych jazz bastions THE BLURRED

SUN BAND – are in the midst of an intensive development

programme and will all play a live showcase at Liverpool Central

on Friday 26th July. Merseyrail Sound Station will also be taking

a group of artists down to London for a showcase gig at The

Waiting Room in partnership with promoters Eat Your Own Ears

later in 2019. More details to be announced in due course – but

get along to Central station from 3pm to see the city's future

stars in action, for free.

10
---
MEMBERS'

MIXTAPE

In this new regular feature, we ask one

of our members to compile a selection

of music from their recent listening

playlists. Mark Rowley grasps the nettle

this month and gives us a sample of his

listening habits from this year.

Bundobust

Big Thief

Orange

4AD

Desi Island Discs

The newest edition to Bold Street's mouth-watering

foodie offer now has a soundtrack to match its

impeccably tasty menu. Crate-digging DJ and

promoter Stepping Tiger has put together a heady

concoction of tasty sonic morsels to accompany

patrons' lunchtime experience at the Indian street

food mecca BUNDOBUST. Stirring in a scrumptious

selection of new jazz, Afrobeat and marinating it

with some succulent soul, TOO MUCH SPICY is the

perfect accompaniment to Bundobust's lunchtime

offer. You can hear the mix in store while you sit

down to your tarka dhal and Bundo chaat, and make

use of the £7.50 for two plates lunch offer. Stepping

Tiger DJs play regularly around the region and

host an eclectic new music night once a month at

Alexander's, Chester.

In The CAN

Named as one of the top 10 greenest eateries in the

country, CAN WATERLOO is a vibrant new ecofriendly

café just five minutes from Crosby beach. As

well as serving up all manner of great vegan comfort

food, CAN are a virtually plastic free business with a

commitment to preventing any plastic that comes into

the building from ending up in landfill. Instead, they

host regular 'ecobrick workshops' to turn single use

plastics into a reusable building block for their pop-up

food stall, which will be appearing at a number of

festivals this summer. If you need any more incentive

go and try it out, CAN's chefs have included a sparkling

new addition to their summer menu in the form of the

Bido Lito! pink pizza: a beetroot hummus base with

roasted cauliflower, walnuts, and beetaroni topping.

Big Thief are a Brooklynbased

alternative folk band,

who earlier this year released

their third album U.F.O.F. to critical acclaim. Any band with

a guitarist going by the name of Buck Meek has to have an

edge over the rest… and with the angelic tones of singer

Adrianne Lenker, we pretty well hit the jackpot here!

Maribou State

(feat. Holly

Walker)

Nervous Tics

(DJ Tennis Remix)

Counter Records

Thirst For Firsts

WIRRAL FESTIVAL OF FIRSTS is getting in on the borough's year in the spotlight with a host of activity between

5th and 14th July. As the city region's Borough Of Culture, Wirral has been home to scores of events and exhibitions

throughout 2019, and WFOF brings a slice of summer to these celebrations. West Kirby's Westbourne Hall plays

host to a number of events throughout the run, including music from audacious five-piece KABANTU (5th July), a

celebration of jazz, Baltic and Indian Carnatic music with MAYA JAZZ (11th July), and a premiere of Teatro Pomodoro's

darkly comedic new piece FISH OUT OF WATER: A SHIPWRECKED ODYSSEY (12th July). Author Mike Haskins has

written for Steve Coogan, Sue Perkins and Smack The Pony, and he brings his extraordinary true history SEX, DRUGS

AND QUEEN VICTORIA to West Kirby Arts Centre on 7th July. There's tonnes more, including fun for all the family at

HOYLAKE STREET FESTIVAL on 6th July – and you can find full listings at wirralfestivaloffirsts.org.uk.

New Tunes Coming

AI Audio Lab

You just can't stop the good tunes rolling in – and you're

never gonna hear us complaining about that at Bido HQ.

We've been treating ourselves to some astounding sounds

this month, not least in the form of TRUDY AND THE

ROMANCE's Sandman. The doo-wop spacemen show

off their winsome, jazz chops on this stormer of a debut

LP – and you can catch them live at Future Yard festival in

August. Fellow Future Yarder BILL RYDER-JONES has stolen

our hearts all over again with Yawny Yawn, the piano-only

version of last year's acclaimed album; and rising star of

the internet, PODGE, has unveiled his glorious first single

Yuka-Peno via Edge Hill's The Label Recordings. You can

also catch an IRL version of Podge in Birkenhead at Future

Yard – hmmm, I sense a theme developing…

AI Audio Lab

In our 100th issue, we considered the implications for art and

creativity in an increasingly digital world. In particular, we wanted

to focus on how artificial intelligence is being used to power

music-making tools, and how that might hinder or help tomorrow's

musicians. We have been carrying out further research into this

at our AI AUDIO LAB installation at SEVENSTORE, which invites

artists and members of the public to create a piece of music using

AI software in a pop-up studio environment. There are still places

to be filled on our weekly workshops on 29th June and 6th July. To

book on, please email aiaudiolab@bidolito.co.uk. No prior music

experience is needed – just a desire to test the parameters of AI,

and yourself.

Bill Ryder-Jones

The original track appeared on MARIBOU STATE's 2018

album Kingdoms In Colour. It now features on the 2019

remix EP and, by the time Manfredi Romano (DJ Tennis)

has worked his magic, it's even more of a sublime slice of

soulful beauty than ever. Really looking forward to seeing

these up close later in the summer.

Skinny Pelembe

No Blacks, No

Dogs, No Irish

Brownswood

Recordings

South Africa-born, Doncasterraised

SKINNY PELEMBE is causing quite a stir at the

minute. Championed by illustrious BBC Radio 6 Music DJ

Giles Peterson, among others, his debut album Dreaming

Is Dead Now came out last month and oozes quality from

start to finish. This track, which came out as a precursor

to the long player, is a throwback to the experiences of old

Commonwealth immigrants made current by the Windrush

scandal of last year, and is a major standout.

Drahla

React/Revolt

Captured Tracks

Leeds-based four-piece

DRAHLA also released their

highly regarded debut album

last month. Sounding very

1980s New York and fronted by singer-guitarist Luciel

Brown, Drahla has drawn comparisons to post-punk

legends Sonic Youth. They tore up Jacaranda Phase One

recently, despite a modest turnout, and this track, featuring

an absolute killer extended sax introduction, shows off

their versatility as well as the range of their compelling

sound.

Head to bidolito.co.uk for a playlist compiled by Mark. For

more information on our Community Membership, head to

bidolito.co.uk/membership.

NEWS 11
---
12
---
Ahead of the release his latest EP, Niloo Sharifi meets the man

behind the bedroom pop wizardry and throwback childhood

photos. Delving into the making of the EP, Bill Nickson opens up

about the sentiments fuelling the pure emotion that emanates

through his poignant songs.

I'm sitting in my room, trying to convince a reluctant BILL

NICKSON to let me hear his new EP. He doesn't have

the newest mixes with him, and he doesn't want to play

me the old versions on his SoundCloud. "I've heard them

so much that I can only hear the weird, sticky-outy parts,"

he tells me, but I'm insistent – I can't interview him about an

EP I've not heard. When he finally lets me hear it, he's still

mumbling apologies about EQ levels.

But it's all beside the point – these songs would be

beautiful in any circumstance, even croaked out on a sore

throat with a barely tuned five-string guitar. The faraway

sound of his voice and the instruments make me feel

intensely nostalgic: for what, exactly, I don't know. They feel

plucked out of time, ageless in their sincerity. Each song

feels intimate – like someone talking to their best friend,

not the public. His sound varies quite a lot; from laid-back

melodies, really relaxing and heartbreaking, like the last

warm days of summer, on tunes like Better Days and Are

You Alright; to the cerebral, relentless thrum of Grave, the

aggressive wonkiness of its repetitive riff and drums, angry

lyrics indistinct over the top.

Maybe this is something to do with the recording

process – Bill doesn't like to record anything twice, because

it's all about the moment, and the feeling of that moment,

above everything else. "I've always just worked, like, the first

time I do it is the final. I don't approach it like a demo. I just

approach it like I'm making the next song now; just bash it

out in four hours, and spend the next eight months messing

around with the EQs and the volumes and that."

This dedication to spontaneity produces sounds loaded

with emotion – even if we're straining to make out the lyrics.

"In Grave, the vocals are quite hard to hear in certain parts of

it – I've kind of had a nightmare,

just spent the last year trying to

make them a bit more clear." The

song reminds me of Joy Division

tunes – emotion is stripped bare

and displayed in its most brazen,

ugly form, doubling down on its

own melodrama. I can imagine

angsty teens loving that one,

not in a bad way, I tell him. "Yeh,

I think that's where it's come

from," he replies. "The chorus

as well is: 'You don't know what

it's like', and it's one of those

choruses where I wish I could

be there and explain it to each

person that listens to it, and be

like: what I meant by that is that ignorant feeling that your

problems are the biggest thing to ever happen, and no one

gets it and stuff. It's a tongue-in-cheek kinda thing."

He admits to a certain early predilection for pop punk,

one that we share. "I had a band in year six, but it was really

embarrassing stuff – I was into Green Day back then, so I

was straining my voice to sound punky – it was just really

embarrassing. I used to watch Kerrang! religiously; I got

into Blink-182 really early. I feel like there's some stuff in

my music that I will have picked up from back then; I'm not

scared to go in that whiny territory a bit."

Personally, I believe no genre has ever paralleled pop

punk/emo's capacity to just let the adolescent emotions fly

without a shred of self-consciousness – and the result is pure

theatre. Bill's sound couldn't be further from pop punk, but

it retains that same confessional quality: "I dunno, it's kind of

like a diary of sorts; you can pinpoint each song in the past."

After his early forays into the nasal world of childish

bedroom rock, Bill has experimented with many musical

mediums before finding his way back to guitar. "It was only

just before I went to university in 2014 that I got into guitar

stuff after doing electronic-y stuff for a while. And, I don't

know, it's hard to write a song [that's] not coming from

somewhere inside, for me anyway. One of the first songs that

I sang on was, kind of, about being alone and that, because

I was always in my room, on my computer, throughout the

summer and stuff, and I just found it to be… I dunno, it felt

weird, it felt like a weight off my shoulders a bit, if y'know

what I mean – not to get, like, typical. I just got into writing

about how I was feeling."

Years down the line, his songs still feel cathartic for

him, which becomes a strange experience now that he'll be

singing them to an audience. "I don't realise sometimes how,

like, almost embarrassing some of the songs can be – like that

Grave song. I dunno, I swear in it and that. Having a swear

word in your song hinders it a bit in this day and age, but it

felt like the right word at the time. I think it's quite personal. I

try to make the songs sound like how I'm feeling. And Grave

is quite an all-over-the-place song on the drums – quite busy

–and it's just how your head can feel."

"Daniel Johnston

opened my eyes to

how music can be

your outlet. If you can

see music's from the

heart it's easy to like,

because it's pure"

The other songs on the EP go in a totally different

direction; they're incredibly soft, steeped in sentiment that

feels really genuine. You're a real romantic guy, that's what

I think, I tell him. "I am a romantic guy, but in a way where I

don't really know what I'm doing," he replies. He tells me how

each song relates to a moment in the whirlwind year he's

had, falling in love for the first time. "It's weird; not what you

expect from, like, the films and that." The EP bears witness to

the sweetness of these searing, complicated feelings.

Are You Alright is a beautiful song, I tell him: for me,

it's one of those god-touched melodies. "I still think about

you sometimes, can you see that? Can you hear that in this

song?" he sings.

"That one's the oldest one in there, I recorded that in

2016," he explains. "Can't actually mess with it, either,

because I haven't got the project file anymore, so I just have

this lo-fi music file for it. It's the most complete one there, I'd

say, even though it's the roughest one. It's kind of a Daniel

Johnston song, where it's just short and simple." I tell him

I've never listened to Daniel Johnston, and he can't believe it.

"He's a massive figure in my whole musical journey, I think."

I want to know what he loves about him. "He's probably the

purest musician I've ever listened to – it's just straight from

the heart, and there's no… he's not doing it for any other

intention than creating for himself. You can hear it in every

song, and he sings as if there are a million people watching,

but it's inward facing. He definitely opened my eyes to how

music can be your outlet. And people can find a way to love

that. It's true what they say, where if you can see it's from

the heart, it's easy to like things, because it's, like, pure."

I'm curious as to how Bill's very personal, pure

relationship with music sits with the very public nature

of a musical career. "Yeh, it's

weird. I don't fully enjoy going

to gigs and that, and standing

in the crowd, and just being

surrounded by people. I always

have that feeling that they're

looking at the back of my head.

It's like that kind of insecure

feeling in a crowd – I dunno,

I prefer it to going to a gig I

think, but it's still awkward,

I don't know." Bill has an

irreverent approach to his own

introversion, which comes

through in the clear-sighted way

he presents emotion. "I think I

have select people that I'm quite

comfortable with, and I'm not shy around, really, but I can

still be a bit awkward. Like right now, I feel a bit awkward,

'cos of the interview, as you can tell from my voice – it's, like,

got this weird, shaky quality to it and I don't know why."

Bill's musical development goes in the direction of

himself, rather than the public. He's stopped processing his

own voice until it's unrecognisable. "I used to make really

dreampoppy, reverby stuff – it was a noticeable feature

of the stuff I was making – and it was due to insecurity as

well," he admits. "I wasn't a singer, so I used to hide my

voice a bit by drenching it with reverb. Through university I

got a lot more confident and found the sound that I'm doing

now." It's about getting better at creating honest pieces of

himself in songs, for himself.

"I think, when I grow older, the stuff I'll be making grows

with me a bit. That's why I really want to put this EP out,

because I keep making EPs, and getting tired, and putting

them away instead of putting them out. I feel like I'm just

missing loads of key parts of my musical growth being out

there, so I've tried my hardest to make these songs good

enough to put out. Even though they're a bit older, a bit

embarrassing and stuff – so I just wanna get them out there,

so I can move on and make something new, and feel like I

can grow a bit."

Wherever his sound ends up in a decade, it's certain

that Bill's now locked in. "Music has just consumed my aims,

and what I wanna do in life. It's what I think about all the

time – my aim is to just make music, and keep putting it out,

and doing shows." !

Words: Niloo Sharifi

Photography: Keith Ainsworth / arkimages.co.uk

@billnickson_

Bill Nickson's new, as-yet untitled EP is released in August.

Bill plays Liverpool International Music Festival on Saturday

20th July as Bido Lito!'s selection for the Music City stage,

and plays Future Yard festival on 23rd August.

FEATURE

13
---
KITTY'S LA

After making headlines for their

successful, community-backed

Kickstarter campaign, the muchanticipated

Kitty's Launderette

has finally opened its doors. The

washhouse-cum-community space

on the border of Everton and Anfield is

the newest member of a crop of social

enterprises across the Merseyside

area, all working together to create

local solutions to societal problems.

Anfield-based Tom Doubtfire talks to

the organisers behind the launderette

to gauge the scope of this masscollaboration,

and the new forms of

grass-roots organisation that are

inspiring them.

KITTY'S LAUNDERETTE is a new social enterprise

functioning as a washhouse in the Everton area

of Liverpool, aiming to provide an affordable and

ecological laundry service while also providing a space

for people to gather, spend time and learn. Kitty's was named in

honour of Kitty Wilkinson, the Irish migrant worker who founded

the first public washhouse in Liverpool and became known as

'the Saint of the Slums' for her pioneering work. Underpinning

this whole business is a wish for autonomy and better control

over our own lives. Social projects like these are transforming

Liverpool by inches – and they raise a hopeful question: with a

space of our own, how can we begin to reshape the world around

us?

After going to one of their gatherings in October last year,

it was empowering to feel that I was just a part (even if very

minute) of bringing this project to life. Kitty's Launderette officially

opened on the morning of 18th May this year, with a busy

opening party during the evening, and then hosted a night of live

Irish music in the form of a céilí from Mikey Kenney and Friends

the following evening. During the day, the space was used as a

playschool for children. The washhouse's profits as a business are

invested directly into the local community, through their myriad

programmes and through direct employment. Now sat right at

the end of Grasmere Street, they hope to become a useful asset

to the local community through hosting events showcasing music

and art, film screenings and workshops as part of wider goal of

centring people-focused activity, adding value to the local area.

They are not alone in this. Homebaked Anfield have been

a valuable resource in sharing knowledge and skills during the

years prior to Kitty's opening their doors. They have grown from

an art project which asked the simple question 'what does it

mean to live well?' into a multi-faceted business which puts local

people at the core of its decision-making.

Initially, Kitty's used Homebaked, another cooperative and

community focused enterprise in Anfield, as a proxy space to

host meetings and events to gather thoughts, feelings and ideas

about how people saw the launderette functioning and operating

in the future. Throughout the three years the business was

14
---
UNDERETTE

preparing to open, events like this enabled them to get a feel for

what people in the area would be interested in using the space

for, as well as being a way of bringing people together of all ages

in a fun and relaxed, but productive, environment. At Kitty's, they

speak openly of how important this accessibility to these spaces

was. "You'd go there and have your lunch," says launderette coordinator

Grace Harrison, "and it would be like a sandwich and a

question on a daily basis."

For Grace, Homebaked is a crucial model for what they want

to achieve. "I think there is something really powerful about

seeing the success of all the hard work they put in, and the

degree to which it has been really taken on by a whole range

of people who now use and love that space, so I think that also

gave us a lot of confidence that what we were trying to do was

complementary and comparable." Inspired by their conversations

on the social high street, Kitty's Launderette are following the

likes of Homebaked in taking ownership of the spaces that are

likely to become derelict over the next few years. Rather than

being a collection of impersonal spaces, the high street in and

around Anfield is transforming into somewhere packed with

character and warmth.

Through the community's openness and willingness to

share knowledge, time and resources, Kitty's have been able to

build upon the work of other community-focused organisations

in Liverpool. Rather than start from scratch, places such as

Homebaked, Rotunda, Rice Lane City Farm, Squash and

Blackburne House have been happy to help at various points

from conception. As Grace explains, this is rare: "In the traditional

third sector where you are grant dependent, you end up being

in competition with people who should be your collaborators."

A dedication to support those who ultimately share our goals is

one part of a wider ethos formed around the fundamental belief

Grace expresses. "What people can achieve together is greater

than what any one person can achieve on their own."

In the context of growing austerity, and a government

which still chooses to pursue a 'there is no alternative' narrative

in favour of severe public service cuts and centralised decision

making, the UK seems to be divided on what the future should

look like. It becomes increasingly clear that elites and politicians

alike are unable or unwilling to address the complex problems

people face in the world around them.

Communities have always found ways to care for

themselves through taking matters into their own hands, and

Kitty's Launderette is one such business hoping to pump money

back into the local community. For Kitty's Launderette, creative

thinking is integral to the world they are trying to build a corner

of. "In our dream scenario," says Grace, "it's that we continue to

value creative thinking as the business goes forward and we see

that as not supplementary but integral." In a time when funding

for creative courses is the first to be squeezed, Kitty's are intent

on recognising the value of creative labour. "[That's] also part of

the social impact, because, I think artists should be paid for the

stuff they do, and often they're not – so we, as the business, can

recognise value and remunerate for creative involvement."

It has become clear that the only way to solve some of the

toughest issues facing people in the UK is through creative

thinking and behaving with a certain nuance. It feels necessary

now, as it always has been, to properly recognise the creative

labour of artists, musicians and performers. Creatives work not

only to give platforms to voices and experiences, but to add

value and meaning into our lives. By ensuring that this business

functions firstly as a launderette, Kitty's hopes that this will

enable them to become much more involved with a whole range

of creative activity happening in Liverpool.

Kitty's recognise the contexts which make creativity

inaccessible to people and wants to break them down. "We

can just commission the work that we think is going to look

good, or that the artist wants to make – we don't have to think

about someone else's agenda." Autonomy here is key. Through

being a self-sustaining business, they can support people. This

could take the form of commissioning artists to create a piece

of work to be displayed somewhere in the local area, or creating

more local jobs which pay a living wage; two examples where

autonomy would be brought about through income generation,

which was a big motivating factor in the early stages of setting

up Kitty's.

The team of nine (Grace, Ehsan, Louis, Rachael, Kerrie, Kathy,

Natalie, Kirsty and Michelle) aim to ensure that the project is led

by as many people as possible through active listening; being

open to and in favour of change. This is a business that started

as a small group with an idea, but now wishes to cater not only

to locals but also those who live further afield. Figuring out how

they can begin to support and be supported by people who don't

live locally is something they admit will start to become clearer

over the next few months. They recognise the only way to make a

space as accessible as possible is through allowing people to be

actively involved in shaping how the space functions in the future.

The Talk Of The Washhouse project is one way they have

been able to do this.. As part of their ongoing research into

washhouses as important social spaces, Kitty's run weekly

drop-in conversation sessions for collecting local memories of

washhouses. Supported by the heritage project, this aims to

collect stories from people sharing their past experiences of being

in launderettes to produce a lasting archive. Grace describes

how this process has allowed forgotten pasts to be rediscovered:

"We were finding out that the washhouse was a site of social

life, particularly for women, and there is hardly anything written

about that. Working class women's history is largely unrecorded

so this is a really important project for us."

Through listening to and harnessing memories and stories

about the washhouse as a place of social activity, they hope to

produce a telling archive which not only accommodates for the

nostalgia of a shared past, but guides us along the path towards

a shared future. By actively listening to stories and the people

telling them, their enterprise continues to be "informed by the

things that people really care about. People have told us what

was great about it was this or that, and we can build that into

how we do things – that allows people to be heard, and know

their experiences are valuable and cared about."

There is a recognition here that every interaction and

encounter, whether it be between members of the team or

discussions with the public, have all been equally vital in allowing

the business to open. "It's really important that this business is

owned by, and led by, as many people as possible, because that

FEATURE

15
---
"Taking greater care

for those around you –

enacted through active

community organising

– allows people to

have power over the

decisions that affect

their lived experiences"

is how it will be strong as a business," Grace tells me. Funding

has helped the business reach a certain point of comfort, but

above all, conversations between people, and continuous mutual

support are what injects energy and life into this space, and

that is what will help the launderette sustain itself in the future

– Kitty's recognise the value of people – "the guy at Homebaked

who comes in everyday and tells a joke and gets off". It feels

important and valuable to recognise how spaces such as Kitty's,

which have managed to become relatively autonomous, and

are dedicated to working with people, can not only improve the

conditions that we live in, but begin to completely shift the way

we relate and interact with one another.

The city of Preston offers one inspiring example of how

businesses such as Kitty's fit into wider societal models which

offer crucial infrastructural change. As a reaction to govenrment

cuts to local council and big businesses pulling out of planned

regeneration work, Preston shifted their thinking towards

principals of municipal socialism, and began to carry out

community wealth building often through using the services

of local businesses. Preston City Council now works with

institutions like schools, universities and hospitals to provide

contracts to businesses operating in and around Preston rather

than outsourcing to private national companies. The result is

more wealth being kept and spent between people within the

local area. There has also been a successful push for companies

to adopt the Living Wage, as well as the creation of the Preston

Co-operative Development Network, which aims to promote

worker co-operatives and employee buy-outs of businesses,

for example. When a council reduces the control they have, this

allows people to have greater control over their own agendas.

Much needed regeneration, but achieved through focused

organisation and community led businesses, committed to

steering well clear of private companies, who too often favour

quick profits at the expense of real investment in the area and the

people living there.

There is an alternative to austerity and cuts, which is actually

listening to the concerns people have in a more positive and

proactive way. We should reject the manifestation of racism and

nationalism that has become prominent in discussions around

how the UK has shifted and changed, and switch our thinking

to how we can tackle capital to improve everyone's quality of

life. Simplified narratives and political slogans are not what will

provide this. As Grace says, "It's just great, because you don't

even have to get into a particularly theoretical conversation. You

know, all these racists who are going round, talking about making

England great, and of forgotten towns – this is the answer to

that, and it is actually trying to listen to those concerns, and do

something about them in a proactive way that's tackling capital

more than it is blaming it on people who aren't actually to blame."

There is power in recognising the complexity of the world around

us, and one alternative which will begin to produce positive

change is a greater care for those around you, enacted through

active community organising which allows people to have more

power over the decisions that affect their lived experiences.

If we're interested in the sort of social impact that Kitty's

Launderette has, then our support is vital. Whether this means

doing your laundry there, employing Kitty's as your commercial

laundry service, working with them on a project you have in mind,

or spending time in the space, your support will become a key

part of a much wider network of people all pushing for positive

and meaningful change in our communities and in our city. !

Words: Tom Doubtfire

Photogrpahy: Mark Loudon

kittyslaunderette.org.uk

Kitty's Launderette is open Monday, Thursday and Friday 9.30am

to 8pm, and 10am to 8pm on Saturdays and Sundays. If you'd

like to contribute to the Talk Of The Washhouse project then

there are drop-in sessions every Thursday from 1pm until 8pm.

16
---
READ IT

IN BOOKS

In his new memoir Fried And Justified, publicist to the stars, Mick Houghton, recounts some of the wisdom

he picked up after a generation working with some of pop's – and Liverpool's – most notorious acts.

The man described by many as The KLF's unofficial

biographer, MICK HOUGHTON handled the publicity

for a string of the independent sector's greatest groups

between 1978 and 1998. After working at Sire Records

for Seymour Stein with the Ramones, Talking Heads and The

Undertones, Houghton set up as an independent with Brassneck

Publicity. Alongside the likes of The Jesus And Mary Chain, Sonic

Youth, The Wedding Present, Felt, Elastica and Spiritualized

were a triumvirate of Liverpool acts: Echo & the Bunnymen,

The Teardrop Explodes and The KLF. Houghton's new volume,

Fried And Justified: Hits, Myths, Break-Ups and Breakdowns

in the Record Business 1978-98, charts an era marked by the

dominance of the four weekly music papers, all of which are now

(virtually) defunct.

With a foreword by Bill Drummond and jacket design by

Jimmy Cauty, all the principal players of the Liverpool music scene

of the period are featured. What was it that got Mick so involved

in the Eric's scene? "It all started with the Bunnymen," Houghton

recalls on the phone from his London home. "The reason I got to

work with them was because I was working with Warner Bros.

who were the parent label to [the Bunnymen's imprint] Korova.

In a way I was kind of lucky to work with them, 'cos I was there

at the time they were signed. By then I'd been working with the

Ramones, Talking Heads, The Undertones, so I was the obvious

person to do the Bunnymen."

"I'd already heard Crocodiles [the group's 1980 LP] and I

still think that's one of the great debuts. They progressed so

much – they weren't a brilliant live band but almost overnight

they became one. That's what's exciting if you're involved with

anything, it's to see a group evolve. That continued certainly

up to and including the Ocean Rain period, and it sort of fell

apart a bit after that. There's something about the dysfunctional

nature of groups: after two or three years quite often you get

factions developing and you suddenly find that the strength of

relationships starts to dissipate a bit.

"The way I worked as a PR – and particularly with those

Liverpool bands – was [that I was] so involved with them and

[manager] Bill Drummond," Houghton continues. "The line

between publicist and a manager is blurred. If you work with

people enough then you become part of the whole process,

really."

Having done press for one of the city's biggest bands,

Houghton found himself doing the same for their friends and

creative competition, The Teardrop Explodes. "I left Warner Bros.

and began working as an independent, and Bill Drummond asked

if I would look after the Teardrops. I wasn't really aware of the

rivalry between them and the Bunnymen at that time. Because

Crocodiles was so critically successful, and the Teardrops' album

[1980 debut Kilimanjaro] wasn't out for another for another few

months, I think that Julian felt the Bunnymen had got ahead

of him. The Teardrops had had more singles out, they'd had

more press, Julian was already being seen as a bit of a star. The

Bunnymen always had this solidarity as group whereas the

Teardrops became Julian Cope's group, really."

While the Teardrops' principal player was singer, chief

songwriter, shamanic guru and future highly respected author

Julian Cope, the band's membership travails were so tangled

it was surprising that anyone could remember who was in the

group week to week. Keyboard player (and future Blur label boss

and Country House dweller) Dave Balfe was the antagonist foil

to Cope, the friction between the two producing the band's best

work.

Distinguished by Cope's ear for melody, the Teardrops'

post-punk informed psychedelia swiftly won them a sizeable

audience. Gilt-edged singles Reward and Treason (It's Just A

Story) saw them crossover to a wider audience. Reward marked

the first of four Top Of The Pops appearances for the band, with

Cope becoming a bona fide pop star. "In a way it became a bit of

curse for him," Houghton says of the period. "Julian kind of envied

what the Bunnymen had, this kind of critical mass and a real cult

following. What kind of ate away at

the Teardrops – and to some extent

unhinged Julian – was when Reward

was a Top 10 hit."

"There was a point during 1981

when Julian was perceived as one of

the biggest pop stars coming out of

rock," Houghton recalls. "Even though

he'd only had a couple of hits, he

was on the cover of Smash Hits and

teen magazines like Jackie and Oh

Boy. You would think the Teardrops

would be as big as Duran Duran or

Adam And the Ants, the amount of

press they got. He didn't really want

that. On one level he did want to be

successful, and on another he didn't

like the nature of the success the Teardrops were getting. Julian

would far rather have been Jim Morrison or Tim Buckley, not a

pop star. That was weird for me, personally, 'cos I wasn't used to

dealing with that kind of success."

Moving into the second half of the 1980s, Houghton began

doing press for The KLF, continuing a working relationship

with key Liverpool player Bill Drummond. "We were lucky to be

around in that era. The music press was so dominant you could

become successful through the music press and have fun with it,"

Houghton states. "That's what The KLF did. Actions speak louder

than words and by their actions people wanted to write about

them 'cos there was nothing else like it, there never has been.

What other group at the height of their success says, 'We're

splitting up, we're deleting all of our records', then burns a million

pounds?"

"In 1991 they were the biggest-selling singles artists in the

country – [but] it wasn't what they wanted. I think they genuinely

felt 'we can do anything now' and the press would lap it up. It

really did become too much for them. KLF Communications was

about six people: there was them, their partners, I did the press,

Scott Piering did the TV and radio and that was it. I think they

were both having breakdowns, which explains what they did at

the Brit Awards [spraying the audience with blank machine gun

bullets and dumping a dead sheep at the afterparty]. It was fun to

be part of, but a bit scary in some ways."

All of which leads to the most (in)famous chapter in The

KLF's history, The K Foundation Burn A Million Quid. "I wasn't

"The music press

was so dominant in

the 80s, you could

become successful

through solely that

and have fun with it"

there, but I never, ever doubted that they did it," Houghton says

of the notorious event that took place on 23rd August 1994 in

a farmhouse on a remote Scottish island. "They could shape

the story because they didn't make anything of it, they allowed

people to find out for themselves. The journalist they had with

them wrote a story for the Observer Magazine – that was all

there was. But most people at that point actually didn't believe

them, because they had this reputation of being – and I hate

this – 'pranksters', or they were involved in these scams. Which

is completely wrong because everything they were alleged to

have done, they did. When the story first came out I sat in my

office thinking that the phone wasn't gonna stop ringing all day.

Most people's reaction was they couldn't believe they did it and

then 'how dare they, who in their

right minds would burn a million

quid?' And when they did there was

outrage.

"When they were at the signing

in Liverpool at News From Nowhere

in 2017, for a long time people still

doubted they'd done it," Houghton

continues, bringing the story back up

to the present day. "It would've been

very easy to fake the photographs

and everything, but what's interesting

when we did the thing two years

ago, I don't think anyone nowadays

doubts they burnt it, it's just been

accepted. It's kind of overshadowed

everything else they've ever done to

some extent, which on one level is quite possibly deliberate on

their part, 'cos I think they wanted to move on and do something

else. You can't buy the records and there aren't greatest hits

albums coming out every six months, so the music has kind of

faded into the background a little."

In a vastly changed landscape when waiting a week for a

music story to break through the press seems incredibly quaint,

the era of drip-feeding news and slowly building up bands is very

different. "Some groups do far too much press," Houghton says.

"I always thought it was a 'less-is-more' thing. If you don't need

to do press, don't do it. Justine Frischmann from Elastica thanked

me for keeping them out of the press!" Indeed, despite scooping

NME's Album of the Year for Ladies And Gentlemen We Are

Floating In Space in 1997, Spiritualized main man Jason Pierce

was seldom interviewed.

"Part of the reason I kinda gave up doing press by the end

of the 90s was that I was never gonna repeat that experience.

I was never gonna work with anyone like Bill and Jimmy again,

or Julian, or the Bunnymen, or Spiritualized, or the Mary Chain.

I think, for me, music was going into this incredibly dull phase

post-millennium. Partially because the music press had been

diminished so much." !

Words: Richard Lewis

Fried And Justified is released on 4th July via Faber & Faber.

18
---
SPINN

With a fresh new album in their collective back pocket,

Liverpool's jangle pop darlings SPINN hit the road to

charm the rest of the UK. The band's winsome frontman

Johnny Quinn gives us a peek at his tour diary.

Hi! For the past month I've been hitting everyone

interested enough to ask with the statistic that the

band I'm in (SPINN) has played 31 gigs in 30 days.

However, after completing the largest tour in our fancy

haircut and jangly guitar spangled history, I was informed that

my favourite catchphrase was factually incorrect and that we'd

played a mere 26 gigs in 28 days. SHAMEFUL!

Last month we released our debut album, it's called SPINN

because we couldn't think of a decent enough name. I implore

you to listen to it. It's not exactly rock 'n' roll, and it's mostly in a

major key, but it will probably brighten your mood and it also has

the word 'transgressions' in one of the songs, so there! Anyway,

we booked a tour last month to promote the shit out of it, we

thought a normal tour would be enough but we got booked to

do an HMV tour on top of it. This was a logistical nightmare, but

most of the time we got free Kettle Chips.

With that in mind, dear reader, I invite you to read a tour

diary that I wrote one afternoon while fighting a mild red wine

hangover.

Love from Johnny x

3rd May – Manchester

The first gig of the tour was in HMV Manchester. picture the

scene, dear reader… windowless

backstage, no Kettle Chips on the rider

and all topped off with a perilous 30-foot

drop off the side of the stage because

we were playing next to some stairs. We

spent 20 minutes arguing about who

was going to stand on the side with the

drop; Andy had vertigo, so decided it

would be Sean because he's the bassist

and, as everybody knows, they're the

easiest to replace. My little sister was

present and asked, "Is it always this

exciting, Johnny?" I said "Yes."

I'd like to extend my thanks to HMV

and their staff for having us; they were

lovely to us and applauded us even if

nobody came, ha!

5th May – Liverpool

Last year we played to 400 people at Sound City after just

releasing our EP – this year we had just released our album

and played to, like, 800 people. It felt like a homecoming to so

many people who were just made up for us, kind of how Trent

Alexander-Arnold must have felt when he was texting that girl

while riding that Champions League victory bus. Unbelievable

scenes. Liverpool is our home and the city that we love most,

and we've been all over the UK, man, believe me. I've seen the

bright lights of Bedford don't you know? Can't remember much

of Sound City after the gig, we spent it with Nathan from The

Peach Fuzz and all of Monks. For me, Confidence Man were the

highlight – they're just fab, aren't they?

23rd May – Huddersfield; 24th May – Aberdeen

This set of dates was probably the biggest surprise I've had

since my mum and dad got me Mousetrap for Christmas 2005,

and the people who came the gig were probably more up for it

than seven-year-old Johnny was when he opened his prezzies

that fateful morning. To be completely honest, I didn't even

know where Huddersfield or Aberdeen were and I'm still not

"Terror-stricken

faces and spew…

this is how I

will remember

St Albans"

entirely sure. But I do know that they know how to do a gig right,

absolute limbs throughout, the people were all dead friendly,

too. In Aberdeen we stayed in some crazy hippy commune,

there were twigs glued to the ceiling (cool) and a trapeze on the

stairway (dangerous). That said, our hosts were fantastic and

cooked us all some delicious cinnamon and apple French toast

for breakfast, with a vegan option available for Louis, our loverly

Brummie drummer.

Note: against our will, we found out the hard way what

a 'true Scotsman' wears under his kilt in a smoking area in

Aberdeen. Actually, it wasn't hard but it would have been a lot

more interesting if it was… snigger.

28th May – St Albans

We're all human, so, alas, there comes a time in our life where

we must all face some sort of gruelling and/or embarrassing

moment. I thought my entire high school experience, or perhaps

when I gracefully threw up on stage during last year's Liverpool

International Music Festival, was more than enough to cover

my fair share of said moments. Surely, I mean surely, it couldn't

happen again… But as we all know too well, dear reader, life

has a funny way of doing things. Perhaps it was a higher power

trying to keep me humble, or perhaps it was an underlying

stomach issue that needs addressing –

who knows – but despite my hopes and

prayers I did throw up again during a

performance, and also managed to terrify

the entire front row when I announced

this. And this is how I will remember St

Albans: terror-stricken faces and spew…

31st May – Manchester

Full circle! First gig of the tour –

Manchester; last gig of the tour –

Manchester.

However, two very different affairs:

the most notable difference being the

fact that there wasn't a drop to certain

death on one side of the stage. The

gig was in The Deaf Institute with

Manchester band Carpet and our mates Monks on the support.

If you take anything away from this, let it be Monks – very

talented young lads indeed. We went for a Nando's off Oxford

Road. I got the halloumi and portobello mushroom burger (hot)

with peri chips and garlic bread. Free refills. Optimal hydration.

My whole family was present for this one and one particularly

sweet moment was when my mum saw that we were sweating

on stage, got us all a cup of water each and handed them to

us halfway through the set. The crowd were amazing, our long

suffering roadie Alex Forster said that the floor was shaking,

I think that's a good thing. Anyway that was the last date of

the tour, when we got back we bumped into a load of Baltic

Weekender goers, they were so barneted they didn't know who

was playing when we asked. Ended up out till 5am with Monks.

Liverpool won the Champions League the day after. Stayed in the

house all weekend, drinking myself out of the pit of misery Divock

Origi caused me, while the rest of SPINN partied. Wrote this.

Up the Toffees. !

@spinn_band

SPINN's debut, self-titled album is out now. SPINN's UK tour was

supported by Liverpool Band Vans.

20
---
FEATURE

21
---
"Bold Street is truly

at the heart of culture

in our city. How many

of us have strolled

past WHISC and never

given it more than a

passing glance?"

WHISC AT 35

From behind their unassuming façade on 120 Bold Street, the quiet heroes of WHISC have been offering

advice and support to generations of Liverpool's women.

In 1984, a group of women in north Liverpool noted

the provisions around the city for helping women gain

knowledge of their own health were scant at best. Armed

and strengthened with knowledge from a women's health

course plus money from the council, they went on to create

Women's Health Information And Support Centre (WHISC). The

service zigzagged between different premises across the city

before finally settling at 120 Bold Street in 1994, where WHISC

resides to this day.

In the mid 80s when the germ of the WHISC idea began,

Thatcherism was on the march. In the here and now it's easy to

reflect that, in some ways, we've come full circle. Women's rights

are still under attack or under threat of erosion, equality is not

won, and women are the first to suffer when cuts bite.

Nevertheless, over the past 35 years WHISC has adapted

with the ever-changing political and social landscape to improve

the lot of women living on Merseyside.

"Originally things were about physical health and sexual

health, but now, over the years, our primary focus has moved to

mental health because there's been such an increase in demand

in Liverpool," says WHISC funding officer Kelly Teeboon. Many

difficulties experienced by Merseyside women in 2019 are the

ongoing results of austerity, she believes, pointing out cuts to

refuge and sexual violence services as perilous to women's health.

Kelly cites the introduction of Universal Credit and limiting

child tax credits as the two main things affecting women

disproportionately. "There's been a change in women's mental

health in response to benefit changes, so we've had a huge

number of women come in for support," she says. "Universal

Credit is often paid to only one member of the household, which

makes it difficult for women who are being abused financially."

WHISC's main ethos is the belief that all women and girls

should have equal access to education around their physical

and mental health. "They should have equal opportunities to

access that information. Regardless of race, sexuality, disability,

status, we work with all women. Whether they are homeless or

not, it doesn't matter. It's about supporting all women. Because

we know women are backbones of the community and their

families."

The charity boasts over 50 volunteers, supported by seven

paid members of staff. Many volunteers are previous service

users. They're giving something back, in a way, I mention to Kelly.

"Women are experts in their own life," she nods. "The support

groups we have, like the domestic violence support group, eating

disorders, depression anxiety groups, these are all led by women

who have personal experience in those issues who then want

to share their coping mechanisms, what they've done to help

themselves, with other women."

Merseyside has a disturbingly high rate of domestic violence,

so I ask what support there is at WHISC for survivors. As Kelly

lived in a refuge when younger, her interest in the issue is strong.

"We know [for] a lot of the women who attend our anxiety and

depression groups, there is a history of domestic violence there.

We didn't want to tread on the toes of organisations we've

worked with for years… they do a lot of amazing work, but we

wanted to create a support group that goes beyond the initial

help, once women are safe. We created a peer-to-peer support

group.

"We also wanted it to be open to women who are still with

their partner. Because we know a lot of women don't leave, but

we wanted that support there, so they know other women are in

the situation. We hope women can teach each other what to look

out for. In those groups you can see the penny drops on occasion,

someone else who is still with their partner thinks, 'I thought that

was just me'."

It's so empowering for women in abusive relationships to not

feel alone, and important that women who stay with partners

or go back to relationships don't feel they're doing something

wrong, or are at fault in some way.

"The most important thing, whether it's domestic or sexual

violence or mental health, is that the door stays open," Kelly

stresses. "If they fail to attend meetings, we don't write them off.

If they have an appointment and they don't come, we just create

another one. We keep that door open because we know that

access to these services is difficult anyway, the last thing you

want to do is feel like you've burnt a bridge and have nowhere

to go. We know that when you have mental health problems you

can be inconsistent, we know that sometimes you're unreliable,

but that's fine."

WHISC are hosting a fundraising event in July at Leaf

on Bold Street, a mixture of music, spoken word and poetry,

plus an auction and raffle to boost funds, but also to celebrate

35 successful years. The fundraiser is supported by local

independent businesses and the wider creative community

across the city. Yvonne Page, business manager from Dig Vinyl

record shop, is stage manager for the event.

"Bold Street is truly at the heart of music and culture in our

city. We all walk up and down this street on our way to work

or to meet friends or go about our daily lives," says Yvonne.

"How many of us have strolled past WHISC a million times and

never given it more than a passing glance? The support that the

organisation gives to women all over Merseyside is so important

and, with this event, I really hope to engage with the local arts

and culture community and bring in a diverse crowd to celebrate

and support this great organisation."

There's been an assumption that WHISC is a service for

older women when in fact anyone 18 or over can use the service.

Recent times, Kelly emphasises, have seen an increase in the

number of young people coming through the doors. "We've

branched out to the universities, we have a lot of students who

are on placement, social work students, counselling students,"

she says. "We're open to all women, and my own mental health

has benefited from that intergenerational aspect of WHISC –

hearing experiences from older and younger women, women

from different cultures and communities. It's that resilience that

women have across the board."

There's a massive value in women only spaces, I think. They

bring with them a sense of safety. "A huge number of women

who come here rely on us being a women only service. Especially

if you're a survivor of violence, also with some of the refugee and

asylum-seeking women there are issues compounded by their

gender and there aren't many services available to just women.

Because of maybe cultural stigma, we have women who come

here and take their headscarves off. When they come in they feel

like they're free to do that, because they're not in the presence

of men. They're with their children. And there are things women

will say to other women that they won't in the presence of men. I

think that's really important, almost [like] consciousness raising in

the 60s [laughs]. We have a women's health course talking about

different issues and sometime it's freeing to be away from men."

Confidentiality is a big issue for many women and it is

reassuring that WHISC benefit from their location in that respect.

There's so much footfall on Bold Street that women could be

in the area – or building – for myriad reasons. For things like

domestic violence, sexual violence, if women want to disclose

that information in a safe space then WHISC is the perfect place.

"No one's going to know why you're here," says Kelly. "There's

no flashing neon sign outside saying 'I've got a mental health

condition!' You could be coming in for yoga, a massage or some

intervention support, but nobody knows. I think that's the key

value of WHISC."

There's a monthly poetry group, a reading group ("short

stories and extracts, we don't have a specific book, it's to get out

of your head a bit, get into a good story. A lot are usually fables,

it gets women talking, having conversations") plus meditation,

a craft group, self-esteem workshops, drumming group,

menopause and gynaecological support. As Liverpool has one of

the largest dispersals of refugees and asylum-seeking women in

the country, WHISC have a Saturday club doing English language

classes, to support integration and racial cohesion. "We've bits of

everything really," jokes Kelly.

Accessibility is at the root of what WHISC do. As 29 per cent

of the women who use WHISC are disabled, there's a stairlift,

and the yoga and pilates they teach is doable in a chair. "Liz, our

mental health worker, will sometimes offer a telephone listening

ears service for women who can't leave the house."

With the fundraiser, all are welcome to attend and WHISC

are keen that as wide a demographic as possible is able to enjoy

the night, but learn about WHISC's services as well. People can

help with increasing accessibility by buying a ticket and donating

it to someone who otherwise cannot afford to attend. "We

wanted to do a pass-it-forward scheme for our service users who

have little or no income," says Kelly. "WHISC is about women

supporting women and it's great that people have done this

already."

"To have a sanctuary dedicated to the support and wellbeing

of women at the heart of the city on Bold Street is a testament to

the forward-thinking bold character of Liverpool's community,"

adds Abi Dot aka Galileo Girl, who is to perform at the event. "To

the women that provide safety, compassion and vital information

to women in the midst of difficult and sensitive situations, you

are so appreciated and loved. I can't wait to perform for the

celebration of such a special place." !

Words: Cath Holland / @cathbore

Illustration: Hannah Blackman-Kurz / @HBKurz

whisc.org.uk

An fundraiser for WHISC's 35th anniversary takes place on 11th

July at Leaf.

22
---
What does the future look like

if you fear you won't exist?

With the launch of Palestine +

100 – a new collection of short

stories by Comma Press which

invites ten Palestinian authors to

look ahead to 2048, 100 years

after the Nakba – at Liverpool

Arab Arts Festival in July,

Laura Brown asks if we see the

privilege in our ability to think it

will always be better tomorrow.

ARAB

FUTURISM

24
---
From the outside, at the end of the drive, my

grandmother's house looked like any of the other

1930s semi-detached homes in Yorkshire. Yet, cross its

doorway, and you were transported through space and

time.

At the other end of the hall was the kitchen, so first you

would smell whatever was bubbling on the hob. When we

visited, she would often be making our favourite: stuffed cabbage

with rice and lamb, served with lemon. She would stand for

hours, patiently rolling each cigar-shaped cabbage leaf. The

pictures on the wall showed a family from another land. A

single hand shielding the eyes as they

squinted into the sun, low-level, white

buildings behind them. Decorative

plates, in vibrant colours and Arabic

calligraphy, dotted around the walls.

When the conversation turned to

something we children shouldn't hear,

it slipped from English to French. If

she was on the phone to her siblings

and a word better described what she

wanted to say, Arabic and Italian would

also enter the lexicon. Eavesdropping

was a challenge.

My grandmother had grown up in

Palestine. From the time she still held

me in her arms, I would hear stories of

her mother's 'pension' (a hotel or guest

house); of the fruit trees; the market. In her rich Arabic accent,

elongating the first vowels of my name, she would talk of her

home. They had fled, when my father was just seven, his sister

11, carrying a suitcase each. First to Cairo, and then to England,

with its black and sooty air.

The stories were interwoven with the daily violence they

lived with in that period. Bombings, stabbings, shootings. One

of my father's earliest memories was of being scooped up into

someone's arms when shots were fired on a beach.

Yet, however horrific the story, my grandmother still hoped,

one day, to return. Her life in Palestine, the place of her birth and

her siblings, was not a closed chapter in her mind. God willing,

she would say, one day, I will show you where we lived. She

ached for it, in a way.

She was happy here, but it was not home. She – we – were

not English. Our story, our history, was wrapped up in this other

land, far away. The future brought with it, always, the possibility

she would return.

The Palestine diaspora is filled with stories like this.

Grandparents, parents, uncles, siblings, keeping stories of the

country alive, as though that will keep its candle burning.

Basma Ghalayini is the translator and editor of a new

collection of short stories by Comma Press. PALESTINE + 100

looks ahead to 2048, a century after the Nakba. The Nakba

describes the expulsion of 700,000 Palestinians from their homes

in 1948. The word 'Nakba' means 'catastrophe' or 'disaster'.

"When I was a child," Basma writes in an essay on the 71st

anniversary of the Nakba, "my grandfather would tell us about

his shop in Yaffa, a business he owned with his brother in 1948,

before being expelled to Egypt, where my father was born and

grew up. He told us that, on their departure, they only packed a

few days' worth of clothes for him, his wife and children, as they

were told they would be back as soon as it was safe. They left

their sheets on the lines, chickpeas in soaking water and toys in

the yard. He locked the door, put his key in his pocket and headed

to safety as instructed. They never returned, and his key stayed in

his pocket until he died in Cairo 60 years later."

There is a privilege when we look to the future. The final line

of Margaret Mitchell's Gone With The Wind, as Scarlett O'Hara

promises "After all, tomorrow is another day" always provoked a

guffaw from deep within my bones. What rot, I have said more

than once. What idiocy to assume you can go back home after

war, that tomorrow will be well? But we do, with our (Western)

power, privilege and agency, assume that even if we just have

our wits, we will make tomorrow better than today. That is, we

believe, our right.

And yet, even though I know it is probably impossible,

I dream that tomorrow I will go back to my family home in

Palestine; a building or dwelling that probably does not exist.

As Basma says, "This child has never been to any of those

places, but they know that if they keep them alive in their heart,

then once they go back, it will be as if they never left; they can

pick up where their great grandfather left off. Indeed, wherever

Palestinian refugees are in the world, one thing unites them: their

undoubted belief in their right to return."

Futurism, especially Arab futurism, is about seeking the

future as a place of hope and potential. Following Comma Press'

Iraq + 100, which asked Iraqi writers what the country will look

like a century after the 2003 invasion, Palestine + 100 is part of

a genre that feels relatively new in literature. The stories blend

time-travelling angels, technophobic dictators, talking statues,

macabre museum-worlds, even hovering tiger-droids – using

science fiction to bring hope into the darkness. There is Basma

Abdel Aziz' The Queue, Ahmed Saadawi's Frankenstein in

Baghdad. In artist Larissa Sansour's A Space Exodus (2009), she

plants a flag in the moon sand: "One small step for a Palestinian,

a giant leap for mankind." It is both hopeful and profoundly

depressing. Hopeful because it suggests a country with either the

"We are all

refugees because

our identity is so

tied to this place

that is so fragile"

individual power of statehood to afford and coordinate a space

programme, or a powerful proponent enabling it to do that. It is

depressing that this lone voice of Palestinian development seems

only to find its place in the vast emptiness of space.

Arab futurism is different from the arguably better known

Afrofuturism, which came from jazz artist Sun-Ra, with the

phrase coined by Mark Dery in the 1990s. It reflected on the

scarcity of black representation in science fiction, a buoyant

genre in 80s and 90s popular culture. From Sun-Ra to Black

Panther, Afrofuturism imagines a stronger black identity across

its diaspora. Autonomy, authority, independence – Afrofuturism

often imagines a future in which there

is much hope.

Arab futurism is slightly

different, especially when we think

about Palestine. Anwar Hamed, the

Palestinian-Hungarian author of Jaffa

Prepares Morning Coffee (longlisted for

the 2013 Arabic Booker Prize) features

in the Palestine + 100 anthology.

"Palestinians are living in a harsh

reality that would kill their appetite for

life, so for them to survive they need to

believe in the future, not to lose hope,"

he says. "The present reality does not

hold much hope for them, yet they

cherish a mysterious hope that things

will change one day. Here comes the

role of 'futurist writing': to scan the present in search of seeds of

hope for the future, to give readers some kind of motivation and

appetite for life."

Basma Ghalayani says storytelling allows us to imagine a

future and, notably, the elements of the future we would like to

avoid. The power of the dystopia is that it allows us to articulate

our deepest fears of what might come to pass.

"Often what we don't want to happen 'here' is informed

by things we've seen happen, tragically, elsewhere. So in the

West, dystopias and science fiction provide countries that have

never experienced certain types of societal nightmares with a

vocabulary for talking about them: modern Britain, for instance,

has never quite experienced totalitarianism, so a book like

Orwell's 1984 is really important for you

to feel what it might be like. America has

never been occupied by a foreign military

power, so American audiences go crazy

for extended space-dramas about

rebels fighting imperial occupiers with

lightsabers. And when these Western

writers come to do their worldbuilding,

they only have other people's

recent pasts to go on. So they steal

it and, if they can, elaborate on it

too. Orwell stole from Russia under

Stalin and reset it in a British future.

Lucas stole the whole Third Reich

thing and re-dressed it for a

galaxy far, far away."

To assume the future offers a

renewed strength suggests you

are in a secure present, or are

confident you have the means

to shift your present into a

more solid future. Palestinians

do not have this luxury. Arabs

are used to sharing stories; it

is a vital part of their culture

and heritage. The stories

written in Palestine + 100

are all by (and about)

Palestinians. Yet many of

its authors exist within

the diaspora, much like

Palestine itself, which

largely exists within the

people who hold its

culture and heritage

on foreign shores.

"It's difficult,"

says Basma, "to

begin with, the

Palestinian diaspora

is a special case –

because, for many

of us, 'home'

doesn't even

exist anymore. It

got deleted. And

yet, our link to

what's left of

home is all

the stronger

for it. Any

Palestinian

living abroad effectively lives

in two places at once. We're over here in

body, but we feel every bomb that drops in Gaza, every

bullet that's fired at a checkpoint in the West Bank. We live a

strange double-life."

Anwar adds: "Literature and storytelling is built on

imagination, trying to use your imagination to tell a story that

never happened about people who don't exist. Whether a writer

writes about the present, the past, or the future, what they do

is try to use an existing model to weave a new one, and furnish

it with events, characters and thoughts. So the future, though

the fruit of imagination, is based on the author's knowledge of

the past and present. An understanding of the past and present

is needed to nourish the imagination in its quest for the future

model."

We are all refugees, one way or another, says Basma,

because our identity is so tied to this place that is so fragile.

Those with Palestinian heritage are so tied to Palestine's

preservation and future that, when we imagine what it might

be one day, we aim to frighten and scare. Science fiction is an

incredibly powerful medium to achieve this. Yet, we are also a

cautionary tale. And perhaps it is this edge which infuses Arab

futurism with something of difference; that the future may

harbour something far worse, more unstable, more chilling.

Palestine is proof that anyone's land and nation might not exist in

their future, and that they will have a duty to preserve it through

imagination and storytelling. !

Words and images: Laura Brown / lauramariebrown.com

arabartsfestival.com

Palestine + 100 launches at Liverpool Arab Arts Festival on

Tuesday 6th July.

FEATURE

25
---
D I G I T A L

L O V E

Artist Harriet Morley delves into her experiments with programmed communication,

looping us in on an internal monologue about the complications that new

modes of communication have introduced to human relationships.

The creative processes I find myself in take form through

research and experiments: they're necessary for me

to produce work. They're necessary for informing my

perspective so that I'm able to represent feelings of

uncertainty with a kind of urgency, in a way that can be received.

Experiments being: expressively talking into Google Translate and

analysing its understanding; getting Alexa and Siri to converse;

calling people up simultaneously for an (unwitting) conference

call; texting people replies while they're speaking next to me to

test my restrictive feelings; conversing with people using Google

Answers instead of my own thoughts. I wanted to apply this

same approach to Tinder, after being away from my work for a

time. It's interesting to test out technology by using it in ways

other than its prescribed function – by talking to it, analysing its

interpretation of my words, how it registers/receives/perceives

the way I approach language, how it hears my tone, what it does

with what I've said. How it doesn't understand the way in which

I mean things, in any way. And why should it, I suppose. You can

argue some people adopt these strategies irl too – misperception,

lack of engagement, how some pretend to understand, or how

they're becoming less and less receptive to human elements. Or,

perhaps introversion was always inevitable for some. I don't have

the answers; I'm just trying to unpick this stuff – the uncertainty,

ambiguity, increasing physical distance.

I also find myself torn between recorded and live processes

– between performing or playing something recorded (e.g.

spoken word/conversations), knowing the recorded will do

what I want it to, but knowing I can't ignore the beauty in the

unexpected nature of a live performance. I want for something

to be lived presently, but I want to remember the feeling of

that presence, so I inevitably record it, retrospectively removing

myself from actually being present, instead creating something

smaller and fragmented. The fragments become something

minimised and framed in a digital pocket that we can return to,

enlarge or remove, and momentarily re-live. And everything,

to me, feels transitory and short-term. Short-term-letting of

each other, moments, possessions, things feel disposable and

replaceable with capitalist materials, apps, online intimacy, digital

conversation, inhaling and exhaling currents of data, moving at

a speed so fast we skim-read our way through

moments.

I did performances in university

with students where they asked me

questions: I typed what they asked into

Google and copy-pasted the first

answer that came up into the

Google Translate voice. I liked

using this tool to converse;

I never got bored of

it. It was refreshing

to have the weight

of conversation

alleviated from me

because I didn't

have to carry

it or worry

about being

interesting. The conversation that happened was disjointed

but direct, it was random and every sentence was new; it was

engaging. Once you start speaking in unconventional ways, the

'normal' elements of human conversation make themselves clear. I

got Tinder in November after feeling lonely. I'd never had it before.

Human window shopping for any potential similarities and trying

to extract that from infinite option

was fun… but overwhelming and so

strange. The users never end. Swiping

face after face, inspecting only their

appearance with nothing else to go

off; not being able to get any sense

of who they could be, what type of

humour they have, what their voice

sounds like, how genuine they are,

what type of laugh they have, if they're

self-conscious or bold, how they hold

themselves. It's pretty far-fetched to

approach it with that expectancy, but it

is literally so difficult to decide whether

you'll get on with someone just based

on their 2D frozen appearance, and

I think I just notice how much more

I have got out of interactions that weren't dating apps, the

intricacies and layers to a personality, and hoping people don't put

too much wasted faith in these systems.

It's a guessing game, and it feels like a gamble of my time.

Putting my energy, momentarily, into disposable users who I'm

not able to trust is a gamble of my time. Every interaction we

have with someone is because of a shared experience, something

that binds you together by place. So Tinder, naturally, feels

obscure and forced and unnaturally placed. Tinder has limitations

on connection, and maybe it's exciting to experience fleeting

moments of a displayed attraction but it is just that, fleeting. How

do people translate themselves online? Like, how do you achieve

a distinctive translation of your character? Is that important?

Intimacy and humour find new expressions in text, replacing

speech and touch. We're learning to read empathy and emotion

through the composition of texts – every typed word becomes

heavy with potential, intentionality – macro, fleeting

love letters that disappear instead of lining

your drawers.

After having it for a couple days I

thought it would fill a void, or give me

instant gratification, but I felt even further

away from intimacy, and closer to

loneliness. I realised I wanted familiarity,

something I knew, but all this was so

unfamiliar and brief. I felt so disposable.

I initially just wanted sex, but after

having it for a bit I realised I missed

knowing someone. I don't really like

displaying the best version of me in

2D edited pics, but I feel the need to.

I don't like the pressure to live up to

that, the worry of them not liking

the intricacies about you that you're

conscious about. It's so easy to create

an ideal of someone through their

online persona, and the pressure to

get something valuable out of it is

overbearing. Maybe I'm thinking too

much into it, and the time is worth

the embarrassment or failure, maybe

not. All of this isn't infallible, but my own

subjective, personal experience of digital

compatibility. I had more success with

women on Tinder – the men were very

transparent to me.

I really wanted to experiment

again with Google Answers. This time I

was deceiving them; they didn't know I was

"These new forms

of communication

are changing how

we relate to each

other – it's exciting to

poke and prod at the

alien possibilities"

Google. I felt guilty doing it, because of my false self, making

them believe I thought they were attractive and then pretending

to follow their conversation, even though everything about my

profile was how I would usually present myself online. I also felt

vulnerable and exposed as I had no filter on who I was matching,

and I knew that I was more open to objectification. On top of this,

I felt protected by my programmed

façade. Because I'd programmed

myself to be something other than

myself, I was untouchable to them;

because I wasn't absorbing anything

they said, their words didn't matter to

me. They could ask anything, insult

or compliment me, and I wouldn't

be touched by any of it; I was

inaccessible, shielded by Google.

Despite the guilt, I realised that I

could speak any way I wanted to – why

does it matter if it's recycled, direct and

unemotional language? Why did I feel

momentarily disloyal to these strangers

for programming myself? I don't owe

them anything and I'm not harassing

or manipulating them – they started the conversation and were

able to control where it went, just like I could. Some of them, I

could tell, felt refreshed because it was completely different to the

usual mundane small talk and it was something that threw them

off guard, made them feel maybe a little on edge and confused

but intrigued. Some knew it was something bot-related and went

along with it; some knew it was something bot-related and exited

quickly; and some didn't have a clue. Conversing in this way feels

exhilarating because it either makes you think really hard or not

at all, because the content is there already, and the interaction is

solely derived from the words' experience rather than either of our

personal experiences. So, instead of us talking about ourselves, we

were forced to talk about what related to the words, while they

were trying to figure me out and place me with the history of those

words. They would either be relentlessly trying to work out what

the fuck I was talking about, unpicking each sentence, or ignoring

me entirely and saying what they wanted, like I was, like we were

having our own separate conversations. It was interesting for me

to test, because I was able to look at how Tinder operates without

being there. Like, I felt removed from the situation, because I was

Google. I'd only previously tried it with students or friends irl,

so I felt compelled to do it with strangers online, because while

everything else is stripped back, it limits it to just the exchange of

topics and how they're received and interpreted, I knew there'd be

more willingness and urgency behind it.

I'm drawn to the shift in how human interaction and intimacy

now operates, how that is sieved through online and into offline

space and where the gaps are translucent in both. People fall

in love online all the time – maybe there's a beautiful freedom

to accessing people you'll never meet, and maybe it's just nice

to not have the constant strain of self-consciousness that is

permeated in real life situations, and instead a space to curate

yourself in a relaxed setting by your choice of language. I think

those fleeting mini-relationships can be a cathartic saviour when

distance is so strong in a society that separates us by exhaustive

work hours and mental health. Maybe it depends on the person

– it can be a destructive self-display where people are almost

encouraged to be shallow and exploitative, but sometimes the

relationships formed in the nowhere of the internet turn into the

foundation for something real somewhere. It can be a beautiful

platform to discover people who are exactly like you who you're

unable to access in your day-to-day life. These new forms of

communication are changing how we relate to each other, and it's

exciting to poke and prod at the alien possibilities and the foreign

digital languages we are writing collectively. !

Words: Harriet Morley

hlmorley3.wixsite.com

26
---
"As a younger artist,

you worry a bit too

much about your art.

Now I don't really care…

I trust my instinct"

NEIL

KEATING

Huw Livingstone meets the man quietly shaping the aesthetic of

Liverpool's favourite spots and our Instagram feeds, one mural at a time.

NEIL KEATING's success is visible, painted on the

streets of Bold Street and the Baltic Triangle; his style

has been the vehicle for a new crop of independent

businesses to make their mark. You might not know

Keating by his appearance and perhaps not by name, but for the

past two years he has been painting himself into the tapestry of

the Liverpool independent bar and restaurant scene. The man

himself claims that despite his ubiquitous presence as a local

artist, he keeps a low profile. "You might know the back of my

head from my Instagram feed, but that's about it." Since 2017,

he has been working with venues around Liverpool, promoting

their efforts with an inventive style of guerrilla marketing and an

aesthetic infused with an eclectic array of influences ranging from

Robert Crumb to The Beano. If you ever saw the Avocado Is Bae

mural on the late Love Thy Neighbour on Bold Street, you are

familiar with his work.

As we weave through a bright and windy day down the

back streets of the city centre towards the Baltic Triangle, he

tells me about his professional history and how it has shaped his

style and mentality. Growing up in Liverpool, he had a natural

fixation on art and drawing. "I spent a lot of my youth just

copying comics all the time, just trying to get as close as I could

to them. I went away from it when I went to university, where

you kind of deconstruct yourself, a little bit too much sometimes.

After university, I went to work in a studio at the Bluecoat. I was

messing around with loads of different styles, messing with live

art and stuff. They used to commission me to automatically draw

as part of an exhibition. They'd have a poet on deconstructing

their poetry: I'd sit there and illustrate what they were saying."

He went from there to work in an animation studio in

Southport called Wyzowl, taking from that an education in how

to work to the clock, but also a distaste for office life. "I was just

sat behind a desk and I felt like I could do so many other things

aside from animation. I missed the physical aspect of painting and

that's what convinced me to take the plunge and go freelance."

If the idea of risking safety and trusting your instincts to

venture into a financially insecure world is daunting to you,

Keating's story has been one of success. Since then he's gone

from creating a series of prints and labouring with his dad to

support his family to finding himself battling through the chaos

of fully fledged freelance work. "The past 12 months have been

the busiest, but also the hardest in my life for personal reasons.

The work has really helped me through that. I threw myself into

my work and sometimes that emotion can drive you to success. I

thrive off other people's energy, that's what drives me."

The demands of the job seem to have had an impact on his

process. "I don't really like going back to things. I think that's just

the pace and the way I have to do things now, and that pace stops

you from over-thinking things as well. I can get quite manic when

I'm working. If I'm doing a mural, I won't eat all day because I've

gotta keep my mind on it. As a younger artist you worry a bit too

much about your art, whereas now I don't really care what people

think about it. If I feel what I'm doing is a good thing, I trust that

instinct." This kind of internal confidence must be essential when

working with people who are placing their trust in you.

He tells me about a particularly successful job where he

was granted this trust at The Dog House on Penny Lane. "It was

absolutely dead and the venue had lost its coherence. They got

me in and, slowly but surely, we started developing a branding

project for it. It's a different approach to the way a design agency

would go at it. It's giving the artist the freedom to go with it, and

they were happy to give me the license to do my own thing. It's

been six or seven months now and the place is chocker. We're

collaborating with local breweries now to create some beer labels

and keep it inventive." Is it always this rosy? "Not always, I did a

project with the Dockside Dining Club, we put our heart and soul

into that one and it didn't really work out. After about three or

four weeks I stopped going in there for my breakfast. It was a bit

too much. You've got to laugh, really."

We wander in sight of two of his pieces on Jamaica Street.

One is a reproduction of a simplistic, line-based illustration he

created for Craft Minded. There's no name or obvious brand

screaming at you; it sidesteps the crudeness of traditional,

money hungry advertisement and in its subtlety, betraying the

optimism of a venue which is first and foremost passionate

about what they do. The other is a personal piece that depicts

'life' symbolised as an arcade game, and the distraught character

playing it has run out of lives. Game Over. "I just came out and

did this on a Wednesday night, I wanted there to be something

on the wall that wasn't branded by anything." It's a mischievous

and colourful reflection on failure and is in tune with Keating's

die-smiling attitude. "You're always going to get setbacks, but it's

about taking your chances. You can't let things get to you, you

just have to keep going."

The stylistic contrast between to two pieces shows the

versatility Keating has developed as an artist, a quality that has

won him a job with local stalwart Cains Brewery developing a

graphics project for their latest effort, the revamped The Brewery

Tap. "It's a mix of contemporary and traditional styles. We've got

some poppy screen prints. We want to slowly build the brand

with it, develop merchandise, badges and T-shirts, and slowly

draw people into them from it. And that's where street art comes

into it. I started thinking of different ways of using it, maybe

doing some guerrilla marketing round the Baltic, finding locations

for street art, maybe using QR codes."

These inventive strategies have been key to Keating's

success in monetising his talents, and as the arts take their usual

hammering and financial starvation from our blessed political

leaders, the feeling that art has little value is laser beamed into

our collective conscience. I thought I'd ask Keating where he

hopes to take it from here and what the future holds for Liverpool

and its budding artists. "Prices are starting to go up round the

Baltic, and studio space is expensive. The government should

provide funding to help artists get a space to work. There are a

lot of young artists with talent out there – I hope my work shows

people that you can work with artists, you can trust them. On the

other hand, your talent is in your ideas – it's up to you to work

hard and make something grow. I love working in Liverpool but I

want to start working more nationally. The summer is going to be

mad, I've got projects winking at me, they're all exciting projects

but I know it's gonna be busy." !

Words: Huw Livingstone

Imagery: Neil Keating

@Neil_Keating

28
---
the

social

OHMNS

SILVER LININGS

IRENE & THE DISAPPOINTMENTS

SOUND FOOD

AND DRINK

THUR

18th JULY 7:30PM

£5 ADV/ MORE ON THE DOOR
---
SPOTLIGHT

MICHAEL ALDAG

A rising star who is managing to merge classic Scouse songwriting with the freshness of contemporary

electronic production. You heard him here first.

If you had to describe your music in a sentence, what would

you say?

It's anthemic electro-pop. It can range from heartfelt ballads to

guitar driven anthems. My aim is to have people screaming at the

top of their lungs, and then sobbing, within the same set.

How did you get into music?

As soon as I came to the harsh realisation, when I was about

seven years old, that I wasn't going to play up front for England,

I really focused on it. I started writing when I was 14. The first

song I wrote was a tribute to the victims of the Hillsborough

disaster, as it was around the time of the inquest that found they

were unlawfully killed.

Can you pinpoint a live gig or a piece of music that initially

inspired you?

My dad used to play The Killers a lot. I remember listening to

them in the car on the way back from my nan's and it gave me

this feeling of vast awesomeness and emotion. Like you could cry

but you wouldn't know why you were crying. I was lucky enough

to see them two years ago in the Echo Arena and I've never felt

jealousy like it in my life. I just wanted to be Brandon Flowers. I

still do.

Why is music important to you?

It's crazy the fact that you can be sat there, hear something, and

then three and a half minutes later your mood has changed. And

that's something anyone can experience. I think writing is one of

the best outlets: a lot of the time I'll write a song in a rush, listen

back to it and it'll outline events

in my life and feelings that I didn't

necessarily know I had. That's special.

Then sharing what you've made

with other people who might relate

to something that you've written,

alone in your bedroom, creates a

connection that we can sometimes

overlook but is amazing.

What does your favourite song to

perform live say about you?

I have a song called OKAY and it has

an energy about it that people seem

to respond to. It's basically a confession of all my insecurities and

flaws and it's a strangely liberating feeling getting to sing them

out to a room full of strangers. It has a cool synth line on it as

well, so that helps.

What do you think is the overriding influence on your

songwriting?

Definitely a mixture of influences and art, but the majority of the

time it's my own emotions. I think writing about current affairs

is very important, though; I'm trying to do it more. As artists we

have a unique platform with which we can do a lot of good, so

we should try to.

Do you have a favourite venue you've performed in? If so, what

makes it special?

"As artists we have

a unique platform

with which we can

do a lot of good, so

we should try to"

I recently played a new electronic

set at Constellations for Sound City

as a part of Levi's Music Project.

Debuting songs that you've produced

over months is always exciting,

if not nerve-wracking. Levi's had

personalised the venue for us artists

and created graphic design to play

as a backdrop while we performed. It

was grand.

Can you recommend an artist, band

or album that Bido Lito! readers

might not have heard?

There's this guy called Jimothy Lacoste who I've only just

discovered. He has an 80s feel and does some funny songs.

It's worth watching his videos because his dance moves are

something else.

If you could support any artist in the future, who would it be?

It'll come as no surprise after my earlier fanboying, that it would

be a dream to support The Killers. Bastille as well. They're both

great bands who've influenced me a lot.

soundcloud.com/michael-aldag

Michael Aldag is one of the new cohort of Merseyrail Sound

Station artists who will be performing live at Liverpool Central

station on Friday 26th July.

30
---
SHAI-LI

This Liverpool-based producer

and multi-instrumentalist

crafts sweeping vistas from her

minimalist compositions.

"I love that I

can express

myself without

needing to talk"

If you had to describe your style in a sentence, what would you

say?

The demands of dedicated training provided the confidence for

experimentation: contained within major and minor notes is an

atmosphere of hope and of focus.

Have you always wanted to create music?

When I was five I started playing piano – and I haven't stopped

since then. I started playing guitar when I was 10. I have always

been playing, studying and listening to music, and I think I

always knew that this was my path. However, it was only after

my military service in 2013 that decided I wanted to develop it

as my profession. That's when I ended up moving to Liverpool

from Israel to study at LIPA, where I focused on production and

composition.

Can you pinpoint a live gig or a piece of music that initially

inspired you?

Opening by Philip Glass. I came across this piece last year and

it introduced me to the style of minimalistic music. I found the

hypnotising feeling of this piece meditating and really unique.

Do you have a favourite song or piece of music to perform?

If I have to pick one piece it might have to be Clair De Lune by

Debussy. A simple melody line accompanied by rich, beautiful

and effective harmony is what I'm trying to create as well when I

compose. I find the simplicity in it powerful and moving.

What do you think is the overriding influence on your

songwriting: other art, emotions, current affairs – or a mixture

of all of these?

For me it is the mixture of all these together. I never write with

a clear intention, but when I need to explain to myself whether

a piece of mine is one to keep, I analyse it considering how it

matches the state of mind I was in.

If you could support any artist in the future, who would it be?

Absolutely Ólafur Arnalds!

Do you have a favourite venue you've performed in?

I performed in an OUTPUT gallery in May. What made it special

– aside from the fact it was my EP release – was that it combined

two types of art together: music and visual arts. The space was

small and the audience was set on the floor. Taking music outside

the studio or the regular stage created an intimate connection

with the audience that I've never felt before when playing at

typical music venues.

Why is music important to you?

Music is my way to express myself. I usually write instrumental

music, and I love that I can express myself without needing to

talk.

soundcloud.com/shai-li

RAHEEM

ALAMEEN

One of last year's LIMF Academy Most

Ready artists has started to fulfil his

huge potential, with two stellar tracks

already released so far in 2019.

"Music helped

me through a

tough time in my

life and it also

helped me get on

a better path"

If you had to describe your music in a sentence, what would

you say?

I take a lot of influence from RnB and combine that with Afro

style music.

How did you get into making music?

I've been singing since the age of four and have wanted to do

music since I can remember. I decided to take it up at university at

the age of 18. I started writing and making music in my friend's

studio and we'd just mess around 'til I thought it would actually

be good to pursue this is a career. I put out a song on BBC

Introducing in early 2015 and then everything just started to fall

in place after that.

Where were you brought up? How, if at all, did your

surroundings inspire the music you make now?

I was brought up in Liverpool. My family were heavily into RnB

and hip hop when I was young, so I took my influences from

there and made my own path as I grew older.

Can you think of any artists who inspired you when you were

starting out?

Maverick Sabre. I Need was the first song I ever recorded in a

studio. I remember a friend asking me to come in and record a

cover for one of his university projects. I went and recorded it and

that's when I really fell in love with creating and recording music.

What do you think is the overriding influence on your

songwriting: other art, emotions, current affairs – or a mixture

of all of these?

I write about things I've been through in life and also what other

people around me have gone through. I take inspiration from life

events and try and interpret them in my own way. Writing music

to me is like writing a script to a film, I always visualise the story.

Which contemporary artists do you feel are making the most

interesting music today?

I think Yxng Bane, Octavian, Khalid and Daniel Caesar are really

paving a way for the younger generation in music.

Why is music important to you?

Music saved me… It helped me through a tough time in my life

and it also helped me get on a better path. I spend most days in

the studio writing and creating music. It's become a lifestyle for

me and I'm finally starting to turn my dreams into a reality.

@raheemalameen

Raheem Alameen's new track Too Deep is out now. Raheem

performs at Liverpool International Music Festival on Saturday

20th July on the Central Stage.

SPOTLIGHT 31
---
PREVIEWS

"We've always

tried to make

pop from what

we have lying

around"

GIG

ROLLING BLACKOUTS

COASTAL FEVER

Invisible Wind Factory – 09/07

These self-christened "soft-punks" from Melbourne

have been riding a wave of acclaim that has taken

them across the world, showcasing their bright and

thoughtful guitar rock.

Prior to their European tour, Melbourne's ROLLING BLACKOUTS COASTAL FEVER

return to the UK, stopping off in Liverpool for the first time when they play at Invisible

Wind Factory. Their tour is currently in support of their new 7" double A-side single,

In The Capital/Read My Mind, a continuation of their critically lauded 2018 album,

Hope Downs. To measure up to this acclaim, the group have been on the road fairly consistently,

drawing ever-increasing crowds the further they play from home. Georgina Hull spoke to vocalist

and guitarist Fran Keaney for his take on how the quintet have found the ups and downs of the

past year.

So you're currently in the midst of a worldwide tour. How is that treating you so far?

We're just in the middle of a US run; we started over at the East Coast – New York, Washington,

Philadelphia, Toronto, Chicago – and then flew over to the West Coast. We played Seattle last night,

we're just driving up to Vancouver today to play there, and then we'll play Portland tomorrow night,

finishing off the US run playing San Fran and L.A. It's been really good. I think it's our fourth time over

here now, and I think we're getting slightly better at doing the big American road trip scene.

Compared to the tour you had for your debut album, how have you been finding the run of shows?

In the States it's been a bit bigger this time around. We put a double A-side out recently, but it

seems like a lot of people who are coming to the show that haven't seen us before and have sort of

come onto the album a little bit more recently. The States is a little bit of a different beat to the UK or

Australia. There are these little spot fires, 'cos all the towns have their own radio stations so they're

very separate entities; state to state, town to town. It's different in the UK and Aus because we have

national broadcasters that people listen to.

For me, the music on the new single sounds like you've paid a little more attention to the finer

details – it's not quite as stripped back and direct as the album. Do you think this is a sign of

maturity, or advancement in your songwriting?

I hope so. We worked on In The Capital for a long time, actually. It was in the mix for the album, but

we couldn't quite capture the essence of what the song felt like. So we just worked on it and worked

on it and changed the lyrics, eventually we got to the heart of it a lot better. I think the themes fit

together a lot with the other single, Read My Mind; overall the lyrics are a bit more opaque than our

earlier stuff. I think they service the feelings that the melodies use, that's something that we tried to

do – not to distract from the point that was being made by the music. I don't know if we'll do that all

the time, but for these songs it seemed like the way to go. They've been nice additions to the set, 'cos

they're more introspective and subdued, or something. The crowds seem to react positively to them,

so it's been feeling good.

What changes and adjustments have you made in terms of style and production?

There hasn't really been anything different that we've done this time around, our band has always

been a basic sort of set up. We've always tried to make pop from what we have lying around. We

don't have any vocal effects, really; I think we just sound like what a band from 30 years ago would've

sounded like. We don't try and toy with the formula too much, we just try to work within the confines

of the tools that we have. We stay true to ourselves and our original style; initially, the band was just

a few acoustic guitars, sitting around in a bedroom and trying to find strong melodies and ideas. So

we've just tried to make that the focus to make the songs strong enough. Then we don't have to rely

on smoke and mirrors to beef things up here and there. Making the ingredients work hard for you, like

they do in some cuisines.

At the time of writing the new material, was there a particular sound palette you wanted to

surround yourself in? Any artists you found yourself listing to a lot?

Musically speaking, not really. We just sort of noodle around until we find a melody that feels like

something, feels like a feeling, and then we have to sort of diagnose what that feeling might be,

and chase down the lyrics and jigsaw pieces to fit that. We just listen widely, and what comes out,

comes out. Lyrically, for In The Capital – which I wrote the lyrics for – I had a breakthrough when I was

reading this Australian author called Gerald Murnane, who's got this really odd little book called Border

Districts. It's about this guy who's just, sorta, tracing his memory through this 'mind's eye' imagery. He

goes on tangent upon tangent, recalling the tint of a stained-glass window that was at a house when

he was five years old and had a piano lesson, and the song in the piano lesson that he was learning

– retraces that through to some party somewhere, and it's this long roundabout memoir. It's all very

hysteric and lyrical, so it's hard to describe it. Just a long bit of poetry, basically.

In terms of the music you're currently making, do you perceive yourselves as band firmly in the

indie bracket? What's your perception of this genre tag?

Certainly. I mean, it's very broad. It's so broad as to be un-useful, but I'd proudly say that we are in that

category. There are a lot of subsections in that category that might be more useful with describing our

sound. We say "tough-pop, soft-punk". Soft-punk is a little tongue-in-cheek; not too many punks that

would describe themselves as soft, but we've got no problem with that. We've got melodies, strong

hooks, but we also like playing the songs with conviction. That's what I really like about The Smiths,

you know, they really played strong melodies and ambitious melodies with absolute venom – I think

that's a really cool thing.

I noticed that when you were discussing Hope Downs you mentioned "there was a general sense

that things were coming apart at the seams and people around us were too" – is this a direct

reference to the change in the political and social climate happening in many countries across the

world?

Yeh. The album came out in 2018, it was recorded in 2017, the songs were written in 2016 and 2017,

and obviously 2016 was where everything went to shit. I think everyone was just trying to make

sense of it; it really rocked a lot of people. Particularly the people I know. A lot of those songs are

just, sort of, trying to grapple with this shit thing in the sands. I don't really have a definitive answer

regarding my own take on it – one thing that we say is to just try and find the ones you love and hold

on to them. That sounds pretty drastic, but… we had an election two or three weeks ago just before

we came over here, and it was the same sort of feeling. It was quite deflating because it seemed like

maybe our country was heading in a positive, progressive direction, and all of the polls suggested that

was the way it was gonna go, but then there was this shock on election day like what happened in

2016 in the UK and the States, just watching everything turn blue rather than turn red. I don't know

if it's the same in the US, but the shade of blue is a frightening one. It's driven by selfishness, first and

foremost. That seems to be the story of the day, and that was what was so deflating about it, to see

that selfishness is still pretty much the basis in our country. It takes the wind out of your sails a bit.

Is it a feeling you want to explicitly want to highlight in your music, or a reality you'd like to escape

from?

Yeh, but the escapist thing is a bit of a weird one. You don't want to just close your eyes and pretend

everything's fine. I think we just want to make people have a good time and want to create an

inclusive atmosphere and break down some barriers. I don't have a clear answer yet. We try and

carry ourselves through our music, we try and break down walls between people. A lot of our songs

are about men who are closing themselves off from others, which is something that happens a lot in

Australia, which we want to hold up to the light and poke at.

More specifically, are these issues more closely linked to the rise of social media and the decrease

of actual human contact? Are people's views becoming more isolationist?

I think the main thing with social media is that it creates these echo chambers; people just live in their

own separate communities. If they wanna just read Premier League news or if they just wanna read

about darts, they'll do that, and they don't have to watch the nightly news or read the daily paper.

Previously there were, sort of, established mediums; people were on the same page, as it were, and

they'd have different views but at least there was a common conversation that was happening, but now

it's just babble. People living on the same street live in all sorts of different communities, so they start

talking about different realities, different facts, different takes on science. That seems to be the problem.

In an entertainment way, it's great. You can just go down your own little rabbit warren, you can

find all sorts of things, and as a band you can establish a worldwide community without any real

physical infrastructure and you can see on Spotify that people are listening from Mexico City and

Philadelphia. So, yeh, it's really useful, you don't have to rely on as much luck as you used to, because

you've got a platform in your own bedroom. !

Words: Georgina Hull / @georgiehull

Photography: Maclay Heriot

rollingblackoutsband.com

Rolling Blackouts Coastal Fever's new single In The Capital is out now via Sub Pop.

32
---
Nile Rodgers

FESTIVAL

Liverpool International

Music Festival

Sefton Park – 20-21/07

MEMBERS

PICK

Le Freak, Everybody Dance, Good Times, I Want Your Love…

we haven't got the space in this previews section to list all of

the copper-bottomed bangers NILE RODGERS AND CHIC

have been responsible for, but you get the idea. To get the full

experience, Liverpudlians can get their hands on a wristband for this

year's LIVERPOOL INTERNATIONAL MUSIC FESTIVAL. In a wildly

exciting turn of events, the disco originators have just been announced

as this year's headliners! And the fun doesn't stop there.

Returning to Sefton Park for its seventh consecutive year, LIMF is

celebrating the 30th birthday of legendary homegrown label 3Beat Records

with a run of exclusive live headliner performances. The Saturday will

present special guests including British-German DJ duo M-22, Liverpoolborn

house producer ANTON POWERS and platinum-selling SIGMA.

Adding to the disco flavour, SISTER SLEDGE FEATURING KATHY

SLEDGE will be dishing out more familiar funky favourites on Sunday,

before DISCO CLASSICAL give the orchestral treatment to any remaining

floor-filling anthems.

Another genre-defining act, in the form of hip hop pioneers DE LA

SOUL, will also be wowing Sefton Park crowds. The New York trio, famous

for hits The Magic Number, Me, Myself, And I and Eye Know, is another

coup for the jewel in Culture Liverpool's musical crown. There will also be a

healthy smattering of homegrown emerging talent; PIZZAGIRL, EYESORE

& THE JINX, SUNDOWNERS and our own pick, cover star BILL NICKSON,

to name four, will be gracing the Music City stage this year. The festival's

esteemed LIMF Academy will present a selection of its progeny across the

two top stages throughout the weekend. We recommend checking out

LUNA, KYAMI and RAHEEM ALAMEEN from 2018's intake.

For those who want to groove down to phat beats, the legends that

are NORMAN JAY MBE and Soul II Soul's JAZZIE B will be spinning tunes

in the True School Clubhouse on the Saturday of the festival, while the

Shubz DJ Tent hosts DJ ACE and MANNY MORTE among others across the

weekend. Offering a truly eclectic and impressive line-up that will appeal to

a multitude of generations and fans of a diverse mix of genres, this year's

LIMF will be a real highlight in July's packed festival calendar. Ridiculously

good value day tickets, priced at £10 each, can be purchased now from

ticketquarter.co.uk.

Candice Breitz, Sweat (2018)

EXHIBITION

REAL WORK

FACT – 12/07-06/10

Established concepts of work and employment have shifted

massively over the course of the last decade. Since the 1980s,

the barrier between work and perceived freedom has gradually

been rubbed away to the point where the working 40-hour week

no longer exists for most people living in the UK. Shift patterns are split,

casual, unreliable, applied with short notice. In contrast, office-based

work can stretch well beyond five o'clock and into the weekend – emails,

agendas, social media accounts attached to phones that don't switch off

when the head hits the pillow. But it's not only these seemingly established

lines of work that are changing. In certain parts of the world, work in the

sex industry is working its way into public discourse and rightly shifting

attention towards better protection and rights for workers.

It's these themes of precarious work that are to be the subject of FACT's

brand new summer into autumn exhibition, titled REAL WORK. The exhibition

features one brand new commission piece by New York based visual artist LIZ

MAGIC LASER. In Real Life, a series of films by Laser, explores the most current

and largely deregulated profession of online gig-working. Shown alongside

the new commission will be Sweat, the 2018 film by CANDICE BREITZ, which

seeks to destigmatise sex work, a profession that remains criminalised in

most parts of the world. Both of the artworks on display as part of Real Work

incorporate an experimental documentary format, highlighting the human

dimension of invisible work by putting the uncensored, unfiltered stories of real

life workers front and centre.

Real Work's core pieces will be accompanied by a season of events, the

centrepiece of which will be The Liverpool Complaints Choir – Citizens Singing

About Work. Created by TELLERVO KALLEINEN and OLIVER KOCHTA-

KALLEINEN, anyone living in Liverpool is invited to share their personal

complaints related to work, and join a process where these complaints are

turned into an impressive choir song. Anyone is welcome to join, with an open

call being launched during the exhibition. FACT's 2019 summer events will also

include family activities, exhibition tours, summer camps, film screenings and

hands-on creative technology workshops.

fact.co.uk

EVENT DISCOVERY PARTNER

ticketquarter.co.uk

PREVIEWS 33
---
PREVIEWS

"In my heart, it's

the avant-garde

that excites me

the most"

FESTIVAL

MARY ANNE

HOBBS

Queens Of The Electronic Underground

@ Manchester International Festival – 20/07

Broadcaster and proud Lancastrian Mary Anne

Hobbs returns to MIF to curate a celebration of avantgarde

female musicians while simultaneously bigging

up the North's credentials as a cultural powerhouse.

The cultural magnetism of Manchester International Festival has proven a compelling force

since launching in 2007. It consistently pieces together a colourful programme of music,

arts and film, one that stands out on a national scale – not simply in the North. With

the help of a talented team of curators and guest curators, the festival places innovative

commissions on a platform beside emerging artistic practice, evolving year on year to light up

the rapidly expanding Manchester cityscape. This summer's edition follows suit. Brand new

experiences featuring Skepta and David Lynch are just some of the highlights on the line-up.

Over the years, MIF's future focussed sensibilities have helped carve out a relationship with

BBC Radio 6 Music's MARY ANNE HOBBS, who returns to this year as a guest curator and creative

advisor. Previous incarnations have seen Mary Anne curate her own Dark Matter series in 2017, as

well as collaborations with The Warehouse Project. For 2019, Mary Anne will be taking over the O2

Ritz on Saturday 20th July for a one night only audio visual showcase headed up by academically

astute sound designer HOLLY HERNDON. Looking ahead to the show, Elliot Ryder spoke to Mary

Anne Hobbs about her latest showcase.

So, this year you'll be returning to MIF with Queens Of The Electronic Underground. Can you tell

us a little bit about the project?

Queens Of The Electronic Underground is essentially a creative statement with feminism imbued

within. The greatest thing about MIF is they give you a licence to dream, to destroy boundaries, to

do something that is pure. This event aside, on the full line-up there's a great selection of hugely

influential women, so it's great to be working alongside Laurie Anderson, Maxine Peake, Janelle

Monáe, Yoko Ono. For this event itself, we're going to black out the entirety of the O2 Ritz and build

and eight-metre AV screen across the back wall. With this, artists can premiere new visual work,

as well as the sound that they're bringing. Holly Herndon, JLIN, AÏSHA DEVI, KATIE GATELEY and

KLARA LEWIS – these women are going to show you what the future looks like.

I think it's really interesting where you mention that these artists will show us what the future

looks like. Do you think there's an argument that we're on a steady trajectory for these sounds

and concepts to more heavily influence mainstream artists in the next few years?

What's really fascinating, if you look at the work of Holly Herndon, who's released a serious

contender for album of the year with PROTO, you're looking at an artist who is building a whole

new relationship with machines and AI. I think she really understands the value of integration with

technology. She is creating high art in new ways by teaching and mentoring machines. As for Jlin,

she's breaking new ground in a way that no other artist really has. Her rhythm patterns at the

moment are second to none. With these two women, they're not just pushing the boundaries of

music and the mainstream, they're asking what music even is.

With the eight-metre AV screen, there's going to be a strong visual element to the show. To

what extent have you been involved with the visual design of the shows? Is this something you

find frees up another side of your imagination away from radio?

In terms of my involvement, visually, I'm just a catalyst for things to happen. I'm creating a bridge

for an audience that's hungry for this new sound, bringing them into a space where they can see

the most incredible all women line-up. The creative element is given over to the artists themselves.

Aïsha Devi is working with a Berlin-based visual artist named MFO. She's a really unpredictable,

radical artist, and she's going to be premiering that show for the very first time at the festival. I have

absolutely no idea what it's going to look like, but my belief in her is absolute; I trust her implicitly

to bring something that's going to absolutely blow people away. The first time I'll see it will be in

soundcheck, which I'm completely fine with. I need that rush of seeing something brand new, you

know? For me, just investing in an artist and the visual aspect is a really exciting process.

Looking at your role as a DJ compared to your freedom as a curator, do you feel there are any

barriers to your remit to testing the boundaries of a listener in the daytime hours?

I think finding a balance is really important. Personally, I'm a child of the underground; I grew up

as a disciple of John Peel. When my dad smashed up all of my records, he didn't find this tiny

little transistor radio that I had that I would listen to in the dead of night. Peel, for me, stood at a

gateway to a complete alternative universe. As much as the world has blossomed and changed with

coming of the internet, I still feel like I carry his torch. I feel like the pendulum has swung so far in

the opposite direction to when I had my transistor radio, where we now we have oceans of sounds

online. I think it's very difficult to navigate through; you need a trusted guide to get through it, in the

same way John was my trusted guide as a kid. So I feel passionately about that role. And still, in my

heart, it's the avant-garde that excites me the most. I think if you listen to the daytime show and the

things we've played in the short space of time we've been on air, such as premiering the new Sun

O))) album, you can start to hear elements of the avant-garde making their way onto the radio in the

daytime hours. Many people will be listening with a vast musical knowledge, and they'll be coming

to me to discover something they don't know. It's a joyful task to bring elements of the avant-garde

forward and infuse them into daytime listening. Ultimately, it's about reimaging what you can do

with daytime radio.

You're also involved in the curation of the really exciting David Lynch exhibition, which covers

everything from film, art, and music. What role did you have in this side of the project?

I was there to help select the artists that David wanted to work with throughout the programme.

I think I put together a list of maybe 100 artists at the outset with an understanding that he really

wanted to work with local artists, as well as British and international artists. The first message I got

back was that he loves them all, but can you please narrow it down a little bit. But, really, it was an

incredible honour for me to be involved, even in just a small way.

As for the programme, it's his first major show of visual art. Unbeknown to most he's a highly skilled

painter and sculptor, and the curators at HOME have been able to bring together some of his most

extraordinary pieces. They'll be going on display as part of a free exhibition, but there's also a brilliant

cinematic element. There'll be an archive of his work shown in some of Manchester's most beautiful

cinemas. The music element will also take place in a theatre space – a setting that completely fits with

the whole Lynchian vibe. It's a beautiful backdrop with three-tiered balcony. It's been put together with

the help of a specialist set designer, with further input from lighting designer Stuart Bailes, someone

who I've worked with on many occasions, including Dark Matter.

It's going to be exciting to have David Lynch's influence pervading Manchester throughout the

summer. And it's great that the exhibition will be free. For me, it's almost miraculous that we were able

to bring him here and create a programme that reflects all the different elements he's excited about.

In terms of the festival's cultural magnetism, a couple of weeks back there was a widespread

campaign by northern newspapers for greater power in the North. With festivals like MIF

and the new Keith Haring exhibition opening in Liverpool, do you think that there is a strong

argument for equal arts funding to be spread through the country?

I think there is a real appetite for boundaryless creativity in the North. But, the North's really exciting

because the North is going to do it anyway. It won't wait for something to be given and to be told

to get on with it. People will always just find a way. I think there's a real sense of ingenuity and a

real desire to make things happen – and that's a beautiful thing. Obviously, we would love to have

more funding, which may well be forthcoming, but we're going to do it anyway, aren't we? With or

without anyone's approval, with or without anyone's purse, with or without somebody's sanctioning.

The North's always been that way. There's an organic audience who will gravitate towards these

events. Artist experiences up here have always created an incredible sense of communion with

an audience, whether it be in the back room of a tiny pub or to a full crowd at Old Trafford cricket

ground. The symbiotic exchange of energy for artists is so important, and you find it in abundance

when anywhere in the north. The proximity between some of the main cities, Liverpool, Manchester,

Leeds, provides so much opportunity. If we can encourage people to move between them all,

support one another's events, the future should be really exciting. !

Words: Elliot Ryder / @elliot_ryder

Photography: Tarnish Vision

Mary Anne Hobbs curates Queens Of The Electronic Underground at The O2 Ritz on Saturday 20th

July. Head to mif.co.uk to view the full festival programme.

34
---
Juliana Yazbeck (Carmen Zografou)

FESTIVAL

Liverpool Arab

Arts Festival

Various venues – 05/07-14/07

Bringing a selection of the music, art, performance and theatre

of the Arab diaspora together, LIVERPOOL ARAB ARTS

FESTIVAL has a packed and vibrant schedule for its Shadow

And Light-themed 2019 edition. LAAF is the UK's largest

annual Arab arts festival, taking place in Liverpool for a fortnight in

July.

Premiering with a performance of JULIANA YAZBECK's debut

album, SUNGOD, at Royal Court Studio, LAAF will feature exhibitions

and performances across nine days, including the Shadow And Light

exhibition at Northern Lights inspired by BEAU BEAUSOLEIL, a tribute

to Palestinian singer and activist Rim Banna. Shadow And Light is a

collaborative project honouring the lives of more than 400 academics

killed in targeted assassinations between 2003 and 2012.

Born in the US to Lebanese parents, Juliana Yazbeck is an

unapologetic lyricist who challenges the effects of colonisation on cultural

identities. Drawing on her mixed cultural upbringing, SUNGOD is a call

to all women and cultures to shed internalised shame, through Yazbeck's

signature sound that's a mesmerising fusion of spoken word, otherworldly

electronics and haunting Levantine vocals.

An inspiring line-up of groundbreaking women artists from across

the Arab diaspora has also been curated across LAAF's bill, in support

of RISE, Liverpool's season of extraordinary female artists, thinkers

and leaders. Award-winning Palestinian writer, performer and activist

DANA DAJANI is the festival's artist in residence for 2019. Bringing her

theatrical poetry with gesture and character to four festival events, Dajani

will perform a world exclusive of her one-woman show Heroine With A

Thousand Dresses at the Bluecoat on 13th July. Palestinian dancer and

choreographer, FARAH SALEH and spoken word artists AMINA ATIQ and

LISA LUXX are also part of the multifaceted array of events that speak of

LAAF's devotion to celebrating this rich culture.

The ever-popular Family Day rounds off festival proceedings at Sefton

Park's Palm House on 14th July. A packed day showcasing traditional

and contemporary Arab cultural music and dance is brought together by

DARAA TRIBES and HAWIYYA DANCE COMPANY. Alongside this there

will be an offering of authentic cuisine, traditional crafts, market stalls,

henna painting and an enhanced programme of family-focused activities.

LAAF's storyteller in residence ALIA ALZOUGBI will also be on hand to

share folk tales from the Arab world.

arabartsfestival.com

Liverpool Pride 2018

FESTIVAL

Pride In Liverpool

Various venues – 27/07-28/07

Liverpool's pride event may have a new name, but it's all

systems go when it comes to celebrating the foundation's

ethos of acceptance. PRIDE IN LIVERPOOL has also adopted

the theme Come As You Are for its programme of events,

cultural and community activities. The theme calls to all people,

regardless of where they are from or how they identify, to take pride

in their identity and come together in the spirit of friendship, love and

respect.

The free festival will return to its usual home on Tithebarn Street

in the city centre on Saturday 27th July, with multiple stages of live

entertainment, a dedicated youth zone and whole host of inclusive

activities, stalls and food and drink vendors. Festival-goers will also be

invited to March With Pride on Saturday 27th, along the traditional route

from St George's Hall, finishing at Moorfields. Those wishing to march

are encouraged to sign up to the LCR Pride Foundation mailing list at

lcrpride.co.uk to be notified when registration opens.

The fun will continue on 28th July – billed as Pride Sundae – with

more activities taking place at a soon-to-be revealed city centre location.

There are also plans to further celebrate pride all year round, with LCR

Pride Award in October, acknowledging the brightest, bravest and best

of the region's LGBT+ community and its allies. There will also be a

chance to explore the very best of new and classic LGBT+ cinema from

around the world, with exclusive post screening discussions at FACT at

Picturehouse and other venues across the region. Upcoming films include

Lizzie, Sauvage and Rafiki.

Co-chair of LCR Pride Foundation, John Bird, said: "At a time

when the LGBT+ community is increasingly misunderstood, marred by

misconceptions and targeted with hate, LCR Pride Foundation wants the

world to know that the Liverpool City Region is taking a stand. No matter

where you are from or how you identify, we are open to all and you are

welcome here, just Come As You Are!"

PREVIEWS 35
---
PREVIEWS

GIG

Anathema

Grand Central Hall – 19/07

Anathema

Back To The Start will be the title of this exclusive

hometown show for rock titans ANATHEMA, who remain

one of the world's leading pioneers of doom metal.

Forming in 1990, and initially going under the name Pagan

Angel, Anathema stand as one of the most underrated

bands to emerge from the 90s, having released over

20 studio albums across their 29-year career. 2019

also marks the 20th anniversary of their fifth album,

Judgement, an album that marked a more experimental

strain of Anathema's trademark style. Nostalgia and awe

will be present in equal measure when the quintet are in

town for this homecoming show.

GIG

Mount Kimbie

Meraki – 13/07

MEMBERS

PICK

London-based electronic duo MOUNT KIMBIE are due to perform

a whopping four-hour extended DJ set at Meraki's Summer Yard

Party, bringing summer bopping and weaving to the North docks.

Joining them behind the decks are local selectors BOOGALOO,

FLOSSY (Down To Funk) and GIOVANNA BRIGUGLIO (SisBis)

for some cheeky choons blasting all the way through until the

next morning – if you can hack it. But don't worry, it's not as

exhausting as it sounds, especially when Faux Liverpool will be

supplying an array of vegan snacks and treats. Be sure to grab

tickets as soon as you can – Summer Yard Party is known to sell

out early, so you'd best get cracking.

Mount Kimbie

GIG

Harambe Maoni

Phase One – 02/07

ParrJazz are renowned for bringing some of the newest local breakthrough

acts to centre stage, and their latest effort is more of the same. HARAMBE

MAONI is the latest project of saxophonist Andrew Myers; joining him at the

best-established jazz night in town are funk jazz-driven trio ANDCHUCK.

Myers has an extensive list of jazz projects he has previously worked on: The

Sputnik Two, Ranga and Harambe, Rumjig, The Fire Beneath The Sea, We

The Undersigned and The Solid Air Band. Influences from DnB, Afro jazz, hip

hop and modern and contemporary jazz are to be expected. The event also

offers the chance to win a vinyl record of your choosing on the night. Tickets

for this show are available now via Ticket Quarter.

CLUB

SAL-SOUL

24 Kitchen Street – 13/07

The first edition of the SAL-SOUL summer party sets expectations

of a non-stop, all-day concoction of disco, funky house, club classics

and everyone's favourite summer anthems. After selling out earlybird,

first and second wave tickets, Sal-Soul is very limited capacity with a

very varied line-up including DJ sets from: ADAM RYLANDS, ANSON

AND CHELLEW, ANTHONY BRAY, and LUCA WINTERTON. After

successfully selling out at the launch party in December, this summer

time day party foresees a sardine-packed Saturday with Sal-Soul

developing a fierce audience of their own from dedicated listeners to

their Sal-Soul Presents mixes on SoundCloud.

FESTIVAL

Bluedot

Jodrell Bank Observatory – 18-21/07

Kraftwerk 3D

Celebrating the 50th anniversary of the moon landing of 1969, BLUEDOT festival combines a fusion of music,

science and cosmic culture all under the grand Lovell Telescope. For fans of electronica, Bluedot could not

be a more perfect line-up: headline acts over the three days include HOT CHIP and NEW ORDER, with a

special KRAFTWERK 3-D audiovisual show topping off things on the Saturday night. Bluedot is inspired by

the 1990 photograph taken of Earth by the Voyager 1 space probe in 1990, popularised by astronomer Carl

Sagan. Much like the analysis of Sagan, the philosophy behind Bluedot is to highlight the fragility of earth,

while exploring the frontiers of human advancement. Family friendly workshops and panels will explore this

throughout the weekend – but even if music's your primary vice, there's plenty to satisfy your needs.

FESTIVAL

Manchester International Festival

Various venues – 04/07-21/07

The quite brilliant Manchester International Festival gets underway this month

(if you haven't already, check out our interview with curator Mary Anne Hobbs

on page 34). As well as a sterling programme of activity including theatre from

IDRIS ELBA, happenings by YOKO ONO and curation from DAVID LYNCH, MIF

HQ has announced they'll be transforming the city's Albert Square into Festival

Square with marvellous programme of live music and DJs. JANELLE MONÁE

opens proceedings with a show at Castlefield Bowl on 4th July; elsewhere on

the bill you'll find varied events and performances featuring, among others,

NITIN SAWNEY, THE ORIELLES, THE BLACK MADONNA and HORACE ANDY.

MIF.co.uk

Janelle Monáe

36
---
GIG

Deeper Cuts

Phase One and Kazimier Garden – 13/07

A three-venue all-dayer on the lower end of Seel Street is

Getinothis' contribution to summer festivities. Deeper Cuts

– an expansion of their monthly shows – takes place across

Phase One, the Kazimier Garden and intimate new space

Kazimier Stockroom. Teeth-rattling noisemakers TEETH OF

THE SEA and GUM TAKES TOOTH lead the charge, with

some smart supporting acts in the form of HOUSEWIVES,

BUZZARD BUZZARD BUZZARD and URF. Liverpool's own

maverick noiseniks are more than up to support billing,

too, with art-proggers RONGORONGO, thrash metal outfit

VIDEO NASTIES and industrial noise-makers LONESAW

joining the fray.

GIG

Chip Wickham

The Spot – 13/07 and 14/07

With his latest offering labelled "fantastic dancefloor jazz"

by Clash magazine, and spearheading a house revolution

in a previous life, CHIP WICKHAM is responsible for

soundtracking various eras of hedonism. More recently the

flautist has rebounded from Gilles Petersen's Brownswood

label to settle at Madrid's Lovemonk, where he's created

some truly vibey new jazz. Last year's Shamal Wind album

demonstrated Wickham's appreciation for middle eastern

sounds combined with his dance background. Wickham

drops in at 3b Records' wonderfully intimate The Spot venue

for a full live show on 13th July, before curating a line-up of

DJs for the Chip-Fest All-dayer the following day.

GIG

SPQR

The Deaf Centre, Chester – 05/07

Fresh off the release of new EP Low Sun Long Shadows,

SPQR are ready to export their frantic, squalling rock to

a new fanbase, down the road in Chester. The trio have

expanded on the blueprint they laid down with 2017's The

House That Doubt Built EP, adding more tightly-wound

tension and explosive, Pile-esque dynamism to the mix.

They're sure to find adherents to their cause in old Deva –

and they've got some great help at hand to make the night

fire on all cylinders. Restless Bear signees YAMMERER are

well known to Chester audiences, as are fellow support ace

DEH-YEY. Expect audio fireworks from this lot. And don't

moan if you miss it, we did give you plenty of notice.

SPOKEN WORD

Matt Abbott

Naked Lunch Café – 01/07

Either side of volunteering at the Calais Jungle refugee camp, MATT

ABBOTT saw his native city of Wakefield vote 66 per cent leave in

the EU referendum. In a bid to understand why so many workingclass

communities like his come out in droves for Brexit, Abbott

devised his Two Little Ducks tour to find some answers. Following a

full run at Edinburgh Fringe in 2017 and a 22-date UK theatre tour

in autumn 2018 that gained rave reviews, Abbott's political spoken

word show has established itself as one of the most vital pieces

of work on the poetry scene. Powerful and personal, the show's

sequence of 22 poems is an intense, moving and challenging piece

of theatre.

Matt Abbott

GIG

Cream Classical In The Park

Sefton Park – 19/07

Cream Classical

Electronic dance music's most notorious brand returns to its spiritual home this summer

for an orchestral rendering of some of the most memorable dance anthems committed to

tape. CREAM's successful Cream Classical series adds an open-air string to its bow by

bringing the mighty Kaleidoscope Orchestra to Sefton Park, welcoming thousands of fans

across two stages to experience a show that features FAITHLESS, PAUL OAKENFOLD

and ROGER SANCHEZ, among others. It's only right that these classic tracks from

Cream's esteemed 25-year history are re-imagined and recreated in spectacular fashion

in Cream Classical's biggest show to date, right here in Liverpool. The final few tickets for

this show are on sale now at ticketquarter.co.uk.

GIG

The Murder Capital

Arts Club – 25/07

MEMBERS

PICK

Dublin quintet THE MURDER CAPITAL are whipping up a frenzy in anticipation of the release of their debut album When

I Have Fears, with over 50 tour dates booked in for 2019 across the UK and Europe in the run up to the album's release on

16th August. The birth of The Murder Capital is important to note when parsing the group's intense relationship between

freedom and pain; the suicide of a close friend is a defining message of not just their philosophy, but also of their upcoming

album. This is in addition to their discovery of the work of photographer Francesca Woodman, who took her own life at

the age of 22. The group's fiery post-punk growl is reminiscent of Idles and Fontaines D.C. – and if The Murder Capital can

follow in a similar vein to those two acts, it won't be long before you're wrapped up in their intriguing slew of noise.

The Murder Capital

GIG

The Bido Lito! Social w/ OHMNS

Sound Basement – 18/07

Ohmns

Normal service resumes for the monthly Bido Lito! Social in July. After the

bido100! celebrations we'll be returning to our M.O. of ringing in each new issue

with the best new music Merseyside has to offer. Issue 102 will be celebrated

with the brash brilliance of OHMNS at Duke Street's premier muso den, Sound

Food And Drink. Also on the bill on 18th July are SILVER LININGS, Eggy Records'

loudest noiseniks, and IRENE & THE DISAPPOINTMENTS, who will raise the

curtain with their infectious brand of dreampop. As usual, Bido Lito! Members get

free entry – tickets are available now from ticketquarter.co.uk. Come along and

champion great new sounds.

PREVIEWS 37
---
5pm til 9pm - SUNDAY TO FRIDAY

£2 Slices

£10 Pizzas

2 cocktails £10

cheap plonk

25 Parr Street, Liverpool L1 4JN.

0151 559 2599
---
Box office:

theatkinson.co.uk

01704 533 333

(Booking fees apply)

–

: TheAtkinson

: @AtkinsonThe

: @TheAtkinsonSouthport

The Atkinson

Lord Street

Southport

PR8 1DB

Exhibitions

Free Entry

—

donations welcome

Opening Times: Mon – Sat 10am – 4pm

Inspired by Alice

Until 7 September 2019

An imaginative and slightly bonkers exhibition looking at the

impact of Alice in Wonderland on the world of Art and Craft.

Exhibition includes Salvador Dali illustrations of Alice and

original sketches by Lewis Carroll.

Southport Double Take II

Until 7 September 2019

Intriguing photography that blends the historic with the new.

Old photos have been overlaid with new images giving the

appearance of people from the past looking out on modern

day Britain.

Bessie Downes: Flowers

of the Southport Coast

Until 2 November 2019

Beautiful botanical illustrations of flowers found on the coast

from the 1890s until the early 20th Century.

Cross Pollination

Until 28 March 2020

A celebration of floral art and literature including a digital

artwork of 18th Century Dutch still life that gives the illusion of

the painting steadily dissolving into the digital sands of time by

Gordon Cheung and an installation by Heywood and Condie.

The Atkinson is just 3 minutes walk from Southport Train Station
---
REVIEWS

"This is a festival

that has its eyes

fixated on bringing

a full spectrum of

sounds into the

heart of the city"

Loyle Carner (Michael Kirkham / michaelkirkhamphotography.co.uk)

Sound City 2019

Baltic Triangle – 04/05-05/05

If 2018 was a year of self-discovery for SOUND CITY, refinding

itself once more in the Baltic Triangle, then 2019 was

to be all about restabilising confidence. The wide spanning

programme of headline talent, international and burgeoning

artists serves as a good starter. It's up to the music to fill in the

blanks from here, and only good things can follow.

Manchester-based trio ELEPHANT TREES treat the

crowd that have squeezed into Ditto Coffee to a stripped back

performance of their usually energetic shows. Their quality isn't

lacking: lead singer Martha Phillips belts out acoustic versions of

tracks such as Uncomfortable and Monster with enough energy

to wake everyone up on a Saturday morning. Ending a brilliant

set on a positive note, Phillips sends everyone on their way with:

"It's Saturday morning, enjoy yourself. It's not often you get a day

off, so spend the day in a beautiful city listening to some music."

Wise words that we all go on to follow.

The beauty of festivals is that you may stumble upon

something entirely magical. Seoul shoegaze outfit DABDA give a

performance that would make some headliners blush. Infectious

guitar lines and African rhythms are peppered throughout the set,

like the lovechild of Totorro, Chon and Paul Simon's Graceland.

Kim Jiea channels Elizabeth Fraser of Cocteau Twins and Bilinda

Butcher of My Bloody Valentine, casting a spell over the audience

with her heavenly voice and Korean lyrics.

Constellations is the setting for a heartwarming performance

from THE FLORRIE GUITAR CLUB. The local jam group

consisting of people of all ages, backgrounds and ability overflow

the stage with their guitars. Led by The Tea Street Band's Timo

Tierney, the group treats the crowd to renditions of some classics

in a performance that shows off everyone's skills to much

applause.

The great thing about Sound City is the variation of genres

across all the stages. Over at Love Lane Brewery, the party duo

TOO MANY T'S spit out lyrics reminiscent of old school hip hop

of the 90s. Encouraging the crowd into the middle of the room,

the London duo do a stellar job of starting a throwback rave in a

brewery.

SOPHIE AND THE GIANTS are another stand out act of the

weekend. Packing out Hangar 34 to no surprise, the Sheffield

natives put on a hell of a show with their retro pop/indie rock

inspired tracks. Bulldog is definitely a track to look out for.

Completely throwing rockism to the wayside, HUSKY

LOOPS embrace dance music and hip hop to a degree that is

unmatched by most rock bands in this day and age. Husky Loops

have the audacity to straight-up cover Lift Yourself by Kanye

West. And why shouldn't they? Like a punk interpretation of

Death Grips, stuttering samples and a demonic pitch shifter on

guitarist/frontman Danio Forni's voice as he screams, "What's up

Liverpool!" The Italian band are a talented bunch, with Forni and

bassist Tommaso Medica switching instruments, while drummer

and quasi-DJ Pietro Garronev plays as tight as a drum machine.

The trio are heading for bigger and better things, with their

song Everytime I Run being included in the FIFA 19 soundtrack.

Hopefully they return to Liverpool soon for a big blow-out party.

SHAME are swiftly on their way to becoming titans of the

rock world. The paradox of a punk show is that, sometimes,

the worse the show goes the better it actually is. Bassist Josh

Finerty had technical troubles from the start, with his bass amp

coming crashing down mid-song. He sends his bass flying and

soon follows suit, flipping and cartwheeling across the stage

like a madman. "We're not getting paid for this show," frontman

Charlie Steen jokes. The crowd feeds off the wild energy from the

band, there's a feeling in the air that anything could happen. They

are conducted into a mosh pit at the wave of a hand. Plastered

behind the band is a blown up image of EDL founder Tommy

Robinson from the infamous milkshake incident in Warrington

just days prior. Inadvertently, their set serves as the perfect

metaphor for the political climate they rail so hard against: in the

midst of adversity, the youth rally together when the odds are

stacked sizeably against them.

Saturday night makes way for the first headliner of the

weekend, MABEL. The pop star is currently working her way

through the charts with her new single Don't Call Me Up and she

puts on a show stopping performance at the New Bird Street

main stage worthy of her chart positions. Armed with backing

dancers and a set list of all her biggest hits including Finders

Keepers, Fine Line, Ring Ring and a cover of Drake's Passionfruit,

the stage is made for her. With vocals permanently on point,

the crowd join in singing and dancing along. Having not even

released an album yet, she shows her worth and proves to be a

Confidence Man (Michael Kirkham)

perfect headline act to be championing new music.

The night is not quite over yet, however, as Liverpool rockers

QUEEN ZEE have been announced as the late night secret gig

at Best Before. Fans who got wind of the news have packed out

the tiny venue as one of the most energetic performances of the

day ensues. However, the secret is surprisingly quite well-kept,

especially for a few at the front chanting for Miles Kane. The

eyeliner-drenched Queen Zee take the stage and absolutely give

it their all. In keeping with the punk-show-paradox of the worse

the show goes the better it actually is, Queen Zee's raw power

is too much for Best Before's electrical systems to handle during

I Hate Your New Boyfriend, causing a full scale power outage.

This doesn't stop the crowd as they pick up where the band left

off, chanting the chorus at the top of their lungs. It's a sweaty

ordeal, with three out of five members ending up shirtless by

the end of the set, despite bass player Frank drenched in an allwhite

turtleneck. Queen Zee doesn't go out looking for severed

mannequin legs, they always seem to make their way to show

on their own. Frontwoman Zee holds it up like a Tusken Raider

holding a rifle, shouting "this is the second time someone's

brought a fake leg to our show".

Late on Saturday night, an interactive experience is brewing

within District. Curated by GWENNO, Both Sides Now is a

cult-like silent disco, encouraging you to immerse yourself in

sound. There's a mix of synthetic sounds and also organic folk

vocalisation coming from my channel – with two selections on

headphones across the venue, meaning you'd hear one half of

the set, bizarrely. There's rapping, there's poetry, there's classical

instruments and chanting. It feels amazingly innovative but also a

bit of a left field choice for such a big festival. Very experimental

and atmospheric, but once the headphones are removed

someone can be heard muttering "is this just them warming up?"

Sunday afternoon welcomes a whole load of great acts.

Proceedings kick off early at Birdies Bar, with Canadian rock 'n'

rollers MOTHERHOOD taking the stage. The crowd at this time

is sparse, but the band are having a great time anyway. Their

sound is very likeable when it works, but does have a habit of

sliding into twee. There's a sense that there's not much substance

behind it yet, but the pieces are all there and with a bit of work

they could fall into place nicely.

SCALPING take things up to a whole other level at the

Baltic Social. Their techno-punk sound is ferocious and brilliantly

unrelenting. Their graphic presentation captures their mood

perfectly – contorted bodies tumbling through a warping

blackness. It does feel particularly incongruous that it's only

2.15pm – this is music for the small, dark hours of the morning,

and the crowd seem to wish it was too so they could truly let

loose. Ones to watch, these.

As a showcase festival with a focus on discovery, it's great

to see the Levi's Music Project feature heavily within Sound City

this year. The talent development programme hosts its own

packed out showcase at Constellations on both days, and it's

heartening to see the crowds being so supportive of the artists.

Having built a studio in Anfield where the handpicked local talent

have been mentored by festival headliner LOYLE CARNER, the

40
---
"Aystar sets a high

bar for celebrating

Liverpool music in

the city tonight"

Shame (Stu Moulding / @oohshootstu)

Mabel (Jessica Grace Neal / jessicagracecreative.com)

project brings them into the bosom of Sound City where their

new fans await. SSJ gets a great reaction from a crowd keen to

deliver on his request for "energy". You can hear the poetry in his

rhythmic delivery, with lyrics based on everyday life. Similarly

well-received are fellow LMP alumni REMY JUDE and MICHAEL

ALDAG, who perform to a bustling room in Constellations.

Over in Brick Street's garden, SAMURAI KIP are wafting

along jazzily just as the clouds come across, which feels unfair,

as their retro-inspired sound is perfect for the sunshine, blending

cosmic jazz with punchy lyrical delivery. Retreating somewhere

warmer, Hobo Kiosk is the home of the day's acoustic sounds. MK

PATTERSON are a fascinating trio: with double bass, cello and

violin, accompanying an extraordinary vocal performance, they

tap into folk's stranger depths.

Back at Constellations it's KAGOULE's turn to take the stage.

These guys know how to make a sound that is slightly grungy:

bass-driven and stripped back at the right moments. But what

makes them great live is their stage presence. Bassist Lucy Hatter

is a particular draw, and it's the contrast of her sweet harmonies

against the big chorus riffs that defines the core of their sound.

A rainy Sunday evening welcomes Loyle Carner, perhaps

the most critically acclaimed hip hop act in the UK at the

moment. Through albums Yesterday's Gone and Not Waving But

Drowning, he's captured the hearts and minds of people across

the UK, especially within Liverpool. Even if you haven't heard a

note of his music, it's clear to see he's a master of his craft. No

matter how far you are in the sea of people in front of New Bird

Street's outdoor stage and how many rucksacks clash into you,

the energy and soul is still there, reverberating off the walls.

By the time CONFIDENCE MAN hit the stage late into Sound

City's endurance-testing run, Hangar 34 is still bouncing, proving

that the crowd's appetite is still to be sated. Two people in

cloaked hats emerge and blast out a hypnotic beat, sucking you

in before the gig has even properly started. The bonkers Aussie

disco quartet's debut album Confident Music For Confident

People gives off the air of Talking Heads at a Zoolander after

party. Somehow the live show exceeds that mad expectation:

perfectly choreographed dance moves throughout; the constantly

infectious beat; various costume changes, including flashing bras;

the sleek monochrome aesthetic; and the cheeky, well-composed

dynamic between the joint leads Janet Planet and Sugar Bones

is unmatchable. You won't have seen anything like it before, and

neither will have anyone in the audience. There's a fun energy

in the air, especially when their hit Boyfriend lands, making

everyone get down to the ground and jump in the air. They're the

perfect mix of disco, house music and drama that we all need in

our lives.

The show goes on, and opening the Levi's × Noisey after

party on Sunday night at Constellations is Levi's Music Project

participant REMÉE. Projecting her voice with perfection over the

melodic, electro RnB tracks proves to be the correct way to warm

up a crowd. To follow is fellow participant and Ellesmere Port

rapper THAT'S JUVEY? From the bouncing boom-bap of Modern

Science to the grittier grime and fast flows of Land Of The Poor,

Juvey's creatively charged vernacular creates new atmospheres

with each song in the set. The third act of the night is the hotly

anticipated AYSTAR. The up and coming Scouse rapper instantly

turns up the vibe with his signature flow and trappy beats and

a few of his popular tracks – 86 'ozs, Trap Mode – get the crowd

fully involved and the energy is real. Aystar sets a high bar for

celebrating Liverpool music in the city tonight.

Next to come through is the queen herself, MS BANKS.

The crowd adore her, especially when she drops the remix for

arguably this year's biggest drill anthem, Gun Lean. Suitably

tasked with closing proceeding is SLOWTHAI. The king of

Northampton makes a royal entrance on to the stage, greeted

by a room screaming at full lung capacity. He initiates what feels

like a riot with his hit Drug Dealer. The feeling of being at an

after party hits; the set is a literal shut down. Mosh pits, crowd

splits and Slowthai's face contorted inside a Donald Trump mask

are memories to treasure. This year's Sound City finishes with a

sweaty, satisfied audience, a wave of excited screams ringing in

the ears.

Back to its best as a three-day musical trip into the

established and unknown. With a clear focus on the next

generation, this is a festival that has its eyes fixated on bringing a

full spectrum of sounds into the heart of the city. !

Sophie Shields, Joel Durksen, Georgia Turnbull,

Julia Johnson, Iona Fazer

REVIEWS 41
---
REVIEWS

standing firm as a band completely unique and refreshing in the

current music scene. With added brass and percussion, their beat

builds the tension song by song, note by note. You're waiting in

anticipation for the crowd to go mental, but they don't – not quite.

The first signs of wildness begin to show during their blistering

single Houseplants, a song that builds and builds with growing

21st-century disillusionment. It'll be interesting to see where

Squid go next. I have a hunch that it will be far.

Mainly playing their new album Street Worms, Viagra Boys'

show is a full-on sonic assault. It's hard to stand still and take

in what's going on from the front few rows; everything and

everyone is moshing, slamming into each other in the aftermath

of each chord and snarled lyric. Even if you don't know the song,

you're dancing along – or practically forced to.

Sweaty. This is how I'd describe the night. Very, very sweaty.

I'm pretty sure items of clothing are being lost while bruises are

found. It's almost hard to pay attention to the music being played,

but when you hear it, it's tight. It oh so cleverly orchestrates

Beefheart-esque punk. It's crazy but contained. An artistic

paradox resting on loose hinges, clinging on to established

stability. Just. With songs such as Just Like You, you can hear it

in there.

With a Viagra Boys crowd, it almost seems cultish. You know

full well that loads of fans will be over at that merch table at

the end of night buying the full Viagra Boys tracksuit. There are

people in the crowd who will say it's the greatest gig they've ever

been to. Others, however, will say it's like a fight for survival. You

just don't want it to end. But, in contrast, it becomes too much

to handle. I guess that's a sign of a good punk gig: full of sweat,

intensity and mesmerising.

Georgia Turnbull / @GeorgiaRTbull

Viagra Boys (Tomas Adam)

Viagra Boys

+ Squid

Harvest Sun @ Phase One – 22/05

Music enthusiasts young and old are steadily piling into

tonight's upgraded venue, reminiscent of the following Swedish

punks VIAGRA BOYS have gained over the years. They've only

released a bunch of EPs and singles since their inception in 2015,

gaining some attention through certain indie and punk scenes.

But with their debut album Street Worms and their juggernaut

single of fun and rage, Sports, crowds of people outside of the

hipsters and aficionados have started talking about them. With

added buzz from the much-hyped Brighton act SQUID, tonight in

Phase One seems the hottest ticket of the month.

Squid set the tone for the night. With a tight bassline groove

reminiscent of post-punk bands such as Gang Of Four or early

Talking Heads, they break beyond these initial comparisons,

The Mysterines

+ The Besiders

Telford's Warehouse – 31/05

Baby-faced and bold, THE BESIDERS kick off at Telford's

Warehouse in their hometown of Chester. It's an instrumental

track to warm things up. Without a wrinkle in sight, they

proceed to test our hearing with glass-shattering, shrieking

guitar shreds ripping from a red Fender Jaguar. Despite guitarist

George Asbridge's evident capabilities, his entire presence

screams imposter syndrome; it's as though he doesn't feel

talented enough to be laying his hands on the mighty Fender,

the source of so much energy in the room. It burns his fingertips

to the touch. The indie four-piece deserve to have a lot more

confidence. They show a large amount of potential for an art-rock

band just starting their music career.

In the blink of an eye, the holy trinity of palatable indie-postpunk-who-knows-what

(who even cares?) appear almost out

of nowhere. Fittingly, there's a deployment of angst during THE

MYSTERINES' opening track, Good Conditions. Lead vocalist and

guitarist Lia Metcalfe's menacing voice cuts through the crowd

like a hot knife through butter, closely resembling the piercing –

and rightly irritated – tone of The Big Moon's Juliette Jackson. All

hope of not needing a hearing aid later in life is completely gone;

my eardrums are probably permanently damaged, but it's totally

worth it. When it becomes so easy to lose yourself in the heat

and energy of sonic delight, ironically, the last thing you're going

to be thinking about is your ear health.

Listening to The Mysterines invokes a curious depth in your

chest, almost a nervous energy. The kind that makes you feel

like you're going to throw up. But, weirdly, in this situation, it's

somehow a good thing; something big is coming, and neither you

or I are ready for it.

The Mysterines take no prisoners with their all-guns-blazing,

kicking and screaming attitude. They use this to their advantage,

progressing through more of the eerie, upbeat and harrowing

tunes, including Bet Your Pretty Face, which fits immaculately

into their shadowy yet gorgeous aesthetic.

The frame of the stage is all very cinematic. On the far left

you've got the ruthless heroine Metcalfe, who looks to have been

transported straight from the riot grrrl movement. In the middle is

drummer Chrissy Moore. The fast forward button is clearly stuck

on this guy. He's an example of why you should always make

sure your real-life remote is in working order…Wait, what? That's

not a technical issue? So, he's genuinely that fast? Someone hide

him away before he's harnessed by scientists as source of heat

energy. Completing the set with a naughty bit of bass, right of

stage, is George Favager.

They are the kind of people your stiff elders warned you

about when growing up. Which, of course, means that The

Mysterines are fucking badass, in the best sense. They're the

perfect way to get back at those voices of authority, those that

haven't allowed you to be exposed to the very real, no bullshit,

stating-it-how-it-is stuff, rather than experiencing it all first hand.

I'm certain that the trio would have been a great comfort to

many during those times; their music has a way of empathising

with those who are heartbroken and frankly pissed off with the

world. They simply vocalise that pain in a way that's accessible

to everyone. Although this seems very depressing, it's really not.

The general vibe, while embedded with a twang of pain, carries

the listener through its high-energy style, rather than weighing

them down.

Gasoline, the threesome's most recent single, is the song that

The Mysterines (Georgina Hull)

marks the unfortunate end to the short but sweet set. During

those last few thrashes of each instrument, Metcalfe finds the

perfect opportunity to mercilessly boot the microphone stand

down to the ground. That move – and indeed the whole gig –

feels like it's been lifted straight out of an impossibly cool coming

of age movie. One about a young teenager from a relatively

sheltered, suburban background who learns what rock music is

for the first time. I feel like I want to hit replay on this experience.

Blow off the dust and rewind the video. I didn't prepare myself

well enough for so much to come at me so quickly; I need a round

two. There'll definitely be a next time.

Georgina Hull / @goergiehull

42
---
Anne-Marie

+ Lennon Stella

Mountford Hall – 03/06

English singer-songwriter ANNE-MARIE has been storming

her way through the UK charts over the last 18 months.

Appearing on some of the biggest hits to grace the airwaves

– David Guetta's Don't Leave Me Alone and Clean Bandit's

Rockabye, to name a few – and with a string of her own hit

singles, she's growing in popularity by the second. After the

release of her debut album, Speak Your Mind, in 2018 and a

support slot opening for Ed Sheeran, Anne-Marie's first headline

UK tour has unsurprisingly sold-out.

Mountford Hall is the setting for her Liverpool show and a

venue she probably could have filled three times over. It's unlikely

we'll get to see her play in a space of this size again. Hordes of

adoring fans fill the room with excited anticipation as Canadian

singer LENNON STELLA warms up the crowd. Another regular

who features on chart hits, Stella works her way through tracks

from her new album and her version of Jonas Blue's Polaroid.

The crowd is dancing non-stop: not necessarily knowing the

songs but fully getting into the occasion of the evening. I'm not a

frequent flyer at pop gigs and I didn't really know what to expect

but it's so refreshing seeing a room full of people making the

most of the music.

Lights dim, the crowd screams and a thousand phones are

raised into the air as Anne-Marie bounds onto the stage, bursting

with energy. Drum stick in hand she dives straight into the

anthemic track Bad Girlfriend from her debut album. There doesn't

seem to be a person in the room who isn't chanting along with

hands in the air or sitting on shoulders to grab a closer look. Pop

singers can sometimes get a bit of stick for their vocal capabilities

but she can ignore all those comments. Her voice is powerful

and full of range and as she bounces around the stage it doesn't

falter once. The crowd often provide backing vocals so loud she

occasionally gets lost in the volume but it only highlights how big

of a fanbase she has. A room full of people screaming back your

lyrics can only be a good thing from her point of view and it adds

to the party-on-a-Monday-night vibe she has going on.

An impressive backdrop of a light show accompanies her set

and it feels more like a rock show at times as shredding guitar

solos and heavy drums shake the room. It's not like listening to

her reel off song after song from an album; it's a proper show you

expect to see in arenas up and down the country.

Mixing up a setlist filled with dance tracks, ballads and

punchy pop, Trigger, Ciao Adios, 2002 and Alarm are highlights

of the evening. A bit of audience participation comes in the

form of fans in the front row providing Sean Paul's rap during

Rockabye, which they have obviously practised, because it is

word perfect.

There's definitely a theme to a lot of the songs this evening.

Brushing off old boyfriends and expressing the importance of

loving yourself are topics included in the majority of the tracks.

The latter, however, is a powerful message and one Anne-Marie

expresses well on the stage. A video of people, including Ed

Sheeran, talking about their perfect imperfections gains cheers

of appreciation from the crowd before she bursts into the ballad,

Anne-Marie (Jessica Grace Neal / jessicagracecreative.com)

Perfect To Me.

Ending on a high note with her rendition of FRIENDS,

a collaboration with producer, Marshmello, Anne-Marie has

managed to keep a crowd dancing and singing along for her

whole set. Playing hit after hit from a range of genres, the energy

doesn't die once and for a singer-songwriter with just one album

to her name, it's an impressive feat.

Sophie Shields

This Is The Kit

+ Racheal Dadd

Harvest Sun @ Phase One – 06/06

There's no new album to tour, but THIS IS THE KIT are on the

road to test out some new material and have some fun with their

previous effort. 2017's Moonshine Freeze saw Kate Stables and

friends introduce a fuller sound, while staying true to the psychfolk

template of their earlier albums and maintaining Stables'

reputation for writing quietly insistent and engaging songs full of

interesting observations and leftfield subject matter.

Support comes from long-time collaborator RACHAEL DADD

– with a new album of her own due for release in November

– who is joined by drummer Rob Pemberton. The duo enjoy a

healthy early crowd and one that is quickly immersed in Dadd's

multi-instrumental virtuosity. Moving from banjo to electric guitar

to keyboard she works through traditional folk stylings to jazzier,

modal chord progressions. She delivers some delightful discord

along the way, a counterpoint to her beautifully melodic vocals,

and draws a hugely appreciative reaction.

There's something disarming about This Is The Kit even as

they set up; band members sitting, kneeling on the stage chatting

about pedals and connections as though they were back in a

West Country practice room, seemingly unaware of the proximity

and size of the crowd which has now packed out Phase One to

the rafters. It's all very good natured and that is a feeling that

persists throughout, with Stables' ease and charm winning over

the audience from the off – although, in truth, I think this audience

were won over long ago, repeated requests for songs from the

band's earlier albums are testament to that.

But we begin with something new. "This is a work in

progress," announces Stables, going solo, her delicate vocal

floating over a choppy riff, the audience already in the palm of her

hand.

Stables' lyrics suggest a constant state of searching, of

uncertainty, of flux – her meaning sometimes shrouded in

mystery, lovely melodies rubbing up against gritty imagery.

Barefoot, she occasionally steps into a tambourine and adds

shimmering percussion with the tap of a foot. Mostly she sings

standing on tiptoe, the tension implied by her stance adding

a physical quality to her delivery. Her vocals are accompanied

beautifully by bassist Rozi Plain and Dadd, who joins them for

several songs, their harmonies adding yet another layer over the

hazy groove.

There is a persistent pulse to TITK's music, a rhythm that

sits beneath the shifting waters of Stables' traditional folk vocal

stylings, her banjo picking, her guitar riffing, and guitarist Neil

Smith's blues rock wizardry. The pulse is nailed down courtesy

of Plain's bubbling basslines and Jamie Whitby-Coles' crisp

drumming. Smith plays some beautifully melodic counterpoints

to Stables' rhythms before launching into some wonderful sonic

explorations of his own, really hitting the heights on Hotter

Colder and Earthquake, amping up the dirty blues riff of the

latter and wildly replicating the climactic saxophone squall of the

former to great effect.

This Is The Kit (Glyn Akroyd / @GlynAkroyd)

The set takes in the full range of TITK's work but Stables

goes on to perform a couple more solo "works in progress",

starting one and then deciding it should be in a higher key, but

the new work sits right in with the old and it will be a treat to

hear them fully realised. Amid great applause she laughingly

says, "OK, now let's play some songs we know how to play,"

and the band kick back in for the final few songs of a hugely

enjoyable evening, the crowd nodding, dancing, cheering their

approval.

Glyn Akroyd / @GlynAkroyd

REVIEWS 43
---
REVIEWS

"The ideas here

represent the end

of learning, and the

beginning of practice"

The End Is Nigh! (Carlos Santos and Milos Sampraga)

The End Is Nigh!

LJMU Art and Design degree show

2019 – 24/05

As an early major platform for many of the artists involved,

degree shows are a unique prospect. LJMU's 2019 edition –

dramatically titled THE END IS NIGH! – is big in both significance

and size, occupying every floor of the John Lennon Art and

Design Building. Four subjects have been given space: alongside

fine art there's graphic design and illustration, fashion design and

communication and architecture.

The fine art presentations cover pretty much every

medium – film, painting and sculpture. There are a couple of

rooms dominated by installations that are clearly meant as 'big

statements'. The ambition to do something large-scale must

be tempting when several years of study have all led up to this

moment. The success of these pieces, though, must rest on the

same question as any artwork: what's their point, or purpose? Is

it clear, and do they succeed in moving the audience? In a couple

of cases, this isn't entirely successful. The best is one of the

simplest: a tent-fort made out of dyed sheets. Inside music plays,

soundtracking videos of people being unequivocally themselves;

whether dancing semi-naked or dressing up, this is a space for

expression without shame, and filled with warm feeling because

of it.

Among the rest of the show, in the objects of the walls

and floors, there are some really great pieces to discover. An

armadillo-accordion hybrid creature, standing in a sea of torn

fables, is totally endearing. There is a corner of weavings

stretching up from and down to the ground like braids – slightly

unnerving, but irresistibly tactile. An intricately detailed, sexually

charged dragon appears to shoot lasers from its eyes at anything

that might disturb its power.

Despite being closely related disciplines, there's a massive

difference between the work by the fine art and graphic design

and illustration students. The graphic design and illustration

section is somewhat more straightforward in terms of message

and medium – more enjoyable for it. It's not that politics isn't

present – there are zines about the environment, cults and Trump.

But there's a sense that the more defined medium unlocks a

different sense of play. Details of everyday objects are enlarged

to abstraction; new worlds are filled with characters ready for you

to join their adventures. These artists have produced work that is

confident in its own ability to make a point without feeling a need

to overthink things

The fashion design and communication show is

predominantly based around the publication of UN_FOLD

magazine. Combining design, editorial, photography and

graphics, the look and feel is polished and it feels ready to sit

alongside any other publication on the shelves in a gallery gift

shop. It's an impressive vehicle for conveying the students' skills.

Architecture is arguably, in terms of its impact on the way

we live, the most significant discipline here. In exhibition form,

however, it can be difficult for a casual observer to relate to.

Each building comes with a significant amount of rationale and

exemplification about its approach and solution to issues. This

isn't to say it's not impressive, but it's a very different kind of

experience to engage with. So as well as being here for design

value, the decision to have these presentations sharing the space

with the more immediate visual disciplines is interesting for the

questions it raises about what it interrogated in each type of

work, and the complexities of defining success.

The End Is Nigh! is a title that really only tells half the story.

The degree show marks the end of one phase, but the beginning

of another. So the ideas here represent the end of learning, and

the beginning of practice. Should we expect the finished article?

Or should this be seen instead as a starting point for the next

stage? The world offers huge learning curves: if an idea doesn't

land now, it can still be a point for the development that comes

with experience. !

Julia Johnson / @MessyLines_

44
---
KRS-One

+ Beyond Average

+ DJ 2Kind

Bam!Bam!Bam! @ 24 Kitchen Street

28/05

J Mascis

+ Rosali

Harvest Sun @ Arts Club – 17/05

Moving past the eclectic mix of fans that occupy the Arts Club

tonight, I'm reminded of The Bronze from Buffy The Vampire Slayer.

A slow and steady sway of its inhabitants congregate around the

bleak yet appealing tones filling the room – sounds that pine for better

times. The low murmur of Philadelphia-born ROSALI harps back to

the dreary 90s alternative scene, with flashes of heavenly vocals,

accompanied by meandering chord progression. Cutting a lonely

figure on the stage, Rosali produces a dreamy cover of Karen Dalton's

Something On Your Mind before shortly departing the stage with a

quick thank you, leaving everyone with something to contemplate.

"Alright?" is just one of two words J Mascis utters all night as he

greets the room of hopeful followers waiting to capture a glimpse

of his capabilities. With his Gibson slung low to the hip, he starts

with Thumb from Dinosaur Jr.'s 1991 album, Green Mind, reminding

onlookers of the impressive catalogue he can call upon, both with

his band and various solo outings over the years. On Little Fury

Things the incredible amount of distortion and volume produced by

one man stuns the crowd; the reverb shakes everyone to their core

A Certain Ratio

Phase One – 23/05

40th anniversary tours are generally pale imitations of a band

in their heyday, with connotations of rockers past their best giving

lacklustre performances even Status Quo fans would swerve. A

CERTAIN RATIO, however, not only meet the expectations of those

who remember these Flixton natives during the Factory Records postpunk

explosion of the late 70s, but also gain a fair few new converts

to their music during the night. But then again, talent and good tunes

always win the day.

Unsurprisingly, given the nature of the tour and the release of

their new album acr:box, which comprises over 50 tracks of well

known material and some unreleased songs, the set list is a trajectory

through their career.

It starts with 1979's debut single All Night Party, with its

repetitive rhythmic guitar and heavy metallic sound inspired by their

industrial Manchester setting. The track segues into their recent

cover of Talking Heads' Houses In Motion. The cowbells, bongos and

whistles which come out for the tracks from 1990's acr:mcr (Be What

You Wanna Be and Won't Stop Loving You) take it up a notch or two

and conjure up the spirit of the times.

The crowd is made up of diehard fans and music aficionados with

a real appreciation for how good the band are. But it's surprising there

are not more people eager to see them; tonight's gig is relatively quiet

and empty, especially for a band with A Certain Ratio's calibre and

history. What it is does allow for, though, is an intimate gig that's a

pleasure to be at. There's enough people here with love for the band

and their songs that dancing breaks out sporadically. And by the end

of the gig everyone around the room is moving – on and off stage

there's joy and palpable passion for the music.

It's clear the band still enjoy playing together, too, and vocalist

Denise Johnson extends this throughout the venue as she banters

with the audience. Technically they're excellent. A fair few musicians

are multi-instrumentalists, but to add a certain frisson to the

J Mascis (Lucy McLachlan / lucyalexandramclachlan.com)

before surfacing back into the calm waters of acoustic delivery. It's a

juxtaposition that Mascis has honed throughout his career; streaming

distortion coupled with mumbled sensitivity. It hits hard, no matter the

setting. The exclamation of "I know you're out there" from Out There

prompts a wave of psychedelic euphoria as the venue becomes the

artist's spaceship, transporting its passengers with every change in

tempo and dictated by the exploration of Mascis on his fretboard.

He starts to layer his sounds, playing one riff on top of the next,

giving him the freedom to melt faces with his solo endeavours.

Watching him command his instrument, I wonder how he can

continue at such a blistering pace, but he does. Unrelenting. It's like

his industrious musical capacity knows no bounds, like he does not

observe auditory norms. The more recent hits of Elastic Days and

See You At the Movies are met with huge approval from the crowd

as Mascis amazes the room again with his ability to gear change into

thrashy solo brilliance.

Acknowledging his contemporaries, Mascis then produces his

unique homage to The Cure with a redeveloped cover of Just Like

Heaven, before ascending to the heights of Fade Into You by Mazzy

Star. It leaves the crowd astonished, a momentary wonderment as

they arrive at a true contented disposition with the night's events.

Tonight shows that Mascis' axe-wielding powers are still

significant. The considerable importance he has played in forming the

modern landscape of alternative rock should not be forgotten.

Jake Penn / @p3nno

experience, Martin Moscop and Donald Johnson swap over between

guitar and drum mid-song, which isn't something that can be done

without years of practice. They literally clamber over instruments

on the cramped stage without missing a beat or a chord. The bass

playing by Jez Kerr is hypnotic, reverberating round the small room

round better than any recording in post-production.

It's an energetic and entertaining gig that belies the age of both

the band and the majority of the people in here, those of which should

be so lucky to get the opportunity to see the band in such an intimate

space again. They're as fresh as they were at the start of their career

and could give some younger groups a good run for their money. If

and when the chance arises again, whatever you do, do not miss out.

Jennie Macaulay

A Certain Ratio (Paul McCoy / paulmccoyimagery.com)

It's a quiet night in Baltic Triangle, but there's

still room for 24 Kitchen Street to embrace hip hop

legend KRS-ONE, appearing on his The World Is Mind

tour. KRS-One is one of the most respected figures

in hip hop, one of the original pioneers of the musical

culture within the hip hop movement of The Bronx.

Once predominately known as a member of the group

Boogie Down Productions, there became a vacant

space for KRS-One as a solo artist, amassing over

13 albums under his belt to date. His new album The

World Is MIND is a boom bap rap throwback, including

a track called Fuck This, recorded in Liverpool's own

GoPlayStudio's with Kofi and featuring a verse from

one Liverpool's own rappers KOD (now known as

Niggy Raw).

Pushed back from last November, KRS-One's

arrival in Liverpool has been hugely anticipated by

eager Scouse fans and upon stepping in, you can

feel it. Instantly I am embraced by masterfully mixed

set from Liverpool's urban music advocate DJ 2KIND

(L100), channelling the crowd's needs and providing

tracks from hip hop greats. In the short time prior to

the supporting act arriving on stage, DJ 2Kind played

classic hip hop tracks by MF Doom, A Tribe Called

Quest and Wu-Tang Clan that massively pleases the

Scouse fans.

Liverpool's own a grassroots Scouse rap duo

BEYOND AVERAGE, consisting of Jeopardy and Big-O,

bring finesse in production and lyricism. The audience

is seduced by the raw energy of popular new releases

The Mullah, The Re Up and No Comment. Finishing

up with Be Like You – a trappy beat featuring up and

coming rapper Jono – the entire set allows us to catch

the talent in the flesh rather than just on Spotify. DJ

2Kind holds it down with Pharcyde's Drop while we

sing along and chat, queueing for our drinks, awaiting

the grand reveal.

Suddenly, with no warning and bursting onto the

stage, is KRS-One. Enthusiastic in his entrance, but the

crowd is oblivious, he returns to the exit, announcing

that he'll give this one more attempt. This time he

bounces out on to the stage receiving loud cheers

of appreciation. His attire is a simple black tracksuit

with contrasting clean white Air Max, a black cap

covering his dreads. The performance kicks off with

the rumbling of bass notes and crunching samples.

In come the old school DJ scratches over the grungy

and grimy boom bap beats. His first vocal note booms

down through the mic and out the speakers, "This is

the sound of the city," he announces, like an old school

preacher. "Real hip hop is over here," he states like an

invocation of the true spirit of hip hop to a church of

loyal followers.

We cool off as a low beat kicks in and he starts

recites a thoughtful spoken word scripture, then the

beat kicks back in and we give out the cheers. His

poetry helps us visualise back on yesterday and the

potential that our future holds: "The world is mind,"

he tells us. Next thing, the beat spins back and with a

swift click, it's a sing-along. "WOOP WOOP that's the

sound of the police!" It kicks off a riot. To follow, 9mm

drops with such an aggression it feels like the room is

going to blow up, and the source is a cooking pot of

hip hop front and centre on stage. Some trouble with

the sound engineering means that KRS's microphone

drops in and out, but it really doesn't matter too much;

everyone knows the lyrics anyway.

One microphone switch later, we can finally

hear him, although it's clear that the 50 years young

artist doesn't miss a bar – even when inaudible. Over

beats that he credits to being "the original sound" he

consciously and openly speaks of his conspiracies

concerning Mexican culture under the affairs of Donald

trump. KRS shouts at the sound guy to turn this

music up higher and higher, really wants us to feel the

"healing music". It feels like I'm in a lecture from a wise

oak tree.

The fact that KRS has been performing since the

80s means it's no surprise that he decides to take us

through a journey, spanning over three decades. He

even shows off his complex rapping skills by spitting

over classical music. Overall the beat production

holds a range of styles, all appealing to the crowd of

hardcore fans. It seems that KRS will forever deliver

the rawest of live hip hop performances. Liverpool

should always remember them.

Iona Fazer / @_iona_fazer

REVIEWS 45
---
REVIEWS

Manic Street Preachers

Eventim Olympia – 30/05

The Olympia's theatre walls shine blood red. From the fog

they appear: lead singer and guitarist James Dean Bradfield,

followed by bass player and lyricist Nicky Wire, dressed in a Lou

Reed Transformer T-shirt, with patch and badge adorned white

blazer featuring a picture of David Bowie as Ziggy Stardust

stitched onto the back. Then, finally, drummer Sean Moore sits

Manic Street Preachers (John Middleton / johnmiddletonphoto.co.uk)

himself down, drumsticks in hand eager to let out his rage.

The Olympia is filled to the brim at this point with fans

sporting feather boas, leopard print blouses and lipstick and

military surplus uniforms replicating their heroes. The MANIC

STREET PREACHERS are ready to preach their manifesto

of culture, alienation, boredom and despair to the people

of Liverpool. Their first 13 songs of reflective ballads are in

celebration of 20 years of their second most commercially

successful album, This Is My Truth Tell Me Yours. After that, as

Bradfield says, is "cheap, dancey fun".

They open with The Everlasting, calling out to the useless

generations of past and present while Bradfield screams with

his mighty and majestic voice: "The gap that grows between our

lives/The gap our parents never had/Stop those thoughts control

your mind/ Replace the things that you despise".

The audience is completely captivated by their teachings

of nihilistic beliefs. They stand strong in protest of a hegemonic

world blinded by neon lights and societal expectations. Soon

after, the stage disperses, and Bradfield is standing alone below

the spotlight. He gently strums his guitar playing Born A Girl, a

song with lyrics that judge what it is to be a man, the androgyny

a more human way of expression of the self: "And I wish I had

been born a girl Instead of what I am/ Yes I wish I had been born

a girl, and not this mess of a man".

Later, Nicky Wire's bass sends a wave of aggression that

penetrates the sweat soaked crowd, droplets falling from their

hair. They cover Guns N' Roses Sweet Child O' Mine, a song that

many compare the Manics' sound in their formative early years to.

Though surprised, the audience scream back the words and jump

up while their arms wail in the air.

Bradfield spits at the stage floor then wipes it with his

shoe. Wire limbers up, stretching on the amps decorated with

Welsh flags; he turns, flinging his twig-like legs in the air, which

provokes screams of enjoyment from the fans pressed up on the

barricade. Halfway through the gig Bradfield stops playing his

guitar, Wire stops strumming his bass and Moore's wailing arms

came to a halt. Bradfield introduces his band: "General life force

and lifeblood to everything which is MSP, currently standing in as

tall as Radio City in Liverpool: Mr Nicholas Wire". Then Sean: "the

man who gives the beat with no punctuation and the power and

the madness: Mr Sean Anthony Moore." Nicky reminisces on their

love for Liverpool from performing at the Hillsborough Justice

Concert in 1997, and the love for Liverpool that the band's key

lyricist and rhythm guitarist Richey Edwards, who mysteriously

disappeared 24 years ago, had for our city. Wire states that

he "tried to look like Ian McCulloch for five fucking years", then

dedicates their next song, You Love Us, to his greatness. Their

final song, A Design For Life, comes to an end, and the band wish

us goodnight as they leave the stage and we, the exhilarated

audience, turn to the exit doors, wading through a sea of spilt

lager and plastic cups.

It's clear from their monumental performance that the Manic

Street Preachers are one of the last true rock 'n' roll bands out

there. At one point during the performance, Wire says that

"sometimes only through true misery do you achieve greatness". I

think that's understandable whether you're a writer, an artist or a

musician. There's nobody more inspiring than the Manics.

Sam Taylor

Liverpool Arab

Arts Festival

5-14 July 2019

Discover the richness of Arab music,

culture, film, art and performance

at venues across the city.

Featuring

UK Premiere

Juliana Yazbeck: SUNGOD

Fri 5 July | Royal Court Studio

Yara Boustany: ēvolvō and

One Day and One Night in Beirut

Thu 11 July | Unity Theatre

Rim Banna:

The Trace of the Butterfly

The only show outside London

Fri 12 July | Philharmonic Music Room

Gesturing Refugees: Farah Saleh

Sat 6 July | Bluecoat

LAAF Family Day 2019

Supported by Qatar Foundation International

Featuring Daraa Tribes UK debut, Hawiyya

Dance Company and Reham al-Hakimi

with the Al Awahdal Band, as well authentic

cuisine, henna painting and family activities.

Sunday 14 July | Sefton Park Palm House

See the full programme and book tickets at:

arabartsfestival.com

arabartsfestival @arabicartsfest @liverpoolarabartsfestival

Search 'Liverpool Arab Arts Festival' arabartsfestival.com/spotify

46 LAAF_Bido_Lito_half_Page_Ad_v5.indd 1 11/06/2019 17:18
---
Kaiser Chiefs

Mountford Hall – 04/06

From the slick merchandise stall in the foyer to Ricky Wilson's

reminders to pre-order their new album, this is a gig by a band

who have a keen awareness of their commercial appeal. The gig's

a mix of their early material and the less palatable newer stuff. It

feels as though they're trying to carve a place for themselves in

the rock cannon (a cover of The Who's Pinball Wizard as part of

the encore seems a calculated stab at relevancy) as they make

their way to the bank, made all the more ironic by them coming

on to Dire Straits' Money For Nothing – one of several ironies

through the night.

Ricky Wilson is an engaging frontman and he has a good

voice. His patter with the crowd is easy ("We're here to entertain

you" and "Are you going to scream?") and hints at a persona

honed through various TV performances and a burgeoning,

latter-day career as a TV celebrity. But it's when he relaxes,

removes his pristine blazer and gets going on the tambourine –

expertly caught after being thrown on from the wings – that it

becomes a more interesting and natural performance.

Kaiser Chiefs have some good songs, they really do. The

indie-rock style of their initial albums, 2005's Employment and

2007's Yours Truly, Angry Mob, are pretty good and reminiscent

of a particular cultural era that many in the crowd seem to be

harking back to.

Part of the demographic is very much Radio 2 listeners

and, while there are quite a few younger people here, there's a

sense the older part of the audience and band are reliving their

glory days. There's an awful lot of filming, taking of photos and

uploading on to social media, but then, why not? It's a welldesigned

show that is visually captivating.

The light show is on a big scale, timed to perfection to help

work everyone in to a frenzy for the big hits. There's a disco

ball during Love Is Not A Competition and a truckload of paper

streamers and party poppers which are fired in to the crowd

intermittently. There's also a backdrop of the band's name in

lights, which flashes throughout the performance – useful in case

we forget who we've been watching when we go to download

that new album, as requested.

Some of the newer material leaves the mood a bit flat. Some

of it is pretty mediocre pop which doesn't fare well when placed

next to their older stuff: the crowd understandably go crazy for I

Predict A Riot, Ruby and the pinnacle of the encore Oh My God.

15 years in the business has certainly honed Kaiser Chiefs'

self awareness; they know who their material is aimed at

and who their core market is. And it's here that the ironies lie:

those who were young and carefree in the 2000s are now the

Kaiser Chiefs (Brian Sayle / urbansubrosa.co.uk)

characters in The Angry Mob who "read the papers everyday".

Even the band itself has mutated from relevant indie rockers to

the more mundane "everything is average nowadays".

But they're popular: the packed hall and stomping and

cheering which continues until they reappear for the encore

shouts down a lot of the criticisms – people here are loving

it and, at one and a half hours, the bottom line is it's a very

comprehensive tick box exercise in giving the mildly-disgruntledby-middle-age

mob what they want.

Jennie Macaulay

Psychedelic Porn Crumpets

Shipping Forecast – 21/05

Stewart Francis: Into The Punset

+ Rachel Fairburn

Philharmonic Hall – 25/05

Opening up a comedy show for a name as big as STEWART

FRANCIS can't be easy, especially to a full house of dedicated

fans who've been watching his unique act on stage and screen

for decades; fans who are, by definition, used to big laughs at

short jokes, a particular and defined style of humour and delivery.

Undeterred, RACHEL FAIRBURN takes to the Philharmonic stage

and delivers a short set of self-deprecating gags to a supportive

crowd. Hers is a different style to that of the headliner (isn't

everyone's?) and the Phil is a big room to fill, but she battles

through the quieter responses. And there are a few, it's fair to say.

The few laughs there are come as a result of the self-deprecation,

rather than the content, so at times, it does feel a little forced.

Stewart Francis comes dancing onstage and immediately

launches into a characteristically relentless barrage of one-liners,

wordplay gags and brilliantly observed puns. His unique take

on this style of instant humour is full of the trademark sharp,

acerbic wit that all his material is crafted from. The nuanced art

of the pun is a skill few of his peers possess. Much of his work

involves deconstructing well-known phrases and giving them a

new meaning, and Francis' gift, or one of them, is in how easy

he makes it look and feel. And the deadpan delivery helps him

Kaiser Chiefs (Brian Sayle / urbansubrosa.co.uk)

distance himself from the punchlines, the jokes just left hanging

for all to enjoy. He takes a scattergun approach, flying wildly

between related, and often unrelated topics, yet somehow makes

it all feel like one big joke.

The set is peppered throughout with callbacks – a wellpractised

specialty of his – which sees him referring back to

earlier jokes, earlier shows and older material, so when a joke

works, as they all do, we're given several chances to laugh at it

again. In other comedians this would be seen as some kind of

disappointing sell out. With Francis, it's practically demanded

of him. That's why it works so well. Again, the delivery and

the timing is pin sharp throughout. He moves in parts towards

physical theatre, using every part of his body to stretch the

surreal narrative of so much of the show's highpoint. The magic

of his act is held in the sober, straight-backed nature of how

he sets the jokes up, leaving the audience concentrating their

focus so hard on the build-up, that the punchline, when it lands,

really does punch. Even though they're often so very obvious,

we just don't see them coming. Which, of course, makes them

even funnier. Comedy such as this is really the perfect craft, and

Francis an absolute master. It really is a shame that this tour, Into

The Punset, is his final swan song at standup, as he retires from

performance at the end of this year. Punderful, wonderful work.

He'll be missed.

Paul Fitzgerald / @NothingvilleM

A mannequin foot with a hat on points towards the band in a

kind of salute. For a band like PSYCHEDELIC PORN CRUMPETS,

I don't think anyone expects the ordinary.

The beating heart of the crowd jumps and thumps the

roof to the drum beat. You can feel it in your chest. Heads nod

uncontrollably as the music takes over.

Hailing from Australia, this band aren't easy to come by in

the UK. And ever since Dependent On Mary came out in 2017 on

High Visceral Pt. 2, they've been on my must-see live list. Recent

single Bill's Mandolin sends an electric shock through the crowd;

the jumping gets higher, the voices louder and the atmosphere

becomes its own entity. Pints are downed and no one is going

to the bar out of fear they'll miss what comes next. The speed

of the guitar increases and my sympathy for the photographer

in front of me heightens. This song is the exact song I'd

recommend to those wondering if they would like tonight's

act. Quintessential PPC: the mix of national flavours and killer

musicianship. Even without being in a room of fans, you can feel

the energy from it, but tonight elevates the entire experience.

The energy that exists in the room is similar to that at

a football game, with the band stepping onto the stage to

the sound of the Champions League tune. This football-like

atmosphere adds an air of tribal allegiance and a thrill of what

will happen next. It's not dampened by the risk of us losing

something, other than a pair of glasses that went skidding across

the mosh pit.

Self-proclaimed "soy latte drinking hippies", PPC's sound

and demeanour definitely doesn't bring that imagery to mind, no

matter how long their locks are. More like Cousin It, or long-lost

Cousin It, the weird just exudes from this band. In a day and age

where anything other than the 'norm' is facing judgement, we

need to go further in our weirdness. We should amplify it.

Their finale, Cornflake, has us gasping for breath. In the lulls

of garage psych crunching, the crowd is dripping with sweat,

waiting for the guitar and drums to ramp up to 100 per cent

capacity for the chorus. We're a whole now, my sweat is yours

and the grossness of it no longer matters because just listen to

that guitar! If Psychedelic Porn Crumpets aren't now on your

must-see list, they should be.

Megan Walder / @m_l_wald

REVIEWS

47
---
BOOK NOW: 0161 832 1111

MANchesteracademy.net

GUS DAPPERTON

TUESDAY 23RD JULY

ACADEMY 2

POND

MONDAY 4TH NOVEMBER

ACADEMY 2

VISTAS

WEDNESDAY 16TH OCTOBER

ACADEMY 3

WHITE LIES

THURSDAY 5TH DECEMBER

MANCHESTER ACADEMY

CAM

FRIDAY 6TH SEPTEMBER

ACADEMY 2

ANOMALIE

FRIDAY 18TH OCTOBER

CLUB ACADEMY

DUB PISTOLS

FRIDAY 8TH NOVEMBER

ACADEMY 3

A TRIBUTE TO

MANCHESTER

FRI 6TH DECEMBER / MCR ACADEMY

SKINNY LIVING

WEDNESDAY 11TH SEPTEMBER

ACADEMY 3

BILLY BRAGG -

3 NIGHT RESIDENCY

MON/TUE/WED 11/12/13 NOV / A2

TINY MOVING PARTS

WEDNESDAY 25TH SEPTEMBER

ACADEMY 3

LAMB

MONDAY 21ST OCTOBER

ACADEMY 2

CAVETOWN

SATURDAY 7TH DECEMBER

ACADEMY 2

NEW RULES

MONDAY 30TH SEPTEMBER

ACADEMY 3

FREDDIE GIBBS

WEDNESDAY 23RD OCTOBER

CLUB ACADEMY

THE AMAZONS

FRIDAY 15TH NOVEMBER

MANCHESTER ACADEMY

REMO DRIVE

THURSDAY 12TH DECEMBER

ACADEMY 3

SEBADOH

SATURDAY 5TH OCTOBER

ACADEMY 2

THEORY

TUESDAY 19TH NOVEMBER

ACADEMY 2

THE WEDDING PRESENT

FRIDAY 13TH DECEMBER

ACADEMY 2

JON BELLION

TUESDAY 8TH OCTOBER

MANCHESTER ACADEMY

REAL FRIENDS

FRIDAY 25TH OCTOBER

CLUB ACADEMY

HAPPY MONDAYS

THURSDAY 21ST NOVEMBER

MANCHESTER ACADEMY

BURY TOMORROW

FRIDAY 20TH DECEMBER

MANCHESTER ACADEMY

BARNS COURTNEY

TUESDAY 8TH OCTOBER

CLUB ACADEMY

WEYES BLOOD

TUESDAY 29TH OCTOBER

CLUB ACADEMY

THE BIG 3-0 TOUR:

DAN REED + FM + GUN

FRI 20TH DECEMBER / ACADEMY 2

BLACKBEAR

WEDNESDAY 30TH OCTOBER

MANCHESTER ACADEMY

LUCKY CHOPS

THURSDAY 21ST NOVEMBER

CLUB ACADEMY

JAH WOBBLE & THE

INVADERS OF THE HEART

FRI 17TH JANUARY / CLUB ACADEMY

JORDAN RAKEI

FRIDAY 11TH OCTOBER

ACADEMY 2

SPECTOR

THURSDAY 31ST OCTOBER

CLUB ACADEMY

ACADEMY IN THE UK

SATURDAY 23RD NOVEMBER

CLUB ACADEMY

PROUD MARY

SATURDAY 12TH OCTOBER

ACADEMY 3

HONEYBLOOD

FRIDAY 1ST NOVEMBER

ACADEMY 3

PUP

FRIDAY 29TH NOVEMBER

ACADEMY 2

THE DEAD SOUTH

SUNDAY 23RD FEBRUARY

MANCHESTER ACADEMY

facebook.com/manchesteracademy @mancacademy FOR UP TO DATE LISTINGS VISIT MANChesteracademy.net
---
ADVERTISE

IN BIDO LITO!

! promote your brand, venue or event to an

engaged culture-centric readership

! support an independent publication

! get full support from a dedicated team of

friendly staff

Go to bidolito.co.uk/advertise and get in touch today!
---
The

SAT 13TH JULY

CHIP WICKHAM

FULL LIVE SHOW 8-12 . TICKETS £15

LIVERPOOL'S AWARD

WINNING INDEPENDENT

RECORD SHOP AND

NOW SO MUCH MORE...

RECORDS | BAR | TICKET OUTLET

EVENT SPACE | DJ ACCESSORIES | CDs

2019 Winner

Best Shop

SUN 14TH JULY

THE SPOT PRESENTS

CHIP-FEST

JAZZ FUNK SOUL ALL DAYER

2PM TILL LATE . FREE ENTRY

DJ'S CHIP WICKHAM, MOODYMANC

ZESSICA LAUREN, ANTONIO PAX

SIMON 'SNEAKY' HOUGHTON

THOMAS TUFT

CHIP WICKHAM

FULL LIVE SHOW 7PM IN THE SPOT. TICKETS £15

5 SLATER STREET, 0151 7076444 : INFO@3BRECORDS.CO.UK

5 SLATER STREET. TEL: 0151 7076 444. EMAIL: INFO@3BRECORDS.CO.UK

Shezad Dawood, Leviathan, 2017, courtesy of the artist and UBIK Productions

Grace Ndiritu, The Ark, 2017

Shezad Dawood:

Leviathan

Grace Ndiritu:

The Ark

At Bluecoat from Sat 6 Jul – Sun 13 Oct

Two major exhibitions examining society,

migration and the environment.

School Lane, Liverpool, L1 3BX

thebluecoat.org.uk

@thebluecoat @the_bluecoat @thebluecoat

Funded by:

Supported by:
---
BE A BIDO LITO!

CONTRIBUTOR!

We are looking for writers,

thinkers, photographers,

drawers, designers and

other creatives to contribute

to Bido Lito!

If you are interested

send your portfolio to

submissions@bidolito.co.uk
---
ARTISTIC

LICENCE

As part of our continuing series focusing on the region's wordsmiths, we've

curated a selection of work from some regulars on the city's poetry scene.

Andy McGlinchey

Celestine

I'll let you in on a secret

An astronaut floated down to me last night

They all fell at once, without a word

And I was doing pretty fine without her

But then I woke, to see myself gazing back through reflection

I helped her fix her helmet,

After a while she helped me with a few things

She fixed the painting in my wall and made it crooked again

Made me fresh wax gave me Valium and skunk rats,

And we played with the stars, they were ours

Though she never spoke a word of her Heavenly birth

A devilish curse but only at first

Later we didn't even need to speak we knew each other's taints and

flukes, even though she never let me see her beneath the suit

Others came and they never knew; all wore the same suit

White helmet and black boots

though you couldn't see through

You could always tell when her eyes saw the real you

Amina Atiq

Sir, I speak Scouse

My gran-dad arrived on a boat to a strange land,

rested on her port, drank water from her Mersey –

greeted by her Liver birds – they lent out their

wings and here, he opened his corner shop on Lawrence Road –

selling broken biscuits for half a penny. Here, he settled

where dreams are carved and never forgotten.

She is not New York where dreams are wonders.

She is a promise never broken and secrets are cross

my heart and swear down to never tell a soul.

She is the love letters found at the bottom of the riverstories

floating to her waves – voices echoing her painhappiness

of those who passed by and those who stayed.

The Irish, Afro-Caribbean, the Chinese, the Yemenis,

Somalis, the Greeks – her beauty is her diversity.

She has a face that is hard to forget. Maybe not the

prettiest of them all but the most friendliest you'll find.

She is the most down-to-earth bird you'll ever find,

enough to make your heart go by.

Her stubbornness is her resilience, reds or bluesshe

never gives up, she never walks alone – wounded

or scarred, she picks you up too – that's her charm.

She is Hope Street, hoping for a better tomorrow and when

The broken-hearted people living in the world would agree/

There will be an answer, let it be, let it be…

What makes her whole, is the peoples voice because Sir,

I speak Scouse, fire from my stomach – love and kindness

from my heart – she taught me to Stand up, Stand up, Speak up-

Speak up be Anything, Anything.

My city is my home and my home is my city.

She is perfect and her name is Liverpool.

Balcony

Featured in ROOT-ed zine's Arrival City issue

Bluboy (@thisisbluboy)

Untitled

They said don't dream big! Don't dream grand!

Our parents said work twice as hard to get half as far

So we work four times as much keeping our feet to the ground while

we reach for the stars

But even if we succeed you won't let us be!

Trapped! With your assumptions, even if we break through that glass

ceiling. Or if we beat the odds Because we'll still be considered the

red and brown eyed beans, never seen as the same green peas in a

pod.

Strength of our women over romanticised, because they're still

standing because it's an understatement to say they've been through

a lot!

But they never stay down they reach for the top! But we never let em

have a couple moments weakness.

Small things everyday that you face, from having to stand up for

yourself on both sides!

Practically at all times, being fetishised in your daily lives.

"I've got a thing for black chicks"

"Black women have always been a fetish of mine"

Sometimes even get it from one of us like:

"You're pretty for a dark skin girl"

Or

"I like lighties"

But for years you've been the backbone of the community!

So we gotta teach our kids they're already dripping they can shine

without jewellery.

There I go again romanticising the strength of black women.

But the press want to paint a picture a black man's a strapped villain!

Truth be told we're full of beautiful spirits, brilliance and excellence.

Inventive, innovative.

Is that why they love to appropriate us?

Or see us as taste-makers is that why you copy our slang kid and

adopt it as a language?

Copy our sense of fashion from the hats to the kicks.

You wanna be like us till it comes to our trials and tribulations.

But you'll never face our daily situations.

I feel like I shouldn't even have to say that because it's obvious.

People assume we're violent because we have no choice but to be

warriors!

As we fight small & big battles daily.

Try and call out someone for micro aggressions then we're labelled

as crazy.

54
---
MEMBERSHIP

BECOME A BIDO LITO! MEMBER!

Through our team of community writers, photographers, illustrators and creative minds, Bido Lito! has

chartered our city's vibrant, do-it-together ethos for 100 issues. You can join this dedicated community

by becoming a Bido Lito! Community Member.

As well as receiving the latest edition of the magazine in the post before anyone else each month,

Community Members get a plethora of sweet rewards. Upon signing up you'll receive a Bido Lito! Tote

Bag with your first magazine, at the end of the year you'll get the premium Bido Lito! Journal and you'll

get free admission to the Bido Lito! Social and a download bundle of the best new music which informs

the pink pages every month.

As well as this, you'll help shape the content of the magazine itself each month. Whether it be

recommending subjects for features, providing insight into live events, curating recommender playlists or

suggesting your favourite new artists, our members are at the centre of everything we do.

!

HAVE YOUR SAY

Bido Lito! members get opportunities to have direct input into the

editorial direction of the magazine.

! SOCIALISE

Bido Lito! members get free admission to the monthly Bido Lito!

Social. The best artists at the best independent venues bring in

every new issue.

!

SPECIAL DELIVERY

As well as the monthly magazine, the Bido Lito! TOTE BAG will be

sent as your joining gift and you'll receive the end of year BIDO LITO!

JOURNAL each December.

Join the community media revolution and sign up today at bidolito.co.uk/membership
---
YOUSEF PRESENTS...

BIRTHDAY INCOMING

SATURDAY 28TH SEPT 2019

BRAMLEY MOORE DOCK - LIVERPOOL