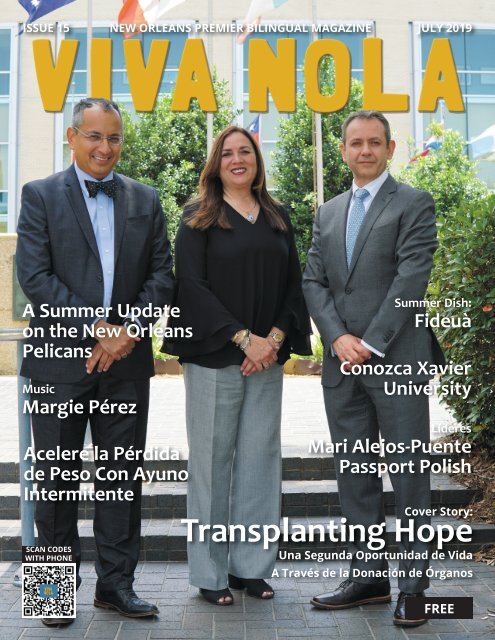 Create successful ePaper yourself
Turn your PDF publications into a flip-book with our unique Google optimized e-Paper software.
ISSUE 15

NEW ORLEANS PREMIER BILINGUAL MAGAZINE JULY 2019

A Summer Update

on the New Orleans

Pelicans

Music

Margie Pérez

Acelere la Pérdida

de Peso Con Ayuno

Intermitente

SCAN CODES

WITH PHONE

Summer Dish:

Fideuà

Conozca Xavier

University

Líderes

Mari Alejos-Puente

Passport Polish

Cover Story:

Transplanting Hope

Una Segunda Oportunidad de Vida

A Través de la Donación de Órganos

FREE
---
The

FRIDAY NIGHT FIGHTS

Friday, July 26 - 7PM

1632 Oretha Castle Haley Blvd.

Tickets: (504)522.2707
---
Publisher's Note

JULY

SUMMER DISH: FIDEUÀ.........................................................................................6

CONOZCA XAVIER UNIVERSITY..........................................................................8

THE BASICS OF WI-FI...........................................................................................9

LÍDERES: MARI ALEJOS-PUENTE, PASSPORT POLISH............................10

MARGIE PÉREZ.....................................................................................................13

FROM DARKNESS TO LIGHT: A SUMMER UPDATE ON THE NEW ORLEANS

PELICANS..............................................................................................................15

FOCUS ON FINANCES.........................................................................................17

TRANSPLANTING SECOND CHANCES. .........................................................19

THE COMMUNITY IS OUR PRIORITY................................................................23

JUMP START WEIGHT LOSS WITH INTERMITTENT FASTING.....................25

COOL YOUR MOOD AND MAINTAIN YOUR PRODUCTIVITY WITH A SODA...28

GALERIA................................................................................................................30

CALENDAR OF EVENTS......................................................................................32

BEING SPIRITUAL................................................................................................33

sections

content

contributors

COVER STORY ANAMARIA BECH

NOLA FOOD MARCELLA ESCARFULLER

PORTAL LATIN AMERICA MEMO PÉREZ LARA

TECH TALK THE I.T. GUY

EDITOR CHRISHELLE SMITH

SOMOS NOLA CHRISTOPHER ARD

EDITOR MEMO PÉREZ LARA

HEALTH CHECK DR. ARTURO GASTAÑADUY

PROOF MARCELA BOLAÑOS

MOTIVATION PATRICIA PRYCHODNY

WELLNESS LIA THREAT

LAYOUT ANAMARÍA BECH

LEAD UP CAROLINA LOZADA

AD DESIGN YESENIA RÓVELO

LÍDERES ANAMARÍA BECH

NORTHSHORE DAYHANNA VELANDIA

PHOTOGRAPHY: JOSÉ GARCÍA

COLORES Y NOTAS JORGE FUENTES

DEPORTE REPORTE MARIO JERÉZ

ECONOMIC DEVELOPMENT ALEJANDRA GUZMÁN

There is an idea that

most Latino immigrants

who come here lack

education, and thus

are bound to perform

jobs that require more

physical abilities than

intellectual ones.

The laborers usually

receive a negative

stigma, even though

the United States

society requires

these types of jobs to

function properly. It is

important for us to remember there is dignity in any job.

In our Líderes (leaders) section, we feature Mari Alejos-

Puente, an entrepreneur who is succeeding in the

cosmetics industry. She graduated from Tulane University

and Xavier University and she told me how her mother

and her grandmother were part of the cleaning crews at

these institutions, respectively, and how proud they were

to see her obtain her undergrad and master degrees.

It is a beautiful thing when you know ladies like this

mother and grandmother work hard to give a better life

to their children. I wanted to mention this as a side note,

because it is important to highlight their efforts, just as

much as the effort of the highly skilled professionals we

are featuring in our cover story.

In our cover we feature three Latin American physicians

who are giving individuals a second chance in life through

their commitment and work at the Ochsner Multi-Organ

Transplant Institute.

Let this note be a reminder that Latinos, in every field,

are providing their skills, talent, and sacrifices every day

to make the United States a culturally and economically

stronger society.

AnaMaria

CONTACT US:

INFO@VIVANOLAMAG.COM

504.517.6090 - VIVANOLAMAG.COM
---
nola food

Summer Dish:

Fideuà

By Marcella Escarfuller

Summer to me is sun and citrus, the smell

of the ocean clinging to the breeze, the

gull's song hanging in the air. Summer is

fun-in-the-sun, trying new things, and

spending me with friends and family.

Summer also means lots of grilling for

most of America. But aer growing up in

New Orleans, asking me to cook outside in

summer is akin to suggesng I light myself

on fire.

While I appreciate the spirit of the summer

grill-gathering, it shouldn't be the only

party opon on the table (especially

in July). Thinking outside the box is a

requirement for living in this city. It's what

we do best – especially when it comes to

entertaining. So, while I love my red-whiteand-blue,

I defer to my Lan blood for

summer cuisine inspiraon.

Enter the fideuà, the perfect andote for

your summer-entertaining ennui. Birthed in

19 th century Valencia, this Catalonian twist

on the tradional paella, made with thin

spaghe (or "fideus") instead of rice, is a

dish that screams summer. Golden fideus

are cooked in rich stock with fresh shellfish,

then topped with a spritz of lemon, minced

parsley, orange zest and homemade garlic

aioli.

Everything about fideuà is bright and fresh,

making it perfect for large summer gettogethers.

Touted as the one-pot wonder

of Valencia, fideuà is by far one of Spain's

most culturally significant dishes. It's a

wonder that it has yet to rise to fame in

NOLA, a city that is so entangled with

Spanish history.

Spanish influence in New Orleans is oen

overlooked, but undeniable. The Louisiana

territory (Luisiana in Spanish) served as the

administrave district of the Viceroyalty of

New Spain from 1762 to 1803. The French

Quarter we all know today is thanks to

Spanish reconstrucon in 1788 aer the

Great New Orleans Fire.

One of the most amazing things about

New Orleans is the open-minded creavity

that inevitably spills over into its food.

The demand for Spanish- and Lanfusion

cuisine in the area has led to new

restaurant openings like Nolé, Barracuda,

Espiritu, and Otra Vez. Meanwhile,

established restaurants, like Barcelona

Tapas in Uptown and Lola's in Mid City,

have long boasted authenc Spanish fare,

including fideuà.

If you're feeling adventurous, try making

fideuà for yourself. Your friends and family

will thank you. Regardless, whether you

choose to eat out or to brave this new

froner from your own kitchen, I implore

you to make fideuà a part of your life. You

haven't lived unl you do.

---
Ingredient List

Lista de Ingredientes

FOR THE BROTH / Para el caldo:

3 tbs Extra-virgin olive oil

Aceite de oliva extra virgen

2 Onions, chopped

Cebollas, picadas

½ lbs Small shrimp, shell on

Camarones pequeños sin pelar

4 Large garlic cloves, roughly

chopped

Dientes de ajo grandes, picados

3 Small dried hot red peppers, or use

a pinch of cayenne

Pimientos rojos pequeños y secos,

o una pizca de cayena

½ tsp Fennel seed

Semilla de hinojo

½ tsp Coriander seed

Semilla de cilantro

1 Large bay leaf

Hoja grande de laurel

- A few thyme sprigs

Ramitas de tomillo

- Salt and pepper / Sal y pimienta

2 tsp Tomato paste / Pasta de tomate

1 ½ lbs Meaty bones from cod, snapper

or halibut, rinsed (or use

boneless fish chunks)

Huesos carnosos de bacalao,

pargo o mero, enjuagados (o

usar trozos de pescado

deshuesados)

12 Clams / Almejas

1 lbs Mussels, cleaned

Mejillones, limpios

FOR THE FIDEUÀ / Para el fideua

1 lbs Fideus noodles (dry), or use Italian

fedelini or spaghettini

Fideos fideus (secos), o use

fedelini o espaguetini italianos

3 tbs Extra-virgin olive oil

Aceite de oliva extra virgen

- Pinch of saffron into 1/4 cup water

Pizca de azafrán desmenuzada en

1/4 taza de agua

1 lbs Mussels, cleaned, for garnish

Mejillones, limpios, para decorar

½ lbs Large shrimp, shell on, for garnish

Camarones grandes, con cáscara,

para decorar

3 tsp Chopped parsley / Perejil picado

3 tsp Orange zest

Cáscara de naranja

- Allioli, for garnish

Allioli, para decorar

See following recipe

Ver receta a continuación

Viva NOLA Magazine - Page 6

Fideuà PREPARATION / PREPARACIÓN

1. Make the broth:

Put 3 tablespoons olive oil in a

heavy soup pot over mediumhigh

heat. Add onions and

sauté until softened and lightly

browned, about 10 minutes.

Add small shrimp, garlic, hot

pepper, fennel, coriander,

bay leaf and thyme. Season

generously with salt and

pepper, stir to coat and cook 2

minutes more.

Prepare el caldo:

Ponga 3 cucharadas de aceite

de oliva en una olla grande

de sopa a fuego medio-alto.

Agregue las cebollas y saltee

hasta que estén suaves

y ligeramente doradas,

aproximadamente 10 minutos.

Agregue camarones pequeños,

ajo, pimiento picante, hinojo,

cilantro, laurel y tomillo.

Sazone generosamente con

sal y pimienta, revuelva para

cubrir, y cocine 2 minutos más.

2. Stir in tomato paste and

cook 5 minutes, until mixture

begins to look dry. Add fish

bones, clams, 1 pound mussels

and 8 cups water; cover and

bring to a boil. Uncover,

reduce heat to a simmer and

cook for 45 minutes.

Agregue la pasta de tomate y

cocine por 5 minutos, hasta

que la mezcla comience a

verse seca. Agregue huesos de

pescado, almejas, 1 libra de

mejillones y 8 tazas de agua;

Cubra y deje hervir. Destape,

reduzca la llama a fuego lento

y cocine durante 45 minutos.

3. Strain through a sturdy

mesh sieve into another

pot, pushing on solids with a

wooden spoon. Discard solids

and keep strained broth hot.

Taste for salt. Broth should be

well seasoned.

Colar el caldo empujando

los sólidos con un cucharón.

Almacenar el caldo en

otra olla. Debe estar bien

condimentado. Agregar sal al

gusto.

4. Make the fideuà:

Heat oven to 375 degrees.

Put fideus noodles in a large

roasting pan or baking sheet.

(If using Italian pasta, break

it into 2-inch lengths first.)

Pour 2 tablespoons olive oil

over noodles and toss with

hands to coat. Bake for 8 to 10

minutes, turning with tongs if

necessary, until noodles are

golden brown.

Hacer el fideuà:

Calentar el horno a 375

grados. Coloque los fideos

fideus en una asadera grande

o una bandeja para hornear.

(Si usa pasta italiana, primero

divídala en trozos de 2

pulgadas). Vierta 2 cucharadas

de aceite de oliva sobre los

fideos y mezcle con las manos

para cubrir. Horneé por 8 a

10 minutos, volteándolos con

pinzas si es necesario, hasta

que los fideos estén dorados.

5. Place a cazuela or wide

heavy pot on the stove. Add

toasted noodles, pressing

down a bit. Ladle 3 cups hot

broth over noodles and bring

to a boil. Push down on the

noodles with a wooden spoon

as they soften into the broth.

Add saffron-infused water and

cook for a minute, then stir to

mix. Add enough hot broth to

cover pasta by 1 inch. Lower

heat and cook at a simmer

for about 8 minutes, stirring

occasionally. Add more broth

(and adjust heat) if mixture

dries out.

Coloque una cazuela en la

estufa. Añadir los fideos

tostados. Sirva 3 tazas de

caldo caliente sobre los

fideos y deje hervir. Agregue

agua con infusión de azafrán

y cocine por un minuto,

luego revuelva para mezclar.

Agregue suficiente caldo

caliente para cubrir la pasta

por 1 pulgada. Baje el fuego y

cocine a fuego lento durante

unos 8 minutos, revolviendo

ocasionalmente. Agregue más

caldo (y ajuste el calor) si la

mezcla se seca.

6. Scatter remaining 1 pound

mussels over the top, then

push them down until barely

submerged. Cook 3 to 4

minutes, until shells open.

Turn off heat. The noodles

should be cooked but firm,

and the mixture a little soupy.

Disperse los mejillones

restantes de 1 libra por

encima, luego empújelos

hacia abajo hasta que estén

casi sumergidos. Cocine de

3 a 4 minutos, hasta que las

conchas se abran. Apague

los fideos, que deben estar

cocidos pero firmes, y la

mezcla un poco espesa.

7. If using the large shell-on

shrimp, season them and

sauté in 1 tablespoon olive

oil over medium heat for 2

minutes per side.

Si usa los camarones grandes

con cáscara, sazone y saltee

en 1 cda. de aceite de oliva

a fuego medio durante 2

minutos por lado.

8. Ladle into individual soup

plates. Mix the parsley with

the orange zest. Garnish

fideus with shrimp, if using,

the parsley mixture and a

spoonful of allioli.

Sirva en platos individuales de

sopa. Mezclar el perejil con la

ralladura de naranja. Adorne

el fideus con camarones,

la mezcla de perejil y una

cucharada de alliolí.
---
Plato de Verano:

Fideuà

Por Marcella Escarfuller

Para mí, verano es igual a sol y cítricos;

el olor del océano impregnado en

la brisa y el canto de la gaviota que

danza en el aire. El verano es diversión

bajo el sol, probar cosas nuevas y

pasar tiempo con amigos y familiares.

El verano también significa muchas

parrilladas para la mayoría de los

estadounidenses. Pero, después de

crecer en Nueva Orleans, que alguien

me pida que cocine en exteriores en

verano, es casi insinuar que me prenda

en fuego.

Aunque aprecio el espíritu alegre

de los asados en verano, considero

que no debería ser la única opción

de fiesta (especialmente en julio).

Pensar creativamente es un requisito

para vivir en esta ciudad, y somos

los mejores para eso, especialmente

cuando se trata de diversión. Así

que, sin dejar mi amor por el rojo,

blanco y azul, acudo a mi sangre latina

para buscar inspiración en la cocina

veraniega.

Así aparece la fideuà; el antídoto

perfecto para tu falta de diversión

durante el verano. Nacido en la

Valencia del siglo XIX, esta variación

catalana de la paella tradicional,

preparada con espaguetis finos (o

"fideus") en lugar de arroz, es un plato

que grita verano.

Los fideus dorados se cocinan en un

rico caldo con mariscos frescos, y luego

se completan con un chorrito de limón,

perejil picado, ralladura de naranja y

alioli de ajo casero. Todo en el fideuà

es brillante y fresco, lo que lo hace un

plato perfecto para grandes reuniones

de verano.

Considerada como la maravilla única

de Valencia, el fideuà es, por mucho,

uno de los platos más importantes de

España.

Es sorprendente que este plato aún

no haya alcanzado la fama en NOLA,

una ciudad que está tan involucrada

con la historia española. La influencia

española en Nueva Orleans a menudo

se pasa por alto, pero es innegable.

El territorio de Louisiana (Luisiana

en español) sirvió como el distrito

administrativo del Virreinato de Nueva

España desde 1762 a 1803. El Barrio

Francés, que todos conocemos hoy,

se debe gracias a la reconstrucción

española en 1788, después del Gran

Incendio de Nueva Orleans.

Una de las cosas más sorprendentes

de Nueva Orleans es la mente abierta,

que inevitablemente se refleja en su

comida. La demanda de cocina de

fusión española y latina en el área ha

dado lugar a la apertura de nuevos

restaurantes como Nolé, Barracuda,

Espíritu y Otra Vez. Mientras tanto,

los restaurantes establecidos, como

Barcelona Tapas en Uptown, y Lola's

en Mid City, han ofrecido una auténtica

comida española, incluida la fideuà. Si

te sientes aventurero, prueba hacer

fideuà por ti mismo. Tus amigos y

familiares te lo agradecerán.

En cualquier caso, ya sea que elijas

comer fuera o desafiar esta nueva

frontera desde tu propia cocina, te

imploro que hagas del fideuà una

parte de tu vida. No has vivido hasta

que lo pruebes

Por si quieres intentarlo, aquí hemos

incluído mi receta favorita que publicó

el New York Times y que preparamos

en el video.

---
Conozca

Xavier University

CARY CARO, PH.D.

Associate Professor of Management

¿De dónde es?

Rio Grande City, Texas.

¿Cuánto tiempo lleva trabajando en la

Universidad Xavier?

9 años.

¿Qué es lo que más le gusta de trabajar en

Xavier University?

El sentido de comunidad que podemos

establecer con nuestros compañeros y con

nuestros estudiantes. Al ser una institución

pequeña, tiene una ventaja para realmente

formar un individuo completo.

¿Por qué alguien debería considerar

estudiar en Xavier University?

Si bien nuestra reputación académica en la

División de Negocios habla por sí misma,

tenemos una increíble tasa de colocación

para nuestros graduados. Te preparamos

académicamente y luego te enviamos a

maravillosas oportunidades en la industria

cuando te gradúas.

¿Qué programas de Xavier University

recomienda?

El programa de Contabilidad en la División

de Negocios es famoso por colocar a casi

el 100% de sus graduados en una escuela

de posgrado para completar su CPA, o en

sus carreras en la industria. ¡Estamos muy

orgullosos de eso aquí en la División!

La División de Negocios es una "joya

escondida" en Xavier. ¡Debes venir a conocer

nuestra historia y formar parte de ella!

Where are you

from?

Rio Grande City,

Texas.

How long have

you worked

at Xavier

University?

Nine years.

What is the

best part about

working at Xavier

University?

The sense of community that we are able to establish with our

peers and with our students. Our small size is an advantage in

really building a whole individual.

Why should someone consider attending Xavier University?

While our academic reputation in the Division of Business

speaks for itself, we have an incredible placement rate for our

graduates. We prepare you academically, and then send you off

to wonderful opportunities in industry when you graduate.

What programs are the most recognized at Xavier University?

The Accounting program at the Division of Business is renowned

for placing nearly 100% of its graduates in either graduate school

to complete their CPA or in their careers in industry. We are very

proud of that here at the Division!

The Division of Business is a "hidden gem" at Xavier. You should

come to know our story and be a part of its writing!

Para más información sobre los diferentes programas ofrecidos en Xavier University, comuníquese con

Priscilla Gonzalez-Felix en la oficina de admisiones al (504)520-7411.
---
tech talk

The

Basics of

Wi-fi

By The I.T. Guy

Have you noticed some routers have 2

signals?

They are called SSID, or Service Set

Identifier, and each signal serves a

purpose. One is for speed, and the

other, for coverage. Not all devices can

see both signals because the 5 Ghz

signal is a newer technology, but all of

them use the 2.4 Ghz signal.

The 2.4 Ghz technology has been used

for years. Before its use for wireless

internet it has been used for cordless

phones, microphones, CB radios,

microwaves, and Bluetooth devices,

among others, which makes it the most

used frequency. 2.4 Ghz reaches a long

range, but it receives lots of inference.

The 5 Ghz frequency is better because

it has not been used as much and is

currently dedicated mostly for Wi-Fi

internet, though its caveat is a limited

range.

A new technology called Wi-Fi 6 is set to

launch this year (2019). Wi-Fi 6 uses both

bands, 2.4ghz and 5ghz, and cramps

more channels in each band, which

allows for faster speed and an expanded

range.

Wi-Fi 6 is supposed to be up to three

times faster than what we are used to,

which will allow us to get the most out

of our internet connection. Wi-Fi 6 also

comes with new security protocols,

resulting in a more secure connection

for users.

TRANSLATION >>

Fundamentos del Wi-fi

¿Has notado que algunos

enrutadores tienen 2 señales?

Se llaman SSID (Identificación

de set de servicio, por sus

siglas en inglés) y cada señal

sirve un propósito. Uno es

para la velocidad, y el otro,

para la cobertura. No todos

los dispositivos pueden ver

ambas señales porque la señal

de 5 Ghz es una tecnología

más nueva, pero todos ellos

usan la señal de 2.4 Ghz.

La tecnología 2.4 Ghz ha sido

utilizada por años. Antes de su

uso para internet inalámbrico,

se ha utilizado para teléfonos

inalámbricos, micrófonos,

radios CB, microondas y

dispositivos Bluetooth, entre

otros, lo que la convierte en la

frecuencia más utilizada. 2.4

Ghz alcanza un rango largo,

pero recibe mucha inferencia.

La frecuencia de 5 Ghz es

mejor porque no se ha

utilizado tanto y actualmente

está dedicada principalmente

a Internet Wi-Fi, aunque su

advertencia es un rango

limitado.

Una nueva tecnología llamada

Wi-Fi 6 se lanzará este año

(2019). Wi-Fi 6 usa ambas

bandas, 2.4ghz y 5ghz, y

bloquea más canales en cada

banda, lo que permite una

velocidad más rápida y un

rango ampliado.

Se supone que Wi-Fi 6 es hasta

tres veces más rápido de lo

que estamos acostumbrados,

lo que nos permitirá

aprovechar al máximo nuestra

conexión a Internet. Wi-Fi 6

también viene con nuevos

protocolos de seguridad, lo

que resulta en una conexión

más segura para los usuarios.

Viva NOLA Magazine - Page 9
---
'

LIDERES

Mari

Alejos-

Puente,

CEO of

Passport

Polish

By AnaMaria Bech

In just one year, Mari Alejos-Puente's

cosmetic brand company Passport

Polish has gained recognition around

the world. Her love for traveling

inspired Passport Polish, a solution

for artsy instagrammable travel

pictures that can now include the

perfect vivid nail polish colors that

represent the elements of the various

countries in your travel itinerary.

Born and raised in Mid-City in New

Orleans to Cuban and Nicaraguan

parents, Mari Alejos-Puente is the first

entrepreneur of her family, which

makes all her relatives extremely

proud.

She is well educated. Alejos-Puente

has a marketing undergraduate

degree from Tulane University, and

a Masters in Psychology from Xavier

University. Having graduated from

these institutions is special, because

her mother and her grandmother

held their first jobs at these

campuses respectively, when they

first immigrated with no English and

limited education.

Viva NOLA Magazine - Page 10

Before becoming the Passport

Polish CEO, Alejos-Puente worked

in the medical field like many of her

relatives, until one night, inspired by

an entrepreneur friend, she decided

to give a chance to creating and

devoting her talent, time, and effort to

her own business.

She learned how to mix chemicals

and colors to make her products, and

she is now back in business school

furthering her knowledge. She is on

top of her social marketing game,

and her online retail, fulfilling orders,

creating customized colors, and

providing her products to customers

all over the world.

Passport Polish offers quality

products that you can purchase on

passportpolish.com

Remember when you are buying

these vegan, cruelty-free products,

you are supporting the business of a

local, inspiring, fearless Latina.

Find your favorite colors and tag your

pictures on Instagram with

@thepassportpolish.
---
The Caribbean Collection was the first

batch of products to sell out! It was

inspired by the colors of the countries

Alejos-Puente had already visited in

the Caribbean, which are also present

throughout the city of New Orleans.

¡La Colección del Caribe fue el primer

lote de productos del que se vendió

todo el inventario. Los colores fueron

fruto de inspiración de países que

Alejos-Puente ya había visitado en el

Caribe, colores que también están muy

presentes en toda la ciudad de Nueva

Orleans.

The Passport Pout line of lipsticks was launched

in January. The colors are inspired by different

countries and by the colors of their staple food items:

Argentina for red wine, Cuba for "guava and cheese

pastelitos", Nicaragua for the chicha drink.

All the products are created by hand by Mari (she

will have to outsource soon) and are vegan, cruelty

free, and safe for sensitive skin.

La línea de lápices labiales Passport Pout se lanzó

en enero. Los colores están inspirados en colores

de alimentos principales de diferentes países: El

vino tinto de Argentina, los pastelitos de guayaba

y queso de Cuba y la chicha de Nicaragua son

algunos ejemplos.

Todos los productos son creados a mano por Mari

(quien tendrá que subcontratar pronto) y son

veganos, libres de crueldad y seguros para las pieles

sensibles.

The Passport Polish

Powders are inspired

by more exotic

destinations.

You can dip your

nails in the bright

colors of Bali,

Morocco, Brazil,

Kenya and St. Croix,

among many others,

and your travel ready

manicure will last

around two weeks.

Los esmaltes Passport Polish

en polvo están inspirados en

destinos más exóticos.

Ahora puedes sumergir tus

uñas en los colores brillantes

de Bali, Marruecos, Brasil,

Kenia y St. Croix, entre muchos

otros, y su manicura lista para

el viaje durará alrededor de dos

semanas.

---
Mari Alejos-Puente, CEO, Passport Polish

En solo un año, la marca de cosméticos

de Mari Alejos-Puente, Passport Polish,

ha ganado reconocimiento en todo el

mundo. Su amor por los viajes inspiró

el Pasaporte polaco, una solución para

imágenes de viajes artísticas y perfectas

para instagram que ahora pueden incluir

los colores de esmalte de uñas vívidos y

perfectos que representan los elementos

de los distintos países en su itinerario de

viaje.

Mari Alejos-Puente, nacida y criada en

Mid-City en Nueva Orleans, de padre

cubano y madre nicaragüense, es la

primera empresaria de su familia, lo que

hace que todos sus familiares se sientan

extremadamente orgullosos.

Ella está bien preparada con una

licenciatura en mercadeo de la

Universidad de Tulane y una maestría en

Psicología de la Universidad de Xavier.

Su graduación de dichas instituciones

es especial, porque su madre y su

abuela tenían un empleo en estas

escuelas, respectivamente, cuando

recién inmigraron y contaban con pocos

conocimientos de inglés.

Antes de convertirse en la CEO de

Passport Polish, Alejos-Puente trabajó

en el campo médico, como muchos de

sus familiares, hasta que una noche,

inspirada por una amiga emprendedora,

decidió dar la oportunidad de crear y

dedicar su talento, tiempo y esfuerzo a

su propio negocio.

Aprendió a mezclar productos y colores

para fabricar sus productos, está de

vuelta en la escuela de negocios para

profundizar sus conocimientos, y está a

la vanguardia de su juego de mercadeo

social, su venta al por menor en línea

y de cumplir con los pedidos, creando

colores personalizados y brindándole

productos a clientes de todo el mundo.

Su negocio despegó en Instagram y

hasta ahora todo ha sido hecho a mano

y por medio de internet, aunque se está

trabajando en la posibilidad de venta en

tiendas proximamente.

Passport Polish ofrece productos

de calidad que puede comprar en

passportpolish.com

Recuerda que cuando compras estos

productos veganos, sin crueldad, estás

apoyando el negocio de una latina local,

inspiradora y audaz.

Encuentra tus colores favoritos y etiqueta

tus fotos en Istagram con

@thepassportpolish.
---
COLORES Y NOTAS

MARGIE PéREZ

By Jorge Fuentes

Margie Perez gets to do what she

loves in many ways. As a singer

and songwriter, she performs

around town in different sengs

and sings in several genres.

She likes to perform her own songs

accompanied by a guitarist or a

small group, she enjoys singing

back-up vocals when her musician

friends invite her, and she loves

to make people dance when she's

leading her Lan band, Muévelo.

"I don't come from a musical

family, but my mom had music

around me all the me," she says.

Born in Washington D.C. to

Cuban parents, Pérez came upon

her calling one night when an

acquaintance heard her sing and

told her about a band that needed

a vocalist.

Shortly aer that, she ended

up traveling to New Orleans for

Jazz Fest and began vising the

city regularly. She was invited

by Marva Wright, a famous local

blues singer, to be one of her backup

singers, so she moved here

permanently.

Peréz survived Hurricane Katrina.

She has recorded two albums,

and now performs a few mes a

week all around the city, enjoying

the camaraderie of her fellow

musicians. "I love it when a

musician takes one of my songs

and adds something disnct to

it," she says, smiling. "I love the

wring process, I love to write with

other people, I love to sing, and I

love to sing with other people."

Muévelo started about three

years ago, when presented with

the opportunity to play a tribute

to Celia Cruz. "That first gig was

unforgeable," she says, "I had no

idea that there was this other side

of me that came out when I sing in

Spanish." The 10-piece band has

musicians who come from all over

Lan America and they perform

every month at a local venue in

the CBD. She explains that the

music business can be difficult, but

it is also rewarding.

"As a musician, you have to wear

a musical hat, but also a business

hat," she said, adding "music is

so healing for me. I love it when

people dance, I love to see a dance

floor full of happy people."

TRANSLATION >>

Margie Pérez

consigue hacer lo

que ama de muchas

maneras, incluyendo

como cantante

y compositora.

Se presenta en

diferentes lugares de

la ciudad y canta en

varios géneros.

Le gusta tocar sus propias

canciones, acompañadas por un

guitarrista o un grupo pequeño.

Le gusta cantar en coros cuando

sus amigos músicos la invitan, y

le encanta hacer bailar a la gente

cuando dirige a su banda latina,

Muévelo. "No vengo de una

familia de músicos, pero mi mamá

tenía música a mi alrededor todo

el tiempo", dice.

Nacida en Washington DC,

de padres cubanos, Pérez se

encontró con su vocación una

noche cuando un conocido la

escuchó cantar y le contó acerca

de una banda que necesitaba una

vocalista. Poco después, terminó

viajando a Nueva Orleans para

el Jazz Fest, y comenzó a visitar

la ciudad con regularidad. Fue

invitada por Marva Wright, una

famosa cantante de blues local,

para ser una de sus cantantes de

respaldo, o corista, y así se mudó a

la ciudad de forma permanente.

Pérez sobrevivió al huracán

Katrina. Ha grabado dos álbumes,

y ahora toca varias veces a

la semana en toda la ciudad,

disfrutando de la camaradería de

sus compañeros músicos. "Me

encanta cuando un músico toma

una de mis canciones y le agrega

algo distinto", dice sonriendo. "Me

encanta el proceso de escritura;

me encanta escribir con otras

personas, me encanta cantar,

y me encanta cantar con otras

personas".

Muévelo comenzó hace unos

tres años, cuando se le presentó

la oportunidad de interpretar un

homenaje a Celia Cruz. El primer

concierto fue inolvidable, según

ella. "No tenía idea de este otro

lado de mí que surge cuando

canto en español". La banda de

10 encierra el talento de toda

América Latina y se presenta

todos los meses en algún lugar

local en el CDB.

Ella explica que el negocio de la

música puede ser difícil, pero

también gratificante.

"Como músico, tienes que usar un

sombrero musical, pero también

un sombrero de negocios", dice, y

agrega: "la música es muy curativa

para mí. Me encanta cuando la

gente baila, me encanta ver una

pista de baile llena de gente feliz",

comenta.

vivanolamag.com - Page 13
---
DEPORTE REPORTE

From Darkness to Light:

A Summer Update on

The New Orleans Pelicans 2019

By Mario Jeréz

When Anthony Davis demanded a

trade from the New Orleans Pelicans,

basketball fans in New Orleans had

their worst fear realized.

The future looked bleak, and without

Davis, the team would surely slip into

the NBA's cellar. Right? -Wrong.

New Orleans has rebounded with a

wildly successful offseason. Under the

leadership of owner, Gayle Benson, the

team survived its darkest days, and the

light at the end of the tunnel is already

manifesting.

The Pelicans (finally) fired former

general manager, Dell Demps and hired

David Griffin. Griffin is the team's new

executive vice president of basketball

operations and was the most sought

In one of the most lopsided trades ever for a

single NBA player, the Pelicans traded Anthony

Davis to the Los Angeles Lakers.

after executive in the

NBA this offseason.

The architect of the

2016 NBA champion

Cleveland Cavaliers

surprised many

when he left the

broadcasting world

and became the

Pelicans' new leader

in the front office.

Griffin turned

down offers from

the Philadelphia

76ers and the New

York Knicks in favor

of New Orleans.

Benson promised total dominion of

the franchise, and he's already made

significant changes.

Since Griffin's hiring, Benson has

agreed to invest over $4.5 million into

improvements to the team's practice

facility, including a renovated training

room, and a new and improved medical

staff. Griffin made an insistent list of

demands before agreeing to the job,

and they have all been met so far.

In one the most lopsided trades ever for

a single NBA player, the Pelicans traded

Anthony Davis to acquire Lonzo Ball,

Brandon Ingram, Josh Hart and at least

three first round picks from the Los

Angeles Lakers. Also, the Pelicans will

soon get another superstar to make up

for Anthony Davis' departure.

David Griffin during NBA Draft. Photo: New Orleans Pelicans.

NBA draft. By the time this article

is published, New Orleans will have

almost certainly selected Duke's

Zion Williamson to be the franchise's

potential savior.

Williamson is the most hyped prospect

since LeBron James in 2003, and Duke

won 30 out of the 33 games he played

in during his lone collegiate season.

He possesses a rare blend of skills and

athleticism that can see the 18-year-old

quickly become one of the best players

in the league.

Griffin still has to construct the rest of

the team, and there's plenty of work

left to do. However, things are already

looking up for the Pelicans.

Despite having just a 6.0% chance to

win the 2019 draft lottery, the Pelicans

lucked out and were awarded the

number one pick in the upcoming

vivanolamag.com - Page 15
---
TRANSLATION>>

De la oscuridad

a la luz: Una

actualización de

verano sobre los

New Orleans

Pelicans

Por Mario Jeréz

Cuando Anthony Davis pidió su salida en

intercambio de los New Orleans Pelicans,

los fanáticos del baloncesto en la ciudad

se dieron cuenta de su peor temor.

El futuro parecía sombrío; y sin Davis,

el equipo seguramente terminaría en el

sótano de la NBA. ¿Cierto?

Incorrecto.

Nueva Orleans se ha recuperado con una

temporada baja tremendamente exitosa.

Bajo el liderazgo del propietario, Gayle

Benson, el equipo sobrevivió a sus días

más oscuros, y la luz al final del túnel ya

se está manifestando.

LosPelicans (finalmente) despidieron

al exgerente general, Dell Demps, y

contrataron a David Griffin. Griffin es

el nuevo vicepresidente ejecutivo de

operaciones de baloncesto del equipo, y

fue el ejecutivo más buscado en la NBA en

esta temporada baja.

El responsable de la construcción del

campeón de la NBA 2016, Cleveland

Cavaliers, sorprendió a muchos cuando

abandonó el mundo de las transmisiones

y se convirtió en el nuevo líder de los

Pelicans en la oficina principal. Griffin

rechazó las ofertas de los Philadelphia

76ers y los New York Knicks en favor de

New Orleans.

Benson prometió el dominio total de

la franquicia, y ya se notan cambios

Viva NOLA Magazine - Page 16

significativos. Desde la contratación

de Griffin, Benson acordó invertir más

de $4.5 millones en mejoras en las

instalaciones de práctica del equipo,

incluida una sala de capacitación

renovada y un personal médico nuevo y

mejorado. Griffin hizo una lista minuciosa

de demandas antes de aceptar el trabajo,

y todas se han cumplido hasta ahora.

En uno de los intercambios más

desequilibrados por un solo jugador

en la historia de la NBA, los Pelicans

intercambiaron a Davis para adquirir a

Lonzo Ball, Brandon Ingram, Josh Hart

y por lo menos tres jugadores más de

selección de primera ronda de los Lakers

de Los Ángeles. Además, los Pelicans

pronto obtendrán otra superestrella para

compensar la partida de Anthony Davis.

A pesar de tener

solo un 6,0% de

probabilidad de

ganar la lotería del

draft 2019, los New

Orleans Pelicans

tuvieron suerte,

y se les otorgó la

primera elección en

el próximo draft de

la NBA.

Cuando se publique

este artículo, es casi

seguro que Nueva

Orleans haya elegido a Zion Williamson,

proveniente de Duke, como el potencial

salvador de la franquicia.

Williamson es el prospecto con más altas

expectativas desde LeBron James en

2003, y Duke ganó 30 de los 33 juegos

que jugó durante su única temporada

universitaria. Posee una rara combinación

de habilidades atléticas que puede hacer

que el joven de 18 años se convierta

rápidamente en uno de los mejores

jugadores de la liga.

Griffin aún tiene que construir el resto

del equipo, y queda mucho trabajo por

hacer. Sin embargo, las cosas ya están

mejorando para los New Orleans Pelicans.
---
FOCUS ON FINANCES

Hi everyone! It's officially summer time here in New Orleans! This

month I want to touch on the topic of debt and offer a few summer

reading options to help you along the way in your journey to

financial freedom:

1. What is debt? Debt is the state of owing something, usually

money, to someone else. It's most often paid back to that person

or entity with interest. What this means is whatever amount you

borrow and the longer you take to pay it back, the more interest

you will pay in addition to the original borrowed amount.

2. How is debt used? Our financial system is based on the concept

of borrowing and lending. Another word for debt that you may

recognize is "financing" and what that allows both businesses and

individuals to do is borrow money on good faith, with the promise

of repayment plus interest. Typically, the amount and the interest

rate you're approved for is based on your credit score. The higher

your score, the lower your interest rate and vice versa.

3. What are the most common types of debt? The most common

types of debt are home mortgages, car loans, credit cards, student

loans, personal loans, and medical bills. Although some may argue

that there's a distinction in "good debt vs. bad debt," ultimately,

they're still liabilities that hinder you from building wealth.

4. How do I get out of debt? Debt is easy to get into and hard to

get out of, by design. Once you're focused on your goal to be debt

free, list all of your current debts in order from smallest to largest

and start paying them off one by one. This allows you to build

momentum and stay encouraged with small victories along the way.

5. Once I'm out of debt, how do I stay out? Understanding money

and how it works is a learned behavior and the best way to learn is

by studying.

Three books I'd recommend for summer reading are:

1) "The Total Money Makeover" by Dave Ramsey

2) "The Millionaire Next Door" by Thomas Stanley

3) "Think and Grow Rich" by Napoleon Hill

Would you like to put together a personalized plan? Schedule

your initial consultation with me by sending me an email at

JasonReeves@financialguide.com

TRANSLATION>>

CONCENTRARSE EN LAS FINANZAS

¡Hola a todos! ¡Es oficialmente el verano aquí en Nueva Orleans! Este

mes quiero abordar el tema de la deuda y ofrecer algunas opciones

de lectura de verano para ayudarlo en su camino hacia la libertad

financiera:

1. ¿Qué es la deuda? La deuda es el estado de deber algo,

generalmente dinero, a otra persona. La mayoría de las veces se

devuelve a esa persona o entidad con intereses. Lo que esto significa

es que en cuanto más tome prestada y más tarde en pagar, más

intereses pagará además de la cantidad prestada original.

2. ¿Cómo se utiliza la deuda? Nuestro sistema financiero se

basa en el concepto de préstamos. Otra palabra para deuda es

"financiamiento" y lo que esto permite es que tanto las empresas

como los individuos pidan prestado dinero de buena fe, con la

promesa de un reembolso más intereses. Por lo general, la cantidad

y la tasa de interés para la que está aprobado se basan en su puntaje

de crédito. Cuanto más alto sea su puntaje, más baja será su tasa de

interés y viceversa.

3. ¿Cuáles son los tipos de deuda más comunes? Los tipos de deuda

más comunes son las hipotecas de vivienda, los préstamos para

automóviles, las tarjetas de crédito, los préstamos estudiantiles,

los préstamos personales y las facturas médicas. Aunque algunos

pueden argumentar que, en última instancia, hay una distinción

entre "deuda buena frente a deuda mala", todavía son obligaciones

que le impiden crear riqueza.

4. ¿Cómo salgo de la deuda? La deuda es fácil de conseguir y es difícil

salir de ella, por diseño. Una vez que se haya centrado en su objetivo

de estar libre de deudas, haga una lista de todas sus deudas actuales

en orden de menor a mayor y comience a pagarlas una por una.

Esto le permite ganar impulso y mantenerle animado con pequeñas

victorias en el camino.

5. Una vez que estoy libre de deudas, ¿cómo me mantengo sin

deuda? Entender el dinero y cómo funciona es un comportamiento

aprendido y la mejor manera de aprender es estudiando. Tres libros

que recomendaría para la lectura de verano son:

1) "El cambio total de dinero" por Dave Ramsey

2) "The Millionaire Next Door" de Thomas Stanley

3) "Piense y hágase rico" por Napoleon Hill

¿Le gustaría armar un plan personalizado? Programe su consulta

inicial escribiéndome a

JasonReeves@seguewealthmanagement.com.

Jason Reeves is a registered representative of and offers securities and investment advisory services through MML Investors Services, LLC., Member SIPC. 3838 North Causeway Boulevard, Suite

3400, Metairie, LA 70002. (504) 613-2000. Segue Wealth Management is not a subsidiary or affiliate of MML Investors Services, LLC, or its affiliated companies.
---
cover story

Transplanting Hope

Story by Memo Pérez Lara and

AnaMaría Bech

Did you know the leading liver

transplant unit in the U.S. is located

along the Mississippi River in the state of

Louisiana?

More than 150 health professionals are

dedicated every day to protecting the

integrity and lives of patients who are

hoping for a rebirth through an organ

transplant, or who have already been

fortunate enough to have received one

at Ochsner.

The Multi-Organ Transplant Institute

at Ochsner is the busiest and most

experienced center in the Gulf of Mexico

region. Since its establishment in 1984,

this unit has performed more than 7,000

liver, kidney, pancreas, heart and lung

transplants, which have saved the lives

of children and adults from 37 states

and 10 different countries. Currently,

Louisiana is receiving great recognition

at the national level thanks to the

positioning of the Institute.

The hospital does not decide the order

Viva NOLA Magazine - Page 18

Since its establishment in

1984, the Ochsner Multi-

Organ Transplant Insitute has

performed more than 7,000 liver,

kidney, pancreas, heart and lung

transplants, which have saved

the lives of children and adults

from 37 states and 10 different

countries.

of the transplants, and there are organ

procurement organizations that set the

parameters which are different for each

organ. There are many variables in these

guidelines, such as blood group, size,

medical emergency, geographic location,

and waiting times, primarily. The

intention is to use the largest number of

organs from a single donor, or what is

known as a multi-organ donor.

Within the exceptional team at the

Institute, we highlight the participation

of three Latin American professionals

who have brought their experience and

passion to the project. Venezuelan

doctor Ana Milena Hands and

Colombian doctors Jorge Garcés and

Humberto Bohórquez stand out in the

team, where the camaraderie and trust

between colleagues is key to exceptional

performance.

Ana Milena Hands

Dr. Hands earned her Bachelor

of Science degree in Biology and

Psychology from the University of

Monterrey in Mexico and received

her medical degree with honors from

the University of Zulia in Venezuela.

She then completed her training in

Adult and Adolescent Psychiatry at the

Medical College of Georgia in Augusta,

Georgia. In 2009, Dr. Hands received

the New Orleans City Business Health

Care Hero award for her work on

integrating Hispanic immigrants with

optimal patient care in post-Katrina New

Orleans. She serves as Administrative
---
Director of the Multi-Organ Transplant

Institute and also as vice-president

of the International Department at

Ochsner.

After practicing psychiatry for more than

20 years, Hands found a new mission

in Ochsner that has fulfilled her life.

Despite initially not knowing the process

of transplants, Hands has developed a

great passion for the subject, and has

worked together with her colleague and

Medical Director Dr. George Loss, to

turn the institute of organ transplants

into one of the leading transplant

centers in the U.S. "For me, working

in transplants has been a pleasant

surprise; it is a fascinating world from

many points of view."

Something that fills her with pride is to

have a very close team of professionals

that feels like a great family. "From

the professional point of view, in the

capacity of each individual, they are

exceptional," says Hands, noting that

these doctors are also quality human

beings, judging from the way they

connect with the families and patients.

"Participating in various seminars and

international conferences, I realize

that we count with a superior level and

knowledge in our exceptional team."

Dr. Ana Hands is the Administrative Director of

the Ochsner Multi-Organ Transplant Institute.

Jorge Garcés

Doctor Garcés is one of the four

nephrologists in the kidney transplant

team. He studied medicine at the

Universidad del Valle in Cali, Colombia.

He completed his internship and

residency at Hahnemann University

and Fitzgerald Mercy Hospital and

completed his transplant fellowship

at the Albert Einstein Medical Center,

Thomas Jefferson University Hospital,

and then at the University of California

at Los Angeles. With the support of

his brother, he obtained an American

residency, which made his process

easier to achieve his goal of practicing in

the United States.

He arrived in New Orleans in 2002 to

join the transplant team at Ochsner. His

role is mainly a clinical role, where he

takes care of patients from the moment

they arrive to go through the eligibility

evaluation for a transplant, through

their illness, and during the recovery

after receiving a kidney transplant. Ten

years ago, he established an education

component in the institute and directed

the fellowship program for transplant

nephrologists.

Garcés got interested in transplant work

during his fellowship. "I had very good

mentors at Einstein Medical Center. One

of my mentors was instrumental in the

creation of transplants in Philadelphia in

the 60s and was someone who instilled

a passion in the subject in me," he says.

Garcés carries 80% of the process

from the transplant referrals. The only

thing he does not do is the surgery

itself. He speaks with great pride in

his work. "It is a job of great personal

satisfaction because patients arrive

in very bad shape with physical and

emotional problems, and when they

receive a transplant it is as if they go

through a purifying filter and they get

better physically and emotionally in an

incredible way," he says.

In the institution there are four

transplant nephrologists in total,

who integrate a highly educated

Dr. Jorge Garcés is part of the transplant

nephrology team at Ochsner.

and professional team, as well as

multicultural, with members from the

Dominican Republic, Chicago, and Iran.

They are fortunate to be able to practice

their profession and utilize great

resources to do the best job possible.

Despite ethical debates, Dr. Garcés

believes that everyone should consider

being an organ donor.

Humberto Bohórquez

Dr. Bohórquez studied medicine at

the Universidad Pontificia Javeriana in

Bogotá, Colombia, completed his studies

in abdominal transplant surgery at the

Mayo Clinic in Rochester, and completed

his fellowship at the Queen Elizabeth

Hospital in Hong Kong. He worked in

liver and kidney transplants in Colombia

before becoming part of the Ochsner

Health System team in 2007.

Dr. Bohórquez never intended to

practice in the US. After leading the

transplants in Colombia with the

Hospital Fundación Cardioinfantil, an

achievement he feels very proud of,

the opportunity to practice at Ochsner

was presented to him. After going

through a difficult period of adaptation,

he has found a family in his Ochsner

vivanolamag.com - Page 19
---
colleagues.

As an abdominal transplant surgeon, Dr. Bohórquez is involved

in all phases of the transplants. Even, sometimes he has to

travel and be present in the extraction of the organ to implant.

He also serves as the director of pancreatic surgery. In this role,

he conducts research and mentors fellows, something else he

is very passionate about.

Thanks to the combined experience of the professionals of the

transplant institute team and the synchronization established

in the team, Louisiana accepts a larger number of organs to

be transplanted and has a shorter waiting time than other

transplant units.

Bohórquez explains that the coordination around the

transplant is impeccable. Once the availability of an organ

is notified, different equipment is put into operation. The

receiver's surgery team is enrolled, and simultaneously, either

locally, or remotely, the surgeons on duty come to review

the organ and perform the extraction with the donor. This

synchronization allows to shorten the time and protect the

integrity of the organ that is being transplanted. "Most of the

transplants we do are around five hours. Those three hours

make the difference and that is why we can use organs that

other people do not use, because the faster they are placed,

the better the chance that these organs work," Bohórquez

states.

As Bohórquez points out, Ochsner is currently performing over

two hundred liver transplants per year, which makes Ochsner

the liver transplant leader in the nation.

Awareness

One of the great downfalls in organ donation is the lack of

awareness and education on what it takes to be an organ

donor. Unfortunately, there is a lot of misinformation,

and some people imagine that if they declare themselves

as donors, they would be left to die in case of a medical

emergency. In addition, when people declare themselves

donors, oftentimes their relatives, who have the last word,

do not know about the wishes of the person to donate their

organs, and decide not to continue with the donation.

Dr. Humberto Bohórquez is an abdominal transplant surgeon at Ochsner.

These three health professionals have in common the passion

with which they perform their work. Their goal of providing a

quality of life to their patients is what inspires them to continue

learning, and in the case of Dr. Bohórquez and Garcés, to share

their knowledge with fellows who will follow in their footsteps.

The work performed by each one of them within the transplant

process is essential, but they put aside their merits to shine the

light on the brave ones who decide to become organ donors.

The biggest sacrifice comes from anonymous living donors who

dare to undergo surgery and donate a kidney or a part of their

liver to give a second chance to someone else and provide a

second chance to life. It is also admirable that families, during a

very difficult situation such as the loss of a loved one, grant the

wishes of an organ donor to save the lives of others. "They, the

donors, are the real heroes," emphasizes Dr. Hands.

---
portada

Trasplantando

esperanzas

Por Memo Pérez Lara y AnaMaría Bech

¿Sabía que la unidad líder de trasplante

de hígado de los Estados Unidos está

localizada junto al río Mississippi en el

estado de Luisiana?

En Ochsner, más de 150 profesionales de

la salud se dedican cada día a proteger

la integridad y la vida de los pacientes

que están con la esperanza de un

renacimiento a través de un trasplante de

órgano, o que ya han tenido la fortuna de

haberlo recibido.

El instituto de trasplante multiorgánico

de Ochsner es el centro más concurrido

y con mayor experiencia en la región

sureña del Golfo de México. Desde su

establecimiento en 1984, en esta unidad

se han realizado más de 7.000 trasplantes

de hígado, riñones, páncreas, corazón

y pulmón, que han salvado las vidas

de niños y adultos, provenientes de 37

estados y 10 países diferentes.

Actualmente, Luisiana está recibiendo

un gran reconocimiento a nivel nacional

gracias al posicionamiento del Instituto

de Trasplante Multiorgánico de Ochsner.

El hospital no decide el orden de

los trasplantes, sino que hay reglas

establecidas, y diferentes para cada

órgano. Hay muchas variables en estas

reglas, como el grupo sanguíneo, el

tamaño, la urgencia médica, la localización

geográfica, y el tiempo de espera,

fundamentalmente. Lo que se pretende

es usar el mayor número de órganos de

un solo donante; lo que se conoce como

un donante multiorgánico.

Dentro del excepcional equipo del

instituto, destacamos la participación de

tres profesionales latinoamericanos que

han traído su experiencia y su pasión al

proyecto.

La doctora venezolana Ana Milena Hands

y los doctores colombianos Jorge Garcés

y Humberto Bohórquez se destacan

dentro del equipo, donde sobresale el

compañerismo y la

confianza entre colegas.

ANA MILENA HANDS

La doctora Hands

estudió Biologia

y Psicología en la

universidad de

Monterrey en México y

se graduó como doctora

con honores en la

Universidad de Zulia en

Venezuela. Completo

su entrenamiento

en Psiquiatría adulta

y adolescente en el

Colegio Médico de

Georgia en Augusta. En

2009, recibió el premio

Health Care Hero (Héroe de Cuidado en

Salud) de la publicación City Business de

Nueva Orleans por su labor de integrar

inmigrantes hispanos con cuidados

óptimos como pacientes en la Nueva

Orleans post-Katrina.

Ana Milena Hands se encarga de la

Dirección Administrativa del Instituto de

Trasplantes Multiorgánicos de Ochsner,

y también funge como vicepresidente del

Departamento Internacional de Ochsner.

Luego de ejercer la Psiquiatría por más

de 20 años, Hands encontró en Ochsner

una nueva misión que ha llenado su

vida. A pesar de inicialmente no conocer

el proceso de trasplantes, Hands ha

desarrollado una gran pasión por el tema,

y se ha esforzado junto al director médico

el Dr. Loss, por convertir el instituto

de trasplantes de órganos en uno de

los centros de trasplante líderes en los

Estados Unidos. "Para mí [trabajar en

trasplantes] ha sido una grata sorpresa;

es un mundo fascinante desde muchos

puntos de vista".

Algo que la llena de orgullo es contar con

un equipo de profesionales muy unido

Los doctores Humberto Bohórquez, Ana Milena Hands y Jorge Garcés,

integrantes del equipo del Instituto de Trasplante Multiorgánico de

Ochsner

que se siente como una gran familia.

"Desde el punto de vista profesional,

en la capacidad de cada uno, son

excepcionales" comenta Hands, señalando

que puede verse en la relación médicopaciente,

que los doctores también son

seres de gran calidad humana, y agrega

que "al participar en diversos seminarios

y conferencias internacionales, me doy

cuenta del nivel y la compenetración de

nuestro excelente equipo".

JORGE GARCÉS

El Doctor Garcés es nefrólogo de

trasplantes. Estudió medicina en la

Universidad del Valle en Cali, Colombia.

Realizó sus prácticas, residencia en la

Universidad Hahnemann y el Hospital

Fitzgerald Mercy, y su especialidad en

trasplante la obtuvo en el Albert Einstein

Centro Médico, el Hospital Universitario

Thomas Jefferson y luego en la

Universidad de California en Los Ángeles.

Llegó a New Orleans en el 2002. Realiza

una función clínica en la que lleva el

cuidado de los pacientes desde que

llegan a la evaluación de elegibilidad para

trasplante, durante la enfermedad, y

durante la recuperación luego de recibir

vivanolamag.com - Page 21
---
el trasplante de riñón. Hace diez años creó el programa de

entrenamiento especializado para los nefrólogos de trasplante,

en la parte educativa en el Instituto.

Con el apoyo de su hermano obtuvo la residencia americana,

lo cual hizo más fácil lograr concretar su meta de ejercer en

los EEUU. Garcés comenta cómo se inició en el mundo de los

trasplantes. "Yo tenía mentores muy buenos en él Einstein.

Uno de mis mentores fue fundamental en la creación de

trasplantes en Filadelfia en los años 60s y era alguien que nos

instauró la pasión en el tema", indica.

Garcés lleva el 80% del proceso desde que se refiere el

trasplante, pero no hace la operación en sí. Él habla con mucho

orgullo de su trabajo: "Es una labor de mucha satisfacción

personal porque los pacientes llegan muy mal con problemas

físicos, emocionales, y cuando se les hace un trasplante es

como si los pusieran en un filtro de purificación y se mejoran

de manera increíble", refiere.

En la institución hay cuatro nefrólogos de trasplante, que

integran un equipo muy instruido y profesional, además

de multicultural, con miembros originarios de República

Dominicana, Chicago con descendencia india, e Irán.

Garcés se considera afortunado al poder practicar su profesión

y contar con los recursos necesarios para hacer el mejor

trabajo posible. A pesar de los debates éticos que existen, el

doctor Garcés considera que todas las personas deberían ser

donantes de órganos.

HUMBERTO BOHORQUEZ

El doctor Bohórquez estudió medicina en la Universidad

Pontificia Javeriana de Bogotá en Colombia, finalizó sus

estudios en cirugía de trasplante abdominal en la Clínica

Mayo en Rochester para luego practicar su especialización

en el Hospital Queen Elizabeth en Hong Kong. Trabajó en

trasplantes de hígado y riñones en Colombia antes de llegar a

formar parte del equipo del sistema de salud de Ochsner en el

2007.

El doctor Bohórquez nunca pensó ejercer en los EEUU.

Tras dirigir el proyecto de trasplantes en Colombia con el

Hospital Fundación Cardioinfantil, logro del que se siente muy

orgulloso, se presentó la oportunidad de ejercer en Ochsner.

Tras pasar el periodo difícil de adaptación, ahora lo que más le

gusta es que ha encontrado una familia en sus compañeros de

equipo de Ochsner.

Actualmente como director del programa de páncreas, el

doctor Bohórquez hace investigación, y como cirujano, está

involucrado en todas las fases de trasplantes abdominales.

Incluso, a veces tiene que viajar y estar presente en la

extracción del órgano para implantar.

Gracias a la experiencia combinada de los profesionales

del equipo del instituto de trasplantes y a la sincronización

establecida en el equipo, Louisiana acepta una mayor cantidad

de órganos para ser trasplantados y tiene un menor tiempo de

espera que otras unidades de trasplantes.

Bohórquez explica que la coordinación alrededor del

trasplante es impecable. Una vez se notifica la disponibilidad

de un órgano, se ponen en marcha diferentes equipos. Se

alista el equipo de cirugía del receptor, y simultáneamente,

ya sea localmente, o remotamente los cirujanos de turno se

presentan para revisar el órgano y realizar la extracción con

el donante. Esta sincronización permite acortar el tiempo y

proteger la integridad del órgano que está siendo trasplantado.

"La mayoría de los trasplantes que hacemos están alrededor

de las 5 horas. Esas 3 horas marcan la diferencia y por eso

podemos usar órganos que otra gente no utiliza, porque entre

más rápido se coloquen, mejora el chance que estos órganos

funcionen," puntualiza Bohórquez.

CONCIENTIZACIÓN

Una de las grandes carencias en la donación de órganos es

la falta concientización y educación en lo que toma ser un

donante de órganos.

Desgraciadamente, hay mucha información y algunas personas

imaginan que si se declaran donantes los van a dejar morir.

Además, cuando las personas se declaran donantes, muchas

veces sus familiares, que tienen la última palabra, no

conocieron los deseos de la persona y deciden no seguir con la

donación.

Los doctores Hands, Bohórquez y Garcés aconsejan que

las personas que deciden ser donantes deben expresar

claramente su intención a sus familias, para que, en caso tal de

que la situación se presente, los familiares puedan conceder

el deseo del donante de brindar una opción de vida a las

personas que están a la espera de un trasplante.

Afortunadamente, Louisiana tiene un porcentaje alto de

donantes, pero la batalla más grande es llevar educación a

todo nivel, para destruir los mitos, y sobre todo, educar a las

comunidades minoritarias que típicamente tienen porcentajes

bajos de donación.

Estos tres profesionales de la salud tienen en común la

pasión con la que realizan su trabajo. Su objetivo de devolver

una vida digna a sus pacientes es lo que los inspira a seguir

aprendiendo, y en el caso de los doctores Bohórquez y Garcés,

a compartir sus conocimientos con los practicantes que

seguirán sus pasos.

La labor que cada uno de ellos desempeña en el proceso de

trasplantes es esencial, pero ellos dejan a un lado sus méritos

para dar protagonismo a los valientes que deciden donar sus

órganos.

El mayor sacrificio viene de donantes anónimos que se atreven

a someterse en vida a regalar una segunda oportunidad a

alguien, donando un riñon, o parte de su hígado, y también de

las familias, que durante una situación muy difícil como es la

pérdida de un ser querido, permiten que sus órganos salven

otras vidas.

"Ellos, los donantes, son los verdaderos héroes," recalca la

doctora Hands.

Viva NOLA Magazine - Page 22
---
e Community

Our Priority

At Metairie Bank, "Enriching the Communies We Serve" is

more than just part of our mission statement, it's our pledge to

connue making a difference in our community.

Giving back is an essenal component of what makes Metairie

Bank a community bank. We're dedicated to providing support to

the communies communies where we live and work. We invest in the future

of our communies by promong financial literacy, health, and

the arts.

We offer assistance to non-profit organizaons and support

programs that strive to beer our communies and the lives of

our neighbors who live in them.

Helping to Make Home Buying Eier

We are dedicated to supporng the promoon of financial

literacy. We know buying a home can feel daunng. We're

here to relieve stress by providing educaonal informaon

into the home buying process. Community Development

Officer Marina Manzanares lead an informaonal home

buying workshop to help people in our community feel

confident turning their dreams of buying a home into a

reality.

Giving Educational Opportuniti to Local

Students

Our own Sco Schellhaas, VP of Mortgage and

Commercial Loans is also a Board Member of Jefferson's

Dollars for Scholars. Sco and Community Development

Officer Marina Manzanares presented a scholarship to

Haynes Academy graduate Taylor Tarleton, who will be

going to LSU.

As a community bank, we invest in the future of the

communies we serve. We are proud to help provide

educaonal opportunies for the youth of Jefferson

Parish.

Meta irie Bank Happy to Support the

Murphy Education & Sports Foundation

They will host their 10th Annual Back-to-School

Giveaway in July. It's an incredible cause that provides

students with the tools they need to succeed, including

backpacks and school supplies.

vivanolamag.com - Page 23
---
La prioridad la comunidad

En Metairie Bank, "Enriquecemos las

comunidades que servimos" es más que

nuestra misión: es nuestro compromiso de

seguir haciendo la diferencia en nuestra

comunidad.

Nuestras contribuciones forman parte de

los componentes esenciales que destacan

a Metairie Bank como un banco realmente

comunitario. Invermos en el futuro de las

comunidades donde vivimos y trabajamos

promoviendo la educación financiera, la salud

personal y brindando apoyo a las artes.

Apoyamos organizaciones sin fines de lucro y

respaldamos programas dedicados a fortalecer

la comunidad para mejorar la calidad de vida

de nuestros vecinos.

Facilitamos la compra de vivienda y

nos dedicados a la promoción de la

educación financiera.

Sabemos que comprar una casa puede ser

abrumador y por eso estamos aquí para aliviar

el estrés proporcionando información sobre

el proceso de la compra de vivienda. Nuestra

Oficial de Desarrollo Comunitario, Marina

Manzanares, dirige talleres informavos

sobre la compra de viviendas para que las

personas de nuestra comunidad obtengan las

herramientas necesarias para poder converr

su sueño de comprar su propia casa en

realidad.

Ofrecemos oportunidad educativ a

tudiant local.

Sco Schellhaas, nuestro vicepresidente de

préstamos hipotecarios y comerciales, forma

parte de la junta direcva de Jefferson's

Dollars for Scholars. Sco y la Oficial de

Desarrollo Comunitario Marina Manzanares

presentaron una beca al estudiante de la

Academia Haynes, Taylor Tarleton quien

asisrá a la Universidad Estatal de Luisiana

(LSU).

Como banco comunitario, invermos en el

futuro de las comunidades que servimos y nos

senmos orgullosos de proveer oportunidades

educavas a los jóvenes de la parroquia de

Jefferson.

Metairie Bank se complace en apoyar a

Murphy Education & Sports Foundation

La fundación realizará su décimo sorteo anual

de regreso a la escuela en Julio. Esta exitosa

causa provee herramientas necesarias para

el triunfo de los estudiantes, incluyendo

mochilas y úles escolares.
---
wellness

Jump

Start

Weight

Loss

with

Intermittent Fasting

By Lia Threat @wellnesswithlia

Somewhere along your weight

loss journey, you may hit a plateau

where your body becomes too

comfortable with diet and workout

routines and is no longer being

challenged physically. You cannot

seem to lose that extra five...ten...fill

in the blank number of pounds. That

is when various forms of fasting can

be beneficial.

One of the most popular trends in

the paleo and functional medicine

world is intermittent fasting.

Intermittent fasting is fasting from

food from very early in the evening

until early afternoon or late morning

the next day. It usually works out

to be a fast beginning after an early

dinner and continuing until lunch

the following day, approximately

16 hours. It's great because most

of your fasting hours are spent

sleeping!

About three years ago, I began to

incorporate intermittent fasting into

my daily routine. It wasn't long until

I began to see noticeable changes

in the way my clothes were fitting.

Within a year, I had dropped excess

weight and felt amazing!

The benefits of intermittent fasting

are numerous - it encourages the

cleansing of the body on a cellular

level, helps to regulate metabolism

and blood sugar and aids in weight

loss while reducing inflammation.

Just remember to eat a healthy,

protein-rich meal when you break

your fast!

If you are the type who can wake

up early and not feel like you need

to have breakfast until later in the

day, you may want to consider

intermittent fasting. Even if you

aren't, you can fast a little longer

each day to get your body used to it.

Consult your doctor before

beginning any fasting cycles,

especially if you have metabolic

issues or are currently on

medication.

Lia Threat is a cerified health coach based

in New Orleans. She works with individuals,

goups, and schools throughout the Greater

New Orleans area. You can reach her at

wellnesswithlia@gail.com

vivanolamag.com - Page 25
---
Acelere la pérdida de peso con ayuno intermitente.

Por Lia Threat

@wellnesswithlia

En algún momento, a lo largo del

camino para bajar de peso, se

puede llegar a una meseta en la

que el cuerpo se siente demasiado

cómodo con la dieta y las rutinas de

ejercicios, y ya no siente el desafío

físico.

Parece que no se pueden perder

esos 5, 10, o el número de libras que

se desean perder y que están de

más. Es ahí cuando varias formas de

ayuno pueden ser beneficiosas. Una

de las tendencias más populares

y funcionales en el mundo de la

medicina en dieta paleo es el ayuno

intermitente.

El ayuno intermitente es ayunar

desde muy temprano en la cena de

la noche hasta tarde del almuerzo

del día siguiente. Por lo general,

resulta ser un comienzo rápido

después de una cena temprana y

hasta el almuerzo del día siguiente,

aproximadamente 16 horas. ¡Es

genial, porque la mayoría de

tus horas de ayuno se gastan

durmiendo!

Hace aproximadamente 3 años,

comencé a incorporar el ayuno

intermitente en mi rutina diaria.

No pasó mucho tiempo hasta que

empecé a ver cambios notables en la

forma en que me quedaba la ropa.

¡En el transcurso de un año, había

bajado de peso y me sentí increíble!

Los beneficios del ayuno

intermitente son numerosos:

fomenta la limpieza del cuerpo

a nivel celular, ayuda a regular

el metabolismo y el azúcar en la

sangre y ayuda a perder peso, a

la vez que reduce la inflamación.

¡Solo recuerda comer alimentos

saludables y ricos en proteínas

cuando rompas tu ayuno!

Si eres del tipo que puede levantarse

temprano y no sientes la necesidad

de desayunar hasta tarde en el día,

es posible que desees considerar

el ayuno intermitente. Incluso si no

eres madrugador, puedes ayunar

un poco más cada día, para ir

acostumbrando tu cuerpo.

Consulte a su médico antes de

comenzar cualquier ciclo de ayuno,

especialmente si tiene problemas

metabólicos o actualmente está

tomando medicamentos.
---
PEOPLE PLACES EVENTS

WATCH F AON CFACEBOOK E B O O KLIVE L IEVERY V E TUESDAY E V E R AT Y 6PM

WFACEBOOK E D N E SPAGE: D A YVIVANOLAMAG

A T 6 P M

FAIRS A C WEDNESDAYS E B O O K / VAT I4PM V AON NTELEMUNDO O L A M A42

G

B I L

I N G U A L S H O W

For advertising

opportunities

and interview

features,

contact

showconexiones@gmail.com

J A E

A N A M A R I A
---
lead-up

Cool Your Mood and Maintain Your

Productivity With a S.O.D.A.

By Carolina Lozada

Have you experienced one or a couple of external situations that have

ruined your day?

You cannot always control what happens around you. However, you can

always control how you respond to the situation and therefore you can

control and keep being productive.

The following method is based on neuroscience and can be very helpful when you feel that your mood is starting

to go from a good to a not so good mood. It's known as S.O.D.A., which stands for Stop, Observe, Detach, and Act. It

has been proven effective, and takes only one minute to put in practice. You and your body will thank you for it.

S

O

D

A

STOP:

Stop for a moment and...

If you are sitting in a meeting, move your

body slightly from front to back.

If it's conversation on the phone, walk.

Drink a glass of water.

OBSERVE: the situation as if you were

outside it to gain perspective and

rationality.

DETACH: The emotions associated with

the event like frustration, sadness

ACT: Take the most convenient actions

to adapt or manage the event.

The objective of these actions is to send a different

signal to the brain and distract it from the "getting

angry" signal. A sudden change of mood is

interpreted by the brain as a threat, so it sends a

message to your whole body of "fight or flight", which

reduces your ability to make rational decisions and

increases impulsivity.

Consequently, in the short term, you will lose much

of your physical and mental energy feeling literally

as if you had been in a physical fight. This leaves you

exhausted, which takes recovery time and affects

your productivity. A long term consequence is that,

you are at risk of saying or doing something that you

will regret later once the event has passed.

Viva NOLA Magazine - Page 28
---
TRANSLATION>>

Refresca tu estado de ánimo y

mantén tu productividad tomándote

una S.O.D.A

By Carolina Lozada

@be_a_pathfinder

¿Te ha pasado

que un evento

externo o una

combinación de

ellos puede llegar

a "dañarte" el día?

La realidad es

que no siempre

podemos

controlar lo que

sucede a nuestro

alrededor,

sin embargo,

sí podemos

controlar cómo

respondemos

a ello, y, por lo

tanto, podemos

mantener nuestra

productividad.

El siguiente método que tiene

fundamento en neurociencia

puede ser de gran ayuda

cuando sientas que tu humor

comienza a pasar de bueno

a no tan bueno. Se conoce

como S.O.D.A. por sus siglas

en inglés:

Stop (Detente)

Observa (Observa)

Detach (Remueve)

Act (Actúa)

Es efectivo, toma tan solo un

minuto y tú y tu cuerpo lo

agradecerán.

STOP. DETENTE un momento

y:

- Si estás sentado en una

reunión mueve tu cuerpo

levemente de adelante a

atrás.

- Si es algo que estás

escuchando en el teléfono,

camina.

- Toma un vaso con agua.

OBSERVA la situación como

si estuvieras fuera de ella

para ganar perspectiva y

racionalidad.

DETACH. REMUEVE la

emoción asociada al evento

en este caso el mal humor.

ACTÚA tomando las acciones

más convenientes para

adaptarte o manejar el

evento.

El objetivo es enviar una

señal diferente al cerebro y

distraerle del hecho que te

estas enojando. El cambio

súbito de humor el cerebro lo

interpreta como una amenaza

enviando un mensaje a todo

el cuerpo de defensa, con lo

cual se reducirá la capacidad

de toma de decisiones

racionales y aumentará la

impulsividad.

Como consecuencia a corto

plazo perderás gran parte

de tu energía vital y mental

sintiéndote literalmente

como si hubieras estado

en una pelea física, lo cual

te deja exhausto, toma

tiempo de recuperación, y

afecta tu productividad. La

consecuencia a mediano o

largo plazo es que corres el

riesgo de decir o hacer cosas

que podrás lamentar una vez

ha pasado el evento.

Viva NOLA Magazine - Page 29
---
Events' Gallery

Rows 1-2: TOP TACO Fest

Row 3: Televizion Digital Workshop & Grand Re-Opening of Winn Dixie Stores

Viva NOLA Magazine - Page 30
---
Galería de Eventos

Rows 1-2: Inaugural Healthcare and Technology Summit. Hispanic Chamber of Commerce

Row 3: Blue Cross Blue Shield of Louisiana Ribbon Cutting of New Orleans Downtown Location

Scan code with phone

to see additional

pictures of events.

vivanolamag.com - Page 31
---
42019

4

3

happy 3rd of july

7PM. New Orleans City Park.

1 Palm Drive. New Orleans.

neworleanscitypark.com

4

4th fest crescent park.

4:30PM.

Mandeville St Whrf . New

Orleans.

frenchmarket.org

GO FOURTH ON THE RIVER

EXTRAVAGANZA

July 4th at 9PM.

Woldenberg Park.

1 Canal St. New Orleans.

go4thontheriver.com

6

5 13

essence festival

July 5-7.

Mercedez-Benz Superdome,

New Orleans.

essence.com/festival

12

13

chicken jam. celebrating

national fried chicken day

2-7PM. UNO Lakefront

Arena.

alcoplandfoundation.org

13th annual celebration

san fermin new orleans

July 12-14.

Running with the bulls

July 13. 6:30AM.

The Sugar Mill. 1021

Convention Center Blvd.

New Orleans.

nolabulls.com

CALENDAR OF EVENTS

16

20

13th annual bastille day

block party

4:45PM.

3100 Ponce de Leon Street.

New Orleans.

TALES OF THE COCKTAIL

July 16-21. Royal Sonesta.

Frech Quarter. New Orleans.

talesofthecocktail.com

21

25

26

27

vegan 2 the soul food &

lifestyle festival

10AM-6PM. Lehman Park

Lafitte Greenway. 1600

Lafitte Ave. New Orleans.

emerge summit +

millennials awards

July 25 & 26. 8AM

emergesummit.co

FAMILY BLOCK PARTY. THE

NATIONAL WWII MUSEUM

5:30PM. The National WWII

Museum.

945 Magazine St.

New Orleans.

THURSDAY CALIENTE NIGHTS.

Every Thursday at 4PM.

NOSH.

746 Tchoupitoulas St.

New Orleans.

Scan Code for more

events and updates.

independencia de colombia

9PM. Homenaje a Aniceto

Molina.

Jefferson Orleans North.

2600 Edenborn Ave.

Metairie.

(504)388-3139.

FIT NOLA NATIONAL DANCE DAY

7AM-1PM. Tremé Recreation

Community Center.

900 N. Villere St.

New Orleans.

nord.org

Viva NOLA Magazine - Page 32
---
motivation

Being Spiritual

By Patricia Prychodny

We are spiritual people when

we wake up and begin to

see and feel that the material

things are something we need,

but that in order for things to

work properly, it's much more

important to attain a state of

wellbeing within.

Many people ask me...does

being spiritual have anything

to do with religion? And I say

to them, "We all have our

religious beliefs, but spirituality

is what each individual has

inside him, his peace, his light

and his inner harmony."

That peace we all seek is

acquired through learning

how to respond to our

experiences. When we go

through moments of chaos,

pain, or uncertainty, and we

react in a proper way, we

find a light that shines to

show us the way. Responding

positevely to bad situations

gives us an understanding

that things happen the way

they are supposed to happen,

which takes away anxiety.

Being a spiritual person also

takes living in the present.

This does not mean we forget

our past, but it means we

allow things to take their own

course. To be spiritual we

need to stop being the victim

and to forget the question

"why me?" Instead, we need to

analyze the teaching and the

purpose of each situation and

move forward.

Whenever you need an

answer to an issue, look inside

yourself. That wonderful

being within you holds a lot of

wisdom and is always willing

to help you. I assure you, your

soul will give you the direction

to solve any problem. That

solution will also come from a

place of love and coherence

with your heart.

A spiritual person accepts

without sacrifice. You are a

spiritual person when you

don't allow outside factors

interfere with your inner

peace.

Remember that changes

are positive when you work

on your inner self. How you

are within will reflect on the

exterior. Remember as you

learn from yourself, you can

also learn from everyone who

crosses your path.

There are several routines that

help us find our spirituality:

• Accept your mistakes

• Do not judge the actions

of others

• Meditate at least five

minutes a day

• Be in touch with beautiful

nature

• Love and believe in

yourself

The latter is the main one

because it allows us to love

others and accept them as

they are.
---
TRANSLATION>>

¿Qué es ser espiritual?

Por Patricia Prychodny

Ser espiritual es cuando despertamos

y comenzamos a ver y sentir que

lo material forma parte de lo que

necesitamos, pero que para que todo

fluya, es mucho más importante estar

bien interiormente, y que la tranquilidad

está en la paz que llevamos en el alma.

Muchos me preguntan... ¿ser espiritual

tiene que ver con la religión? Y yo les

digo, "todos tenemos nuestras creencias

religiosas, pero la espiritualidad es lo

que cada ser tiene en su interior, su

paz, su luz y su armonía interior". Y esta

paz es la que se adquiere con nuestras

experiencias, las mismas que tenemos

en los momentos de caos, dolor o de

incertidumbre y si sabemos cómo actuar

todo será más fácil para solucionar las

cosas y al final veremos la luz del camino

y entenderemos que así debía ser ese

momento.

La Espiritualidad es también cuando

vivimos nuestro presente sin olvidar

nuestro pasado y dejamos que el futuro

fluya como tiene que ser.

¡Espiritualidad es cuando dejamos de ser

víctimas y olvidamos la pregunta "¿por

qué a mí?", y por el contrario, analizamos

la enseñanza y el propósito de las

situaciones para seguir adelante.

Siempre que necesites una respuesta

para solucionar algo, busca dentro de

ti y te responderá ese ser maravilloso

con mucha sabiduría que siempre está

dispuesto a ayudarte. Te aseguro que tu

alma te dará la conexión para hacerlo con

mucho amor y coherencia en tu corazón.

Espiritualidad es cuando aceptas sin

sacrificios, es cuando lo de afuera no

interfiere en tu interior. Recuerda que los

cambios positivos siempre llegan cuando

son hechos de adentro hacia afuera y

que, así como eres en tu interior, serás en

tu exterior. La espiritualidad es un trabajo

en uno mismo donde el maestro no solo

eres tú, sino todos aquellos que se cruzan

en tu camino.

Hay varias rutinas que nos ayudan a

encontrar nuestra espiritualidad:

Aceptar nuestros errores

No juzgar las acciones de los demás

Meditar mínimo cinco minutos al día

Estar en contacto con la hermosa

naturaleza

Amarnos y creer en nosotros mismos

Esta última, es la principal, pues nos

permite amar a nuestros semejantes y

aceptarlos tal como son.

Cuando dejas salir tus miedos, tus fortalezas hacen fiestas con tus batallas.

¿Quieres saber como canalizar tus energías? Te invito a que aprendas cómo hacerlo. Llama

al (504)451 03 11 y te daré la información. Mi nombre es Patricia Prychodny.

Soy Master Reiki y ngeles. Realizo terapias Reiki con personas y animales.