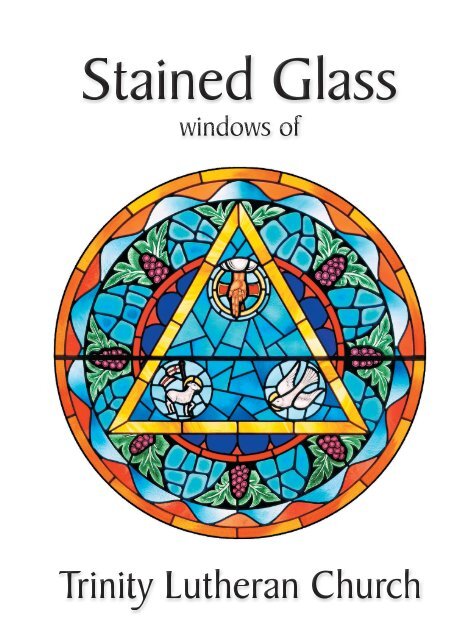 Stained Glass Windows of Trinity Lutheran Church
The stained glass windows of Trinity Lutheran Church in Algona, Iowa tell God's story from the Old Testament and the New Testament. This book combines those windows with a brief description to help us see how we fit into God's story.
The stained glass windows of Trinity Lutheran Church in Algona, Iowa tell God's story from the Old Testament and the New Testament. This book combines those windows with a brief description to help us see how we fit into God's story.
SHOW MORE
SHOW LESS
Create successful ePaper yourself
Turn your PDF publications into a flip-book with our unique Google optimized e-Paper software.
Stained Glass

windows of

Trinity Lutheran Church

1
---
Table Of Contents

Narthex

Old Testament

4

6

8

9

10

12

14

16

18

20

22

24

26

28

30

32

34

36

38

40

42

Forward

Introduction

Sanctuary Photos old & new

First impressions

The Trinity

Baptism

The Lord's Supper

Law & Gospel

Praising God with Music

The Lilies of the Field

Jesus Blesses Little Children

Children Singing in Church

Martin Luther's Ninety-Five Theses

Creation

The Fall into Sin

The Offering of Issac

The Blood of the Passover

The Giving of the Law on Mount Sinai

The Bronze Serpent

Ruth and Naomi

Jonah and the Great Fish

2
---
New Testament

Transcept

Balcony

Collaboration

44

46

48

50

52

54

56

58

60

62

64

66

68

70

72

72

74

74

76

77

The Birth of Christ

The Presentation in the Temple

Twelve Year old Jesus in the Temple

The Baptism of Jesus

The Woman at the Well of Samaria

The Raising of the Daughter of Jairus

Institution of the Lord's Supper

Jesus in the Garden of Gethsemane

Jesus on Trial before Pontius Pilate

The Resurrection-Jesus and Mary

The Ascension of the Risen Lord

Creative Hand - God the Father

Cruxifixion Scene - God the Son

Descending Dove - God the Spirit

The Bible

Lutheran Church—Missouri Synod

Lutheran Laymen's League

Lutheran Women's Missionary League

Walther League

Acknowledgements

3
---
Forward

Dear Friends in Christ,

God has from the very beginning used images to teach us

about Himself and His love for us. In Genesis 1:26 God said

"Let us make man in our own image." The human design was to

be a reflection of the goodness of God on all that He had created.

God's design of course was fragmented when Adam and

Eve chose to sin. One of the features of stained-glass windows

is how fragmented pieces seem to be put back together to form

a beautiful picture. This may certainly serve as a reminder to

us when we enter the sanctuary of Trinity Lutheran Church.

What a beautiful picture Christians are to God who loves us.

The windows of Trinity Lutheran tell the story of how God

works in the lives of His people. It is an historical account, but

as we look closely and even prayerfully at the windows we

begin to see our story. Like Adam and Eve, we are broken by

sin but we are not without hope. Jesus came with the purpose

to bind up that which was broken. It is Jesus that takes the

fragmented pieces of our lives and puts them together to form

the beautiful picture of who you and I are through our relationship

with Jesus Christ.

I am sure this book will be a blessing as people come to know

the meaning behind the beauty of each of these works of art.

Always in Grace,

Rev. Dr. Steve Turner

Pastor of Trinity Lutheran Church, Algona from 1991-2015

President Iowa District West of

The Lutheran Church—Missouri Synod

4
---
We wanted this book to give

the reader the best possible

view of each window. Since

the design surrounding all

of the original windows is

similar, we decided to only

print the image of the story

each window was telling.

Here you can see a sample

of a full window.

5
---
Introduction

Stained glass windows have been used in churches

since as early as the 7th century. In the middle ages

stained glass windows were a popular way to teach Bible

stories to a largely illiterate people. While that is not the

same situation today, the ability of windows to tell

stories along with their beauty have allowed them to

continue.

In the 1940s, Trinity needed more space for a growing

congregation and moved to the current santuary

dedicated on April 8, 1951. Initially built with clear

glass windows (see photo on page 8), fund raising

continued to replace them with stained glass windows.

Specific concepts were given to City Glass Specialty Inc.

in Fort Wayne, Indiana and in 1955, thirty-two beautiful

stained glass windows were installed at a cost of

$4,726. The designs were painted on colored glass and

fused by kiln. This technique yielded their stunning

detail. In early 1990s, the narthex was expanded and

five modern windows were added. These were designed

and installed by Reinarts Stained Glass Studio from

Winnona, Minnesota at a cost of $5,000.

6

During the sanctuary fire that occurred in 1960, the

large window above the altar had to be broken out to

help facilitate extinguishing the fire. It was replaced

with the original design. In addition, a tornado that

devastated a large area of Algona in 1979, caused such a

drastic change in air pressure in the church, that many

of the windows bowed and needed to be repaired.
---
Throughout the years, people who have come to

Trinity have been able to see God's story laid out in

these special glass designs. The beauty of these windows

was one of the first things that Pastor Schlund noticed

when he arrived at Trinity. He hoped to one day compile

a book to be used as the basis for a sermon series

using the stories depicted in the windows. At the same

time, Allan Ruhnke (whose grandfather was chairman

of the building committee for the current church) had

wanted to photograph the windows. Evelyn Ruhnke

brought the two ideas together and this project was

born.

Photographing stained-glass windows is no easy

task due to the way that light passes through them.

Dennis Kennedy, a commercial photographer, set the

camera and tripod on a table with wheels so it could be

rolled down the center aisle. He shot multiple exposures

for each window. Allan then took each of these

images and digitally blended them together to get one

full-range photo per window.

Accompanying each photo is the detail of the window,

the Bible verse(s) where the story is located, and a brief

summary written by one of Trinity's pastors. We pray

this book will be a blessing to you as you learn more

about the Stained Glass windows of Trinity Lutheran

Church and spend time with God and his Word.

7
---
Confirmation Sunday March 26, 1953. Notice the bright daylight coming from the windows.

The stained glass was installed two years later.

Photo credit: William C. Dau

8

Easter Sunday April 21, 2019. More than 65 years later God's people continue to gather around

His gifts in this sanctuary that has been beautified by the addition of the stained glass windows.

Photo credit: Rick Bitterman
---
Reflections from local Artists

The old delicate stained glass windows are so lifelike you can truly feel

God's presence. The fine detail and vibrant colors in each window represent

the abundant beauty God created. The glow that comes from the windows

radiates though me and I feel Holy. A unique aspect is that it is enhanced

by daylight, which changes with the weather, the season, and the time of

day. The details of the emotions portrayed can be felt deep in your soul, as it

draws you in. The beauty of these windows invites you to come in close to a

God of mercy and love, in whom we find hope and healing.

Gretchen Garbett, Landscape Photographer

The windows are a beautiful pictoral story of God's love for us and his offer

of such an amazing eternal fellowship with Him. The hues are strong and

cover the spectrum, but are unified in the pattern and distribution of color.

The central scene of each window stands out against the surrounding etched

pastels. A wonderful set of stories that enlighten the foundational events

and truths of God's Word with light.

Ervin VanHaaften, Former Art instructor, Algona High School

When I walked into Trinity Lutheran Church to view the stained glass

windows, I was in immediate amazement as to the overwelming beauty of

what I was viewing. The delicate detail of each window that tells a story

of our Lord Jesus Christ. The strong colors help draw your attention to each

window, and most of all the creativity of the designer of each window. The

question was asked, "do you see a favorite window?" I asked myself how

I could pick one, when I was so impressed by them all. But in the end the

large one over the altar stood out, with our Lord kneeling at the rock (Agony

in the Garden). The members past & present have to be so proud of how

they chose to tell the story of our Lord Jesus Christ.

Anita Schultz, Acrylic Painter

9
---
10
---
Theme: The Trinity

Description:

This is a majestic window and likely the

first window that most people will notice when

arriving at Trinity; it can be viewed from the

inside, but is also lit at night to be seen from

the outside. In this window we see the triangle

which is a commonly used symbol for the

Trinity. Within the triangle we see symbols that

represent the three persons of the Trinity. The

hand pointed down from heaven represents the

creating and providing work that the Father

does for his creation. The lamb carrying the

victory banner represents the Son, Jesus, who

came to win victory over sin, death, and the

devil. The dove represents the Holy Spirit who

creates faith in us and helps that faith to grow

throughout our lives. Each of those symbols,

like the window itself, are in a circle. The circle,

with no beginning or end, represents the

eternal nature of God. Within the window we

also see a vine with seven bunches of grapes

on it. This reminds us of Jesus' words "I am the

vine; you are the branches. Whoever abides in

me and I in him, he it is that bears much fruit,

for apart from me you can do nothing." We are

connected to Jesus through our baptism, and

we live our lives in a way to produce the fruit of

a Christian life.

11
---
12
---
Theme: Baptism

Description:

This window, located in the front of the

narthex, depicts the first sacrament in the

Lutheran Church: Baptism. Baptism is the

entry point into God's family and the place

where H e adopts people and makes them

His own. In this window we see the image

of a dove descending from heaven which

represents the Holy Spirit. In Baptism, the

Holy Spirit is given to a person to create faith

in them and promises to continue to help that

faith grow during one's life. Below the dove

is the image of a shell which is often associated

with baptism. A shell is frequently used

to scoop up and apply the water of Baptism

onto a person's head. A stream of water flows

from the shell to the lower part of the window,

where we see a baptismal font (which would

hold the water for a baptism) and a Bible

(which is God's Word). It is this Word of God

that is combined with ordinary water to give

us the extraordinary gift of Baptism.

13
---
14
---
Theme: The Lord's Supper

Description:

This window depicts the second sacrament

in the Lutheran Church: The Lord's Supper.

Martin Luther, in his Small Catechism, tells

us that the Lord's Supper is "the true body

and blood of our Lord Jesus Christ under the

bread and wine, instituted by Christ Himself

for us Christians to eat and to drink." This is an

awesome gift through which God delivers his

gifts to his people. Luther goes on to write

about the Lord's Supper that "forgiveness of sins,

life, and salvation are given us through these

words. For where there is forgiveness of sins,

there is also life and salvation." In this window

we see grapes and wheat around the outside

symbolizing the wine and the bread that are

used in the Lord's Supper. In the middle of this

window there is a circular shaped communion

wafer and a chalice. These two images show us

the form that Jesus' true body and blood take

when we receive the Lord's Supper. In the center

and covering these elements is what looks

like the letter "P" with lines through it. This

two-symbol combination is the Greek letter

combination "Chi Rho," which is a symbol for

Christ. The lower panel of this window depicts

Jesus Christ, the Lamb of God, whose blood

was shed to forgive the sins of the world.

15
---
16
---
Theme: God's Word: Law and Gospel

Description:

This window depicts the Lutheran understanding

of how God presents his Word to the

world. Throughout Scripture we see God's Law

and God's Gospel. God's Law, as depicted by

the two tablets of the Ten Commandments in

the upper part of this window, represents all of

the parts of Scripture that tell us what God demands

of His people. It is all of the things that

must be done to be perfect. God's Gospel is the

good news message of restoration, forgiveness,

and new life that comes through Jesus Christ,

as indicated through the Bible that is open to

Jesus' words calling himself "the way, the truth,

and the life" (John 14:6). God's law is typically

thought to work in three different ways: as it

is naturally written on the hearts of all of humanity,

to curb our natural evil impulses; and

as it is proclaimed in Scripture to show us our

sinfulness and how God expects His people to

act. The lower panel of this window shows a

burning flame representing Jesus, the Light of

the World, who is able to illuminate Scripture

so that we can understand it. At the top of this

window is a cross made up of red and white

glass reminding us that God gives us his Word

so that we can know him.

17
---
18
---
Theme: Praise God with Music

Description:

Music is a good gift from God and one

that His people have been using for centuries

to praise Him. Martin Luther wrote that, "next

to the Word of God, the noble art of music is

the greatest treasure in the world. It controls

our thoughts, minds, hearts, and spirits....

Our dear fathers and prophets did not desire

without reason that music be always used in

the churches. Hence, we have so many songs

and psalms. This precious gift has been given

to man alone that he might thereby remind

himself that God has created man for the

express purpose of praising and extolling

God." This window depicts the use of music to

praise God in worship. At the bottom, we see

a sheet of music which forms the foundation

of our hymns and choral anthems that fill our

services. In the middle of the window we see a

pipe organ and trumpets, two commonly used

instruments for praising God. Finally, at the

top of this window you'll see a cross made out

of red and white glass that reminds us that the

praises we sing are directed to God - Father,

Son, and Holy Spirit.

19
---
20
---
Story: Behold the Lilies of the Field

Text: Matthew 6:25-34

"And why are you anxious about clothing? Consider the

lilies of the field, how they grow: they neither toil nor

spin, yet I tell you, even Solomon in all his glory was not

arrayed like one of these." Matthew 6:28-29

Description:

We can learn quite a lot about Jesus from the lilies

of the field. The Easter lily, for instance, is a symbol

of the resurrection of Jesus. Just as the bulb of a lily

springs forth from the earth with beautiful life, so too

did Jesus spring forth in glory from the tomb on the

third day. We can also learn about faith from the lilies

of the field. The lilies neither toil nor spin, yet they

receive rain and sun from the hand of God, and God

adorns them with a beauty rarely matched on this

earth. God cares for us in like manner. No matter how

much we toil and spin, it is God who provides for us

the needs of our life as He sees fit. Faith in God replaces

anxiety with joy, knowing that even in times of

earthly hunger and poverty, God has already adorned

us with the abundance and glory of eternal life.

21
---
22
---
Story: Jesus Blesses the Little Children

Text: Matthew 19:13-15

"Jesus said, 'Let the little children come to me and do

not hinder them, for to such belongs the kingdom of

heaven." Matthew 19:14

Description:

This window is located in the narthex to teach us

how we are able to enter the Church. We enter both

our church building at Trinity and the kingdom of

God as children. In Holy Baptism God our Father gives

us a new birth into the image of His only-begotten

Son and makes us heirs with Christ of His kingdom.

Jesus said of the children who were brought to Him:

"to such belongs the kingdom of heaven" because it is

children who best exemplify our identity in Christ. We

learn from young children what it means to depend on

God for all things and to look to Him to guide us and

care for us as our heavenly Father. While in other aspects

of our lives we strive to be adults, when it comes

to our relationship with God we strive to have the faith

of a child. For this reason we have a high esteem for the

young children of our congregation, and we rejoice to

bring our children to our Lord at His Divine Service

where He reaches out and touches us with the wonderful

Gospel message.

23
---
24
---
Story: Singing Children

Text: Psalm 96:1-2

"Oh sing to the Lord a new song; sing to the Lord, all the

earth!" Psalm 96:1

Description:

God's people have been praising Him with song for

just about as long as God has called His people together.

Singing has also been a large part of our Lutheran

heritage since the Reformation. Martin Luther said,

"Next to the Word of God, the noble art of music is

the greatest treasure in the world." Combining words

with music sometimes allows them to stick deeper in

our brains. This is why it is often recommended to sing

songs to children in order to help them learn language

and to communicate timeless truths. As Christians we

are called to pass down the faith from generation to

generation. These children in this window are standing

in front of a stained-glass window, indicating that they

are in a church and are singing together from a hymnal.

By doing so, they are learning the stories of God and

joining together with all of God's people in singing

praises to Him for the wonderful things He has done

for us. An interesting note about this window and the

next one is that they were first located in the original

narthex but were moved to their current position in the

narthex expansion project. A light was added behind

them so these windows could still be enjoyed since that

wall is now shared with the Life Center.

25
---
26
---
Story: Martin Luther Nailing the 95 Theses to the

Castle Church door in Wittenberg.

"I will also speak of your testimonies before kings, and

shall not be put to shame." Psalm 119:46

Description:

This window depicts Martin Luther nailing his

ninety-five theses to the Castle Church door in Wittenberg.

This event is considered to be the symbolic

beginning of the Lutheran Reformation and a return

to the Biblical and Christological foundation of the

Church. Luther's first thesis, which is the most well

known of the ninety-five, reads: "When our Lord and

Master Jesus Christ said, 'Repent' (Matthew 4:17), He

willed the entire life of believers to be one of repentance."

Martin Luther wrote on several occasions about

how he regretted that some Christians had began

calling themselves "Lutherans" during the Reformation.

Luther preferred that people give Christ all the

glory and refer to themselves solely as Christians. We

retain the name "Lutheran" today in order to do just

that. We call ourselves Lutheran not because of who

Martin Luther was, but because of who he confessed.

To be Lutheran is to confess that our righteousness

before God comes from Christ alone, by grace alone,

and through faith alone.

27
---
28
---
Story: God Creates the World

Text: Genesis 1

"In the beginning, God created the heavens and the earth"

Genesis 1:1

Description:

In this window we get the closest glimpse of perfection

that we'll ever see here on earth. Perfect is how

God created the universe. It is hard to imagine what

perfect would be like since even the things that we

call perfect — the weather, a sunset, or having all of

our family home together again — are still tainted by

sin. Yet, there is no sin in this picture. Adam and Eve

are standing in the Garden of Eden where God created

them and instructed them to care for the things that he

gave them. They're standing with their heads lifted up

toward heaven — toward God their creator and provider.

They know where all of their blessings come from

and they're living in a perfect relationship with one

another, with the rest of creation, and with God. What

an awesome place that must have been! Fortunately, we

have hope that we will experience this perfect creation

and relationship with God. Every time we confess "I believe

in the resurrection of the dead and the life of the

world to come" in the Nicene Creed we're joining with

Christians throughout the centuries who look forward

to Jesus' return when He ushers in the new heavens and

the new earth and we live perfectly with each other and

with God for eternity.

29
---
30
---
Story: The Fall into Sin

Text: Genesis 3

But the Lord God called to the man and said to him,

"Where are you?" And he said, "I heard the sound of you

in the garden, and I was afraid, because I was naked, and

I hid myself." Genesis 3:9-10

Description:

The perfect creation that we saw in the first window

didn't last long. Now instead of looking up to God

in heaven, Adam and Eve cast their gaze down toward

the earth. Sin has sometimes been described as a turning

in toward oneself. Instead of focusing on God in

order to do His will and trust in Him to provide, the focus

of a sinner is on their own wants and needs, trusting in

themselves to provide. This happened to Adam and Eve

when Satan presented them with the opportunity to be

like God — knowing good and evil. This opportunity

was too exciting to pass up and yet when God comes to

talk to them they immediately hide because they are

ashamed of what they have done. There are consequences

for this disobedience — life will be more difficult now,

they will no longer live in the Garden of Eden, and death

is now a reality. However, God is gracious. He provides

them clothes, He cuts off their access to the tree of life so

that they won't live forever in their sins, and He promises

to send someone to make things right again. God's people

will wait for a long time to see this promise fulfilled,

but it does finally happen when Jesus is born.

31
---
32
---
Story: Abraham and Isaac

Text: Genesis 22

He (God) said, "Take your son, your only son Isaac,

whom you love, and go to the land of Moriah, and offer

him there as a burnt offering on one of the mountains of

which I shall tell you." Genesis 22:2

Description:

Have you ever wanted something for your whole

life but never thought you would get it? That was

Abraham and Sarah's experience for most of their lives.

They had longed for children but never were able to

conceive. That all changed one day when God promised

them descendants as numerous as the sand on the

shore or the stars in the sky. Finally, they had a son and

named him Isaac. Life seemed great until God came

back and told Abraham to sacrifice his only son on

an altar. Abraham didn't understand why God would

so quickly take away this gift he had given, but Abraham

trusted God and went to the mountain with Isaac.

After getting everything set for the sacrifice, Abraham

raised his knife to kill his son. In this window we see the

angel of the Lord intervening to stop Abraham and to

provide a ram to be used as the actual sacrifice. Abraham

demonstrated that he trusted in God even when

it didn't make sense to him. God kept his promise and

provided Abraham with descendants as numerous as

the sand on the shore or the stars in the sky.

33
---
34
---
Story: Celebrating the Passover

Text: Exodus 12

"Then they shall take some of the blood and put it on the

two doorposts and the lintel of the houses in which they

eat it." Exodus 12:7

Description:

That night in Egypt is hard to imagine. After nine

plagues had already passed, the Lord God decreed a 10th

and final plague. The Lord would pass through the land

of Egypt that night and strike down all the firstborn in

the land, both man and beast. In this window we see a

father and his son painting their doorpost with lamb's

blood as God commanded them to do. The blood

acted as a sign for God to pass over His people and

spare them of His wrath upon Egypt. From that day

forward the Jewish people were to remember this day

with a feast to be celebrated every year. The day become

known as the Lord's Passover. Today, as Christians

we celebrate God's fulfillment of the Passover through

the sacrifice of His Son Jesus Christ. Jesus Christ is the

Lamb of God who takes away the sins of the world, and

through faith in Jesus a Christian's sins are truly passed

over. Our sins are passed over through God's Word of

forgiveness, our sins are passed over through the waters

of Baptism, and finally, our sins are passed over when we

commune with God's people to partake of Christ's body

and blood, broken and poured out, for us all.

35
---
36
---
Story: The 10 Commandments

Text: Exodus 20

"And he gave to Moses, when he had finished speaking

with him on Mount Sinai, the two tablets of the testimony,

tablets of stone, written with the finger of God."

Exodus 31:18

Description:

Mount Sinai was veiled in smoke as God, Himself,

had descended upon it. Thunder clapped and lightning

flashed as God called Moses up to the mountain.

When Moses arrived, God reminded Moses of who

He has been to His people, "I AM the Lord your God,

who brought you out of the land of Egypt, out of the

house of slavery." God then proceeded to tell Moses

His law. God uttered the Ten Commandments to

Moses, and He etched them into stone tablets with His

finger. The first three commandments cover creation's

relationship with God. The other seven commandments

cover creation's relationship with each other.

God's law has and always will be His perfect will for

creation. God's Law was intended to make life better

for both believers and unbelievers. Jesus Christ sums

up the entire Law of God by saying, "You shall love the

Lord your God with all your heart and with all your

soul and with all your strength and with all your mind,

and your neighbor as yourself." (Luke 10:27)

37
---
38
---
Story: Moses putting a Snake on a Pole

Text: Numbers 21:4-9

"So Moses made a bronze serpent and set it on a pole.

And if a serpent bit anyone, he would look at the bronze

serpent and live." Numbers 21:9

Description:

God's people had just set out from Mount Hor

after God gave them a decisive victory over the

Canaanites in Negeb. As they traveled alongside the

Red Sea they grew impatient with God and Moses.

God's people grumbled of having no food and no

water. Now despite God always providing for them

up until this point, they still displayed a mistrust of

God's provision for them. This act of disobedience infuriated

God, so He sent poisonous snakes among the

people that caused many deaths. In desperation, God's

people came pleading to Moses, confessing their sins,

and begging for relief from the fiery serpents. Moses

prayed to God on the people's behalf, and God gave

Moses a means to provide relief to the people. Moses

was to fashion a bronze serpent onto a pole and set it

high above the people. If anyone was bitten they were

to look at the bronze serpent and live. Christ in similar

fashion was set up high upon a cross, and God's people

stand below Him bitten by the sting of sin and death.

We look up to Christ for relief from our eternal sin

and death, and we know that God has truly provided

for His people.

39
---
40
---
Story: Ruth and Naomi

Text: Book of Ruth

"Ruth said, "Do not urge me to leave you or to return

from following you. For where you go I will go, and where

you lodge I will lodge. Your people shall be my people, and

your God my God. Where you die I will die, and there

will I be buried. May the Lord do so to me and more also

if anything but death parts me from you." Ruth 1:16-18

Description:

This window depicts two women having a conversation.

Naomi, on the left, is speaking with her daughter-in-law

Ruth. Ten years before this moment Naomi

saw her two sons get married to foreign Moabite women.

The two women were named Orpah and Ruth. Tragedy

then struck Naomi's entire family. Naomi's husband

Elimelech died, and then Naomi's two sons, Mahlon and

Chilion, died soon after that. Naomi was left as a widow

with her two daughters-in-law in a foreign land. Naomi

decided that she would go back to her home country of

Judah, and she urged Orpah and Ruth to return to their

mother's households. Naomi saw her situation as dire for

she had no husband to provide sons for Orpah and Ruth.

Naomi insisted that the two young women abandon

her to find new husbands. Orpah kissed Naomi and

left, but Ruth remained. Ruth is known for her amazing

statement of commitment to her mother-in-law. Naomi

saw that Ruth was determined to stay with her, so she

said no more and they returned to Bethlehem.

41
---
42
---
Story: Jonah

Text: Book of Jonah

"And the Lord appointed a great fish to swallow up Jonah.

And Jonah was in the belly of the fish three days and

three nights." Jonah 1:17

Description:

Jonah is an Old Testament prophet sent on a mission

by God. However, he directly disobeyed God's

command to go to Nineveh and preach repentance for

their sins. God's wrath would come to Nineveh if they

did not repent, and yet Jonah refused to go. Instead,

he bought a ship, deceived the captain and crew, and

ran away from God's calling. Jonah disobeyed because

he despised Nineveh and its people, who were

sworn enemies of the nation of Israel. Jonah did not

want to see Nineveh be saved, but God did! That is why

Jonah's life was preserved by a great fish, after he was

thrown overboard. That is why Jonah reluctantly went to

Nineveh and proclaimed God's word. Nineveh heard the

dire warning of God from Jonah, and they repented of

their sins and God forgave them. Jonah was not happy

about that outcome and lashed out at God. Jonah told

God that is why he did not go to Nineveh in the first

place, and the book ends with God asking Jonah why

He should not have pity on Nineveh. No response from

Jonah is given, which leaves us to ponder this question

today. Do we have the right to question who God forgives,

especially in light of Christ dying for the sins of all?

43
---
44
---
Story: Jesus' Birth

Text: Luke 2:1-20

"And while they were there, the time came for her to

give birth. And she gave birth to her firstborn son and

wrapped him in swaddling cloths and laid him in a

manger, because there was no place for them in the inn."

Luke 2:6-7

Description:

This window serves as the beginning of the New Testament

stories that run along the south side of the sanctuary.

Here we see the simple birth of our savior Jesus.

Sometimes our nativity scenes and Christmas pageants

can get large and extravagant with all sorts of animals in

addition to shepherds, wisemen and angels. In this window

we see Mary, Joseph and Baby Jesus and a single

person kneeling in worship. The simplicity of this scene

reminds us of the humble way that Jesus, the Son of

God and Savior of the universe, came into the world. It

wasn't flashy. It wasn't in a big, fancy palace or to notable

parents. Jesus came humbly to serve rather than to be

served. It is from this humble arrival that he would grow

up to fulfill the plan of salvation that God had initiated

way back in the Garden of Eden after Adam and Eve

disobeyed him. An interesting detail to note about this

window is the positioning of Jesus' hand in the manger.

His hand is raised in blessing. It is a similar hand position

that we see pastors raise when they speak the words

of the Benediction. This hand positioning reminds us of

the blessings Jesus came to earth to bring to the world.

45
---
46
---
Story: Jesus Presented in the Temple

Text: Luke 2:22-38

"..he (Simeon) took him up in his arms and blessed

God and said, "Lord, now you are letting your servant

depart in peace, according to your word; for my eyes

have seen your salvation that you have prepared in the

presence of all peoples, a light for revelation to the Gentiles,and

for glory to your people Israel." Luke 2:28-32

Description:

We don't know much about Jesus' childhood. It

just isn't important for the story of salvation. However,

the two accounts that we do have are portrayed in

these next two windows. In this window we see Mary

and Joseph being faithful to customs and laws of the

Jewish religion. It was a requirement for all newborns

to be brought into the temple for a sacrifice to be made.

When Mary and Joseph arrive they encounter a man

named Simeon who had been promised by God that

he wouldn't die until he saw the Savior. He scoops the

baby up out of Mary's arms and gives thanks to God

for seeing the fulfillment of God's promise. He exclaims

the words we use now in the liturgy called the

Nunc Dimittis which starts "Oh Lord, now let Your

servant depart in heav'nly peace, For I have seen the

glory of your redeeming grace". In this window we also

see an eighty-four year old woman named Anna who

was also looking forward to the redemption promised

through Jesus.

47
---
48
---
Story: Boy Jesus in the Temple

Text: Luke 2:41-52

After three days they found him in the temple, sitting

among the teachers, listening to them and asking them

questions. And all who heard him were amazed at his

understanding and his answers. Luke 2:46-47

Description:

At twelve years of age Jesus went with His parents

to the annual Feast of the Passover in Jerusalem.

Jesus' parents left after the feast had concluded, along

with the group they had come with. It wasn't until a

day into their journey they noticed that they couldn't

find Jesus. They simply assumed Jesus was in the group

somewhere amongst His relatives or acquaintances,

but He had, in fact, remained in Jerusalem. When

Mary and Joseph realized that they couldn't find Jesus

they returned to Jerusalem to search for Him. Jesus

was eventually found after three days, sitting among

the teachers of the temple, listening and asking them

questions. All who were engaged in conversation with

Him were amazed at His understanding and His answers.

When Jesus' mother found Him she let Him

know her displeasure of losing Him and spending so

much time searching for Him, but Jesus had just a simple

question for her. Jesus said, "Why were you looking

for me? Did you not know that I must be in my Father's

house?"

49
---
50
---
Story: Jesus' Baptism in the Jordan River

Text: Mark 1:9-11

In those days Jesus came from Nazareth of Galilee and

was baptized by John in the Jordan. And when he came

up out of the water, immediately he saw the heavens

being torn open and the Spirit descending on him like

a dove. And a voice came from heaven, "You are my

beloved Son; with you I am well pleased." Mark 1:9-11

Description:

In this window you see John the Baptist, dressed in

camel hair baptizing Jesus Christ in the Jordan River.

Jesus' baptism fulfills prophecy from Isaiah spoken

hundreds of years earlier, and shows why John came

to prepare the way of the Lord. Christ's baptism

inaugurates the beginning of His earthly ministry that

eventually leads the way to the cross and empty tomb.

Some of the beautiful windows in this church have

incredible significance portrayed in them, and this

window is certainly one of them. Jesus' baptism instituted

and sanctified all waters to be used as a washing

away of sins through the gift of His sacrament. Also

notice the cloud above Jesus with the dove descending

upon Him. The heavens were literally torn open at this

event connecting the heavens and the earth through

the magnificent incarnation of Jesus Christ. Our Savior

began His journey to the cross from this moment going

forward.

51
---
52
---
Story: The Woman at the Well

Text: John 4:1-42

"...whoever drinks of the water that I will give him will

never be thirsty again. The water that I will give him

will become in him a spring of water welling up to eternal

life." John 4:14

Description:

Jesus had just left Judea and was traveling north

to Galilee, but on the way Jesus had to pass through

Samaria. Being weary from His journey Jesus stopped

in the town of Sychar near the field that Jacob had given

to his son Joseph. Around noontime Jesus stopped

to get water from Jacob's well. While at the well Jesus

breaks Jewish social custom by speaking to a Samaritan

woman. Samaritans were considered dirty and unclean

to the Jewish people, yet Christ asked this woman for a

drink of water. The woman could not believe Jesus was

speaking with her, and Jesus went on to tell her that He

could give her living water. The woman was perplexed

as to where this water would come from, but Jesus said

the water that He gives will well up to eternal life. Jesus

continued on by addressing the sin of adultery in this

woman's life, and she perceived Him to be a prophet.

The woman was also aware of the Messiah eventually

coming. Jesus assured her that the hour is coming and

is now here, and He said, "I who speak to you am He."

The woman left and told everyone in her town the

things that Jesus had spoken to her.

53
---
54
---
Story: Raising Jairus' Daughter

Text: Luke 8:41-56

But taking her by the hand he called, saying, "Child,

arise." And her spirit returned, and she got up at once.

And he directed that something should be given her to

eat. And her parents were amazed, but he charged them

to tell no one what had happened. Luke 8:54-56

Description:

Jesus had just returned by boat to the town of Galilee

when He was confronted by a man named Jairus. Now

Jairus was ruler of a Jewish synagogue, so it would

have taken an incredible act of desperation for him to

approach Jesus. Falling at Christ's feet Jairus explained

that his only daughter, who was twelve years of age,

was dying, and Jesus agreed to go. There were massive

crowds to welcome Jesus back to town, and Jesus had

to make His way through them. On the way to Jairus'

house Jesus was met by someone telling Jairus not to

bother, because his daughter had already died. Jesus

looked right at Jairus, who was in desperation, and

He said, "Do not fear: only believe, and she will be

well." Upon arriving at the house Jesus stated that the

girl was only sleeping, but the people laughed at Him.

Jesus took Peter, James, John and the parents into the

girl's bedroom and He spoke the words, "Child arise!"

The Spirit returned to the girl, and she got up at once.

55
---
56
---
Story: The Last Supper

Text: Luke 22:1-20

And he took bread, and when he had given thanks, he

broke it and gave it to them, saying, "This is my body,

which is given for you. Do this in remembrance of me."

And likewise the cup after they had eaten, saying, "This

cup that is poured out for you is the new covenant in my

blood." Luke 22:19-20

Description:

Before Jesus finishes His mission on earth by being

arrested and crucified, He celebrates an important meal

with His disciples. In fact, the whole nation of Israel

paused at that moment to celebrate the Passover meal. It

was a meal that they had celebrated regularly throughout

their lives. It was a meal that was established to remember

God delivering His people from slavery in Egypt.

For the disciples, however, this meal would never be

the same after that night. Jesus transforms the meal

from being simply a memorial meal of God's deliverance

of His people from slavery in Egypt to an active

meal, full of God's power and containing Jesus' true body

and true blood that delivers the forgiveness of sins and

strength for our faith. This window is a far simpler image

of the story than is typically seen. This simplicity is nice

because it keeps the viewer's eyes on Jesus who is the

focal point of this story and of the meal that comes from

it. We give thanks to God for establishing this meal to

strengthen our faith and to give us the assurance that our

sins are forgiven through Jesus' death on the cross.

57
---
58
---
Story: Garden of Gethsemane (Above Altar)

Text: Matthew 26:36-46

And going a little farther he fell on his face and prayed,

saying, "My Father, if it be possible, let this cup pass

from me; nevertheless, not as I will, but as you will."

Matthew 26:39

Description:

This window that is located high above the altar in

the front of the church is likely the first window that

most people observe upon entering the sanctuary. In it

we observe the difficult struggle between Jesus' divine

nature and His human nature. Jesus' divine nature

— the fact that He was God in the flesh — told Him

that in just a few hours He was going to be tortured,

crucified, and killed. He knew it was coming. His

human nature — the fact that He was also truly a human

man — told Him that He'd rather accomplish the

salvation of the world in any other way than what was

before Him. Here we see Him praying to the Father

in the Garden of Gethsemane and asking if there was

any way for the cup of suffering to be taken from Him.

Even with this request, He still ends his prayer seeking

that the Father's will would be done. Another notable

feature about this window is that on the right side, in

the distance, you can see Peter, James, and John sleeping

while they are supposed to be keeping watch with

Jesus.

59
---
60
---
Story: Trial with Pontius Pilate

Text: Matthew 27:1-26

"So when they had gathered, Pilate said to them,

"Whom do you want me to release for you: Barabbas,

or Jesus who is called Christ?" Matthew 27:17

Description:

After Jesus is arrested He is bounced among the

Jewish High Priest, the Roman governor Pontius

Pilate, and the Jewish King Herod. Ultimately it was

only Pontius Pilate that had the authority to execute

criminals and that is exactly what the leaders wanted.

The only problem was that Pilate spent time talking

with Jesus and could find nothing that Jesus had done

wrong that was worthy of being convicted, let alone

being executed. He devised a plan that he thought

would ensure Jesus' freedom. He brought a criminal

named Barabbas to stand next to Jesus. He then gave

the crowd a choice between the two "criminals". They

could select which prisoner went free. He was sure

that because Jesus had done nothing wrong the crowd

would pick him to go free. Instead, the leaders stirred

up the crowd which eventually chose Barabbas to go

free. When Pilate asked them what he should do with

Jesus, they cried out that Jesus should be crucified.

Pilate washed his hands of the situation and sentenced

Jesus to death. It is from here that Jesus would carry

His cross to Golgotha and be crucified.

61
---
62
---
Story: Resurrection

Text: John 20:1-18

"Having said this, she turned around and saw Jesus standing,

but she did not know that it was Jesus. Jesus said to her,

"Woman, why are you weeping? Whom are you seeking?"

Supposing him to be the gardener, she said to him, "Sir, if you

have carried him away, tell me where you have laid him, and

I will take him away." Jesus said to her, "Mary." She turned

and said to him in Aramaic, "Rabboni!" (which means

Teacher)." John 20:14-16

Description:

This window depicts the pinnacle moment of Jesus'

ministry on earth. If Jesus didn't rise from the dead then

nothing else that He did or said mattered. There have been

many wise teachers that came before Him and many who

have come since that taught and encouraged loving compassion

like Jesus did. Jesus wasn't just a good teacher. He

is the Son of God and Savior of the world. He came and

lived a perfect life, He died the death that we all deserved

on account of our sins, AND He rose from the dead, just

as He predicted. His resurrection demonstrated that He

was God and that He had the power over life and death.

Because He rose from the dead, everything He said and

did mattered. Because He lives, all who believe in Him

will live forever too. In this window we see Jesus appearing

to Mary outside the tomb on Easter after He has risen

from the dead. She doesn't recognize Him at first, but

once He calls her by name, she recognizes Him immediately.

Then He sends her to go and tell His disciples what

she has seen.

63
---
64
---
Story: Ascension

Text: Luke 24:50-51

"Then he led them out as far as Bethany, and lifting up

his hands he blessed them. While he blessed them he

parted from them and was carried up to heaven."

Luke 24:50-51

Description:

He's done it! Jesus accomplished the mission that

He came to earth to do. The redemption of a creation

that was in bondage to sin, death, and the devil happened

on the cross. When Jesus uttered the words

"It is finished," He wasn't messing around. The plan

of salvation was finished. He lived the perfect life, He

died the death that we all deserved, and He rose from

the dead declaring victory. Now it was time for Him

to go back to be with His Father. Jesus never meant to

stay on Earth. As the familiar Advent hymn says, "God

the Father was His source, Back to God He ran His

course" (LSB 332). This window depicts Jesus' return

into heaven. As the disciples look on, Jesus is physically

carried up to heaven. In this window we see Jesus'

hands in a position of blessing. In those same hands,

and feet as well, we can see the marks of the nails that

held Him to the cross. Jesus, body and all, now sits at

the right hand of God the Father, ruling over all things

until the last day, when He will return and all those

who believe in Him will have the chance to live in His

presence for eternity!

65
---
66
---
Story: God the Father, the Creator

Description:

God the Father, the First Person of the Trinity is

depicted in this window with a hand descending from

a cloud that represents Heaven. It may seem like an

odd image at first, but Luther's words from the explanation

to the first article of the Apostle's Creed help

us understand why this image is used. Luther writes,

"I believe that God has made me and all creatures;

that He has given me my body and soul, eyes, ears,

and all my members, my reason and all my senses,

and still takes care of them. He also gives me clothing

and shoes, food and drink, house and home, wife and

children, land, animals, and all I have. He richly and

daily provides me with all that I need to support this

body and life." God the Father is the creator and He is

the provider. It is through Him that we have and are

able to do everything in our lives. Behind the hand we

see a green circle. Green often is a color that represents

life — as we are reminded each spring when trees and

flowers come back to life and the crops in the field

start growing. The circle is often used in Christian

imagery to represent the eternal nature of God since a

circle has no beginning and no end.

67
---
68
---
Story: God the Son, the Redeemer

Text: "And when the centurion, who stood facing him, saw

that in this way he breathed his last, he said, "Truly this

man was the Son of God!" Mark 15:39

Description:

Jesus, the Son of God and the second person of the

Trinity, is the part of God that we, as Christians, are most

familiar with and with whom we can identify most easily.

This is easy to understand since Jesus is the physical,

human incarnation of God who came to earth to dwell

with His creation. Jesus is the redeemer of the world!

In the Small Catechism, Luther states: "Jesus Christ,

true God….and also true man....is my Lord, who has

redeemed me, a lost and condemned person, purchased

and won me from all sins, from death, and from the

power of the devil; not with gold or silver, but with His

holy, precious blood and with His innocent suffering

and death." In this window, Jesus is featured prominently

in the center hanging on the cross with Jerusalem in

the distance behind Him. An interesting feature in this

window is the placement of the two thieves who were

crucified on Jesus' right and left sides. In the Scriptural

account of Jesus' crucifixion we hear Jesus' conversation

with these two men. The one on His left mocks Him

while the one on his right repents and prays for Jesus'

mercy. Jesus responds that on that very day he will join

Jesus in Paradise. This window places the criminal from

Jesus' left in a position that is turned away from Jesus

while the criminal on Jesus' right is turned towards Him.

These positions reflect the spiritual positions of these two

men after their interaction with Jesus.

69
---
70
---
Story: God the Holy Spirit, the Sanctifier

Description:

This is the third of the three windows that depict

the persons of the Trinity. In this window we see a

dove coming down which represents the Holy Spirit,

the third person of the Trinity. The dove is an image

from Jesus' baptism in the Jordan River when we see

all three persons of the Trinity in the same place at the

same time. Jesus the Son is standing in the water. The

voice of the Father speaks from heaven and the Holy

Spirit as a dove descends from Heaven and lands on

Jesus. The Holy Spirit is known for His work of bringing

people to faith in Jesus and keeping them in that

faith. Luther says in the Small Catechism, ".. the Holy

Spirit has called me by the Gospel, enlightened me

with His gifts, sanctified and kept me in the true faith."

If you look closely, you will notice that behind the dove

are two symbols for the Trinity. The triangle is familiar

and is often used to represent the Trinity as it has three

points or three sides and yet remains one triangle. It

is merged with a trefoil — a symbol that looks like a

three leaf clover — that might have been utilized by St.

Patrick. If you look at our church's logo, you'll notice

that this is the symbol that has been utilized with the

addition of a small cross.

71
---
72
---
As Lutherans we believe, teach, and confess

that all Scripture contained in the Bible is

inspired by God the Holy Spirit. With God as

the author of all of Scripture, we believe that

the Bible lays out God's story of creation and

redemption and serves as the only source for

knowing God and having faith. We join with

St. Paul in confessing that "all Scripture is

breathed out by God and profitable for teaching,

for reproof, for correction, and for training

in righteousness, that the man of God may

be complete, equipped for every good work."

(1 Timothy 3:16-17)

The official seal of The Lutheran Church—

Missouri Synod is a blend of symbols and words

that proclaim its central beliefs. Foremost, that

"Jesus Christ is Lord" and that He died on the

cross and rose again for the sins of the whole

world as is correctly taught in the Bible. Included

are the words upon which Lutheranism

is founded — Sola Scriptura (the Bible alone

is the source of authority for Christians), Sola

Gratia (which emphasizes that salvation comes

through God's grace alone), Sola Fida (so that

salvation comes to believers by their faith alone

and not by their good works).

73
---
74
---
The International Lutheran Laymen's

League was formed in 1917, as the official

men's auxiliary of The Lutheran Church—

Missouri Synod. In 1992, it began using the

name Lutheran Hour Ministries (LHM).

In 1930 The Lutheran Hour radio program

began broadcasting the Gospel message to

thousands of listeners. Members of Trinity in

Algona contribute to help LHM reach over

125 million people on a weekly basis with the

Gospel message in over 50 countries through

The Lutheran Hour, on-line correspondence

courses, outreach training, Bible studies, Men's

Network and daily devotions.

The Lutheran Women's Missionary League

(LWML ) was founded in 1942 as the official

women's auxiliary of The Lutheran Church—

Missouri Synod. It was the culmination of

efforts to nationally coordinate locally formed

church auxiliaries that had been gradually involved

since the 1850s in meeting the needs of

people – seminarians, schools, orphanages, the

disabled, etc., and funding mission endeavors

at home and abroad. Today, women of Trinity

continue with the mission to assist in "affirming

each woman's relationship with Christ, encouraging

and equipping women to live out their

Christian lives in active mission ministries and

to support global missions".

75
---
76

Organized in 1893, The Walther League

was named after C. F. W. Walther, a founder

and first President of The Lutheran Church—

Missouri Synod, and was an auxiliary youth

organization of the Synod. The League was

active at Trinity involving youth from freshman

in high school to age 24, meeting monthly

for the purpose of worship, education, service,

recreation and fellowship in a Christian

atmosphere. The League continued until 1977

when it was succeeded by a new organization,

Lutheran Youth Fellowship (LYF).
---
Acknowledgements

Editorial

Rev. Tom Schlund, Senior Pastor

Rev. Eric Hauan, Associate Pastor

Rev. Thomas Cowell, Associate Pastor

Newer Window Design & Installation

Reinarts Stained Glass Studios,

Winona, Minnesota

Original Window Design & Installation

City Glass, Fort Wayne, Indiana

Commercial Photographer

Dennis Kennedy, Urbandale, Iowa

Canon 5d Mark III

Color Separation & Book Design

Allan Ruhnke, West Des Moines, Iowa

Printing & Binding

Garner Printing, Des Moines, Iowa

HP Indigo 12000 Digital Press

Contributing Editorial

David Ruhnke, Austin, Minnesota

Sponsers

Evelyn Ruhnke & Family

Printed May, 2019

Quotations from Luther's Small Catechism © 1986 Concordia Publishing

House. All rights reserved.

Scripture quotations are from the ESV® Bible (The Holy Bible, English

Standard Version®), copyright © 2001 by Crossway, a publishing ministry

77
---
78

520 N. Garfi eld St., Algona, IA 50511

515-295-3518

www.trinityalgona.org
---
79