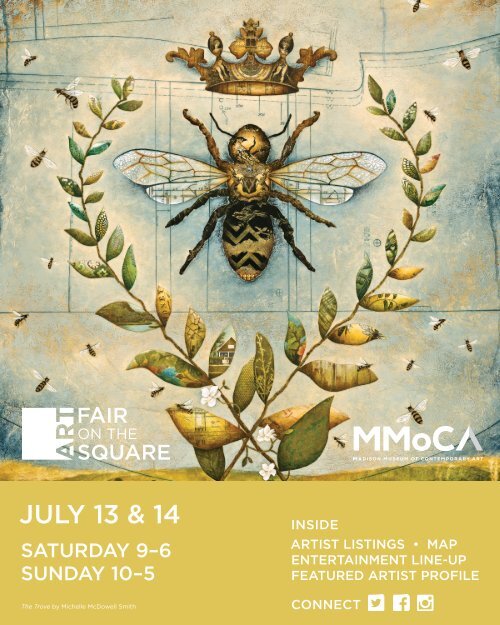 Art Fair on the Square 2019 Program
Find all the details about this year's Art Fair on the Square, including a map of the event, lists of artists and vendors, and the schedule of entertainers.
Find all the details about this year's Art Fair on the Square, including a map of the event, lists of artists and vendors, and the schedule of entertainers.
SHOW MORE
SHOW LESS
You also want an ePaper? Increase the reach of your titles
YUMPU automatically turns print PDFs into web optimized ePapers that Google loves.
JULY 13 & 14

SATURDAY 9–6

SUNDAY 10–5

The Trove by Michelle McDowell Smith

INSIDE

ARTIST LISTINGS • MAP

ENTERTAINMENT LINE-UP

FEATURED ARTIST PROFILE

CONNECT

ART FAIR ON THE SQUARE 2019 • 1
---
Did you hear the news?

WE'RE OFFERING YOU

the Best of Madison

FOR ONLY$

$

7.95

Read about

Exciting

ong>Artong>s Events

That's

87%

OFF

the Cover

Price!

Best

Restaurants

Innovation

Startups

Charming

Boutiques

Interesting

Personalities

For a one-year subscription for only $ 7.95

go to store.madisonmagazine.com and use code: 795

2 • ART FAIR ON THE SQUARE 2019

SPECIAL

ART FAIR

DEAL!
---
Welcome

to the 61st annual ong>Artong> ong>Fairong> on the Square

Did you know?

• ong>Artong> ong>Fairong> on the Square is organized by the Madison Museum of Contemporary

ong>Artong>. The Madison Museum of Contemporary ong>Artong> (MMoCA) connects people with

contemporary art and art making through many programs and events, including

the ong>Artong> ong>Fairong> on the Square.

• Emerging artists can exhibit at the fair. The 100 block of State Street is dedicated

to emerging artists. They are jury selected, and skilled, yet early in their careers.

Alongside these artists, you can stop by and see special business exhibitors as well.

• ong>Artong> ong>Fairong> on the Square got its start in the 1950s. This summer marks the 61st annual

ong>Artong> ong>Fairong> on the Square—which launched in 1958, offering the community over six

decades of access to great art and talented artists from around the country.

• Everyone benefits from ong>Artong> ong>Fairong> on the Square. This event is MMoCA's most important

fundraiser, but this event also benefits nearly 500 artists and approximately 200,000

art-lovers, as well as boosting local businesses and the greater community. The fair

infuses an estimated $25 million into the local economy.

Visit mmoca.org to learn more about the fair and other

programs and exhibitions offered by MMoCA.

Special Thanks

MMoCA and Annik Dupaty, Director of Events & Volunteers, wish to thank the

following groups and individuals for their support of the 2019 ong>Artong> ong>Fairong> on the Square:

all of the staff members of MMoCA, especially Amy Lambright Murphy, Events &

Volunteers Assistant who oversaw volunteer coordination and entertainment; Events

Interns Chloe Christiaansen, Erin Kreul, Angie Nguyen, Rachel Miller, and Kelly McBride;

Silent Auction Chairs Brynne Nodoland and Barbara Katz; Amy Paulios and the MMoCA

Volunteers Board; Volunteer Entertainment Coordinators Peter Eaton, Claire Myers

and Kristin Goosen; the Madison Common Council; the Madison Police Department;

Sue Barica and the Wisconsin State Capitol Police; The Wisconsin Historical Society;

Kelli Lamberty; City of Madison Office of the City Clerk; Madison Fire Department;

Madison Department of Public Health; and all of the incredible artists, entertainers,

food vendors, small business exhibitors, dedicated volunteers, and generous

sponsors who helped realize the fair.

ART FAIR ON THE SQUARE 2019 • 3
---
Map

MMoCA

MMoCA

MMoCA

MMoCA

MMoCA

MMoCA

MMoCA

T

T

*?*

?

?

ong>Artong> ong>Fairong> Headquarters

& Volunteer Check-in

MMoCA Concession Stand

Silent Auction Tent

Wildwood T-Shirt Sales

Emerging ong>Artong>ists & Businesses

Information Booth

Restrooms

Music Stages

Food Vendor Area

SILENT AUCTION TENT

MMoCA invites you to the Silent Auction

Tent to bid on artworks donated by ong>Artong>

ong>Fairong> artists. All proceeds benefit MMoCA

exhibitions and education programs. See

you there — and good luck.

Visit MMoCA

227 STATE STREET

*

MMoCA

E10-E25

ACCESSIBLE

WISCONSIN PUBLIC RADIO STAGE

MMoCA

876-820 EVEN

776-716 EVEN

?

W. MIFFLIN ST. E. MIFFLIN ST.

875-819 ODD

777-719 ODD

T

HABUSH, HABUSH

& ROTTIER

PERFORMING

ARTS STAGE

262-216 EVEN

178-120 EVEN

S. CARROLL ST. N. CARROLL ST.

277-219 ODD

179-121 ODD

WEST WASHINGTON AVE.

WISCONSIN AVE.

STATE

CAPITOL

BUILDING

ACCESSIBLE

MLK JR. BLVD.

MMoCA

677-619 ODD

T

EAST WASHINGTON AVE.

577-519 ODD

N. HAMILTON

N. PINCKNEY ST.

S. PINCKNEY ST.

680-616 EVEN

MMoCA

574-514 EVEN

M M oCA CONCESSION STANDS

Support the arts when you buy food and

319-377 ODD

419-477 ODD

MMoCA

beverages at MMoCA concession stands.

All proceeds benefit the museum's

exhibitions and education programs.

S. HAMILTON

MMoCA

STATE ST. KING ST.

W. MAIN ST. ?

E. MAIN ST.

316-376 EVEN

414-472 EVEN

ACCESSIBLECESSIBLE

ACCESSIBLE

MMoCA

MAGIC 98 STAGE

A Weekend

of Music &

Performances

Fans of music and dance will find

another reason to enjoy this year's ong>Artong>

ong>Fairong> on the Square. Nearly thirty different

groups and individuals will perform at

this year's fair, including out-of-town

acts and local favorites. ong>Fairong>-goers can

rest and watch performances while

enjoying a meal at the food court on

Martin Luther King Jr. Boulevard, in the

seating area at the top of State Street,

and on the Capitol Steps at North

Hamilton Street.

SATURDAY, JULY 13

Wisconsin Public Radio Stage

State Street and the Capitol Square

Noah Hittner 9-10am

Mad City Funk 10:30-11:30am

Mad City Jug Band 12-1pm

The North Code 1:30-2:30pm

Ambulatones 3-4pm

Bosky Point 4:30-5:30pm

Magic 98 Stage

Martin Luther King Jr. Boulevard

Skylah's Lyrik 9:30-11am

The Alpha Romeos

Blues Band 11:30am-1:30pm

Hypheria 2-3pm

Rare Element 3:30-4:30pm

Billy Joe and the Affordables 5-6pm

Habush Habush & Rottier S.C.

Performing ong>Artong>s Stage

Capitol Steps at North Hamilton Street

Midwest Performing ong>Artong>s 10-11:30am

Kehl School of Dance 12-1pm

Madison Contemporary Dance 1:30-3pm

Breakthrough Dance

Company

4:30-5:30pm

SUNDAY, JULY 14

Wisconsin Public Radio Stage

State Street and the Capitol Square

All That Jazz 10-11 am

Bone Holler 11:30am-12:30am

Greg Herriges 1-2pm

Down from the Hills 2:30-3:30pm

Tent Show Troubadours 4-5pm

Magic 98 Stage

Martin Luther King Jr. Boulevard

Julien Kozak 10-11am

Josh Cohen 11:30am-12:30pm

The Bitter Nothings 1-2pm

Kelsey Miles 2:30-3:30pm

Star 67 4-5pm

Habush Habush & Rottier S.C.

Performing ong>Artong>s Stage

Capitol Steps at North Hamilton Street

Trinity Irish Dancers 10am-12:30am

Kanopy Dance and Friends 1-2pm

Madison Professional Dance Center

2:30-3:30pm

4 • ART FAIR ON THE SQUARE 2019
---
ong>Artong> ong>Fairong> Menu

N Vendors new to the ong>Artong> ong>Fairong>

V Vegetarian options

❋ Gluten Free options

FC Located in the MLK Jr. Blvd food court

Sq Located on the Square

Sponsors

GOLD

FC

FC Sq

N Sq

V FC

V FC

V FC

Sq

❋ Sq

V ❋ FC Sq

V ❋ Sq

FC Sq

❋ Sq

N V ❋ Sq

V FC Sq

❋ Sq

Sq

Sq

Sq

N V ❋ FC

N ❋ FC

N V FC

N FC

N V ❋ FC

N

❋ Sq

V ❋ Sq

V FC

V Sq

All Star Catering Cheese curds, corn dogs,

chicken tenders, mini donuts, and more

Baja Smoothies Fresh fruit smoothies Sq @ 6 locations

Ben's Soft Pretzels Pretzels and dipping sauces

Sq @ Pinckney

Best Way Gyros and more Greek foods

Caracas Arepas Venezuelan arepas with a great

variety of fillings

Caracas Empanadas Meat and veggie empanadas

and churros

Chocolate Shoppe Ice Cream Company Ice cream

and root beer floats Sq @ Carroll

Freshly Squeezed Fresh squeezed fruit beverages

Sq @ Carroll

Greek Flame Foods Chicken & lamb gyros, veggie

platters, salads and more Sq @ Mifflin

Jakarta Cafe Chicken curry, veggie spring rolls,

dumplings, pulled pork, and more. Sq @ State

& Pinckney

Jerry's Cherry Lemonade and Shaved Ice

Lemonade and shaved ice Sq @ 5 locations

Kona Ice of Madison Tropical shaved ice

Sq @ Pinckney

Miko Poke Hawaiian style poke bowls Sq @ Main

MMoCA Concession Stands Brats, hotdogs, beer,

soda, water Sq @ 7 locations

MMoCA

Nectar of the Vine Alcohol-free wine frappes Sq @ Main

Otte's Concessions Hand-dipped corn dogs, fries,

funnel cake, and cheese curds Sq @ Mifflin

Otte's Kettle Korn Kettle Korn Sq @ Carroll & Pinckney

Pagoda Smoothie Food Cart Smoothies Sq @ Pinckney

Pudgey's, LLC Savory meat and vegetarian pudgey

pies, chips and more

Rodeo Wagon Tastes from New Orleans: jambalaya,

crawfish cheesecake, banana pudding and more

Sabor Queretano Tacos, burritos, nachos,

quesadillas, tamales, and more

Simply Sweet Build your own puffle waffle or waffle

on a stick with sweet toppings

Spice Yatra Vegetable or chicken curry, chana

(chickpeas) masala, and more

The Nut House Cinnamon Roasted Nuts Sq @ Mifflin

The Old Fashioned Crispy walleye sandwich,

heirloom tomato BLT, Door County cherry salad,

and more Sq @ Mifflin

Toast Assorted meat, veggie, and dessert paninis;

chips, and more

Umami Ramen & Dumpling Bar Tofu, beef and pork

buns, edamame, and pork dumplings Sq @ Mifflin

MADISON

OFFICIAL HOTEL

SILVER

BRONZE

MEDIA

NEW FRIEND

OF THE FAIR

®

ART FAIR ON THE SQUARE 2019 • 5
---
MMoCA Board

of Trustees

May 2019 – April 2020

Officers:

Marc Vitale, President

Vikki Enright, Vice-President

Bret Newcomb, Vice-President

Leslie Smith III, Vice-President

Charlotte Cummins, Secretary

Dynee Sheafor, Treasurer

Other Trustees:

Shiva Bidar

Marian Bolz, Life Trustee

Bryan Chan

Karen Christianson

Jennifer DeMain

Jim Escalante

Dave Franchino

Larry Frank

Sara Guyer

Cedric Johnson

Valerie Kazamias,

Life Trustee and Chair, The Langer Society

Jason Knutson

Oscar Mireles

Dave Orr

Amy Paulios

Rick Phelps

Eric Plautz

Jennifer Ridley-Hanson

John Ronzia

John Sims

QuHarrison Terry

Contributors

Ale Asylum, American Players Theatre,

Bagels Forever, Blick ong>Artong> Materials, Bonfyre

American Grille, Cafe Hollander/Lowlands

Group, Canvas Club Boxing, Capitol Centre

Market, Cave of the Mounds, Children's

Theater of Madison, Colectivo Coffee,

Discovery World, Dunkin' Donuts, Einstein

Bros. Bagels, Festival Foods, Fontana

Sports, Forward Theater, Freedom Skate

Shop, Giant Jones Brewing Company,

Harbor Athletic Club, HopCat Madison,

HotelRed, Ian's Pizza, InnerFire Yoga,

Insomnia Cookies, Karben4 Brewing, Lake

Geneva Cruise Line/Gage Marine Corp.,

Madison Sourdough, Madison's Central BID,

Metcalfe's Market, Milwaukee ong>Artong> Museum,

Next Door Brewing Company, Orange Tree

Imports, Potawatomi Hotel & Casino, Racine

ong>Artong> Museum, Shedd Aquarium, Starbucks

Coffee Company, Stoddard's Brats, Table

Wine, The Madison Concourse Hotel, The

Park Hotel, The Sylvee, Trader Joe's, Willy

Street Co-op, Working Draft Beer Company

Jury Panel

MMoCA is pleased to welcome the

2019 ong>Artong> ong>Fairong> on the Square Jurors

ANGELICA CONTRERAS was born in Whittier, California and moved

to Guadalajara, Jalisco in Mexico at an early age. There she began studying

printmaking at the Instituto Cabañas, as well as in other local artist workshops.

She attended the University of Guadalajara, receiving a B.A. in art in 2008 and a

Masters in ong>Artong> Education in 2016. Growing up in two different countries, Contreras

was submerged in the rich imagery of two cultures, and was exposed to influences

from other countries. Her mixed media work explores the relationship between

tradition and pop culture, incorporating acrylics and oil painting techniques and

collage into her pieces. She currently lives and works in Madison, Wisconsin, where

she continues to create and showcase her art.

JENIE GAO is an artist and entrepreneur. She specializes in printmaking, murals,

and public art installations. She connects the health of nature's ecosystems with

human relationships, alters familiar metaphors, and challenges conventional

systems. Prior to running her business full-time, Jenie worked across industries

in art, education, and lean manufacturing. She believes artists are leaders of the

creative economy and culture. Jenie has work shown, published, and collected

nationally and in the UK, Denmark, and Australia. She has spoken at TEDx Madison

and completed residencies at Proyecto 'ace International Center, Museo de ong>Artong>e

Moderno in Chile, the Bubbler in Madison, and more.

AARON LAUX From a very young age artist Aaron Laux understood that his

life would be driven by a need to create. As an undergraduate at the University of

Wisconsin – Madison, he followed his passion and accepted an apprenticeship with

artist Steven Spiro. This blossomed into a decade of mentorship and training in

wood sculpting techniques, which grounded Aaron's technical skills and unique

vision. In his 20s and early 30s, Aaron eschewed convention by deciding to go

off the grid, lived in a yurt, and learned long lost skills—like stone tool making—

connecting him to the natural world. In recent years Aaron has developed a diverse

portfolio including original art, commissions, community-based projects, public art,

as well as functional and architectural works. He was selected to participate in

The Phoenix from the Ashes, an exhibit of public art organized by the Madison

ong>Artong>s Commission which explores climate change issues, including deforestation.

WILLIAM J. PIELSTICKER is a self-taught professional photographer,

specializing in environmental images. His broad educational background has

enabled him to have a unique perspective as an artist. He received a B.A. in

English, a B.S. in Agronomy and an M.A. in American Politics. As an artist, he uses

photographic art to inspire viewers to preserve, protect, and restore special places

and landscapes. Besides running his own studio, he has been juried into numerous

Wisconsin and Illinois art fairs, including ong>Artong> ong>Fairong> on the Square (Madison) and the

Gold Coast ong>Artong> ong>Fairong> (Chicago). He also has exhibited his work for multiple galleries

and recently completed a multi-year project to re-photograph a selection of the

work by 19th century photographer H.H. Bennett.

6 • ART FAIR ON THE SQUARE 2019
---
Featured

ong>Artong>ist

Michelle

McDowell Smith

MMoCA selected

Michelle McDowell

Smith to be the

2019 ong>Artong> ong>Fairong> on

the Square

Featured ong>Artong>ist.

McDowell Smith

currently lives

just south of

Jacksonville, FL,

with her husband

and their three

children. In 1997

she graduated

from the Savannah

College of ong>Artong> and

Design as an

illustration major.

Her current body

of work, "Of Land

and Sky, Whimsical

and Free" is inspired

by her love of

storytelling and

nature. She works

on canvas with

acrylic paint,

working in glazes

to seamlessly

collage in vintage

ephemera such

as old maps,

postcards, and

vintage book

illustrations.

The 2019

featured artwork

is a limited edition

giclée reproduction

of her original

piece titled, The

Trove. The work

is a celebration of

bees and the vital

role they play as

pollinators and as

guardians of

ecological balance

and biodiversity

in nature. The title

alludes to the

honey, which

humans' treasure,

but also to the

bees themselves,

who are treasured

by mother nature.

The collage

elements in the

piece hold symbols

and metaphors

suggesting a

recognition of the

ancient importance

of bees, a call to

protect them in

the present, and

an optimistic hope

for a brighter

future where bees

continue to work

and thrive as they

always have done.

ong>Artong>ist booth: 316

(W. Main Street)

The Trove

by Michelle

McDowell Smith

ART FAIR ON THE SQUARE 2019 • 7
---
2018 BEST OF SHOW

1

2

3

4

5

6

8 • ART FAIR ON THE SQUARE 2019
---
7

BEST

OF

SHOW

Visit these

returning award

winners from the

2018 ong>Artong> ong>Fairong> on

the Square

1. ED MYERS

Digital ong>Artong>

booth 319

2. MATTHEW

HATALA

Wood

booth 571

8

3. KURT RUBY

Metal-Works

booth 253

9

4. ROBIN

LAUERSDORF

Printmaking,

Graphics, and

Drawing

booth 136

10

11

12

5. MICHAEL

IMES

Ceramics

booth 565

6. RON DEKOK

Furniture

booth 649

7. LUKE STRETAR

Painting

booth 162

8. THOMAS

WARGIN

Sculpture and

3-D Mixed Media

booth 462

9. SAMUEL YAO

Fiber/Leather

booth 520

10. JOHN

SCANLAN

Photography

booth 719

11. NESTOR YULFO

Mixed Media 2-D

booth 244

12. WILLIAM

ORTMAN

Glass

booth 839

ART FAIR ON THE SQUARE 2019 • 9
---
The ong>Artong>ists

The artists are listed alphabetically by medium.

Each entry is preceded by the artist's booth

number; use the map on page 4 to locate the

artist's position on the Square.

B Best of Show ong>Artong>ists from 2018

G Local art guild

F Featured ong>Artong>ist

E Exhibitor ad on page 15

I Invitational ong>Artong>ist from 2018

CERAMICS

G 575 Madison Potters Guild Madison, WI • madisonpottersguild.com

355 Bradley Bachmeier Fargo, ND • bachmeierpottery.com

232 Stan Baker Ann Arbor, MI • higherspottery.com

855 Brian Beam Fulton, MI • brianbeampottery.com

149 Alan & Rosemary Bennett Bath, NY • bennettclayfish.com

468 Julie Berndt Dawson, MN • kunst2@farmerstel.net

251 Kristin Busch Bloomington, IN • functionalceramics.com

827 Winthrop Byers Rock Springs, WI • thebyersstudio.com

736 Michael Cho Allentown, PA • mikecho928@yahoo.com

735 Kris & Al Clement Springfield, MO • clementclayworks@yahoo.com

163 Audry Deal-McEver Nashville, TN • audrydealmcever.com

650 John Dennison Omaha, NE • dennisonpottery.com

343 Jennifer Falter Springfield, MO • springfieldpottery.com

624 Nancy Gardner & Burton Isenstein Oak Park, IL •

nancygardnerceramics.com

759 John Herbon Saint Ignace, MI • johnherbonpottery.com

633 Gayle Herrli Indianapolis, IN • gherrli.com

B 565 Michael Imes Pewaukee, WI • imesclay.com

340 Paul Jeselskis Michigan City, IN • email@pauljeselskis.com

656 Michael & Mieko Kahn Greenbush, MI • kahnmichael@sbcglobal.net

I 625 William Kidd Lakeland, FL • williamkiddceramics.net

666 Greg & Jennie Lathrop Derby, KS • bgpottery.com

760 Chris Leung Kewaskum, WI • birdceramics.com

265 Clayton Macone Shell Lake, WI • ctmacone@gmail.com

169 Ryan Myers Madison, WI • facepots@hotmail.com

463 Louisa Podlich Columbia Heights, MN • loupod@gmail.com

137 Jef Raasch Milwaukee, WI • jefraasch.net

440 Gregg Rasmusson St. Louis, MO • grceramics.com

864 Victoria Schwartz Oak Creek, WI • victoria1artist@gmail.com

320 Steven Showalter Eagan, MN • stevenshowalter.com

229 Larry Spears Nashville, IN • spearspottery.com

429 Debra Steidel Wimberley, TX • debrasteidel.com

I 560 Dennis Thompson Branson, MO • snobhog.com

150 Jill Tortorella Antioch, IL • antiochpottery.com

669 Jean Wells Brown Deer, WI • jeansclaystudio.com

I 456 Jonathan White South Portland, ME • oddinq.com

DIGITAL ART

842 Lonnie Broden Orono, MN • lonniebrodenpaintings.com

458 Jason Brueck Nashville, TN • alterimagesart.com

531 Jbird Cremeans Huntington, WV • jbirdistheword.com

460 Kate Harrold Nashville, TN • kateharrold.com

173 Richard Lorenz & T'Louise Willis-Lorenz Bella Vista, AR •

lorenzfineart.com

727 Marcos Minuchin Long Beach, NY • thesecretlifeoftoys.com

B 319 Ed Myers Lake Mary, FL • lionoptic.com

837 Emily Rhodes Charleston, SC • platypusarts.com

FIBER / LEATHER

G 819 Mad City Quilt Guild Cottage Grove, WI •

carol.hanson@uwmf.wisc.edu

G 177 Madison Weavers Guild Beloit, WI • madisonweaversguild.com

828 Joanna Alot-Ciecholewski Skokie, IL • joannalot.com

141 Alejandra Avila Atlanta, GA • alejaavila.com

I 729 Billie Barthelemy Pinewood, MN • birdofparadisedesigns.com

657 Kali Basi Yelm, WA • kalibasi.com

236 Camille Benjamin Pomfret, CT • camillebenjamin.com

874 Jacqueline Bevan Round Lake Beach, IL •

jacqueline-bevan.pixels.com

258 Natalie Browne-Gutnik & Martin Gutnik Bayside, WI •

floorcloth-natasha.com

345 Martina Celerin Bloomington, IN • martinacelerin.com

620 Mary Christian Champlin, MN • thereabout@hotmail.com

239 Marla Duran Bethlehem, PA • marladuran.com

I 158 Melanie Ebertz & Wilbur Quispe Stillwater, MN • artandes.com

832 Steve Edgar Tallahassee, FL • edgarleather.com

246 Princy & John Fears Palm Springs, CA • princysponchos.com

371 Faye Fisher-Ward Minneapolis, MN • fisherwarddesigns.com

I 720 Suzanne Gernandt Waynesville, NC • suzannetextiles.com

772 Sharon Goddard Arbor Vitae, WI • cherishables2003@yahoo.com

566 Ronia Grillos Durango, CO • ronia1@aol.com

670 Sarah Heck & Anna Warren Milwaukee, WI • tactilecraftworks.com

430 Kathleen Johnson Glendale, WI • ffiles77@hotmail.com

337 Jaana Mattson Minneapolis, MN • jaanamattson.com

831 Mary McFarland Brodhead, KY • gotsilk@earthlink.net

I 519 Mychal Mitchell Austin, TX • ionahandcraftedbooks.com

824 Erika Mock Duluth, MN • erikamock.com

563 Susan Otterson Janesville, WI • skofiber@sbcglobal.net

I 242 Gina Pannorfi Chicago, IL • ginapannorfi.com

250 Lori Pruessing Milwaukee, WI • loripruessing.com

I E 740 Laura Ricks Lafayette, IN • emeraldhilltextiles.com

I 435 Gayle Roche Watsonville, CA • rocheleather.com

631 Renee Roeder Earley Madison, WI • hatsofancy.com

I 449 Irena Saparnis Willow Springs, IL • artijusu@yahoo.com

527 Jeff & Colinne Seemayer Ventura, CA • colorsartwear.com

849 Judith Smith Springfield, OR • eugeneleatherworks.com

166 Shani Solomon Henderson, NV • scarlettsolomon.com

658 Nance Sturm Snellville, GA • nance@creekwateralpacas.com

E 733 Char terBeest Kudla Baraboo, WI • helensdaughters.com

423 Alberto Toro Maryville, TN • cuerotoro.com

218 Vern Ji Yan Toronto, ON • outofparadise.com

B 520 Samuel Yao Ann Arbor, MI • sam48103@aol.com

FURNITURE

432 Bill Bale Jamestown, NY • sandhilldesigns.com

235 Brian Bortz Durham, NC • lostartwoodworks.com

548 Steven Carlson Berkeley, IL • stevenccarlson@yahoo.com

873 Patrick Fitzpatrick Chicago, IL • swoonliving.com

256 Alan Kalker Madison, WI • alansfinewoodworking.com

640 Ryan Miller Brockway, PA • intelligentproductdesigns@gmail.com

446 Paul Morrison Oregon, WI • thewoodcycle.com

356 Robert Myrvall Bark River, MI • robertmyrvall@yahoo.com

471 Douglas Nimmo St. Peter, MN • northlightartfurniture.com

339 James Pearce Peoria, IL • pearcewoodworks.com

10 • ART FAIR ON THE SQUARE 2019
---
GLASS

333 Heidi & Paul Barron Ada, MI • barronglassdesign.net

445 John & Erin Blackwell Woodland Park, CO •

blackwellglass@yahoo.com

742 Nicholas Bowers Mequon, WI • bowersglass@yahoo.com

365 Chris & Lynn Corrie Monticello, IL • corrieartglass.com

521 Leslie Friedman Arlington, TX • theredfishstudio.com

524 Sharon Fujimoto Amherst Junction, WI • fujimotoglass.com

453 Scott Gamble Denver, CO • methodglassworks.com

745 David Goldhagen Hayesville, NC • goldhagenartglass.com

220 Laurel Grey Onalaska, WI • laurelgreyglassworks.com

419 Scott Hartley Benton, KS • infinityartglass.com

I 361 Robin Kittleson Geneva, IL • robinkittleson.com

676 Chris McCarthy Kewaskum, WI • birdceramics.com

662 John McDonald Valley Center, KS • meridianstreetartglass.com

370 Robin Mueller Brooklyn Park, MN • whimsiesdesign.com

243 Karen Naylor Wilmot, WI • karennaylorglass.com

B 839 William Ortman Columbus, OH • williamortman.com

755 Ken Patzoldt & Jo Manbeck Grand Rapids, MN •

timberwindglass.com

I 128 Jack Pine Laurelville, OH • jackpinestudio.com

564 Richard Ryan Bourbonnais, IL • vmglassart.com

459 Douglas & Renée Sigwarth River Falls, WI • sigwarthglass.com

257 Randi Solin Brattleboro, VT • solinglass.com

766 Nicholas Stelter Kaukauna, WI • stelterglass.com

518 Leonard Tinnell & Katie Patten Missoula, MT •

leonardtinnell@gmail.com

344 Mark Wagar Riga, MI • wagarglass@hotmail.com

JEWELRY

523 Chelsea Bird Pawtucket, RI • chelseaebird.com

557 Bonnie Blandford Grand Rapids, MI • bblandford.com

156 Greta Cannon Santa Fe, NM • gretacannon@gmail.com

623 Lisa Cimino Baltimore, MD • cheemeno.com

269 Nichole Collins Lawrence, KS • nicholecollinsjewelry.com

I 635 Dagmara Costello Greendale, WI • dagmaradagart.com

452 Jessica Daman Florence, KY • sugarmountainjewelry.com

747 Courtney DeYoung Columbus, OH • cavaticadesigns.com

354 Josiah Eidmann Kenosha, WI • josiaheidmann.com

E 850 Patricio Ferreira Orlando, FL • bluesunjewelry.com

546 Katrina Fiebig Asheville, NC • gildedbug.etsy.com

I 770 Melissa Finelli Boston, MA • mellefinellijewelry.com

148 Jack Forney & Marian Vorgang-Forney Bloomington, IN •

forneygold.com

I 663 Pam Fox Sarasota, FL • pamfoxjewelry.com

647 Michele Friedman & John Ames Chicago, IL •

micheleafriedman.com

528 Christiane Hampel Naples, FL • hampeljewelry.com

628 Dawn Hatzidakis Crestwood, KY • designsbydawnky.com

I 170 Julie Jerman-Melka & Jeffrey Melka Calumet, MI •

flyinganvildesigns.com

469 Marti Johnson Edina, MN • martijohnson11@yahoo.com

161 Daniel Juzwiak Kalamazoo, MI • danieljuzwiak.com

660 Sky & Aaron Kahmann Brooklyn Center, MN •

aaronkahmann@gmail.com

332 Allison Kallaway-Young Kalispell, MT • allisonkallaway.com

763 Ann Kathryn Kehoe Milwaukee, WI • annkatdesigns.com

171 Deborah Kerr Chicago, IL • deborahkerrjewels.com

I 338 Karen Klinefelter Boise, ID • klinefelterstudio.com

260 Ronald Linton Madrid, NM • ronlinton@sbcglobal.net

861 Nikki Luczak Madison, WI • fairanita.com

516 Heidi Mandich Indianapolis, IN • mychampagnecreations.com

224 Veronica Martens Chicago, IL • veronicarileymartens.etsy.com

E 122 Don McCoy Englewood, FL • donmccoyjewelry.com

135 Steve Mitchell Saint Charles, IL • stevemitchellmetalsmith.com

562 Amy Moechnig Wayzata, MN • sevenstonejewelry.net

130 Erika Moeglich Fisher, IL • wilderboutique.etsy.com

I 545 Carlos Montanaro Indio, CA • rewindjewelry.com

451 Robin Nathan Chicago, IL • paletteearthdesigns@gmail.com

838 Nikki Nation Denver, CO • nikkinationjewelry.com

674 Meghan Nelson Saint Paul, MN • dottirshop.com

143 Kanchana Nerato Springfield, MO • isaradesigns.com

556 Suzette Nesbitt Reeds Spring, MO • rowdyblondestudio.com

835 Michel Plumail & Viviana Gill Lake Hopatcong, NJ •

michelplumail.com

758 Randy & Kitsana Polk Fountain Hills, AZ • randy@randypolk.com

846 Laura Schichtel Mayfield, MI • lbofmetal@yahoo.com

230 Caitie Sellers Richmond, VA • caitiesellers.com

823 Julie Seymour Eau Claire, WI • julieseymourgoldsmith.com

667 Jane & Susan Shaffer Mount Prospect, IL • shafferstudio.com

867 Peggy Skemp La Farge, WI • peggyskemp.com

E 537 Paula Sparks Madison, WI • paulasparksjewelry.com

349 Jonathon Stopper Sarasota, FL • simplyjonathons@msn.com

438 Susan Storck Minneapolis, MN • sudify.net

E 326 Martin Taber Berkeley, CA • taberstudios.com

732 Andrea Terry Liberty Hill, TX • anditerry.com

329 Wendy Witchner Ajo, AZ • wendywitchner-jewelry.com

648 Kristin Wornson Minneapolis, MN • skippinglilies.com

769 Youngjoo Yoo & James Won Berrien Springs, MI •

youngjooy@gmail.com

675 Nicole Zeman Lake Zurich, IL • silverwhimsyjewelry.net

748 Leia Zumbro St. Louis, MO • leiazumbro.com

METAL-WORKS

671 Cameron Allen Jupiter, FL • cameroncohen1@gmail.com

626 Bradley Anderson Bozeman, MT • bvadesign.com

414 Keith Bradley Plantation, FL • keithbradleyart@gmail.com

227 Nicole & Hill Brin Cotopaxi, CO • nicolebrin@outlook.com

616 Kerry Christian Champlin, MN • thereabout@hotmail.com

334 Cym Doggett Huntsville, AL • cymdoggett.com

360 Donald Esser Waunakee, WI • goldenhammer@tds.net

363 Cherie Haney Ann Arbor, MI • metalartbycherie.com

424 Tim Herbst Wheat Ridge, CO • herbst-metal-wall-art.com

731 Jimmy Langford Cumming, GA • langford.jimmy@gmail.com

544 Jenny Martos Pittsburgh, PA • jennymartos.com

834 Luke Proctor Mt. Horeb, WI • lproctorironworks.com

551 Randall Riemer Mineral Point, WI • rhenrydesign.com

B 253 Kurt Ruby Arcadia, FL • kurtruby.com

830 Danny Sayre Akron, OH • studio-d-art.com

I 749 Bryan Schultz Kenosha, WI • obscurebelts.com

366 Ryan Slattery Cincinnati, OH • slatteryscreations.com

124 Dan Vidaillet Marshfield, WI • vidailletsculptures.com

643 Mark Zirinsky Denver, CO • studio-z.org

MIXED MEDIA 2-D

G 275 Madison ong>Artong> Guild Inc. Madison, WI • madisonartguild.com

450 Kristi Abbott St. Paul, MN • madebykristi.com

367 Rick Abrams DeLand, FL • aaaangel2@gmail.com

152 Esther Aron Bull Valley, IL • estheraron.com

638 Sarah Bean White Issaquah, WA • artandpoems.com

ART FAIR ON THE SQUARE 2019 • 11
---
573 Clayton ''Junior" Bell Florence, TX • goh2o.gallery

771 Kendra Bennett Daphne, AL •

facebook.com/kendrabennettfinearts

157 Ross Berg Bloomington, IN • rosscbergphotography.com

336 Daniel Bondroff Miami, FL • danbondroff.com

857 Aaron Coleman Kansas City, MO • studiocoleman.com

439 Amy & Jeff Dallas Grafton, WI • tiletempo.com

841 Penny Dobson Rome, GA • pennydobson.com

840 Eric Doucette LaCygne, KS • ericdoucette.com

331 Christine Echtner Madison, WI • cechtnerart.com

854 James Elliott Onalaska, WI • oldsoulrevivalart.com

233 Joe Engel Staunton, VA • joe-engel.com

I 820 Rhea Ewing Fitchburg, WI • rheaewing.com

234 Joel Fremion Ossian, IN • joelfremion@yahoo.com

164 Lee Galusha Chicago, IL • origamionly.com

I 553 David Gilbertsen Silver Lake, WI • artistdavidg@gmail.com

342 Laura & Jack Harris Dousman, WI • melonheadgallery.com

350 Beverly Hayden Chattanooga, TN • beverlyhayden.com

530 Heather Haymart Ballwin, MO • heatherhaymart.com

443 Mina Hsing Evanston, IL • minastudios.com

237 Leif Johansen Asheville, NC • leiferikjohansen.com

362 Dawn LaGrave Liberty, MO • lagravedesigns.com

869 Rita & Steve Lohr Olathe, KS • lohrfineart.com

I 341 Jay Long Austin, TX • jaylong.com

F 316 Michelle McDowell Smith St. John's, FL •

michellemcdowellsmith.com

542 Jo & William Nelson Hastings, NE • jpohl2000@yahoo.com

373 Kellie & Natalie North Salt Lake City, UT • studiosaltart@gmail.com

871 Angie Pickman Kansas City, KS • ruralpearl.com

457 Michelle Prahler Decatur, GA • etsy.com/people/planetprahler

651 Mindy & Greg Rhoads Marquette, KS • peacepttry@yahoo.com

216 Nicholas Ringelstetter Spring Green, WI • atomic7studio.com

259 Brad & Sundie Ruppert Norwalk, IA • sculpturalfelt.com

754 Jason Thomas & Alexa Vicario South Euclid, OH •

redrocketfarm.com

B 641 Lou Ann Townsend & Mary Filapek Concord, NC •

maryandlouann.com

147 Tyler Voorhees Fennville, MI • tylervoorheesart.com

346 Chris Wheeler Fort Collins, CO • pergamenafineart.com

B 244 Nestor Yulfo Chicago, IL • nestorisaacyulfo.com

EMERGING ARTISTS

E E10 Jenny Abraham Schofield, WI • jenny1960abr@gmail.com

E18 Alyssa Ackerman Madison, WI • alyssaackermanart.wordpress.com

E12 Sharon Bjyrd Madison, WI • bohemianblackart.com

E17 Kati Fernandez Lambert Madison, WI •

behance.net/gallery/76839677/kati-lambert

E13 Juan Fried Northfield, MN • metalarchill.com

E21 Allison Hake St. Louis, MO • etsy.com/shop/riverroseart

E19 Natalie Hinahara Viroqua, WI • nhinahara@gmail.com

E22 Sally Lautmann Fox Point, WI • sally.lautmann@gmail.com

E11 T.L. Luke Madison, WI • tl-luke.com

E16 Ben Otten Ixonia, WI • studioevergreenart.com

E14 Rebecca Szparagowski Bowling Green, OH •

rebeccaszparagowski@gmail.com

E24 Madison Tebo Milwaukee, WI • madisondawne.com

E20 Sam Thompson Appleton, WI • samthompsonceramics.com

E23 Ryan Tuck Brookfield, WI • 1064studios.com

PAINTING

G 677 VSA Wisconsin Madison, WI • vsawis.org

634 Chris Abigt Ottumwa, IA • chrisabigtart.com

538 Pavlina Alea Miami, FL • pavlinaalea.com

514 R. L. Alexander Celebration, FL • artbyalexander.com

I 428 Marc Anderson Elmwood, WI • marcandersonillustration.com

863 Brian Burt Mason, OH • bmburt.com

I 139 George Ceffalio Glen Ellyn, IL • ceffalio.com

764 Daphne Covington Smyrna, GA • daphnecovington.com

441 Jeff Dallas Grafton, WI • jefedallas@cs.com

418 David Dallison Waukegan, IL • davidedallison.com

743 Ruth Odile Davis Dennis Port, MA • odilefineart.com

I 134 Joyce Eesley Milwaukee, WI • joyceeesley.com

853 Ruth Fromstein San Diego, CA • ruthfromstein.com

271 Nyle Gordon Ethel, MO • nylegordon.com

140 Jonah Green Richmond, VA • jonahgreenart.com

222 Maggie Grier Irondale, AL • maggiegrier.com

549 Jim Holehouse Winter Garden, FL • tropicartdesign.com

652 Ingrid Hyde Rockford, IL • ihyde25@me.com

I 554 Peter Jablokow Evanston, IL • peterillustrator.com

I 543 Coreen Johnson Lafayette, MN • coreenjohn@gmail.com

351 Jane Johnson Port Charlotte, FL • janejohnsonart.com

228 Brian Keller Denver, CO • btkeller.com

226 Sooro Kim Longwood, FL • surokart.com

655 Timothy Kobs Trempealeau, WI • tkobs.com

328 Marina Kontorina Grand Rapids, MI • studiokontorina.com

167 Rebecca Korth Marshfield, WI • rebeccakorth.com

120 Brendan Kramp St. Paul, MN • brendankramp.com

455 Olga Krasovska Granite Falls, MN • artfromolga.com

262 Ning Lee Monroe, NJ • ningleeart.com

526 Anastasia Mak Chicago, IL • anastasiamak.com

225 Micah Mullen Raleigh, NC • micahmullen.com

845 Vladimir Ovtcharov Albuquerque, NM • ovtcharovart.com

454 David Palmer Pasadena, CA • davidpalmerstudio.com

I 574 Adam Pankratz Fitchburg, WI • krinklebearcat.com

I 431 Bruce Peeso Monson, MA • backroadsgallery2.homestead.com

248 Annette Poitau Oberlin, OH • annettepoitau.com

773 Ann Powell Milwaukee, WI • paintit-black.com

324 Julie Roth West Bend, WI • rothillustration.com

I 127 Matthew Rucker Minneapolis, MN • matthewrucker.com

622 Philip Salamone Madison, WI • philipsalamone.com

I 522 Phill Singer New Britain, PA • psingerart.com

734 Michael Steddum Webb City, MO • michaelsteddum.com

B 162 Luke Stretar Richfield, OH • lukestretar.com

723 Steve Swagerle Madison, WI • stairwaystudiogallery.com

673 Peter Thaddeus Warrenville, IL • thaddeusart.com

I 477 Alla Tsank Encinitas, CA • allatsankart@hotmail.com

645 Laima Urban Villa Park, IL • laima.urban@gmail.com

737 Andy Van Schyndle Algoma, WI • wagalabagala.com

168 Todd Voss Detroit Lakes, MN • mnartists.org/todd_voss

372 Jason Weatherspoon Charleston, SC • prismaluxe@gmail.com

364 Joel Zaretsky & Mary Jane Piccuirro West Hurley, NY •

its-not-metal.com

774 Kevin Zuckerman Double Oak, TX • kevinzuckerman.com

PHOTOGRAPHY

154 Eric Baillies Madison, WI • photochemist.net

860 C.W. Banfield Howell, MI • thewildernessgallery.com

470 B. Eugene Bauer Saint Peters, MO • bauerphotography.org

12 • ART FAIR ON THE SQUARE 2019
---
I 532 James Becia Mt. Horeb, WI • spiritlightphotography.com

321 Michael Behr Minneapolis, MN • mikebehrphotography.com

159 Ross Berg Bloomington, IN • rosscbergphotography.com

252 Michael Bryant Atlanta, GA • michael-bryant.com

145 James Cole Plainfield, IL • jamesmcarthurcole.com

741 Micheal Paul Cole Hannibal, MO • michealpaulcole.com

I 777 Rudolph De Ram Wauconda, IL • deramphotography.com

263 John Deng Roslyn, NY • johndengfinearts.com

724 JD Dennison Chicago, IL • jddennison.com

535 Christopher Doherty Jupiter, FL • dohertyphotography.com

558 Scott Fincher Chicago, IL • scottfincher.com

I 144 Greg Gawlowski Santa Cruz, CA • fourseasonspress.com

434 Chris Gug Fort Lauderdale, FL • gugunderwater.com

E 843 David Hall Appleton, WI • cercatrovaphotography.com

I 678 Lijah Hanley Duluth, GA • lijahhanley.com

I 716 Clifton Henri Chicago, IL • cliftonhenri.com

433 Cali Hobgood Urbana, IL • photographsbycali.com

153 Jesper Johansen Denver, CO • tinypeoplebiglaughs.com

247 Scott Johnson Bloomington, IN • deepskyastrophotography.com

I 829 Jack Kraig Evanston, IL • jackkraig.com

133 Angela Kullmann & Russell Grace Harvard, IL •

bestlightcollection.com

627 Ray Mosteller Easley, SC • photobyray.com

753 Xavier Nuez Chicago, IL • nuez.com

I 132 Lawrence Oliverson Sullivan, WI • lawrenceoliverson.com

646 Gene Pembroke Philadelphia, PA • 35slide.com

467 Brad Pogatetz Batavia, IL • bradpogatetz.com

240 Scott Reynolds Prairie Village, KS • scottreynoldsphotography.com

I 322 Andrew Roth West Bend, WI • andrewrothphotography.com

255 Erik Saulitis Minneapolis, MN • danceprints.com

B 719 John Scanlan Glenwood, IA • scanlan.com

637 Joan Schulte Louisville, KY • joanschulte.com

231 Kyle Spears Bloomington, IN • kylespears.com

420 Jason Stoddart Cookeville, TN • jasonstoddart.com

I 473 Steve Wewerka Saint Paul, MN • stevewewerka.com

750 Mike Woodward San Clemente, CA •

mikewoodwardphotography.com

PRINTMAKING, GRAPHICS, AND DRAWING

I 151 Kent Ambler Greenville, SC • kentambler.com

621 Jeff Condon Grand Rapids, MI • jeffcondonart.net

872 Susan Deaton Corbin, KY • susandeatonstudio.com

541 Eli Helman Easthampton, MA • elihelman.com

B 136 Robin Lauersdorf Monona, WI • robinlauersdorf.com

426 Stanley Leonard Woodbury, MN • stanleyleonardstudio.com

I 639 Melissa Mason Plover, WI • melissahelene.com

254 Taylor Mazer Grand Rapids, MI • taylordraws.com

738 Haylee McFarland Whittier, CA • HMdesignStudios.com

I 619 Zachary Mory Glen Ellyn, IL • zachmory.com

146 Richard James Nelson St. Paul, MN • richardjamesnelson.com

653 Steve Nowatzki Minneapolis, MN • stevenowatzki.com

847 Kim Russell Spring Green, WI • russellworks.com

868 David Santiago Albuquerque, NM • stjameart.com

826 Andrew Swartz Atlanta, GA • skullgarden.net

833 Scott Swezy Albuquerque, NM • swezyart.com

I 425 Tai Taeoalii Hannibal, MO • artbytai.com

155 Marina Terauds North Branch, MI • marinaterauds.com

668 Chad Tuura Genoa City, WI • backwoodpress.com

437 Chuck U Minneapolis, MN chucku.com

348 Nha Vuu Fort Collins, CO • NhaVuu.com

E 559 Richard Wilson Greenville, NC • richardwilsonart.com

844 Nick Wroblewski Duluth, MN • nickwroblewski.com

318 Kreg Yingst Pensacola, FL • kregyingst.com

SCULPTURE AND 3-D MIXED MEDIA

536 Alfredo Alea Miami, FL • alfredoalea.com

E 357 Michael Alfano Hopkinton, MA • michaelalfano.com

374 Chad Anderson Cedar Springs, MI • chadmann55@yahoo.com

I 865 Amy Arnold & Kelsey Sauber Olds Viroqua, WI •

amy@peepwool.com

539 Albert Benedict Whitewater, WI • benedictsculpture@gmail.com

570 Christopher Buonomo Philadelphia, PA • 13degreestudios.com

I 567 Shawn Carling Lakeville, MN • machineagelamps.com

644 Chris Cumbie Mobile, AL • facebook.com/chriscumbieart

327 John Denis Chicago, IL • johnjosephdenis.com

659 Joseph & Bridget Farmer St. Charles, MO • jbfarmer.com

550 Will Grant Bradenton, FL • willgrantdesigns.com

533 James Harris New Lenox, IL • jamesiharris.com

671 Nicario Jimenez Naples, FL • retablosnicario.com

444 Paul Klein Amherst Junction, WI • newhopeInwood.com

273 Amy Lansburg Valdosta, GA • alansburg@hotmail.com

654 Scott Luken Yankton, SD • scottlukensculpture.com

540 Lou Michaels Ocala, FL • lvs3d.com

I 825 Steven Olszewski Pinckney, MI • spolszewski@gmail.com

330 John Pahlas Mt. Horeb, WI • john-pahlas.com

768 Ralph Parker Salida, CO • ralphmparker.com

630 Eugene Perry Voorhees, NJ • eugeneperry.com

221 Dakota Pratt Dallas, TX • dakotapratt.com

I 672 Ed Pribyl McHenry, IL • edpribyl.com

I 866 Valerie Savarie Denver, CO • valeriesavarie.com

465 Sam Spiczka Sauk Rapids, MN • sculptorsam.com

746 Bill Thelen & Laurie Fowler Northville, MI • fineartfiber.com

165 Carmen Alana Tibbets Edwardsville, IL • agosiaarts.com

172 Richard Turner & Eric Carroll Wichita, KS • desertsteel.net

B 462 Thomas Wargin Menomonee Falls, WI • wargin.com

851 Jennifer Rose Wolken Springfield, MO •

instagram.com/theartiststudiollc

WOOD

636 Vince Cook Brainerd, MN • wmsonfurniture.com

765 Adam Crowel Bonneau, SC • boxedmusicdrums.com

B 649 Ron Dekok Belleville, WI • rondekok.com

870 Jamie Green Lexington, KY • jamiegreensculpture.com

751 Chad Grob Cross Plains, WI • charobheavenlygrains.com

B 571 Matthew Hatala Danielsville, GA • mhatalawoodturner@gmail.com

335 Ted July Otisville, MI • thelatentlog.com

I 347 Paul Lambrecht Lanesboro, MN • paullambrecht.com

129 David & Carolyn Levy Davis, CA • davidlevycreations.com

466 Kevin Lohse Dawson, MN • kevinlohse@gmail.com

775 David & Suella Lory Platteville, WI • davidlorybowls.com

I 241 John Mascoll Safety Harbor, FL • johnomascoll@gmail.com

442 Sue Mersman Wetmore, KS • suemersman.com

744 Patrick Plautz Eagan, MN • patrickjsimagination.com

I 572 Mark & Carol Reynolds Austin, TX • kaleidovisions.com

762 John Russell Linden, VA • johnmrussell.com

756 Ron & Christine Sisco Tumacacori, AZ • treestump.co

739 Thomas Stahl ong>Fairong>field, OH • stahlbowls.com

836 William Steffen Spencerville, IN • bsteffen2@gmail.com

722 Alex Stehle Oregon, WI • stehlewoodworking.com

848 Steve Uren Grand Rapids, MI • steveuren.com

ART FAIR ON THE SQUARE 2019 • 13
---
TM

MODERN AMERICAN ART AND CRAFT

furniture

painting

ceramics

art glass

art jewelry

photography

sculpture

wearable art

236 HIGH STREET • MINERAL POINT • wantoot.com • 608.284.5927

FIND A MASTERPIECE!

VISIT THE 6TH ANNUAL

PLEIN AIR

SHOW & SALE

August 1 0 , 2019

Mineral Point, Wisconsin

ARTSMP.ORG

HOT OFF THE SHELF

ARTISTIC BEAUTY

Explore our complete selection of beautiful and

artistic jewelry. Shown here are a pair of carved

Tahitian Cultured Pearl and diamond earrings

with matching pendant from Zoma, Diamond

and Blue Topaz earrings with matching pendant

from SDC Creations, and a Cultured Pearl and

diamond ring from Just Jules. Brighten your life

at Goodman's Jewelers, 220 State St., Madison,

608.257.3644, goodmansjewelers.com

14 • ART FAIR ON THE SQUARE 2019
---
2019 ong>Artong> ong>Fairong> on the Square

EXHIBITORS

JENNY ABRAHAM FINE ART

Jenny Abraham

jenny1960abr@gmail.com

Booth E10

SCULPTURE BY MICHAEL ALFANO

Michael Alfano

michaelalfano.com

Booth 357

BLUE SUN HANDCRAFTED JEWELRY

Patricio Ferreira

BlueSunJewelry.com

Booth 850

CERCA TROVA PHOTOGRAPHY

David Hall

cercatrovaphotography.com

Booth 843

HELEN'S DAUGHTERS STUDIO

Char terBeest Kudla

baraboobags@centurytel.net

helensdaughters.com

Booth 733

DON McCOY

donmccoyjewelry.com

Booth 122

EMERALD HILL TEXTILES BY LAURA RICKS

Laura Ricks

emeraldhilltextiles.com

Booth 740

PAULA SPARKS STUDIO

Paula Sparks

paulasparksjewelry.com

Booth 537

TABER STUDIOS JEWELRY

Martin Taber

taberstudios.com

Booth 326

RICHARD WILSON FINE ARTS

Richard Wilson

richardwilsonart.com

Booth 559

ART FAIR ON THE SQUARE 2019 • 15
---
AN INSPIRATIONAL

INTERACTIVE

COMMUNITY

SPACE FOR

DREAMERS

FREE EVENTS | INSPIRING EXHIBITS | OPEN TO ALL

FIND FREE EVENTS AND RSVP BY VISITING: amfam.com/dreambank

Mon – Thur: 8 am – 8 pm | Fri: 8 am – 5 pm | Sat: 9 am – 4 pm | Sun: Closed

821 East Washington Avenue | Madison, WI 53703 | 608.286.3150 | amfam.com/dreambank

American Family Mutual Insurance Company S.I., American Family Insurance Company

6000 American Parkway, Madison, WI 53783 ©2018 014424 – 01/18