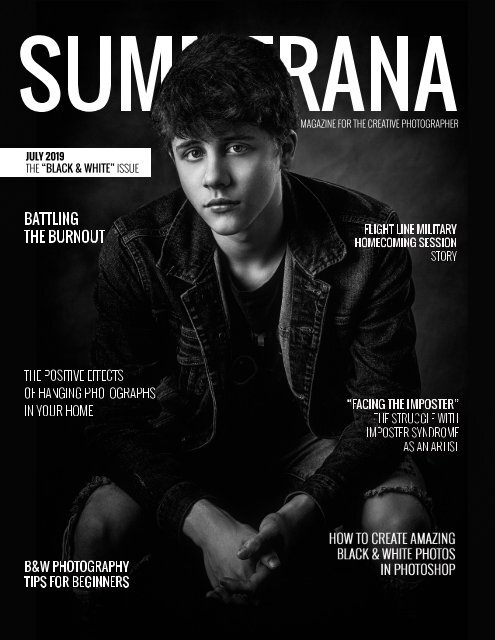 SUMMERANA MAGAZINE | JULY 2019 | THE "BLACK & WHITE" ISSUE
Create successful ePaper yourself
Turn your PDF publications into a flip-book with our unique Google optimized e-Paper software.
SUMMERANA

MAGAZINE FOR THE CREATIVE PHOTOGRAPHER

JULY 2019

THE "BLACK & WHITE" ISSUE

BATTLING

THE BURNOUT

FLIGHT LINE MILITARY

HOMECOMING SESSION

STORY

THE POSITIVE EFFECTS

OF HANGING PHOTOGRAPHS

IN YOUR HOME

"FACING THE IMPOSTER"

THE STRUGGLE WITH

IMPOSTER SYNDROME

AS AN ARTIST

B&W PHOTOGRAPHY

TIPS FOR BEGINNERS
---
SUMMERANA

MAGAZINE

CONTENTS

THE "BLACK & WHITE" ISSUE

5

ABOUT THE COVER ARTIST

ALISHIA POTTER

26

WHAT PHOTOGRAPHERS SHOULD

WEAR DURING A PHOTOSHOOT

8

THE POSITIVE EFFECTS OF HANGING

PHOTOGRAPHS IN YOUR HOME

BY CHELSEA HILL

28

FLIGHT LINE MILITARY HOMECOMING

BY VALERIE KAY ABRAHAM

12

HOW TO CREATE AMAZING

BLACK & WHITE PHOTOS

IN PHOTOSHOP

17

BATTLING THE BURNOUT

BY MIA GRIGGS

22

STYLING INSPIRATION

FOR YOUR NEXT SESSION

38

FEATURED MEMBER OF THE MONTH

41

"FACING THE IMPOSTER"

THE STRUGGLE WITH IMPOSTER SYNDROME

AS AN ARTIST BY NICOLE JEANNE WOOD

24

B&W PHOTOGRAPHY TIPS AND

TRICKS FOR BEGINNERS

BY MONIKA CIOBAN

The Potter's Hand Photography
---
SUMMERANA

MAGAZINE

FLIGHT LINE MILITARY HOMECOMING

BY VALERIE KAY ABRAHAM

This flight line homecoming for the

Kenny family is one of my absolute favorite

sessions of my entire career. The

images were even featured on the local

news.

As a prior military spouse, I've been

shooting homecomings as long as I've

been a photographer. All of them are

overwhelming with beautiful emotion

and loving connection that really isn't felt

anywhere else.

This was the first time on an Air Force

base. I had no idea what to expect at all,

I just followed the client as she went into

a big hangar. I thought to myself, "a big

dark inside space is typical, this must be

it." She continued walking and then went

out of the hangar doors to the other side.

As I followed out the door, I was overwhelmed

with such awe! It was a huge

flight line, military planes everywhere,

with our beautiful Colorado mountains in

the short distance. We had snow the previous

day with full sun on this day.

So in all the images, you see a beautiful

fog evaporating, making the horizon line

of the ground almost seamless with the

sky. I was completely blown away with

all of the beauty around me, just breathing

in each moment the best I could to try

to experience it all.

If you haven't been to a military homecoming

before, It's mostly just waiting

and waiting with the loved ones full of

nervous energy. I like to make sure I have

my confidence up to keep the conversation

going to try to distract them. I like

playing with the kiddos so they are com

fortable, snapping photos of them as they

wait, rounding out a whole story told

through their gallery.

For this one, we got to watch the plane

land, which was incredible! As they start

to deplane the airmen, the anticipation

and emotion are at an all-time high. It

was for me, even though I've done several

homecomings.

I like to joke that it's great I'm able to

hide behind a camera in case of my own

happy tears. I just wait, having no idea

which one is their airman. I am waiting to

go follow them at a second's notice, setting

my focus point to the center of my

viewfinder for ease. When they go, I

follow as fast as I can, seriously snapping,

focusing, snapping, focusing, etc, etc.

There isn't a second that I want to miss.

After the initial embrace, I stand back

snapping photos as they reunite with

other family members. I typically take

some video clips as well to put together a

film for them. Once all is calm, we take

a few family portraits and that's it!

Military homecomings are an incredible

Military homecomings are an incredible

type of session to be able to do. They are

demanding of your time, they can be any

time of the day or night, but after it all, it

is so worth it to be able to capture these

moments for our amazing military families.

28
---
SUMMERANA

MAGAZINE

SAME SESSION

Masquer8 Photography

Edited Using Summerana's Everyday Essentials

Workflow Actions and Black & White Actions

46
---
SUMMERANA

MAGAZINE

DIFFERENT LOOK

Masquer8 Photography

Edited Using Summerana's Painted Desert Digital

Background, the Everyday Workflow Actions

Collection and the Black & White Action

47