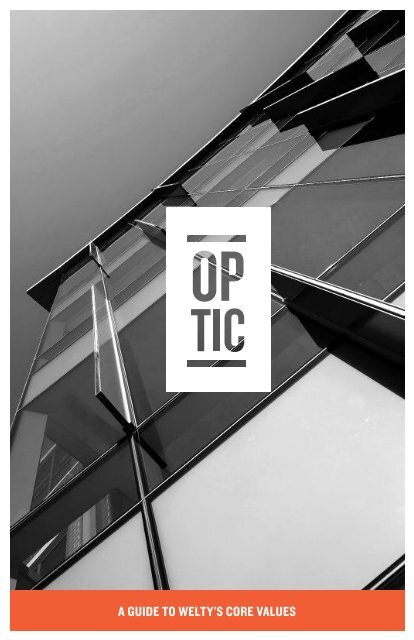 OPTIC
A GUIDE TO WELTY'S CORE VALUES
A GUIDE TO WELTY'S CORE VALUES
SHOW MORE
SHOW LESS
Create successful ePaper yourself
Turn your PDF publications into a flip-book with our unique Google optimized e-Paper software.
A GUIDE TO WELTY'S CORE VALUES
---
Our Values

Core values are vital to any team or organization's success. Core

values are the guiding "principles of conduct" that dictate behavior

and action by everyone on the team or in the organization. Core

values help people understand what is right from wrong; they help

teams and organizations determine if they are on the right path and

are fulfilling their "WHY."

Simply put, they create an unwavering and unchanging guide on

how we will work with each other, customers and partners. These

are not values that change from time-to-time, situation-to-situation

or person-to-person, but rather they are the underpinning of our

company culture.

The Welty five core values of Openness, Passion, Teamwork,

Integrity and Customer-Centricity are non-negotiable and will

be the heart and soul of everything we do, including hiring,

firing, and promotions.

It is your responsibility as a member of the Welty team to

understand the definition of each core value including what that

value "is" to the organization, as well as what it "is not." Each and

every one of us is responsible for holding all of us accountable for

each of these values, everyday in everything that we do.

Thank you for being a member of the Welty team.

Donzell Taylor

President & CEO, Welty
---
WE ARE

OPEN AND

TRANSPARENT

IN WHAT WE

DO, WHY WE

DO IT AND

HOW WE DO IT.

OPENNESS

We are open and transparent in what we do, why we do it and

how we do it.

We are candid and direct; no hidden agendas.

We are open-minded, embracing new ways to learn, grow and adapt.

We embrace new ideas and ways of doing things.

Egos do not get in the way of progress.

OPENNESS IN OUR

WORKPLACE IS

––

Being adaptive, overcoming

obstacles with all team

members participating

––

Listening and providing

honest feedback

––

Ability to look outside the

box and learn

––

Being approachable

––

Addressing the truth and

reality of a situation even

when it's uncomfortable

or difficult to hear

OPENNESS IN OUR

WORKPLACE IS NOT

––

Getting emotionally invested

in one point of view

––

Secrecy and hoarding

information for personal

gain or power

––

Lack of discretion - attacking

a person instead of the issue
---
WE LEAD

WITH HEART,

INSPIRING

OTHERS WITH

OUR THIRST FOR

EXCELLENCE.

PASSION

We lead with heart, inspiring others with our thirst for excellence.

We are excited about our work, driven by our purpose and passionate

about performance.

We have a passion for innovation, challenging the status quo and

taking calculated risks.

We care intensely about the success of Welty and have an insatiable

thirst for excellence.

PASSION IN OUR

WORKPLACE IS

PASSION IN OUR

WORKPLACE IS NOT

––

Having a positive

"can-do attitude"

––

Loving what we do –"It's

not a job – It's a career"

––

Showing resilience –

RAP "Run Another Play"

––

Creating and embracing

innovation

––

Being apathetic, just going

through the motions to make

money and go home

––

Having tunnel vision – failing

to listen or see others opinions

––

Being defensive when your

ideas are challenged

––

Being self-righteous
---
WE ALWAYS

THINK IN TERMS

OF "WE," AND

NEVER IN

TERMS OF "I"

OR "THEM."

TEAMWORK

We always think in terms of "We", and never in terms of "I" or "Them."

We embrace the "world of co" – collaborating and co-creating with

our colleagues and customers.

We build a safe environment for participation and inclusion.

TEAMWORK IN OUR

WORKPLACE IS

––

Every team member working

toward a common goal

––

Having honesty and integrity in

everything the team does

––

Communicating openly,

honestly and respectfully

––

Collaboration – seeking the

best way to achieve results

TEAMWORK IN OUR

WORKPLACE IS NOT

––

Having a bad attitude which

affects team dynamics

––

Failing to communicate what

you know when you know it

––

Using "I" when talking about

team efforts
---
INTEGRITY

WE PUT INTEGRITY

AND CONCERN FOR

OTHERS ABOVE ALL

ELSE, KNOWING AND

DOING WHAT'S RIGHT.

ALL THE TIME.

We put intergrity and concern for others above all else, knowing and doing

what's right. All the time.

We trust others and build trusting relationships.

We treat others fairly and communicate clearly and candidly in all we do.

We do no harm.

We set and manage expectations based on the realities of the situation.

INTEGRITY IN OUR

WORKPLACE IS

––

Putting honesty, sense of duty

to your team, and sound moral

principles above all else.

––

Being trustworthy – Having

each other's backs and

watching out for each other,

trusting that we can trust each

other implicitly.

––

Being consistent – Delivering

on commitments we make

and accept. Able to say no

and explain why. Exhibiting

the same behavior whether in

public or private.

INTEGRITY IN OUR

WORKPLACE IS NOT

––

All about you and not the

team or Welty

––

Hiding facts and data, you do

not share your knowledge,

you keep secrets

––

Failing to live up to your word

or promises

––

Making too many compromises

to be liked or avoid conflict

––

Failing to treat everyone

with respect
---
WE SEEK TO BETTER

UNDERSTAND THE

"WHY" BEHIND EVERY

PROJECT, BECAUSE

EVERY BUILDING HAS

A DEEPER PURPOSE.

CUSTOMER-

CENTRICITY

We seek to better understand the "Why" behind every project, because

every building has a deeper purpose.

We think and act with both our internal and external customers –

and their customers – in mind.

We listen - always striving to learn more about our customer's

business so we can better anticipate their wants and needs.

We understand and create value for the customer through ease

of use, speed and delivery, and setting realistic expectations.

CUSTOMER-CENTRICITY IN

OUR WORKPLACE IS

––

Seeking to understand the

"why" of every project

––

Managing expectations through

authentic conversations

––

Being proactive in

everything we do

CUSTOMER-CENTRICITY IN

OUR WORKPLACE IS NOT

––

Not taking the time to

listen and understand

––

Avoiding what the

customer really wants

––

Not following through

on promises

––

Having a poor attitude
---
"These values are the heart and soul of Welty. By

honoring them in everything we do, it makes it easy for

us to "never be afraid to do the right thing," bringing to

our customers an amazing building experience.

OPTIC is our organization's DNA, that provides the

code on how to treat and collaborate with each other;

creating that extraordinary place we all want to work.

In the end, strategies are set, the values of OPTIC are

lived, forming the foundation of 'Build to Last.'"

Don Taylor, President & CEO

Welty Building Company
---
BUILD TO LAST.

© Welty Building Company Ltd.