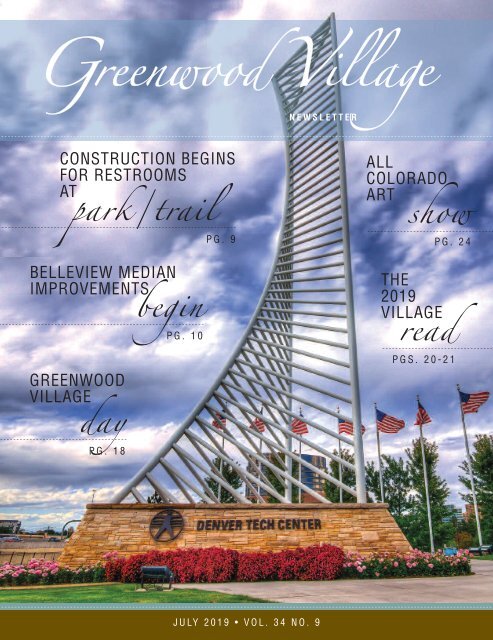 Create successful ePaper yourself
Turn your PDF publications into a flip-book with our unique Google optimized e-Paper software.
Greenwood Village

N EEW S LLE ET TTE ER

CONSTRUCTION BEGINS

FOR RESTROOMS

AT

park/trail

HEADLINE GOES

here P G . X

BELLEVIEW MEDIAN

IMPROVEMENTS

HEADLINE

HERE P G . X

GREENWOOD

VILLAGE

day

P G . 1 8

begin

P G . 1 0

P G . 9

ALL

COLORADO

ART

show

P G . 2 4

THE

2019

VILLAGE

read

P G S . 2 0 - 2 1

HEADLINE

HERE

P G . X

HEADLINE

here P G . X

J U LY M O 2N 0T 1H 9 Y• EVA OR L I. S3S 4U E N O #. 9
---
GOVERNMENT

MAYOR RON

reports

Ron Rakowsky

rrakowsky@

greenwoodvillage.com

303-486-5741

UPDATE ON

TRANSPORTATION PLAN

In 2017, staff, in collaboration with a Citizens Working

Group (CWG), comprised of residents appointed by the

City Council, initiated work to develop a

Transportation Master Plan for Greenwood

Village. The Transportation Master Plan will

provide a roadmap for a transportation system to

meet the needs of the community.

Over the course of two years, community input

has been a driving force in this process with

resident, business, and visitor input and ideas

about the Plan's development. Whether you live,

work, or travel in Greenwood Village,

transportation plays a vital role in your life. Our

efforts during the planning process to bring

together community input and technical criteria

to develop a plan was focused on collaboration,

transparency, and inclusivity.

At a previous City Council meeting, staff presented

recommendations for projects identified by the CWG to be

considered in the Village's Transportation Master Plan.

After discussion, I directed staff to reconvene the CWG to

prioritize the list of projects they created. I would envision

this prioritized list would be presented to the City Council

for future review and consideration.

Watch for more information and updates on the

Transportation Master Plan process in the months ahead.

Left to right: Representative Jason Crow; Mayor Ron Rakowsky;

City Manager John Jackson; Business Analyst Nathan Bishop;

and Deputy City Manager John Sheldon.

U.S. REPRESENTATIVE

JASON CROW VISIT

On Tuesday, June 18, City Manager John Jackson, staff, and

I met with United States Representative Jason Crow at City

Hall. Representative Crow represents Colorado's Sixth

Congressional District in central Colorado including Aurora,

much of the eastern Denver metropolitan area as well as

portions of Centennial, Greenwood Village, Littleton, and

Highlands Ranch.

During our visit, we provided Representative Crow with an

overview of Greenwood Village, and an update on a variety

of topics including the Belleview Avenue and I-25

Interchange improvements; Smart City and

telecommunications initiatives; and the Denver Metroplex

project.

REGAL CINEBARRE

MOVIE THEATER OPENS

Its great news for moviegoers! The former Greenwood Plaza

Theatre at 8141 E. Arapahoe Road reopened their new digs

PG. 2 GV NEWSLETTER | JULY 2019
---
GOVERNMENT

CITY council

NOT SURE WHO YOUR

ELECTED OFFICIALS ARE?

Obtain a list of your state and national government

representatives at www.arapahoevotes.com

DISTRICT 1 DISTRICT 2 DISTRICT 3 DISTRICT 4

Dave Bullock

dbullock@

greenwoodvillage.com

303-804-4137

Anne Ingebretsen

aingebretsen@

greenwoodvillage.com

303-804-4135

Steve Moran

smoran@

greenwoodvillage.com

303-804-4133

Judith Hilton

jhilton@

greenwoodvillage.com

303-804-4131

Jerry Presley

jpresley@

greenwoodvillage.com

303-804-4138

Dave Kerber

dkerber@

greenwoodvillage.com

303-804-4136

George Lantz

glantz@

greenwoodvillage.com

303-804-4134

Thomas Dougherty

tdougherty@

greenwoodvillage.com

303-804-4132

as a Regal Cinebarre. The opening came after the City

Council approved a liquor license for the new theater in May.

The new Cinebarre will accommodate up to 770 movie

watchers in six theatres. There will be a menu to order from

and a full-service bar located in the lobby. There are

Cinebarre theatres across the country, and in Boulder. Enjoy!

COLLEGIATE PEAKS BANK

CELEBRATES GROUNDBREAKING

Mayor Pro Tem George Lantz, District 1 Councilmember

Dave Kerber and I attended the groundbreaking of Collegiate

continued on page 4

Rendering of Collegiate Peaks Bank.

Collegiate Peaks Bank groundbreaking ceremony.

JULY 2019 | GV NEWSLETTER PG. 3
---
GOVERNMENT

COLLEGIATE PEAKS BANK

continued from page 3

Peaks Bank's new building at 5450 Greenwood Plaza

Boulevard, adjacent to the Landmark. The bank and its

20 new employees will move into the building's

approximately 6,500 square feet main floor space in the

first quarter of 2020. The new 13,500 square foot

building is being developed by Urban/Esprit, a Colorado

homebuilder since 1989, and will occupy the top floor of

the building.

GV DAY

It's time to get ready to make some noise at my most

favorite special event — Greenwood Village Day on

Saturday, July 27! Don't miss out. Every year our Parks,

Trails, and Recreation staff make it even more amazing

then the prior year. You need tickets to attend. Make sure

to go online on our website at greenwoodvillage.com.

To learn more about the event this year, please refer to

page 18. Hope to see you and your family there! GV

RAMBLE WITH RON

Due to my mobility issues, Ramble with Ron will be suspended

until later this year. If you have some ideas or suggestions about

living or working in Greenwood Village that you would like to share

with me, send me an email at rrakowsky@greenwoodvillage.com or

call the Mayor's Office at 303-486-5745.

IMPORTANT NUMBERS

DEPARTMENTS

Mayor and City Council 303-486-5745

City Manager's Office 303-486-5745

Community Outreach/ 303-486-5749

Public Information

City Prosecutor 303-486-1598

Administrative Services

Liquor Licenses 303-486-5755

Voter Registration 303-486-5752

Municipal Court 303-773-6033

Human Resources 303-486-1579

Employment 303-486-1579

Community Development

Building Permits 303-486-5783

Building Inspection 303-694-5023

Requests

Planning and Zoning 303-486-5783

Zoning and 303-486-5783

Nuisance Complaints

Finance

Accounts Payable 303-486-1597

Accounts Receivable 303-486-8282

Budget Information 303-486-8290

Tax Assistance 303-486-8299

and Information

Conservation/Open 303-708-6142

Space Easements

Park Planning 303-486-5743

and Development

Park Permits 303-486-5773

Recreation and 303-486-5766

Special Events

Reimbursement Program 303-486-5773

Parks and 303-708-6100

Trail Maintenance

Police Department

Emergency 9-1-1

Animal Control 303-773-2525

Parking 303-773-2525

Police Records 303-773-2525

School Resource Officers 303-773-2525

Traffic Information 303-773-2525

Victim Assistance 303-486-8211

Public Works

Environment 303-708-6100

(Drainage/Water Quality)

Roadways 303-708-6100

Traffic 303-708-6100

Residential Trash 303-708-6100

and Hazardous Waste

Greenwood Village City Hall

6060 South Quebec Street

Greenwood Village, CO 80111

Phone: 303-773-0252

Fax: 303-290-0631

After Hours Phone: 303-773-2525

(for questions or service requests

outside normal business hours)

E-mail: thevillage@greenwoodvillage.com

Website: www.greenwoodvillage.com

An after-hours drop box is available by the

flagpole in front of City Hall and is

checked Monday through Friday. The drop

box can be used to deliver customer

comment cards, recreation registration

and reimbursement forms, employment

applications, and municipal court fines

and documents.

GV Website

Parks, Trails & Recreation

Art Activities 303-797-1779

and Programs

PG. 4 GV NEWSLETTER | JULY 2019
---
VILLAGE CALENDAR

Visit

WWW.GREENWOODVILLAGE.COM

for more information

Information is subject to change

august 2019

SUNDAY MONDAY TUESDAY WEDNESDAY THURSDAY FRIDAY SATURDAY

28 29

30 31 1

2 3

4 5

6

7 8 9 10

City Council

Study Session

6 p.m.

Meeting

7 p.m.

City Hall

★ SINGLE FAMILY HOUSEHOLD RECYCLING ★

P&Z Commission

7 p.m.

City Hall

11 12 13

14

15

16 17

PTR Commission

7 p.m.

City Hall

GVAHC Meeting

6 p.m.

Curtis Center

18 19

20

21 22

23 24

City Council

Study Session

6 p.m.

City Hall

★ SINGLE FAMILY HOUSEHOLD RECYCLING ★

P&Z Commission

7 p.m.

City Hall

BOAA Meeting

6:30 p.m.

City Hall

25

26

27

PTR Commission

7 p.m.

City Hall

28

29

30 31

★ SINGLE FAMILY HOUSEHOLD RECYCLING ★

JULY 2019 | GV NEWSLETTER PG. 5
---
GOVERNMENT

Greenwood Village

AVAILABLE ON COMCAST CABLE IN GREENWOOD VILLAGE, GVTV CHANNEL 8

IS AVAILABLE 24 HOURS A DAY, SEVEN DAYS A WEEK PROVIDING

PROGRAMMING REGARDING IMPORTANT LOCAL, STATE AND NATIONAL TOPICS.

Don't have Comcast cable?

You can watch GVTV 8 programs on the

Village Website at greenwoodvillage.com

or on The City of Greenwood

Village Channel on YouTube.

NEW ON GVTV 8 IN JULY

SAFETY MATTERS — With Public Safety Bros

The dynamic duo is back and ready to share some pertinent

safety tips to keep you and your family safe.

VILLAGE

EATS

Two restaurant

owners in GV

share their

time on the

next episode

of Village Eats.

GV KIDS, INK! ® NEWS — Heroes With Paws

Join your favorite Police K-9s of the Greenwood Village Police

Department and the Arapahoe County Sheriff's Office with a

special event honoring these special, four-legged friends.

Meet The Minis Of GV — Whether you're an equestrian,

an avid horse lover, or you never

really gave horses that much

thought, you may now.

GOLDSMITH METROPOLITAN

DISTRICT PRESENTS

THE 23RD ANNUAL

SUMMER 2019, FREE —

CONCERTS AT

THE CRESCENT

ALL SHOWS ARE ON TUESDAYS,

7-8:30 p.m. The park opens at 5 p.m.

Concerts to be held at the Crescent

Amphitheater, DTC Blvd. at Belleview Ave.,

located east of YaYa's Euro Cafe.

Bring your friends, family and a picnic

dinner and enjoy exciting evenings of fun

and entertainment. SUGARDASH, a Dessert

Food Truck, will be on site each week.

Crescent Park is a smoke-free environment,

and please plan to leave your pets at home.

Don't forget: There will be a designated

area for all lawn chairs.

July 2 — NO CONCERT,

HAPPY INDEPENDENCE DAY!

July 9 — Tunisia — Top 40

July 16 — Wash Park Band —

Today's Top Hits

July 23 — 6MBD — '80s

July 30 — The Radio —

Top 40 / Country Hits

August 6 — Mannequin —

Record Breaking Hits

Concerts are open to the public and free

parking is available in designated surface

lots. There will be NO scheduled rain dates

this year.

For more information: 720-436-5943,

www.ConcertsAtTheCrescent.com.

Paws In The Park — See what

doggone time you missed at the

2nd Annual Paws in the Park

at Westlands Park.

PG. 6 GV NEWSLETTER | JULY 2019
---
GOVERNMENT

GREENWOOD VILLAGE

MUNICIPAL

election

NOVEMBER 5, 2019

This year, the City Council designated the Village's Regular

Municipal Election to be a coordinated election with

Arapahoe County. Arapahoe County is conducting the

November 5, 2019 Coordinated Election as a Mail Ballot

Election.

REGISTER TO VOTE ONLINE

If you have a Colorado State driver's license or ID card issued

by the Department of Revenue you may register to vote,

change your address, update your current registration or

check the status your registration online at

www.govotecolorado.com. The last day to register to vote

online for the coordinated election is October 28, 2019.

REGISTER TO VOTE IN-PERSON

You may also request and submit a Voter Registration Form

at any office of the County Clerk and Recorder or the City

of Greenwood Village. You may also register to vote inperson

through a voter registration drive in your community.

You may also register to vote in-person at any one of

Arapahoe County's Voter Service and Polling Centers

through 7 p.m. on Election Day.

A Voter Confirmation Card will be mailed to you

approximately 2-3 weeks after your application form is

processed.

In order to register to vote in Greenwood Village, you must

be:

• At least 16 years of age. (You must be 18 years of age by

the date of the election in order to vote.)

• A citizen of the United States;

• A resident of the State of Colorado for 22 days prior to

the election.

MAIL BALLOTS

Ballots will be mailed beginning October 14 to active

registered voters who live in Greenwood Village. If you have

not received a ballot by October 28, please call Arapahoe

County Elections at 303-795-4511 to update your

registration and request one be mailed to you. Ballots will

not be mailed after October 28. Ballots are not forwarded by

the U.S. Postal Service.

ABSENTEE MAIL BALLOTS

If you will be out of town and unable to receive your ballot

at your registered address you may change your address by

completing the "Change in Voter Registration Information"

form from Arapahoe County. The form is online at

www.arapahoevotes.com or you may vote early at a Voter

Service and Polling Center beginning October 28, 2019.

VOTER SERVICE AND POLLING CENTERS

Voter Service and Polling Centers will open eight days

(October 28, 2019) prior to and including Election Day,

except for Sunday, November 3, 2019. Voters will be able to

drop off their mail ballots, register to vote or cast their vote

in person at a Voter Service and Polling Center. Greenwood

Village City Hall has a 24 hour/7 day drop off box in the

east parking lot to accept mail ballots.

CITY COUNCIL CANDIDATE INFORMATION

Greenwood Village has prepared its comprehensive Election

information and Candidate Guide to help ensure that Village

residents are informed regarding Council candidates and the

Village's 2019 Election. This Information Guide will be

available beginning Monday, July 1, 2019, from the City

Clerk's office at City Hall.

The nomination petition process is the first step in becoming

a candidate. Nomination petition forms will be available in

the City Clerk's Office Monday, July 8, 2019. A candidate

must possess the following qualifications to run for office: be

a United States Citizen; be a registered elector; be 18 years of

age by Election Day; and have lived in the Village and the

specific District for one year immediately preceding the

election.

Candidates for the office of City Council must be nominated

by at least twenty (20) registered electors from such district.

Candidates for the office of Mayor must be nominated by at

least fifty (50) registered electors from the Village.

WRITE-IN CANDIDATES

If you desire to be a write-in candidate for this election, an

affidavit of intent must be filed with the City Clerk by the

person whose name is written in by the close of business on

August 30, 2019. No write-in vote for any municipal office

shall be counted unless an affidavit of intent of the write-in

candidate has been filed. Village Residency and age

requirements to hold any municipal office must still be met.

For additional information regarding candidacy, election

forms and filing requirements, please call the Election

Hotline at 303-804-4113. GV

JULY 2019 | GV NEWSLETTER PG. 7
---
GOVERNMENT

ENHANCING OUR

community

LIGHTNING SYSTEM

AT VILLAGE GREENS

PARK UPGRADED

INCREASED COVERAGE

IMPLEMENTED

During the summer storm season,

Village park users and visitors may be

exposed to potential dangers of a

lightning storm while outside. In an

effort to provide a safer environment

for users of Village Greens Park, Curtis

Park, Westlands Park, Silo Park, and

Tommy Davis Park, the Village has

installed lightning prediction and

warning systems to alert park users of

the potential for lightning before it

strikes.

The lightning prediction system at

Village Greens Park was recently

updated. The upgrades include

installation of a new remote site that

allows for increased coverage to

include the mountain bike and disc

golf courses, and the path system

surrounding both courses. In addition,

the technology has been upgraded to

allow anyone to see the status of the

Village Greens park site, and view

radar imagery of the area by

accessing the website address:

greenwoodvillage.thormobile3.net.

The lightning systems in designated

Village parks are prediction systems

not detection system. These systems

measure the shift of the positive and

negative ions in the atmosphere and in

the ground that can create an energy

flow that may result in a lightning

strike once a conductive cloud to

ground path is available. The lightning

prediction and warning system senses

and evaluates these shifts and changes

in the electrostatic field that precede

the occurrence of an actual lightning

strike and activates an audible, as well

as, visual warning alerting of the

dangerous conditions. The systems are

set to monitor a 2.5 mile radius from

its location.

When the conditions are ripe for

lightning at the parks or within the

2.5 mile radius, a continuous audible

horn is activated for a period of 15

seconds, alerting users of the potential

for lightning and activating yellow

strobes on the roofs of the structures

located within the parks. These strobes

will stay activated throughout the

period of potential lightning activity

and will shut off only after an all clear

signal consisting of three five second

audible horn blasts. The systems are

operational between the hours of

7 a.m. and 9 p.m., seven days a week,

through the spring and summer

months.

For more information, please call

Dustin Huff, Parks Manager, at

303-708-6155 or visit

greenwoodvillage.thormobile3.net/ GV

PG. 8 GV NEWSLETTER | JULY 2019
---
GOVERNMENT

CONSTRUCTION BEGINS

FOR RESTROOMS AT

CASTLEWOOD PARK AND THE

HIGH LINE CANAL TRAILHEAD

Construction commenced in June for new restroom facilities at

Castlewood Park and the High Line Canal Trailhead. These

plumbed restrooms, which will replace the existing portable

toilets at both locations, will also include drinking fountains and

water bottle filling stations. Construction is anticipated to be

completed in September 2019.

Please note that during construction, parking at Castlewood Park

and the High Line Canal Trailhead may be limited or

unavailable. To allow for utility connections, a short closure of

Orchard Drive between Holly Street and Ivanhoe Street will be

necessary.

For more information, please call Josh Morin, Parks Project

Manager, at 303-708-6113 or email

jmorin@greenwoodvillage.com.

To learn more about the project, please visit

Castlewood Park Restrooms Rendering

High Line Canal Trailhead Restrooms Rendering

greenwoodvillagevoices.com. GV JULY 2019 | GV NEWSLETTER PG. 9
---
GOVERNMENT

ENHANCING OUR

community

BELLEVIEW AVENUE

MEDIAN IMPROVEMENTS

CONSTRUCTION

BEGINNING IN JULY

Construction for the renovation of the

landscaped medians along Belleview Avenue

between South University Boulevard and South

Quebec Street will commence this July. The

improvements will include installation of

decorative boulders, landscape curbs, trees, and

xeric plant material. Work will be scheduled

outside of morning and afternoon rush hours to

minimize traffic impacts.

For additional information please contact

David Foster, Parks Project Manager, at

dfoster@greenwoodvillage.com. GV

PG. 10 GV NEWSLETTER | JULY 2019
---
GOVERNMENT

TRAIL ETIQUETTE

FOR PEDESTRIANS,

EQUESTRIANS

AND BICYCLISTS

Just like dining in a fine restaurant,

there is proper etiquette when using

area trails. Though the look of

multiuse trail signs may differ, the

right-of-way order is universal:

bicyclists yield to everyone; pedestrians

yield to equestrians; equestrians always

have the right-of-way and do not yield

to bicyclists or pedestrians.

Pedestrians — of course it's more fun

to walk side-by-side to talk with your

walking buddies than to walk single

file but please be aware that taking up

the whole trail makes it difficult for

bicyclists and equestrians to pass safely.

Stay to the right and close to your

walking partner.

Equestrians — It is safest to ride

single file but as with pedestrians,

many prefer to ride side-by-side to talk

with friends. Be aware that two horses

riding take up a lot of trail space,

making it difficult for others to pass

safely. Trails in the Village are

multiuse, so you will encounter

bicyclists and pedestrians; it is the

rider's responsibility to ensure that

their horse in under control. Also keep

in mind that many people are not

familiar with horses and do not

understand that objects such as bikes

and runners coming up behind them

can scare your horse. Be courteous and

notify pedestrians when passing.

Horses should be held to a walk or trot

on the High Line Canal Trail for the

safety of all users.

Bicyclists — bicyclists yield to both

pedestrians and equestrians. Be

courteous to other users and keep right

when possible. Verbally alert others

when you are approaching to pass; call

out "on your left" or "on your right" as

pedestrians and equestrians may not

hear you approaching. The speed limit

on Village trails is a maximum of 15

MPH, depending on conditions.

Some Notes About Horses — Have

you ever noticed a horse jump? Here's

why: horses are easily scared. In nature,

horses are prey. Horses' eyes are

situated on the sides of their heads

which causes objects to appear to jump

from one side of their vision to the

other. This can trigger the horse's

instinct to flee. Pedestrians be aware

that if you get too close to a horse

(closer than the horse's leg length) you

are in danger of getting kicked,

especially if you surprise the horse.

When approaching or passing a horse,

keep your dog on a tight leash and on

the side away from the horse. Dogs

unfamiliar with horses may be fearful

or try to jump at the horse. Don't

forget to use your voice by stating "on

your left" instead of using your bell,

which may scare a horse.

For more information, please call

Parks, Trails, and Recreation at

303-486-5773. To report unsafe user

behavior on Village trails, please call

the Police Department at

303-773-2525. GV JULY 2019 | GV NEWSLETTER PG. 11
---
GOVERNMENT

ENSURING A SAFE

community

2019 POLICE YOUTH ACADEMY

PG. 12 GV NEWSLETTER | JULY 2019
---
GOVERNMENT

JULY 2019 | GV NEWSLETTER PG. 13
---
BUSINESS

BUSINESSspotlight

CARENOW URGENT CARE

5990 South University Boulevard • https://www.carenow.com/locationsdenver/greenwood-village/

720-446-5890 • Monday-Friday 8 a.m.-8 p.m., Saturday 8 a.m.-7 p.m., Sunday 8 a.m.-5 p.m.

Looking for a nearby walk-in medical facility with a highly

experienced team of medical providers to treat minor illnesses

or injuries? Is your business in need of a one-stop resource for

on-the-job injury care, pre-employment testing, occupational

physical exams and employee health and wellness? Look no

further than CareNow Urgent Care which is conveniently

located at 5990 South University Boulevard, near the

intersection of South Columbine Way and South University

Boulevard in Greenwood Village.

CareNow Urgent Care opened its doors in the Village in

September 2016 and was the first of seven clinics in the

Denver Metro area. According to the clinic's Medical

Director, Dr. Mark Montano, Greenwood Village was

selected to provide convenient access to urgent care services

which were not previously available in this area. This location

is centrally located not far from their sister hospital, Swedish

Medical Center.

CareNow Urgent Care is a physician driven organization

with a mission to deliver quality, convenient, patient-centered

urgent care with unparalleled services that supports HCA's

mission to care for and improve human life. CareNow

partners with HealthONE and provides continuous and

specialized care through their network and relationships with

specialists outside the clinic if necessary.

When you are sick or injured, the last thing you need is a

long wait at the doctor's office or emergency room. CareNow

is dedicated to reducing your wait while improving your

health. With their web check-in, you can wait in the comfort

of your home until they are ready for your visit. No sitting

for an extended period next to other individuals who may be

contagious. With their unique web check-in process, once

you have checked in you will receive a follow-up call

notifying you when to leave for your visit. Don't you think

you deserve quality medical care that is also convenient?

Seeking care at an urgent care clinic does not mean you have

to sacrifice quality or medical expertise for convenience.

CareNow provides treatment for patients with strep throat,

flu and cold symptoms, minor bruises and burns, childhood

illnesses, migraines, fractures, skin conditions, sprains and

strains to name just a few. The clinic also offers lab work and

X-rays on-site and stitches for minor lacerations. In addition

to treatment for illnesses and injuries, CareNow offers

preventative services such as immunizations and boosters

required at many schools, workplaces and for travel. Medical

exams such as EKGs and sports physicals required for many

youth, high school or college activities are also conveniently

available.

CareNow offers a comprehensive range of occupational

health services for your employees. Drug and alcohol testing,

including DOT drug testing, physical exams for preemployment,

return to work or customized exams, vision and

hearing screening, flu vaccines and on-site medical services

and staffing are available. CareNow has experienced

occupational medicine specialists trained in the assessment

and treatment of workplace-related health conditions. They

are available to help diagnose the underlying cause of injuries

and illnesses and can give educated recommendations on how

to prevent workplace-related health issues in the future. They

continued on page 15

PG. 14 GV NEWSLETTER | JULY 2019
---
BUSINESS

NEW GV

businesses

ACCOUNTING FIRM

Sievers Lane & Associates LLC

5600 Greenwood Plaza Boulevard,

Suite 210

720-708-4389

AESTHETICIAN SERVICES

Keystone Aesthetics

8765 East Orchard Road, Suite 702

303-709-4805

AUTOMATION & CONTROLS

ENGINEERING & DESIGN

Wildcat Automation Solutions LLC

8100 East Maplewood Avenue,

Suite 100

303-243-3050

BANKING

Pacific Western Bank

6430 South Fiddlers Green Circle,

Suite 250

760-605-5502

CONSTRUCTION

GE Johnson Special Projects LLC

5613 DTC Parkway, Suite 450

719-473-5321

Turnkey Construction Company

5600 South Quebec Street,

Suite 325-C

720-536-3180

CONSULTING SERVICES

Global Environmental Group LLC

7350 East Progress Place, Suite 100

720-837-3020

CONVENIENCE STORE

7 Eleven

9171 East Arapahoe Road

303-901-2541

DIGITAL MARKETING

Hummingbird Collective

5301 South Yosemite Street,

Suite 24-101

727-385-7753

business spotlight

continued from page 14

are committed to getting your employees back to work quickly

and safely.

CareNow Urgent Care Greenwood Village is open seven days

a week with extended evening and weekend hours: Monday-

Friday 8 a.m.-8 p.m., Saturdays 8 a.m.-7 p.m., and Sundays

8 a.m.-5 p.m. Most major health insurance plans including

Medicare and Medicaid are accepted, as well as assistance for

self-pay. Treatment and care are available for children older

than 3 months of age to geriatrics. They are staffed by

qualified and experienced healthcare providers dedicated to

improving lives. Their doctors and medical staff are trained in

family practice, emergency medicine and internal medicine.

Designed to keep their patients comfortable and relaxed, their

modern facilities are bright, open and inviting with numerous

amenities such as free Wi-Fi, TVs, coffee bar, children's play

area, private exam rooms, and triage area.

CareNow Urgent Care Greenwood Village is conveniently

located next to Cherry Hills Marketplace near South

University Boulevard and East Orchard Road. Their

convenient web check-in is available at https://www.carenow.com/

locationsdenver/greenwood-village/. Visit their website for

additional information or contact them at 720-446-5890.

Come in before August 31, 2019, to take advantage of their

current special on sports physicals for $20. GV

FINANCIAL SERVICES

CM DeRose Wealth Services

5251 DTC Parkway, Suite 1185

720-381-2669

DeVargas Wealth Strategies LLC

5445 DTC Parkway, Suite 240

720-630-7174

Hamilton Group Advisors LLC

5251 DTC Parkway, Suite 1185

720-463-3191

Purcell Capital Management

5299 DTC Boulevard, Suite 210

303-800-3350

Third Day Capital Management

8400 East Prentice Avenue,

Suite 1360

303-979-9259

FITNESS TRAINING

Movement Fitness-Movement Lab

7400 East Orchard Road,

Suite 120-S

720-502-2424

HEALTH AND PERSONAL CARE

Front Range Dental Sleep Medicine

8400 East Prentice Avenue,

Suite 804

303-770-3300

One Hour Optical

8547 East Arapahoe Road, Suite H

972-370-5552

INSURANCE AGENCY

Walnut Risk Management LLC

8400 East Crescent Parkway,

Suite 600

303-351-7393

METAL BUILDING SALES

Metal Building Components LLC

6312 South Fiddlers Green Circle,

Suite 300-E

303-809-5882

MORTGAGE LENDER

CrossCountry Mortgage Inc.

5300 DTC Parkway, Suite 340

720-778-2805

Fairway Independent Mortgage

8400 East Prentice Avenue,

Suite 750

720-500-1848

Fairway Independent Mortgage

8480 East Orchard Road, Suite 2100

720-500-1848

Fairway Independent Mortgage

5690 DTC Boulevard, Suite 130-W

and 101-W

720-907-8780

Fairway Independent Mortgage

7600 East Orchard Road,

Suite 130-S

720-403-8824

PROFESSIONAL EMPLOYER

ORGANIZATION

Amplify HR Management LLC

5200 DTC Parkway, Suite 290

224-424-5400

PROFESSIONAL SERVICES

Active Enterprise Solutions LLC

6175 South Willow Drive

734-984-3820

PROPERTY MANAGEMENT

Miller Real Estate Investments LLC

6900 East Belleview Avenue,

Suite 300

303-996-6352

REAL ESTATE

Lennar Associates

Management LLC

6161 South Syracuse Way,

Suite 200

305-485-2795

SECURITY AND ELDER CARE

PRODUCTS

Essence USA Inc.

5110 South Franklin Street

303-619-0454

SURVEY & GIS

MAPPING SERVICES

Crosspoint Survey LLC

8100 East Maplewood Avenue,

Suite 100

303-243-3050

TELECOMMUNICATIONS

WOW! Internet Cable and Phone

7100 East Belleview Avenue,

Suite 210-211

720-479-3558

TRAVEL AGENCY

Cruise Planners – Adame Travel

8400 East Prentice Avenue,

Suite 1500

888-512-3263

BUSINESSES

UNDER NEW

MANAGEMENT

FITNESS STUDIO

Centennial Crossfit

7939 East Arapahoe Road,

Suite 100-C

720-648-7025

JULY 2019 | GV NEWSLETTER PG. 15
---
ARTS AND RECREATION

'CONE' ON OVER

ICE CREAM

NEIGHBORHOOD

SOCIAL!

PG. 16 GV NEWSLETTER | JULY 2019
---
ARTS AND RECREATION

PAWS IN THE PARK AT WESTLANDS PARK!

JULY 2019 | GV NEWSLETTER PG. 17
---
ARTS AND RECREATION

Schedule Of Events

2-7 p.m. — Carnival rides, art, inflatables,

games, music, interactive fun,

face painting and more . . .

Food Trucks — 3-9 p.m.

LIVE BANDS

6:30 p.m. — The Radio Jazz

8 p.m. — The Radio

Directly following concert — FIREWORKS

Rain Date: Sunday, July 28

Band at 8 p.m. and fireworks directly following.

A special event for the residents of

Greenwood Village

Tickets available online July 1-26 at

www.greenwoodvillage.com/specialevents

PG. 18 GV NEWSLETTER | JULY 2019
---
ARTS AND RECREATION

SAVE THE DATE

Sunday, September 22, 2019

JULY 2019 | GV NEWSLETTER PG. 19
---
ARTS AND RECREATION

ART events

GALLERY HOURS

Monday-Friday 8:30 a.m.-4:30 p.m.

Saturday 10 a.m.-4 p.m.

CURTIS CENTER FOR THE ARTS • 2349 EAST ORCHARD ROAD, GREENWOOD VILLAGE, CO 80121 • 303-797-1779

THE VILLAGE

READ FOR 2019

Celebrating its third year, the

Greenwood Village Cultural Arts

Program has once again partnered

with Arapahoe Libraries to

present the "Village Read." The

idea encourages adults of all

ages to read one book and

participate in thoughtprovoking

discussions and

activities derived from the chosen

book. The goals of the program are to encourage

leisure reading, create community conversations and bring

the community together through literature.

This year the group has chosen the book Rush by Colorado

author Jayme Mansfield. In Rush, Mary, a single mom, tries

to strike her claim in the

Oklahoma Land Rush of

1893. In competition with

desperate homesteaders,

ruthless land seekers and a

sheriff determined to see her

fail, Mary thrusts her flag in

the dirt to claim 160 acres

of her own. But with that

claim, she risks more than

she ever could imagine.

Mary is faced with a past

riddled with loss, hardship

and reminders that a woman

isn't capable of surviving on

her own. Will Mary's

stubborn and independent

Jayme Mansfield

spirit keep her mired in the past? Or will she find forgiveness

and love in the wild plains of the Midwest?

ARTS SCHOLARSHIPS

The Greenwood Village Arts and Humanities Council has chosen the recipients of this year's college scholarships. Each student

will receive $3,000 toward their education. In addition, each student's high school receives $500 to go toward their art program.

This year's recipients are Julia Dizghinjili from Cherry Creek High School and Zoé Fonck from Denver School of the Arts.

Julia Dizghinjili was born in Saint Petersburg,

Russia. She showed interest in visual arts at around

10 years

old, but

five years

later, only

after

taking an

art class in

her high

school,

did she

start to

study and

make art systematically. Julia's work was shown in

the Maryland Institute College of Art, where she

participated in a Summer Pre-College Program; in

Denver Museum of Contemporary Art; and in

multiple exhibitions in Cherry Creek High School.

Julia graduated from CCHS in May 2019, and is

planning to go to college to study Art and Software

Engineering.

Zoé Fonck recently graduated from Denver School of the Arts as a

senior theatre major. Some of her favorite roles she's played while at

DSA include Henrietta

Leavitt in Silent Sky, Tilly in

Melancholy Play and Corryn

in Gidion's Knot. She has

spent the last four years

receiving supplemental

training from the DCPA,

expanding her knowledge of

both classical and

contemporary theatre. She

has also spent the last few

summers attending national

thespian conferences, working at the DCPA's children's summer camps,

and attending Emerson's Pre-College Acting Program. Besides theatre,

she has a love of academics, taking a variety of AP, dual enrollment, and

honors classes during her time in high school, all the while being in the

National Honor Society. She also holds interest in directing, literature,

and art history. She is thrilled to begin her college education at

Southern Methodist University where she will be getting her BFA in

Theatre through the Meadows School of the Arts.

PG. 20 GV NEWSLETTER | JULY 2019
---
ARTS AND RECREATION

VILLAGE READ EVENTS

August 1: Village Read Kickoff with Mayor Ron –

6-8 p.m., Koelbel Library

Join your neighbors and friends to meet Rush author Jayme H.

Mansfield. Mansfield will be joined by Greenwood Village Mayor

Ron Rakowsky, who will kick off the month-long festivities

celebrating The Village Read. Enjoy dessert, great conversation

and a chance to get your book signed. Books will be available

for purchase. For adults.

August 3 & 15: Historical Fiction Writing – Bringing the Past

Alive – 8/3 11 a.m., Southglenn Library;

8/15 6:30 p.m., Castlewood Library

It's true that fact is sometimes stranger than fiction. Historical

fiction weaves events, people and places of the past into

memorable characters, intriguing plotlines and impactful

themes. Join author Jayme H. Mansfield as she shares how her

great-great grandmother's participation in the 1893 Oklahoma

Land Rush became her well-loved novel Rush. For adults.

August 3: Concert in the Park with the Colorado Honor Band

and the Colorado Wind Ensemble –

6 p.m., Curtis Park (2349 East Orchard Road)

Come and take in the warm western air with this classical

concert featuring the Colorado Honor Band and the Colorado

Wind Ensemble. Bring blankets and lawn chairs. For all ages.

August 5: Focus 50 Plus – Author Discussion –

9:30 a.m., Curtis Center for the Arts

Join the Greenwood Village Focus 50 Plus group for a

captivating discussion of Rush with author Jayme H. Mansfield.

Open to adults ages 50 and older.

August 5,17 and 20: Active Minds – History of Railroads –

8/5 7 p.m., Koelbel Library; 8/17 1 p.m., Kelver Library;

8/20 1 p.m., Smoky Hill Library

May 2019 marked the 150-year anniversary of the Golden Spike

that secured the completion of the first Transcontinental

Railroad. Join Active Minds as we dive into the rich history of

railroads in the United States. All aboard as we explore the role

railroads played in building a young country and the industry

titans that emerged. For adults.

August 10 and 17: Painting Workshop with the Author –

10 a.m.-4 p.m., Curtis Center for the Arts

Join the author of this year's Village Read book, Jayme

Mansfield, for this one-day painting class that will overflow

with vibrant texture, exciting color, and surprising outcomes as

we work BIG and BOLD with floral abstraction. Using a variety

of techniques and tools, we'll create individualized and

intriguing paintings that stem from mindfulness, creative

permission, and spontaneous expression. Registration required

at www.greenwoodvillage.com/art.

August 13: Legendary Ladies – Women Who Forged the Frontier

– 6:30 p.m., Greenwood Village City Hall (Community Room)

Travel back in time to hear stories of real women who made a

significant impact on the West. Meet Lady Catherine Moon,

Josie Bassett, Calamity Jane, Dr. Susan Anderson, Augusta

Tabor and Anne Evans as they tell the tales of how they helped

influence the western frontier.

August 21: Stories From Colorado History – Influential Pioneers

– 6:30 p.m., Greenwood Village City Hall (Community Room)

What made pioneer women hopeful, optimistic and resilient?

Join author and historical re-enactor Corinne Joy Brown as she

shares narratives of influential women who left their mark on

Colorado's history. Representing the Cherokee Ranch & Castle

Foundation, Brown's storytelling, inspired by Jayme H.

Mansfield's novel Rush, will give you a peek into the Scottish

and Victorian influences in our state's rich culture. For adults.

August 22: Panel Discussion – 7 p.m., Koelbel Library

Join other readers to discuss this year's Village Read book,

Rush, by Jayme H. Mansfield. Bring your questions and

feedback about the book.

ON YOUR OWN –

Explore these additional activities on your own time.

Four Mile Historic Park (715 S. Forest St., Denver, CO)

See what home life was like in the late 1800s. Nestled on the

banks of Cherry Creek, Denver's oldest standing structure, the

Four Mile House was the last stop coming west to Denver

along the Cherokee Trail. Visitors can tour the historic house,

say hello to horses, goats, and chickens, learn about the

craftmanship of the historic barns and outbuildings, or just

spread a blanket under a shady tree and enjoy a beautiful day.

Plains Conservation Center (21901 E. Hampden Ave., Aurora, CO)

Take a trip back in time to Colorado's high plains and pioneer

life in the mid-1800s. The Plains Conservation Center is a trueto-life

homestead stretching across 1,100 acres of dedicated

open space. Visitors can hike along rolling trails and may see

rattlesnakes, prairie dogs, pronghorn, coyotes and red-tailed

hawks.

All Colorado Art Show (Curtis Center for the Arts, 2349 East

Orchard Road, Greenwood Village, M-F 8:30-4:30, Sat. 10-4)

This exhibit will showcase some of the best artists in Colorado.

Over 50 artists in all mediums will be on display. This exhibit

will also feature artwork from Jayme Mansfield, the author of

this year's Village Read book, Rush.

Byers-Evans House (1310 Bannock Street, Denver, CO)

Explore a new exhibit at the Byers-Evans House, Women/

Work/ Justice which explores strong women in Colorado

history. This important exhibit analyzes the intersection of

human, civil and economic rights for women. It explores

complex and timeless issues through the stories of Coloradobased

women's groups and movements that pioneered local

and national workplace shifts between 1914 and the 1980s.

JULY 2019 | GV NEWSLETTER PG. 21
---
ARTS AND RECREATION

ART

programs

Register online at

www.greenwoodvillage.com/art

For more information call the the Curtis Center for the Arts at 303-797-1779.

ART CLASSES AT THE CURTIS CENTER FOR THE ARTS

Greenwood Village's cultural arts center offers a variety of art classes for preschoolers, children, teens and adults.

We have something for all ages and all artistic levels. Come and create with us!

View our current and upcoming classes at the Curtis Center for the Arts by going to www.greenwoodvillage.com/art.

For questions or more information about art classes at the Curtis Center call 303-797-1779.

ADULT ART CLASSES

Ages 16 and older with a

10% senior discount

EXPANDING YOUR

ENCAUSTIC TECHNIQUES

This two-day

workshop is

designed to expand

your basic encaustic

skills and take them

to the next level.

Day and Dates:

Saturdays, July 20

and Sunday, July 21

Time: 9 a.m. to 4 p.m.

Fee: $200

Instructor: Victoria Eubanks

ABSTRACT LANDSCAPE

SKETCHING WORKSHOP

This

one-day

workshop

will

show

and

explain

the process of sketching a landscape,

animals and other forms in nature

within a unique and somewhat

structured technique that challenges

students to think outside the box and

embrace their creativity.

Day and Date: Saturday, August 3

Time: 9 a.m. to 4 p.m.

Fee: $100

Instructor: Christian Dore

PAINT YOUR PET

Unleash your imagination and learn

how to elevate your animal portraits

from ordinary to head turning!

Day and Dates: Mondays,

August 5 through August 26

Time: 1 to 4 p.m.

Fee: $80

Instructor: Anita Mosher Solich

ABSTRACT

LANDSCAPE PAINTING

In this

class

students

will

paint

their

own

memorable

abstract

portrayals

of a landscape while meshing

animals and forms of nature into their

own distinctive work of art.

Day and Date: Tuesdays,

August 6 through August 27

Time: 6 to 9 p.m.

Fee: $80

Instructor: Christian Dore

THE ART OF FLORAL

ABSTRACTION

Join the

author of

this year's

Village

Read

book,

Jayme

Mansfield,

for these

one-day

painting

classes that will overflow with vibrant

texture, exciting color, and surprising

outcomes as we work BIG and BOLD

with floral abstraction.

Day and Dates: Saturdays,

August 10 and 17

Time: 10 a.m. to 4 p.m.

Fee: $75 for each class

Instructor: Jayme H. Mansfield

ENCAUSTICS,

SHELLAC AND CERAMIC!

This class will dive

deeply into

encaustics and how

it can be a finish for

sculptural ceramics.

Day and Dates:

Mondays,

August 12

through

September 30

Time:

6:30 to 9 p.m.

Fee: $140

Instructor:

Maggie Stewart

PG. 22 GV NEWSLETTER | JULY 2019
---
ARTS AND RECREATION

FIGURE DRAWING

Learn how to draw the human figure from a live model using various

techniques and artistic approaches.

Day and Dates: Tuesdays, August 27 through October 1

Time: 9:30 a.m. to 12:30 p.m.

Fee: $120

Instructor: Michael Dowling

THE BASICS TO PAINTING WITH ACRYLICS

This class is for beginners and is a fun way to loosen up and learn different

ways to use acrylic paints in your artwork.

Day and Dates: Tuesdays, August 27 through October 1

Time: 1 to 4 p.m.

Fee: $120

Instructor: Christa MacFarlane

EXPLORING OIL PAINTING

Whether you're a beginner, a little rusty or a seasoned painter this ongoing

class will help you paint a variety of subjects.

Day and Dates: Wednesdays, August 28 through October 2

Time: 9:30 a.m. to 12:30 p.m.

Fee: $120

Instructor: Aimee Deneweth

DRAWING AND SKETCHING

Begin or develop your drawing skills through learning proper techniques.

Day and Dates: Wednesdays, August 28 through October 2

Time: 1 to 4 p.m.

Fee: $120

Instructor: Rick Brogan

CASUAL WATERCOLOR

This is a casual class where we progress through paintings together from

start to finish, learning and growing confident in watercolor.

Day and Dates: Thursdays, August 29 through October 3

Time: 9:30 a.m. to 12:30 p.m.

Fee: $120

Instructor: Renee Reese

LECTURE SERIES FOR THE ART LOVER

This class will transform the art lover to

interact with art on a whole new level as

we look at and review paintings with a

scientific and philosophical examination.

Day and Dates: Thursdays, August 29

through October 3

Time: 1 to 4 p.m.

Fee: $60

Instructor: Kevin Weckbach

WATERCOLOR

This is class is designed for students who want to learn the art of

watercolor painting.

Day and Dates: Fridays, August 30 through October 4

Time: 9:30 a.m. to 12:30 p.m. and 1 to 4 p.m.

Fee: $120

Instructor: Rick Brogan

YOUTH ART CLASSES

PEE WEE ART

Pee Wee Art is a fun

hands-on art program that

introduces preschoolers to

the arts and allows for

parents to assist with their

child's creative process.

Day and Time:

Wednesdays,

4:30 to 5:30 p.m.

Dates and Projects:

July 31 — Flower Painting

August 7 — Paper Towel Sculptures

August 21 — Van Gogh's Cat

Fee: $15 for each program

Ages: 3 to 5 years old with adult

Instructor: Lauren Brant

ART IN THE PARK

Make the

journey to

Silo Park this

summer to

create unique

hands-on art

projects!

Days and

Time:

Tuesdays

and

Thursdays, 12:30 to 2:30 p.m.

Available Dates and Projects:

July 16 – Fan Art Festival

with Pop Culture Classroom

July 18 — Glitter Glue Paintings

Fee: $25 for each program

Ages: 6 to 10 years old

Location: Silo Park

Instructor: Lauren Brant

TEEN ART CLASSES

TEEN SUMMER ART STUDIO

If you have a teen who loves art and wants to

learn unique mediums and techniques, this is

the summer program for them!

Day and Time: Mondays, 1 to 4 p.m.

Available Dates and Projects:

July 15 — "Open Space Glass Abstract"

Fused Glass Panels

July 22 — Mixed Media Sculptures

Fee: $25

Ages: 11 to 16 years old

Instructor: Candace French, Kay Gross,

David Lukens and Maggie Stewart

JULY 2019 | GV NEWSLETTER PG. 23
---
6060 South Quebec Street

Greenwood Village, Colorado 80111-4591

PRSRT STD

US POSTAGE

PAID

ENGLEWOOD, CO

PERMIT #799

ARTS AND RECREATION

ART events

GALLERY HOURS

Monday-Friday 8:30 a.m.-4:30 p.m.

Saturday 10 a.m.-4 p.m.

CURTIS CENTER FOR THE ARTS • 2349 EAST ORCHARD ROAD, GREENWOOD VILLAGE, CO 80121 • 303-797-1779

PG. 24 GV NEWSLETTER | JULY 2019