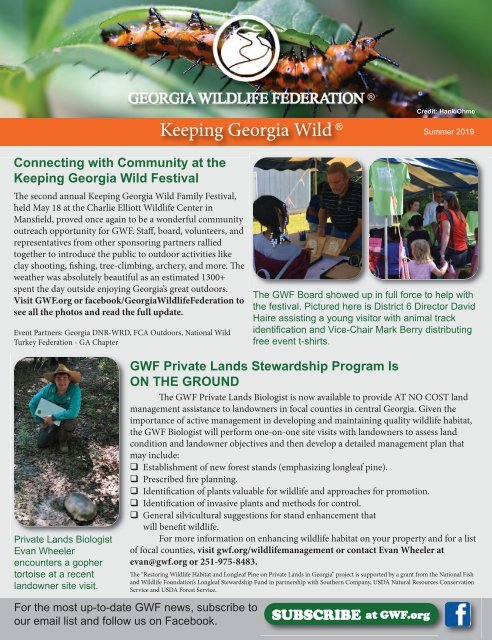 You also want an ePaper? Increase the reach of your titles
YUMPU automatically turns print PDFs into web optimized ePapers that Google loves.
Keeping Georgia Wild

®

®

Credit: Hank Ohme

Summer 2019

Connecting with Community at the

Keeping Georgia Wild Festival

The second annual Keeping Georgia Wild Family Festival,

held May 18 at the Charlie Elliott Wildlife Center in

Mansfield, proved once again to be a wonderful community

outreach opportunity for GWF. Staff, board, volunteers, and

representatives from other sponsoring partners rallied

together to introduce the public to outdoor activities like

clay shooting, fishing, tree-climbing, archery, and more. The

weather was absolutely beautiful as an estimated 1300+

spent the day outside enjoying Georgia's great outdoors.

Visit GWF.org or facebook/GeorgiaWildlifeFederation to

see all the photos and read the full update.

Event Partners: Georgia DNR-WRD, FCA Outdoors, National Wild

Turkey Federation - GA Chapter

The GWF Board showed up in full force to help with

the festival. Pictured here is District 6 Director David

Haire assisting a young visitor with animal track

identification and Vice-Chair Mark Berry distributing

free event t-shirts.

Private Lands Biologist

Evan Wheeler

encounters a gopher

tortoise at a recent

landowner site visit.

GWF Private Lands Stewardship Program Is

ON THE GROUND

The GWF Private Lands Biologist is now available to provide AT NO COST land

management assistance to landowners in focal counties in central Georgia. Given the

importance of active management in developing and maintaining quality wildlife habitat,

the GWF Biologist will perform one-on-one site visits with landowners to assess land

condition and landowner objectives and then develop a detailed management plan that

may include:

q Establishment of new forest stands (emphasizing longleaf pine).

q Prescribed fire planning.

q Identification of plants valuable for wildlife and approaches for promotion.

q Identification of invasive plants and methods for control.

q General silvicultural suggestions for stand enhancement that

will benefit wildlife.

For more information on enhancing wildlife habitat on your property and for a list

of focal counties, visit gwf.org/wildlifemanagement or contact Evan Wheeler at

evan@gwf.org or 251-975-8483.

The "Restoring Wildlife Habitat and Longleaf Pine on Private Lands in Georgia" project is supported by a grant from the National Fish

and Wildlife Foundation's Longleaf Stewardship Fund in partnership with Southern Company, USDA Natural Resources Conservation

Service and USDA Forest Service.

For the most up-to-date GWF news, subscribe to

our email list and follow us on Facebook.

SUBSCRIBE at GWF.org
---
Exploring the Alcovy Conservation Center

From September 2018 to May 2019, over 100 community members of all

ages were treated to informative morning walks at the Alcovy

Conservation Center thanks to volunteer naturalist Kathy Whitworth.

Nature-lovers identified birds, insects, reptiles, trees, and flowers as they

walked the loop around the tupelo swamp discussing the importance of

the wetland and surrounding habitats. Although the walks have ended,

the public is still welcome to explore the ACC trails. Visit gwf.org/acc

for more details.

Georgia Water Coalition Update

Georgia Wildlife Federation hosted the annual spring meeting of the

Georgia Water Coalition on April 24th at our Alcovy Conservation

Center. Seventy people attended representing over 40 GWC member

groups. Two special guests this year included Josh Hildebrandt, policy

advisor to Governor Kemp, and Representative Mary Frances Williams

from Marietta. GWC leaders gave updates on current legislation and the

overall results of the 2019 Legislative Session.

GWF was a founding member of the Georgia Water Coalition when it

started in 2002. Now in its 18th year, the Coalition has 266 member

groups from around the state and the southeast working to conserve and

protect Georgia's precious water resources.

2019 Clean 13 Heroes: The GWC is accepting nominations for Clean 13

Water Heroes through July 15. The report highlights extraordinary

efforts on the part of businesses, industries, local governments, nonprofit

organizations, and individuals to protect the water and natural

resources of Georgia. Visit GWF.org/gwc for more information.

Clay Shooters Brave Storms to Support GWF

The 2019 Clay Shoot for Conservation was like no other. With severe

weather looming, our sporting clay teams and volunteers traveled to

Burge Plantation in Mansfield not knowing if the weather would

"dampen" the day. Although the storms did indeed drench everyone,

shooters managed to keep smiling with several teams choosing to finish

up in the afternoon once the weather cleared. GWF would like to give a

huge thank you to everyone who braved the elements to participate.

High Scorers: Wesley Brooks (98), John Parish (98) Team Winner: Cobb

EMC (368)

Thank You to all of our Clay Shoot for Conservation Sponsors

Platinum: CSX Railroad | Gold: Whitehead & Associates |

Station: The Westervelt Company, Wildlife Trends, Outdoor

Underwriters, The Wildlife Group, Gillis Ag and Timber

Is there a Camp Charlie in Your Future?

Camp Charlie is a planned weekend of camping and hands-on outdoor

activities. The program primarily targets families who would like to

experience the outdoors with their children but may lack the knowledge,

skill, equipment, and self-confidence to go out on their own. If your

family is interested in participating, or you know of potential sponsors,

contact Adam Schiavone at aschiavone@gwf.org or 770-787-7887.

Volunteer Kathy Whitworth (left photo -

center) led visitors of all ages along the

picturesque ACC trails.

Josh Hildebrandt, policy advisor to

Governor Kemp, addresses Georgia

Water Coalition member groups at the

spring meeting held at GWF's Alcovy

Conservation Center.

Credit: Hank Ohme

Teams at the GWF Clay Shoot for

Conservation smile and enjoy the day

despite storms.

GWF staff reunited with past Camp

Charlie participants at the recent Keeping

Georgia Wild Festival. The Martinez

family is eager to introduce other families

to camping. We hope to provide that

opportunity soon through Camp Charlie.

Georgia Wildlife Federation 11600 Hazelbrand Road, Covington, GA 30014 770-7
---
Georgia Hunters for the Hungry Update

Thank you to all of our sponsors, hunters, and processors who made

the 2018-2019 GHFTH season a success. Together, we provided 11,539

pounds of venison to Georgia food banks and fed approximately

46,156 high-quality, protein-rich meals to Georgians in need. Five new

processors were added to help make donating easier for hunters.

The new season will start up on October 19. Visit GWF.org to find a

participating processor and make plans to donate this fall.

GHFTH partners and sponsors: Walmart, GA DNR- Wildlife Resources Division,

and Georgia Food Bank Association.

Thanks, Seth, for a Job Well-Done

Seth Cook, our Campus R3 Coordinator at UGA, just graduated and

finished up his internship with us. We are sad to see him go, but wish

him luck in Colorado. One of his last activities was helping to

coordinate the Warnell Alumni and Freinds Sporting Clays this past

April. Visit GWF.org/r3 to read all about the event.

R3 Skeet Shoot at ABAC

The R3 Program at ABAC held its first annual Skeet

Shooting Tournament. Although high scorers were

recognized, the event was more about having fun and

introducing the sport to new participants. As an entry requirement,

each participant brought a new shooter and competed as a pair. A total

of nine teams (18 students) registered with the majority being students

in the natural resources program at ABAC. New shooters were

provided a day of training prior to the event to cover the fundamentals

of gun safety, skeet shooting tactics, and provide some hands-on

instruction. The training must have been beneficial since several of the

newbies outshot their more experienced partner. The event ended with

a shootout to break the tie for first place. Read more at GWF.org/r3.

GWF Welcomes Dan Fletcher to the Board

GWF is pleased to welcome Dan Fletcher to the Board of Directors.

Dan, an employee of WC Bradley Farms, Inc., comes to us from

Columbus and is serving as a Director-at-Large. Dan's first priority is

to expand the presence and influence of GWF in the Columbus area.

As one of his first projects, he is working to establish a new dinner and

auction in the Columbus area to benefit GWF conservation programs.

Stay tuned to GWF.org for event details.

GOSA Funding Cycle Opens September 1

The Georgia Outdoor Stewardship Act becomes effective July 1 and

the first grant funding cycle opens September 1. The program, funded

by a portion of sales tax on sporting goods, supports projects that

provide stewardship for state parks, state lands, WMAs, local parks

and trails, and protects critical conservation land. The GA DNR is

holding several information sessions for any organizations interested

in applying for funding. For more details, visit gwf.org/gosa.

Join or Renew at GWF.org

-787-7887 info@gwf.org www.gwf.org www.facebook.com/georgiawildlifefederation

GWF volunteer Dusty Rhodes promotes

the Georgia Hunters for the Hungry

program at the 2019 Fisharama in Perry

this past February.

Participants at the Warnell Sporting

Clays agree that you don't have to be

Annie Oakley to enjoy shooting sports.

R3 Intern Parker Gerdes assists a new

shooter at the ABAC Skeet Shooting

Tournament.

GWF welcomes Dan Fletcher from

Columbus, GA to the Board of Directors.

Dan got his feet wet, both figuratively

and literally, at the stormy Shoot for

Conservation in April.
---
UPCOMING EVENTS

GWF Buckarama

August 16-18, Perry

Mill Creek Nature Center Update

Sportsman's Dinner & Auction

August 29, Covington

Youth/Adult Dove Hunt

September 7, Mansfield

Rivers Alive - Newton

September 28, Covington

SE GA Sportsman's Social

October 3, Statesboro

Rivers Alive - Gwinnett

October 12, Buford

Details at www.GWF.org

Credit: Suzy Downing

Volunteer Dan Douthart shows

the cub scouts and their leaders a

dragonfly larvae case on National

Trails Day at MCNC.

Credit: Hank Ohme

Volunteers from Gilbane, one of

GWF's corporate sponsors, eye a

green tree frog in one of our

amphibian tubes at MCNC.

BOARD OF DIRECTORS

OFFICERS

Chairman: Kevin McKinstry, Tuscaloosa, AL

Vice Chairman: Mark Berry, Atlanta

Secretary: Joy Campbell, Folkston

Treasurer: Don E. Chandler, Atlanta

NWF Delegate: Randy Young, Senoia

DISTRICT DIRECTORS

District 1: Jamey Hulsey, Marietta

District 2: Mickey Brown, Atlanta

District 3: Tom Jones, Atlanta

District 4: Jeff Young, Monroe

District 5: Thomas Kephart, Covington

District 6: David Haire, Milner

District 7: Curtis Jenkins, Forsyth

District 9: Tommy Gregors, Leesburg

District 12: Carl Hall, Vidalia

DIRECTORS AT LARGE

Josh Burnette, Marietta

Dan Fletcher, Columbus

Chris Gray, Buford

Daryl Ingram, Acworth

James Manley, Dacula

Brian Mask, Sr., Newborn

Seth Millican, Kennesaw

Gordon Reynolds, Loganville

Joel Vinson, Forsyth

Steve Wrigley, Watkinsville

Credit: Suzy Downing

On a rainy Saturday in April, GWF celebrated Earth Day at Mill Creek

Nature Center. A small but hardy group of volunteers removed Chinese

privet for two hours. Participants were treated to a frog presentation

from GA DNR and an up-close encounter with a rough green snake.

Credit: Hank Ohme

Credit: Suzy Downing

Credit: Suzy Downing

Wildlife Sightings at MCNC: Visitors have enjoyed watching the redshouldered

hawk chicks (above) and barred owl young (below) grow

stronger and more agile. (Right) This bizarre Harris' three-spot moth

caterpillar keeps its old discarded head capsules after it sheds and

wears them as a towering series of hats.

GEORGIA WILDLIFE FEDERATION STAFF

President and CEO: Mike Worley

R3 Campus Coordinator (UGA): Seth Cook

Sportsmen's Programs Coord.: Bonnie Eisterhold

Georgia R3 Coordinator: Charles Evans

R3 Campus Coordinator (ABAC): Parker Gerdes

Executive Assistant: Becky Harris

Outreach Manager: DeAnna Harris

Facilities Specialist: Simwone Jordan

MCNC Program Manager: Hank Ohme

Sportsmen's Programs: Doug Rithmire

Director of Operations, GWC: Gina Rogers

Wildlife Techn./Volunteer Coord.: Adam Schiavone

Sportsmen's Programs Manager: Sam Stowe

Private Lands Biologist: Evan Wheeler

Credit: Hank Ohme