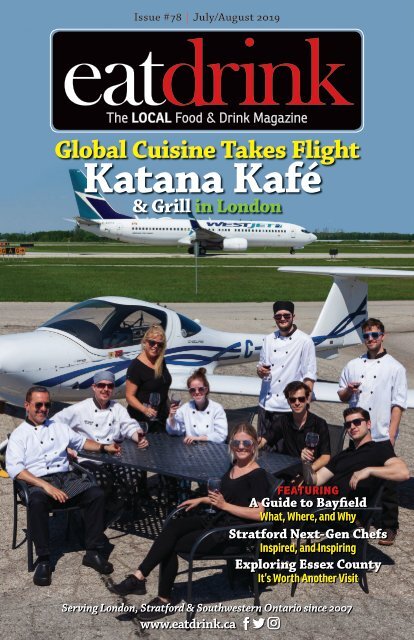 Eatdrink #78 July/August 2019
The LOCAL Food & Drink Magazine serving London, Stratford & Southwestern Ontario since 2007
The LOCAL Food & Drink Magazine serving London, Stratford & Southwestern Ontario since 2007
SHOW MORE
SHOW LESS
Create successful ePaper yourself
Turn your PDF publications into a flip-book with our unique Google optimized e-Paper software.
eatdrink: The Local Food & Drink Issue Magazine #78 | July/August 2019

eatdrink

The LOCAL Food & Drink Magazine

July/August 2019 | 1

Global Cuisine Takes Flight

Katana Kafé

& Grill in London

FEATURING

A Guide to Bayfield

What, Where, and Why

Stratford Next-Gen Chefs

Inspired, and Inspiring

Exploring Essex County

It's Worth Another Visit

Serving London, Stratford & Southwestern Ontario since 2007

www.eatdrink.ca
---
2 | July/August 2019

eatdrink.ca |@eatdrinkmag

Stratford's

#nextgen chefs are here

VisitStratford.ca
---
July 19 TH – August 11 TH 2019
---
4 | July/August 2019

eatdrink

The LOCAL Food & Drink Magazine

eatdrink.ca |@eatdrinkmag

eatdrinkmagazine

@eatdrinkmag

eatdrinkmag

eatdrink.ca

Think Global. Read Local.

Publisher

Chris McDonell – chris@eatdrink.ca

Managing Editor Cecilia Buy – cbuy@eatdrink.ca

Food Editor Bryan Lavery – bryan@eatdrink.ca

Copy Editor Kym Wolfe

Social Media Editor Bryan Lavery – bryan@eatdrink.ca

Advertising Sales Chris McDonell – chris@eatdrink.ca

Bryan Lavery – bryan@eatdrink.ca

Stacey McDonald – stacey@eatdrink.ca

Terry-Lynn "TL" Sim – TL@eatdrink.ca

Finances

Ann Cormier – finance@eatdrink.ca

Graphics

Chris McDonell, Cecilia Buy

Writers

Jane Antoniak, Gerry Blackwell,

Tanya Chopp, Gary Killops,

Bryan Lavery, George Macke,

Linda Olaveson, Sue Sutherland Wood

Photographers Terry Manzo, Doug North

Telephone & Fax 519-434-8349

Mailing Address 525 Huron Street, London ON N5Y 4J6

Website

City Media, Cecilia Buy

Social Media Mind Your Own Business

Printing

Sportswood Printing

OUR COVER

Many of the staff

from London's

Katana Kafé & Grill

strike a pose on

a Diamond Flight

Centre exit runway

just outside the

restaurant's patio.

Photo by Tony Boros.

© 2019 Eatdrink Inc. and the writers.

All rights reserved.

Reproduction or duplication of any material published in Eatdrink

or on Eatdrink.ca is strictly prohibited without the written permission

of the Publisher. Eatdrink has a printed circulation of 20,000

issues published six times annually in each of two markets, for a total

of 240,000 copies in print. The views or opinions expressed in the

information, content and/or advertisements published in Eatdrink

or online are solely those of the author(s) and do not necessarily

represent those of the Publisher. The Publisher welcomes submissions

but accepts no responsibility for unsolicited material.

Serving up

Great

partnerships

commercial | digital | wide format | design

Let us help with your next project...

519.866.5558 | ben@sportswood.on.ca

www.sportswood.on.ca
---
eatdrink: The Local Food & Drink Magazine March/April July/August 2019 | 5

STREET FOOD

SUNDAY

JUNE 30–SEPT. 1

Food Trucks • Vendors

Live Music • Craft Beer

Rescues • Vendors

Craft Beer • Food
---
6 | July/August 2019

eatdrink.ca |@eatdrinkmag

Contents

Issue #78 | July/August 2019

Publisher's Notes

The Summer Issue

Enjoying a Most Wonderful

Time of the Year

By CHRIS McDONELL

8

10

Beer

Season of Fruitfulness

Summer Beers with a

Little Extra Flavour

By GEORGE MACKE

37

Food Writer at Large

Stratford Next-Gen Chefs

Inspired, and Inspiring

By BRYAN LAVERY

10

Restaurants

Global Cuisine Takes Flight

Katana Kafé & Grill, in London

By TANYA CHOPP

18

Spotlight

A Guide to Bayfield

What, Where, and Why

By BRYAN LAVERY

21

New Hotspots

Four Noteworthy Additions

By THE EDITORS

26

Road Trips

Exploring Essex County

It's Worth Another Visit

By SUE SUTHERLAND WOOD

28

18

21

26

28

28

56

Wine

Discover Ontario Gewürtztraminer

Style? Versatile!

By GARY KILLOPS

40

The BUZZ

Culinary Community Notes

New and Notable

44

Music

The Sounds of Summer

Festival Season is Here

By GERRY BLACKWELL

56

Theatre

This Summer's Theatre

Thought-Provoking, Cringe-Inducing,

and Funny

By JANE ANTONIAK

59

The Lighter Side

Not Today's White Bread

By LINDA OVALESON

62

59

37

40
---
eatdrink: The Local Food & Drink Magazine

July/August 2019 | 7

WE SPEAK THE GOOD

FOOD LANGUAGE

Come & sample our

New Seasonal Menu!

FOR RESERVATIONS CALL

519-430-6414

/Blakes2ndFloor

¦
---
8 | July/August 2019

Publisher's Notes

The Summer Issue

Enjoying a Most Wonderful Time of the Year

By CHRIS McDONELL

eatdrink.ca |@eatdrinkmag

It's hard to believe that summer is actually

here after such a reticent spring season,

but I must remind you to grab every

moment of this glorious time of the year

with gusto. Actually, this issue does that, in

spades. Each story encourages exploration

in ways that we're sure will enhance your

appreciation of the season and our local

culture. As usual, our emphasis is on all things

culinary, but music and theatre are also firmly

linked to dining and a drink for many of us.

You will see those connections here.

Feeling a little footloose? For a trip just a

little "out there," check out Tanya Chopp's

profile of Katana Kafé out by the London

International Airport. Bryan Lavery takes

us along to explore the myriad charms of

Bayfield. He also introduces us to many of

Stratford's "next-gen" chefs, and with Stratford

Summer Music along with Stratford Festival

in full stride, I imagine many of you will head

that way soon. Sue Sutherland-Wood took a

journey into Essex County and we were almost

overwhelmed by the number of gems she found

just along the Kingsville-to-Amherstburg route.

These stories are just some of the highlights of

an issue jammed with summer ideas.

Enjoy!

London's Best BBQ!

Summer BBQ Nights combines Idlewyld fine cuisine with the

pleasures of dining in our intimate Courtyard Patio. The fun

starts every Wednesday and Thursday from 5:30 to 8:30pm!

Our menu includes Dry Rub Seasoned 8oz Striploin, Pirri Pirri

Marinated Atlantic Salmon, Jerk Marinated Half Cornish Hen,

Fire Roasted Pineapple Chutney, Bone-in Pork Loin Chop or

Quinoa Stuffed Poblano Pepper. We have a selection of cold

salads, made from fresh, local ingredients and a Dessert

Table with various cakes, pies and fresh fruit.

$44 .95

+ HST

per person

Call today to reserve your table!

36 Grand Ave, London • 519.432.5554 • www.idlewyldinn.com
---
eatdrink: The Local Food & Drink Magazine

Learn. Teach. Empower.

July/August 2019 | 9

Train to become a Holistic Nutritional Consultant

Natural Nutrition Diploma Program

(offered full-time and part-time)

and

Holistic Culinary Certificate Workshops

CSNN has over 9,000+

graduates worldwide! Discover

the range of knowledge of select

graduates, and how they are

making an impact in the health

care industry and beyond:

csnn.ca/about/alumni-profiles

A CSNN graduate is a professional trained in Natural Nutrition,

whose principal function is to educate individuals and groups about

the benefits and health impact of optimal nutrition.

Holistic Nutrition professionals work in private practice or with other health

care professionals and find careers in a variety of sectors, including:

• Food Industry • Fitness/Training Centres • Writing Books and Articles

• Teaching/ Education • Natural Health Centres and Spas

• Medical & Wellness Clinics • Health Food Stores

• Conference and Retreat Centres • Seniors' and Retirement Homes

• Consulting Services • Supplement Industry

Canadian School of Natural Nutrition | London Branch

747 Hyde Park Road, Suite 108, London ON

519.936.1610

csnn.ca/london @CSNN_London CSNN London CSNNLondon

TEACHING THE MEDICINE OF THE FUTURE
---
10 | July/August 2019

eatdrink.ca |@eatdrinkmag

Food Writer at Large

Stratford Next-Gen Chefs

Inspired, and Inspiring

By BRYAN LAVERY | Photos by TERRY MANZO

The modern gastro movement

began nearly twenty years ago in

some of the world's top kitchens.

Groundbreaking

technical applications to

cuisine by boundary-pushing

visionaries Ferran Adria,

René Redzepi, Grant Achatz,

and Heston Blumenthal

revolutionized and scandalized

the culinary world. Enthusiasm

for a new Modernist Cuisine

was based on a philosophical

understanding of food science

and gastronomy. Success

came using non-traditional

ingredients and experimental

methods rooted in technical

innovations and multiple

scientific disciplines.

Restaurateur David

Chang of Momofuku Noodle

Bar was working on what

Redzepi, in The Noma Guide to

Fermentation, calls a "parallel

track," introducing the concept

of microbial terroir, the hidden

world of mould, yeast and

bacteria for fermentation. And

of course there was chef, writer

and travel documentarian

Anthony Bourdain, with a laser

focus on global culture, cuisine

and the human condition. He

remains a powerful influence

for next generation chefs (nextgen

chefs.)

At the former Church

Restaurant in Stratford, a dozen

or so years ago, Chef Amédé

Lamarche introduced molecular gastronomy

on his tasting menus to both excitement

and collective head scratching. Lamarche,

Coordinator of Culinary Programs at Conestoga

College and an uncompromising trailblazer,

continues to be been instrumental in educating

the next generation of chef

visionaries.

Speaking of pioneering

innovators, I recently caught

up with Chef Danijel "Dacha"

Markovic at the Terroir 2019

Symposium in Toronto.

Markovic (a chef's chef)

left London's former iconic

Black George Restaurant

Ryan O'Donnell

Meaghan Evely

Jeremy Hayton

and went on to work as an

"extreme bush cook," then

worked alongside Chef Jason

Bangerter at Langdon Hall.

Now entrenched at Fogo

Island Inn beside Executive

Chef Jonathan Gushue, he

utilizes ingredients dictated

by the Island's "still-wild"

terrain to produce dishes

grounded and articulated in

the seasons and terroir.

Cutting-edge chefs

advancing the concept of

modernist cuisine in our

neck of the woods include

Stratford's Arron Carley

of The Bruce Hotel. Carley

defines and interprets "New

Canadiana" on his terms

rather than emulating

mentors like René Redzepi of

Noma, where he once staged.

Chef Kris Schlotzhauer

burnished his name and

reputation at Toronto's

Enoteca Sociale before

returning to Stratford a few years ago. As a

vocal champion for fair working hours and pay

he opened Stratford's AO Pasta on Erie Street,
---
eatdrink: The Local Food & Drink Magazine

where he calls his

own shots and

makes work/life

balance a priority.

This year,

Stratford Tourism

Alliance celebrates

next-gen chefs

in the annual

Stratford Culinary

Heather MacArthur guide, a go-to staple

source of insider

information.

The 25th edition was launched at a pop-up

at Richmond Station in Toronto, owned

by Stratford Chefs School graduates and

partners, Ryan Donovan and Carl Heinrich.

We caught up with Stratford Chefs School

alumni chefs Jamie Crosby of The Prune,

Meaghan Evely and Vincent Stacey from Pazzo

Taverna & Pizzeria, and Ryan McDonnell

of Mercer Hall. The 2019 guide celebrates

twelve next-gens in photos by photographer

and alumnus Terry Manzo. The print version

features owner Trena Hough of The Pulp

Fresh Bar, Suzie Svetlana Christensen and

"A fun place to shop

for housewares and gifts!"

Fresh summer

patterns for your

kitchen & dining

WATSON'S

CHELSEA BAZAAR

84 Ontario St. Stratford

watsonsofstratford.com

519-273-1790
---
12 | July/August 2019

Dee Christensen of Planet Diner, Kitchen

Manager Jill Thorpe of York

Street Kitchen, owner Heather

McArthur of Grounded, and

Loreena Miller (formerly of

Revival House).

One of Stratford Tourism's

featured next-gen chefs

is Windsor Hospitality

Group's Executive Chef Ryan

O'Donnell. He works hard

to incorporate the farm-totable

ideals espoused by the

Stratford Chefs School while

creating synergies for the

culinary teams at The Prune,

Bar One Fifty One, Mercer

Kitchen and York Street

Kitchen. O'Donnell's clever

menus feature locally-procured

products from in and around

Stratford, reflecting his focus

and passion and a dedicated

vision to building community

in Stratford and beyond.

Jamie Crosby leads the

culinary team at The Prune as chef de cuisine.

eatdrink.ca |@eatdrinkmag

Raised in rural Huron County, Crosby worked

at Eigensinn Farm and Haisai

for Chef Michael Stadtländer

in 2013, and did a threemonth

Stage at Noma in

2014 before taking over as

chef at The Little Inn of

Bayfield in 2015.

Another featured chef is

Jeremy Hayton of Stratford's

Mill Stone, who literally

walked through the kitchen

Suzi Christensen door to assist on a busy night

and never looked back. Three

years later he is a staunch

proponent of sourcing

Trina Hough

ingredients locally and has

introduced his new-found

passions for a late-night

Laotian menu, a MexiLao

menu and an all-day taco

menu.

Recently, listening to chef

panellists at the Culinary

Confederation Annual

Conference in Niagara

Falls, I was reminded of the many types of

Globally inspired; locally sourced.

An eclectic array of tapas, tacos, & plates;

featuring a pre-theatre prix fixe dinner menu.

Local craft beer & wine,

unique cocktails & margaritas.

(519)273.5886

themillstone.ca

Every Saturday

10pm - 2am

30 Ontario St, Stratford, ON

A POP-UP SNACK BAR

Laotian cuisine alongside

regionally-inspired cocktails

@ latenightlao

themillstoneON
---
eatdrink: The Local Food & Drink Magazine

A WORLD OF

MUSIC FOR

EVERYONE

July/August 2019 | 13

Céline Peterson

Presents Nat Cole:

A King's Centennial

August 5th

John MacLeod's Rex

Hotel Orchestra

August 18th

The Brothers Creeggan,

A Great Gathering

July 24th

Laila Biali

July 31st

Cannabis

Cantata

August 1st

Payadora

July 29th

season

sponsor

519.271.2101 / 1.866.288.4313

stratfordsummermusic.ca
---
eatdrink.ca |@eatdrinkmag

Spend time sampling over 50 of

the freshest and finest extra virgin

olive oils and aged balsamic

vinegars... pairings such

as cranberry pear balsamic

with blood orange olive oil or

Sicilian lemon with mushroom

sage... your tastebuds

will sing!

21 York Street, Stratford

oliveyourfavourites.com

intergenerational dynamics relating to kitchen

disciplines. The next-gens tend to avoid the

negative old school attitudes and habits that

were present in some kitchens: misogyny,

homophobia, excessive hours of labour, and lack

of work/life balance.

With advances in POS terminals, online

reservation systems, handheld server tablets,

touchscreen terminals, kitchen display

screens and inventory control, have come

innovative and state-of-the-art kitchen

tools and techniques that came into the

forefront when the methods of molecular

gastronomy and modernist cuisine became

viable concepts. Until recently there were no

reverse spherification or sodium alginate to

turn liquids into stable edible spheres. There

were no vacuum chamber sealers, smoking gun

infusers, refractometers, high-precision digital

thermometers, culinary torches or Instagram

accounts to document everything. There

wasn't the ubiquity of producer-only farmers'

markets or farmers selling their goods directly

to chefs. The farm-to-table and the local food

movements were not mainstream.

Chef Randi Rudner graduated from the

Stratford Chefs School in 2012, worked at

PATIO NOW OPEN
---
eatdrink: The Local Food & Drink Magazine

Rundles for six years, at Pazzo Taverna, and

this season she will be at The Prune alongside

Chef Jamie Crosby. Currently Rudner is the

Program Manager and a core instructor at

Stratford Chefs School. Wondering about

the impact that emerging chefs have on the

culinary scene in Stratford, I emailed Rudner

who replied, "I think that the biggest impact

that emerging chefs have had on the culinary

scene in Stratford is a strong interest in

collaboration, rather than competition. The

young chefs

working in

Stratford

today eat at

each other's

restaurants,

help at each

other's events,

and share

equipment

(and sometimes

supplies).

As a result,

the hospitality

Randi Rudner industry in

Stratford has

July/August 2019 | 15

Stratford 'Stinks' – but only once a year!

September 7, 9am – 5pm

September 8, 10am – 4pm

Indoors at the Community Hall

Stratford Rotary Complex

353 McCarthy Road, Stratford ON

•

Ontario Garlic & Artisan Market

featuring over 70 vendors

Exclusive Tastings

pairing artisanal cheeses with wines,

beer and spirits

Cooking Demonstrations

Educational Forums

Live Entertainment

Free parking and bike valet service

Casual Family-Friendly Italian

Eat In • Take Out • Patio

Licensed

Tuesday–Thursday 4:30–9:00

Friday–Saturday 4:30–10:00

38 Erie Street, Stratford

519-305-3838

www.aopasta.com
---
16 | July/August 2019

eatdrink.ca |@eatdrinkmag

Jill Thorpe

Jamie Crosby

Dee Christensen

Fresh Local Ingredients

Gluten Free & Vegetarian Options

Great Selection of Craft Beer & Cider

Tuesday–Saturday

Lunch 11:30–2:00 & Dinner 4:45–8:45

159 Queen Street, St. Marys ON

519-914-8811

Follow Us!

OPEN

ALL YEAR

ROUND!

10am–6pm

DAILY

Something

for

Everyone!

become more collegial, more creative, and

more inclusive. This generation of chefs is

highly concerned with the provenance of

the product with which they work and how

something is produced, and by whom. Part

of this concern stems from an interest in

environmental sustainability and a growing

awareness of the devastating repercussions of

many conventional food production practices.

Part of it stems from a genuine interest in the

wellbeing of the broader culinary community

in which they find themselves, a community

not just of chefs, but also of growers,

producers, and eaters. Just as significantly,

today's chefs are eagerly exploring the idea

of terroir in cuisine — that food can taste

of a particular time and place, that it can

tell their story, and the source of their raw

ingredients is of fundamental importance to

this perspective."

Rudner elaborated, "In a significant sense, the

curriculum at Stratford Chefs School has always

addressed many of the issues that this new generation

of chefs finds important. In addition to

strong technique, we focus on collaboration and

teamwork. Through various projects and assignments

our students reflect on their own stories

and mine them for culinary inspiration, and we

IN-STORE BAKERY

& GIFT SHOP

Old Fashioned Sausage

Smoked Pork Products

Bacon & Ribs

Local Artisan Cheeses

Large Selection of Gourmet Condiments

Visit Percy, Our 10-foot Pig!

The Finest Local Poultry Products

Free Range & Drug Free

#2146 Highway 7 & 8, Shakespeare ON

519-625-8194

www.porkshoppe.com
---
eatdrink: The Local Food & Drink Magazine

examine

Canadian

gastronomy

closely.

Ingredient

quality

and ethical

purchasing

decisions are

addressed in

Kris Sholzhauer nearly every

class. Our

curriculum

has evolved to include more in-depth instruction

of equity in the workplace, worker's

rights, contemporary food movements, and

food security, all of which are of increasing

importance to emerging chefs."

BRYAN LAVERY, Eatdrink Food Editor and Writer at

Large, brings years of professional experience in the

restaurant and hospitality business, as a chef, restaurateur

and partner in the Lavery Culinary Group, a culinary

experience provider and media consulting business.

TERRY MANZO is a highly respected Stratford-based

photographer. www.terrymanzo.com

Homestyle Cooking & Baking

Family Owned & Operated Mennonite Restaurant & Bakery

Homemade cooking & baking made fresh daily from

scratch using the best ingredients!

• 20+ Pies! • Muffins • Squares • Cookies • Sweet Buns • Donuts

• Cheesecakes • Tarts • Cakes & Cupcakes • Bread & Dinner Rolls

Sample delicious local eats,

meet inspiring producers and

marvel at the tempting array

of fresh and artisanal edibles.

From farm to table, pork to pies

to pints, discover more

in Perth County!

restaurants

farm gates

www.annamaes.ca

519-595-4407

4060 Line 72, Millbank ON

Monday–Saturday

7am–8pm

Cash or Debit Accepted

food shops

Find us, follow us!

#DiscoverMore #PerthCounty

@PerthCoTourism

perthcountytourism.ca
---
18 | July/August 2019

eatdrink.ca |@eatdrinkmag

Restaurants

Global Cuisine Takes Flight

Katana Kafé & Grill in London

By TANYA CHOPP

For those who are willing to travel,

great rewards await. In the case of

Katana Kafé & Grill, the good news is

that you don't have to travel too far.

On the outskirts of London, nestled beside

the roaring tarmack of London International

Airport, lies a hidden gem that patrons may

not wish for you to know about. The Katana

Kafé & Grill has been a London fixture for well

over a decade and in that time it's managed to

cultivate a loyal clientele, while also, somehow,

still flying under the radar.

Run by two red seal chefs, Jaime Peña and

Executive Chef Chris Morrisson, Katana is

everything you'd expect from a downtown

establishment. But the distance from the city

core has allowed them to dance to the beat to

their own drum, without any need to 'keep up

with the Joneses.'

"What attracted me to Katana was that it

was completely unique," says Chef Morrisson.

"The menus were different, even back then.

This is not your typical restaurant."

Doing their own thing has led to a menu

that's incredibly flexible for diners with all

manner of tastes, including those with dietary

restrictions.

"When I was taught to cook, 10 to 15 years

ago, it seemed as though everything got

floured. But in the last five years I haven't

cooked with gluten intentionally," says Chef

Morrisson. "Instead, we try to use chickpea

flours and rice flour, etcetera. Plus we're

focused on getting back to basics, and cooking

like French cooks used to — using reductions

to thicken sauces. So, many of our dishes end

up being gluten-free from top to bottom."

"We bake all of our breads, and even make

our own natural yeast. Our sourdough bread,

while not gluten-free, is still made from our

own starter. Sourdough is also known to be

more gentle, as the fermentation process eats

the gluten. The soup on our menu is always

dairy-free, gluten-free and vegetarian, while

Katana staff members, left to right, include : Jaime Pena, Krista White, Reta Coghill, Chris Morrisson,

Ben Ferraro, Charlie Zucchero, Cameron Bonnyman, Chris Scott, and Heather McAllister.
---
eatdrink: The Local Food & Drink Magazine

July/August 2019 | 19

the soup-of-the-day may be cream-based,

or include meat." On a grander scale, as the

menu changes for the season, the development

process is exciting and collaborative.

Culinary inspiration, client feedback and the

team's strong suits are all shared in equal

measure.

"When I do a menu, it's like writing an

album," Chef Morrisson says. "For instance, I

may think that this one will be 'heavy,' while

the next one may be more 'country.' But, while

I have ideas before I write the menu, [during

the process] I'll share what I've been thinking

and say 'let's turn it into something more

tangible or cohesive,' between the two or three

of us. We know we have to play to people's

strengths too. Two years ago we were doing

steakhouse style menus, but now we're doing

contemporary global cuisine."

The end result will always be an eclectic

mix, thanks in no small part to the diverse

needs and interests of the clientele,

who range from corporate lunch-goers

to customers who fly in from around

the region looking for high-end fare.

"Over lunchtime, our Classic Reuben

Sandwich (Montreal smoked meat with

Swiss cheese, sauerkraut and 1000

Island dressing on toasted marble rye)

is a staple that will never go away, and

now, neither will our Cubano (pulled

pork, Virginia style ham, Swiss cheese,

pickles and garlic dijonnaise served

on a Vienna roll), the latter of which

caused quite a bit of sadness in customers'

eyes when we took it off the menu

one season", says Morrison

"However, we're also well-known for

our steak and fish. Right now, our beef

is sourced from a farm just outside of

Prescott (north of Peterborough), and

we get our lake trout (which is served

with remoulade sauce, and lemon)

from Manitoulin."

"Our burger is also pretty epic. I

think everyone's seen one of those

shows where some host with bleach

blonde spikey hair shows off burgers

that have half a foot of dusted onions

piled on, or a fried egg, and we thought

'we can do that.' It was a bit scary at

first to offer it on the menu, but we've

found that there's a market for it —

and it's always fun to see people's faces

when it comes out, or as they try to

figure out how to eat it."

Executive Chef Chris Morrisson keeps it local — and inspired

— with experience, teamwork, and a loyal clientele.

Get up close — very close — and enjoy the views and

the action from the patio.

Relax in the dining room or at the bar, for breakfast, lunch or

dinner. Or perhaps just a signature Aviation Cocktail.
---
20 | July/August 2019

eatdrink.ca |@eatdrinkmag

"Over the weekend, we also offer breakfast

and it's very popular. We have fresh jams, and

create our hollandaise from scratch."

If none of these items pique your fancy, you

may be interested to know that during the

summer Katana also offers a themed patio

menu. This year's inspiration is Perch, Pizza,

and Pinot.

"As the name implies, we'll be matching

a few of our pinot grigios and pinot noirs to

perch and pizzas," Chef Morrisson says.

Katana also has its own signature cocktail

menu with various aviation-themed drinks:

Runway (raspberry, Curaçao and 7 Up), Horizon

(Malibu, cranberry and lemonade), and

the Aviation Cocktail (Aviation gin, maraschino,

and crème de violette), to name a few.

As one last note — for those who are fascinated

by everything aviation — the pinnacle

of action occurs at Katana when Airshow

London, the largest military air display in

Canada, comes to town (September 13 to 15).

For this special event, the restaurant plans a

fixed-price, custom three-course menu, and

offers customers the best seat in the house to

view the planes landing and taking off. If the

weather cooperates Katana also extends its

patio, increasing the seating capacity to make

more room for those who wish to sit outside.

All-in-all, while Katana may be "far out,

they like it that way" — and regardless of how

you journey there — you'll always be greeted

with food and views that let you know you've

arrived.

Katana Kafé & Grill

2530 Blair Blvd., London

519-455-9005

katanakafe.ca

breakfast: sat & sun 9 am–12 pm

lunch: mon & tues 11 am–3 pm

wed–fri 11 pm–5 pm

sat & sun 12 noon–3 pm

dinner: wed–friday 5 pm–9 pm

sat 5 pm–9 pm; sun 5 pm–8 pm

TANYA CHOPP is a local writer and communications

professional who enjoys exploring and writing on topics

related to local food and culture, humour and fitness.

Left, from top:

Bread and Jam (from scratch)

Perch Tacos;

Neapolitan Style Pizza;

Perch and Chips.
---
eatdrink: The Local Food & Drink Magazine

July/August 2019 | 21

Spotlight

A Guide to Bayfield

What, Where, and Why

By BRYAN LAVERY

It's been over thirty years since I became

enamoured of Bayfield. Restaurateur/

entrepreneur Tania Auger, of Sarnia's

Lola Lounge, had asked me to join her

in opening the Shark Inn (formerly the Ritz

Hotel — now the location of the rebuilt

Virtual High School — on the main street

across from The Little Inn).

Tourism officials refer to this region as

Ontario's West Coast. There are two well-known

inns located in this area. The 19th century

The Little Inn of Bayfield is known for being

Ontario's oldest operating inn and for its fulllength

double-deck verandahs. Beginning in

the 1830s, the Inn was a stop for stagecoaches

on the Sarnia to Goderich route. The other

notable property is Benmiller Inn & Spa (a

former woollen mill) located in a hollow beside

the Maitland River, twenty minutes outside

Bayfield. Benmiller's contemporary rustic

lodgings and its white-linen Ivey Dining Room

retains a more buttoned-down ambience. Menus

highlight old world classics like Chicken Duxelle,

Maple-glazed Duck Breast or Metzger's Seared

Beef Tenderloin with Butter Poached Shrimp.

On Highway 21, three minutes north of town,

is the appealing Ashwood Inn, a revitalized

22-room boutique property.

On the wide, pedestrian-friendly, Main

Street with its pea gravel pathways are historic

yellow brick and clapboard buildings that are

designated under the Ontario Heritage Act. In

many ways the village nestled on the precipice

of the sandy eastern shore of Lake Huron

remains much as it was three decades ago.

Bayfield can boast more than 20 stops for

food enthusiasts, on the main street, the

highway, and near the harbour. Local menus

showcase dominant food trends including

elevated street food. Fish and chips are de

rigueur, but not all of the fish comes from

Lake Huron. There are galleries, boutiques and

one-of-a-kind shops. A favourite is Martha

Beechie's indie Village Bookshop, situated

in a yellow clapboard house on Main Street

where I recently spotted Ruth Reichl's recent

memoir, Save Me the Plums, about her days as

editor of Gourmet magazine.

The building which houses The Albion Hotel's

English-style pub was a store in the 1840s and

became a hotel in 1856. Through the years we

have made regular stops at The Albion for its

inspired pub fare featuring in-house made

gourmet burgers, BBQ platters and sixteen taps.

Known for its extensive range of single malt

whiskies and craft beer, Black Dog Village Pub

and Bistro is located next door to The Albion

in a circa-1850 general store, with the original

Bayfield's Main Street is home to an

appealing number of independent

businesses, including (right) The

Village Bookshop.
---
22 | July/August 2019

display windows. It is

among the top tier of

best sit-down places to

eat and drink in Bayfield

with well prepared and

presented fare and all the

attributes of an excellent

gastropub. At Black

Dog they understand

hospitality and customer

service. Burgers are a speciality here. At last

count there were nine versions available. A

Experience Hessenland Inn & Vineyard

Where heritage is infused into every vine and vintage

Join us for one of our

Signature Events!

• Long Table Vineyard Dinners

• Mongolian Grill

• Weddings, Conferences & Retreats

• Novemberfest & MORE!

Accommodations • Award-Winning Gardens • Private Beach Access

Vineyard • Dining Room with European & Locally Inspired Fare

Located steps from Lake Huron between Grand Bend & Bayfield

Call 519-236-7707 or 866-543-7736

hessen@hessenland.com • www.hessenland.com

Reservations required for all events

eatdrink.ca |@eatdrinkmag

Walk up to the window for an ice cream,

as you explore Bayfield's Main Street

deep bowl of bright tomato and red pepper

soup was a recent hit. Expect such items as

osso buco, bouillabaisse, flat iron steak and

properly battered haddock served with fries

on the dinner menu. We especially liked the

listing of VQA wines and the selection from

nearby Maelstrom and Dark Horse Estate

wineries. We savoured piping hot coffee at the

bar, sourced from the village's Main Street indie

coffee roaster Shopbike, and were entertained

by the knowledgeable barman before returning

for a three-hour late lunch (not recommended

when they are busy). The outdoor patio is one of

several prime spots

on Main Street for

al fresco dining.

Across the street

is Copenhagen's,

with a walk-up

ice cream counter

and a take-away

window at the side

of the building.

Menus feature

The Albion Hotel

food-truck-style

offerings such as

perch or yellow pickerel with fresh cut fries,

crispy fish tacos, Metzger Meat's footlongs and

burgers and BBQ pork poutine. Take a seat

Relax and enjoy our peaceful

Creekside Patio.

Breakfast, lunch and dinner

7 days a week.

Benmiller Inn & Spa

81175 Benmiller Line | Goderich ON | 519.524.2191 1.800.265.1711 | www.benmiller.ca
---
eatdrink: The Local Food & Drink Magazine

Black Dog Pub & Bistro

at one of several umbrellaed backyard picnic

tables, or do as their website suggests and take

your repast to the nearby Clan Gregor Square

where you will find a small pavilion, plenty of

shade, a splash pad and more picnic tables. At

the opposite end of Main Street is Rosie's Ice

Cream Shoppe, known for its pink, turquoise

and purple awning and old-fashioned, batchby-batch

London Ice Cream offerings.

Next to the Black Dog is Olio, a reasonably

priced snack bar and summertime pizzeria.

Olio's mantra: "We refuse to compromise

quality in our restaurant. That's why we source

our fresh ingredients

from our

local vendors and

farmers." There is

a stone oven for

their signature

pizzas and the

smoker and BBQ

are fired up for

breakfast and allday

snacks. One

offering from

the smoker is

pulled pork with BBQ sauce and apple slaw on

ciabatta. Also on ciabatta is brisket, smoked

cheddar cheese, caramelized onions and

horseradish aioli. There is a black bean burger,

veggie dog and a plant-based burger. The

Olio Hypocrite Burger is a plant-based patty

wrapped in bacon.

Down the street, the hospitable Lake House

of Bayfield is much more casual than The Red

Pump ever was. The menu features starters

and shareables, salads, burgers and entrées,

best described as comfort foods. There are

battered lake perch tacos, pulled pork nachos

and smoked rainbow trout. The signature

Baron Burger with smoked bacon and freshly-

July/August 2019 | 23

The Lake House of Bayfield

BISTRO • CONFERENCE • SUITES • SPA

519-565-2576

LakeHouseofBayfield.com

Sesame

Lo Mein

Salad

"Where everyone knows your game"

18 Hole Golf Course

Year-round Restaurant / Bar

Protein

Bowl

whitesquirrelgolfclub.com

7 km north of Grand Bend on Hwy. 21
---
eatdrink.ca |@eatdrinkmag

The Best and Only Water-TOP Patio!

Chef-inspired Breakfast, Lunch & Dinner Menus

Craft Beers & Inspired Cocktails

Best View In The City

Join Us ... Dockside!

Alternate Grounds Dockside

Sarnia Bay Marina,

97 Seaway Road, Sarnia

519-332-3081

Open Daily • from 8–Late • April–October

agdockside.com

www.sarniaepicweekend.com

The tall ships®

Are coming!

ground chuck and brisket and smoked cheddar

cheese on a brioche remains a knockout. On

the dinner menu, there are chèvre, sundried

tomato and pesto-stuffed chicken breast,

chipotle red snapper and strip loin steak.

Four years ago, after 33 years of business,

Gayle and Pat Waters turned The Little Inn over

to new owners. The Little Inn was beautifully

renovated and refurbished and the kitchen was

redesigned so the Inn could focus on becoming

a culinary destination. The plan was for diners

to experience Huron County and Bayfield in

particular through its culinary offerings.

Now owned by Mike Oliver and Jamie

McDougall, The Little Inn's Willow Room offers

seasonal menus by executive chef Dan Stubbs,

who came to The Little Inn four and a half years

ago from Clevelands House, a historic resort

on Lake Rousseau in Muskoka. Stubbs always

showcases the best of locally-procured Huron

County ingredients. The hybrid of elevated

comfort food cooking and high-end refinement

and technique is something that we don't mind

paying a premium for. The beautifully appointed

Four-in-Hand Taproom features an extensive

selection of beers, wines and specialty cocktails

and items like charcuterie, fish cakes, schnitzel

August 8th -11th

3 Events

1 Epic Weekend

LOU GRAMM
---
and beer battered

haddock and

chips.

We are longtime

fans of the

seasonal drive-in

restaurant

and when we

want to wax

The Little Inn of Bayfield

nostalgic with

old school fast

food the Farmers Dell (est. 1956) in Brucefield

is consistently good. We continue to hear

great things about the new owners. The longestablished

Woodland Drive-In just outside

Bayfield also continues to be a local hot spot.

In the morning, be sure to grab yourself a

coffee at Shopbike Coffee and a salted caramel

cupcake at the Pink Flamingo Bakery to start

your day.

Trust...

Taste...

Quality...

BRYAN LAVERY is Eatdrink Food Editor and Writer at

Large. Always on the lookout for stories Eatdrink should

be telling, he helps shape the magazine both under his

byline and behind the scenes.

Your Source for

Dry Aged Steaks,

Sausages, Burgers & Kebabs

and so much more ...

• Sourced locally from trusted farms

• Traditional European preparation methods

• The latest in food processing innovation

Featuring

Creative Menus

from Chefs

Erryn Shephard

&

Ben Sandwith

Always Available

for Caterings!

Lunch and Dinner

Seasonal Hours

Reservations Recommended

519.238.6224

42 Ontario St. S., Grand Bend

www.finearestaurant.com

Open six days a week.

Hensall, Ontario

Just off Hwy 4,

45 minutes north of London.

www.metzgermeats.com

519-262-3130

Available in London at

The Village Meat Shop

at The Market at Western Fair

on Weekends!

Local Beef • Pork • Lamb • Poultry

Specialty European Meat Products
---
26 | July/August 2019

eatdrink.ca |@eatdrinkmag

Spotlight

New Hotspots

Four Noteworthy Additions to Our Culinary Scene

By THE EDITORS

Grace

215 Dundas Street, London

226-667-4822

gracelondon.ca

lunch thursday & friday 11:30am–2pm

dinner wednesday–saturday from 5pm

sunday 11:30am–2pm; 6pm–9pm

monday & tuesday closed

In one of the more

eagerly awaited

recent launches

in downtown

London, Chef Angie Murphy and partner/

sommelier Pete Annson opened Grace

restaurant to rave reviews. The cuisine is

modern Canadian, drawing on classic French

traditions and techniques, infused with global

influences and local flavours. There is a certified

sommelier on the premises and the wine list

offers interesting pairing opportunities. A

prix fixe dinner menu is created every Sunday

with a different theme, with a prix fixe brunch

including appealing sweet and savoury options.

Two Guys and a Whisk Bakery

519 Dundas Street, Woodstock

519-290-9200

fb.com/Two-Guys-and-a-Whisk-

Bakery-258765288121751

tuesday–saturday 9:30am–4pm

sunday & monday closed

Located in downtown

Woodstock, baker Nabil

Danha and partner

Tracy Kimmett of Two

Guys and a Whisk Bakery

offer an extensive array of

classic baked goods. This is the spot for more

than satisfying a sweet tooth, with buttery,

ultra-flaky croissants, crusty baguettes, and

artisanal breads. Dessert lovers will be in

heaven too. You'll also find exquisite Frenchinspired

patisserie, brownies, lemon squares,

cookies, tarts, pies, custom cakes and some

gluten-free products.
---
eatdrink: The Local Food & Drink Magazine

July/August 2019 | 27

Two Forks

295 Bridge Street, Port Stanley

226-658-4887

fb.com/twoforks295

open daily 11:30am–10pm

Chef Rob Lampman,

formerly of The Kettle

Creek Inn, and his

partner Terrie Collard

have created a

welcoming space. The

"beachy chic" decor, complemented by a

gorgeous patio and chef's garden, enhance the

vibe. The bar has live-edge wood extensions

creating extra seating. Small plates, designed

for sharing, are made with local ingredients

from scratch. You'll find freshly shucked live

oysters right at the bar, local wine on tap,

craft beer flights and handcrafted cocktails

like the Two Forks Caesar, topped with pickle,

olive, shrimp, oyster and a pastrami slider!

Happiness Café

430 Wellington Street, London

519-204-2854

myhappiness.ca

tuesday-friday 8:30am–6pm

saturday 9:00am–5pm

sunday 10am–4pm

monday closed

Olha and Anatolii Prytkova's family-owned

Happiness, on Wellington Street across

from One London Place, features Europeanstyle

coffee and desserts. All the baking is

done from scratch, featuring seasonal and

specialty cakes, French macarons, cupcakes

and chocolates. They also feature a selection

of delectable high-end doughnuts such as

pistachio, crème brûlée, salted caramel, mango

and passion fruit. Coffee for their espressobased

drinks comes from craft roaster "Hatch."

C'Angelina

Catering

Corporate & Family BBQs

Prepared Foods & Fresh Meats

Catering that meats your needs.

426 Third Street, London

519-204-8189

c-angelina@rogers.com
---
28 | July/August 2019

eatdrink.ca |@eatdrinkmag

SPONSORED BY

Road Trips

Exploring Essex County

It's Worth Another Visit ... and Stay Awhile

By SUE SUTHERLAND WOOD | Photos by DOUG NORTH

A

good road trip needs to tick a

lot of boxes, especially when

time is at a premium and gas

prices are high. No one wants

to keep doing the same trip either. How

lucky are we then to have Essex County;

chock-full of activities from birding, to

wine tasting, to food trails, to history and

much, much more. Getting there quickly is

not the problem. But having to head back

might be, so why not plan to stay awhile?

The tasting bar at Oxley Estate Winery

is flooded with sunshine as vivacious

Oxley Estate Winery

North 42 Degrees

Colchester Ridge Estate Winery (CREW)

owner Ann Neydon Wilson steps forward to greet us.

A good vibe seems omnipresent, from the spacious

wine patio and gardens to the carefully restored barn.

Delightfully earnest staff will feel like friends before

we leave and tastings of the small batch, awardwinning

wines will have been puckishly paired with

songs (since every wine has a "sound"). Wowza White

2017, a bright, clean blend was linked to The Cure's

Close to Me, which seemed just right.

Oxley also has an excellent restaurant (choices

include a spiced honey-glazed Cornish hen with

leek bread pudding) and recently won a designation

from Open Table as one of Canada's Most Romantic

Restaurants. Popular theme nights include Howl-atthe-Moon

with live music, Buck-a-shuck ($1 per each

East Coast oyster), and Barn Dinners, and there is

live music every Sunday from May to October 6. 533

County 50 Rd. East, Harrow, oxleyestatewinery.com

North 42 Degrees Estate Winery takes its name

from the same latitude address as Central Italy and

Northern California, and states its credo in a few

words: "good times and fine wines." But when affable

owner Martin Gorski speaks eloquently about the

region's superior soil and the surrounding Carolinian

forest, his tone becomes so reverential there's no

mistaking a serious love affair. North 42 Degrees is a

stunningly beautiful year-round destination offering a

myriad of events, as well as good wine. Past workshops

have included photography, pierogi making, and crosscountry

skiing, and there is a wine club. Corporate

events and weddings are easily accommodated on

the property. Serenity Lavender Farms is part of

the winery, and produces over 40 different kinds of

lavender. Products are available in the store.

Martin's son Aaron is a superb wine guide,

speaking intelligently about all aspects of the process

and listening closely to our questions. The walls are

lined with medals but the Sparkling Sauvignon Blanc

(with a hint of Bosc pear that quickly makes it my

favourite) won double gold, meaning the decision

was unanimous. On the second floor, Bistro 42 is a

sophisticated but comfortable dining experience,

with sweeping views of Lake Erie and the vineyard

provided by floor-to-ceiling windows. Food and staff
---
30 | July/August 2019

alike are celestial — silky soft gnocchi and

savory squares of pork belly are standouts.

Even the tooled flatware is an art form. A

busy map on the wall uses pins to represent

North 42 Degrees visitors from all over the

world, who have come to sample the wine and

tranquility here. 130 County Road 50 East, Colchester,

north42degrees.com

CREW is the acronym associated with

Colchester Ridge Estate Winery, a small family

run business that since 2006 has been producing

award-winning VQA wines on 12 acres of

vines. Michelle Turnbull welcomes us in the

tasting room and proudly explains how successfully

grapes can be grown in this "Canadian

Riviera." She also cites the warm breezes off

Lake Erie and notes that being so far south

really does have a positive effect on the wines.

The CREW Merlot 2016 that I sample is

soft and full of dark berries and spice —

distinctive tastes that even I can discern

with a prompt, and it is frankly, delicious.

CREW tastings usually take place in the retail

store at the front of the building but larger

groups tend to use the barrel room, which is

impressively cavernous. Michelle notes that

eatdrink.ca |@eatdrinkmag

with the

creation

of a brand

new tasting

room and

special

event space

coming

in the fall

Grove House Hotel

(clearly

underway

outside)

there will

be room for

additional

art and

sculptures.

A nearby

trio of highstepping

The BlackJack Gastrovan

sheep has

already made us smile, and there is something

about art, wine and whimsy that just seem

a perfect match. 108 County Road 50 East, Harrow,

colchesterridge.com

Tucked into the corner of Main Street and

WIN A LEXUS FOR A WEEKEND!

Plus get your own car cleaned and detailed!

eatdrink &

Presented by

Enter by going to eatdrink.ca/contests

Contest ends August 26, 2019. Complete details online.

Congratulations Wendy McMurray,

winner of our May/June Draw!
---
eatdrink: The Local Food & Drink Magazine

Division is Dutch Boys Chocolate, the collaborative

dream of Henry Noestheden and Cor

Boon, award winners in their respective fields

as sculptor/designer and professional woodcarver.

Both men — charming and dapper in

their black caps and aprons — are now in their

seventies, yet completed much of the store

renovation themselves and when highly specialized

machinery proved costly, they designed and

assembled their own. Everything is made on

site, by hand, and with "a great deal of love" Cor

says. Kingsville has shown them much support

since they opened two years ago, when they also

won a "Jimmie Award" for the Best Chocolate

in Canada. Boon's diverse selection of carvings,

which ultimately become silicone moulds for the

chocolate, are often inspired by Point Pelee wildlife,

and are truly art forms themselves. Truffles

are made daily and there are 24 different kinds.

Local

ingredients

are

often

featured

although

Henry

confides

the butter

Dutch Boys Chocolate

is from

Normandy.

The lavender

sample I enjoy is a little square of shining

bliss. Visitors are encouraged to watch production

through a large window. 2 Main Street West,

Kingsville, dutchboyschocolate.com

The Grove Brew House is an awardwinning

microbrewery. A hotel of the same

name is next door and both have enjoyed

plenty of positive buzz since opening in

2016. Previously a historic landmark, The

Grove building has since been re-imagined

as a boutique hotel. It recently placed in

TripAdvisor's Top 25 Small Hotels in Canada,

and attracts such famous guests as Margaret

Atwood and Gene Simmons. At the Brew

House we sample a tender crusted wood

oven pizza simply adorned with tomato

sauce, a slick of garlic oil and some fresh basil

skittered over buffalo mozzarella and it is

one of the best I have ever had. Beers I enjoy

include the Clubhouse Stout — an assertive

glass of treacly darkness — and the aptly

named Paradise Lager, which is just that.

Both The Grove Brew House and The Grove

Hotel have been decorated with a distinctly

funky but pleasing juxtaposition of old and

A KINGSVILLE STAPLE SINCE 1989...

from the house

that JacK built.

CELEBRATING 30 DELICIOUS YEARS

Check in to one of our three distinctive inns and enjoy our

town's generous hospitality. Visit the Kingsville Concierge

Desk to plan your culinary exploration.

Join us for lunch or dinner at Jack's Gastropub to experience

our farm-to-table menus recreated each season.

Start your day at Bean15 Coffee Lounge before setting out

on an EPIC Wine Route Adventue.

Finish your day with us at Banded Goose Brewing Co. with a

pint of beer made in house. CHEERS!

KINGSVILLE CONCIERGE — 15 MAIN ST. E., KINGSVILLE,ON

519-733-5070 | INFO@KINGSVILLECONCIERGE.COM

KINGSVILLECONCIERGE.COM | STOP IN AND PLAN YOUR TRIP

DRINK. EAT. REPEAT.

Open Daily at 8am

70 Park Street, Kingsville ON

519-712-9335

beachhousegrillkingsville.com
---
eatdrink.ca |@eatdrinkmag

growers & creators of fine lavender products

DISCOVER.

INDULGE.

ESCAPE.

519-494-5525

47589 Sparta Line, Sparta

Wed–Sat 10-5; Sun 12–4

Mother's Day to Dec. 20

PLUS June–Labour Day: Tues 10-5

steedandcompany.com

Enjoy

Our Annual

Lavender Fairy

Festival

Sat., Aug. 10

12–4pm $ 5

Bring

Your Wings!

Come Experience Our World!

Award Winning Artisan Cheese

$5 Garden

Admission

June 15-July 14

NOW OFFERING! Affinage 101

A hands-on behind-the-scenes experience

• Visit the aging room where cheese is cured

• Taste the changes in flavour as the cheese cures

• Discover steps to judge cheese quality and taste

• Create a delicious Gunn's Hill fondue from scratch

• Find details and register on our website

445172 Gunn's Hill Rd, Woodstock, ON

519-424-4024

www.gunnshillcheese.ca

new — an interior wall is exposed to reveal

stone beneath while a large rooster sculpture

stands tall in a washroom. Original pipes

have been incorporated at the bar, discovered

oak re-purposed for tables, and of course the

brewery itself shines like a cityscape in the

background. Hotel rooms are not traditional

— each one has been assigned a clever theme

such as "Hello Mr. Lumberjack" whose trendy

description notes that the fluffy linens are

"made from clouds — we're pretty sure."

Certainly the quirk works and The Grove's

attention to every detail from witty menus to

genuinely friendly staff does not go unnoticed.

12 Main Street, Kingsville, breweatsleeprepeat.com

Troy Loop has long been a champion for

Kingsville and his wildly successful Jack's

Gastropub has been going strong for over

twenty-five years. This busy family-run business

is just one of a few in the "Jack" series, a clever

homage to Jack Miner, famed Kingsville

conservationist who popularized bird banding

and its importance. We enjoy a splendid meal on

Jack's wraparound porch. It includes succulent

pickerel and good French fries with an especially

tasty vinaigrette slaw while my companion

enjoys a juicy mile-high Luau burger which could

easily have fed a family of four. jacksgastropub.com

"Distinctive Inns of Kingsville" represents

Troy's multi-property boutique hotel group.

Each hotel is named after its street number,

with Inn31 (31 Division South Street) featuring

three luxurious suites on the second floor

of the 1880 Kingsville homestead. Inn136

features suites at the Heart & Soul Guest

House (136 Mill West). At Inn15, with Brewery

loft suites at the Banded Goose Brewing

Company (15 Main East Street), we enjoy a

pleasant and comfortable stay. The welcome

centre at Banded Goose is a collaborative

effort with Tourism Windsor/Essex/Pelee

Island and serves as a handy hub for friendly

concierge advice, maps and food/wine trail

guides. (An added bonus: from spring to fall a

complimentary bike is available on request).

Bean 15 coffee lounge — also located at the

brewery address — is a casual spot to sip (try

the "Birthday Cake" sugar on your coffee!) as you

plan your next steps. Admire the huge vintage

photographs of Jack Miner on the walls.

The BlackJack Gastrovan — the name says it

all — is yet another "Jack" innovation, serving

up high-end creations on the go, at extremely

reasonable prices. Most recently the Gastrovan

has taken on the Sunday brunch crowd and

offers a changing menu featuring steak and
---
eatdrink: The Local Food & Drink Magazine

Beach House Grill

eggs

breakfast

perogies,

blueberry

Hefeweizen

mussels,

and other

unique

choices.

Troy's

genuine enthusiasm and passion for Kingsville

is inspiring, and although he has clearly been a

visionary in its success he is quick to point out

that all of the local businesses truly support

one another and believe in what they are doing.

Beach House Grill is a cheery, family-run

restaurant with lots of fun nautical nods (the

doorway to the dining room is a giant porthole)

and a varied menu that has something for

everyone. Breakfasts include everything from

the usual choices to "Meatloaf and Eggs,"

while an extensive dinner menu features

tacos, burgers, seafood (including frog legs),

and a pleasing kids'

menu includes two

pasta choices. 70

Park St., Kingsville,

beachhousegrillkingsville.com

Wolfhead Distillery

is a winning combination

of hipster and

historian, touting

itself as "the first premium

craft distillery

in Essex County since

Prohibition." Tours of

the distillery as well as

Wolfhead Distillery

tastings are available,

and it's fascinating

to view the gleaming

steam-punk tableau of copper/steel machinery

clearly on view from the tasting bar.

There is also a restaurant with a menu that

reflects the distillery's products (Wolfhead

Whisky Smoked Wings, for instance) and

offers plenty of good choices. Wolfhead's

premium blends of vodka and whisky take

the definition of purity to a new level and

the near-by limestone quarry is essential to

a taste which is "mineral driven." Vodka is

wheat-based and distilled seven times, making

the product gluten-free. Vodka flavours

(award-winning Premium, banana caramel,

grapefruit) are unique and authentic. (The

grapefruit flavoured vodka tastes intensely

Locally Sourced Ingredients

Authentic Italian Cuisine

Local Craft Beers

Wines from Italy

Regional Specific & Organic

Take Out & Gift Certificates Available

Wine or Spirit Tasting Events!

First Monday of Every Month

Lunch Wednesday–Saturday

Dinner Tuesday–Saturday

www.fatolive.ca

2135 Dorchester Road, Dorchester

519-268-0001

Dining

Thames
---
g

9

e

ty

r

9

s

rt

203,

851

Looking for a

Summer Getaway?

Come find yourself

in the heart of the wilderness and

discover the very best of Alaska

Summer 2019

Cruise Sale

Celebrity • Oceania • Princess • Holland America

Call Heather for availability and prices

For any and all of your travel needs

519-473-8591 — Heather Wilkinson

Regional Office: 31 Nottinghill Gate, Suite 203, Oakville

TICO#50013851

295 Bridge Street, Port Stanley

NOW

OPEN

Scratch Cooking

Small Plates

Local Ingredients

Craft Cocktails

Local Wines on Tap

Craft Beers

eatdrink.ca |@eatdrinkmag

of peel, almost a marmalade note). Whisky

choices (premium, coffee, apple caramel) are

especially impressive — perfectly balanced

and not remotely cloying. I have never enjoyed

whisky but this is a very different experience.

Additional products are in the works! 7781

Howard Ave, McGregor, www.drinkwolfhead.com

A single goat bleat breaks the silence as we

arrived at the 13-acre Muscedere Vineyards,

a beautiful

family-owned

winery close to

the Chrysler

Canada

Greenway (a

trail popular

with birders,

cyclists and

Muscedere Vineyards

walking

enthusiasts). Melissa Muscedere is a

knowledgeable and entertaining host and in

mid-tasting suggests that we examine the

grapes themselves. As we set out she explains

the care that goes into winemaking ("90%

vineyard, 10% making wine") and points out

that having "small lots, means big character."

Muscedere wines — all hand-harvested — have

enjoyed many awards and the premium reds are

a specialty. Award-winning 2013 Syrah is rich

and has a definite pepperiness, as promised.

The delicious 2017 Rosé surprises me since it is

not remotely sugary. Melissa explains that rosé

was not originally intended to be sweet — and

is now finally trending back towards dryness.

As well as two goats and a shaggy rabbit in

his hutch, there is a "dog friendly" policy in place

and a wonderful patio area boasts a wood-fired

oven for pizzas, creating a relaxed family feel.

7457 County Road 18 RR#4 Harrow muscederevineyards.com

Sprucewood Shores Estate Winery opened

in 2006 but, with the stately Tuscany-inspired

retail building rising up from the lush

surroundings, it seems inconceivable that it

hasn't been here for generations. Sprucewood

Shores is a family business started by parents

and now run by the next generation. Wine

seems to

be almost a

vocation here

and Vice-

President/

Winemaker

Tanya

Mitchell's

pride and

226.658.4887 @twoforks295 Sprucewood Shores Estate Winery

passion for
---
eatdrink: The Local Food & Drink Magazine

what she

does is

evident.

I sample

the 2017

Sauvignon

Blanc, which

is very

Caffeine & Co.

tempting

and just

faintly citrus, while the popular "Lady in Red'

2016, a medium light blend, is plummy with

a hint of vanilla bean. Wine and cheese tours

are available as well as tastings. Sprucewood

Shores will also deliver anywhere in Canada.

As well as the patio and surrounding gardens

(balconies offer panoramic views of the

vineyards and Lake Erie) there is a magnificent

reception hall suitable for weddings and other

events. There is also a path to an unexpected

beachfront and scenic pond area. Be sure to

consider Sprucewood Shore's outstanding

picnic basket, amply packed with thoughtful

gourmet treats which can be paired with a

glass of quality wine and toted along anywhere

on the property. 7258 County Rd 50 West, Harrow,

sprucewoodshores.com

Fresh f lavours

e v e r y day

Proudly serving

our finest dishes

with fresh, local

ingredients since 2016

Restaurant & Bar

226 658 0999

soloportstanley.com

VICTORIAN ERA INN & BISTRO BUILT IN 1889

Award-Winning Design and Cuisine

Elegantly Designed and Decorated Rooms

Locally-Sourced Organic Upscale Cuisine

Off-site Catering for Large & Small Groups

71 Front Street, Strathroy ON

Inn & Bistro: clocktower-inn.com

Catering: clocktowercatering.ca

Inn: 519-245-5656 Bistro: 519-205-1500
---
36 | July/August 2019

Although Caffeine & Co has not yet been open a year,

cheery owner Meghan Boschin laughingly recalls the

line-ups they experienced almost immediately, "as though

they'd been waiting for us!" Housed in an older building,

the Parisian-style interior is sleek black and white marble

with smooth gold chairs (and golden flatware) at each

table. "Bowler-hat lighting" adds a playful touch. Excellent

coffee (which can be spiked with a shot of Baileys or

Sambuca) is available in all its traditional forms as well as

lactose-free, coconut/almond, and soy. Impressive choices

abound, including Turmeric Latte, Jasmine Matcha and an

outstanding Ayurvedic tea, which has a clean mintiness. A

fine loose leaf tea selection is also available. Fresh soup and

quiche are made in-house daily and there is an excellent

selection of sandwiches, also available on gluten-free

bread. An extensive bakery boasts macarons, carrot cake

(suitably striped for Pride and pleasingly moist), croissants

and much more. My favourite is a huge Crème Brûlée

cookie scorched carefully to capture the flavour perfectly,

but without the crunch. A sensible children's menu

offers waffles and classic grilled cheese. 238 Dalhousie Street,

Amherstburg, caffeine-co.com

Artisan Grill has been favoured by locals and tourists

alike for more than seven years. With an emphasis on

fresh ingredients and attention to detail, Chef Matthew

Johnston's menu offers a variety of hand-crafted

meals, such as Chicken Marsala, designed to please. An

impressive wine list offers both local and international

choices and there is a good selection of beer on tap. The

restaurant interior is quietly chic while a discreet gated

patio at the back allows diners to eat beneath pergolas

and tiny lights. There is a separate restaurant on the

second floor, Fleur de Lis that is only open Saturday

evenings or by private booking, so reservations are a

must. Fleur de Lis has a prix fixe menu featuring classic

choices such as Lobster Thermidor and Chateaubriand.

269 Dalhousie St., Amherstburg, artisangrill.ca

The Salty Dog is an inviting and popular upscale pub.

A jaunty seafaring vibe prevails inside. We are able to

sample a few specialties, including a vegan taco (popular

even with carnivores!) with a toothsome filling of crispy

cauliflower, avocado and chipotle drizzle. Lobster mac 'n'

cheese is piping hot and creamily tender with generous

hits of lobster meat. An imported wood-fire oven

produces consistently excellent pizza and is clearly visible

eatdrink.ca |@eatdrinkmag

Artisan Grill

The Salty Dog

from the tables. The Salty Dog has

a good selection of beer, wine, and

specialty cocktails, and despite

its relative newcomer status (not

quite a year in business) it may

well have found its moorings.

237 Dalhousie Street, Amherstburg,

thesaltydogcanada.com

At the Waterfront Ice Cream

Shop there are over 50 flavours of

hand-scooped ice cream to choose

from. Old school parfaits, banana

splits, and milkshakes are also

here and with nearly 40 years in

business, you can be assured they

will be done right. (Voted #1 ice

cream parlour for Windsor, Essex

and Metro Detroit). 229 Dalhousie St.,

Amherstburg, waterfronticecream.com

Whatever your road trip theme,

Essex County has so much to offer.

You should go.

SUE SUTHERLAND-WOOD is a freelance writer

and regular contributor to Eatdrink. Read more of

Sue's work at www.speranzanow.com

DOUG NORTH is an enthusiastic photographer,

writer and historian living in London.

Waterfront Ice Cream

Sue and Doug were guests of Tourism Windsor Essex

Pelee Island, which did not review or approve the

contents of this article.
---
eatdrink: The Local Food & Drink Magazine

Beer

Season of Fruitfulness

Summer Beers with a Little Extra Flavour

by GEORGE MACKE

July/August 2019 | 37

In a sauce over ice cream, in muffins,

or in a pie. These are all noble ways to

use rhubarb, but can anything compare

with putting it in beer? Two London

breweries think not.

Forked River Brewing has, for most if not

all of its six years in business, used rhubarb to

brew Flashback. It's a wheat beer with rhubarb

added to give it a refreshing tartness and at

4.5 per cent alcohol, it's okay to say, "I'll have

another." Flashback has grown beyond the

brewery bottle shop and is now sold at LCBO

stores in London and beyond.

Not to be outdone, London Brewing

has its own celebration of spring with

Neighbourhood Tart, flavoured with donated

rhubarb from the backyards of Londoners.

The 2019 batch of this anticipated seasonal is

ready at the brewery shop.

Rhubarb is not the only fruit helping to

flavour beer at London Brewing. Arguably the

best on the board is Resolution, which uses

the lesser-known kumquat. Kumquats are

Bad Apple on Highway 21 between St. Joseph

and Bayfield brews a strawberry cyser-weisen,

adding strawberries and apples to a base of

wheat beer. There is

also a strawberryrhubarb

version.

Bad Apple is

also brewing

Penny's Radler in

collaboration with

Culture Shock

Kombucha of Grand

Bend. Penny's Radler

will have a cherry flavour, along with vanilla.

The juice and beer blends of radlers are a

welcome addition to a summer's day, whether

you're at a Huron County beach or in the city.

This summer, Upper Thames in Woodstock

will be dabbling in the fruit and beer space

about the size of grape tomatoes and, when

used in Resolution, add a zippiness to the sour

beer to create a warm weather thirst quencher

decidedly different from Bud Light.

Here are some other beers with fruit

themes from around the region to impress

your friends with this summer.

again with Making Waves. It will be a sour

beer, but exactly what fruit will be used is

being kept close

to the vest. Upper

Thames also has

brewed Waves - Black

Currant, magenta

in colour and so, so

very sour. A beer

with passion fruit,

which is a popular

choice for brewers,

is called Making Waves. Both Waves — Black

Currant and Making Waves — are on tap at

the brewery.

Savouring and saving just got easier, thanks

to Half Hours on Earth in Seaforth. The

brewery has released a raw ale (which means

the wort hasn't been boiled) called Centigrade.
---
38 | July/August 2019

Black currant leaves, dandelion roots,

and lemon zest help to flavour this

sour beer. Savour it, yes. The saving

part comes with the knowledge that $1

from each bottle sold will be donated

to the David Suzuki Foundation

to aid its efforts to battle climate

change. Climate change and Earth's

rising temperatures are also what

inspired the beer's name. Maybe take

cold comfort with a refreshing beer

for increasingly hot days.

psum

RAW. LIVE. LOCAL. ORGANIC.

SMALL ARTISANAL BATCHES MADE WITH LOVE

BY REGISTERED HOLISTIC NUTRITIONISTS

open year round

23 Main St.

Grand Bend, ON

cultureshockkombucha.com

#loveyourgut

eatdrink.ca |@eatdrinkmag

Tango with mango, you say? Mango is a

popular fruit to add to beer. At Anderson

Craft Ales in

London, they've

combined mangoes

and lime in a gose

(a German-style

sour beer) to create

a pucker-worthy

experience. Tart and

fruity, this is fresh at

the taproom.

Confluence, a sour IPA brewed by Storm

Stayed in London, incorporates apricots and

peaches with Azacca and Mosaic hops. Hop

choices will

add to the

fruit flavour

of a beer.

Azacca provides

citrus

and tropical

fruit notes. Mosaic hops, which are very

popular, provide aromas such as blueberry

and mango.

Steel Wheel near Brantford used almost

20 kilograms

of mangoes

in brewing

kettle sour.

The on-farm

brewery doesn't

name its beer,

but we'll call this one Mango Mama.

Personally, I hate grapefruit and no amount

of brown sugar can sway me. But squeeze that

taste into a beer, and maybe … Black Swan

in Stratford created Grapefruit Wild Child,
---
eatdrink: The Local Food & Drink Magazine

a Berliner weisse

which comes with the

advisory that tartness

and fruit flavour

may vary by batch.

Neat trick to keep us

coming back to try

some more beer.

If fruit creativity in

the brewhouse is your thing, it pays to keep

watch on the Renegade series from Cowbell

in Blyth. The

farm brewery/

restaurant/event

centre's current

release in No.

23, an oatmeal

vanilla black

lager. But recent releases have included a dryhopped

cherry weizen and a mango milkshake

IPA. There'll be more around the corner.

SUNDAY BRUNCH

11am−2pm

Intimate

Outdoor

Courtyard

GEORGE MACKE is a craft beer explorer living in

London.

Open 7 Days a Week

Mon/Tues 11:30-10, Wed/Thurs 11:30-11, Fri/Sat 11:30-12, Sun 11-10

Road Trip!

FAMILY-FRIENDLY, FULLY-ACCESSIBLE RESTAURANT

and DESTINATION CRAFT BREWERY in BLYTH

40035 BLYTH RD., BLYTH, ON N0M 1H0 1-844-523-4724 WWW.COWBELLBREWING.COM
---
40 | July/August 2019

eatdrink.ca |@eatdrinkmag

Wine

Discover Ontario Gewürtztraminer

Style? Versatile!

by GARY KILLOPS

This past April I had the opportunity to

travel to Alsace, a French wine region

with a focus on white wines. I had tasted

many rieslings from Alsace, it's the grape I

associate with this region, but it was another grape

— gewürztraminer — that grabbed my attention.

Gewürztraminer is the second most planted

grape in Alsace, with riesling being number one.

Wine purists would correct me if I called

gewürztraminer a varietal rather than a clonal mutation

of traminer/savagnin. "Gewürz" means "spice"

in German and was added to traminer after an

aroma mutation. This can be compared to pinot noir;

pinot gris, pinot grigio, and pinot blanc are mutations

of the same variety.

To add a little more confusion, proper spelling

of the grape is gewürztraminer, except in France

where it is gewurztraminer (without the umlaut).

Gewürztraminer is naturally high in sugar and

lower in acidity, for a softer, rounder mouthfeel.

The wines are usually fermented off-dry to medium

sweet and are very aromatic. This sweetness is

perfect to balance highly-seasoned and spicy Asian,

Indian, and Thai dishes. It is one of only a few white

wines that I would also recommend with sweet and

spicy BBQ ribs and other spicy summertime dishes.

Gewürztraminer is grown in regions of France,

Italy, Spain, Australia, New Zealand, Chile and

right here in Ontario, Canada. How does Ontario

gewürztraminer benchmark against those I tasted

in Alsace? That is the question I set out to answer.

With a few exceptions the Ontario

gewürztraminers that I tasted tended to be drier,

higher in acidity and less aromatic than those in

Alsace. Lychee and passion fruit and floral notes

were common in all. While all of the Ontario

gewürztraminers are very good, one in particular

blew me away!

Ontario gewürztraminer is quite versatile in

style from dry to sweet icewine. However, not a lot

of them find their way to the LCBO. Many of these

gems are available only from the winery, and are

worth the trip to purchase.

Pelee Island 2017 Lola

Gewürztraminer ($13.95, LCBO#:

618231) — This one is available at many

LCBO locations.

Lola

is a label

produced

by Pelee

Island Winery.

While

not overly

aromatic, it

delivers in

taste. With

approximately

28

grams/litre

of sugar

this wine

is medium

sweet. There

is a peachy

and honeysuckle sweetness and lemon

zest to counterbalance. An ideal summer

sipping wine at an excellent price.

North 42 Degrees

Estate Winery 2016

Gewürztraminer ($19.95,

available at winery only) —

Invitingly classic aromatic

rose petal notes on the nose.

Very floral. Bone dry with

only 4 grams of sugar/litre.

Ripe fruit flavours of peach,

pear and orange marmalade.

Hints of hibiscus add some

nice complexity. Elevated

acidity which leads to a nice

clean finish.

North 42's host Michelle

Trpcevski recommended

pairing this wine with Bistro

42's curry dishes.
---
eatdrink: The Local Food & Drink Magazine

North 42 Degrees Estate Winery 2017

Late Harvest Gewürztraminer ($29.95/375

ml bottle, available at winery only) — The

grapes for this

wine were picked

on November

12, 2017. Picking

in the late fall

allows the berries

to become riper

and produce more

sugar, resulting

in a sweeter

style of wine.

This late harvest

gewürztraminer

has 62 grams/

litre of sugar. It's

deliciously sweet!

Classic

flowery perfume

nose along with hints of honey. Layers of

complexity on the palate. Lychee fruit, sweet

peach, orange peel, tangerine, and a waxy

earthiness.

Recommended food pairing — Muenster

cheese. It's a classic Alsatian wine pairing.

Lacey Estates 2016 Inspired

Gewürztraminer ($20, available from

the winery or LCBO#: 132639 in limited

supply) — Lacey Estates is located

in Prince Edward County, and

sourced gewürztraminer grapes

from Niagara's Twenty Mile Bench

sub-region to make this wine. At 9

grams/litre it is still dry in style.

Winemaker Kimball Lacey

offered this information. "Skin

contact .... this adds to the golden

colour and will heighten the

nose and flavours on the wine as

well. There were three different

periods of contact on the wine:

24 hours, 48 hours, and 72 hours.

All were pressed out separately

to individual tanks, inoculated

with the same yeast strain and

fermented to different levels of

sugar content. And then filtered

and blended back together in

the end. The name 'Inspired' was

given to this wine as the amount of grapes

that came in (roughly six tonnes) was more

than I was expecting and it inspired me to try

some new directions with this wine."

Winemaking at Its Finest

Premium quality handcrafted wine

at an affordable price

150 Exeter Road, London 519-652-3998

somersetfinewines.com

OPEN TUES–FRI 10am–7pm & SAT 9am–4pm

WINE TASTINGS • EVENTS

WOOD FIRED PIZZAS

HIKE OUR TRAILS!

Summer

Hours:

Wed–Sun

12-6

7

SARNIA

LAKE

HURON

HAPPENS!

21

Grand

Bend

Forest

Aberarder Line

21

402

London

77 km

Available at the winery, select LCBOs & farmers' markets

5547 Aberarder Line, Plympton-Wyoming

519-899-2479 • altonfarmsestatewinery.com
---
Small Lot Award Winning Wines

We invite you to visit Oxley and taste our

classics (Auxerrois, Chardonnay, Pinot Noir

& Riesling) and our unique varietals:

Regent, Wowza & Ripper Red.

Open daily from 11am–6pm

www.oxleyestatewinery.com (519) 738-3264

533 County Rd. 50 E. Harrow, ON

eatdrink.ca |@eatdrinkmag

Aromatic touches of rose and orange zest

on the nose. The palate offers a pithy, phenolic

edge that gives texture. Ripe pear and red

apple fruits. This wine has lovely balance.

Colchester Ridge Estate Winery 2017

(CREW) Gewürztraminer ($17.95/winery

only) — This is it! The one that blew me away.

Aromatic flowery rose petal, honeysuckle,

and orange blossom

on the nose. It delivers

fresh, ripe peach, pear,

and juicy citrus on the

palate. With 20 grams

of sugar/litre there is a

lush mouthfeel. There

is sweetness, and it is

perfectly balanced and

really supports this wine

to the finish.

Made from estategrown

grapes, only 50

cases were produced. It's

a great value for such

small lot production. The

2017 vintage is currently
---
eatdrink: The Local Food & Drink Magazine

available at the winery and is expected to sell

out by mid-summer. The 2018 vintage will be

available then. I tasted it too, and it is every

bit as good as the 2017.

This Ontario gewürztraminer checks all the

boxes for what I was looking for. From the

first sniff of aromas I was taken back to my

week in Alsace. I encourage you to get out to

CREW and get this gewürztraminer.

GARY KILLOPS is a CAPS Certified Sommelier who

loves to talk, taste, and write about wine. He shares his

tasting notes on EssexWineReview.com

Open daily year round 11am-5pm

Quality Craft Wines

Beachfront Picnics

www.sprucewoodshores.com 519-738-9253

Enjoy Our Wines, Available at the LCBO

An EPIC Wine Region

that shares latitude,

not attitude.

We pride our winery experiences

as being laid back and fun. Enjoy

our scenic wine route by taking

an unforgettable road trip, or if

you're feeling adventurous, pedal

your way around the shores.

$100 Value

for Only $25

Plus, take

advantage of

special offers

and huge savings

with our new EPIC

Tasting Pass!

Find out more at

epicwineries.com

#WINERYQG | visitwindsoressex.com
---
44 | July/August 2019

eatdrink.ca |@eatdrinkmag

The BUZZ

Culinary Community Notes

London

Anita Stewart is University of Guelph's first food

laureate, a cookbook author and culinary activist,

and President of Food Day Canada, highlighting the

diversity of Canadian terroir. Food Day Canada is

an annual celebration of our homegrown cuisine.

The first event was held on August 2, 2003, when

Stewart launched The World's Longest Barbecue

in support of the cattle and beef industry, which

had been affected by cross border sanctions due

specifically to the BSE crisis (mad cow disease). The

event was larger and more widespread than anyone

could have imagined, with participants from across

Canada, as well as Canadians living abroad. Since

then Food Day Canada has evolved into an annual

mid-summer celebration held on the Saturday of

the August long weekend. fooddaycanada.ca

Chef Dave Lamers and Rob D'Amico's Abruzzi

Ristorante has a new lunch menu with all dishes

$20 or less. Lamers also told us the restaurant

will soon be Feast ON certified. Their new project

in Hyde Park, Taverna 1331, is well underway. They

hope to be open by early fall. 119 King Street, 519-

675-9995, abruzzi.ca

The Slow Food Chefs Alliance is a network uniting

chefs around the world who are committed to

defending biodiversity, traditional gastronomic

skills and local cultures and supporting virtuous

food producers. chefsalliance.ca

Nick Baird and Adil Ahmad's long-awaited

Beerlab! has opened next door to Milos Craft Beer

Emporium. The venue boasts a 25-patron capacity

with seating at "live-edge planks-cum-tables" that

fold into the wall, to allow additional space when

brewing. In season, a glass garage door will open

up most of the front of Beerlab!, with seating for an

additional 14 patrons on a small street-side patio.

420 Talbot Street, beerlab.com

Powerhouse Brewing Company is family-owned

and operated, using quality, Canadian-made

equipment. It recently celebrated its grand opening.

Powerhouse offers tours, tastes and memorable

experiences in the revitalized The Factory, in Old

East Village. 100 Kelloggs Lane, 519-200-5129,

powerhousebrewery.beer

Yam Gurung believes in cooking, eating, and serving

fresh, home-style food using natural, healthy and

tasty ingredients. He caters to the tastes of his

customers as Momos on Saturday and Sundays

at The Market at Western Fair District. Yam has a

second location at the Food Incubator at Dundas

and Adelaide in Old East Village. Momos, originating

in Nepal and Tibet, are meat- or vegetable-filled

dumplings. Yam's momos are hand-made, with

local flour-based casings filled with chicken, pork

or veggie mix. They are served with Yam's tomato,

coriander and garlic sauce. momosatthemarket.com

Just in time for the warm weather that was so

long coming, Willie's Café, Glen Farms, the Keto

Sweetery and Urban Oven are pleased to announce

that their shared space at 630 Dundas St., the Food

Incubator, is now air conditioned! In-the-know

diners and shoppers have made this foodie enclave

a regular destination. Now you can enjoy a visit in

cool comfort. williescafeandcatering.com

481 Richmond Street

519-432-4092

garlicsoflondon.com
---
eatdrink: The Local Food & Drink Magazine

Chef Josh Sawyer's and Elaine Sawyer's Wich is

Wich has relocated to the former Willie's Café,

on Wellington south of Oxford, but serving the

same great sandwiches (global flavours, exotic

ingredients, and textural contrasts). They are adding

a weekend brunch Saturday and Sunday, and dinners

Tuesday through Saturday. They will also offer

catering, grab and go. 731 Wellington St., (Wellington

& Piccadilly) 519-860-9424, wichiswich.ca

Hey, Cupcake! will be on the move this fall. The

popular family-run "cupcakerie" will remain at

Wharncliffe and Oxford until Labour Day, when it will

shift to the innovative energy-efficient new West 5

development at 1305 Riverbend Road. heycupcake.ca

The In Home Chef has recently partnered with

London caterer Sebastian's, and relocated to newly

refurbished premises. 220 Adelaide St. South, 519

686-7201, theinhomechef.ca

Growing Chefs! Ontario is proud to invite you into

its headquarters at 460 King Street. Part children's

education facility, part event venue, it is a truly

flexible and versatile space, ready to host your

next event. The social enterprise business model

generates funds to support the School Project

initiative, which allows local school children to

Make HAPPINESS

a part of your day.

Outdoor Farmers' Market

Saturdays, 8am–1pm

NEW! Thursday Night Markets, 4pm–7pm

Share the passion for locallygrown

food directly from

local farmers,

growers and

producers. We

grow it, raise it,

make bake it —

local produce,

meat, cheese and more! Join us outside on the

Market Square. Both markets will run weekly

through December.

Colombian Gastronomy Festival

Saturday, July 20, 4pm–Midnight

Stereo Caliente

Entertainment will

host this annual

celebration, offering

authentic Colombian

food with the

unique flavour of

Latin music and a

tasty cold beer.

All are welcome!

MARKET HOURS

Mon–Fri 8am–7pm

Saturday 8am–6pm

Sunday 11am–4pm

Mezzanine & Restaurant Hours Differ
---
"Reasonably priced, fresh, well-executed

Ethiopian cuisine ..." — Bryan Lavery, Eatdrink

LUNCH Wed to Fri 11:30–2:30

DINNER from 5pm daily

432 Richmond Street

at Carling • London

FAMILY FRIENDLY

• Vegetarian &

Vegan Options

Takeout

• Catering

ADDIS ABABA Restaurant

Tuesday–Saturday 11am–10pm by reservation

Closed Sunday & Monday

465 Dundas Street 519 433-4222

www.tgsaddisababarestaurant.com

ALWAYS

a 3-course prix fixe

menu option

www.davidsbistro.ca

eatdrink.ca |@eatdrinkmag

benefit from the teachings of professional chefs

and educators and to develop wholesome, healthy

eating habits. The website includes all upcoming

events, current education projects and how you can

reach out and help. growingchefsontario.ca

Michelle Pierce Hamilton of The Tea Lounge will

be participating in the new Richmond District "3rd

Thursdays" starting June 20th (and every third

Thursday of the month until further notice). The

Tea Lounge will be hosting a Singer/Songwriter

& Chai night, "Nashville style", from 5 to 8 p.m.,

featuring local artists and offering a big batch of

Pierce-Hamilton's signature "Rajputs Chai" with her

own personal spin to make it higher in absorbable

antioxidants and nutrients. 268 Piccadilly St., 519-

601-8327, tealoungelondon.com

Lavery Culinary Group's team of culinary insiders

brings together groups of visitors for intimate,

immersive culinary and cultural experiences

where they experience hands-on and behind

the scenes the passion of our local artisans and

creators. Attend one of their culinary pop-ups,

cooking classes or dinners or take a Tasting

Tour of the Covent Garden Market. They offer an

interactive culinary and cultural tour centred

on and around the Forks of the Thames with

partners such as Museum London, Rhino Bakery

& Lounge and Eldon House. Or simply explore

London's dynamic culinary scene with an insider.

laveryculinarygroup.ca

Bake Shop Studio in Wortley Village recently

expanded its hours. You can visit Kate and her

creative team (check out the inspiring gallery on

their website or Instagram) Wednesday–Friday from

11am–4pm, and on Saturdays from 10am–3pm. 145

Wortley Road (Upper) bakeshopstudio.com

Have you tried one of the many house-made desserts

at Radu Rotariu's new southend Bocconcini? Chef

Chris Taylor's culinary team is known for its silky,

delectable tiramisu. It's a great pick-me-up, and the

perfect way to finish off your meal. 1140 Southdale

Road West and Boler Rd., 519-601-7799

Palasad Social Bowl reopened earlier this year

after a six-month renovation and refurbishment.

It offers craft cocktails, a variety of local beer, a

top-notch Caesar (a smoky spin on the classic) and

a from-scratch small plate menu with pub grub

items like wings, sliders, tacos, nachos, poutine and

croquettes, as well as a twist on its famous wood

oven pizza. 777 Adelaide Street North, 519-645-

7164, socialbowl.ca

Afternoon tea on the beautiful grounds of Eldon

House, overlooking the Thames River, returns July
---
eatdrink: The Local Food & Drink Magazine

July/August 2019 | 47

In Memoriam

Joel Pastorius

The Root Cellar, On The Move Organics, London Brewing

Contributed by Ellie Cook

It's with great sadness that we share that

Joel Pastorius passed away unexpectedly on

May 30th. Joel has been a core team member,

co-owner and leader in our organization since

the very early years, and more than that, he's

part of our family. We're devastated and shaken

by his loss, as we

know are all who

knew him.

Joel was a

proud co-owner

of On the Move

Organics and

founding member

of The Root Cellar

and London

Brewing Co-operative. As a group, we wouldn't

be where we are today without Joel's unfailing

work ethic, quiet stubborn drive, and big-hearted

spirit. Over the past eight years, Joel filled every

position: from bread baker to pizza chef, from

bike deliverer to newsletter author, from bottle

filler to punny beer namer. Joel was always there

when he was needed, and he tirelessly supported

his team. Joel's work propelled London's local

organic food movement forward. He will be

greatly missed.

Thank you for your support,

Ellie, Jeff and Aaron

2 through August 25, Tuesday through Sunday.

Light Tea is $15 (incl. HST) per person and includes

a scone with butter and jam, fresh fruit and a

small dessert item. Full Tea is $26 per person and

includes tea sandwiches, a scone with butter and

More than just a Coffee Shop!

jam, fresh fruit and a variety of dessert items (24

hour advanced registration). 481 Ridout St. North,

eldonhouse.ca

More than just a coffee shop, the Cream Beanery

Café offers 24 rotating gelato flavours including

Keto, Dairy Free, Vegan and Gluten Free. Something

for everyone! Take out containers in ½ litre and 1

litre sizes are available. 825 Southdale Road West,

519-652-1607. Cream Beanery Café is also excited to

announce that they are opening a second location in

Mount Brydges — formely O-Joe Coffee Café — at

22469 Adelaide Road. Congratulations!

Beautiful

Canopied Patio

NOW OPEN!

PATIO

OPEN!

Keto Gelato

&

Fresh

Baking

Gelato to Go in ½ litre & 1 litre containers

Try our new Gelato Paninis!

Pour Over Coffee Bar

Iced Coffee

Open Daily 8am–9pm

New 2nd Location!

22469 Adelaide Rd, Mt Brydges

(Formerly O-Joe Coffee)

825 Southdale Rd W, London

519-652-1607

creambeanerycafe.com
---
Freshly home-made in the heart of the community

The

Village

Teapot

Licensed

Dine In & Take Out

Catering & Private Events

Breakfast • Brunch • Lunch • Cream Teas

Wed–Fri 10:30–3:30

Sat & Sun 10–2

Reservations

Recommended

Check our website

for our Sunday

Roast Events!

13257 Ilderton Road, Ilderton ON

thevillageteapot.ca

519-298-TEAS (8327)

Here's the truth.

We're bringing you the world's highest quality

Extra Virgin Olive Oils.

And we can prove it.

At The Pristine Olive we pride ourselves on

bringing you the Freshest, Highest Quality

Extra Virgin Olive Oils available.

Sensory evaluated. Lab tested. Certified.

Visit us for over 65 flavours of oils & balsamics.

The

Pristine

eatdrink.ca |@eatdrinkmag

Porcino is reopening at its original location at

1700 Hyde Park Road. Promising the same great

favourites from Chef Gino Parco as before —the

wood-burning pizza oven is back — look for classic

pastas, paninis, pizzas and more. porcinolondon.ca

The focus at Gregg and Justin Wolfe's Los Lobos

is on platos pequeños (small plates). They

predominate on a menu of Mexican-inspired fare

with a contemporary twist. The menu shares the

love for tacos but also covers a take on classics. We

love the chilaquiles (corn tortillas cut in quarters

and lightly fried) with mole, questo blando, and

cilantro. The crispy cornmeal battered jalapeños

rellenos stuffed with Monterey Jack and served

with red salsa or mole sauce are sensational. There

is a no reservation policy but plenty of seating on

the spacious patio. 580 Talbot Street, London, 519

601-8226

Since 1989 Fellini Koolini's has been serving Italian

and Mediterranean inspired foods. They strongly

believe that a great dining experience combines

excellent food with a relaxed comfortable ambience

— an atmosphere where one can sit back and

explore a large selection of wine along with madefrom-scratch

pastas, thin crust pizzas, bite-sized

pinchos (tapas) along with interesting entrées.

live

Est. 2012

884 Adelaide Street N. | London | 519-433-4444

www.thepristineolive.ca
---
eatdrink: The Local Food & Drink Magazine

Don't forget the signature brown butter Brussels

sprouts with Parmigiana-Reggiano and pistachios.

The patio next door at The Runt Club is one of

London's best-known secrets. 155 Albert Street,

London, 519-642-2300, fellinikoolinis.com

The Root Cellar remains committed to working

with local, organic, and sustainably-focused

farms in Southwestern Ontario. Through On the

Move Organics, the worker-owners have forged

meaningful relationships and continue to expand

the network of organic farmers and producers they

work with. The ingredients of the from-scratch

menu offerings, with ever-changing specials,

are all organic (with minor exceptions), and

procured from the local farming community. All

of the produce and ingredients in the restaurant's

dishes are certified organic, with 80% local in

season. 623 Dundas Street, London, 519-719-7675,

rootcellarorganic.ca

Eduard Nagy and Anita Tasonyi's landmark

Budapest Restaurant features a new patio with

a stunning retractable canopy. Signature dishes

include a variety of superb schnitzels, chicken

paprikash, goulash and iconic Hungarian

cabbage rolls. 348 Dundas Street, 519-439-3431,

budapestrestaurant.net

grace is delicious + modern canadian + localfocused

+ from scratch + hyper-seasonal +

accessible + welcoming + food-as-ar t + foodas-communit

y + ethical + unpretentious + for

celebrations + for af ter work + beautiful, fun,

demystified wine + curated beer + craf ted

cock tails + now open

215 DUNDAS ST · 226 667 4822

INFO@GRACELONDON.CA

GRACERESTAURANTLONDON

GRACELDNONT

Monday–Thursday: 11:30am–9pm

Friday: 11:30am–10pm

Saturday: 11:30am–10pm

Sunday: 11:30am–8pm

NOW OPEN

Reservations: 519-601-7799

1140 Southdale Road West, London

www.bocconcinilondon.ca

Free Parking
---
as

ams

s

le.

Fresh Homemade Pasta & Sauces, Meatballs, Lasagnas, Salads & more!

You could ride in one of these vehicles

or ...

You can relax and leave the driving

to us!

Diamondz DD provides car and driver retrieval service

7 days a week, 364 days a year,

in an effort to offset impaired driving statistics.

Call us for information on corporate retainers

and Special Event packages!

WE ACCEPT

519-457-9700

www.diamondzdd.com

Quality

Convenient

Meals

Bring Marshalls to the Cottage!

Store-made sausages & buns, Italian sandwiches, pasta

trays & pasta salads. All ready to heat up on the BBQ!

Convenient food everyone loves!

Text MARSHALLS

to 70734 for a

$5.00 Off Coupon

to be used in-store!

Ask about Blake's BBQ

We can cater all

your family functions!

580 Adelaide St N, London

519-672-7827

MON–FRI 9:30am–7pm • SAT 9:30am–5pm • SUN 11am–5pm

Full menu available at marshallspastacatering.ca

eatdrink.ca |@eatdrinkmag

Now that Blackfriars Bridge has reopened, it's a

perfect time to return to Betty Heydon's acclaimed

Blackfriars Bistro. One of the city's most respected

caterers, the culinary team at Blackfriars prepares

innovative, seasonal blackboard specials with

cutting-edge menus that respect tradition. Be sure

to try Betty's signature savoury Stilton cheesecake

with heritage greens — it's a classic. 46 Blackfriars

St., 519-667-4930, blackfriarsbistro.com

Chef Matt Reijnen and Jessica Washburn's Pizzeria

Madre is situated in a 130-year-old building on

Wellington Street and offers an exceptional dining

experience. This licensed, casual contemporary

pizzeria is sophisticated and nicely appointed

with high ceilings, tile floors, picture windows,

whitewashed walls and a partially open kitchen.

The bar and tables were custom-made from locallysourced

pine. There are two chalkboards featuring

beers and specialty cocktails. 111 Wellington St.,

519-432-4333, pizzeriamadre.wixsite.com/book

Looking for help with an event this summer?

Marshalls Pasta Mill & Bakery, a family-owned

restaurant, caterer and retail store of home-made

pasta, house-made sausage, salads and other

Italian specialties, has you covered. 580 Adelaide

Street N., 519- 672-7827, marshallspastacatering.ca

It isn't too late to make your favourite wine for

the summer season. Somerset Fine Wines & Gifts

have rosés, sangrias, whites and reds. The staff is

knowledgeable and happy to help. 150 Exeter Rd,

519-652-3998, somersetfinewines.com

Restaurateur Joe Duby and Chef Cynthia Beaudoin

of Gnosh have established an appreciative clientele

by creating a welcoming ambience where patrons

can enjoy a glass of wine or a signature cocktail at

the bar, a couple of small plates, or a full dining

experience, in a casual yet stylish setting (the former

Blu Duby premises). Gnosh is an unpretentious

restaurant celebrating honest food and wine, with a

sophisticated atmosphere and friendly service. Check

out the patio for al fresco dining. 125 Dundas Street

(with another entrance off Covent Garden Market

Place) 519-601-8050, gnoshdining.com

Pastry Chef Michelle Lenhardt of Rhino Lounge

and Bakery recently won in the Finger Food/

Chocolate category at the recent "Elles sont Food,

and You?" event in Toronto. The competition is

open to women chefs, sous-chefs, pastry chefs,

cooks and food entrepreneurs living in Ontario and

involved in the gastronomy scene. The culinary

competition is an event organized by the Consulate

General of France in Toronto in partnership with the

Ted Rogers School of Hospitality and Management
---
eatdrink: The Local Food & Drink Magazine

at Ryerson University. The goal for the participants

is to showcase the culinary culture of Ontario

and/or France by creating the best cocktail party

possible. For this, they relied on the specificity of

French culinary culture but also on the diversity

and richness of Ontario cuisine with the objective of

showcasing the best local Canadian and/or French

ingredients. ellessontfoodandyou.ca

Union Ten Distilling Co. in Old East Village is officially

open. The distillery will produce whisky, rye, rum

and vodka. The team has also created the Live Edge

Kitchen + Bar and the Whiskey Jack Performance

Hall. "These are places where people can gather

together to eat, drink and experience unique live

entertainment. 656 Dundas Street. unionten.ca

Join London artist Ron Benner at his garden

installation As the Crow Flies for a corn roast at

Museum London. Part sculpture, part installation,

and part performance, this free event will feature

Benner's roving corn-roasting wagon, Maiz

Barbacoa. Enjoy the acoustic sounds of Frank

Risdale while eating freshly roasted corn on the

cob. Sunday August 18, from 1–4pm.

London Bicycle Café recently celebrated its second

anniversary. 35 Clarence Street, 226-289-2670

Buy Less. Choose Well.

Assorted Chef's

Knife Rolls

High quality, Canadian made

leather goods and chef accessories

Order Online or see display

at Harris Electric Eatery in St. Marys

haversackleather.ca

I ENJOY

WONDERFUL

COFFEE WHILE

LISTENING

TO BUSKERS.

LOVE THIS PLACE.

THEMARKETWFD.COM

TERA D.

GOOGLE REVIEW
---
52 | July/August 2019

Stereo Caliente Entertainment will host the annual

Colombian Gastronomy Festival on the Covent

Garden Market Square July 20 from 4pm–midnight.

All are welcome for authentic Colombian food, the

unique flavour of Latin music and tasty cold beer.

Stratford

"These are exciting times for downtown Stratford,

with more new and interesting businesses, condo

development, and a great interest in being in the

heart of the city," says Steve Walters, Creative

Director of The Hub Fine Foods & Market on Market

Square. The Hub is a corner shop with a café and

bar, and features prepared take-away food, a

bakery, a butcher and a market with staples like

milk and bread and cheese that you can grab with

your glass of crémant and a croissant, or a beer and

borscht. A true believer in details, customer service

and quality, Fine Foods & Market is a welcome

destination for the food enthusiast". 31 Market

Place, 519-508-2337

The Planet Diner, with candy-apple red upholstered

booths and a 50s vibe, is warm and welcoming, with

enthusiastic and well-informed staff. Owner Dee

Christensen says, "This is where herbivores can

bring their carnivore friends." Most items on the

eatdrink.ca |@eatdrinkmag

menu are derived from plant-based ingredients, but

there are meat-based options. There's just nothing

like the Chick'un B urger made in-house with vegan

buffalo butter. We are fond of the cashew-based

banana split. 118 Downie Street, theplanetdiner.com

Do you want to attend a world-class event that

showcases and supports local agriculture and

features tastings, pairings and delicious garlic

dishes? Then mark your calendar for the Stratford

Kiwanis Garlic Festival, September 7-8. Keep an

eye on the Facebook page for updates or go to

stratfordgarlicfestival.com

The Slow Food Perth County Sunday Market runs

10 a.m. to 2 p.m. at Market Square at City Hall. You'll

find local produce, breads, soups, sweets, crafty

things, lacto-fermented foods, cheese, grass-fed

meats, and garden seeds. slowfoodperthcounty.ca

Stratford Farmers' Market, a year-round market

operating since 1855, offers fresh produce, crafts,

meat and cheese at Stratford Rotary Complex-

Agriplex, 353 McCarthy Rd, Saturdays 7 am–12

noon. 519-271-5130. www.stratfordfairgrounds.com

Stratford Tourism released the 2019 Bacon and

Ale Trail with a tasting of the latest brews at Black

Swan Brewery, the first craft brewery to participate

Far Out ...

but we like it that way!

Blair Blvd

London

International

Airport

Crumlin Rd

Oxford St

FLIGHTS & BITES

HALF PRICE Sharing Plates & Oysters

Tuesday–Friday from 3:30–5:30pm

SUNDAY INDUSTRY NIGHTS

20% OFF!

New Summer Menus & Cocktails!

TUES–SAT Lunch & Dinner 11:30am to Close

SUNDAY Brunch 11am & Dinner

449 Wharncliffe Road South

519.914.2699

MON & TUES: Lunch 11–3

WED, THURS & FRI: Lunch 11–5; Dinner 5–9

Weekends: Breakfast 9–12, Lunch 12–3, Dinner 5–9

Come for the planes and fall in love with the food!

Patio overlooking

the airport runway

NOW OPEN!

519-455-9005

katanakafe.ca

2530 Blair Blvd, London

Diamond Flight Centre
---
eatdrink: The Local Food & Drink Magazine

on the trail. Jobsite Brewing and Shakespeare

Brewing Company also offer exploratory flights on

the trail. More tasty ways to enjoy this inspirational

pairing includes Jalapeno Poppers paired with

an Ontario craft beer at Boar's Head Pub and two

styles of artisan bacon paired with a local craft

beer at Mercer Kitchen and Beer Hall. Delicious

bacon or ale inspired soups from Soup Surreal,

farm-raised McCully's Hill Farm bacon, juicy Bacon

Burgers from Best Little Pork Shoppe and Maple

Bacon Onion spread or Bacon Caesar dressing

from Bradshaws can be taken home to enjoy. And,

of course, there is dessert! Madelyn's amazing

award-wining butter tarts and Black Angus

Catering & Bakery's bacon shortbread will make

your mouth water, while take away snacks perfect

for sharing include Rocky Mountain Chocolate's

bacon or craft beer toffee caramels and Small-Mart

General Mercantile's bacon-flavoured jelly beans!

Finally, or maybe first, you'll want to pick up your

"beer pig" mug at Got It Made and natural beer

soap with a quirky BeerMo bottle moustache at

Treasures. You'll be smiling all along the trail with

these fun additions. Choose five of the 15 bacon and

ale inspired treats. Meet local brewers, artisans,

bakers, and food purveyors. Present one voucher

at each of your selected stops for one treat within

where art is

Hey, Cupcake! a piece of cake

The ORIGINAL

LONDON CAKERY &

GOURMET CUPCAKE

BAKERY

July/August 2019 | 53

seven days of purchase. Purchase trails at Stratford

Tourism, 47 Downie Street.

The Livery Yard is a great place for coffee and light

refreshments in a stunning setting on the opposite

corner to the Avon Theatre. 104 Downie Street.

If you love cats then you'll love Stratford's new

The Alley Cat Cafe, opening soon at the corner of

Market Place and Downie Street (previously Pizza

Pizza.) alleycatcafe.ca

Around Our Region

Chef Eric Boyar's sixthirtynine in Woodstock

delivers a homegrown Oxford County "from

scratch" farm-to-table Feast On certified

experience. Dedicated to building and nurturing

strong personal relationships with farmers and

producers, Boyar travels straight to the source to

procure items for his Oxford-County-driven menus.

Boyar's Chef's Table is set right in the heart of the

kitchen, with seating for up to four guests. Tasting

menus with optional wine pairings are available

upon request. 639 Peel Street, Woodstock, 519-536-

9602, sixthirtynine.com

You'll walk in the shoes of local cheese maker, Shep

Ysselstein, when you get a behind-the-scenes look

100% Local — from Our Farmers to Your Table

Hormone & Drug-Free

Ontario Beef, Pork, Bison, Lamb & Chicken

THE VILLAGE

MEAT SHOP

LOCAL - NATURAL - QUALITY

ASK US Custom Bakery • Walk-In Orders Available

ABOUT OUR

"RANDOM

ACTS OF

SWEETNESS!"

CAMPAIGN

www.heycupcake.ca

275 Wharncliffe Rd. North

519-433-CAKE (2253)

STORE HOURS: Mon–Fri 11–7

Saturday 10–5 • Sunday 11–4

WE ARE YOUR LONDON OUTLET FOR

• Metzger Meat Products • Lena's Lamb

• Blanbrook Bison Farm • Little Sisters Chicken

• Glengyle Farm Organics

The Market at Western Fair District: SAT 8–3; SUN 10–2

226-376-6328 • www.thevillagemeatshop.ca
---
Modern Skincare Made with Love

The Forest City's

all-natural small-batch

skincare company

Locally Handcrafted Curated Boutique

incense, home decor, DIY supplies,

jewellery, crystals, tarot cards, eco-friendly

items and so much more ...

111 Mount Pleasant Ave., London

Monday–Friday: 10AM – 6PM

Saturday & Sunday: 10AM – 4PM

+1 519 630 5305

info@purdynatural.ca

purdynatural.ca

Boho Bazaar Night Market

Community is our passion. We support

and sell local, and create events where

everyone can gather and grow together.

Stay updated on events @purdynatural

@bohobazaarnightmarket

eatdrink.ca |@eatdrinkmag

at Gunn's Hill Artisan Cheese. Gunn's Hill's latest

experience, Affinage 101, explores the art of aging

cheese. You'll get a chance to see what happens

after the curds and whey have been separated

and the wheels have been pressed. You'll learn

how aging a wheel affects the taste profile and the

care that goes into this part of the cheese making

process. Want to book your spot in an Affinage 101

experience? Head over to gunnshillcheese.ca.

Hessenland Inn is celebrating their 35th

anniversary in 2019 while welcoming their next

chapter: the opening of their boutique vineyard,

Schatz Winery. Hessenland's popular Mongolian

Grill — garden-side dining — is back for a 12th

season. Every Thursday evening through July

and August, Mongolian Grill offers a delicious

opportunity for guests to design their own

signature dish from the freshest ingredients.

Curate your plate and let Chef Frank Ihrig and

his crew grill and season your dish to perfection

at the outdoor grilling station. "Wein and Dine

Wednesdays" (July 17 & August 14) feature long

table dinners in the vineyard, with live music

and special menus paired with fine local wines.

Reservations required. hessenland.com

We are hearing great reports about the menus and

ambience at Jordi Carr and Natalie Crittenden's

Harris Electric Eatery in St. Marys. Here's an

enticing way to support underprivileged boys in the

Dominican Republic (DR) while enjoying an exciting

night of Dominican-inspired food, drink and music.

Harris Electric Eatery is hosting a community

fundraising dinner for InspireDR on Sunday, August

18. There will be two seatings (5 and 7:30pm).

Tickets are $50 each for dinner, dessert and a

welcome cocktail. 519-914-8811, 159 Queen St. E.,

St. Marys, harriselectriceatery.com

We love to pop by Streamliners Espresso Bar in St.

Thomas for their hand-brewed Las Chicas Del Café

coffee and fresh pastries. The Specialty Coffee Association

of Canada recently announced that Anderson

Hall at the CASO Station will be the location for

2020 Eastern Qualifiers of Canada's National Barista

Championship September 8–10. Maria Fiallos of Las

Chicas Del Cafe and Streamliners spearheaded the

effort to bring this exciting event to St. Thomas from.

The event is appropriately nicknamed "Steam." 767

Talbot Street, St. Thomas, 519-631-0999

Steelhead Food Co. recently opened its own processing

facility with a Fish and Seafood Market offering

fresh locally-processed fish. Located in St. Thomas,

Steelhead provides a selection of premium quality fish

and seafood — fresh, frozen, and smoked. 5 Barrie

Blvd, St. Thomas, 226-237-3474, steelheadfoodco.ca
---
eatdrink: The Local Food & Drink Magazine

The lavender will be blooming later this year, right

through July, in the serene gardens of Steed &

Co. Lavender just outside Sparta in Elgin County.

The annual Lavender Fairy Festival will be held

on Saturday, August 10, from noon to 4pm, with

an afternoon filled with fairy fun and lore. Don't

forget your wings! Pirates are also always welcome.

Children $5, parents and grandparents are free.

47589 Sparta Line, steedandcompany.com

Alton Farms Estate Winery has extended its hours,

and is now open Wednesday–Sunday, noon–6pm. On

July 6 a pig roast will feature Cowbell Brewing Co.,

Stonepicker Brewing Co. and cheeses from Great

Lakes Goat Dairy. This family-friendly event will offer

various activities, live music, hiking opportunities, and

more. 5547 Aberarder Line, Plympton-Wyoming, 519-

899-2479, altonfarmestatewinery.com

We want your BUZZ!

Do you have culinary news or upcoming events

that you'd like us to share?

Every issue, Eatdrink reaches more than

50,000 readers across Southwestern Ontario

in print, and thousands more online.

Get in touch with us at editor@eatdrink.ca

Submission deadline for the next issue: August 5

Destination for the food lover

Featuring specialty foods,

kitchenwares, tablewares,

cooking classes and gift baskets.

115 King St., London Ontario

jillstable.ca 519-645-1335

EatDrinkAd_2019.indd 1 2019-06-18 11:37
---
56 | July/August 2019

Music

The Sounds of Summer

Music Festival Season Is Here

eatdrink.ca |@eatdrinkmag

By GERRY BLACKWELL

Music festival season is

here. Send up a cheer.

Sunfest, Home County,

Rock The Park. And one

we sometimes take for granted but

shouldn't: Stratford Summer Music.

SSM, now in its 19th year, runs

at indoor and outdoor venues

around the city from July 15 to

August 25 — 100 events in total.

Under new artistic director Mark

Fewer, it covers the waterfront —

jazz, classical, avant garde, singersongwriter,

funk, cabaret. Etcetera.

"We have so much to look forward

to this summer that to say we're

excited would be an understatement,"

Fewer says. "As well as the greatest

variety of any summer music festival

in the country and the most free

programming, we have new initiatives

that focus on youth, music and health

— and original productions you won't

hear anywhere else."

For a full run-down, see the SSM

website: stratfordsummermusic.ca.

In the meantime, here's some of the

coolest stuff. Let's look first at some

interesting food and drink tie-ins.

The Prune restaurant, doyenne of

upscale Stratford eateries, hosts 11

a.m. Saturday brunches with musical

entertainment from July 20 to August

24. The first, with cellist Stéphane

Tétreault playing Bach, is sold out,

and some others were close to selling

out at time of writing.

So don't dawdle.

The theme this

year is deep strings.

Performers include

London-born Andrew

Downing on double

bass (August 17), two

more solo bassists

Mark Fewer

— Joseph Phillips

(August 3) and Clark Schaufele,

who also sings (August 10) — and

cellist Thomas Wiebe (August

24). For something less stringy,

there's percussionist Graham

Hargrove (July 27).

Revival House, formerly the

Church Restaurant, has its Friday

Night Live jazz series starting

July 19, 9 p.m. As usual with

Revival House, you can take in

the music only or

Tom Allen

have dinner too for

a package price.

Performers

include innovative

pianist-composer

Stephen

Prutsman (July 19),

Duane Andrews

playing his

surprising blend of

Bohemians in Brooklyn

Celtic and gypsy jazz

(July 26), the Phil Dwyer Trio, led by the 11-time Juno

winning saxophonist (August 2), and jazz vocals with

Newfoundland's Heather Bambrick backed by the

Jodi Proznick Trio (August 9).

One of the more intriguing events

in the series — and at SSM 2019 — is

Bohemians in Brooklyn, a cabaret with

Tom Allen & Co. It tells the story, in music

and words, of the Brooklyn NY house

where a fascinating and eclectic crew of

artists lived in the 1940s.
---
eatdrink: The Local Food & Drink Magazine

July/August 2019 | 57

The Friday Night Live closer (August 23) is Rhapsody

in Blue/Brazilian Jazz, featuring an all-star band with

John Novacek (piano), James Campbell (clarinet),

Graham Campbell (guitar) and Mark Fewer (violin).

SSM is the only festival (we know of) that has

its own special craft

Laila Biali

brew: Saison 19 from

Stratford's Herald Haus

Brewing Company.

Sample it at the

brewery or The Hub

Pub & Patio.

SSM has big-name

concerts too. Laila

Biali, 2019 Juno winner

for jazz, is there. The

raven-haired chanteuse plays

The Avondale on Wednesday

July 31 at 7 p.m.

On Wednesday, July 24 (7

p.m.), two original Barenaked

Ladies, Andy and Jim

Creeggan, bring the family

duo, the Brothers Creeggan

to The Avondale. They're

joined by guests: CBC Radio

2 announcer Tom Allen on

trombone, Robert Carli on

Ben Heppner

saxophone and SSM artistic

director Mark

Fewer on

violin. Expect

eclectic.

Canadian

opera superstar

(and CBC

broadcaster)

Ben Heppner

Old Dominion

appears in O

Happy Day!,

a rousing afternoon

of gospel — one of

Hepner's earliest

influences — featuring

The Toronto

Mass Choir. That's

on Saturday, July 27, 3

Steven Page

p.m. at The Avondale.

More festivals?

Sunfest, July 4 to 7 at Victoria Park, will likely be

done and dusted by the time you read this. But just in

case, look for popular returning Canadian world music

stars like Lazo, Five Alarm Funk and London's own

Light of the East Ensemble.

Lots of exciting visitors from distant parts too: kicky

Latin jazz combo CaboCubaJazz from Cape Verde,

Russia's Namgar, a four-piece group

playing traditional Mongolian music

— bet you haven't heard that before

— and The Turbans from Britain,

a big group, in every way, blending

music from…all over. That's three of 25,

chosen almost at random. There's lots

more. So go.

Rock the Park — officially start.

ca Rocks the Park — runs July 10 to

13 at Harris Park. As usual, there's

something for everyone.

Wednesday is country music night.

Hot breaking band Old Dominion,

winner of the Academy of Country

Music and the Country Music

Association Vocal Group of the Year

award in 2018, headlines. James

Barker Band, another hot one, and

Canadian too, is there. How hot? JBB

boasts 48 million online streams, and

counting.

Thursday is rock night. Expect

edges. Unlikely multi-platinum charttopping

hard-rockers Five Finger

Death Punch are coming — and no

doubt will play material from their

latest (2018) release And Justice For

None. In This Moment "unearth a

furious and focused feminine fire

from a cauldron of jagged heavy

metal, hypnotic alternative, and

smoky voodoo blues" — to quote the

appropriately purple prose of their

promotional material.

Friday and Saturday are mostly

about rap and hip-hop. The big name:

multi-award winner Snoop Dogg,

who has a mere 35 million albums

sold to his credit. Grammy- and Junowinner

Shaggy is also coming. Ma$e,

the pastor, rapper and frequent comeback

artist is here. He released a new

album in 2018, Don't Need Security, his

first since 2004. So he's back, again.

Home County Art and Music

Festival, the 46th edition, is at

Victoria Park July 19 to 21. The lineup

wasn't finalized at the time of writing.

Ex-Barenaked Lady Steven Page is

back for sure. Page has a new album,

Discipline: Heal Thyself, Pt. II, which

dropped September 2018.

Ageless children's entertainer Fred

Penner will be there. (Actually, he's

72.) Fans of his 1985-1997 TV show
---
58 | July/August 2019

eatdrink.ca |@eatdrinkmag

Shaggy

The Small Glories

Five Finger Death Punch

— Fred-heads — are now in their twenties

and thirties. Their kids will love him.

Dynamite Americana duo The Small Glories

from Winnipeg — banjoist Cara Luft, a

founding member of The Wailin' Jennies,

and guitarist JD Edwards — bring their

Appalachian-tinged harmonies.

Toronto's House of David Gang should

have the crowd up and dancing with classic

1970s–'80s reggae. Delhi2Dublin will be there

with a strange and wonderful mash-up of

Indian Bhangra music, Celtic fiddling, and a few

From our farm to your table ...

Award winning hand crafted

alpine style cheese

Fresh Cheese Curds

Cheese Tastings

Gift Baskets &

Gift Boxes

Cheese Trays

Fondue & Raclette

other flavours thrown in for good measure. The

list goes on. Check homecounty.ca for updates.

Not the festive type?

For fairly comprehensive local live music

listings, go to ontariolivemusic.ca (plug in

"London," "Stratford" or any other location

and your desired dates), or the Tourism

London music page: bit.ly/2JZJ6Rr.

GERRY BLACKWELL is a London-based freelance

writer.

Your love of all things Italian begins at

Monday to Friday 9am–5pm

Saturday 9am–4pm

Stonetown Artisan Cheese

5021 Perth Line 8

St. Marys ON

Gift Cards

Available

519-229-6856

info@stonetowncheese.com

www.stonetowncheese.com

519-652-7659 • HWY 401 & 4 • pastosgrill.com
---
eatdrink: The Local Food & Drink Magazine

July/August 2019 | 59

Theatre

This Summer's Theatre

Thought-Provoking, Cringe-Inducing, and Funny

By JANE ANTONIAK

Death of an elephant. Farce at a funeral. Racism

and misogyny in the media. Plays with these

themes, which are on three stages in Southern

Ontario, all share one goal: to make you ponder,

cringe and laugh. Buckle up and get ready for some

thought-provoking farcical comedy this summer with

Jumbo at the Blyth Festival, It's Your Funeral at Port Stanley

Festival and The Front Page at the Stratford Festival as our

mid- to late-summer openers.

Sean Dixon says he wanted to write a play about how

a group of people would deal with a death crisis. He

stumbled across the story of Jumbo the elephant, who

died in St. Thomas while part of the touring Barnum

circus in the late 1800s. "I was intrigued with the idea

that the show must go on in this little town in Ontario

while coping with a crisis, and how it would impact the

townspeople and how they respond to it," says Dixon.

With support from Gil Garrett, artistic director at Blyth,

some seed money from The Grand Theatre in London

through the Ontario Arts Council, and research support

from Steve Peters,

former mayor of

St. Thomas and

MPP for the region

(and a huge Jumbo

historian) Dixon

Sean Dixon

took several years

to write Jumbo.

Garret is directing

the world premiere

at Blyth. It includes

impressive puppetry,

incredible costumes

for circus characters,

and more.

While circuses

and the use of

live animals as

entertainment have

diminished greatly

since Barnum days,

Dixon feels the story

has an important

message today. "It became more

of a portrait of Jumbo rather than

about a group of people in crisis. It

is about how Jumbo affected these

people in life and death — he moved

to the centre of it," says Dixon.

"It's a touching story where

people try to be good to one

another. It's not a circus, it's a

play. We're trying to bring a bit

of spectacle to telling a story.

There's an adventure aspect to it.

It's funny and there are good guys

and bad guys in it — the world

of managers up against the world

of circus. In the end you realize

people can come together."

Jumbo, until August 10 at Blyth Festival

Theatre

Jamie Williams knows a lot about

acting in comedic farces. The longtime

actor has been in nearly two

dozen, including many by the

popular Canadian playwright Norm

Foster. Now, he's taken a turn as

playwright with his first produced

comedy, It's Your Funeral, directed

by Simon Joynes at the Port

Stanley Festival Theatre.

"As far I can see the higher the

stakes in a farce the funnier it is.

When we are stressed out and

we're stuck for time there is a lot of

opportunity for misunderstanding.

When I looked at writing the farce

I wanted something that was high

stakes. That, plus I also thought

that a funeral home would be a

different and exciting setting for a

farce," says Williams.

Enter George and Helen, trying

to restart their lives by going into

the death business. Set in the 1950s
---
60 | July/August 2019

eatdrink.ca |@eatdrinkmag

slowed down by the lack of technology."

Williams says he is excited to see what Joynes does

with the play. "He has a great eye and mind for farce

so I really trust him with this. I can't wait to sit in the

audience this time and enjoy it!"

It's Your Funeral, August 14 to September 7 at Port Stanley

Festival Theatre

Jamie Williams

in their new funeral home, the story

focuses on the way the business had

been operated by the former owner.

Unlike British farces, this one is set in

Canada — so no strained accents. "To

write a farce in modern day is difficult

because cell phones and computers

make it easy to connect today so it's

harder to misunderstand and hide and

cover up. Dating it in the 1950s puts

it in a period of time where things are

In these times of fake news on digital media, can a

play from 1928 be modernized and made relevant

for today's audience? Bring on The Front Page at

the Stratford Festival. There is sure to be plenty of

interest in this rarely-produced play, which became

famous in 1931 as a film.

It has been adapted by Michael Healey and is

being directed by long-time Shakespearean actor,

TV actor and recent director Graham Abbey. He's a

busy guy these days. Abbey is playing in The Merry

Wives of Windsor at Stratford, he runs The Festival

Players in Prince Edward County this summer (four

shows), and he also directs Shakespeare in Toronto's

Groundling Theatre. And he has a four-year-old child.

No wonder he's taken an office in Stratford (his

hometown). "I am absolutely crazy! It looked better

on paper! Thankfully, I have lots of help," he says.

Shaw Festival Theatre did a version of The Front Page

LIVE. ORIGINAL. CANADIAN. THEATRE.

FROM JUNE 12 TO SEPTEMBER 28, 2019

1.877.862.5984 BLYTHFESTIVAL.COM

• JUMBO • CAKEWALK • THE TEAM ON THE HILL

• IN THE WAKE OF WETTLAUFER • BED AND BREAKFAST
---
eatdrink: The Local Food & Drink Magazine

July/August 2019 | 61

in 1994 but it

is not a play

you see that

often. "That's

really exciting

for me," says

Abbey. "It's a

great comedy

but a really

great story.

It has a lot

of humanity

and hopefully

lots of

laughs."

This is

Graham Abbey the first

farce of this

magnitude for Abbey as a director. He knows

the rhythms as an actor but he says he

"certainly will be cutting my teeth in several

directions" including directing his spouse,

Michelle Giroux, as well as Stratford veterans

Juan Chioran and Ben Carlson.

While the story fits the original era of the

1920s and '30s, including dealing with racism

2019

SEASON

and misogyny, Abbey says it makes sense

for Stratford to put this on now as Healey

has modernized some of the story by adding

two roles: a female reporter and an African

American reporter.

"Live theatre will always have a sense of

commune — everything is alive and in the

moment. When it is alive and clicking it's

like nothing else. This is an amazing era to

play in — 1920s Chicago is a smorgasbord

of excitement; it's a world we don't see, but

it is relevant. It's hard with a comedy as you

have to keep it light but you can't ignore the

elephant in the room. We're not steering the

original script far from where it was. We do

step in the Trumpian age of fake news. We

haven't had to step out too far as these [media

corruption and justice] issues are still coming

back around or have never gone away."

The Front Page July 30 – October 25 at Stratford

Festival Theatre

JANE ANTONIAK is a regular contributor to Eatdrink.

She is also Manager, Communications & Media Relations,

at King's University College in London.

PortStanleyFestivalTheatre

Reserve Tickets 519-782-4353 www.psft.ca

WORLD PREMIERE

GivinG Up The GhosT

by Arlin Dixon & Matthew Gorman July 3 to July 20

A comedy about freedom, fresh starts & things that go bump in the night!

Ed's GaraGE

show sponsor

by Dan Needles July 24 to August 10

Ed used to be a farmer, now he's an entrepreneur... or is he a therapist?

This quirky comedy is sure to delight!

show sponsor

It's Your Funeral

by Jamie Williams August 14 to September 7

A fun filled romp! Join us for our season closer & enjoy a wild ride!

show sponsor
---
62 | July/August 2019

eatdrink.ca |@eatdrinkmag

The Lighter Side

Not Today's White Bread

By LINDA OLAVESON

I

don't know the difference between

couscous and quinoa. Actually, I

had never heard these words until

my youngest daughter attended the

esteemed Stratford Chefs School. Nor did

I realize what an abysmal cook I was. Early

in class each student was asked by Chef to

prepare a traditional family meal from their

childhood. My daughter chose ham and

scalloped potatoes and lemon meringue pie,

our traditional special occasion dinner. When

Chef deemed the meal boring, brown, and all

the same texture, she was highly insulted.

The meal we now fondly refer to as "the

brown meal" would become an enduring

family joke. Years later, when

interviewed by Eatdrink

magazine, she described

growing up in a white

bread culture. Not today's

white bread, naan, focaccia or ciabatta, but

the Wonder Bread variety. Who knew?

In the first year of chef school my Christmas

gift was ginger dipped in Callebaut, the

renowned Belgian couverture chocolate. I

impress myself just writing these words.

Really! Chocolate to me at the time was a Big

Turk chocolate bar. The same Christmas, we

were treated to handmade Armagnac ice cream.

I learned that Armagnac is produced in one of

the oldest distilleries in France. A fourteenthcentury

cardinal described two of its forty

virtues as "preserving youth and delaying

senility." Grounds, I believed, for at least one

more serving.

Aside from these brilliant additions to my

culinary lexicon, these thoughtful gifts were

the beginning of my journey to gastronomic

nirvana.

Lemon pie à la Sherriff's pie filling in a

Crisco crust has become a tangy lemon curd on

tender shortbread. Potato salad smothered in

Hellmann's has been transformed to become

salade niçoise with fingerling potatoes, Roma

tomatoes, capers, and anchovies dressed in

a simple lemon vinaigrette — although I'm

told potatoes are a non-traditional ingredient.

Thanksgiving turkey with a generous helping

of gravy to disguise its dryness has become

deboned and brined organic turkey laid

on a bed of dressing and cooked to a moist

succulence which defies description. I must add

here however, that my potato bread dressing is

still a hit with the family, though for how much

longer I cannot say.

Fast forward twenty years. My daughter

is now an accomplished chef, having worked

in some of London's finest restaurants, and

teaching culinary arts to

aspiring chefs. Food has its

own network and celebrity

chefs have become rock

stars. I still make "the

brown meal" on occasion and

we still laugh. I have learned

a lot. I never say I don't care for something,

like Brussels sprouts for example; when

sautéed in maple syrup and a bit of unsalted

butter they make my mouth water.

For dinner tonight she prepared

shakshouka, a perfectly formed poached egg in

tomato sauce topped with spinach, an "easy"

Monday night dinner (so she says) served

with crisp green beans that my son-in-law

had picked. When I noted how well the two

went together her comment was simply, "You

would think I knew what I was doing." I always

laugh when she says this but my favourite

is when I'm in awe of something she does in

the kitchen and with a little grin she says,

"trained professional." I think this "trained

professional" should make her mother a nice

couscous salad for dinner ... and perhaps her

signature lemon tart for dessert.

Like many women of her generation, LINDA

OLAVESON learned to cook from the pages of the

Five Roses or Purity Flour cookbooks, meals consisting

mostly of meat and potatoes and a limited selection of

vegetables. However she believes that thanks to her

daughter's guidance, there may be hope for her yet.
---
LONDON'S

Local Flavour

VOLUME 7

Restaurants • Specialty Shops & Services

Craft Beer & Wine • Farmers' Markets

Do You Have Your Copy Yet?

All profiles also available at localflavour.ca

NEW!

More to Explore!

Recommended

Culinary

Neighbours

localflavour.ca
---
FRESH FOOD • NIGHT LIFE • UNDERGROUND PARKING • EVENTS

THEATRE • RESTAURANTS • ART • SPECIALTY SHOPS • HISTORY

MON—FRI SAT SUN

WE HAVE FREE UNDERGROUND PARKING:

2 HOURS FREE SAT & SUN • 1/2 HOUR FREE MON — FRI

WITH VALIDATION • NO PURCHASE REQUIRED • DURING MARKET HOURS

130 KING STREET, LONDON | coventmarket.com w b g