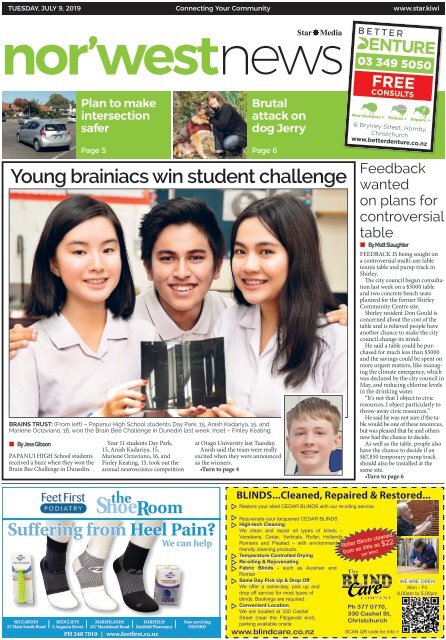 Nor'West News: July 09, 2019
Do you know the secret to free website traffic?
Use this trick to increase the number of new potential customers.
TUESDAY, JULY 9, 2019

Connecting Your Community

www.star.kiwi

Plan to make

intersection

safer

Page 5 Page 6

Brutal

attack on

dog Jerry

Young brainiacs win student challenge

BRAINS TRUST: (From left) – Papanui High School students Day Park, 15, Anish Kadariya, 15, and

Mariene Octaviano, 16, won the Brain Bee Challenge in Dunedin last week. Inset – Finley Keating.

• By Jess Gibson

PAPANUI HIGH School students

received a buzz when they won the

Brain Bee Challenge in Dunedin.

Year 11 students Day Park,

15, Anish Kadariya, 15,

Mariene Octaviano, 16, and

Finley Keating, 15, took out the

annual neuroscience competition

at Otago University last Tuesday.

Anish said the team were really

excited when they were announced

as the winners.

•Turn to page 4

03 349 5050

free

CONSULTS

New Dentures > Relines > Repairs >

6 Brynley Street, Hornby,

Christchurch

www.betterdenture.co.nz

Feedback

wanted

on plans for

controversial

table

• By Matt Slaughter

FEEDBACK IS being sought on

a controversial multi-use table

tennis table and pump track in

Shirley.

The city council began consultation

last week on a $5000 table

and two concrete bench seats

planned for the former Shirley

Community Centre site.

Shirley resident Don Gould is

concerned about the cost of the

table and is relieved people have

another chance to make the city

council change its mind.

He said a table could be purchased

for much less than $5000

and the savings could be spent on

more urgent matters, like managing

the climate emergency, which

was declared by the city council in

May, and reducing chlorine levels

in the drinking water.

"It's not that I object to civic

resources, I object particularly to

throw-away civic resources."

He said he was not sure if the table

would be one of these resources,

but was pleased that he and others

now had the chance to decide.

As well as the table, people also

have the chance to decide if an

$87,850 temporary pump track

should also be installed at the

same site.

•Turn to page 6

BLINDS...Cleaned, Repaired & Restored...

Restore your oiled CEDAR BLINDS with our re-oiling service.

Suffering from Heel Pain?

RICCARTON

37 Main South Road

REDCLIFFS

2 Augusta Street

MARSHLANDS

427 Marshland Road

DARFIELD

Darfield Pharmacy

PH 348 7910 | www.feetfirst.co.nz

We can help

Now servicing

OXFORD

Rejuvenate your lacquered CEDAR BLINDS

High-tech Cleaning

We clean and repair all types of blinds –

Venetians, Cedar, Verticals, Roller, Hollands,

Romans and Pleated – with environmentally

friendly cleaning products.

Temperature Controlled Drying

Re-oiling & Rejuvenating

Fabric Blinds - such as Austrian and

Roman

Same Day Pick Up & Drop Off

We offer a same-day, pick up and

drop off service for most types of

blinds. Bookings are required.

Convenient Location

We are located at 330 Cashel

Street (near the Fitzgerald end),

parking available onsite

Roller Blinds cleaned

from as little as $22

per blind

Ph 377 0770,

330 Cashel St,

Christchurch

www.blindcare.co.nz SCAN QR code for Info >

WE ARE OPEN

Mon - Fri

8.00am to 5.00pm
---
2 Tuesday July 9 2019

Latest Christchurch news at www.star.kiwi

get in touch

from the editor's desk

DANNY MEEHAN was a pretty useful

boxer in his day and his son is now

following in his footsteps (page 11).

Daniel Meehan won the junior 60kg

national Golden Gloves title by unanimous

decision in Rotorua.

A student at Christchurch Boys' High and member of the

Smiling Tigers club, it follows on from his recent South Island

Golden Gloves title. Young Meehan is trained by Mark Fuller, a

useful man with the gloves in his day too.

Fuller said he wasn't surprised by Daniel's win in Rotorua,

which follows on from previous New Zealand and Australian

titles.

"Because of his work rate and his angle changes I think he

had his opponent flummoxed, it was a really convincing win for

him," said Fuller.

– Barry Clarke

GENERAL INQUIRIES Ph 379 7100

CLASSIFIED ADVERTISING Ph 379 1100

Star Media, a division of Allied Press Ltd

PO Box 1467, Christchurch

starmedia.kiwi

papanui heritage

History of the Firestone factory

Janet Tillman recalls her experiences while working in the office

at the Firestone factory in Langdons Rd.

Pages 9

schools

Rangi scholar off to the United States

Gloria Xuran Hu completed year 13 in two terms – now she's

gained a scholarship to Pennsylvania State University.

Page 10

tasty bites

NOR'WEST NEWS

Busting out the buckwheat

It doesn't have to be hard to eat healthy. Check out these

delicious recipes to find out how.

NEWS

Georgia O'Connor-Harding

Ph: 021 910 730

georgia.oconnor@starmedia.kiwi

ADVERTISING

Monique Maynard

Ph: 364 7474

monique.maynard@

starmedia.kiwi

Rodd Gray

Ph: 982 9308

rodd.gray@

starmedia.kiwi

Nicky Wagner

National List MP

A

E

P

W

922 Colombo Street

Central Christchurch

PO Box 21359

Christchurch 8143

chch.office@parliament.govt.nz

03 365 8297

nickywagner.co.nz

Funded by the Parliamentary Service and authorised by

Nicky Wagner, 922 Colombo Street, Christchurch.

Page 14

The best-read local newspaper, delivered to

16,717 homes every Tuesday

Harewood, Burnside, Bishopdale, Bryndwr, Fendalton, Merivale,

St Albans, Mairehau, Papanui, Casebrook, Redwood, Regents

Park, Styx Mill, Northwood, Belfast, Strowan.

liquiD

SeLF Service

LaunDroMatS

345 sTANMORE ROAD, RICHMOND

261 BuRwOOD ROAD, BuRwOOD

All sites open 7 DAYs, 5Am-11pm

WaSH 2 Mink

BLanketS or

DuvetS

For onLY $8

Hot Water &

extra LarGe

WaSHerS

avaiLaBLe

Dry up to 14kg from

$4 in only 25 minutes!

Save time &

electricity

WaSH & DrY

aLL Your

LaunDrY in

unDer 1 Hour

from

$

4.00 WASH $ 4.00 DRY

• Fast Dryers

• Sports Gear

• Duvets

• Mink Blankets

• Bedding

• Washers

• Domestic Laundry

over 70 locations nationwide

Other Locations: Sydenham • Hornby • Hoon Hay • Woolston • Aranui • Rangiora

www.liquidlaundromats.co.nz

Congratulations

CAMERON BAILEY

Just announced as this years Number 1!

2019

No.1 Harcourts International

No.1 Harcourts New Zealand

No.1 Harcourts Christchurch
---
NOR'WEST NEWS Latest Christchurch news at www.star.kiwi

Tuesday July 9 2019 3

News

Signs at Bottle Lake to be improved

Bid to stop people getting lost

• By Matt Slaughter

MORE SIGNAGE will be

installed at Bottle Lake Forest

Park to stop people getting lost.

The existing signage will also

be improved.

City council head ranger

for coastal and plains Robbie

Hewson said more map boards

would be installed and minor

updates would

be made to the

map boards

already in

place.

As well

as this, Mr

Hewson said

pamphlets

Tim Baker

showing the

tracks in the

park would

now be available from the

visitor centre.

More markers would also be

installed to ensure walkers and

cyclists could be sure they were

heading in the right direction,

said Coastal-Burwood

Community Board member

Tim Baker.

On average there are between

five and 10 police call-outs a

year for people who get lost in

the park. The Coastal-Burwood

Community Board asked the

city council to improve signage

throughout the park to help

people navigate it.

Mr Baker, who previously

said he has been lost on his bike

in the park before, said he was

pleased the city council had

acted on the board's request.

"It's going to make it a lot

better and they were very

reasonable and it wasn't a big

deal so it was great."

Mr Hewson said the planned

improvements would take place

soon.

"Signs to be updated are

currently being reviewed and

work will get under way as soon

as the changes are ready."

FOUND YOU: New signage

to stop people getting lost in

Bottle Lake Forest Park will

be installed and the existing

signage will be improved.

Local

News

Now

In Brief

Fire rages, homes at risk

RESIDENTS' PARKING

A parking restriction exception

scheme could be installed on

two streets in Upper Riccarton

and Ilam. The Halswell-

Hornby-Riccarton Community

Board will today consider

approving the scheme on Athol

Tce and Rutherglen Ave so

residents living on the street

don't have to comply with the

P120 time limit restrictions.

The scheme allows residents on

the street to purchase a permit

for a specific vehicle. The cost

of the permit is currently $54

per year but is subject to change

due to the permit's requirement

to be renewed annually.

WATER STRATEGY

The Halswell-Hornby-

Riccarton Community Board

will meet tomorrow to make

a submission on the city

council's Draft Integrated

Water Strategy. The aim of

the strategy is to develop a

framework to help manage the

city's water resources, values

and demands. Consultation

closes on July 21. The meeting

will be held at the Te Hapua:

Halswell Centre at noon. To

make a submission and to find

out more information go to

the city council's have your say

page.

3 CG EVENTS presents

CORCORAN FRENCH

KAIAPOI

ART EXPO

13 & 14 JULY, 10AM TO 5PM

RIVERVIEW LOUNGE, KAIAPOI CLUB

The revolution

in heat pumps

is here now!

GUEST ARTIST IVAN BUTTON • GOLD COIN ENTRY

SCHOOL ART EXPO sponsored by

Bowden

Environmental

Resource Management Consultants

KAIAPOIARTEXPO.CO.NZ

The Fujitsu e3series

The brilliant

heat pumps from Fujitsu

e1 : efficiency

e2 : environment

e3 : economy

'CEREC' & cosmetic dentistry

Wisdom tooth removal

Painless, high quality dentistry

Sedation dentistry

Experienced, conscientious team

Experienced hygienists

OPEN SATURDAYS

355 9380

144 Cranford Street

www.stalbansdentalcentre.co.nz

The revolution in heat pumps is here now!

The brilliant e3 series

heat pumps from Fujitsu

e1 : efficiency

e2 : environment

e3 : economy

1Occ

ZED

MIDGE URE

7 MARCH

LINCOLN

The voice of

ULTRAVOX

THE MOCKERS JED PARSONS

AUTOMATIC 80s

Website: www.pshc.co.nz

Finance available

FREE consultation from your local

Accredited Heat Pump Expert

Phone today: 03 381 6950

INSERT DEALER DETAILS HERE

Fujitsu's Catechin Filters are

approved by the Asthma and

Respiratory Foundation NZ's

Sensitive Choice ® programme.

Email: info@pshc.co.nz

Tickets On Sale Now

www.selwynsounds.co.nz
---
4 Tuesday July 9 2019

Latest Christchurch news at www.star.kiwi

News

NOR'WEST NEWS

McMaster & Heap

Veterinary practice

"The Needle"

Last week the decision was

made to open up my beautiful

girl Lola to retrieve a "bent

needle" somewhere in her

abdomen. I debated over this

for 24 hours as I don't like

her having anaesthetics and

I hate cutting her open. She

was telling me she wasn't

right though, lagging behind

on walks and eventually not

wanting to leave the house,

tucked up sore in her abdomen,

head hung low and those sad

eyes staring at me. She may not

speak English but she sure talks

to me.

She is loved and adored by

everyone at the clinic so my

nurses took blood from her

and run them in house. Everything tested

was within normal limits. Richard Lucy then

ultrasounded her abdomen and again

nothing of concern was seen - thankfully.

We radiographed her spine which appeared

normal. What we did find was what looked

to be a needle

sitting ventrally

in her abdomen. I

was aware of the

needle after her

first surgery to

remove her kidney

due to cancer. The

specialist surgeon

mistakenly had

left it behind. I had

been monitoring

its position with

regular X-rays

and it hadn't

moved in years.

Last week when

we radiographed her the needle

had moved and appeared bent,

necessitating removal.

My colleague surgically operated

on Lola as I find it difficult to cut my

girl open. The rusty looking needle was

removed and it had passed through a lobe

of liver causing adhesions to the peritoneal

wall lining. This would have caused her pain.

These were freed up and she was closed and

recovered so quickly with the aid of our "Bear

Hugger' which blows warm air around Lola

on recovery.

She's getting lots of TLC at

home and work and with my

clients. She's adored by so

many and everyone wants

her to recover speedily. She's

fought kidney cancer and

chemo, split pad disease and

intervertebral disc disease.

She's hard to keep down

and out for too long. So far

so good ( Lucky her parents

are vets!!)- she's more

comfortable and

moving better and

that needle had

to go!!

Dr Michele

McMaster

UNSIGHTLY: A pile of shingle, which Burwood Ward city council candidate

Phil Mauger said he'd clear by the end of last week, was still there on Friday

morning.

Part of shingle pile still remains

• By Matt Slaughter

PHIL MAUGER had not

finished removing a

pile of shingle near

The Bower on Friday

morning.

Mr Mauger, who

is trying to oust

Burwood Ward city

councillor Glenn

Livingstone for his

seat in October's

local body elections,

told Nor'West News

last week, the job he started

three weeks ago would be

finished by then.

One of the Bower's staff

•From page 1

His favourite part of the

day was hearing a lecture

from Dr Owen Jones who

has a PhD in psychology,

based on brain studies.

Anish plans to head back

to Otago University after he

completes high school as he

wants to study to become a

neurosurgeon.

Twelve teams of year 11

students from throughout

the South Island competed

in activities like

short-answer tests and an

interactive neuroscience

laboratory.

members said the pile was

still there. This was just

before noon on Friday

(Nor'West New's

deadline).

Mr Mauger was

not available for

comment.

Last week,

Nor'West reported

a war of words had

erupted between

Mr Mauger and Cr

Livingstone over

the remaining

shingle pile and the fact

Mr Mauger lived outside

of the Burwood Ward in

Phil Mauger

Christchurch Girls' High

School placed second and

Nelson College for Girls

placed third.

The aim of the competition

is to teach students

about the brain and its

functions, discover the latest

neuroscience research,

dispel misconceptions

about mental illnesses and

find out about career opportunities

brain research

has to offer.

Papanui High School

science teacher Leah World

said it was cool to see the

team's hard work pay off.

Avonhead. Mr Mauger

said rather than criticising

him, Cr Livingstone should

"do door-knocking and

just do common sense

electioneering."

Mr Mauger said last

week: "Glenn's about to

get a rocket right up his

a*** very soon in the next

couple of days, because

I am sick and tired of

hearing about the fact

that I don't live in the

ward.

Cr Livingstone said he

had not been contacted

by Mr Mauger since this

comment.

Students' hard work pays off

"They got together on

afternoons after school

and worked really hard to

study a book and their flash

cards," said Miss World

Challenge master of ceremonies

Dr Rebecca Bird

was "very inspired''

by the amount of preparation

competing pupils had

done on aspects of neuroscience.

There was also an

individual heat at the

Brain Bee Challenge which

was taken out by Nelson

College for Girls' student

Katie Harris.

July Fish and

Chips with a beer

special only $23

Open 7 days

Cnr Hoon Hay & Coppell place

phone 338 2534, Fax 339 8624

e. mcmasterandheap@yahoo.co.nz

www.mcmasterheap.co.nz

McMaster & Heap

OPEN 7 DAYS

Cnr Cranford St and Innes Rd

P: 03 355 6921 E: cafe@kiddscakes.co.nz

www.kiddscakes.co.nz

With 34 on site car parks!

Baking fresh each day since 1986
---
NOR'WEST NEWS Latest Christchurch news at www.star.kiwi

Tuesday July 9 2019 5

News

Dangerous intersection upgrade plan

• By Georgia O'Connor-Harding

A PLAN to turn the city's

fourth most dangerous junction

into a T-intersection to reduce

crashes has received mixed

feedback.

The city council has received

137 submissions on its proposal

for a $1 million safety upgrade

at the Middleton, Ilam and Riccarton

Rd intersection.

A seminar on the intersection

was

held between

city council

staff and the

Halswell-

Hornby-

Riccarton

Community

Board last

Helen

Broughton

SAFETY IMPROVEMENTS: Safety improvements are planned for the intersection of Ilam,

Middleton and Riccarton Rds.

PHOTO: MARTIN HUNTER

week.

Board

deputy chairwoman

Helen Broughton said

she couldn't comment on the

meeting due to it being publicly

excluded.

She said there had been mixed

feedback on banning right turns

from Ilam Rd onto Riccarton

Rd, but did not appear to be

"overwhelming opposition" to

the plan.

The plan would involve

restricting Riccarton Rd from

Middleton Rd to left turns in

and out only, as well as narrowing

the road to allow more

footpath space for pedestrians.

The left turn slip lanes from

Ilam Rd into Riccarton Rd

would also be removed.

Mrs Broughton said she

would prefer to have the intersection

realigned so that Ilam

Rd connected through to Middleton

Rd.

The intersection is ranked the

city's fourth most dangerous

with 40 crashes with varying

degree of injury since 2011.

"It is a very dangerous intersection.

We have always wanted

it done but we have never been

able to get it done, the reason

now is it is part of the cycleway

programme," Mrs Broughton

said.

The intersection will be upgraded

as part of the Nor'West

Arc Major Cycle Route, which

was approved in March last

year.

MERIVALE

RETIREMENT VILLAGE

Introducing our new boutique retirement lifestyle option

1 & 2 Bedroom Serviced Apartments Available Now

• Stunning 1 & 2 bedroom serviced

apartments

• Ground floor

• Fabulous sunny courtyards

• Fridge, dishwasher and cooking

facilities included in every apartment

• Cafe, private lounge & bar

• Close to Merivale Mall

A report will be presented to

the board on July 23 with submissions

on the proposal to be

made public at the same time.

•HAVE YOUR SAY: Are you

for or against the $1 million

upgrade at the Riccarton/

Ilam/Middleton Rds

intersection? Email your

views to georgia.oconnor@

starmedia.

kiwi

Local

News

Now

Fire rages, homes at risk

Bid to stop

boy racers

• By Matt Slaughter

AVONDALE residents want speed

bumps on their streets to stop boy

racers causing carnage.

But city council staff don't

believe there is a boy racer issue,

even though Burwood Ward city

councillor Glenn Livingstone says

there is.

Cr Livingstone recently visited

Waratah St, Briarmont St and

Orrick Cres to speak to concerned

residents. When he was on

Briarmont St discussing the need

for speed bumps with a resident, he

saw what appeared to be boy racers

speeding past.

Said Cr Livingstone: "I've seen

the skid marks, too – obviously

from the rubber."

City council transport operations

manager Steffan Thomas said it has

not received any complaints about

boy racers in the streets over the

last year and there are no plans to

implement measures to stop them.

Cr Livingstone disagreed: "Some

residents have told me that they

have been reporting in the boy

racer issue in those streets to the

council call centre and they haven't

had at times the best of responses

or there hasn't been any action, so

they're feeling frustrated."

When asked if Cr Livingstone

was correct, Mr Thomas did not

want to comment.

1, 2 & 3 Bedroom Villas Also Available

• Sunny lounge

• Master bedroom with ensuite

• Well appointed kitchen

• Separate laundry

• Internal access garage & off street parking

Open MOnday

tO Friday

10aM-4pM

or by

appointment

including

weekends

Call Merivale Retirement Village today on 03 375 4117 or 021 971 487 to book a viewing and see for yourself why we really are the best.

27 Somme Street, Merivale | www.merivaleretirement.co.nz
---
6 Tuesday July 9 2019

Latest Christchurch news at www.star.kiwi

News

NOR'WEST NEWS

Local

News

Now

Fire rages, homes at risk

Brutal attack on Jerry

• By Georgia O'Connor-Harding

NICHOLA Crawford cannot

fathom the kindness that has

been shown to her following

the brutal attack of her german

shepherd dog.

The Riccarton resident

was walking her son's dog Jerry

along Wharenui Rd recently

when three unrestrained dogs

appeared from an unfenced

property and attacked him.

"I was a mess, I don't

remember most of it . . . I was

trying to hold Jerry but he

was on his choker chain, so

I was trying to sort of swing

him around but it was all just

so quick . . . he was bleeding

everywhere," Ms Crawford said.

The owner of the three dogs

along with members of the public

helped throughout the attack,

but Ms Crawford has not heard

from the owner since.

The attack left Jerry with

puncture wounds along his

abdomen, numerous bites and a

wound on his neck.

He was taken to the vet where

he was sedated so his wounds

could be drained, cleaned

and stitched up – he was also

prescribed antibiotics and painkillers.

Ms Crawford said she doesn't

blame the dogs or their owner

KINDNESS: Nichola Crawford has been left overwhelmed by

the support she has received after her dog Jerry was attacked

by three dogs on Wharenui Rd. PHOTO: MARTIN HUNTER ​

– but she would like a fence

installed on their property and

has asked the city council's dog

control team to follow up.

"I said to dog control I don't

want to take money off them because

it wouldn't be right. I have

already got the money raised,"

she said.

Within four days after

setting up a Givealittle page to

raise money to cover Jerry's vet

bill, $1027 was donated by 61

people.

Ms Crawford said most of the

money came on the day she set

up the page and she was overwhelmed

by everyone's support.

The vet bill was $950, but Ms

Crawford also had additional

costs to cover having Jerry's

stitches cleaned.

Ms Crawford said she has

been left afraid to take Jerry out

but she is hoping with "baby

steps" she will be able to take

him walking regularly again

soon.

Spending concerns raised

•From page 1

Mr Gould was also concerned

about spending $87,850 on the

pump track, which would only be

installed on a temporary

basis.

"I have no problem

at all with us spending

$100,000, because this

will be $100,000 by the

time we put it all in, on

something that's a permanent

civic facility, but

I do have a problem with

spending that money

on something that staff now tell

me is likely to only be there for a

year."

Mr Hardy said a decision on

the pump track's future once it

was installed had not been made.

"It could be moved to another

site that requires activation or

to address another gap in youth

Don Gould

YOUR CHOICE:

People have

the chance

between now

and July 29

to decide if a

multi-use table

tennis table

and two bench

seats valued at

$5000 should

be installed in

Shirley.

facilities. We haven't confirmed

how long it will remain at this

site."

Said city council community

parks manager Al Hardy of

the two proposals: "We are

responding to a demand

for youth activities in the

area. There is a gap in our

network for skate and

scootering activities in

the Shirley area, so this

proposal works to address

this. In the latest Annual

Plan to be adopted, the

council has included a provision

of funding to address climate

change and water quality."

•Have your say on the

planned multi use table

and pump track by July 29

at www.ccc.govt.nz/thecouncil/consultations-andsubmissions/haveyoursay

Entertain the kids

these holidays

Thurs & Fri, 11 Th - 12 Th July & 18 Th - 19 Th July 10.30 am – 12.30 pm & 1 pm – 3 pm

silly billy

ENTErTaiNEr

silly milly

ballOON arTisT

sTacE ThE FacE acE

FacE paiNTiNG arTisT

WiN $1,000

shOppiNG

sprEE

shOp, scaN &

bE iNTO WiN

dETails iN sTOrE

Bigger Better Bush Inn

Corner of Riccarton Road and Waimairi Road | www.bushinncentre.co.nz

Monday - Friday 9:00am - 5:30pm | Saturday 9:00am - 5:00pm Sunday & Public Holidays 10:00am - 5:00pm

Food Outlets 11:30am - until late | Paper Plus open to 6:00pm Monday - Friday & 7:00pm Saturday
---
NOR'WEST NEWS Latest Christchurch news at www.star.kiwi

Tuesday July 9 2019 7

HARCOURTS GOLD

FOR REVENUE PER SALES CONSULTANT

2013-2019

MEET OUR...

TOP PERFORMERS

HARCOURTS GOLD TOP CONSULTANTS FOR JUNE 2019

1 2 3 4 5

CAMERON BAILEY

PAPANUI

MICHELLE FU

PAPANUI

MARK O'LOUGHLIN

REDWOOD

MARY TURNBULL

PAPANUI

CALEB GRIFFIOEN

PARKLANDS

10

6 7 8 9 10

BEV JOHNSON

NEW BRIGHTON

SANDRA O'BRIEN

PAPANUI

FOSS SHANAHAN

PAPANUI

ASH SUTHERLAND TODD

PAPANUI

DEBBIE GORDON

REDWOOD

When your brand includes the top Harcourts office out

of 900 around the world, it's clear that you've got an

extraordinary team.

So for these consultants to earn the position of one of the top

ten real estate sales consultants at Harcourts gold is truly a

remarkable achievement.

They are phenomenally good at what they do; highly skilled,

highly trained and dedicated to delivering exceptional results for

property owners. I am extremely proud to work with these real

estate professionals.

JOHN MCFADDEN

BUSINESS OWNER HARCOURTS GOLD

John McFadden

Business Owner,

HARCOURTS GOLD AREINZ

Lynette McFadden

Business Owner,

HARCOURTS GOLD AREINZ

Chris Kennedy

General Manager,

HARCOURTS GOLD AREINZ

Left to Right: Kyle Sutherland Executive Manager, HARCOURTS GOLD PAPANUI

Yvonne Duff Sales Manager, HARCOURTS GOLD PAPANUI

Margaret Danzer Sales Manager, HARCOURTS GOLD REDWOOD

Nikila Creagh Sales Manager, HARCOURTS GOLD EASTSIDE

Doug Soper Liaison Manager, HARCOURTS GOLD AREINZ

The

cherry

on top.

At gold we are an

award winning franchise

&No.1

National Franchise for Revenue per Sales Consultant

National Office for Revenue Large Group - Papanui

National Office for Revenue per Sales Consultant - Papanui

National Residential Office Papanui

National Office for Total Number of Auctions Listed - Papanui

International Office (Out of 900 offices)

PAPANUI 352 6166 International Division (+64) 3 662 9811

REDWOOD 352 0352 PARKLANDS 383 0406 NEW BRIGHTON 382 0043

FOLLOW US ON
---
8 Tuesday July 9 2019

Latest Christchurch news at www.star.kiwi

REAL ESTATE

Easy Care Lifestyle In Burnside High Zone!

230A Waimairi Road, Ilam

4 bedrooms | 2 bathrooms | 1 lounge | 1 dining | 3 toilets | 2 garage | www.harcourts.co.nz | Listing #PI58587

NOR'WEST NEWS

If you're a busy active family wanting to be

amongst all the great schools on offer close by,

then this 4 double bedroom home is the house

for you! Positioned on a rear section, it offers an

escape from the hustle and bustle.

Zoned for Burnside High, Westburn Primary,

Cobham Intermediate and Christ The King,

as well as being handy to the University and

College of Education, it couldn't be more ideal

for a family that likes to settle. This property

has a lovely light-filled sunny living area and

interconnecting kitchen / dining area, with

each one opening to the tastefully landscaped

outdoor living area with lighting for evening

socialising. The kitchen is light and spacious

with great storage, generous bench spaces and

it's own hot water cylinder.

The master bedroom with walk through

wardrobe and ensuite is situated downstairs

whilst 3 double bedrooms, family bathroom

and separate toilet are upstairs. A separate

laundry leads you through to the double garage

internal access with automatic door opener. The

property is fully fenced, easy care, sunny and

private. (TC1 land)

Genuinely for sale, my owners are building and

their new home is nearing completion!

Auction: Thursday 18 July 2019, from

10.00am (unless sold prior).

Gold Auction Rooms, 471 Papanui Road

Viewing: Thursday, Saturday and Sunday

12.00 pm - 12:45 pm

Contact: Debbie Soper (Licensed agent REAA

2008) on 352 6166 or 027 432 8279

Email: debbie.soper@harcourtsgold.co.nz

Gold Real Estate Group Ltd.

In a month that has seen our company

acknowledged for excellence and for being

the No. 1 business in our brand across the

real estate spectrum – for performance

as a franchise, for auction excellence, for

having the No. 1 Office in New Zealand and

Internationally (out of over 900 offices) and

for having two consultants in the top ten –

I'm reminded of what it takes to reach these

challenging heights and to stay there. It's not

only the journey and the accolades that are

worthy of consideration, it's also about where

and how you started.

Over the years, one of the questions I'm

repeatedly asked is: "How do you identify

someone who is going to excel in real estate?"

To be fair, it's neither straightforward nor

easy. No-one truly knows exactly who will

flourish and who will falter, and occasionally

you can be blindsided by the most unlikely of

applicants. After many interviews, too many

to count, and with 22 years of experience,

I've learnt to apply all my senses to the task

of determining if someone has the attributes

required to succeed.

At these meetings I'm looking, listening,

assessing and hoping that the story I'm hearing

is true and the attributes I'm seeking are

present. I've met individuals who have turned

up wearing ripped jeans and an attitude (that's

a 'no' from me!), who have borrowed a mate's

suit and car (points for trying), and everyone

in between, including academic theorists

(who are busier thinking than doing). I've

worked with people who spent their entire

(short) careers looking for overseas buyers when

the actual buyer was the neighbor next-door.

Individuals who can't engage as part of a team

can also struggle to get the leverage or support

they need, as teamwork and teams are now an

established prerequisite within the industry.

I've met amazing people from every walk

of life and with every qualification, and I've

distilled all this history into the following:

You will succeed if you want to, if you are deeply

passionate about the opportunity and if you

do the work required. And 'doing' is not sitting,

waiting, thinking and overthinking, drinking

coffee, avoiding making the calls or spending

endless time on social media. Real estate success,

contrary to popular belief, is not a part-time job

nor is it something you 'fall into' – because you

can just as easily fall out.

The individuals I've seen succeed at the highest

levels have incredible resilience, an astonishing

work ethic and deliver year after year. The

common thread that binds them is their

persistent consistency, ability to think out of the

square, care for others and high energy. When

you look at it, that's the real secret to success in

every field. To the group of professionals that I

have the privilege of working with, I'd like to say,

well done! You truly are champions – and world

champions at that!

Lynette McFadden

Harcourts Gold Business Owner

Harcourts NZ Inspirational Women Ambassador

Ph. 0274 320 447

lynette.mcfadden@harcourtsgold.co.nz

The cherry

on top.

At gold we are

an award winning

franchise

&

No.1

National Franchise for

Revenue per Sales Consultant

National Office for Revenue

Large Group - Papanui

National Office for Revenue

per Sales Consultant - Papanui

National Residential Office

Papanui

National Office for Total Number

of Auctions Listed - Papanui

International Office

(Out of 900 offices)

FOLLOW US ON...
---
NOR'WEST NEWS Latest Christchurch news at www.star.kiwi

Tuesday July 9 2019 9

Laid back role for clerk at Firestone

In this, the first

of two articles,

Janet Tillman

recalls her

experiences

while working

in the office at

the Firestone

factory in Langdons Rd.

My first experience of the

company was a very positive

one. At the age of 13, I entered a

competition which required the

writing of a jingle which had to

advertise Firestone's products

and to include the word 'holiday'.

I came up with 'For holiday

road safety the wisest buyers

choose Firestone tires.' (The

American spelling was obligatory).

I won first prize, a shiny

green bicycle, the first time I had

ever owned a new one.

After finishing at Papanui

High School in form 6, I

worked in the city for five years

as a shipping clerk and, in 1975

at the age of 22, applied for a job

with Firestone as an accounts

clerk.

Our family lived in Sawyers

Arms Rd so the short walk to

work was convenient but I did

not necessarily see this as an

advantage as in my previous job

I had enjoyed the shopping available

in Christchurch.

However, I attended the interview

and was successful.

My first morning on the job

was memorable as I had taken

the shortest route to the factory

along the railway line adjacent to

the siding, where I was subjected

to wolf-whistling from the workers

loading tyres into boxes, an

unpleasant experience which led

me to consider alternative routes

to work.

On reaching the calmer atmosphere

of the office I was shown

to my desk, one of 20, in a large

open space flanked by management

offices.

My most interesting task was

the membership of the pricing

team which had the monthly

task of generating the retail

prices of Firestone products sold

around the country.

All details were to be kept confidential

to give the competition

as little time as possible to react

to the Firestone price schedule

announced at the beginning of

each month.

The other three weeks of the

OLD SCHOOL:

Office equipment

used by the

Firestone office staff

in the mid 1970s.

month were much more laid

back with our work for the day

often finishing around 11am.

For the rest of the day we had

to stay at our desks although

knitting and reading were not

allowed. We were instructed to

look industrious and businesslike

although it was acceptable

for the clerks to undertake

tertiary study, ideally in

accounting or related subjects.

I was permitted to study a

language and chose to acquire

the basics of Hebrew.

Local

News

Now

Fire rages, homes at risk

Applications

open for

neighbourhood

gatherings

funding

APPLICATIONS HAVE opened

for funding for residents hoping

to organise neighbourhood

gatherings.

Summer with your neighbours

is about bringing people closer

together, and celebrating the

unique and diverse mix of each

neighbourhood.

The first event was held

in 1998 and has grown in

popularity since its inception.

Residents can apply for a

small subsidy to go towards the

gathering.

The fundings could be

used for a range of gatherings

including a pot luck dinner,

neighbourhood sports day,

staring a community project, a

walking school bus, clean-up or

street garage sale.

The applications opened

yesterday and will close on

August 16.

•To make an application

go to https://ccc.govt.nz/

news-and-events/whatson/show/18

You are invited to join us for a free public talk

NEVER ALONE:

How spiritual ideas work in us

Kitchen and Bathroom Design & Renovation Services

• Kitchen Refresh

• Kitchen Re-model

• New Kitchen

• Bathroom Renovation

• Laundries

• Home Office

• Wardrobes

• Built in Furniture

0800 202 171 | www.aspiringkitchens.co.nz

Melanie Wahlberg CS

Sunday July 14th at 2pm

Venue: First Church of Christ, Scientist

66 Carlton Mill Road, Merivale

It would be great to feel confident about whatever we

face instead of feeling stuck or alone.

In this free public talk Melanie Wahlberg CS, a Christian

Science Practitioner and Lecturer, explores how God's

love provides fresh ideas that dissolve fear and reveal

inspired solutions.

ALL WELCOME

www.christiansciencenz.org/christchurch
---
10 Tuesday July 9 2019

Latest Christchurch news at www.star.kiwi

NOR'WEST NEWS

SCHOOLS Maddi helps Baby Hawks

Star Rangi student to

take up US scholarship

RANGI RURI Girls' School

international student Gloria

Xuran Hu is a published writer

and has completed year 13 in two

terms.

But If that's not enough, the

17-year-old has just left for

the United States to take on a

scholarship at Pennsylvania State

University.

Careers adviser Kristen Fox

said Gloria was offered spots at

four universities in the US with

scholarship awards totalling

thousands of dollars.

"At 17, this young woman's

ability continues to really

astonish people. It's not achieved

without a lot of hard work, I

hasten to add."

Gloria had a martial arts

fantasy novel published in her

home country of China in July

2017. Gloria said she decided on

Penn State because it is a little

bigger than the other universities.

"I am still deciding between

majoring in English or

journalism but I am leaning

towards English at the moment.

Penn has an excellent English

programme so I would be

undertaking a four-year degree.

"Going to study in the US will

be a big challenge . . . however, I

see it as a new part of my journey

of independence. My parents

don't have to accompany me to

university as they did when I

came to Rangi Ruru and I look

forward to hosting them at Penn

State when we arrive there."

Gloria says she has prepared

herself for university life while at

Rangi Ruru.

"My teachers have helped me

understand the importance

of keeping a balance between

academic pursuits and spiritual

rapport. My peers have made

me realise the significance of

co-operation. These reflections

will definitely guide me through

my university years and life

afterwards. I want to say thank

you to Rangi Ruru from the

bottom of my heart," she said.

to second in Indonesia

• By Tatiana Gibbs

MADDI FAGAN has returned

home from Indonesia with an

international softball medal.

Maddi had her first taste of

international softball when her

team, the Canterbury under-15

Baby Hawks, finished second at

the Asia Pacific Softball Little

League.

The Burnside High School

student travelled to Jakarta,

Indonesia, with the team to

compete against Indonesia,

Philippines and China.

They were representing New

Zealand as national champions

after taking out the New

Zealand championship title in

Palmerston North.

It was the young outfielder's

first time outside New Zealand.

The different conditions took

a small toll on her team as they

lost a nail-biting encounter

11-9 to eventual champions the

Philippines in their opening

game.

"Our team did really well

playing in the different

conditions and we didn't know

how good the other teams were

going to be," said Maddi.

Some big-hitting secured the

Baby Hawks their first win of

the tournament over Indonesia

26-0, which put Maddi and her

teammates on a winning streak

for their next two games.

The young Canterbury side

met the Philippines in the grandfinal

but lost the tight match

16-14.

Maddi returned home with

SPORT

BACK HOME: The Canterbury under-15 Baby Hawks finished

second at the Asia Pacific Softball Little League.

her silver medal, and

described her welcome as

"horribly cold." She then went

"straight back to school, with

too many assessments to catch

up on."

Outdoor burning

in winter

Get together

with your neighbours

this summer!

Apply for a subsidy for your Summer

with your neighbours event.

During the cooler months, no outdoor burning

is allowed within the Christchurch clean air

zone, including on properties over two hectares,

except for cooking purposes.

Smoke can have a negative impact on air quality

and cause a nuisance for nearby neighbours.

Applications close 16 August 2019.

Apply at:

ccc.govt.nz/GetTogether

CREATE A NEW

WINTER STYLE

with our new stylist, Donna

To report a burning-related incident,

call Environment Canterbury on 0800 765 588.

Head to ecan.govt.nz/outdoorburning

for more information.

WARM UP

WITH

Phone 352 1009

358 Main North Road, Redwood

SUNBED | SPRAY TAN | EYELASH | BROW TINTS

WINTER TANNING SPECIALS:

NEW VERTICAL SUNBED: $1.00 per minute

HORIZONTAL SUNBED:

$10.00 off 10x concession card

SPRAY TAN: $20.00
---
NOR'WEST NEWS Latest Christchurch news at www.star.kiwi

Tuesday July 9 2019 11

Boxing champ's son takes title

• By Gordon Findlater

CHRISTCHURCH BOYS' High

School's Daniel Meehan has

continued his impressive junior

boxing career with a win at the

New Zealand Golden Gloves.

Meehan, 16, backed up his

recent South Island Golden

Glove title by going on to claim

the junior 60kg national Golden

Gloves title by unanimous

decision in Rotorua.

Boxing is in his blood. Meehan

is the son of Danny Meehan – a

former Jameson Belt holder.

The belt is awarded to the most

scientific senior boxer at the

national championships.

The teenager has been boxing

for the past four-and-a-half years

at the Smiling Tigers Boxing

Club under coach Mark Fuller.

Meehan's title came as

little surprise to Fuller. He

has previously won two New

Zealand titles and an Australian

Golden Gloves title. He also

came into the NZ Golden Gloves

on the back of a win in Australia.

"Because of his work rate and

his angle changes I think he had

his opponent flummoxed, it was

a really convincing win for him,"

said Fuller.

Titles were also won by

Woolston boxers Hamuera

Tainui, Ryley Sutherland

and Meehan's Smiling Tigers

clubmate Kwahli Beauchamp.

Tainui took out the junior 66kg

title, Sutherland won in the 46kg

cadet, while Beauchamp won the

40kg cadet title.

All four Canterbury boxers

have also been selected in

the New Zealand junior

development squad following the

Golden Gloves. The squad will

travel to Australia later in the

year.

"They've actually started

concentrating on the juniors

as well which is really good

. . . this is the first time in a very

long time that they've sent away

a good size squad like this, it's

going to be great and a good sign

of things to come I think," said

Fuller.

"All of those four boys have

been around a wee while now,

they're only young, but they've

got quite a bit of experience

and they're only going to get

better with what the Canterbury

association is doing to support

them."

CONTENDER: Daniel Meehan

won the junior 60kg title at

the New Zealand Golden

Gloves. ​

Students

off to China

with NZ

women's

football side

THREE footballers from

secondary schools in the

north-west have been selected

to represent New Zealand at an

under-16 women's tournament in

China this month.

Rangi Ruru's Samantha

Senior, Freya Lodge-Whitham,

of Christchurch Girls' High, and

Burnside High's Claudia Wilson

will take part in the tournament

from July 14-22 in Weifang

City, where they will play three

matches against yet-to-beconfirmed

Asian opposition.

They will be joined by three

other Canterbury players – Kate

Taylor, Alyssa Whinham and Zoe

McMeeken – in the squad of 18,

which will be staking their claim

to be part of next year's FIFA

under-17 women's World Cup.

"It will be a real eye-opener for

the players in terms of the level

required and . . . they need to go

out and showcase themselves,

both individually and collectively.

It should give us real clarity

around where we're at, which

would be a good space to be in 15

months out from the World Cup,"

said coach Leon Birnie.

QEII

Panel beater/trainee

manager & sPray Painter

Positions available

We have a great opportunity for two people that are trust

worthy, reliable and can demonstrate team leader qualities.

Must be a qualified panel beater or painter for no less than 5 years and hold a

current Automotive Steel, MIG Welding Qualification and be a confident Structural

repairer. Please forward your CV with minimum 3 contactable referees to

qe2collisionrepairs@outlook.com with the subject line 'Confidential'.

Avonside Girls

& Shirley Boys

High School

Travis Road

We are

here

Bower Ave

Rookwood Ave

oPening hours

Monday 8am – 5pm

Tuesday 8am – 5pm

Wednesday 8am – 5pm

Thursday 8am – 5pm

Friday 8am – 4.30pm

302 Travis Road, North New Brighton, Christchurch | P: 03 388 5187 | E: qe2collisionrepairs@outlook.com
---
12 Tuesday July 9 2019

Latest Christchurch news at www.star.kiwi

NOR'WEST NEWS

Senior citizen activities

Monday, 12.30-3pm, Tuesday,

12.45-2.30pm

Enjoy a range of different

activities for senior citizens.

There will be a card group on

Mondays and indoor bowls and

friendship groups on Tuesdays.

An old time dance will be held

on the first and third Saturday

of each month. For more

information, phone Veronica on

383 4682 or Beth 388 2375.

Scottish Society Hall, corner of

Caledonian and Edgeware Rds, St

Albans

Knit 'n' Yarn

Today, 1-3pm, and Thursday,

2-3.30pm, at Bishopdale.

Wednesday, 1-2.30pm, at

Redwood. Friday, 10am-noon, at

Papanui

Take your knitting, crochet or

another craft project and have

fun with a social group. This is a

free, drop-in event.

Bishopdale, Redwood and

Papanui libraries

GenConnect

Today, 12.15-12.45pm

If you have questions

about your Ipad, smartphone

or tablet, head down to

GenConnect where Papanui

High School students will

help you for free.

Papanui Library

Email jess.gibson@starmedia.kiwi by

5pm each Wednesday

Games at Papanui

Thursday, 2.30-4.30pm

If you love games, head

along and choose from a wide

selection, including the classics,

at this fun and social event. Free

for all ages to enjoy. No bookings

required.

Papanui Library

Scrabble Club

Today, 10.30am-noon, at

Redwood. Wednesday, 1-3pm, at

Bishopdale, and 1.30-3.30pm, at

Shirley

Play Scrabble with a friendly

group. Just head down when you

can – no bookings required. All

materials are supplied at this free

event.

Redwood, Bishopdale and

Shirley libraries

Culture Exchange

Friday, 3.45-4.45pm

Go along and make new

friends, practice your English

and learn about Christchurch.

Shirley Library

JP Clinic

Today, 10am-1pm, at Papanui,

today and Wednesday, 10am-

1pm, at Shirley, Saturday, 10amnoon,

at Bishopdale

A justice of the peace will

be available to members of

the community to witness

signatures and documents,

Super Saturday Storytimes will be held at the Shirley Library on Saturday from 11-11.45am.

Go along and encourage learning through stories. This is an interactive programme involving

stories, songs, rhymes, craft and play. Absolutely free.

certify document copies, hear

oaths, declarations, affidavits

or affirmations, as well as sign

citizenship, sponsorship or rates

rebates applications.

Papanui, Shirley and

Bishopdale libraries

Rummikub

Thursday, 1-2.30pm, Monday,

1-3pm

Go along and play rummikub

– an exciting, interactive strategy

game. Free, drop-in event.

Bishopdale Library

eSports – Just Dance 2019

Thursday, 2-4pm

Go along and dance for your

chance to be the champion.

Show everyone your moves

on the PlayStation 4 game Just

Dance 2019 this school holidays

and be in to win prizes. There

will be two divisions: 12 years

and younger and 13 and older.

Winners from the first week's

competitions will earn a spot in

the finals at Tūranga next

week.

Shirley Library

Mahjong

Monday, 2-4pm, at Shirley,

Saturday, 2-4pm, at Papanui

Go along if you are

interested in playing or

learning about mahjong. Free.

Registrations required at the

Shirley Library.

Shirley and Papanui libraries

Makerspace

Monday, 3.30-4.45pm

Join in the fun tech activities at

these Makerspace sessions.

Redwood Library

JOIN US NOW!

See website for details

COTTON ON KIDS

$10 Fleece tops. $10 Trackpants.

$7.50 short sleeve pyjamas.

Size 1-10 Boys/Girls.While stocks last.

Selected styles only.

PETER ALEXANDER

Sale tops & pants $19. Dressing gowns $39.

Sale sets $39. Kids slipper thongs $2.

While stocks last. Selected styles.

ICEBREAKER

50% off RRP on all

Hoodies and Sweaters.

UNDER ARMOUR

Buy 2 save 20%, Buy 3 save 30%. Discount is

off the lowest marked price. T&Cs apply.

STYLES MAY DIFFER

TO IMAGE SHOWN

BENDON

$20 sale! Lingerie for as low as $20.

Offers include selected Sets for $20, Bras 2

for $20 and 50% off all Naked brand sleepwear.

Selected styles. While stocks last.

Sign up to Smart Deals & be in the monthly draw for a $100 Dress-Smart gift card!

CHRISTCHURCH 409 Main South Road, Hornby

www.dress-smart.co.nz

Open 10am-5pm, 7 Days 03 349 5750
---
NOR'WEST NEWS Latest Christchurch news at www.star.kiwi

Tuesday July 9 2019 13

BIRTHDAY

BED SALE

Birthday

Super

Buy

Sale

Prices

on all

Sanctuary

Beds

SLEEPYHEAD - MAKING

BEDS IN NEW ZEALAND

SINCE 1935

Made by Kiwis for Kiwis.

10 YEAR WARRANTY

Quality you can trust...

we guarantee it!

Great

Price

Top

Seller

Huge

Range of

Pocket

Spring

beds on

Sale!
---
14 Tuesday July 9 2019

Latest Christchurch news at www.star.kiwi

Tasty Bites

NOR'WEST NEWS

Local

News

Now

Fire rages, homes at risk

Eat healthy using delicious ingredients

Salads never need to

be boring, as seasonal

ingredients are just that

– seasonal. Winter brings

delicious flavours and

textures which go great with

grains. But don't forget to

add a punchy dressing

Buckwheat with

autumn vegetables and

pomegranate dressing

Ingredients

250g buckwheat groats, rinsed

well

1 bulb fennel, cut into thin

wedges

250g pumpkin, peeled and

deseeded, cut into cubes

1 red onion, peeled and cut into

wedges

¼ cup parsley, roughly chopped

2 Tbsp fennel tops, roughly

chopped

Dressing

2 Tbsp pomegranate molasses

1 Tbsp maple syrup

4 Tbsp olive oil

¼ tsp ground cinnamon

Pinch of salt

Directions

Heat the oven to 200 deg C.

Bring a medium-sized pot of

lightly-salted water to the boil.

Add the rinsed buckwheat and

cook for 25-35min. The groats

should be tender when cooked.

Drain and rinse under cold

water. Put into a large bowl.

While the groats are cooking,

prepare the vegetables.

Put the chopped vegetables

into a bowl with enough olive

oil to coat them well. Season

with salt and cracked pepper.

Toss to combine. Spread evenly

over a suitably-sized oven dish.

Roast, turning occasionally so

the vegetables cook evenly and

colour all over (30min).

Add the ingredients together

and pour over the dressing in a

small bowl and whisk together.

Add the roasted vegetables to

the cooked buckwheat, drizzle

over the dressing and add the

herbs. Toss gently to combine,

taste and adjust, seasoning if

necessary.

Top off your healthy salad

with a nutritious treat

Hazelnut bliss balls

Ingredients

½ cup hazelnuts

½ orange (juice and grated zest)

1 cup fine coconut

1 Tbsp coconut oil

½ tsp cinnamon

1 Tbsp dark cacao powder

1 tsp vanilla essence

Pinch of salt

Chunks of your favourite (storebought)

dark chocolate for the

centre of each bliss ball.

Directions

Place all the bliss ball

ingredients (except the chunks

of chocolate) into a bowl and

mix well. Then roll balls out of

the mixture.

Push a chunk of chocolate into

the centre of each bliss ball while

shaping them in your hands. You

can choose how big you make

the bliss balls.

3 issues $20 • 6 issues $44.50 • 10 issues $65

rugbynews.co.nz 0800 77 77 10
---
NOR'WEST NEWS Latest Christchurch news at www.star.kiwi

Tuesday July 9 2019 15

We're your local...

HIRE

EQUIPMENT

DEPOT & TRADE STORE

TRADE & DIY EQUIPMENT

Power Trowels

Concrete Vibrators

Plate Compactors

Tamping Rammers

Grout Pumps

Floor Grinders

Angle Grinders

Hammer Drills

Rotary Hammers

Power Cutters

Concrete Mixers

Power Generators

Waterblasters

Steam Cleaners

Temporary Fencing

Cones & Barriers

Air Compressors

Trash & Sub Pumps

Dust Extractors/Vacs

Wheelbarrows

Post Drivers

Core Drills

Laser Levels

Diesel Heaters

Dehumidifiers

Carpet Fans

Soff Cut Saws

Brick & Tile Saws

Hydraulic Jacks

Panel Props

Chainsaws

Tarpaulins

Nail Guns

Drywall Sanders

Airless Paint Sprayers

Wall Paper Steamers

Chemical Sprayers

Gib Lifters

Tile Chippers

Electrical Accessories

Roadsaws

...and lots more!

Screw Guns

ACCESS & HEIGHT SAFETY

Mobile Scaffolding

Roof Edge Protection

Scissor Lifts

Cherry Pickers

Safety Harnesses

Single Axle Trailers

Tandem Trailers

Roof Anchors & Connectors

Roof Ladders/Walkers

Platform & Step Ladders

Extension Ladders

Confined Space Equipment

TRAILERS

FREEPHONE

Flatdeck Trailers

Waterblaster Trailers

0508 447 348

for Quotes & Bookings!

Personal service...if we haven't got it we'll find it for you!

Hours Monday to Friday 7am - 5.00pm

72 Treffers Rd Wigram

www.totalsitesupplies.co.nz

CAN'T

COME IN?

We can bring

it to you!
---
16 Tuesday July 9 2019

Latest Christchurch news at www.star.kiwi

NOR'WEST NEWS

Valid for any purchase from 25/06/19 to 15/07/19. Terms &

Conditions apply. See in store for details.

STOREWIDE SALE

BIRTHDAY

NOW ON!

Sale ends

15.07.19.

Livorno 3 Seater - Black

WAS $2199

NOW

$1699

Indie Bunk Bed

WAS $999

NOW

$599

Aria Corner Sofa

WAS $3599

Real leather!

NOW

$2499

Allessa Sofa with Ottoman – Storm

WAS $2999

NOW

$1999

Catania 3 Seater

Black

WAS $2599

Real leather!

SAVE

$

1000

SAVE

$

900

NOW

$1699

Shop

Online

Nationwide

Delivery

Finance

Options

targetfurniture.co.nz

Don't miss out on great Birthday STOREWIDE SAVINGS! In store and online.

Cnr Blenheim & Curletts Rds, Christchurch

Ph: 0800 TARGET (0800 827438)

Offers and product prices advertised here expire 15/07/19.

Sale excludes Manchester and Accessories.
---
NOR'WEST NEWS Latest Christchurch news at www.star.kiwi

Tuesday [Edition July 9 datE] 2019 17 3

continuing education

Learn business

and computing

for free

Vision College's free 20-week Certificate in Business

(Administration and Technology) is a level 3 course

that offers computer skills within a business focus for

those wanting to retrain for modern office systems.

The course is designed for those wanting to run

the admin side of their own business, work in an

administration role, or upskill. While covering

computer applications like Microsoft Word, Excel

and Publisher, it includes business report writing,

communication skills and creating business

documents.

Vision College's self-paced course allows students to

work through a series of computer-based skills with

tutor support, at times that suit their lifestyle. "Classes

are held during normal working hours, but we can be

flexible with hours that best suit our student's lifestyle."

says Gary Taylor, Vision College Campus Manager.

"So, the learning is delivered by way of a workbook,

along with organised tutorials where tutors are on

hand to offer one-on-one tuition when required. While

some theory is included, the course is very practical

and students are at a computer from the first lesson."

Added Taylor.

This course is available for domestic students aged

16+.

We recommend students bring their own devices to

work from, however, we do have computers available

for students who do not have access to their own.

Vision College are enrolling now for their July

intake. For more information call 0800 834 834, txt

'OFFICE' to 027 557 8839, or visit the website www.

vision.ac.nz to enrol online.

School's not

for everyone!

Is school not working for your teen

for more info,

TXT

'STUDY' TO:

027 557 8839

ENROL

NOW!

www.

study

withus

career

Ultimate

Security

digital media

decider

& forces

prep

Business Admin

Early Childhood

Web & Software

.co.nz

GAIN

NCEA

CREDITS

50 Hazeldean Road, Addington

0800 834 834 www.studywithus.co.nz

*conditions apply
---
18 Tuesday [Edition datE] July 9 2019

Latest Christchurch news at www.star.kiwi

4

continuing education

adult and community

education at Risingholme

community centre

It has been an exciting time in the history of

Risingholme Community Centre with the Mayoral

Opening of Risingholme Homestead on a frosty June

the 5th morning. The official opening was followed by

a Community Open Day on Saturday the 8th June when

members of the community and friends of Risingholme

were welcome to tour the refurbished homestead and

hall as well as participate in various demonstrations

and events that were run throughout the day.

After over 8 years Risingholme Community Centre's

office is once more operating from the Risingholme

Homestead at 22 Cholmondeley Avenue, Opawa.

Risingholme Community Centre continues to offer

a wide range of exciting learning opportunities across

the city. With the start of term 3, Monday 29th July, just

around the corner why not enrol in one of our exciting

classes – www.risingholme.org.nz. Enrolments can be

made anytime throughout the year.

Risingholme's strong focus on language development

continues with a wide range of language courses at a

variety of levels – ESOL, German, Italian, Arabic,

Russian, Sign Language, Spanish and Te Reo Maori.

Risingholme's traditional base of art and craft courses

continues to flourish with a full range available at a

number of venues. They include art, fabrics, pattern

making, woodwork skills, health & fitness and wellbeing,

computing, guitar and photography, as well as

many others.

The full programme for Term 3 is available on our

website at http://www.risingholme.org.nz/courses

For more information on classes at Risingholme,

Riccarton High School, Christchurch Girls' High

School, Village House New Brighton, and Hornby

High School, contact the Risingholme Community

Centre at 332 7359 or e-mail info@risingholme.org.

nz

Brochures are available at the Risingholme office

and public libraries.

NOR'WEST NEWS

Explore the

issues that

matter most

This winter you can explore some of the most pressing issues of

our time with a variety of courses, talks, film events and workshops

at the Canterbury Workers Educational Association (WEA).

Whether its understanding fake news and how to spot it or

finding out about climate change; preparing for the local body

elections or learning ways to reduce your plastic use; there are a

huge number of courses to choose from. Here is a small selection

of the 50 or so on offer in Term 3:

Waste Not! – DIY ways to reduce your household rubbish -

Series, starts 31st July, Wed afternoons, from $5

Foraging for Food in New Zealand - Wed 4th Sept 7pm, $gold

coin koha

Local Elections: What are you really voting for? With Garry

Moore - Wed 18th Sept 7pm, $gold coin koha

Films that Matter – Documentary films with discussion:

Fools and Dreamers, Chasing Coral, The Age of Stupid - Friday

afternoons in August and September, from $7

Machine world: Explore the social, economic and political

implications of technology - Series starts 1st Aug, 12.30-2.30pm,

8 Thursdays $76

Technology 101: What is Fake News and How to Spot it - 2nd

September 1-2.30 $8

The WEA is located right in the heart of the city opposite the

Christchurch Art Gallery on Gloucester Street. It is a community

focused organisation committed to keeping course fees as low as

possible and to providing interesting, relevant, adult education

opportunities for the people of Christchurch. To find out more

about the WEA and to book your spot on any of their courses visit

www.cwea.org.nz visit them at 59 Gloucester Street or call

03 3660285.

Adult and Community Education Term 3, 2019

Come learn with us

Risingholme Community Centre offers

a wide range of short courses, each term,

at a range of venues.

Risingholme Community Centre

Art (Create with Pastels & Paints, Mixed Media, Watercolour, Painting with

Acrylics), Drawing & Sketching, Embroidery, Fabric & Craft Skills, Guitar,

Pottery, Sewing Skills, Upholstery, Using your Overlocker, Weekend Sewing

classes, Yoga, Wood Sculpture, Woodwork, Woodwork for Women, Zentangle,

Printmaking, Fermented Foods, Plastics Free, Waiata, Te Reo Maori, Patchwork

and Quilting, Pattern Making.

Christchurch Girls' High School

Dressmaking, Embroidery, Te Reo Maori, Watercolour Painting, Drawing

& Sketching, German Language, Painting with Acrylics, Spanish, NZ Sign

Language.

Hornby High School

Sewing Skills, Thai Cooking, Te Reo Maori, Uke-it-up.

Riccarton High School

Calligraphy, ESOL Business English Intermediate, Indian Cooking,

Italian Language, NZ Sign Language, Russian Language, Sewing Skills,

Spanish for Travellers, Te Reo Maori, Arabic, A Taste of Egyptian Cooking,

Picture Framing, Mediterranean Cooking, Italian Cooking

The Village House - New Brighton

Te Reo Maori, NZ Sign Language.

Full details available on www.risingholme.org.nz

Risingholme office at 22 Cholmondeley Ave, Opawa, Chch

Phone 332 7359 | Email info@risingholme.org.nz

www.risingholme.org.nz
---
NOR'WEST NEWS Latest Christchurch news at www.star.kiwi

Tuesday [Edition July 9 datE] 2019 195

continuing education

adult and community

education courses for

term 3

christchurch

School of Music

With winter upon us why not take the

opportunity of longer evenings to take up

a new hobby, learn a new skill, meet some

new people and have fun at the same time

then join one of Papanui High School's

exciting range of Adult and Community

Education Courses for Term 3 beginning

from 29 July. We have a wide range of

courses to choose from Art to Yoga and

everything in between. New courses on

offer for Term 3 include Life Drawing,

Drawing using Pastels and Charcoal,

Book Art, Sign Language, Writing

Books for Children & Young Adults, and

Cooking for those who are Gluten Free,

Dairy Free, Vegan and or Vegetarian.

We guarantee you will find something to

appeal regardless of age or interests.

For further information and

enrolment in this or any of our courses

please visit our website www.papanui.

school.nz or telephone our office on

3520701, or email Barbara Roper

rpb@papanui.school.nz

Did you know that musical training

can change brain structure and function

for the better? It can also improve longterm

memory and lead to better brain

development, particularly for those

who start at a young age. So why wait

any longer?? Come and join us at the

Christchurch School of Music!

CSM is a not-for-profit organisation with

a strong focus on community. From ages 2

to 92 we have something for everyone. On

a Saturday morning the whole family can

find something to suit.

For the young ones there are pre-school

and junior school classes, "Take Off with

Music", 41/2 year olds can start on Suzuki

strings and at 6 the recorder is a great

instrument to learn. In 2019 we have a

fantastic deal for beginner recorder players

– just $52 for a year of tuition and this

includes a recorder and a book!!

Older children and adults may opt for

group or individual lessons on a specific

instrument (including voice). With six

orchestras, two concert bands, a Big Band,

a jazz combo, six wind ensembles, rock

bands, two choirs, chamber groups, a

samba band and a guitar ensemble there is

an ensemble to suit all levels and all ages.

If affordability is an issue, CSM may be

able to offer a discount through funding

provided by the Rata Foundation.

Find out more about us or enrol any

time at www.csm.org.nz

CANTERBURY WORKERS EDUCATIONAL ASSOCIATION

www.cwea.org.nz 59 Gloucester Street, Christchurch 03 3660285
---
20 Tuesday July 9 2019

Latest Christchurch news at www.star.kiwi

NOR'WEST NEWS

Calling for exhibitors

weddingshow

Sunday 25th August, 2019 Air Force Museum, Christchurch

To exhibit at this fantastic show, please email mark.sinclair@starmedia.kiwi for more info.
---
NOR'WEST NEWS Latest Christchurch news at www.star.kiwi

Tuesday July 9 2019 21

REAL ESTATE

Living the dream…

56 Purau Port Levy Rd, Purau Valley, Lyttelton Harbour

Price: $799,000

4 bedrooms | 2 bathrooms | 2 living rooms | 2 car garage | Listing Number: 8885

A charming, delightful 1950's bungalow set

on nearly 1 acre of flat and very productive

land. North facing, sheltered, sunny and

private, this charming home is in excellent

order throughout having been loved and

carefully maintained over the years.

The top level of the house comprises 2

living areas, a large modern farmhouse style

kitchen with plenty of storage, a massive

master bedroom with adjoining bathroom

and a single bedroom currently used as an

office.

The master bedroom opens onto a covered

North facing verandah with a cosy coveredin

area with a day bed, the perfect place to

enjoy the afternoon sun, peace and birdlife

and to while away a few hours. Downstairs,

(externally accessed) are 2 double bedrooms,

bathroom and a kitchenette/dining area so

semi self-contained, perfect for extended

family or teenagers.

This is a rare opportunity to purchase in

the beautiful picturesque Purau Valley and to

obtain a small manageable holding like this is

really one of a kind.

The land is a mixture of lawns, gardens

and the most established and productive

orchard I have ever seen, with many many

fruit trees established vege beds and native

plantings. There is excellent access, a large

double garage, greenhouse and other useful

sheds and most importantly excellent water

supplies.

My vendors are retiring very reluctantly

and have loved every minute of the 10 years

they have spent here.

Purau Bay is approximately 30 minutes'

drive from Christchurch, making it a highly

desirable destination as it is so useable being

close to Christchurch.

Properties in this lovely valley and by

such a safe swimming beach are defying all

the odds and selling fast generally as they

come up very seldom. Excellent swimming,

boating, walking and stunning sunsets on

the hills, quick and easy access to Lyttelton

via the Diamond Harbour ferry (approx. 5

mins), local shops, cafés and bar make this a

fun filled place to visit.

Properties here make an excellent

investment and Purau Bay and valley is a

truly magical place to live.

To view this home contact Tim

Dunningham of Min Sarginson Real Estate

(Licensed Agent REAA 2008), phone 027

651 5474 or 329 4161

growing with you June 2018 | 100%

Plants For

winter wow

Cool Choices

For Colour

& Contrast

From swamp

to sea views

The journey

begins with sarah

the Gardener

$7.90 incl. GST

Snap it up

Enter our annual

Birdlife Photo

Competition to win

great prizes!

clear the air

Why groWing

indoor PLAnTs is

so good for you

give it a grow

from gArLic

To chinese

ArTichokes,

We hAve your

groWing TiPs

covered

the latest releases

into the rose world

+ rose care

through winter

The magazine for

gardeners who like to get

their hands dirty

SUBSCRIBE FROM

$43. 50*

*6 issues/6 months

SUBSCRIPTIONS FREEPHONE

0800 77 77 10

WWW.GARDENER.KIWI
---
22 Tuesday July 9 2019

Latest Christchurch news at www.star.kiwi

NOR'WEST NEWS

CANtAbRIANS

ouR

NEWSPAPERS

Canterbury

readership up

14 %

INCREASE

Reach 164,000* readers

with just one ad in our

Star Max Circ Package.

For advertising enquiries

please contact Shane Victor

Phone: 021 381 765

Email: shane@starmedia.kiwi

*Source: Nielsen CMI Q2 18 – Q1 19.
---
NOR'WEST NEWS Latest Christchurch news at www.star.kiwi

Tuesday July 9 2019 23

Classifieds Contact us today Phone our local team 03 379 1100

Wanted To Buy

CASH FOR

STAMPS,

COINS &

GOLD

Free Appraisals

Call Matt at

The Stamp and

Coin Exchange

134a Riccarton Rd

0800 39 24 26

We can come to you.

Call today.

AAA Buying goods quality

furniture, Beds, Stoves,

Washing machines, Fridge

Freezers. Same day service.

Selwyn Dealers. Phone 980

5812 or 027 313 8156

TOOLS Garden, garage,

woodworking, mechanical,

engineering, sawbenches,

lathes, cash buyer, ph 355-

2045

Gardening

& Supplies

A GARDEN OR

LANDSCAPING TIDY

UP? Shrub, hedge & tree

pruning, Lawns, Gardening,

consistently reliable general

property upkeep, Dip. Hort.

10 yrs experience, One

off tidy ups or on-going

service. Nick's Garden

Maintenance. Keeping

your garden beautiful. Free

Quote. Ph. 942-4440 & 022

264 7452

ROSE PRUNING, sorting

climbers & vines. Ph

Graeme 027 341 8596, 342-

5151

Public Notices

St Patrick's School

Bryndwr

Board of Trustees

Casual Vacancy for

an elected trustee

A casual vacancy has

occurred on the board of

trustees for an elected

parent representative.

The board has resolved

under section 105 of the

Education Act 1989 to fill

the vacancy by selection.

If ten percent or more

of eligible voters on the

school roll ask the board,

within 28 days of this

notice being published,

to hold a by-election to

fill the vacancy, then a

by-election will be held.

Any eligible voter who

wishes to ask the board

to hold a by-election

should write to:

Herman van Herel

Board of Trustees

St Patrick's School

Bryndwr

57 Plynlimon Rd,

Bryndwr,

Christchurch, 8052

by: July 24th

Vehicles Wanted

CASH/CASH for any

unwanted vehicles, ph

347 9354 or 027 476 2404

Community Events

ALCOHOLICS

ANONYMOUS, If you

want to have a drink that's

your business. If you want

to stop, we can help. Phone

0800 229-6757

Trades & Services

CHIMNEY SWEEP

*Rotary

brush

technology*. From $70

single story. 0800 SWEEP

ME or 021 0277 1927

ELECTRICIAN

Prompt & reliable

Trades & Services

registered electrician

AAA HANDYMAN with 24 years experience

licensed carpenter for all residential and

LBP, all property and commercial work, new

building maintenance, housing and switch board

repairs, bathroom/shower replacements. Phone Chris

installations, with free 027 516 0669

quotes 03 383 1927 or 027

245 5226 ciey@xtra.co.nz ELECTRICIAN

Registered, electrical

BATHROOM

installation and repairs,

Renovations, complete

Gorbie Electrical, ph 021

service from start to finish,

026 73375 or 03 322 4209

free quotes, ph Dave 027

334 4125

BRICKLAYER

George Lockyer. Over

MASONRY

INSPECTIONS

Have your repairs been

40 years bricklaying ompleted correctly?Trade

experience.UK trained. certificate Bricklaying,

Insurance work, EQC LB practitioner. Ph Hylton

repairs, Heritage 0274 365 389

brickwork & stonework

a speciality. No job too PAINTING

small. Governers Bay. & Decorating Wingfields

Home 329 9344. Cell Contracting, all interior

0276844046. E mail & exterior painting & all

georgelockyer@xtra.co.nz

BUILDER

forms of interior plastering

& jib fixing, ph Mark 021

HANDYMAN No job 171-1586

too small. Install heat

PLUMBER

transfers, repair/replace

A Top Plumbing job

fences, floor boards,

completed at a fair price,

decks. Russ 027 884 2330.

prompt service, all work

Liability insurance.

guaranteed, Ph Brian 960-

****************

7673 or 021 112-3492

CARPET & VINYL

Laying. Exp. Repairs, ROOFING REPAIRS

uplifting, relaying, Fully qualified, over 40

restretching. Email yrs experience. Ph John

jflattery@xtra.co.nz ph 027 432-3822 or 351-

John on 0800 003 181 or

027 2407416

9147 email johnchmill@

outlook.com

Trades & Services

concrete & paving

• Driveways

• Earthquake repairs

• New Home Specialists

• Patios & Paths

tel: 0508 873 7483

email: sales@affordableconcrete.co.nz

www.affordableconcrete.co.nz

SHOE REPAIRS

Belfast engraving. Shoe

repairs, key cutting &

engraving. (10 yrs exp)683

Main North Rd, ph 027

3113423

SPOUTING CLEANING

Spouting Unblocked,

Cleaned Out and Flushed

Out. Call Trevor 332 8949

or 021 043 2034

STUMP GRINDING

Best price guarantee Tony

0275 588 895

TILER/CARPENTER

35 years exp, no job

too small. Ph Ross 027

4311440.

TILING

Flooring - Splashbacks -

Wall incl tile removal, reg

master tiler, ph Dave 027

334 4125

TILER/CARPENTER

35 years exp, no job

too small. Ph Ross 027

4311440.

TILING

Flooring - Splashbacks -

Wall incl tile removal, reg

master tiler, ph Dave 027

334 4125

T.V. SERVICE CENTRE

Repairs, tvs, microwaves,

audio amps, soundbars.

.Aerial & satellite

installations, kitsets, 480D

Moorhouse Ave, ph 03 379

1400

VHS VIDEO TAPES

& all camera tapes

converted to DVD, video

taping special occasions,

www.grahamsvideo.co.nz

ph 03 338-1655

Trades & Services

DRIVEWAYS

Exposed Aggregate

Stamped Concrete Plain

Concrete Resurfacing

Things we offer...

Competitive/affordable pricing

Attention to detail

Professional service

free quotes/insurance scopes

Cell 0278 145 848

www.drivecrete.co.nz

PLUMBER

NEED A PLUMBER

Call us now for fast friendly service.

Get your problems sorted out

quick smart - on time!!

Phone for a

FREE

quote now.

Phone 03 377 1280 | Mobile 021 898 380

Myth # 2

You can trust

everything you

read.

Yeah right! There's a lot of news

available out there, but some sources

are more informed than others.

2 out of 3 readers agree newspapers are

their most trusted source of news and

information*

If you're going to believe everything

you read, make sure you're reading a

newspaper.

Source: Nielsen CMI Q1 18 - Q4 18 (Base: AP 15+ who have read Daily/Weekend newspaper in last 7 days)
---
24 Tuesday July 9 2019

Latest Christchurch news at www.star.kiwi

NOR'WEST NEWS

STOCKTAKE CLEARANCE

20-60 % OFF

simplyfurniture

IMPERIAL, CREAM

30% OFF

ALL FLOOR STOCK BEDS

50% OFF

winter

relocation

ALL SLAT BEDS

60% OFF

ALL ACCESSORIES

REGAL, MOCHA

sale

cranford street store - everythIng Must go!

Massive discounts right across the floor with up to

40% OFF

ALL OUTDOOR

30-60% off storewide

SIMPLYFURNITURE.CO.NZ

Includes lounge suites and outdoor furniture

484 Cranford Street, Christchurch - 03 354 5026 | 12 Hawthorne Drive, Queenstown - 03 442 3435
---
NOR'WEST NEWS Latest Christchurch news at www.star.kiwi

Tuesday July 9 2019 25

THIS YEAR'S ONLY

SOUTH ISLAND

SPA POOL EXPO!

SEE THE DEALS
---
26 Tuesday July 9 2019

Latest Christchurch news at www.star.kiwi

NOR'WEST NEWS

EXPO DEALS

AZURE

RELAY

Deep and spacious, the Azure spa provides the perfect antidote to aches and pains.

Massage your tired feet on the perfectly placed foot-jets or lean back and enjoy the

comfortable lounge seat. It weighs less than 160kg without water, so go ahead and

take it with you!

With seating for 6, cushioned headrests and 35 targeted jets, there's plenty of room

for you, friends and family to relax in the 1300 litre Relay. This value-packed spa is

FiberCor® insulated and comes with a NoFault® heater. It also comes with dimmable

multi-color LED lights for added ambience.

EXPO ONLY PRICE

RRP: $10,980

$8,900

SAVE $1,990

PACKAGE

INCLUDES:

OZONE

POLYMER STEPS

EXPO ONLY PRICE

RRP: $22,470

$15,490

SAVE $6,980

PACKAGE

INCLUDES:

OZONE

POLYMER STEPS

COVER LIFTER

11-14 JULY • AIR FORCE MUSEUM, WIGRAM
---
NOR'WEST NEWS Latest Christchurch news at www.star.kiwi

Tuesday July 9 2019 27

R500

SOVEREIGN

To give you a genuine swimming experience the X-Series delivers stronger

resistance and less turbulence than ordinary jetted swim spas. The design

features five jets - three on top for resistance and two underneath for lift – that

create a smooth, air-free current for superior low-impact, total-body exercise.

Need a spa that fits a narrow patio or backyard? The Sovereign is spacious

enough for 6 adults to relax in comfort and features a more rectangular shape

to fit in tighter spaces. It includes all the luxury features from the Highlife®

Collection with a lounge seat featuring our patented Moto-Massage® DX jet.

EXPO ONLY PRICE

RRP: $49,180

$41,990

SAVE $6,980

PACKAGE

INCLUDES:

POLYMER

STEPS

EXPO ONLY PRICE

RRP: $40,895

$32,990

SAVE $7,900

PACKAGE

INCLUDES:

FRESHWATER

SALT SYSTEM

POLYMER STEPS

COVER LIFTER

4 DAYS ONLY • DETAILS AT SPAEXPO.CO.NZ
---
28 Tuesday July 9 2019

Latest Christchurch news at www.star.kiwi

NOR'WEST NEWS

OVER $1,500,000 OF PRODUCT

ACROSS MULTIPLE BRANDS!

SWIM SPAS

FROM UNDER

$26,000

VALUE BRANDS

STARTING FROM

$6,490

DETAILS AT SPAEXPO.CO.NZ