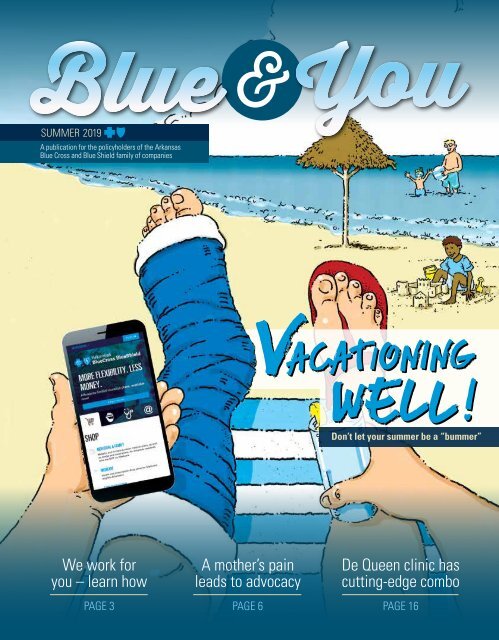 BLUE & YOU-SUMMER 2019 (WEB)
Blue & You magazine, summer 2019 edition
Blue & You magazine, summer 2019 edition
SHOW MORE
SHOW LESS
You also want an ePaper? Increase the reach of your titles
YUMPU automatically turns print PDFs into web optimized ePapers that Google loves.
&

SUMMER 2019

A publication for the policyholders of the Arkansas

Blue Cross and Blue Shield family of companies

Don't let your summer be a "bummer"

We work for

you – learn how

PAGE 3

A mother's pain

leads to advocacy

PAGE 6

De Queen clinic has

cutting-edge combo

PAGE 16
---
De Queen,

Arkansas resident

Karen Cannon

knocks out some

Australian pullups

as part of her

exercise session.

&

SUMMER 2019

Table

of

Contents

3 A Word with Curtis Barnett

See more

on page 16.

EDITOR

Greg Russell

BYEditor@arkbluecross.com

DESIGNER

Ryan Kravitz

4

6

9

10

12

16

19

20

21

22

23

24

Virtual health: Care. Anytime. Anywhere.

A mother's pain leads to advocacy

2019 mini-grants hit new high for health

Outside in Arkansas: Nature's air-conditioned hike

Vacationing well!

Working out solutions for health

Need care? Think about where.

Member's courage earns posthumous Faces of Fearless ® award

Blue News

Arkansas Blue Cross and Blue Shield – Financial Information Privacy Notice

Arkansas Blue Cross moves up Forbes list

Customer Service contact information

Fearless Fans and Fireworks – July 19

PHOTOGRAPHER

Chip Bayer

CONTRIBUTORS

Jennifer Bridgeman

Katie Eisenhower

Damona Fisher

Kristy Fleming

Suzi Parker

Greg Russell

Marie Trotter

Cover illustration by

Wendell "Buster" Hall

2

Blue & You SUMMER 2019
---
a

WORDwith

We work for you

Although misunderstood, our not-forprofit

mutual status puts members at

the center of our universe

Did you know Arkansas Blue Cross and

Blue Shield is a not-for-profit company?

If you didn't know that, don't feel

bad. Recent research revealed that

lots of people have a fundamental

misunderstanding about what kind of

company Arkansas Blue Cross actually is.

OK, here's the official definition: We

are a private, not-for-profit, mutual

health insurance company.

Let's break that down:

PRIVATE This simply means we are not

a publicly traded company that can issue

stock and of which large organizations,

mutual funds and the general public can

buy and own shares.

NOT-FOR-PROFIT Unlike for-profit

companies, our ultimate goal is not to

make profits for those who hold financial

interests in the company.

Like any business, we have to cover

our expenses, plan for the future and

maintain adequate financial reserves to

carry us through unforeseen events and

tough financial times. The difference

is that we do not pay dividends to

anyone. All the money stays in the

system. All revenue is used to pay

claims, fund new initiatives to improve

the health of our members, make various

investments in our infrastructure and

maintain ongoing business operations.

Period. Another important fact is

Curtis Barnett

President and Chief Executive Officer

that, unlike a local nonprofit food

bank or homeless shelter (which are

charities), we are not tax-exempt.

Each year, Arkansas Blue Cross pays

tens of millions of dollars in state and

federal taxes. We typically pay more in

combined local, state and federal taxes

than we earn in net income.

MUTUAL This is perhaps the most

important part. In a mutual health

insurance company, policyholders

(members) actually own the company

entirely, but they are not paid profits.

The money individual members pay

in premiums is pooled and used for

the purposes mentioned previously.

"Mutual" simply means that every

member's participation benefits every

other member.

Here are some key points about our notfor-profit

status and why it's good for

our members and their communities:

• We give back to Arkansas. Arkansas

Blue Cross and its employees put

their resources, time and energy into

addressing key health-related issues

such as hunger and food insecurity –

as with our Fearless Food Fights, which

produced more than 1.1 million meals for

local food pantries last year. Arkansas

Blue Cross also maintains a separate

nonprofit giving foundation (the Blue &

You Foundation for a Healthier Arkansas)

that makes grants to health-promoting

community projects throughout

Arkansas. In its 17-year history, the Blue

& You Foundation has awarded more

than $33 million in grants to more than

1,500 applicants (in all 75 counties).

• We support state and local

economies by creating good

jobs and paying taxes. We employ

more than 2,900 people (in central

Arkansas and regional locations

throughout the state). Arkansas Blue

Cross consistently ranks among the

state's top 25 employers. We've

been named one of the state's "Best

Places to Work" by Arkansas Business

magazine for six consecutive years.

We are recognized as a state leader

in having policies that promote gender

equity in the workplace. And we

recently were ranked 33 rd nationally

on Forbes' list of America's Best

Midsize Employers. Incidentally, we

were the highest-rated insurer

and Arkansas-based company among

the 500 employers named to that

list. And as stated previously, we

pay state and federal taxes, totaling

several hundred million dollars in the

last 10-15 years alone.

• We are committed to Arkansas –

first and always. Arkansas Blue Cross

began as a "grassroots" organization,

formed by Arkansans to serve

Arkansans. And we've been doing so for

seven decades now. Arkansas is first ...

in our name, hearts, minds and work.

So when we say we are different and

that we exist to make our members'

lives better, that's not just talk – it's in

our corporate DNA. It's who we are and

what we do. And it makes me proud to

say, "I work for Arkansas Blue Cross ...

which means I work for you."

Blue & You SUMMER 2019 3
---
Care. Anytime.

Anywhere.

Middle of the night. Tug on the covers. Toddler.

Tummy hurts. Lamp turns on. Wow. Pajamas soaked

with sweat. Forehead fever check. Hot! Is that a rash?

We've all been there – needing to see your doctor but not

really being able to get there. Illness and injury often don't

follow normal business hours. So when you need answers

in those times when getting to your doctor isn't an option,

a virtual health visit might help.

Beginning July 1, 2019, Arkansas Blue Cross and Blue

Shield and Health Advantage members (whether covered

under individual or group health insurance policies*) will

have access to medical help – via smartphone or computer –

in those times when it's difficult for you to go see your

regular doctor in person.

Virtual health – often referred to as "telehealth" or

"telemedicine" – is a service to help members have peace

of mind in knowing that even at 2 a.m. or in a hotel room five

states from home (or perhaps both), expert medical care is at

your fingertips – delivered by state-licensed, board-certified

physicians. Virtual health complements (and should never

replace) your relationship with your primary care physician.

Access to a physician through virtual health can help you

get answers and guidance and even medicine to address

pressing medical issues when time, distance or your schedule

get in the way of a trip to your doctor's office.

If your doctor already provides you 24/7 telehealth access,

you can go that route. But if not, we've got you covered.

Signing up for virtual health

is quick and easy.

Is virtual health easy to use?

If you're using FaceTime, Skype, etc., to chat with family and

friends, then you're already familiar with this kind of twoway

audio/visual communication. The only difference is that

with virtual health, you'll visit with a doctor who can help

with a diagnosis (for a defined menu of illnesses/conditions)

and even prescribe medicine, if you need it.

* Virtual health services are available beginning July 1, 2019, for fully insured members. "Fully insured" means members who purchase their health insurance directly

(individuals) and those whose health insurance is provided by their employer (group coverage) through Arkansas Blue Cross or Health Advantage. Some members of selffunded

groups also have virtual health. Virtual health currently is not available through Arkansas Blue Cross or Health Advantage for Medicare-eligible members, Federal

Employee Program Service Benefit Plan members or Arkansas State Employees/Public School Employees members. Members whose coverages include virtual health should

be able to successfully register online. Members whose coverages do not include virtual health will not be able to successfully register online. A check of your benefit

summary will indicate whether virtual health is available to you.

4

Blue & You

SUMMER 2019
---
Contact virtual health for nonemergency conditions such as:

• Allergies

• Common cold

• Constipation

• Cough

• Diarrhea

• Ear problems

• Fever

• Flu

• Headache

• Insect bites

• Nausea

• Pink eye

• Rash

• Respiratory problems

• Sore throat

• Urinary problems

• Vomiting

• And more …

And if you're not familiar with video chats and the like, don't

worry – the technology is very user-friendly, even for beginners.

Virtual health (powered by MDLIVE):

• Lets you (and anyone covered under your health plan)

see a physician after hours or away from home

• Boasts an average wait time of less than 10 minutes

• Features 24/7 availability of primary care physicians

(including pediatricians)

Your health plan treats virtual health visits the same as a visit

with your primary care physician. Your normal copayments,

coinsurance and deductibles apply. You just pay online at the

time of service.

What can virtual health be used for?

Virtual health is intended for nonemergency conditions you

normally would see your primary doctor to assess and treat.

If you have a broken bone, excessive bleeding, dangerously

high fever, a bad burn, symptoms of heart attack or stroke, etc.,

you should get to the nearest emergency room (ER) as soon

as possible. Also, virtual health currently does not cover skin

conditions (except acne) or mental/behavioral/emotional health

conditions. For those conditions, please see a specialist.

Sign up for virtual health today!

Here's how:

1. Members should go to MyVirtualHealth.com

2. If you are not registered for My Blueprint,

that's the first step, and you can do that from

the MyVirtualHealth.com site

• You should select the Register button below

the Member sign-in area

• You will be prompted to enter your name,

member ID number and date of birth

• You will be prompted to establish a

My Blueprint username and password

• Your My Blueprint sign-up is complete!

3. If you're already registered in My Blueprint, simply go to

MyVirtualHealth.com and log in to the Member signin

area, using your My Blueprint username and password

4. Once signed in to My Blueprint, select the

Virtual Health button, which takes you to our

virtual health provider (MDLIVE)

• You will be prompted to provide a username

and password for the virtual health service

• You will be prompted to enter a username

and choose a security question

• You're signed up!

Sign up for virtual health now to get care right where you

are ... right when you need it ... before you need a doctor on

the other end of the line or link ... before there's a tug on the

covers ... and tomorrow is too long to wait.

Copyright © 2018 MDLIVE Inc. All Rights Reserved. MDLIVE does not replace the primary care physician and is not an insurance product. MDLIVE may not be available in certain

states and is subject to state regulations. MDLIVE does not prescribe DEA controlled substances and may not prescribe non-therapeutic drugs and certain other drugs, which may

be harmful because of their potential for abuse. MDLIVE does not guarantee patients will receive a prescription. Healthcare professionals using the platform have the right to deny

care if based on professional judgment a case is inappropriate for telehealth or for misuse of services. MDLIVE and the MDLIVE logo are registered trademarks of MDLIVE, Inc.

and may not be used without written permission. For complete terms of use visit https://welcome.mdlive.com/terms-of-use/. MDLIVE is an independent company which provides

telehealth services on behalf of Arkansas Blue Cross and Blue Shield.

Blue & You SUMMER 2019 5
---
A

PAIN

leads to advocacy

Paula Cunningham's story gives a voice –

and a face – to the opioid crisis

My story

On August 29, 2018, I sat at my son's bedside and looked

at his sweet face, remembering the child he once was;

imagining his laughter and sweet smile that would fill ...

and light up ... the room. I remembered the big hugs he

gave. I watched as the machine moved his chest up and

down rhythmically, lulling me back to the memories of the

days when he would run through the house with excitement

over just about anything. I remembered the tender, loving

heart underneath that big laugh. I remembered the son who

hated to see me cry and hated it more when he was the

reason I cried. So, I held back the tears, and I thanked God

for this beautiful child.

I held my son's hand that night for the last time. I watched

as his heartbeat grew weaker and weaker. Surprisingly,

that wasn't the hard part. The hard part was the past four

years, watching a disease consume my child. Watching a

drug turn my son into a machine that functioned only to

replace the drug that was keeping it running. Watching him

so desperately try to fight it on his own – trying to save his

family the pain it caused. Watching him die inside over the

shame people heaped on him.

6

Editor's note: Paula Cunningham is the manager of Medical

Policy Administration for Arkansas Blue Cross and Blue

Shield. She also has been tragically affected by Arkansas'

opioid crisis, which claimed the life of her son, Parker.

Since her son's passing last year, Cunningham has become

a passionate activist, seeking a pragmatic approach in

addressing the problem and encouraging compassion for

those whose lives are touched by it. This article is her very

personal account.

Blue & You SUMMER 2019

Paula Cunningham

My purpose

''

I want you to hear my story so you

will know - and perhaps deeply feel -

the devastating effects of the opioid

epidemic. But there's so much more that

I want you to know. I want you to know

that individuals suffering from opioid use

disorder are people. I want you to know

that substance use disorder is a chronic

medical condition and not a moral failing.

I want you to know the dangers of opioids.

And finally, I want you to know that there

is hope and there is help, whether it's you

struggling with a substance use disorder

... or someone you love.

''
---
My son, Parker, suffered from opioid use disorder. The

pain of watching him lie helpless as the machine kept

him breathing was no more severe than watching him live

with and fight the disease. He didn't want it any more than

someone wants cancer or another serious chronic illness. I

remember a head hung low with tears of shame and guilt

after a relapse. Yet he got back up and returned to treatment

to try again. I remember every cry of "I'm sorry" after another

unkept promise. I remember his great efforts to try to hide

the magnitude of his addiction from his family. I remember

his despair over a disease he couldn't control. And finally,

I remember his fear. I didn't see a young man with a drug

addiction. I saw a scared child desperate to find a way to

beat this monster of a disease so that he could live. I saw my

beautiful, sweet, quick-witted, loving child trying to hide the

pain and fear of a realization that he might not make it.

At some point in his early teens, Parker made a choice to

take an opiate that someone gave him. Shortly after, it

was no longer a choice for him. It wasn't as simple as just

deciding to quit. Parker couldn't quit on his own, no matter

how hard he tried. That's hard for some to understand.

This lack of understanding leads to a stigma attached to

people with substance use disorder. This stigma is a mark

of disgrace, shame or judgment that is placed on someone

when we perceive that he or she is somehow at fault for an

illness or lacks the will or desire to overcome it. This belief

– that the person suffering from an opioid use disorder can

control it or is to blame – is wrong.

This stigma is also difficult for the family. I needed to talk about

my son's illness, but many people aren't comfortable talking

about addiction. Facing the fact that your child or loved one has

a serious chronic illness is tough enough, without the added

stigma and blame that often get placed on family members.

To counteract the stigma and wrap my head around the

seriousness of my son's illness, I approached it as if Parker had

cancer. I knew there were many parents who faced life knowing

that their child was suffering from cancer or some other serious

illnesses and that those parents somehow managed. Therefore,

in my mind, I approached it as if my son had been diagnosed

with cancer. How would I handle it if he were battling cancer? I

would fight alongside my child as hard as I could. If he wanted

to fight and wanted treatment, I would help him get that

treatment and support him every step of the way.

Parker didn't want this disease any more than anyone

else fighting a serious, chronic illness wants to stay ill.

I remember sitting with him while he cried, telling me he

just wanted to be normal – to be the son, brother, uncle and

grandson that his family deserved. I saw Parker trying his

best to fight, so I was determined to stand strong and fight

alongside him. After battling hard through several different

modes of treatment, including residential treatment,

intensive outpatient treatment and medication-assisted

treatment, my son lost the fight, following an accidental

overdose ... at just 20 years of age.

Blue & You SUMMER 2019 7
---
8

It has not been an easy journey – and certainly not one that

I chose. However, it's what I have been given. I wish I could

sit back and pretend all of this isn't happening. I wish I could

simply ignore the crisis that is going on in our state and in

our country. But I can't. There simply is too much work to

be done. I don't believe that any of us can afford to turn a

blind eye to this epidemic. It's going to take all of us coming

together to do what we can in our own circles of influence

to end this opioid crisis. My plea to anyone reading this is to

ask yourself what you can do to make a difference.

What can you do?

• Decrease the stigma. The language we use matters.

This is the simplest, yet most profound, action we can

take. For people who have a substance use disorder,

the accompanying stigma often is a hindrance to their

seeking help and can negatively affect their treatment

and recovery. This stigma stems from a perception that

the person who has a substance use disorder can control

the addiction if he or she chooses to or that he/she is

somehow at fault for having the disorder. It's important

to be aware of your language and your perceptions.

Use language such as, "a person with a substance use

disorder" or "a person struggling with addiction" rather

than harsher labels such as "addict," "drug abuser" or

"junkie." Remember, addiction is not a moral failing but

a chronic disease. Research has shown that addictive

substances can lead to changes in brain function and

decrease a person's ability to control their substance use.

Repeated use significantly alters the brain's chemistry and

circuitry, thereby creating a neurobiological disorder.

• Monitor, secure and dispose of prescription

medications. Often people who abuse opioids get them

from the medicine cabinets of family members or friends. It's

essential that we lock up opioid medications and dispose of

any leftover pills. Arkansas has prescription drug take-back

events twice a year throughout the state, during which

unused medications may be dropped off for safe disposal.

Additional permanent disposal sites are located throughout

the state at various locations.

• Have lifesaving naloxone (Narcan) on hand if

you feel you might be in a position to intervene in

an opioid-related overdose. Naloxone is an opioid

antagonist that can be used to reverse the effects of

an opioid-induced overdose. Naloxone nasal spray is

fairly simple to use and is not harmful if the cause of

nonresponsiveness is not opioid-related. Naloxone

is available for purchase with a prescription at some

pharmacies in Arkansas. Naloxone purchased with a

prescription is covered by Arkansas Blue Cross.

Blue & You SUMMER 2019

Happier days – (From left) Paula Cunningham,

her son, Parker, and daughter, Lacy, celebrated

Parker's high school graduation with a June

2016 family trip to Gulf Shores, Alabama.

• Seek help. Whether it is you or your family member

struggling with a substance use disorder, know that you

are not alone and that help is available. There are several

different treatments available, including residential

treatment, partial hospitalization, intensive outpatient

treatment and medication-assisted treatment. Medicationassisted

treatments (e.g., methadone, buprenorphine,

naltrexone), combined with counseling and behavioral

therapy, have been proven to reduce the rate of overdose

in people who have an opioid use disorder.

A variety of "12-step" programs (Alcoholics Anonymous,

Narcotics Anonymous and the faith-based Celebrate

Recovery program) and other self-help options

complement treatment of opioid use disorder. Al-Anon is

a 12-step program designed to help family members of

people struggling with substance use disorders.

• Advocacy and change. We all have an opportunity, in

our own circles of influence, to make a difference. Assess

needed change in your workplace, church, social settings,

civic groups or professional affiliations. Ask yourself if

you can do something to influence change. For example,

if you work in a health-related field, are you advocating

for medication-assisted treatment? If you are a member

of a civic group, could you suggest a speaker to promote

education and awareness? Each of us can do something.

No action is too small.

This is not just my story. This could be anyone's story. This is

the story of the parents and loved ones of the other 47,000

victims of opioid-induced overdose in 2017 and the countless

others who were lost in 2018 and so far in 2019. The disease

of addiction knows no boundaries. It affects both males

and females across age groups, races, religions and social

statuses. The very real flesh-and-blood people struggling with

substance use disorder are our neighbors, our friends, our

co-workers, our family members ... and perhaps ourselves.
---
2019

MINI-GRANTS

HIT NEW HIGH

FOR HEALTH

The Blue & You Foundation for a

Healthier Arkansas awarded a recordhigh

316 mini-grants to community

projects throughout the state for 2019.

"Because of the many health needs in

Arkansas, the Foundation received a recordbreaking

60% increase in applications and

awarded 54% more grants this year to

organizations in 130 different communities,"

said Patrick O'Sullivan, executive director

of the Blue & You Foundation.

Of this year's mini-grant recipients,

242 (77%) were first-time recipients,

29 of which were from new cities –

which brings the total number of Arkansas

cities funded by the Foundation to 241.

"These $1,000 mini-grants are used to

fund such things as automated external

defibrillators (AEDs) and bleeding-control

kits for use in public buildings, opioid

overdose spray kits for first responders,

exercise and healthy-eating programs and

addressing food insecurity," said O'Sullivan.

Items purchased this year include:

• 79 automated external defibrillators

• 54 Stop the Bleed kits

• 14 naloxone kits

Find more information on this

year's mini-grants (and all previous

grants) on the Foundation's website:

blueandyoufoundationarkansas.org.

Blue & You Foundation for a Healthier

Arkansas sets record for $1,000 awards

Organization Types

NON-

PROFIT

CHURCH SCHOOLS GOVERN-

MENT

Top 12 Areas Funded

NON-

PROFIT

HOSPITAL

126 64 63 60 3

TOTAL -- 316

84 28 20

CPR/first aid/

AEDs

Cardiac care/

heart health

Emergency

medical

services

Behavioral/

mental health

Healthy

lifestyles

Hunger

Exercise/

physical

activity

Obesity

(nutrition/exercise)

Access to

healthy food

20 19 18

15 11 10

Substance

abuse

Trauma

8 8 8

Safety

Blue & You SUMMER 2019 9
---
in

Arkansas

Nature's air-conditioned hike

Blanchard Springs Caverns offers three separate

guided-tour options for visitors: The Dripstone

Trail, the Discovery Trail and the Wild Cave Tour.

Here's a brief description of each:

• The Dripstone Trail takes about an hour

to tour and is accessible to wheelchairs

and strollers (with assistance). The tour

covers four-tenths of a mile, has 50 stair

steps to navigate and has seating areas

along the trail for rest.

Blanchard Springs Caverns:

A cool way to stay active

and beat summer's heat

G

Getting outside in Arkansas in the summer can

be a sweaty proposition. But for those who

want to experience all "The Natural State" has

to offer and still keep cool, there is a wonderful

alternative – Blanchard Springs Caverns.

Located just 11 miles northwest of Mountain

View in the heart of the Ozark National Forest,

Blanchard Springs Caverns offers breathtaking

views and opportunities for adventure, all at a

comfy 58 degrees year-round. Known as "The

Living Cave" because it constantly changes,

• The Discovery Trail takes an hour and a

half and is a bit more strenuous than the

Dripstone Trail. There are approximately

700 stair steps to navigate, which means

it's not recommended for those who

have health problems.

• The Wild Cave Tour is the one for

more adventurous souls. On this tour,

visitors get to "suit up" with hard

hats, kneepads, gloves, lights and

utility belts and take a three- to fourhour

tour in, around and through the

deepest of Blanchard Springs' caverns.

It is extremely strenuous and is

recommended only for those who

don't mind getting a real workout.

Participants must be at least 10 years

old, and adults must accompany

children 12 years old and younger.

10

Blue & You SUMMER 2019
---
All three trails provide opportunities to see calcite formations,

massive flowstones, stalagmites and stalactites. Cave bats are

rarely seen along the Dripstone Trail but are more frequently

encountered on the other two routes.

After a guided "spelunking" tour, visitors may take in the

beauty of the Ozark National Forest, perhaps by visiting the

year-round spring that gushes from the base of the mountain,

fishing on Mirror Lake, hiking beneath the waterfall that flows

over the dam or spending a leisurely night at the Blanchard

Springs Campground. There is so much to see and do, you can

log 10,000 steps before you know it. You can get in a day's

exercise without breaking a sweat.

Who is Blanchard? ...

and other discoveries

Blanchard Springs Caverns is a

limestone cave system more than

200 feet underground in the midst

of the Ozark National Forest. It is

named for John H. Blanchard, a

native Kentuckian who moved to

Arkansas after the Civil War. He

homesteaded 160 acres in the Ozarks

and built a gristmill powered by the

spring that now bears his name.

Planning to drop in?

Blanchard Springs Caverns, which is

managed by the U.S. Forest Service, is

open (9:30 a.m. - 6 p.m.) seven days a week

from April through October. The rest of the

year, the caverns are closed on Mondays

and Tuesdays and on Thanksgiving Day,

Christmas Day and New Year's Day.

Even though local residents were

aware of the cave's existence

in the early 1930s, the first

documented visit was in 1934 by

William Hadley, a planner with the

Civilian Conservation Corps. It was

explored by amateurs in 1955 and by

professional explorers in 1960.

In 1971, scuba divers entered

through the spring entrance and

followed the underground river

through 4,000 feet of underwater

passages. They were able to map

all five caverns. The Dripstone Trail

opened to the public in 1973, and the

Discovery Trail opened in 1977.

Blue & You SUMMER 2019 11
---
Vacationing

WELL

Don't let health issues turn your

i.

dreamed-of getaway into a nightmare

W

hether it's a road trip through

the Ozarks... a flight to Maine...

a cruise on the Atlantic ... or that

big family theme park blowout,

vacation should be a time to

relax and enjoy yourself and

your family, not stress about an

injury or illness. Here are some

tips that might help you enjoy

your vacation – getting there and

being there – to the fullest.

Some health events are caused

by outside forces. You catch a

virus that's going around, eat

some bad potato salad or get

stung by a jellyfish. Others are

self-imposed. You overdo the

sunbathing and burn to a crisp,

take a curve too fast on that

rented scooter or maybe your

campsite is covered with poison

ivy – and fire ants. Yikes.

Prepare for where you're going

and what you'll be doing. Going

to the woods? Don't forget insect

repellent and a first-aid kit ... and

maybe some calamine lotion and/

or anti-itch cream. Going to the

beach? Suncreen is a must-have.

The Centers for Disease Control

and Prevention (CDC) suggests

using one with a sun protection

factor (SPF) of at least 15 and

that it be applied on all exposed

skin at least every two hours

and anytime you come out of the

water. And you might want to take

a bottle of vinegar for jellyfish

stings. Going to a theme park?

Your backpack probably should

be stocked with motion-sickness

medicine, sunscreen, some basic

first-aid items, antacids and wet

wipes. And your shoes should

be sensible.
---
Plan ahead

• Select a destination with everyone

in mind – Children with underdeveloped

immune systems and elderly individuals with

weaker immune systems may be at risk in

certain places. And it's not just about exposure

to some rare disease in a subtropical region of

the world. In the United States, there is a rise in

measles cases, partially due to low vaccination

rates in recent years. Right now, roughly 764

cases have been reported (in 23 states).

• Don't wait to vaccinate – According to

vaccines.gov (the U.S. Department of Health and

Human Services website), travelers should get

vaccinations four to six weeks before traveling.

The vaccines you get are based on where you'll

be traveling, whether you're pregnant and what

other vaccinations you've had.

• Travel insured – Emergency medical

expenses can bring a vacation to a full stop.

Treatments and transportation costs can

easily climb into the thousands, and that's if

you're vacationing in the United States. Costs

can reach tens of thousands of dollars if you

are overseas. Arkansas Blue Cross offers the

BlueCard travel benefit for domestic travelers

and the GeoBlue travel plan for international

travelers. Both plans offer reliable coverage

and peace of mind in the event of a

medical emergency. You can read more at

arkansasbluecross.com.

• Mind your meds – The Transportation

Security Administration (TSA) suggests that

travelers keep their medications in carryon

baggage instead of checked baggage.

That way you'll have them if you need them

midflight or before arriving at your destination.

• Be practical – If your vacation involves a lot

of walking, having the right shoes can make a

huge difference. And don't forget to factor in

the climate. All that fun can take a toll on your

body. Plan some down time to just rest.

Illustrations by Wendell "Buster" Hall

You should never take a

vacation from prescribed

medications. They can help

ensure your trip goes well.

So here are some pointers for

staying on track with your meds,

even when you're far from home:

Stay on schedule

If you're taking medications, make

sure they are easily accessible, and

take them as scheduled. Calendar

reminders in your cell phone, pill

boxes and reminder apps like Med

Minder can help you.

Carrying liquids and pills

For domestic flights, the federal

Transportation Safety Administration

(TSA) does not require you to show your medications

before boarding, unless they are in liquid form. Liquid

medications must be 3.4 ounces or less. Medications

in pill form of any amount can be carried aboard. All

medications must go through the airport scanner.

Meds international

• Know before you go – Is that over-the-counter

Sudafed illegal in Japan? You have a doctor's

prescription for Ambien to help you sleep, and you're

headed to Nigeria. Will that be a problem? Yes, and

yes. Many drugs approved in the United States are

banned in other countries. Check with the foreign

embassy of your destination country to find out which

medications are allowable and which are not.

• Keep it simple – When traveling with medications

that are allowable:

- Carry a note from your doctor (on his/her

letterhead) indicating your prescriptions

- Carry medicines in their original containers,

clearly labeled

- Carry both the generic and prescription

names of your medicines with you

- Carry enough medicine for your trip – and

a bit more, in the event of travel delays

Blue & You SUMMER 2019 13
---
Illness or injury when traveling outside

Arkansas or outside the United States can

have a negative impact on your vacation,

but without the right coverage, it could

also hit you pretty hard in the pocketbook.

In either event, BlueCard and GeoBlue

travel benefits can have you covered.

BlueCard is a travel benefit (part of

your normal coverage) that allows

traditional and PPO members to

receive the same healthcare benefits

and balance-billing protection of their

local Blue Plan when traveling or living

outside Arkansas. BlueCard provides

national (and some international)

coverage. Without this benefit, the outof-network

cost of getting care outside

Arkansas could cost you big.

If you're one of the millions of Americans

traveling abroad, our GeoBlue

supplemental travel plan (a specialized

policy that is separate from your normal

healthcare coverage) can cover you. The

GeoBlue plan offers customizable coverage

for business and leisure travelers,

expatriates, travel/tour groups, mariners,

missionaries and students. Again, having

this coverage when you are traveling

beyond the borders of the United States

can help protect you from racking up

potentially huge out-of-pocket expenses.

To learn more about BlueCard, call us at

1-800-880-0918. For information about

GeoBlue, simply call 1-800-392-2583.

Eating healthy on holiday

The temptation on vacation is to

indulge ... treat yourself ... splurge.

Plus, along highways and in airports

and on cruise ships, it can be tough

to find fare that isn't laden with

fat, sugar or sodium. And veggies

seldom make the value menu. But

with a little extra effort, you can eat

for enjoyment and for health.

• Drink water – In addition to

keeping you hydrated, it will help

keep you full and is infinitely

better for you than sodas, which

can destabilize your blood sugar,

drain your energy and dampen

your mood.

• Pack some snacks – Having

fruit and nuts in the car or a

backpack is a healthy way to keep

energy and spirits up between

meals and stave off hunger

pangs. You'll also probably eat

less when you do stop.

• Go for grilled – Protein is

great for energy, and grilled

options are lower in fat and

are widely available.

• Shake the sodium – Too much

salt can play a role in raising

blood pressure, along with your

risk for heart attack, stroke and

kidney failure. There's plenty of

sodium in fast-food fare, without

adding any. Bacon is a big sodium

add-on. Just leaving off bacon can

help a good bit.

• Say "yes" to less – Avoid

"super-sizing" meals. Leaving

off the fries or shake can make

big difference.

Embrace the process

• Be wise about wellness –

In the lead-up to vacation, many

people put in longer hours at

the office, eat on the go and

skip their exercise routines as

they prepare to travel. Doing so

can compromise your immune

system, leaving you vulnerable

to sickness. Exposure to new

atmospheres, climates, foods and

odors can make you ill once you

reach your destination. Take care

of yourself before your vacation,

so you can enjoy yourself while

you're on your vacation.

• Find a happy place – Traveling

can be stressful, and stress

can affect your health, along

with your enjoyment and the

14

Blue & You SUMMER 2019
---
enjoyment of those

traveling with you. Listen

to music, read a book or

initiate a conversation

with a family member or

friend – find a happy place

and hang out there until

you can get going again.

We can't expect every

vacation to be illness- or

injury-free, but we can

take steps to be aware and

prepare for those times

when your escape from

reality meets reality.

Illustrations by

Wendell "Buster" Hall

Whether by air, road or sea, here are some tips

for getting maximum enjoyment out of the trip.

In the air – Factor in the impact of jet lag by planning

some rest on your arrival. And since you're in close quarters

with hundreds of people for hours at a time, good hand hygiene is a great

idea. On longer flights, avoid deep-vein thrombosis (potentially deadly blood

clots in the legs that can form when you sit in one position for a long time)

by occasionally getting up and walking around.

Also, consider whether you should fly at all. The Centers for Disease

Control and Prevention (CDC) says people who should not fly include:

• Infants less than 48 hours old

• Very pregnant women (36 weeks or more – 32 weeks or more for twins, etc.)

• Recent surgery patients (especially stomach, brain, eye or orthopedic)

• Anyone who has a recent stomach, eye or head injury

• People who recently had a heart attack or stroke

• Anyone suffering from chest pain, infectious diseases, swelling

of the brain, severe sinus/ear/nose infections, severe chronic

respiratory diseases, a collapsed lung, sickle cell disease or

uncontrolled psychotic illness

• Persons who have a fever of 100° F or greater and one or more of the

following: obvious signs of illness, skin rash, shortness of breath,

persistent, severe cough, confusion, bruising or bleeding (without

previous injury) persistent diarrhea or persistent vomiting that is not

due to motion sickness

For more on deciding whether you should travel by air or internationally, check

out the CDC's guidelines at wwwnc.cdc.gov/travel/page/health-status.

On the road – Motion-sickness medicine is handy to have for long car rides. These

days, too, distracted driving is a risk that could ruin your road trip. Drowsy driving,

too. For longer drives, having multiple drivers is a good idea – or getting a motel room

at the first sign of serious fatigue. And cleaning your car before hitting the road

At sea – Cruises can be delightful – but not if you're too sick to notice. If you're

prone to motion sickness on the road, prepare ahead for seasickness. If you're new

to the experience, maybe a three-day cruise would be a better option than

a 21-day voyage, at least until you get your "sea legs."

Blue & You SUMMER 2019 15
---
Working out

solutions

for health

Progressive program creates

hybrid medical/fitness

combo in a surprising place

We all know what a medical clinic looks like, right?

It's a ficus tree and some magazines in a waiting room.

Diploma-covered walls. A series of small, clonelike exam

rooms – sink, rolling stool, paper-shrouded table, medical

poster and supply jar (alternately filled with cotton balls or

tongue depressors).

And, of course, there's that door that leads to the fitness

center. An array of cool exercise machines. Upbeat music.

A high-energy atmosphere. Spandex-clad trainers and

clients of all ages and sizes. Patients pumping iron and

doing cardio, achieving a nearly 100% success rate on

medically indicated weight loss.

What's that you say?! It's in De Queen?!?!

Yes. De Queen. The Wellness Center (Lofton Family Clinic

and AMP Fitness), is an innovative integrated primary care

practice/fitness center that is transforming lives in this

largely rural area in southwest Arkansas, partly through its

participation in the Comprehensive Primary Care Plus (CPC+)

program. CPC+ is a unique public-private partnership under

the Centers for Medicare and Medicaid Services (CMS),

in which practices are supported by 56 aligned payers

(including Arkansas Blue Cross and Blue Shield) in 18

regions. This partnership gives practices additional financial

resources and flexibility to make investments, improve

quality of care and increase clinical efficiency.

16

Blue & You SUMMER 2019

Cannon vigorously

swings a kettlebell

(one of her favorites) as

part of her workout.

A surprising place

De Queen (population 6,595) is the county seat of Sevier

County (population 17,139) and sits just 8 miles from the

Oklahoma border and 50 miles north of Texarkana, the

nearest larger city. Sevier County ranks near the bottom

third of Arkansas' 75 counties on health behaviors (like a

39% adult obesity rate and 32% rate of physical inactivity*)

and 73 rd in clinical care (due to poor showings on diabetes
---
monitoring, mammography screening,

preventable hospital stays, etc.*).

Perhaps De Queen is not the spot you'd

expect to be on the leading edge of a

medicine/fitness fusion.

So how did this happen? Turns out

it was a happy confluence of events

spanning the past decade. Jason D.

Lofton, M.D., moved to De Queen about

12 years ago and opened a family

medicine practice. Two years later,

he found a new space in the quaint,

historic downtown area and moved his

practice there. Next door, there was

a vacant basement-level space that

sparked a vision. Dr. Lofton, a running/

fitness enthusiast, saw an opportunity

to merge two of his passions –

medicine and fitness. Soon, he opened

AMP Fitness adjacent to his clinic.

For years, the two sides coexisted

happily but separately. The clinic grew.

And AMP Fitness built a loyal clientele.

But there was a disconnect – a wall,

if you will, literally and figuratively.

Dr. Lofton had a number of patients

who had health problems like obesity,

high blood pressure, diabetes and

congestive heart failure. It's an all-toofamiliar

scenario: Patient comes in with

one or more of these conditions. Doctor

tells the patient he/she could really

benefit from a wellness plan (which,

of course, is code for weight loss). The

disconnects? Cost. Lack of interest/

willpower. A busy schedule. Selfconsciousness

("No one there looks

like me."). Whatever the reason, for too

many patients, the recommendation

went no farther than the clinic door.

Patients relied on prescriptions. Some

improved. Many just maintained.

An answer to prayer

Dr. Lofton prayed for a change. Then the

answers started to come. Dr. Lofton had

signed on as a CPC clinic a few years

ago and had done some innovative

things – like buying a car that clinic

staff can use to perform house calls. But

Worley visits with Dr. Lofton about her progress on her wellness goals.

now he had a different idea. Maybe he

could use some of the CPC+ money to

break down some of the barriers that

were keeping his patients from pursuing

a wellness plan. What if he used some

of those funds to subsidize personaltraining

time for patients who have a

medical need? What if this step would

take away the excuses patients used to

side-step a wellness regimen? But first,

he'd need the right trainer. More prayers.

Erik Smith was an elite coach, having

helped guide the De Queen Leopards to

four state soccer championships. And

his name kept coming to Dr. Lofton's

mind as he sought direction on how

to make his idea work. After several

months of discussions, Smith realized

that trading in the high-pressure world

of high school athletics for a similar

salary as a personal wellness trainer

would be better for his own well-being

... and his family's.

So the stage was set. Dr. Lofton now

began to give his patients for whom

transformative weight loss was

medically necessary a more direct path

to get there. He offered patients with

body mass index (BMI) scores of 30

or greater free membership at AMP

Fitness. And the wall came down. Many

patients jumped at the offer. Patients

also now saw more people of their

own age and fitness levels at the gym.

Then the positive results became sort

of infectious. Rapid weight loss. Better

sleep. Falling cholesterol levels and

blood pressures. More energy, etc.

"I think having the more continuous

contact that comes from the patients

being seen here at the clinic and also

coming next door to exercise regularly

is a big part of this program's success,"

Dr. Lofton observed. "I have always

talked with my patients about diet and

exercise, and I've never seen this kind

of success. We are seeing results we've

never seen before."

Amazing results

"Last September, I weighed about 232

pounds, and I was on medicine for

diabetes and high blood pressure," said

patient Karen Cannon. "Now I am 187

pounds, and I don't take anything but a

vitamin." Cannon has lived in De Queen

for more than 48 years and has been Dr.

Lofton's patient for the past 10 years.

In fact, when she first became his

patient, she joined AMP Fitness briefly

but didn't like it. "It wasn't that I thought

I didn't need it," she explained. "But

when you've gained a bunch of weight,

you don't want a lot of thin people to see

you in workout clothes." And though her

conditions (and Dr. Lofton's advice) had

not changed much, now, at the age of 74,

* According to County Health Rankings & Roadmaps, a collaboration between the Robert Wood Johnson

Foundation and the University of Wisconsin Population Health Institute (countyhealthrankings.org/)

Blue & You SUMMER 2019 17
---
it was the offer of free help and guidance

and the presence of some of her fellow

patients that prompted her to leave her

comfort zone and adopt a new wellness

mindset. "I hate to run," Cannon confided.

"I'm more of a walker. But here, there's so

much you can do, you don't have to stick

with one thing. I like a variety. ... I just

think staying active is the most important

thing. Of course, it's more fun to exercise

if somebody is doing it with you. Plus,

Erik is so positive and encouraging. He

praises you even when he probably

shouldn't. Then, when the weight just

starts falling off, it really makes you want

to keep going."

Another patient, Carolyn Ng, age 64,

who has had weight struggles for

many years, has lost 31 pounds so far

(with 24 more to go), has reduced her

blood pressure and now takes much

less medicine. "I don't get tired quite

as easily, I don't have dizzy spells like I

did, and I am hardly taking any insulin

anymore – after 12 or 13 years of being

on it," Ng said. "But the main thing is

that I'm feeling better about myself

mentally, even more than physically. I'm

excited, too, because I know I'll be able

to do more without my knees and back

hurting all the time. And I'm already

fitting into clothes I haven't gotten

into in quite a while." Ng said the

integrated approach and attentiveness

of the staff have helped her succeed

more than anything else she has ever

tried. "Everybody seems to care about

you – from the bottom to the top – and

they all take the time to answer all your

questions." she added.

At the age of 74, a third patient, Majorie

Worley, has some very special reasons to

improve her health – her grandkids. The

lifelong Sevier County resident recently

moved from Dierks to De Queen, where

she lives with her daughter and son-inlaw

and helps care for their three children

(ages 5, 9 and 11). She has been a patient

of Dr. Lofton for about five years but is

new to the wellness program. Just two

weeks in, she already had lost nearly 10

pounds, and her blood

pressure had dropped

from 150/80 to 107/70.

"I've tried to lose

weight on my own

several times before,

and I'd stay on a diet

for two or three weeks,

but then I'd quit,"

Worley said. "And I

was addicted to my

recliner. But my three

grandkids are very

important to me. I want

to be able do things we

can enjoy together. I'd

like to be around for

their teenage years."

Specifically, getting stronger, improving

her balance (after some recent falls) and

getting her blood pressure under control

without medicine are her main goals.

She's already seen enough progress to

convince her that this approach works.

"It's convenient to have somewhere you

can go and exercise, and yet the clinic

is right there, and they know everything

that is going on with you," Worley said.

"I had been praying that I would find

something that would help me stick

with it and actually get healthier. Then

a lady at my church told me about this

program. So I thought, 'There's my

answer.' This is exactly what I needed.

It gets me out of the house more and

gives me something to do. And when I

get home, I have so much more energy

to do housework or do things with my

grandkids. I am so grateful."

A bright future

Smith gets a kick out of this new

dynamic. "Sometimes, in school, the

kids I was working with didn't really

want to be there – they had to be

there," Smith said.

"But here, everyone who comes

through those doors wants to improve

themselves and get better. I get to share

Smith (left) helps Cannon adjust an exercise

machine setting.

in their pride when they meet their

goals, but more than that, I know that

this is actually changing lives – blood

pressures are falling or cholesterol is

going down. I get to be a part of helping

people use fitness as an alternative to

taking medicine, and the gratification I

get from that is fantastic."

Dr. Lofton says good news is traveling

fast. "Patients are starting to share their

success with their friends and neighbors

and families," he said. "We are so excited

about this program and its potential that

we are considering offering it to patients

from other practices in our area. We are

doing this to have a healthier population in

Sevier County, so as long as we are seeing

success, I cannot see why we would limit

it for anyone."

As for such a forward-thinking program

springing up in an unexpected place

– like De Queen? "We have a great

team here. We had an innovative idea.

And, thanks to a program like CPC+ and

payers like Arkansas Blue Cross, we

have some funds and discretion to make

an immediate change," Dr. Lofton said.

"It only goes to show that just because

you're in a small town, that doesn't

mean you don't have the opportunity

to do something great or unique or

meaningful."

18

Blue & You SUMMER 2019
---
Need care? Think about where.

PRIMARY CARE URGENT CARE EMERGENCY ROOM

Before you or a family member sit for hours in an emergency room or end up with medical costs not covered

by your health plan, learn more about your medical care options. It's always best to know before you go!

Primary Care Physician

Your doctor, also called a primary care

physician (PCP), should be your first

choice for care. Your PCP is familiar

with your medical history, and a

scheduled office visit is the most

cost-effective method of care. When

necessary, your PCP's clinic can refer

you to specialists within your health

plan and ensure that you receive the

right care in the right place, without

higher out-of-network costs. Your PCP

office also may be able to work you in

to be seen.

What if my PCP is not available?

If your doctor's office is closed and

you aren't sure if the condition is

an emergency, you still should call

the clinic's after-hours number. The

medical professional on call can help

you determine if you should wait for a

priority visit at the clinic the next day,

visit an urgent care center or go to

the emergency room.

Urgent Care Clinic/Walk-In

Urgent care/walk-in clinics are for

medical symptoms, pain or conditions

that require immediate medical

attention but are not severe or

life-threatening and do not require

a hospital or emergency room

visit. Urgent care/walk-in facilities

generally are open for extended hours

and are available on a first-come,

first-served basis.

What conditions may need

urgent care?

Urgent care conditions include things

like: asthma, bites, stings and allergic

reactions; diarrhea; nausea and

vomiting; ear and eye infections;

flu, colds and other viral illnesses;

injuries; skin conditions; sprains and

strains; and urinary tract infections.

Emergency Room

Emergency care is needed when

you have an unexpected onset

of symptoms, a severe medical

condition, an accident or an illness

that could place your health in

jeopardy if not treated immediately.

Severe symptoms or conditions

include chest pain, badly broken

bones, poisoning, serious burns,

loss of consciousness, etc.

Call 911 or go to the ER?

Call 911 or go to the ER immediately

if the answer is "yes" to any of

these questions:

• Are the symptoms severe

and/or life-threatening?

• Did the symptoms occur

suddenly and unexpectedly?

• Is there uncontrolled bleeding,

extreme pain or broken bones?

• Is the person dehydrated or

having a dangerously

high fever?

Know before you go!

Blue & You SUMMER 2019

19
---
Member's courage earns posthumous

Faces of Fearless ® award

James Robert

"Bob" McIntosh

The courageous spirit of James Robert

"Bob" McIntosh of Hot Springs was

posthumously recognized recently with

a prestigious national honor at the Blue

Cross Blue Shield Association's 2019

National Summit in Grapevine, Texas.

McIntosh (or "Coach Mac" as he was

known to many) faced a dire diagnosis

of stage 4 bladder cancer in June 2018

with a brave and resilient attitude through

chemotherapy and surgery that resulted

in his being declared cancer-free just six

months later. The prognosis appeared

promising, but sadly, just days after

receiving the news he had been chosen

as one of only two Faces of Fearless ®

honorees for 2019, he passed away,

following a brief illness. But his fearless

example lives on.

The annual Faces of Fearless ® Award

celebrates members of Blue Cross Blue

Shield Association-affiliated health plans

who overcome challenges in order to live a

healthier life. Each year, two honorees are

chosen from a national field of entries.

McIntosh, who was an educator and coach

at Lake Hamilton School for 34 years,

was guided through his cancer-treatment

journey by an Arkansas Blue Cross case

manager, Samantha Costello, B.S.N, R.N.,

whom he highly commended in his entry

to be considered as a Faces of Fearless

honoree. Costello attended the National

Summit and accepted the award on

McIntosh's behalf.

In a future issue of Blue & You, you'll be

able to learn more about McIntosh's story

of incredible positivity and courage in the

face of a daunting diagnosis.

20

Blue & You SUMMER 2019
---
BlueNEWS

Community Engagement

Northeast Arkansas staff: Blue goes great with pink

On April 27, staff from the ArkansasBlue location in northeast

Arkansas matched blue with pink in support of the 2019

Komen Northeast Arkansas Race for the Cure ® at Arkansas

State University's Centennial Bank Stadium. Team Fearless

cheered on participants and handed out fun giveaway items.

Northwest Arkansas staff works the walks

Staff from the ArkansasBlue location in northwest Arkansas

had a busy April, attending the Northwest Arkansas Heart

Walk on April 13 at the Walmart AMP in Rogers and the

Komen Ozark More than Pink Walk TM on April 27 at Pinnacle

Hills Promenade Mall in Rogers. At each walk, Team Fearless

cheered on participants and handed out fun giveaway items.

Great Strides ... against Cystic Fibrosis

Team Fearless stepped it up for the Great Strides walk to

benefit the Arkansas Chapter of the Cystic Fibrosis Foundation

on Saturday, May 18, at the Little Rock Zoo. The walk raised

nearly $84,000 for the cause.

National Walk @ Lunch Day – a Capitol idea

Arkansas Blue Cross and Blue Shield employees, sporting

blue shirts and comfy shoes, took to the streets on April 24 to

celebrate National Walk @ Lunch Day, part of the Blue Cross

Blue Shield Association's Walking Works program. Team Blue

walked to the steps of the Arkansas Capitol (where they posed

for some celebratory photos) and back. On a designated day

each April, National Walk @ Lunch Day encourages employees

throughout the nation to spend part of their lunch break walking

and encourages regular worksite-based wellness activities.

State HR pros feed the funnels

A Fearless Food Fight broke out at the Hot Springs Convention

Center on April 4, with Arkansas Society of Human Resources

Management conference attendees producing the following

results to fight food insecurity:

• 140 conference attendees participated

• 28,088 meals were packed

• First Baptist Church in Van Buren, King's Pantry

at Jubilee Family Church in Batesville and Hope

Place in Monticello received the meals

Taking steps against heart disease/stroke

Arkansas Blue Cross and Blue Shield employees and their family

members participated in the Central Arkansas Heart Walk on April

27. Team Fearless joined other central Arkansans at the North

Shore Riverwalk Park in North Little Rock to support the fight

against heart disease and stroke.

Blue & You SUMMER 2019 21
---
Arkansas

Blue

Cross

moves up

Forbes

list

Arkansas Blue Cross and Blue Shield

is moving up in the world ... of

America's best employers, that is.

Arkansas Blue Cross recently was

ranked as the 33 rd Best Midsized

Employer in the United States by

Forbes, a jump of 34 places over

last year's 67 th -place ranking. In

addition, Arkansas Blue Cross ranked

first nationally among all midsized

companies in the insurance category

and was the No. 1 midsized employer

in Arkansas.

"At Arkansas Blue Cross, we strive

every day to build a workplace

culture where our employees feel

valued and appreciated," said

Curtis Barnett, president and chief

executive officer of Arkansas Blue

Cross. "This recognition by Forbes is

particularly meaningful to us because

it is based upon employee feedback

and is not something we sought."

Every year Forbes partners with

Statista, a market research company,

to evaluate the leading employers

throughout the nation by conducting

a survey among those in the best

position to make such an evaluation

– the employees. More than 50,000

respondents from companies with

at least 1,000 employees completed

an extensive questionnaire about

their working conditions, how they

feel about other employers in their

respective industries and how likely

they were to recommend their

employer to someone else. Only the

top 500 employers made the list.

"One of our core beliefs for many

years has been that highly engaged

employees are critical to having

strong customer and community

relationships," said Barnett.

"Whether it's the dedication and

compassion our employees display in

performing their jobs or the countless

hours they spend volunteering in the

community, we truly believe we have

the most talented, committed and

caring employees, which is essential

for a health plan like ours, whose

customers have significant and

varied needs."

CUSTOMER SERVICE NUMBERS

May we help?

For customer service, please call:

Visit our websites for more information:

• arkbluecross.com

• healthadvantage-hmo.com

• blueadvantagearkansas.com

• blueandyoufoundationarkansas.org

TOLL FREE Number

Medi-Pak ® members 1-800-338-2312

Medi-Pak ® Advantage members 1-877-233-7022

Medi-Pak ® Rx members 1-866-390-3369

Arkansas Blue Cross members 1-800-238-8379

• Pharmacy questions 1-800-863-5561

• Specialty Rx pharmacy questions 1-866-295-2779

Arkansas Blue Cross Metallic members

(Gold, Silver, Bronze, Catastrophic) 1-800-800-4298

• Pharmacy questions 1-800-969-3983

Health Advantage members 1-800-843-1329

• Pharmacy questions 1-800-863-5567

BlueAdvantage members 1-888-872-2531

• Pharmacy questions 1-888-293-3748

Federal Employee members 1-800-482-6655

Arkansas State Employees /

Public School Employees 1-800-482-8416

Looking for health or dental insurance? We can help!

For individuals, families 1-800-392-2583

For employer groups* 1-800-421-1112

*Arkansas Blue Cross, Health Advantage and BlueAdvantage Administrators of Arkansas

Prefer to speak with someone close to home?

Call or visit one of our offices near you:

• Little Rock

2612 S. Shackleford Rd., Suite J 1-501-378-2222

• Fayetteville

516 East Millsap Rd., Suite 103 1-800-299-4109

• Fort Smith

3501 Old Greenwood Rd., Suite 3 1-800-299-4060

• Hot Springs

1635 Higdon Ferry Rd. – Suite J 1-800-588-5733

• Jonesboro

2110 Fair Park Blvd. – Suite I 1-800-299-4124

• Little Rock

601 S. Gaines St. 1-800-421-1112

• Lowell

507 W. Monroe Ave. – Suite B 1-888-872-2539

• Pine Bluff

509 Mallard Loop Dr. 1-800-236-0369

• Texarkana

1710 Arkansas Blvd. 1-800-470-9621

PAYING YOUR

B I L L

To pay by phone * ,

please call

1-800-354-9904

*Medicare Advantage and Prescription Drug plan product

members must call Customer Service to discuss available

payment options. Health Advantage conversion plans are not

eligible for online, mobile or pay-by-phone payment options.

Blue & You SUMMER 2019 23
---
Arkansas Blue Cross and Blue Shield

Financial Information Privacy Notice

Arkansas Blue Cross and Blue Shield and its affiliates

(including HMO Partners, Inc. d/b/a Health Advantage)

understand how important it is to keep your private information

just that — private. Because of the nature of our business, we

must collect some personal information from our members, but

we also are committed to maintaining, securing and protecting

that information.

Customer Information

Arkansas Blue Cross and its affiliates only compile information

necessary for us to provide the services that you, our member,

request from us and to administer your business. We collect

nonpublic personal financial information (defined as any

information that can be tied back to a specific person and is

gathered by any source that is not publicly available) about our

members from:

• Applications for insurance coverage. The application

includes information such as name, address, personal

identifiers such as Social Security number, and

medical information that you authorize us to collect.

• Payment history and related financial transactions

from the purchase and use of our products.

• Information related to the fact that you have been or

currently are a member.

Arkansas Blue Cross

1-800-238-8379

Health Advantage

1-800-843-1329

Self-funded group members

should call Customer Service

using the toll-free

telephone number

on their ID card.

Sharing of Information

Arkansas Blue Cross and its affiliates do not disclose, and do

not wish to reserve the right to disclose, nonpublic personal

information about you to our affiliates or other parties except

as permitted or required by law. Examples of instances in which

Arkansas Blue Cross and its affiliates may provide personallyidentifiable

information about your employees (including but

not limited to name, postal and email addresses, telephone

numbers, and related nonpublic financial information) to

affiliates or other third parties are:

• To service or process products that your employees

have requested.

• To provide information as permitted and required by

law to accrediting agencies.

• To provide information to comply with federal, state or

local laws in an administrative or judicial process.

• To provide information to a business associate

(including one of our affiliated companies) working

with Arkansas Blue Cross in providing services to your

health plan and your employees (our members).

How We Protect Your Information

Arkansas Blue Cross and its affiliates use various security

mechanisms to protect your personal data including electronic

and physical measures as well as company policies that limit

employee access to non-public personal financial information.

Improper access and use of confidential information by an

Arkansas Blue Cross employee can result in disciplinary action

up to and including termination of employment.

Disclosure of Privacy Notice

Arkansas Blue Cross and its affiliates recognize and respect the

privacy concerns of potential, current and former customers.

Arkansas Blue Cross and its affiliates are committed to

safeguarding this information. This Financial Information

Privacy Notice is provided for informational purposes and

will be updated and distributed as required by law. It is also

available on our website at arkansasbluecross.com or

from our Customer Service Call Centers. Our Customer Service

Call Centers are open from 8 a.m. to 4:30 p.m., Central time,

Monday through Friday.

22

Blue & You SUMMER 2019
---
and

Dickey-Stephens Park

North Little Rock

Join us and the Arkansas Travelers at Dickey-

Stephens Park on Friday, July 19, for Fearless Fans

and Fireworks – a night of runs, revelry and rockets! Arkansas

Blue Cross and Blue Shield members who show a valid member

ID card will receive a $3 discount. Game time is 7:10 p.m. So bring

the whole gang, enjoy a ballpark adventure night, root for the

Travs as they battle the Frisco Rough Riders out on the diamond,

save some money and finish the festivities with a real bang!

Thank you for choosing Arkansas Blue Cross!

Now, let's

8366 7/19