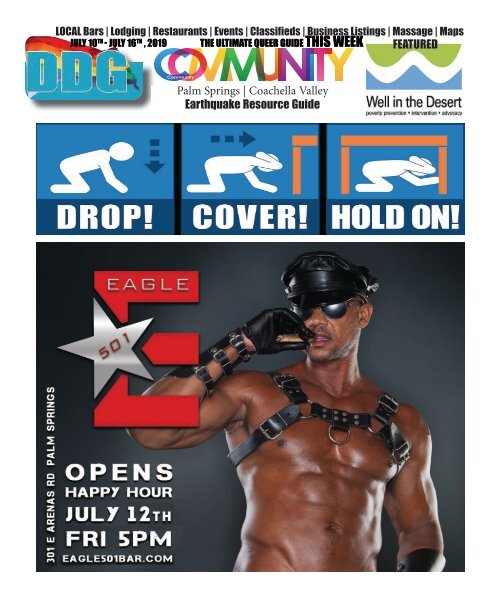 JULY 10TH - JULY 16TH , 2019 THE ULTIMATE QUEER GUIDE THIS WEEK
All signs point to the newest gay bar opening this weekend as the Eagle 501 Welcome to the Gayborhood! Welcome to the newly developed United States Association of Prides. Are you ready for the big one? Don't just stand in the doorway Mary! Everything we know about earthquakes are wrong! Bars, Events and more...
All signs point to the newest gay bar opening this weekend as the Eagle 501 Welcome to the Gayborhood! Welcome to the newly developed United States Association of Prides. Are you ready for the big one? Don't just stand in the doorway Mary! Everything we know about earthquakes are wrong! Bars, Events and more...
SHOW MORE
SHOW LESS
You also want an ePaper? Increase the reach of your titles
YUMPU automatically turns print PDFs into web optimized ePapers that Google loves.
LOCAL Bars | Lodging | Restaurants | Events | Classifieds | Business Listings | Massage | Maps

JULY 10 TH - JULY 16 TH , 2019 THE ULTIMATE QUEER GUIDE THIS WEEK FEATURED

Palm Springs | Coachella Valley

Earthquake Resource Guide
---
2 IF YOU LIKE US, PLEASE LIKE US ON FACEBOOK: DESERTDAILYGUIDE
---
Never Stale! The only LOCAL Gay Guide For The Palm Springs area THIS WEEK. 3
---
4 IF YOU LIKE US, PLEASE LIKE US ON FACEBOOK: DESERTDAILYGUIDE
---
Never Stale! The only LOCAL Gay Guide For The Palm Springs area THIS WEEK. 5
---
6 IF YOU LIKE US, PLEASE LIKE US ON FACEBOOK: DESERTDAILYGUIDE
---
Never Stale! The only LOCAL Gay Guide For The Palm Springs area THIS WEEK. 7
---
COVER

All signs point to

the newest gay bar

opening this weekend

as the Eagle 501 on

501 Arenas Road, in

the heart of the gay bar

community in Palm

Springs. Many of your

favorite bartenders

from the old Score

bar will be back along

with new staff and

ownership.

The community

welcomes our newest

bar and our wishes

for a great success this

weekend and a long

future.

Welcome to the newly

developed United

States Association

of Prides, With the

election of temporary

officer's secretary Dave

Wait, vice president

Perin Hurewitz,

treasurer Richard

Brethour-Bell and our

own Ron DeHarte as

co-president with Lo

Roberts!

Are you ready for

the big one? Don't

just stand in the

doorway Mary! Almost

everything we know

about earthquakes are

wrong!

Continued on page 18

10 QUESTIONS

WITH VIC

Vic Gerami is a

journalist and media

contributor

Adrian's

Pics

POP Culture

8 IF YOU LIKE US, PLEASE LIKE US ON FACEBOOK: DESERTDAILYGUIDE
---
Never Stale! The only LOCAL Gay Guide For The Palm Springs area THIS WEEK. 9
---
10 IF YOU LIKE US, PLEASE LIKE US ON FACEBOOK: DESERTDAILYGUIDE
---
Never Stale! The only LOCAL Gay Guide For The Palm Springs area THIS WEEK. 11
---
EDITORIAL

DDG IS

PUBLISHED WEEKLY BY

DDG Media group

1717 E Vista Chino A7-480,

Palm Springs, CA 92262

888-743-3349 or

FAX 844-800-9700

EDITOR: Will Paige Adrian

Ayala

Contributing Writers:Will Paige,

Adrian Ayala

Adam's art

Contributing Photographers:

Marko Russell, Mike Thomas,

Frank Failing, David Stanfield

National Representatives

Rivendell Media (212) 242-6863

DDG Media Group/ Desert

Daily Guide

Opinions expressed in the DDG

columns do not necessarily

reflect the opinion of the DDG,

its staff, or its advertisers.

DDG is not responsible for

claims made by its advertisers,

or the products or services

they offer. Listings, pictures,

or advertisements in the DDG

should not be construed to

represent or reflect the sexual

orientation of any business, its

owners, or its staff. All events are

subject to change without notice.

Any omissions of events are not

intentional. © 2017 DDG Media

Group , All Rights Reserved.

will@desertdailyguide.com

Volume 25, Issue 02

July 10 - July 16, 2019

8 Inside This Week

16 Local Bars

29 Business Dir.

22 10 Questions with

Vic

24 AdamsArtExpose'

34 Adrian's Picks

Directory page 33

RESORTS PALM SPRINGS

STYLE

BUSINESS SERVICES

ATTRACTIONS/

ENTERTAINMENT

ADULT BOOK STORE

ADULT FETISH AND

TOYS

ART GALLERY

ATTORNEYS

BAR/PUBS

COMPUTER SERVICE

CONCRETE

FURNITURE

GYMS

GENERAL SERVICES

SHOPPING

LEATHER GEAR TOYS

Press publisher541@desertdailyguide.com

12 IF YOU LIKE US, PLEASE LIKE US ON FACEBOOK: DESERTDAILYGUIDE

32 Classifieds

27 Featured Gay Resorts

31 GROUPS/HELP

32 Massage Directory

37 Queer Otaku

21 The Center Schedule

facebook.com/desertdailyguide

twitter.com/DDGWill

desertdailyguide.com

IF YOU LIKE US, LIKE US

LEATHER REPAIR

NOTARY SERVICE

PAINTERS

MATRIMONY

SPIRITUALITY

POSTAL SERVICES

RESTAURANTS

REAL ESTATE

THEATRE/PLAYHOUSE

TRAVEL

MOVING? UTILITIES

GROUPS/ORG/HELP

NATURIST DAY PASSES

Get listed in Palm Springs

only curated gay and gay

friendly business directory.

Starting at $15.00 a week!

888-743-3349
---
SIGNATURE DATES

SPECIAL ELECTION City of Cathedral City, CA -

Municipal Government

Nomination Period for District 1 City Council

Seat Nomination Period for candidates will

close on May 30, 2019.

Prime Timers Mixer & Food Drive

Monday, August 5th | 4:30 to 7:00 PM

Hunters 302 East Arenas Road

Palm Springs, CA 92262

Come and join our special mixer gathering

where we are asking our members to support

The Community Food Bank

INSIDER GUIDE

BEST BET: LATE NIGHT BAR AND

RESTAURANT RUNWAY RESTAURANT MEET

Meet at the bar, sleep at the hotel!

LGBTQ CENTER OF THE DESERT

(760-416-7790)

COMMUNITY FOOD BANK at the Center

(760-416-7790)

SCOTT HINES MENTAL HEALTH CLINIC at the

CENTER (760-416-7899)

SAVE THE DATE:

July 18th – Legal Consultations (by

appointment)

July 20th – Own Your Future – Preparing Your

Will

July 24th – CENTER SOCIAL – Copa

August 16th-18th – Authentic Dating –

Intensive Weekend Workshop

BEST BET: GAY SUNDAY BEVERAGE BUST

Get together at The Barracks

BEST BET: GAY THEME NIGHTS at the

Tool Shed Bar and The Barracks.

BEST BET: Best bottomless

Champagne Breakfast starter at

Pinocchio's of the Desert

BEST BET: EVERY DAY Breakfast, Lunch,

and Dinner

at Sunshine Cafe in Cathedral City.

BEST FREE BET: THURSDAYS NIGHTS AT

THE MUSEUM

Lectures, conversations, collections and

more! Thursday Nights feature a series

of events and activities, as well as free

museum admission from 4:00 p.m. to 8:00

p.m., thanks to funding from the City

of Palm Springs Public Arts Commission.

BEST FREE BET: Village-fest Street

Festival Thursday night street fair featuring

arts, crafts, food, and entertainment! Its

also fun to watch the gay community as you

walk down Arenas Rd, the heart of the gay

community. Downtown, Thursdays, 6pm-

10pm

BEST BETS: July 13th PS CUDDLE

PUDDLE & DESSERT POTLUCK (Palm

Springs)

7-9 pm RSVP now to Info@CalComMen.

com. WHAT IS A CUDDLE PUDDLE?

A Cuddle Puddle is CalComMen's version

of a cuddle party -- very sensual, lots of

touch, no sex, clothes on/shoes off! :)

Never Stale! The only LOCAL Gay Guide For The Palm Springs area THIS WEEK. 13
---
14 IF YOU LIKE US, PLEASE LIKE US ON FACEBOOK: DESERTDAILYGUIDE
---
W O R K O U T G Y M

P A L M S P R I N G S

$12 DAY PASSES

MEMBERSHIP SPECIALS

SEE GYM FOR DETAILS

NO CONTRACTS

GROUP CLASSES INCLUDED • TRAINERS AVAILABLE

CARDIO WITH PERSONAL TV'S • FREE WEIGHTS AND MACHINES

TRX • LOCKERS • SHOWERS

MEN'S SAUNA • FREE WIFI • FREE COFFEE

2100 N PALM CANYON DR., SUITE C100

(BEHIND TOUCAN'S TIKI LOUNGE)

PALM SPRINGS, CA 92262

WORKOUT GYM HOURS:

MON-FRI: 5:00AM - 8:00PM

SAT-SUN: 8:00AM - 6:00PM

(760) 325-4600

W W W . W O R K O U T G Y M P S . C O M

Never Stale! The only LOCAL Gay Guide For The Palm Springs area THIS WEEK. 15
---
BUSINESS DIRECTORY

Bars & Restaurants

FEATURED

Pinocchio In the Desert

Palm Springs breakfast and

lunch bistro restaurant with a

warm and welcoming, lively

fun European Atmosphere.

134 East Tahquitz Canyon

Way, PS

Rio Azul - Mexican Style Rest.

& Bar

Best authentic Mexican

style restaurant in the valley.

With patio and Bar. Home

of an original and distinct

interpretation of Mexican food

.Longest running Sunday Drag

Brunch.(760) 992-5641 350

South Indian Cyn, PS,

Eagle 501 Bar(Opening Soon)

LEVI/LEATHER bar in the

heart of Arenas, Palm Springs

301 E Arenas Rd , PS

Runway Restaurant & Bar

The valleys premier arts and

entertainment. Featuring

American Casual Dining

Drinks & Drag at CCBC

Resort Hotel.68300 Gay Resort

Drive, CC

Sunshine Cafe

Nearly as perfect as it gets!

Known as a local hole in the

wall with a funky vibe and

fantastic food, frequented by

celebrities, politicians, word

of mouth visitors from around

the world. 36815 Cathedral

Canyon Dr. CC

(760) 328-1415 6:00 am

The Barracks

LEVI/LEATHER No matter

your fetish, if you're in the

mood for some great cruising

or just listening to some sexy

music while you have a cigar

and conversation at the largest

patio bar in the desert.

67625 E. Palm Canyon Dr. CC

Tool Shed

LEVI/LEATHER In the Warm

Sands District in central Palm

Springs.

600 E Sunny Dunes Rd , PS

(760) 320-3299

10:00 am – 2:00 am

Tryst Bar and Lounge

Eclectic mix of straight and

gays of all ages, AMI Video

Jukebox - Pool -Darts- Air

Hockey - Giant Jenga.

Everyone is Welcome at Tryst

21+ 188 S Indian Canyon Dr

Palm Springs, CA

16 IF YOU LIKE US, PLEASE LIKE US ON FACEBOOK: DESERTDAILYGUIDE

More Gay & Gay Friendly

Bars and Restaurants.

Cathedral City

AJ Sports

Roost

Trunks

Studio One 11

Desert Hot Springs

Playoffs Sports Bar

Palm Springs

Toucan's

Streetbar

Oscar's

Chill bar

Hunters

Stacy's

BlackBook

QUADZ

RetroRoom Lounge

Phoenix

Charlie's

Dick's Cabaret

Kobalt Bar

Pat O's

Stacy's

Inland Empire

The Menagerie

VIP

Alibi East

Hook-Up

340 Restaurant & Nightclub

continued from page 27
---
夀 伀 唀 䌀 愀 渀 䠀 愀 瘀 攀 愀 倀 甀 戀 氀 椀 挀 椀 猀 琀 吀 漀 漀

倀 甀 戀 氀 椀 挀 椀 猀 琀 猀 愀 爀 攀 渀 漀 琀 樀 甀 猀 琀 昀 漀 爀 挀 攀 氀 攀 戀 爀 椀 琀 椀 攀 猀 愀 渀 礀 洀 漀 爀 攀 ⸀

䄀 眀 攀 氀 氀 ⴀ 挀 漀 渀 渀 攀 挀 琀 攀 搀 瀀 甀 戀 氀 椀 挀 椀 猀 琀 挀 愀 渀 最 爀 攀 愀 琀 氀 礀 攀 氀 攀 瘀 愀 琀 攀

琀 栀 攀 瀀 爀 漀 昀 椀 氀 攀 漀 昀 愀 渀 椀 渀 搀 椀 瘀 椀 搀 甀 愀 氀 Ⰰ 漀 爀 最 愀 渀 椀 稀 愀 琀 椀 漀 渀 漀 爀

戀 甀 猀 椀 渀 攀 猀 猀 ⸀

䄀 猀 愀 瀀 甀 戀 氀 椀 挀 椀 猀 琀 眀 栀 漀 椀 猀 愀 氀 猀 漀 愀 樀 漀 甀 爀 渀 愀 氀 椀 猀 琀 Ⰰ 䤀 欀 渀 漀 眀 琀 栀 攀

椀 渀 猀 ☀ 漀 甀 琀 猀 漀 昀 洀 攀 搀 椀 愀 ⸀ 唀 琀 椀 氀 椀 稀 椀 渀 最 洀 礀 猀 漀 氀 椀 搀 爀 攀 氀 愀 琀 椀 漀 渀 猀 栀 椀 瀀 猀

眀 椀 琀 栀 攀 搀 椀 琀 漀 爀 猀 Ⰰ 瀀 甀 戀 氀 椀 猀 栀 攀 爀 猀 Ⰰ 愀 渀 搀 漀 琀 栀 攀 爀 最 愀 琀 攀 欀 攀 攀 瀀 攀 爀 猀 Ⰰ

䤀 挀 愀 渀 猀 攀 挀 甀 爀 攀 瀀 氀 愀 挀 攀 洀 攀 渀 琀 猀 洀 漀 爀 攀 焀 甀 椀 挀 欀 氀 礀 愀 渀 搀 攀 愀 猀 椀 氀 礀 ⸀

倀 氀 攀 愀 猀 攀 䌀 愀 氀 氀 䘀 漀 爀 愀 䌀 漀 渀 猀 甀 氀 琀 愀 琀 椀 漀 渀

瘀 椀 挀 最 攀 爀 愀 洀 椀 ⸀ アパート ⸀ 㠀 㠀 ⸀ 㠀 㔀 㘀 アパート ⸀ 瘀 椀 挀 䀀 琀 栀 攀 戀 氀 甀 渀 琀 瀀 漀 猀 琀 ⸀ 挀 漀 洀

吀 栀 攀 䈀 氀 甀 渀 琀 倀 漀 猀 琀 ⸀ 挀 漀 洀

Never Stale! The only LOCAL Gay Guide For The Palm Springs area THIS WEEK. 17
---
Continued from page 8

But you can get prepared. Millions of people

worldwide will practice how to Drop, Cover,

and Hold On, on October 17* during Great

ShakeOut Earthquake Drills.

All of us in Inland Southern California live

less than 10 miles from a fault that can have a

damaging earthquake. You are likely reading

this while standing on the infamous San

Andreas. It has the potential to produce a

devastating earthquake. Nearby faults such as

the San Jacinto fault create smaller, yet more

frequent earthquakes.

We have learned a lot about protecting our

homes and future in an earthquake. We

believe the danger is real, it's big and it's

coming.

Big earthquakes will disrupt services like

electricity, water and sewer. We all saw

limited access in and out from some minor

flooding a few weeks ago. Also Fire and

police departments will be dealing with the

most serious situations and may be unable to

respond quickly.

There may be long lines and walks to shelter

facilities. Government assistance may not

be available or not enough to replace your

damaged belongings or repair your home.

With a dumbass president and a stalled

congress, a major disaster will likely show

how inept our government has become.

In other words, a perfect storm is brewing.

One that we may live with for years.

But YOU may be safer if you read this

warning: Preparing now, it will give you the

best chances that you and your family will

stay safe.

Most news agencies won't talk about this

because they want you to remain dependent

on them and the products they sell. During

this recent spat of quakes, I and all my friends

watched the news channels and did not see

one mention of reliable resources for you to

prepare with.

Including Drill Manuals and Safety Action

Guides in the workplace and in the home,

health care and when you are separated.

Anyone that witnessed Katrina or Puerto Rico

knows we are not prepared as a nation,

We saw thousands stranded on rooftops,

along roadways, in their homes, hospitals and

in ill-equipped shelters. Many of those victims

were poor and people of color.

We believe it won't affect us because we are

mobile and can transport ourselves to safety

any place and any time. Today, our victims

will be many poor and people of color, they

are also Vets, elderly, retired living of a fixed

income with no way to rebuild the life they

have now. Our fisrt respongers have been

negelected.

A disaster often tests our preparness, but a

big one will test our metle as a natiion. Will

coime together and rebuild or fall deeper into

a fudal nation or relive The Hatfield–McCoy

feud, some many not even know the term.

18 IF YOU LIKE US, PLEASE LIKE US ON FACEBOOK: DESERTDAILYGUIDE
---
Never Stale! The only LOCAL Gay Guide For The Palm Springs area THIS WEEK. 19
---
20 IF YOU LIKE US, PLEASE LIKE US ON FACEBOOK: DESERTDAILYGUIDE
---
Never Stale! The only LOCAL Gay Guide For The Palm Springs area THIS WEEK. 21
---
a lot of negative comments thrown onto me

about my sexuality, but I think about my

beloved lgbt family and friends and those who

would benefit from my coming out, it gives

me the energy and love to stay afloat. My

beloved LGBT family and friends helped me

through this. I love you all so much.

Originally from Singapore, you are the first

openly out Chinese singer. How do you reflect

on that and its impact?

I think this gives hope to a lot of lgbt kids

Photo Credit: Lester V

who are in the closet to know that it's okay to

Wils, the first openly gay Chinese singer, be Gay and to be courageous, loving and live

originally from Singapore, had a remarkable truthfully. I want these unrepresented kids

career before he came out as gay this year. to feel loved and belonged in a community.

His hit album, WTF, was named Pop Album I remember being a kid, being so passionate

of the Year, received Best Album nomination about everything that I did. I want these lgbt

at the Los Angeles Music Awards and he was kids and friends to know that it's still possible

named Pop Artist of the Year (male).

for them to achieve their dreams being gay.

Wils' Men's Health Magazine cover earned That nothing will stop them and with the

him the nickname, "Beast of the East." With love from the community, I want to see them

the release of his new album, 'Open Up Babe' flourish. There's still a lot of censorship for

recently, I had the chance to chat with Wils LGBT contents in Asia and this is the time

and discuss his music, being gay and planned we change that through the love of our

'Pride Tour.'

community!

You recently came out publicly with a music As a trailblazer, do you feel the pressure to

video. How was the journey to that point and be a 'role model' for Asian LGBTQIA youth, in

the process of coming out?

and out of the closet?

It was so hard living in the closet. I couldn't No I don't feel the pressure. In fact it was a

be authentic with myself and I think that's one release for me to come out of the closet. I

of the hardest things I've had to go through in know that many people can benefit from my

my life. I wasn't treating myself right because experience, and it puts a smile on my face

I didn't allow myself to be who I am. But every time someone comes up or messages me

coming out has been the most beautiful thing about how it has changed their lives.

in my life. I got to see how beautiful life is I actually feel really happy that I can relate so

when you're about to freely express yourself much to the Asian LGBTQIA youth because

and be genuine in front of those you love. of what I went through growing up in the

There was some backlash from conservatives closet. Being a gay man in an Asian family

in Asia 22 that IF think YOU LIKE being US, gay PLEASE is wrong. LIKE US I had ON FACEBOOK: means DESERTDAILYGUIDEcontinued on page 36
---
While there are Veterans that

charge for help to navigate Veterans

Services, Many of it can be done for

free online or with a state certified

Veterans service officer.

Cal Vets performs these services for

free. calvet.ca.gov

Veterans service officers assist

veterans and their dependents in

applying for disability and death

benefits and government pensions.

They evaluate the medical conditions

of veterans and obtain medical

records from their physicians.

Here s a partial list of services.

California Transition Assistance

Program (CalTAP) is a program

designed to inform and connect

veterans of all eras to their earned

federal and state benefits as well

as provide continued support and

assistance as their needs change

over time.

California Transition Assistance

Program (CalTAP) is a program

designed to inform and connect

veterans of all eras to their earned

federal and state benefits as well

as provide continued support and

assistance as their needs change

over time.

It is important justice-involved

Veterans are familiar with what

happens to VA benefits and benefits

they are receiving, if they become

incarcerated.

The Department of Veterans Affairs

has adopted Sections 460 and

461 of Title 12 of the California

Code of Regulations. These

regulations establish the eligibility

requirements for interment in a

state veterans cemetery.

The Division of Veterans Services

is responsible for administering a

number of special programs, benefits

and services for California veterans

and their families. For personalized

assistance in learning about your

veteran benefits, or for help filing a

claim for Never benefits, Stale! visit The only calvet.ca.gov.

LOCAL Gay Guide For The Palm Springs area THIS WEEK. 23
---
AdamsArtExpose' ART

THE ARTS OF NATIVE AMERICANS

PART I

Archaeological historians have

concluded that the ancestors of

Native Americans were on the

American continent at least 15

thousand years before the arrival

of the Europeans in the 1400's.

The ancestral Native Americans

are believed to have come form

Asia probably through a landmass

that existed at one time as part of

the Bering Straight. These early

people were very industrious and

adaptively creative in providing

shelter, food, weaponry, ceremonial

costumes and application of

the resources available in the

environment where they lived.

The art of the Native American

covers a broad category of

decorative designs and utilitarian

devises that were used for a variety

of daily activities. The artifacts

that have been found dating

back to prehistoric times shows

that ancient people had aesthetic

ability. Examples of this are found

in stone carving and pottery.

Instruments such as arrow heads

carved from stone demonstrated an

understanding of how an arrow or

spear would be used as a hunting

tool based on the sharpened points

and sides of the head. There were

differences in the regional designs

throughout the continent and there

were also similarities showing

that art designs were borrowed

from various areas and brought

to others. Materials used to make

art were also traded and moved

thousands of miles. Shells, jade,

feathers and turquoise were some

of the materials that showed up

in regions where they were not

normally found.

There were similarities found

in regions but the art of Native

Americans is as diverse as the

number of tribes and languages

found in the culture of Native

Americans. The regions of

North American tribes included,

Southwest; Midwest and Great

Plains; Far West, Northeast,

Central South and Southwest.

24 IF YOU LIKE US, PLEASE LIKE US ON FACEBOOK: DESERTDAILYGUIDE

AdamsArtExpose'
---
Eskimo or Inuit and Northwest Coast

are identified as specific areas where

Native American art developed

around regional uniqueness.

The decorative designs of most

Native American tribes cannot be

accurately traced to their origin.

Many came from natural forms,

plants, animals and geological

designs in rocks, etc. Other designs

were originally arrived at with

geometric and linear arrangements.

The next articles on Native American

art will explore regional variations

and applications of their art.

Questions, comments, suggestions,

contact -

adamsartexpose@gmail.com or

adamsartexpose@desertdailyguide.

com

Never Stale! The only LOCAL Gay Guide For The Palm Springs area THIS WEEK. 25
---
Mixer & Food Drive

Monday, August 5th | 4:30 to 7:00 PM

Come and join our special mixer gathering where we are

asking our members to support The Community Food Bank @

The Center currently in need of the following items:

Cereals (All sizes)

Breakfast items (oatmeal, bars)

Nutritional or Protein shakes

Crackers & Chips

Dry beans (1 lbs. bags)

Pasta

Canned meat

Baking products

The Community Food Bank @ The Center is a flagship initiative

that provides nutritional choices, including fresh produce,

baked goods, meat, canned goods, dairy and more to lowincome

Riverside County residents in need of food assistance

Where:

302 East Arenas Road

Palm Springs, CA 92262

26 IF YOU LIKE US, PLEASE LIKE US ON FACEBOOK: DESERTDAILYGUIDE
---
Continued from page 16

BUSINESS DIRECTORY

DID YOU KNOW, Palm Springs is

only 90 minutes to the ocean!

BUSINESS DIRECTORY

LGBT AND LGBT FRIENDLY

RESORTS PALM SPRINGS STYLE

CCBC Resort 760 324-1350 See page 2

68-300 Gay Resort Drive

CCBC is the largest clothing optional Gay

men's resort in Southern California.

Located just a few minutes from downtown

Palm Springs, Our 3.5 acre fantasy

playground is perfect for weekend getaways

and extended stays.

ccbcresorthotel.com

Chaps Inn 760 327-8222 See page 18

Don't stay where the boys are ….. stay

where the men are! Swim in or laze by

the heated salt water pool, enjoy the spa,

cool misting system and steam room! Play

in the outdoor sling or Saint Andrew's

cross. Chaps Inn is a clothing optional 10

room resort owned and operated by two

British transplants and life partners, Stuart

and Ian. chapsinn.com

TRIANGLE INN 760-322-7993

555 E. San Lorenzo Rd

92264 Palm Springs CA

Romantic and relaxing or fun and frisky. At

the Triangle Inn Palm Springs, the choice

is yours. This award-winning, and historic

Palm Springs Resort is a feast for all your

senses, with a special flair for Southern

(California) hospitality. triangle-inn.com

INNdulge 760 327 1408 See page 9.

601 S Grenfall Rd, Palm Springs

Considered one of the best gay hotels

and gay resorts in Palm Springs Located

in the heart of warm sands area and

walking distance to Sunny Dunes gay

bars and shopping and down town.

Amenities include free wifi, daily

continental breakfast, evening social

hour, complimentary local gym access,

air conditioning, on-site guest laundry,

outdoor misters and assistance with

restaurant and activity bookings

inndulge.com

Continued on page 29

Never Stale! The only LOCAL Gay Guide For The Palm Springs area THIS WEEK. 27
---
28 IF YOU LIKE US, PLEASE LIKE US ON FACEBOOK: DESERTDAILYGUIDE
---
Continued from page 27

BUSINESS SERVICES

ATTRACTIONS/ENTERTAINMENT

Cabot's Pueblo Museum 760-329-7610

McCallum Adobe 760-323-8297

Ruddy's General Store Museum 760-327-2156

Indian Canyons 760-323-6018

Palm Springs Aerial Tram 760-325-1449

Palm Springs Air Museum 760-778-6262

Palm Springs Art Museum 760-325-7186

Sunnylands 760-328-2829

Patton Memorial Museum 760-227-3483

Joshua Tree National park 760-367-5500

ADULT BOOK STORE

*Hidden Joy 760 328-1694

ADULT FETISH AND TOYS

*Gear Leather & Fetish 760 322-3363

*Hidden Joy 760 328-1694

ART GALLERY

Sebastian's Gallery Appraisals - Antiques Fine

Art - Estate sales and liquidation

69930 Hwy 111 Rancho Mirage . Nudes | Art

760-202-0582

ATTORNEYS

*Joseph Rhea legal criminal law human rights

760 322-3001

BARBER SHOPS

Tim Piper 760 218 0806

180 E. Andreas at North Palm cyn.

BUSINESS DIRECTORY

CONCRETE

GYMS

*WorkOUT Gym 760 325-4600

GENERAL SERVICES

Patriot Services

LIC General Contactor

Handyman | Flooring | SHOWERS

PLUMBING | ELECTICAL

760-327-9619

Hauling

Red's Hauling. We remove trash and unwanted

items. Garage clean outs. Call Red at

760-288-6956

SHOPPING

LEATHER GEAR TOYS

*Gear Leather and Fetish 760-322-3363

gearleather.com 650 E. Sunny Dunes

Computer Service

CONCIERGE-STYLE COMPUTER

SUPPORT I AM NOT MAC-PHOBIC!

Desktops, laptops, Internet/wireless connectivity,

virus remediation. Catering to locals &

resort/out-of-town guests. Reasonable rates

Call Ed Lefkowitz sunnyDconsulting (760)

483-3115. sunnydconsulting.com

Leather Repair

Off Ramp Leathers 760-778-2798

www.offrampleathers.com New and used

leather and fetish/BSDM gear. Alterations

and repairs from saddle-patching your

well-loved Levis to refurbishing your prized

leathers. Or get measured for a new custom

leather outfit handmade by Paul. Great

Continued on page 30

Never Stale! The only LOCAL Gay Guide For The Palm Springs area THIS WEEK. 29
---
BUSINESS DIRECTORY Continued from page 29

selection of consignment items. 650 E.

Sunny Dunes Rd., Unit 3, Palm Springs,

CA 92264

PAINTERS

MATRIMONY SPIRITUALITY

Bloom In the Desert Ministries

760 327-3802

REAL ESTATE

*Berrington Properties 760 408-4102

TRAVEL

Idyllwild

LIVING FREEANIMAL SANCTUARY

Living Free rescues dogs & cats from public

shelters. We're a no-kill nonprofit - with

spay/neuter, pet adoptions, animal welfare.

Tax-deductable Visitors Welcome! OPEN

DAILY 11:00am to 4:00pm CLOSED

WEDNESDAYS. We are NOT licensed to

take animals from the public and rescue

from local shelters only.

54250 KEEN CAMP ROAD MOUNTAIN

CENTER, CA 92561

Idyllwild Guest House

Escape desert temperatures for cool

breezes. Visit Idyllwild Guest House

for spectacular sunsets and beautiful

mornings. Relaxing private location

with hot tub and clothing optional sundecks.

Idyllwildgayguesthouse.com

Mark Lonsbury 760-406-9699

Idyllwild Attractions

Idyllwild Nature Center The center provides

an array of environmental education

programs, guided tours, and field study

trips. 25225 CA-243, Idyllwild, CA 92549,

Phone: 951-659-3850

Idyllwild Park is a popular park measuring

a little over two hundred acres for hiking

rock and rustic camping.

MOVING HERE?

Gas 800-427-2200

Water 760-323-4971

Electric 800-990-7788

Trash 800-973-3873

Recycling 760-327-1351

Free Trolley Buzz

760 260-8104

30 IF YOU LIKE US, PLEASE LIKE US ON FACEBOOK: DESERTDAILYGUIDE
---
GROUPS/ORG/HELP

LGBT COMMUNITY CENTER OF THE

DESERT 1301 North Palm Canyon, 3rd

Floor PALM SPRINGS, CA 92262

760-416-7790 www.thecenterps.org

AMERICAN CANCER SOCIETY 800-

227-2345

AMVETS: 760-324-5670

BLOOM IN THE DESERT MINISTRIES:

760-327-3802

Coachella Valley Sexual Assault Services

Rape Crisis Center (760) 568-9071

DEMOCRATS OF THE DESERT

desertdemocrats.org

democratsofthedesert@gmail.com

DESERT LEGAL AID: 760-832-9770

DESERT STONEWALL DEMOCRATS:

www.desert-stonewall.org

DESERT WINDS 760 776-2700

FRONTRUNNERS psfr.org

GAY ARTISTS - 760 835-0727

Gay Book Club of PS—write to bookclubofps@yahoo.com

Transgender community transcc.org

PALM SPRINGS GAY MEN'S CHORUS

760-219-2077

PALM SPRINGS LEATHER ORDER OF

THE DESERT 760 272-5553

PALM SPRINGS PRIDE pspride.org

Prime Timers of the Desert 760-424-8014.

NATURIST DAY PASSES

Gay Men CCBC Resort

Family DeAnza Springs Resort Jacumba,

CA, Living Waters, Desert Sun Resort

BUSINESS DIRECTORY

CALL TO ADD YOUR

LISTING TODAY

888 743-3349

SERVICES

Verified June 2019

Got kids? Feed 'em free! Summer meal

programs open to all kids 18 and under

Texting "FOOD" to 877-877 will give you a

nearby location where free meals are available

for children during the summer.

Almuerzo gratis para niños este verano. No

papeles necesarios. Llame 1-877-8-HAM-

BRE

For Cool Center info call: County of Riverside

Community Action Partnership 951-

955-4900 TTY: 951-955-5126

www.capriverside.org or loical City Hall.

ACLU Immigrants' Rights Project 212-549-

2500

The (FCC) reserved the 211 dialing code

for community information and referral

services. Types of Referrals Offered by with

information about and referrals to social

services for every day needs and in times of

crisis.

Never Stale! The only LOCAL Gay Guide For The Palm Springs area THIS WEEK. 31
---
DDG LOCAL CLASSIFIEDS AND MASSAGE

The Deadline for any and all ads (new or changes to current) is 4 PM Friday (Changed) For Publication

THE FOLLOWING WEEK Line ads are 30 words or less.

Classified ADS 30 words or less $15.00 per week FOR A MINIMUM OF THREE WEEKS All ads must

be paid before publication (unless prior arrangements are made). DDG Media Group assumes no

responsibility for the content of ads or for the reliability of our advertisers.

We are open, Monday-Friday, from 10 AM to 4 PM Proofing limited to first run.

NEW DROP off (no cash) address is:1717 E. Vista Chino Drive, A7-480, Palm Springs, CA 92262

Toll Free 888-743-3349 or 760-913-3340 • FAX (844) 800-9700 publisher541@desertdailyguide.com

MASSAGE

4 HAND TANTRIC MASSAGE

EurAsian Team Relaxing Rejuvenating,

Sensual 760-835-0727 [000]

MALE KNEADS

Exceptional, Sensual, Soothing, body work

for men of all ages. Outcalls only. Call

Adam for an extraordinary experience in

innovative erotic relaxation.

760-835-0727 [000]

PALM SPRINGS BLACK MASSEUR

5'4", 130# of lean muscle. Handsome face.

Smooth and athletic. Personal training

available.MC/Visa Accepted.

Michael Cell 562-714-4270 [0109]

EXPERT MASSAGE...TAKE A BREAK FROM LIFE

With a great massage by trained

professional. Massage Therapist offering

therapeutic, restorative and Swedish.

IN/OUT now 845 866 0498 Mark [0808]

MATURE M4M MASSAGE

Full body massage combining deep tissue

with reflexology and stretching. I use a table

with fresh linens, organic oils, lotions, and

soothing soft music. Call or text Tony D.

(760)218-0234 [0801]

Ultimate Relaxing Massage

Experience, a relaxing mix of massage

strokes, to relieve soreness, bring balance,

and release stress

Contact Pablo at 760 219 9157

PROFESSIONALLY TRAINED MASSAGE

THERAPIST

Full body massage to release your stress!

Serene room w/all massage amenities in

my CC home. Spa available. In/Out. Cash/

Credit. 5 yrs. experience. Call/text

Richard: 310-871-7879. [0910]

WELLBEING BODYWORK

Body Electric graduate with 25 years

experience helping men relax body and

mind with caring professional touch. Table

at my studio or your home.

www.Wellbeing-Touch.com 760.205.1567

Tim [0130]

Royal Massage

Body-Work Fit For A King! Mature, goodlooking

man, gifted touch, and sensual

full-body technique, will work you well,

welcoming relaxation and release. In only.

Call and/or text 760-636-9677.

[0605]

New Massage Therapist In Town

Deep tissue, Swedish, Relaxation.

Professionally trained 10+ years exp. Safe

and discrete. Reasonable rates. Call Roberto

253-298-6528. [2}

32 IF YOU LIKE US, PLEASE LIKE US ON FACEBOOK: DESERTDAILYGUIDE
---
SERVICES

Sensual M4M Hair Cut

One on one hair cut and scalp massage,

very private in home studio, centrally

located in R. Mirage near Eisenhower

M.Center. Well equipped with knowledge

and experience.

Inquire via text at 310 904 9195

For Rent/Lease

Beautiful Central Palm Springs ENERGY

EFFICENT - 2BR/1BA Unit. Lovely private

gated 5-Plex, Newly renovated top2bottom,

w/stainless steel kitchen, fresh designer

paint and flooring throughout

Personal stacked washer/dryer. Huge back

patio w/ additional private rear entrance.

Mature, respectful community w/owners

onsite. $1125/monthly

Call Markus 760.902.8604

Trans Tuesdays

Programs and services @ The Center are

made for everyone in our community.

If you're transgender, we've built

programming specifically for you. Every

Tuesday evening, come by The Center for

Trans Tuesdays. Please feel free to wear

what makes you comfortable. NO COST

TO ATTEND.

Schedule and topics listed below:

1st Tuesday - Trans Talk

Open to all Trans/Intersex, significant

others / close family

Jobs

Welder

Adult oriented furniture maker seeking

production welder w/ exp in MIG welding

of steel and galvanized helpful. Email -

info@fetishlocker.com No phone Calls

DDG TO YOUR DOOR IS HERE

SUPPORT FREE PRESS

$69.00 for a limited time.

12 monthly issues

Weekly coupons and exclusive discounts

Another way to support our free listings

events and charities.

FOR SUBSCRIBERS ONLY

desertdailyguide.com

DDG delivered monthly

1717 E Vista Chino A7-480

2nd Tuesday - Peer-Led Support Group

Open to all Trans/Intersex, significant

others / close family

3rd. Tuesday - Trans 2.0

Open to all Trans/Intersex, significant

others / Allies

Speakers and other resources that will deal

with topics of interest to the group

4th. Tuesday - Trans Lounge

Open to all Trans/Intersex, significant

others / Allies

A social time for movies, games, activities

Two groups; MTF and FTM to discuss and celebrations.

issues that are specific to each group thecenterps.org

Never Stale! The only LOCAL Gay Guide For The Palm Springs area THIS WEEK. 33
---
GAYDGETS & THREADS

ADRIAN'S PICKS FOR THE MAN THAT

NEEDS EVERYTHING.

1

3

2

4

34 IF YOU LIKE US, PLEASE LIKE US ON FACEBOOK: DESERTDAILYGUIDE
---
#1 Nendoroid Giorno

Giovanna

$50.00 Goodsmileshop.com

From the anime series "JoJo's Bizarre

Adventure: Golden Wind" comes

a Nendoroid of the charismatic

protagonist with a golden mind,

Giorno Giovanna! The figure is

fully articulated so you can display

him in a wide variety of poses. For

optional parts, he comes with Polpo's

lighter and the cup of tea and saucer

he received from Abbacchio. An

effect part based on his stand, Gold

Experience, is also included. Be sure

to add him to your collection!

#2 Twins

$160.00 camper.com

Part of our TWINS collection, these

men's sneakers are asymmetrically

designed to look a little different.

Weighing in at just 500 grams a

pair thanks to lightweight EVA

technology, these leather sneakers for

men put a modern twist one of the

classic '80s styles.

IMAGE OF THE WEEK.... Where is Adrian? Book of Adrian

#3 TOM OF FINLAND PIN BY

STEPHEN MCDERMOTT

$17.00 tomoffinlandstore.com

COLLECT A CLASSIC TOF

ILLUSTRATION MINIATURIZED

TO FIT RIGHT ON YOUR

LEATHER JACKET. COMBINING

THE LEGENDARY TOM

OF FINLAND, WITH THE

NOTORIOUS GAY PIN CREATOR

STEPHEN MCDERMOTT IN ONE

SMALL, BUT XXL PACKAGE.

#4 Manifest Swimsuit

$42.00 marcuse.com

Lines can be sexy and the Manifest

style by Marcuse just proves it.

Designed to fit your active lifestyle &

to wow anyone you interact with, this

work of swimwear design art

guarantees amazing cosiness and

exceptional looks. The neat front

lined interior & internal drawstring is

enhanced with a stylish contrast

panel on the front and the Marcuse

embroidery logo & side tag.

Adrian travels the globe looking for the coolest trends in fashion and toys.

If you would like to have your product featured in this column send a note

to: adrian@desertdailyguide.com

Never Stale! The only LOCAL Gay Guide For The Palm Springs area THIS WEEK. 35
---
continued from page 22

that we have to carry the weight of our

parents wanting us to get married in order to

pass on our family name. But these days it's

changing. I mean, we can always get children

even as gay man. My dad had a conversation

about wanting me to have a family after I

came out. I told him that it's possible, as a gay

man, to have a family. And to keep the family

name as well. Although that's not something

that's really important for me, I feel that the

bond we have with the ones we love are more

important than a title.

I just feel that as long as I stay truthful and

authentic to be who I am no more and no

less, it'll be so easy to keep up. I think!

silent an artist's soul. It'll only make me shine

brighter with the truth and my lgbt family.

Your new album is titled, 'Open Up Babe.' Tell

me about the tile and the album in general.

Open up babe was a song about opening up

to the world of possibilities. When I lived in

the closet, I held back with so many things

that I believed in because I was fearful about

my sexuality being discovered. Open up babe

represents this loving, authentic and truthful

me, speaking to my fearful younger self that

everything is going to be okay when you trust

your heart in being truthful to who you are.

You have a big female following. What has

their reaction been like since coming out?

I thought I'd no longer get the panties. But

it's really neat because my relationship with

women is so much stronger now, because

they know that I won't be a #metoo but

instead I'll be their advice for whether they

get a green light or red light with the man

they like.

Tell me about your fans in general,

especially when they recognize you in

public.

My fans are super friendly and approachable.

My favorite part is seeing fans come up to me

and giving me hugs in public. It makes me

feel so happy that they show their affection in

a public space. I remember when a fan came

up to me when I was in a gym and gave me

a hug from the back. I returned the hug and

said thank you for being so genuine. And

the response was "it's because you showed

me that this is possible". I fucking bawled my

eyes out immediately. It means the world to

me when fans take this part of goodness and

Your former record label was not thrilled

when you decided to come out. How did that

feel considering that this is not 1980s, and

what did you do about it?

I don't blame them for being upset. I think

it's because they have not dealt with a

situation like this before. It's always better for

them to go the safe route - where there are so

many censorships of LGBT contents in Asia

- and they fear that having an LGBT image

will ruin their reputation. But I things are

changing, and it's about time we allow them

to see what LGBT community is all about. I

was just at the World Pride in NYC with my

best friend this weekend. Seeing millions of

people on the streets celebrating world pride.

I think gay people are the ones who bring

so much happiness in the world. We are the

only community with so much diversity

coming together as one to celebrate. How

beautiful is that. I told them it's okay that

they removed all my social media, that they interact this way in their daily lives.

can 36 try silent IF YOU an artist's LIKE US, voice, PLEASE but LIKE they US can't ON FACEBOOK: vic@thebluntpost.com

DESERTDAILYGUIDE
---
July 3 - 7, 2019 Anime Expo

Los Angeles Convention Center

anime-expo.org

This year, Anime Expo was bigger than ever

and it was not Comic Con. Mostly, there

were not a lot of kids, but adults in serious

playtime. The crowd was big all 4 days with

gamers and cosplayers

I noticed mobile gaming had a huge

presence, luckily most were the ones I play,

like Fate/ Grand Order, Azure Lane, Magia

Record and Honkai Impact 3rd. And the the

cosplay included many of these characters.

PlayerUnknown's Battlegrounds (PUBG) a

game where a battle royal takes place, thier

booth was interesting becasue it looked like

a of kids playing on cell phones.

Next Event Los Angeles Comic Con 2019

Los Angeles Convention Center

Fri. Oct 11, 2019 - Sun. Oct 13, 2019

2019 Comic-Con International: San Diego

Never Stale! The only LOCAL Gay Guide July For 18 The -21 comic-con.org

Palm Springs area THIS WEEK. 37
---
THE LAST WORD

Palm Springs Summer is donation time!

Each week we take a look at different local

and national institutions and charities.

WELL IN THE DESERT

Since 1996, we have led the effort to help

the economically and socially challenged

residents of the Coachella Valley. We have

been at the forefront of nearly every major

service to the poor.

"Your Donation to Well in the Desert means

so much. Please donate today.

— ARLENE ROSENTHAL

The Well in the Desert is a 501c3 non-profit

organization that provides clothing, showers and

a cooling center 7 days a week, plus nutritious hot

meals 5 days a week.

WELL IN THE DESERT

441 S Calle Encilia, Palm Springs, CA 92262

OPEN EVERY DAY

7:30 AM – 6PM (June 15 - October 15)

(760) 285-7297 • (760) 656-8905

To Donate visit wellinthedesert.org

Well in the Desert is a 501(c)3 non-profit, tax id

# 33-0694580. Your contributions & donations

make our work possible. Thank you!

DINE 'N DASH HOT MEAL

SCHEDULE Please arrive no more than 15 minutes

before service. All lunch service is from 11:00

a.m. to 1:00 p.m please verifgy all dates and time

on line.

Monday First Baptist Church

Tuesday United Methodist Church

Wednesday Church of St. Paul in the Desert

Thursday Our Lady of Solitude

Friday Our Lady of Guadalupe

We offer emergency food assistance, weekly

supplemental food distribution and a wide array

of services through advocacy to those affected

by poverty, including the working poor, the

homeless, seniors, veterans, the handicapped and

others in the western end of the Coachella Valley.

We fuel programs for poverty prevention, direct

services for poverty intervention, and execute an

organized effort to advocate for the poor.

38 IF YOU LIKE US, PLEASE LIKE US ON FACEBOOK: DESERTDAILYGUIDE
---
Never Stale! The only LOCAL Gay Guide For The Palm Springs area THIS WEEK. 39
---
40 IF YOU LIKE US, PLEASE LIKE US ON FACEBOOK: DESERTDAILYGUIDE