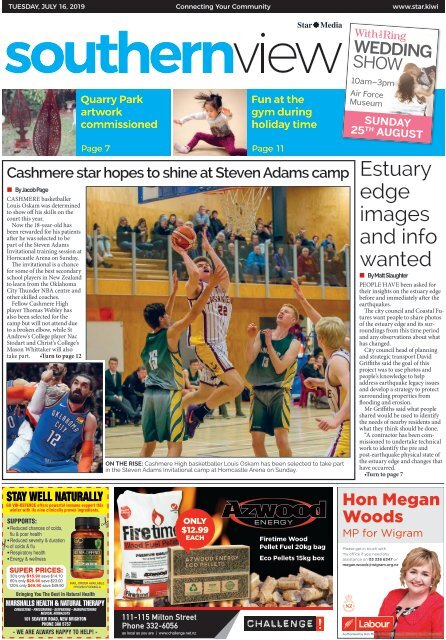 Southern View: July 16, 2019
Create successful ePaper yourself
Turn your PDF publications into a flip-book with our unique Google optimized e-Paper software.
TUESDAY, JULY 16, 2019

Connecting Your Community

www.star.kiwi

wedding

show

10am–3pm

Quarry Park

artwork

commissioned

Fun at the

gym during

holiday time

Air Force

Museum

sundAy

25 th August

• By Jacob Page

CASHMERE basketballer

Louis Oskam was determined

to show off his skills on the

court this year.

Now the 18-year-old has

been rewarded for his patients

after he was selected to be

part of the Steven Adams

Invitational training session at

Horncastle Arena on Sunday.

The invitational is a chance

for some of the best secondary

school players in New Zealand

to learn from the Oklahoma

City Thunder NBA centre and

other skilled coaches.

Fellow Cashmere High

player Thomas Webley has

also been selected for the

camp but will not attend due

to a broken elbow, while St

Andrew's College player Nac

Stodart and Christ's College's

Mason Whittaker will also

take part. •Turn to page 12

Page 7

Page 11

Cashmere star hopes to shine at Steven Adams camp

ON THE RISE: Cashmere High basketballer Louis Oskam has been selected to take part

in the Steven Adams Invitational camp at Horncastle Arena on Sunday.

Estuary

edge

images

and info

wanted

• By Matt Slaughter

PEOPLE HAVE been asked for

their insights on the estuary edge

before and immediately after the

earthquakes.

The city council and Coastal Futures

want people to share photos

of the estuary edge and its surroundings

from this time period

and any observations about what

has changed.

City council head of planning

and strategic transport David

Griffiths said the goal of this

project was to use photos and

people's knowledge to help

address earthquake legacy issues

and develop a strategy to protect

surrounding properties from

flooding and erosion.

Mr Griffiths said what people

shared would be used to identify

the needs of nearby residents and

what they think should be done.

"A contractor has been commissioned

to undertake technical

work to identify the pre and

post-earthquake physical state of

the estuary edge and changes that

have occurred.

•Turn to page 7

STAY WELL NATURALLY

GO VIR-DEFENCE offers powerful immune support this

winter with its nine clinically proven ingredients.

SuppORtS:

•Reduced•chances•of•colds,•

•

flu•&•poor•health

•Reduced•severity•&•duration•

•

of•colds•&•flu

•Respiratory•health

•

•Energy•&•wellness

•

SUPER PRICES:

30's only $15.90 save $14.10

60's only $26.90 save $23.00

120's only $49.90 save $49.90

MAIL ORDER AVAILABLE

PROVEN FORMULA

Bringing You The Best In Natural Health

MARSHALLS HEALTH & NATURAL THERAPY

CONSULTING - PRESCRIBING - DISPENSING - MANUFACTURING

MEDICAL HERBALISTS

101 seaVIeW roaD, NeW BrIGHToN

pHoNe 388 5757

- We are alWaYs HappY To Help! -

ONLY

$12.99

Each

111-115 Milton Street

Phone 332-6056

as local as you are | www.challenge.net.nz

Firetime Wood

Pellet Fuel 20kg bag

Eco Pellets 15kg box

Please get in touch with

my office if you need any

assistance on 03 338 6347 or

megan.woods@wigram.org.nz

Authorised by Hon Megan Woods, Shop 6, McCathy St, Christchurch
---
2 Tuesday July 16 2019

Latest Christchurch news at www.star.kiwi

get in touch

from the editor's desk

CASHMERE HIGH School basketballer

Louis Oskam will be in his element this

weekend (see page 1).

The promising power forward has been

chosen for the Steven Adams Invitational

training session at Horncastle Arena

on Sunday. It's just reward after he was ruled out of Adams'

training session last year because of injury.

That injury also kept him out of Cashmere High's national

secondary school championship campaign. Injury too has

struck another Cashmere High player, Thomas Webley. He has a

broken elbow, ruling him out of Adams' training session.

Adams' visit is potentially a once in a lifetime chance for

promising young basketballers to learn from the Oklahoma

City Thunder centre. But if only Adams would make himself

available for the Tall Blacks!

– Barry Clarke

GENERAL INQUIRIES Ph 379 7100

CLASSIFIED ADVERTISING Ph 379 1100

Star Media, a division of Allied Press Ltd

PO box 1467, Christchurch

starmedia.kiwi

your local views

Meeting for landlords

Morris & Co Property Management's Katrina Green covers off

the new healthy homes legislation.

Page 8

community events

Paint a rock

Express your artistic side at Emotion Rocks at the Linwood

Library on Thursday from 5-6.30pm.

Page 15

Tasty bites

SOUTHERN VIEW

Gluten and dairy-free treats

Are you intolerant to gluten and dairy but love a sweet treat?

Here are two straightforward and simple options.

NEWS

Georgia O'Connor-Harding

Ph: 364 7438

georgia.oconnor@starmedia.kiwi

ADVERTISING

Mark Sinclair

Ph: 364 7461

mark.sinclair@starmedia.kiwi

Page 17

The best-read local newspaper, delivered to

15,826 homes every Tuesday

Spreydon, Hoon Hay, Hillmorton, Cracroft, Cashmere,

St Martins, Somerfield, Sydenham, Addington, Waltham,

Opawa, Beckenham, Huntsbury, Woolston.

School's not

studywithus.co.nz

for everyone!

Is school not working for your teen?

GAIN

NCEA

CREDITS

TXT

'STUDY' TO:

027 557 8839

career

Ultimate

Security

digital media

decider

& forces

prep

Business Admin

Early Childhood

Web Development

Software Design

ENROL

NOW!

50 Hazeldean Road, Addington

0800 834 834 www.studywithus.co.nz

*conditions apply
---
SOUTHERN VIEW Latest Christchurch news at www.star.kiwi

Tuesday July 16 2019 3

News

Almost $2000 raised in walking fundraiser

• By Jess Gibson

NINE-YEAR-OLD Olive

Harris of Lyttelton will go to

great lengths to help those in

need.

The year 5 St Mark's student

came up with the idea to walk

up to 10km to fundraise for

children in Uganda who do the

same on an empty stomach every

day.

Walk With a Purpose saw

more than 70 of Olive's fellow

pupils and their parents get

behind the school's first official

fundraiser last month.

Almost $2000 which was

raised in cash and through a

givealittle page will be donated

to Fountain of Peace Children's

Foundation NZ.

The money will go towards

keeping 501 children fed at

Rwenjaza Hillside School in

Uganda.

Olive said she was "really

proud" that so many of her

friends were willing to get on

board.

Families woke up as early as

5.30am to walk from locations

like Mt Pleasant, Halswell and

Cashmere into Opawa in time

for school.

It was Olive's second year

walking the Stan Helms track

over the Port Hills with her dad,

Tim Harris, and this year she

SUPPORT: One group of pupils from St Mark's School woke up early and walked up to 10km to

school on June 28 from areas such as Lyttelton, Mt Pleasant and Cashmere.

was joined by her five-year-old

brother, Jake Harris, who is in

year 1.

Last year, Olive and her father

did the walk on their own and

raised more than $500 through

sponsorship which was donated

to WaterAid projects.

Volunteer co-ordinator of

Fountain of Peace, Tania Sharr,

is the mother of two pupils at St

Mark's and helped to organise

the fundraiser with Olive and

her mum, Lottie Harris.

Mrs Sharr said she was blown

away by the school's response.

"I get quite tearful thinking

about it. It really makes you

realise that the world is a big

community. Even though the

students in Uganda are a long

way away it means a lot to them,"

she said.

Fountain of Peace was

established in New Zealand in

2012.

Its aim is to create familybased

homes for orphaned

and abandoned children

in rural Uganda, as well as

working to provide clean water,

education, health care and

sustainable projects for the whole

community.

•If you wish to donate to

Walk With a Purpose visit:

https://givealittle.co.nz/

cause/saint-marks-walkwith-purpose

BIG WALK: Tim, Olive and

Jake Harris with teacher

Emily Wells who joined the

Lyttelton family for part of

a 10km walk which raised

funds for children in Uganda.

Local

News

Now

In Brief

Fire rages, homes at risk

HALSWELL RD PARKING

Vehicles parking on yellow

lines is obstructing the views

of residents using the refuge

island on Halswell Rd outside

the Te Hapua: Halswell Centre.

Halswell resident Anthony

Brooks addressed his concerns

at the Halswell-Hornby-

Riccarton Community Board

on Tuesday. Mr Brooks wanting

the city council to remove one

car park outside the centre

and install a loading zone. The

issue has been passed on to city

council staff for consideration

and a response will come back

to the board.

CHLORINATION DELAYS

Unexpected delays to the city

council's well heads upgrade

programme means Hornby

and Wigram will still receive

chlorine-treated drinking

water beyond this month. The

city council had previously

expected to end chlorine

treatment across the city by

end of July. Unexpected delays

include remedying issues

with land contamination

and stability around some

well heads. The city council

is still planning to have the

chlorination completely

removed by the end of

September.

Discover Christchurch's

best pet

accommodation

• Daycare - all breeds

• Long stay/short stay

Call now to

book in your

fur baby,

inspections

welcome

anytime!

ALAMEDA

The revolution

in heat pumps

is here now!

KENNELS & CATTERY

271 Dyers Road | Ph 384 1297

www.alameda.nz

The Fujitsu e3series

The brilliant

heat pumps from Fujitsu

e1 : efficiency

e2 : environment

e3 : economy

BRIGGS

AUTO SERVICE

LET US

SERVICE yOUR

VEhICLE And

REdUCE yOUR

RUnnInG

COSTS

your local trusted automotive

service and repair specialists

332-0140 | 242 Barrington Street

Kerry Briggs | Blair Shewan

The revolution in heat pumps is here now!

The brilliant e3 series

heat pumps from Fujitsu

e1 : efficiency

e2 : environment

e3 : economy

Do you

NEED functional

but really

WANT

flattering?

Chlorine resistant doesn't need to be plain

and unflattering.

Starfish Swimwear have beautiful styles

available in long life endurance fabrics.

Suits that you can wear to Aquafit and

will also look great on your holiday.

So there is no need to purchase two

suits when one will do both.

Call in and see us, we have all the

information and can help you make the

choice that's right for your needs.

We are open Tuesday to Friday from

9am-5pm and also Saturdays from 10am-1pm.

Website: www.pshc.co.nz

Finance available

FREE consultation from your local

Accredited Heat Pump Expert

Phone today: 03 381 6950

INSERT DEALER DETAILS HERE

Fujitsu's Catechin Filters are

approved by the Asthma and

Respiratory Foundation NZ's

Sensitive Choice ® programme.

Email: info@pshc.co.nz

239 Colombo Street | 379 0009
---
4 Tuesday July 16 2019

Latest Christchurch news at www.star.kiwi

News

SOUTHERN VIEW

Southworth to

stand in south seat

• By Jess Gibson

A FOURTH candidate

will contest Environment

Canterbury's Owhanga – South

seat.

Geologist Vicky Southworth,

of Sumner, has announced

she will stand for a seat which

covers Canterbury's bays, inlets

and harbours in October's local

body elections.

Mrs Southworth will be

standing as an independent

against Labour-aligned People's

Choice candidate's James Dann

and Phil Clearwater and one

other independent, Hamish

Keown.

Mrs Southworth has a Master

of Water Resource Management

from Canterbury University

which ties into 15 years of

scientific and planning skills

experience.

She is trained as a geologist

and has regularly helped and

lead restoration planting and

maintenance projects like

Sumner School's planting day

at Sumnervale Reserve on

June 22.

Vicky Southworth

As a community

representative on the

Canterbury water management

strategy regional committee,

she has been involved in the

complex issue of freshwater

management.

"I've seen how ECan works

and have got a good sense of

what's working and what isn't,

at least in the water space," Mrs

Southworth said.

Within the boundary that

the south seat covers, Mrs

Southworth wants to see habitat

expansion in the Port Hills and

Banks Peninsula.

"Linking up the bits we

have so that species can migrate

and repopulate areas is an

efficient way to build resilience.

Akaroa has a reintroduced tui

population that's doing well

now," she said.

She would also like to

work more closely with

central Government to e

xplore options for planting

native trees as climate change

mitigation, which could bring in

revenue.

"I like to talk to people, listen

and then mull over what I hear,''

she said.

•To stay up to date with

Mrs Southworth's campaign,

visit the Facebook page @

VickyforEcanChchSouth.

Community board member

could put hand up for council

• By Georgia O'Connor-Harding

MORE NAMES are beginning

to emerge in the race for the city

council Riccarton Ward October

local body elections.

Halswell-Hornby-Riccarton

Community Board member

Debbie Mora is considering putting

her name forward to contest

against Catherine Chu and Peter

Laloli in Riccarton.

"That fact Vicki Buck has

stood down has opened up that

opportunity in Riccarton but I

am also weighing up Halswell,"

she said.

Ms Mora is planning to make

a decision over the next coming

weeks.

Her reason for considering the

city council was because she did

not feel she could make a huge

difference on the community

board.

"You want to be making decisions

for the whole of the city,"

Ms Mora said.

If she runs for the city council,

her goal will be to not only cap

rates but lower them by "nipping

in the bud" excess expenditure.

"We want to repair our city but

not at the cost of it being goldplated."

Ms Mora is also concerned

Debbie Mora

cycleways are taking away far too

many car parks and businesses

and wants to ensure the city's

water supply is not chlorinated.

Although, Ms Mora was

elected as a board member

under the Halswell Ward in the

2016 elections with 3414 votes,

she said she has been making

decisions not only for Halswell,

but the Hornby and Riccarton

Wards for the last six years.

In 2013, she was elected to

represent all three wards before

the representation boundaries

changed in 2016.

COPPER RIDGE

OffERs COMMUNIty AND LIfEstyLE IN HALsWELL

stAGEs 1 AND 2 ARE NEARLy sOLD OUt, stAGE 3 jUst RELEAsED.

tItLEs HAvE BEEN IssUED, AND CONstRUCtION HAs stARtED.

family friendly community right

across the brand new Knights stream

school (years 1-8), bike track, skate

park, green fields.

www.generation.co.nz/christchurch

MAKING BUILDING easy

Like us on Facebook: Generation Homes Christchurch
---
SOUTHERN VIEW Latest Christchurch news at www.star.kiwi

5

Kyle Park could be safely built on – report

• By Georgia O'Connor-Harding

"WE EITHER say now yes let's

go ahead and finally get this

Hornby facility up and running

or, for some amazing reason,

stuff around even further

and that in my view would be

completely unforgivable".

That was

Vicki Buck's

final argument

in supporting

the

reclassifying

part of Kyle

Park to allow

the Hornby

Vicki Buck

Mike Mora

Library,

Service Centre

and South

West Pool to

be built.

The

Halswell-

Hornby-

Riccarton

Community

Board gave

the final approval

for the

reclassification and changes to

the Kyle Park Management Plan

1993 last night.

It was after a hearings panel

led by Papanui-Innes Community

Board deputy chairwoman

Emma Norrish made a recommendation

for the changes to

go ahead after considering 181

submissions.

Concerns had been raised in

the past due to Kyle Park being

a former landfill which closed in

1981.

At the meeting, Ms Buck argued

a geotechnical and ground

assessment report by Tonkin +

Taylor on Kyle Park outweighed

elected members, given ground

security and land stability is

what they do every day.

The report confirmed Kyle

Park could be safely and successfully

built on.

"When we started this six

years ago, Linwood Pool was

behind Hornby. Linwood is

now designed and ready to start

building and those kids are going

to get a pool."

Board chairman Mike Mora,

deputy chairwoman Helen

Broughton, city councillors

Anne Galloway, Jimmy Chen,

Vicki Buck, board members

Catherine Chu and Natalie

Bryden voted in support.

But the decision didn't go

ACTION: The

Halswell-

Hornby-

Riccarton

Community

Board has

approved

reclassifying

part of Kyle Park

to allow the

Hornby Library,

Service Centre

and South

West Pool to go

ahead. ​

Tuesday July 16 2019

Local

News

Now

Fire rages, homes at risk

through without meeting opposition

from some, with Ross

McFarlane and Debbie Mora

voting against the changes.

Ms Mora said she is passionate

about getting a pool in the

south-west and she would have

no qualms if the facility was not

being built on a landfill.

Last night she read out a

statement made by a former

project manager for the

Hornby facility at a city

council meeting on the facility

in August 2017.

At the time he said: "No matter

how much site investigation

we completed we'd never know

all the risks, that's the reality

. . . we do see people building on

landfill, it's definitely possible

but it definitely offers a high-risk

proposition to the council."

Ms Mora said she was also

concerned the Tonkin + Taylor

report did not cover the effects of

landfill leachate.

She said she has since had

her concerns "reasonably

satisfied" following a seminar

with city council staff after the

meeting, but could not comment

further due to it being publiclyexcluded.

Mr McFarlane also voted

against the changes.

"No other sites we have built

something on is on 11 metres of

rubbish, that is the risk we take,"

he said.

Board member Catherine Chu

said the decision on using Kyle

Park for the facility had already

been made and the issue at hand

was the reclassification.

"Let's just focus on getting the

facility to the people of Hornby

because they have been waiting a

long, long time."

In the coming weeks, the

city council will be asking the

community to share their ideas

on the planned facility.

It is our pleasure to invite you to our...

Landlord Information Breakfast

"Navigating the rapidly changing legislation"

This week's

Join the Ray White Morris & Co Property Management Team for breakfast and find

out what your new obligations are as a landlord, and what the upcoming Healthy

Homes Act means for you.

Cost $29 for a full buffet breakfast, tea and coffee.

Wednesday 24 July 2019 | 7.00am - 8.30am (speakers start 7.15am)

At The Poppy Room, Christchurch RSA, 74 Armagh Street, Christchurch

Please RSVP at https://canterburypm.co.nz/events/landlords

We would love to see you there!

We are local experts with

Canterbury-wide knowledge

providing professional Property

Management services with a

personal approach

Ray White Morris & Co Property Management Limited

03 331 6755 morrispm.nz@raywhite.com

canterburypm.co.nz

Want to be

elected?

• Local Council

• Community Board

• Ecan

• CDHB

Star Media can help you.

Talk to us today about your campaign.

imagination station

Monday 15th July to Saturday 20th July, 10am - 4pm

Build whatever you want - a car, a plane, a flower...

wherever your imagination takes you!

Contact: Mark Sinclair

03 364 7461

021 913 566

mark.sinclair@starmedia.kiwi
---
6 Tuesday July 16 2019

Latest Christchurch news at www.star.kiwi

SOUTHERN VIEW

Thank you for

helping your

Fall Zones

community

To all of you who have had your

trees trimmed before they became

a problem, thank you for keeping all

the families in your community warm,

happy, healthy and connected.

You can be proud of the fact that you have allowed your

neighbours to stay warm, cook dinner and even charge

their mobile phones. You may not have realised that what

you've done has had much impact, but from all of us here

at Orion, we just want to say thank you.

Notice and Growth limit zones

B

A

Power line voltage A. Growth limit zone B. Notice zone

66,000 volts 4.0m 5.0m

33,000 volts 2.5m 3.5m

11,000 volts 1.6m 2.6m

400/230 volts 0.5m 1.5m

We're not exaggerating.

On our network, 10-20% of all unplanned power outages are

caused by trees — including vegetation — coming into contact

with power lines. Other than this, fire damage to property from

branches sparking in dry conditions and serious injury from

electrocution from contact with trees touching power lines are

also possible consequences of not maintaining your trees.

How close is too close?

While most damage is caused by trees falling on power lines,

significant risk exists from trees merely touching them. This risk

increases the higher the voltage of the power line.

The minimum distances that must be maintained between trees

and power lines, as defined in the Electricity (Hazards from

Trees) Regulations 2003, are outlined in the diagrams above.

All vegetation should be kept out of the growth limit zone and

preferably the notice zone.

Sometimes it may not be practical to have a tree trimmed at the

rate at which it grows and unfortunately, this means it may need

to be removed. Other situations may require trees to be removed,

most commonly when they are at a high risk of falling due to

disease or adverse weather events.

Where do I start?

Before you begin, remember to keep yourself, and those around

you, safe. We recognise that not everyone is experienced in tree

trimming and are happy to advise you on what to do. We can arrange

for trees near power lines to be trimmed at your expense, however

we recommend you hire professionals to safely carry out the work.

If you or someone working for you intends to work within four

metres of power lines, a close approach consent is required from

Orion before you start. As a tree owner, you may be liable for any

damage caused by carrying out trimming or felling of trees.

Will I be fined if I don't comply?

If a cut or trim notice is given to you and you fail to have the tree

trimmed and/or advise us of the time and location of the trim

without a reasonable excuse, this is an offence. This will make you

liable for a fine not exceeding $10,000. If the offence continues,

you will be liable for a further fine of not more than $500 for every

day or part day during which the offence continues.

More info can be found on our website and if

you have any questions or notice any trees

touching power lines in your area, please call

us on 03 363 9898 or 0800 363 9898.

oriongroup.co.nz

Orion New Zealand owns and operates the electricity distribution

network in central Canterbury between the Waimakariri and Rakaia

rivers and from Canterbury coast to Arthur's Pass.
---
SOUTHERN VIEW Latest Christchurch news at www.star.kiwi

Tuesday July 16 2019 7

News

THE Christchurch Adelaide

Sister City Committee has

secured sufficient funding

to commission replacement

artwork of The Spheres at the

Adelaide Sister City Garden at

Halswell Quarry Park.

In April 2015, the original

artwork by Adelaide artist Karen

Genoff was stolen leaving just

stone plinths behind.

About $30,000 has been secured

for the project.

The new artwork by Genoff

will include two Kauna Wailyu

Corten steel leafs uprights

and grit etched Adelaide Hills

granite.

They are planned to be unveiled

the week of November 18.

The committee will arrange

for Genoff and Aboriginal

Kaurna Elder Lewis O'Brien to

attend the ceremony.

Local

News

Now

Artwork for Halswell Quarry Park commissioned

Fire rages, homes at risk

GONE: The Spheres stolen in

April 2015.

INSPIRATION:

New artwork to be

installed in Halswell

Quarry Park will

feature a Kauna

Wailyu Corten steel

"leaf" and "tree".

Adelaide artist

Karen Genoff with

Aboriginal Kaurna

Elder Lewis O'Brien

plan to attend the

unveiling in

mid-November.

Information wanted so that estuary changes can be addressed

•From page 1

"Drone footage being commissioned

by ECan is being shared with

the council to inform this work.

Community members have been

asked to provide any photographs

they have of the estuary edge that

might support this analysis of

earthquake-generated change."

Southshore Residents Association

chairwoman Lynda Burdekin said

much of the infrastructure

in place to protect

properties closest to the

estuary edge from erosion

had been wiped out due to

the earthquakes.

Very little had been

done since to replace this

infrastructure, Mrs Burdekin

said.

She was pleased the city

council was finally working

with residents to establish the

best way to protect their properties

in the future, but felt this had taken

too long to happen.

"It's the first time in nearly eight

David

Griffiths

years the council have agreed that

there is an issue and it needs to be

looked at."

Mrs Burdekin hoped the city

council would listen to people's

input and the amount of protection

around the estuary edge would

return to pre-earthquake levels.

"We're interested in having things

back to where they were because

that's not really been looked at in all

these years, but also with an eye

to the future, what we can do

practically and sensibly to ensure

that people in Southshore

can live in their homes safely

for a decent length of time," she

said.

The photos and information

collected during this project

will be reported back to the city

council in August.

Mr Griffiths said this was

part of the city council's new role

leading the Southshore and South

New Brighton regeneration strategy,

which it took over from Regenerate

Christchurch in May.

FUTURE PROTECTION: The city council want photos of the estuary edge before and

just after the earthquakes and residents' insights on what has changed to help the

surrounding area prepare for the future.

Turn Key House and Land Package

Lot 21 Country Palms Drive, Halswell | $525,500

3 bedrooms | 2 bathrooms | 2 toilets | 1 living room | 1 car-garage | 1 off-street park | Listing Number: BE193331

A great opportunity to have a brand-new home with all the details

taken care of. Just move in when the home is finished and enjoy.

Built by Golden Homes you can be assured of a quality build

with the security of steel framing. This home will be finished

with drapes and soft landscaping. No last minute unplanned for

expenses - this is truly a turnkey build.

Three double bedrooms, 2 bathrooms and a generous open plan

living create an ideal family home, along with the internal access

single garage. Located in the popular Country Palms estate, just

minutes away from the shops at Halswell and close to the medical

centre at Longhurst. You are also only a few minutes away from

Halswell School and Seven Oaks School.

Call me now - homes such as these are in high demand!

Suffering from Heel Pain?

We can help

Your agent, Your home, Your future

LICENSED SALES CONSULTANT REAA 2008

P 027 777 0411

RICCARTON

37 Main South Road

REDCLIFFS

2 Augusta Street

MARSHLANDS

427 Marshland Road

DARFIELD

Darfield Pharmacy

PH 348 7910 | www.feetfirst.co.nz

Now servicing

OXFORD
---
8 Tuesday July 16 2019

Latest Christchurch news at www.star.kiwi

Your Local Views

Landlords – know your obligations

Operations

manager

at Morris &

Co Property

Management

Katrina Green

writes about

the new

Healthy Homes Standard

legislation

AS PART of a commitment to

providing Canterbury landlords

with the correct information,

Ray White Morris & Co Property

Management is hosting a landlord

information breakfast, designed

to educate landlords on their

obligations, and dispel any myths.

(See details below).

I was surprised that overall

landlords really do not

understand what their obligations

are, or what the time lines are.

There is a lot of misinformation

out there including what heating

will be acceptable and where it is

required, right down to people

thinking that they are required

to double glaze their rental

property.

We want to ensure that

landlords make well informed

decisions, and certainly don't

panic and decide to get out of

investment property ownership.

The repercussions of this will

likely be a shortage of properties

throughout New Zealand and

make it difficult for tenants to find

affordable good quality homes.

The Healthy Homes Standards

came into effect from July 1

this year and include five key

components – ventilation,

heating, drafts, drainage and

insulation.

While a lot of landlords will

know the basics, what they may

not know is that as yet we have

not been furnished with all of the

details.

So, while I certainly

recommend planning for

upgrades, it is equally important

to ensure you have the correct

information before you begin

hot

ULEBs are

Metro Ultra Insert

Pyroclassic Mini

and Pyro IV

Woodsman

Serene

Metro

Ultra

spending any money.

Another factor to consider is

time frames. There are several

differing time lines we are

working from, and these started

from July 1 with all new tenancy

agreements now needing to

include a statement of intent.

•The event, which is being

held at the Christchurch RSA in

Armagh St, at 7am on July 24 is

free although there is a cost of $29

per person which covers their full

buffet breakfast, tea and coffee.

•For more information and

to register please log in at

https://canterburypm.co.nz/

events/landlords

METRO ULTRA

INSERT

Fits existing masonry

fireplace and chimney.

NEW

Should board seminars

be open to the public?

Linwood-

Central-

Heathcote

Community

Board

member

Darrell

Latham

argues the public should

not be excluded from

regular board seminars

WOULD AN outbreak of

democracy be a good thing

and should we allow greater

accessibility to our Linwood-

Central-Heathcote Community

Board seminars? My answer is a

resounding yes.

At a recent board meeting,

I raised this issue and sought

clarification as to why the

public was unable to attend our

regular seminars. Basically,

these seminars are persona non

grata, public excluded events.

I was advised that the public

could attend seminars when

it was deemed appropriate.

However, a comment was

made that public attendance

at board seminars could stifle

discussion.

This is a viewpoint which I

reject. We are elected members

and it is our job to ask the hard

SOUTHERN VIEW

questions of city council staff

and others on behalf of our

ratepayers.

At seminar briefings, staff

and specialists update elected

members on matters. Board

members then vote at publicly

accessible community board

meetings usually after the

serious discussion has already

been held at public excluded

seminars.

Most of our seminars are

suitable for public attendance.

Very few deal with sensitive or

private information.

Closed seminars take matters

of local importance out of the

public arena.

The opportunity to attend

seminar briefings would

allow the public to hear the

discussions and to be better

informed.

Residents have clearly stated

in their survey review of city

council services they would like

to see more involvement earlier

on to help them understand

why and how decisions are

made.

There have been far too many

meetings held behind closed

doors, which means the public

don't get to hear the input into

issues.

When the latest Ultra Low Emission Burners

are here, Simply Heat will have them.

PYROCLASSIC MINI

AND PYRO IV

Inside colour: flame red

Exterior colours: 200+

WOODSMAN

SERENE

Latest in the range.

NEW

METRO FITS FINE

right where any old

woodburner did.

95 Byron Street, Sydenham,

opposite Clip 'N Climb

Call today 03 365 3685

www.simplyheat.co.nz

facebook.com/simplyheat

GASSON ST

MOORHOUSE AVE

CARLYLE ST

BYRON ST

BRISBANE ST

WALTHAM RD OVERBRIDGE
---
SOUTHERN VIEW Latest Christchurch news at www.star.kiwi

Tuesday July 16 2019 9

Where the

best deals

Q Card Finance Now Available

FREE no obligation measure & quote (conditions apply)

are done

Washington

• 22oz Polyester

• Cut pile

• 3 great colours

liMited

tiMe

only

Newport

• Commercial Solution Dyed Nylon

• Loop pile carpet

• 5 colours

now

half

price

$55.00 per blM $65.00 per blM

Grange Fell

• 50 oz Solution Dyed Nylon

• Extra Heavy Duty

• 5 Colours

Riviera

WAS $139.90 WAS $85.00

• 26oz solution dyed nylon

• Cut pile

• Extra heavy duty

• 7 colours

liMited

stock!

now $119.90 per blM

now $75.00 per M

Windsor Twist

• 36oz Solution Dyed Nylon

• Extra Heavy Duty

• 11 Colours

WAS $119.90

now $109.90 per blM

Vinyls

• 2m & 3m wide

2M wide froM $49.90lM

3M wide froM $50.00lM

before

garage carpet

6M by 6M

fully installed

$850

fully

installed

after

312 Wilsons Road North, Waltham Phone 366 0070

Mon to Fri 8am-5pm and Sat 10am-1pm

Check out our website! www.carpetkingdom.co.nz
---
10 Tuesday July 16 2019

Latest Christchurch news at www.star.kiwi

SOUTHERN VIEW

GREAT WINTER

READS INSTORE

NOW!

NEW RELEASES

GREAT READS INSTORE NOW

Many a Close Run Thing

by Tom enright

A New Zealand squadron leader, flying-boat captain and airliner pilot

on a life of aerial adventure Planes were rarely seen above the small

Central Otago sheep-farming town of Ranfurly in the 1940s. Yet as a

young boy, Tom Enright had a fascination with the skies that quickly

developed into a longing to become a pilot. He joined the RNZAF as

an engineer in 1951, and was sent to England at just 16 to attend the

revered Royal Air Force college in Cranwell.

Returning to New Zealand to join the Vampire fighter squadron in

Ohakea, Tom became a famed member of the RNZAF aerobatic team.

Later he became a flying commander at Wigram air base, before

captaining a Sunderland flying boat to isolated communities in the vast

South Pacific, often to the upper limits of the plane's endurance.

From the near-catastrophic opening of Wellington airport to flying

Boeing 747s into the world's biggest airports, this is Tom Enright's

story of the mishaps, misadventures and high-altitude drama of a

45-year flying career.

Into the Raging Sea

Thirty-Three Mariners, One Megastorm, and

the Sinking of el Faro by rachel Slade

On October 1, 2015, Hurricane Joaquin barreled into the Bermuda

Triangle and swallowed the container ship El Faro whole, resulting

in the worst American shipping disaster in thirty-five years. No one

could fathom how a vessel equipped with satellite communications, a

sophisticated navigation system, and cutting-edge weather forecasting

could suddenly vanish—until now.

Relying on hundreds of exclusive interviews with family members

and maritime experts, as well as the words of the crew members

themselves—whose conversations were captured by the ship's data

recorder—journalist Rachel Slade unravels the mystery of the sinking

of El Faro. As she recounts the final twenty-four hours onboard, Slade

vividly depicts the officers' anguish and fear as they struggled to carry

out Captain Michael Davidson's increasingly bizarre commands, which,

they knew, would steer them straight into the eye of the storm. Slade

also reveals the truth about modern shipping—a cut-throat industry

plagued by razor-thin profits and ever more violent hurricanes

fueled by global warming.

Surfing - Water is Freedom

by Anthony Pancia, russell Ord

(Photographer)

Russell Ord's spectacular images have won him worldwide

recognition, and deservedly so. Based in Western Australia,

Russell is renowned for his awesome images of super-thick

empty peaks and heavy sessions at reefs like The Box and The

Right. You can pick up any surf magazine in the country and find

Russell's work on the front and back covers, and filling out entire

spreads and the pages in-between.

In 'Surfing: Water is Freedom', Russell teams with noted local

writer Anthony Pancia to tell the story 'behind the waves' … the

people who surf them, those who make their livelihoods from them, and who follow the culture with a passion. It is

an extraordinary book for the new millennium. And Anthony Pancia's words bring the images to life with wonderful

stories of passion and adventure.

Russell Ord's photography stands alone. Nobody else in the world swims in the heaviest slab waves in the world,

putting life, limb and limb on the line to capture such dramatic and fantastically composed photos. 'It's more than

just moments in time,' Ord says, 'It's about the connection with people and the environment, creating content that

reflects this very essence'

Factfulness

Ten reasons We're Wrong About The World -

And Why Things Are Better Than you Think

by Hans rosling

This book is my last battle in my life-long mission to fight devastating

ignorance, and my final attempt at making an impact on the world. It

has been my daily inspiration and joy. In my previous battles I armed

myself with huge data sets, beautiful software, an energetic lecturing

style and a Swedish bayonet for sword swallowing. It wasn't enough.

But I hope that this book will be.When you ask people simple questions

about global trends, they systematically get the answers wrong. How

many young women go to school? What's the average life expectancy

across the world? What will the global population will be in 2050?

Do the majority of people live in rich or poor countries? In Factfulness,

Hans Rosling and his two lifelong collaborators, Ola Rosling and Anna

Rosling-Rönnlund, show why this happens. Based on a lifetime's

work promoting a fact-based worldview, they reveal the ten dramatic

instincts, and the key preconceptions, that lead to us consistently

misunderstanding how the world really works. Inspiring and revelatory,

Factfulness is a book of stories by a late legend, for anyone who wants

to really understand the world.

great range of

titles instore!

1005 Ferry rd

Ph 384 2063

while stocks last (see instore for terms and conditions)

Barry & kerry
---
SOUTHERN VIEW Latest Christchurch news at www.star.kiwi

Tuesday July 16 2019 11

SWING AND DANCE: Riccarton 10-year-old Mila Lim (left)

tries out the bars at the Olympia Gymnastic Sports school

holiday programme in Hornby, while Wigram's Vincy Jin, 5,

bounces on the foam mat.

Getting kids into

the gym early

CHILDREN HAVE been

putting their best foot forward

at a popular gymnastics

school holiday programme.

Olympia Gymnastics

Sports had 240 children enrol

in its programme, which

began last week and runs

until Friday.

It is running two

programmes – one with

KidsFest and its own in-house

programme.

Children aged between five

and 12 had the opportunity

to try out a full range of

gym equipment, including

trampolines, a vault, the

beam, bars, rhythmic

equipment and a sprung floor.

Villa choir to sing

on national stage

VILLA MARIA College's

reputation for exceptional

musical talent has been

confirmed once again, with two

of its choirs being selected for

The Big Sing finale.

The Big Sing is a nation-wide

choral competition, hosted

by the New Zealand Choral

Federation. It will take place in

Dunedin next month.

The college's Con Brio

and Vivace choirs took to

the town hall stage recently

in the Canterbury regional

competition.

Both choirs were picked

for the finale, but due to the

compeititon rules, the college

will only enter the larger choir

– Con Brio.

Choir director Naomi Hnat

said she is very proud of the

students.

"They have worked very hard

to be able to sing together at

their current standard. Con

Brio is a choir consisting of

SCHOOLS

GIFTED:

Villa Maria

College

choir Con

Brio will take

part in The

Big Sing,

a national

choral

competition.

53 girls from year 10 to year

13. It is always such a pleasure

to watch the less experienced

students grow throughout the

year, and to watch the more

experienced students help to

lead the group," she said.

Ms Hnat said she enjoyed the

regional competition.

"It was absolutely fantastic to

be performing in our beautiful

town hall once again, with its

brilliant acoustics.

"For the vast majority of the

students, performing as Con

Brio was the first time they had

ever been on that stage, and you

could tell that they were happily

surprised with the way the

acoustics treated their sound,"

Ms Hnat said.
---
12

Tuesday July 16 2019

•From page 1

Just 12 months ago, Oskam

was selected for the invitational

but missed out on the camp

due to injury. He also missed

Cashmere High's national

secondary school championship

campaign as well.

Oskam tore the meniscus in

his knee last year and then tore

his MCL at the South Island

championships, which made

him miss the team's premier

tournament.

"In the back of my head

I knew I had next year so I

wanted to work hard to get

back," he said.

The year 13 student, who has

been part of the Cashmere High

senior team for the past four

seasons is determined to finish

SPORT

TALENTED:

Louis Oskam

(right) with

his Cashmere

High

teammates

Finn Barclay,

Luca

Williams,

Thomas

Webley and

Willem Russ-

Hofman.

Oskam gets another chance

to attend basketball camp

his school career on his terms.

"My first reaction was that it

made me really excited and I

was glad to get an opportunity

at it again," he said.

Oskam said he believes he

has learnt how to use his size

to improve all the areas of his

game on the court.

He also takes his leadership

role seriously.

"We have to maintain our

standards and push harder to

be better at nationals, the senior

guys feel a responsibility to keep

improving."

Oskam hopes training and

learning with top coaches at the

invitational camp will help him

achieve his dream of playing

college basketball in the United

States next year.

Latest Christchurch news at www.star.kiwi

CBHS come out on top

at South Island champs

CHRISTCHURCH Boys' High

enjoyed a successful outing at

the South Island school cycling

championships, taking out the

Hayden Godfrey Challenge Cup

for the top performing school.

Although CBHS collected just

one individual title at the event

in Christchurch last week, with

Josh Rivett winning the under-20

individual time trial, the school

excelled in the team events.

They beat Timaru Boys' High to

the under-20 title and Cobham

Intermediate to become under-14

champs. They also finished

second behind James Hargest

College from Invercargill in the

under-16 event.

In a show of dominance, six

of the top eight riders in the

under-20 individual time trial

were from CBHS. This level

of consistently proved vital in

CBHS's bid to claim the overall

title.

More than 230 riders took part

in the road event, organised by

Cycling Canterbury Schools,

at Mike Pero Motorsport Park.

They competed in individual

time trials, team time trials and

road race events.

There were some outstanding

individual performances over

the weekend, which included

rides from Jenna Borthwick (St

Margaret's College) and Amelia

Sykes (Avonside Girls' High),

WINNERS: The CBHS cycling team made the most of the home

conditions to win the Hayden Godfrey Challenge Cup for the

top performing school at the South Island championships.

PHOTO: SCHOOLS CYCLING NZ ​

who both won the road race and

individual time trial in their age

grades.

SOUTHERN VIEW

Olli Aitken, of Medbury

School, also took out both

individual under-13 titles.

Titled Sections Available Now

New Release Coming Soon

Register Your Interest Now

03 281 7517 | sections@prof.co.nz | presonspark.co.nz
---
SOUTHERN VIEW Latest Christchurch news at www.star.kiwi

Tuesday July 16 2019 13
---
14 Tuesday July 16 2019

Latest Christchurch news at www.star.kiwi

SOUTHERN VIEW

AUTOMOTIVE PROFESSIONALS

Panel repairs in handy,

central city location

As we all know, having our car off the road

for panel repairs can be frustrating, but for

customers of Smart Repairs (NZ) Limited in

Lichfield Street, this isn't a problem.

"With our focus on fast and efficient

turnaround, getting customers back on the

road as quickly as possible is our aim" says

Brian, who owns Smart Repairs with his

wife Maxine.

As specialists in small to medium vehicle

repairs, no job is too small. Their services

include panelbeating, spray painting,

paintless dent removal (PDR) and mag

wheel repairs and painting.

Customers can be assured of top-quality

workmanship at Smart Repairs, with Brian

and Glenn having over 50 years' industry

experience between them.

Customers also have the use of a free

courtesy car, so they can stay on the road

while their vehicle is in the workshop.

There is a free pick-up and delivery service

within Christchurch available on request.

Accidents happen, but there is no

need to panic - the Smart Repairs team

can provide quotes for all insurance

companies, and carry out those repairs

quickly and professionally. With their

friendly, personal approach they make it

easy for customers who may be unsure

what to do if their vehicle has been

scratched or dented. They offer free advice

and assessments, and are happy to discuss

the options for your vehicle repair.

"We take pride in our work and want

to ensure that our customers are happy

with the results," says Maxine. "We stand

behind our repairs".

Eftpos and credit cards are accepted.

Smart Repairs (NZ) Limited is located

at 272 Lichfield Street, Christchurch.

Opening hours are Monday to Thursday

7.30am - 4.30pm

Friday 7.30am – 4pm. To enquire about

repairs to your vehicle please call in and

see the team, or phone (03) 377-0409.

A 10% discount is offered if you

mention this advertising feature.

s

m

a

r

t

Your LoCAL

TYrE SPECIALIST

New & Quality Used

Second-hand Tyres

Alloy Wheels

Replacement Rims

Puncture

Repairs

8c Birmingham Drive, Middleton

Next to Addington Raceway

343 0099 or 027 22 63 805

www.jcmdirect.co.nz

mall

edium

utomotive

epair

echniques

• Paintless dent removal

• Minor paint repairs

Fast

turnaround

Smart repairS (NZ) Limited

automotive refinishers

272 Lichfield Street (Fitzgerald Ave end) | Phone 377-0409 | Find us on

European

Car Owners

NEW DIAGNOSTIC EQUIPMENT!

We can identify ANY electrical

fault & reduce repair work

with our NEW European Car

Specific Diagnostic Equipment

ROSES

AUTO ELECTRICAL

Enquiries welcome

CH 352 5090

NEW

LOCATION

95 Gasson St

®

A vonhead

utomotive

free

The Automotive Lamp Specialists

New and Used Lamps for Cars, Trucks,

Vans, 4WD and Motorhomes

PH 0800 225 483 | 95 Gasson Street, CHRISTCHURCH

6 months roadside assist

with any vehicle servicing

• automatic transmission

flushing service

• Wof • tune-ups • suspension

• batteries • neW tyres • oil &

lube service • courtesy cars

• full mechanical repairs

oPen 6 days (sat until 1pm)

126 racecourse road

Ph 342 7123 or 027 495 6600
---
SOUTHERN VIEW Latest Christchurch news at www.star.kiwi

Tuesday July 16 2019 15

Email georgia.oconnor@starmedia.kiwi

by 5pm each Wednesday

JP Clinic

Today, 10am-1pm

A justice of the peace will be

available to witness signatures,

certify documents, take oaths,

declarations, affidavits or

affirmations, applications for

citizenship or rates rebates.

South, Linwood and Te

Hapua: Halswell Centre

libraries

Technology Help Drop-in

Sessions

Today, 2-3pm, and tomorrow,

11am-noon

These free drop-in sessions

are available to help you with

specific issues, such as using

email, searching the internet,

using the library catalogue, using

electronic resources and any

other general computer-related

queries. Go along with your

laptop, tablet, smartphone or

use one of the library's desktop

computers if you need help with

anything digital.

Te Hapua: Halswell

Centre and Spreydon

Library

Citizens Advice Bureau

Today, 11am-2pm

The Citizens Advice Bureau

provides free and confidential

advice to everyone. It takes

the time to listen to you and

equip you with information,

options and support.

Linwood Library

Makerspace

Today, 3.30-4.30pm

Drop-in for fun activities every

week at the Makerspace. There

will be a variety of activities for

all. Free.

South Library, 66 Colombo

St

Mainly Music

Wednesday, 10-11.30am

Go along for fun and learning

with music for mums with

children aged up to five. The first

visit is free and $4 per family

after this. Held each Wednesday,

10-11.30am, in school terms.

Morning tea provided.

St Johns Anglican Church,

Woolston, corner of St Johns St

and Ferry Rd

Knit 'n' Yarn

Wednesday, 10.30am-1pm,

Thursday, 1pm-3pm, and 1.30-

3.30pm

Head along for a craft

corner session. Take your

knitting, crochet or other craft

projects. Free and beginners are

welcome.

Linwood Library on

Wednesday, Halswell and South

libraries on Thursday

Emotion Rocks will be held at the Linwood Library on Thursday from 5pm until 6.30pm. Go along,

relax and express yourself. Paint a rock to represent whatever's going on in your life, or make

something special for a friend. Suitable for children aged seven and up. Free, not bookings.

Harry Potter Fun

Wednesday, 2pm-3.30pm

Celebrate the magical world

of Harry Potter. Get involved in

crafts and activities for all ages

including wand-making and a

hunt for Dobby's missing sock.

South Library

Creative Writing on

Wednesdays

Wednesday, 4pm-5.45pm

Group leaders work with

members to craft, create and

develop their own work. Take

along pens, paper and ideas.

Linwood Library

Scrabble Club

Wednesday, 1.30-3.30pm

No obligation to go, just

head along to join in friendly

games.

Te Hapua: Halswell Centre

Rummikub Club

Thursday, 10am-noon

Go and join in a game

of rummikub, a tile-based

game for two to four players,

which combines elements of the

card game rummy and

mahjong.

Linwood Library

Friendships and

Chats

Thursday, 10am-12.30pm

Join in the laughter and fun

with a decent cuppa at the

Cashmere New Life Church.

There will be home-made scones

served on Royal Albert and

fine china. Take a friend. $3

donation.

St Saviour's Anglican

Church - Parish of South

Christchurch, 200 Colombo St,

Sydenham

Game Zone

Thursday, 3.30-4.30pm

Go along and play

minecraft, charades, connect

four, pictionary and more.

Take your friends or meet

some new ones. All children

aged eight to 13 welcome,

no bookings or payment needed.

Linwood Library
---
16

Tuesday July 16 2019

Tasty Bites

Latest Christchurch news at www.star.kiwi

SOUTHERN VIEW

Local

News

Now

Fire rages, homes at risk

Gluten and dairy-free treat options

Are you intolerant to gluten

and dairy but love a sweet

treat? These two recipes

are all straightforward

and simple, giving you

allergy-friendly options

Carrot cake

Serves 8-10

Cooking time 10min

Ingredients

150g flour mix (see below)

180g sugar

2 tsp ground cinnamon

1 tsp baking powder

½ tsp salt

80ml canola oil

40g sweetened soy yoghurt

2 eggs

200g grated carrot

Icing

100g spreadable cream cheese

50g butter

100g icing sugar

Decoration

25g crushed pistachios

Pecans

Toasted flaked coconut

Edible flowers

Homemade flour mix – makes

1kg

500g rice flour

300g cornflour (cornstarch)

100g potato starch

100g almond meal

2g xanthan gum

Directions

Heat the oven to 180 deg C.

Combine the flour mix, sugar,

cinnamon, baking powder and

salt. Add the canola oil, soy

yoghurt, eggs and grated carrot.

Whisk until the batter is well

combined and smooth.

Pour the batter into a greased

loaf tin and bake for 40min.

Allow to cool.

To make the icing, beat the

cream cheese, butter and icing

sugar until creamy. Spread

the icing over the top of the

cake. Decorate with pistachios,

pecans, flaked coconut and

edible flowers. The homemade

flour mix can be varied by

incorporating 100g tapioca

starch or chestnut flour

(reducing the quantity of rice

flour by the same amount) for

cake batters.

Matcha cream puffs

Serves 4-6

Cooking time 30min

Ingredients

Choux pastry

250ml water

6g salt

100g butter or margarine

150g flour mix (see carrot cake

recipe)

5-6 eggs

Icing sugar

Matcha cream

100g single (pure) cream

200g mascarpone cheese

15g sugar

15g matcha powder

Directions

Heat the oven to 200 deg

C. Combine the water, salt

and butter or margarine in a

saucepan and bring to the boil.

When the butter has melted,

add the flour mix to the boiling

butter mixture and quickly mix

with a spatula until the mixture

is well combined and comes

away easily from the side of the

pan.

Pour into a mixing bowl and

add the eggs, mixing with the

spatula until smooth. Spoon the

dough into a piping bag fitted

with a 1cm plain nozzle.

Pipe small balls of choux on to

a baking tray lined with baking

paper. Bake for 30min. Let the

balls cool before cutting off the

top third of each puff.

To make the matcha cream,

Whisk the well-chilled cream

with the mascarpone until light

and airy, then add the combined

sugar and matcha powder.

Spoon the cream into a piping

bag fitted with a 1cm star nozzle

and pipe into the choux. Replace

the lids and dust with icing

sugar.

Myth # 3

"I read it for

the ads" said

nobody ever.

Think again. 3 out of 4 local

newspaper readers have

purchased something they've

seen advertised in their

newspaper.*

If you're going to believe

everything you read, make sure

you're reading a newspaper.

Source: Nielsen CMI Q1 18 - Q4 18 (Base: AP 15+ who have read Daily/Weekend newspaper in last 7 days)
---
SOUTHERN VIEW Latest Christchurch news at www.star.kiwi

Tuesday July 16 2019 17

One

bedroom

villas from

$235,000

Live life

your way

at Bupa

Cashmere

View

Open home weekend

Saturday 20 July & Sunday 21 July, 11am - 1pm

Bupa Cashmere View offers you independent living within a likeminded

community. We currently have a range of warm and comfortable

apartments and villas available:

• One bedroom villas from $235,000 and two bedroom from

$400,000.

• One bedroom apartments from $390,000 and two bedroom from

$418,000.

Come to our open homes this weekend, or call Rochelle to find out more.

Call (03) 668 2107 or 027 663 2806

72 Rose Street, Cashmere, Christchurch

www.bupa.co.nz/cashmere
---
18 Tuesday July 16 2019

Latest Christchurch news at www.star.kiwi

SOUTHERN VIEW

RICHMOND DISCOuNT

Discount Furniture and Bedding - The Best Little Furniture Shop in Town

BEDS TALLBOyS MIRRORS CABINETS CHESTS STORAGE SHELVES

BOOKCASES BuFFET uNITS DINING TABLES HALL TABLES SIDE CABINETS & MORE!

Legacy Bedroom Range

Victor

Bedroom

Suite

Includes

duchess with

mirror, tallboy

and two

bedside

cabinets.

Duchess

with

Mirror

1090x410x820

NZ made.

Chest

$399

Bedside Cabinet

$129

Scotch Chest

$599

Queen Frame & Mattress

$699

$1599

ONLY

$549

Midi 7 Drawer

Scotch Chest

975x760x410. With metal runners.

Also available in Black.

Bedside Cabinet

540x460. With metal runners.

Also available in Black.

7 Drawer

Scotch Chest

1140x800x410.

Also available in black.

Ther-a-pedic Mattress & Base

Reversible pillowtop innersprung.

Single

$499

Solid

Timber

Free

Standing

Mirror

ONLY

$269

ONLY

$130

ONLY

$299

King Single/Double/3/4

$599

Queen

$699

WAS $169

ONLY

$129

Jumbo 4

Drawer Chest

1140x800x400. NZ made.

Metal runners. Also available in black.

Tallboy 4 Drawer

600x400x900.

Towerboy 6 Drawer

1260x460x410.

With metal

runners.

Also available

in Black.

Lowboy 6 Drawer

1130x410x820.

7 Drawer TV/

DVD Chest

760x1140x410. (Gap 150)

Foundry Display

Cabinet

900x1800

x420.

Timber Bookcase

600x320

x1200.

ONLY

$269

ONLY

$199

ONLY

$220

ONLY

$449

eACH

ONLY

$299

ONLY

$599

ONLY

$199

Coffee Table

Solid Timber.

Coffee Table

Solid Timber.

Coffee Table

1200x400x600.

Display

Cabinet

1800h

x900w

x400d.

Buffet

Unit

700x

320x

1070.

ONLY

$169

1200x600

ONLY

$329

ONLY

$399

ONLY

$599

ONLY

$329

Side Cabinet

600x600x450.

Hall Table

2 Drawers.

Hall Table

3 Drawers.

2 Drawer Hall Table

1200x810x420.

Bookcases

NZ Pine.

900x1200

$279

900x1500

$299

ONLY

$199

ONLY

$279

ONLY

$349

ONLY

$379

900x1800

$349

Nest of Tables

2 Draw

entertainment Unit

1200x600x450.

entertainment

Unit

1100x400x480.

Buffet Unit

1500x800x420.

Buffet Unit

1175x430x840.

ONLY

$149

ONLY

$399

ONLY

$299

ONLY

$549

ONLY

$399

233 STANMORE ROAD • PHONE 03 389 0536

WE ACCEPT EFTPOS, VISA AND MASTERCARD... PARKING AT REAR

OPEN MON-FRI 10AM–4.30PM SAT 10–1PM
---
SOUTHERN VIEW Latest Christchurch news at www.star.kiwi

Tuesday July 16 2019 19

FOCUS ON HEALTH

Modern diet

leads to illness!

It's not what you eat but what you absorb

More health

benefits with

Advanced

Omega-3-PC

Fish Oil

It is well known how important omega-3 fatty acids are to good

health. It is estimated most people don't even get a third of the

recommended omega-3 fatty acids on a weekly basis. Countries with

a higher amounts of omega-3 in the diet are known to have lower

cardiovascular disease & in many cases better overall health. Recent

research has shown inflammation to be a big part of disease & the

ageing process. Fish oil can help reduce inflammation by providing

essential fatty acids required by the body to heal itself & maintain

good health. Fish oil supplements have become hugely popular for

this reason. Until now most fish oil only contained omega-3 fatty

acids in triglyceride form. Fish however naturally contain omega-3 in

triglyceride & phospholipid form but until recently the phospholipid

form was lost due to the manufacturing process.

GO-ADVANCED OMEGA-3-PC sets new standards in fish oil as

it contains omega-3 attached to both triglycerides & phospholipids.

Studies have shown GO-ADVANCED OMEGA-PC to be far better

absorbed leading to increased levels of vital omega-3 fatty acids in the

organs thru giving the potential for more health benefits.

GO-ADVANCED OMEGA-3-PC is produced from fresh wild

deep sea cold water fish using a new advanced & more natural

cold extraction process that better preserves the natural nutrient

profile found in fish. It is manufactured to high GMP standards &

is molecularly distilled to remove any containments, toxins & heavy

metals like mercury.

Further information on this revolutionary new fish oil & how

it may benefit you is available from the Natural Health Advisers,

at Marshall's Health & Natural Therapy, 101 Seaview Road, New

Brighton, phone: 388-5757. We are always happy to help!

Two Australian

Naturopaths Stephen

and Shane noticed at

the end of the 20th

century more and

more of their patients

were experiencing

gut, bowel and

digestive issues that

were often leading to

more serious chronic

health conditions.

Being Naturopaths

they wanted to find

what was going

wrong and began

extensive research.

What they found was

although their clients

were generally eating good food they were not

obtaining all the nutrients required for good health

from this food. Further research showed one of the

main problems was the digestive system, "it's not

what you eat but what you absorb." Another wellknown

problem is the soils the crops are grown

in have been depleted of many trace elements and

other nutrients that are known to be essential for

good health and therefore the crops and food are

also depleted. If we do not obtain all the nutrients

we require the body will compensate to some

degree but a lack of too many nutrients will

eventually lead to health issues.

Based on this they developed

VITAL GREENS, now call VITAL

ALL-IN-ONE, a

nutrient dense

powdered

formula

that provides superior absorption as well as

comprehensive nutrition. They decided on a

powdered formula that could be made as a great

tasting drink because liquid nutrition is the easiest

way for the body to absorb nutrients especially if

digestive issues are present. The formula provides

78 vital ingredients that work together in synergy

optimising each other's absorption and benefits.

Vital Greens contains a carefully balanced

blend of nutritionally rich greens, vegetables,

fruits, minerals, vitamins, essential fatty acids,

plant and herbal extracts, superfoods, powerful

antioxidants, probiotics, essential amino acids,

digestive enzymes, fibre plus a uniquely alkalising

pea protein. It provides superior nutrition to a

multivitamin and just about anyone will benefit

from it. It is designed to provide all the nutrients

the body requires for good health. It is also ideal

for those in poor health, those recovering from

injury or sickness, children, athletes, poor eaters

and the elderly. It is also suitable for people with

dietary restrictions and is gluten, wheat and dairy

free. VITAL ALL-IN-ONE will help remove toxic

waste from the body while supporting all organs.

You'll often notice more energy and endurance,

better sleep, a more positive mood, skin problems

improving, less sickness, improved eyesight and

overall better more optimum health.

Further information and how to obtain the

maximum benefits from VITAL ALL-IN-ONE

as well as tastings is available from the Natural

Health Advisers at Marshall's Health

& Natural Therapy, 101 Seaview

Road, New Brighton,

phone: 388-5757. We

are always happy

to help!

NOT all FISH OIl IS CreaTed eQUal!

ONLY GO OMEGA-PC retains the natural Phospholipids that have been shown to be so beneficial for Good

Health BUT are lost in other brands of fish oil due to the less natural manufacturing processes used!

GO-ADVANCED OMEGA-PC SETS NEW STANDARDS IN FISH OIL!

Omega-3 fish oil normally contains the vital Omega-3 fatty acids in a triglyceride form. Fish however naturally

contain Omega-3 in a triglyceride & phospholipid form but until recently the phospholipid form was lost due to the

manufacturing process. GO OMEGA-PC is produced using a new more natural cold extraction process that better

preserves the natural nutrient profile found in fish. Studies show GO OMEGA-PC offers superior absorption with

increased omega-3 fatty acids in organs giving the potential for more health benefits.

GO-ADVANCED OMEGA-PC OFFERS:

• Superior absorption of vital Omega-3, as

shown in research

• Advanced new cold extraction better

preserves the natural nutrient profile

found in fish

• Naturally contains phospholipids to

support cellular health

• Contains vitamin D3 to support immune,

bone & cardiovascular health

• Supports cardiovascular health - Countries with

a higher Omega-3 intake have much lower rates

of heart disease

• Supports blood circulation, healthy cholesterol &

healthy blood pressure

• Supports joint health, joint mobility & repair

• Supports overall health & wellbeing

• Natural anti-inflammatory - can help reduce pain

Look for

Omega/PC

on the label

Bringing You the Best in Natural Health!

- WE ARE ALWAYS HAPPY TO HELP -

SUPER SPECIALS

200 Softgels ONLY $19.90 SAvE $18.10

400 Softgels ONLY $38.90 SAvE $37.10

600 Softgels ONLY $56.90 SAvE $57.10

MAIL ORDER AVAILABLE

MARSHALLS HEALTH & NATURAL THERAPY

CONSULTING - PRESCRIBING - DISPENSING - MANUFACTURING - MEDICAL HERBALISTS

101 SEAVIEW RD, NEW BRIGHTON • PH 03 388 5757 • Email: enquiry@marshallshealthshop.co.nz

ARE YOU RECEIVING ALL THE NUTRIENTS YOU REQUIRE?

Take the VITAL ALL-IN-ONE 12 day Challenge to Better Health!

VITAL ALL-IN-ONE has been developed to provide superior nutritional

support to your body. It is near impossible to obtain all the nutrients your

body requires from a modern diet. VITAL ALL-IN-ONE contains 78 vital

nutrients in a balanced & highly absorbable form to help you receive

all the nutrients you require for optimum health. It consists of a blend

of nutrient dense greens, fruits, herbs, superfoods, vitamins, minerals,

antioxidants, prebiotics & 14 billion probiotics, essential fatty acids, fibre,

digestive enzymes, plus a uniquely high alkalising pea protein.

- Increased Energy & Endurance

- Better Digestion & Assimilation of Nutrients

- Optimised Immune Function

- Reduced Brain Fog

- More Balanced Blood Sugar

- 78 Vital Nutrients to Support Optimal Health

- Superior to a Multivitamin Tablet

- Dairy Free, Gluten Free, Vegan Friendly, Wheat Free

- Gently Detoxifies, Cleanses & Energises Every Cell in Our Body

- ALL YOU NEED – ALL IN ONE – DAILY HEALTH SUPPLEMENT

Super Low Prices

120g only $23.90, save $11.00

300g only $54.90, save $20.10

600g only $94.90, save $44.10

1kg only $139.90, save $59.10

MAIL ORDER

AVAILABLE

Bringing You the Best

in Natural Health!

MARSHALLS HEALTH & NATURAL THERAPY

CONSULTING - PRESCRIBING - DISPENSING - MANUFACTURING - MEDICAL HERBALISTS

101 SEAVIEW RD, NEW BRIGHTON • PH 03 388 5757 • Email: enquiry@marshallshealthshop.co.nz

- WE ARE ALWAYS HAPPY TO HELP! -

FREE

TASTINGS

INSTORE
---
20

Tuesday July 16 2019

REAL ESTATE

Substantial Scarborough Home!

142 Scarborough Road, Sumner

Price by negotiation

5 bedrooms | 3 bathrooms | 5 toilets | 3 living rooms | 1 office/study

4 car-garage | 2 off-street parks | Listing Number SM0222

Latest Christchurch news at www.star.kiwi

SOUTHERN VIEW

This striking executive home makes

an immediate impression and enjoys

an irreplaceable dress circle position

opposite Nicholson Park at the top of

Scarborough Hill. Incredibly positioned

with breathtaking 270˚ views that cannot

be built out over Sumner Beach and the

city with a backdrop of the Southern Alps

and the Kaikoura Ranges.

This spectacular level corner site was a

determining factor in the distinctive design

by acclaimed architect Alick Bellerby which

won 'house of the year' on completion.

Spread over a 360sqm of approximate

floor plan with generously proportioned

living areas, 5 bedrooms, 3 bathrooms and

level access to 4 car garaging.

The kitchen is the hub of the home

connecting 2 of the living rooms. Warm oak

floors and full height windows flood the

home with warmth and light and optimise

the sea views. A separate downstairs media

room is a great space for teenagers, a work

from home office space or maybe a gym.

Look out over the manicured gardens

or step outside to a private Halswell stone

courtyard and BBQ area. Here you have

the ability to host everything from intimate

dinner parties to large gatherings in a very

private and sheltered setting.

The established and easily maintained

1613sqm grounds include level lawns, rose

gardens, planted borders and offers an

enviable microclimate with total privacy.

Located between Sumner Beach and

Taylors Mistake Beach, allows plenty of

recreational pleasures such as surfing,

boating, walking and cycling right on your

doorstep. While close by in the Sumner

Village you can enjoy the cafes, restaurants,

library and boutique shops.

Sublime design, superior construction

and a prestigious location combine to make

this a compelling lifestyle offering. With

our owner now committed to Auckland

you could secure this home for immediate

possession. Present all offers.

Open Homes: Sunday 14 July 2:00pm -

2:45pm.

See you at the open homes or for a

private viewing or for more information

contact Alison Carter of Harcourts

Grenadier Sumner (Licensed Agent

REAA 2008) on 384 7950 or mobile 0274

318 960.

growing with you June 2018 | 100%

Plants For

winter wow

Cool Choices

For Colour

& Contrast

From swamp

to sea views

The journey

begins with sarah

the Gardener

$7.90 incl. GST

Snap it up

Enter our annual

Birdlife Photo

Competition to win

great prizes!

clear the air

Why groWing

indoor PLAnTs is

so good for you

give it a grow

from gArLic

To chinese

ArTichokes,

We hAve your

groWing TiPs

covered

the latest releases

into the rose world

+ rose care

through winter

The magazine for

gardeners who like to get

their hands dirty

SUBSCRIBE FROM

$43. 50*

*6 issues/6 months

SUBSCRIPTIONS FREEPHONE

0800 77 77 10

WWW.GARDENER.KIWI
---
2

SOUTHERN [Edition VIEW datE]

Latest Christchurch news at www.star.kiwi

Tuesday July 16 2019 21

HOME & HEATING

Get rid of

dampness in

your house

Now with the colder and wetter weather

on its way, home owners are focusing on

ways to make their homes comfortable,

warm and healthy for their families

throughout winter. Rising damp is an issue

that affects many of our older properties

which suffer from poor, or no, insulation.

In Canterbury especially, post-quake, many

people have relocated to homes that suffer

from rising damp which can be associated

with health problems. Independent tests

have shown that up to 40 litres of water

can rise from the ground and enter a

house every day, leading to mildew, mould,

condensation and musty smells. Moulds

can produce various allergic reactions

and the frail, elderly and very young are

especially vulnerable.

Canterbury Foam Concrete Ltd is a

locally owned and operated firm. The

team understands the problems caused

by rising damp and are there to help.

They will come to your damp home

and pump a lightweight, flowable foam

concrete under your timber floored home.

Specially adapted for our New Zealand

conditions and applications it provides a

layer of protection against rising moisture.

An unexpected benefit that the team at

Canterbury Foam Concrete have noticed

recently, is that many owners of properties

which had underfloor foam concrete

installed, reported that it also provided

protection against liquefaction after

the earthquakes.

Contact Canterbury Foam Concrete

Ltd now for your free, no obligation

quote and complimentary appraisal of

your underfloor ventilation needs. Phone

03 376 4608 or 0508FOAMCO for more

information.

What makes a great

Heat Transfer System?

There are a number of Heat Transfer

systems on the market. Smooth-Air

ventilation specialists offer a range of HTU

Heat Transfer Units with carefully selected

components to optimise the system:

They use insulated duct to transfer the

heated air with as little heat loss as possible.

The fan moves sufficient air for the distance

and number of rooms, without being noisy.

The diffusers send the heat to the floor,

not to skim the across the ceilings. All

components are good quality - designed to

operate for years without problems.

Smooth-Air's HTUs come in a range of

options: One to four rooms, with or without

thermostat and with a choice of grilles and

diffusers. HTUs improve energy efficiency

in your house, as you are using excess

heat. They have low power consumption

- only 80watts for the three room system.

Circulating air through the house also

reduces the risk of damp.

You can also choose the HTU version

with downjet diffusers, which throw the

warm air downwards to the floor. These

downjet diffusers can also be adjusted to

regulate which room receives the most

warm air.

An average size living room requires 2-4

kw of heating, yet appliances such as log

burners generate heat in the region of 10

-20kw. This leaves an excess of 8 -16kw of

heat which sits at high level in the heated

room, usually above door level.

Heat transfer units work best where very

hot air has 'stratified' into a layer near the

ceiling. So heat pumps, which circulate

warm air around the room with no

layering, are not suitable as a heat source

by themselves. However, if you have both

log burner and a heat pump, heat transfer

systems with thermostat can work very

well: The heat pump stops operating once

the heat from the fire has heated the room,

and the heat transfer kicks in above this

point, once there is a layer of hot air at the

ceiling.

Contact Smooth-Air on 0800 SMOOTH

(0800 766 684) to ask how they can help

you with your Heat Transfer, as well as

any other ventilation requirements.

Transfer your heat to the bedrooms

Smooth-Air

Ventilation Equipment Suppliers

to

Smooth-Air also has a wide range

of ventilation equipment to bring

fresh air into your home.

trade

&

retail

T. 03 376 4608

E. info@foamconcrete.nz

W. www.foamconcrete.nz

Domestic

Commercial

Industrial

HEAT PUMP

SALE NOW ON!

Amazin' WINTER Specials!!

• We will offer you the best quality brands and

option of heat pump for your home/business

• Providing Heat Pump solutions for over 17 years to Cantabrians

• We personally guarantee all our products & installs for 5 years

(providing annual maintenance has been completed)

Phone us today for your free consultation & quote

41A SHAKESPEARE RD, WALTHAM

PHONE 03 366 0525

www.enviromaster.co.nz

"A local team for local people"

0800 SMOOTH

(0800 766 684)

sales@smooth-air.co.nz

Transfer

the excess

from your

log burner

to your bedrooms

264 Annex Rd

Riccarton

Christchurch

03 343 6184

heat

Monday - Friday

7.30am - 5pm

www.smooth-air.co.nz
---
22

Tuesday July 16 2019

Latest Christchurch news at www.star.kiwi

SOUTHERN VIEW

If you want more information about an item or to contact a

seller, visit www.postanote.co.nz and search the ID#

1992 Isuzu Bighorn

HeVa 6.3m Folding Roller

2003 Mini Cooper S, 1.8

Mazda3/Alexa Wheels 15inch

Mini Clubman

Hutch Dresser

$4,500

ID 29655

$14,000

ID 21671

$5,600

ID 23996

$200

ID 29866

$7,500

ID 29732

$150

ID 29793

Mazda MX-5 Miata

Chinese Fan Palms

Honda Accord Euro CL 9

Whitebait Net

Nissan Maxima

3 Plastic Drums

$3,500

ID 29833

$25

ID 29854

$8,000

ID 29801

$950

ID 29773

$900

ID 21212

$25 each

ID 17340

Victa Tornado Line Trimmer

Holden Caprice Sidi V6

Pure Wool Wall Hanging

1997 Honda Legend

Cobra Eliminator Kayak

Yardman GLX92RA Ride On

$140

ID 29594

$22,000

ID 26191

$950

ID 19025

$2,000

ID 29798

$800

ID 26166

$1,450

ID 29875

Sharpe Microwave Grill

2008 Hyundai Tuscon City

5kg Washing Machine

Kemble Piano

3-seater & 2-single Seaters

Brake Kit

$70

ID 29711

$8,500

ID 29537

$150

ID 29710

$1,100

ID 29707

FREE!

ID 29705

$80

ID 26069

Subaru Legacy B4 Manual

Nissan Truck, Long Deck

Ford Model A 19-inch Wire Wheels

2005 Ford Mondeo Zetec

File Cabinet

Ingersol Rand Rattle Gun

$3,000

ID 29697

$750

ID 29693

$150

ID 29681

$6,000

ID 29677

$190

ID 29776

$600

ID 26130

Subaru Impreza AWD 2L

Haines Hunter v17r. 18 foot

Honda 3-wheeler ATC 200cc

Wing Chair & Footstool

1988 Volvo 740 GLE

Freedom Jelly Bean Desk

$7,500

ID 29549

$10,000

ID 29561

$300

ID 29527

$450

ID 10720

$4000

ID 29870

$200

ID 23770

Green & Grey Roofing Screws

Subaru Legacy Sport

Steps

2009 Ford Mondeo

Massage Table

Mercedes a160

$100

ID 28806

$8,500

ID 29501

$30

ID 29637

$7,000

ID 29542

$100

ID 13919

$7,800

ID 27795

2180990chch
---
SOUTHERN VIEW Latest Christchurch news at www.star.kiwi

Tuesday July 16 2019 23

Classifieds Contact us today Phone our local team 03 379 1100

Car Parts

TYRES Secondhand,

most szs from $30 - $70

fitted, Also batteries, 217

Waltham Road, 027 476

2404

Gardening

& Supplies

A GARDEN OR

LANDSCAPING TIDY

UP? Shrub, hedge &

tree pruning, Lawns,

Gardening, consistently

reliable general property

upkeep, Dip. Hort. 10

yrs experience, One off

tidy ups or on-going

service. Nick's Garden

Maintenance. Keeping

your garden beautiful.

Free Quote. Ph. 942-4440

& 022 264 7452

GARDENER

AVAILABLE

For weeding, pruning,

tidying. 30 yrs exp,

qual.$25 per hr. Ph

Richard 349 4022 or 0274

918234

Tours

ADD SOME

COLOUR

TO YOUR ADVERT!

Trades & Services

PAINTING

OLDER PAINTER

FOR OLDER HOUSES

50 YEARS IN TRADE

"All the skills"

GST FREE

Contact Jimmy Bell

3384432 or 0211221487

MECHANIC

Trades & Services

FOR ALL YOUR

★Garden Clean-ups

★Pruning

★Lawn Mowing

★Garden Maintenance

Call us today for a FREE quote

PH 0800 4 546 546

(0800 4 JIMJIM)

BEST BATHROOMS

full renovations

specialists, LBP builder,

free quote, all building

property maintenance ph

03 383 1927or 027 245

5226 ciey@xtra.co.nz

BRICKLAYER

George Lockyer. Over

40 years bricklaying

experience. UK trained.

Insurance work, EQC

repairs. Heritage

brickwork & stonework

a speciality. No job too

small. Governers Bay.

Home 329 9344. Cell

027 684 4046. E mail

georgelockyer@xtra.co.nz

CARPET & VInYL

LAYIng

Exp. Repairs, uplifting,

relaying, restretching.

Email jflattery@xtra.co.nz

ph John on 0800 003 181

or 027 2407416

CARPETLAYER

35yrs experience. Special

rates for seniors. Prompt

service. Ph 021 046 0231

ELECTRICIAn

Prompt & reliable

registered electrician

with 24 years experience

for all residential and

commercial work, new

housing and switch board

replacements. Phone Chris

027 516 0669

PAInTIng

Indoor / Outdoor, over 30

yrs exp, same day quotes,

ph Steve 021 255 7968

PAInTIng

DECORATIng

Wingfields Contracting, all

interior & exterior painting

& all forms of interior

plastering & jib fixing, ph

Mark 021 171-1586

PAInTERS

DECORATORS

Qualified and experienced

painters and plasterers

available to undertake

any size job. Member

of Master Painters NZ.

Ph Chris 0800 438 152.

New Image Painters &

Decorators

Experienced

Mechanic Wanted

Who has worked on all types of diesel

and petrol vehicles. Please contact

the new owners for an interview.

DIESEL DOCTOR & PETROL

Christchurch Ltd

288 Lincoln Rd,

Addington

P: 338 8884

E: service@dieseldrpetrol.co.nz

VIDEO PRODUCTION

business video

PRoduCTion

A video will bring your business alive & into your

customers mind.

Promote your services or business with a

professionally created video with us

• Corporate and Business

video a speciality

• Competitive rates

• 25 years experience

• Start to finished product

• Professional quality

guaranteed

PHone KeRRY 021 635 083

Trades & Services

PLUMBER

A Top Plumbing job

completed at a fair price,

prompt service, all work

guaranteed, Ph Brian 960-

7673 or 021 112-3492

ROOFIng REPAIRS

Fully qualified, over 40

yrs experience. Ph John

027 432-3822 or 351-

9147 email johnchmill@

outlook.com

SPOUTIng

CLEAnIng

Spouting Unblocked,

Cleaned Out and Flushed

Out. Call Trevor 332 8949

or 021 043 2034

STUMP gRInDIng

Best price guarantee Tony

0275 588 895

TILER/CARPEnTER

35 years exp, no job

too small. Ph Ross 027

4311440.

T.V. SERVICE

CEnTRE

Repairs, tvs, microwaves,

audio amps, soundbars.

.Aerial & satellite

installations, kitsets, 480D

Moorhouse Ave, ph 03 379

1400

VHS VIDEO TAPES

& all camera tapes

converted to DVD, video

taping special occasions,

www.grahamsvideo.co.nz

ph 03 338-1655

•Re Roofing

•Roof Repairs

•Spouting

Approved Age Concern provider

Over 30 years experience

Licensed Building Practitioner

N A BARRELL

ROOFING LTD

Ph: 349 9778 or 0275 389 415

Email: nabroofing@xtra.co.nz

30 years + experience

Older house

restorations:

no problem!

Quotes: FREE!

Rates: Reasonable

Paint supplied at

trade price!

NO JOB TOO SMALL

Light industrial also

Roger Brott

Painter & Decorator

021-1966-311

Trades & Services

Wanted To Buy

CASH FOR

STAMPS,

COINS &

GOLD

Free Appraisals

Call Matt at

The Stamp and

Coin Exchange

134a Riccarton Rd

0800 39 24 26

We can come to you.

Call today.

Wanted To Buy

AAA Buying goods

quality furniture,

Beds, Stoves, Washing

machines, Fridge Freezers.

Same day service. Selwyn

Dealers. Phone 980 5812

or 027 313 8156

TOOLS Garden,

garage, woodworking,

mechanical, engineering,

sawbenches, lathes, cash

buyer, ph 355-2045

Public Notice

Calling for exhibitors

weddingshow

Sunday 25th August, 2019 Air Force Museum, Christchurch

To exhibit at this fantastic show, please email mark.sinclair@starmedia.kiwi for more info.

ADVERTISE YOUR BUSINESS HERE

Phone for further details

• Local Council

• Community Board

(03) 379 1100

Want to be

elected?

• Ecan

• CDHB

Star Media can help you.

Talk to us today about your campaign.

Contact: Mark Sinclair

03 364 7461

021 913 566

mark.sinclair@starmedia.kiwi
---
24 Tuesday July 16 2019

Latest Christchurch news at www.star.kiwi

SOUTHERN VIEW

$

12 90

kg

Fresh Nz beef

Rump Roast or

Steak

CHECK OUT OUR

$

4 00

bag

15 th – 21 st july 2019

BEST DEALS!

Meadows White Button

Mushrooms 400g

Just Juice 2.4L

or McCoy 2L

Wattie's Whole

or Crushed

Tomatoes 400g

$

9 50

ea

Alpine Mild, Colby

or

Edam Cheese 1kg

$

4 00

ea

$

1 00

ea

$

3 90

kg

Fresh NZ

CHICKEN Drumsticks

Country Fresh

White Washed

Potatoes 4kg

$

6 00

bag

Steinlager Pure,

Stella Artois

or Corona

12 x 330ml/355ml Bottles

$

24 00

pk

Get these deals and

more delivered to you!

Shop online now at

FreshChoiceYourWay.co.nz

Barrington

Open 7am – 11pm, 7 days a week.

City Market

Open 7am – 9pm, 7 days a week.

FreshChoiceNZ

OWNED &

OPERATED BY

LOCALS

fcsv1607

Prices apply from Monday 15th July to Sunday 21st July 2019, or while stocks last at FreshChoice City Market & Barrington only. Limits may apply.