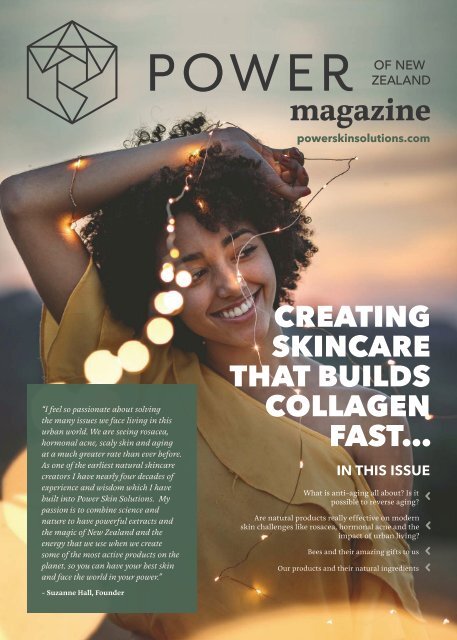 Power Skin Solutions Magazine
Connecting powerful skincare with powerful women. Introducing the first-ever Power Skin Solutions magazine. In this issue, we are hearing from Suzanne Hall our founder and creator who has spent 40 years creating the perfect formula to improve the contemporary issues which our skin is facing. We also talk to Jelena Petkovic and Fatuma Maradom, both empowered woman who tell their stories of not letting the negative experiences from the past control your future too. We would love you to shop our store. We have a great offer inside this magazine for you. Visit powerskinsolutions.com
Connecting powerful skincare with powerful women.

Introducing the first-ever Power Skin Solutions magazine. In this issue, we are hearing from Suzanne Hall our founder and creator who has spent 40 years creating the perfect formula to improve the contemporary issues which our skin is facing.

We also talk to Jelena Petkovic and Fatuma Maradom, both empowered woman who tell their stories of not letting the negative experiences from the past control your future too. We would love you to shop our store. We have a great offer inside this magazine for you.

Visit powerskinsolutions.com

SHOW MORE
SHOW LESS
Create successful ePaper yourself
Turn your PDF publications into a flip-book with our unique Google optimized e-Paper software.
powerskinsolutions.com

"I feel so passionate about solving

the many issues we face living in this

urban world. We are seeing rosacea,

hormonal acne, scaly skin and aging

at a much greater rate than ever before.

As one of the earliest natural skincare

creators I have nearly four decades of

experience and wisdom which I have

built into Power Skin Solutions. My

passion is to combine science and

nature to have powerful extracts and

the magic of New Zealand and the

energy that we use when we create

some of the most active products on the

planet. so you can have your best skin

and face the world in your power."

CREATING

SKINCARE

THAT BUILDS

COLLAGEN

FAST…

IN THIS ISSUE

What is anti-aging all about? Is it

possible to reverse aging?

Are natural products really effective on modern

skin challenges like rosacea, hormonal acne and the

impact of urban living?

Bees and their amazing gifts to us

Our products and their natural ingredients

- Suzanne Hall, Founder

1
---
Suzanne Hall MNZM is our founder and

creator, from the remote far north of beautiful

New Zealand. It was here where she started

one of the world's first fully natural skincare.

Suzanne is a pioneer in using the 'now famous'

manuka honey and manuka essential oil for

skin. She has been profiled in many prominent

magazines like Marie Claire, Wallpaper and

Japanese and German Vogue for her work

building ethical companies and award winning

natural skincare. She has won more than 28

international awards and she was honoured

with the prestigious award by Queen Elizabeth

II with the New Zealand Order of Merit.

Power Skin Solutions is a result of nearly 40

years of experience, creating products that

solves contemporary skin issues. Using the

most potent natural extracts and rigorous

scientific testing and create fast and effective

results. We pride ourselves in sourcing the

highest quality ingredients to produce

premium formulations.

We see great results with ageing, hormonal

acne, rosacea and pigmentation. Suzanne

is working across many projects that build

health, resilience and help solve social issues.

Revenue from her skincare projects also go to

help projects that are working in youth mental

health and suicide prevention.

@powerskinsolutions

@powerskinsolutions

She has formulated brands such as Living

Nature (which she began in 1987), Organic

Riot, Power Skin Solutions and Natural Passion.

2

powerskinsolutions.com
---
L

ike most

things the

way we look

at skincare

needs to

constantly be

evolving to really understand

the relationship between what

our skin needs to support these

issues while delivering really

positive results.

Since starting in the industry

I have seen many changes in

skincare trends. People want

potent, natural products that

will show effective results

and actually solve skin issues.

It's not just about what's in a

product, but making sure there

are effective amounts that can

do the job.

The quest for smooth supple

skin has been going on for

thousands of years. Did you

know one of the earliest

formulations was 2000 years

ago by a Greek named Galen.

He created a moisturiser made

from beeswax, rose water

and olive oil. That recipe is

still used today and is called

a 'galenic'. This mixture has

stood the test of time but as

the world around us changes,

ARE NATURAL

PRODUCTS

REALLY

EFFECTIVE

For Modern Skin Challenges

Like Rosacea, Hormonal

Acne And The Impact Of

Urban Living?

so does the need for natural ingredients

to work in different ways.

We are seeing the impact of pollution

and more recently EMF's (Electro

magnetic field) from our phones, TV's

and computers and our skin is not

coping. Through recent studies we are

seeing a major collagen breakdown

which causes a variety of issues like

early aging, flaky patches, spots, clogged

skin, red veins.

Historically people identify your skin

type as oily, dry or a combination to

find the correct solution suitable for

you. This is now outdated and to help

with these new symptoms, we need to

find a way to manage this all at once.

Hydration and healing are needed more

than ever. Power products do just that. I

pride myself in making sure that next to

your skin is a range of ingredients that

combine together to protect, nourish,

heal and hydrate.

Of course, the quality of ingredients

is so important, and how they have

been extracted and used

in the product. I believe

skincare is like food, it

needs to be carefully grown

and harvested and then

prepared properly for you

to get the best benefit

from it. Along with quality

equally important is the

quantity of ingredients,

especially when some

brands add an ingredient

based on cost rather than

function.

Our Hero Bee venom is a

great example. This costs

$90,000 a kilo, it's more

expensive than gold. Many

products, especially those

in the tourist market, will

only have 0.001% which

is not going to have any

effect at all. We add 30

times more and that why

we get effective and

instant results.

3
---
THE

SUPER

SERUM

AAn energised concentrated bee venom

serum to give you smooth and vibrant

skin. This powerful bee venom serum

helps combat the effects of urban

pollution. Bee venom stimulates

repair and radiance, Manuka honey

and the unique Vinanza extract from Kiwi and grapes,

brightens and tightens your skin, boosting hydration,

radiance and rapid repair, bringing out your power and

beauty. This is the basis to giving your skin protection

and constant repair throughout the day, building

radiance and luminosity.

Use every morning on clean skin, under your chosen

day cream. It acts as a toner for your skin, so you don't

need a tone after cleansing. It is gentle and safe to

use around the eye area, but we always recommend

to always patch test. At night, one of my favourites is

to combine a pump of serum with a few drops of the

night oil and massage onto clean skin. Use before bed

when you've had a stressed day and wake to a really

refreshed skin.

It also acts as a toner

for your skin, so you

don't need a tone after

cleansing. It is gentle and

safe to use around the

eye area, but we always

recommend to always

patch test.

BUY NOW

4
---
Ingredient list and main function

for your skin:

Mango Seed Butter

Great source of vitamin A and

C that give a plumper more

tighter look and calms irritation.

Kiwi Extract And Grape Extract

Combined and specially extracted they reduce

dehydration and improve skin luminosity and

reduce redness, for even skin tone and reducing

pigmentation.

Kunzea Essential Oil

Strongly anti-inflammatory, calms

the skin and reduces stress.

Deydroacetic Acid & Benzyl Alcohol

Balances bacteria, yeasts and fungus.

Coconut Extracts

Cetearyl Glucoside & Cetearyl Alcohol

- moisturising and nourishing and

protective.

Chia Seed Oil

Maintains healthy skin cell membranes

and wards off the harmful effects of

free radicals.

Jojoba Seed Oil

Full of nutrients like Vitamin E and B,

as well as antioxidants and minerals

like chromium, copper, and zinc,

which all nourish and protect skin.

Water

Binds with the ingredient

HLA to deeply hydrate and

protect the skin.

Plant Derived Glycerine

Hydrates and protects the skin.

Taumanu Oil

Amazing for reducing

scarring, it's anti-oxidant,

anti-aging and antiinflammatory.

Avocado Oil

The beta carotene, protein, lecithin, fatty

acids, and vitamins A, D, and E found in

avocado oil help moisturize and protect

your skin from damaging UV rays and

also increase collagen metabolism.

Sodium Hyaluronate

(Hyaluronic acid plant

based) low and high

molecular weight - smooths

wrinkles, boosts elasticity

and deep hydration;

Kawakawa Extract

Anti-inflammatory and

calming.

Yuzu Oil

Brightens and tones the skin

preventing wrinkles.

Dehydroxanthan Gum

Hydrates and protects the moisture

layers of your skin.

5
---
in flowers and often together

holding each other's feet. The cutest

photo ever! Onto more serious

stuff. As one of the pioneers in

using Manuka Honey we've seen

it's magical effect on healing

wounds, ulcers, eczema, and many

other skin conditions. As well as

being antiseptic, it also creates a

reaction in the skin that brings cell

nutrients to the skin layers which

further aids in the wellbeing of

the cell. Honey includes enzymes,

vitamins, minerals. It's the only

food that contains "pinocembrin",

an antioxidant associated with

improved brain functioning. It

also is a humectant which helps the

skin retain moisture and be supple.

Combined with HLA, glycerin and

xanthan gum, it makes for a great

moisture enhancer.

BEAUTIFUL

BEES AND THEIR

AMAZING GIFTS

T

hese amazing tiny, but mighty creatures have to fly

the same distance as three times around the planet

to make 500g of honey. That means that in each of

your Power products there's a few grams of honey,

so they've had to fly a massive distance to make that

for you.

On their travels each day they visit around 50 - 100 flowers on

each trip from the hive. I quite like the idea of my day being spent

visiting flowers and what I love even more is that they communicate

by dancing. What a life! I only recently learnt that the bee's brain

is oval in shape and about the size of a sesame seed, yet it has a

remarkable capacity to learn and remember things. For example, it is

able to make complex calculations on distance traveled and foraging

efficiency. (Fact from http://www.golden-green.ca).

There's lots more interesting facts about bees and I love this latest

image you may have already seen on social media. That bees sleep

I love all the products bees create

for us and find the bee venom

really interesting in how rapidly

it promotes collagen production.

Of course, there is NO harm to the

bees in the collection of the venom.

It's collected by a sticky pad on a

vibrating plate at the entrance of the

hive and the bees drop their stinger

in response to the vibration, the

sticky pad collect a tiny portion of

venom. This is collected over time

and by very patient beekeepers.

Since it is at such a high price point

to buy, they are pretty careful about

it. For me, anything that encourages

beekeeping and increasing the bee

population is something I want

to support, but how cool that we

get to use such incredible, unique

ingredients like bee venom, honey,

propolis and beeswax, all wonderful

healing elements for us humans.

Next time you see a bee, take a

moment to marvel at the long

journey it's been on to make honey,

but also that it does get to sleep in

flowers and spend much of its

day dancing.

6
---
WHAT'S

ANTI-AGING

ALL ABOUT? IS IT

REALLY POSSIBLE

TO REVERSE

AGING?

As we're all on the search for smooth,

healthy, clear, translucent and resilient

skin, what really works?

What inspires me to keep creating and formulating is

learning that as I get closer to 60, what I'm needing in

my skincare is different to when I was 20 years old when

I first started creating natural skincare ranges.

The foundation of younger skin is complex and has two

main components, collagen that gives firmness and

hyaluronic acid that plumps the skin. (Hyaluronic acid

is what 'fillers' are made of). As we age the collagen

matrix collapses and we lose hyaluronic acid (HLA). It's

my job to create products that build these back up. Yes,

it is possible to reverse aging and create smoother skin

we just need to provide ourselves with nutrients in our

skincare that stimulates collagen production, hydration

and rebuilds the hyaluronic acid that gives our skin

suppleness. So why don't we just smother our skin with

collagen? Firstly we can't absorb collagen through our

skin, while collagen products can make the skin feel

nice, they don't impact on the collagen beneath our skin

that gives firmness.

What we need to do is stimulate our bodies to produce

more collagen. Many skincare ingredients sit on the

surface of the skin and provide good nutrients and

protection, but need to be very small molecules to

penetrate the skin and cause biological changes. This

is one of the amazing features about bee

venom, it creates a very strong response in

the skin and promotes collagen production

like nothing else. It literally scares the skin

into building collagen.

As I am passionate about the environment

and supporting local New Zealand industries

using bee venom was to support the bee

industry as it costs $90,000 a kilo as they

work very carefully to ensure that no Bees

are harmed in the process of extracting

the Venom. I had expected that maybe the

effect of bee venom on skin was a bit of

hype, but the difference is really significant,

the skin strengthens and smoothens really

fast, especially helping repair sun damage.

We've combined the bee venom with so many

other nutritious ingredients such as low and

high molecular hyaluronic acid that your

skin responds quickly with smoother more

resilient skin, especially around the eye area,

you'll notice a difference really quickly.

For anti-aging I have designed Power

products to supplement any other natural

range of cleanser and day creams. The Super

Serum, Mask and Reishi & Mushroom night

oil are products which I am so passionate

about and I know that once you try them you

will be too.

7
---
THE

SUPER

MASK

W

ith the highest

concentrations of our

super ingredients, this

powerful bee venom

mask combats the effects

of urban pollution,

stimulating repair and radiance. The ingredients

stimulate collagen production and leave your skin

feeling really soft and supple. This concentrated mask

can be used twice weekly as a mask or for the best

results you can apply a generous layer can be applied

and left on overnight.

This is sure to leave you waking up and feeling

refreshed. The potent manuka honey and concentrated

plant extracts are designed to promote skin

smoothness and beauty.

The Super Mask also acts

as a really effective, but

very gentle exfoliant

which means you but so

you don't need to

exfoliate separately.

BUY NOW

8
---
Water

Binds with the ingredient HLA to

deeply hydrate and protect the skin.

Ingredient list and main function

for your skin:

Kawakawa Extract

Anti-inflammatory and calming.

Mango Seed Butter

Is a great source of vitamin A and C

that give a plumper more tighter look

and calms irritation.

Manuka Honey

Provides amazing nutrition,

hydration and stimulates cell activity.

Coconut Extracts

Cetearyl Glucoside & Cetearyl Alcohol

- moisturising and nourishing and

protective.

Halloysite Clay

The amazing New Zealand Clay is a

molecular sieve removing toxins from

the skin and firming and tightening

the skin.

Sodium Hyaluronate

(Hyaluronic acid plant based) low

and high molecular weight - smooths

wrinkles, boosts elasticity and deep

hydration;

Taumanu Oil

Amazing for reducing scarring, it's

anti-oxidant, anti-aging and antiinflammatory.

Plant Derived Glycerine

Hydrates and protects the skin.

Jojoba Seed Oil

Full of nutrients like Vitamin E and B, as well

as antioxidants and minerals like chromium,

copper, and zinc, which all nourish and

protect skin.

Deydroacetic Acid & Benzyl Alcohol

Balances bacteria, yeasts and fungus.

Chia Seed Oil

Maintains healthy skin cell

membranes and wards off the

harmful effects of free radicals.

Dehydroxanthan Gum

Hydrates and protects the moisture

layers of your skin.

Kiwi Extract And Grape Extract

Combined and specially extracted they reduce

dehydration and improve skin luminosity and

reduce redness, for even skin tone and reducing

pigmentation.

Potassium Sorbate

Helps balance the skin and manage

bacteria

Kunzea Essential Oil

Yuzu Oil

Brightens and tones the skin

preventing wrinkles.

Bee Venom

One of our heroes, stimulates collagen

and smoothes wrinkles.

Strongly anti-inflammatory, calms

the skin and reduces stress.

9
---
REISHI

AND

MANUKA

NIGHT OIL

T

his concentrated night oil is a beautiful

blend to create smoother, younger looking

even-toned skin, with a lovely luminosity

so you face the day feeling empowered.

Reishi mushrooms are renown for longevity,

combined with so many nutritious oils,

jojoba, chia and rosehip. The licorice extract glabradin

is amazing for creating even skin tone and reducing

pigmentation. The special essential oils rose otto, yuzu and

ylang ylang all help create younger more vital skin.

Add a few drops to a clean face at night for rich nourishment.

I also really enjoy some nights combining a few drops of this

yummy oil with a pump of the Super Serum and massaging

into my skin and leaving on overnight. Have a play, this oil is a

great addition even to a day cream.

Our Reishi & Manuka Night Oil will

refine and brighten your skin. Its

potent ingredients are designed to

increase the firmness of your skin

while you sleep and sometimes.

Using this product each evening

you will really see and feel the

difference in your skin.

BUY NOW

10
---
Ingredient list and main function

for your skin:

Lavander

Mandarin Essence Oil

Promotes cellular growth, has a high content

of vitamins, nutrients and antioxidants.

From soothing damaged skin to reviving your

complexion, gives your epidermis a boost.

To help reduce redness, blotchy

patches, and acne scarring.

Lavender oil's anti-inflammatory

properties make it great for

soothing and healing skin that's

irritated. Calming for sleep.

Reishi Mushroom Extract

Reishi is a herbal mushroom known to have

miraculous medicinal properties and health

benefits. Legends about this mushroom's

rejuvenating qualities are widespread. Known

to enhance agility, suppleness, and strength.

Rose Otto

Kawakawa Extract

Native to NZ, antiinflammatory

and

calming.

Ylang Ylang

To balance and regulate

oil production in the

skin, while also soothing

inflammation and

irritation. Calming

for sleep.

Licorice Extract

Soothing and great

for reducing the

appearance postinflammatory

hyperpigmentation.

Coco-caprylate

Natural emollient,

moisturises and

reduces wrinkles.

Is a powerful antioxidant, which helps fight

free radicals and reduce signs of aging such as

fine lines and wrinkles. These antioxidants also

help to protect the skin from UV damage. This

oil also helps to regulate moisture levels in the

skin, which keeps the skin plump, hydrated

and healthy.

Kunzea Essential Oil

Strongly anti-inflammatory, calms the skin

and reduces stress.

Jojoba Seed Oil

Full of nutrients like Vitamin E and B, as well

as antioxidants and minerals like chromium,

copper, and zinc, which all nourish and

protect the skin.

Cedarwood

Rose Oil

Strengthens the cells against

water loss, it is a proven antiager,

a great source of Vitamin

A, which helps in evening out

skin tone and fading dark spots

while reducing the appearance

of wrinkles. It also helps smooth

out a dry, rough complexion.

Chia Seed Oil

Maintains healthy skin cell

membranes and wards off

the harmful effects of free

radicals.

Yuzu Oil

Brightens and tones the

skin preventing wrinkles.

has anti-inflammatory

and antimicrobial

properties and

smells great.

Frankincense

Helps protect skin cells. It can be used to help

reduce acne blemishes, the appearance of large

pores, prevent wrinkles, and it even helps lift and

tighten skin to naturally slow signs of aging.

11
---
WHAT

IS RIGHT

FOR YOU.

Here's how to best use

your Power products. The

products are formulated

differently to most as they

address specific things

happening on the skin and

focus on deep hydration and

repair, promoting oil balance

and regulation, which means

if you're not producing

enough that will improve or

if you're producing too much

that will balance

out. Using Flow

Cytometry we have a

deep understanding

of the action of each

ingredient on the cell

membrane, DNA and

the mitochondria,

which helps us

understand actions

on the skin.

How my skin is feeling

Morning - This routine is for

all skin types

Evening

Apply 2-3 Times a Week

My skin often feels dry and I

see signs of aging

Gently massage your face for a

few moments and then splash

with water. You don't need to

use cleanser in the morning, you

want to keep the natural oils on

the skin that your night treatment

promoted.

Apply your Super Serum onto

your water cleansed skin.

Cleanse your face with your

favourite cleanser

Use a few drops of the Reishi &

Manuka Night oil and gently

massage into your face.

Alternate nights mix one pump

of the Super Serum with a few

drops of the night oil and apply

to face.

The Super Mask is firming and

deeply detoxing.

Combining the molecular sieve

of Halloysite Clay that draws

impurities.

All the other ingredients have

specific repair and restoring

attributes to strengthen and

support healthy skin.

My skin is prone to hormonal

acne or urban pollution.

Note these often get mixed up as

we are seeing dry skin with acne

and it's getting diagnosed as hormonal

acne, but often it's urban

pollution or too much screen

time and mobile phone use

damaging the skin with EMF's.

You do not need to use a toner as

the Serum is toning.

Apply your favourite Day Cream

and the rest of your care regime.

ONE + TWO

= FREE

Alternate nights do the

following:

Apply the Super Mask thinly to

the whole face. Allow to dry for

15 mins and then sleep overnight

in it.

Every second night use the Super

Serum mixed with 2 drops of the

Reishi & Manuka Night Oil.

My skin changes a lot depending

on weather, air conditioning,

sometimes it's dry and sometimes

it has oily patches.

Buy 2 products and get

one free.

Visit our store

More information on

back page

When your skin is feeling tighter,

use the Reishi & Manuka Night

oil and massage gently into the

skin and leave overnight.

Every second or third night use

the Super Serum mixed with a

few drops of the Reishi & Manuka

Night Oil. Massage lightly onto

the skin and wear overnight.

Use the Super Mask twice a week.

It will balance and smooth the

skin.

I have oily and troubled

skin with a tendency to

pimples.

Apply the Super Mask thinly to

the whole face. Allow to dry for

15 mins and then sleep overnight

in it.

If you skin has any times if feels a

bit drier, add 1 drop of the Super

Mask to the Night oil before

applying.

12
---
USING THE POWER

PRODUCTS

IS EASY.

Super Serum

The Super Serum is a versatile serum that deeply nourishes the

skin, plumping it with Honey and HLA, while the Bee Venom

activating your collagen layer. You only need a thin layer and

if you're feeling extra dry you can add a few drops of the Reishi

and Manuka Night oil. We have many people who are allergic

to bee stings use the product. It's always important with any

product to patch test.

Reishi & Manuka Night Oil

The Reishi & Manuka Night Oil is really versatile.

1. Use as a night treatment on cleansed skin, take a moment to

massage it into your skin paying attention to areas prone to signs

of aging.

2. Add a few drops to The Super Serum to give extra nourishment

in times when the weather makes skin drier.

"Excellent products with natural ingredients and great packaging" JOHN COOMBS

1. Use the Super Serum on a cleansed face in the morning, then

apply your day cream, sunscreen, makeup.

2. It's also great to mix with the Reishi & Manuka night oil as a

hydrating night treatment. Check in with your skin and get a

feeling for what it needs.

Super Mask

The Super Mask promotes collagen production in your skin,

and also acts as a gentle and thorough exfoliant.

1. You can use it as a traditional mask, apply generously over

the face avoiding the eye area, though it's fine underneath the

eye and on the lips. Leave for 20 - 30 mins and then rinse with

warm water. I often put it on and listen to a meditation.

2. Twice a week I apply a thinner layer and allow it to dry and

keep it on all night and rinse off in the morning. Here's where I

find it leaves my skin really soft and also exfoliated.

"I love how my skin feels after using these

beautiful products .. both the mask and

serum. Using all the natural ingredients

you know your skin will love you for it, as

it firms and smooths out the lines

and wrinkles"

Bright Skin Mask

(available from mid-August)

DIANNE CHARNLEY

This is a mask created for darker skins who are looking for more

even pigmentation and stimulate collagen. It is based on an old

Arabic recipe and is part of what we are creating with one of our

Empowered women Fatuma.

Apply a generous layer, avoiding the eye area. Leave for 20 - 30

minutes and rinse thoroughly with a lot of warm water.

Your skin will feel refreshed and energised and over time you'll see

brighter even-toned skin.

13
---
EMPOWERED WOMEN

Part of our vision with Power Skin Solutions is for women to feel empowered by having great skin, but also

on a much deeper level feature and support women who are living an empowered life. We all need inspiration

when managing life's challenges, big and small. In this issue, we are featuring two very special women.

WOMAN OF

PEACE

Jelena Petkovic is a single mother of three beautiful

children who is on a mission to help us all connect

with the infinite source of peace, beauty, and love

within, and then use it to create the health, life, and

world our hearts yearn for. Through her own life

journey to find her own health and power, she has a

vision to share the path to vitality with us all.

She is a modern-day medicine woman and your go-to

expert on healing that is rooted from the heart, that

honours the soul, and that expands into all life.

"Best skincare line I have

encountered in a long time.

Clean ingredients and

transformational for skin. I am

just loving these products and

would recommend to anyone

who wants glowing, healthy

and clear skin"

JELENA

jelenapetkovic.com

Jelena is a deep empathy that over the last 14 years

is a licensed medical provider, best-selling author,

thought leader, visionary, voice of love, humanitarian,

and transformation facilitator. Jelena's gifts to the

world include integrating the best techniques from

the east and west to provide us with the most loving,

nourishing, and rejuvenating practices to restore our

vibrancy and help us move towards a life of more ease

and bliss.

Her book Return to Beautiful is a guide for finding

your most vibrant way of living, A JOURNEY INTO

HEALING, FLOURISHING HEALTH AND BLISS.

Available from www.returntobeautiful.com

Jelena brings joy where ever she is and her latest

mission is the Women of Peace movement

www.thewomenofpeace.com providing mediums for

peace empowerment, leadership development and

inspiration to the world.

14
---
EMPOWERED WOMEN

FROM REFUGEE TO

BUILDING A BUSINESS

TO SUPPORT HER

FAMILY.

My name is Fatuma Maradom. I'm 40 years

old and I'm a Refugee living in Australia for

14 years and counting.

I'm the mother of 6 children and a

grandmother. I am currently running a

hairdressing salon from home and am a taxi

driver. I worked as an aged care worker for 4

years, as a childcare worker for 5 years. I am

so lucky and grateful to be in an opportunistic

country. I can build the future that I want, I'm

not forced to live a life that I despise.

I was also the chairwoman of the Somali

community in the first few years I was in

Australia. I am now working on being part

of this international skincare business with

Suzanne Hall and Power Skin Solutions

and creating ways for refugees and our

community to create more income for their

families. I hope to become an inspiration to

many women, in particular, the women from

the Muslim and African communities.

I wish to leave a legacy.

To find out more contact us on

potentnature@powerskinsolutions.com

I grew up in Somalia, the most dangerous country in east Africa,

a state governed only by anarchy. Famine was normal for me

as a child. My family and I were forced to watch my stepfather

get decapitated and tortured by Alshabab the military militia.

I have family members that have been kidnapped and are still

missing till this day. My mother is a paraplegic and my father

was completely blind, he recently passed away from lung cancer.

I was forced to drop out of school and cook, clean and care for

my younger siblings full time since I was 7 years old.

20 years ago, my mother told me to leave and find a way to get

overseas so I could help my family. I escaped Somalia and fled to

Kenya. I stayed as a refugee in Kenya for 8 years. I never looked

back since that day. What killed me was leaving my 6 younger

sisters and epileptic brother in Somalia with my disabled

mother. I was on a mission to provide for my family. I endured

domestic violence for so many years. My entire life was full

of abuse and pain. Not only physical abuse but psychological,

emotional and sexual abuse as well.

One day while I was at the refugee camp, one of my cousins

asked me if I saw my name on the board for people whose

visa was granted. I ran to the board and saw my name there. I

broke into tears and jumped up and down. This was one of the

happiest days of my life.

I arrived in Australia in 2005, at the age of 26 with three

beautiful children. My oldest child was 6 years old and the

youngest was 9 months old. I couldn't read, write or speak

English. I didn't know the Australian culture. I was scared,

excited, nervous, sad and happy. A million emotions were

rushing through me the day I landed in Australia. I realised

how strong I am as a woman that day. I finally managed to

make it out alive and that my children are now safe and sound.

15
---
AS A READER OF

THIS MAGAZINE

WE HAVE

A SPECIAL

OFFER

FOR YOU

Purchase a Serum and a Night Oil from

www.powerskinsolutions.com and

receive a free Mask. Own the whole

power trio and only pay for 2. You will

really see the positive change it can

have on your skin.

Only one promotional offer can be used per order

Promotional offer are valid till November 1st 2019

You can receive this discount at

our online store by using the

discount code SOMETHINGGOOD

when you reach the cart.

The Promotional Offer is only available to

individual consumers for products purchased

online at powerskinsolutions.com

A promotional discount cannot be used after an

order has been placed or in conjunction with any

other offer or discount

This promotional offer is available while stocks last

Are non-transferable, not for resale and not

redeemable for cash

Power skin solutions reserves the right to remove

this offer at any time

Buy Online At Our Site Or Also Available From Our Stockists.

@powerskinsolutions

@powerskinsolutions

powerskinsolutions.com