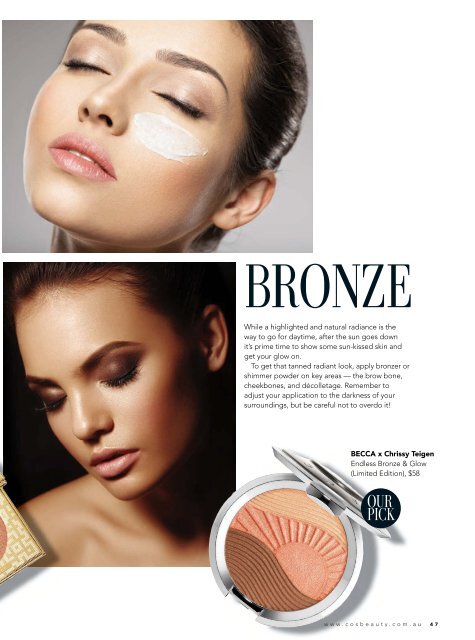 CosBeauty Magazine #85
CosBeauty is the #BeautyAddict's guide to lifestyle, health and beauty in Australia.
In this issue:
- The Breast Report - your guide to augmentation
- Put an end to bad hair days
- 24 hour makeup, products that last
- Sex appeal - do you have it?
BRONZE

While a highlighted and natural radiance is the

way to go for daytime, after the sun goes down

it's prime time to show some sun-kissed skin and

get your glow on.

To get that tanned radiant look, apply bronzer or

shimmer powder on key areas — the brow bone,

cheekbones, and décolletage. Remember to

adjust your application to the darkness of your

surroundings, but be careful not to overdo it!

BECCA x Chrissy Teigen

Endless Bronze & Glow

(Limited Edition), $58

OUR

PICK

www.cosbeauty.com.au 47
More magazines by this user