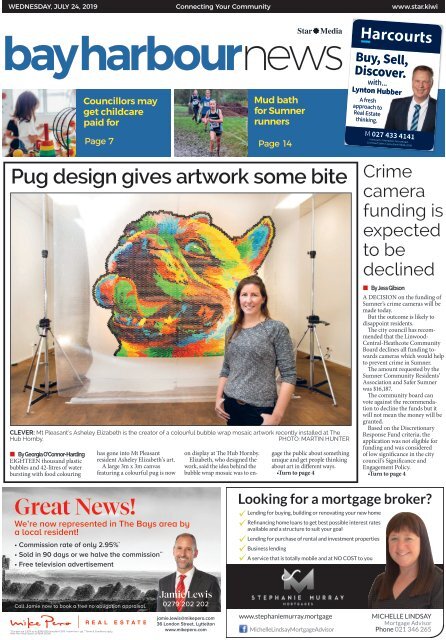 Bay Harbour: July 24, 2019
Create successful ePaper yourself
Turn your PDF publications into a flip-book with our unique Google optimized e-Paper software.
WEDNESDAY, JULY 24, 2019

Connecting Your Community

www.star.kiwi

Councillors may

get childcare

paid for

Mud bath

for Sumner

runners

Buy, Sell,

Discover.

with...

Lynton Hubber

A fresh

approach to

Real Estate

thinking.

Fo

Page 7

Page 14

M 027 433 4141

Harcourts Grenadier Ferrymead -

Licensed Sales Consultant REAA 2008

Pug design gives artwork some bite

CLEVER: Mt Pleasant's Asheley Elizabeth is the creator of a colourful bubble wrap mosaic artwork recently installed at The

Hub Hornby.

PHOTO: MARTIN HUNTER ​

• By Georgia O'Connor-Harding

EIGHTEEN thousand plastic

bubbles and 42-litres of water

bursting with food colouring

has gone into Mt Pleasant

resident Asheley Elizabeth's art.

A large 3m x 3m canvas

featuring a colourful pug is now

on display at The Hub Hornby.

Elizabeth, who designed the

work, said the idea behind the

bubble wrap mosaic was to engage

the public about something

unique and get people thinking

about art in different ways.

•Turn to page 4

Crime

camera

funding is

expected

to be

declined

• By Jess Gibson

A DECISION on the funding of

Sumner's crime cameras will be

made today.

But the outcome is likely to

disappoint residents.

The city council has recommended

that the Linwood-

Central-Heathcote Community

Board declines all funding towards

cameras which would help

to prevent crime in Sumner.

The amount requested by the

Sumner Community Residents'

Association and Safer Sumner

was $16,187.

The community board can

vote against the recommendation

to decline the funds but it

will not mean the money will be

granted.

Based on the Discretionary

Response Fund criteria, the

application was not eligible for

funding and was considered

of low significance in the city

council's Significance and

Engagement Policy.

•Turn to page 4

Great News!

We're now represented in The Bays area by

a local resident!

• Commission rate of only 2.95% *

• Sold in 90 days or we halve the commission **

• Free television advertisement

Looking for a mortgage broker?

lending for buying, building or renovating your new home

Refinancing home loans to get best possible interest rates

available and a structure to suit your goal

Lending for purchase of rental and investment properties

Business lending

A service that is totally mobile and at NO COST to you

Call Jamie now to book a free no obligation appraisal.

Jamie Lewis

0279 202 202

*Our fees are 2.95% up to $390,000 thereafter 1.95% + admin fee + gst. **Terms & Conditions apply

Mike Pero Real Estate Ltd REAA (2008)

jamie.lewis@mikepero.com

36 London Street, Lyttelton

www.mikepero.com

www.stephaniemurray.mortgage

MichelleLindsayMortgageAdvisor

Michelle lindsay

Mortgage advisor

Phone 021 346 265
---
PAGE 2 BAY HARBOUR

Latest Christchurch news at www.star.kiwi

Wednesday July 24 2019

get in touch

from the editor's desk

DON'T CALL me a grump but ratepayers

will understandably probably be a bit

miffed by the chance city councillors and

community board members will soon be

able to get reimbursed for childcare (see

page 7). They will vote before September on whether to okay a

new policy, which will allow them to have childcare paid for up

to $6000 a year when they attend meetings and other council

business and events.

Yes, that's correct – they will vote on this themselves. So when

I say chance, I suspect it will be a very high chance ratepayers

will soon be forking out.

The policy is aimed at encouraging more people to stand for

local politics.

But should ratepayers be paying for their childcare?

– Barry Clarke

GENERAL INQUIRIES Ph 379 7100

CLASSIFIED ADVERTISING Ph 379 1100

Star Media, a division of Allied Press Ltd

PO box 1467, Christchurch

starmedia.kiwi

NEWS

Jess Gibson

Ph: 021 914 169

jess.gibson@starmedia.kiwi

ADVERTISING

Jo-Anne Fuller

Ph: 364 7425

jo.fuller@

starmedia.kiwi

Rob Davison

Ph: 021 225 8584

rob.davison@

starmedia.kiwi

news

Strength and balance classes for over 65s

Older people in Lyttelton are getting active to live stronger

and longer lives.

Page 10

sport

Sumner's bogey team

Sumner suffered their third and final drubbing of the season at

Linfield Park.

Page 14

community events

Learning through a love for stories

Check out Storytimes at the Matuku Takotako: Sumner Centre

today from 10.30-11am and Lyttelton Library on Tuesday from

11-11.30am.

Page 17

The best-read local newspaper, delivered to

10,056 homes, RDs and farms every Wednesday

Brookhaven, Heathcote, Ferrymead, Redcliffs, Mt Pleasant,

Sumner, Lyttelton, Diamond Harbour, Governors Bay, Akaroa.

EMPOWERING GIRLS

YEARS 1 – 13

Book your personal tour today

Please contact: Lizzie Dyer, Registrar

(03) 353 2563 • enrol@stmargarets.school.nz

"We love it, you will too"

www.stmargarets.school.nz
---
Wednesday July 24 2019

News

Latest Christchurch news at www.star.kiwi

BAY HARBOUR

Local

News

Now

In Brief

PAGE 3

Fire rages, homes at risk

BOARD DECISIONS

A new agreement which will

give community boards more

decision-making powers has

been approved by the Banks

Peninsula Community Board.

The Governance Partnership

Agreement covers a series

of delegations which will be

transferred from the city council

to the community board on

August 1. The agreement will

mean the community board can

more efficiently make decisions in

its area.

SAFETY: A stricken 35ft yacht with three passengers was towed from south of Motunau to Lyttelton by the Sumner Lifeboat

on Saturday night.

Marathon rescue for Sumner Lifeboat

• By Jess Gibson

SUMNER LIFEBOAT coxswain

Blair Quane has called a 10-hour

night mission south of Motunau

his "hardest rescue in 17 years."

Sumner Lifeboat and North

Canterbury Coastguard crews

rescued three yacht passengers

on Saturday who had set out

from Picton.

The 35ft yacht had lost all

power in difficult conditions and

two rescue vessels were deployed

from Kaiapoi and Sumner at

about 5pm.

tree trouble?

call us 384 9630

www.fourseasonstreecare.co.nz

The North

Canterbury

Coastguard's Kaiapoi

rescue vessel was

launched first.

It was able to locate

the yacht while the

Sumner Lifeboat vessel,

Blue Arrow Rescue,

was on its way.

Blue Arrow Rescue was the

larger vessel, so it towed the

yacht to Lyttelton with its

passengers in the choppy 2m

swell.

Twelve Sumner crew were

Blair Quane

involved over 10 hours,

with six on the boat, two

relief and four shore crew

members.

"Our crew were quite

seasick with the conditions.

I've got crew who are sailors

which have travelled from

Auckland to Christchurch

and have never been seasick. It

just shows how rough it was,"

Mr Quane said.

He skippered Blue Arrow

Rescue on the mission.

"It was rough in all directions.

If you can imagine 10 hours in

a roller coaster, I'd like to think

most people would be puking

their guts out. I was the only

one who wasn't, but they call me

steel guts."

When Blue Arrow Rescue and

the yacht arrived at Lyttelton,

they were met by Sumner

Lifeboat shore crew, a St John

ambulance and a supply of

sandwiches and coffee.

Sumner Lifeboat crew

member Howard Nicholls said

the people on the yacht were

checked out by St John staff and

"all were fine but tired."

NEW TOILETS BY SUMMER

Akaroa's new $630,000 public

toilets are set to be built before the

summer visitor season starts. The

facility aims to meet the influx of

cruise ship passengers which put

pressure on Akaroa's ageing toilet

block on Rue Jolie. These old toilets

behind the Akaroa Service Centre

will be demolished next month to

make way for the new 13m long

prefabricated block of eight toilets.

PARKING ON BUS STOPS

Two bus stops in Heathcote Valley

may be marked with new paint

to prevent vehicles parking over

them. The Linwood-Central-

Heathcote Community Board is

set to decide today whether to put

line markings on stops at 20 Bridle

Path Rd and opposite 18 Bridle

Path Rd. It will also consider

changing the position of the stops.

Renovations & New Homes

Celebrating the best of

Banks Peninsula

INVITATION TO STALLHOLDERS

t h e t r e e p e o p l e

f o u r s e a s o n s t r e e C a r e

Visit www.bankspeninsulafestival.co.nz

to register your stall today!
---
PAGE 4 BAY HARBOUR

Latest Christchurch news at www.star.kiwi

Wednesday July 24 2019

News

Deputations will

be made to

community board

•From page 1

The report states that the level

of significance was determined

by the number of people affected

or with an interest.

City council staff were unable

to comment.

Chief executive of security

company October Protection

and Sumner resident Matt Wood

and Safer Sumner's Kath Preston

said they will be making separate

deputations at today's board

meeting.

Mr Wood was ready to supply

Safer Sumner with security

cameras in 2017 after members

raised $4000.

However, the cost of the

cameras jumped to $20,000 after

police requested the cameras be

aligned with their

system, which led

to Safer Sumner

approaching the

community board

for funding in

December.

Darrell

Latham

"It's all very well

to have people

slam the door

in your face but they've got to

be able to slam one door while

leaving some other doors open.

That's what we are asking for

really," Mr Wood said.

"It's the usual red tape you

have to go through," he said.

"We don't actually need the ridiculous

amount that the police

and council have been saying.

I'll be exploring other avenues

and options, we do have some

but more will become apparent

INITIATIVE: The Sumner

Community Residents'

Association and Safer

Sumner requested $16,187

of funding from the

Linwood-Central-Heathcote

Community Board towards

crime cameras. ​

[at today's meeting]."

Community board member

Darrell Latham said he is disappointed

about the recommendation.

"The community deserve a

full explanation as to how this

staff proposal to decline funding

has evolved. Given the recommendation

to decline funding

I would like to think that the

board can find other ways to

support this worthy community

initiative,'' Mr Latham said.

"Safer Sumner, the residents

association and the community

have been very proactive in

wanting to discourage crime.

They raised money towards the

cameras and sought the ongoing

support and guidance of the

board. They did everything requested

of them and police have

also been supportive."

Cable soon to be commissioned

ELECTRICITY upgrades are in

sight for Lyttelton, Corsair Bay

and Cass Bay.

An Orion spokesperson has

confirmed that work is on target

to commission the new $3

million 2.2km electricity cable

through the Lyttelton Tunnel

on or before July 31.

It was originally expected

that the new cable would be

fully operational by the end

of May but was delayed while

other works were being

undertaken in the area to

ensure its integrity.

TUMBLING: Noah Kennedy, 8, shows off his gymnastics skills with a headstand at the MASH

sumner holiday programme on Thursday.

PHOTO: MARTIN HUNTER

Artwork to be given away

•From page 1

"It is just something new. It

took a while for people to get

their heads wrapped around it

was bubble wrap," she said.

The artwork was grided up on

a pixelated map. The bubble wrap

was then hung over the artwork

and individual bubbles injected

with colour.

Eventually, the food colouring

will evaporate. It will take about

six weeks to disappear, Elizabeth

said.

The bubble wrap will then be

recycled.

It is not the only artwork

brightening up the mall.

A 4.8m x 3.6m high string mural

resembling bugs and featuring

more than 4000 screws were

installed.

"For the string art it was multigenerational

– the older people

remember doing that when they

were younger," Elizabeth said.

The Hub Hornby centre manager

Jason Marsden said every

year the mall tries to do something

with an artistic creative

aspect to inspire people.

BRIGHT: Artist Asheley Elizabeth and her team installed a string

mural featuring bugs at The Hub Hornby recently. The mall is

planning to give the artwork away. PHOTO: MARTIN HUNTER

Once a year the mall hosts

an art-related installation event

which gives artists the opportunity

to interact with customers

during construction.

In the past, these have

included giant sand sculptures,

kinetic sculptures made from

recycled materials and giant

coffee cups made from paper

cups.

Mr Marsden said the mall

would like to donate the string

artwork to a public space in the

community.

•If you are interested in

having the artwork email

Jason.Marsden@colliers.com

it's time to gear up!

FOR THE SKI SEASON

WE HAVE THE

LATEST STOCK

Extensive range of ski clothing

& accessories - helmets,

goggles, clothing & gloves

Open 7 days

dressmart HOrnby, main sOutH rd

pH 03 344 5304

A BRANCH OF

Adam Curtin

Solicitor

akc@younghunter.co.nz

Michelle Rossiter

Legal Executive

mjr@younghunter.co.nz

Proudly providing legal advice

to the community for over 25 years

P 03 384 5350

www.younghunter.co.nz

186 Main Road, Redcliffs
---
Wednesday July 24 2019

Latest Christchurch news at www.star.kiwi

BAY HARBOUR

PAGE 5

THE WHOLE

FAMILY CAN

ENTER, AND

EVERYONE

GETS A

TREAT!

NAME:

PHONE:

UPLIFTING: Vicki Tahau-Paton collected residents' comments to create a

letterbox flyer out of the words they used to describe Lyttelton.

101 things to love about

Lyttelton in your mailbox

BE IN TO WIN

a $50 Four Square Voucher for

the whole family and a Bic Kids

Colouring 12 Pack. Every entry

gets a free Pams Water 750ml

See full details in store

GIFT

CARD$50

1 PER

STORE TO

BE WON

• By Jess Gibson

LYTTELTON residents

may be in for a pleasant

surprise when they check

their letterboxes this

week.

A flyer showing

'101 things to love

about Lyttelton' will

be dropped to more

than 850 homes by

Vicki Tahau-Paton

(right).

Ms Tahau-

Paton was undertaking

a letterbox campaign for

her real estate business

in Lyttelton and wanted

to give back to the

community. Putting the

101 things flyer together

and distributing it seemed

a good way to do this.

The gesture comes

less than a month after

Lyttelton received a

scathing satirical review

on the Sh** Towns of New

Zealand Facebook page.

"I wanted people to

remember what

attracts them

to the town in a

positive way," said

Ms Tahau-Paton.

She produced

the flyer after

receiving

more than 160

comments when

she asked people to share

their favourite thing about

the port town on the

Lyttelton – Ain't No Place

I'd Rather Be Facebook

page.

"Opening the front gate

first thing in the morning

so neighbours and their

pets could come to visit,"

one comment read.

"New Year's Eve at

the corner and the ships

blowing their horns," read

another.

She collated them into a

graphic design, made up of

words from the comments

like "community," "people"

and "views".

"I was not expecting that

many responses, it blew

my heart apart. It was just

beautiful and so generous

of people to contribute,"

she said.

Ms Tahau-Paton has

lived in Lyttelton for

about 17 years and says

the community is what

she loves most. "We are

the luckiest people in

Canterbury," she said.

Copies of the design

can be picked up at the

Hairport Lounge, 56

London St.

Puhoi Valley

Yoghurt 450g

Snax Crunches 160g

$

4 79 ea

$

1 99 ea

Hellers Shaved

Meats 200g

$

4 49 ea

Tip Top Bakery

Supersoft Bread

700g

$

2 99 ea

Discover Christchurch's

best pet

accommodation

• Daycare - all breeds

• Long stay/short stay

Love Apple

Royal Gala Loose

Product of New Zealand

$

2 99 kg

Fresh NZ Skinless

Chicken Breast

Fillets

$

12 99 kg

Call now to

book in your

fur baby,

inspections

welcome

anytime!

ALAMEDA

KENNELS & CATTERY

271 Dyers Road | Ph 384 1297

www.alameda.nz

www.foursquare.co.nz

facebook.com/FourSquareNZ

Specials available South Island only from Monday 22nd July until Sunday 28th July

2019 or while stocks last. Wine and beer available at stores with an off licence.

Wine and beer purchases restricted to persons aged 18 years old and over.
---
PAGE 6 BAY HARBOUR

Latest Christchurch news at www.star.kiwi

Wednesday July 24 2019

News

Lonsdale considers

another shot at

council, mayoralty

• By Louis Day

FORMER HAGLEY-Ferrymead

city councillor Paul Lonsdale

has not ruled out another bid

for council or even a tilt for the

mayoralty.

Mr Lonsdale lost

out to current city

councillor Sara

Templeton by 4095

votes to 2499 when

he ran for the newly

created Heathcote

Ward in 2016.

He said it was

possible he could run

again in October's local

body elections.

"It is something that

is on my radar, there

is no question about

that," he said.

He was tight-lipped

over which ward he

would run in.

"I do have an idea

of where I would run

and there are multiple

choices that I would

have a decent shot

at, but there is one in

particular I'm looking

at."

He also did not rule out

Curios and collections, a cluster of local artists exhibit

their treasures over the month of August at Little River

Gallery. Lee-Ann Dixon, Jane Downes, David Lloyd,

Blanche Fryer and Anthony Savill exhibit covetable and

collectable, tiny and contained artworks that will tug at

your heart strings and capture your imagination.

Blanche Fryer's

big egg issue

Elemental

Clusters • Collections • Curios

Lee-Ann Dixon serves up a

dainty Cicada dish

running for the mayoralty.

Mr Lonsdale lost the 2013

mayoral election, receiving 22,855

votes while current Mayor Lianne

Dalziel got 72,600.

"I have stood against Lianne

before, but it would not

be unheard of for me to

give it another crack. It

is something I had not

really thought of but

there are people actually

asking if I would run, so

it will form part of my

consideration," he said.

Former mayoral

candidate John Minto,

Paul Lonsdale who was a high profile

activist and Springbok

tour protestor, has also

not ruled out running

again against Ms Dalziel

in October.

He received 13,117

votes, losing to Ms

Dalziel with 75,224

in the 2016 mayoral

election.

"I think for Lianne,

this is a retirement job

Sara Templeton for her and she is very

much a 1980s politician

and I think we need to move into

the new century," Mr Minto said.

Jane Downes'

Dragonfly on leaf

Little River Gallery open 7 days, Main Road, Akaroa Highway.

27 JULY – 21 AUG 2019 Main Rd, Little River

Lee-Ann Dixon | Jane Downes | David Lloyd | Blanche Fryer | Anthony Savill

David Lloyd's whimsical

scaled tools of timber

and copper

Silver serving trays offer up creatures faithfully

rendered in oils. A ceramic worlds of intrigue burst

from their timber-salvaged frame while giant metal

insects 'steel' about. The miniature copper and timber

tools conjure up an industrious Lilliputian community

and clusters of curios from the past are repurposed for

your visual pleasure.

03 325 1944

art@littlerivergallery.com

PROPOSED: The Taylors Mistake Surf Life Saving Club's new headquarters may go out for

consultation.

Public feedback may be sought on

new Taylors Mistake clubrooms

• By Jess Gibson

THE PUBLIC may soon have its

say on the new Taylors Mistake

Surf Life Saving clubrooms.

The Linwood-Central-

Heathcote Community

Board is set to decide today

whether to approve the start of a

public consultation on a process

to facilitate the clubrooms'

rebuild.

If public consultation goes

ahead, feedback will decide

whether the Taylors Mistake

Surf Life Saving Club is

granted a licence to occupy the

site.

The licence would enable it to

build a new $3 million pavilion

on the same site as the original

pavilion, which would be

demolished.

Resource consent has been

approved for the design at the

site, meaning if the club is not

granted the licence, it will need

to go back through the resource

Ferrymead

Many a Close Run Thing

by Tom Enright

A New Zealand squadron leader, flying-boat captain

and airliner pilot on a life of aerial adventure Planes

were rarely seen above the small Central Otago sheepfarming

town of Ranfurly in the 1940s. Yet as a young

boy, Tom Enright had a fascination with the skies that

quickly developed into a longing to become a pilot. He

joined the RNZAF as an engineer in 1951, and was sent

to England at just 16 to attend the revered Royal Air Force

college in Cranwell.

Returning to New Zealand to join the Vampire fighter squadron in Ohakea, Tom

became a famed member of the RNZAF aerobatic team. Later he became a

flying commander at Wigram air base, before captaining a Sunderland flying

boat to isolated communities in the vast South Pacific, often to the upper limits

of the plane's endurance.

From the near-catastrophic opening of Wellington airport to flying Boeing 747s

into the world's biggest airports, this is Tom Enright's story of the mishaps,

misadventures and high-altitude drama of a 45-year flying career.

The Guardian of Lies

by Kate Furnivall

1953, the South of France. The fragile peace between the West and Soviet Russia

hangs on a knife edge. And one family has been torn apart by secrets and conflicting

allegiances.

Eloise Caussade is a courageous young Frenchwoman, raised on a bull farm near

Arles in the Camargue. She idolises her older brother, Andre, and when he leaves to

become an Intelligence Officer working for the CIA in Paris to help protect France, she

soon follows him. Having exchanged the strict confines of her father's farm for a life of

freedom in Paris, her world comes alive.

But everything changes when Andre is injured - a direct result of Eloise's actions. Unable

to work, Andre returns to his father's farm, but Eloise's sense of guilt and responsibility

for his injuries sets her on the trail of the person who attempted to kill him.Eloise finds

her hometown in a state of unrest and conflict. Those who are angry at the construction

of the American airbase nearby, with its lethal nuclear armaments, confront those who

support it, and anger flares into violence, stirred up by Soviet agents. Throughout all this

unrest, Eloise is still relentlessly hunting down the man who betrayed her brother and

his country, and she is learning to look at those she loves and at herself with different

eyes. She no longer knows who she can trust. Who is working for Soviet Intelligence

and who is not? And what side do her own family lie on?

WIN THIS BOOK

ENTER TO

WIN

THIS BOOK

consent process and potentially

alter the design.

The club has been operating

from Taylors Mistake beach

for 103 years, and celebrated its

centenary in 2016.

The old clubhouse was

red- stickered after the

2016 Valentine's Day earthquake

rendered its previous stop-gap

repairs unsafe.

Since then the club has had to

operate out of three temporary

buildings.

book

release

We have one copy of Many a Close Run Thing to give away, courtesy of Take Note Ferrymead. To be in

the draw, email giveaways@starmedia.kiwi with Many a Close Run Thing in the subject line or write to Take

Note Book Giveaway, Many a Close Run Thing, Star Media, PO Box 1467, Christchurch 8140. To be eligible for

the draw, all entries must include your name, address and contact number. Entries close Tuesday, August 6.

Winner of The Accusation is Susan Jackson of Moncks Bay, Redcliffs.
---
Wednesday July 24 2019

Latest Christchurch news at www.star.kiwi

Councillors may get childcare paid for

• By Louis Day

RATEPAYER MONEY could

be used to pay for the childcare

of councillors and community

board members.

This comes after a new

policy from the Remuneration

Authority was released at the

start of this month which allows

councils to reimburse elected

members for childcare.

If adopted by a council,

members are

eligible to an

allowance

only if their

child is under

14 and the

childcare is not

provided by a

family member.

Deon Swiggs

Childcare

allowances are

also limited to $6000 a year per

child.

City council secretary Jo Daly

said it would consider adopting

the policy before September.

City councillor Deon Swiggs

thought the policy would be well

supported.

"I would expect our council

to support it and I will be

supporting it myself, not

necessarily for councillors but

for community board members.

It just takes away a bit of a

barrier for people with families,"

he said.

Cr Swiggs did not expect the

policy to lead to a rates increases

should it be adopted.

"I would not expect it to

come from any new money

from rates, I would expect this

to be absorbed from other

funds."

"We have a catering budget,

do we need a catering budget?

Those are the things I would like

to look at."

Cr Aaron Keown, who has

three children of his own,

thought city councillors were

earning enough to pay for their

own childcare and community

board members did not need it

due to it being a part-time role.

Councillors are paid $102,400

whereas the pay of community

board members varies between

$9864 and $24,580, chairs of

community boards are paid up

to $49,160.

Cr Keown said it was not

needed in Christchurch but

could be in lower-paid councils

across the country.

Cr Sara Templeton said she

would vote in favour of the

policy and saw it as a small step

to increasing diversity around

the decision table.

Cr Mike Davidson said he was

"open-minded to it."

The Selwyn District Council

adopted the policy last week.

Deputy Mayor Malcolm Lyall

said he believed the policy would

ruffle feathers and result in

backlash from the community.

"There's always going to be

someone saying, what are they

[the district council] doing? It's

just a part of the job and I'm just

keen to get more young people

around the table and that is what

this is about," he said.

•HAVE YOUR SAY: Do you

think city councillors and

community board members

should be reimbursed for

their childcare costs using

ratepayer money? Email

your views to jess.gibson@

starmedia.kiwi

BAY HARBOUR

PAGE 7

Local

News

Now

Tradies warned

to lock it or

lose it – police

Fire rages, homes at risk

POLICE ARE reminding tradies

in Lyttelton and Corsair Bay to

lock it or lose it after an increase

in thefts from four-wheel-drive

vehicles.

Christchurch metro area

prevention manager Inspector

Leairne Dow said tradespeople

in particular should be cautious

and secure valuable tools left in

vehicles.

"Police take this offending very

seriously, we know the impact it

has on victims, particularly when

it's someone's livelihood being

taken," she said.

There are a number of steps

tradies can take to keep their tools

secure, Inspector Dow said.

"Parking vehicles out of sight,

removing valuable items over

weekends, securing tools inside

vehicles with chains and padlocks

or even a tarp thrown over the top

of them can be useful deterrents."

She said the Serial Number Action

Partnership website is a useful

tool for recording serial numbers

which assist in the return of stolen

property if located by police.

"We encourage tradies to get

their tools engraved with their

driver licence number, and enter

these on the SNAP website, so if

the tools are recovered, we can

return them."

ADVERTORIAL

New-look food court to

enhance customer experience

Always aiming to provide an enjoyable and diverse shopping

experience for its customers, the popular Westfield shopping

centre in Riccarton is enhancing that experience with a facelift for

its food court.

Comprising 10 outlets with a variety of food choices, the whole

food court area is now lighter, brighter and more open, while the

addition of lush greenery, and the new improved seating layout

have been designed to create a more relaxed fast/casual eating

environment.

"We are delighted to showcase our new-look food court to our

community," centre manager Kirstie McNulty says.

She invites customers to join in the celebrations marking the

launch of the upgraded food court, which kick off on Thursday

evening, July 25. More FM will be on site, along with the Winning

Wheel giving customers the chance to win exciting prizes.

The entertainment will also include face painting, music and

action entertainment, waiters with food sampling and balloon

twisting. The celebrations will continue throughout the evening

on Friday, July 26, August 1 and 2, and August 8 and 9, with face

painting, balloon twisting, entertainment and giveaways.

The food court is not the only place to enjoy a bite at Westfield,

however – there are more than 30 eating places located around

the centre, all under one roof. These combined with the major

retailers, fashion brands and numerous other specialty stores give

customers the opportunity to enjoy true one-stop shopping at

Westfield, with something there for the whole family. Extensive,

easily accessible free parking adds to the convenience.

The food court renovations are a follow-on from the previous

upgrading work that was carried out some 18 months ago at the

centre and included painting of the whole interior and the addition

of comfort zones and plantings, Ms McNulty says.
---
PAGE 8 BAY HARBOUR

Latest Christchurch news at www.star.kiwi

Wednesday July 24 2019

Your Local Views

Local

News

Now

Forced into eyes on and being alert

Fire rages, homes at risk

I GUESS parenting isn't

something that actually gets

easier.

There has been a recent change

in the nature of my parenting

experience.

My little girl hit the 18-month

mark last week and it's like she's

so much older all of a sudden.

There's more word-like sounds,

she copies what you do and say

more (got to watch that road

rage swearing) and obviously

recognises words for certain

things.

I've got a painting in the hall

of a medieval village scene and

Vittoria can point out the dog if

asked.

That's pretty cool. It involves

form recognition, word

recognition and the recognition

of what's being asked of her.

But pointing out dogs doesn't

fundamentally change my dayto-day.

What does is the fact that

Vittoria has finally cracked the

ability to climb onto the couch.

Therefore anything else of a

similar height.

That's fine if I'm nearby but it

severely limits my opportunities

to leave her out of sight for any

length of time.

So there goes a relaxing

morning shower while Vittoria

VITTORIA

& Matt

innocently enjoys Pingu. Who

knows what mischief she could be

getting up to?

I suppose you'd probably

think it would stop me from

being able to duck off to the loo

as well, but then you wouldn't

have a toddler then would you?

They can't stay away from an

occupied loo.

As much as I'm lamenting

simpler times at home, I'm also

paradoxically super proud of her.

There's been a couple of "how

did you get there" moments over

the last week, but one sticks out in

particular.

Vittoria's highchair sits in the

kitchen, mostly unused. Climbing

it seems like a dangerous activity

and it scares the willies out of me

when she tries.

She was in the kitchen with me

the other day, helping me prepare

some food for her. I turned away

from her for mere seconds while

I washed up and in that time she

had climbed up the chair and was

happily sitting in it.

Terrifying.

Eyes on mate, eyes on.

•Former Bay Harbour News

journalist Matt Salmons

has become a stay-at-home

dad. We follow his journey

weekly.

Readers respond to

Linwood-Central-Heathcote

Community Board member

Darrell Latham's Soapbox

in last week's Bay Harbour

News who criticises the

process of exclusion of the

public from seminars

Linwood-Central-

Heathcote Community

Board member Tim Lindley

– I was a bit surprised by last

week's article calling for public

right to attend community

board seminars and presenting

such a move as an 'outbreak of

democracy'.

The Linwood-Central-Heathcote

Community Board I am on

holds two main types of meetings

– respectively called seminar

meetings and board meetings.

The board meetings are where

decisions are made and with very

few exceptions all are in public.

The word 'seminar' for the first

type of meeting may be a misnomer.

A more appropriate title

could be 'board briefings' as that

is closer to where they fit in the

chain of project governance.

They include staff updates on

approved projects, project plans

under development and forwardthinking

speculative concepts.

It is a time where board

members, as representatives of

the community, ask probing

questions and give frank and

honest feedback to council staff.

It is highly important that staff

presenting to these meetings feel

equally able, to be frank and honest

in their discussions.

Part of the discussion will

include when and how to get the

most effective community feedback

on project proposals.

This can take many forms,

including community meetings,

workshops, and on-line feedback.

For matters of significant impact,

there will also be a hearings

panel and I have served on many

of these.

Consultations matter and are

an important way to find good

ideas from the community and

ensure they are incorporated into

council project plans.

When a project comes to the

board decision meeting,

a board member

who is doing their job

well will have read

the full body of public

consultation and take

all views expressed

into account.

If consultation

and public feedback has been

inadequate or has been ignored it

behoves the board to insist that it

be done properly, and such board

deliberations are undertaken in

public.

From my experience as a firstterm

community board member

new to local politics, I have found

democracy alive and well in the

project approval and governance

processes of the board and that

public opinion is sought and

taken into account. It does not

mean that everyone will be happy

all the time, but that is how democracy

works.

The principle of continuous

improvement means we can

do better and should strive to,

however, I am not convinced that

making board briefings by staff

public represents an improvement

or serves our communities

any better.

Topsy Rule – As a resident of

the Sumner/Redcliffs

area for over

80 years, I am very

concerned to read that

the Linwood Central-

Heathcote Community

Board holds

some of its seminars

in secret.

We the ratepayers of Christchurch

pay the members wages and

elect them to work on our behalf.

Therefore, surely, we are entitled

to know just what is going on

in our area.

Alisdair Hutchison – I was

disturbed to read that most of

our elected Linwood-Central-

Heathcote Community Board

members regard it as good

practice routinely to exclude the

public from their seminars.

The more so when I read that

these elected representatives use

the seminars to discuss and debate

issues that are then voted on

at the following Board meeting.

Please, could they show some

leadership in this election year

and vote loudly to reverse the

presumption so that seminars are

routinely advertised and open.

When specific circumstances

warrant excluding the public for

part of a seminar that should be

decided on a case by case basis

with reasons being recorded in

writing and appended to the

agenda of the following Board

meeting.

I see that voting day is on

Saturday, October 13. It's time to

sharpen the pencils.

•If you have an opinion

about something that

is happening in your

area, email jess.gibson@

starmedia.kiwi

Visit our new website: www.min.nz

A professional realtor with

local expertise

and a personal touch

COASTAL REAL ESTATE SPECIALISTS

We'll help you live the dream.

Min Sarginson Real Estate Ltd. specialises in homes, sections and

rental properties in the spectacular Lyttelton Harbour bays, and

coastal suburbs of Christchurch, New Zealand.

We'll make it so easy for you. All our sales consultants live in the

area – we can give you valuable insights into life in our thriving

coastal communities.

This is an exciting time; of promise, optimism, and opportunities

never anticipated pre-quakes. Beachfront, or hillside with

grandstand views, find the property of your dreams:

Lyttelton | Diamond Harbour | Governors Bay | Cass Bay

Charteris Bay | Church Bay | Purau Bay | Port Levy | Northshore

Southshore | New Brighton | Heathcote | Sumner | Redcliffs

Scarborough | Mount Pleasant | Clifton

Call Min Sarginson Real Estate Ltd. for free, no-obligation advice. Lyttelton: 03 328 7273, lyttelton@min.nz or Church Bay: 03 329 4161, churchbay@min.nz
---
Wednesday July 24 2019

Latest Christchurch news at www.star.kiwi

BAY HARBOUR

PAGE 9

You're invited to the party

Renovation celebrations are kicking off at

Westfield Riccarton Food Court

Come on down for face painting, balloon twisting,

musical entertainment, plus heaps of giveaways and prizes

including the More FM Winning Wheel (25 th July).

25-26 JULY

1-2 AUGUST

8-9 AUGUST

| 5PM-8PM

| 5PM-8PM

| 5PM-8PM

See you in the Food Court
---
PAGE 10 BAY HARBOUR

Latest Christchurch news at www.star.kiwi

Wednesday July 24 2019

News

LYTTELTON RESIDENTS are

getting active so they can live

stronger for longer.

A new older persons' strength

and balance class held at the

Trinity Hall in the Lyttelton Recreation

Centre has been a hit with

the portside community.

It is a collaborative approach

between Sport Canterbury's

Green Prescription and

Live Stronger for Longer, a

programme which aims to

strengthen people over the age

of 65.

Lyttelton resident Anne Jolliffe

was delighted to see a class starting

up again in the area.

"For many years we had a class

for older people down here, but

then attendance dropped away

due to age and earthquakes.

"People come to practice balance

skills for day to day living

liquiD

SeLF Service

LaunDroMatS

289 Colombo Street, Sydenham

713 Ferry road, WoolSton

All sites open 7 DAYs, 5Am-11pm

WaSH 2 Mink

BLanketS or

DuvetS

For onLY $8

Hot Water &

extra LarGe

WaSHerS

avaiLaBLe

Dry up to 14kg from

$4 in only 25 minutes!

Save time &

electricity

WaSH & DrY

aLL Your

LaunDrY in

unDer 1 Hour

from

$

4.00 WASH $ 4.00 DRY

FITNESS:

About 20

participants

attend

the older

persons'

strength

and balance

class held

each week

at the Trinity

Hall in

Lyttelton.

Older persons' exercise

class proves popular

that we need to keep us away

from the doctor."

About 20 participants turn up

each week to take part in a range

of different activities and exercises

aimed to improve general

fitness and mobility as well as

cognitive exercises to help with

everyday stability.

Carol Hodgson is a regular

attendee at the classes which

run every Tuesday from 10.30 to

11.30am.

"I have arthritis, so the locality

is ideal for me. It's also good to

get out and meet new people in

my community," she said.

A strong turnout has lead to the

event becoming a permanent fixture

in the Lyttelton community

calendar.

Sessions are priced at $3 with

coffee and tea provided after the

class.

• Fast Dryers

• Sports Gear

• Duvets

• Mink Blankets

• Bedding

• Washers

• Domestic Laundry

over 70 locations nationwide

Other Locations: Richmond • Hornby • Hoon Hay • Burwood • Aranui • Rangiora

www.liquidlaundromats.co.nz

þ

Want to be

elected?

●Local Council

●Community Board

Star Media can help you.

Talk to us today about your campaign.

Contact Jo Fuller

p 03 364 7425

m 027 458 8598

e jo.fuller@starmedia.kiwi

●Ecan

●CDHB

Healthy harbour plan under way

Karen

Banwell was

appointed

as the

Whakaraupō

programme

manager

late last

year. A range of projects

associated with the

Whaka-Ora Healthy

Harbour plan have recently

started and she's looking

forward to enhancing

community engagement

around the plan

I am excited about getting

the Whaka-Ora Healthy Harbour

plan under way. This is a

wonderful opportunity for the

community to be involved in the

restoration of the Whakaraupō/

Lyttelton Harbour catchment

for ecological and cultural outcomes.

If we follow the markers laid

down in the plan, native birds

such as tūī, kārearea, and kāhu

can prosper, while our streams,

foreshore and wetlands thrive. I

feel privileged to be part of the

process.

The Whaka-Ora Healthy

Harbour Plan is all about engaging

the local community, so they

can play their part. The partners

– Christchurch City Council,

Ngāti Wheke, Te Rūnanga

o Ngai Tahu, Lyttelton Port

Company and Environment

Canterbury – have recently upgraded

the Whaka-Ora Healthy

Harbour website. This was done

to make it more user-friendly to

show what has been completed

and to display how people can

be involved, so we can all work

toward realising the Whaka-Ora

Healthy Harbour plan.

We have provided funding to

local groups such as the Otamahua

Quail Island Restoration

Trust, Diamond Harbour Reserve

Committee, and our local

schools to continue with their

restoration efforts. The schools

will also be involved to carry out

their environmental education

projects to measure the water

quality and invertebrate life of

local streams.

The partners have set up a

community advisory group

made up of local residents,

Check out NEW

items on the

Super Sale rack

Check out NEW items

on the Super Sale rack

Fashion

Easy Parking • Laybuy Welcome

Easy 17 Parking Lillian Street, • Laybuy Halswell Welcome

17 Lillian 03 322 Street, 4548 Halswell

Open Mon-Fri 03 322 9.30am 4548

- 5.00pm

Saturday 10.00am - 1.00pm

Open Mon-Fri 9.30am - 5.00pm

Saturday 10.00am - 1.00pm

representatives of Ngāti Wheke,

the Banks Peninsula Zone Committee,

and the Banks Peninsula

Community Board.

All members are well embedded

in local restoration activities.

They will help guide where

community action is best directed

to help restore Whakaraupō/

Lyttelton Harbour.

Conservation Volunteers New

Zealand will also lead a range

of initiatives within the harbour

from planting, to maintenance

work, to pest and predator

control.

There will be something for

everyone to be involved in, to be

a changemaker.

•If you would like to

participate in a project or

learn more about the plan,

then please visit the website

www.healthyharbour.org.nz

Still Pedalling!

Trevor Crowe's been repairing &

improving vehicles for 70 years.

You can benefit from his

experience at...

Subaru Specialists

Electric and

Hybrid Vehicles

We have a great range of Leaf's and

Prius's hand picked for the best

battery health. Sensible prices,

easy finance options. Backed up by

our expert technical team.

Visit online at

www.crowesport.co.nz

518 Moorhouse Ave (East End)

Phone 379 7615
---
Wednesday July 24 2019

Latest Christchurch news at www.star.kiwi

BAY HARBOUR

PAGE 11

22 nd to 28 th July 2019

$

13 90

kg

Fresh NZ Beef Bolar Roast

or Blade Steak

$

4 00

kg

Loose Red or Orange Kumara

$

1 90

ea

OVER

HALF

PRICE

Mars Chocolate

Blocks 150-160g

$

2 20

pk

Golden Crumpets 6 Pack

(Excludes Breaks)

$

4 00

pk

$

6 00

ea

Tararua Butter 500g

Kiwi Soft Toilet

Tissue Prints

2 Ply 12 Pack

$

12 90

kg

Fresh NZ Pork Loin Chops

(Excludes Free Range)

$

3 00

pk

Gold Kiwifruit 680g

$

4 00

ea

Keri Fruit Drink or

Juice 2.4-3L

$

20 00

pk

Carlsberg, Speight's Gold

Medal Ale or Summit Ultra

12 x 330ml Bottles

$

9 00

ea

$

7 00

ea

Gunn Estate 750ml

(Excludes Reserve)

Hummingbird

Coffee 200g

svbhn2407

Owned &

operated

by locals

SuperValue Lyttelton: 17 London Street, Lyttelton. Phone 328 7368. Open 7am–9pm, 7 days.

SuperValue Sumner: 3 Village Mall, Sumner. Phone 326 5688. Open 7am–9pm, 7 days.

While stocks last at SuperValue Lyttelton and Sumner only.

Please drink

For inspiration visit SuperValue.co.nz |

responsibly
---
CCRT_Newspaper Ad_370mm263mm_170719_FA.pdf 1 17/07/19 11:48 AM

PAGE 12 BAY HARBOUR

Latest Christchurch news at www.star.kiwi

Wednesday July 24 2019
---
Wednesday July 24 2019

Latest Christchurch news at www.star.kiwi

BAY HARBOUR

PAGE 13

keep it local

and support businesses in your community

BP Redcliffs

AUTO CENTRE

is NOW OPEN!

THE final stage of BP2go Redcliffs

redevelopment is complete - the Auto

Centre is now fully operational.

The all new BP2go complex opened at the

start of June, only 4 months after the old

service station was closed and demolished.

"Locals tell us they are very impressed

with the new BP, especially with what we

now have to offer the community," said

Robert Jiang, owner/operator.

The service station hours have extended

to operate 24/7 and 91, 95, 98 and diesel are

now available with a convenient outdoor

payment terminal option. The forecourt

also features fast EV charge ports.

The site has a BP super car wash,

convenience store with barista cafe serving

exceptional food and expresso, a dog wash,

trailer hire, and full mechanical workshop

providing repairs, WOF checks and vehicle

servicing in the new Auto Centre.

"We're pleased to advise that the Auto

Centre is now open for all your mechanical

repairs, servicing, and warrants. We're very

pleased to have two of our three original

mechanics return. The Auto Centre is open

Monday to Friday from 7:30am to 5pm,

and from 7:30am to Noon on Saturday for

warrant checks. And to make it even easier,

people can make workshop bookings online

on our facebook page and website."

Robert, who lives locally, has been the

Redcliffs franchise owner for the past nine

years.

"I'm proud we've been able to improve our

operation for the local community and am

grateful that everyone has been so patient

and supportive during the development."

According to Robert the BP Superwash

has been a great addition to the business.

"It is a hassle free way to keep your car

looking great. Our hi-tech brushes provide

a great clean and are made of soft materials

that are gentle and on your car."

Ask in-store when you make your next

carwash purchase about their fantastic

Megawash Ultra Bonus Card - buy 4 and get

the 5th wash free!

Whether you're after a snack or a light

meal, the BP cafe offers a wide selection of

freshly made items available to takeaway

or eat in. Hot pies, savouries, sandwiches,

wraps and rolls, cakes and muffins, slices and

Mechanics Levon

Hanson and Stephen

Harris with franchise

owner Robert Jiang

biscuits. There's something

to satisfy any appetite. And

to wash it down, there is an

assortment of hot and cold

drinks including barista

crafted coffee. Save time and

text your coffee order to 020 413 52850!

Also be sure to grab a loyalty card next time

you purchase - buy 5 coffees and you get the

6th free. Or use your Goody card for Coffee

and Car wash.

BP2go Redcliffs, 170 Main Rd, Redcliffs.

Phone 03 384 7954. www.bp2goredcliffs.

co.nz www.facebook.com/BP2goRedcliffs

It's a one-stop-shop!

kids TRAMPiNG

BOOTs

BP 2go Redcliffs is NOW OPEN!

SIZES

1-7

FROM

$79.95

47c Garlands Road, Woolston

Phone 389 3431

www.thefootwearfactory.co.nz

Aviation Automotive

Maritime Rail Military

Artwork, books, models and more.

Lyttelton Framing

Quality Picture Framing by UK qualified conservation

framer. Very competitive prices and all work is guaranteed.

32 London Street, Lyttelton | Ph. 03 328 7350

E. anchorfinearts@xtra.co.nz

WE ARE OPEN

Monday - Friday 7am-4pm &

Saturday 7am - 2pm

8 Norwich Quay, Lyttelton

Phone: 03 328 9004

Follow us. Glamour Cake on Facebook

and Breeglamourcake on Instagram.

FERRYMEAD

• Mathematics

• Reading

• Spelling

• English

DOES

YOUR CHILD

NEED SOME HELP?

ENROL THEM TODAY!

• Sciences

• NCEA Subjects Y11-13

• Preparation for school

entrance test

FREE

AssEssmEnt

Unit 1/27 Waterman Place, Ferrymead

(just off Ferry Rd) | Phone 384 1188

www.kipmcgrath.co.nz

YOUR LOCAL

ONE-STOP-SHOP

● FUEL

● CAFE

● CAR WASH

● EV CHARGER

●DOG WASH

● TRAILER HIRE

● VEHICLE REPAIRS

& SERVICING

(WORKSHOP

OPENS IN JULY)

Buy 5

Barista

crafted

coffees

6th FREE

Redcliffs

Buy 4

BP Mega

Ultra Wash

5th FREE

170 Main Road, Redcliffs, phone 03 384 7954

www.bp2goredcliffs.co.nz www.facebook.com/BP2goRedcliffs

Spend $40 or more on fuel and swipe your registered AA Smartfuel or AA Membership card.

Discount is up to 50 litres. See AAsmartfuel.co.nz for terms and conditions.

Advertising enquiries Jo Fuller | Ph: 027 458 8590 | jo.fuller@starmedia.kiwi
---
PAGE 14 Wednesday July 24 2019

BAY HARBOUR

Latest Christchurch news at www.star.kiwi

SPORT

EFFORT: Millie Junge battles

through the mud on way to a

14th place finish in the under-12

girls event.

PHOTO: PAUL KOSTER ​

Trying conditions

for runners

• By Gordon Findlater

PERSISTENT RAIN late last

week meant that Sumner Running

Club members battled what

looked more like a mud bath than

a racer course at the Canterbury

Cross Country Championships.

A 28-strong team from Sumner

travelled to Halswell Quarry on

Saturday and weren't put off by

the trying conditions. Across the

junior and senior categories the

club collected eight podium finishes,

including three golds.

In the juniors Abigail Scott-

Douglas finished third in the girls

under-12 race. There was also a

third place finish for Hero Barrettelli

in the boys under-10.

Meanwhile, in the senior events

golds were won by Robyn Perkins

in the women's 55-plus, David

Fitch in the men's 40-plus and

Graham Batchelor in the men's 70

plus. There was also third place

finishes for Alistair Cory-Wright

in the men's 50-plus, Jan Harrison

in the women's 50-plus and

Katherine Fitch in the women's

45-plus.

The next major event of the

Canterbury athletics winter programme

in the Canterbury Road

Championships on August 31.

Uncertain future for Lyttelton

• By Gordon Findlater

LYTTELTON WILL go

into Saturday's premier

reserve quarter finals as the

competition's top qualifier.

However, that may not be good

enough to see them eligible to

play in the competition next

year.

A decision made by the

Canterbury Rugby Union three

years ago means teams wanting

to compete in the premier

reserve grade must also have a

team competing in the premier

competition.

The decision would mean

Lyttelton Rugby Club's top side

will be forced to drop down to

the senior grade – also known as

division three – next year. However,

Lyttelton are challenging

the decision and club president

Clinton Norris is confident it

will be overturned as a meeting

between the CRFU, metro rugby

committee and the clubs on

August 7.

The change would also effect

Suburbs and Otautahi who also

compete in the premier reserve

grade, but not in the premier

competition. It's understood

• By Gordon Findlater

LINWOOD CAN well and truly

be considered Sumner's bogey

team after their season finished

with a third drubbing at Linfield

Park.

Sumner's 0-47 loss to

Linwood on Saturday

followed their previous

heavy defeats to the same

opposition, losing 22-76

in April and 15-48 earlier

this month. The latest

result also eliminated

Sumner from the bowl

playoffs and ended their

season.

Coach Martin Dodgson said

the game was emblematic of their

season.

"When we were good, we were

really good, and when we were

bad, we were really bad," said

Dodgson.

"Unfortunately we were only

really good for the last 20min and

Martin

Dodgson

the change was set to come into

place originally in 2017, but was

delayed until 2019 to allow the

clubs to try and establish a side

in both the premier and premier

reserve competitions.

Norris feels that if Lyttelton

are not able to field a side in the

premier reserve grade next year

it may result in players leaving

the sport.

"That would kill our club.

There's just no way we could

hold onto players or even recruit

because players want to play in

the grade they feel they're competitive

in," said Norris.

the game was already gone."

One thing Sumner can take

from their season is that they were

one of only two teams this year

to defeat both of this weekend's

premier grand-finalists – Lincoln

University and High School

Old Boys.

However, due to their bowl

semi-final exit, they will

finish the competition below

University, which didn't

win a round-robin match all

year, but defeated Belfast in

Saturday's other bowl semifinal.

The attention now turns to

Sumner's premier reserve team,

which hopes have better fortune

at Linfield Park on Saturday

when they play Linwood in their

quarter-final.

BREAK: First-five Josh Toy

makes a run during Sumner's

0-47 loss to Linwood.

PHOTO: ROZELLE MAY

CONCERNS: A

decision from the

CRFU could see

Lyttelton relegated

from the premier

reserve grade which

they currently lead.

Some of our players would

drop out of the sport and be

lost to rugby . . . they just love

the culture we have, we're like a

country club in the town competition,"

said Norris.

He also feels if the club's top

side was forced to play in the

metro senior grade it would

eliminate the pathway for clubs

like Lyttelton to get to the top

and establish a premier side in

the future. Lyttelton currently

has two senior teams and eight

junior teams.

Lyttelton's premier reserve

side won 12 of their 14 roundrobin

games this season and

host Sydenham in a quarter-final

at 1pm on Saturday. They have

previously won the competition

in 2011 and 2013.

In recent years former

Crusaders and All Blacks player

Corey Flynn has represented the

side.

Metro committee chairman

Brent Goldsmid said a decision

will be made at the meeting

on August 7, but declined to

comment further on the matter.

The CRFU was not able to

respond to questions before the

Bay Harbour News deadline.

Bogey team ends Sumner's season

3 issues $20 • 6 issues $44.50 • 10 issues $65

rugbynews.co.nz 0800 77 77 10
---
Wednesday July 24 2019

Latest Christchurch news at www.star.kiwi

BAY HARBOUR

PAGE 15

Four Grenadier seasons Ferrymead realty & Sumner

Mt Pleasant

4 2 1 2 Mt Pleasant

4 2 2 2

1-226 Mt Pleasant Road

When the owners of this stunning home designed and built their property, the vision was clear; they wanted a quality

and contemporary home, which allowed effortless living and entertaining and maximised the sun and sweeping sea

views. With careful crafting and attention to detail, that is exactly what they have produced.

Built in 2017, this builder's own home will impress with its thoughtful floorplan, quality fixtures and fittings, plus many

bespoke features.

Auction: Auction, 8th August 2019, from 12pm

View at: www.harcourts.co.nz ID#SM0219

Michelle Ward Ph 027 203 7858 & Shaun Davey Ph 027 953 8860

1 Clearview Lane

Superbly positioned in The Ridge Subdivision on Mt Pleasant encapsulating phenomenal views stretching from the

Kaikoura Ranges over the sea to the Southern Alps. With the rolling hills of John Britten Reserve and a rural backdrop

including Castle Rock to the South you'll never tire of coming home to this grandest of landscapes.

An exceptional home of Sean McCurrie architectural design and high calibre build with reassuring solid masonry

construction, complemented with copper and louvres.

Auction: Auction, 8th August 2019, from 12pm

View at: www.harcourts.co.nz ID#SM0217

Alison Carter Ph 027 431 8960

Mt Pleasant 1/179 Soleares Avenue

Mt Pleasant 2/179 Soleares Avenue

Mt Pleasant 182 Mt Pleasant Road

Papanui 2/109 Main North Road

2 2 2

2

3 1 1 4

3 2 1

2

2 1 1

Auction: 1st August 2019, from 12pm

View at: www.harcourts.co.nz ID#SM0223

Deb Beesley

Ph 027 280 8837

Auction: 1st August 2019, from 12pm

View at: www.harcourts.co.nz ID#SM0218

Deb Beesley

Ph 027 280 8837

Auction: 8th August 2019, from 12pm

View at: www.harcourts.co.nz ID#SM0213

Michelle Ward Ph 027 203 7858

Shaun Davey Ph 027 953 8860

Deadline Treaty: 31 July 2019 4pm

View at: www.harcourts.co.nz ID#FM5537

Sam Ansell Ph 021 160 6254

Josh Westland Ph 021 258 4410

Mt Pleasant 166 Soleares Ave

Ferrymead 27 Kotuku Crescet

Linwood 5 Thomas Street

Linwood 7 Woodham Courts

4 3 2

2

3 2 1 2

3 1 1

1

2 1 1 1

Auction: 8th August 2019, from 12pm

View at: www.harcourts.co.nz ID#SM0224

Alison Carter

Ph 027 431 8960

Auction: 8th August 2019, from 12pm

View at: www.harcourts.co.nz ID#FM5533

Sam Ansell Ph 021 160 6254

Josh Westland Ph 021 258 4410

Price: $330,000

View at: www.harcourts.co.nz ID#FM5494

Joy Butel Ph 021 353 280

Alistair Hazeldine Ph 027 572 1555

Price: $295,000

View at: www.harcourts.co.nz ID#FM5538

Chris Moores

Ph 027 588 4440

Greg Powell

Branch Manager

027 274 6157

Alison

Carter

027 431 8960

Michelle

Ward

027 203 7858

Deb

Beesley

027 280 8837

Joy

Butel

021 353 280

Chris

Moores

027 588 4440

Kirsty

McLeod

027 226 5893

Liz

Lewis

027 453 0952

Megan

Looyer

027 841 2335

Mandi

Ussher

022 621 5758

Elisa

Jordan

027 483 6596

Mark

Robertson

027 511 5758

Ferrymead

& sumner

Carol

Williams

027 282 4950

Dave

Elston

0274 593 165

Claire

Savage

0210 314 342

Steve

Liebert

021 138 8401

Shaun

Davey

027 953 8860

Alistair

Hazeldine

027 572 1555

Lynton

Hubber

027 433 4141

Prue

Dacombe

021 752 348

Suzanne

Robin

027 271 4906

Sam

Ansell

021 160 6254

Josh

Westland

021 258 4410

Larissa

Clarke

020 418 07138

1020 Ferry Rd Ferrymead • Ph 384 7950 • harcourtsgrenadier.co.nz

Grenadier Real Estate Ltd MREINZ is a Licensed Agent Under the

Real Estate Agents Act 2008
---
PAGE 16 Wednesday July 24 2019

BAY HARBOUR

Latest Christchurch news at www.star.kiwi

Be in to

BOOK

ONLINE

NOW AND

SAVE!

WIN your

dream

honeymoon

Pre-purchase your

tickets from

withthisring.kiwi

for only $10pp

or get a ticket on

the day for $20pp

weddingshow

sunday 25th August, 2019, 10am–3pm, Air Force Museum, Christchurch
---
Wednesday July 24 2019

Latest Christchurch news at www.star.kiwi

BAY HARBOUR

PAGE 17

Email jess.gibson@starmedia.kiwi by

5pm each Wednesday

Knit 'n' Yarn

Today, 10am-noon (Lyttelton),

Tuesday, 10.30-noon (Sumner)

Take your knitting, crochet or

other portable craft project and

enjoy time with other crafters.

Have a look at the range of books

to get ideas for your next project.

Free, no bookings required.

Beginners welcome.

Lyttelton Library and Matuku

Takotako: Sumner Centre

One Stitch at a Time

Tomorrow, 10am-noon

Have a natter over needles at

One Stitch at a Time. All are

welcome from people who have

never crafted and aren't sure it is

for them to experienced crafters

who feel like a bit of a chat while

they sew, knit and weave.

Mt Pleasant Community

Centre

A Very Pleasant Playgroup

Tomorrow, 9.30-11.30am

Drop-in playgroup for preschoolers

and their grown-ups.

Stay for the whole session or

drop-in when it suits.

Mt Pleasant Centre

JP Clinic

Tomorrow (Little River), 11am-

12.30pm, and Saturday, 10amnoon

(Sumner)

A justice of the peace will

be available to members of

the community to witness

signatures and documents,

certify document copies, hear

oaths, declarations, affidavits

or affirmations, as well as sign

citizenship, sponsorship or rates

rebates applications. There is no

charge for this service.

Little River Library and

Matuku Takotako: Sumner

Centre

Tai Chi

Friday, 7-8.30pm

This is a gentle exercise for

people of all ages and fitness

levels, bringing many health and

other benefits. All are welcome

to attend this weekly class. Phone

Lucida for more information on

022 697 7420.

105 Bridle Path Rd

Lens on the World

Friday, Saturday and Sunday

10am-4pm

An exhibition of art

photographs by members of

the Diamond Harbour Camera

Club which includes images

from club field trips and travels

abroad. All works for sale. Free

entry. Historic Stoddart Cottage

is a great place to visit with

the family during the school

holidays. Hop on the ferry from

Lyttelton.

Stoddart Cottage Trust, 2a

Waipapa Ave, Diamond Harbour

Encourage learning through a love for stories at Storytimes, an interactive programme including

stories, songs, rhymes and play. This is a free session which runs at Matuku Takotako: Sumner

Centre today from 10.30-11am and at Lyttelton Library on Tuesday from 11-11.30am.

Shoreline Toastmasters

Monday 7.30-9pm

Nervous about speaking?

Gain confidence by practising

speaking, listening, learning

and laughing in a warm,

friendly non-threatening

environment.

Mt Pleasant Yacht Club

Akaroa Craft Group

Monday, 1.30-2.30pm

Go along and join the very

friendly Akaroa Craft Group.

Sit in comfy chairs and have a

relaxing chat while working on

your craft project. Share skills in

a wide range of crafts, including

needlework, knitting, quilting,

handicrafts, making dolls, teddy

bears and spinning.

Akaroa Library

Mt Pleasant Walking Group

Tuesday and Thursday,

9.30am

A mix of flat and hill walks

for people with a medium

level of fitness. Walks are in

nearby areas and further afield.

There will be carpooling with

shared costs. Phone Judy 384

1269.

Various locations

Technology Help

Sessions

Monday, 2-3pm

If you need help using your

computer, smartphone, iPad,

or tablet, go along to a drop-in

session. It will cover off email,

searching the internet, using

the library catalogue, eBooks,

and general computer queries.

Take your laptop, tablet, or

smartphone, or use one of the

centre's computers for help with

anything digital. No bookings

required at this free event.

Matuku Takotako: Sumner

Centre

IF IT'S

HAPPENING NOW

CALL 111

IF IT'S

ALREADY HAPPENED

USE 105

There's a new way to report non-emergencies to Police.

Use 105.police.govt.nz if you've had something stolen, your property

has been intentionally damaged or have lost property to report. You can

also get updates here on a Police report you've already made, or add

information to it. Call 105 to report anything else that's already happened.

Just remember, in an emergency, always call 111.

NZP0467_B1
---
PAGE 18 Wednesday July 24 2019

BAY HARBOUR

Latest Christchurch news at www.star.kiwi

CANtAbRIANS

ouR

NEWSPAPERS

Canterbury

readership up

14 %

INCREASE

Reach 164,000* readers

with just one ad in our

Star Max Circ Package.

For advertising enquiries

please contact Shane Victor

Phone: 021 381 765

Email: shane@starmedia.kiwi

*Source: Nielsen CMI Q2 18 – Q1 19.
---
Wednesday July 24 2019

Latest Christchurch news at www.star.kiwi

REAL ESTATE

Sun filled family friendly

137 Kotuku Crescent, Woolston

Price: Enquiries over $399,000

3 bedrooms | 1 bathroom | 1 lounge | 2 car-garage | 2 off-street carparks | Listing Number SMT10430

BAY HARBOUR

PAGE 19

Family focus incorporating a

layout conducive to entertaining and

capitalizing on its location and the allday

sunshine.

This wonderful home set on 472m2

with a 133m2 floor plan offers family

friendly living areas, three double

bedrooms, master with semi ensuite, and

separate wc a must for every home.

The chef of the family will enjoy

cooking in the well designed kitchen.

The north west facing outdoor patio

area flows wonderfully from the living

area for your ease of entertaining. The

spacious living area captures the last of

the afternoon sunshine a perfect space to

relax in after a hard days work. Offering

an attached double garage and off street

parking

Very tidy throughout and ideally

positioned away from the easterly winds.

Situated in the desirable location of

Brookhaven.

All shopping amenities are close

by, Ferrymead is 10 minutes walk.

Restaurants, entertainment, boutique

shopping emporium The Tannery are

a short drive. Bus stop a short walk.

Handy to outdoor recreation the

Estuary, beaches and Port Hills. Zoned

for Mt Pleasant School. Suitable first

home buyers, families, professionals or

investors.

Our owners minds are set, this property

will be SOLD.

Please phone for viewing times.

Please call Debra Hakaraia

Smart Real Estate

Call 0275620420 or 033848600

Smartrealestate.co.nz

Licensed Agent Reaa 2008

growing with you June 2018 | 100%

Plants For

winter wow

Cool Choices

For Colour

& Contrast

From swamp

to sea views

The journey

begins with sarah

the Gardener

$7.90 incl. GST

Snap it up

Enter our annual

Birdlife Photo

Competition to win

great prizes!

clear the air

Why groWing

indoor PLAnTs is

so good for you

give it a grow

from gArLic

To chinese

ArTichokes,

We hAve your

groWing TiPs

covered

the latest releases

into the rose world

+ rose care

through winter

The magazine for

gardeners who like to get

their hands dirty

SUBSCRIBE FROM

$43. 50*

*6 issues/6 months

SUBSCRIPTIONS FREEPHONE

0800 77 77 10

WWW.GARDENER.KIWI
---
PAGE 20 Wednesday July 24 2019

BAY HARBOUR

Latest Christchurch news at www.star.kiwi

WHY CHoose

for Your next VeHICLe?

It's in our name

- Value!

A vehicle from

Value Cars will have

the best presentation,

best mileage and best

price combination.

We have been

trusted in Canterbury

for over 25 years and a

majority of our customers

are referral or repeat

customers. We stand by

every vehicle and we are

proud of our service.

One location for

every type of vehicle

and under cover makes

for a pleasant buying

experience. Our colour

and low mileage selection

is something we work

hard to provide.

CANTERBURY OWNED

& OPERATED

ESTABLIShED 1993

VALUE

REPUTATION

SELECTION

TRUSTED

CHeCk out our Huge rAnge of HAtCHbACks!

PLUS

REGISTRATION

2010 toyota iq

$7,999

An amazing little car with an NCAP 5 star safety rating

and some very innovative design features that make

it safe, economical and extremely maneuverable, 1.0

litre engine, automatic trans, very low kms, stands

out finished in red, keyless entry, rear wiper, ABS, T/C

and multiple airbags, great buying at this price!

PLUS

REGISTRATION

2010 bmw 116i

$10,999

A RWD European hatch, looks stylish and sporty, 1.6 litre

engine, tiptronic trans, 4 star fuel efficiency, stunning in

white, body kit styling, driving lights, 16" alloys, black

interior complimented by stunning red leather seats, push

button start, reverse camera, rear wiper, low kms, safety

of ABS, T/C, multiple airbags, you won't be disappointed!

PLUS

REGISTRATION

2014 honda fit

$13,999

Popular, versatile and economical 5 door hatch,

current model, 1.3L engine with idle stop, automatic

trans, 5.5 star fuel efficiency, stands out in yellow

with chrome detailing, stylish black interior, very low

kms, push button start, reverse camera, rear wiper,

ABS, T/C and airbags, inspection won't disappoint!

PLUS

REGISTRATION

2018 nissan march

$13,999

The March is a light steering, easy to drive, popular,

economical and surprisingly spacious 5 door hatch,

features a 1.2 litre engine with automatic trans and

5 star fuel efficiency, travelled very low kms, looks

sharp in silver, keyless entry, rear wiper, ABS, T/C

and airbags, fantastic buying for a near new vehicle!

PLUS

REGISTRATION

2009 mazda aXeLa

$13,999

The Axela has quickly become a very popular mid-sized

family hatch and preferred in it's class by many, 2.0 litre

engine with i-stop, tiptronic trans, paddleshift option,

4.5 star fuel efficiency, stands out in electric blue with

driving lights and 16" alloys, push button start, low

kms, safety of ABS, T/C and 6 airbags, nice car!

PLUS

REGISTRATION

2012 mitsubishi mirage

$8,999

Surprisingly spacious 5 door hatch, features an

economical 1.0 litre engine with idle stop and

automatic trans returning 5.5 star fuel efficiency,

sure stands out finished in yellow metallic, travelled

very low kms, push button start, rear wiper, ABS

and airbags, worth a look!

PLUS

REGISTRATION

2016 toyota vitz

$13,999

Current model, features an economical 1.0L

engine with automatic trans, looks great and

stands out in blue with stylish dark interior,

travelled very low kms, keyless entry, rear wiper,

ABS, T/C and airbags, well worth a look - fantastic

buying!

PLUS

REGISTRATION

2014 toyota ractis

$12,999

A stylish, nippy, good handling and spacious vehicle,

features an economical 1.5 litre engine with tiptronic

trans and 5 star fuel efficiency, stands out finished

in red with stylish black interior, cruise control, push

button start, rear wiper, very low kms, safety of

ABS, T/C and 8 airbags, will sell fast so don't delay!

PLUS

REGISTRATION

2008 toyota rumion

$8,999

Stylish family hatch, features a 1.8 litre engine with

tiptronic trans, looks great in white with subtle factory

body kit and driving lights, black interior, reverse

camera, push button start, rear wiper, good kms, ABS

and 8 airbags, upgrade your family vehicle today!

PLUS

REGISTRATION

2010 toyota raum

$8,999

A crossover between a wagon and hatch the Raum

is a versatile family vehicle with many appealing

features, wide unhindered pillarless access to curbside

seating and curbside powered sliding door, economical

1.5 litre engine automatic trans, low kms, silver with

15" alloys, driving lights, ABS and airbags, view now!

PLUS

REGISTRATION

2013 Renault Lutecia

$13,999

'Supermini' European hatch, features a 1.2 litre turbo

charged engine with tiptronic trans, looks really good

in white with factory body kit and stylish black interior,

cruise control, push button start, rear wiper, low kms,

ABS and 4 airbags, very stylish vehicle, inspection

won't disappoint!

PLUS

REGISTRATION

2006 volkswagen goLf

$8,999

The Golf is a comfortable and stylish European 5

door hatch, features a 2.0L engine with tiptronic

trans, travelled low kms, looks great in silver with

driving lights and 16" alloys, keyless entry, rear

wiper, safety of ABS, and 12 airbags, great vehicle

and great buying!

PLUS

REGISTRATION

2013 suzuki spLash

$10,999

The Splash is an economical yet peppy 5 door hatch,

features a 1.2 litre engine with automatic trans and

5 star fuel efficiency, looks good in blue with driving

lights and 15" alloys, smart keyless ignition, rear

wiper, very low kms, ABS, T/C and multiple airbags,

great around town vehicle!

PLUS

REGISTRATION

2005 audi a3

$9,999

Sporty and popular 5 door European hatch, features

a 2.0 litre engine with tiptronic trans and 4 star fuel

efficiency, really stands out in red with driving lights

and 16" alloys, keyless entry, rear wiper, low kms,

safety of ABS, T/C and 6 airbags, inspection won't

disappoint!

PLUS

REGISTRATION

2010 fiat 500c

$13,999

Stylish European fixed profile convertible with folding

roof, seats 4, economical 1.2 litre engine with semi

automatic/tiptronic type trans, looks great in white

with folding back roof, 15" alloys, stylish two tone

dark red and cream interior, keyless entry, low kms,

ABS, T/C, 6 airbags, will sell quickly so don't delay!

Registration for 6 months is $301

Value Cars Warehouse

4.72

32 Moorhouse Ave, P: (03) 366 7768 IMVDA

www.valuecarswarehouse.co.nz
---
Wednesday July 24 2019

Latest Christchurch news at www.star.kiwi

BAY HARBOUR

PAGE 21

Pretty hatchback key part of Mazda3 range

Motoring

Ross Kiddie

THERE'S NO sign of the Mazda

Motor Corporation running out

of puff.

By its own admission, the

company was hit hard financially

through floods which forced

three months of cutbacks at its

Hiroshima factories last year.

However, since getting back on

track, Mazda has pumped out

a succession of desirable, high

quality models.

Those cars are also state of the

art, and designed for what current

buyers are looking for. That

statement could be contradictory

given the new Mazda3 has

been launched in a diminishing

market, the sedan/hatchback

sector has lost favour against

sport utility vehicles.

However, I'm of the belief that

there's still plenty of interest in

traditional sedans, and that is

what I'd be looking for if I was in

a position to buy a new vehicle.

The new Mazda3 lands in

hatchback and sedan body styles,

they are each priced the same,

starting at $36,595 and ending

at $48,795. There are two engine

options along the way - 2-litre

or 2.5-litre – each paired to a

traditional six-speed automatic

transmission.

This evaluation focuses on the

entry-level GSX 2-litre hatchback,

and I'd be looking no further, it

certainly appeals to me, and at

around $36k has to be the bargain

of the series.

You wouldn't be disappointed

with the level of specification,

it gets a full suite of safety

technologies, and items for

comfort and convenience are

in abundance. Sure, the cloth

trim doesn't have the appeal of

leather, but for those living in

Christchurch cloth is by far the

more preferable, there's no icy

feeling jumping into the car on a

frosty morning.

In terms of specification, it gets

satellite navigation, keyless entry

and ignition, radar cruise control/

speed limiter, and a host of other

features that Mazda has refined

and incorporated into all of its

models in recent years. That's a

tempting package and, as regular

readers will recall, I've often

remarked on the build quality and

high grade trim materials that are

used on all Mazda product today.

As mentioned, the base model

GSX gets a 1998cc power plant,

it's a naturally-aspirated unit,

what I mean is that it doesn't have

a turbocharger like some other

vehicles in the Mazda line-up.

That's no detraction, this engine

MAZDA3 GSX HATCHBACK: Strong line-up in diminishing market.

is part of the SkyActive range of

Mazda drivelines, highlighted by

good power outputs in relation

to efficiency. The key figures are

114kW and 200Nm, it will also

return a combined cycle fuel

usage average of 6.2-litres per

100km (45mpg).

These are Mazda's claims, and

I wouldn't dispute them. On my

evaluation drive the fuel usage

readout was constantly listing

around 7.8l/100km (36mpg),

with an instantaneous figure

of 6l/100km (47mpg) on offer

with the engine turning over at

1800rpm at 100km/h.

I took the evaluation car

through the twists and turns of

the roads which run parallel to

the Selwyn River, and I can report

it has beautiful handling balance

and high levels of comfort.

The GSX rides on tyres far

from low in profile. At 205/60 x

16in they sit tall on the wheel,

and won't give you the handling

dynamics of the low profile

rubber fitted to high-grade

variants.

However, what they do

give is amazing ride quality,

and the handling is far from

compromised.

Steerage is still direct, and with

a low centre of gravity (body

height just 1435mm) there is

control within the suspension

and relative freedom. I say that

because Mazda has introduced

a new rear suspension into the 3

range.

It came as a bit of a surprise to

learn the old fully-independent

system has been dropped in

favour of a torsion beam type.

I would have considered that

was a backward step, but Mazda

has told me that they have every

confidence in the new design.

In effect, it does work

confidently, and if technical

details don't bother you in a

purchase then you are never

going to tell the difference.

The balance between power

• Price – Mazda3 GSX

hatchback, $36,595

• Dimensions – Length,

4460mm; width,

1795mm; height, 1435mm

• Configuration – Fourcylinder,

front-wheeldrive,

1998cc, 114kW,

200Nm, six-speed

automatic.

• Performance –

0-100km/h, 9sec

• Fuel usage – 6.2l/100km

and handling is manufactured

so that if you want to have a

spirited drive the 2-litre engine

performs admirably, there is

plenty of power on tap, and it has

a complete willingness through

the entire rev band.

If you wish for a spirited

drive there is a sport mode

available at the driver's discretion,

it livens the engine markedly, but

I was more interested in gleaning

good fuel use stats so I used it

only for a short period just for

evaluation purposes only. For the

record, the Mazda3 in this form

will scamper to 100km/h in a

respectable 9sec.

As much as I enjoyed the bold

design of the hatchback – the rear

quarter is simply stunning – I'd be

in the sedan market.

However, I'm well aware that

buyers like sport utility vehicles,

but it's good to see traditional

models are still in the marketplace,

I hope that Mazda is rewarded

through solid sales.
---
PAGE 22 Wednesday July 24 2019

BAY HARBOUR

Latest Christchurch news at www.star.kiwi

URBAN AUTO

Quality Cars Great Prices

$7,995& UNDER SELECTION

SALE

2006 TOyOTA AURis

FUel eFFiCieNT, eAsy TO PARk

1490cc auto, ABS brakes, climate control, airbags,

NZ stereo, nav, reverse camera.

$5,995

2002 FORd esCAPe XlT

sUPeRB PRiCed V6 AWd sUV!

3000cc auto, all electrics, centre diff lock, Pioneer

bluetooth stereo, towbar, alloys.

$4,995

2011 sUZUki sPlAsH

sUPeR eCONOMiCAl

1242cc auto, split & folding rear seat, NZ stereo with

CD & USB, air con.

$6,995

$5,995

2005 FORd FAlCON BA XR6

VeRy CleAN CAR, Be QUiCk

4000cc auto, airbags, alloys, EFI, cruise control,

towbar, ABS, spoiler, air cond.

$6,995

2002 AUdi A3

TURBO, sAMe NZ OWNeR 8 yeARs

1800cc auto, ABS, climate control, all electrics, alloys,

intercooler, cambelt replaced.

$4,995 $3,995

2005 TOyOTA klUgeR

sPACiOUs eCONOMiCAl sUV

2400cc auto, ABS brakes, climate control, airbags,

EFI, alloys, folding rear seats.

$7,995

2006 sUBARU legACy B-sPORT

AWd, PeRFeCT FOR ski seAsON!

2000cc, auto, wagon, ABS brakes, all electrics, alloys,

roof rails, spot lights, tints, EFI.

$5,995

2006 AUdi A4

+ 1 yR AUTOsURe WARRANTy

2000cc auto wagon, alloys, airbags, tinted windows,

cambelt replaced, new tyres.

$7,995

SALE

2006 AUdi A4

+ 1 yR AUTOsURe WARRANTy

200cc auto wagon, NZ stereo, alloys, EFI, all electrics,

new tyres, cambelt replaced.

$7,995

2006 sUBARU OUTBACk

sHARP, AWd WAgON

2500cc auto, climate control, spoiler, EFI, towbar,

alloys, tints, cambelt replaced.

$7,495

2010 NissAN MiCRA

sMART lOOk iN eleCTRiC BlUe

1400cc auto, 73,887kms, alloys, Pioneer radio/CD

with Aux input, climate control.

$6,995

2006 sUBARU legACy gT

sPORTy TURBO, ONly 60,329kMs

1994cc auto, reverse camera, 17" alloys, all electrics,

airbags, intercooler.

$9,995

$7,995

2003 VOlksWAgeN POlO

CUTe eCONOMiCAl HATCH

1400cc auto, all electrics, alloys, air cond, Panasonic

CD player with Aux input, ABS.

$3,995

2005 HyUNdAi sANTA Fe

NZ NeW, 4Wd sUV

2700cc auto, towbar, climate control, leather, airbags,

spot lights, cambelt replaced.

$5,995

Heaps more to choose from

Come and see our amazing

selection of vehicles today!

2002 MAZdA 6 sPORT lTd

NZ NeW liFTBACk WiTH leATHeR

2300cc, auto, sunroof, alloys, 8 airbags, cruise,

multi function steering wheel.

$6,995

2009 VOlksWAgeN POlO gTi

sPORTy & FUN, 1 yR WARRANTy

1800cc, 5 speed manual, turbo, Pioneer bluetooth

stereo, alloys, air cond, spoiler.

$7,995

• Every vehicle prepared properly regardless of price

• Every vehicle has registration, new WOF, service and

groom and is ready to drive away today

• Quick and easy finance options

393 Ferry Rd, Christchurch. Ph (03) 389 6108

www.urbanauto.co.nz

Hours: Mon-Fri 8.30am-5.30pm,

Sat 9.00am-5.00pm, Sun closed
---
Wednesday July 24 2019

Latest Christchurch news at www.star.kiwi

BAY HARBOUR

PAGE 23

Classifieds Contact us today Phone our local team 03 379 1100

Computer

Services

VIRUS REMOVAL AND

PC HEATH CHECK

$50.00 With free pick

and delivery within 10km

of Redcliffs. Phone Paul

on 021495577. Microsoft

Certified Pro with 25 years

experience. Visit www.

seracnz.com

Gardening

& Supplies

A GARDEN OR

LANDSCAPING TIDY

UP? Shrub, hedge &

tree pruning, Lawns,

Gardening, consistently

reliable general property

upkeep, Dip. Hort. 10

yrs experience, One off

tidy ups or on-going

service. Nick's Garden

Maintenance. Keeping

your garden beautiful.

Free Quote. Ph. 942-4440

& 022 264 7452

GARDENER

Need your home or

commercial garden tidied

up or renovated or require

long term assistance.

Phone Ruth 326-6663 or

021 272-0303

Holiday

Accommodation

Australia QLD

SUNSHINE

COAST

RESORT

ALEXANDRA HEADLAND

All Units Have Ocean Views.

Heated Pools, Spa & Sauna,

Free Wifi, Tennis

& Mini Golf.

CHECK OUR GREAT

WINTER SPECIALS

www.mandolin.com.au

0061 7 5443 5011

JUNE to AUG temps 20C

Personals

A Single Lady

Searching For Love

Slim lady with Brown hair,

stunning green eyes and

happy disposition.

Interests include dancing, music

and the great outdoors.

Seeking an honest caring

gentleman.

Call 0800 315 311 to make

contact today.

2184688

To Let

RENT ME!

Ideal as an extra

bedroom or office.

no bond required

Trades & Services

Atkinson Construction Ltd

• Local qualified licensed builder

• Over 30 years experience

• Building alterations

• Maintenance

• No job too big or small

Dean: 021 480 093

atkinsonconstruction@xtra.co.nz

PLUMBING &

DRAINAGE

SERVING

CHRISTCHURCH

AND WIDER

CANTERBURY REGION

WITH QUALITY

WORKMANSHIP

AND SERVICE.

PHONE HAMISH BALDWIN

027 636 3499

Your local professional

FOR ALL YOUR

PLUMBING,

GAS &

DRAINAGE

• Bathroom repairs

• Renovations

• Leaks

• Blocked drains

• Gas and drainage

Carol and Chris

Fully insulated and double glazed for warmth.

Three convenient sizes from $70 a week:

Standard 3.6m x 2.4m

Large 4.2m x 2.4m | Xtra-large 4.8m x 2.4m

PIANO LESSONS

Catherine Bracegirdle

DipABRSM ATCL AIRMT

51A Colenso St, Sumner

Ph. 021 044 5102

www.pianoandtheory.co.nz

catherine.bracegirdle@gmail.com

Phone 376 5322 or email

chcheast@laserplumbing.co.nz

Visit our website

www.justcabins.co.nz

for display cabin locations

www.justcabins.co.nz

Tuition

Trades & Services

Landscape

and Garden

Services

Need help with

your garden?

We provide a quality

service for all your

Garden Maintenance

(hedges, lawns,

line trimming, weeding)

and Landscaping needs,

(fencing, paths, drives,

retaining and earthworks).

Full Arborist Service

Ph 021 272 0303

AAA HANDYMAN

licensed carpenter

LBP, all property and

building maintenance,

repairs, bathroom/shower

installations, with free

quotes 03 383 1927 or 027

245 5226 ciey@xtra.co.nz

Trades & Services

BRICKLAYER

George Lockyer. Over

40 years bricklaying

experience.Uk trained.

Insurance work, EQC

repairs. Heritage

brickwork & stonework

a speciality. No job too

small. Governers Bay.

Home 329 9344. Cell

027 684 4046. E mail

georgelockyer@xtra.co.nz

CARPET & VINYL

LAYINg

Exp. Repairs, uplifting,

relaying, restretching.

Email jflattery@xtra.co.nz

ph John on 0800 003 181

or 027 2407416

CONCRETE CUTTINg

Affordable Concrete

Cutting with Quality, and

removal work. Free quote.

No job to small. Phone 027

442-2219, Fax 359-6052

a/h 359- 4605

DRYwALL

PLAsTERINg

from new housing to small

jobs, 32 years experience

Ph.027 666 2174

ELECTRICIAN

JMP Electrical.

Experienced & registered..

Expert in all home

electrical repairs &

maintenance.Call James

027 4401715

LAwNMOwINg

You Grow I Mow. Free

quotes. Ph / text Chris 021

252 1801

PAINTERs

DECORATORs

Qualified and experienced

painters and plasterers

available to undertake

any size job. Member

of Master Painters NZ.

Ph Chris 0800 438 152.

New Image Painters &

Decorators

PLAsTERINg

INTERIOR

no job too big or too

small, specialise in repair

work & new houses, free

quotes given, over 20 yrs

plastering experience, ph

Peter 027 221-4066 or

384-2574

sHEEP sHEARINg

MOBILE

Fast friendly professional

service. 25 yrs exp.

Shearing, drenching, hoof

trimming etc. Call Shaun

021 204 1274

Wanted To Buy

AAA Buying goods

quality furniture, beds,

stoves, washing machines,

fridge freezers. Same day

service. Selwyn Dealers.

Phone 980 5812 or 027

313 8156

BUYING Now, Royal

Albert, Royal Doulton, all

old china, crystal, antiques,

estate lots. For best prices

and free inspection call

Academy Antiques. Phone

349-4229

ADD SOME

COLOUR

TO YOUR ADVERT!

Public Notices

Sunday 25th August 2019

4pm Governors Bay Hotel

In conjunction with the

Governors Bay Jetty

Restoration Trust Annual

General Meeting

"Working together –

and making it work"

Refreshments will be served!

Come and have your say…

Public Notices

oN sAle Now!

Now only

$35.80

Plus $5 P&H per copy

AvAilAble from stAr mediA:

Level One, 359 Lincoln Road

Addington, Christchurch

Phone 379 7100

Be in to

WIN your

dream

honeymoon

Pre-purchase your

tickets from

withthisring.kiwi

for only $10pp

or get a ticket on

the day for $20pp

BOOK

ONLINE

NOW AND

SAVE!

weddingshow

sunday 25th August, 2019, 10am–3pm, Air Force Museum, Christchurch
---
PAGE 24 Wednesday July 24 2019

BAY HARBOUR

Latest Christchurch news at www.star.kiwi

on trend...

Carrara

Side Table

$

599

spaces.

real marble!

ON SALE

Vermont 3 Seater

NOW ONLY

$

1099

Carrara Coffee Table

$

1499

real marble!

Shop

Online

Nationwide

Delivery

Finance

Options

targetfurniture.co.nz

Cnr Blenheim & Curletts Rds, Christchurch

Ph: 0800 TARGET (0800 827438)

Offers and product prices advertised here expire 29/07/19.

Sale excludes Manchester and Accessories.

Don't miss out,

on trend...

on sale ends

29.07.19.

In store

& online.
---
Wednesday July 24 2019

Latest Christchurch news at www.star.kiwi

BAY HARBOUR

PAGE 25

THE

SALE

STARTS FRIDAY 26TH JULY

RUNS FOR 10 DAYS

26TH JULY – 4TH AUGUST

WOMENSWEAR | LINGERIE | WOMENS SHOES

CONTEMPORARY LOUNGE | ATRIUM

ACCESSORIES | COSMETICS | CHILDRENSWEAR

MENSWEAR | LUGGAGE | BED & BATH | PANTRY

HOME & LIVING | COOK & DINE | MEN'S GIFTING
---
PAGE 26 Wednesday July 24 2019

BAY HARBOUR

Latest Christchurch news at www.star.kiwi

SHOP THE SALE FOR 10 DAYS OF SAVINGS

50%–70% OFF

SELECTED

WOMENSWEAR

INCLUDING

70% OFF SELECTED

SEASALT AND JOULES.

70% OFF ALL

BRAKEBURN.

50% OFF SELECTED

VASSALLI, CAROLINE SILLS,

SILLS, LORNA JANE,

PAULA RYAN AND VERGE.

50% OFF

SELECTED

CONTEMPORARY

LOUNGE

INCLUDING

HUFFER, TED BAKER,

SUPERDRY, KAREN WALKER,

TWENTY SEVEN NAMES,

TOMMY HILFIGER, G-STAR AND

JULIETTE HOGAN (EXCLUSIVE).

JEWELLERY

70% OFF SELECTED

HANDBAGS

50% OFF SELECTED

LINGERIE

70% OFF ALL

ATRIUM

50% OFF ALL

ENGELSRUFER.

50% OFF SELECTED

CALVIN KLEIN, KAGI, PETITE GRAND,

DYRBERG KERN, THOMAS SABO,

AMBER SCEATS AND ELK.

BRIARWOOD, LULU GUINNESS,

RADLEY, ELK, SANCIA, TED BAKER

AND CALVIN KLEIN.

BENDON AND FAYREFORM.

50% OFF SELECTED

BERLEI, WACOAL, SIMONE PERELE,

CALVIN KLEIN, TRIUMPH AND JOCKEY.

TRELISE COOPER, COOPER, ELK

AND INGRID STARNES.

50% OFF SELECTED

MAGGIE MARILYN AND

GEORGIA ALICE.

CHILDRENSWEAR AND TOYS

50% OFF SELECTED

WOMENS SHOES

50% OFF SELECTED

ECCO, KATHRYN WILSON,

HOGL, SUPERGA, TED BAKER,

ARA, ADIDAS ORIGINALS

AND TOMMY HILFIGER.

NATURE BABY, HUXBABY,

JOULES, ROCK YOUR BABY,

FOX & FINCH, MUNSTER,

RADICOOL DUDE, BEBE,

WILSON AND FRENCHIE, MILKY,

TOMMY HILFIGER, BOBUX,

HUGO BOSS, TIMBERLAND

AND LITTLE MARC JACOBS.

COSMETICS

FROM 40% OFF

SELECTED

THE AROMATHERAPY CO.

MODEL CO. AND DERMALOGICA.

FRAGRANCES

40% OFF SELECTED

ZADIG & VOLTAIRE, ISSEY MIYAKE,

NARCISO RODRIGUEZ, ELIE SAAB

AND DOLCE & GABBANA.

...and so much more!
---
Wednesday July 24 2019

Latest Christchurch news at www.star.kiwi

BAY HARBOUR

PAGE 27

SHOP THE SALE FOR 10 DAYS OF SAVINGS

HOME AND LIVING

50% OFF SELECTED

INCLUDING

VANILLA FLY, MARSHALL, KREAFUNK,

LIGHT AND LIVING, MADRAS,

VOYAGE, CITTA AND MORE.

COOK AND DINE

50%–70%

OFF SELECTED

DINNERWARE

50% OFF SELECTED

GLASSWARE INCLUDING

KROSNO AND RCR.

UP TO 50%

OFF SELECTED

COOKWARE INCLUDING

BALLARINI, WMF AND MORE.

40% OFF SELECTED

KITCHENAID AND LE CREUSET.

PANTRY

50% OFF ALL

MANUKA HONEY.

40% OFF ALL

HONEY WRAPS.

50% OFF

SELECTED

MENSWEAR

50% OFF SELECTED

STATIONERY, CARDS

AND NAPKINS.

INCLUDING

R.M. WILLIAMS, TOMMY HILFIGER, POLO RALPH LAUREN, GANT,

GAZMAN, BARBOUR, JOE BLACK, JOULES AND MANY MORE.

50%

OFF

SELECTED

BED AND BATH

TOWELS, SHEETS, DUVET INNERS,

PILLOWS, CUSHIONS AND

THROWS.

INCLUDING

SHERIDAN, BAKSANA, MM LINEN,

FAIRYDOWN AND SENECA.

LUGGAGE

50% OFF SELECTED

SAMSONITE, PIERRE CARDIN

AND DELSEY.

MENS SHOES

50% OFF SELECTED

INCLUDING

R.M. WILLIAMS, ECCO, FLORSHEIM,

RIEKER, JULIUS MARLOW,

NEW BALANCE AND MANY MORE.

...and so much more!
---
PAGE 28 Wednesday July 24 2019

BAY HARBOUR

Latest Christchurch news at www.star.kiwi

EXTENDED WEEKEND OPENING HOURS DURING THE SALE

FRIDAY 26TH JULY . .............9.30AM – 7.00PM

SATURDAY 27TH JULY . .........9.00AM – 6.00PM

NORMAL TRADING HOURS RESUME: SUNDAY 28TH - SUNDAY 4TH

40% OFF

SELECTED

LE CREUSET

70% OFF

SELECTED

JOULES

50% OFF

SELECTED

TOMMY HILFIGER

50% OFF

ALL

JULIETTE HOGAN

Shop online now at ballantynes.co.nz/thesale City Mall, Christchurch. PHONE (03) 379 7400