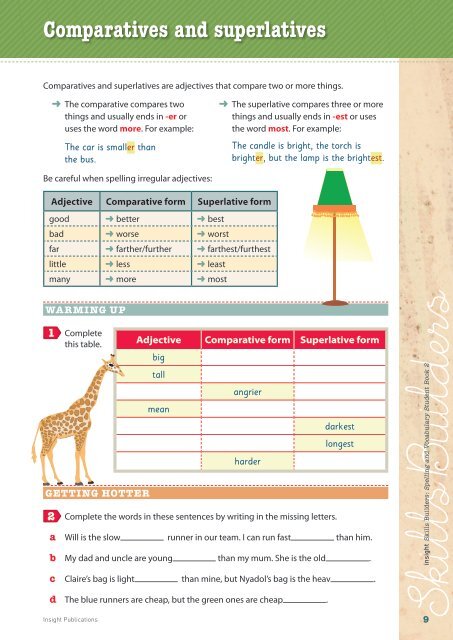 Skills Builders - Spelling & Vocabulary Book 2 - SAMPLE PAGES
You also want an ePaper? Increase the reach of your titles
YUMPU automatically turns print PDFs into web optimized ePapers that Google loves.
Comparatives and superlatives

Comparatives and superlatives are adjectives that compare two or more things.

➜ The comparative compares two

things and usually ends in -er or

uses the word more. For example:

The car is smaller than

the bus.

➜ The superlative compares three or more

things and usually ends in -est or uses

the word most. For example:

The candle is bright, the torch is

brighter, but the lamp is the brightest.

Be careful when spelling irregular adjectives:

Adjective Comparative form Superlative form

good

bad

far

little

many

➜➜better

➜➜worse

➜➜farther/further

➜➜less

➜➜more

➜➜best

➜➜worst

➜➜farthest/furthest

➜➜least

➜➜most

WARMING UP

1 Complete

this table.

getting hotter

Insight Publications

Adjective Comparative form Superlative form

big

tall

mean

angrier

harder

2 Complete the words in these sentences by writing in the missing letters.

darkest

longest

a Will is the slow runner in our team. I can run fast than him.

b My dad and uncle are young than my mum. She is the old .

c Claire's bag is light than mine, but Nyadol's bag is the heav .

d The blue runners are cheap, but the green ones are cheap .

Builders

insight Skills Builders: Spelling and Vocabulary Student Book 2

9
---
More prefixes

Here are more prefixes, from Latin and Greek.

Prefix Meaning Sample words

ambi- both ambidextrous, ambiguous

audi- hearing audible, audience

contra- against contradict, contrast

extra- outside extraordinary, extracurricular

fore- before foretaste, forehead

Builders

insight Skills Builders: Spelling and Vocabulary Student Book 2

hyper- extra hyperactive, hyperalert

micro- small microchip, microscope

mono- only monopoly, monorail

oct- eight octopus, octagon

omni- all omnibus, omnivorous

photo- light photograph, photosynthesis

primprime-

first primary, primer

tele- distant television, telephone

WARMING UP

1 Using a dictionary, find one more word for each prefix and add them to the table.

10 Insight Publications
---
More prefixes

getting hotter

2

Find a word to match each of the following definitions.

Each word begins with one of the prefixes in the table on

the left page. Use a dictionary to help you where necessary.

a predict the weather

b extra sensitive

c sensitive to light

d goods that are against the law

e a test that is heard

f

married to one person

3 Give the meaning of the parts of these words. The first one has been done for you.

a extra + ordinary = outside + what is usual or ordinary

b tele + vision = +

c hyper + critical = +

d ambi + dextrous = +

e omni + potent = +

f tele + scope = +

red hot!

4

✎

Make as many new words as you can by using the prefixes on the opposite page.

For example:

octodextrous = having eight hands

Insight Publications

Builders

insight Skills Builders: Spelling and Vocabulary Student Book 2

11
---
Vocabulary: antonyms

Antonyms are pairs of words that mean the opposite of each other.

Do you remember how to make antonyms using prefixes?

WARMING UP

1

Write the antonym of each of these words in the middle column.

In the last column, write the prefix you used to create each antonym.

Root Antonym Prefix

able

frost

regard

place

clockwise

Builders

insight Skills Builders: Spelling and Vocabulary Student Book 2

sense

capable

In addition to the common prefix in-, there are several other prefixes

beginning with i that are used to create antonyms. Which one to use

often depends on what letter the root word begins with.

First letter of root word Prefix Sample words

l il ➜ illegal

r ir ➜ irregular

m, p, b im ➜ immature ➜➜imperfect

Another way of making antonyms is to add the suffix -less.

2

Write the antonyms of these words, using either a prefix beginning with i

or the suffix -less.

a hope e action

b mortal f speech

c legitimate g rational

d proper

h expression

➜➜imbalance

22 Insight Publications
---
Stress in words

Do you remember this rule about adding suffixes to words

with more than one syllable?

If the stress is on the last syllable, you double the last letter

if it's a single consonant after a short vowel sound:

forget

regret

forbid

omit

commit

permit

abet

fulfil

➜ forgetting, forgotten

➜ regretted, regretting

➜ forbidding, forbidden

➜ omitting, omitted

➜ committed, committal, committing

➜ permitted, permitting

➜ abetted, abetting

➜ fulfilled, fulfilling

Builders

insight Skills Builders: Spelling and Vocabulary Student Book 2

If the stress is on an earlier syllable, you usually only double the last consonant if it's l:

cancel

label

signal

quarrel

enter

offer

open

abandon

spirit

limit

➜ cancelled, cancelling

➜ labelled, labelling

➜ signalled, signalling

➜ quarelled, quarelling

➜ entered, entering

➜ offered, offering

➜ opener, opened, opening

➜ abandoned, abandoning

➜ spirited, spiriting

➜ limited, limiting

With these verbs, you sometimes double and sometimes

do not, depending on where the stress lies:

Verb Stress on first syllable Stress on second syllable

refer ➜ reference, referee ➜ referred, referral, referring

prefer ➜ preference ➜ preferred, preferring

transfer ➜ transference ➜ transferred, transferring

26 Insight Publications
---
Nominalisation

getting hotter

3 Complete the paragraph below, changing the words in brackets to appropriate

nominalisations.

It can be a cause of great

(anxious) when your dog displays unusual

behaviour such as (aggressive) or (confused).

If you think your pet might be suffering from an

(ill),

take them to the vet for

make a

give you a

(diagnose) and perhaps

(prescribe) for

(treat). The vet will

(medicate). Soon your pet

should make a full

red hot!

4

Insight Publications

(recover).

Rewrite the following sentences, changing the underlined words to phrases using

nominalisations. The first has been done for you.

a Prad wasn't invited to the party.➼Prad didn't get an invitation to the party.

b Rachel was excited to hear that she'd won third prize in the art competition.

c I wonder who will be elected class captain.

d They were not informed about the delay.

e Kate applied for an exciting new job.

f

Zane had collected a large number of signatures for his petition.

Builders

insight Skills Builders: Spelling and Vocabulary Student Book 2

35
---
Informal and formal vocabulary

The Australian Curriculum for English emphasises how vocabulary changes depending

on context:

➜ in informal speech

➜ for formal speech and writing

WARMING UP

1 In formal language, contractions are less acceptable. Spell these out in full.

a shouldn't c won't

b mustn't d we'll

getting hotter

Builders

insight Skills Builders: Spelling and Vocabulary Student Book 2

2 Make notes on three different occasions in which you use formal or informal

language; the different audiences you are speaking or writing to; and examples

of the different language you use in those situations.

✎

3

Make a list of phrases that you use informally – for example, when talking to friends

or in text messages. Write their meanings in formal language.

➜

➜

➜

red hot!

4

Draw lines to match these informal and formal words by meaning.

alleged subsequently regards reported reckoned

yours

sincerely

said

then

➜

➜

➜

claimed thereafter consequently all the best

love from

40 Insight Publications