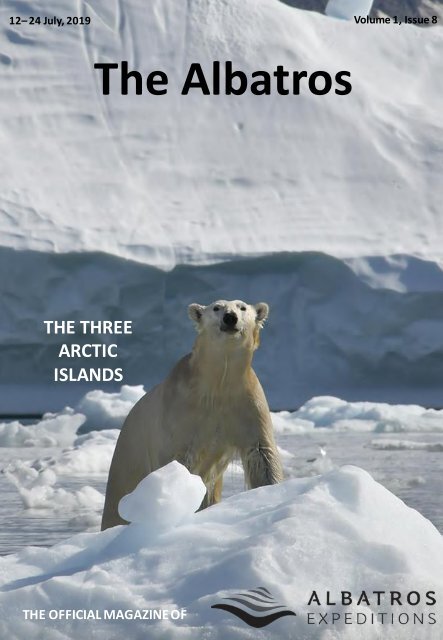 Svalbard, Greenland and Iceland V8
Voyage Log 8
Voyage Log 8
SHOW MORE
SHOW LESS
You also want an ePaper? Increase the reach of your titles
YUMPU automatically turns print PDFs into web optimized ePapers that Google loves.
12– 24 July, 2019

Volume 1, Issue 8

The Albatros

THE THREE

ARCTIC

ISLANDS

THE OFFICIAL MAGAZINE OF
---
The Albatros

Editor-in-Chief:

Staff Writers:

Layout & Design:

Expedition Leader:

Assistant Expedition Leader:

Shop Manager:

Expedition Photographer:

Zodiac Master:

Kayak Master:

Rifle Master:

Expedition Guide/Lecturer:

Front Cover Image:

Back Cover Image:

Photography Contributors:

Yeti (Jes Gravgaard)

Steve Egan

Yeti and Gaby Pilson

Lars Maltha Rasmussen

Barbara Post

Ted Creek

Nadine Smith

Yuri Choufour

Steve Traynor

Slava Nikitin

Yeti ( Jes Gravgaard)

Isabelle Howells

Rashidah Lim

Wan Meng Chieh

Aviaaja Schluter

Yeti Gravgaard

Cao Jianxi

James Floyd

Emil Maltha Rasmussen

Lars Maltha Rasmussen

Ny-Ålesund © Gaby Pilson

Renato Granieri Photography

Gaby Pilson

Yuri Choufour

© Gaby Pilson

12-24 July, 2019 Volume 1, Issue 8
---
TABLE OF CONTENTS

The Voyage

By the Numbers

Day 1: Into the wild

The Seven Sisters of Szczecin

The King of the Arctic

Day 2: The Cross Road Fjord

Day 3: Southern Svalbard

Ice is Nice – Glacier Fun Facts

Day 4: Hornsund

Day 5: Crossing the Continental shelf

Day 6: Sea Ice

Day 7: At Sea

Day 8: At Sea

Day 9:Nansens Fjord

Day 10: Kangerdlugssoaq

Day11: Isafjordur

Polar Diplomacy

A Brief History of the Zodiac

Day 12: Flatey

Day 13: The final Day

A Final Note

4

5

6

7

8

9

10

11

12

13

14

15

16

17

18

19

20

21

22

23

24
---
The Voyage

Page 4

The following map traces the approximate route that the M/V Ocean Atlantic took during our

voyage From Svalbard to via Greenland . You can find more information about our day to day

activities, landings, and excursions on the following pages. We hope that this magazine serves as a

reminder of all of the wonderful memories you made while experiencing the Arctic with us at

Albatros Expeditions.

© Yuri Choufour

© Yuri Choufour

12-24 July, 2019

Volume 1, Issue 8
---
By the Numbers…

Page 5

Voyage Statistics:

Northernmost Point: 79 o 07.554'N, 11 o 48.352'E

Total Distance Travelled: 945 nautical miles

Excursion Locations:

Longyearbyen:

Ny-Ålesund:

14 Julibukta:

Bamsebu:

Camp Millar:

Hornesund:

Greenland Sea:

Greenland Sea:

Greenland Sea:

Denmark Strait:

Nansens Fjord:

Isafjordur:

Flatey:

Reykjavik:

78 o 12.651'N, 15 o 32.408'E

78 o 56.057'N, 11 o 59.759'E

79 o 07.554'N, 11 o 48.352'E

77 º 44.173'N, 14 º 20.382'E

77 º 33.476'N, 14 º 05.334'E

77 º 02.641'N, 16 º 28.460'E

76 º 59.253'N, 01 º 45.075'E

74 º 20.567'N, 09 º 10.215'E

70 º 22.478'N, 18 º 23.884'E

69 º 39.962'N, 19 º 22.674'W

68 º 18.306'N, 29 º 39.674'W

66 º 06.030'N, 23 º 04.721`W

65 º 22.054'N, 22 º 57.579`W

64 º 14.600'N, 21 º 94.426`W

© Yuri Choufour

12-24 July, 2019

Volume 1, Issue 8
---
DAY 1: Into the Wild

12 July 2019 - Embarkation Day

Page 6

From the Voyage Log

As our flights touched down on the runway in

Longyearbyen, we were treated to delightful views of

the Arctic landscape that will become our playground

for the next week. Weary from our early morning

flights, yet excited for the adventure to come, we

immediately journeyed into town for some quick city

exploration inLongyearbyen.

The story of Longyearbyen is short, but industrial,

although it didn't start out that way. As the history

books tell us, the notion of Longyearbyen as a

potential settlement first came about when John

Munro Longyear was on an arctic cruise with his

family in 1903. While sailing around the many fjords

that make Svalbard the picturesque landscape we

know and love, Longyear spotted some potential coal

mining opportunities in Isfjord. By 1906, he began his

mining operations in what was then known as

Longyear City.

© Yuri Choufour

Once we got our fill of the shopping and walking

opportunities in Longyearbyen, we headed off to

the pier to finally embark on our new home, the

M/V Ocean Atlantic, via a short, but exciting zodiac

ride - our first of many on this expedition. After the

hotel check-in process was complete, we were

treated to a scrumptious afternoon tea, before our

mandatory safety drill in the late afternoon. Soon

enough, we were casting away the bowlines,

heading away from our safe harbour, and

journeying out to sea, intrue expedition style.

After our safety drill, we had an opportunity to

wander around the ship and acquaint ourselves

with our new home. Before long, however, we

gathered up in the Viking Lounge yet again for an

introductory briefing with Expedition Leader Lars

Maltha Rasmussen and his 16 expedition staff

members.

© Yuri Choufour

Although coal mining is no longer as abundant as it

once was in Svalbard, it has forever left its mark on

the region, least of all by creating the small, but

bustling settlement of Longyearbyen. These days,

however, Longyearbyen is a centre for international

science efforts, tourism, and conservation, and, most

importantly for us: the starting point on our journey.

As we're on an expedition, we know full well that

there are no guarantees. We are at the mercy of the

weather, the wildlife, and the landscape of this cold

and often inhospitable place. But, as explorers know

all too well, we can only ever experience true

beauty in nature when we are brave enough to seek

it out amongst the mountains and the seas in the

world's most remote places. It is with that

sentiment in mind that we venture away from

Longyearbyen and north, to the future and all the

wonders itholds.

"

We can only ever experience true

beauty in nature when we are

brave enough to seek it out…

"

© Yuri Choufour

12-24 July, 2019 Volume 1, Issue 8
---
The Seven Sisters of Szczecin

David MacDonald, Lecturer (Geology) & Expedition Guide

M/V Ocean Atlantic was launched in 1986 as the

last-built of the 'Shoshtakovich' class of icestrengthened

passenger vessels, alongside six sister

ships, together known as the "Seven Sisters of

Szczecin.

Her original name was Konstantin Chernenko

(Константин Черненко), after the President of the

USSR (1984-1985). She was renamed Russ (Русс) in

1989, and spent much of her life working in the

Russian Far East.

She was purchased by Albatros Expeditions and

completely refitted in 2017. She is now a 200-

passenger expedition vessel and is one of the

strongest polar cruise ships afloat. Here are some

fun facts about the "Seven Sisters":

• All seven ships were built by Stocnia Szczecinska

shipyard inSzczecin, Poland between 1979-1986

• Main engines: 4 x Skoda Sulzer 6LZ40 total power

12800 kW, giving a maximum speed of 18 knots

• Most of the class have one bow thruster (736 kW)

and one stern thruster (426 kW); however, two

ships, including ours, built in 1986, have two stern

thrusters, each of 426 kW

• Feature Siemens stabilisers for seaworthiness

• Although built as ferries, they have a

strengthened car deck for transport of tanks

• Two of them had diving chambers

• MV Mikhail Sholokov had hull demagnetising

Page 7

equipment so itcould operate inminefields

• All of these ships have been scrapped except ours

and Konstantin Simonov –now Ocean Endeavour

Our ship has had a complex history:

1986-1987 In Baltictraffic, then Vladivostok to

Japan & S Korea

1989 renamed to Russ

1997-1999 In traffic Stockholm-Riga; 2000

Odessa-Haifa; 2002 back to

Vladivostok transporting cars from

Japan

2007 Sold to Sea Ferry Shipping inMajuro

and renamed 2010 to Atlantic;

renovations inItaly and intraffic

Stockholm-Helsinki-St.Petersburg

during summer and laid up (October

2010) inSt Petersburg

2012 Sold to ISP inMiami and renamed to

Ocean Atlantic under Marshall

Islands flag

2013 Used as a hotel ship inthe German

bight wind farm project

2015-2017 Laid up inHelsingborg and taken to

Gdansk in Poland, where totally

refitted

2017 Chartered to Quark Expeditions

2017-present Chartered to Albatros Expeditions.

© Renato Granieri Photography

12-24 July, 2019

Volume 1, Issue 8
---
The King of the Arctic

Gaby Pilson, Hiking Master & Expedition Guide

Polar bears are the veritable king of the Arctic, despite their often elusive nature in front of human visitors.

But, despite their cute, cuddly, and charismatic appearance, polar bears are fantastically well-adapted to live

in their harsh Arctic landscape. Here are some great fun facts about polar bears:

1

Although those cute and cuddly little polar

bear cubs look shiny and white in photos, polar

bears are actually black! Polar bears have black

skin with a thick coat of transparent fur rather

than the white fur and skin we've always

imagined. The black skin helps the bear absorb

sunlight and retain heat in cold arctic

conditions. Polar bear fur contains no white

pigment and simply appears white because of

how sunlight is reflected off of the bear. This

fur is critical for a polar bear, as it allows them

to hunt while staying well-camouflaged among

snowdrifts.

3

Polar bears are patient hunters. Instead of

chasing prey, they sit and wait for hours or

days at seal breathing holes in the ice until the

opportune moment arises. Seals surface every

five to fifteen minutes at these breathing

holes, so polar bears need to be ready at a

moment's notice. Luckily, polar bears can use

their acute sense of smell to stalk prey without

expending too much energy. Polar bears will

sniff out a seal from up to a mile away and

through the sea ice, so they can sit and wait by

the right breathing hole. These bears show us

that laziness can, indeed, be a virtue.

Page 8

2

These

graceful bears can be difficult to study in

the wild, as harsh conditions and remote

locales conspire against scientists. Fortunately,

scientists have developed a new technique

that allows them to extract DNA from polar

bear footprints. Using just two tiny samples of

snow from a polar bear footprint, scientists in

Svalbard were able to extract DNA from the

bear and its most recent seal-based meal. The

scientific community hopes that this new

technique can help contribute to research on

polar bears and help make tracking and

monitoring the animals more accurate and

efficient.

© Renato Granieri Photography

12-24 July, 2019

© Renato Granieri Photography

4

After

a long winter in a snow den, polar bear

mothers emerge from their winter homes into

the spring sunshine with up to three cubs.

Although cubs emerge from the den about the

size of a small dog, when they are born, they're

just 30cm (1ft) long and weigh only 450g (1lb).

Newborn polar bear cubs are blind, toothless

and completely dependent on mum for food

and warmth. They nurse on their mother's milk

(which is nearly 30% fat!) to help them grow

quickly. Polar bear cubs will continue nursing

for nearly two years until they're ready to start

hunting and eating seals alongside their

mothers.

Volume 1, Issue 8
---
DAY 2: The Cross Road Fjord

13July 2019 – Ny Ålesund & 14 th of July Glaciar

In a perfectly calm conditions we landed by zodiac

at Ny Ålesund and walked up to the main town. We

started our first landing with a Group picture at

Yellow River Chinese Research Station . Later on

The party split into various groups, one heading

past Roald Amundsen's bust towards the old

mooring mast for his North Pole expedition with it

NORGE in 1926. And the other group headed

towards the dog kennel looking for wildlife, spotting

some barnacle geese with young and purple

sandpiper on display. Arctic terns nested very close

to (and even on) the road.

From the Voyage Log

© Yuri Choufur

Page 9

© Yuri Choufur

© Yuri Choufur

The groups were split in two. Half of the group went on

a short hike and had the opportunity to see some arctic

reindeers, arctic fox, and Barnacle goose.

The other group enjoyed a zodiac cruise along the bird

cliffs, where the black Guillemots and the puffins were

beautifully arranged breeding or nesting in their perfect

habitat. There were also few Northern fulmars roaming

above us all along the cruise until we reached the

landing site to swap the group's activities.

After have spending a wonderful day full of excitement

in the arctic wilderness, we all came back to the ship to

a lovely afternoon tea followed by the daily recap and

introduction the day after program.

Everyone also visited the well-stocked shop where

there was a brisk trade in souvenirs, clothing and

soft toys. Postcards (and stamps) were also

popular, with the added option of posting them

from the most northerly post offices in the world.

The museum opposite the shop had excellent

displays about the history of the town.

© Yuri

©

Choufour

Yuri Choufur

12-24 July, 2019

© Yuri Choufur

"

Upon the side of the hill, a mile to

the westwards of road, I set up a

Crosse, with a writing upon it,

signifying the Day of My arrival first

in this land

"

Martin Corway

Volume 1, Issue 8
---
DAY 3: Southern Svalbard

14 July 2019 – Bamsebu & Camp Miller

From the Voyage Log

Page 10

In the morning we landed at the beach of Bamsebu

situated in the Van Keulenfjord, where there is a

small robust and well preserved hut left from the

time the Ingvald Svendsen used it as a whaling station

in the 1930s. The rich and varied vegetation of

standout with grass, saxifrage heath, wetland and

large patches of moss. Horrifying remains of

Svendsen and his men's ruthless slaughtering of, an

estimated number of 550 Beluga whales, are left

behind in near the beach in large piles along with a

rusty anchor and an upside down wooden boat. They

caught these whales in groups using a large net and a

row boat with three pairs of ores . During the walk we

were lucky to see the furry skeletal remains of a

recently dead polar bear as well as a curious young

arctic fox playing around on the beach. A few pinkfooted

geese were grassing at the mountain foot

while an Arctic skua glided across the sky above our

heads. During our cruise we spotted two harbor seals

in the process of changing their fur that were resting

on rocks near the shore.

© Yuri Choufour

© Yuri Choufour

© Yuri Choufour

We watched spellbound as clouds of Little Auks

dashed from their Cliffside nesting hides in a

cacophony of shrieking cries. This was deafening &

mesmerizing at the same time, a truly miraculous

spectacle to be privy to & one of the more

wonderful experiences of a visit to these Arctic

realms. From behind a screen of boulders we could

quietly watch a pack of reindeers enjoying the arctic

plants among the large patches of moss.

Unfortunately, the wind speed rapidly increased and

as the safety of our guests is our main priority, we

decided to cancel the landing for the last two

groups of guests. Our captain repositioned the ship

to cover the escorting zodiacs from the raging waves

and safely transferred our guests from shore back

on board.

Many thanks must go to our Captain and Zodiac

drivers' skills for successfully completing

the operation as the sea state had become most

challenging.

In the afternoon we explored the area around the

abandoned gold mining site, Camp Millar, with a

beautiful view over Vårsolbukta. Only a few mine

carts and a mine shaft are left behind as evidence of

the English mining company NEC's busy digging that

turned out to be a fruitless project, as no gold were

ever discovered. It does however remain a gold mine

for wildlife watchers with a magnificent little auk

population dwelling among the rocks on the cliff side.

The large bird colony draws hungry arctic foxes to the

area, which we were lucky to spot one sniffing

around.

© Yuri Choufour

© Yeti

12-24 July, 2019

Volume 1, Issue 8
---
Ice is Nice – Glacier Fun Facts

Gaby Pilson, Hiking Master & Expedition Guide

Glaciers have, quite literally, shaped our world. Without glaciers, the rolling hills and wide valleys we know

today would look very different, but it turns out that these icy giants have a much longer and more storied

history than many of us would initially suspect. Here are some of the best fun facts about glaciers:

2

4

© Renato Granieri Photography

Glaciers are formed by snowflakes. Although it's

crazy to think that a tiny snowflake can create

something as large as a glacier, without snow,

glaciers would never exist in the first place. To

form a glacier, massive amounts of snow must

accumulate and persist in a single location all

year-long for hundreds, if not thousands of

years. During this time, the individual snowflakes

found in the snowpack change in a process

known as snowflake metamorphosis, where

individual ice grains fuse together and get bigger

and air bubbles get smaller. Once the icepack

builds up enough mass to start flowing downhill,

then voila! We have a glacier.

© Renato Granieri Photography

Page 11

1

Not just anything can be a glacier. In fact, there's

a size requirement that a piece of ice has to

meet to become a glacier. Anything considered a

glacier must be at least 0.1 km 2 (nearly 25 acres)

in area to be worthy of the name. Although

there's a minimum size requirement to be

considered a glacier, there's no upper limit to

glacierhood. The longest glacier on earth is the

Lambert Glacier of Antarctica, which measures

out to some 434 km (270 mi) long. The world's

largest non-polar glacier is the Fedchenko

Glacier of Tajikistan, which measures a

respectable 77km (48mi) long.

3

© Renato Granieri Photography

Glaciers are found all over the world, not just in

the polar regions. While the majority of glaciers

and glacial ice is concentrated in high northern

and southern latitudes, glaciers are found even

near the equator, such as on Mount Kilimanjaro

in Tanzania and in the mountains of Ecuador.

That being said, about half of the world's

200,000 glaciers are found in one place: Alaska.

There, glaciers cover a whopping 72,500 km 2

(28,000 mi 2 ) of the US state's total area. That's a

lot of ice.

Glaciers are basically really, really, really slow-moving rivers. To be considered a glacier, a large mass of ice

must be physically moving downhill. This movement downhill is driven by gravity and is the main reason

why glaciers also act as major agents of erosion. Since glaciers move downhill, they often remove and

transport large boulders and chunks of rock, depositing them much further downhill then where they

started.

12-24 July, 2019

Volume 1, Issue 8
---
DAY 4: Hornsund

15 July 2019 – Bautaen & Calving ice cliff

Page 12

From the Voyage Log

The margins of the glaciers are mostly dead ice and

have more rock debris, giving them a dirty

appearance. However, the central (active) parts of

the glaciers consist of beautiful blue-whiteice.

Returning to the ship for lunch, we then headed out

of the fjord into the open sea and set course

westwards towards Greenland.

© Yuri Choufour

© Gaby Pilson

© James Floyd

In overcast, but calm sea conditions, we entered

Hornsund and slowly cruised around some of the arms

of the fjord looking at the scenery and searching for

wildlife. The massive horn-shaped mountains which

flank the entrance to the fjord clearly indicate the

origin of the 'Hornsund' name.

Once we reached Burgebukta at the head of the main

fjord we anchored and launched 12 zodiacs. Splitting

into two groups, we set off to cruise towards the two

large glaciers of Storbreen and Hornbreen. As we

threaded our way through the brash ice and

approached the ice cliffs, we observed groups of

kittiwakes perched on every large bergy bit of floating

ice. Occasional ivory gulls were also spotted on the

moraine.

©

Yuri

Yuri

Choufour

Choufour

By late afternoon, we were approaching the edge of

the shallow Svalbard underwater platform where

the where we hoped we might encounter whales.

We were amply rewarded by excellent sightings of

Minke, Sperm and Humpback whales. The latter

included a mother and calf who delighted us with

extended displays of feeding activity and flipper

slapping. The ship slowed down so that we could

enjoy this amazing spectacle.

Later, after dinner, we encountered a large pod of

white-sided dolphins which we were able to stay

with for a while, watching their graceful proposing

feeding activity with some even jumping completely

out of the water.

© Yuri Coufour

© Yuri Choufour

© Yuri Choufour

Both glaciers have several obvious medial moraines

forming long sinuous stripes of dark rock debris,

formed by the merging of lateral moraines from

tributary glaciers.

© Yuri Choufour

12-24 July, 2019

Volume 1, Issue 8
---
DAY 5: Crossing the Continental Shelf

16 July 2019 – Steve Egan From the Voyage Log

Page 13

We awoke to very calm conditions at sea, sailing

away from Svalbard, enjoying the luxury of a

little extra sleep, courteous of a ship's clock

change. Steaming backwards in time, ever

westward towards Greenland, a blackout

onboard just as breakfast was announced

quietened the normal hum of generators and

our first meal of the day taken as we floated

peacefully somewhere out inthe North Atlantic.

Still buoyed by the fantastic afternoon of whale

sightings yesterday, Isabelle chimed in with an

enlightening presentation on 'Whale

Identification', introducing us to some helpful

hints on spotting & recognising which species

we may be witnessing when we encounter

these amazing creatures out here on the open

ocean. Some of us took the opportunity to join

Rashidah's 'Stretch Class' to loosen up limbs

and get the blood flowing, preparing ourselves

for some time on the fresh outer decks in

search of wildlifethat we hoped to see.

The Captain, Bridge officers & Expedition Team

pored over ice maps, sea charts and radar with

intent to create an ideal onward passage yet

find any sea creatures that might be sheltering

in its midst. Sea birds fluttered by, unusually at

home in this watery desert. Slipping into the

Greenland sea as we sailed along the icy edge,

our Expedition leader decided to change things

up & ask our Captain & navigation officers to

steer our good ship into the ice floes & find us a

suitably atmospheric setting for a dip into the

freezing waters – Polar Plunge time! As we

edged inside the floating ice barrier, we spied

harp seals in small groups moving through the

open leads & Bearded seals were also sighted

lounging on ice. We found just the right place

for those mad enough to want to test their

resolve by jumping in.

© Yuri Choufour

M/V Ocean Atlantic was fast approaching a

steep gradient in the ocean floor below us,

promising rich upwellings of nutrients

attracting oceanic life such as Isabelle had just

discussed. We too, were looking forward to

enjoying a nutritious lunch onboard and an

afternoon program of various adventures.

The retreating winter sea-ice was then

encountered earlier than expected, so we

skirted her patchy boundary, leading us to turn

south, parallel to Greenland's coastline yet still

hundreds of miles offshore. Beneath our vessel

the fractured mid-Atlantic ridge buckled, down

on the ocean floor thousands of metres below.

We were hoping to venture more deeply into

the icy realm around us in search of wildlife.

12-24 July, 2019

© Yuri Choufour

Brave souls draped in bath robes stretched &

psyched themselves up to rock tunes playing in

the mudroom. The outer decks thronged with

onlookers toting cameras and there was a

palpable buzz about the ship as one by one,

guests flung themselves recklessly or more

daintily edged themselves into the sub zero

liquid from the gangway. A bit crazy for sure,

but also a lot of fun! Hot chocolate with Baileys

Irish Cream was a welcome reward for the

plungers, happily provided by our most

hospitable Hotel team. Our ships photographer

Yuri captured great images of the swimmers

from a floating zodiac.

As the evening approached, we enjoyed an

interesting brief including footage of calving

glaciers, the poignant story of the extinct Great

Auk and a preview of tomorrows activities. A

social dinner was followed by some rather

excellent Karaoke voices in the Theatre, echoing

throughout the hallways & into our dreams.

Volume 1, Issue 8
---
Day 6: Sea Ice

17 July 2019 – Isabelle Howells

Page 14

© Yuri Choufur

The day started for many in a most pleasant way, as

people drifted out of breakfast and into the Viking

Theatre tea cup in hand. Yuri presented a talk –

Photography 101 in which we learned about many of

the fundamental basics, and not so basics of

photography. Not only did we learn about shutter

speed, ISO and aperture, but also the specifics of

expedition photography and how to make the most

out of your camera whatever weather the Arctic

throws at you.

The day was mild and a bit foggy but many people

were enjoying time out on deck watching the sea ice

drift past. Mid morning our expedition guide Yeti held

a lecture about the birds of the Arctic, in which guests

learned how to better identify some of the many birds

that can be found in Svalbard, Greenland and Iceland.

We were told about the startling ways in which the

climate crisis is changing the migration patterns of

birds.

After lunch assistant expedition leader Barbara did a

fascinating talk on the subject of sea ice. We could

see from ice charts how there is less and less ice from

year to year and how rapidly the Arcticischanging.

After learning so many interesting facts about the ice

we have been passing these days, it was very clear

how lucky we are to be able to see it.

We had an amazing surprise in the afternoon when

the expedition leader announced we were going to

stop the ship and take a zodiac trip to land on the sea

ice, a first inthe Arctic for Ocean Atlantic!

Once the guide team had established a safe patch of

ice to land on, we zipped through the mystical light

(the fog with the sun shining through) to join them.

The front of the zodiac boats mounted onto the ice to

allow guests to get out in small groups, take photos

and experience the unique moment of standing on a

floating piece of sea ice.

We returned to the ship in very high spirits and

warmed up with a hot drink. We listened to a briefing

and recap of the day, in which we learned about a

photography contest and we heard from Avi about a

popular Greenlandic myth "The Mother of the Sea".

After dinner we were able to relax in front of a film

and treated to popcorn.

12-24 July, 2019

Volume 1, Issue 8
---
Day 7: All at Sea

18 July 2019 – Isabelle Howells

Today was a true sea day. The exciting thing about this

voyage is that we are able to visit three different

countries, but that does mean we have to move fast to

get there!

Expedition guide Avi started the day with a lecture

introducing Greenland. The country is very unusual in

many ways and we learned some fascinating facts. Did

you know it's the largest island in the world? Or that

size-wise itwould fit inside China four times?

Later in the morning, geologist James talked to us

about "Greenland the frozen archipelago", which

prepared us further for our arrival tomorrow by

teaching us how goods are transported through the

country as well as a very interesting part about what

Greenland would look like if all of the ice were to melt.

A trip like this shows us endless evidence of a

worryingly warming climate.

Photo

© Yuri Choufur

© Yuri Choufour

After lunch, Isabelle gave a lecture about the history of

whaling in the Arctic. From its beginnings in Svalbard

in the early 1600s, demolishing the local whale

population, to modern day commercial whaling that

takes place in Iceland, Norway and Japan. We heard

how by taking responsibility with our consumer

choices, we can eventually end commercial whaling.

Page 15

From the Voyage Log

© Yuri Choufur

Photo

We were treated to an account by Slava of the race to

the North Pole, led by the famous Norwegian explorer,

Roald Amundsen. After a failed attempt to reach the

Pole in small airplanes, Amundsen commissioned an

enormous air ship named Norge to be built. In 1926

they left Ny-Alesund (in fact we saw the mast it was

tied to when we were there a few days ago!), drifted

over the North Pole before touching down soon after

inAlaska.

This was followed by our daily afternoon tea, which

seems to be more and more fabulous each day!

In the evening briefing, Lars informed us about

tomorrow's program, before we heard a bit from Yeti

about the 7 seasons he spent living at the Danish

research station in the National Park of North East

Greenland – what an adventure he had! This was

followed by a short film he had made of the wildlife in

the area, we had the chance to admire footage of

Arctic wolves and hares, a variety of birds and some

beautiful polar bears.

© Yuri Choufour

© Yuri Choufur © Yeti

12-24 July, 2019

Volume 1, Issue 8
---
DAY 8: At Sea

19 July 2019 – Aviaaja Schlüter

From the Voyage Log

Page 16

Most of us were sound asleep on board the

M/V Ocean Atlantic last night while the Bridge

was buzzing with people. For several hours the

Captain and the officers tried to push through

the ice that was covering the entrance to the

fjord of Ittoqqortoomiit.

Thick, heavy fog combined with the solid

masses of ice created a dangerous and

impossible obstacle for our ship.

With great sadness the decision was made to

go further South along the coast of East

Greenland in search of an ice-free fjord with

safer waters. As the real expeditioners of the

past centuries has discovered long before us;

Nature is an impressive opponent whose

powers cannot be challenged without great

consequences. As safety is always our first

priority on board the M/V Ocean Atlantic we

have now experienced first-hand how an Arctic

expedition can change course very quickly. The

rough East Greenlandic coast has been

especially challenging this season due to the

high amount of ice in the whole of the North

Atlantic.

With a new exciting destination ahead of us we

gained another day at sea with a full activity

program.

Already from the morning did we enjoy the

fascinating polar stories from Jim. It seemed

like a whole other world when he in details

described how it was to overwinter on the

Antarctic Peninsula on the Chinese Great Wall

Station at King George Island. Even the

intriguing traverse plowing through kilometers

of ice-cold desert made us shiver inthe seats.

12-24 July, 2019

Photo

© Yuri Choufour

© Yuri Choufur

Next polar story came from our Expedition

Leader, Lars, who taught us more about the

amazing migration of the Arctic tern. His field

studies in Greenland gave us a better

understanding of this uniquebird.

With all this new wisdom in our minds we

ventured out on deck at lunch time for a

wonderful open-air barbecue.

The skilled chefs had prepared a symphony of

salads, delicious grilled meat, freshly made

garlic breads, and even a whole ice cream bar.

With the view of the blue ocean, a breeze of

fresh air, we gathered together and had a blast

of a feast on deck.

© Yuri Choufur

In the afternoon Yeti gave us a very personal

account of his many years of working in the

Northeast Greenland. Combined with his skilled

photographs it was a true adventure that came

alive in front of our eyes. Close encounters with

Arctic wildlife, thousands of kilometers of

dogsledding, a fair bit of coffee, and lots of

snow and ice coloured our view as we took in

his stories.

To keep the spirit high we dove straight into a

Dumpling Party in the Bistro. With big smiles

and busy hands our lovely guests helped us

creating beautiful dumplings that we could

enjoy later for dinner.

Speaking of dinner an early appetizer came

from James as he gave us a new insight into the

creation and formation of glaciers. Rivers of ice,

powers of nature, and even a brief stop at the

last Ice Age, James covered itall.

As the day slowly ticks away and night gets

closer, we can now all see how a change of

plans doesn't mean less fun on board the M/V

Ocean Atlantic.

Volume 1, Issue 8
---
Page 17

DAY 9: Nansen Fjord

20 July 2019 – Steve Egan

I awoke at 4am, the excitement of approaching this

most hidden of jewels on the seldom explored

Greenland coast was simply too much to stay in

bed. Up high, above the mist, rocky ridges of razorbacked

mountains echoed out across the distant

horizon - an immensely rugged, raw & wild land lay

before us. The morning sun backlit the peaks as far

as the eye could see towards the interior. A sea fog

hung between the arms of the entrance of this lost

fjord, beckoning us into its mystery, silently

cautioning us of the folly to hasten into this calving

ground of icebergs, many the size of buildings, an

artist's exhibition of colour & shape, sculptured by

the Great Hand.

© Yuri Chufour

From the Voyage Log

For a few moments, we gazed at a ridgeline that

promised a good leg stretch & lookout over the

massive glacier, seven miles wide, towering above the

fjord arms head.

And then, all of a sudden, one of the rocks moved

before us. A large honey-coloured boulder raised itself

up from the earth upon four furry pillars, lifted its

sizeable snout to the sky to 'read' our scent & to our

unbelieving eyes, began to lope down the slope in our

direction. 'We've got a Bear, a Polar Bear' came the

clearly excited call on the radio from our Expedition

Leader Lars. Wow! Our first bear of the journey &

what a gorgeously big & healthy bear it was!

Identifiably female due to a more feminine gait,

posture & demeanor & also a lack of guard hairs on

the trailing edge of her giant forelegs – she was just

the most beautiful bear anyone could hope to witness

in the wilderness. How lucky were we! All zodiacs

were lowered immediately & all guests joined us on

the water at a good distance to respect this Queen of

the Arctic, stranded ashore with the retreat of her icy

banquet table, the seasonal sea ice that fingers this

frozen fjord in winter. We watched, enchanted,

engaged & completely immersed in her every move as

she wandered about the shoreline, gazed across the

watery glacial milk at us, or simply lay down to rest.

Named for the heroic explorer Nansen, first to

cross the Greenland Icecap, Nobel Prize

laureate, commissioner of the ship that would

carry the first men to the Southern Pole - this

place had a lot to live up to. Everyone was

sleeping, bar the Captain & his navigation

officers, staring intently into the whiteness,

ushering us safely through the labyrinth of

frozen floating shapes. Hooded seals, all blotchy

& blubbery, appeared momentarily as the veil

shifted, revealing life among the ice. Body

temperatures the same as ours had me

wondering how miraculous that they thrive in

such an extreme world as this.

The ship slowly began to awaken as MV Ocean

Atlantic slipped into a side branch of the fjord.

Our Expedition team were in lookout positions,

binoculars raised & keenly eyeing potential

landing sites; all of us would very much

welcome a chance to step ashore after the few

days sailing from Spitsbergen. Zodiacs were

lowered for a scout party & we approached the

shoreline, brightly lit by the warm rising sun.

12-24 July, 2019

© Yuri Chufour

© Yuri

©

Choufour

After lunch we repositioned the ship deeper Yuri into Choufur view

of the incredible edifice of ice, corrupted into a jumbled

maze of twisted blocks at the fjords main glacial front. A

split landing & zodiac cruise soon heard words ring out

'Polar Bear in the water!'. A guest had seen a swimming

bear & we gathered at a safe distance to see the aquatic

'Sea Bear' (Ursus maritimus) at home in its most natural

of poses, standing aloft a slice of floating berg. Shaking

off excess moisture our bear generously offered endless

photographic moments to capture this unique

experience we would never forget! What an incredible

day to be alive!

Volume 1, Issue 8
---
DAY 10: Kangerdlugssuaq

21 July 2019 – James Floyd

From the Voyage Log

Page 18

Numerous large rounded erratic blocks of

Archaen gneiss, over 1000 million years old,

are samples of the surrounding bedrock,

brought here by the glaciers during the last Ice

Age.

© Yuri Choufur

We awoke inside Kangerdlugssuaq Fjord to

brilliant sunshine and very calm waters.

Surrounding us on three sides were magnificent

mountains leading down to an archipelago of

small . rounded glaciated islands. The scout

zodiac went out and reported good landing

conditions in the area of an abandoned settlement

which still had the ruins of several wooden huts

and other domestic remains.

This area is the site of the Skaergaard Intrusion,

discovered in 1931 and now regarded as the type

example of a layered basic igneous body. Since

then, and despite its remote location, Skaergaard

has been intensively studied by geologists and is

probably one of the best researched intrusions of

its type in the world.

Guests landed by zodiac and, with almost 100%

exposure, were able to examine the welldeveloped

fine-scale stratification within the 55

million year old gabbro rock. Several younger

basalt dykes cut through the main intrusion

© Yuri Choufour

© Yuri Choufur

© Yuri Choufur

© Yuri Choufur

The flora in the area was also remarkably

luxuriant, probably a result of human activity

such as small-scale whaling. Mountain sorrel,

saxifrages and several species of dwarf willow

and birch were prominent.

© Yuri Choufur

© Yuri Choufour

The flora in the area was also remarkably

luxuriant, probably a result of human activity

such as small-scale whaling. Mountain sorrel,

saxifrages and several species of dwarf willow

and birch were prominent.

After lunch we set sail for Iceland and the last

stop on our Three Arctic Islands odyssey.

Around 2100 hours, we gathered on the aft deck

to mark our crossing of the Arctic Circle. The

Captain sounded the ship's horn at the

appropriate moment and the Hotel staff

provided glasses of mulled red wine. Everyone

had a merry time as we celebrated and

photographed a special event at sea. The

Expedition Team even marked the occasion by

appearing on deck wearing their yellow hard

hats, just in case we hit the line with a bump!

12-24 July, 2019

Volume 1, Issue 8
---
DAY 11: Isafjordur

22 July 2019 – Emil Maltha Rasmussen

12-24 July, 2019

© Yuri Choufour

© Yuri Coufour

During our guided tour through the city we saw

several recently renovated wooden houses that were

build in the early 1800s. Each of these old houses had

the year they were built displayed on their wall and

were often named after the original builder. Because it

is a small town people often have versatile roles and

multiple jobs, therefore it is not uncommon for the

locals to both be fishermen, working in local stores as

well as undertake carpentry or mechanical projects in

their spare time.

Because Isafjordur has always been a fishing hub the

locals love eating fish. This was evident as we could

spot several wooden sheds next to the small wooden

houses that are used for drying fish. Dried fish are

considered to be a delicacy by the locals and when

we ended our walk by the maritime museum we had

a chance to taste fermented shark. The shark is

prepared by digging a whole in which it is stored for

about four months before it is air dried this process

gives it a unique taste of ammonia. It is

recommended that you clear out the aftertaste of the

shark with a big shot of the local brandy aquavit. We

also tasted dried cod, which were more popular than

the shark.

Page 19

From the Voyage Log

We arrived in Isafjordur which is a small town in

Northeastern Iceland with approximately 2700

inhabitants. The city was originally established as a

trading outpost monopoly by Danish merchants in

late 1700, but later become an important fishing hub

for the nearest smaller towns in the municipality.

Isafjordur is the largest town in a municipality with

five other small towns. The smallest towns only

revolves around fishing, while the economy in

Isafjordur is mainly focused on the service industry

along with a few local bakeries, fishing stores, a

microbrewery and a local businesses that produces

conveyer belts and other equipment especially built

© Gaby Pilson

© James Floyd

for the large fishing vessels that process the caught

fish on the ships nowadays rather than in factories in

Isafjordur.

© Yuri Choufour

The weather was extraordinary with sunshine

throughout the day. We therefore saw many of the

locals enjoy themselves outside that are faced with

some of the harshest weather in Iceland during the

rest of the years. It was clear that our local tour

guide knew most of the people she met when we

strolled through the town. The town is a vibrant hub

for artists and musicians and therefore have many

visitors from other parts of Iceland coming to

Isafjordur to attend the music festival during Easter.

Because of the rich local culture the population in

the city has started increasing once again for the

past four years after a long period of decline.

© Yuri Choufour

© Yuri Coufour

Volume 1, Issue 8
---
DAY 12: Flatey

23 July 2019 – Emil Maltha Rasmussen

© Yuri Choufour

© Yuri Coufour

Page 20

From the Voyage Log

In the morning we landed on the small island Flatey.

Only four people reside on the island year-round.

These people area two elderly couples aged about

90. The rest of the inhabitants are mostly local

Icelandics that spend their holiday on the island.

Transportation to and from the island is convenient

as a small ferry arrives at the pier of the island once

per day. Wooden buildings and a wooden church

are located in the small town. The ceiling of the

church had beautiful paintings made by a local

Icelandic artists. The island is also home to a small

population of domestic goats grassing around the

little town.

© Gaby Pilson

© James Floyd

Flatey is a breeding ground for the artic terns, hence

we were able to spot a large number of newly hatchet

young arctic terns sitting on the coastal rocks and

practicing their newly obtained flying abilities.

Additionally we saw groups of red necked phalaropes,

ringed plowers, common snipe and an Oyster Catcher

along with several other species. During an extended

zodiac cruise back to the ship we saw the nesting

grounds of the national bird of island, the Puffins as

well a Kittywake colony on a small cliff.

© Yuri Choufour

© Yuri Coufour

We were lucky to spot a breaching humpback whale

from the ships. It put on an extraordinary show by

breaching about ten times in near proximity to the

ship. The joyful whale even seemed to be following

the ship alongside for a while and it was excited to try

to spot its white fins shining through the water

surface before itcame up to take another breath.

© Yuri Coufour

In the afternoon we visited Grundarfjord which is a

small village with frequent visits from tourists due to

the beautiful mountains surrounding the city. When

we arrived at the pier, we saw some of the local

children enjoying themselves by swimming and

playing in the harbour in wetsuits. We visited some

of the local stores with souvenirs and some even sold

handcrafted Icelandic wool sweaters.

© Yuri Coufour

Despite the luck we had had with wildlife and

weather throughout the trip it seemed we had not

run out as we finished our trip with an interrupted

by a pack of orcas surfing in the waves off the coast.

The whales were spy jumping and slapping the

water surface with their waves, it was a truly

© Yuri Choufour

extraordinary sight.

12-24 July, 2019

Volume 1, Issue 8
---
Polar Diplomacy

Thomas Bauer, Lecturer (Historian) & Expedition Guide

The polar regions of the high Arctic and the Antarctic

are some of the least explored parts of our planet

Earth. Compared to the rest of the world, these

regions have seen relatively few human inhabitants

and their ecology is dominated by snow, ice and

wind. The main inhabitants of these regions are polar

bears, walrus, seals, whales, birds and reindeer in the

high Arctic; and penguins, whales, seals and large

flying seabirds, such as the wandering albatross, in

Antarctica.

The Svalbard Treaty

The Svalbard (formerly known as Spitsbergen)

archipelago and the Antarctic continent have one

important commonality: they have never had a

permanent human population. From this fact arose

the interesting question of who owns these lands of

ice and snow?

In Svalbard this issue was settled on 9 February 1920

when the Treaty Relating to Spitsbergen (Svalbard)

Page 21

was signed in Paris. The archipelago had previous

been declared terra nullius or "no-man's-land"

because no country had laid claim to it. The Treaty

recognized the sovereignty of Norway over all of

Svalbard but at the same time declared that nationals

of all the other signatory countries (USA, UK with its

dominions, Denmark, France, Italy, Japan,

Netherlands and Sweden) would have equal rights to

those of Norwegians to carry out commercial or

mining operations around the archipelago.

The Treaty also specified that this was to be a region

of peace where, according to Article 9: 'Norway

undertakes not to create nor to allow the

establishment of any naval base in the territorial

waters of Svalbard'. Thus, was created the first

agreement between states to allow several countries

to enjoy the privilege of using existing resources in

Svalbard while at the same time maintaining the

region as a place of peace.

© Renato Granieri Photography

© Gaby Pilson

© Renato Granieri Photography

12-24 July, 2019

Volume 1, Issue 8
---
A Brief History of the Zodiac

Steve Traynor, Zodiac Master

Page 22

In expedition cruising, the most important tool we use is the Zodiac inflatable boat. These manoeuvrable,

reliable, robust vessels are the workhorse of the expedition cruise industry, from the north of Svalbard to

the southern end of the Antarctic Peninsula. They have a long history – as you can see from the stages

below, many differentinventions needed to come together to create the craft we use today.

© Renato Granieri Photography

1838 Charles Goodyear (USA) discovered the process for vulcanising rubber (a US patent was granted

in 1844) – this process is used for hardening and strengthening rubber.

1843 Goodyear's process was stolen by Thomas Hancock (UK) using the process of reverse

engineering; less controversially, Hancock invented the "masticator" –a machine for re-using

rubber scraps – this made the rubber industry much more efficient.

1845 The first successful inflatable boat (Halkett boat) was designed by Lieutenant Peter Halkett

(UK), specifically for Arctic operations. Halkett Boats were used by the Orcadian explorer, John

Rae, in his successful expedition to discover the fate of the Franklin Expedition.

1866 Four men made the first crossing of the Atlantic Ocean from New York to Britain on a three -

tube inflatable raft.

1896 The original Zodiac company was founded by Maurice Mallet (France) to produce airships.

1909 The first outboard motor was invented by Ole Evinrude in Milwaukee, Wisconsin.

1912 The loss of the Titanic and subsequent shipping losses during World War 1 proved the need for

inflatable rafts for use as supplementary lifeboats.

1919 RFD firm (UK) and the Zodiac company (France) started building inflatable boats.

1934 The airship company, Zodiac, invented the inflatable kayak and catamaran

1942 The Marine Raiders – an elite unit of the US Marine Corps – used inflatable boats to carry out

raids and landings in the Pacific theatre.

1950 Alain Bombard first combined the outboard engine, a rigid floor and an inflatable boat (built by

the Zodiac company).

1952 Alain Bombard crossed the Atlantic Ocean with his inflatable; after this, his good friend, the

famous diver Jacques-Yves Cousteau, started using them.

1960 Zodiac licensed production to a dozen companies in other countries because of their lack of

manufacturing capacity in France.

12-24 July, 2019

Volume 1, Issue 8
---
DAY 13: Home Again

24 July 2019 - Reykjavik

After last night's end-of-voyage festivities, we

awoke much too early for our final morning on the

Ocean Atlantic. As the Ocean Atlantic pulled into its

anchorage in Reykjavik, we started the process of

leaving behind the ship and the people we've come

to know so well over the past 12 days.

Our bags were packed and stowed in the corridors,

ready for our early-morning busses and flights back

to Copenhagen, and everywhere in between. After

12 whole days immersed in the landscapes and

amongst the wildlife of the Arctic, it was time to

return home or to wherever our life's journeys

bring us.

And so – farewell, adieu, and goodbye. Together we

have visited and incredible and vast wilderness. We

have experienced magnificent mountain vistas,

seen icebergs roll and crack, felt the power of the

elements and seen how quickly they can change.

We enjoyed wonder food and comfortable

surroundings aboard the Ocean Atlantic. We

Page 23

From the Voyage Log

boarded zodiacs and cruised through icy fjords at

the end of the Earth. We have shared unique

moments, held engaging conversations, and

laughed together over beers and coffees. We've

made new friends and experienced the power of

expeditionary travel.

We hope the expedition team has helped make this

the trip of a lifetime - one that will persist in your

memories for weeks, months, and years, to come.

Although we must say good-bye to these places we

have come to know and love, it is a fond farewell as

we are all true ambassadors for the Arctic and all

the beauty itholds.

On behalf of Albatros Expeditions, our captain and

crew, the expedition team, and everyone else who

helped make this journey a resounding success, it

has been a pleasure travelling with you. We hope

that you will come back and experience these

wonderful places with us once again!

© Yuri Coufour

© Yuri Choufour

12-24 July, 2019

Volume 1, Issue 8
---
A Final Note…

Page 24

As any good expedition comes to a close, many of us experience the

effervescent excitement that comes when we immerse ourselves

completely in an adventure. Although we all came into this voyage with

our own expectations and personal motivations, on the ship, we quickly

learned that the best plan is the one that we end up doing.

While weather and the landscape

can conspire against us in the

northern latitudes, the right mindset

can make all of the difference.

Wind, rain, sleet, and snow make

no difference when we come

prepared for an adventure and all

the excitement it holds. Whether

you saw what you came for or you

experienced something else

entirely, when you set out on an

expedition, you come for the

mountains and the wildlife, but

stay for people and places you

meet along the way.

Although we all eventually have to

leave behind our beloved Ocean

Atlantic, there are always a few

things we can take home from an

expedition:

• An acceptance and

embracement of adversity and

uncertainty when the natural

world alters our plans.

• A fondness for the wild and a

strong desire to keep remote

natural locations as beautiful

and free as they can be.

• An insatiable interest in learning

more about the people, places,

and cultures in some of the

most remote parts of the world.

As you unpack you bags, you may

find souvenirs and keepsakes from

your journey. Your camera may be

filled with countless photos,

however blurry, of the many

animals and mountains that have

crossed our paths. At the end of

the day, however, what matters

most is the experience of, the

journey to, and the memories of

these wild and wonderful places.

Best wishes from all of us on the

expedition team as you continue

on with your adventures!

Lars Maltha Rasmussen

Expedition Leader

Barbara Post

Assistant Expedition Leader

Thank you for experiencing the Arctic with us at Albatros

Expeditions. We hope to see you aboard the Ocean Atlantic

again in the future!

Ted Creek

Assistant Expedition Leader

12-24 July, 2019

Volume 1, Issue 8