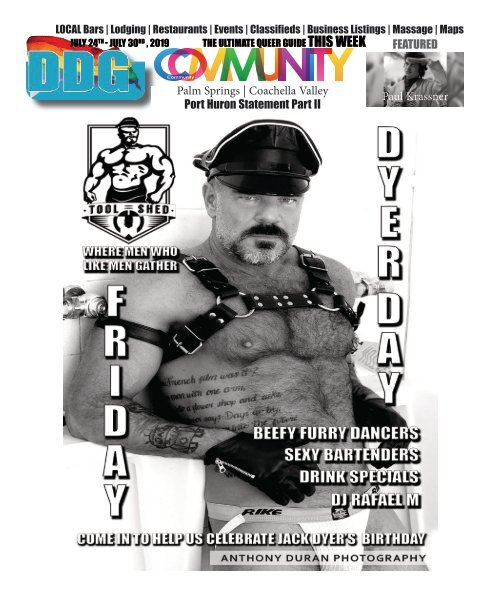 JULY 24TH - JULY 30TH , 2019 THE ULTIMATE QUEER GUIDE THIS WEEK
Help celebrate Jack's Birthday at the Tool Shed and join in on the fun. DDG remembers Icon, friend and mentor Paul Krassner. Plus bars, resorts and more
Help celebrate Jack's Birthday at the Tool Shed and join in on the fun. DDG remembers Icon, friend and mentor Paul Krassner. Plus bars, resorts and more
SHOW MORE
SHOW LESS
Create successful ePaper yourself
Turn your PDF publications into a flip-book with our unique Google optimized e-Paper software.
LOCAL Bars | Lodging | Restaurants | Events | Classifieds | Business Listings | Massage | Maps

JULY 24 TH - JULY 30 RD , 2019 THE ULTIMATE QUEER GUIDE THIS WEEK FEATURED

Palm Springs | Coachella Valley

Port Huron Statement Part II

Paul Krassner
---
2 IF YOU LIKE US, PLEASE LIKE US ON FACEBOOK: DESERTDAILYGUIDE
---
Never Stale! The only LOCAL Gay Guide For The Palm Springs area THIS WEEK. 3
---
4 IF YOU LIKE US, PLEASE LIKE US ON FACEBOOK: DESERTDAILYGUIDE
---
P

I

G

S

A

TU

R

P

D

AY

E

N

DJ COREY D

9pm - 2am

HOT BEEFY GOGO DANCERS

DRINK SPECIALS

SEXY BARTENDERS

FREE CLOTHES CHECK

600 E. SUNNY DUNES RD

Never Stale! The only LOCAL Gay Guide For The Palm Springs area THIS WEEK. 5
---
6 IF YOU LIKE US, PLEASE LIKE US ON FACEBOOK: DESERTDAILYGUIDE
---
Never Stale! The only LOCAL Gay Guide For The Palm Springs area THIS WEEK. 7
---
COVER

Help celebrate Jack's

Birthday at the Tool

Shed and join in on the

fun.

In case you don't know,

Jack Dyer is a dancer

and model whose

performing career

started in 2018.

Mr. Dyer has worked

with a number of

models including Cade

Maddox.

Today I got a text from

the The Ginsberg

foundation on the

passing of Paul

Krassner.

As we go about

the business of

documenting our

time on earth, we lose

people daily. Some

celebrity deaths are

marked with much

emotion as a dear

friend. Even though

you've never met them,

the loss feels real.

Continued on page 36

10 QUESTIONS

WITH VIC

Vic Gerami is a

journalist and media

contributor

Adrian's

Pics

POP Culture

8 IF YOU LIKE US, PLEASE LIKE US ON FACEBOOK: DESERTDAILYGUIDE
---
Never Stale! The only LOCAL Gay Guide For The Palm Springs area THIS WEEK. 9
---
10 IF YOU LIKE US, PLEASE LIKE US ON FACEBOOK: DESERTDAILYGUIDE
---
Never Stale! The only LOCAL Gay Guide For The Palm Springs area THIS WEEK. 11
---
EDITORIAL

DDG IS

PUBLISHED WEEKLY BY

DDG Media group

1717 E Vista Chino A7-480,

Palm Springs, CA 92262

888-743-3349 or

FAX 844-800-9700

EDITOR: Will Paige Adrian

Ayala

Contributing Writers:Will Paige,

Adrian Ayala

Adam's art

Contributing Photographers:

Marko Russell, Mike Thomas,

Frank Failing, David Stanfield

National Representatives

Rivendell Media (212) 242-6863

DDG Media Group/ Desert

Daily Guide

Opinions expressed in the DDG

columns do not necessarily

reflect the opinion of the DDG,

its staff, or its advertisers.

DDG is not responsible for

claims made by its advertisers,

or the products or services

they offer. Listings, pictures,

or advertisements in the DDG

should not be construed to

represent or reflect the sexual

orientation of any business, its

owners, or its staff. All events are

subject to change without notice.

Any omissions of events are not

intentional. © 2017 DDG Media

Group , All Rights Reserved.

will@desertdailyguide.com

Volume 25, Issue 04

July 24 - July 30, 2019

8 Inside This Week

16 Local Bars

29 Business Dir.

22 10 Questions with

Vic

24 AdamsArtExpose'

34 Adrian's Picks

Directory page 33

RESORTS PALM SPRINGS

STYLE

BUSINESS SERVICES

ATTRACTIONS/

ENTERTAINMENT

ADULT BOOK STORE

ADULT FETISH AND

TOYS

ART GALLERY

ATTORNEYS

BAR/PUBS

COMPUTER SERVICE

CONCRETE

FURNITURE

GYMS

GENERAL SERVICES

SHOPPING

LEATHER GEAR TOYS

Press publisher541@desertdailyguide.com

12 IF YOU LIKE US, PLEASE LIKE US ON FACEBOOK: DESERTDAILYGUIDE

32 Classifieds

27 Featured Gay Resorts

31 GROUPS/HELP

32 Massage Directory

37 Queer Otaku

21 The Center Schedule

facebook.com/desertdailyguide

twitter.com/DDGWill

desertdailyguide.com

IF YOU LIKE US, LIKE US

LEATHER REPAIR

NOTARY SERVICE

PAINTERS

MATRIMONY

SPIRITUALITY

POSTAL SERVICES

RESTAURANTS

REAL ESTATE

THEATRE/PLAYHOUSE

TRAVEL

MOVING? UTILITIES

GROUPS/ORG/HELP

NATURIST DAY PASSES

Get listed in Palm Springs

only curated gay and gay

friendly business directory.

Starting at $15.00 a week!

888-743-3349
---
SIGNATURE DATES

SPECIAL ELECTION City of Cathedral City, CA -

Municipal Government

Nomination Period for District 1 City Council

Seat Nomination Period for candidates will

close on May 30, 2019.

Prime Timers Mixer & Food Drive

Monday, August 5th | 4:30 to 7:00 PM

Hunters 302 East Arenas Road

Palm Springs, CA 92262

Come and join our special mixer gathering

where we are asking our members to support

The Community Food Bank

INSIDER GUIDE

BEST BET: LATE NIGHT BAR AND

RESTAURANT RUNWAY RESTAURANT MEET

Meet at the bar, sleep at the hotel!

BEST BET: GAY SUNDAY BEVERAGE BUST

Get together at The Barracks

BEST BET: GAY THEME NIGHTS at the

Tool Shed Bar and The Barracks.

BEST BET: GAY BINGO OH 69 at the

Tool Shed Bar Wed. & Sat. 12pm - 3pm

BEST BET: Best Bottomless

Champagne Breakfast starter at

Pinocchio's of the Desert

BEST BET: EVERY DAY Breakfast, Lunch,

and Dinner

at Sunshine Cafe in Cathedral City.

BEST FREE BET: THURSDAYS NIGHTS AT

THE MUSEUM

free museum admission from 4:00 p.m. to

LGBTQ CENTER OF THE DESERT

(760-416-7790)

COMMUNITY FOOD BANK at the Center

(760-416-7790)

SCOTT HINES MENTAL HEALTH CLINIC at the

CENTER (760-416-7899)

SAVE THE DATE:

July 31st – Palm Springs Leather Order of the

Desert – 6:30pm

August 1st – Desert Fetish Authority – 6:30pm

August 2nd – Caregiver Support Group –

3:00pm

August 16th-18th – Authentic Dating –

Intensive Weekend Workshop

Open Play Bridge – Every Monday at 9:00am

8:00 p.m.

BEST BET: GAY MOVIES gay, cult and

pop movies at the Palm Springs Cultural

Center for schedule of events visit

palmspringsculturalcenter.org.

BEST FREE BET: Village-fest Street

Festival Thursday night street fair featuring

arts, crafts, food, and entertainment! Its

also fun to watch the gay community as

you walk down Arenas Rd, the heart of the

gay community. Downtown, Thursdays,

6pm- 10pm

BEST BETS: July 27 Still can't get

enough of Queen? The Ultimate Queen

Celebration: Starring Marc Martel at The

Agua Caliente Resort Casino Spa.

Enjoy the summer

Never Stale! The only LOCAL Gay Guide For The Palm Springs area THIS WEEK. 13
---
14 IF YOU LIKE US, PLEASE LIKE US ON FACEBOOK: DESERTDAILYGUIDE
---
W O R K O U T G Y M

P A L M S P R I N G S

$12 DAY PASSES

MEMBERSHIP SPECIALS

SEE GYM FOR DETAILS

NO CONTRACTS

GROUP CLASSES INCLUDED • TRAINERS AVAILABLE

CARDIO WITH PERSONAL TV'S • FREE WEIGHTS AND MACHINES

TRX • LOCKERS • SHOWERS

MEN'S SAUNA • FREE WIFI • FREE COFFEE

2100 N PALM CANYON DR., SUITE C100

(BEHIND TOUCAN'S TIKI LOUNGE)

PALM SPRINGS, CA 92262

WORKOUT GYM HOURS:

MON-FRI: 5:00AM - 8:00PM

SAT-SUN: 8:00AM - 6:00PM

(760) 325-4600

W W W . W O R K O U T G Y M P S . C O M

Never Stale! The only LOCAL Gay Guide For The Palm Springs area THIS WEEK. 15
---
BUSINESS DIRECTORY

Bars & Restaurants

FEATURED

Pinocchio In the Desert

Palm Springs breakfast and

lunch bistro restaurant with a

warm and welcoming, lively

fun European Atmosphere.

134 East Tahquitz Canyon

Way, PS

Rio Azul - Mexican Style Rest.

& Bar

Best authentic Mexican

style restaurant in the valley.

With patio and Bar. Home

of an original and distinct

interpretation of Mexican food

.Longest running Sunday Drag

Brunch.(760) 992-5641 350

South Indian Cyn, PS,

Eagle 501 Bar(Opening Soon)

LEVI/LEATHER bar in the

heart of Arenas, Palm Springs

301 E Arenas Rd , PS

Runway Restaurant & Bar

The valleys premier arts and

entertainment. Featuring

American Casual Dining

Drinks & Drag at CCBC

Resort Hotel.68300 Gay Resort

Drive, CC

Sunshine Cafe

Nearly as perfect as it gets!

Known as a local hole in the

wall with a funky vibe and

fantastic food, frequented by

celebrities, politicians, word

of mouth visitors from around

the world. 36815 Cathedral

Canyon Dr. CC

(760) 328-1415 6:00 am

The Barracks

LEVI/LEATHER No matter

your fetish, if you're in the

mood for some great cruising

or just listening to some sexy

music while you have a cigar

and conversation at the largest

patio bar in the desert.

67625 E. Palm Canyon Dr. CC

Tool Shed

LEVI/LEATHER In the Warm

Sands District in central Palm

Springs.

600 E Sunny Dunes Rd , PS

(760) 320-3299

10:00 am – 2:00 am

Tryst Bar and Lounge

Eclectic mix of straight and

gays of all ages, AMI Video

Jukebox - Pool -Darts- Air

Hockey - Giant Jenga.

Everyone is Welcome at Tryst

21+ 188 S Indian Canyon Dr

Palm Springs, CA

16 IF YOU LIKE US, PLEASE LIKE US ON FACEBOOK: DESERTDAILYGUIDE

More Gay & Gay Friendly

Bars and Restaurants.

Cathedral City

AJ Sports

Roost

Trunks

Studio One 11

Desert Hot Springs

Playoffs Sports Bar

Palm Springs

Toucan's

Streetbar

Oscar's

Chill bar

Hunters

Stacy's

BlackBook

QUADZ

RetroRoom Lounge

Phoenix

Charlie's

Dick's Cabaret

Kobalt Bar

Pat O's

Stacy's

Inland Empire

The Menagerie

VIP

Alibi East

Hook-Up

340 Restaurant & Nightclub

continued from page 27
---
夀 伀 唀 䌀 愀 渀 䠀 愀 瘀 攀 愀 倀 甀 戀 氀 椀 挀 椀 猀 琀 吀 漀 漀

倀 甀 戀 氀 椀 挀 椀 猀 琀 猀 愀 爀 攀 渀 漀 琀 樀 甀 猀 琀 昀 漀 爀 挀 攀 氀 攀 戀 爀 椀 琀 椀 攀 猀 愀 渀 礀 洀 漀 爀 攀 ⸀

䄀 眀 攀 氀 氀 ⴀ 挀 漀 渀 渀 攀 挀 琀 攀 搀 瀀 甀 戀 氀 椀 挀 椀 猀 琀 挀 愀 渀 最 爀 攀 愀 琀 氀 礀 攀 氀 攀 瘀 愀 琀 攀

琀 栀 攀 瀀 爀 漀 昀 椀 氀 攀 漀 昀 愀 渀 椀 渀 搀 椀 瘀 椀 搀 甀 愀 氀 Ⰰ 漀 爀 最 愀 渀 椀 稀 愀 琀 椀 漀 渀 漀 爀

戀 甀 猀 椀 渀 攀 猀 猀 ⸀

䄀 猀 愀 瀀 甀 戀 氀 椀 挀 椀 猀 琀 眀 栀 漀 椀 猀 愀 氀 猀 漀 愀 樀 漀 甀 爀 渀 愀 氀 椀 猀 琀 Ⰰ 䤀 欀 渀 漀 眀 琀 栀 攀

椀 渀 猀 ☀ 漀 甀 琀 猀 漀 昀 洀 攀 搀 椀 愀 ⸀ 唀 琀 椀 氀 椀 稀 椀 渀 最 洀 礀 猀 漀 氀 椀 搀 爀 攀 氀 愀 琀 椀 漀 渀 猀 栀 椀 瀀 猀

眀 椀 琀 栀 攀 搀 椀 琀 漀 爀 猀 Ⰰ 瀀 甀 戀 氀 椀 猀 栀 攀 爀 猀 Ⰰ 愀 渀 搀 漀 琀 栀 攀 爀 最 愀 琀 攀 欀 攀 攀 瀀 攀 爀 猀 Ⰰ

䤀 挀 愀 渀 猀 攀 挀 甀 爀 攀 瀀 氀 愀 挀 攀 洀 攀 渀 琀 猀 洀 漀 爀 攀 焀 甀 椀 挀 欀 氀 礀 愀 渀 搀 攀 愀 猀 椀 氀 礀 ⸀

倀 氀 攀 愀 猀 攀 䌀 愀 氀 氀 䘀 漀 爀 愀 䌀 漀 渀 猀 甀 氀 琀 愀 琀 椀 漀 渀

瘀 椀 挀 最 攀 爀 愀 洀 椀 ⸀ アパート ⸀ 㠀 㠀 ⸀ 㠀 㔀 㘀 アパート ⸀ 瘀 椀 挀 䀀 琀 栀 攀 戀 氀 甀 渀 琀 瀀 漀 猀 琀 ⸀ 挀 漀 洀

吀 栀 攀 䈀 氀 甀 渀 琀 倀 漀 猀 琀 ⸀ 挀 漀 洀

Never Stale! The only LOCAL Gay Guide For The Palm Springs area THIS WEEK. 17
---
Mixer & Food Drive

Monday, August 5th | 4:30 to 7:00 PM

Come and join our special mixer gathering where we are

asking our members to support The Community Food Bank @

The Center currently in need of the following items:

Cereals (All sizes)

Breakfast items (oatmeal, bars)

Nutritional or Protein shakes

Crackers & Chips

Dry beans (1 lbs. bags)

Pasta

Canned meat

Baking products

The Community Food Bank @ The Center is a flagship initiative

that provides nutritional choices, including fresh produce,

baked goods, meat, canned goods, dairy and more to lowincome

Riverside County residents in need of food assistance

Where:

302 East Arenas Road

Palm Springs, CA 92262

18 IF YOU LIKE US, PLEASE LIKE US ON FACEBOOK: DESERTDAILYGUIDE
---
Never Stale! The only LOCAL Gay Guide For The Palm Springs area THIS WEEK. 19
---
Port Huron Statement Part II

Fair Use copyright (c) 1993 by the Author or by

Viet Nam Generation, Inc., all rights reserved.

a 1962 political manifesto of the American

student activist movement Students for a

Democratic Society (SDS)

Values

Making values explicit--an initial task in

establishing alternatives--is an activity that

has been devalued and corrupted. The

conventional moral terms of the age, the

politician moralities--"free world," "people's

democracies"--reflect realities poorly, if at all,

and seem to function more as ruling myths

than as descriptive principles. But neither has

our experience in the universities brought us

moral enlightenment.

Our professors and administrators sacrifice

controversy to public relations; their

curriculums change more slowly than the

living events of the world; their skills and

silence are purchased by investors in the

arms race; passion is called unscholastic. The

questions we might want raised--what is really

important? can we live in a different and

better way? if we wanted to change society,

how would we do it?--are not thought to be

questions of a "fruitful, empirical nature," and

thus are brushed aside.

with Commies and Fellow Travelers, Ideologies

Are Exhausted, Bipartisanship, No Utopias.

These are incomplete, and there are few new

prophets. It has been said that our liberal and

socialist predecessors were plagued by vision

without program, while our own generation is

plagued by program without vision. All around

us there is astute grasp of method, technique--

the committee, the ad hoc group, the lobbyist,

the hard and soft sell, the make, the projected

image--but, if pressed critically, such expertise

in incompetent to explain its implicit ideals. It

is highly fashionable to identify oneself by old

categories, or by naming a respected political

figure, or by explaining "how we would vote"

on various issues.

Theoretic chaos has replaced the idealistic

thinking of old--and, unable to reconstitute

theoretic order, men have condemned idealism

itself. Doubt has replaced hopefulness--and

men act out a defeatism that is labeled realistic.

The decline of utopia and hope is in fact one

of the defining features of social life today. The

reasons are various: the dreams of the older

left were perverted by Stalinism and never

re-created; the congressional stalemate makes

men narrow their view of the possible; the

specialization of human activity leaves little

room for sweeping thought; the horrors of the

twentieth century symbolized in the gas ovens

and concentration camps and atom bombs,

have blasted hopefulness. To be idealistic is to

be considered apocalyptic, deluded. To have

no serious aspirations, on the contrary, is to be

"tough-minded."

Unlike youth in other countries we are used

to moral leadership being exercised and moral

dimensions being clarified by our elders. But

today, for us, not even the liberal and socialist In suggesting social goals and values, therefore,

preachments of the past seem adequate to the we are aware of entering a sphere of some

forms of the present. Consider the old slogans: disrepute. Perhaps matured by the past, we

Capitalism Cannot Reform Itself, United Front have no formulas, no closed theories--but that

Against Fascism, General Strike, All Out on does not mean values are beyond discussion

May

20

Day.

IF

Or,

YOU

more

LIKE

recently,

US, PLEASE

No Cooperation

LIKE US ON FACEBOOK: and tentative DESERTDAILYGUIDE

determination. A first task of any
---
social movement is to convince people that the

search for orienting theories and the creation

of human values is complex but worthwhile.

We are aware that to avoid platitudes we must

analyze the concrete conditions of social order.

But to direct such an analysis we must use the

guideposts of basic principles. Our own social

values involve conceptions of human beings,

human relationships, and social systems.

We regard men as infinitely precious and

possessed of unfulfilled capacities for reason,

freedom, and love. In affirming these principles

we are aware of countering perhaps the

dominant conceptions of man in the twentieth

century: that he is a thing to be manipulated,

and that he is inherently incapable of

directing his own affairs. We oppose the

depersonalization that reduces human being

to the status of things--if anything, the

brutalities of the twentieth century teach that

means and ends are intimately related, that

vague appeals to "posterity" cannot justify the

mutilations of the present. We oppose, too,

the doctrine of human incompetence because

it rests essentially on the modern fact that

men have been "competently" manipulated

into incompetence--we see little reason

why men cannot meet with increasing the

skill the complexities and responsibilities of

their situation, if society is organized not for

minority, but for majority, participation in

decision-making.

authentic; a quality of mind not compulsively

driven by a sense of powerlessness, nor one

which unthinkingly adopts status values, nor

one which represses all threats to its habits,

but one which has full, spontaneous access to

present and past experiences, one which easily

unites the fragmented parts of personal history,

one which openly faces problems which are

troubling and unresolved; one with an intuitive

awareness of possibilities, an active sense of

curiosity, an ability and willingness to learn.

This kind of independence does not mean

egotistic individualism--the object is not to

have one's way so much as it is to have a way

that is one's own. Nor do we deify man--we

merely have faith in his potential.

Human relationships should involve fraternity

and honesty. Human interdependence is

contemporary fact; human brotherhood must

be willed, however, as a condition of future

survival and as the most appropriate form of

social relations. Personal links between man

and man are needed, especially to go beyond

the partial and fragmentary bonds of function

that bind men only as worker to worker,

employer to employee, teacher to student,

American to Russian.

Tom Hayden December 11, 1939 – October 23,

2016

Anti-war, civil rights, and radical intellectual

activist in the 1960s, authoring the Port Huron

Statement and standing trial in the Chicago

Seven case.

Men have unrealized potential for selfcultivation,

self-direction, self-understanding,

and creativity. It is this potential that we regard

as crucial and to which we appeal, not to the

human potentiality for violence, unreason,

Next week part III

and submission to authority. The goal of man

and society should be human independence: a Loneliness, estrangement, isolation describe

concern not with image of popularity but with the vast distance between man and man

finding a meaning Never Stale! in life The that only is personally LOCAL Gay Guide today. For The Palm Springs area THIS WEEK. 21
---
Palm Springs Gay Men's Chorus

To Hold Auditions for 21 st Season

"Sing With Us"

Palm Springs, CA- June 26, 2019... The Palm

Springs Gay Men's Chorus (PSGMC) will

be holding open call auditions August 27

at 7:00p.m. at the Mizell Senior Center,

480 South Sunrise Way in Palm Springs.

This special evening of camaraderie will

also be an opportunity to volunteer and

get involved with one of the chorus' many

committees. Interested singers can also

attend open rehearsals on August 13 and 20

at 7:00p.m. to experience what it is like to

perform with the chorus and meet its members.

PSGMC continues to "Build a Chorus

Like No Other," with a commitment to a high

standard of excellence in their performances.

In the audition process, PSGMC will be

recruiting singers for the main chorus, but

also for their small ensemble group "The

Arrangement."

"The "Sing With Us" campaign stems from

the chorus' tight knit group of men who are

passionate about performing and entertaining

at civic and private events throughout

the cities of the Coachella Valley. Singing

with PSGMC gives everyone an amazing

musical experience and a family of men to

share their music with. The process is easy

and requires the singer to match pitch, have

a great smile and good stage presence," said

Douglas Wilson, Artistic Director, PSGMC.

The chorus is an auditioned, volunteer

choral ensemble consisting of male singers

age eighteen and older, gay or gay friendly.

With a wide range of varying musical

training and backgrounds, the chorus is

committed to fostering an environment of

professionalism, respect, pride and unity.

The Palm Springs Gay Men's Chorus is

comprised of gay and straight-allied men of

all ethnicities. As we grow our membership

and continue to build diversity, we encourage

the Trans Community, if you identify as

a man and sing in the tenor or bass range,

to audition for the chorus.

The mission of the PSGMC is to be a

chorus of gay men, who through musical

excellence, community outreach, and civic

responsibility, are dedicated to entertaining,

inspiring, and educating the culturally

diverse community in which we live.

For more information on meeting the requirements

and an application form https://

psgmc.com/auditions/. For a variety of ways

to support the Palm Springs Gay Men's

Chorus, visit www.PSGMC.com

Press inquiries should be directed to Jeff

Hocker, Hocker Productions at 760-409-

1530 or marketing@psgmc.com.

22 IF YOU LIKE US, PLEASE LIKE US ON FACEBOOK: DESERTDAILYGUIDE
---
Strange happenings The War in

cyberspace is bring waged, and the

United States is losing it, according

national security experts.

YOKOTA AIR BASE, Japan — The home of U.S.

Forces Japan in western Tokyo was briefly

under a "real world" lockdown Wednesday,

according to messages sent via mobile

apps and the base-wide public address

system. "REAL WORLD — LOCKDOWN,

Yokota Air Base is under LOCKDOWN,"

stated a text alert sent at about 1:50 p.m.

"Last known location: Bldg. 31, O-Club —

LOCKDOWN." A message broadcast over

Yokota's Giant Voice public address system

announced that the emergency had ended

at about 2:08 p.m. No other information

was immediately available.

Scurity personnel and Japanese police

found no evidence of firearms being

discharged on or off base at the time,

according to Yokota's 374th Airlift Wing.

fighter jets in response. Moscow's defense

ministry said four bombers, supported

by fighter jets, patrolled a pre-planned

route over "neutral waters" in the Sea of

Japan and the East China Sea, according

to the BBC. South Korea claimed that two

Tu-95 bombers and one A-50 airborne

early warning and control aircraft entered

the South's air defense identification zone

along with two Chinese bombers off its

east coast before the A-50 intruded in

South Korean airspace.

According to South Korean accounts,

an unspecified number of South Korean

fighter jets, including F-16s, scrambled to

the area and fired 10 flares and 80 rounds

from machine guns as warning shots.

CARACAS, July 22. /TASS/. A US

reconnaissance aircraft has been

reported to violate the Venezuelan

airspace for the second time in three

days, Minister of Communications and

Information Jorge Rodriguez said on

Monday.

Cuba 'sonic attacks' changed people's

brains, study suggests Many of those

stationed in Havana reported hearing

"intensely loud" sounds coming from a

specific direction, which they described

as "buzzing," "grinding metal," "piercing

squeals" and "humming,"

Officials have looked into similar cases

in China. The US State Department

expanded a health alert there after a

series of supposed acoustic incidents left

July 23 Russia confirmed Tuesday that

it had carried out its first-ever joint

air patrol with China, an event which

diplomatic personnel suffering injuries

prompted Never South Stale! Korea The to scramble

only LOCAL Gay Guide similar For The to Palm those Springs Cuba. area THIS WEEK. 23
---
AdamsArtExpose' ART

The Southeastern Native American

Tribes consist of the Cherokee; Choctaw,

Muscogee or Creek; Chickasaw and

Seminole Tribes. The largest of these

tribes is the Cherokee. historically

these Tribes occupied the area that is

now comprised of the states of Georgia,

Alabama, North Carolina, Florida and

Tennessee Their traditional arts consisted

of clay pots. These were both decorative

and utilitarian. They were decorated with

sticks and stones and baked in fire to

make them durable for holding liquids.

They also carved pipes made from clay,

wood, and soapstone. The pipes were

used in religious and peace ceremonies

and also for smoking tobacco.and were

meticulously decorated. The pipe that is

shown in this article has an interesting

stem which could have implications of

a blow job. This pipe is made by the

Chickasaw Tribe.

Double-wall baskets were another artistic

and utilitarian craft made by the women

of the Tribes. The baskets featured

designs of various geometric and nature

patterns.

AdamsArtExpose'

NATIVE AMERICAN ARTS - SOUTHEAST NATIVE

AMERICAN ART AND THE TRAIL OF TEARS

Cherokee men gave the masks ferocious

features that were painted and also they

added fur and feather decorations. The

masks were used to taunt enemies and

would be worn in ceremonies prior to a

battle.

The Southeast Native American Tribes

were established centuries prior to the

arrival of the European immigrants.

They were mostly agrarian growing crops

of corn and beans They primarily lived

in towns which covered hundreds of

acres. They had established streets for

residential and public use. Their system

of governance was a chiefdom with

high levels of military organization. An

initial agreement was made with George

Masks were another artifact of the

Southeast Tribes. These were carved

of wood. Only men made masks. The Washington and the new American

24 IF YOU LIKE US, PLEASE LIKE US ON FACEBOOK: DESERTDAILYGUIDE
---
Republic. It was basically a laissez-faire

agreement allowing the Tribes to maintain

their lands and gradually integrate them

into European culture and Christianity.

More immigration from Europe brought

settles to the Southeastern States with

dreams of becoming wealthy from growing

cotton and tobacco on the rich land. The

Native American Tribes became more of an

annoyance. The story that is now history

of abhorrent treatment of Native American

peoples in which one of the most infamous

chapters was the Trail of Tears incident,

taking place in the 1830s beginning with

the administration of another pre-Trump,

racist president, Andrew Jackson. Jackson

was racist and xenophobic in that he hated

Native Americans. His administration

began what was titled the Indian Removal

process. All of the Southeastern Tribes

were to be moved from their native

geographic area which they had lived on

for centuries to an area recently accessed as

part of the Louisianna Purchase, to become

known as Oklahoma. This removal reached

its peak after both settlers and the U.S.

military had committed mass murder and

destruction of the existing Native American

habitats. The Cherokee Tribes one of the

last Tribes to be "removed" was forced to

march on foot 1,200 miles to the Oklahoma

Territory. The Southeastern Native

American country which had been lived in

for centuries prior to the 1800s shrank to

almost nothing as Oklahoma became a new

state and Indian territory was gone forever.

Questions,comments, suggestions,

contact - adamsartexpose@gmail.com or

adamsartexpose@desertdailyguide.com

.

Questions, comments, suggestions,

contact - adamsartexpose@gmail.com or

adamsartexpose@desertdailyguide.com

Never Stale! The only LOCAL Gay Guide For The Palm Springs area THIS WEEK. 25
---
"Someone to

Watch" winner

Alexandre

Moratto's

multi-awarded

festival-favorite

SOCRATES?

Opening in

Los Angeles

on August 9

and on DVD & VOD August 20, Socrates follows

15-year-old Socrates, who, after the

death of his mother, finds himself living

on the outskirts of São Paulo, attempting

to navigate life outside the system, while

facing mounting debt, forced eviction, and

the threat of being relocated into a youth

home. Despite it all, Socrates is determined

to survive on his own terms amidst

fraught conditions, all the while exploring

his sexuality after sparking a steamy

romance with a reckless older boy. From

executive producer Fernando Meirelles

(City Of God), and produced by Ramin

Bahrani (99 Homes, Goodbye Solo), Socrates

is the debut feature from 29-year-old

Brazilian-American filmmaker Alexandre

Moratto. It is the first feature produced

by the Querô Institute in Brazil where it

was co-written, produced, and acted by

at-risk teenagers from local low-income

communities, with the support of UNICEF.

"a Described as a "gritty, gut-wrenching

drama... (Gary Kramer, SF Bay Times) that

"imbues this unhappy slice of slum life

with an energy and compassion that transcends

mere miserabilism." (Dennis Harvey,

Variety), World Premiere at the Los

Angeles Film Festival, official selection at

numerous festivals including Festival Mix

Brasil (Best Film, Best Director and Best

Actor for lead actor Christian Mahleiros);

Frameline43; BFI Flare; TIFF New Wave;

Miami Film Festival (Jordan Ressler First

Feature Award for Moratto).

Alexandre Moratto is a Brazilian-American

filmmaker. His award-winning short films

Nowhere to be Found, The Parting, and

The Other Side have screened at numerous

international film festivals. He was a Film

Independent Directing Lab Fellow and an

NC Arts Council Artist Fellow and had a

project in the Sundance Creative Producing

Labs. He received his BFA from the

UNC School of the Arts where he was a

Kenan Excellence full scholarship recipient

and winner of the DGA Student Film Jury

Award for his thesis. He resides in California

and São Paulo.

26 IF YOU LIKE US, PLEASE LIKE US ON FACEBOOK: DESERTDAILYGUIDE
---
Continued from page 16

BUSINESS DIRECTORY

DID YOU KNOW, Palm Springs is

only 90 minutes to the ocean!

BUSINESS DIRECTORY

LGBT AND LGBT FRIENDLY

RESORTS PALM SPRINGS STYLE

CCBC Resort 760 324-1350 See page 2

68-300 Gay Resort Drive

CCBC is the largest clothing optional Gay

men's resort in Southern California.

Located just a few minutes from downtown

Palm Springs, Our 3.5 acre fantasy

playground is perfect for weekend getaways

and extended stays.

ccbcresorthotel.com

Chaps Inn 760 327-8222 See page 18

Don't stay where the boys are ….. stay

where the men are! Swim in or laze by

the heated salt water pool, enjoy the spa,

cool misting system and steam room! Play

in the outdoor sling or Saint Andrew's

cross. Chaps Inn is a clothing optional 10

room resort owned and operated by two

British transplants and life partners, Stuart

and Ian. chapsinn.com

TRIANGLE INN 760-322-7993

555 E. San Lorenzo Rd

92264 Palm Springs CA

Romantic and relaxing or fun and frisky. At

the Triangle Inn Palm Springs, the choice

is yours. This award-winning, and historic

Palm Springs Resort is a feast for all your

senses, with a special flair for Southern

(California) hospitality. triangle-inn.com

INNdulge 760 327 1408 See page 9.

601 S Grenfall Rd, Palm Springs

Considered one of the best gay hotels

and gay resorts in Palm Springs Located

in the heart of warm sands area and

walking distance to Sunny Dunes gay

bars and shopping and down town.

Amenities include free wifi, daily

continental breakfast, evening social

hour, complimentary local gym access,

air conditioning, on-site guest laundry,

outdoor misters and assistance with

restaurant and activity bookings

inndulge.com

Continued on page 29

Never Stale! The only LOCAL Gay Guide For The Palm Springs area THIS WEEK. 27
---
28 IF YOU LIKE US, PLEASE LIKE US ON FACEBOOK: DESERTDAILYGUIDE
---
Continued from page 27

BUSINESS SERVICES

ATTRACTIONS/ENTERTAINMENT

Cabot's Pueblo Museum 760-329-7610

McCallum Adobe 760-323-8297

Ruddy's General Store Museum 760-327-2156

Indian Canyons 760-323-6018

Palm Springs Aerial Tram 760-325-1449

Palm Springs Air Museum 760-778-6262

Palm Springs Art Museum 760-325-7186

Sunnylands 760-328-2829

Patton Memorial Museum 760-227-3483

Joshua Tree National park 760-367-5500

ADULT BOOK STORE

*Hidden Joy 760 328-1694

ADULT FETISH AND TOYS

*Gear Leather & Fetish 760 322-3363

*Hidden Joy 760 328-1694

ART GALLERY

Sebastian's Gallery Appraisals - Antiques Fine

Art - Estate sales and liquidation

69930 Hwy 111 Rancho Mirage . Nudes | Art

760-202-0582

ATTORNEYS

*Joseph Rhea legal criminal law human rights

760 322-3001

BARBER SHOPS

Tim Piper 760 218 0806

180 E. Andreas at North Palm cyn.

BUSINESS DIRECTORY

CONCRETE

GYMS

*WorkOUT Gym 760 325-4600

GENERAL SERVICES

Patriot Services

LIC General Contactor

Handyman | Flooring | SHOWERS

PLUMBING | ELECTICAL

760-327-9619

Hauling

Red's Hauling. We remove trash and unwanted

items. Garage clean outs. Call Red at

760-288-6956

SHOPPING

LEATHER GEAR TOYS

*Gear Leather and Fetish 760-322-3363

gearleather.com 650 E. Sunny Dunes

Computer Service

CONCIERGE-STYLE COMPUTER

SUPPORT I AM NOT MAC-PHOBIC!

Desktops, laptops, Internet/wireless connectivity,

virus remediation. Catering to locals &

resort/out-of-town guests. Reasonable rates

Call Ed Lefkowitz sunnyDconsulting (760)

483-3115. sunnydconsulting.com

Leather Repair

Off Ramp Leathers 760-778-2798

www.offrampleathers.com New and used

leather and fetish/BSDM gear. Alterations

and repairs from saddle-patching your

well-loved Levis to refurbishing your prized

leathers. Or get measured for a new custom

leather outfit handmade by Paul. Great

Continued on page 30

Never Stale! The only LOCAL Gay Guide For The Palm Springs area THIS WEEK. 29
---
BUSINESS DIRECTORY Continued from page 29

selection of consignment items. 650 E.

Sunny Dunes Rd., Unit 3, Palm Springs,

CA 92264

PAINTERS

MATRIMONY SPIRITUALITY

Bloom In the Desert Ministries

760 327-3802

REAL ESTATE

*Berrington Properties 760 408-4102

TRAVEL

Idyllwild

LIVING FREEANIMAL SANCTUARY

Living Free rescues dogs & cats from public

shelters. We're a no-kill nonprofit - with

spay/neuter, pet adoptions, animal welfare.

Tax-deductable Visitors Welcome! OPEN

DAILY 11:00am to 4:00pm CLOSED

WEDNESDAYS. We are NOT licensed to

take animals from the public and rescue

from local shelters only.

54250 KEEN CAMP ROAD MOUNTAIN

CENTER, CA 92561

Idyllwild Guest House

Escape desert temperatures for cool

breezes. Visit Idyllwild Guest House

for spectacular sunsets and beautiful

mornings. Relaxing private location

with hot tub and clothing optional sundecks.

Idyllwildgayguesthouse.com

Mark Lonsbury 760-406-9699

Idyllwild Attractions

Idyllwild Nature Center The center provides

an array of environmental education

programs, guided tours, and field study

trips. 25225 CA-243, Idyllwild, CA 92549,

Phone: 951-659-3850

Idyllwild Park is a popular park measuring

a little over two hundred acres for hiking

rock and rustic camping.

MOVING HERE?

Gas 800-427-2200

Water 760-323-4971

Electric 800-990-7788

Trash 800-973-3873

Recycling 760-327-1351

Free Trolley Buzz

760 260-8104

30 IF YOU LIKE US, PLEASE LIKE US ON FACEBOOK: DESERTDAILYGUIDE
---
GROUPS/ORG/HELP

LGBT COMMUNITY CENTER OF THE

DESERT 1301 North Palm Canyon, 3rd

Floor PALM SPRINGS, CA 92262

760-416-7790 www.thecenterps.org

AMERICAN CANCER SOCIETY 800-

227-2345

AMVETS: 760-324-5670

BLOOM IN THE DESERT MINISTRIES:

760-327-3802

Coachella Valley Sexual Assault Services

Rape Crisis Center (760) 568-9071

DEMOCRATS OF THE DESERT

desertdemocrats.org

democratsofthedesert@gmail.com

DESERT LEGAL AID: 760-832-9770

DESERT STONEWALL DEMOCRATS:

www.desert-stonewall.org

DESERT WINDS 760 776-2700

FRONTRUNNERS psfr.org

GAY ARTISTS - 760 835-0727

Gay Book Club of PS—write to bookclubofps@yahoo.com

Transgender community transcc.org

PALM SPRINGS GAY MEN'S CHORUS

760-219-2077

PALM SPRINGS LEATHER ORDER OF

THE DESERT 760 272-5553

PALM SPRINGS PRIDE pspride.org

Prime Timers of the Desert 760-424-8014.

NATURIST DAY PASSES

Gay Men CCBC Resort

Family DeAnza Springs Resort Jacumba,

CA, Living Waters, Desert Sun Resort

BUSINESS DIRECTORY

CALL TO ADD YOUR LISTING TODAY

888 743-3349

SERVICES

Verified June 2019

Got kids? Feed 'em free! Summer meal

programs open to all kids 18 and under

Texting "FOOD" to 877-877 will give you a

nearby location where free meals are available

for children during the summer.

Almuerzo gratis para niños este verano. No

papeles necesarios. Llame 1-877-8-HAM-

BRE

For Cool Center info call: County of Riverside

Community Action Partnership 951-

955-4900 TTY: 951-955-5126

www.capriverside.org or loical City Hall.

ACLU Immigrants' Rights Project 212-549-

2500

The (FCC) reserved the 211 dialing code

for community information and referral

services. Types of Referrals Offered by with

information about and referrals to social

services for every day needs and in times of

crisis.

Dont blow up your weekend!

BEFORE YOU DIG...Call 811 at least a few

days before you start any digging project.

Whether you are planning to do it yourself

or hire a professional.

Never Stale! The only LOCAL Gay Guide For The Palm Springs area THIS WEEK. 31
---
DDG LOCAL CLASSIFIEDS AND MASSAGE

The Deadline for any and all ads (new or changes to current) is 4 PM Friday (Changed) For Publication

THE FOLLOWING WEEK Line ads are 30 words or less.

Classified ADS 30 words or less $15.00 per week FOR A MINIMUM OF THREE WEEKS All ads must

be paid before publication (unless prior arrangements are made). DDG Media Group assumes no

responsibility for the content of ads or for the reliability of our advertisers.

We are open, Monday-Friday, from 10 AM to 4 PM Proofing limited to first run.

NEW DROP off (no cash) address is:1717 E. Vista Chino Drive, A7-480, Palm Springs, CA 92262

Toll Free 888-743-3349 or 760-913-3340 • FAX (844) 800-9700 publisher541@desertdailyguide.com

MASSAGE

4 HAND TANTRIC MASSAGE

EurAsian Team Relaxing Rejuvenating,

Sensual 760-835-0727 [000]

MALE KNEADS

Exceptional, Sensual, Soothing, body work

for men of all ages. Outcalls only. Call

Adam for an extraordinary experience in

innovative erotic relaxation.

760-835-0727 [000]

PALM SPRINGS BLACK MASSEUR

5'4", 130# of lean muscle. Handsome face.

Smooth and athletic. Personal training

available.MC/Visa Accepted.

Michael Cell 562-714-4270 [0109]

EXPERT MASSAGE...TAKE A BREAK FROM LIFE

With a great massage by trained

professional. Massage Therapist offering

therapeutic, restorative and Swedish.

IN/OUT now 845 866 0498 Mark [0808]

MATURE M4M MASSAGE

Full body massage combining deep tissue

with reflexology and stretching. I use a table

with fresh linens, organic oils, lotions, and

soothing soft music. Call or text Tony D.

(760)218-0234 [0801]

Ultimate Relaxing Massage

Experience, a relaxing mix of massage

strokes, to relieve soreness, bring balance,

and release stress

Contact Pablo at 760 219 9157

PROFESSIONALLY TRAINED MASSAGE

THERAPIST

Full body massage to release your stress!

Serene room w/all massage amenities in

my CC home. Spa available. In/Out. Cash/

Credit. 5 yrs. experience. Call/text

Richard: 310-871-7879. [0910]

WELLBEING BODYWORK

Body Electric graduate with 25 years

experience helping men relax body and

mind with caring professional touch. Table

at my studio or your home.

www.Wellbeing-Touch.com 760.205.1567

Tim [0130]

Royal Massage

Body-Work Fit For A King! Mature, goodlooking

man, gifted touch, and sensual

full-body technique, will work you well,

welcoming relaxation and release. In only.

Call and/or text 760-636-9677.

[0605]

New Massage Therapist In Town

Deep tissue, Swedish, Relaxation.

Professionally trained 10+ years exp. Safe

and discrete. Reasonable rates. Call Roberto

253-298-6528. [2}

32 IF YOU LIKE US, PLEASE LIKE US ON FACEBOOK: DESERTDAILYGUIDE
---
SERVICES

Sensual M4M Hair Cut

One on one hair cut and scalp massage,

very private in home studio, centrally

located in R. Mirage near Eisenhower

M.Center. Well equipped with knowledge

and experience.

Inquire via text at 310 904 9195

For Rent/Lease

Beautiful Central Palm Springs ENERGY

EFFICENT - 2BR/1BA Unit. Lovely private

gated 5-Plex, Newly renovated top2bottom,

w/stainless steel kitchen, fresh designer

paint and flooring throughout

Personal stacked washer/dryer. Huge back

patio w/ additional private rear entrance.

Mature, respectful community w/owners

onsite. $1125/monthly

Call Markus 760.902.8604

Trans Tuesdays

Programs and services @ The Center are

made for everyone in our community.

If you're transgender, we've built

programming specifically for you. Every

Tuesday evening, come by The Center for

Trans Tuesdays. Please feel free to wear

what makes you comfortable. NO COST

TO ATTEND.

Schedule and topics listed below:

1st Tuesday - Trans Talk

Open to all Trans/Intersex, significant

others / close family

Jobs

Welder

Adult oriented furniture maker seeking

production welder w/ exp in MIG welding

of steel and galvanized helpful. Email -

info@fetishlocker.com No phone Calls

DDG TO YOUR DOOR IS HERE

SUPPORT FREE PRESS

$69.00 for a limited time.

12 monthly issues

Weekly coupons and exclusive discounts

Another way to support our free listings

events and charities.

FOR SUBSCRIBERS ONLY

desertdailyguide.com

DDG delivered monthly

1717 E Vista Chino A7-480

2nd Tuesday - Peer-Led Support Group

Open to all Trans/Intersex, significant

others / close family

3rd. Tuesday - Trans 2.0

Open to all Trans/Intersex, significant

others / Allies

Speakers and other resources that will deal

with topics of interest to the group

4th. Tuesday - Trans Lounge

Open to all Trans/Intersex, significant

others / Allies

A social time for movies, games, activities

Two groups; MTF and FTM to discuss and celebrations.

issues that are specific to each group thecenterps.org

Never Stale! The only LOCAL Gay Guide For The Palm Springs area THIS WEEK. 33
---
GAYDGETS & THREADS

ADRIAN'S PICKS FOR THE MAN THAT

NEEDS EVERYTHING.

1

3

2

4

34 IF YOU LIKE US, PLEASE LIKE US ON FACEBOOK: DESERTDAILYGUIDE
---
#1 Yuri Katsuki & Victor

Nikiforov Premium Box

$211.00 goodsmileshop.com/en

From the popular anime series

"YURI!!! On ICE" comes scale

figures of Yuri Katsuki and Victor

Nikiforov based on an all-new official

illustration. The Premium Box

includes a figure of Makkachin in the

same scale, as well as a framed copy

of the official illustration specially

drawn to be used as a reference for

the figure.

The characters have been recreated

in dynamic poses, with particular

attention taken to sculpting the

wrinkles of their clothes and

windblown hair with as much detail

as possible. Be sure to add Yuri,

Victor and Makkachin to your

collection!

#2 OZWEEGO SHOES

$120.00 adidas.com

retro elements with futuristic design

lines. A lightweight mesh upper

features suede and TPU overlays. The

EVA midsole has targeted cushioning

for increased comfort and superior

shock absorption.

#3 Naked Justice #1 – PDF

$4.99 classcomics.com

In this first issue of his very own series,

Naked Justice, our hot and hung

hero, must face the evil Giganticor,

the vile porcupine villain known only

as "the Prick", and the sinister Baron

Von Phallus.

#4 Pride Stripe Bikini

$38.00 andrewchristian.com

In a stunning stripe, each one comes

in bright pride colors. Show your

pride in style and sex in this amazing

new bikini! It'll feel as good as

it looks on, too, in our signature flat

pouch with fun snuggle fit! Be the

best looking and feeling man on the

beach, pool, or wherever you are, in

These shoes take late '90s and early

'00s style in a new direction, fusing

this limited edition piece!

IMAGE OF THE WEEK.... Adrian at the 50th ComicCon

Adrian travels the globe looking for the coolest trends in fashion and toys.

If you would like to have your product featured in this column send a note

to: adrian@desertdailyguide.com

Never Stale! The only LOCAL Gay Guide For The Palm Springs area THIS WEEK. 35
---
Continued from page 8

But when you work at one of the few gay

media outlets (with a soul), one that does

not loot everything like it was a money

tree. You get to meet many celebrities

and some that fall somewhere between

a fan and a friend. Paul Krassner was

a celebrity of stellar proportions in the

universe, but maybe not so well known in

the pop culture. But he was a friend of our

community from early on.

While there may never be a Paul Krassner

Funko Pop and what the hell do they know,

they have Flik. The star of A Bugs Life.

If there was a dotted line between those

who are actually "woke" and those not or

pretending to be woke, Paul Krassner is a

way to vet them.

In 1967, Paul Krassner published Mad artist

Wally Wood's parody as a centerspread for

his satirical magazine, The Realist originally

in black and white but its now available on

paulkrassner.com.

According to Paul's web site:

The Realist was the legendary satirical

magazine published from 1958 to 2001.

Founded and edited by Paul Krassner, his

credo was "Irreverence is our only sacred

cow," and in order to practice what he

preached he published some of the most

incendiary cartoons that ever appeared in

an American magazine.

Paul Krassner calls himself an investigative

satirist. Don Imus labeled him "one of

the comic geniuses of the 20th century."

And, according to the Los Angeles

Reader, "Krassner delivers 90 minutes of

the funniest, most intelligent social and

political commentary in town."

On the other hand, a couple of FBI agents

went to one of his performances and

stated in their report, "He purported to be

humorous about government policies." His

FBI files indicate that after Life magazine

published a favorable profile of him, the

FBI sent a poison-pen letter to the editor,

complaining: "To classify Krassner as a

social rebel is far too cute. He's a nut, a

raving, unconfined nut."

"The FBI was right," says George Carlin.

"This man is dangerous – and funny; and

necessary."

One of his last gigs was recorded by Will

Paige in 2012 at Trunks Bar Cathedral city

California. Available online at

facebook.com/desertdailyguide

36 IF YOU LIKE US, PLEASE LIKE US ON FACEBOOK: DESERTDAILYGUIDE
---
2019 Comic-Con International: San Diego

July 18 -21 comic-con.org

On March 21, 1970, a group of teenage

comic and movie enthusiasts under the

nominal adult supervision of a superfan

named Shel Dorf mounted a one-day

comic "minicon" at the US Grant Hotel

in downtown San Diego, similar to a

convention that Dorf had staged in Detroit.

This was the 50th edition of the show and

it gets bigger and better every year, the

world's fair of the generation.

San Diego will have a question on the

ballot next March about whether to

expand the convention center or Comic

Con might move to a larger venue.

Never Stale! The only LOCAL Gay Guide For The Palm Springs area THIS WEEK. 37
---
THE LAST WORD

"Life's journey is not to arrive at the

grave safely in a well-preserved

body, but rather to skid in sideways,

totally worn out, shouting 'Holy sh*t…

what a ride!", says Hunter S Thompson,

who killed himself rather than live in our

world. Now I am sad to report my friend

and neighbor, '60's counterculture figure

Paul Krassner has died. The last time I

was with him, I produced a show for him

at what is now Trunks Bar, for his book

re-release "Pot Stories for the Soul" He had

such a good time, he jumped up and took

the mic. I was like, "Sure", gulp. The DDG

is proud to support freedom of speech, but

this was Krassner. Thompson and Bruce

were his contemporaries and mentors.

But he did a solid 30 minute slot, gave us

a tour of the 60's that landed on that day,

saying "Today, no one says "thank you", they

just print it on your receipt". On that night,

Ashley Araya Sparks and Gregory Heyer

put on a great 60's tribute, as he told me this

would be his last performance; it is fitting to

be in a gay bar in Cathedral City. But he was

happy, he said these people are my people,

maybe because they are gay, but they get

the world as it really is. There is no air of

entitled space around them, they all showed

up mentaly. Also if you follow the beat

track, Krassner's appearance was developed

by noted local advocate, Lanny Swerdlow.

Later that day, we smoked out the rented

limo. We talked about our mutual friend

Hunter S Thompson, Hunter, Krassner

claimed, Often sent him bags of pot seeds

in the 60's to spread around Manhattan.

Which he did.

Then he said, "Let's do some coke, Will",

which we did on the limo driver's chest.

After the two alpacas got in, even species

identification gets kind of dicey. Later,

Krassner unrolled a place mat from the

Whale's Tale Restaurant & Pub on 69 Ocean

Blvd, in the Hamptons. I knew it because I

did the graphics on that place mat. It was

how I paid the rent when I lived at the 6

Red Coat Lane beach cottage writing for 3

or 6 years just off Old kings' road. Calling

it a cottage is flattery because it was known

as one of the old rotted bog shacks by the

swamp. Still, I did my best writing there, but

the place mat was not important, it was the

handwritten map on the back we wanted.

The map contained detailed locations where

he also placed gold next to each pot plant.

But he was too high to let anyone know, so

no one dug up the gold. We used the map

to find one location and only found another

note. A clue perhaps? A warning? Nope

it just said "I needed the fucking money.

P." scene… ala Raul Duke as Hunter S

Thompson

But for me, it was sitting in the parking

lot talking to Paul fucking Krassner, a key

figure in my counterculture world of the

1960s, a member of Ken Kesey's Merry

Pranksters and a founding member of the

Yippies. It happened. A hero died on July

21, 2019, in Desert Hot Springs, California.

38 IF YOU LIKE US, PLEASE LIKE US ON FACEBOOK: DESERTDAILYGUIDE
---
Never Stale! The only LOCAL Gay Guide For The Palm Springs area THIS WEEK. 39
---
40 IF YOU LIKE US, PLEASE LIKE US ON FACEBOOK: DESERTDAILYGUIDE