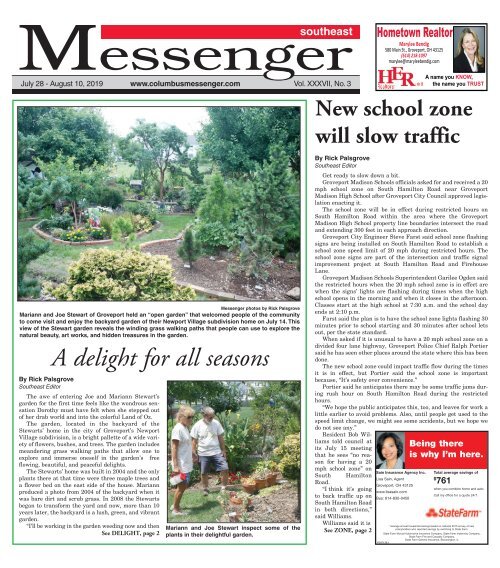 Southeast Messenger - July 28th, 2019
Create successful ePaper yourself
Turn your PDF publications into a flip-book with our unique Google optimized e-Paper software.
southeast

July 28 - August 10, 2019 www.columbusmessenger.com Vol. XXXVII, No. 3

Hometown Realtor

Marylee Bendig

580 Main St., Groveport, OH 43125

(614) 218-1097

marylee@maryleebendig.com

A name you KNOW,

the name you TRUST

New school zone

will slow traffic

Messenger photos by Rick Palsgrove

Mariann and Joe Stewart of Groveport held an "open garden" that welcomed people of the community

to come visit and enjoy the backyard garden of their Newport Village subdivision home on July 14. This

view of the Stewart garden reveals the winding grass walking paths that people can use to explore the

natural beauty, art works, and hidden treasures in the garden.

By Rick Palsgrove

Southeast Editor

A delight for all seasons

The awe of entering Joe and Mariann Stewart's

garden for the first time feels like the wondrous sensation

Dorothy must have felt when she stepped out

of her drab world and into the colorful Land of Oz.

The garden, located in the backyard of the

Stewarts' home in the city of Groveport's Newport

Village subdivision, is a bright pallette of a wide variety

of flowers, bushes, and trees. The garden includes

meandering grass walking paths that allow one to

explore and immerse oneself in the garden's free

flowing, beautiful, and peaceful delights.

The Stewarts' home was built in 2004 and the only

plants there at that time were three maple trees and

a flower bed on the east side of the house. Mariann

produced a photo from 2004 of the backyard when it

was bare dirt and scrub grass. In 2008 the Stewarts

began to transform the yard and now, more than 10

years later, the backyard is a lush, green, and vibrant

garden.

"I'll be working in the garden weeding now and then

See DELIGHT, page 2

Mariann and Joe Stewart inspect some of the

plants in their delightful garden.

By Rick Palsgrove

Southeast Editor

Get ready to slow down a bit.

Groveport Madison Schools officials asked for and received a 20

mph school zone on South Hamilton Road near Groveport

Madison High School after Groveport City Council approved legislation

enacting it.

The school zone will be in effect during restricted hours on

South Hamilton Road within the area where the Groveport

Madison High School property line boundaries intersect the road

and extending 300 feet in each approach direction.

Groveport City Engineer Steve Farst said school zone flashing

signs are being installed on South Hamilton Road to establish a

school zone speed limit of 20 mph during restricted hours. The

school zone signs are part of the intersection and traffic signal

improvement project at South Hamilton Road and Firehouse

Lane.

Groveport Madison Schools Superintendent Garilee Ogden said

the restricted hours when the 20 mph school zone is in effect are

when the signs' lights are flashing during times when the high

school opens in the morning and when it closes in the afternoon.

Classes start at the high school at 7:30 a.m. and the school day

ends at 2:10 p.m.

Farst said the plan is to have the school zone lights flashing 30

minutes prior to school starting and 30 minutes after school lets

out, per the state standard.

When asked if it is unusual to have a 20 mph school zone on a

divided four lane highway, Groveport Police Chief Ralph Portier

said he has seen other places around the state where this has been

done.

The new school zone could impact traffic flow during the times

it is in effect, but Portier said the school zone is important

because, "It's safety over convenience."

Portier said he anticipates there may be some traffic jams during

rush hour on South Hamilton Road during the restricted

hours.

"We hope the public anticipates this, too, and leaves for work a

little earlier to avoid problems. Also, until people get used to the

speed limit change, we might see some accidents, but we hope we

do not see any."

Resident Bob Williams

told council at

its July 15 meeting

that he sees "no reason

for having a 20

mph school zone" on

South Hamilton

Road.

"I think it's going

to back traffic up on

South Hamilton Road

in both directions,"

said Williams.

Williams said it is

See ZONE, page 2

Sain Insurance Agency Inc.

Lisa Sain, Agent

Groveport, OH 43125

www.lisasain.com

Bus: 614-830-0450

Being there

is why I'm here.

Total average savings of

$

761

when you combine home and auto.

Call my office for a quote 24/7.

*average annual household savings based on national 2015 survey of new

policyholders who reported savings by switching to State Farm.

State Farm Murual Automotive Insurance Company, State Farm Indemnity Company,

State Farm Fire and Casualty Company,

State Farm General Insurance, Bloomington, IL

P097136.1
---
PAGE 2 - SOUTHEAST MESSENGER - July 28, 2019

Splash N' Cinema

in Obetz

Splash N' Cinema will be held in

Obetz's Lancaster Park, 4390 Lancaster

Avenue, on Aug. 9 with free family friendly

movies beginning at dusk and splash

pad hours extended to 9 p.m. Film is

"Mary Poppins Returns."

CLOTHING

GIVEAWAY

CHILDREN'S CLOTHING

PLUS

FREE SCHOOL SUPPLIES

GROVEPORT CHURCH OF CHRIST

5626 GROVEPORT ROAD

GROVEPORT, OHIO

(614) 492-9344

SATURDAY, AUGUST 10 TH

9:00 am to 11:00 am

Pelotonia in Groveport

The annual Pelotonia bicycle tour will

pass through Groveport on Aug. 3

"The route will be the same as in the

past," said Groveport Police Sgt. Brian

Thompson. "In Groveport, the route is

Groveport Road to Bixby Road to Ebright

Road. The rest stop will be at Cruiser Park

on Bixby Road. We should start seeing

bikes about 7:30 a.m. and the last bike

should arrive about 11:30 a.m. to noon."

Thompson said there will not be any

road closures.

"However, police officers will be holding

traffic at intersections to allow the bikes to

safely travel through the intersections,"

said Thompson. "The public should expect

delays on State Route 317 at Bixby Road,

on Bixby Road and on Ebright Road."

Pelotonia is a grassroots organization

that raises money to fund cancer research.

Visit pelotonia.org for information.

AUTO HOME BUSINESS LIFE INSURANCE

Beplerinsurance.com

614.837.4379

staff@beplerinsurance.com

3246 Noe Bixby Rd., Columbus, Ohio 43232

ZONE

Continued from page 1

a safety issue because vehicles traveling 50

mph will have to quickly drop to 20 mph,

which he said could cause accidents.

Williams also noted that, in his experience,

he has never seen students walking

along South Hamilton Road.

Councilwoman Becky Hutson said there

are students walking along the road, particularly

from the COTA bus stop by the

high school.

Added Councilman Scott Lockett of the

20 mph school zone, "I think it's a good

idea. It slows things down."

No right turn on red reconsidered

Groveport City Administrator Marsha

Hall suggested council eliminate the "no

right turn on red" for westbound traffic on

Main Street at Front Street.

However, she said the "no right turn on

red" on Front Street at Main Street should

remain.

Hall said the "no right turn on red" on

westbound Main Street at Front Street

causes traffic back-ups during rush hours.

"It clogs the area," said Hall.

Councilwoman Jean Ann Hilbert said

the "no right turn on red" at the site was

originally instituted to protect pedestrians,

particularly students walking to Groveport

Elementary.

This intersection was upgraded in

recent years with electronic crosswalk signage

as well as bolder paint on the crosswalk

in the street.

City officials will review Hall's suggestion

and study the flow of and amount of

pedestrian traffic in the area and report

back to council.

The city has no plans to remove the "no

right turn on red" restriction at Main and

DELIGHT

Continued from page 1

and I'll take a moment to stop and look

around the garden and I think, 'This is

remarkable,'" said Mariann.

"I'm not a fan of grass," said Joe. "I like

to collect plants and I started by collecting

conifers about 20 years ago. Our garden

now has 160 different kinds of conifers, 17

different Japanese maples, 7 or 8 gingkos,

a wide variety of blooming flowers, bushes,

and even raised vegetable beds with carrots,

Swiss chard, potatoes, tomatoes,

leeks, onions, beans, and watermelon."

Joe called the garden "a collector's garden"

and it includes small signage that

labels the plants by name, when they were

obtained, and when they were planted.

On July 14, the Stewarts held an "open

garden" event and invited people of the

community to visit and explore the garden.

"It's an educational garden and we like

to share it with people," said Joe about

holding the open garden event. "Plus, mid-

July is when most of the blooms are in

their peak of color. We love showing off the

garden. The yard says, 'Look at me!' So

why hide it?"

Joe said he and Mariann plant "what we

like."

He noted the garden is colorful year

round.

www.columbusmessenger.com

College streets because of that intersection's

poor sight lines and tight turns onto

the narrow College Street.

On another crosswalk note, city officials

are studying whether or not to place an

additional crosswalk on Main Street somewhere

near Groveport Elementary and

Groveport Madison Middle School Central.

Street signs

Resident Bob Williams asked council to

consider re-designing the city's street signs

as well as the entry signs at the city limits.

"The street signs look dreadful. Let's

dress them up and add a little class to the

city," said Williams. "Also, the signs to the

entrances of the city don't stand out."

Currently, the city's street signs feature

black lettering on a white sign. The city's

alley signs have white lettering on a black

sign.

The signs at the entrances to the city

include a brick sign at Main Street and

State Route 317, metal arches at other

entry points, and small white signs with

black lettering at some entry points.

The city's trees and decorations committee

will review Williams' suggestions.

GPS routes for semi-trucks

Hall reported to Groveport City Council

that, because of the continuing issues the

city sees regarding semi-trucks traveling

through town, she found a process to provide

information to various GPS systems.

"The city engineer's intern has developed

a truck route map and is providing

the information to the GPS systems," said

Hall. "Hopefully, this will help to direct

trucks around the city."

"It's pretty each season," said Joe. "For

instance, with the conifers. In the winter

they look bronze, in the spring they're yellow,

and in the summer and fall they're

green. The garden is ever changing."

Besides the plants, the garden also has

a variety of whimsical art works, such as a

bird bath with a depiction of the face of the

sun in its basin and some old iron fencing

that features a tiny wrought iron bird resting

upon it. Other pieces of art include a

metal bed headboard frame that has flowers

growing on it, a sundial, a small, white

enamel metal tub containing flowers, a colorful

old bowling ball, small statuary, and

many kinds of animal sculptures.

Joe said Mariann spends about 15 hours

a week tending the garden while he works

in the garden about 10 hours a week

because he also takes time to work in other

gardens. He said working in the garden is

restorative.

"I like to water the plants by hand

instead of using a sprinkler system," said

Joe. "We want to put the plants in the

ground where we want them to be and a

sprinkler system would restrict our choices.

Plus, I find it relaxing to water the

plants with a garden hose. The garden is

freedom."
---
www.columbusmessenger.com

July 28, 2019 - SOUTHEAST MESSENGER - PAGE 3

Groveport is reviewing its Master Parks Plan

By Rick Palsgrove

Southeast Editor

Plan review, Groveport City Administrator

Marsha Hall said, "Groveport Park is our

developed in 2010 by EMH&T. This original

plan recommended that, in the future,

Park, 10 acres; Greenpointe Business Park,

25 acres; Newport Village, 7 acres; Village

largest park and has the most potential to Groveport Park could include: five tennis Green, 3 acres; Hendron Cemetery with

Groveport is a land of many parks.

provide and fulfill more recreational needs. courts, two outdoor basketball courts, two open space, 31 acres; Founder's Bend Park,

Groveport city officials are looking to

The review of the plan will enable us to see sand volleyball courts, playground equipment,

permanent restrooms, drinking Founder's Bend open space, 32 acres;

5 acres; Founder's Bend Gateway, 6 acres;

expand on what its city parks can offer

what would be appropriate for Groveport

recreationally to the community. With that

Park and what the potential costs could be fountains, and a shelter house.

Bixford Green HOA, 8 acres and 6 acres;

in mind, a committee made up of city staff

for improvements."

"We can look at re-positioning items proposed

in the original plan for Groveport Grove, 5 acres, and Homer Ohio Land open

Elmont Place Reserves, 11 acres; Hickory

and two city council members is reviewing

Groveport Park currently features the

the Groveport Master Parks Plan. The

Groveport Recreation Center, Groveport Park and also think about what recreational

options are necessary for the park," said •Mini-parks: Veterans Park 0.1 acre.

space, 15 acres.

review involves all the city parks with an

Aquatic Center, five softball diamonds, 1.8

emphasis on Groveport Park. Groveport

miles of paved pedestrian trails and loops, Hall. "For instance, are sand volleyball The city also owns and operates the 18-

City Council also budgeted $40,000 to pay

a gravel/grass pedestrian trail extending courts still desired?"

hole The Links at Groveport golf course,

for a consultant to help review the plan and

from Blacklick Park to Rager Road, two Groveport has 19 parks including: located along Richardson Road.

formulate ideas for the parks. The committee

could make recommendations on future

fishing ponds, a wooded area, the Ohio and •Community parks: Cruiser Park, 55 In addition, there are two Metro Parks

Erie Canal Lock 22 historic area, the acres; Groveport Park, 75 acres; and nearby - Three Creeks Metro Park to the

park improvements by the end of the year.

Groveport Public Works Facility, and green Heritage Park, 16 acres.

north and Walnut Woods Metro Park south

When asked why Groveport Park was

space.

•Neighborhood parks: Blacklick Park, 21 of town.

being emphasized in the Master Parks

The existing Master Parks Plan was acres; Degenhart Park, 3 acres; Orchard

Groveport enacts revised heavy truck parking law

By Rick Palsgrove

Southeast Editor

Groveport City Council came to a decision

regarding the long discussed issue of

heavy trucks parking in the city's residential

areas.

On July 22, Groveport City Council

approved legislation that states commercial

vehicles weighing 10,000 pounds or

more may not park on residential city

streets between 7 p.m. and 7 a.m.

Restricted heavy vehicles may be present

when work or deliveries are being done as

long as the vehicles are not parked for 12

hours or more. Buses or commercial vehicles

while conveying passengers would be

permitted.

According to the legislation, a first violation

would be a minor misdemeanor, the

second violation within a year would be a

fourth degree misdemeanor, and each following

violation within a year of the first

offense would be a third degree misdemeanor.

City officials stated the legislation arose

because of problems with some large vehicles

parking in multiple city neighborhoods

and that the big trucks block street causing

traffic congestion and making it difficult

for emergency vehicles to get through.

City income tax revenue

In a written report to council, Groveport

City Treasurer Jason Carr reported that

the city's year to date income tax revenue

as of June 2019 is $8.6 million, which is

down from the $8.7 million year to date

income tax revenue collected by June 2018.

Ladies' Night

at the Paddock Pub and Links of Groveport

The Paddock Pub

Thursday, August 1, 2019

6:00 - 8:00 pm

$15 per person, prepaid by credit card

Join us along, with Leslie Peters from Heidelberg

about Rieslings and their regions.

call 614-610-9688.

To Taste:

Germany: Schmitt Sohne Spatlese

Washington State: Kung Fu Girl

California: Wente Vineyards

Ohio: Firelands Riesling
---
PAGE 4 - SOUTHEAST MESSENGER - July 28, 2019

columbusmessenger.com

southeast

Messenger

(Distribution: 19,206)

Rick Palsgrove ...................................Southeast Editor

southeast@ columbusmessenger.com

Published every other Sunday by

The Columbus Messenger Co.

3500 Sullivant Ave., Columbus, Ohio 43204-1887

(614) 272-5422

The Columbus Messenger Co. reserves the right to edit, reject or cancel

any advertisement or editorial copy at any time. The company is not

responsible for checking accuracy of items submitted for publication.

Errors in advertising copy must be called to the attention of the company

after first insertion and prior to a second insertion of the same advertising

copy.

GriefShare support group

at Groveport UMC

Groveport United Methodist Church,

512 Main St., will sponsor a GriefShare

group starting Aug. 1 at 7 p.m.

The group is open to anyone in the community

or surrounding area who has experienced

the loss of a spouse, child, family

member, or friend. To learn more about

GriefShare, check out the website at

http://www.griefshare.org/about.

Registration online is now available at

https://www.griefshare.org/groups/108826

. For information send an email to groveportgriefsharegroup@gmail.com.

Threshing time

www.columbusmessenger.com

Soapcitylaundry.com

2056 Lockbourne Rd.

Columbus, OH 43207

(614) 443-7627

Thank You

Messenger photos by Rick Palsgrove

A golden wheat field is a beautiful sight and its appearance in July means it is grain

threshing season at Metro Parks' Slate Run Living Historical Farm, 1375 State

Route 674 N., near Canal Winchester. On July 13-14, the farm workers used a 19th

century era horse powered threshing machine to separate the seed heads of

wheat, oats, barley and rye from straw stalks. Our 19th and early 20th century

Central Ohio farming ancestors used a machine similar to this. The wheat is planted

in October, lies dormant in the winter, grows again in the spring, and ripens in

July when it is harvested. After threshing, the wheat is sold for profit, fed to livestock,

and some is saved for seed. Pictured here, Dave Trotter of Slate Run Living

Historical Farm tugs on the belt drive to help get the horse powered threshing

machine started.

To the following sponsors for making

our 4 th of July a huge success!

1st Service Federal Credit Union

Berwick Glass & Mirror Inc.

Groveport Madison Schools

Kubota Tractor

Turnpoint Church

Vinelife Church

Dynamix Engineering LTD

Ace Hardware

A farm worker begins to pile up the

straw after it has passed through the

thresher. Nothing is wasted on the

farm, so after threshing the straw is

used for livestock bedding, mulching

paths and gardens, insulating walls,

making strawboard (similar to cardboard),

and as packing material.

Mike Huels takes one of the horses

back to the barn to rest after its shift is

over in providing horse power to the

thresher.

Upcoming events at

Slate Run Living Historical Farm:

•Aug. 16-18, 1-3 p.m.: Pastimes,

Puzzles, and Play - Try 1880s era games,

riddles, and activities.

•Aug. 25, 2-4 p.m.: Broomcorn Harvest

- Help harvest and clean broom corn and

watch broom making.
---
www.columbusmessenger.com July 28, 2019 - SOUTHEAST MESSENGER - PAGE 5

Village of Lithopolis

Business

Spotlight

Upscale Decor

& More

Some consider us Lithopolis''

hidden gem.

We bring you the BEST merchandise

from some of your favorite

brick and mortar and dotcom

retailers at significate savings.

We're talking BIG markdowns on

retail prices!

Our specialties include furniture

pieces both large and small, home

décor, outdoor patio and more that

are BRAND NEW, store overstocks

or closeouts.

What exactly does that mean?

Upscale Décor & More has savings

so BIG you'll want to keep

coming back for more!

Thefts in Lithopolis

According to Lithopolis Police Chief W. J.

Barton, on the morning of July 4, Lithopolis

Police responded to a report of a vehicle

stolen from a resident, as well as property

stolen from vehicles in the surrounding

area. After extensive investigation, police

charged the person allegedly responsible for

the theft. He is currently being held in the

Fairfield County Jail under a $100,000

bond. Barton said the police department is

not releasing any further information at

this time so as not to jeopardize other cases

that may involve the same individual.

Upcoming Lithopolis events

The following community events will

btake place in the village of Lithopolis in the

coming months. See you in Lithopolis!

•Aug. 10: Art at The Wagnalls - Art,

&

Hours:

Mon-Thursday 4-10

Friday 4-1am

Saturday 2-1am

Sunday 2-10

9 E. Columbus St.

Lithopolis, OH 43136

(614) 829-3186

Fairfield County's "Best Kept Secret"

Brats and Brews. Visit wagnalls.org.

•Sept. 6 and 7: 13th annual Honeyfest -

Visit LithopolisHoneyfest.com.

•Sept. 22; Style to a Tea - Style show,

tea, music, art and doorprizes (facebook:

Shop Lithopolis).

•Oct. 3,4 & 5: Harvest Thyme Shop

(facebook: Shop Lithopolis).

•Oct. 12: Gatsby at The Wagnalls : 2nd

annual 1920's Gatsby-themed benefit. Visit

wagnalls.org.

•Dec. 14:

Simply Christmas events

(facebook: Simply Christmas in Lithopolis).

Art at The Wagnalls

The Wagnalls Memorial, 150 E. Columbus

St., Lithopolis, is hosting its first outdoor

summer art festival, "Art at the

Wagnalls," on Aug. 10. The event features

fine artists and artisans specializing in

painting, photography, ceramics, glass, jewelry,

furniture, sculpture, wood, metal, and

Yesteryear's

Antiques, LLC

614-266-3418

Always buying antiques &

collectibles, odd and unusual

70 E. Columbus St., Lithopolis, OH 43136

Open 7 Days a Week 11am to 6pm

Please "Like & Follow" us on Facebook

other mixed media. For information, contact

Alexis via email at socialmedia@linearcreative.com

or call 216-741-1533.

Lithopolis Honeyfest

The 13th annual Honeyfest in downtown

Lithopolis promises to be bigger and better

than ever and embraces the theme, "Saving

the planet, one honeybee at a time." It will

be held Sept. 6 from 3-7 p.m. and Sept. 7

from 10 a.m. to 7 p.m. Admission is free and

a shuttle will be available.

The Honeyfest features live music, bee

beards, beekeepers, honey and honey tasting,

mead competition, Honeyfest Queen

Pageant, honey bake off, Ohio Honey Show,

honey extracting, hive inspection, junior

beekeeping, the American Honey Princess,

mead and wine tasting, foods made with

honey, kids crafts, photo contest, art, honey

beer garden, and the Bloom-Carroll Kiwanis.

Call 614-829-7355 for information.

Upscale Decor & More

Affordable, functional home furnishings,

décor and a lot more!

Wendy Roush, Owner

614.314.0481

44 E. Columbus Street, Rear Bldg.

Lithopolis, OH 43136

Please like & follow us on facebook

The Secret Gift Shop

A unique shop, where you can find something

for just about anyone, including yourself

Lesli Brewer, Owner

87 East Columbus St., Lithopolis, OH 43136

614-578-7787

Thesecretgs@yahoo.com

Mention this ad and receive

10% DISCOUNT

Your Local Realtor celebrating 20 years of

helping Home Buyers and Sellers!

Tammy Roof Elliott

614-226-6953 (mobile)

TammyRoofElliott.com

www.pedregalrestaurant.com

44 E. Columbus Street, Lithopolis, OH 43136

Hours:

Mon.-Thur. 11:00 AM - 10:00 PM

Fri. & Sat. 11:00 AM - 10:30 PM

Sun. 11:00 AM - 9:00 PM

Phone: 614-829-2394 Fax: 614-829-2396

DAILY SPECIALS

HAPPY HOUR 4PM-8PM EVERYDAY

Envy

Nail Spa

614.829.2428

Providing professional

nail & waxing services

87 E. Columbus St., Lithopolis, OH 43136

Walk ins welcome, Appointment Preferred

Mon.-Fri. 10-7 Sat. 10-5 Sun. 11-4

Mention ad and receive

10% OFF

Faler Feed

Store, Inc.

Serving Central Ohio Since 1936

4360 Cedar Hill Rd. P.O. Box 277

Lithopolis, Ohio 43136

(P) 614-837-4494

(F) 614-837-3273

Falers4360@sbcglobal.net

FalerFeedStore.com

www.OldeCountryStoreLithopolis.com

Family Owned and

Operated Since 1926

36 East Columbus Street

Lithopolis, OH 43136

(614) 837-4705

Eileen Law Benson & Kathlynn Benson Moling

Proprietors

The Pump House

Pizza & Burgers

Spirits

614-837-6823 • 614-837-9306

Dine In and Carry Out

17-21 E. Columbus St. Lithopolis, OH 43136

Mon. - 4pm-11pm

Tues.-Sat. 11am-11pm

www.facebook.com/thepumphouse2017

Buggy Seat Antiques

4650 Waterloo Rd.

Canal Winchester, OH 43110

(614) 920-1834

Open 10:00 am - 5:00 pm

Wednesday - Saturday

Or by Appointment

edwardrutter@att.net

Freda Rutter, Owner

PLEASE SUPPORT THESE BUSINESSES!
---
PAGE 6 - SOUTHEAST MESSENGER - July 28, 2019

Groveport Police statistics

June crime statistics for the city of

Groveport, according to the Groveport

Police: 17 arrests made, 13 accidents, 3

assaults, 3 burglaries, 2 criminal

mischief/trespassing, 8 domestic disputes,

5 domestic violence, 1 OVI and alcohol

issues, 0 fights, 0 disorderly conduct, 9

thefts/robberies, 2 stolen/unauthorized

use, 2 missing persons/juveniles, 0 weapon

related calls, 3 narcotic related offenses, 10

general complaints, 0 school related incidents,

2 identity theft, 0 suspicious vehicles/persons,

5 parking, 1 threat, 2 vandalism,

54 traffic citations, 0 sex related

crimes, 0 suicide attempt/DOA.

First Tuesday

First Tuesday is a free event in downtown

Groveport. It takes place on the front

lawn in front of Groveport Elementary, 715

Main St., across from ACE Hardware and

features food trucks, live music, vendors,

Farmer's Market, and activities for all

ages.

Vendors are on the front lawn of

Groveport Elementary School and food

trucks are near the green space by Ace

Hardware.

Remaining First Tuesday schedule:

Sept. 3 — Go Cruisers Day features the

Cruiser marching band, Cruiserettes, and

cheerleaders. Hours are 4-7 p.m.

NOW ACCEPTING GRANT FUNDING APPLICATIONS

SWACO is now accepting applications for grant funding for

innovative waste reducing, recycling and composting projects

occurring in 2020. Franklin County non-profits, schools,

universities and local governments are eligible to apply.

Applications will be accepted until September 20, 2019

APPLY ONLINE:

SWACO.org/CommunityGrants

Photo courtesy of Rick Burbacher,

Burbacher Photography

Miller at

Marathon

www.columbusmessenger.com

Kasey (Petty) Miller, a 2012 graduate

of Groveport Madison High

School and 2016 graduate from

the University of Findlay, played

in the LPGA Marathon Classic

Presented by Dana, which was

held July 11-14 at the Highland

Meadows Golf Club in Sylvania,

Ohio. According to Rick

Burbacher of Burbacher

Photography in Groveport, Miller

shot a one under par 70 on July

11 and a four over par 75 on July

12 in the golf tournament.

"Overall, she was three over par

and missed the cut by two

shots," said Burbacher. "She

played very well on day one. On

day two, she had a stretch of

holes where she made five

bogeys. She made two birdies

later in the round, but it wasn't

enough to make the cut to play

Saturday and Sunday." Miller

excelled as a golfer at Groveport

Madison and at the University of Findlay where she earned All-American honorable

mention honors during her college golf career. In an interview with the Southeast

Messenger in 2016, she said, "Golf is a sport where you can have a bad round, but

then have a good round or hit a miracle shot and that makes you want to do it again.

Good play keeps you coming back. It can be a frustrating game, but overall it's a fun

sport to play."

Madison Township trash

collection rates are rising

By Linda Dillman

Staff Writer

Madison Township residents will dig

deeper into their pockets to pay for waste

collection services following approval of a

new contract with Local Waste.

The Madison Township trustees

approved the new agreement on July 23. It

sets monthly service at $18.04, plus a 50

cent billing fee, which runs from Sept. 1,

2019 through Dec. 31, 2020, with the

option of three one-year extensions at the

same price.

Residents currently pay $13.92, along

with a variable fuel adjustment charge.

The new contract also includes the fuel

charge.

"Nothing changes over what we have

now," said Madison Township

Administrator Susan Brobst. "We still

have the senior discount available. It's the

same service and the same routes."

Despite no changes, other than the cost

for service, Local Waste is still required to

distribute new service guides to customers.

Brobst said billing has already gone out

for July, August and September.

The October, November and December

statement will include a charge making up

for the September discrepancy.

"Basically, residents are getting hit

with an additional $55 per year," said

trustee Chairman John Pritchard. "I'm

surprised we got hit with another $4 to $5.

We are at their mercy."

The Solid Waste Authority of Central

Ohio administered the bid process for

members of a municipal consortium, which

includes Madison Township.

According to Brobst, there were only

two bidders–Local Waste at a base bid of

$18.04 and Rumpke at a base bid of $27.06.

However, Brobst emphasized each entity

has an individual contract depending on

conditions and requirements.

"We're all in the same consortium, but

we're all quoted separately," said Brobst.

While part of the increase can be attributed

to rising costs of service, Brobst said a

big component of the township jump can be

attributed to people not paying their bills.

The situation is not unlike a retail

establishment passing on theft losses

through higher product prices.

"We have a lot of delinquency issues,"

said Brobst.
---
www.columbusmessenger.com

July 28, 2019 - SOUTHEAST MESSENGER - PAGE 7

W

e Change

Lives...One Person At A

Time

Programs Include:

THE DAY

YMAR DIFFE

RENCE

• Student-Focused Environment

Business Management

• Hands-On Training

Criminal Justice

• Job Placement Assistance

Medical Assisting

Medical Massage Therapy

• Transf

er

Your

Qualifying Earned

• Scholarships and Financial Aid Available*

The kids are going back to school, you can TOO!

*Available to those who qualify
---
PAGE 8 - SOUTHEAST MESSENGER - July 28, 2019

www.columbusmessenger.com

SCHOOLS
---
www.columbusmessenger.com

July 28, 2019 - SOUTHEAST MESSENGER - PAGE 9

Back - to - School

Help kids to love reading

Reading is a passion for many people.

But even avid readers may not know how

far back their love of reading stretches.

Children who find pleasure in reading

have the potential to become lifelong readers.

Studies have shown that reading to

children can help kids become familiar

with sounds, words and language, helping

them in their earliest stages of cognitive

development. Adults who love books might

be able to trace their passion for page-turners

to those times their mothers and

fathers read aloud to them as youngsters.

Parents who want to their children to

learn to love reading can rely on various

techniques to accomplish that goal.

•Make reading a routine. Routine is a

necessity for parents, helping children

learn when it's time to eat, play and go to

sleep, among other things. Parents can

include reading to their children as part of

their daily routines.

•Create a distraction-free reading environment.

When reading to children, parents

can create an environment with little

to no distractions. This allows kids to focus

on their parents' voices as well as the story

they're being told. Parents can turn off the

television and the radio when reading to

their kids. In addition, moms and dads

should leave smartphones or tablets in

another room so they aren't distracted by

alerts or tempted to check for incoming

messages or emails.

•Read aloud together. Some children

may shy away from reading if they struggle

in their initial efforts to read. That does not

mean kids won't ultimately enjoy reading,

it just means a little more effort may be

required on parents' part to help kids overcome

any issues they have. Reading aloud

to children can help little ones learn how to

become good readers, as they will learn how

to pronounce words and form sentences.

•Let kids pick their own books. When

reading to youngsters, whether they're

babies, toddlers or already in school, parents

can let sons and daughters choose

their own books.

Reading can benefit children from the

earliest stages of their lives all the way

through adulthood.

KidsFest 2019

KidsFest will be Aug. 10 from 9 a.m. to Wagnalls Memorial Library, 150 E.

noon at Groveport Park, 7370 Groveport Columbus St., Lithopolis, is open Monday -

Road. Fun includes: child ID kits, children's

Thursday: 10 a.m. to 8 p.m., Saturday: 10

activities, school supplies, food and a.m. to 2 p.m. and closed on Friday and

beverages, inflatables, farm animals, Sunday. For information call (614) 837-

music, Back-to-School Festival, Touch-A- 4765 or visit www.wagnalls.org.

Truck, and Cops-N-Kids.

PAID ADVERTISING

Ohio Christian's Emergency and

Disaster Management program

When Cayla Allen ('21) first started her college

career at Ohio Christian University, she

wanted to be a teacher. Later on, she switched to

an emergency and disaster management degree.

After receiving a degree, students are qualified to

work in areas ranging from local non-profits to

large, international organizations.

One benefit of the Emergency and Disaster

Management program is the hands-on experience

students get in the field.

"I have served on two disaster relief deployments

through OCU with The Salvation Army;

one in Puerto Rico (2017) and one in Florida

Wagnalls Memorial Library

(2018), which were my favorite experiences,"

Allen said. "Secondly, I have taken several trainings

through The Salvation Army, certifying me

in different areas."

The professors in this program are very dedicated

to educating their students and helping them

achieve their goals.

When asked about the staff at Ohio Christian,

Allen said, "My professors here at OCU are some

of the most qualified and experienced people I

have ever met, and I hope I never take for granted

what they have provided me with to get where I

am today and where I will be in the future."
---
PAGE 10 - SOUTHEAST MESSENGER - July 28, 2019

Groveport City Council actions

On July 22, Groveport City Council approved:

•A requested zoning variance for 341 Main St., which had been

zoned residential, to allow for an insurance office in the building.

The request also includes insurance office signage, six parking

spaces behind the building for employees and customers, and the use

of existing landscaping as a buffer to meet the required city codes.

•Amending the zoning map for about 24.03 acres located west

of South Hamilton Road and north of Lowery Court and owned by

Lowery Asset Management LP from suburban residential to

select commercial planned district. The zoning application notes

the rezoning allows for commercial uses similar to or compatible

with the existing development to the south.

Lung Cancer?

Asbestos exposure in industrial,

construction, manufacturing jobs, or the

military may be the cause. Family in

the home were also exposed.

Call 1-866-795-3684 or email

cancer@breakinginjurynews.com.

$30 billion is set aside for asbestos

victims with cancer. Valuable settlement

monies may not require filing a lawsuit.

Non-Hodgkin's Lymphoma, Multiple Myeloma, and

Leukemia may result from RoundUp exposure. A recent

was awarded in a RoundUp injury case.

Call 1-619-493-4791 or email

RoundUp@breakinginjurynews.com

and let us begin work on your RoundUp case today.

Be a Part of Our

Local Worship Guide

Our upcoming Worship Guide is geared toward

celebrating faith and helping readers connect with

religious resources in our community. Make sure these

readers know how you can help with a presence in this

very special section distributed to more than 20,000

households in the Southeast area.

The cost is $20 per issue. (must run twice)

Contact us today to secure your spot in Worship Guide.

614.272.5422 • kathy@columbusmessenger.com

A Special Section From

columbus

www.columbusmessenger.com

column

Odds and ends on a summer day

Random observations from my notebook on a lazy,

summer day:

•I recently watched the classic film, "The Wizard of

Oz." I've seen the movie plenty of times before, but this

time I focused my viewing on Margaret Hamilton's

portrayal of the dreaded Wicked Witch of the West.

Hamilton did a magnificent job as she brought menace,

malevolence, and even a bit of sick humor to the role

("How about a little fire Scarecrow"). Her portrayal

embodies everything one wants to see in a wicked

witch.

•The large crowds that came to Groveport to enjoy

the Fourth of July parade and fireworks were amazing

to see. So many people fill the town, yet after the fireworks

ended, the people quickly streamed away back

to their homes and the town, aside from a few stray

backyard fireworks, became its quiet self once again.

•Ian Anderson's acoustic guitar work on Jethro

Tull's "Baker Street Muse," a song which takes up

most of side two of the vinyl record version of the

band's 1975 album, "Minstrel in the Gallery," continues

to impress me. The sound of his guitar playing propels

the song, but also serves as a counterpoint to the

harder edges of the song's other music as well as the

lyrics.

•Blooming black-eyed-susans on a hot, sunny July

day are one of the most beautiful sights of summer.

•I miss the old Mid-Eight League. The eight team

league was around from the early 1950s to 1974, with

Groveport Madison joining it in the late 1950s. The

compact league had traditional rivalries and fans and

players had a familiarity with the various playing venues,

something the mammoth Ohio Capital Conference

consistently lacks with its ever changing divisional setup.

The OCC swallowed up the Mid-Eight League, as

well as other more compact area leagues like the Metro

League, Franklin County League, and the Central

Ohio League.

•I like following the phases of the moon and knowing

where the moon is in the sky at different times of

the day and night as the month rolls along. I like the

notion of the phases serving as a celestial clock and

reminding us of our place in the universe.

Photo courtesy of the

Groveport Heritage

Museum

Groveport

Grand

Prix

Did you know that for

a short time the city of

Groveport held a bicycle

race in its downtown?

Pictured here

on Main Street near

Walnut Street is the

start of the Groveport

Grand Prix bicycle

race during one of the

races held in the early

21st century.

Our Pictorial Past by Rick Palsgrove

Editor's Notebook

Rick

Palsgrove

•Ever since I

visited Thomas

J e f f e r s o n ' s

Monticello in the

mid-1990s, and saw that he kept

notes on the weather and nature,

I've made notes on my calendar

each year on things such as when

the forsythia first blooms, when

the peonies in my yard bloom,

when I see my first lightning bug

in the yard, when I hear my first

90 day cicada in the summer,

when the day lilies bloom, and

when the purple bloom of ironweed

first appears in the fields.

It's interesting how, from year to

year, the dates of these occurrences

are close to being the same. For instance, I saw

my first lightning bug in 2018 on June 9, which is the

same date as in 2019. In 2018 I heard my first 90 day

cicada on June 30 and in 2019 it was on July 2.

Ironweed is beautiful, but also a portent that summer

is winding down. Last year I saw my first ironweed

bloom on July 28. These are simple observations, but

also an easy way of keeping in touch with nature and

the changing seasons.

•There's something reassuring about looking out

the windows of my home in the early evening and seeing,

one by one, the lights coming on across the yards

in the houses of my neighbors. The lights are the signal

that we're all still here and snug in our homes at day's

end. My dad grew up on a farm along Shannon Road in

Madison Township in the 1930s and 1940s. In those

days the township was mostly made up of farms. There

wasn't much in the way of vehicle traffic on the roads

either, so it was quiet, too. He said at night the only

lights to be seen were the barely visible pinpoints of

light dimly flickering across the fields from the windows

of far distant farmhouses. That, and the stars in

the sky.

Rick Palsgrove is editor of the Southeast Messenger.
---
www.columbusmessenger.com

entertainment

Creature film is back with some bite

Want to see apex predators on the big

screen? Are you not interested in watching

them singing and dancing and, you know,

getting along with others? If so, might I

suggest the recently released "Crawl" to

whet your ravenous appetite?

If you're like me, you miss the abundance

of mindless creature features that

filled the summer blockbuster slate in the

1990s and early 2000s. These films were

fun, simple, stupid and exactly what you

wanted to see during these long and hot

months.

Unfortunately, like most species on this

planet, this genre became endangered and

then practically extinct due to human activity,

or inactivity to be more precise, at the

box office. But unlike the former, powerful

people in charge may be looking to bring the

latter back to life, a welcome respite from

the constant stream of comic book adaptations,

sequels and reboots. Though some

may not be thrilled with this potential bit of

news, I say it is cause for a generic celebration.

Let the creature feature reign!

In "Crawl," the primary focus is on a

competitive swimmer named Haley Keller

(Kaya Scodelario) and her strained relationship

with her father Dale (Barry

Pepper). For reasons not well explained,

these two had a falling out several years

ago and have been in minimal contact

since despite living a short distance away.

After a disastrous swim meet that could

imperil her scholarship at the University

of Florida, Haley is given two more pieces

of bad news: the first is that the strong

tropical storm has turned into a Category 5

hurricane and the second is that her sister

has not heard from their father in days.

Despite knowing the perils of not getting

out of dodge during a weather event of

that magnitude, Haley travels back to

their hometown to search for their missing

father. When she arrives at his last known

residence, she finds their beloved dog

Sugar (Cso-Cso) frightened and all alone.

Knowing that he would not willingly leave

the pet behind, she takes the pooch with

her to their childhood home where they

discover his truck, tool belt and phone, but

no estranged father.

With a growing sense of unease, Haley

The Reel Deal

searches the house

until the only place

left is their

Dedra

Cordle

labyrinthine crawl

space. Navigating its

dark curves, errant wiring and the occasional

rat and spider, she quite literally

stumbles upon the body of her partially

mauled and unconscious father. Not knowing

what caused his injuries, she uses a

makeshift tarp to try to drag him to safety.

But just as they nearly reach the stairway

to safe haven, a massive alligator strikes

from the shadows, leaving the humans

trapped in a maze of darkness that is

quickly being flooded with water.

Though the setting for this film is a

dank crawl space filled with murky water,

it isn't hard to see the action that is taking

place: the use of light from director

Alexandre Aja (of "Piranha 3D" fame) and

cinematographer Maxime Alexandre put

bigger budget action films to shame. With

this usage, the trickery of light, it creates a

sense of heightened tension as the alligator

could literally be lurking anywhere. That is

not to mention the use of measuring tapes

as an awakened Dale uses it to calculate

how fast the water is rising, or him slipping

back into coach mode as he tries to coax his

daughter to make a swim for safety.

Like the creature feature films of the

past, and unlike the lesser versions on

SyFy, you find yourself rooting for these

characters to succeed and survive despite

their long odds. And a bonus is that they

don't make too many stupid decisions

unlike their counterparts of yore.

So if you're looking for something fun

and original and straightforward to see

this summer, consider "Crawl" as an

option. It's a lean film that features decent

jump scares, an excellent use of light, and

it constantly taps into the fear of what is

lurking beneath the water's surface or

around any dark corner.

Grade: B+

Dedra Cordle is a Messenger staff writer

and columnist.

Messenger photo by Pat Donahue

Obetz Police

outreach

Obetz Police Officer Eric Baker took

part in the Harrisburg First Responder

and Veterans Celebration held July 20-

21 In Harrisburg. Baker was one of a

dozen or more first responders on

hand to meet and talk to area residents

who stopped by to ask questions,

collect stickers, be awarded

badges, and learn a little more about

the people who serve and protect.

Farmers Market

The Groveport Farmers Market is held

every Tuesday in downtown Groveport

through Sept. 10 from 4-7 p.m. near Ace

Hardware on Main Street. For information

call 614-836-3333.

Groveport Garden Club

The Groveport Garden Club meets the

first Tuesday each month at Groveport Zion

Lutheran Church, 6014 Groveport Road.

Anyone interested in gardening welcome.

Call Marylee Bendig at (614) 218-1097.

Hall of Honor

nominations sought

The city of Groveport is accepting nominations

for its Hall of Honor through July

30. Nomination applications are available

at the Groveport Recreation Center, 7370

Groveport Road.

The Hall of Honor recognizes individuals

(living or deceased) who through their

performance and achievements (volunteer

service, public service, athletic endeavors

or other related service) reflect credit on

the city of Groveport so that citizens may

find identity with the past and establish

goals for the future. The nominee must

have lived in the city of Groveport for a

minimum of 10 years and exemplified the

highest standards of ethical conduct, leadership,

integrity, moral character and/or

sportsmanship. City employees and elected

officials are eligible for induction provided

that their employment or office has

ended with the city.

The Groveport Hall of Honor is located

in the Groveport Recreation Center. Past

inductees: Eric Smith, John Frye, Jim

McKee, Jim and Cindy Hollingsworth,

Kathy Frank and Ed Rarey.

Contact Kyle Lund at 614-836-1000 ext.

1503 or klund@groveport.org for information.

t

July 28, 2019 - SOUTHEAST MESSENGER - PAGE 11

August Giveway

Place a prepaid classified line ad in our paper

for the month of AUGUST and be registered to win a

GOOD

around the Southeast

Help at Wagnalls Gardens

Looking for some exercise and outdoor

time? Wagnalls Memorial Gardens, 150 E.

Columbus St., Lithopolis, are in need of

volunteers to maintain community beauty.

Please consider attending any of the work

sessions below. If you are interested in

adopting a small garden bed, call Tami

Morehart at 614-837—4765, ext 120 or

email tmore@wagnalls.org and give your

name and phone number.

Following is the remaining dates for the

2019 work schedule from 8:30-10:30 a.m.:

Aug. 1, Aug. 8, Sept. 3, and Sept. 12. All

dates are weather permitting.

Special Olympics

A local chapter of Special Olympics

Ohio formed in the Groveport/Canal

Winchester area. The mission of Special

Olympics Ohio is to provide year round

sports training and competition in a variety

of Olympic type sports for intellectually

disabled individuals. For information contact

local coordinators Penny and

Cassandra Hilty at groveportspecialolympics@gmail.com

or at (614) 395-

8992 or 395-6640. Donations may be sent

to Groveport Special Olympics, P.O. Box

296, Groveport, OH 43125.

Drug Drop Box

The Madison Township Police

Department provides an opiate prescription

"Drug Drop Box" for the community.

This drop box is located in the lobby of the

Madison Township Police Department,

4567 Madison Lane, and is accessible to

the public during normal office hours

Monday through Friday 8 a.m. to 5 p.m.

Any person can walk-in and dispose of new

or old pills, including prescription medications,

or any other illegal substances and

place them into this box with no questions

asked.

$50 Gift Card from

The Columbus Messenger Newspapers.

All ads received by mail, in person,

email or phone will be included in the drawing.

Drawing will be held August 30, 2019

and the winner will be notified

and published in our September 8th issue.

LUCK!
---
PAGE 12 - SOUTHEAST MESSENGER - July 28, 2019

www.columbusmessenger.com

PAGE 12 - SOUTHEAST MESSENGER - July 28, 2019

Obetz Zucchinifest

The Obetz Zucchinifest will be held Aug.

30 to Sept. 2 at Fortress Obetz, 2015

Recreation Trail. This free family friendly

event features rides, food, games and music.

The Obetz Zucchinifest is a great end of

summer tradition for the community. The

festival offers live entertainment on multiple

stages, rides, games, and a variety of

food and craft vendors. Guests can watch

the pageant, parade, or browse the classic

cars at the Car and Motorcycle Show.

Enjoy a Zucchini beer brewed by North

High Brewing Co. while listening to the five

National acts on the Main Stage. The lineup

this year includes Warrant (Aug. 30),

Scotty McCreery (Aug. 31), RaeLynn (Aug.

31), Spin Doctors (Sept. 1), and Smash

Mouth (Sept. 1). Local artists will perform

on "Your Stage" at various times throughout

the weekend. All concerts are free.

Monday is Kids Day featuring the

Cincinnati Circus Company, COSI, and the

Columbus Zoo. The midway has plenty of

rides and games for kids of all ages.

Start growing your award-winning zucchini

soon so you can participate in the zucchini

judging. Prizes are awarded for

biggest zucchini, smallest zucchini, most

unusual, and best dressed.

Any information or registrations are

available on the website. Follow on social

media @Zucchinifest for the most up to

date information.

Visit obetzzucchinifest.com.

Groveport Night Out

The city of Groveport will host Groveport

Night Out on Sept. 19 from 5-8 p.m. This

event is a mini pop-up street fair featuring

music, BBQ, art, crafts, and homemade

food vendors. Vendors will set up at 490

Main St. which is the site previously occupied

by Stebe's Used Car Lot. Vendors can

email to jreeves@groveport.org for information.

There is no setup fee for vendors, but

vendors need to provide their own tent and

table to participate. For information call

Jessica Reeves at 614-836-5301.

ree Creeks Metro Park

The following activities will be held at

Three Creeks Metro Park, 3860 Bixby

Road, Groveport (Meet at Confluence Area

unless otherwise noted):

•July 27, 5:30 p.m.: Creeking and

Campfire - Take a half mile walk to the

creek to look for critters then toast hot dogs

and marshmallows over a campfire.

•July 28, 2 p.m.: Green Leaves Tree ID -

Learn to identify trees by their leaves on an

easy 1 mile walk.

•Aug. 6, 10 a.m. to noon: Calling all Kids:

Mud Day - Celebrate the joy of mud in a

giant mud pit.

•Aug. 17, 7 p.m.: Family Fun Walk - Use

your senses to explore nature on a fun 1

mile walk.

•Aug. 24, 2 p.m.: Backyard Chickens -

Meet real chickens as you learn how to

keep hens in your backyard. Meet at

Groveport Heritage Nature Center in

Groveport's Heritage Park located on Wirt

Road.

www.columbusmessenger.com

Bugstravaganza

Bugstravaganza will be held at Walnut

Woods Metro Park, 6716 Lithopolis Road,

Groveport on Aug. 3 from 10 a.m. to 2 p.m.

Discover insects and their relatives with

activities and displays for all ages. Catch and

release bugs, take a tram ride, explore the

creek, make crafts, and see insects up close.

Twilight Triathlon

The Groveport Recreation Center is taking

its indoor triathlon event to the outdoor

Aquatic Center and Groveport Park, 7370

Groveport Road, on Aug. 23. All abilities

welcome. Register by Aug. 10. Fee, $15.

The events: Triathlon: 10-minute swim, 10-

minute transition, 20 minute bike, 5-

minute transition, and 15-minute run;

Duathlon: 15-minute run, 5-minute transition,

20-minute bike, 5-min. transition, and

15-minute run. First heat at 6:45 p.m. and

last heat begins at 8:25 p.m.

Call 614-836-1000 for information.

CLASSIFIED ADS

Deadlines: Southeast and West editions, Wednesdays at 5 p.m., • East, Southwest, Madison editions, Tuesdays at 5 p.m.

All editions by phone, Tuesdays at 5 p.m. • Service Directory, Tuesdays at 5 p.m.

ASSOCIATION ADS

xInformation

xEmployment

BACK TO SCHOOL

AUGUST GIVEAWAY

Place a prepaid classified line ad in our paper

during the month of AUGUST and be registered

to win a $50 Gift Card from

The Columbus Messenger

Newspapers.

All ads received by mail, in person, e-mail or

phone will be included in the drawing.

Drawing will be held August 30th, 2019

and the winner will be notified and published

in our September 8th, 2019 issue .

GOOD LUCK TO EVERYONE!!

ASSOCIATION ADS

CARS/TRUCKS WANT-

ED!!! All Makes/Models

2002-2018! Any Condition.

Running or Not. Top $$$

Paid! Free Towing! We're

Nationwide! Call Now: 1-

888-985-1806

Cross Country Moving,

Long distance Moving

Company, out of state

move $799 Long Distance

Movers. Get Free

quote on your Long distance

move 1-800-511-

2181

Wants to purchase minerals

and other oil and gas

interests. Send details to

P.O. Box 13557, Denver,

CO. 80201

DIAGNOSED WITH

LUNG CANCER? You

may qualify for a substantial

cash award. NO

obligation, NO risk!

We've recovered millions.

Let us help you!!

Call 24/7, 855-845-8269

DESTINATION

EMPLOYMENT

Advertising in

The MESSENGER

brings local Employees!

Call Kathy

For More Infomation & Prices

614-272-5422

ASSOCIATION ADS

GENERIC VIAGRA and

CIALIS! 100 Pills $99.00

FREE Shipping! 100%

guaranteed. 24/7 CALL

NOW! 888-889-5515

ASSOCIATION ADS

Call Empire Today® to

schedule a FREE inhome

estimate on Carpeting

& Flooring. Call

Today! 1-800-508-2824

Now Hiring!

SALES ASSISTANT

The Advertising Department

is seeking a Sales Assistant.

•No Experience Necessary.

•Base salary plus commissions, auto allowance.

•Senior Cizens and Recent Grads encouraged to apply.

Columbus Messenger Newspapers

Please send your resume to:

Doug Henry, Adversing Manager

Columbus Messenger Newspapers

3500 Sullivant Aveune, Columbus, Ohio 43204

Doughenry@columbusmessenger.com

Employment

columbus
---
www.columbusmessenger.com

July 28, 2019 - SOUTHEAST MESSENGER - PAGE 13

CLASSIFIED ADS

Deadlines: Southeast and West editions, Wednesdays at 5 p.m., • East, Southwest, Madison editions, Tuesdays at 5 p.m.

All editions by phone, Tuesdays at 5 p.m. • Service Directory, Tuesdays at 5 p.m.

xEmployment

JOB

EXPLOSION!!

S TA F F I N G

WANTED

Your Partner at Work

SW CITY SCHOOLS

SCHOOL BUS DRIVERS

The South-Western City School

District is currently hiring drivers

$16.55/HR

Available positions are for substitute

drivers that can develop into "Regular"

positions with benefits. Interested

individuals should submit an application

on our website at swcsd.us. Follow the

employment link. Applicants should have

an excellent driving record and must

submit to drug, alcohol, and background

screening. A high school diploma or

equivalent is required.

EOE

50 immediate openings

UP TO $27/HOUR

From Manufacturing, Warehouse,

Assembly, Pick/Pack to Forklift,

To Office and Skilled Laborers!

ALL SHIFTS!

Apply Daily at Trillium

Located at 4998 West Broad St., Suite 100

Columbus, Ohio

614-351-3100

ASSOCIATION ADS

A PLACE FOR MOM. The

nation's largest senior living

referral service. Contact

our trusted, local experts

today! Our service is

FREE/no obligation. CALL

1-844-722-7993

Call Empire Today® to

schedule a FREE inhome

estimate on Carpeting

& Flooring. Call

Today! 1-866-538-7163

Suffering from an ADDIC-

TION to Alcohol, Opiates,

Prescription Pain Killers or

other DRUGS? There is

hope! Call Today to speak

with someone who cares.

Call NOW 1-855-866-0913

VIAGRA & CIALIS! 60

pills for $99. 100 pills for

$150 FREE shipping.

Money back guaranteed!

1-800-503-7846

ASSOCIATION ADS

READER

ADVISORY

The National Trade Association

we belong to has

purchased the following

classifieds. Determining

the value of their service

or product is advised by

this publication. In order

to avoid misunderstandings,

some advertisers do

not offer "employment"

but rather supply the

readers with manuals, directories

and other materials

designed to help

their clients establish mail

order selling and other

businesses at home. Under

NO circumstance

should you send any

money in advance or give

the client your checking,

license ID or credit card

numbers. Also beware of

ads that claim to guarantee

loans regardless of

credit and note that if a

credit repair company

does business only over

the phone it's illegal to request

any money before

delivering its service. All

funds are based in US

dollars. Toll Free numbers

may or may not

reach Canada. Please

check with the Better

Business Bureau 614-

486-6336 or the Ohio Attorney

General's Consumer

Protection Section

614-466-4986 for more

information on the company

you are seeking to

do business with.

BE YOUR OWN BOSS!

INDEPENDENT

CONTRACTORS

WANTED

If you have a reliable

car and would like to

earn extra money,

then why not deliver?

• Deliver 1 or 2 days a week

• Flexible delivery hours

• Work close to home - often

in or near your neighborhood

CONTACT US

1-888-837-4342

www.thebag.com

• Deliver 7 days a week

• Delivery before dawn

• Work close to home - often

in or near your neighborhood

CONTACT US

614-461-8585

www.dispatch.com/delivery

ASSOCIATION ADS

Dish Network Satellite

Television Service. Now

Over 190 channels for

ONLY $59.99/mo! ,

FREE Installation, FREE

Streaming, FREE HD.

Add Internet for $14.95 a

month. 1-800-219-1271

DO YOU HAVE AN AN-

TIQUE OR CLASSIC

CAR TO SELL? Advertise

with us. You choose

where you want to advertise.

800-450-6631

visit macnetonline.com

for details

Denied Social Security

Disability? Appeal! If

you're 50+, filed for SSD

and denied, our attorneys

can help get you

approved! No money out

of pockets! Call 1-866-

376-3163

AIRLINE MECHANIC

TRAINING - Get FAA

Technician certification.

Approved for military

benefits. Financial Aid if

qualified. Job placement

assistance. Call Aviation

Institute of Maintenance

866-453-6204

Employment

Here we grow again

HVAC/Refrigeration Maintenance Technician

For our service department in the Columbus, OH area

40+ hours guaranteed

Company van provided

Full benefits including paid Vacation and 401k

-Salary negotiable

Duties:

Repair and Maintenance of

- HVAC skills

- Refrigeration

Skills/Qualifications:

HVAC, refrigeration training

Excellent communication skills

Excellent customer service skills

Ability to work with little supervision

Please send resumes to: trghr@trgservice.com

ASSOCIATION ADS

DISH Network $59.99 For

190 Channels. Add High

Speed Internet for ONLY

$14.95/month. Best Technology.

Best Value. Smart

HD DVR Included. FREE

Installation. Some restrictions

apply. Call 1-855-

837-9146

Get a SMARTPHONE

for $0 DOWN* with

AT&T Next® and AT&T

Next Every Year; $250

Gift Card for Switching to

AT&T! (*Requires wellqualified

credit. Limits &

restrictions apply.) 1-

888-545-5093

DENTAL INSURANCE

from Physicians Mutual

Insurance Company.

NOT just a discount

plan, REAL coverage for

(350) procedures. Call 1-

877-308-2834 for details.

www.dental50plus.com/

cadnet 6118-0219

Portable Oxygen Concentrator

May Be Covered

by Medicare! Reclaim

independence and

mobility with the compact

design and long-lasting

battery of Inogen One.

Free information kit!

Call 888-609-2189

NOW HIRING BUS DRIVERS

$17.00 an Hour

Sign On Bonus for School Bus Drivers

Guarantee 5.5 Hours

Apply @ 4400 Marketing Pl.

Groveport, Ohio (Door 16)

614-836-4962

ASSOCIATION ADS

Earthlink High Speed Internet.

As low as $14.95/

month (for the first 3

months.) Reliable High

Speed Fiber Optic Technology.

Stream Videos,

Music and More! Call

Earthlink Today 1-855-

520-7938

ASSOCIATION ADS

Spectrum Triple Play! TV,

Internet & Voice for

$99.97/mo. Fastest Internet.

100 MB per second

speed. Free Primetime on

Demand. Unlimited Voice.

NO CONTRACTS. Call 1-

855-652-9304 or visit

http://tripleplaytoday.comnational
---
PAGE 14 - SOUTHEAST MESSENGER - July 28, 2019

www.columbusmessenger.com

xPublic Notice

614.986.9974

www.artcollegeprep.org

4401 Hilton Corporate Drive

Columbus, Ohio 43232

PUBLIC RELEASE

The Arts and College Preparatory Academy today announced its 2019-2020 program year policy for free and reduced price

meals for students unable to pay the full price of meals or milk served under the National School Lunch and School Breakfast,

After School Care Snack. Each school office and the central office has a copy of the policy, which may be reviewed by any

interested party.

The Federal Income Eligibility Guidelines will be used for determining eligibility. Children from families whose annual income is

at or below the Federal Guidelines are eligible for free and reduced price meals or free milk if the school participates in the

Special Milk Program.

Application forms are being distributed to all homes in a letter to parents or guardians. To apply for free and reduced-price benefits,

households should fill out the application and return it to the school. Additional copies are available at the principal's office

in each school. A complete application is required. Households which currently receive Special Nutrition Assistance Program

Benefits (SNAP, formally known as food stamps) or Ohio Works First (OWF) funds for a child must provide the child's name,

the SNAP or OWF case number and signature of an adult household member on the application. Households which do not

receive SNAP or OWF funds must provide the names of all household members, the last four digits of the Social Security

Number, the amount and source of income received by each household member, (state the monthly income) and the signature

of an adult household member. If any of this information is missing, the school cannot process the application.

FREE HEALTH CARE Families with children eligible for school meals may be eligible for FREE health care coverage through

Medicaid and /or Ohio's Healthy Start & Healthy Families programs. These programs include coverage for doctor visits, immunizations,

physicals, prescriptions, dental, vision, mental health, substance abuse and more. Please call 1-800-324-8680

for more information or to request an application. Information can also be found on the web at http://jfs.ohio.gov/ ohp/

consumers/family child.stm. Anyone who has an Ohio Medicaid card is already receiving these services.

The information provided on the application is confidential and will be used only for the purpose of determining eligibility and

may be verified at any time during the school year by school officials. To discourage the possibility of misrepresentation, the

application forms contain a statement above the space for signature certifying that all information furnished is true and correct.

Applications are being made in connection with the receipt of federal funds. Schools or other officials may check the

information on the application at any time during the school year. Deliberate misrepresentation of information may subject

the applicant to prosecution under applicable state and federal laws.

Households will be notified of the approval or denial of benefits.

Foster children are categorically eligible for free meal benefits regardless of the household's income. If a family has foster children

living with them and wishes to apply for such meals or milk for them, contact the school for more information.

Under the provision of the policy, Kati Nelson, Meal Coordinator, will review applications and determine eligibility. If a parent

or guardian disagrees with the decision on the application or the result of verification, the decision may be discussed with

the determining official on an informal basis. If a formal appeal is desired, the household has the right to a fair hearing. A fair

hearing can be requested either orally or in writing from:

Kati Nelson, 4401 Hilton Corporate Drive ,Columbus, OH 43232, 614-986-9974

The policy contains an outline of the hearing procedure.

Household may apply for benefits any time during the school year. If a household is not currently eligible and if the household

size increases or income decreases because of unemployment or other reasons, the family should contact the school to file a

new application. Such changes may make the children of the family eligible for free or reduced-price benefits if the family

income falls at or below the levels shown above.

Non-discrimination Statement: this explains what to do if you have been unfairly treated. "In accordance with Federal Law

and US Department of Agriculture policy, this institution is prohibited from discriminating on the basis of race, color,

national origin, sex, age or disability. To file a complaint of discrimination, write USDA, Director, Office of Adjudication, 1400

Independence Avenue, SW, Washington, D.C. 20250-9410 or call toll free (866) 632 9992 (Voice). Individuals who are hearing

impaired or have speech disabilities may contact USDA through the Federal Relay Service at (800) 877-8339; or (800) 845-

6136 (Spanish). USDA is an equal opportunity provider and employer."

For the 2019-2020 school year, the

board of education of Arts & College

Preparatory Academy will conduct its

regular public meeting on the

second Tuesday of every month at

5:45 pm at 4401 Hilton Corporate Dr.,

Columbus, OH 43232

ASSOCIATION ADS

SELLING YOUR OWN

PROPERTY? Need to

advertise it in your local

paper and others like it?

We have the placement

services to help you.

Contact MACnet MEDIA

@ 800-450-6631 or online

at MACnetOnline

.com

ASSOCIATION ADS

Applying for Social Security

Disability or Appealing a

Denied Claim? Call Bill

Gordon & Assoc., Social

Security Disability Attorneys,

1-855-498-6323!

FREE Consultations. Local

Attorneys Nationwide

[Mail: 2420 N St. NW,

Washington DC. Office:

Broward Co. FL (TX/NM

Bar.)]

Public Notice

ASSOCIATION ADS

HEAR AGAIN! Try our

hearing aid for just $75

down and $50 per

month! Call 800-426-

4212 and mention 88272

for a risk free trial! FREE

SHIPPING!

Lung Cancer? Asbestos

exposure in industrial, construction,

manufacturing

jobs, or military may be the

cause. Family in the home

were also exposed. Call 1-

866-795-3684 or email

cancer@breakinginjurynews.com.

$30 billion is

set aside for asbestos victims

with cancer. Valuable

settlement monies may not

require filing a lawsuit.

Use RoundUp Weedkiller?

Non-Hodgkin's Lymphoma

Multiple Myeloma and

Leukemia may result from

RoundUp exposure. A

recent $2 billion judgment

was awarded in a

RoundUp injury case. Call

1-619-493-4791 or email

RoundUp@breakinginjurynews.com

and let us begin

work on your RoundUp

case today.

See...

You Looked!

Newspaper

Ads Catch

The Eye!

Call

272-5422

For Info. &

Pricing

ASSOCIATION ADS

Get DIRECTV! ONLY

$35/month! 155 Channels

& 1000s of Shows/

Movies On Demand (w/

SELECT All Included

Package.) PLUS Stream

on Up to FIVE Screens

Simultaneously at No

Addt'l Cost. Call DI-

RECTV 1-855-781-1565

Become a Published Author.

We want to Read

Your Book! Dorrance

Publishing-Trusted by

Authors Since 1920.

Book manuscript submissions

currently being

reviewed. Comprehensive

Services: Consultation,

Production, Promotion

and Distribution. Call

for Your Free Author's

Guide 1-877-626-2213

IMPORTANT

NOTICE

The following states: CA,

CT, FL, IA, IL, IN, KY,

LA, MD, ME, MI, MN,

NE, NC, NH, OH, OK,

SC, SD, TX, VT and WA

requires seller of certain

business opportunities to

register with each state

before selling. Call to

verify lawful registration

before you buy.

Lung Cancer? Asbestos

exposure in industrial, construction,

manufacturing

jobs, or military may be the

cause. Family in the home

were also exposed. Call 1-

866-795-3684 or email

cancer@breakinginjurynews.com.

$30 billion is

set aside for asbestos victims

with cancer. Valuable

settlement monies may not

require filing a lawsuit.

[WANTED] CARS/

TRUCKS WANTED!!!

All Makes/Models 2002-

2018! Any Condition. Running

or Not. Competitive

Offer! Free Towing! We're

Nationwide! Call Now: 1-

888-368-1016

ADULT CARE

SENIOR HOME CARE

by ANGELS

We send you the Best

Home Caregivers for hygiene,

meals, light housework.

Up to 24 hr. care. Caregivers

are experienced in elder care.

Very reasonable rates.

"We do things your way."

614-561-0075

www.v-angels.com

8/18 A&M

xLegal Notice

LEGAL NOTICE OF PUBLICATION

CHANGE OF NAME PROCEEDING

CIRCUT COURT OF CABELL COUNTY

WEST VIRGINIA

Civil Action N. 19-P-250

Notice is hereby given that on the 12th day of

August, 2019 at 10:00 o'clock a.m. on said day, or as

soon thereafter as the matter may be heard, A'Nedra

Terry will apply by Petition to the Circuit Court of

Cabell County, West Virginia for the entry of an order

by said Court changing the name of his/her child or

ward from Roy Edward Terry II to Roy Edward Fuller,

at which time and place any interested party may

appear and be heard, if they so desire.

You are hereby notified that this matter may be

rescheduled without further notice or publication.

A copy of said Petition can be obtained from the

undersigned Clerk's Office at: Cabell County Courthouse,

Suite 114, Huntington, WV 25701.

Entered by the Clerk of said Court this 11th day of

July, 2019.

JEFFREY E. HOOD, Cabell County Circuit Clerk

BETTY UTT, Deputy Circuit Clerk

Legal Notices

HELP WANTED

Auction Auto Detailers

FRANK'S DETAIL OHIO

Immediate Openings

$400-$650 per week

Will Train / FT Benefits/

Weekly Pay

Monday-Saturday 7am

w/overtime available

Valid Driver's License Req

Apply in person

at our location or

make an appt.

Located: Manheim Ohio

3905 Jackson Pike

Grove City, OH

(Parking at

1394 Stringtown Rd.)

Call: 614-871-6820

Human Resources -

Attention: Leisa Kincaid

franksdetailohio.com

ADVERTISING

SALES ASSISTANT

The Advertising Dept. at

the Columbus Messenger

Newspapers is seeking

An Assisstant in

the Sales Department.

No Experience Necessary

Base Salary plus

Commission,

auto allowance

Senior Citizens and

Recent Grads

welcome to apply.

Please send your

resume to:

Doug Henry,

Advertising Mgr.

Columbus Messenger

Newspapers,

3500 Sullivant Ave.,

Columbus, OH 43204

or email to doughenry@

columbusmessenger.com

xAdult Care

DATED SALES

FREE

Garage Sale

Signs

When You Stop By

Our Office At:

3500 Sullivant Ave.

And Place Your

DATED SALE AD

LEGAL NOTICE OF PUBLICATION

CHANGE OF NAME PROCEEDING

CIRCUT COURT OF CABELL COUNTY

WEST VIRGINIA

Civil Action N. 19-P-250

Notice is hereby given that on the 12th day of

August, 2019 at 10:00 o'clock a.m. on said day, or as

soon thereafter as the matter may be heard, A'Nedra

Terry will apply by Petition to the Circuit Court of

Cabell County, West Virginia for the entry of an order

by said Court changing the name of his/her child or

ward from Ryan Jacob Terry to Ryan Jacob Fuller, at

which time and place any interested party may

appear and be heard, if they so desire.

You are hereby notified that this matter may be

rescheduled without further notice or publication.

A copy of said Petition can be obtained from the

undersigned Clerk's Office at: Cabell County Courthouse,

Suite 114, Huntington, WV 25701.

Entered by the Clerk of said Court this 11th day of

July, 2019.

JEFFREY E. HOOD, Cabell County Circuit Clerk

BETTY UTT, Deputy Circuit Clerk

Welcome

Adult Care

INFORMATION

Carolyn's

Cottage

Private Assisted Living

3036 Woodgrove Dr.

Grove City, OH

Michelle Preston - Owner

614-991-0652

614-376-9761

INFORMATION

Want To Know The

Cost of Your Ad??

Email Us At:

classified@columbusmessenger.com

Include name & phone

number with ad

and we will call or email

you back!
---
www.columbusmessenger.com

xCome & Get It

July 28, 20199 - SOUTHEAST MESSENGER - PAGE 15

xClassified Services

COME AND GET IT

Deadlines are Tuesdays by 5 pm.

Call For Publication Schedule 614-272-5422

Need to Get Rid of Something Fast - Advertise It Here For FREE!

FREE Garden Straw for gardens or bedding. Call for appointment for pickup.

Circle S Farms, 9015 London-Groveport Road, Grove City, 43123

Grove City - 614-878-7980

FREE FIRE WOOD

GK - Grove City - 614-638-5647

FREE JVC TV

32" w/antenna - works well

DH - Columbus - 614-272-5422

FREE HOT TUB in "As Is" Condition

RB - Groveport - 614-778-4916

FREE 54" Mitsubishi Big Screen TV Console. Works great!

Must be able to haul away

JM - Lithopolis - 614-833-2400

. Come and Get It! is a bi-weekly column that offers readers an opportunity to pass

along surplus building materials, furniture, electronic equipment, crafts, supplies,

appliances, plants or household goods to anybody who will come and get them - as

long as they're FREE. NO PETS! Just send us a brief note describing what you want to

get rid of, along with your name, address and phone number. Nonprofit organizations

are welcome to submit requests for donations of items.

Send information to The Columbus Messenger, Attention: Come and Get It, 3500

Sullivant Ave., Columbus, OH43204. Deadline is Tuesdays by 5 pm for following

Mondays publication. Messenger Newspapers is not responsible for any

complications that may occur. Please contact us when items are gone. 272-5422

Come & Get It

xFocus on Rentals

ATTENTION:

APARTMENT MANAGERS

Advertise Your Apartment

Community In Our Papers!

CALL KATHY TODAY

And Ask About

Our Rental Ad Special!

614-272-5422

Our EASTSIDE MESSENGER is

now delivered to the Canal Winchester area.

Our SOUTHEAST MESENGER is delivered to the

Groveport, Madison Twp & SE Columbus areas.

Reach over 39,000 homes in these two areas!!

Focus on Rentals

PETS

Health Conscious Pet

Owners! Pet products for

Health, Rehabilitation,

Habitats. Visit us today

http://www.Assortmentpetproducts.com

WANT TO BUY

WANTS TO Purchase

minerals and other oil &

gas interests. Send details

to: P.O. Box 13557,

Denver, CO 80201

WANT TO BUY

ANTIQUES

WANTED

Victrolas, Watches,

Clocks, Bookcases

Antiques, Furn.

Jeff 614-262-0676

or 614-783-2629

WANTED FREON R12

We pay CA$H! R12

R500 R11. Convenient.

Certified professionals.

www.refreigerantfinders.

com 312-291-9169

$ Cash At Your Door $

for junk or unwanted cars

(Free Tow). Call

614-444-RIDE (7433)

We Buy Junk Cars &

Trucks. Highest Prices

Paid. 614-395-8775

We Buy Cars & Trucks

$300-$3000.614-308-2626

MISCELLANEOUS

FOR SALE

Large Selection of

Chandeliers to

choose from.

All in working condition.

Going Out of Business!!

614-271-2469

VACATION RENTALS

Englewood, Florida

Palm Manor Resort

Within minutes of white

sand Gulf beaches,

world famous Tarpon

fishing, golf courses, restaurants/shopping,

Bush

Gardens. 2 BR 2 BA

condos with all ammenities,

weekly/monthly, visit

www.palmmanor.com

or call 1-800-848-8141

AIR CONDITIONING

Air Conditioning

Installation & Repairs

30 yrs exp. $50 Service

Fee. R22 recharge avail.

614-226-0982

AIR CONDITIONING

Complete System

Clean & Check

$49.95 8/4 A

Free Electronic Leak Testing

All Makes • All Models

45 Yrs. Exp. • Senior Discount

614-351-9025

614-351-9005

APPLIANCE REPAIR

Washer, Dryer, Stove &

Refrig. Repair 875-7588

BLACKTOP

SANTIAGO'S

Sealcoating & Services LLC

Quality Materials Used

FULLY INSURED

Driveway Seal ( by broom)

Hot Fill Crack, Asphalt Repair

Call or text for Free Est.

614-649-1200

BLACKTOP SEALING

Driveways & Parking Lots

614-875-6971

BRICK AND BLOCK

All American

Masonry Co.

20 yrs. exp. - Lic. & Ins.

Brick, Block,Glass Block

Decks, Retaining Wall,

Foundation, Tuck-pointing

Natural Stone,

Cultured Stone, Chimneys

614-805-7741

CARPET CLEANING

DIRT BUSTERS

Any 5 areas $75. Home

Powerwash $99 to $200.

614-805-1084

Specializing in Pet Odors

CLEANING

Cleaning - 20 yrs exp.

Judy 614-946-2443

CONCRETE

AJ's Concrete,

Masonry

Good Work - Fair Prices

Block Foundations

Driveways • Sidewalks

Epoxy/Overlay Floors

Bonded-Ins. • Free Ests.

Now Accepting Credit Cards

614-419-9932

EDDIE MOORE

CONSTRUCTION

Quality Concrete Work

Lt. Hauling & Room Add.,

Block Work & Excavation

Stamp Patios,

Bsmt. Wall Restoration

37 Yrs Exp - Lic & Ins.

Free Ests. 614-871-3834

8.4 A

CONCRETE

ALL-CITY CUSTOM

CONCRETE

All Types Concrete Work

New or Tear Out-Replace

37 Yrs. Exp.

(614) 207-5430

Owner is On The Job!

FENCING

GUARDIAN

FENCE COMPANY

License..Bonded..Insured

All Types Fence Installed

40 Years Experience

Veteran Owned

614-475-1322

T & D FENCING

& POWERWASHING

Free Estimates. Call

Tom (614) 571-0208

Damien (614) 571-2527

GUTTERS

Low Price-Great Service

5 & 6" Seamless gutters,

covers, siding, gutter clng.

Bill 614-306-4541

EPP

Seamless Gutters

Mikey 614-927-9132

licensed/bonded/insured

HAULING

DUMPSTER RENTALS

Bulk Pickups

Estate Cleanouts

You Load or We Load

Open 7 Days - Visa/MC

BUCKEYE HAULING

and DUMPSTERS

614-397-1171

HOME

IMPROVEMENTS

CandC

See The Difference

Plumbing & Electric

Install Hot Water Tanks,

Dishwashers & Disposals

8-4

Also Fencing & A

Interior/Exterior Painting

No Job Too Big Or Too

Small - We Do It All

614-702-3691

SINCE 1973

Phil Bolon Contr.

Windows & Siding

Decks, Kitchens, Baths

Room Additions,

Flooring, Roofing

Bsmt Waterproofing

Deal With Small Non-Pressure Co.

45 Yrs. Exp. - Refs. Avail.

Lic.-Bond-Ins.

8-4

A/M

Free Est. - Financing Avail.

Member BBB Of Cent. OH

O.C.I.E.B. ID #24273

614-419-3977

or 614-863-9912

8/18 A

HOME

IMPROVEMENTS

C&JHandyman

Services LLC

Minor Plumbing &

Electric

Install Hot Water Tanks,

Dishwashers & Disposals

Also Fencing &

Interior/Exterior Painting

Free Est. ~ 18 Yrs. Exp.

614-284-2100

KLAUSMAN HOME

IMPROVEMENT

Siding-Windows-

Doors-Roofing-Soffit-

Fascia-Gutters-Trim

Earn FREE Seamless

Gutters with Siding Over

1000 Sq. Ft.

FREE Shutters with

Soffit & Trim

EPA Certified

Member of BBB

Financing Available

Over 20 yrs exp. • Free Est.

Licensed-Bonded-Insured

Owner & Operator

James 614-419-7500

HOME

MAINTENANCE

JOE'S HOME MAINT.

Home Repairs, Roofing,

Siding, Gutters, Soffits,

Misc. Int. Repairs

Int. Painting

Call Joe 614-235-6883

35 Years Exp.

Finishing Carpenter for all

your extra home repairs or

Honey-do-list. over 40 yrs.

exp. Sonny 614-325-1910

LAWN CARE

LET US MAINTAIN

YOUR LAWN & GARDEN

FOR YOU

Summer, Spring,

Winter or Fall

WE DO IT ALL!!!!

Lawn Cuts, Edging,

Trees & Shrubs, Garden,

Mulching, Hauling,

Garden Pond &

Home Maint.

Free Ests. Low Rates

$20 & Up

Kevin - 614-905-3117

MOVING

Aaron Allen Moving

Local Moving Since 1956

Bonded & Insured

614-299-6683, 263-0649

Celebrating 60 yrs in business

A Complete

Moving

Reasonable, Reliable

No Job Too Small

PUCO #150692-HG

Free Estimate

614-878-1179

MOWER REPAIR

HAYMOND SMALL

ENGINE REPAIR

I repair mowers, trimmers,

blowers, chainsaws, lawn

tractors, snow blowers,

etc. Tuneups, blade sharpening

& balancing, minor

& major repairs.

Call for free estimate

614-496-1151,

ask for Terry

Pickup/Delivery if needed

PAINTING

Painter Over 30 Yrs Exp.

Free Est. Reas Rates

Daniel 614-226-4221

A Job Well Done Again

A lic. General Contractor

Some Skilled Services

Incl: Painting • Stucco,

Repair•Carpentry•Exterior

Drainage & Home Maint.

Call Today! 614-235-1819

PEST CONTROL

Anthony Pest Control

Eliminate Your Pest For

Less $$. 614-600-8841

Anthony Pest Control

Termite/Bed Bug Work

at Reasonable Prices.

614-600-8841

PLUMBING

All About Drains & Plumb.

Will snake any sm drain

$125 + tax. 614-778-2584

ALL IN ONE

PLUMBING LLC

"One Call Does It All"

$25 OFF LABOR

With This Ad

A

614-801-1508

All Major Credit Cards Accepted

POWER WASHING

MRS. POWERWASH

Any house wash $149 + tax

Single deck $69 + tax

2 Tier deck $99 + tax

Best Wash In Town

Over 45,000 Washes

Ashley, 614-771-3892

Classified Services

8-4 A

8-18 A

8/4 A&M

8/18

ROOFING

Robinson roofing & repairs

30 yrs. exp. Lifetime Cols.

resident. Lic./bonded/Ins.

Reas rates. Member of

BBB. Dennis Robinson

614-330-3087, 732-3100

SEWING MACHINE

REPAIR

REPAIR all makes 24 hr.

service. Clean, oil, adjust

in your home. $39.95 all

work gtd. 614-890-5296

TOP SOIL

Alexander Hauling

Driveways topped w/new

limestone. We also deliver

Topsoil - comtil - sandmulch.

Specializing in

residential. 614-491-5460

Bobcat Service Avail.

TREE SERVICES

TROTT

TREE & LANDSCAPE

Tree Trimming

& Removal

Also Stump Removal

Free Est. - Fully Ins.

Call 614-235-3791

Cell 614-738-0682

BURNS TREE SERVICE

Trimming, Removal &

Stump Grinding.

614-584-2164

8/4

E/SE

A&M

Fast Tree Service

Tree Removal,

Stump Grinding

Free With Access,

Pruning, Shaping

Insured, Free Est.

Payment Plans Avail.

614-837-8367

614-863-1522

Joe's Tree & Yard Work

Trim, thin, shape bushes,

hedges, stump grinding,

hauling. 614-598-6247

Brewer & Sons Tree Service

• Tree Removal

• Tree Trimming

• Stump Grinding

• Bucket Truck Services

Best Prices • Same Day Service

614-878-2568

BETTER

HURRY!

You don't want

to Miss .......

This Week's Deadline for Your

Classified Display Advertising!

Call 614-272-5422

KATHY

Classified Display Ad Rep

8/18

A

8/4

A&M
---
PAGE 16 - SOUTHEAST MESSENGER - July 28, 2019

www.columbusmessenger.com

• STUFF, STUFF, MORE STUFF • COME TO WATERBEDS N STUFF • STUFF, STUFF, MORE STUFF • COME TO WATERBEDS N STUFF •

EAST

LANCASTER

CHILLICOTHE WEST

815 S. Hamilton 1251 N. Memorial Dr.

Bridge St. SUPER STORE

614-239-7270 614-654-3385

740-775-1171 W. Broad/Wilson

REYNOLDSBURG

Kroger Ctr.

St. Rt. 256

614-276-4722

614-861-4560

• STUFF, STUFF, MORE STUFF • COME TO WATERBEDS N STUFF • STUFF, STUFF, MORE STUFF • COME TO WATERBEDS N STUFF •

• STUFF, STUFF, MORE STUFF • COME TO WATERBEDS N STUFF • STUFF, STUFF, MORE STUFF • COME TO WATERBEDS N STUFF •

• STUFF, STUFF, MORE STUFF • COME TO WATERBEDS N STUFF • STUFF, STUFF, MORE STUFF • COME TO WATERBEDS N STUFF •