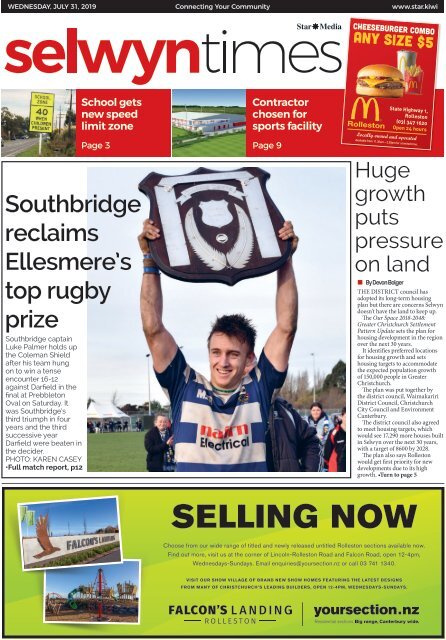 Selwyn Times: July 31, 2019
Create successful ePaper yourself
Turn your PDF publications into a flip-book with our unique Google optimized e-Paper software.
WEDNESDAY, JULY 31, 2019

Connecting Your Community

www.star.kiwi

Cheeseburger combo

ANY SIZE $5

School gets

new speed

limit zone

Page 3

Southbridge

reclaims

Ellesmere's

top rugby

prize

Southbridge captain

Luke Palmer holds up

the Coleman Shield

after his team hung

on to win a tense

encounter 16-12

against Darfield in the

final at Prebbleton

Oval on Saturday. It

was Southbridge's

third triumph in four

years and the third

successive year

Darfield were beaten in

the decider.

PHOTO: KAREN CASEY

•Full match report, p12

Contractor

chosen for

sports facility

Page 9

Rolleston

State Highway 1,

Rolleston

(03) 347 1620

Open 24 hours

Locally owned and operated

Available from 11.30am – 2.30pm for a limited time.

Huge

growth

puts

pressure

on land

• By Devon Bolger

THE DISTRICT council has

adopted its long-term housing

plan but there are concerns Selwyn

doesn't have the land to keep up.

The Our Space 2018-2048:

Greater Christchurch Settlement

Pattern Update sets the plan for

housing development in the region

over the next 30 years.

It identifies preferred locations

for housing growth and sets

housing targets to accommodate

the expected population growth

of 150,000 people in Greater

Christchurch.

The plan was put together by

the district council, Waimakariri

District Council, Christchurch

City Council and Environment

Canterbury.

The district council also agreed

to meet housing targets, which

would see 17,290 more houses built

in Selwyn over the next 30 years,

with a target of 8600 by 2028.

The plan also says Rolleston

would get first priority for new

developments due to its high

growth. •Turn to page 5

SELLING NOW

Choose from our wide range of titled and newly released untitled Rolleston sections available now.

Find out more, visit us at the corner of Lincoln-Rolleston Road and Falcon Road, open 12-4pm,

Wednesdays-Sundays. Email enquiries@yoursection.nz or call 03 741 1340.

VISIT OUR SHOW VILLAGE OF BRAND NEW SHOW HOMES FEATURING THE LATEST DESIGNS

FROM MANY OF CHRISTCHURCH'S LEADING BUILDERS, OPEN 12-4PM, WEDNESDAYS-SUNDAYS.
---
2 Wednesday July 31 2019

Latest Christchurch news at www.star.kiwi

SELWYN TIMES

get in touch

from the editor's desk

ANOTHER YEAR, another Southbridge

win. Yes, those who ply the 15-man

code out by the lake are the Ellesmere

champions again (see pages 1 and 15),

thwarting Darfield which was striving for

its first ever championship in 113 years.

And did they get close, only sterling Southbridge defence

stopped the Coleman Shield being paraded through the main

street of Darfield and displayed proudly in certain hospitality

outlets on Saturday night. That scenario was no doubt played

out in Southbridge instead.

Congratulations to Southbridge co-coaches Doug Maginness

and Mike Rowe for another superb season.

On page 4 today, we reveal the very likeable Pat McEvedy is

not standing for the district council this year.

– Barry Clarke

GENERAL INQUIRIES Ph 379 7100

CLASSIFIED ADVERTISING Ph 379 1100

Star Media, a division of Allied Press Ltd

PO Box 1467, Christchurch

starmedia.kiwi

NEWS

Devon Bolger

Ph: 021 914 742

devon.bolger@starmedia.kiwi

ADVERTISING

Lynette Evans

Ph: 364 7434

lynette.evans@starmedia.kiwi

our great history

Wealth and influence used to help

Historian Wayne Stack looks into the life of historic statesman

Sir Heaton Rhodes.

Pages 10-11

sport

Young archer targets world champs

Rolleston's Ryley Griffiths is set to become the youngest

known competitor to take part in the World Archery Youth

Championships in Spain next month.

Page 16

community events

Cup cakes for all

Head along to the Lincoln Library to decorate cupcakes on

Saturday, 1-3pm. Bookings essential.

Page 24

The best-read local newspaper, delivered to

20,015 homes, RDs and farms every Wednesday

Ladbrooks, Tai Tapu, Leeston, Lincoln, Southbridge, Prebbleton,

Halswell, Rolleston, Templeton, Burnham, West Melton, Darfield,

Kirwee, Arthur's Pass.

ROLLESTON OFFICE

78A Rolleston Drive, Rolleston

Richard Gray

rcg@meareswilliams.co.nz

Kate Warren

kcw@meareswilliams.co.nz

Anita Molloy-Roberts

am@meareswilliams.co.nz

T: (03) 374 2547

Offices also located at:

Lincoln – 43 Gerald Street

Christchurch – 225 Papanui Road

Darfield – 28 South Terrace

CultureFest

Celebrating Selwyn's

diversity

EXPRESSIONS OF INTEREST

CULTURAL PERFORMERS | FOOD VENDORS

CRAFT STALLS | ACTIVITIES

REGISTER ONLINE BY FRIDAY 16 AUGUST

SELWYN.GOVT.NZ/CULTUREFEST

SUNDAY 29 SEPTEMBER, 10AM–4PM, LINCOLN DOMAIN
---
SELWYN TIMES Latest Christchurch news at www.star.kiwi

Wednesday July 31 2019 3

News

Lower speed limit

'good news' for Weedons School

• By Devon Bolger

WEEDONS SCHOOL is

celebrating a long-awaited

40km/h school zone on

Weedons Ross Rd.

A school zone from about

200m north of McClelland Rd

will be in place from tomorrow.

Principal

Kathy Bell

said they've

been advocating

to have

the speed

limit on the

road reduced

Kathy Bell

and it's good

news for the

school.

"We have put submissions into

the district council previously to

have it lowered so we are really

happy," she said.

The speed limit for Weedons

Ross Rd is currently 80km/h.

Mrs Bell said she has been

concerned about the safety of

her students especially before

and after school.

"Traffic has increased quite a

bit in the last decade, especially

trucks, and it's just not safe for

our pupils."

She is hopeful the new speed

limit will do a lot to keep our

pupils safe, Mrs Bell said.

"I just hope people understand

it and abide by it."

Changes to speed limits on 31

roads were approved by the district

council in May, including a

40km/h school zone speed limit

outside Broadfield School.

2019

The changes were made as an

amendment to the current speed

limit bylaw.

The majority of the changes

will reduce the speed limit to

60km/h on sections of 25 roads,

removing all 70km/h speed

limits in the district.

A review to consider

reducing the speed limit

LAUGH

AT

THE

INTERNATIONAL

COMEDY NIGHT

R18

Dai Henwood Donna Brookbanks JarRed Fell Alan M c Elroy

28 th septAT lincoln

TICKETS ON SALE

NOW!

GET YOUR

TICKETS FROM

www. liveinlincoln .nz

SPEED: The

district council

has approved

a raft of speed

limit changes

across the

district and

a review of

speed limits

in all urban

areas. ​PHOTO:

MARTIN

HUNTER

to 40km/h in urban areas,

particularly around schools, will

also be completed by the end of

the year.

•The full list of new speed

limits can be found at: www.

selwyn.govt.nz/news-Andevents/news/speed-limitchanges-approved

In Brief

LIQUOR STORE OPENING

Rolleston is to get its second liquor

store when Liquorland opens next

month on Tennyson St. Liquorland

chief executive Brendon Lawry

said the store is expected to open

its doors mid-August. The district

council received the liquor licence

application last year and there were

no objections from the public after

consultation.

E-SCOOTERS BY SUMMER

Lime scooters could be operating

in Rolleston for a trial period

starting in December. District

council group manager regulatory

services Tim Harris said the trial

will go ahead if all safety issues

that were discussed, specifically

where and how fast the e-scooters

can go, have been addressed. Safety

focuses have been the development

of speed restricted areas and geofencing

to restrict use on places

such as the State Highway.

RESIDENTS ASSOCIATION

Last week Selwyn Times incorrectly

reported the Weedons Residents

Association had disbanded.

It should have said the group is

currently operating without a

chairperson but are still meeting

as an official association.

Beekeeping

Course

Learn Beekeeping and gain a

qualification. NZQA L3 Apiculture

with Land Based Training.

Starting 25 August 2019.

PHONE TODAY!

Martyn Wheeler

027 306 9653

Email: martynwheeler@xtra.co.nz

RE-ELECT

East West Fencing Ltd

• Residential

• Security

• Rural Fencing

• Post Driving

• Post & Rail

• Horse Arenas

•Sheep & Cattle Yards•

Phone: Paul 027 588 6009 or

Brad 027 376 0237

Email: eastwestfencing@xtra.co.nz

All Your Fencing Needs

www.ewfltd.co.nz

JOHN

SUNCKELL

ECAN 2019

'Working together,

taking us forward'

Facebook: John4ecan Phone: 027 424 3006

Website: https://john4ecan.wixsite.com/ecan2019

Authorised by John Sunckell, 100 Caldwells Road, Leeston

Cropping Farmers

we want you

We have many seed crop options

for sowing this Spring.

Contact us today for details of the following

• Asian Brassicas (Both OP & Hybrid)

• Radish (Daikon & Round Red) • Chrysanthemum

• Garden Peas (Processing & Garden varieties)

We have both large and small areas available of most

species. These are all good yeilding cultivars, well known

to us but, we have increased area this year so we are

looking for new growers in addition to our present portfolio

Growing seeds for a growing world

Please contact the following personnel for further details:

Kym Townsend 027 522 3060 North Canterbury

Eva Ratahi 027 265 1447 Malvern/Ellesmere

Hayden Argyle 027 534 4534 Mid Canterbury

1153 Springs Rd, Lincoln | 140 Rolleston St, Rakaia

www.seeds4u.com
---
4 Wednesday July 31 2019

Latest Christchurch news at www.star.kiwi

ews

SELWYN TIMES

Long-standing councillor bowing out

• By Devon Bolger

"I HAVE DONE nine years and

I think I have given my best at all

times, I felt I could not guarantee

that for another three years as I

have other demands to meet."

That is why councillor Pat

McEvedy has decided not to seek

re-election in October's local

body elections.

He was also finding himself

frustrated in the position.

"Society has become very

politically correct. I find that

frustrating and I'd prefer to get

real things done and achieve

more than just box-ticking."

Cr McEvedy is one of two

councillors representing the

Ellesmere ward alongside

councillor Murray Lemon.

He was first elected to the

district council in 2010 and has

served three terms since then.

He ran for mayor in 2016,

polling second behind Sam

Broughton.

"I think I'm leaving Ellesmere

in good hands," Cr McEvedy

said.

'Ellesmere is doing really well

right now, the townships are

busy and continuing to grow."

Cr McEvedy has lived in

Southbridge all his life.

He owns Phoenix Park Farm

in Southbridge with his wife

Lynley and son Matt. They grow

vegetable seeds, pasture seeds,

grain and farm livestock.

• By Sophie Cornish

A CONSTRUCTION project to

help manage the rising population

at Rolleston Prison will be

delivered a year behind schedule.

Two 125-bed modular prisoner

accommodation units are expected

to be completed by November

this year.

The project, led by Australian

company, Decmil Construction

NZ Ltd, was originally planned to

be complete by November 2018.

In May 2016, the Government

announced $355.6 million in

MOVING ON: Councillor Pat McEvedy, who is not seeking re-election in October's local body

elections.

PHOTO: MARTIN HUNTER

His daughter Tess, her

husband Craig and their two

children live just up the road.

"We are a pretty close family

and spending more time with

funding over four years to cope

with the rising prisoner numbers.

Units are also being installed

in four other Corrections sites

across the country, with one

unit also being constructed at

Christchurch Women's Prison.

The off-shore kit-set units,

which are made in China, are a

first for New Zealand.

The units for low-security

prisoners consist of 60 doublebunked

cells, two single bunked

cells and other spaces for prisoners

and staff such as laundry

rooms and offices.

them was definitely a part of my

motivation for leaving."

Cr McEvedy has been a part

of many key projects in the

district such as the development

Prison project a year behind schedule

They are fitted together on-site.

The construction at Rolleston

Prison has been met with challenges

relating to design revision,

weather and ground conditions,

transport damage and obtaining

building consents, Department of

Corrections deputy chief executive

Jeremy Lightfoot said.

"Challenges of this nature are

not unexpected when producing

on this scale. Due to these challenges,

we now expect these units

to be completed by November

2019," he said.

The kit-set prison cells are

of Abbeyfield Ellesmere, a

community-led home for the

elderly, and the planned Health

Hub for Selwyn.

He is proud of the work he has

quicker and cheaper to produce

than a new prison and have been

used in Australia, the United

States and the United Kingdom.

The prison population peaked

at 10,820 in March last year.

done in the community.

"The development of our

wastewater and drinking

water infrastructure has come

a long way. There have been

changes in how we view the

district as a whole and the slow

disintegration of parochialism in

how we allocate resources, while

still representing our areas."

The development and

professionalism of the property

and commercial area is also

something he is pleased to have

been involved in, he said.

He is currently a member of

the district council's audit and

risk, events fund distribution

and property committees.

He is also on the Ellesmere

Reserve Board and the water race

sub-committee.

It's the people he will miss the

most when he leaves the district

council, Cr McEvedy said.

"I really enjoyed working with

people, the council staff get a bad

wrap but they are extremely hard

working and I will miss that."

He said he doesn't have any

definite plans for the near future

but will remain as a director of

Sicon for a period of time.

He is also currently a director

of Westland Milk Products but

will lose that position shortly as

the company has been sold.

"I may look for another job like

that one but for right now I am

in no rush."

DELAY: An accommodation project at Rolleston Prison will be

delivered a year later than expected. PHOTO: MARTIN HUNTER

"While a decline in prisoner

numbers since March 2018 has

helped relieve pressure on the

prison network, Corrections is

continuing to plan for future

population changes."

Dispose of hot ash safely

Hot ash

can cause

bin fires

Bucket & soak it

Put ash in a metal bucket with

water for at least five days.

Bag it

Place cold ash in

a plastic bag.

Bin it

Place it in the red

rubbish bin.
---
SELWYN TIMES Latest Christchurch news at www.star.kiwi

Wednesday July 31 2019 5

'Rolleston will run

out of undeveloped land by 2025'

•From page 1

A minimum net density of 12

households a hectare will also be

implemented in Rolleston, which

currently has a net density of 10

households a hectare.

But not everybody agrees

there is capacity for that kind of

development.

Urban

economist

Adam

Thompson said

at the current

rate, Rolleston

will run out of

Adam

Thompson

undeveloped

land by 2025.

"Towns like

Rolleston are

providing most of the city's

affordable housing and are in

strong demand, particularly by

young families. The amount

of land that Our Space has

allocated for these towns isn't

enough to keep pace with this

demand," ​he said.

"Rolleston needs a buffer

of around eight to 10 years of

undeveloped land to ensure

there is enough land for builders

and prices are not pushed up at a

fast rate," he said

Mr Thompson made a

submission during public

consultation on the plan last

year and spoke

at the hearing

held earlier this

year.

He said

he felt his

concerns were

not listened to

by the panel of

Malcolm

Lyall

commissioners.

The report

which came out

of the hearing said capacity in

the district may not be enough

to meet demand over the

medium-term.

Deputy Mayor Malcolm Lyall

The revolution

in heat pumps

is here now!

felt reaching the housing targets

won't be an issue.

"We are leading with housing

GROWING: Almost 17,300 more houses will be built in Selwyn over the next 30 years to

manage the expected population growth.

PHOTOS: MARTIN HUNTER

here in the district and I don't

think that's something we need

to focus on," he said.

Providing transport and

community infrastructure

for the growing population is

the real challenge, Cr Lyall

said.

"We have a young population

here, our primary schools are

full and we need more spaces to

do things."

The revolution in heat pumps is here now!

The Fujitsu e3series

The brilliant

heat pumps from Fujitsu

e1 : efficiency

e2 : environment

e3 : economy

Website: www.pshc.co.nz

Finance available

FREE consultation from your local

Accredited Heat Pump Expert

Phone today: 03 381 6950

INSERT DEALER DETAILS HERE

The brilliant e3 series

heat pumps from Fujitsu

e1 : efficiency

e2 : environment

e3 : economy

However, Cr Lyall said he

would like to see more diverse

housing in the district.

"We need smaller lots and

smaller houses. I'd like to see

more two-bedroom townhouses

that give people other options

to a standard four bedroom

home."

The report comes as Education

Minister Chris Hipkins unveiled

the Government's plan to make

Fujitsu's Catechin Filters are

approved by the Asthma and

Respiratory Foundation NZ's

Sensitive Choice ® programme.

Email: info@pshc.co.nz

Tickets

7 MARCH

On Sale

LINCOLN

Now

www.selwynsounds.co.nz

an additional 350 spaces for

pupils at Lemongrove School

in Rolleston, as well as the

acquisition of a new site for a

future primary school.

The report also commits

the district council to work to

provide more affordable and

social housing. No plans are

currently in place for additional

social housing or for more

affordable housing, Cr Lyall said.

"That's something the next

council will have to decide. I

would like to see something

done with a housing trust but it

is something to talk about in the

new year."

The district council will now

incorporate the report into the

District Plan which is set to be

released in March.

Another capacity assessment

will also be conducted next year

to review the amount of free

land in the district.

Allen Lim for Ecan 2019

"A practical approach

to sustainability"

* Proven - Leader in local water issues

* Ability - Extensive governance experience

* Balanced - Working collaboratively for

best outcome

Email: Allen4Ecan@gmail.com

Phone 027 282 8567

Facebook Allen Lim for Ecan 2019

Authorised by Allen Lim, 31 Lincoln Rolleston Road, RD8, Christchurch

Weedons Rd

interchange

due to open

this week

THE WEEDONS Rd interchange

is set to open this week.

A series of staged changes will

take place throughout the week to

incorporate the new interchange,

which is part of stage two of the

Southern Motorway construction.

Weedons Ross Rd and Weedons

Rd traffic will be diverted over the

new bridge. Traffic movements on

the northbound on and off-ramps

will be unaffected.

The southbound on-ramp will

be unaffected and the southbound

off-ramp will remain closed until

the new southbound lanes of

Main South Rd open later this

year.

Further construction in this

area will take place later this

year, including on Weedons Rd

from the roundabout through

to Levi Rd. There will also be

further construction on the new

roundabout at the intersection of

Weedons Ross and Jones Rds.

The Southern Motorway project

aims to address the increasing

number of motorists and

congestion south of Christchurch.

A New Zealand Transport

Agency spokesman said it is

asking motorists to follow all

on-site signage and drive to the

conditions, as traffic management

and temporary speed limits will

be in place.
---
6 Wednesday July 31 2019

Latest Christchurch news at www.star.kiwi

SELWYN TIMES

CLEARANCE

EVENT

HOUSEWARES GARDEN HARDWARE

OUTDOOR

FURNITURE

Luceco

LED Solar

Security Light

305909

$

10

Floral

Gloves

Assorted sizes

148727

$

2

$

1

Assorted

Hand Tools

Nouveau

Cantilever

Umbrella 3m

323037

$

150

$

15

Goldair

10yr

Photoelectric

Smoke

Alarm

296053

$

59

Victoria

Toilet Suite

P trap.

318378/79

$

2

Garden

Bag

56x56x46

118600

Tui

Woodchips

40L

336221

$

6 50

Nouveau

Piggyback

Extension Cord

Black 5m

319733

Luna

3 Piece

Wicker

Setting

320905

$

799

$

4

HOME OF THE

$

15

Ace

Phillips

Screwdriver

10 Set

939245

While stocks last. Stock will vary by

No returns on clearance items.

15% PRICE PROMISE!

If you find

a lower

price on an

identical

stocked

product

locally we

will beat it

by 15%

ST290719

Mitre10 MEGA Hornby Ph: 03 349 8497

Available from Wednesday

31st July 2019 until

Wednesday 7th August

2019, while stocks last. *If you find a lower price on an identical stocked *If you find the same product cheaper from another Mitre 10 store or Mitre 10 website we'll match that price.

Excludes trade and special quotes, stock liquidations and commercial quantities. The in-store price may be lower

product locally we will beat it by 15%

than that advertised.
---
SELWYN TIMES Latest Christchurch news at www.star.kiwi

Wednesday July 31 2019 7

News

Get a FREE

CADBURY Collectable

Vintage Car

when you buy any two 150g - 190g

CADBURY Blocks in one transaction

STOLEN: Lincoln resident Bruce Tweedy, 66 and Springs RSA president Ivan

Norton, 88 at the Springston Cemetery, where 37 bronze plaques were stolen.

PHOTO: MARTIN HUNTER

Three cars to collect

Stolen veterans

plaques replaced

• By Devon Bolger

The bronze plaques

stolen from Springston

Cemetery earlier this year

have been replaced.

Veterans Affairs replaced

the plaques last Monday.

A 41-year-old woman

– who has interim name

suppression – admitted

to stealing 37 plaques

between Anzac Day and

May 9 for scrap metal.

She was remanded in

custody for sentencing on

August 21.

Deputy head of Veterans'

Affairs Marti Eller said

it was a big shock for

• By Devon Bolger

ONE HUNDRED and

ninety nine firearms

were handed in at the

first gun buyback event

for Selwyn last Saturday.

Police said 142 firearms

owners attended the event

at the Rolleston

Community Centre.

Owners also handed in

more than 450 parts and

accessories.

A police spokeswoman

said they are pleased and

the event went well.

families and the defence

community and they

wanted to ensure it was put

right as soon as possible.

"The defence community

– and many others in the

community – feel very

strongly that the plaque

in a service cemetery

is a mark of respect to

those who have served

their country. We are

privileged to have the job

of ensuring these plaques

are maintained."

District council group

manager corporate

services Greg Bell said

they put together the

list of plaques that were

"Police is happy with

how the event went and

would like to thank the

Rolleston community for

their support."

It was the only event

currently scheduled for

the district, more dates

will be added before

the amnesty ends on

December 20.

The Rolleston event

was one of eight held

across the country last

Saturday.

Collection events were

also held in Te Aroha,

missing and supplied

the information for the

restoration and also

informed the families of

the theft.

"This is the first time

something like this has

happened in Selwyn and

I am pleased to see the

plaques replaced."

Most of the plaques

were for servicemen in

a designated part of the

cemetery.

Metallic plaques were

taken from other graves in

the cemetery.

The bronze plaques were

later found at a scrap metal

dealer in Christchurch.

Nearly 200 prohibited

guns handed in

Ohope, Hastings,

Palmerston North,

Upper Hutt, Hokitika,

and Dunedin.

Police reported that

countrywide, 692

firearms owners

attended, handing in a

total of 1055 prohibited

firearms and 2315 parts

and accessories.

The total amount of

compensation to firearms

owners was $1,757,414.

The events were a part

of nearly 200 planned

over the next two months.

Vitor LittleOz

Easy Peel Mandarins

750g Prepack,

Product of Australia

WATTIE'S

MULTI BUY

410g - 420g

ANY

4 FOR

$ 599 ANY

2 FOR

$ 599

$

4 49 ea

Bluebird Original

Cut Chips 150g

$

1 99 ea

Hot Pork Roast

Loin

Available at

selected stores.

www.foursquare.co.nz

$

14 99

Cadbury

Chocolate Block

150-190g

$

1 99 ea

ea

Keri

Fruit Juice 1 Litre

(excludes Premium)

facebook.com/FourSquareNZ

Specials available South Island only from Monday 29th July until Sunday 4th August

2019 or while stocks last. Wine and beer available at stores with an off licence.

Wine and beer purchases restricted to persons aged 18 years old and over.
---
8 Wednesday July 31 2019

Latest Christchurch news at www.star.kiwi

News

Designer cleans up at awards

• By Jess Gibson

SPRINGSTON designer

Davinia Sutton won everything

but the kitchen sink at the

National Kitchen and Bathroom

Association Excellence in Design

awards.

Her business, Detail by

Davinia Sutton, bagged 12 out

of 40 awards at a ceremony in

Melbourne, including the top

designer of the year accolade.

Several of her projects cleaned

up, including a high-end,

traditionally styled kitchen and

bathroom in a Merivale home,

as well as a modern kitchen and

bathroom in a Fendalton home.

Ms Sutton's awards included

supreme kitchen design second

runner-up, outstanding

renovation kitchen or bathroom,

supreme bathroom design first

runner-up and the CDS bathroom

design award.

While Ms Sutton won the

awards, she oversees a studio

with five designers who work

on projects in New Zealand and

Australia.

She said the team is "overwhelmed"

and "still coming back

down to earth" after their big win.

At the awards,Ms Sutton was

hailed by the judging panel as

outstanding and someone who

creates timeless solutions regardless

of the aesthetic.

STUNNING:

Davinia Sutton

took out a range

of awards for

this traditionally

styled kitchen

and bathroom

in a Merivale

home.

NKBA president Jared Dinneen

called Ms Sutton one of

the best in the business and a

complete professional.

The business has been around

since 2009 and Ms Sutton has

won a range of awards since. She

said she has no specific design

style but likes to tailor rooms to

the architectural context of the

home, while taking in a client's

taste.

"The spaces we design really

need to read as one with the home

and talk with their own language

of architecture," she said.

Nineteen kitchens and bathrooms,

created by 15 talented

New Zealand designers, were

recognised at the awards.

BACKYARD CRITTERS

Local

News

Now

Fire rages, homes at risk

Fly helps control

agriculture pest

Mike Bowie is an ecologist who specialises in

entomology (insects and other invertebrates).

Each week he introduces a new species found in

his backyard at Lincoln. His column aims to raise

public awareness of biodiversity, the variety of

living things around us. Check out the full list of

invertebrates found at http://naturewatch.org.

nz/projects/backyard-biodiversity-bugs-in-lincoln

MOST PEOPLE think of flies as

being annoying, pesky insects

that deserve a fly swat.

However, many flies play

useful ecosystem service roles

in pollination, break down of

organic matter or biological

control of pests.

A fly in the latter category is

the australian leaf roller tachnid

(Trigonospila brevifacies).

THis fly is quite distinctive

with its predominately black and

white to gold-striped thorax and

abdomen.

THis 5-7mm fly has long hairs

on its body and was introduced

into New Zealand from Australia

in the 1960s to 1970s as a

biocontrol agent of light brown

apple moth, but also parasitises

the potato tuber moth.

A total of 18 moth species are

known to be hosts, of which 10

SELWYN TIMES

are known pests in agriculture

and forestry. The parasitic fly

usually injects a single egg into

the caterpillar behind its head.

THe host caterpillar develops

until pupal stage when it dies

with the parasitic pupa inside it

from which the fly will emerge

when fully developed.

SERVICING NOW

Full servicing on ALL BRANDS of Chainsaws

and Outdoor Power Equipment

Heritage Barn with

Woodshed

10.5m x 11m x 2.7m

Awning & 2 Roller

Doors

We have a super quick turnaround time &

we have on offer a FREE loan trailer that can

be used to transport those bigger products.

Multi-Purpose

Storage Shed

10.5m x 8m x 3.6m

with 3 Doors &

Awning

And don't forget we sell, as well as service the full range

of STIHL Outdoor Power Equipment!

31.8cc 3.9kg 1.4kW

16" bar and chain

MS180 Chainsaw

MS362 Chainsaw

70.7cc

6.3kg

4kW

20" bar & chain

Lifestyle Combo

18m x 7.5m x 3m with

2 Sectional Doors, 2

Partition Walls, Awning

& 2 PA Doors

Save $30

$395 Incl

GST

Save $400

$1595 Incl

GST

All pricing includes GST. Images may vary from in store product. Offers valid until 31st Aug, 2019 or while stocks last.

Store opening hours: All stores open 7 Days: Mon-Fri 8am - 5.30pm, Sat 9.30am - 3pm, Sun 10am - 3pm

FROM CONCEPT

TO COMPLETION

Visit us at: Cnr Main South Rd & Barters

Rd, Templeton | Ph 344 0331

STIHL SHOP Northwood

554 Main North Road, Belfast, Christchurch - Ph: 03-974-2469

STIHL SHOP Rangiora

Corner Lineside and Station Road, Rangiora - Ph: 03-313-3398

STIHL SHOP Fosters

559 Blenheim Road, Sockburn, Christchurch - Ph: 03-343-6339

www.stihlshopchristchurch.co.nz

LOVE YOUR LAND
---
SELWYN TIMES Latest Christchurch news at www.star.kiwi

Wednesday July 31 2019 9

News

Contractor chosen for

A CONTRACTOR has been

chosen to build the $21.5 million

Foster Park indoor courts.

The district council appointed

the Christchurch based company

Apollo Projects Ltd in a

council meeting on July 10.

The indoor court facility includes

eight

courts, along

with a 240m

indoor walking

track on

the mezzanine

level.

The indoor

courts were

John Reid

confirmed in

the district

council's Long-Term Plan 2018-

2028 and should be completed in

time for the winter 2021 sports

season.

District council major projects

manager John Reid said the

facility will help to meet the

growing need for indoor sports

facilities within Selwyn.

"Throughout New Zealand

we have more sport and recreation

activities requiring indoor

facilities than ever and council

has recognised that this trend is

only going to continue into the

future," he said.

Four of the courts will be built

with a sprung wooden floor,

while the other half of the building

will feature a multipurpose

floor which will be able to host a

wide range of events and functions.

"There's been a lot of interest

in these courts from the general

community, not just sports

groups, and the multipurpose

space gives you lots of flexibility

– you could host an indoor

market, or a trade show, or an

exhibition. It makes it a place for

everyone," Mr Reid said.

The district council approved

aclandpark.co.nz

0800 ACLAND

$21.5m Foster Park sports facility

a $21.5 million budget for the

project which includes both

the building construction and

the surrounding landscaping

requirements.

Mr Reid said the courts will

have a focus on serving the

community, including clubs and

schools, rather than high performance

sport and recreation.

"We've taken the approach

that this is a community facility

and our emphasis has been to

provide as much indoor space

with good quality courts for

community use. That's meant

we're getting this eight-court

COMMUNITY:

The courts will

have a focus

on serving the

community,

including

clubs and

schools, rather

than highperformance

sport and

recreation. ​

facility for the same price or

less than many facilities half its

size that have been constructed

in recent years around New

Zealand"

The building features insulated

Kingspan panelling which

removes the need for internal

cladding.

It will also have solar panels

that will generate up to 80 per

cent of its expected power consumption

during summer.

The project will now move

to a detailed design phase with

construction planned to begin in

early November this year.

Canterbury's fastest selling

new subdivision

Donation

fuels

boat ramp

project

THE LITTLE Rakaia Boat Club

has completed the first two stages

of the new boat ramp, following

a donation from Challenge

Southbridge.

The previous boat ramp was

washed away several years ago

following storms and floodwaters

in the area.

Since then the boat club has been

working to find ways to rebuild

the ramp on behalf of the whole

community.

"This is not just an amenity for

our club, it's a huge asset for our

area as more and more people use

the river every year from all over

the world," said boat club member

Graeme Patterson.

Mr Patterson said he was thrilled

to be presented with a cheque

for $1402 from the Challenge

Southbridge.

The money was used to settle

accounts on the initial phases of

rebuilding, which included

protection measures for the

foreshore and breakwater.

Challenge will continue to raise

funds over the rest of the year.

1

2

3

4

5

6
---
10 Wednesday July 31 2019

Latest Christchurch news at www.star.kiwi

SELWYN TIMES

Wealth and influence used to

SIR HEATON Rhodes is

well-known locally as being

a benefactor for the Tai Tapu

community.

However, there was more

substance to this historic

statesman, who served the

district at a national level and

used his influence and wealth to

support those less fortunate.

Sir Heaton lived the typical

life of a male born into the New

Zealand colonial landed gentry

during the Victorian era. He

was born in Purau on Banks

Peninsula in February 1861, the

son of Robert Rhodes, a wealthy

sheep farmer and politician.

When Sir Heaton was five, the

family moved to Christchurch

for a more comfortable life,

where his father had built a large

house, 'Elmwood,' on Papanui

Rd.

The family later travelled to

Europe in the 1870s to further

the education of the children,

which was commonplace for

wealthy families at the time.

Sir Heaton attended school in

Geneva and Hereford Cathedral

School in England, before

entering Oxford University in

1880. After completing his MA

he returned to New Zealand in

1888 and established himself

as a barrister and solicitor in

Christchurch.

Sir Heaton became an

exceptionally wealthy young

man when his father died in

1884. This allowed him to give

up practicing law to become

a farmer and live the life of a

country gentleman.

About 1893, he purchased land

near Tai Tapu and eventually

established an estate of 2023ha.

It was here that he had built

for his new Australian wife,

Jessie Clark, 'Otahuna,' a grand

country house that befitted his

wealth and social status, and

which is now one of Canterbury's

iconic heritage buildings.

For the next decade, Sir

Heaton focused on designing

and planting a large garden,

which included an artificial

lake and several acres laid out

100%

CAPITAL gAIN

TO THE RESIDENT

Historian and district council staff member

Wayne Stack continues his look at Selwyn's past.

Anyone with suggestions for future features can

phone Wayne on 021 119 9107. This feature is

about Sir Heaton Rhodes.

in trees, lawn and flower beds.

This led to Otahuna becoming a

popular venue for garden parties

for the social elite of Canterbury.

It became famous for its daffodil

beds, with surplus bulbs being

donated to the Christchurch

Hospital and Botanic Gardens.

These formed the nucleus of the

daffodil beds in Hagley Park

today.

Sir Heaton became an

expert horticulturalist and

a judge at flower shows

throughout Canterbury. In

1903, he was elected president

of the Canterbury Horticultural

Society – a position he held for

the next 53 years.

He was also a highlyrespected

model farmer and

had established the first herd of

norfolk red poll cattle in New

Zealand in 1898. Prior to this

in 1896, he had been elected

president of the Canterbury

Agricultural and Pastoral

Association. Otahuna was also

known for its fine flocks of

english leicester and corriedale

sheep, along with its clydesdale

horse stud.

Sir Heaton's love of horses

directly led to his 30 years

of military service. As a

young man, he had joined

the Canterbury Yeomanry

Cavalry in the 1880s; a mounted

volunteer regiment associated

with the wealthy social elite.

In 1896, he was elected as

a lieutenant and appointed

captain in 1902. At this time he

volunteered for service in the

Boer War in South Africa and

commanded a squadron in the

Eighth Contingent. He proved to

be a very popular and respected

officer, going on to command the

Canterbury Yeomanry Cavalry

as colonel until 1921.

He was also a well-respected

politician, serving in Parliament

as the member for Ellesmere for

Our Great

history

WITH WAYNE STACK

WELL-KNOWN: Sir Heaton Rhodes in 1915. (Right) – Otahuna Lodge, Sir Heaton's homestead in Tai Tapu.

$1,000 fULLY

REfUNDAbLE

DEPOSIT

E S T A T E

Phone. 03 421 7796 | Email. sales@woodcroftestate.co.nz

WOODCROFT WAY, 32 KENDON DRIVE, ROLLESTON, CANTERBURY

26 years. In 1899, he won the seat

stylising himself as an 'old-style

Liberal.' In reality, his politics

was more conservative and he

went on to serve in William

Massey's cabinet as postmaster

general and minister of public

health in 1912.

Described as hard-working,

efficient and honest, but not

forceful or ruthless enough to

make a big impact in politics, he

did earn a reputation as an able

and energetic minister.

His philanthropic ideals

came to the fore in 1915

when he was appointed as a

special commissioner to visit

Egypt, Malta and Gallipoli to

investigate the treatment of sick

and wounded New Zealand

soldiers. His report led to many

improvements for the soldiers

and earned him much public

esteem. He refused to accept

money to cover his expenses,

but used the amount awarded by

the Government, along with his

own contribution, to establish a

scholarship fund to support sons

of returned soldiers.

In 1917, Sir Heaton travelled

to London as the special

commissioner of the New

Zealand branch of the British

Red Cross Society, where he

supervised its work in military

hospitals in France and England

until 1919. It was for this work

that he was first knighted in

1920.

The same year he was

appointed minister of defence

and was instrumental in

establishing the Royal New

Zealand Air Force with the

purchase of Sockburn airfield,

which later became Wigram Air

Force Base.

In 1922, he was appointed

commissioner of state forests

and was instrumental in laying

the foundations for the country's

future exotic timber industry.

INVESTMENT IN YOUR RETIREMENT AND

REAP THE REWARDS IN ROLLESTON

Now

offering free

standing villas:

$560,000

3 Beds, 2 Baths,

double garage,

173m2.

ROLLESTON'S NEW REgISTERED RETIREMENT VILLAgE

• Initial weekly fee of $75 includes rates, insurance, grounds maintenance and

window washing

• Gated community and emergency call button in each villa

• Two & three bedroom villas with single/double garage from $415,000

• There will be an on site manager and a pavilion and bowling green

• Show Home now open Monday to Friday 10am to 2pm

• After hours viewing by appointment call Corinne 021 292 1141

www.manorgroup.co.nz
---
SELWYN TIMES Latest Christchurch news at www.star.kiwi

Wednesday July 31 2019 11

Local

News

Now

Fire rages, homes at risk

help the district

LANDMARK: Sir Heaton Rhodes donated the land for the construction of the now iconic Tai Tapu

Library building.

Sir Heaton retired from politics

on medical advice in 1925,

but was promptly appointed

to the Legislative Council, the

now defunct upper house of

Parliament, similar to the House

of Lords. He became deputy

leader of the council until his

final retirement in 1941. He had

received a second knighthood

in 1927 for his role in managing

the royal tour of the duke and

duchess of York.

Sir Heaton is remembered

for supporting a wide range

of charities and community

activities throughout his life,

much of which was rarely

publicised.

He first became involved in

humanitarian work in the 1890s

through his sisters and their

friendship with the matron of

Christchurch Hospital, Sibylla

Maude.

His financial support was

crucial in helping Nurse

Maude establish her district

nursing scheme in 1896. Other

organisations that he provided

considerable funds for included

the Canterbury Museum, Boy

Scouts Association, and the

Royal Christchurch Musical

Society, along with the Rhodes

Convalescent Home. He also

donated land for a new school

in Christchurch, Heaton

Intermediate, which was named

after him.

However, his most significant

work was with the St John

Ambulance Association. In 1920

he was appointed St John's first

director of ambulance in New

Zealand; a position he held until

1931. Having donated property

to the order in Christchurch and

in recognition for his years of

service and leadership, he was

chosen to be the order's first

knight commander of the New

Zealand Commandery in 1931.

His wife, Jessie, suffered ill

health for many years and the

couple had no children. Perhaps

because of this, Sir Heaton

appears to have been driven to

provide a helping hand to the

community, especially to those of

limited means.

Apart from Otahuna, his

greatest legacy to the district

was as a benefactor to the people

of Tai Tapu. This began in

1904 when he provided money

and land for a new public hall,

followed by donating land for a

new sports ground, Rhodes Park

Domain. He also helped finance

the construction of the new

primary school, which opened

in 1931, and donated the land

for the construction of the now

iconic Tai Tapu Library building.

Following the sudden death

of his wife in 1929, he donated

land and commissioned the

building of St Paul's Anglican

Church in her memory, which

was consecrated in 1932. The

library and church remain two

of the most revered heritage

buildings in Selwyn, providing a

constant reminder of the English

character of early colonial

settlement in Canterbury.

Sir Heaton died at Otahuna

in 1956 aged 95. His biographer

Geoffrey Rice wrote that few

New Zealanders had achieved

such prominence or popularity,

received such high honours,

or had been more sincerely

admired and respected in their

own lifetime than Sir Heaton.

However, perhaps Bishop

Warren's reference to Sir Heaton

at his funeral as having 'a quality

of gentleness and quiet charm,

coupled with friendliness and

helpfulness which endeared

him to many' is a fitting epitaph

for the district's most famous

benefactor.

WE ARE WELL into winter

and it massively sucks. For me at

least.

I used to be quite the fan of

cold weather and rain. Before

Vittoria was born it was the

perfect excuse to just grab a pizza

and play video games all day.

Now it's like a prison sentence

with a guaranteed cranky and

potentially smelly cellmate.

The gloom of being trapped inside

over the last week or so has

been compounded by the fact

that the house is like something

out of a spanish flu documentary

film.

All three of us are sick with

coughs and colds but only two

of us are actually suffering. The

other is still happy to run around

climbing on the furniture. While

also looking at me with that

"but why can't we go to the park

daddy?" look.

We've managed to duck out for

a walk or two, but they mostly

end in getting rained on and

feeling like a bad parent because

of it.

But I can't have Vittoria

trapped inside all day every day,

so we will at least get out to the

driveway so she can explore the

garden or push a doll in her wee

pram up the street a little bit.

Which is where a little interaction

I want to share with you

occurs regularly.

We've got two cats – Loki and

Misty. Loki is your typical house

cat, she's not huge on leaving a

comfy spot but she's great with

Vittoria and very patient.

Misty on the other hand is

VITTORIA

& Matt

Misty the moggy

keeps an attentive

eye on Vittoria

EXPLORING: Misty checking

in on Vittoria while she plays

on the footpath.

a definite outside cat and still

hasn't totally warmed to the latest

addition to the family.

Which makes it surprising

that, every time we walk around

the drive or on the street near the

house, Misty will follow Vittoria

like a hawk to keep an eye on her.

She just turns up every time like

magic.

It's not in a hunting kind of

way either, it's like she knows

Vittoria is young and needs a set

of grown up eyes on her, even if

they are grown up cat eyes. She'll

keep a small distance and follow

up to about 100m either side of

our drive.

Occasionally, she'll get closer

and rub against Vittoria, I guess

to reassure her. Or rub scent on

her so other cats know whose

property she is, I don't know.

Although I know I can't fully

entrust a rampant toddler to the

care of a tabby cat, I quite like

the idea that Vittoria's always got

someone looking out for her.

•Former Star Media

journalist Matt Salmons

has become a stay-at-home

dad. We follow his journey

weekly.

ROLLESTON

Storage

Units from $20 per week

• Assorted unit sizes, individually alarmed

• No bond required

• 24/7 security card access

• 1 ST MONTH FREE with every 6 month lease

BEST VALUE

LOCAL STORAGE

RESIDENTIAL

or COMMERCIAL

CALL FREE

0800 765 978

108 Izone Drive,

Rolleston

For more information visit www.rollestonstorage.co.nz

ILLINOIS DR

RAILWAY ROAD

WARDS ROAD

IZONE DRIVE

IZONE DRIVE

TWO CHAIN ROAD

WESTLAND PL

DETROIT DRIVE

ROLLESTON

Storage

IZONE DRIVE

IZONE DRIVE

LINK DRIVE

JONES ROAD

MAIN SOUTH ROAD

HOSKYNS ROAD

HOSKYNS ROAD
---
12 Wednesday July 31 2019

Latest Christchurch news at www.star.kiwi

SELWYN TIMES

SPORT

VICTORS: Southbridge claimed their third Coleman Shield rugby title in four years after a 16-12 win over Darfield at Prebbleton Oval. (Right) – Jarrod Adams

embraces Foketi Puleiku after the match.

PHOTOS: KAREN CASEY

Southbridge's third title in four years

ATTACK: Emerson

Sooaemalelagi

pushes past a

Darfield defender.

BREAK: John

Jebson pins his

ears back.

(Below) – Benjamin

Alexander attempts

to tackle Adam

Stone.

• By Jacob Page

RESOLUTE DEFENCE allowed

Southbridge to claim the

Coleman Shield for the third

time in four years on Saturday.

Southbridge beat Darfield

16-12 at Prebbleton Oval, forcing

Darfield to settle for second for

the third consecutive year.

Southbridge co-coach Doug

Maginness praised his team's

defiant defence after Darfield

were twice held up over the line

in the final 10min.

"Finals are different to any

other game. It comes down to

key moments and we had to work

hard. It did feel like we had to

hang on there near the end."

He said their strong scrum set

the platform for the win, but he

was delighted with the work put

in by all his players.

"The boys are the ones who

put in the time at training to get

results like this."

He said the success the team

have enjoyed in recent years

is the result of hard work and

commitment at training.

"We have guys who have had

success and know what to do in

those pressure situations and it

showed when we needed it."

Talk of what might have been

filled the Darfield changing

room after they came so close to

Finals results:

•Coleman Shield:

Southbridge 16, Darfield 12.

•Colts final: Lincoln 22,

Waihora 15.

•Division 2 final: Banks

Peninsula 29, Prebbleton 15.

•Division 3 final: Prebbleton

lifting the shield for the first time

in 113 years.

Darfield's Blair McIlroy

crossed the try line with 5min

to play in what would have been

a match-defining moment if

he hadn't been held up by the

desperate Southbridge defence.

Darfield co-coach Kris Rodgers

said it was a tough way to lose.

"We were obviously pretty

gutted. We have one wee hurdle

we need to get over next year,"

he said. "There was a lot of chat

about rugby gods and such – I

don't know what it is. Our

game management wasn't great,

especially in key moments, and

that's what we've focused on all

year and we didn't get that done."

He gave credit to Southbridge.

"Fair play to them, they throw

the ball around and play an

attractive style of footy. I would

have struggled to lose a final to

any other team. We have a great

culture and some talented young

guys coming through," Rodgers

20, Lincoln 15.

•Under-16 final: Lincoln 49,

Southbridge 0.

•Under-14.5 final: West

Melton 87, Lincoln/

Springston 10.

•Under-13 final: Prebbleton

12, Rolleston Gold 12.

said. "If you step back and look at

three finals, it shows we're doing

something right."

The teams traded unconverted

tries in the first 25min and each

missed a penalty kick.

Southbridge flanker Sam

Heselwood broke the deadlock

midway through the second half

when he scored.

Then Darfield prop Scott

McIlroy barged his way over to

level the contest after several

penalties on the Southbridge line.

Sean Carston landed the first

conversion from either team,

giving Southbridge a 12-10 lead

with 20min to play.

The lead did not last long

as Shannon Donald landed a

penalty and then another in

quick fashion to take the margin

out to four points.

•In the UC Championship,

Lincoln Combined travelled

to Nelson and beat Waimea

Combined 29-17 on Saturday.

•More sport, pages 16-17

STRONG: Peni Manumanuniliwa makes a break. (Right) – Sam Heselwood tries to escape the tackle of Brendon Ridgen

and Blair McIlroy.
---
SELWYN TIMES Latest Christchurch news at www.star.kiwi

Wednesday July 31 2019 13

METRO BLACK BEDROOM

3 Drawer Bedside NOW ONLY $ 229

Queen/King Headboard NOW ONLY $ 349

ALL BEDROOM ON SALE

Phoebe Optisoft

Recliner

NOW ONLY $599

Jersey

Dining Chair

NOW ONLY

$70

ALL LOUNGE ON SALE

ALL DINING ON SALE

Woodwall

Ballet Desk

NOW ONLY $199

ALL OFFICE ON SALE

STOREWIDE SALE ON NOW.

Exclusions apply. Sale ends 19.08.19.

Shop

Online

Nationwide

Delivery

Finance

Options

targetfurniture.co.nz

Cnr Blenheim & Curletts Rds, Christchurch

Ph: 0800 TARGET (0800 827438)

Offers and product prices advertised here expire 19/08/19.

Sale excludes Manchester and Accessories.
---
14 Wednesday July 31 2019

Latest Christchurch news at www.star.kiwi

Selwyn Times

Contractor confirmed for

Foster Park indoor courts

A brand new indoor courts sports facility should be open at Foster Park in time for the 2021 winter

sport season.

The Council has appointed Apollo Projects Ltd to build the complex, which will feature eight

courts and a 240 metre indoor walking track on the mezzanine level.

The indoor courts were confirmed in the Long-Term Plan 2018–2028 and work is planned to begin

in early November this year, Council Major Projects manager John Reid says.

It will help meeting a growing need for indoor sports facilities within the rapidly increasing

population in Selwyn.

"Throughout New Zealand we have more sport and recreation activities requiring indoor facilities

than ever and Council has recognised that this trend is only going to continue into the future," Mr

Reid says.

Four of the courts will have a sprung wooden floor, while the other half of the building will feature

a multi-purpose floor, able to host a wide range of events and functions.

"There's been a lot of interest in these courts from the general community, not just sports groups,

and the multi-purpose space gives you lots of flexibility – you could host an indoor market, or a

trade show, or an exhibition. It makes it a place for everyone," Mr Reid says.

The Council approved a $21.5 million budget for the project, including surrounding landscaping

requirements.

"Our emphasis has been to provide as much indoor space as possible with good quality courts for

community use. That's meant we're getting this eight-court facility for the same price or less than

many facilities half its size that have been built in recent years around New Zealand."

Swimmable Selwyn at Coes Ford

Work is under way to turn Coes Ford back into a popular swimming site as part of a long-term plan to

make the Selwyn-Waikirikiri River swimmable.

Swimmable Selwyn is part of the Canterbury Water Management Strategy that sees councils around the

province working with Environment Canterbury to manage and improve the region's water.

As part of Swimmable Selwyn, the Selwyn Waihora water zone committee has set up a working group

looking into sources of water quality decline, aiming to deliver certainty for the farming community, and

recreation and water quality gains for everyone.

The group has identified Swimmable Coes Ford as a priority, with a plan for fencing, planting and

reducing contaminants agreed, which aims to increase the water quality at Coes Ford and upstream.

Zone committee co-chairs Megan Hands and Les Wanhall say the

work is a response to the strong message from the community that

the river needed to be better looked after and the importance of

Coes Ford as a swimming spot.

The fencing and planting project has seen land owners, community

groups and schools working together to increase the distance

of fences from the river and increase planting on the riverbanks,

including lower bank plantings.

Already this year about 300 plants have been planted on a farm

in the Silverstream catchment above Coes Ford by a team of

volunteers from Dairy NZ, the Selwyn Waihora Zone Committee,

Waiora Forest Landscapes and Environment Canterbury. The

planting will protect natural springs and improve the water quality.

Rates accounts coming soon

Rates invoices for the period 1 July 2019 to 30 June 2020 will

be arriving in letterboxes and inboxes soon. You can check

out the changes in your rates before your invoice arrives, by

visiting selwyn.govt.nz/rates and clicking on property search.

If you pay by direct debit you will receive information on your

new direct debit in a separate letter. If you choose to pay by

direct debit, then as long as you have sufficient funds in your

bank account to cover the payments on the due dates, you

will not be charged penalties.

For ratepayers not on a direct debit, rates are payable in four

instalments – 15 September, December, March and June.

Penalties are charged on instalments not paid in full by the

due dates and there is a further penalty if rates are not paid by

30 June.

Your rates invoice details the rates assessed for your property

for both the Council and Environment Canterbury. The Council

assesses a general rate, based on your property's capital

value, district-wide targeted rates, plus other targeted rates

based on where you live, or the services you receive. We also

act as agent for the collection of Environment Canterbury rates

within Selwyn district.

The average rates increase for the 2019/20 year is 6%, however

this will vary for individual properties. This year also takes

account of updated capital values, which may affect the amount

of rates you pay. Rates may also increase if you have made

changes to your property, for example if you have built a house

on your section, or if you have changed your wheelie bins.

If you have any queries regarding your rates please contact us

by email rates@selwyn.govt.nz or ring 03 347 2776. But please

be patient with our revenue team staff in the next few weeks as

the volume of queries always increases at this time of year. You

can also find out more about rates at selwyn.govt.nz/rates.

Are you eligible for a

rates rebate?

Ratepayers who are on a low income and who pay rates on

the property they live in may be eligible for a rates rebate.

To find out if you are eligible, and to download forms, visit www.

ratesrebates.govt.nz. Forms are also available from Council

service centres. If you received a rates rebate last year you will

automatically be sent an application form with your rates.

If your gross household income to 31 March 2019 was

$25,660 or less, and you pay rates on the property where you

live, you may qualify for a rebate. If your income was more

than this, you may still be eligible, depending on the total cost

of your rates and the number of dependents in your family.

To apply, you will need to provide accurate details and copies

of your gross income, and that of any partner/spouse/joint

homeowner who lives with you, for the tax year ended 31

March 2019.

You can apply for your rebate at any Council service centre.

Rolleston – Selwyn District Council

2 Norman Kirk Drive Monday to Friday 8.30am to 5pm (no

appointment necessary)

Darfield Library & Service Centre

Phone 03 318 7780 to book an appointment:

Wednesdays 10am–12pm, Thursdays 1–3pm

Leeston Library & Service Centre

Phone 03 347 2871 to book an appointment:

Mondays 2–3pm, Fridays 11am–12pm

Lincoln Library & Service Centre

Phone 03 347 2876 to book an appointment:

Wednesdays 10–12pm, Tuesdays 1–3pm

Is your community group, not-for-profit organisation

or school in need of a computer or printer?

We have some second-hand computers and printers from Selwyn libraries

that we no longer require.

Register your interest by 9 August to go in a ballot to receive one of these.

Email: michael.heywood@selwyn.govt.nz

Council Call

Selwyn District Council

Norman Kirk Drive, Rolleston

Ph 347 2800 or 318 8338

Rolleston Library

Rolleston Drive, Rolleston

Ph 347 2880

Darfield Library & Service Centre

1 South Terrace, Darfield

Ph 318 8338 or 347 2780

CC310719
---
Selwyn Times Latest Christchurch news at www.star.kiwi

Wednesday July 31 2019 15

Notices

SISTER CITIES COMMITTEE

AGM

Council Sister Cities Committee

is holding its Annual General

Meeting on Thursday 1 August

at 4.30pm at the Darfield Library.

Selwyn has Sister Cities cultural

and friendship relationships

and exchange visits with cities

in Japan; China; Coventry in

Rhode Island, USA; and Toraja,

Indonesia.

Residents are welcome to

attend this meeting and can

RSVP to Bernadette Ryan 3472

800 or bernadette.ryan@selwyn.

govt.nz

ALCOHOL NOTICES

Lincoln Supermarket Limited

has applied for the renewal

of an off licence. Objections

Meetings

Public Forums: Council,

Community Board and local

committee meetings are open

to the public. Time is available at

the start of meetings for people

to speak on matters of concern.

Please notify Therese Davel or

Bernadette Ryan if you wish to

speak at Council at least five

days before the meeting.

Township, Hall and Reserve

Committees: To list or make

changes to meeting details, email

meeting.changes@selwyn.govt.

nz or phone 347 2800 or 318

8338 by 9am Wednesday the

week before publication.

COUNCIL & COMMUNITY

BOARD

Selwyn Waihora Zone Committee

Tue 6 Aug 2pm

West Melton Community and

Recreation Centre

Property Committee

Wed 7 Aug 9am

West Melton Community and

Recreation Centre

Audit and Risk Subcommittee

Wed 7 Aug 1pm

West Melton Community and

Recreation Centre

Council meeting

Wed 14 Aug 1pm

Tai Tapu Community Centre

ON THE

ROADS

are open until 5 August. For

information go to selwyn.govt.

nz/alcoholnotices

DOG MICROCHIPPING

If your dog was first registered

after 30 June 2006 and is not a

working dog, the law requires

him or her to be microchipped.

This free monthly service is

available on Friday 9 August at

the following places.

Lincoln 9–9.30am

Leeston 10.15–10.45am

Darfield 11.30am–12pm

Rolleston 12.45–1.15pm

Please note:

· All clinics last for only half an

hour.

· The Rolleston venue is

in Norman Kirk Drive (off

Rolleston Drive).

DISTRICT COMMITTEE

MEETINGS

Arthur's Pass Association Inc.

Sat 3 Aug 4pm

Arthur's Pass Community Centre

Darfield Recreation

and Community Centre

Management Committee

Mon 5 Aug 7.30pm, Darfield

Recreation and Community Centre

Darfield Township Committee

Thu 15 Aug 7.30pm

Darfield Library

Doyleston Community

Committee

Wed 7 Aug 7.30pm

Doyleston Hall, Osborne Park

Hororata Reserve

Management Committee

Wed 7 Aug 7.30pm, Hororata Hall

Kirwee Recreation Reserve

Management Committee

Mon 12 Aug 7.30pm

Sports Pavilion, Kirwee

Recreation Reserve

Lakeside Soldiers Memorial Hall

Incorporated Society AGM

Mon 5 Aug 7pm

Lakeside Soldiers Memorial Hall

Leeston Community Committee

Mon 5 Aug 7.30pm

Leeston Library

Urban water focus for Zone Committee

· Microchipping will not take

place if wet.

If you have any questions

regarding microchipping,

please contract Tracey Wheeler

on 347 2800.

NEED FUNDING FOR YOUR

CREATIVE PROJECT?

Creative Communities Selwyn

can help!

Funding is available to groups

or individuals with communitybased

creative projects that

promote arts or culture in

Selwyn.

Applications for this funding

round close at 5pm, Friday 30

August.

Visit www.selwyn.govt.nz/

artsfunding for more information

and to apply.

Lincoln Community Committee

Mon 12 Aug 7pm

Lincoln Event Centre

Rolleston Residents'

Association Inc. AGM

Mon 26 Aug 7.30pm

Rolleston Community Centre

Sheffield/Waddington

Community Committee

Thu 15 Aug 7.30pm

Sheffield Fire Station

Southbridge Advisory Committee

Mon 12 Aug 7pm

Southbridge Hall Meeting Room

Tai Tapu Community Association

Wed 7 Aug 7.30pm

Tai Tapu Hotel Function Room

Waihora Park Reserve

Committee

Tue 6 Aug 7.30pm, Waihora

Bowling Club, Park Road

West Melton District's

Residents' Association

Wed 14 Aug 7.30pm

West Melton Community and

Recreation Centre

Whitecliffs Township and

Domain Committee

Wed 14 Aug 7.30pm

Glentunnel Hall

Did you know the Council manages 30 community water supplies, 14 wastewater networks and 21

urban stormwater schemes – along with 10 land drainage schemes and three water race networks

across the district?

Our water networks have expanded rapidly as Selwyn's population has grown, and the Council faces a

number of challenges in the coming years. These include ensuring the security and quality of drinking

water, and dealing with the wastewater from our growing communities. These and other urban water

issues will be the focus of a presentation by Murray England, Asset Manager Water Services, at the

Selwyn Waihora Zone Committee meeting next week.

Murray will talk about how the Council plans and manages its 5 Waters programme, and outline some

upcoming improvements, such as the extension of the Pines wastewater treatment plant, and treatment

plant upgrades at a number of community water supplies. The talk will also look at how the Council

is implementing a risk-based approach to protecting drinking water schemes with options including

filtration, UV treatment and chlorination as needed.

Members of the Christchurch West Melton Zone Committee will also talking about their Stormwater

Superheroes programme and other community projects.

The Selwyn Waihora Zone Committee meeting will be held on Tuesday 6 August, 2–5pm, at the West

Melton Community and Recreation Centre.

On the roads this week

Reshaping work is occurring on Snowdon Road. Please stop on request at this site.

Drainage work is continuing on Coes Ford to clear the area. Footpath construction is

taking place in Darfield on North Terrace, Currie Street, McIlraith Street, Kimberley Road

and Longdon Road. These footpaths will be closed during the construction.

Selwyn Events

SATURDAY

3

AUGUST

SUNDAY

4

AUGUST

WEDNESDAY

7 & 14

AUGUST

SATURDAY

10

AUGUST

SAT 10 &

SUN 11

AUGUST

WEDNESDAY

14

AUGUST

Daddy Daughter Time

Lincoln Library, 1–3pm

A great time for dads and daughters

to enjoy together and get creative

decorating cupcakes. We have

everything you need, just bring along

your imagination. $10 per family.

Bookings essential at selwynlibraries.

co.nz/events.

Springston Secret Garden

Working Bee

Springston Secret Garden

387b Ellesmere Junction Rd,

10.30am–12pm

A wonderful opportunity to meet

people and enjoy the relaxed,

family friendly, community garden.

The garden is a member of Selwyn

Timebank and volunteers can

earn credits per hour. For more

contact Tina on 021 738 092 or at

springstonsecretgarden@gmail.com.

Confidence Through Styling

7 August: Lincoln Library, 6.30–

8.30pm, 14 August: Leeston

Library, 6.30–8.30pm

Internationally-trained stylist and

beautician with over 15 years of

experience, Vicki – from Beauty and

Style in Leeston – will be sharing

tools for you to gain confidence

with your individual style, dress for

your lifestyle and take the frustration

out of shopping.

Mad Hatter's Tea Party

Darfield Library, 1–3pm

Join in a weird and wonderful

afternoon for all the family, creating

delightfully wacky hat creations

followed by a tea party.

Prebbleton Top 30

photography exhibition

Prebbleton Public Hall, 10am–4pm

A display by Prebbleton Heritage of

30 enlarged photographs showing

the history of the area, plus more

recent photos.

What's new in cancer

research?

Rolleston College auditorium,

5.30–7pm

Hosted by Cancer Society. Come and

find out about the latest in cancer

research from banking cancer tissue

for future research and immune

therapy to breast cancer genetics and

Vitamin C in cancer.

For information on listing a community event visit

www.selwyn.govt.nz/councilcall

Leeston Library & Service Centre

19 Messines Street, Leeston

Ph 347 2871

Lincoln Library & Service Centre

Gerald Street, Lincoln

Ph 347 2876

(03) 347 2800

Darfield call free 318 8338

www.selwyn.govt.nz

SelwynDistrictCouncil
---
16 Wednesday July 31 2019

Latest Christchurch news at www.star.kiwi

SELWYN TIMES

Young archer targets world champs

• By Jacob Page

ROLLESTON College student

Ryley Griffiths is set to become

the youngest known competitor

to take part in the World

Archery Youth Championships

in Spain next month.

The 13-year-old has been

competing in the sport for more

than four years after seeing a

classified advertisement in the

Selwyn Times promoting a havea-go

day.

Ryley has been breaking

records and winning medals ever

since.

He will shoot in the cadet

under-17 grade 60m competition

and will earn his first world

ranking as a result.

"Near the end of 2018, we

were shooting 60m for fun and

then I started shooting some

high scores and at the North

Island champs where I shot a

new personal best when I shot

620 (out of 720 or 72 arrows),"

he said.

"I don't think I fully

understand what I've been able

to accomplish yet, but it is a cool

feeling since most of the people

I'll be competing against will be

16 or 17.

"It all comes down to muscle

memory."

Ryley said it wasn't necessarily

love at first sight for him with the

new sport.

"I'd say my younger brother

TALENTED: Rolleston's Ryley Griffith trains up to 15 hours a week to improve his accuracy.

PHOTO: JANE GRIFFITHS ​

Charlie enjoyed it more than I

did initially."

Four months later at a South

Island tournament, he beat the

national record for an under

10-year-old.

"I started to enjoy it more and

more once I started breaking

records and really got into it,"

Ryley said.

"Most of it is mental, and all

the pressure you put on yourself

when you shoot.

"Some days you shoot national

records, and then other days you

don't go quite as well and you

have to be able to deal with that,"

he said.

Ryley said winning a bronze

medal at the Australian national

competition in March was a

personal highlight.

"The competition was tight so

to get that medal was great."

He normally trains between

10 to 15 hours a week, and he

also swims to help build the core

muscles which he uses to shoot.

"It's a pretty action-packed

week and there isn't much time

SPORT

for anything else. Sometimes you

know when your shot is going

well, you can feel it in warmups."

Ryley is now coached by

Petra Baker under the Archery

Coaching Institute of NZ,

based at Aimtru Archery on

Mandeville Rd, Kaiapoi. She will

also be joining Ryley in Madrid

as coach of the New Zealand

team.

On his return home, training

will begin again immediately at

70m, as he prepares for both the

senior World Cup and Oceania

selection next year. His ultimate

dream is to make the Olympics.

•The world youth champs

start on August 19.

Final Sections

Premium Reserve Frontage

Lots in Rolleston

Register your interest today!

03 281 7517 | sections@prof.co.nz | presonspark.co.nz
---
SELWYN TIMES Latest Christchurch news at www.star.kiwi

Wednesday July 31 2019 17

Greenpark A storm into third round

• By Jacob Page

DEFENDING champions

Greenpark A have gone through

round two of the Selwyn

premier netball competition

unbeaten, giving them the

perfect lead-in to the allimportant

third round next

week.

Over the next five weeks,

teams will battle to make the

semi-finals, with Greenpark

A holding a mental advantage

after beating all their opponents

in their last encounters.

Greenpark A had little

trouble disposing of clubmates

Greenpark B, 67-30, after they

raced out to a 23-2 advantage

and never looked back.

In other matches, West

Melton finished bottom-of-theladder

after a 75-40 defeat at

the hands of third-placed

Broadfield A.

Lincoln A surged into second

after a 63-47 victory over

Southbridge A, which finished

fifth in the second round.

Greenpark A player/coach

Zaylie Sullivan said her team

clicked from the opening

whistle.

"We made the most of our

ball and created turnovers and

capitalised on them as well," she

said.

Greenpark B player/coach

Mechelle Barltrop said her side

let themselves down in the first

quarter. In spite of winning the

second and fourth quarters, the

damage had already been done.

Lincoln A coach Dawn Dalley

said their squad of only eight

players has started to gel at the

right time of year, but she is not

getting over-confident.

"We are seeing the

combinations working a lot

better and when we've made

changes we've been able to push

on. It was a full court 100 per

cent performance," she said.

Dalley praised the work of

Hannah Wilson, Shannon

Corbett and Haley Banks on

attack.

Southbridge A coach Sarah

Ormandy said her team have yet

to find their groove this season,

TOP

FORM:

Lincoln

goal

shoot

Hannah

Wilson

looks to

be hitting

her stride

as the

Selwyn

premier

netball

season

reaches

a crucial

stage.

PHOTO:

KAREN

CASEY

in spite of having plenty of

experienced heads to call on.

Broadfield A coach Yvonne

Crichton-Hill said losing key

defender Eboni Hill to an

ACL injury meant they had to

reshuffle players and plans, but

she is still confident they will

feature strongly in the crucial

stages of the competition over

the next few weeks.

Results: Lincoln A 63,

Southbridge A 47; Broadfield

A 75, West Melton 40;

Greenpark A 67, Greenpark

B 30. Points: Greenpark A 20,

Lincoln A 13, Broadfield A 13,

Greenpark B 12, Southbridge

A 4, West Melton 1.

Stunning first quarter not

enough to win Lincoln Uni

another metro rugby title

Jim Doyle reports on the grand-final which saw Lincoln

University take on High School Old Boys

THEY'VE BEEN through hell

and high water. During the

season, they got knocked down

and they got up again. And again.

And again. At times, they've been

on the bones of their backside just

trying to muster a meaningful

squad of 22. But they still made

the grand-final.

Then came what seemed

to be the cruellest twist. The

Rams were shorn of playmaker

Rameka Poihipi, ace goal-kicker

Sam Gilbert and New Zealand

under-20 standout Cullen

Grace because of pre-season

commitments for Canterbury.

If you don't know or haven't

guessed by now, Lincoln

University were beaten 29-34 by

Old Boys in the metro premier

rugby season's climax at Rugby

Park on Sunday. It was scarcely

believable when the Rams roared

out to 22-0 after just over a

quarter of the game.

Old Boys hit back with a try,

but it came from a chargeddown

clearing kick, rather than

compelling play. And Harrison

Courtney soon negated that in

typical fashion as the Rams laid

siege to Old Boys line. Replacement

back Robbie Polson, one

of Old Boys' best players, scored

from a chip-kick 5min from halftime

but the men in white were

down 12-29 at the break.

Not that they were overly dismayed.

They came out pumped

in the second half, putting the

squeeze on and pretty much

keeping it there. The Rams did

make a staunch bid for victory

in the dying minutes, but things

didn't quite go their way.

Young PJ Latu scored the first

try for the Rams 2min into the

match, scything through off an

Oscar Koller break. About 14min

later Connor Gordon went over

by the posts after a Koller chip

was collected by Fletcher Morgan,

sent on to Luke Donaldson and

then to Gordon.

Soon after Jesse Houston

latched on to a long cut-out pass

and beat the last defender. Courtney

crossed in the 27th-minute

but that was the last for the Rams.

•Scorecard: Old Boys 34

(Mitchell Gibson, Robbie

Polson 2, Josh Michael, Luke

Glen tries; Jarred Percival 3

conv; Lupati Fihaki pen) beat

Lincoln University 29 (PJ

Latu, Connor Gordon, Jesse

Houston, Harrison Courtney

tries; Fletcher Morgan 3 conv,

pen). HT: 12-29

Indulge in...

THIS WEEK AT THE HORNBY CLUB

Our gorgeous range of..

sandwiches, paninis, bagels,

scones, slices, muffins,

quiches, sausage rolls & pies,

coffee and more!

CATERING AVAILABLE!

Gorgeous Food

specialist bakery

OPEN SATURDAY

7am - 1.30pm

66-68 Springs Rd Ph: 344 6044 Email: gorgeousfood@xtra.co.nz

Open Monday-Friday 6am-3.30pm www.gorgeousfood.co.nz

'Famous for their roasts!'

SENIORS SPECIAL

Two courses: $

22

Soup/Roast or Roast/Dessert

Special available lunch only

Monday - Saturday 12pm - 2.30pm

Conditions apply

FAMILY FRIENDLY

Kid's Special

Two courses

Great Kids menu plus

designated play area.

$

13

RESTAURANT & CAFÉ

Open daily from 6.30am - Breakfast, Lunch & Dinner

The

RACECOURSE HOTEL

& Motorlodge

118 Racecourse Rd, Sockburn,

Christchurch. Ph 03 342 7150

www.racecoursehotel.co.nz

CLUB CAFÉ

MID WEEK

LUNCH SPECIAL

ROAST OF THE DAY

WITH VEGES

-OR-

FISH OF THE DAY

WITH CHIPS & SALAD

ADD A DESSERT

FOR JUST $5

TUE | WED | THUR

MIDDAY TO 2PM

ONLY

$12

THIS SATURDAY

4.30PM

BARB

FROM

BARROSS

TICKETS $25

SAT 3 AUGUST

7.30PM IAN MAC

THIS FRIDAY

7PM

JO'S

KARAOKE

Sunday 4 Aug

H ORNBY

WORKINGMEN'S

CLUB

ph 03 349 9026 | 17 Carmen Rd, Hornby

www.hornbywmc.co.nz

Members, guests & affiliates welcome
---
18 Wednesday July 31 2019

Latest Christchurch news at www.star.kiwi

Because... "It's not just a roof"

Celebrating

move to Rolleston

14 Container Dr, Iport, Rolleston

SELWYN TIMES

CS Roofing Canterbury Ltd

At the beginning of this year, CS Roofing

Canterbury Limited celebrated the exciting

milestone of 10 years in the business.

Husband and wife team Nathan and

Jenny Maxwell started a decade ago in

a little porta com with six staff. This

locally owned and operated family

roofing business has gone from strength

to strength in the years they have been

operating. Over the last decade, they have

expanded to employ 50 staff, including

wage staff and contractors. CS Roofing

Canterbury was originally in Birmingham

Drive but as the business grew they moved

into new premises, operating out of

Hornby South for the last five years.

Nathan and Jenny Maxwell outside their

new premises at 14 Container Drive, Iport,

Rolleston.

A new location for the future

Earlier this year, Nathan and Jenny were

excited to move into their purpose-built

building in Iport - the new up-and-coming

industrial area of Rolleston. "The plan was

always to have bigger premises, something

that could cope with the extension in the

business over the years," said Jenny. "We

moved to Rolleston on the 1 April 2019

and it is absolutely fantastic."

Roofing and

cladding products

you can rely on

Proud to

support

CS Roofing

Canterbury

0800 427 663

www.steelandtube.co.nz

Proud suppliers

of CS Roofing

Canterbury Ltd.

1 - 193 Waterloo Road,

Hornby, Christchurch

PO Box 8142, Riccarton,

Christchurch 8041

P. 03 344 6090 F. 03 344 6091

E. sales@nutsandboltsandscrews.co.nz

New Roof, Reroof, Residential, Commercial & Architectural

Because... "It's not just a roof"

Contact us about

your next project.

Ph 03 338 0400

or via our website

www.csroofingcanterbury.co.nz
---
SELWYN TIMES Latest Christchurch news at www.star.kiwi

Wednesday July 31 2019 19

Celebrating

move to Rolleston

14 Container Dr, Iport, Rolleston

Because... "It's not just a roof"

now in Rolleston

CS Roofing Canterbury has been

involved with the roof and wall

cladding of many buildings in Izone,

the industrial area of Rolleston,

over the last eight to nine years,

contributing to the massive growth

in this emergent and exciting

area of Canterbury. Their project

management team has worked on

numerous commercial projects in

their careers. Recently they completed

the building for Coda plus several

commercial buildings currently being

built on this side of the city.

Architectural design

Although CS Roofing Canterbury

predominantly does commercial roofs

they are also experienced in high-end

architectural spaces for residential

houses; designs which are eyecatching

and unique. Architectural

tray roofing is durable, stylish and

sophisticated and can also be used

as a wall cladding. It is designed

to withstand the toughest of New

Zealand climates. "We have seen

an increase in the prevalence of the

use of tray wall cladding in modern

architecture," said Jenny.

Last year, CS Roofing Canterbury

supplied and installed all the tray

wall cladding on the iconic Hoyts

cinema complex in Christchurch's

CBD. Nathan and Jenny are incredibly

proud to be involved with such a

prominent landmark, which stands

at the apogee of the architectural

advancements happening in the inner

city. "It is our flagship project," said

Jenny.

Professional advice and

craftsmanship

CS Roofing Canterbury can offer

advice on any roofing issues for

new or existing homes. Their skilled

craftsmen are extremely competent

to undertake the challenges to ensure

that your roofing project is finished to

a high standard.

A new roof is a great way to give

your home a whole new look, fresh

street appeal and increase your

property's value. A roof doesn't just

keep the rain out, it can completely

transform the aesthetics and

functionality of your home. Outdated

roofs can be vulnerable to problems

caused by severe weather conditions.

CS Roofing Canterbury is a highly

professional company with the

credentials and experience to work

alongside you to create a home

perfectly tailored to your needs,

committed to providing you with

transparent, concise, and regularly

updated communication.

Their core values include

conducting themselves with integrity

and utilising quality products while

providing exceptional service and a

high standard of workmanship.

Give CS Roofing Canterbury a

call on (03)338-0400 for advice or

to request a quote or drop in to see

them at 14 Container Dr, Iport,

Rolleston. You can also visit the

website www.csroofingcanterbury.

co.nz

The Access Equipment

Hire Specialists

www.accessman.co.nz

Proud supplier to

CS Roofing Canterbury Ltd

dimond.co.nz

0800 DIMOND

West Auckland . South Auckland . Blenheim . Christchurch . Christchurch City . Scaffolding

Forkworx . Timaru . Lakes District, Dunedin . Training

so much more

than roofing...

DIM_Support Advert-90x130 PRESS V2.indd 1

26/07/2019 8:52:10 AM

• Longrun Roofing

• Longrun Cladding

• Metal Tiles

• Metal Fencing

• Insulated Panels

• Solar Panels

• Structural Products

Proud to be using

For a free no obligation quote, contact us today!

85 Columbia Ave, Hornby, Christchurch

03 349 7350 | www.metalcraftgroup.co.nz
---
20 Wednesday July 31 2019

Latest Christchurch news at www.star.kiwi

SELWYN TIMES

PETS & PAWS

Daycare, grooming anD

accommoDation for all

Domestic pets

Kirsten

554 Jones Rd, Templeton. Rolleston

Everyday Contact: 03 347 8835

Emergency Contact: 027 942 7278

Email: bunnylodge@xtra.co.nz

www.bunnylodge.co.nz

Loretta Lee, owner of Luxe

Doggy Day Spa, believes in offering

her clients (dogs and owners) a

luxurious and pleasant environment

for dogs at her purpose built salon

in Brookside Road, Rolleston.

She believes their point of

difference is their abiding love,

patience and appreciation for dogs.

They are committed to Humanity

before Vanity, and caring for every

dog trusted into their care. Loretta uses

natural shampoos and conditioners and

other products ideally suited for your type

of dog with state-of-the-art equipment.

Luxe Doggy Day Spa believes education

is vitally important as owners might not be

aware of something their dog needs. With

many new breeds of dogs each has different

needs in order to keep them tidy and

comfortable. They work hard to educate

their clients around maintenance of their

pets and provide honest information and

advice.

TWISTY GLASS &

GLAZING LTD

Formally Stephen Thom Glazing 2012 Ltd

THE CAT DOOR MAN

Pet Door Specialists

GLAZING • All Broken Windows

• Mirrors • Splashbacks

Phone Cushla or Darren Twist

027 352 6225

Groomers who care

Loretta is excited to welcome Linda to

Luxe Doggy Day Spa. She searched to find

a groomer like herself, a caring, gentle, and

experienced groomer with a genuine love

for dogs. Linda studied first year in Vet

Nursing and decided she loved grooming.

Like Loretta she is professionally trained,

committed to continuing her education

and is a member of the New Zealand

Dog Association of New Zealand. Linda's

passion for dogs extends to breeding. She

shows her dogs and has won many awards

across New Zealand and is a great asset for

Luxe.

Loretta and Linda are committed

to always keeping up-to-date with

the latest trends and your dog's

wellbeing is always their first

priority. At Luxe they have a "Luxe

loves Pups" programme where a

mini groom is provided as a gentle

introduction to grooming, advice

regarding maintenance and a Luxe

gift pack given.

At Luxe Loretta and Linda work

hard to maintain their excellent

reputation, as you can see by

the excellent testimonials and

feedback on the website www.luxespa.

co.nz and on their popular Facebook

page. Photos of Loretta's gorgeous doggie

clientele current grooms are posted every

week alongside glowing recommendations

from their owners.

Luxe Doggy Day Spa is a boutique

business that provides the highest

possible level of customer service and

warm empathetic professionalism. They

are located at 217 Brookside Road in

Rolleston, open 9am-3pm during the

winter months.

We are

• Mobile

• Prompt

We provide

• Caring

• Reliable

• Full grooming and clipping

• Wash/dry

• Nail trimming

Your local professional

groomers, Jill & Sophie are

available now to book your

dog/s in for a pampering at

your own home.

DI'S

K9

GROOMING

FULL GROOMS

BATH & TIDY

NAIL

CLIPPING

Call now to seCure your appointment!

0800 454 654

www.jimsdogwash.co.nz

phone:

0274311395

Member of The NZ Dog

Groomers Association

BY APPOINTMENT ONLY

Fresh Quality PetFood

Your local vet right here in the heart of Selwyn!

Selwyn Vet Centre

is a modern, purpose-built totally

independent veterinary practice.

How can we help your precious pet? Call us today!

Phone: 03 347 7419 - Visit: 829 Jones Rd, Rolleston

Email: info@selwynvet.com - Web: www.selwynvet.com

Fresh or Frozen Cat &

Dog FooD & Mixes

• Beef Mince/steak • Chicken Mince • horse Mince/steak

• Veal, hoki, salmon, tripe • steak & Kidney

Also… Beef Offal, Fresh Bones, De-Hydrated products.

i kg Bagged Meats, 5kg Bags, 10kg Cartons, 500gram pottles

*All products are subject to availability and/or seasonal conditions.

nick's Pet Foods

15 Michelle rd, Wigram

Ph 348 9439

text orders 027 210 1621

open hours:

Mon-Fri 8.30am to 5.00pm

sat 9.00am to 1.00pm

(Except public holidays)
---
SELWYN TIMES Latest Christchurch news at www.star.kiwi

Wednesday July 31 2019 21

Pretty hatchback key part of Mazda3 range

Motoring

Ross Kiddie

THERE'S NO sign of the Mazda

Motor Corporation running out

of puff.

By its own admission, the

company was hit hard financially

through floods which forced

three months of cutbacks at its

Hiroshima factories last year.

However, since getting back on

track, Mazda has pumped out

a succession of desirable, high

quality models.

Those cars are also state of the

art, and designed for what current

buyers are looking for. That

statement could be contradictory

given the new Mazda3 has

been launched in a diminishing

market, the sedan/hatchback

sector has lost favour against

sport utility vehicles.

However, I'm of the belief that

there's still plenty of interest in

traditional sedans, and that is

what I'd be looking for if I was in

a position to buy a new vehicle.

The new Mazda3 lands in

hatchback and sedan body styles,

they are each priced the same,

starting at $36,595 and ending

at $48,795. There are two engine

options along the way - 2-litre

or 2.5-litre – each paired to a

traditional six-speed automatic

transmission.

This evaluation focuses on the

entry-level GSX 2-litre hatchback,

and I'd be looking no further, it

certainly appeals to me, and at

around $36k has to be the bargain

of the series.

You wouldn't be disappointed

with the level of specification,

it gets a full suite of safety

technologies, and items for

comfort and convenience are

in abundance. Sure, the cloth

trim doesn't have the appeal of

leather, but for those living in

Christchurch cloth is by far the

more preferable, there's no icy

feeling jumping into the car on a

frosty morning.

In terms of specification, it gets

satellite navigation, keyless entry

and ignition, radar cruise control/

speed limiter, and a host of other

features that Mazda has refined

and incorporated into all of its

models in recent years. That's a

tempting package and, as regular

readers will recall, I've often

remarked on the build quality and

high grade trim materials that are

used on all Mazda product today.

As mentioned, the base model

GSX gets a 1998cc power plant,

it's a naturally-aspirated unit,

what I mean is that it doesn't have

a turbocharger like some other

vehicles in the Mazda line-up.

That's no detraction, this engine

MAZDA3 GSX HATCHBACK: Strong line-up in diminishing market.

is part of the SkyActive range of

Mazda drivelines, highlighted by

good power outputs in relation

to efficiency. The key figures are

114kW and 200Nm, it will also

return a combined cycle fuel

usage average of 6.2-litres per

100km (45mpg).

These are Mazda's claims, and

I wouldn't dispute them. On my

evaluation drive the fuel usage

readout was constantly listing

around 7.8l/100km (36mpg),

with an instantaneous figure

of 6l/100km (47mpg) on offer

with the engine turning over at

1800rpm at 100km/h.

I took the evaluation car

through the twists and turns of

the roads which run parallel to

the Selwyn River, and I can report

it has beautiful handling balance

and high levels of comfort.

The GSX rides on tyres far

from low in profile. At 205/60 x

16in they sit tall on the wheel,

and won't give you the handling

dynamics of the low profile

rubber fitted to high-grade

variants.

However, what they do

give is amazing ride quality,

and the handling is far from

compromised.

Steerage is still direct, and with

a low centre of gravity (body

height just 1435mm) there is

control within the suspension

and relative freedom. I say that

because Mazda has introduced

a new rear suspension into the 3

range.

It came as a bit of a surprise to

learn the old fully-independent

system has been dropped in

favour of a torsion beam type.

I would have considered that

was a backward step, but Mazda

has told me that they have every

confidence in the new design.

In effect, it does work

confidently, and if technical

details don't bother you in a

purchase then you are never

going to tell the difference.

The balance between power

• Price – Mazda3 GSX

hatchback, $36,595

• Dimensions – Length,

4460mm; width,

1795mm; height, 1435mm

• Configuration – Fourcylinder,

front-wheeldrive,

1998cc, 114kW,

200Nm, six-speed

automatic.

• Performance –

0-100km/h, 9sec

• Fuel usage – 6.2l/100km

and handling is manufactured

so that if you want to have a

spirited drive the 2-litre engine

performs admirably, there is

plenty of power on tap, and it has

a complete willingness through

the entire rev band.

If you wish for a spirited

drive there is a sport mode

available at the driver's discretion,

it livens the engine markedly, but

I was more interested in gleaning

good fuel use stats so I used it

only for a short period just for

evaluation purposes only. For the

record, the Mazda3 in this form

will scamper to 100km/h in a

respectable 9sec.

As much as I enjoyed the bold

design of the hatchback – the rear

quarter is simply stunning – I'd be

in the sedan market.

However, I'm well aware that

buyers like sport utility vehicles,

but it's good to see traditional

models are still in the marketplace,

I hope that Mazda is rewarded

through solid sales.
---
22 Wednesday July 31 2019

Latest Christchurch news at www.star.kiwi

MY PRIDE AND JOY

SELWYN TIMES

Two cars in one

Many restored motor vehicles start with parts

uncovered in old sheds or paddocks. Tom Stephens'

1905 Argyll is no exception with it essentially a

compilation of two vehicles and numerous parts

sourced via the bush telegraph of vintage motoring.

A conversation at a dinner party and subsequent visit

to a nearby farm led to Tom discovering the remains

of a Veteran Argyll; uncovered when trees were felled.

At one stage, the Argyll was owned by the Drummond

Dairy Factory Co-operative, converted into a delivery

vehicle after World War One then into a trailer.

Initially, insufficient parts held up the rebuild. Tom

then learned of a second Argyll at a soap work factory

in Wigram. The chassis colour suggested this one had

been a Ballantynes Department Store delivery van.

Tom and his son Chris, with help from friends, took

ten years to build their 1905 Argyll using replica and

second-hand parts. Some Argyll branded parts like an

ignition switch, speedo face, handbook and spanner

were passed onto Tom by other collectors. An engine

was found in a swamp in the Catlins and a radiator

came from Wanganui.

"The mud guards and bonnet were rusty and full of

holes so used as patterns for new parts," explains Tom.

Argyll motor vehicles were originally based on the

Renault design, manufactured in Scotland from 1899

to 1932, and 1976 to around 1990. Tom's Argyll is a

4-door with an Aster 4-cylinder 16/20 HP engine,

constant mesh 3-speed gearbox, and a roi-des-belges

body so has exaggerated bulges. The car's body frame is

wooden and panelled with aluminium. The wheels are

815x105cm (24").

"You sit quite high up above the wheels," adds Tom.

The tyres are special beaded edge requiring 60lb

pressure to avoid them coming off when cornering.

Most modern cars run at about 30-35lb. The tyres

are still available, though handmade and imported so

quite expensive.

"We carry two or three tubes with us when motoring

as the tyres are non-detachable so you have to repair a

flat tyre on the side of the road. Punctures aren't such

a problem as when horses were a common means of

transport, and horseshoe nails lying on the road caused

punctures."

Tom first took the car out on the road in the mid-

1980s and has since done around 10,000 miles. He says

with only rear and no front doors, the wind whistles

through. With the Princess Maroon coloured Argyll a

big car (weighing 1.3 ton) it needs to be crank started,

making it quite challenging to drive. It is son Chris

who does most of the driving these days.

"You could drive the Argyll from Oamaru to

Christchurch in a day. It is comfortable with a cruising

speed of 60kmp though you have to concentrate as

everyone overtakes you," says Tom who adds that his

wife, Jenny always enjoyed the Argyll though not so

much the cold these days.

"We've had a lot of enjoyment over the years."

A test run early in the restoration.

Tom Stephens in his 1905 Argyll

Escort Metal Polishers

Specialists in Metal Polishing & Sandblasting in Christchurch

At Escort Metal Polishers in Christchurch, New Zealand we have over 45 years

experience in polishing, from the engine of your classic car, motorcycle &

marine parts, fittings and fixtures of your home through to commercial and

industrial runs.

We appreciate what it takes to make your car or motorcycle gleam whether

it's just a reshine, polishing up a casting, or preparation for electroplating.

We can do anything from mag wheels to trims, bumpers to manifolds, tappit

covers to exhaust systems, If your parts need electroplated; zinced, nickeled,

chromed or anodised we can even arrange all that for you from our location.

If you've got the metal then we've got the solution! Escort Metal Polishers

provide the best customer service possible and strive to reach the highest

possible level of customer satisfaction.

Call in and see us for a quote.

Mon–Fri: 7am–4pm (often later) | Saturday & Sunday: Closed

21 Maldon St, Christchurch, Phone (03) 366 2708

"south island's leading hot rod shop"

Phone:

0800 872 727

0800 usa PaRts

338 Lincoln Road, Christchurch

P. (03) 379 5585 F. (03) 379 5094

usaparts@americanautoparts.co.nz

www.americanautoparts.co.nz

• Engines

• Performance Parts

• Chassis

• Suspension

• Hot Rod Parts & more

need parts

oVernight?

order by 3pm. Visa ready.

Phone 0800 872 727

We also Cater For Jet Boats & other Motorsports

FREE

TYRE

MONTH

BUY 3 GET

1 FREE *

BUY 1 GET 1

HALF PRICE *

BUY 3 GET

1 FREE *

wE Fix

CaRs,

call us and

we can

fix yours

• Panelbeating

• All insurance

claims

• Sandblasting

• Spray (bake)

painting

• Truck

refinishing

• Windscreen

replacements

• Chassis

straightening

• Motorhome

refinishing

• Loan cars

Bridgestone Tyre Centre - Rolleston

847 Jones Road | 03 347 4702

* Valid for 1-31 August 2019. On selected Bridgestone and Firestone tyres.

Conditions apply. For details visit us in-store or see www.bridgestonetyres.co.nz.

Holland Collision Centre, Rolleston

826 Jones Road, Rolleston, Christchurch

Phone 03 347 8703 Fax 03 347 9576

Mobile 027 228 2854

Email cameron@hollandcollision.co.nz
---
SELWYN TIMES Latest Christchurch news at www.star.kiwi

Wednesday July 31 2019 23

MOTORCARE PROFESSIONALS

Two in one panel beating

Laycock's Collision Centre is located

at 17 Epsom Road in Sockburn

Sometimes the unfortunate happens

and our vehicle gets a dent or we have an

accident. The problem is then how to get

the work completed quickly and to a high

standard.

Scott Jefcoate, owner of Laycock's

Collision Repairs and R O Jones

Panelbeaters, has a keen focus on ensuring

a quality job from the repair of damaged

parts through to final painting.

"I'm proud of the teams at both Laycock's

and R O Jones. They have a great approach

to their work and look after the customer.

They're such hard workers, wanting every

vehicle they work on to look its best," says

Scott.

As a young and enthusiastic business

owner, Scott loves the challenge of running

two highly respected panel beating firms.

His friendly efficient manner and keen

supportive team ensure many happy clients.

The teams at Laycock's Collision Repairs

and R O Jones Panelbeaters are all I-CAR

trained, regularly participating in off-site

industry standard job training. Jobs are

allocated on the basis of an individual's skill

level and with a culture of assisting each

another as well as passing on knowledge,

younger workers learn from the old hands.

Both Laycock's Collision Repairs and R

O Jones Panelbeaters offer the full range of

panel repair services, from collision repairs

to general panel beating and spray painting

no matter what make or model, from the

family car through to commercial fleets.

Laycock's Collision Repairs (located in

Sockburn) and R O Jones Panelbeaters

(situated right in the city centre) are

convenient for people living and working

in the west or city. With a large loan vehicle

fleet, there is no need to be without wheels

while your vehicle is in for panel repairs or

painting.

They have the skills and equipment to

carry out full panel work or simply smooth

out some dents and touch up annoying

scratches. With spray bake ovens at both

outlets and fully qualified tradespeople,

both panel shops have the capacity to sort

the job as quickly as within one week. Two

panel beating outlets also translate to more

resources and skilled tradespeople to call

on, as well as more expertise to draw on for

a tricky or challenging job.

If you need panel repairs or your vehicle

painted, head into R O Jones Panelbeaters

(in the city) or Laycock's Collision Repairs

(in Sockburn). Approved repairers for

most insurance companies, they can assist

with an insurance claim, sorting out the

paperwork and damage assessment before

undertaking a speedy repair (whether your

vehicle is dropped off or towed there).

Call 0800 LAYCOCKS or 0800

ROJONES. Alternatively email: info@

laycocks.co.nz or karl@rojones.co.nz, or

visit www.laycocks.co.nz or www.rojones.

co.nz.

Laycock's Collision Centre is located at

17 Epsom Road in Sockburn while R O

Jones Panelbeaters can be found at 107 St

Asaph Street in Christchurch's city centre.

"We're here to help when your vehicle's in a

bad way," says Scott.

Specialists in Collision Repairs

From small dings to major repairs

3 TRUCKS

3 CARS

3 LUBES

3 SERVICING

3 FLEET WORK

3 BOATS

3 DIESEL INJECTOR

3 & PUMP SERVICING

3 ENGINE TUNING

Mon-Fri 7am-5pm

Sat 8am-12pm (WOFs only)

3 BRAKES

3 MAXXIS TYRES

3 WHEEL ALIGNMENTS

3 BATTERIES

3 WOFs

3 CAMBELTS

AND MUCH

MORE!

839 Jones Road, Rolleston P.O. Box 16 Rolleston

Phone Simon on 347 7110 or Mobile 027 272 9213

• Two great locations

• Collision repair specialists

• Free loan cars and vans

• Insurance repairs, smash repairs,

rust repairs, fibreglassing

• From motorbikes to horse floats

• No job is too big or small

• Open most Saturday mornings

for customer convenience

107 St Asaph St, City Central

www.rojones.co.nz PH 0800 RO JONES

Jones Road auto

ALL YOUR

MOTORING NEEDS

› While You Wait WOF's

› Courtesy Cars

› Diagnostics

› Repairs › Servicing

› Batteries › Tyres

WE HAvE MOvED 131 IPORT Drive

(Cnr Hoskyns & IPORT drive)

Phone 347 4020 | www.jonesroadauto.co.nz
---
24

Wednesday July 31 2019

SELWYN TIMES

Latest Christchurch news at www.star.kiwi

Gardening

Head along to the Lincoln library to get creative decorating cupcakes. Just

take along your imagination. $10 per family. Bookings essential. Saturday at

1-3pm. ​

Babytimes

Lincoln on Wednesday,

9.30-10am, and Rolleston

on Thursday, 9.30-10am

Share rhymes, stories

and songs to support

your baby's early

language development,

communication and social

skills. Take a blanket.

Aimed at those aged up

to one but older siblings

are welcome. Free, weekly

sessions, term-time only.

Lincoln and Rolleston

libraries

Rhymetimes

Rolleston on Wednesday,

9.30-10am, Lincoln on

Tuesday and Friday,

9.30-10am,Leeston on

Tuesday, 10-10.30am,

Darfield on Tuesday,

10.30-11am, West

Melton on Tuesday, 1

0-10.30am

Stories, songs, rhymes

and bubbles make up

this Rhymetimes session,

which is designed to

assist with early language

development. Aimed at

children aged one to

three. Free, weekly

sessions, term-time

only.

Rolleston, Lincoln,

Leeston and Darfield

libraries, and West Melton

Community and Recreation

Centre

Children's Book Club

Rolleston on Thursday,

5-6pm, Darfield on

Monday, 3.30-4.30pm

Share your latest reading

adventures, see the new

books that have arrived

at the library, participate

in an activity and have a

snack. Ages five to 11.

Rolleston and Darfield

libraries

Adult Craft

Darfield on Thursday,

9.30am-noon, Leeston on

Monday, 10am-3pm

Go along to Malvern

material girls or patchwork

plus to craft and have a

chat.

Darfield and Leeston

Libraries

JP Clinics

Rolleston on Monday,

noon-1pm, Lincoln on

Tuesday, 10am-1pm,

Darfield on Wednesday,

11.30am-12.30pm

A justice of the peace will

be available to members of

the community to witness

signatures and documents,

certify document copies,

hear oaths, declarations,

affidavits or affirmations,

as well as sign citizenship,

sponsorship or rates

rebates applications.

Darfield, Lincoln and

Rolleston libraries

Email devon.bolger@starmedia.kiwi by

5pm each Wednesday

Teen Artspace

Darfield on Tuesday,

4.30-6pm

Learn various sewing

projects, upcycling

garments, printmaking,

knitting and much more.

13 years and above.

Darfield Library

Markets

Darfield Market:

Saturday, 9am-noon,

opposite Challenge

Darfield, South Tce.

Market@254: Saturday,

9.30am-1pm, rain or shine,

254 Lawford Rd, West

Melton.

Lincoln Farmers and

Craft Market: Saturday,

10am-1pm, Gerald St.

Running groups

Rolleston Road Runners:

Monday registration from

6.15pm for a 6.30pm start.

2.5km and 5km options in

Foster Park, next to gravel

car park.

Lincoln Road Runners:

Tuesday registration from

5.40pm for a 6pm start.

3km or 6km options. Starts

outside Coffee Culture on

Gerald St.

Malvern Road Runners:

Tuesday registration from

5.45pm for a 6pm start.

1.8km, 3km and 6km

options. Meet at McHughs

Plantation.

Ellesmere Road

Runners: Wednesday

registration from 5.45pm,

starts at 6pm. 3km or 6km

walk or run. Starts from

Leeston Physiotherapy.

Foster Park Run:

Saturday from 7.50am.

Free weekly timed 5km

run, jog or walk. Register

at www.parkrun.co.nz/

foster and don't forget

your barcode. Foster Park,

Rolleston.

Time for lawn care

EARLY AUGUST is the

time to attack the thatch

on your lawns.

Thatch is caused by

several factors, including

grass type, excessive watering,

soil compaction, high

or low soil pH,or overuse

of fertiliser and pesticides.

Remove a core of soil

from the lawn with a trowel

or shovel and measure

the depth of the thatch,

which is the layer of dead

grass above the soil line.

A layer that's 1cm

to 2.5cm thick can be

removed with a stiff lawn

rake. Deeper layers may

require a power rake.

The best time to dethatch

is just before the

grass begins a period of

active growth, which is

usually early spring.

For lawns with more

than an 3cm of thatch,

power rakes or vertical

mowers will need to be

used and can be hired.

Mow the lawn a little

lower than usual. If

needed, water it to moisten

the soil.

If you use a thatching

rake, pull the blade-like

tines across the lawn, cutting

through the thatch.

Work in sections, then

remove the debris.

If you re using a power

rake or vertical mower,

adjust the cutters to slice

just through the thatch

layer. Check cutter depth

after the first metre. Run

the machine in parallel

rows over the lawn and

then again at 90 deg to the

first pass. Remove debris

with a lawn rake.

Over-seed with a goodquality

grass seed to

improve the lawn's health,

vigour, and appearance.

Other tips for early

August

oN sAle Now!

AvAilAble from stAr mediA:

Level One, 359 Lincoln Road

Addington, Christchurch

Phone 379 7100

EDIBLES

• Dig over vacant areas

and leave for frosts to pulverise

the lumps.

Now only

$35.80

Plus $5 P&H per copy

Call in today for your free quote!

$45

Screened soil

Canterbury

Timber & Hardware

Timber Wood Fuel Pellets

20kg Bag for $12.30

NEW ENTRANCE: 167 Manion Road, Rolleston

Jason Pester P 03 347 7465 F 03 347 7032 E jason@cthl.co.nz

Mon-Fri: 7am-5pm Saturday: 8am-12pm

Canterbury

C T H Timber & Hardware

DEAD

GRASS:

Try using a

lawn rake to

attack the

thatch.

• Apply lime to vegetable

garden plots where green

crops were dug to increase

worm activity.

• Spread a general fertiliser

on areas to be planted next

month.

• Check peach, apricot

and nectarine buds frequently.

Spray with copper

before bud burst to protect

against curly leaf. Same

spray for bladder plum.

• In warm areas begin

sowing in a protected position

lettuces, peas, silver

beet and spinach.

• Sow outdoors hardy

herbs, tender herbs under

glass.

• In warm areas or towards

the end of the month sow

under glass courgettes,

eggplants, peppers and

tomatoes.

MAINSCAPE

Garden Supplies

Making your great outdoors greater

SCREENED TOPSOIL

Rollout Lawn

per m³

+ gst

Preparation

Free Delivery

for 5m³ loads

We are here

Spray-on

Mainscape Garden Supplies

is the home of Supa Soil

50/50 Screened soil &

Compost mix

Check out the rest of our landscape supplies online

www.mainscapegardensupplies.co.nz

Call us now

021 241 7908

1543 Springs Rd Lincoln
---
SELWYN TIMES Latest Christchurch news at www.star.kiwi

Wednesday July 31 2019 25

Be in to

BOOK

ONLINE

NOW AND

SAVE!

WIN your

dream

honeymoon

Pre-purchase your

tickets from

withthisring.kiwi

for only $10pp

or get a ticket on

the day for $20pp

weddingshow

sunday 25th August, 2019, 10am–3pm, Air Force Museum, Christchurch
---
26 Wednesday July 31 2019

Latest Christchurch news at www.star.kiwi

Business

Opportunity

Business

Opportunity

For Serious Driven

Individuals.

Take control of your work hours,

your income and your life by

starting your own business.

Full, ongoing training and

support available.

• No Cold Calling or pitching to

friends & family

• NOT MLM

• No stocking or warehousing

products

• Professional & positive

manner essential.

Apply at:

www.trishmckay.com

Complete the form and I will

contact you personally within

24-48 hours via phone for an

interview.

Caravans, Motorhomes

& Traliers

CARAVAN Wanted to

buy. Up to $5000 cash

today 027 488-5284.

For Sale

JERRYCANS x2 20 ltre,

ex army well made & in

good cond, $50 ea, ph 027

549 0048 or 021 363 666

Garage Sales

IRWELL VILLAGE 1121

Leeston Road, Sat from

9am, moving overseas ,

everything must go

Heating

Log Fires

Pellet Fires

Heat Pumps

Sales

Service

Installations

Free Quotes

03 343 1651

472 Blenheim Rd

www.heatstore.co.nz

Pets & Supplies

PUG Puppies , young

adults sell ,027 5533556

AUTO ELECTRICIAN

Ellesmere

Auto

Electrical

• Air Conditioning • Alternators

• Starter Motors • Wiring Repairs

• Diagnostics • Lighting • Batteries

Mobile Auto Electrician

022 644 9664

Select Services

DRIVEWAYS

HARRIS

BULLDOZING LIMITED

Select Services

Full Site and

Lawn Preparation

Landscaping

Roll Out Lawn

Irrigation

Free QuoteS

Contact Scott

0800 4 GRASS or

03 347 5555

sprayongrass.co.nz

RENT ME!

Ideal as an extra

bedroom or office.

no bond required

• Driveways

• Car Parks

• Lifestyle Blocks

• Site Clearing

& General

Earthmoving

Mark 021 345 571

or Paul 021 705 996

Email harrisbull@xtra.co.nz

www.harrisbulldozing.co.nz

All Work Guaranteed

Please phone for a free quote

To Let

Need a hand?

✤ Lawns & Edges

✤ Landscaping

✤ Gardening

✤ Hedge Trimming

✤ Handyman Jobs

✤ Casual or One Off

Phone Mike Lineton

022 341 8848

Your local

Selwyn District

GARDENER/

HANDYMAN

Fully insulated and double glazed for warmth.

Three convenient sizes from $70 a week:

Standard 3.6m x 2.4m

Large 4.2m x 2.4m | Xtra-large 4.8m x 2.4m

Visit our website

www.justcabins.co.nz

for display cabin locations

www.justcabins.co.nz

SELWYN TIMES

Classifieds

Contact us today

Phone our local team 03 379 1100

Farmlands Card Accepted

SHELTERBELT TRIMMING

Boundary

Trimming

Call Tony Dempsey

Phone 03 325 3256

Mobile 0274 323 943

Trades & Services

• Irrigation • Drainage • Driveways

• Auger Hole Drilling

• Land Clearing & Development

• Culvert Installation • Construction Site Works

• Tree & Hedge Removal • Concrete Breaker

Phone Mike: 027 272 8058 OR 03 324 4323 A/H

g.m.contracting@xtra.co.nz

www.gmcontracting.co.nz

•Re Roofing

•Roof Repairs

•Spouting

Approved Age Concern provider

Over 30 years experience

Licensed Building Practitioner

N A BARRELL

ROOFING LTD

Ph: 349 9778 or 0275 389 415

Email: nabroofing@xtra.co.nz

TAI TAPU TYRES

53 Main Rd Tai Tapu

Ph. 03 329 6767

Will better any

other quoted price

Stockists of Kumho, Goodride and

Petlas Tyres, for all cars, 4WD, bikes,

tractors and trucks.

Driveways

Over 22 Years Experience

Quality

Workmanship

• Driveways

• Kerb &

Channel

• Garden Edging

Trades & Services

DECORATORS

New Paint • Repaints

Wallpapering • Fences

Repairs • Feature Walls

Floor & Roof Painting

Spray Painting

Light Commercial

Restoring Timber

Selwyn based but service the whole of Canterbury

www.andertondecorators.co.nz

www.facebook.com/andertondecorators

027 724 6846 027 PAINTIN

SWAINS

KIWI KERB

(Since 2005)

Freephone: 0800 081 400

swainskiwikerb@gmail.com

No job to big or small.

Supply carpet, underlay and garage carpet.

Experienced in installing second hand carpet.

Carpet samples.

Free measure and quote!

Call David 0272319931

www.davidfarmercarpetlayer.co.nz

BUILDING REPAIRS

GIB STOPPING | FENCING

YARD CLEARING / CLEAN UP

SMALL DIGGER WORK

DRIVEWAYS & CONCRETE REPAIRS

RC MAINTENANCE

no job too small

LTD

ROSS CHESTNUT

ROSS Owner CHESTNUT

/ Operator

Owner / Operator

021 969 654

021 969 654

ross@rcmaintenance.co.nz

ross@rcmaintenance.co.nz

PO Box 92010

PO Box 92010

Farringdon, Rolleston

Farringdon

Rolleston 7650

Excavations

BUILDING REPAIRS | GIBB STOPPING | YARD CLEARING / CLEAN UP

SMALL DIGGER WORK | FENCING | DRIVEWAYS & CONCRETE REPAIRS

• Driveways

• Car Parks

• Site Cleaning

• Demolition

• Farm Tracks

• Drain Cleaning

• Stump & Hedge

Removal

• Ashpalt Concrete

Trades & Services

Wide range

oF TruckS

• Tennis Courts &

Swimming Pools

• Chip Seal Driveways

• Diggers – 2 Ton

up to 20 Ton

• Excavators

• Bobcat & Drilling

• For Posthole &

Fence hole

For a Free Quote

on your next project

Phone Steve on 021 338 247

or 325 7922

Free

QuoTe

GARAGE DOORS

The Genuine

Custom Made Garage

Door Professionals

0800 661 366

info@custommade.co.nz

Auckland, Christchurch, Wanaka

www.custommade.co.nz

Non-Service Cremation $1,745

Commital service with cremation $3,950

Chapel service with cremation $6,500

Family burial service from $3,400

Just Funerals, a family owned and

operated company with qualified,

registered and experienced staff.

Phone 0800 804 663 - 24 Hour Availability

Email: info@justfunerals.co.nz

christchurch.justfunerals.co.nz

Trades & Services

Lawn mowing

Hedge trimming

Gardening

Weed eating

Spraying

and much more

Call Todd

0212059543

toddmc.greenacres@gmail.com

EST.

1979

ARTHUR'S

Roof & Property

Moss Kill & Proof

Silicone Sealing

Roof Repairs

40% off

03-347-2635

arthursroofandproperty.co.nz

DiscounteD

Flooring

carpet + Vinyl

Mobile service

Phone

Ben Wilson

Flooring

For a Free

measure & quote

027 343 3260

yourfloors.nz@gmail.com

UDI PAINTING &

DECORATING

For all painting and

decorating services.

Fully Qualified

• Interior &

Exterior Painting

• Wallpapering

• Plastering

• Roof Painting

All work guaranteed

FREE QUOTES

Contact Udi Aale

Ph. 021 074 2075
---
SELWYN TIMES Latest Christchurch news at www.star.kiwi

Wednesday July 31 2019 27

Classifieds

Trades & Services

PLUMBER

New housing

Renovations

General maintenance

Hot water cylinders

Gas hot water conversions

Competitive rates

Free quotes

Phone: 021 403 470

Email: scott@scottsplumbing.nz

Trades & Services

ACE HIGH

PLUMBING

e

l

A

All Plumbing

p

Gasfitting

Drainlaying

Blocked Drains

Log Fires,

Wetbacks

Gas Hotwater

Phone

021 454 864

h

T

u

t

o

r

P rim ary Secondary Tertiary

i

n

g

Tuition

Classifieds

03 379 1100

Aleph

Tutoring

Local tutoring service

based in Prebbleton

Individualised, Personalised Program

Qualified, Experienced Tutor

• Primary School • High School,

• University • Adults

SPECIAL OFFER

Pay for 9 sessions, get 1 FREE

$40 PER HOUR Ph: 03 321 7263

Email: jennie@alephtutoring.co.nz

www.alephtutoring.co.nz

Vehicles Wanted

Trades & Services

BUILDER QUALIFIED

Decks, T & G Flooring,

Villa Restoring, New

Homes, Weatherboards.

Free Quotes. Bennet &

Sons Ltd Sam 027 496-

9362 or Tony 027 224-

0374

BUILDER

Local builder with 35

years exp in all types of

building - from concrete

work to finishing. Also

some gib stopping and

painting. Selwyn based.

High quality work with

careful attention to detail.

Happy to quote. Phone/

Txt Bruce 027 274

2792. Licensed Building

Practitioner (LBP).

CAR REMOVALS

$$CASH PAID$$

CARS, VANS, UTES

& 4X4 WANTED

NZ OWNED

AND

OPERATED

FOR

24 YEARS

We use world class vehicle

depollution systems

0800 8200 600

www.pickapart.co.nz

Trades & Services

CARPENTER

HANDYMAN

Small Job Specialists,

Carpentry, Repairs,

Decking & Maintenance,

40 years experience, no

job too small, Ph Warren

03 322-1103 or 027 697-

8541

CARPET & VINYL

LAYINg

Exp. Repairs, uplifting,

relaying, restretching.

Email jflattery@xtra.co.nz

ph 0800 003 181 or 027

2407416

CARRS CHIMNEY

CLEANINg

18 yrs exp. $60 a chimney.

Ph Rodney on 03 324 2999

and leave a message

CONCRETE CUTTINg

Affordable Concrete

Cutting with Quality, and

removal work. Free quote.

No job to small. Phone 027

442-2219, Fax 359-6052

a/h 359- 4605

FENCINg

Quality timber fencing -

gates & repairs, ph Ryan

027 951 8892

Bellamy's

Furniture

Furniture made to

order and restoration

by tradesman with

35yrs experience.

PH Stephen

021 073 2624

LANDSCAPINg

Paving, Lawns, Irrigation,

Decking, Fencing.

Kanga & small digger

services. Check out Squire

Landscaping on facebook.

FREE QUOTES. Ph

Arthur 347-8796, 027

220-7014 Edwin 027 220-

7154

MASONRY

DAMAgED

MASONRY?? Rock and

Blocks Work Ltd for all

your brick, block and tile

laying needs. Friendly

service Licensed Building

Practitioner phone Devon

on 021 375-888 or 03 329-

5511

RJB PLUMBINg

Renovations, New Houses,

Hot Water Cylinders,

Kitchens Bathroom

Upgrades, Laundries,

General Maintenance ,

Water Filters. Phone Mark

0278690026

SHEEP SHEARINg

MOBILE

Fast friendly professional

service. 25 yrs exp.

Shearing, drenching, hoof

trimming etc. Call Shaun

021 204 1274

STUMP gRINDINg

Best price guarantee Tony

0275 588 895

TILINg

Flooring - Splashbacks

-Wall incl tile removal, reg

master tiler, ph Dave 027

334 4125

WINDOW CLEANINg

Brown & White Ltd.

Family owned since 2001.

Ph Paul 027 229 3534

Wanted To Buy

TOOLS Garden,

garage, woodworking,

mechanical, engineering,

sawbenches, lathes, cash

buyer, ph 355-2045

TOOLS Garden,

garage, woodworking,

mechanical, engineering,

sawbenches, lathes, cash

buyer, ph 355-2045

Contact us today

Lemonwood Grove | Te Uru Tarata

Deputy Principal

(5 management units. At least 0.6 release.)

An amazing opportunity awaits an inspiring leader to join

our growing team. Our innovative and collaborative school

opened in 2017 and according to ERO (2018) is 'very well

placed to provide for students'. This pivotal role in our

school would be suitable for an educationalist who is

passionate about our WHY. A desire to work with a great

school community who are committed to providing the

very best learning opportunities for our tamariki is a must!

If you have the knowledge, skills and attitude to make a

big difference we would like to hear from you! Starts 14

October 2019.

Applications close Friday 16 August at 5pm. Visits are

encouraged. Please send your covering letter, CV and

application form (found on our website) to office@

lemonwoodgrove.school.nz. Creative, digital applications

only please. Please visit

www.lemonwoodgrove.school.nz/vacancies

for more information.

Situations Vacant

Public Notices

Situations Vacant

DRIVETECH LTD

"TRAINING TOMORROWS DRIVERS TODAY"

HEAVY TRAFFIC, Forklift

Endorsement (F & OSH)

Interest Free Time Payments

(Terms and conditions apply)

CAR DRIVINg LESSONS

Train with a knowledgeable, experienced assessor that will

work with you through your theory and practical steps.

Courses in Christchurch, Invercargill, Cromwell

& Mosgiel daily. Other areas by arangement.

OTHER COURSES/LICENCES &

ENDORSEMENTS AVAILABLE ARE:

Class 2, 3, 4 & 5 Vehicle Recovery, Wheels, Tracks,

Rollers & Dangerous Goods.

Driving related Health & Safety training.

Passenger, Logbook & Load Security training.

FREEPHONE 0508 2 DRIVE (37483) or 03 348 8481

info@drivetech.co.nz / www.drivetech.co.nz

ANNUAL GENERAL MEETING

26TH AUGUST 2019

7.30pm - Rolleston Community Centre

Rolleston Drive, Rolleston

If you wish to be become the Chairperson, Vice

Chairperson, Secretary, Treasurer or a Committee

Member, our AGM is the place to register your interest.

One of the main purposes of the Association is to

provide, or assist in the provision of facilities, for

community purposes in the Rolleton Township. We

receive funding from the Selwyn District Council

annually to do this.

Leonie MacLachlan, Chairperson

Rolleston Residents Association Inc

Public Notices

SpringSton

tenniS Club

A.g.M.

Springston Domain

Wednesday 7th

August 7.30pm

Contact

Tania Howson 347-6083

Alison Langdon 347-6111

all welcome

Rolleston Tennis Club

AGM

To be held on the

22 July @ 7.30pm

At

Wednesday

the Rolleston

7 August Tennis Pavilion 7.30pm

All Tennis Welcome Pavillion

Rolleston Reserve

Apologies, phone

Janine Contact 021 0230 Janine 1451

027 Visit our 247 website: 7015

www.sportsground.co.nz/

All rollestontennis Welcome

Show

home

Guide

Touchstone Homes

Falcons Landing Rolleston

15 Falcon Road, Rolleston

Open Wednesday to Sunday

10pm - 4pm

03 961 6046

www.touchstonehomes.co.nz

Jennian Homes

Canterbury North

Rolleston

7 Lemonwood Drive, Faringdon

Open Wednesday to Sunday

12pm - 4pm

Rangiora

9 Westpark Boulevard

Open Wednesday to Sunday

12pm - 4pm

www.jennian.co.nz

First Homes - Christchurch

St Albans

39 Sherborne Street

Open Tuesday to Saturday

10am - 4pm

021 575 545

chchsales@firsthomes.co.nz

www.firsthomes.co.nz

Signature Homes

Rolleston

97 Ledbury Drive, Faringdon

Open Wednesday to Sunday

12pm - 4pm

Prestons Park

37 & 39 Prestons Park Drive

Marshland, Christchurch

Both open Wednesday to

Sunday 12pm - 4pm

Show Room/Office:

31 Watts Road, Sockburn

0800 8444 88 or 03 3427788

www.signature.co.nz

To advertise in

The Showhome Guide

Contact Elaine: (03) 364 7436

elaine.moon@starmedia.kiwi
---
28 Wednesday July 31 2019

Latest Christchurch news at www.star.kiwi

M-A

MATSON & ALLAN

REAL ESTATE LIMITED

'The

Selwyn

Experts'

SELWYN TIMES

Residential

Lifestyle

Rural Property

Licensed REAA2008

NEw LISTINg

OPEN HOME

OPEN HOME

ROLLESTON - 118 Lowes Road

A WINNING LOCATION EVERYTIME

• Four double bedrooms

• Large master with WIR & ensuite

• Two separate living areas

• Separate dining area

• Stylish well-appointed kitchen

• Fabulous orientation

• Family bathroom with separate toilet

• Pellet fire & DVS system

• Fantastic outdoor entertaining area

• Large private & established section

• Clearview school zone

Viewing: Sun 11.45am – 12.15pm

Price: Neg Over $520,000

View: www.marealestate.co.nz/MA0589

Jackie Derrick

027 636 3576

jackie@marealestate.co.nz

ROLLESTON - 7 Bradbury Avenue

INSTANTLY APPEALING FAMILY HOME

• Striking family home

• Four double bedrooms

• Tw o separate living areas and versatile study

• Stylish well-appointed kitchen with walk in pantry

• Reputable appliances

• Large master bedroom

• Ensuite and walk in robe

• Separate laundry

• Designated trailer parking

• Fantastic outdoor entertaining area

• Private and secure 759m 2 section

Viewing: Sun 12.30pm – 1.00pm

Price: Neg Over $619,000

View: www.marealestate.co.nz/MA0583

Jackie Derrick

027 636 3576

jackie@marealestate.co.nz

NEw LISTINg

OPEN HOME

OPEN HOME

SPRINgSTON - 452A Ellesmere Junction Road

STUNNING LINEA HOME PACKED WITH FEATURES

• Just completed 2019

• Three double bedrooms

• Spacious master bedroom with walk in robe/ensuite

• Two large separate living areas

• Study nook

• Sensational well-appointed kitchen & walk in pantry

• Wine fridge & security system

• Underfloor tile heating in bathroom & ensuite

• Quality fixtures & fittings

• Fantastic orientation for the sun

• Larger than most 956m 2 section, superb location

Viewing: Sun 2.15pm – 2.45pm

Price: Neg Over $639,000

View: www.marealestate.co.nz/MA0590

Jackie Derrick

027 636 3576

jackie@marealestate.co.nz

ROLLESTON - 2 Boulez Mews

AN OUTSTANDING LARGE SCALE PROPERTY

• Substantial property

• Five double bedrooms

• Three living areas

• Stylish well-appointed kitchen

• Stone bench tops and quality appliances

• Large master bedroom with sitting area

• Dual walk in robes

• Separate laundry

• Fantastic outdoor entertaining areas

• Established 1714m 2 section

Viewing: Sun 1.15pm – 1.45pm

Price: Neg Over $779,000

View: www.marealestate.co.nz/MA0582

Jackie Derrick

027 636 3576

jackie@marealestate.co.nz

OPEN HOME

OPEN HOME

ROLLESTON - 90 Lowes Road

LOWE & BEHOLD

• 190m 2 "Today Homes" on 843m 2 fenced section

• 4 bedrooms, ensuite, WIR, bathroom & separate toilet

• Functional open plan living with separate lounge

• Great indoor/outdoor flow to north facing section

• Gas fire, heat pump, LED lighting

• New bench tops, recent painting & carpet throughout

• Double internal access garage with laundry, new XL

size garden shed

• Located on bus route, 800 meters to Rolleston

Township

• Zoned Clearview Primary School & Rolleston College

Viewing: Sun 1.00pm – 1.30pm

Price: Neg Over $517,000

View: www.marealestate.co.nz/MA0575

Jo Barrett

021 859 006

jo@marealestate.co.nz

ROLLESTON - 784 East Maddisons Road

FEEL THE CHARM ON 1540M 2

• Renovated three bedroom family home

• Modern open plan kitchen/living areas

• Extra-large sunny deck

• Master with ensuite

• Feature main bathroom

• 2 x heatpumps

• Log burner with wetback

• 1540m 2 section

• 2 car internal access garage plus car port

Viewing: Sun 12.15pm – 12.45pm

Price: Neg Over $570,000

View: www.marealestate.co.nz/MA0574

Jo Barrett

021 859 006

jo@marealestate.co.nz

ROLLESTON PH: 03 347 9949 LEESTON PH: 03 324 3704 DARFIELD PH: 03 318 8204 www.marealestate.co.nz

Chris Flanagan

027 433 4657

Andrew Taylor

027 435 5930

Jackie Derrick

027 636 3576

Jo Barrett

021 859 006

Stephan Knowler

027 229 9522

Cameron McRae

027 769 6696

Paul Robinson

021 277 2690

Juliet Flanagan

027 490 8019

Connie van der Klei

021 449 174
---
SELWYN TIMES Latest Christchurch news at www.star.kiwi

Wednesday July 31 2019 29

You're invited to the party

Renovation celebrations are kicking off at

Westfield Riccarton Food Court
---
30 Wednesday July 31 2019

Latest Christchurch news at www.star.kiwi

SELWYN TIMES

Let's celebrate

Come on down for face painting, balloon twisting,

musical entertainment and more.

1-2 AUGUST

8-9 AUGUST

| 5PM-8PM

| 5PM-8PM

See you in the Food Court
---
SELWYN TIMES Latest Christchurch news at www.star.kiwi

Wednesday July 31 2019 31
---
32 Wednesday July 31 2019

Latest Christchurch news at www.star.kiwi

SELWYN TIMES
---
tHe BeSt PRoPeRtieS AcRoSS

tHe SeLWYn DiStRict

INSIDE

PUBLiSHeD eVeRY WeDneSDAY

Week commencing WeDneSDAY, 31St JULY , 2019

NEw listiNg

OPEN HOME

Kingsize Family Living

Completed in 2017 is this stunning 271m2 West Melton

home, situated on a 1008m2 fenced section. Appointed with

quality appliances, granite sink, engineered stone benches,

walk in pantry and plumbed double fridge cavity space, this

property offers spacious and functional open plan living

with separate media room/lounge, study nook, four large

bedrooms, walk through robe, high spec ensuite and family

bathroom (underfloor heating), large laundry with built in

hamper bins and stone bench top, 8.5m2 x 6m2 internal access

garage with drive through access to an extensive practical

concrete work yard/additional parking area. There is plenty of

internal storage to cater for your family's needs, and further

convenience with attic storage via the pull down ladder. Great

heating options are available in this residence with a 26kw

stand-alone fire, or 16kw ducted heating.

Planned with an interactive and practical layout the open

plan kitchen, dining and living areas allow family and friends

excellent space in the designated areas to relax and enjoy in

the quality of this home. Suited for those who enjoy lots of

outdoor space &/or for garden lovers who will enjoy raised

garden beds, young fruit trees, green house, cedar clad

woodshed, and the clever environment friendly watering

system.

M-A

MATSON & ALLAN

REAL ESTATE LIMITED

neg over

$815,000

www.marealestate.co.nz/MA0586

Jo Barrett

Contact:

021 859 006

jo@marealestate.co.nz

31 Kingsdowne drive, west MeLton open HoMe sun 3.00pM – 3.30pM

M-A

MATSON & ALLAN

REAL ESTATE LIMITED

Thinking of Selling?

For Trusted Reputation, Local Knowledge and Experience

M-A

MATSON & ALLAN

REAL ESTATE LIMITED

Chris Flanagan

027 433 4657

Andrew Taylor

027 435 5930

Jackie Derrick

027 636 3576

Jo Barrett

021 859 006

Stephan Knowler

027 229 9522

Cameron McRae

027 769 6696

Our agents are highly experienced, passionate about property and know the market they are working in.

Call today, we would be delighted to assist with a free no obligation appraisal and to discuss your options.

ROLLESTON P: 03 347 9949 | DARFIELD P: 03 318 8204 | LEESTON P: 03 324 3704 | www. marealestate.co.nz

Paul Robinson

021 277 2690
---
2

MOTIVATED VENDOR

Boundary lines are indicative only

Prebbleton 4 Skara Brae

Purau 16 Camp Bay Road

Owners on the move!

5 4 3 6

Often sought, seldom found

Offering exceptional privacy and space within an easy

commute to the city. Genuinely motivated owners

have made it very clear, this property needs to be sold

on auction day if not before! 731sqm (approx) home

on a huge 5,007sqm section amongst other quality

properties. Professionally landscaped grounds. The

supersized garaging (two are extra height) will

impress motor enthusiasts, tradespeople, hobbyists or

those wanting to work from home. Above the

garaging is a fully self-contained apartment with

independent access.

Auction (unless sold prior) 12pm, Fri 16 Aug 2019

3 Deans Ave, Chch

View Sun 2.30-3pm

Nathan Collett 027 826 1535

nathan.collett@bayleys.co.nz

Chris Jones 027 220 5043

chris.jones@bayleys.co.nz

WHALAN AND PARTNERS LTD, BAYLEYS, LICENSED REAA 2008

From sunrise to sunset, it doesn't get much better than

this. With a building site, the dramatic coastline of

Banks Peninsula, million-dollar views over Purau Bay

and across to Lyttelton, this is an exclusive

opportunity to secure a spectacular 15.3 hectare

property for your family to enjoy for generations to

come. Purau Bay is a safe bay for families to enjoy

sailing or fishing, paddle-boarding or kayaking, or

simply watching the world go by. Just 45 minutes'

drive from Christchurch City. Don't delay viewing,

contact us for further information.

Deadline Sale (unless sold prior)

1pm, Tue 13 Aug 2019

View by appointment

Chris Jones 027 220 5043

chris.jones@bayleys.co.nz

Sarah Eastmond 027 234 2607

sarah.eastmond@bayleys.co.nz

WHALAN AND PARTNERS LTD, BAYLEYS, LICENSED REAA 2008

bayleys.co.nz/559813

bayleys.co.nz/5510482

NEW LISTING

Boundary lines are indicative only

Tai Tapu 26 Davis Road

'Manatu' – Dare to compare

Designed to be anything but ordinary, this 4 hectare lifestyle property delivers tranquillity within idyllic surrounds

that feature the distant silhouette of the Port Hills. The over-engineered home provides peace of mind and has a

long list of features. A one bedroom, self-contained apartment with its own access currently returns $300 per week.

Park-like, the grounds have 10,000 (approx) native trees peppered throughout. Located just minutes by car from

the schools and amenities in Lincoln and Tai Tapu while a commute into the city will take you around 25 minutes. No

detail has been overlooked in producing this outstanding property that truly maximises its natural surroundings.

Place this stunner at the top of your viewing list today!

bayleys.co.nz/5510534

5+1 2 3 2

Deadline Sale 1pm, Wed 21 Aug 2019

View Sun 12-12.30pm

Chris Jones 027 220 5043

chris.jones@bayleys.co.nz

Sam Sidey 027 346 3500

sam.sidey@bayleys.co.nz

WHALAN AND PARTNERS LTD, BAYLEYS, LICENSED UNDER THE REA ACT 2008

bayleys.co.nz
---
3

RURAL | LIFESTYLE | RESIDENTIAL

PRICE REDUCED

NEW LISTING

DARFIELD 212 Horndon Street

First Home or Investment

Permanent material home on a large section, west facing to

capture the afternoon sun. Large lounge with heat pump

and log fire, modern kitchen and dining area. Two bedrooms,

laundry, family bathroom, and separate toilet. Single

garage, garden shed and well fenced for children or pets.

$390,000

GST Inclusive

VIEW By Appointment Only

Min Cookson

M 027 249 5417

E min.cookson@pggwrightson.co.nz

pggwre.co.nz/DAR30791

NEW LISTING

TAI TAPU

Price Reduction - Action Required

• This is exceptional value for money in a fantastic

location

• Large homestead set in a private country setting

on 4.06 hectares

• Five bedrooms, four bathrooms, formal dining

room, two lounges, kitchen/family room

• Master bedroom has 'his and hers' walk-in

wardrobes and en suites

• Swimming pool and spa with changing rooms

• Large garage, deer yards and selling auditorium

5 4

ENQUIRIES OVER $1.55M

Plus GST (if any)

VIEW By Appointment Only

Sam Davidson

M 027 488 8269

E sdavidson@pggwrightson.co.nz

COALGATE Homebush Road

Opportunity Knocks

4047sqm section with hedged Leylands surrounding it, a

very tidy offering with great building sites. Access is by way

of a paper road over private property. Title is CB32A/1254,

an old title that was once landlocked by the Council closing

a road. There are no covenants on the land.

$160,000

GST Inclusive

VIEW By Appointment Only

Min Cookson

M 027 249 5417

E min.cookson@pggwrightson.co.nz

pggwre.co.nz/CHR26857

pggwre.co.nz/DAR30777

PGG Wrightson Real Estate Limited, licensed under REAA 2008

Helping grow the country

REAL ESTATE SPECIALISTS

30 Burnham School Road, Rolleston

33 Sutherland Drive, Kaiapoi

OFFeRS OveR $445,000

Home Sweet Home – Move Right In!

Vacant and available for immediate possession, this

fantastic easy-care home offers comfort, style and

relaxed living. Stylish and beautifully presented, the

modern kitchen features a fabulous walk-in pantry while

the open plan layout creates a functional communal

area that includes kitchen, dining and lounge and

connects to the outdoor living via sliding doors. Three

bedrooms includes a master with ensuite and walk

in robe. Located within a short distance of Woodend

Beach and Kaiapoi Lakes Reserve, here you're spoiled

for choice of outdoor weekend activities close to home

while remaining within an easy 30-minute commute of

the central city. Act quickly to avoid disappointment -

contact Mike now to arrange to view.

Set Date of Sale: all offers to be presented 5pm, 14th

August (unless sold prior)

OFFeRS OveR $539,000

Family Living at it's Best!

North-west facing for optimal sun, this 184sqm 4 bedroom, 2 bathroom home on 871sqm is the perfect

family abode! With 2 livings areas and a great sized patio entertaining is a breeze. Fully fenced and secure

for kids and pets, the grounds present a blank canvas for those who wish to enhance and develop the

gardens to suit your lifestyle. Vehicle storage and space for tools, toys and the trappings of family life is

catered for by the double internal access garage & a separate walk-through laundry completes the superbly

practical layout.

This is an opportunity not to be missed for those looking for a quality family home in a great

neighbourhood, contact Mike today to arrange your appointment to view.

Set Date of Sale: All offers to be presented 5pm, 7th August (unless sold prior)

983 Old West Coast Rd, West Melton

OFFeRS OveR $925,000

Live the Good Life!

Reap the benefits of country living! This expansive

5 bedroom, 2 bathroom family home on a fabulous

lifestyle property is just a short commute to the city.

The 4.7ha well-equipped lifestyle property has a stock

ramp (mobile yards negotiable), lockup tack room &

six loose boxes. Each paddock includes stock water

troughs & electric fencing. Storage & water are catered

for with a lockable 6x9 workshop, a 3 bay barn, a

15,000-litre water tank & a 50m well.

Call Mike today for more information and your chance

to view.

Set Sale: All offers to be presented 5pm, 8th August

(unless sold prior)

68 Rolleston Drive, Rolleston

0800 645 346

www.oneagencyres.co.nz

Mike Goatley

027 249 5561

elyse Campbell

021 187 6217

Deepak Gangar

021 227 9563

Nicola Curtis

Administrator

Julz Sibbe

Administrator

Real Estate Specialists Ltd Licenced REAA (2008)
---
4

We

Selwyn

We love our customers

We value our team

We're dedicated to Selwyn.
---
5
---
6
---
7
---
8
---
9
---
10

Four Seasons Realty 2017 Ltd | Licensed Agent REAA 2008

Contributor to realestate.co.nz

Your home for local property

harcourts.co.nz
---
11

NEW ZEALANDERS

TRUST

Voted Reader's Digest

MOST TRUSTED REAL ESTATE BRAND

SEVEN YEARS RUNNING

Four Seasons Realty 2017 Ltd | Licensed Agent REAA 2008

Your home for local property
---
12

Hastings McLeod Limited Licensed under the Real Estate Agents Act 2008 6 Tennyson Street ROLLESTON rolleston@pb.co.nz 03 929 0306

Lifestyle & Pet Business opportunity!

LINCOLN

518 River Road

An exciting opportunity has become available for a lucky

purchaser. My vendor has established and grown this

amazing business, with the flexibility to choose hours

that work for you. Situated on the outskirts of Lincoln,

this business will take a pet loving, compassionate

person. Set on a tranquil 2 acre lifestyle block this

incredible package includes the tidy home with 3

bedrooms and office. A quaint log cottage is the

peaceful reception room for "Loving Tributes" - a well

known and highly regarded pet cremation business.

There is a dove cote in the cottage garden where white

doves coo, as families bring beloved pets to their final

Modern, Refined and Superbly Designed

goodbye. This truly is an exciting and rare opportunity

and early interest is expected. Full training and support

will be given. Due to the nature of the onsite business,

viewings are strictly by appointment only at a time which

suits my vendor. Please contact Angela Hunt for more

information, or to arrange your inspection.

NEW LISTING

VIEW By Appointment

Cute, Cute, Cute!

WEB ID ROL69052

FROM $799,000 + GST (IF ANY)

Angela Hunt

Mobile 021 548 777

angela.hunt@pb.co.nz

$345,000

WEB ID LEU69294

SOUTHBRIDGE

2 Lee Street

This 3 bedroom home has been lovingly renovated and

decorated with neutral tones and has new carpet, vinyl,

drapes and even a new heat-pump! The kitchen is a

large `farm-style` allowing the space to spend `good

times around the table`. French doors open from the

lounge onto a bricked private outdoor living area with

established plantings and a fish pond. This property is

fully fenced and gated and, is ideally located close to

Southbridge`s cafe, shops, pool and sports-ground and,

it`s not even a hop, skip or jump to the local primary

school!

VIEW By Appointment

3

1

2

3

NEW LISTING

Penny Dadson-Clausen

Mobile 027 895 5943

Office 03 929 0306

pennyd@pb.co.nz

1

4

WEB ID DFL69265

KIRWEE

20 Crozier Drive

Contemporary and architectural in a location simply

exceptional where spectacular alpine views fill

picturewindows and social zones freely transition to

inspired outdoor living.

•Open plan kitchen, dining and lounge

•Covered / exposed outside entertaining areas

•Wet-backed wood-burner plus heat-pump

•Master ensuite, walk-thru robe & private balcony

•6,899sqm fully fenced section, 2 paddocks

•7x9m powered and lined detached garage

An astute investment in Kirwee where local schools and

essentials are only minutes away!

NEW LISTING

VIEW 4 & 11 Aug 2.15 - 2.45pm

Amy Jones

Mobile 021 077 9945

amy.jones@pb.co.nz

BUYERS $785,000+

3

2

4+

Grazing/finishing options

NEW LISTING

FROM $3,000,000 + GST (IF ANY)

WEB ID DFR69314

OXFORD

379 Parish Road

Versatile 116-hectare property located near Oxford in

the Waimakariri District, some 60kms from Christchurch

City. Suitable for a wide range of pastoral operations

including but not limited to deer, dairy support or sheep

and beef finishing. The property enjoys partial irrigation

from the Waimakariri irrigation scheme applied via

centre pivot. Improvements feature a tidy 4 bedroom

permanent material home plus a wide range of farm

outbuildings. An excellent opportunity for larger foothill

breeding operations looking to capture the finishing

margins.

VIEW By Appointment

Gareth Cox

Mobile 021 250 9714

gareth@pb.co.nz

4

2

pb.co.nz
---
13

Hastings McLeod Limited Licensed under the Real Estate Agents Act 2008 6 Tennyson Street ROLLESTON rolleston@pb.co.nz Office 03 929 0306

Deceased Estate

DEADLINE SALE

WEB ID ROU69405

HEI HEI

181 Buchanans Road

Calling First home buyers! DIYers! Builders! Price guide

$225,000- $300,000. Check out your opportunity to

secure this wee gem of a home.

VIEW Sunday 4 Aug 11.00 - 11.30am

DEADLINE SALE closes Wednesday 14th

August, 2019 at 1.00pm

NEW LISTING

New beginnings!

Angela Hunt

Mobile 021 548 777

angela.hunt@pb.co.nz

April Nicholls

Mobile 027 737 6474

april@pb.co.nz

2

1

1

$369,000

WEB ID ROU68874

LEESTON

6 Spring Place

If you are looking for a fantastic 3 bedroom property in

a quiet well sort after cul de-sac, with a generous

911m2 section then come and take a look at 6 Spring

Place. The cosy open plan living/dining gets fantastic all

day sun. The house is heated with a Firenzo fire with a

heat transfer and ceiling fan to move the heat around.

There are 3 double bedrooms, The master bedroom is a

great size with plenty of storage and wardrobe space.

This property has been a great first home but my

vendors have their eyes set on their next move and

invite all offers.

VIEW Sunday 4 Aug 2.15 - 2.45pm

3

Don't get cold feet

over a winter sale!

List with us this winter and we'll keep you

warm with a $300 voucher to use towards

cleaning, gardening or water blasting, to get

your property looking its absolute best!

Avoid the extra competition and get your

property listed before the spring rush.

NEW LISTING

Angela Hunt

Mobile 021 548 777

angela.hunt@pb.co.nz

1

2

Call us on 03 929 0306

or go to pb.co.nz/wintersale

pb.co.nz
---
14

Your guide to all things Real Estate

in the Selwyn District

Quality

smaller homes

are now a reality

A local building company has been

overwhelmed by the market response

they have received to their transportable

smaller homes. Designed and constructed

to a high standard these homes are

realising a dream for many people

wanting an architecturally designed

smaller quality home.

"With building costs escalating, we

wanted to create more affordable options

in new homes with the market's response

to these homes phenomenal. Many

people have contacted us to discuss the

options available," says Richard Trent,

Director of Trent Building Solutions.

The Trent Building Solutions' library of

smaller homes ranges from the Merino

3 at 38sqm to the largest Highland home

at 106sqm. The company also tailor build

homes to suit a client's specific needs

and budget, something Richard says is

a massive advantage for a young couple

trying to get into their first home.

The homes are either constructed on

site or alternatively, at the company's yard

and then transported to site with a build

time of just 8-10 weeks. The homes range

in price from $145,500 to $246,890.43

including GST and include all fixtures

and fittings. Trent Building Solutions are

constructing these homes in both the

south and north islands.

The houses are pre-plumbed, wired and

painted so 100% complete in themselves

and ready to move into. They are fully

fitted out with: a Kaboodle kitchen;

stainless steel finish Omega cooktop,

inbuilt oven, canopy rangehood and

dishwasher; Mitsubishi heat pump; Stein

shower, toilet and vanity including tap

ware; LED lighting; and vinyl/carpet floor

coverings.

"It's like walking into a brand new

home," explains Richard who adds that

clients have been impressed by the quality

of finish and features within the homes.

The homes are well-insulated so warm

and economical to heat, making them

attractive to those wanting a granny flat

or house for farm workers while offering

first home buyers the opportunity to get

onto the property ladder with a brand

new home.

Trent Building Solutions offers a

complete package. This includes taking

care of the cost of, and process of

applying for Council consent. The only

additional expenses for a client, relate

to site preparation (including pile or

concrete foundations), hard and soft

landscaping, installing drainage and

electrical services from the street to

the house, and transportation to site (if

required) as well as any requested extras

in the home itself.

To learn more about Trent Building

Solutions' smaller homes call Richard

on 027 5181 346 or email info@

trentbuilding.co.nz or cherie@

trentbuilding.co.nz.

WE BUILD STRUCTURES & RELATIONSHIPS TO LAST

Warm & Healthy Affordable Homes | TRANSPORTABLE / 8 - 10 WEEK BUILD TIME OR BUILT ON SITE

DESIGNER AFFORDABLE HOUSING

WHY CHOOSE US? WE LOVE WHAT WE DO WE UNDERSTAND YOUR NEEDS WE RESPECT DEADLINES

03 352 0252 or 027 518 1346 | richard@trentbuilding.co.nz www.trentbuilding.co.nz
---
15

this Week's

12.00pm – 12.30pm

1.00pm – 1.30pm

1.15pm – 1.45pm

4.00pm – 4.30pm

12.00pm – 12.45pm

12.00pm – 2.00pm

12.30pm – 1.00pm

1.15pm – 1.45pm

1.15pm – 1.45pm

1.30pm – 2.00pm

1.45pm – 2.15pm

2.00pm – 2.30pm

2.15pm – 2.45pm

2.30pm – 3.00pm

2.30pm – 3.00pm

2.45pm – 3.15pm

3.00pm – 3.30pm

3.00pm – 3.30pm

3.00pm – 3.30pm

11.00am – 11.30am

11.00am – 11.30am

11.00am – 11.30am

11.00am – 11.30am

11.00am – 12.00pm

11.15am – 11.45am

11.15am – 11.45am

11.15am – 11.45am

11.30am – 12.00pm

11.30am – 12.00pm

11.30am – 12.00pm

11.30am – 12.00pm

11.30am – 12.00pm

11.45am – 12.15pm

12.00pm – 12.30pm

12.00pm – 12.30pm

12.00pm – 12.30pm

thursday 1st august

10 Beak Street, Rolleston

Harcourts Rolleston

2/28 Earl Street, Hillsborough

Harcourts Rolleston

4A Bellvue Drive, Prebbleton

Harcourts Rolleston

800 Old West Coast Road, West Melton

Harcourts Rolleston

saturday 3rd august

14 Blunden Road, Lincoln

Harcourts Lincoln

1472 Springs Road, Verdeco Park, Lincoln

Harcourts Lincoln

63 Patterson Terrace, Halswell

Ray White Rolleston

9 Edward Street, Lincoln

Harcourts Lincoln

4A Bellvue Drive, Prebbleton

Harcourts Rolleston

9 Goh Street, Lincoln

Ray White Lincoln

1/174 Clarence Street, Riccarton

Ray White Lincoln

10 Beak Street, Rolleston

Harcourts Rolleston

24 Crowder Street, Lincoln

Harcourts Lincoln

17 Roydon Avenue, Templeton

Ray White Rolleston

9 Oates Street, Lincoln

Harcourts Lincoln

5a Murfitt Place, Sockburn

Ray White Rolleston

81 Ridgeway Avenue, Rolleston

Harcourts Rolleston

670 Springston Rolleston Rd, Rolleston

Harcourts Lincoln

668 Springston Rolleston Rd, Rolleston

Harcourts Rolleston

sunday 4th august

29 Villa Grove, Ilam

Ray White Lincoln

9 Lloyds Close, Rolleston

Property Brokers

181 Buchanans Road, Hei Hei

Property Brokers

11 Caracara Place, Rolleston

Ray White Rolleston

Villa 226 Terrace Downs, Windwhistle

Mike Pero West Melton

562 Birchs Road, Lincoln

Farmlands Real Estate

18 Beak Street, Rolleston

Ray White Rolleston

16 St James Street, Southbridge

Matson & Allan Leeston

4 Piako Drive, Darfield

Farmlands Real Estate

963 Rakaia Selwyn Road, Southbridge

Ray White Rolleston

6 Silverstream Blvd, Kaiapoi

Harcourts Rolleston

7 Lemonwood Drive, Rolleston

Harcourts Rolleston

15 Greenwich Street, Halswell

Ray White Rolleston

118 Lowes Road, Rolleston

Matson & Allan Rolleston

30a Oak Tree Lane, Rolleston

Ray White Rolleston

38 Bradbury Avenue, Rolleston

Property Brokers

26 Davis Road, Tai Tapu

Bayleys Canterbury

12.00pm – 12.30pm

12.00pm – 12.30pm

12.00pm – 12.45pm

12.00pm – 12.45pm

12.00pm – 2.00pm

12.00pm – 12.30pm

12.00pm – 12.30pm

12.00pm – 12.30pm

12.15pm – 12.45pm

12.15pm – 12.45pm

12.15pm – 12.45pm

12.30pm – 1.00pm

12.30pm – 1.00pm

12.30pm – 1.00pm

12.30pm – 1.30pm

12.30pm – 1.00pm

12.45pm – 1.15pm

12.45pm – 1.15pm

1.00pm – 1.30pm

1.00pm – 1.30pm

1.00pm – 1.30pm

1.00pm – 1.30pm

1.00pm – 1.30pm

1.00pm – 1.30pm

1.00pm – 1.30pm

1.00pm – 1.30pm

1.00pm – 1.30pm

1.00pm – 1.30pm

1.00pm – 1.45pm

1.15pm – 1.45pm

1.15pm – 1.45pm

1.15pm – 1.45pm

1.15pm – 1.45pm

1.15pm – 2.00pm

1.30pm – 2.00pm

1.30pm – 2.00pm

1.30pm – 2.00pm

1.45pm – 2.15pm

1.45pm – 2.15pm

1.45pm – 2.15pm

1.45pm – 2.15pm

6 Lambie Street, Leeston

Matson & Allan Leeston

10 Beak Street, Rolleston

Harcourts Rolleston

14 Blunden Road, Lincoln

Harcourts Lincoln

190 Aberdeen Road, Prebbleton

Harcourts Rolleston

1472 Springs Road, Verdeco Park, Lincoln

Harcourts Lincoln

13 Avro Crescent, Hornby

Ray White West Melton

14 Weston Way, Lincoln

Ray White Lincoln

4 Hepburn Place, Rolleston

Ray White Rolleston

5 Melville Crescent, Rolleston

Harcourts Rolleston

7 Spencer Close, Rolleston

Ray White Rolleston

784 East Maddisons Road, Rolleston

Matson & Allan Rolleston

27a Kissel Street, Templeton

Ray White Lincoln

4 Thomas Street, Kirwee

Matson & Allan Darfield

7 Bradbury Avenue, Rolleston

Matson & Allan Rolleston

7 Alexandrina Street, Marshlands

Harcourts Rolleston

53 Maxwell Street, Riccarton

Ray White Rolleston

51 Clausen Avenue, Leeston

Matson & Allan Leeston

3 Stern Crescent, Rolleston

Ray White West Melton

4/271 Bealey Avenue, Christchurch

Harcourts Rolleston

5 Perthshire Crescent, Lincoln

Property Brokers

18 Lynley Drive, West Melton

Ray White West Melton

2/28 Earl Street, Hillsborough

Harcourts Rolleston

46 Jean Archie Drive, Rolleston

Harcourts Rolleston

27 Faringdon Boulevard, Rolleston

Ray White Rolleston

47 Hungerford Drive, Rolleston

Ray White Rolleston

88 Melton Grange Road, West Melton

Ray White West Melton

90 Lowes Road, Rolleston

Matson & Allan Rolleston

50 Andesite Drive, Rolleston

Harcourts Rolleston

19 Railway Terrace, Glentunnel

Mike Pero West Melton

9 Edward Street, Lincoln

Harcourts Lincoln

4A Bellvue Drive, Prebbleton

Harcourts Rolleston

238 Brookside Road, Rolleston

Ray White Rolleston

2 Boulez Mews, Rolleston

Matson & Allan Rolleston

15 Knights Road, Rolleston

Farmlands Real Estate

21 Brook Street, Southbridge

Farmlands Real Estate

35 Thames Drive, Rolleston

Property Brokers

10 Seymour Drive, Rolleston

Ray White Rolleston

20 Ruby Drive, Rolleston

Ray White Rolleston

51 Jacks Drive, West Melton

Ray White West Melton

10 Lancashire Lane, West Melton

Ray White Lincoln

45 Stanford Way, Rolleston

Ray White Rolleston

1.45pm – 2.15pm

2.00pm – 2.30pm

2.00pm – 2.30pm

2.00pm – 2.30pm

2.00pm – 2.30pm

2.00pm – 2.30pm

2.00pm – 2.30pm

2.00pm – 2.30pm

2.15pm – 2.45pm

2.15pm – 2.45pm

2.15pm – 2.45pm

2.15pm – 2.45pm

2.15pm – 2.45pm

2.15pm – 2.45pm

2.15pm – 3.00pm

2.15pm – 3.00pm

2.15pm – 3.00pm

2.30pm – 3.00pm

2.30pm – 3.00pm

2.30pm – 3.00pm

2.30pm – 3.00pm

2.30pm – 3.15pm

2.45pm – 3.15pm

2.45pm – 3.15pm

3.00pm – 3.30pm

3.00pm – 3.30pm

3.00pm – 3.30pm

3.00pm – 3.30pm

3.00pm – 3.30pm

3.15pm – 3.45pm

3.15pm – 3.45pm

3.15pm – 3.45pm

3.30pm – 4.00pm

3.30pm – 4.00pm

4.00pm – 4.30pm

4.00pm – 4.30pm

11 Palladio Avenue, Leeston

Matson & Allan Leeston

44 Selwyn Street, Leeston

Matson & Allan Leeston

20 Carnaveron Drive, Lincoln

Bayleys Canterbury

10 Beak Street, Rolleston

Harcourts Rolleston

73a Diamond Avenue, Spreydon

Harcourts Rolleston

6/135 Johnson Road, West Melton

Ray White Rolleston

13A Runnymede Drive, Templeton

Matson & Allan Rolleston

80 High Street, Southbridge

Bayleys Canterbury

43 Windsor Drive, Kirwee

Ray White West Melton

9 Charlbury Drive, Rolleston

Ray White Rolleston

452a Ellesmere Junction Rd, Springston

Matson & Allan Rolleston

4/545 Maddisons Road, West Melton

Harcourts Rolleston

24 Crowder Street, Lincoln

Harcourts Lincoln

6 Spring Place, Leeston

Property Brokers

37 Bonecrusher Street, Lincoln

Harcourts Rolleston

52 Bells Road, West Melton

Harcourts Rolleston

17 Stationmasters Way, Prebbleton

Harcourts Hornby

9 Oates Street, Lincoln

Harcourts Lincoln

50 Lydiard Drive, Rolleston

Property Brokers

4 Skara Brae, Prebbleton

Bayleys Canterbury

6 Kemble Drive, Rolleston

Ray White Rolleston

4/229 Curraghs Road, Rolleston

Farmlands Real Estate

222 Rolleston Drive, Rolleston

Ray White Rolleston

50 Burnham School Road, Rolleston

Ray White Rolleston

1 Pultney Street, Leeston

Property Brokers

670 Springston Rolleston Rd, Rolleston

Harcourts Lincoln

31 Kingsdown Drive, West Melton

Matson & Allan Rolleston

668 Springston Rolleston Rd, Rolleston

Harcourts Rolleston

13B Vitruvius Way, Leeston

Matson & Allan Leeston

14 Hungerford Drive, Rolleston

Ray White Rolleston

22 Navy Loop, Rolleston

Ray White Rolleston

2 Corriedale Lane, West Melton

Ray White West Melton

9 Kinglear Drive, Rolleston

Ray White Rolleston

274 Brookside Road, Rolleston

Ray White Rolleston

13 Othello Drive, Rolleston

Ray White Rolleston

81 Ridgeway Avenue, Rolleston

Harcourts Rolleston

CHECK OUT THE SELWYN TIMES

PROPERTY DIRECTORY EVERY

WEDNESDAY FOR THE BEST OF

PROPERTY IN THE SELWYN DISTRICT

FOR FULL

DETAILS OF ALL

OPEN HOMES,

PLEASE CONTACT

THE REAL ESTATE

COMPANIES

RAY WHITE

ROLLESTON 03 347 9988

www.rwrolleston.co.nz

WEST MELTON 03 347 9933

www.rwwestmelton.co.nz

LINCOLN 03 325 7299

www.rwlincoln.co.nz

FARMLANDS www.farmlands.co.nz

FARMLANDS LINCOLN 03 325 2889

FARMLANDS LEESTON 03 324 3189

FARMLANDS DARFIELD 03 317 9070

PROPERTY BROKERS ROLLESTON

www.propertybrokers.co.nz

ROLLESTON 03 929 0306

HARCOURTS

www.fourseasons.harcourts.co.nz

HARCOURTS HORNBY 03 349 9919

HARCOURTS ROLLESTON 03 347 4711

HARCOURTS LINCOLN 03 662 9933

PGG WRIGHTSON CANTERBURY

03 318 7850, www.pggwre.co.nz

MATSON & ALLAN

www.marealestate.co.nz

ROLLESTON 03 347 9949

DARFIELD 03 318 8204

LEESTON 03 324 3704

MIKE PERO ROLLESTON

03 347 1111, www.mikepero.com

BAYLEYS

CANTERBURY 03 375 4700

www.bayleys.co.nz

GLASS MILES

CHRISTCHURCH 03 343 5178

www.glassmiles.co.nz
---
16