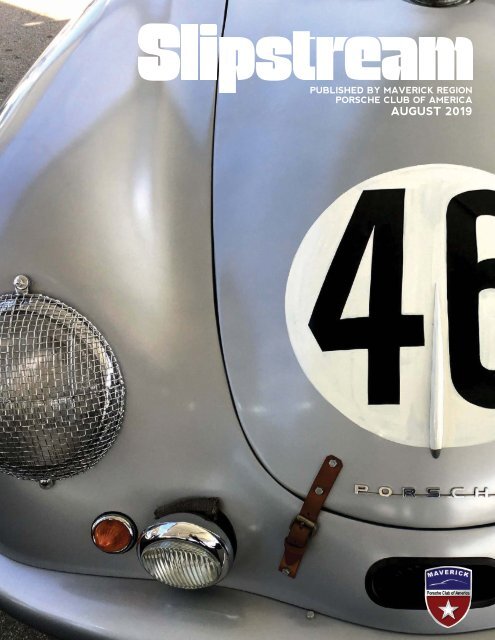 Slipstream - August 2019
The monthly newsletter of the Maverick Region of the Porsche Club of America
The monthly newsletter of the Maverick Region of the Porsche Club of America
SHOW MORE
SHOW LESS
Create successful ePaper yourself
Turn your PDF publications into a flip-book with our unique Google optimized e-Paper software.
PUBLISHED BY MAVERICK REGION

PORSCHE CLUB OF AMERICA

AUGUST 2019
---
More rush per hour.

More performance. More technology. More thrill. More sports car. In the

new Macan, there's only one thing you'll be left wanting more of: time.

Porsche. There is no substitute.

The new Macan now available.

Choose Thrilling.

1280 Texan Trail

Grapevine, TX 76051

833.470.0671

PorscheGrapevine.com

©2019 Porsche Cars North America, Inc. Porsche recommends seat belt usage and observance of traffic laws at all times.

European car model shown. Some options may not be available in the U.S.
---
VOLUME 58

ISSUE 8

AUGUST 2019

MAV.PCA.ORG

Jake d'Fonseca and Daniel Finkbeiner completing Autocross tech in the

Boxster GTS. Not sure that's a Snell SA2015 approved fedora though.

FEATURES

6 | Mavs & Mochas Recap: June 22

8 | Road Trip: Dallas to Aspen in a 2005 Boxster

12 | Here, There, and Everywhere: The Revolver Tour

15 | Autocross Series Event 5

16 | Member Perspective: Porsche Experience Center

19 | Maverick Marktpreis: Panamera Turbo / Turbo S

20 | Coffee, Cars & Conversation: Chantel Tennyson

26 | Motoring Mavs at Mayo

30 | Tech Session Recap: The Porsche Physical

UPCOMING EVENTS

7 | Mavs&Mochas

22 | Happy Hour

22 | Motoring Mavs at Mayo

23 | Maverick Lunch Series

23 | Eagles Canyon Charity Tour

DEPARTMENTS

2 | Sprockets (President's Column)

2 | Maverick of the Month

4 | List of Officers and Board Chairs

4 | Zone 5 Presidents

11 | New Mavericks

11 | Member Moments

14 | Porsche Trivia

34 | Advertiser Index

34 | Anniversaries

36 | Oversteer (Editor's Column)

EVENT DATES

See more details and check for event updates via the QR code

here or our online calendar at http://mav.pca.org/go/calendar

August

Maverick Board Meeting .......................................................... (Wed) 7

Mavs & Mochas: Highland Park Village .................................... (Sat) 10

Autocross #7............................................................................. (Sun) 11

Lewisville area lunch.................................................................(Tue) 13

Maverick Happy Hour...............................................................(Thu) 15

Motoring Mavs at Mayo............................................................ (Sat) 17

Southlake area lunch................................................................(Thu) 22

Maverick Partner Appreciation.................................................. (Sat) 24

Garages and Gearheads Having Coffee..................................... (Sat) 31

September

Treffen Woodstock ........................................................................... 4-7

Boxstoberfest .................................................................................. 6-8

Maverick Board Meeting .......................................................... (Wed) 7

Lewisville area lunch.................................................................(Tue) 10

Mavs & Mochas: Texas Harley-Davidson Bedford ..................... (Sat) 14

Maverick HPDE............................................................................14-15

Autocross #8............................................................................. (Sun) 15

Eagles Canyon Charity Tour...................................................... (Sun) 15

Maverick Happy Hour...............................................................(Thu) 19

Motoring Mavs at Mayo............................................................ (Sat) 21

Austin Schnell Fest DE..................................................................20-22

Southlake area lunch................................................................(Thu) 26

Park Place Luxury & Supercar Showcase.................................... (Sat) 28

Charlie Davis

June 7 we lost a great friend and a great

man. Charlie was a 50 year member in the

club. His leadership and contributions will

be missed. Next month we will feature a

article about Charlie written by members

that remember him best.

On the Cover

The amazing 1949 Porsche 356/2 SL that was Porsche's first entry

into LeMans in 1951. Most recently restored by Rod Emory.

Slipstream (USPS 666-650) is published monthly by the Maverick Region, Porsche Club of America, 155 Jellico

Southlake, TX 76092. Subscription price is $24.00 per year. Periodical postage is paid at Fort Worth, TX.

POSTMASTER: Send address changes to Hiram Saunders, Slipstream, 155 Jellico, Southlake, TX 76092.

Opinions expressed herein are not necessarily endorsed by the Club's membership or officers. Contributions will be

printed on a space available basis. Chartered regions of PCA may reproduce items from this issue provided the author/

artist and Slipstream are credited. Slipstream is printed by Ussery Printing Company in Irving, Texas.

1
---
SPROCKETS: Maverick Growth

by David Robertson, Region President

As I have mentioned before, we are experiencing a

record turnout for our events and a level of enthusiasm

that is exciting to see. A big part of this is due to the

welcoming nature of our members. I hear time and time

again from new members attending their first event

that it wasn't anything like they expected. There is no

elitism, cliquishness, or sense of exclusion. Everyone is

here for the same purpose as outlined in our original

charter, so it is not surprising that our existing and

potential members feel the excitement and enjoy

participating. I have met so many people in this club

whom I now consider friends, from every economic

The Maverick Region was formed over

55 years ago with the idea that likeminded

Porsche enthusiasts would have an

opportunity to gather, discuss, drive, and

socialize. The original premise of our club

has not changed, except that we do things on

a much larger scale! Although it is tough to

cater to every wish of our 3000 primary and

associate members, I believe that we really

do offer something for everyone.

and cultural background. Inevitably, and with any large

organization, there are from time to time non-optimal

experiences. As President of the Maverick Region I am

just as interested to hear about these experiences and

suggestions for improvement. My role as the President

is to ensure that we focus on safety, fun, and inclusion

and I can assure you that I take that seriously.

A natural progression with an active membership

such as ours is to have groups of people that may have

more specific common interests where they can enjoy

networking with each other. In fact, I believe that these

groups increase participation on a larger scale with the

membership as a whole and attract and foster even

more folks to join the club. One example is the group of

non-workers who get together most weeks. This group

has grown organically through Maverick Region social

media and is becoming very popular. I would love to see

Maverick groups and events based on women, young

professionals, and Junior PCA members, just to name

a few. I don't feel this is excluding anyone but rather

opening even more opportunity for our members to

find value and a place in our club.

I always welcome your feedback and ideas. Please don't

hesitate to reach out to me atpresident@mavpca.org.

MAV OF THE MONTH:

Claudia Reynolds

Monthly Socials Chair

Claudia stepped in to organize our monthly socials earlier this year when we had an immediate

need for the position. After enjoying our driving events in her Boxster, Claudia wanted to get

more involved in the club and recognized that her contacts and much of the experience in her

career would be very useful in organizing these events. She has jumped in with both feet and

our Monthly Socials continue to be one of our most popular Maverick gatherings. Thank you

Claudia for taking on the role and we look forward to what you have in store for us!

2 August
---
The Independent Porsche Specialist

• Expert maintenance and repair services • Track day preparation

• Performance and appearance upgrades from GMG, Manthey, FVD and more

• Superior customer service and free loaner cars • PCA discounts

Porsche factory computers • Comprehensive service from air-cooled to 991

We Buy, Sell and

Consign Quality

Pre-owned Porsches

3221 Skylane Drive, Dallas, Texas 75006 • 214-269-1570 • www.racperformance.com

3
---
2019 Maverick Region Board - Officers and Chairs

President

David Robertson

617-797-0516

president@mavpca.org

Vice President

Jim Falgout

vp@mavpca.org

Secretary

Carey Spreen

817-422-3480

secretary@mavpca.org

Treasurer

Deborah Fike

972-672-4282

treasurer@mavpca.org

Autocross Chair

Mark Schnoerr

ax@mavpca.org

Charity Chair

Chris Hamilton

hope@mavpca.org

Club Race Co-Chair

Pat Heptig

214-649-7907

cr@mavpca.org

Club Race Co-Chair

Joel Nannis

cr@mavpca.org

Coffee Meets Co-Chair

Derrick Tate

972-748-1178

coffeemeets@mavpca.org

Concours Chair

Mike Mahoney

801-230-1482

concours@mavpca.org

DE Chair

Renee Hayden

de@mavpca.org

DE Registrar

Jason Brodigan

deregistrar@mavpca.org

DE Chief Driving Coach

Craig Janssen

cdi@mavpca.org

DE Medical Chair

Dr. Jeffery Komenda

demedical@mavpca.org

Goodie Store

Chris Flaugh

214-288-5300

goodiestore@mavpca.org

Region Historian

Carey Spreen

817-422-3480

historian@mavpca.org

Marketing, Social

Media Chair

Bill Orr

marketing@mavpca.org

Membership Chair

Jim Hirsch

972-740-7377

membership@mavpca.org

Monthly Social Chair

Claudia Reynolds

hh@mavpca.org

PCA Tours Co-Chair

Sam Bryant

tours@mavpca.org

PCA Tours Co-Chair

Brant Worrell

tours@mavpca.org

Rally Co-Chair

Don Sebert

214-613-6900

rally@mavpca.org

Rally Co-Chair

George Luxbacher

rally@mavpca.org

Registrar, Club Race

Wendy Shoffit

crreg@mavpca.org

Safety Co-Chair

Bob Kramer

safety@mavpca.org

Slipstream Advertising,

Coffee Meets

Bill Kruder

214-497-0711

ads@mavpca.org

Slipstream Content Ed.

Carey Spreen

817-422-3480

editor@mavpca.org

Slipstream Editor

Kurt Scaggs

469-446-1690

editor@mavpca.org

Slipstream Event Ad Design

David Tierney

eventads@mavpca.org

Slipstream Mailing

Andy Mears

214-394-5857

mailing@mavpca.org

Slipstream Printing

Fran Ussery

972--438-8344 (W)

817-481-8342 (H)

printing@mavpca.org

Social Chair

Debi Kruder

social@mavpca.org

Tech Sessions Chair

Michael Baynton

214-641-2848

techsessions@mavpca.org

Time Trial Chair,

(AX/TT Rules)

Travis Howard

214-616-6152

tt@mavpca.org

TT Registrar, AX/TT

Schools, Swap Meets

Robyn Howard

214-991-0873

drivingschools@mavpca.org

Trivia Chair

Jerry DeFeo

972-240-5800

trivia@mavpca.org

Volunteers Chair

Landon Stogner

214-233-6858

volunteers@mavpca.org

Web Site Chair

James Shoffit

972-786-6246

webmaster@mavpca.org

ARK-LA-TEX

Ken Chandler

bad968@bellsouth.net,

2018 PCA Zone 5 Presidents and Zone Representative

HILL COUNTRY

Tuffy von Briesen

president@hcrpca.org

MARDI GRAS

Scott Spradley

swsprad@bellsouth.net

WAR BONNET

Eric Costello

ecostellodo@gmail.com

Link to

Board

Meeting

minutes:

CIMARRON

Jason Tollison

presidentcmr@gmail.com

COASTAL BEND

Bryan Kerrick

bksailspadre@sbcglobal.net

LONE STAR

Steve Bukoski

president@lsrpca.com

LONGHORN

Mikel Matthews

Mikel.matthews@gmail.com

MAVERICK

David Robertson

president@mavpca.org

OZARK

Jim Woolly

jim.carol_NOSPAM@sbcglobal.net

WHISKEY BAY

Stan Labat

labat@cox.net

WHITE RIVER

Leonard Zechiedrich

whiteriverregionpca@gmail.com

ZONE 5 REP

Chuck Bush

(703) 577-0562

zone5rep@pca.org

www.zone5.pca.org

4 August
---
VISIT OUR NEW 8600 SQ FT LOCATION!

MONTHLY SPECIAL

$195

MOTUL OIL

$187

MOBIL 1 OIL

CERTIFIED MASTER TECHNICIANS

GENERAL MAINTENANCE

PERFORMANCE UPGRADES

SUSPENSION MODIFICATIONS

ALIGNMENTS ( TRACK AND STREET )

TRACK PREPARATION

TECH SHEET INSPECTIONS

CUSTOM FABRICATION

CUSTOM BUILT SPEC 996S AND SPB

2520 Tarpley Rd. Suite 700

Carrollton, Texas 75006

(972) 418-1996

innovativeautosports.com

innovativeautosportstx@gmail.com

5
---
May Mavs & Mochas: June 22

by Jim Hirsch and Debi Kruder

photos provided by Michael Durovick, Bill Middleton and Kendall Awtry

The number of

Porsche participants

this morning was

in the triple digits,

along with "feelslike-triple-digit"

temperatures as

the sun came out.

And if that wasn't

good enough,

nearly twenty 964

owners turned

out to celebrate

30 years since the

introduction of

their car generation.

Another great Mavs

& Mochas event

put on by William

Kruder and Derrick

Tate (with many

volunteers too)!

-- Jim Hirsch

While 100+

Porsches enjoyed the

sunshine outside,

over one hundred

7-inch rigs took the

track indoors! Yes,

that's right, it was a

race for speed in the

annual Stonebriar

Grand Prix.

Preschoolers through

adults competed

for the 1st, 2nd,

and 3rd place

trophies for speed.

It's always special

to connect the big

rigs with the little

rigs at this annual

Mavs & Mochas!

Maybe next year

you'll want to

enter the race!

– Debi Kruder

6 August

This year, in memory of legendary

West Coast Morgan and Cobra racer

J. Lewis "Lew" Spencer II, a rig with

the name "Lew's Cobra Daytona" was

entered in the race and won 1st place

in classic design and place for speed.
---
We'll give

you an

assist on

your future

goals.

Contact me to learn how you can get

the most out of retirement.

Lisa D. Ward, MBA

Agent, New York Life Insurance Company

777 Mains Street Suite 3800

Fort Worth, TX 76102

817-614-3165

ldward01@ft.newyorklife.com

www.facebook.com/LisaWardNYL/

SMRU1710429 (Exp.10/21/2018)

©2018 New York Life Insurance Company,

51 Madison Avenue, New York, NY 10010

Insure. Prepare. Retire.

7
---
Road Trip: Dallas to Aspen in a 2005 Porsche Boxster

by Chris Flaugh

photo provided by author

Specs: 2005 Porsche Boxster,

Seal Gray with black top, Graphite

Gray interior, 240-hp 2.7-liter flat

6-cylinder engine, 5-speed manual

transmission.

Wednesday, June 12. We left

Dallas a bit later than planned, as

things always seem to come up out of

nowhere on the morning of departure.

With two trunks, the Boxster easily

accommodated luggage and other

items for the six-day trip. Starting

odometer reading: 55,501. We

finally hit the road at 11:30 am,

intent on reaching Santa Fe before

the 9:00 pm closing time of one of

my favorite restaurants there. After

an uneventful drive through Texas

towns such as Electra, Chillicothe,

and Amarillo, we crossed into New

Mexico and arrived in Santa Fe just

before 8:00 pm, in plenty of time for

enchiladas with red sauce and posole

at La Choza.

Thursday, June 13. After blue

corn blueberry lavender donuts

from Whoos Donuts in Santa Fe,

we topped up the tank and headed

north, passing through Ojo Caliente

in northern New Mexico, into

Colorado through Antonito and

Alamosa as the scenery became

greener and more impressive.

Then, my favorite part of the drive:

Independence Pass. The winding

roads through the mountains can be

fun in any car, but significantly more

so in a mid-engine Porsche! Upon

reaching the peak at the Continental

Divide (elevation 12,095 ft.), we

were surprised to see at least a foot

of snow still on the ground, in mid-

June. After stopping for a photo, we

headed into Aspen, arriving 5:00 pm

at our accommodations for the next

three nights: Chateau Eau Claire,

overlooking the Roaring Fork River.

The Aspen Food and Wine Classic

is an annual four-day event, which

we have attended a few times before.

The event centers around tastings,

exhibitions, and demonstrations

in the main tent, but there are also

numerous smaller events, parties,

and dinners hosted by distributors

and winemakers.

Our first stop was a dinner at Casa

Tua, hosted by Santa Margherita

Wines. I happened to be seated next

to a member of the Marzotto family,

who founded Santa Margherita

over 80 years ago. The conversation

eventually turned to cars, and we

talked about the Mille Miglia, which

I had attended about 20 years ago.

His brothers have driven in the event

several times in their vintage Lancia.

He has attended numerous times,

but his participation so far has been

limited to driving one of the courtesy

cars, a Porsche Panamera.

Friday, June 14. A day full of

events, starting with Bubbles and

Truffles at 10:00 am, also hosted by

our friends at Santa Margherita, and

featuring a variety of their excellent

sparkling wines, as well as some

truly outstanding caviar. Lunch was

at the Clucking Awesome party.

Held at a private residence with

amazing views of Aspen Mountain,

guests were asked to remove their

shoes upon entry, and were provided

a pair of very comfortable slippers,

embroidered with the Clucking

Awesome logo (a chicken and a

champagne bottle). Fried chicken,

Krug, and Dom Perignon champagne

were offered in abundance.

Next stop was the Terlato Wine

Group party at the rooftop of the

Dancing Bear - absolutely top notch

8 August
---
as always. Fortunately, this was only about a block

away from the St. Regis Hotel, where my 3:30 massage

was scheduled (and I was ready for a break anyway).

While relaxing after my massage, a waiter

approached and asked if I would care for a glass

of complimentary champagne. Of course, I

answered yes, and followed him and a few other

guests to a nearby courtyard, where a young lady

was standing, holding a large bottle in one hand,

and an even larger sabre in the other.

After a brief description of the wine at hand, she proceeded

to use the sabre to open the bottle in dramatic fashion

(a process known as sabering), then poured a glass for

everyone in attendance.

A sublime feast of a dinner that evening at Matsuhisa

was hosted by our friends at Vintus Wines. Restaurant

owner and renowned chef Nobu Matsuhisa was in

attendance that night, and stopped by our table a couple

of times to chat and answer questions.

Saturday, June 15. After the previous day's full

schedule, Saturday's first stop was the always popular

Hangover Brunch. On to a few more events during the

day, then back to the condo for a nap. Our final event of

the day was the BBQ with Zonin. Held at a mountainside

residence, a wide variety of Zonin wines were flowing,

food aplenty, and sabring of Zonin sparkling wines on

the deck. Conversation with Francesco Zonin also turned

to cars, as we talked about his participation in the Mille

Miglia years ago and Italian cars in general.

Sunday, June 16. Dropped off the condo keys to the

Frias Property Management office at 10 am and hit the

road. Odometer reading: 56,420. Another fun drive over

Independence Pass, this time with top down and seat

heaters on. Lunch of burgers and onion rings in Buena

Vista, CO, arrival in Santa Fe by 5 pm. Dinner at Maria's

in Santa Fe: margaritas, Carne Adovada, sopaipillas.

Monday, June 17. Departed Santa Fe at 9 am. Tempted

by the 72-ounce steak at the Big Texan in Amarillo, but

settled for lunch at Braum's. After a couple of close calls

with police radar in Texas small towns, arrived home in

Dallas at 6 pm. Odometer reading: 57,337.

Total miles driven: 1,836

Average MPG: 29.4

Average Calories: ? (Ed)

9
---
10 August
---
Welcome Our New Mavericks!

by Jim Hirsch, Region Membership Chair

New Members June 2019

Teri Aden Keene 2001 Boxster

Michael Arbini Dallas 2003 911 Carrera Cabriolet

Hayden Baker (Laurel) Dallas 2017 Cayman S

Roula Bordcosh Plano 2017 Macan

Brian Casey Allen 2018 911 Targa 4 GTS

Matt Castonguay Roanoke 2006 911 Carrera

Christopher Cooper Dallas 1988 911 Carrera Targa

Taylor Culver Tyler 1972 911T

Justlin Davis McKinney 2019 911 Carrera T

Jeff Deets N Richland Hills 2009 911 Carrera 4S

Robert Evans Frisco 2007 911 Carrera 4S Cab

Greg Fife Sherman 2007 911 Turbo

John Foster McKinney 2006 911 Carrera Cabriolet

Jacob Haegele Dallas 2019 911 Carrera T

Tony Hayslip Frisco 2016 911 Carrera 4S

Matt Holmes Dallas 2011 911 GT3

Stefan Johansson Wichita Falls 2014 Cayman S

Jason Korn Fort Worth 2004 911 Carrera

Justin Lamb Aledo 1986 944 Turbo

Perry Lowery (Belinda Serna) Dallas

2011 911 Turbo S Cabriolet

Dash Matthys Keller 1987 928 S4

Jay Miller Ft Worth 2014 911 GT3

Michelle Miller Plano 2018 718 Cayman

Philip Moore Duncanville 2005 911 Carrera S

Edward Morris Dallas 2016 Panamera Edition

Lyntis Moten Arlington 1998 Boxster

Ryan Pafford Aledo 1996 911 Carrera

Reanard Pangestu Arlington 2019 Macan S

Robert Peipert Southlake 2015 Cayman S

Patrick Racette Celina 2017 911 Carrera

Charles Rutherford (K Hokin) Dallas

2018 718 Cayman S

Len Schiavone Keller 1987 911 Turbo

Jenni Sparks (Chris) Dallas 2018 718 Cayman

Barry Tubbs Fort Worth 1986 928S

Cory Van Kleeck Prospere 2018 718 Cayman S

Agustin Viola-Prioli Allen 2013 911 Carrera S

Michael White Granbury 2014 Boxster S

Transfers In

John Foster (ALT) McKinney 2006 911 Carrera Cabriolet

Jon Reid (ORC) Frisco 2016 Boxster

Jason Swann (SCH) Keller 1997 Boxster

Wayne Hutton (CHO) Ennis 2003 Boxster

Colin Smith (POT) Ft Worth 2014 Panamera 4S & GTS

Member Moment

If you have any changes that

you would like to make to the

MRPCA membership guide, contact Jim

Hirsch at membership@mavpca.org

Rudy Karimi

(joined 1/2019)

Occupation

Sr. Technology Consultant at

Amazon Web Services

Primary reason for joining PCA

I've always known about the PCA and how

knowledgeable the members are. The

Maverick Region members are no different.

I was introduced to many members on

just my first outing back in February where

everyone made me feel right at home.

Current Porsche(s)

2002 996 C4S

Favorite Porsche

993 Turbo S

Best thing about Porsche ownership

Constant thumbs up to other Porsche drivers

on the road!

Hobby interests

World traveler. Road biker. Smart home

aficionado. Droning. Kayaking. Cigars. Bird

watching. Hammock junkie.

Member Moment

Don Anderson

(joined 2/2018)

Occupation

Retired Director Gas and

Electric Operations

First Porsche

2015 Carrera 911

Current Porsche(s)

2015 Carrera 911

Favorite Porsche

2015 Carrera 911

Favorite Maverick or PCA event

High Performance Drivers Education (DE)

events

Best thing about owning a Porsche

Driving a great car and meeting new

friends in the club.

Maverick Membership Statistics as of July 1

Primary Members: 2066 Affiliate Members: 1008 Total Membership: 3074

11
---
Here, There, and Everywhere: The Revolver Tour

by Sam Bryant

photos provided by Jay Lynch, Scott Garwood and Sam Bryant

If you like beer and Porsches, then the fourth

Maverick Tour of 2019 was for you! Even if you don't

like beer, this tour was for you!

The "Here, There, and Everywhere" Revolver Tour

took place on Saturday, June 22, and ended at Revolver

Brewing in Granbury.

This tour had something for everybody: hills,

valleys, turns, twists, long straightaways, country

driving, city driving, great weather, good music,

good food, and did I mention really good beer?

The day started at the High School in Weatherford

with 106 cars and 177 attendees. That broke last year's

count by 20 cars! The tour wound its way through the

towns of Lipan, Bluff Dale, and Paluxy to name a few,

before arriving in Granbury, and covered 83.9 miles.

Helping herd all of those Porsches were nine Volunteer

Group Leaders, who included Mark Pitarresi, Jay

Lynch, Scott Garwood, Ted Martin, Ed Martelle, Tim

Schutze, Paul Ozmer, Mike Farrell, and Sam Bryant.

Once everyone arrived at Revolver Brewing, they

were treated to their own private parking area away

from the white gravel of the standard parking area, and

things only got better from there! A $10 admission got

you a logo pint glass, beer tastings (for those over 21,

of course ), live music, and a tour of Revolver Brewing

plant. How awesome is that?

Overall, the fourth tour of 2019 brought out a lot of

Porsches and a lot of smiles on those who participated.

Some tour veterans went so far as to say this was the

best tour yet.

The next Maverick tour is Sunday, September 15,

and will end at the Eagles Canyon Raceway. Registration

for the tour will open August 15. It is our annual charity

drive, so stay tuned for more details to follow soon.

12 August
---
We Buy, Sell & Tradethe

World's Finest Timepieces

Precise, sleek, distinctive and exceptional. de Boulle is a family-owned business

established in 1983. Along with de Boulle Motorsports, both are a living and moving

illustration of the passion for excellence for jewelry, watches and racing. de Boulle is an

uthorized Dealer for major brands including: Patek Philippe, Rolex, Bell & Ross, Blancpain,

Corum, Girard Perregaux, Greubel Forsey and Tudor. de Boulle also provides the options

of pre-owned timepieces, which includes vintage watches of notable brands.

Visit deBoulle.com to view our extensive collection.

6821 Preston Rd., Dallas, TX 75205 214.522.2400

River Oaks District Houston, TX 77027 713.621.2400

deBoulle.com

13
---
You can test your

knowledge (or Google search

ability) of all things Porsche

by participating in the

monthly trivia contest posted

online at http://mav.pca.org/

trivia. Answers are due by the

last day of each month.

The winner of the trivia

contest receives a $25 gift

certificate from our sponsor, Zims Autotechnik. In the case of ties, a random

drawing determines the winner.

Here are the questions and answers for the June 2019 Trivia. We

went with a Trivia that brings Q&A this month dealing with 914s, 916s,

and 968s. The winner this month, getting all 5 of 5 correct, was Bob

Kuykendall. The Runner-up, getting all 5 of 5 correct was Tom Martin. In

case of a tie, a drawing is held to determine the winner.

1. In 1971, Ferdinand Piech had a prototype built, called the 916. According

to the source, another 10 more production prototypes were also built,

but this special 916 with a 2.9 L racing engine

ended up going to Piech's wife, who nicknamed

the car_____.

a. Corina b. Brutus c. Buela d. Horst

Source: https://tinyurl.com/y57ufdwj (Hemmings Daily

article by Kurt Ernst)

14 August

Maverick Trivia: Are you a Porschephile?

Jerry DeFeo

sponsored by Zims Autotechnik

Answers: 1)b, 2)c, 3)d, 4)a, 5)a

2. This same car was black on black on black, with the only other

color being the accent on the Fuchs wheels, similar to the black

accents on the standard 911 Fuchs. What was the color?

a. Signal Red b. Bright Yellow c. Lime Green d. Nuremberg Blue

Source: https://tinyurl.com/y57ufdwj (Hemmings Daily article by Kurt Ernst)

3. The 916 was never brought to market, as it was determined to

be too expensive ($14,000 to $15,000) compared to the 1971-72

competition. One could get a new 911S Targa for $10,230, or a

more prestigious Ferrari Dino for $14,500. Even the 2.0 L 914-6

was being outsold in 1970 by the 914-4 by a 5 to 1 margin. And

1971 was even worse, being outsold by a ________ margin!

a. 9 to 1 b. 17 to 1 c. 28 to 1 d. 37 to 1

Source: https://tinyurl.com/y57ufdwj (Hemmings Daily article by Kurt Ernst)

4. Porsche's entry level vehicle following the 914 was the frontengine,

water-cooled 924. Then came the 944 in 1982, the 944S

in 1987, and the 944S2 in 1989. Porsche Engineers planned on

an S3 variant for 1992, but since they had changed so much

(only about _______ of the parts were the same) they decided to

introduce an all new model as the 968.

a. 20% b. 25% c. 30% d. 35%

Source: https://en.wikipedia.org/wiki/Porsche_968

5. While we all know Stuttgart/Zuffenhausen as the Porsche HQ, many

different models have been built elsewhere. Where were the 968s built?

a. Zuffenhausen b. Wolfsburg c. Leipzig d. Neckarsulm

Source: https://en.wikipedia.org/wiki/Porsche_968
---
Autocross Series Event 5: May 26, Mineral Wells Airpark

by Mark Schnoerr, Region Autocross Chair

photos by Robert Kirby of Lightspeed Images

Event 5 was the final MirrorCross of the

season, held at the large and fast Mineral

Wells Airpark site in Mineral Wells, TX. This

is where we run parallel courses, with side by

side drag-race-style starting lights. In the results

you can see how close to a perfect 0.50-second

start or red light breakout was happening, and

our fastest 60-foot times were turned in by the

Boxster GTS (due to its quick-shifting PDK

transmission), the GT3 (due to its horsepower),

and the 914 2.0 (due to its good gearing).

Eleven of the 83 cars at this event were

Porsches. Class P1, the early 911 and 914

class, saw a hard-fought battle between the

super fast 1972 911S driven by Ed Mayo and

the super handling 914 2.0 driven by Mark

Schnoerr. Times were very close, but the win

went to the 914 this time. In class P3, Fran

Ussery and Carolle Liu traded places and each

P1 - 'PCA 1'

Best Best Run Total

Total Entries: 4

60 ft L/R Difference

1T P1 915 Mark Schnoerr Lime Green 914 2.159 41.869 84.479

1.777 42.61 -

2T P1 5 Edward Mayo Silver 911S 1.991 42.112 85.545

1.95 43.433 1.066

3 P1 914 Sigrid Schnoerr Lime Green 914 2.014 43.19 87.051

2.016 44.348 1.506

4 P1 9 Julia Underwood Silver 911S 1.189 51.021 102.93

1.832 51.909 15.879

P3 - 'PCA 3'

Best Run Total

Total Entries: 2

L/R Difference

1T P3 16 Fran Ussery Yellow 986 Boxster S 1.998 45.77 91.575

1.768 45.805 -

2 P3 168 Carolle Liu White Boxster 987 1.892 45.372 91.823

2.179 46.451 0.248

P4 - 'PCA 4'

Best Run Total

Total Entries: 3

L/R Difference

1T P4 32 Jake d'Fonseca Red Boxster GTS 1.465 43.38 88.423

1.371 45.043 -

2 P4 7 Douglas Edney Black 996 2.297 44.497 89.164

2.127 44.667 0.741

3 P4 132 Daniel Finckbeiner Red Boxster GTS 1.321 44.654 92.809

1.238 48.155 3.645

P5 - 'PCA 5'

Best Run Total

Total Entries: 2

L/R Difference

1T P5 428 Owen Coulman Guards Red 911 GT3 2.159 40.295 81.008

1.707 40.713 -

2 P5 429 Holli Coulman White Turbo Cabriolet 1.848 44.903 89.448

2.048 44.545 8.44

Above: Daniel

Finckbeiner

Left: Carolle

Liu and Mark

Schnoerr

won on one side. Fran just

edged our Carolle for the win.

Class P4 saw two

new drivers sharing

a Boxster GTS: Jake

d'Fonseca and Daniel

Finckbeiner, making

Doug Edney work his

996 hard enough to

decide that it's time for

a suspension upgrade.

Jake took first, Doug second, and Daniel

third. Class P5 saw Owen and Holli Coulman

driving their 996 GT3 and 996 Turbo Cab.

Owen pulled out the win.

The Performance index-adjusted times

ranked the top three Porsches as Owen, Mark,

and Ed this time. Owen was also sixth in overall

event PAX time. In the Ladies' Performance

indexed classes, Sigrid and Holli came in third

and fourth overall respectively.

The season schedule is published elsewhere

in the newsletter and online. Contact Mark

Schnoerr for details or go to the Equipe Rapide

website at autocross.com.

15
---
Member Perspective: Porsche Experience Center Atlanta

by Reanard Pangestu

photos provided by author

Hello everyone! I am a new member and first-time

Porsche owner. My wife and I ordered our 2019 Macan

S through Porsche Grapevine and took delivery on

June 27, 2019 at PEC Atlanta. From the first time I

stepped into the dealer back in December just to "look

around," to the extended alone test drive with my wife

to familiarize ourselves with the Macan, to the ordering

and financial process, PEC delivery, and even the second

delivery back In Grapevine, the whole process has been

surreal for us and each step of the way has exceeded our

expectations by a long shot.

Now, a little bit about us. I am a long-time auto and

motorsport enthusiast. I have rubbed off on my wife after

all this time, and although she does have some interest,

she is not completely infatuated by it. Therefore, when

I insisted that we opt for the PEC Delivery, she was a

bit skeptical, but eventually agreed to it, just so she

wouldn't have to hear me whine anymore.

Now this is where it gets interesting. I already know

coming in that am going to have a good time during the

whole delivery day regardless. What we didn't expect

was how my wife

truly enjoyed herself

throughout the

delivery. The whole

experience was top

notch! Of course, PEC

Atlanta is catered to

the auto enthusiast,

but it shows that

Porsche also did their

homework on how to

make sure the delivery

day is positively

memorable, and a

once-in-a-lifetime

experience for the

non-enthusiast.

Presentation is the

key here, not just for

the actual vehicle delivery itself, but the way they set up

your whole day there.

From the first welcome, a quick tour of the building

and venue, the unveiling of the vehicle itself, the

90-minute Driving Experience with a more-than-capable

and patient coach, the excellent fine dining lunch, and

last but not least, the gift bag with several items of

Porsche gear, accessories, and snacks. My wife was

happy and hooked! And that, on top of the flawless day

that we had, made it into an experience both of us will

remember for the rest of our lives.

16 August
---
Frisco

Allen

Roanoke

Lewisville

Plano

Carrollton

Richardson

N

Arlington

Irving

Dallas

(214) 393-4480 GARAGESOFTEXAS.COM

AUSTIN | DALLAS | FORT WORTH | HOUSTON | SAN ANTONIO

17
---
18 August
---
Maverick Marktpreis is proudly sponsored by:

Maverick Marktpreis: Panamera Turbo / Turbo Sy

Peter Wen

It's a sedan . . . it's a hatchback . . . it's a 928-reimagined,

911-esque, grand tourer: Panamera! Following the success of

the company's first 4-door production vehicle, the Cayenne, in

2009, Porsche was ready to take on the luxury sedan segment

with a GT car of their own. Enter the Panamera.

The Panamera, Type 970, was produced from 2010-2016.

It was a full-sized luxury sedan. Yes, full-sized like a Mercedes

S-Class. Similar to the 928, this luxury sedan had an engine up

front, and it could seat four adults comfortably. The twin-turbo

500 hp V8 engine can launch the Panamera from 0 to 60 mph

in less than four seconds. It was faster than a Cadillac CTS-V,

a Mercedes CLS63 AMG, or a Corvette Grand Sport. In fact,

it was even quicker than most seventh-gen 911s (991)! It's no

wonder the Excellence magazine picked the Turbo to be the Best

Daily Driver of all Panamera variants.

Inside, the Panamera cabin is luxurious. One reviewer

compared the backseats to first-class pods on airplanes. It has an

awesome sound system and superb supportive seats. The MSRP

for early Turbo models started at $135k. However with options,

it could jump quickly to the $150k-$160k range. Today, you can

find early Turbos for a fraction of the original price. If you are

looking for a spacious, practical, family sedan that can blow the

doors off your snooty neighbors' sports car, look no further than

a Panamera Turbo. It's a Porsche through and through.

We will be celebrating the 10-year anniversary of the Panamera at

Mavs & Mochas in Dallas (Highland Park Village) on August 10.

Excellence magazine's Porsche Buyer's Guide offered these price

ranges for the Panamera Turbo:

'10-'13 Turbo $45k-$70k

'12-'13 Turbo S $60k-$70k

'14-'16 Turbo $70k-$95k

'14-'16 Turbo S $85k-$110k

This "tri-fold" rear spoiler wing is unique

to Panamera Turbo and GTS models. The

wing deploys automatically at 56 mph.

Fun Fact: "The Panamera's name is derived, like the Porsche Carrera

lineage, from the Carrera Panamericana race. The Panamera is generally

considered to be the long-awaited fruit of Porsche's 989 concept vehicle

from the late 1980s." - https://en.wikipedia.org/wiki/Porsche_Panamera

2013 Panamera Turbo S

Sold for $71,000

30k miles

PTS Azzurro California Metallic /

Yacht Blue & Cream

4.8L V8 twin-turbo

7-speed PDK

Exclusive Pkg, Burmester, Fab Speed

exhaust, extensive leather options

2010 Panamera Turbo

Sold for $43,900

73k miles

Basalt Black / Black

4.8L V8 twin-turbo

7-speed PDK

Clean CarFax, Chrono Pkg,

20" Turbo II wheels

2010 Panamera Turbo

For sale asking $36,000

53k miles

Yachting Blue Metallic /

Yachting Blue & Cream

4.8L V8 twin-turbo

7-speed PDK

1 accident reported

2010 Panamera Turbo

For sale asking $54,888

33k miles

Basalt Black / Cream

4.8L V8 twin-turbo

7-speed PDK

1 accident reported,

Ceramic coating

2010 Panamera Turbo

For sale asking: $41,991

56k miles

Yachting Blue Metallic /

Yachting Blue & Cream

4.8L V8 twin-turbo

7-speed PDK

Clean Carfax

2013 Panamera Turbo

For sale asking: $52,990

13k miles

Agate Gray Metallic / Cognac & Cedar

4.8L V8 twin-turbo

7-speed PDK

Sport Chrono pkg, Sport Exhaust,

PDCC, Clean Carfax

With over 50 years of experience, Dallas Motorsports

offers a unique blend of inventory including some of the

most desirable performance and exotic vehicles available.

19
---
Coffee, Cars & Conversation

by Bill Kruder

photos provided by author

I have to say I hit the jackpot on this

interview. If there are two opportunities

that we have as a club, they are getting

our 4-door owners out, and the

participation of female owners. So as it

worked out, this member just happened

to be stalking the Mavs & Mochas

Facebook page and discovered that we

would be at Highland Park Village in

Dallas, her old stomping grounds, for

our Founders' Day morning. She made

the drive down to discover some 150+

other Porsches enjoying a near-perfect

December morning. This not-so-shy

person made her rounds, admiring the

cars and introducing herself, and Debi

and I were fortunate to have met her

that morning.

So here is the next in my series of

"conversations" I would like to share

with you:

BK: Rumor has it you live up by the Red River?

CT: Well, I do live pretty far north, but

let's not get carried away (laughing).

I live in Gunter, which by the way is

pronounced "Gun-ner." We moved up

there in 2001 and bought 1.5 acres in

an area called Hidden Lakes Ranch.

The plan was to one day build on it.

That never happened, but we did end

up selling the property and buying a

home nearby.

BK: And how about college?

CT: After high school I attended North

Texas. Let's just say that after two

years I left after having had a great

time (laughing). I did find myself a few

years later and graduated from

UTD with a BA in Psychology. I

then went on to get my Master's

in Counseling and Guidance from

Texas A&M Commerce.

BK: So let's talk cars.

What was your first car?

CT: That would have

been a 1976 Honda

Accord hatchback; it was

actually pretty stylish for

its time, especially if you

remember the '70s civics

with the donut wheels.

BK: Tell me about this "four wheel"

hobby you have!

CT: Yep not many know this one

but yes, I have a 1943 Ford GPW

(General Purpose Wagon) commonly

known as a "jeep."

BK: How this happen?

CT: Well I had a friend some years

back who was into WWII planes, and

I got to going to air shows, so I guess

it stemmed from that.

BK: Now there is a story behind this one right?

CT: Yes there is. Back in 1995, my dad

was coming to visit and he said he was

looking to buy a Willys "jeep," the

Chantel Tennyson, member since 2017

Owner, 2012 Panamera 4

Bill Kruder: So where are you two from?

Chantel Tennyson: I was born here in

Dallas, actually University Park. My

dad was in the dairy business and he

took a job in Omaha. We moved back

to Dallas after about three years. I went

to grammar school and high school in

Highland Park - yes I'm a "Fightin'

Scot." It's funny, back in the day, the

houses were mostly cracker box houses,

and now they are McMansions.

BK: What came next?

CT: Well in 1981 I bought

a brand new Mercury

Cougar XR7. It was

brown metallic with a

brown vinyl landau top

complete with carriage lights, if you

can even imagine that today.

BK: I understand that you moved on to

Cadillac and even have a couple today?

CT: Guilty (laughing)! I did and do. I

always loved the Eldorados! I've had

three and actually still have two of

them: a 1998 and a 2002. Most people

don't realize it but Cadillac made them

for 50 years. The 2002s were the last

model made. I have a hard time letting

cars go. They become family members,

so I still own all but three of the cars

I've ever purchased.

Zara, Chantel's 2012 Panamera at the Villiage Theatre

company that had the original contract

to make jeeps. So he makes his trip out.

I had found a 1943 Ford GPW that had

been restored some 10 years earlier (Ford

got a contract when Willys couldn't

keep up with demand). Needless to

say, he was like a kid at Christmas and

immediately rented a trailer, and next

thing I know he is headed back home

with his "jeep" in tow. Then in about

2008 my dad had taken ill, and I told

him the one thing I wanted was that

Ford "jeep" so he willed it to me and I

brought it back home.

20 August
---
BK: Ok but this is more than just a casual thing; you take

this seriously, I hear.

CT: Well, if being president of the Sherman Chapter of the

Military Vehicle Preservation Association (MVPA) for 10

years qualifies, I guess you can say it's more than casual.

It's fun to be invited to different parades and events as a

lot of people aren't all that familiar with the older military

vehicles and those that are are up there in age now.

BK: So tell me how you made the leap to a Porsche Panamera?

CT: Let's just say it was not planned. About three years

ago I had a car in the shop for some serious repairs, and

the shop called and told me that the cost to repair would

be greater than the value. With that said, I started to look

for a car. I thought I wanted a Jaguar. So one day I was on

Facebook Marketplace and there was this 2012 Panamera

4 for sale in Frisco. I went down to see it. I remember sitting

in it the first time and thinking "OMG I am in heaven."

But for some reason I still needed to check the Jag out; I

test drove it and didn't get the OMG feeling. So they say

the rest is history. I went back and bought the Panamera.

BK: Ok, so if you had your dream car what would it be?

CT: That's easy. If we're talking Old School, it would be a

1971 Ford Mustang Mach 1 Fastback - I always loved and

wanted one. Back in the day, we would cruise on Forest

Lane with all these great muscle cars and the Mach 1 was

my favorite. Now if we're talking new-issue dream car, it

would have better A/C and speak with an accent (laughing).

And there you have it – yes, 4-door owners do Drive

Friendships!

BK: Kind of a small world actually, as to how you joined the club.

CT: True. I had taken my car into NTB for an alignment,

and yes I know now we have better shops but I wasn't in

the know yet. As I'm waiting, there's this guy there getting

tires on his Boxster. Well for the next 30-45 minutes all

he did was talk about how great the cars are, how much

fun the club is, and that I just had to join. That was Tom

Minnella. So needless to say I joined the club.

Come home to this

gorgeous contemporary

5930 NORWAY ROAD, PRESTON HOLLOW / 5 BED / 5.2 BATH / 3-CAR GARAGE / 5,570 SQ.FT. / $1,999,999

214.507.6699 • tim@timschutze.com • timschutze.com

21
---
Upcoming Maverick Region Events

22 August
---
23

Upcoming Maverick Region Events
---
autoscope.co

3 Dallas Locations:

Porsche Specialists with over

35 years experience in DFW

Park Cities

6134 Denton Dr

Dallas, Tx 75235

214-350-3050

Plano

601 Coit Rd

Plano, Tx 75075

972-867-7467

White Rock

9796 Ferguson Rd

Dallas, Tx 75228

214-320-8280

The Art of Paint Protection

josh@invisibra.net

214-704-9299

Paint Protection Film

Ceramic Coating

Full Detailing

Window Tinting

24 August
---
When all HAIL breaks loose...

Roofing Solutions

By Darren Houk

Impact Resistant Roofing Options Including:

Metal, Tile, and even COMPOSITION shingles.

SAVE up to 28% on insurance premiums

www.RoofingSolutionsHOUK.com

817.692.8496

Showroom by Appointment

5500 Meandering Road Fort Worth 76114

25
---
Motoring Mavs at Mayo: June 2019

by Bill Kruder

photos provided by Bill Middleton

This Spring going into Summer has certainly had its challenges with all the rain we have had. So I guess when we

finally get a nice day we shouldn't be surprised that everyone is ready to stretch their legs and get out. Well get out

they did, on Saturday 6/15, for our monthly coffee, donuts, and shop talk as 60+ cars were in attendance. We will

let the pictures speak for themselves.

Yup...Mark Hanna, Mike De Jong, Robert Callaway and Chris Amond. Mark

Palmer, The gentle giant Robert Kendrick and Michael Baynton. Below: Julia

Underwood, Pier Burgess and Joyce Hammel.

26 August

Top: Bill Kruder and Co. with some liquid refreshments

Bottom: Bob Aines, Rob Bowen, Mark Hanna.
---
MarvelousHomeMakeovers.com | 972.951.1932 | Botond@MarvelousHomeMakeovers.com

27
---
Your mind's been racing.

Catch up.

Decades of dreaming, fulfilled instantaneously. The iconic 911 Carrera. Legendary

handling, immediate power, and decades of motorsport heritage. It is the full

measure of a sports car. Found only in a Porsche. Porsche. There is no substitute.

The 911 Carrera.

Porsche Plano

5924 W Plano Pkwy.

Plano, TX 75093

(214) 579-1911

porscheplano.com

©2018 Porsche Cars North America, Inc. Porsche recommends seat belt usage and observance of traffic laws at all times.

OUR WAITING ROOM IS YOUR LIVING ROOM

COMPLETE ON-SITE INSTALLATION AT YOUR HOME, OFFICE OR AT THE TRACK

ALL BRANDS TIRES & WHEELS • SALES • INSTALLATION • BALANCING

All PCA Members Get FREE INSTALL on Michelin & BFGoodrich Tires

Nobody Should Have To Sit In A Tire Store, Nobody!

CONGRATULATIONS!

TO CHRIS LENNON FOR HIS

SUCCESSFUL RUN ON THE

PIKES PEAK HILL CLIMB THIS

YEAR!

$70 - $100 REBATE

Are you a contractor or work

in a trade?

RECEIVE A $70 - $100 REBATE

ON SETS OF 4 BFGOODRICH

K02 TIRES

(972) 499-5024

28 August
---
Engine Restoration

• Restore, Rebuild to OEM Original

or Modified Spec

• Partial or Complete Car

Preservation Restoration

• We Manufacture NLA Parts to

OEM Original Condition

• Specializing in 911 930 928

Visit us on Facebook - Randall Kara Techniques

R A N D A L L K A R A

RKT 817-624-1322

T E C H N I Q U E S

901 TERMINAL ROAD • SUITE 400 • FORT WORTH, TEXAS 76106

35 Years Doing What We Love.

29
---
Tech Session Recap: The Porsche Physical

by Scott Kerfoot

photos provided by author and Michael Baynton

The almost monthly Maverick Region tech session

happened June 29 at the family-owned Porsche (and

other) shop Fifth Gear in Lewisville, focusing on "The

Porsche Physical." While there were at least a few other

events happening on the same day, the 75 members in

attendance received the benefit of having the full staff

that are decades old. Conversations about how to detect

when things are wearing, whether replacements are DIY

jobs or better left to someone with the myriad of special

tools were common. Even topics such as where to look for

oil leaks, when a leak might be bad, and how some of the

common leaks are remedied came up for discussion.

from Fifth Gear on hand. The newly renovated shop,

with an updated waiting area, fresh and clean work area,

and--most importantly on this hot and humid morning--

awesome air conditioning throughout the building was a

great location for learning about our cars.

The entire Fifth

Gear staff was engaged

throughout the event,

imparting wisdom about

both water-cooled (left) and

air-cooled (right) Porsches,

which were separated by

Fifth Gear's Wasser-Luft

line. Those on the right side

had great conversations

about how to give their

classics a physical while

those on the left stayed

focused on learning about

their modern machines

from the underside. Luckily,

the Maverick Region collectors in attendance who enjoy

both air and water helped keep us focused on what the

region is known for: building friendship across that line.

The level of detail in the Luft discussions was down to

bushings, bearings, and seals, with discussions on some of

the obvious and not-so-obvious parts that can wear on cars

On the Wasser side of the line, the conversations

focused on maintenance intervals, how to perform regular

maintenance, what things technicians see from a wear

perspective on modern cars, as well as discussions about

preparing for track or DE days.

A big thank you to the Fifth Gear staff, who prepared

great conversation points, had all their experts present,

answered lots of questions, and set up the shop to provide

a great tech session that was both comfortable and safe.

You can find out more about Fifth Gear here: https://

www.facebook.com/pg/FifthGearAutomotive/

30 August
---
If you love cars, we speak your language. Join the world's largest community

for automotive enthusiasts and save money on car stuff, get behind the wheel

at members-only events, receive six issues a year of Hagerty magazine and get

insider guidance on car values, trends, buying and selling.

Join the club at Hagerty.com/joinhdc

Membership benefits provided by Hagerty Drivers Club (HDC), a non-insurance subsidiary of The Hagerty Group, LLC. Roadside services provided by/through Cross Country Motor Club.

Only the Hagerty Drivers Club program guide contains a complete description of benefits. Hagerty, the Steering Wheel Logo and Hagerty Drivers Club are registered or common law

trademarks of The Hagerty Group, LLC. ©2019 The Hagerty Group, LLC. All rights reserved.

31
---
877 C

OUR PASSION DRIVES OUR CRAFTSMANSHIP

At APEX, your unique, personalized service program is crafted to meet your

speciic desires. Our passion is delivering a concierge level of service that

goes above expectations to create an unparalleled client experience.

To Ensure that you and your Porsche enjoy an unmatched standard of care,

contact us today for a private consultation.

855.998.APEX (2739) | www.ApexAutoCo.com | info@ApexAutoCo.com

CONCOURS LEVEL RESULTS

Using cutting-edge processes and

state-of-the-art equipment, our

detail techniques consistently

deliver an unsurpassed level

of care for your Porsche.

Expert Paint Correction | Professional

Detailing | Paint Protection Films (Clear Bra)

Ceramic Coatings | Window Films | Vinyl

Vehicle Wraps & Accents

Ceramic Pro Certiied Installer

The World's #1 Ceramic Coating

Member; IDA & Elite

Detialers Alliance

CARS & CANNOLI

Monthly on the 3rd Sat.,

Mar.-Nov., 9AM - 11:30AM

4756 Frank Luke Dr.

Addison, TX 75001

EXPERT ADVICE, OPTIMUM

ENHANCEMENTS

We have the knowledge and experience

required to truly enhance your

Porsche's aesthetics and

performance with

customized and proven upgrades.

Automotive Customization | Performance

Parts Sold & Installed | Intake/Exhaust |

Wheels/Tires | Suspension/Brakes | Custom

Methanol Injection Kits | ECU & TCU Tuning |

Racing Fuels and Methanol Sales | CEL/Code

Clearing & Diagnostics | Light Bodywork,

On-The-Go Hand Car Cleaning,

Reenishing & Respraying | Powder Coating

Automotive Customization &

Services | Integrated Radar/Laser Systems

Automotive Gifts

We indulge the needs of the connoisseur who values unsurpassed expertise

and craftsmanship for their Porsche. APEX; an automotive lifestyle brand.

200 C

200 C

200 C

200 C

200 C

123 C

German Car

Service & Maintenance

by Appointment

Specializing in:

307 C

307 C

354 C

354 C

354 C

108 C

108 C

108 C

307 C

108 C

354 C

200 C

108 C

307 C

354 C

307 C

299 C

151 C

Ussery Printing

Printer of SliPStream

Since 1982

817-366-1678

DasZauberwerk@ix.netcom.com

3402 Century CirCle irving, texas 75062

972-438-8344 Fax 972-721-1847

www.usseryprinting.com

32 August
---
From the exotic to

the everyday driver,

we've got you covered.

• Preventative Maintenance & Scheduled Service

• Repairs on Electrical Systems, Engine and Drivetrain

• Full Restorations

• Paint Protection Film and Detailing

Factory level diagnostics for

Mercedes, Volkswagen, Audi,

Porsche and BMW

serving north dallas since 1989

13595 Floyd Circle #400

Dallas, TX 75243

972-437-4216

33
---
Maverick August Anniversaries

20 Years

Carl Herrmann (Lisa Gaffney)

15 Years

Robert Adams (M'lynn)

Juan Gonzalez (Dave Cancilla)

Weldon Johnson (Veniece)

10 Years

Troy Freiberg (Serena)

Edward Mullenix (Donna)

Victor Murray (Pam)

5 Years

Dennis Collins

Jim Gallegos (Phyllis)

Chase Graham

Keith Jensen

Chris McDaniel (Tracie)

Bob Medlin

Paul Puri (Veena)

John Webbon (Melissa Sharpe)

Florence

Dallas

Irving

Fort Worth

Azle

Plano

Plano

Wylie

Dallas

Plano

Fort Worth

Dallas

Dallas

Lewisville

Plano

Member Moment - 40th PCA Anniversary, July 2019

Doug Johnson

Occupation

Professor Emeritus of Psychology University of North Texas

First Porsche

A very tired and rusty 1965 911 with a 1969 911T drivetrain. Replaced by

a new 944 in 1983.

Current Porsche

Still looking

Most memorable Maverick or PCA event

Working (hard!) with fellow Mavericks to host the 1987 Parade at DFW Airport. I assisted Tech

Quiz Chair Jerry Sutton with creating the quizzes, and wrote seemingly a bazillion potential questions.

We were the first Parade to use the Scantron automated scoring system, which allowed

us to give immediate results to the participants. Jerry and I, possibly for the only time in Parade

history, handed out the Tech Quiz awards dressed in academic caps and gowns. Peter Porsche was

so amused, he came up shook our hands. To top it all off, Steve Kent and I took First Place in the

Unequipped Division of the Rally. This amazed us both, because the rally was one of the most

fiendishly devious ones ever devised for a Parade, thanks to Rallymaster Billy Bob Evil, aka Carl

Ussery. Memorable indeed!

Best thing about Porsche ownership

You get to be in a great club, and do great things with and without your Porsche.

Advertiser Index

Advertising rates available upon request.

For more information contact Bill Kruder at

ads@mavpca.org

Apex Automotive.................................. 18, 32

Attic Butlers................................................. 25

Autobahn Motorcar Group........................ B.C.

Autoscope................................................... 24

Bennett Motor Werks.................................. 33

Competition Motorsport............................. 33

Concorso Detailing...................................... 29

deBoulle Diamond & Jewelry...................... 13

DallasMotorSports...................................... 19

Fast Lane Travel........................................... 35

Falgout & Associates, P. C ............................ 24

Fifth Gear Motorsports................................ 36

Growler Motor Labs..................................... 18

Garages of Texas.................................... 17, 18

Hagerty Drivers Club................................... 31

Innovative Autosports................................... 5

Invisibra...................................................... 24

Louden Motorcar Services....................... I.B.C.

Marvelous Home Makeovers...................... 27

Mayo Performance........................................ 7

Mustard Racing........................................... 32

New York Life................................................ 7

OCD'tailers.................................................. 25

Onsite Tires................................................. 28

Park Place Porsche................................... I.F.C.

The Phoenix Insurance................................ 12

Porsche Plano............................................. 28

RAC Performance.......................................... 3

RKT Techniques........................................... 29

Roofing Solutions by Darren Houk.............. 25

Stuart's Paint and Body............................... 10

Tactical Fleet................................................ 31

Tim Schutze Real Estate............................... 21

Texas Motor Works...................................... 33

Ussery Printing........................................... 32

Zims Autotechnik........................................ 35

These advertisers support our

Maverick Region.

Tell them you saw their ad in

Slipstream!

34 August
---
Parts or Service, We Deliver Excellence.

Over 300,000 parts in stock.

Expert service and repair.

Parts and Service for: Porsche, Mercedes-Benz, BMW, Mini, and Smart Car.

817-267-4451

Visit us online at:

1-800-356-2964

www.allzim.com

zimips@allzim.com

1804 Reliance Pkwy. Bedford, TX 76021 M-F 8am to 5:30pm

Zims Autotechnik is not affiliated with Porsche AG or PCNA Registered Trademark of Dr. Ing h.c.F. Porsche A.G.

Hey Maverick Region, Reward Yourself!

European Luxury Driving Tours since 1976

Germany, Austria, Italy, France, Switzerland, China and USA

Our PORSCHE driving tours for 2019 combine fun,

adventure, luxury & gorgeous scenery!

For more information contact us at: 813-343-3001

info@FastLaneTravel.com or

visit us online at www.FastLaneTravel.com

It's Our Business to Do Pleasure. TM

35
---
Oversteer: Letter from the Editor

by Kurt Scaggs, Managing Editor

If you've been to a Mavs & Mochas event, or pretty

much any other of the many Maverick social events

you've likely seen Bill Orr walking the crowd looking

for kids that might need a Porsche of their own. Bill isn't

giving away keys, but he is giving away daydreams. Hot

Wheels are the currency that he deals in on Saturday

mornings, but he's selective. He has lots of goodies at

the tent for those of us with our own wheels, but his

Hot Wheels are the most sought after commodities in

the under 16 set. You'll have to go to Walmart like the

rest of us to complete your collection.

It wasn't long ago that snatching up the latest Hot

Wheels Porsche model was a guilty pleasure I thought was

on par with going to a Weird Al concert, (Apparently I'm

not cool enough for Weird Al anymore) but I've found out

that I'm not the only one. I think they combine two things

that many of us find hard to resist. Cars and collections.

Not all of us can have collections of cars, at least not the

kind of collections we daydreamed of as kids.

A little history is in order. Hot Wheels first hit the

scene in 1968 with a series of 16 cars at the International

Toy fair. As it turns out the first commercially available

model was a Camaro. They sold for 59¢. If you found

one today you could expect to spend in the thousands.

It's kind of amazing that the cost of a new Hot Wheels

car has risen only 60% in more than 50 years. For

comparison Car and Driver tested a 1967 911 that

rang in at a price as test cost of $7,255. Had that car

appreciated like it's smaller likeness it would be squarely

in my price range. Day dreams. In case you're wondering,

the oldest Hot Wheels Porsche model I could find was

from 1974. I do happen to have one of those.

So with your help, I've been able to come out of the

shadows and feel okay about saving a few cars from the

demolition derby that my son hosts most weekend

mornings. I do make sure he's stocked with Porsches,

even if it pains me to hear the crunching because I

remember how cool it was to stage the most spectacular

crashes over and over. Michael Bay had nothing on me.

I sure do wish I hadn't left my Red Baron in the sandbox

though. Oh well. Enjoy the drive... through the shag

carpet Black Forest in your supercar of choice.

Porsche Specialists - Experienced Enthusiasts

Dealer-Like Service at Independent Prices

fifthgear.biz

Excellent Service Maintenance & Repair Sales

•All Porsches' Serviced

•Fast Turnaround Times

•Same Day Service In Some

Cases

•Serving DFW Area For Over

14 Years

•Family Founded, Owned &

Operated

•100+ Years of Porsche Tech Experience

•11,000 sq. ft. State-Of-The-Art Facility

Equipped with the latest Diagnostic

Tools

•Comfortable Waiting Area with

Free WiFi & Coffee Bar

•Same Services and Capabilities as the

Dealers

•Consignment Sales performed

on a case-by-case basis

1975 Archer Ave • Lewisville • TX 75077 • 972•317•4005

36 August
---
motorcar serv ces

Constant SLIPSTREAM Advertiser Since 1978

nc

1977

42nd

42

ANNIVERSARY

2019

MULTI-YEAR

WINNER

WHY YOU SHOULD TRUST YOUR

PORSCHE TO LOUDEN MOTORCARS

Ÿ

Ÿ

Ÿ

Ÿ

Ÿ

Ÿ

Ÿ

Ÿ

Ÿ

Ÿ

Ÿ

Ÿ

Award winning service for 40+ years

Rated "Best in Dallas" a record 3 times

Rated "Best in Texas"

Rated "Top 10 Shops in U.S."

Rated "Best in the West" by the ROBERT BOSCH Corporation

A Better Business Bureau accredited business for 3 decades with an A + rating

The first ASE "Blue Seal of Excellence" business in Dallas

Racing background at Daytona, Sebring, and Riverside

Master Certified Technicians

BOSCH Authorized Service Center

Air conditioned shop for technician efficiency and comfort

We do not sell cars, thus we must survive on our 40+ year service reputation

See what our customers are saying about us at:

LoudenMotorCars.com

Theresa@LoudenMotorCars.com

35E STEMMONS FRWY 35E

635 LBJ FRWY

CROWN

FOREST LN.

RD

REEDER RD

N h x

HARRY HINES BLVD.

ROYAL LN.

DENTON DR.

LoudenMotorCars.com

11454 Reeder Road, Dallas TX 75229

972-241-6326

FOR 4

DECADES

AUTOMOTIVE

SERVICE

ASSOCIATION

MEMBER
---
Hiram Saunders, Slipstream

155 Jellico

Southlake, TX 76092

Periodical Postage

Paid at Fort Worth, TX