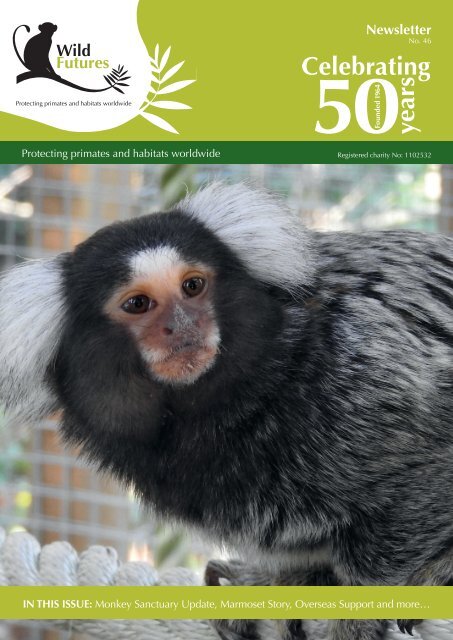 Wild Futures - Newsletter Summer 2019
Monkey Sanctuary Update, Marmoset Story, Overseas Support and more…
Monkey Sanctuary Update, Marmoset Story, Overseas Support and more…
SHOW MORE
SHOW LESS
Create successful ePaper yourself
Turn your PDF publications into a flip-book with our unique Google optimized e-Paper software.
Newsletter

No. 46

Protecting primates and habitats worldwide Registered charity No: 1102532

IN THIS ISSUE: Monkey Sanctuary Update, Marmoset Story, Overseas Support and more…
---
Top Tweets

Gibbobobo

@Gibbobobo

A huge thank you to

everyone who donated,

subbed, gave bits or gifted

subs at any point during

Monkey March! I've

added the money to the

Tiltify campaign which

has brought our total to an

amazing £321.12 that we've

raised for @wildfutures so

far this year!

Tarin

@Tarin_Teague

#ff @wildfutures dedicated

to protection of primates,

Wild Futures campaigns to

end the pet primate trade.

Primate Conservation

@PrimConsOBU

A big thank you to

@wildfutures for hosting us

this weekend and thank you

to all the wonderful staff for

sharing your knowledge and

time with us We hope the

monkeys enjoy their new

enrichments

Dr Susan Cheyne

@DrSusanCheyne

Amazing view from an

amazing sanctuary.

@wildfutures are

working hard to end the

primate pet trade and

care for the monkeys

who have been affected.

#PrimatesAreNotPets

Merrymeet Minimals

@MerrymeetMinims

@wildfutures - Please wish

Banjo a happy birthday from

us. We'll be there at Easter

with some goodies for him

James Overton

@CelticSwimmer

A very successful Polperro

environmental day yesterday.

Hoping to make it an annual

event. Thanks to Sarah from

@wildfutures for her talk on

the dangers to primates due

to climate change, palm oil

production and deforestation.

Very informative.

Changing Times

Consistency and change are, I think, two essential

elements for a charity like Wild Futures. They can

challenge us and be complementary. The political,

environmental and economic landscapes are seemingly

always in flux and we must negotiate these to remain true

to our aims, protecting primates and habitats worldwide.

In the last few months the climate crisis has made the

headlines over and over again. When Sir David Attenborough filmed at our Sanctuary

three summers ago, he said that he was retiring and his production crew joined him to say

goodbye. As we all know, he has far from retired. In fact his films about climate change,

biodiversity and environmental degradation have provided the essential clarion call we

all need to hear.

Wild Futures work is underpinned by education and action, as I hope you can see in this

edition of our newsletter. It's why we open our Sanctuary doors to the public, why we are

always striving to create interesting volunteer programmes, why we run our university

courses, collaborate with our colleagues in the welfare and conservation world and fund

the overseas projects you read about.

These are our constants and how we focus our priorities, resources and energies is what

must adapt to keep the charity fresh and relevant.

Of course the welfare of the monkeys in our care is always priority. The changing

population, the species and their histories has resulted in us deciding to reduce our

public opening hours; we have to balance welfare, education and finance. The care team

can focus more on the medical, social and physical needs of the monkeys who arrive at

the Sanctuary seriously damaged by their lives as pets. We can expand our training and

educational programmes. But we need to ensure the funds are in place to make it possible

and to respond to every emergency that challenges us.

This is where our supporters have remained the constant - you continue to make it all

possible and we owe you a great deal for this! But we need to grow our amazing family

of supporters and we need you to help: Please share on social media, tell your friends and

colleagues about Wild Futures, make an adoption gift - spread the word!

Thank you for all you do,

Best Wishes,

Rachel

Wild Futures, Murrayton House, St Martins, Looe, Cornwall PL13 1NZ

Tel: 01503 262532 • Email: info@wildfutures.org

Web: wildfutures.org • monkeysanctuary.org • adoptamonkey.org

@wildfutures

facebook.com/wildfutures

wildfutures

Please pass this newsletter on to a friend or neighbour to raise awareness of our work.

Chico

Printed by

The Monkey Sanctuary update

We've had a busy few months since our last

update to you, and the time has flown by!

In March, weeper capuchin Olly arrived

at the sanctuary! Olly's history is a little

unclear, but we believe he was brought

into the UK from another European

country, and kept as a pet in London for

a couple of years. Olly's owner used to

take him on the London Underground,

and thankfully someone reported them to

the authorities and he was subsequently

rescued. We are thankful to Gentleshaw

sanctuary for caring for Olly before he was

able to come here as his forever home.

Olly

He's immediately got stuck into his

new life at the Sanctuary; calling to and

greeting all of the other monkeys as well

as exploring his enclosure to the fullest!

Once his 'quarantine' period was over he

began to socialise with the other weeper

capuchins and is slowly on his way to

becoming a valued member of the weeper

capuchin group!

With the highs, we've also suffered

a devastating low, when earlier this

year beloved capuchin monkey Kodak

suddenly passed away. We'd noticed that

he'd lost a lot of weight in a short amount

of time, so we took him to the vets to

get checked out, and, sadly, the results

of his check-up showed a terminal heart

condition. To help manage his condition,

we started him on medication straight

away, but he deteriorated quickly and

Kodak passed away peacefully during the

night, surrounded by his friends. We are

heartbroken at the loss but we find peace

in knowing that he lived a happy and

exciting life here at the Sanctuary, with

many great friends. Tam, Kirsty and Joey

definitely felt the loss within their group,

especially as he held such a pivotal role for

them; but this loss brought them together

in ways we never could have imagined,

and they have never been closer. We are

hoping to socialise the three of them with

other capuchins to form a new group, and

we will be spending the next few months

working on that! For now, we remember

Kodak as an inquisitive, courageous,

playful capuchin, whose loud, excitable

greetings to his favourite humans each

morning will never be forgotten.

Kodak

New to 2019, we made the decision to

reduce our opening days to the public this

year! As a small charity we have to make

sure that our resources are going to where

they are needed most. As we are a sanctuary,

and a forever home to rescued monkeys,

we need to respond to the changing needs

of the monkeys and strike a good balance

between welfare, education, and funding;

and the welfare of the monkeys in our

care has to take priority. Being closed for

longer, we can concentrate on big projects

like building and adapting enclosures

equipped with specially designed catching

systems for easier catches for vet visits, reroping

enclosures to make it different and

interesting for the monkeys, working on

new enrichment programs, and socialising

different monkeys!

New Enclosure

Want to receive monthly updates from us?

Why not sign up to our E-news here www.

wildfutures.org/join-our-mailing-list

General

Thank You

Gifts in kind are a great way for

individuals and companies to

donate specific items for the

monkeys. These donations are

really important to us as it means

that we can continue providing

important items for the monkeys.

Gifts in kind can be anything from

fire hose and ropes for enrichment,

fridges and freezers to store the

monkeys' food, vitamins and

medicines for the monkeys, to

office equipment for the staff.

We want to say a huge thank you to:

• Eliza Tinsley for their continuing

donations of rings on plates and

bolts to help us hang enrichment

for the monkeys.

• Corinna Thuelen and Gabi

Douglass for continuing to go

above and beyond to support Wild

Futures.

• ASSA ABLOY Ltd (Yale Locks)

for their loyal and long-term

donations of padlocks and snib

locks.

• Viridian for their life-giving

donations of vital vitamins for the

monkeys.

• Tecni Ltd for continuing to

donate clips so we can hang ropes

and other items in the monkey

enclosures.

• Chris Armstrong, Director of

Armtec Engineering Ltd, HMS

Rayleigh, Royal Navy Falmouth

Docks, and Crownhill fire station

for their ongoing donations of

ropes and fire hose.

• TESCO Ivybridge for continuing

to collect nuts for the monkeys to

enjoy

• Lesley Thatcher for donating

pots of bamboo for the marmosets

to climb and play in.

• BD (Becton, Dickinson

and Company) for donating

syringes and needles for us to

give medication to our diabetic

monkeys.

Find out more about the important

day-to-day items we are in need

of at www.wildfutures.org/

waystohelp/parcels-for-primatesmonkey-wish-list-appeal

2 www.wildfutures.org | info@wildfutures.org | www.monkeysanctuary.org

Promoting the welfare, conservation and survival of primates 3
---
Beattie, Finley and

Freya's Story

Last year we rescued 11 marmosets

from the UK primate pet trade, and

three of those were siblings Beattie,

Finley, and Freya!

Beattie

Beattie was born in 2016, her owner

had bought a female marmoset to keep

his lone male marmoset company,

and Beattie was their first offspring.

Like the majority of marmoset births,

Beattie was born a twin, however her

twin sadly passed away and Beattie

was raised alone. Finley and Freya

were the next set of twins born in 2017,

but unfortunately they were split from

Beattie and their father, as their owner

was worried about jealousy in such a

small space.

Beattie

This is extremely unnatural for

marmosets; in the wild the father

does the majority of the care for their

babies, and older siblings will help care

for the young to learn such skills for

themselves, so this would have been an

extremely stressful time for all of them,

in adjacent bird cages unable to get to

each other.

Eventually Beattie, Finley, and Freya

were put together in one of their tiny

bird-cages. There was very little room

for them to move, no ropes or branches

to walk or swing on, and nothing for

them to forage through.

Freya

When they first arrived at the Monkey

Sanctuary, all three of them initially

struggled with the complexity of their

new enclosures as they had never

moved around on anything but the

cage bars before. Thankfully, their

young ages meant that they were

keen and energetic, and before

long they had all mastered the art of

marmoset locomotion!

Beattie has taken on the role of family

protector and always makes sure that

her siblings are safe. From time to time

she does like to indulge in a wrestling

game with Finley and Freya, which they

all love! They often spend hours chasing

each other around and jumping into

blanket hammocks for a play-wrestle!

Beattie

They do still have the odd sibling

squabble though, and none of them are

fond of sharing their food, so they tend

to keep their distance from each other

at feeding times!

Finley

Despite Beattie being the family

protector, young Freya has taken on the

role of dominant female; there was a

short period of instability, where the two

girls had to work out how their roles fit

in with each other, but they have now

worked out a good balance and are able

to work together peacefully. Brother

Finley makes sure that the girls still

have a bit of fun; he often encourages

them out in the sunshine to play or

to groom!

Finley

The UK marmoset

pet trade

Marmosets are seemingly becoming

one of the most popular monkeys to

own as pets in the UK. As there is no

requirement to register that you own

a primate as a pet, it is difficult to

ascertain how many primates are kept

in private ownership. Furthermore,

when it comes to owning a marmoset as

a pet, you do not require a Dangerous

Wild Animals Act licence (DWAA) to

own one as you do with many other

species of primate, and this makes it

nearly impossible to know how many

there are, and the conditions that they

are kept in.

The reason for marmoset's popularity

in the UK is unclear; however, there

are a couple of theories that may be a

factor as to why. They do not require a

DWAA licence, which means there is no

extra fee to pay, and you do not require

an inspection. As they are small, some

people might assume that they are easy

to care for and do not need a lot of space.

This is not the case.

Pet marmosets are often kept in bird cages

Marmosets are wild, socially complex

monkeys that are perfectly adapted to

live in their natural environment, not as

a pet. In the wild common marmosets

live in extended family groups of 3 to

15 animals. This family group usually

consists of one adult breeding pair and

their offspring. The dominant adults

will be the only members of the group

to produce young; however the rest of

the group will all help take care of the

young. The group will have a territory

of around five hectares which they

defend; they will forage for food within

this territory and use scent marking

to define the borders. This territory is

chosen based on the quantity of gum

trees, and within the territory are set

sleeping trees, usually thick with vines

and foliage for protection, which are

used to sleep in regularly. Their diet

consists of foods such as spiders, tree

sap, bird eggs, and small vertebrates,

and they require a large amount of

ultraviolet light from the sun.

The needs of any primate can never be

met in a domestic situation yet the trade

continues to thrive in the UK.

A victim of the UK primate pet trade

Sadly, over the last three years we are

seeing the demand to rescue marmosets

increase dramatically. In 2017, we were

asked to rescue marmosets 7 times; in

2018 we had 20 requests to rescue. This

year, by May, we've already received

10! Plus, these figures show the amount

of requests, not the individual monkeys

that need rescuing. The devastating

truth is that currently we cannot rescue

anymore marmosets.

All other suitable places that can rescue

marmosets are also full. The only way

to help these tiny victims of the trade

is to change the law and end the UK

primate pet trade. Please help us reach

that goal by supporting our 'Did You

Know' appeal and together, through

campaigning and raising awareness,

we can make a difference and help end

their suffering.

Thank you for your continued support!

Cireson

Visit

In May we were delighted

to host an afternoon at the

Monkey Sanctuary for our

corporate sponsors, Cireson.

Over the years Cireson have

donated over £32,000 to Wild

Futures and we are extremely

grateful for their continued

support. Having their head

office in America, and their

staff based all over the UK, the

opportunity for them to visit

us is quite rare, so we were

excited to have the chance to

meet more of the wonderful

team that do so much for Wild

Futures and the monkeys that

live here!

The afternoon consisted of a

talk about Wild Futures' vital

work and how we work towards

reaching our charity objectives,

followed by a tour around the

Sanctuary to meet some of the

monkeys, in particular Banjo

whom they adopt!

It was a superb afternoon that

gave us the perfect opportunity

to thank them, and show them

first-hand what their generous

donations help us to achieve.

We had great feedback from

the team saying they found

their time with us really eyeopening,

and the whole

afternoon was very informative

and, sadly, quite shocking to

realise the true extent of the

plight of primates in the UK.

Thank you again Cireson,

for everything you do for

Wild Futures!

Cireson

4

www.wildfutures.org | info@wildfutures.org | www.monkeysanctuary.org

Operating a sanctuary to care for victims of the UK primate pet trade 5
---
Staff Profile – Kim Nicholson

Chico's

Coriander

and Lime

Houmous

Ingredients

• 150g dried chickpeas

• 125g fresh coriander leaves

• 2 tablespoons tahini

• 2 tablespoons fresh lime juice

• 1 teaspoon lime zest

• 1/4 teaspoon coriander

Method

1. Soak dried chickpeas

overnight in a large bowl

filled with 300 ml of water.

2. Boil chickpeas until soft.

3. Drain and rinse chickpeas.

4. Add chickpeas and all of

the other ingredients into a

food processor.

5. Blend for 2 to 3 minutes

until smooth.

6. Check the taste and, if

needed, add more seasoning

to achieve the desired flavour.

7. Serve with your favourite

veggies or pita bread!

Enjoy!

Recipe taken from

www.deliciousmagazine.co.uk/

recipes/coriander-houmous

How did you first get involved with

Wild Futures?

I have always had an interest in animal

care, particularly primates, and so I

focused my studies around this. I first

volunteered at the Monkey Sanctuary in

2012 for a five-week placement. I fell in

love with the Sanctuary and decided to

do the year-long internship in primate

care after finishing my studies. Then, in

2015, I got offered a job at Wild Futures

as a full-time primate carer.

What is your role?

Kim Nicholson

I am a primate carer, working with

the capuchins, Barbary macaques and

woolly monkeys. My day-to-day work

includes feeding the monkeys and

cleaning their enclosures, conducting

and observing socialisations within

the capuchin groups, giving out

medication to the monkeys who

require it, giving talks to volunteers,

giving talks to the public during our

open season, educational workshops,

making enrichment for the monkeys,

and assisting in maintaining and reroping

enclosures.

Feeding

What challenges have you faced during

your time at Wild Futures?

Every morning the monkeys all get a

ball of porridge that includes all of their

daily vitamins within, but even after

four years here at the Sanctuary I can

never seem to get the quantities right

when cooking it and it always come out

either too sticky or rock hard!

What inspires you?

I find interacting with the visitors here

on site very inspirational, whether they

are general public visiting us for the

day or an educational group or our

own volunteers; many people have

little knowledge of the issues here in

the UK regarding primate welfare, and

being able to educate and inform them

through our talks, and the positive

response we often receive, is very

inspirational.

Of course, seeing the change in our

rescued primates as they go from

individuals with physical and social

issues to happy and healthy individuals

in stable social groups is really

motivating.

Making enrichment

What do you hope to achieve in

the future?

I hope to continue working with

rescued primates, but also to improve

my carpentry and maintenance skills,

which is another passion of mine. I

would also love to visit other animal

sanctuaries all over the world, to

volunteer and see the fantastic work

that they do!

Spot the Difference

There are 6 to find!

Enrichment Facts:

We always need to make sure that our

monkeys have lots of things to do and

think about - anything that helps them

do this is called 'enrichment'.

There are lots of ways of providing

enrichment - from hiding food to putting

new logs in their enclosures for them to

climb and explore!

Enrichment helps keep monkeys living as

natural a life as possible, even though

they are in captivity.

Without enrichment, monkeys in captivity

can become stressed and bored, so

enrichment is very important to keep

their minds and bodies busy and happy!

Colour Me

Woolly Monkey

Word Search

WORD SEARCH ENRICHMENT

K J L Z X S U S T C G R T U T

V G P M J P E P C X A R J U V

C J C F D H E A H T R P N D F

K E L R C C V A F J L I R N L

I V D N L U E J N F I H N E Q

Q Q A B O T T L E U C V A A Y

N R Z O Q T N L S S T V L N B

B X G E H Y G E P O E F A X C

E N O E L L R L C S P K W G C

Z Z H W G S Q K H D F T K N Y

E W J B R B T C F V E U I P S

H X U U T T R H J W P S B U Y

Q K O N S S A R G W O V Z N K

X X I B S H D R F Q R U X E W

F M U F V E J H P H E R Y P G

BOTTLE

BOX

BRANCHES

GARLIC

GRASS

LEAVES

MINT

PEANUT

ROPE

6

www.wildfutures.org | info@wildfutures.org | www.monkeysanctuary.org

Working to end the primate trade and abuse of primates in captivity

7
---
Simple Steps

to Helping the

Environment

Climate change and the devastating

effect it is having on our planet

is a huge topic in the media at

the moment.

Sad as it is we wholeheartedly

support this coverage. Each and

every one of us can do our bit to

make small and large changes to

our lifestyles to help reduce our

impact on the environment and

climate change.

We often get asked how people can

help, so we've put together three

very simple and common steps

that you can take to make positive

changes to help protect our planet.

1. Travel responsibly – Wherever

possible try and walk or cycle

to wherever you need to go. If

you are going on a longer

journey, try using public

transport where possible.

2. Reduce the amount of meat and

dairy in your diet – Reducing

the amount of meat and dairy

in your diet can hugely reduce

your impact on the environment.

Farmed animals contribute

14.5% of human-generated

greenhouse gas emissions,

which is a staggering amount.

3. Be mindful of waste – reduce,

reuse, recycle! The amount

of waste that we are creating

is astonishing; every product

we buy has an environmental

footprint and could end up in

landfill. Being aware of what

you are purchasing, as well as

reusing and recycling wherever

possible will have a positive

impact. You could also consider

not buying items that are in

single use plastic.

Cycle to work

It's Time to Bee Happy

There's been a lot in the media about

how important bees are, and about

their unfortunate decline – but do you

know why they are so important or

what you can do to help?

Bees collect pollen and nectar from

flowers to feed their entire colony,

in doing so they move pollen from

one flower to another which allows

fertilization of these plants – enabling

plants to grow fruits etc. Bees are

essential pollinators; there are more

honey bees than any other species of

bee or pollinating insect, so they do the

majority of the pollinating that occurs.

Bees not only pollinate wild flowers

and plants but do a significant amount

of pollinating of commercial crops as

varied as avocados, blueberries, cotton,

celery, and almonds. Without bees it

would cost farmers a lot more money

to pollinate their crops, the cost of

which would then be passed down to

consumers and would very much affect

the economy. We would also lose the

variety and abundance of wild flowers

that make our countryside so beautiful.

Why are they in danger? There are a

number of factors affecting the decline

of bee numbers worldwide. There has

been massive habitat loss with more

built-up areas constantly being created.

New pesticides are now being found

to be dangerous to bee species and

climate change is also having a negative

impact on bees – changing when they

emerge after winter and also affecting

the timing of the flowering of plants

that the bees rely on for food.

So what can we do to help? It's not

too late to save bees, and if everyone

does a little to help it will make a

big difference.

Create a bee paradise in your garden

with bee-friendly plants, such as mint,

Echinacea, lavender, wild lilac, witch

hazel, and poppies. Leave a part of

your lawn to go wild; bees love daisies,

dandelions and clover. If you don't

have a garden you can have a plant pot

or two on a balcony or any available

outside space with bee-friendly plants.

Don't use pesticides – they can harm

bees or other insects. Some of these

insects leave sweet secretions that bees

may eat, and all will play their part in

the ecosystem. Hence using pesticides

can cause unnecessary harm to your

local bee population.

Mint - a bee friendly plant

Create a drinking area for them – they

just need a little bit of water, which you

can create with a shallow container –

put stones, pebbles and twigs in it for

places to rest and drink from. And if

you ever see a drowsy looking bee they

might need a pick me up – some sugar

water can perk them up and send them

on their way again – just put some in

a small accessible pot near where you

find them.

If everyone does just a little bit to help,

together we can make a big difference

to the small insect that does a gigantic

job – let's help them bee happy again!!!

Wildflowers

European Voluntary

Service

The European Voluntary Service (EVS)

scheme, which we've been a part of for a

few years, allows young people to travel

to other countries and volunteer for nonprofit

organisations, whilst learning and

developing new skills in an area they're

interested in. We offer EVS volunteer roles

with us in primate care, administration,

education, and maintenance.

Here's what a couple of our current

EVS interns have to say about their

time here:

Pablo

Primate Care Team

Pablo

Where are you from? Barcelona, Spain.

What made you want to do EVS with

Wild Futures? I wanted to improve

my English, but also in a place where

I could do some environmental work at

the same time. I had some experience

with primate care, so I knew what to

expect about working in a sanctuary.

What is your average working day like?

I care for the Barbary macaques and/

or the woolly monkeys, and a typical

day can consist of cleaning enclosures,

moving the animals through runways,

feeding and making enrichment.

Around those core jobs, I give talks,

pick leaves for the monkeys, and do

daily behavioural observations as well

general maintenance work.

What do you enjoy most about doing

EVS? The thing that I like the most is

having the opportunity to be abroad for

a long time, knowing a lot of different

people and learning a new culture

while practising English.

What do you hope to do in the future?

I'd like to do a master's in biodiversity

management and continue with

my career.

Rike

Education Team

Rike

Where are you from? I am from

Schafflund, which is in Northern

Germany not far from the Danish border.

What made you want to do EVS with

Wild Futures? I always wanted to spend

time abroad, speak another language

and get out of my comfort zone. Wild

Futures was one of the most fascinating

projects I read about when looking for

an EVS position.

The combination of speaking English

fluently, living in the beautiful region

of Cornwall and working with animals

to give them a better life – what more

could you want?

What is your average working day

like? My morning starts with cleaning

enclosures. In the afternoon I have lots

of different jobs! I give talks about the

monkeys and the primate pet trade. I

take care of the education rooms.

I do daily observations on the

monkeys, learning their characters and

behaviours. I work on presentations

and informative materials. I also give a

variety of educational workshops to the

other volunteers. But there's a lot more

to do – so I never get bored!

What do you enjoy most about doing

EVS? Living at the Sanctuary is a unique

experience. You live with many people

from other countries and find a lot out

about yourself.

It teaches you how to make very quick

friends, speak with strangers, challenge

yourself and get better at what you are

doing every day.

What do you hope to do in the future?

I will perhaps study Law in Germany.

This scheme is funded by the

Erasmus+ programme of the European

Commission. To find out more about

the voluntary schemes that we offer

visit www.wildfutures.org/europeanvoluntary-service

8 www.wildfutures.org | info@wildfutures.org | www.monkeysanctuary.org

Conserving natural habitats through education and sustainable living

9
---
Overseas Support

Shop with Wild Futures

Thanks to your support, we were

delighted to be in a position to offer

small grants to two projects in 2018;

Merazonia in Ecuador and Esperanza

Verde in Peru.

The enclosure is designed so that

monkeys can be shut off in various

compartments for cleaning in order to

avoid interfering with the group, and

prevent interaction between humans

and monkeys. They are hoping to

release their capuchins into the wild, as

they have done with some of their other

primate species this year, but in the

meantime they need more space.

Don't forget, another way to help Wild

Futures and support the monkeys is

through our online shop! We have lots

of different things for sale such as soft

toys, Wild Futures clothing, mugs, tea

towels and much more!

With all proceeds going towards helping

us to care for the monkeys at the

Monkey Sanctuary, as well as campaign

against the cruel primate pet trade in the

UK, you know that your purchase will

directly help the work we do!

Please visit our shop website

www.wildfutures.org/shop to have a

browse and place an order.

Adopt a monkey:

Merazonia

Merazonia is the only wildlife centre

licensed by the Ecuadorian Ministry

of Environment as a rescue and

rehabilitation centre. They are situated

in primary and secondary rainforest

in the Amazon basin and receive a

variety of illegally trafficked wildlife,

many of which are primates. Their

focus is to rescue, rehabilitate, and

release primates that are endemic to

their region such as woolly monkeys,

red howler monkeys, saddle-back

tamarins, and white fronted capuchins.

They invite volunteers to come and

help them with their work and cover

their basic monthly running costs, and

they rely on grants and donations for

any bigger projects and building costs.

Esperanza Verde

Merazonia applied for funding to our

small grants scheme for an enclosure

extension for their rescued capuchins.

Due to the demand of rescue individuals

increasing, they needed to adapt their

current enclosures.

Esperanza Verde

Esperanza Verde is a wildlife rehabilitation

centre which rescues a large number

of animals confiscated from the illegal

trade. Their mission is to rehabilitate

and release native wildlife, as well as

reforest areas of the jungle previously lost

to farming. Esperanza Verde applied for

funding from us for a new soft-release

enclosure (an enclosure that allows a

gradual transition back into the wild).

They often rescue very young primates

(woolly monkeys are one of the most

commonly trafficked animals in the

region) that need to be introduced to the

other youngsters that are already at the

centre. They need a new enclosure where

these monkeys can go and safely get to

know the others and their surroundings,

before being released to join them. The

enclosure will also serve as a space for

monkeys that will spend their days in the

jungle, but are not yet ready to live in the

wild full time. We were able to give both

of these projects funding at the end of

2018, and we want to say a huge thank

you to our wonderful supporters for

helping us make that happen. We will

receive an update about their projects

soon, and when we do we will let you

know how they're going!

From £3 a month or £36 a year your

money will help provide a forever

home for monkeys rescued from the

UK primate pet trade. It will also

help us with our vital education and

campaign work to raise awareness

about the plight of primates in the

UK and to bring about a change in

the law to protect these animals.

Why not consider adopting recent

rescues, Beattie, Finley, and Freya

who feature on page 4.

For more information, visit

www.wildfutures.org/adopt

Fundraise for the monkeys

Fundraising is not only an amazing

opportunity to raise vital funds for

Wild Futures, but is also a great

opportunity to raise awareness

about the work we do and why

primates should not be kept as pets.

No matter how big or small your

fundraising is, every little helps, and

it creates the perfect scenario for

people to ask questions and become

more aware of the plight of primates

in the UK. If you're struggling for

ideas on how to fundraise here are

a few suggestions:

• Host a bake sale at your school

or work

• Do a sponsored walk or a

bike ride

• Have a monkey-themed fancy

dress party and charge £1

• Host a vegan dinner party

For more information and ideas visit

www.wildfutures.org/waystohelp or

email fundraising@wildfutures.org

Adults Organic Navy Hoodie

Children's Blue T-shirt

Kids Monkey Bamboo Dinner Set

Adults T-shirt

Children's Pink T-shirt

Hanging Ring-Tailed Lemur

Adults Organic Grey Hoodie - Front

Monkey 'back to school' kit

Mug

10 www.wildfutures.org | info@wildfutures.org | www.monkeysanctuary.org

Promoting the welfare, conservation and survival of primates

11
---
Thank you to our supporters

With the many highs and lows we have had at the

Sanctuary in the last six months, it has seemed a very

long winter! But one thing that is always consistent

is the support from you, our wonderful supporters!

✁

As always, it would not be possible for us to do

our work without you, and with your help we have

continued building and maintaining enclosures at the

Sanctuary, rescued Olly, and provided small grants to

overseas projects. Everything that you do, big or small,

enables us to continue our work. All your help is

incredible, from your food donations for the monkeys,

to the money you donate that helps us improve the

lives of the monkeys and to continue to campaign and

educate against the UK primate pet trade. We really

could not do our work without you. We want to say a

huge thank you to each and every one of you!

We hope that all of you will enjoy the summer months

ahead (fingers crossed it appears!) as the monkeys

certainly will, and we are excited to see what the

next few months have in store!

Donations

Donations – Please fill in the form below to make your donation – Your generous gift today makes it possible for us to continue our work – Thank you!

Please send your completed form to: Wild Futures, Murrayton House, Looe, Cornwall, PL13 1NZ

A

I would like to make a donation to Wild Futures of £

Cheque / PO made payable to 'Wild Futures'

Please debit my credit/debit card

Card No

Valid from

Exp. Date Security No. Issue number

Title First Name Surname

Address

Post code

Tel

Email

Signature

Date

B

Alternatively, to donate online, please go to www.wildfutures.org - Gift Aid your donation to make it worth 25% more – at no extra cost to you.

Yes! I would like to Gift Aid my donation to increase the value of all donations I have made for the past 4 years, today and all future donations until I notify you otherwise. I confirm that I have

paid or will pay an amount of Income Tax and / or Capital Gains Tax for each year (6 April to 5 April) that is at least equal to the amount of tax that all the charities or CASCs* that I donate

to will reclaim on my gifts for that tax year. I understand that other taxes such as VAT and Council Tax do not qualify. I understand the charity will reclaim 25p of tax on every £1 that I give.

*Community Amateur Sports Clubs. Please see our privacy policy on our website to find out how we store, process and use your data.

I would like to receive the monthly email update on Wild Futures' work. We greatly value your support and would like to keep you informed about our work via marketing literature, to help

us further our charitable aims. You can unsubscribe at any time by emailing us info@wildfutures.org. Please note that the data collected on this form will be securely held on Wild Futures

database and will be held securely in line with current data protection legislation. Find out more about how we use, store and process your data by looking at our privacy policy on our

website, www.wildfutures.org/about-us/privacy-policy - From all of us at Wild Futures – Thank you!

Tick if you do not need a thank you letter. This helps us to save on postage costs, leaving more money for the monkeys.

www.wildfutures.org | info@wildfutures.org | www.monkeysanctuary.org

Newsletter No. 46