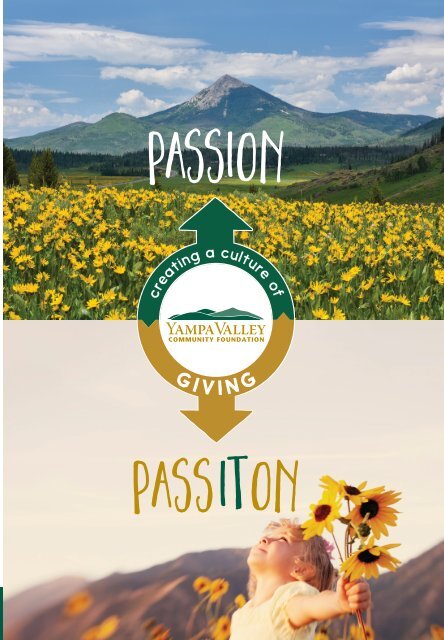 2018 YVCF Annual Report
2018 Annual Yampa Valley Community Foundation Annual Report
2018 Annual Yampa Valley Community Foundation Annual Report
SHOW MORE
SHOW LESS
You also want an ePaper? Increase the reach of your titles
YUMPU automatically turns print PDFs into web optimized ePapers that Google loves.
passion

passiton
---
F R O M

T H E

B OA R D

Dear Friends,

One of the primary tenets of the Yampa Valley Community Foundation has always been

"connecting people who care with causes that matter." In 2018, the Board of Trustees

embarked upon a lengthy strategic planning process to enhance the programs and services we

provide to our many donors and local nonprofit organizations.

With continued growth in the Valley, it is vital that the Community Foundation expands its

expertise in both philanthropic and nonprofit services. Our new strategic direction will allow

us to dedicate more time and energy to support our community in these areas. So whether

you are seeking information on nonprofit board management, or how to establish a donor

advised fund, or understanding the current needs in Northwest Colorado, or making a

contribution that extends beyond your lifetime, the Yampa Valley Community Foundation is

the trusted resource to consult.

We invite you to be a part of our local culture of giving and learn more about the many

programs and services we provide in the Yampa Valley.

Ron Krall

Board Chair

Mark Andersen

Executive Director
---
Board of Trustees

The Community Foundation receives gifts in many forms. Among the

most precious gifts are time, knowledge, skills, and hard work donated by

our volunteer trustees.

FY 2019 Board of Trustees

Ron Krall, Chair

Owner, Off the Beaten Path Bookstore

Rod Hanna, Vice Chair

President/CEO, Sidney Peak Ranch

David Foster, Vice Chair

Community Volunteer

Kathryn Pedersen, Secretary/Treasurer

Fidelity Mortgage / Affiliate Partnership

Paula Cooper Black, Emeritus

Community Volunteer

YVCF welcomes new board member:

Kelly Landers

Community Volunteer

Carol (Shine) Atha

Community Volunteer

Deb Conroy

Attorney, Keller Law Attorneys

Chris Diamond

Retired, Steamboat Ski & Resort Corporation

Jay Fetcher

Rancher

Gordon Hattersley

Philanthropist

Craig Macnab

Rancher

Rob Perlman

President, Steamboat Ski & Resort Corporation

Tom Sharp

Community Volunteer

Craig Wasserman

Community Volunteer

Tara Weaver

Owner / Broker, Central Park Management

PJ Wharton

President, Yampa Valley Bank

Pam Williams

Rancher

Barbara Winternitz

Community Volunteer

how to GIVE

Connecting People Who Care with Causes That Matter

970.879.8632 | yvcf.org | info@yvcf.org
---
T H E

E X P E R T S

Experts in Local Philanthropy

What is a Community Foundation?

Community foundations are tax-exempt public charities serving thousands of people

who share a common interest—improving the quality of life within their geographical area.

Individuals, families, businesses, and organizations create charitable funds that help their

region meet the challenges of changing times. The foundation invests and administers these

funds. All community foundations are overseen by a volunteer board of leading citizens and

run by professionals with expertise in identifying their community's needs.

Why Invest in a Community Foundation?

There are many reasons to invest in your local community foundation. Community foundations

go beyond simply making grants that advance charitable activities. They also identify current

and emerging issues, channel resources to address their communities' needs, and help their

regions prepare for the future. YVCF understands the needs of the Yampa Valley. The staff

works closely with local nonprofits to improve community life and recommends where donors

can make gifts that will have the most impact. Through partnership with YVCF, you will be

positioned to pass your passion on for future generations.

Community Foundation National Standards Compliance

The National Standards for U.S. Community Foundations® (National Standards) is an

accreditation program created by community foundations for community foundations. They

are peer-driven, voluntary, and self-regulatory. The Yampa Valley Community Foundation has

met National Standards since 2006. The program requires YVCF to document our policies

for donor services, investments, grant making and administration, all of which are available

to the public. The National Standards has established legal, ethical and effective practices

that increases donors' comfort level when establishing a fund at the Community Foundation.
---
Quick facts 2018

Serving the

Community

1996

since

Proudly Serving:

Moffat & Routt Counties

$17.2+ Million

Grant-making since

inception

Scholarships

Granted:

$16 Million

Total combined assets

FY2018 Scholarship Awards – $ 181,341

FY2017 Scholarship Awards – $ 183,650

$1.6 Million

YVCF Trustee Operating

Endowment

050,000

$ $

100,000

$

150,000

$

200,000

Charitable Funds: 154

Executive Director

Mark D. Andersen

Board of Trustees:

19 Members

Emily Beyer

Donor Relations

Manager

Helen Beall

Community Impact

Manager

Karen O'Connor

Finance

Director

Kathleen Fitzsimmons

Communications

Coordinator

Holly Wilson

Office

Manager

Location: 385 Anglers Drive, Suite B, Steamboat Springs CO | Open M-F • 8:30am-4:30pm

Connecting People Who Care with Causes That Matter

how to GIVE

970.879.8632 | yvcf.org | info@yvcf.org
---
2018

2 018

F

I N A N C

I A L S

$

16,000,000

$

14,000,000

$

12,000,000

$

10,000,000

$

8,000,000

$

6,000,000

$

4,000,000

$

2,000,000

YVCF Total Assets 1997-2018

$

$ 16,083,592

2004

2003

2002

2001

2000

1999

1998

1997

2011

2010

2009

2008

2007

2006

2005

2017

2016

2015

2014

2013

2012

Current Asset Overview - December 31, 2018

Nonprofit Funds

$

1,213,121

26

6

Fiscal Sponsorships

$

51,111

5

YVCF Operating Funds

$

2,216,455

Designated Funds

$

3,659,141

11

155

funds

Total Assets

$

16,083,592

17

YVCF

Granting Funds

$

1,960,796

Scholarship Funds

$

1,081,936

23

67

Donor Advised Funds

$

5,901,032
---
2018 financials

$

2018 Audited Financial Statement

Assets

Cash and Cash Equivalents ........................................$411,054

Investments ....................................................$15,653,806

Fixed Assets Less Accumulated Depreciation ........................$4,706

Other Assets ........................................................$14,026

Total Assets. ............................................... $16,083,592

Liabilities and Net Assets

Accounts Payable and Accrued Expenses .............................$9,763

Assets Held for Agency Funds ....................................$1,264,232

Total Liabilities. ................................................ $1,273,995

Restricted Assets ................................................$2,001,140

Unrestricted Net Assets .......................................$12,808,457

Total Net Assets. ............................................. $14,809,597

Total Liabilities and Net Assets. ............................ $16,083,592

Revenue and Support

Contributions ....................................................$2,727,396

Passport Club Program (Net) .....................................$368,420

Decrease in Value of Invested Assets ............................($1,367,164)

Interest and Dividends .............................................$343,471

Less Agency Income ...............................................($211,338)

Net Revenue and Other Support. .............................$1,860,785

Programs and Services

Grants Awarded ..................................................$1,410,570

Management and Supporting Services ............................. $216,916

Fundraising .........................................................$29,847

Expenses for Programs and Services. ........................... $1,657,333

Change in Net Assets from 2017. . . . . . . . . . . . . . . . . . . . . . . . . . . . . . . . $203,452

Net Assets ................................................. $14,809,597

Connecting People Who Care with Causes That Matter

how to GIVE

970.879.8632 | yvcf.org | info@yvcf.org
---
N O N P R O F

I T

S U P P O R T

Strengthening Yampa Valley Nonprofits

A vital nonprofit sector is essential to the Yampa Valley. The Yampa Valley Community

Foundation provides high impact services that link individuals to nonprofits, and strengthen

the governance and leadership capacity of our region's nonprofit sector. The Community

Foundation supports local nonprofits in the following ways:

Endowment Incentive Grant Program

The Yampa Valley Community Foundation endowment-building program will help nonprofits

secure their future and ability to serve the community, today and tomorrow. The Community

Foundation has dedicated $100,000 in incentive grants to support endowment-building

efforts and has pledged to match donations made to these endowments; 25 cents per dollar,

up to $10,000 per nonprofit.

Community Grant Cycle

The Community Foundation offers the Community Grant Cycle for local nonprofits to request

funds. Grant proposals are reviewed by our Grants Committee comprised of Board Members

and community volunteers. Grants are awarded for innovative projects and programs which

demonstrate progress towards achieving community goals.

Workshops and Seminars

YVCF hosts workshops and seminars on various subjects throughout the year to increase

nonprofit management knowledge and success.

Yampa Valley Gives

YVCF helps to bring the excitement and generosity of Colorado Gives Day to the Yampa

Valley to benefit local nonprofit organizations and make it easier for our community to Give

Where You Live. In 2018, the 24-hour Gives Day raised over $900,000 to support over 50

Routt and Moffat County nonprofits.
---
2018 grant cycle

$

214,100 Granted

in the 2018 Community Grant Cycle

50

A total of 50 grant

recipients in 2018

Health

& Human

Services 36%

Education

26%

Arts & Culture

18%

Environment

9%

Recreation

11%

Fund sources for the 2018 Community Grant Cycle

$66,097

Donor Advised

Funds

$64,800

Steamboat Ski &

Resort Corporation

$83,203

Yampa Valley Community

Foundation

For a complete list of our grant awards, visit yvcf.org/non-profits/grants

Ski & Resort Corporation

how to GIVE

The Community Grant Cycle is made possible through the generous

support of Steamboat Ski & Resort Corporation via the Passport Club.

Connecting People Who Care with Causes That Matter

970.879.8632 | yvcf.org | info@yvcf.org
---
Creating Opportunity

2018

$

181,341

196 Students

The Yampa Valley Community Foundation is a valuable resource for people who want to help

local students attain their educational goals through scholarship funds. Our scholarship funds

are created by families who wish to memorialize a loved one or professional organizations

that want to encourage a certain field of study or others who want to extend a helping hand

for college-bound students and those seeking professional development in the trades. Giving

to a scholarship fund helps a local student pursue their educational goals. It's also easy to set

up a scholarship fund to honor or inspire someone to pursue a specific field of interest.

Available Scholarship Funds

• Bill Michalek Scholarship

• Brad Bonner Memorial Scholarship

• Catamount Ranch & Club Scholarship

• Doak Walker Memorial Scholarship

• Dring Language Fellowship

• Eric Small Scholarship

• Everett & Benita Bristol Memorial International

Scholarship

• George Tolles International Studies Scholarship

• Jennifer M. Erickson Memorial Scholarship

• Kenneth Corriveau Trade Scholarship

• Levi Hampton Memorial Scholarship

• Monica Olson Veterinarian Scholarship

• Poogie Dawes Scholarship

• Robert Welborn Scholarship

• Routt County Cattlewomen Scholarship

• Sam and Melissa Warner Scholarship

• Ski Town USA Rotary Club Scholarship

• Steamboat Kiwanis Scholarship

• Steamboat Ski & Resort Corporation Scholarship

• Steamboat Springs Board of Realtors Scholarship

• Steamboat Springs Volunteer Fireman's

Scholarship

• Steve Maloney Memorial Scholarship

• William P. Spyker Memorial Scholarship

• Yampa Valley High School Scholarship
---
scholarship storY

The Yampa Valley Community Foundation awarded $181,341 via 196 scholarships for the 2018-19

school year that will assist Yampa Valley students seeking both technical and 4-year degrees.

Tenzing Sherpa

Tenzing isn't a typical graduate of Steamboat Springs

High School. Her story starts in a rural village in Nepal

which she describes as lacking in basic infrastructure,

healthcare and education. Access to public schools is

limited and not available for children taking part in dayto-day

chores at home. Tenzing's parents immigrated

to the United States in hopes of providing a brighter

future for their two daughters. They have been part of

the Steamboat community for seven years, her mother,

working as a nanny and her father traveling frequently to

Nepal to work as a Sherpa.

After graduation, Tenzing heads off to CU Denver to complete her

undergraduate program with a focus on medicine. She finds cardiology interesting and she is excited

to learn more about emergency medicine.

Her family has made great sacrifices to enable Tenzing and her sister the opportunity to attend college.

Her parents have relocated to Denver so that Tenzing and her sister can live with the family in order

to cut costs on living expenses. Tenzing is the recipient of two scholarships via the Yampa Valley

Community Foundation. The Robert Welborn Scholarship ($1500) and the Steamboat Springs

Board of Realtors Scholarship ($250) will be renewable for all four years that she attends school.

The combination of scholarships and family housing assistance enables Tenzing to focus on her

studies. Tenzing works summer jobs and saves money to help pay for school as well.

Tenzing hasn't forgotten her roots in Nepal. She wishes to pursue higher education and to be a role

model for her community. She plans to move back to Nepal with her family and help bring change to

her native village. In addition to providing medical expertise, she wants to be an inspiration to women.

"Women in Nepal have very low expectations," she explains. They are expected to work, but as Tenzing

says, "in lesser job positions." She hopes to be a leader for women in the workplace in addition to

making medical improvements for her native community.

how to GIVE

Connecting People Who Care with Causes That Matter

970.879.8632 | yvcf.org | info@yvcf.org
---
COMMUNITY ENDOWMENTS

Meeting Needs Today and Tomorrow

The Community Endowment Funds are a permanent charitable resource that grows through

community support and provides much needed funding to local nonprofit organizations.

When you give to the community endowments, you're helping to meet the needs of our

community today, and for years to come. Your gift supports the Yampa Valley in perpetuity.

There is a real need for a flexible, unrestricted fund to respond quickly to local needs. The

Community Endowment Funds are, in effect, a savings account protecting and serving the

needs of our region.

YVCF invests and manages endowments to provide long-term growth and flexibility to

address our community's most pressing needs. The foundation is rigorous in evaluating the

impact of our grantmaking, so donors can be assured that their investments are making a real

difference in the lives of all who live in our community.

With the Community Endowment Funds, anyone can be a philanthropist. There is no

minimum requirement on gifts. Donations can be made in cash, stock, real estate or through

your will or trust.

To make your gift last forever, visit: YVCF.org/donate/forever
---
THE POWER OF A COMMUNITY ENDOWMENT

Yampa Valley Arts Endowment

Inspiring our Creative Passions.

YVCF envisions a Yampa Valley with a thriving arts scene and diverse cultural offerings that

provide enjoyment to residents and visitors. Together, we celebrate our rich history and diversity,

bring valuable learning experiences to children and adults, and maintain our strong social fabric.

Education Endowment

Ensuring Success for Future Generations.

YVCF envisions a Yampa Valley where educational opportunities are abundant, strong and

diverse. By giving to the Education Endowment, you provide funding for organizations that

are committed to education, outreach and projects that result in a stronger, brighter and more

skilled Yampa Valley.

Healthy Community Endowment

Taking Care of Community Wellness Needs.

YVCF envisions a Yampa Valley where all residents enjoy a healthy and rewarding life. Through

the Healthy Community Endowment, YVCF can address critical issues in health and human

services today and for future generations.

Environment Endowment

Preserving the Yampa Valley.

YVCF envisions a Yampa Valley with clean air, water and land. By giving to the Environment

Endowment, you help address programs that seek to preserve and improve the Yampa Valley

watersheds, habitat and natural resources of our two county region.

Recreation Endowment

Promoting Active Mountain Lifestyles.

YVCF believes recreation opportunities provide positive life-enriching experiences that all

people should experience. The benefits of parks and recreation create connections to community,

environment, economic development, for our families, youth, and individuals.

how to GIVE

Connecting People Who Care with Causes That Matter

970.879.8632 | yvcf.org | info@yvcf.org
---
Our Donors care

We know you want to do good

…and do it well, beyond random acts of kindness. Donors in our communities are as varied as the

Yampa Valley organizations we serve. We guide individuals, families, businesses, community groups and

organizations with all sizes of charitable resources at their disposal. Whether this is your entry into civic

giving or you are seeking to increase the strategic impact of your charitable portfolio, the Yampa Valley

Community Foundation offers the information and options you need. Since 1984, we have served as the

bridge between donors and their passion.

Here's how we work with you:

A PERSONAL CONNECTION:

One-On-One Meetings

Our expert staff welcomes the opportunity to meet with you individually. We can answer your questions on

effective giving approaches and suitable grant-making strategies. In the process of getting to know you, we

become familiar with your specific reasons and goals for supporting your community.

CONNECT TO A CAUSE:

Research & Analysis

From programs in the arts and literacy, to health and human resources and environmental protection, there

is an abundance of worthy recipients seeking assistance from the Community Foundation's funds. Our

knowledgeable staff helps you connect to the causes that matter most to you.

PASS IT ON:

Establish A Fund

In creating a fund with the Yampa Valley Community Foundation, you can shape an easy, effective and

powerful way to impact our communities—today and for generations to come. We are proud to be your

partner in philanthropy.

how to GIVE

970.879.8632 | yvcf.org | info@yvcf.org
---
Establish a fund

It's never been easier

or more personal.

The extent of your involvement is entirely up to you.

We offer donors:

Flexibility & Focus

You advise on how, when and where to spend the money. The Community

Foundation staff helps you transform your wishes for the valley into action.

Reliability

Charitable funds are invested and professionally managed in a large and

diversified portfolio.

Financial Stewardship

We help you achieve maximum tax advantages and work with your

financial planners and attorneys to incorporate giving into your plans.

Support & Leadership

Our professional staff are your ongoing partners in realizing your

charitable interests.

Community | Legacy | Prosperity

why to GIVE
---
types of gifts

Ways to give:

Once you have decided what giving program fits your

needs, you may choose a giving vehicle. Each donor

has unique financial circumstances, and we will work

with you and your financial advisor to identify the best

option for you.

Cash

This is the easiest way to contribute, whether by

check, credit card or actual cash. Donors who make

gifts of cash are eligible for a charitable deduction in

the year the gift is made.

Publicly-Traded Stocks

& Mutual Funds

Stocks and some mutual funds are eligible for

donation and can provide a charitable deduction

for their fair market value. By donating appreciated

securities to the Community Foundation, you can

avoid capital gains taxes that might otherwise occur

at the sale of the stock.

Bequest

Include the Community Foundation in your will. A

bequest can take the form of a specific item (such

as a home), a specific amount of money, or a portion

of your estate.

how to GIVE

970.879.8632 | yvcf.org | info@yvcf.org
---
Charitable Remainder Trusts

Through Charitable Remainder Trusts you can place

cash or property in a trust that makes payments to

you and/or a loved one for life. You receive income

tax benefits the year you establish your trust. After

your death, the remainder of the trust transfers to

the Community Foundation and is placed into a

charitable fund you have selected.

Charitable Lead Trust

Place cash or property into a trust that makes

payments to the Community Foundation for the

number of years you select. Once this period ends,

the assets held by the trust are transferred to the

beneficiaries you name.

Personal Assets

There are several methods to give through personal

assets. You can name the Community Foundation

as the beneficiary of a life insurance policy, IRA or

other retirement asset.

Real Estate

You may choose to give residential or commercial

real estate or undeveloped land and receive an

immediate tax deduction. Contact us to discuss

the various options that can benefit you and the

Yampa Valley.

Community | Legacy | Prosperity

why to GIVE
---
fund types

A fund for everyone.

Community Grants Fund

With these specialized funds, you can support organizations and programs that satisfy your personal

interests. The Community Foundation has endowments supporting our five areas of interests: Arts & Culture,

Education, Environment, Health & Human Services and Recreation.

Designated Fund

Created to ensure that support will be provided to one or more specific charitable organizations chosen by

you. Designated funds often are endowed in perpetuity with the income used to support the organizations on

an ongoing basis. If an agency stops functioning as an exempt charity or ceases to exist, the YVCF Board may

select an alternative charity as indicated in the fund agreement.

Donor Advised Fund

This fund is a flexible tool for charitable giving. You contribute to the fund when it is most convenient and

recommend grants over time to nonprofit organizations of your choice. You select a fund name and enjoy

recommending grants to nonprofit organizations that are committed to the causes you care about. You also

can involve your children, creating a family tradition of giving. Funds may be endowed or non-endowed.

how to GIVE

970.879.8632 | yvcf.org | info@yvcf.org
---
There's a fund for that.

Organizational Fund

Nonprofit organizations may place their endowed funds at the Community Foundation through an

Organizational Fund, thus assuring their donors that funds earmarked for the future will be invested wisely

and used appropriately. The Community Foundation manages the fund as part of its investments and can

distribute annual payments to the organization.

Scholarship Fund

Support YVCF's scholarship program and bring together students in need and individuals who care about

education. Scholarships, which enable more students to reach their educational goals, may be directed to a

specific school or to a field of study.

YVCF Trustee

Operating Endowment

The Operating Endowment increases YVCF's long-term capacity to serve donors, nonprofits and the Yampa

Valley. By growing our endowment, we seek to secure our organization's future in the valley.

Community | Legacy | Prosperity

why to GIVE
---
How does the passport club work?

+

$

368,069 was given in 2018 to support YVCF and local

nonprofits by Steamboat Ski & Resort Corporation via the Passport Club

Here's how Passport Club works:

1

2

3

4

Passport Club

Steamboat Ski & Resort

Corporation donates

ski benefits to YVCF to

support the Passport Club

Membership Program.

BUY

a Passport Club

Membership.

ENJOY

your Steamboat Ski Resort

pass and added bonuses!

SEE

your funds

at work!

BENEFIT

our community with your

membership. That feels good!

What additional perks come with being a Passport Club Member?

ONE

Transferable Medallion

- OR -

TWO

Season Ski Passes

to the Steamboat Ski Area

• Members-only locker room in Gondola Square

• Convenient parking

• Four days of skiing at both Winter Park and Copper Mountain

• Discounted Friends and Family passes

• Five First Tracks vouchers per pass, unlimited for medallion

• Summer gondola use

• Invitations to Yampa Valley Community Foundation events

• Unlimited Night Skiing