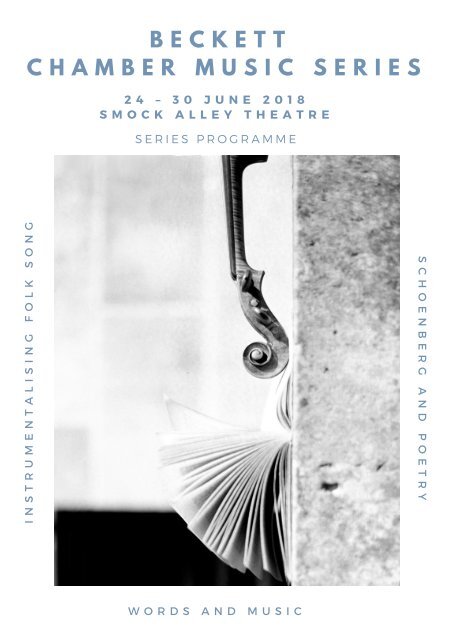 Beckett Chamber Music Series 2018 Programme
Beckett Chamber Music Series explores the connection between words and music – thematically, expressively, spatially and temporally – inspired by Samuel Beckett's reduction of artistic expression into a medium which is something in between these two things. The 2018 Series brings together an ensemble of Ireland's finest musicians for intensive musical and artistic discovery, to be shared with audiences in three concert programmes featuring major chamber works by Arnold Schoenberg combined with rarely performed works by Irish composer John Larchet, Swiss composer Frank Martin, a new commission by Irish composer Sebastian Adams, and culminates in a performance of Beckett's radio play Words and Music with Morton Feldman's 1987 score. The performance of Words and Music is in collaboration with Everett Frost, who produced and directed the award-winning American national broadcast premieres of Beckett's five completed radio plays and features internationally recognised actors Barry McGovern and Stephen Brennan.
Beckett Chamber Music Series explores the connection between words and music – thematically, expressively, spatially and temporally – inspired by Samuel Beckett's reduction of artistic expression into a medium which is something in between these two things.

The 2018 Series brings together an ensemble of Ireland's finest musicians for intensive musical and artistic discovery, to be shared with audiences in three concert programmes featuring major chamber works by Arnold Schoenberg combined with rarely performed works by Irish composer John Larchet, Swiss composer Frank Martin, a new commission by Irish composer Sebastian Adams, and culminates in a performance of Beckett's radio play Words and Music with Morton Feldman's 1987 score. The performance of Words and Music is in collaboration with Everett Frost, who produced and directed the award-winning American national broadcast premieres of Beckett's five completed radio plays and features internationally recognised actors Barry McGovern and Stephen Brennan.
SHOW MORE
SHOW LESS
Create successful ePaper yourself
Turn your PDF publications into a flip-book with our unique Google optimized e-Paper software.
B E C K E T T

C H A M B E R M U S I C S E R I E S
---
In producing the Beckett Chamber Music Series I have been privileged to work with colleagues and

friends, whose inquiring minds and enormous commitment to art is a constant inspiration. In this

programme booklet we have sought to give the audience a small insight into the concepts and ideas

behind the Series and the process involved in creating each performance. You will see contributions

from a number of the artists involved: programme notes, words on performing and also as

photography conceived and shot by flautist Miriam Kaczor. It is an enormous undertaking to produce

an entirely new series, particularly one which connects two fields. Despite my longstanding interest in

the subject, it was a daunting task to venture out of my musical comfort zone into the literary world. I

want to express enormous gratitude to director Everett Frost whose guidance and commitment to the

project has been invaluable.

The three concerts present a journey which culminates in Beckett's Words and Music. The first two

concerts present five works all with some basis in words, either song or poetry, and explore links

between language and tonality (perhaps the closest equivalent to language in music). 'Instrumentalising

Folk Song' begins our journey with Larchet's arrangements of traditional Irish Airs, formalising folk

music in a classical setting for violin and piano. We then jump to the present day with Irish composer

Sebastian Adams' newly commissioned piano trio in 2 acts, 2018.1, which brings together many of the

Series' themes. Frank Martin's Trio on popular Irish folk melodies fuses a French-language impressionism

with thematic material distinctly Irish, revealing a surprising tonal openness that is shared by both.

Following Martin's widening of tonality, we move to the second concert 'Schoenberg and Poetry', which

sees its contraction in Germanic chromaticism. Schoenberg's expressionist sextet, Verklärte Nacht (1899)

is a pinnacle in the limits of tonal contraction, based on Dehmel's controversial poem exploring a deeply

personal subject matter. From here we experience tonality's breakdown, in the shockingly short period

of just thirteen years between Verklärte Nacht and Schoenberg's twelve-tone Pierrot Lunaire. In

presenting the work alongside Andrew Porter's ingenious translations of Hartleben's German version of

the original French poems by Giraud, we explore the subject of language and translation directly

through performance.

Following this breakdown into atonality, the music of Feldman and Varèse moves away from the

horizontal nature of music that had existed previously. Instead of a predominant interest in tonality as

a linear succession of related chords, the two composers explore sound as existing in space:

its verticality and presence in

time. Beckett's Words and Music

directly explores the aesthetic

questions raised in this Series and

through collaboration with Feldman,

presents us with a sound world

where words and music are reduced

to their essential elements. When

discussing the radio play, Beckett

famously made the comment "Music

always wins." For me, Words and

Music blurs the line between the two

mediums to such an extent that I

hear the character of Bob as

speaking through Feldman's score

and the words of Joe as music itself.

Sarah Sew

Artistic Director
---
I N S T R U M E N T A L I S I N G

F O L K S O N G

Sarah Sew violin

Yseult Cooper Stockdale cello

Jonathan Morris piano

J o h n F L a r c h e t ( 1 8 8 4 – 1 9 6 7 )

Irish Airs

arr. for violin and piano

S e b a s t i a n A d a m s ( b . 1 9 9 2 )

2018.1

w o r l d p r e m i e r e

F r a n k M a r t i n ( 1 8 9 0 – 1 9 7 4 )

Piano Trio sur des mélodies

populaires irlandaises
---
'Instrumentalising Folk Song' explores the fundamental tools of communication — language and tonality — and uses these

tools to examine ideas on cultural identity. Tonality is to a large extent the musical expression of language, its patterns,

structures and rules are distinctive even to those who are not familiar with a particular tonal language itself. Folk song is

perhaps this expression in its most natural form. On the subject, Béla Bartók writes,

peasant music is the outcome of changes wrought by a natural force whose operation is unconscious; it is impulsively created by a

community of men who have had no schooling; it is as much a natural product as are the various forms of animal and vegetable

life.... the single tunes — are so many examples of high artistic perfection. In their small way, they are as perfect as the grandest

masterpieces of musical art. They are, indeed, classical models of the way in which a musical idea can be expressed... in the very best

possible way, in the briefest possible form and with the simplest of means.

Frank Martin's fusion of a French language impressionistic tonality with the Irishness of folk song disorientates how we hear

even the simple interval of the perfect fifth. Are the open string chords in the violin the earthy drones of an Irish folk fiddle or

are they impressionistic Debussian open chords, giving a feeling of an ambiguous tonal centre? Paradoxically, it seems both

at once. With a further shade of complexity, the trio even offers hints of Martin's growing interest in twelve-tone music, with

the series of sevenths at the end of the slow movement providing a link to 'Schoenberg and Poetry'. John Larchet's

arrangements place traditional Irish Airs in an overtly romantic and formalised classical setting, while Sebastian Adams takes

the letters of a folk song in Irish language as its subject matter, but by translating the letters into pitches he extracts totally

unintended meaning from the text. The three works inextricably fuse the subject matter of Irish folk song and Irishness with

each composers distinct personal identity. Beckett's unusual relationship with language was an important influence in

choosing this programme: his choice of writing English or French and his self translation between the two, often writing in the

"foreign" French and translating back into his "native" English. In contrast to Joyce, Beckett's Irishness is often overlooked, yet

in combination with his Frenchness, his Irish identity is a distinctive and fundamental part of his work.

Sarah Sew

1. Cáit Ní Dhuibhir

2. Ríl Na Gaillimhe (A Galway Reel)

3. Suantraidhe (Cradle Song)

4, Slip Jig: Cuaird Na gCarraig (The Sail Round the Rocks) — Ná Fág Mé Im' Aonar (Don't Leave Me Alone)

5. Caoine (Lament)

6. Hornpipe: Cornphíopa Dhún Laoghaire (The Dunleary Hornpipe) — Cornphíopa Fhear na Hataí (The Hatter's Hornpipe)

1. Emer's Farewell

2. Reel: The Wind that Shakes the Barley — The Flower of Donnybrook

3. The Wheelwright

4. Reel: The New Potatoes — The Merry Blacksmith

5. Little Brother of My Heart

6. Hornpipe: The Harvest Home — The Good-Natured Man

The spirit of Irish traditional music is one of great depth and soul, but its characteristics are often remarkably different to

those found in Western Art Music. As a result, the assimilation of both in a single work is rarely heard. Born in Ireland, John

Francis Larchet was Director of Music at the Abbey Theatre from 1907 to 1934. Larchet worked with many of Ireland's leading

literary figures, and he was an influential teaching figure as professor of harmony and counterpoint at the Royal Irish

Academy of Music. His Irish Airs transform the fiddle idiom into a more 'classical' violin-piano duet, with subtle harmonic and

textural additions in both parts that create more nuanced and sophisticated structures than how they might have been

performed in a traditional setting. Typical forms — such as reels, hornpipes, and laments – are included. Reels and hornpipes

are traditionally danced to, which reflects their upbeat and lively character. Jigs are also used as dance material in folk music,

but Larchet does not include any in the set; by contrast, Frank Martin uses this form as the basis for his finale in his Trio sur

des melodies populaires irlandaises, the final piece in this programme. Many of the Irish Airs are structured in the way the

dances are performed in traditional music. In a typical session, players would combine tunes to form 'sets,' where two or

more melodies from closely related keys are played sequentially, without pause, one after the other. This provides a quick

and discernible shift in the music because of the sharp tonal and rhythmic change between the tunes. Larchet also uses the

Irish language to title the pieces in one of the sets — Cáit Ní Dhuibhir is the name of the first of these and is the only one

without a translation; the title means Kitty O'Dwyer in English. It comes from a song that is traditionally sung in Irish, verse

one of which includes the following translated excerpt: "The cuckoo, blackbird, and thrush were singing, and every note

true/And the beginning and end of every verse was, 'Ireland will one day belong to Kitty O'Dwyer.'" The story is allegorical;

Kitty O'Dwyer is a metaphor for the Irish people.

Jonathan Morris
---
Most of my output is pure music, guided neither by an outside narrative nor by a

structural mould made from external input. 2018.1 is a massive departure from

this norm. It uses four distinct types of material, which are presented in

consecutive order repeatedly throughout the entire piece. All four material types

are derived from stage directions from the opening page of Beckett's Happy Days.

The words of an Irish folk song were used to create a long series of notes which

formed a grid on which the whole piece sits. Every event in the piece was

developed from a note taken from this grid, and each of these events occurs at

the rhythmic position of the note from the note row. The folk song includes a

chorus which repeats the title three times, and when converted to pitches it

forms a distinctive oscillating pattern which can be heard in many places and

which also forms the crux of the work's harmonic trajectory. The entire song

contains 612 letters (or notes), and the repeated motif in the chorus lasts 21

notes, and the harmonic shape of the first act of the piece tapers gradually from

sections 612 notes long to one lasting only the length of the chorus.

When I applied my usual (quite instinct-based) compositional approach to the

confines described by these structures, I realised the piece required an extreme

number of ideas. It uses over 80 distinct musical ideas – at least 20 times as

many as are necessary for a good piece of this length! Balancing the multitude of

ideas so that the piece worked became a huge challenge, but the result is the

exciting impression (in my view, anyway) of a spinning onslaught of thoughts,

organised by some kind of internal logic but only on the very edge of control.

The piece is divided into two acts, like Beckett's plays Happy Days and Waiting for

Godot, which I was reading as I started writing it (spurred by the commission for

the Beckett Series). The second act of Happy Days is disproportionately shorter

than the first, and the lengths of the two acts of 2018.1 are similarly balanced,

which is as unusual in music as it is in theatre. In Godot, the second act

essentially presents the same sequence of events as the first; the second act of

2018.1 is merely a telescoped, barren rereading of the first. From Happy Days

again, the fact that the second act is bleaker (emphasised by Winnie sinking even

further into the ground when the act opens) led me to the idea that my second

act should take the most fragmentary moments of the first as its starting point

and disintegrate them even further.

Sebastian Adams

"Points to consider from the work of

Samuel Beckett:

– Beckett's work explores the

limitations of language and words,

finding influences in the visual arts,

particularly Abstract Expressionism;

and music, particularly Beethoven

and Schubert in addition to

collaborations with Morton Feldman

(in the 'opera', Neither and radio play,

Words and Music) and Marcel

Mihalovici (in the radio play,

Cascando).

– Beckett's use of the fragmentation

of language, repetition and silence in

his work.

– Beckett's choice of language and

the self-translation of his work.

Beckett wrote in both English and

French, later translating the French

works into English and some of the

English works into French. The

implications of this on Beckett's

relationship with words and

language."

Extract from the composition brief

given to Sebastian Adams on 4 March

2018 by Beckett Chamber Music Series

Although Frank Martin never lived in Ireland, he was commissioned to write a piano trio based on Irish folk melodies.

However, after hearing an early draft of the score, the commissioner found

N O M A Dlittle I C |

that

2 4

was recognisably Irish in the new work

and withdrew the commission. Following this setback, Martin studied collections of Irish folksongs at the Bibliothèque

Nationale in Paris and included a number of authentic traditional Irish melodies in his new composition. His portrayal of

Irish music is remarkably accurate, but the merging of this with his own distinct compositional style is an even more

noteworthy accomplishment. The result is a three-movement work of significant breadth, depth, and intricacy. Dissonant

harmonies are frequently combined with more traditional sonorities like open fifths, while traditional tunes are often

presented over complex polyrhythms. Constant changes of tempo reflect the juxtaposition of tunes in a traditional Irish

instrumental set; meanwhile, the dance-like quality that is central to Irish traditional music pervades throughout, resulting in

an energetic and spirited encapsulation and modernisation of Ireland's native music that it suitable for the concert hall.

Jonathan Morris
---
SCHOENBERG AND POETRY

Richard Dehmel (1863–1920)

Verklärte Nacht from Weib und Welt

Arnold Schoenberg (1874–1951)

Verklärte Nacht for string sextet Op.4

INTERVAL

Albert Giraud (1860–1929)

21 Poems from Pierrot Lunaire: Rondels

Bergamasques in Engish translations by

Andrew Porter after Otto Erich Hartleben's

1892 German translation

Arnold Schoenberg

Pierrot Lunaire Op.21

Barry McGovern

poetry recitation

Finnegan Downie Dear conductor

Michelle O'Rourke voice

Ioana Petcu–Colan violin

Sarah Sew violin

Joachim Roewer viola

Lisanne Melchior viola

Aoife Nic Athlaoich cello

Yseult Cooper Stockdale cello

Máire Carroll piano

Joshua Batty flute

John Forde clarinet
---
'Schoenberg and Poetry' presents two important works based on poetry, which span the development of

composer, music theorist and painter, Arnold Schoenberg's musical style from late-Romanticism to twelve-tone.

The concert aims to allow the audience to experience the breakdown of tonality, which was influenced by the

poems that inspired each works.

Pierrot Lunaire presents an interesting linguistic issue. Schoenberg's musical

work sets the poems in Otto Erich Hartleben's German translation, yet the

most common English translations use their source as Belgian poet Albert

Giraud's original cycle of 50 poems in French, Pierrot Lunaire: Rondels

Bergamasques (1884). In 1984 music critic and scholar Andrew Porter

translated Pierrot Lunaire into English using not only Hartleben's 1892

German as his source, but also taking into account the rhythm and expression

in Schoenberg's setting of the words as Sprechstimme.

Schoenberg's early string sextet Verklärte Nacht explores the limits of tonality, taking Romantic chromaticism to

its pinnacle. Richard Dehmel's 1892 collection of poems Weib und Welt (Woman and World) had shocked

Germany as violating religious and moral values. In an attempt at censorship, Dehmel was tried for obscenity

and blasphemy, although eventually acquitted on a technicality. It was in this context that Schoenberg chose in

1899 to use the poem as inspiration for his sextet. Dehmel tells of two people walking in the night. The woman

is carrying a child by a stranger, having conceived the child believing she would never meet her true love, but

"life has taken its revenge: now I have met you". The man replies that the child will be transfigured to be his

own and with this the night scene is transfigured, represented by Schoenberg's miraculous harmonic shift into

D major. The premiere of Verklärte Nacht was poorly received not only due to its controversial subject matter

but also its chromatic harmony. The Vienna Music Society initially rejected the work due to an inverted ninth

chord they deemed not to exist, yet it has since become one of Schoenberg's most popular works.
---
Pierrot Lunaire appeared in 1912 as an astonishing work, indefinable and unlike anything previously heard.

Schoenberg abandons traditional tonality to instead embrace all twelve tones of the scale as equal. It was scored

for an ensemble never before composed for, a conducted group of 2 string players, 2 wind players, piano and

unspecified voice. Schoenberg calls for the vocalist to use Sprechstimme (speaking-song) style. The score specifies

doublings for clarinet and bass clarinet, flute and piccolo and unusually, violin and viola. Schoenberg's fixation

with numerology is exposed in an interest in sevens. The chosen 21 poems from Giraud's original French 50 are

organised into sets of 3 x 7, the group consists of 7 members (including conductor and counting the violin/viola

doubling as 1 person) and, as in Giraud's original, the first line of each poem is repeated as a refrain not only at

the end, but also on each seventh line. In the three parts, the drunken Pierrot sings of love, sexual longing and

religion; experiences nightmares of theft, violence and blasphemy, before journeying home to Bergamo.

Considered one of the twentieth century's most groundbreaking works, Pierrot Lunaire continues to enthral

audiences with a modernity, still felt today.

Sarah Sew
---
WORDS AND MUSIC

Morton Feldman

Vertical Thoughts 2 (1963)

Morton Feldman

Projection 1 for solo cello (1950)

Morton Feldman

Four Instruments (1975)

Edgard Varèse

Density 21.5 for solo flute*(1946)

INTERVAL

Samuel Beckett

Words and Music

Music by Morton Feldman (1987)

Barry McGovern Words (Joe)

Stephen Brennan Croak

Beckett Series Ensemble Music (Bob)

Finnegan Downie Dear conductor

Fiona Kelly flute*

Miriam Kaczor flute

Brian Dungan vibraphone

Jonathan Morris piano

Sarah Sew violin

Lisanne Melchior viola

Aoife Nic Athlaoich cello

Everett Frost director
---
The final concert in the Series explores the space that exists when we push an art form out of its comfort zone.

Feldman, Varèse and Beckett all explore this space, not just conceptually but physically. In Beckett's radio-play, the

disembodied voices of Words (Joe) and Croak exist somewhere in the radio waves, while Music (Bob) exists purely

in sound, created by a collaborator. Varèse explores the density of platinum through timbre, while Feldman's

interest in verticality, sound painting and the manipulation of time reveals his departure from composing within

the usual confines of music as linear. Feldman's two early works Projection 1 and Vertical Thoughts 2 allow the

performer a significant amount of free will in deciding tempo, dynamic and, for the solo cellist, even pitch.

Feldman's score to Words and Music is notated as a series of numbered extracts to give the role of Music (Bob) a

"voice" in the play. The final concert in the Series invites us to reassess our preconceptions of art forms as distinct,

and instead explore the shared space that sound, silence and meaning collectively occupy.

Vertical Thoughts 2 belongs to a series of five pieces written in 1963. It

explores sound colour through the architectural instrumentation of

clusters (chords made up of adjacent notes). Feldman takes the

clusters and re-organises the notes in space. By spreading them

vertically, Feldman transforms the chords into an extremely detailed

exploration of sound colour.

Although written with standard notation Feldman's performance

notes specify "each instrument enters when the preceding sound

begins to fade." He indicates with a vertical lines where the violin and

piano are to produce their sounds simultaneously, or with a broken

line when to sound in sequence. He specifies timbre such as

harmonics , pizzicato (left hand and right hand). Interestingly Feldman

always marks specific tempi (and therefore a duration) for the bars of

silence which punctuate the piece, while many of the bars of sound

are written more freely, without time signature, leaving aspects of

duration to the performers' free will.

Feldman's early Projections series, consists of five works composed

between 1950 and 1951 using a graphic score. Projection 1 is written

for solo cello, while the Projections 2-5 are for small chamber groups.

Feldman's brief performance instructions explain the indications

harmonic, pizzicato, arco and relative pitch (high, middle, low) where

"the limits of these ranges may be freely chosen by the player".

Durations are indicated by the amount of space taken up by each box.

The graphic score gives an enormous amount of freedom to the

performer to decide fundamental aspects of pitch, range, tempo,

rhythm and dynamic, with each performance creating a new

collaborative work between Feldman and the performer.
---
Feldman wrote two entirely different pieces both entitled Four Instruments. The 1965 piece is written for violin,

cello, chimes and piano, and notated in a similar style to Vertical Thoughts 2, in fairly free tempo with lines

indicating simultaneous and successive sounds. In contrast, the 1975 piece, written for violin, viola, cello and

piano, uses entirely standard notation. The radical change in Feldman's compositional style was caused in

1970 by the death of his childhood piano teacher. At a 1973 lecture at the University of Buffalo, Feldman said:

After about 13 years my music again changed and changed radically. I still had a preference for very soft sounds but

I began to notate the music again precisely, if not more precisely than before. The music also became, for lack of a

better term, 'motivic'. This all began with a composition in memory of my piano teacher called Madame Press Died

Last Week at Ninety.... The feeling I have about this composition is that I went back as if making peace with a steady

pulsating beat, making peace with measured time, a chronological time, that is analogous to life passing by or

passing us by.

The 1975 Four Instruments is written with defined tempo instructions. It explores verticality, sound colour and

dissonance, yet within the context of measured time passing inevitably from one bar to the next. There are

however notable departures from standard writing which clearly follow on from Feldman's earlier explorations

in notation. Aside from the very first written instruction "Extremely quiet, ♩= 63–66", written in place of a

standard speed/character indication, the score includes no concrete dynamics, only relative/suggested

indications. Feldman uses only hairpins and very occasional bracketed dynamics, leaving the performers

scope to explore the realm of "Extremely quiet."

A pioneer in the development of electroacoustic music, Edgard Varèse's

small compositional output explores sound as existing in space and time.

Density 21.5 was composed for French flautist Georges Barrère, principal

flute of New York Symphony (which later merged with New York

Philharmonic). In 1935, Barrère received his new Haynes flute, the first

American flute made of platinum. The density of platinum is 21.45g/cm3

and Varèse's work for solo flute was written for the inauguration of

Barrère's platinum flute.

N O M A D I C | 2 4

Varèse gives an explicit performance note for the piece to be played

"always strictly in time following metronomic indications". Mid-way

through the piece he instructs the flautist to play softly whilst hitting the

keys to produce a percussive effect. Despite the limitations of composing

for solo instrument, Varèse explores possibilities in tone colour, writing

extremely wide intervals and starkly contrasting dynamics.

Sarah Sew
---
The most significant fact about radio drama is also the most obvious one: you can't see it. In this respect it

resembles music as much as it does its theatrical predecessor. At a concert you see the music being performed,

but you don't see the music itself. Considered as the verbal artform closest to music, radio drama approaches

this invisibility as an opportunity, not an obstacle to be overcome. All of Samuel Beckett's radio plays are

radiophonic in this sense: Words and Music consummately so. In the concert performance of it you see the

performers creating it, but not more of the drama than possible on radio. It is structured on Schopenhauer's

principle that:

It is an accidental circumstance that [the human voice] serves for the communication of concepts, and incidentally, of

course, music can make use of this circumstance in order to enter into a relationship with poetry. But it must never

make this the main thing. ... The words are and remain for the music a foreign extra of secondary value, as the effect

of tones is incomparably more powerful, more infallible, and more rapid than that of the words. If these are

incorporated into music, therefore, they must of course occupy only an entirely secondary position, and adapt

themselves completely to it....

Arthur Schopenhauer, The World as Will and Idea (Vol II, Ch. 39 "On the Metaphysics of Music")

The play dramatizes the initially reluctant efforts of two characters personifying Words (called Joe) and Music

(Bob) to co-operate under the duress of Croak, their imperious, though ineffectual, club-wielding master — an

old man seeking erotic satisfaction from their collaboration. Despite themselves, Bob and Joe are drawn into

working together and create an emotional climax that neither could have achieved alone. In Words and Music,

music is an enabling dramatic force momentarily drawing an initially reluctant, resistant, words out of his

unfeeling pedantic banalities into a feelingful realm of passionate discourse.

The play originated as a BBC commission given to John Beckett — a respected composer and conductor as well

as a programmer in the BBC Music Department — to collaborate with his cousin Samuel Beckett on a drama

written specifically for the radio. Sadly, John Beckett's music was withdrawn soon after the play's premiere

broadcasts in November 1962: because music is not merely 'setting' a verbal text as if it were a jewel but an

actual character, half of the play is written by a composer. A composer other than the intended one results in

a different play, and the play remained unproduceable until 1986 when Samuel Beckett agreed to allow the

commissioning of a new score for an American premiere, suggesting Morton Feldman as the composer.

Feldman accepted with characteristic enthusiasm and genuine, almost awkward, humility. He had previously

set "Neither" — Beckett's very short text — into a very long composition for the Rome Opera, which Beckett

liked very much.

The affinity between the two artists is evident even in the first awkward encounter between the word man and

the note man in Berlin in 1976 — as compiled from versions told by Morton Feldman to several people,

including myself:
---
By way of illustration, he showed Beckett his attempts to score some lines from Beckett's script for Film. [A black

and white film in which the only sound is a "Sssh!" uttered by one of the characters]. Beckett became interested

and remarked that he had only one theme.

Feldman asked if he might write it down. Beckett took Feldman's music paper and wrote out the theme: "To and

fro in shadow, from outer shadow to inner shadow. To and fro, between unattainable self, and unattainable nonself."

Beckett: "It would need a bit of work, wouldn't it? Well if I get any further ideas on it, I'll send them on to

you." Some ten days later Feldman received one of Beckett's cards with the handwritten text of "Neither".

Shortly thereafter Beckett conveyed his impression of Feldman to his

cousin, John: "Met a very interesting American composer in Berlin,

Morton Feldman….He asked me for a short text and I've contrived one.

Heard his music in London quite by chance…and liked it extremely." At

the time neither of them had any idea that Feldman would later write

the music replacing the score John Beckett had withdrawn.

Feldman found it extremely difficult to do. The radical concisions

required by the play ran counter to the entire direction of the longer

forms and vertically stacked slowly modulated haunting tonalities of

his recent music, but he entered into it wholeheartedly — converting

the need to meet the constraints from an obstacle into an advantage.

The tightened musical phrases are vertically suspended like the

encaustically applied colors in a Jasper Johns painting [among the

several abstract expressionist painters Feldman considered an

inspiration]; or perhaps like the subtle gradations of colour and texture

of Mark Rothko, in honor of whom Feldman composed a work for the

memorial chapel: "I had an emotional vested interest in this,"

Feldman observed after the recording sessions (9-10 March, 1982), "and was very delighted to be asked to be part

of this tribute to Beckett. He'd been a part of my life since the fifties. ...So it's a labor of love as they say. I don't

think I would have spent the time and the concerns on anybody else."

As Nils Vigeland, the conductor of our premiere radio production of Words and Music remarked, "It's clear why

Feldman sought out Beckett .... They are kindred souls, both engaged in the world they lived in yet extremely

selective in their reflection of it. Nothing of the reflection of anything other than inner loneliness would enter his

music, except for tenderness which is his form of nostalgia."

What I hear in Morton Feldman's music and what has drawn me to Samuel Beckett is an aching feeling of that

loneliness — of loneliness without regret — as the condition necessary for creating the work they made It is

tinged by a sadness that the effort must inevitably fail in the attempt to achieve any ultimate revelation or

profound understanding about the human condition — but that, despite this or perhaps in defiance of it, one

might, in Beckett's oft-quoted phrase, "fail better". It is this shared sense of longing, I think, that drew Morton

Feldman to Samuel Beckett's words, and that Samuel Beckett responded to in Morton Feldman's music. In Words

and Music, and the orchestral sequel to it "For Samuel Beckett" — tragically his final works — that longing is almost

unbearably apparent.

Everett Frost
---
Sarah Sew is recipient of the Maisie Lewis Young Artists' Fund Award which supported her

recital debut at Wigmore Hall, the Emanuel Hurwitz Award, J & A Beare Prize and Pavlovíc

Award. She appears worldwide as a guest concertmaster, director and soloist. As a

recitalist and chamber musician, Sarah has performed at Zermatt Festival, Switzerland;

Bolzano Festival, Italy; Grafenegg Festival, Austria; Cheltenham Festival, UK; Kanagawa

Kenmin Hall, Japan and the International Musicians Seminar, Prussia Cove.

Sarah has appeared as Guest Leader of the BBC Symphony Orchestra, English Symphony

Orchestra, Camerata Ireland, Balkan Chamber Orchestra, Nevill Holt Opera Orchestra and

the Human Rights Orchestra in Lucerne. She has performed, toured and recorded

extensively with orchestras including the London Symphony Orchestra, London Chamber

Orchestra and London Sinfonietta. Sarah held the position of Principal First Violin with the

RTÉ Concert Orchestra for two years and was Concertmaster of the European Union Youth

Orchestra from 2010-2012. As a concertmaster Sarah has worked with conductors such as

Vladimir Ashkenazy, Semyon Bychkov, Sir Colin Davis, Gianandrea Noseda and Oliver

Knussen and soloists such as Itzhak Perlman, Pinchas Zukerman and Yefim Bronfman,

appearing at the BBC Proms; Carnegie Hall, New York; World Expo, Shanghai; Berlin

Kozerthaus and Concertgebouw, Amsterdam.

Concert highlights in 2018 include appearances as leader/director and soloist in Vivaldi Four Seasons in Argentina, Brazil, Spain and

Uruguay and Max Richter Recomposed: Vivaldi Four Seasons in China. Sarah takes up the position of Professor of Violin and Head of

Strings at the Royal Irish Academy of Music in September 2018. She studied with Maurice Hasson and Howard Davis at the Royal

Academy of Music in London, and Friedemann Eichhorn at the Hochschule für Musik Franz Liszt Weimar. She was elected as an

Associate of the Royal Academy of Music in 2018. Sarah plays a Gennaro Gagliano violin c.1760.

Everett Frost produced and directed the award-winning American national broadcast premieres of

Beckett's five completed radio plays. In addition to original radio works, and the libretto for Ubu Rah! an

operatic send-up of Jarry's play (with Edward Cansino), Frost's other productions include the American

version of John Cage's Roaratorio: An Irish Circus on Finnegans Wake; and radio plays by Bertolt Brecht,

Maurcio Kagel, Vaclav Havel, and Suzan-Lori Parks.

Dr. Frost was principal compiler of the Notes Diverse Holo[graph] catalogue of Beckett's reading notes at

Trinity College Dublin [SBT/A 16 (2006)], and editor of the Faber edition of Beckett's All That Fall and Other

Plays for Radio and Screen. He has been founder and Artistic Director of Voices International; an Executive

Producer and radio project development director at WGBH, Boston (public radio and television) and has

recently retired from being Professor of Television, Radio and Film, at New York University.

Barry McGovern's recent theatre work includes Woyzeck in Winter (Galway Arts

Festival, Barbican and Dublin Theatre Festival); First Love (Gate); Krapp's Last Tape,

Watt (adapted from Beckett's novel) and I'll Go On (adapted from Beckett's Three

Novels) (all at Edinburgh International Festival); Ohio Impromptu, Act Without Words 2

and That Time (Walt Disney Hall, L.A.); A Midsummer Night's Dream (Abbey Theatre);

Waiting for Godot (Mark Taper Forum, L.A.) and Endgame (Kirk Douglas Theatre, L.A.).

Other theatre includes Sweeney Todd, The Home Place, Waiting for Godot, Endgame,

Happy Days, A Christmas Carol, The Price, Glengarry Glen Ross (Gate), Faith Healer

(Island Theatre Company) and Philadelphia, Here I Come! (Gaiety).

TV and Film includes Royally Ever After, Citizen Lane, The Cured, Aithrí/Penance, My Name is Emily,The Tudors, Miracle at Midnight, Na

Cloigne, Game of Thrones, Gift of the Magi, Waiting for Godot, Joe Versus the Volcano, Dear Sarah and The Treaty. On radio he has

directed a number of plays including Beckett's All that Fall and Pinter's Silence and played in Embers and Rough for Radio 2. A former

member of the RTÉ Players and the Abbey Theatre company, he served on the Arts Council from 1984 to 1988. He has co-written

two musicals with Bryan Murray and incidental music for some plays. He has recorded the complete Beckett novels Molloy, Malone

Dies and The Unnamable with RTÉ and the Lannan Foundation and gives frequent readings from Beckett's poetry and prose. He has

taught at the University of Los Angeles at Davis and at the University of Notre Dame and was awarded an honorary Doctorate in

Letters by Trinity College Dublin.
---
Stephen was a member of the Abbey Theatre company from 1975, playing a wide variety of roles

including Joe Dowling's production of A Life (Irish Times Awards Best Supporting Actor), and was

the Abbey's first Hamlet in 1983. He spent a year at the Royal National Theatre in London in 1984,

and since then has done a large body of work at the Gate Theatre Dublin, most recently as Mr

Bennet in Pride and Prejudice, Port Authority, The Threepenny Opera, Bedroom Farce, My Cousin

Rachel, A Woman of No Importance, Hay Fever, Jane Eyre, and Death of a Salesman. Stephen played

Garry Essendine in Present Laughter (which also transferred to Spoleto Festival, Charleston), The

Real Thing, Private Lives, Waiting for Godot (National Tour and worldwide), Old Times, The Pinter

Landscape (Lincoln Centre, New York), Higgins in Pygmalion, Serge in Art, and title roles in Tartuffe

and Cyrano de Bergerac. Leading parts in Plaza Suite & Phaedra (Rough Magic); Blackbird

(Landmark Productions); The Shaughraun (Albery Theatre, London); The Life of Galileo (Project);

The Rocky Horror Show, The Taming of the Shrew and Oedipus at the Gaiety. Recent appearances include Captain Boyle in Joe

Dowling's production of Juno and the Paycock (Guthrie Theatre, Minneapolis), Sorin in The Seagull (Dublin Festival), John Bosco in

The Chastitute (Gaiety, Dublin), The Captain in Woyzeck in Winter (Galway Festival/Barbican) and Hornby in A Kind of Alaska (Pinter

Festival, Lincoln Centre).Film / Television includes The Tudors; Eat the Peach; The General; The Boys from Clare; A Piece of Monologue;

Waiting for Godot; Twice Shy; El Cid; Ballykissangel; Father Ted; Bachelor's Walk.

Sebastian Adams (b. 1991) is an Irish composer, violist and artistic director. His music is deeply

engaged with the classical tradition, but filters through a range of interests including just intonation,

performance art, improvisation and artificial intelligence. Trajectory is a major preoccupation in his

music. Recent commissions include the Irish Chamber Orchestra and both RTÉ orchestras. Sebastian

was Composer in Residence with RTÉ lyric fm in 2016/17. Performers of his music include Crash

Ensemble, Kirkos, ConTempo Quartet, Benyounes Quartet, Fidelio Trio, Sarah Watts, Beatrice Berrut,

Carl Ludwig Hübsch, Thérèse Fahy, David Adams, and many others. His music has been broadcast

across the European Union and performed in Vienna, Cologne, Potsdam, Antwerp and Görlitz and at

the West Cork Chamber Music, New Ross, EuropArt (Brussels), Órtús and Hilltown festivals. In 2017,

he represented Ireland at the International Rostrum of Composers.

As an artistic director, Sebastian has organized over 100 concerts since 2012, and brought 400 premieres to fruition. He founded

and directs Kirkos (projects include Fluxus Happenings and multi-sensory concerts in complete darkness) and co-directs the

Fishamble Sinfonia. He also chaired the Irish Composers Collective for two years. As a violist, Sebastian has premiered works by

many of Ireland's leading composers and performed as an improviser in Dublin, Bern, La Chaux de-Fonds, New York and London.

He is becoming active as a period instrument performer, both on viola and on the viola da gamba. He studied in Dublin (Kevin

O'Connell & Jonathan Nangle) and Vienna (Karlheinz Essl).

Finnegan Downie Dear is Music Director of Shadwell Opera. As a conductor, he is becoming

increasingly recognised as a proponent of vocal music of the 20th and 21st centuries. Since

2014 he has worked regularly for the Royal Opera House, Covent Garden, returning this

season to join the music staff for productions of Shostakovich The Nose and Thomas Adès

The Exterminating Angel. Other plans for this season include assisting Simone Young in Paris

(Carmen) and London (Eotvos Senza Sangue), Thomas Adès in Dublin (Gerald Barry Alice)

and Lothar Koenigs in Warsaw (Die Tote Stadt).

Finnegan studied at Cambridge University and the Royal Academy of Music where he

received the Gerald Moore Award and Hodgson Memorial Scholarship to spend a year

curating a series of concerts focussing on Mahler's complete song catalogue. As a pianist,

Finnegan has given recitals at venues including the Wigmore Hall, St. John's, Smith Square,

the Crush Room at the Royal Opera House and Kings Place, and has appeared as part of the

Oxford Lieder, Aberystwyth, Buxton, Cambridge, Gower, St. Magnus International and

Oxford Lieder Festivals, as well as live on BBC Radio 3. He was an International Opera

Awards Foundation recipient for 2015/16 and a Samling Artist for 2014/15 and 2015/16.
---
Michelle O'Rourke is an Irish singer based in Dublin. Her natural sound, unaffected expressivity and

technical ability make for an interpreter of rare dynamism. Michelle combines her classical training

with an adventurous eclecticism and a passion for collaboration. Michelle has commissioned,

premiered and toured works by Andrew Hamilton, Linda Buckley, Garrett Sholdice, Benedict

Schlepper-Connolly, Judith Ring and Naomi Pinnock amongst others. She is passionate about

commissioning and dissemination of new vocal music.

Recent collaborations with Irish composer Simon O'Connor resulted in Left Behind: Songs of the 1916

Widows – a suite of songs inspired by the experiences of women associated with the 1916 Easter

Rising in Ireland. Left Behind was featured as part of the Ireland's official commemorative

programme for 2016 and recorded for Ergodos. Ongoing and recent work includes a new opera

with Simon O'Connor and Maeve Stone, the premiere of new vocal work by Ann Cleare and release

of music for people who like art by Andrew Hamilton on NMC.

Since her debut performance at the age of six, Ioana has enjoyed an eclectic career path

spanning repertoire from baroque to rock and everything in between. She began her violin

studies with her father and continued in France and at the Royal Academy of Music in London,

collecting the highest possible marks and distinctions at every stage. Ioana has performed a

considerable number of solo works with orchestra, including many of the great concertos from

Bach, Bruch, Beethoven, Mozart, Mendelssohn, Prokofiev and Shostakovich as well as more

contemporary offerings from Philip Glass, Tavener, Ian Wilson and Arvo Pärt.

She has toured, recorded, broadcast and coached in her role as first violin, both as former founder

member of the prize-winning Callino Quartet and in her current piano trio Ensemble Avalon,

whose debut CD features the trio's 'ravishing sensitivity' and 'sunlit playing' (the Strad).

Collaborations have been with artists as diverse as Barry Douglas, John Abercrombie (jazz), tenor

Mark Padmore, composer Philip Glass, Martin Hayes (trad fiddle), the Belcea Quartet and Arcade

Fire (indie rock) and, more recently, a hugely successful concert tour in an all-female violin quartet

joining the leaders of RTÉ National Symphony, RTÉ Concert and the Irish Chamber Orchestras.

Entering her 8th season as Associate Leader of the Ulster Orchestra, Ioana is in increasing demand as guest leader joining orchestras

such as City of Birmingham Symphony Orchestra, RTÉ National Symphony Orchestra, Camerata Ireland, English Symphony Orchestra

and the BBC Philharmonic as concertmaster. Ioana plays a wonderful Eberle violin, on generous loan from a private collector.

Born in East Germany, Joachim Roewer graduated from the Hochschule für Musik "Franz

Liszt" Weimar and the Orchesterakademie of the Berlin Philharmonic Orchestra, having

performed frequently with this world class orchestra in Berlin and internationally. During

that time he was also principal viola of the Gustav Mahler Jugendorchester under Claudio

Abbado. In 1994 Joachim Roewer moved to Ireland to become principal viola with the Irish

Chamber Orchestra, a position which he has held ever since. On numerous occasions he

appeared as soloist with the Irish Chamber Orchestra. He performed Mozart's Sinfonia

Concertante alongside violinist Anthony Marwood with the Irish Chamber Orchestra and

Berlioz' "Harold in Italy" with the National Youth Orchestra of Ireland.

Since 2006 Joachim Roewer works as Course Director of the annual international

ConCorda Chamber Music Course for Strings. Joachim Roewer is a passionate teacher and

a busy chamber music player. He is a member . of the Esposito String Quartet and was invited to perform with the Vogler Quartet, the

Vanbrugh Quartet and the RTÉ Contempo Quartet. Since 2013 he is Artistic Director of the Killaloe Chamber Music Festival. In 2017

Joachim Roewer took on the position of Artistic Director of the MA programme in Classical String Performance at the Irish World

Academy of Music and Dance at the University of Limerick.

Lisanne Melchior won violin and viola scholarships to the Royal Northern College of Music and went on to

study in Chicago. Lisanne enjoys performing a wide range of musical styles and has a particular love of

chamber music. She has performed chamber music recitals in America, Germany, Kenya, Ireland, Spain

and the UK. As a member of the Adderbury Ensemble she has recorded a disc of chamber music by John

Veale and Robert Crawford on Métier Records. She has also performed regularly with the Harborough

Collective, Soloists of London, the Rosetta Trio, the Le Page Ensemble, CHROMA and Britten

Sinfonia. Lisanne is an advocate of making music accessible and has performed in many unusual
---
concert settings. Examples include chamber music by Schoenberg and Piazzolla in Yorkshire Sculpture Park, and Ian Wilson's

Bewitched for Soprano & String Quartet, a composition based on the experiences of patients with stroke and hospital staff, at a

health conference in Dublin Castle.

Lisanne has guest lead many orchestral viola sections including, English String Orchestra, City of London Sinfonia, Orchestra of the

Swan, Glyndebourne Opera, Ulster Orchestra, Opera North, The Guildhall String Ensemble, and Illinois Chamber. As a soloist, Lisanne

has performed Berlioz Harold in Italy in England and Mozart Sinfonia Concertante in Germany. She currently lives in Dublin where

she is Principal Viola of the RTÉ Concert Orchestra.

Dublin born Aoife Nic Athlaoich enjoys a versatile musical career, equally at home playing on period

instruments as performing newly commissioned works. She has collaborated with jazz musicians

and contemporary dance groups, as well as playing under the baton as such eminent conductors as

Sir John Elliot Gardiner, Sir Colin Davis and Bernard Haitink as an orchestral musician. Aoife has

performed with the orchestra of the Age of Enlightenment, La Serenissima, the Avison Ensemble,

Irish Baroque Orchestra, Scottish Chamber Orchestra, Classical Opera Company, London Mozart

Players and is a member of the Irish Chamber Orchestra and the Orchestre Révolutionnaire et

Romantique.

Aoife has won prizes for solo and contemporary music performance at Feis Ceoil, Dublin as well as

being awarded a Belfast Classical Music Bursary in 2007 and was awarded scholarships for her

studies at the Royal Irish Academy of Music and at the Royal College of Music, London. Aoife teaches

cello at the Cork school of music.

Yseult Cooper Stockdale enjoys a diverse career as a soloist and chamber musician. Performances

include Elgar Cello Concerto at the National Concert Hall, Beethoven Triple Concerto in the

National Opera House in Wexford, West Cork Chamber Music Festival (supported by the Vanbrugh

Quartet's Young Musician's Scholarship Scheme) and the NCH's Chamber Music Gathering. She

performed as a Rising Star at the RDS and was selected as a Britten-Pears Young Artist and as a

member of Southbank Sinfonia.

Recent engagements include a performance at Chamber Music on Valentia, a recital of solo

contemporary music with Kirkos, and her fourth concert to date with the Irish Composers

Collective. Yseult was recipient of the John Vallery Memorial Prize at the Freemasons Young

Musician of the Year in 2015 and was awarded the 2016 Yamaha Music Foundation of Europe

scholarship. A passionate supporter of contemporary music, Yseult has premiered over fifty works,

including several solo cello commissions. On the other side of the spectrum, Yseult is principal

cellist of Fishamble Sinfonia, an orchestra specialising in early music. Yseult studied at CIT Cork

school of Music and the Royal Irish Academy of Music with Christopher Marwood and at the

Hochschule für Musik und Theater & "Felix Mendelssohn Bartholdy" Leipzig with Peter Hörr.

Jonathan Morris is currently completing a doctorate degree in piano performance at the

University of Colorado Boulder College of Music in the USA, studying with Andrew

Cooperstock. After growing up in Wexford, he moved to London and received his bacherlor's

and master's degrees from the Guildhall School of Music and Drama. He has received

numerous awards in many prestigious competitions; last year, he won second prize in the

Mu Phi Epsilon International Competition and first prize in CU Boulder's Honors Concerto

Competition.

The 2017 concert season included a performance of Prokofiev's Piano Concerto No. 3 with

the CU Symphony Orchestra in Macky Auditorium, while the 2016 season included a

performance as part of the City of London Festival, a solo concert in the National Concert

Hall, and a solo concert as part of the New Ross Piano Festival, alongside performers

Nicholas Angelich, Piers Lane, Finghin Collins, and Nathalia Milstein.

Jonathan has played in many notable venues, including Wigmore Hall, Abbey Road Studios,

the Bishopsgate Institute, and the National Concert Hall, as well as several international

venues, including Institut Montana in Switzerland. He will be travelling to New York in November to play in Carnegie Hall's Weill

Recital Hall, representing CU Boulder in a showcase of some of its most promising young musicians.
---
Máire Carroll is 2018 winner of the RDS Collins Memorial Prize, recipient of

the Jim McNaughton/Tilestyle Artist Bursary and 2012 winner of the Royal

Dublin Society Music Bursary. Máire made her concerto début with RTÉ

National Symphony Orchestra of Ireland in June 2015 and has also

performed at the Wigmore Hall and Barbican in London, Carnegie Hall in

New York and National Concert Hall, Dublin. She has performed with the

National Symphony Orchestra of Ukraine, Hibernian Orchestra, RIAM

Symphony Orchestra, Orchestra of St. Cecilia and Marlborough Baroque

Orchestra. Máire has a keen interest in contemporary music and has

collaborated with London Sinfonietta and Crash Ensemble, performing at

CrashLands series, GAIDA Contemporary Festival in Lithuania and

Homecoming Festival in Ohio, USA.

Máire completed her MMus at the Royal Academy of Music with Christopher Elton, where she was awarded the Franz Reizenstein

Award. Máire previously studied at the Royal Irish Academy of Music with Gillian Smith, John O'Conor and Ray Keary. In May 2018,

Máire launched a new intimate performance series 'The Hidden Piano series' at Dublin Port with the next event in the series coming in

September 2018.

Fiona has performed concertos with the Swedish Chamber Orchestra, Jönköpings

Sinfonietta, Locrian Ensemble, Irish Chamber Orchestra and the National Youth Orchestra of

Ireland in venues such as Köln Philharmonie, Liszt Academy Grand Hall Budapest,

Heidelberg Festival and St. Martin in the Fields London. She was a soloist with Håkan

Hardenberger, Antje Weithaas and Uri Caine in the Swedish Chamber Orchestra's

Brandenburg Project performing the 2nd and 5th concertos and premiering new concertos

by Steven Mackey and Uri Caine, touring throughout Germany, Hungary and Poland and

recording these works for the BIS label in 2017.

She held the position of principal flute of the Swedish Chamber Orchestra from 2012-2016

and has performed as guest principal flute with orchestras such as the Royal Opera House

Covent Garden, Royal Philharmonic Orchestra, BBC Philharmonic, BBC Scottish Symphony,

BBC National Orchestra of Wales, Royal Northern Sinfonia, City of London Sinfonia, RTÉ

Concert Orchestra and the Irish Chamber Orchestra. Fiona completed her Master's degree at

The Juilliard School, New York, studying with Robert Langevin and appearing as a guest

flautist with the New York Philharmonic. She won first prize in The Juilliard School Flute

Competition and made her Lincoln Center debut performing Bernstein's 'Halil' with

The Juilliard Orchestra at The Peter Jay Sharp Theatre. She began her studies at the Cork School of Music with her mother Evelyn

Grant and Sabine Ducrot and completed her Bachelor of Music studies at Trinity College of Music, London, with Anna Noakes.

While in London she won numerous awards including 1st Prize in the British Flute Society International Competition, the Royal

Overseas League Sussex Prize and the Royal Philharmonic Society's Julius Isserlis Scholarship.

Joshua Batty began his studies at Chetham's School of Music with Gitte Marcusson, Richard Davis and

Katherine Baker, during which time he became Principal Flute of the National Youth Orchestra of

Great Britain. He studied at the Royal Academy of Music in London on a full scholarship with Michael

Cox and spent a year studying with Jacques Zoon at the Haute Ecole de Musique Genève. He was

awarded both the Sussex Award in the Royal Overseas League Competition and the LSO Candide

Prize following his participation in the LSO Woodwind Academy. Joshua was then accepted into both

Aldeburgh World Orchestra and as Principal Flute with Gustav Mahler Jugendorchester.

Joshua has guested as Principal Flute with the London Symphony Orchestra, London Philharmonic

Orchestra, Academy of St Martin in the Fields, Swedish Radio Symphony Orchestra, Bergen

Philharmonic Orchestra, Sydney Symphony Orchestra, Royal Philharmonic Orchestra, BBC

Philharmonic, London Mozart Players, BBC Symphony Orchestra, Welsh National Opera, Royal

Northern Sinfonia, John Wilson Orchestra, London Sinfonietta, Halle Orchestra and Ensemble 360. He

has performed in prestigious festivals and international concert series such as Berliner Musikfest,

Salzburg, Lucerne, Edinburgh International, BBC Proms, Singapore Arts, Royal Concertgebouw,

Staatskapelle Dresden and La Scala Milan as well as performing solo concerts at Buckingham Palace and the London Flute

Festival amongst others. Joshua is the former Principal Flute of the RTÉ Concert Orchestra (2015-17) with whom he has also

appeared as a concerto soloist and is currently a tutor of flute at the Royal Northern College of Music.
---
Miriam Kaczor is a Polish-born, Dublin-raised flautist. She was Irish Freemasons' Young Musician

of the Year 2015 and was winner of the innaugural RDS Jago Award and recipient of the RTÉ lyric

FM bursary along with the McCullough Cup (Feis Ceoil).

Since her concerto debut with the RTÉ Concert Orchestra in 2015, she has appeared as soloist

with the the RTÉ National Symphony Orchestra, Irish Baroque Orchestra, Dublin Orchestral

Players and the Esker Festival Orchestra. She has worked with ensembles such as the Crash

Ensemble, Vanbrugh Quartet, Ensemble Marsyas, Irish Baroque Orchestra, Ex Cathedra and was

a Britten-Pears Young Artist in 2016.

Particularly keen on chamber music, Miriam has performed in venues across Ireland, London,

New York and Beijing, the Killaloe, Westport, Sligo and Clandeboye festivals, and is a founding

member of the Westland Wind Quintet. Miriam is supported by Music Network's Capital

Scheme, funded by the Arts Council and The Department of Arts, Heritage and the Gaeltacht.

Miriam graduated from the Royal Irish Academy of Music studying with William Dowdall and Patricia Morris, and additionally

studied in the class of Barbara Gisler-Haase in Vienna.

John Forde completed his undergraduate degree with Tim Lines at the Royal College of Music in

London and also holds a Master's degree from the Royal Irish Academy of Music where he studied

with John Finucane.

Since returning to Ireland John has been in demand as a freelance clarinettist and performs, records

and broadcasts regularly with Irish orchestras including RTÉ National Symphony Orchestra, RTÉ

Concert Orchestra and the Orchestra of Wexford Festival Opera.

Since 2008, John has been an ever-present part of the wind section of the Irish Chamber Orchestra.

With the ICO he has toured extensively across both Europe and the USA, performing at international

festivals including Frühling Festival, Heidlberg and Mozart Festival, Würzburg. John also performs on

the current CD recording cycle of complete Mendelssohn Symphonies with ICO and Jörg Widmann.

As an orchestral percussionist Brian Dungan works regularly with the RTÉ National Symphony

Orchestra, RTÉ Concert Orchestra, Ulster Orchestra, Crash Ensemble and is also timpanist of

Fishamble Sinfonia. In April 2018 he premiered the solo work WORD FOR WORD by Irish

composer Sam Perkin for a Crash Ensemble concert in the Hugh Lane Gallery. Brian has

performed in Irish premieres of Adès' Powder Her Face (Northern Ireland Opera) and Totentanz

(RTÉ NSO) as well as John Cage's Living Room Music with Bangers and Crash at the 2017 New

Music Dublin Festival. Brian played in Steve Reich's Music for 18 Musicians in a joint performance

with Crash Ensemble, Bang on a Can Allstars and Sō Percussion in Dublin in 2014. He played the

John Cage duo for flute and percussion, Roanji, with flautist Manuel Zurria in 2014, and recorded

Perotin's Viderunt Omnes for eight cellos and percussion by Dmitri Yanov-Yanovsky in 2012, both

for Louth Contemporary Music Society. Brian played for Arvo Pärt in a chamber group assembled

for the composition seminar at the 2008 RTÉ Living Music Festival.

Brian studied at the Kodály Institute of the Liszt Academy, Budapest; Trinity College, Dublin; and

with Richard O'Donnell on the Masters programme at the Royal Irish Academy of Music.

Beckett Chamber Music Series expresses enormous gratitude to James Knowlson, Anna McMullan and Lucy Jeffery for their

expertise and guidance on the life and work of Samuel Beckett in relation to the conception and creation of this Series. With

many thanks to Edward Beckett of the Beckett Estate for supporting our artistic goals in creating performances exploring the

space between words and music.