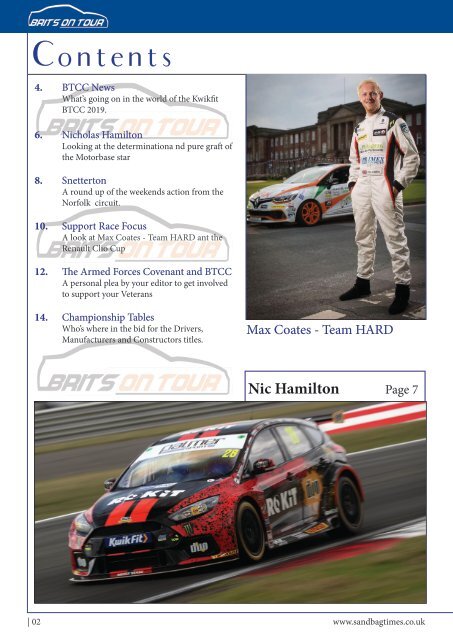 Brits on Tour Issue No:3 - Snetterton
The SBT Suppliment to the British Touring Car Championship
Contents

4. BTCC News

What's going on in the world of the Kwikfit

BTCC 2019.

6. Nicholas Hamilton

Looking at the determinationa nd pure graft of

the Motorbase star

8. Snetterton

A round up of the weekends action from the

Norfolk circuit.

10. Support Race Focus

A look at Max Coates - Team HARD ant the

Renault Clio Cup

12. The Armed Forces Covenant and BTCC

A personal plea by your editor to get involved

to support your Veterans

14. Championship Tables

Who's where in the bid for the Drivers,

Manufacturers and Constructors titles.

Max Coates - Team HARD

Nic Hamilton Page 7

| 02 www.sandbagtimes.co.uk
More magazines by this user