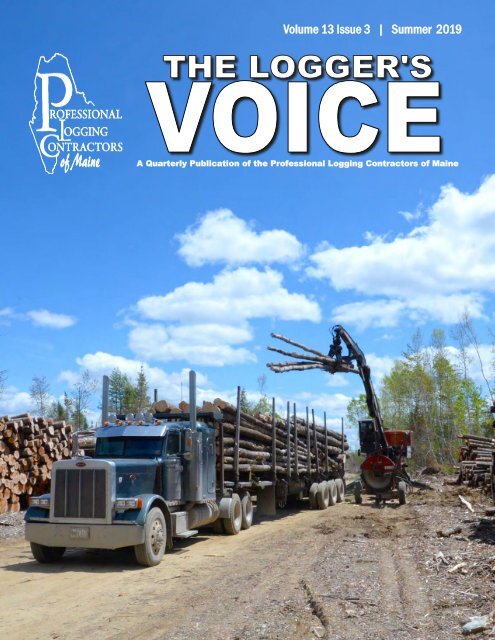 PLC Logger's Voice - Summer 2019
You also want an ePaper? Increase the reach of your titles
YUMPU automatically turns print PDFs into web optimized ePapers that Google loves.
Volume 13 Issue 3 | Summer 2019

A Quarterly Publication of the Professional Logging Contractors of Maine
---
Board of Directors

Cover: T. Raymond Forest Products Inc. See story, p. 10.

Jim Nicols, President

Tony Madden, 1 st Vice President

Chuck Ames, 2 nd Vice President

Will Cole, Secretary

Andy Irish, Treasurer

Scott Madden, Past President

Aaron Adams

Kurt Babineau

Donald Cole

A quarterly publication of:

The Professional Logging

Contractors of Maine

William Cole

Tom Cushman

Brent Day

Wes Dube

Steve Hanington

Duane Jordan

Robert Linkletter

Andrew Madden

Ron Ridley

10

110 Sewall St., P.O. Box 1036

Augusta, ME 04332

Phone: 207.688.8195

www.maineloggers.com

Member Showcase

T. Raymond Forest

Products Inc.

Wayne Tripp

Gary Voisine

PLC Staff

Executive Director

Dana Doran ▪ executivedirector@maineloggers.com

Membership Services Coordinator

Jessica Clark ▪ jessica@maineloggers.com

Safety and Training Coordinator

Donald Burr ▪ safety@maineloggers.com

The Logger's Voice

Editor and Designer

Jon Humphrey Communications and Photography

▪ jehumphreycommunications@gmail.com

Advertising

Jessica Clark ▪ jessica@maineloggers.com

Email news, notices, and correspondence

▪ jehumphreycommunications@gmail.com

24

Supporting Member Spotlight

Wallingford's Inc.

Also Inside

4 Calendar and Updates

6 President's Report

7 New Members

8 Executive Director's Report

18 Annual Meeting

20 Trucking

29 Safety

36 Maine Forest Service Director

37 BMPs for Water Crossings

38 PLC News Briefs

40 ALC Updates

43 Master Logger

44 Congressional Updates

This newsletter is printed on FLO Gloss Digital Text paper

produced in Maine and donated by Sappi North America.
---
Event

Calendar

PLC Office, Augusta

TBD

H.O. Bouchard/Comstock, Hampden

4 Professional Logging Contractors of Maine Loggers Serving Loggers Since 1995
---
Updates

Do you have news to

share?

The PLC is always seeking

news from our Members that

showcases our industry's

professionalism, generosity, and

ingenuity.

Send ideas to

jonathan@maineloggers.com

*Registration information pages 46-49

The Logger's Voice ▪ Summer 2019

5
---
From the President

By Jim Nicols

Hello Everyone

I hope everyone's summer is off to a good start. It seems it took a while to get here this

year with such a wet and cold spring. It was a couple of weeks later than usual drying out

around my neck of the woods.

I would like to take the time to thank everyone for the great turnout for the annual

meeting. I think that we had over 200 people attend the day's events. It was a huge success. It

was the first time in a long time that we held it in the southern part of the state. Everyone that I

talked to seemed to enjoy themselves.

Congratulations to all of the award winners. They are all so deserving and should be

very proud. I would like to thank everyone for their generosity, donating over $50,000 this

year to Log a Load for Kids. It is such a great cause to raise this money for the children, our

future. Thanks to Scott Hanington for running the auction again this year. Keep up the great

work.

One topic that keeps coming up as I talk to other contractors is the labor shortage.

Everyone is running short on people and trying to do the best they can. It is not just logging,

there are help wanted signs everywhere. I believe it could get worse before it gets better.

Hopefully it is not a battle between contractors for the very skilled workers it takes to run these

expensive machines. The third Mechanized Logging Operations Program (MLOP) class started

in late June to train future employees for logging companies. Please do whatever you can to

support the MLOP program. Check out the school on site up in Stratton if you get a chance.

The students would be thrilled to have you go and talk to them about logging and your

company needs. Thank you to all of the sponsors and donors for the program. Without them

we wouldn't be able to hold these classes. This year I believe we had over 50 applicants for the

16 or so open slots so there is definitely a need for more sessions. Our goal is to be able to hold

multiple classes per year.

This spring Dana was incredibly busy with representing us at the legislature, supporting

some bills and opposing others. Too many to list here. Hopefully you are getting Dana's

weekly updates on that. If not, call or email the PLC office to get on the list so that you can be

informed and get involved.

The PLC should be moving into our new building in Augusta right beside where we are

located now sometime in July. All the renovations are nearly complete. Stop by and check it

out. It is very nice.

Lastly, I believe we had over 1000 people attend our Spring Safety trainings. This is

the first time we topped that number. They continue to get better and bigger every year. There

are many people that help with that and we thank you all.

Enjoy your summer

Jimmy

6 Professional Logging Contractors of Maine Loggers Serving Loggers Since 1995
---
Welcome New Members….…….

Contractor Members

Fortune Trucking of Washington, ME joined

the PLC as a new Contractor Member in May

2019. The company has a professional staff of 3.

For more information call Nick at 207-975-9445

or email nicktfortune@gmail.com

LJG Woodlands LLC of Fort Kent, ME joined

the PLC as a new Contractor Member in April

2019. The company has a professional staff of 2.

For more information call Lucas at (207) 834-

6329 or email luc4683@yahoo.com.

MW Trucking and Logging Inc. of Norway,

ME joined the PLC as a new Contractor Member

in April 2019. The company has a professional

staff of 4. For more information call Milo at

(207) 890-3592 or

email milowasher@gmail.com.

Pine Ridge Timber of Phillips, ME joined the

PLC as a new Contractor Member in May 2019.

The company is Master Logger certified and has

a professional staff of 3. For more information

call Vincent at 207-592-6472 or

email pineridgetimber@gmail.com

Ouellette Logging Inc. of Fort Kent, ME joined

the PLC as a new Affiliated Contractor Member

in May 2019. The company has a professional

staff of 2. For more information call Jacob at 207

-834-3839.

R.W. Day Logging of West Baldwin, ME joined

the PLC as a new Affiliated Contractor Member

in April 2019. The company has a professional

staff of 3. R.W. Day Logging is a Master Logger

certified company. For more information

call Ricky at (207) 272-6512.

Supporting Members

Dysart's Lubricants of Bangor, ME joined the

PLC as a new Supporting Member in June of

2019. The company carries a large line of

Chevron, Service Pro, and Castrol supplies.

And offers Bulk Lube and DEF Deliveries,

Packaged Goods, Lube Equipment Installation

and Loan Program, Oil Analysis and Castrol

Labcheck. For more information go to

www.dysarts.com or contact Chou Lebel at 207-

944-4360 or chou@dysarts.com.

Northeast Pellets, LLC of Ashland, ME joined

the PLC as a new Supporting Member in June of

2019. The company is a manufacturer and

distributor of Super Premium Wood Pellets. For

more information go to www.northeastpellets.net

or contact Matthew Bell at (207) 435-6230

or northeastpellets@aol.com.

Not a member but interested in

joining the PLC?

Contact Jessica at (207) 688-8195 or

email jessica@maineloggers.com

SKS Furbush Logging LLC of Smithfield, ME

joined the PLC as a new Affiliated Contractor

Member in May 2019. The company has a

professional staff of 2. For more information call

Westley at 207-431-4324.

The Logger's Voice ▪ Summer 2019

7
---
From the Executive

Director

The View from the Middle

By Dana Doran

"...no country can be well governed

unless its citizens as a body keep religiously

before their minds that they are the

guardians of the law and that the law

officers are only the machinery for its

execution, nothing more." Mark Twain -

The Gilded Age

It certainly is a new day in Augusta

and the importance of the PLC as a steward

of the industry to watch over the work of

the Legislature and the Governor is just as

important as it has ever been. From my

perspective, this quote from Mark Twain is

very appropriate as without the work we do

on a daily basis in Augusta, this industry

might cease to exist or be a shell of itself if

our elected officials did not hear directly

from us.

The first priority of the PLC in

2019 was to establish relationships with the

new Governor and also help guide the new

administration with respect to their

selections for Commissioners and important

Bureau Directors. One of the most

important selections for the Governor was

the Commissioner of the Department of

Agriculture, Conservation and Forestry.

Amanda Beal was announced in early

January to take over that position and

immediately, the PLC reached out to Ms.

Beal and began discussing the role of the

Dept. in regards to our industry. Ms. Beal

was very receptive to our input and thus far

has worked hard to ensure that she has our

perspective in mind with respect to the work

that the Dept. does on a daily basis.

The second position that the PLC

worked hard on with the new administration

was the Director of the Maine Forest

Service (MFS). Ms. Beal solicited our input

for this position and we were excited to hear

that Patty Cormier, a longtime District

Forester for MFS was appointed by Ms.

Beal to this position in early May. Ms.

Cormier was the PLC's choice to replace

Doug Denico and we are looking forward to

working with her as she takes the reins of

the organization.

Turning our attention to the

Legislature, the first session of the 129 th

edition of this branch of government is now

in the books as it finally adjourned sine die

(without day) at 6:45 a.m. on Thursday,

June 20 th . With a sense of urgency not to

extend the session beyond the statutory date

of adjournment for the first time in three

years, many issues were carried over to

2020 and consensus was not found on quite

a few big ideas such as a bond package and

other substantial pieces of legislation.

Governor Mills has signed more

than 200 bills into law this session and

vetoed less than a dozen which is quite a

8 Professional Logging Contractors of Maine Loggers Serving Loggers Since 1995
---
change from the last eight years. What this

means in terms of cost and benefit will play

out once these initiatives go into effect later

this year and we will know very soon the

total impact of this legislative session.

The Legislature may have to come

back in July or August to deal with any new

vetoes from the Governor as well as a bond

package, but for now, they have left town

and no more new big ideas can be taken up

at this point until 2020.

As we look forward to the future of

this industry, now is a good time to review

the damage that was done this past session

as well as the opportunities that were

created to strengthen and expand the work

you do every day.

Bond Package

Western Maine Timberlands logging underway in Brownfield in May.

Near the end of the session,

Governor Mills proposed a bond package

for infrastructure, economic development,

workforce development and

energy. The bond proposal invests $19

million to support workforce training, career

and technical education and their capital

needs. The bond package also provides $10

million in municipal energy projects, with

more efficient heating technology, and $5

million in low interest loans for clean

energy projects for homeowners in

Maine. And finally, the last pillar of

the investment package is a $105 million

transportation bond to pay for critical

upgrades in improvements to transportation

infrastructure. The Appropriations

Committee voted 8-5 in favor, with 8 D's in

support and 5 R's against, of the Governor's

bill and moved it to the floor. The

Republicans announced that they would

only support a bond for transportation this

session as they felt that the final state budget

was too big and several other initiatives

such as sick time, workers' comp. and

abortion were too costly and therefore this

was their point of leverage. On the floor,

votes were taken on a complete package

with Republicans in opposition. Thus, as a

result of not achieving 2/3 rd 's support to

send the package to the voters in November,

the bill was carried over to 2020 and the

legislature may take up a bond package

during veto day or in a special session later

this summer, but for now, there is no bond

package that has achieved support from both

caucuses.

Sick Time

The Governor signed a bill into law

this session which requires employers with

10 or more employees, employed for more

than 120 days per year, to provide one hour

of earned leave for every 40 hours worked.

It will take effect 90 days after the

Legislature adjourns the 1 st session of the

129 th Legislature.

Effectively, what this bill states is

that an employee is entitled to earn one hour

of paid leave for every forty hours worked,

up to forty hours in one year of

Doran Continued Page 13

The Logger's Voice ▪ Summer 2019

9
---
L

EE - Like many loggers before him, Terry

Raymond, owner of T. Raymond Forest

Products Inc. started working in the woods

at a young age and has never really

considered another career. The truth is even if he

wanted to, he hasn't had time. He's too busy.

In the words of his daughter, Hollie Worster,

"He works seven days a week." On weekdays that

means leaving the house shortly after midnight and not

getting home until 4:30 p.m. on average. He's the first

on the job site and usually the last to leave. On the

weekends, he generally does dirt work including septic

system installations and driveways, and is never idle

for long.

No one chooses a career in logging because

they think it's going to be easy, and while he can get

tired of it from time to time, especially in the cold and

snow of winter, he still likes being in the woods.

"My father always cut wood, and I grew right

up in the woods helping him. He bought a skidder in

1972 and I helped him through high school with that.

After I graduated in 1975 I continued working for him

until I bought my first cable skidder in 1977. I then

worked subcontracting for MacDonald Logging,

Thompson Trucking and Orland Dwelley until 1995,"

Terry said. "I always liked it, you can be your own

boss."

T. Raymond was officially founded in 1977

and grew from that small beginning into one of the

larger contractors in the region. It has always been a

family business. Terry's wife, Paula, worked running

the office for years until in 1998 the Raymonds started

Raymond's Variety and Diner in Lee - a very

successful business itself that she runs to this day.

Terry's late father, Lawrence, "Smokey" Raymond,

worked for T. Raymond Forest Products into his 80s.

Terry's brother, Albert, worked with him when the

business first started and for many years after. His

brother, Garnet, has been with him since 1989 and

runs a feller buncher today. Hollie joined him after

graduating from Husson College in 1998 to run the

office when her mother left to run the store. Son,

Terry "Tee" operated grapple skidder during the

summers while attending school before going on to

work at GE. Other family members have also worked

for the company.

The business grew over the years and in 1990

began the switch to mechanized logging with the

purchase of a rubber tired John Deere 743 harvester.

Next came grapple skidders to replace the cable

skidders. As time went on more machines were added,

and T. Raymond has been fully mechanized for a long

10 Professional Logging Contractors of Maine Loggers Serving Loggers Since 1995
---
T. Raymond Forest Products

Photos: Background, aerial view of T. Raymond operation underway.

Top right, father and daughter, Hollie Worster and Terry Raymond.

Bottom right, Garnet Raymond in Komatsu feller buncher on the move down a private logging road to a new

location.

time now. It currently has three mechanized crews

operating one Komatsu X430 feller buncher, and John

Deere feller bunchers, stroke delimbers, and grapples.

The company does most of its own trucking,

currently running 6-7 Peterbilts daily with more available

at the garage in Lee if needed. T. Raymond also builds and

maintains logging roads and has a grader, excavators,

bulldozers and dump trucks.

Terry has run everything over the years, "I

wouldn't buy anything if I didn't know how to run it," he

said, but for many years now he's run crane/slasher on the

logging jobs. He also likes running bulldozers, and he's

fond of a 1997 Peterbilt truck that he's had for many years.

At its height in the 2000s, T. Raymond Forest

Products had four crews and was about twice as large as it

is now. The company currently has 21 employees.

T. Raymond Forest Products owes much of its

success to its dedicated and reliable employees, many of

whom worked or have worked for the company for a long

time. Some of the current and past long-term employees at

T. Raymond in addition to members of the family include

the late Jeff McLaughlin, who worked 23 years running

crane and feller buncher; Jeff Rideout who has worked 22

years as a mechanic and still keep things running on a daily

basis; Mickey Day, who has driven trucks for 15 years, Jay

Worster, who has worked a total of 15 years as a delimber

operator in two stints with the company; Fred Goodwin,

who has driven trucks for 14 years; Brad Noyes, who has

worked a total of 12 years over a couple stints operating

delimber and feller buncher and Joel Campbell, who has

run grapple skidders for 12 years.

There have been ups and downs over the years.

The recession and closure of many Maine pulp and paper

mills hit T. Raymond hard just as it did other loggers in the

The Logger's Voice ▪ Summer 2019

T. Raymond Continued Page 12

11
---
T. Raymond Continued from Page 11 16

state. Lately the markets seem to have stabilized and things

are better than they were a couple of years ago when the

list of mills shutting down was discouraging for everyone

in the industry. Unlike many other logging contractors in

the region, T. Raymond never ventured into chipping,

which has turned out to be a good thing given the loss of

biomass mills in northern Maine.

Rising equipment and fuel costs have also been a

challenge. Route 6, which the company travels every day,

is in poor condition and hard on trucks. T. Raymond has a

good, reliable set of employees, but workers are getting

older - T. Raymond's youngest employee is 23 but the next

youngest is in his 40s and many are nearing retirement age

or already past it. It is also hard to hire new workers. Like

just about every other logging contractor in the state, T.

Raymond finds it tough to compete with the wages drivers

and heavy equipment operators can earn in other industries.

It's also hard to convince young people that logging is a

career they'd like to get into.

One move that has turned out to be a good one for

the company was going to work for Wagner Forest

Management Ltd. in 1995. T. Raymond has been with

Wagner ever since and it has been a good relationship.

Wagner has a high opinion of T. Raymond's work,

its strength as a family business, and the range of

capabilities the company brings to the job, according to

Travis B. Howard, a Regional Supervisor for Wagner in

Bangor.

"T. Raymond Forest Products is a multi-faceted,

full service independent logging contractor. Much of

Terry's crew and equipment operators have been with him

for many, many years. The crew is very experienced and

does high quality work," Travis said, "T Raymond Forest

Products harvests and delivers to mills annually 135,000

tons of tree length round wood. Harvest operations are

mainly focused in Eastern Washington County and Central

Penobscot County. They construct, rebuild and surface

annually over ten miles of logging roads per year. Terry

himself operates many pieces of the road construction

equipment. He also grades over 43 miles of logging roads

every season and has done so for the last 20 years."

Hollie said T. Raymond worked for Wagner in the

Katahdin Ironworks region around Brownville and Milo

until 2003 and has mainly been in Washington County ever

since, mostly in areas

around Topsfield,

Vanceboro, Waite,

Crawford, and points

in between.

Wood from

T. Raymond jobs

goes everywhere in

the state, but some of

the main destinations

include Woodland

Pulp, Pleasant River

Lumber, H.C. Haynes

yards, Verso yards,

Sappi, and Louisiana

Pacific.

T. Raymond

Forest Products

joined the

Professional Logging

Contractors of Maine

several years ago

after recognizing the

PLC was fighting for

the logging industry

on many issues,

Hollie said, and also

because of the

opportunity afforded

by the Acadia Insurance PLC Safety Group dividend

program, which rewards eligible logging contractors who

are members of the group with refunds of a portion of their

premiums if certain measures are met by the entire safety

group.

A lot has changed in the industry and for the

company since her father first began logging in the 1970s,

but one thing has never changed no matter how big the

company he founded has gotten, Hollie said.

"He's in there every day with them," Hollie said.

"He'll probably never give it up."

Loaded T. Raymond truck on the move. The company harvests and delivers 135,000 tons of

tree length roundwood each year.

12 Professional Logging Contractors of Maine Loggers Serving Loggers Since 1995
---
Doran Continued from Page 9 16

employment. Accrual of leave begins at

the start of employment, but the employer

is not required to permit leave before the

employee has been employed with that

employer for 120 days during a one-year

period. An employee taking earned leave

shall be paid at least the same base rate of

pay that the employee received

immediately prior to taking earned leave

and the same benefits as those provided

under established policies of the

employer pertaining to other types of

paid leave.

Since this is earned time, which

is what PLC employers already provide

to their employees in other forms

(vacation, sick, personal), the PLC did

object to this legislation, except the

requirement that it be provided after only

120 days of employment for new

workers.

LD 756 Benefit Increases

Workers Comp.

The Governor signed LD

756 into law on Monday, June 17 th . It

will take effect 90 days after the

Legislature adjourns the 1 st session of the

129 th Legislature.

The Democrats introduced 25

bills this session to reform workers'

comp. and may have achieved nothing if

certain business trade associations didn't

attempt to compromise before they

needed to. Unfortunately, because of this

inappropriate negotiation, we were forced

to give in on the first benefit increases in

almost thirty years, but we were also

successful in creating necessary system

efficiencies that should help balance out

some of the benefit increases. That said,

the Governor gave her word that there

will be no more workers' comp. changes

for the next seven years if she holds the

Office of Governor for that period of

time. We also want to thank the entire

Republican caucus for their help in this

negotiation. They were steadfast

supporters of our position and were

responsible for getting to the final

negotiation and an acceptable outcome.

See the charts at right for a

summary of what's in the bill.

LD 756 System Improvements

Doran Continued Page 14

The Logger's Voice ▪ Summer 2019

13
---
Doran Continued from Page 136

LD 1459, An Act To Expand Application of the

Maine Agricultural Marketing and Bargaining Act of

1973 to Harvesters and Haulers of Forest Products. On

Friday, June 7, 2019, the Governor signed this bill into

law. It will take effect 90 days after the Legislature

adjourns the 1 st session of the 129 th Legislature. Prior law

provided authorization for farmers to join cooperative

organizations and requires handlers of agricultural products

to bargain in good faith with such organizations because

agricultural products are produced by numerous individual

farmers and the marketing and bargaining position of

individual farmers will be adversely affected unless they

are able to join together. This new law recognizes that

market forces that affect the marketing and bargaining

position of individual farmers similarly affect the

marketing and bargaining position of individual harvesters

and haulers of forest products, and it expands application of

the Maine Agricultural Marketing and Bargaining Act of

1973 to include harvesters and haulers of forest products.

It is unclear at this point what impact this legislation will

have, but at a minimum, it provides the opportunity for

contractors to discuss prices without the threat of an antitrust

violation. The PLC will be reviewing this legislation

over the coming days and weeks to determine the impact it

will have on the membership.

LD 420, An Act to Amend the Maine Exclusion

Amount in the Estate Tax. This bill would have reduced

the estate tax exclusion amount to $2 million from $5.7

million for estates of descendants dying on or after January

1, 2020 and would have removed the annual adjustment for

inflation of that exclusion amount. This would mean the

Maine estate tax rate, ranging from 8% to 12%, would be

incurred by estates valued over $2 million.

With the help of our membership, a united front

from Republicans and some brave Democrats in each body,

the PLC was successful in defeating this nonsensical

legislation this session. The Maine Senate voted 19 to 12

to defeat LD 420 after the House had defeated the bill

earlier in the week. Following our successful vote in the

Senate, Senator Libby (D-Auburn (moved to table the

bill. From there, the Senate Democrats moved to report the

bill back to the Tax Committee to carry it over into next

session. While we don't like that move, the fact is, they

were defeated this session, and they could reintroduce a

similar bill next year anyway.

Your phone calls and outreach paid off. I believe

this bill would have sailed through if we hadn't made the

combined effort to find some Democrats to support our

position. Senate Democrats who supported us

are: Senators Mike Carpenter from Aroostook, Jim Dill

from Penobscot (he told me his loggers weighed in

heavily!), Mark Lawrence of York, Erin Herbig of Waldo,

Louis Luchini of Hancock and Bill Diamond of

Cumberland County.

LD 1494 An Act To Reform Maine's Renewable

Portfolio Standard. This bill increases the percentage of

supply sources for retail electricity sales in the state that

must be accounted for by new renewable capacity

resources from 10% to 50% by 2030. The PLC had been

working with a consortium on this bill since June 2018 and

supported it throughout the process. This legislation will

bring sustainability to the volatile biomass market with

long term contracts and it will also help grow markets for

low grade wood (pellets and chips) with the introduction of

thermal renewable energy credits. The legislation is now

on the Governor's desk and she is expected to sign it. The

legislation will stabilize and grow the wood energy sector

significantly in Maine for years to come and it should bring

stability to biomass for the long term.

LD 1698, An Act To Create Jobs and Slow

Climate Change by Promoting the Production of

Natural Resources Bioproducts; This bill provides a tax

credit for the production of renewable chemicals by the

conversion of renewable biomass from the forest, farms,

the sea or solid waste. The credit is equal to 7¢ per pound

of renewable chemical produced in the State, 9¢ per pound

of renewable chemical produced in the State if the taxpayer

demonstrates to the satisfaction of the Department of

Economic and Community Development that the

contractors hired or retained by a landowner to harvest

renewable biomass used in production of the renewable

14 Professional Logging Contractors of Maine Loggers Serving Loggers Since 1995
---
chemicals are 3rd-party certified by the Northeast Master

Logger program or successor program and at least 50% of

the contractors' employees are residents of the United

States or 12¢ per pound of renewable chemical produced in

the State if the taxpayer demonstrates to the satisfaction of

the Department of Economic and Community Development

that the contractors hired or retained by a landowner to

harvest renewable biomass used in such production are 3rdparty

certified by the Northeast Master Logger program

and at least 75% of the contractors' employees are residents

of the United States. This bill passed the House and Senate

unanimously, was approved by the Appropriations

Committee and is on the Governor's desk where she is

expected to sign it into law.

LD 912 An Act to Establish the Wood Energy

Investment Program. This bill would create the Wood

Energy Investment Program within the Efficiency Maine

Trust, to be funded by money left over from the biomass

stabilization program and the Stored Solar contract. It

requires the trust to use funds from the fund, if there are

any, to provide incentives and low-interest or no-interest

loans for new wood-derived thermal energy or

cogeneration projects. It requires that the trust consult with

the Finance Authority of Maine, when appropriate, in the

development of any Wood Energy Investment Program

incentives and the distribution of money from the wood

energy investment fund. The bill passed both the House

and Senate and was sent to the Governor for signature.

Unfortunately, the Legislature used the Stored Solar money

for other purposes, so this would have created a program

with no funding. In a strange twist of events on the last day

of the session, the Governor asked the Legislature to recall

the bill and carry it over to 2020. She did not want to sign

the bill as written as it did not include a source of funding

for the new program. We took this as a positive sign that

perhaps she actually wants to try to fund it through a

supplemental appropriation in the next legislative session in

2020. Stay tuned for more on this bill in 2020.

LD 261, An Act to Restrict the Authority for

Posting of Roads, proposed to do three things: 1) impose

a restriction on a public way being posted for more than 6

weeks at a time unless written justification to continue the

restriction is made publicly available before the end of the

6-week period; 2) exempt commercial trucks from size and

weight restrictions for vehicles on a public way during any

period when the temperature is below 31 degrees

Fahrenheit (no more water in the cracks); and 3) impose

restrictions that prevent a commercial entity from operating

the entity's vehicles on the public way where it is

headquartered or where it is conducting its business

activities. The PLC testified in support of the legislation,

but the Transportation Committee asked the PLC to work

with the Maine Dept. of Transportation (MDOT) on

resolving the issues without legislation this session. The

committee voted ONTP but will sent a letter to MDOT

which directs them to take action on a whole list of new

items to help correct the issues that PLC members have

with road postings. MDOT will report back to the

Transportation Committee in 2020 on the work that they

have accomplished.

LD 1301, An Act Regarding the Confidentiality

of Investigations by the Bureau of Forestry, This bill,

which was a PLC priority, makes all complaints and

investigative records of the Department of Agriculture,

Conservation and Forestry related to violations of the

forestry laws confidential during the pendency of an

investigation. The bill provides exceptions to allow

disclosures to department employees and other agencies

and otherwise as determined warranted by the

Commissioner of Agriculture, Conservation and Forestry.

The provision or disclosure of investigative records of the

Department of the Attorney General to a Department of

Agriculture, Conservation and Forestry employee

designated by the commissioner does not constitute a

waiver of the confidentiality of those records. A person

who knowingly or intentionally makes a disclosure in

violation of this provision commits a civil violation for

which a fine not to exceed $1,000 may be

adjudged. Commissioner Beal from the Dept. of ACF

asked the PLC to eliminate this bill for the time being to

allow the new Director of the MFS to create a formal policy

Doran Continued Page 16

The Logger's Voice ▪ Summer 2019

15
---
Doran Continued from Page 156

which will effectively substantiate what is in this bill. The

PLC agreed and will work with Director Cormier to ensure

this policy development takes place.

LD 1156, An Act To Create the Small Business

Savings Account Program. This bill, which was a PLC

priority, establishes a Savings Account Program for Small

Businesses which would allow small businesses to make pretax

contributions to qualifying savings accounts. The bill also

establishes that withdrawals from the savings accounts are

taxable when utilized for the business. The PLC testified in

support of this legislation and worked with the bill sponsor

and the Maine Department of Economic and Community

Development on a revised version of the bill during the

session. The bill sponsor presented what he thought was a

final version to the committee, but Maine Revenue Services

still found issues with the bill that they wanted rectified

before moving forward. Since it was so late in the session,

the committee voted to carry the bill over to 2020 and move

forward with it next year in final form.

LD 1498, An Act To Provide Equity for

Commercial Vehicles on Roads and Bridges in Maine. A

PLC priority bill this session, current law allows certain

commercial vehicles at Canadian weight limits that are

higher than those in this State to travel from the United States

-Canada border to certain points in this State. The PLC

testified in favor of the bill and also told the Committee that

if they are not interested in increasing gross and axle weights,

that they should eliminate the higher weight tolerances on

three bridges for Canadian trucks. The Committee carried

the bill over to next session and asked the Maine Dept. of

Transportation to conduct an economic impact study this fall

on the current exemption. The study will review how the

exemption is hurting Maine loggers and truckers, what

getting rid of the exemption would do to the mills that benefit

and how are heavier weights impacting the roads and

bridges.

LD 1540, An Act Concerning Timber Harvesting

on Public Lands and in State Parks, Historic Sites and the

Restricted Zone of the Allagash. A PLC priority this

session, this bill amends and enacts provisions regarding the

Department of Agriculture, Conservation and Forestry,

Bureau of Parks and Lands' management of timber

harvesting on state property under its jurisdiction, including:

1. requiring the bureau to report on the State's actual and

potential forest inventory status and needs, including the

need for a sawmill or other forest products processing facility

to be located in the state; 2. requiring contractors harvesting

timber at state parks to be established businesses in the state,

requiring contractors to be Master Logger certified, requiring

contractors to own 50% of their own equipment to be used on

the job, requiring contractors to have workers' compensation

insurance, and requiring all timber to be purchased by the

contractor under a stumpage sale instead of service contracts;

and 3. requiring forest products harvested, unless used by the

state parks, to be sold to a sawmill or other forest products

processing or manufacturing facility located in the State to be

processed or manufactured at the facility. The PLC testified

in favor of the bill because it believes strongly that

contractors should benefit from harvesting on public lands

and Master Loggers should be recognized for their

work. Similar to LD 1301, Commissioner Beal from the

Dept. of ACF asked the PLC to eliminate this bill for the

time being to allow the new Director of Parks and Lands to

investigate these issues and determine the best path forward

to assist with these issues. The PLC agreed and will work

with Director Cutko to ensure this policy development takes

place.

In summary, this was a long and arduous legislative

session as there were over 1,800 bills printed and heard in

front of committees. As a result, there was a lot of work for

the PLC to push forward initiatives that could help our

industry and push back upon those that would not. However,

at the end of the day, the session could have been a lot worse

in terms of raising the cost of doing business and hurting this

industry for the long run. There were also a lot of bills that

will help raise the bar for this industry and the rightful place

of loggers and truckers in Maine was not only protected but

was expanded as a result of the work that the PLC does in

Augusta. Being in the middle in Augusta can have its

challenges, but it is exactly where the PLC needs to be.

Have a great summer and please do not hesitate to

reach out to me if you have any questions on what transpired

this session or what is on the horizon.

Dana.

16 Professional Logging Contractors of Maine Loggers Serving Loggers Since 1995
---
The Logger's Voice ▪ Summer 2019 17
---
The PLC of Maine 24th Annual Meeting

Record 51,866 Raised!

O

XFORD - The Professional Logging

Contractors (PLC) of Maine held its 24th

Annual Meeting Friday,

April 26, raising $51,866

for Children's Miracle Network

Hospitals in Maine and presenting

awards to businesses, individuals,

and legislators from across Maine

for their outstanding contributions to

the logging industry.

The meeting was held at a

new location this year, the Oxford

Casino & Event Center at 777

Casino Way, Oxford, ME. and

included a morning meeting of the

membership. The morning events

were followed by a luncheon with

President of the Senate Troy

Jackson and Speaker of the House,

Sara Gideon as speakers. A social

hour in the afternoon was followed by the annual PLC Log

A Load for Maine Kids Auction, then the annual PLC

Dinner and Awards Ceremony. Second-district

Congressman Jared Golden of Lewiston was the featured

speaker for the evening.

The $51,866 raised for Children's Miracle

Network Hospitals in Maine was a new record for the PLC

event, topping the previous record of $46,311 set in 2018.

"Our Annual Meeting is a time to reflect, a time to

celebrate and a time to plan for the future," PLC Executive

Director Dana Doran, said. "The PLC has made important

strides on behalf of loggers, forest contractors, and forest

truckers over the past year and stands ready to continue its

work on behalf of the industry for years to come. Our

members should be proud of what

they have accomplished this year, and

especially proud of what was

accomplished here for the children

tonight."

The Annual Meeting is one of

the PLC's major fund-raisers for the

Log A Load for Kids Foundation to

benefit Children's Miracle Network

(CMN) Hospitals. Last year total PLC

fund-raising for the cause exceeded

$122,000

The PLC and the Northern Light

Health Foundation (formerly Eastern

Maine Health Systems Foundation)

have raised more than $1 million for

Children's Miracle Network Family, the

Log A Load since 1996. Eastern

LeClercs, at the PLC Annual Meeting.

Maine Medical Center in Bangor is a

Children's Miracle Network Hospital and includes a

Neonatal Intensive Care Unit that has received support for

years from the PLC's Log A Load efforts.

In 2019, the PLC is expanding its Log A Load

campaign by partnering with the Barbara Bush Children's

Hospital in Portland to offer a second annual golf

tournament in southern Maine (Sept. 6 at Lake Kezar

Country Club in Lovell) in addition to its longstanding

tournament in northern Maine (Sept. 20 JATO Highlands

Golf Course in Lincoln). All funds raised will be disbursed

equally between Barbara Bush Children's Hospital and

Eastern Maine Medical Center.

14 18 Professional Logging April Contractors 26, 2019 - Oxford of Maine Casino & Event Center, Loggers Oxford, Serving ME Loggers Since 1995
---
PLC Awards 2019

PLC Logger of the Year Award: This award

recognizes a PLC Logging Contractor for their

commitment to the sustainability of the industry

and logging as a profession. The winner is:

Kimball & Sons Logging

PLC Impact Award: Each year, the PLC

recognizes someone from the public sector who

has demonstrated a commitment to the logging

industry and made a significant impact for its

improvement. This year the award goes to two

individuals. The winners are:

Maine State Representatives Nathan

Wadsworth and Michelle Dunphy

Acadia Insurance Safety

Award: This award is given to

a company that continuously

demonstrates safety throughout

their business. The winner is:

PLC President's Award: This award is

presented to an individual or organization

within the PLC which has had a significant and

positive impact on the PLC and the logging

industry in Maine. The winner is:

Melanie Campbell (Cross Insurance)

PLC Community Service

Award: This award is

given annually to a PLC

Member, Supporting

Member or affiliated

organization that has

demonstrated a significant

commitment to giving back

to their community. The

winner is:

Scott Hanington

Chopper One Inc.

PLC Supporting Member

Award: This award is

presented to a PLC

Supporting Member that

has demonstrated an

unprecedented commitment

to logging contractors in

Maine. The winner is:

Acadia Insurance

Congratulations to all 2019

Award Winners

The Logger's Voice ▪ ▪ Summer Spring 2019 15 19
---
Photos

Top: Chaffee

Transport, LLC in

Clinton, ME.

OWNERS: Pleasant River Lumber

YEAR FOUNDED: 2016

ADDRESS: 162 Hinckley Road, Clinton, ME 04927

PHONE NUMBER: (207) 426-8588

Below: Pleasant

River Lumber Trailer

ready to roll.

Opposite: Chaffee

truck in Clinton.

EMPLOYEES: 35

TRUCKS: 28

AREA OF OPERATION: East Coast of the United States,

particularly Maine, New Hampshire, and Massachusetts

SERVICES PROVIDED: Hauling roundwood, lumber, wood

byproducts including bark and chips and sawdust, trash,

cement blocks, bricks, and more.

PLC FOREST CONTRACTOR SINCE: 2016

20 Professional Logging Contractors of Maine Loggers Serving Loggers Since 1995
---
WHY DID THE COMPANY JOIN PLC: Owner Pleasant River Lumber, a PLC Preferred

Supporting Member, saw membership for Chaffee as an additional way to support the PLC.

WHAT ARE THE BIGGEST ISSUES THE COMPANY WOULD LIKE PLC TO WORK ON:

Educate the public about trucking, its importance, and safety rules for the road. Work to ensure

taxes collected from trucking go where they were intended - to support roads, infrastructure and

other things the industry needs.

Trucking section Continued Page 22

The Logger's Voice ▪ Summer 2019 21
---
Trucking Industry News...

FMCSA Updates ELD FAQs...

Recently, FMCSA made the following updates to

the ELD Frequently Asked Questions. The question below

has been revised (updates are in bold).

What must a driver do if there is an electronic

logging device (ELD) malfunction?

If an ELD malfunctions, a driver must:

1. Note the malfunction of the ELD and provide written

notice of the malfunction to the motor carrier within 24

hours;

2. Reconstruct the record of duty status (RODS) for the

current 24-hour period and the previous 7 consecutive

days, and record the records of duty status on graph-grid

paper logs, or electronic logging software, that comply

with 49 CFR 395.8, unless the driver already has the

records or retrieves them from the ELD; and

Continue to manually prepare RODS in accordance with 49

CFR 395.8 until the ELD is serviced and back in

compliance. The recording of the driver's hours of service

on a paper log, or electronic logging software, cannot

continue for more than 8 days after the malfunction; a

driver that continues to record his or her hours of service

on a paper log, or electronic logging software, beyond 8

days risk being placed out of service.

The question below is a new addition to the ELD

FAQs:

When should a driver use paper logs or

electronic logging software if an ELD malfunction

occurs?

A driver should only use paper logs, or electronic

logging software, or other electronic means to record their

HOS if the ELD malfunction hinders the accurate

recording of the driver's hours-of-service data (i.e., 10/11,

14/15, 60/70 hours; or 30 minute).

Learn more here: https://www.fmcsa.dot.gov/hours

-service/elds/faqs

22 Professional Logging Contractors of Maine Loggers Serving Loggers Since 1995
---
FMCSA Launches Drug and Alcohol Clearinghouse

Website...

FMCSA has launched a new website with

information about the Commercial Driver's License Drug

and Alcohol Clearinghouse. Visit https://

clearinghouse.fmcsa.dot.gov to learn more about how

CDL drivers and their employers will be required to use the

Clearinghouse beginning January 6, 2020. You will be able

to sign up for email updates.

Canadian Revenue Agency Notice of Fuel Charge

and Registration Requirements...

A new fuel charge, administered by the Canada

Revenue Agency (CRA), was introduced as part of the

Greenhouse Gas Pollution Pricing Act.

The fuel charge is expected to be effective April 1,

2019 for the provinces of Manitoba, New Brunswick,

Ontario and Saskatchewan and July 1, 2019 for the

territories of Nunavut and Yukon.

The attached informational bulletin, provided by

the CRA, details the fuel charge plan. IFTA, Inc. is

forwarding this bulletin to provide jurisdictions with

information to assist their carriers. It will also be posted on

the IFTA Inc. website.

The registration materials are available at:

https://www.canada.ca/en/revenue-agency/services/tax/

excise-taxes-duties-levies/fuel-charge.html

Unified Carrier Registration Online Service…

This service allows Maine based individuals and

companies that operate commercial motor vehicles in

interstate or international commerce to register their

business and pay the annual UCR fee based on the size of

their fleet. Brokers, freight forwarders, and leasing

companies are also required to register and pay a fee equal

to the lowest fee tier. Companies providing both motor

carrier services as well as broker, freight forwarder or

leasing services are required to pay the fee level set at the

motor carrier level.

Roadside enforcement period began April 1,

2019. You can access the payment portal at Maine

BMV here:

https://apps1.web.maine.gov/cgi-bin/online/ucr/index.pl

The Logger's Voice ▪ Summer 2019 23
---
PLC Supporting Member Spotlight

Logging chokers coming off the line at

Wallingford's New Hampton, NH facility.

O

AKLAND - Wallingford's Inc. is a company

with operations and facilities on two

continents, thousands of dealers, and a thick

catalog of products marketed to customers

across the United States, Canada, and Europe.

Yet this leading international wholesaler of tire

chain, logging, and industrial supplies started out small,

with its roots in logging and snowmobiling in West Forks,

Maine.

John "Jay" Wallingford, President and CEO of the

company, remembers growing up working for his late

father, Richard Wallingford, who had a large logging

operation using horses before cable skidders came along to

replace them. His father never lost his love of horses after

the days of logging with them were done, and many recall

him as one of the best draft horsemen in the United States

- he and his horses still hold the world record for the

largest load ever pulled by a two-horse team.

"He was a lifelong logger up in West Forks so I

was born and raised in logging. I always liked it because I

always had a job," Jay said, recalling starting out as a

young boy cleaning horse stalls and progressing over the

years to hooking tongs from a cable crane loading logs,

and eventually building logging roads with heavy

equipment, always appreciating the ability to earn some

money for clothes. "I was the best dressed person in my

class."

Being in West Forks, the Wallingfords were also

24 Professional Logging Contractors of Maine Loggers Serving Loggers Since 1995
---
into snowmobiles, and by high school, Jay was heavily into

racing them. He graduated from high school in 1970, then

graduated from Unity College with a degree in criminal

justice in 1972 and returned to West Forks with no clear

idea of what he wanted to do. His father happened to be

planning on building a new garage for his logging business

and Jay and a friend took on the job and built it. Jay at that

time was racing for a company out of Quebec and needed

to keep a lot of parts on hand, and so they got the idea of

putting in a showroom in the garage and selling

snowmobiles and parts for them. This led to the founding

of R.L. Wallingford and Son.

The showroom had not been in existence for long

when one day a station wagon

pulled up to the garage in West

Forks and a man named Dave

Tilton got out. Tilton and his

brother Steve were the founders

of Tilton Equipment Co., which

was the U.S. importer of

Jonsered chain saws. He was

looking for dealers to sell them.

The Wallingfords recognized an

opportunity.

"So suddenly we

became the third Jonsered dealer

in the entire country," Jay said.

"So with the advent of the

chainsaws that ultimately led us

to logging supplies, and as I

learned more on the logging

supply side I just saw a

wholesale opportunity. There

was some risk involved and I

approached my father and said

look, I'd like to go in this

direction. I'd like to buy your

interest out and liquidate the

retail assets and raise the money

to build the company that is now

today Wallingford's

Incorporated."

His father agreed. That

was in 1975, and that is how the

company began. But to fully

understand Wallingford's growth and influence since those

early days, you have to consider the company's innovation

in identifying or developing products to meet needs in the

logging industry, not just here in Maine, but worldwide.

The list of innovations introduced by

Wallingford's over the years is a long one, but it starts with

the J1 choker system, a real game changer developed by

the company that launched Wallingford's on its way to

larger success.

Introduced in the early 1970s, the J1 provided an

easy and affordable fix for converting the chain choker

systems used on cable skidders to cable chokers that were

Cable being coiled before button installation at

Wallingford's New Hampton, NH facility.

more suited to the needs of Maine loggers skidding loads

of small diameter softwood. It sold then, and it's still a big

seller today in regions like the Appalachians where cable

skidders remain in common use.

More innovations followed (see sidebar), and more

success with them.

The influence of Wallingford's is evident when

you look at the list of products developed by or adopted by

Wallingford's and then at other products on the market

today produced by competitors, Jay said.

"You'd be hard pressed to find one that hasn't

been copied," Jay said.

As the company grew,

Jay hired a business manager,

Bob Hirschfield, to administer it

and went on the road full-time

handling sales. Bob today is a

partner in Wallingford's,

owning 49 percent of the

company while Jay retains 51

percent.

Wallingford's remained

in West Forks for several years

until changes in federal trucking

regulations led to a loss of daily

freight service to the area,

forcing the company to move

south in the early 1980s.

Wallingford's relocated

its main base of operations to

Pembrook, New Hampshire.

Later it moved to Tilton, and

still later to New Hampton

where it remains today. Jay

chose to stay in Maine, focused

on regional sales, and in 1986

he founded BABAC® Traction

Products - a pioneering U.S. tire

chain manufacturer notable for

its development of the U-

Form® stud.

"With the advent of the

grapple skidder as opposed to

the cable skidder, the imported

case hardened chains just weren't working, they were

breaking, so we thought we needed to come up with

something new and different, which is what we did," Jay

said of BABAC® .

BABAC® still manufactures its products at a

plant right in Winslow, Maine. A tour of the facility shows

several innovations and procedures that can't be shared in

this article due to the competitive nature of the industry,

but which increase efficiency, quality, and customer

service. Efforts to improve conditions for workers are an

important part of the company's approach, as are testing

and tracking of products and components used in them and

Wallingford's Continued Page 26

The Logger's Voice ▪ Summer 2019 25
---
Wallingford's Continued from Page 25

a system flexible enough to produce specialized orders for

customers with specific requests, Justin Wener, Plant

Manager, said.

"We have testing requirements so that we know

the component is good before it gets into production. We

have traceability, we have quality control, and we can

design anything that you want." Justin said.

Manufacturing for Wallingford's is concentrated

at the plant in New Hampton, New Hampshire, where

workers efficiently turn out chain and cable products. The

factory is a beehive of activity, with production rolling,

freight moving in and out, and the offices upstairs

coordinating everything. Worker pride in the products is

evident when you talk to employees there, as it is

throughout the company.

The headquarters for Wallingford's is still in

26 Professional Logging Contractors of Maine Loggers Serving Loggers Since 1995
---
Maine, at a modern, attractive office located in Oakland.

There, a team of a dozen sales, marketing, and information

technology specialists coordinate the massive job of

getting the quality products Wallingford's manufactures or

is the distributor for - like Clark Tracks, GB Bars, and

Nordchain - to a network of more than 3,000 dealers,

distributors and OEMs(original equipment manufacturers)

across North America and Europe while constantly seeking

new dealers and opportunities.

The current office is a far cry from the days when

Jay was effectively the entire sales staff for Wallingford's,

working out of a home office. He later moved to a house

on Oak Street in Oakland as sales staff grew, then to the

current Kennedy Memorial Drive location in the early

2000s.

While Wallingford's maintains a presence in the

field and will do whatever is necessary to serve its dealers

and customers, one key to success and expansion has been

the move to inside sales Jay said.

That decision is one he made after traveling across

the country to meet with a dealer in Ohio. He flew to

Pittsburgh, rented a car, drove out to the meeting, and sat

down and began talking with the dealer, but every time the

phone rang the dealer stopped and picked it up. He realized

then the phone was a far more effective way to reach

dealers than the expensive and time consuming practice of

face to face meetings, Jay said.

Since then, the progression of communications and

marketing online has been dramatic, and today

Wallingford's sales team still travels to see dealers and talk

to customers, but not on a daily or weekly basis.

The move to inside sales also allowed the company

to expand beyond the Northeast, Ohio, and Pennsylvania

across the rest of the U.S., Canada, and eventually Europe.

The company added distribution facilities in the

Netherlands in 2009, Edmonton, Alberta in 2012, and

Montreal, Quebec in 2016.

Today Wallingford's continues to build on its

success by staying on top of industry needs. When the

company identifies a need, it searches the globe for a

product to meet it and if successful becomes the wholesaler

for that product. If no product exists, Wallingford's

Wallingford's Continued Page 28

The Logger's Voice ▪ Summer 2019 27
---
Photos

Background, Wallingford's headquarters in

Oakland, ME.

At left, Wallingford's New Hampton, NH

facility.

Wallingford's Continued from Page 27

development team goes to work to design and manufacture

one. The company retains a strong focus on forestry related

products.

Over the last five years, Wallingford's has taken

on new products including Clark Tracks, GB Harvester

bars, Carlton saw chains, Ballantine hot saw teeth, and has

just launched a whole new

line of harvester chains

called Orbit..

The logging industry

is hard on equipment, and

things that break frequently

or wear out sooner than they

should don't last long in the

market. Wallingford's

knows this and devotes a lot

of time and resources to

making sure the products it

distributes are tough,

reliable, and work the way

they are supposed to. That

includes testing materials used in products even before

they go onto the factory floors, strong quality control

procedures and tracking of components, and extensive

field testing of finished products - often right here in

Maine with Members of the Professional Logging

Contractors of Maine (PLC).

A strong relationship with Maine loggers over

many years first led Wallingford's to join the PLC in 2015,

as well as a desire to do more to support them after seeing

the challenges that were hitting the industry. Since then

Wallingford's, a Preferred Supporting Member, has been a

strong partner with the PLC and stepped up in support of

PLC efforts from Log A Load for Maine Kids to the

Mechanized Logging

Operations Program. It has

also offered PLC Memberonly

discounts on products.

"Our biggest thing

with PLC Members is, we

want to support them, we

want them to obviously use

our products, we want to try

and save them some money,

and we want to give them

good service," Jay said. "If

they want to buy our

products they can buy from

us or they can go to the

dealers but in either case it's going to be at a savings for

them and hopefully at a level of service that they like."

Meanwhile, Wallingford's will continue to build

on its strong foundation in Maine logging and ingenuity to

remain a leader in logging supplies not just here, but

across the

world.

Wallingford's New Hampton, NH facility.

28 Professional Logging Contractors of Maine Loggers Serving Loggers Since 1995
---
SAFETY

STARTS

WITH ME

2019 Safety and Fleet Training

Presented by:

SAFETY

STARTS

WITH ME

S

pring of 2019 marked a new level of success for PLC Safety and Fleet Trainings, bringing training to a record 13

locations across Maine and setting a new record for numbers of companies and employees served.

When all was said and done PLC brought Safety Trainings to 109 companies and 709 employees. Fleet Training

served 36 companies and 247 employees. Feedback has been extraordinarily positive and the PLC is already

looking ahead to even more opportunities to help our industry, lower risk, and provide relevant, cost-effective training.

This free training is a benefit of membership and provides practical, hands-on instruction on a wide variety of

topics to improve individual and company safety.

Many thanks to our instructors who gave their time and expertise to these efforts. Thanks also to our generous

sponsors for the trainings. Interested in future trainings or sponsorship opportunities? Email jessica@maineloggers.com

or call (207) 688-8195. *pictures below of Safety and Fleet Trainings in Fort Kent, Stratton, and Milford.

Alex Labonville, Sales Manager

Cell: 207-233-4801

www.labonville.com

Ask about special PLC of

Maine member only discounts!

The Logger's Voice ▪ Summer 2019 29
---
Lead with Safety

By Donald Burr

PLC Safety & Training Coordinator

safety@maineloggers.com

Today I am going to talk about safety

leadership. The more I learn about the art of being safe

the more I see that it is a mindset or sometimes referred

to as a culture and sometimes the biggest step is a

simple one - it is often said that showing up is 80% of

the work, well that goes for safety leadership too. As

we went all around the state conducting the PLC safety

trainings I purposely was paying attention (why because

you are never too poor to pay attention) to the crews to

see what level of safety awareness each company had.

Talking to owners, foremen, and the operators, I could

pick up on how they dealt with safety. Certainly, every

company gets a high five for sending the crews to spring

safety training, but what was the commitment? Many

were there to check the box (how many times did I hear

"if I sign my name now can I go home?", and at many

levels I understand this but with a little more investment

not only can you check the box but you can stand on the

box and raise awareness in your company.

I have quoted many times in my career, Major

Dick Winters of the "Band of Brothers" mini-series

based on his experience in Europe during WWII. He

says that "Leaders lead the way." Now when it comes to

safety this could not be truer. In the companies that I

see that take safety seriously the owners and foremen

are right there in the classes asking questions, relating

experiences and helping to move the safety ball forward

down the field to a safer company. We see this playing

out when we ask an operator a question and his owner

the same question and we get good answers that are

similar. A sure sign of a company that has safety as a

culture. Not just in words but in deeds. Not just

checking the box but blowing the box up and taking it to

the next level. The difference between compliance

training and training that looks at compliance as the base

line to be stood upon, not a bar to be reached up to.

I have observed too many times to count that an

operator goes to a training and brings back an idea that

they learned at training and the owner/foreman says,

"we don't do that here." Said flat out with nothing to

back it up, just "we don't do that." It would different if

they said, "we don't do that because we do this and we

find it works better," and have a decent educated

discussion. Shutting down a different safety idea has a

huge effect on the crew. Not to say all new ideas are

good, and let's be fair, some new ideas suck, but never

engaging with your crew and participating in training,

the "safety ball" will never move or be taken seriously.

This has a two-pronged effect on the crews: One it stops

any ideas being shared, which stops the crews from

thinking and being safe starts with thinking. Two, you

will miss good ideas just because, "we don't do that

here".

We had a contractor come for the first time to

one of our trainings this year after sending his crew for

multiple years. His comment is worth hearing. "I had

no idea what I was missing by not joining my crew

here." I personally sat through all the trainings this year

one day or another and at the very last training where I

learned how workmen's comp. costs work and how it

does not take long to see how an accident culture

(opposed to a safety culture) can cost a company its

profit margin or the new equipment margin. Bottom

line, nobody wants to see anyone hurt and no company

wants to spend money on insurance and one way you

can reduce this for your company is for you and your

foremen to train, participate, engage, and lead with your

crews from the front. "Leaders (owners & foremen)

lead the way."

30 Professional Logging Contractors of Maine Loggers Serving Loggers Since 1995
---
Ted Clark, CLCS, Loss Control Consultant, Acadia Insurance

Quarterly Safety Meeting: Heat Exhaustion and Heat Stroke

As we work our way out of a long spring and into the

hot and humid months of summer, it is important to take a

moment and review the hazards of working outside in hot

weather and to remind ourselves of the signs and symptoms

associated with heat related illnesses including Heat Exhaustion

and Heat Stroke.

Your body's primary mode of cooling is through sweat.

When sweat evaporates from your skin surface it pulls heat along

with it making it an extremely effective method of cooling. As

long as you are adequately hydrated and heat dissipation can keep

up with your body's heat production, your core temperature

should remain normal. When the heat dissipation is not able to

keep up with heat production, you could become a victim of a

heat related illness. It is critical to quickly recognize and treat

these symptoms to prevent serious injury or death.

Heat Exhaustion

Symptoms:

Heat exhaustion is caused by dehydration from sweating

and generally results in a core body temperature that is either

normal or slightly elevated. The patient will be awake and

display a normal mental status. The patient will often complain

about nausea, headache, and weakness and will continue to

sweat.

Taking a medical history can be helpful here and will

often identify inadequate food and fluid intake as well as a

decreased urine output.

Treatment:

Early recognition of the symptoms and treating them

quickly is important because heat exhaustion can escalate rapidly

to heat stroke.

The principle of treatment is simple: Stop the fluid loss,

replace the lost fluids and move the patient to a cooler area.

Generally, oral replacement of fluids will be adequate but try to

avoid the temptation to give too much water because that can

backfire and cause further problems. Electrolyte drinks such as a

sports drink, or food, will help replenish salt that was depleted

during sweating and is vital to rehydration. Do not give the

patient salt tablets as they can cause stomach irritation and

vomiting. If the patient is vomiting, an IV may be necessary but

you may also be able to rehydrate by giving fluids frequently, in

small amounts.

It may take up to 12 hours to rehydrate a patient back to

normal. If symptoms persist, evacuation to medical help will be

necessary.

Heat Stroke

Symptoms:

Heat stroke is a major problem that requires immediate

medical treatment. Essentially, your body has lost its ability to

cool itself and the core temperature has become dangerously

elevated, causing damage to the nervous system and other vital

organs. This may or may not be preceded by heat exhaustion.

You will notice an altered mental status that is persistent. Urine

output has likely decreased and will be brown or red in color.

Often times, but not always, the patient will stop sweating

completely.

The patient's condition will be getting worse and, if not

treated, will lead to death.

Treatment:

While fluid replacement is critical, your top priority

must be lowering the core temperature. Cease all physical

exertion and remove the patient from the hot environment.

Medical help and aggressive cooling is required. Immersion in

cool water is ideal but if not possible, other forms of rapid

cooling may be effective. Removal of unnecessary clothing can

also be helpful in reducing the body's core temperature.

Watch for improved mental status as an indicator that the core

temperature is beginning to improve to more normal levels. Once

the core temperature is being effectively treated, it is critical to

begin replacing fluids as outlined earlier.

Prevention

Hydration:

While working outside in the heat, it is easy for fluid

loss through sweat to go unnoticed until it is too late. Therefore,

it is critical to maintain adequate hydration throughout the

summer months. The CDC recommends 1 cup of water for every

15-20 minutes if you are working outside less than 2 hours. If

sweating longer, a sports drink with electrolytes should be added.

It is also critical to avoid drinks with high caffeine, alcohol, or

sugar because these can further dehydrate you.

Rest Breaks:

Acclimatization will be different for every employee

therefore, rest breaks should be taken as the individual begins to

feel heat discomfort. As temperature, humidity and sunshine

increase, frequency of breaks in cool, shaded areas should be

increased.

Acclimatization:

As you spend more time in the heat, your body will

gradually adapt to the stress. Because of this, it is important to

increase the exposure over 7 to 14 days, allowing employees to

fully acclimatize. The CDC recommends allowing workers who

have not spent a lot of time in the heat spend no more than 20%

of the usual duration of work in the heat on day one and no more

than a 20% increase each additional day.

Conclusion

Logging in today's heavily mechanized world is a great

benefit because many employees get to spend a great deal of their

time being productive in a climate controlled cabin. Even with

the large majority of their time spent in the cab, employees will

occasionally have to spend time on the ground, walking,

inspecting equipment, and performing maintenance to machinery.

During the summer, this time on the ground can be dangerous

due to heat exposure. It is important that employees are aware of

the signs for heat related illness and the first aid measures to take

in order to properly treat someone showing these signs. Armed

with this information and a heavy dose of prevention, employees

can be more productive and safe while working in the woods.

Acadia Insurance is pleased to share this material with its

customers. Please note, however, that nothing in this document should

be construed as legal advice or the provision of professional consulting

services. This material is for general informational purposes only, and

while reasonable care has been utilized in compiling this information, no

warranty or representation is made as to accuracy or completeness.

*Meeting sign-in sheet on the back! Cut along dotted line to left to detach this section. 31
---
*This sign-in sheet is intended to be used with the quarterly Safety Training Topic on

page 31. Refer to the cutline on page 31 when removing it from the magazine.

32 Professional Logging Contractors of Maine Loggers Serving Loggers Since 1995
---
Personal Protective Equipment and Safety Training: Getting the Attention It Should?

By Erika Scott

NEC Deputy

Director

How many times have you seen the boss coming,

only to realize that you forgot your hearing protection in

the shop? What about the days when your safety glasses are

protecting your truck's center console, instead of your

eyes? You could be thinking right now, "Yup – that

happens more than I'd like to admit," or, "No way – we run

a tight ship, and everyone wears their personal protective

equipment".

Many factors contribute to a safe logging

operation, and personal protective equipment (PPE) and

safety training are critical components of the overall plan.

In what's called the "Hierarchy of Controls" (Figure 1)

these are the last lines of defense, but often the ones we

have to think about most. Logging has come a long way

from the way your grandfathers and great-grandfathers did

things, with much of the work operated from a snug cab

filled with joysticks, toggle switches, and heat/AC (when

you're lucky). But the reality is that today's loggers are still

exposed to a lot of dangers.

The use of PPE isn't just a sensible thing to do.

Often, it's required by the Occupational Safety and Health

Administration (OSHA), dependent on your job task or

role. (OSHA made these requirements after heaps of injury

reports and investigations showed PPE would have

lessened or spared someone from injury). Initial results

from our project, the Maine Logger Health and Safety

Study, suggest that Maine loggers may not be as vigilant

about PPE usage and safety training as they should.

Almost 400 Maine loggers have been a part of the

Maine Logger Health and Safety Study, a project of the

Northeast Center for Occupational Health and Safety in

Agriculture, Forestry, and Fishing (NEC), a non-profit

research group. Many of you reading this may be involved

in the project. So far, nearly 400 loggers have given their

feedback through an initial survey, and about 300 continue

to participate. See figures 2 & 3 for more about the loggers

involved. In addition, more than 80 Maine loggers received

Figure 1. Hierarchy of Controls

(https://www.cdc.gov/niosh/topics/hierarchy/default.html)

Figure 2. Study Snapshot

NEC Continued Page 34

The Logger's Voice ▪ Summer 2019 33
---
NEC Continued from Page 33

free health exams through the project

when offered at three PLC safety

trainings and at the Loggers' Expo this

spring. Additional free health exams

will be available next spring as well.

Trainings: minimum

requirements. OSHA says that

employers should be holding safety

meetings at least once a month, or more

often, if needed (see Focus on OSHA

Standards). Preliminary results from

the Maine Logger Health and Safety

Study's initial surveys show that 59%

of respondents said they had safety

training in the past three months. That

means that over 40% said they didn't

have safety training in the last three

months. Looking into this further, it

appears the rates of safety training are

different depending on company size,

ranging from 28% for sole operators to

nearly 80% for companies with more

than 50 employees.

It makes sense that larger

companies have the resources to

regularly hold safety trainings/

meetings, but if you're part of a smaller

crew and don't regularly "talk safety,"

consider adding a tailgate training or

just holding a conversation about safe

practices at least one a month. This

would be a great time to review your

emergency action plan, even if your job

site hasn't changed.

Speaking of emergency action

plans, a positive finding from the study

was that over 80% of respondents said

their company has an emergency action

plan for the jobsite, and that it is often

reviewed every time the jobsite

OSHA Training Standard

1910.266(i)(11)

FOCUS ON OSHA

STANDARDS

"Safety and health meetings." The

employer shall hold safety and health

meetings as necessary and at least each

month for each employee. Safety and

health meetings may be conducted

individually, in crew meetings, in larger

groups, or as part of other staff

meetings.

1910.266(d)(1)(vi)

The employer shall provide, at no cost

to the employee, and assure that each

employee who works in an area where

there is potential for head injury from

falling or flying objects wears head

protection meeting the requirements of

subpart I of Part 1910.

1910.266(d)(1)(vii)

The employer shall provide, at no cost

to the employee, and assure that each

employee wears the following:

1910.266(d)(1)(vii)(A)

Eye protection meeting the

requirements of subpart I of Part 1910

where there is potential for eye injury

due to falling or flying objects; and

1910.266(d)(1)(vii)(B)

changes.

For PPE, usage varied

depending on the person's job role.

Two thirds of respondents said their

employer provided eye protection and

about 70% said their employer

provided a hard hat. The research team

still needs to dig into the data more to

tease out the job roles where that type

of PPE is needed.

More information from the

project will be available in the coming

months. The Maine Logger Health and

Safety Study's purpose has been to

identify how NEC can most effectively

work with the Maine logging industry

to improve worker safety and health.

Learn more about the study by

visiting http://www.necenter.org/

forestry/research/ or its Facebook page

@MaineLoggerHealthandSafetyStudy.

All individual data is kept strictly

confidential and results are only

reported as summaries. The NEC is

committed to working in partnership

with logging companies and

stakeholders to improve health and

safety in a non-regulatory way.

Need ideas for safety meeting

topics? Using NIOSH's FACE

Investigations can be a starting point

for a conversation on safety, based on

logging fatalities from around the

country. Visit https://www.cdc.gov/

niosh/topics/logging/ and find FACE

under the 'Resources' section. Trying

to better understand the OSHA rules

for logging? Visit their page at https://

www.osha.gov/SLTC/logging/

index.html.

A Higher Standard

You know your company holds itself to a higher standard of timber harvesting Prove you are a cut above with

Master Logger Certification

masterloggercertification.com

34 Professional Logging Contractors of Maine Loggers Serving Loggers Since 1995
---
Mechanized Logging Operations Program Summer 2019 underway

Fifteen students began classes June 24 in the Mechanized Logging Operations Program (MLOP), which has

launched its latest three-month hands-on training course in the woods of Western Maine. Students enrolled in the

post-secondary training program will spend weeks harvesting timber using mechanized logging equipment and

gaining experience unavailable in any other training program in Maine and neighboring states. The students are

based at PLC Member Pepin Lumber in Stratton. This summer's class will be the third since the program launched

in 2017. Graduation for the class will be held on Sept. 19.

The Logger's Voice ▪ Summer 2019 35
---
Professional Logging Contractors (PLC) of Maine welcomes

Patty Cormier as new Director of Maine Forest Service

In May, the Professional Logging Contractors (PLC)

of Maine welcomed the news that veteran District Forester

Patty Cormier of Farmington had been named the new

Director of the Maine Forest Service.

Cormier, who has more than 30 years of experience

as a forester, replaced Douglas Denico, who had served in

the post for the past 8 years. Dana Doran, Executive Director

of the PLC, said Cormier is well known to the PLC and its

members through her work as a district forester and as a

representative of the Maine Forest Service.

"We believe that Ms. Cormier is a terrific choice to

lead the agency as she is objective, mission driven, has

integrity, values the agency and its people and will ensure

that the Maine Forest Service assists the logging industry

Q & A

Patty Cormier

with its success," Doran said. "We have always found her to

be a professional in her dealings with the PLC and its

members and we look forward to a strong working

relationship with the agency."

"Professional loggers in Maine need the Maine

Forest Service to work as a partner with them for the

betterment of our working forests and the rural communities,

loggers, and truckers who depend on them. We are confident

that Ms. Cormier will bring competence, experience, and

fairness to this task," Doran added.

Below, Ms. Cormier answered a few questions from

the PLC about her plans, background, and approach to the

job. We thank her for taking the time to speak with the

PLC.

a matter of keeping that balance.

How do you see your role and the role of Maine Forest

Service when it comes to supporting Maine's logging

industry and the forest products economy?

Maine Forest

Service

Director

What can you tell us about your experience and background

related to Maine's logging industry?

During part of the 10 years I worked at Georgia Pacific out of

Baileyville, I was a Landowner Assistance Forester and hit the

ground running in the position working with multiple logging

contractors with all ranges of equipment, through every aspect of

harvesting on private lots and company ground. The acreage of

these lots ranged from 10 to 5000. This was where I really got my

ears wet, and through the school of hard knocks learned the

perspective of the logger, the challenges loggers face and the

good work that can be gained by everyone working together and

respecting each others knowledge base and strengths. It was

also a lesson on markets and the sometimes-fickle nature of

landowner expectations. I especially appreciated the one logger

who would cook me shrimp on his manifold when he knew I was

going to visit the job. This was a great spring board for working as

a District Forester for MFS for 20 years. In that role came the

regulatory side of things as well as educating and assisting

loggers and landowners on forest management, the laws etc. It

was always very satisfying to have a logger call before going on a

job to get my advice; I took that as a compliment. I so respect the

job loggers/contractors and all the employees involved in the

logging business, it isn't easy, and I certainly felt it wasn't my

place to make it any more difficult and that trying to always find

that balance of on the ground reality in logging when dealing with

the laws can be a challenge. I just want to assure anyone on the

logging industry, I am an advocate for you and the forest; It is just

"The MFS has a long history of protecting Maine's forests from

wildfires, insect and disease outbreaks, poor forest practices and

providing timely information to help foster informed decisions.

These various MFS activities focus on having Maine's forests

more enjoyable, productive, healthy and well managed." This is

off our website. I see our role as keeping the forest engine

running if you will. There are many pieces to the puzzle that

makes up the Maine forest Industry and I will do everything I can

to facilitate who needs to get with who to expand the industry.

The Maine logging industry is part of our brand of the past,

present and future. A big part of that is we will continue our

outreach to landowners about working with their land, we need to

get across to landowners that it is not a scary event, it should be a

satisfying one that employs resource professionals such as

loggers to achieve their goals. This is all adds to the supply part

of things. A question that always needs to be reviewed is are we

treating everyone fairly in the regulatory side of the house. Our

role is to try to intervene with any issues first to assist with

compliance. I also see my (MFS) role as supporting the

entomology staff to monitor the insect invasions that have the

potential to affect all aspects of forest uses from the forest

products industry to recreational uses, to support the forest

protection folks with respect to protecting Maine's forests from

fires and to support the management staff in their efforts of logger/

landowner/forester education. It is all connected and we all have

a dog in the fight, as you said, forest products industry/logging

industry is Maine and we all need to fight for it.

What can our industry do to work with you to strengthen

Maine's forest economy for the benefit of our rural

communities and forest health?

36 Professional Logging Contractors of Maine Loggers Serving Loggers Since 1995
---
This biggest thing we could use at MFS is everyone's help with is

ideas and suggestions, we can't be everywhere at all times, so if

there are ways for us to help with the industry that we don't' know

about, let us know. What are we not addressing? What groups can

we get together that we haven't thought of? Let's work together on

this. Another way to help is we are looking at substantial cuts to

Federal funding to private and state forestry initiatives. These

initiatives allow for us to reach out to landowners who hold the

wood supply, and educate and advocate for good forest

management practices, which in turn helps the logging and forest

products industry as well as other uses of the forest. If folks would

reach out to their delegation and inform them of how these cuts

affect them, it would all help. If everyone out there enjoying the

woods for their business, their own woodlot, recreation, anything,

for folks to be vigilant and report sightings of the invasive insects so

that we can react quickly. As with most organizations we have lost

positions and are doing much more with less, so guidance from our

clients (i.e. the public) is imperative.

I want to slip in a reminder to those in the logging business, that

logging jobs are a form of communication, what is your job

communicating to the person driving to the polls to vote on forestry

issues?

What is your top priority for Maine's forests?

I have a few top priorities in mind, but being new on the job, I'm still

formulating. My top one at this point is to make sure all users of the

forest are represented by us, making sure that the right people are

at the table as we formulate programs and policies. Another is to

ensure that we have the best data and information to be ready for

the insect invasions whether we are talking Emerald Ash Borer or

Spruce Budworm. Another priority is looking into how we collect

data concerning forest resources, are we consistent and on the

right track? Another is to make sure we are budget balanced with

making sure our clientele is served and employees have what they

need to work efficiently and safely.

Would you commit to meeting with our PLC board members at

some point this year to hear directly from Maine loggers on the

issues they face and the needs of the industry?

Absolutely, not only do I welcome that, I need that.

Do you have other thoughts you'd like to share with our

members?

It is my hope that anyone with any connection to the forest, whether

that is someone in a town park to the big woods, that they think of

the Maine Forest Service as a branch of government that they trust

and look to for solid answers for their questions or concerns with

regards to all things forest. We have a solid crew here at MFS,

when you look at the range of what makes up the organization, it is

impressive; from Foresters to Rangers, Pilots, Aircraft Mechanics,

Entomologists, Pathologists, Forest Inventory Specialists,

Biometrician, Urban Forester, Stewardship Forester, Water Quality

Specialist, Computer Specialists and support staff.

If you are willing, share one interesting fact about yourself and/

or your family that our members would be unlikely to know.

I was the axe throwing champ for one year on the woodsmen's

team at Orono, now I probably wouldn't be close!

Water

Crossings

By Tom Gilbert

Water Resources

Specialist

Maine Forest Service

the Maine Forest Service BMP manual for step by step

instruction on installing a crossing that complies with the

minimum 25-year flood event standard.

It is also recommended that crossings span a

stream channel, sized to 1.2 times the bankfull width of the

channel, on any stream channel that contains fish. This is to

ensure that your crossing does not become a barrier to fish

and will not inhibit the flow of water or debris during

extreme storm events. The minimum 25-year flood

standard will be smaller than the recommended 1.2

bankfull standard.

Properly installed water crossings preserve water

quality, protect your investment in the crossing, and reduce

future maintenance costs. Recent findings in the 2016-17

Forestry BMP Use and Effectiveness Report, released by

the Maine Forest Service in spring of 2018, show a spike in

instances of sedimentation at crossing structures during

installation and closeout activities. Below are a few tips to

ensure protection of your crossing as well as water quality.

Keep in mind that most permanent crossings

should be designed for at least a 25-year flood event. This

is the minimum standard in any organized town. Reference

BMPs for all stream crossings

1. Install water diversions on the approaches to

disperse runoff into adequate filter areas, preventing it from

entering the stream channel. Adequate filter area width

varies depending on percent slope, but in no case should it

be less than 25 feet.

2. Maintain a bed of slash over exposed soils on

approaches within the filter area, ensuring that it remains

effective throughout the harvest and adding additional

Water Continued on Page 38

The Logger's Voice ▪ Summer 2019 37
---
Water Continued from Page 37

material when needed.

3. Minimize work during wet weather or when the

soil is saturated.

Temporary crossings

1. Install any temporary, portable bridges at an

adequate height above water level (about 3 ft.), allowing

for high flows.

2. For temporary bridges, use sill logs to protect

stream banks and to create a stable bearing surface for the

bridge to rest on.

3. During closeout, make sure to lift the crossing

before attempting to relocate, being carful not to allow

loose soil to fall into the stream.

PLC News Briefs...

Permanent crossings

1. If possible, build crossings when streams are

dry or at low water.

2. If excavation is necessary during periods of

regular or high flow, temporarily divert the water using

coffer dams and pumps while installing the crossings.

3. Design bridges using closed decking to

minimize the amount of material that falls through the

deck and into the stream.

4. Armor side slopes on both sides of the crossing

using rock that is angular in shape, preferably no bigger

than a basketball. There should be no exposed soil along

the side slope of the road-stream

crossing.

Thank you to Milton CAT for hosting the PLC

Board in May for a meeting with Chris Milton and

Pat Weiler to talk about Weiler's acquisition of CAT

Forestry Equipment. Thanks as well to Milton CAT

for your partnership on the MLOP program and we

are excited to have both Milton CAT and Weiler

supporting Maine's professional loggers.

In May the PLC released a new video describing the impact

and importance of the logging industry on the Maine

economy and the PLC's work to strengthen and sustain it.

The video, "Maine's Professional Loggers: The Root of

Maine's Forest Economy" has gotten a great reception and

we encourage you to view and share it. It is available on

YouTube at https://www.youtube.com/watch?

v=MBHwgVY1FG8&feature=youtu.be

The PLC was at May 10ths 7th Grade Outdoor Careers Fair

in Hinckley organized by Maine's Department of Agriculture,

Conservation, and Forestry and Jobs for Maine Graduates.

Talked to many future loggers at this event!

38 Professional Logging Contractors of Maine Loggers Serving Loggers Since 1995
---
Great to see so many of our

members, supporters, and friends

at the Northeastern Forest

Products Equipment Expo in

Bangor May 17-18! Thanks for

stopping by our booth!

The Logger's Voice ▪ Summer 2019 39
---
As [She] Sees It: May 2019

"The Future of Logging Depends on our Youth"

By Chrissy Kimball, Kimball & Sons Logging

Editor's Note: This month's As We See It column was

written by Chrissy Kimball of Kimball & Sons Logging of

Poland, Maine. In light of the recent introduction of the

Future Logging Career Act and the release of the report

commissioned by PLC of Maine, we thought Chrissy's original

blog post offers an inspiring message on the future of logging.

Kimball & Sons Logging has graciously given us permission

to share this column.

Hey there! It's Chrissy, the supporting actress of

Kimball & Sons Logging and Trucking. I tend to be busy

raising the "sons" part of the operation but I wanted to take

the opportunity to write a little bit about the articles I have

been reading lately regarding the recent study conducted by

the PLC of Maine siting low pay as a barrier to our industry

and also the bill that Angus King and Jared Golden are

introducing, Future Loggers Career Act.

I have actually never been more excited and

optimistic about the forest products industry in our state.

Perhaps that's because I am a glass half full kind of person.

There is amazing technology on the brink of revolutionizing

how forest products can be used. Researchers in our very own

state are working on technology to covert biomass into jet

fuel. There is nanocellulose from wood products which are

fibers that can be used in textiles and medical products, pulp

and paper mills are moving away from print media and into

packaging products, and wood products can even give us

cellulosic sugars which can be used as a preservative in foods!

With all of this technology coming down the pipes,

we can't forget that if there are no loggers and no truckers,

these products can never go into production. As evidenced by

the study conducted by the PLC of Maine, it is no secret that

the logging contractors in Maine struggle to keep up with

paying competitive wages. Trust me, it is not because we are

keeping it all for ourselves. In order to keep great employees,

we might even pay them MORE than we make as the owners.

I'm just being honest here.

However, I do know that there is a ton of work being

done on our behalf and I see a future for our industry that

includes competitive wages and benefits for our employees

coupled with the enjoyment that comes from working with a

family owned business. While we may not currently be the

highest paying gig in the area, there are other amazing benefits

to working in the woods for a small company. The

camaraderie in the woods is superior to any other type of

work, the views from your "office" are always amazing, and

there is nothing more invigorating than a beautiful sunrise

from the woods! We are the kind of employer that cares if

your children are sick, we would attend your wedding, and we

truly care if you are happy in your job because we will do

anything within our power to keep you. In a small business, a

good employee is certainly not "replaceable".

We frequently brainstorm about the best ways to

grow our company and are often paralyzed by the fear of

being unable to find quality help. The problem being, margins

are tight, and it's expensive to train someone from the ground

up but I believe it is an investment we must make. Everybody

wants someone who already knows how to do the job. Well,

it's not going to happen. I know there are young people who

would be interested in this profession if we could give them a

chance and actually teach them. Since the beginning of time

we have all heard "kids these days……." followed by some

rude comment about how they don't do this and they don't do

that. I get it. Technology, education, and policy have changed

everything, but I still hold the optimism that our youth are

teachable if given the appropriate mentor. The future of the

forest products industry is in our youth and if we continue to

sweep them under the rug as some useless gamers sitting in

their parent's basements then they will BE exactly what we

expect them to be. When I did my mindless scroll through

Facebook this morning, I came across something not so

useless that made me excited enough to sit down and write

this.

Angus King and Jared Golden are introducing a bill

to allow 16 and 17 year olds to be allowed to work in the

heavy equipment in the woods. Forget virtual reality, that IS

reality! Part of the problem as I see it, is that we shelter our

youth from all danger. It is much safer to play a game cutting

down trees that it is to actually go learn how to cut the tree!

We have 2 young boys and a third on the way. They are

naturally obsessed with logging. Randy tells me stories of

when he was very young and his dad would have to bring him

and his brothers to the woods and they would ride in the

skidder all day with him, play in the woods, and occupy their

own time… often times unsupervised. Can you imagine

"Nowadays"? What kind of parents would we be if we put our

children in that kind of harm's way?! They must be better off

at daycare where they color pictures and make arts and crafts.

I think most of us want our children to grow up and be able to

actually DO something. Not fear failure. Not fear risk, be it

physical, emotional, financial, or otherwise. We are fortunate

to be able to teach our kids to respect the equipment and its

dangers. They understand how to stay safe in the woods. My

6 year old recently purchased an old hack saw at the local flea

market with his earned $2 so we can do some logging at

home!

My long winded point here, is that not all hope is lost.

I think our society is recognizing that faulty policy and over

protecting our youth is driving them to uber safe careers,

sitting behind a desk and leaves no one behind to do the work.

I am inspired by this introduction of the bill by Angus King

and Jared Golden because I am hopeful it reflects a paradigm

shift in our society to treat children as capable of learning and

maintaining their own safety without the need for constant

protection from danger. It is time we, as adults, mentor our

children again. Let them participate, learn, scrape their knees

a bit and then and only then will we improve our work force

for the future.

Chrissy Kimball is with Kimball & Sons Logging of

Poland, Maine. Kimball & Sons Logging provides Maine

landowners with quality timber harvesting. For more

information, visit https://www.kimballandsons.com/

40 Professional Logging Contractors of Maine Loggers Serving Loggers Since 1995
---
While much of the time your State, Regional and

National Logging Organizations are busy working at the local

State and Federal level on policy issues that impact your

businesses, their work does not end there, not by a long shot!

Oftentimes logging associations are also engaged in training,

safety and transportation issues, to name a few. They are also

ensuring that the well-intended thoughts of others outside of

the logging industry who believe that they are working in the

best interests of the logging industry are actually having a

positive impact and not just another cost to the price of doing

business.

In 1994, members of the American Forests and Paper

Association rolled out a program titled the Sustainable

Forestry Initiative. At the time, it appeared to be a great idea

with one exception, they forgot to invite the logging

businesses to the table. That was the impetus that brought

logging contractors together 25 years ago in St. Louis,

Missouri: the need to have a voice of our own representing

the issues that are important to loggers.

Over the past 25 years, loggers have come together in

any states that did not have a trade association either as a

stand-alone organization or under the umbrella of a State

Forestry Association. Working together, loggers have

addressed workman's comp insurance rates, truck weights on

state and county roads, ad valorem and sales tax exemptions

for logging equipment and supplies, and other on-the-ground

issues away from Washington, DC and State Capitol buildings

As We See It June 2019

"It's Not All Politics"

By Danny Dructor

that have a real impact on their businesses.

The American Loggers Council recently welcomed

the Ohio Logging Standards Council as the newest voting

member to our Board of Directors. As of this writing, we are

working in Pennsylvania to assist professional timber

harvesters to form an organization that would work in the best

interests of their logging workforce in the state and tackle

those issues that are important to loggers.

We believe that all States with commercial timber

harvesting operations should be organized through

membership in either a state or regional logging association

and that there is truly not only strength in numbers, but also

the wisdom of many of our peers, both past and present, that

can prevent us at all levels from reinventing the wheel when it

comes to looking for ways to accomplish goals. Next stop,

Bangor Maine! We are "Loggers Working for Loggers!"

The American Loggers Council is an 501(c)(6) not

for profit trade association representing professional timber

harvesters throughout the United States. For more

information please contact the American Loggers Council at

409-625-0206, or americanlogger@aol.com, or visit our

website at www.amloggers.com.

We Support Maine Loggers

The Logger's Voice ▪ Summer 2019 41
---
In today's political environment, getting things done

in Washington D.C. is difficult, if not impossible. Yet the

American Loggers Council is making progress in this divided

116th U.S. Congress. Why? Loggers understand the

importance of building relationships. When it seems every

idea these days is framed in partisan terms, our ability to build

relationships explains why both the Future Logging Careers

Act and the Safe Routes Act have now been introduced with

bipartisan support.

Relationships are key, both in our personal lives and

our professional lives. Loggers are drawn to the ALC because

they see the value of building and maintaining relationships

with other loggers across our nation. Loggers also see the

value of having good relationships with the equipment

manufacturers and others that help make our industry

possible. We take the same approach to Capitol Hill, as

evidenced by another year of record attendance at our 2019

D.C. Fly-in.

The ALC has long-valued our relationship with

Congressman Bruce Westerman of Arkansas, the only forester

in the United States Congress and past recipient of the ALC

President's Award. Bruce is not just another politician seeking

our votes or campaign donations, he is a true friend and

advocate of our industry because he understands what we do

and why we do it. Recently we were pleased to endorse his

introduction of the Resilient Federal Forests Act of 2019. We

also provided a statement of support that was included in his

office's press materials.

Congressman Westerman has introduced past

versions of the Resilient Federal Forests Act in previous years,

and was instrumental in passing this legislation through the

U.S. House of Representatives multiple times. Though it has

previously stalled in the U.S. Senate, some minor components

of this comprehensive legislation has been adopted through

federal spending measures. Yet there are still areas that are in

need of attention in order to reduce the risk of catastrophic

wildfire and help prevent the loss of lives and property as

witnessed last year in and around Paradise, California and

other Western States.

The Resilient Federal Forest Act continues to build

on the bipartisan support that Congress has agreed to in the

past that would allow expedited environmental reviews on

areas of the forest where there is degradation of wildlife

habitat, wildland urban interface exposure to life threatening

wildfires, and overall improving the health of our nation's

federal timber lands. The Resilient Federal Forest Act also

proposes an alternative to litigation in the form of arbitration

where litigants bring alternative management options to the

table rather than just offering up "no" as a solution. Our

national forests are one of this country's greatest assets.

We believe that members of Congress should be

concerned about the overall health of those forests and the

need to restore and improve those forests as quickly as

possible by giving the US Forest Service and other agencies

all of the tools that they need to accomplish that task.

As We See It July 2019

"Relationships Matter"

By Danny Dructor

Congressman Westerman could easily spend his time

focusing on other issues that are important to his district, such

as health care. Yet he continues to introduce comprehensive

forest management reforms because he believes in our ability

to restore these federal lands back to health. This is one

benefit of our relationship with Congressman Westerman, and

we must reciprocate. Even if you don't have a federal forest

within your working circle, please tell your own federal

representatives that you support the Resilient Federal Forests

Act. Because relationships matter.

42 Professional Logging Contractors of Maine Loggers Serving Loggers Since 1995
---
Master Logger Field Audits

The American Loggers Council endorsed Master Logger

Certification Program (ALC/MLC) is a true third party

certification for logging contractors. It involves on-the-ground

assessment of a logging contractor's activities. This assessment is

performed by independent and unbiased verifiers evaluating

whether and how the logger meets the standard in their own

unique way. We all know that the steps to achieve objectives can

vary from one woodlot to another. This is also true for the

loggers themselves-one logger may take a completely different

path to achieve the Master Logger certification standard, but the

important part is that whatever they do is done to a high standard,

which benefits everyone.

The ALC/MLC standard is unique in that it gives each

state the right to adopt its own program, under the "Seven

Areas of Responsibility" that ALC adopted for all member

organizations to follow, that is specific to that particular

state. Each state submits a template to the MLC committee

for approval. This template then becomes the basis for the

program and how it is implemented.

One thing that is a requirement of the ALC/MLC

program is a mandate that there is an independent field audit for

each logging company that becomes Master Logger Certified

both initially and on an ongoing basis. These can come in

different forms and can come from different parties.

In Missouri, Michigan, Wisconsin and the states in the

Northeast, the field verifiers are typically foresters or loggers that

have a deep understanding of logging operations. There is a

checklist that each auditor must review in the field to show

compliance with the "Seven Areas of Responsibility". They

report on what they observe in the field and how it relates to the

standard. The reports are required to be professionally written, of

high quality and are to be produced in a timely manner. The field

verification report is crucial for the certification board to

understand the logger's practices.

After the application and interview process is complete,

the Master Logger applicant will receive a call from a field

verifier, who will ask for five harvest sites and their locations,

with one of the harvest sites being active. The field verifier will

schedule a time to meet and begin the audit and three sites will be

chosen at random to visit. The field verifier will communicate

with the logger to go over what to expect and what to have on

hand at the time of inspection.

Warren Suchovsky has been a logger member of verifier

teams in MI, MN and WI since ML certification began in each of

these states. He currently is a member of the WI Certification

Board and still does field audits for new applicants in MI.

"I think that an important distinction between ML

Certification and Logger Education Programs is that logger

certification measures how well the loggers actually apply what

they have been taught," Warren said. "It sets a higher standard

for quality workmanship than does merely meeting a set number

of hours of training."

"It is important to recognize that a Master Logger is

responsible for the quality of workmanship of the company's

employees and subcontractors. They also need to challenge

foresters and landowners when they feel an aspect of a harvest

plan will probably have a negative impact on the sustainability of

forest resources," Warren added.

An opening statement once on the site of the first visit

may be, "Tell me what you did here and how are you meeting the

landowner's objectives?" This opening statement allows the

applicant to talk about the site prep, the harvest, the goals, the

landowner objectives, and outcomes. This could lead to a

discussion of the harvest plan and how that process was

achieved.

Next Soil and Water protection is looked at. The

verifier will inspect a water crossing, if one exists, and

water bars or other water controlling methods. They will

consider things including: How has soil been protected? Is there

brushing in the trails? Are there swamp mats at the landing?

Flotation tires or tracks? This is an opportunity for the logging

contractor to discuss their methods and how they achieve this

standard.

Other questions a verifier considers include: How are

aesthetics being managed, historical features and biodiversity

maintained? This is opportunity for the contractor to discuss how

they interpret and meet the landowner's aesthetic objectives. Do

they want the landing seeded? Slash management near roads and

buildings? Have they minimized skid trails to the yard or

contoured the trails with the road? Are there any historical

features such as old homesteads? Rock walls? Cemeteries? If, so

how did they address them? Were there any sensitive areas of

biodiversity? Did the landowner have specific management goals

for wildlife?

Safety of the employees and operational function is

paramount for meeting the high bar set by Master Logger. A

logger should expect to have their safety plan available. This is

not for a simple tick of the box, but a logger must be ready to

answer when the last time was that they used the safety plan and

did it work correctly? Do they have first-aid kits available in each

machine? Are people CPR-1 st Aid trained? Does everyone know

the emergency action plan? These questions are pretty standard

during an audit. The auditor may also ask to look at a machine to

determine things like are the seat belts functioning? ROPS? Does

the operator operate in a safe manner? Is PPE being worn and Hi-

Vis?

All of these questions and fact finding are part of the

auditing of field performance in Master Logger. For many

candidates, they know they are meeting or exceeding the

standard, now they just need an independent verifier to prove it.

The Logger's Voice ▪ Summer Winter 2018 2019 29 43
---
Congressional Delegation Updates

Driving the Forest Products

Industry Forward

Maine's forest products

industry is entering a new era

marked by innovative products,

such as engineered wood building

materials, that combine the

traditional basis of our rural

economy with technological

advances. As Maine continues to

Sen. Susan Collins

make great strides in the forest

products sector, we must ensure that

the industry has the supply chain support it needs to take

full advantage of this growth. This includes addressing the

shortage of truckers needed to transport logs to mills and

finished products to market.

The shortage is severe and growing. Currently,

America's trucking industry is in need of 51,000

additional drivers. By 2026, just seven years from now,

that shortage could increase to 175,000 drivers. This is

particularly troubling for Maine, where more than 84

percent of communities rely solely on trucks to move

goods and where 95 percent of our manufactured products

move by truck.

This shortage is exacerbated by a federal law that

prohibits drivers under 21 years of age from driving

across state lines. It simply makes no sense that a driver

under 21 can haul freight from Kittery to Fort Kent – 362

miles – but cannot go from Kittery to Portsmouth, New

Hampshire, just three miles away. Most young people

who do not go to college have already chosen careers,

received training, and gotten jobs by the time they turn 21.

To address this shortage, I have cosponsored the

DRIVE Safe Act that would establish an apprenticeship

program for drivers under 21 years of age to operate

commercial motor vehicles in interstate commerce. These

apprentices would be required to complete 400 hours of

training and probationary status, during which time the

apprentice will have to demonstrate a thorough command

of safety procedures, from maneuvering the truck on the

roadway to properly securing loads.

The drivers providing the training would have to

be experienced with good driving records. The trucks used

in this training would be required to include advanced

safety features such as automatic active breaking systems,

event recorders, and speed limiters.

Reflecting the high training requirements for

apprentices, the DRIVE in DRIVE Safe Act stands for

Developing Responsible Individuals for a Vibrant

Economy. This legislation will help attract more young

people to a field that provides steady work at good

wages. It will expand economic opportunity and keep

Maine's forest products industry moving toward a bright

future.

Research into 3D Printing Opens New Doors for

Forest Products Industry

Maine is a state made of resourceful people who

look at challenges and see new possibilities; where others

may see low-value byproducts, we see the potential to

create something new. That creative drive is what has

sustained our forest economy for generations, driving us

to innovate as the world becomes increasingly digital and

find new ways to maximize rural Maine's abundant

natural resources. In short – we need to use every part

from the pig but the squeal.

Fortunately, there is important and meaningful

progress being made to diversify market opportunities for

this important sector. Following work by the Economic

Development Assessment Team requested by myself and

Senator Collins, and the ensuing industry-led efforts of the

Forest Opportunity Roadmap (FOR)/Maine, there have

been many important advancements, from biomass

technology to mass timber, that are helping to revitalize

and strengthen this industry that is so important to

communities across our state. Among these exciting

developments: in May, the University of Maine and the

Department of Energy's Oak Ridge National Laboratory

announced a $20 million partnership to advance efforts to

3D print large structures with biobased,

forest products.

This partnership between

two of the nation's premier

research institutions is a major

new opportunity not only for

Maine's wood market, but also for

the future of manufacturing in

Maine and the country. The

research done by UMaine and

ORNL – in tandem with the forest

products industry – will create Sen. Angus King

endless opportunities to produce

new bio-based materials that can be used to 3D print

products ranging from boat hull molds to shelters, and

much more. Progress in this area will also set up future

economic growth, including the possibility of 3D printing

larger, more ambitious structures like large beams for

large buildings and girders for bridges, which would

enable Maine to be a global center of new manufacturing

industries. This is who we are: innovative, forwardlooking,

and ready to do the hard work to build something

great. I can't wait to see the work that's done, and the

ways it will allow our forest products industry to grow for

future generations.

44 Professional Logging Contractors of Maine Loggers Serving Loggers Since 1995
---
As we fight the climate

crisis in Congress, lawmakers

must recognize opportunities for

foresters to mitigate climate

change on the ground. On

average, the net growth in US

forests offsets between 10 and 12

percent of the nation's carbon

dioxide emissions. Promoting

sustainable forestry is going to be

a critical aspect of the national

Rep. Chellie Pingree debate.

As a Mainer, I know just

how impactful the forestry industry is on our state's

economy. Recent estimates show that the impact of the

forestry industry is valued at around $3.1 billion dollars

and around one out of every 20 jobs in Maine is in the

forest products sector. And as a lawmaker, I know that

rural economies, foresters, and loggers are key partners in

the fight against climate change—and that lawmakers

must consider the unique impact of these industries as we

move towards solutions.

Foresters, loggers, and rural communities feel the

Growing up working on

my parents small business in

Leeds, I have an appreciation for

small, family-run businesses that

operate all across Maine and the

challenges they face. Small

businesses make up over 90

percent of all Maine's businesses

and hire the majority of our

workers, so it's crucial that we

make sure they have the resources

they need to succeed.

The importance of small

Rep. Jared Golden businesses to Maine is why I

serve on the House Small

Business Committee. Last month, each member of the

committee had the opportunity to invite a small business

owner down to Washington to testify before the committee

and tell Congress what they needed us to focus on.

For me, inviting members of the forest products

industry to testify was an obvious choice. It's a cornerstone

of our state's economy, and I know that most logging

operations in Maine are family-run small businesses. So

about a month ago, I had the privilege of hosting Pleasant

River Lumber co-owners, Chris and Jason Bruchu, in

Washington D.C. Pleasant River Lumber is a fourth

generation logging company based in Piscataquis County.

The small business employs around 300 Mainers — big by

Maine's standards, but still a small business. One of my

favorite details about Pleasant River's business is that they

stamp every piece of their lumber with a "Made in

America" seal.

effects of climate change on their business every day.

Politicians can't ignore the impact of climate change and

expect rural economies to thrive in future generations.

Instead, we must give foresters, loggers, and rural

communities the tools and resources they need to help

mitigate greenhouse gas emissions and preserve their

industries in the future.

Forest owners and farmers are the original green

jobs, helping to mitigate climate change by improving the

health of our natural resources. By being effective

stewards, they increase the amount of carbon stored in

trees, soil, forests, and even everyday household

products.

We've made great strides thus far—like the 2019

Farm Bill's supports for low-emission energy practices in

forestry—but I know lawmakers can do better to lean on

the experts who know our natural resources best.

As always, please reach out to my office at any

time to make your voice heard with issues that you would

like to see us address in Congress. I am eager to hear

from you and hopefully see you out and about in

Maine.

During the Small Business Committee hearing,

Jason Brochu emphasized America's need to engage in

trade practices that protect American workers and products,

such as the administration's duties on softwood lumber.

Jason and I also talked about the importance of expanding

reliable broadband services throughout rural Maine and

about the need to prepare young people to enter the logging

workforce.

With input from the Brochus and other Maine

logging businesses, here are some of the things I'm

working on to help loggers address these issues:

• I'm supporting the administration's softwood lumber

tariffs. Canada should not be allowed to subsidize their

timber industry without retribution from our government.

• I'm drafting legislation called the Small Business Last

Mile Act. It will provide grants to small businesses to

connect them with broadband service in rural areas.

I'm working to pass the DRIVE-Safe Act, which

would help address the shortage of truck drivers in the

logging industry. The legislation would provide a rigorous

apprenticeship program to 18-21 year olds and allow them

to drive trucks across state lines upon certification and

completion of the program.

It's important for Congress to hear directly from

loggers to help guide our work. That's why every chance I

have, I come back to Maine to talk to folks throughout the

Second District and visit their small businesses to learn

first-hand how I can best represent them.

Thank you for the opportunity to serve you in

Congress. I hope you will continue to keep me informed on

the issues that matter to you.

The Logger's Voice ▪ Summer 2019 45
---
34 Professional Logging Contractors of Maine Loggers Serving Loggers Since 1995
---
The Logger's Voice ▪ Winter 2018 31
---
Professional Logging

Contractors of Maine

110 Sewall St.

P.O. Box 1036

Augusta, ME 04332