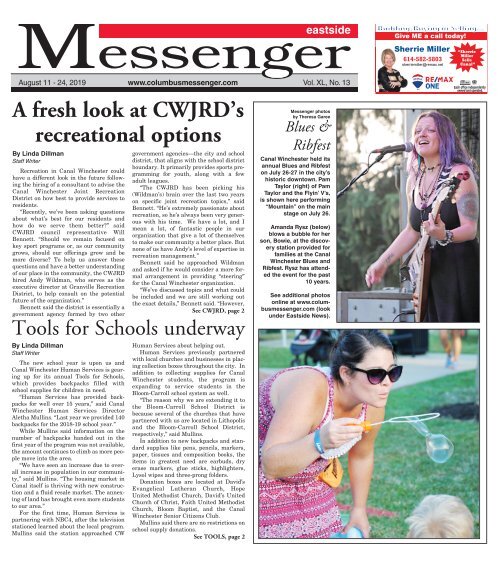 Eastside Messenger - August 11th, 2019
Create successful ePaper yourself
Turn your PDF publications into a flip-book with our unique Google optimized e-Paper software.
eastside

August 11 - 24, 2019 www.columbusmessenger.com Vol. XL, No. 13

A fresh look at CWJRD's

recreational options

By Linda Dillman

Staff Writer

Recreation in Canal Winchester could

have a different look in the future following

the hiring of a consultant to advise the

Canal Winchester Joint Recreation

District on how best to provide services to

residents.

"Recently, we've been asking questions

about what's best for our residents and

how do we serve them better?" said

CWJRD council representative Will

Bennett. "Should we remain focused on

key sport programs or, as our community

grows, should our offerings grow and be

more diverse? To help us answer these

questions and have a better understanding

of our place in the community, the CWJRD

hired Andy Wildman, who serves as the

executive director at Granville Recreation

District, to help consult on the potential

future of the organization."

Bennett said the district is essentially a

government agency formed by two other

government agencies–the city and school

district, that aligns with the school district

boundary. It primarily provides sports programming

for youth, along with a few

adult leagues.

"The CWJRD has been picking his

(Wildman's) brain over the last two years

on specific joint recreation topics," said

Bennett. "He's extremely passionate about

recreation, so he's always been very generous

with his time. We have a lot, and I

mean a lot, of fantastic people in our

organization that give a lot of themselves

to make our community a better place. But

none of us have Andy's level of expertise in

recreation management."

Bennett said he approached Wildman

and asked if he would consider a more formal

arrangement in providing "steering"

for the Canal Winchester organization.

"We've discussed topics and what could

be included and we are still working out

the exact details," Bennett said. "However,

See CWJRD, page 2

Tools for Schools underway

By Linda Dillman

Staff Writer

The new school year is upon us and

Canal Winchester Human Services is gearing

up for its annual Tools for Schools,

which provides backpacks filled with

school supplies for children in need.

"Human Services has provided backpacks

for well over 15 years," said Canal

Winchester Human Services Director

Aletha Mullins. "Last year we provided 140

backpacks for the 2018-19 school year."

While Mullins said information on the

number of backpacks handed out in the

first year of the program was not available,

the amount continues to climb as more people

move into the area.

"We have seen an increase due to overall

increase in population in our community,"

said Mullins. "The housing market in

Canal itself is thriving with new construction

and a fluid resale market. The annexing

of land has brought even more students

to our area."

For the first time, Human Services is

partnering with NBC4, after the television

stationed learned about the local program.

Mullins said the station approached CW

Human Services about helping out.

Human Services previously partnered

with local churches and businesses in placing

collection boxes throughout the city. In

addition to collecting supplies for Canal

Winchester students, the program is

expanding to service students in the

Bloom-Carroll school system as well.

"The reason why we are extending it to

the Bloom-Carroll School District is

because several of the churches that have

partnered with us are located in Lithopolis

and the Bloom-Carroll School District,

respectively," said Mullins.

In addition to new backpacks and standard

supplies like pens, pencils, markers,

paper, tissues and composition books, the

items in greatest need are earbuds, dry

erase markers, glue sticks, highlighters,

Lysol wipes and three-prong folders.

Donation boxes are located at David's

Evangelical Lutheran Church, Hope

United Methodist Church, David's United

Church of Christ, Faith United Methodist

Church, Bloom Baptist, and the Canal

Winchester Senior Citizens Club.

Mullins said there are no restrictions on

school supply donations.

See TOOLS, page 2

Messenger photos

by Theresa Garee

Blues &

Ribfest

Canal Winchester held its

annual Blues and Ribfest

on July 26-27 in the city's

historic downtown. Pam

Taylor (right) of Pam

Taylor and the Flyin' V's,

is shown here performing

"Mountain" on the main

stage on July 26.

Amanda Rysz (below)

blows a bubble for her

son, Bowie, at the discovery

station provided for

families at the Canal

Winchester Blues and

Ribfest. Rysz has attended

the event for the past

10 years.

See additional photos

online at www.columbusmessenger.com

(look

under Eastside News).

Building, Buying or Selling...

Give ME a call today!

Sherrie Miller

614-582-5803

sherriemiller@remax.net

"Sherrie

Miller

Sells

Canal"

Each office independently

owned and operated.
---
PAGE 2 - EASTSIDE MESSENGER - August 11, 2019

www.columbusmessenger.com

CW contracts for maintenance of its water towers

By Linda Dillman

Staff Writer

A new contract for water tank services in Canal

Winchester will help keep service, renovation, and inspection

costs stable for the next decade for the trio of water

tanks servicing the needs of city residents.

Located on North Gender Road, South Gender Road

and on Jenkins Drive, the city will pay $3,999 the first

year for service on all three water tanks. For years two

through 11, the cumulative annual cost is $58,521 because

of the extent of maintenance provided in the contract.

During the course of the 11-year contract and due to

their age, both Gender Road tanks will receive interior and

exterior renovations, washouts, and visual inspections.

The Jenkins Drive tank is newer and will receive visual

and washout inspections.

Lung Cancer?

Asbestos exposure in industrial,

construction, manufacturing jobs, or the

military may be the cause. Family in

the home were also exposed.

Call 1-866-795-3684 or email

cancer@breakinginjurynews.com.

$30 billion is set aside for asbestos

victims with cancer. Valuable settlement

monies may not require filing a lawsuit.

Non-Hodgkin's Lymphoma, Multiple Myeloma, and

Leukemia may result from RoundUp exposure. A recent

was awarded in a RoundUp injury case.

Call 1-619-493-4791 or email

RoundUp@breakinginjurynews.com

and let us begin work on your RoundUp case today.

Winchester

Dental

Call us today to schedule

an appointment.

Winchester Square

Shopping Center

614.834.1834

Ladan Pourmoghadam

D.D.S.

Now offering our

'Smile Plan' to our

non-insured patients

Look Great

Feel Great

Sleep Great

Providing Gentle,

Caring Dentistry

In a Comfortable

Setting.

Accepting New Patients

Most Insurances Accepted

Due to the small number of companies nationwide offering

tank services, competitive bidding was waived and the

contract was awarded to Utility Service Company, Inc.,

who currently services the city tanks. The multi-year contract

allows the city to maintain the three tanks on a regular

rotating basis.

"It helps us even out our expenses," said Law Director

Gene Hollins.

Finance director/clerk of council

Mayor Mike Ebert thanked Finance Director Amanda

Jackson–who is preparing to go on maternity leave and

also served for two years as the city's clerk of council–for

her service as clerk. When Jackson returns from leave, she

will continue as finance director, but no longer as clerk.

"I thank Amanda for everything she's done as clerk of

council," said Ebert. "I applaud her hard work and believe

me, it's been hard work in addition to her duties as

finance director. I can't say enough about her and

all she did to get this done."

Council President Bruce Jarvis said no timeline or

plans were established in replacing Jackson, but added,

"She's set a pretty high bar for anyone who follows."

Zoning appeal

On Aug. 5, a lengthy public hearing was held for

a planning and zoning appeal by Panda Express

regarding a potential site east of the Walgreen

CWJRD

Continued from page 1

we have already agreed in principle

that he will be hosting meetings

with key stakeholders within our

group, the school district and the

city–making short-term and longterm

operations and funding recommendations.

Details on the public

participation element are still to

come."

Wildman was appointed as the

director of the Granville Recreation

District in May 2010. Prior to that

posting, he worked as the director

of the Barberton Parks and

Recreation Department where he

Franklin

Summer is Here!

Contact us NOW for your

air conditioner tune up.

Free Estimates for Replacement Equipment

OH License #20692

store along the south side of Winchester Boulevard.

City Zoning Administrator Andrew Moore said the

Planning and Zoning Commission denied the company's

request for a conditional use permit for their drive-through

design and request to change the site setback from 25 feet

to 47 feet because development standards were not met.

"The way this drive-through is designed is not compatible,"

said Moore. "This location creates approximately

seven access points in a three access area."

Moore said the site does have a "unique" ability to come

into compliance and if a wrap-around patio was included

in the design, staff would approve.

"There have been multiple iterations of this plan," said

Moore. "There are a lot of issues that were ignored."

However, before introducing nearly a half dozen professionals

offering testimonials on behalf of Panda Express,

attorney Joseph Miller called the design as presented safe,

efficient and optimal.

Senior design manager Brian Kan said the site was

selected, as opposed to other available out parcels, because

it is "in a very optimal location due to street visibility."

Company engineer John Gallagher said the access

points on the property will aid in dispersing traffic for

what he called a "pretty typical site layout."

City council is expected to take action on the appeal at

their next meeting in August.

was responsible for the maintenance

of more than 200 acres of

park land, programming and coordination

of recreational activities.

In collaboration with the

Barberton YMCA, he helped spearhead

the design and construction of

a 60,000 square-foot community

center and active adult center.

Wildman graduated from Ohio

University with a bachelor of science

degree in recreation management.

CWJRD council representative

Jill Amos felt offering only youth

athletics and two adult athletic

programs does not

meet the needs of 75 percent

of the community.

"By rolling out Big Kid

Recreation programming to

our adults over the next few

TOOLS

years, we can start providing for

possible services for those looking

to be active or try something new

without having to go far," said

Amos. "Our hopes are to look into

additional programming for our

youth as well that would include

the sciences and arts."

According to Bennett–regarding

Wildman's compensation–the

Ohio Parks and Recreation

Association recommended, and

both parties agreed, on a rate of

$75 per hour. Funding for the position

will come from the recreation

district's expansion fund balance

and not result in any increases in

future registration rates.

"Our goal is to have this report

completed before the end of the

year," said Bennett.

Continued from page 1

Cash donations can be made at www.cwhumanservices.org or

at www.facebook.com/cwhumanservices. There is also a collection

box outside of the Human Services building at 80 Covenant Way

in Canal Winchester.

Once the backpacks and supplies are collected, they are assembled

by the Human Services staff. Families that sign up for the

program pick up their backpacks on a designated distribution day.

For those in need of a new backpack and supplies for the

upcoming school year, contact Mullins at 614-834-4700 or e-mail

her at aletha.cwhs@gmail.com.

"The heartbeat of what we do is to simply to 'meet people where

they are' in life," said Mullins. "It is our privilege to be a consistent

and dependable safe haven, not just for the services we provide,

but for the emotional support we love to give. Whether we

share smiles, hugs, or tears with our clients, we want them to

walk out of this building and back into their lives a little stronger

than they were before."
---
www.columbusmessenger.com

August 11, 2019 - EASTSIDE MESSENGER - PAGE 3

Messenger photos by Rick Palsgrove

Pelotonia 2019

Nearly 7,500 bicyclists participated in

this year's Pelotonia bicycle tour,

which passed through Groveport on

Aug. 3 and included a rest stop at

Cruiser Park. So far this year,

Pelotonia has raised $14 million that

will go towards cancer research

through The Ohio State University's

James Cancer Hospital. In 11 years,

Pelotonia has raised $197 million to

fight cancer. Pictured below are

Pelotonia cyclists riding along Bixby

Road near Groveport's Cruiser Park.

Ric Noland, of Cyclist Connection in

Canal Winchester, repairs a bicycle tire

in Cruiser Park. Cyclist Connection provided

mechanical and repair assistance

for the bicyclists.

6800 Gender Rd., Canal Winchester 43110

www.macintoshcompany.com/canal-winchester
---
PAGE 4 - EASTSIDE MESSENGER - August 11, 2019

www.columbusmessenger.com

Indians prepare to defend their OCC football title

By Rick Palsgrove

Eastside Editor

The Canal Winchester Indians varsity

football team will begin the defense of its

2018 Ohio Capital Conference Capital

Division championship when it opens the

season with a non-league game on Aug. 30

at home against Thomas Worthington.

The Indians finished last year's regular

season 9-1 overall and 5-0 in conference

play.

"We have a ton of potential this year,

but potential doesn't mean squat if you

don't have consistent committed work,"

said Canal Winchester Indians head football

coach Josh Stratton. "Time will tell."

Stratton said the Indians have several

top players to watch.

"Jack Beeler is a three year starter at

quarterback and he has had a great summer

so far," said Stratton. "Mike Wilson,

Hunter Allen, and Chris Snyder will

anchor a great defensive line as well as

help up front on offense."

Stephan Byrd is the team's top returning

rusher.

"Stephan is one of the top running backs

in Central Ohio, if not the state," said

Stratton. "He will also play linebacker,

too."

Tyler Toledo is a three year letterman

on both sides of the ball.

"Every game in our league is an

important game. In fact, every

game on our schedule is important.

In the state of Ohio there are

no weeks off."

- Josh Stratton, head coach

Canal Winchester Indians

"Tyler's a great cover guy on defense and

an explosive offensive player," said

Stratton. "Kevin Prior is our returning All-

OCC center and he is the leader of our

offensive line. Blaine Riley will be at linebacker

and he has big shoes to fill to graduating

Darren Davis. Avery Musick is our

returning All-OCC and District kicker. He

is one of the top kickers in the state of Ohio.

Avery will also play wide receiver for us."

Elijah Bulluck is the other returning

wide receiver.

"Eli will also play some corner for us as

well," said Stratton. "He is a big, strong,

long player that can be a match up issue for

some teams."

Stratton said Dominic Davis is returning

after a year off due to injury.

"He was a two way player as a sophomore,"

said Stratton. "Very dynamic player."

Messenger file photo

Canal Winchester running back Stephan

Byrd (42) carrying the ball last year in a

game against Franklin Heights. "Stephan

is one of the top running backs in Central

Ohio if not the state," said Canal

Winchester Indians varsity head football

coach Josh Stratton.

Logan Beckwith returns as free safety.

"He is the quarterback of our secondary,"

said Stratton."

Stratton said Jordan Crump will be the

surprise of Central Ohio this year.

"He will play corner and slot back for us.

I'm glad he's on our team," said Stratton.

Hunter King is the other returning

starting on the offensive line.

He's a tremendous leader of that unit,"

said Stratton.

When asked who the strong teams are in

the OCC Capital Division this year,

Stratton said, "Every game in our league is

an important game. In fact, every game on

our schedule is important. In the state of

Ohio there are no weeks off."

Canal Winchester continues its neighborhood

rivalry game with Groveport on

Oct. 11 at Groveport Madison High School.

"I love our rivalry with the team in red

and black," said Stratton. "It's healthy and

competitive. It's our number one goal every

year."

High school football in Ohio is rich in

traditions and when asked if he had particular

favorite tradition, Stratton said, "I

don't really have one. I love practice and

how we practice."

See the Canal Winchester Indians' 2019

varsity football schedule on page 6.

Photo courtesy of Groveport-CW Special Olympics

GSO Track at Summer Games

The Groveport-Canal Winchester Special Olympics' track and field team competed

at the State Summer Games held on The Ohio State University campus June 28-30.

The athletes competed in running events and softball throw with other athletes

from all over Ohio. The GSO athletes are, from left to right: (front row) Nick Zungri,

Becca Breedlove, Elexia Smith, Sophie Coffenberry, Mikayla Thompson; (back row)

volunteer Rylee Armstrong, Claire Hilty, Jordan Wooden, Austin VanAlmsick, Holly

Wolfe, and Coach Emma Thomas (absent: Jakhob Stanley).

at Metro Parks' Slate Run Living Historical Farm

The following activities will be held at

Slate Run Living Historical Farm, 1375

State Route 674 North, Canal Winchester:

•Aug. 16-18, 1-3 p.m.: Pastimes,

Puzzles, and Play - Try games, riddles, and

activities that Victorian era families did for

fun and relaxation.

•Aug. 25, 2-4 p.m.: Broomcorn Harvest -

Help harvest and clean broom corn (weather

and crop permitting) and watch broom

making.
---
www.columbusmessenger.com

CW Labor Day

parade honors local charity

Organizers of the 99th annual Canal

Winchester Labor Day Festival announced

that local charity, the Brockstrong

Foundation, will be honored as parade

grand marshal for the 2019 Canal

Winchester Labor Day Parade.

The parade, themed "Heroes," is scheduled

to begin in downtown Canal

Winchester on Sept. 2 at 1 p.m.

"Every year, our Labor Day Committee

nominates and votes for deserving candidates

to be the parade grand marshal,"

said Mayor Michael Ebert. "This year, we

chose to honor a local charity that connects

with the community by serving others and

reminding us that each and every day is a

gift. The Canal Winchester Labor Day

Committee recognizes them for their great

work. We're pleased to recognize this

deserving organization as this year's Labor

Day Parade Grand Marshal."

Labor Day Festival activities kick off

Aug. 31 and continue through Sept. 2.

In addition to the Labor Day Parade,

festival attractions will include live entertainment,

a car show, ice cream social,

midway rides, and more.

For festival information, visit

www.cwlaborday.org.

Festival hours are: Saturday, Aug. 31,

noon—11 p.m.; Sunday, Sept. 1, 10:30 a.m.—

11 p.m.; Monday, Sept. 2, 10:30 a.m.—6

p.m.

The BrockStrong Foundation is a nonprofit

organization created in August 2015

by the family of Brock Johnson to continue

his legacy by showing compassion and

kindness to the community, investing in

youth and spreading random acts of kindness

through everyone involved.

Military news

U.S. Air Force National Guard Airman

1st Class Trevor Ashworth graduated from

basic military training at Joint Base San

Antonio-Lackland, San Antonio, Texas.

Ashworth is the son of Kenneth Ashworth

of Canal Winchester and Eileen Ashworth

of Athens. He is a 2018 graduate of

Harvest Preparatory School, Canal

Winchester.

Hopeful Hearts

Hopeful Hearts Free Children's

Clothing Ministry - a free baby clothing

distribution for sizes infant to 5T, as well

as shoes, blankets, bibs, small toys and

other baby needs - is open the third

Saturday of the month from 10 a.m. to

noon at Hope United Methodist Church, 83

E. Columbus St. in Canal Winchester.

Everyone is welcome to come in and

shop for your free children's summer clothing

needs in sizes Infant to 5T. Everything

is free and all are welcome.

Drop off donated items at the church.

Clothing for all seasons is needed. Call

(614) 837-7548.

August 11, 2019 - EASTSIDE MESSENGER - PAGE 5

Lithopolis Garden Club

Lithopolis Garden Club meets the first

Tuesday each month at 1 p.m. in the

Community Building at Wagnalls

Memorial in Lithopolis. Interested in gardeners

are invited to attend the meetings.

eastside

Messenger

(Distribution: 13,559)

Rick Palsgrove................................Eastside Editor

eastside@ columbusmessenger.com

Published every other Sunday by

The Columbus Messenger Co.

3500 Sullivant Ave., Columbus, Ohio 43204-1887

(614) 272-5422

O

betz

Zucchinifest

FRIDAY,

AUG. 30

2

FORTRESS OBETZ

L ABOR DAY WEEKEND

FREE ADMISSION & PA

ARKING

Gender Road

Christian Church

5336 Gender Road

Canal Winchester, OH 43110

Contemporary - 9:00 a.m.

Sunday School - 9:15 a.m.

Conventional - 10:30 a.m.

Monday Acoustic - 7:00 p.m.

Be a Part of Our

Local Worship Guide

Our Worship Guide is geared toward celebrating faith and helping readers

connect with religious resources in our community. Make sure these readers

know how you can help with a presence in this very special section distributed

to more than 18,000 households in the Eastside area.

Contact us today to secure your spot in our Worship Guide.

614.272.5422 • kathy@columbusmessenger.com

FRIDA

Y 8/30

Zucchini c

i Beer

e

SATURDAY

8/31

SUNDAY 9/1

FRIDAY 8/30

Car

& Motorcycle or

cl

Show

Obe

tzZucchiniFest

t.com

KIDS

DAY!

MONDAY 9/2

Cincinnati Circus Company,

COSI, & the Columbus Zoo.

eastside
---
PAGE 6 - EASTSIDE MESSENGER - August 11, 2019

www.columbusmessenger.com

High School Football 2019

Canal Winchester

Indians

7 p.m. Aug. 30.........Thomas Worthington

7 p.m. Sept. 6..............at Olentangy Berlin

7 p.m. Sept. 13........................Teays Valley

7 p.m. Sept. 20............at Westerville North

7 p.m. Sept. 27..........................Grove City

7 p.m. Oct. 4............................New Albany

7 p.m. Oct. 11.........at Groveport Madison

7 p.m. Oct. 18...............at Franklin Heights

7 p.m. Oct. 25...............................Newark

7 p.m. Nov. 1.........................at Big Walnut

Bloom-Carroll

Bulldogs

7:30 p.m. Aug. 30.........at Highland-Sparta

7 p.m. Sept. 6........................Liberty Union

7 p.m. Sept. 13...................Jonathan Alder

7 p.m. Sept. 19.........at Hamilton Township

7 p.m. Sept. 27.............................Circleville

7 p.m. Oct. 4............at Amanda-Clearcreek

7 p.m. Oct. 11.......................Meadowbrook

7 p.m. Oct. 18........................Fairfield Union

7 p.m. Oct. 25..........................at Logan Elm

7 p.m. Nov. 1..............................Teays Valley

2 Locations

759 Winchester Pike

Canal Winchester, Ohio 43110

614-837-7150

"Quality Collision Repairs

By People You Know"

601 Commerce Dr.

Pickerington, Ohio 43147

614-837-0902

Nancy Holloway

740-703-3786

nancy@revolutionrealtyinc.com

nancy.revolutionrealtyinc.com

Pat Reade, CPCU

44 S. High St.

Canal Winchester, Ohio 43110

614-837-5558

preade@inscircle.com

Homeowners • Automobile

Life • Commercial

GOOD LUCK IN 2019 SEASON

614-837-7126

650 West Waterloo St., Canal Winchester, OH 43110

614-837-7126

550 Hill Road North, Pickerington, OH 43147

Gas Diesel or Hybrid

Give us a Call - We do it All!

Cars, Light Trucks & SUV's

614-833-0792

Hoffman Auto Repair

975 West Walnut Street, Canal Winchester, Ohio 43110

Complete Automotive Service & Repair

Fleets Welcome

Good Luck Indians & Bulldogs from these businesses!
---
www.columbusmessenger.com August 11, 2019 - EASTSIDE MESSENGER - PAGE 7

Back - to - School

CW Schools

receive lighting rebate

Canal Winchester Schools recently

received a $25,000 lighting rebate From

South Central Power.

The school district recently completed

phase one of a lighting upgrade at Canal

Winchester High School. New LED lighting

in these facilities will lower Canal

Winchester schools' energy consumption,

and made the school system eligible for the

lighting rebate from South Central Power.

"We are proud to partner with Canal

Winchester Schools to improve the energy

efficiency of their facilities and put more

money to work for students," said Kyle

Heavrin, director of energy services and

key accounts for South Central Power.

"We are very excited and thankful to

receive the $25,000 rebate," said James

Sotlar, superintendent of Canal

Winchester Schools. "We have a great

partnership with South Central Power,

and we look forward to working with them

in the future. Energy consumption is a

large cost to the district so anytime we can

upgrade and save on energy cost is a winwin

for everyone."

Messenger photo by Hannah Poling

Bugstravaganza

Bugstravaganza was held at Walnut

Woods Metro Park on Aug. 3. Visitors

discovered the wide world of insects,

caught and released bugs, explored the

creek, and saw insects up close. Fiveyear-old

Oren Beatty, magnifying glass

in hand, examined a monarch butterfly.

"That one's my favorite," Beatty said as

he took a closer look.

CW Library Branch

The Canal Winchester Branch of the

Columbus Metropolitan Library, 115

Franklin St. (located in the rear of 100

Washington St.), is open Monday through

Thursday from noon to 7 p.m. and Friday

and Saturday from noon to 6 p.m.

PAID ADVERTISING

Future educators travel to learn

from top educators

During summer break, Dr. Valerie Jones,

Teacher Education Chair and Dr. Jeanne Bruce,

Associate Professor, traveled with five pre-service

educators to Helsinki, Finland, and

Stockholm, Sweden to study the top-two school

systems in the world. The group was able to tour

a Finnish grade school to observe their curriculum

and instruction and speak with students and

teachers. In Sweden, they visited a university and

learned about Swedish high schools and transitioning

to higher education.

The pre-service educators were significantly

impacted by what they saw and learned. Makayla

Harr ('20), Adolescence to Young Adult Math

Education major, remarked, "I loved that the

Wagnalls Memorial Library

Wagnalls Memorial Library, 150 E.

Columbus St., Lithopolis, is open Monday

- Thursday: 10 a.m. to 8 p.m., Saturday: 10

a.m. to 2 p.m. and closed on Friday and

Sunday. For information call (614) 837-

4765 or visit www.wagnalls.org.

schools not only promoted academic success but

encouraged creativity and prioritized life skills

and the arts as much as academics. Their education

system focuses well on the individual. Their

students had choices in electives starting at a

young age, and some were accelerated in their

strongest subjects, and I loved that."

Dr. Jones added, "This learning experience

was the first of many for our department. We

learned much and plan to spread what we've

learned to other educators through conference

presentations and workshops." Next spring, students

will be able to have another learning experience

in England, Ireland, and Scotland.
---
PAGE 8 - EASTSIDE MESSENGER - August 11, 2019

www.columbusmessenger.com

Village of Lithopolis

Business

Spotlight

Tammy Roof Elliott

Celebrating 20 years as your local

RE/MAX Realtor! I am the "family" Realtor

for many locals! I believe in sitting at the

kitchen table doing business the old fashion

way. While technology plays a very important

role in my business, developing face to

face relationships is still by far the best and

what sets me apart from other Realtors. I am

a single agent versus a Team so when you

hire me you get me. You might say I'm a

"Boutique" Realtor… Biggest is not always

Best! Each client has a story. Whether happy

or sad, I am committed to being by your side

from the beginning of the process until the

end and beyond. If you're thinking of buying,

building or selling a home, let's chat.

Call Tammy today at 614-226-6953.

Visit www.TammyRoofElliott.com or

email tammyelliott@remax.net

Upcoming Lithopolis events

The following community events will

btake place in the village of Lithopolis in the

coming months. See you in Lithopolis!

•Sept. 6 and 7: 13th annual Honeyfest -

Visit LithopolisHoneyfest.com.

•Sept. 22; Style to a Tea - Style show,

tea, music, art and doorprizes (facebook:

Shop Lithopolis).

•Oct. 3, 4 & 5: Harvest Thyme Shop

(facebook: Shop Lithopolis).

•Oct. 12: Gatsby at The Wagnalls : 2nd

annual 1920's Gatsby-themed benefit. Visit

wagnalls.org.

•Dec. 14: Simply Christmas events

(facebook: Simply Christmas in Lithopolis).

Lithopolis Honeyfest

The 13th annual Honeyfest in downtown

Lithopolis promises to be bigger and better

&

Hours:

Mon-Thursday 4-10

Friday 4-1am

Saturday 2-1am

Sunday 2-10

9 E. Columbus St.

Lithopolis, OH 43136

(614) 829-3186

Fairfield County's "Best Kept Secret"

than ever and embraces the theme, "Saving

the planet, one honeybee at a time." It will

be held Sept. 6 from 3-7 p.m. and Sept. 7

from 10 a.m. to 7 p.m. Admission is free and

a shuttle will be available.

The Honeyfest features live music, bee

beards, beekeepers, honey and honey tasting,

mead competition, Honeyfest Queen

Pageant, honey bake off, Ohio Honey Show,

honey extracting, hive inspection, junior

beekeeping, the American Honey Princess,

mead and wine tasting, foods made with

honey, kids crafts, photo contest, art, honey

beer garden, and the Bloom-Carroll Kiwanis.

Call 614-829-7355 for information.

Auditions for "Matilda the

Musical" at Wagnalls

Auditions for Wagnalls Community Theater's

production of "Matilda the Musical"

are Aug. 24 or 25 from 1-4 p.m.

Yesteryear's

Antiques, LLC

614-266-3418

Always buying antiques &

collectibles, odd and unusual

70 E. Columbus St., Lithopolis, OH 43136

Open 7 Days a Week 11am to 6pm

Please "Like & Follow" us on Facebook

Performances are Oct. 25 - Nov 10 on

Friday and Saturday at 7:30 p.m. and Sunday

at 3 p.m. in the Wagnalls Memorial Library

auditorium, 150 E. Columbus St.,

Lithopolis Rehearsals begin Sept. 5 and will

typically be Sunday-Thursday, 6:30-9:30

p.m. although not all actors will be required

at every rehearsal.

For information email wagnallscommunitytheater@gmail.com.

Open Late 'Til 8!

The second and fourth Thursday of each

month, Lithopolis Shops will be open until

8 p.m. Visit Yesteryear's Antiques, The Secret

Gift Shop, Upscale Decor & More and

Law & Benson Olde Country Store in downtown

Lithopolis. In addition to Columbus

Street eateries, Eldridge & Fiske Brewing

Company will feature live music with Eric

Solomon from 6-9 p.m. See you in Lithopolis!

Upscale Decor & More

Affordable, functional home furnishings,

décor and a lot more!

Wendy Roush, Owner

614.314.0481

44 E. Columbus Street, Rear Bldg.

Lithopolis, OH 43136

Please like & follow us on facebook

The Secret Gift Shop

A unique shop, where you can find something

for just about anyone, including yourself

Lesli Brewer, Owner

87 East Columbus St., Lithopolis, OH 43136

614-578-7787

Thesecretgs@yahoo.com

Mention this ad and receive

10% DISCOUNT

Your Local Realtor celebrating 20 years of

helping Home Buyers and Sellers!

Tammy Roof Elliott

614-226-6953 (mobile)

TammyRoofElliott.com

www.pedregalrestaurant.com

44 E. Columbus Street, Lithopolis, OH 43136

Hours:

Mon.-Thur. 11:00 AM - 10:00 PM

Fri. & Sat. 11:00 AM - 10:30 PM

Sun. 11:00 AM - 9:00 PM

Phone: 614-829-2394 Fax: 614-829-2396

DAILY SPECIALS

HAPPY HOUR 4PM-8PM EVERYDAY

Envy

Nail Spa

614.829.2428

Providing professional

nail & waxing services

87 E. Columbus St., Lithopolis, OH 43136

Walk ins welcome, Appointment Preferred

Mon.-Fri. 10-7 Sat. 10-5 Sun. 11-4

Mention ad and receive

10% OFF

Faler Feed

Store, Inc.

Serving Central Ohio Since 1936

4360 Cedar Hill Rd. P.O. Box 277

Lithopolis, Ohio 43136

(P) 614-837-4494

(F) 614-837-3273

Falers4360@sbcglobal.net

FalerFeedStore.com

www.OldeCountryStoreLithopolis.com

Family Owned and

Operated Since 1926

36 East Columbus Street

Lithopolis, OH 43136

(614) 837-4705

Eileen Law Benson & Kathlynn Benson Moling

Proprietors

The Pump House

Pizza & Burgers

Spirits

614-837-6823 • 614-837-9306

Dine In and Carry Out

17-21 E. Columbus St. Lithopolis, OH 43136

Mon. - 4pm-11pm

Tues.-Sat. 11am-11pm

www.facebook.com/thepumphouse2017

Buggy Seat Antiques

4650 Waterloo Rd.

Canal Winchester, OH 43110

(614) 920-1834

Open 10:00 am - 5:00 pm

Wednesday - Saturday

Or by Appointment

edwardrutter@att.net

Freda Rutter, Owner

PLEASE SUPPORT THESE BUSINESSES!
---
w

11, 2019 - EASTSIDE MESSENGER - PAGE 9

www.columbusmessenger.com August 11, 2019 - EASTSIDE MESSENGER - PAGE 9

pets of the week

Messenger photo by Linda Dillman

Brett Smithers collects flags from one of two USA Flag Drop Boxes he created as

an Eagle Scout project.

Caring for Old Glory

By Linda Dillman

Staff Writer

Old Glory has a new way to end its

days in a respectful manner thanks to

the efforts of Boy Scout Brett Smithers

and a pair of flag collection boxes in

Canal Winchester.

The 16-year-old high school junior–

who started out as a Cub Scout in second

grade–was looking for an Eagle Scout

project.

"I chose to do the USA Flag Drop

Boxes because, when trying to find a

project, I realized there was no way for

flags to be collected if they were old or

tattered unless you directly knew a

Scout family," said Smithers. "I decided

to do these boxes to allow the community

to be able to turn over their flags

whether they knew a Scout family or

not. It's important to have this service to

the community because it provides a

way for the flags of our community to be

honored for what they represent and to

allow them a proper retirement."

One box is located in a pocket park

between the two Canal Winchester elementary

school buildings. Another is

located near the public library on the

west side of the Canal Winchester

School District administration center.

Smithers said his first step was asking

for donations and researching materials

to build each box and install them

on school property.

"It's important to have this service

to the community because it

provides a way for the flags of our

community to be honored for what

they represent and to allow them a

proper retirement."

- Brett Smithers

After receiving Canal Winchester

school board approval in June, Smithers

and a crew of adults - including his

father, Brian Smithers and Jeff

Tomlinson, Bill Ruth, Jill Amos and

Jake Smithers; along with fellow scouts

Nick Haskins, Owen Walker and Luke

Smithers - spent a week constructing

and painting the boxes.

"Following this, the boxes were

loaded onto a truck and placed at the

Columbus Metropolitan Library branch

in Canal Winchester and in the garden

between Winchester and Indian Trail

elementary schools," said Smithers.

"These will be checked and flags inside

will be collected once a month by Troop

103."

Although the pair of collection boxes

were only installed the middle of July,

by the end of the month, Smithers

already had 61 flags to dispose of during

a ceremony with other members of

Troop 103.

Old Glory would be proud.

Eddie is a 3-year-old

German Shepherd nd

greyhound mix who is

fun loving and playful.

He is timid when meeting

new people but

once he knows you, he

will be your best buddy.

He would do well as a

second dog so he has

an established dog to

help him with his energy and social skills. He

is good with other playful dogs and ignores

cats. He is housebroken and crate trained. He

is going to be a great dog for someone looking

for a dog that loves to play, exercise and

get lots of love. Eddie is up for adoption

through Colony Cats and Dogs.

FYI: www.colonycats.org

Hodor and Tyrion are

brothers born April 19,

2019. They're friendly

and playful and now at

the Colony Cats adoption

center ready for a

home. They were cared

for by their mom in a

foster home since they

were only a couple

days old. Hodor and

Tyrion are neutered,

microchipped, FL/FIV

negative and up to date

on vaccines. Visit the

CLASSIFIED ADS

Deadline: Tuesdays at 2 p.m.

To place an ad, call 740-852-0809 or stop by the London office at 78 S. Main Street

xInformation

Congratulations

To Our Gift Card Winner

For JULY 2019

Santiago Ancelno

From

The Columbus Messenger

Newspapers

Information

adoption center at 2740 Festival Lane in

Dublin to meet them.

FYI: www.colonycats.org

Bixby is a 5-year-old

coonhound/walker mix.

He is a fun-loving,

h a p py - a l l - t h e - t i m e,

glass-is-half-full kind of

dog looking for someone

who loves to laugh

and play around. Must

have a great sense of

humor and a bunch of tennis balls. Bixby

would be a great addition to any family. Adopt

him from the Franklin County Dog Shelter.

FYI: 614-525-3647 or www.franklincountydogs.com

Cookie is a 2-year-old

pit bull. This pretty

pooch is so sweet and

loving. She enjoys getting

attention and cuddles,

and just wants to

be by your side. She

loves to run and play,

and would love a home

with a big yard to explore. She may be her

best self as the only animal in the household.

Adopt Cookie from the Franklin County Dog

Shelter.

FYI: 614-525-3647 or www.franklincountydogs.com

BACK TO SCHOOL

AUGUST GIVEAWAY

Place a prepaid classified line ad in our paper

during the month of AUGUST and be registered

to win a $50 Gift Card from

The Columbus Messenger

Newspapers.

All ads received by mail, in person, e-mail or

phone will be included in the drawing.

Drawing will be held August 30th, 2019

and the winner will be notified and published

in our September 8th, 2019 issue .

GOOD LUCK TO EVERYONE!!
---
PAGE 10 - EASTSIDE MESSENGER - August 11, 2019

www.columbusmessenger.com

CLASSIFIED ADS

Deadline: Tuesdays at 2 p.m.

To place an ad, call 740-852-0809 or stop by the London office at 78 S. Main Street

xEmployment

Here we grow again

HVAC/Refrigeration Maintenance Technician

For our service department in the Columbus, OH area

40+ hours guaranteed

Company van provided

Full benefits including paid Vacation and 401k

-Salary negotiable

Duties:

Repair and Maintenance of

- HVAC skills

- Refrigeration

Skills/Qualifications:

HVAC, refrigeration training

Excellent communication skills

Excellent customer service skills

Ability to work with little supervision

Please send resumes to: trghr@trgservice.com

INFORMATION

Penetrating the Mind

Field...Now Available on

Amazon and I Books

ASSOCIATION ADS

$$OLD GUITARS & AMPS

WANTED$$ GIBSON •

FENDER • MARTIN. ALL

BRANDS. TOP DOLLAR

PAID. CALL TOLL FREE

1-866-433-8277

A PLACE FOR MOM. The

nation's largest senior

living referral service. Contact

our trusted, local

experts today! Our service

is FREE/no obligation.

CALL 1-844-722-7993

ASSOCIATION ADS

GENERIC VIAGRA and

CIALIS! 100 Pills $99.00

FREE Shipping! 100%

guaranteed. 24/7 CALL

NOW! 888-889-5515

CARS/TRUCKS WANT-

ED!!! All Makes/Models

2002-2018! Any Condition.

Running or Not. Top $$$

Paid! Free Towing! We're

Nationwide! Call Now: 1-

888-985-1806

VIAGRA & CIALIS! 60

pills for $99. 100 pills for

$150 FREE shipping.

Money back guaranteed!

1-800-503-7846

ASSOCIATION ADS

Call Empire Today® to

schedule a FREE inhome

estimate on Carpeting

& Flooring. Call

Today! 1-800-508-2824

[WANTED] CARS/

TRUCKS WANTED!!!

All Makes/Models 2002-

2018! Any Condition. Running

or Not. Competitive

Offer! Free Towing! We're

Nationwide! Call Now: 1-

888-368-1016

Wants to purchase minerals

and other oil and gas

interests. Send details to

P.O. Box 13557, Denver,

CO. 80201

WANTED

SW CITY SCHOOLS

SCHOOL BUS DRIVERS

The South-Western City School

District is currently hiring drivers

$16.55/HR

Available positions are for substitute

drivers that can develop into "Regular"

positions with benefits. Interested

individuals should submit an application

on our website at swcsd.us. Follow the

employment link. Applicants should have

an excellent driving record and must

submit to drug, alcohol, and background

screening. A high school diploma or

equivalent is required.

EOE

ASSOCIATION ADS

READER

ADVISORY

The National Trade Association

we belong to has

purchased the following

classifieds. Determining

the value of their service

or product is advised by

this publication. In order

to avoid misunderstandings,

some advertisers do

not offer "employment"

but rather supply the

readers with manuals, directories

and other materials

designed to help

their clients establish mail

order selling and other

businesses at home. Under

NO circumstance

should you send any

money in advance or give

the client your checking,

license ID or credit card

numbers. Also beware of

ads that claim to guarantee

loans regardless of

credit and note that if a

credit repair company

does business only over

the phone it's illegal to request

any money before

delivering its service. All

funds are based in US

dollars. Toll Free numbers

may or may not

reach Canada. Please

check with the Better

Business Bureau 614-

486-6336 or the Ohio Attorney

General's Consumer

Protection Section

614-466-4986 for more

information on the company

you are seeking to

do business with.

ASSOCIATION ADS

AIRLINES ARE HIRING -

Get FAA approved hands

on Aviation training. Financial

aid for qualified students

- Career placement

assistance. Call Aviation

Institute of Maintenance

877-818-0783

Cross Country Moving,

Long distance Moving

Company, out of state

move $799 Long Distance

Movers. Get Free

quote on your Long distance

move 1-800-511-

2181

CASH PAYOUT? 70

years old and kids are

grown? Do you need that

life insurance or is a big

life settlement cash payout

smarter? Call Benefit

Advance. 1-877-332-

9643

Dish Network Satellite

Television Service. Now

Over 190 channels for

ONLY $59.99/mo! ,

FREE Installation, FREE

Streaming, FREE HD.

Add Internet for $14.95 a

month. 1-800-219-1271

HEAR AGAIN! Try our

hearing aid for just $75

down and $50 per

month! Call 800-426-

4212 and mention 88272

for a risk free trial! FREE

SHIPPING!

Employment

BE YOUR OWN BOSS!

INDEPENDENT

CONTRACTORS

WANTED

If you have a reliable

car and would like to

earn extra money,

then why not deliver?

• Deliver 1 or 2 days a week

• Flexible delivery hours

• Work close to home - often

in or near your neighborhood

CONTACT US

1-888-837-4342

www.thebag.com

• Deliver 7 days a week

• Delivery before dawn

• Work close to home - often

in or near your neighborhood

CONTACT US

614-461-8585

www.dispatch.com/delivery

ASSOCIATION ADS

DENTAL INSURANCE

from Physicians Mutual

Insurance Company.

NOT just a discount

plan, REAL coverage for

(350) procedures. Call 1-

877-308-2834 for details.

www.dental50plus.com/

cadnet 6118-0219

Use RoundUp Weedkiller?

Non-Hodgkin's Lymphoma

Multiple Myeloma and

Leukemia may result from

RoundUp exposure. A

recent $2 billion judgment

was awarded in a

RoundUp injury case. Call

1-619-493-4791 or email

RoundUp@breakinginjurynews.com

and let us begin

work on your RoundUp

case today.

AIRLINE MECHANIC

TRAINING - Get FAA

Technician certification.

Approved for military

benefits. Financial Aid if

qualified. Job placement

assistance. Call Aviation

Institute of Maintenance

866-453-6204

Portable Oxygen Concentrator

May Be Covered

by Medicare! Reclaim

independence and

mobility with the compact

design and long-lasting

battery of Inogen One.

Free information kit!

Call 888-609-2189

PART-TIME TRANSPORTATION

ASSISTANT NEEDED

IMMEDIATELY IN

RICKENBACKER AREA

24 HOURS PER WEEK - $16.00 PER HR

PRIOR TRANSPORTION EXPERIENCE

NEEDED. STRONG COMPUTER SKILLS

WORKING WITH EXCEL SPREADSHEETS,

DATA BASES AND TRANSPORTION

BILLING SOFTWARE.

DUTIES INCLUDE:

SCHEDULING SHIPMENTS, BILLING,

SCANNING, UPLOADING TO

SERVER, EMAILING, AND FILING

PLEASE CALL 614-497-0800 OR STOP BY

AND FILL OUT APPLICATION AT:

9301 INTERMODAL CT.

COLUMBUS, OH 43217

ASSOCIATION ADS

SELLING YOUR OWN

PROPERTY? Need to

advertise it in your local

paper and others like it?

We have the placement

services to help you.

Contact MACnet MEDIA

@ 800-450-6631 or online

at MACnetOnline

.com

SELL YOUR ANTIQUE

OR CLASSIC CAR. Advertise

with us. You

choose where you want

to advertise. 800-450-

6631 visit macnetonline

.com for details.

Earthlink High Speed Internet.

As low as $14.95/

month (for the first 3

months.) Reliable High

Speed Fiber Optic Technology.

Stream Videos,

Music and More! Call

Earthlink Today 1-855-

520-7938

SELLING YOUR OWN

PROPERTY? Need to

advertise it in your local

paper and others like it?

We have the placement

services to help you.

Contact MACnet MEDIA

@ 800-450-6631 or online

at MACnetOnline

.com

ASSOCIATION ADS

Get DIRECTV! ONLY

$35/month! 155 Channels

& 1000s of Shows/

Movies On Demand (w/

SELECT All Included

Package.) PLUS Stream

on Up to FIVE Screens

Simultaneously at No

Addt'l Cost. Call DI-

RECTV 1-855-781-1565

Get a SMARTPHONE

for $0 DOWN* with

AT&T Next® and AT&T

Next Every Year; $250

Gift Card for Switching to

AT&T! (*Requires wellqualified

credit. Limits &

restrictions apply.) 1-

888-545-5093

Lung Cancer? Asbestos

exposure in industrial, construction,

manufacturing

jobs, or military may be the

cause. Family in the home

were also exposed. Call 1-

866-795-3684 or email

cancer@breakinginjurynews.com.

$30 billion is

set aside for asbestos victims

with cancer. Valuable

settlement monies may not

require filing a lawsuit.
---
www.columbusmessenger.com

xCome & Gt It!

INFORMATION

August 11, 2019 - EASTSIDE MESSENGER - PAGE 11

xClassified Services

COME AND GET IT

Deadlines are Tuesdays by 5 pm.

Call For Publication Schedule 614-272-5422

Need to Get Rid of Something Fast - Advertise It Here For FREE!

FREE Garden Straw for gardens or bedding. Call for appointment for

pickup. Circle S Farms, 9015 London-Groveport Road, Grove City,

43123

Grove City - 614-878-7980

FREE FIRE WOOD

GK - Grove City - 614-638-5647

FREE HOT TUB in "As Is" Condition

RB - Groveport - 614-778-4916

FREE 54" Mitsubishi Big Screen TV Console. Works great!

Must be able to haul away

JM - Lithopolis - 614-833-2499

. Come and Get It! is a bi-weekly column that offers readers an opportunity to pass

along surplus building materials, furniture, electronic equipment, crafts, supplies,

appliances, plants or household goods to anybody who will come and get them - as

long as they're FREE. NO PETS! Just send us a brief note describing what you want

to get rid of, along with your name, address and phone number. Nonprofit

organizations are welcome to submit requests for donations of items.

Send information to The Columbus Messenger, Attention: Come and Get It, 3500

Sullivant Ave., Columbus, OH43204. Deadline is Tuesdays by 5 pm for following

Mondays publication. Messenger Newspapers is not responsible for any

complications that may occur. Please contact us when items are gone. 272-5422

ASSOCIATION ADS

DIAGNOSED WITH

LUNG CANCER? You

may qualify for a substantial

cash award. NO

obligation, NO risk!

We've recovered millions.

Let us help you!!

Call 24/7, 855-845-8269

Become a Published Author.

We want to Read

Your Book! Dorrance

Publishing-Trusted by

Authors Since 1920.

Book manuscript submissions

currently being

reviewed. Comprehensive

Services: Consultation,

Production, Promotion

and Distribution. Call

for Your Free Author's

Guide 1-877-626-2213

IMPORTANT

NOTICE

The following states: CA,

CT, FL, IA, IL, IN, KY,

LA, MD, ME, MI, MN,

NE, NC, NH, OH, OK,

SC, SD, TX, VT and WA

requires seller of certain

business opportunities to

register with each state

before selling. Call to

verify lawful registration

before you buy.

Suffering from an ADDIC-

TION to Alcohol, Opiates,

Prescription Pain Killers or

other DRUGS? There is

hope! Call Today to speak

with someone who cares.

Call NOW 1-855-866-0913

DISH Network $59.99 For

190 Channels. Add High

Speed Internet for ONLY

$14.95/month. Best Technology.

Best Value. Smart

HD DVR Included. FREE

Installation. Some restrictions

apply. Call 1-855-

837-9146

Come & Get It!

ASSOCIATION ADS

KILL BED BUGS! Harris

Sprays, Traps, Mattress

Covers, Kits. Available:

Hardware Stores, The

Home Depot, homedepot.com

Denied Social Security

Disability? Appeal! If

you're 50+, filed for SSD

and denied, our attorneys

can help get you

approved! No money out

of pockets! Call 1-866-

376-3163

Applying for Social Security

Disability or Appealing a

Denied Claim? Call Bill

Gordon & Assoc., Social

Security Disability Attorneys,

1-855-498-6323!

FREE Consultations. Local

Attorneys Nationwide

[Mail: 2420 N St. NW,

Washington DC. Office:

Broward Co. FL (TX/NM

Bar.)]

Spectrum Triple Play! TV,

Internet & Voice for

$99.97/mo. Fastest Internet.

100 MB per second

speed. Free Primetime on

Demand. Unlimited Voice.

NO CONTRACTS. Call 1-

855-652-9304 or visit

http://tripleplaytoday.comnational

ADULT CARE

SENIOR HOME CARE

by ANGELS

We send you the Best

Home Caregivers for hygiene,

meals, light housework.

Up to 24 hr. care. Caregivers

are experienced in elder care.

Very reasonable rates.

"We do things your way."

614-561-0075

www.v-angels.com

8/18 A&M

HELP WANTED

ADVERTISING

SALES ASSISTANT

The Advertising Dept. at

the Columbus Messenger

Newspapers is seeking

An Assisstant in

the Sales Department.

No Experience Necessary

Base Salary plus

Commission,

auto allowance

Senior Citizens and

Recent Grads

welcome to apply.

Please send your

resume to:

Doug Henry,

Advertising Mgr.

Columbus Messenger

Newspapers,

3500 Sullivant Ave.,

Columbus, OH 43204

or email to doughenry@

columbusmessenger.com

LOOKING FOR:

MANAGRS, BARBERS,

HAIR STYLISTS &

BRAIDERS

CALL 614-774-9541

ASK FOR EDDIE

Wig Splitters

Barber Shop

1011 E Livingston Ave.

btwn Ohio & Champion

DATED SALES

FREE

Garage Sale

Signs

When You Stop By

Our Office At:

3500 Sullivant Ave.

And Place Your

DATED SALE AD

See...

You Looked!

Newspaper

Ads Catch

The Eye!

Call

272-5422

For Info. &

Pricing

WANT TO BUY

We Buy Junk Cars &

Trucks. Highest Prices

Paid. 614-395-8775

WANTS TO Purchase

minerals and other oil &

gas interests. Send details

to: P.O. Box 13557,

Denver, CO 80201

WANTED FREON R12

We pay CA$H! R12

R500 R11. Convenient.

Certified professionals.

www.refreigerantfinders.

com 312-291-9169

We Buy Cars & Trucks

$300-$3000.614-308-2626

$ Cash At Your Door $

for junk or unwanted cars

(Free Tow). Call

614-444-RIDE (7433)

MISCELLANEOUS

FOR SALE

FREE Lowery electron organ,

2 manual with perossion.

Call 614-833-1085

Large Selection of

Chandeliers to

choose from.

All in working condition.

Going Out of Business!!

614-271-2469

PROPERTY SERVICES

Property Management

We are always available!

40 yrs. exp in

Certified Property Mgmt.

Reas. Fees. Call Now!

614-783-7464

RENTALS

Home for Rent 2/3 BR.

Nice home, newly remodeled,

fenced yard.

Open House on Sundays

2-4. 352 Old Village Rd.

614-853-3762

VACATION RENTALS

Englewood, Florida

Palm Manor Resort

Within minutes of white

sand Gulf beaches,

world famous Tarpon

fishing, golf courses, restaurants/shopping,

Bush

Gardens. 2 BR 2 BA

condos with all ammenities,

weekly/monthly, visit

www.palmmanor.com

or call 1-800-848-8141

AIR CONDITIONING

AIR CONDITIONING

Complete System

Clean & Check

$49.95 9/1 A

Free Electronic Leak Testing

All Makes • All Models

45 Yrs. Exp. • Senior Discount

614-351-9025

614-351-9005

APPLIANCE REPAIR

Washer, Dryer, Stove &

Refrig. Repair 875-7588

BLACKTOP

SANTIAGO'S

Sealcoating & Services LLC

Quality Materials Used

FULLY INSURED

Driveway Seal ( by broom)

Hot Fill Crack, Asphalt Repair

Call or text for Free Est.

614-649-1200

BLACKTOP SEALING

Driveways & Parking Lots

614-875-6971

CARPET CLEANING

DIRT BUSTERS

Any 5 areas $75. Home

Powerwash $99 to $200.

614-805-1084

Specializing in Pet Odors

CLEANING

Cleaning - 20 yrs exp.

Judy 614-946-2443

CONCRETE

ALL-CITY CUSTOM

CONCRETE

All Types Concrete Work

New or Tear Out-Replace

37 Yrs. Exp.

(614) 207-5430

Owner is On The Job!

AJ's Concrete,

Masonry

Good Work - Fair Prices

Block Foundations

Driveways • Sidewalks

Epoxy/Overlay Floors

Bonded-Ins. • Free Ests.

Now Accepting Credit Cards

614-419-9932

EDDIE MOORE

CONSTRUCTION

Quality Concrete Work

Lt. Hauling & Room Add.,

Block Work & Excavation

Stamp Patios,

Bsmt. Wall Restoration

37 Yrs Exp - Lic & Ins.

Free Ests. 614-871-3834

FENCING

GUARDIAN

FENCE COMPANY

License..Bonded..Insured

All Types Fence Installed

40 Years Experience

Veteran Owned

614-475-1322

9/1 A

FIREWOOD

FIREWOOD

Cut to 18" length.

You split as needed.

$35.00 per standard

pickup load.

614-570-3371

GUTTERS

Low Price-Great Service

5 & 6" Seamless gutters,

covers, siding, gutter clng.

Bill 614-306-4541

EPP

Seamless Gutters

Mikey 614-927-9132

licensed/bonded/insured

HAULING

DEAN'S HAULING

614-276-1958

DUMPSTER RENTALS

Bulk Pickups

Estate Cleanouts

You Load or We Load

Open 7 Days - Visa/MC

BUCKEYE HAULING

and DUMPSTERS

614-397-1171

HOME

IMPROVEMENTS

SINCE 1973

Phil Bolon Contr.

Windows & Siding

Decks, Kitchens, Baths

Room Additions,

Flooring, Roofing

Bsmt Waterproofing

Deal With Small Non-Pressure Co.

45 Yrs. Exp. - Refs. Avail.

Lic.-Bond-Ins.

Free Est. - Financing Avail.

Member BBB Of Cent. OH

O.C.I.E.B. ID #24273

614-419-3977

or 614-863-9912

KLAUSMAN HOME

IMPROVEMENT

Siding-Windows-

Doors-Roofing-Soffit-

Fascia-Gutters-Trim

Earn FREE Seamless

Gutters with Siding Over

1000 Sq. Ft.

FREE Shutters with

Soffit & Trim

EPA Certified

Member of BBB

Financing Available

9-1

A/M

Over 20 yrs exp. • Free Est.

Licensed-Bonded-Insured

Owner & Operator

James 614-419-7500

C&JHandyman

Services LLC

Minor Plumbing &

Electric

Install Hot Water Tanks,

Dishwashers & Disposals

Also Fencing &

Interior/Exterior Painting

Free Est. ~ 18 Yrs. Exp.

614-284-2100

8/18 A

8-18 A

9-1 A

HOME

MAINTENANCE

JOE'S HOME MAINT.

Home Repairs, Roofing,

Siding, Gutters, Soffits,

Misc. Int. Repairs

Int. Painting

Call Joe 614-778-1460

37 Years Exp.

TOM & SONS

Maintenance Services

No Job Too Small!

614-571-0208

25 yrs exp - Insured

Finishing Carpenter for all

your extra home repairs or

Honey-do-list. over 40 yrs.

exp. Sonny 614-325-1910

LAWN CARE

LET US MAINTAIN

YOUR LAWN & GARDEN

FOR YOU

Summer, Spring,

Winter or Fall

WE DO IT ALL!!!!

Lawn Cuts, Edging,

Trees & Shrubs, Garden,

Mulching, Hauling,

Garden Pond &

Home Maint.

Free Ests. Low Rates

$20 & Up

Kevin - 614-905-3117

MOVING

Aaron Allen Moving

Local Moving Since 1956

Bonded & Insured

614-299-6683, 263-0649

Celebrating 60 yrs in business

A Complete

Moving

Reasonable, Reliable

No Job Too Small

PUCO #150692-HG

Free Estimate

614-878-1179

PAINTING

A Job Well Done Again

A lic. General Contractor

Some Skilled Services

Incl: Painting • Stucco,

Repair•Carpentry•Exterior

Drainage & Home Maint.

Call Today! 614-235-1819

Painter Over 30 Yrs Exp.

Free Est. Reas Rates

Daniel 614-226-4221

PEST CONTROL

Anthony Pest Control

Termite/Bed Bug Work

at Reasonable Prices.

614-600-8841

PLUMBING

All About Drains & Plumb.

Will snake any sm drain

$125 + tax. 614-778-2584

ALL IN ONE

PLUMBING LLC

"One Call Does It All"

$25 OFF LABOR

With This Ad

A

614-801-1508

All Major Credit Cards Accepted

Classified Services

9/1 A&M

8/18

POWER WASHING

Mystic Waters Pressure

Washing - 614-589-5931

Houses start at $150.00

MDB POWERWASH

We Specialize In Decks.

Clean, stain, reseal,

revitalize any deck.

Quality work at fair prices.

Guarantee All Work 3 Yrs.

24 Yrs Exp. Free Est.

614-327-9425

MRS. POWERWASH

Any house wash $149 + tax

Single deck $69 + tax

2 Tier deck $99 + tax

Best Wash In Town

Over 45,000 Washes

Ashley, 614-771-3892

ROOFING

Robinson roofing & repairs

30 yrs. exp. Lifetime Cols.

resident. Lic./bonded/Ins.

Reas rates. Member of

BBB. Dennis Robinson

614-330-3087, 732-3100

SEWING MACHINE

REPAIR

REPAIR all makes 24 hr.

service. Clean, oil, adjust

in your home. $39.95 all

work gtd. 614-890-5296

TOP SOIL

Alexander Hauling

Driveways topped w/new

limestone. We also deliver

Topsoil - comtil - sandmulch.

Specializing in

residential. 614-491-5460

Bobcat Service Avail.

TREE SERVICES

Brewer & Sons Tree Service

• Tree Removal

• Tree Trimming 9-1

A&M

• Stump Grinding

• Bucket Truck Services

Best Prices • Same Day Service

614-878-2568

Joe's Tree & Yard Work

Trim, thin, shape bushes,

hedges, stump grinding,

hauling. 614-598-6247

TROTT

TREE & LANDSCAPE

Tree Trimming

& Removal

8/18

A

Also Stump Removal

Free Est. - Fully Ins.

Call 614-235-3791

Cell 614-738-0682

BURNS TREE SERVICE

Trimming, Removal &

Stump Grinding.

614-584-2164

9/1

E/SE

A&M

Fast Tree Service

Tree Removal,

Stump Grinding

Free With Access,

Pruning, Shaping

Insured, Free Est.

Payment Plans Avail.

614-837-8367

614-863-1522
---
PAGE 12 - EASTSIDE MESSENGER - August 11, 2019

www.columbusmessenger.com

• STUFF, STUFF, MORE STUFF • COME TO WATERBEDS N STUFF • STUFF, STUFF, MORE STUFF • COME TO WATERBEDS N STUFF •

EAST

LANCASTER

CHILLICOTHE WEST

815 S. Hamilton 1251 N. Memorial Dr.

Bridge St. SUPER STORE

614-239-7270 614-654-3385

740-775-1171 W. Broad/Wilson

REYNOLDSBURG

Kroger Ctr.

St. Rt. 256

614-276-4722

614-861-4560

• STUFF, STUFF, MORE STUFF • COME TO WATERBEDS N STUFF • STUFF, STUFF, MORE STUFF • COME TO WATERBEDS N STUFF •

• STUFF, STUFF, MORE STUFF • COME TO WATERBEDS N STUFF • STUFF, STUFF, MORE STUFF • COME TO WATERBEDS N STUFF •

• STUFF, STUFF, MORE STUFF • COME TO WATERBEDS N STUFF • STUFF, STUFF, MORE STUFF • COME TO WATERBEDS N STUFF •