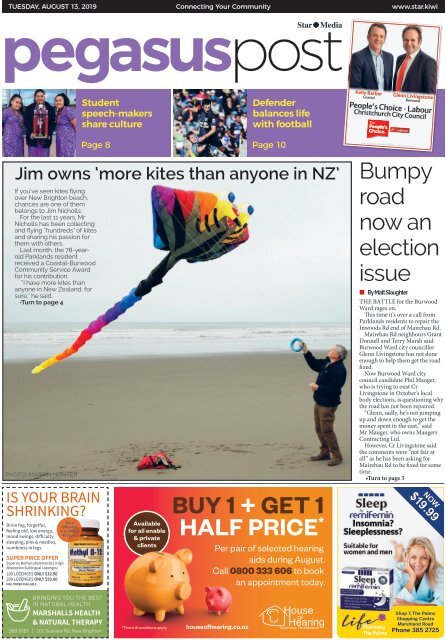 Pegasus Post: August 13, 2019
You also want an ePaper? Increase the reach of your titles
YUMPU automatically turns print PDFs into web optimized ePapers that Google loves.
TUESDAY, AUGUST 13, 2019

Connecting Your Community

www.star.kiwi

Student

speech-makers

share culture

Defender

balances life

with football

Kelly Barber Glenn Livingstone

Coastal Burwood

People's Choice - Labour

Christchurch City Council

Page 8 Page 10

Authorised by J McLellan, 6 Braddon Street, Addington

Jim owns 'more kites than anyone in NZ'

If you've seen kites flying

over New Brighton beach,

chances are one of them

belongs to Jim Nicholls.

For the last 11 years, Mr

Nicholls has been collecting

and flying "hundreds" of kites

and sharing his passion for

them with others.

Last month, the 78-yearold

Parklands resident

received a Coastal-Burwood

Community Service Award

for his contribution.

"I have more kites than

anyone in New Zealand, for

sure," he said.

•Turn to page 4

PHOTO: MARTIN HUNTER

is your brain

shrinking?

brain fog, forgetful,

feeling old, low energy,

mood swings, difficulty

sleeping, pins & needles,

numbness in legs

super price offer

Superior Methylcobalamin B12 (High

absorption sublingual Lozenges)

100 LozengeS oNLY $32.90

200 LozengeS oNLY $59.80

MAiL orDer AVAiLABLe

see a

difference

in as little as

48 hours!

Available

for all enable

& private

clients

BUY 1 + GET 1

HALF PRICE *

Per pair of selected hearing

aids during August.

Call 0800 333 606 to book

an appointment today.

Bumpy

road

now an

election

issue

• By Matt Slaughter

THE BATTLE for the Burwood

Ward rages on.

This time it's over a call from

Parklands residents to repair the

Inwoods Rd end of Mairehau Rd.

Mairehau Rd neighbours Grant

Donnell and Terry Marsh said

Burwood Ward city councillor

Glenn Livingstone has not done

enough to help them get the road

fixed.

Now Burwood Ward city

council candidate Phil Mauger,

who is trying to oust Cr

Livingstone in October's local

body elections, is questioning why

the road has not been repaired.

"Glenn, sadly, he's not jumping

up and down enough to get the

money spent in the east," said

Mr Mauger, who owns Maugers

Contracting Ltd.

However, Cr Livingstone said

the comments were "not fair at

all" as he has been asking for

Mairehau Rd to be fixed for some

time.

•Turn to page 5

NOW

$19.99

Bringing You The BesT

in naTural healTh

MARSHALLS HEALTH

& NATURAL THERAPY

388 5757 | 101 seaview rd, new Brighton

*Terms & conditions apply.

houseofhearing.co.nz

Shop 7, The Palms

Shopping Centre

Marshland Road

Phone 385 2725
---
2

Tuesday August 13 2019

get in touch

GENERAL INQUIRIES Ph 379 7100

CLASSIFIED ADVERTISING Ph 379 1100

Star Media,

a division of Allied Press Ltd

PO box 1467, Christchurch

starmedia.kiwi

NEWS

Matt Slaughter

Ph: 021 910 788

georgia.oconnor@starmedia.kiwi

ADVERTISING

Elaine Moon

Ph: 364 7436

elaine.moon@starmedia.kiwi

Latest Christchurch news at www.star.kiwi

news

New name for pool

Te Ngāi Tūāhuriri has gifted a special name to Linwood's

new $22 million pool complex.

Page 6

community events

Super Saturday Storytimes

Go along for an interactive programme, including stories,

songs, rhymes, craft and play, at Shirley Library on Saturday,

11-11.45am.

Page 11

tasty bites

Fresh and healthy

Filled with fresh ingredients, these samosa and simple

chicken curry recipes are a great way to eat well.

Page 12

PEGASUS POST

The best-read local newspaper,

delivered to 15,657 homes

every Tuesday

Linwood, Avonside, Richmond, Shirley, Burwood, Dallington,

Wainoni, Bromley, Aranui, Avondale, Bexley, New Brighton,

Northshore, Queenspark, Parklands, South Brighton.

• The Star

• North Canterbury News

• Selwyn Times

• Ashburton Courier

also publishing:

• Bay Harbour News

• Southern View

• NorWest News

• Western News

Seven retirement villages

in Canterbury

345 Stanmore rd, richmond • 713 Ferry rd, WoolSton

261 BurWood rd, BurWood • 319 PageS rd, aranui

All sites open 7 DAYs, 5Am-11pm

WaSH 2 Mink

BLanketS or

DuvetS

For onLY $8

Hot Water &

extra LarGe

WaSHerS

avaiLaBLe

liquiD

SeLF Service

LaunDroMatS

Dry up to 14kg from $4

in only 25 minutes!

Save time &

electricity

WaSH & DrY

aLL Your

LaunDrY in

unDer 1 Hour

from

$

4.00 WASH $ 4.00 DRY

• Fast Dryers

• Sports Gear

• Duvets

• Mink Blankets

• Bedding

• Washers

• Domestic Laundry

over 75 locations nationwide

other locations: Sydenham • hornby • hoon hay • rangiora • redwood • ilam • Kaiapoi

www.liquidlaundromats.co.nz

CITY SOUTH VAN SPARES

SERVICE CENTRE & TYRES

159 MACES ROAD | PH 384 8744

• Provide Full Workshop Facilities • Full Servicing & WOF Repairs

• Towing Available • Good Hourly Rate • Same Day Clutch Replacement

• 2 Day Engine Replacement • Mechanical & Exhaust Repairs

• Halswell • • Rangiora •

• Mairehau •

• Beckenham • • Riccarton • • Papanui • • Hornby •

www.rymanhealthcare.co.nz • 0800 000 290

100%

owned & operated

PLUS

CITY SOUTH VANS

We buy, sell and dismantle

vans & cars

• We pick up out of Chch

• Backpacker vehicles available

WITH Guaranteed Buy Back

166 MACES ROAD, BROMLEY

P. 384 8744 or A/H 027 222 3241

OPEN SATURDAY

9.00AM - 1.00PM
---
PEGASUS POST Latest Christchurch news at www.star.kiwi

Tuesday August 13 2019 3

News

Opportunity missed over toilets

Local

News

Now

In Brief

Fire rages, homes at risk

• By Matt Slaughter

PEOPLE WITH mobility

issues will have to wait for toilet

facilities to be built closer to the

Taiora: QE II Recreation and

Sport Centre's hydrotherapy

pool.

Coastal-Burwood Community

Board member Linda Stewart

and concerned

pool user Aileen

Trist say the

city council

has missed an

opportunity to

use some of the

$220,000 left

Linda

Stewart

over from the

construction of

the complex on

new facilities at the pool.

"The left over money went into

[the city council] metropolitan

fund, so it's gone from the

east, and now I've asked our

governance manager to find out

how we can get it back," said Ms

Stewart.

Said city council head of

recreation, sports and events

Nigel Cox: "[City council] staff

don't have the delegation to

increase the approved scope of

a project. It is normal practice

once a project is completed for

any under-spend to be returned

to council and reallocated in

INACCESSIBLE: Tony and Aileen Trist want toilets to be built

closer to the hydrotherapy pool at Taiora: QE II Recreation and

Sport Centre sooner.

PHOTO: MARTIN HUNTER

the capital programme, this

happened with Taiora: QE II

Recreation and Sport Centre."

"Staff are currently working

to understand the cost of

installing an additional toilet

so an informed decision can be

made about requesting funding

through the upcoming Long

Term Plan."

Pegasus Post has previously

reported on the issues Mrs

Dyers Road Landscape

& Garden Supplies

• Barks • Peastraw • Composts - we supply the best available

• Aggregates - Chip, Round and Basecourse

• Pavers & Schist products • Pungas

• Decorative Stones & Landscaping Rocks

• Trailer Hire first hour free with purchase

• Bag & Bulk - pick up or delivered

David, Carol & Mike

We will deliver!

Trist's husband Tony, who

struggles with his mobility, faces

trying to cross the 55m to get

from the hydrotherapy pool to

the toilets.

The community board asked

for toilet and shower facilities to

be built closer the pool as soon

as possible in its submission to

the city council's Annual Plan.

But Ms Stewart said she had

been told this would happen in

SOIL

AND

HARDFILL

DUMPING

Phone: 03 384 6540

183 Dyers Rd, Bromley • OPEN 7 DAYS

Weekdays 7.30am-5pm. Weekends 8.30am-3pm

www.dyersroadandlandscapes.co.nz

"the next two years."

Mrs Trist, who raised the

original concerns about the

hydrotherapy pool with the

community board, said she was

"disgusted" the leftover funds

had not been used to build more

accessible toilet facilities.

"That is a smack in the face

for the people with health issues

and disabilities that they had

money there to do that and

didn't do it, she said.

"These people are being

discriminated against."

Mrs Trist previously told

Pegasus Post her husband

Tony, who is paralysed down

his left side, was almost left

embarrassed trying to get to the

toilet facilities in the past.

She said two years was too

long for people like Tony to

wait for more accessible toilet

facilities to be built. "That's

two or three years too late. You

know, like, it's going to happen,

but meanwhile, that should have

been on the original plan."

Said Ms Stewart: "To

me, it's a health and safety

issue, it's not something that

should wait two or three years.

We should provide for the

disabled community as soon as

we can."

•Linwood Pool name, page 6

BOTTLE LAKE TIMES

The gate at Bottle Lake Forest

Park will remain open until

10pm in the summer daylight

saving months. This will be one

hour longer than it has been

open over the winter months.

DONNELL SPORTS PARK

Construction is under way on

the quake-damaged tennis and

basketball courts at Donnell

Sports Park in Burwood. A

new toilet will also be provided.

The plan is for the work to be

finished in October, depending

on the weather.

POTHOLES FIXED

The main pot holes at the

entrance to Bexley Park have

been repaired. The project to

upgrade the park is scheduled

for September and October

and will involve driveway

resealing, dog park and car

park improvements and

landscaping.

LIBRARY FOYER

Missing and broken

picture frames on the

acknowledgement wall in the

foyer of the New Brighton

Library have been replaced and

repaired. The Coastal-Burwood

Community Board asked for

this to happen on March 18.
---
4

Tuesday August 13 2019

Latest Christchurch news at www.star.kiwi

PEGASUS POST

News

McMaster & Heap

Veterinary practice

Dr Steve works his magic again…

"CoCo" is a three year old speyed bunny

- a very loved and adored pet who

recently underwent Bilateral Cataract

Surgery. This surgery was a first for

Steve who did his research prior to the

operation. He has operated many times

on dogs, cats and even a hawk but not

a rabbit.

head end of the patient is impossible.

Expertise and experience with rabbit

anaesthetics is essential when your

surgery may last one to two hours. Often

they require you to ventilate for them,

they must be kept warm, hydrated and

constant recordings of blood pressure

need to be recorded.

Straight away Coco was placed on

intravenous fluids, had blood taken

(no kidney or liver compromise was

seen) and was allowed to snack

on veggies and hay before her GA.

Prior to her anaesthetic she was

supplemented with oxygen to

increase oxygen concentration in

UP AND AWAY: Jim

Nicholls owns kites of

all different shapes and

sizes, including this

teddy bear, which he

flies at New Brighton

beach.

Coco was having real difficulty finding

her food bowls and manoeuvring

around outside. She had always

loved charging around outside with

the other rabbits. Her cataracts had

developed fast in approximately

two months, the right eye more

mature than the left eye. Cataracts in

rabbits can be congenital, traumatic,

metabolic as in diabetes, inflammatory

secondary to uveitis or infectious, as in

the case of E Cuniculi. Coco was being

treated for E Cuniculi, which is a parasite

ingested and eliminated in the urine.

This parasite causes inflammation in the

lens and a capsular cataract can develop,

leading to uveitis and sometimes

glaucoma. It is painful and the rabbits

will often scratch at the eye.

Coco was referred to Steve and her

primary vet and nurse came over to

monitor Coco's anaesthetic. Rabbits

on the whole are difficult patients to

monitor under anaesthetic due to

their size and eye surgeries are difficult

anyway because monitoring the

the blood. Once anaesthetised she was

hooked up to a blood pressure monitor

and pulsoximeter (measuring her oxygen

saturation in the blood) and positioned

for cataract surgery.

The surgery went really well with Steve

removing the crystalline lenses in both

eyes. A Cataract is a lens opacity and is

due to the loss of architecture of the lens

or capsule fibres. To us the lens appears

cloudy (the lens is in the middle of the

eye). The cataract is then sucked out with

a phacoemulsification machine. This

machine vibrates, cuts and vacuums the

cataract out. If all goes well, the visual

axis is clear and vision is restored.

So far so good. Steve has frequently

checked her eyes and Coco can

visually see well out both her eyes, her

intraocular pressures are good, she is

comfortable and happier now her ocular

world has opened up again.

I think its brilliant Coco's owner gave her

a chance at restored sight. The other

option would have been removing the

eyes, as the uveitis and glaucoma could

have been too painful for her to live with.

For any questions on cataract

surgeries please contact Steve

directly at McMaster & Heap Vet

Practice. He has just invested in a

new phacoemulsification machine so

hopefully will get to test drive it soon.

Dr Michele McMaster

Encouraging

kids to fly kites

•From page 1

His love of kites has seen

him become a fixture at

community events across

the east, including the

annual Kite Day at New

Brighton beach.

He said he enjoys getting

out and showing people

how great kite-flying can

be.

"One of the things I do

is try to encourage other

people to fly, and especially

children. I've given away

lots and lots of kites over

the years in an effort to

encourage children to fly

because I think it's a great

thing. It gets them outside

and gives something of

interest to do other than

sitting in front of a screen

all day."

Mr Nicholls also has

a YouTube channel with

more than 1000 videos

devoted to kites, which

is watched by 3000

subscribers from all over

the world.

He says what started off

as an interest turned into

much more after he first

attended Kite Day.

"I attended one . . . there

was a stall on the beach

selling kites and I thought,

oh, I'll get one and have a

go.

"I just loved the feeling so

much of having this kite up

in the air that I decided to

buy another one and then

• Local Council

• Community Board

another and another and it

just sort of snowballed and

it just became a bit of an

addiction."

Mr Nicholls said the cold

weather hardly ever puts

him off flying his kites and

not even the aftershocks

from the 2011 earthquake

stopped him.

"I kept going right

through the earthquakes. I

was often the only person

down the beach because

the beach was shaking too

much sometimes.

"The pure enjoyment of

being outside and having

kites up in the air on a nice

day or even on a cold day.

There's nothing better I

think."

Want to be

elected?

• Ecan

• CDHB

Star Media can help you.

Talk to us today about your campaign.

Open 7 days

Cnr Hoon Hay & Coppell place

phone 338 2534, Fax 339 8624

e. mcmasterandheap@yahoo.co.nz

www.mcmasterheap.co.nz

McMaster & Heap

Contact: Elaine Moon

03 364 7436

021 914 335

elaine.moon@starmedia.kiwi
---
PEGASUS POST Latest Christchurch news at www.star.kiwi

Tuesday August 13 2019 5

Work on clock tower

starts ticking along

• By Matt Slaughter

THE NEW Brighton clock tower

repairs have started.

The work is expected to take

about six months.

It was supposed to start in

September but was delayed after

a detailed investigation revealed

more damage and overdue

maintenance-related issues than

expected.

City council manager of capital

delivery community Darren

Moses said the contractors were

on site last week removing some

of the old concrete from the

dome area at the top of the clock.

Said Mr Moses: "Reinforcing

will be repaired and replaced.

The dome will be propped and

measures put in place to protect

the historic newspapers lining

the under-side of the dome."

The repair work will also

involve the replacement of two

internal floors, which have

significant cracks.

"The project team will take the

opportunity to address access

into each floor and ensure it is

made safe," said Mr Moses.

The structure will be repainted

in the original colours it featured

when it was first built in 1934 –

green, sand and ochre.

"The lead paint has been

removed from the entire surface,

exposing the original multicoloured

plaster finish," he said.

Said Mr Moses: "If possible

the project team will also look

at alternative ways to mount the

clock mechanisms within the

tower to minimise vibrations.

Vibrations from earthquakes

have been a cause of the clocks

showing the incorrect time over

the years."

Other repair work will involve

fixing drainage issues around the

dome, the application of concrete

and corrosion treatments to the

entire structure and upgrading

electrical wiring before the tower

is plastered and painted.

The clock tower will be

fixed at the same time as the

Scarborough clock tower.

JOB'S ON: Vincent Fuentes

was hard at work on the New

Brighton clock tower repairs

last week.

PHOTO: MARTIN HUNTER

Tension between candidates over Mairehau Rd repairs

FED UP: Grant Donnell and Terry Marsh want the city council to fix the

potholes on Mairehau Rd.

PHOTO: MARTIN HUNTER

•From page 1

"I've constantly raised this at

[Coastal-Burwood] community

board level. I've called on [city

council] staff to come back with a

date for the transport team to report

to the community board on both

this and other roads in the Burwood

and Coastal wards," he said.

Said city council head of transport

operations manager Steffan Thomas:

"The resurfacing of this section

of Mairehau Rd is currently still

programmed for the 2021 financial

year. However, we continually

review our programme and this may

change depending on its condition

relative to other streets across the

city."

Cr Livingstone has asked city

council staff to repair this section of

Mairehau Rd before 2021.

Mr Donnell and Mr

Marsh said their houses are being

shaken and damaged by trucks

and heavy vehicles driving through

potholes on Mairehau Rd.

In response to a Pegasus Post

article about the damage, Cr

Livingstone asked the city council to

prioritise the repair of the road and

consider reducing the speed limit to

mitigate further damage.

The city council recently decided

Cr Livingstone's request to lower

the 50km/h speed limit along the

stretch of road wasn't necessary.

Mr Mauger believes repairing

Mairehau Rd would be a simple job

and says Cr Livingstone has not

pushed hard enough to get it started.

"It has to be done through the

right processes, but it could be done

very easily and there's no reason

why it can't be done tomorrow if

they make the money available,"

said Mr Mauger.

Cr Livingstone said it was not this

easy.

"I totally understand people want

the roads fixed yesterday . . . but,

there are many, many wheels in this.

It is a marathon, not a sprint."

Mr Donnell says it has cost

$10,000-$15,000 to repair the

damage to his house, and it has

worsened since he last spoke to

Pegasus Post.

Glenn

Livingstone

Phil Mauger

Get a move on.

Enrol by 16 August to make voting

in the local elections easy.

Want to know more?

0800 36 76 56

vote.nz

ELE0029/3/A
---
6 Tuesday August 13 2019

Latest Christchurch news at www.star.kiwi

PEGASUS POST

News

GIFTED: Te Pou

Toetoe Linwood

Pool has been

chosen as

the name for

Linwood's new

$22 million pool

complex, which

is set to open in

late 2021.

Name for planned Linwood pool

TE NGĀI Tūāhuriri has gifted

a special name to Linwood's

planned $22 million pool

complex.

The community facility will

be known as Te Pou Toetoe:

Linwood Pool, and is set to open

in late 2021.

City council head of recreation,

sports and events Nigel Cox said

the name reflects both the local

environment and the passing of

knowledge.

"The term pou is a reference to

both the building itself, and to

the way we pass knowledge from

person to person and generation

to generation," Mr Cox said.

"The toetoe comes from the

clusters of toetoe and vegetation

originally found in the area on

the sand dunes near Ihutai (the

estuary)."

The concept designs for the

pool were approved by the

Linwood-Central-Heathcote

Community Board in May

following extensive community

engagement.

The planned facility will be

adjacent to Linwood Park and

include a multi-use 25m lane

pool, which will feature a deepwater

area, a family spa pool,

learn to swim pool and a pool for

toddlers, complete with a water

deck.

Community meeting rooms

and a kitchen are also part of the

design.

"Food has traditionally been a

great reason for people to connect

socially, and the bookable kitchen

will be a major point of difference

that Te Pou Toetoe has for the

community. When integrated

with our outdoor gathering area

and picnic tables, the kitchen will

let the community come together

to prepare and eat food in a way

you don't always get in a public

space."

The outdoor community

space will connect the facility

to Linwood Park and include a

picnic tables, tennis and multiuse

courts and cycle stands.

Libraries celebrate 160

years with exhibition

of rare memorabilia

WHEN Christchurch residents

borrowed their first books from

a library, it was from a single

room on High St in 1859.

Now, the 160th birthday of

Christchurch City Libraries

is being celebrated with

the exhibition

Illuminate:

Unearthing

Treasures from our

Collection, which

opened on Saturday

in the Southbase

Gallery at Tūranga.

It will run until

October 27.

The exhibition

features rare

books, including

An Account of a

Voyage Around

the World, by James

Cook, published

in 1773; original New Zealand

artworks, historic maps, vintage

posters from the 1970s and

1980s, including some printed

by record label Flying Nun and

a typescript of catalogue of the

Universe by Margaret Mahy.

Library branches around

the city will also mark the

anniversary with displays

of historic photographs and

Carolyn Robertson

memorabilia.

City council head of libraries

Carolyn Robertson said the

importance of libraries has

grown hugely over the past 160

years.

"It's amazing to think that

libraries have been

serving local people

for so long. In those

early days books

were all people

could borrow, but

today's libraries are

a source of so much

information across

many different

platforms, as well as

being home to a huge

range of programmes

and events."

"Regardless

of changes in

technology,

libraries have always been a

place to inspire knowledge,

foster creativity, challenge

our curiosity and meet other

people," she said.

"This anniversary is a great

opportunity to celebrate that

role. Illuminate is all about

showing how libraries can

open our eyes, and bring new

information to light."

School's not

for everyone!

www.

STUDY

WITH

US.CO.NZ

IS SCHOOL NOT WORKING

FOR YOUR TEEN?

WE OFFER:

ULTIMATE CAREER DECIDER /

SECURITY & FORCES PREP /

BUSINESS ADMINISTRATION

& TECHNOLOGY / DIGITAL

MEDIA / EARLY CHILDHOOD

EDUCATION / SOFTWARE

DESIGN / WEB DEVELOPMENT

TEXT

'STUDY' TO:

027 557 8839

50 Hazeldean Road, Addington

0800 834 834 | www.vision.ac.nz
---
PEGASUS POST Latest Christchurch news at www.star.kiwi

Tuesday August 13 2019 7

Volunteer awarded for keeping

Banks Avenue School beautiful

• By Matt Slaughter

BANKS AVENUE School

volunteer Margaret Edmonds

has been recognised with a Keep

Christchurch Beautiful award.

The 62-year-old Burwood

resident has been volunteering

at the school for about five years.

Her husband Murray was also

the caretaker.

Mrs Edmonds plants gardens

and maintains them. She also

helps pupils to bake in the staff

kitchen.

Said Mrs Edmonds: "I enjoy

the kids, I really enjoy the kids

. . . they're just so enthusiastic

when they come up for

mentoring, they just love the

time they have with you, they

love to show off what they've

done.

"I think it actually brightens

everyone up, too, to have flowers

in the gardens and see . . . an

extra somebody working in the

gardens."

She said the award was a

surprise.

"I didn't expect an award. I

mean, it was quite lovely to get

one, it really was . . . there's so

many people who do so much

around the place . . . I just enjoy

the kids and the atmosphere and

MENTOR: City councillor Yani

Johanson presents Margaret

Edmonds with an award

for keeping Banks Avenue

School beautiful.

that's basically it, you know."

About 100 people turned

out last week at Tūranga to

celebrate the people and groups

doing good things for the

environment.

Award winners

•Groups:

•SustainPlus

•Christchurch South Intermediate

School

•Harewood School

•Braveheart Christchurch

•YeahNah Productions and

Ashley Harvey

•Edgeware Mowers

•Eastern Drycleaners

•Ouruhia School and Mark

Ashmore-Smith

•Ian McLennan of the

Otamahua/Quail Island

Ecological Restoration Trust

•School Strike 4 Climate

Christchurch

Individuals:

•Tony Hack (volunteer at

Harewood School)

•Colin Renouf (Riccarton

Primary School)

•Geoff Stenhouse (Riccarton

Primary School)

•Lyn Sullivan (Parkview Pārua

School)

•Maria Lamb (for picking up

rubbish and encouraging

others to do the same)

•Alison and Trevor Murray

(for cleaning up Hornby while

dog walking)

•Sasha Batten (for reducing

plastic straw numbers at

Waitākiri School)

Keep Christchurch Beautiful

Life Membership Awards

•Don Sherriff

•John Thacker

•Mike Mora

Construction on last

section of the Avon

Loop to start this year

WORK ON the final section of

the Avon Loop is expected to

start later this year.

The section is on Oxford

Tce between Kilmore St and

Fitzgerald Ave. The area has been

closed to traffic for years due to

earthquake damage and most of

the properties have

been removed.

The loop will

connect the recently

completed City

Promenade to any

future developments

in the residential red

zone.

Ōtākaro Ltd is

in the process of

completing the design

for the final section and seeking

tenders for its construction.

"The loop has become

incredibly popular with

pedestrians and dog walkers and

this work will make the area a

safer, more pleasant place to be,"

said Ōtākaro chief executive John

Bridgman.

"A smooth, safe pathway

for pedestrians and cyclists,

boardwalk, canoe/kayak ramp,

native planting and new lighting

John Bridgman

will be incorporated into the

area, along with some car

parking," he said.

"People will be able to walk,

bike or scooter along the Avon

River all the way from the health

precinct, past the Canterbury

Earthquake National Memorial,

the terraces, Te Pae

Christchurch Convention

Centre, Victoria Square

and the Margaret Mahy

Family Playground, right

through to Fitzgerald

Ave.

"It will be a significant

asset for the city as an

alternative transport

route, or as somewhere

to take visitors to

Christchurch," said Mr

Bridgman.

The design for the Avon

Loop has been developed with

input from the city council and

Matapopore Charitable Trust to

ensure the cultural significance

of the area is respected.

The cost, and start and finish

dates, for the Avon Loop work

will be determined in the coming

months, when a main works

contractor is appointed.

JOIN US NOW!

See website for details

ICEBREAKER

50% - 70% off RRP storewide.

Hurry, valid 15 Aug to 19 Aug only.

NEW BALANCE

New Balance 624's now $79,

normally $100.

BENDON

Biggest bra sale. Sets from $20, Bras

2 for $35, Sleepwear from $20 and

selected styles at 60% off. Selected

styles. While stocks last.

CUTLER & CO

Take a further 30% off the lowest

marked price on footwear & knitwear.

Conditions apply.

STYLES MAY DIFFER

TO IMAGE SHOWN

UNDER ARMOUR

Take an additional 40% off Footwear.

Offer ends 18 Aug.

Sign up to Smart Deals & be in the monthly draw for a $100 Dress-Smart gift card!

CHRISTCHURCH 409 Main South Road, Hornby

www.dress-smart.co.nz

Open 10am-5pm, 7 Days 03 349 5750
---
8

Tuesday August 13 2019

Haeata student's speech

earns her a scholarship

• By Matt Slaughter

HAEATA Community Campus'

Taiaopo Tuilaepa has won the

FAGASA Samoan National

Speech Competition.

The year 13 student was

awarded a three-year scholarship

at Otago University for her

efforts. Year 10 student Cattleya

Fruean finished fourth at the

event in Auckland.

"I'm so proud of myself

because I hadn't done it before,

it's my first time," said Taiaopo.

"I didn't want to go to the

university, I wanted to go to

ARA and study to be a Samoan

teacher. And then, surprise, I'm

going to the university, Otago

University,"

Competitors gave speeches on

the theme of weaving together an

environment for a better future

and the differences between

Samoa and New Zealand.

"There are three key points,

the first one is life in Samoa, life

in New Zealand and differences

about the school back in Samoa

and the school here," Cattleya

said.

"The difference in Samoa is

there's only one teacher and

like 30 kids . . . it's been a big

challenge for me . . . in Samoa I

didn't speak English," she said.

Cattleya said she had enjoyed

taking part in the competition.

"At first, I didn't know that

I could complete the speech

competition but I gave it a try. I

felt nervous at first but I got used

to it."

Taiaopo said the competition

was an opportunity to share her

culture with others.

"It's good because other people

don't know Samoan culture. I'm

so proud of my culture and my

language, because it's my first

Latest Christchurch news at www.star.kiwi

SCHOOLS

PROUD:

Cattleya

Fruean (left)

and Taiaopo

Tuilaepa

(right) with

their teacher

Omai Mailei

after the

FAGASA

Samoan

National

Speech

Competition.

language in the whole world

and where I come from."

Both Cattleya and Taiaopo

moved to New Zealand from

Samoa in 2016 and 2017

respectively and did not speak

English.

They earned 16 NCEA level

three credits for their work

constructing and performing

their speeches.

Whiz kids gather for

ODT quiz challenge

• By Claire Booker

MORE THAN 200

current events whizzes

put pen to paper at the

Otago Daily Times Extra!

Canterbury quiz at

Cobham Intermediate.

Pupils from across the

region formed teams

of three on Tuesday

and were tested with

questions including who

am I, what am I, New

Zealand places, around

the world mapping and

famous faces.

Tai Tapu School won

the year 5 and 6 section

with 82 points out of a

possible 100.

Closely following in second

was Fendalton Open-Air School,

which was only two points

behind the champions with 80.

Prebbleton School secured

third with a score of 79.

Tai Tapu champions Ethan

Garrett-Burke, 9, Edward Bull,10,

and Caleb O'Leary, 10, were

pleasantly pleased with their win.

Edward said he "didn't like

the faces" questions, but the

team enjoyed the challenges.

North Loburn School won the

year 7 and 8 quiz with 89 points.

William Hassall, 12, Charley

Ward, 13, and Harry Witt, 12,

said they were happy to win the

quiz, but "it wasn't planned."

"The newspaper was the

hardest part," Charley said.

PEGASUS POST

WINNERS: Tai Tapu School year 5

and 6 pupils Ethan Garrett-Burke, 9,

Edward Bull, 10, and Caleb O'Leary, 10,

were stoked with their win.

The teams had to find answers

to questions from an Otago Daily

Times newspaper, which caught

them off guard.

Two Hillview Christian School

teams took second and third with

88 and 87 points. Extra! editor

Tricia Rowe was pleased the

event went smoothly.

"The year 7 and 8 group were

really lively, which made the quiz

go fast," she said. "The lead up to

the event has been stressful, with

balancing writing papers and

writing the quizzes, but I've got a

really good team."

The quiz was run by the

Otago Daily Times through

Extra! – its monthly Newspapers

in Education publication for

primary, intermediate and junior

secondary school pupils.

420 new trees planted

at wetland in an hour

GREEN: School students and community members planted

trees at Travis Wetland Nature Heritage Park.

• By Matt Slaughter

ABOUT 80 people have planted

420 trees at Travis Wetland

Nature Heritage Park.

Community members and

students from Shirley Boys' High

School, Rangi Ruru Girls' School

and Christ's College made light

work of the job, planting the trees

in about an hour.

The event was organised by the

Eco-Action Nursery Trust.

Trustee David Newton said for

the students involved "they're all

trees that they've participated in

growing."

"We propagate and send out

nursery kits to satellite nurseries

at different schools and then

school students at those

schools pot them up from small

seedling size to the larger pots,

keep them growing for a year and

then participate in planing them

out."

The planting session finished

with biscuits and a brief chat

about service to the community

and carbon sequestration, a

process where carbon dioxide is

removed from the atmosphere

and held in solid or liquid form.

Volunteer Drivers needed

for Red Cross Meals On Wheels

Showcase your brand & product to

14,000+ women at our two day expo!

5 & 6 OCT | HORNCASTLE ARENA, CHRISTCHURCH

This is the perfect opportunity for you to:

• Build brand awareness • Grow your customer database

• Launch a new product • Generate sales

Find out more and book your stand

at womenslifestyleexpo.co.nz

• Weekdays only

• Regular or

Relief rostering

• Current NZ

drivers licence

• Training given

Meals on Wheels - Lynette 339 3759
---
PEGASUS POST Latest Christchurch news at www.star.kiwi

Tuesday August 13 2019 9

Super

Chiropractic HD

Bed

Queen Size Mattress & Base

NOW FROM $2,399

Serenity S Series

Savings

Queen Size Mattress & Base

NOW FROM $1,799

Chiropractic

Other Sizes & Models

Available In-store!

Queen Size Mattress & Base

NOW FROM $1,699

BEDS R US CHRISTCHURCH

166 Moorhouse Ave, (Next To Noel Leeming)

Ph: 03 379 5110
---
10

Tuesday August 13 2019

Tahlia earns

her way

to national

honours

• By Jacob Page

COASTAL SPIRIT'S Tahlia

Herman-Watt says missing out

on the New Zealand under-20

team 12 months ago only

intensified her desire to make it

this year.

The 18-year-old defender, who

is studying sports coaching at

Canterbury University, was one

of the last names cut, but she

used the experience to motivate

her in 2019.

"It was sad to miss out at the

time because I gave it everything

but it probably makes this feeling

even better."

The team will head to the OFC

under-19 championship at the

end of this month in the Cook

Islands.

The tournament will take place

from 29 August to 14 September

with New Zealand being drawn

in Group B with Samoa, American

Samoa and Tahiti.

The winner of the tournament

will qualify for the 2020 FIFA

U-20 Women's World Cup as the

OFC representatives.

Herman-Watt, a former Rangiora

High School student, who

started her football career as a

SPORT

BRIGHT FUTURE: Tahlia

Herman-Watt will head to

the Cook Islands later this

month with the New Zealand

under-20 football team.

five-year-old at Amberley, said

she had worked on her attacking

game over the past 12 months.

"Playing at fullback, there's a

lot of organisation that needs to

be done but also a bit of attacking

and that's something I think has

got better over time."

She will start her fourth

year with the Mainland Pride

women's premier team and she

praised current coach Alana

Gunn and former Pride coach

Mike Di Bono as being influential

in her progression.

"Gunny has been a big part of

who I am today, when she asked

me to come to Coastal (three

years ago), I jumped at it - I didn't

need to think twice."

Latest Christchurch news at www.star.kiwi

Coastal Spirit defender balances

education with his Olympic goal

• By Jacob Page

COASTAL SPIRIT defender

Sean Liddicoat will shift his

attention back to his civil

engineering degree before

trying to make the New Zealand

under-23 team for their Olympic

qualification campaign.

The 22-year-old, who lives in

Marshland, has returned from

the Pacific Games in Samoa,

where New Zealand won gold.

They defeated New Caledonia

2-1 in the final.

"I think it was a great

achievement. It was certainly

more physical than what we are

used to and a definite step up on

the club stuff in New Zealand,

but it was a good challenge,"

Liddicoat said.

The Brunei-born defender

said the heat and tricky underfoot

conditions provided some

challenges, as did playing

matches with only one day off in

between.

"Physically it was demanding,

conditions could get quite boggy.

It was hot and we played a fair

few games in a short amount of

time, which took some getting

used to."

The team will have the

ideal preparation for their

bid to qualify for the 2020

Tokyo Olympics by taking on

Australia in two matches next

month.

Coach Des Buckingham's side

TALENT: Sean Liddicoat has one eye on his university degree

and one on his Olympic dream. PHOTO: COASTAL SPIRIT

will meet the Australia under-23s

in New South Wales, shortly

before heading to Fiji for the

OFC men's Olympic qualifying

tournament.

The games against Australia

will take place at Wollongong

on September 6 and at

Campbelltown three days later.

PEGASUS POST

The Olympic qualifying

tournament will be held in

Fiji from September 21 to

October 5.

Before Liddicoat focuses on

his football goals, he said he

will prioritise his final year

of an engineering degree at

Canterbury University.

3 August 2019 –

19 January 2020

Free entry

#chchartgallery

Image: Bill Hammond The Fall of Icarus (after Bruegel) (detail) 1995. Acrylic on canvas.

Collection of Christchurch Art Gallery Te Puna o Waiwhetū, purchased 1996
---
PEGASUS POST Latest Christchurch news at www.star.kiwi

Tuesday August 13 2019 11

Email matt.slaughter@starmedia.kiwi by

5pm each Wednesday

Senior Net New Brighton

Tuesday, Wednesday and

Thursday, 10am-noon (by

appointment)

This group offers assistance

to mature people with modern

technology, including computers,

tablets, smartphones, email,

Facebook, Skype, Word,

cellphones and the internet.

Phone 382 6048 for more

information.

202 Marine Pde (next to the

New Brighton Club)

JP Clinic at Shirley Library

Tuesday, 10am-1pm

A justice of the peace will

be available to members of the

community to witness signatures

and documents, certify document

copies, hear oaths, declarations,

affidavits or affirmations as well

as sign citizenship, sponsorship

or rates rebates applications. No

charge.

Shirley Library

SAYGo Steady As You Go Falls

Prevention Exercise Class

Tuesday, 10am

This is a specially-designed

class to help you avoid a fall.

There is a $2 koha entry but no

booking fee. Those interested are

invited to turn up on the day and

see what it can do for them.

Parklands Community Centre

Ascot Sit and Be Fit

Wednesday, 1-2pm, and

Thursday, 9.30-10.30am

Complete a class of exercises

without even leaving your

chair. The cost of the class is $4

and you'll get a cup of tea or

coffee.

Ascot Community Centre

Rocket Club

Wednesday, 3.30-4.30pm

Go along and take part in

different activities based on

local and current events in a

learning environment.

Homework help is available

during this time. Free and no

bookings required.

Aranui Library

Scrabble Club

Tuesday and Wednesday, 1.30-

3.30pm and 1-2.45pm

Go along to the Scrabble

Club. No obligation, just go

along when you can and join the

friendly group. All materials are

supplied. No fee.

Parklands and Shirley

libraries

CV help

Thursday, 10-11.30am

A librarian will be on hand

to assist customers who need

help with their CV or resume.

New Brighton Library

3 CG EVENTS presents

Technology Help Drop-in

Sessions

Thursday, 3.30-4.30pm

Go along to a drop-in

session for help with email,

searching the internet,

using the library catalogue,

eBooks, and general computer

queries.

Shirley Library

Cards Club

Friday, 1.30-3.30pm

This weekly club will be held

every Friday, just go along and

join the fun. Free, no bookings

required.

Shirley Library

Makerspace

Friday, 3.30-4.30pm

Go along to a weekly

Makerspace session and get

hands-on with activities for all

ages. Something new every

week.

Aranui Library

Culture Exchange

Friday, 3.45-4.45pm

Go along and make new

friends, practice English and

learn about New Zealand and

Christchurch.

Shirley Library

New Brighton Seaside

Market

Saturday, 10am-2pm

Go and enjoy a warm and

fun atmosphere beside

the seaside. With live

entertainment, food and free

face-painting.

New Brighton Pedestrian

Mall

Super Saturday

Storytimes will

be held at Shirley

Library on Saturday

from 11am until

11.45am. Go along

for an interactive

programme

including stories,

songs, rhymes,

craft and play. This

is a free session.

Golden Oldies Movie screening

– Mutiny on the Bounty

Monday, 1.30pm

Charles Laughton and Clark

Gable star in this 1935 adventure.

A tyrannical ship captain decides

to exact revenge on his abused

crew after they form a mutiny

against him, but the sailor he

targets had no hand in it. Cost

is $2, go early for a cuppa and a

chat.

New Brighton Museum, 9 Hardy

St

Marshland Table Tennis Club

Monday, 7.30-9.30pm

Go along every Monday night

until October 14. Casual players

are welcome – $5 for adults per

night, $3 for juniors under-18.

Marshland Hall, 430 Marshland

Rd

self storage park

1Occ

ZED

MIDGE URE

7 MARCH

LINCOLN

Tickets On Sale Now

www.selwynsounds.co.nz

The voice of

ULTRAVOX

THE MOCKERS JED PARSONS

AUTOMATIC 80s

opening

special...

1st month

free

Terms and

conditions apply

• Secured monitored facility

• Competitive rates

• 20ft and 10ft

350 Wilsons Road, Waltham

Phone 0800 326 001

containers

More

&

container solutions

www.containersmore.co.nz
---
F

12

Tuesday August 13 2019

Tasty Bites

Latest Christchurch news at www.star.kiwi

PEGASUS POST

Simple ways to cut back on the calories

Making a simple swap from

pastry to a tortilla wrap

instantly brings down the

calories. Filled with fresh

ingredients, these samosas

and simple chicken curry

recipes are a great way to

eat well and lose weight

Samosas

Makes 6

Prep time 10min

Cooking time 15min

Ingredients

2 medium potatoes, peeled and

diced into 1cm pieces

75g frozen peas

Low-calorie cooking spray

½ onion, diced

1 garlic clove, crushed

1 tsp grated root ginger

Generous pinch of chilli powder

½ tsp ground coriander

¼ tsp ground cumin

¼ tsp ground turmeric

½ tsp garam masala

30g spinach

Juice of ½ lemon

Sea salt

3 low-calorie tortilla wraps, cut

in half

1 egg, beaten

Fresh coriander, to serve

Directions

Cook the diced potatoes in a

pan of boiling salted water for

5min, then drain. Cook the peas

in boiling salted water and drain.

Heat the oven to 200 deg C

(fan 180 deg C) and line a baking

tray with some greaseproof

paper or baking paper.

Spray a pan with some lowcalorie

cooking spray and place

over a medium heat. Add the

onion, garlic and ginger and

cook for 3-4min until softened

but not browned, then add the

spices and cook for another

minute. Stir in the cooked potato

and mash it slightly with a fork

or the back of a spoon before

adding the uncooked spinach,

lemon juice and peas. Add a

pinch of salt and stir.

Brush the edges of the halved

wraps with the beaten egg. Fold

each half into a cone shape and

seal the edge, leaving the top

open to add the filling.

Divide the filling equally

between the wraps, being careful

not to overfill them (if you do,

you will not be able to seal them

properly).

Brush the open end of the

wraps with some more beaten

egg, leave for 30-40sec, until it

becomes tacky, then press the

edges together firmly. ]

You can use a fork to do this,

but be careful not to rip the

wrap. Arrange the samosas on

the tray.

Brush each samosa with plenty

of beaten egg, make sure the

edges are sealed, then place in

the oven for 10min, or until they

are golden brown.

Remove from the oven and

serve warm. You can also

allow to cool, wrap in baking

parchment and freeze for

another day.

Super simple chicken curry

Serves 4

Prep time 5min

Cooking time 30min

Ingredients

Low-calorie cooking spray

1 large onion, sliced

450g chicken breast (skin and

visible fat removed), diced

3 garlic cloves, crushed

400ml water

3 Tbsp curry powder

1 Tbsp ground turmeric

1 Tbsp tomato puree

Sea salt and freshly ground black

pepper

To serve (optional)

Samosas (see previous recipe)

Cooked rice

Ingredients

Spray a large frying pan with

low-calorie cooking spray and

place over a medium heat.

Add the onion and cook for

2min until softened slightly,

then add the diced chicken to

the pan and cook for 5min until

browned.

Add the garlic to the pan and

cook for 1min, then add all the

other ingredients. The water

should just about cover the

chicken – you may need a little

more or less depending on the

size of your pan.

Leave to simmer gently for

20min.

Turn the heat up and boil the

curry for another 5min, stirring

frequently to ensure it doesn't

catch on the bottom of the pan,

this will reduce and thicken the

sauce slightly.

Serve the curry with your

choice of accompaniment.

Tip: This curry recipe works

well with lean diced lamb (all

visible fat removed) too.

BED 2

2.9 x 3.0

BED 1

3.6 x 3.4

BATH

3.6 x 2.0

KITCHEN

2.7 x 3.5

WC

1.9 x 1.0

STUDY

NOOK

BED 3

2.9 x 3.3

DINING

3.7 x 2.9

L'DRY

DOUBLE GARAGE

5.8 x 5.8

LOUNGE

5.2 x 4.7

ENTRY

1.7 x 1.5

ENS

1.5 x 4.7

BED 2

3.0 x 3.2

BATH

3.0 x 2.3

WC

1.9 x 1.2

BED 3

3.0 x 3.2

DOUBLE GARAGE

5.8 x 6.0

W'ROBE

2.1 x 1.8

L'DRY

BED 1

4.2 x 3.2

KITCHEN

2.8 x 4.0

P'TRY

2.0 x 1.4

ENTRY

1.5 x 2.0

DINING

4.5 x 3.0

FAMILY

4.5 x 4.5

LOUNGE

4.5 x 4.5

N
---
PEGASUS POST Latest Christchurch news at www.star.kiwi

Tuesday August 13 2019 13

WHY CHoose

for Your next VeHICLe?

It's in our name

- Value!

A vehicle from

Value Cars will have

the best presentation,

best mileage and best

price combination.

We have been

trusted in Canterbury

for over 25 years and a

majority of our customers

are referral or repeat

customers. We stand by

every vehicle and we are

proud of our service.

One location for

every type of vehicle

and under cover makes

for a pleasant buying

experience. Our colour

and low mileage selection

is something we work

hard to provide.

CANTERBURY OWNED

& OPERATED

ESTABLIShED 1993

VALUE

REPUTATION

SELECTION

TRUSTED

PLUS

REGISTRATION

2008 TOYOTa aurIs

$9,999

Highly sought after 5 door hatch, features the

more powerful yet still economical 1.8 litre engine

with tiptronic trans, looks sharp in silver with black

interior, travelled very low kms, push button start,

rear wiper, ABS and airbags, will sell quickly so

don't delay!

PLUS

REGISTRATION

2008 mazda demIo

$6,499

The Demio is a very popular and surprisingly spacious

5 door hatch, features an economical 1.3 litre engine

with automatic trans and 5 star fuel efficiency, looks

smart finished in black with body kit and 15" alloys,

modern black interior, keyless entry, rear wiper, ABS

and airbags, perfect round town vehicle.

PLUS

REGISTRATION

2007 TOYOTa IsT

$9,999

The Ist is a peppy 5 door hatch that seats 5 in a

crossover SUV body style, features the more sought

after 1.8 litre engine with automatic trans, looks

sharp in white with driving lights and 16" alloys,

push button start, rear wiper, ABS and 8 airbags,

great vehicle and great buying!

PLUS

REGISTRATION

2014 fOrd focus

$16,999

The Focus has long been one of the best in it's class in

terms of comfort and handling, 2.0 litre engine, 6 speed

automatic trans and sport shift option, stunning in wine

red with factory body kit, driving lights and 17" alloys,

travelled very low kms, cruise control, push button start,

rear wiper, ABS, T/C, 6 airbags, an absolute stunner!

PLUS

REGISTRATION

2011 hOnda fIT

$11,999

The Fit is a popular, versatile, economical and spacious

5 door hatch, features a 1.3 litre engine with Honda's

IMA hybrid technology and automatic trans, stands out

in lime green, cruise control, reverse camera, smart

keyless ignition, rear wiper, very low kms, ABS and

airbags, never lose your vehicle in the carpark again!

PLUS

REGISTRATION

2010 mazda axela

$11,999

The Axela has quickly become a very popular family

hatch and preferred in its class by many, features a

1.5 litre engine with tiptronic trans and 5 star fuel

efficiency, looks awesome in blue metallic with body

kit, driving lights and 15" alloys, keyless entry, rear

wiper, ABS and airbags, come and inspect today!

PLUS

REGISTRATION

2008 suzuki swIfT sporT

$11,999

An evolution of all Swift elements to arrive at a cutting

edge sports experience, with performance and character

to rival the best European hot hatches, 1.6 litre engine,

automatic trans, great in grey, body kit, driving lights,

16" alloys, Recaro seats, very low kms, reverse camera,

ABS and 6 airbags, take for a spin today!

PLUS

REGISTRATION

2012 TOYOTa VITZ

$10,999

Very popular vehicle and this one is awesome

finished in yellow, features a very economical

1.0 litre engine with automatic trans, travelled

very low kms, keyless entry, rear wiper, ABS and

airbags, sure to be noticed – come and view!

PLUS

REGISTRATION

2011 TOYOTa prIus

$14,999

Increasingly popular fuel saver, features a 1.8 litre

hybrid engine with automatic trans and 5.5 star fuel

efficiency, travelled low kms, finished in dark blue

with 15" alloys, push button start, parking sensors,

rear wiper, reverse camera, safety of ABS, T/C and

8 airbags, view now!

PLUS

REGISTRATION

2005 nissan fuga

$14,999

Power and luxury are all rolled into one in this

stunning sports vehicle, 4.5 litre V8 engine, tiptronic

trans, RWD, stunning in silver, driving lights, 19"

alloys, luxury black leather interior with heated seats,

reverse camera, push button start, low kms, ABS,

T/C and 6 airbags, inspection will not disappoint!

PLUS

REGISTRATION

2006 mazda premacy

$7,499

The Premacy is a stylish compact MPV with room

to seat 7, features a 2.0 litre engine with tiptronic

trans, very low kms, finished in grey with driving

lights and 15" alloys, smart keyless ignition, sliding

rear doors, rear wiper, ABS and airbags, move the

family in style!

PLUS

REGISTRATION

PLUS

REGISTRATION

2010 nissan lafesTa

$7,999

Facelift model, 7 seater, features a 2.0 litre

engine with automatic trans, looks sharp in white

with driving lights and 15" alloys, smart keyless

ignition, black interior, rear wiper, ABS and

airbags, worth a look if you're in the market for an

economical, spacious and versatile family wagon!

PLUS

REGISTRATION

PLUS

REGISTRATION

2010 hOnda sTream

$9,999

Stylish 7 seater for the family, features a 1.8 litre

engine with automatic trans, looks smart finished

in blue, low kms, reverse camera, keyless entry,

rear wiper, ABS and airbags, fantastic buying,

come in and view today!

2011 nissan murano

$19,999

Very stylish and comfortable SUV, powerful 2.5 litre

engine with Xtronic trans, 4WD, finished in grey with

chrome detailing, aftermarket grille, factory body

kit, driving lights and 18" alloys, plush black interior,

cruise control, reverse camera, rear wiper, low kms,

ABS, T/C and 6 airbags, inspection won't disappoint!

2007 TOYOTa raV4

$9,999

Very popular, spacious, powerful and easy to drive the Rav4

is a top pick SUV with a balanced ride, handling and solid

construction, features a 2.4 litre engine with automatic

trans, cruise control, push button start, reverse camera,

roof rails, driving lights, 17" alloys, rear wiper, ABS and

airbags, awesome buying, looks good finished in white!

Registration for 6 months is $301

Value Cars Warehouse

4.72

32 Moorhouse Ave, P: (03) 366 7768 IMVDA

www.valuecarswarehouse.co.nz
---
14

Tuesday August 13 2019

Latest Christchurch news at www.star.kiwi

PEGASUS POST

PICK IT UP AND DRIVE AWAY

Available from hundreds of pick up points around

Christchurch, Canterbury and the West Coast

each Friday including:

Selected Fresh Choice, New World stores and

hundreds of takeaway shops

Bringing buyers and sellers

together every week

For advertising enquiries

please call Anna on 021 902 729
---
PEGASUS POST Latest Christchurch news at www.star.kiwi

Tuesday August 13 2019 15

AUTOMOTIVE PROFESSIONALS

Specialists advise a vehicle

check before winter sets in

Winter weather can present a range of tricky driving conditions

for motorists – from wet, slippery roads and heavy frosts to fog

and driving rain. That's why it is important to make sure your

vehicle is in tip-top shape and ready to deal with these hazards

before winter really sets in.

The team at Roses Auto Electrical in Cranford Street recommends

checking that your lights and windscreen wipers are in working

order, and to ensure your vehicle will start on cold mornings they

offer free battery and alternator and starter tests, and free battery

fitting.

Their well-equipped workshop includes specialised diagnostic

equipment designed to find any faults with vehicles' electronics, air

bags or ABS braking system, which the qualified and experienced

auto electrical specialists will repair quickly and efficiently.

Roses Auto Electrical provides full electrical services for all

makes and models of European, Japanese and light commercial

vehicles. Any time a warning light flashes up on the dashboard,

they advise calling into their workshop to have it checked out.

Roses Auto Electrical has been in business for more than 20 years,

and the workshop team are constantly updating their knowledge

with industry training, as well as having the latest state-of-the-art

equipment in the workshop.

The customer comes first for the friendly, professional team at

Roses Auto Electrical, and motorists having their vehicle serviced

there can have confidence in its performance and safety, especially

with the cold weather approaching when driving is often more

hazardous.

Roses Auto Electrical is located at 518 Cranford Street,

Papanui. Phone 352 5090 to book in for service or repairs,

or visit their website www.roseselectrical.co.nz for more

information.

A vonhead

utomotive

free

NEW

LOCATION

95 Gasson St

6 months roadside assist

with any vehicle servicing

• automatic transmission

flushing service

• Wof • tune-ups • suspension

• batteries • neW tyres • oil &

lube service • courtesy cars

• full mechanical repairs

oPen 6 days (sat until 1pm)

126 racecourse road

Ph 342 7123 or 027 495 6600

Your LoCAL

TYrE SPECIALIST

New & Quality Used

Second-hand Tyres

Alloy Wheels

Replacement Rims

Puncture

Repairs

8c Birmingham Drive, Middleton

Next to Addington Raceway

343 0099 or 027 22 63 805

www.jcmdirect.co.nz

The Automotive Lamp Specialists

Roses Auto Electrical in Cranford St

offer free battery, alternator, starter

tests, and free battery fitting.

NEED AUTO

ELECTRICAL REPAIRS?

NEW! European specific diagnostic equipment

– Fine tune & identify any faults.

Diagnostic Testing Starters Alternators

Wiring Alarms: Insurance Approved

Fuel Injection Repairs ABS Airbags

Batteries Free Check & Assessment

ROSES

AUTO ELECTRICAL

s

m

a

r

t

mall

edium

• Panel beating

• Spray painting

Fast

turnaround

utomotive

epair

echniques

New and Used Lamps for Cars, Trucks,

Vans, 4WD and Motorhomes

PH 0800 225 483 | 95 Gasson Street, CHRISTCHURCH

®

Smart repairS (NZ) Limited

automotive refinishers

272 Lichfield St (Fitzgerald Ave end)

Ph 377-0409
---
16 Tuesday August 13 2019

Latest Christchurch news at www.star.kiwi

PEGASUS POST

Be in to

BOOK

ONLINE

NOW AND

SAVE!

WIN your

dream

honeymoon

Pre-purchase your

tickets from

withthisring.kiwi

for only $10pp

or get a ticket on

the day for $20pp

weddingshow

sunday 25th August, 2019, 10am–3pm, Air Force Museum, Christchurch

Fashion | Venues | Entertainment | Stationery | Jewellery | Catering | Floristry | Make-up | Beauty

Celebrants | Cakes | Hair | Photography | Transport | Wedding Planners | Honeymoon Destinations
---
PEGASUS POST Latest Christchurch news at www.star.kiwi

Tuesday August 13 2019 17

REAL ESTATE

Your own private hideaway in Charteris Bay

490 Marine Drive, Charteris Bay

Price: $399,000

2 bedrooms | 1 bathroom | 3 car parking deck | Listing Number 9736

Delightful 1950s cottage tucked away

and enjoying lovely upper Harbour

views, very very private and sheltered

with good off-street parking.

Two double bedrooms, open plan

living, modern bathroom and a large

wood-burner to keep you warm for

those colder months. French doors off

the lounge onto a good sized North West

facing deck to take advantage of the

afternoon sun and a nice peaceful place

to while away a few hours.

Well established 969m 2 section with a

mixture of natives, fruit trees and olive

trees.

There is also a room under the house

suitable for storage or possible bunkroom

or third bedroom (external access).

Please Note: Access property at 6 Ngaio

Lane.

To view this property please contact

Tim Dunningham of Min Sarginson

Real Estate (Licensed Agent REAA

2008), phone 027 651 5474 or 329 4161

growing with you June 2018 | 100%

Plants For

winter wow

Cool Choices

For Colour

& Contrast

From swamp

to sea views

The journey

begins with sarah

the Gardener

$7.90 incl. GST

Snap it up

Enter our annual

Birdlife Photo

Competition to win

great prizes!

clear the air

Why groWing

indoor PLAnTs is

so good for you

give it a grow

from gArLic

To chinese

ArTichokes,

We hAve your

groWing TiPs

covered

the latest releases

into the rose world

+ rose care

through winter

The magazine for

gardeners who like to get

their hands dirty

SUBSCRIBE FROM

$43. 50*

*6 issues/6 months

SUBSCRIPTIONS FREEPHONE

0800 77 77 10

WWW.GARDENER.KIWI
---
18

Tuesday August 13 2019

Latest Christchurch news at www.star.kiwi

PEGASUS POST

If you want more information about an item or to contact a

seller, visit www.postanote.co.nz and search the ID#

Vintage Outdoor Fire Pit

1985 Dodge ES 600 Convertible

Vintage Petanque Set

Mazda Premacy

2000 Huntsman 525

Outdoor Cast Iron Bench

$150

ID 30351

$13,750

ID 30437

$60

ID 30326

$4,800

ID 30362

$23,000

ID 30383

$220

ID 30352

Telescope/Spotting Scope & Tripod

Whitebait Net

Oregon BBQ Table Oiled

Walls Realtree Camo Reversable

Toyota Spacio

HD28 Martin Guitar

$60

ID 30429

$950

ID 29773

$315

ID 22845

$99

ID 26807

$2,000

ID 30285

$3,699

ID 26803

Nissan Pulsar

Mens Body Glove Wetsuit XXL

Garage Storage Unit

Trex 600XN Radio Control Heli

1997 Honda Legend

Fuel Tins

$2,150

ID 30190

$80

ID 30451

$50

ID 30395

$500

ID 30459

$1,400

ID 29798

$10

ID 30498

Older Prestcold Freezer

2000 Ford Modeo GLX 2.5 V6

Chev Clutch Kit

Massey Ferguson 3-furrow Plough

1999 Mitsubishi Galant

Vintage Petanque Set

See Seller

ID 30291

$2,200

ID 30439

See Seller

ID 26652

$800

ID 26664

$1,995

ID 30434

$60

ID 30326

Old Milk or Cream Can

Ransome Robin Plough

Mitsubishi Pajero

Pigs: Boar, 2 Sows, 2 Piglets

Antique Butter Churn

Haier 6.5kg Washing Machine

$75

ID 30313

$300

ID 30304

$7,000

ID 30286

See Seller

ID 30283

$150

ID 30324

$250

ID 30281

Haier Fridge/Freezer

Google Chromecast

NZ Crown Lynn Casserole Pot

Daihatsu Pyzar Mini Van

Dining Table and Chairs

Tidy Audi quattro 1.8 Turbo

$350

ID 30280

$50

ID 30264

$22

ID 30262

$2,000

ID 30261

$500

ID 30246

$7,000

ID 30254

La-Z-Boy Recliner

Fertiliser Spreader

Chest of Drawers

2006 RAV 4 Ltd

Tandem Trailer with Cage

Nissan Maxima For Sale

$450

ID 30354

$2,499

ID 30169

$100

ID 30282

$9,800

ID 30238

$2,500

ID 30237

$1,450

ID 30231

2189577chch
---
PEGASUS POST Latest Christchurch news at www.star.kiwi

Tuesday August 13 2019 19

Classifieds Contact us today Phone our local team 03 379 1100

Car Parts

LANDROVER

DISCOVERY POWER

STEERING box $250

Ph 0275490048 or 021

363666

LANDROVER

DISCOVERY REAR

STEP. $45 Ph 0275

490048 or 021 3363 666

LANDROVER

DISCOVERY REAR

STEP. $45 Ph 0275

490048 or 021 3363 666

Collision Repairs

QEII Collision Repairs.

Free Courtesy Cars

(conditions apply),All

Insurance work,Rust

Repairs &Private work.

Spray-painting.

Free pickup & delivery.

Ph. 03 388 5187

Community Events

ALCOHOLICS

ANONYMOUS, If you

want to have a drink that's

your business. If you want

to stop, we can help. Phone

0800 229-6757

Curtains

www.curtainfabric-outlet.com

Fashion Designs & Colours

Discontinued Designs

End of Lines Bargain Prices

Call at Our Shop

CURTAIN FABRIC OUTLET

71 Hawdon St Sydenham

Ph 366-5026

Finance

For Sale

BRASS Plumbing

fittings, assorted fittings,

1/2 inch + 1 Inch,

crox, starkie and other

assorted fittings, $225

great buying , Ph 027 549

0048 & 021 363 666

ELECTRIC Cable, 35

m, 2.5 mm 2 core neutral

screen cable $60, and

Electric Cable 17.5 mtr ,

25mm 4 core $40, ph 027

549 0048 or 021 363 666

EXTENSION Cord extra

heavy duty 35 metres

$40, oh 027 549 0048 &

021 363 666

JERRYCANS x2 20 ltre,

ex army well made & in

good cond, $50 ea, ph 027

549 0048 or 021 363 666

NEFA Preasure

Reducing Valve, new in

box $90, , Ph 027 549

0048 & 021 363 666

Holiday

Accommodation

Australia QLD

SUNSHINE

COAST

RESORT

ALEXANDRA HEADLAND

All Units Have Ocean Views.

Heated Pools, Spa & Sauna,

Free Wifi, Tennis

& Mini Golf.

CHECK OUR GREAT

WINTER SPECIALS

www.mandolin.com.au

0061 7 5443 5011

JUNE to AUG temps 20C

NEED A

QUICK CASH

LOAN NOW?

We offer a range of personal Loans

and can provide cash quickly.

Loans from $500 to $20,000

Contact Karyn or Kris

0800 695 626

or 03 379 7798

www.alternatefinance.co.nz

• New homes

• Extensions

• Renovations

Trades & Services

Builder

• Light Commercial

• Repairs and

Maintenance

Brandon Taw

Phone 027 370 2572

enquiries@tawbuilders.co.nz

www.tawbuilders.co.nz

Trades & Services

FOR ALL YOUR

★Garden Clean-ups

★Pruning

★Lawn Mowing

★Garden Maintenance

Call us today for a FREE quote

PH 0800 4 546 546

(0800 4 JIMJIM)

Trades & Services

Trades & Services

BLOCKED

DRAINS?

• Video inspection

• Waterblasting

• liquid Waste

pH: 03 365 7960

24 hours // 7 days

info@h20jet.co.nz

www.h20jet.co.nz

YOU COULD

BE HERE

Let us help take

your business to

new heights

Advertise your business in our

Trades and Services column.

For assistance contact Vicky

Phone 03 364 7419 or email

vicky.sayers@starmedia.kiwi

Trades & Services

ROOF REPAIRS

Locally owned & operated with

over 30 years experience.

• Extensions & repair • Roof coating

• Concrete & clay tiles • Butynol

• Malthoid • Asbestos Certified

• Coloursteel • Old iron • Guttering

Phone Dave 981 0278

or 021 223 4200

E: dave@beaumontroofing.co.nz

BEAUMONT ROOFING LTD

Trades & Services

rooF

painting

Book now for Summer

and receive 20%

discount.

Rope and harness a speciality.

No scaffolding required.

30 years experience.

Also waterblasting paths,

driveways and moss removal.

Free quotes, call

Craig 021 060 2392

BEST BATHROOMS

full renovations

specialists, LBP builder,

free quote, all building

property maintenace ph 03

383 1927or 027 245 5226

ciey@xtra.co.nz

BRICKLAYER

George Lockyer. Over

40 years bricklaying

experience.Uk trained.

Insurance work, EQC

repairs. Heritage

brickwork & stonework Spouting

a speciality. No job too

small. Governers Bay.

Home 329 9344. Cell

027 684 4046. E mail

georgelockyer@xtra.co.nz

BUILDER QUALIFIED

Decks, T & G Flooring,

Villa Restoring, New

Homes, Weatherboards.

Free Quotes. Bennet &

Sons Ltd Sam 027 496-

9362 or Tony 027 224-

0374

Trades & Services

CARPET LAYING

Exp. Repairs, uplifting,

relaying, restretching.

Phone John on 0800

003181, 027 240 7416

jflattery@xtra.co.nz

ELECTRICIAN

Prompt & reliable

registered electrician

with 24 years experience

for all residential and

commercial work, new

housing and switch board

replacements. Phone Chris

027 516 0669

FENCING

25 yrs exp. Fencing, all

styles & gates. Ph Mark

0273 313 223

PAINTING

DECORATING

Wingfields Contracting, all

interior & exterior painting

& all forms of interior

plastering & jib fixing, ph

Mark 021 171-1586

PLUMBER

A Top Plumbing job

completed at a fair price,

prompt service, all work

guaranteed, ph Brian 960-

7673 or 021 112-3492

SPOUTING

CLEANING

Unblocked,

Cleaned Out and Flushed

Out. Call Trevor 332 8949

or 021 043 2034

STUMP GRINDING

Best price guarantee Tony

0275 588 895

STUMP GRINDING

Best price guarantee Tony

0275 588 895

TILER/CARPENTER

35 years exp, no job

too small. Ph Ross 027

4311440.

Trades & Services

T.V. SERVICE CENTRE

Repairs, tvs, microwaves,

audio amps, soundbars.

.Aerial & satellite

installations, kitsets, 480D

Moorhouse Ave, ph 03 379

1400

VHS VIDEO TAPES

& all camera tapes

converted to DVD, video

taping special occasions,

www.grahamsvideo.co.nz

ph 03 338-1655

Situations Vacant

Public Notices

Wanted To Buy

fridge freezers. Same day

service. Selwyn Dealers.

Phone 980 5812 or 027

AAA Buying goods

quality furniture, beds,

stoves, washing machines,

313 8156

TOOLS Garden,

garage, woodworking,

mechanical, engineering,

sawbenches, lathes, cash

buyer, ph 355-2045

FACTORY

PRODUCTION

MANAGER

FOR AUCKLAND REINFORCING

SERVICES LTD

FULL TIME JOB IN CHRISTCHURCH

Past Proven Experience in Management

Experience in the Construction

Industry a plus.

Email CV to Anup Walia at

anup@aucklandreinforcing.co.nz

3 issues $20 • 6 issues $44.50 • 10 issues $65

rugbynews.co.nz 0800 77 77 10
---
20

Tuesday August 13 2019

Latest Christchurch news at www.star.kiwi

PEGASUS POST

Hunker down for our

STOREWIDE WINTER CLEARANCE

Napa Velvet

3 Seater

NOW ONLY $1299

NEW

ALL LOUNGE ON SALE | ALL BEDROOM ON SALE | ALL DINING ON SALE | ALL OFFICE ON SALE

Monaco Black

BEDROOM RANGE

ON SALE

6 Drawer Dresser

NOW ONLY $869

4 Drawer Tallboy

NOW ONLY $599

Eames

DINING RANGE

ON SALE

Loft

OFFICE/LIVING RANGE

ON SALE

Large Bookcase

NOW ONLY $699

3 Door Bookcase

NOW ONLY $699

NEW

Clear Dining Chair

NOW ONLY $120

Black Dining Chair

NOW ONLY $45

Round Dining Table

NOW ONLY $119

Shop

Online

Nationwide

Delivery

Finance

Options

targetfurniture.co.nz

STOREWIDE SALE ON NOW. Exclusions apply. Sale ends 19.08.19.

Cnr Blenheim & Curletts Rds, Christchurch

Ph: 0800 TARGET (0800 827438)

Offers and product prices advertised here expire 19/08/19.

Sale excludes Manchester and Accessories.
---
PEGASUS POST Latest Christchurch news at www.star.kiwi

Tuesday August 13 2019 21
---
22 Tuesday August 13 2019

Latest Christchurch news at www.star.kiwi

PEGASUS POST
---
PEGASUS POST Latest Christchurch news at www.star.kiwi

Tuesday August 13 2019 23
---
24 Tuesday August 13 2019

Latest Christchurch news at www.star.kiwi

PEGASUS POST