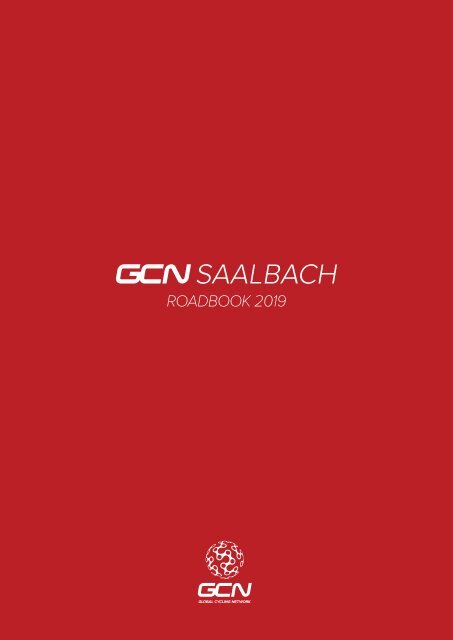 GCN Saalbach Roadbook 2019
Official Roadbook for GCN Saalbach: 22-26 August 2019
Official Roadbook for GCN Saalbach: 22-26 August 2019
SHOW MORE
SHOW LESS
You also want an ePaper? Increase the reach of your titles
YUMPU automatically turns print PDFs into web optimized ePapers that Google loves.
WELCOME TO

GCN SAALBACH

We hope you are ready for a spectacular few days in the beautiful alpine town of Saalbach.

We've got an action packed programme for you from riding to workshops, with fun on and off

the bike and of course plenty of time to relax too.

We are excited to be joining you for some amazing riding where we will explore the Austrian

valleys and mountains. It all culminates with the GCN KOM Challenge on the final day so

remember to keep something in the tank (and not get too carried away at Lloydy's pub quiz the

night before!)

We really look forward to spending the next few days with you and hope you leave Saalbach on

Monday with memories and achievements that you will remember for a long time to come.

GCN Team

Hank, Olly & Alan
---
WELCOME TO

SAALBACH

We are delighted to partner with Saalbach Tourism to host our final GCN event of 2019 – GCN

Saalbach.

Saalbach is actually referred to as Saalbach-Hinterglemm as it is a municipality combining the

towns of Saalbach and Hinterglemm which are only a few kilometres apart along the beautiful

Glemm valley. It is well known as one of Austria's biggest ski areas with some of the finest

intermediate pistes anywhere in the Alps.

Outside of the ski season Saalbach is a fantastic summer destination and perfect for cyclists.

MTB lovers will be in their element with a great route network with over 400 km of bike trails.

The stunning Austrian mountains can be easily explored on marked routes, including the

neighbouring region of Leogang which is included in the world famous BIG-5 Bike Challenge.

This only scratches the surface of activities and attractions in Saalbach so make sure you check

out www.Saalbach.com before you arrive.

Special thanks to the Saalbach Tourist Board for hosting us and helping to create the GCN

Saalbach experience.

James Pope

GCN Events Director
---
GET TO KNOW THE PRESENTERS

A MASSIVE WELCOME TO YOU ALL FROM EVERYONE AT GCN AND GCN ITALIA

JAMES LOWSLEY-WILLIAMS OLLY BRIDGEWOOD ALAN MARANGONI

How would you describe yourself as

a cyclist?

All Rounder. Jack of all trades master

of none.

Your best moment on a bike?

Racing in the Tour De Yorkshire in front

of an epic crowd.

Post-ride beverage?

Recovery drink... actually no, thats

definitely not it! Maybe a cold

refreshing coke.

How would you describe yourself as

a cyclist?

Like all kinds of cycling disciplines, not

the best at any.

Your best moment on a bike?

Finishing an Everesting.

Post-ride beverage?

Gravy.

You are most likely to...?

Get Dropped.

How would you describe yourself as

a cyclist?

A dreamer.

Your best moment on a bike?

The victory on the last official race of

my career in Okinawa.

Post-ride beverage?

A recovery beer.

You are most likely to...?

Be starving during a bike ride.

You are most likely to...?

Go hard too early (my motto is go hard

or go home)

Favourite bike tech?

Power meter. Vital bit of kit that really

helped me in training.

Your cycling hero?

Chris... haha, no he wishes! Probably

Fabian Cancellara or Tom Boonen.

Your best joke?

Dont really have one as most people

laugh at me, not with me

Favourite bike tech?

SKIN SUITS.

Your cycling hero?

Boonen. Class on a bike.

Your best joke?

The definition of TWERK: Being from

Yorkshire, this is where I go to earn a

living.

Favourite bike tech?

High profile carbon wheels.

Your cycling hero?

Marco Pantani.

Your best joke?

When I say I am getting in a good

shape.

What are you looking forward to at

GCN Saalbach?

Having the most fun possible on a bike!

4
---
Spokes are online coaching specialists for cyclists, triathletes and endurance athletes. All of our coaching programmes are

completely tailored to the personal profile, circumstances, needs and aspirations of the individual. The coaching programmes

vary in terms of the specialist treatments included, ranging from: 'video call' consultancy and regular review time with the

coach and or nutritionist; DNA analysis; sweat analysis; access to expert and specialist webinars on mental fitness, strength +

conditioning; stretching + yoga and a nutritional recipe library.

Regardless of your age, experience or goals Spokes can provide you with a personal coaching programme to improve your

performance and enjoyment.

PAV BRYAN – PERFORMANCE DIRECTOR

Pav heads up the coaching team at Spokes and is responsible for ensuring the products and

services they offer is market leading and always at the forefront of innovation. Pav developed

the 'Truly Personal Coaching' methodology, which has provided countless successes not just

with his coaching, but within the industry that has now adopted it. Truly Personal Coaching is

a promise that you will always get coaching that is achievable, be that from the time you have

available, the goals you want to achieve or the manner in which you want to achieve them.

ZAK COLEMAN – COACH

I have been involved within many different disciplines of cycling for 7 years now after being

encouraged into it from my dad who competed in triathlons. After trying out and experiencing

almost every form of cycling such as mountain bike, track, time trial and even cycle speedway I

now compete full time on the road racing, throughout Europe for a Belgium team. I have raced

in many different countries at various levels which has allowed me to build up experience of

tactics, psychology and physiology of bike racing.

Over the last few years, I went on to obtain my level 3 Association of British cycling qualification

and have since gone on to coach riders of all ages and abilities. I have experienced first-hand

the challenges of balancing first studies, then work and then both with training, racing and

reaching my goals. I know that without the right guidance and coaching I would never have

reached my goals. For me, coaching is about engaging, inspiring and enabling you to go as far,

as fast or as long as you can.

STEFAN MASTALLER – COACH

I am still racing professionally on the track and on the road, at the moment trying to qualify for

the Olympic Games in 2020 and in the last years I did some coaching here and there, just for

fun. Two years ago I started picking up some more work as a coach because I realized how

much I enjoy passing my knowledge on to other people and see their excitement and joy when

they reach their goals.

I got to realize that there is more to this beautiful sport than trying to win races. I love numbers,

and watts, and TSS and heart rate – but this sport has so many beautiful and interesting aspects

to it, which are all equally important to perform well. This is something unique that I want to pass

onto my clients.
---
SAALBACH MAP

GCN RESIDENCE

TOURIST BOARD

TUNNEL (NO BIKES)

GCN REGISTRATION

GONDOLA SERVICE

TUNNEL BYPASS

GCN VENUE

ROAD

KOM SEGMENT

6
---
7
---
RIDE GUIDE

The GCN Saalbach ride outs will be fully supported with guides, mechanic support vehicles and feed stops. Plus you'll get

the pleasure of the company of the GCN presenters!

RIDE GROUPS

Riders will be split into groups based on different speed and ability levels. We'll contact you in advance to find out which

group is most suitable. Riders will also have the option to join the coaching masterclass – this will be a shorter route

providing the opportunity for more hands on coaching by the Spokes coaching team.

There will be the opportunity to change groups if you feel that the group you are in is too fast or too slow. Each day we will

make any updates to ride groups and provide information and timings at the GCN reception in the hotel lobby.

RIDING GUIDE

Each group will be led by an experienced ride guide who

will lead the group. The ride guide will provide instructions

during the ride and any other warnings on the road so it

is important that riders follow their instructions at all times.

Although the ride guide for each group will lead the group

on the road, please bear in mind that we all have a collective

responsibility to conduct ourselves safely and respectfully

on the road at all times, both to your fellow riders and other

road users.

Signal Right

Signal Left

On the climbs, it is possible that the group will fragment,

and riders are encouraged to take the climbs at their own

pace. The ride leader will regroup everyone back together

at the top of each climb before continuing. If any riders are

struggling, the support team will be there to help and can

assist a rider to join a slower group on the road or provide a

short boost up the road.

Slow Down/Stop

RIDE SAFETY

A safety briefing will be provided each day before the ride

begins. Please ensure you follow the safety instructions

given and any further instructions of the ride leader on the

road. Riders are to ride two abreast within the groups unless

asked to single out by the ride guide. Groups must not be

spread across the road as you may see in a race situation.

Please ensure you ride safely at all times, observing the

rules of the road and following good basic riding etiquette.

Good etiquette means that we are always respectful of our

fellow riders, have good communication with each other

and take due care and attention to highlight any hazards or

obstacles you may encounter on the road, clearly and safely.

Point Out Hazard

Move Around Object

With respect to any descents on the rides: please ensure

that you take extra care and attention when descending as

a group. The rides are not a race situation and the roads are

all open to traffic. The ride guide will always be the first rider

8
---
on the road when descending, they will set an appropriate

and safe tempo for the descent. Please do not pass the

ride guide when descending, allow yourself some space

between you the rider in front and please remain on the

correct side of the road at all times.

FEED STATION

There will be a feed station on the main ride days (Friday/

Saturday) which will be just over halfway. The feed station

will provide snacks, nutrition products and the opportunity

to top up water. Before the ride there will be fruit and snacks

available at the GCN bike area to put in your pockets.

MECHANIC SUPPORT

Our mechanic team will be on hand for bike checks before

and after the ride. They will also provide support on the road

and can assist with minor problems and punctures. Please

be aware that this is not a "race style" neutral service and

riders are still expected to be capable of managing minor

problems and punctures. In the event of a more significant

mechanical problem that cannot be fixed at the roadside,

the support team may need to take the bike for further

assessment to ascertain if further repair or replacement parts

may be required. In the event that a bike is unrideable, the

bike and rider can be transported back to the hotel in one of

the ride support vehicles.

RIDE DETAILS

The following pages provide a detailed summary of each

ride day including route maps and profiles. Riders are

recommended to add routes to your bike computer – GPX

files will be available to download in advance.

KOM CHALLENGE

The grand finale to GCN Saalbach will be the KOM

Challenge (see details of the climb on page 18-19). The KOM

is designed to be fun - riders can choose to race or ride at

your own pace.

PERSONAL INSURANCE

As is good practice when riding at home or abroad, We

highly recommend all riders have full personal insurance

(see insurance section on page 10).
---
TRAVEL INFORMATION

AIRPORT TRANSFERS

Airport shuttles will be provided on the designated transfer days (see transfer details below). For guests who are arriving

outside of these transfer times please contact us for assistance with a private transfer by emailing

gcn@sportstoursinternational.co.uk or refer to the Saalbach transfer service at www.holiday-shuttle.at

ARRIVAL – THURSDAY 22ND AUGUST

Transfers departing from Munich airport at:

DEPARTURE – MONDAY 26TH AUGUST

Transfers leaving Saalbach at:

14:00

08:00 for flights departing Munich after 13:00

Your flight should arrive 1 hour prior to this time to

ensure that you and your luggage are ready to leave

on time. The GCN team will be located just beyond

baggage collection.

Please meet at the hotel reception. Ensure you are

checked out of the hotel, have your bike packed, and

are ready to depart ahead of the transfer times.

INSURANCE

Please ensure that you have put in place your own travel and personal accident insurance cover for the event that

specifically insures you for cycling activities and covers potential theft and damage to your belongings. Having this insurance

in place is a condition of participation of GCN Saalbach – refer to section 4.2 in our T&Cs here:

www.gcnevents.co/pages/terms

ITINERARY

We have four action packed days of riding, events and

entertainment at GCN Saalbach:

DAY 1: ARRIVAL

Thursday 22nd August

DAY 2: PILLERSEE LOOP

Friday 23rd August

All Day

Guest arrival and transfer

Morning

Breakfast & Pillersee Loop

or Coaching Masterclass

Afternoon

Short (optional)

orienation ride

Afternoon

Workshops

Evening

Welcome with the GCN team

Evening

GCN Show Live

10
---
GENERAL, VISA, PASSPORT AND HEALTH INFORMATION

For passport and visa information, please check the relevant section on this page: www.gov.uk/browse/citizenship/passports.

General Travel and health Information for your destination is available on the FCO website. Please note that this information

relates to UK passport holders only and that other nationalities should refer to their own authorities for this information.

KIT LIST

☐

Passport

☐

Bottles

☐

Sun Screen

☐

Flight Details & Pass

☐

Multitool

☐

Personal Medication

☐

Insurance Documents

☐

Mini Pump

☐

Energy/Hydration Products

☐

Credit Cards & Cash

☐

Tyre Levers

☐

Chamois Cream

☐

Mobile Phone & Charger

☐

Quick Chain Links

☐

Plug Socket Adapters

☐

Lights

☐

Bike (in bike box)

☐

Pedals

☐

Helmet

☐

Bike Computer

☐

Sunglasses

☐

Heart Rate Monitor

☐

Cycling Shoes

☐

Power Meter Parts

☐

Cycling Kit

☐

Spare Mech Hanger

☐

Waterproofs

☐

Spare Tubes

☐

Arm/Leg Warmers

☐

Spare Cleats

☐

Full Finger Gloves

☐

Swim Kit

☐

Overshoes

☐

Wash Kit

DAY 3: GROSSGLOCKNER

DAY 4: KOM CHALLENGE

DAY 5: DEPARTURE

MORE DETAIL

Saturday 24th August

Sunday 25th August

Monday 26th August

Morning

Morning

Morning

Breakfast & Grossglockner

Breakfast &

Checkout by 11:00

Route

KOM Challenge

Afternoon

Afternoon

Rest & Relaxation

Ask GCN Anything

– Free Time

Evening

Evening

Lloydy's Pub Quiz

Dinner & Wrap Party

11
---
DAY 1 THURSDAY

STAGE

TIMINGS

NOTES

Transfer

Various

Please refer to travel section on page 11

Arrival

From 13:00

On arrival at Hotel Sonnleiten guests will receive their

welcome pack at the GCN desk before checking in at the

hotel reception

Bike Build

From 14:00

GCN bike area will be located outside the hotel.

Mechanics will assist with bike build and checks. Orbea

demo bikes can be collected here

Orientation Ride

17:00–18:00

Optional beginner coaching session to learn the basics of

riding in a group, riding etiquette, descending. Group will

ride up the valley road through Hinterglemm and back to

the hotel (approx 10km). Please meet at GCN bike area at

16:45 ready to ride

Dinner

19:00–20:00

Dinner in the hotel restaurant. Following dinner guests

will walk down to the Tourist Board in Saalbach centre

GCN Welcome

20:30–21.30

GCN welcome - meet the GCN team and hear the

briefing from our Ride Director

12
---
HOTEL INFORMATION

The AlpenParks Hotel & Apartment Sonnleiten Saalbach is a brand new premium hotel complex located on the side of the

mountain with panoramic views across Saalbach town. The hotel comprises hotel apartments and suites. Some with sauna,

all with kitchens and terraces or balconies. Facilities including restaurant, bar and lounge, the heated outdoor swimming

pool, underground parking, secured ski and bike depots, e-charging stations will ensure a relaxed and enjoyable experience

after some fun days in the saddle.

Hotel Sonnleiten, Hinterhagweg 361, 5753, Saalbach, Austria

+43 6541 6402

www.alpenparks.at/en/hotel-apartment-sonnleiten-saalbach

13
---
DAY 2 FRIDAY

STAGE

TIMINGS

NOTES

Breakfast

07:30–08:30

Breakfast in hotel restaurant

Ride Out

From 08:30

Ride groups will depart from 08:30 – check daily groups

and start times at the GCN information desk at the hotel.

Meet at GCN bike area ready to ride 15 minutes before

departure time.

Workshops

16:30–18:30

Workshop sessions hosted at the hotel - check at the

GCN information point for locations:

16:15 – Coaching: Nutrition

17:00 – Mechanic Basics

17:45 – Coaching: Training Tips

Dinner

18:30–19:30

Dinner at the hotel restaurant. Following dinner guests

will walk down to the Tourist Board in Saalbach centre.

GCN Show Live

20:00–21:30

Head to the GCN studio for the GCN Show with Hank

and Olly

14
---
ROUTE INFORMATION

MAIN RIDE STATISTICS

Distance 112 km

Difficulty Difficult

Total Elevation 740 m

Total Descent 950 m

Est. Moving Time* 05:37

*average speed 20 km/h

MASTERCLASS RIDE STATISTICS

Distance 55.9 km

Difficulty Intermediate

Total Elevation 450 m

Total Descent 450 m

Est. Moving Time* 02:52

*average speed 19.5 km/h

15
---
DAY 3 SATURDAY

STAGE

TIMINGS

NOTES

Breakfast

07:30–08:30

Breakfast in the hotel restaurant

Ride Out

From 08:30

Ride groups will depart from 08:30 – check daily groups

and start times at the GCN information desk at the hotel.

Meet at GCN bike area ready to ride 15 minutes before

departure time

Dinner

18:30–19:30

Dinner at the hotel restaurant. Following dinner guests

will walk down to Soul House in Saalbach centre

Lloydy's Pub Quiz

20:00–21:30

Guests will be split into teams for Lloydy's Pub Quiz

16
---
ROUTE INFORMATION

MAIN RIDE STATISTICS

Distance 89.4 km

Difficulty Difficult

Total Elevation 1730 m

Total Descent 2010 m

Est. Moving Time* 05:32

*average speed 16.2 km/h

17
---
DAY 4 SUNDAY

STAGE

TIMINGS

NOTES

Breakfast

07:30–09:00

Breakfast in the hotel restaurant

Ride Out

09:30

Groups set off from 09:30 for warm up ride along the

valley (option to go further up the valley and back to start

of KOM)

KOM Challenge

10:30–12:00

On arrival riders will sign in. Riders will set off at 1 minute

intervals in start order

Lunch

12:00–13:00

BBQ and refreshments at the Sonnhof (Sunhouse)

restaurant. Guests will be able to purchase food and

drinks

Ask GCN Anything

13:00–13:30

Ask GCN Anything hosted at Sonnhof. Q&A with GCN

presenters and experts – your chance to ask the GCN

presenters anything you want! After the Q&A guests will

ride back to the hotel in Saalbach

Dinner

18:00–19:30

Dinner in the hotel restaurant. Following dinner guests

will walk down to Castello in Saalbach centre

Wrap Party

20:00–21:30

Wrap party and event awards

18
---
ROUTE INFORMATION

KOM SEGMENT PROFILE

12% Average Grade

VITAL STATISTICS

Distance

Difficulty

Total Elevation

Total Descent

Est. Moving Time*

2.39 km

Difficult

280 m

0 m

00:31

*average speed 4.6 km/h

19
---
DAY 5 MONDAY

STAGE

TIMINGS

NOTES

Breakfast

07:30–09:30

Breakfast at the hotel restaurant

Pack

Morning

Riders pack bikes into bike boxes ahead of departure.

Assistance will be available from our event team.

Please note: for early departures we recommend

packing bikes on Saturday afternoon

Transfer

Various

Please refer to travel section on page 11 for departure

instructions and information on the airport transfer times

20
---
GCN SAALBACH PARTNERS

We are pleased to be supported by the following partners at GCN Saalbach:

Wahoo Fitness harnesses the power of your smart phone to transform the way you ride, run

and reach your fitness goals. At GCN Saalbach you will be able to try out the latest Wahoo Kickr

smart trainer. Wahoo will also have the latest Elemnt bike computers to test - you will need to

download the Wahoo Roam app onto your phone in advance.

Go to www.wahoofitness.com to download the app and find out more about Wahoo

Leading Bicycles, helmets and cycle clothing brand Orbea develops technology applied to

products for bike lovers. At GCN Saalbach you will get the chance to test a top of the range

Orca Aero road bike as well as the new Orbea Gain road e-bike.

To find out more about Orbea go to www.orbea.com

Enervit Sport is a complete line of endurance sport nutritional supplements, providing specific

products for every step of your performance strategy. We are delighted to have Enervit providing

energy products before, during and after GCN Saalbach rides.

Find out more at www.enervit.com

Whether hiking or biking, Komoot's planning and navigation tech helps you to easily plan

your next adventure. GCN Saalbach guests will get access to worldwide offline maps on

Komoot. You will also be able to download all the ride routes from Komoot as well as upload

images to the routes using your Komoot account.

Find out more at www.komoot.com

Find out more about our Coaching Partner, Spokes on page 5 or by visiting www.spokes.fit
---
EVENT TEAM

James Pope

Event Director

Ben Roberts

Drone Pilot

Gary Willis

Ride Director

Mick Stoodley

Event Support/Mechanic

Paige Pinder

Event Manager

Howard McAlpine

Event Support/Mechanic

Neil Wyatt

Production Manager

Manuel Himer

Ride Guide

Keith Stocker

Event Manager

Roland Steger

Ride Guide

James Lowsley-Williams

GCN Presenter

Pav Bryan

Performance Director

Olly Bridgewood

GCN Presenter

Zak Coleman

Coach

Alan Marangoni

GCN Italia Presenter

Stefan Mastallar

Coach

Tom Simmonds

Senior Video Creator

Olly Bowman

Photographer

Olivia Hughes

Video Creator

CONTACT INFORMATION

General enquiries info@gcnevents.co

Booking enquiries +44 161 703 8161 – gcn@sportstoursinternational.co.uk

Event Control Number +44 7968 264 196

Don't forget to share your photos on Instagram

#GCNINSPIRATION
---
in partnership with

www.saalbach.com

www.wahoofitness.com

www.orbea.com

www.enervit.com

www.komoot.com

www.spokes.fit