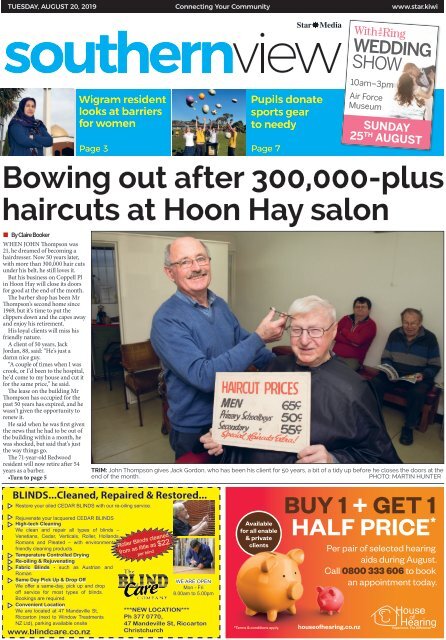 Southern View: August 20, 2019
Create successful ePaper yourself
Turn your PDF publications into a flip-book with our unique Google optimized e-Paper software.
TUESDAY, AUGUST 20, 2019

Connecting Your Community

www.star.kiwi

wedding

show

Wigram resident

looks at barriers

for women

Page 3

Pupils donate

sports gear

to needy

Page 7

10am–3pm

Air Force

Museum

sundAy

25 th August

Bowing out after 300,000-plus

haircuts at Hoon Hay salon

• By Claire Booker

WHEN JOHN Thompson was

21, he dreamed of becoming a

hairdresser. Now 50 years later,

with more than 300,000 hair cuts

under his belt, he still loves it.

But his business on Coppell Pl

in Hoon Hay will close its doors

for good at the end of the month.

The barber shop has been Mr

Thompson's second home since

1969, but it's time to put the

clippers down and the capes away

and enjoy his retirement.

His loyal clients will miss his

friendly nature.

A client of 50 years, Jack

Jordan, 88, said: "He's just a

damn nice guy.

"A couple of times when I was

crook, or I'd been to the hospital,

he'd come to my house and cut it

for the same price," he said.

The lease on the building Mr

Thompson has occupied for the

past 50 years has expired, and he

wasn't given the opportunity to

renew it.

He said when he was first given

the news that he had to be out of

the building within a month, he

was shocked, but said that's just

the way things go.

The 71-year-old Redwood

resident will now retire after 54

years as a barber.

•Turn to page 5

TRIM: John Thompson gives Jack Gordon, who has been his client for 50 years, a bit of a tidy up before he closes the doors at the

end of the month.

PHOTO: MARTIN HUNTER

BLINDS...Cleaned, Repaired & Restored...

Restore your oiled CEDAR BLINDS with our re-oiling service.

Rejuvenate your lacquered CEDAR BLINDS

High-tech Cleaning

We clean and repair all types of blinds –

Venetians, Cedar, Verticals, Roller, Hollands,

Romans and Pleated – with environmentally

friendly cleaning products.

Temperature Controlled Drying

Re-oiling & Rejuvenating

Fabric Blinds - such as Austrian and

Roman

Same Day Pick Up & Drop Off

We offer a same-day, pick up and drop

off service for most types of blinds.

Bookings are required.

Convenient Location

We are located at 47 Mandeville St,

Riccarton (next to Window Treatments

NZ Ltd), parking available onsite

www.blindcare.co.nz

Roller Blinds cleaned

from as little as $22

per blind

WE ARE OPEN

Mon - Fri

8.00am to 5.00pm

***NEW LOCATION***

Ph 377 0770,

47 Mandeville St, Riccarton

Christchurch

Available

for all enable

& private

clients

*Terms & conditions apply.

BUY 1 + GET 1

HALF PRICE *

Per pair of selected hearing

aids during August.

Call 0800 333 606 to book

an appointment today.

houseofhearing.co.nz
---
2 Tuesday August 20 2019

Latest Christchurch news at www.star.kiwi

get in touch

GENERAL INQUIRIES Ph 379 7100

CLASSIFIED ADVERTISING Ph 379 1100

Star Media,

a division of Allied Press Ltd

PO box 1467, Christchurch

starmedia.kiwi

sport

Milestone for player

Cashmere Technical player Tom Schwarz is the first in the club to

reach 200 first team games.

Page 10

tasty bites

SOUTHERN VIEW

Food through science

The benefits of protein in our bodies can't be

underestimated. Get plenty in your diet with these recipes.

NEWS

Georgia O'Connor-Harding

Ph: 021 910 730

georgia.oconnor@starmedia.kiwi

ADVERTISING

Mark Sinclair

Ph: 364 7461

mark.sinclair@starmedia.kiwi

Page 13

community events

Chinese art

A Chinese Art Club will be held at Te Hapua: Halswell

Centre on Sunday from 10.30am until noon.

Page 15

The best-read local newspaper,

delivered to 15,600 homes

every Tuesday

Spreydon, Hoon Hay, Hillmorton, Cracroft, Cashmere,

St Martins, Somerfield, Sydenham, Addington, Waltham,

Opawa, Beckenham, Huntsbury, Woolston.

• The Star

• North Canterbury News

• Selwyn Times

• Ashburton Courier

also publishing:

• Bay Harbour News

• Western News

• Pegasus Post

• Western News

New Frankie 4 Stock

A new active flat range with Slip Resistant Soles. Prefect

for nurses, teachers, hospitality, retail and or anyone on

their feet for long periods of time.

Introducing the Frankie 4 Tambo, Winnie, Billie and Addie.

Shoes are only available at 37 Main South Road clinic

RiccaRtoN

37 Main South Road

RedcliFFS

2 augusta Street

MaRSHlaNdS

427 Marshland Road

daRField

darfield Pharmacy

PH 348 7910 | www.feetfirst.co.nz

Now servicing

oXFoRd

Reach 168,000 readers

with just one ad placement

Call Shane Victor on 021 381 765 to find out how!
---
SOUTHERN VIEW Latest Christchurch news at www.star.kiwi

Tuesday August 20 2019 3

News

Identifying barriers for women

HELPING HAND: Pari Hussaini will be working with women

feeling socially isolated in the south-west to help them

connect with their communities.

Buy pre-loved &

spread the love

Clothing | furniture | household goods

Corner Gasson & Carlyle Streets,

Sydenham | ph (03) 332 3378277

2843

Open Monday–Friday 9am–4:30pm

& Saturday 9:30am–1:30pm.

• By Georgia O'Connor-Harding

A CASE study has been

commissioned to help

identify barriers keeping

socially isolated women

from connecting with their

communities in the south-west.

Funding of $30,000 was

granted from the Government's

Ethnic Communities Development

Fund to enable the Family

Help Trust to employ a connector

role to determine what is

isolating women.

The role, which will be taken

on by Wigram resident Pari

Hussaini over the next six

months, was prompted as a

result of the March 15 attacks.

She said it is mostly Muslim

women who have been left feeling

anxious since the attacks,

but her role is to help all women

who need help connecting with

their community.

"I am mostly going around

and talking with lots of communities,

schools, parents and

also with my own community,"

Mrs Hussaini said.

She will be focusing on

communities in the greater

Halswell, Hornby, Spreydon

and Addington area – including

speaking with schools and

parents.

City councillor Anne Galloway,

who is involved in the

trust, agreed the attacks have

created more anxiety in the

community, which is perhaps

keeping people house-bound.

"We are trying to identify

barriers . . . it might be language,

it could be they have got

no licence, it could be they are

anxious and worried and want

to stay close to home."

But Cr Galloway said there is

also a sense there are socially

isolated people who have been

living in the south-west community

for a long time.

"We are just basically doing a

scope at the moment to see the

need," she said.

Mrs Hussaini's role will be

funded for the next six months.

Last month $30,000 of funding

was approved.

Cr Galloway said the

six months case study will

determine if there is a need in

the community for a full-time

connector role.

•HAVE YOUR SAY: Do you

think the mosque shootings

have increased social

isolation in the community?

Email your views to georgia.

oconnor@starmedia.kiwi

The revolution

in heat pumps

is here now!

The Fujitsu e3series

The brilliant

heat pumps from Fujitsu

e1 : efficiency

e2 : environment

e3 : economy

In Brief

BARBECUE AT MOSQUE

A neighbourhood barbecue

will be held at Al Noor Mosque,

Deans Ave this Sunday. Residents

are invited to see the mosque and

meet the people who worship

their in a bid to get to know their

neighbours better. The barbecue

will be held outside, but the public

are welcome to look inside the

mosque. Women need to wear

headscarves and modest clothing.

If you go inside you must take

your shoes off. If the weather isn't

favourable the barbecue will be

cancelled but residents will still

be welcome to visit the mosque. It

will be held from noon until 2pm.

NGA PUNA WAI SPORTS HUB

Sports Canterbury will manage

and operate the Nga Puna Wai

Sports Hub. The Halswell-

Hornby-Riccarton Community

Board granted a lease of 20 years

to the organisation at its meeting

on Tuesday.

SUPERMARKET TROLLEYS

It has now become easier for

residents to get rid of abandoned

supermarket trolleys. The city

council's Snap Send Solve app

now has a special section for these

trolleys enabling residents to let

stores know where their trolleys

are. The Snap Send Solve app can

be downloaded onto androids and

smartphones.

The revolution in heat pumps is here now!

The brilliant e3 series

heat pumps from Fujitsu

e1 : efficiency

e2 : environment

e3 : economy

Free pick up of donated goods.

familystore.org.nz

More than just a store.

Website: www.pshc.co.nz

Finance available

FREE consultation from your local

Accredited Heat Pump Expert

Phone today: 03 381 6950

INSERT DEALER DETAILS HERE

FG1441

Fujitsu's Catechin Filters are

approved by the Asthma and

Respiratory Foundation NZ's

Sensitive Choice ® programme.

Email: info@pshc.co.nz

Choosing the wrong agent to sell your home can

cost you money and cause unnecessary stress!

" I had been placed into what I thought was a very negative and stuck

situation due to experiences with another Real Estate Agent so I reached

out to Cameron Bailey with details of my situation and he did not hesitate

to offer his assistance, advice and reassurance. I appreciated his ability to

connect and relate to my situation with empathy whilst upholding extreme

professionalism and as a consequence enabled the selling of my home

to be a very peaceful and quick process. Adding to that I was offered the

services of someone to assist me purchase my next home - for me an

added bonus!" CR
---
4 Tuesday August 20 2019

Latest Christchurch news at www.star.kiwi

News

SOUTHERN VIEW

Burglary increase for drug money

• By Georgia O'Connor-Harding

THE INCREASE in opportunist

crime in Halswell and Wigram

is likely to be fuelled by drugs,

police say.

Superintendent Lane Todd

said police are finding the

majority of

burglaries

involve

young

people

trying to get

money to

buy drugs.

He said

Anne Galloway

while police

have noticed

the spike

in drug-driven burglaries in

Halswell and Wigram, it is an

issue across the city.

Over the past six weeks, police

have been running an operation

to crack down on burglaries in

the areas.

"We have put additional staff

out there and we are arresting

people on a daily basis,"

Superintendent Todd said.

As a result, burglary stats in

the area are starting to drop, he

said.

"The message we are trying to

do is to get people to take more

care around security. Locking

vehicles and locking sheds. A

lot of garden sheds have quite

a lot of property in them,"

Superintendant Todd said.

In June, five homes in

Bibiana St, Felicitas Grove and

Eaglesome Ave were targeted in

a series of burglaries.

CCTV footage from nearby

properties filmed a tall,

European man wearing a hoodie

and a black mask, roaming the

streets during all five burglaries.

Superintendant Todd said

police are finding a small group

of people will walk up and down

driveways looking for easy

targets.

"For those who take a bit

more extra security and

keep everything locked, they

generally aren't targeted as much

because it is more time to break

into a property."

A community safety meeting

to gauge the extent of the

problem was held recently. The

meeting was organised by city

councillor Anne Galloway and

CRIME

PREVENTION:

Police have

told Halswell

and Wigram

residents to

make sure their

homes are

more secure

to prevent

opportunist

burglaries.

Halswell-Hornby-Riccarton

Community Board candidate

Narrinder Singh Warraich.

Cr Galloway previously

told Western News concerns

over burglaries have been

predominantly coming from

multi-cultural communities and

people who may not be aware of

the support networks available.

Superintendant Todd said

Community Constable Li'Ying

Cai, who was present at the

meeting, has been working

with the Asian community,

in particular, to help prevent

burglaries.

Greater Christchurch

Regeneration Minister Megan

Woods and representatives

from the Hornby Community

Patrol and Neighbourhood

Support were also present

at the meeting. Mr Singh

Warraich said residents shared

burglary incidents in their

neighbourhood and police

conveyed key messages.

This included locking

unattended vehicles on roads,

parking in well-lit areas and

considering investing in an

alarm system or getting sensor

lights fitted. Cr Galloway said it

was "reassuring" to learn what

police are doing but the city does

unfortunately have a "big meth

problem" which drives a lot of

crime.

Hornby resident Mark Peters

said Aidanfield Christian School

was hit with burglaries over the

school holidays, with stationery

stolen from unsecure lockers in

an unlockable locker bay.

"My child had three pencil

cases stolen along with a

calculator . . . the more we can

do to help stomp out that sort

of negative behaviour in the

community the better," he said.

School's not

for everyone!

www.

STUDY

WITH

US.CO.NZ

IS SCHOOL NOT WORKING

FOR YOUR TEEN?

WE OFFER:

ULTIMATE CAREER DECIDER /

SECURITY & FORCES PREP /

BUSINESS ADMINISTRATION

& TECHNOLOGY / DIGITAL

MEDIA / EARLY CHILDHOOD

EDUCATION / SOFTWARE

DESIGN / WEB DEVELOPMENT

TEXT

'STUDY' TO:

027 557 8839

50 Hazeldean Road, Addington

0800 834 834 | www.vision.ac.nz
---
SOUTHERN VIEW Latest Christchurch news at www.star.kiwi

Tuesday August 20 2019 5

'I think I want to be a hairdresser'

•From page 1

The barber shop Mr Thompson

occupies was where his hair

was cut as a child, and when he

turned 21, he bought the business

and hasn't looked back since.

"I remember coming home

from school one day and saying

[to his father] I think I want to be

a hairdresser," he said.

In September, he would have

marked his 50th year of owning

the business, but he will have to

close the doors just a few days

before the anniversary.

The red leather barber's chairs

in the shop have been around

since 1956, and Mr Thompson

said he will sell them once the

business closes. Otherwise, his

house will become too cluttered.

In the antique leather chairs, he

has seen many boys argue with

their mum about the length of

hair they want.

"A boy would get shorter

than he wanted, but not as

short as mum was hoping," Mr

Thompson said.

He's seen it all in his years of

hairdressing, from short to very

long, and the mullets in between.

Mr Jordan his longest-serving

client and has been getting

his hair cut there before Mr

Thompson owned the shop.

He said the place "hasn't

changed a hell of a lot" over the

years.

He never has to tell Mr

Thompson what he wants,

because his hairstyle never

changes.

"I'll never find anyone like this

will I," Mr Jordan said.

Mr Thompson is upset he was

given such short notice to close

the business.

"Going quickly doesn't give me

time to thank them [clients] all,"

he said.

Mr Thompson will miss

meeting people and the

rewarding feeling of people

bringing their grandchildren

in for a trim so he can cut three

generations of hair.

"They're more than just

customers," he said.

Mr Thompson will finish

his last hair cut at the shop on

August 29.

SKILL: Mr Thompson cuts

his nephew's hair in the

kitchen of his home about 25

years ago

Barriers

for busy

intersection

FLEXIBLE BARRIERS will

remain in place at a busy

intersection to keep Halswell

children safe until a permanent

solution is completed.

Traffic separators have been in

place at the intersection of Larsens

and Halswell Rds since May

as part of a trial to make roads

safer for Halswell School pupils

to use.

The traffic separators prevent

vehicles from turning right when

travelling in and out of Larsens

Rd onto Halswell Rd.

In its latest update, the New

Zealand Transport Agency said it

will put a permanent solution in

place. It will install an electronic

no-right turn sign, which will

only be active during school

patrol times.

A pedestrian refuge island will

be installed and no-stopping lines

will be extended.

A raised painted island at the

Larsens Rd entrance will also be

put in place to assist with safer

pedestrian crossing and guide

right-turning traffic onto Halswell

Rd at off-peak times.

In the mean-time, the flexible

barriers will remain until the

changes are made.

SALE

ONE DAY ONLY

of leading

Fashion Labels

..............................................................................................................

ALL SEASONS

FROM

50-80% OFF

Great fashion brands sizes 8-22

Includes $15.00 to $20.00 Rack

Saturday 24 August

Cashmere Club, 50 Colombo St

9.30am-3.30pm

eftpos & credit card facilities on site

Soft plastics go

in the red bin

That's anything plastic you can

scrunch in your hand, like this

piece of bubble wrap.

Thanks for bin good everyone!

ccc.govt.nz/redbin
---
6

Tuesday August 20 2019

News

Latest Christchurch news at www.star.kiwi

SOUTHERN VIEW

Lodestar Ave left off speed limit review

• By Georgia O'Connor-Harding

MAJOR SPEED limit changes

are likely to be on the horizon for

Halswell and Hornby in a bid to

improve road safety.

But residents battling to make

Wigram's Lodestar Ave safer

have been left feeling "forgotten"

after no changes were made to

lower the speed limit on the busy

road.

The

Halswell-

Hornby-

Riccarton

Community

Board

recommended

a raft of speed

limit changes

Ross

McFarlane

at its meeting

last week.

The boardapproved

plan would decrease

the limit to 50km/h along

Halswell Junction and Kennedys

Bush Rds, as well as parts of

Cashmere and Hendersons Rds.

John Paterson Drive and roads in

the new Cloverden subdivision

off Murphys Rd would go down

to 40km/h. A 60km/h speed

limit would be put on Marshs,

Shands, Springs, Hodgens,

Fountains, Whincops, Downies,

Quaifes, Sabys, Sutherlands

and Hoon Hay Valley Rds, as

well as Cashmere Rd (between

Kennedys Bush Rd and the

existing 50km/h zone north of

Hoon Hay Valley Rd).

The changes will go to the

city council for final approval.

But residents also want to see

the speed limit on Lodestar

Ave lowered from 50km/h to

40km/h.

Bob Rush, who lives at Lady

Wigram Retirement Village on

Lodestar Ave, said lowering the

speed limit would help, but not

solve, the issues with the road.

"The original problem is

basically the speed of vehicles

coming down here, plus the

trucks using the road as a bypass

– it was never designed to have

trucks down here," he said.

Since 2017, Lodestar Ave and

Lady Wigram residents have

been pleading for restrictions

to be placed on heavy vehicles

– but trucks are still using the

road.

City council transport

operations manager Steffan

Thomas said the speed limit

review focused mainly on

existing high risk 70km/h and

80km/h roads, which are rural

and semi-rural.

"There is currently no

information available on when

Lodestar Ave speed limits might

NO

CHANGE:

Lodestar Ave

residents

feel

forgotten

after their

road was

left out of a

speed limit

review.

PHOTO:

MARTIN

HUNTER

be reviewed," he said.

Lodestar Ave homeowner

Wanda Waites said it would

be nice if the speed limit was

lowered, but heavy trucks need

to be banned for the problem to

be solved.

Board member Debbie

Mora said she was disappointed

Lodestar Ave was not included.

Following feedback the board

also decided to write to the

New Zealand Transport Agency

about lowering a section of

Halswell Rd from 80km/h to

60km/h.

Board chairman Mike Mora

said this change would make the

road more consistent.

The board will ask NZTA

about the possibility of changing

the section of Halswell Rd

between Augustine Drive to

about 300m before Dunbars Rd

from 80km/h to 60km/h.

Board member Ross

McFarlane said there are several

issues with the right-hand turn

from Aidanfield Drive due to the

increasing traffic.

The latest traffic count

showed 18,000 vehicles travel on

Halswell Rd daily.

Mr McFarlane said there are

also about three businesses on

the east side of Halswell Rd,

which means more vehicles

are travelling in and out of the

80km/h speed zone.

"A lot of vehicles don't

accelerate to 80km/h because

they know they are only going

to have to slow down again and

that causes frustration in drivers

who want to travel 80km/h," he

said.

NZTA senior traffic and safety

engineer David Scarlet said

developments in the area mean it

is an appropriate time to review

the speed limit.

•HAVE YOU SAY: Do you

think Lodestar Ave should

have been included in the

plan to lower speed limits?

Email your views to georgia.

oconnor@starmedia.kiwi

Mora puts hand up for CDHB

• By Georgia O'Connor-Harding

A WELL-KNOWN community

board member has put her

name forward for a position on

the Canterbury District

Health Board.

Halswell-Hornby-

Riccarton Community

Board member Debbie

Mora will contest a

CDHB seat and run for

the board in October's

local body elections.

She said she was also

toying with the idea of running

for the city council in the Riccarton

Ward, but decided against it.

Debbie

Mora

Ms Mora said her experience,

which includes chairing the

community board's submission

committee, will help the

CDHB.

Her priorities would

be to resolve the parking

problem at Christchurch

Hospital, improve the

mental health system and

provide further counselling

for people who have

been physically and sexually

abused.

"It would be good to be in a

position to make change," she

said.

Study into affects of maternal drug use

A SUMNER professor has just

completed new research into the

development of babies affected by

their mother's drug use.

Canterbury University head of

health sciences Lianne Woodward

has discovered increased

opioid and other drug use is

affecting children's readiness for

learning when they start school.

Ms Woodward led a five-year

study of 100 babies whose mothers

took methadone to treat opioid

dependence and 110 babies

whose mothers did not.

With PhD graduate Dr Samantha

Lee, Ms Woodward followed the

babies from birth to four and a half

years old, with researchers assessing

the children's physical and motor

development, social-emotional

skills, approaches to learning, language,

and cognitive functioning.

"Opioid use in New Zealand

is on the rise, so the hope is

that this study can contribute to

health and education services

planning to help support the

needs of these children and their

families," Ms Woodward said.

Ms Woodward is an international

expert in child developmental

psychology.

Her study, Health and Neurodevelopment

of Children Born to Opioid

Dependent Mothers at School

Entry, looks at the extent and the

mix of mothers' substance use.

The results found that over

70 per cent of children born to

opioid-dependent mothers had at

least one health or developmental

difficulty that would likely impact

their schooling, compared to 29

per cent of children drawn from

the general population.

Multiple problems were also

common, affecting 48 per cent

of methadone-exposed children

compared with 15 per cent of

control-group children.

Want to be

elected?

• Local Council

• Community Board

• Ecan

• CDHB

Star Media can help you.

Talk to us today about your campaign.

Contact: Mark Sinclair

03 364 7461

021 913 566

mark.sinclair@starmedia.kiwi

Reach

168,000

readers

with just one

ad placement

Call Shane Victor on 021 381 765

to find out how!
---
SOUTHERN VIEW Latest Christchurch news at www.star.kiwi

Tuesday August 20 2019 7

Pupils donate sports gear to needy

• By Jess Gibson

A GROUP of Mt Pleasant School

pupils will use second-hand sports

gear to achieve a goal.

But that goal has nothing to do

with netball, football or hockey – it

is all about increasing opportunities

for kids who struggle to afford

recreational equipment.

Year 8 pupils Neve Ballin, Maeve

Montgomery McCarthy, Luke Wenham,

and Mohamed Wahabzabah

are collecting unwanted sports gear

around the community before donating

it to schools and individuals

in need.

The group, who all love sports,

have chosen the project as a part

of the school's framework which

requires pupils in their last year at

the school to look into a significant

issue they are interested in.

The concept is based on Sport

Canterbury's "give gear get great"

programme – a similar initiative

supported by the Halswell-Hornby-

Riccarton and Spreydon-Cashmere

community boards.

"We all think that there are so

many benefits of playing sports it is

so important for all kids physically

and especially mentally," Neve said.

"Playing sports gives all children

something for them and their

families to be proud of. We are all

just a group of kids who all love

sports and we also understand what

a privilege it is for us to be able to

participate in sports and wanted to

level the playing field and help other

kids to get the benefits that we get."

The group hopes that once the

project grows more, it can make a

database for kids to request equipment

and pick it up from the school.

Principal Chris Nord said the aim

of the school's framework is to help

pupils understand how they can

make an impact on the world and

the people around them.

"We want them to care and know

there actually is something that they

can do in the community."

Because the group want the

project to continue after they leave

the school, they will pitch the idea

to the Linwood-Central-Heathcote

Community Board at a meeting

today to see whether it will support

the initiative.

EQUAL OPPORTUNITIES: Mt

Pleasant School pupils (from

left) Maeve Montgomery

McCarthy, 13, Luke Wenham, 12,

Neve Ballin, 13, and Mohamed

Wahabzabah, 13, with used

second-hand sports gear.

PHOTO: MARTIN HUNTER

'Unsung hero' gets community award

• By Jess Gibson

"UNSUNG HERO" Ian

McLennan has been recognised

for 12 years of dedication to

restoring Quail Island.

The Redcliffs environmentalist

is the Otamahua (Quail Island)

Ecological Restoration Trust

chairman and has taken part in

countless working bees on the

island.

Mr McLellan (left) received

a Keep Christchurch Beautiful

community award for his efforts

at a ceremony last week.

Planting, clearing weeds and

pest control are among the tasks

he takes part in when he heads

over with volunteers at least

twice a month.

The nomination, which was

submitted by a volunteer, said

Mr McLellan "works tirelessly

to restore this neglected and

abused island to its native glory."

He first got involved with

the trust when his brother was

chairman.

Said Mr McLellan: "The

main thing for me is the

almost complete loss of native

biodiversity over the last couple

of hundred years. It's a small

effort to recreate what was once

there."

During his time on the trust,

Mr McLellan said he has seen all

pests eradicated except for mice.

"Making the island

predator-free has been a major

achievement for the trust."

The trust is running its

annual planting programme

this month, which will see 3000

native trees planted over four

weekends. It will bring the total

number of trees planted to more

than 98,000.

At the ceremony 10 groups,

eight individuals and three life

members received awards.

Among the life membership

recipients was Governors Bay

resident John Thacker. He

has been involved with Keep

Christchurch Beautiful since

before its electronic records

began. He used to carry out the

litter count contract for the city

council, in tandem with John

Macaulay.

Mr Thacker is an active

member and will often put up

Keep Christchurch Beautiful

signs where he thinks people

need to be more conscious of

litter.

DEDICATION: Ian McLennan

has been organising

volunteer trips to Quail Island

since 2008, and has been

involved as a volunteer on

the island since 2006.

Fabulous

haircuts for the

entire family

Our fully qualified stylists can

provide the latest styles and trends

EVERY 8 TH

HAIRCUT

IS FREE!

With your

loyalty card

Open 7 Days - no appointment necessary

Bush Inn Cnr. Riccarton & Waimairi Rds. Ph 03 348 7008

South City 555 Colombo St. Ph 03 366 0619
---
8

Tuesday August 20 2019

Avonside teen races on Olympic waterway

TALENTED: Avonside Girls' High School rower Sally Wylaars (front) helped her women's four to

fifth at the junior world championships in Japan.

PHOTO: ROWING NZ

A NEW running group is

encouraging residents to get

active.

Run New Brighton is a not-forprofit

initiative set up by the New

Brighton Olympic Athletics Club

to get more people running in the

area.

The members meet every

Wednesday at 5.30pm at the New

Brighton Olympic Clubrooms.

There are pace-specific groups,

which cater for beginner,

intermediate and competitive

runners.

Run New Brighton organiser

Hayden Zervos said the group

allows runners and people of

different ages and backgrounds

to improve their fitness.

He said the group helps

improve the well-being of people

in the area.

"Eastern Christchurch has

• By Jacob Page

AVONSIDE GIRLS' High

rower Sally Wylaars has helped

her New Zealand coxless four

to fifth at the junior world

championships in Tokyo.

The 17-year-old,

who was in the stroke

seat, rowed with Lucy

Burrell, Alison Mills

and Charlotte Darry at

her first international

regatta.

The combination

finished second in their

heat, maintaining that

place throughout the

race and finishing in

6min 46.090sec – 3sec

behind the Italian crew but still

good enough to automatically

make the final.

In the final, the crew made a

strong start and were in second

position at the first 500m mark.

But they were unable to keep up

reportedly not psychologically

recovered to pre-earthquake

levels," he said. "Recreational

groups can play a role in

the psychological recovery

of communities in eastern

Christchurch, which could

reduce pressure on local mental

SPORT

Sally Wylaars

SOUTHERN VIEW

with China, Italy and Germany,

which took gold, silver and

bronze respectively. Darry, Mills,

Burrell and Wylaars finished the

final in 7min 14.50sec.

Wylaars was recently

named achiever of the year

at the Canterbury

Rowing Awards for her

progression in the sport.

She has been rowing

for four seasons and

won a silver medal at the

under-18 double sculls

with her Avonside Girls'

High teammate Maddy

Thornton earlier this

year.

The course for

the junior world

championships, known as the

Sea Forest Waterway, is a newlyconstructed

venue for the 2020

Olympic and Paralympic Games.

Fifty nations took part in the

junior championships and more

than 550 athletes competed.

Run New Brighton hits the streets to deliver health benefits

Kirsty Nixon

Horizons

24 August - 18 September 2019

Like portals to paradise, Kirsty Nixon's large-scale paintings invite the viewer to

pull back the 'fringes' of our native flora to reveal quintessentially New Zealand

landscapes hidden in behind. Framed by the structural forms of our native

foliage, like cabbage tree leaves or nectar-laden flax flowers, and almost always

with a native bird or two in attendance, unfolding before your eyes could be

an endless coastline, a deep, green cove or perhaps even a glimpse of the far

horizon.

Kirsty is repeatedly drawn to the New Zealand landscape

in its various guises and while on holiday at the bird

sanctuary island Tiritiri Matangi recently she experienced

a sense of utter peace while watching the bellbirds

flitting about the feeders and hearing their hypnotic song.

Returning home, she became keenly aware of the absence

of native birdsong and thus her new works pay tribute to

the ways in which the melodic voices of our native birds

have the ability to enrich our lives as we navigate daily life.

Based in Auckland, Kirsty has been painting full-time

since 1997, initially in the medium of watercolour but

now having found her home in the freedom and impact of

acrylic.

Little River Gallery open 7 days, Main Road, Akaroa Highway.

Kirsty Nixon

Horizons

24 August - 18 September 2019

Latest Christchurch news at www.star.kiwi

Kirsty Nixon's

Original Painting

'Kereru and Karaka'

Kirsty Nixon's

Original Painting

'Three's Not a

Crowd It's a Party'

Main Rd, Little River 03 325 1944

art@littlerivergallery.com

CITY SOUTH VAN SPARES

SERVICE CENTRE & TYRES

159 MACES ROAD | PH 384 8744

• Provide Full Workshop Facilities • Full Servicing & WOF Repairs

• Towing Available • Good Hourly Rate • Same Day Clutch Replacement

• 2 Day Engine Replacement • Mechanical & Exhaust Repairs

100%

owned & operated

Reach

166 MACES ROAD, BROMLEY

P. 384 8744 or A/H 027 222 3241

health support services and

potentially reduce smoking rates

and alcohol consumption, which

are often driven by stress factors..

"It can help to address anxiety,

depression, loneliness and raise

self-esteem and confidence.

•More sport, page 10

PLUS

CITY SOUTH VANS

We buy, sell and dismantle

vans & cars

• We pick up out of Chch

• Backpacker vehicles available

WITH Guaranteed Buy Back

OPEN SATURDAY

9.00AM - 1.00PM

168,000

readers

with just one ad placement

Call Shane Victor on 021 381 765 to find out how!
---
SOUTHERN VIEW Latest Christchurch news at www.star.kiwi

Tuesday August 20 2019 9

Southern ChiropraCtiC

3 kennedys bush rd, halswell (upstairs)

Don't put up with back pain

A multifaceted treatment approach

combining laser, soft tissue massage

and manual adjustment can make a

huge difference to people suffering

from back pain, according to Andre

Grob, Principal Chiropractor at

Southern Chiropractic.

Andre's patients appreciate the time

taken during their treatment with

minimal waiting

time.

Andre has

18 years of

experience

treating people

with a range of

back problems

and has a deep

understanding

of the value and

benefits that

a professional

chiropractor can

offer clients who

are suffering from back pain.

A high percentage of the patients

Andre treats at Southern

Chiropractic in Halswell suffer from

lower back and neck pain, followed

closely by mid back pain.

"Some pain such as headaches or

shoulder pain can be referred from

the spine and it is

all about finding

and treating the

source of the

pain," says Andre.

Chiropractic

treatment not

only relieves

pain but, when

patients are seen

regularly, it can

also help their

overall wellness

and health.

The first priority

on presentation is to determine the

cause of the patients complaint.

Once we treat the cause, we can

alleviate the symptoms ie: pain and

restricted movement. Once free of

their initial problems patients can

then decide if they want to continue

with a tailored maintenance

programme that suits their

individual needs.

Chiropractic treatments are

listed overseas as among the top

most beneficial natural therapies,

providing a holistic approach to

treating back pain, says Andre.

"It's all about what's best for the

individual client and giving them the

time and care that they need. No

matter what your age I can help with

your back pain."

So if you are experiencing back pain,

make an appointment with Andre at

Southern Chiropractic.

Southern Chiropractic has recently introduced on-line bookings through the website www.southernchiropractic.co.nz or you can phone Andre on 03 322 1432.

They are located in halswell at 3 Kennedys Bush Road with car parking outside the door.

5 Warning Signs

HEADACHES

of Spinal Stress!

NECK PAIN

AND TENSION

André Grob, Dr of Chiropractic, has had

over 15 years experience of specialty

spinal care in Australia and New Zealand.

A healthy spine is vital to your wellbeing.

Specialist spinal therapy

at Southern Chiropractic

consists of:

• Manual manipulative therapy

• Soft tissue Massage

• Low level Laser therapy

• Exercise and postural education

• For correction of spinal complaints

and to enhance your health!

MID BACK PAIN AND

TENSION

LOW BACK PAIN

SCIATIC PAIN

Southern Chiropractic Ltd

Telephone (03) 322 1432

3 Kennedys Bush Road • Halswell • Christchurch 8025

www.southernchiropractic.co.nz | email dre.nik@xtra.co.nz

Halswell Jct Road

Halswell

Road

Kennedys

Bush Road

3 Kennedys

Bush Road
---
10 Tuesday August 20 2019

Latest Christchurch news at www.star.kiwi

Losses a

wake-up

call for

Cashmere HS

• By Jacob Page

THE CASHMERE High School

basketball team are banking

on an unfamiliar loss or two

helping them in the long-term.

The team travelled to Auckland

last week for their annual

four-game trip, fresh off losing

a Canterbury secondary school

game for the first time in two

years to Middleton Grange.

The 11-strong squad had

three wins and a loss beating

St Kentigern College 107-105 in

overtime, Westlake Boys 87-84

and Rangitoto College 71-61.

Unlike last year, where they

went unbeaten, they did suffer a

79-70 loss to Rosmini College.

Coach Paul Conner said he

wanted to expose the entire

squad to the faster, more physical

style of Auckland secondary

school basketball.

"Often we end up winning all

these games, so hopefully we'll

be able to learn from the loss."

The two-time defending South

island Secondary School champions

will go for a three-peat

once their Canterbury commitments

are completed, hopefully

in three weeks if they make the

final.

"I feel like we are in a good

place heading into a very busy

part of our season, Conner said.

Tom Schwarz: 200 and counting

• By Jacob Page

CASHMERE Technical football

captain Tom Schwarz is the first

player in the club to reach 200

first team games.

Looking back on it he can

thank his wife Rose, for being a

contributor to the milestone.

The 29-year-old, who is originally

from the

small English

town of Winsford,

between

Liverpool and

Manchester,

originally

wanted to see

Tom

Schwarz

the other side

of the world for

two years when

he landed in Dunedin in 2010.

However, he met his now wife,

Rose, who was from Christchurch

and after two years with

Dunedin club Caversham, he

transferred to Cashmere Technical.

His twin brother, Dan, also

plays for the club.

"I'd never been on a plane

before I came to New Zealand,"

he said. "I was 20, I just wanted

to see the world on a two-year

visa and go home but obviously

things changed."

The centre back earned the

milestone during a 4-1 win over

Mosgiel AFC in the Southern

Football League.

"I'm proud to be the captain of

SILVERWARE: Schwarz with the Chatham Cup after Cashmere Technical won it for the second

straight time in 2014.

PHOTO: ENZO GIORDANI ​

such a great club," he said. "It's

not just on the field, but also off

the field and what we are able to

achieve."

Schwarz said he had scored 68

goals for the club, many as the

chief penalty taker.

"I don't think it's difficult to

take a penalty in the sense that

you just have to pick a spot and

stick with it he said.

"Often before the game,

I'll talk about it with my wife

because I think if I've told her I

can't change my mind during a

game."

Schwarz is fast approaching

150 games for the Canterbury

Dragons, as well and he said

while he would like to add a

third Chatham Cup title to his

2013 and 2014 success, he said a

national title with Canterbury

has also become a priority.

"I feel like we are always there

or thereabouts with the Dragons

SOUTHERN VIEW

so to win one would be good."

A carpenter by trade, Schwarz

said he had no plans to retire any

time soon but also said it would

be dependent on future family

plans.

He said it was a proud moment

to apparently be the first to 200

games, but with 20-year-old

striker Lyle Matthyson notching

up 100 games as well, he believes

his record may not stand too

long.

JOIN US NOW!

See website for details

BENDON

Biggest bra sale. Sets from $20,

Bras 2 for $35, Sleepwear from $20.

Selected styles. While stocks last.

RODD & GUNN

Buy one, receive the second item half

price. 2nd item the cheaper of the two.

ADIDAS

50% off the lowest marked price

storewide. Valid 22 Aug to 25 Aug.

Exclusions & conditions apply.

HALLENSTEINS

Blazers & Jackets $30. White business

shirts now $10. Selected styles.

STYLES MAY DIFFER

TO IMAGE SHOWN

UNDER ARMOUR

2 for $100 hoodies & joggers.

Conditions apply.

Sign up to Smart Deals & be in the monthly draw for a $100 Dress-Smart gift card!

CHRISTCHURCH 409 Main South Road, Hornby

www.dress-smart.co.nz

Open 10am-5pm, 7 Days 03 349 5750
---
SOUTHERN VIEW Latest Christchurch news at www.star.kiwi

Tuesday August 20 2019 11

Shop

Win

& Relax

WIN

1 OF 5 FAMILY

GETAWAYS

TO HANMER

SPRINGS

more

chances

to win!

Enter every time you shop at any of these participating businesses

NATIVE PLANT NURSERY

speCialisTs in

• Groundcovers

• Ferns

Trees for CanTerbury

• Grasses

• Small to big sized shrubs

Helping our community grow

• Shelterbelts

• ALL grades

www.treesforcanterbury.org.nz

• Expert advice

• Planting now

42 Charlesworth Street | Ph/Fax (03) 982-1028 | OPEN 7 DAYS

I can see

clearly now

GREAT BUY!

$29.60

BARRINGTON, 256 Barrington Street | PH 332 1730 | www.suckling.co.nz

JEWELLERY REPAIRS

• Re-thread broken necklaces

• Re-knot pearls

• Magnetic clasps fitted

• All jewellery repairs at any level

79 Wrights Road, Middleton

Ph: (03) 338 0171

Jewellery & Giftware

HOURS: Mon-Fri 9am-5pm, Sat 9am-1pm

Email: sales@warrenagencies.co.nz

www.warrenagencies.co.nz

The Body's Youth Protein

NEOCELL COLLAGEN SUPPORTS:

- Reduction in lines & wrinkles - improved skin elasticity

- Strong hair & nails, may help reduce hair loss

- Supports bone, ligaments, tendons & joint health

MARSHALLS HEALTH & NATURAL THERAPY

CONSULTING - PRESCRIBING - DISPENSING -

MANUFACTURING - MEDICAL HERBALISTS

101 SEAVIEW RD, NEW BRIGHTON • PH 03 388 5757

Email: enquiry@marshallshealthshop.co.nz

NEOCELL PREMIUM COLLAGEN IS

CLINICALLY RESEARCHED

FOR SUPERIOR RESULTS

SUPER LOW PRicE!

120's only $36.90, save $5.75

250's only $56.90, save $9.75

Mail Order Available

Bringing You the Best in

Natural Health!

- WE ARE ALWAYS HAPPY

TO HELP! -

Bring in this coupon for

GIFT CARDS

BUY ONE

ONE FREE

GET

• Barrington Mall

• The Hub, Hornby

• New Brighton Mall

• South City Centre

Conditions apply, free gift card same price or less, one deal per coupon. Offer expires 20th October, 2019.

FREE Courtesy Cars

All insurance & private

work welcome

302 Travis Road, North New Brighton

Phone: 03 388 5187

E: qe2collisionrepairs@outlook.com

Designer Fashion

• Designer Brands

• Family Clothing

• Menswear

• Footwear

• Bric-a-brac

• Books

• Household Goods

• Workman

Outdoor Clothing

• See the Retro

Section AND

Formal Wear

New Zealand's Largest Recycled Clothing Retailer

39 Battersea Street, Sydenham. Open 7 days 10am - 4pm

See Our

HUGE

Selection!

3000

items

arriving

daily!

Authentic Thai Cuisine

From$10

Lunch Special

Tuesday - Saturday

or10%

discount off main menu prices

if you mention this advertisement

HooN HAY THAI rESTAUrANT

Open 6 Days • Lunch & Dinner

9 Coppell Place. Phone 339 0320.

www.everybodysbutchery.co.nz

All our

meAt is

Gluten

Free

372 Selwyn St

Ph 366 4947

Go Karting at

Christchurch's

Premier

Indoor Track

FUN

FOR ALL

AGES

91 Buchan Street, Sydenham

Phone 03 374 9425
---
12

Tuesday August 20 2019

Latest Christchurch news at www.star.kiwi

SOUTHERN VIEW

PICK IT UP AND DRIVE AWAY

Available from hundreds of pick up points around

Christchurch, Canterbury and the West Coast

each Friday including:

Selected Fresh Choice, New World stores and

hundreds of takeaway shops

Bringing buyers and sellers

together every week

For advertising enquiries

please call Anna on 021 902 729
---
SOUTHERN VIEW Latest Christchurch news at www.star.kiwi

Tuesday August 20 2019 13

Tasty Bites

Getting protein through a science-based diet

The role of protein in

people's bodies, its

sources and the benefits of

consuming it across the day

can't be underestimated.

These recipes provide a

science-based approach to

ensuring you get enough in

your diet

Orange kumara and

haloumi fritters

Serves 4

Ingredients

1.2kg orange kumara, peeled and

coarsely grated

320g haloumi, coarsely grated

2 tsp ground cumin

Light olive oil spray for cooking

2 cloves garlic, crushed

4 spring onions, white part thinly

sliced into rounds, green part

thinly sliced diagonally

120g baby spinach leaves

Avocado dressing:

80g medium-sized avocado

⅓ cup (80ml) white wine vinegar

or apple cider vinegar

½ tsp dijon mustard

Directions

To make the avocado dressing,

blend all the ingredients in a jug

with a hand-held blender until

smooth. Season with black pepper

and set aside.

Heat a large non-stick frying

pan over low-medium heat.

Combine the kumara, haloumi

and cumin in a bowl and season

with freshly ground black pepper.

Lightly spray the pan with

olive oil and drop in firmly

packed cup measures of the

kumara mixture, pressing down

to form 8cm circles. Depending

on the size of your pan, you will

probably need to do this in two

batches of four.

Cook for 5min each side

or until golden and cooked

through. Remove and cover to

keep warm. Lightly spray the pan

with a little more oil and increase

the heat to high.

Add the garlic, white part

of the spring onion, spinach

and 60ml water. Cook, tossing

constantly, for 2min or until the

spinach has just wilted. Remove

the pan from the heat and season

with black pepper.

Serve two kumara fritters per

person, layered with the spinach

mixture. Spoon over the dressing

and sprinkle with the green

spring onion.

Roast herb chicken and

vegetables

Serves 4 with leftovers

Ingredients

½ cup finely chopped flat-leaf

parsley

2 Tbsp finely chopped rosemary

1 Tbsp mixed dried herbs

6 cloves garlic, crushed

¼ cup (60ml) olive oil

¼ cup (60ml) red wine vinegar

1.8kg lean chicken tenderloins

1 head cauliflower, cut into florets

7 carrots, sliced into rounds

7 zucchini, thickly sliced into

rounds

750g button mushrooms

Light olive oil spray for cooking

1 cup (250ml) salt-reduced

chicken stock

Lemon wedges and flat-leaf parsley

leaves, to serve

Ingredients

Heat the oven to 200 deg C (or

180 deg C fan-forced).

Combine the parsley, rosemary,

dried herbs, garlic, olive

oil, vinegar and chicken in a

large bowl. Season generously

with freshly ground black pepper

and toss well to coat the chicken.

Divide the vegetables among

two large roasting tins and

lightly spray with olive oil. Toss

to combine, then top evenly with

the chicken mixture.

Pour half the stock over the

ingredients in each tin. Bake,

swapping the tins halfway

through and tossing the chicken

and vegetables, for 25-30min

or until the chicken is cooked

through and the vegetables are

soft.

Divide one-third of the chicken

and vegetables among four for

dinner, with lemon wedges and

parsley. Cool the leftovers, then

divide evenly between two large

airtight containers.

Store the leftovers in the fridge

for up to two days or in the

freezer for three months. Thaw

the frozen mixture in the fridge

overnight. Transfer the chilled

mixture to a baking dish and

reheat in a preheated 220 deg C

(200 deg C fan-forced) oven for

15-20min or until hot and crisp.

ENTERPRISE HOMES LTD

enterprisehomes.co.nz | 03 348 5189

sales@enterprisehomes.co.nz
---
14 Tuesday August 20 2019

Latest Christchurch news at www.star.kiwi

SOUTHERN VIEW

ON THIS

WEEKEND

Be in to

WIN your

dream

honeymoon

Pre-purchase your

tickets from

withthisring.kiwi

for only $10pp

or get a ticket on

the day for $20pp

weddingshow

sunday 25th August, 2019, 10am–3pm, Air Force Museum, Christchurch

Fashion | Venues | Entertainment | Stationery | Jewellery | Catering | Floristry | Make-up | Beauty

Celebrants | Cakes | Hair | Photography | Transport | Wedding Planners | Honeymoon Destinations
---
SOUTHERN VIEW Latest Christchurch news at www.star.kiwi

Tuesday August 20 2019 15

JP Clinic

Today, 10am-1pm

A justice of the peace

will be available to

witness signatures, certify

documents, take oaths,

declarations, affidavits or

affirmations, applications

for citizenship or rates

rebates.

South, Linwood and Te

Hapua: Halswell Centre

libraries

Technology Help Dropin

Sessions

Today, 10.30-11.30am

at Spreydon, 2-3pm at

Halswell, and tomorrow,

11am-noon at Spreydon

These free drop-in

sessions are available to

help you with specific

issues, such as using email,

searching the internet,

using the library catalogue,

using electronic resources

and any other general

computer-related queries.

Go along with your laptop,

tablet, smartphone or use

one of the library's desktop

computers if you need help

with anything digital.

Te Hapua: Halswell

Centre and Spreydon

Library

Citizens Advice Bureau

Today, 11am-2pm

The Citizens Advice

Bureau provides free and

confidential advice to

everyone. It takes the time

to listen to you and equip

you with information,

options and support.

Linwood Library

Makerspace

Today at South, 3.30-

4.30pm and Monday, 3.30-

4pm at Spreydon

Drop-in for fun

activities every week at the

Makerspace. There will be

a variety of activities for

all. Free.

South and Spreydon

libraries

Art by Room 14 –

Linwood Avenue School

Tuesday, all-day

Go along and enjoy

beautiful art from the

pupils of Room 14 at

Linwood Avenue School.

Pastel tiki art and painted

winter trees will brighten

up the walls.

Linwood Library

Email georgia.oconnor@starmedia.kiwi

by 5pm each Wednesday

Drop in Chinese Art Club will be held at Te Hāpua: Halswell Centre on Sunday

from 10.30am until noon. Take your own brushes, ink, paint and paper. Go along

and work on calligraphy and brush painting. For ages 10 and up. ​

Mainly Music

Wednesday, 10-11.30am

Go along for fun and

learning with music for

mums with children aged

up to five. The first visit

is free and $4 per family

after this. Held each

Wednesday, 10-11.30am, in

school terms. Morning tea

provided.

St Johns Anglican

Church, Woolston, cnr St

Johns St and Ferry Rd

South Library Book

Discussion Group

Wednesday, 7.15pm-

8.15pm

Go along for a group for

those who love reading and

want to share in discussion

with other book lovers.

This group is free.

South Library

Knit 'n' Yarn

Wednesday, 10.30am-

1pm at Linwood, Thursday,

1pm-3pm at Halswell, and

1.30-3.30pm at South,

Saturday, 1pm-3pm at

Halswell

Head along for a craft

corner session. Take your

knitting, crochet or other

craft projects. Free and

beginners are welcome.

Linwood, Halswell and

South libraries

Creative Writing

on Sundays

Sunday, 1pm-3pm

Group leaders work with

members to craft, create

and develop their own

work. Take along pens,

paper and ideas. Bring

with you to the group

some pens or pencils, (even

a laptop), paper, and any

of your wonderful ideas,

story-telling, or art.

Linwood Library

Linwood Library Book

Club

Monday, 10.45am-

12pm

Go along for a relaxed

and friendly group, which

meets to chat informally

about any books they have

read over the past month,

fiction or non-fiction.

Linwood Library

Scrabble Club

Wednesday, 1.30-3.30pm

at Halswell, and Friday,

10.30am-12.30pm at

Linwood

No obligation to go, just

head along to join in on the

friendly games.

Te Hapua: Halswell

Centre and Linwood

Library

Rummikub Club

Thursday, 10am-noon

Go and join in a game of

Rummikub, a tile-based

game for two to four

players, which combines

elements of the card game

rummy and Mahjong.

Linwood Library

Game Zone

Thursday, 3.30-4.30pm

Go along and play

Minecraft, charades,

Connect Four, Pictionary

and more. Take your

friends or meet some new

ones. All children aged

eight to 13 welcome, no

bookings or payment

needed.

Linwood Library

FOCUS ON HEALTH

Superior new magnesium

offers more health benefits!

Magnesium deficiency is widespread with

researchers estimating up to 90% are not

receiving adequate magnesium in their diet.

According to medical researcher Dr. James

DiNicolantonio magnesium deficiency

increases the risk of numerous types of

cardiovascular and other diseases, costing

nations around the world an incalculable

amount of healthcare costs and suffering, and

should be considered a public health crisis.

Some of the typical signs of a magnesium

deficiency are: muscle cramps – especially

in the legs, muscle spasms and twitches,

fatigue, high blood pressure, poor

circulation, sore – heavy or uncomfortable

legs, irregular heart-beat, muscle and back

pain, insomnia, headaches, migraines and

anxiety. Sub-optimal magnesium levels are

also associated with many diseases including

diabetes, asthma, osteoporosis, Alzheimer's,

cardiovascular, ADHD and kidney.

There are many popular magnesium

supplements on the market, however most

use low cost sources of magnesium that are

also poorly absorbed offering little benefit.

Seeing the serious impact on health that

low magnesium levels are having a New

Zealand company "Biosphere Nutrition"

have developed a new magnesium that offers

superior absorption and more health benefits

compared to most other products available.

Biosphere Magnesium has been created to

be the cleanest, most bioavailable magnesium

supplement available. It combines three

types of the most bioavailable forms of

magnesium to create the ideal dose with

optimal absorption. Each serving provides

a therapeutic dose of 400mg elemental

magnesium to help people maintain

optimum magnesium levels. It is also easy

to take as it comes as a great tasting, easy to

mix powder that is also free of binders, fillers

and artificial ingredients. It is flavoured with

a natural lemon flavour and sweetened with

natural stevia and monk fruit extracts and

coloured with a dash of turmeric.

Magnesium Citrate is the first of the three

magnesium's. Biosphere have used a natural

marine based magnesium citrate as it has a

great absorption rate and mixes well with

water.

Next is Magnesium Lyscinate Glycinate

Chelate a stable magnesium designed to be

the most bioavailable possible as well as easy

on the stomach.

The last is Di Magnesium Malate a

fantastic form of magnesium for people

suffering from fatigue, since malic acid is

a vital component of enzymes that play

a key role in ATP synthesis and energy

production.

Optimal magnesium levels have been

shown to: Improve Energy, Improve

Sleep, Normalise Blood Pressure, Control

Inflammation, Reduce Pain, Regulate Blood

Sugar, Stop Cramping, Support Normal

Nerve and Muscle Function, Support Healthy

Bones and Help Maintain Good Health.

Biosphere Magnesium and further more

detailed information is available from

the Natural Health Advisers at Marshall's

Health & Natural Therapy, 101 Seaview

Road, New Brighton, and Phone: 388-5757.

We are always happy to help you!

New magnesium offers

enhanced health benefits!

Magnesium deficiency is widespread with

researchers estimating up to 90% are not receiving

adequate amounts. According to Dr. James

DiNicolantonio this deficiency is increasing the risk

of cardiovascular & numerous other diseases as well

as reducing lifespan & quality of life.

There are many popular magnesium supplements

on the market, however most use low cost sources

of magnesium that are poorly absorbed & offer little

benefit. Seeing the serious impact on health that

low magnesium levels is having a New Zealand

company "Biosphere Nutrition" have developed

a new magnesium that offers superior absorption

& more health benefits compared to most other

products available.

Biosphere Magnesium comes as an easy to

mix lemon flavoured powder that makes a very

pleasant drink.

sPecial

offer

Some common symptoms of magnesium deficiency:

• Muscle & leg cramps

• Twitches

• Tremors of hands

• Restlessness

• Poor sleep

• Irregular heartbeat

• High blood pressure

• Poor circulation

• Dizziness

• Headaches & migraines

• Poor concentration

• Muscle fatigue &

weakness

• Sore, heavy or

uncomfortable legs

• RSI & Nerve problems

• Muscle & Back Pain

• Chronic fatigue syndrome

• Fibromyalgia

• Mild to moderate

depression

marshalls health & NatUral theraPY

CONSULTING - PRESCRIBING - DISPENSING - MANUFACTURING - MEDICAL HERBALISTS

101 SEAVIEW RD, NEW BRIGHTON • PH 03 388 5757 • Email: enquiry@marshallshealthshop.co.nz

- kNowledge makes the differeNce -

30 sachets (1 month supply)

only $33.90, save $6.09

275g powder (2 month supply)

only $59.90, save $10.09

Bringing You the Best in Natural Health! MAIL ORDER AVAILABLE
---
16

Tuesday August 20 2019

REAL ESTATE

A vision of excellence!

1B Wood Lane, Fendalton

Price: $3,495,000

Latest Christchurch news at www.star.kiwi

5 bedrooms | 6 bathrooms | 7 toilets | 4 living rooms | 1 dining room | 3 car-garage | Listing Number PI57782

SOUTHERN VIEW

This new property offers a unique and

desirable proposition, underpinned by this

historic site and first-class address.

A magnificent architecturally designed

home that emanates a sense of refined

sophistication.

Large family home of 513sqm offering a

fantastic lifestyle for families with plenty of

separation and versatile living areas.

The execution of this home offers total

luxury and light with no expenses spared.

Hagley Park, Botanic Gardens and golf

course within easy walking distance giving

occupants an amazing lifestyle

A large home low on maintenance may

seem a contradiction in terms, but this

property has more than achieved that, with

three living areas, five double bedrooms

all with en-suites and three outdoor living

decks. Triple garage with large space for

storage.

Luxuriously appointed throughout with

the highest quality fixtures and fittings

including high-end Gaggenau appliances

in the kitchen and butler's pantry.

The master bedroom has two en-suites

opening to a private balcony with river

views and there is a luxurious guest

bedroom on the lower level with river

views.

Zoning for some of Christchurch's most

desirable schools including Girls High and

Boys High.

- Location, design and exacting execution

couple with an uncompromising approach

to quality and detailing has resulted in a

compelling and contemporary home, to

truly appreciate what's on offer and find

out more about the long list of attributes,

contact the agent to view today!

To arrange a private viewing phone

Cameron Bailey on 352 6166 or mobile

0275 557 079 of Harcourts Gold Papanui

(Licensed Agent REAA 2008)

growing with you June 2018 | 100%

Plants For

winter wow

Cool Choices

For Colour

& Contrast

From swamp

to sea views

The journey

begins with sarah

the Gardener

$7.90 incl. GST

Snap it up

Enter our annual

Birdlife Photo

Competition to win

great prizes!

clear the air

Why groWing

indoor PLAnTs is

so good for you

give it a grow

from gArLic

To chinese

ArTichokes,

We hAve your

groWing TiPs

covered

the latest releases

into the rose world

+ rose care

through winter

The magazine for

gardeners who like to get

their hands dirty

SUBSCRIBE FROM

$43. 50*

*6 issues/6 months

SUBSCRIPTIONS FREEPHONE

0800 77 77 10

WWW.GARDENER.KIWI
---
SOUTHERN VIEW Latest Christchurch news at www.star.kiwi

Tuesday August 20 2019 17

HOME & HEATING

Get rid of

dampness in

your house

The facts about

Home Ventilation

Balanced Pressure

vs Positive Pressure

Now with the colder and wetter weather

on its way, home owners are focusing on

ways to make their homes comfortable,

warm and healthy for their families

throughout winter. Rising damp is an issue

that affects many of our older properties

which suffer from poor, or no, insulation.

In Canterbury especially, post-quake, many

people have relocated to homes that suffer

from rising damp which can be associated

with health problems. Independent tests

have shown that up to 40 litres of water

can rise from the ground and enter a

house every day, leading to mildew, mould,

condensation and musty smells. Moulds

can produce various allergic reactions

and the frail, elderly and very young are

especially vulnerable.

Canterbury Foam Concrete Ltd is a

locally owned and operated firm. The

team understands the problems caused

by rising damp and are there to help.

They will come to your damp home

and pump a lightweight, flowable foam

concrete under your timber floored home.

Specially adapted for our New Zealand

conditions and applications it provides a

layer of protection against rising moisture.

An unexpected benefit that the team at

Canterbury Foam Concrete have noticed

recently, is that many owners of properties

which had underfloor foam concrete

installed, reported that it also provided

protection against liquefaction after

the earthquakes.

Contact Canterbury Foam Concrete

Ltd now for your free, no obligation

quote and complimentary appraisal of

your underfloor ventilation needs. Phone

03 376 4608 or 0508FOAMCO for more

information.

Under the New Zealand Building Code,

all buildings, including residential, need

to be suitably ventilated, either with

opening windows or forced ventilation.

Clause G4.1 states: "The objective of this

provision is to safeguard people from

illness or loss of amenity due to lack of

fresh air." There are many benefits to forced,

or mechanical, ventilation over opening

windows, including warmth, security,

reduction of outside noises and reduction

of condensation.

Traditional domestic ventilation systems

are 'positive pressure'. They bring air in

from outside via the roof space and force

the stale air out through gaps around

windows and doors. The incoming air

from these systems has to be heated or

cooled to keep the house warm in winter or

cool in summer.

The Smooth-Air HEX390 is a 'balanced

pressure' system. It extracts air from the

house and at the same time brings in fresh

air. These two streams of air pass through

a heat exchanger, which warms incoming

air in winter and cools in summer if air

conditioning is being used. This means that

up to 80% of the energy which would be

wasted using a traditional positive pressure

system is recovered, resulting in significant

energy savings and therefore lower heating

or cooling costs.

Until recently, balanced pressure

ventilation systems have been considerably

more expensive than traditional

positive pressure systems. However,

with Smooth-Air's unique

manufacturing capabilities, a

HEX390 balanced pressure system

can be installed for a similar price as

a traditional positive pressure system.

You can contact Smooth-Air on

0800 SMOOTH (0800 766684).

Smooth-Air

Ventilation Equipment Suppliers

totrade

retail

The most efficient way

to ventilate your home

&

HEX 390

For Healthy Indoor Air

T. 03 376 4608

E. info@foamconcrete.nz

W. www.foamconcrete.nz

Heat is transferred to the

incoming filtered fresh air

HEAT PUMP

SALE NOW ON!

Amazin' WINTER Specials!!

• We will offer you the best quality brands and

option of heat pump for your home/business

• Providing Heat Pump solutions for over 17 years to Cantabrians

• We personally guarantee all our products & installs for 5 years

(providing annual maintenance has been completed)

Phone us today for your free consultation & quote

41A SHAKESPEARE RD, WALTHAM

PHONE 03 366 0525

www.enviromaster.co.nz

"A local team for local people"

Substantial energy savings

over traditional domestic

ventilation systems.

0800 SMOOTH

(0800 766 684)

sales@smooth-air.co.nz

Made in New Zealand,for New Zealand conditions

Fresh air

from outside

Warm, stale

air from house

264 Annex Rd

Riccarton

Christchurch

03 343 6184

Exhaust air

to outside

Warm fresh air

to house

Monday - Friday

7.30am - 5pm

www.smooth-air.co.nz
---
18

Tuesday August 20 2019

Latest Christchurch news at www.star.kiwi

SOUTHERN VIEW

If you want more information about an item or to contact a

seller, visit www.postanote.co.nz and search the ID#

Toyota Spacio

Art Deco Mirrored Top Table

Suzuki DRZ400E

Mazda Premacy

Quality Brand-new Bedside

Six Outdoor Chairs & Dining Table

$2,000

ID 30285

$150

ID 30611

$3,500

ID 30588

$4,800

ID 30362

$125

ID 30609

$125

ID 30547

1997 Honda Legend Extendable Large Glass Table

Electric Bike

DB Grubber

Breadmaker - Sanyo

Antique French Mirror Door

$1,400

ID 29798

$200

ID 30613

$1,000

ID 30284

$450

ID 30622

$25

ID 30083

$300

ID 30610

DeLonghi Portable

Heatpump/Air Conditioner

Honda Accord Euro CL 9

Old Milk Or Cream Can

Toyota Corolla 1.8 NZ New

Assortment of Kitchen Items

1974 Fiat 1000 Super 110hp

$550

ID 30524

$7,250

ID 29801

$75

ID 30313

$6,700

ID 30618

$20

ID 30620

$9,500

ID 30600

York Rowing Machine

Muncher for 5 HP Briggs & Stratton

1985 Dodge ES 600 Convertible

5 Lovely Leather Skins

Quality Writing Desk

Sleepout 4.6 x 2.4

$200

ID 30550

$400

ID 30552

$13,750

ID 30437

$250

ID 30551

$150

ID 30345

$4,500

ID 30543

Extending Dining Table & 6 Chairs

Nouveau Dishwasher

Mitsubishi Pajero

Victorian Oak Barley Twist Hall Chair

Two-stroke Lawnmower

Huntsman 525 Boat

$500

ID 30246

$50

ID 30526

$6,000

ID 30286

$150

ID 26843

$175

ID 26858

$23,000

ID 30383

1974 Leyland REL Bus

Glass Bottle

Old Battery Charger

Subaru Legacy B4 RSK

Home-built Garden Trailer

Whitebait Net

$8,000

ID 30168

$2

ID 30517

$30

ID 30487

$5,000

ID 30232

$275

ID 30373

$950

ID 29773

Leaf Blower Vacuum

Honda TRX 300

Seagull Outboard Motor

Audi A4 1.8 Turbo

Tandem Trailer with Cage

Honda Odyssey Camper Van

$50

ID 26618

$3,500

ID 26895

$400

ID 30576

$7,000

ID 30254

$2,500

ID 30237

$1,500

ID 30220

0819h03chch
---
SOUTHERN VIEW Latest Christchurch news at www.star.kiwi

Tuesday August 20 2019 19

www.curtainfabric-outlet.com

Fashion Designs & Colours

Discontinued Designs

End of Lines Bargain Prices

Call at Our Shop

CURTAIN FABRIC OUTLET

71 Hawdon St Sydenham

Ph 366-5026

Classifieds Contact us today Phone our local team 03 379 1100

Car Parts

Gardening

& Supplies

LANDROVER

DISCOVERY REAR

A GARDEN OR

STEP. $45 Ph 0275

LANDSCAPING TIDY

490048 or 021 3363 666

UP? Shrub, hedge &

LANDROVER

tree pruning, Lawns,

DISCOVERY POWER

Gardening, consistently

STEERING box $250 Ph

reliable general property

0275490048 or 021 363666

upkeep, Dip. Hort. 10

TYRES Secondhand,

yrs experience, One off

most szs from $30 - $70

tidy ups or on-going

fitted, Also batteries, 217

service. Nick's Garden

Waltham Road, 027 476

Maintenance. Keeping

2404

your garden beautiful.

Free Quote. Ph. 942-4440

Curtains & 022 264 7452

Holiday

Accommodation

Australia QLD

SUNSHINE

COAST

RESORT

ALEXANDRA HEADLAND

All Units Have Ocean Views.

Heated Pools, Spa & Sauna,

Free Wifi, Tennis

& Mini Golf.

CHECK OUR GREAT

WINTER SPECIALS

www.mandolin.com.au

0061 7 5443 5011

JUNE to AUG temps 20C

Wanted To Buy

CASH FOR

STAMPS,

COINS &

GOLD

Free Appraisals

Call Matt at

The Stamp and

Coin Exchange

134a Riccarton Rd

0800 39 24 26

We can come to you.

Call today.

AAA Buying goods

quality furniture,

Beds, Stoves, Washing

machines, Fridge Freezers.

Same day service. Selwyn

Dealers. Phone 980 5812

or 027 313 8156

CASH/CASH for any

unwanted vehicles, ph

347 9354 or 027 476 2404

TOOLS Garden,

garage, woodworking,

mechanical, engineering,

sawbenches, lathes, cash

buyer, ph 355-2045

Trades & Services

FOR ALL YOUR

★Garden Clean-ups

★Pruning

★Lawn Mowing

★Garden Maintenance

Call us today for a FREE quote

PH 0800 4 546 546

(0800 4 JIMJIM)

AAA HANDYMAN

licensed carpenter

LBP, all property and

building maintenance,

repairs, bathroom/shower

installations, with free

quotes 03 383 1927 or 027

245 5226 ciey@xtra.co.nz

BRICKLAYER

George Lockyer. Over

40 years bricklaying

experience.Uk trained.

Insurance work, EQC

repairs. Heritage

brickwork & stonework

a speciality. No job too

small. Governers Bay.

Home 329 9344. Cell

027 684 4046. E mail

georgelockyer@xtra.co.nz

CARPET LAYING

Exp. Repairs, uplifting,

relaying, restretching.

Phone John on 0800

003181, 027 240 7416

jflattery@xtra.co.nz

CARPETLAYER

35yrs experience. Special

rates for seniors. Prompt

service. Ph 021 046 0231

Trades & Services

rooF

painting

Book now for Summer

and receive 20%

discount.

Rope and harness a speciality.

No scaffolding required.

30 years experience.

Also waterblasting paths,

driveways and moss removal.

Free quotes, call

Craig 021 060 2392

ROOF

PAINTING

Rope & harness

a speciality,

no scaffolding

required,

30 years of

breathtaking

experience.

FREE QUOTES

Exterior staining,

exterior painting,

moss and mould

treatment and

waterblasting

Phone Kevin

027 561 4629

ADD SOME

COLOUR

TO YOUR ADVERT!

Trades & Services

PAINTING & TILING

• PAINTING • TILING

• PLASTERING

• WALLPAPERING

Phone Kevin Steel

• Interior/Exterior

• New Homes & Repaints

• Quality workmanship assured

• Correct preparation always undertaken

• 20+ years experience

• Earthquake repairs

(Painting/Plastering/Wallpapering/Tiling)

Ph 381 7417 or 027 216 8946

www.facebook.com/kevinsteelpainters&decorators

PAINTING

Indoor / Outdoor, over 30

yrs exp, same day quotes,

ph Steve 021 255 7968

PAINTING

& Decorating Wingfields

Contracting, all interior

& exterior painting & all

forms of interior plastering

& jib fixing, ph Mark 021

171-1586

PAINTERS

& DECORATORS

Qualified and experienced

painters and plasterers

available to undertake

any size job. Member

of Master Painters NZ.

Ph Chris 0800 438 152.

New Image Painters &

Decorators

PLUMBER

A Top Plumbing job

completed at a fair price,

prompt service, all work

guaranteed, Ph Brian 960-

7673 or 021 112-3492

SPOUTING CLEANING

Spouting Unblocked,

Cleaned Out and Flushed

Out. Call Trevor 332 8949

or 021 043 2034

STUMP GRINDING

Best price guarantee Tony

0275 588 895

TILER/CARPENTER

35 years exp, no job

too small. Ph Ross 027

4311440.

T.V. SERVICE CENTRE

Repairs, tvs, microwaves,

audio amps, soundbars.

.Aerial & satellite

installations, kitsets, 480D

Moorhouse Ave, ph 03 379

1400

VHS VIDEO TAPES

& all camera tapes

converted to DVD, video

taping special occasions,

www.grahamsvideo.co.nz

ph 03 338-1655

Trades & Services

DRIVEWAYS

Exposed Aggregate

Stamped Concrete Plain

Concrete Resurfacing

Things we offer...

Competitive/affordable pricing

Attention to detail

Professional service

free quotes/insurance scopes

Cell 0278 145 848

www.drivecrete.co.nz

MECHANIC

Experienced

Mechanic Wanted

Who has worked on all types of diesel

and petrol vehicles. Please contact

the new owners for an interview.

DIESEL DOCTOR & PETROL

Christchurch Ltd

288 Lincoln Rd,

Addington

P: 338 8884

E: service@dieseldrpetrol.co.nz

3 issues $20

6 issues $44.50

10 issues $65

SUBSCRIPTIONS FREEPHONE

0800 77 77 10

rugbynews.co.nz
---
Advert: fcsv2008

Newspaper: Southern View

20 Tuesday August 20 2019

Latest Christchurch news at www.star.kiwi

SOUTHERN VIEW

Pickup

Delivery

Get

Free Delivery

for the month

of August!

When you spend $100 or more.

Use coupon code ' AUGUST '* .

Bluebird

Delisio

Chips 140g

$

8 90

kg

Fresh NZ Skin-on

Chicken Breast

Fillets

Essentials

Salted

Butter

500g

$

5 00

EA

$

4 50

pk

USA Red Seedless Grapes 500g

Whittaker's

Chocolate

Block 250g

$

4 50

EA

$

4 00

kg

3 for

$

5 00

loose red

or orange

kumara

Fresh NZ Beef

Topside Steak

or Roast

Orchard Thieves

Apple Cider,

Wakachangi Lager,

Tiger, Sol or Grolsch

12 x 330ml bottles

$

20 00

pk

$

14 90

kg

Shop online now at

FreshChoiceYourWay.co.nz

Barrington

Open 7am – 11pm, 7 days a week.

City Market

Open 7am – 9pm, 7 days a week.

Prices apply from Monday 19th August to Sunday 25th August 2019, or while stocks last at FreshChoice City Market & Barrington only. Limits may apply.

Free delivery promotion available at FreshChoice Barrington & City Market-Christchurch (Excludes business customers).

*Offer available until 31st August 2019. $100 spend excludes Delivery Fee before discount & Tobacco products.

FreshChoiceNZ

OWNED &

OPERATED BY

LOCALS

fcsv2008