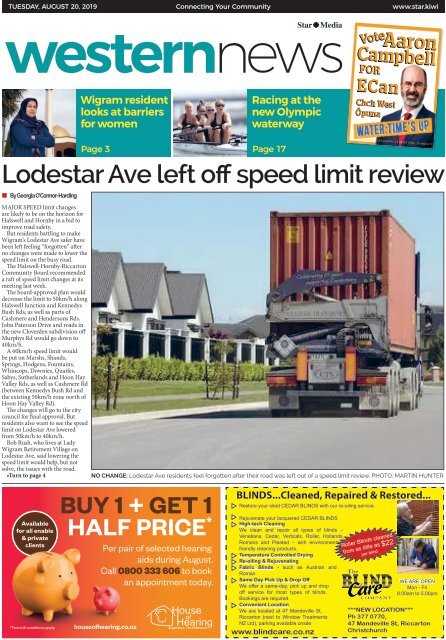 Western News: August 20, 2019
You also want an ePaper? Increase the reach of your titles
YUMPU automatically turns print PDFs into web optimized ePapers that Google loves.
TUESDAY, AUGUST 20, 2019

Connecting Your Community

www.star.kiwi

Wigram resident

looks at barriers

for women

Racing at the

new Olympic

waterway

Vote

FOR

ECan

Aaron

Campbell

Chch West

Ōpuna

Page 3 Page 17

Lodestar Ave left off speed limit review

• By Georgia O'Connor-Harding

MAJOR SPEED limit changes

are likely to be on the horizon for

Halswell and Hornby in a bid to

improve road safety.

But residents battling to make

Wigram's Lodestar Ave safer have

been left feeling "forgotten" after

no changes were made to lower the

speed limit on the busy road.

The Halswell-Hornby-Riccarton

Community Board recommended

a raft of speed limit changes at its

meeting last week.

The board-approved plan would

decrease the limit to 50km/h along

Halswell Junction and Kennedys

Bush Rds, as well as parts of

Cashmere and Hendersons Rds.

John Paterson Drive and roads in

the new Cloverden subdivision off

Murphys Rd would go down to

40km/h.

A 60km/h speed limit would

be put on Marshs, Shands,

Springs, Hodgens, Fountains,

Whincops, Downies, Quaifes,

Sabys, Sutherlands and Hoon Hay

Valley Rds, as well as Cashmere Rd

(between Kennedys Bush Rd and

the existing 50km/h zone north of

Hoon Hay Valley Rd).

The changes will go to the city

council for final approval. But

residents also want to see the speed

limit on Lodestar Ave lowered

from 50km/h to 40km/h.

Bob Rush, who lives at Lady

Wigram Retirement Village on

Lodestar Ave, said lowering the

speed limit would help, but not

solve, the issues with the road.

•Turn to page 4

NO CHANGE: Lodestar Ave residents feel forgotten after their road was left out of a speed limit review. PHOTO: MARTIN HUNTER

Available

for all enable

& private

clients

*Terms & conditions apply.

BUY 1 + GET 1

HALF PRICE *

Per pair of selected hearing

aids during August.

Call 0800 333 606 to book

an appointment today.

houseofhearing.co.nz

BLINDS...Cleaned, Repaired & Restored...

Restore your oiled CEDAR BLINDS with our re-oiling service.

Rejuvenate your lacquered CEDAR BLINDS

High-tech Cleaning

We clean and repair all types of blinds –

Venetians, Cedar, Verticals, Roller, Hollands,

Romans and Pleated – with environmentally

friendly cleaning products.

Temperature Controlled Drying

Re-oiling & Rejuvenating

Fabric Blinds - such as Austrian and

Roman

Same Day Pick Up & Drop Off

We offer a same-day, pick up and drop

off service for most types of blinds.

Bookings are required.

Convenient Location

We are located at 47 Mandeville St,

Riccarton (next to Window Treatments

NZ Ltd), parking available onsite

www.blindcare.co.nz

Roller Blinds cleaned

from as little as $22

per blind

WE ARE OPEN

Mon - Fri

8.00am to 5.00pm

***NEW LOCATION***

Ph 377 0770,

47 Mandeville St, Riccarton

Christchurch
---
2 Tuesday August 20 2019

Latest Christchurch news at www.star.kiwi

get in touch

GENERAL INQUIRIES Ph 379 7100

CLASSIFIED ADVERTISING Ph 379 1100

Star Media,

a division of Allied Press Ltd

PO box 1467, Christchurch

starmedia.kiwi

schools

Page 10

tasty bites

WESTERN NEWS

Big break for Rangi Ruru artists

Year 13 students spread a message of friendship through

their artwork Strength in Sisterhood.

Food through science

The benefits of protein in our bodies can't be

underestimated. Get plenty in your diet with these recipes.

NEWS

Georgia O'Connor-Harding

Ph: 021 910 730

georgia.oconnor@starmedia.kiwi

ADVERTISING

Alana Powell

Ph: 962 8753

alana.powell@starmedia.kiwi

Page 19

community events

Robots for children

Get a taste of robotics at Hornby Library, 3.30-4.30pm on

Wednesday. The programme will continue for three weeks.

Page 20

The best-read local newspaper,

delivered to 15,905 homes

every Tuesday

Templeton, Islington, Hei Hei, Broomfield, Halswell, Oaklands,

Westlake, Hornby, Wigram, Sockburn, Church Corner, Ilam,

Russley, Hyde Park, Avonhead, Riccarton Park, Riccarton.

• The Star

• North Canterbury News

• Selwyn Times

• Ashburton Courier

also publishing:

• Bay Harbour News

• Southern View

• NorWest News

• Pegasus Post

magazine

designer clothing

sizes 10 - 26

Windmill Centre, 188 Clarence Street

Riccarton, Christchurch

Phone 021 686 929

www.magazineclothing.co.nz

Reach

168,000

List for Spring!

Call us for an appraisal.

readers

with just one ad placement

Call Shane Victor on 021 381 765 to find out how!

Lindsay & Marilyn Welch | Licensed Sales Consultants

0275 770 216 lindsay.welch@harcourts.co.nz | 0275 770 214 marilyn.welch@harcourts.co.nz

'We live in Halswell - we sell in Canterbury'

Grenadier Real Estate Ltd | Licensed Agent REAA 2008

f

in
---
WESTERN NEWS Latest Christchurch news at www.star.kiwi

Tuesday August 20 2019 3

News

Identifying barriers for women

HELPING HAND: Pari Hussaini will be working with women

feeling socially isolated in the south-west to help them

connect with their communities.

• By Georgia O'Connor-Harding

A CASE study has been

commissioned to help

identify barriers keeping

socially isolated women

from connecting with their

communities in the south-west.

Funding of $30,000 was

granted from the Government's

Ethnic Communities Development

Fund to enable the Family

Help Trust to employ a connector

role to determine what is

isolating women.

The role, which will be taken

on by Wigram resident Pari

Hussaini over the next six

months, was prompted as a

result of the March 15 attacks.

She said it is mostly Muslim

women who have been left feeling

anxious since the attacks,

but her role is to help all women

who need help connecting with

their community.

"I am mostly going around

and talking with lots of communities,

schools, parents and

also with my own community,"

Mrs Hussaini said.

She will be focusing on

communities in the greater

Halswell, Hornby, Spreydon

and Addington area – including

speaking with schools and

parents.

City councillor Anne

Galloway, who is involved in the

trust, agreed the attacks have

created more anxiety in the

community, which is perhaps

keeping people house-bound.

"We are trying to identify

barriers . . . it might be language,

it could be they have got

no licence, it could be they are

anxious and worried and want

to stay close to home."

But Cr Galloway said there is

also a sense there are socially

isolated people who have been

living in the south-west community

for a long time.

"We are just basically doing a

scope at the moment to see the

need," she said.

Mrs Hussaini's role will be

funded for the next six months.

Last month $30,000 of funding

was approved.

Cr Galloway said the

six months case study will

determine if there is a need in

the community for a full-time

connector role.

•HAVE YOUR SAY: Do you

think the mosque shootings

have increased social

isolation in the community?

Email your views to georgia.

oconnor@starmedia.kiwi

In Brief

BARBECUE AT MOSQUE

A neighbourhood barbecue

will be held at Al Noor Mosque,

Deans Ave this Sunday. Residents

are invited to see the mosque and

meet the people who worship

their in a bid to get to know their

neighbours better. The barbecue

will be held outside, but the public

are welcome to look inside the

mosque. Women need to wear

headscarves and modest clothing.

If you go inside you must take

your shoes off. If the weather isn't

favourable the barbecue will be

cancelled but residents will still

be welcome to visit the mosque. It

will be held from noon until 2pm.

NGA PUNA WAI SPORTS HUB

Sports Canterbury will manage

and operate the Nga Puna Wai

Sports Hub. The Halswell-

Hornby-Riccarton Community

Board granted a lease of 20 years

to the organisation at its meeting

on Tuesday.

SUPERMARKET TROLLEYS

It has now become easier for

residents to get rid of abandoned

supermarket trolleys. The city

council's Snap Send Solve app

now has a special section for these

trolleys enabling residents to let

stores know where their trolleys

are. The Snap Send Solve app can

be downloaded onto androids and

smartphones.

Please get in touch with

my office if you need any

assistance on 03 338 6347 or

megan.woods@wigram.org.nz

Authorised by Hon Megan Woods, Shop 6, McCathy St, Christchurch

For Everything

AUTO ELECTRIC

CARS • BOATS • TRUCKS • CARAVANS • TRAILERS

• 4WDS • ELECTRIC & HYBRID VEHICLES

• Starter Motors

• Alternators

• Central Locking

• Electric Windows

• ABS & Airbags

• Stereos/Alarms

• Batteries

• Tuneups

• Engine Management

YOU NAME IT WE FIX IT

AAE

Amazing

Auto

Electric

USUALLY

SAME DAY

SERVICE

WE ARE HERE

65 Coleridge St, Sydenham 65 Coleridge St

Coleridge St

Ph. 379 4250

www.amazingautoelectric.co.nz

Gasson St

Wordsworth St

Brisbane St

03 349 5050

free

denture

checks

New Dentures > Relines > Repairs >

The revolution

in heat pumps

is here now!

6 Brynley Street, Hornby, Christchurch

www.betterdenture.co.nz

The revolution in heat pumps is here now!

The Fujitsu e3series

The brilliant

heat pumps from Fujitsu

e1 : efficiency

e2 : environment

e3 : economy

The brilliant e3 series

heat pumps from Fujitsu

e1 : efficiency

e2 : environment

e3 : economy

Website: www.pshc.co.nz

Finance available

FREE consultation from your local

Accredited Heat Pump Expert

Phone today: 03 381 6950

INSERT DEALER DETAILS HERE

Fujitsu's Catechin Filters are

approved by the Asthma and

Respiratory Foundation NZ's

Sensitive Choice ® programme.

Email: info@pshc.co.nz
---
4 Tuesday August 20 2019

Latest Christchurch news at www.star.kiwi

WESTERN NEWS

News

Mora puts

hand up

for CDHB

• By Georgia O'Connor-Harding

A WELL-KNOWN community

board member has put her

name forward for a position on

the Canterbury District Health

Board.

Halswell-

Hornby-Riccarton

Community

Board member

Debbie Mora will

contest a CDHB

seat and run

for the board in

October's local

body elections.

Debbie

Mora

She said she was also toying

with the idea of running for the

city council in the Riccarton

Ward, but decided against it.

Ms Mora said her experience,

which includes chairing the community

board's submission committee,

will help the CDHB.

Her priorities would be to

resolve the parking problem at

Christchurch Hospital, improve

the mental health system and

provide further counselling for

people who have been physically

and sexually abused.

"It would be good to be in a

position to make change," she

said.

Community board gives speed limit plan green light

•From page 1

"The original problem is

basically the speed of vehicles

coming down here, plus the

trucks using the road as a bypass

– it was never designed to have

trucks down here," he said.

Since 2017, Lodestar Ave and

Lady Wigram residents have

been pleading for restrictions to

be placed on heavy vehicles – but

trucks are still using the road.

City council transport

operations manager Steffan

Thomas said the speed limit

review focused mainly on

existing high risk 70km/h and

80km/h roads, which are rural

and semi-rural.

"There is currently no

information available on when

Lodestar Ave speed limits might

be reviewed," he said.

Lodestar Ave homeowner

Wanda Waites said it would

be nice if the speed limit was

lowered, but heavy trucks need

to be banned for the problem to

be solved.

Board member Debbie Mora

said she was disappointed

Lodestar Ave was not included.

Following feedback the board

also decided to write to the New

Zealand Transport Agency

about lowering a section of

Halswell Rd from 80km/h to

60km/h.

Board chairman Mike Mora

said this change would make the

road more consistent.

The board will

ask NZTA about the

possibility of changing

the section of Halswell Rd

between Augustine Drive

to about 300m before

Dunbars Rd from 80km/h

to 60km/h.

Board member Ross

McFarlane said there are

several issues with the

right-hand turn from

Aidanfield Drive due to the

Ross

McFarlane

increasing traffic.

The latest traffic count showed

18,000 vehicles travel

on Halswell Rd daily.

Mr McFarlane said

there are also about

three businesses on the

east side of Halswell

Rd, which means more

vehicles are travelling

in and out of the

80km/h speed zone.

"A lot of vehicles don't

accelerate to 80km/h because

they know they are only going to

SPEED: The

Halswell-

Hornby-

Riccarton

Community

Board will

write to the

New Zealand

Transport

Agency in a

bid to have

a section of

Halswell Rd

lowered from

80km/h to

60km/h.

have to slow down again and that

causes frustration in drivers who

want to travel 80km/h," he

said.

NZTA senior traffic and

safety engineer David Scarlet

said developments in the area

mean it is an appropriate time to

review the speed limit.

•HAVE YOU SAY: Do you

think Lodestar Ave should

have been included in the

plan to lower speed limits?

Email your views to georgia.

oconnor@starmedia.kiwi

413 MAIN SOUTH RD, HORNBY (JUST BEFORE CALTEX STATION) | WWW.SHOSHA.NZ

Choosing the wrong agent to sell your home can

cost you money and cause unnecessary stress!

" I had been placed into what I thought was a very negative and stuck

situation due to experiences with another Real Estate Agent so I reached

out to Cameron Bailey with details of my situation and he did not hesitate

to offer his assistance, advice and reassurance. I appreciated his ability to

connect and relate to my situation with empathy whilst upholding extreme

professionalism and as a consequence enabled the selling of my home

to be a very peaceful and quick process. Adding to that I was offered the

services of someone to assist me purchase my next home - for me an

added bonus!" CR
---
WESTERN NEWS Latest Christchurch news at www.star.kiwi

Tuesday August 20 2019 5

Burglaries for drug money

• By Georgia O'Connor-Harding

THE INCREASE in opportunist

crime in Halswell and Wigram

is likely to be fuelled by drugs,

police say.

Superintendent Lane Todd

said police are finding the

majority of burglaries involve

young people trying to get

money to buy drugs.

He said while police have

noticed the spike in drug-driven

burglaries in Halswell and

Wigram, it is an issue across the

city.

Over the past six weeks, police

have been running an operation

to crack down on burglaries in

the areas.

"We have put additional staff

out there and we are arresting

people on a daily basis,"

Superintendent Todd said.

As a result, burglary stats in

the area are starting to drop, he

said.

"The

message we

are trying

to do is to

get people

to take more

care around

security.

Locking

Lane Todd

vehicles

and locking

sheds. A

lot of garden sheds have quite

a lot of property in them,"

Superintendant Todd said.

In June, five homes in

Bibiana St, Felicitas Grove and

Eaglesome Ave were targeted in

a series of burglaries.

CCTV footage from nearby

properties filmed a tall,

European man wearing a hoodie

and a black mask, roaming the

streets during all five burglaries.

Superintendant Todd said

police are finding a small group

of people will walk up and down

driveways looking for easy

targets.

"For those who take a bit

more extra security and

keep everything locked, they

generally aren't targeted as much

CRIME PREVENTION: Police have told Halswell and Wigram residents to make sure their homes

are more secure to prevent opportunist burglaries.

because it is more time to break

into a property."

A community safety meeting

to gauge the extent

of the problem was

held recently. The

meeting was organised

by city councillor

Anne Galloway and

Halswell-Hornby-

Riccarton Community

Board candidate

Narrinder Singh

Warraich.

Cr Galloway

previously told Western

News concerns over burglaries

have been predominantly

coming from multi-cultural

communities and people who

may not be aware of the support

networks available.

Anne Galloway

Superintendant Todd said

Community Constable Li'Ying

Cai, who was present at the

meeting, has been

working with the

Asian community,

in particular, to help

prevent burglaries.

Greater Christchurch

Regeneration Minister

Megan Woods and

representatives

from the Hornby

Community Patrol

and Neighbourhood

Support were also

present at the meeting. Mr

Singh Warraich said residents

shared burglary incidents in

their neighbourhood and police

conveyed key messages.

This included locking

unattended vehicles on roads,

parking in well-lit areas and

considering investing in an

alarm system or getting sensor

lights fitted. Cr Galloway said it

was "reassuring" to learn what

police are doing but the city does

unfortunately have a "big meth

problem" which drives a lot of

crime.

Hornby resident Mark Peters

said Aidanfield Christian School

was hit with burglaries over the

school holidays, with stationery

stolen from unsecure lockers in

an unlockable locker bay.

"My child had three pencil

cases stolen along with a

calculator . . . the more we can

do to help stomp out that sort

of negative behaviour in the

community the better," he said.

Police take

action on

Deans Ave

boy racers

• By Georgia O'Connor-Harding

RESIDENTS CONCERNED by

boy racer activity on Deans Ave

have been reassured police are

working to minimise the problem.

Superintendent Lane Todd met

with a small group of 12 people,

including Deans Avenue Precinct

Society members, to discuss the

issue recently.

While the meeting was attended

by members of the society, it was

not attended by anyone directly

affected by the issue

or anyone living on

Deans Ave.

The meeting

was prompted by

Halswell-Hornby-

Riccarton Community

Board deputy

chairwoman Helen

Broughton who has

been calling for a

Helen

Broughton

meeting with police since June.

Mrs Broughton told Western

News it was unclear if the low turn

out at the meeting was due to a

lack of concern or if it was because

publicity on the meeting was low

key.

She said she will look to arrange

another meeting with police following

the October local body

elections.

At the meeting Superintendent

Todd discussed four key

on-the-ground police initiatives

to prevent anti-social behaviour,

which were:

•Issuing tickets each weekend.

•Police proactively stopping

vehicles of concern to assess and

"pink-sticker" cars if they are

unsafe or need to repairs.

•Police using intelligence gathering

(social media) to find out

about planned events and increase

their presence in the area.

•Police actively avoiding chase

situations to risk placing innocent

lives at risk.

•Residents are advised if

they are concerned about boy

racer activity to phone *105.

NomiNAtE

dAd FoR

LoCAL FAthER

oF thE yEAR!

EVERY ENTRY GETS A FREE SLICE OF CAKE!*

ENtRiES CLoSE 31.08.19

opEN to ChiLdREN 12 yEARS ANd uNdER

ENTER

TO WIN!

DOWNLOAD ENTRY FORM ONLINE

AND ENTER IN-STORE

*Conditions Apply, see www.thecheesecakeshop.co.nz/terms

Hornby | Shop 3, 413 Main South Road | Ph. 03 925 9935

thecheesecakeshop.co.nz

Cheesecakes | Mudcakes | Tortes | Desserts | Open 7 Days
---
6 Tuesday August 20 2019

Latest Christchurch news at www.star.kiwi

Trust focus

on boosting

digital tech

availability

Kia ora koutou. Talofa. Kia Orana. Malo e lelei. Bula.

Fakaalofa atu. Namaste. Kumusta. Haere mai haere mai ki

Te Kura Huruhuru Ao o Horomaka. Warm greetings to the

Hornby High School community.

We are nearly there. We take possession of the last of our

new buildings on Friday September 13, although the official

blessing is a earlier on Tuesday August 27. I have been

constantly repeating my favourite Sir Winston Churchill

quote in this regard: "We shape our buildings, thereafter

they shape us". We have been careful and thoughtful in our

building design, and now have schools visiting to look at

what we have done, and going away saying "we want that

design".

Sitting alongside the building work is our journey to

transform the junior curriculum. We are edging ever

closer to next year's shape in Years 7 to 10, with passions

and community impact projects used to cause learning in

authentic contexts.

Our work with the Manaiakalani pedagogy "Learn Create

Share" continues to have a truly transformational impact on

student learning.

Of huge importance in this regard is the work that has been

going on in the background to support this work, and the

purchase of Chromebooks by whānau. In 2017 we formed

Uru Mānuka Education Trust (UMET), a charitable trust. It is

chaired by Mr Garry Moore (former Mayor) and the trustees

are Mr Jason Marsden (Manager of "The Hub"), Mrs Janine

Morrell-Gunn (Whitebait Studios), Mrs Daisy Lavea-Timo

(slam poet extrordinaire), and Mrs Rose Crossland (Manager

and fundraiser). Gary Roberts (Hornby Primary School) and

I sit with the trust as Principal Advisors. The trust allows us

to fundraise to support our Education Programme Leader

(who works tirelessly to help teachers across the cluster

to grow the skills they need to work with our pedagogy in

a digital environment), and also to allow the purchase of

Chromebooks in a variety of ways, at affordable prices. It is

vital that our rangatahi have access to the digital technology.

This is a game changer in education, but as a kura we are not

able to provide devices for students. We are very grateful

to whānau who make this incredible investment in their

children's education and their futures. Ka mau te wehi!!!

The UMET has just announced that the Wayne Francis

Charitable Trust has committed to providing $120,000 a

year over five years to support the UMET and the work that

we are doing across the cluster. This is an indicator of the

faith that they have in the impact of Chromebooks, and

the "Learn Create Share" pedagogy, to transform learning.

We are very grateful to our own trustees for their tireless

efforts on behalf of our tamariki, and to the Wayne Francis

Charitable Trust for their incredible investment in the

futures of our tamariki.

Ngā mihi nui

Robin Sutton

Tumuaki

Leaders hone their skills

At the end of last term we

had an incredibly successful

Musical Theatre showcase at

which our senior Music and

Drama students demonstrated

their talents in the genre.

This particular genre of

Performing Arts is hugely

demanding, requiring skill

and confidence which really

pushes our performers. The

evening is also an important

assessment for NCEA so stakes

August 2019

were high and the pressure

was on!

The evening was a wonderful

success with many of our

students gaining Excellence.

We also had a very supportive

audience who gave our

performers the energy they

needed. We would like to

thank everyone that came to

support this event.

WESTERN NEWS

Commitment,

Achievement,

Resilience,

Respect

Formal enjoyment unmasked

At the end of last term, Hornby High

School held its "Midnight Masquerade"

ball at Twiggers in Addington Raceway.

Seeing everyone dressed up was truly

wonderful as we know that a lot of

people would have felt way out of their

comfort zones. So we are so thankful for

everyone who came and made the night

memorable.

It was a very eventful night with lots of

dancing, delicious food, plenty of photos

and an all-round great atmosphere. It was

an absolute pleasure to see so many staff

attend this year's ball and dominating

that dance floor. They made the night

extremely entertaining by rocking out to

all of the old school classics.

Thank you to our formal committee

comprising Julia Conklin, Toby Lewis, Iris

Taramai, Oceana Olsen, Emma Baker, and

Rania Kaskar, for putting together a great

event.

Performers shine under pressure

On July 2, several of our Year 12 students attended the

Emerging Leaders Conference at Christ's College. The

students had a great time, and were excellent ambassadors

of our school. Pictured are Jessania Gallagher, Jorja

Woodgate, Kiah Uri, Kimberley MacKinnon and Cinnamon

Hubbard at the event.

Performances included Little Shop of Horrors (top middle), grand finale including all performers (bottom left), solo

performances from Anna Pohatu, (bottom centre) and Lavisha Tatu (right).
---
WESTERN NEWS Latest Christchurch news at www.star.kiwi

Tuesday August 20 2019 7

News

KiwiRail to clean up blaze debris

• By Georgia O'Connor-Harding

IT HAS been more than five

months since a fire raged

through 2km of State Highway 1

between Islington and Rolleston.

But an unsightly piece of land

at Templeton, damaged by the

blaze, will finally be cleaned up.

KiwiRail has confirmed it

will clean up the strip of plants

and shrubs located next to the

railway on Main South Rd, near

Cookie Time, in the next two

months.

The Templeton Residents'

Association has been battling for

the area, left charred by fire, to

be cleaned up for the last couple

of months.

In February, a passing train

was reported to have caused the

fire.

KiwiRail South Island general

operations manager Jeanine

Benson said the charred areas

will be cleared and it will

consider replanting if that is

what the community would like.

"It is not clear if all the land

affected is owned by KiwiRail.

However, we will work on the

whole affected area," she said.

Association treasurer Jolene

Eagar said it was "great news"

the land would be cleaned up but

it was a long time for the land to

be left the way it is.

She said the association was

going "round in circles" trying

to determine if the city council,

New Zealand Transport Agency

or KiwiRail was responsible for

the land.

"Summer is coming, it would

be nice if people coming into

Christchurch didn't have to see

this strip of black next to the

road. This is the first impression

people see," Mrs Eagar said.

She said people are treating

the area as a rubbish dump

at the moment, with broken

glass, bottles and cans littered

everywhere.

The news was welcomed by

Templeton resident Maurice

Adler, who said it was a

"positive" development for the

area.

"It is an eyesore for the people

coming into the city . . . it is just

a matter of cleaning it up, getting

rid of the dead foliage and maybe

putting some chips in," he said.

Mr Adler said about a month

after the fire, good work was

done to pull down damaged

fences and sheds by the railway,

but nothing was done about the

landscaping.

It is not the first time

maintenance along the railway

tracks has been a problem.

In January, Hornby resident

Mark Peters slammed the lack

of work on State Highway 1

and raised concerns the weeds

next to the tracks adjacent to

Carmen Rd could be a potential

fire risk due to trains. The

overgrown grass was cleaned up

in February.

He said it was good to see

KiwiRail finally say it was going

to clean it up.

But Mr Peters said KiwiRail,

the city council and NZTA

needed to sort their relationship

out so they can act faster and do

what is good for the community.

UNSIGHTLY: Templeton

Residents' Association

treasurer Jolene Eagar has

been battling for an untidy

piece of land to be cleaned

up after it was damaged by

fire in February.

PHOTO: MARTIN HUNTER

oN sAle Now!

Now only

$35.80

Plus $5 P&H per copy

AvAilAble from stAr mediA:

Level One, 359 Lincoln Road

Addington, Christchurch

Phone 379 7100

Reach

168,000

readers

with just one

ad placement

Call Shane Victor on 021 381 765

to find out how!

ONE DAY

ONLY

SALE

of leading

Fashion Labels

ALL SEASONS

..............................................................................................................

FROM

50-80%

OFF

Great fashion brands

sizes 8-22

Includes $15.00 to

$20.00 Rack

Saturday

24 August

Cashmere Club,

50 Colombo St

9.30am-3.30pm

eftpos & credit card facilities on site

Soft plastics go

in the red bin

That's anything plastic you can

scrunch in your hand, like this

piece of bubble wrap.

Thanks for bin good everyone!

ccc.govt.nz/redbin
---
8 Tuesday August 20 2019

Latest Christchurch news at www.star.kiwi

News

WESTERN NEWS

•HAVE YOUR SAY: What do you think of the planned expansion of

Merivale Mall? Email your views to claire.booker@starmedia.kiwi

Opposition to proposed mall expansion

• By Claire Booker

RUSHED AND not needed.

Those are the key messages

coming out of a decision to grant

resource consent which will see

a huge expansion of Merivale

Mall.

Mall owner TEL Property

Nominees plans to turn the

current 6308 sq m mall into an

11,833 sq m mall, with a threelevel

car park

and 24 twostorey

homes

included in

the project.

But residents

are not

happy.

Says

Chris Aynsley

Merivale

Precinct Society

president

Chris Aynsley: "I think the decision

has been rushed.

"I think the people of Merivale

and Christchurch should've had

the benefit of being able to lend

their opinion and have some

robust discussion without this

thing being rubber-stamped in

a way that wasn't very democratic."

Mr Aynsley disputed the view

of the city council hearings panels

which granted the resource

consent which said effects on the

POPULAR: Merivale Mall owners have been granted consent

to increase the size of the facility by 87 per cent, and build a

three-level car park and 24 two-storey homes in the area.

PHOTO: GEOFF SLOAN

community would be minor. "If

you're going to double the square

footage of the mall, then you're

going to double the traffic, double

the number of staff, and that's

going to spill into the streets,"

Mr Aynsley said.

Residents are angry the city

council hearings panel which

granted the resource consent

said public consultation on the

plan was not required.

They have major concerns

about the impact on traffic in the

area.

But the hearings panel said

'no adverse effects of the activity

would be more than minor.'

Traffic engineers advised the

hearings panel the expansion

would have "negligible" impact

on Papanui Rd traffic volumes.

Mr Aynsley's concerns are

shared by a group of residents

and business people, who plan to

appeal the city council's consent.

Frank Van Schaijik, who

lives in Merivale and also owns

Aikmans Bar and Eatery, and

Aikmans Pizzeria and Sports

Bar, says the expansion would

affect the area's community feel.

He has been in contact with a

lawyer to challenge the process

which granted the resource

consent. He wants to have the

consent revoked.

"We have a good following

of locals. I don't think we need

more hospitality or retail," said

Mr Van Schaijik.

Signs on residential properties,

including Mr Van Schaijik's,

have appeared in protest against

the expansion.

Merivale resident Val Williams

also told Western News she is

against the expansion.

"It's a boutique mall, and I like

the village strip shopping feel.

There's already enough to build

on to make it vibrant, just have it

smaller and do better . . . shoving

in a parking building isn't going

to enhance Merivale," she said.

Gillian Archbold, who lives

in Fendalton, is a regular mall

user and thinks the expansion is

ridiculous.

"I think this is a sign of a

dysfunctional council. Anyone

who comes here knows this road

[Papanui Rd] is full of cars, this

will have a terrible impact on

traffic. Just leave it as it is," she

said.

Fendalton-Waimairi-Harewood

Community Board chairman

Sam MacDonald said he

hoped the consent application

would have been notified, which

would have allowed for public

consultation.

The community board would

closely follow the proceedings of

the mall expansion.

City council head of resource

consents John Higgins said

the hearings panel appreciated

the public concerns over the

resource consent for the mall.

But the panel was bound by

the statutory process under the

Resource Management Act.

"This process is tightly

prescribed and consultation

can only be undertaken in

limited circumstances. These

circumstances were canvassed

thoroughly in the decisions," he

said.

A Merivale Mall spokeswoman

said the resource consent is a

model for the future, and there

is currently no plan in place. She

said the consent process is 'just a

future-proofing model, and there

is no intention to develop.'

The hearings panel report

said there were no special circumstances

to warrant public

notification.

"We [hearings panel] acknowledge

a proposal such as this

may attract public attention or

interest, but the district plan anticipates

significant development

of the land within the zone for

a range of uses at a substantial

scale, subject to acceptable outcomes

being achieved with regard

to relevant adverse effects."

CloSInG DoWn

sale

August

only

offer!

Addington - Barrington - Middleton - Burnside - Edgeware - Fendalton - Merivale

Find us on

Dryclean any

2 trousers

for just

$20!

Instore only,

T's & C's apply.

maxwellsdrycleaning.co.nz

Closing permanently

at the end of August.

"Unbelievable bargains!"

Hornby SHoe outlet

383 mAin south roAd, hornby

in the brAnston building

Fabulous

haircuts for the

entire family

Our fully qualified stylists can

provide the latest styles and trends

EVERY 8 TH

HAIRCUT

IS FREE!

With your

loyalty card

Open 7 Days - no appointment necessary

Bush Inn Cnr. Riccarton & Waimairi Rds. Ph 03 348 7008

South City 555 Colombo St. Ph 03 366 0619
---
WESTERN NEWS Latest Christchurch news at www.star.kiwi

Tuesday August 20 2019 9

Experience our

Ryman communities

Join us for a tour of our villages in Riccarton and Papanui.

Thursday 29 August

Leave your car at home, and forget about the

traffic while you relax and enjoy being our guest

for the day!

Our van will pick you up from home and arrive at

Margaret Stoddart in Riccarton for morning tea at

10am and a tour.

We will then go to Ngaio Marsh in Papanui for lunch at

12pm and a tour of the village, followed by an information

presentation on retirement living.

Phone Marie on 354 6608

or Michelle on 337 6500

to reserve your place.

23 Bartlett Street, Riccarton 95 Grants Road, Papanui
---
10

Tuesday August 20 2019

Max takes on the world

at economics Olympiad

MAX SURVEYOR fought off

fierce competition to finish third

at the International Economics

Olympiad in St Petersburg,

Russia.

Max, who lives in Fendalton,

is in his final year at Christ's

College. The 17-year-old was the

only secondary school student

in the five-strong New Zealand

team.

They competed

against 29 countries

at the event and

answered questions

on financial literacy,

economics and a

business case study.

Max received

the third-highest

individual score and

the New Zealand

team finished

seventh.

"When I first

arrived at the

Olympiad, I realised

most people

there had graduated and were

studying at business colleges.

I was worried I was going to

embarrass myself so each night

after dinner I would read over

my textbooks until 3am," he

said.

"Economics is not an exact

science and this is why I love it.

SCHOOLS

Max Surveyor

It's both maths and art. While its

basis is in mathematics, the fact

that things aren't so clear-cut

leaves room for you to creatively

use the models to explain the

problems that are thrown in

front of you. I also like politics,

and between politics and

economics, you can pretty much

explain how most of the world

works."

Christ's College

head of commerce

William Bell said

Max naturally

picks up concepts

related to economics

and works hard

to improve his

understanding.

Max is now

applying to schools

in the United

States and United

Kingdom.

"Ideally I would

eventually like to

study philosophy,

politics and economics at Oxford

University. I find it funny how

some boys seem to have plans

for their entire future down to

the exact firm they would like

to work for. All I know is that I

would loosely like to work in the

fields of finance, politics or law,"

Max said.

Latest Christchurch news at www.star.kiwi

Rangi students artwork to

hang from tree on High St

• By Georgia O'Connor-Harding

"YOUR FRIENDS are your

rock. They support, strengthen

and hold you up."

That is the message Rangi

Ruru Girls' School year 13

students Rosetta Brown and

Hazel White want to get across

when others view their artwork.

Along with their schoolmate

and co-artist Georgina Jolly,

they will now spread the

message of friendship after

their silhouette-themed

artwork Strength in Sisterhood

was chosen to be reproduced

at Hack Circle on the corner

of Cashel and High Sts. The

artwork won the senior category

in the SCAPE Public Art

Re:ACTIVATE Aspiring Artists

competition.

Students from Lincoln

High School and Ao Tawhiti

Unlimited Discovery School

in the central city have also

been selected to have their

work displayed with the help of

engineers.

Strength in Sisterhood was

inspired by Rangi Ruru's school

theme of the same name last

year.

Rosetta, who lives in

Riccarton, said they often see

silhouette portraits of women in

their art classes.

"We thought it would be really

cool to incorporate them into

TOP WORK: Rosetta Brown and Hazel White were part of the

team that created the artwork Strength in Sisterhood, which

has been chosen to be reproduced and hung from a tree on

High St.

our design," she said.

The theme of the competition

was rock, which inspired the

students to create a piece of

artwork representing friendship,

said Hazel, who lives in

Fendalton.

"When we thought of rock we

went straight to friends."

The students said they were

"excited" and "honoured" to

have their artwork chosen.

They hope others will walk

away with the message of

"empowerment" after they view

the artwork.

"Women don't need men

to hold them up. They can

WESTERN NEWS

stand alone and they can stand

together," Rosetta said.

All three students have

been heavily involved in the

arts since they started at Rangi

Ruru, which sparked their

friendship.

Both Rosetta and Hazel

plan to study for a Bachelor

of Arts, specialising in design

and painting at Canterbury

University next year, while

Georgina is undecided.

The artwork is likely to be

hung from a tree and made

using either metal or perspex,

depending on what best suits the

design.

Seven retirement villages

in Canterbury

• Halswell • • Rangiora •

• Mairehau •

• Beckenham • • Riccarton • • Papanui • • Hornby •

www.rymanhealthcare.co.nz • 0800 000 290

ILAM WATCHMAKERS

Watch & Clocks - Sales & Service

207 Waimairi Rd

Ilam, Christchurch 8041

Tel: 03 357 1002

ilam.watchmakers@xtra.co.nz

www.ilam-watchmakers.co.nz
---
WESTERN NEWS Latest Christchurch news at www.star.kiwi

Tuesday August 20 2019 11

RICCARTON HIGH SCHOOL Te Kura Tuarua o Pūtaringamotu

BIRCH HILL FACILITY TO BE COMPLETED THIS YEAR

Work continues at Riccarton High School's new

outdoor education facility at Birch Hill, North

Canterbury with tradesmen preparing to move

on site to connect the various services – gas,

electricity, plumbing, and completion expected

over the next couple of months.

Purchased from the University of Canterbury

in 2018 and transported to Birch Hill during

the recent school holidays, the two buildings

comprising the main part of the facility will

accommodate a commercial kitchen, dining

room and classroom space in one, and an

ablutions block, additional bunkroom space,

staff quarters and a manager's office in the

other.

Once the services are connected the next

stage will be the internal fit-out, with all work

now moving at a steady pace after some

lengthy delays around aspects such as consent

processes, Principal Neil Haywood says.

"We are very excited about creating a new

outdoor education programme for Birch Hill,

which will be modelled on the traditional Kokiri

programme we used at our West Coast facility,

but obviously this will be adapted for the new

environment," Neil says.

Situated close to Mt Thomas Forest Park and

Ashley Gorge, the facility is ideally located

for the creation of an outdoor education

programme, he says.

Only 50 minutes' drive from Riccarton High, it

is also much more accessible than the facilities

on the West Coast were, and available all year

round.

"The other exciting aspect is that Birch Hill will

also be available for other school groups to

Work on the relocated buildings will be

carried out over the coming months

use, such as leadership training and field trips

for curriculum areas such as geography and

biology."

The facility will provide bunk-room

accommodation for 40 students and

accommodation for a manager, outdoor

instructors and staff.

The Birch Hill outdoor education facility will be

ready by the end of the 2019 school year, with

everyone looking forward to using what will be

an excellent asset for the school, Neil says.

OvERwHELMING RESPONSE TO CuTTING-EDGE PRODuCTION

CLEvER BOOKwORMS TAKE OuT READERS CuP

Four Year 9 RHS students recently took

top honours in the regional Readers Cup

competition, narrowly beating close rivals

Cashmere High, with a total of eight schools

competing.

The four – George Grundy, Sam Dowrick,

Michael Lu and Lara Stevens, had won the

in-house competition at RHS, and to prepare

for the regional competition were required to

read six books. For that competition they had to

answer seven questions on the books, with just

30 seconds allowed to answer each one.

Following their win, the RHS students will

compete in the national finals in Term 4, which

will be via a digital link. Seven schools from

around New Zealand will take part.

The students are waiting to hear which books

they will be required to read for that, and once

they know, there will be a lot of time spent

reading over the coming weeks. The RHS team

members are hopeful they can again read their

vOLLEYBALL COACHING AT RHS BREEDS NZ REPS

Volleyball has been a popular sport at Riccarton

High School for a number of years, thanks

to the head of PE, Chris Nielson, who is a

keen supporter, girls' volleyball coach Mary

Edmondson, a former member and current

manager of the national women's volleyball

team, and sports co-ordinator Angus Gourlay, a

member of the New Zealand men's team, which

recently drew a four-match series in Tahiti.

Former RHS students Sam Nielson and AJ

Salmon are also members of the New Zealand

men's team, with Makareta Rademakers in the

New Zealand women's team.

Many other students have also benefitted from

the coaching and positive influence at RHS

and made New Zealand teams over the years,

including current students, Joe Baxter and Riley

Holland. The two were members of the New

Zealand under-17 team, which competed in

high-performance championships in Florida in

July.

The winning readers display their cup.

From left: George Grundy, Lara Stevens,

Sam Dowrick and Michael Lu

way to the top, and librarian Sally Blake believes

they have the talent to do well.

While they don't have a choice for the

competition, in their own time George and

Sam enjoy reading fantasy books, Michael

says he likes non-fiction as that makes it more

believable, while Lara enjoys general fiction.

Former RHS student AJ Salmon, left, and

sports co-ordinator Angus Gourlay are members

of the New Zealand men's volleyball team

"They were playing against older kids and they

beat one of the top US teams," Angus says.

RHS girls' and boys' volleyball teams play in the

inter-school competitions and they are in the

top three every year, come first or second in

the Canterbury championships and go to the

National championships Angus says.

KAPA HAKA GROuP SHOwS STRONG SPIRIT AT REGIONAL COMPETITION

Students from Riccarton High School and St

Thomas of Canterbury College kapa haka

groups joined forces to compete in the Waitaha

regional kapa haka competition held at the

Aurora Centre, Burnside High on August 3.

"A team of teachers from both schools worked

together to support the students. This was a

genuine joining of two schools," RHS teacher,

Kalina Harmer-Campbell says.

Competing as Te Hononga Wairua, they were

one of 12 kapa haka school groups vying

to impress the judges with their spirited

performances. Each group had to perform

seven aggregate items, and competition was

fierce throughout the day. Tutors Latoya Leef-

Graham and Biancha Biddle composed the

performance bracket for Te Hononga Wairua.

The group comprised not only Maori students,

but students from a number of different ethnic

backgrounds, says Kalina. She and fellow RHS

teacher Ripeka Tamepo work collaboratively

as joint teachers in charge of kapa haka at

RHS. They were thrilled with the students'

A real car was the prop for Greased Lightning

Response to the school's recent production

of the musical Grease was "overwhelmingly

positive", says producer and drama teacher

Emma Cusdin.

"With some people there can be preconceived

ideas that Grease is dated because it's set in

the 1950s, but with female student Yearin

Park playing the role of Danny, it made it quite

cutting-edge – she was perfect for the role,"

Emma says.

"All the students involved did a great job. There

is so much for them to manage with other

school things, but they had the drive to do the

job and do it well. It was a great chance to show

what they are capable of."

The cast of Grease watch on as

Danny (Yearin Park) and Sandy

(Carmen Holdaway) perform

A highlight of the show was the high-tempo

number Greased Lightning, which featured a

real car on stage. The car had been gifted to

Riccarton High's drama department by the

Kirwee Players, and the school will in turn pass

it on to another drama group, Emma says.

There were five performances of Grease, four

evening shows and one matinee, with the

audience comprising not only students and

their families and friends, but also people from

the wider community. This gave the performers

a chance to show their talents to an unbiased

audience, Emma says.

performance, which they say demonstrated the

collective mana of the group.

Fund-raising had enabled the group to

purchase their kakahu (costumes) for the 2017

competition. These were worn again this year,

and were seen in the full dress rehearsal held in

the RHS hall a week before the competition.

"About 200 people came to the dress rehearsal

and their support for the kapa haka group was

outstanding. The principals from both schools,

staff and students were there, and they were

very proud of the way the students performed,"

Kalina says.

COMMITMENT

HONESTY

RESPECT

EXCELLENCE

Ph. 03 348 5073 | E. info@riccarton.school.nz | www.riccarton.school.nz
---
12 Tuesday August 20 2019

Latest Christchurch news at www.star.kiwi

WESTERN NEWS

EXCESS STOCK &

FLOOR MODEL BED

CLEARANCE

Massive

Bed

Savings

STORE WIDE

Huge

Range!

up to

50 % off

Clearance Models

MUST BE

SOLD

Huge

Savings

ON EXCESS

STOCK

Selected

Floor

Model Beds

MUST BE

CLEARED

Great

Savings

7 Day Money Back Comfort Guarantee on Queen and King Beds

CNR MOORHOUSE AVENUE & MONTREAL STREET

NEXT TO FARMERS. PHONE: 365 0132
---
WESTERN NEWS Latest Christchurch news at www.star.kiwi

Tuesday August 20 2019 13

keep it local

and support businesses in your community

Good tyres essential

in wintry conditions

Winter's often wet, icy and generally slippery conditions mean

that good tyres with plenty of tread are essential for safe driving.

Hornby Tyres, on the corner of Main South Road and Shands

Rd, offers a wide selection of quality Goodride and Kumho tyres

for all types of vehicle, with good deals always available. They

will check your tyres and advise if any need replacing.

Established almost a year ago, Hornby Tyres is owned and

operated by local

Hornby couple, Neil and Wendy Frew.

Neil has a strong background in the tyre industry

and is able to advise on the best tyres for your

particular needs. Hornby Tyres has free loan cars too,

so you can drop your car off there in the morning to have tyres

fitted and pick it up on the way home.

Your car battery can also create problems in winter, Neil says,

with cold, frosty mornings sometimes causing it to go flat. Not

what you need when you are late for work!

To avoid that happening, call into Hornby Tyres for a free

battery check. They can supply and fit a new Bosch battery if

yours needs replacing.

Hornby Tyres also provides full mechanical repairs and

servicing and can arrange your WOF.

Hornby Tyres is located next to the BP Wigram service

station, corner Shands and Main South Road. They are open

Monday to Friday 7am-5.30pm and Saturday 8am-3pm.

Phone 341 2155, or call in for a friendly chat.

NOW OPEN

The

Lucky Thai

Restaurant & Takeaway

End of a long day? Why cook? Thai takeaway tonight!

Hornby TyrES &

AUTo CEnTrE

Designer Fashion

New Zealand's Largest

Recycled Clothing Retailer

94 Shands Road, Hornby

Open 7 days 10am - 4pm

Yum Thai Salad

BYO Wine Only Delivery 299a Main South Road - Ph 03 344 1499

Mon to Fri 11:30am - 2pm

4:40pm - 9pm

Sat & Sun

Find us on facebook

• Designer Brands

• Family Clothing

• Menswear

• Footwear

• Bric-a-brac

• Books

• Household Goods

• Workman Outdoor Clothing

• See the Retro Section

AND Formal Wear

Tom Yum Soup

Present this ad to get a 10% discount!

See Our

HUGE

Selection!

4:40pm - 9pm

@TheLuckyThai

3000

items

arriving

daily!

• Tyres from $49

• Bosch Batteries

from $79

• Full mechanical

repairs

• Winz quotes

MAIN SOUTH RD

234

SPRINGS RD

MAIN SOUTH RD

Turn left down

lane before BP

• Courtesy Cars

• Oil change

service available

We use &

reccommend

Gulf Western Oil

opEn 7 dAyS

234A mAin SoUTH rd

pH 021 888061 or 341 2155

Advertising enquiries Alana Powell | Ph: 962 8753 | alana.powell@starmedia.kiwi
---
14

Tuesday August 20 2019

Shop

Win

& Relax

Latest Christchurch news at www.star.kiwi

WIN

1 OF 5 FAMILY

GETAWAYS

TO HANMER

SPRINGS

WESTERN NEWS

more

chances

to win!

Enter every time you shop at any of these participating businesses

WATCH REPAIRS

• Replacement batteries

fitted from $10

• Strap replacement

Jewellery

& Giftware

HOURS: Mon-Fri 9am-5pm, Sat 9am-1pm

79 Wrights Road, Middleton.

Ph: (03) 338 0171

Email: sales@warrenagencies.co.nz

www.warrenagencies.co.nz

2019-2020 SEASON

StArtiNg SOON!

SEASON pASSES

AvAilAblE At thE

wOOdfOrd glEN ShOp

129 North Avon Road, ChCh | Ph (03) 385-1515

Check out www.woodfordglen.co.nz for meeting dates |

Enjoy your journey with Caltex Hornby

gas up witH us today!

dog wasH

NEw!

iNstoRE

Now

atM | CoFFEE | Lpg swappa BottLE | MiNi supERMaRKEt | FiREwood

tRaiLER HiRE | FoRECouRt sERViCE | touCH FREE CaRwasH

LoCaLLy owNEd & opERatEd

427 MaiN soutH Rd - pH 349 2407

www.CaLtExHoRNBy.Co.Nz

WIGRAM

SUPER RANGE OF

BEER, SPIRITS,

INTERNATIONAL

& LOCAL WINES

Super Liquor Wigram

187 Wigram Rd (next to Culture Fitness)

Ph (03) 322 4000

Convenient

location

to Wigram

Skies

Chill-ahh hire

GlaSS hire

The Body's Youth Protein

NEOCELL COLLAGEN SUPPORTS:

- Reduction in lines & wrinkles - improved skin elasticity

- Strong hair & nails, may help reduce hair loss

- Supports bone, ligaments, tendons & joint health

MARSHALLS HEALTH & NATURAL THERAPY

CONSULTING - PRESCRIBING - DISPENSING -

MANUFACTURING - MEDICAL HERBALISTS

101 SEAVIEW RD, NEW BRIGHTON • PH 03 388 5757

Email: enquiry@marshallshealthshop.co.nz

NEOCELL PREMIUM COLLAGEN IS

CLINICALLY RESEARCHED

FOR SUPERIOR RESULTS

SUPER LOW PRicE!

120's only $36.90, save $5.75

250's only $56.90, save $9.75

Mail Order Available

Bringing You the Best in

Natural Health!

- WE ARE ALWAYS HAPPY

TO HELP! -

Designer Fashion

• Designer Brands

• Family Clothing

• Menswear

• Footwear

• Bric-a-brac

• Books

• Household Goods

• Workman

Outdoor Clothing

• See the Retro

Section AND

Formal Wear

New Zealand's Largest Recycled Clothing Retailer

94 Shands Road, Hornby. Open 7 days 10am - 4pm

See Our

HUGE

Selection!

3000

items

arriving

daily!

Your Outdoor Specialists

At Least

30% OFF

Storewide

• Footwear

• Clothing

• Skiwear

• Camping

Open 7 dayS

dreSSmart HOrnby, main SOutH rd pH 03 344 5304

Hanleys Essential

Dog Roll

• Pure meat

• No chemicals

• No fillers

• Contains 18% protein

Formulated for dogs

Available from The Feed Shack - Shop 33, Bishopdale Mall

Phone 359 5118 or visit www.animalessentials co.nz

Bring in this coupon for

GIFT CARDS

BUY ONE

ONE FREE

GET

Conditions apply, free gift card same price or less, one deal per coupon. Offer expires 20th October, 2019.

Indulge in...

• Barrington Mall

• The Hub, Hornby

• New Brighton Mall

• South City Centre

Our gorgeous range of.. sandwiches, paninis,

bagels, scones, slices, muffins, quiches, sausage rolls

& pies, coffee and more! CATERING AVAILABLE!

Gorgeous Food

66-68 Springs Rd Ph: 344 6044 Email: gorgeousfood@xtra.co.nz

Open Monday-Friday 6am-3.30pm www.gorgeousfood.co.nz

OPEN SATURDAY

7am - 1.30pm

specialist bakery

Thinking

Luggage?

Think

Just

Bagz!

PARA PARA PARA PARA PARA PARA

So-Lite 3 Range

DressSmart Mall | 417 Main South Rd, Hornby | 03 349 7887

PARA PARA PARA PARA PARA PARA PARA PARA PARA PARA PARA PARA PARA PARA PARA PARA

MATTRESSES

FOR ALL OCCASIONS

127 Blenheim Road PHONE 343 9820

No rainchecks. Cash sales only.

PARA PARA PARA PARA PARA PARA PARA PARA PARA PARA PARA PARA PARA PARA PARA PARA

BLENHEIM

CLARENCE

MATIPO

just

bagZ

PARA PARA PARA PARA PARA PARA
---
ENTERPRISE HOMES LTD

enterprisehomes.co.nz | 03 348 5189

sales@enterprisehomes.co.nz

WESTERN NEWS Latest Christchurch news at www.star.kiwi

Tuesday August 20 2019 15

News

Noteworthy talent proven at Southern Jam

JAZZ: Rangi Ruru Girls' School student Amelie Spinks plays the

double bass at the Southern Jam Youth Jazz festival last week.

• By Jess Gibson

A NUMBER of school musicians

have earned the right to blow

their own trumpet.

Eight out of 14 individual

awards went to secondary school

students from across the region

at the Southern Jam Youth Jazz

Festival on August 10.

Fourteen South Island schools

stayed five nights in Blenheim

to participate in workshops

and master classes before the

competition.

St Andrew's College year 13

student Serge Beaton won the

award for most outstanding

trombone player and received

the best soloist award joint with

year 11 Flynn Megaw for their

trombone battle.

Another St Andrew's year 13

student, Victoria Lee has only

been playing the double bass

since the start of the year and

won most outstanding bassist.

Two Christchurch Boys' High

School students came away with

awards – Max Young took out

most outstanding guitarist, while

Logan Edwards won best 'Big

Band' drummer.

Rangi Ruru Girls' School year

12 student Amelie Spinks won

the most accomplished rhythm

section performer.

Rangi Ruru also won a gold

IMPRESSIVE: St Andrew's year 13 student Victoria Lee won

most outstanding bassist in spite of only playing the double

bass since the start of the year. Here she is performing in the

festival with a violin.​

and silver medal, and the award

for Best Jazz Combo.

St Andrew's College's Big

Band was named the overall

festival winner for the eighth

time since the event began 15

years ago.

The school's Big Band also

claimed a gold category award,

and the Soul Band and jazz

orchestra received silver category

awards.

Christchurch Boys' High

School's Big Band received a gold

category award, while its ensemble

and combo bands claimed

silver.

Papanui High School and

Christ College's big bands also

bagged gold.

We have four homes available in our

prestigious Kintrye Estates subdivision.

Each has an ensuite and walk-in

wardrobe off the master bedroom plus a

second family bathroom.

All homes have open plan living areas

with great indoor/outdoor flow onto

private patios and modern kitchens with

stunning Granite benchtops, soft close

drawers and Fisher and Paykel

appliances including dishwasher and gas

top stoves.

Contact us today to view these

Contact us today to view these

properties!
---
16 Tuesday August 20 2019

Latest Christchurch news at www.star.kiwi

WESTERN NEWS

RicHMOND DiScOuNT

Discount Furniture and Bedding - The Best Little Furniture Shop in Town

BEDS TALLBOyS MIRRORS CABINETS cHESTS STORAgE SHElvES

BOOKCASES buffET uNiTS DINING TABLES HAll TAblES SIDE CABINETS & MORE!

Legacy Bedroom Range

Victor

Bedroom

Suite

Includes

duchess with

mirror, tallboy

and two

bedside

cabinets.

Duchess

with

Mirror

1090x410x820

NZ made.

Chest

$399

Bedside Cabinet

$129

Scotch Chest

$599

Queen Frame & Mattress

$699

$1599

ONLY

$549

Midi 7 Drawer

Scotch Chest

975x760x410. With metal runners.

Also available in Black.

Bedside Cabinet

540x460. With metal runners.

Also available in Black.

7 Drawer

Scotch Chest

1140x800x410.

Also available in black.

Ther-a-pedic Mattress & Base

Reversible pillowtop innersprung.

Single

$499

Solid

Timber

Free

Standing

Mirror

ONLY

$269

ONLY

$130

ONLY

$299

King Single/Double/3/4

$599

Queen

$699

WAS $169

ONLY

$129

Jumbo 4

Drawer Chest

1140x800x400. NZ made.

Metal runners. Also available in black.

Tallboy 4 Drawer

600x400x900.

Towerboy 6 Drawer

1260x460x410.

With metal

runners.

Also available

in Black.

Lowboy 6 Drawer

1130x410x820.

7 Drawer TV/

DVD Chest

760x1140x410. (Gap 150)

Foundry Display

Cabinet

900x1800

x420.

Timber Bookcase

600x320

x1200.

ONLY

$269

ONLY

$199

ONLY

$220

ONLY

$449

eACH

ONLY

$299

ONLY

$599

ONLY

$199

Coffee Table

Solid Timber.

Coffee Table

Solid Timber.

Coffee Table

1200x400x600.

Side Cabinet

600x600x450.

Display Cabinet

1800h

x900w

x400d.

Solid

Timber

Buffet

Units

Buffet Unit

700x

320x

1070.

ONLY

$169

1200x600

ONLY

$329

ONLY

$399

ONLY

$199

ONLY

$599

ONLY

$299

ONLY

$329

Nest of Tables

Hall Table

2 Drawers.

Hall Table

3 Drawers.

2 Drawer Hall Table

1200x810x420.

Bookcases

NZ Pine.

Corner TV Unit

1000x750x550

ONLY

$149

ONLY

$279

ONLY

$349

ONLY

$379

900x1200

$279 900x1500

$299 900x1800

$349

ONLY

$329

2 Draw

entertainment Unit

1200x600x450.

entertainment

Unit

1100x400x480.

entertainment

Unit

980x600x460. Solid Timber.

entertainment

Unit

1530x520x660. Solid Timber.

Buffet Unit

1500x800x420.

Buffet Unit

1175x430x840.

ONLY

$399

ONLY

$299

ONLY

$299

ONLY

$499

ONLY

$549

ONLY

$399

233 STANMORE ROAD • PHONE 03 389 0536

WE ACCEPT EFTPOS, VISA AND MASTERCARD... PARKING AT REAR

OPEN MON-fRi 10AM–4.30PM SAT 10–1PM
---
WESTERN NEWS Latest Christchurch news at www.star.kiwi

Tuesday August 20 2019 17

House of Travel couple

bring home bag full

of windsurfing trophies

• By Jess Gibson

THE MERIVALE House of

Travel owners have returned

from their trip to Hawaii with

extra luggage.

Annie Crombie, 51, and

husband Terry Beentjes, 53,

each bagged two trophies at

the US Slalom Windsurfing

Nationals in Maui from July

27-29.

Crombie won the sport section

and was third in the women's

competition, while Beentjes

was second in both the semi-pro

and men's 40-59 racing events.

"We're stoked. We didn't have

any expectations to be on the

podium," Crombie said.

Both took part in 24 races

over the three-day event and

had only trained for one week in

the lead-up to the competition.

"We came out of winter and

haven't windsurfed since February

so it was a hard seven days.

I got blisters all over my hands

and feet," Crombie said.

She said they stayed fit before

heading over by mountain biking

and doing yoga.

Beentjes almost opted out of

competing after he broke his

thumb the day after the flights

were booked.

"He was only three weeks

out of his plaster when he competed.

Once we got up there the

SUCCESS: Annie Crombie

and Terry Beentjes came

away from the US Slalom

Windsurfing Nationals in

Maui with two trophies each.

PHOTO: GEOFF SLOAN

vibe of the event got a hold of

him," Crombie said.

The couple had more than

just trophies to celebrate during

the prize-giving – it was on the

same day as their 31st wedding

anniversary.

Crombie and Beentjes have

both been windsurfing since the

early 90s and have competed

in many competitions in New

Zealand and overseas.

Crombie said their two

teenage daughters, Kate and

Emma, have been all "around

the world to windy places."

St Margaret's student gets

taste of new Olympic venue

• By Jacob Page

ST MARGARET'S College

rower Charlotte Darry has

helped her New Zealand

coxless four to fifth at the

junior world championships in

Tokyo.

The 16-year-old was in the

bow seat and was joined by

Sally Wylaars, Lucy Burrell and

Alison Mills at the event.

The combination finished

second in their heat, maintaining

that place throughout the

race and finishing in a time of

6min 46.090sec, 3sec behind

SPORT

the Italian crew but still good

enough to make the final

automatically.

In the final, the crew made a

strong starts and held second

position at the first 500m mark,

but were unable to maintain

the speed of China, Italy and

Germany, which took gold, silver

and bronze respectively.

Darry, Mills, Burrell and

Wylaars finished

fifth in a time of

7min 14.50sec.

The junior

world champs

course, known

as the Sea Forest

Waterway,

is a newlyconstructed

venue for the

2020 Olympic

and Paralympic

SKILLED: St

Margaret's

College rower

Charlotte

Darry (back)

helped her

New Zealand

women's four

crew to fifth at

the junior world

championships

in Japan.

PHOTO:

ROWING NZ

Charlotte

Darry

Games. Fifty nations took part

in the event and more than 550

athletes competed.

JOIN US NOW!

See website for details

BENDON

Biggest bra sale. Sets from $20,

Bras 2 for $35, Sleepwear from $20.

Selected styles. While stocks last.

RODD & GUNN

Buy one, receive the second item half

price. 2nd item the cheaper of the two.

ADIDAS

50% off the lowest marked price

storewide. Valid 22 Aug to 25 Aug.

Exclusions & conditions apply.

HALLENSTEINS

Blazers & Jackets $30. White business

shirts now $10. Selected styles.

STYLES MAY DIFFER

TO IMAGE SHOWN

UNDER ARMOUR

2 for $100 hoodies & joggers.

Conditions apply.

Sign up to Smart Deals & be in the monthly draw for a $100 Dress-Smart gift card!

CHRISTCHURCH 409 Main South Road, Hornby

www.dress-smart.co.nz

Open 10am-5pm, 7 Days 03 349 5750
---
18 Tuesday August 20 2019

Latest Christchurch news at www.star.kiwi

WESTERN NEWS

The new standard in comfort.

Next Generation Energy Efficiency

New Zealand's quietest heat pump ever from just 18dBA † .

Featuring Dual Barrier Coating that keeps internal components

clean, maximising energy efficient performance and built-in Wi-Fi

Control means you will always arrive home to total comfort.

Sleek Sophisticated Heating

Featuring a contemporary, slimline design that can be recessed

into the wall for unobtrusive heating at floor level, perfect for

renovation projects, new builds or fireplace replacements. And the

RapidHeat Technology means your room heats up – fast!

AP Series

Installed from just*

$2,399

KJ Series

Installed from just*

$3,049

Ducted System

Installed from just*

$7,899

Ducted Heat Pump Systems

Looking for a whole home solution? Talk to

us about an energy efficient, whisper quiet

Ducted System – it's the unobtrusive total

home heating and cooling solution for

year-round comfort.

* Standard installation. Terms and conditions apply.

†

AP25 Indoor sound level on lowest fan setting in heating mode.

Call for your FREE Heat Pump quote!

0800 324 678

www.dcis.co.nz
---
WESTERN NEWS Latest Christchurch news at www.star.kiwi

Tuesday August 20 2019 19

Tasty Bites

Getting protein through a science-based diet

The role of protein in

people's bodies, its

sources and the benefits of

consuming it across the day

can't be underestimated.

These recipes provide a

science-based approach to

ensuring you get enough in

your diet

Orange kumara and

haloumi fritters

Serves 4

Ingredients

1.2kg orange kumara, peeled and

coarsely grated

320g haloumi, coarsely grated

2 tsp ground cumin

Light olive oil spray for cooking

2 cloves garlic, crushed

4 spring onions, white part thinly

sliced into rounds, green part

thinly sliced diagonally

120g baby spinach leaves

Avocado dressing:

80g medium-sized avocado

⅓ cup (80ml) white wine vinegar

or apple cider vinegar

½ tsp dijon mustard

Directions

To make the avocado dressing,

blend all the ingredients in a jug

with a hand-held blender until

smooth. Season with black pepper

and set aside.

Heat a large non-stick frying

pan over low-medium heat.

Combine the kumara, haloumi

and cumin in a bowl and season

with freshly ground black pepper.

Lightly spray the pan with

olive oil and drop in firmly

packed cup measures of the

kumara mixture, pressing down

to form 8cm circles. Depending

on the size of your pan, you will

probably need to do this in two

batches of four.

Cook for 5min each side

or until golden and cooked

through. Remove and cover to

keep warm. Lightly spray the pan

with a little more oil and increase

the heat to high.

Add the garlic, white part

of the spring onion, spinach

and 60ml water. Cook, tossing

constantly, for 2min or until the

spinach has just wilted. Remove

the pan from the heat and season

with black pepper.

Serve two kumara fritters per

person, layered with the spinach

mixture. Spoon over the dressing

and sprinkle with the green

spring onion.

Roast herb chicken and

vegetables

Serves 4 with leftovers

Ingredients

½ cup finely chopped flat-leaf

parsley

2 Tbsp finely chopped rosemary

1 Tbsp mixed dried herbs

6 cloves garlic, crushed

¼ cup (60ml) olive oil

¼ cup (60ml) red wine vinegar

1.8kg lean chicken tenderloins

1 head cauliflower, cut into florets

7 carrots, sliced into rounds

7 zucchini, thickly sliced into

rounds

750g button mushrooms

Light olive oil spray for cooking

1 cup (250ml) salt-reduced

chicken stock

Lemon wedges and flat-leaf parsley

leaves, to serve

Ingredients

Heat the oven to 200 deg C (or

180 deg C fan-forced).

Combine the parsley, rosemary,

dried herbs, garlic, olive

oil, vinegar and chicken in a

large bowl. Season generously

with freshly ground black pepper

and toss well to coat the chicken.

Divide the vegetables among

two large roasting tins and

lightly spray with olive oil. Toss

to combine, then top evenly with

the chicken mixture.

Pour half the stock over the

ingredients in each tin. Bake,

swapping the tins halfway

through and tossing the chicken

and vegetables, for 25-30min

or until the chicken is cooked

through and the vegetables are

soft.

Divide one-third of the chicken

and vegetables among four for

dinner, with lemon wedges and

parsley. Cool the leftovers, then

divide evenly between two large

airtight containers.

Store the leftovers in the fridge

for up to two days or in the

freezer for three months. Thaw

the frozen mixture in the fridge

overnight. Transfer the chilled

mixture to a baking dish and

reheat in a preheated 220 deg C

(200 deg C fan-forced) oven for

15-20min or until hot and crisp.

School's not

for everyone!

www.

STUDY

WITH

US.CO.NZ

IS SCHOOL NOT WORKING

FOR YOUR TEEN?

WE OFFER:

ULTIMATE CAREER DECIDER /

SECURITY & FORCES PREP /

BUSINESS ADMINISTRATION

& TECHNOLOGY / DIGITAL

MEDIA / EARLY CHILDHOOD

EDUCATION / SOFTWARE

DESIGN / WEB DEVELOPMENT

TEXT

'STUDY' TO:

027 557 8839

50 Hazeldean Road, Addington

0800 834 834 | www.vision.ac.nz
---
20 Tuesday August 20 2019

Latest Christchurch news at www.star.kiwi

FOCUS ON HEALTH

Superior new magnesium

offers more health benefits!

Magnesium deficiency is widespread with

researchers estimating up to 90% are not

receiving adequate magnesium in their diet.

According to medical researcher Dr. James

DiNicolantonio magnesium deficiency

increases the risk of numerous types of

cardiovascular and other diseases, costing

nations around the world an incalculable

amount of healthcare costs and suffering, and

should be considered a public health crisis.

Some of the typical signs of a magnesium

deficiency are: muscle cramps – especially

in the legs, muscle spasms and twitches,

fatigue, high blood pressure, poor

circulation, sore – heavy or uncomfortable

legs, irregular heart-beat, muscle and back

pain, insomnia, headaches, migraines and

anxiety. Sub-optimal magnesium levels are

also associated with many diseases including

diabetes, asthma, osteoporosis, Alzheimer's,

cardiovascular, ADHD and kidney.

There are many popular magnesium

supplements on the market, however most

use low cost sources of magnesium that are

also poorly absorbed offering little benefit.

Seeing the serious impact on health that

low magnesium levels are having a New

Zealand company "Biosphere Nutrition"

have developed a new magnesium that offers

superior absorption and more health benefits

compared to most other products available.

Biosphere Magnesium has been created to

be the cleanest, most bioavailable magnesium

supplement available. It combines three

types of the most bioavailable forms of

magnesium to create the ideal dose with

optimal absorption. Each serving provides

a therapeutic dose of 400mg elemental

magnesium to help people maintain

optimum magnesium levels. It is also easy

to take as it comes as a great tasting, easy to

mix powder that is also free of binders, fillers

and artificial ingredients. It is flavoured with

a natural lemon flavour and sweetened with

natural stevia and monk fruit extracts and

coloured with a dash of turmeric.

Magnesium Citrate is the first of the three

magnesium's. Biosphere have used a natural

marine based magnesium citrate as it has a

great absorption rate and mixes well with

water.

Next is Magnesium Lyscinate Glycinate

Chelate a stable magnesium designed to be

the most bioavailable possible as well as easy

on the stomach.

The last is Di Magnesium Malate a

fantastic form of magnesium for people

suffering from fatigue, since malic acid is

a vital component of enzymes that play

a key role in ATP synthesis and energy

production.

Optimal magnesium levels have been

shown to: Improve Energy, Improve

Sleep, Normalise Blood Pressure, Control

Inflammation, Reduce Pain, Regulate Blood

Sugar, Stop Cramping, Support Normal

Nerve and Muscle Function, Support Healthy

Bones and Help Maintain Good Health.

Biosphere Magnesium and further more

detailed information is available from

the Natural Health Advisers at Marshall's

Health & Natural Therapy, 101 Seaview

Road, New Brighton, and Phone: 388-5757.

We are always happy to help you!

New magnesium offers

enhanced health benefits!

Magnesium deficiency is widespread with

researchers estimating up to 90% are not receiving

adequate amounts. According to Dr. James

DiNicolantonio this deficiency is increasing the risk

of cardiovascular & numerous other diseases as well

as reducing lifespan & quality of life.

There are many popular magnesium supplements

on the market, however most use low cost sources

of magnesium that are poorly absorbed & offer little

benefit. Seeing the serious impact on health that

low magnesium levels is having a New Zealand

company "Biosphere Nutrition" have developed

a new magnesium that offers superior absorption

& more health benefits compared to most other

products available.

Biosphere Magnesium comes as an easy to

mix lemon flavoured powder that makes a very

pleasant drink.

sPecial

offer

- kNowledge makes the differeNce -

30 sachets (1 month supply)

only $33.90, save $6.09

275g powder (2 month supply)

only $59.90, save $10.09

Some common symptoms of magnesium deficiency:

• Muscle & leg cramps

• Twitches

• Tremors of hands

• Restlessness

• Poor sleep

• Irregular heartbeat

• High blood pressure

• Poor circulation

• Dizziness

• Headaches & migraines

• Poor concentration

• Muscle fatigue &

weakness

• Sore, heavy or

uncomfortable legs

• RSI & Nerve problems

• Muscle & Back Pain

• Chronic fatigue syndrome

• Fibromyalgia

• Mild to moderate

depression

Bringing You the Best in Natural Health! MAIL ORDER AVAILABLE

marshalls health & NatUral theraPY

CONSULTING - PRESCRIBING - DISPENSING - MANUFACTURING - MEDICAL HERBALISTS

101 SEAVIEW RD, NEW BRIGHTON • PH 03 388 5757 • Email: enquiry@marshallshealthshop.co.nz

JP Clinics

Tuesday, 10am-1pm

A justice of the peace

will be on-site to take

declarations, affidavits and

affirmations, witness signatures

on documents and

certify document copies.

They can also witness citizenship

applications and

rates rebate applications.

Te Hāpua: Halswell Centre

and Upper Riccarton

Library

Citizens Advice Bureau

Monday, Wednesday,

Thursday, Friday, 11-5pm,

and Tuesday, 2-5pm, at

Papanui, and Wednesday,

Thursday, Friday and

Monday, 11am-5pm, at

Hornby and on weekdays,

9am-5pm.

The Citizens Advice

Bureau provides free and

confidential advice to everyone.

It takes the time to

listen to you and equip you

with information, options

and support.

The Village Presbyterian

Church and Community

Centre, cnr of Papanui Rd

and Franks St, and the

Hornby Library

Family History Help

Wednesday, 11am-1pm

Are you interested in

family history (genealogy)?

A volunteer from the

Canterbury branch of the

New Zealand Society of

Genealogists is available to

help with your family history

questions.

Upper Riccarton Library

Mahjong Group

Wednesday, 1-3pm

Interested in playing

mahjong? Learn to play at

the library. For beginners

and advanced players alike.

If you have your own set

take it along.

Upper Riccarton Library

Scrabble Club

Wednesday, 1.30-3.30pm

Have a way with words?

Go along when you can

and join the library's

friendly Scrabble Club.

Some boards provided, but

feel free to take your own.

Te Hāpua: Halswell

Centre

UR Club

Wednesday, 3.30-4.30pm

Go and join the fun at an

after-school club. Open to

all school-aged children.

There will be stories, crafts,

games and more.

Upper Riccarton Library

Chinese Technology

Help Book-in Sessions

Wednesday, 2-3pm

These free book-in

sessions are available to

help you with specific issues,

such as using email,

searching the internet,

using the library catalogue,

using electronic resources

and any other general

computer-related queries.

Take your laptop, tablet,

smartphone or use one of

the desktop computers.

Registration required.

Upper Riccarton Library

Culture Exchange

Thursday, 11am-noon

Upper Riccarton Library's

Culture Exchange

is a friendly, relaxed group,

where you can make new

friends, practice English

and learn about New

Zealand and the city. Free

weekly meetings.

Upper Riccarton Library

GenConnect

Thursday, 1-2pm

Connecting generations

by sharing knowledge. Do

you have questions about

your iPad, smartphone or

tablet? Want to know how

to use Skype, Facebook

and apps or share your

photos with family or

friends? Ask an expert.

Upper Riccarton Library

Spark Jump – help for

families to get online at

home

Friday, 2-3pm

The library is teaming

up with Digital Inclusion

WESTERN NEWS

Email georgia.oconnor@starmedia.kiwi

by 5pm each Wednesday

BEEP BOP: Go along to a robotics

taster event. In this three-week

taster programme you will learn

the basics of how robots work

and how to programme

them. It is for children aged

8-12 years. Bookings are

essential as places

are limited. The

programme

will be held on

Wednesday,

3.30-4.30pm,

Hornby

Library,

Goulding Ave. ​

Alliance Aotearoa to offer

Spark Jump. Spark Jump is

designed for families in low

income communities with

the care of children (aged

0 to 18) who don't have a

current fixed broadband

connection at home, and

whose household is in the

4G coverage area. Workshop

participants receive

a free Wi-Fi modem and

30gb of data for $10 on

the pre-pay service with

no fixed contract. Register

online for a workshop, or

phone the library at 941

7923.

Hornby Library

Super Saturday Storytimes

Saturday, 11am-noon

Encourage learning

through a love for stories.

Storytimes is an interactive

programme including stories,

rhymes, craft and play.

This is a free session run

during school term times.

Upper Riccarton Library

Drop-in Chinese Art

Club

Sunday, 10.30am-noon

Take your own brushes,

ink, paint, and paper. Join

the club and work on calligraphy

and brush painting.

For ages 10 and up.

Only during term time.

Te Hāpua: Halswell

Centre

Family Makerspace

Saturday, 1.30–3pm

Join in for fun activities

every week in the Makerspace.

Every week there

will be a creative and/or

tech activity to try. Fun to

be had for kids of all ages.

Te Hāpua: Halswell

Centre

Wā Kōrero/Storytimes

Monday, 10-10.30am

Encourage learning

through a love for

stories. Storytimes is an

interactive programme of

stories, songs, rhymes and

play.

Upper Riccarton Library
---
WESTERN NEWS Latest Christchurch news at www.star.kiwi

Tuesday August 20 2019 21

HOME & HEATING

Get rid of

dampness in

your house

The facts about

Home Ventilation

Balanced Pressure

vs Positive Pressure

Now with the colder and wetter weather

on its way, home owners are focusing on

ways to make their homes comfortable,

warm and healthy for their families

throughout winter. Rising damp is an issue

that affects many of our older properties

which suffer from poor, or no, insulation.

In Canterbury especially, post-quake, many

people have relocated to homes that suffer

from rising damp which can be associated

with health problems. Independent tests

have shown that up to 40 litres of water

can rise from the ground and enter a

house every day, leading to mildew, mould,

condensation and musty smells. Moulds

can produce various allergic reactions

and the frail, elderly and very young are

especially vulnerable.

Canterbury Foam Concrete Ltd is a

locally owned and operated firm. The

team understands the problems caused

by rising damp and are there to help.

They will come to your damp home

and pump a lightweight, flowable foam

concrete under your timber floored home.

Specially adapted for our New Zealand

conditions and applications it provides a

layer of protection against rising moisture.

An unexpected benefit that the team at

Canterbury Foam Concrete have noticed

recently, is that many owners of properties

which had underfloor foam concrete

installed, reported that it also provided

protection against liquefaction after

the earthquakes.

Contact Canterbury Foam Concrete

Ltd now for your free, no obligation

quote and complimentary appraisal of

your underfloor ventilation needs. Phone

03 376 4608 or 0508FOAMCO for more

information.

Under the New Zealand Building Code,

all buildings, including residential, need

to be suitably ventilated, either with

opening windows or forced ventilation.

Clause G4.1 states: "The objective of this

provision is to safeguard people from

illness or loss of amenity due to lack of

fresh air." There are many benefits to forced,

or mechanical, ventilation over opening

windows, including warmth, security,

reduction of outside noises and reduction

of condensation.

Traditional domestic ventilation systems

are 'positive pressure'. They bring air in

from outside via the roof space and force

the stale air out through gaps around

windows and doors. The incoming air

from these systems has to be heated or

cooled to keep the house warm in winter or

cool in summer.

The Smooth-Air HEX390 is a 'balanced

pressure' system. It extracts air from the

house and at the same time brings in fresh

air. These two streams of air pass through

a heat exchanger, which warms incoming

air in winter and cools in summer if air

conditioning is being used. This means that

up to 80% of the energy which would be

wasted using a traditional positive pressure

system is recovered, resulting in significant

energy savings and therefore lower heating

or cooling costs.

Until recently, balanced pressure

ventilation systems have been considerably

more expensive than traditional

positive pressure systems. However,

with Smooth-Air's unique

manufacturing capabilities, a

HEX390 balanced pressure system

can be installed for a similar price as

a traditional positive pressure system.

You can contact Smooth-Air on

0800 SMOOTH (0800 766684).

Smooth-Air

Ventilation Equipment Suppliers

totrade

retail

The most efficient way

to ventilate your home

&

HEX 390

For Healthy Indoor Air

T. 03 376 4608

E. info@foamconcrete.nz

W. www.foamconcrete.nz

Heat is transferred to the

incoming filtered fresh air

HEAT PUMP

SALE NOW ON!

Amazin' WINTER Specials!!

• We will offer you the best quality brands and

option of heat pump for your home/business

• Providing Heat Pump solutions for over 17 years to Cantabrians

• We personally guarantee all our products & installs for 5 years

(providing annual maintenance has been completed)

Phone us today for your free consultation & quote

41A SHAKESPEARE RD, WALTHAM

PHONE 03 366 0525

www.enviromaster.co.nz

"A local team for local people"

Substantial energy savings

over traditional domestic

ventilation systems.

0800 SMOOTH

(0800 766 684)

sales@smooth-air.co.nz

Made in New Zealand,for New Zealand conditions

Fresh air

from outside

Warm, stale

air from house

264 Annex Rd

Riccarton

Christchurch

03 343 6184

Exhaust air

to outside

Warm fresh air

to house

Monday - Friday

7.30am - 5pm

www.smooth-air.co.nz
---
ENTERPRISE HOMES LTD

enterprisehomes.co.nz | 03 348 5189

sales@enterprisehomes.co.nz

22 Tuesday August 20 2019

Latest Christchurch news at www.star.kiwi

REAL ESTATE

A vision of excellence!

1B Wood Lane, Fendalton

Price: $3,495,000

5 bedrooms | 6 bathrooms | 7 toilets | 4 living rooms | 1 dining room | 3 car-garage | Listing Number PI57782

WESTERN NEWS

This new property offers a unique and

desirable proposition, underpinned by this

historic site and first-class address.

A magnificent architecturally designed

home that emanates a sense of refined

sophistication.

Large family home of 513sqm offering a

fantastic lifestyle for families with plenty of

separation and versatile living areas.

The execution of this home offers total

luxury and light with no expenses spared.

Hagley Park, Botanic Gardens and golf

course within easy walking distance giving

occupants an amazing lifestyle

A large home low on maintenance may

seem a contradiction in terms, but this

property has more than achieved that, with

three living areas, five double bedrooms

all with en-suites and three outdoor living

decks. Triple garage with large space for

storage.

Luxuriously appointed throughout with

the highest quality fixtures and fittings

including high-end Gaggenau appliances

in the kitchen and butler's pantry.

The master bedroom has two en-suites

opening to a private balcony with river

views and there is a luxurious guest

bedroom on the lower level with river

views.

Zoning for some of Christchurch's most

desirable schools including Girls High and

Boys High.

- Location, design and exacting execution

couple with an uncompromising approach

to quality and detailing has resulted in a

compelling and contemporary home, to

truly appreciate what's on offer and find

out more about the long list of attributes,

contact the agent to view today!

To arrange a private viewing phone

Cameron Bailey on 352 6166 or mobile

0275 557 079 of Harcourts Gold Papanui

(Licensed Agent REAA 2008)
---
WESTERN NEWS Latest Christchurch news at www.star.kiwi

Tuesday August 20 2019 23

Classifieds Contact us today Phone our local team 03 379 1100

Car Parts

Curtains

Trades & Services

Trades & Services

Trades & Services

Trades & Services

Trades & Services

LANDROVER

DISCOVERY POWER

STEERING box $250

Ph 0275490048 or 021

363666

LANDROVER

DISCOVERY REAR

STEP. $45 Ph 0275

490048 or 021 3363 666

Wanted To Buy

CASH FOR

STAMPS,

COINS &

GOLD

Free Appraisals

Call Matt at

The Stamp and

Coin Exchange

134a Riccarton Rd

0800 39 24 26

We can come to you.

Call today.

AAA Buying goods

quality furniture,

Beds, Stoves, Washing

machines, Fridge Freezers.

Same day service. Selwyn

Dealers. Phone 980 5812

or 027 313 8156

TOOLS Garden,

garage, woodworking,

mechanical, engineering,

sawbenches, lathes, cash

buyer, ph 355-2045

Health & Beauty

Qualified Hairdresser and

reg home hair studio in

Avonhead. Cuts, colours,

kids, families, weddings,

group bookings. Call Soni

022 434 1055

www.curtainfabric-outlet.com

Fashion Designs & Colours

Discontinued Designs

End of Lines Bargain Prices

Call at Our Shop

CURTAIN FABRIC OUTLET

71 Hawdon St Sydenham

Ph 366-5026

Gardening

& Supplies

A GARDEN OR

LANDSCAPING TIDY

UP? Shrub, hedge & tree

pruning, Lawns, Gardening,

consistently reliable general

property upkeep, Dip. Hort.

10 yrs experience, One off

tidy ups or on-going service.

Nick's Garden Maintenance.

Keeping your garden

beautiful. Free Quote. Ph.

942-4440 & 022 264 7452

Holiday

Accommodation

Australia QLD

SUNSHINE

COAST

RESORT

ALEXANDRA HEADLAND

All Units Have Ocean Views.

Heated Pools, Spa & Sauna,

Free Wifi, Tennis

& Mini Golf.

CHECK OUR GREAT

WINTER SPECIALS

www.mandolin.com.au

0061 7 5443 5011

JUNE to AUG temps 20C

HALSWELL

GLASS & GLAZING 2017 LTD

THE PET DOOR SPECIALIST

• PET DOORS

• NEW GLAZING

• FRAMELESS SHOWERS

• MIRRORS

• INSURANCE CLAIMS

• RETRO GLAZING

• BALUSTRADING

ALL SUBURBS COVERED FOR

ALL YOUR GLAZING NEEDS

PHONE GAIL OR SARAH ON

322 7999 OR 021 CAT DOOR

(228 3667)

AAA HANDYMAN

licensed carpenter

LBP, all property and

building maintenance,

repairs, bathroom/shower

installations, with free

quotes 03 383 1927 or 027

245 5226 ciey@xtra.co.nz

BATHROOM

Renovations, complete

service from start to finish,

free quotes, ph Dave 027

334 4125

BATHROOM

Renovations, complete

service from start to finish,

free quotes, ph Dave 027

334 4125

BRICKLAYER

George Lockyer. Over

40 years bricklaying

experience.Uk trained.

Insurance work, EQC

repairs. Heritage

brickwork & stonework

a speciality. No job too

small. Governers Bay.

Home 329 9344. Cell

027 684 4046. E mail

georgelockyer@xtra.co.nz

BUILDER

& DEVELOPER 35

yrs exp. 3 x Council

approved jobs. Specialist

in small jobs. See Cole

Property Development on

Facebook. Call 0204 173

6433 colepdltd@gmail.

com

CARPET LAYING

Exp. Repairs, uplifting,

relaying, restretching.

Phone John on 0800

003181, 027 240 7416

jflattery@xtra.co.nz

ELECTRICIAN

Prompt & reliable

registered electrician

with 24 years experience

for all residential and

commercial work, new

housing and switch board

replacements. Phone Chris

027 516 0669

ELECTRICIAN

Registered, electrical

installation and repairs,

Gorbie Electrical, ph 021

026 73375 or 03 322 4209

PAINTING

Indoor / Outdoor, over 30

yrs exp, same day quotes,

ph Steve 021 255 7968

PAINTING

& Decorating Wingfields

Contracting, all interior

& exterior painting & all

forms of interior plastering

& jib fixing, ph Mark 021

171-1586

PLUMBER

A Top Plumbing job

completed at a fair price,

prompt service, all work

guaranteed, Ph Brian 960-

7673 or 021 112-3492

rooF

painting

Book now for Summer

and receive 20%

discount.

Rope and harness a speciality.

No scaffolding required.

30 years experience.

Also waterblasting paths,

driveways and moss removal.

Free quotes, call

Craig 021 060 2392

ROOF

PAINTING

Rope & harness

a speciality,

no scaffolding

required,

30 years of

breathtaking

experience.

FREE QUOTES

Exterior staining,

exterior painting,

moss and mould

treatment and

waterblasting

Phone Kevin

027 561 4629

SPOUTING CLEANING

Spouting Unblocked,

Cleaned Out and Flushed

Out. Call Trevor 332 8949

or 021 043 2034

STUMP GRINDING

Best price guarantee Tony

0275 588 895

UPHOLSTERER

dyers upholstery services

(Ex Leacroft St, Bishopdale)

We specialise in

re-upholstering all types of

household furniture

inc squabs.

Trusted craftsman for over

30 years. Fabric samples,

Free quotes, pick up &

delivery.

All work guaranteed.

Ph. 359 5033 or

022 106 0108

TILER/CARPENTER

35 years exp, no job

too small. Ph Ross 027

4311440.

TILING

Flooring - Splashbacks -

Wall incl tile removal, reg

master tiler, ph Dave 027

334 4125

T.V. SERVICE CENTRE

Repairs, tvs, microwaves,

audio amps, soundbars.

.Aerial & satellite

installations, kitsets, 480D

Moorhouse Ave, ph 03 379

1400

T.V. SERVICE CENTRE

Repairs, tvs, microwaves,

audio amps, soundbars.

.Aerial & satellite

installations, kitsets, 480D

Moorhouse Ave, ph 03 379

1400

VHS VIDEO TAPES

& all camera tapes

converted to DVD, video

taping special occasions,

www.grahamsvideo.co.nz

ph 03 338-1655

WINDOW TINTING

tintawindow

advanced film solutions

99% uv block

fade protection

heat control

reduce glare

25 Years Experience

BUILDING

Creed Building

Contractors

New homes

Additions and Alterations

Repairs and Maintenance

027 439-5520 03 322-8541

Trusted in Canterbury

for over 40 years

privacy films

frosting designs

non-darkening films

Workmanship Guaranteed

Lifetime Warranties on Most Films

UV

block

Free Quotes Canterbury and Districts

03 365 3653 0800 368 468

3 issues $20

6 issues $44.50

10 issues $65

SUBSCRIPTIONS FREEPHONE

0800 77 77 10

rugbynews.co.nz
---
24 Tuesday August 20 2019

Latest Christchurch news at www.star.kiwi

We're your local...

WESTERN NEWS

HIRE

EQUIPMENT

DEPOT & TRADE STORE

TRADE & DIY EQUIPMENT

Power Trowels

Concrete Vibrators

Plate Compactors

Tamping Rammers

Grout Pumps

Floor Grinders

Angle Grinders

Hammer Drills

Rotary Hammers

Power Cutters

Concrete Mixers

Power Generators

Waterblasters

Steam Cleaners

Temporary Fencing

Cones & Barriers

Air Compressors

Trash & Sub Pumps

Dust Extractors/Vacs

Wheelbarrows

Post Drivers

Core Drills

Laser Levels

Diesel Heaters

Dehumidifiers

Carpet Fans

Soff Cut Saws

Brick & Tile Saws

Hydraulic Jacks

Panel Props

Chainsaws

Tarpaulins

Nail Guns

Drywall Sanders

Airless Paint Sprayers

Wall Paper Steamers

Chemical Sprayers

Gib Lifters

Tile Chippers

Electrical Accessories

Roadsaws

...and lots more!

Screw Guns

ACCESS & HEIGHT SAFETY

Mobile Scaffolding

Roof Edge Protection

Scissor Lifts

Cherry Pickers

Safety Harnesses

Single Axle Trailers

Tandem Trailers

Roof Anchors & Connectors

Roof Ladders/Walkers

Platform & Step Ladders

Extension Ladders

Confined Space Equipment

TRAILERS

FREEPHONE

Flatdeck Trailers

Waterblaster Trailers

0508 447 348

for Quotes & Bookings!

Personal service...if we haven't got it we'll find it for you!

Hours Monday to Friday 7am - 5.00pm

72 Treffers Rd Wigram

www.totalsitesupplies.co.nz

CAN'T

COME IN?

We can bring

it to you!