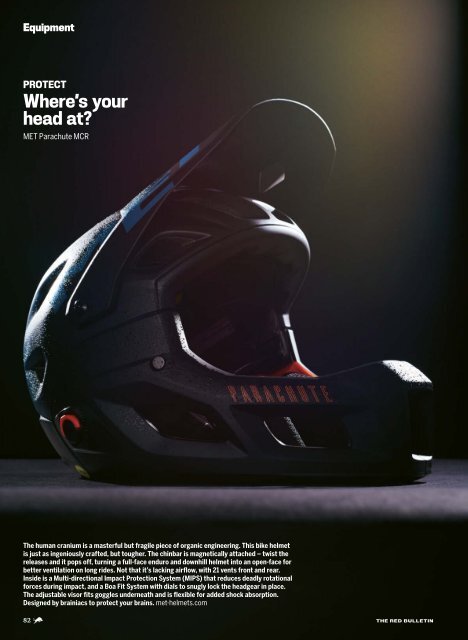 The Red Bulletin September 2019 (UK) Equipment

PROTECT

Where's your

head at?

MET Parachute MCR

The human cranium is a masterful but fragile piece of organic engineering. This bike helmet

is just as ingeniously crafted, but tougher. The chinbar is magnetically attached – twist the

releases and it pops off, turning a full-face enduro and downhill helmet into an open-face for

better ventilation on long rides. Not that it's lacking airflow, with 21 vents front and rear.

Inside is a Multi-directional Impact Protection System (MIPS) that reduces deadly rotational

forces during impact, and a Boa Fit System with dials to snugly lock the headgear in place.

The adjustable visor fits goggles underneath and is flexible for added shock absorption.

Designed by brainiacs to protect your brains. met-helmets.com

82 THE RED BULLETIN
More magazines by this user