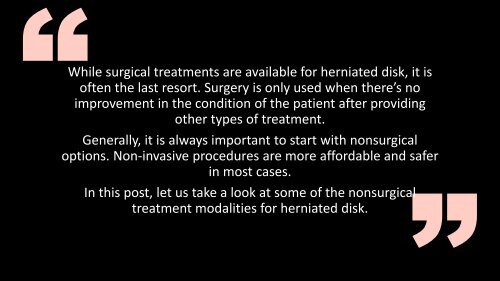 Nonsurgical Treatments for Herniated Disk
According to one estimate, about 60% of 60-year-old people in the world suffer from herniated disk. Not only that, about 20% of those who are younger than 60 years old also had a herniated disc at least once in their lives.
While surgical treatments are available for herniated disk, it is

often the last resort. Surgery is only used when there's no

improvement in the condition of the patient after providing

other types of treatment.

Generally, it is always important to start with nonsurgical

options. Non-invasive procedures are more affordable and safer

in most cases.

In this post, let us take a look at some of the nonsurgical

treatment modalities for herniated disk.
More magazines by this user