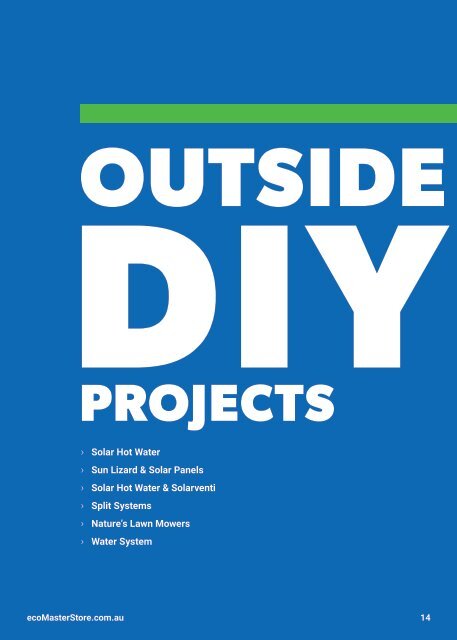 The DIY Energy Efficient Home Project Magazine By EcoMaster
Learn from award-winning experts, Lyn & Maurice Beinat at ecoMaster on how their astronomical energy bill was the catalyst to two decades of research, product development and trial and error in the search for the most economical way to make their home more energy efficient on a budget. Fast forward to today, and their home is now a 7.6-star energy rated home with zero energy costs and carbon emissions. ecoMaster is here to show you simple, practical DIY projects; room by room that any DIYers can do. It was all filmed at the ecoMaster test home in the Macedon Ranges, Victoria, Australia. Visit ecoMasterStore.com.au
Learn from award-winning experts, Lyn & Maurice Beinat at ecoMaster on how their astronomical energy bill was the catalyst to two decades of research, product development and trial and error in the search for the most economical way to make their home more energy efficient on a budget.


Fast forward to today, and their home is now a 7.6-star energy rated home with zero energy costs and carbon emissions.

ecoMaster is here to show you simple, practical DIY projects; room by room that any DIYers can do. It was all filmed at the ecoMaster test home in the Macedon Ranges, Victoria, Australia.
Visit ecoMasterStore.com.au


SHOW MORE
SHOW LESS
You also want an ePaper? Increase the reach of your titles
YUMPU automatically turns print PDFs into web optimized ePapers that Google loves.
OUTSIDE

DIY

PROJECTS

››

Solar Hot Water

››

Sun Lizard & Solar Panels

››

Solar Hot Water & Solarventi

››

Split Systems

››

Nature's Lawn Mowers

››

Water System

Solar Hot Water

"One of the first things that we did here was to put both solar

heating and also wood fire heating into the main hot water

system.

The main hot water system is in the roof behind me. It

already had the connections for solar panels and it also had

connections for what's called a "wetback" on a wood fire,

although neither of those things were in place.

So the first thing that we did is we actually got evacuated

tubes, as you can see on the roof behind me. We wanted 40

tubes. Unfortunately at the time 30 tubes was the biggest

panel so we got another 10 to put beside it, and hence that's

why it's in two pieces. But those are connected up to a lowpressure

400-litre water tank in the roof behind them.

You might notice that the tubes are on a bit of a slope.

That's because there is no pump on this system, its just a

thermo-syphon. As the water in the header of the evacuated

Sun Lizard &

Solar Panels

"This is the family cat, Vodka. On the roof behind me you'll

see a device called a Sun Lizard. The Sun Lizard is another

box that seeks to heat up air and pump it into the home in

the winter time and in the summer time seeks to extract

hot air.

Now it's slightly different to the Solarventi's that we saw at

the other end. The Solarventi always brings in fresh warmed

air whereas the Sun Lizard actually recirculates air, so it

seeks to keep adding heat as it goes. So it draws in the air

from inside, heats it and pumps it back in.

By and large it works pretty well. It has a control system,

a powered control system in the roof, and a panel inside

from which to control the device. So you can switch it from

heating to cooling. It's not as automatic as such.

tubes heats up, it gets less dense. The water goes "uphill"

into the tank and the cooler water comes into the lower level

of the header from a lower outlet in the tank. So that's how

our water is heated - just from the sun.

We'll see inside the wet flue that connects to the same tank.

In the first year that this system was connected to the tank,

we had zero boosting. That means all 100% of our hot water

was from the sun and the wood fire.

The other thing you can see on the roof here is just a very

common solar panel system. It's a 2.7 kilowatt system and

it just sits there. When the sun's on there, it generates power

and sometimes it gets fed into the grid and sometimes it

gets used in the home. We certainly try to maximise the use

of that energy within the home when we possibly can."

ecoMasterStore.com.au 14

ecoMasterStore.com.au 15