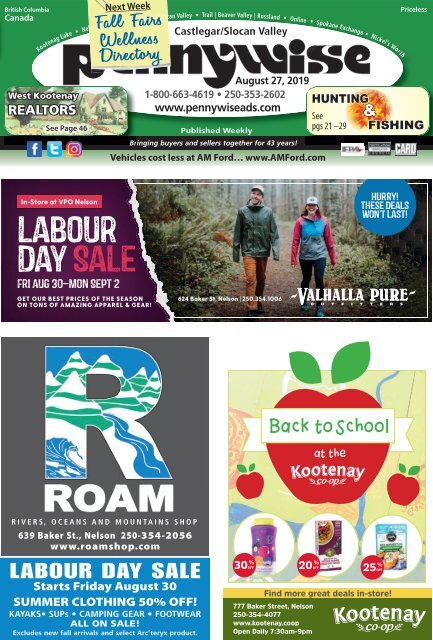 Aug 27, Pennywise – Castlegar, Slocan Valley
Total coverage of the City of Castlegar, Genelle, South Slocan, Crescent Valley, Thrums, Slocan Park, Winlaw and Slocan.
Total coverage of the City of Castlegar, Genelle, South Slocan, Crescent Valley, Thrums, Slocan Park, Winlaw and Slocan.
SHOW MORE
SHOW LESS
Create successful ePaper yourself
Turn your PDF publications into a flip-book with our unique Google optimized e-Paper software.
British Columbia

Canada

• Lake L

Kootenay Next Week

Fall Fairs

Wellness

Directory

• Castlegar | Sloc

Castlegar/Slocan Valley

•

Exchange

Spokane

Online • sland • Ro Valley | Beaver Trail | ley • Slocan Va Castlegar | Salmo • Nelson |

N

Nickel's Worth

Priceless

West Kootenay

REALTORS

See Page 46

August 27, 2019

1-800-663-4619 • 250-353-2602 HUNTING

www.pennywiseads.com

See &

pgs 21 –29 FISHING

Published Weekly

Bringing buyers and sellers together for 43 years!

Vehicles cost less at AM Ford… www.AMFord.com

In-Store at VPO Nelson

Labour

Day Sale

Fri Aug 30–Mon Sept 2

HurRy!

These Deals

won't last!

GET OUR BEST PRICES OF THE SEASON

ON TONS OF AMAZING APPAREL & GEAR!

624 Baker St, Nelson | 250.354.1006

639 Baker St., Nelson 250-354-2056

www.roamshop.com

LABOUR DAY SALE

Starts Friday August 30

SUMMER CLOTHING 50% OFF!

ALL ON SALE!
---
PRICES IN EFFECT

AUGUST 27 - SEPTEMBER 2, 2019

TRAIL: MONDAY - FRIDAY, 8 am - 8 pm

ROSSLAND: MONDAY - FRIDAY, 8 am - 9 pm

SATURDAY, 8 am - 7 pm • SUNDAY, 8 am - 7 pm

TRAIL: 250-368-5558 • ROSSLAND: 250-362-5206

ferrarofoods.ca

acebook.com/ferrarofoods

Pepsi or

Coca-Cola

12 x 355 ml, plus deposit

3 for

12 00

Maple Lane

Cheese

Varieties, 400 g

3 99

Beef Sirloin Tip

Roast or Steak

Family pack, 11.00 kg

3

4 99

Fresh

Halibut

Fillets, cut in-store, 100 g

90

Kellogg's

Jumbo Cereal

Varieties, 750 g - 1.3 kg

6 99 1 19 7 99

Divella

Pasta

Varieties, 500 g

Biovert

Laundry Wash

100 loads, 4.43 L

PAGE 2 Aug 27, 2019 Pennywise
---
• Castlegar/Slocan Valley • Castlegar/Slocan Valley •

Bulletin Board

ACUPUNCTURE & TRADITIONAL

CHINESE MEDICINE: Registered

Massage Therapy, Chiropractic Care.

Head 2 Toe Holistic Health Clinic, 276

Columbia Ave, Castlegar. Call 250-

304-8700 or book online www.head

2toecastlegar.ca

AFFORDABLE & SECURE HOUSE-

HOLD STORAGE CONTAINERS: 20´

& 40´ units, for sale or rent. Kootenay

Containers, Castlegar. 250-365-3014.

ALLIGATOR PIE CATERING: Feeding

the Kootenays since 2000! From

weddings to business meetings & everything

in between. Award-winning

service. Like us on Facebook to see

what's cooking! 250-352-6115, www.

apcatering.ca, alligatorpie@telus.net

CHIROPRACTOR, ACCEPTING

NEW PATIENTS: Dr. Nick DiCesare

has joined our team to help us serve

you better. Head 2 Toe Holistic Health

Clinic, 276 Columbia Ave, Castlegar.

Call 250-304-8700 or book online

www.head2toecastlegar.ca

COME SING WITH US! Vallican

Whole Community Choir, directed by

Sharon Lang, will be starting on Sunday,

Sept 15. We are a fun-loving,

inclusive group and welcome new

members. You do not need to read

music or audition, just bring your enthusiasm

and commitment to our Sunday

sessions at the Vallican Whole.

Audio files and sheet music will be

supplied to help you learn the songs.

Sessions run from 4-6pm and change

to 3-5pm when the clocks change on

November 3, with a break for Thanksgiving

on Oct 13. Cost is $85. Mark

your calendar, Sunday, Dec. 15 is our

Christmas concert! For more information

call Sharon, 250-226-7191 or

email currierod61@yahoo.ca .See you

in September!

CONCRETE GRAVEL, sand, drain,

road and landscaping rocks. Recommended

by customers! Yvon Couture,

250-355-2518.

Castlegar program

offers a little help

Is it time to tune up some of

the skills you don't get to practice

often enough? Tuesdays at the

Castlegar Public Library from 12

pm to 2 pm you can get free help

with basic computers, reading

and writing, math, English language,

test preparation and skills

upgrading.

For more information contact

Corinne Svardfeldt 250-687-4983

or castlegarcoordinator@cbal.org

Bulletin Board

CUSTOM PICTURE FRAMING IN

SALMO: Artwork, documents, textiles.

Tara Books on Fourth St. 250-

357-0022, www.tarabooks.ca

DJ AVAILABLE FOR WEDDINGS,

PARTIES... Have music, will travel.

Call Lisa 250-226-7927, stomp@

netidea.com

DR. McKENZIE, CHIROPRACTOR

at ALIGNMENTS PHYSICAL THER-

APY CLINIC, 2025 Hwy 6. Hours:

2:30-7pm, Thursdays. Appointments,

call 250-352-1322. After 2:30pm on

Thursday call 250-359-2227.

MOTORCYCLE WINTER STORAGE:

Secure, clean, heated, easy access.

250-367-9961.

GOT APPLES IN YOUR BACKYARD?

Kootenay Cider Works will buy your

residential backyard apples from the

Nelson, Balfour, Castlegar area this

fall. We have a new cidery opening in

the spring, need local apples this fall

to get things started. Details at www.

kootenayciderworks.com

KOOTENAY WOMEN'S ENSEMBLE

Trail & Castlegar, now accepting new

members! Director Audrey Bisset.

Learn and have fun at the same time!

Develop better breath technique,

learn how to support the voice, proper

vowel placement and warm tone. Musical

styles everything from Early Music,

Jazz, Folk, and the list goes on!

For more info call/text 250-231-3162

or email audreymbisset@hotmail.com

NEED BLINDS? Call SUNSET CUS-

TOM BLINDS, 250-509-0545 for free

consultation and quote.

PRESCRIPTION ORTHOTICS -

KOOTENAY INTEGRATED HEALTH:

Examination and gait analysis provided

to diagnose foot, knee, hip

and spinal pain. 1020 Columbia Ave,

Castlegar, phone 250-365-3365. Dr.

David Bzdel, DC, Dr. Dan Collins, DC,

www.kootenayintegrated.com

SILVERFERN FRAMING: 1205 Bay

Ave, Trail. Free in stock matting till

end of Sept. Conditions apply. Call

250-364-2265 for details.

SPECIALTY FILTER MEDIA: Bulk

carbon, silica gel, potassium permanganate.

Columbia Filter Ltd. Phone

250-364-2510, fax 250-364-2722.

Bulletin Board

THE DOCTOR IS BACK: All small

engine repairs. Mower/riders, trimmers,

generators, chainsaws, etc. Al,

250-365-0005.

THE TRAIL MAPLE LEAF BAND

currently has openings for all concert

band instruments in the upcoming

2019-2020 concert season. New concert

season practices begin Monday,

Sept. 16, 7:00-9:00pm, located at the

Trail Memorial Arena, McIntyre room.

No registration cost, bring your own

instrument. Music and friends provided.

www.trailmapleleafband.ca

WEDDING DRESS ALTERATIONS,

ZIPPER REPLACEMENTS, leather

garment repairs. Christina Lake,

BC. 250-447-9456. Amy's Custom

Gowns on Facebook.

TREASURE SHOP SUMMER HOURS:

July & August, 11am-3pm, 250-

365-7317. Open Tuesday to Friday,

11am-3pm; Open Saturday, 10am-

4pm. MONDAY & STAT HOLIDAYS

CLOSED. Good used clothing, footwear,

housewares, craft items, books,

games, sports, and some furniture.

www.castlegarhospitalauxiliary.org

WANT TO PLAY A CONCERT BAND

INSTRUMENT, OR RE-LEARN ONE?

Trail after school band offers lessons

on all concert band instruments and

basic music theory. Taught in small

groups and in a concert band setting,

designed for anyone from ages 11 to

adult, that has in interest in learning a

musical instrument. Cost $100, runs

from Sept.-June. Attend our registration

to learn more. Registration for

beginners: Tuesday, Sept. 10, 3:30-

4:30pm. Registration for intermediate

Players: Wednesday, Sept. 11,

3:30-4:30pm, Alliance Church, 3365

Laburnum Dr. Trail.

WHARFHOUSE BUSINESS SERVIC-

ES: 1444 Columbia Ave (across from

Tim Horton's). Bookkeeping, Personal

and Corporate Taxes, walk-ins welcome.

Toll-free 1-855-352-5191.

Events

FARM AND FLEA MARKET: Sunday,

Sept. 8, 10am-6pm, at Valley View

Golf Course & Food, 6937 hwy 6, Winlaw.

Produce, new & used goods, music.

Vendors welcome. 250-226-7241.

SLOCAN SATURDAY MARKET: Everyone

welcome. Featuring local farmers

and artisans, live music, kid's zone

and good food. Every Saturday in Aug.

10am-2pm, Expo Park, Village of Slocan.

All vendors welcome. Contact

Christina, 250-355-2635 or just come!

GOTTA ❤ THE PENNYWISE!

= view picture of this item on our website: www.pennywiseads.com C Aug 27, 2019 PAGE 3
---
Local Fall Fairs

& Markets

AT DEADLINE

CALL TODAY TO BOOK YOUR SPACE

Special Section

Published September 3

Advertising deadline Wednesday, August 28

Show your support for our

local artisans and food producers

in this Pennywise Special Section.

Book your 1/4 page ad in all areas,

plus on www.pennywiseads.com and on

Pennywise Shopping & Services Facebook,

and get FREE full colour.

Call your advertising strategist now!

Deadline Thursday at at 33 pm pm

1-800-663-4619 CLASSIFIED INDEX:

Animals/Animal Care ................................14, 19, 20, 30

Antiques ....................................................................... 8

Arts & Crafts ................................................................. 8

Automotive ................................................................. 34

Boats/Watercraft ........................................................ 39

Building Supplies ......................................................... 8

Bulletin Board ........................................................... 2, 3

Business Opportunities ........................................ 14, 15

Commercial Rentals ................................................... 44

Computer Services ..................................................... 10

Contractors/Trades ............................................... 11, 15

Crafts Fairs ................................................................... 6

Education/Classes................................................ 17, 20

Employment ......................................................... 14, 15

Events ....................................................................... 3, 6

Farmers' Market ........................................................... 6

Firewood ..................................................................... 10

Free for Free ................................................................. 9

Furniture & Appliances ........................................... 8, 10

Garage/Yard Sales ...................................................... 6

Gardening/Landscaping ....................................... 13, 17

Health/Personal Care ........................................... 13, 17

Heavy/Farm Equipment.............................................. 40

Housesitting ............................................................... 44

In Memoriam/Celebrations of Life ....................... 17, 20

Land ........................................................................... 44

Lessons/Workshops ............................................. 17, 20

Lost & Found .............................................................. 20

Merchandise .......................................................... 8, 10

Merchandise Wanted ............................................. 9, 10

Mobile Homes ............................................................ 44

Motorcycles/ATVs ....................................................... 39

Notices ....................................................................... 14

Personals .................................................................... 17

Real Estate ................................................................. 43

Rentals........................................................................ 44

Rentals Wanted ......................................................... 44

RVs/Campers ............................................................. 39

Services ................................................................ 13, 17

Shared Accommodation ............................................ 44

Sporting Goods .......................................................... 10

Find more classifieds like this

www.pennywiseads.com

DON'T PEEK TILL YOU ARE DONE!!!

This Week's Puzzle Answers

What's That You S'eh?

Sudoku for Aug 27

Find larger solution online

www.pennywiseads.com/free

Advertising Strategist for Castlegar/

Slocan Valley, New Denver, Nakusp

Adam Prisciak

Ph 250-505-2921

adam@pennywiseads.

com

Office:

Sales Support

larissa@pennywiseads.com

1-800-663-4619

250-353-2602

ADAM

PRISCIAK

Salmo/Trail/Castlegar/Slocan Valley

Cell/txt 250-505-2921

adam@pennywiseads.com

RICK

WILTSE

Nelson/North Shore/ Kootenay Lake/Kaslo

Cell/txt 250-551-1753 • Call 250-353-2602

rick@pennywiseads.com

Email info@pennywiseads.com

editorial@pennywiseads.com

Mail Box 430, Kaslo, BC V0G 1M0

Pennywise also publishes the

Go & Do, and Kaslo & Area Guide

Printed in Canada. All Rights Reserved. © 2019 by

KS•Perry Publishing Ltd., Karma Halleran, Publisher.

We reserve the right to edit or reject submissions or

advertising that are not within our guidelines,

see at www.pennywiseads.com

PAGE 4 August 27, 2019 C

1-800-663-4619
---
• All classified ads may be viewed at www.pennywiseads.com •

Bulletin Board

10-50% OFF… KASLO GOLF PRO SHOP CLEARANCE

SALE! New arrivals are here! Open daily 8am-7pm.

25-50% OFF SUMMER CLOTHING AT FIGMENTS: Also

on clearance, Hatley children's pajamas. www.figments

canada.com 250-353-2566, Kaslo.

An Edge for Health. Every thought, word or deed either

purifies or pollutes your body. The Hu Song is a purifier. It

will uplift and strengthen you in wisdom and awareness,

from "The Sound of Soul" by Harold Klemp. Eckankar, the

Path of Spiritual Freedom. www.eckankar-bc.ca, www.

eckankarblog.org/Sound-of-Soul

AT PACKRAT ANNIE'S you'll find new releases from Tyler

Childers and Santana, and a lot more on vinyl and

CD! Plus 25,000+ used books. 411 Kootenay St, Nelson.

250-354-4722.

BOB'S DOOR SERVICE: 24hr emergency service. Commercial,

industrial and residential garage door sales, service,

repair and installation. 236-972-2627.

BOOKKEEPING BY LOUISE: Bookkeeping, payroll, GST.

250-352-9858, bookkeepingbylouise@shaw.ca

CANADIAN MADE HOT TUBS! New & used softubs, service

& spa chemicals, including low CI Nature2. Serving

all the West Kootenay. Call Kootenay Springs Softub, 250-

354-8557 in Riondel. www.softubcanada.com

CLASSIC CARS WANTED: I buy old Porsche

356/911/912/930, Jaguar E-Type XK, any classic European

or British car. CALL ME, 613-894-1141.

DIGITAL COPIES OF ALL 4 PENNYWISE EDITIONS are

available online at www.pennywiseads.com each Tuesday.

No reason for you to miss out on the largest collection of

classifieds in the Kootenays if you have a 'No Flyers' request

on your mail.

DOCKS (LOGS & TANKS), INCLUDING HARDWARE:

Two types of floatations, pilings, anchor pins, breakwaters,

any sort of marine construction, tugboat barge, also cedar

decking for docks. 250-505-4207.

FREESTONE PEACHES: $27/20lb. Call Nathalie, call

250-509-0373.

HONEY, FRESH FROM TERRY'S HONEY FARM at Playmor

Junction to fill your containers, Saturday mornings,

9am to midday, Aug. 24 and Sept. 7.

HOT PEPPERS, ANY KIND! Nathalie's Produce. Call Nathalie,

250-509-0373.

PENNYWISE, the Kootenays' one stop market place.

Bulletin Board

IT'S ON! Still Eagle's SEASONAL FASHION CLEAR OUT

SALE, 40% OFF: Includes current summer styles. Also super

low liquidation deals on Nomads and Synergy Organics.

421 Baker St. Open 9am-7pm, 10am-6pm, Sunday.

IT'S NOT ALWAYS EASY TO SPOT PHONE/EMAIL

SCAMS, and new ones are invented every day. If you suspect

that you may be a target of a fraud/scam, or if you

have already sent funds, don't be embarrassed...you're

NOT alone. To report a fraud/scam or if you need more

information, contact the Canadian Anti-Fraud Centre at

1-888-495-8501 or www.antifraudcentre.ca

KOOTENAY CURRENCY EXCHANGE for all your foreign

currency needs. Better than bank rates when buying or

selling US dollars. Canadian Gold and Silver Maple Leaf

coins in stock. Visit 715 Vernon St, Nelson, Monday-Friday,

9am-5pm. Call 250-354-1441.

LOOKING FOR INFORMATION: If anyone witnessed an

accident on Stanley St, Nelson, between Vernon & Baker

St. on Monday, July 29 between 10-11am, call 250-352-

7209. Leave message, I will return your call.

MARKETING 101: THE MORE PEOPLE YOU TELL, THE

MORE YOU SELL! Pennywise can help you tap into the

market south of our border and reach thousands of new

readers, cost effectively! Simply place your classified ad

in the Pennywise and for only $10 more per week, your ad

will appear in both the Spokane Exchange and the Coeur

d'Alene Nickel's Worth papers - all 64,000 of them! Expand

your market and grow your business! Call Pennywise today,

1-800-663-4619.

NELSON HOME BUILDING CENTRE HAS HUNTER

DOUGLAS CUSTOM BLINDS! Come in and see us for your

window covering needs. 101 McDonald Dr., 250-352-1919.

PICK-A-PACK-OF-PUZZLES: Craving more crosswords

but not ready to subscribe? Why not try a Puzzle Pack?

Snack-size bundles of 5 crosswords each, just $2.50/pack.

Ready to take the plunge on a full year? $19.99/52 puzzles.

Thanks for solving! www.ClassiCanadianXwords.ca

PICKLING CUKES, TAKING ORDERS NOW! $35/20lb

case lot, $2.25/lb for less. Order now! Nathalie's Produce,

250-509-0373.

PIG ROAST MIKE: Pig roasters for rent. You cook or delivered

hot to your door. We provide instructions on you doing

your own Pig Roast. 250-357-2648.

PRIME RIB DINNER: Every Saturday at Chances Castlegar,

only 5-8pm while supplies last. $20 in free slot play with

the purchase of prime rib dinner. www.chancescastlegar.ca

Kootenay Springs Softub

FALL

SALE!

Sept 15 until

October 31

Nature2

low chlorine

treatment included

250-354-8557

email: ames@bluebell.ca

SEASONAL HAT SALE

#4-320 VERNON STREET, NELSON

(ENTRANCE IN ALLEY)

Friday August 30 th 10am-6pm

Saturday August 31 st 10am-3pm

for more info go to: www.softubcanada.com

Pennywise Aug 27, 2019 PAGE 5
---
• All classified ads may be viewed at www.pennywiseads.com •

Bulletin Board

PROFESSIONAL CUSTOM PICTURE FRAMING by

Iona & Drew, Hummingbird Gallery, Nelson, BC. www.

hummingbirdgallery.ca, 250-352-6127.

SEASONS CHANGE - WE ADAPT, HOT TODAY - COOL

TOMORROW. One System For All Seasons & We're Still

Green in 2019! Canadian Aerothermal, 250-357-2770 or

250-505-8206.

SELKIRK TRUSS can provide all your custom trusses for

your reno or new build. Visit our website www.selkirktruss.

com and get the answers to many of your questions. Selkirk

Truss, 2894 Sentinel Rd, South Slocan. 250-359-7000.

STILL EAGLE'S ECO-ONLY UN-CONSIGNMENT SEC-

TION NEEDS YOUR CLOTHES! Cull your closet and give

your eco-clothing a second life. We prepay for gently used

sustainable and natural clothing. 30% cash or 60% store

credit. 421 Baker St.

STRAWBERRIES: $80 for 20lbs. Taking orders now. Call

Nathalie at 250-509-0373.

SUDOKU SOLUTIONS CAN NOW BE FOUND on our Free

for Free page on the website. Visit www.pennywiseads.

com/section/free

SUMMER DEALS IN WILLOW! So many new items for your

bed, bath, kitchen or a special gift. Always affordable. It's

worth the drive to Kaslo! 250-353-2257. Find us on Facebook.

THE APPLE GUY: New products arriving daily! Across

from Chances, Castlegar. 250-365-1009.

USA - BECOME A PUBLISHED AUTHOR! We edit, print

and distribute your work internationally. We do the work...

you reap the rewards! Call for a FREE Author's Submission

Kit. 1-866-951-7214.

USA - IF YOU LOVE RVING, casinos, and great restaurants,

you'll love Skookum! Deeded RV lots for sale, waterfront

and secondary. 5 star resort, only 7mi from newly

opened Kalispell Casino. Don't miss Skookum's open house

with prizes and super low prices, 1432 Lenora Dr. Usk, WA

99180, Saturday, July 27 and Sunday, July 28, 9am-6pm.

Great place to keep your RV all year! Ray Dilcox, resort manager,

509-445-0115, www.skookumrendezvous.com

USA - INVENTORS: FREE INFORMATION PACKAGE!

Have your product idea developed affordably by the Research

& Development pros and presented to manufacturers.

Call 1-888-501-0236 for a Free Idea Starter Guide.

Submit your idea for a free consultation.

WANT YOUR FAIR TO BE IN OUR FALL FAIR GUIDE?

We're collecting info for the special section now! Contact

Larissa at 1-800-663-4619 or 250-353-2602, larissa@

pennywiseads.com. Deadline is Aug. 28.

Events

16TH ANNUAL GILL AND GIFT Kids and Family Pike Minnow

Derby, Saturday, Aug. 31, 2019. BBQ & prizes for every

kid. Free. Call 250-229-2113 to register now.

HARROP HARVEST FESTIVAL: Sunday, Sept. 15 at Harrop

Hall, McConnell Rd, 10am-4pm. Music, food, vegetables,

fruit, plants, crafts, children's games, raffles. Free

admission. Vendors call 250-229-4740.

Events

LOOKING FOR SOME GREAT FOOD? Check out the West

Kootenay Restaurant Guide at www.pennywiseads.com

UNITED WAY OF TRAIL & DISTRICT PRESENTS the 5th

Annual Storm the Stairs Run/Walk in support of the Trail

Youth Centre, Saturday, Sept. 28, 2019. Start time rain or

shine, 10am. Urban Hiking at it's best! Register today at

www.uwtraildistrict.org/event/storm-the-stairs-2/

UPCOMING SHOWS IN NELSON: Sept. 3, Sleep; Sept.

4, Hayes Carll w/Bob Sumner; Sept. 16, Tokyo Police Club

w/We Are The City; Sept. 22, Buffy Sainte-Marie w/Guests.

Full calendar and info at www.ontheroadmanagement.com

USA - CARTRIDGE SHOW Annual Coeur d'Alene Show,

Saturday, Sept. 14, 10am-5pm; Sunday, Sept. 15, 9am-

1pm. Anything & everything to do with cartridges. Kootenai

County Fairgrounds, public invited, donation admission.

Information, 509-928-4477.

USA - ST. MARIES GUN SHOW, Sunday, Sept. 22. For

table reservations and information, call BJ, 208-582-2909.

Farmers' Market

CANADA GAP CERTIFIED PESTICIDE-FREE FROZEN

BLUEBERRIES from Abbotsford, $90/20lbs, or $5.50/lb

for less. Taking orders. Nathalie, 250-509-0373.

CANNING TOMATOES: Beefsteak or Roma, $18/20lbs &

over, $2lb/less. Call Nathalie, 250-509-0373.

TARZWELL FARMS: Top grade, locally grown & naturally

raised beef. Grain & grass finished, available year round.

Delivery to Nelson, Castlegar & Trail available. 250-428-

4316 or find us on Facebook!

Craft Fairs

SALMO VALLEY FALL FESTIVAL: Sept. 28, 2019,

10am-3pm. Vendor applications are being accepted now.

salmofallfestival@gmail.com 250-357-2320.

Garage/Moving/Yard Sales

MOVING SALE: 1998 Jeep Cherokee Classic, $2000; 2004

Arctic Cat 300 4x4, $1850; 1998 26' Travelaire Rustler 5th

wheel, w/new converter and awning, $8000; Husqvarna

Rototiller, new, $1000obo; Skid-steer loader, $450; many

other household items and tools. View at 2380 Piljek Rd,

Pass Creek. Call, 778-460-5507.

USA - OLDTOWN YARD SALE, Aug. 24-25, Saturday,

9am-5pm, Sunday, 9am-3pm. Wall tent and frame, dish

tailgater for RVs, dining table and chairs, BBQ grills, furniture,

baseball card collection, clothes, many other misc,

brand new kid's cowboy boots and hats. 512 S. Meadowdale

Ave. North on 41, turn left on State St, left on 5th, right

on Meadowdale Ave.

USA - UNDER THE FREEWAY Flea Market. Wallace, Idaho,

Labor Day Weekend.

Love community radio? Volunteer!

Do you dream of having your own radio show? Are you a

superstar volunteer? Well now is your chance to make that

dream a reality.

Nelson's award winning community radio station Kootenay

Co-op Radio is heading into their new fall season and they are

looking for folks who have an interest in producing their own

radio show and have the commitment to volunteer for the station

in other ways. Since KCR first went to air in 1999, the station

has been almost exclusively volunteer run.

IT'S GARLIC TIME AGAIN! Hills Garlic Festival on Sunday

Sept. 8, 10am-5pm in New Denver at Centennial

Park. Garlic, Produce, Crafts, Food. Live entertainment by

Mountain Station, The Vanir, Eldorado Hoedown, & Flydini

the Magician. CONTESTS: Heaviest Garlic Bulb, Biggest

Clove, Best Garlic Braid, Best Garlic Poem. Admission, $5.

Children 12 and under FREE. Absolutely NO DOGS please.

www.hillsgarlicfest.ca

cont'd on pg 9

PAGE 6 Aug 27, 2019 = view picture of this item on our website: www.pennywiseads.com
---
COMMUNITY

PRICE

BUYING POWER

EXPERTISE

WE WILL NOT BE BEAT!

Pennywise Aug 27, 2019 PAGE 7
---
• All classified ads may be viewed at www.pennywiseads.com •

Merchandise

ANDRE'S ELECTRONIC EXPERTS: Car audio, BBQs,

firepits, home audio, appliances and more! 200-1965 Columbia

Ave, Castlegar. 250-365-6455.

BEEKEEPING GEAR! Boxes, clothing, etc. Kootenay

Beekeeping Supplies. 250-365-5454, kootbees@shaw.ca,

www.kootenaybeekeeping.com

CANADIAN MADE HOT TUBS! New & used softubs, service

& spa chemicals. Serving all the West Kootenay. Call Kootenay

Springs Softub, 250-354-8557. www.softubcanada.com

GRANITE & QUARTZ COUNTERTOPS by The Kitchen

Connection. Free estimates. 250-505-3806.

HOUSEHOLD STORAGE: Steel shipping containers for

sale/rent. 20´ & 40´ units. Kootenay Containers, Castlegar.

250-365-3014.

JOHN DEERE DUAL STAGE 1332PE SNOWBLOWER,

$1000; Champion heavy duty portable generator, $750,

call 250-357-2382.

KITCHEN CONNECTION... custom designs to fit your

home. Showroom appointments. www.kitchencraft.com,

250-505-3806.

KOOTENAY INDUSTRIAL SUPPLY CARRIES CAR-

HARTT: Come in and check out the selection and pricing.

In stock at Nelson location only, 323 Vernon St.

LILLIE & COHOE SEASONAL HAT SALE: #4-320 Vernon

St, Nelson. Friday Aug. 30, 10am-6pm and Saturday Aug.

31, 10am-3pm.

PROPANE OFF-GRID APPLIANCES: Stoves, fridges, water

heaters. Installations/repairs, cylinder requalifications.

JEMS Propane, 250-359-5922, www.Jemsgas.com

It's

CANNING

TIME

Canning Tomatoes - 40lb box for $40.00

Freestone Peaches $1.25 lb 15 lbs or more

Roma Tomatoes $1.00 lb 20 lbs or more

Grand Forks Concord Grapes

New Apple Season has started

Winter Squash in now

Okanagan Beets and Onions

25 lb bags

NEW

PRODUCTS

ARRIVING

DAILY!

250-365-1009

NEW HOURS: Tuesday – Saturday 10am - 5pm • Sun, Mon Closed

Across from Chances, Castlegar

Merchandise

SECRET CREEK SUPPLIES: Serving hunters, backpackers

& outdoor enthusiasts for over 29 years! 1151 Bear

Creek Rd, Trail BC. www.secretcreeksuplies.ca

SUMMER ESSENTIALS: Healthy foods & essentials for

your summer adventures available at Kootenay Co-op. 777

Baker Street, Nelson. www.kootenay.coop

THE KOOTENAY'S ONLY AUTHORIZED STOCKING

DEALER! Valley Firearms, 1281 Bay Ave, Trail BC. 250-

364-2242, www.vfirearms.com

USA - 12´X14´ WALL TENT AND FRAME, sleeping bags,

queen size cot. Call 406-239-3683, Oldtown, ID.

VALHALLA PURE OUTFITTERS NELSON: We have been

serving the outdoor community in the Nelson area since

1996. www.vpo.ca/stores/nelson

WE ARE YOUR IRRIGATION & WATER STORAGE

HEADQUARTERS! Nelson Farmers Supply 524 Railway

St, Nelson. 250-352-5375.

WE CARRY AN AMAZING SELECTION of fresh produce,

sourced from local, organic and international growers. Ferraro

Foods. www.ferrarofoods.ca

WE CARRY THE BEST BRANDS THAT ALL OUTDOOR

enthusiasts and core users want and need. ROAM, Nelson

BC. www.roamshop.com

WESTERN SADDLE: Like new, lots of tack, everything

goes for one price. 250-367-7591.

Antiques

USA - UNDER THE FREEWAY Flea Market. Wallace, Idaho,

Labor Day Weekend.

Arts & Crafts

BERKANA WOOL SHOP: A Kootenay destination for natural,

beautiful yarn and handwork supplies. Gift certificates

available! Free parking! Come enjoy our impressive selection.

602 Front St, Nelson, across from Ellison's.

Building Supplies

CEDAR LUMBER: Fencing, decking, etc. 250-505-4207.

HARROP-PROCTER FOREST PRODUCTS: Your local

source for sustainably harvested building materials. Timbers,

decking, siding, paneling, fencing and a wide variety

of cedar lumber. We also custom cut to order. Make the

green consumer choice by supporting BC's only Eco-Certified

Community Forest. Check out our products & story at

www.hpcommunityforest.org. Call 250-551-5452 or email

sales@hpcommunityforests.org for a quote. Monday-Friday,

8am-4:30pm & Saturday, 9am-3pm.

PERRY RIDGE PANELLING IS DOING 6˝ width shingle,

80% edge grain, excellent quality. 250-226-7530.

PERRY RIDGE PANELLING: Manufactured cedar, pine,

clear larch building products. Siding, decking, T&G, V-joint,

molding, lattice sheets, other products. 250-226-7530.

PETER'S CUSTOM DOORS AND MORE: 1000 new tempered

sealed units, various sizes for greenhouses and solariums.

250-399-0079.

Furniture & Appliances

4.5 CU.FT. BAR FRIDGE: Barely used, no freezer. $100

778-364-0411.

BEARS FURNITURE & APPLIANCES: 612 Lakeside Dr,

Nelson, BC. 250-352-2202, www.bearsbrandsource.ca

PAGE 8 Aug 27, 2019

= view picture of this item on our website: www.pennywiseads.com
---
• To Place Your Ad Call 1-800-663-4619 •

Merchandise

Furniture & Appliances

WANTED ANTIQUE HIGHBOY DRESSER, and any

matching pieces. 250-354-9863.

Music Equipment/Service

PIANO TUNER AVAILABLE: Professional service, quality

workmanship, repairs, appraisals. Work guaranteed. Call

"Anything Piano", 250-354-8872.

Sporting Goods

16´X20´ DELUXE BRAND WALL TENT: w/10 porch, used

1 season, needs minor repair. Paid $3800, asking $2500.

778-364-0411.

BUYING, SELLING & TRADING FIREARMS: BEST PRIC-

ES PAID. Call Wally, 250-231-3721.

EXCELLENT SELECTION OF LURES, hand tied flies,

bucktails, Kokanee gear, downrigger accessories, rods,

reels and more available at Gill & Gift. At the Balfour Ferry

Landing, www.gillandgift.com

RADPOWER RADCITY COMMUTER-BIKE: www.rad

powerbikes.ca/products/radcity-electric-commuter-bike,

157km, advertises as $1999, w/taxes over $2300. Save

$400 with $1900 asking price. 250-551-3762, Nelson.

DID YOU KNOW that we offer e-Subscriptions of the

Pennywise? Yes we do - delivered to your email weekly.

You can receive your fresh copy, Tuesday afternoon. Consider

this... you will save 20 pieces of paper, every single

week when you read your paper online! That is 1000

pages a year!! Sign up today, and we'll get you started

right away! Questions? Call 1-800-663-4619, Kaslo.

Merchandise

VINTAGE JBL CENTURY SPEAKERS: $550, Weathertech

dog ramp, like new, $125. *New number* 250-364-1148.

Merchandise Wanted

$$$ COIN COLLECTOR LOOKING TO PURCHASE COL-

LECTIONS, Accumulations, Royal Canadian Mint Coins &

Sets, Olympic, Gold and Silver Coins, Paper Currency, etc.

Please call Chad, 250-499-0251, Kootenays.

FIREARMS: Call John Urquhart in confidence anytime. I

will come to your home. 250-367-7540.

I'M INTERESTED IN BUYING COMIC BOOKS

for my collection. Call or text Devo, 250-921-9876,

devo247247@gmail.com

USED SCAFFOLDING: with or without decking. Call

250-359-2245.

WANTED: Cedar poles. Bell Lumber & Pole, Rossland.

Contact Sean Fredrickson, 250-521-3031, sean.fred

rickson@blpole.com

Free For Free

FREE HEAVY WOODEN KENNEL: For small dogs/pets.

Requires truck or large SUV to pick up. At driveway entrance,

8325 Chanton Rd, east side of Procter. Colin, 250-

229-4440.

OLDER HUSKY 41 CHAINSAW: No chain break. Call

250-352-3797.

UPRIGHT PIANO: Good condition. Glass for greenhouse

4´x6´ and other sizes. 250-367-9933.

WHERE DO YOU GO when you want to know who's buying

or selling? The Pennywise. 1-800-663-4619.

Love Community Radio cont'd from pg 6

Volunteer programmers are expected to pull their weight when

it comes to supporting the station throughout the year including

during their annual membership drive. Volunteers are given all the

training needed to create amazing radio right here in our community.

KCR's music and spoken word programs cover a diverse range

of genres and subjects and consistently win national awards.

Kootenay Co-op Radio limits new programmer/new show intake

to only twice a year;

once in the spring

and again in the fall.

Their new season

starts on October 9.

If you've got a new

radio show idea,

Kootenay Co-op

Radio invites you to

attend their Volunteer/

Programmer

orientation session

on Saturday, September

7 at noon,

308a Hall Street in

Nelson.

For more information

or to RSVP

to attend this session

email programming@koo

tenaycoopradio.com

– Kootenay Co-op

Radio

Upgrade Honeycombs to

Power wand for only $90!

The PowerWand Rechargeable

option is an easy, cord-free

motorized operation

FREE INSTALLATION

FREE CONSULTATION

THE

MAN

A whole new view.

Where GE appliances come to life.

at Castleaird Plaza

West's

Home Hardware

652-18 th St., Castlegar 250-365-2203

866-365-2202 • Open 7 Days a Week

250-352-3800 • 1-855-681-1123 • www.theblindman.ca

= view picture of this item on our website: www.pennywiseads.com Aug 27, 2019 PAGE 9
---
• Castlegar/Slocan Valley • Castlegar/Slocan Valley •

Merchandise

ARE YOU READY FOR FOREST FIRE SEASON? Get prepared

now. Forestry fire hoses with standard 1.5˝ quick coupling

ends, various lengths available from 15 to 90 feet long,

$35 - $90 per hose. Call 250-353-2055 or text 780-940-2328.

GAZELLE FREESTYLE CROSSTRAINER PRO 2000: exercise

machine. $150. 250-365-5329.

GE 1000 MICROWAVE: In good condition, 20˝x14˝x11˝,

$100. 250-365-5329.

GOOD USED PUSH MOWERS & RIDERS: 250-365-0005.

HALLOWEEN DECORATIONS: 4 large blowups, fog machine,

costumes, yard decorations, much much more.

250-368-1894.

NEW DELTA 12S KAYAK: Azure blue, please google "images

& specifications of Delta 12s" before phoning. Will

negotiate cost for kayak w/car carrier, paddles, life jacket

and skirt or just kayak; Rossignol 178 Cross-country Tempo

Escape AR waxless skis, very good condition w/size 8.5

boots, $35. 250-226-7451.

REVIVAL BOUTIQUE: Brand name clothing, festival wear,

jewellery and accessories, something for everyone. 342

Columbia Ave, Castlegar BC. 250-231-8024.

WEDDING STORE INVENTORY: 26 really nice dresses, all

in good shape, sizes 8-20 & plus sizes W26/W28. Buy ALL

of them still on the rack, $300/ea obo. 250-226-0080.

Merchandise

Computer Sales/Service

CONOR'S COMPUTER REPAIR: Troubleshooting, network

setup, virus and Malware scans. Castlegar and Nelson

housecalls. Courtesy computer available. 250-608-1583.

WINLAW FINE COMPUTING..... www.winlawtech.com,

Windows, Apple, Linux. Pat, 250-226-7215.

Firewood

FIREWOOD FROM NEW DENVER: Cut to length, split

and delivered from Nakusp to Winlaw. Fir and larch $275/

cord. Call 778-901-2821 or 236-833-1652.

Furniture & Appliances

COUCH, NEVER USED: Length 96˝, seating length 76˝,

leather look, high wear upholstery, emerald/forest green,

offers. 250-368-3934.

Sporting Goods

NEW: Rifles, optics, rings and bases, dies, powder, tripods,

bison rugs. Used: Rifle barrels, Cooey .22. George,

250-362-9489.

Merchandise Wanted

OLD BEER/POP SIGNS, wooden/metal crates, old gas/service

station items, old Coke/pop machines. 250-231-9397.

Burton - Proudly serving the region since 1903

250-265-8786

Pastured Pork

Grass Fed Beef

Ground, Chops,

Ground, Stew $8lb

Steak, Roast $7lb

Bones $4lb

Ribs $10lb

Sausage and

Hocks $5lb

Beef Jerky $10lb

Bacon $12lb

Sausage

Pastured Chicken

$9lb

whole $5lb

Catch us at New Denver Friday Market & Kaslo/Nakusp Saturdays

West Kootenay Annual Toy Run

First held in 1988 with 15 local riders, the Toy Run now

features hundreds of participants, with more than $30,000

being raised annually for local food banks, women's shelters,

the Salvation Army, various family support organizations

and high school bursaries, as well as hundreds of

toys that are donated to the local Salvation Army organizations

for their Christmas hampers.

The 2019 West Kootenay Toy Run's annual Toy Run will

be held on Sunday, September 8 beginning at 8 am.

cont'd on pg 19

Free Sight Testing at both locations:

NELSON: 701 Front St • 250.354.EYES (3937)

PAGE 10 Aug 27, 2019 C

Full

UV400

protection

Ready for School?

We use digital devices all day, every day.

Enjoy a comfortable, strain-free view of your world.

Start with a comprehensive eye exam from your local

optometrist. Bring the prescription to Glass House Optical

for the best prices and the best protection with ZEISS lenses.

up to 60% OFF

Designer Eyeglass

Frames and

Sunglasses

See in store for more details and for our back to school promo.

CASTLEGAR: Unit 2, 688 18 th St • 250.365.2026

Next to Common Grounds Coffee House

= view picture of this item on our website: www.pennywiseads.com
---
• All classified ads may be viewed at www.pennywiseads.com •

Contractors/Trades

A&A PAINTING LTD. 32 YRS IN

BUSINESS: Professional and best

service guaranteed. Booking our Fall

season! Call now 250-354-9015 Nelson;

250-304-5237 Castlegar; 250-

368-1044 Trail. www.aapainting.ca

ADAM'S WINDOWS & DOORS: All

types of window & door installations.

Free estimates! Call 250-608-1419.

DESIGNING AND CRAFTING

UNIQUE TIMBER FRAME HOMES

for the Kootenays and beyond since

1989. Phone 1-888-713-1800.

DID YOU KNOW THAT WE OFFER

E-SUBSCRIPTIONS OF THE PEN-

NYWISE? Yes we do, emailed directly

to your home weekly. You can receive

your fresh copy, Tuesday afternoon.

Consider this... you will save 20 pieces

of paper, every single week when

you read your paper online! That is

1000 pages a year!! Sign up today,

and we'll get you started right away!

Questions? Call toll free 1-800-663-

4619, 250-353-2602 in Kaslo.

McLAIN'S ROOFING: For all your

roofing needs. Fully insured & bonded.

Trail, 250-231-5543; Castlegar,

250-608-5543.

GOTTA ❤ THE PENNYWISE!

Contractors/Trades

HOOVER MASONRY, CERTIFIED

EXPERIENCED MASON: Stonework,

Bricklaying, Tile Setting, Custom

Masonry Fireplaces, Restoration,

Chimney Re-pointing, Stone Patios &

Stairs, Retaining Walls, Manufactured

Stone. Communication...Service...

Satisfaction! 250-551-3245, hoover

masonry@gmail.com

NOW YOU CAN... run your logo OR

picture in black & white OR colour

for $5 per area, per week, just like

Keep The Beat. Email ad and photo

to info@pennywiseads.com, text 778-

205-0078 or call 1-800-663-4619 for

more information.

PACE ELECTRIC: Underground to

overhead. Residential or commercial.

All your electrical needs. 250-304-

8930 (cell).

TELL ALL ABOUT IT IN A

PENNYWISE AD TODAY!

Contractors/Trades

PLANNING RENOVATIONS OR RE-

PAIRS THIS YEAR? The Contractors

& Tradespeople Directory can be

viewed at www.pennywiseads.com/

section/contractors-and-tradespeople

R.J. EARTHWORKS EXCAVATING

AND CONTRACTING: E50 Bobcat,

dump trailer. Land development, site

prep, land clearing, driveways, boulder

walls, retaining walls, basements,

septic, underground utilities, fencing,

hauling. Fully insured, fast, efficient.

Call 250-358-2128, call/text 250-551-

7347, r.j.earthworks@outlook.com

SAMURAI HARDWOOD FLOOR-

ING: Residential/Commercial Flooring

and Tiling Services, Professional

Installations, Custom Stairs, Refinishing

Services, 601D Front St, Nelson.

250-551-3764.

PENNYWISE, the Kootenays'

Resource Centre.

Concerned about wildfire

on your property?

$50 / HOT SEAT DRAWS EVERY HOUR FROM 12PM -11PM

FREE HAMBURGERS AND HOT DOGS FROM 12PM-3PM / FREE CAKE

EVENING BINGO CUSTOMER APPRECIATION EVENT

FIRST 50 IN THE DOOR AT 10AM GET A CHANCE TO WIN UP TO $50 FREE PLAY

PRE-RESERVE YOUR TERMINAL OR PAPER TABLE IN ADVANCE!

CARD SALES BEGIN AT 4PM AND CALLING WILL BEGIN AT 6:15PM

LIVE MUSIC 11:30AM – 3PM BY TNT

OPEN DAILY at 10am

100 Hall Rd, Castlegar 250.304.6300

Restaurant 250-304-6311

CHANCES

CASTLEGAR

We work with private landowners to assess forests,

prepare a management plan and provide harvesting

and slash disposal services to mitigate your

wildfire risk.

If you or you and your neighbours collectively own

10 acres of adjacent forested property, email us at

wui@kalesnikoff.com for more information.

Visit kalesnikoff.com/wildfiremanagement to

find out more.

If you have a smaller property, see the Wildfire Prevention page

at www2.gov.bc.ca or FireSmart Canada.

= view picture of this item on our website: www.pennywiseads.com Aug 27, 2019 PAGE 11
---
On Saturday, August 10, athletes from all over Western Canada,

the US, the UK and almost Australia (they had to return before

the race) took part in the 3rd Annual iDIDaRide & Run,

XC Mountain Bike and Trail Running Event. 122 registered, 55%

of whom were West Kootenay participants and 45% from the

wider world. The youngest was 7 and the oldest was 79.

THANK YOU

Sponsors • Volunteers • Racers

PHOTO: Alexandra

Forever Natural Photography

PHOTO: Miriam

Forever Natural Photography

Time Bib Name Age Home

Congratulations Winners!

40 km Bike Male Open

2:31:17 #516 Travis Hauck ............. 41 Nelson BC

2:50:59 #502 Paul Elliot ................. 40 Kelowna BC

40 km Bike Female Open

3:20:17 #508 Amanda Sin ............ 42 Rossland BC

4:31:02 #506 Inga Ivany ................ 57 Burton BC

20 km Bike Male 0-49

1:29:15 #338 Conor Broadfoot ...... 27 Victoria BC

1:30:16 #342 Bob McGregor ........ 35 Kaslo BC

20 km Bike Male 50+

1:31:55 #300 Jim Korpan ............... 51 Regina Sk

1:34:08 #335 Thomas Berry ........... 61 Kaslo BC

20 km Bike Female Open

1:31:55 #333 Pat Weinmayer ......... 48 Calgary AB

1:35:14 #336 Bonnie Geyer ........... 49 Banff AB

20 km Run Male Open

1:30:39 #413 Etienne Robert ......... 30 Nelson BC

1:53:08 #402 Zachary Robert ......... 30 Nelson BC

20 km Run Female 0-39

1:53:08 #401 Allison Dick ............... 29 Nelson BC

1:57:14 #412 Bridget Kamp ........... 36 Kelowna BC

20 km Run Female 40+

2:22:41 #416 Liz Edward ................ 43 Nelson, BC

2:28:37 #400 Rachael Davidson ..... 47 Bonnington

8 km Bike Male 10+

0:31:30 #222 Mark Fisher .............. 63 Kamloops BC

0:34:42 #208 Cody Halleran .......... 36 Calgary AB

8 km Bike Male 0-10

0:24:00 #217 Logan Halleran ......... 8 Calgary AB

0:36:13 #218 Owen Anderson ........ 7 Castlegar BC

8 km Bike Female 14+

0:33:46 #200 Kathleen Fisher ......... 30 Kamloops BC

0:37:54 #210 Alex O'Daly ................ 32 Kamloops BC

8 km Bike Female 0-14

0:34:17 #224 Fynn Thompson........ 10 Water Valley AB

0:35:11 #215 Mia Garthe ................ 9 Kaslo BC

8 km Run Male Open

0:37:00 #102 Mackenzie Mitson ..... 29 Kaslo BC

0:39:50 #101 Jaryd Snow............... 18 Coldstream BC

8 km Run Female Open

0:42:15 #104 Cheryl Mueller .......... 61 Nelson BC

0:43:34 #108 Dena Poulos ............. 33 Calgary BC

PHOTO: Karma Halleran

PAGE 12 Aug 27, 2019 Pennywise

SPECIALTY AWARDS:

Best Dressed - Bob McGregor

Wheelie Competition - Tayler Tarr

Snail's Pace Race - Travis Hauck

PHOTO: Robert Foster

For Their Professionalism...A Shout Out to:

Jerome Goodman, our electronic timer operator

& equipment rented from Kootenay Sufferfest!

Cloe Bayeur-Holland and Debra Barrett of

Kaslo Housing Society for organizing the Beer

Garden, Food, Band & Vintage Fair, and to

the band, The Block Heaters, Dan, Jeremy and

Dan, for such a wonderful sound

and to Chris Cullen for turning on the sound!

Photographers: Robert Foster, and Alexandra and

Miriam of Forever Natural Photography

The Vendors Carmen and Christa and Hazel.

PHOTO: Miriam

Forever Natural Photography

And of courseour Sponsors Thank you all so much

Kaslo

Building

Centre

www.KasloBuilding.com

www.JonesBoysBoats.com

Rhonda Ruston Q.C.

lawyer

www.RustonLaw.ca

www.VHSporte.ca

Settle

Holdings

Kaslo

www.StellarHeliSkiing.com

Joe's Dad

Lardeau

www.NelsonKootenayLake.com

www.LardeauRiverAdventures.com

KASLO

COMMUNITY

PHARMACY

It wouldn't happen without

these wonderful volunteers

Sarah E Sheila C

Gary the Tom D

Electrician Stu H

Judy H Quinn M

Andrew M Jaqueline

Elliot R Kelsey B

Greg M Roberta H

Gorm M Peter H

Dan M Carol H

Patrick S John H

Sean the Cop Val K

Caroline B Anita E

Kari K Monica D

Paul H Kul N

Ronda T Ken B

Rob T Molly L

Catherine W Geoff S

John W Larissa S

Carl H Village Crew

Mark E Rick W

Shawn H Jason C

Linda J Dan D

www.AinsworthHotSprings.com

www.honeycandles.com

www.KSCU.com

Kaslo Mountain

Biking

iDIDaRidenRun

We are so grateful for the enthusiastic support from our sponsors,

volunteers, participants and the community as a whole.

Thank you for being so welcoming to these visitors

and so supportive of our efforts to bring them here...

iDIDaRide & Run

Glen, Karma, Jason, Fiona, Marie-Ange and Doug

Kaslo

Kul Nijjar

Associate Broker

Fair Realty

www.KulNijjar.ca

PACE

electric

www.facebook.com/Pace-Electric

www.Pennywiseads.com

Kaslo

Doug

the Bike Guy
---
• All classified ads may be viewed at www.pennywiseads.com •

Contractors/Trades

REDWOOD ENERGY: Insured electrical

contractor serving the Kootenay

Area. www.redwoodenergy.ca,

778-866-0939 or email daniel@red

wood energy.ca

RENK MASONRY: Highest quality

stonework, bricks, blocks, tile, etc. Call

Brian Renk, 778-460-0028, 604-313-

9374 (cell) or email brianrenk@shaw.ca

STRUCTURAL STEEL, CUSTOM

METAL WORKS: 30 years of continuous

service. Zap Welding, 250-352-

6978, Nelson.

THE BLINDMAN, A WHOLE NEW

VIEW! Nelson, BC. 250-352-3800,

1-855-681-1123. www.theblindman.ca

TILE YOUR WORLD WITH ADONIS

TILE: Custom, quality tile/stone installation,

over 15yrs experience.

www.adonistile.ca, 250-357-2715.

TOM COTTON PAINTING & DRY-

WALL: 30yrs+ experience, specializing

in small drywall jobs, no GST. Call

250-354-7300.

WEST KOOTENAY MACHINE

SHOP: Machine parts manufactured

& repaired, 915 Front St (rear), Nelson.

250-352-2123.

WINDOW REPLACEMENT SPECIAL-

ISTS: Product proudly Canadian made.

Solar Protection & Energy Efficiency.

Call today for a free estimate, 250-999-

9387 or visit www.purcellwindows.ca

WOLFGANG'S PLUMBING SER-

VICES: Residential plumbing, Goulds

pumps, hot water tanks, renovations,

etc. 250-226-7320.

CHECK OUT

PENNYWISEADS.COM!

Contractors/Trades

www.shasheenmachine.com: Canadian

Welding Bureau Certified

Shop. Structural steel, machining,

fine architectural metal work. Portable

welding. 250-359-2289.

Services

ALL AROUND SEPTIC SERVICES

LTD: 250-354-3644, email allsep

ticvac@gmail.com, www.allaround

septicservices.com

BEAVER'S SEPTIC TANK CLEAN-

ING SERVICE: Serving the Kootenays.

Goes the distance! 250-354-

3508 (cell) or 250-357-9724.

GARBAGE CAN DAN JUNK RE-

MOVAL: Full estate clean-outs, commercial,

household, campers, trailers,

construction waste, furniture, appliances,

garage clean-outs. Anything

you need gone quick! "Cleaning up

the Kootenays." 250-608-7274, www.

garbagecandanhauling.com

SCRAP KING AUTO WRECKING

AND TOWING: Serving the Kootenays

since 1997. With a large fleet

and wide reach, we'll tow your troubles

away. www.scrapkingauto.com

TAP INTO THE MARKET SOUTH OF

OUR BORDER! Expand your market

into Spokane and Coeur d'Alene

and reach thousands of new readers,

cost effectively! Place your classified

ad in the Pennywise and for only $10

more per week, your ad will appear

in BOTH the Spokane Exchange and

the Coeur d'Alene Nickel's Worth - all

64,000 of them! Call Pennywise today

at 1-800-663-4619 and let us help

you grow your business.

TREE SERVICE: Certified, Licensed,

Insured. Pruning to removal of hazardous

trees. Free Estimates. 250-

505-6114, www.fallguy.ca

LOOKING FOR WAYS TO TELL

EVERYONE ABOUT YOUR BUSI-

NESS? Give Pennywise a call today

and we can go over your options!

1-800-663-4619.

Health/Personal Care

TO FIND SOME OF THE BEST

HEALTH PRACTITIONERS in the

West Kootenay check out the Health

Support Directory at www.penny

wiseads.com/section/health-andpersonal-care

Gardening/Landscaping

*AAATREEWORKSNELSON.COM

BY WYLEE WORKS INC: Serving the

West Kootenay since 2005. Professional

Tree Care and Wildfire Protection.

WCB Certified Fallers and ITA

Arborists. WorkSafe & Commercially

Insured. Large Residential Removals,

Selective Harvesting and Wildlife/Hazardous

Tree Assessments.

15˝ Tree Chipper, Stump Grinder, 14´

Dumper Trailer and 4x4 John Deere

Loader w/12,000lb Winch. Free estimates.

Wylee Charbonneau, 250-

551-4672.

CANADIAN GARDEN SUPPLY: We

now deliver to the entire West Kootenay

Region, indoor and outdoor

growing supplies! 250-304-2911,

www.canadiangardensupply.com

KOOTENAY PROPERTY MAINTE-

NANCE: Landscaping, junk removal

and snow plowing, commercial and

residential service. Sign up for a lawn

care program and every 10th mow is

free! Call/text 778-235-7142.

PRECISION MOUNTAIN FALLING

LTD: Brush cleanup, professional tree

care. Dump truck & 8˝ chipper. Certified,

fully insured. 250-687-0734, 778-

454-0734, asherstobitoff@gmail.com

TOPSOIL FOR SALE: $40/yard plus

trucking or you pick up. 250-365-0259.

AW DARN! YOU MISSED THE

DEADLINE? Well the GOOD NEWS

is you can LIVE LOAD your classified

ad which gets it on our website right

away! Simply call 1-800-663-4619

or select the Live Load option when

placing your ad online at www.penny

wiseads.com/submit

Apply for an Environment nment

Grant by November 12.

Wildsight used an Environment Grant to hold the

Columbia River Field School — a two-week canoe

adventure for youth aged 15 to 18 which teaches

them the natural, historical, economic, social and

cultural significance of the Columbia River.

ourtrust.org/envirogrant

= view picture of this item on our website: www.pennywiseads.com Aug 27, 2019 PAGE 13
---
• All classified ads may be viewed at www.pennywiseads.com •

Notices

CONCERNED ABOUT WILDFIRE

ON YOUR PROPERTY? We work

with private landowners to assess forest,

prepare a management plan and

provide harvesting. See our display

advertisement in this issue of Pennywise

for more details or visit www.

kalesnikoff.com/wildfiremanagement

Employment

**DJM CONTRACTING LTD. Hiring

Skilled Carpenters & Apprentices to

join our team. We offer competitive

wages/benefit packages & pension

plans. Send resume to info@djm

contracting.com

MINUTE MUFFLER AND CUSTOM

TRANSMISSION IN TRAIL requires

a full-time, red seal technician. Minimum

5yrs experience, willing to work

alternate Saturdays, share knowledge

with others, be punctual and reliable.

Deliver resume in person to Stewart.

Coming up in Nelson

Occupational First Aid Level 1 ... Sept 7, 19

OFA Transportation Endorsement ... Sept 8

Forklift Certification ..................... Sept 14

Foodsafe Level 1 ........................... Sept 17

Painting: Wet On Wet Watercolour Sept 17

Jewelry: Basics ............................. Sept 17

Living a Healthy Life

with Diabetes ........................... Sept 17

Figure Drawing ............................ Sept 18

CORE Hunter Training ................... Sept 21

Commercial

Vehicle Inspection Program ...... Sept 27

Fall courses now available at www.selkirk.ca/ce

selkirk.ca/ce 250-354-3220 for more info

www.facebook.com/SelkirkCommunityEducation

Community Education & Workplace Training

LOOKING FOR

TIRE TECHNICIAN

OK TIRE NELSON IS GEARING UP

FOR WINTER TIRE SEASON

PAGE 14 Aug 27, 2019

Employment

EXPERIENCED WOODWORKER

REQUIRED for custom wood, window

and cabinet shop, near Castlegar.

2-3rd year benchwork-joinery

apprentice preferred. Opportunity to

complete apprenticeship. Must be

capable of heavy lifting. Full-time

position, wages commensurate w/

experience. Email resume to sales@

boardwalkwoodwork.com

LOOKING FOR AN EA TO JOIN OUR

TEAM at School of Little Fish Daycare:

Mon/Tues/Wed, 9am-4pm, working

alongside an ECE in a small multi-age

daycare, $19/hr, starting ASAP! Contact

Melissa 250-229-5385, schooloflittle

fishdaycare@gmail.com

MOTHER NATURES IN CASTLEGAR

IS SEEKING a full-time service orientated

person with knowledge of natural

health products to join our team.

Experience in a natural food store or

education in natural health is an asset.

Must be a self-starter and open

to learning. Email resume and cover

letter to mothernatures@netidea.com

or deliver and ask for Shawna.

Business Opportunities

GADGETS & MORE, DOWNTOWN

TRAIL: Profitable retail outlet that

sells a large variety of merchandise.

21 years in business, lease expiring

in 2019. Owner retiring. Phone Alex,

250-364-0404.

VERY LARGE RARE STAMP COL-

LECTION: 1900-1980, Canadian,

American & English. Lots of stamps

with mistakes, 90% still on envelopes,

$300,000obo. 250-226-7635.

PENNYWISE WORKED! You

sold your item and now you need

to cancel the classifi ed ad you

booked for two more weeks? Ask

us about a partial refund. 1-800-

663-4619.

NELSON

Business Opportunities

PENNYWISE CRITERIA FOR AD

AND ARTICLE SUBMISSIONS: We

are a family-oriented, community

shopping newspaper. Our mandate is

to print only positive and affirmative

material, therefore, we will not accept

submissions we feel are negative.

We will not print submissions that

are controversial in nature or that are

disparaging to other advertisements,

firms, individuals, ethnic or religious

groups. The publisher reserves the

right to edit or refuse any ad or article

submission.

USA - DO YOU QUALIFY?

$3500USD/month part-time at home.

206-701-5416.

USA - POST PRE-WRITTEN ADS &

EARN $100-$500USD DAILY: Earn

while you learn. Easy, legal & all done

for you. Start immediately. www.

annsdailypay.com 509-991-8203.

Animals/Animal Care

PATTY IS A PRETTY KITTY who

came to us when her owner could

no longer care for her. She is a lovely,

well socialized, black and white

patches senior cat, that has lived

indoors for the last five years. She

is very sweet, vocal in a conversational

way, and people friendly. If you

would like to meet Patty, come to the

BC SPCA Nelson Branch on Falls St.

250-352-7178.

WHAT IS NEW? Daily visits to

WWW.PENNYWISEADS.COM have

tripled with live loads. Live Load your

ad today.... Safe...Easy...Effective.

HOLIDAY WEEKEND

CLOSURE

Please note: we will be closed on

Saturday, August 31

& Monday, September 2

Enjoy the

LABOUR DAY

Long Weekend

Dealer for Husqvarna, Toro, Shindaiwa, Echo, Bear Cat and Carhartt Clothing.

Complete line of industrial equipment & supplies

323 Vernon St., Nelson 250-352-5301

Toll Free 1-888-663-4KIS (4547)

2181 Columbia Ave., Castlegar 250-304-2900

www.kootenayindustrial.ca

KOOTENAY INDUSTRIAL SUPPLY LTD.

= view picture of this item on our website: www.pennywiseads.com
---
• Castlegar/Slocan Valley • Castlegar/Slocan Valley •

Employment

A BUSY DENTAL OFFICE IN CAS-

TLEGAR is looking for a full-time (4

days/wk) Certified Dental Assistant

and a part-time Hygienist. Please send

resume to drannestarr@telus.net

JOIN THE TEAM at North Mountain

Construction, Nelson, BC: Hiring carpenters

and carpenters helpers. Apply

to info@northmountainconstruction.ca

OK TIRE NELSON is gearing up for

the winter tire season. Looking for a

tire technician. 801 Front Street, Nelson,

250-505-5115.

THE ARROW SLOCAN TOURISM

ASSOCIATION is looking for an Executive

Director/Marketing Manager,

who will be responsible for the efficient

administration of ASTA and

coordination of tourism marketing

projects. This a half-time contract position,

$25/hr. Email lkinch59@gmail.

com for the job description. Application

deadline, Aug. 30. Please email

resume and cover letter to lkinch59@

gmail.com

THE H&R BLOCK TAX COURSE

STARTS IN SEPTEMBER: For details

visit hrblock.ca/about us/tax acadamy

or call 250-365-5244 or 250-

364-1617, we will be hiring!!!!

Business Opportunities

THREE CHAIR SALON IN CASTLE-

GAR: Turn key, has stylists with established

clientele. Owner retiring, for

more information email maeperx@

gmail.com

Contractors/Trades

*DJM CONTRACTING LTD: Custom

homes, new construction, renovations,

garages, carports, foundations, framing,

+more. Licensed Residential Builder/WCB/Insured.

www.djmcontracting.

com. Justin, 250-362-2151.

ALUMINUM RAILINGS & WEATH-

ERDEK VINYL DECKING: 25yrs experience,

free estimates. Call Ken, 250-

231-7905, email royalvinyl@shaw.ca

AMC, FORMERLY ANDY & MAX-

INE'S PLUMBING & HEATING: Gas

& Drain Cleaning Services. 250-608-

3240 (cell), www.amcplumbing.ca

WORKING AROUND THE CLOCK...

that's classified advertising: 1-800-

663-4619, www.pennywiseads.com

Contractors/Trades

AVIS EXCAVATING, 250-226-7849:

Reliable and timely excavating. KX040

Kubota with 6 way blade. Excavating,

land modification, forest fire mitigation,

ditching, water lines, trail building

and much more. avisexcavating.com

BLAZE KING/VALLEY COMFORT

WOOD, Electric & Oil Heating specialist.

Sales, installations, service,

inspections & consultations. Ductwork,

Chimneys, Oil tank removals,

BC Ventilation solutions & HRV

design & installation. Duct cleaning

& sanitizing using the BILTWEL

method. K.F. Kootenay Furnace Ltd.

250-355-0088.

BOB ESSAUNCE, B.P. ESS. HOLD-

INGS LTD: Quality Work on Interior

Finishing, Small Renovations & Repairs.

250-365-9344.

BULLDOG CONCRETE FINISHING:

Your Kootenay Concrete Specialist!

Basement/garage floors, patios,

driveways, form to finish. Organized

journeyman. 250-365-5573, www.

bulldogconcretefinishing.ca

CASCADIA ROOFING: Reroofing and

new construction. Laminated asphalt

shingles. Affordable metal roofing options,

installed properly. Composite

roofing. WCB & Liability Insurance. 33

years experience. Quality workmanship

guaranteed. 250-354-2999.

BLACKSHIELD ROOFING LTD: Residential

Reroofing Specialists, servicing

Trail and surrounding communities.

Call 250-908-2512 for your Free

Estimate!

PENNYWISE WORKS FOR YOU!

Contractors/Trades

EXCAVATING, FULL SERVICE RES-

IDENTIAL AND LIGHT COMMER-

CIAL: Sight planning and development.

Underground utilities, septics.

Drainage solutions. Retaining walls.

Landscaping and design. Concert

slab preparation, etc. 30 years experience.

Free estimates. Ph/text 250-

365-9455, loydten@gmail.com

CONCRETE & LANDSCAPING

CONTRACTOR: Driveways, sidewalks,

retaining walls, slabs, structural

work, Allan blocks. Excavator, skidsteer,

dump-trailer. Licensed/insured.

250-608-7777.

CRESTVIEW PAINTING: 25yrs+ experience,

reliable/quality work that

lasts, new construction, residential,

repaints, certified journeyman. Fully

insured. 250-304-5197.

CURRY'S EXCAVATING: EX-120

and 5T Mini - for all your digging

needs!! WAYNE CURRY, 250-226-

7661, valhallacur@hotmail.com

DALE'S PAINTING: Interior/exterior,

let my references explain!! Fast, professional,

reliable, free reasonable estimates.

250-365-2725.

ED'S ELECTRIC: New construction,

service upgrades, renovations, service

calls, free estimates. Call Ed at

250-304-7621.

EXTERIOR PRESSURE WASHING:

Booking for August & September.

Stewart J. Pedersen Painting. Call 250-

354-3059 or email stewartpedersen

painting11@gmail.com

GENERAL CONTRACTING: New

construction, renovations, additions,

siding, roofing, decking. Experienced,

energetic, reliable. Guy, 250-505-0709.

GERLITZ CONSTRUCTION: 35yrs

experience, custom shower & tile

work, renovations, decks & basement

developments. Reliable. Quality

work. 250-608-4044, 403-678-7670,

West Kootenay.

colville

509-684-2584

colvillemonument.com

DESIGNING & CREATING CUSTOM MEMORIAL STONES

Come see our showroom display with 17 colours of granite and over

100 stones to choose from. See our website for other product options.

163 East 2nd Ave, Colville, WA 99114

Saturday & evening appointments available. Please call Camille to arrange a consultation.

Camille

CMW Manager

= view picture of this item on our website: www.pennywiseads.com C Aug 27, 2019 PAGE 15
---
• Castlegar/Slocan Valley • Castlegar/Slocan Valley •

Contractors/Trades

GW CONTRACTING: Rock/Allan

block, retaining walls, concrete sidewalks/driveways,

demolition, leaky

basements, plumbing, water, sewer,

decks, patios, fencing. Land clearing.

250-231-4532.

HEATCHECK: WETT certified inspections,

chimneys, wood stoves, HRVs,

duct work. 250-355-2338.

JM ROOFING: We cover your roofing

needs for asphalt, shingles/metal.

Knowledgeable, professional service.

Workmanship guaranteed. www.jm

roofinghome.ca, 250-231-5327.

KENCRETE CONTRACTING: Concrete

Foundation Specialists, 25yrs

experience. ICF Certified. Journeyman

carpenter. k.ricalton@shaw.ca,

250-505-2666.

2019 Household

2019 Hazardous Household Waste Hazardous

Waste Round-up Round-Up Events Events

Saturday, September 7, 2019

Castlegar & District Community Complex

10:00 am – 2:00 pm

Saturday, September 21, 2019

Silverton Public Works Yard

11:00 am - 2:00 pm

Sunday, September 22, 2019

Nakusp Arena

11:00 am - 2:00 pm

For events in other locations visit the RDCK's website.

All events are free!

Food donations are accepted.

No commercial or industrial wastes.

No commercial or industrial wastes.

For a complete list of items accepted at the

round-up visit the RDCK's website:

www.rdck.ca or call 1-800-268-7325

Contractors/Trades

KOOTENAY SOLID SURFACES:

Specializing in Corian countertops.

Corian is durable, non-porous and

seamless. With over a 100 colours to

choose from, Corian is an excellent

product at an affordable price. For a

free estimate call Richard at 250-226-

6820, or cell 905-320-6882, or email

kootenaysolidsurface@gmail.com

LEAF CABINETRY: Custom cabinetwork,

residential & commercial.

Your local cabinetmaker serving the

West Kootenay since 1991. www.

leafcabinetry.com, 250-226-7441.

MY PLUMBER: No job too small.

Maintain, service, install, plumbing

systems, blocked sewer lines. 250-

521-0206, 306-690-3908 (cell), email

myplumber@email.com

NO JOB IS

TOO DIRTY! We

employ people

who are underemployed.

Services:

yard work/

landscaping,

cleaning, interface

clearing,

windows, fencing,

roofing, minor

construction/

renovations, siding,

gutters, and

more! Residential

and commercial

contracts available.

Contact

Erika, 250-777-

3530 or erika.

deploymentinc@

outlook.com

ROCK SOLID

MASONRY &

TILE: Specializing

in custom natural

stone, cultured

stone, tile, block,

brick, chimney

repair. Retaining

& garden walls,

pavers, stone patios.

Insured, work

guaranteed. Call

for quote. Tristan

Ray, 250-354-

8125, stanrayca@

yahoo.ca, www.

rocksolidmason.ca

AFTER YOU'VE

READ

the best bargains

around,

please recycle the

Pennywise

Contractors/Trades

TRAIL ROOFING LTD: Serving the

Kootenays (East and West) for over

50yrs. New construction, reroofs,

repairs, residential, commercial

and industrial. We are fully insured,

WCB and liability. RCABC member,

cor safety certified. Certified roofers

doing quality work. 250-364-2900,

trailroofing@telus.net

Services

1T CUBE VAN & DRIVER FOR HIRE:

Moving, garage, yard cleanup, pick

up, delivery. 250-359-5967.

A MAN AND HIS DOLLY, MOVING

COMPANY: 1T cube van. Moving to

and from most places in BC and Alberta.

Accepting VISA, Mastercard and

Debit at your door. www.AManAndHis

Dolly.com, 250-304-8400.

VALHALLA SEPTIC SERVICES

LTD.: Fully insured for all your residential

and commercial septic pumping

needs. 778-454-2221.

CLEANING GENIES: Professional

Clean Team. You've tried the rest,

now call the best! Fully insured,

WorkSafeBC. All employees on payroll.

Call Marilyn, 250-399-6606.

www.cleaninggenie.ca

HANDYMAN FOR HIRE: For the

projects around the house. Reasonable

rates. 250-304-9960.

KOOTENAY WASTE SERVICES:

Commercial/residential garbage &

recycling pickup, roll off bins. Serving

Castlegar, Nelson, Slocan Valley,

Kaslo to Meadow Creek, and everywhere

in between. Weekly residential

pick up from just $14/mo. See the full

service map or sign up on our website

at www.kootenaywaste.com

NEED A PLUMBER? CALL VIRGO!

We have up-to-date technology to

help us analyze and repair any plumbing

problem. Call Sean at 250-353-

3237. Visit www.virgoplumbing.com

for all our services.

PASS CREEK TOOL REPAIR: Air

and electric tools, small compressors,

quality repairs, fair price. 250-

304-4811.

SMALL ENGINE REPAIR: Lawn

mowers, rototillers, garden tractors,

etc. 250-368-5219.

PAGE 16 Aug 27, 2019 C

= view picture of this item on our website: www.pennywiseads.com
---
• Castlegar/Slocan Valley • Castlegar/Slocan Valley •

Services

PAULSON MECHANICAL SYS-

TEMS LTD: The irrigation, plumbing,

heating and cooling experts. 3170

Highway Dr. Trail, BC. 250-368-9404,

www.paulsonmechanical.ca

PHILIP KANIGAN BSC. DMD A

NAME YOU CAN TRUST: Home, hospital

and office visits available. 250-

365-2289, www.castlegarnotary.com

PROFESSIONAL MOVING, Junk Removal,

Plumbing, Sewer Backups, Dry

Cleaning, Laundry Service, Furnace/Air

Duct Cleaning, Carpet Cleaning. 24/7

Emergency Service. 250-231-8529,

250-921-4356, www.dirtbusters.vpweb.ca,

250-364-0145. www.kootenay

moveandjunk.vpweb.ca

REPAIR, REPLACE, RENOVATE

HANDYMAN: 30yrs construction

trades experience. Hardware to complete

interiors, exteriors, decks, etc. Get

that project finished! 778-460-1524.

TAZ'S PRESSURE WASHING: Specializing

in concrete, vinyl siding, gutters,

driveways, windows. Special senior

rates. Pete 250-231-0340.

THE SCOOTER DOC: Used scooter

repair & sales. Acorn Stairlifts, installs

and service. 250-304-4584.

TRIXIE'S CLEANING AND JUNK

REMOVAL IS NOW BOOKING for

junk removals, including estate cleanups,

hoarder cleanups, small out

building demolition and removals etc.

We also have spots available for janitorial

clients. Check us out at www.

trixiecleaners.ca and also on Facebook

under Trixie's cleaning and junk

removal. 250-365-9313.

CLEARWATER SEASONAL SER-

VICES: Window/gutter cleaning,

pressure washing, gutter repair, moss

removal. Licensed & Bonded. Free

estimates. 250-354-7151.

DID YOU KNOW?...That all 4 of

our Pennywise papers target over

28,000+ homes/mail boxes weekly.

Health/Personal Care

BACK IN BALANCE WELLNESS

CENTRE: Now offering Qi beauty

treatments. Needle-free, pain-free, results

after just one treatment. See our

display advertisement in this issue of

Pennywise for more details.

RAVEN ACUPUNCTURE HOLISTIC

HEALTHCARE in rural Kootenays.

Slocan Thursday-Saturday; Kaslo

alternating Wednesdays. 250-551-

2581, www.ravenacupuncture.com

SHADE TREE MASSAGE THER-

APY: Now taking new clients in

Winlaw. Restorative, palliative, relaxation,

mobile available. Call or

email Jessica Coonen, RMT for appointment.

250-226-6887, shade

treemassagetherapy@fastmail.com

Gardening/Landscaping

**KODIAK TREE SERVICE: Free

estimates for complete tree care.

Certified Arborists, 24yrs experience,

highly referred, Insured/WCB. www.

kodiaktreeservice.ca, 250-365-6664,

1-866-551-4440 or kodiaktreeser

vice@shaw.ca

*GLACIER VALLEY TREE CARE:

Local danger tree professionals.

Utility certified lift trucks. Whole

tree chippers. Stump grinding.

Pruning. Landclearing. Selective

logging. Certified arborists, fallers,

assessors. Free same day assessment

and advice. Jim Sipkes,

24yrs experience. 250-304-3774,

Jim@glaciertree.com

20YRS AS YOUR LOCAL FULL-

TIME PROFESSIONAL TREE EX-

PERT: Limbwalker Tree Services.

Hazardous removals, finest custom

pruning, stump grinding. Fully insured.

250-354-1627.

BEETLE'S STUMP GRINDING: Why

dig it when you can grind it! Best

rates, insured, free estimates. Ben,

250-304-6963.

BOOK YOUR FALL LAWN FERTILIZ-

ER NOW! Doing lawn restoration and

more. Free quote, call 250-304-4675.

CLASSIFIEDS... The solution you're

searching for... whether you're seeking

a new career, a kitten, a new home or

even a helper. Call 1-800-663-4619 to

place your ad today.

Gardening/Landscaping

EVERGREEN CONIFEROUS

MOUNTAIN REDWOOD TREES: Sequoiadendron

Giganteum, must have

water, space and fertilizer, year and

a half seedlings, needs transplanting

Aug.-early Sept., $45ea or 3 for $120.

250-226-7451.

HAPPY LITTLE TREE & GARDEN:

A happy garden makes for happy

people. Journeyman Landscape

Gardener. ISA certified Arborist.

Visit www.happylittletrees.ca Book

by email happylittletreeandgarden@

gmail.com or call 778-454-2290.

In Memoriam

COLVILLE MONUMENT WORKS:

Designing and creating custom memorial

stones. Caring service. 163

East 2nd Ave, Colville, WA. 509-684-

2584, www.colvillemonument.com

Personals

KAMA SUTRA SENSUAL MES-

SAGE: Private Castlegar home. Attractive

50s lady. Discretion assured.

Please text/call, 250-304-7376.

Education/Classes

SELKIRK COLLEGE COMMUNITY

EDUCATION & workplace training.

www.selkirk.ca/ce, 1-866-301-6601

for information.

Lessons/Workshops

CASTLEGAR COMMUNITY CHIL-

DREN'S CHOIR begins September

11, 2019! Contact Christina Nolan at

250-304-8271 for details!

KOOTENAY VOICE ACADEMY

is accepting registrations for voice

and speech arts lessons in Castlegar.

See us online at www.kootenay

voiceacademy.com or call for details

at 250-304-8271.

VOICE/PIANO LESSONS (PRI-

VATE) IN TRAIL starting September.

All ages welcome. Instructor Audrey

Bisset received her training at the

Peabody Conservatory in Baltimore.

With over 30 years of experience in

the Kootenays performing, accompanying

and teaching a wide range

of musical genres. To book a lesson

slot call/text 250-231-3162 or email

audreymbisset@hotmail.com

PHILIP KANIGAN BSc, DMD

Notary Public Inc.

A Name You Can Trust

2009 Columbia Ave, Castlegar, BC Tel. 250-365-2289

Fax 250-365-2275 www.castlegarnotary.com

• Estate Planning

• Real Estate Contracts/Transfers

• Mortgages/Refinances

• Manufactured Home Transfers

• Family Transfers

• Transmissions of Title

• Subdivisions • Easements

and more

= view picture of this item on our website: www.pennywiseads.com C Aug 27, 2019 PAGE 17
---
SUDOKU

Puzzle Page

Brand name clothing

Festival wear

Jewellery and accessories.

Something for everyone

343 Columbia Ave

250-231-8024

August 27

For brand new puzzles by email, sign up at

www.ClassiCanadianXwords.ca

What's That You S'eh?

FIND BOTH PUZZLE SOLUTIONS ON PAGE 4 C OR AT WWW.PENNYWISEADS.COM/SECTION/FREE

Barbara Olson

© ClassiCanadian Crosswords

PAGE 18 Aug Aug 27, 27, 2019 2019 C C Pennywise = view picture of this item on our website: www.pennywiseads.com

ACROSS

1 Dairy product near

the 2%

9 They get loaded

at Jays games

14 Class for momsto-be

15 "Words are

loaded pistols"

speaker

16 Secondary

source of income

17 Obscure and

known by few

18 Middle-school

colouring tool

20 Title musical role

for Lucille Ball

23 Became

hardened (to)

24 Never-before

occurrence

27 Clicks or taps on

31 Compassionate

letters

32 Like a library,

ideally

35 AMC's "Better

Call ___"

36 Ringo's drumplaying

son

37 Hockey arena

caretaker, slangily

40 Prefix with

skeleton

41 Dessert crust

cookie

43 "___ evil, hear ..."

44 Circle div.

45 Pickup starter,

maybe

48 Cricket's buzzing

cousin

50 Loping lunches

for lions

53 Scientology's

Hubbard

54 Words in a Red

Rose Tea ad ...

and where you're

liable to hear

the circled words,

used as clued

59 What a string on

a finger might do

60 Natural supply, as

oil or timber

64 Heavy weights

65 More with-it,

fashionwise

66 Smooches, in

Brit-speak

67 Prenuptial hen

party

DOWN

1 Some computers

2 Either you ___

(one of us)

3 Doctor's area:

Abbr.

4 Single purchase

only, before

"customer"

5 Type of stripper at

a 67-Across,

likely

6 "Aw, stick ___

your ear!"

7 Cyclist Armstrong

8 Activist Naomi

who wrote "No is

Not Enough"

9 Container of fun

monkeys?

10 Pac-Man players'

places

11 "Don't follow me,

Fido!"

12 Rubik with a

coloured cube

13 Observed by a

witness

15 "___ bleu!"

19 Lose its ___

(become

tarnished)

20 Passover crispy

bread

21 Blazing brightly

22 Half a "two-sixer"

(375 ml. booze

bottle)

25 N.Y.C.'s Times or

T.O.'s Nathan

Phillips

26 Nectar-eating

bird of New

Zealand

28 Vodka/clamato

cocktail

29 "Penguin suit"

30 Ad catchphrase

33 Meshing perfectly

together

34 Just squeeze

(out)

38 Nelson Mandela's

org.

39 You: Fr.

42 Earning a milk

bone, say

46 Flared dresses

47 Roadies'

employers

49 Monet or

Debussy

51 Cigarettes, in

teen slang

52 Hägar the

Horrible's hound

54 Supper scraps

55 Light gas?

56 Alphabet quartet

57 "... against ___ of

troubles":

"Hamlet"

58 Ding ___ (Hostess

cake)

61 Slow down, in

music: Abbr.

62 This or that, to

Théo

63 Poetic "before"
---
• Castlegar/Slocan Valley •

Animals/Animal Care

ALL PLAY PET CARE & ADVENTURES: Socialize your

dog in a supervised, friendly environment. B&B open 7

days a week. Healthy dog food & supplies. www.allplay.ca,

Castlegar. 250-365-2886, allplay2@telus.net

DOG BOARDING: Dogs love it at Spirit of the North Kennels,

Salmo. 250-357-9390, almagaw@telus.net

HAY FOR SALE: Fresh cut and stacked, $7/bale, you pickup.

780-220-0110.

PAWSITIVELY PURRFECT PETSITTING: "The Pet Sitter",

18yrs in Trail (loving alternative to kennel). Comfy,

relaxed environment, 1-acre beautiful park like setting for

dogs to explore off-leash. Social, fixed, fully vaccinated

dog only, including flea & lice treatment. 250-368-8991.

PET SITTER SERVICES in the comfort of your home or

mine. Also providing dog walking, housesitting, daily dropins

& boarding, Castlegar, references. Susan, 250-365-0778.

West Koot Toy Run

cont'd from pg 10

Hundreds of motorcycles ride from the Castlegar

Recreation Complex to Nelson's Baker Street, to Salmo

Fire Hall, to Trail Waneta Plaza, to Rossland Columbia

Avenue then back to Castlegar for prizes, raffle and the

winning of a brand new Harley Davidson motorcycle,

plus dinner, door prizes and music. For complete details

and to register go to www.westkootenaytoyrun.ca

5

These five fur-balls will be available at the end of the

week! They have spent a few weeks at a wonderful

foster home and have gone from under-socialized

to super cuddle bugs. Stay tuned for updates on our

website. BCSPCA adopt.spca.bc.ca

sponsored by

The

Fur•Ball s!

BCSPCA

250-509-0297

West Kootenay Community Animal Centre

124 Heritage Way, Castlegar • https://adopt.spca.bc.ca

Don't you

love it when,

with a little

effort and

planning,

everything

falls into

place and

suddenly you

are standing

on your own?

Advertising is

like that...

I can help craft you a marketing strategy

that will give you real, lasting results.

Adam Prisciak

Castlegar, Trail, Rossland, Beaver Valley, Salmo

Cell/txt: 250-505-2921

email: adam@pennywiseads.com

= view picture of this item on our website: www.pennywiseads.com C Aug 27, 2019 PAGE 19
---
• All classified ads may be viewed at www.pennywiseads.com •

In Memoriam

DONNA E GOMES, Nov. 1, 1949-July 27, 2019, passed

away suddenly in Penticton hospital. No service by request.

OBITUARY AND IN MEMORIAM DISPLAY ADS placed in

Pennywise may be viewed by friends and family members

worldwide at www.pennywiseads.com/obit. We'll also include

your loved one in our year-end remembering video

of the 'notices of passing' that were published that year.

(Please note, this website exposure is a FREE service.)

SMILE...

It's

Back to

School!

Lost & Found

POST A FOUND ITEM FOR FREE in the Pennywise Classifieds.

Call 1-800-663-4619 or email info@pennywiseads.com

SELL IT! Classifieds, the easy, effective way to attract

buyers for all kinds of items quickly and conveniently!

1-800-663-4619.

Education/Classes

ADVERTISE YOUR CLASS OR WORKSHOP IN THE

PENNYWISE! We'll help you spread the word and fill those

spots, give us a call at 1-800-663-4619.

Lessons/Workshops

COMMUNITY FUTURES OFFERS SMALL BUSINESS

WORKSHOPS! Create your own website & online store in

2 days. "Building Your Website with Shopify.com" with

Nikta Boroumand. Sept. 23/24, 9am-4pm (both days), $300

+GST. Call 250-352-1933 extn#100 or email info@futures.

bc.ca Full schedule www.futures.bc.ca/workshops

Animals/Animal Care

DOG OBEDIENCE CLASSES IN NELSON start Sept. 21

and 22; private consultations for behaviour. Jeanne Shaw,

CDBC. www.love2play.ca, 250-359-6650.

FREE BARN KITTENS to give away. About 6 weeks old.

Call 250-352-9705.

THOMAS R. HUMPHRIES - LAWYER

It's a new school year, and

we're accepting new patients!

250-352-5012

Suite #201- 402 Baker St, Nelson

http://redcloverdental.net

Kaslo and the West Kootenay

• Real Estate • Wills and Estates

•

Mediation and Arbitration

404 Front St, Kaslo BC Phone: 250-353-2292

Fax: 250-353-7430 Email: trh@kaslolaw.com

Back in Balance

WELLNESS CENTRE

Our dedicated, collaborative team of health professionals at Back in Balance Wellness Centre

provide a full complement of health and wellness care options to help you achieve and

maintain optimal health for you and your family.

Qi Beauty Treatment 15% Off

Qi beauty is a system that delivers energy

to cells for optimal skin performance,

recovery and health. During a Qi beauty

treatment, skin is stimulated using a controlled

Static Magnetic Field to reconnect

energy for innate biological recovery.

2325-6th Avenue, Unit B, Castlegar 250-304-4401

Open: Mon 9am-6pm, Tues –Thurs 9am-7pm; Fri 9am-4pm, Sat 9am-2:30pm

PAGE 20 Aug 27, 2019

During your treatment, your practitioner

will use varying magnetic gradients to manipulate

and direct sub-dermal fluids to

where they need to be for the best results.

Qi beauty guarantees results after just one

treatment. Needle-free, pain-free.

These treatments are provided by Jessica Whitley R.TCM.P.

Services available include • Chiropractic Care • Counselling • Physiotherapy • Kinesiology • Reflexology

• Shockwave Therapy • Registered Massage Therapy • Acupuncture & Traditional Chinese Medicine • Custom Orthotics

Book your appointment online at www.backinbalance.ca

Direct billing to extended health plans, ICBC and WorksafeBC.

= view picture of this item on our website: www.pennywiseads.com
---
HUNTING &

FISHING

In the West Kootenay our hunters and fishermen and the businesses that support backcountry

adventurers are very proud and protective of our great outdoor heritage. If you are new to the

area and looking for advice, any one of these merchants would help you find what you need to be

prepared. Be sure to check for any backcountry closures before heading out. The BC Government

website www2.gov.bc.ca is an excellent resource.

All in one place

Woodbury Resort is

Kootenay Lake's only Full Service Marina

• Fully stocked boat house

• Fuel dock

• Boat rentals

• Boat launch and moorage

• Parking for the biggest of rigs

• Chalets and suites, RV camping

• Country store, tackle, cold beer & wine

4 kms north of Ainsworth Hot Springs

250-353-7717 Toll Free 1-877-353-7717

JB's Pub &

Restaurant

www.woodburyresort.com

Don't forget our

FISHING DERBY

Thanksgiving

weekend!

Pennywise Aug 27, 2019 PAGE 21
---
WE DON'T NEED A FANCY AD.

We've got the

PRODUCT!

OVER 175 BOWS

OVER 900 FIREARMS

OVER 300 RIFLESCOPES

YOUR HUNTING,

FISHING, ARCHERY

OUTDOOR STORE

www.vfirearms.com

1281 Bay Ave Trail, BC • 250-364-2242

PAGE 22 Aug 27, 2019 Pennywise
---
Decisions, Decisions...

Organic, non-GMO local meat, a

privilege given to all Canadians who

choose to experience it.

You have taken the training and

passed the test, now what do you buy

to do the job? First, do you want to

hunt with a gun or a bow?

Hunting with a rifle is the easiest way

to harvest wild game, but you will

need a licence. To own a gun you

need to take a course, pass a test, apply

for and successfully pass a criminal

records check. Sounds like a lot, but it

really isn't too bad.

Once you have your gun licence you'll

need to decide on a gun. The calibre

of the rifle you choose will depend on

what you are hunting for and what

your budget is. Many of us started out

with an old army surplus rifle that we

bought for cheap or a gun that was

handed down from our parents from

a war. We harvested game with it,

but were limited on the range

of shots we could take.

I would suggest a bolt action rifle with

a scope in a 270 Winchester or 30 06

Springfield. These calibre are perfect for

any big game in Canada and the ammo

is cheap and readily available at most

stores. There is also small game hunting

for grouse, turkey and rabbit. For that

a 22 rim fire or a shotgun is what you

want.

If you hunt with a bow no test or course is

required. As for the type of bow, a crossbow

is the easiest, but you would need at

least a 150lb draw at no farther than 50

yards for your shot. Bows are for closer

range, but do extend your hunting season

as the BC regulations let bow hunters

go out before and after the gun season.

Centrepoint Sniper

Crossbow

Whether you decide on a gun or a bow,

you will need to practice until you have

the perfect shot.

You don't want to injure the animal or

damage too much of the meat. With

some practice at the range with either

your rifle or bow you are ready to go

out and harvest you supper!

There are many products on the market

for the hunter, from long range

rifles and scopes to infra-red cameras

and scents. The choices are endless.

I can tell you that universally you will

need a good knife with a sharpener,

and depending on what you are hunting,

a good game call. The rest is up to

you and what you can afford.

If you're lucky, you know an experienced

hunter who is willing to

mentor you, but there is also a

lot of information to be found

on YouTube about hunting

practices and tips. In the end, nothing

can beat time spent in the outdoors

as you experience the tradition

of harvesting you own food.

Karissa Stroshein,

Barren's Sport Shop

Ruger American Rifle

LOCKED AND LOADED

ROB HARVEY, BIG GAME HUNTER

When it comes to big game,

bagging a trophy is long,

hard work. So we designed a

Defender to be as doggedly

persistent as hunters like

Rob Harvey in pursuit of

their prize.

Accessorized with a heavy-duty

power tilt-bed and a

removeable winch mount,

it'll be ready when you are.

WE'RE BUILT FOR THIS

BUILD YOUR OWN AT CANAMDEFENDER.COM

1045 Playmor Rd.

250-359-7111 DL# 10337

Between Nelson and Castlegar, Playmor

Junction Hwy. 3-6A on Osachoff Rd.

www.playmorpower.com

playmor@hotmail.com

facebook.com/PlaymorPower

©2017 Bombardier Recreational Products Inc. (BRP). All rights reserved. ®, and the BRP logo are trademarks of BRP or its affiliates. In the U.S.A., products are distributed by BRP US Inc. BRP reserves the right, at any time, to discontinue or change specifications, prices,

designs, features, models or equipment without incurring obligation. Some models depicted may include optional equipment. Read the BRP side-by-side Operator's Guide and watch the Safety DVD before driving. Fasten lateral net and seat belt at all times. Operator must be

at least 16 years old. Passenger must be at least 12 years old and able to hold handgrips and plant feet while seated against the backrest. Side-by-Side vehicles (SxS) are for off-road use only; never ride on paved surfaces or public roads. For your safety reason, the operator

and passenger must wear a helmet, eye protection and other protective clothing. Always remember that riding and alcohol/drugs don't mix. Never engage in stunt driving. Avoid excessive speed and be particularly careful on difficult terrain. Always ride responsibly and safely.

Pennywise Aug 27, 2019 PAGE 23
---
KOOTENAY GENERAL OPEN SEASONS

Species

Mgmt Unit

Class

Season

Mule Deer 4-1 to 4-9, 4-14 to 4-40 4 Point Bucks Sept 10 - Nov 10 1

Youth Only* 4-1 to 4-9, 4-14 to 4-40 Bucks Sept 1 - 9 1

Bow Only 4-1 to 4-9, 4-14 to 4-40 Bucks Sept 1 - 9 1

* Restricted to hunters under the age of 18

White-Tailed Deer 4-1 to 4-9, 4-14 to 4-40 Bucks Sept 10 - Nov 30 1

4-1 to 4-9, 4-14 to 4-40 Antlerless Oct 10 - 31 1

Youth Only* 4-1 to 4-9, 4-14 to 4-40 Either Sex Nov 1 - 30 2**

Youth Only* 4-1 to 4-9, 4-14 to 4-40 Bucks Sept 1 - 9 1

Bow Only 4-1 to 4-9, 4-14 to 4-40 Bucks Sept 1 - 9 1

Bow Only 4-1 to 4-9, 4-14 to 4-40 Either Sex Dec 1 - 20 2**

* Restricted to hunters under age 18 **Bag limit for white-tail deer is 2; 1 may be antlerless & 1 a buck

Elk 4-1 to 4-9, 4-14 to 4-40 6 Point Bulls Sept 10 - Oct 20 1

Bow Only *(4-6, 4-7, 4-23) Antlerless Sept 1- 9 1

Bow Only 4-1 to 4-9; 4-14 to 4-38, 4-40 Bulls Sept 1 - 9 1

* Restricted to only portions of these MUs SPIKE BULL ELK SEASON IS CLOSED

Moose 4-7 to 4-9; 4-14 to 4-18; 4-27 to 4-33, 4-36 to 4-40 Spike-fork Bulls Sept 20 - Oct 31 1

4-1 to 4-6; 4-19 to 4-26, 4-34, 4-35 Spike-Fork Bulls Oct 15 - 31 1

Bow Only 4-7 to 4-9; 4-14 to 4-18; 4-27 to 4-33, 4-36 to 4-40 Spike-Fork Bulls Sept 1 - 19 1

Bow Only 4-1 to 4-6; 4-19 to 4-26, 4-34, 4-35 Spike-Fork Bulls Sept 1 - Oct 14 1

Bighorn Sheep 4-1, 4-2, 4-21, 4-23to 4 -25, 4-35 Full Curl Bighorn RamsSept 10 - Oct 25 1

Mountan Goat 4-28 to *4-30, 4-36, 4-37, 4-39, 4-40 Sept 10 - Nov 30 1

* Portion of MU 4-30 only (Map D27). Compulsory Inspection required.

BLACK BEAR 4-1 to 4-9, 4-14 to 4-40 Sept 10 - Nov 30 2

4-1 to 4-9, 4-14 to 4-40 Apr 1 - June 30 2

▲4-1 to 4-9, 4-14 to 4-40 Aug 1 - 31 2

Bow Only 4-1 to 4-9, 4-14 to 4-40 Sept 1- 9 2

▲ Restricted to private land only, hunter must obtain permission from land owners prior to access.

WOLF ▲4-5 to 4-8, 4-17, 4-18, 4-20, 4-27 to 4-31, 4-33, 4-37 to 4-40 Sept 1- June 15 NBL

▲ 4-1 to 4-4, 4-9, 4-14 to 4-16, 4-19, 4-21 to 4-26, 4-32, 4-34 to 4-36 Sept 10 - June 15 3

▲ In those portions of 4-4 to 4-7, below 1100 m in elevation, there is no closed season. Compulsory Inspection required.

COYOTE 4-1 to 4-9, 4-14 to 4-40 Sept 10 - Mar 31 NBL

LYNX 4-1, 4-2, 4-6 to 4-9, 4-14 to 4-19, 4-21 - 4-40 Nov 15 - Dec 31 e

4-3 to 4-5, 4-20 Dec 1 - Dec 31 1

COUGAR 4-1 to 4-5, 4-20 to 4-26, 4-34 to 4-36 ◆ Sept 10 - Feb 28 1

4-6 to 4-8, 4-28 to 4-31, 4-38, 4-39 Sept 10 - Mar 31 2

4-9 to 4-19, 4-27,4-32, 4-33,4-37, 4-40 Sept 10 - Mar 31 1

Pursuit* 4-1 to 4-4, 4-21 to 4-26, 4-34 to 4-36 Nov 15 - Feb 28 0

Hunters may not hunt a cougar kitten or any cougar in its company. See Definitions section: cougar kitten.

◆ Excessive female harvest may result in season closures.

* Persons participating in the cougar pursuit season must have a hunting licence, may not carry a firearm, may not

be accompanied by a person carrying a firearm, and the cougar must not be injured or killed in the course of the pursuit.

COLUMBIAN GROUND SQUIRREL 4-1 to 4-9, 4-14 to 4-20 No Closed Season NBL

Restricted to private land only. Hunters must obtain permission from landowners before hunting on private land.

SNOWSHOE HARE 4-1 to 4-9, 4-14 to 4-40 Aug 1 - Apr 30 10 daily

RACCOON 4-1 to 4-9, 4-14 to 4-40 Sept 10 - Mar 31 NBL

SKUNK 4 -1 to 4-9, 4-14 to 4-40 Aug 1 - Apr 30 NBL

GROUSE: DUSKY (Blue), RUFFED & SPRUCE 4-1 to 4-9, 4-14 to 4-40 Sept 1 - Nov 30 5 (15)

For Dusky, Spruce and Ruffed grouse, the daily aggregate bag limit is 5; the aggregate possession limit is 15.

PHEASANT 4-6, 4-7 Cocks Oct 15 - Nov 30 3 Daily

Possession Limit: 6; Season Limit: 12

PTARMIGAN 4-1 to 4-9, 4-14 to 4-40 Sept 10 - Nov 30 10 (30)

RAVEN 4-1 to 4-9, 4-14 to 4-40 No Closed Season 5

TURKEY 4-1 to 4-9, 4-14 to 4-40 Bearded Apr 15 - May 15 1

Bow Only 4-1 to 4-9, 4-14 to 4-40 Bearded Sept 1 - Sept 30 *1

Bow or Shot Only 4-1 to 4-9, 4-14 to 4-40 Any turkey Oct 1 - Oct 15 *1

* The aggregate bag limit for turkey is 2, only one may be taken in the spring and one in the fall.

DOVE: MOURNING, EURASIAN COLLARED 4-1 to 4-9, 4-14 to 4-40 Sept 1 - Sept 30 5 (15)

COOTS, COMMON SNIPE 4-1 to 4-9, 4-14 to 4-40 Sept 10 - Dec 23 10 ea (30) ea

DUCKS 4-1 to 4-9, 4-14 to 4-40 Sept 10 - Dec 23 8 (24)

Restricted daily bag limits of 4 Pintails, 4 Canvasbacks, 2 Goldeneye and 2 Harlequins are in effect.

GEESE: SNOW and ROSS'S 4-1 to 4-9, 4-14 to 4-40 Sept 10 - Dec 23 5 (15)

GEESE: WHITE-FRONTED 4-1 to 4-9, 4-14 to 4-40 Sept 10 - Dec 23 5 (15)

GEESE: CANADA and CACKLING 4-1 to 4-9, 4-14 to 4-40* Sept 10 - Dec 23 10 (30)

* Kootenay River Canada Goose closed area in portions of MUs 4-3, 4-20, 4-21 and 4-22 (Map D3 online).

Hunters please note that Creston Valley Wildlife Management Area opens to hunting for coots, snipe, ducks and geese on October 1.

Access permit is required for hunting activities in the Creston Valley Wildlife Management Area for more information, phone 250-402-6900 or www.crestonwildlife.ca

WATERFOWLER HERITAGE DAYS:

(Waterfowler Heritage Days are restricted to hunters under the age of 18. See Waterfowler Heritage Days section of the 2018 - 2020 Hunting Synopsis.)

DUCKS and GEESE 4-1 to 4-9, 4-14 to 4-40

Sept 7&8, 2019 ★

★ Daily bag and possession limits are same as general open seasons described above.

PAGE 24 Aug 27, 2019 Pennywise

Limit ( ) possession

West Kootenay Hunting Zones

4-6, 4-7, 4-8, 4-9, 4-14, 4-15, 4-17,

4-18, 4-19, 4-27, 4-28, 4-29, 4-30,

4-31, 4-32, 4-33

For specifi c clarifi cation and to view maps visit the

Government of BC's website and search Hunting

and Fishing.

Compulsory Inspection Centres

Qualifi ed Compulsory Inspectors will provide this

service at the locations listed below. Please see the

Ministry website at www.gov.bc.ca/hunting or contact

the regional offi ce for more information.

CI Locations:

Creston, Revelstoke, Radium Hot Springs, Sparwood,

Cranbrook, Fruitvale, Nakusp

Ministry Regional Offi ce, Cranbrook: ....250-489-8540

Nelson ................................................250-354-6333

CONSERVATION OFFICER SERVICE DISTRICT OFFICES

Please call 1-877-952-7277 for recorded information

or to make an appointment at any of the following

Field Offi ces:

Castlegar, Cranbrook, Creston, Fernie, Invermere,

Nelson, and Golden

The information on this page was found on the

BC Gov't website: https://www2.gov.bc.ca/assets/gov/

sports-recreation-arts-and-culture/outdoor-recreation/

fi shing-and-hunting/hunting/regulations/2018-2020/

hunting-trapping-synopsis-2018-2020-region4.pdf

FOR CORRECTIONS AND UPDATES TO THIS GUIDE GO TO:

https://www2.gov.bc.ca/gov/content/sports-culture/recreation/fishinghunting/hunting/regulations-synopsis/2018-2020-corrections-updates
---
Major Regulation Changes for 2018-2020 at a glance

1. Replaced general open season for mountain sheep in MU 4-22 with LEH

2. Lengthened cougar hunting season

in portions of the East Kootenay

3. Shortened lynx hunting season

4. Motor Vehicle Prohibitions on Channel Road,

in the Creston Valley Wildlife Management Area

5. Closure of the spike-bull elk and Sept 1-19 antlerless elk bow-only seasons

6. Island Pond, Lamb Creek, Linklater Creek, Soowa Mtn, and White/Bull River

motor vehicle prohibitions (enacted in the fall of 2017 in response to wildfires).

PLEASE NOTE:

You can produce your own maps through iMap BC available at

www.data.gov.bc.ca/dbc/geographic/.

Hunters are reminded that restrictions apply to Recreation Sites

(i.e.: Cranbrook Community Forest). See Recreation Sites and Trails on page 11

of the 2018-2020 Hunting Synopsis.

Region 4 Motor Vehicle Prohibition Maps are no longer published in the

Hunting and Trapping Regulations Synopsis, they will be available online at

www.env.gov.bc.ca/kootenay/eco/access.htm

OR by contacting the regional office at 250-489-8540.

Check website www.gov.bc.ca/hunting for in-season changes prior to your hunt.

It's in Our Nature to Work Together

1470 Hwy 3B, Fruitvale 250-367-6216 TF: 1-888-989-1615

DL#5996 www.barretthondayamaha.com barrett.motorsports@shaw.ca

Pennywise Aug 27, 2019 PAGE 25
---
Where ARE you?

To be a survivor and not a statistic, (you

can't depend on luck) you will need a

survival kit. A kit should not be too heavy

and bulky. Limit it to the essentials. Develop

a habit of taking it with you every

time you head out into the field. Knowing

how to use the equipment is as important

as having it.

Survival kits should be based on personal

needs, terrain and climate. Some

contents are universal. Here are our recommendations

based on many years of

experience as a hunters and outdoor

recreationalists.

MATCHES, LIGHTER & FIRE STARTER

We suggest both a lighter and matches

coupled with solid fire starer. Being able

to start a fire can be the difference between

life or death.

HEADLAMP with extra batteries &

bulb. Good headlamps free hands and

light the path. Check the batteries before

each outing.

MULTI TOOL Buy a quality 4-5 inch

with a nylon case. Poor quality multi

tools are not worth their weight and

many times can promote injury. Nylon

sheaths are preferred to leather – they

have proven to be lighter and durable.

MAPS – waterproof or a GPS (learn to

use the GPS!)

SPACE BLANKET is essential. Both water

proof and wind proof, a space blanket

is lightweight and does not take up

much room. They serve many purposes:

shelter, ground cloth, heat reflector and

signaling. They can also work as a rain

poncho.

LARGE HEAVY DUTY GARBAGE

BAGS Carry 3-4 heavy 3 mil thickness

lawn or leaf bags. There are many uses:

rain poncho, wind blocks, ground cloths

and more.

STAINLESS STEEL CUP 12 oz plus- essential

for drinking and it enables you

to heat water and cook food in a pinch.

WATER PURIFICATION FILTER straw

or tablets. Clean water is essential. Carry

1 or 2 water bottles.

WIRE SAW - compact, lightweight and

inexpensive. The saw will make quick

work of building shelter or cutting firewood.

Many can cut wood, metal, plastic

and bone.

PARACHUTE CORD - used to build

shelter, tying splints and hundreds of

other uses. 50 ft should be lots. (learn

to tie several strong knots.)

FOOD Energy bars, freeze dried meals,

trail mix, instant soup, hard candy.

WHISTLE & MIRROR Whistles can attract

help, frighten animals. Mirrors can

be used to signal for help, help to access

facial cuts or eye injuries.

FIRST AID KIT It's important to get a

good quality first aid kit. Add your medications

and keep it updated. If you use

up something, replace it.

TOILET PAPER has many uses besides

the obvious. Tinder, equipment cleaning

or a quick wound dressing.

SUN GLASSES Snow or sun blindness

can add grief to a survival situation.

CELL PHONE/ SPOT DEVICE Cell

phones can be very useful if you're lost

in an area of reception. The Spot device

works in all areas.

LIGHTWEIGHT SOLAR CHARGER for

batteries, cell phone or spot device.

ALUMINUM FOIL, Heavy duty great

for cooking, or as a heat reflector. It can

be used to drink with or eat from. In a

pinch it will work as a signaling device.

MONOFILAMENT FISHING LINE Use it

as thread to repair shelter or clothing,

make a snare or as a drying rack.

PAPER COFFEE FILTERS can filter drinking

water, used as a fire starter, even a

wound dressing.

The kit will probably weigh about 3

pounds. There are many great options

to add or substitute to this list. This is

meant to be a guide. The important

thing is to have the kit with you while

you enjoy our fantastic Kootenay playground.

Have fun, play hard and be

safe. Always remember to tell someone

when and where you're going!

Jim Philipzyk, Obsessed Optics

Personalize your

survival kit.

Don't forget your

medications!

OUR PRICE

IS YOUR PRICE

$1000

Additional Trade

BONUS

Available on most models

Nelsonfordsales.com

1.888.955.5528 or

250.352.7202 DL28082

623 Railway St, Nelson

ALL NEW FORD RANGER

2019 Ranger Super Cab XLT 4x4

FX4 OFF ROAD

SPORT

APPEARANCE

PKG.

MSRP $41,380

#9RA60816

FORD EMPLOYEE PRICE: $38,407

PAGE 26 Aug 27, 2019 Pennywise
---
Gas up the car and boat, pick up your

snacks, licence, bait and the latest

fishing info

at the

Best little fishing

store in the Kootenays

Excellent selection of lures,

hand tied flies, bucktails,

Kokanee gear, downrigger

accessories, rods, reels

and more. Scotty, Shimano,

Amundsen, Tomic, Best

Lures, Rapala, Ugly Stick,

etc.

Good warranties on

rods & reels

and great advice too.

We know our lake!

At the

Balfour

Ferry Landing

250-229-2113 gillandgift.com

Adventure awaits.

Rely on your experience, trust your instincts,

and the dependability of Honda.

Pioneer 1000

TRX520 Rubicon

EU2200i

WB20XT

BF 9.9

708 Hwy 3A, Nelson 250-352-3191

www.mainjet.ca DL 30577

Always wear protective clothing when operating your Honda product. Please respect the environment. Obey the law and read your owner's manual thoroughly before operating your Honda Product.

Model images and specifications subject to change without notice. Visit honda.ca for additional safety information.

honda.ca

Pennywise Aug 27, 2019 PAGE 27
---
Good luck this season!

from the staff at OBSESSED

YOUR ARCHERY HEADQUARTERS

HUGE SELECTION OF PRIME BOWS

AND ALL YOUR ARCHERY PRODUCTS!

A trip worth your while.

Open 8:30 to 5pm

Like our page

to see all sales

& promotions!

authorized dealer.

OBSESSED

OPTIC AND HUNTING SUPPLY

Located right beside JELD Auto Sales

250-367 HUNT (4868) in Beaver Falls

www.ObsessedOptic.com

1235 Bay Ave, Trail BC

250-364-1004

Boarding your

furry & feathered

family for over

21 years!

NO PET TOO BIG OR SMALL

- WE HAVE ROOM FOR THEM ALL!

Secret Creek Supplies

Serving Hunters, Backpackers

& Outdoor Enthusiasts

for OVER 30 YEARS!

Vortex Optics

Badlands

Savage

Remington

Hatsan

Gold Tip

Thermacell

Havalon Knives

Rhinehart Targets

Yukon Magnum

Bear Deterrent

EXCALIBUR

Crossbow Sales

New • Used RENTALS

Check

out our

Facebook

page

1151 Bear Creek Road, Trail BC • www.secretcreeksupplies.ca

250-368-5619 or 250-368-7736 • secretcreek@telus.net

PAGE 28 Aug 27, 2019 Pennywise
---
Bust to Boom

Fall 2019 Kootenay Lake

Fishing Report

The collapse of the Gerard rainbow

in 2012 started with an over-population

of predators (large rainbow

and bull trout.) Kootenay Lake's

large kokanee population was virtually

wiped out. Bull trout survived

the 'Holocaust' because they eat

species other than kokanee.

Another problematic feature of the

last few years was a change in the

lake fertilizing program. For years

nutrients were dispensed from

tanks on a barge and pumped directly

into a tug prop wash. This

process mixed the fertilizer into

lake water for dispersal, increasing

nutrients to feed all zoo plankton

and mysis shrimp, the main food

supply for kokanee.

In 2012 the Ministry of Environment

awarded the fertilizing contract

to an operator dispersed the

fertilizer directly from barge tanker

Tug prop for

dispersing

fertilizer.

trucks into the lake, and

it simply never mixed.

The result was that the

lake began to 'die' again

because of the very low

level of available nutrients.

Now for the good news!

This year, the Ministry

of Environment has

changed contractors and

is going back to a barge/tank system.

Once again the fertilizer will

be pumped into a tug mixing prop.

We expect immediate improvement

of the nutrient value in the

lake water.

In addition, the lake has been

stocked with five million kokanee

fry and now schools of kokanee

can be seen around the lake.

Fishermen are claiming "Best fishing

ever for rainbows in the 50 cm

range." I predict we will see 10

pound rainbows within the next

year!

And while we are talking about

Kootenay Lake fishing, here's a reminder

to not miss the Thanksgiving

Rainbow Derby at Woodbury

Resort this fall, October 11 – 13!

– Terry Jones, Woodbury Resort

Trout & Kokanee

Smoking Recipe

There is nothing better than

smoking your fresh caught lake

trout or kokanee to enjoy later.

Here's an easy recipe for smoked

kokanee & trout. This recipe can

be used in any smoker.

This dry brine recipe is sure to

please everyone!

Ingredients:

Kokanee or trout fillets

Dry brine mixture ratio: 6 cups

brown sugar, 3/4 cup kosher salt.

Seasonings: Harrod's Cookhouse

Lemon Dill Fish Seasoning, black

pepper, garlic powder, chili flakes

for some heat (optional)

1/2 cup maple syrup

Wood: alder wood

Instructions:

Mix the sugar & salt in a bowl. Rub

the dry brine all over the fish. Place

the fish in a container making sure

the fish is totally surrounded and

covered in the dry brine. Place in

the fridge overnight (8-12 hours).

Rinse the fish thoroughly and place

in a cool dry place for 2 hours to

allow a pellicle to form on the

outside of the fish. A fan can be

used to speed up the process.

Generously sprinkle fillets with

seasonings before placing in the

smoker.

Smoke for 5 hours at gradually

increasing temperature, starting

at 120˚F and increasing it by 20˚F

every hour. Leave it at 180˚F for

the final 2 hours of smoking. The

fish needs to have a minimum

internal temperature of 140˚F. I

prefer only adding the smoke for

the first 3 hours so the smoke

taste doesn't overwhelm the fish,

but this is up to your personal

preference!

During the last hour of smoking;

brush each fillet with maple syrup.

(You can also use honey, sweet Thai

chili sauce, teriyaki sauce, etc) .

Enjoy!

- Danny Coyne, BCFishn.com

Pennywise Aug 27, 2019 PAGE 29
---
• All classified ads may be viewed at www.pennywiseads.com •

Animals/Animal Care

ROTTWEILER PUPPIES FOR SALE: 5 boys and 5 girls,

Facebook for pics, bluedoorgarage@gmail.com

SIMPLY PAWS-ITIVE DOG TRAINING: Obedience/agility

classes. Private consultations for obedience/behaviour problems.

www.simplypawsitive.ca, Linda Murray, 250-367-7211.

Livestock

PREMIUM QUALITY HORSE HAY: Free, instant delivery,

no min., large round bales only; Straw, all sizes. Wayne

Savinkoff, 250-226-BEEF.

REPORT A WILDFIRE: 1-800-663-5555, 911 or cell *5555

bobsdoorserviceinc.com

bobsdoorservicerh@gmail.com

236-972-BOBS (2627)

24 Hour

Emergency

Service

Commercial, Industrial and Residential

Garage Door Sales, Service, Repair & Installation

Animals/Animal Care

US Animals/Livestock

USA - JAKE THE LAB RETRIEVER MIX Is gregarious &

goofy & we should have named this bouncy boy Tigger!

He's under 2 years old, recently neutered & up to date on

all vaccinations, has flea & tick preventatives & is microchipped.

Jake does well around other dogs, but he does not

like cats. He would benefit from a basic obedience class,

but is already doing great at 'heel' command. Jake's ideal

home would be in the country with plenty of room to roam!

Adoption fee is $200USD, see pictures of Jake at www.

TheFurryFarmRescue.org and then call 208-255-0879.

USA - LAB PITTY MIX: Lilly is a 7 month old spayed female

ready for her forever home. She is good with other dogs, cats

& kids too. She just aced her class with Method K9 in Basic

Obedience and can't wait to become your new family member!

Contact Furry Farm Rescue, see pictures of Lilly at www.

TheFurryFarmRescue.org, email ffr@thefurryfarmrescue.org

or call 208-755-0879.

USA - LONG PRAIRIE LEATHER & SADDLERY: Quality

custom handmade leather goods using high quality leather.

We also do saddle & tack repair. Find us on Facebook &

Instagram. Longprairieleather@aol.com or 509-936-4901.

USA - MEET VIZSLA MIX, FONTAINE! 5 year old neutered

male is ready for his new home! His ideal family would love to

take him with them camping, to the lake, up a mountain, you

name it, he's ready for it! Fontaine just completed a 6 week

board & train with MethodK9 with flying colours, and he's

ready to meet you! Older children okay, and no cats please.

Fontaine is fully vaccinated & microchipped. Learn more

about him & see pictures at www.TheFurryFarmRescue.org

or email ffr@thefurryfarmrescue.org 208-755-0879.

GOT A 'NO FLYERS' ORDER ON YOUR MAIL? AL-

WAYS WANTED ACCESS TO ALL 4 EDITIONS OF

THE PENNYWISE? Now you can have it all. All 4 editions

of the Pennywise are available for you at www.

pennywiseads.com Look for the red "Read Pennywise

Pages" button at the bottom of the Browse Classified Ads

on the left side of the home page.

Not a fan of the HEAT?

Air conditioner

on the way

out?

OPEN DAILY at 10am

100 Hall Rd, Castlegar 250.304.6300

Restaurant 250.304.6311

PAGE 30 Aug 27, 2019

Call the

Air Conditioning Experts!

Financing as low as $50/month.

Paulson Mechanical Systems Ltd.

3170 Highway Drive Trail 250-368-9404, Cell 250-364-3820

Call today for a free estimate

= view picture of this item on our website: www.pennywiseads.com
---
Medals to honour war veterans

I would like to inform your readers about two very special

medals that are available for our veterans. These are

the National Order of the Legion of Honour from France

and the Ambassador for Peace Medal from the Republic

of Korea.

Our veterans of the Second World War and the Korean

War have both fought hard and made tremendous sacrifices

and they have both won the greatest level of respect

and thanks we can give them. The Government of France

is awarding their highest medal to all living Canadian

veterans who directly helped to liberate their country

between June 6 and August 30, 1944.

The Republic of Korea is presenting its Ambassador

for Peace Medal to all Canadian Veterans who participated

in the Korean War and its peacekeeping operations

between 1950 and 1955. Living veterans or the families of

veterans who have passed away may be eligible to receive

this special medal from Korea.

If you are a veteran or know someone who is and who

might be eligible for one of these important medals,

please contact me. I am an unofficial volunteer who is

willing to help you with your application. There is no fee

involved.

For more information please contact Mr. Guy Black c/o

#515 – 95 Moody Street, Port Moody, BC, V3H 0H2 or

email Korea19501953@yahoo.com and include the subject

Veterans Medals.

– Guy Black

Electrical Supplies,

Water Storage & Septic Tanks

Building or Renovating? We have it!

Water Storage and Septic Tanks

All shapes and sizes

Volunteer with us!

Volunteers are vital to the energy and success of the

Alzheimer Society of BC. Dedicated individuals, in communities

throughout BC, volunteer in a wide variety of

activities that expand and strengthen our ability to provide

quality programs, support and services.

Current volunteer opportunities: Join a team of volunteers

dedicated to a world without Alzheimer's disease

and other dementia and who ensure people living with

the disease are welcomed, acknowledged and included

until that day comes. Read about our current volunteer

opportunities here: www.tinyurl.com/y6gs5rw7

Award-winning volunteers: Every year, the society recognizes

several outstanding volunteers – those who best

represent our key core values of compassion, integrity and

respect, leadership and teamwork. Meet our award-winning

volunteers at www.tinyurl.com/yxh4qfp2

For more information about volunteering contact Volunteer

Resources, 604-681-6530 or volunteer@alzheimerbc.org

– Alzheimer Society of BC

BELL

Is there untapped value

in your land?

Electrical Supplies

A full line of quality

electrical supplies for

any project

NELSON FARMERS SUPPLY

Serving the region for over 80 years

524 Railway Street, Nelson

250-352-5375

We buy

cedar poles

LUMBER & POLE

SINCE 1909

Contact us today

to discuss selling

your private timber.

Contact: Sean Fredrickson

250-521-3031

sean.fredrickson@blpole.com

Bell Lumber & Pole Canada, ulc Rossland, BC

= view picture of this item on our website: www.pennywiseads.com Aug 27, 2019 PAGE 31
---
Helping to protect our

communities from wildfires

The welcome arrival of summer and the province's

announcement about the 2019 wildfire season has

some people wondering and even worrying what the

future wildfire seasons will bring to our local Kootenay

communities.

Kalesnikoff has been doing some work on this issue in

collaboration with the Regional District of Central Kootenay

(RDCK) and other key partners and we agree there's

good reason for concern about this very real threat. The

Nelson area has been identified as the most vulnerable

BC community to wildfire using a Geographic Information

System (GIS) and provincial fuel type analysis. (The

'fuel' in this case being the trees and accumulated deadfall

in the forest.)

There are many measures landowners can take to reduce

the risk of wildfire and these are particularly important

for properties near or adjacent to the natural forest. It's

important for landowners to familiarize themselves with

some of these steps, including ensuring buildings have

non-combustible material on the roof and siding, safe

storage of highly flammable items on your property and,

importantly, managing high-risk fuel near and in the surrounding

forest.

The Regional District of Central Kootenay has been

creating and updating its Community Wildfire Protection

Plans (CWPP's) to help mitigate local wildfire risks

by, among other measures, reducing forest fuels in strategic

areas identified as posing the highest risks to adjacent

communities. While there's funding available for this

work through the Forest Enhancement Society of

BC (FESBC) and other sources, the work tends to be

very labour-intensive and therefore costly, creating a

significant burden on taxpayers, which could delay this

work and limit its overall scope more than most people

would prefer given the significant threat and urgency.

Kalesnikoff has been working closely with the RDCK

on this important issue, offering our expertise in sustainable

forest management and operational planning, in

order to obtain the permits required to carry out forest

fuel reduction treatments. This summer we will be working

with the RDCK in coordination with other experts

and local communities to create harvest plans, where

appropriate, to remove high-risk forest fuels. These

harvest plans generally focus on retention of the larger

drought and fire-resistant species such as Douglas fir,

western larch and Ponderosa pine, which will also provide

shade to keep the forest floor cooler. We will either

mill or sell the trees we remove, significantly reducing

the overall cost to the taxpayer or in some cases generating

a net revenue for the province. Our participation will

help ensure this work can be completed with the timeliness

and urgency the current wildfire threat demands.

You'll be hearing more about this from us and our partners

as plans and activities evolve and we'll be meeting

with various communities to discuss their local wildfire

threats and mitigation considerations. If you're a private

landowner and you're concerned about wildfire risk on

your property, there are a few resources available to you:

If you have a small property (less than 10 acres), the

Province of BC has shared some wildfire prevention tips

and guidance, and FireSmart Canada is another good

national information resource.

If you have 10 acres or more of trees on your property,

Kalesnikoff may be able help you through our wildfire

risk assessment and management program. You can learn

more here www.kalesnikoff.com/wildfiremanagement/

Let's keep this important work and conversation moving

forward.

– Tyler Hodgkinson

TIRED OF DRAGGING

WATER HOSES AROUND?

Save Water

Save Time

Paulson Mechanical Systems Ltd.

3170 Highway Drive Trail

250-368-9404, Cell 250-364-3820

Call today for a free estimate

Free

Estimates

Over 80 years combined

experience in installation

and maintenance

Would your acreage

benefit from soil amendment?

Mercer Celgar is looking for landowners with 2 or more acres

within 55 km of Castlegar that would benefit from using their

Celgrow soil amendment. Pastures and hay fields are good options.

Mercer Celgar will cover the costs of a qualified professional performing

soil sampling, obtaining government authorization and

delivery costs of Celgrow soil amendment based on access with a

large truck/pup combination. Acreage should be able to accommodate

at least 6 truck/pup loads. The two major components of

Celgrow are individual wood fibres lost from the pulping process

and surplus bacteria from the wastewater biological treatment

facility. Wood fibres enhance soil moisture retention and bacteria

are a good source of soil nutrients. The landowner is responsible

for spreading and incorporating Celgrow into their soil.

Contact:

Ruth Keyes, P.Eng.

Email: ruth.keyes@mercerint.com

Phone 250-365-7211 ext. 3508

PAGE 32 Aug 27, 2019 Pennywise
---
Kootenay Pride volunteers needed

Kootenay Pride is preparing for the annual Pride

Parade on Sunday, September 1 on Baker Street and

we are looking for some volunteer traffic marshals on

this day. Kootenay Pride will supply you with a safety

vest, map of the route and the training you might need.

Kootenay Pride is a small group of volunteers who

coordinate numerous events during the week.

Some of the other events include: A movie screening

at St Saviour's Anglican Pro-Cathedral, Sex Toy Bingo

at Mike's Place Pub in the Hume Hotel, Queer Archive

event at the Nelson Public Library, Queer Date Night

at Touchstones Nelson Museum of Art and History,

Meet and Greet at Finley's Bar and Grill plus numerous

dance parties including the Spirit Bar on Saturday

and live disco on Sunday night at Bloom Nightclub with

Alpine Conspiracy's CD release party.

Returning again this year is the queer-friendly Match

Maker Radio show on Kootenay Co-op Radio. A small

group of volunteers come together every year to make

these celebrations happen and every year we strive to

make events that both celebrate, connect and educate.

Everyone is invited to help out. For any questions please

contact Stephanie Myers, stephaniemyersfundraising@

gmail.com, 250-505-7410.

– Stephanie Myers

Land Act: Notice of Intention to

Apply for a Disposition of Crown Land

Overview:

Columbia Basin Broadband Corporation, a wholly-owned subsidiary of

Columbia Basin Trust, has applied to the Ministry of Forests, Lands and

Natural Resource Operations and Rural Development, Kootenay Boundary

Region, for a Licence of Occupation for telecommunication line use situated

on Provincial Crown land located in the vicinity of Slocan, BC.

Site Location Map:

Slocan

Written comments concerning this application should be directed to:

Authorization Specialist, FLNRORD,

Kootenay Boundary Region

1902 Theatre Road, Cranbrook, BC V1C 7G1.

The Lands File number for this application is 4406042.

Comments will be received by the Ministry of Forests Lands and Natural

Resource Operations until September 21, 2019. Ministry of Forests Lands

and Natural Resource Operations may not be able to consider comments

received after this date.

Please visit the website at comment.nrs.gov.bc.ca/ for more information.

Be advised that any response to this advertisement will be considered part

of the public record. Access to these records requires the submission of a

Freedom of Information (FOI) request.

South Slocan

Visit www.gov.bc.ca/freedomofinformation to learn more about FOI

submissions.

Applicant Address:

Columbia Basin Trust

Suite 300, 445 – 13 Ave.

Castlegar, BC, V1N 1G1

COLUMBIA BASIN

BROADBAND CORPORATION

Pennywise Aug 27, 2019 PAGE 33
---
• All classified ads may be viewed at www.pennywiseads.com •

Automotive

BIGGEST AND BEST EVER USED SUV SALE at Castlegar

Hyundai. www.castlegarhyundai.com

CANADA'S BEST SELLING VEHICLE BRAND - FORD!

Check out Nelson Ford, 623 Railway St, Nelson. 250-352-

7202, www.nelsonfordsales.com

DID YOU KNOW THAT WE OFFER E-SUBSCRIPTIONS

OF THE PENNYWISE? Yes we do, emailed directly to your

home weekly. You can receive your fresh copy, Tuesday

afternoon. Consider this... you will save 20 pieces of paper,

every single week when you read your paper online! That is

1000 pages a year!! Sign up today, and we'll get you started

right away! Questions? Call toll free 1-800-663-4619,

250-353-2602 in Kaslo.

MAGAW MOTORS LTD. IN FRUITVALE: Your full service

automotive centre. 250-367-9611.

NELSON CHRYSLER: Check out our inventory at www.

nelsonchrysler.ca or see us at 803 Baker St!

SUMMIT SUBARU: Your authorized Subaru dealership in

the West Kootenay. www.summit.subarudealer.ca

THINKING OF RENTING OR BUYING A CAR OR TRUCK?

Practicar/Rent a Wreck offers budget minded individuals

great options. trail@practicar.ca, www.practicar.ca

TURN BATTERIES INTO CASH NOW BY RECYCLING!

Auto, truck, RV, motorcycle, 6V, 12V, 24V, up to $5/battery.

Minute Muffler, Trail. 250-368-5228.

USA - WANTED: ANY YEAR VOLKSWAGEN! Camper,

transporter, bus, pickup, Beetle, Ghia, older Porsches.

Any condition, running or not, crashed or not. Please don't

scrap me! Call 509-979-1001.

Automotive

WE'RE CONFIDENT THAT WE HAVE THE PERFECT VE-

HICLE on our lot for you! AM Ford, 2795 Highway Dr, Trail

BC. 1-800-961-0202.

WESTERN AUTO WRECKERS: Our crusher will dispose

of your junker in 2min flat, for free! 250-354-4802,

1-877-354-4802.

Cars

1973 TRIUMPH STAG: Classic English Sports Car. Good

condition, needs work, all parts accounted for, engine on

block, $5000obo. Call for details, 250-364-2523.

1978 TRIUMPH SPITFIRE: Beautiful little metallic green

spitfire, runs A1 and has a complete parts car with excellent

body, $3000. 250-365-3483.

1994 MERCEDES CONVERTIBLE SL 320 R: Red, 2

seater, 6cyl, good condition, 130,000kms, $7500, Kaslo

area. Cell 403-497-9777, texting is best.

1998 SUBARU FORESTER AWD: New winters (used

only 3 weeks), needs muffler, $1000obo. 250-505-7823,

250-777-2908.

1999 SATURN SL 4DR: Fuel injection, standard. Call

250-505-0232.

2003 PONTIAC SUNFIRE: Excellent condition, lady driven,

kept in the garage, winter tires, 73,000kms, $2,700obo.

250-365-5329.

2005 PONTIAC SUNFIRE: 4dr, auto, 250,000kms, extra

winter tires, very good condition, $1200. 250-357-2667.

2007 TOYOTA MATRIX: 171km, 5spd, a/c, new tires +4

winters, second owner, no accidents, $4700. 250-353-2239.

SOLD!

Offers available on select 2019 Sorento models, while supplies last and subject to change without notice due to manufacturer program changes. Cash, finance rebates and offers vary by model.

Financing is available, on approved credit. See dealer for complete details.

DL 31707

PAGE 34 Aug 27, 2019

= view picture of this item on our website: www.pennywiseads.com
---
• To Place Your Ad Call 1-800-663-4619 •

Automotive

Cars

2009 SMARTCAR: Only 51,000kms, lady owned & driven,

w/bike rack, snow tires on rims, $4900. 250-358-2855.

2012 FORD FOCUS TITANIUM: Sunroof, leather, fully

loaded, $4800obo. 250-353-7128, 604-961-2042.

USA - 1959 CHEVY FLEETSIDE TRUCK BIG WINDOW

Longbed, 235 6cyl, Hurst Saginaw 4spd, ps, power disc

brakes/back drum, split headers. Needs a little TLC in few

rust spots. Appraised for $12,000USD, asking $8200USD.

Julie 509-703-3999, Loon Lake.

USA - 1968 THUNDERBIRD 2 DOOR HARDTOP 360

HP-429 CU. In. motor, A/T, 9˝ rear end with 2.80:1 ratio,

new battery, alternator & 600 Edelbrock Carb. 87,000mi on

odometer; No rust, nice driver with recent original refinish

paint, Alaska Blue & Aqua Poly roof & 80% narrow W/

Wall tires. Located in Spokane Valley $8775USD obo. Art

C. 509-535-7871, AC123able@aol.com

USA - 1969 CLASSIC GTO: Very good condition, runs

great, rebuilt 400 engine, many updates, stored inside. Call

for info at 509-467-9757, Spokane Area.

USA - 1976 OLDSMOBILE CUTLESS 509-220-2408 or

509-220-5446, Blanchard.

Trucks

1979 FORD 250 DUMP TRUCK: 3/4T, 4x4, propane, runs

fine but needs work, $2000 firm. 250-505-0612.

2007 HONDA RIDGELINE: Body man special or mud bogger,

$3200obo. 250-231-7002.

USA - WANTING TO BUY: ONLY 1963 Chevy 3/4T pickup.

Phone, text, voicemail, 208-507-1211.

SUVs

1995 GMC JIMMY 4WD: 4dr station wagon, 281,494kms,

$1000. 250-362-7751.

1999 LANDROVER DISCOVERY: Black, 4WD, loaded, BC

MVI, new windshield, 150,000mi, $4500obo. 250-505-8191.

2007 CHEVROLET EQUINOX LT: Black, AWD, loaded,

BC MVI, new windshield, 222,000km, excellent condition

$5800obo. 250-505-8191.

2007 HYUNDAI TUCSON: 4WD, 170,000kms, V6 automatic,

great condition, runs perfectly, $7600obo. Call

250-608-2782.

BEEP BEEP GOES THE JEEP! And away it goes! Place

your ad today to sell your vehicle – call 1-800-663-4619.

SERVING the KOOTENAYS: 24 hr towing

Heavy Duty Recovery & Rigging Specialists

FREE CAR REMOVAL

(Some exceptions)

AND SOME WE BUY

Full Service Shop

We sell used and

aftermarket parts

Salmo Area 250-357-2091 • Creston Area 250-428-2323 • All other areas toll free 1-888-357-2091

We'll Get You Hooked Any Time, Anywhere

USED INVENTORy

Blowout!

2018 jeep compass north 4wd

MC0639

$25,995

$204 B/W

84mth

2018 ford escape se 4wd

4095 kms

8EC4909A

$25,990

$202 B/W

84mth

2011 hyundai elantra touring

75,827 kms

8LT6170B

$7,910

$75 B/W

60mth

2014 ford explorer xlt

7 passenger

9ED5995A

$17,995

$161 B/W

72mth

2016 Toyota highlander ltd.

PW0627

$35,445

$285 B/W

84mth

2017 jeep wrangler-75th anniversary edition

9LT70224A

$36,663

$269 B/W

84mth

2017 ford taurus sel awd

41,804 km

9MU3055A

$23,650

$184 B/W

84mth

2018 jeep compass trail hawk 4wd

$29,395

$230 B/W

84mth

2018 toyota tacoma trd offroad 4x4

(Not exactly as shown)

9SD43377A

$35,995

84mth

2012 ford FOCUS SE SEDAN

$32,995

$235 B/W

84mth

2017 chevy silverado 4wd

5.3L

9LT1320A

$33,995

$262 B/W

84mth

2018 ford explorer xlt 4wd

4688 kms

8EC4910A

$36,995

$285 B/W

84mth

2007 FORD F150 SUPER CREW XTR 4X4

9LT9709A

(Not exactly as shown)

$12,890

$165 B/W

48mth

0% DOWN. Payments include taxes, fees & interest. Call Ike for pre-approval.

Financing rate 5.99% OAC. Used vehicle prices are plus taxes & $699 admin fee.

DL28082

MC0640

7FN9932B

$7,490

$83 B/W

60mth

2016 JEEP WRANGLER UNLTD SAHARA

MC0587

623 Railway Street, Nelson BC

1.888.955.5528 OR

Nelsonfordsales.com 250-352-7202

= view picture of this item on our website: www.pennywiseads.com Aug 27, 2019 PAGE 35
---
EMPLOYEE PRICING

ON NOW

IS HERE

GET OVER

$

15,000

IN TOTAL PRICE ADJUSTMENTS

ON A NEW 2019 F150 LIMITED

ENDING SEPTEMBER 3, 2019

PUSH, PULL, DRAG

EXTRA $1,000 TRADE

IN ALLOWANCE

ON MOST NEW VEHICLES

AVAILABLE UNTIL AUGUST 31

MUST BE REGISTERED FOR

THE LAST 3 MONTHS.

19

IN STOCK

2019 F350 4x4 CREW CAB

16 DIESELS

3 GAS

STK KEE16339

EMPLOYEE PRICE

$55,518

MRSP $62,709

DISCOUNT $7,191

6.2 L V8

TRAILER TOW PACKAGE

FX4 OFF ROAD PKG

RUNNING BOARDS

SPLASH GUARDS

TAILGATE STEP

EXPLORER PLATINUM AWD

LITRES PER 100 KMS

WEST KOOTENAY

9.0 LIVE LOOP

LITRES PER 100 KMS

WEST KOOTENAY

7.5 LIVE LOOP

STK JGB82058

3

IN STOCK

EMPLOYEE PRICE

$52,870

MRSP $63,789

DISCOUNT $10,919

VISTA ROOF

NAVIGATION

20 INCH WHEELS

POWER LIFT GATE

2019 EDGE AWD

LITRES PER 100 KMS

WEST KOOTENAY

6.5 LIVE LOOP

2019 ESCAPE

REVERSE CAMERA AND

SENSING

SAFETY CANOPY

SYNC 3, LOADED

STK KUA37202 EMPLOYEE PRICE

$25,991

36 MRSP $28,289

IN STOCK DISCOUNT $2,298

STK KBB72000

8

IN STOCK

REVERSE CAMERA

REMOTE KEYLESS ENTRY

EMPLOYEE PRICE

$36,939

MRSP $37,989

ECOBOOST ENGINE

8 SPEED AUTOMATIC

PERSONAL SAFETY

SYSTEM

SAFETY CANOPY

SOS POST CRASH ALERT˜

SYNC

DISCOUNT $1,050

LANE KEEPING SYSTEM

REVERSE CAMERA

PRE COLLISION ASSIST

WARNING

2019 ECOSPORT

LITRES PER 100 KMS

WEST KOOTENAY

5.1 LIVE LOOP

STK KC292568

34

IN STOCK

EMPLOYEE PRICE

$23,172

MRSP $24,299

DISCOUNT $1,127

6 SPEED AUTOMATIC

AIR CONDITIONING

TRAILER TOW PREP

REVERSE SENSING CAMERA

SAFETY CANOPY

SOS POST CRASH ALERT

SYSTEM

2019 F150 SUPERCREW 4X4

STK KKE27098

LITRES PER 100 KMS

WEST KOOTENAY

8.4 LIVE LOOP

45

IN STOCK

EMPLOYEE PRICE

$41,266

MRSP $52,629

DISCOUNT $11,363

TAIL GATE STEP

SPRAY IN BOX LINER

6 SPEED AUTO

SYNC 3

TRAILER TOWING

21.6% DISCOUNT

RUNNING BOARDS

CRUISE

REMOTE START

REAR CAMERA

SOS POST CRASH

2019 RANGER 4X4 SUPERCAB

7.5

LITRES PER 100 KMS

WEST KOOTENAY

LIVE LOOP

STK KLA31920

EMPLOYEE PRICE

$31,414

9 MRSP $33,869

IN STOCK DISCOUNT $2,455

373 LOCKING DIF.

2.3 LITRE ECOBOOST

10 SPEED AUTOMATIC

SLIDING REAR WINDOW

6 SPEAKER SYNC

4G FORD PASS

CONNECT

2019 MUSTANG 2.3 ECOBOOST COUPE

LITRES PER 100 KMS

WEST KOOTENAY

7.2 LIVE LOOP

STK 5105186

3

IN STOCK

EMPLOYEE PRICE

$32,741

MRSP $34,885

DISCOUNT $2,144

10 SPEED AUTOMATIC

TRANSMISSION

DUAL ZONE AC

LIMITED SLIP AXLE

DECK LID SPOILER

REMOTE START

SYNC 3

POWER SEATS

18 INCH BLACK

WHEELS

AMFORD.com

2795 Highway Dr,

Trail

DLN#7336

Like us on

A.M.FORD

PAGE 36 Aug 27, 2019 Pennywise

1-250-364-0202 1-800-961-0202

AM plus 8000 Hwy 3B

DLN#307770 Follow us on @am_ford
---
SPIN & WIN

SPIN & WIN

Everybody wins at AMFord

– a prize with every new or pre-owned vehicle

2011 Hyundai Accent

154 K

GL

2015 Chev Sierra

$59,919

OR LESS

4 dr sedan

auto

#07770

$6,919

OR LESS

3500 HD

dually

moonroof

leather

loaded

#35845

2006 Toyota Matrix

167 K

2015 Ford F150 4WD

73 K

$28,919

OR LESS

2014 LARSON ESCAPE 25 TTT

$65,519 stk #12378

Tri-hull pontoon boat.

300 HP Evinrude E-TEC outboard with

280 hours. See more pics at amford.com

22725 2015 Transit Connect XLT Sliding Doors .....$16,919

73621 2013 F-150 4WD Supercrew

157"Platinum 3.5L V6 Ecoboost 700A/Nav/Mnrf ..........$30,919

20452 2012 Dodge Grand Caravan 4Dr Wgn SE

3.6L V6 Penstar Cloth/Stowngo ........................................$15,919

5 door

Auto

#68084

$8,919

OR LESS

Super Crew

145"

XLT

stk#67113

with $10,000 down

$263

bi-wkly

2013 Ford Focus SE

130 K

2013 Hyundai Santa Fe

95 K

2017 Ford Focus SE

11 K

$17,919

OR LESS

Sport

2.0 T

auto

htd seats

#07547

$14,919

OR LESS

2017 Ford Fusion SE

$26,850

OR LESS

$9,919

OR LESS

Certified Pre-owned Vehicles Starting at 1.99%

AWD

winter pkg

Nav

Tech/

Myford

stk#71208

CPO

$97

/wk

4 door

sedan

stk#21151

$63

/wk

2010 Chevrolet

Traverse

$11,495

OR LESS

2017 Ford Escape

72 K

$18,919

OR LESS

2013 Jeep Wrangler

$24,919

OR LESS

13076 2011 Honda Civic Sdn

4Dr Man SE Mnrf/Bluetooth/Cloth .................................. $9,919

05329 2017 Ford Escape

backup camera 28,217 km ...............................................$21,850

AWD

auto

4 dr, 1LT

stk#66364

4 door

stk#11111

$67

/wk

4x4

2 door

stk#3508

$118

/wk

2015 Ford F150 4WD

47 K SC

XLT

stk#93943

$34,919

OR LESS

2017 Ford Escape

SE

2014 Chevy Trax

47 K

stk#70272

$21,850

OR LESS

2005 Ford F350 Super

Duty XLT 4WD Crew

156" box

stk#3389

$18,919

OR LESS

$11,919

OR LESS

Loaded

stk#25052

CPO

$126

/wk

41577 2009 F-350 4WD Crew Cab

172" XL ...............$18,919

11265 2017 F-350 4WD Lariat Crew 160"

21,358 kms ........................................................................$69,919

73848 2014 Ford Fusion Titanium

2.0L Ecoboost, auto, 79,111 kms .................................... $17,919

*Certified Pre-Owned (CPO) under 120,000 kms, 2017-2016 qualify for 72 months @ 3.99% APR. Payment is with $3000 down. Comes with 1 year / 20,000 km premium warranty with upgrade available. OAC. Certain restrictions apply. 2018 96 mo. amortization @ 6.99% APR, 2017-2016 84 mo. amortization @ 6.99% APR, 2015 78 mo. amortization @ 6.99& APR, 2014 72 mo. amortization @

6.99%, 2013-2011 60 mo. Amortization @ 6.99% APR. 2009-2010 48 mo. Amortization @ 6.99% APR, 2008 36 mo. Amortization @ 6.99% APR. All paymentsare weekly with $3000 down or trade equity. Taxes and $699 admin. Fees are included. OAC. Programs can change without notice. Dealer has the right to discontinue offers at any time. Offers valid for 7 days from date of publication unless

otherwise stated. Vehicles may not be exactly as illustrated.

4 door

Sedan

#6124

2011 Honda Civic

140 K

4 door

Sedan

5 speed

#13067

$9,919

OR LESS

2013 Ford Fiesta

UNDER

$10,000 UNDER

$10,000 UNDER

$10,000 UNDER

$10,000 UNDER

$10,000

2012 Toyota Camry

$15,919

OR LESS

auto

stk#43333

2017 Ford Fusion SE

$25,950

OR LESS

AWD

winter pkg

Nav

Tech/

Myford

stk#71208

CPO

$97

/wk

2017 Ford Fusion AWD

Titanium

Nav

leather

moonroof

stk#7737

$94

/wk

$25,919

OR LESS

2014 Ford F150 FX4

4x4 Supercrew stk#15783

11 K

Ecoboost, moonroof, lift kit

CPO

$34,919

$189

OR OR LESS LESS

/wk

62 K

5 door

Hatchback

#958

$9,919

OR LESS

AMFORD.com

2795

Highway Dr,

Trail

DLN#7336

Like us on

A.M.FORD

1-844-364-3673 (FORD)

WWW.AMFINANCE.CA

AM plus 8000 Hwy 3B

DLN#307770 Follow us on @am_ford

OPEN FOR SALES 8AM TO 7PM MONDAY - FRIDAY

AND 8AM TO 5PM SATURDAY

Pennywise Aug 27, 2019 PAGE 37
---
• All classified ads may be viewed at www.pennywiseads.com •

SUVs

2012 TOYOTA RAV4 4WD:

99,525kms, 4cyl, one owner, wellmaintained,

excellent condition,

winters on rims, $15,500obo. 250-

358-2722, New Denver, BC or e-mail

lvisser@xplornet.com

2016 SUBARU OUTBACK 2.5i: 4dr,

grey, auto, one owner, no accidents,

excellent condition, 57,300kms, set

of snow tires/rims, bluetooth, backup

camera, roof rail cross bars, $21,750.

Call 250-352-0818.

Vans

1985 GMC STEPVAN: 20´+, over

300,000kms, runs great, V8 on propane,

asking $7000. 250-226-0080.

PAGE 38 Aug 27, 2019

Vans

1992 DODGE B-350: 360/727 w/OD,

runs, for parts, $500 firm. Message,

250-367-0211.

2007 DODGE CARAVAN SXT: Excellent

condition inside/out, regularly

serviced and maintained, all service

records are available, 6 individual

seats, 222,472kms, winters and

rims, $3500. Come for a Test Drive ,

250-231-3404.

Parts/Accessories\Service

1985 GMC 4X4: Straight axle frame

rolling chassis only. $1600obo. 250-

226-0080.

LIVE LOAD YOUR AD

for just $5+gst

Together we could save up to

58,000,000

Pages Annually! (+/-)

Seem worth

the effort?

We'd

like to

give

you

the

choice!

First step: Sign up for your Pennywise e-Subscription, and have it

delivered right to you, wherever YOU are...each week, for FREE!!

The same great

delivered right to your device.

e-Subscriptions are the way to reduce paper...

If you prefer your Pennywise printed, you can get it that way still!

Visit www.pennywiseads.com and click ...

Or email info@pennywiseads.com

Questions? We'll be excited to talk with you :) 1-800-663-4619

Parts/Accessories\ Service

C & G TRANSMISSIONS: Your local

west Kootenay transmission shop.

We do all transmissions, transfer cases

& differential repairs. Located in

Bonnington. 250-505-7632.

AUTOMATIC TRANSMISSIONS:

Contact us, we are at your service.

Borderline Transmission, 250-368-

3231, 1-877-368-3231, 2865B Highway

Dr, Trail.

BODY WORK AND PAINT

SPECIALS: Paint jobs, satin

finish, base clear, single

stage and specialized coatings.

40+ years experience.

Pick up & delivery available,

Can accommodate major

equipment and motorhomes.

Call 250-265-4419.

COLEMAN CRYSTALLINE

SOLAR PANEL: 40w kit w/

stand and charger control,

$55. Nelson, 778-463-0246.

DELUXE RED STEEL CAN-

OPY for 1/2T truck, fits any

full sized truck box, $600.

Slocan, 250-355-2381.

FOUR 14˝ RIMS: Four hole,

offers; four 15˝ Michelin

summer tires and rims, like

new, $150. 250-357-9494.

FOUR NOKIAN TIRES

AND RIMS: 215/60R/16

WRG4, all weather winters,

99% tread left, $700.

250-365-3345.

FOUR WINTER TIRES:

235/50R18 Michelin low

profile on Elbrus 5 hole

mags, fit BMW X3, used

40,000kms, $50/ea. obo.

250-551-2257.

LEER CANOPY: Silver, 3yrs

old, fits standard box, 6´6˝L,

from 2015 Chevy Silverado,

$1200obo. 250-368-3287.

PICK UP A PICKUP! If

you're in the market to

buy, sell, or trade a truck,

check out the Pennywise

classifieds today!

GET THE RESULTS

YOU WANT!

Use Pennywise to

advertise!

= view picture of this item on our website: www.pennywiseads.com
---
• All classified ads may be viewed at www.pennywiseads.com •

Parts/Accessories\Service

USA - AUTOMOTIVE BODY SHOP EQUIPMENT &

TOOLS: Body shop owner retired. Car-O-Liner 7000lb

BenchRack with X3 Computerized measuring system (new

in 2017), 2 draw aligners, complete with all clamps, chains,

ramps, adapters, etc, $40,000USD. Located in Walla Walla,

Washington. Photographs available, call or text 509-

385-1437 leave msg.

USA - JUICEBOX PRO 40 SMART ELECTRIC VEHICLE

(EV) CHARGING STATION With wifi, 40 amp level 2 EVSE,

24´ cable, NEMA 14-50 plug, UL & Energy Star certified,

indoor/outdoor use. Like new condition & works perfectly.

We do not have an electric car anymore & do not need it.

We have the manual & mounting plate, $425USD obo. 509-

842-8114, Nine Mile.

Motorcycles/ATVs

1982 YAMAHA MAXIM XJ650: Mid-sized cruiser, 5spd,

rebuilt carburetor, handles and brakes great, looks like a

boss, $2400obo. Kaslo, call/text 250-354-7537.

1983 YAMAHA TT600cc: 4 stroke, runs well, $2500 firm.

250-226-0080.

BARRETT MOTORSPORTS AND EQUIPMENT: We are a

full service dealer, so our experienced licensed mechanic

and technicians are able to work on all makes and models.

www.barretthondayamaha.com

JONES BOYS BOATS: Rebates on all in stock non-current

atv and utv models. www.jonesboysboats.com

Boats/Watercraft

16.5´ SEAMAX INFLATABLE: 10 person, $1900.

hpptrading@gmail.com or text 604-317-7736.

ATTENTION BOATERS! Woodbury Resort & Marina has

gas and a fully stocked store. Check out our new marina

and 700´ breakwater. Free parking while visiting our famous

JB's Pub & Restaurant. 250-353-7717, JB's 250-353-7716.

CAMPION GULF ISLAND: 140hp sea drive, new engine

on leg, only ran for 1hr for break in, hasn't started since.

Hull in good shape, 10hp Honda 4-stroke kicker, downriggers

included (one electric), canvas redone recently, tandem

trailer. 250-219-7718.

HIGH-TIDE CANVASES: Custom canvas sewing and vinyl

upholstery. Specializing in boat tops and seats. Call Tracy,

250-226-7169.

REDUCED 1983 25´ MACGREGOR SAILBOAT: trailer,

sleeps 5, autohelm, retractable iron keel, extra sails, porta-potti,

new electronic cooler & 5hp Mercury motor with

12hrs. Trailer has new tires, bearings, tail lights, $9,500obo.

Beaver Falls, 250-367-7005.

SAILS FOR HOBIE CAT 18: Rainbow main and Jib in

good condition, asking $500. 250-825-4338.

SALE OR RENT: 16´ Aluminum fishing boat. Call

250-354-3626.

SILVERKING STORAGE: Nelson's convenient RV, Boat and

Mini Storage with 24 hour access. www.silverkingstorage.

ca, 250-825-4199.

USA - 1979 IRWIN CITATION 34´ $16,950USD Cruiser/

racer with Yanmar diesel 872hrs, enclosed head, wheel

steering, 4 sails (main, 150 genoa, jib, spinnaker), sleeps

6, great family boat. Docked at MacDonalds Resort in Bayview,

Idaho. Contact Gary 208-683-2211.

USA - TRACKER SUPER V-16 Guide, in very good shape,

3 seats, extras, $11,000USD. 208-290-6783.

Boats/Watercraft

USA - 1991 16´ ALUMINUM HEWESCRAFT BOAT & EZ

loader trailer, 50hp Mercury motor & 8hp Johnson motor,

depth finder, excellent condition, $7500USD obo. 509-

238-6335. Spokane Area.

USA - 2015 SEA HAWK 170 with 70hp Yamaha 4-stroke,

very low hours. Lowrance Hook2 GPS/fishfinder. In very good

condition, can text photos. $22,000USD, 208-500-9606.

RVs/Campers

*MOBILE RV REPAIRS & PARTS*. Serving Nelson & the

West Kootenay. Certified~Licensed~Insured. Alpenglow RV

Services, 250-551-8605, www.alpenglowrv@wordpress.com

1990 IMPERIAL MOTORHOME: 34´, Exceptional condition,

only $16,000. Trail, 250-364-1551.

2009 TITANIUM 5TH WHEEL: 27/32, very aerodynamic

design, fully loaded with fireplace, $21,900. 250-215-1019.

2011 14´ KZ TRAILER: Has all amenities, 2100lb, like new,

in Kelowna, $11,900. 250-215-1019.

2012 SURVEYOR BY FOREST RIVER 30´ TRAVEL TRAIL-

ER: Sleeps 4, walk-around queen bed, large shower, dining

set, recliner, La-Z-Boy double hide-a-bed, electric tongue

jack, +accessories, $19,900obo. Castlegar, 250-354-9194.

SERVING THE KOOTENAYS & AREA FOR OVER 25

YEARS: Rock Island RV, 8023 Old Waneta Rd, Hwy 3B,

Trail BC. www.rockislandrv.com

USA - 1951 SILVERSIDE GREYHOUND: Converted into

motorhome, fully self contained. 509-220-2408 or 509-

220-5446, Blanchard.

is pleased to announce

Gary Ashley has joined

our sales team.

Over 30 years experience serving people

of the Kootenays.

Gary won't sell you a car – he will help you buy one.

Come on in or call to check out our great selection of

cars, trucks & SUVs.

D5413

1-800-663-7794

803 Baker Street, Nelson, BC

WWW.NELSONCHRYSLER.CA

= view picture of this item on our website: www.pennywiseads.com Aug 27, 2019 PAGE 39
---
• All classified ads may be viewed at www.pennywiseads.com •

RVs/Campers

USA - PROPANE, RV, refrigerator service. Dometic, Norcold,

Crystal Cold, Consul, Danby. Call today, 208-777-1759.

We now offer low bed services for excavators,

loaders and for all your heavy haul needs.

Renting & Selling

Quality Cars

at Great Prices

• compacts

• mid size

• full size

• 15 passenger vans

• moving trucks

• SUVs

• pickups

• minivans

Give Cory a call...

250-354-4802

1-877-354-4802

2374 Granite Road, Nelson

We sell the cars you drive!

Trail 250-364-0211 • Nelson 250-352-5122

Creston 250-428-9343 • Castlegar 250-365-1980

trail@practicar.ca www.practicar.ca

RVs/Campers

USA - 1985 CHEVY MALLARD MOTORHOME 350 engine

with 80,000mi, furnace & generator recently gone

through, newer refrigerator, everything in good working

condition, receipts for all work, $5800USD. Ask for Tom

509-218-0399, Spokane.

USA - 2005 COACHMEN MOTORHOME 2 pop outs,

on Ford chassis, V-10 gas, 5.5 Onan, 1 owner, no pets,

31,000mi, new batteries, just serviced, must see, lots of

extras, hydraulic levels, $32,999USD. Call 509-868-3485,

Spokane Valley.

USA - 2019 HEARTLAND Sundance 5th wheel. Model

3700RLB 42´, 5 slides, multi-point automatic leveling

system, master bedroom with WD hookups, 2 full baths,

sleeps 7-8, 2 TVs, outdoor kitchen, LED lighting in and out.

All seasons package, great for family, $56,000USD. 208-

651-4017.

Heavy/Farm Equipment

1970 CASE 680CK BACKHOE: Runs well, needs TLC,

$6500obo. 250-505-3928.

2006 KUBOTA B7510 TRACTOR: 406hrs, c/w turf tires,

reinforced bucket, field mower, rototiller, $15,000, can deliver.

778-228-5728.

USA - 2015 DOOSAN 300 processor with 624 Super processing

head, 8000hrs, $230,000USD, 208-582-2330.

USA - 2017 DOOSAN 225 log loader. 1200hrs,

$230,000USD; 98 Linkbelt yarder, high walker on tracks,

1500´ skyline capacity, 60´ boom, Detroit powered, comes

with Eaglet carriage, $75,000USD, 208-582-2330.

Did you know?

Why is Castlegar named Castlegar? Edward Mahon,

in 1891 moved to the region from his home in Castlegar,

Ireland. He became a successful land baron and it was he

who eventually named the town site after his home across

the Atlantic. He was also the one who gave the streets

mineral names, such as Silver, Iron and Galena.

Hot Summer Rides

2017 Subaru Forester XT Turbo AWD #2643-1

Loaded, only 85,000 kms .................................................... $ 29,995

2016 Subaru Outback Touring AWD #W1316

with Eyesight .........................................................JUST IN $ 19,995

2015 Subaru Crosstrek Touring AWD #2728-1

only 73,000 kms ...................................................JUST IN $ 18,995

2014 Subaru Forester Ltd AWD #2693-1

Loaded, only 68,000 kms .....................................JUST IN $ 22,995

2014 Subaru Outback 3.6R AWD #2636-1

Loaded, only 43,000 kms .....................................JUST IN $ 25,995

2014 Subaru Forester Touring AWD #2678-1

8 wheels & tires .........................................................NOW $ 19,995

2012 Subaru Forester Ltd AWD #2702-1

Loaded, only 98,000 kms ...................................................... $ 16,995

2012 Subaru Forester Ltd AWD #2712-1

Loaded, only 75,000 kms ...................................................... $ 16,995

SUMMIT SUBARU

Across from Waneta Plaza, Trail DL 10441

PAGE 40 Aug 27, 2019

2012 Jeep Patriot Sport AWD #2552-1

Only 119,000 kms ..................................................................... $ 8,995

2010 Hyundai Elantra Sedan #2706-1

Auto, only 139,000 kms ........................................................... $ 4,995

2010 Jeep Liberty North Ed 4WD $ #2705-1 4,995

2010 Hyundai Santa Fe AWD #2611-1

Sport ...........................................................................JUST IN $ 6,995

2009 Toyota Matrix XR #2701-1

4 door stationwagon, low kms. very clean ................JUST IN $ 8,995

2006 Subaru Tribeca AWD #2583-1............ $ 5,995

2005 Honda CRV AWD stk# 2672-1

5 speed, 8 wheels & tires .................................................. $ 6,995

2003 Impreza Wagon AWD #2711-1

auto ....................................................................... JUST IN $ 2,995

Your authorized Subaru dealership in the West Kootenay

250-364-9988 or 1-888-737-9988

www.summit.subarudealer.ca

2010 Subaru Impreza

Ltd AWD

LOADED

ONLY $ 7,995

Vehicle pictured not exactly as shown.

All used vehicles: Taxes and $395 Doc Fees Extra

Take it to

the top

#2593-1

= view picture of this item on our website: www.pennywiseads.com
---
2008 Winnebago

Vista Class A

Motorhome 33 FT

Only 56,000 kms OVERALL

Fully loaded in and out.

One slide VIN #U8794

NOW ONLY $58,995

FULLY LOADED!!

MOTORHOME

SALE!

OVER 20 MOTORHOMES

TO CHOOSE FROM!

ALL MUST GO!!

Starting at $35,995

2017 Jayco Class C

Motorhome

Only 31,000 kms

Fully loaded in and out.

WAS $94,995 VIN #U0089

NOW ONLY $ 79,995

SLEEPS 8!

2012 Coachman

Mirada Class A

Motorhome

32 ft, 2 slides, full body paint.

ONLY 12,000 kms

Fully loaded in and out

VIN #U7689

32 FT

OVERALL

WAS $93,995

NOW ONLY $89,995

2017 Pleasure Way

Lexor T-S (20.11 ft)

Class B

3.6 L V6, solar panel, generator,

electric bed, kitchen, solid surface

counters, washroom, power awning

and much much more.

Canadian Built. VIN #U9775

2016 Sunseeker

2500 TS Fully certified and

ready to go! 3 slides, generator, solar,

ride rite suspension helper, pwr

awning, navi, full pass thru storage,

LED lights...and much more!

VIN #U5435 ONLY $573/MO

FOR 20 YRS @ 6% APR

$98,995

$79,995

2013 SPRINGDALE 24 ft

with slide & solar system........... ........Only $18,995

2016 COUGAR 28 ft with slide ........Only $37,995

2013 BULLET 30ft with 3 slides .......Only $29,995

USED 5TH WHEEL BLOWOUT

ALL USED 5TH WHEELS ON SALE NOW!

from

$19,995

NEW! POP UP CAMPER BLOWOUT!

2018 Palamino

Backpack Edition

Only 1,600 lbs

fully loaded, electric roof and jacks

1

LEFT IN

STOCK

VIN #07849 WAS $26,995 NOW ONLY $20,695

Lightest Truck

Campers In America

Have Arrived!!

Built for half ton or

midsize import trucks

R Pods R Us!

HUGE SAVINGS! $$

weights starting at only 900 lbs!

Come see our line-up of

mini travel trailers.

All motor homes must go! Call for discounted prices!

We have a full lineup of NEW FOREST RIVER Toy Haulers on order! Please call for floor plans & rates

Rock Island RV

250-364-2323 Parts 250-364-1267 Toll Free 1-888-817-2323

8023 Old Waneta Road, Trail www.rockislandrv.com DL#9096

Pennywise Aug 27, 2019 PAGE 41
---
SUMMER

clearance

sale

LOW

2019 Subaru Outback INTEREST

$31,995 cash back $2,500 RATES

or finance at 0.99% over 60 months

BIG

DISCOUNTS

2019 Subaru Forester 2.5i AWD

$29,895 cash back $1,000

or finance at 2.99% over 60 months

Taxes and $395 Doc Fees Extra

SUMMIT

SUBARU

Take it

to the top

Ph. 250-364-9988 or 1-888-737-9988

Across from Waneta Plaza, Trail DL 10441

www.summit.subarudealer.ca

Your authorized Subaru dealership in the West Kootenay

year end

stk #2681

stk #2665

2019 Subaru Ascent 8 passenger

$37,895 cash back $2,500

or finance at 1.99% over 60 months

Showcasing arts and culture of the

Columbia River Basin

The rich history, arts and culture of the Columbia River

in Canada and the United States will be on display at the

Columbia Basin Transboundary Conference: 'One River,

One Future' in September.

The conference aims to address key travelling issues

related to the future of the Columbia River, its ecosystem,

management and international implications, while also

showcasing arts and culture from both sides of the border.

This will include a number of performances and art displays

by poets, musicians, artists, youth, Canadian First

Nations and acclaimed authors. "The goal for the arts and

culture component at the conference is to be broad, inclusive

and to highlight both the history and the future of

the Columbia River Basin," said Kindy Gosal, executive

director, Columbia Basin Trust. "Storytellers, artists and

Indigenous performers from both sides of the border will

celebrate our cultural connectedness."

Cultural highlights include literary readings from Fred

Wah, a Canadian poet, novelist, scholar and former

Canadian Parliamentary Poet Laureate, from his book

beholden: a poem as long as the river and Eileen Delehanty

Pearkes, published author and public speaker, reading

from her book A River Captured – The Columbia River

Treaty and Catastrophic Change.

The conference's gala dinner will feature a locallysourced

menu and evening entertainment includes both

singing by local community youth and a performance

by folk guitarist Rusty Jackson from Post Falls, Idaho.

As well, attendees will be treated to a vocal performance

of Coco Love Alcorn's The River, by Nelson BC's Bessie

Wapp, who will be backed up by members of the Kimberley

Community Choir.

Three exhibits will be displayed throughout the duration

of the conference, including River Relations: a Beholder's

Share of the Columbia River and Roll On Columbia, the

award-winning historical exhibit. Both will be situated

within the Kimberley Conference Centre and are open

to the public during the day at no cost. The Revelstoke

Museum will showcase part of its Stories Beneath the Surface

exhibit, which is about communities displaced or lost

due to reservoir flooding.

"Several cultural displays will also be set up in the foyer

of the conference centre, offering the public an opportunity

to explore literature and history and even engage by

video-phone with solo kayaker Claire Dibble, from her

kayak on the Columbia River," said Delehanty Pearkes,

cultural ambassador for the conference.

In addition, Paper and Cup, a Kimberley bookstore, will

sell books about the Columbia River and feature works by

various regional authors.

Columbia Basin Transboundary Conference: One

River, One Future takes place in Kimberley, BC, from

September 12 to 14, 2019. Registration is $199. Stay up to

date on the latest Columbia Basin Transboundary Conference:

One River, One Future news on Facebook, Instagram

and Twitter.

– Columbia Basin Trust

PAGE 42 Aug Aug 27, 27, 2019 2019 Pennywise = view picture of this item on our website: www.pennywiseads.com
---
• All classified ads may be viewed at www.pennywiseads.com •

Real Estate

3.26 TREE'D ACRES: Hwy 3B frontage in Ross Spur BC.

Zoned for commercial, multi-residential, industrial, manufacturing,

agricultural, forestry and more. Call/txt, 250-551-

5494 or email, janice_waito@hotmail.com

3BDR 1BATH HOME: Big yard, finished basement, on

main street, $200,000. 250-368-3988.

ARCURI-PRECIOUS REAL ESTATE TEAM: We Never

Stop Moving! Coldwell Banker, 1-855-554-2958. www.

liveinthekootenays.com

BEAUTIFUL HOME IN NORTH CASTLEGAR: 2700sq.

ft. total, 2 car garage, 4 bedrooms, den, 3 full bathrooms,

close to schools, shopping, suite potential, $399,900.

Call 250-365-0712 or 236-818-9449, no texting.

DAVID GENTLES REMAX RHC REALTY: dave@nelsonrealty.

ca, 250-354-8225, www.nelsonrealty.ca

HOUSE FOR SALE: In Winlaw, two storey, 2300sq.ft., on

0.41 acreage, freshly renovated, $210,000. 250-359-7942.

KIARA LYNCH - YOUR HOME AND RECREATIONAL

PROPERTY SPECIALIST! Fair Realty, 250-777-1292,

www.realkootenays.com

NEED HELP FINDING A HOME in the West Kootenay?

Then you need the Realtor Directory at www.penny

wiseads.com/section/real-estate

OUR DEDICATED AND HIGHLY SKILLED AGENTS specialize

in offering an array of resources to help you with all

your real estate needs. www.castlegarrealty.ca

PICK UP A COPY OF THE WEST KOOTENAY GO &

DO: Summer/Fall edition available now for free anywhere

you pick up publications or check out your local visitors

centre or chamber of commerce. For advertising rates contact

us, info@pennywiseads.com

QUALITY HOMES BUILT WITH CARE, right here in British

Columbia. Eagle Homes, www.eaglehomes.ca

TERRY ALTON - BRINGING HOME RESULTS! Century 21

Kootenay Homes, 250-231-1101, www.kootenayhomes.com

THE SMARTER WAY TO SELL! Sell faster and keep more

of your hard earned money. www.propertyguys.com

THINKING OF SELLING? Leverage my experience and

marketing tools to turn 'Selling into Sold'. Greg Gritchin,

Fair Realty, 250-365-9791.

USA - DELUXE POND SIDE condo, unlimited golf

for two, pool, tennis, beach. 1 level, private courtyard.

$225,000USD, no GST. John Beutler, nwselectrealestate.

com, 208-661-2989.

USA - ESTABLISHED ANTIQUE BUSINESS FOR SALE:

6000sq.ft. registered building with store front in the Historic

Business District of Hillyard in North Spokane. 5016 N.

Market, beautiful brick building, 2 floors, LED lighting, roof

resealed last year, a/c. Currently has 10 vendors, plenty of

room for expansion, also potential apartment upstairs. Would

consider owner contract with right terms. Call 509-951-0900.

USA - LAST PRISTINE waterfront lot available. Stunning

wooded lot on Hayden Lake, ID with 72.5´ of lake frontage.

Paved road year-round access, southern exposure

and amazing views. Sides Forest Service property. Drain

field is installed and ready for your dream home. Lowest

priced waterfront lot on Hayden Lake at $159,900USD.

Chad Salsbury, Windermere/ Hayden, LLC, 208-660-1964,

ChadSalsbury@gmail.com or ChadSalsbury.com

WHAT'S YOUR HOME WORTH? Free quick over the net

home evaluation. www.joniaskew.com/homeeval

Real Estate

USA - NEWPORT, WA HOME FOR SALE BY OWNER: 4

bedrooms, 3.5 bath, 2240sq.ft., 30´x30´ shop, 40´x25´ patio,

sprinkler system, pond & fire pit, borders 60 acres of

"wolf trail system" as back yard playground, $298,000USD.

Shown by appointment, 509-671-7885.

USA - OWNER FINANCING, $3500USD down, 20 acres

on top of the mountain. Moose, elk, bunnies, huckleberries

and thimbleberries everywhere. Desirable hunting Area 5,

quite secluded yet only eight miles to St. Maries, Idaho,

seven rivers and lakes within twenty minutes, approx. 60

miles to CdA and Spokane, 70 miles to Moscow. Mountainous,

very close to open timber company land with roads

and trails everywhere for horseback, ATV, snowmobiling

and hunting. Great recreation property. $485USD month,

6% interest, $58,000USD. 208-245-9302.

USA - PRICE LOWERED! "CRYSTAL GOLD MINE" FOR

SALE, w/GIFT SHOP & DAILY MINE TOURS Authentic

1880s underground gold mine & gift shop, well-lit paved

path, 550´ drift gold-bearing quartz vein, gold & native wire

silver, gold-panning, 1.4 acres, Kellogg, ID. Great business

opportunity! $570,000USD. Adjoining RV Park also for

sale. Call Gail Haynes, West Valley Realty, 208-661-7054.

USA - PRICE REDUCED! Nestled in the beautiful Selkirk

Mountains of British Columbia, just 10 minutes from the

Idaho border, you will find this majestic mountain hide-away

with a fantastic view. 12 acres backing onto government

land with several potential building sites. Access to

shared well plus water rights to Moyie River. Perc testing

done. Cell phone service, internet and satellite TV available.

2 minutes to highway and nearest store. Close to

shopping, entertainment and healthcare. 2.5 hours to Spokane

and Coeur d'Alene. Price reduced from $90,000USD

to $83,000USD. Also available, 12´x52´ park model manufactured

home. 2 bedrooms, propane stove, large fridge,

microwave, washer/dryer, cathedral ceiling, oak cabinets,

sunroom, $21,000USD. Buy both for $99,000USD. See

pictures on www.nickelsworth.com. Phone 208-818-9023

or e-mail wilfhanni@wilfhanni.net

VERY WELL-MAINTAINED HOME: 3bdr, 1bath upstairs,

1bdr, 1bath down with finished basement. One owner,

located on Woodland Dr., Oglow subdivision Castlegar,

$370,200. Contact 250-365-4609.

WANTED LISTINGS - CALL JOY DEMELO! 250-368-

1960, jedemelo@telus.net.

EAGLE HOMES

CASTLEGAR

Under New Management!

Open Mon - Sat 9 - 5

TAKING ORDERS FOR EARLY FALL NOW!

250-365-2121 • 4430 Minto Rd Castlegar

= view picture of this item on our website: www.pennywiseads.com Aug 27, 2019 PAGE 43
---
• All classified ads may be viewed at www.pennywiseads.com •

Real Estate

Land

BEAUTIFUL 50´X125´ FLAT LOT, KASLO: Quiet street, all

services, $109,000. 250-505-4207, 250-213-5380.

COLUMBIA, KOOTENAY RIVER VIEWS from every corner

of this 8.93 acres. The property has a rented mortgage helper

single wide trailer and is located in the city limits of Castlegar

on Woodland Dr., $550,000. Contact 250-365-4609.

OUR ADVERTISERS LOVE TO HEAR FROM YOU. Tell

them that you saw their ad in the Pennywise!

SLOCAN VALLEY: 3 to 6 acre lots available on Rooster

Road, 8kms north of Winlaw. Private, nicely treed w/beautiful

views of the valley. Price starting at $129,000. Go to www.

propertyguys.com #197322 for more info. 250-355-2564.

USA - 4+ ACRES WEST OF NEWPORT: 4.5 miles on Hwy 2,

Rumsey Rd, Lot #7, Penrith Acres, $25,000USD. $10,000USD

down will hold contract. Call or text 509-671-1552.

USA - FIVE ACRES near Fernwood, ID. Property is level

and about 2/3 timbered, 1/3 meadow. Gravel driveway,

storage shed, nice 27´ Prowler travel trailer, pole building

over trailer, cement slab, solar system, septic large enough

for three bedroom house and wildlife at your back door.

$65,000USD. 208-310-4518.

Mobile Homes For Sale

2008 14´X66´ MOBILE HOME: 2bdr, 2bath, excellent condition,

deck included, must be moved, $87,500. 250-359-7163.

USA - 5 ACRES, 3 BEDROOM, 2 bath mobile. Owner financing

available for this park-like beautiful level 5 acres!

Outdoor stone-over, peaceful covered porch, large insulated

2 car garage with work benches and covered 5th

wheel included for your guests. Mobile home is older but

well maintained with additional roof built over. End of road

privacy with wildlife, fruit trees and wooded back acreage.

Potential split into two separate parcels. $213,000USD,

Moyie Springs, ID, 509-344-9488. View photos online at:

www. nickelsworth.com

Rentals

1BDR APARTMENT: Daylight basement suite, private entrance,

ns/np, utilities/cable included, references required,

$800/mo., call after 5pm. 250-365-5863, in Castlegar.

2BDR HOUSE UPPER JOHNSON RD, NORTH SHORE:

Recently renovated, f/s, w/d, ns/np, references, lease,

$1435/mo. +utilities. Email JWright.rentals@gmail.com

2BDR RENOVATED COUNTRY HOME IN ARGENTA:

$870/mo. For more information please write to forestguy47@

gmail.com

AVAILABLE OCT. 1, NELSON: Studio suite main floor, approx.

225sq.ft. large shower, 4 burner cooktop, fridge, microwave.

Suitable for someone with allergies since it has clay

plaster walls & marmoleum floors. Lower Fairview. Walkable,

bikeable neighbourhood, bus stop nearby. Includes WiFi, hw,

heat/cool, ns/np, $685/mo. unfurnished; $695/mo. furnished.

References required. Contact Marilyn, 250-354-4281.

Rentals

BACHELOR SUITE, KASLO: Fridge, stove, ns inside, pets

negotiable, cable, WiFi, wood stove heated, references required.

250-353-3229.

CHARACTER HOME ON BEAUTIFUL 12 ACRES, by

stream, 4822 Hwy 6, Winlaw. 4bdr, hardwood floors, wood &

electric heat, available Sept. 1, $1600/mo. david@legalmind.

ca, 604-788-8860.

KASLO 1BDR HOME: nonsmoking, wood stove and electric

heat, partially furnished, near Kaslo river. 250-366-4450.

KASLO HOUSING SOCIETY Housing Coordinator. A

resource for residents of Kaslo & RDCK Area D, offering

information regarding concerns and the opportunities related

to secure and affordable housing. Office hours: Tuesdays,

1-3pm; Wednesdays & Thursdays, 9am-12pm or by

appointment. #23, The Langham, Kaslo, 250-353-8363.

KASLO, NEW 1BDR SUITE: Private ground level entrance,

in-floor heating, endless hot water, shared laundry, $1200/

mo including utilities, Wifi, pets negotiable, no smoking/

drugs, references required, 1 year lease. Accepting applications,

available Oct. 1, email kaslorental2019@gmail.com

REX HOTEL, CLEAN, NEWLY RENOVATED ROOMS:

New fridges/TVs, WiFi, ns, shared washrooms. Nightly/

weekly/monthly rates. 250-368-6611.

TWO BEDROOM RIVERSIDE APARTMENT, partially

furnished (optional), patio & balcony. DW, Sat.TV, wifi,

shared w/d. Adults. $1075 plus utilities. Riversuites@

columbiawireless.ca. 250-226-7712.

Commercial Rentals

COMMERCIAL PROPERTY IN GENELLE: Includes office

space, 1bdr furnished apartment and 1 acre fenced compound,

zoned light industrial, $3500/mo. 250-365-9676.

SHOP SPACES FOR RENT: With common area. Industrial

area close to Castlegar. Call for details, 250-304-4888.

Rentals Wanted

RELIABLE WOMAN with 2 cats and friendly fowl seeking a

suitable rental by Sept. 30, n/s. Please call 250-366-4139.

Shared Accommodation

1BDR IN MOBILE HOME, FRUITVALE: Suitable for employed,

NONSMOKER, NONDRINKER, $500/mo. all inclusive.

250-367-7464.

DAILY VISITS TO www.pennywiseads.com have tripled

with live loads. Site changes daily. Check us out often.

Housesitting

HOUSESITTER AVAILABLE: Sept.-Mar.+, clean, respectful,

n/s, n/d, healthy, MBA, mature male w/prefect records.

LDONLINEEMAIL@GMAIL.COM, 250-444-2727.

"A PICTURE TELLS A THOUSAND WORDS" It is SO

TRUE! For only a $1.49 picture charge, you can save a LOT

OF WORDS! Call us today for more information on how to

promote your item most effectively, 1-800-663-4619.

REAL ESTATE SERVICES ~ CASTLEGAR, NELSON & RURAL AREAS

Consulting • Market Evaluations • Buyer & Seller Agency • FULL MLS Services

15+ Years Local Area Real Estate Buying & Selling Experience.

Your Guide to the Kootenays Residential/Commercial/Recreational.

K O O T E N A Y S

Greg Gritchin • 250-365-9791 • KootenayConnection@gmail.com • KootenayConnection.ca

PAGE 44 Aug 27, 2019

= view picture of this item on our website: www.pennywiseads.com
---
LIKE US ON FACEBOOK to keep up to date on all the latest homes on the market:

www.facebook.com/PropertyGuys.comWestKootenays

For more info & free advice call (250) 304-2269 1402 Columbia Ave, Castlegar

(opposite Husky) Email: sajones@propertyguys.com Website: www.propertyguys.com

CASTLEGAR 198722 GRAND FORKS 198808 GRAND FORKS 198820

YAHK 198400

GRAND FORKS 196039 CASTLEGAR 198762

NEW PRICE

NEW PRICE

NEW PRICE

NEW PRICE

NEW PRICE

NEW PRICE

$129,500

One of the most desirable properties

in the area, this 9.5 acres

has power and road access.

1-250-365-2801

BACK ON

THE MARKET

FRUITVALE 196760

$425,000

Beautifully maintained 4 bed 3

bath home with suite potential.

Double attached garage.

1-250-809-6006

$669,000

Stunning 19.5 acre property

with creek. Beautiful 3

bed 2 bath home with

new kitchen. 1150 sq ft

workshop with office.

Carport, storage sheds

and landscaped yard.

1-250-367-0097

CRESTON 198286 ARROW CREEK 198436

$484,900

Spacious 4 bed 2.5 bath

home with dream shop. Low

maintenance yard, heated pool.

1-250-442-9500

OPEN HOUSE

GRAND FORKS 197686

1-250-443-4395

$459,000

4 bed 2 bath log home on 4.36

acres. Large living spaces, vaulted

ceilings, exposed timber frame.

1-250-424-5574

OPEN HOUSE

SUN, SEPT 1 • 1-6 PM

5240 HILLVIEW ROAD

$412,500

4.65 acres horseman's

paradise with

barn & fencing.

3 bed 1.5 bath home.

$399,000

4 bed 1 bath home plus barn/shop

on private 35 acre hobby farm. 25

acres in hay with irrigation well.

1-250-442-0930

NEW LISTING

1-250-551-3658

GENELLE 198837

WATERFRONT!

WINLAW 198845

$135,000

Level 1/2 acre, steps from

Columbia River, mature trees,

great building spots.

1-778-738-1697

$675,000

7 bed 3 bath home with

radiant in floor heating.

Many rooms have private

access to decks or outside.

Expansive yard with sheds

and a carport area.

Over 10 acres.

NELSON 199085

$530,000

Two private, separate residences

on almost 19 acres, zoned

ALR. Barns and outbuildings.

1-250-402-8178

PROCTER 199022

$359,000

Bright 2 bed 1 bath double wide

on 3.62 acres, 2 bay garage,

vaulted ceilings, covered veranda.

1-250-402-8654

GENELLE 198852

250-304-2269

CRESTON 198397

SLOCAN 198844

$548,320

Amazing riverfront property with

large open concept living area,

3 beds, 2 baths, extensive deck.

1-778-738-1697

KUSKANOOK 198850

WATERFRONT!

$288,000

The only home in Nelson for

under $300K! 2 bed 1 bath,

walking distance to Baker St,

1-778-738-1697

CRESTON 198451

$1,225,000

1.6 acre waterfront property with

private beach on Kootenay Lake.

4 bed 3 bath home with suite.

1-250-229-4544

GRAND FORKS 198851

$759,000

Impressive, quality built, over

4000 sq ft 4 bed 3 bath home

with huge covered deck.

1-778-738-1697

NELSON 199083

$379,000

Beautifully maintained 5 bed, 2 bath

home in sunny Creston. Close to

all amenities, schools and parks.

1-250-428-5699

NELSON 199082

$240,000

One bed, one bath yurt with large

shop, located on lush private 8

forested acres. Year round creek.

1-250-551-3658

GRAND FORKS 198848

$699,900

3+ acres of privacy and serenity

on pristine Kootenay Lake!

2 cabins, a sandy beach.

1-250-354-5333

WINLAW 198431

$349,000

4 bed 3 bath open concept home,

walkout basement, with suite

potential, Hardiplank siding

1-250-428-6740.

CHRISTINA LAKE 198840

$439,000

3 bed 2.5 bath split level home.

Spacious rooms, abundant

storage. Oversize double garage.

1-250-442-8078

ROBSON 198166

$749,000

3 bed 2 bath character home on

huge city lot with amazing views.

Successful Air BNB.

1-250-352-0776

GRAND FORKS 198786

$430,000

3 bed 1 bath home in Fairview.

Wheel chair access, close to

Lakeside Park and high school.

1-250-354-9137

WINLAW 198720

$310,000

Lovingly restored 4 bed 1 bath

character home built in 1911.

Private enclosed back yard.

1-250-442-5852

CRESTON 198381

$449,500

Secluded oasis! Showroom

kitchen, 4 beds 2 baths, sauna,

shed, garden, greenhouse.

1-250-509-1362

EDGEWOOD 198785

$462,500

Updated 2 bed 1 bath home,

hardwood & tile floors, granite

fireplace, ample storage, gazebo.

1-250-447-2627

CASTLEGAR 198839

SOLD

SOLD

SOLD

SOLD

SOLD

SOLD

CRESTON 198337

SHOREACRES 198829

CASTLEGAR 198823

NELSON 198821

SALMO 197865

EDGEWOOD 198753

SOLD

SOLD

SOLD

SOLD

SOLD

SOLD

Legal Disclaimers - PropertyGuys.com Inc. (collectively 'Us' or 'We') is a private sale marketing company and we represent neither the buyer nor the seller. We do not trade in real estate. We neither warranty nor make any

representations as to the outcome of a property sale. *Our PRO Approach may include services which are performed for our customers by third party service providers. Such services are not performed or provided by

us. * "List Now. Pay Later." (our "Pay Nothing Upfront" program) is a payment program offered through a third party provider, and is only available in participating franchise areas. The program is offered on approved

credit, certain conditions do apply. The telephone numbers associated with these listings are those of the private sellers or their personal answering service. Any amount of commission saved referenced above is for

illustrative purposes only. It represents the potential money saved if the private seller had paid commission to a real estate agent instead of using PropertyGuys.com. *© 2015 PropertyGuys.com Inc., All Rights Reserved.

Pennywise Aug 27, 2019 PAGE 45
---
School bus season is upon us!

With the school year about to start back up, the Canada

Safety Council would like to take this opportunity to

remind motorists across Canada to adjust their driving

habits accordingly.

"Patience, extra attentiveness and situational knowledge

go a long way toward keeping our roads safe for

everyone," said Gareth Jones, president of the Canada

Safety Council. "It's our responsibility as conscientious

road users to make sure that nobody is unnecessarily put

in harm's way."

School Bus Safety Tips:

Especially in the context of young children, it's not

always easy to predict their behaviours. A child who is

running to catch their bus may dart out in traffic unexpectedly,

which makes defensive driving absolutely

crucial. Drive at an appropriate speed, be aware of the

child's presence and be prepared to stop suddenly.

The same holds true for school buses themselves. It is

against the law to pass a school bus when its red signal

lights are flashing. This is true regardless of the direction

in which you are coming, although exception is made for

oncoming traffic on a median-divided highway. If you

notice a school bus approaching, do a quick scan of the

area to see if there are any children waiting nearby and

be prepared to stop if the bus' signal lights come on. A

school bus is also required to stop at all railway crossings,

so be on the lookout for these and prepare accordingly.

Other Modes of Transportation:

Transportation of children by school bus is one of the

most effective and safest methods of travel, but many students

take an alternate mode of transit. Whether they're

arriving to school by bicycle, by foot, by public transportation

or by being driven in a family vehicle, patience and

vigilance continue to be essential.

Be mindful of the potential for an increased presence

of vulnerable road users, especially at crosswalks, on the

roadways and in school zones. By being aware of your

surroundings, you allow yourself the necessary time to

react if they behave unpredictably.

As with most road safety related topics, it's through

patience and constant attention to our surroundings that

we're best able to do our part in keeping roads safe across

the country. Remember to do your part and help children

arrive to school safe and sound.

– Canada Safety Council

West Kootenay

REALTORS

Arcuri-Precious

Real Estate Team

mobile: Kevin 250.354.2958

phone: Layla 250.354.3369

toll free: 1.855.554.2958

karcuri@telus.net laylap@telus.net

liveinthekootenays.com

WANTED: LISTINGS!

CALL 250-368-1960

Joy DeMelo

jedemelo@telus.net

TERRY

ALTON

Bringing Home

Results!

250-231-1101

www.kootenayhomes.com

terry.alton@century21.ca

KOOTENAY HOMES

KIARA LYNCH ~Your home and

recreational property specialist

250.777.1292 realkootenays.com

RHC Realty

David Gentles

REALTOR®

dave@nelsonrealty.ca

cell: 250.354.8225

nelsonrealty.ca

Your Ad

Here!

Adam Prisciak 250-505-2921

adam@pennywiseads.com

Rick Wiltse 250-551-1753

rick@pennywiseads.com

Kul Nijjar ASSOCIATE BROKER

kul@kulnijjar.ca

250.505.4722

Your Hometown Realtors

1761 Columbia Ave.

250 365 2166

1 877 365 2169

www.castlegarrealty.ca

PAGE 46 Aug 27, 2019 Pennywise
---
Joni Askew Homeselling Team "We Have the Power to Move You!"

www.joniaskew.com joni@joniaskew.com Joni: 250-365-4731 Office 250-365-2170

HOT

NEW

1521 Rosewood Lane

Castlegar

Brand new build,

perfect family home, 10' ceilings,

GST included.

MLS 2439710 $529,900

NEW

LISTING

HOT

1018 Bridgeview Crescent

Castlegar

One owner custom home,

vaulted ceilings, level .53 acre lot,

5 bedrooms, 3.5 baths

MLS 2439631 $549,900

NEW

LISTING HOT

1017 Division Road

Glade

Quaint hobby farm. Large country home

with room for everyone. Barn with hay

storage, cross fencing. Double garage

with workshop.

MLS 2439849 $558,900

NEW

LISTING HOT

LISTING

Lot 1 Pass Creek

Robson

Private Pass Creek acreage. Multiple

building sites, amazing views,

private well with great production.

MLS 2439790 $149,900

SOLD

2908 4th Avenue

Castlegar

Large south end lot, plenty of

storage, nicely updated.

MLS 2439696 $219,900

708 11th Street

Castlegar

One level living, 3 bedrooms, fully

fenced back yard,

close to all amenities

MLS 2439307 $244,900

1607 Tower Ridge Road

Ootischenia

One level living at its finest, adjacent

Castlegar Golf Course, open concept

floor plan, oversize double garage

MLS 2439207 $669,000

743 11th Avenue

Castlegar

Central location, has new roof, full

basement home, additional lot with

separate title

MLS 2439141 $274,900

622 Fernwood Drive

Castlegar

Amazing 3 level timberframe home,

2.72 acres, 5 min from uptown,

barn with water and hay storage

MLS 2439074 $649,900

#64 - 1835 Bakery Frontage

Road, Christina Lake

Sandy beach, clubhouse, lots of

visitor parking, large deck

MLS 2438951 $210,000

2971 East River Road

Slocan Park

Amazing waterfront, sandy beach,

nearly 10 level acres,

a gardener's paradise

MLS 2438924 $549,900

3000 9th Avenue

Castlegar

Residential development property,

services to lot line, preliminary

layout complete.

MLS 2438449 $599,900

2174 Crestview Crescent

Castlegar

.34 acre lot, great views,

utilities paid,

minutes from all amenities.

MLS 2438343 $99,900

1911 Connors Road

Castlegar

Woodland Park,

4 bedrooms, 3 baths,

level lot, private deck.

MLS 2437381 $379,900

1980 Second Avenue

Trail

Great location, new kitchen,

walk in shower,

lots of parking.

MLS 2436726 $119,900

NEW

PRICE

5361 Allendale Crescent

Castlegar

Expansive rancher, beautiful views

of Arrow Lake, across from beach,

5 acres, subdivision potential.

MLS 2435479 $699,900

1430 Highland Drive

Castlegar

5 bedrooms, 3 baths,

great location,

level lot.

MLS 2435247 $369,900

2214 6th Avenue

Trail

2 bedrooms, 1 bathroom, l

laminate flooring

level lot, mature trees.

MLS 2434317 $169,900

2565 Highway 3A

Shoreacres

340' of highway frontage, lots of

parking, 15 minutes from Nelson.

MLS 2434157 $319,900

1463 Selkirk Avenue

Castlegar

Great central location, next to No Frills

Mall, full basement, new fl ooring,

new roof, level lot.

MLS 2433611 $269,900

1209 Third Avenue

Trail

Country kitchen,

private corner lot

in East Trail.

MLS 2431762 $209,900

Arrow Lake Waterfront

The best waterfront offered on the

Arrow Lake. Close to Scottie's Marina,

Syringa Park. Minutes to Castlegar.

MLS 2428740 $449,900

JONI ASKEW

365-4731

Independent Realtor®

4510 Blueberry Road

Castlegar

Industrial zoned property, Castlegar

water connection, large covered

storage

667 Columbia Avenue

Castlegar

Prime development property,

mixed use,

downtown core.

MLS 2436994 $299,900

2240 6th Avenue

Castlegar

11,750 sq ft available. 2 storey retail,

office and warehousing space on

high visibility 1.44 acre paved lot

MLS 2429153 $1,595,000

MLS 2438352 $139,900

Commercial • Commercial • Commercial

Office 250-365-2170

PROFESSIONALS

GET RESULTS

NIKKI JENSEN

365-2170

Unlicensed Assistant

SELL YOUR HOME IN 24 HOURS TO ONE OF OUR PRE-APPROVED BUYERS!

Pennywise Aug 27, 2019 PAGE 47
---
cast realty

Charissa Hackett

250-304-4373

Sheena Albrecht

250-608-2741

Wayne McCarthy

250-304-4599

Luke Walker

250-687-0855

PJ Poznekoff

250-365-4679

1761 Columbia Ave.

250 365 2166 877 365 2169

www.castlegarrealty.ca

Florence Padilla

250-608-2104

Marnie Pettit

250-304-3564

Connor McCarthy

250-304-4781

Simon Laurie

250-365-1585

Tyler Gienger

250-304-7865

RURAL LIVING

MINUTES TO TOWN

HOUSE, ACREAGE

AND THREE RENTALS

ALL A MINUTE

TO TOWN

BREATHTAKING

VIEW!

DEER PARK

RECREATION PROPERTY

Hidden among the trees in desirable Tarrys

is this large family home with a functional

open concept layout.

$374,900

WATERFRONT

PROPERTY

Kootenay living at its best. A rare opportunity

to own an immaculate house, acreage,

shop and multiple rental units. All within a

minute's drive of downtown Castlegar!

$799,000

PRICE

REDUCTION!

Located behind Kootenay Savings overlooking

Slocan pool and the Kootenay River, is

this massive home with loads of privacy and

a fantastic layout.

$639,000

RANCHER IN

SUNNY RASPBERRY

Here is your chance to purchase an

affordable recreational creek front property

in Deer Park! There is a very well maintained

camper that comes with the purchase of this

property.

$89,900

ULTIMATE PRIVACY

JUST OUTSIDE

CITY LIMITS

30 min drive from Castlegar to this beach

front property in Deer Park. Approx 250

feet of lake frontage and a protected bay.

This property has domestic water rights off

Deer Creek and an active water line to the

property. SUBDIVIDABLE!

$299,000

RURAL LIVING

CLOSE TO TOWN

Building lot in desirable Tower Ridge subdivision

is only steps to golf course, hiking trails,

and a short drive to town. Lot is surrounded

by custom built homes. Bring your plans and

walk the lot!

$129,900

STUNNING

KINNAIRD BENCH

HOME

Spacious 4 bedroom, 2 bathroom rancher in

sunny Raspberry. Many updates including

flooring, paint, furnace, heat pump, roof,

electrical, both bathrooms, hot tub and

newer well pump. Also has summer kitchen

in basement for in-law suite potential.

$387,500

GORGEOUS IN

GROSVENOR

Investment alert! With some sweat equity,

this is the perfect place to call home! This

rancher style home offers 3 bedrooms &

2 bathrooms on the main floor, including

master with full en-suite. Downstairs you'll

find an additional bathroom, laundry room,

room for office & secondary lounge/family

room (unfinished).

$275,000

AFFORDABLE

CAREFREE LIVING

Great building site on flat, usable property

just outside of city limits yet only minutes

from town! This 1 acre property is one of a

kind, located at the end of a quiet, dead end

street.

$89,900

This beautiful bungalow is situated on a

rare park-like 1/2 acre property in one of

Castlegar's most desirable locales. The

property features lush lawn, mature

gardens, a wonderful in-ground pool and an

absolutely breathtaking panoramic view of

the surrounding mountains and valley!

$559,900

PAGE 48 Aug 27, 2019 Pennywise

Absolutely awesome family home featuring

four bedrooms + office and three full

bathrooms along with vaulted ceilings,

many modern updates to interior finishing,

a fantastic covered deck and a private inground

pool to enjoy Kootenay summer

days. All this in a very sought-after location!

$459,900

Take a moment to consider this open concept

ground level condominium conveniently

located just steps from shopping, parks,

public transit and more. Awesome layout,

cork floors, attached storage room and a

private patio in a very quiet building.

$179,900