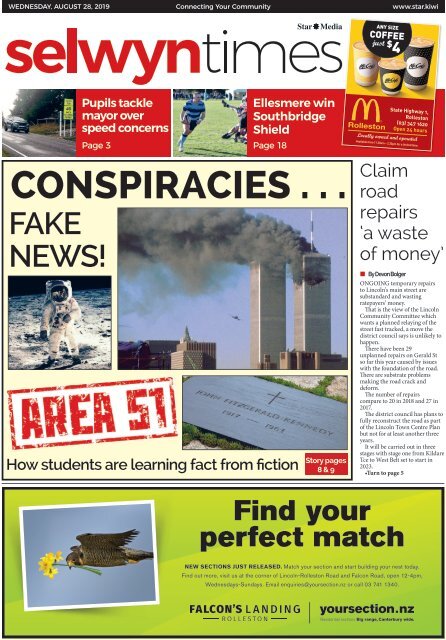 Selwyn Times: August 28, 2019
You also want an ePaper? Increase the reach of your titles
YUMPU automatically turns print PDFs into web optimized ePapers that Google loves.
WEDNESDAY, AUGUST 28, 2019

Connecting Your Community

www.star.kiwi

ANY SIZE

COFFEE

just

$

4

Pupils tackle

mayor over

speed concerns

Page 3

Ellesmere win

Southbridge

Shield

Page 18

CONSPIRACIES . . .

FAKE

NEWS!

How students are learning fact from fiction

Story pages

8 & 9

Rolleston

State Highway 1,

Rolleston

(03) 347 1620

Open 24 hours

Locally owned and operated

Available from 11.30am – 2.30pm for a limited time.

Claim

road

repairs

'a waste

of money'

• By Devon Bolger

ONGOING temporary repairs

to Lincoln's main street are

substandard and wasting

ratepayers' money.

That is the view of the Lincoln

Community Committee which

wants a planned relaying of the

street fast tracked, a move the

district council says is unlikely to

happen.

There have been 29

unplanned repairs on Gerald St

so far this year caused by issues

with the foundation of the road.

There are substrate problems

making the road crack and

deform.

The number of repairs

compare to 20 in 2018 and 27 in

2017.

The district council has plans to

fully reconstruct the road as part

of the Lincoln Town Centre Plan

but not for at least another three

years.

It will be carried out in three

stages with stage one from Kildare

Tce to West Belt set to start in

2023.

•Turn to page 5

Find your

perfect match

NEW SECTIONS JUST RELEASED. Match your section and start building your nest today.

Find out more, visit us at the corner of Lincoln-Rolleston Road and Falcon Road, open 12-4pm,

Wednesdays-Sundays. Email enquiries@yoursection.nz or call 03 741 1340.
---
2 Wednesday August 28 2019

Latest Christchurch news at www.star.kiwi

from the editor's desk

news

SELWYN TIMES

I LIKE what is happening at Rolleston

College (see pages 8-9).

Students there are being given outside of

the box scenarios and then challenged to

argue and debate each situation.

This year a group of 50 students have

delved deep into the most mind-bending theories known to

mankind and been forced to argue they contain truths.

The class is called conspiracy and it covers matters like 9/11,

whether man actually landed on the moon and other contested

world events over the decades. It reminds me of a different kind

of class I took at school – philosophy. My mates and I knew the

teacher probably wouldn't be there much.

So class time became basketball and other sports time.

Win, win you might say.

– Barry Clarke

get in touch

GENERAL INQUIRIES Ph 379 7100

CLASSIFIED ADVERTISING Ph 379 1100

Star Media, a division of Allied Press Ltd

PO Box 1467, Christchurch

starmedia.kiwi

NEWS

Devon Bolger

Ph: 021 914 742

devon.bolger@starmedia.kiwi

ADVERTISING

Lynette Evans

Ph: 364 7434

lynette.evans@starmedia.kiwi

Rock solid community initiative

People across the district are painting rocks and leaving them for

others find – have you uncovered one yet?

Page 10

sport

Big season for young netball side

Ellesmere College top off a year of rebuilding by taking out the

SuperNet Reserve title.

Page 15

community events

Discover the night sky

Spend an evening under the stars as a family and discover the

southern night sky at the West Melton observatory on Friday, 7.30pm.

Page 23

The best-read local newspaper, delivered to

20,335 homes, RDs and farms every Wednesday

Ladbrooks, Tai Tapu, Leeston, Lincoln, Southbridge, Prebbleton,

Halswell, Rolleston, Templeton, Burnham, West Melton, Darfield,

Kirwee, Arthur's Pass.

Firewood & Coal

Direct to the public

INtRODuCtORY SPECIAL

FREE Delivery*

417 Creyke Road, Darfield | Phone 03 975 4502

Open Monday to Friday 6am-6pm, Saturday 8am-1pm

or after hours by appointment

100%

CAPITAL gAIN

TO THE RESIDENT

NOW

OPEN

All firewood orders receive free delivery within

15 km of the yard until 31 August 2019.

OuR PRODuCtS

• Coal – 20 kg bags or 500kg bulk bags

• Firewood - pick up or deliver

(delivery charges apply)

• Paparoa Red Rock available in three grades:

-4mm, 12.25mm and 25mm plus

• Railway Sleepers - 1200mm lengths

• WINZ Quotes available

• EFTPOS available

$1,000 fULLY

REfUNDAbLE

DEPOSIT

E S T A T E

Phone. 03 421 7796 | Email. sales@woodcroftestate.co.nz

WOODCROFT WAY, 32 KENDON DRIVE, ROLLESTON, CANTERBURY

MEARES WILLIAMS

LAWYERS

LINCOLN OFFICE

43 Gerald Street, Lincoln

Introducing Belinda Ferguson

who is our specialist in all

Relationship Property matters,

including Separation Agreements

and Contracting Out Agreements.

E: bkf@meareswilliams.co.nz

W: www.meareswilliams.co.nz

T: (03) 374 2547

ROLLESTON OFFICE

78 Rolleston Drive, Rolleston

Office also located at 225 Papanui Road, Christchurch

INVESTMENT IN YOUR RETIREMENT AND

REAP THE REWARDS IN ROLLESTON

Now

offering free

standing villas:

$560,000

3 Beds, 2 Baths,

double garage,

173m2.

ROLLESTON'S NEW REgISTERED RETIREMENT VILLAgE

• Initial weekly fee of $75 includes rates, insurance, grounds maintenance and

window washing

• Gated community and emergency call button in each villa

• Two & three bedroom villas with single/double garage from $415,000

• There will be an on site manager and a pavilion and bowling green

• Show Home now open Monday to Friday 10am to 2pm

• After hours viewing by appointment call Corinne 021 292 1141

www.manorgroup.co.nz
---
SELWYN TIMES Latest Christchurch news at www.star.kiwi

Wednesday August 28 2019 3

News

•HAVE YOUR SAY: Have you seen drivers

Dai Henwood Donna Brookbanks JarRed Fell Alan M

speeding past schools in the Selwyn District?

c Elroy

Email your views to devon.bolger@starmedia.kiwi

28 th septAT lincoln

• By Devon Bolger

WINDWHISTLE School pupils

have gone right to the top to

ask for help from Mayor Sam

Broughton around motorists

speeding outside of the school.

The children decided to write

letters to the mayor as they felt

he may be able to help, principal

Bronwen Seaward said.

She said

they asked

if he knew

how they

could get

flashing

signs installed

like

Bronwen

Seaward

they have

noticed at

other schools

and about other solutions that

might help."

Mr Broughton said it was

great to receive the letters from

the pupils.

"It shows that they care about

what's going in the district and

are taking some initiative to not

just complain about something

but to actually do something

about it."

Last week Mr Broughton and

councillor Bob Mugford visited

the school to hear from the

pupils.

"We listened to the students

concerns and the actions they

were looking at taking," Mr

Broughton said.

"The road is a state highway

and controlled by the NZTA

so is not under the discretion

of our council. We said we can

help advocate to the NZTA for

improvements and invited them

to attend the next road safety

sub-committee meeting."

Mrs Seaward said the pupils

think the speeding is because

a hedge along the road means

motorists don't know there is a

school behind it."

They also sought a quote for

installing metal fencing as the

children thought this would

make them look more like a

school.

The quote revealed the fence

would cost $18,000 plus GST

which is too expensive and just

not possible, she said.

NZTA senior traffic and

safety engineer David Scarlet

LAUGH

Pupils tackle mayor

over road speed concerns

2019

AT

THE

INTERNATIONAL

COMEDY NIGHT

R18

TICKETS ON SALE

NOW!

GET YOUR

TICKETS FROM

SAFETY:

Windwhistle

School

pupils are

asking the

mayor to

help them

deal with

motorists

speeding

outside of

the school.

said it is aware of the pupils'

concerns.

"However, the school is

situated in a rural environment,

surrounded by paddocks

and hedges which screen the

school buildings and activities

from passing motorists," he

said.

NZTA has agreed to install

additional signage so the

40km/h school zone

sign will be visible on both

sides of the highway in both

directions.

www. liveinlincoln .nz

In Brief

DROP-IN CENTRE CLOSED

The Rolleston Welfare Drop-In

Centre has been closed due to lack

of response from the community.

The decision was made to close the

centre with a view to open it again

when it is needed. The centre has

been open at 95 Rolleston Drive

since March.

ALPINE FAULT MEETING

The district council is holding

an alpine fault earthquake video

presentation in Tai Tapu next week.

Community resilience coordinator

Sue Jenkins said the video will help

you understand what the likely

impacts will be and how best to

prepare. The presentation will be

held on Thursday, 7–8.30pm, at the

Tai Tapu Community Centre. For

information email sue.jenkins@

selwyn.govt.nz

WEED KILLER WARNING

Residents are being reminded not

to spray the banks of water races

with weed killer. A district council

spokesperson said there has been a

rise in the number of incidents of

blanket spraying recently. The soil

washing away leads to sediment in

the water race. This can block it,

which leads to increasing risk of

flooding and contaminants in the

water.

East West Fencing Ltd

• Residential

• Security

• Rural Fencing

• Post Driving

• Post & Rail

• Horse Arenas

•Sheep & Cattle Yards•

Phone: Paul 027 588 6009 or

Brad 027 376 0237

Email: eastwestfencing@xtra.co.nz

All Your Fencing Needs

www.ewfltd.co.nz

RE-ELECT

No Payne – No Gain

Open

Considerate

Objective

Safer Rural Roads

Water Supply

Recycling Facilities

Climate Change

021 024 048 69

www.selwynlife.nz

Please use your vote

Have your say in our community

VOTE CALVIN PAYNE

Selwyn Central Ward

District Councillor Candidate 2019

Authorised by Calvin Payne 159 Knights Road, RD5 Weedons

JOHN

SUNCKELL

ECAN 2019

'Working together,

taking us forward'

Facebook: John4ecan Phone: 027 424 3006

Website: https://john4ecan.wixsite.com/ecan2019

Authorised by John Sunckell, 100 Caldwells Road, Leeston
---
4 Wednesday August 28 2019

Latest Christchurch news at www.star.kiwi

SELWYN TIMES

News

Councillors front up with quarry views

As the October local

body elections approach,

Devon Bolger asks

Environment Canterbury

candidates what their

views are on the

controversial planned

Fulton Hogan quarry

between Weedons and

Templeton

IN NOVEMBER Fulton Hogan

applied to ECan and the district

council to establish a quarry

between Curraghs, Dawsons,

Maddisons and Jones Rds.

There were 329 public

submissions against the plan

and a hearing is set to start on

November 18 in which a panel of

commissioners will determine

whether the quarry will go

ahead.

Allen Lim –

Ultimately the

decision is up

to the hearing

commissioners.

If it was up to

me, I would

certainly be

considering the

environmental

impact of the operation, as

well as the impact on the

neighbouring residents, in

terms of the number of truck

movements, the noise, vibration,

dust, and any health issues this

might cause local residents.

Then weighing all this up

against possible mitigations and

economic benefits.

What I can promise is that

I will always be open to ideas,

will hear people out, and in

every case, consider the social,

cultural, environmental and

economic values.

Ian

Mackenzie –

Simple answer

is I'm against

the siting of

this quarry.

The Weedons/

Templeton/

Rolleston area

has become an

area of high residential growth

and those residents come into

the area with expectations. That

would suggest industrial sites

in this area, such as quarries,

should be restricted to areas

zoned for such activities, like

the Rolleston Izone. It appears

planning hasn't kept up with

the changing dynamics of the

district and this is in danger of

letting down both the residents

and Fulton Hogan.

•HAVE YOUR SAY: Are you for or against Fulton Hogan's

proposed quarry between Weedons and Templeton?

Email your views to georgia.oconnor@starmedia.kiwi

APPLICATION: Fulton Hogan wants to establish a new quarry

between Curraghs, Dawsons, Maddisons and Jones Rds.

People and businesses want

certainty. As ratepayers, we don't

want long-running expensive

hearings and litigation. We

lose because we fund it, we

lose because the cost of doing

business goes up, and we lose

because the outcomes are

uncertain. That's not good for

anyone.

Sarah Walters – I am

concerned that the current

planning rules don't allow

for sufficient setback or

consideration

of the negative

impacts,

particularly on

an established

urban area. The

controls for

these activities

are set down in

the Regional Policy Statement,

so it is in setting these guidelines

that councillors and other

parties have the opportunity

to decide what is important.

The RPS is a key document,

which covers what activities

are allowed and what factors

should be considered, and is

due to be reviewed during the

next council term. Councillors'

views can vary widely in these

areas. Unfortunately, there is

no opportunity for individual

councillors to influence

outcomes of the commissioners

hearing on the quarry.

John Sunckell – What I

can promise and have some

influence over is that if the

quarry is consented, I will ensure

that all consent conditions and

mitigations are met.

ECan uses independent

hearing

commissioners

to hear consent

applications

made under

the Resource

Management

Act.

As a councillor

I have no ability

to influence the decisionmaking

process and therefore

my support or otherwise of the

Roydon Quarry is irrelevant.

Those who oppose the proposed

Roydon Quarry may not like

my answer but those are the

constraints within which we

work.

FOR LEASE

2019 NEW ZEALAND

IPMS COMPETITION &

Prime Retail / Office space

76A High St, Leeston

• Next to Fresh Choice Leeston

• Approx 250 sq meters

• Wide frontage

Enquiries

Gwynn Thomson

027 2288 058

EXPO

THE AIRFORCE MUSEUM OF NEW ZEALAND

WIGRAM

7TH & 8TH SEPTEMBER

sATURDAY 10AM-5PM sUN 10AM-4PM

Displays of: Scale Models, Meccano, Military Displays,

Radio Controlled Boats & Planes, Model Trains, Die Case Vehicles,

Wargames, Kids build your own model kit and much more

www.ipmschch.co.nz

2019 New Zealand IPMS

National Competition and Model Expo
---
SELWYN TIMES Latest Christchurch news at www.star.kiwi

Wednesday August 28 2019 5

Temporary solution failing

•From page 1

The community

committee has told the

district council it felt the

temporary solution is

failing and ratepayers'

money was being wasted

with substandard work.

Springs Ward councillor

Grant Miller supports the

community committee's

plea.

•HAVE YOUR SAY:

Are you fed-up with

continual repairs

on Gerald St? Email

your views to devon.

bolger@starmedia.kiwi

"There must come a time

where it's more economical

to put the finished product

in place rather than repair,"

Cr Miller said.

"The reality is in the

meantime ratepayers are

having to deal with quite

a difficult road that keeps

getting worse."

Community committee

chairwoman Kathryn

Claridge wouldn't discuss

the matter with the Selwyn

Times, because the group

was in dialogue with the

district council.

The community committee

is going back to the

district council to express

its continued concern

about the issue.

District council transportation

team leader Mark

Chamberlain told Selwyn

Times said Gerald St would

be maintained in the most

prudent manner until the

scheduled relaying.

ONGOING: Issues with

the road foundation are

causing potholes and

cracking on Lincoln's

Gerald St.

But Cr Miller said he

remains unconvinced that

strategy is going to work.

"I have advocated with

the staff that we think the

best thing to do is to bring

forward the rehabilitation

of the whole road and to

stop wasting ratepayer

money on repairs," he said.

"The soil conditions

under the road just aren't

able to handle the level of

traffic that's going on it

now and it's only going to

get worse."

Pams Chocolate

Biscuits 200g

DEALS IN STORE

$

1 99 ea

Whittaker's

Mini Slabs

12 Pack

$

4 69 pk

All welcome

Come play

Find a club near you!

www.lovetennis.kiwi

it's free

Sat 7 & Sun 8 Sept 1-4pm

RACQUETS SUPPLIED. BBQ.

PRIZES. GIVEAWAYS.

Tennis clubs from Oxford to Ashburton are

opening their doors for a fun, FREE event for

all ages.

YOU COULD

WIN A TRIP FOR TWO

TO THE ASB CLASSIC

IN AUCKLAND THIS JANUARY

Fresh NZ

Quality Mark

Prime Beef Mince

Quality Bakers

Nature's Fresh

Bread 700g

$

3 19 ea

$

11 99 kg

Speight's

Gold Medal Ale

24 Pack 330ml Bottles

Vitor LittleOz Easy

Peel Mandarins

750g Prepack

Product of Australia

www.foursquare.co.nz

$

33 99 pk

WIN

a $ 50

Gift Card

$

4 49 pk

*Times may vary by club. Please check website for details.

First club visitors

receive a

200

FREE snack pizza

facebook.com/FourSquareNZ

Specials available South Island only from Monday 26th August until Sunday 1st

September 2019 or while stocks last. Wine and beer available at stores with an off

licence. Wine and beer purchases restricted to persons aged 18 years old and over.
---
6 Wednesday August 28 2019

Latest Christchurch news at www.star.kiwi

SELWYN TIMES

Kirkwood

Opportunities

'Schooling for the Whole Child'

The focus of a successful school is the pupil.

The growth of our children at Kirkwood

is supported by the many extension

opportunities we offer over and above our

classroom activities. We work on extending

learning opportunities in a number of areas.

Technology

Some of the highlights in our

technology area include:

• Robotics;

• 3D Printing;

• EPro8 Challenge;

• Fashion Design and Make.

Technology is a favourite area for

many students due to the 'hands-on'

problem solving approach to learning.

Sports

Apart from the regular physical

education programmes within the

classrooms there are many other sports

offered at Kirkwood. Some the sports

played this year are Netball, Football,

Cross Country, Skiing, Swimming,

Rugby, Basketball, Water polo, Korfball,

Mountain Biking and Touch Rugby.

Music

Music is taught as part of the

performing arts curriculum in all

classrooms however, extra opportunities

are available for students to learn a wide

variety of music.

This year, our students have been

learning the Guitar, Piano, Violin, Drums,

Flute, Brass, singing in the Choir and

playing in the Orchestra.

Extension

Groups,

Competitions

and Events

Our students have many

opportunities to participate in various

competitions and events offered at

Kirkwood.

These include:

• University of Canterbury Academic

Competitions;

• Cantamath;

• Canterbury-Westland Science Fair;

• Science Badges;

• Blue Light PCT competition;

• Otago Problem Solving;

• Publishing of a school magazine;

• Art Cup;

• Kids' Lit Quiz;

• Orchestra;

• Choir;

• Leadership Opportunities;

• House Captains;

• School Production;

• School Council.

Awards

We value and encourage personal

excellence which is recognised with our

'Blues' Awards system.

Don't forget, there are still some places available for Year 7 and Year 8 for 2020.

Please visit our website www.kirkwood.school.nz for information and to download

an enrolment form or ring the office on 348 7718.

Phil Tappenden,

Principal

260 Riccarton Road, Christchurch

Email: school.information@kirkwood.school.nz

Phone 03 348 7718 Fax 03 348 1085

www.kirkwood.school.nz
---
SELWYN TIMES Latest Christchurch news at www.star.kiwi

Wednesday August 28 2019 7

News

Comedy show

performer not for the faint-hearted

• By Devon Bolger

A KIWI comedian making

waves in America will perform

at the International Comedy

Festival in Lincoln next month.

Jarred Fell is currently

competing on NBC's Bring

The Funny TV show and will

perform in the semi-finals next

week.

Festival organiser David Parlane

said Fell isn't for the fainthearted

but is an outstanding

performer through and through.

"He'll have you scratching

your head about what he just did

on stage and you'll be in hysterics

at the same time."

The comedy show will also

feature Dai Henwood as the

headlining act.

Up-and-coming acts will

perform alongside Henwood,

including NZ Comedy Guild

newcomer and award-winning

Irish comic Alan McElroy and

Billy T Award nominee Donna

Brookbanks.

Mr Parlane said it is one of the

best line-ups in international

comedy.

"Heading into our fourth year

I believe the performers this

time around are truly outstanding.

It just gets better and better

each year."

Preparations for the show are

going wonderfully and everyone

involved is excited for the big

night, Mr Parlane said.

"We've got a good team

behind us and everything is on

track to be a great night."

•The event will be held

on September 28 at the

Lincoln Events Centre.

Bar opens at 6pm, show

Tickets

7 MARCH

On Sale

LINCOLN

Now

www.selwynsounds.co.nz

LAUGH:

Kiwi Jarred

Fell (right)

on NBC's

comedy

competition

Bring the

Funny. He

will perform

in next

month's

Lincoln

comedy

festival. ​

starts at 7pm. Tickets are

$48 plus booking fee and

can be purchased online

via Ticketek or locally at

Bridgestone Lincoln, Crate

and Barrel Leeston or The

Rock Rolleston.

Wheelie bins

to get tags

THE DISTRICT council will

be installing radio frequency

identification tags on rubbish,

recycling and organics wheelie

bins in the coming weeks.

The tags are about the size

of a thumb and will provide

accurate records of what type

and how many bins each property

has.

Bins will need to be left out

until 6pm on their collection day

when the tagging crew is in the

area and a small yellow sticker

will be applied when a tag has

been fitted.

Residents will be notified by

letterbox flyer, or text if a mobile

number is on file, when the stocktake

team is in their area.

District council solid waste

manager Andrew Boyd said if the

stocktake shows that someone

has a bin that wasn't originally

allocated to their property they

will be given the option to keep

the bin and pay for it, or for it to

be removed.

The stocktake and tagging of

the district's 51,000 bins will begin

in September and is expected

to take six to eight months to

complete.

3 CG EVENTS presents Live in Lincoln

Donna Brookbanks Dai Henwood JarRed Fell Alan M c Elroy

2019

LAUGH

AT

THE

INTERNATIONAL

COMEDY NIGHT

R18

7pm SATURDAY

28 th sept

AT lincoln

SALENOW!

TICKETS ON

TICKETS FROM Bridgestone LINCOLN Crate & Barrel LEESTON the rock ROLLESTON
---
8 Wednesday August 28 2019

Latest Christchurch news at www.star.kiwi

News

SELWYN TIMES

Young myth busters: Cracking the

Conspiracy theories,

fake news, true or false?

These are the questions

a class of Rolleston

College students are

pondering over. Sophie

Cornish reports

THERE IS a big difference

between convincing your teacher

the dog ate your homework and

persuading them the earth is flat.

What about debating with your

school principal that the country

of Australia doesn't actually exist?

Highly unlikely.

But for a group of Rolleston

College students, believing the

impossible could actually be possible

is what is helping them gain

their NCEA qualifications.

This year, a group of 50 students

have delved deep into the

most mind-bending theories

known to man and been forced

to argue they contain truths.

The debating assessment,

where students were given a

conspiracy to argue for or against

is part of the school's intriguing

new class – conspiracy.

Students are taught to critically

think and question what they

read with a discerning eye, all

while gaining both literacy and

science NCEA credits.

In an age of 'fake news' and

unlimited information at their

fingertips, three students, Samuel

Pearson, Joy Su and Ethan

Richards-White, say the class

has prompted new discussions in

their lives and taught them how

to question fact from fiction.

The most widely-debated theories

are covered including 9/11,

the moon landing, Illuminati and

the earth being flat.

However, more modern, controversial

and eye-brow raising

discussions also take place in the

classroom.

Do vaccines cause autism? Has

the cure for cancer already been

discovered? Does eating meat

cause cancer?

Split into two components,

the class has just completed

KEEN: Rolleston

College students

Sam Pearson,

Joy Su and Ethan

Richards-White

are learning

about conspiracy

theories

including 9/11.

PHOTO: GEOFF

SLOAN

the literacy course and will

soon move into the science

assessments.

For literacy, students were

required to create a visual text

which reflected the conflicting

views of a conspiracy.

For Samuel, he showed the contrasting

belief that secret group,

Illuminati, is the higher controller

of the our existence, while Joy

and Ethan debated the theory of

aliens, whether they control us or

are living in the highly-classified,

Area 51.

Along with this, a publicspeaking

assessment saw the class

be divided into groups and given

a topic and viewpoint, which they

were required to debate, all while

being judged by their principal,

Steve Saville.

At first, Joy seemed disappointed

she was given the task

of arguing that vaccines cause

autism.

But, delving into medical

research for the debate made her

realise she may consider medicine

as a career path in future.

"Trying to understand every

medical term was hard. It has

made me more curious about

medicine. It (the class) helps you

to see what your interests are,"

she said.

A LITTLE EXTRA FOR DAD THIS FATHERS DAY!

ALL STORES OPEN 7 DAYS

+ receive a FREE

Helmet Kit worth

$238!

MS362 Chainsaw

Save $400

70.7cc

6.3kg

4kW

20" bar & chain

$1595 Incl

GST

Stealth Lawnmower

Engine: Briggs and Stratton

725 EXI Readystart

Chassis: Non Rust, Cast Alloy

Cut Width: 460mm 18"

Cut Height: 10-65mm

Save $50

Incl

$849 GST

RMA510 Battery

Lawnmower Kit

36V 26.3kg

Cut Height: 3.5 - 9cm, width: 51cm

Comes with a AP300 battery

& AL300 charger

BUNDLE DEAL!

Choose either a HSA66

Hedgetrimmer, FSA65

Linetrimmer machine (only)

worth $345!!!

$1355 Incl

GST

Save $200

EU22 Inverter

Generator

Engine: GXR120

Max AC Output: 2200VA

Size: LxWxH (mm)

511x290x425

Operating Hrs (on eco

throttle) 15 hrs

Weight: 21kg

Recoil Start

$2499 Incl

GST

25.4cc 0.95kW 5kg

Commercial grade machine

*Image pictured,

varies from

actual Save $300

FS85R Brushcutter

Incl

$495 GST

MS180 Chainsaw

31.8cc 1.5kW 3.9kg

16" bar & chain

+ receive a FREE

5L STIHL MotoMix

worth $45!

Save $30

Incl

$395 GST

RE109 Waterblaster

Save

$200

230V

1.7kW

6.3lt/min

1595 working psi

Hose length: 8m

+ receive a FREE RA82

Patio Cleaner worth $106!

Incl

$295 GST

All pricing includes GST. Images may vary from in store product. Offers from 22nd August - 2nd September, 2019.

Store opening hours: All stores open 7 Days: Mon-Fri 8am - 5.30pm, Sat 9.30am - 3pm, Sun 10am - 3pm. 12 month interest free is available - see in store for details.

Gift Card

Not sure what to get as a gift?

A STIHL SHOP Gift Card might just be

the answer!

Available in any

denomination

(up to NZ$1,000)

$????

STIHL SHOP Northwood - 554 Main North Road, Belfast, Christchurch - Ph: 03-974-2469

STIHL SHOP Rangiora - Corner Lineside and Station Road, Rangiora - Ph: 03-313-3398

STIHL SHOP Fosters - 559 Blenheim Road, Sockburn, Christchurch - Ph: 03-343-6339

www.stihlshopchristchurch.co.nz

LOVE YOUR LAND
---
SELWYN TIMES Latest Christchurch news at www.star.kiwi

Wednesday August 28 2019 9

conspiracy theories

Ethan admitted he got a little

bit sceptical with his debate topic.

"I did the earth is flat, on the affirmative

side. Actually, we won.

Mainly because I bombarded

them with a lot of facts . . . I got

a little bit convinced that the

earth was flat for a bit there,

mainly because I dived deep into

the Flat Earth Society and stuff

and I was like 'hold on' . . . but no

. . . I believe that it is round, but

somehow we won that debate,"

he said.

After discussing conspiracies

with his dad, Samuel thought he

would choose the class, to put

GREAT CONSPIRACY THEORIES

1. Illuminati controlling

the world – This conspiracy

proposes a secret group called

Illuminati has been controlling

the world and is looking to create

a one world government. Their

end goal is supposedly to create

the New World Order, which will

dissolve national boundaries

and people's identities, while

allowing for total authoritarian

control. It is alleged several

politicians and celebrities are in

the group, including Beyonce,

Jay-Z and Madonna.

2. The moon landing was

a cover-up – Fifty years on,

the hoax theory still exists.

Some people believe the

significant scientific and political

achievement did not happen

and that its appearance was

orchestrated by NASA and the

United States Government. The

motive, as part of the Cold War,

was allegedly done to raise

national pride and one-up their

arch-rival, the Soviet Union, and

win the Space Race. The most

common theory which leads

people to believe it was fake

was photos from the mission

which show a flag moving in the

wind, something that should not

happen as there is no wind in

space.

3. Who killed JFK? – The

an interesting spin on learning

literacy.

"I was looking at something

different; I thought it would be

an interesting thing to look into.

It was things I was in to, writing,

reading, researching, as well as

the science part of it.

"Now, when I see an article

about someone who believes in a

conspiracy theory, because of this

class, you can see that perspective

more. You realise they aren't just

being funny or seeking attention,

they actually believe this kind of

stuff and you can see if from their

point of view," he said.

assassination of American

president, John F Kennedy –

A large national survey in the

United States in 2013 found 51 per

cent of Americans believe there

was a conspiracy behind the

killing of JFK during a motorcade

in Dallas in 1962. The shooter,

Lee Harvey Oswald, got the

official blame. However, theories

believe other parties such as the

CIA, KGB or the Mafia, may have

played a role. Other theories

suggest there was more than

one gunman and that more shots

were fired than officially claimed.

Possible motives include the

Bay of Pigs invasion, a failed US

military invasion of Cuba by the

CIA or that his death was at the

request of vice-president, Lyndon

Johnson.

4. Was 9/11 an inside job? –

The terror attack on September

11, 2001, caused one of the most

popular and widely-discussed

conspiracy theories. Multiple

theories of the event have been

discussed, mainly implicating

the United States' Government

as causing the attacks in order

to blame al-Qaeda and start war

with Iraq. Theories claim jet fuel

from the planes could not melt

the steel beams of the World

Trade Centre towers, which

they believe were actually

brought down by a controlled

demolition.

5. The elusive Area 51 –

Conspiracy theorists

believe that the remains of

crashed UFO space crafts

are stored at Area 51. The

highly-classified mysterious

Air Force base in Nevada, is

where Government scientists

allegedly reverse-engineer the

aliens' advanced technology.

The theories have come

from a variety of supposed

UFO sightings in the area and

testimony from a retired army

colonel, who says he was

given access to extra-terrestrial

materials gathered from an

alien spacecraft that crashed in

Roswell, New Mexico, in 1947.

Some believe the Government

studies time travel at Area 51,

also known as Groom Lake or

Dreamland.

RECOGNITION: (Back left) Samuel Ireland,

Mike Davies, Carol Gurney, Craig Moody,

Errol Ashby, Malvern Community Board

chairwoman Jenny Gallagher, (front) Bailey

Inwood, Daisy Prosser, Rebecca Inch and

Jenny Walter received community service

awards. ​

Contributions

to Malvern

recognised

TEN PEOPLE received community service

awards from the Malvern Community Board

at a ceremony in Darfield on Friday.

Five St John members took home youth

community service awards. Rebecca Inch,

Samuel Ireland, Daisy Prosser, Bailey Inwood

and Jenny Walter were recognised for

completing their St John senior shield badges,

which included undertaking more than 100

hours of volunteering.

Five awards were also given to volunteers

Mike Davies, Reg Anderson, Craig Moody,

Carol Gurney and Errol Ashby.

Mr Davies was recognised for his work

as a Civil Defence first responder, looking

after neighbours in Hororata following the

earthquakes.

Mr Anderson, who is a justice of the

peace and has been a Glentunnel Township

Committee member for 23 years, was noted

as a strong, community-minded resident, who

is always willing to get involved and support

others.

Mr Moody received an award for his active,

practical involvement in many different

community groups, including the Glentunnel

Community Centre and Coalgate Township

Committee.

Mrs Gurney was recognised for her

volunteering efforts at many community

events and for setting up the second-hand

clothing stall Carol's Closet.

Mr Ashby received an award for his work

as the Malvern Community Patrol founding

chairman, Malvern Community Vehicle Trust

member and a Red Cross Meals on Wheels

volunteer.

0800 324 678

www.dcis.co.nz

run out sale

nZ's best-selling heat pump ever!

$2,499 inStaLLed *

Ge50 5.8kW hiGh WaLL heat pump

*Basic back to back installation

book your free appointment today!

liquiD

SeLF Service

LaunDroMatS

47 Carmen rd, Hornby

(Gasoline alley site)

All sites open 7 DAYs, 5Am-11pm

WaSH 2 Mink

BLanketS or

DuvetS

For onLY $8

Hot Water &

extra LarGe

WaSHerS

avaiLaBLe

Dry up to 14kg from

$4 in only 25 minutes!

Save time &

electricity

WaSH & DrY

aLL Your

LaunDrY in

unDer 1 Hour

from

$

4.00 WASH $ 4.00 DRY

• Fast Dryers

• Sports Gear

• Duvets

• Mink Blankets

• Bedding

• Washers

• Domestic Laundry

over 75 locations nationwide

Other Locations: Sydenham • Richmond • Hoon Hay • Woolston • Aranui • Rangiora

• Burwood • Ilam •Redwood • Kaiapoi

www.liquidlaundromats.co.nz
---
10 Wednesday August 28 2019

Latest Christchurch news at www.star.kiwi

News

aclandpark.co.nz

0800 ACLAND

Rock solid way to bring community together

• By Devon Bolger

AN INITIATIVE to bring the

community together through

painting and finding rocks is

sweeping through the district.

Selwyn Rocks was started by

the Selwyn Lions Club as a way

to generate community spirit.

Lions club member Kathy

Dore said they have had a great

response from the community

since launching the initiative

earlier this year.

"Especially as certain parks

like Prebbleton become more

popular for rock hunting. Then

people upload precious photos of

young kids with massive smiles

on their faces holding a painted

rock as if it was the most amazing

thing they have ever seen."

Taking part in the Selwyn

Rocks initiative is simple, Mrs

Dore said.

"Just paint something inspiring

or cheerful on a rock and leave it

for someone to find. Then upload

a photo of it to our Facebook

rock page stating the area it is in

so people know and wait and see

what journey it takes."

"Some of mine have even

gone overseas. There is actually

one on the top of a mountain in

Germany right now."

Canterbury's fastest selling

new subdivision

CREATIVE: Selwyn Lions Club president Helen Allison with

her grandaughter Sarah (left) and club member Kathy Dore's

daughter Stacey paint rocks to hide.

The Facebook page currently

has 250 active members who

post daily about finding and

hiding rocks around the district.

Mrs Dore said she was introduced

to rock painting by a

friend just over a year ago while

holidaying in Hanmer Springs.

"I loved it so much that I went

home and I haven't stopped

DECORATIVE: Fifty painted

rocks were found in

Rolleston's Parekura Reserve

as part of an initiative to bring

the community together.

painting rocks since. I probably

paint for about three to four

weeks with my daughter."

Her only hope for the initiative

is that it brings the community

together, Mrs Dore said.

"No matter your skill level at

painting I hope it gives pleasure

from the simple act of sharing

some love and kindness. For

those who find a rock, maybe it

gives them a boost and makes

their day better."

If you want to get involved,

visit the Selwyn Rocks Facebook

page for details about the next

community rock painting event

in October.

SELWYN TIMES

Register to

dispose of

your farm waste

FARMERS IN Ellesmere and

surrounds will have the chance

to dispose of farm plastics,

chemicals and oil in a safe way

thanks to a new pilot programme.

The Agrecovery programme

sees farmers and growers who

have pre-registered able to drop

off chemical containers, silage and

bale wrap, fertiliser and feedbags

and other waste for safe disposal.

District council solid waste

manager Andrew Boyd said given

Selwyn is a large rural sector, they

jumped at the chance to become

one of six places nationwide to get

the programme first.

"Council is committed to working

with the rural community

to help find sustainable options

for disposing of farm waste. The

Agrecovery One-Stop-Shop rural

waste recycling events provide a

great opportunity for the community

to dispose of waste safely. We

encourage people to get behind

these events and register."

The rural waste recycling day

will be held in Ellesmere on September

9.

To take part you must register,

book a time and indicate the type

of wastes you will be taking. The

location will be provided to those

who register.

QUICKSCREEN FENCING

VERSATILE SCREENING SOLUTION

Quickscreen Fencing is an innovative, easy-to-install,

aluminium slat screening system that offers the

latest in architectural style. Quickscreen Fencing is

tough, long lasting, low maintenance and can be

adapted to suit a wide variety of applications.

• Available in Woodland Grey or Black

• Blades do not warp, crack, or splinter

• Non-weld assembly for easy installation

• Low maintenance"Stylish & easy to install"

SERVICING NOW

Full servicing on ALL BRANDS of Chainsaws

and Outdoor Power Equipment

We have a super quick turnaround time &

we have on offer a FREE loan trailer that can

be used to transport those bigger products.

QUALITY GARDEN SHEDS

"Stronger & sturdier storage sheds"

CHRISTCHURCH

Ph: (03) 338 9063 55 Hands Rd, Christchurch NZ 8024

www.stratco.co.nz

STRONG, HIGH QUALITY STORAGE SHEDS

Crisp, clean and uncluttered lines are a feature of

this attractive and economical storage shed.

The Stratco Garden Shed is a simple, strong and

secure, well designed storage unit that comes in a

size to suit every lifestyle and backyard requirement.

Quality construction means your Stratco Garden Shed

will be a lasting investment. Stratco Garden Sheds are

made in Christchurch to withstand New Zealand

conditions. Strong, durable and made to last, the

Stratco Garden Shed can be installed yourself, or

Stratco can organise installation for you.

And don't forget we sell, as well as service the full range

of STIHL Outdoor Power Equipment!

31.8cc 3.9kg 1.4kW

16" bar and chain

MS180 Chainsaw

Save $30

$395 Incl

GST

All pricing includes GST. Images may vary from in store product. Offers valid until 31st Aug, 2019 or while stocks last.

Store opening hours: All stores open 7 Days: Mon-Fri 8am - 5.30pm, Sat 9.30am - 3pm, Sun 10am - 3pm

STIHL SHOP Northwood

554 Main North Road, Belfast, Christchurch - Ph: 03-974-2469

STIHL SHOP Rangiora

Corner Lineside and Station Road, Rangiora - Ph: 03-313-3398

STIHL SHOP Fosters

559 Blenheim Road, Sockburn, Christchurch - Ph: 03-343-6339

www.stihlshopchristchurch.co.nz

RE119 Waterblaster

230V

2.1kW

6.7lt/min

1812 working psi

Hose length: 8m

+ receive a FREE RA101

Patio Cleaner worth $197!

Save

$300

Incl

$495 GST

LOVE YOUR LAND
---
SELWYN TIMES Latest Christchurch news at www.star.kiwi

Wednesday August 28 2019 11

NO DEPOSIT

chrISTmaS

layby

17

wEEkS

uNTIl

xmaS

Wow!

SAVE $40

$

119 99

ea

Wow!

SAVE $50

$

149 99

ea

17

WEEKS

TO GO

NO DEPOSIT

*

LAYBY

MAKE THIS CHRISTMAS A WINNER!

New Zealand's BEST

TOY LAYBY!

60228 Deep Space Rocket And

Launch Control or 41381 Rescue

Mission Boat Usua ly up to $159.99

*Excludes Laybuy.com

NEW !

Cubby Usua ly

up to $199.99

NO DEPOSIT, NO INTEREST!

HELD UP TO 17 TH DEC 2019. See in-store for terms and conditions

SAVE

$50

Ford mustang

Usually $249.99

$

219 99 ea

SAVE

$50

car Transporter

Usually $299.99

$

249 99 ea

cargo Train

Usually $349.99

$

299 99 ea

Paranormal

intercept bus

Usually $109.99

$

89 99 ea

hogwarts

clock Tower

Usually $169.99

$

139 99 ea

rescue

mission boat

Usually $159.99

SAVE $40

$

119 99 ea

Frozen

Ice castle

Usually $89.99

$

79 99 ea

Garage

center

Usually $79.99

$

69 99 ea

construction Truck

Usually $99.99

$

79 99 ea

beanie boo large

Usually $49.99

$

39 99 ea

Fire

breathing

Toothless

Usually $79.99

$

69 99 ea

Dancing buggy

Usually $119.99

$

99 99 ea

magic

Sketch

boogie

board

Usually

$69.99

Exploding

kittens

Usually $49.99

$

39 99 ea

hovercraft

Swamp runner

Usually $159.99

$

129 99 ea

$

59 99 ea

Super Truck

15 model Set $

59 99 ea

Usually $79.99

New Zealand's BEST

TOy layby!

NO DEPOSIT – NO INTErEST

• layby held up to 18th December, 2019

• Payments instore, over the phone or by Internet banking

• at least fortnightly payments required

• cancellation Fees apply

• 48hour notice for pickup (as some laybys stored offsite)

• Photo ID required for creating layby
---
12 Wednesday August 28 2019

Latest Christchurch news at www.star.kiwi

SELWYN TIMES

NO DEPOSIT

rubik's

race

Usually $39.99

$

34 99 ea

Settlers of catan

Usually $89.99

$

79 99 ea

Usually $39.99

Ticket to ride Europe

Usually $99.99

$

34 99 ea

$

89 99 ea

hovering

Target

Usually

$59.99

$

49 99 ea

chimpy

Touch and

Dance

$

39 99 ea

hip holster Elite

Usually $17.99

robot Junior 1.0

Programmable dance

& movement by touch

panel!

$

59 99 ea

macrobot

Usually $89.99

$

79 99 ea

robo Kombat

Twin Battling

robots pack

Usually $79.99

$

69 99 ea

$

14 99 ea

mars research

Vehicle

Usually $109.99

$

99 99 ea

Digital

Target

Elite

Usually

$44.99

$

39 99 ea

Pony Farm

Usually $129.99

$

99 99 ea

Pick Up with

horse Box

Usually $179.99

$

159 99 ea

Ultima canopy Plus Pink or Blue

Four stages of

transformation, $

179 99 suits from 12m to 36m+.

ea

Usually $199.99

Beechwood hall

Usually $169.99

New Zealand's BEST

TOY LaYBY!

$

99 99 ea

SAVE

$70

caravan

Usually $159.99

• Layby held up to 18th December, 2019

• Payments instore, over the phone or by Internet Banking

• at least fortnightly payments required

$

99 99 ea

SAVE

$60

New!

2019 Models

VX9 Pro

Scooter

8 colours

Usually

$249.99

$

219 99 ea

NO DEPOSIT – NO INTErEST

• cancellation Fees apply

• 48hour notice for pickup (as some laybys stored offsite)

• Photo ID required for creating Layby
---
SELWYN TIMES Latest Christchurch news at www.star.kiwi

Wednesday August 28 2019 13

christmas

layby

late

night

shopping

all stOrEs

thurs 29th august

Until 9pm

Wow!

SAVE $40

$

119 99

ea

Wow!

SAVE $50

$

149 99

ea

17

WEEKS

TO GO

NO DEPOSIT

*

LAYBY

MAKE THIS CHRISTMAS A WINNER!

New Zealand's BEST

TOY LAYBY!

60228 Deep Space Rocket And

Launch Control or 41381 Rescue

Mission Boat Usua ly up to $159.99

*Excludes Laybuy.com

NEW!

CATALOGUE

OUT NOW!

Cubby Usua ly

up to $199.99

NO DEPOSIT, NO INTEREST!

HELD UP TO 17 TH DEC 2019. See in-store for terms and conditions

Wooden

Wardrobe

Usually $239.99

$

199 99 ea

Grand city station

Usually $189.99

$

149 99 ea

Fire station

Usually $149.99

$

129 99 ea

my sweet

canopy

Usually $119.99

$

99 99 ea

SAVE

$40

Dolls, outfits and accessories sold separately

tiny tot bamboo

balance bike

convertible trike

Usually $179.99

ride-on Gator

• battery Operated 6v

• Up to 34kg child

• 3 years +

red

speeder 2

Usually $99.99

$

79 99 ea

$

159 99 ea

$

399 99 ea

cars 3 Fast

Not last

Usually $219.99

Basket not included

$

199 99 ea

hQ Playset

Usually $99.99

$

79 99 ea

rc rock

crawler

3Xl

Usually $159.99

$

139 99 ea

turnator

super Flex

Usually $199.99

$

179 99 ea

most Wanted

camaro/mustang

Usually $329.99

$

299 99 ea

tractor Playset

Usually $129.99

$

119 99 ea

truck with Excavator

Usually $109.99

$

99 99 ea

truck with

Forklift Playset

Usually $119.99

$

109 99 ea

4 Unit

swingset

Usually $299.99

$

269 99 ea

tOWEr JUNctiON

NZ's biggest tOyWOrlD

clarence st, riccarton, Ph 03 343 0330

marshlaND

199 marshland rd,

Ph 03 982 8697

hOrNby

chalmers st,

Ph 03 281 8127

Valid from 6pm 29th August to Sun 22nd Sept
---
14 Wednesday August 28 2019

Latest Christchurch news at www.star.kiwi

SELWYN TIMES

Your Local Views

Join the Rotary club

and make a

difference in Rolleston

Rolleston

Rotary

chairwoman

Amanda

Van Der

Kley writes

about the

new club

We're a new

club and want

to do things in a new and fun

way.

If you come along to one of

our meetings you won't find a

room full of white-haired men

discussing the finer points of

golf, but rather a delightful blend

of multi-generational people

wanting to be involved in the

community and enhance the lives

of our local people.

We're business owners, wage

earners, parents and volunteers

from all walks of life.

We understand that time is

precious, which is why we meet

just once a fortnight and will have

flexible joining options like family

memberships rather than just

individual ones.

What do you think Rolleston

needs? Do you want to be

involved in making a difference?

We have a few projects in the

works already but our main focus

right now is growing our club.

Why not come to a meeting and

see what it's all about?

There's no obligation to join

and our members provide delicious

baking and even a glass of

wine.

You'll meet a whole range of

new people and be part of an

organisation that has over a

million members all around the

world.

•For more information or

to get in touch with us email

rollestonrotary@gmail.com

This Week at the Hornby Club

THIS SATURDAY 7.30PM

Tuesday, Wednesday, Thursday

in the Main Bar Thursday Friday

PETER

CAIRNS

COMING UP

Dining Specials

MID WEEK

LUNCH SPECIAL

Midday to 2pm

THURSDAY

ONLY

$12

Roast of the Day with veges or

Fish of the Day with chips & salad

Add a dessert for just $5

Food, family and words

I WAS WRONG last week, so I'd

best correct myself.

The church in Laura's home

village of Pravisdomini is about

1000 years old, rather than 600,

and was built some time after

Attila the Hun and his band of

merry men "toured" an ageing

Roman Empire.

Apparently there's also a whole

mess of the bones of Vittoria's

ancestors a metre or so under the

church lawn too.

Vittoria's been living the high

life this last week.

After recovering from the side

effects of antibiotics, she's been

accompanying us on a fairly busy

circuit of friends, family, nearby

towns and villages.

She's been cuddled near to

death by the older rellies, having

a blast with the younger family

members and running amok

with the kids of our friends who

are of a similar age.

The exercise is key with an appetite

like hers. We always knew

Vittoria was a good wee eater, but

she's honestly eating almost as

much as us adults.

It's so great to see after she

was off her food the first week,

however, I doubt any of us will be

coming back any lighter.

The big meals have been put to

good use in fuelling an increase

The revolution

in heat pumps

is here now!

PLAYMATES: As Sunday

lunch at a friend's house

stretches into dinnertime,

Vittoria takes a ride while

her wee mate Edoardo

steers.

in Vittoria's communication

skills.

She has definitively mastered

the word "this" and can now ask

The Fujitsu e3series

The brilliant

heat pumps from Fujitsu

e1 : efficiency

e2 : environment

e3 : economy

Website: www.pshc.co.nz

Finance available

FREE consultation from your local

Accredited Heat Pump Expert

Phone today: 03 381 6950

INSERT DEALER DETAILS HERE

FG1441

you to "do this" or ask "what's

this?" accompanied by furious

pointing. She's also begun playing

with the words "rubbish" and

"finished", although I'm still not

sure she's got it yet. It just kind of

sounds like "ish" either way.

And it's not just output that I've

noticed. With Italian (or the local

brand Venetian spoken by most

of Laura's relatives) surrounding

her almost all day, every day, Vittoria

can now understand a few

phrases and respond accordingly.

I mean respond physically –

like she'll probably wander over

if you ask her to in Italian – not

verbally.

She's also starting to get into

the Italian childrens' time frame,

which I'm not sure is exactly

ideal.

Up at 6.30am, a leisurely postlunch

nap at 2pm-ish and then

pushing the boundaries until

almost 10pm if she can get away

with it.

While I'm excited to try and

keep using as much Italian as

possible when we return home,

I think I might see about leaving

the timetable behind.

•Former Star Media

journalist Matt Salmons has

become a stay-at-home

dad. We follow his journey

weekly.

The revolution in heat pumps is here now!

'Famous for their roasts!'

The brilliant e3 series

heat pumps from Fujitsu

e1 : efficiency

e2 : environment

e3 : economy

Fujitsu's Catechin Filters are

approved by the Asthma and

Respiratory Foundation NZ's

Sensitive Choice ® programme.

Email: info@pshc.co.nz

Treat

Mum!

SATURDAY 14 SEPT, 7.30PM

Pre-sale tickets $20, Door sales $25

Eddie Low & Friends

'A Song For Bunny'

Kevin

Greaves

COMPERE

Noel Burns

Eddie Low

M.N.Z.M.

From Australia

Paul Costa

SUNDAY 15 SEPT, 7.30PM

Tickets $25

Saturday

Sunday

FATHER'S DAY DINE & WIN

DINING DAD'S GO IN THE DRAW

TO WIN A $50 REPCO VOUCHER

ADULTS $30. KIDS AGED

5-12 $1 PER YEAR OF AGE.

AVAILABLE 5-8PM SUN 1 SEPT

HWMC | ph 03 349 9026 | 17 Carmen Rd, Hornby

www.hornbywmc.co.nz | Members, guests & affiliates welcome

RESTAURANT & CAFÉ

Cooked Breakfasts

Check out our extensive breakfast

menu from Continental to Cooked

We are open from 6.30am

Seniors SPECIAL

Two courses $22

Soup/Roast or

Roast/Dessert

Special available lunch only

Monday - Saturday 12pm - 2.30pm

$19

MOTHER'S DAY

Kid's 2 course

special

We are family

friendly.

Great Kids menu

plus designated

play area.

THIS SUNDAY

$13

The

RACECOURSE HOTEL

& Motorlodge

118 Racecourse Rd, Sockburn,

Christchurch. Ph 03 342 7150

www.racecoursehotel.co.nz
---
SELWYN TIMES Latest Christchurch news at www.star.kiwi

Wednesday August 28 2019 15

Season of growth capped off with title

SPORT

• By Jacob Page

ELLESMERE College netball

coach Jan Roberts described

the season as "one of growth"

– but her team still won the

SuperNet Reserve final 24-20

last week.

They took down Riccarton

High School at Pioneer

Stadium to claim the title. But

Roberts said her main aim

this season was to rebuild

the squad with five of her

10-strong squad new to the

competition.

"We only have four senior

players this year, so we looked

at it as a development year. But

I thought about five games in

that these girls are listening

and asking questions then

putting it out on court.

"Our shooting stats are

Netball grades sync-up after premier break

• By Jacob Page

ALL SELWYN netball grades

are back on schedule after

premier grade action took a

break on Saturday.

Selwyn Netball Centre

president Andrea James said

the Lincoln Event Centre

was already booked, so the

Resene cardholder special!

always quite high and we

are lucky that my seniors are

sprinkled out throughout the

court," said Roberts.

At 15-15 with one quarter

to go in the final, Ellesmere

produced a dominant final

quarter to win the competition

for the first time.

"I asked at the final break if

they wanted it and they said

decision was made to not play

on Saturday instead of moving

games to the West Melton

Community Centre.

The decision also means all

grades could now finish the

season at the same time after

lower-grade games played

outdoors were called off two

weeks ago due to wet weather.

they did and that they were

going to look after the ball and

work hard for each other, and

that's what happened."

Ellesmere then scored nine

goals in the final quarter to

pull away.

Their next focus will be

to try and remain in the top

grade of the South Island

secondary schools netball

Ms James said the decision to

move the premier schedule in

line with the lower grades was

passed on in an email to clubs

on August 13 and had more to

do with logistics, particularly

umpiring resources, than

saving money by not using the

West Melton venue.

The premier competition

CHAMPS:

Ellesmere

College

won the

SuperNet

Reserve

title after

a 24-20

victory

over

Riccarton

High

School.

PHOTO:

ANGELINA

KING

competition next month.

"It's the first time in more

than a decade to not be in

the B grade so the aim is to

stay there. I have absolute

confidence in this team that

they will maintain their place

and my aim is to motivate the

younger ones coming through

for next year."

•More sport, pages 18 & 22

has had a stop-start nature

with four weeks of the season

missed this year through either

scheduling changes or school

holidays.

Two rounds remain in

the premier grade, which

restarts on Saturday before the

semi-finals and final late next

month.

Show

home

Guide

Touchstone Homes

Falcons Landing Rolleston

15 Falcon Road, Rolleston

Open Wednesday to Sunday

10pm - 4pm

03 961 6046

www.touchstonehomes.co.nz

Jennian Homes

Canterbury

Rangiora

9 Westpark Boulevard

Open Saturday to Sunday

12pm - 4pm

Halswell Commons

9 Nevermore Place

Open Saturday to Sunday

12pm - 4pm

www.jennian.co.nz

Come in and see us today at

your local Resene ColorShop!

Addington, Ferrymead,

Hornby, Lichfield St,

Northwood, Rangiora,

Shirley, Tower Junction

0800 737 363 www.resene.co.nz/colorshops

Discounts off the normal retail price from 21 August - 9 September 2019.

Valid only with cash/credit card/EFTPOS purchases. Not available in conjunction

with account sales, promotional vouchers/coupons or other offers. Excludes trade,

ECS and Crown products and PaintWise levy. Offer for Resene ColorShop/DIY

cardholders only. Sign up for a free card at your Resene ColorShop or participating

reseller. Offer applies to 10 litre Resene premium paints, primers/sealers, wood

stains and 60-80ml testpots only.

Join us for a day

this spring to help restore

native biodiversity in Canterbury.

Sunday 8th September – Lincoln area

Saturday 21st September – Hororata area

With the help of our supporters we will provide Transport,

Morning Tea, Lunch and Afternoon Tea, so you just need

to register and jump on board.

RegistRation essential: www.kakariki.org.nz/how-to-help/volunteer

suggested donation $10 adult and $5 Child

Back up dates in case of stormy weather are Sunday 15th, and Saturday 28th September respectively.

First Homes - Christchurch

St Albans

39 Sherborne Street

Open Tuesday to Saturday

10am - 4pm

021 575 545

chchsales@firsthomes.co.nz

www.firsthomes.co.nz

Signature Homes

Rolleston

97 Ledbury Drive, Faringdon

Open Wednesday to Sunday

12pm - 4pm

Prestons Park

37 & 39 Prestons Park Drive

Marshland, Christchurch

Both open Wednesday to

Sunday 12pm - 4pm

Show Room/Office:

31 Watts Road, Sockburn

0800 8444 88 or 03 3427788

www.signature.co.nz

To advertise in

The Showhome Guide

Contact Elaine: (03) 364 7436

elaine.moon@starmedia.kiwi
---
16 Wednesday August 28 2019

Latest Christchurch news at www.star.kiwi

SELWYN TIMES

Outstanding service recognised at

Malvern Community Awards

The recipients of the Malvern Community Board Community Service Awards 2019, from left to right, back row:

Samuel Ireland, Mike Davies, Carol Gurney, Craig Moody, Errol Ashby and Malvern Community Board Chair Jenny Gallagher.

Front row: Bailey Inwood, Daisy Prosser, Rebecca Inch and Jenny Walter.

Long service and new was recognised at the Malvern Community Awards. Ten people received

awards for their service to the community at the ceremony in Darfield on Friday night.

A group of five St John youth received the inaugural Youth Community Service award. Rebecca

Inch, Samuel Ireland, Daisy Prosser, Bailey Inwood and Jenny Walter were recognised for

completing their St John Senior Shield Badge which includes doing over 100 hours of volunteering.

The group also won five categories at this year's St John Mid Canterbury Youth Competition.

Five Community Service Awards were also given to long-standing volunteers Mike Davies, Reg

Anderson, Craig Moody, Carol Gurney and Errol Ashby.

Mr Davies was recognised for his volunteer work as a Civil Defence first responder looking after

neighbours in Hororata following the earthquakes and helping protect houses from flooding, along

with looking after the Hororata Domain and church grounds at his own expense and managing car

parking at big community events including the Hororata Night Glow.

A Justice of the Peace and 23-year member of the Glentunnel Township Committee, Mr Anderson

was noted as a strong, community-minded man always willing to get involved and support others.

Mr Moody received his award for his active, practical involvement in many different community

groups including the Glentunnel Community Centre Committee, Coalgate Township Committee,

Glentunnel Reserve Committee, Glentunnel Indoor Bowls and Glentunnel Museum.

Mrs Gurney was recognised for her efforts as a willing volunteer at many community events and

for setting up the second-hand clothing stall 'Carol's Closet', which raises money for the Hororata

Anglican Parish.

Mr Ashby received his award for his work as founding chairman of the Malvern Community Patrol,

a member of the Malvern Community Vehicle Trust and a Red Cross Meals on Wheels volunteer.

Hundreds helped to prevent family violence

More than 150 teachers have taken part in workshops to help prevent family harm in Selwyn.

The workshops in Rolleston and Darfield were organised by the new Selwyn Safer Families group—

made up of organisations committed to preventing family harm in the district.

Selwyn Safer Families is a sub-group of the Council's Wellbeing Forum, which brings together social

and health service providers in the district.

The workshops saw 170 school teachers learn the skills of recognise, response and referral for

identifying and addressing harm in our community, Celine Donovan, a victim specialist from Battered

Women's Refuge, says.

"We covered the dynamics of family violence, because it's not always visible and there's a lot of myths

around it. We covered how to recognise it, respond, and how do you get help for the victims and for

people who are being violent – what help there is out there."

The group is exploring what the specific needs in Selwyn are, and education is a key part of its focus on

preventing family violence. The workshops were a first step to see how interested the community is and

they were blown away by the response, she says.

West Rolleston School Deputy Principal Amanda Clarkson attended the Rolleston workshop and says it

was an eye-opener and very positive and helpful.

"It was really informative. It's good for us to have learnt what to be looking out for, realising the little

things. The big thing was knowing there is going to be support from police out here in Selwyn that we

can access and they can come and work with our teachers."

Selwyn Safer Families came about from a discussion between Police and Council. Council Community

Services and Facilities group manager Denise Kidd says Council was delighted by the response to the

workshops and the support being offered by police and the Selwyn Safer Families group.

"Selwyn is a better place when we have a strong community that looks after each other. The work of

Selwyn Safer Families is an important way to make that happen and it's fantastic to see the community

embracing that."

Council begins project to tag bins

Council will begin its roll out of Radio Frequency Identification (RFID)

tags for rubbish, recycling and organics bins in the coming weeks.

The stocktake and tagging of the district's 51,000 bins will begin in

September and is expected to take six to eight months to complete.

It will see addresses checked for all bins and an RFID tag about

the size of a thumb tip fitted to each bin. The tag is automatically

scanned each time the bin is collected.

"The project will allow the Council to easily maintain accurate

records of the numbers and types of bins at each property instead

of relying soley on labels and serial numbers. This means database

accuracy is maintained remotely, allowing for a more efficient

service and to ensure fair charging for all," Council solid waste

manager Andrew Boyd says.

People will be informed by letterbox flyer, and text message if mobile

numbers are on file, when the stocktake team is in their area. You will

be asked to make sure your address is visible on the label on the side

of their bins or to write it on the lid.

While the tagging crew is in the area, bins will need to be left out

until 6pm on your collection day. This is because the tagging crew

are operating separately to the collection truck. A small round

yellow sticker will be applied to the side of each bin once the tag

has been fitted.

If the stocktake shows that someone has a bin that wasn't originally

allocated to their property they will be given the option to keep the

bin and pay for it, or for the Council to remove it, Mr Boyd says.

"It's a clean slate so we won't be charging people for bins that have

not been in our system previously. But in the future once all the tags

are on, only bins tagged to your property will be collected."

Leading Learners

New drivers in the district are being offered the opportunity to

upskill with a half-day, practical course to gain valuable safety skills.

The leading learners course, for drivers with a learner licence, sees

professional driving instructors take the teens on a series of activities

on a track. These include driver distraction, emergency braking, skid

avoidance and driving on different road surfaces. Attendees also

complete a one hour driving session on the road with a professional

instructor. The on-road session will allow the instructor to assess

where the teen is at and what they need to work on.

Council road safety coordinator Pete Daly says the $20 course is a

great opportunity for young people in Selwyn.

"It's an experience that you couldn't normally get, with great

professional instructors and for just $20."

Drivers must be accompanied by a parent or caregiver for the

course and Mr Daly says it's a good day for the adults too, who are

fully involved in the day.

"We've found it actually benefits the parent or caregiver almost as

much as the learner driver because they're being reminded of things

or learning new things."

Leading Learners will run on Saturday 21 and Sunday 22

September, 8am–1.30pm. For more informaiton or to register visit

selwyn.govt.nz/events.

LEADING

LEARNERS

Council Call

Selwyn District Council

Norman Kirk Drive, Rolleston

Ph 347 2800 or 318 8338

Rolleston Library

Rolleston Drive, Rolleston

Ph 347 2880

Darfield Library & Service Centre

1 South Terrace, Darfield

Ph 318 8338 or 347 2780

CC280819
---
SELWYN TIMES Latest Christchurch news at www.star.kiwi

Wednesday August 28 2019 17

Notices

SELWYN DISTRICT COUNCIL

GENERAL BYLAW 2009

The Council adopted a reviewed

Selwyn District Council General

Bylaw 2009 – and approved

the insertion of a clause which

references the General Bylaw, in

all Council bylaws – at its meeting

on Wednesday 14 August 2019.

The reviewed General Bylaw

and the amendments to all other

Council bylaws will come into

effect on 1 September 2019.

Copies of the Reviewed General

Bylaw and the other bylaws as

amended may be obtained or

inspected by contacting the

Council. The reviewed bylaw and

the updated bylaws referencing

the General Bylaw will be placed

on the Council's website.

Billy Charlton

Regulatory Manager

NEED FUNDING FOR YOUR

CREATIVE PROJECT?

Creative Communities Selwyn

can help! Funding is available

to groups or individuals with

community-based creative

projects that promote arts or

culture in Selwyn. Applications for

this funding round close at 5pm,

Friday 30 August. Visit selwyn.

Meetings

Public Forums: Council,

Community Board and local

committee meetings are open

to the public. Time is available at

the start of meetings for people

to speak on matters of concern.

Please notify Therese Davel or

Bernadette Ryan if you wish to

speak at Council at least five

days before the meeting.

Township, Hall and Reserve

Committees: To list or make

changes to meeting details, email

meeting.changes@selwyn.govt.

nz or phone 347 2800 or 318

8338 by 9am Wednesday the

week before publication.

COUNCIL & COMMUNITY

BOARD

Selwyn Waihora Zone Committee

Tue 3 Sept 4pm

Lincoln Event Centre

Property Committee

Wed 4 Sept 10am

West Melton Community Centre

Audit & Risk Subcommittee

Wed 4 Sept

Commences immediately

following the conclusion of the

govt.nz/artsfunding for more

information and to apply.

ALCOHOL NOTICES

LJ Control Enterprises Ltd has

applied for the renewal of an on

licence. Objections are open

until 9 September. For more

information go to selwyn.govt.

nz/alcoholnotices.

WATER RACE TEMPORARY

SHUT DOWNS

Water supply to the Lower

Ellesmere Stock Water Race

Scheme will be temporarily

shut down for scheduled

intake maintenance from 9–13

September. The outage will affect

all races downstream of intake.

Supply to Ellesmere Stock

Water Race Scheme will be

affected for this time. It may

take some days for supply to be

fully restored.

Glenroy Community Irrigation

Co. Ltd is temporarily shutting

off the Upper Ellesmere Water

Race Intake and Scheme to

allow for intake maintenance.

The intake will be closed from

3–7 September. Races affected

include Rakaia Tce, Sharlands,

Waikimihia, Rakaia, Selwyn

and Illingworth Roads and all

Property Committee

West Melton Community Centre

Council

Wed 11 Sept 1pm

Tai Tapu Community Centre

DISTRICT COMMITTEE

MEETINGS

Coalgate Township Committee

Tue 27 Aug 7.30pm

Coalgate Fire Station

Darfield Recreation & Community

Centre Management Committee

Mon 2 Sept 7.30pm

Darfield Recreation and

Community Centre

Doyleston Community

Committee

Wed 4 Sept 7.30pm

Doyleston Hall, Osborne Park

Greendale Recreation

Reserve Committee

Tue 3 Sept 8pm

Greendale Sports Pavilion

Kirwee Recreation Reserve

Management Committee

Mon 9 Sept 7.30pm

Kirwee Recreation Reserve

Sports Pavilion

offshoots. Flow may take

time to reach all downstream

users of the scheme. An

affected area map is available

at selwyn.govt.nz.

Any questions please contact

the Surface Water Department

(03) 347 2800 or email

waterraces@selwyn.govt.nz

DOG MICROCHIPPING

This free monthly service is

available on Friday 6 September

at the following places:

· Leeston 9–9.30am

· Darfield 10.15–10.45am

· Rolleston 11.30am–12pm

· Lincoln 12.45–1.15pm

If your dog was first registered

after 30 June 2006 and is not a

working dog, the law requires

him or her to be microchipped.

Please note:

· All clinics last for only half an

hour.

· The Rolleston venue is

in Norman Kirk Drive (off

Rolleston Drive).

· Microchipping will not take

place if wet.

If you have any questions

regarding microchipping, please

contract Tracey Wheeler on 347

2800 or 318 8338.

Lake Coleridge Community

Committee

Fri 13 Sept 7.30pm

Lake Coleridge Hall

Leeston Community Committee

Mon 2 Sept 7.30pm

Leeston Library

Lincoln Community Committee

Mon 9 Sept 7pm

Lincoln Event Centre

Rolleston Community Centre

Management Committee

Thu 29 Aug 7pm

Rolleston Community Centre

Southbridge Advisory Committee

Mon 9 Sept 7pm

Southbridge Hall

Tawera Memorial Hall Committee

Wed 4 Sept 7pm

Tawera Memorial Hall

Waihora Park Reserve

Committee

Tue 3 Sept 7.30pm

Waihora Bowling Club

Whitecliffs Township &

Domain Committee

Mon 9 Sept 7.30pm

Glentunnel Hall

Selwyn Events

SUNDAY

1

SEPTEMBER

UNTIL

1

SEPTEMBER

THURSDAY

5

SEPTEMBER

SATURDAY

7

SEPTEMBER

MONDAY

9

SEPTEMBER

Springston Secret Garden

Working Bee

Springston Secret Garden,

387b Ellesmere Junction Rd,

10.30am–12pm

A wonderful opportunity to meet

people and enjoy the relaxed, familyfriendly

community garden. For more

contact Tina on 021 738 092 or at

springstonsecretgarden@gmail.com

The (Quirky) New

Enlightenment

Down by the Liffey Gallery,

Lincoln, selected hours

Wednesday to Sunday

'The (Quirky) New Enlightenment' is

a colourful, fun and quirky exhibition

by Heather Jonson and Billy Barnes.

'When everything is dark and grey, art

can light your way'.

Science in the Antarctic

Room E2, NRE building, Lincoln

University, 12–1pm

Dr Fiona Shanhun, acting chief

scientific advisor Antarctica New

Zealand will be speaking on 'What

are we learning about climate change

and its effect on life on and under the

ice' as part of the SAGE sustainability

Seminar Series. All welcome. For more

info contact sue.jarvis@lincoln.ac.nz.

Daddy Daughter Time

Rolleston Library, 1–3pm

A great time for dads and daughters

to enjoy together and get creative

decorating cupcakes. We have

everything you need, just bring along

your imaginations. $10 per family.

Bookings essential at Eventbrite.co.nz

Farm Recycling Day

Ellesmere

A one-stop-shop to drop off farm waste

including chemical containers, silage

and bale wrap, fertiliser and feedbags,

waste oil and unwanted chemicals for

recycling, or safe disposal. Register

at agrecovery.co.nz to book a time.

Location will be provided to registered

attendees, no unregistered attendees

will be accepted on the day.

ON THE

ROADS

On the roads this week

Repairs are being carried out on Harper Road, Curries Road, Coes Ford and Osborn

Road. Drainage works are being carried out on Malvern Hills Road, Sleemans Road

and Farr Street. Bridge repairs are being carried out at Mt White. Please stop on

request at these sites. Zig Zag Road will be closed for maintenance from 6.30am–

6pm Monday 2 September until Friday 20 September. A detour will be in place.

Footpath construction is taking place in Darfield on North Terrace, McIlraith Street, Kimberley Road,

and Holmes Road. These footpaths will be closed during the construction.

WEDNESDAY

11

SEPTEMBER

Confident Drivers Course

West Melton, 9am–3pm

Are you over 60 years or know

someone who is? Mature drivers

can attend a free confident driving

course run by Age Concern. The

course includes a refresher of the road

rules and new changes. For more

information visit selwyn.govt.nz/events.

Keep New Zealand Beautiful Week

Each year hundreds of organisations, businesses and communities around New Zealand organise a

community clean-up as part of the Keep New Zealand Beautiful Clean-up Week. This year's clean-up

week will run from Monday 9 September to Sunday 15 September.

Last year, around New Zealand over 51,000 volunteers picked up 69,000kgs of litter at over 600 events.

During the clean-up week all official KNZB rubbish and recycling bags can be taken to the Council's

Pines Resource Recovery Park (183 Burnham School Road) free of charge. You can register your

interest at www.knzb.org.nz

THURSDAY

12

SEPTEMBER

Murder Mystery

Darfield Library, 7–9pm

Come along to celebrate Agatha

Christie's birthday by solving a murder

mystery at Darfield library! Use your

best detective skills to solve the crime.

For information on listing a community event visit

www.selwyn.govt.nz/councilcall

Leeston Library & Service Centre

19 Messines Street, Leeston

Ph 347 2871

Lincoln Library & Service Centre

Gerald Street, Lincoln

Ph 347 2876

(03) 347 2800

Darfield call free 318 8338

www.selwyn.govt.nz

SelwynDistrictCouncil
---
18 Wednesday August 28 2019

Latest Christchurch news at www.star.kiwi

SELWYN TIMES

Southbridge Shield returns to Ellesmere

SPORT

REACH: Ellesmere lock

Tom Brand stretches for

the ball.

PHOTOS: KAREN CASEY

Right – Winger James

Wilkins makes a break. ​

• By Jacob Page

THE SOUTHBRIDGE Shield is

on the move again.

A calm, calculated approach

helped Ellesmere regain the

shield with a 41-28 win over

North Canterbury at Loburn on

Saturday.

Team manager Michael Sheat

said in spite of only leading

by a point with 10min to play,

confidence was high on and off

the field.

"We were all pretty calm on

the sidelines and the guys on

the field knew what to do and

executed well under pressure,"

he said.

Ellesmere eventually

wore down a spirited

North Canterbury side to

ensure the shield changed

hands for the third

successive year.

North Canterbury won

the shield in Prebbleton 12

months ago.

Ellesmere had a 17-14 lead

at half-time but conceded a

try moments after the restart.

However, a Sam Cottam try from

a driving maul put the visitors in

front for good.

Ellesmere out-scored North

Canterbury six tries to four,

while Shannon Donald added

Michael

Sheat

PERFORMANCE: Ellesmere celebrate after reclaiming the

Southbridge Shield with a 41-28 win over North Canterbury.

four conversions and a penalty.

A key moment came when

Ellesmere lock Issy Fine was

yellow-carded before half-time.

"I think we just got on with

it and our forwards were still

pushing their scrum back with

seven players," Sheat said.

Ellesmere did not

concede a point during

that period and it set them

up for the second half.

"Obviously we got a

couple of late tries with

passes finally sticking,

which was good.

"I don't think we

finished as many of our

chances as we could have but you

had to give credit to the North

Canterbury defence.

"They never gave up and made

us work hard for it," Sheat said.

He said there was "speculation"

around several players

potentially retiring after the

game, but he said it would be a

case of wait and see if the talk

held up next season.

•Ellesmere colts, page 22

EAGER: Midfielder Tim

Murgatroyd eyes a gap.

Hoon Hay House

Residential Dementia

Now Open for Service!

At Hoon Hay House, we have created

a harmonious environment to meet the

needs of all individuals.

What to expect

Relax in the comfortable open plan lounge/

dining room while reminiscing over the

culture of New Zealand's famous icons.

Sit in the garden, potter in the raised

garden bed planted with season fruits/

vegetables for your enjoyment.

Play bowls or be creative in our large

activities room, make some scones or

cookies in our fully functional Kitchen.

Feel free to be alone in your tranquil

bedroom, which you can personalise

to remind you of home.

This unique home offers

• Abilities focus

• Staffed with experienced qualified carers

• Small private units (10 beds)

• Personal ensuite

• Spacious bedrooms

• Family orientated atmosphere

Contact

Pauline Proctor

Service Manager

Mobile 021 320 860 (anytime)

Phone 03 3350 297

Email Hoonhay@goldenhealthcare.co.nz

Hoon Hay House

16 Anvers Place, Hoon Hay

Christchurch 8025

Look for us on Eldernet
---
SELWYN TIMES Latest Christchurch news at www.star.kiwi

Wednesday August 28 2019 19

Daffodil Day

30 August 2019

Proudly supported by

Thank you for your continued support

M-A

MATSON & ALLAN

REAL ESTATE LIMITED

LINCOLN POST GIFTS &

STATIONERY

9b Gerald St, Lincoln

SCORCh

0800 726 724

www.scorch.co.nz

juICE ELECTRICAL

03 379 6644 / 021 247 7275

juiceelectrical.co.nz

helen@juiceelectrical.co.nz

VETENT LINCOLN

55 James Street, Lincoln

03 325 2808

www.vetent.co.nz

Facebook - VetEnt Lincoln

MATSON & ALLAN

Rolleston 03 347 9949

Leeston 03 324 3704

Darfield 03 318 8204

www.marealestate.co.nz

MEARES WILLIAMS

03 374 2547

www.mearswilliams.co.nz

Rolleston: 78 Rolleston Drive

Christchurch: 225 Papanui Rd

Darfield: 28 South Terrace

TAI TAPU

TYRES

TAI TAPu TYRES

53 Main Rd Tai Tapu

03 329 6767

DIESEL FIX

DIESEL SPECIALISTS

dIESEL FIx

821 Jones Road, Rolleston

027 4368 154

or 03 347 7108

Canterbury

C T H Timber & Hardware

CANTERBuRY TIMBER &

hARdWARE

67 Manion Road, Rolleston

P 03 347 7465

Mon-Fri: 7am-5pm

Saturday: 8am-12pm

LINCOLN MOTEL

0800 001 689

4-6 Maurice St, Lincoln

info@lincolnmotel.co.nz

www.lincolnmotel.co.nz

CuSTOM MAdE GARAGE

dOORS

Chch, Auckland & Wanaka

0800 661 366

info@custommade.co.nz

SELWYN PROPERTY

BROkERS

6 Tennyson Street, Rolleston

rolleston@pb.co.nz

03 929 0306

www.pb.co.nz

VETENT LEESTON

65 Station Street, Leeston

03 324 3575

www.vetent.co.nz

Facebook - VetEnt Leeston

MCMILLAN dRILLING

120 High Street, Southbridge

03 324 2571

www.drilling.co.nz

GENERATION hOMES

Show homes at 19 Holmes

Hanover Lane, Halswell & 2

Reuben Avenue, Rolleston

www.generation.co.nz

ThE CATS PYjAMAS

PRESChOOL

Rolleston 03 347 9561

10 Beaumont Drive

West Melton 03 741 1785

65 Iris Taylor Ave, Preston Downs

Lagoon

Pools

LAGOON POOLS

03 349 2160

0800 92 72 82

www.lagoonpools.co.nz

VIVA LA MOdA

Shop 12, Rolleston Square,

Rolleston.

03 347 1151

www.vivalamoda.co.nz

ROLLESTON COLLEGE

631 Springston Rolleston Rd

admin@rollestoncollege.nz

03 595 2490

www.rollestoncollege.nz

LASER ELECTRICAL

831 Jones Road, Rolleston

www.laserelectrical.co.nz

ROSIEz COLLISION REPAIRS

NOW OPEN IN ROLLESTON: 119 Iport Drive 03 962 1717

City: 71 Byron Street 03 962 1717

South: 10 Gerald Connolly Place 0800 ROSIEZ

INTELLIGRO

261 Manion Road, Weedons

www.igro.co.nz

www.facebook.com/igro.co.nz

WHO DO YOU

WEAR IT FOR?

DAFFODIL DAY - 30 25 AUGUST 2017 2019

daffodilday.org.nz
---
20 Wednesday August 28 2019

Latest Christchurch news at www.star.kiwi

MY PRIDE AND JOY

SELWYN TIMES

Touring on a small bike

Two locals, two small motorcycles and one big

adventure! This is how Simon Dellis and Vicki Taylor

describe their trip along the Trans America Trail,

creating a YouTube series under the name Kiwi Grom

as a living photo album for friends and others to enjoy.

Simon and Vicki have only been riding for three

years. They imported two 125cc Honda Grom small

motorcycles from Australia, modifying them so they

were more comfortable and easier to ride off-road.

Designed for around town use, Vicki says the bikes

are easy to ride so ideal for inexperienced riders.

"Hondas are renowned for their reliability and the

Groms not your typical bike.

They're small, accessible, not

intimidating and a lot of fun as

long as you don't overload them.

You need to be careful and take it

slower, which gives you a chance to

enjoy the scenery," explains Simon.

They have been on a few trips

around the South Island, camping

and exploring.

"There are lots of good offroad

adventure trails, especially

in Otago," adds Simon who used

the website, RemoteMoto.com

for maps and information about

accessibility and grading of tracks.

Their next adventure involved

taking the bikes to the United

States, to follow the Trans America

trail from New York to Port Orford

in Oregon, a trail which has been

a favourite with motorcyclists for

around 30 years. It took Vicki and

Simon 45 days to complete 11,397

kilometres.

"It's was a lot of fun. We have

little intercoms on our helmets so we can talk to each

other while riding. We camp as much as possible

though sometimes look for a comfortable bed and

hot shower at the end of the day," says Vicki.

It took Vicki and Simon 45 days

to complete 11,397 kilometres.

"Sometimes it's whatever is available wherever we

end up," adds Simon.

Simon sourced the Trans America route details

from Sam Corerro in the United

States, who created the trail. Sam

selects and sells GPS and paper

options for suitable tracks, much

of which is off-road linked with

back roads. The actual track

changes every year depending on

which areas are open. There were

times when a road was closed due

to a wash-out or forest fire but

Simon says part of the adventure

is figuring a way round.

Simon and Vicki are now

thinking about their next

overseas adventure and musing

with the idea of touring around

Japan.

"Japan is not well known for

off-road motorcycling so we're

keen to explore the country and

see what experiences we can

create. We're also planning to

ride from the top of the North

Island to the tip of the South

Island, as much off-road as we

can," suggests Simon.

Escort Metal Polishers

Specialists in Metal Polishing & Sandblasting in Christchurch

At Escort Metal Polishers in Christchurch, New Zealand we have over 45 years

experience in polishing, from the engine of your classic car, motorcycle &

marine parts, fittings and fixtures of your home through to commercial and

industrial runs.

We appreciate what it takes to make your car or motorcycle gleam whether

it's just a reshine, polishing up a casting, or preparation for electroplating.

We can do anything from mag wheels to trims, bumpers to manifolds, tappit

covers to exhaust systems, If your parts need electroplated; zinced, nickeled,

chromed or anodised we can even arrange all that for you from our location.

If you've got the metal then we've got the solution! Escort Metal Polishers

provide the best customer service possible and strive to reach the highest

possible level of customer satisfaction.

FREE

TYRE

MONTH

Call in and see us for a quote.

Mon–Fri: 7am–4pm (often later) | Saturday & Sunday: Closed

21 Maldon St, Christchurch, Phone (03) 366 2708

BUY 3 GET

1 FREE *

BUY 1 GET 1

HALF PRICE *

Bridgestone Tyre Centre - Rolleston

847 Jones Road | 03 347 4702

BUY 3 GET

1 FREE *

* Valid for 1-31 August 2019. On selected Bridgestone and Firestone tyres.

Conditions apply. For details visit us in-store or see www.bridgestonetyres.co.nz.

"south island's leading hot rod shop"

Phone:

0800 872 727

0800 usa PaRts

338 Lincoln Road, Christchurch

P. (03) 379 5585 F. (03) 379 5094

usaparts@americanautoparts.co.nz

www.americanautoparts.co.nz

• Engines

• Performance Parts

• Chassis

• Suspension

• Hot Rod Parts & more

need parts

oVernight?

order by 3pm. Visa ready.

Phone 0800 872 727

We also Cater For Jet Boats & other Motorsports

• Two great locations

• Collision repair specialists

• Free loan cars and vans

• Insurance repairs, smash repairs,

rust repairs, fibreglassing

• From motorbikes to horse floats

• No job is too big or small

• Open most Saturday mornings

for customer convenience

Specialists in Collision Repairs

From small dings to major repairs

107 St Asaph St, City Central

www.rojones.co.nz PH 0800 RO JONES
---
SELWYN TIMES Latest Christchurch news at www.star.kiwi

Wednesday August 28 2019 21

MOTORCARE PROFESSIONALS

New structural repair centre in Rolleston

Holland's new structural repair facility.

The new facility is fully equipped.

Damage incurred in a serious accident

can impair a vehicle's structural integrity,

leaving it not roadworthy and unsafe.

Any structural repairs to a vehicle should

be carried out by fully qualified panel

beaters using the right equipment to ensure

structural integrity is restored.

Just opened at Holland Collision Centre,

is a new and spacious 528sqm structural

repair centre. Cameron Holland has not

spared any expense in equipping the new

facility with the right equipment so the

safety and integrity is returned to every

vehicle worked on.

The new structural repair facility is

located across the road from Holland

Collision Centre's existing premises,

allowing the structural and non-structural

repair work to be separated. Smaller two

and three day jobs will still be undertaken

within the main premises on the west side

of Jones Road, while the new purpose built

facility will specialise in structural repairs.

"The team in the new centre are all fully

qualified and experienced panel beaters,

holding the ICAR Welding Qualification,"

advises Cameron.

Holland Collision Centre is officially

recognised by all insurance companies, and

all vehicles repaired come with a lifetime

guarantee.

"You are entitled to choose your own

repairer and will want to select a collision

centre with the right equipment to bring

back the safety and integrity to your

vehicle," advises Cameron.

The new structural repair centre will

ensure a top rate job and quick turnaround,

assisted by the facilities across the road

where there is a state of the art painting

booth. Waterborne non-toxic paints are

used with the paint quickly heater blowdried

for a smooth sharper factory finish.

Along with the new structural repair

centre, there are now 14 cars available

from Holland Collision Centre's loan fleet.

You will now be able to drop your car off

for repairs, assured you will have a vehicle

while yours is being worked on.

Holland Collision Centre looks after fleet

work; trucks; sandblasting and finishing

of farm machinery; horse floats; trailers;

Chris

Haig, Ryan

Parish and

Cameron

Holland.

and other small to large vehicles. They also

do air conditioning re-gassing and plastic

welding.

You will find Selwyn's largest panel and

paint shop, Holland Collision Centre at

826 Jones Road in Rolleston. To contact

them call 03 347 8703 and check their

Facebook page.

3 TRUCKS

3 CARS

3 LUBES

3 SERVICING

3 FLEET WORK

3 BOATS

3 DIESEL INJECTOR

3 & PUMP SERVICING

3 ENGINE TUNING

Mon-Fri 7am-5pm

Sat 8am-12pm (WOFs only)

3 BRAKES

3 MAXXIS TYRES

3 WHEEL ALIGNMENTS

3 BATTERIES

3 WOFs

3 CAMBELTS

AND MUCH

MORE!

839 Jones Road, Rolleston P.O. Box 16 Rolleston

Phone Simon on 347 7110 or Mobile 027 272 9213

wE Fix

CaRs,

call us and

we can

fix yours

• Panelbeating

• All insurance

claims

• Sandblasting

• Spray (bake)

painting

• Truck

refinishing

• Windscreen

replacements

• Chassis

straightening

• Motorhome

refinishing

• Loan cars

Holland Collision Centre, Rolleston

826 Jones Road, Rolleston, Christchurch

Phone 03 347 8703 Fax 03 347 9576

Mobile 027 228 2854

Email cameron@hollandcollision.co.nz

Jones Road auto

ALL YOUR

MOTORING NEEDS

› While You Wait WOF's

› Courtesy Cars

› Diagnostics

› Repairs › Servicing

› Batteries › Tyres

WE HAvE MOvED 131 IPORT Drive

(Cnr Hoskyns & IPORT drive)

Phone 347 4020 | www.jonesroadauto.co.nz
---
22 Wednesday August 28 2019

Latest Christchurch news at www.star.kiwi

RETURN: The Ellesmere Colts regained the Munro Shield

with a 15-5 win over North Canterbury.

Dominant Ellesmere take

back the Munro Shield

• Jacob Page

THE ELLESMERE colts have

regained the Munro Shield

after a 15-5 win over North

Canterbury at Loburn on

Saturday.

Team manager Dave Beatty

said they were keen to throw

the ball around and create

opportunities while playing on

a dry track for the first time in

the four-week campaign.

"I'm not sure what the stats

were, but we must have had

70 per cent of the ball and we

certainly wanted to make the

most of the conditions."

Beatty said the platform was

laid with their dominance at

set-piece time.

"We certainly had the better

of the scrums and lineouts. It's

GARDENING

ALTHOUGH HINTS of spring

are occurring regularly, late frosts

can still occur and cold winds are

often a feature of September.

Even though it may feel

warmer, soil temperatures rise at

a slower rate than air temperatures.

It's time for final preparation of

your vege garden before planting

starts in earnest in October. If

the soil is still wet, delay digging

as there is no advantage working

with very wet soil.

Plant out veges that can withstand

late cold conditions while

still maturing in the warmer

a cliché but it helped us play the

way we wanted to.

"The boys wanted to show

what we could do and, as the

confidence grew, they threw

50/50 passes and that certainly

contributed to us feeling like we

left a few points out there."

Beatty praised the looseforwards,

saying both the

starters and reserves who

came on late in the game made

strong contributions. He also

gave credit to second-five Sam

Schmack for his defensive effort.

•Lincoln Combined also

won the UC Championship

bowl final 29-27 against Shirley

Boys' High School. The result

at Lincoln High meant the

team finished ninth in the

competition.

summer month's including; beetroot,

cabbage, cauliflower, carrots,

lettuces, onions, peas radish,

silver-beet and spinach.

Winter flowing annuals such

as primulas are now coming to

the end of their flowering. You

can plant out some of the more

robust summer flowering annuals

in September like alyssum,

calendula, cornflower, nemesia,

snapdragons, strawflowers and

sweetpeas.

In many areas, roses have burst

into new growth at the first indication

of warmer weather. Early

season is the best time for roses,

Rolleston gymnasts land titles

• By Jacob Page

SEVERAL gymnasts from the

Affinity Academy in Rolleston

will represent Canterbury after

taking out regional titles.

Step five team member

Lily McLeod, as well as step

five individuals Paige Martin

(right) and Emma Ford, will

represent Canterbury in the

artistic gymnastics section at

the national championships in

Auckland in October.

Maddie Phipps and Lauren

Voice-Powell will be part of the

step eight Canterbury team at

the national champs.

Cade McKnight (level four

team) and Finlay Jones (level

seven) will be part of the men's

artistic gymnastics Canterbury

team.

The women will compete in

the vault, bar, beam and floor,

while the men will compete in

the floor, vault, pommel horse,

high bar, parallel bars and rings.

SPORT

Phipps finished third overall

in step eight at the Canterbury

• By Jacob Page

RYLEY GRIFFITHS' world

archery youth championships bid

came to an end in the first round

last week.

The 13-year-old from Rolleston

was the youngest New Zealander

to ever compete at the event

which was held in Spain. In the

under-17 cadet grade, Griffiths

shot 601 out of 720 to be ranked

SELWYN TIMES

senior championships this

month, while McLeod was

second in step five and Emma

Ford was third in the same

category.

Mackenzie Whittington

and Chloe Garrod both

won titles at the Canterbury

regional championships at

the Christchurch School of

Gymnastics. Whittington

took out the elite category,

while Garrod won the iron

category.

Talia Keen was second and

Holly Manders was sixth overall

in the elite category. Libby

Thomas was third overall in the

gold category.

Ashley Bacon finished sixth

overall in the silver category and

Lola Rendle was sixth in the

bronze category.

Xander Delahunty won the

men's artistic gymnastics bronze

category, while Riley Flewellen

finished second.

Teen bows out of world champs

bushes are usually clean of fungal

diseases and flowers will soon be

abundant. Mulch now with fresh

compost then apply rose and

flower fertiliser in early October.

Bulbs are blooming and adding

fragrance and colour to the

garden. Newer plantings can be

left in the ground to naturalise in

permanent positions so don't lift

them.

Winter flowering trees and

shrubs will be nearing the end of

their flowering period so it's time

for remedial pruning before the

new seasons growth begins.

Prune to establish a natural

form and shape of your trees and

shrubs. With smaller gardens,

you may wish to prune to maintain

trees at a smaller size.

Apply a copper fungicide as

a preventer to summer fungal

diseases on berry fruit including

raspberries, boysenberries, blackcurrants

and gooseberries,

As the soil temperatures rise,

this is an ideal time to sow a new

lawn, or renovate an existing

lawn. Check the drainage and improve

any permanently wet areas

before sowing. Leave fertilising

your lawn until late September/

early October.

92nd. His run in the main draw

ended with a 1-7 loss to 19thranked

Salunkhe Parth, of India.

Ryley's coach Petra Baker, from

the Archery Coaching Institute of

NZ, which is based out of Aimtru

Archery in Mandeville, joined

him on the line in Madrid as the

New Zealand team coach.

Ryley's training will start again

immediately at 70m once he

returns home.

Spring is in the air but beware of late frosts

COLOUR: Bulbs should be

blooming in late August/early

September.

The Right Fence at the Right Price

Roundwood

Farm Posts

Deer Fencing

Post and Rail Fencing

Yarding Timber

Oregon Rails

Oregon Gates

Sheep & Deer

Netting

Gallagher

Strainrite Fencing

Systems

oN sAle Now!

Now only

$35.80

Plus $5 P&H per copy

MAINSCAPE

Garden Supplies

Making your great outdoors greater

20-40mm

CRAWFORD

HILL SCHIST

WAS $99

nOW $79

peR SCOOp

While stocks last

YOUR LOCAL TIMBE R M E RCHANT

O PEN

Mon-Fri 7.00am - 5.00pm

Saturday 8.00am - 12.00pm

C O N TACT: JASON PESTER

P 03 347 7465 F 03 347 7032 jason@cthl.co.nz 167 MANION ROAD, WEEDONS 8441, CHRISTCHURCH

Visit us via our

New

Entrance on

167 Manion

Road

167

AvAilAble from stAr mediA:

Level One, 359 Lincoln Road

Addington, Christchurch

Phone 379 7100

Check out the rest of our landscape supplies online

www.mainscapegardensupplies.co.nz

Call us now

021 241 7908

1543 Springs Rd Lincoln
---
SELWYN TIMES Latest Christchurch news at www.star.kiwi

Wednesday August 28 2019 23

Email devon.bolger@starmedia.kiwi by

5pm each Wednesday

Selwyn SeniorNet

Lincoln on Wednesday, 10amnoon,

Leeston on Thursday,

10am-noon and Rolleston on

Fiday 10am-noon

SeniorNet brings older adults

and technology together in a

friendly, fun and stress-free way.

It's for people over the age of 50

who'd like to learn more about

technology and what it can do

for them. To join in Rolleston or

Lincoln phone Tui Heighway 027

765 5194 and for Leeston phone

Terry Pierson 324 2300.

Lincoln Event Centre, Leeston

Library and Rolleston Men's Shed

Tourettes Association NZ

fundraiser

Rolleston on Saturday, 7-9pm

Ninety minutes of Zumba fun

to raise funds and awareness for

the children of Tourettes Association

of New Zealand to enable

them to attend Camp Twitch

2019. There will be raffle tickets

available for sale as well. Tickets

are $10 per person, and raffle

tickets are $2 each. Camp fees

per child and their chaperones

are $532 this year, so the goal is

to raise $1000.

West Rolleston Primary School

Babytimes

Lincoln on Wednesday, 9.30-

10am, and Rolleston on Thursday,

9.30-10am

Share rhymes, stories and

songs to support your baby's

early language development,

communication and social skills.

Take a blanket. Aimed at those

aged up to one, but older siblings

are welcome. Free, weekly sessions,

term-time only.

Lincoln and Rolleston libraries

Rhymetimes

Rolleston on Wednesday, 9.30-

10am, Lincoln on Tuesday and

Friday, 9.30-10am,Leeston on

Tuesday, 10-10.30am, Darfield

on Tuesday, 10.30-11am, West

Melton on Tuesday, 10-10.30am

Stories, songs, rhymes

and bubbles make up this

Rhymetimes session, which is

designed to assist with early

language development. Aimed

at children aged one to three.

Free, weekly sessions, term-time

only.

Rolleston, Lincoln, Leeston

and Darfield libraries, and West

Melton Community and Recreation

Centre

Patternmaking Workshop

Lincoln on Saturday, 11.30am-

3.30pm

Learn how to design and

make your very own garment.

This workshop will take you

through the process of copying

a basic design. Cost per workshop:

$30 library members, $40

Head along for an evening under the stars as you and your family discover the wonders of

the Southern night sky with skilled amateur astronomers at the West Melton observatory. An

evening that promises to be truly out of this world. Bookings essential. Friday at 7.30pm. 218 Bells

Rd West Melton. ​

non-library members. Tea and

coffee provided. Workshops are

suitable for adults only. Bookings

essential.

Lincoln Library

JP Clinics

Rolleston on Monday, noon-

1pm, Lincoln on Tuesday, 10am-

1pm, Darfield on Wednesday,

11.30am-12.30pm

A justice of the peace will be

available to members of the community

to witness signatures and

documents, certify document

copies, hear oaths, declarations,

affidavits or affirmations, as well

as sign citizenship, sponsorship

or rates rebates applications.

Darfield, Lincoln and Rolleston

libraries

Teen Artspace

Darfield on Tuesday, 4.30-6pm

and Leeston on Wednesday, 3.30-

5pm

Learn various sewing

projects, upcycling garments,

printmaking, knitting and much

more. Strictly for 13 years and

above.

Darfield and Leeston libraries

Markets

Darfield Market: Saturday,

9am-noon, opposite Challenge

Darfield, South Tce.

Market@254: Saturday,

9.30am-1pm, rain or shine, 254

Lawford Rd, West Melton.

Lincoln Farmers and Craft

Market: Saturday, 10am-1pm,

Gerald St.

Running groups

Rolleston Road Runners:

Thursday registration from

6.15pm for a 6.30pm start.

3km, 6km and 9km options in

Foster Park, next to the gravel

car park.

Lincoln Road Runners: Tuesday

registration from 5.40pm

for a 6pm start. 3km or 6km

options. Starts outside Coffee

Culture on Gerald St.

Malvern Road Runners: Tuesday

registration from 5.45pm

for a 6pm start. 1.8km, 3km and

6km options. Meet at McHughs

Plantation.

Ellesmere Road Runners:

Wednesday registration from

5.45pm, starts at 6pm. 3km or

6km walk or run. Starts from

Leeston Physiotherapy.

Foster Park Run: Saturday

from 7.50am. Free weekly timed

5km run, jog or walk. Register at

www.parkrun.co.nz/foster and

don't forget your barcode. Foster

Park, Rolleston.

Klezmer music with The Kugels -

wild, spirited and haunting

Malvern residents have a unique

opportunity to enjoy three top

musicians and a celebrated composer

have joined together in their love of

klezmer, the feisty 19th century folk

music of the Jewish people. The Kugels

will perform at Trinity Church Darfield

on Thursday, 29 August.

Robin Perks, Debbie Rawson and

Jacqueline Nordon, former members of

the New Zealand Symphony Orchestra,

and composer/New Zealand Arts

Laureate Ross Harris were a great hit

when they toured with AOTNZ in 2016.

Now they're back again with music that

makes you want to dance.

The programme features the original

Klezmer compositions of accordionist/

NZ Arts Laureate Ross Harris,

interspersed with music from the

traditional repertory – originally played

at weddings and other celebrations in

Eastern and Central Europe.

Featuring the highly expressive sound

of violin, clarinet, accordion and bass,

laced with the multi-talented reeds of

Debbie Rawson on soprano sax, clarinet,

bass clarinet and the Maui Xaphoon, The

Kugels bring these exciting and evocative

songs to the stage, together with an

informative and engaging commentary.

The Kugels will share their passion and

skill for this music at Trinity Church

Darfield on Thursday, 29 August at

7.00pm. Tickets — $20/adult and $10/

student — are available at the Selwyn

Gallery or at the door.
---
24 Wednesday August 28 2019

Latest Christchurch news at www.star.kiwi

SELWYN TIMES

PETS & PAWS

Mobile dog grooming

a popular choice

Jim's Dog Wash is a professional company

committed to offering New Zealanders

a mobile dog grooming service tailored

to satisfy all your dog's needs. Instantly

recognisable by their iconic red doggie

salons, Jim's Dog Wash stand behind the

fidelity of their brand. The company's

operators are dedicated groomers with a

deep love and respect for dogs and have a

passion for the industry.

There has been exciting growth of

the business due to popularity of the

service they offer with new franchisees in

Christchurch, Rangiora, Kaiapoi and two

in Selwyn in the last 18 months.

"Selwyn is such a community-oriented

district; the support of dog owners has been

amazing," says Regional Franchisor Jill

Smolenski. "It is early days! We currently

have more franchises for sale. People will

do amazingly well by buying into the

business now."

Being a franchisee opens a world of

opportunities with an extensive network

of support at your fingertips, sharing

knowledge both as groomers and business

owners. Jim's Group provide all the

equipment and uniforms. They offer

franchisees training in both business

and dog grooming. Franchisees are

carefully selected and trained by

some of New Zealand's best

dog grooming instructors. As

soon as they have done their

training they are ready to hit

the road.

Jim's operators offer

customers the convenience

of travelling to their home

while still offering the same

high standard of grooming

found in a grooming clinic. "The fact that

we come to you is a key to the success of

our business as it takes the pressure off

taking and picking up dogs from groomers.

The dogs are more relaxed in their own

environment," says Jill. "One of the things I

love the most is getting to know dog owners

on a more personal level. It's like turning

up at your friend's home to groom their

dog." Owners don't even have to be there.

You can get home after a long day to find a

perfectly groomed dog waiting for you.

Jim's Dog Wash operator's core values

are conducting themselves with integrity,

providing an exceptional service, empathic

care and lots of cuddles; leaving your best

friend looking their gorgeous doggie best.

Check out https://www.jimsdogwash.

co.nz or call Jime's Dog Wash on 0800

454-654 to book an appointment or for

more details on becoming a franchisee.

Jim's Dog Wash Regional

Franchisor Jill Smolenski with

one of her regular clients, Skye.

We are

• Mobile

• Prompt

We provide

• Caring

• Reliable

• Full grooming and clipping

• Wash/dry

• Nail trimming

Your local professional

groomers, Jill & Sophie are

available now to book your

dog/s in for a pampering at

your own home.

Call now to seCure your appointment!

0800 454 654

www.jimsdogwash.co.nz

DI'S

GROOMING

FULL GROOMS

BATH & TIDY

NAIL

CLIPPING

phone:

0274311395

Member of The NZ Dog

Groomers Association

Fresh or Frozen Cat &

Dog FooD & Mixes

K9

BY APPOINTMENT ONLY

Fresh Quality PetFood

• Beef Mince/steak • Chicken Mince • horse Mince/steak

• Veal, hoki, salmon, tripe • steak & Kidney

Also… Beef Offal, Fresh Bones, De-Hydrated products.

i kg Bagged Meats, 5kg Bags, 10kg Cartons, 500gram pottles

Daycare, grooming anD

accommoDation for all

Domestic pets

Kirsten

554 Jones Rd, Templeton. Rolleston

Everyday Contact: 03 347 8835

Emergency Contact: 027 942 7278

Email: bunnylodge@xtra.co.nz

www.bunnylodge.co.nz

Manufacturers of

Fine Natural Pet Food

Variety of 10kg

Mixes

for cats

and dogs

$45-$55

Phone (03) 347 0626

Shop 4, 855 Jones Road, Rolleston (opposite Redpaths)

Hours: Mon-Tue 9am-5pm, Wed-Fri 9am-5.30pm, Sat 10am-1pm

*All products are subject to availability and/or seasonal conditions.

nick's Pet Foods

15 Michelle rd, Wigram

Ph 348 9439

text orders 027 210 1621

open hours:

Mon-Fri 8.30am to 5.00pm

sat 9.00am to 1.00pm

(Except public holidays)
---
SELWYN TIMES Latest Christchurch news at www.star.kiwi

Wednesday August 28 2019 25

Classifieds Contact us today Phone our local team 03 379 1100

Caravans, Motorhomes

& Traliers

CARAVAN Wanted to

buy. Up to $5000 cash

today 027 488-5284.

Church Notices

Prayers with

neighbours

An harmonious, spiritual evening

aiming to provide an elevated

conversation in our gathering and

helping for better understanding

of our neighbourhood and

community, celebrating fellowship

tolerance and unity in diversity

Inspired by Soul food / Bahai Faith

Open to all faiths and

walks of life.

Starting on 07/09/2019 every

week at Rolleston Community

centre from 7 to 9pm.

We hope to share this

space with you all.

Footwear

Down at your heels? We

can't change your luck but

we can guarantee you'll be

well heeled .For repairs to

all types of shoes, boots

and bags drop them into

Cobbler Glenn's Agent:,

Magnitude Sports 55

Faringdon Boulevard,

Rolleston, Its cheaper to

repair than replace

Gardening & Supplies

Heating

Log Fires

Pellet Fires

Heat Pumps

Sales

Service

Installations

Free Quotes

03 343 1651

472 Blenheim Rd

www.heatstore.co.nz

COMPOST and

FERTILISERS SALE

NEXT SATURDAY 9am to 12 noon

817 Springs Rd (approx 1km south of Prebbleton)

MUSHROOM

COMPOST $25

per half cubic metre, loaded into your trailer

also by the bag, plus Fertilisers

at Town Centres Rolleston & Lincoln

Or phone 03 421 2026 or 03 03 366 7264

for free delivery in Rolleston & Lincoln

Rotary Club of Lincoln

Supporting Local Communities

Select Services

Full Site and

Lawn Preparation

Landscaping

Roll Out Lawn

Irrigation

Free QuoteS

Contact Scott

0800 4 GRASS or

03 347 5555

sprayongrass.co.nz

SHELTERBELT TRIMMING

Boundary

Trimming

Call Tony Dempsey

Phone 03 325 3256

Mobile 0274 323 943

Personals

MALE.

33 yrs. Seels female for

friendship/relationship.

Txt 022 312 3327

MALE.

33 yrs. Seels female for

friendship/relationship.

Txt 022 312 3327

Select Services

Selwyn

Carpet Binding

Have your carpet off

cuts bound by us

2 Villa Mews,

Rolleston

Phone or text

021 254 4465

Mon-Thur 9-2.30

DRIVEWAYS

HARRIS

BULLDOZING LIMITED

Select Services

Need a hand?

✤ Lawns & Edges

✤ Landscaping

✤ Gardening

✤ Hedge Trimming

✤ Handyman Jobs

✤ Casual or One Off

Phone Mike Lineton

022 341 8848

Your local

Selwyn District

GARDENER/

HANDYMAN

Select Services

RENT ME!

Ideal as an extra

bedroom or office.

no bond required

• Driveways

• Car Parks

• Lifestyle Blocks

• Site Clearing

& General

Earthmoving

Mark 021 345 571

or Paul 021 705 996

Email harrisbull@xtra.co.nz

www.harrisbulldozing.co.nz

All Work Guaranteed

Please phone for a free quote

To Let

Fully insulated and double glazed for warmth.

ADD SOME

COLOUR

Three convenient sizes from $70 a week:

Standard 3.6m x 2.4m

Large 4.2m x 2.4m | Xtra-large 4.8m x 2.4m

TO YOUR ADVERT!

Trades & Services

BUTCHER

SERVICE

Watkins Home Kill

Processing Beef, Pigs,

Sheep, Deer & Fish.

Smoking Bacon, Ham

and small goods.

Mobile slaughter service.

124 Burdons Road

Burnham

Phone Tim 347 6693

Visit our website

www.justcabins.co.nz

for display cabin locations

www.justcabins.co.nz

Trades & Services

Real Estate

ROLLESTON

37c Stonebrook Drive

Sunny, Private and Peaceful

Open Homes: Wed 1.00pm-2.00pm

and Sat 1.30pm-2.30pm

• Sunny warm north facing home with indoor/

outdoor flow via four ranchsliders onto patios

• 3 bedrooms, study/nursery, 2 bathrooms

• Perfect for summer BBQs and entertaining

• Modern spacious kitchen with scullery

• Secure lockable section

• Drive through garage with space for boat, bikes,

trailer etc

• Generous sized section perfect for the family

• Convenient location to all local amenities

Enquiries over $579,000

Contact Kristy 021 454 944

Trade Me Listing GJW919 | Private Sale

Trades & Services

No job to big or small.

Supply carpet, underlay and garage carpet.

Experienced in installing second hand carpet.

Carpet samples.

Free measure and quote!

Call David 0272319931

www.davidfarmercarpetlayer.co.nz

Trades & Services

Lawn mowing

Hedge trimming

Gardening

Weed eating

Spraying

and much more

Call Todd

0212059543

toddmc.greenacres@gmail.com

EST.

1979

ARTHUR'S

Roof & Property

Moss Kill & Proof

Silicone Sealing

Roof Repairs

40% off

03-347-2635

arthursroofandproperty.co.nz

DiscounteD

Flooring

carpet + Vinyl

Mobile service

Phone

Ben Wilson

Flooring

For a Free

measure & quote

027 343 3260

yourfloors.nz@gmail.com

Trades & Services

UDI PAINTING &

DECORATING

For all painting and

decorating services.

Fully Qualified

• Interior &

Exterior Painting

• Wallpapering

• Plastering

• Roof Painting

All work guaranteed

FREE QUOTES

Contact Udi Aale

Ph. 021 074 2075

ROOF

PAINTING

Rope & harness

a speciality,

no scaffolding

required,

30 years of

breathtaking

experience.

FREE QUOTES

Exterior staining,

exterior painting,

moss and mould

treatment and

waterblasting

Phone Kevin

027 561 4629

Bellamy's

Furniture

Furniture made to

order and restoration

by tradesman with

35yrs experience.

PH Stephen

021 073 2624

Trades & Services

• Irrigation • Drainage • Driveways

• Auger Hole Drilling

• Land Clearing & Development

• Culvert Installation • Construction Site Works

• Tree & Hedge Removal • Concrete Breaker

Phone Mike: 027 272 8058 OR 03 324 4323 A/H

g.m.contracting@xtra.co.nz

www.gmcontracting.co.nz

•Re Roofing

•Roof Repairs

•Spouting

Approved Age Concern provider

Over 30 years experience

Licensed Building Practitioner

N A BARRELL

ROOFING LTD

Ph: 349 9778 or 0275 389 415

Email: nabroofing@xtra.co.nz

TAI TAPU TYRES

53 Main Rd Tai Tapu

Ph. 03 329 6767

Will better any

other quoted price

Stockists of Kumho, Goodride and

Petlas Tyres, for all cars, 4WD, bikes,

tractors and trucks.

DECORATORS

Driveways

SWAINS

KIWI KERB

(Since 2005)

Over 22 Years Experience

Quality

Workmanship

• Driveways

• Kerb &

Channel

• Garden Edging

New Paint • Repaints

Wallpapering • Fences

Repairs • Feature Walls

Floor & Roof Painting

Spray Painting

Light Commercial

Restoring Timber

Selwyn based but service the whole of Canterbury

www.andertondecorators.co.nz

www.facebook.com/andertondecorators

027 724 6846 027 PAINTIN

Freephone: 0800 081 400

swainskiwikerb@gmail.com
---
26

Latest Christchurch news at www.star.kiwi

Wednesday August 28 2019

SELWYN TIMES

Classifieds Contact us today Phone our local team 03 379 1100

Trades & Services

Excavations

• Driveways

• Car Parks

• Site Cleaning

• Demolition

• Farm Tracks

• Drain Cleaning

• Stump & Hedge

Removal

• Ashpalt Concrete

Wide range

oF TruckS

• Tennis Courts &

Swimming Pools

• Chip Seal Driveways

• Diggers – 2 Ton

up to 20 Ton

• Excavators

• Bobcat & Drilling

• For Posthole &

Fence hole

For a Free Quote

on your next project

Phone Steve on 021 338 247

or 325 7922

GARAGE DOORS

The Genuine

Custom Made Garage

Door Professionals

0800 661 366

info@custommade.co.nz

Auckland, Christchurch, Wanaka

www.custommade.co.nz

PLUMBER

New housing

Renovations

General maintenance

Hot water cylinders

Gas hot water conversions

Competitive rates

Free quotes

Free

QuoTe

Phone: 021 403 470

Email: scott@scottsplumbing.nz

Non-Service Cremation $1,745

Commital service with cremation $3,950

Chapel service with cremation $6,500

Family burial service from $3,400

Just Funerals, a family owned and

operated company with qualified,

registered and experienced staff.

Phone 0800 804 663 - 24 Hour Availability

Email: info@justfunerals.co.nz

christchurch.justfunerals.co.nz

BUILDING REPAIRS

GIB STOPPING | FENCING

YARD CLEARING / CLEAN UP

SMALL DIGGER WORK

DRIVEWAYS & CONCRETE REPAIRS

RC MAINTENANCE

no job too small

Trades & Services

Trades & Services

LTD

ROSS CHESTNUT

ROSS Owner CHESTNUT

/ Operator

Owner / Operator

021 969 654

021 969 654

ross@rcmaintenance.co.nz

ross@rcmaintenance.co.nz

PO Box 92010

PO Box 92010

Farringdon, Rolleston

Rolleston 7650

BUILDING REPAIRS | GIBB STOPPING | YARD CLEARING / CLEAN UP

SMALL DIGGER WORK | FENCING | DRIVEWAYS & CONCRETE REPAIRS

ACE HIGH

PLUMBING

e

l

A

All Plumbing

p

Gasfitting

Drainlaying

Blocked Drains

Log Fires,

Wetbacks

Gas Hotwater

Phone

021 454 864

BUILDER QUALIFIED

Decks, T & G Flooring,

Villa Restoring, New

Homes, Weatherboards.

Free Quotes. Bennet &

Sons Ltd Sam 027 496-

9362 or Tony 027 224-

0374

BUILDER

Local builder with 35

years exp in all types of

building - from concrete

work to finishing. Also

some gib stopping and

painting. Selwyn based.

High quality work with

careful attention to detail.

Happy to quote. Phone/

Txt Bruce 027 274

2792. Licensed Building

Practitioner (LBP).

CARPENTER

HANDYMAN

Small Job Specialists,

Carpentry, Repairs,

Decking & Maintenance,

40 years experience, no

job too small, Ph Warren

03 322-1103 or 027 697-

8541

CARPET LAYING

Exp. Repairs, uplifting,

relaying, restretching.

Phone John on 0800

003181, 027 240 7416

jflattery@xtra.co.nz

CARRS CHIMNEY

CLEANING

18 yrs exp. $60 a chimney.

Ph Rodney on 03 324 2999

and leave a message

h

T

u

t

o

r

P rim ary Secondary Tertiary

i

n

g

Tuition

Trades & Services

CONCRETE CUTTING

Affordable Concrete

Cutting with Quality, and

removal work. Free quote.

No job to small. Phone 027

442-2219, Fax 359-6052

a/h 359- 4605

FENCING

Quality timber fencing -

gates & repairs, ph Ryan

027 951 8892

Bellamy's

Furniture

Furniture made to

order and restoration

by tradesman with

35yrs experience.

PH Stephen

021 073 2624

LANDSCAPING

Paving, Lawns, Irrigation,

Decking, Fencing.

Kanga & small digger

services. Check out Squire

Landscaping on facebook.

FREE QUOTES. Ph

Arthur 347-8796, 027

220-7014 Edwin 027 220-

7154

MASONRY

DAMAGED

MASONRY?? Rock and

Blocks Work Ltd for all

your brick, block and tile

laying needs. Friendly

service Licensed Building

Practitioner phone Devon

on 021 375-888 or 03 329-

5511

RJB PLUMBING

Renovations, New Houses,

Hot Water Cylinders,

Kitchens Bathroom

Upgrades, Laundries,

General Maintenance ,

Water Filters. Phone Mark

0278690026

SHEEP SHEARING

MOBILE

Fast friendly professional

service. 25 yrs exp.

Shearing, drenching, hoof

trimming etc. Call Shaun

021 204 1274

STUMP GRINDING

Best price guarantee Tony

0275 588 895

TILING

Flooring - Splashbacks

-Wall incl tile removal, reg

master tiler, ph Dave 027

334 4125

Aleph

Tutoring

Local tutoring service

based in Prebbleton

Individualised, Personalised Program

Qualified, Experienced Tutor

• Primary School • High School,

• University • Adults

SPECIAL OFFER

Pay for 9 sessions, get 1 FREE

$40 PER HOUR Ph: 03 321 7263

Email: jennie@alephtutoring.co.nz

www.alephtutoring.co.nz

Trades & Services

WINDOW CLEANING

Brown & White Ltd.

Family owned since 2001.

Ph Paul 027 229 3534

Wanted To Buy

TOOLS Garden,

garage, woodworking,

mechanical, engineering,

sawbenches, lathes, cash

buyer, ph 355-2045

No job to big or small.

Supply carpet, underlay and garage carpet.

Experienced in installing second hand carpet.

Carpet samples.

Free measure and quote!

Call David 0272319931

www.davidfarmercarpetlayer.co.nz

Situations Vacant

DRIVETECH LTD

"TRAINING TOMORROWS DRIVERS TODAY"

HEAVY TRAFFIC CLASSES 2, 3, 4 & 5

FROM FULL CAR (Class 1)

TO FULL TRUCK (Class 2) in 2 days

(Road code & pre-assessment driving training provided)

FORKLIFT ENDORSEMENT (F & OSH)

CAR DRIVING LESSONS

Train with a knowledgable, experienced assessor that will work with you

through your theory and practical steps.

Driving Related Health & Safety Training

Passenger, Logbook & Load Security Training

OTHER COURSES/LICENCES & ENDORSEMENTS AVAILABLE ARE:

Vehicle Recovery, Wheels, Tracks, Rollers & Dangerous Goods

Courses in Christchurch, Invercargill,

Cromwell & Mosgiel daily.

Other areas by arrangement

INTEREST FREE TIME PAYMENTS

(Terms & Conditions apply)

FREEPHONE 0508 2 37483

or 03 348 8481, 027 510 0684

info@drivetech.co.nz / www.drivetech.co.nz

Vehicles Wanted

Situations Vacant

TECHNOLOGY TECHNICIAN

7 HOURS PER WEEK

Duties commencing as soon

as possible by negotiation

Applications close: Friday, 13 Sept 2019

Experience working with and maintaining

machinery essential

For job description or more information

please contact: Principal's Assistant -

email thiand@ellesmere.school.nz

Public Notices

MILITARY EXERCISE

West Melton Rifle Range

30 Aug-1 Sep 2019

The general public is to be advised that a NZ Army

Exercise will be conducted in the West Melton Rifle

Range area over the period 30 August to 1 September

2019.

The exercise will involve up to 70 personnel from 2/4

RNZIR, Burnham Military Camp.

Training will involve soldiers firing on the West Melton

ranges, living and functioning in the field carrying

weapons in and around the West Melton Rifle Range

Area from 4pm on 30 August to 3pm on 1 September.

Live rounds and pyrotechnics will be used. The

exercise will also involve the movement of troops and

vehicles by day along Old West Coast Road.

For more information please call

SSgt Togia Christchurch Cadre

021 241 1150

CAR REMOVALS

$$CASH PAID$$

CARS, VANS, UTES

& 4X4 WANTED

NZ OWNED

AND

OPERATED

FOR

24 YEARS

We use world class vehicle

depollution systems

0800 8200 600

www.pickapart.co.nz
---
SELWYN TIMES Latest Christchurch news at www.star.kiwi

Wednesday August 28 2019 27

Classifieds Contact us today Phone our local team 03 379 1100

Sporting Notices

SpringSton

tenniS

Club

opening Day

Saturday 7th

September

11am to 4pm

Continuous BBQ

ALL WELCOME

Enquiries:

Tania Howson

347 6083

Alison Langdon

347 6111

Public Notices

Nominations have now closed for the 2019 triennial local authority elections. Listed below are details of the

confirmed candidates for the Environment Canterbury and Canterbury District Health Board elections.

Where elections are required they will be conducted by postal voting. Voting will open on Friday 20 September

2019 and will close at 12 noon on Saturday 12 October 2019.

Environment Canterbury

(First Past the Post Electoral System)

Christchurch Central/Ōhoko Constituency (2 required)

CHOW

Alan

HARRIS Evan (Independent

Citizens)

MARSHALL Nicole (Labour - The

People's Choice)

MCMAHON Paul (Labour - The

People's Choice)

PHAM Lan (The Common Good -

Independent)

PRICE Felicity (Independent

Citizens)

WILKE Axel (The Common Good

- Independent)

Christchurch North East/Ōrei Constituency (2 required)

APANUI Tane (Rail and Water)

CRANWELL Iaean (The People's

Choice)

HUGHEY Jenny (The People's Choice

- Labour)

KNIGHT

Roy

Christchurch South/Ōwhanga Constituency (2 required)

CLEARWATER Phil (The People's Choice

- Labour)

DANN

James Macbeth (The People's

Choice - Labour)

KEOWN Hamish (Independent)

PLATT Lincoln (Independent

Citizens)

SOUTHWORTH Vicky (Independent for

Positive Change)

TINDALL Rik (CommunityVoice

.NZ independent)

Anthony Morton

Electoral Officer – Environment Canterbury

C/- PO Box 3138, Christchurch 8140

ecan@electionz.com

0800 666 048 www.ecan.govt.nz

Canterbury District Health Board

(Single Transferable Voting Electoral System)

Members – Elected at Large (7 required)

ANDERSON Blair (Another Mildgreen

Initiative)

BALLANTYNE Peter (Independent)

BOOTH Geoff (Independent)

BUCK Sally (Independent)

CHU Catherine (Independent Citizens)

CRAWFORD Gray

CRIGHTON Anna (Independent)

DAVIDS Alexandra (Results Focused)

DICKERSON Andrew (Independent)

EDIE John (Independent)

GOUGH James (Independent Citizens)

HANSEN Tubby (Electronic

Schizophrenia)

Anthony Morton

Electoral Officer – Canterbury DHB

C/- PO Box 3138, Christchurch 8140

cdhb@electionz.com

0800 666 048 www.cdhb.health.nz

Public Notice

FURTHER NOTICE

OF ELECTION

Christchurch West/Ōpuna Constituency (2 required)

CAMPBELL Aaron (Water:Time's Up)

CULLINANE Rod (Independent

Citizens)

HANDS Megan (Independent)

HORN Chrys (The People's

Choice)

KINGI-PATTERSON Drucilla Denise

PAULING Craig (The People's

Choice)

Mid-Canterbury/Ōpakihi Constituency (2 required)

LIM Allen (Independent)

MACKENZIE Ian

SUNCKELL John

WALTERS Sarah (Striving for Better)

North Canterbury/Ōpukepuke Constituency (2 required)

BYRNES

Greg

DOWLE

Bill

EDGE Grant (Independent)

FAULKNER John (Independent)

JACKSON

Garry

MCKAY

Claire

South Canterbury/Ōtuhituhi Constituency (2 required)

DRIVER

Phil

MCILRAITH Peter (Independent)

MCKENZIE Elizabeth (Independent)

ROSS Jared (Independent)

SCOTT Peter J (Independent)

ULRICH

Herstall

KANE Jo

KEOWN Aaron (Independent for

Health Outcomes)

LYALL Malcolm

MARSHALL Naomi

MORA Debbie (Independent - Community

Focussed Community Driven)

PATON Vicki Tahau (Independent)

PHIPPS Rochelle (Independent)

READ Robert

SALISBURY Brian (Independent)

WAKEFIELD Steve

WAKEMAN Peter (STOP Trashing Our Planet)

Enrolment and Special Voting Arrangements

Residents within the area of these elections who are not listed on their local council's final electoral roll can enrol

by calling 0800 36 76 56, visiting the Electoral Commission website (www.vote.nz) or obtaining enrolment forms at

postshops, libraries or at their local city or district council offices up to 4pm on Friday 11 October 2019.

Ratepayers within the area of these elections who are not listed on the final electoral rolls for these elections can

obtain enrolment forms at the city or district council offices they pay rates to up to 4pm on Friday 11 October 2019.

Special voting arrangements will be available as separately advertised at city or district council offices within the

area of these elections during normal office hours between Friday 20 September and Friday 11 October 2019 and

from 9am to 12 noon on Saturday 12 October 2019. Please check with your local city or district council for special

voting arrangements in your area.

North Canterbury News

- Thur 29 August

Ashburton Guardian

- Fri 23 August

Selwyn Times

- Tues 27 August

Chch Star

- Thur 22 August

Akaroa Mail

- Fri 30 August

Nominations have now closed for the 2019 triennial local authority elections. Below

are details of the confirmed candidates for elections within the Selwyn District

Council Area.

Where elections are required they will be conducted by postal voting. Voting will open

on Friday 20 September 2019 and will close at 12 noon on Saturday, 12 October 2019.

Selwyn District Council

(First Past the Post Electoral System)

Mayor (1 required)

BROUGHTON Sam

WOODS Bill (Independent)

33x4 column 130mm

Ellesmere Ward (2 required)

BAIKIE

Shelley Jane

EPIHA

Shane

LEMON

Murray

Public Notices

FURTHER NOTICE OF ELECTION

AND DECLARATION OF

ELECTED CANDIDATES

Malvern Ward (2 required)

GALLAGHER Jenny

MUGFORD Bob (Independent)

PAULING Kerry (Independent)

WOODS Bill (Independent)

Selwyn Central Ward (4 required)

ALEXANDER Mark (Independent)

BLAND

Jeff

JONES

Michelle

LEIPPI

Travis

MCINNES Sophie

PAYNE Calvin (Independent)

REID

Nicole

Springs Ward (3 required)

HASSON Debra (Independent)

LYALL

Malcolm

MILLER Grant (Independent)

ROLLESTON Riki (Independent)

The following nominations were also received where the number of nominations

did not exceed the available vacancies:

Malvern Community Board – Hawkins Subdivision (3 required)

MAY

Ken

MORTEN John (Jum) (Independent)

PASCOE

Judith

As the number of nominations received did not exceed the number of vacancies, Ken

MAY, John (Jum) MORTEN and Judith PASCOE are elected unopposed.

Malvern Community Board – Tawera Subdivision (2 required)

MEARES

Karen

WOODS Bill (Independent)

As the number of nominations received did not exceed the number of vacancies,

Karen MEARES and Bill WOODS are elected unopposed.

Anthony Morton

Electoral Officer – Selwyn District Council

PO Box 90 Rolleston 7643

selwyndc@electionz.com

0800 300 139 www.selwyn.govt.nz

Enrolment and Special Voting Arrangements

Residents within the Selwyn District Council area who are not listed on Selwyn District

Council's final electoral roll can enrol by calling 0800 36 76 56, visiting the Electoral

Commission website (www.vote.nz) or obtaining enrolment forms at postshops, libraries

or at their local city or district council offices up to 4pm on Friday 11 October 2019.

Ratepayers within the Selwyn District Council area who are not listed on the final

electoral rolls for these elections can obtain enrolment forms at the Selwyn District

Council office up to 4pm on Friday 11 October 2019.

Special voting facilities for the above elections will be available during normal office

hours between Friday 20 September and Friday 11 October 2019 and from 9am to

12 noon on Saturday 12 October 2019 at the following venues:

Selwyn District Council Headquarters, 2 Norman Kirk Drive, Rolleston

Darfield Library/Service Centre

Leeston Library/Service Centre

Lincoln Library/Service Centre

ADVERTISE YOUR

BUSINESS HERE

Phone for further details

(03) 379 1100
---
28 Wednesday August 28 2019

Latest Christchurch news at www.star.kiwi

SELWYN TIMES

Ready for a good night's sleep?

ALL BEDROOM ON SALE.

Tailor & Co

Queen Mattress – Firm

NOW $2799

All Bedroom ranges on sale + select items across Lounge and Dining.

ALL MATTRESSES

ON SALE

Atlantic

LIVING & BEDROOM

ON SALE

Industrial

LIVING & BEDROOM

ON SALE

Dining Table – W200

NOW $649

Dining Chair

Queen Mattresses

FROM $

269

Hall Table NOW $ 459

NOW $135

Bedside

NOW $299

Tallboy

NOW $799

Tallboy

NOW $749

Bedside

NOW $279

Shop

Online

Nationwide

Delivery

Finance

Options

targetfurniture.co.nz

SLEEP BETTER SALE ENDS 09.09.19. You snooze, you lose!

Cnr Blenheim & Curletts Rds, Christchurch

Ph: 0800 TARGET (0800 827438)

Offers and product prices advertised here expire 09/09/19.

Sale excludes Manchester and Accessories.
---
SELWYN TIMES Latest Christchurch news at www.star.kiwi

Wednesday August 28 2019 29
---
30 Wednesday August 28 2019

Latest Christchurch news at www.star.kiwi

SELWYN TIMES

Selwyn's progress in

the last three years

Kia ora,

I love serving our community and am

excited to continue to lead as our

Mayor.

My wife Liz and I live in Darfield with

our 2 year old daughter Elliott.

Selwyn continues to grow and

develop, as does our community's

expectations on council.

Our growing diversity and

perspectives can help ensure we

honour our heritage, remain focused

on meeting the needs of today and

plan wisely for our future.

Council governs $1.6 billion of assets

and has income of $140 million. This

requires us to choose a Council with a

broad range of skills.

In my first three years, on top of

council's usual work, we have made

major investments in community

infrastructure, completed earthquake

works, and overhauled our

consultation process to focus on

talking with you on the street, rather

than talking at you in meetings.

I appreciate your continued support

this election.

Sam

After years of people

talking about what Selwyn

needed, we have spent the

last three delivering on

those discussions.

The Health Hub, Rolleston Town centre

and Te Ara Atea, the Indoor Courts, Local

Community Centres new build and repair as

well as a change in consultation methods has

meant we are now on track to catch up.

Partnering with central government

We have a leadership position in and for

the South Island into Wellington - if reelected

I will look to chair the group of local

councils from the top of the South Island to

ensure Selwyn's experience and success are

well known at a national level. Selwyn is the

third largest population in the South Island

after Christchurch and Dunedin, a key fact in

delivering for current residents and planning

for our future.

I will continue to push for more decisionmaking

powers to be afforded local councils.

Too often, our central government provides

irrelevant, Auckland-centric solutions to local

issues. Local NZTA funding, immigration

settings, and water infrastructure control will

be three areas I will continue to advocate for.

Partnering with Government has seen many

new schools and classrooms in Selwyn, thanks

to the Ministry of Education.

DOC have upgraded many tracks and we are

working closely around responsible camping.

Our work together in conjunction with Ecan,

Ngāi Tahu and many community groups to

improve water quality and biodiversity at Te

Waihora Lake Ellesmere has attracted millions

of central government dollars to our district.

NZTA is another key government department

partner. We continue to work together on many

projects from State Highway and motorway

completion through to local road safety

improvements and cycleways.

Growth and employment in Selwyn

We are the fastest growing district in New

Zealand and our new diversity provides

numerous firsts for the area. Growth means

we have or are building facilities in our district

that we wouldn't have had the opportunity to

enjoy, had we remained small.

This growth also means new career

opportunities. Success for young people

growing up in Selwyn used to often mean

leaving the district, but our young people are

now able to stay or return and find employment

in industries for which they have trained.

Selwyn is a destination of choice for young

families. Our 2% unemployment - half the

national average - means plenty of work

opportunities, although finding the right staff

can be difficult for expanding businesses.

Ensuring a range of housing options is

important for our future. One area of need is the

provision of appropriate housing for our elderly,

for whom a 4 bedroom home is not the right fit.

Relationships with Tangata Whenua

I'm proud of the continually developing

relationship with Te Taumutu runanga over

the past three years. We held our citizenship

ceremony on Waitangi Day there, our executive

teams meet together regularly, we have a

council waiata, and Te Reo lessons have been

offered to staff. Having Te Taumutu and Ngai

Tūāhuriri on our District Plan review Committee

has meant we now have a more robust draft

document ready for notification next year.

Water management

The work of our Water Zone committee

continues to lead the way for Canterbury.
---
SELWYN TIMES Latest Christchurch news at www.star.kiwi

Wednesday August 28 2019 31

93%

of building

consents issued on

time at an average

of 14 days

3rd

largest

population

in the

South Island

The Near River Recharge project to bring Central

Plains water into the Selwyn riverbed during dry

winters is now under construction and will help

support summer flows of lowland streams.

Tourism

I'm looking for us to capatilise on our

natural beauty with tourism from which the

whole community can benefit - from more

job opportunities and great restaurants to

a vibrant, festive atmosphere. We need to

ensure this is done in a Selwyn way to avoid

the pitfalls of large tourist destinations

where visitors become a drain rather than

asset to those living there. We don't need

more Freedom Camping, but instead focus on

higher-value visitors.

I am leading work on behalf of South Island

Mayors to create a South Island Destination

Management Strategy. Too often New Zealand

focuses solely on attracting more visitors. We

need to be smarter as an island and target

value rather than volume. Visitors to the South

Island don't recognise boundaries between

districts so a more collaborative approach to

visitor management makes sense. This will

ensure we don't overuse particular spots and

can share the benefits of visitors around more

of the island.

Infrastructure

We are making progress, but more work is

needed on our base infrastructure. Our roading

network needs attention. The inland ports

at Rolleston help remove trucks to Lyttelton

by putting freight on trains, but a growing

number of heavy vehicles on our local roads

are moving our premium produce to markets.

As few were built for such heavy loads,

these roads require additional funding for

maintenance and improvements.

Frequent, heavy rainfall events are resulting

in surface flooding in a number of low-lying

townships. The new stormwater bypass in

Leeston has helped the flooding situation there

and we need to ensure other towns now get the

same level of attention. Some minor works in

Hororata have been completed but a wider scope

and approach is required to solve things there.

We are currently working with Ecan on a

cohesive strategic approach to flooding in the

upper reaches of our rivers and tributaries -

currently the responsibility of individual land

owners, but with potentially better outcomes if

we were to work together.

Our council is open and serviced minded. To

reflect this I have focused on greatly improving

our communication and social media, including

our new Selwyn Response Team being trained and

ready to deploy in case of natural disaster or

civil defence emergencies and Selwyn Gets Ready

(have you signed up?).

We've managed to achieve a lot, but there

is still more to be done. I'm excited about

the coming three years, and look forward to

achieving more for our outstanding district.

Tēnā koutou

Kaingākau nui ana au, ka mutu

e hīkaka tonu ana au ki te tū anō

hei Mea. Noho tahi mātou ko tāku

makau ko tā tāua tamāhine, a Elliott

ki Whenuakura. Kei te whakaahutia

tonutia a Waikirikiri i tēnei wā, pērā

hoki me ngā hiahia o tehāpori.

Nā te puāwaitanga mai ō whakaaronui,

ō tirohanga rerekē ka ū tonu ai

temana o a tātou taonga tuku iho, me

te whakamahere(or whakatau) i ngā

hiahiame ngā wawata o tēnei wā tonu,

ka mutu, o te ānamata. Ko te tōpunga

rawakatoa o te kaunihera ko te $1.6

piriona tāra, ko te whiwhinga pūtea he

$140 miriona tāra. Nā tēnei ka puta

ko haepapa nui, nā reira me whiriwhiri

tika e tātou kei a-wai ngā pūkenga me

ngā rawa kia tutuki i te mahi.

I ēnei tau e toru kua pau, kua nui

noa atu ngā mahi kua tutuki e te

Kaunihera. Kua whakahoungia ngā

tuāpapa o te hāpori, kua whakatikahia

ngā hara o te rūwhenua, kua

whakahoungia ngā āhuatanga ki te

whakahoahoa, ki tewhakahuihui i a

koutou katoa kia kōrero kanohi ki te

kanohi, mana ki te mana.

84%

of residents used

playgrounds

84%

of residents used

libraries

98%

of resource consents

issued on time in 17/18

Nā reira, e ōku nui, tēnā koutou ka

tautoko tonu mai i ahau.

Nāku, nā Sam

5.3%

increase in GDP

70+

businesses

&

1300+

employees at Izone
---
32 Wednesday August 28 2019

Latest Christchurch news at www.star.kiwi

SELWYN TIMES

My first three years as mayor

have been characterised by my

collaborative and consultative

approach. If you have constructive

feedback or ideas for the coming

three years, write me a note

and post it to 14 Stott Drive,

Darfield RD1, 7571 or email it to

SamforSelwyn@gmail.com.

Dear Mayor Sam, can we please...

Authorised by Tim Heine, Flock Hill.
---
THe BeST PRoPeRTieS AcRoSS

THe SeLWYn DiSTRicT

INSIDE

PUBLiSHeD eVeRY WeDneSDAY

Week commencing WeDneSDAY, 28TH AUgUST , 2019

Selwyn's Best Value Lifestyle Sections

The perfect balance of country and city life

Verdeco Park offers a full range of generously

sized sections ranging from 640m² to 6,000m².

This multi-staged development will accommodate

a large variety of choices for all residents and are

affordably priced with residential sections from

$205,000, and lifestyle sections from $349,000.

This is the perfect place to build your dream home,

to your own personal specifications within a semirural

setting.

Verdeco Park is located only steps from the

charming township of Lincoln, a small rural

township in the Selwyn District, 22 kilometres

southwest of Christchurch. It represents a

premium parcel of land unique in that it has been

purposefully designed to magnify the connection

between nature, happiness and healthy living. It

provides a framework that empowers residents to

achieve, fuller, richer and healthier lives. Building a

better lifestyle and a healthier future starts here.

Four Seasons Realty

Licensed Agent REAA 2008

Four Seasons Realty 2017 Ltd

Ross Mitchell

Contact:

Mobile: 027 222 9495

Phone: 03 662 9933

Email: ross.mitchell@harcourts.co.nz

Natalie McLean

Contact:

Mobile: 027 943 6413

Phone: 03 662 9933

Email: natalie.mclean@harcourts.co.nz

1472 Springs Road, South of Lincoln University Site office open: Saturday & Sundays 12-2pm Register your interest today at verdecopark.co.nz

Have the ultimate

entertainment space.

Selwyn's best value

lifestyle sections!

Sections from 640m 2- 6,000m 2

Priced from only $205,000

Site office open Saturdays & Sundays 12.00 - 2.00pm

1472 Springs Road, South of Lincoln University

For more information:

Natalie McLean 027 943 6413

natalie.mclean@harcourts.co.nz

Ross Mitchell 027 222 9495

ross.mitchell@harcourts.co.nz

verdecopark.co.nz

Four Seasons Realty

Four Seasons Realty 2017 Ltd | Licensed Agent REAA 2008
---
2

Introducing...

Marty Bolger & Stu Jones

Rolleston Office.

At Harcourt's, Marty & Stu have the support of the number one most trusted

real estate brand in New Zealand seven years running.

If you are looking for a salesperson who will work hard, you can trust and

deliver you results then look no further than Marty or Stu.

NEW ZEALANDERS

TRUST

For a free no obligation market appraisal or a friendly chat about the market

call Marty or Stu today.

Voted Reader's Digest

MOST TRUSTED REAL ESTATE BRAND

SEVEN YEARS RUNNING

Marty 027 334 7909

Stu 027 385 4321

Four Seasons Realty 2017 Ltd | Licensed Agent REAA 2008

Your home for local property
---
3

New to the market!

843 Sandy Knolls Road West Melton

2.5-Acre Paradise

2.5acres 3 2 3

These 2.5-acre properties are like hen's teeth, they

don't come on the market often so don't hesitate

on this great buy! As soon as you drive up the

sweeping driveway, you'll want to move into this

solid home of Hebel construction.

Expanding over 2 storey's it has 2 lounges

downstairs both with gas fireplaces and a separate

dining area, it also features underfloor heating

throughout the bottom level. The kitchen includes

a Butler's Pantry, induction cooktop and a bi-fold

window that opens to the outdoor courtyard.

The bedrooms are all upstairs and have stunning

views, the landing looks over the lounge and has

a lovely reading area or you could convert this

into another bedroom if you wanted. The master

bedroom has a walk-in wardrobe, inbuilt ceiling

heating as well as underfloor heating in the

ensuite to keep those toes nice and warm in winter.

Both lounges have outdoor access to both patio

areas. The land could easily be fenced into

paddocks or further landscaped to be the garden of

your dreams; the options are endless.

As this is an Auction you will be supplied with a

building report and LIM all at no cost to you and

as soon as the hammer drops you'll know if it's all

yours, so don't let the auction process put you off

what will be a great buy!

Auction 18th September 2pm at Russley Golf

Course. (Unless Sold Prior)

Viewing Thursday & Sunday 2.00-2.45pm

View online harcourts.co.nz/ RL2181

For more infomation

Ferg Spain

027 608 4768

fergus.spain@harcourts.co.nz

Four Seasons Realty 2017 Ltd | Licensed Agent REAA 2008

Your home for local property
---
4

REAL ESTATE SPECIALISTS

98 Ledbury Drive, Rolleston

82 Othello Drive, Rolleston

OFFErs OvEr $449,000

Opportunity Knocks!

Setting the scene for relaxed family living, this wellplanned

home features open plan kitchen, dining &

living plus a separate lounge.

Three double bedrooms plus a single bedroom/office

are supported by a family bathroom which acts as a

semi-ensuite next to the master. Entertainers & those

who love to relax outdoors will relish the private patio

area, which is accessible via the living areas & the tidy

landscaped section offers an easy-care fully fenced

family area providing peace of mind for those with pets

or young children. Double drive-through garaging

provides a place to park the trailer & plentiful storage

with an automatic door.

Contact Mike now for your opportunity to view.

**Set date: All offers to be presented 5pm, 29th

August (unless sold prior)

OFFErs OvEr $689,000

Effortless Elegance!

This beautiful home oozes sophistication & elegance.

Originally built as a show-home, quality is evident throughout from the workmanship to the fixtures &

fittings. The specification list is impressive! A stunning designer kitchen with two ovens & a butlers pantry

are at the heart of the home, & entertaining is an absolute pleasure with the easy flow from the kitchen to

the living areas through to the undercover outdoor living area plus patio.

With four double bedrooms, an office, 2 living areas, separate laundry plus an Ecconecx home automation

system, this home will tick all the boxes! Put this beauty at the top of your "To View" list – you will not be

disappointed! Call Elyse or Mike today to book your time to visit, or for more information.

**Set Date of Sale: All offers to be presented 5pm, 19th September (unless sold prior)

30 Burnham School Road, Rolleston

OFFErs OvEr $539,000

Family Living at its Best!

North-west facing for optimal sun, this 184sqm 4

bedroom, 2 bathroom home on 871sqm is the perfect

family abode! With 2 livings areas and a great sized

patio entertaining is a breeze.

Fully fenced and secure for kids and pets, the grounds

present a blank canvas for those who wish to enhance

and develop the gardens to suit your lifestyle. Vehicle

storage and space for tools, toys and the trappings of

family life is catered for by the double internal access

garage & a separate walk-through laundry completes

the superbly practical layout.

This is an opportunity not to be missed for those

looking for a quality family home in a great

neighbourhood, contact Mike today to arrange your

appointment to view.

68 rolleston Drive, rolleston

0800 645 346

www.oneagencyres.co.nz

Mike Goatley

027 249 5561

Elyse Campbell

021 187 6217

Nicola Curtis

Administrator

Julz sibbe

Administrator

Real Estate Specialists Ltd Licenced REAA (2008)

NEW LISTING

NEW LISTING

Darfield 244 Horndon Street

West Melton 23 Faith Place

Tidy investment on Horndon

3 1 1

Classic Country Style

4 2 2 2

A tidy and low-maintenance property, this 110sqm

sturdy Summerhill Stone, iron-roofed home is a classic

mid-70's gem. Immediately livable with tidy paintwork

and great natural light throughout, it will appeal to firsthome

buyers, young families, retirees and investors

looking for a reliable little rental. Offering three good

double bedrooms, all with original built-in wardrobes;

the master bedroom is particularly light-filled. A fully

fenced big backyard (1012sqm) and large veggie

patch will appeal to families or keen gardeners. Double

garage with workshop and plenty of off-street

parking.

Deadline Sale (unless sold prior)

4pm, Tue 10 Sep 2019

3 Deans Ave, Chch

View Wed 5-5.30pm & Sun 1-1.30pm

Nick Wilson 021 917 047

nick.wilson@bayleys.co.nz

WHALAN AND PARTNERS LTD, BAYLEYS, LICENSED REAA 2008

• Family living set on 5426 square metres of mature,

park-like grounds

• Double glazed and well insulated open-plan

kitchen/living/dining area

• Four double bedroom home spread over two levels

including a master bedroom with an ensuite

• Beautiful landscaped gardens with fruit trees,

hedges and an expansive lawn with three-bay shed

• Lifestyle living without the extra work of paddocks

and livestock

bayleys.co.nz/5510638

For Sale by Deadline Private Treaty

(unless sold prior)

1pm, Wed 11 Sep 2019

3 Deans Avenue, Christchurch

View 1.45-2.15pm Sun 1 Sep

Mick Sidey 027 229 8888

mick.sidey@bayleys.co.nz

Sally Hargreaves 021 125 1545

sally.hargreaves@bayleys.co.nz

WHALAN AND PARTNERS LTD, BAYLEYS, LICENSED REAA 2008

bayleys.co.nz/5510559
---
2 [Edition datE]

The best kept secrets

to selling your home

Selling Secret #1: The first impression is the

only impression

No matter how good the interior of your home looks,

buyers have already judged your home before they walk

through the door. You never have a second chance to

make a first impression. It's important to make people

feel warm, welcome and safe as they approach the

house. Spruce up your home's exterior with inexpensive

shrubs and brightly colored flowers. Entry ways are also

important. You use it as a utility space for your coat and

keys. But, when you're selling, make it welcoming by

putting in a small bench or a vase of fresh-cut flowers.

Selling Secret #2: Always be ready to show

Your house needs to be "show-ready" at all times – you

never know when your buyer is going to walk through

the door. You have to be available whenever they want to

come see the place and it has to be in tip-top shape. Don't

leave dishes in the sink, keep the dishwasher cleaned out,

the bathrooms sparkling and make sure there are no dust

bunnies in the corners. It's a little inconvenient, but it will

get your house sold.

Selling Secret #3: The kitchen comes first

You're not actually selling your house, you're selling

your kitchen – that's how important it is. The benefits

of remodeling your kitchen are endless, and the best

part of it is that you'll probably get 85% of your money

back. It may be a few thousand dollars to replace

countertops where a buyer may knock $10,000 off the

asking price if your kitchen looks dated. The fastest, most

inexpensive kitchen updates include painting and new

cabinet hardware. Use a neutral-color paint so you can

present buyers with a blank canvas where they can start

envisioning their own style. If you have a little money to

spend, buy one fancy stainless steel appliance. Why one?

Because when people see one high-end appliance they

think all the rest are expensive too and it updates the

kitchen.

Selling Secret #4: Take the home out of your

house

One of the most important things to do when selling

your house is to de-personalize it. The more personal

stuff in your house, the less potential buyers can imagine

themselves living there. Get rid of a third of your

stuff – put it in storage. This includes family photos,

memorabilia collections and personal keepsakes. Staging

simply means arranging your furniture to best showcase

the floor plan and maximize the use of space.

Selling Secret #5: Don't over-upgrade

Quick fixes before selling always pay off. Mammoth

makeovers, not so much. You probably won't get your

money back if you do a huge improvement project before

you put your house on the market. Instead, do updates

that will pay off and get you top dollar. Get a new fresh

coat of paint on the walls. Clean the curtains or go buy

some inexpensive new ones. Replace door handles,

cabinet hardware, make sure closet doors are on track, fix

leaky faucets and clean the grout.

Selling Secret #6: Conceal the critters

You might think a cuddly dog would warm the hearts

of potential buyers, but you'd be wrong. Not everybody

is a dog- or cat-lover. Buyers don't want to walk in your

home and see a bowl full of dog food, smell the kitty litter

box or have tufts of pet hair stuck to their clothes. It will

give buyers the impression that your house is not clean.

If you're planning an open home don't leave your pets

around.

Selling Secret #7: Play the agent field

A secret sale killer is hiring the wrong real estate agent.

Make sure you have an agent who is totally informed.

They must constantly monitor the multiple listing service

(MLS), know what properties are going on the market

and know the comps in your neighborhood. Find an

agent who embraces technology – a tech-savvy one has

many tools to get your house sold.

Selling Secret #8: Light it up

Maximize the light in your home. After location, good

light is the one thing that every buyer cites that they want

in a home. Take down the drapes, clean the windows,

change the lampshades, increase the wattage of your light

bulbs and cut the bushes outside to let in sunshine. Do

what you have to do make your house bright and cheery

– it will make it more sellable.

Selling Secret #9: Half-empty closets

Storage is something every buyer is looking for and can

never have enough of. Take half the stuff out of your

closets then neatly organize what's left in there. Buyers

will snoop, so be sure to keep all your closets and cabinets

clean and tidy.

FOR LEASE

Prime Retail / Office space

76A High St, Leeston

• Next to Fresh Choice Leeston

• Approx 250 sq meters

• Wide frontage

Enquiries

Gwynn Thomson

027 2288 058

5

RURAL | LIFESTYLE | RESIDENTIAL

TEMUKA 219 John Talbot Road

Cropping / Finishing

Woodlands is a well-developed, 451ha dryland arable

unit just 7km from Temuka. With its rich, deep, silty

loam soils, the current farming practice has been

predominantly intensive dryland cropping with some

livestock finishing and grazing. Farm infrastructure is

well above average, including three good homes plus

quality large sheds and numerous outbuildings to

support the farming operation. Several purchasing

options are available including the total property, the

142.5ha Flats Block, and the 308.5ha Downs Block as

one unit or in two or more parts.

DEADLINE PRIVATE TREATY

Plus GST (if any)

(Unless Sold Prior)

Closes 1.00pm, Friday 27 September

Simon Richards

M 027 457 0990

E simon.richards@pggwrightson.co.nz

Peter Crean

M 027 434 4002

E pcrean@pggwrightson.co.nz

TAI TAPU Otahuna Road

Affordable in a Superb Location

• Lot 4 Otahuna Road - last one still available

• 5.2550 hectares (approximately) of flat fertile bare

land

• Deer fenced into five paddocks with a lane way

• Large shed with four bays and deer handling

facilities

• Good access off Otahuna Road

PRICE BY NEGOTIATION

Plus GST (if any)

Sam Davidson

M 027 488 8269

E sdavidson@pggwrightson.co.nz

pggwre.co.nz/CHR30882

pggwre.co.nz/CHR26884

PGG Wrightson Real Estate Limited, licensed under REAA 2008

Helping grow the country
---
6
---
7
---
8
---
9
---
10
---
11

We

Selwyn

We love our customers

We value our team

We're dedicated to Selwyn.
---
12

M-A

MATSON & ALLAN

REAL ESTATE LIMITED

'The

Selwyn

Experts'

Residential

Lifestyle

Rural Property

Licensed REAA2008

OPEN HOME

OPEN HOME

ROLLESTON - 14 New Creek Mews

PROMISES TO IMPRESS

• 266m 2 bespoke built home on 1109m 2

• Four bedroom, master with ensuite and WIR

• Spacious open plan kitchen/dining/living

• Butler's scullery, bathroom, separate laundry

• Quality appliances and floor coverings

• Log burner and wetback, heat transfer, underfloor

heating

• Interior and exterior ceiling speakers

• Internal access triple car garage with drive through

• Impressive design, build quality and style

• Located in sought after Levi Park

• Zoned Rolleston Primary School & Rolleston College

Viewing: Sun 2.00pm – 2.30pm

Price: Neg Over $757,000

View: www.marealestate.co.nz/MA0601

Jo Barrett

021 859 006

j0@marealestate.co.nz

ROLLESTON - 9 Thames Drive

AN OPPORTUNITY NOT TO BE MISSED

• Built in 2018

• Stunning home

• Four double bedrooms

• Tw o living areas

• Stunning kitchen/walk in pantry

• Master bedroom with WIR and ensuite

• Ample internal storage

• Fabulous orientation for the sun

• Wonderful outdoor entertaining area

• Private and secure easy care section

Viewing: Sun 12.30pm – 1.00pm

Price: Neg Over $599,000

View: www.marealestate.co.nz/MA0596

Jackie Derrick

027 636 3576

jackie@marealestate.co.nz

OPEN HOME

SPRiNgSTON - 452A Ellesmere Junction Road

STUNNING LINEA HOME PACKED WITH FEATURES

• Just completed 2019

• Three double bedrooms

• Spacious master bedroom with walk in robe & ensuite

• Tw o large separate living areas

• Study nook

• Sensational well-appointed kitchen with walk in pantry

• Wine fridge and security system

• Underfloor tile heating in bathroom and ensuite

• Quality fixtures and fittings

• Fantastic orientation for the sun

• Larger than most 956m 2 section

• Superb location

Viewing: Sun 1.15pm – 1.45pm

Price: Neg Over $639,000

View: www.marealestate.co.nz/MA0590

Jackie Derrick

027 636 3576

jackie@marealestate.co.nz

ROLLESTON - 29 Amur Crescent

SIMPLY STRIKING WITH TRIPLE CAR GARAGE

• Currently under construction in Falcon's Landing

• Brick and cedar home with triple car garage

• Due for completion in August 2019

• Architecturally designed 241m 2

• Tw o large separate living areas

• Substantial kitchen with walk in pantry

• Stone bench tops and reputable appliances

• Four double bedrooms with superb master suite

• Three further generous bedrooms

• Stylish family bathroom with free standing bath

• Separate laundry and fabulous internal storage

• Exposed aggregate driveway, patios and lawn

Price: Neg Over $655,000

View: www.marealestate.co.nz/MA0561

Jackie Derrick

027 636 3576

jackie@marealestate.co.nz

ROLLESTON - East Maddisons Road

LAST 1050M 2 SECTION

• Lot 4

• Last remaining section

• Titled

• North facing aspects

• Fully serviced to boundary

• Internal boundaries fenced

• Sensible covenants to protect your investment

Price: Neg over $240,000

View: www.marealestate.co.nz/MA0374

Chris Flanagan

027 433 4657

chris@marealestate.co.nz

DARFiELD - Creyke Road

TORLESSE ESTATE

• 11 x 1 Hectare blocks

• Power, telephone, fibre and town water to

boundary

• Close to all Darfield amenities

• Titles issued

Price: $250,000 per block.

View: www.marealestate.co.nz/MA0542

Chris Flanagan

027 433 4657

chris@marealestate.co.nz

ROLLESTON PH: 03 347 9949 LEESTON PH: 03 324 3704 DARFiELD PH: 03 318 8204 www.marealestate.co.nz

Chris Flanagan

027 433 4657

Andrew Taylor

027 435 5930

Jackie Derrick

027 636 3576

Jo Barrett

021 859 006

Stephan Knowler

027 229 9522

Cameron McRae

027 769 6696

Paul Robinson

021 277 2690

Juliet Flanagan

027 490 8019

Connie van der Klei

021 449 174
---
13

Hastings McLeod Limited Licensed under the Real Estate Agents Act 2008 6 Tennyson Street ROLLESTON rolleston@pb.co.nz 03 929 0306

Family Lifestyle

BUYERS $699,000+

WEB ID LEU69824

LEESTON

494 Lake Road South

This much-loved property includes a 3-bedroom family

home with a renovated modern kitchen which is the hub

of the home. A spacious dining area/ family room and,

large lounge with heat-pump and log burner envelop

the kitchen which, also has fabulous indoor/outdoor

flow to the veranda, BBQ area, private lawn, garden and

beautiful fish pond.

The bedrooms are spacious and, the master allows for

lots of natural light and has great wardrobe space. The

utility/laundry room is ideally situated within the home

adding extra space and lending itself to the practicalities

of family living.

VIEW By Appointment

Central location!

$579,000

WEB ID ROU69791

ROLLESTON

81A Renoir Drive

An affordable and well presented 4 bedroom home

which enjoys a very private setting great indoor/outdoor

flow to the large sunny wooded deck, which is going to

be a winner on the upcoming summer evenings! Add to

this, the great off street parking for the camper or boat,

it's sure to be a winning combination. Inside, the home

features spacious open plan living with bi fold doors out

to the sheltered patio & a spacious formal lounge.

This affordable home is sure to tick the boxes for those

looking for a family sized home on a family sized section

with extra off street parking.

VIEW Sunday 1 Sep 3.00 - 3.30pm

3

4

NEW LISTING

Penny Dadson-Clausen

Mobile 027 895 5943

Office 03 929 0306

pennyd@pb.co.nz

1

1

NEW LISTING

Angela Hunt

Mobile 021 548 777

angela.hunt@pb.co.nz

2

2

A Wee Gem

$375,000

WEB ID DFU69800

DARFIELD

178 Horndon Street

Drenched in sun and presented to perfection!

• Spacious open plan kitchen & dining

• Lounge flowing to sunny outdoor patio area

• Bathroom with shower, tub & vanity

• Heat pump, double glazed & insulated

• 804m2 fully fenced, easy-care section

• Walking distance to local amenities

VIEW Sunday 1 Sep 1.30 - 2.00pm

Indoor/outdoor living

BUYERS $625,000+

WEB ID ROU69678

ROLLESTON

9 Tapanui Place

An impressive sight before you step through the door,

this striking builder's own Linea clad home with

gorgeous Alfresco area has been designed so you can

entertain with ease or relax in comfort all year round!

• 242m2 (incl Afresco area) on 731m2

• Kitchen – stone tops, gas hot water, WIP

• North-facing, log burner, heat pump

• Covered Kwila deck with schist accents

• Large ceiling storage with ladder access

• Excellent off-street parking

VIEW By Appointment

2

4

NEW LISTING

Amy Jones

Mobile 021 077 9945

amy.jones@pb.co.nz

1

1

NEW LISTING

Sarah Yeates

Mobile 027 447 2719

Office 03 929 0306

sarahy@pb.co.nz

2

2

Craving space & garaging BUYERS $699,000+

WEB ID ROU69135

LEESTON

1 Showground Place

Then look no further than this fantastic home in sought

after Showground Place. The kitchen being the

centrepiece of the home with great bench space

overlooks the spacious family living and dining area that

moves seamlessly through ranchslider doors out onto an

expansive patio area that will allow you to get the very

best out of the warmer weather ahead. This property is

so close to all of Leestons amenities meaning you can

have the privacy of your own lifestyle block yet be so

close to everything the township has to has to offer. This

property truly needs to be seen!

VIEW Sunday 1 Sep 1.45 - 2.15pm

4

Angela Hunt

Mobile 021 548 777

angela.hunt@pb.co.nz

Room to grow! BUYERS $589,000+

WEB ID ROU69085

ROLLESTON

25 Rochester Crescent

• 242m2 home on 878m2 section

• Gas cooking and hot water

• Pellet fire & 2 heat pumps

• LED lighting throughout

• Brilliant indoor/outdoor entertaining

• Feature deck, patio & spa area

• Over-sized carpeted double garage

• Central location handy to school, park & shops

VIEW By Appointment

Sarah Yeates

Mobile 027 447 2719

Office 03 929 0306

sarahy@pb.co.nz

2

4

4

2

2

Don't get cold feet

over a winter sale!

List with us this winter and we'll keep you

warm with a $300 voucher to use towards

cleaning, gardening or water blasting, to get

your property looking its absolute best!

Avoid the extra competition and get your

property listed before the spring rush.

Call us on 0800 367 5263

or go to pb.co.nz/wintersale

pb.co.nz
---
A large, quality home sited in a private and established

5021m 2 park-like se ting in the sought after Claremont

Estate on the boundary of Christchurch City.

The home features four bedr oms (master with

en suite and walk-in robe), open-plan kitchen, dining

and living along with formal dining, lounge and

conservatory. Great ind or outd or flow to a large

sheltered deck set in sprawling lawns and easy care

gardens with automated watering. Triple car garaging,

security gates, ducted heating, solar energy and

security system are just a few of the many extras on

offer with this property. There is a separate standalone

spacious office/studio that gives options for

those who require a dedicated work from home space

or alternatively, r om for a dependant relative.

Set amongst other quality homes on larger sections,

this property maintains a semi-rural f el whilst being

a short, easy commute into the city or ou to Ro leston.

Selwyn Times

Auction (unless sold prior)

Thursday 19 October, 2pm

411 Blenheim Road

www.pggwre.co.nz/DAR26164

Karen Hennessy

Contact:

Phone: 03 341 4301

Mobile: 027 967 0186

karen.he ne sy@p gwrightson.co.nz

W ek commencing Tuesday, 3Rd ocToBeR 2017

Brand new 'show stopper' with 4 car garaging

As always, this builder has finished his latest new build to

perfection, incorporating a l the 'must haves' and more for

the discerning buyer. Situated on a 12 0m 2 section, with

an established backdrop, the substantial 315m 2 fl or plan

provides the ultimate in family living options. The su ny &

spacious open plan living r om boasts a designer kitchen

with 90cms oven, stone bench tops & a walk in pantry,

together with define dining, living & study spaces that

The formal lounge als opens to the landscaped garden

& has a boxed high stud ceiling with sound speakers. A l 4

bedr oms are fabulously proportioned qu en sized r oms,

with the master suite providing the perfect parents' retreat

featuring an amazing dre sing r om with fu l wardrobe

system, a ditional storage & a beautiful tiled ensuite with

double tiled shower, fr estanding bath & twin vanities. The

family bathr om is equa ly elegant with a tiled shower &

twin vanities. Cosy up in front of the log burner, k ep your

toes warm with the under tile heating in the bathr oms &

k ep c ol or warm, as required, a the push of a bu ton with

2 heat pumps.

The home's practical layout also includes a walk-in linen

r om, a substantial separate laundry, a tic storage with

la der a ce s and last, but certainly not least, hugely sought

after 4 car garaging. From the moment you a proach this

premium property, you wi l a preciate what a privilege it

would be to be able to ca l it 'home'.

www.flemington.co.nz

DeaDline Sale:

Closing 4pm on Monday

11th June 2018

(unless sold prior)

rwro leston.co.nz/RLL23148

Town & Lifestyle Real Estate Ltd

Licensed (REAA 2 08) - West Melton

Sarah Booth

Contact:

Mobile: 027 527 8258

Brendan 'Big Red' Shefford

Contact:

Mobile: 027 224 4733

Lincoln - 03 325 7299

Ro leston - 03 347 9988

West Melton - 03 347 9933

THe BeST PRoPeRTieS AcRo S

W ek commencing WeDneSDAY, 23RD mAY 2018

Town & Lifestyle Real Estate Ltd

Licensed (REAA 2 08)

14

Your guide to all things Real Estate

in the Selwyn District

Why get a property valuation?

Ascertaining the true value of a property

is never easy. Real estate agents may be

able to give buyers and sellers a guide,

based on the sales of similar properties

in an area. However, each individual

property is unique with some more so,

than others.

When applying for finance, a bank will

require more than a real estate agent's

figure of what a property might be worth.

Instead, a written valuation compiled

by an independent Registered Property

Valuer will be requested.

Property valuations are more than

just a tool for acquiring a loan from a

bank. The process examines the features

of a particular property with a view to

identifying its true worth.

"Rather than a quick walk-through, a

Registered Property Valuer will conduct a

detailed inspection, taking measurements

and photos, and making field notes,"

explains Haki Anderson, Director

and Principal Valuer at Anderson and

Associates.

Haki emphasises the importance of

a physical examination. For example, a

property may be next to a railway line

or power lines so be worth less than one

with a stunning sea view however, people

can also help protect the value of their

asset simply by keeping up the regular

maintenance on their home.

"It's important for owners and potential

buyers to have accurate information,

especially for insurance purposes. When

we value a property we take measurements

of the floor area and check their accuracy

against the property's statistics," advises

Haki who has been a Registered Property

Valuer since 1990.

The property's specifications and

features are also assessed, including: the

construction and condition of the home;

landscaping; size and contour of the land;

and whether there is an outlook.

"They'll analyse other properties in

the area that have been sold. This may

sometimes involve knocking on the front

door so a more accurate impression can be

gained of such a property," says Haki.

Once collected, the data will be analysed

and comparisons made between the

property in question and property sales in

the immediate locality.

"The better the research, the more

accurate the valuation," reminds Haki.

Registered Property Valuers are totally

independent. To become a Registered

Property Valuers, a person must first

complete a four year university degree

in property valuation and management.

After graduating, three years' work

experience in the field is required, before

the Valuer can apply for Registration as a

Valuer.

"The client is paying for more

knowledge. Knowledge is power so the

more informed clients are, the better

decisions they can make about the biggest

asset they are likely to own and are about

to purchase."

PUBLiSHeD eVeRY WeDneSDAY

THe SeLWYn DiSTRicT

INSIDE

Quality Home, Private Setting, Sought After Location

extend through sliding d ors to a large deck & covered 'al

fresco' entertaining area.

63 Rossington Drive, West Melton Open Home: Sunday 2.00pm - 2.30pm

EVERY WEDNESDAY inside Selwyn Times

Address: 19 Devine Drive, Templeton Open Home: Sunday 8 & 15 October, 1pm - 1.45pm

Get the power

of three offices

working for you

Your section hunt

starts here

New Falcon's Landing sales office open, 17 Branthwaite Drive, Ro leston,

Ray White Rolleston,

Lincoln & West Melton

Sales - Property Management - Loan Market

Residential - Lifestyle - Commercial

Thursdays, Fridays and Sundays from 1-3pm. Come, visit and share in our vision

for Ro leston. Or ca l us anytime 03 741 1340. Email enquiries@yoursection.nz

Get your messages into homes throughout

the Selwyn District.

Delivered to every home & rural letterbox

(also available at selected pick up points).

For full information on placing your

advertising call:

Lynette Evans

Ph 021 222 7831 | email: lynette.evans@starmedia.kiwi

Printed on

high impact

Gloss!

Selwyn Times dedicated to getting you outstanding results & making our district a better place to live.
---
15

this Week's

1.00pm – 1.30pm

1.00pm – 1.30pm

11.00am – 11.30am

11.45am – 12.15pm

12.00pm – 12.30pm

12.00pm – 2.00pm

12.45pm – 1.15pm

1.00pm – 1.30pm

1.00pm – 1.45pm

1.30pm – 2.00pm

1.30pm – 2.00pm

2.00pm – 2.30pm

2.30pm – 3.00pm

2.30pm – 3.15pm

3.00pm – 3.30pm

3.00pm – 3.30pm

3.00pm – 3.30pm

3.45pm – 4.15pm

10.30am – 11.00am

11.00am – 11.30am

11.00am – 11.30am

11.15am – 11.45am

11.15am – 11.45am

11.15am – 11.45am

11.30am – 12.00pm

thursday 29th august

10B Hepworth Place, Tai Tapu

Ray White Rolleston

10 Seymour Drive, Rolleston

Ray White Rolleston

saturday 31st august

22 Navy Loop, Rolleston

Ray White Rolleston

10 Seymour Drive, Rolleston

Ray White Rolleston

14 Blunden Road, Lincoln

Harcourts Lincoln

Verdeco Park, 1472 Springs Road, Lincoln

Harcourts Lincoln

4 Mondrian Lane, Rolleston

Ray White Rolleston

58 Shadbolt Lane, Rolleston

Harcourts Hornby

23 Millstream Drive, Lincoln

Harcourts Lincoln

24 Crowder Street, Lincoln

Harcourts Lincoln

88 Melton Grange Road, West Melton

Ray White West Melton

63 Patterson Terrace, Halswell

Ray White Rolleston

9 Oates Street, Lincoln

Harcourts Lincoln

75 Bibiana Street, Aidenfield

Harcourts Lincoln

670 Springston Rolleston Road, Rolleston

Harcourts Lincoln

1/174 Clarence Street, Riccarton

Ray White Lincoln

53 Maxwell street, Riccarton

Ray White Rolleston

4/470 Hereford Street, Linwood

Harcourts Lincoln

sunday 1st september

7 Nettleship Way Rolleston

Bayleys Canterbury

253 Blakes Road, Prebbleton

Ray White Rolleston

23 Lowes Road, Rolleston

Ray White Lincoln

963 Rakaia Selwyn Road, Southbridge

Ray White Rolleston

8 Genoa Avenue, Rolleston

Ray White Rolleston

13 Shale Court, Rolleston

Ray White Rolleston

6 Silverstream Blvd, Kaiapoi

Harcourts Rolleston

12.00pm – 12.30pm

12.00pm – 12.30pm

12.00pm – 12.30pm

12.00pm – 12.30pm

12.00pm – 2.00pm

12.15pm – 12.45pm

12.15pm – 12.45pm

12.15pm – 12.45pm

12.30pm – 1.00pm

12.30pm – 1.00pm

12.30pm – 1.00pm

12.45pm – 1.15pm

1.00pm – 1.30pm

1.00pm – 1.30pm

1.00pm – 1.30pm

1.00pm – 1.30pm

1.00pm – 1.30pm

1.00pm – 1.30pm

1.00pm – 1.30pm

1.00pm – 1.30pm

1.00pm – 1.30pm

1.00pm – 1.30pm

1.00pm – 1.45pm

1.15pm – 1.45pm

1.15pm – 1.45pm

1.15pm – 1.45pm

1.15pm – 1.45pm

1.15pm – 2.00pm

1.30pm – 2.00pm

1.30pm – 2.00pm

1.30pm – 2.00pm

1.30pm – 2.00pm

29 Campion Place, Rolleston

Ray White Lincoln

10 Beak Street, Rolleston

Harcourts Rolleston

5 Melville Crescent, Rolleston

Harcourts Rolleston

14 Blunden Road, Lincoln

Harcourts Lincoln

Verdeco Park, 1472 Springs Road, Lincoln

Harcourts Lincoln

34 Charlbury Drive, Rolleston

Ray White Rolleston

23 Lloyds Close, Rolleston

Ray White West Melton

17 Bradbury Avenue, Rolleston

Ray White Rolleston

9 Thames Drive, Rolleston

Matson & Allan Leeston

8 Monet Vale, Rolleston

Ray White Rolleston

10B Hepworth Place, Tai Tapu

Ray White Rolleston

32 Navy Loop, Rolleston

Harcourts Rolleston

33 Hasendene Drive, Lincoln

Ray White Lincoln

9 Charlbury Drive, Rolleston

Ray White Rolleston

19 Bradbury Avenue, Rolleston

Ray White Rolleston

244 Horndon Street, Darfield

Bayleys Canterbury

11 Caracara Place, Rolleston

Ray White Rolleston

9 Seymour Drive, Rolleston

Ray White Rolleston

1 Pultney Street, Leeston

Property Brokers

58 Shadbolt Lane, Rolleston

Harcourts Hornby

37 Bonecrusher Street, Lincoln

Harcourts Rolleston

4 Haymaker Crescent Rolleston

Harcourts Rolleston

23 Millstream Drive, Lincoln

Harcourts Lincoln

452A Ellesmere Junction Road, Springston

Matson & Allan Rolleston

18 Gracia Ave, Rolleston

Matson & Allan Rolleston

8 Ledbury Drive, Rolleston

Ray White Rolleston

15 Uffington Drive, Rolleston

Ray White Rolleston

15 Knights Road, Rolleston

Farmlands Real Estate

178 Horndon Street, Darfield

Property Brokers

59 Thames Drive, Rolleston

Ray White Rolleston

18 Lynley Drive, West Melton

Ray White West Melton

24 Crowder Street, Lincoln

Harcourts Lincoln

1.45pm – 2.15pm

1.45pm – 2.15pm

1.45pm – 2.15pm

2.00pm – 2.30pm

2.00pm – 2.30pm

2.00pm – 2.30pm

2.00pm – 2.30pm

2.00pm – 2.30pm

2.00pm – 2.30pm

2.15pm – 2.45pm

2.30pm – 3.15pm

2.30pm – 3.00pm

2.30pm – 3.00pm

2.30pm – 3.00pm

2.30pm – 3.00pm

2.30pm – 3.15pm

2.45pm – 3.15pm

2.45pm – 3.15pm

3.00pm – 3.30pm

3.00pm – 3.30pm

3.00pm – 3.30pm

3.00pm – 3.30pm

3.00pm – 3.30pm

3.15pm – 3.45pm

3.30pm – 4.00pm

3.30pm – 4.00pm

3.45pm – 4.15pm

3.45pm – 4.15pm

3.45pm – 4.15pm

23 Faith Place, West Melton

Bayleys Canterbury

1 Showground Place, Leeston

Property Brokers

15 Maitland Crescent, Rolleston

Ray White Rolleston

48 High Street, Leeston

Bayleys Canterbury

14 New Creek Mews, Rolleston

Matson & Allan Rolleston

9 Kinglear Drive Rolleston

Ray White Rolleston

50 Burnham School Road, Rolleston

Ray White Rolleston

39 Stanford Way Rolleston

Property Brokers

7 Callaghan Close, Wigram

Harcourts Rolleston

788 Weedons Ross Road, Rolleston

Ray White Rolleston

4/229 Curraghs Road, Rolleston

Farmlands Real Estate

8 Kennington Drive, Rolleston

Ray White Rolleston

95 Lowes Road, Rolleston

Ray White Rolleston

18 Silver Peaks Drive, West Melton

Ray White West Melton

9 Oates Street, Lincoln

Harcourts Lincoln

75 Bibiana Street, Aidenfield

Harcourts Lincoln

4 Fairford Street, Rolleston

Matson & Allan Rolleston

26 Flint Road, Rolleston

Ray White Rolleston

238 Brookside Road, Rolleston

Ray White Rolleston

31 Kingsdown Drive, West Melton

Matson & Allan Rolleston

81A Renoir Drive, Rolleston

Property Brokers

670 Springston Rolleston Road, Rolleston

Harcourts Lincoln

668 Springston Rolleston Road, Rolleston

Harcourts Rolleston

27 Delamare Way, Rolleston

Ray White Rolleston

9 Bronte Way, Rolleston

Ray White Rolleston

5 Rossington Drive, West Melton

Ray White West Melton

4/470 Hereford Street, Linwood

Harcourts Lincoln

81 Ridgeway Avenue, Rolleston

Harcourts Rolleston

329 Bells Road, West Melton

Ray White West Melton

11.45am – 12.15pm

12.00pm – 12.30pm

12.00pm – 12.30pm

12.00pm – 12.30pm

12.00pm – 12.30pm

16 St James Street, Southbridge

Matson & Allan Leeston

40 Homebush Road, Glentunnel

Bayleys Canterbury

21 Broad Street, Southbridge

Property Brokers

28 Heathridge Place, Lincoln

Ray White Lincoln

4/3 Staveley Street, Avonhead

Ray White West Melton

1.30pm – 2.15pm

1.30pm – 2.30pm

1.45pm – 2.15pm

1.45pm – 2.15pm

1.45pm – 2.15pm

11 Ashboult Street, Halswell

Farmlands Real Estate

19 Durrells Crescent, Kaiapoi

Ray White Lincoln

47 Hungerford Drive, Rolleston

Ray White Rolleston

4/545 Maddisons Road, West Melton

Harcourts Rolleston

11 Palladio Avenue, Leeston

Matson & Allan Leeston

CHECK OUT THE SELWYN

TIMES PROPERTY DIRECTORY

EVERY WEDNESDAY FOR THE

BEST OF PROPERTY IN THE

SELWYN DISTRICT

FOR FULL

DETAILS OF ALL

OPEN HOMES,

PLEASE CONTACT

THE REAL ESTATE

COMPANIES

RAY WHITE

ROLLESTON 03 347 9988

www.rwrolleston.co.nz

WEST MELTON 03 347 9933

www.rwwestmelton.co.nz

LINCOLN 03 325 7299

www.rwlincoln.co.nz

FARMLANDS www.farmlands.co.nz

FARMLANDS LINCOLN 03 325 2889

FARMLANDS LEESTON 03 324 3189

FARMLANDS DARFIELD 03 317 9070

PROPERTY BROKERS ROLLESTON

www.propertybrokers.co.nz

ROLLESTON 03 929 0306

HARCOURTS

www.fourseasons.harcourts.co.nz

HARCOURTS HORNBY 03 349 9919

HARCOURTS ROLLESTON 03 347 4711

HARCOURTS LINCOLN 03 662 9933

PGG WRIGHTSON CANTERBURY

03 318 7850, www.pggwre.co.nz

MATSON & ALLAN

www.marealestate.co.nz

ROLLESTON 03 347 9949

DARFIELD 03 318 8204

LEESTON 03 324 3704

MIKE PERO ROLLESTON

03 347 1111, www.mikepero.com

BAYLEYS

CANTERBURY 03 375 4700

www.bayleys.co.nz

GLASS MILES

CHRISTCHURCH 03 343 5178

www.glassmiles.co.nz
---
16