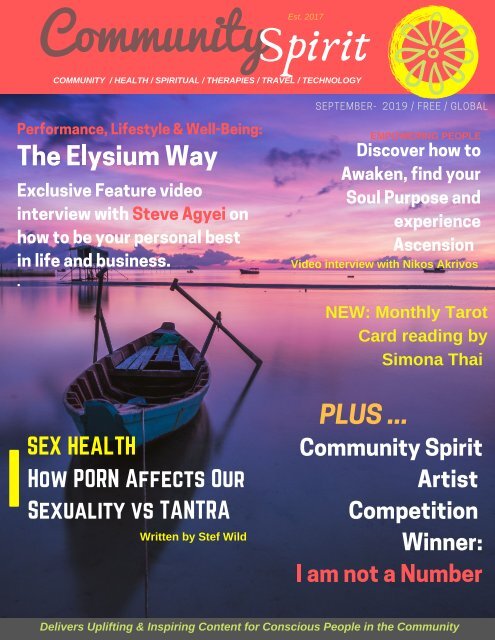 Community Spirit eZine - September 2019
We gently glide into September and the importance of inner peace this month. Our feature video interview is with Steve Agyei, a renowned fitness, lifestyle and wellbeing coach to the rich and famous. Steve is the founder of Elysium and creator of the 1 Minute Meditation, and the Personal Best Coaching System. Elysium is a next-generation members club, focusing on life balance and wellness, providing a sanctuary for high net worth individuals. Our second video interview is with Nikos Akrivos and focuses on spirituality, what it is to Awaken and how we can experience our Ascension in this life. This issue is packed full of articles covering Health and Wellness, Supporting Local Communities to Thrive, The Big Clean Up, Next Generation Matters, Business Matters, Conscious Festivals in Europe and Spain, our new Art Competition, Sex Health, and for our spiritual section, we video interview Nikos Akrivos about Awakening and Ascension. Our Vision for the next 3 years:​ Over the next 3 years, we aim to inspire 1 million viewers/readers around the world to get out of their comfort zone by becoming self-aware and start working towards becoming the best version of them self, so as to have a positive impact on the community as a whole. Our Mission Delivers Uplifting & Inspiring Content for Conscious People in the Community. Written articles and videos. It is best to experience relaxing with a coffee or tea and reading it on a Tablet, Laptop or Desktop. To subscribe: https://www.communityspiritezine.com/subscriptions
We gently glide into September and the importance of inner peace this month.

Our feature video interview is with Steve Agyei, a renowned fitness, lifestyle and wellbeing coach to the rich and famous. Steve is the founder of Elysium and creator of the 1 Minute Meditation, and the Personal Best Coaching System. Elysium is a next-generation members club, focusing on life balance and wellness, providing a sanctuary for high net worth individuals. Our second video interview is with Nikos Akrivos and focuses on spirituality, what it is to Awaken and how we can experience our Ascension in this life. This issue is packed full of articles covering Health and Wellness, Supporting Local Communities to Thrive, The Big Clean Up, Next Generation Matters, Business Matters, Conscious Festivals in Europe and Spain, our new Art Competition, Sex Health, and for our spiritual section, we video interview Nikos Akrivos about Awakening and Ascension. Our Vision for the next 3 years:​

Over the next 3 years, we aim to inspire 1 million viewers/readers around the world to get out of their comfort zone by becoming self-aware and start working towards becoming the best version of them self, so as to have a positive impact on the community as a whole.

Our Mission
Delivers Uplifting & Inspiring Content for Conscious People in the Community.

Written articles and videos. It is best to experience relaxing with a coffee or tea and reading it on a Tablet, Laptop or Desktop. To subscribe: https://www.communityspiritezine.com/subscriptions
SHOW MORE
SHOW LESS
Create successful ePaper yourself
Turn your PDF publications into a flip-book with our unique Google optimized e-Paper software.
Community

Est. 2017

Spirit

COMMUNITY / HEALTH / SPIRITUAL / THERAPIES / TRAVEL / TECHNOLOGY

SEPTEMBER- 2019 / FREE / GLOBAL

Performance, Lifestyle & Well-Being:

EMPOWERING PEOPLE

Discover how to

The Elysium Way

Awaken, find your

Exclusive Feature video

Soul Purpose and

interview with Steve Agyei on

experience

how to be your personal best

Video interview with Nikos Akrivos

Ascension

life and business.

in

.

NEW: Monthly Tarot

Card reading by

Simona Thai

I

SEX HEALTH

How PORN Affects Our

Sexuality vs TANTRA

Written by Stef Wild

... PLUS

Spirit

Community

Artist

Competition

Winner:

I am not a Number

Delivers Uplifting & Inspiring Content for Conscious People in the Community
---
IN THIS

ISSUE

Dear Readers,

Each month Community Spirit ezine is just going from strength-tostrength.

In this issue our theme is the Importance of Inner Peace.

Our Vision

Over the next 3 years, we aim to inspire 1 million viewers/readers

around the world to get out of their comfort zone by becoming self

aware, and start working towards becoming the best version of

themselves, so as to have a positive impact on the community as a

whole.

This month's feature interview is with Steve Agyei. Steve is a

renowned performance, lifestyle and wellbeing coach to the rich and

famous. He has worked with Beyoncé, David Beckham, Jennifer Lopez,

Emma Bunton, Tony and Cherie Blair and coached for adidas, Nike and

Lululemon, plus Chelsea and Brighton and Hove Albion football clubs.

Steve is the founder of Elysium and has created the Elysium Way

Coaching System – How To Be Your Personal Best In Life And

Business.

All the Best,

Richard T. Voller,

Founder, editor and interviewer

www.CommunitySpiritezine.com

00 34 602.564.973

Community Spirit is an international lifestyle ezine for conscious-minded people who are

interested in living healthy lives and supporting each other to co-create thriving local

communities. All right reserved. Community Spirit ezine is a registered trademark. It may not

be used by anyone except ourselves, under any conditions.

DISCOVER HOW TO BE YOUR

BEST IN LIFE & BUSINESS

Video interview Steve Agyei who works

with the rich and famous, coaching them

to become their personal best in life and

business.

Fascinating insights into what it was like

to be the personal trainer for Tony Blair,

a former Prime Minster of England. This

interview is ideal for people who want

to learn more about how to be healthier,

wealthier and happier in every aspect

and area of your life.

PORN SEX VS TANTRA

Does porn affect our sexuality?

In order to shed some light on this

interesting discussion, we asked

tantra teacher, Stef Wild to give us

some advice from her own

experiences.

LEARN ABOUT ASCENSION

This interview really reinforces the

'SPIRIT' in Community Spirit. Nikos

Akrivos has made a name for himself as

a healing DJ in the UK and in Ibiza, and

is well known for organizing conscious

parties without any drugs or alcohol,

just feeling more than fine on natural

vibes! We chat with him about

spirituality, awakening and ascension.

Article Writing submissions:

CommunitySpiritEzine@gmail.com

copyright eMazineMedia 2019
---
Contents

Being Conscious

Video Interview: Nikos Akrivos - Spirituality & Ascension - page 62

The Big Clean Up - Fukushima update video - page 19

Tarot Card Reading for Inner Peace - page 28

The Tao of Peter Gabriel and Inner Peace - page 30

Community Focus

Next Generation Matters - Kristine Barnett genius son - page 57

Supporting Communities - Get to know Denia - page 10

Business Matters - Rental prices in Spain increase - page 41

Cool Tech - Top of the range in electric bikes - page 29

Art - Competition for Artists - page 25

Clothing Design - Mushrooms replace leather - page 35

Festival Fever - Conscious Festivals in September - page 22

Being Healthy

FEATURE INTERVIEW: Steve Agyei - Health,Fitness & well being - page 46

Health Matters - Mindfulness - Inner Peace - page 52

Health Matters - Vitalistic Magnetic Therapy - page 49

Sex Health - Porn vs Tantra - page 3

Want to place your advert here for just €29?

Contact us - communityspiritezine@gmail.com
---
S E X

H E A L T H
---
Written by Stef Wild

H o w p o r n a f f e c t s o u r

s e x u a l i t y v s t a n t r a

Recently I had a lady ask me on Instagram

S O , I T U R N E D T O P O R N . A T F I R S T I T

@stef.is.wild about how porn affects our

W A S V E R Y E M P O W E R I N G , F I N A L L Y

sexuality. I used to watch porn quite regularly,

especially when I was trying to learn about

B E I N G A B L E T O L E A R N A B O U T T H I S

what it means to be a sexual being. Because,

let's face it, we all come from sex, we are all

T A B O O P A R T O F M Y S E L F , B E I N G

sexual beings and that is never going to

A B L E T O F E E L T H E S E X U A L E N E R G Y

change or go away.Porn was the only real way

B E I N G A C T I V A T E D W I T H I N M E . L O O K

for me to start to learn and discover a bit more

A T T H E S E X U A L P O S I T I O N S A N D

about this side of myself. I had a pretty crappy

sex education at school, which mainly talked

H O W T O P L E A S E A M A N . I C O U L D

about how to not get STD's and how not to get

F I N A L L Y S E E W H A T S E X W A S M E A N T

pregnant, we didn't really talk about sex at

home, I didn't start to become sexually active

T O L O O K L I K E A N D W H A T I T M E A N T

until I was 18 years of age and had no idea

T O B E S E X U A L L Y A C T I V E .

what to do about my sexual energy and my

desires.

S E X H E A L T H
---
s o p o r n b e c a m e m y t e a c h e r

I learned everything I could about porn sex. I

I thought that was what they wanted? I

didn't even know there was any alternative. I

thought that was what was expected of me?

became good at porn sex. I was a pro, I even

What on earth was I doing wrong? I was doing

thought, boy, I could become a great porn star

everything by the Porn book, yet I was feeling

if I wanted to.

very dis-empowered while partaking in the

'Hookup culture'.

But then, my long term relationship grew apart

and I found myself single for the first time in

I thought "Is this all there is? Is this all there is

years. "No problem," I thought. I'm just going to

to sex? Surely there has to be more to it?" and

go out there and sleep with whoever I want to

as soon as I started to ask this question, a

sleep with because I'm a strong, independent

Tantra book popped out at me, then I looked

woman and I embrace my inner slut. And so I

at Tantra workshops in my area.

I thought that men would fall in love with

did.

because of the sexual 'porn' style prowess I

me

I did have some wonderful

possessed.

but to be honest, the rest ended

experiences

in tears, me feeling like a used garbage bag

up

I went to my first two Tantra

workshops and it changed my

life forever.

and me taking my emotions out on men

because of how horrible I would feel after

S E X H E A L T H

sleeping with them, before I was ready.
---
T h e r e w a s n o t h i n g s e x u a l i n

t h e w o r k s h o p s , b u t I l e a r n e d

w h a t c o n n e c t i n g b a c k i n w i t h

m y s e l f m e a n t .

I learned what real, love-filled connection and

We have outsourced our sexual education to

intimacy with others meant. I learned what

Porn companies and dis-empowered ourselves

boundary setting and respecting myself and

because we have been taught to think of sex as

others meant. I learned about asking and

a taboo topic. And if you think Porn isn't much

giving consent and also learned about sexual

of a problem then here are some stats:

energy and how powerful it is and how it is

important to be aware of it and respect it.

The number of girls aged 18 and under

undergoing labiaplasties has nearly doubled.

None of this is present in or taught Porn, yet

In 2014, 222 girls underwent the procedure,

up to 400 in 2015, according to the American

because we are all too guilt and shame ridden

to talk about sex, to provide ourselves with the

Society of Aesthetic Plastic Surgery. - This

statistic has since grown further.

quality sexual education that we deserve and

need, this is where we are all turning to for

education (whether we consciously know it or

not)

S E X H E A L T H
---
force energy), the more it will manifest in

A casual survey of forums where people

discuss "bad sex" suggests that men tend to

negative ways, more shame, trauma, lack of

education, perversions. On the flip side, if we

use the term to describe a passive partner or

a boring experience. But when most women

accept that sex is natural, normal, innocent

and also an art form that should be studied via

talk about "bad sex," they tend to mean

coercion, or emotional discomfort or, even

correct sexual education, then it has the

potential to free us from shame, guilt and help

more commonly, physical pain. Debby

heal a lot of trauma.

Herbenick, a professor at the Indiana

University School of Public Health, and one

of the forces behind the National Survey of

There was a time when I unknowingly

outsourced my sexual education to porn

Sexual Health and Behavior, confirmed this.

"When it comes to 'good sex,'" she told me,

companies, which led me to accept "hookup"

culture and not being conscious of the sexual

"women often mean without pain, men often

mean they had orgasms."

choices I was making for myself...this led to

tears, hurting others, unprocessed emotions

and feeling dis-empowered. Today, I choose to

And there are loads more where that comes

from!

consciously empower myself in this area of life

by:

Sex isn't just going to go away. Just because

we choose to push it away, not talk about it,

De-conditioning and reprogramming my

subconscious mind on what it means to be a

make it taboo, doesn't mean that it's going to

become obsolete. The reality is we are all

sexual being and what being sexually

empowered means to me.

sexual beings, whether we accept it or not. We

all come from sex, our parents had sex and

Working on myself, doing my inner work and

healing my unprocessed emotions and

that is how we were conceived. Why is it that

pregnancy is seen as innocent and beautiful

trauma - this way I'm not engaging in sexual

activities from a "wounded being "

but sex is seen as "nasty", "dirty" and something

that shouldn't be spoken about? To me, that

perspective and causing myself to

experience more pain.

doesn't make sense. The more we push this

powerful sexual energy to the side(aka, our life
---
Prices for private sessions start from €75 per persom

Your Aura Experiwence is healing for your Heart & Soul

Contact to book your appointment

AuraPaintingExperience
---
Loving, respecting and embracing my body

as it is.

Making sure I feel safe in my body by setting

in sexual situations.

Consciously embracing my erotic and

sensual nature - this means that I no longer

Advertising space

available

solid boundaries, so I know I can trust myself

trap myself in shame and guilt for being who

I naturally am (a sexual being). This allows

me to be free to be my true self and make

better choices for myself. It also helps me

empower others by speaking my truth.

To place your advert here,

send your request to:

Understanding that my sexual energy is my

life force energy and I'm no longer going to

share it with just anyone, anymore. To me,

Not everyone deserves my energy. This

communityspiritezine@gmail.com

sex is sacred. It's a sacred energy exchange.

means that I have little or no sex in my life

at the moment but I'm ok with that because

I have learned how to channel my energy

into other areas of my life. I am a powerful

sexual being but I am not trapped by the

need to have sex.

This is what makes me feel sexually

empowered. What makes you feel sexually

empowered? Through Tantra, I have learned

that sex can be deeply healing, loving,

nurturing and a way to connect us to higher

levels of consciousness. This perspective is

not present in our mainstream culture. Let's

empower ourselves through openly talking

about this area of life, looking to other

conscious ways to learn about sex and no

longer outsourcing our education to those

who don't care about our sexual well-being.

Bio: Stef Wild

Stef Wild is a Tantra teacher with a deep

passion for empowering others to live

according to their own truth.

Instagram @Stef.is.wild

YouTube https://www.youtube.com/stefwild

Facebook https://www.facebook.com/Stef.is.Wild

Website http://www.StefWild.com
---
S U P P O R T I N G

C O M M U N I T I E S T O T H R I V €

Let's Discover 14 great things about Denia, near Valencia

Best places to eat out, best beaches, where to go shopping for

local arts and crafts, and learn more about its culture and history.

Content courtesy of www.thecrazytourist.com
---
1. Les Marines

Starting just north of the harbour, Les Marines may be the pick of Dénia's superb beaches.At almost

three kilometres long it's spacious enough that you can escape the crowds and laze in peace on the soft

golden sands.Behind the beach are low dunes and a mix of unobtrusive apartments and large holiday

homes.Kids will love it too, and you can let the little ones play in the shallows as the beach shelves very

gradually.As befits a Blue Flag reach there are beach bars and restaurants, and you can also hire

pedalos from the shore.

2. Punta del Raset

The closest beach to the centre of Dénia still

manages to have an open, natural feel about

it.Punta del Raset is broad enough that you'll

need to use the wooden walkways that traverse

the dusky golden sands, which can get pretty

toasty under the summer sun.And as with Les

Marines, its size guarantees some seclusion,

even on July and August weekends.Also

convenient is Punta del Raset's western

orientation, facing away from the harbour and the

easterly winds, so the sea is smoother here than

on Dénia's other beaches.
---
3. Castillo de Dénia

On a crag behind the port, Dénia's castle was built by the Moors in the 10th century on top of the

foundations of a fortreess from the Roman city of Diannium.In the 11th-century it would have been a

sumptuous palace, as it was the home of the Moorish governor of the Daniya Madinat.Later though it

was needed for military purposes to offer a stronghold against the Barbary Pirates who attacked the

coast incessantly in the early modern age.The castle is the highest point in the city and you can get up

to the roof for the best view of the harbour and also Montgó to the southeast.

4. Montgó

If you want a tale to tell your friends you can

tackle this monolithic 750-metre mountain that

separates Dénia from neighbouring Jávea.What

you don't need to tell them is that, despite its

powerful appearance, it's actually a relatively

straightforward climb.If you take the CV-736, you

can pull off on a side track and park near the

shooting club.Tackling the mountain from the east

side the going is surprisingly easy, as the path

winds up along grey limestone terraces.It's only

near the top that you'll need to go carefully, as

there's a fair bit of scree after about 600 metres or

so.After that you can drink in the sight of Dénia

and its port in miniature.
---
5. Les Rotes

The further east you go from the port the smaller and rockier the beaches get.If you prefer small coves

to sweeping beaches then you'll love this part of the resort.Les Rotes is a chain of little rock pools and

cute beaches that despite being in a quiet part of Dénia are complemented by a clutch of posh seafood

restaurants.They take advantage of the exquisite scenery, with clear views of the golden sandstone

cliffs of Cabo San Antonio and across the waters of the marine park below.

6. Local Gastronomy

Dénia's fishing industry is alive and well, in part

thanks to one specific type of crustacean.The

Dénia red prawn has a bright red tint and lives in

a deep sea trench 600 metres beneath the

surface between this part of the Valencian coast

and Ibiza.Its habitat and algae diet gives it a

flavour that gourmands claim is unmatched – but

be prepared to shell out a bit extra for this type of

prawn because it's tricky to catch.The local

seafood paella is as good as any you'll taste, and

you should also sample espencat, a Valencian

salad with red peppers and aubergine, and

usually served with cod.
---
www.CommunitySpiritezine.com

7. Gerro Tower

You could also take an exhilarating seafront walk up

to this vase-like historic watchtower, perched on the

bluffs on the Dénia side of Cabo de San Antonio.It

was built in the mid-16th century during the reign of

Carlos I, and was part of the first generation of

coastal watchtowers designed to detect or even fight

off incursions by Berber pirates.The structure

belonged to a system of defences that would

communicate with each other via mirrors or smoke,

and this one would have been pretty self-sufficient

as it was built on a freshwater spring.The most

exciting part for amateur historians is the surviving

coat of arms of Carlos V, with the two-headed eagle

of the Habsburg Empire.

8. Barrio Baix la Mar

One of the nicest parts of Dénia for strolling is the

Barrio Baix la Mar, a seafront quarter that for

centuries had a large population of fishermen and

sailors.It's an area of one and two-storey homes

brightly painted in blue, yellow and red.The

wrought iron balconies are decorated with flowers

and plants that cascade down the walls.These

homes are mostly from the 18th and 19th

centuries, but there's evidence that it was also a

waterside district in Moorish times.The closer you

get to the water there more restaurants you'll

encounter, and close to the port these have

outdoor seating shaded by palm trees and canvas

awnings.
---
www.CommunitySpiritezine.com

9. Toy Museum

For the first few decades of the 20th

century Dénia was a centre for toymaking,

after its raisin industry was

wrecked by the phylloxera

blight.Starting in 1904 metallic

models of trains and the like were

assembled here.From the 1920s the

city turned its attention to wooden

toys, and became known for the high

quality of its model cars, dolls,

bowling sets and sailboats, all

carved, varnished and painted to

exacting standards.At this free

attraction in Dénia's former train

station you can check out these

vintage toys, and track the

progression of toy-making in the city,

from the turn of the century to the

1960s.

10. Ethnology Museum

This attraction takes you back a bit further, to the

1800s when Dénia experienced a bit of a boom

thanks to its dried fruit harvest.The income from

raisins helped expand the city, create a middleclass

and brought a railway line with it.On the

ground floor you can check out archive

photography of raisin production in action.Higher

up you can see what the wealth meant for the new

bourgeoisie, and the clothes and jewellery that

were in fashion at the time.Then on the top floor

are more rustic displays of work tools and folk

costume, as well as a map that indicated the

extent of Dénia's maritime trade with other

nations.
---
www.CommunitySpiritezine.com

11. Cabo de San Antonio

The walk to the tip of this

monumental headland to the

southeast of Dénia may seem a bit

forbidding to families, but the good

news is that there's an upland road

twisting past old windmills to get you

there.Many people pack a picnic and

spend a good couple of hours

revelling in views that extend out

to Ibizaon clear days.The cliffs are

160 metres high and are part of a

marine reserve, where fishing is

prohibited in the waters below and

grouper and sea cicadas flourish.

12. Hermitages

A fun way to get out in the countryside around

Dénia is to set off in search of one of the handful

of old hermitages, or chapels, usually dating to

the 15th and 16th centuries.These tended to be

set far away from settlements and today usually

remain unfrequented apart perhaps from small

weekly masses and saint's days when people may

make the pilgrimage.You can get detailed

information on how to find them from Dénia's

tourism office.Take Pare Pere, on the middle

slopes of Montgó, which sits within the natural

park in pine-woodland.Still standing is the modest

17th-century house used by the founder, Fray

Pedro Esteve during his retreats for prayer and

meditation.
---
www.CommunitySpiritezine.com

13. Water Sports

Those in the know rate Dénia as one

of the top destinations in Spain for

water sports.This has much to do with

the resort's orientation, catching the

prevailing winds at places like Les

Deveses at the top end of Punta del

Raset.it's great news for windsurfers

and kite-surfers, and if you've ever

felt like giving these sports a go you'll

never have a better chance than in

Dénia.The same goes for sailing, as

there are several schools in the

harbour.For spectators, the Real Club

Náutico de Dénia (royal sailing

school) is famed for its prestigious

regattas, the Ruta de la Sal and the

Copa del Canal.

14. Cova Tallada

There's no way to reach this cave in the San

Antonio reserve unless you're willing to get

intrepid.By land you can get there from Les Rotes,

continuing past the Gerro Watchtower.From the

rim of the bluffs are two hair-raising paths down:

It's vital that you wear suitable shoes for this.A

more relaxing way is to book a kayak trip with one

of Dénia's adventure sports companies and

paddle here instead.However you get there the

cave is worth the effort, with clear, sheltered

waters, perfect for snorkelling, and a huge

chamber to investigate.Many people come just to

sunbathe on the rocks and swim in the warm,

clear sea.

Content courtesy of www.thecrazytourist.com
---
W O U L D Y O U L I K E T O W R I T E F O R T H I S

M A G - E Z I N E

NOW YOU CAN!

Just visit our website and checkout the different topics

and choose one you feel you have enough expertise and

knowledge to write about.

SUBMISSIONS DEADLINE

26th of every month.

Click on link below:

Community Spirit ezine website
---
T H E B I G C L E A N U P

Watch video: To see the update of how the big clean up is going.

FUKUSHIMA

TODAY

-8 YEARS

AFTER THE
---
Tech: Home

C H E C K T H I S O U T !

SOLAR ENERGY IN SPAIN

The Spanish Government approved on Friday 5 April

a Royal Decree that regulates the new conditions for selfconsumption

of electricity, which encourage collective selfconsumption

and establishes a simplified mechanism for

compensation of self-produced and unconsumed energy.

The new energy regulation has put an end to the so-called

'sun tax' introduced by the conservative Popular Party in

2015 to tax the development of photovoltaic solar energy

and self-consumption in Spain. From now on, Spain will be

in line with its European neighbors and closer to achieving

the EU's energy targets for 2030.

The Minister for the Ecological Transition, Teresa Ribera,

foresees that the boost of self-consumption will have a

"positive effect on the economic activity, on the electrical

and energy system, and on consumers", such as the

reduction of the price of the electricity bill. According to the

Government, the measures adopted will permit society to

take advantage of the potential that solar energy can offer

as it will provide an alternative to citizens and it will allow

the entrance of new actors into the electrical system.
---
G r a b t h e p o p c o r n ! I t ' s t i m e

t o w a t c h a m o v i e !

F I L M R e c o m m e n d a t i o n

T H E R H O O D

O

Initial release: August 2, 2019 (USA)

Director: Cindy Chupack

Based on: Whatever Makes You Happy; by: William Sutcliffe

Producers: Jason Michael Berman, Cathy Schulman

Screenplay: Cindy Chupack, Mark Andrus

Feeling forgotten on Mother's Day, three best friends drive from the suburbs to New York City to

reconnect with their adult sons.

W A N T T O P L A C E Y O U R A D V E R T H E R E

F O R J U S T € 2 9 ?

(excluding VAT @

21%)
---
FESTIVAL

W H A T ' S O N T H I S S E P T E M B E R ?

FEVER

O U T L O O K F E S T I V A L

4-9 September 2019

Pula, Croatia

www.outlookfestival.com

S P I R A L K N I G H T S E C O - F E S T

6-15 September 2019

Evia Island, Greece

www.spiral-knights.eu

B E C O M E L O V E F E S T I V A L

13-15 September 2019

Pommritz, Germany

www.pikok.de/become-love-2019

T H E O L D S A W M I L L G A R D E N

P A R T Y

13-16 September 2019

Northallerton, England

www.theoldsawmillgardenparty.co.uk

B U B B L E F E S T I V A L

16-22 September 2019

Malta

www.thebubble.com.mt
---
17-24 SEPTEMBER, LA CODOSERA, SPAIN

CONNECTION

FESTIVAL

WWW.CONNECTIONFESTIVAL.ES
---
SEPTEMBER 13-15, 2019,

GARMISCH-PARTENKIRCHEN, BAYERN, GERMANY

WANDERLUST

FESTIVAL

WWW.WANDERLUST.COM/FESTIVALS
---
Community

Artist

E ACH MONTH

WE PUT ONE OF READERS

IN THE SPOTLIGHT

TO ENTER OUR COMPETITION AND HAVE THE SPOT PUT ON YOUR ARTWORK FOR

THE OCTOBER ISSUE, SIMPLY SEND THE NAME OF THIS MONTH'S ARTIST TO:

C O M M U N I T Y S P I R I T E Z I N E @ G M A I L . C O M
---
took me more than 40 years to bring my artistic side

It

... out

a long time, numbers were at the center of my life.

For

by modern mathematics I have now moved to

Built

lightning of life has imposed itself on me here in

This

and more particularly in Valencia.

Spain

all the forms of modern art, the ones that inspire me

Of

most are: abstract art, street art, modern art, .... I want

the

like being creative by playing with colors, lines, shapes, surfaces, ... to

I

new things and to provoke emotions in people.

discover

you can see throughout your walk in my pages

As

canvas, my paintings do not have a name .... just

and

unique number that represents it !! A little nod to

a

am not a number" ....

"I

I am not a number

ARTIST'S NAME

modern art.

to try everything!

See you soon ...
---
Click on the Sliding

Gallery below

I AM NOT A NUMBER
---
@HealingTarot

Written by Simona Thai

www.groundingenergies.com

healingtarot17@gmail.com

I N N E R P E A C E T A R O T C A R D R E A D I N G

We don't need to go far to reach inner

peace, inner peace comes from within

not from the outside. If we are waiting

for something to give us inner peace we

are just losing time, time that would be

better used to watch inside of us to find

the answer we are looking for.

Confusion is a disturbance that is

necessary to teach us the ability to get

out of it and listen to our higher self.

I know it's not easy at all but listening

to our physical body is a good strategy.

Another important factor to reach inner

peace is to connect our mind to the

heart.

When the mind follows the heart we tune

into our soul purpose and that's when

magic happens.

When the mind drives the heart we get

sensations of restriction and

disconnected feelings could bring us to

experience loneliness and despair.

The best way to feel inner peace is when you know you

are following your path.

A sense of peace and satisfaction will surround you and

the ability not be involved in other people's drama will

increase. Once you have experienced the turmoils in life

and detach from them you'll be able to see your past

peacefully and a brighter future being able to help

others.

Inner peace doesn't come with perfectionism but with

the ability of flowing with the life force, accepting the

reality as well as adapting and changing your

perspective.

Spending time in nature and dedicating yourself in art is

really helpful, so dance, sing and honour your life.

Express yourself fully with authenticity and use

creativity at its wholeness.

It is just a matter of cycle and you determine your story!

Remember: when practicing kindness, generosity and

altruism you'll get an amazing sense of inner peace in

return because giving unconditionally without

expectations is one's of the best ways to feel inner peace.
---
Community Spirit eZine

Cool Tech

EDITOR'S TOP PICK FOR COOL TECH THIS MONTH

If you would like to share your vlog in our ezine on Cool Tech, then send

your submission to communityspiritezine@gmail.com
---
T O

P

E

Written by Andie Sattler

T

and Inner Peace: A Different

Interpretation

G R L
---
Much has been said about the workings of inner peace in our

society; how to get it, how to find it and how to keep it. However,

inner peace does not seem to be something that can be actively

pursued. In our complicated world of mainstream and social

media; troubled relationships, impure environment and chemicalladen

food sources, inner peace seems something relegated to

the select few and a concept only reserved for the monks and

mystics. However, in this country of life, liberty and the pursuit

of happiness (i.e. the US), many are pursuing inner peace like

never before. Stories abound of prolific activities including yoga

groups, positive affirmation mantras, active purchases of a bevy

of self-help missives, vacations to exotic places, individual or

group therapy sessions with a professional and all manner of

money spent in the prolific pursuit of something that perhaps

may be more esoteric and simpler in nature.

To use Peter Gabriel's majestic classic musical work, 'Blood of

Eden' from the solo album 'Us', (released in 1993) as a guide to

this perplexing issue, both in oneself and in one's relationships,

we can see clearly that inner peace may be so much deeper and

more than the pursuit of happiness. Although this particular

piece was heralded to be about divorce, the ubiquitous concept

can alternately be used to guide us through the concept of inner

peace. His lyrics start out with the obvious problem :

I caught sight of my reflection

I caught it in the window

I saw the darkness in my heart

I saw the signs of my undoing

They had been there from the start

And the darkness still has work to do

The knotted chord's untying

They're heated and they're holy

Oh they're sitting there on high

So secure with everything they're buying
---
...and then continues with the second stanza:

My grip is surely slipping

I think I've lost my hold

Yes, I think I've lost my hold I cannot get insurance anymore

They don't take credit, only gold

Is that a dagger or a crucifix I see

You hold so tightly in your hand

And all the while the distance grows between you and me

I do not understand

These soulful and descriptive lyrics on some level mirror the human

condition; both in identifying and knowing that the seeds of our

inherent destruction are not only apparent and manifest from the

beginning, but are contributing to one's unrest, including manifesting in

relationship issues, financial difficulties, thus making inner peace

nearly impossible. Isn't that every man on some

level, working to fight against the underlying darkness or perceived

rejections that seems to be a potential threat to our own efficacy,

freedom, and self-actualization?

So the question remains with this constricting dynamic of how does one

actually achieve inner peace, in such a potentially contentious

condition? Looking back on the insightful lyrics, Gabriel goes on to

make a profound exclamatory point, that should not be denied and

perhaps be seen as the apex turning point to finding a new road of

consciousness:

At my request, you take me in

In that tenderness, I am floating away

No certainty, nothing to rely on

Holding still for a moment

What a moment this is

Oh for a moment of forgetting, a moment of bliss

Heyyyyyyyyyyyyyyyyy
---
Gabriel goes on to illustrate that it is in letting go, not holding on which creates a

'moment of bliss'. In letting go, we release our dependence on the outcome; in letting

go, we release life's obligation to turn out as we require it to, thus healing our very

own relationship with life itself, into one of mutual respect, rather than anxious

attachment with the expectation of impending doom or annihilation by actively

pursuing something that is in reality endemic to our nature needing no pursuit at all.

It is in the unclenching of the fist of insistence and the opening of one's hand and

heart that we are able to take in the experience in the present moment as it is, rather

than what we feel it should be or relegating our outlook to our past experiences. It is

the ultimate forgiveness, not only to those who have wronged us, but the forgiveness

of the entire threedimensional paradigm of lack and not enough and the perpetual

fight to include our own piece of it.

Gabriel goes on to explain the human condition with these profound

statements:

I can hear the distant thunder

Of a million unheard souls

Of a million unheard souls

Watch each one reach for creature comfort

For the filling of their holes

It is in the action of filling of one's holes, that substantiates the reality of

the hole. Unfortunately, many of us create the condition of cause and effect

in our lives, thus contributing to the belief structure that there is indeed a

need to be filled, whereas the true reality is, there is no need to do

anything but be present in the moment and be aware of our part on the

larger collective, and from there ultimately our responsibility in that also.

Gabriel finishes the song with these at depth statements:

It was all for the union

Oh, the union of the woman, the woman and the man.

The blood of eden keeps running through me

running through my veins

the blood of eden keeps rushing through me

when I'm sure there's none that remains

the blood of eden keeps running through me

I can feel it in my bones

that blood of eden keeps rushing through me taking back what it owns
---
One can superficially interpret those lyrics as a relationship model

between a man and a woman but if looked at with new more cosmic

eyes, one can easily see, that the experience can be always

interpreted as an invitation to accept the oneness and union that is

inherent in everything that is.

Alone or matched, prince or pauper, of high station or low, acknowledged or ignored,

suffering is optional. We are all a part of the cosmic consciousness, and that

consciousness runs through our veins, bones, our very breath and to welcome it at

every turn with no conditions, even if the experience gives us great challenge in

believing its deeper meaning and invitation. Everything is connected, everything is

united, everything is working toward the expression of the whole, and that when one

one fully accepts and internalizes that profound concept, is when one will finally find

what the pursuit of happiness has been failing them all of their lives.

It is in the moment of forgetting (our separation), is the moment we find our eternal

bliss and inner peace.

Thank you, Peter for being such an Earth Angel.

Author Bio:

Andie Sattler is a

connected infinite

spiritual being who

plays the avatar identity

of a deep thinker, music

aficionado super-fan,

writer, homeschool

parent and Reiki

practitioner in the Palm

Beaches, Florida. She

loves palm trees and

animals, but loves to be

both all and nothing at

the same time, best.
---
Conscious

Fashion

REAL ALTERNATIVES TO LEATHER

If you would like to share your vlog in our ezine, then send

your submission to communityspiritezine@gmail.com
---
CREATE

MORE BRAND

BRAND AWARENESS ABOUT YOUR BUSINESS IN THE CONSCIOUS COMMUNITY,

EXTRA PUBLICITY. CONTACT US FOR OUR MEDIA PACK TODAY.

WE HAVE A NUMBER OF AWESOME ADVERTISING DEALS TO HELP CREATE MORE

AWARENESS

AND YOU CAN ALSO SPONSOR ONE OF OUR VIDEO INTERVIEWS TO GENERATE

COMMUNITYSPIRITEZINE@GMAIL.COM
---
COMMUNITYSPIRITEZINE.COM

SEPTEMBER 2019

healing tips

Every issue we bring you practical healing methods you can

easily apply to your life, that can have a massive positive

impact on you, both mentally & phyically.

R U B B I S H F U L L O F N E G A T I V E T H O U G H T S

Without being aware of it, we all keep emotional rubbish bins that we fill up with

negative thoughts about people we love, like brothers, sisters, parents or just close

friends. When we get upset we fill these bins with even more rubbish that we think

about this person. So when ever we think about them, so go back to the bin and all we

can think about them is the rubbish we've thrown into their bin. This totally blocks us

from seeing all the good things they are doing and seeing them from who they really

are!

R E M E B E R T O E M P T Y Y O U R R U B B I S H B I N !

So be conscious, be aware of what you are thinking about people you love!

When you notice that you are having negative thoughts about people you love, then

it's time to take action and empty your rubbish bin. Visualise your emotional rubbish

bin in your mind, grab hold of and throw out all the rubbish negative thoughts until it

is empty.

F I L L Y O U R R E C Y C L E B I N W I T H P O S I T I V E T H O U G H T S

So be conscious, be self aware and start to think of all the great things that people

close to you do and send them love.

Also be aware that people make mistakes and that there lives can be very different to

yours, and that they don't do things to deliberately annoy you or upset you, it's just

the way it is in that moment. From now on, keep recycling your thoughts and filling

your bin with love. Before long, you'll start to notice the magic taking effect in your

life and the positive energy coming back to you. This is a simple and practical tip that

when applied to your life, can have a massive positive effect!
---
Guide to being more

Self Aware

Are my

thoughts

negative or

positive?

Am I aware of

how my

subconscious

mind works

and how to

stop the

negative

chatter?

When I talk,

am I coming

from a place

of love, or a

place of fear?

Am I learning

to evolve

from my

interactions

with people ?

Do I feel out

of balance?

Does my gut /

solar plexus

feel

uncomfortable

?

Am I aware

that with a

short

meditation I

can be

present in my

heart chakra

and feel

immense love

and joy!

www.communityspiritezine.com
---
usiness

matters

S U P P O R T I N G E A C H O T H E R T O T H R I V €

S E P T E M B E R

01

2 0 1 9
---
N E W O N L I N E B A N K W I T H N O C H A R G E S

MONEY MATTERS

WHAT YOU GET?

N26 has 3 types of accounts, and this review is about the standard one. It

comes without any monthly fee, incl. a free debit Mastercard.

Debit means that it's not a credit card where you first can spend and then later

pay the balance – but you need to put money on it first and then you can spend it.

BEAMING!!! Now you can instantly make online payments to other people who

have an N26 bank account, even over the weekend!!!

You also receive a regular IBAN number for SEPA transactions.

This year you can have your bank account with a Spanish IBAN as well as a

German one which makes it easier for transfering payments online.

You receive a push notification on your smartphone, showing the price in EUR

N26 however will happily speak to you in English on their phone support.

You can withdraw money for free 3 times per month.

Smart algorithm categorises purchases, and then the app draws nice diagrams of

the data.

Want to try out N26? Use my referral code and you'll earn €10. All you have to do is use your new

N26 card to make a purchase of €15 or more. Use richardv0983. Click here.
---
AVERAGE COST OF RENT IN SPAIN JUMPS

50% IN FIVE YEARS

LAURENCE LEMOINE

A new report from the Bank of Spain has revealed that the average cost of rent in Spain has risen 50% in

the past five years. According to the study, which is based on figures from the real estate website Idealista,

rental prices rose the most in Palma and Barcelona (more than 50%), followed by Málaga, Madrid, Las

Palmas de Gran Canaria and Valencia (around 45%), between the end of 2013 and May 2019. Areas in

inland Spain however, saw the lowest spikes in rental prices.

The report found that the rental prices have increased at a "significantly" faster rate than housing costs.The

rising cost of rent is hitting low-income homes particularly hard. According to the study, families with few

resources, who account for the majority of the rental community, are less likely to buy property, given the

difficulty of accessing credit. What's more, they spend a higher percentage of their salary on rent. The

report showed that in 2014, the average spending on rental expenses represented 27% of the net income

of all Spanish homes, and 46.9% of the net income of low-income homes. In both cases, Spain is above the

OECD (Organization for Economic Co-operation and Development) country average.According to the report,

"24.7% of homes had rental costs of more than 40% of their net income in 2014, compared to the OECD

average of 13.1%." Spaniards in the lowest income bracket spend 63.9% of their net earnings on rent, a

figure only topped by Greece (68.6%).

The Bank of Spain report indicates that the increasing profitability of rental properties has attracted new

players to the market such as investment funds, businesses and real estate investment trusts (known in

Spain as socimis). The study, however, says this is not the only possible factor behind the rise in rental

prices. Other causes include the precariousness of working conditions, which make it more difficult for

Spaniards who are unemployed or in temporary jobs to buy property; the growing number of people

moving to the cities in search of work; and the reduced amount of available social housing.The Bank of

Spain study does not reach any strong conclusions on whether the rise in short-term vacation rentals like

Airbnb have pushed up the cost of rent in Spain. While the report makes note of the trend, it argues there

is no proven correlation.
---
The destination has jumped to fourth

position on the latest HSBC global survey,

with 83% of foreign residents saying their

overall well-being had improved since

arriving

Attics Mythics … The history of these apartments

that have become an object of desire.

In modern architecture, the attic is the floor

located nearest to the roof, at the top of the

face of the building, set back on the street side,

to make way for a balcony or terrace.

At a time when the prices take off for this type of

housing in Spain (and elsewhere), it is difficult to

think that the penthouse was previously the

apartment reserved for the porter or the service

staff … Because at the time when the elevator

did not exist (or was not within the reach of all

budgets) and where the roofs were poorly

insulated, the attic did not arouse so much

greed: the first floors were the most wanted: no

need to climb the stairs and in case of fire a

faster exit: in short, the higher you went, the

lower the prices … In this context, going down,

we gained in size! (The social lift is something

else Everything has changed !

Today, we fight to rent or buy an attic even if the

prices have flown! This type of good is rare and

so expensive … Sometimes double for the same

surface! In Madrid, at the height of the real

estate bubble, the square meter of an attic has

sometimes reached 13,000 euros … At the

moment, in the central areas of the big Spanish

cities, it costs on average 5,000 euros per square

meter .But the penthouse, in addition to

representing an interesting investment, allows its

occupants to feel as though they are at the

countryside while being in town: the clear view,

the nearly total absence of noise, the brightness

and the possibility of having a small garden or a

piece of garden that caresses the sky, simply

help to forget the sometimes prohibitive prices.
---
h e c k o u t t h i s d i s c o u n t

C

' m s h a r i n g w i t h y o u t o

I

u r c h a s e y o u r n e w c a r d

p

e a d e r f o r j u s t E u r o 2 5

r

n d b e g i n a c c e p t i n g

a

a r d p a y m e n t s . S i g n u p

c

i t h t h i s l i n k :

w

t t p : / / r . s u m u p . i o / j w A 1 -

h

Let the

money

sum up!

SumUp has one of the lowest card fees on the market!

Euro 39 (excluding IVA) for machine and only pay 1.5% per operation.

The SumUp Air card reader is one of several innovative new mobile credit card machines available to Spanish businesses. The

SumUp Air works in conjunction with the SumUp App on your smartphone or tablet.

And unlike more traditional PDQ machines, there's no need to sign up with a separate merchant account provider or pay any

additional credit card processing fees above their standard fee of 1.50%.

Here are some of the key features and benefits of the SumUp card machine:

- Accept payments via contactless, Chip & PIN or magnetic swipe.

- Equipped with NFC, Bluetooth

- Rechargeable integrated Li-ion battery god for 500+ transactions per charge.

- Micro-USB charging port

Accepted Cards

Accept any credit or debit card (including international cards) that displays

the following logos:

- Visa

- VPay

- MasterCard

- Maestro

- American Express

C l i c k h e r e .
---
support starts

Monthly

as little as €49

from

ARE YOU

STARTING UP

YOUR NEW

BUSINESS AND

NEED HELP

SETTING UP YOUR

OWN WEBSITE

AND MANAGING

IT?

Then we can help you

for as little as €199*

f o r a n E n g l i s h 4 p a g e w e b s i t e , e x c l u d i n g

c o p y t e x t , p h o t s , v i d e o s a n d / o r a n y

f u n c t i o n a l i t y , e x c e p t c o n t a c t f o r m .

CONTACT:

0 0 3 4 6 0 2 . 5 6 4 . 9 7 3
---
HEALTH,

FITNESS &

WELLNESS
---
EXCLUSIVE FEATURE VIDEO INTERVIEW WITH

STEVE AGYEI

THE

ELYSIUM

WAY
---
W A T C H T H E E X C L U S I V E F E A T U R E V I D E O

I N T E R V I E W

STEVE AGYEI

Richard T. Voller, interviews Steve Agyei who works with the

rich and famous, coaching them to become their personal

best in life and business.

Fascinating insights into what it was like to be the personal

trainer for Tony Blair, a former Prime Minster of England.

This interview is ideal for people who want to learn more

about how to be healthier, wealthier and happier in every

aspect and area of your life.

www.SteveAgyei.com
---
AURI & YOGI

Experience Dru Yoga & Aura Painting in Valencia

IDEAL FOR GROUPS OF FRIENDS WISHING TO CELEBRATE A SPECIAL

OCCASION TOGETHER AND DO SOMETHING VERY SPECIAL.

A half day event for up to 20 people,

that includes Dru yoga exercises followed by

aura painting for each person.

It also includes a healthy snacks and tea.

Bringing your inner voice

together

with your outer voice.

Through yoga, breathing & guided meditation... that lights up in a personalised

Aura Painting.

Let your Soul shine and sparkle in delight!

This normally costs Euro 49 per & includes healthy snacks & herbal tea. During August 2019,

we are offering a 25% discount per person.

Contact us to book a private event:

Christina - +32 495 88 36 45

Richart - 00 34 602.564.973
---
Have you ever heard of

Vitalistic Magnetic

Therapy?

magnetic therapy, or Bio-magnetic adjustment, consists in finding and

Vitalistic

energetically, the causes that make it impossible for the vital energy to flow

draining,

our body at a good level. The vital energy is what takes care of our body so

through

it does not get sick and the essential thing is to always keep it in good condition.

that

can be various causes that affect this vital energy at the time of flow, such as

There

existence of food, chemical, environmental, emotional or stressors of inherited

the

load or stress, also vital energy leaks (by a strong blow, etc.) energy anemia,

genetic

imbalance in the spine, toxic emotions, lack of energy hydration, energy acidity,

some

or overload of emotions in some organ ... among others.

pain

of them affecting the immune system.

All

W R I T T E N B Y N O E L I A L A B O R E R I A
---
is important to know that the body has

It

individuality and that what is

energy

for some is an aggressor for

favorable

which we call energy aggressor. We

others,

the kinesiological test to track and find

use

energy aggressors and how to drain

the

just the way they want, where they

them

and for as long as the body wants. This

want,

is as respectful as it is effective and

therapy

That is why it is important to perform

fast.

magnetic reflex tests so that the person

the

have the knowledge of what could be

can

triggers of their aggravation. We are fully

the

that health will be the result of

convinced

person living a life in which there is

the

for the energy of his body.

respect

bio-magnetic adjustment is

The

by the following:

characterized

Seeks to identify and avoid energy

1.

aggressors.

Try to recover the energy circulation of

2.

meridians

biomagnetic

The first and only unipolar technique can

3.

considered (Because in our therapy we

be

apply only the negative magnetic

commonly

of the magnets and avoid positive

energy

because the vast majority of the

polarity

consider it acidifying the organism

authors

producing an aggravation crisis, apart

and

that, its application in therapy is

from

because with the negative

unnecessary

we have the best results.)

polarity

Today it is the only method of

4.

that gives real importance to

biomagnetism

emotional situation of the consultant by

the

emotional adjustment in a large

applying

of manifestations that are

majority

considered only physical but that

commonly

is of utmost importance to erase from

it

energy of the consulted unpleasant

memory

that are transformed into

experiences

diseases. (So it is a therapy with

physical

acceptance among therapists,

great

psychologists and others who

homeopaths,

draining from the cellular memory

By

the magnets the toxic emotions of

through

events, by draining the energy

specific

and ultimately adjusting

aggressors,

required by the vital energy so

everything

this time flows 100% throughout your

that

the treated person , you will feel a

body,

of inner peace when you remember

sense

traumatic events never before

the

This inner peace is what gives

experienced.

vital energy of our body when we take

the

of it and respect it. Well, we all

care

here with a vehicle that is our

reincarnate

body, which is pure magnetism, and

physical

Laboreria is a biomagnetist and vitalist

Noelia

therapist, a therapy not yet well known but

magnetic

fast and effective as well as respectful of each

very

energy individuality. Also called biomagnetic

person's

If you would like more information, write

adjustment.

at noeajustebiomagnetico@gmail.com or follow

me

on Facebook as BIOMAGNETISMO CONDADO DE

me

Phone number; +34669446458

ALHAMA.

give emotional importance to the patient.)

can be cured with magnetism.
---
W R I T T E N B Y K A R E N T A T E

Health: MINDFULLNESS

HOW I FIND

MY OWN

INNER PEACE

Karen Tate is an English speaking UK registered Cognitive

Behavioural Therapist and mindfulness teacher, in Valencia. She

works with a range of common mental health issues.

contact

www.outofsynctherapy.com
---
a registered mental health therapist and mindfulness teacher, I see more and more that clients are coming to me to find

As

from their stressful lives. Sometimes they are looking to find contentment and inner peace. Sometimes they just want

release

consequences of not finding your life purpose include chronic, lingering dissatisfaction; an absence of inner

"The

and a sense of not being fully in sync with your inner self."

peace

people who you surround yourself with – the people you surround yourself with affect the way you think, feel,

The

behave. Try to establish healthy emotional and physical boundaries.

and

blame – taking things personally " its all my fault". Take responsibility for your choices and decisions and

Self

the things that are out of your control – like politics, the weather and others.

acknowledge

out of your comfort zone – A favourite quote of mine is "change is a challenge take the first leap". Allowing

Getting

to feel discomfort and getting out from your comfort zone is key to living a better life.

yourself

trying to impress people – don't waste your time worrying about whether other people approve of your choices.

Stop

try to focus on living your life and finding your values.

Instead,

– striving for perfection is exhausting and you'll never feel good enough. Mistakes are a part of life, like

Perfectionism

flaws and weaknesses.

our

possessions – yes it's nice to have lovely things. But having that bigger house, a brand new car or latest

Material

handbag doesn't give peace of mind. These things give us a momentary sense of joy but in the long run don't

mulberry

practical help to overcome day to day difficulties.

YOU'RE STILL READING, THEN YOU ARE PROBABLY STRIVING FOR A BETTER

IF

PEACEFUL LIFE AND HAPPIER EXISTENCE. HOWEVER, THIS IDEAL CAN

MORE

SOMETIMES SEEM LIKE AN IMPOSSIBLE CHALLENGE.

Why is it so hard to find inner peace and contentment?

1.

2.

3.

4.

5.

6.

satisfy our needs.
---
the past 10 years, I have been learning and

Over

mindfulness and yoga. I previously was quite

practicing

about the benefits and this was because I

skeptical

really understand the power of slowing down and

didn't

attention. I didn't even really know what

paying

was. I thought yoga was all about getting

meditation

the poses and when I couldn't do the perfect

into

facing dog" I used to get really frustrated.

"downward

9 years ago I began to get a little bit curious

Around

meditation but didn't really know what it was all

about

I decided to do some research and even with all

about.

google searches, I found it difficult to actually

those

and understand. A colleague at work was doing

define

thing called Mindfulness and she invited us to a

this

she was doing with her clients. She had some

session

bells and she then talked us through a sitting

mediation

scan meditation. After the session I found myself

body

lighter, less busy in my head and generally more

feeling

" So that must be what meditation is" I said to

relaxed.

myself!

I have grown and developed as a therapist and

As

teacher, I can only see the benefits of

mindfulness

a daily practice. I have the privilege of working

having

clients and seeing them change after only a

with

of sessions of mindfulness. Teaching mindfulness

handful

clients gives them a choice. A choice to try something

to

new, to embrace the challenges that life

completely

and to learn a practical and useful skill.

brings

much has been written about mindfulness and its

So

I myself have contributed to the exponential

benefits.

in research papers on this very subject. However,

rise

is not for everyone. I love it and have

Mindfulness

from living a more mindful life, but I know lots

benefited

people who just can't do the practice. But I would

of

is so much more than sitting in the lotus

It

is "paying attention, on purpose, in

position.Mindfulness

present moment, non – judgmentally". (Jon Kabat

the

Zinn).

focusing our attention on our daily lives we can begin

By

notice the patterns that arise and how we react to

to

So going back to my list before and trying to

things.

people. Mindfulness and focused attention can

impress

you see when you may be trying to impress

help

and how you respond. Noticing how you react

someone

then help you change and respond in a more

can

way.

positive

of my favourite mindful activities is to just sit and

One

out of my window. I have an apartment on the river

look

I love to sit and just watch the river. The boats that

and

up and down, the flow of the river, the changing

come

the seagulls. I find myself feeling very calm and at

tides,

peace.

MINDFULNESS AND INNER

PEACE.I HAVE A SOLUTION FOR

MY OWN QUEST FOR INNER

PEACE.

here's the

So

thing...

suggest you try. It can change your life.
---
you know that getting out and connecting with

Do

can improve your overall well-being and mental

nature

humans, we have an instinctive desire to be close to

As

This is nothing new as we evolved in it. There is

nature.

of evidence to support exposure to the natural

loads

improves our psychological wellbeing and

environment

not connecting with outside environments has

therefore

opposite, putting us at risk of deteriorating mental

the

are three simple ways you can become more

Here

in your daily life:

mindful

beginning a new activity take a couple of

When

of silence and focus your attention on the

minutes

Then begin to notice how this feels. Slowly

breath.

to focus your attention on the activity, this could

start

the middle of an on-going situation or process –

In

washing the dishes or taking a shower notice

whilst

temperature of the water, the feeling of the soap

the

your skin.

on

when you are just waiting, gently bring your

Or

to the breath, sounds, sensations or the

attention

whilst waiting at a red light, in a queue, or

sights

for someone else to arrive.You can practice

waiting

like this throughout the day and practice

mindfulness

a few mindful moments.

for

mentally and emotionally calm, helps you sleep

Being

better.

gain the ability to be emotionally and mentally

You

by what people think or say about you

unaffected

GET OUT IN NATURE, THE PARK,

THE BEACH……

1.

be noticing sounds if you are outside.

2.

3.

reasons why you need

10

peace…

inner

improves your ability to focus your mind.

1. It

makes you feel centered, grounded and stable

2. It

3.

health?

4.

gain self-mastery and self-discipline

5. You

improves your ability to handle life stressors

6. It

improves your relationships with other people

7. It

makes life look brighter

8. It

promotes creativity

9. It

health.

the ability to meditate.

10. Improves

to be more

How

during

mindful

the day..
---
NEXT

GENERATION

MATTERS

A B E T T E R W A Y O F L E A R N I N G

C O N S C I O U S - P A R E N T I N G

C O N S C I O U S - T E A C H I N G

C O N S C I O U S - E D U C A T I O N
---
O W K R I S T I N E B A R N E T T

H

U R T U R E D H E R

N

U T I S T I C S O N ' S S P A R K

A

F G E N I U S

O

Content provided by Givka Ivanova
---
After a year of working with therapists who tried to help her autistic

son, Kristine Barnett took a different approach on her own. Born a

happy, affectionate child, Jacob had stopped talking or smiling when

he was about 14 months, which led soon after to the diagnosis his

mother describes as "devastating." As the owner of a daycare, she

was interested in children and their development. And Jacob, her

firstborn of three sons, had shown early signs that he was clever:

learning his alphabet before he could walk, sounding out short

words by the age of one. But the therapists didn't think alphabet

flash cards were of any use. They didn't think he would ever read.

She persevered, watching her son closely for the things that

interested or preoccupied him. Astronomy was one. One summer,

she took him out into the countryside near their home in Westfield,

Ind., lying down together on the top of the car to watch the stars.

He had become obsessed with a college-level book on the subject.

One day, she decided to take him to a planetarium, where a lecturer

was presenting a special program on Mars. At one point, he asked

the audience if anyone knew why the moons around Mars are

elliptical. Nobody answered. Then Jacob put his hand up. "Excuse

me, but could you please tell me the size of these moons?" It was

more conversation than his mother had heard from him in his entire

life. The lecturer answered him. Her son then explained: "Then the

moons around Mars are small, so they have a small mass. The

gravitational effects of the moons are not large enough to pull them

into complete spheres." The room went silent. He was 3.
---
Soon, Jacob was "mainstreamed" in school, and

with each year, his teachers and parents discovered

more of his abilities. Like Dustin Hoffman's

character in the movie, Rain Man, he was adept at

calendar calculation – telling you which day of the

week someone was born, based on the year of

birth. He had stunning visual memory. He could

remember how many windows there were in a

skyscraper he had only seen once. By the age of 8,

he was taking classes in astronomy at Indiana

University. At 10, he entered university. Last year,

his story was on 60 Minutes. His YouTube video on

calculus, in which he writes reams of calculations on

the window panes in his house, went viral. Kristine

Barnett has now written a book: The Spark: A

Mother's Story of Nurturing Genius. Warner has

bought the movie rights.In person, mother and child

are a study of an extraordinary bond, of a biological,

emotional, spiritual, and intellectual connection, that

both affirms the helicoptering, hyper-parenting ethos

of modern culture and rejects it.

"It is an adventure every day," says Kristine Barnett

with a laugh when asked about their family life.

Brought up in an Amish family, she left her

traditional community to marry her husband,

Michael, whom she had met in college. But there

are qualities about her – steadfast, pragmatic,

down-to-earth and stubborn – that could be seen as

part of her upbringing. She is not fazed by any

question or, it seems, by any event. While in turmoil

about what to do with Jacob before his

breakthrough, her second child, Wesley, was born

with disease called reflex sympathetic dystrophy, a

neurological disorder that can affect every system in

the body. When she was 30, she suffered a stroke,

from which she is now, at 39, fully recovered. In its

aftermath, she was diagnosed with lupus.

While she talks, Jacob, now 15, sits at a table in the

boardroom of her publishers. Diagnosed with highfunctioning

autism, he is polite in the way every

parent schools her teenager – shaking hands firmly,

looking his interlocutor in the eye, adept at

pleasantries about the weather and his recent

travels. He listens to the conversation, but often

when addressed, looks to his mother to help him

interpret the question.

Asked how he feels about his mother's ability to

identify his genius – his IQ is higher than Einstein's

– he wrinkles his brow and says, "What are you

asking me? Hmmm," he says, thinking to himself.

And then comes his enthusiastic reply: "I'm very

appreciative."Does he hang out with other

teenagers? "I do hang out with average people who

are my age as well." Any girlfriends? "I was dating

some for a while, but then I realized I didn't have

very much time for a girlfriend." Does he feel

different from other teenagers? "No, not really," he

says. "I think they have just as much potential to do

what I do. It just takes doing it."But not all autistic

children have Jacob's capabilities. Do either of them

worry about giving parents false hope? "Everyone

has capabilities," Jacob replies. "It's who recognizes

it," his mother adds. "It's the human spirit to

overcome, and we all have it," she asserts. In 2000,

she started a not-for-profit learning centre for

autistic and special-needs children, called Jacob's

Place, where she will often bring in animals, to

engage the children.

"The animals change," Jacob explains. "One time it

was a llama. One time it was a sheep.""There was a

rabbit farm one year," adds his mother."And

currently, we are in cats," he deadpans.She

believes in a learning technique she calls

"muchness ... It is finding that thing that children are

truly passionate about within themselves. It can't be

something that you're telling them to do. And then it

has to be total immersion, very rich experiences

built around those interests.""Muchness" sounds like

an endorsement of hyper-parenting Tiger-momish

culture, I point out. But she shakes her head. "All

I've done is follow him with wonder into the stuff that

he loves … But it's very hard for many people to

take a leap of faith and put everything you have into

[some interest] that doesn't look like it will turn into a

job on Wall Street. As a parent, you have to let go of

your dreams for them, because they are yours.""I

like having autism. It's part of my character," Jacob

explains. Currently, he is working on three projects:

chaotic laser physics, classic PT symmetry, and one

that "has to do with string theory." He is looking into

graduate programs in math and physics.

He has ideas all the time, he tells me, often in the

middle of the night.
---
"He wakes me up to tell them to me," his mother

says."Only if it's a good one," he puts in.And what

was the last one that he thought was really good?"I

come up with them too rapidly to think of the last

one. Assigning them an order isn't going to

help."Suddenly, his mother turns into the one asking

questions of this sweet, extraordinary prodigy.

"What do you think about when I go, 'Oh, I'm

worried about you taking [on too much]?'"He looks

at her, offering a rapid comeback: "I'm worried about

you having more media appearances."I wasn't sure

what he had said, and asked him to repeat his

comment.He does, and then explains: "I'm using

sarcasm."

place your

ADVERTISMENT

here

To get your media pack:

communityspiritezine@gmail.com

Get it

DELIVERED TO

YOUR INBOX
---
DR BRUCE

LIPTON

You are a Community, not a single person!

Watch this short video and discover how your body is made up of a

community of cells, every live cell is a battery, 50 trillion cells gives off 700

trillion volts of electricity in your body! With training and meditation you

can focus this energy called 'chi' to heal your body.

Bruce Harold Lipton (born October 21, 1944 at Mount Kisco, New York), is an

American developmental biologist best known for promoting the idea that gene

expression can be influenced (via epigenetics) by environmental factors i.e. people have a

greater impact on their health than genetic research has previously determined. He is the

author of the book, The Biology of Belief, and is a former researcher at Stanford University's

School of Medicine.

www.brucelipton.com
---
community

SEPTEMBER

2019

COMMUNITY

SPIRIT

EZINE

Spirit

DEEPER CONNECTIONS

SENSE OF CONNECTION TO SOMETHING

BIGGER THAN OURSELVES

SOUL JOURNEY

A UNIVERSAL HUMAN EXPERIENCE

www.FeelMoreThanFine.eu
---
N I K O S A K R I V O S

V I D E O I N T E R V I E W W I T H

An in-depth light-hearted discussion on the

differences between spirituality, Awakening and

Ascension.

I N T E R V I E W E D B Y

R I C H A R D T . V O L L E R
---
You can now book via AirBnB by

simply clicking on the logo.

www.AuraofTantra.com
---
EMAZINE MEDIA

Community Spirit eZine

Community Living emazine is published by eMazineMedia.

For more information, please visit his website:

www.CommunitySpiriteZine.com

TO SUBSCRIBE:

http://eepurl.com/dw6QQ1

Published by:

Community Spirit eZine

You Tube Channel:

Community Spirit ezine

Colofon

Design: eMazineMedia

Editor: Richard T. Voller

Virtual Assistant: John Westfield

This project is being supporrted by

Click on logos to access websites