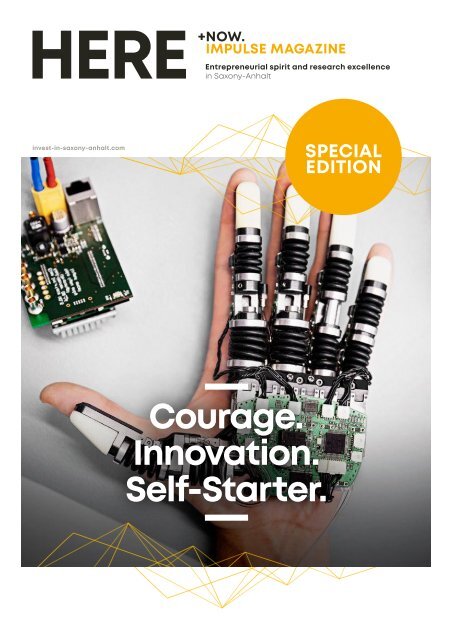 HERE+NOW.IMPULSE MAGAZINE // Special Edition 2019
Do you know the secret to free website traffic?
Use this trick to increase the number of new potential customers.
HERE

+NOW.

IMPULSE MAGAZINE

Entrepreneurial spirit and research excellence

in Saxony-Anhalt

invest-in-saxony-anhalt.com

SPECIAL

EDITION

Courage.

Innovation.

Self-Starter.
---
EDITORIAL

HERE

ideas become

successful.

Having good ideas isn't enough. They

also have to become a reality. For ideas to

become a success, they need opportunities.

Saxony-Anhalt offers these opportunities.

Entrepreneurs don't just appreciate the central

location and excellent infrastructure of

the federal state, which have made it into a

leading logistics hub in Germany and Europe.

The optimum scientific structure and

a sophisticated cluster management also

offer both those starting new businesses

and established companies the best framework

conditions. The historical local roots

in mechanical engineering and the chemical

industry provide sustainable foundations for

the region and create bridges to relatively

new sectors, such as information technology

and the bio-economy. Saxony-Anhalt is one

of the pioneers in the field of new materials

and materials which are based on renewable

raw materials. Creative people will also find

a stimulating environment and artistic freedom

for their ideas here. The creative economy

is increasingly becoming a driving force

and driver of innovation for other sectors.

The best opportunities count for little,

however, if they aren't taken. Nothing is ever

possible without people who have the courage

to start a business or bring an innovation

to the market. Such people are supported by

the Ministry of Economics, Science and Digitalisation

and the Investment and Marketing

Corporation Saxony-Anhalt as partners and

pilots – during their search for a suitable

location, with administrative procedures at

public authorities, as well as financial support

and the conceptualisation of projects.

Saxony-Anhalt is well-equipped for

entrepreneurs with courage and ideas. In

recent years, the federal state has made

good progress with its innovation strategy.

The links between business and science

have been strengthened on a sustainable

basis, and the transfer of knowledge and

technology has gained a decisive impetus.

This has also been down to ground-breaking

initiatives such as the State Initiative for

Excellence, the targeted expansion of the

business-oriented research infrastructure,

the establishment of an efficient transfer

infrastructure with the Competence Network

for Applied and Transfer-Oriented Research

(KAT), and the promotion of collaborative

projects and research and development projects

in businesses.

To further improve the position of

Saxony-Anhalt in terms of the international

competition for business locations, education,

research and innovation will continue

to take priority in the future. The success

stories on the following pages show that the

path we have chosen is the right one.

invest-in-saxony-anhalt.com

3
---
Contents

6

11

16

21

26

29

Food and Agriculture

Roquette + PureRaw:

A genuinely cracking idea

Chemistry and the Bioeconomy

EW Biotech:

Small becomes large

Mobility and Logistics

FEV Continuous Running Testing Centre:

Putting it through its paces

Health and Medicine

neotiv:

A mental matter

Energy, Engineering and Plant Construction,

Resource Efficiency

INTEB-M:

Mechanical engineering in the DNA

Ceterum:

Creating space for innovations

4
---
CONTENTS

31

36

41

Information and

Communication Technology

mercateo:

Ledermann's darling

Creative Industry

The Designhaus Halle:

An incubator for creative people

Key Technologies

SmartMembranes:

Success that's down

to the tiniest detail

5
---
MARKET

OF THE FUTURE

FOOD AND

AGRICULTURE

A genuinely

cracking idea

Roquette + PureRaw

6
---
MARKET OF THE FUTURE FOOD AND AGRICULTURE

A strong team wants to

establish a research

and competence centre

for algae in Klötze

Kirstin

Knufmann,

Managing Director

of Knufmann

GmbH, and

Jörg Ullmann,

Managing Director

of Roquette

Klötze GmbH

& Co. LIMITED

PARTNERSHIP

"Somewhere in the east" is where

Kirstin Knufmann was once told by a

customer that there was a good producer of

algae. She was looking for regional alternatives

for her suppliers from China. It was the

time when the cartons and boxes with their

goods were piled up in her parents' house near

Cologne and the family members could only

squeeze past them holding their arms up. It was

with this information that Kirstin Knufmann

discovered Roquette Klötze GmbH & Co. KG,

and in so doing, a strong partner with whom

she has continuously developed new products.

And in Klötze in the Altmark region, she also

found an attractive location for her company:

Knufmann GmbH, with the PureRaw brand.

PureRaw stands for the products of which Kirstin

Knufmann is personally convinced. After all,

for many years, she has been enjoying raw vegan

food, developing her own recipes and providing

information on the subject of nutrition

in specialist books, at trade fairs and in lectures.

"Algae aren't just of interest to people who eat

vegan. A lack of vitamin B12, iron or iodine is

now an issue all over Europe," explains Kirstin

Knufmann. "Soils are exhausted and the search

for high-quality food is becoming a problem."

Algae provide valuable proteins,

vitamins and fatty acids, grow 10 to 30

times more quickly than terrestrial plants, have

a low nutrient intake and are long-lasting. They

provide answers to many of the urgent questions

regarding the climate, agriculture and

feeding the world's population. In animal feed,

they can help reduce the use of antibiotics and

are even being discussed as a supplier of fuel.

"With my algae, I always have a solution.

There's just one problem: almost nobody

knows", explains biologist Jörg Ullmann. "And

it's no longer a matter of them being a source

of hope for the future. Algae have already

arrived." Some 70 percent of all processed foods

already contain algae. At the same time, they

7
---
Facts

Food and agriculture

in Saxony-Anhalt

100

1.2

Saxony-Anhalt has

approximately 1.2 million

hectares of land which

is used agricultural

purposes, around 85 percent

of which is arable land.

Klein Wanzleben is one

of the oldest locations

for sugar pro duction

in Germany.

Saxony Anhalt is home

to soil of the highest quality.

In many places, the maximum

soil value of 100 is achieved.

In the food industry,

Saxony-Anhalt

is home to 22,500

companies with at

least 20 employees.

have been produced at the industrial level for 65

years. Klötze is home to the first German algae

farm, which remains one of the biggest in Europe

to this day. Since 2004, it is mainly the micro

algae Chlorella that has been cultivated here

in a 500 kilometre long tube system made of

glass. This saves space and energy and provides

protection against contamination. Roquette

Klötze GmbH also cultivates approximately 15

other species of algae to order. A second plant in

Mecklenburg-Western Pomerania has recently

begun producing heat-loving Spirulina with the

use of a completely new technology.

"It would be a world's first.

We want to develop new products for

supermarkets here and to manufacture

and market these products locally.

We also want to educate the public

about what algae can do."

KIRSTIN KNUFMANN

Jörg Ullmann has been working at the

algae farm since 2004 and assumed

management of the plant in Klötze in 2012.

"We see ourselves here as a biomass producer,"

says the expert for powders and pellets made

from microalgae. "PureRaw, on the other hand,

is closer to the end customer and knows what

people want and what appeals to them best."

Together, Kirstin Knufmann and Jörg Ullman

are able to develop healthy and popular products

and market them successfully: "BOBEI"

powder replaces the ingredients of butter and

egg during baking. The instant drink mixture

"Unicorn Magic" brings the natural blue

colouring of the Spirulina algae with all of its

valuable ingredients into the glass.

Collaborations are also under way with other

companies and much is in secret preparation.

"We've got some cracking ideas in the pipeline,"

says Ullmann, discussing the crunchy algae

snack "Helga" and the organic drink of the

same name, for example. There are also icecream

mixes and algae noodles and they are

also giving pastries a go. A fruit press adds the

algae powder from Klötze to fruit juices, thereby

covering the daily requirement for vitamin

B12. And yet Knufmann and Ullmann are a long

way from having had enough of algae. "We

need more great, sexy products," they say.

They are both dreaming of their own

research and competence centre in

Klötze. With business partners and courageous

start-ups, they want to concentrate expertise

at the location. "It would be a world's first.

We want to develop new products for supermarkets

here and to manufacture and market

8
---
MARKET OF THE FUTURE FOOD AND AGRICULTURE

algomed.de

kirstinknufmann.de

pureraw.de

these products locally. We also want to inform

the public about the things that algae can do,"

explains Kirstin Knufmann. On the internet,

the young woman shows how algae can be

prepared at home. The photographs were

taken in her kitchen at home, which she now

shares with Jörg Ullmann. The two cook, fry

and dry algae. The age-old aquatic plants serve

as vegetables, spices, gelling agents and flavour

enhancers.

There are thought to be some 400,000

different species of algae in the world,

and the research is still in its infancy. "It's a

treasure chest that we're only just opening,"

says Ullmann. Together with his partner, he has

build the foundation for the new competence

centre. In 2018, they launched the AlgaeFood

innovation forum, which lasted several months

and included an international conference in

Magdeburg. The search for additional business

partners has therefore started. Multipliers

such as chefs, bloggers and prominent brand

ambassadors are also needed, however. "It's

good that Saxony-Anhalt has included algae in

its lead market strategy," says Ullmann. "Klötze

could become the starting point for an entire

industry."

When Kirstin Knufmann was looking for a new

location for her company, she had also had

Munich and Hamburg in mind. In Klötze, however,

she didn't just find cheaper storage and

production space, but 18 employees, a house

and a dog – and in Jörg Ullmann, a strong partner

in both her professional and personal life.

"We've had so many successes to toast," she

says happily. "But we haven't found the time to

go to the cinema in three years."

9
---
MARKET OF THE FUTURE FOOD AND AGRICULTURE

Free from those

pangs of conscience

Well-intentioned and wellmade

chocolate that comes

from Tangermünde

Tangermünder Nährstange, Magde -

burger Kugeln or Tanolo – the Stehwien

confectionery is known for its exceptional

regional specialities. It also has an eye on the

trends of the future, however.

The confectionery was founded in 1899 in Tangermünde,

and remains family-owned to this

day. Its owner, Olaf Stehwien, enjoys the opportunity

to guide visitors through his modern

production facility. He has nothing to hide, but

a lot to show. In addition to its traditional products,

the 20-strong team also serves the "Choc-

Qlate" brand from the Munich-based company

TrustFood GmbH and the nationwide market

of the future: the fine virgin-cocoa-chocolates

are vegan, organic and gluten and lactose-free.

They are sweetened with coconut blossom and

packed in compost-friendly wood foil.

naehrstange.de, chocqlate.com

A library

of life

The extensive gene bank in Gatersleben

is essential for life

Crunchy

ideas

The dried fruits from PÄX Food guarantee

a natural taste

The scientific work in Gatersleben is

based on a green heart: the German

Federal Ex-situ Gene Bank. As one of the

world's biggest and oldest institutions of

its kind, it safeguards the genetic diversity

of cultivated plants.

In the gene bank at the Leibniz Institute for

Plant Genetics and Crop Plant Research (IPK)

in Gatersleben, some 151,002 samples from

2,933 species and 776 genera are preserved and

therefore made usable over the long term: with

this collection, research also takes place into

cultivated plants and their related wild species.

The results of the research lead to a superior

understanding of the plants and provide the

basis for new species. Scientists use the Gene

Bank Information System (GBIS) for their

research.

Dried fruits can sometimes sound like

the kind of dry, soft food that you eat

when you're on a diet. PÄX Food serves them

differently: the long-lasting fruits from Magdeburg

are crunchy and brightly coloured, but

retain almost all their vitamins.

Neither baked, fried, nor freeze-dried: PÄX Food

AG has developed an entirely new process for

preserving fruit: The fruit is dried gently in

a vacuum with the addition of heat. Neither

sugar nor other additives are found in the ingredients.

In the online shop, apple rings are on

offer as well as exotic treats such as mulberry

or physalis. Courgette, onions and beetroot are

ideal for cooking. For healthy vegan cuisine at

any time of the year or simply as a crispy snack

in between meals.

ipk-gatersleben.de

paexfood.com

10
---
Managing

Director of

EW Biotech,

Dr. Joachim

Schulze

MARKET

OF THE FUTURE

CHEMISTY AND

BIOECONOMY

Small

becomes

large

EW Biotech

11
---
EW Biotech scales

biotechnological

processes in Leuna

The chemical park in Leuna is a small

world of its own. No one is allowed to

drive on the premises without an identity card

check and safety instructions. Inside, the traditional

industrial area is linked together by a

kilometre-long network of roads, rails, pipelines

and power cables. More than 6,000 people

work at the 1,300 hectare site – Leuna has

made a name for itself in the chemical industry.

One of the many companies based at the

chemical park is EW Biotech GmbH. It is here

that the leap from the laboratory to the

industrial production is rehearsed. An American

company, for instance, commissioned EW

Biotech with the production of small quantities

of 1.3-butylene glycol, which is used as a moisturiser

in a variety of creams. "At our facility,

we are able to scale any biotechnological

process and bring it to industrial maturity. Our

customers commission us with producing the

initial tonnes of a substance. Only two or three

companies in the world are able to do this. That

makes us into a sought-after partner," explains

Managing Director Dr. Joachim Schulze, while

representatives from an American start-up sit

in the next room and negotiate future projects

with the developers from Leuna. In addition to

scaling and contract manufacturing, the EW

Biotech facility also facilitates research and

12
---
MARKET OF THE FUTURE CHEMISTY AND BIOECONOMY

"There is a very

interesting spectrum of

chemical companies in

Saxony-Anhalt and our

collaboration is excellent.

I've rarely experienced it

in such complexity."

DR. JOACHIM SCHULZE

development work in the area of bio-based

chemicals for cosmetics as well as food and

feed additives.

EW Biotech regularly attends international

trade fairs with the objective of

bringing customers to Leuna with their projects.

The field of bio-economy is seeing steady

growth.

"In recent years, numerous start-ups have

been set up in Germany and the USA that are

genetically modifying bacteria, yeasts and

fungi in the interests of being able to produce

fine chemicals. That's exactly where we come

in: to test out what's possible. At present,

some 60 to 70 percent of American start-ups

in the bio-economy are knocking on our door,"

explains Managing Director Joachim Schulze.

Before arriving in Leuna, Schulze, who hails

from Dortmund, worked in research and development

and as a manager in plant engineering,

with his work seeing him travel the world. "I'm

excited about this new technology and the innovative

capability. The bio-economy has huge

potential. Saxony-Anhalt has embarked on the

right path in this area to be able to be a leading

player worldwide. We are now on the threshold

of introducing biotechnological methods into

industry," explains Schulze.

EW Biotech currently has more than 30

employees. Attracting experienced

employees to this young industry is considered

difficult. The area of training in this threshold

technology needs to be significantly expanded.

This is one of the reasons why Saxony-Anhalt

has the BioEconomy cluster – a network of

companies, research and educational institutions

working closely together on a bio-based

economy. In this way, value chains can be

expanded and optimised on an efficient basis.

The objective is to create a model region for the

bio-economy throughout Germany and Europe.

At present, more than 70 companies, research

institutes and educational institutions are

organised in the cluster.

"We have the ideal conditions. The

three biggest factories for sugar production

in the world are in Saxony-Anhalt. In

addition, the acceptance of the chemical industry

in the region is also greater because there is

a decades-long tradition here, which is a clear

advantage.

13
---
Facts

Chemicals and the bio-economy

in Saxony-Anhalt

80,000 13,800

The oldest material

from Central Germany is

80,000 years old – it was

found in Königsaue near

Aschersleben.

One sixth of the total

industrial turnover in the

federal state of Saxony-

Anhalt is generated by the

chemicals industry.

Saxony-Anhalt's

chemical industry

employs some 13,800

people and has

a turnover

of approximately

7.5 billion Euros.

The federal state is home

to five chemical parks:

Bitterfeld-Wolfen Chemical

Park, Leuna Chemicals Site,

Dow Value Park Schkopau/

Böhlen, Piesteritz Agro-

Chemical Park as well as Zeitz

Chemical and Industrial Park.

All in all, the chemical companies in Saxony-

Anhalt account for a very interesting spectrum

and our collaboration is very good. I have rarely

experienced this in such complexity," says Joachim

Schulze, who is also the Board Chairman

of the BioEconomy cluster.

Innovations have a strong tradition in

Leuna. In 1916, Carl Bosch founded the

history of the location for the chemicals sector

with an ammonia plant on behalf of BASF. The

far-sighted plans of the chemist helped Leuna

to gain international renown.

Following from the industrial introduction of

ammonia synthesis, from 1923, methanol was

produced for the first time on a global scale

using the high-pressure process. At the end of

the 1920s, the history of Leuna as a location for

the mineral oil industry got under way with

the development of lignite hydrogenation for

the production of synthetic fuels. The year 1938

marked a milestone in the history of the site: it

was in Leuna that Caprolactam was synthesized

to produce Perlon. Until the Second World War,

the stronghold for technology developed into

what was the biggest operational facility in

the German chemical industry. One example of

this is the world's first production plant for the

manufacturing of synthetic surfactants, which

entered operations in 1942. Leuna also remained

a synonym for chemicals after the Second

World War. Today's investors at the site benefit

from the production that took place under the

East German flag. The reputation of Leuna as an

industrial region that pollutes the environment

has long since been a thing of the past. In comparison

with 1989, environmental pollution has

been reduced by 95 percent, and more than 6.5

billion Euros have been invested in the chemical

site. The site has developed into a melting pot

for international chemical companies, where

French, American, Belgian and German businesses

work closely together.

ew-biotech.com

14
---
MARKET OF THE FUTURE CHEMISTY AND BIOECONOMY

Stable values

The company C3 Technologies GmbH in

Halle (Saale) uses environmentally-friendly

composites without crude oil

Is it possible to build better than

mother nature? Natural materials are

healthy and popular, but are frequently more

expensive than conventional materials and

demanding to use. The GreenTech company

C3 Technologies is responding with environmentally-friendly

composites.

The high-tech materials which are made from

regional, renewable raw materials optimise

characteristics and costs while conserving

valuable resources. They are stable, costef

fective and do not require petroleum or

high-performan ce processes. The solutions

from Halle (Saale) also include the Nature-

Composite panel construction element system

with load-bearing function, which is unique

worldwide. It can be used in the construction

of multi-storey buildings. The C3 products are

developed jointly with the Fraunhofer Institute

for Microstructure of Materials and Systems

IMWS.

c3tec.de

From straw to gold

Global Bioenergies GmbH highlights

alternatives for crude oil in Leuna.

Isobutene is required for the production

of fuel, solvents, rubber and acrylic glass.

Isobutene requires petroleum – or sugar. At a

demonstration plant in Leuna, researchers are

looking for new approaches.

Isobutene is a basic raw material for industry

and is one of the most important petrochemical

raw materials. The resource of oil is finite,

however. The German-French company Global

Bioenergies GmbH and the Fraunhofer Centre

for Chemical-Biotechnological Processes CBP

are demonstrating a way out. In 2017, they built

a pilot plant in which 100 tonnes of isobutene

can be produced annually – thanks to the digestive

processes of a micro-organism. It is based

on renewable raw materials such as sugar beet

and grain. To protect food, the researchers are

also looking at by-products from agriculture

and forestry, such as straw and wood. In the

future, bio-kerosene is set to be produced from

sugar in Leuna.

global-bioenergies.com

cbp.fraunhofer.de

15
---
MARKET

OF THE FUTURE

MOBILITY AND

LOGISTICS

Putting

it through

its paces

FEV Dauerlaufprüfzentrum

16
---
MARKET OF THE FUTURE MOBILITY AND LOGISTICS

FEV in Brehna tests

engines 24 hours

a day, 365 days a year.

Hans-Dieter

Sonntag,

Managing

Director of

FEV Endurance

Testing Centre

On more than two dozen monitors,

curves, columns of numbers and bar

diagrams whirr. On the wall, clocks show the

time in the USA, China and Japan. Engineers

routinely click through process logs. In the

control room of the FEV endurance test centre,

you don't just have a clear overview – you have

a clear perspective.

In the industrial park in Brehna, north east of

Halle, automotive manufacturers from all over

the world put their newly developed engines

"through their paces" before they go into series

production. In configured test cells, a wide

variety of engines are tested for their durability

and function using state-of-the-art measurement

technology. From wear on individual

components to oil or coolant consumption

through to intake air, thousands of data are

documented right down to the second, and

transmitted to the development departments

of car manufacturers.

Hans-Dieter Sonntag is one of two Managing

Directors at the FEV Endurance Test Centre. He

sits in his office and looks out of the window

at the vehicles passing by on the horizon on

the A9 motorway. "Mechanics, technicians and

engineers are on duty here around the clock.

This creates a very high level of efficiency when

completing the inspection tasks. We can also

carry out evaluations, special measurements,

error analyses and appropriate solutions at any

time of the day or night and make them available

to our customers," explains Hans-Dieter

Sonntag. This high efficiency as well as the 24-

hour service are also the reason why automotive

manufacturers no longer test their engines

themselves, but hand them over to Brehna.

Increasingly rapid model change cycles and the

growing complexity of drive configurations are

increasing the need for the technical securing

of new ranges of engine.

At the FEV Endurance Test Centre,

all combustion engines as well as hybrids

or straightforward electric vehicle drives

can be tested. "It is currently difficult to predict

the form of drive which will prevail in the fu-

17
---
Facts

Mobility and logistics

in Saxony-Anhalt

With 3,100 kilometres

of track, Saxony-Anhalt

has one of the most highly

developed rail networks

in the world.

6

6 academic departments

at the universities

in the federal state

educate the logistics

experts of tomorrow.

Saxony-Anhalt has one of the

most modern networks of waterways

in Europe, with the Elbe, the Mittelland

Canal, the Elbe-Havel Canal and

the Water Crossing.

ture. We assume that the various technologies

will be developed on a simultaneous basis over

the next ten years. We will naturally benefit

from this multi-track approach", explains

Hans-Dieter Sonntag. For FEV in Brehna, that

means growth. FEV has invested particularly

strongly in the expansion of test benches for

electric motors – the demand in this segment

is huge.

The company began in the year 2008

with 80 employees, who were responsible

for 31 engine and powertrain testing

systems. The site now has 48 test benches

"Here in the region, a mentality of

getting things done prevails. You come

up with an idea and you get going.

That's one of the main reasons why

we're at Brehna today."

HANS-DIETER SONNTAG

and more than 200 employees. When the

FEV Group, which is based in Aachen, was

looking for a suitable location, Saxony-Anhalt

convinced with its rapid, hands-on approach.

"Here in the region, a mentality of getting

things done prevails. You come up with an

idea and you get going. That's one of the main

reasons why we're at Brehna today. Due to

time constraints, we were hard-pressed to

be operational on schedule. The local authorities

held a conference, and what we never

thought was possible happened: we obtained

the approval within a week," recalls Managing

Director Sonntag, who previously worked for

the company for many years in Aachen. FEV has

now invested 90 million Euros in the Brehna

site and that's not the end of the story. At

present, there are plans to take the next step

towards e-mobility at the site in 2019 – with up

to 80 new jobs.

To strengthen research and development

in Saxony-Anhalt, FEV is part

of the MAHREG Automotive cluster. This is a

network to which some 170 companies and

research institutions belong. The key task of

network management is to strengthen the

innovation and performance capabilities of regional

suppliers. In addition to the developmental

partnerships, there is an intensive transfer

of knowledge and technology between the

areas of science, service providers and manufacturers.

FEV maintains a wide range of collab-

18
---
MARKET OF THE FUTURE MOBILITY AND LOGISTICS

orations with the universities of Saxony- Anhalt.

The establishment of a "Centre for Method

Development" together with the Otto-von-

Guericke University Magdeburg is also planned,

for instance. "It is set to become increasingly important

to have good connections with colleges

and universities. The objective is to make sure

that university graduates stay on in Saxony-

Anhalt. Business and science have to move

closer together. Dual courses of study also need

to be expanded with the objective of training

people who are more than just theoreticians,"

explains Hans-Dieter Sonntag.

At the Endurance Test Centre in Brehna, many

young engineers work different shifts. "It isn't

easy to find good employees these days. In

addition to competitive pay, however, we also

have other services, such as health management,

a laundry service, fresh fruit and coffee

and offer interesting jobs, which make us

attractive. And that's true, even though we are

competing with Porsche and BMW in nearby

Leipzig for well-trained specialists," explains the

Managing Director. FEV tries to offer employees

who want to get out of their shift pattern

an alternative in the interests of keeping them

in the company. There is a department in which

the engines are dismantled into their individual

parts and photo-documented after the endurance

test, for example.

Hans-Dieter Sonntag's office door opens a

little and his assistant reminds him that boarding

for his flight starts in just 30 minutes. And

that's another advantage of the Brehna location

– Leipzig/Halle Airport is just 20 minutes

away.

fev-dlp.de

19
---
MARKET OF THE FUTURE MOBILITY AND LOGISTICS

Virtual visions

Nericon supplies customised

designs for automobiles

For many people, their own car is a chic

status symbol. At the same time, new

solutions in terms of drive, performance and

environmental protection are required in the

shortest possible time frames. NERICON is

responding with virtual visions and designing

optimum solutions in 3D.

The history of the company NERICON engineering

& design GbR began with an efficient

solar-powered car, which the students at Anhalt

University developed with huge amounts

The customers of tarakos include Volkswagen,

Siemens and Nestle. The company provides

them with software tools with which complex

logistics and manufacturing processes can be

planned and simulated on a virtual basis. This

cost-effective and user-friendly 3D process visof

enthusiasm. On the basis of this expertise,

they created their own company in 2012.

Since then, they have dedicated themselves

to the car as a form of expression in Gardelegen.

NERICON works for Volkswagen,

Skoda and suppliers on customised designs

and improves the construction of functional

components inside and outside – from the

rear apron, to the seat set through to the

fittings.

nericon.de

Incredibly

helpful

Tarakos GmbH simulates logistics processes

Good planning is half the battle:

With the 3D software solutions from the

Magdeburg company tarakos GmbH, costs to

the value of billions are saved worldwide. The

simulations determine whether and how production

facilities and logistics centres are built.

ualisation allows medium-sized businesses to

plan more accurately, increase their production,

increase their safety and reduce their energy

costs. Tarakos is originally a spin-off of the

Fraunhofer Institute for Factory Operation and

Automation IFF, and also cooperates with the

University of Magdeburg.

tarakos.de

20
---
Dr. Chris

Rehse,

Managing

Director and

Co-Founder

of the Start-up

neotiv

MARKET

OF THE FUTURE

HEALTH

AND MEDICINE

A mental

matter

neotiv

21
---
neotiv is taking

its first steps towards

the early detection

of Alzheimer's di sease

with an app

Concerns about Alzheimer's disease are

widespread, especially among older people.

The brain disease is currently responsible

for more than 60 percent of all cases of dementia.

The loss of memory gradually worsens over

several years until the sufferer is no longer able

to respond to their environment.

Software from the Magdeburg-based company

neotiv is now giving hope that the disease can

be detected at an early stage. "The symptoms

that can lead to Alzheimer's disease are still

being detected too late. Today's approaches

to treatment only start when the damage is

irreparable. With the use of our app, we want

to change all that. Alzheimer's usually begins

10–15 years before the disease shows noticeable

symptoms. It is necessary for this time

frame to be used for the active prevention and

approaches to treatment," explains Dr. Chris

Rehse, CEO and one of the four founders of the

start-up company neotiv.

The digital solution from the Magdeburg

company comes in the form of

playful memory tests. With the help of findings

from the field of cognitive research, the tests

carried out by the app focus on the memory

functions affected by Alzheimer's at an early

stage. Over an extended period of time, specific

memory performances are assessed on a regular

basis so that changes can be determined.

22
---
MARKET OF THE FUTURE HEALTH AND MEDICINE

"Our location in Magdeburg

is ideal for us. We have

good links with the university

management and are

supported by the ministries

in the federal state. The

close cooperation with the

university is indispensable,

especially for spin-offs from

the world of science and

academic research."

DR. CHRIS REHSE

At the start of the assessment period, a profile

of the user is created in which risk factors

such as high blood pressure or diabetes are

recorded. While the intervals between the tests

are relatively narrow at the beginning, they

subsequently increase to two times a month.

As it won't just be possible to slow Alzheimer's

disease down in the future but it can also be influenced

by lifestyle changes, the app provides

advice on the modification of risk factors, such

as diet or exercise behaviour. "Our app is a kind

of blood pressure monitor for the brain. A oneoff

test is always a snapshot which provides

little information. It is only long-term monitoring

which can support the diagnostic conclusions

in a meaningful way. We want to use

the software to provide doctors with a source

of help, because the diagnosis of Alzheimer's

often involves uncertainty and many patients

fall through the cracks," explains Chris Rehse.

To prevent the possible misuse of sensitive

data, there is a sophisticated data protection

concept. Although anyone can download the

app, only a specially chosen research institution

is authorised to evaluate the personal data.

Despite this, however, due to an anonymisation

procedure within the app, neotiv is not able to

connect the collected data with the names of

the users at any point in time.

At present, the use of the app is still

being researched, and is currently being

used by a few hundred people in the USA and

Sweden, for example. Furthermore, at the

beginning of 2019, neotiv launched a citizen

research project together with the German

Centre for Neurodegenerative Diseases (DZNE)

and Otto von Guericke University Magdeburg.

In this respect, citizens actively contribute to

a superior understanding of the influence of

certain lifestyle factors, such as sleep or stress,

on memory function. According to Chris Rehse,

the digital biomarkers developed by neotiv are

set to become the standard in international

dementia diagnostics and therapy in the future.

The objective is to integrate the neotiv app into

the general care system.

"Right now, we still have a lot of educational

work to do. Alzheimer's disease is subject to a

strong stigma. We would therefore like to contribute

to clarifying the possibilities for prevention

and developing new methods of therapy",

explains the Managing Director of neotiv.

As a spin-off from the University of

Magdeburg, neotiv has direct access to

the world of science. Its close collaboration with

the Institute for Cognitive Neurology and Dementia

Research (IKND) there and its cooperation

with the DZNE have enabled neotiv to draw

on the support of two internationally acknowledged

research institutions, both of which are

based in the capital of the federal state.

"Our location in Magdeburg is ideal for us. We

have excellent links with the university management

and are supported by the ministries in

23
---
Facts

Health and medicine

in Saxony-Anhalt

Saxony-Anhalt has an excellent pool of qualified

workers, with more than 55,000 students at 10

universities and colleges, and a large number of

interdisciplinary courses such as biotechnology

and medical technology.

1863

In 1863, the University

Hospital in Magdeburg

became home to the first

operating theatre with

washable surfaces in Europe.

Approximately 1,000

people are currently

conducting research in the

field of red biotechnology

in Saxony-Anhalt.

the federal state. In the case of spin-offs from

the world of science and academic research, a

high degree of integration with the university

is indispensable," explains industrial engineer

Rehse. The proximity to research is also an advantage

in terms of the search for suitable employees.

Some employees at neotiv previously

worked on the memory app as junior research

assistants during their degree courses.

The 18-strong neotiv team is international and

interdisciplinary: some of the employees are

from France while others are from Venezuela.

"We cultivate a very open and cooperative

corporate culture here. Every employee has to

be able to represent the company and is an

ambassador to the outside world," highlights

Chris Rehse. The start-up recently left its offices

on the campus of Magdeburg University and

moved to Magdeburg city centre.

Chris Rehse originally learned about

what it means to start a new business

when he was working at Stanford University in

the USA. "Compared with Germany, the concept

of founding a business is far more a matter

of course, including the possibility of, and

how to deal with, failure. Start-ups are also able

to obtain venture capital much more quickly.

If you have a vision and a business idea, you

just get going. This means that spin-offs from

the world of science and academic research in

particular have better access to the healthcare

system, and can ultimately offer patients faster

access to validated solutions for diagnostics,

prevention and treatment."

There is certainly no lack of ideas and visions at

neotiv. "Due to demographic trends, Saxony-

Anhalt is home to large numbers of older

people, so it would be a good sign if a strong

solution to fight Alzheimer's could be launched

from Magdeburg," explains Chris Rehse.

gedächtnis-erforschen.de

24
---
MARKET OF THE FUTURE HEALTH AND MEDICINE

Healing

at the top

Vaccines from IDT Biologika GmbH

save lives

Biotechnology is a key global technology

for the 21 st century – 1,900 employees

have long agreed on this. Dessau-Roßlau has

been researching vaccines and diseases for

95 years.

Thanks to the products of IDT Biologika GmbH,

rabies has been eradicated in Germany, and also

the first live salmonella vaccine for chickens was

developed in Dessau. There are subsidiaries in

China, the USA and several European countries.

Up to 60 million injection bottles can be pro-

duced each year in a new production hall

in Dessau. This means that IDT Biologika

is prepared for emergencies and makes

an important contribution to human and

animal health.

idt-biologika.com

Human

technology

MediGlove wants to revolutionise

examinations

"Help for your bones"

that's newly spun

A fleece made from collagen supports the

healing of the body cells

mediglove.de

What happens when designers,

technicians and programmers get together

and consider the topic of making medical

examinations more humane? MediGlove

is developing an intelligent glove which could

revolutionise medical examinations.

Time pressure, orientation to costs and high

numbers of patients mean that medical examinations

can be a little like being on a conveyor

belt. MediGlove aims to alleviate the stress

on both sides: during the application of the

hands, cutting-edge sensor technology records

the desired measurement data. The data is

transmitted directly to a central location via

Bluetooth and prepared on a transparent basis

for both physicians and patients. The workload

is reduced. What remains is more time for the

human encounter.

A breakthrough in regenerative

medicine: at the Fraunhofer Institute

for Microstructures of Materials and Systems

IMWS, using the electrospinning process, the

company SpinPlant GmbH has developed a

new type of fleece made from native collagen.

It is three-dimensional as well as nano- and

micro-porous.

The protein of collagen is one of the basic

building blocks of the body. Despite the

complicated technical process, the fleece from

SpinPlant GmbH retains the natural properties

of the structural protein: it has a regenerative

effect and stimulates the biosynthesis of the

surrounding cells. This helps, for example,

with bone growth, the healing of wounds and

cartilage regeneration. Spinplant manufactures

the platform product SpinBase and the bone

filling material SpinFill at its Halle (Saale)

location.

spinplant.de

25
---
MARKET

OF THE FUTURE

ENERGY,

ENGINEERING

AND PLANT

CONSTRUCTION,

RESOURCE

EFFICIENCY

Mechanical

engineering

in the DNA

INTEB-M

26
---
MARKET OF THE FUTURE ENERGY, ENGINEERING AND PLANT CONSTRUCTION, RESOURCE EFFICIENCY

Inteb-M Holding

focuses on the

global markets

Felix

von Nathusius,

Managing Partner

of INTEB-M

When Felix of Nathusius thinks into the

future, he also has a piece of the past in

mind. "Magdeburg is home to a historical sense

of enthusiasm for mechanical engineering," explains

Nathusius. In this respect, he recalls the

times when, driven by companies such as Polte,

Wolf and Gruson, Magdeburg was the top location

in Germany for mechanical engineering

and had a worldwide reputation. The history

of the Nathusius family is also closely linked to

the industrialisation of the Magdeburg region:

Johann Gottlob Nathusius founded one of the

first industrial groups in Germany at the beginning

of the 19 th century.

"Unfortunately, Magdeburg is no longer on the

global map for mechanical engineering these

days. Despite this, mechanical engineering has

left an incredible amount of DNA behind. It

isn't dead, it isn't gone and it certainly can't

be ignored," says Nathusius with a sense of

conviction.

Felix von Nathusius and his business

partner Karl-Thomas Klingebiel want

to tap into that successful era of mechanical

engineering. With Inteb-M, the holding company

which was founded in 2017, they have a

vision of revitalising mechanical engineering in

the state capital and establishing it on a global

basis. The holding company brings together

industrial and technology holdings from the

mechanical engineering sector and develops

them further in the form of a network. Inteb-M

initially acquired the mineral casting specialist

IZM Polycast, which uses an intelligent material

to cast components for the European market.

IZM also develops solutions for measurement

and medical technology, however. This was

followed by the holding in the machine tool

27
---
"Saxony-Anhalt has excellent

project and network funding, and

the distances to the decision-makers

in the worlds of administration

and politics are short."

FELIX VON NATHUSIUS

manufacturer H&B Omega, with extensive

expertise in friction welding technologies. The

most recent addition to the network is Symacon,

where special machines are developed for

the automation of assembly and manufacturing

processes.

Currently, Inteb-M remains in the initial

phase. "At present, some of the region's

engineering companies are on the cusp of the

next generation and need to reposition themselves.

This is where we envisage our opportunity

for further targeted acquisitions to exist.

As an internationally competitive machine

tool manufacturer, we require a whole range

of competencies and organisational enhancement,

but it is also necessary for us to grow on

an organic basis," explains Felix von Nathusius.

The conditions for the plans of Inteb-M in

Saxony-Anhalt are favourable. Several joint

research and development projects are up

and running with colleges and universities

in the federal state, resulting in the earlystage

participation of well-trained engineers.

"Saxony-Anhalt has excellent project and

network funding and the paths to the decision-makers

in the areas of administration

and politics are short," says the entrepreneur

Nathusius with praise.

inteb-m.de

28
---
MARKET OF THE FUTURE ENERGY, ENGINEERING AND PLANT CONSTRUCTION, RESOURCE EFFICIENCY

Creating space

for innovations

Ceterum

29
---
Facts

Energy, mechanical and plant engineering,

resource efficiency in Saxony-Anhalt

2,500

Almost 30 percent of all companies in the

manufacturing industry in Saxony-Anhalt

operate in the field of mechanical engineering

and in the manufacturing and production

of metal products and metalworking.

At least 2,500 engineers

are trained and educated

at the universities in

Saxony-Anhalt every year.

Businesses benefit from

the mechanical engineering

research landscape in the

federal state.

Krebs&Aulich develops and constructs

highly innovative electric drives in

Wernigerode, Magdeburg and Shanghai. In

cooperation with the American NASA and the

German Aerospace Center, for example, the

company developed the drive for an infra-red

stratospheric telescope which is installed in a

Boeing 747 (SOFIA). The infra-red images from

space provide new insights into the birth of

stars and the formation of galaxies.

FAM conveyors and

systems are appreciated

worldwide for their high

quality

The key objective of Ceterum Holding

is to give companies support and

boost their innovative strength. The Wernigerode-based

company currently has investments

in 18 companies, including FAM Magdeburger

Förderanlagen und Baumaschinen

GmbH and Krebs&Aulich in Saxony-Anhalt, a

specialist machine manufacturer for electric

motors. The conveyors and systems from the

traditional company FAM are valued for their

high quality and are used in 80 countries. FAM,

with more than 1,400 employees, is represented

on all continents.

"The companies based here should present

their successes with greater impetus the outside

world. Saxony-Anhalt has nothing to hide

as a business location and it should put itself

across much more self-confidently," explains

Clemens Aulich, Managing Partner of Ceterum

Holing.

To be well prepared for the future,

the university landscape in the federal

state should be further strengthened. In his

opinion, the dual system of study in particular

needs to be given a clearer focus. "It is important

to strike a balance between science and

working at the practical level among graduates,"

says the Managing Director. Aulich

looks at the increasing bureaucratic rules and

regulations, which often slow decisions down,

with criticism. "To be able to compete at the

international level, we require more space for

innovation."

ceterum-holding.com

30
---
Peter

Ledermann,

founder and

chairman

of Mercateo

Germany AG

MARKET

OF THE FUTURE

INFORMATION AND

COMMUNICATION

TECHNOLOGY

IKT

Give

it a go

mercateo

31
---
An online marketplace

for special

requirements is

growing in Köthen

"Have the confidence to give it a go!"

should be Peter Ledermann's favourite

saying. With his online marketplace mercateo,

he initially jumped into cold water – and went

under for a while. In Köthen, the visionary and

his company made a brand new appearance.

The story of a virally-scaling system began.

Peter Ledermann has a degree in business administration.

When he talks, he drops numbers

regularly: over 250 million Euros in turnover

per year, 23 million items in the system, 1.4

million business customers ... figures that make

one proud. They don't seem to impress him so

much, however. "You won't believe my ideas

for the future," he says, before smiling in his

friendly way.

The Chief Executive of the mercateo Group

looks more like a friendly neighbour than the

decision-maker at a company which has more

than 520 employees at three locations in Germany

and 13 branches in Europe. The heart of

mercateo beats in Köthen town centre. Here,

some 250 women and men work in the areas of

sales, IT development, accounting and customer

care to make buyers and salespeople from all

over Europe happy. That's because mercateo is

an online marketplace for business customers.

32
---
MARKET OF THE FUTURE INFORMATION AND COMMUNICATION TECHNOLOGY

"I wasn't just brave.

I was also naive."

PETER LEDERMANN

The procurement platform makes work

considerably easier for accountants,

purchasers and decision makers. It enters in

where many people despair: when searching

for specialist products which are only required

in exceptional cases. These cost those responsible

a lot of time, money and nerves in their

day-to-day business and can make the accounting

outlay explode.

Yet the growth rates of a company that

has solutions at the ready can also explode.

"I wasn't just brave. I was also naive," says

Ledermann with honesty when talking about

the early days. The company mercateo was

founded in Munich in 1999 and was taken

over by an investor one year later. It was then

that Ledermann joined in.

He and his business partner, Dr. Sebastian

Wieser, were convinced of their idea and did a

little rebuilding: "We believe in a virally-scaling

system." However, the investor didn't believe

in such a system. After all, in the beginning, it

wasn't the case that everything ran smoothly

in the online marketplace. Despite this, the pair

put profitable areas of business on hold in favour

of their ailing favourite. They jumped into

the cold water and did their own thing. It was

a time of uncertainty. The duo had to let many

employees go and Ledermann also became a

father for the second time.

The origins were in Munich. It was in

Köthen, however, that the two entrepreneurs

made a fresh start in the year 2004,

as they received start-up aid for their expensive

staff costs. The first job interviews were

held on Ash Wednesday in the local employment

office of the carnival town of Köthen. A

much-needed accountant pulled out at short

notice, fearing the company was a fly-by-night.

A student, who had only wanted to apply to a

business in which to write his masters' thesis,

was appointed without further ado and

experienced his baptism of fire with the annual

financial report. He still works for mercateo

today. Ledermann is proud of its employees,

who have remained loyal for many years. And

they are great in number. This could be because

it's the people in this company who are seen as

the real capital.

As an intermediary, mercateo provides an

exceptionally wide range of products on its

platform without having its own warehouse.

Specially programmed intelligent search

filters allow customers to fulfil their specialist

requests quickly and easily, while at the same

time offering users attractive conditions with

33
---
Facts

Information and communications technology

in Saxony-Anhalt

500

The universities in

the federal state educate

more than 3,500 students

in IT-specific courses.

More than 500 IT companies

have chosen to make

Saxony-Anhalt their home.

More than 14,000 people are

currently employed in the

IT sector in Saxony-Anhalt.

different suppliers. The software also feeds

back the purchasing decision of the customer

to the individual vendors, and suggests improvements.

The history of the mercateo offices are

also as exciting as that of the company

itself: a former department store and the

erstwhile Heimatmuseum (Museum of Local

History) are now home to welcoming and well

thought-out workplaces to which the term

"office" simply doesn't do justice. The history

of the buildings shines through everywhere

and the atmosphere seems relaxed. Decisions

are consistently taken by the person who

encounters the problem. The employees are on

informal terms with their boss, they recall the

company parties and talk about the day-to-day

business easily.

Peter Ledermann doesn't have any time for

formalities or over-the-top politeness. Problems

come and problems go. He only wears a suit

when forced to, and prefers to roll up his shirt

sleeves. Ledermann is a doer, and with what

he does, he isn't just likely to be popular with

his own employees. Mercateo also enables

smaller companies which don't have their own

IT infrastructure to establish a large number

of business contacts. At the same time, for all

of the goods ordered on the platform, it is the

only creditor to be reflected in the budget. One

dealer for everything and for all. In the meantime,

with "mercateo unite", another business

model has come into existence: a network into

which customers also bring their regular suppliers

and framework agreements. They don't just

purchase directly at mercateo, they also use

the platform as an online system for all their

delivery transactions.

The group of companies is expanding

virally and the sales figures are growing

explosively – from just seven million in

2004 to the current 250 million. No limits are

in sight, and new ideas for further adaptations

are already in the pipeline: just as Ledermann

dreamed that things would turn out.

unite.eu

mercateo.com/corporate

34
---
MARKET OF THE FUTURE INFORMATION

AND COMMUNICATION TECHNOLOGY

The user friends

With the agency UCD+,

you are intuitively right

The customer is king. UCD+ is taking

this principle into completely new

dimensions. The Magdeburg-based design

agency places the user of an application at the

centre of every consideration – and is giving

medium-sized businesses a starting boost for

the digital revolution.

"Usability" and "User Experience" are among

the most important buzzwords at UCD+:

the 14-strong team has specialised on the

interface between people and hardware. It

conceptualises, designs and develops intuitive

user interfaces – from machine control, to

software for measuring instruments through

to websites and mobile apps. Always in view:

the user's requirements for the respective application.

The result is digital products which

are faster, easier to use and work just as the

user expects. From agricultural machinery to

the control of production lines – the variety of

industries and products that UCD+ has successfully

accompanied into the digital future

is considerable.

ucdplus.com

Know

the ropes

INABE navigates unerringly

through interiors

Florian Thürkow,

Managing Director

of INABE UG

It's easy to get lost in airports and

other complex buildings. GPS isn't

available for navigation and wifi is very

expensive for the operators. The company

INABE responds with Bluetooth.

"Beacons" are signal transmitters with which

smartphones can exchange information about

their own location with every standard operating

system. This technology is used by the

team of the Halle-based company INABE. It

has developed a navigation software package

for complex buildings which is used for the

purposes of orientation at airports and trade

shows, in hospitals, in zoos and at amusement

parks. The system can also evaluate the data

streams that are obtained anonymously and

create motion profiles. What paths do people

take, where do they stop? Supermarkets know

where their goods attract the most attention,

and in the museum, the smartphone is able to

automatically display information about each

exhibit.

inabe.de

35
---
MARKET

OF THE FUTURE

THE CREATIVE

INDUSTRY

An incubator for

creative people

Designhaus Halle

36
---
MARKET OF THE FUTURE THE CREATIVE INDUSTRY

The Halle Designhaus

helps start-ups

with their initial steps

Simon

Santschi,

project

manager of

the "Burg

gründet"

initiative

A sewing machine rattles in the room

with the number 003. Rolls of fabric,

dresses, needles, jackets, buttons, scissors,

drawings and photos with designs – Alexandra

Börner's studio is teeming with sewing boxes.

The multi-media fashion designer recently flew

back to Halle from the USA.

Her works alternate between fashion and

performance. These include dance productions

such as "Cry Up" by Nina McNeely or an opera

at the Red Cat Theater in Los Angeles for which

she is creating the costume. She also worked

on the music video "free drink ticket" by the

Canadian electroclash singer Peaches, however.

"It is here that I find the peace and quiet for

my ideas. I can also use the workshops, which

is a great advantage," explains Alexandra

Börner. She is one of currently 30 tenants in

the Designhaus, the business incubator at Burg

Giebichenstein Art Academy in Halle.

The stately home which is situated on Peißnitz

Island is akin to a labyrinth inside. Crooked

corridors and stairs run through the building like

a network of veins. Simon Santschi has a good

overview of this labyrinth. Santschi, who hails

from Switzerland, is the project manager of the

"Burg gründet!" initiative. Before relocating to

Halle, the communications designer had previously

worked for a start-up initiative in Lucerne.

"I was tempted by the idea of a business incubator

for creative people at an art school. After

all, Giebichenstein is also a well-known name in

Switzerland," explains Simon Santschi.

The direct link between the art school

and business incubator is unique in

Ger many. "The creative industry is a very broad

concept. When it comes to networks, we

there fore have to focus on sub-sectors such as

37
---
Facts

Creative industries

in Saxony-Anhalt

300

20 courses of study in

design and art are on offer

at Burg Giebichenstein

Kunsthochschule Halle.

More than 300 creative

companies from

Saxony-Anhalt have

registered in the database

at www.kreativsachsen-anhalt.de.

7 universities in Saxony-

Anhalt offer courses of

study with creative content.

With the "BESTFORM"

competition, the state of

Saxony-Anhalt raises the

profile of the important

"raw material" of creativity

and promotes the industry.

"Most of the founders who started

out in the Designhaus stay in the

region because they have established

themselves well and don't want to

give up their locational advantage."

SIMON SANTSCHI

gaming, fashion or communication design, because

each sector has its own specific topics,"

explains Santschi.

The Designhaus organises lectures

and workshops on topics such as accounting,

taxes and law that are customised

to the needs of creative people, in a variety of

formats. "Creative people tend to be good at

things like networking and presenting, these

are areas in which the entrepreneurs don't

have so much catching up to do. One of the key

topics is understanding the market, i.e. how do

I position myself with my product or service,"

says the project manager. The tenant of the

Designhaus CALYRA has successfully found its

market niche in the service sector for musicians.

The music publisher represents artists

from the entertainment industry in commercial

and legal matters and manages the management,

booking and promotion. "In the Designhaus

there is a cool and creative environment in

which we have been able to develop successfully,"

explains the Managing Director of CALYRA

Alexander Wolff, who will soon have to look for

bigger offices in Halle with his team.

"Most of the founders who started out

in the Designhaus stag in the region

because they have established themselves

well and don't want to give up their locational

advantage," explains Simon Santschi. The team

of the "Freiraumgalerie – Kollektiv für Raumentwicklung"

(Open space gallery – collective

for spatial development) is also firmly rooted

in Halle. The five young urban planners and

educators work in a spacious and stylishly

furnished office on the ground floor of the

Designhaus. The planning office is dedicated to

creative urban development and the reconfiguration

of urban spaces. In this respect, the team

mainly implements large-scale murals, educational

offerings and citizen participation processes.

For Halle-Freiimfelde, for example, a district

that nestles between the railway station

and the industrial area with little greenery and

a lots of vacant space, they have successfully

implemented a neighbourhood concept which

has seen a noticeable fall in the vacancy rate.

"We benefit hugely from the creative spirit in

38
---
MARKET OF THE FUTURE THE CREATIVE INDUSTRY

"The desire to become self-employed

is also very pronounced among graduates

of creative study courses. The freedom to

do one's own thing is associated closely with

independence. There are also many graduates

who want to have a look around an agency,

however. That's where the idea of self-employment

comes from after the first few years

in the job, when you know how it works,"

Santschi explains.

designhaus-halle.de

alexandraboerner.com

calyra.de

freiraumgalerie.com

ratking.de

the Designhaus. In our projects, we are heavily

dependent on the cooperation of artists," says

Philipp Kienast of the Freiraumgalerie.

Although the business incubator is mainly

intended for graduates of the art college,

other creative people can also apply for an

office in the design house. When allocating

the space, however, care is taken to ensure

that the business idea has potential and that

a mix of creative industries is represented in

the building. The maximum length of stay

for the entrepreneurs is five years – in this

period the young creative professionals only

have to pay a very low and staggered rent.

Jana Reinhardt and Friedrich Hanisch also took

the plunge into self-employment immediately

subsequent to their studies. The multimedia

designers launched the computer game studio

RAT KING and have made a name for themselves

with computer games such as "TRI:

Of Friendship and Madness" in which playful

freedoms are combined with crazy characters.

"From the game idea through to the marketing,

we offer the complete package. At the same

time, we try to secure a mixture of our own

projects and contract work. We have great

companies in the games sector here in Saxony-

Anhalt, but we don't get the same amount of

attention as the companies in Berlin or Hamburg.

The Designhaus can help bring people

together."

To ensure that not only a creative but also a

community spirit prevails, meals are regularly

eaten together and an exhibition takes place

once a year. "That means all of the residents

know what is created here in the house," says

Simon Santschi.

39
---
MARKET OF THE FUTURE THE CREATIVE INDUSTRY

Visionary

cerebral acrobats

The designers behind prefrontal

cortex are virtual virtuosos

People require visions. The recentlyfounded

agency prefrontal cortex

in Halle (Saale) delivers them to order: the designers

and programmers think marketing and

entertainment in completely new dimensions.

The way in which we perceive our surroundings

and adapt our actions to them is determined by

part of the cerebral cortex: the prefrontal cortex.

The cerebral acrobats behind "prefrontal

cortex" have specialised on innovative applications

and interaction concepts in the field of

virtual and augmented reality. Its references

include a room-filling, interactive water specta-

cle in the lobby of Intel headquarters in Silicon

Valley and the AR visualisation of an archaeological

excavation site. The Halle-based business

offers everything from one single source:

planning, concept, design, development. With

considerable joy in experimentation, they find

their ideas in the interplay between science

and art.

prefrontalcortex.de

Out of nowhere

The company a&m creative services

creates photos from design data

A product can be shown on a realistic

basis and in all of its possible variations

without actually existing. With the pictures

from a&m creative services, businesses advertise

before production.

Digitalisation wasn't a familiar term when

Karsten Angermann and Alexander Michaelis

began visualising things on their computers in

2002. With the "Computer Generated Imagery"

(CGI) process, they create realistic photographic

images and animations using CAD data. This

data arises during the construction or design

process of products anyway. Businesses advertise

with the image material from Halle (Saale),

even though the real product is yet to exist.

This saves money and resources – a tangible

added value of digitalisation.

The customers of a&m creative services include

automotive manufacturers and mechanical

engineers as well as architects, agencies

and businesses in the entertainment industry.

In addition to creating image material for advertising

campaigns, brochures and trade fairs,

the Halle-based company is, above all else, an

expert for configuration tools.

am-cs.de

40
---
Dr. Petra Göring,

co-founder of

SmartMembranes

MARKET

OF THE FUTURE

KEY

TECHNOLOGIES

Success

that's down

to the tiniest

detail

SmartMembranes

41
---
SmartMembranes

launches nano-membranes

onto the world market

The history of SmartMembranes began

with a workshop at which the two

founders met. That is now more than ten years

ago. At the time, Petra Göring was conducting

research at the Max Planck Institute for Microstructure

Physics in Halle, and Monika Lelonek

was working at the University of Münster. The

"nano4women & Entrepreneurship" workshop

was oriented to young female scientists, to

teach them how to draw up a business plan.

"My then boss told me to sign up for the workshop.

At that time, far fewer women from the

world of science and academia started businesses

than today," recalls Petra Göring. Today,

she is sitting at her desk at her company in the

Weinberg Campus Technology Park. Monika

Lelonek's desk is opposite her. In a male-dominated

field like nanotechnology, a business

which is led by two women remains something

of a small sensation.

The past ten years have been a turbulent

and instructive time for both of them.

Despite this, their plan has worked out: Smart-

Membranes is the world's leading manufacturer

of porous, highly ordered materials made

from aluminium oxide and silicon. At the time,

the porous membranes with nano-sized air

42
---
MARKET OF THE FUTURE KEY TECHNOLOGIES

"Here in Saxony-Anhalt

we have the necessary

infrastructure and a closeknit

network with local

research institutions, such as

the Fraunhofer Institute for

Microstructure of Materials

and Systems IMWS and

Martin Luther University.

After setting up here,

we were able to get started

straight away."

DR. PETRA GÖRING

holes that are manufactured by the company

were so innovative that potential customers

first had to be told that they existed.

The membranes are characterised by

their highly ordered structure and a narrow

distribution of the pore diameters. Structural

parameters such as the pore size, lattice

constant, porosity or membrane thickness can

be made at the nanometre level according to

customer requirements.

Whether it is the filtration, sensor technology

or diagnostics: the possible applications of the

tiny structures are almost unlimited. on the one

hand, the membranes are able to filter gases

and liquids, but they can also serve as a protective

membrane against impurities such as

bacteria, dust or viruses. Aluminium oxide and

silicon are also implantable and bio-compatible.

"In the beginning, we often asked ourselves

whether there was a market for our products at

all. We had to convince a lot of people, especially

since our product isn't cheap, although it is

smaller, faster and more sensitive. From the very

beginning, we have focused on international

applications, as the developments in this field

mainly come from the USA and Asia," explains

Göring, who has a doctorate in chemistry.

The two scientists made their products known

at trade fairs and won over sales partners who

forged contacts with other start-up companies

in Japan and Korea or the USA. The German and

European market continues to play a secondary

role for SmartMembranes. "Unfortunately,

local companies are very reluctant to outsource

their research and development projects. We

did it, however. We have now passed the critical

point. If things carry on like this, we can't

complain," explains the founder.

In addition to Petra Göring and Monika

Lelonek, the SmartMembranes team

includes five other employees. Over the medium

term, the company plans to expand, as

it is foreseeable that the field of membrane

production will grow.

The step from the world of science to the world

of business was, and sometimes continues to

be, a challenge. Financial plans, marketing, sales

strategies – in recent years, the two researchers

have had to break new ground in many areas.

"I have learnt an incredible amount, which

has without doubt enriched my life and taken

me forward as a person. As a mother of three

children, however, I have always had a guilty

conscience and the fear that I have too little

time for my family. Whatever happens though,

I certainly don't want to miss the feeling of

independence," concludes Petra Göring. These

43
---
Facts

Key technologies

in Saxony-Anhalt

In Saxony-Anhalt, energy

is generated on a

sustainable basis. Every

second kilowatt hour is now

generated from wind power,

solar power and biomass.

120

Saxony-Anhalt is home

to more than 120 life

sciences companies, most

of which are small and

medium sized businesses.

In Saxony-Anhalt, the research into protein and

active ingredients is focused on the Weinberg

Campus in Halle (Saale). Several biotechnology

companies and research institutes carry out

research at the Technology Park.

days, she is only able to devote a third of her

time to research, with the rest of her working

time being filled with management, sales, production

and business trips.

The company has found the optimum

working conditions in its laboratories

and offices at the Weinberg Campus Technology

Park. "Here, we have the necessary infrastructure

and a close-knit network with local

research institutions, such as the Fraunhofer

Institute for Microstructure of Materials and

Systems IMWS and Martin Luther University.

After setting up here, we were able to get

started straight away," explains the scientist.

The Vineyard, as it is known by the people of

Halle, is the innovation location for the sector

of life sciences and material sciences in Saxony-

Anhalt. With 134 hectares, it is the biggest in

Central Germany. The site is now home to more

than 100 companies and institutes with around

5,500 employees. Biochemists, biotechnologists,

material scientists, pharmacists, agricultural-

and nutrition scientists from leading

non-university research institutions work sideby-side

at the Vineyard.

In recent years, SmartMembranes has been

able to grow and prosper at the Vineyard in

Halle. And even though the products from the

two entrepreneurs can only be seen under the

microscope, their success is plain to see.

smartmembranes.de

technologiepark-weinberg-campus.de

44
---
MARKET OF THE FUTURE KEY TECHNOLOGIES

Tiny when

it comes to purity

Water filters with nanotechnology are

being developed in Halberstadt

An estimated two billion people worldwide

have no access to clean drinking

water. The innovative products of Nanostone

Water GmbH could solve the drinking water

problem.

Ceramic water filters have been manufactured

in large kilns in Halberstadt since 2004. The

nano-coated ceramic has pores that are just

a billionth of a meter in size. It retains viruses

and bacteria as well as residues of chemicals.

The filters are of particular interest to industrial

partners in America and China. In terms

of the topic of micro-plastics, this robust and

durable solution also has great potential. The

company's headquarters have been located in

the USA for several years and it also has branch

offices in China. In Halberstadt, 140 employees

are now working on production as well as advanced

research and development.

nanostone.com

A mathematical

masterpiece

The company IM&P GmbH is able to forecast

and prevent damage.

Prevention is good. Forecasts are even

better: The software solutions from

the company Indalyz Monitoring & Prognostics

GmbH in Halle (Saale) are based on specially

developed algorithms. These assist with the

superior planning of the maintenance work.

With the advanced products from Halle, the

maintenance of wind turbines, for example, is

made easier. Intelligent forecasting methods

allow for a predictive state-oriented strategy.

The system monitors machines, sophisticated

facilities as well as machine clusters, and

doesn't just include previous events but also

current observations in its calculations. Repairs

are only carried out if notification of an actual

problem is provided. This reduces the operating

and maintenance costs and extends the

operating times. At the same time, unexpected

failures and possible consequential damage are

reduced to a minimum. The system therefore

pays for itself.

imprognostics.com

45
---
HERE

BUSINESS MEETS

SCIENCE.

Team Bilberry, Mateyusz Krain (left) and Krzyszttof Dobrinin

©Marco Warmuth/TGZ Halle GmbH

IT'S A COMMON CLICHÉ: SAXONY-ANHALT AND INNOVATIONS?

NOT A GOOD MATCH!

We provide evidence to the contrary and show how something impressive is emerging in Saxony-Anhalt.

In this respect, the locations in Saxony-Anhalt offer the perfect conditions. They are our CENTERS OF

EXCELLENCE. Here, science, research and business are concentrated in one place. The paths are short, bringing

people together and enabling discussions. New ideas emerge and are therefore easier to implement.

www.center-of-excellence-saxony-anhalt.com
---
WHO IS

RESEARCHING

WHAT AND

WHERE?

THE PORTAL FOR

THE RESEARCH

LANDSCAPE IN

SAXONY-ANHALT

The research portal gives an overview of the universities, colleges and

research institutes in Saxony-Anhalt. Research projects from all of the

disciplines are also presented. In this way, scientists can make their

work known and conduct targeted searches for project partners. The

site also provides information on support programmes and sponsors

as well as advice on how to start a new business.

www.forschung-sachsen-anhalt.de
---
Ministry of Economic Affairs,

Science and Digitalisation

of the federal state of Saxony-Anhalt

Hasselbachstraße 4

39104 Magdeburg, Germany

Phone +49 391 5674316

presse@mw.sachsen-anhalt.de

in cooperation with the

Investment and Marketing

Corporation Saxony-Anhalt

Am Alten Theater 6

39104 Magdeburg, Germany

Phone +49 391 56899 - 0

www.invest-in-saxony-anhalt.com

welcome@img-sachsen-anhalt.de

Concept, design, graphics: genese werbeagentur GmbH, Magdeburg /// Text: Wortschatz copy writing service, Genthin /// Press date: May 2019 /// First edition;

subject to revision /// Printing and further processing: Harzdruckerei GmbH, Wernigerode /// Picture credits: N. Böhme, H. Krieg, IDT Biologika/C. Bösener,

SpinPlant GmbH, plainpicture/H. Hermann, MediGlove, ChocQlate, PÄX Food, c3tec, FAM/C. Bierwagen, UCDplus/B. Ehl, Inabe, prefrontal cortex /// The use of

this publication for the purposes of commercial sale, particularly the sale of addresses to third parties, or for reprinting – whether in whole or part – is prohibited.