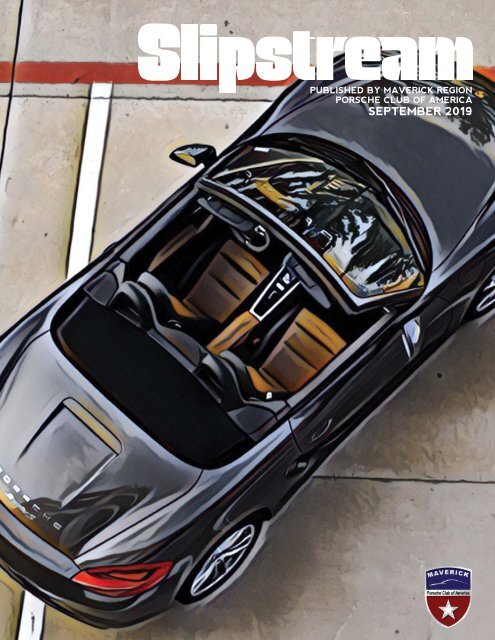 Slipstream - September 2019
The monthly newsletter of the Maverick Region of the Porsche Club of America
The monthly newsletter of the Maverick Region of the Porsche Club of America
SHOW MORE
SHOW LESS
Create successful ePaper yourself
Turn your PDF publications into a flip-book with our unique Google optimized e-Paper software.
PUBLISHED BY MAVERICK REGION

PORSCHE CLUB OF AMERICA

SEPTEMBER 2019
---
CELEBRATE

IN A HIGHER GEAR

Presenting the next-generation Luxury & Supercar Showcase. It's

bigger, better and more thrilling than ever. Featuring fantastic cars,

the finest food and fashions and the most lavish lifestyle experiences.

The kind of car show that could only come from one place: Park Place.

09.28.19

Purchase tickets and learn more at

LuxurySupercarShowcase.com

Benefiting:
---
VOLUME 58

ISSUE 9

SEPTEMBER 2019

MAV.PCA.ORG

Mavs & Mochas celebrates the color Red on July 13th in Flower Mound

Photo by Peter Wen

FEATURES

6 | Rust Belt Road Trip

8 | Summer Poker Rallye Recap

12 | Garages & Gearheads Recap: July

15 | Autocross Series Events 6 & 7

16 | Mavs & Mochas Recap: Novel Coffee

19 | Maverick Marktpreis: Panamera Turbo / Turbo S

20 | Coffee, Cars & Conversation: Barry & Joe Gibbs

26 | Remembering Charlie Davis

30 | Aloha Tour Preview

UPCOMING EVENTS

22 | Happy Hour

22 | Motoring Mavs at Mayo

22 | Porsche Promenade People's Choice

23 | Mavs & Mochas

23 | Maverick Lunch Series

30 | Aloha Tour

DEPARTMENTS

2 | Sprockets (President's Column)

2 | Maverick of the Month

4 | List of Officers and Board Chairs

4 | Zone 5 Presidents

11 | New Mavericks

11 | Member Moments

14 | Porsche Trivia

34 | Advertiser Index

34 | Anniversaries

36 | Oversteer (Editor's Column)

EVENT DATES

See more details and check for event updates via the QR code

here or our online calendar at http://mav.pca.org/go/calendar

September

Treffen Woodstock ........................................................................... 4-7

Boxstoberfest .................................................................................. 6-8

Maverick Board Meeting .......................................................... (Wed) 7

Lewisville area lunch.................................................................(Tue) 10

Mavs & Mochas: Texas Harley-Davidson Bedford ..................... (Sat) 14

Maverick HPDE............................................................................14-15

Autocross #8............................................................................. (Sun) 15

Aloha Tour................................................................................ (Sun) 15

Maverick Happy Hour...............................................................(Thu) 19

Motoring Mavs at Mayo............................................................ (Sat) 21

Austin Schnell Fest DE..................................................................20-22

People's Choice Car Show........................................................ (Sun) 22

Southlake area lunch................................................................(Thu) 26

Park Place Luxury & Supercar Showcase.................................... (Sat) 28

October

Maverick Board Meeting .......................................................... (Wed) 2

Lewisville area lunch................................................................... (Tue) 8

Mavs & Mochas: Tactical Fleet .................................................. (Sat) 12

Autocross #9............................................................................. (Sun) 13

Maverick Happy Hour...............................................................(Thu) 17

Motoring Mavs at Mayo............................................................ (Sat) 19

Maverick HPDE............................................................................19-20

Maverick Club Race......................................................................19-20

Southlake area lunch................................................................(Thu) 24

Halloween Rallye...................................................................... (Sat) 26

Tech Session: APEX.................................................................... (Sat) 26

Garages and Gearheads Having Coffee..................................... (Sat) 31

On the Cover

Graphic novel composition of Jim Hirsch's

Boxster S

Photo and composition by Jim Hirsch

Slipstream (USPS 666-650) is published monthly by the Maverick Region, Porsche Club of America, 155 Jellico

Southlake, TX 76092. Subscription price is $24.00 per year. Periodical postage is paid at Fort Worth, TX.

POSTMASTER: Send address changes to Hiram Saunders, Slipstream, 155 Jellico, Southlake, TX 76092.

Opinions expressed herein are not necessarily endorsed by the Club's membership or officers. Contributions will be

printed on a space available basis. Chartered regions of PCA may reproduce items from this issue provided the author/

artist and Slipstream are credited. Slipstream is printed by Ussery Printing Company in Irving, Texas.

1
---
SPROCKETS: Maverick Region National Awards

by David Robertson, Region President

The Porsche Parade was quite an event this year for

the Maverick Region. As you may have heard, our region

received five national awards: Region of the Year, Greatest

Actual Membership Growth, Best Website, Best Newsletter

in class, and Best Newsletter Cover.

This national recognition is a direct result of the

enthusiasm and dedication of our 3000-plus primary and

associate members and volunteers. This is only the second

time in the history of our region that we have been recognized

as Region of the Year. The membership award is also a big

honor; this award is given to the region with the largest

membership increase in all of North America in 2018.

I also want to congratulate Bill Orr for his great work on

our website, resulting in the National Website Award. This

There is a palpable excitement at our events within

the region, and our event chairs are coming up

with even more ways for our members to enjoy

our club. Come out and catch the excitement at our

next event!

is the third time Bill has won a national PCA award for the

Maverick website!

The quality of Slipstream only gets better every year, and

this is reflected in both the First Place in Class VI (regions

over 1,650 members) and the Best Newsletter Cover award.

Congratulations to Kurt Scaggs and Jim Hirsch! Putting the

newsletter together every month is a monumental task, and

we all appreciate your efforts. All our members, past and

present, should take pride in the national attention that we

have received for our great organization.

The best way to learn more about the club and meet other

members is to volunteer! Reach out to volunteers@mavpca.

org and we will find you a spot!

MAV OF THE MONTH:

Deborah Fike

Deborah has been the Maverick Region Treasurer for the last two years. She is a great

example of a member that has brought her deep career experience into a role that has a

positive impact on the Maverick Region. Deborah worked to better identify our expenses

and revenue, and took the accounting system online to make it more user friendly and

available for oversight. Due to a move to Colorado, Deborah had to resign as the Region

Treasurer, but worked very hard to make a seamless and conscientious transition to our

interim Treasurer. Thank you, Deborah, for all of your work to make the Maverick

Region more efficient, and enjoy your new home in beautiful Colorado!

2 September
---
The Independent Porsche Specialist

• Expert maintenance and repair services • Track day preparation

• Performance and appearance upgrades from GMG, Manthey, FVD and more

• Superior customer service and free loaner cars • PCA discounts

Porsche factory computers • Comprehensive service from air-cooled to 991

We Buy, Sell and

Consign Quality

Pre-owned Porsches

3221 Skylane Drive, Dallas, Texas 75006 • 214-269-1570 • www.racperformance.com

3
---
2019 Maverick Region Board - Officers and Chairs

President

David Robertson

617-797-0516

president@mavpca.org

Vice President

Jim Falgout

vp@mavpca.org

Secretary

Carey Spreen

817-422-3480

secretary@mavpca.org

Treasurer

Deborah Fike

972-672-4282

treasurer@mavpca.org

Autocross Chair

Mark Schnoerr

ax@mavpca.org

Charity Chair

Chris Hamilton

hope@mavpca.org

Club Race Co-Chair

Pat Heptig

214-649-7907

cr@mavpca.org

Club Race Co-Chair

Joel Nannis

cr@mavpca.org

Coffee Meets Co-Chair

Derrick Tate

972-748-1178

coffeemeets@mavpca.org

Concours Co-Chair

Mike Mahoney

801-230-1482

concours@mavpca.org

Concours Co-Chair

Scott Kellogg

concours@mavpca.org

DE Chair

Renee Hayden

de@mavpca.org

DE Registrar

Jason Brodigan

deregistrar@mavpca.org

DE Chief Driving Coach

Craig Janssen

cdi@mavpca.org

DE Medical Chair

Dr. Jeffery Komenda

demedical@mavpca.org

Goodie Store

Chris Flaugh

214-288-5300

goodiestore@mavpca.org

Region Historian

Carey Spreen

817-422-3480

historian@mavpca.org

Marketing, Social

Media Chair

Bill Orr

marketing@mavpca.org

Membership Chair

Jim Hirsch

972-740-7377

membership@mavpca.org

Monthly Social Chair

Claudia Reynolds

hh@mavpca.org

PCA Tours Co-Chair

Sam Bryant

tours@mavpca.org

PCA Tours Co-Chair

Brant Worrell

tours@mavpca.org

Rally Co-Chair

Don Sebert

214-613-6900

rally@mavpca.org

Rally Co-Chair

Jay Lynch

rally@mavpca.org

Registrar, Club Race

Wendy Shoffit

crreg@mavpca.org

Safety Co-Chair

Bob Kramer

safety@mavpca.org

Slipstream Advertising,

Coffee Meets

Bill Kruder

214-497-0711

ads@mavpca.org

Slipstream Content Ed.

Carey Spreen

817-422-3480

editor@mavpca.org

Slipstream Editor

Kurt Scaggs

469-446-1690

editor@mavpca.org

Slipstream Event Ad Design

David Tierney

eventads@mavpca.org

Slipstream Mailing

Andy Mears

214-394-5857

mailing@mavpca.org

Slipstream Printing

Fran Ussery

972--438-8344 (W)

817-481-8342 (H)

printing@mavpca.org

Social Chair

Debi Kruder

social@mavpca.org

Tech Sessions Chair

Michael Baynton

214-641-2848

techsessions@mavpca.org

Time Trial Chair,

(AX/TT Rules)

Travis Howard

214-616-6152

tt@mavpca.org

TT Registrar, AX/TT

Schools, Swap Meets

Robyn Howard

214-991-0873

drivingschools@mavpca.org

Trivia Chair

Jerry DeFeo

972-240-5800

trivia@mavpca.org

Volunteers Chair

Landon Stogner

214-233-6858

volunteers@mavpca.org

Web Site Chair

James Shoffit

972-786-6246

webmaster@mavpca.org

ARK-LA-TEX

Ken Chandler

bad968@bellsouth.net,

2018 PCA Zone 5 Presidents and Zone Representative

HILL COUNTRY

Tuffy von Briesen

president@hcrpca.org

MARDI GRAS

Scott Spradley

swsprad@bellsouth.net

WAR BONNET

Eric Costello

ecostellodo@gmail.com

Link to

Board

Meeting

minutes:

CIMARRON

Jason Tollison

presidentcmr@gmail.com

COASTAL BEND

Bryan Kerrick

bksailspadre@sbcglobal.net

LONE STAR

Steve Bukoski

president@lsrpca.com

LONGHORN

Mikel Matthews

Mikel.matthews@gmail.com

MAVERICK

David Robertson

president@mavpca.org

OZARK

Jim Woolly

jim.carol_NOSPAM@sbcglobal.net

WHISKEY BAY

Stan Labat

labat@cox.net

WHITE RIVER

Leonard Zechiedrich

whiteriverregionpca@gmail.com

ZONE 5 REP

Chuck Bush

(703) 577-0562

zone5rep@pca.org

www.zone5.pca.org

4 September
---
VISIT OUR NEW 8600 SQ FT LOCATION!

MONTHLY SPECIAL

$195

MOTUL OIL

$187

MOBIL 1 OIL

CERTIFIED MASTER TECHNICIANS

GENERAL MAINTENANCE

PERFORMANCE UPGRADES

SUSPENSION MODIFICATIONS

ALIGNMENTS ( TRACK AND STREET )

TRACK PREPARATION

TECH SHEET INSPECTIONS

CUSTOM FABRICATION

CUSTOM BUILT SPEC 996S AND SPB

2520 Tarpley Rd. Suite 700

Carrollton, Texas 75006

(972) 418-1996

innovativeautosports.com

innovativeautosportstx@gmail.com

5
---
Rust Belt Road Trip

by Jim Hirsch

photos provided by author

"I want you to attend the Indy

500 with us this year." When Mike

O'Hare uttered those words back

in October of 2018 the wheels were

literally set in motion for this latest

chapter in our series of long road

trips that began with my retirement

in December of 2013.

day road trip. This time

we would be driving

Sharon's new Mazda

CX-5 instead of the

981 Boxster S to have

a car with more than

two seats, so we could

offer to drive groups of

In the midst of a conversation Mike and I were having

about Indy Car racing last fall, I happened to mention

that even though I lived in the Upper Midwest for

43 years, I had never made it over to Indianapolis to

see the "Greatest Spectacle in Racing."

For those of you who know Mike

and his generosity, you probably

expected that he would issue an

invitation to attend the race with

him that he has attended dozens of

times over many years. For me, the

invitation came out of the blue, as I

had intended to be just another TV

viewer of the race again this year.

So, I talked with Sharon about

Mike's offer, and her first words

were "ballpark trip." You see,

Sharon's most recent bucket list is

attending baseball games in each

of the 30 MLB ballparks. We were

already up to 17 ballparks visited,

and she quickly mapped out the fact

that we could add four more to the

list on this road trip to Indy if we

simply extended our visit further

east and north through the Rust

Belt. Fortunately for me, she also

agrees to visit automotive interests

at each stop along the way.

Let's see -- one racetrack and

four ballparks sounded like the best

deal I was going to be able to get, so

the stage was set, and we were more

than ready to take to the roads on

May 23 for the beginning of a 22-

people at some of our

planned stops.

If you recall, the

weather throughout the

South and Midwest had

been pretty much nonstop

rain for much of

May. In fact, on May 22,

parts of Hwy 69 in Oklahoma were

closed due to flooding, right along

our preferred route. Fortunately,

the road was open again the next

morning, and we headed out to our

first stop of Rolla, MO accompanied

by water close to the shoulder of

many roads we traveled.

We were headed to Indy next, but

can never resist a stop along any part

of Route 66, so a quick detour to

Cuba, MO to visit their famous murals

was a must delay. We'd be arriving

in Indianapolis by late afternoon

and getting ready to see the big race.

Mike's sister lives in Indianapolis and

is a big part of their family tradition

of attending this race each year. She

and her husband were gracious hosts

throughout the entire race weekend

and made us feel welcome to be back

in the Midwest again.

Saturday of race weekend saw

Mike, his son Ian, and me up early

to visit the track before the big

crowds arrived for the actual race

on Sunday. There is no way to

adequately describe the scale of the

Indianapolis Speedway. Nor what

it feels like to be part of 310,000

enthusiastic and knowledgeable

race fans. Nor how an entire

neighborhood, up to a mile and

more away from the track, opens

up their yards to fans to be able to

park and walk to the race. This was

a once in a lifetime experience for

us, thanks to Mike!

Next up: 12 days of travel around

the Rust Belt to see four ballparks

(and games), along with a variety

of automotive points of interest.

Our next stop was Cincinnati,

the original home of professional

6 September
---
aseball. One common theme

among all four cities we ended up

visiting was their local initiatives

to revitalize their downtown areas.

Locating ballparks within the cities

themselves provided focal points

for new residences, restaurants, and

retail. We stayed downtown in each

city and explored what they had to

offer over three days in each stay.

For the auto enthusiast,

Cincinnati offered the American

Sign Museum as our choice. Even if

you have never collected a neon sign

from an old dealership or even a

retail store, you're sure to find signs

here that you saw in your childhood,

or if you're a bit younger, have seen

in historical articles!

From Cincinnati, we headed next

to Pittsburgh. PNC Park turned

out to be our favorite ballpark

of the trip. Views of the ballpark

from the city, as well as views from

the ballpark over the river were

equally awesome, and the park itself

feels just right for hosting baseball

games. We took some time to visit

the Carnegie Museums while we

there (among many other things)

and enjoyed a variety of displays

that had ties to auto manufacturers.

Heading north to Cleveland for

our next stop included a stop for

hiking in the Cuyahoga National

Forest. It's a nice break to stretch

your legs during these road trips!

Cleveland offered a selection of

interesting restaurants and retail

stores in their East 4th Street

destination. For our automotive

fix, we visited the Crawford Auto

Aviation Collection. This eclectic

collection includes almost 200

historic vehicles. We ended up

seeing three of the GM EV1 electric

vehicles on this road trip, including

one in this collection.

The final stop of the ballpark

portion of the road trip was Detroit.

Yes, there are many options for auto

enthusiasts to visit while in Detroit

and we had to make some hard

choices. The one place that deserves

a day-long (or more) visit is The

Henry Ford: Museum, Greenfield

Village, and Rouge Factory. In a

scale similar to what we experienced

at the Indianapolis Speedway, The

Henry Ford complex is utterly

massive and a challenge to visit each

display and not miss something.

The "exploded" Model T certainly

caught my eye in terms of the

number of components used for this

early production line process.

The trip back towards Texas

included some of the most interesting

driving of our travel. Along the way

to visit my sister in Iowa City, we

had to stop at the World's Largest

Truck Stop in Walcott, IA. Yep,

it makes Buc-ee's look like small

potatoes, from the full-size semi

parked inside to the multi-level

shopping and restaurant experience

– all under a single roof. The most

notable view while driving through

Illinois and Iowa, however, was the

very visible fact that no corn had

been planted. The heavy rains had

either kept farmers from being able

to work in their fields or had washed

away the early plantings that had

gotten into the ground. Not a single

stalk of corn was visible anywhere.

We even planned a detour on

the way back to Texas to spend

some time in and around Eureka

Springs. Those of you who travel

on the backroads and have been to

the PCA (Porsche) Palooza know

how great the roads are north of

Eureka Springs in Missouri as well

as east, south, and west of ES while

in Arkansas. We took the time to

drive those over a few days in the

"ZoomZoom" Mazda CX-5. No,

it's not the same as having the top

down and in sport mode in the

Boxster S but it's a still a fun drive

on roads we know well, such as the

Pig Trail. The final day, day 22, saw

an easy drive back to Texas.

While this may have been a

relatively small number of miles

traveled compared with our typical

road trips in the Porsche, the number

of days on the road, along with the

wide variety of stops and sights

along the way, made this travel

through the Rust Belt another great

road trip memory.

7
---
Summer Poker Road Rallye Recap

by Carey Spreen

First things first: you may be wondering what a

Poker Rally is. Think of a mobile poker game, where

the players (a driver and navigator team) are all driving

a specified route instead of sitting at a table. The dealers

are located somewhere along the route at three locations

unknown to the players. As the players find each dealer

location, they draw a playing card and then give it right

back, noting what the card was (for example, the two

photos by Tom Martin

time at one-minute intervals. The only down side to this

is that if you are car number 60, you don't get to start

until about an hour after the first car has started. So if

car numbers are given out as competitors arrive, which

is typical for Maverick Region rallies, it pays to arrive

early! Fortunately, teams that had higher car numbers

were at least able to browse the latest offerings in the

Porsche Grapevine showroom while they waited!

of diamonds). The players also draw cards at the start

and end points of the route, with each player ending up

with a five-card hand. The winner, of course, has the

best poker hand.

But using mere poker hands to determine a winner

leaves too much to chance and not enough to skill,

so to make things more interesting, why not throw in

some questions that can only be answered from signs

and landmarks along the route? That was the idea that

Rallymeisters Jay Lynch, Karen and Warren Horgan,

Ed Martelle, and Jennifer Gerobode came up with for

Maverick Region's latest gimmick rally.

The route this time began at Porsche Grapevine

and ended at Eagles Canyon Raceway, about 15

minutes northeast of Decatur. Upon arrival at Porsche

Grapevine, we all signed the insurance waiver, picked

up the route instructions, and drew our first playing

card. Since rallies are competitive events (but not races,

because speed is not a factor), releasing all competitors

at once might encourage rally teams to follow each

other instead of following the route instructions. The

traditional way to avoid this is to release one car at a

Anyway, with the General Instructions, the route

instructions, our wristbands indicating that we had

paid for the buffet lunch at the destination, and our first

card drawn, we made our way to the start point, zeroed

the trip odometer, and headed for parts unknown.

That zeroing of the odometer was important because

of two reasons: (1) the route instructions contained an

odometer check that allowed each team to determine

how close their odometer readings were to those of

the Rallymeister, as some of the instructions contained

mileages; and (2) if there were tie scores at the end of

the event, the elapsed mileage closest to that of the

Rallymeister determined the tiebreaker.

Embedded within the route instructions were

questions that referenced signs or landmarks along the

route. Most questions were pretty cryptic and could not

have been answered without actually driving the route

and spotting the sign or landmark to which the questions

referred. The questions were only valid until the next

route instruction, so if you didn't figure a question out,

you either continued on without answering, or doubled

back to look for the answer again. The only penalty in

8 September
---
this case is that your odometer accumulates those extra

miles driven, so it also pays to note the extra miles you

put on while searching, and then subtract them from

your total at the end!

The route took us through two-lane roads west of

the Metroplex that we had never seen, with the scenery

varying from multi-million-dollar homes to horse

ranches to blink-and-you-miss-them towns.

After about 70 miles, the instructions delivered us to

Eagles Canyon Raceway, where we had the opportunity

to get in line for a couple of parade laps on the portion

of the track that was almost complete. We signed

another insurance waiver and added another wristband

to our arms, and then we were off on the track.

To wrap up, Jay Lynch presented the awards to

the winners:

1st Place: Nick and Shannon Frost

2nd Place: Wayne and Lauren Hutton

3rd Place: Paul and Lisa Barham

Best poker hand: Bob Peipert and Kellie Houghton,

with a Jacks over Queens Full House

Eagles Canyon Raceway has undergone extensive renovation under its new owner Livio Galanti and

his team. The pavement is very smooth and wide, and when it's done, the track will be 2/10-mile

longer than its original 2.5-mile configuration. Can't wait to try it out at our upcoming Drivers'

Education events this fall!

After the parade laps, we got in line for the lunch

buffet and found a place to sit in the drivers' lounge.

Livio welcomed us and gave a brief overview of the

track construction progress.

Overall, it was a fun event, and the mix of

experienced rallyists and newcomers to rallying

enjoyed a scenic drive, an interesting and Porscherelated

destination, and got to use some brain power

along the way. Thanks to Jay, Karen, Warren, Ed,

Jennifer, and of course the team of volunteers that they

assembled, for a fun event!

Coveted acreage

in Copper Canyon

755 ESTATES DRIVE / 2.58 ACRES

OFFERED FOR $695,000

790 ESTATES DRIVE / 3.828 ACRES

OFFERED FOR $999,999

214.507.6699 • tim@timschutze.com • timschutze.com

9
---
10 September
---
Welcome Our New Mavericks!

by Jim Hirsch, Region Membership Chair

New Members July 2019

Bruce Allen Anna 2001 911 Turbo

Zach Bailey Adiison 2016 911 GT3

Gary Beeman (Jan) Dallas 2018 718 Boxster S

Caleb Benton Dallas 2006 Cayman S

Michael Berning Grapevine 2002 911 Carrera Cabriolet

Anne Cree Dallas 2002 911 Turbo

Chad Davis

North Richland Hills 2015 Macan Turbo

William Dodge Denton 2019 718 Boxster S

Jihad Fattah Irving 2002 911 Turbo

Carter Fournier Dallas 1969 911S

David Ginn Keller 2000 911 Carrera

Joseph Harrell Dallas 2015 Macan S

Craig Harris Plano 2016 911 Carrera GTS

Doyle Hartman (Margaret) Dallas 2018 911 GT3

Andrew Kang Dallas 2016 911 Carrera GTS

Huan Le Sachse 1998 911 Carrera Cabriolet

Jim Lilly Granbury 1983 944

Paul Lopez Fort Worth 2000 911 Carrera Cabriolet

Ronald Maxedon Southlake 2018 Panamera 4S

Mark McAnally Plano 2014 Cayenne

Joel Meek Arlington 2007 Cayman S

Deanna Metzger (Chuck G) Fort Worth 2018 718 Boxster

Nolan Ogden Westlake 2003 911 Carrera Cabriolet

Steve Parker Azle 2013 911 Carrera

Raul Pena Fort Worth 2018 718 Cayman S

Wes Pettinger Richardson 1965 356

Matthew Quon (Gina) Plano 2017 911 Carrera Cabriolet

Zac Russell Frisco 2015 Macan S

Greg Samson Addison 2011 911 Carrera S

Scott Eugene Scammahorn Tyler 2019 911 Turbo S Cabriolet

Peter Shankel Sachse 2018 Macan S

Quirt Smith (Jennifer) Hudon Oaks 2009 Race Car

George Snowflack Dallas 1982 924 Turbo

Mitchell Swindell Colleyville 2015 Cayman S

Transfers In

Dean Cooper (MOH) Allen 2013 Cayenne

Genesiac Folkes (HCT) Richardson 2002 911

Craig Julien (OHV) Irving 2003 Boxster S

John Falk (RRR) Fort Worth 1981 911 SC

Doyle Hartman (CRR) Dallas 2018 911 GT3

Frank Pohl (ALT) Longview 2007 911 Turbo

William Pollard (DIA) McKinney 2004 911 Carerra 4S (2)

Robert J. Williams (LST) Van 1970 911T

Please give a Maverick Welcome to these new members when you meet them

Member Moment

If you have any changes that

you would like to make to the

MRPCA membership guide, contact Jim

Hirsch at membership@mavpca.org

Michelle Miller

(joined 6/2019)

Occupation

Marketing Consultant

Primary reason for joining PCA

The community and the cars. I've met a

number of members at different events

and they seem like a family.

Current Porsche(s)

Porsche Cayman 2018 (I call him Klaus)

Favorite Porsche

I'm really excited about the new Taycan.

Best thing about Porsche ownership

I feel like I'm part of a family. No matter

where I'm at it seems like the Porsche

owners gravitate towards each other –

especially in parking lots for some reason

- based on a sheer love of the car.

Hobby interests

I'm a huge soccer fan, also enjoy traveling,

horses, and music. I just got a dog which

takes up a lot of time but so worthwhile.

Member Moment

Jeff & April Miller

(joined 1/2012)

Occupation

Director of Marketing

(Jeff), Digital Marketing

Manager (April)

First Porsche

2011 Panamera 4

Current Porsche(s)

2014 911 Turbo S (Jeff),

2018 Macan GTS (April)

Favorite Porsche

959 and 928 GTS

Favorite Maverick or PCA event

Mavs & Mochas

Best thing about owning a Porsche

Being part of a car culture that brings and

bonds people together -- even though the

people and cars may span multiple eras.

Maverick Membership Statistics as of August 1

Primary Members: 2074 Affiliate Members: 1006 Total Membership: 3080

11
---
Garages & Gearheads July Recap: Garages of Texas

by Bill Middleton

photos provided by Author

Being semi-officially a member of the "retired old

curmudgeons club," and a lifelong gearhead, I can remember

many different forms of shelter I've used for working on my

various vehicles. Some of those memories are fond ones, like

having a fully finished and conditioned garage with shop space

in which I fully rebuilt both engine and transmission in my

1976 Datsun 280Z - and others less so, such as resetting loose

ignition points in January, at night, outdoors, in Michigan, in

the dark, by flashlight, in my first car, a 1961 Mercury Comet,

so I could drive to college.

all things – a balcony? Oh, and let's not forget plenty of wall

space – two stories tall on both sides – for all those posters,

memorabilia items, and pieces of taxidermy that either won't

fit in the house – or your spouse banned to the attic.

Welcome to the world of purpose-built, architect-designed,

professionally constructed garage spaces – and the brainstorm

of Jack Griffin and Fred Gans.

Now that my jaw is off the floor and reseated in my head,

it's time to start really taking in the scope and concept of what

this is – a true "man cave" on more steroids than the entire

Enter today's event, and cue up Handel's Hallelujah chorus

– but don't drop the needle just yet (for those who remember

phonographs – for those that don't, ask someone with white

hair) just have it cued right over the deadband on the record

– and drive into Garages of Texas off Storey Road.

At first one sees what appears to be just a set of large two-story

gray storage buildings, each space fitted with a garage door and

walk-in entry. OK, so far so good. We got here a little early, but

the location is pretty clearly the spot – primarily from the whole

lineup of P-cars all glistening in the sun along the first building.

Once parked, the first stop was pretty obvious: follow the aroma

of fresh coffee and donuts wafting from the reception space!

Now fortified with caffeine and sugar, time to begin what I

came here for: taking photos. I go back outside, start shooting,

wandering around the building corner, following others back

toward the lineup of Porsches that were seen from the road.

Ah – an open bay door, and everyone seems to be headed

in. I take a couple more shots down the row of cars, then turn

into the door, and – OMG!!! (DJ, drop the needle on Handel's

masterwork please) "Hallelujah!! Hallelujah!! Hallelujah,

Hallelujah, Hal-le-lu-jah!!!!!!!!!"

If this is a "garage," there must have been some sort of

transdimensional vortex at the entry, as this surely bears no

relation to my understanding of "garage" – being of rough

dirty concrete floors, no heat or air, dimly lit, a workbench

of old delaminating particle board, and the occasional mouse

for company. No – this has brilliant lighting, mirror finished

floors, genuine millwork cabinetry, a real bathroom, and – of

NFL uses in a season, fully orchestrated around one purpose:

serving the needs and desires of the individual who will use it

as a place to keep their precious toys, work on them, admire

them, share them with friends, have a private office there

amongst his or her treasures – whatever the desire, it's here.

As I walk around I can see others with similar reactions

– first the jaw agape stares, then the starry-eyed-kid-at-

Christmas look of "I WANT one!!!!"

After a few minutes, we're told that another space in the

facility is open for viewing, so we head around the other

side – and slam! We go from European sports cars and wood

cabinets to American muscle cars, motorcycles, and life-size

cutouts of Kiss, with the occasional samurai swords on the

walls. It's like cramming together a Route 66 diner, metal

rock, high school auto shop, and Detroit iron all in one crazy,

colorful place. The owner is gracious, very friendly, highly

conversational, and clearly in heaven in HIS space surrounded

by HIS stuff – how cool is that???

Thoroughly blown away, it's time to walk the cars on

display outside in the sun and get pics – but clearly, the stars

of this coffee meet are not the cars, but these amazing places

to put them – or should I say, residences where they will rest

in blissful auto heaven until their owners call for them??

After more photos, and wandering about conversing with

friends, it's time to leave – we've got other goings on today in

the area, and time marches on as they say – but this place has

certainly left a lasting impression.

Christmas IS coming, right??

12 September
---
Frisco

Allen

Roanoke

Lewisville

Plano

Carrollton

Richardson

N

Arlington

Irving

Dallas

(214) 393-4480 GARAGESOFTEXAS.COM

AUSTIN | DALLAS | FORT WORTH | HOUSTON | SAN ANTONIO

13
---
You can test your

knowledge (or Google

search ability) of all

things Porsche by

participating in the

monthly trivia contest

posted online at http://

mav.pca.org/trivia.

Answers are due by the

last day of each month.

The winner of the trivia contest receives a $25 gift

certificate from our sponsor, Zims Autotechnik. In the case

of ties, a random drawing determines the winner.

Here are the questions for the July 2019 Trivia. We went

with a Trivia that brings Q&A this month dealing with the

new 935 and other trivial Porsche Items. The Winner this

month is Tom Martin, and he was the only one getting all

5 of 5 correct.

Answers: 1)b, 2)d, 3)c, 4)c, 5)b

14 September

Maverick Trivia: Are you a Porschephile?

Jerry DeFeo

sponsored by Zims Autotechnik

1. It looks like Porsche has a new 935 coming out, which is limited to

just 77 units, and is NOT built for any series, but just for the fun of

it. If you could get the factory to sell you one, what would it cost?

a. $777,000 b. $817,000 c. $877,000 d. $917,000

Source: https://tinyurl.com/yynny4u7

2. As with most race cars, keeping the weight down is allimportant.

This 935 will tip the scales at _______ .

a. 2872 lbs b. 2915 lbs c. 2988 lbs d. 3042 lbs

Source: https://tinyurl.com/yynny4u7

3. It is to be a great little toy for a select few, and has a few items that

makes it more exclusive. Which of the following does it NOT have?

a. Wood shift lever b. Air conditioning c. 6-speed manual trans

d. Optional passenger seat

Source: https://tinyurl.com/yynny4u7

4. We are fortunate now to have a variety of headlights for driving

our cars at night. But until ______ , sealed beam headlamps were

the only legal type of headlamp in the USA.

a. 1979 b. 1981 c. 1983 d. 1985

Source: Excellence magazine, April 2012, p 101

5. In 1902, when Ferdinand Porsche developed the Lohner-

Porsche, for headlamps it used a glass lens covering a cupshaped

reflector that housed a vacuum-sealed bulb. How many

headlamps did it have?

a. 2 b. 3 c. 4 d. 6

Source: Excellence magazine, April 2012, p 100
---
Autocross Series: Events 6 and 7 at Lone Star Park

by Mark Schnoerr, Region Autocross Chair

photos by Robert Kirby of Lightspeed Images

Zac Russell in his Macan

Event 6 on August 4 saw three Porsche SUVs battling

it out in Class P0. Igor Tulandin took first over David

Powers, both in Cayenne GTSs, and Zac Russell in his

Macan. In Class P1, Carey Spreen just edged out Sigrid

for second place by 0.005 seconds. Mark Schnoerr

took the family 914 to first in class and top Porsche

Performance Index as well as overall quick time. Ed

Mayo and Julia Underwood rounded out the class in

the beautiful 1972 911S.

In class P2, Amir El-Baghdady won driving his

944S2. In P3, Mas Watanabe won and was also third

quick in Porsche Performance Index. P4 belonged to

Doug Edney in his 996. Plass P5

had some more new participants.

Owen Coulman was first in his

996 GT3, Perry Lowery was

second in his Turbo Cabriolet, and

Edward Chin came in third. Owen

was also second quick Porsche

Performance Index that day. In

Ladies overall Performance Index,

Sigrid Schnoerr was second and

Holli Coulman was fourth.

Highlights from Event 7 on

August 11: Class P1 had eight

entries, including club racer Pat

Heptig and his son, Quinn, as well

as Nick Frost in his 1974 914, all

running in their first autocross

events. This week, Mark Schnoerr,

Sigrid Schnoerr, and Ed Mayo

pulled 1, 2, and 3 in class P1. Class

P5 had five entries, and Owen Coulman, Greg Samson,

and Holli Coulman ran 1, 2 and 3 today. The Porsche

Performance Index winners were Mark Schnoerr,

Owen Coulman, and Ed Mayo: 914, 996 GT3, and

911S, respectively. In Ladies Performance Index, Sigrid

Schnoerr was the only Porsche driver to break into the

overall Performance Index payouts with fourth place.

The final three events are all at Lone Star Park in

Grand Prairie on September 15, October 13, and

November 3. Contact Mark Schnoerr (autocross@

mavpca.org) for details or go to the ER website at

autocross.com.

Above: Zac Russell, Edward Chin, Igor Tulandin in a Cayenne GTS

15
---
Mavs & Mochas: Novel Coffee in Flower Mound

130+ cars - 26 red, some heat and lots of friends photos by Michael Durovick, Landon Stogner and Bill Kruder

16 September
---
17
---
18 September
---
Maverick Marktpreis is proudly sponsored by:

Maverick Marktpreis: GT3

by Peter Wen

How do you make a grown man giggle like a teenage

girl at a school dance? Put him in the driver's seat of a

GT3, of course! One stab at the go-fast pedal and the

screaming exhaust note of the Flat-Six engine at 8,000

rpm will transform anyone back to the carefree days

of their youth. GT3 is that magic potion, the fountain

of youth.

Porsche unlocked the magic 20 years ago with the

introduction of the 996-generation GT3. The U.S. market

did not receive one until 2004 with the introduction of

the second-generation 996. The recipe was simple: more

power, more downforce, less weight. Rear seats, spare

tire, sound deadening materials, as well as all other

non-essential parts, were removed. Essential parts were

upgraded to better "stuff" compared to the pedestrian,

non-GT 911. The GT3 was also fitted with an oversized

"taco" wing. It was a street car with a racer's soul.

Porsche has produced the GT3 for every 911

generation since 996. Contrary to popular belief, GT3s

were not limited production runs. There are plenty fine

examples out there waiting to be experienced. They

have held their value very well over the years. Often,

GT3 is the most expensive model of their respective 911

generation, even more than their Turbo stablemates!

$125,000

$100,000

$75 ,000

$50,000

$25,000

$0

Hagerty Valuation Tool:

2005 911 GT3

$65,000 average value

Sep 2016 May 2017 Jan 2018 May 2018 Jan 2019

Excellence's magazine's Porsche Buyer's Guide offered these

GT3 price ranges:

996.2 '04-'05 $65k-$75k

997.1 '07-'08 $90k-$105k

997.2 '10-'11 $105k-$120k

991.1 '14-'16 $125k-$150k

991.2 '17-'19 $145k+ MSRP

Fun Fact: The manual transmission was dropped on 991.1 gen GT3 ('13-'16)

in favor of PDK. That sparked a buying frenzy of 997.2 gen GT3 ('09-'11) as

purists looked to own the "last" manual transmission, Mezger-engine GT3s.

However, following the success of the 2016 911R and public demand,

Porsche revived the manual transmission option on the 991.2 GT3 in 2017.

2014 911 GT3

Sold for $109,000 + $5,450 buyer fee

6k miles

Sapphire Blue / Black

3.8L Flat-Six

7-speed PDK

Sport Chrono, Front axle lift,

Sport Design steering wheel

2005 911 GT3

Sold for $61,000 + $3,050 buyer fee

98k miles

Arctic Silver / Black

3.6L Flat-Six

6-speed Manual

Engine rebuilt '16

Harnesses & half cage

2004 911 GT3

Sold for $67,500 + $3,375 buyer fee

47k miles

Speed Yellow / Black

3.6L Flat-Six

6-speed Manual

CoA, Yellow trim and seatbelts

Clean Carfax

2007 911 GT3

Sold for $95,000 + $4,750 buyer fee

10k miles

GT Silver / Black

3.6L Flat-Six

6-speed Manual

CoA, Sport Chrono

Clean Carfax

2015 911 GT3

Sold for $117,500 + $5,875 buyer fee

10k miles

Guards Red / Black

3.8L Flat-Six

7-speed PDK

Sport Chrono, Front axle lift, PCCB

2018 911 GT3

Sold for $155,000 + $7,750 buyer fee

1k miles

PTS Slate Grey / Alcantara

4.0L Flat-Six

7-speed PDK

MSRP $175k,

Full Bucket seats, PDLS

At Hagerty, our love for cars and their owners drives our

business forward, allowing us to offer you better

classic car insurance coverage for less.

19
---
Coffee, Cars & Conversation

by Bill Kruder

photos provided by author

So, this story goes way back to

1996. We had just purchased our

'82 SC and joined the club. Well like

any "used" car, stuff needs repair,

and I heard about this shop with the

strange name of IXXI Enterprises in

Dallas with this incredible mechanic

named Dusty. I proceeded to take my

car there for service for many years.

I was usually greeted at the counter

by this guy that kind of scared me as

he was so serious, and I'm just this

guy with his first Porsche feeling like

I should maybe be driving a Jetta.

Well as time went on, I came to

depend on him as my personal

expert always willing to walk

me thru what need to be fixed

now and what could wait. Fastforward

to about two years ago:

I was at Mayo and who do I run

into but the serious guy behind

the counter.

So here is the next in my

series of "conversations" I

would like to share with you:

Barry and Joan Gibbs,

members since 1969 & 1975

Owners, 2011 997.2 Carrera S

meeting Mr. Stanley one day when I

was out on the sales floor. From there

I went on to work for JC Penney when

they had a Dallas Buying Office here

long before they moved to Plano.

BK: Barry where did you go college?

BG: Well I was supposed to go to the

Air Force Academy - Senator Tower

got me an appointment. But I couldn't

pass the eye exam to be a pilot.

JG: Looking back, this was near

the height of the Vietnam war, so

it probably saved his life (smiling).

homebuilder, as they were starting

a finance arm of the business. But

admittedly I ended up in the auto

parts and repair business.

BK: And how did that happen?

BG: I had a friend who had a

machine shop and we developed

"oil return tubes" that would allow

you to replace them without taking

everything apart. Being a Porsche

guy this really intrigued me, so we

started selling these out of the house.

People would call and leave me a

message on the "phone mate"

and I would fill their orders.

This lasted a couple years, then

we expanded with a catalog of

parts that we would mail out.

Well as was often the case,

people would often ask me if

there was someone who could

do the work. About this time,

we had taken a SBA loan and

had a bought a warehouse over

on Northaven and near Denton

Drive, so I started installing the

parts. Shortly thereafter I hired

Dusty Rhodes from Forest Lane

Porsche+Audi. He worked for

me for over 20 years.

Bill Kruder: So where are you

two from?

Barry Gibbs: I'm from right here, the

little town of Fruitdale near I-45

and Loop 12. It's now part of the

city of Dallas. About the time I went

off to college my parents moved

to Desoto. I had really moved out

already so never lived there but for

a summer home.

Joan Gibbs: Oh I'm a Texan, born in

Sherman and raised in Fort Worth.

I went all through the FWISD and

stayed right there and went to TCU

for college.

BK: And what did you get your degree in?

JG: I received mine in Merchandising;

I went on to work for Neiman Marcus

as part of their executive training

program. I had the honor of even

Joan and Barry Gibbs

BG: So, getting the news that I

couldn't fly, I needed a school to go to

and quick. I signed up at Texas Tech

in Lubbock. I went up there without

ever seeing the campus - probably

a good thing back then (laughing).

Guess it wasn't all that bad as I stayed

there to get my MBA in Finance.

BK: Interesting as I know both of you

ended up doing pretty different things

than what you went to school for.

JG: Well we had our son Bryan and I

was a stay-home mom for some time.

I did go back and get my teacher's

certificate and started a 21-year

career teaching.

BG: I did stay in Finance for

a bit working for Centex, the

BK: So was this the start of

IXXI Enterprises?

BG: It was about 1975. Then in

the early '80s, during the S&L

scandal, we bought three 60-foot

lots in Dallas on Cindy Lane, which

we built the building on. We ran a

pretty good business out of there.

Then about five years ago, I decided

to retire and sold to Dave Nuccetelli.

BK: Ok let's talk about how you two met.

JG: That was in 1972. I was dating

one of Barry's friends as it turned

out, and we were all at Oktoberfest

at Forest Lane Porsche+Audi. Well,

we met that day and became friends.

BG: Yep and I told him if you don't

marry her, someone else will. So a few

years of friendship; I think this was

1975. Two club members, Richard

and Nancy Corbeille, were from

New Orleans and they asked if we

20 September
---
would like to meet them there during Thanksgiving and

get married.

JG: And we did - the chaplain from Tulane married us at

Jackson Square.

BK: So let's talk first cars?

JG: That's and easy one; a black '64 Corvair. I've always

had something about quirky cars (laughing).

BG:My first was a '56 Ford; I bought it the day I turned

16. Didn't have it long - I traded it for a '64 Ford Fairlane.

Big mistake!

BK: I hear there is quite the story on your first Porsche?

BG: That was a '69 911T, burgundy over black; I think it

was the lowest horsepower 911 that Porsche ever built.

I was in school, still working on my Master's, and I had

gone to the dealer in Lubbock and ordered the car with

the help of a friend who worked in the bank. He got me

a 180-day loan; apparently he figured by the time it came

due he would be gone (laughing). We ordered the car,

and about this time there was a dock strike. I think the

car stopped in every port imaginable. I was out running

around one Saturday and I see this transport go by with

VWs and ONE burgundy Porsche; I turned around and

followed that transport to the dealer. They actually let me

back it off the truck!

was President. (For the record: not only was Joan President

but she was the FIRST WOMAN to be president in our

Region.)

So there you have it: some 23 years later we meet again,

this time not about fixing my car but about what has

made our PCA journey so much fun. We call it Driving

Friendships!

And Richard Cross, you missed a great slide show (you

know what I'm talking about.)

BK: And what about that loan?

BG: Well sure enough, the friend is gone and a bank examiner

looks at the notes and they called me and said you need to

show us how you are going to pay this loan. I asked if the

180 days was up and he said no; I replied "I will see you

when it is." As things turned out, I ended up with a Teacher's

Assistant job making all of $200 a month, but I was able

to secure that payment.

BK: Now let's talk about the Club. I understand you both

have been pretty active in the Club?

BG: We were in the early years. We attended four Parades

around the country trying to participate in just about all

the events. I was President of the Maverick Region in 1973

and again in 1978. Keep in mind the club had fewer than

200 members back then. (We now have over 3000.)

JG: I was Secretary in 1976 and 1978, and then in 1983 I

21
---
Upcoming Maverick Region Events

SEPTEMBER

22 ND

10AM-12PM

LAKESIDE MARKET, PLANO

Porsche

people's choice car show

2019

Promenade

$25 per car•free admission for club members

brunch, refreshments, cash bar

22 September
---
23

Upcoming Maverick Region Events
---
autoscope.co

3 Dallas Locations:

Porsche Specialists with over

35 years experience in DFW

Park Cities

6134 Denton Dr

Dallas, Tx 75235

214-350-3050

Plano

601 Coit Rd

Plano, Tx 75075

972-867-7467

White Rock

9796 Ferguson Rd

Dallas, Tx 75228

214-320-8280

The Art of Paint Protection

josh@invisibra.net

214-704-9299

Paint Protection Film

Ceramic Coating

Full Detailing

Window Tinting

24 September
---
Drive Daytona October 25-27

Contact:

HMS

Jeff Wiggins 214-957-4385

HeptigMotorsports@gmail.com

25
---
26 September

Remembering Charlie Davis

by Carey Spreen and some of Charlie's friends

On June 7, 2019, 50-year Maverick Region member

Charlie Davis passed away at age 80 due to complications

related to the genetic disease Alpha 1 Antitrypsin

Deficiency. Charlie was a mainstay of the Maverick

Region for decades, having held the offices of Region

Vice President (1972, and Co-VP with wife Teri in

1981), Region President

(1975 and 2000),

Region Secretary (2007-

2008), and Slipstream

Co-Editor (with Don

Spaulding, 1972).

Charlie was also the

inaugural recipient of

the Richard F. Selcer

Memorial Award in

1976, winning it again

for good measure with

Teri in 1981. Charlie

Charlie with Teri as she won the

1985 Newsletter contest

held the post of Zone 5

Representative from 1985

through 1988. He was also

on the Parade Competition Rules (PCR) Committee for

several years, holding the PCR Committee Chairmanship

from 1982 through 1985. Later in his PCA career he

became the Tenured Historian for Maverick Region.

He was renowned for his photography skills, and was a

member of the Parade Photography staff for many years,

putting on photography classes for Maverick Region as

well. Another of Charlie's PCA accomplishments was to

come up with the first computer-based autocross timing

system for the 1987 Porsche Parade.

But statistics are of course only part of Charlie's

legacy. He was often a bigger-than-life character in

the club, with strong ideas and opinions that didn't

always follow the mainstream, but if you knew him,

you also knew where you stood with him. He was

an engineer by trade, and had a

wealth of knowledge of Porsches,

Porsche history, and PCA history.

Charlie was also an accomplished

autocrosser and time trial driver,

understood the nuances of Time-

Speed-Distance rallies, and was an

experienced Concours d'Elegance

judge as well. Plus he knew his way

around a Technical Quiz! Charlie

was a particular fan of the Porsche

914, and chaired the 914 Special

Winning the inaugural

Selcer Award 1976

Interest Group (SIG) for a number

of years.

photos provided by Teri Davis

Here are some remembrances of Charlie from a few

Mavericks who knew him well.

Linda Bambina:

Charlie had done hundreds and hundreds of fantastic

extremely-close-up pictures of every wildflower he

could find around his property in Parker County in his

makeshift studio.

I commissioned him to create something LARGE and

TOTALLY UNIQUE for some of those pictures so that

I could hang it in a prominent place in my TreeHouse

property in East Texas. But figuring out which pictures

to use, and how these pictures would be put into one or

more frames, took the two of us MONTHS of talking.

Plus it took me hours to go through the existing contact

sheets and finished photos to CHOOSE the best ones!

Eventually I settled on 35 best of the best, and then

the real fun began. Deciding HOW they would be put

into one frame (Charlie said I would go nuts constantly

straightening separate framed pictures -- so true) was a

chore, since it turned out that the black backgrounds

were slightly different colors (!?) from each other

according to fussy-pants Mr. Davis. So a massive

"contact sheet" of elegant flowers (with their names

replacing the Kodak logo) was the magnificent result. I

had him sign it and include the "1 of 1" designation for

the piece of art, which seemed appropriate since Charlie

was 1 of 1, too.

Hiram Saunders:

Charlie was so multi-faceted and so deeply involved

for so long, there is no way to fully reflect his impact on

PCA at the Maverick Region level, or even the National

level, without a book.

A couple of small things: I met Charlie at a Warbonnet

Tech Session in Tulsa before I was a Maverick. He and

Ed Mayo are the only two speakers I remember or ever

heard much more about! When I told my son Randall

about Charlie's death, his first recollection was about

Charlie teaching him how to drive more smoothly on

the autocross course. Of course this meant my son was

soon beating me, because I never got over my dirt-track

roots. Charlie did a marvelous job with photography

and probably would have gained renown with Porsche

Panorama, except that Dr. (Leonard) Turner was

everywhere, back in the days before Pano became a

major commercial publication. Charlie's ability to make

people a part of Porsche-centric pictures, and the huge

amount of time he gave to driver training and club

administration, are certainly indicative of the idea that

PCA is about the people and not just the cars.

I also remember the days when Charlie was creating
---
an autocross timing system that was used for the Porsche

Parade, and may have been the basis of similar systems

around the country. I do not know if he was creating it

to have it perfected before the first DFW Parade in 1987

(very farsighted) or just because it was needed and he had

the technical knowhow. I also do not know how much

his work was shared around the country. But I do have

an idea of the amount of time he must have put into it.

There is so much more that could be said. We old

folks may not be known and seen by many current

members, but Charlie and Teri were at the top of a list

of a half dozen or so that have sort of carried this club

for a long time. When I came here in 1979 there were

already only a few of the "original" cadre still active.

Few can match what Charlie and Teri did, and in so

doing, they supported each other. What a team!

Ed Mayo:

I joined PCA in 1967 while living in Cleveland, Ohio.

I moved here in 1972 and started attending Maverick

Region meetings and functions. Right away it was obvious

who the leaders of the region were, Charlie Davis being

one of them. Charlie was also very active nationally, was

on the PCR (Parade Competition Rules) Committee,

and was in fact one of the main writers of the autocross

rules at that time, to the point of everyone identifying the

autocross rule structure as the "Charlie Charts." I was

certainly in awe of him then, and so enjoyed being able to

say I knew the "famous" author personally!

Charlie was one of the early pioneers who brought the

autocross timing world kicking and screaming into the

age of computer timing, both here locally, and for Parade

timing. It was NOT an easy birthing! I remember many

autocrosses that were accompanied by screaming and

cursing from the timing trailer - but remember, this was

before store-bought timing programs. He was writing the

program, and was under pressure to get it up and running

in time for the 1987 DFW Parade.

There was an interesting confrontation at that

Parade autocross involving a VERY serious and known

curmudgeon autocrosser from California named John

Williamson. It seems that John had posted a time that

was pretty much unobtainable for his class. Charlie was

of course doing the "new computer timing" and informed

John that that time was a computer error and wouldn't be

counted. John, being a fierce competitor, argued that the

time was correct and it should stand! Charlie argued that

it couldn't be correct, but he would allow John one more

run, and if he could get within a half second of that time

then it would be allowed. John took his run . . . didn't get

close! But then he told Charlie that that had been the most

fair he had ever been treated! Let's just say that Charlie

was known for thinking "out of the box."

Charlie had chosen me to build the engine in his 1972

911S, and after completing the engine, we took it to his

house to install it back in the car. After bolting everything

up it came time to start it . . . no luck. Needless to say,

this greatly distressed me! After some diagnosis we found

the problem: during his fastidious cleaning and painting the

engine bay, we found the ground stud that he forgotten to

mask off. Cleaned off the paint and it fired right up!

Now to most people who know Charlie, he's the epitome

of the staid, humorless, engineer type. But they weren't with

the Maverick Region in Jefferson, Texas for a "Mystery"

weekend, a "whodunit" enactment, with many in costume

to bolster their assigned role. So there we all are meeting

for dinner, and the final act of the weekend, when all of

our eyes turn to a rather tall skinny female sauntering in

wearing a short dress, full hose, make-up, and a daring top.

It takes us all a second to figure out why this floozy looks

familiar - it was Charlie in full drag!!!! And he was enjoying

it!! So much for the staid, humorless, engineer type!

Charlie was a well-rounded PCA member if there ever

was one; this brief article barely scratches the surface. His

presence will be missed for a long time to come! You can

view Charlie's obituary at https://tinyurl.com/y4cqpz8s.

Left to right: One of his more memorable roles, Parade Concours judge 1989, Autocrossing Zambezi in 2001

27
---
Your mind's been racing.

Catch up.

Decades of dreaming, fulfilled instantaneously. The iconic 911 Carrera. Legendary

handling, immediate power, and decades of motorsport heritage. It is the full

measure of a sports car. Found only in a Porsche. Porsche. There is no substitute.

The 911 Carrera.

Porsche Plano

5924 W Plano Pkwy.

Plano, TX 75093

(214) 579-1911

porscheplano.com

©2018 Porsche Cars North America, Inc. Porsche recommends seat belt usage and observance of traffic laws at all times.

OUR WAITING ROOM IS YOUR LIVING ROOM

COMPLETE ON-SITE INSTALLATION AT YOUR HOME, OFFICE OR AT THE TRACK

ALL BRANDS TIRES & WHEELS • SALES • INSTALLATION • BALANCING

All PCA Members Get FREE INSTALL on Michelin & BFGoodrich Tires

Nobody Should Have To Sit In A Tire Store, Nobody!

CONGRATULATIONS!

TO CHRIS LENNON FOR HIS

SUCCESSFUL RUN ON THE

PIKES PEAK HILL CLIMB THIS

YEAR!

$70 - $100 REBATE

Are you a contractor or work

in a trade?

RECEIVE A $70 - $100 REBATE

ON SETS OF 4 BFGOODRICH

K02 TIRES

(972) 499-5024

28 September
---
29
---
Aloha Tour Preview

By Sam Bryant, Tours Co-Chair

We are back from our short

summer break for the 4th Driving

Tour this year, and boy do we have

a treat for you! Our fourth tour

for 2019 will take us north of the

Metroplex on Sunday, September 15.

Our starting location this

year will be in the parking lot of

Tuesday Morning, 117 S Central

Expy, McKinney, TX 75070. The

route is 77.4 miles and about two

hours long with one rest stop.

We will end up at the Hula Hut

restaurant, 210 E Eldorado Pkwy,

Little Elm, TX 75068.

On this tour expect long straightaways, twisty

turns, and beautiful open countryside for

picture-perfect Porsche visibility. This tour will

take us through a dozen cities.

Hula Hut serves Mexonisian

food with a perfect atmosphere for

Maverick enthusiasts. The location

overlooks Lake Lewisville and

Hydrous Wake Park. Hula Hut has

a great parking lot and its owner

is a Porsche enthusiast. Please

register for the tour at http://mav.

pca.org/Event/Tours .

We have two classes on our

tours. Choose Vintage Class for

a more relaxed scenic tour, or

Modern Class for the same type

of tour that we have provided

in the past. Whichever class you

choose, it is your

decision no matter

the type of Porsche

you drive.

After registration

and three days

photos provided by author and Michael Baynton

before the tour, we will send you

all the information needed to

attend. We hand out packets the

day of the tour with all the

information as well. The Drivers'

Briefing will begin at 10 am, so

please arrive early so that you are

signed in on time. Most tour

attendees arrive early to meet new

friends and socialize with familiar

faces. Arriving early also helps

our volunteers get everyone signed

in on time so the tour is on

schedule. No special navigation

will be needed. Our Group

Leaders will be familiar with the

route and will guide each group

of 14 cars or less in their group on

the route. If you have any

questions about the event please

email: tours@mavpca.org.

30 September
---
We'll give

you an

assist on

your future

goals.

Contact me to learn how you can get

the most out of retirement.

Lisa D. Ward, MBA

Agent, New York Life Insurance Company

777 Mains Street Suite 3800

Fort Worth, TX 76102

817-614-3165

ldward01@ft.newyorklife.com

www.facebook.com/LisaWardNYL/

SMRU1710429 (Exp.10/21/2018)

©2018 New York Life Insurance Company,

51 Madison Avenue, New York, NY 10010

Insure. Prepare. Retire.

LIFE HAPPENS ON TRACK DAY

EVERYTHING ELSE IS JUST PRACTICE.

Introducing HPDE/Track Day Insurance

High performance driving school is a blast. It's a chance to push your car and your

skills to the limit, and it will make you a better driver. With Hagerty's HPDE/Track Day

Insurance powered by RLI, you can keep your focus where it belongs — on driving.

Drive with us. Nolan Eberl-Coe | 682-219-5206 | nberl@hagerty.com

Hagerty Track Day program is underwritten by RLI. Some coverage not available in all states. This is a general description of coverage. All coverage subject to

policy provisions, exclusions, and endorsements. Hagerty determines final risk acceptance. Hagerty & The Steering Wheel Logo are registered or common law

trademarks of the Hagerty Group LLC, ©2019 The Hagerty Group, LLC. All Rights Reserved.

31
---
877 C

OUR PASSION DRIVES OUR CRAFTSMANSHIP

At APEX, your unique, personalized service program is crafted to meet your

speciic desires. Our passion is delivering a concierge level of service that

goes above expectations to create an unparalleled client experience.

To Ensure that you and your Porsche enjoy an unmatched standard of care,

contact us today for a private consultation.

855.998.APEX (2739) | www.ApexAutoCo.com | info@ApexAutoCo.com

CONCOURS LEVEL RESULTS

Using cutting-edge processes and

state-of-the-art equipment, our

detail techniques consistently

deliver an unsurpassed level

of care for your Porsche.

Expert Paint Correction | Professional

Detailing | Paint Protection Films (Clear Bra)

Ceramic Coatings | Window Films | Vinyl

Vehicle Wraps & Accents

Ceramic Pro Certiied Installer

The World's #1 Ceramic Coating

Member; IDA & Elite

Detialers Alliance

CARS & CANNOLI

Monthly on the 3rd Sat.,

Mar.-Nov., 8AM - 10AM

5999 Summerside Drive

Dallas, TX 75252

EXPERT ADVICE, OPTIMUM

ENHANCEMENTS

We have the knowledge and experience

required to truly enhance your

Porsche's aesthetics and

performance with

customized and proven upgrades.

Automotive Customization | Performance

Parts Sold & Installed | Intake/Exhaust |

Wheels/Tires | Suspension/Brakes | Custom

Methanol Injection Kits | ECU & TCU Tuning |

Racing Fuels and Methanol Sales | CEL/Code

Clearing & Diagnostics | Light Bodywork,

On-The-Go Hand Car Cleaning,

Reenishing & Respraying | Powder Coating

Automotive Customization &

Services | Integrated Radar/Laser Systems

Automotive Gifts

We indulge the needs of the connoisseur who values unsurpassed expertise

and craftsmanship for their Porsche. APEX; an automotive lifestyle brand.

200 C

200 C

200 C

200 C

200 C

123 C

German Car

Service & Maintenance

by Appointment

Specializing in:

307 C

307 C

354 C

354 C

354 C

108 C

108 C

108 C

307 C

108 C

354 C

200 C

108 C

307 C

354 C

307 C

299 C

151 C

Ussery Printing

Printer of SliPStream

Since 1982

817-366-1678

DasZauberwerk@ix.netcom.com

3402 Century CirCle irving, texas 75062

972-438-8344 Fax 972-721-1847

www.usseryprinting.com

32 September
---
From the exotic to

the everyday driver,

we've got you covered.

• Preventative Maintenance & Scheduled Service

• Repairs on Electrical Systems, Engine and Drivetrain

• Full Restorations

• Paint Protection Film and Detailing

Factory level diagnostics for

Mercedes, Volkswagen, Audi,

Porsche and BMW

serving north dallas since 1989

13595 Floyd Circle #400

Dallas, TX 75243

972-437-4216

33
---
Maverick September Anniversaries

35 Years

William Fogg (Mary)

20 Years

William Evans (Mary)

Rocky Johnson (Russ)

15 Years

Gilberto Delgado (Gil)

Ed Newsom (Barbara)

David Scholes (Susan)

10 Years

Douglas Austin-Weeks (Melissa)

Pat Carmichael (Sean)

Mike Carter

Lewis Stevens (Andrew)

5 Years

Greg Dranow (Brenda)

Dennis Fisher (Carolynn)

Steven Holtsclaw

Michael Kist

Matt Mayo

Brad Morgan

Sudheendra Ranganathan

John Ruocco (Erika)

John Savickas

Scott Scammahorn

Edward Solczak (Renee)

John Spiars

Lucas

Bedford

Dallas

Garland

Keller

Dallas

Fort Worth

Plano

Frisco

Decatur

Trophy Club

Plano

Dallas

Plano

Dallas

Denton

McKinney

Highland Village

Dallas

Tyler

Frisco

Richardson

Member Moment - 25th PCA Anniversary, June 2019

Darwin and Kelly Binek

Occupation

Quality Assurance Manager for Safran Helicopter Engines USA /

GM Financial Bankruptcy Specialist

First Porsche

1984 911 Carrera – purchased in 1993. Currently still own.

Current Porsche(s)

1984 911 Carrera, 1969 911S, 2016 Macan S (ordered and delivered new in 2015)

Most memorable Maverick or PCA event

My wife and I both love the AX and TT events even though we haven't participated in 10+ years.

Best thing about Porsche ownership

Of course the cars themselves. They are fantastic and amazing driving machines. It has also had

an impact on our family as our youngest son developed a Porsche interest early on. It's been a

good connection for he and I and a lot of our discussions and activities together revolve around

Porsche and car activities in general. But equal to that is the fantastic people we have come into

contact with and met along the way.

Advertiser Index

Advertising rates available upon request.

For more information contact Bill Kruder at

ads@mavpca.org

Apex Automotive.................................. 18, 32

The Ashe..................................................... 33

Attic Butlers................................................. 25

Autobahn Motorcar Group........................ B.C.

Autoscope................................................... 24

Bennett Motor Werks.................................. 33

BillyGo Plumbing and Air............................ 29

Concorso Detailing...................................... 29

Falgout & Associates, P. C ............................ 24

Fifth Gear Motorsports................................ 36

Financial Enlightenment............................. 35

Growler Motor Labs..................................... 18

Garages of Texas.......................................... 10

Hagerty Drivers Club............................. 19, 31

Heptig Motorsports..................................... 25

Innovative Autosports................................... 5

Invisibra...................................................... 24

Louden Motorcar Services....................... I.B.C.

Mayo Performance...................................... 16

Mustard Racing........................................... 32

New York Life.............................................. 31

The Nest...................................................... 21

OCD'tailers.................................................. 25

Onsite Tires................................................. 28

Park Place Porsche................................... I.F.C.

The Phoenix Insurance................................ 16

Porsche Plano............................................. 28

RAC Performance.......................................... 3

Stuart's Paint and Body............................... 10

Tactical Fleet................................................ 17

Texas Motor Works...................................... 33

Tim Schutze Real Estate................................. 9

Ussery Printing........................................... 32

Zims Autotechnik........................................ 35

These advertisers support our

Maverick Region.

Tell them you saw their ad in

Slipstream!

34 September
---
Parts or Service, We Deliver Excellence.

Over 300,000 parts in stock.

Expert service and repair.

Parts and Service for: Porsche, Mercedes-Benz, BMW, Mini, and Smart Car.

817-267-4451

Visit us online at:

1-800-356-2964

www.allzim.com

zimips@allzim.com

1804 Reliance Pkwy. Bedford, TX 76021 M-F 8am to 5:30pm

Zims Autotechnik is not affiliated with Porsche AG or PCNA Registered Trademark of Dr. Ing h.c.F. Porsche A.G.

Treat your portfolio like you would your Porsche

You wouldn't leave your Porsche in the care of anyone but a certified service technician.

Shouldn't your financial portfolio receive similar qualified attention?

Anyone can call themselves a financial planner. Only a select group can

display the CFP ® certification. Call Clark Randall at 214-890-4098 today

for a complimentary financial evaluation.

10,000 North Central Expressway

Suite 400

Dallas, Texas 75231

214-890-4098

Clark.Randall@FinancialEnlightenment.com

www.FinancialEnlightenment.com

Clark Randall, CFP ®

Registered Representative, Securities offered through Cambridge Investment Research, Inc., a Broker/Dealer, member FINRA/SIPC.

Investment Advisor Representative, Cambridge Investment Research Advisors, Inc., a Registered Investment Advisor. Financial Enlightenment and Cambridge are not affiliated. V.CIR.1217

35
---
Oversteer: Letter from the Editor

by Kurt Scaggs, Managing Editor

Jay Leno has broken my heart. In an interview with

CNBC promoting his show about mostly gasoline powered

cars recently, he was quoted as saying "I predict that a

child born today probably has as much chance of driving

in a gas car as people today have been driving a car with

a stick shift." Ouch. To be fair, despite his vast collection,

Jay is not an expert. However he is an electric car owner,

so maybe we should hear him out.

Hybrid gas/electric car sales have never really taken

off. After 20 years of hybrid car sales, market saturation

is around 2.5%. More than half of those sales in the

U.S. has been the Toyota Prius. I understand the case

for the Prius, but if that is what our future automotive

landscape looks like, I'm skipping my next colonoscopy.

Hope is not lost though, with the Porsche Taycan debut

just weeks away (at the time of this writing) it certainly

looks like performance car automakers have taken the

electric powertrain seriously. That's a good thing, right?

I've had more and more and more conversations with

car lovers and "regulars" about electric cars recently. I've

even mulled the idea myself. Because let's face it, it doesn't

matter how fun your car is, when you're sitting in traffic

it's a drag. But then I think of what happens when the

traffic opens up. Would I want to trade the wahhh, blap,

wahhh for whirrrrr? Think of all of the silent tunnels and

underpasses. (Come on, you know you've done it at least

once.) Would I ever want to go out and just drive again?

Look, I know they are fast and clean and don't require

maintenance. They'll save millions of poppy-headed

three eyed newts I'm sure, but I'm just not ready yet. So I

propose a new sort of carbon neutral equation. For each

Taycan sold, Porsche would donate a weekend gas-burner

to a worthy enthusiast. Just a thought, Porsche. Call me.

Jay said that there was "almost no reason to own a

gasoline powered car". Says the man with over 200 of

them. He's probably right though. Electric car sales are

picking up. More and more manufacturers are getting into

the game. They probably are the future and my son will

most likely drive one. GASP. I might even succumb to the

pressure one day too, who knows. In the meantime, if Jay

needs to pare down his collection to make way for some

extra batteries...I know a guy. Enjoy the drive!

Porsche Specialists - Experienced Enthusiasts

Dealer-Like Service at Independent Prices

fifthgear.biz

Excellent Service Maintenance & Repair Sales

•All Porsches' Serviced

•Fast Turnaround Times

•Same Day Service In Some

Cases

•Serving DFW Area For Over

14 Years

•Family Founded, Owned &

Operated

•100+ Years of Porsche Tech Experience

•11,000 sq. ft. State-Of-The-Art Facility

Equipped with the latest Diagnostic

Tools

•Comfortable Waiting Area with

Free WiFi & Coffee Bar

•Same Services and Capabilities as the

Dealers

•Consignment Sales performed

on a case-by-case basis

1975 Archer Ave • Lewisville • TX 75077 • 972•317•4005

36 September
---
motorcar serv ces

Constant SLIPSTREAM Advertiser Since 1978

nc

1977

42nd

42

ANNIVERSARY

2019

MULTI-YEAR

WINNER

WHY YOU SHOULD TRUST YOUR

PORSCHE TO LOUDEN MOTORCARS

Ÿ

Ÿ

Ÿ

Ÿ

Ÿ

Ÿ

Ÿ

Ÿ

Ÿ

Ÿ

Ÿ

Ÿ

Award winning service for 40+ years

Rated "Best in Dallas" a record 3 times

Rated "Best in Texas"

Rated "Top 10 Shops in U.S."

Rated "Best in the West" by the ROBERT BOSCH Corporation

A Better Business Bureau accredited business for 3 decades with an A + rating

The first ASE "Blue Seal of Excellence" business in Dallas

Racing background at Daytona, Sebring, and Riverside

Master Certified Technicians

BOSCH Authorized Service Center

Air conditioned shop for technician efficiency and comfort

We do not sell cars, thus we must survive on our 40+ year service reputation

See what our customers are saying about us at:

LoudenMotorCars.com

Theresa@LoudenMotorCars.com

35E STEMMONS FRWY 35E

635 LBJ FRWY

CROWN

FOREST LN.

RD

REEDER RD

N h x

HARRY HINES BLVD.

ROYAL LN.

DENTON DR.

LoudenMotorCars.com

11454 Reeder Road, Dallas TX 75229

972-241-6326

FOR 4

DECADES

AUTOMOTIVE

SERVICE

ASSOCIATION

MEMBER
---
Hiram Saunders, Slipstream

155 Jellico

Southlake, TX 76092

Periodical Postage

Paid at Fort Worth, TX