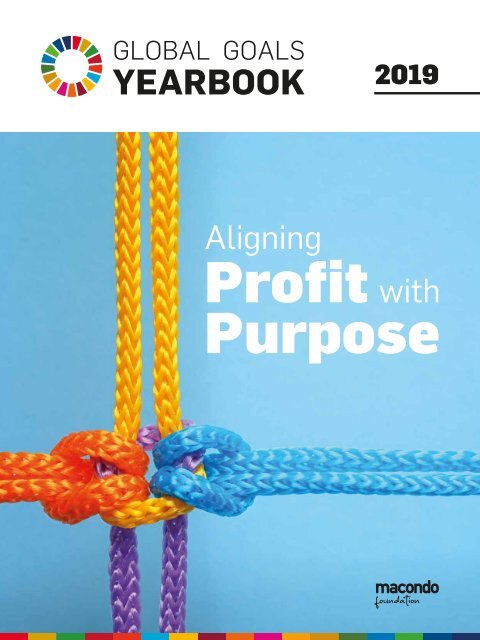 Aliging Profit with Purpose - Global Goals Yearbook 2019
What are companies for? The rules for companies have changed. The focus is increasingly on their sustainable, social, and ecological impacts. The strategic orientation toward the so-called corporate purpose is decisive for profitable growth in the future. This currently results in a large number of questions for businesses: How do you find an inspiring and future-oriented corporate purpose, and how can it be aligned in such a way that it brings profitable growth and social responsibility in concert? The new 2019 edition of the Global Goals Yearbook offers answers to these crucial questions thanks to its consistent orientation toward the UN Sustainable Development Goals and a competent editorial board and author pool.
What are companies for? The rules for companies have changed. The focus is increasingly on their sustainable, social, and ecological impacts. The strategic orientation toward the so-called corporate purpose is decisive for profitable growth in the future.
This currently results in a large number of questions for businesses: How do you find an inspiring and future-oriented corporate purpose, and how can it be aligned in such a way that it brings profitable growth and social responsibility in concert? The new 2019 edition of the Global Goals Yearbook offers answers to these crucial questions thanks to its consistent orientation toward the UN Sustainable Development Goals and a competent editorial board and author pool.
SHOW MORE
SHOW LESS
You also want an ePaper? Increase the reach of your titles
YUMPU automatically turns print PDFs into web optimized ePapers that Google loves.
GLOBAL GOALS

GLOBAL GOALS

YEARBOOK

YEARBOOK

2019

Aligning

Profit with

Purpose
---
This publication is kindly supported by:

Arab African International Bank

Audi

BASF

Bayer

Beaulieu International Group

Bergen Plastics

Bosch

Cargolux

Casinos Austria and Austrian Lotteries Group

CEMEX

Deloitte

Deutsche Telekom

EDF Group

Elsewedy Electric / Iskraemeco

Green Delta Insurance

ING

iPoint-systems

KYOCERA

MAN

Manila Doctors Hospital

Mazars

MediaMarktSaturn

Merck

METRO

Moelven

Nomura

Olam International

Pernod Ricard

Philia Earth

Philip Morris International

PUMA

Sakhalin Energy

Symrise

The University of Manchester

The Global Goals Yearbook is a product of macondo publishing GmbH in support of the Sustainable Development Goals, and the advancement of

corporate sustainability globally. This publication is intended strictly for learning purposes. The inclusion of company names and / or examples

does not constitute an endorsement of the individual companies by the United Nations.

2 Global Goals Yearbook 2019
---
H.E. António Guterres

We have global warming, but we have

UN Secretary-General

also global political warming, and

"

this can be seen in relation to trade

Opening remarks at press conference

at the G20 Summit in Osaka,

and technology conflicts, it can be

June 28, 2019, Japan

seen in relation to situations in several

parts of the world, namely the Gulf.

And it is also a moment in which there are uncertainties

about the global economy – uncertainties due to trade

conflicts, but also uncertainties related to high levels of

debt, to potential instability in financial markets, the

risk of slowdown in global growth...

And then in relation to the Agenda 2030, it is clear that

we are lagging behind. If we project the different Sustainable

Development Goals, the evolution since the beginning

until now to 2030, we will be more or less at midway of

what the international community has determined when

the Agenda 2030 was approved, which means that we

need to accelerate, accelerate the mobilization of resources,

natural resources, countries need to do more, mobilizing

their own internal resources, improving their governance,

reducing corruption, implementing the rule of law.

At the same time, we need to do more in mobilizing the

private sector. Without the private sector, it would be

impossible to achieve these Goals. And a lot needs to be

done in order to raise awareness and to show the opportunities

that exist and to create mechanism to reduce risks.

Global Goals Yearbook 2019

3
---
QUOTE

3 H.E. António Guterres,

United Nations

Secretary-General

EXECUTIVE SUMMARY

6 Profit and Purpose –

An (Im)perfect Match?

Elmer Lenzen

40 FINANCING COMMON

PROSPERITY

42 The Curse of the Carbon Bubble:

How to Really Exit the Fossil Age

Stefan Brunnhuber

52 Profits, Purpose, and the Planet

Sheila Bonini

58 Stronger Profit Potential for

Companies That Serve Society

Alex Edmans

166 GLOBAL GOALS

EDITORIAL BOARD

10 PROFIT & PURPOSE

12 Tomorrow's Capitalism: The

Leadership Agenda for the 2020s

John Elkington and

Richard Roberts

18 Reconceptualizing Business for

the 21st Century: The Future of

the Corporation

Professor Colin Mayer

22 Get C-level Executives to

Understand It Is "Crunch Time"

for Sustainability Initiatives

Paul Marushka

25 Women's Empowerment

"Essential to Global Progress"

Says Guterres

26 Why Collaboration Isn't Just a

Sustainability Buzzword

Sunny Verghese

28 QUEST FOR TALENTS

30 Thank God It's Monday

Jean-Noel Chaintreuil

34 The Future of Business: What

Matters Most to the Millennial

Workforce

38 Migration-led Innovation

Alice Barbe, Guillaume Capelle,

and Camille Soulier

60 No Sustainable Development

Without Tax Transparency

63 The Grand Theft

66 DISTRIBUTION OF

PROSPERITY

66 Whose Prosperity Are We

Talking About?

70 Chris Martin: Harvest for the

World

Danny Bowman

74 Basic Welfare State Models

Frank Oschmiansky and

Jürgen Kühl

78 The Rise and Fall of Prosperity

Around the Globe

Faiq Lodhi

12

Tomorrow's Capitalism:

The Leadership Agenda for

the 2020s
---
GOOD PRACTICE

40

Financing Common

Prosperity

28

Quest for Talents

66

Distribution of Prosperity

86

88

90

92

94

96

98

100

102

104

106

108

110

112

116

118

120

124

126

128

130

134

136

138

142

144

146

150

152

154

158

160

162

164

Arab African International Bank

Audi

BASF

Bayer

Beaulieu International Group

Bergen Plastics

Bosch

Cargolux

Casinos Austria and Austrian Lotteries Group

CEMEX

Deloitte

Deutsche Telekom

EDF Group

Elsewedy Electric / Iskraemeco

Green Delta Insurance

ING

iPoint-systems

KYOCERA

MAN

Manila Doctors Hospital

Mazars

MediaMarktSaturn

Merck

METRO

Moelven

Nomura

Olam International

Pernod Ricard

Philia Earth

Philip Morris International

PUMA

Sakhalin Energy

Symrise

The University of Manchester
---
Profit

and

An (Im)perfect

Match?

Purpose

6 Global Goals Yearbook 2019
---
EXECUTIVE SUMMARY

The rules for companies have changed. The focus is increasingly

on their sustainable, social, and ecological impacts. The

strategic orientation toward the so-called corporate purpose is

decisive for profitable growth in the future.

Dr. Elmer Lenzen

Publisher

Global Goals Yearbook

This currently results in a large number

of questions for businesses: How do you

find an inspiring and future-oriented

corporate purpose, and how can it be

aligned in such a way that it brings profitable

growth and social responsibility

in concert? This edition of the Global

Goals Yearbook offers answers to these

crucial questions thanks to its consistent

orientation toward the UN Sustainable

Development Goals and a competent

editorial board and author pool.

The driver of development is to a large

extent competition for the best minds.

"When everyone is competing for the

same kind of talent, you need a much

clearer way of explaining how you will

attract those people to your organization,"

says Jeff Joerres, Chairman and

Chief Executive Officer of Manpower-

Group. But it is not only the human

resources departments that are pushing

the topic. Experts speak instead of

"inclusive capitalism" and urge that all

stakeholders be taken along, including

boards of management, customers, and

even fund managers. Responsible businesses

have governance structures that

monitor and advise on environmental,

social, as well as financial issues. When

leaders understand and thrive within the

broader social and environmental contexts

in which their businesses operate,

it signals to employees, investors, and

key stakeholders just how important

purpose really is.

What is business for? What role does

and should business play in society? To

what extent should it perform a public

purpose alongside its commercial activities?

How should the aspirations of

humanity, as set out in the Sustainable

Development Goals, be reflected in the

objectives of business?

Oxford university professor Colin Meyer

argues: "Corporate purpose is distinct

from the consequential implications

of the corporation's profitability and

shareholder returns. The purpose of

corporations is not to produce profits.

The purpose of corporations is to produce

profitable solutions for the problems of

people and the planet. In the process it

produces profits, but profits are not per

se the purpose of corporations."

How, then, does a company

become an effective agent of

systems change?

As part of the Tomorrow's Capitalism

Inquiry, John Elkington, doyen of the

sustainability community, together

with Richard Roberts write: "Being a

little more 'sustainable' than your >>

Global Goals Yearbook 2019

7
---
"Only those

businesses that

strategically align

their company

correctly will continue

to be successful.

peers will do little to insulate a company

from external shocks caused by extreme

weather or extreme politics. When the

risks are systemic and the failures are at

a market level rather than an individual

business level, a response that focuses

exclusively on improving individual business

performance will prove inadequate.

So companies are going to have to step

up to become much more active and effective

agents of systems change, unless

they are content simply to be passengers

on a voyage captained by the ghost of

Milton Friedman, which appears to be

headed toward the mother of all icebergs."

Unpredictability – A world in a vacuum

This realignment is taking place in turbulent

times. Planning was yesterday.

Today we are constantly exposed to new

surprises, and the biggest uncertainty

factor is politics. Is an era of instability

beginning? Uncertainty is not good.

It disturbs our planning. That is a significant

problem for the economy, for

entire societies, and for each individual.

Growing levels of uncertainty mean that

our picture of the future is becoming increasingly

blurred, which has an impact

on economic development. Citizens and

businesses are holding back, purchases

are being postponed, and investment

plans are being cut back.

There are also new cracks opening up.

Confidence levels in state institutions

and companies have declined, and

science is no longer necessarily reliable.

Journalism is no better off: Many citizens

say they can no longer distinguish

between real news and fake news. Societies

are at risk of losing their common

knowledge base.

Worse still is if untested technologies

begin to upset the balance. Whether

it is artificial intelligence or cyber war:

What managers call "game changers"

in strategy jargon are instruments that

transcend experience and control. New

technologies demand new strategies. This

can also be seen as an opportunity, for

example by using the UN Global Goals

as a moral compass. Corporate purpose

can also function as a guideline and

yardstick for correct action.

Therefore, in our chapter about the distribution

of prosperity, we ask "Whose

prosperity are we talking about?" How

can we conserve – and even improve

– the model of the welfare state in a

fragmented, globalized, and highly

competitive world? Finally, an international

study shows that prosperity

is more than just money. Wealth has

many expressions.

Climate change and poverty – What

if the real question is not the impact

on GDP? What if it is the impact on

poverty?

Climate change will have the greatest

impact on those living in poverty, but

it also threatens democracy and human

rights, according to an UN expert. "Even

if current targets are met, tens of millions

will be impoverished, leading to widespread

displacement and hunger," says

the UN Special Rapporteur on extreme

8 Global Goals Yearbook 2019
---
EXECUTIVE SUMMARY

to protect themselves," Alston says. "We

risk a 'climate apartheid' scenario, where

the wealthy pay to escape overheating,

hunger, and conflict while the rest of

the world is left to suffer."

Climate change has immense, but largely

neglected, implications for human rights.

The rights to life, food, housing, and

water will be dramatically affected. But

equally important will be the impact

on democracy as governments struggle

to cope with the consequences. What

will also be important is persuading

people to accept the major social and

economic transformations required. "In

such a setting, civil and political rights

will be highly vulnerable," the Special

Rapporteur says.

poverty and human rights, Philip Alston,

in a report released in June 2019.

The best-case scenario of 1.5°C of warming

by 2100 will see extreme temperatures

in many regions and leave disadvantaged

populations with food insecurity,

lost incomes, and in worse health. Many

will have to choose between starvation

and migration.

"Perversely, while people in poverty are

responsible for just a fraction of global

emissions, they will bear the brunt of climate

change, and have the least capacity

It will also have a tremendous impact on

biodiversity: The rapid loss of biodiversity

threatens the $125 trillion per year in services

that nature provides – from clean

air to clean water, food, fuel, medicine,

and more. "Most human rights bodies

have barely begun to grapple with what

climate change means, and it remains

one on a long laundry list of 'issues,'

despite the extraordinarily short time

to avoid catastrophic consequences,"

Alston explains.

In our chapter "Financing common prosperity,"

Club of Rome member Stefan

Brunnhuber draws a holistic arc from

decarbonization and the curse of carbon

bubble over taxation, impact funding,

and ex-swap strategies to solutions in

partnerships and perhaps even sustainable

parallel currencies.

Global Goals Yearbook 2019

9
---
"PROFIT & PURPOSE

Purpose is not the sole pursuit of profits

but the animating force for achieving them.

Profits are in no way inconsistent with

purpose – in fact, profits and purpose

are inextricably linked. Profits are essential

if a company is to effectively serve all of its stakeholders

over time – not only shareholders, but also employees,

customers, and communities. Similarly, when a company

truly understands and expresses its purpose, it functions

with the focus and strategic discipline that drive long-term

profitability. Purpose unifies management, employees, and

communities. It drives ethical behavior and creates an

essential check on actions that go against the best interests of

stakeholders. Purpose guides culture, provides a framework for

consistent decision-making, and, ultimately, helps sustain longterm

financial returns for the shareholders of your company."

Larry Fink, Founder, Chair, and CEO of BlackRock

10

Global Goals Yearbook 2019
---
Global Goals Yearbook 2019 11
---
Tomorrow's Capitalism:

The Leadership

Agenda for the

2020s

12 Global Goals Yearbook 2019
---
PROFIT & PURPOSE

John Elkington

Founder and CEO

Volans

Today, globalized capitalism is being contested in a way that it

has not been since the end of the Cold War. Even arch-capitalists

such as Ray Dalio, founder of Bridgewater, a hedge fund, and

Larry Fink of BlackRock, the world's largest asset management

firm, have issued stark warnings that capitalism-as-usual is no

longer fit for purpose.

Richard Roberts

Inquiry Lead

Volans

Serious reform is needed to deal with the

systemic challenges currently roiling the

global economy. The climate, biodiversity,

society, politics: All are in crisis, and increasing

numbers of people are pointing

the finger of blame at capitalism – or,

rather, the version of capitalism that

has reigned supreme across much of

the world for the last 25 years.

The age of hyper-globalization and

shareholder value maximization has

led businesses to create negative social

and environmental externalities like

never before. From spiraling greenhouse

gas emissions to the hollowing out of

local communities as jobs and tax revenues

disappear – the costs to society

of corporations' single-minded pursuit

of profits are adding up.

Whose job is it to address these systemic

flaws in the way contemporary capitalism

operates? Many business leaders

would say: not theirs. These are political

challenges, and politics is not – to

adapt a familiar adage – the business of

business. Or at least that is what many

CEOs continue to believe. That does not

mean that corporate leaders are blind to

the problems that business-as-usual is

creating for society. Far from it, in fact.

An awareness of the unsustainability

of many current business practices has,

over the last 25 years, led thousands

of companies to adopt corporate social

responsibility or sustainability programs,

often built around concepts such as the

"triple bottom line" – a term coined by

one of us (John) in 1994.

Last year, we issued a "product recall"

of the triple bottom line concept via

Harvard Business Review on the grounds

that 25 years of well-intentioned efforts

by companies have not halted – let

alone reversed – the undermining of

social and environmental systems on >>

Global Goals Yearbook 2019

13
---
which we all rely. That does not mean that nothing worthwhile

has been achieved: Thousands of companies have reduced

their negative impacts and increased their positive impacts on

society as a result of concerted efforts to integrate sustainability

into corporate decision-making. But anyone who believes that

a few more companies trying a little bit harder to do what

we call "sustainability-as-usual" will eventually add up to a

sustainable global economy is deluding himself or herself.

The defining characteristic of sustainability-as-usual is that

it tries to create change within businesses and across value

chains without challenging contemporary capitalism's operating

system. Companies may talk about purpose, shared

value, or stakeholder value, but they operate within markets

that reward them principally for their financial performance.

Hence, as we wrote in the HBR piece, "whereas CEOs, CFOs,

and other corporate leaders move heaven and earth to ensure

that they hit their profit targets, the same is very rarely true

of their people and planet targets."

Rewiring capitalism's operating system

Since announcing the triple bottom line "recall" in 2018,

Volans – alongside a select group of corporate and noncorporate

partners – has embarked on an in-depth inquiry

into what the corporate leadership agenda for the 2020s will

need to look like in order to address the interlinked climate,

biodiversity, social, and political crises we now face. We call

this the Tomorrow's Capitalism Inquiry.

People in the corporate sustainability field have talked about

the need for "systems change" for a long time now. The 2020s

are going to have to be the decade when we finally learn how

to do systems change. This starts from a recognition that there

is no such thing as a sustainable company in an unsustainable

economy. Again, this is not a new idea, but the truth of

this statement will be brought home forcefully to companies

over the next decade as their bottom lines are negatively

impacted by climate and social breakdown – symptoms of

an unsustainable economy.

Being a little more "sustainable" than your peers will do

little to insulate a company from external shocks caused

by extreme weather or extreme politics. When the risks are

systemic and the failures are at a market level rather than an

individual business level, a response that focuses exclusively

on improving individual business performance will prove

inadequate. So companies are going to have to step up to

become much more active and effective agents of systems

change, unless they are content simply to be passengers on

a voyage captained by the ghost of Milton Friedman, which

appears to be headed toward the mother of all icebergs.

How, then, does a company become an effective agent of systems

change? As part of the Tomorrow's Capitalism Inquiry,

we are working to distil the best available thinking on this

question into actionable guidance for corporate leadership

teams. The Inquiry is still ongoing, but what follows is a

preview of our emergent conclusions.

Firstly, companies interact with other stakeholders in the

markets, economies, and societies in which they participate

in a number of ways. They act as citizens, buyers, investors,

employers, and producers. The way in which a company

14 Global Goals Yearbook 2019
---
PROFIT & PURPOSE

How, then,

does a

company

become an

effective

agent of

systems

change?

performs these functions determines

its effectiveness as an agent of systems

change. Let us look, briefly, at each in

turn.

1. Citizen: Whether we like it or not,

companies are powerful political actors.

They may not vote in elections,

but many are nonetheless extremely

effective at ensuring their voices are

heard by legislators and regulators.

Typically, though, corporate lobbying

is primarily defensive: It seeks to halt

or slow down the implementation

of rules that will make business-asusual

more costly. But imagine if the

substantial political influence wielded

by companies was targeted instead

toward achieving market reforms that

ensure social and environmental value

creation is properly incentivized. This

may sound far-fetched, but remember

that thousands of companies already

go beyond regulatory compliance in

some aspect or other of their sustainability

performance. In advocating for

regulation that would compel their

competitors to meet the same standards

that they have already chosen to

meet voluntarily, these companies are

merely pursuing their own enlightened

self-interest.

2. Buyer: Companies spend trillions of

dollars a year on procuring goods and

services from other companies. SAP

Ariba, the world's largest procurement

platform, processes more than $2 trillion

worth of transactions each year

– more than Amazon, Alibaba, and

eBay combined. Today, most procurement

teams are incentivized to do one

thing and one thing only: minimize

costs. But imagine if companies started

to treat procurement not just as a

cost center, but as an engine of social,

environmental, and economic value

creation. By integrating extra-financial

outcomes into purchasing decisions,

companies can create real demand for

products and services that contribute

toward the sustainability of the overall

economy. This is already happening in

places as companies commit to source

energy from renewables or work with

suppliers that create good jobs at fair

wages in poor communities.

3. Investor: It is not only investment

firms that manage financial assets.

Many non-financial companies have

very significant investments, too –

stretching into the hundreds of billions

of dollars in the case of large

multinationals such as Apple and >>

Global Goals Yearbook 2019

15
---
FEATURES AND FUNCTIONS OF TOMORROW'S CORPORATE LEADERS

Features

Five characteristics that determine how a company behaves

Functions

Five roles that every company plays

Ownership

From… models that privilege uncommitted owners and shortterm

value extraction

To… owners committed for the long term, empowering the

company to pursue social and environmental value creation

Citizen

From… passive, defensive engagement in politics and social

movements

To… being an activist voice for political reforms needed to

make markets sustainable

Purpose

From… no matter what it says on our website, our actual

lived purpose is to make as much money as possible for our

shareholders

To… our purpose is genuinely about making a positive contribution

to society

Buyer

From… the goal of procurement is to minimize costs

To… we use our purchasing power to create market demand

for socially and environmentally beneficial enterprises

Management

From… the incentives and KPIs that drive our business are

purely about financial performance

To… the incentives and KPIs that drive our business incorporate

social and environmental performance on a par with

financials

Investor

From… corporate investments managed purely to maximize

financial returns

To… we invest in assets that generate positive outcomes for

people and planet

Data

From… the way we track social and environmental impact is

largely qualitative and the data is patchy and out of date

To… we track social and environmental impact rigorously and

benchmark our performance against what science and ethics

tell us is necessary for a sustainable society to flourish

Employer

From… labor is a cost; we will replace our workers with robots

as soon as the robots are cheaper and, until then, we'll treat

the humans like robots

To… creating good jobs that pay a decent wage and allow

humans to flourish is part of how we create value for society

Culture

From… creating positive social and environmental impact is

not as highly valued as generating financial returns

To… our commitment to creating positive social and environmental

impact is strong enough that it doesn't disappear

when the going gets tough

Producer

From… we make and sell stuff that is harmful to people and/

or the planet

To… our products and services directly contribute to ecosystem

restoration and social inclusion

16 Global Goals Yearbook 2019
---
PROFIT & PURPOSE

Alphabet. How these assets are managed is a critical element

of how companies engage with the wider market. Do they

focus on financial returns exclusively? Do they screen out

certain investments that have a negative environmental or

social impact? Or do they actively seek out investments that

create positive impacts for people and the planet?

4. Employer: Just as supply chains are often treated simply as

a cost to be squeezed, so too workers – in the shareholder

value-maximization paradigm – are seen primarily as

an expense. Over the last few decades, the social contract

between workers and employers has been eroded. In a less

globalized, less digitally connected age, companies faced

an imperative to invest in creating good jobs. Maintaining

a loyal workforce was crucial for business success back

when jobs could not so easily be outsourced to somewhere

halfway around the globe with lower labor costs, or to a gig

economy worker who receives none of the benefits of being

an employee, or, indeed, to a robot. Now companies must

learn once again what it means to create good jobs that

allow prosperity to be shared, and to provide people of all

genders, sexual orientations, ethnicities, and backgrounds

with opportunities for advancement.

5. Producer: Companies exist to produce goods and services.

But are the goods and services they are producing – and

the business model that wraps around them – good for

society and the planet? Given that studies have shown that

– in a world where all negative externalities were internalized

– almost every industry would today be unprofitable,

most companies will need to radically rethink their products

and business models to thrive in a more sustainable

capitalist system.

Curing corporate schizophrenia

Digging a layer deeper, a company cannot act sustainably

over the long term unless its ownership structure, purpose,

management practices, data systems, and culture are properly

aligned to enable this. Many companies today suffer from

a form of what Kate Raworth, author of Doughnut Economics,

calls "corporate schizophrenia" – a condition brought on

by a fundamental misalignment between these different

elements of a company's DNA. Many companies today have

lofty purpose statements proclaiming their commitment to

making the world a better place. But too often, there is a

world of difference between a company's stated purpose and

its lived purpose as expressed by the day-to-day actions of its

employees and executives.

One common cause of this disconnect is the way ownership

is structured. To quote Martin Wolf of the Financial Times, a

publicly listed company in today's world is required "to serve

the interests of those least committed to it, while control is

also entrusted to those least knowledgeable about its activities

and at least risk of damage by its failure." The traditional PLC

model may be failing, but there are lots of alternative models

that provide more fertile ground for sustainability: employee

ownership; private or family ownership; state ownership;

industrial foundations; and, perhaps especially, hybrid models

that combine elements of these (by giving an industrial

foundation a controlling stake in the business, for example)

with the access to liquidity provided by having some shares

publicly traded. None of these forms of ownership guarantees

a specific set of outcomes, but at least they make it possible

for companies to seriously pursue outcomes other than shortterm

profit maximization.

Management, too, must evolve in order to deliver on a sustainability

agenda that is about more than incremental harm deduction.

Generations of corporate executives have been trained to

maximize shareholder value. Now, as the shareholder value

paradigm disintegrates, they are having to learn a new game:

how to manage and incentivize extra-financial value creation.

To do this, corporate decision-makers require access to the

right data at the right time. Extra-financial impacts need to

be tracked in real time and assessed in relation to science- and

ethics-based thresholds so that companies can use this data

to inform their decision-making and steer a course toward

genuine positive social and environmental impact.

Last but not least, nurturing and sustaining a corporate culture

that empowers all employees to access and act on their innate

human desire to make a positive contribution to the world

is essential. Companies have sometimes relied too heavily

on culture to be the carrier of corporate values. When these

values are at odds with the way formal incentives are structured,

culture alone is rarely strong enough. But without the

thousands of individual choices and behaviors that make up

an organization's culture being aligned to the vision of creating

a sustainable business within a sustainable economy, very

little can be achieved.

Pockets of the future

This essay has only skimmed the surface of the transformative

leadership agenda we see emerging over the next decade. We

have not yet encountered a single organization that successfully

combines all of the elements summarized in the table

below. But we have uncovered many "pockets of the future"

within companies all over the world where the future-fit version

of one or more of these functions and features is already

in play. None of the ideas presented in this essay is based

simply on wishful thinking: All we have done is extrapolate

from and synthesize the best, most hope-inspiring aspects of

the contemporary corporate landscape.

As the science fiction author William Gibson famously said,

"The future is already here – it's just not evenly distributed."

Yet.

Global Goals Yearbook 2019

17
---
Reconceptualizing Business for the 21st Century:

The Future of the Corporation

What is the role of business in contemporary

society? Corporations were originally

established with clear public purposes. It is

only over the last half century that corporate

purpose has come to be equated solely with

profit. This has been damaging for corporations'

role in society, trust in business, and the impact

that business has had on the environment,

inequality, and social cohesion. In addition,

globalization and technological advances risk

exacerbating problems of regulatory lag.

What is business for? What role does and should business play

in society? To what extent should it perform a public purpose

alongside its commercial activities? How should the aspirations

of humanity, as set out in the Sustainable Development

Goals, be reflected in the objectives of business?

These are critical questions that are increasingly being asked

of business as its role in exacerbating human, social, and

environmental problems as well as its remarkable contribution

in promoting growth, development, and the alleviation

of poverty are being emphasized.

The bond between the corporation and its public purpose has

waxed and waned since corporations were first established

nearly two centuries ago. This has happened in response to

socioeconomic and geopolitical shifts, but the corporations'

18 Global Goals Yearbook 2019
---
PROFIT & PURPOSE

Professor Colin Mayer

Peter Moores Professor of

Management Studies

Said Business School,

University of Oxford

foundations remained embedded in

delivering a public purpose alongside

commercial functions. It is only over the

last half-century that the sharp intensification

of the profit motive has occurred.

It came as markets for corporate control

emerged to fill the vacuum in corporate

governance created by a growing dispersion

of ownership.

In 1962, Milton Friedman set out a framework

for business in which he described

the social responsibility of businesses as

being to increase profits so long as they

stay within the rules of the game. It was

a powerful and influential proposition

that established the conventional framework

for business around the world.

However, it has serious deficiencies and

is no longer tenable as a framework for

business in the 21st century. It has been

the source of growing disaffection with

business, its environmental, social, and

political problems, and the erosion of

trust in it. Those problems will intensify

in the future as technological advances

risk exacerbating social detriments as

well as the benefits of corporations, and

public policy responses lag increasingly

further behind innovations.

The case for change

There is a strong and growing ambition

to reconsider and reinterpret the nature

of the corporation, especially in terms

of enabling better alignment between

business and public interests. History

tells us there is nothing radical in this

and demonstrates that it has been commonplace

in many manifestations of the

corporate form.

Tensions caused by technology and evolving

corporate forms are not new either.

Technology is once again the driving

force behind the need for an evolution

in the corporate form. Increasing levels

of technological change are pushing

corporations to adapt business models

and management practices in order to

survive. But institutions and regulations

are adapting too slowly, and the situation

calls for a robust new framework for

business that recognizes the importance

of both corporate and public interests.

Accelerating and disruptive technological

change

Disruptive innovation has always been

part of the corporate landscape. The

Industrial Revolution marked the demise

of many institutions, corporate

structures, labor practices, social and

political norms, and laws, but the birth

of others. That continuing process of

renewal raises complex and inter-linked

economic, social, and political questions.

Technological innovation has, in large

part, driven globalization, prompting

growing tensions between digitally

skilled, location-agnostic commercial corporations

and the constraints of nationbased

political and legal systems. More

specifically, the digital age is bypassing

traditional authorities and changing

the world of work. Smart technologies

are global, networked, intuitive, learning,

and automated. They rely heavily

on the trust and trustworthiness of all

participants and transform how people

and corporations relate to each other.

Among the most disruptive innovations

are artificial intelligence (AI), blockchain,

quantum computing, and 3-D printing,

but there are others not yet formed or

publicized. Such technologies – many

based on data mining and manipulation

– are already impacting economic

activity, from new "clean" energy to

personal communications, medicine,

and bioengineering.

>>

Global Goals Yearbook 2019

19
---
Recent analysis suggests that technological

innovation may increase incremental

profits for first movers but also reduce

innovation incentives for laggards. What

is already clear is that the world's highestvalued

corporations are based around

digital ecosystems. Cloud-based platform

businesses rely on global networks of

connectivity of both producers and consumers

rather than the single-location,

hierarchical, linear structures of the

past. The CEOs and board members of

the future may have to be as adept at

the selection of high-quality algorithms

as they are with the management of

staff. The rate of technological change

appears to be increasing over time and

becoming less predictable. The pace of

change exceeds the ability of policymakers

and regulators to respond to it.

Instead, business itself needs to be better

placed to manage it with a greater clarity

of purpose and an enabling culture to

accommodate it.

There is an urgent need for reform

In response, the British Academy has

brought together leading academics

and business stakeholders under an

ambitious program to redefine the future

of business in the 21st century.

The synthesis covered by our research

has brought out three principles that

could help in the development of a

new framework for the future of the

corporation: corporate purpose, trust,

and culture.

The first principle is well-defined and

aligned purposes. Profit is a product

of the corporate purpose. It is not the

corporate purpose. In some – but by no

means all – cases, corporate purposes

should include public purposes that

relate to the firm's broader contribution

to public interests and societal goals.

The second principle is a commitment

to trustworthiness. When corporations

commit to purposes, they commit to the

various parties that are involved in the

The

purpose of

corporations

is not to

produce

profits. The

purpose of

corporations

is to produce

profitable

solutions.

delivery of those purposes and vice versa.

This creates reciprocal benefits for the

firm, its stakeholders, and society. These

arrangements rely on relations of trust.

The third principle is embedding an

enabling culture. The trustworthiness

of an organization is reliant on clearly

articulated values that are adopted consistently

in the culture of the corporation.

Purpose means more than profit

Corporate purpose is the reason a corporation

is created and exists, what it seeks

to do, and what it aspires to become. It

reflects the contribution it wishes to

make in furthering the interests of its

customers, communities, and societies

and is the basis on which relations of

trust are created in business.

Corporate purpose is distinct from the

consequential implications of the corporation's

profitability and shareholder

returns. The purpose of corporations is

not to produce profits. The purpose of

corporations is to produce profitable

solutions for the problems of people and

the planet. In the process it produces

profits, but profits are not per se the

purpose of corporations.

That distinction is fundamental, and its

confusion in the Friedman Doctrine has

been the source of many of the defects

of current business practice and policy.

All corporate purposes should be intrinsic,

in the sense that they are core

to the businesses and not just driven by

shareholder interests.

On the other side of the coin, corporate

purpose is sometimes automatically

equated with public purpose – the

revealed preferences of societies and the

public. There are some circumstances

in which the purposes of corporations

should indeed be equated with those of

the public interest. For example, a close

alignment and observance of public

interests in corporate purpose is par-

20 Global Goals Yearbook 2019
---
PROFIT & PURPOSE

ticularly relevant to some companies that perform important

social functions, such as utilities. However, other corporations

should be able to pursue purposes that are not necessarily

prescribed by public preferences.

Embedding a commitment to trustworthiness

Most existing business theories focus on the importance of

respecting contractual obligations, but trust and trustworthiness

are as important as legal obligations. Trust embodies a set

of values, including competency, reciprocity, consistency, and

dignity, which reduce risk, bind parties together, and build

value. In a global, digitally connected society, where reputation

is built via random networks over which corporations

have little or no control, the successful corporation of the

future will be built on trustworthiness, defined as "a robust

disposition to fulfill given commitments."

Building trustworthiness through the distribution of corporate

duties is desirable and costly, and this responsibility can and

should be encouraged by a range of internal and external

measures. Particularly important in this regard is the culture

of a corporation.

An enabling culture

There is consensus on the importance of corporate culture

and its integrative and holistic essence, but little on how it is

defined, let alone measured and influenced. Culture is vital

as a facilitator of strategy and is particularly important when

implementing corporate changes, notably technological change.

Several studies have demonstrated a clear correlation between

negative business performance and cultural obstacles.

A weak or damaging culture is recognized as a cause of excessive

risk-aversion, thinking in silos instead of multilaterally,

and linear rather than networked transfer of information. But,

despite this, corporate culture is still seen as a "soft" resource,

elusive to define and difficult to measure and manage. False

culture can block change, defeat governance, and provoke

financial instability.

The levers of change

There are a range of possible tools and levers available to business

leaders and governments to promote change. Achieving

a shift to this new framework will require coordinated action

using five levers. First is ownership. Corporate ownership is

currently equated with shareholders. Instead, it should be associated

with defining and implementing corporate purpose. The

rights and responsibilities associated with corporate purpose

should replace property right views of ownership. Different

types of owners are suited to different types of corporate

purposes and activities. This points to the need for diversity

in corporate ownership.

The second lever is corporate governance. Corporate governance

is currently associated with aligning the interests of

management and shareholders. Instead, it should be linked

to the implementation of corporate purposes. Boards cannot

control some of the largest risks relating to globalization, the

environment, and technology. New performance measures are

needed for executives to ensure conformity of corporations'

activities and investments with their purposes.

The third lever is regulation. The notion that competition,

regulation, and taxation are sufficient to align the interests

of business with society is no longer tenable. Technology is

intensifying the problem of regulatory lag. One concrete proposal

in this regard is to promote "forward compliance." More

generally, a fundamental overhaul of regulation is required

that encourages companies which perform significant social

functions to incorporate public purposes in their corporate

purposes.

Fourth is taxation. Globalization has eroded the corporate tax

base by allowing corporations to arbitrage tax domiciles and

transfer liabilities to lowest-tax jurisdictions. Our study identifies

and debates the main reforms that are currently being

discussed. However, none of these are without their problems,

pointing to the need for a closer association of corporate with

public purposes in the determination of fair levels of taxation.

The final lever is investment. Public as well as private investment

is required to deliver large-scale, long-term infrastructure

investments. Attempts to achieve this through privatization,

public–private partnerships, and private finance initiatives

have often been disappointing. It is in precisely these areas

where corporations perform important public and social functions.

Private and public purposes need to be aligned through

the adoption of public purposes in corporate charters and

articles of association.

Together, these levers offer the opportunity of promoting

businesses that can be trusted to uphold their commitments

to their corporate purposes.

This article is based on the study "Reforming Business for the 21st

Century. A Framework for the Future of the Corporation" which was

published by the British Academy as part of its Future of the Corporation

program in November 2018.

Global Goals Yearbook 2019

21
---
Get C-level Executives to

Understand It Is "Crunch Time"

for Sustainability Initiatives

When it comes to getting a buy-in for a

sustainability project – or any other plan that

could be perceived as low priority – you cannot

pull any crunches.

Number crunches, that is. It is no secret that C-level executives

want to see solid bottom-line results from their strategic business

decisions. Who would not? They want to ensure there is

a solid reason to act, and that it will be financially beneficial

to do so. When it comes to sustainability, even companies that

make decisions for the greater good also end up benefiting

the greater good of their budgets.

On the surface, procuring a budget for what some consider

"nonessential" sustainability issues might appear to be a huge

challenge, but it really is not. A sustainability focus is a sound

business strategy. Forward-thinking organizations understand

the importance of being good stewards for their organizations,

22 Global Goals Yearbook 2019
---
PROFIT & PURPOSE

their neighbors, the environment, and future generations as

well. The real challenge centers around appropriately justifying

and communicating the tangible benefits of sustainability

investments.

In his recent commencement speech at Tulane University,

Apple CEO Tim Cook said: "When we talk about climate

change or any issue with human cost – and there are many

– I challenge you to look for those who have the most to lose

and find the real, true empathy that comes from something

shared. That is really what we owe one another."

Cook gets it: It is your job to make people in your C-suite understand

sustainability's importance as well. Making sustainability

part of an organization's DNA goes a long way toward

developing a culture of action. The first step is to educate the

organization about the benefits of sustainability. Every year

my company, Sphera, hosts a Sustainability Day, which gives

our colleagues the ability to learn about the importance of

sustainability and even a chance to volunteer for environmental

initiatives.

Paul Polman, Unilever's CEO, and CB Bhattacharya, a professor

of marketing and management at the University of Pittsburgh,

wrote in the Stanford Social Innovation Review in 2016: "The key

to creating a vibrant and sustainable company is to find ways

to get all employees – from top executives to assembly-line

workers – personally engaged in day-to-day corporate sustainability

efforts."

Paul Marushka

President and CEO

Sphera

That can pay big dividends. A 2018 sustainability study from

ING Group, a Dutch banking and financial services company,

found that 48 percent of the US companies surveyed said

that sustainability concerns "actively influence their growth

strategies," and 68 percent of the companies with the most

mature sustainability programs said their performance "has

helped them to win new business from clients." Additionally,

the report explains how UPS was able to reduce CO 2

emissions

by 210,000 metric tons and save $400 million annually since

2013 by employing its On Road Integrated Optimization and

Navigation (ORION) program, which uses telematic data to

make delivering packages more efficient. >>

Global Goals Yearbook 2019

23
---
First

crunch

To make the case for sustainability, the first number that

needs to be highlighted in an extra-large font is "1.5." This

refers to the increase in temperature scientists predict the

Earth will realize (1.5°C) between 2030 and 2052 – a generation

or less from now – if global citizens do not do anything

to combat climate change. As the Intergovernmental Panel

on Climate Change reported last year: With increased global

temperatures being caused by greenhouse gases and the like,

sea levels will continue to rise, some areas of the world will

be affected by heavy precipitation, others will experience

droughts, and the frequency of extreme weather events will

likely pick up. A recent World Bank report found that some

countries' gross domestic products could drop 7.7 percent

because of climate change when people "live in locations that

could become moderate or severe hotspots by 2050 under the

carbon-intensive scenario."

Second

crunch

After you have explained the problem and the importance of

sustainable measures, the next number to focus on is "15."

In 2017, the World Economic Forum posted an article called

"How Going Green Can Help the Planet and Your Profits." The

article states that companies that focus on eco-innovation

grow at a 15 percent rate compared with a flat rate for their

competitors. Indeed, Nielsen predicts the US sustainability

market will reach $150 billion by 2021, and the Millennial

generation is leading the charge. In the survey, 75 percent of

Millennials said they are "definitely" or "probably" changing

their buying habits to focus on sustainable products vs. 34

percent of Baby Boomers. It is no wonder why companies such

as Method went from a small soap business in 2000 to a $100

million company, according to Inc. magazine, by focusing on

sustainability.

Third

crunch

Focus on the number "50.1 billion." That is the projected

number of Internet of Things devices expected by 2020. Why is

that significant? Governments take environmental compliance

seriously. The US Environmental Protection Agency in fiscal

2018 alone enforced $69.5 million in administrative and civil

penalties. In fiscal 2017, because of Clean Air Act violations,

penalties almost reached $1.7 billion.

By employing Integrated Risk Management 4.0 strategies that

use data from Industrial Internet of Things sensors, which can

play a key role in sustainability efforts, companies can monitor

their environmental performance and make prescriptive and

predictive decisions to lower their carbon footprint and their

risk of being fined for not being in compliance. Although taking

initiatives to lower environmental risks might not make

breaking news, they still always trump the negative publicity

and damage-control expenditures that come from being named

on a news report for causing damage to the planet and not

being a good corporate citizen.

Fourth

crunch

This takes us to the final number that you should consider highlighting:

$3.3 trillion. The CDP is a not-for-profit organization

that helps companies manage their environmental effectiveness.

Its 115 global members have a combined $3.3 trillion in procurement

spending, which means they have mega purchasing

power. Every year, the organization surveys its members on

supply chain sustainability initiatives. The most recent report

found that the 5,500 suppliers queried were able to collectively

cut their CO 2

emissions by 633 million tons (more than 1 percent

of all global emissions). Perhaps even more compelling,

especially from a C-suite perspective: "[T]hese were associated

with annual monetary savings in excess of US$19.3 billion

for those companies, highlighting the frequently compelling

business case for taking action on climate change."

One more

crunch

The numbers add up. Sustainability initiatives promote the

common good and are good for your budget. We just need

to use the numbers to clearly articulate the economic case

for the C-suite and the entire organization of the benefits of

sustainability. After all, it is crunch time.

24 Global Goals Yearbook 2019
---
PROFIT & PURPOSE

Women's Empowerment "Essential to

Global Progress" Says Guterres

Women's empowerment and gender equality are "essential to global progress," United Nations

Secretary-General António Guterres stressed in his message for International Women's Day, which

this year puts "innovation by women and girls, for women and girls" at the heart of efforts to

achieve gender equality.

"Last year, for the first time, we achieved

gender parity in the UN's Senior Management

Group and among those who lead

UN teams around the world," the UN

chief said, adding that the organization

is "working to achieve parity across the

whole United Nations system within a

decade."

The UN began celebrating the day in

1975, which was designated International

Women's Year. Over the decades, it has

morphed from recognizing the achievements

of women to becoming a rallying

point to build support for women's rights

and participation in the political and

economic arenas.

"Gender equality is essential to the effectiveness

of our work, and we cannot

afford to miss out on the contributions of

half of the world's population," Deputy

Secretary-General Amina J. Mohammed

explained. Moreover, she continued,

"women's equal participation in the labor

force would unlock trillions of dollars

for global development."

"Let us be clear," she spelled out: "We cannot

build the future we want and achieve

the Sustainable Development Goals (SDGs)

without the full participation of women."

Achieving a gender-equal world requires

social innovations that work for both

women and men and leave no one behind,

according to the overarching UN

strategy. E-learning platforms that take

classrooms to women and girls; affordable

and quality childcare centers; and

technology shaped by women are a few

examples of the innovation needed to

meet the deadline set out in the 2030

Agenda for Sustainable Development.

"And we need more women leaders

participating in public life and taking

decisions," explained General Assembly

President María Fernanda Espinosa,

urging everyone to redouble their efforts

"against the discrimination and violence

women and girls face every day."

For her part, UN Youth Envoy Jayathma

Wickramanayake is drawing attention

to the millions of young girls preparing

to start their working lives, saying that

far too often, "they don't get the opportunity

to realize their dreams and

grow into their power." She added, "let's

invest in girls' education and skills so

they become the leaders and innovators

they were born to be."

In her message for the day, Executive Director

of UN Women Phumzile Mlambo-

Ngcuka pointed out that "women and

girls around the world still face many

challenges," arguing that changes begin

with making sure that their needs and

experiences are integrated and enhanced

by new technology and innovation. "On

International Women's Day," she concluded,

"we ask all to join us to 'Think

equal, build smart, and innovate for

change.'"

Phumzile Mlambo-Ngcuka

Global Goals Yearbook 2019

25
---
Why Collaboration Isn't

Just a Sustainability

BUZZWORD

Today's businesses are in the

spotlight like never before.

Many have had their own

visions for sustainability

in place for years, with

globalization intensifying

environmental and societal

concerns. But now the world

has given us a deadline –

2030 – by which time we are

all to have achieved the 17

UN Sustainable Development

Goals (SDGs).

Sunny Verghese

Chair, WBCSD

Co-Founder and Group CEO

Olam International

Over the next 11 years, business success

will be inextricably linked to solving the

world's big societal and environmental

challenges.

Magnifying the odds of success

The ambitions of the SDGs are well beyond

the reach of any company in isolation.

The transformative agenda cannot

be achieved with "business as usual," nor

through the singular approach of a few

disruptive innovations here and there.

Whole sectors need to rally around the

challenges and think bigger in terms of

systems transformation: To transform

the key economic systems by 2030 that

are needed to create a world in which

9 billion people can all live well and

within the boundaries of our planet.

Crucially, this is where the bigger business

opportunities lie. Consider a global

food and agricultural system in line with

the Global Goals – one that feeds the

growing population, generates higher

incomes, and restores natural resources

and vital ecosystems. This would unlock

economic value of more than $2 trillion

by 2030 and would be much more resilient

to climate risk. If we include the

other economic systems – cities, energy

and materials, and health – the opportunity

totals $12 trillion * . This makes it

a commercial imperative for business

leaders to work with sector peers to drive

systemic change. Industry needs to build

coalitions such that each participant in

every sector – be it food, energy, or

transportation – can pool resources and

map their collective route to optimize

their contributions on the road to 2030.

This, in turn, helps the sector to collectively

strengthen its license to operate,

manage operational and regulatory risks,

and open up growth markets.

The first Sector SDG Roadmap was developed

last year by nine of the world's

leading chemical companies, who joined

forces and worked with the World Business

Council for Sustainable Development

(WBCSD). The Roadmap that are

aligned with tangible actions, through

which they can deliver transformative

impact in their industry.

The forestry and Indian cement

sectors have since followed suit with

their respective roadmaps, and the oil

and gas sector has one in the pipeline

for next year.

System transformation requires

surprising alliances

We also need to galvanize those beyond

our own sectors and take action at every

level. At Olam, as a food and agriculture

business, we need to get others to become

more sustainable to protect our supply

chains – we need the energy, transport,

26 Global Goals Yearbook 2019
---
PROFIT & PURPOSE

and construction sectors playing their

part to combat climate change.

Being a member of the Climate Smart Agriculture

project has helped our thinking

evolve around climate change strategies

that drive business improvements, such

as providing weather stations right across

the West Africa cocoa belt. For our farmers

in Ghana, this access to weather data

means they can time the applications of

inputs and farm practices with the right

conditions, which translates into higher

yields and incomes. As for the business

benefits for all involved, food companies

receive higher volumes of data to

inform trading strategies, while chemical

companies can more efficiently meet

demands for providing crop protection.

Rice-growing is another example of

where cross-sector alliances are driving

real change at the country level. Every

year, the production of this staple crop

around the world emits the same amount

of greenhouse gases as Germany, making

it a leading contributor to climate change.

But the Sustainable Rice Landscapes

Initiative – led by a broad coalition

that includes the Food and Agriculture

Organization, UN Environment, the

Sustainable Rice Platform, and WBCSD

– is focussing on reducing greenhouses

gases under the Paris agreement. The

solution is simple: Just training farmers

on efficient water management can cut

methane emissions by up to 70 percent.

Moreover, the farmers can earn up to 20

percent more this way. The approach allows

businesses such as Olam to develop

replicable, scalable models to deliver

tangible change for farmers, for businesses,

and for governments.

Having a voice in these alliances is also

essential to ensure a strong degree of

practicality and relevance regarding the

overall focus. The very nature of whole

system transformation means that no one

can afford to be left behind. This is Olam's

rationale for joining the Food Reform

for Sustainability and Health (FReSH)

project – to balance the conversation

around consumer demand with the supply

perspective. Now that the EAT Lancet

has defined what a sustainable diet looks

like, we – along with manufacturers –

need to start thinking collaboratively

about how we produce this.

Comparability is key

When it comes to accounting for our

impact, it helps to create consensus as

a sector about what is material and the

right methodologies. This allows for comparability,

and where there is underperformance,

businesses have the support

to build corrective action plans.

For the agriculture and forestry sectors,

the Cocoa & Forests Initiative, Global

Forest Watch, and Cocoa Action are

just a few of the examples of valuable

industry-wide alliances that offer a clear

picture of progress. They help us develop

the right pathways for greater impact.

A new standard of competitiveness has

stemmed from these reporting initiatives,

as businesses are increasingly open

to reporting on their SDG contributions.

Just look at the 575 companies that

have signed up to the Science Based

Targets to date.

We know that the SDGs cannot be delivered

only through the efforts of individual

companies. Businesses need to

understand how they operate within

the broader landscape and then work

collaboratively – both within and outside

of their sector – to achieve the

outcomes that can deliver the necessary

impact.

*

Source: Better Business, Better World,

http://report.businesscommission.org/

report%23references"

Global Goals Yearbook 2019
---
"QUEST FOR TALENTS

people to your organization."

When everyone is competing for the same

kind of talent, you need a much clearer way

of explaining how you will attract those

Jeff Joerres, Chair and CEO of ManpowerGroup

28 Global Goals Yearbook 2019
---
Global Goals Yearbook 2019

29
---
Thank

God

It's

Monday

How the Search for Talents Affects

Corporate Culture, Working Concepts, and

Business Attitudes Toward Sustainability

30 Global Goals Yearbook 2019
---
QUEST FOR TALENTS

"Talented people are vital

to our continued success,

and we continuously invest

in our associates, giving

them the tools and training

to succeed." – Indra Nooyi

Nooyi, who served as CEO of PepsiCo for 12 years and made

the company's sales grow by 80 percent, is one of the best

examples to open an article about understanding the importance

of corporate culture in the war for talent – and how it

serves the company's longevity. But how can you build longterm

talent management plans in a world where the median

tenure for workers aged 25 to 34 is 3.2 years – down from

10.3 years for employees aged 65 and over? How can you make

sustainability part of your corporate culture in a way that will

help you attract the best talents and create an environment

that prevents job-hopping as much as possible? How do the

attitudes of business leaders have to change so that company

values are aligned with the values of its talented workers?

Jean-Noel Chaintreuil

Founder and Director

Change Factory

Let us start by setting one thing straight: Do not target young

people. Do you need young people? Yes, of course. Did Apple

poach Ian Goodfellow, a 34-year-old who was one of Google's

top AI researchers? Yes. Did they first poach John Giannandrea,

a 54-year-old researcher? Most definitely. You can focus on

young people, but do not overestimate the results of having a

company filled with the same age group, as you also need more

experienced talents – and their expectations have changed

as well. If you want to answer young people's expectations,

do not forget two things: They are not as young as you think

(Millennials have children and mortgages to pay), and they

have come around to the fact that ping pong tables will not

help them advance in their careers. Although you could at

some point address Baby Boomers and Generation X members

as groups with common interests and goals, Millennials >>

Global Goals Yearbook 2019

31
---
have to be considered as individuals with

different aspirations – or at least as sets

of subgroups with different aspirations

– all while their attitude has rubbed off

on their elders.

But you will have to reconcile different

time scales to address these aspirations

in a way that serves your company:

• your company's strategy and short-term

goals that serve your long-term goals;

• the relatively short-term goals of the

employees who will stay, on average,

three years in your company;

• the long-term goals they strive to serve

by working for you.

Think adapted compensations and

benefit strategies, custom career paths,

and identification with their leaders. If

talents start seeing a position in your

company as both a stepping stone to

another position and a valuable experience

in itself, consider what you can do

to bring them both.

The era in which talents climb the ladder

in one occupation – whether it be

communications, human resources, or

sales – and go from a junior or assistant

position to a senior or head position is

partly over. Career paths increasingly

consist of two years spent in corporate

communications, three years of entrepreneurship,

one experience in employer

branding, and one in digital project management.

How companies adapt to this

new paradigm is key for their ability to

win the talent war. Adjust to that new

paradigm by offering training and opportunities

that will bring added value

to your employees.

Of course, some jobs include mandatory

trainings, such as in ethics or confidentiality

and privacy. But why would

you offer training in communications

only to communications officers? Then

again, why would you even tell your

employees what training they should

follow? Of course,

the company can

still suggest the

most appropriate

trainings to reach

a given goal, but

why would you

not empower your

employees even

more? Give them

the possibility to

access the whole

catalog of courses

they can attend –

whether online

or offline – and

encourage them to actually make the

most of it, which implies encouraging

managers to happily allow their teams to

take time off for training (for reasonable

amounts of time, of course).

Make your middle managers a key link to

the growth of your company in the long

run. They are the ones who are in touch

with your employees on a regular basis

and are therefore uniquely positioned

to know what your employees want –

and what they are actually planning for.

But they cannot make it happen if they

stay in their fields within the company.

A network of middle managers will both

allow for developing transversal projects

and for creating more mobility opportunities

for people within their teams,

allowing the employees who want to

change positions to do so within the

company.

Making empowerment part of your company

culture is the best way to help your

employees grow – so they can make

your company grow.

Offering the possibility of having various

career paths sounds great on paper. But

how do you ensure your employees feel

they have actual opportunities within

your company? Did you know that black

women tend to move from one company

to another more than white women

because they feel that it is the only way

for them to get ahead in their careers?

Microsoft took a big stance to create an

inclusive company by launching their

"communities" at the end of the 1990s.

"Communities" are groups of workers

who are united by the fact that they identify

with groups that could be discriminated

against in the workplace: Blacks@

Microsoft, the LGBTQ+ community, the

parents community, the Asian community,

etc. How does it work? It creates

opportunities for talents who fit in their

communities – through scholarships

and the sponsoring of organizations such

as Black Girls Code – and advocates for

changes. The point is to make the lives

of these community members easier

within Microsoft, even though the law

does not require special dispositions in

all the countries where Microsoft is present.

"Communities" can also act as small

internal lobbies to offer insurance and

benefits to same-sex domestic partners,

as they would for heterosexual couples,

and cover transgender care, for example.

It even led some LGBTQ+ employees to

say that, although they are in a country

where being gay is illegal, Microsoft

offices are a safe haven where they can

be themselves.

Even though you cannot necessarily

reproduce this exact model within your

company – some countries would

consider it discriminatory and illegal

– think about what allows people to

feel that they have equal opportunities

within your company. There are two

32 Global Goals Yearbook 2019
---
QUEST FOR TALENTS

So how do you set in motion sustainable actions that are

good for your employees and good for your company – and

ultimately good for society? Of course, there are simple things

such as making sure you reduce waste used by company

operations – in packaging and in advertising. But for all

the things that are harder to measure – or have a long-term

impact that cannot be proven yet – such as making your

company more inclusive, find and follow your own KPIs.

ways to do so: On the one hand, ensure that who they are

does not slow their careers down; on the other hand, provide

an inclusive and transparent environment at every level of

your company. Start with easy things that you can control:

See that the pay gap is bridged within your company (or

create dynamic salary scales as Warren Buffet did), that all

mothers and fathers are treated the same (Millennials are

now old enough to have children!), that you offer the same

compensations to same-sex couples as you do to heterosexual

couples, and that people who have a sick parent are able to

take some time off to take care of them. Without getting too

political, see that your employees know you are aware that

they are individuals with different needs and have identities

beyond being your (young) employees.

Then, make sure that your staff is diverse at every level. A

company where the whole C-suite is composed of white males

might seem less attractive to young white women or people

of color. Leaders with varied experiences will be better able to

understand the experiences (and struggles) of a diverse workforce.

A more diverse workforce will have more empathy for

a diverse set of clients, a better ability to expand product lines

to cater to diverse needs, and a better ability to understand

why some demographics will not use them. It will also allow

you to communicate in a more thoughtful way so that you

can make positive contributions to social debates instead of

being talked about in a negative way.

It would be tempting to directly associate young talents with

the causes they seem to support, just as it would be easy to

think that meaning well results in great actions. Sometimes

even the best intentions end up serving a bad purpose, as in

the case of Doug Evans. Even though he was very much aligned

at a personal level with healthy ways of eating, he ended up

founding a company, Juicero, that produced expensive juicers

pointlessly connected – in other words, he ended up selling

a wasteful way to take care of oneself.

This article started with the idea that young people tend

to change positions more often than previous generations.

Measuring how long people stay in your company is a good

start. You can also measure packaging costs, the time needed

to recruit talent, the number of candidates for a given position,

the growth on given markets, etc. Consider what

society cares about. Companies and society as a whole now

belong to the same world. Companies have a major impact,

and both your employees and your clients know it. Then

again, do not "greenwash" (insincere environmentalism) or

"pinkwash" (fake concern for women's rights), as these rate

very poorly among young talents – they make the company

look like it is trying to show positive actions to hide (very)

negative ones. They want their company to be aligned with

their values. They also want the company's actions to be

aligned with its message.

Do not lie about the areas in which you could still improve

your actions; acknowledge that you are not perfect and

could do better. Glossier, a company that has made sending

stickers and a plastic pouch with each order part of its playful

image, has acknowledged that this marketing move can

be considered wasteful if the little gifts are not used. They

now plan to give customers the option not to receive the

gifts with their order. If you feel there is an area you could

improve in as a company, let your employees know and

create taskforces that go beyond research and development.

You can even include your customers to create a more open

company, as they might be the ones to let you know something

is unsustainable in the way you work. Maybe some of

your employees and customers already use solutions to reuse

packaging, reduce the pollution created by ordering online,

use fewer chemicals – they can bring interesting ideas to the

table. In the field of sustainability, being able to admit that

you probably can do better and actually achieve continuous

improvement is key.

The two keywords of how the search for talents affects

corporate culture as a whole are probably empathy and

empowerment. If you want to attract the best talents, make

the talents you already have within your company feel like

you care. Listen to them, act accordingly, and find ways to

give them more responsibility and more freedom to make

your company the change they want to see in the world.

Global Goals Yearbook 2019

33
---
The Future

of Business:

What Matters

Most to the

Millennial

Workforce

The conversation around Millennials and Generation Z is

old news? Well, by 2020 they will form 50 percent of the

global workforce. In fact, business leadership is becoming

Millennial. Therefore, it is better to forget the frustrations

of managing and influencing these folks. They are about

to be in charge soon. So, it might be time to assess our

attitudes to those born between 1980 and 2000.

"The contract between the organization

and the individual is beginning to

change," says Lynda Gratton, Professor of

Management Practice at London Business

School (LBS). "The old contract looked

like this: 'I work to buy stuff that makes

me happy.' The contract is negotiated

by tangible assets. The new contract

will be, 'I work to make me happy.' We

have to think about work as being the

thing, not the money you get from it. I

don't see many companies realizing how

profound that change will be."

The fact that purpose tops the agenda for

Millennials is backed up by PwC's recent

Workforce of the Future survey, which

found that 88 percent of them want to

work for a company whose values reflect

their own. Millennials will comprise 75

percent of the global workforce by 2025.

34 Global Goals Yearbook 2019
---
QUEST FOR TALENTS

The Deloitte 2017 Global Human Capital

Trends report similarly found that most

Millennials look beyond a company's

financial performance when deciding

whether or not to work there. Only one in

five survey respondents said they would

choose to stay at a solely profit-driven

company for more than five years.

Profit with purpose the new norm?

"Profit with purpose is set to become the

new norm," said Antonio Zappulla, CEO

Designate of Thomson Reuters Foundation,

at this year's World Economic

Forum in Davos. "Up to this point, social

enterprise and impact investment have

been driving this concept, which has

somehow remained confined to a niche.

Not anymore. Now, it's all set to change:

The CEOs of the future will want their

companies to be recognized as forces for

good. In business, CEOs have gone from

being symbols of aspiration to objects of

intense scrutiny," he explained. "Even

the younger, 'cooler' entrepreneurs, the

kick-starters of the shared economy, are

now being asked questions about the

impact their companies have on society.

Trust has become the ultimate currency."

"There has to be a strong connection

between what your company wants to

do and be, and what you want to do and

be," advises Richard Hytner, Adjunct

Professor of Marketing at LBS. "If you

can't see any connection at all, you're

in the wrong place. Don't expect your

company to find that connection. There

are many things you can – and should

– delegate responsibility for in life. Your

personal purpose is not one of them."

The Associate Professor of Strategy and

Entrepreneurship at LBS, Dr. Ioannis

Ioannou, adds: "When companies are

genuinely committed to purpose and

sustainability, it is reflected in their

governance structure. The top of the

organization sets the tone and signals

a credible pledge to purpose."

ESG performance also an indicator

for talent recruiting?

"Responsible businesses have a governance

structure that monitors and advises

on environmental, social, as well as

financial issues," Ioannou continues.

"When leaders understand and thrive

within the broader social and environmental

context in which their businesses

operate, it also signals to employees,

investors, and key stakeholders how

important purpose really is."

Ioannou cites Intel as a strong example

in this area. The company has made

social responsibility everyone's job, with

clear sustainability goals. "In 2008 the

leadership team took a bold step and tied

environmental performance to employee

compensation," he says. "Since then,

Intel has continued to rally the troops

through a series of responsible competitions

and sustainability projects. The

winning teams receive environmental

excellence awards and a pay bonus."

He advises senior executives to follow

suit by setting ambitious targets and

providing generous incentives that fully

reflect their organization's purpose. "You

fail to send out a consistent and credible

message when, for example, social

responsibility is part of your company's

media rhetoric, yet only financial performance

is incentivized."

Positive perception of companies

declines

The Deloitte Millennial Survey 2018

shows a clear, negative shift in Millennials'

feelings about business' motivations

and ethics. Today, only a minority of

Millennials believe businesses behave

ethically (48 percent vs. 65 percent in

2017) and that business leaders are committed

to helping improve society (47

percent vs. 62 percent in 2017).

There continues to be a stark mismatch

between what Millennials believe responsible

businesses should achieve and what

they perceive businesses' actual priorities

to be – but where matches exist, the

perception is that those companies are

more successful, have more stimulating

work environments, and do a better job

of developing talent.

Diversity and flexibility are key to

loyalty

Forty-three percent of Millennials envision

leaving their jobs within two years;

only 28 percent seek to stay beyond

five years. The 15-point gap is up from

seven points last year. Employed Gen Z

respondents express even less loyalty, >>

Global Goals Yearbook 2019

35
---
with 61 percent saying they would leave within two years if

given the choice.

Attracting and retaining Millennials and Gen Z respondents

begins with financial rewards and workplace culture; it is enhanced

when businesses and their senior management teams

are diverse, and when the workplace offers higher degrees of

flexibility. Those who are less than satisfied with their pay and

work flexibility are increasingly attracted to the gig economy,

especially in emerging markets.

Money still matters to Millennials

Paul Polman, former CEO of Unilever, once told a businessschool

audience: "You need to have something where you

want to have an impact and that aligns with your values. It

will drive your passion. People's self-worth should not be

measured by their net worth."

Millennials do not want to work for an organization that is

driven only by profit, but nevertheless money still matters.

Successful companies offer a smart mix of salary and benefits

as well as a good work–life balance and leadership opportunities

to attract the best talents.

According to PWC's Next Gen Survey, the new workforce

generation believes in flextime and that productivity should

be measured by the quality of work rather than the amount

of hours spent in the office.

Young workers are not ready for Industry 4.0

Millennials and Gen Z recognize the current and future importance

of Industry 4.0, yet many feel unprepared for the changes

it will bring. Fewer than 4 in 10 Millennials (36 percent) and 3

in 10 Gen Z currently in work (29 percent) believe they have

the skills and knowledge they will need to thrive.

While technical skills are always necessary, respondents are

especially interested in building interpersonal skills, confidence,

and ethical behavior – all of which they consider essential

for a business to be successful. They would like business to

take a lead role in readying people for Industry 4.0.

So how to respond?

The blogger Deirdre Pluck writes: "On an employee level, HR

can achieve this by ensuring Millennials are clear about their

job purpose and align their objectives with the goals of the

organization. Employees who are clear about their goals and

understand their purpose in the businesses are much happier,

engaged, and more likely to stay with your organization longer."

Lauren Coulman is a social impact consultant. In her worthreading

essay in Forbes magazine, she writes: "These kids are

more financially savvy, highly entrepreneurial, and true

digital natives, putting the generation that preceded them

to shame in their ability to disrupt industries. Existing in a

world of corporate hierarchies, political game-playing, and

BOOMERS VS. MILLENIALS

@ WORK

Boomers

Millennials

Monday

Tuesday

Wednesday

Thursday

Friday

9 a.m. – 5 p.m.

9 a.m. – 5 p.m.

9 a.m. – 5 p.m.

9 a.m. – 5 p.m.

9 a.m. – 5 p.m.

Monday 10 a.m. – 8 p.m.

Tuesday 2 a.m. – 12 p.m.

Wednesday 11 a.m. – 5 p.m.

Thursday 3 a.m. – 2 p.m.

Friday 10 a.m. – 4 p.m.

Source: thecooperreview.com

36 Global Goals Yearbook 2019
---
QUEST FOR TALENTS

PROFILE: THIS IS WHAT

DISTINGUISHES MILLENNIALS,

ACCORDING TO STUDIES:

• They grew up with digitalization and are globally

networked. Development and freedom of choice are

extremely important values for them. (Future Institute)

• They have grown up in a world where there are rampages

and terrorist attacks – this leads to an abstract

sense of insecurity. (The Guardian)

• Millennials are often stressed. According to a recent

study from the United Kingdom, 49 percent of respondents

suffer from too much stress – mainly due

to comparisons with others. (Mental Health Foundation)

• They are a generation of heirs. However, the consequences

of the financial crisis have made it more

difficult for them to build up their own assets. The rich

thus become richer, and the poor remain barred from

social advancement. (Business Insider)

• Millennials have pretty clear ideas about jobs: They

demand fulfilling tasks, a secure job, a good salary,

and bosses who see themselves more as coaches.

(Hays)

low institutional trust, what we're really

witnessing is a clash of values, and

a major shift in how we operate, consume,

and societally engage. With our

wider social impact ranking higher in

millennial collective decision-making,

and purpose becoming as important as

profit, working with (and not against)

this new world order will inform who

succeeds long-term, and the teller will

be in how we perceive and respond to

the change."

A passing trend or a tidal change?

"Maybe we will stop talking about purpose

in 10 years' time because it will just

be ingrained in any organization as a

taken-for-granted – that any company

that wants to be successful must pursue

purpose," says Alex Edmans, Professor

of Finance at LBS. Deirdre Pluck adds:

"Organizations that are not focusing on

recruiting, nurturing, and engaging the

Millennials of today a re putting their

business at risk of losing the leaders of

tomorrow."

Source: London Business School, Deloitte Millennial Survey

MILLENNIALS' MOTIVATION

AND ETHICS (%)

Good work-life balance

Opportunities to progress/be leaders

Flexibility, i.e., remote working, flexible hours

Sense of meaning from my work

Professional development training programs

The impact it has on society

The quality of its products/services

Strong sense of purpose

Opportunities for international travel

Fast-growing/dynamic

A leading company that people admire

Invests in and uses the latest technology

The reputation of its leaders

16.8

13.4

11.0

9.3

8.3

6.8

6.4

6.2

5.9

4.4

4.3

4.1

3.1

BUSINESSES ARE OUT OF STEP

WITH GEN Z PRIORITIES

43%

39%

25% 25%

Generating jobs Improving society Generating profits

Percentage of Millennials

seeing as stated business

priorities

24%

51%

Percentage of Millennials

seeing as actual business

priorities

Source: Deloitte Millennial Survey

Global Goals Yearbook 2019

37
---
igration-led

Innovation

The Premise of a New

Social Architecture

Can we count on the Marie

and Pierre Curies of our time

to bring their collective genius

to science? Are we benefiting

from the entrepreneurial spirit

and thousands of jobs created

by all the Hamdi Ulukayas out

there? The answer is no. The

way we designed our social

architecture around migration

is preventing many creators

from contributing.

By Alice Barbe, Guillaume Capelle,

and Camille Soulier

How can we get rid of obstacles

they face on their way to innovation

and entrepreneurship?

It is only fair that anyone

should be allowed to start a positive

project. It is also a pity that our societies

and economies are missing out when

newcomers are not able to reveal their

talents. We need new spaces and tools

encouraging both newcomers and locals

to find their complementarities, learn

from each other, and build a brighter

future, together.

At SINGA, we believe in migration-led

innovation and we think that the fusion

economy is completely underexploited.

We have created incubators, spaces, and

accelerators to support ideas, projects,

and super projects fitting this description.

After three years, our programs have

supported more than 211 companies,

which have in turn created more than

300 jobs. In 2019, we plan to support 100

more in seven European cities.

Essentially, migration-led innovation

comes from the ability to use one's diverse

background to identify a gap or an

opportunity in the market, or use one's

experience to create a never-seen-before

product. For instance, what Shaza has

missed the most in her journey from

Syria to France is daily contact with

her parents. She is working on a connected

object to keep bonds alive despite

the distance, beyond existing digital

tools such as audio and video. Shaza

is now prototyping her product with

the support of SINGA and a renowned

university in Lyon. Abbas used to be an

accountant in Afghanistan before he

left for Italy, then France. His passion in

life? Pizza. Abbas reinvented himself as

the first at-home Pizzaïolo, bringing his

oven with him to people's homes, where

he cooks and teaches small groups of

friends how to make pizza with local,

organic ingredients. Today, Abbas has

become so popular he is turning down

events and is looking to expand his

38 Global Goals Yearbook 2019
---
QUEST FOR TALENTS

"Everybody is a

genius. But if you

judge a fish by its

ability to climb a tree,

it will live its whole

life believing that it

is stupid.

Albert Einstein

business by creating

training and job opportunities

for other

newcomers.

SINGA's inclusive approach

also means

that we are promoting

solutions built with

diversity instead of for

diversity – a good way

to avoid local resentment

and contestations.

When you aim

to create social innovation and business for all with people

who are refugees, you include local citizens. The bridge is the

best to avoid the "us" vs. "them" distinction. We are promoting

a plural and evolving sense of belonging.

In many ways, what we have created through entrepreneurship

is contributing to a new social architecture. When you build

society and economy like a house, there are people inside

and outside. You design windows to look out at others. You

design doors and stairs, entryways, and means to ascend that

are only accessible to those privileged enough to have made

it inside. You discuss how your precious food and drinks, the

only available resources, can be split with new roommates

without affecting established tenants. You get into frenzied

discussions over whether you should open the door or not.

It is time to look at it differently. Big data, AI, and climate

change challenge our definition of identity. We have plural,

cross-borders, and evolutive identities. No matter our nationality

or language, we can love the same sport or team, and we

can commit to solving the same global issues together. We

understand that migrants are not outside societies, they are

also inside them. They do not come empty-handed; they bring

human and intellectual wealth. Societies are not houses with

unwavering foundations and impenetrable walls – they are

shaped on common stories and experiences. They are the results

of everyday human interactions, which may lead us to inventing

the new penicillin or the next sustainable energy source.

SINGA is a global community of refugees, migrants, and local citizens

who are meeting in the present and building the future together.

SINGA implements local incubators in 20 cities of eight countries

to support migration-led citizenship and innovation. In each city,

SINGA creates a value chain between the community, innovators,

and their local ecosystems.

Global Goals Yearbook 2019

39
---
FINANCING COMMON

PROSPERITY

"

To get all businesses involved in solving

the world's toughest problems, we must

change the accounting rules. That's why

we need to ensure that corporate reporting

makes clear how a company is making its

money, not just how much money it has made. For every robust,

time-tested measure of return on financial capital, we need

another for social capital (the economic benefits that derive

from cooperation among groups), and yet another for natural

capital (the supply of natural ecosystems – think forests, oceans,

mineral deposits), all of which are turned into valuable goods

or services in the future."

Peter Bakker, President of the WBCSD and former CEO of TNT

40 Global Goals Yearbook 2019
---
Global Goals Yearbook 2019

41
---
The Curse of the

Carbon Bubble:

How to Really

Exit the Fossil

Age

New Hybrid Financial

Engineering for a Low-carbon

Economy in the 21st Century

Prof. Dr. Dr. Stefan

Brunnhuber

Professor for Sustainability

and Psychology

Member of the Club of Rome

Introduction

The world has changed. We are now

living in a new era – the Anthropocene

– where everything is connected. At the

same time, we are operating within

geophysical planetary boundaries and

face increasing levels of complexity, uncertainty,

and acceleration. Such a "full

world" confronts us with the challenges

of asymmetric information, increased

unwarranted liabilities and maturities,

and uncontrolled feedback loops, which

lead to vast direct and indirect costs

and expenditures for damage control,

spillovers, and negative externalities.

What does this mean for the financial

sector? The search for a new planetary

balance will change our investment

strategies, risk analyses, consumption

patterns, political decision-making, and

the way we do business. In fact, it will

change everything – even our minds

and consciousness. In the following,

we address the prominent role of the

financial sector as one of the key players

in this shift. New financial engineering

will be required as we move toward a

new equilibrium.

Eighty percent of our world economy

depends on fossil fuels. On a global scale,

this percentage has not changed since

1971. However, within this time period,

total primary energy consumption has

tripled in absolute terms. Fossil fuels generate

CO 2

emissions that lead to global

warming, and global warming is now

considered to be the single largest threat

to humanity. Robust scientific evidence

has shown that going beyond the "2

degree scenario" (2DS) will cause huge

disruptions to our planet in the form of

extreme weather patterns and the loss

of biodiversity and natural habitats. It

will significantly affect human life due

to forced migration, the rise in uninhabitable

regions, and food insecurity

42 Global Goals Yearbook 2019
---
FINANCING COMMON PROSPERITY

due to harvest loss, to name but a few factors. Although we

have traditionally used a linear perspective to look at future

trends, we will increasingly find ourselves confronted with

non-linear tipping points, where no return to the earlier status

quo is possible.

If we take the 2DS as a political benchmark, then the so-called

carbon bubble represents the financial correlate to this scenario.

It will affect approximately $23–100 trillion in assets

over the next two decades. This large range in estimation is

related to the extent to which the fossil fuel value chain is

taken into account. Of the 3 billion tons of fossil reserves still

available on this planet, only 500 million tons can be used

before reaching the estimated carbon limits of the 2DS. The

rest of the fossil fuel reserves consist of stranded, unburnable

assets that need to remain in the ground. In statistical

terms: If we want to remain within the 2DS with 90 percent

certainty, there is in fact no planetary carbon budget left, even

with future food production and deforestation calculated in.

This means that most listed companies will have to depreciate

their balance sheets by up to one-third or more. Institutional

investors with skin in the game in assets that are dependent

upon fossil fuels will be forced to write off substantial parts

of their investments.

Flogging a dead horse

This will relatively quickly lead to a depreciation of large

cohorts of pension funds and privately funded social security

systems, in particular those of the Baby Boomers. But as long

as no alternative scenario is available, rational investors will

stick to their assets as long as possible and resist change –

even if the horse they are flogging is dead. In the period up

until 2017, only $2.5 trillion of the estimated $23–100 trillion

carbon bubble was divested. What we need is a different

perspective on how to invest in the future.

The six-pack

The carbon bubble is part of a larger picture, expressed in the

2015 UN Sustainable Development Goals (SDGs). A lot has

been written about the SDGs, but little about how to finance

them. Calculations demonstrate that the world community

requires an additional $4–5 trillion every year to finance our

future. About one-third of the goals are eligible for private

investments, while two-thirds refer to the global commons.

If we had endless time, our options would be unlimited. We

keep pretending that we are in such a situation – but we are

wrong. We have 10–15 years, at most, to significantly >>

Global Goals Yearbook 2019

43
---
change the course of this planet for the better or for the

worse. We do not have limitless time for academic discussions,

further field studies, randomized controlled trials, or

political propaganda or maneuvering, nor for endless expert

panels or manipulated fake news campaigns. As our time is

restricted, our options are limited, too, and we will have to

carefully choose the tools and interventions that have the

highest likelihood of changing the course of this planet for

the better. We may also have to make bold decisions and

adopt a multi-step approach to enable the world community

to shift toward a more sustainable future. The longer we wait,

the more limited the options and the smaller the window for

opportunities will become. In the following, we introduce

the so-called financial six-pack. It provides a rationale for

operating within the given limits and will allow us to shift

our society toward a sustainable model, ensuring the survival

of our grandchildren and great-grandchildren.

Regulation – harmonization – transparency

Taxation, fees, and subsidies

Impact funding

Ex-swap strategies

Private–public partnerships / private-citizen partnerships

Parallel currencies

List 1: The financial six-pack

In the following, we describe the six most relevant financial

engineering tools required to finance our future. They are

structured like a staircase (see graph below). The staircase

follows the following rationale: The more time we have available

and the more strongly our world is built on multi-lateral

agreements, the more we will be able to favor the lower steps.

The less time and the more multipolar and bilateral our world

becomes, the higher we will have to climb up those stairs and

the more we will be forced to favor bold and unconventional

monetary and financial decisions in order to put a more sustainable

common future in place. Whereas there is increasing

literature and empirical evidence concerning the lower steps,

there is less awareness about the upper steps of our staircase.

In fact, a "tragedy of the horizon," as Mark Carney coined it,

is associated with the issue. Global warming and its associated

risks imply a time lag of 25–30 years between the initial carbon

emission, the resulting climate impact, and the discount

of any future impact. In short, the future will be over before

it has even started. As neither the Paris Agreement nor the

SDGs contain any politically binding criteria, a multi-step

approach is required.

Regulation – harmonization – transparency

Since 2008 in particular, efforts to regulate the international

payment and trading system have gained momentum. Most,

if not all, academic and political attention has focused on

regulatory efforts that seek to avoid, prevent, and manage

future crises. There is general agreement that financial crises,

especially idiosyncratic ones, cannot be predicted, and that

systemic crises require additional regulatory effort to insulate

the real economy from these more intrinsic perils. There has

been a wealth of proposals, most of which focus on singular

codes of conduct and rules, and some of which suggest replacing

the entire system with an alternative – past examples

include the Chicago Plan in the 1930s, the introduction of the

gold standard, and its abandonment in the 1970s.

Discussions cover aspects such as greater transparency and

accountability; increase in the level of sound regulations;

international cooperation and reinforced institutions; Basel III

(plus); the recapitalization of the International Monetary Fund

and the World Bank; a shift to more macro-prudential policy

tools; and more surveillance strategies such as early warning

exercises, mutual assessment programs, and peer reviews.

This debate also refers to a variety of contributions on a different

set of risk assessments, such as market-to-model versus

market-to-market; the "too big to fail" argument; bonus programs

for top managers; the impact of bail-in strategies along

a liability cascade and contagion effects (from stock owners to

borrowers to clients to the taxpayer); whether ratings agencies

should serve as a public good, and so on. This list is not

complete and not fully updated, as regulatory efforts since

2008 alone would have filled a volume of some 35,000 pages.

This process has also not come to an end. The argument on

regulatory efforts needs to be more general and fundamental:

Is regulating the monetary system currently in place the best

way to achieve a maximum of output with regard to resilience,

efficiency, and sustainability? Regulatory efforts always tend

to be behind the curve, despite their ability to adapt to historical

events. What if all these regulatory efforts produce a

false sense of control over manifest reality? What if all these

preventive regulatory efforts fail? What if regulation of the

given system is a suboptimal, even wrong approach, like trying

to put toothpaste back into the tube, making the overall

system even less resilient to future adverse shocks?

If we cannot predict idiosyncratic and random crises and events

like black swan effects but want to stop them from becoming

44 Global Goals Yearbook 2019
---
FINANCING COMMON PROSPERITY

systemic risks, then regulating the given system may produce

only limited results. It is somewhat like operating on the heart

of a runner in an "Iron Man" competition while he is actually

running. However, regulation has a moral and economic point

to consider: A completely unregulated market is like forcing

your six-year-old child to work on the streets shining shoes

instead of going to school and becoming an MD, a teacher, an

engineer, or a physicist. When we constantly regulate a system,

we admit that we are unable to rely on the self-regulating or

autopoietic power of the given, and thus implicitly admit that

there is something wrong with the system's design. Regulation

is just the first step up the staircase.

The beauty of taxation, fees, and subsidies

There are dozens of very clever and thoughtful taxation schemata

on how to refinance social and ecological goods and

invest in the commons. The debate of the last 50 years has

demonstrated the intellectual power of these schemata. With

the high growth rates during the post–World War II period

in particular, redistribution mechanisms involving fees and

taxes successfully provided additional sources of revenue and

income to finance social and ecological projects and public

infrastructure. However, although times of high growth are

now past, redistribution via taxation and fees has become more

and more critical in a worldwide context. For example, if the

poorest 20 percent of Scandinavian citizens are richer than the

richest 20 percent in developing countries, the well-established

and conventional way of redistributing money through taxation,

fees, and subsidies becomes, at its best, one political tool

among others, but it is not the tool to finance our future.

To further clarify the argument: Most financial experts and

academics agree that a carbon tax is the best redistributive

measure. Theoretically, it would be the mechanism to shift

corporates, consumers, and states away from the fossil age

toward a low-carbon-oxid economy. But the argument has several

flaws. Firstly, implementing a carbon tax would require a

high level of global consensus, as states and corporates would

otherwise be incentivized to avoid the tax. Secondly, a carbon

tax would have a massive impact upon the entire value chain.

Currently, the average barrel of crude oil costs around $10. To

remain within the 2DS, a barrel would need to cost around

$75–100, and this increase would need to happen within

the next 10–15 years. This means that most products along

the value chain would face massive price and cost pressures

with hugely disruptive social consequences, which are next

to impossible to anticipate. >>

Sustainability

accomplished

80%

System level

SCR (SOCIAL CORPORATE

RESPONSIBILITY) – SECTOR –

SYSTEM: A THREE-STEP APPROACH

Transformation curve

20%

by proxy sector

value chain

SCR & ESG criteria

efficiency – adjustment – avoiding –

rethinking – reducing – replacing –

recycling

lifestyle changes and modification –

agricultural reforestation

system –

infrastructural changes

Global Goals Yearbook 2019

45
---
In other words, the dilemma is the following:

We have to increase carbon tax

and reduce the direct and indirect subsidies

for all fossil energy, which will

make it possible to lower CO 2

emissions

in the atmosphere on a global level. At

the same time, we have to reduce the

tax burden and increase subsidies for

renewables on a local and global level.

Both of these strategies interfere with

social and ecological tradeoffs on the

local and global levels, such as overcoming

poverty and hunger and protecting

biodiversity, among other things. In such

a complex, mixed, and unforeseeable

situation, technology, taxation, subsidies,

and regulation are part of the solution,

but they are not the solution. Focusing

only on taxation and regulation overlooks

the speed, volume, and magnitude

required to ensure the shift. Instead,

it generates endless "socio-ecological

paradoxes" and forces us to engage in

multilevel re-regulatory efforts to compensate

for unwanted social impacts.

Such paradoxes are created when we

want to do good and avoid harm, but they

create the exact opposite. For example,

if a nation representing 3–4 percent of

the global burden of atmospheric CO 2

decides to exit the fossil age, the shock

caused by the drop in demand for fossil

fuels would trigger a decrease in the

prices of fossil fuels for the rest of the

world, leading to increased consumption.

The impact of impact funding

Ratings are a tricky problem. On the one

hand, it is crucial that we learn to differentiate

between green and "brown" or

"black" investments. However, studying

corporate reality reveals that, on average,

about 20 percent of all tangible and intangible

assets as well as short-term and

long-term spillovers can be managed and

mitigated within the corporation only.

Anything above this would cause the

business to collapse. We can differentiate

between three levels.

1. SCR and ESG criteria on a

corporate level.

2. Sector level that implies value

chains, customers, and clients as

well as the social and ecological

environment by proxy.

3. Systemic level. This requires a shift

in the incentives to make it happen.

List 2: Ratings are tricky: from SCR

to sector to system

Corporate profits are near record highs

but are realized on the basis of huge,

unpriced, negative externalities. Such

negative externalities are transferred to

TAXONOMY is key to ensuring private equity

impact-funding. There are initiatives by different stakeholders

(NGOs, politics, the corporate world, science)

with different interests and objectives that have to be

reconciled. Essentially, we require a matrix that allows

us to evaluate, measure, and compare the entire expenditure

of human economic activities. This includes a

"total costs analysis" upstream and downstream along

the value chain; integral accounting; improved comparability

for mergers and acquisitions; and measuring

and evaluating the impact not only on profit, but on

human wealth in general. In addition, we need a relative

benchmarking for different sectors (such as aluminum,

cement, agriculture) and between sectors, facilitating

comparability as well as improving corporate decisions

(de-risking) and public awareness on different levels

(OECD, EU, G7, G20). Finally, we need an enabling

environment for harmonized regulation and taxation

that would set up a new global accounting system for

every agent involved. Initiatives such as these that seek

to better incorporate natural, social, and human capital

have been around for at least 30 years. However, most

of them already failed at the stage where the different

stakeholders provide completely different views on

the topic. For example, international accounting firms

already have different opinions on how to evaluate and

measure an upstream impact of child labor or water

pollution on the corporate balance sheet. We might end

up with three findings: relative banning, relative benchmarking,

and single case-to-case approaches.

tax payers and governments. Disruptive

and involuntary system changes can lead

to unprecedented suffering and costs.

Any change by design is better than by

disaster. We have to differentiate between

the sign and symptoms on the one

hand, and the overall root causes on the

other. Whereas ranking refers to symptoms

in the form of further transparency,

information, and documentation, the

root causes lie in the monetary system

itself. A system change such as this does

not mean that we have to do everything

all at once at the same time, but we do

have to consider (almost) everything to

ensure this integral change.

Generally speaking, investing in something

is a commitment to the future and

46 Global Goals Yearbook 2019
---
FINANCING COMMON PROSPERITY

"impact investments" even more so because they consider not

only the returns in terms of money, but also the "impact" such

an investment can have upon social and ecological perspectives.

The higher the impact, the better. In 2017, the value of

such impact funds – where capital is primarily divested from

the fossil sector into the green sector – totaled $250 billion.

The taxonomy of impact funds (brown or black versus green)

differentiates between good and bad investments in relation

to their impact on social and environmental welfare (a "good"

investment would involve no tobacco, no weapons, no coal,

no alcohol, no child labor, etc.). In this respect, impact funding

is the right choice. However, several aspects demonstrate

that the matrix underlying impact funds is flawed. Firstly,

the volume of funding is far too low and the speed too slow

to guarantee any significant shift. Secondly, the approach is

too silo and too micro, maximizing the interests of lobbies

PRIVATE EQUITY FUNDS

historically have high yields ranging

between 19 and 25 percent annually.

In a world where GDP grows by

2–3 percent and private investors

demand 10 times more, this revenue

has to come from somewhere.

In fact, most of it comes directly or

indirectly from the lack of financing

for public goods. This means that instead

of funding public preschooling

and collective healthcare; protecting

against pollution; eradicating poverty

and hunger; and averting the

collapse of biodiversity, the money

instead goes into the private sector,

where "high-net-worth individuals"

realize additional returns. A 19–25

percent return for private equity,

even with additional impact funding,

is an unrealistic scenario in a world

where the wealth gap is increasing

and public common goods are underfunded.

Private equity is a small

part of the solution, but it is not the

solution.

without seeing the full picture on a macro level, which has

to balance and reconcile the many different interests with

each other. Thirdly, the impact funding strategy is skewed

toward parts of the world with higher environmental, social,

and governance (ESG) standards. This occurs at the expense

of more vulnerable regions on the planet, where liquidity is

most needed. Fourthly, the shift toward green bonds will put

a risk premium on the old brown and black bonds, which

will make conventional investors resistant to changing their

portfolios or encourage them to simply greenwash their assets.

All of this together will create further regulatory and

documentation efforts and do little to nothing to change the

negative impacts on the environment.

Impact funds remain a complex, well-nigh unresolved story

of excluding or banning industries. There is even a strong argument

for remaining invested in critical industries in order

to keep control over the executive management and steer

it toward greater social corporate responsibility and higher

ESG standards. Whereas theoretically the difference between

a "green," a "brown" (fossil), and/or a "black" (guns, drugs,

alcohol, child labor) investment is easy to make, in practical

terms such a taxonomy has to take into account all the different

business models and corporate shares and interconnected

corporate participation. In short: Are Volkswagen and Apple

green or brown? Are SAP and Deutsche Bank green, brown, or

black? Those corporates that fail to achieve the "green" label

will withdraw their collaboration, as they might have to pay

a higher risk premium on their assets. Finally, the strategy

behind impact funding leaves the 2DS almost untouched, as

we see below.

Private vs. public financing of the commons

From an investor's perspective, agents who invest in state

bonds, pension funds, and/or private equity and who are

engaged in impact funds represent clients' selective interests.

These interests are fundamentally mismatched with those of

the global commons. Financing the SDGs requires an agent

or co-signer with provision and revenue interests representing

the global commons themselves. The United Nations, the

World Health Organization, and the World Bank are three

examples of such agents. In addition, the more connected

we are, the more we need to invest in common goods. A real

initial impact investment honors the fact that the commons

come first and private investment second; it honors the fact

that taxation, fees, donations, and other forms of redistributive

financing are too slow in speed and too low in volume to >>

Global Goals Yearbook 2019

47
---
PRIVATE–PUBLIC CONTRACTING

allows for a long-term perspective, especially in critical infrastructure

such as energy, health, education, and telecommunications.

In 2017, $90 billion was contracted globally, down

from a peak in 2012 of $140 billion. The World Bank advisory

offers blueprints and guidance on how to contract private- and

public-sector interests. However, the devil is in the details.

De-risking is the major issue, where both sides have to clarify

who is going to take the risk in the case of "force majeure,"

such as natural catastrophes, terrorism, or state failure. Who

is the insurer of last resort? How to determine payments,

and who is fully and who is partly compensated? What is the

very nature of the financial assets (bond, bank financing, or

corporate financing)? The International Center of Settlement on

Investment Disputes associated with the World Bank seems to

be just one institutional alternative among others. In order to

de-risk the project for the private sector and make it bankable

for the public sector, both sides have to give in: The private

sector has to surrender its high-yield expectations and its shorttermism,

and the public sector has to tackle corruption and

bad public management. There is currently a tendency toward

partisanism and to advocate for private-sector money instead

of public procurements.

ensure the required change. Financing

of the commons should not be a transitory

measure in the case of economic

crises, but rather a constant monetary

intervention to ensure ongoing societal

transformation toward a sustainable

future.

From derivatives to hybrid ex-swaps

During the last two decades, derivatives

were the new kids on the block. In an

unstable economic environment, it was

rational for investors to buy first-, second-,

or third-tier derivatives in order

to reduce the risk of failure. The "hot

potato" could be handed over to someone

else, and at the end of the day, someone

always paid the bill – mostly taxpayers.

These times are over. The greater

the extent of our global interconnection

and the more a risk is identified

as systemic, the less a derivative can

help leverage or hedge the investment.

Put the other way around: As long as a

risk remains local or sectoral, a derivative

is a rational instrument to hedge

microeconomic risks. This is because

diverging expectations regarding a risk

can be leveraged by buying a derivative.

However, the rise of our global interconnectedness

causes risks to be shared at a

systemic level, where they can no longer

be geographically or sectorally isolated.

Future expectations such as pricing in

the impact of global warming will be

more likely to converge than diverge.

This explains the increase in asymmetric

shocks, where the agents in question did

everything right, but still they were hit by

the unexpected consequences of negative

feedback loops and fat tail events, all of

which have widespread repercussions. In

this situation, using a derivative of any

sort is an irrational financial decision

because rather than reducing risks, they

produce further systemic risks and lead

to additional costs. A rational investor

in the era of the Anthropocene fully

understands this risk assessment, and

therefore requires a different financial

environment in order to become invested.

NIMBY (not in my backyard)

When the Vatican, for example, switches

from brown to green investments, it

clears its own balance sheet. However,

the situation in the real world has not

changed at all, because the brown or

black investments – for example a coal

site, mine production, or child-laborintensive

products – from which it has

divested will still pollute the air and kill

humans. Nor will this divestment change

the working conditions for the children,

whose labor will now be under different

management that may be less competent

than the former. This hot potato will

thus be handed on repeatedly, but the

ecological and social impacts will remain

unchanged. In an unstable, non-linear

complex scenario, only a so-called exswap

asset makes sense: Swap the asset

48 Global Goals Yearbook 2019
---
FINANCING COMMON PROSPERITY

and close down and exit the previous one

as fast as possible to avoid asymmetric

shocks, non-linear feedback loops, and

increasing costs of damage control.

If such a global exchange bond or a global

swap were created – where brown fossil

fuel investments could be swapped for

large-scale green investments – companies

and investors would not face

extinction but rather experience a very

steep transition to different types of

investments and businesses. These largescale

projects could include things such

as reforesting the Sahara, the electrification

of Africa, and many others that have

been outlined by various organizations.

To overcome shareholder-value maximization,

most ex-swap assets require a

contract with the public sector, providing

a co-signer with a long-term perspective.

Globally, 200 fund managers manage $47

trillion in assets, which is more than 50

percent of global GDP. So, if we want to

gain momentum for a change toward

a low-carbon economy, we need to get

these 200 fund managers in one room

and tell them what to do.

Hybrid private–public partnerships

(hy-PPPs)

The standard argument is that we have a

lot of liquidity in the market. We simply

have to create an environment that will

enable private investors to make green

investments. Indeed, there are close to

$300 trillion in financial assets, in which

institutional investors hold about $150

trillion assets under management. Yet,

less than 2 percent is invested in infrastructure

or common goods, and about

10 percent of investments have negative

yields. If we think this proposal through

to its end, we will end up living in a

privatized world: The investors' interest

is to provide as much purchasing power

as possible to fuel the consumption level

of the Baby Boomer generation of the

Western world. This is indeed a feasible

scenario for about one-third of the SDGs,

but not for the other two-thirds – these

are (global) commons and require an

entirely different financial approach to

ensure our common future. One way to

guarantee the financing of the commons

is a co-signer principle, with a different

public and a common protagonist's skin

in the game – a protagonist following

a different agenda than privatizing the

world. The federal public sector and

the international multilateral development

banks (European Investment Bank,

World Bank, Asian or African Development

Banks) are such candidates.

In a fully connected world, there is no

private without public – there are more

and more hybrids. In fact, this situation

requires a closer look with regard to the

agents and protagonists involved. In a

country with a low income level, a low

tax base, low tax-collection levels, and

a high debt burden, there are a variety

of possibilities for the private and

public sectors to generate additional

liquidity to finance public goods. Each

possibility follows a different protocol,

risk assessment, liability, and type of

politics. Done the right way, they reverse

short-termism toward a long-term view,

reverse maturity toward long-term yields,

and honor and foster the relevance of

public goods and infrastructure for a

common sustainable future.

Take the generally accepted UN human

right for access to fresh potable water for

every human being. Should we privatize

this right so that all freshwater springs

become a private equity and these equities

are then sold to humans with

private yields, which then increases the

wealth of the owners of those springs?

As more than 500 million people do not

have access to fresh water, the owners

of these springs would have to be taxed

to generate sufficient revenue to ensure

that those 500 million can exercise their

right to access drinking water. Instead

of this linear process of privatizing the

commons and taxing the private yields,

we could start creating hy-PPPs, where

5 percent of the assets are private and

95 percent public, for example. The

public money comes from a monetary

source in the form of parallel green

additional liquidity (earmarked for this

specific right, see details below). This

combination can bring private entrepreneurial

expertise and risk assessment

together with a public co-signer (such as

a governmental body or an international

development bank). Yields, maturity,

liability, and risks are split respectively,

and both agents (private and public)

have a long-term interest, creating a

win-win situation with constant private

revenue and more healthy people while

meeting public interests at the same

time: There will be fewer negative social

spillovers, such as healthcare costs for

the treatment of diarrhea. A healthier

population is able to attend school, do

business, pay taxes, extend their lives,

and increase their own wealth and the

wealth of nations in parallel. This is

true for all global commons: fresh air,

access to basic healthcare, schooling,

protecting biodiversity, and reversing

global warming, among others.

A common is a common and remains a

common as soon as we, as a world community,

declare it a common. Private

equity is private equity as soon as we, as

a world community, declare and define it

as a private asset. However, the financial

tools for achieving both are different.

Financing the commons as commons

requires an entirely different approach

than turning them into private equity.

Do we want to live in a fully privatized

world? No, we do not. Instead of >>

Global Goals Yearbook 2019

49
---
violating the nature of the commons, we should adopt the

financial architecture to the nature of the commons and not

the other way around. This requires a shift in our mindset and

a shift in the architecture of our monetary system.

End-of-pipe financing and redistributive measures

The most commonly advocated form of financing for our commons

is so-called cofinancing, which constitutes the core argument

in most, if not all, economic proposals on financing the

social and ecological commons. So far, the staircase has been

following this rational. Cofinancing has the following rationale:

Goods and services freely traded on the market are taxed, and

this revenue becomes the main source of finance for common

goods. In this widely accepted view, the commons are secondary

and subordinate to the activities of the free market. Only

when the market generates sufficient yields and liquidity and

the political will is strong enough are common goods eligible to

be financed. This cofinancing strategy is a form of end-of-pipe

technology, well known in engineering science: We first implement

a technology, lifestyle, or economic activity that harms

our environment (e.g., polluting fresh air), then add a filter at

the end of the process (i.e., at the end of the pipe) in order to

avoid too much damage. The cofinancing strategy follows the

same rationale. The economy grows first, we take a certain

amount of money (through tax or fees) from the added value

chain, and finally distribute it to social and ecological projects.

Parallel currencies

So far, we have been working our way up the six-pack ladder,

defining new financial engineering in the Anthropocene. One

step – probably the biggest one – is still missing: a parallel

currency system. This is necessary because the first five steps

are unable to guarantee the volume of liquidity required and

the speed we need to generate sufficient purchasing power. A

parallel currency system is about additional, optional, targeted

liquidity or purchasing power, running in parallel to the given

system, designed (partly) differently to the well-established

monetary system. It uses new technology (mainly distributive

ledger technology) with a smart contract, earmarked to

(mainly) finance our global commons and operate through

complementary monetary channels. This mechanism would

make it possible to steer economic decision-making, stabilize

the overall economy, and orient our entire society toward a

sustainable future in a coordinated way.

A parallel currency system could be implemented through new

third- or fourth-generation blockchain technology in digital

form only, competing with bank deposits and conventional

cash money as a medium of exchange, a store of value, and

an international unit of account. It would operate in parallel

to existing currencies and be eligible for the payment of

taxes and wages. Such green "central bank digital currencies"

do not settle wholesale inter-bank payments like reserves do,

nor do they provide anonymity like cash does – they have a

larger direct impact on the retail markets. They can achieve

a significant welfare effect through targeted and earmarked

outputs. This can happen through three alternative channels.

Firstly, it can serve as a "citizen dividend," whereby the additional

money is given to private households either directly

or via tax reductions, stimulating consumption. Secondly,

the money is given to the public sector, stimulating public

infrastructure (education, security, health). Besides this "public

channel," there is another, third channel. Here, the money is

given to NGOs, SMEs, or local community organizations. In

the traditional perspective, we generate unspecific, expansive

growth in a first tier and then battle with regulatory efforts

and transfer payment systems (fees and taxation) to generate

enough money to finance ecological and social projects in a

second tier. In this new approach, the money is distributed first.

It is this pre-distributive design rather than a redistributive

mechanism (end-of-pipe financing) that has the potential to

shift and transform our entire society, moving it in the right

direction. It will increase the overall welfare effect in the form

of millions of green jobs, fewer illicit transactions, additional

green growth, an enlarged green tax base, and reduced costs

for negative spillovers and disaster management, among others.

Such a parallel optional currency mechanism would provide

targeted, programmable, identifiable, recordable financial

transactions and earmarked and dedicated funds, avoiding

fraud and corruption. This would create a new parallel marketplace

for the 75 percent of the world population that has not

been benefiting from the existing operating model. This new

mechanism would also eventually become intertwined with

the traditional sector and would provide central bankers with

an additional monetary tool to achieve price stability, employment,

and the global commons at the same time. The residuum

left – meaning the additional liquidity injected through this

mechanism – is determined by whether, and to which extent,

the previous five steps of the six-pack have been completed.

The multi-step approach to a sustainable future: the six-pack

To note: In this perspective, the higher the global consensus

is on the lower steps, the lower the necessary effort will be

for all further steps. For example, if we can come up with a

global agreement on regulating tax havens, common accountings

standards, harmonized ESG criteria, and a global carbon

tax, we may end up with less need for ex-swap asset strategies,

public contracting, and a parallel currency system. The lower

the level of global consensus achieved on the lower steps, the

bolder the decisions will have to become on the higher steps.

Assuming that we end up with next to no global governance

consensus but still want to finance our future, we will have

50 Global Goals Yearbook 2019
---
FINANCING COMMON PROSPERITY

to make the effort to install additional

parallel liquidity to ensure the transition

from a high-carbon society to a

low-carbon one.

Conclusion

What is required is an exit strategy aiming

for a rapid phase-out of high carbon

emissions and socially critical projects

that not only guarantee the end of our

high-carbon-oxid economy, but also

lay out a plan to shift to a low-carbon

economy, while consolidating existing

collaterals such as pensions, private insurances,

and so on. This procedure

requires a new financial mechanism

that differs from the approaches taken

in the past, such as hedging, leveraging,

and derivatives.

The scope, speed, scale, and symmetry

(4-S) of the challenges ahead should

match the 4-S of the solutions. Unprecedented

action must be taken, or we

will have to bear unprecedented consequences.

Thinking the unthinkable will

be the most advantageous and rational

strategy. A successful risk analysis requires

overcoming the executive myopia

and linear thinking predominant in

corporate and public leadership, beyond

the "least drama" and "lowest common

denominator" scenarios. These "business

as usual" scenarios have simply become

far too expensive. What is required instead

is an emergency-like transition to

a post-fossil era. Finding the fastest and

least disruptive way to do this is key, as

time is not on our side. The new financial

mechanisms described will make the

world safer, more resilient, more foreseeable,

and more certain. Traditionally,

we have gone to vast lengths to regulate

the given system with taxed economic

activities and increased charity, philanthropy,

and private pledges, and we have

redistributed that money to social and

environmental projects – with reasonable

but insufficient results.

To conclude, the multi-step approach of

regulatory efforts – including stress tests;

agreed accounting systems; total costs

approaches; wise taxation and steered

subsidies; private-impact funding with

relative benchmarking; a negative ban

list and case-to-case management; new

ex-swaps that guarantee the phasing out

of the fossil age; and hy-PPPs, which allow

for a longer-term perspective – will

finally achieve the necessary but hitherto

lacking liquidity and purchasing power

through a parallel currency system. All

steps together provide the rationale for

such a multistakeholder approach.

If we consider the timeline of 15 years,

the magnitude and additional volume

required ($4–5 trillion annually) and

the fact that half of the world population

is living in either autocratic systems or

failed states, achieving a global democratic

mandate seems unrealistic. We

require a bold and unorthodox approach

on how to finance our future. Considering

further the little leverage available

on a corporate and sectoral level and

the high amount of leverage possible

through a systems change, there are six

steps we have to accomplish as a world

society. If we do this in a smart way, we

will generate a situation beyond the

tradeoff between social and environmental

challenges: We will end up with

millions of jobs, a cleaner environment,

and a better place to live. The mechanism

presented here – or a very similar one

– will be the fastest and least disruptive

way to ensure this change.

Ex-swap strategies

▲ Parallel

residuum currency

▼

system

Private–public partnerships

Private-citizen partnerships

Mezzanine products

Impact funding

Taxation – subsidies – fees

Impact

Regulation – harmonization – transparency – SCR

◄ Timeline 15 years ►

Global Goals Yearbook 2019

51
---
Sheila Bonini

Senior Vice President Private

Sector Engagement at WWF

1. Introduction

Five years ago, sustainability was just

beginning to shift from corporate philanthropy

to an integrated business

need. In my former role with McKinsey's

sustainability practice, I wrote about

the management principles required

for successful sustainability strategies.

Steve Swartz and I saw that not only

did environmental challenges pose real

business risks, but that business could

also play a positive role in solving some

of the biggest threats to the planet. At

the time, sustainability was still seen as

a "nice to have," but there was growing

evidence that well-managed sustainability

initiatives could be profitable. Indeed,

meta-studies showed that addressing

sustainability issues makes a positive

financial contribution to financial performance.

I highlighted the economic

benefits of sustainability initiatives and

illustrated how better organizational

practices could help companies reap the

value of sustainability. These practices

included focusing on a few key issues

(what we call "material issues" today),

setting ambitious goals, communicating

the benefits of sustainability, and

creating accountability for sustainability

across the organization.

In my new role at World Wildlife Fund

(WWF), I am acutely aware of the threats

to our planet: from climate change to

deforestation and land conversion, water

scarcity, overfishing, and more. Governments

and international conventions are

failing to deliver the scale of change that

is needed, and time is running out. Now

more than ever, innovation and change

must come from the private sector. I am

optimistic because I know that companies

have vast resources – from human

and financial capital to technology and

the global footprint needed to address the

planet's greatest ecological challenges.

The good news is that businesses increasingly

recognize the risk from climate

change and other environmental chal-

52 Global Goals Yearbook 2019
---
FINANCING COMMON PROSPERITY

lenges. Environmental risks were at the

top of the World Economic Forum's

annual Global Risks Perception Survey

this year. Businesses are also getting the

message that sustainability is a critical

way to mitigate these risks. According to

another study by United Nations Global

Compact and Accenture, 76 percent of

CEOs surveyed believe embedding sustainability

into core business will drive

revenue growth and new opportunities,

and 93 percent regard sustainability as

"critical to future success."

Sustainability is increasingly seen as core

to the business, but it has yet to become

fully embedded by companies across the

board. The uptick in action to address

climate change from business has been

very welcome. Now we need to ramp up

our climate goals and address other key

ecological challenges such as deforestation

and water stewardship. Finally, the

market needs to better recognize these

issues as being material to business, and

businesses need to commit to greater

accountability and transparency. The

long-term cost of inaction would be

staggering. Those companies that lead

the way to a sustainable future will be

the first to reap its rewards.

2. Climate as material to business

The average global temperature has

already reached 1°C above preindustrial

times, with dire consequences for

economies around the world. From South

Africa to Guatemala, nations face the

prospect of shrinking freshwater supplies

and dropping agricultural yields.

According to the National Oceanic and

Atmospheric Administration, extreme

weather events are becoming more frequent.

Since 1980, 241 weather disasters

have saddled the United States with a bill

exceeding $1.6 trillion. Disruptions from

climate change are expected to continue.

According to the Fourth National Climate

Assessment produced by the US Global

Change Research Program, losses in some

sectors are expected to be hundreds of

billions of dollars annually by 2100.

To avoid the worst impacts of climate

change, we need to limit planetary

warming to no more than 1.5°C above

preindustrial levels. To do that, we must

completely decouple the global economy

from carbon emissions and reach netzero

emissions globally by 2050. That

means zeroing out emissions from the

energy we produce, the buildings in

which we live and work, the vehicles

in which we travel, the products we

manufacture, and the food we eat. Companies

are a critical element for reaching

this goal.

Increasingly, companies see climate

change as material to their business.

Focusing on environmental issues that

are material to business is what makes

the difference between sustainability

and charity. Mozaffar Khan, George

Serafeim, and Aaron Yoon's research

shows that companies that are strong

actors on material sustainability issues

significantly outperform those with poor

performance on these issues. This suggests

that investing in sustainability issues

increases the value of the company

for shareholders. This research has been

corroborated by a Deutsche Bank and

University of Hamburg survey of 200

empirical studies that found a positive

relationship between financial performance

and environmental, social, and

governance (ESG) standards.

Business leaders are sitting up and taking

notice: According to Ceres, 32 percent

of companies now conduct materiality

assessments, up from 7 percent in >>

Global Goals Yearbook 2019

53
---
2014. According to the Power Forward

3.0 report by WWF, Ceres, Calvert Investments,

and CDP, more than 60 percent

of Fortune 100 companies and nearly

half of Fortune 500 companies have

already set climate-related targets. The

new threshold for ambitious climate

action is "science-based targets." Emissions

reduction targets are considered

"science-based" if they align with what

the latest climate science says is necessary

to meet the goals of the Paris

Agreement – to limit global warming to

well-below 2°C above preindustrial levels

and pursue efforts to limit warming to

1.5°C. According to the Science-Based

Target Initiative, 554 companies have

committed to setting such targets, and

210 companies have had their targets

approved by the initiative. Importantly,

these science-based targets must cover

emissions from a company's direct operations,

their electricity use, and their

supply chain.

A few years ago, only a handful of companies

had set 100 percent renewableenergy

goals. Today, 181 companies have

signed on to the RE100 campaign, with

at least 23 Fortune 500 firms, including

Walmart, General Motors, Bank of

America, Google, Apple, and Facebook.

By boosting energy-efficiency measures

and shifting to low-carbon energy

sources, the private sector can realize

cost savings up to $190 billion in 2020.

Procter & Gamble, for example, has set

science-based greenhouse gas targets,

committed to 100 percent renewable

electricity by 2030, and in the process

has saved more than $500 million (since

2010) by improving energy efficiency

across their global operations.

3. Integrating nature into business

Climate is not the only environmental

issue that business needs to address. In

just the last 40 years, wildlife populations

tracked by WWF's Living Planet Report

have experienced an average decline of

60 percent. The news for freshwater species

is particularly dire: Since 1970, they

have declined on average by 83 percent.

Nearly half of the world's forests are at

high risk of degradation or deforestation

by 2030.

Moreover, nearly 90 percent of the

world's marine fisheries have already

been pushed to – or beyond – their

limits. This rapid loss of biodiversity

threatens the $125 trillion per year in

services that nature provides – from

clean air to clean water, food, fuel, medicine,

and more. The year 2020 promises

to be catalytic with regard to protecting

biodiversity, as there is a strong civil society

movement to galvanize public- and

private-sector support for a new deal for

nature and people that protects wildlife

and their habitats.

The business community has been slower

to act on challenges such as deforestation

and the conversion of natural ecosystems.

Although these issues should

be top of mind for many industries,

too often business leaders see them as

embedded in supply chains, and thus

a problem that someone else needs to

deal with. However, the consequences

of not addressing them – including

stakeholder backlash and economic

losses – are quite serious.

Many of the actions companies could

take to mitigate these risks are ones

they should be taking anyway to reduce

their scope 3 (supply chain) emissions

and avoid supply chain disruptions from

land-based environmental issues such as

deforestation. According to CDP Supply

54 Global Goals Yearbook 2019
---
FINANCING COMMON PROSPERITY

Chain, fulfilling the promises of the Paris Agreement will

require businesses to play a key role in reducing emissions

within both their operations and supply chains. Although

most of the largest companies in the world now account for

and report on the emissions from their direct operations and

the electricity they purchase (scopes 1 and 2), they need to

think beyond their direct operations to consider the carbon

emissions of upstream and downstream supply chain links and

actively manage their scope 3 emissions. Some companies are

expanding their climate efforts to their supply chains (which,

on average, account for four times more emissions than a

company's direct operations and often include land-based

emissions). Walmart, for example, was the first retailer to set

a science-based target for climate and launched Project Gigaton,

a groundbreaking endeavor that aims to avoid 1 gigaton

(1 billion tons) of emissions from its global supply chain by

2030. Project Gigaton's innovative structure enables suppliers

to avoid emissions through a focus on energy, agriculture,

forests, packaging, waste, and product use. Currently, more

than 400 suppliers have already joined Project Gigaton from

more than 30 countries.

When McDonald's set a science-based target – the first for a

global restaurant company – it partnered with franchisees and

suppliers to commit to reducing emissions from its restaurants

and offices by 36 percent by 2030. Critically, the company also

set a goal of reducing its emissions intensity (per metric ton

of food and packaging) by 31 percent across its supply chain

by 2030 from 2015 levels. To reach this target, McDonald's

will need to reduce emissions from the procurement of commodities

such as beef and dairy.

Goals for nature and land-based issues should not just be embedded

in climate goals, they need to be addressed outright.

On deforestation, many companies recognize the material

risks that the issues pose to their business and have set zero

deforestation goals. More than 400 companies have pledged to

reduce their impacts on forests and the rights of forest-based

communities, but fewer than half of these companies have plans

with time-bound goals, and fewer still have strong monitoring

systems in place. Moreover, only 45 percent of companies are

reporting on their compliance. Of great help here will be the

recently launched Accountability Framework, which provides

harmonized guidance from the NGO community for companies

looking to set and implement credible commitments to eliminate

deforestation, the loss of other ecosystems, and human

rights violations from commodity supply chains. Standardized

definitions and guidance on the use of appropriate monitoring

and reporting approaches should improve accountability to

corporate commitments. Certification is the most used mechanism

to achieve zero-deforestation pledges. According to Forest

Trends, at least 85 percent of companies rely on third-party

commodity certifications to identify commitment-compliant

commodity supply. These certification schemes have had some

success but are often not enough. Companies continue to cite

the challenges of working in states and countries where insufficient

regulations, incentives, or enforcement mechanisms

hinder their sustainability initiatives. This particularly holds

true in the most important areas for production – regions

such as the Amazon, the Cerrado savannah, Sumatra, and

Borneo – where weak enforcement and regulation, human

rights issues, land-rights violations, and corruption are quite

prevalent. >>

Global Goals Yearbook 2019

55
---
A relatively new strategy called the "jurisdictional

approach" shows promise as

a complement to supply chain-focused

efforts such as certification. The jurisdictional

approach is a suite of models that

seek to align diverse stakeholders – from

governments to businesses, NGOs, and

local communities – to find common

ground around conservation, supply

chain sustainability, and development.

Although multistakeholder partnerships

for regional environmental problems

have been a common approach for decades,

the jurisdictional approach takes

this one step further and focuses on the

political level, where land-use decisions

are made and enforced. This approach

typically combines land-use planning

of production and protection areas with

targeted policy interventions and market

incentives while often utilizing climate

finance.

Walmart's Project Gigaton encourages

suppliers who source high deforestation

risk commodities, such as palm oil, soy,

and beef, to get involved in regional or

jurisdictional approaches to reduce their

impacts. As part of this effort, Unilever

has engaged with the government of

Sabah, which has committed to certifying

100 percent of the state's palm

oil production to the Roundtable on

Sustainable Palm Oil standard by 2025.

Last September, Unilever announced

that, in addition to its supply chain commitments,

it would fund the restoration

of 4,000 hectares in the State of Sabah,

Malaysia, to provide a critical orangutan

habitat. This is a great example of a company

supporting ecosystem restoration to

simultaneously reduce emissions, stem

biodiversity loss, and safeguard critical

water resources.

4. Accountability

Understanding the risk posed by environmental

issues is often not enough

for companies to successfully enact

sustainability programs. Companies

need incentives to shift their behavior.

Signals from the financial sector have

been a powerful tool for influencing

corporate behavior, and the market is

increasingly taking environmental issues

into account.

Public companies are increasingly facing

pressure from shareholder resolutions to

act on social and environmental issues.

According to a Luc Hoffman Institute

report, these shareholder resolutions

have become more common, and the

market is beginning to see majority votes,

even in the United States, where in 2017

some of the largest asset managers, such

as BlackRock and Vanguard, voted for

climate-related shareholder proposals

for the first time. In 2017, more than

two-thirds of filed shareholder proposals

concerned environmental and social issues.

Evidence shows that ESG proposals

have spurred action within companies.

Filing shareholder proposals can lead

to improvements in performance on a

specific environmental or social issue,

even though such proposals typically

do not receive majority shareholder

support. The New York State Common

Retirement Fund secured agreements

with Duke Energy and ExxonMobil to

produce a climate change risk assessment

that includes an analysis of the

Paris Agreement goals after shareholder

resolutions pressured the fund to act.

Public letters to stakeholders – such

as the ones from BlackRock CEO Larry

Fink – have caught the world's attention.

These statements have signaled the

expectation that firms should be held

accountable to address social and envi-

56 Global Goals Yearbook 2019
---
FINANCING COMMON PROSPERITY

ronmental responsibilities in addition to economic returns.

Investors and analysts can also send a powerful signal by

asking annual follow-up questions on the key environmental

and social issues affected by companies.

We are also beginning to see an increase in shareholder votes

by large asset managers such as BlackRock, State Street, Fidelity,

and Vanguard that demand more climate-related disclosures

from companies. For example, ExxonMobil responded to 62

percent of shareholders' requests to increase transparency in

the company's report around risks related to climate change.

Likewise, Shell responded to pressure from Climate Action

100+ – a coalition of 340 global investors that controls more

than $34 trillion in US assets – to set leading targets in the

energy sector for climate goals linked to executive pay.

Publicly listed companies are also under increasing pressure

to disclose their business risks to climate change. Earlier this

year, the Task Force on Climate-related Financial Disclosures

(TCFD) reported that 785 companies and other organizations

– including 374 financial firms with collective assets in excess

of $118 trillion – were committed to supporting the

TCFD, demonstrating a dramatic rise in support for increased

disclosure just two years after the task force was launched.

Companies are getting the message. Some 51 percent of companies

now discuss climate change risks in annual financial

filings, compared to 42 percent in 2014. However, the 32

percent of companies that do disclose climate risks in their

10-Ks are only looking at it from the angle of mitigating

regulatory risk.

Boards are also holding their companies to account. Strong

executive- and board-level attention to – and prioritization

of – sustainability is key to success. Setting public goals is

essential: Companies are much less likely to fail on public

goals than internal ones. According to Ceres, companies

that have both board oversight of their sustainability initiatives

and link their executive compensation to sustainability

oversight are over two times more likely to have emissions

reduction targets. Yet, whereas 62 percent of companies have

some form of oversight for sustainability at the board level,

only 13 percent have strong oversight practices that include

board mandates and regular reports on sustainability from

management. Moreover, whereas 65 percent hold senior-level

executives accountable for sustainability performance, only 8

percent link executive compensation to sustainability issues

beyond compliance.

A growing body of research indicates that creating executive

incentives for sustainability is effective in boosting those firms'

efforts on environmental and social concerns.

5. Conclusion

When it comes to climate change and environmental degradation,

business as usual is no longer an option. The private

sector can move at the speed and scale necessary to address

these issues. However, companies need to broaden their efforts

beyond climate to include biodiversity and ecosystem

loss. To make business truly sustainable, we need to establish

incentive structures that ensure sustainability is synonymous

with good business.

Global Goals Yearbook 2019

57
---
Stronger Profit Potential

for Companies

That Serve

Society

Alex Edmans

Professor of Finance

London Business School

Executives need to prioritize

serving a social purpose if

they want to achieve stronger

and more sustainable profits,

according to Alex Edmans,

Professor of Finance at

London Business School.

He argued that the value a

business creates extends

well beyond the profits it

generates. Professor Edmans

likens the whole impact of a

business to a pie – of which

profits for investors are just

one, albeit important, slice.

The pie-splitting mentality

Professor Edmans, who is also Mercers

School Memorial Professor of Business

at Gresham College, argued that a company's

value to society should be measured

holistically to include stakeholders

such as workers, customers, suppliers,

the environment, and the government

through taxes.

Too many executives, he said, take from

stakeholders' slice in order to give a portion

to investors. They view their business

as a fixed zero-sum game. With that

mentality, if you want to grow your slice

you have to take it from other parts of

business. A prime example of this kind

of business was Turing Pharmaceuticals,

which bought existing drugs, restricted

58 Global Goals Yearbook 2019
---
FINANCING COMMON PROSPERITY

supply, and jacked up prices. For Turing it was all about the

profit slice, which it pursued with gratuitous price-gouging,

taking the price of Daraprim from $13.5 to $750 (£10.3 to

£575) per pill.

"Unfortunately, some companies have the pie-splitting mentality,

which is why there's a serious crisis of public trust in

business," said Professor Edmans. "Companies can grow the

pie by investing in all the stakeholders – improving working

conditions, pioneering new products for customers, or

reducing their environmental footprint. Profits then rise as

a by-product of growing the pie."

"Actions primarily to benefit stakeholders may yet ultimately

benefit investors – even if higher profits were never the

primary objective of these actions."

The importance of growing the pie in turn implies that the

most serious mistakes are errors of omission (failing to take

a good action that will grow the pie) rather than commission

(taking a bad action). A company that pollutes or engages in a

share buyback is often seen as irresponsible. But in Professor

Edmans' vision the most irresponsible behavior a business

can indulge in is maintaining the status quo and failing to

innovate – such as Kodak. The company's failure was in

omission not commissions: It stuck to producing film and was

slow to move into digital cameras. It failed its shareholders by

struggling to make a profit, and it also let down stakeholders

– workers lost their jobs, and customer demand for digital

cameras was not satisfied.

Responsible pie-growing business

Instead, Professor Edmans argued, the best way to increase

investors' share is to grow the pie by creating value for not

only them but also stakeholders.

The most responsible action that a company can undertake

may not be to cut CEO pay, but to take risks and innovate –

such as Vodafone launching M-Pesa, the mobile money service.

M-Pesa was a service that enabled mobile customers in Kenya

and Tanzania to transfer money using mobiles. Kenya and

Tanzania were not huge markets nor obviously profitable, but

the social need for the service was great. However, through

M-Pesa, Vodafone has grown its reputation in what are now

fast-growing frontier markets.

Similarly, pharmaceutical giant Merck's decision to give away

the cure to river blindness was not profitable, but the move

has done much to enhance the company's reputation and

attract key talent. More broadly, Professor Edmans's TEDxLBS

talk, "The Social Responsibility of Business", discusses the

"To be a successful

business, you are

going to need to do

things which your

competitors aren't

doing [...].

Alex Edmans

large-scale evidence that companies that treat employees,

customers, and the environment well also deliver high longterm

returns to investors.

Professor Edmans recognized that even a pie-splitting profitfocused

manager will invest in stakeholders, because he or

she will recognise that it is necessary to, say, train workers to

become more profitable. But he will only invest if the expected

profits outweigh the cost. Calculating the future payoff is

particularly difficult in modern business, where many outcomes

are unprofitable, Professor Edmans observed. Freeing

a company from the constant need to justify an investment

through profit forecasts will, surprisingly, enable it to become

more profitable because it invests more.

"To be a successful business, you are going to need to do things

which your competitors aren't doing, making investments

your competitors aren't making… making investments which

can't be justified by a mathematical calculation," advised

Professor Edmans.

Global Goals Yearbook 2019

59
---
No Sustainable

Development

Without Tax

Transparency

Tax and payments to

governments are some of the

most important sources of

income for governments and

play a vital role in enabling

the achievement of the

Sustainable Development

Goals. It is through tax and

payments to governments that

companies – large and small –

contribute to society.

Recent tax-related scandals, such

as the release of the Panama

and Paradise Papers, have led

to public debates around the

world and a growing demand from investors,

civil society, media, and governments

for more information on how

companies approach taxes.

The current state of public tax reporting

leaves much to be desired. A recent study

by RobecoSAM indicated that only 17

percent out of 830 companies surveyed

were reporting publicly on tax payments

at a country level, and most of these

were only operating in a single country.

Colin Mayer, Academic Lead of Future

of the Corporation Programme at the

British Academy, writes: "Globalization

has proven highly rewarding for

an increasingly concentrated pool of

corporate owners, but it has also alienated

and displaced other interests.

It has raised incomes in low-income

countries but concentrated wealth in

high-income countries. In the UK and

US, corporate tax rates declined from

around 40 percent in 1980 to 25 percent

by 2015. Erosion of corporate tax has

created opportunities for those with

higher personal income tax rates to

use corporations as vehicles for deferral

of taxes."

Corporate tax avoidance in Europe is

estimated to cost EU countries €50–70

billion a year in lost tax revenues. Tax

payments are an important component

of corporate governance, and the

Panama Papers scandal has brought

the issues of governance and credibility

back to the forefront of the corporate

dialogue.

"The Panama Papers are a reminder that

much remains to be done to address

the policies that allow millions to be

hidden offshore from tax authorities,"

said Angel Gurría, Secretary-General,

60 Global Goals Yearbook 2019
---
FINANCING COMMON PROSPERITY

On June 21, 2016, the European Council agreed on a draft

directive addressing tax avoidance practices commonly used

by large companies. The directive is part of a January 2016

package of Commission proposals to strengthen rules against

corporate tax avoidance. The package builds on 2015 OECD

recommendations to address tax-base erosion and profit-shifting.

The Commission proposals require large multinational companies

to disclose publicly the income tax they pay within the

European Union, country by country. In addition, they would

be asked to disclose how much tax they pay on the business

they conduct outside the EU.

Organisation for Economic Co-operation and Development

(OECD), during the Opening Session of the OECD Forum on

Responsible Business Conduct in June 2018.

"Stakeholders need and expect consistent, quality information

about tax and payments to government in order to have an

informed public debate around questions of equity, fairness,

and acceptability of tax approaches," says Judy Kuszewski,

Chair of the Global Sustainability Standards Board at the

Global Reporting Initiative (GRI). "Tax revenues and their

application are essential to society's ability to deliver on the

Sustainable Development Goals. Likewise, tax transparency

promotes trust and credibility in the taxation system and in

the tax practices of companies. It enables stakeholders to make

informed judgments about whether a company's position on

tax and payments to governments reflects society's priorities

and creates a reliable basis for decision-making."

Stop letting the fox keep the geese

Companies should be prepared to face increasing pressure

and regulations regarding transparency on corporate tax

payments. Many individuals and organizations around the

world are already working to promote the accurate disclosure

of corporate tax payments.

Corporate Europe Observatory released a study detailing how

the "Big Four" accounting firms – Deloitte, EY, KPMG, and

PWC – influence EU tax policies, despite their obvious conflicts

of interest as designers and providers of tax-avoidance

schemes to multinational corporations. Despite all revelations

of their assistance in tax avoidance since the Luxembourg Leaks,

the Big Four increased their public procurement contracts

for advising the EU Commission from €7 million in 2014 to

€10.5 million in 2018.

Sven Giegold, financial and economic policy spokesperson

of the Greens/EFA group and the European Parliament, commented:

"Paying and courting the fox to keep the geese has

to stop! We need EU institutions with integrity to win tax

justice. The EU Commission has to stop giving EU funding

to the tax-avoidance experts for advice on tax justice and

employ sufficient independent expertise."

Reforming corporate taxation

As national economies become increasingly integrated, there

have been growing calls from around the world – including

investors, governments, and broader civil society – for more

corporate reporting on tax. Colin Meyer, Professor of Management

Studies at the University of Oxford, says: "Corporate

taxation is in need of urgent reform, and several alternatives

have been considered. One involves shifting both corporate

and personal taxes from a focus on production to consumption;

another is to move personal taxation to an accrual basis.

There are limitations to both. A third approach is to consider

how corporations can be encouraged to promote a more socially

responsive agenda that includes a willingness to pay a

'fair share' of taxes as part of their corporate purposes." >>

Global Goals Yearbook 2019

61
---
CLEVER OR CUNNING?

THE SHELL CASE

The Dutch are considered calm and prudent, but this news

caused indignation: Shell has paid no tax on its profits

booked in the Netherlands for years, reported the Dutch

newspaper Trouw, quoting an internal document from the

Dutch finance ministry. The company did so by using legal

deductions to minimize its tax quota. The documents reveal

that the Dutch treasury lost as much as £6.1 billion on

missed taxes over the years, while Shell's net profits have

ranged from €2 billion to €55 billion annually. What happened?

The Guardian writes: "The arrangement dates back

to the Anglo-Dutch company's merger of its two branches to

establish a single headquarters in The Hague. During discussions

over the move, the Dutch tax authorities agreed to

exempt its UK-based shareholders from paying a withholding

tax on dividend payments if they were routed through

Jersey."

The recent news revealed by the Dutch newspaper

reopened the debate on tax honesty. Politicians called for

the European Commission to investigate the oil company's

tax affairs. Paul Tang, a Dutch MEP, told The Guardian:

"The probability that the European Commission will go after

this tax arrangement with Shell is huge. With European

law in hand, this construction can be reversed." The Dutch

Parliament's financial affairs committee asked Shell to

send a representative to attend a hearing. But Shell's Board

reacted stubbornly, with its CEO declining the invitation,

saying it would make more sense for a business association

to attend. The committee was snubbed. The Guardian

reported: "Politicians of all parties said they wanted Shell

to attend. Lawmaker Pieter Omtzigt said in a statement the

parties had unanimously asked parliament's chairwoman to

'forcefully' ask Shell to come." The whole case comes at an

inconvenient time for the oil company. Environmental campaigners

are calling for "climate damages tax" and launching

legal action against Shell. The divestment movement is

also campaigning harshly against all fossil fuel industries.

Both groups argue that, as quoted in The Independent:

"Shell is one of the 100 fossil fuel producers responsible for

71 percent of greenhouse gas emissions since 1988."

"Inaction on climate change from governments and businesses

is increasingly seeing citizens use the courts to call

time on the destructive excesses of the fossil fuel industry

and to force investment in sustainable energy," said Harjeet

Singh, ActionAid's global lead on climate change, to The

Independent. "Forcing companies like Shell to change their

ways must be part of the transition to a low-carbon global

economy."

The EU already requires companies with

activities in the extractive and forestry

industries to disclose the payments they

make to governments on a country-bycountry

basis and, where appropriate,

on a project-by-project basis.

The G20 also has an important role to

play in putting pressure on the jurisdictions

to commit and implement internationally

agreed standards on transparency

and to ensure that the information

provided by companies is comprehensive,

comparable, and accessible.

As countries develop their implementation

plan to achieve the Sustainable

Development Goals, there is an opportunity

for countries to strengthen their

tax transparency regulatory systems so

that they can count on domestic tax

revenues as a source of financing for

development. Target 17.1 specifically

states: "Strengthen domestic resource

mobilization, including through international

support to developing countries,

to improve domestic capacity for tax and

other revenue collection."

Increased transparency on corporate

tax payments is expected

A future where disclosure of the taxes

paid by businesses is common international

practice is one step closer. It was

in this context that proposals for a first

global standard on tax and payments to

governments were initiated by the GRI

Global Sustainability Standards Board

(GSSB). Therefore, "Tax and Payments

to Governments" will be a new category

with own indicators to measure transparency

and sustainability. With this, GRI

leverages the work done by the OECD

with its Guidelines for Multinational

Enterprises, and the GSSB will take a

decision whether the GRI Standards will

need to be updated to reflect the international

consensus.

62 Global Goals Yearbook 2019
---
FINANCING COMMON PROSPERITY

The Grand Theft

In the European Union alone, at least €825 billion in taxes are evaded every year. This is the result

of the study "The European Tax Gap." The author, Richard Murphy, a tax expert and professor at

the University of London, admits that the sums are only rough estimates. After all, they are the

result of illegal activities that are deliberately concealed by the perpetrators, such as undeclared

work. One "popular" method is the so-called carousel model. The faster the carousel turns and the

more national borders are crossed, the more difficult it is for national authorities to understand.

There are three particularly audacious examples.

VAT CAROUSEL

Tax fraudsters steal at least €50 billion from governments.

Reporters from 30 countries discovered the massive graft that

is hitting Germany particularly hard. A Deutsche Welle article

explains the model: "The scheme resolves around the trade

of goods such as cars and mobile phones and even uses other

high-cost items such as CO 2

emissions certificates. Taking

advantage of each European country having a different value

added tax (VAT), the criminals move the goods from one EU

member state to another, claiming back millions in tax reimbursements

that they never paid or earned in the first place."

Company B acquires goods from company A.

From its point of view, it is an intra-community

acquisition, which means that B has to pay VAT,

which it can later deduct on its VAT declaration.

Company A sells goods to

company B. From its point of

view, it is an intra-community

delivery, which is exempted

from VAT.

VAT

0%

B

Company B does

not pay VAT

Company B resells the goods to company

C, which is located in the same country.

It is a local sale: company B charges VAT

to company C.

Company C

deducts VAT

VAT

x%

Another EU member country

Company C purchases the

goods from Company B. C

pays VAT to B.

A

FISCAL AUTHORITIES

Company C

pays VAT

C

EU member country

VAT

0%

Company D can resell the goods to

company A. It is an intra-community

delivery: Company D charges 0% VAT.

Company D deducts

VAT paid to

company C

D

VAT

x%

Company D purchases the

goods from company C. It

pays VAT to company C.

Company C resell the goods

to company D. It is a local

sale: Company C charges VAT

to company D.

Source: ASD Group

Global Goals Yearbook 2019

63
---
CUM-EX DEALS

Through so-called Cum-Ex deals with taxes, states are cheated

of enormous sums. Across Europe, the damage amounts to

approximately €55 billion, according to the media. This is how

it works: A tax is paid once and reclaimed several times by the

treasury. The scheme involves banks, accounting firms, financial

houses, and law firms across Europe and the United States.

Before dividend payment (Cum) Dividend payment date After dividend payment (Ex)

Corporate

A

A owns shares.

A

A receives

the dividend.

A receives

a certificate,

with which

they receive

a tax refund.

A

A sells the shares.

B

B sells shares without

already owning them

(short sale).

B

B delivers the shares

without a dividend, but

with a compensation

payment without a tax

deduction.

C

The buyer is entitled to

shares and dividends.

C

Twenty-five percent

goes to the tax

authorities

(capital gains tax).

C receives a

certificate with

which they

receive a tax

refund.

64 Global Goals Yearbook 2019
---
FINANCING COMMON PROSPERITY

PANAMA PAPERS

The so-called Panama Papers have been the biggest data

leak so far: 11.5 million leaked documents have reveal financial

information on almost 215,000 offshore companies.

The documents were taken from Panama-based law firm

Mossack Fonseca. The leaks have included the personal financial

information of wealthy individuals and public officials

that had been kept secret. Reporters found that Mossack

Fonseca's mailbox company was used for illegal purposes,

including fraud, tax evasion, and bypassing international

sanctions.

The real owner can do what they

want with the hidden money

without revealing their own name,

for example buy mansions, yachts,

shares, etc.

4

Persons want to hide money

or conceal its origins. They

contact Mossack Fonseca.

1

3

2

The dummy director signs all

legally required transactions

without the true owner having

to appear.

Mossack Fonseca helps to

set up a mailbox company

and, if desired, appoints a

dummy director.

Global Goals Yearbook 2019

65
---
DISTRIBUTION

OF PROSPERITY

Whose

Prosperity

Are We

Talking

About?

The retreat into the national sphere is in

vogue – especially in the industrialized

countries. The election results

between Washington and Brasilia,

between London and Budapest reflect

citizens' concerns about the negative

consequences of globalization. However,

an international globalization report

shows that the winners of globalization

are often right where the criticism

of globalization is loudest: in the

industrialized countries.

66 Global Goals Yearbook 2019
---
Global Goals Yearbook 2019

67
---
CUMULATED INCOME GAIN PER INHABITANT SINCE

1990 IN PERCENT

1 China 518

2 Hungary 356

3 South Korea 352

4 Chile 327

5 Poland 290

6 Slovenia 290

7 Romania 268

8 Estonia 263

9 Bulgaria 258

10 Portugal 239

11 Greece 232

12 ... Ireland 231

21 ... Germany 148

38 Great Britain 63

39 Mexico 56

40 Argentina 51

41 USA 39

42 Norway 23

Source: Bertelsmann Stiftung

People in the industrialized countries

benefit the most from increasing globalization.

This is the key finding of the

Bertelsmann Stiftung's Globalization

Report 2018. The report calculates the

degree of international interconnectedness

and the resulting increases in real

gross domestic product (GDP) per capita

for 42 industrialized and emerging countries.

"The report shows: Globalization

can clearly create welfare gains," says

Aart De Geus, Chairman and CEO of the

Bertelsmann Stiftung. "Protectionism

is not the right way forward. However,

globalization must be shaped in such a

way so the focus is on the people. This

is the only way we can live up to our

promise of success."

Switzerland profits most from globalization,

India comes in last

During the period under study, real GDP

per capita grew by an average of around

one trillion euros per year as a result of

increasing globalization across all 42

countries surveyed. This corresponds

roughly to the economic output of a

medium-sized economy such as Mexico

or South Korea. In all countries surveyed,

real GDP per capita growth is positive.

However, the amounts differ significantly

from country to country.

The Swiss benefit the most. In Switzerland,

the GDP per capita resulting from

increasing globalization grew on average

by €1,910 per year between 1990 and

2016. In India – the last-ranked with

respect to globalization-related welfare

gains – this figure rose by an average of

only €20 per year. China also recorded

below-average gains (€80 per year).

The main reason for these low growth

rates in the emerging countries is the

low starting level of GDP per capita when

the measurements were taken. Emerging

countries such as China and India were

only in the early stages of a dramatic

growth curve in 1990, and thus they

performed worse overall in terms of

absolute gains than industrialized countries,

which were already more globally

interconnected at that time.

Better distribution of globalization

gains is needed

From the Bertelsmann Stiftung's perspective,

one of the biggest issues of

globalization is the unequal distribution

of globalization gains between industrialized

and emerging countries, but also

within states. Since the industrialized

countries have had higher economic

performance levels per capita for a long

time, absolute globalization gains are

also significantly higher, and therefore

difficult for the emerging countries to

catch up with. Dr. Cora Jungbluth, economic

expert at the Bertelsmann Stiftung,

sees a revival of the WTO trade rounds as

a possible solution: "We must promote

an international economic order that

does not promote the right of the strongest,

but sets common binding rules and

standards," says Jungbluth. "Only in this

way can globalization profits be distributed

as widely as possible." According to

68 Global Goals Yearbook 2019
---
DISTRIBUTION OF PROSPERITY

"

Any sustainable prosperity agenda would

go well beyond CSR or the greening of

supply chains, and make it the 'new

normal' to act on the pressing challenges

of the day. This includes such things as

food security, fuel poverty, and climate

change. The SDGs can act as the growth

strategy and innovation space for the

businesses of today and tomorrow.

Henrietta L. Moore,

Director of the Institute for Global Prosperity

the Bertelsmann Stiftung, this includes

market openings in emerging countries

as well as the reduction of subsidies in

industrialized countries.

In the industrialized countries, Bertelsmann

Stiftung experts also see the need

to ensure that the obvious and tangible

benefits of globalization are distributed

in such a way that all citizens participate.

"We can see from the data that

globalization is bringing us significant

welfare gains," says Jungbluth. This is

why awareness must be strengthened

in the industrialized countries that integration

with the global economy – as

long as it is based on internationally

recognized rules and standards – brings

material benefits.

Going beyond GDP

ABSOLUTE INCOME GAINS PER INHABITANT (%)

BETWEEN 1960 AND 2016 (IN EUROS)

Rank Country Average p.a. Accumulated Profit

1 Switzerland 1913 49,730

2 Japan 1502 39,046

3 Finland 1410 36,664

4 Ireland 1261 32,794

5 Israel 1157 30,080

6 Germany 1151 29,922

7 Denmark 1150 29,904

8 Netherlands 1080 28,072

9 Slovenia 953 24,768

10 South Korea 908 23,598

11 Austria 904 23,491

12 ... Greece 894 23,254

38 Mexico 122 3175

39 Russia 116 3004

40 Argentina 110 2862

41 China 79 2049

42 India 22 567

Source: Bertelsmann Stiftung

"What we measure affects what we do. If

you measure the wrong thing, you will

do the wrong thing. If you don't measure

something, it becomes neglected,

as if the problem did not exist," says

Nobel Prize winner Joseph Stiglitz in

a recent OECD presentation. For years,

economists have been searching for a

new definition of well-being beyond

GDP. Henrietta L. Moore, Director of the

Institute for Global Prosperity, brings the

fragile interdependency between profit

and purpose to the point: "A prosperous

society is not necessarily a society that is

wealthy – although a strong economy

is an essential part of it. Instead, it is

a society that is inclusive, sustainable,

and capable of offering its residents

the ability to have a fulfilling life. This

has sparked an interest in new types of

conversations about the most efficient

ways in which economic resources can

translate into well-being for both people

and the environment." She adds: "This is

not just a matter of ceasing to externalize

the costs of pollution and deterioration,

but recognizing that the planet's assets

are common assets and must be protected,

maintained and regenerated."

Global Goals Yearbook 2019

69
---
When your music is global,

so too is the influence you

exert, and while some artists

have hastily sought out the

protection of publicists,

agents, and blacked-out

limousine windows, Coldplay

frontman Chris Martin has

chosen to pursue a rather

more visible, audible route

toward cultural change.

By Danny Bowman

70 Global Goals Yearbook 2019
---
DISTRIBUTION OF PROSPERITY

Chris Martin's willingness to

speak out is well-known. As

much as it has served him as a

respected statesman of political

pop, by his own admission there have

been occasions when he has found himself

banished to the Bono or Bob Geldof

corner of global philanthropy. "It's not

a place I've ever sought out," he laughs.

In truth, it is an unfair slant for an artist

whose lyrical prowess is simply a reflection

of a genuine plea to see us move

somewhere closer toward global equality.

He credits the birth of his daughter

Apple – with filmstar former wife

Gwyneth Paltrow – in 2004 as being

the point at which things changed.

"Things really began to gather pace," he

explains. "It's not as though global ills

weren't in my mind before then, but

I think when you have children, your

perception of pretty much everything

intensifies. I also began to appreciate

the fact that on stage, in interviews, and

through lyrics, musicians have perhaps

a greater ability to influence and to get

people thinking about things than almost

anyone else. If you can get the right

melody with the right message," he continues,

"you've got an ethical, everlasting

message that will stay in someone's

head for a long time, and to not use that

opportunity would be wrong."

Martin's first major foray into philanthropy

came in 2002, when he accompanied

Emily Eavis – co-organizer of the

legendary annual Glastonbury Festival

– to the Dominican Republic and Haiti

to be shown where money donated by

the festival to Oxfam had been invested.

It was also a trip that opened up the

singer's broader understanding of the

power and importance of the fair trade

concept, something he would go on to

explore further in future overseas trips,

not least three years later in Ghana –

again with Oxfam – as part of the Make

Trade Fair project.

From the moment the touring party

left the parking lot at the Dominican

Republic's main Punta Cana Airport, the

realization quickly dawned that Western

minds were not solving the crisis, they

were exacerbating it.

"The first thing was the tough working

and living conditions people were having

to endure," he says, "and at the heart

of these were the grossly unfair trade

rules. In cloud cuckoo land where we

live, I don't think we appreciate what

those people have to go through just to

survive every day. The difference in real

money that ends up in people's pockets

when countries such as the Dominican

Republic and Haiti sell their product to

a fair trade company – as opposed to

when they sell it to a 'fat-boy' company

like Nestlé – is profound," says Martin.

"To us, as consumers, it's about 20 pence

per jar, yet to the grower, it can be up to

$90 per hundred-weight of coffee. That's

a week's worth of food."

In Haiti, things were slightly better, with

cooperatives already using nurseries to

cultivate the best crops, then handing

them out to each farmer who had signed

up for the scheme.

"We met a farmer – he told us that when

he sells his coffee to a fair trade company,

he gets paid almost three times as much.

Trade justice, put simply, is a matter of

life and death, but it's also about human

dignity and equality."

The musician also admits to being

shocked at the quantity of unwanted

Western goods that were being "dumped"

on the island. >>

Global Goals Yearbook 2019

71
---
We met a farmer – he told us that

when he sells his coffee to a fair trade

company, he gets paid almost three times

as much. Trade justice, put simply, is

a matter of life and death, but it's also

about human dignity and equality.

Chris Martin

"From the outside you'd see this as a good

example of how produce wasn't being

wasted – here we were, the so-called

developed world, passing on massive

bulkloads of items, and this is all being

encouraged by the governments on the

island. And yet, on closer inspection, this

wasn't a good thing at all. When these

products land, they help people in the

short-term, but very quickly obliterate

the ability of producers on the island

to sell their own cultivated goods. And

the knock-on effect from that is to stifle

consumer spending going into other

areas, so the whole thing retracts."

While Chris Martin's experiences take

him back as far as 15 years, the painful

reality of Haiti and the Dominican

Republic – just as in so many other

Third World or remote nations – is

that this practice continues today. Indeed,

the 2010 earthquake on the island

obliterated some advances that

had been made. The premise – at its

lowest marketed denominator "to feed

starving children" – will always appear

admirable, but whether the crop is rice,

peanuts, or anything else, it traps people

in hand-to-mouth poverty and starts a

chain of dependency that is pernicious

in its process.

"It was such a shift in the whole concept

for me," continues the Coldplay frontman.

"It was strange to think that something

we regarded as so virtuous and honest

could actually be doing harm."

In Ghana, his criticisms were again

aimed at the higher powers, with the

national government seemingly happy

to import from the likes of Thailand

and America, to the detriment of its

own producers.

"It was extraordinary to see a country

that was trying to let its rice farmers

do well, yet its actions were doing the

opposite as it continued to import stuff

really cheaply."

In March 2019, Ghana's Akufo-Addo

administration did, in fact, launch a new

initiative to end the estimated $1 billion

annual importation of rice by the year

2025. Certainly, the nation's vast fertile

lands and excellent human resources

give it the potential of becoming a major

rice producer, but many agricultural

commentators have suggested the target

is overly ambitious.

"For balance, there are some places where

things are working," he continues. "It

was so exciting to see this stuff in action

because the donations from the UK to

Oxfam, as well as the other charities, do

have an effect; but we will always want

more to happen, and faster."

Chris has enlarged his philanthropic

reach to take in a vast number of other

projects. A fundraiser for Hurricane

Sandy saw a London concert in 2012,

and two years later he was part of the

Band Aid 30 collective that sought to

raise funds and awareness in light of

the Ebola crisis.

In 2015, he became Creative Director of

the Global Citizen Festival, developed

72 Global Goals Yearbook 2019
---
DISTRIBUTION OF PROSPERITY

to mark the establishment of the United Nations Sustainable

Development Goals.

"There is a 17-task checklist that's designed to end extreme global

poverty by the year 2030," he says. "That sounds ambitious,

but we would rather miss that deadline by pushing ourselves

than coast toward and end-goal and feel we can take our foot

off the gas because the deadline is far, far away. Where global

poverty is concerned, the quicker you get to your goals, the

more lives you save – it's as simple as that."

His band, Coldplay, also donates 10

percent of its annual earnings to 28

different charities, including Amnesty

International, the Red Cross, War Child

and, of course, Make Trade Fair. "It's

something that has become very natural

to us, and I'm glad we can keep flying

that flag," says the lead singer. "Really,

compared to what they need to make a

real difference, it's a drop in the ocean,

but it is our drop, and that's what makes

it special."

What you have to admire about Chris

Martin is his ability to stay relevant.

People listen to him, just as they listen

to his music, because there is spirited

reinvention, not to mention a precision

over the message at every turn. Coldplay

has harnessed, tweaked, and refined its

sound with every new album; so, too, does its frontman appreciate

the need for us to talk about global issues in a way

that makes the subject feel as though it is an evolving and

ongoing quest.

"I think the connection is there," he insists. "Obviously social

media helps a lot when it comes to getting the right message

across – that's certainly something we never had before; it

was down to Attenborough or evening news bulletins. Do I

worry that the messages aren't getting through while other,

less important ones are? Perhaps, but I think that's the nature

of the beast. We can't be on this stuff 24/7 – people will just

turn off it and everything will become diluted. So while I don't

think we can ever let up on the awareness, the trick is almost

certainly to keep the message fresh so that people continue to

listen," he explains, before concluding: "The more of us that

do, the more action can be taken. This is true people power,

and it's global."

Global Goals Yearbook 2019

73
---
Basic Welfare

State Models

Today, the welfare state

represents a common

structural element of all

democracies. However, these

welfare states are still very

young. The following overview

outlines the origins of

state-run social policy.

By Frank Oschmiansky and Jürgen Kühl

Comparisons between countries at the

nation-state level play an important role

in comparative welfare state research. The

individual welfare states differ, among

other things, in terms of benefit density,

eligibility requirements, and the manner

in which social benefits are financed and

provided. In the past, welfare states were

divided into the Bismarck and Beveridge

types. Since the 1990s, a categorization

into three types has been established:

liberal models, conservative models, and

social democratic models. The following

will illustrate the thinking behind this

categorization and which countries are

assigned to which model.

The evolution of the modern welfare

state began some 125 years ago with

the development of state social security

systems in Western Europe. The public

health, accident, and retirement insurance

schemes created in the German

Empire under Chancellor Otto von Bismarck

were the first of their kind in the

world, making Germany a global pioneer

in the field of social policy. A shrewd

political maneuver, this new policy was

intended to deprive the newly emerging

social and revolutionary movements

of their ideological foundations. Many

European countries followed this example,

with the first being the neighboring

countries. Japan, the United States, and

Switzerland constituted "late bloomers"

in this respect. Most European countries

passed national laws on unemployment

insurance during the first 20 years of the

20th century. France was the first country

to introduce this type of insurance system

in 1905. In this case, Germany was rather

late to the game.

74 Global Goals Yearbook 2019
---
DISTRIBUTION OF PROSPERITY

INTRODUCTION OF SOCIAL SECURITY SCHEMES

Accident

insurance

Health

insurance

Retirement

insurance

Unemployment

insurance

Germany 1884 1883 1889 1927

Denmark 1898 1892 1891 1907

Belgium 1903 1894 1900 1920

Austria 1887 1888 1907 1920

United Kingdom 1897 1911 1908 1911

France 1898 1928 1910 1905

Sweden 1901 1891 1913 1934

Netherlands 1901 1931 1919 1916

Italy 1898 1943 1919 1919

Japan 1911 1927 1941 1947

United States 1930 1965 1935 1935

Switzerland 1918 1911 1946 1982

Source: OECD

Insured person

Financing

Cash benefits

Non-cash benefits

Administration

Insurance model

(Bismarck model)

Group of insured employees

(gainfully employed)

Contributions according to

wages / salaries

Calculation on the basis of lost

wages / salaries

Insurance-related non-cash

benefits or reimbursement of

expenses

Partially private, frequently on

equal terms (employee and

employer)

Welfare model

(Beveridge model)

Entire population

Taxes

Uniform lump-sum benefits

Free

Public

Transfer intensity Low High

Source: Schmid, Alfons (2002): p. 89

Basic models of comparative welfare

state research

In order to better highlight similarities

and differences between different

types of welfare states, the individual

states were assigned to different groups.

These groups or types of welfare states

affiliate countries whose social policies

are similarly structured. Of course, no

state actually fits entirely into one of

these categories, as most states have

hybrid systems.

Older comparative welfare research

usually distinguished between two systems

– the Bismarck and the Beveridge

systems. The Bismarck type is based on

contribution-financed social insurance,

which is usually wage-related and linked

to gainful employment, whereas the

Beveridge type is based on a tax-financed

minimum benefit system for all citizens.

By the end of the 19th century in Germany,

Bismarck had created a social

system that was essentially financed

through contributions from employees

and their employers and whose benefits

depended on how many contributions

were paid and how high these contributions

were. Next to Germany, France and

Italy represent the other major European

countries with this specific performanceoriented

type of social system.

On the other hand, William Beveridge,

who presented his report on the reform

of the social security system to the British

Parliament as head of a commission of

experts in November 1942, placed much

more emphasis on a basic provision for

all, which was to be supplemented by

personal contributions. Financing should

therefore logically stem from community

funds, meaning tax revenue. Next to

the United Kingdom, the Scandinavian

countries represent the other major

European countries with this specific

needs-oriented type of social system. >>

Global Goals Yearbook 2019

75
---
It was by no means a given that the

Bismarck model would reassert itself in

the newly founded Federal Republic of

Germany following World War II. During

the Allied occupation (1945–1949), the

traditional German social security system

was on the verge of a major disruption.

Allied plans for the German social system

were based more on the Beveridge

model and provided for an extension

of the insurance coverage to almost the

entire population.

These proposals were supported by trade

unions, social democrats and communists.

In the end, however, the Allies

abandoned their plans and left the decision

up to the first German Bundestag.

The governing coalition of the CDU /

CSU, FDP, and DP (Deutsche Partei [German

Party]) parties were united in their

determination to restore the foundations

of the traditional German social security

system.

The most well-known and commonly

used distinction today was put forward

by the Danish sociologist Gøsta Esping-

Andersen. It distinguishes between three

types of welfare states: liberal, conservative,

and social democratic. The categorization

is based on the underlying logic

of the relationship between the state and

the market in the provision of social services,

the mode and quality of services,

and the impact of social policy on social

stratification and the social distribution

of power.

The conservative (or continental European)

welfare states are therefore shaped

by Bismarck's social security model, with

the focus on insurance benefits. The

strong link between paid labor and social

benefits often leads to the exclusion of

women who are not gainfully employed.

The redistributive effect of social benefits

is low for this type. Examples of this type

are countries such as Germany, France,

and Austria.

76 Global Goals Yearbook 2019
---
DISTRIBUTION OF PROSPERITY

Social democratic (or Scandinavian) welfare

states are characterized by universal

services. The aim is to achieve equality

at a high level, with social civil rights

forming the foundation of the welfare

system. The benefits are mainly financed

through taxes, with the tax rates being

relatively high. This category features the

strongest form of liberation from market

constraints (decommodification). Examples

of this type are the Scandinavian

countries: Sweden, Norway, Denmark,

and Finland.

The liberal (or Anglo-Saxon) welfare state

model places its emphasis on the role

of the free market and the family. It is

mainly tax-financed, transfer benefits

are generally means-tested, eligibility

requirements are strict, and the benefits

low. Examples of this type are Canada,

the United States, the United Kingdom,

Australia, and Switzerland.

Recent research has tended to extend

the Esping-Andersen typology by adding

two further types: first, rudimentary

(or Mediterranean) welfare regimes

characterized by a dominance of the

agricultural sector, where the welfare

state and the level of decommodification

are minimal (examples are Italy

and Portugal); second, the post-socialist

welfare states that dominate the transformational

political systems of Eastern

Europe. It is not yet possible to allocate

these to specific types in this case due

to the gradual nature of the change in

the welfare state that has taken place

thus far, and the combination of old

and new elements.

TYPES OF WELFARE STATE

Liberal welfare state

Conservativecorporatist

welfare

state

Social democratic

welfare state

• Encourages private welfare

• Limited social benefits for

low-wage groups

• Strict eligibility requirements

• Preservation of status and group differences

• Preservation of traditional family structures

• Subordinated role of business and private benefits

• Universal benefits

• "An equality of the highest standards, not an equality of

minimal needs"

• Identical rights for blue-collar workers, salaried

employees, and civil servants

Source: Bolkovac, Martin (2007): Sozialpolitik im internationalen Vergleich

[An international comparison of social policy]

TYPES AND DIMENSIONS OF MODERN WELFARE STATES

Decommodification (protection

against market forces and loss of

income)

Residualism (share of welfare

benefits)

Privatization (share of private

expenditures for age and healthrelated

services)

Corporatism / statism (number of

social security systems differentiated

according to occupational

groups)

Liberal

Minimal

Conservative

High

(for clients)

Social

democratic

Maximum

Strong Strong Weak

High Low Low

Weak Strong Weak

This text is published under the Creative

Commons license: by-nc-nd/2.0

Redistributive capacity (progressivity

of the tax system, equality of

benefits)

Weak Weak Strong

Guarantee of full employment

(unemployment rate, expenditures

on active labor market policies)

Weak Weak Strong

Source: Esping-Andersen (1990)

Global Goals Yearbook 2019

77
---
The Rise and Fall

of Prosperity Around

the Globe

78 Global Goals Yearbook 2019
---
DISTRIBUTION OF PROSPERITY

By Faiq Lodhi

What is it that connects

Bangladesh, Zimbabwe, and

Paraguay? Is it their shared

history, culture, or geography?

Surely not – these countries

inhabit three separate

continents and have little

in common. However, one

aspect that is prominent

in all three nations is their

resilience to prosper and make

lives better for the people

that inhabit them. All three

of these countries showed

marked improvements in nine

key factors that constitute a

prosperous country. This is the

result of the assessment of

149 countries in the Prosperity

Index 2018, published by the

Legatum Institute.

Before delving into the findings of this

index, it is important to understand what

prosperity stands for in a nation-based

context as well as a development concept.

Experts define "prosperity" as a condition

or situation in which individuals

from a country have better chances of

flourishing or thriving – individually

and as a community.

Previously, this idea was heavily dependent

upon the financial strength of a

nation. However, it was soon realized

that wealth was not the only marker

for prosperity, as people from wealthier

nations were still prone to be dissatisfied

with their living conditions. According

to the Prosperity Index, India and

China are significant cases in point. Both

countries have managed to perform well

financially, yet their citizens are dissatisfied

and do not rank high in social wellbeing.

This is largely because while they

have prospered in terms of per capita

income, they have yet to ensure proper

governance and strong institutions that

guarantee an individual's dignity and

right to personal freedom.

The Legatum Prosperity Index 2018

Inspired from this idea, the Legatum

Institute devised a nine-pillar index to

gauge prosperity. This index helps to

quantify abstract notions of satisfaction

and success, and it provides a useful

marker for leaders and policymakers

who wish to improve the lives of their

people and nations.

"The Legatum Prosperity Index is a tool

for leaders around the world to help set

their agendas for growth and development.

Prosperity entails much more

than wealth – it is about creating the

environment where a person can reach

their full potential," claims Baroness

Philippa Stroud, CEO of the Legatum

Institute.

The index uses a mix of pillars that dictate

economic growth as well as social

well-being. These include Economic

Quality, Business Environment, Governance,

Personal Freedom, Social Capital,

Safety and Security, Education, Health,

and Natural Environment. These pillars

help in understanding that prosperous

countries not only achieve high GDPs,

they are also able to constitute societies

that are inclusive to all demographics,

and they empower their people to make

better choices that help them reach their

full potential.

Can it be assumed that such a model

would be able to realize the localized

nuances that dictate conditions in different

countries around the world?

"The purpose of the Prosperity Index is not

only to provide a ranking of countries,

but also to help shape an agenda for

development," says Stephen Brien, Director

of Policy at the Legatum Institute.

While commenting on the distribution of

prosperity, he states that "each country

is unique not only in their history of

development, and culture, but also in

terms of the areas that most require attention.

So, how prosperity is achieved

is a country-specific challenge."

It is also highlighted that prosperity is

now inherent of sustainability, where

"having more" is focused upon rather

than "getting more." "Our concept of

prosperity is inherently sustainable –

through our Natural Environment Pillar,

we measure the extent to which the

physical environment is preserved for

future generations; and through capturing

Education, we also assess the sustainability

of human capital," Brien explains.

The index also highlights individual

virtue as a key factor in ensuring the

sustainable and equitable distribution of

prosperity. This is further illustrated >>

Global Goals Yearbook 2019

79
---
THE LEGATUM PROSPERITY ENGINE

Flourishing and Prosperous Society

ECONOMIC

PROSPERITY

SOCIAL

WELL-BEING

ECONOMIC DRIVERS

Financial Capital Enables

The Pursuit of Virtue

Social Capital Drivers

SOCIAL DRIVERS

Source: Legatum Prosperity Index 2018 – Methodology Report

in the Legatum Institute's Methodology

Report for this index: "When the

economy and society operate within a

virtuous, high-trust, service-oriented,

moral framework, then resources flow

efficiently to the most productive people

and places, for the benefit of the many."

By providing a ranking of the countries

and analyzing how they perform on various

pillars, the index wishes to provide a

recommendation on what can or cannot

work for countries, depending on their

individualized characteristics. "We are

increasingly ambitious about engaging

directly with more of the leaders, policymakers,

businesses, and advisers of the

countries we research, to help identify

the pathways to prosperity," says Stroud.

"But if a country is a strong performer

in some pillars and a weaker performer

in others, our recommendation would

be to diagnose the areas of weakness,

identify which aspects are the most binding

constraints, and look to the success

of peers to suggest pathways to adopt,"

adds Brien.

Key findings of the Prosperity

Index 2018

According to one key finding, 2018 saw

global prosperity at its highest level in

the 12-year history of the index. It is

claimed that more people are living prosperous

lives than ever before. Globally,

around 113 countries were able to rise

in the index, in comparison to the year

earlier. This growth translates to roughly

six billion people enjoying better prosperity,

around the globe, particularly since

citizens in the major rising countries

shared a higher level of well-being as

compared to 10 years ago.

Moreover, although Norway managed to

maintain its spot as the most prosperous

country on the index for a second year in

a row, in terms of regional prosperity, it

was the Asia-Pacific region that became

the fastest-growing section, with Nepal,

Indonesia, and India being key players.

Nonetheless, although prosperity has

been on the rise this year, the gap between

countries that are prospering fast

and those that are not has grown wider

than before. According to the index,

the gap between the top and bottom

countries is now 10 percent wider than

in 2013. The difference was also significant

because whereas the 20 top

rising countries had steady growth, the

20 lowest countries fell sharply. There

were three major pillars that showed

considerable influence on the prosperity

of the regions examined.

80 Global Goals Yearbook 2019
---
ECONOMIC DRIVERS

DISTRIBUTION OF PROSPERITY

MAPPING PROSPERITY IN 2018

RANK

1 ST – 25 TH

26 TH – 50 TH

51 ST – 75 TH

76 TH – 100 TH

101 ST – 125 TH

126 TH – 149 TH

Source: The Legatum Prosperity Index TM 2018

➊ Safety and Security

One pillar behind the dichotomy of this

gap, according to the Legatum Institute

team, was Safety and Security. "Among

the 20 countries that rose the most

this year, Safety and Security was their

strongest pillar and, conversely, in the 20

countries that fell the most, (this pillar)

declined significantly. A nation succeeds

when its leaders set and protect national

priorities and work with external parties

to support and align with a domestic

agenda," says Brien.

These claims are backed by the Prosperity

Index as well. Out of the 20 countries

that performed most poorly in the index,

12 of them were in the Middle East and

North Africa (MENA) region. Simultaneously,

they also ranked poorly in Safety

and Security, since most of the present

countries have been stricken by terrorism,

military interventions, corruption,

dictatorships, and the mismanagement

of resources. All these factors contribute

to greater insecurity of citizens who have

to live their lives every day in fear and

anxiety. It is no wonder, therefore, that

insecurity is the biggest threat to global

prosperity currently, and it continues to

cause issues with other pillars as well.

➋ Governance

A lack of safety and security can also

be due to inept or corrupt governance,

which is also a pillar where many countries

from MENA and Africa have performed

poorly. Bad governance has also

rendered these countries incapable of

standing their ground in the face of

adversity, whether man-made or natural.

Citizens in most of these countries

have reported their incapacity to meet

basic needs such as attaining food or

shelter, which is curious, since globally,

malnutrition and absolute poverty >>

Global Goals Yearbook 2019

81
---
5 FACTS ABOUT THE INEQUALITY GAP

100%

1 2

BOOMTIME FOR THE WORLD'S BILLIONAIRES

The wealth of the world's billionaires

increased $900 billion in the last year,

which is $2.5 billion a day.

WEALTH UNDERTAXED

Only 4 cents of every dollar in tax

revenue comes from taxes on

wealth.

1%

Last year 26 people owned the same as the

3.8 billion people who make up the poorest

half of humanity.

In some countries, the poorest 10

percent are paying a higher proportion

of their incomes in tax than the

richest 10 percent.

80%

3 4

UNDERFUNDED PUBLIC SERVICES

Today 262 million children will

not be allowed to go to school.

DENIED A LONGER LIFE

Every day 10,000 people die

because they lack access to

affordable healthcare.

50%

60%

In Kenya, a poor girl has a 1 in 250

chance of continuing her studies

beyond secondary school.

Life expectancy in the richest

parts of São Paulo, Brazil, is 79

years. In the poorest areas of the

city, it is 54 years.

40%

5INEQUALITY IS SEXIST

The unpaid care work done by women is estimated

to be $10 trillion, which is 43 times the annual

turnover of Apple Inc.

Men own 50 percent more of the world's wealth

than women and control more than 86 percent of

corporations.

Share of

total wealth 20%

Share of the richest 1 percent of the world's population in total wealth

Share of each tenth of the world's population in total wealth

Poorest tenth

Richest tenth

Source: Oxfam 2019, Report on Wealth Inequality

82 Global Goals Yearbook 2019
---
DISTRIBUTION OF PROSPERITY

have gone down. This highlights the

importance of an equitable distribution

of prosperity, which is heavily dependent

on individual virtue (a quality often

lacking in the institutions that govern

the people of these countries).

The impact of bad governance is no

longer confined to the borders of the

regions in question. These countries are

also becoming major sources of individuals

fleeing and finding refuge elsewhere,

thus contributing to the global ratio of

forced migration and refugee crises. Syria,

Jordan, and Lebanon are prime examples

of this – where war-torn Syrians are

crossing borders and fleeing to Jordan

and Lebanon, both of which are struggling

to maintain their own prosperity

as well as catering to the needs of the

refugees.

➌ Business Environment

This is the only pillar that increased

in all regions, in various capacities. It

seems that every country is focused

on increasing its accessibility to business

and becoming business-friendly. A

productive business environment has

the potential to nurture a country's

economy, provide financial security

to its citizens, and empower them to

make better life choices. Therefore, this

pillar works as a combination of both

financial strengths as well as social wellbeing

– the two aspects that constitute

prosperity.

Countries such as Djibouti, Laos, and

Malawi have been able to rise in the

index largely because they were able to

do the following: make their policies

more amenable to young entrepreneurs

who wanted to start their own businesses;

provide utilities, transport facilities, and

other financial resources to harness a

business infrastructure; and ensure that

businesses were able to attain credit at

accessible rates.

Way forward to prosperity?

Drawing upon the factors that contributed

to the growth or fall of countries

in the nine selected pillars, the index

highlights that ensuring safety and security,

through responsible and honest

leadership, is the best way for countries

to attain prosperity within their respective

regions. Good leadership would not

only ensure safety and security by discouraging

corrupt practices and tackling

violence sensibly, it would also provide

enabling environments for business,

personal freedom, and social well-being

so that individuals can live their lives

with greater stability.

The Legatum Institute team summarizes

it as follows in their report: "Prosperity

is dependent on good leadership to

identify and pursue domestic priorities,

mobilizing support for a clear agenda

for development. First, by providing

safety and security, […] second, by nurturing

their economies and ensuring that

domestic savings can be the dominant

source of funding for investment […]

[and] third, by commercializing their

economies and integrating them into

global supply chains."

The report is an effective tool for leaders

and policymakers to assess where

they stand – both nationally as well

as within their region – and draw up

the achievements of their peers to gain

prosperity for themselves. "We have also

engaged with policymakers and members

of the diplomatic communities across the

world," adds Brien while discussing the

future impact of the index, "especially,

Africa, Central America, and Eastern

Europe. Much of the feedback has been

around the practical elements of how to

use the index to help set an agenda. We

will be developing more of a 'user guide'

going forward."

For further details and in-depth information,

the Legatum Prosperity Index report

can be accessed here: www.prosperity.com/

about/resources

Global Goals Yearbook 2019

83
---
GOOD PRACTICE SECTION 1: LIST OF ATTENDEES (FROM A - J)

Companies are listed in alphabetic order

Arab African International Bank

Audi

BASF

Bayer

Beaulieu International Group

Bergen Plastics

Bosch

Cargolux

Casinos Austria and Austrian Lotteries Group

CEMEX

Deloitte

Deutsche Telekom

EDF Group

Elsewedy Electric / Iskraemeco

Green Delta Insurance

ING

iPoint-systems

Solely responsible for the editorial contributions under the

heading "Good Practice" are the companies themselves.

Named articles do not reflect the opinions of the publisher.

KYOCERA

MAN

Manila Doctors Hospital

Mazars

MediaMarktSaturn

Merck

METRO

Moelven

Nomura

Olam International

Pernod Ricard

Philia Earth

Philip Morris International

PUMA

Sakhalin Energy

Symrise

The University of Manchester

86

88

90

92

Arab African International Bank

Audi

BASF

Bayer

84

Global Goals Yearbook 2019
---
GOOD PRACTICE

94

Beaulieu International Group

96

Bergen Plastics

98

Bosch

100

Cargolux

102

Casinos Austria and Austrian Lotteries Group

104

CEMEX

106

Deloitte

108

Deutsche Telekom

110

EDF Group

112

Elsewedy Electric / Iskraemeco

116

Green Delta Insurance

118

ING

120

iPoint-systems

Global Goals Yearbook 2019 85
---
EMPOWERMENT: THE KEY TO

SUSTAINABLE GROWTH

Throughout the years, the Arab African International Bank (AAIB) has been contributing to the

community while fostering the economy through empowering young generations. As the ones

who are capable of passing the torch to future generations, youth can be a compelling force for

development. However, they need to be empowered with the resources and capacity to do so.

Since banks constitute one of the primary pillars of any economy, they are ideal agents to play a

pivotal role in youth empowerment as well as economic and social development.

By Dalia Noureldin, AAIB

By 2030, the target date for the 17 Sustainable

Development Goals (SDGs), the

youth population is projected to reach

nearly 1.3 billion. This demographic

transition calls for different approaches

for managing resources and doing business.

The financial sector has been at

the forefront of empowerment through

pioneering efforts such as financial inclusion

and education as well as financing

SMEs and microenterprises. Financial

inclusion is positioned prominently as

an enabler of major developmental goals

in the SDGs, including Goals 1, 2, 3, 4, 5,

8, 9, 10, and 17. As such, it constitutes a

catalyst for economic and social development.

In addition to integrating individuals

into the formal financial system, it

broadly fosters entrepreneurial activity,

since starting and growing a business

is virtually impossible without access

to financial services.

In the context of our efforts to empower

youth for inclusive economic growth, we

focused on two major gaps. On the one

hand, many individuals have the knowledge,

talent, entrepreneurial capacity,

and creativity but lack access to finance.

On the other hand, some individuals

have the financial resources but lack the

business skills, which remains a major

hindrance. Removing these barriers is

bound to unlock growth in entrepreneurial

enterprises, which – from a

purely economic development perspective

– creates new jobs. As part of efforts

to fill this gap, and to demonstrate how

empowerment contributes to socioeconomic

development, AAIB has paved

the way through four main impactful

tracks. These include providing financial

access to vulnerable groups; conducting

financial education programs, even for

young age groups; empowering entrepreneurs

through financing SMEs and

microenterprises; as well as providing

technical support through incubation.

FINANCIAL INCLUSION

Microfinance "Sandah"

In 2018, AAIB inaugurated a new microfinance

company named Sandah in

collaboration with the SANAD Fund for

MSME to allow for the financing of microenterprises,

small and medium-sized

enterprises (SMEs) and entrepreneurs,

as well as the general lower-income

clientele. This will, in turn, contribute to

financial inclusion, reduce poverty and

unemployment, and enhance economic

well-being. Given that the future of any

nation is shaped by its youth, having

Sandah finance microenterprises and

SMEs will encourage and empower youth

to achieve their potential, contribute to

the economy, and reduce unemployment.

Developing branches for

differently-abled

AAIB has broadened the definition of financial

inclusion to include not only lowincome

groups but also any marginalized

groups within society. In this, the bank

made a commitment to provide access

and support to customers with different

abilities and started developing some of

its branches to serve the differently-abled

with specially constructed ramps for

clients with wheelchairs as well as customized

teller counters that have been

lowered to accommodate these clients.

86

Global Goals Yearbook 2019
---
FINANCIAL EDUCATION

Today's children and youth represent

the future client base for financial institutions.

In AAIB, we acknowledge that

there is a lack of financial awareness,

especially among younger generations.

Therefore, we expanded our financial

inclusion definition to include financial

education.

Banker 101

AAIB hosted students from different

stages to spend a day at our branches

to introduce them to the banking terminologies

and functions along with

simulations of these functions. They

were also provided with simple booklets

to facilitate their understanding of the

banking system.

Money Quotient Program

The Money Quotient Program (MQ) is a

series of educational videos produced

in English and Arabic to fully educate

our current and potential clients about

the banking sector and how it works,

for example types of loans, credit cards,

mutual funds, and accounts.

It was introduced on AAIB's YouTube

channel and social media platforms to

maximize its reach and viewership by

youth and entrepreneurs.

BUSINESS INCUBATION

AUC Venture Lab

Business incubators contribute to the

chances of success for startup companies

by creating a supportive environment.

Our role as a financial institution is to

continue empowering the entrepreneurs,

guide them on their career paths, and

take over the country's thriving entrepreneurial

scene. As such, in 2013, AAIB

partnered with the AUC School of Business

to establish the AUC Venture Lab,

the leading university-based incubator

in the MENA region. The V-Lab supports

early-stage startups chosen through a

selection process that judges aspects of

the project such as its novelty, scalability,

and commercialization potential. It also

considers the dedication of the team and

focuses on empowering and facilitating

inventors and committed entrepreneurs

to help them reach their goals.

CodeGeist Hackathon

Since youth constitute the largest segment

of the population, and given their

ambition, talent, and energy, we believe

that empowering youth contributes to

resolving rising socioeconomic issues,

including poverty, unemployment, and

income inequality. As such, and based

on our commitment to continually empower

young generations and to utilize

the latest FinTech, AAIB sponsored the

CodeGeist Hackathon in 2018. The hackathon

was attended by 200 undergrad

students aged between 16 and 20 years

old. Ideas generated from the hackathon

event might encourage the development

of a new business or help an existing

business to grow or diversify their activities

and creates job opportunities.

We are proud of our progress with the

majority of the SDGs and will continue

to achieve more in the years leading up

to 2030. This can be achieved by empowering

innovators and entrepreneurs

who have a great potential to achieve

the SDGs by creating job opportunities

and supporting economic and social

development.

AUC V-LAB IN

NUMBERS:

• 128 STARTUPS ACCELERATED

• 550+ JOBS CREATED

• 1,700+ MENTORING & TRAINING

HOURS

• 48% OF STARTUPS RECEIVED

INVESTMENTS

• 891 MILLION EGP INVESTMENT

• 216 MILLION EGP REVENUES

• 80% STARTUP SURVIVAL RATE

Global Goals Yearbook 2019 87
---
AUDI STRENGTHENS

CIRCULAR ECONOMY IN SALES

Audi wants to reduce its environmental impact and conserve resources along the entire value

chain. With this in mind, the car manufacturer has established the principles of a closed-loop

circular economy during the development, manufacture, and marketing of its products. Audi has

reached an important milestone in its efforts with the Exchange 2.0 project. The company has

developed a sustainable remanufacturing method for mechatronic parts and transmissions for

Audi S tronic models. The focus lies with an intelligent new process that saves numerous work

steps.

By Susanne Lenz, Audi

Audi is implementing digitalization

along the entire lifecycle – from the

purchase of a new car to its use and

its sale. This also includes the spare

parts business. The company's goal is to

digitalize its work processes in order to

generate new revenue potential, increase

the sustainability of its business activities,

and reduce costs. These savings will

enable the Ingolstadt-based carmaker

to invest in future trends and offer its

customers new and unexpected digital

products and services.

By constantly focusing on the needs of

customers, digitalization is intended

to enable them to easily use premium

mobility. That includes quickly and economically

replacing spare parts.

Individual parts retain their added

value

Audi is showing how this works with the

Exchange 2.0 project. It was developed

in cooperation with the Volkswagen

plant in Kassel and optimizes existing

processes for remanufacturing transmissions:

"In the past, we had to disassemble

everything to find the fault," explains

Dominic Rattmann from Audi Product

Management Genuine Parts. Not only

is this process very time-consuming, it

also costs a lot of money. Aside from that,

at most only half of the components

were reused. The rest were replaced as

a precaution.

That has changed now. Thanks to the

new remanufacturing method, up to

88

Global Goals Yearbook 2019
---
Conservation of

up to

80%

of the individual parts in

the value chain

Reprocessing of

up to

20,000

mechatronic parts

possible

Possible reduction of

material usage by up to

80%

for gears and

mechatronic parts

80 percent of the individual parts in

the value chain are conserved. Projected

over the year, this means employees can

currently reprocess up to 4,500 transmissions

and 20,000 mechatronic parts. The

market launch for the remanufacturing

will take place during the course of 2019.

New process standard: Innovative

and sustainable

The Exchange 2.0 project was initiated

by Dominic Rattmann and is the first

joint remanufacturing concept from

both Audi Ingolstadt and the Volkswagen

Group Kassel. While the complex

S tronic transmissions are being processed

in Kassel, the Ingolstadt assemblies

remanufacturing unit handles the

mechatronic parts. That is yet another

first: Mechatronic parts have never before

been remanufactured in the Volkswagen

Group. A total of around 40 employees

from Research and Development, Genuine

Parts, Finance, Production Planning,

and Quality Assurance pushed the development

of the program forward across all

brands and developed new tools, systems,

and lines for the implementation.

The new process standard involves a

number of different steps. First, dealers

must complete a checklist if customers

lodge complaints about vehicles. The

list offers the first clues about possible

causes of defects. Employees then analyze

the data from the fault memory.

The fault codes provide information on

potential prior damage to the wheel set

or other components: "Even at this stage,

we can already search for components

that should be remanufactured," says

Johann Wendl from Quality Assurance

Powertrain. "Unlike in the past, parts no

longer have to be replaced preventively

and disposed of." As a result, the new

intelligent diagnostics saves numerous

process steps that had previously been

necessary. In addition, the new cleaning

method removes oil from the components

and provides more information.

High quality standards during

remanufacturing

Only genuine parts that have been approved

by Technical Development can be

used to remanufacture the transmissions:

"This sets us apart from our competitors,

who sometimes do not have the option

of procuring genuine parts. We have

shown how replacement parts can be

remanufactured at a premium level,"

says Michael-Andreas Spreng, Head of

Engine Remanufacturing. The transmission

is then subjected to a 100 percent

functional inspection on the test bench.

Wendl confirms: "The tests so far have

demonstrated that the remanufactured

transmissions meet the quality criteria

of new parts. This is also currently being

verified by vehicle tests and safety runs."

With use of the methods starting in the

second half of 2019, Audi will achieve the

conceptual process capability for the new

remanufacturing method for other components

as well: "As a consequence, we're

focusing on innovation leadership of our

remanufactured components." Dominic

Rattmann adds: "With the Exchange 2.0

project, we are embodying the circular

economy in Audi distribution and are also

managing to combine the strategic key

areas of sustainability and digitalization."

Circular economy: Focusing on reuse

The added environmental and economic

value of the project is indeed impressive.

The use phases of individual components

are considerably lengthened through repair

or reuse. Audi can reduce its overall

material consumption for transmissions

and mechatronic parts by up to 80 percent.

The goal is for the new process to

pay for itself after just one year. The

industrial remanufacturing of used parts

in genuine-part quality is the second approach

within the circular economy. By

adding this sustainable remanufacturing

process, Audi is expanding its various

programs in order to advance the circular

economy along the entire value chain.

Audi has already introduced successful

aluminum recycling projects.

These projects and the current Exchange

2.0 project are thus contributing directly

to the sustainability strategy at Audi.

Audi has also expressly committed itself

to the UN Sustainable Development

Goals. With the activities in the Exchange

2.0 project, the company is contributing

to Goals 9 (Industry, Innovation and

Infrastructure) and 12 (Responsible

production and consumption).

Global Goals Yearbook 2019 89
---
VALUE TO SOCIETY –

A BALANCED APPROACH TO

MEASURING BUSINESS IMPACT

Based on our purpose "We create chemistry for a sustainable future," we want to contribute

to a world that provides a prosperous future with enhanced quality of life for everyone. But is

there a way to measure this and guide management decisions in this direction? Together with

external experts, BASF has developed a method to perform the first monetary assessment of

the economic, ecological, and social impacts of its business activities along the value chain:

the "Value to Society" approach.

By Christian Heller, BASF

Our current economic system has created

tremendous wealth for many parts of

the world, but is it fit for purpose any

longer? Today, a perfect storm of disruptive

factors is challenging the stability

of our social, environmental, and economic

systems. They include increasingly

globalized and connected markets; the

power and influence of technologies such

as the Internet of Things and Artificial

Intelligence; growing inequality (particularly

regarding income and wealth);

and the many social and environmental

challenges posed by climate change.

Meeting these challenges is crucial if

business is going to maintain the trust

of society. This will require a systemic approach.

At the moment, most businesses

are still operating too much in isolation,

and companies are managed based on accounting

principles and concepts that are

increasingly outdated, as they partially

stem from the 19th century. We focus

on pure financial performance while

neglecting to account in real terms for

the impact our activities have on the

environment and society.

How can our business contribute toward

creating a more viable future with enhanced

quality of life? That is a question

we at BASF continue to ask as we assess

the challenges and opportunities in front

of us. Given that BASF is involved in the

production of so many of the products

that people around the world use every

day, we believe we can play an important

role in addressing some of the biggest

social and environmental issues our

society is facing.

To do so, we need a new way of thinking

about business performance – a holistic,

value-based perspective that offers a

better understanding of the impact

of our activities throughout

not only our operations

but also those of our suppliers

and customers.

This way of thinking

also requires a global

perspective that

assesses the impacts

and value

of our activities

in nearly every

Positive impacts

on human well-being

industry and country. Ultimately, the

method has to identify, quantify, value,

and demonstrate our economic, social,

and environmental impacts as a whole

(and their connection to one another)

rather than in isolation.

To achieve this and truly measure our

value to – and impact on – the world,

we created a new measurement framework

called Value to Society. It measures

our company performance through both

the financial and non-financial busi-

Negative impacts

on human well-being

90

Global Goals Yearbook 2019
---
BASF'S VALUE-TO-SOCIETY RESULTS 2017

Net income

Amortization

Depreciation

Taxes

Wages &

benefits

Human capital

Health & safety

Air emissions

GHGs

Land use

Waste (solid)

Water

consumption

Water emissions

Full supply chain

Indirect suppliers >

Direct suppliers

billion € -10 0 50 bn €

ness impacts in society and quantifies

this through the unit of the euro. Our

impact evaluation considers 12 different

economic, environmental, and societal

categories, including areas such as our

net income, the taxes we pay, health and

safety, greenhouse gas emissions, and

water consumption. This enables us to

value the total impacts of our business in

a common language that the entire business

can understand, and it helps us in

applying that insight to future operations

and planning. In this way, we can create

an accurate measurement of BASF's real

Own operations

-10 0 50 bn €

Customer industries

Direct customers in

industries supplied by BASF

-10 0 50 bn €

BASF'S VALUE-TO-SOCIETY RESULTS 2013–2017

Economic

contribution

Social Environmental

contribution contribution

2017

2016

2015

2014

2013

2017

2016

2015

2014

2013

2017

2016

2015

2014

2013

Full supply chain

Indirect suppliers >

Direct suppliers

Own operations

Customer industries

Direct customers in

industries supplied by BASF

billion € -20 0 50 bn € -20 0 50 bn € -20 0 50 bn €

benefits and costs so that we can build

on how our company contributes to the

well-being of global society. With Value

to Society, we follow a common purpose

outlined in frameworks such as the UN

Sustainable Development Goals.

According to our analysis, the results

show a stable distribution of economic,

social, and environmental impacts from

2013 to 2017. In each step of the value

chain, the benefits of our business activities

substantially exceed the costs to

society. Economic impacts are positive

along with taxes, wages and benefits,

and human capital. Negative impacts

are health and safety incidents as well as

impacts on the environment. We strive

to increase our positive contributions

to society and minimize the negative

effects of our business activities.

By implementing the Value to Society

method, we are able to visualize and

share with customers, partners, and

regulators both the positive and negative

impacts of our total business. This gives

us a pragmatic, efficient, auditable, and

transferable approach to sustainable

growth and provides valuable insight for

everyone we do business with or interact

with. In turn, this transparency enables

the integrated character of our actions

for more informed decision-making, and

thereby contributes to BASF's long-term

success.

While Value to Society is a game-changer

from our point of view, we understand

that there are more skeptical assessments

and requests for an unbiased and balanced

approach. We are open to discussions

about the methodology. We agree

that we need a shared and standardized

impact valuation approach in order to

create a level playing field. Therefore,

we share our approach, experiences,

and learnings with our stakeholders

and standard-setting communities. Together

with other companies, we plan

to consolidate the current approaches

and pursue the implementation of valuebased

approaches in entrepreneurial

decision-making processes. But companies

need to be rewarded for their efforts

of integrating environmental and social

responsibility in their business models.

This requires a bespoke regulatory environment

as well as capital markets allocating

resources to leading companies.

Moving from the traditional shareholder

value concept to a "system value" approach,

we truly value the impacts and

interdependencies of society and business

in a comprehensive system. This

system serves as our foundation for

shaping the future.

Global Goals Yearbook 2019 91
---
INNOVATION NEEDS

TRANSPARENCY AND TRUST

Bayer employees Nguyen Thi Ngoc Anh

and Bui Van Kip (from left) examining rice

plants with farmer Huynh Duy Chinh at

Nhon Thanh Trung village in Vietnam

We live in an era of distrust in which facts are becoming less and less important and political

debates are increasingly driven by assertions, images, and emotions. Surveys show that people's

trust in societal institutions is declining. According to the Global Trust Report 2017 of the think

tank GfK Verein, for example, only 18 percent of those surveyed in Germany have confidence in

the country's political parties, while only 30 percent trust large companies, and only 45 percent

trust the media. But when there is no trust and no certainty, what should we base our decisions

on? We cannot shape our future based on distrust.

By Kemal Malik, Bayer

Nothing stokes as much distrust as when

people have the feeling that information

is being withheld from them for

no apparent reason. At the end of 2017,

therefore, Bayer began enabling access

to safety-relevant information about its

crop-protection activities – thus assuming

a pioneering role in the industry.

Summaries of test results and assessments

are available for download at

https://cropscience-transparency.bayer.

com. Infographics and videos are designed

to help viewers better understand

and categorize information. Since February

2018, furthermore, it has been

possible to access comprehensive and

detailed safety-relevant study reports,

provided they are not intended for commercial

use. We also made available

all 107 Bayer-owned glyphosate safety

study reports that were submitted to the

European Food Safety Authority as part

of the substance authorization process

in the European Union.

A bridge to the interested public

Incidentally, Bayer has been honoring

its commitment for many years to make

information about clinical studies –

including a summary of their results –

available to the public. The data can be

accessed using the "Bayer Trial Finder"

92

Global Goals Yearbook 2019
---
at the homepage of our Pharmaceuticals

Division www.pharma.bayer.com, as

well as at www.ClinicalTrials.gov and

www.clinicaltrialsregister.eu. Researchers

and physicians can receive even more

detailed information from us upon request.

In this way, we want to address

the frequently expressed criticism that

pharmaceutical studies are only published

if their results are advantageous

for companies.

These activities show how important

transparency is to us. We want to give

experts, engaged citizens, and other interested

parties the opportunity to form

their own opinions based on scientific

information. In so doing, we are building

a bridge between the interested public

and our own scientists.

Of course, transparency has its limits.

Sensitive patient data from clinical trials

needs to remain private. Naturally, we

must also ensure that certain intellectual

property does not fall into competitors'

hands – our entire business model as

an innovative company depends on this.

We are working to find the right balance

between maximal transparency and essential

confidentiality.

Innovations are essential for our

future viability

Unfortunately, very few people know

how prudently the research and development

of medicines and cropprotection

products are undertaken

today. This prudence is also reflected

in the enormous investment of time

and money. For example, today it costs

more than €1 billion on average and

can take 12 to 15 years to develop a

new drug product.

The situation in the crop-protection

business is similar. Of the more than

100,000 test substances, only one ultimately

makes it to the market – after

between 10 and 14 years, on average,

and hundreds of registration studies that

need to be conducted before a chemical

active ingredient receives marketing

In the Athenix laboratory Laura Schouten

examines corn cobs for signs of

nematodes.

Julin Tong tests formulations of the active

ingredient acetylsalicylic acid in the USA.

authorization. The average research

and development costs here are roughly

€250 million.

Is this enormous investment justified?

At Bayer, we are convinced it is. The

fact that people today are healthier and

live longer than ever is due, above all,

to the many advances enabled by the

interplay between science and entrepreneurship

and their impact on public

health measures such as clean water and

healthy living conditions. This will be

the way of the future because there is

still much to be done.

For example, treatment options are still

unsatisfactory for many of the approximately

30,000 known diseases. Moreover,

certain diseases such as cancer and

cardiovascular disorders are becoming

increasingly common – primarily due

to increasing life expectancies. Around

a billion people living in many of the

world's poorer countries suffer from

what are known as "neglected" tropical

diseases, such as Chagas disease, dengue

fever, and river blindness.

At the same time, there are an increasing

number of people on the planet whose

nutrition must be safeguarded – the

world population is expected to rise

to nearly 10 billion by 2050. Experts

estimate that demand for agricultural

products – food, feed, and biofuel – will

rise by 50 percent by the middle of this

century. As there is now very limited

flexibility for the development of arable

land without endangering rainforests or

other valuable natural areas, our food

system must therefore become much

more productive. In addition, it must

also become more sustainable because

we are not doing a good enough job

conserving natural resources.

These are just a few examples of the

challenges we will face in the future. A

comprehensive overview is provided by

the 17 Sustainable Development Goals

at the heart of the United Nations 2030

Agenda for Sustainable Development,

which Bayer expressly endorses. We

want to make substantial contributions,

particularly to Goal 2, which focuses on

ending hunger, achieving food security,

improving nutrition, and promoting

sustainable agriculture, as well as Goal

3, which promotes healthy lives and

well-being for all people at all ages. We

must make further progress and take

advantage of the benefits offered by new

technologies if humanity is to achieve

these goals. This requires a renewed

societal consensus that innovation can

be good and beneficial. Yet, such a consensus

can only result from an open,

sincere, and fact-based dialogue. Only if

we talk with one another can we bridge

the gaps that are opening up between

the political camps and the "bubbles" on

the internet. This completes the circle,

because such a dialogue requires trust.

Our efforts on behalf of transparency are

intended to make a contribution to this

endeavor – as a step to create renewed

trust and as an investment in the future

viability of society.

Kemal Malik is Member of the Board of

Management of Bayer AG responsible for

Innovation.

Global Goals Yearbook 2019 93
---
SPINNING A YARN WITH A

75 PERCENT CO 2

EMISSIONS

REDUCTION

By Emmanuel Colchen and Valérie Bouckaert, Beaulieu International Group

Globally, more and more

people are moving away

from the countryside and

into urban areas. Big cities

are becoming megacities.

According to the UN, by 2050,

almost 70 percent of the

world's population will be

living in urban regions,

metropolises, and megacities.

This poses new

challenges for construction,

mobility, health, and

sustainability at work

and at home. Beaulieu

International Group is

following these trends

intently. It has developed

and is producing new types

of polyamide yarns to match

these growing demands

for health and sustainability,

specifically in carpeting.

Carpets and rugs are ubiquitous: They

appear as broadloom carpets, carpet tiles

and rugs in homes, as well as in professional

settings and vehicles, to name but

a few uses. The contact surfaces of these

products are often made from industrially

produced yarn. Yarns were some of the

very first products manufactured on an

industrial scale. Their developers have not

forgotten their pioneering role in innovation,

and the sector is taking significant

steps to reduce its carbon footprint.

Chief among these companies is

Beaulieu International Group's Engineered

Products division. Its EqoBalance®

yarns allow a reduction by 75 percent

of the total CO 2

emission during entire

production steps. EqoBalance® replaces

non-renewable resource-based polymers

in yarn creation with polymers based

on renewable sources – in this case,

biomass.

The perfect blend of organic and

synthetic

Replacing non-renewable resources with

sustainable resources

Beaulieu produces polyamide and polypropylene

yarns, both of which are synthetic,

as opposed to yarns from sheep

or alpaca wool, for example. Synthetic

yarns are made from polymers. Traditionally,

these require fossil fuels to be

manufactured. EqoBalance® replaces this

fossil fuel component with raw material

from biomass. This method is called "biomass

balance" and is one of the chemical

industry's recent innovations.

Our sustainable yarns are produced

using the biomass balance principle that

is similar to green electricity. From the

very start of the supply chain, natural

renewable resources such as biogass or

bio-naphta are used along with fossil

fuels to produce polymers that provide

the basis for yarn production. The result

is EqoBalance® yarns. Fossil resources

needed to manufacture EqoBalance

are verifiably replaced with renewable

resources in the value chain.

The change that requires no change

at all

The same quality and the same process

at a lower environmental cost

CO 2

is one of the world's most notorious

greenhouse gases. One of its properties

is that it traps heat in the atmosphere;

another is that it increases acidity levels

in the ocean. Industrial CO 2

emissions

are a globally recognized challenge,

and tackling that challenge begins at

the start of the manufacturing process.

Using yarns that promise 75 percent

fewer CO 2

emissions during the production

process is an attractive option. But

does it change anything for the carpet

manufacturer?

It does not. Carpet manufacturers can

use the same machines and production

techniques with the EqoBalance® yarn

as they would have used with traditional

polyamide yarns. It requires no additional

investment or product development,

and it does not affect the end-product's

quality in any way.

94

Global Goals Yearbook 2019
---
Starting out in pole position

Green compliance as an increasing

necessity

If textile companies use EqoBalance® yarns,

they already start out ahead in the race

for climate action. Carpet manufacturers

or carpet tile makers worldwide are also

increasingly requesting products that are

environmentally friendly. They want to

achieve corporate sustainability goals,

meet end-customer demands, or anticipate

governmental regulation.

Once trends gain steam and come with

visible benefits, they can become unstoppable.

There is no telling how fast

sustainable yarns may spread as part of

a wave of sustainable technologies. As

they build momentum in one corner,

companies will look at continuing that

momentum in another corner. Beaulieu

International Group is also pursuing this

course. Its innovations in carpet yarns

that replace fossil fuels with biomass are

happening concurrently with the efforts

of other divisions to make recyclable

event carpets or to push the envelope

in reducing flooring production waste

near to zero.

Would you like to know more?

You can visit the dedicated eqobalance.

com page to learn more about emissionreductive

EqoBalance® yarns for carpets.

You can also go to bintg.com and check

out what other initiatives Beaulieu

International Group has developed

or is developing to help ensure that

current and future generations inherit

a world that is better and more

sustainable than the one we found.

Emmanuel Colchen,

Global Director

Sales, Yarns &

Technical Textiles

Divisions

WHO IS BEAULIEU

INTERNATIONAL

GROUP?

Beaulieu was founded in 1959 in

Belgium and is a global producer of

flooring solutions, engineered fibers,

yarns and technical textiles, as well

as polymers. The group employs

more than 5,000 people worldwide

and has offices and plants in 17

countries across five continents.

Beaulieu International Group

enjoyed a 2018 turnover of €2 billion,

20 percent of which came from its

Engineered Products division.

It is this division that created

the EqoBalance® yarn, based on the

biomass balance model.

THE INTERFACE CASE

IN STOCKHOLM'S

ARLANDA AIRPORT

EqoBalance® was originally developed

on request by Interface, a leading

global provider of commercial flooring

solutions. One of the company's goals

is to be carbon neutral by 2020 and

carbon negative by 2040. According

to the GlobeScan / SustainAbility

Leaders Survey, for more than 20

years it has been one of the world's

top companies in terms of sustainable

development leadership. As such,

Interface's Straightforward II carpet

tiles are created with Beaulieu's

EqoBalance® yarns and were used in

the renovation of Stockholm's

Arlanda Airport, which handles about

30 million passengers every year.

Stockholm Arlanda Airport wants to

become the leading airport in

Scandinavia and become a role

model for sustainability. Hence, the

Straightforward II tiles with Beaulieu's

EqoBalance® yarns were a perfect fit.

CERTIFICATIONS

Beaulieu EqoBalance® yarn is the

very first yarn certified by TÜV

SÜD for meeting the new REDcert

standard on the "use of sustainable

biomass for material purposes in

the chemical industry." REDcert

extended the initial scope of its

standard to allow for considerations

of impact. Sustainable technologies

can only benefit the environment

if they can be widely adopted or

impact sectors with a large

economic footprint (such as the

tufting industry).

As such, chemical companies

such as Beaulieu International

Group are increasingly relying on

the use of sustainably produced

and certified biomass to replace

fossil-based raw materials.

EqoBalance® has been validated

and certified with an Environmental

Product Declaration, meaning it

complies with the ISO 14025

standard.

Global Goals Yearbook 2019 95
---
POST-CONSUMER WASTE

STRATEGY IN A CIRCULAR

ECONOMY

Bergen Plastics – the European market leader of child-safe packaging for laundry capsules and

pouches – has taken a strategic decision: By 2022 the company will use a minimum of 50

percent of post-consumer waste polypropylene in its production process. Bergen Plastics wants

to play an active role in the changing market and be a leader with technology that enables it to

use recycled plastic materials for its supply of high-tech child-safe packaging in Europe.

Bergen Plastics takes its responsibility as a major player in this sector seriously. It wants to

think and act responsibly to ensure a future for the company and the industry. The strategy is an

integrated part of the company, and all future thinking and directions will be challenged to meet

the targets of the strategy.

By Jan Atle Lossius Ellingsen, Bergen Plastics

Bergen Plastics

Bergen Plastics is a Norwegian-based

manufacturer of thin-walled packaging.

The company was established in 1947 and

is one of the pioneers in the European

plastic industry. Today, the company

exports more than 95 percent of its products.

Its packaging can be found on most

shop shelves in Europe wherever laundry

capsules are sold. Every month, millions

of products are transported from the factory

in Bergen to locations around Europe.

The management of Bergen Plastics has

for several years been exploring the possibility

of using recycled materials in the

production process, and preferably postconsumer

waste materials. There are a

few good reasons for doing so: First, the

company is taking an active role in the

circular economy, which is an obligation

the company has to European consumers;

second, this opens up new markets to

customers who are demanding products

with lower environmental impacts.

Becoming the market leader is a result of

focus, dedication, and an R&D department

that finds motivation and inspiration in

finding solutions and overcoming challenges

– because it loves the customers.

In today's market, Bergen Plastics sees a

96

Global Goals Yearbook 2019
---
strong demand for making more environmentally

friendly products, which fits

perfectly with the company's strategy. It

wants to be an active part and a motivator

for all companies looking to change

trends and step into the circular economy.

The management of Bergen Plastics has

made a commitment to its owners and

stakeholders to swap a minimum of 50

percent of its polypropylene material

consumption to post-consumer waste

materials by 2022, and at the same time

to develop new processing technologies

and solutions that allow for reducing

the amount of plastic being used per

packaging unit. This is being backed up

with investments in new technology, new

process solutions, and R&D on child-safe

solutions.

For Bergen Plastics, this is not only a

strategy, it is an important commitment

to the Sustainable Development Goals

(SDGs), which the company clearly wants

to work toward achieving. For Bergen

Plastics, Goal 12 (Responsible consumption

and production) has a clear link to

the company's strategy. This is a strong

motivation for the company and its workers,

and it makes it easier to communicate

the strategy to customers around Europe.

packaging. For Bergen Plastics and the

management strategies, the goal to create

child-safe packaging is closely linked

to Goal 3 (Good health and well-being).

Bergen Plastics wants to make packaging

available that protects children from

any harmful contents. If this is done in

combination with a circular economy

strategy of using recycled materials, the

company is taking important steps toward

relevant targets that the UN has made

for 2030. This is important for Bergen

Plastics – and for all of us.

The strategy

of Bergen

Plastics to

use postconsumer

waste materials

and follow

developments

related to the

usage of recycled

plastic

materials in

the manufacturing

of childsafe

packaging is

important for

meeting internal goals and stakeholder

commitments. But most of all,

it is important because the company

is making active efforts to achieve the

SDGs and also making partnerships to

turn the world in a more sustainable

direction. It is good for the world and

good for business, because a sustainable

business is a profitable business.

Bergen Plastics sees a growing demand

from the market, and several of the company's

customers have similar strategies

and interests in swapping packaging volumes

from virgin materials to recycled

materials. This provides the confidence

to invest in new technologies and focus

on reaching targets by the agreed deadlines.

The company sees more and more

companies wanting to engage with it in

partnerships and develop solutions. The

reasons for doing so are often based on

the same goals, such as the SDGs and the

motivation to create a sustainable future

for the company, because sustainable

thinking is good for business.

For Bergen Plastics, a company which is

very much driven by innovation and bold

strategies, the target is to develop better

solutions and standards for child-safe

Child-safe packaging = Packaging that prevents children from opening

packages that can contain harmful products.

Post-consumer waste materials = These are materials made of recycled

consumer packaging that are cleaned and re-granulated before being used

for the production of new products.

Laundry capsules / pouches = These are water-soluble pouches containing

highly concentrated laundry detergents. These dissolvable pouches are

made of polyvinyl alcohol (PVA) or derivatives of PVA. These pods are convenient

to use and comparatively more efficient than conventional liquids or

powder detergents.

Global Goals Yearbook 2019 97
---
CLIMATE ACTION:

CARBON NEUTRAL IN 2020

With technology "Invented for life," the Bosch Group aims to help in solving the challenges society

faces. To secure the livelihoods of current and future generations, the company is taking smart

approaches to make all of its business fields more sustainable. Bosch sees connected products

and services as a way of protecting natural resources and making the lives of people around the

world easier. At the same time, the company also relies on smart, innovative solutions in its

interactions with associates as well as its activities related to social responsibility. With this

comprehensive approach, Bosch contributes to making life, work, and mobility more sustainable.

By Annette Wagner and Torsten Kallweit, Bosch

For Bosch, there is no doubt that it can

only do business long term in a world

that is socially and ecologically intact. At

all times, the company's aim is to secure

its long-term success while at the same

time protecting the natural environment

on which present and future generations

depend. The company has set itself

ambitious new targets for 2025, and it is

stepping up efforts to adapt its activities

to the challenges facing society. When

formulating these targets, the company

analyzed global megatrends and today's

most pressing sustainability issues, conducted

a benchmark analysis of ecologically

progressive companies, and held

in-depth dialogues with stakeholders. In

the future, the focus will be on six globally

important issues: climate, energy, water,

urbanization, globalization, and health.

Health

1 | Health + Safety

2 | Substances of concern

Climate

1 | CO 2

scope 1 + 2

2 | CO 2

scope 3

Energy

New Dimensions

Sustainability 2025

1 | Energy efficiency

2 | Renewable energy

Water

1 | Water scarcity

2 | Water quality

When it comes to the climate, for instance,

Bosch is committed to climate

action and the Paris Agreement's 2°C

target. As a sign of this commitment, the

company aims to achieve carbon neutrality

globally in 2020 by focusing both on

direct emissions from its own fuel combustion

and indirect emissions relating to

Globalization

1 | Responsibility

2 | Supply chain

Urbanization

1 | Life cycle assessments

2 | Resources + Waste

98

Global Goals Yearbook 2019
---
procured energy. In the short term, there

are two key levers for achieving this: first,

procuring green electricity from existing

renewable energy generation facilities

and, second, carbon offsets. The program

will be stepped up significantly between

2020 and 2030 by two additional levers:

with Bosch investing 100 million euros

in energy-efficiency measures each year

and systematically expanding the share

of new clean power. In other words, new

power plants based on renewable energy

will be constructed as a result of the

company's commitment. Moreover, the

company's own power generation from

renewable resources will be increased at

Bosch locations.

Climate scenarios forecast that existing

water risks will become more acute as a

result of scarcity and poor quality. The

company has pinpointed 61 locations in

regions with water scarcity and intends

to reduce its absolute water demand in

those locations by 25 percent by 2025.

Investments of €10 million a year will

support this aim by quickly bringing

about success and improvements where

they are needed.

Every day in our increasingly urbanized

world, products are used that have

an ecological impact, whether during

their manufacturing processes, use, or

at the end of their useful lives. To keep

this footprint to a minimum, Bosch already

carries out lifecycle analyses for

its main product groups, which account

for roughly 50 percent of its sales. The

aim is to continue to broaden the scope

of these analyses and to discover potential

ways of further reducing products'

ecological impacts, true to the idea of a

closed-loop or circular economy. When

it comes to waste avoidance in manufacturing,

Bosch will focus in the future on

reducing hazardous waste and increasing

its recycling ratio.

As a globally operating company, Bosch

also assumes responsibility worldwide.

Accordingly, Bosch also includes its suppliers

in its efforts to do business sustainably

and responsibly. The aim here is to

continue to act with determination to

tackle the ecological and social risks in

the supply network.

Bosch also aims to minimize risks to

people's health and their local environments

– in this area, occupational safety,

compliance with substance bans, and

reductions in levels of hazardous substances

are key considerations. In 2020

at the latest, the company aims to have

reduced its accident rate to a maximum

of 1.7 accidents per million hours worked.

Climate action by Bosch with carbon

neutrality globally by 2020

The focus is placed, above all, on energy

efficiency and generating energy ourselves

from renewable sources, as these

two factors constitute the major levers

for achieving our climate goal sustainably.

By 2030, Bosch wants to save 1,700

GWh of energy and generate 400 GWh

of its energy needs itself from renewable

sources. In order to also support energy

efficiency measures financially, the board

of management of Bosch has approved

an additional annual budget of €100 million

for the period 2018 through 2030.

At present, Bosch's energy consumption

consists largely of electrical power used

to operate plants and machinery in production;

heat energy used for heating

and air-conditioning in buildings; and

operating furnaces at the foundries. On

aggregate, Bosch Group entities used

some 7,844 GWh of energy in 2018,

equivalent to 3.26 million metric tons

of CO 2

emissions. Emissions intensity

relative to added value has thus fallen

by 31.1 percent compared with 2007.

One important starting point on our path

toward achieving climate neutrality at

Bosch in 2020 is to source "green" electricity

from existing facilities generating

renewable energy with the corresponding

guarantee of origin. We want to consistently

raise the quality of the measures

by 2030, focusing on new clean power

– that is, exclusive long-term purchasing

agreements with investors in new facilities

generating renewable energy that

have yet to be built (e.g., wind turbines

or solar parks) and our own facilities

generating renewable energy. This way,

Bosch will make an additional contribution

to climate protection, as these new

facilities will be built only as a result of

our commitment. As of 2019, we have

started to purchase a significantly higher

proportion of electricity from renewable

energy sources. To this end, we are in the

process of conducting market analyses

in many countries.

The other important starting point for

achieving our climate goal is offsetting

measures (carbon credits). These are necessary

to offset CO 2

emissions from combustion

processes (heating, process heat).

In countries where the levers described

above are not sufficiently available to

achieve carbon neutrality (e.g., where

green electricity can only be purchased to

a limited extent), carbon offsets are also

necessary. When choosing a project, we

apply very high standards, for example

the Gold Standard. Carbon offsets are to

be gradually scaled back by 2030, and

Bosch is stepping up investments for

energy efficiency.

"

When it comes to the

climate, words are not

enough. Companies

need to aim for

carbon neutrality,

here and now.

Dr. Volkmar Denner,

chairman of the board of management

Global Goals Yearbook 2019 99
---
CARGOLUX: THE LEAN AND

GREEN AIRLINE

In an industry as reliant on fossil fuel as aviation, Cargolux strives to make a positive difference.

As an airline that is strongly committed to corporate social responsibility, Cargolux is at the

forefront of technological innovation and the introduction of lean business procedures. Efficient

freighters, environmental conservation, CO 2

reduction, and animal welfare are among

Cargolux's top engagements toward a cleaner, more ecologically aware operation.

By Jane Bretin, Cargolux

Moved by its pioneering spirit, Cargolux

was one of the first all-cargo carriers to

make CSR an intrinsic part of its operation.

From integrating sustainable principles

in its business strategy, to engaging

with its stakeholders, the airline has

always defined its priorities with a strong

sense of global responsibility. Accordingly,

the company adopted the United

Nations 2030 Agenda for Sustainable

Development to strategically contribute

to the 17 Sustainable Development Goals.

True to its pioneering spirit, the company

became the launch customer for the

B747-8F freighter, which remains the

most technologically advanced freighter

operated today.

A cleaner operation – one step at a time

stringent environmental requirements.

These included optimal fuel efficiency

and significant noise-reduction features

for quieter movements, thus demonstrating

the airline's commitment to the

communities it operates into.

In an effort to further its environmental

commitment, Cargolux has established

a dedicated fuel efficiency program that

identifies potential savings areas. The

responsible committee organises roundtables

with stakeholders from across the

company to encourage open discussion

about how potential energy-related

savings can be addressed and improved.

This careful analysis has generated a number

of internal procedures to further lower

our carbon footprint. Optimized flight

plans, tailor-made approaches, threeengine

taxiing after landing, and the use

of ground power during turnarounds are

a sample of initiatives that contribute to

both lower fuel consumption and reduced

CO 2

emissions. Based on recommendations

from the International Air Transport

Association, these measures are part of

a mid- to long-term strategy that aims

toward carbon-neutral growth. Cargolux

has so far managed to yield significant

savings in this area, exceeding the official

guidelines for fuel and carbon efficiency.

As an airline, reduction of CO 2

emissions

has become a primary area of focus in

our effort to establish a greener, leaner

operation. After adopting the 747-400

freighter in the 1990s, Cargolux played

an instrumental role in the development

of Boeing's latest wide-body freighter,

the 747-8F. As the launch customer for

this new, more fuel-efficient aircraft,

Cargolux took part in discussions and

worked closely with the manufacturer

to ensure the 747-8 model respected

100

Global Goals Yearbook 2019
---
Encouraging ethical business

With the unwavering support of its

upper management, Cargolux has

increasingly led its operation with a

strong ethical stance, especially when

it comes to animal welfare. An expert

in the transport of live animals, the

company operates these missions in full

compliance with all applicable regulations

and goes one step further with

the establishment of stringent internal

policies to ensure that animal welfare

is a top priority throughout the transportation

process. Over the years, the

airline has developed a growing list of

animal or animal-related commodities

that it refuses to carry for ethical reasons.

Beyond its numerous embargoes, Cargolux

actively champions a more ethical

business model by raising awareness

about wildlife trafficking throughout

its extensive network.

Cargolux has a strong policy

surrounding captive animal

transport. The company

has formerly banned

all shipments

of animals

brought from the wild to restrictive

environments, and it does not transport

wildlife, especially primates, for pharmaceutical

testing either. One of Cargolux's

major projects in 2019, a testament to

its engagement toward animal welfare,

is the sponsoring of a flight to relocate

two beluga whales from an entertainment

park in Shanghai, China, to the

world's first open-water beluga sanctuary,

in Iceland.

Enhancing the legal framework for a

transparent operation

With business activities spanning the

globe, it is vital for Cargolux to ensure

that both national regulations and

company-devised policies are complied

with throughout its extensive network,

which includes sensitive geographical

areas. In order to harmonize procedures,

the Cargolux Compliance and Ethics

Program was launched in 2009, with a

focus on due diligence. Six areas of expertise

– anti-trust, bribery, embargoes

and military shipments, fraud, personal

data, and money laundering – were

devised to ensure all potential threats

were covered.

As an all-cargo carrier whose core business

is the transport of commodities

by air, Cargolux is aware of its central

position in the supply chain and its

responsibility toward logistics partners.

The airline is therefore intent on keeping

these suppliers and service providers

informed about all the latest policy or

procedural updates. All staff working

for the organization also undergo recurrent

training to ensure a comprehensive

awareness about the company's stance

toward compliance and ethics matters.

A holistic approach

Cargolux is committed to involving all

its employees in CSR projects to promote

and establish these principles at

the heart of its business models. From

paperless operations, lean and agile

processes, and a business model focused

on sustainability, we strive to weave

this approach into our company DNA.

Our workforce is our strongest asset,

and only with their support and engagement

can we built a better, greener

airline.

2007

Cargolux signs

United Nations

Global Compact

2008

Cargolux becomes

a founding

member of SAFUG

2011

First Boeing

747-8F in the

company's fleet

2014

First airline

worlwide to be

GDP certified

2016

First airline

certified Lean &

Green

2019

Beluga whales

flown back to

Iceland

This charter has

been adopted by

over 13,000

companies

worldwide,

pledging to

embrace, support,

and enact a set of

core values in the

areas of human

rights, labor

standards, the

environment, and

anti-corruption.

The Sustainable

Aviation Fuel

Users Group is

focused on

accelerating the

development and

commercialization

of sustainable

aviation

biofuels.

Cargolux is the

launch customer

of the Boeing

747-8F, a

state-of-the-art

airplane which

consumes 16%

less fuel than the

previous model.

Its noise footprint

is also 30%

lower.

Cargolux

management

system meets the

requirements of

the EU directive

"Guidelines on

Good Distribution

Practice of

Medical Products

for Human Use,"

as well as World

Health Organization

guidelines.

The airline was

recognized for its

commitment to

improving its

carbon efficiency

by 10% within five

years.

Cargolux is

SeaLife Trust's

official transport

partner, sponsoring

the flight to

relocate belugas

from an entertainment

park in

Shanghai, China,

to the world's first

beluga whale

sanctuary, in

Iceland.

Global Goals Yearbook 2019 101
---
SOCIAL RESPONSIBILITY

PRACTICED THROUGH

CORPORATE VOLUNTEERING

As a corporate group, we take responsibility for society in

Austria. We are dedicated to this issue as part of our

commitment to CSR. Our group's corporate volunteering

program is also part of our CSR strategy and the Good for

Austria area of activity. We aim to make a contribution and fulfill

our social responsibility. This is exactly where our corporate

volunteering program #ZUSAMMEN.HELFEN comes in.

GROUP

By Susanne Hirner, Casinos Austria and Austrian Lotteries Group

The social commitment of employees has

a long tradition in our corporate group.

Volunteering began already in 2013: Each

employee of the corporate group was

granted a day to pursue humanitarian

activity. The chance to engage in social

activities as an integral component of

the company was highly popular.

In 2018 the opportunity to help others

was further expanded. All employees

have five days of full pay while making

a social commitment and offering service

to society. The new corporate program

#ZUSAMMEN.HELFEN is voluntary and

employees can choose from a variety of

social projects. After all, personal will

and commitment count. This way, both

parties – the employee and the organization

receiving support – can get the

maximum benefit out of it.

"Since 2013, when the foundations for

corporate volunteering at Casinos Austria

and the Austrian Lotteries were laid, our

employees have spent numerous hours

volunteering with heart and soul. This

also shows that our social commitment

Bettina Glatz-Kremsner, Director General

102

Global Goals Yearbook 2019
---
is truly practiced and broadly supported,"

says the Director General, Bettina Glatz-

Kremsner.

In all, a formidable 2,361 hours of social

engagement were dedicated in 2018 –

equivalent to around 300 eight-hour

working days. Our employees spent these

300 working days at various social institutions

in Austria. Caritas, Red Cross, and

Hilfswerk cover a wide range of auxiliary

social activities. For activities in senior

citizens' homes and facilities for disabled

people, empathy was needed above all

else; at summer festivals with children

and adolescents, physical fitness was

also required. In our commitment to

the social transfer organization Wiener

Tafel and the social markets, the focus

was primarily on collecting foodstuffs

and making it available.

An indispensable contribution for

both sides

Our corporate volunteering program

#ZUSAMMEN.HELFEN benefits both nonprofit

organizations and us as a company.

For the nonprofit organizations, volunteer

support is indispensable. Most associations

in Austria are financed through

sponsorship and private donations; the

number of paid employees is commensurately

low. "Time is money" proves

wholly true in nonprofit organizations.

The time donated by our employees is an

enormous help for facing the ecological

and social challenges of society.

The aspect of meaning is the primary

motive for our employees to get involved

socially. In addition, we see our corporate

volunteering program as a tool for

employee development. By getting to

know a new environment and pursuing

activities unfamiliar to them, employees

develop new interpersonal and professional

skills and sharpen existing ones.

The idea of responsibility and sustainable

action has a long tradition in the Casinos

Austria and Austrian Lotteries Group. At

the time the company was founded, in

1967, its philosophy was already based

on the idea that society should benefit

from gaming.

Today, responsibility within the corporate

group is perceived as the sum of

all CSR measures, both internally and

externally. For us, CSR means making

all business activities sustainable beyond

legal obligations and regulations and

making social responsibility a consistent

principle of our actions.

Our 2020 CSR strategy demonstrates our

commitment to international standards

of conduct, in particular the UN Global

Compact and the Sustainable Development

Goals. It is embedded in our CSR

management system in compliance with

the Austrian "Corporate Social Responsibility"

standard ONR 192500 and shows

which areas and topics are particularly

relevant for us.

For more information, please visit:

www.casinos.at, www.lotterien.at

CSR STRATEGY 2020: BEST CLASS FOR PEOPLE, IN GAMING,

AND FOR THE ENVIRONMENT

TOP EMPLOYER

COMPLIANCE ON

ALL LEVELS

SUSTAINABLE USE

OF RESOURCES

PEOPLE GAMING ENVIRONMENT

GOOD FOR AUSTRIA

PLAYER PROTECTION OF

THE HIGHEST QUALITY

CLIMATE ACTION

Global Goals Yearbook 2019 103
---
WE ARE KEEPING OUR

COMMITMENT TO ACHIEVE

THE SDGs

CEMEX is a global building materials company that provides high-quality products and reliable

services to customers and communities. CEMEX has a rich history of improving the well-being of

those it serves through innovative building solutions, efficiency advancements, and efforts to

promote a sustainable future.

By Martha Herrera, CEMEX

Our approach to the UN Sustainable

Development Goals

Although we contribute to the majority

of the UN Sustainable Development

Goals (SDGs), we also identified the goals

for which we can contribute even more

in order to achieve the goals by 2030.

These SDGs are connected to our company's

strategy and are reflected in our

company's 2030 sustainability targets.

We will continuously track and measure

our progress toward these goals through

key indicators and disclosures.

We are convinced that by engaging with

these global goals through our day-today

activities, we are building a better

future by tackling global challenges such

as poverty, inequalities, climate change,

environmental changes, lack of proper

education, and capability development,

among others.

Collaborating and sharing best

practices with UN initiatives

• We shared our experience in the 2018

United Nations High-Level Political Forum

on how multistakeholder collaborations

and investments in urban areas

contribute to the sustainable growth of

prosperity and the reduction of poverty.

• We joined the Global Board of UNISDR

ARISE (UN Office for Disaster Risk Reduc-

OUR SDG HISTORY

CEMEX has committed to

the SDGs and identified the

goals that are more

connected to our strategy,

impacts, risks, and

opportunities.

We prioritized the SDGs by

analyzing their underlying

targets and indicators,

linking them to CEMEX

2015 2017 2018

materiality assessment

before identifying 11 SDGs

to which CEMEX can

contribute directly.

We selected five priority

SDGs that represent

opportunities to contribute

more and identified new

business opportunities

connected to our business

strategy.

104

Global Goals Yearbook 2019
---
tion / Private Sector Alliance for Disaster

Resilient Societies) to contribute toward

building resilient cities and communities;

fostering collaboration between

academia, the public and private sectors,

government, and civil society; while

launching the ARISE network in Mexico.

• We are further leading the UN Global

Compact in Mexico, encouraging more

companies to become partners and to

contribute and explore business opportunities

while reducing negative

impacts and creating shared value for

society.

PRIORITY SDGs

LINKING SDGs

UNDERLYING SDGs

OUR 2030 SUSTAINABILITY AMBITIONS

■

■

■

≥

■

■

■

■

■

■

■

■

■

■

■

■

≥

■

■

■

Global Goals Yearbook 2019 105
---
SHARING SKILLS FOR A

BRIGHTER FUTURE

Globalization, demographic change, and digitalization are disrupting societies and labor markets

and provide enormous opportunities as well as the potential for a better world. However, these

developments do not benefit all equally, and in some cases they occur at the expense of others.

Just to name a few challenges, more than 750 million adults worldwide are unable to read and

write, 200 million people are unemployed, and automation is expected to replace two billion jobs.

This requires politicians and companies to search out solutions for these societal challenges to

ensure participation in the progress. At Deloitte, we want to counter these trends via our biggest

asset: Many Deloitte professionals are volunteering their wide-ranging expertise to groups that

include immigrants, children, and care-sector workers, thereby passing on key tools to help

people thrive in today's fast-changing society.

By Marius Trapp, Deloitte

For refugees who are looking for work,

the question of how to kick-start their

professional lives in a new culture is

often daunting. That stumbling block

became all too obvious to Simon Schoen,

a Deloitte manager, after he spoke to

a friend who ran a refugee shelter. As

part of a company-wide push to extend

know-how to disadvantaged groups, the

manager sought to shrink the gap between

refugees' aspirations and their

day-to-day reality.

He came up with the idea to start the

"GetInSites" initiative, which organized

visits to companies for young migrants,

offering them a first glimpse of the working

world in their adopted home. "I

didn't want to only donate money or talk

about integration – I wanted to dive in,"

says Schoen, whose workshops included

taking a group of young Iraqis, Somalis,

and Iranians to large companies from a

range of different industries.

"I expected a good atmosphere when

our heterogeneous group met in a professional

context, but it came as a big

surprise that it went so well," he says.

"We all left with many new ideas and

impressions."

He is one of many of Deloitte people

seeking to exert social influence beyond

the daily workload. Their participation

forms part of the company's WorldClass

program, which seeks to empower 50

million people to succeed in the rapidly

changing global economy. By bringing

individual specializations that range

from auditing to legal services to consultancy,

Deloitte is offering wide-ranging

skills and support to educational and

social projects.

From South African startups to

reflective hats

Within Germany alone, the company's

staff has thrown its weight – and diverse

know-how – behind a range of projects

in recent years. These have included

helping socially-oriented startups in

Cape Town, South Africa, attract investment;

assisting a school enterprise

that manufactures hats with reflective

pom poms; and a scheme to accompany

new recruits to the care industry during

their early days in the notoriously shortstaffed

sector.

By incorporating pro bono work into

their workday, our people contribute

their expertise to benefit society as a

106

Global Goals Yearbook 2019
---
whole, effectively "making an impact

that matters," in accordance with our

overarching purpose. The numbers tell

the story. Some 286,000 Deloitte professionals

around the globe are busy creating

opportunities for those left behind.

By collaborating with businesses, government,

and educators, we are transforming

learning and enabling individuals to

hone their skills for future job demands.

Our efforts are timely. Inequality and

social polarization are ascending worldwide,

while many are missing out on

the fast-paced changes offered by technology.

This predicament underscores

the importance of the UN Sustainable

Development Goals (SDGs).

REWARDING HIDDEN MOVERS

Contributing to the SDGs

We are contributing toward these goals,

in particular SDG 4, which strives for

quality education; SDG 8, which seeks

decent work and economic growth; and

SDG 17, which aims at forging crosssectoral

partnerships.

One example of how we are pushing for

these three SDGs is a project that supports

refugees and migrants as they train

to be nurses or caregivers. Supported by

Deloitte since March 2018, the multistakeholder

project was the brainchild

of the St. Mary's and St. Anna's Hospital

in the small industrial German city of

Ludwigshafen am Rhein.

Once a year, the Deloitte Foundation gives its Hidden Movers Award to

selected educational projects. The winners not only receive prize money, but

since 2015, they have also profited from made-to-measure, pro bono advice

from Deloitte. Multifaceted support is given to educational projects, spanning

financing, resource planning, project management, fundraising, marketing,

and much more. It is a two-way street: Deloitte people also benefit from

applying their specialties beyond the usual structures and from having the

chance to make a real social impact.

Weserholz, a project in Bremen, is among the beneficiaries of Hidden Movers.

It enables refugees – mostly from Arab and African regions – to work with

carpentry and design specialists, helping the immigrants take initial steps

toward the job market. The integration venture was awarded €25,000.

We accompany these new recruits while

working with them to improve their

language comprehension as well as social

and nursing skills. This assistance comes

from a range of directions: Deloitte's

Health Care, Human Capital Advisory

Services, Global Investment and Innovation

Incentives, and Deloitte Digital

partners all pool their expertise on a

pro bono basis. As well as helping put

theoretical knowledge into everyday

practice, we support future nurses and

caretakers during their exams, using

both classical and digital approaches

to learning.

The project makes a dual social contribution

– aiding the smooth integration

of refugees while simultaneously easing

the shortage of skilled workers within

the care sector. Moreover, the benefits

extend to Deloitte itself, fueling an inhouse

sense of pride and accomplishment.

"It is a real win-win situation if,

together with the partners involved, we

can manage to motivate more people

with a migrant background to qualify

in nursing care and provide them with a

customized learning concept in the long

term," says Ibo Teuber, Director of Life

Sciences & Health Care. "Very compelling

that Deloitte could lay a key foundation

with this pro bono project."

For more information about Deloitte

WorldClass, please visit: www2.deloitte.com/

de/de/pages/corporate-responsibility/topics/

corporate-responsibility

Global Goals Yearbook 2019 107
---
A GREEN NETWORK TO HELP

THE CLIMATE

When we come down with a fever, we can fight it with leg compresses and effective medicines.

Finding a remedy for an increasingly warming planet is more difficult. One thing is clear: Emissions

of greenhouse gases must be reduced drastically. Deutsche Telekom has established a clear plan

for doing so. The Group has approved new, ambitious climate-protection targets that are based on

the present state of scientific knowledge: We are committed to reducing our CO 2

emissions by

90 percent by 2030, compared to 2017 levels. An important milestone will already be reached in

2021, when the Group will source all of its electricity from renewable sources. Deutsche Telekom

has also targeted indirect emissions from the supply chain and the lifecycles of our products:

Emissions per customer will be cut by 25 percent by 2030, compared to 2017 levels.

By Heinz-Gerd Peters, Deutsche Telekom

"We want to build the future, not obstruct

it," says CEO Tim Höttges about the

Group's new climate-protection targets

while speaking at the 2019 shareholders'

meeting. "Climate protection is one of

the key challenges of our age. With the

new targets through 2030, we are taking

our responsibility seriously and are acting

decisively, quickly and, at the same

time, in a sustainable manner."

A tradition of climate protection

The Deutsche Telekom Group formulated

its first climate-protection target back in

1995 and has been firmly committed to

climate protection ever since. Assuming

responsibility for a low-carbon society

has been one of the three main fields of

action of Deutsche Telekom's corporate

responsibility strategy since 2008. The

current climate-protection target expires

in 2020 and is set to be reached by the

To assess the quality of our internal

climate targets, Deutsche Telekom also

submitted them to the Science Based

Targets initiative (SBTi) for review. SBTi

is an independent group of experts that

evaluates companies' climate-protection

targets to determine whether – on the

basis of current science – they will contribute

toward limiting global warming

to no more than 2°C above pre-industrial

levels, in line with the declarations of

the UN Paris Agreement. The results of

the evaluation were gratifying: SBTi approved

Deutsche Telekom's targets after

a thorough review.

108

Global Goals Yearbook 2019
---
company. As Birgit Klesper, Senior Vice

President for Group Corporate Responsibility,

emphasizes: "We are recording

and reducing our CO 2

emissions across

the entire value chain, enhancing energy

efficiency, increasing the share of renewable

energy we use, conserving resources,

and reducing environmental impacts."

Obstacles and launch pads

The way to a climate-friendly society is no

walk in the park. A particular challenge

to meeting the Deutsche Telekom Group's

new target will be to decouple emissions

from energy consumption. As a result of

network buildout and increasing data

volumes – due to the implementation

of 5G technology, for example – energy

demand will grow in the coming years.

To cut emissions despite this growth

in demand, the Group is taking a twopronged

approach: It is implementing

energy-efficiency measures and replacing

obsolete, energy-intensive technologies

with more efficient, modern systems, as

well as sourcing renewable energy on a

grand scale to operate the infrastructure.

Already 2021, Deutsche Telekom will only

use electricity from renewable sources at

all of its sites worldwide. To achieve this

target, the Group is sourcing more green

electricity directly, acquiring corresponding

guarantees of origin, and concluding

power purchase agreements, as is the case

in the United States. Whenever possible

and practicable, we are also investing in

our own power-generation systems. At

technology sites in Germany, we were

already operating more than 300 of our

own solar photovoltaic plants by the

end of 2018.

In addition to network operations, data

centers are an important factor for the

Group's power consumption. We are

pooling our data traffic in just a few

particularly efficient data centers. The

PUE (Power Usage Effectiveness) figure

is the central measure of energy efficiency.

Since 2008, we have succeeded

in reducing the average PUE factor at the

T-Systems data centers in Germany from

1.85 to 1.57. We have even set a PUE

target of 1.3 for the new high-efficiency

data center in Biere in the German state

of Saxony-Anhalt.

From these many pieces, we are building

a green network that gives customers all

the opportunities that digitalization has

to offer, while minimizing emissions of

harmful greenhouse gases at the same

time.

Positive leverage: The enablement

factor

Cutting emissions from our own operations

is just one side of the coin: Smart,

energy-efficient technology can also help

reduce emissions among our corporate

customers, companies, and consumers.

Thanks to cloud computing, customers

can do without their own servers, for

instance. Products such as smart household

devices can help people make a

contribution toward climate protection

in their private lives.

We at Deutsche Telekom call this the

enablement factor. According to company

calculations, the positive CO 2

effects

facilitated for customers in Germany

in 2018 were 85 percent higher than

the company's own CO 2

emissions (an

enablement factor of 1.85 to 1). Overall,

products and solutions generated positive

CO 2

effects for Deutsche Telekom's

customers, amounting to 12.1 million

metric tons.

Worldwide implementation

Our climate-protection efforts have been

following the motto "think globally, act

locally" since the 1990s. Employees at

all of the Deutsche Telekom Group's

national companies are working to make

the "Magenta Giant's" business activities

more climate-friendly. Magyar Telekom,

our Hungarian holding, has had a zero

carbon footprint for more than three

years, for example. On the other side of

the Atlantic, T-Mobile USA committed

back in 2017 to using renewable-energy

sources exclusively by the year 2021.

Beyond our direct footprint

Through extensive stakeholder dialog

activities, Deutsche Telekom also promotes

climate protection beyond the

company's borders. In January 2019,

the CDP honored the company's commitment

to climate protection in the

supply chain once again with a rank in

the CDP's Supplier Engagement leader

board. This means Deutsche Telekom

belongs to the top 3 percent of the more

than 5,000 companies evaluated.

Another example is the education

program entitled "Ctrl-Shift: Save the

Climate – Information and Communication

Technologies as Allies in Climate

Protection." DT's Greek subsidiary

COSMOTE implemented this program

along with the MEDITERRANEAN SOS

Network (MedSOS). The program's

objective is to educate and train young

people at the primary and secondary

education levels, along with educators,

on the ways in which information and

communication technologies can contribute

to energy conservation, climate

change mitigation, and adaptation.

During the 2017/2018 academic year,

more than 1,500 students participated

in the program.

With these steps, the Group is working to

enable the next generation and employees

at other companies to pursue climate

protection effectively and sustainably,

beyond our own efforts, so they can

#takepart in building a climate-friendly

future for everyone.

Global Goals Yearbook 2019 109
---
EFFECTIVE PARTNERSHIPS

FOR SUSTAINABLE

COMMUNITY DEVELOPMENT

The EDF Group has established a number of partnerships involving civil society that it believes are

essential to guaranteeing the successful implementation of its strategic project, CAP 2030.

By EDF Group

The EDF Group has made two interesting

observations: firstly, that companies need

to broaden their core business, incorporating

complementary expertise to work

more efficiently and more effectively;

secondly, that they must increase and

combine resources and skills to tackle

the most pressing sustainable development

issues, primarily the need to

protect biodiversity as well as combat

climate change and the exacerbation of

vulnerabilities.

That is why the EDF Group implemented

a strategy 10 years ago to establish

partnerships with key organizations in

France and around the world working in

a variety of areas – such as biodiversity,

vulnerable populations, dialogue, and

consultation – related to the environmental

transition.

Partnerships that change the way

we work and prepare the future to

protect biodiversity

In France, the EDF Group has formed

long-term partnerships with many prominent

names in biodiversity, including

the National Museum of Natural History

(MNHN), the Society for the Protection

of Birds (LPO), the natural reserves association

(RNF), the International Union

for Conservation of Nature (IUCN)

French Committee, the Federation of

National Botanical Conservatories (FCBN),

the French Federation of Natural Area

Conservatories (FCEN), and the French

Society for the Study and Protection of

Mammals (SFEPM).

EDF GROUP CHARTER OF SUSTAINABLE

DEVELOPMENT PARTNERSHIPS

We strongly believe that our partners (non-profit organizations, NGOs,

educational institutions, and research bodies) represent important allies

in our effort to make progress and successfully reach the corporate social

responsibility targets we have set for ourselves. We never lose sight of this

goal as we work together on matters that are of the utmost importance

not only to communities but also to EDF, such as preserving biodiversity,

combating climate change, protecting vulnerable populations, and organizing

consultation processes. We will all benefit from working to bring about the

transition toward a more environmentally friendly, fairer, and more united

society. We are not alone in thinking this way, and the time has come to act.

We form partnerships to maintain a high level of expertise on complex and

ever-changing issues, foster cooperation by working together on community

studies or projects, and develop mutual understanding, which will ultimately

enable us to communicate and move forward in a way that recognizes and

celebrates our differences. Different points of view play a key part in any

partnership and, more broadly speaking, any dialogue with stakeholders.

Each year, we draft an annual agreement to clarify our mutual commitments

in accordance with EDF's policies and pledges on ethics, compliance, and

responsible communication. That is why we establish, work in, and assess

our partnerships by fostering mutual respect and trust to achieve close and

effective cooperation.

110

Global Goals Yearbook 2019
---
l'Echappée will get involved to tackle the

root causes by developing, supporting,

or putting at residents' disposal easily

accessible tools and methods to re-create

a sense of ownership and enhance dialogue.

The program may also be used to

complement existing state aid schemes.

EDF works with external partners to study

biodiversity and make inventories.

Partnerships with these representatives

of civil society open the door for the

Group to access world renowned expertise.

For example, EDF applied MNHN's

methodology to catalog the 34,000 ha

of land surrounding its hydroelectric

dams. It has also worked with experts on

bats and birds of prey from the SFEPM

and the LPO, respectively, in an effort to

reduce the impact of its wind turbines on

flying creatures and consequently drive

the expansion and acceptability of lowcarbon

renewable energies. Furthermore,

these projects expose our partners to the

reality on the ground, enabling them to

further develop their own expertise. By

collaborating in this way, we are able to

deal with new issues and take on new

challenges together, such as setting up

large-scale solar farms on agricultural

land and in natural areas or studying

the behavior of marine birds, which

remains little understood, when building

offshore wind farms.

Partnerships that leverage social

innovation to combat vulnerability

Throughout the country, social innovators

are developing ideas and solutions to

combat vulnerability. Major corporations

are not equipped to identify and assess

these people championing new ideas.

Neither are they able, given their sizes,

to support such projects to materialize

and grow. EDF forms partnerships with

social innovation incubators to rapidly

put in place innovative business models to

respond to the challenges currently being

ignored by society – combating vulnerability

and energy poverty, in particular.

It was with this in mind that EDF initiated

a partnership in 2017 with Ashoka

(the world's leading network of social entrepreneurs)

in France. The partnership

involves jointly organizing and financing

calls for solutions – run by a regional

group of incubators led by Ashoka – to

identify entrepreneurs working to create

a positive impact on society. Once the

NGO has selected a handful of proposals,

the partnership supports those entrepreneurs

in developing their ideas.

One of the first projects supported by

EDF was put forward by the nonprofit

organization l'Echappée des copropriétés

in Toulouse. Their idea involved facilitating

the renovation of fragile or

deteriorated commonhold properties

by engaging with and mobilizing the

people living in these homes. Often,

when ownership boards lack leadership,

residents feel so disaffected that no one

has the motivation to embark upon the

collective renovation of the building.

It is in such situations, where people

keep coming up against obstacles and

finding themselves at a standstill, that

Makesense – encouraging communities

to develop low-carbon solutions

"We don't claim to be

able to change the system

by ourselves, but we do

strongly believe that each

idea or solution, no

matter how small, can

have a big impact. We

want to shine a spotlight

on tangible action that

opens the door to a

positive future rather

than fixating on criticism

that divides us."

EDF believes that tangible solutions will

arise through dialogue with communities

and authorities to bring about an

increasingly low-carbon, fairer economy.

In 2018, the Group decided to partner

with the Energies for Climate campaign,

launched in 19 countries by Makesense,

an international community of citizens,

non-profit organizations, and entrepreneurs.

The program has already organized

more than 300 events (forums, debates,

screenings, and themed evenings)

in order to enable anyone and everyone

– entrepreneurs, individuals, or policymakers,

for example – to start to act

collectively by developing or supporting

projects that transform the way we

generate, consume, and access energy.

And it is working – so far, nearly 800 innovative

companies have been identified

by members of the Energies for Climate

community, 100 of which have already

received publicity or local support.

edf.fr/en/meta-home

makesense.org/en

Global Goals Yearbook 2019 111
---
THE FUTURE IS PEOPLE

The core pillars of economic growth always include health and education as drivers for

developing human capital. In Egypt, this is a principle that has shaped the government's 2030

vision and will continue to shape visions for centuries to come. While on a macro level, the

government continues to increase fiscal spending on health and education coupled with

supporting reforms, on the micro front, the private sector has been enthusiastically embracing

this principle through various sustainability efforts. At Elsewedy Electric, this principle is not

just embraced, it also forms the corporate ethos of the company's expanding operations.

By Manal Hassan, Elsewedy Electric

As the most populous country in the

Middle East, Egypt has a wealth of

human resources that can be properly

utilized to jumpstart a once flourishing

and ever-promising economy. With a

growing population, however, there is

a growing need for better services and

facilities to provide for the creation of a

healthy, skilled, and educated workforce.

This is not only necessary for economic

development, but, more importantly,

also for a prosperous and content society

at large. Challenges exist in developing

human capital in Egypt, but these

challenges also present opportunities

for companies to play their part in supporting

the communities in which they

operate – and from which they benefit.

This guiding principle – that the future is

truly "people" – drives Elsewedy Electric's

approach to its CSR efforts. With a measured

focus on health and education, the

company has undertaken various CSR

initiatives to support the development

of its community. The group's CSR goes

beyond donations and acts of philanthropy

and looks at the social impacts of

activities by all stakeholders. Although

charity can ease financial burdens and

provide other short-term benefits, real

sustainability is rooted in long-term

change. At Elsewedy Electric, CSR practices

take into account the economic,

environmental, and social impacts of

all activities.

On the health front, Elsewedy Electric's

methodology begins with a wellresearched

understanding of the challenges

present in the sector. Not only

are upgraded facilities required, but the

training of medical and administrative

staff is equally vital to the proper use

and maintenance of those facilities and,

ultimately, for the general improvement

of patient care. This understanding has

allowed Elsewedy Electric to implement

comprehensive initiatives consisting of

physical support for facility upgrades as

well as training programs to ensure the

proper use and upkeep of donated equipment.

For example, Elsewedy Electric

has supported seven nursing institutes,

allowing them to accept more students,

who are provided with access to a large

range of books and resources related to

nursing, including medical dictionaries.

Not only were the nursing schools provided

with infrastructural upgrades, but,

more importantly, they were provided

with educational resources.

Elsewedy Electric's support to these institutes

has ranged from establishing

an engineering consultant office within

the institute to build new classes and

other facilities, to providing dummies,

paradigms, and various training tools for

teachers and students, and supplying the

bookstores with more resources.

To date, Elsewedy Electric has supported

seven nursing institutes, namely: The

Abbasiya Technical Institute for Nursing,

the Nursing Institute of the Chest

Disease Hospital, the Nursing Institute

of the Sheikh Zayed Hospital in Doweqa,

the Nursing Institute of On Almasryeen

Hospital, the Nursing Institute of Boulaq

Al-Dakroor Hospital, the Nursing Institute

of Alwarak Hospital, and the male

Nursing Institute of Al Moatamadyia

Hospital.

Not only has Elsewedy Electric provided

all of the abovementioned support to

nursing institutes, but it has also built

and equipped the entirety of the Legislation

Association Main Hospital, a

facility that offers free treatment to its

community.

On the education front, Elsewedy Electric

has adopted a holistic approach to its CSR

programs. In 2011, Elsewedy Development

established the Elsewedy Technical

Academy (STA), under the supervision

of Egypt's Ministry of Education. STA

112

Global Goals Yearbook 2019
---
provides a three-year, secondary-level

program of customized technical education

for major electrical industries that

meets international education standards.

All training programs follow the German

example of dual-approach training. This

approach, which includes both technical

and cultural subject matter, combines

learning with training apprenticeships

that take place both at the school and

in factories.

The company's vision is to establish STA

among the leading technical education

institutions worldwide and to change

the approach to technical education in

Egypt and the region. The mission is to

provide an innovative and enhanced

educational program focused on developing

students' skills in order to create a

pool of qualified, skilled, efficient, and

professional members of the technical

community to support foreign and local

markets. By offering practical on-thejob

training, the academy facilitates

the transition from the undergraduate

program to the demanding job market.

STA was established with a clear understanding

of the current state of vocational

training in Egypt, namely its less than

favorable reputation due to the growing

disconnect between business needs and

the current education system. With this

in mind, STA applied the highest standards

of quality to curriculum development,

quality control, infrastructure, and

the student admissions process. In 2018,

STA acquired the Quality Management

Certificate ISO 29990.

The curriculum is implemented in a

holistic way, combining on-the-job training

with classroom learning to empower

students with the necessary knowledge,

skills, and attitudes. The current curriculum

covers the fields of energy components,

industrial electronics, mechanics,

maintenance, and repair. In addition to

a strong curriculum – and in an effort

to nurture a culture of responsibility and

good finance management – students

are also given a monthly stipend for

their personal use.

Facilities at the academy include a large

campus with green space, digitalized

classrooms, state-of-the-art laboratories, a

conference hall, and an auditorium. STA

makes use of tablets, online simulations,

interactive smart boards, and a digital

library, and students are also provided

tablets to use for distance learning when

necessary. Students can rely on a close

mentoring system and highly engaged

teachers and supervisors.

On both fronts of health and education,

Elsewedy Electric's CSR strives to not

only directly help people to live better

lives, but also lead the charge in actively

encouraging other players within the

market to follow suit and participate in

their initiatives. It is only through setting

a proper example and reaching out to

others to join that a sincere call to action

to the entire market can be sent – to

implore others to break new barriers

in developing the amazing wealth of

human capital that Egypt has to offer.

Elsewedy Electric strives to improve the

lives of all its stakeholders, whether they

are employees, customers, or everyday

people. Through continued strong governance

and partnerships with local entities

and NGOs, the company is working to

better the lives of everyone, everywhere.

Investment throughout the group ensures

innovation, differentiates its products and

services, and supports its strong commitment

to sustainable development. As a

global leader in custom-integrated energy

solutions, the company strives to improve

efficiency and cut operational costs in

every country in which it operates. As

energy needs are in concert with development

goals across the African continent,

Elsewedy Electric is taking the lead in

energy accessibility so developing markets

can continue to grow and prosper. >>

Manal Hassan is CSR and

Sustainability Director

at Elsewedy Electric and

Vice Chair of the Elsewedy

Electric Foundation.

Global Goals Yearbook 2019 113
---
ISKRAEMECO IS

TRANSFORMING THE FUTURE

WITH METERING SOLUTIONS

Iskraemeco is one of the leading smart metering solution providers on a global scale. Since

1945, Iskraemeco employees have been transforming valuable experience, innovation, and a

sound understanding of customer needs into comprehensive energy management solutions.

Iskraemeco has an established network of partners, subsidiaries, and production facilities that

offer reliable and efficient support services to the entire client base.

By Mojca Markizeti, Iskraemeco

Metering is part of the electronics and

energy industry. Both are very dynamic

in nature and contribute significantly

to environmental and social footprints.

Iskraemeco strives to build a fair smart

future, together with the community.

The 4.0 industrial revolution is not only

about technology – it is also about values.

It is a revolution of knowledge, and

it will change a producer to a solution

provider, a consumer to a prosumer, and

competition to synergy. In the next 10

years, we will work toward meeting the

Sustainable Development Goals (SDGs),

decarbonizing our planet, using 50 percent

fewer resources, and securing the

future for the generations to come.

Iskraemeco's achievements

There have been product and solution

footprint improvements in all phases:

A) Design phase, where we embedded

circular economy principles, including

innovative modular designs, extended

lifespans (to 20 years), lower

self-consumption of energy, fewer

conflict and critical materials, and

at the same time increased material

efficiency (20 percent less plastic, 40

percent fewer metals, and 20 percent

fewer electronic components

per product).

B) Manufacturing phase (packaging and

logistics included), where investments

in lean production and process optimization

have reduced the use of

energy, water, and other resources.

Seventy percent of product mass is

produced locally, and there has been

a 49 percent reduction in the CO 2

footprint per product since 2013. Innovative

packaging excludes plastics

and decreases the use of cardboard

by 50 percent.

C) In the use phase, increased durability,

interoperability, adaptability, and upgradability

decrease the CO 2

footprint

per product from the manufacturer's

and customer's perspectives.

D) End of lifecycle phase: The amount

of materials used for the product has

decreased. At the same time, products

are disassembled easier and faster,

the recyclability of the products is

improved, and more than 90 percent

of product materials can be recycled,

with metals being returned back to

the material loop.

As a trendsetter, Iskraemeco strives toward

implementing sustainability standards

throughout the entire supply chain.

Our aim is to monitor and coordinate our

supply chain in line with environmental

and social responsibility principles

and follow stricter standards than the

ones prescribed by law. We place special

attention on demanding compliance

rules, higher labor standards, material

transparency (chemical composition),

and forming partnerships on material

and solution innovation projects. In

2018 we managed to achieve 95 percent

material transparency for our latest family

of products.

Awareness-raising and knowledgesharing

are of extreme importance to

Iskraemeco. Our goal is to educate our

suppliers, our customers, and the industry

at large and set higher sustainability

standards in our industry. Iskraemeco is a

participant in the United Nations Global

Compact initiative and acts in accordance

with the ten universally accepted

Principles in the areas of human rights,

labor, environment, and anti-corruption.

We support sustainable development

practices that advocate economic growth

that is in harmony with the environment

and aims to improve the quality of life

for its current and future inhabitants.

114

Global Goals Yearbook 2019
---
In the last few years, we have publicly

advocated for the urgency of implementing

sustainability at many important

conferences and fairs as well as in

magazines in our industry. In 2018 we

received the National Golden Innovation

Award for embedding sustainability

in the industry. We were nominated

for the European Business Awards for

the Environment 2018–2019 and also

received an award from the EU-LAC

Foundation for the Integration of Sustainable

Development Goals into Corporate

Strategies. Our CEO was invited

to speak at the World Forum for a Responsible

Economy in 2018. Moreover,

Iskraemeco has addressed more than

1,200 external executives and professionals

at more than 20 different events

in 2018 alone.

How do we make an impact?

Three-pillar strategy

1. Internal processes – responsible and

sustainable processes, production,

solutions, and company.

2. Supply chain – sustainability on

the level of materials, components,

and suppliers.

3. Knowledge transfer – building

greater awareness among customers,

partners, suppliers, and the industry

at large.

SUSTAINABILITY RESULTS

Using less materials:

-20%

plastic

95%

Transparent

supply chain,

to the level of chemical

composition of the

components

-40%

metals

-20%

electronic

-50%

less cardboard,

Smart packaging;

no plastic

Decreased CO 2

footprint since 2013

-49%

Five strategic areas

• Lifecycle and recycling – Embedding

circular economy principles to the design

phase of our products and solutions.

• Energy resources – Optimizing the use

of resources: energy, water, compressed

air, materials, waste management.

• Material scarcity – Managing and using

critical, conflict, and hazardous

materials thoughtfully. Our vision is to

introduce recycled materials in meter

components.

• Supply chain transparency – Monitoring

our supply chain for material usage

and defining possible improvements.

• Labor conditions – Making sure that

human rights, dignity, and fair treatment

within our supply chain are not

compromised.

Why we need to act now

Looking at global challenges, we can

divide them into three main areas: material

scarcity, decarbonization, and ethical

principles. When it comes to the electronics

industry, we need to dig deeper

and focus on the following five topics.

• Unfair labor practices in global supply

chains – Solution: It is our responsibility

to act and implement fair working

conditions on a global scale.

• Conflict minerals used in products (gold,

3 awards for

sustainability

Invested in research

and innovation about

materials, footprint

1000 hours

500 hours

invested knowledge

transfer on sustainability

issues with all the

stakeholders

Speaker,

educator at

12 conferences

100%

embedded circular

economy principles;

modular, upgradable,

recyclable meter

tantalum, tungsten, tin, and cobalt) –

Solution: Establish a transparent supply

chain, close the loop of materials, educate

suppliers, and innovate in product

design. Despite the introduction of the

Conflict Minerals legislation, this is still a

pending issue in the global supply chain.

• Material scarcity (27 different materials

are a supply risk) – Solution: Push

technological development to find substitutes

for scarce materials, limit the

use, and invest in material innovation.

• Increasing amounts of e-waste (grows 8

percent annually and only 20 percent

is recycled) – Solution: Recycle and

prolong the products' lifecycles, closing

the loop for materials.

• Use of resources, materials, and rising

CO 2

footprint – Solution: Innovative

product design, innovate processes

and materials, minimize the use of resources,

radically decrease CO 2

footprint.

Iskraemeco and the SDGs

Goal 1 (No poverty) and Goal 3 (Good

health and well-being): Working on enforcing

higher labor standards through

our supply chain, Goal 9 (Industry, innovation

and infrastructure) and Goal 12

(Responsible consumption and production):

Embedding circular economy and

sustainability principles to our business,

our industry, and our suppliers. Goal 11

(Sustainable cities and communities):

With our products being part of the

large Smart City infrastructure, we can

significantly decrease energy consumption.

Goal 13 (Climate action): Decreasing

the CO 2

footprint (product, processes,

company, and end-user) can make a huge

difference. Goal 17 (Partnerships for the

goals): As a single corporation, we can do

a lot, but in a community of like-minded

companies, we can move mountains and

build a fair smart future.

Mojca Markizeti is a

Sustainability Manager

at Iskraemeco.

Global Goals Yearbook 2019 115
---
DRIVING TOWARD SDG GOALS

THROUGH AGRICULTURE

INSURANCE

Developing a microinsurance network can work as a critical step to attain directly and indirectly

almost all of the Sustainable Development Goals (SDGs). Especially for developing nations, it is

critical to address the micro-, meso-, and macro-level risk management for insurance in

accordance with the SDGs.

By Md. Moniruzzaman Khan, Green Delta Insurance

As a part of microinsurance, agriculture

insurance is an opportunity for

the global financial industry and for

direct involvement in achieving targeted

SDGs. Considering the global financial

industry context, agriculture insurance

is one of the vital gears for supporting

economic well-being. It also increases

the ability of individuals, families, and

governments to improve social outcomes.

Following a global trend, Green Delta

Insurance Company Limited (GDIC) has

developed and deployed agriculture

insurance to establish an industry-wide

practice to comply with the SDGs. After

completing three years of pilot projects

with the International Finance Corporation

(IFC) of the World Bank Group as an

equity partner, GDIC finally launched

agriculture insurance commercially in

December 2018. The agriculture insurance

of Green Delta shares the objectives

of the global financial industry while

targeting the SDGs by increasing access

to investments and leveraging risks.

• Access: Financial inclusion for individuals

and SMEs; enable cash flow;

provide financial protection; support

resourceful allocation of capital (Goals

1, 2, 8, 10).

• Investment: Investment in developing

infrastructure, innovation, and technology

(Goals 9, 13).

• Leveraging risks: Developing innovative

product pricing; sharing risk data

and risk management expertise (Goals

11, 12).

• Cross-matching: Positively influencing

corporate and social governance practices

– clients, distribution channels,

and donors (Goals 16, 17).

Whereas the pilot projects started with

only 200 farmers with coverage, GDIC's

agriculture insurance has now mitigated

risks and provided investment security

for more than 15,000 farmers (April

2019).

We at Green Delta believe that agriculture

insurance will be able to reach half

the population of Bangladesh in the

future, and we will be able to provide

economic security for them in addition

to mitigating risks and protecting their

investments.

The SDG Goals targeted through our

agriculture insurance are as follows:

Crossing the poverty line:

No poverty (Goal 1)

Due to adverse weather, marginal rural

farmers are always being hurt. Their efforts

and investments are often at risk

due to the changing climate, despite

increased food demand and the evergrowing

pressure to feed more mouths.

With each adverse event, it is difficult

to ensure food for a mass population,

improve nutrition, and resist sustainable

agriculture, and it is making the lives of

poor farmers miserable.

As experts suggest, agriculture is unique

because it can be two to four times more

effective than any other sector for reducing

both poverty and hunger: 80 percent

of food is produced by marginal rural

farmers and smallholders. These rural

people and farmers are counted among

the 9 percent of the total population

living under the poverty line.

Focusing on achieving the "No poverty"

goal, GDIC started working on the core

of the problem by introducing agricul-

116

Global Goals Yearbook 2019
---
ture insurance, which is called Weather

Index Based Agriculture Insurance, to

protect farmers from extreme adverse

weather events. This way GDIC deployed

an innovative financial tool that offers

advance financial inclusion to support

farmers in order to stabilize their financial

status. For this, GDIC has developed

a consortium of distributors, reinsurers,

and other stakeholders. It already has

engagements in 10 districts of Bangladesh,

where around 15,000 farmers

are insured. GDIC believes that, if the

farmers have protection against adverse

weather events and can overcome their

financial losses instantly, then they can

sustain agriculture production, thus securing

the supply of food and improving

nutrition. This improves financial stability

and raises them above the poverty line.

Celebrating a happy stomach:

Zero hunger (Goal 2)

No poverty and zero hunger go hand in

hand. GDIC extends insurance protection

to the smallholder farmers, who are the

most vulnerable and mostly live under

the poverty line. Through Weather Index

Based Agriculture Insurance, GDIC has

secured the production of smallholder

farmers, availing to them the leveraging

of technology such as mobile money

transfers and satellite monitoring.

GDIC is exploring collaborations with

farm aggregators, impact investors, and

other associated parties to provide easy

loans to the farmers. Then again, to secure

the return of the loans, GDIC works

toward insuring the investments of the

farmers. If there is any adverse weather,

GDIC makes sure that their investment

is secured by paying out claims. Thus,

the farmers return to the same stable

position they were in before the weather

event happened. This process lets farmers

sustain production and satisfy food

demand through uninterrupted farming.

GDIC has already covered 5,206 acres of

land in different locations of Bangladesh.

Bridging the three "I"s: Industry, innovation

and infrastructure (Goal 9)

Agriculture insurance promotes the deployment

of modern technology and the

incorporation of infrastructure within

the process. GDIC is creating the platform

for using high-end technologies

such as access to the data grid, acquiring

and analyzing satellite data, using

interpolated data, etc. Moreover, it uses

modern technology for communicating

with all the stakeholders of the insurance

service while providing weekly weather

forecasts, crop-specific advice, and call

center services to the farmers.

GDIC is looking forward to incorporating

more technological inventions in its

services to create an app for its users:

an e-platform to communicate with the

stakeholder in real time. GDIC believes

that investment in innovation and infrastructure

is vital for overall growth and

progress. That is why we are investing

in innovation and infrastructure to facilitate

sustainable development.

Sustainable partnerships:

Partnerships for the goals (Goal 17)

The agriculture insurance is helping

GDIC to connect with both national and

foreign corporates and value-creation

firms to sustain the development of the

rural farmers. To create an ideal model in

the industry and to promote agriculture

insurance, GDIC engages with multiple

stakeholders to integrate the services

into one platform.

GDIC has joined hands with a number of

international development agencies such

as International Finance Corporation

(IFC), Agriculture Value Chain (AVC) –

USAID and Business Finance for the Poor

(BFPB) – Challenge Fund. As for NGOs,

we have worked with Care Bangladesh,

Oxfam, Syngenta Foundation Gram

Unnayan Karma (GUK), and Eco-Social

Development Organization, among

others. Besides these organizations, we

have also collaborations with input

farms such as Seba Limited, Renaissance

Enterprise, and seed company such as

Supreme Seed Company Ltd., etc., to

create pathways for farmers.

Global Goals Yearbook 2019 117
---
ING'S TERRA APPROACH:

10 QUESTIONS ON WHAT WE

ARE DOING FOR GOAL 13

If we want to keep global temperatures from rising well-below 2°C, everyone has a role to play.

As a bank committed to empowering our customers and accelerating sustainability, our primary

focus is on the Sustainable Development Goals (SDGs) promoting climate action (Goal 13),

sustainable and inclusive economic growth (Goal 8), and sustainable consumption and

production (Goal 12).

By Kaitlin Crouch and Melynda Milman, ING

ING makes the most impact through

the money we loan to companies and

customers. We have a loan book of about

€600 billion across many sectors, which

we have now begun steering toward

meeting the Paris Agreement's 2°C goal.

We call our strategy to get there the

"Terra approach."

Here are 10 questions and answers to

explain the Terra approach and how we

are using it to take action on climate in

line with Goal 13.

1. How does ING's Terra approach

work?

2. What methodology does ING use?

Although ING's Terra approach will make

use of various methodologies, there is

one that applies to most of the sectors

in focus. This is the methodology ING

co-created with the 2° Investing Initiative

(2°ii), a global think tank developing

climate metrics in financial markets. It

is called the PACTA methodology for

corporate lending. It looks at the technology

shift that is needed across certain

sectors to slow global warming and then

measures this against the actual technology

clients are using – or plan on using

in the future.

3. How does the PACTA

methodology work?

Detailed technology roadmaps for each

sector are being developed by independent

organizations such as the International

Energy Agency. These roadmaps

are used as benchmarks. An IT tool compares

the data from the sector roadmaps

The goal is to steer our loan book toward

meeting the well-below 2°C goal of the

Paris Agreement. There are sectors in our

loan book that are responsible for most

greenhouse gas emissions, so we focus

on those: energy (oil and gas, renewables,

and conventional power), automotive,

shipping and aviation, steel, cement,

residential mortgages, and commercial

real estate. We use a specific approach

per sector in order to make the most

impact, partnering with leading external

climate measurement experts where it

makes sense.

118

Global Goals Yearbook 2019
---
to data on the technology our clients

are using today and planning on using

in the future. In the automotive sector,

for example, we measure the mix

of our clients' production of internal

combustion engine vehicles compared to

zero-emission vehicles and how clients

plan to shift this balance over time. We

then compare this with the science-based

transition pathway for the sector. The

analysis not only tells us what needs to

shift, but also how much and by when.

This is where financing comes in – and

ING can have an impact.

4. Why is this methodology so

important?

We feel it can change the way banks

think about climate impact measurement.

Compared to other measurement

approaches, this one is precise, tailored

to each sector's needs, forward-looking,

and will ultimately have a bigger impact

because it steers key sectors toward

technologies that underpin a lowcarbon

future rather than only measure

a carbon-rich past.

5. What approach is ING taking for

their mortgage portfolio?

As almost half of our loan book consists

of mortgages, we must take action to

make our mortgage portfolio energypositive.

This means that the homes in

this portfolio will collectively produce

more energy than they consume. To this

end, we are developing retail products,

tools, and services to help homeowners

make their houses more sustainable.

As houses generally account for about

20 percent of direct and indirect CO 2

emissions, we believe this could have a

meaningful impact. At the same time,

it will help customers to lower their

CO 2

footprint and energy bills. We are

starting with our three biggest markets:

the Netherlands, Germany, and Belgium.

2°ii, to explain the PACTA methodology.

Most banks are positive about it

and recognize the significant progress

ING is making. In February we hosted

15 international banks in a kickoff of

the next phase. The goal is to develop

the methodology so it can be published

and shared, and eventually adopted as

the industry standard.

7. How else have banks gotten

involved?

In December 2018, ING was joined by

BBVA, BNP Paribas, Société Générale,

and Standard Chartered in signing the

Katowice Commitment, which we named

in honor of the COP 24 being held at the

time in Poland. This is a commitment

to steer our portfolios toward the wellbelow

2°C goal of the Paris Agreement

and work together to further refine the

metrics and tools needed to do this. We

all pledged to start by focusing on the

most carbon-intense sectors, developing

an approach per sector, and engaging

with companies rather than simply excluding

them. We will all look at clients'

future investments to support their shift

to low-carbon assets, in line with sciencebased

technology roadmaps.

8. What is 2°ii and why is ING

working with them?

2°ii is the leading global think tank on

developing climate and long-term risk

metrics and related policy options in

financial markets. It coordinates the

world's largest research projects on climate

metrics in financial markets, with

more than 40 research partners in the

public, private, and philanthropic sectors,

and millions re-granted to research

partners to date. It is backed by bodies

including the European Commission and

various European governments, and it is

supported by academics, expert groups,

and civil society.

climate change. We have committed to

reducing our thermal coal exposure to

close to zero by 2025 and aim to double

our Climate Finance portfolio by 2022

compared to 2017. We will do this by

funding projects that advance renewable

energy, energy efficiency, and the

circular economy. In November 2018,

ING's second-ever own green bonds issue

raised €2.6 billion to fund a portfolio of

green loans for renewable energy and

green buildings.

We have also committed to doubling

Social Impact financing for projects

that lead to affordable housing or improved

infrastructure, for example,

and to doubling lending to environmental,

social, and governance (ESG)

industry leaders – all by 2022, as compared

to 2017. In 2018, ING signed up

to the United Nations Principles for

Responsible Investment, committing

us to incorporate environmental, social,

and corporate governance issues into

our investment decisions, policies, and

processes.

10. Is ING on track to meet its targets?

We are well on track. In 2018 our Climate

Finance portfolio rose 13 percent

to €16.5 billion, Social Impact financing

was 66 percent higher at €775 million,

and lending to industry ESG leaders grew

by 29 percent to €7.1 billion.

Ralph Hamers,

CEO of ING Group

6. What's the next step?

9. What else does ING do on climate?

We have been speaking with other

banks and stakeholders, together with

The Terra approach is complemented

by the other ways we work to combat

Global Goals Yearbook 2019 119
---
HOW IS THE CSR REPORTING

OBLIGATION HAVING AN

EFFECT?

The EU Non-Financial Reporting Directive (NFRD), also known

as CSR law, has been in force for more than two years. Across

Europe, some 6,500 companies are affected. But what has the

law achieved? An in-depth three-country study commissioned

by software specialist iPoint provides answers. The conclusion

is mixed: Although reporting on gender equality is relatively

high, there is often a lack of transparency, especially with

regard to human rights in supply chains.

By Dr. Katie Boehme, iPoint-systems

Child labor, environmental pollution,

consumer deception – the list of corporate

misconduct is long. Although many

companies work within legal boundaries,

black sheep cast a shadow over corporate

responsibility. This is why the state has

long ceased to rely solely on voluntarism.

Increasingly, laws and ordinances are

creating binding frameworks. These are

supplemented by voluntary commitments

and industry standards – a "smart

policy mix" as it is referred to by the UN.

One example of such a binding framework

is the Non-Financial Reporting

Directive of the European Union. The

Directive states that non-financial information

is "vital for managing change

towards a sustainable global economy by

combining long-term profitability with

social justice and environmental protection"

(See Recital 3, Directive 2014/95/

EU of the European Parliament and of

the Council of 22 October 2014). Indeed,

"disclosure of non-financial information

helps the measuring, monitoring and

managing of undertakings' performance

and their impact on society" (ibid). It

consequently decrees that capital marketoriented

corporations as well as banks

and insurance companies with more

than 500 employees have non-financial

reporting obligations on matters including

environmental, employee and social

issues, respect for human rights, and

the fight against corruption and bribery.

Important baseline determination

In a recent study commissioned by

iPoint, the nonprofit research organization

Development International has, for

the first time, systematically investigated

the degree of non-financial transparency

of 516 companies from Germany, 590

from Sweden, and 75 from Austria. To

this end, the annual or sustainability

reports of these companies were assessed

against 60 key performance indicators

from the Global Reporting Initiative, the

German Sustainability Code, and the UN

Global Compact.

On average, disclosure transparency was

highest with regard to gender distribution,

anti-corruption measures, and employee

rights. Many companies tended

to report less on environmental issues,

and even less on human rights issues. In

this regard, each individual company was

assigned a "transparency score," which

reflects whether the information was

disclosed or not. Osram Licht AG turned

out to be the transparency leader in

Germany (with a transparency score of

30), and Husqvarna AB in Sweden (with

a transparency score of 37).

Climate protection: Talking is silver,

acting is gold

The example of climate protection shows

where the wheat is separated from the

chaff. Although 75 percent of the German

companies and 83 percent of the

Swedish companies surveyed reported

on the issue of greenhouse gases, not

everyone could back up their commitments

with figures. With respect to Scope 1,

120

Global Goals Yearbook 2019
---
for example, which refers to direct

greenhouse gas emissions originating

from sources owned or controlled by

the company, just under a third (32.9

percent) of German companies and 41.6

percent of Swedish companies were able

to report the same.

There is also a lot of work ahead in the

area of climate management. Only 17.3

percent of the German companies and

38.8 percent of the Swedish companies

surveyed have their own climate and

emission targets. According to the study,

Hamburger Hafen und Logistik AG is

one such company: It has set itself the

clear goal of reducing emissions for every

container loaded by 30 percent by 2020

compared with the reference year 2008.

The Swedish company Hennes & Mauritz

AB has set a goal to be "climate positive"

by 2040, that is, to remove more carbon

from the air than it emits.

Yet, sustainable corporate management

is not only limited to measuring and

managing performance within the group,

it also involves taking a further step and

addressing potentially negative environmental

impacts in its supply chains. Only

one company in Germany, Merck KGaA,

provided such disclosure. It is a pharmaceutical,

chemical, and life science

company that identified two suppliers

with potential negative impacts on air

emissions and improper waste management

with the risk of soil contamination.

In response, the company developed an

action plan and was reportedly monitoring

each of these suppliers. By contrast,

43 (17.6 percent) Swedish companies

under study reported having taken action

on 134 occasions to remediate negative

environmental impacts in their supply

chains.

Human rights: Monitoring suppliers

In supply chains, not only are tasks outsourced,

but risks as well. There are a

number of countries and raw materials

that are associated with an increased

risk of modern slavery and human trafficking:

fish from Thailand, cotton from

Uzbekistan, and textiles sewn in Asia,

for example. Cocoa from Ghana and

Côte d'Ivoire is often obtained under

hazardous conditions for child laborers.

According to the study, 58 percent of

German companies and 38 percent

of Swedish companies surveyed

have child labor on their radar

and report on it. For forced

labor and modern slavery, the

figure is only 34 percent in

Germany and 32 percent in

Sweden.

With respect to raw materials

such as tin, tungsten, tantalum,

and gold originating

from the Democratic Republic

of Congo (the so-called conflict

minerals associated with human

rights violations that are still being

perpetuated in the aftermath of the

country's civil war), only 6 percent of

companies in Germany as well as Sweden

have addressed the issue. However, a new

EU regulation (2017/821) due to come

into force in 2021 has introduced a duty

of care for companies importing those

four raw materials. A positive example

of active measures is the automotive

supplier Schaeffler, which, according to

its report, already installed a monitoring

process in 2013 that also asks about the

origins of materials. Schaeffler does not

mince words when describing the issue:

The acquisition of 3TG (tin, tantalum,

and gold) contributes "in some countries

to the financing of armed conflicts and

human rights violations."

Supplier standards beyond quality management

are still not on the agendas of

many German companies, but they are on

the agendas of many Swedish companies.

Whereas only 31.3 percent of German

companies had issued a code of conduct

for their suppliers, 82.9 percent had done

so in Sweden. On a positive note, however,

German companies with a corresponding

Code of Conduct are investigating new

suppliers in almost 70 percent of cases,

and almost 85 percent of cases in Sweden.

In this way, the supplier base is rendered

more sustainable in the long term.

Technotrans AG, for example, reports that

new suppliers must undergo a standardized

process and are only commissioned

if they meet the necessary criteria, including

labor practices. One hundred percent

of Com Hem Holding AB's new suppliers

were screened for human rights in 2017.

Conclusion

Providing an in-the-trenches perspective,

iPoint CEO Joerg Walden observes: "Behind

and in front of the scenes, we are

witnessing bona fide ESG campaigns. But

to what extent are companies willing and

able to comprehensively disclose their

non-financial fundamentals through

established reporting frameworks?

Everyone is asking this question, and

this study provides answers."

Dr. Chris Bayer, principal investigator

of the study, concludes the studies on

a positive note: "In summary, it can be

said that some, but not all of the companies

surveyed use the EU Non-Financial

Reporting Directive as an opportunity to

prove that they deserve a social – and not

only a financial – license to operate."

Global Goals Yearbook 2019 121
---
GOOD PRACTICE SECTION 2: LIST OF ATTENDEES (FROM K - Z)

Companies are listed in alphabetic order

Arab African International Bank

Audi

BASF

Bayer

Beaulieu International Group

Bergen Plastics

Bosch

Cargolux

Casinos Austria and Austrian Lotteries Group

CEMEX

Deloitte

Deutsche Telekom

EDF Group

Elsewedy Electric / Iskraemeco

Green Delta Insurance

ING

iPoint-systems

Solely responsible for the editorial contributions under the

heading "Good Practice" are the companies themselves.

Named articles do not reflect the opinions of the publisher.

KYOCERA

MAN

Manila Doctors Hospital

Mazars

MediaMarktSaturn

Merck

METRO

Moelven

Nomura

Olam International

Pernod Ricard

Philia Earth

Philip Morris International

PUMA

Sakhalin Energy

Symrise

The University of Manchester

124

126

128

130

KYOCERA

MAN

Manila Doctors Hospital

Mazars

122

Global Goals Yearbook 2019
---
GOOD PRACTICE

134

MediaMarktSaturn

136

Merck

138

METRO

142

Moelven

144

Nomura

146

Olam International

150

Pernod Ricard

152

Philia Earth

154

Philip Morris International

158

PUMA

160

Sakhalin Energy

162

Symrise

164

The University of Manchester

Global Goals Yearbook 2019 123
---
KYOCERA'S COMMITMENT

TO SUSTAINABILITY AND

ENVIRONMENT MANAGEMENT

Some 18 million people in Germany work in offices. That is

why KYOCERA Document Solutions aims to make document

processes eco-friendly and economical – a mission the

company has been striving to achieve since its founding in 1959.

By Annette Neth, KYOCERA

KYOCERA Document Solutions is a leading

provider of printers and multifunctional

systems, as well as services and

solutions for document management.

The sustainable use of resources plays

an important role in the company's

corporate and product philosophy.

This corporate culture is rooted in the

personal philosophy of company founder

Dr. Kazuo Inamori. Upon founding the

company in 1959, he stated that the

respectful treatment of nature and the

love of people were the foundation on

which all business activity would be

based. KYOCERA still upholds these

standards to this day and focuses all

corporate activities on three pillars of

coexistence (Living Together):

• Coexisting with Our Community

• Coexisting with Global Society

• Coexisting with Nature

According to Dr. Inamori, a company

should act with both its social and its

environmental responsibilities in mind.

Technology and a responsibility for people

and the environment are inseparably

linked.

The entire KYOCERA Group is therefore

committed to environmental management

and the goals of sustainable corporate

development. Around the world, the

company is dedicated to striking a balance

between economic, environmental,

and social targets. In addition, the Group

is committed to society as a whole. The

internationally renowned Kyoto Prize is

just one example that is based on this

philosophy. Established by Dr. Inamori,

the Kyoto Prize is awarded annually

and honors outstanding achievements

in the categories Advanced Technology,

Basic Sciences and Arts, and Philosophy

with 50 million yen per recipient (approximately

€300,000).

The KYOCERA Group also spearheads

environmental and business initiatives

to ensure sustainable development, with

a special focus on efforts to save energy

and protect the climate. At its main

locations, for example, the Group has

installed solar power generating systems

on roofs and installed energy-saving

equipment. Some Japanese locations feature

"Green Curtains" over windows and

external walls to provide natural cooling

and protection from the sun. In honor

of the Group's efforts, Japan's Ministry

of the Environment bestowed its Award

for Global Warming Prevention Activities

upon KYOCERA in 2018 for the ninth

time in a row. What is more, KYOCERA

Germany has provided all its customers

with a climate-neutral option for its original

toner since 2013. A climate-neutral

option is also available for the company's

systems. Environmental consciousness

naturally also plays a pivotal role in product

development, with KYOCERA aiming

to keep greenhouse gas emissions as low

as possible throughout the lifecycle of

its printers and multifunctional devices.

Waste prevention, standby optimization,

124

Global Goals Yearbook 2019
---
and low power consumption, as well

as improving logistics and packaging,

are just some of the areas on which the

company is focusing.

Thanks to ECOSYS technology, the only

consumable KYOCERA printers consume

is toner, setting them apart from the

competition. Particularly high-durability

components that remain part of the

system throughout the product's lifetime

make the difference here, resulting

in up to 75 percent less waste volume

compared to other manufacturers, as

the trade publication FACTS confirmed

in 2017. The company's approach follows

the principle "avoidance before

mitigation before offsetting." That means

offsetting should never be the first step

without additional measures. Among

other things, these additional measures

entail:

AVOID

Thanks to the patented ECOSYS technology,

which is based on extremely highdurability

components, toner is the only

consumable that needs to be replaced,

preventing unnecessary waste and the

associated greenhouse gas emissions in

the first place.

MITIGATE

KYOCERA is taking a wide range of

measures to mitigate the environmental

impact of its systems. For example, a

standard duplex unit within the systems

enables double-sided printing, which

can help to lower paper consumption

by up to 50 percent. The new systems

use power-saving LEDs as a light source

for scanners to save additional energy.

Packaging volume has also been reduced

to a minimum, with no polystyrene

used. The resource-saving technology is

undergoing constant development and

enhancement.

OFFSET

The as yet unavoidable CO 2

emissions

generated by toners or by printing and

copying systems over the course of a

lifetime are addressed as part of the

PRINT GREEN program.

"

With our philosophy, we are

working to promote our

commitment to society, build

relationships of mutual trust,

and strive for sustainable

growth. At the same time,

KYOCERA aims to contribute to

the healthy development

of society.

We launched the PRINT GREEN

program six years ago. We are

delighted that we have been able

to help make such a huge

difference in Kenya since then,

and that our customers and

partners have been receptive to

our climate-neutral toner,

says Daniela Matysiak,

Environmental and CSR Manager at

KYOCERA Document Solutions Germany.

Thanks to PRINT GREEN, KYOCERA is

setting a benchmark in Germany. Every

KYOCERA original toner is carbon neutral.

Any carbon emissions are offset

through an investment in a Gold Standard

climate protection project in Kenya

that aims to produce and distribute efficient

household cookers in rural areas of

Siaya County. Most people in the region

primarily cook with three-stone fires,

which make inefficient use of wood fuel.

The KYOCERA climate protection

project has already made

it possible to install

more than 60,000

efficient household

cookers that

need up to 50 percent

less wood and

TONER

emit significantly

less soot and smoke.

Local production of the

cookers also creates steady

jobs and has improved

the living conditions

of more than 300,000 people. As a result,

the project helps contribute to the

achievement of multiple UN Sustainable

Development Goals.

All KYOCERA customers automatically

help to support this climate protection

project. On request, customers can receive

a certificate detailing the volume

of CO 2

offset and can make all their

KYOCERA systems climate neutral in

exchange for a voluntary investment.

All CO 2

emissions generated through the

creation of raw materials, production,

transport, use, and disposal are offset,

thereby helping to improve their climate

footprint even further.

The company has received multiple honors

for its commitment to the constant

advancement of its CSR strategy, including

the German Sustainability Award,

the Deutscher CSR-Preis (German CSR

Award), and the German Brand Award.

For example, KYOCERA Document Solutions

GmbH is a member of the newly

founded Allianz für Entwicklung und

Klimaschutz (Alliance for Development

and Climate Protection), a platform for

additional nongovernmental international

climate protection and sustainable

development. The alliance was initiated

by Germany's Federal Ministry for Economic

Cooperation and Development

and is focused on avoidance, reduction,

and compensation efforts.

CO 2

-NEUTRAL

Global Goals Yearbook 2019 125
---
MAN CUTS ITS PLANTS' CO 2

EMISSIONS BY MORE THAN

A QUARTER

Produce more while consuming fewer resources at the same time? This is how a sustainable

economy works. The commercial vehicle manufacturer MAN shows how a company can achieve

both growth and ecological goals through consistent climate management.

By Peter Attin, MAN

MAN has reduced the CO 2

emissions of

its production sites by more than onequarter.

The sites emitted around 26

percent less CO 2

in 2018 than in the base

year of 2008. This means that MAN has

reached its goal two years earlier than

originally planned.

At the same time, economic development

in fiscal year 2018 was very positive:

MAN Truck & Bus production and sales

in Europe rose by 10.3 percent to more

than 95,000 vehicles produced. MAN

Latin America grew even more sharply:

32.7 percent. This corresponds to more

than 35,000 vehicles being produced.

Absolute emissions Group-wide were also

reduced – to 406,000 metric tons. This

corresponds to a reduction of 141,374

metric tons of CO 2

equivalent within 10

years. This means that MAN has reached

its goal two years earlier than planned:

In fact, the MAN Climate Strategy, which

was adopted back in 2011, provided for

a 25 percent reduction by 2020, and not

any earlier.

"This is a huge success that our project

team has driven forward with exceptional

commitment across the board – and

we are proud of it. As an industrial player,

we have a responsibility to protect the

environment and combat climate change.

We fulfill this responsibility with the

help of targeted measures as part of our

Climate Strategy," says Michael Kobriger,

Executive Board member for Production

and Logistics at MAN Truck & Bus.

Smart package of measures

To do this, the company focused on a

systematic approach. As well as producing

energy within its own plants and

In terms of the UN Sustainable Development

Goals, it is crucial that growth

remains positive because it creates jobs

and prosperity. At the same time, however,

it is also important to decouple

resource consumption from the emission

of dangerous greenhouse gases. MAN's

latest sustainability report shows that

the Munich-based commercial vehicle

manufacturer is on the right track here:

Overall, energy consumption rose only

slightly (2.2 percent) compared with

productivity. Therefore, greenhouse gas

emissions produced per vehicle fell by

17.2 percent.

First climate-neutral production plant in Pinetown, South Africa

126