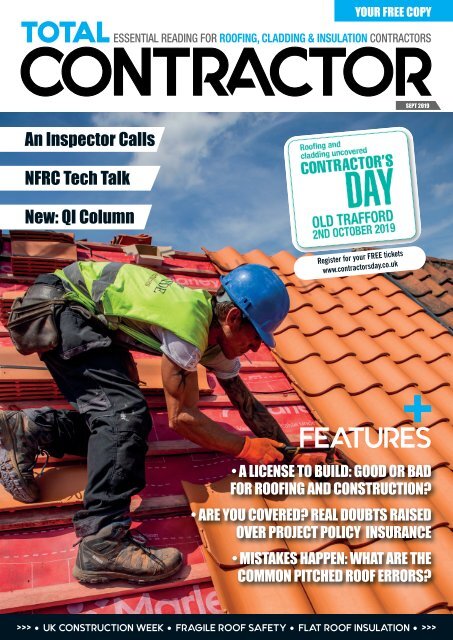 You also want an ePaper? Increase the reach of your titles
YUMPU automatically turns print PDFs into web optimized ePapers that Google loves.
SEPT 2019

An Inspector Calls

NFRC Tech Talk

New: QI Column

Register for your FREE tickets

www.contractorsday.co.uk

FEATURES

• A LICENSE TO BUILD: GOOD OR BAD

FOR ROOFING AND CONSTRUCTION?

• ARE YOU COVERED? REAL DOUBTS RAISED

OVER PROJECT POLICY INSURANCE

• MISTAKES HAPPEN: WHAT ARE THE

COMMON PITCHED ROOF ERRORS?

>>> • UK CONSTRUCTION WEEK • FRAGILE ROOF SAFETY • FLAT ROOF INSULATION • >>>
---
Wraptite ® - Trinity, Manchester

An example in use is the administrative headquarters building of the Royal College of Pathologists in London

where the Wraptite system was installed as a solution for airtightness, weather protection and breathability.

Cladding contractor Windell installed the Wraptite System as an external air barrier and alternative to a

traditional standard breather membrane. The use of a standard membrane would have required mechanical

fixing and provided some challenges given the concrete structure of the building. As an alternative, the

Wraptite self-adhesive membrane was applied, quickly and easily to the external envelope in continuous

pieces.

George Marcantonio, the Site Manager of Windell, commented: "The application of the self-adhesive Wraptite

System has proven really easy to use, and quick to apply, with no requirement to return for additional

fixing or accessories. We will certainly be using the system for future projects and recommend it without

hesitation."

By reducing the likelihood of potential failures to meet designed airtightness levels, the Wraptite System helps

contractors to ensure compliance with building regulations, achieving an effective airtight barrier, whilst saving

time and cost on site.

To find out more

01250 872 261

contact@proctorgroup.com

www.proctorgroup.com

Wraptite ® - Royal College of Pathologists, London
---
octor

the A Proctor Group Collection 2019

the starlet

design by:

Sarah McClintock

®

Wraptite

self adhering vapour permeable air barrier

01250 872 261

Proctor

Group

www.proctorgroup.com
---
Airtightness from a

contractor's perspective

Air leakage through cracks, gaps, holes and improperly sealed elements such as doors and windows can cause a

significant reduction in the performance of even thermally insulated building envelopes. Contractors have a key role

to play in the installation of effective air barrier systems which have become essential in achieving the most effective

means of controlling and reducing air leaks.

As thermal insulation requirements have increased over the last few years, the proportion of energy lost

through air leakage has become more evident. The ever-increasing thermal insulation required will, however,

be rendered largely ineffective unless the airtightness of the structure itself is addressed. Air leakage greatly

reduces the effect of thermal insulation; therefore if energy efficiency is to be improved within buildings, this is

the most critical area to focus on.

The two main ways to achieve airtightness in the building envelope are internally or externally, or in other

terms, "inside of the services zone' or 'outside of the services zone'. For the contractor, the use of traditional

internal air barriers can be more complex and costly to install, due to the need to accommodate building

services such as electrical, lighting, heating and drainage systems. An internal air barrier is only as good as it's

installation. If all the service penetrations are not adequately sealed, performance will be compromised.

For many years, external air barriers have been commonly used in North American building design and

construction. By moving the air barrier to the external side of the structural frame, external air barrier

systems such as Wraptite ® from A. Proctor Group allow for an almost penetration-free airtight layer, which

can be installed faster and more robustly. This offers an effective but simple system comprising a self-adhesive

vapour permeable air barrier membrane, plus vapour permeable sealing tape, Wraptite Corners and Wraptite

Liquid Flashing, and provides effective secondary weather protection while preventing trapped moisture and

air leakage. Far simpler than internal options an external air barrier system like Wraptite will maintain the

envelope's integrity, with less building services and structural penetrations to be sealed, and less room for error.

The Wraptite air barrier system from the A. Proctor Group is the only self-adhering vapour permeable air

barrier certified by the BBA and combines the important properties of vapour permeability and airtightness in

one self-adhering membrane. This approach saves contractors costs on both the labour and materials required

to achieve the demands of energy efficiency in buildings.
---
I

V

Editor's Comment

MATT DOWNS

EDITORIAL DIRECTOR

MATTDOWNS@MEDIA-NOW.CO.UK

07963 330774

COVER PIC:

COURTESY OF

MARLEY

With time and work pressures, we all know how easy it is to get

caught up in the cycle of ticking off the 'to-do list' and going from

one job to the next.

For roofing and cladding operatives in particular, justifying time away

from jobs can be difficult but sometimes it's important to stop and take

stock, see what's new in your sector and perhaps learn about the latest

developments that will assist you as an individual or business going

forward.

That's why, alongside the NFRC, we've brought together the leading

manufacturers and suppliers of roofing, cladding, and associated

products and materials for one-day only at Old Trafford football club,

Manchester, on 2nd October 2019. At Contractor's Day – sponsored by

Quantum Insulation – you'll be able to get up close to the latest

launches, pick the brains of technical experts, network with likeminded

individuals, and listen to and take part in seminars and

debates on the key issues affecting the roofing and cladding sectors.

Above: Read about the Eden, Marley's new traditional pantile, which

incorporates modern fixing methods for quicker and easier installation on p44.

FOLLOW US @TOTCONTRACTORUK

SIGN UP FOR YOUR E-NEWSLETTER AT

WWW.TOTAL-CONTRACTOR.CO.UK

Advertising:

Publishing Director: Andy Dunn

DD: 01892 732 047

Mob: 07963 330777

Email: andydunn@media-now.co.uk

Commercial Manager: Jake Roxborough

DD: 01892 732 047

Mob: 07956 133314

Email: jakeroxborough@media-now.co.uk

With exclusive show offers, discounts and more than 50 exhibitors,

Contractor's Day is the ideal event for roofers and cladders to source

new products. With a targeted seminar and speaker programme

including an exclusive update on RoofCERT, the latest guidance for

contractors on Safe2Torch, advice for tendering and procurement and

guidance on insurance for contractors, you can be sure time spent at

Contractor's Day will be both productive and informative, and an

invaluable opportunity to get to grips with the future of your sector.

Find out more on p06 and in your free show guide...

FROM

A

ONL

*

£345

LY

per leaf

Including

delivery

Matt

The content of Total Contractor magazine (and website) does not necessarily reflect the views of the editor or publishers and

are the views of its contributors and advertisers. The digital edition may include hyperlinks to third-party content, advertising,

or websites, provided for the sake of convenience and interest. The publishers accept no legal responsibility for loss arising

from information in this publication and do not endorse any advertising or products available from external sources. No part

of this publication may be reproduced or stored in a retrieval system without the written consent of the publishers. All rights

reserved.

Registered office: 1 Forstal Road, Aylesbury, Kent, ME20 7AU

Supported by:

Aluminium Bi-Fold

Doors

make smarter the

choice

T

Quote turnaround within hours

Up to 1200mm sash widths

10 A

D Working

ays Lea ad

Time

ORDER TO

DELIVER

LIVERY FROM

A FAST

N

L

IN

A

LAND

A

UK

M

M

U

DE

ITE

S

T

D

DEL

E

ERY*

E

R

Stock colours : White, Black,

Grey, Grey on White

* Per leaf price is unglazed and may vary depending on size and specification of

the door. Lead time is based on a standard colour. Postcode restrictions apply

Email: sales@madef

efortrade.co

Ca all: 01642 610799

Fax: 01642 671026

www

w.madefortrade.co

SEPTEMBER 2019 TC 3
---
Contents

COVER FEATURES

16 A LICENSE TO BUILD

Jackie Biswell says despite the extra

paperwork it may bring, a licensing scheme for

the UK construction sector is great news

24 ARE YOU COVERED?

Doubts have been raised over the protection

offered by project policy insurance; Ian

Hollingworth takes a look at the issues...

56 MISTAKES HAPPEN...

Pitched roofing consultant John Mercer

discusses some of the common mistakes

contractors make when installing pitched roofs

54

FEATURES

28 FORD DRIVES AHEAD

What's next for Matt Ford, BMI pitched roofing

Apprentice of the Year 2019?

38 PURE AND SIMPLE

Richard Kendrick says sometimes it pays for roofers to

keep it simple when it comes to what they offer

40 GO WITH THE FLOW

Karen Moulds talks installer benefits and requirements

when working with metal rainwater systems

54 STAND AND DELIVER

Gareth Holvey says standing seam metal roofing can

really deliver as an alternative to traditional materials

26

80 QUICK FIRE QUESTIONS

Rob Firman answers frequently asked questions relating

to fire safety regs and flat roofing

86 EXTRACTION PLAN

The experts at EJOT discuss a new solution to protect

contractors against airborne concrete dust and debris

4 TC SEPTEMBER 2019
---
REGULARS

22 BUSINESS TALK

10 steps to protecting your IT network from

viruses and other forms of attack

26 NFRC TECH TALK

Gary Walpole begins his focus on Safe2Torch and

contractors with advice for using LPG cylinders

34 AN INSPECTOR CALLS

This month the Inspector looks at the

consequences of clay tile delamination

48 CONTRACTOR'S QS

Neil Harrison, BriggsAmasco, talks creating a

career, stand-out projects and difficult customers

SECTIONS:

TOTAL

ROOFING

32

TOTAL

CLADDING

70

INDUSTRY NEWS

06 CONTRACTOR'S DAY GROWS

New exhibitors, speakers and seminars announced for

October's Old Trafford roofing and cladding event

10 MARLEY ACQUIRED

Pitched roofing system manufacturer calls acquisition an

"exciting and defining move" as it embarks on next chapter

TOTAL

INSULATION

80

06

VEHICLES, TOOLS

& WORKWEAR

86

SEPTEMBER 2019 TC 5
---
Industry News

CONSOLIDATION

GOOD FOR CLADDING

Vivalda Group has acquired the cladding

manufacturer MSP Scotland.

Vivalda Chairman Peter Johnson is delighted

with the acquisition of MSP, which will

continue to trade under the brand that was

established in 1966. Speaking from Glasgow,

he said: "The MSP name is well known

across the UK as a provider of both branded

fascia boards, as well as its bespoke coated

aluminium façade solutions. I've been

impressed with the level of skilled

technicians and engineers based here at

Cumbernauld – which I am sure will prove to

be a great asset to the Vivalda Group. We

intend to invest in people and technology

here at MSP, to create a world-class façades

manufacturing and fabrication facility.

There's a great fit between Vivalda and MSP,

both strategically and culturally, and I am

confident that this acquisition will bring

further growth to our business."

Johnson added that the sale of MSP was a

further sign of consolidation within the UK

cladding market, following the Grenfell Tower

disaster of 2017: "While the jury is still out on

the culpability of those responsible for the

failings at Grenfell, the cladding sector has

seen big changes in the past two years, with

many low quality, smaller suppliers exiting the

market. The days of supplying untested fascia

board for high rise buildings is thankfully a

thing of the past, with the use of ACM and HPL

on tall buildings now effectively outlawed.

While not directly related to Grenfell, this deal

shows that there is consolidation happening

within our market – something I see as a

positive sign in terms of safety and efficiency.

This will all be good news for contractors and

architects. In terms of products, we see a big

future in fully fire-resistant 3mm aluminium

cladding, the type of which is manufactured

here at MSP."

NEW EXHIBITORS & SEMINARS ANNOUNCED

Contractor's Day 2019 –

sponsored by Quantum

Insulation – which takes

place at Old Trafford FC,

Manchester, on 2nd October,

has added a number of new

exhibitors and announced

some key topics for the

seminar programme.

Roofing and

cladding uncovered

HEADLINE SPONSOR

Marley has joined recent additions SPRA, Brett

Martin Daylight Systems, Kingspan Insulated

Panels, DEKS, LBS Products, Versalift, Roof

Consultancy and Essex Green Roofing, who all

add to the broad and diverse range of

manufacturers and suppliers showcasing their

roofing, cladding and associated products and

systems at the event.

Alongside the many stands and hubs – including

EJOT's Sheeting & Cladding and Brett Martin's

Rooflight Technical Hubs – where visitors will be

able to see the latest offerings and seek advice to

assist them on projects, Contractor's Day 2019

will also be hosting a contractor focussed

seminar programme, sponsored by SIG Roofing,

where the NFRC and other leading spokespeople

from the roofing and associated

sectors will be discussing key

issues affecting contractors.

Visitors will be able to hear an

exclusive update on RoofCERT,

the latest guidance for

contractors on Safe2Torch,

advice on tendering and

procurement and guidance on

insurance for contractors.

OLD TRAFFORD-2ND OCTOBER 2019

Matt Downs, Editorial Director at Total Contractor

magazine, who co-launched Contractor's Day

alongside the NFRC, explained: "We understand

that time is precious for operatives working on

roofing and cladding projects, but in just a few

hours at Contractor's Day 2019 visitors will be able

see the latest offerings from the leading

manufacturers and suppliers, network with likeminded

individuals, gain assistance for current or

future projects from experts, and keep up to date

with the latest developments in their sector such as

RoofCERT – an initiative which is set to have a huge

impact on roofers and the entire supply chain."

Find out more and register for your FREE tickets:

www.contractorsday.co.uk

Look who's exhibiting at Contractor's Day 2019! FREE tickets: www.contractorsday.co.uk

• Quantum Insulation

Headline Sponsor

• Brett Martin Daylight

Systems Rooflight

Technical Hub Sponsor

• EJOT Sheeting and

Cladding Technical Hub

Sponsor

• Kingspan Insulated

Panels Skills Partner

• SIG Roofing

Knowledge Partner

• A Proctor

• Alumasc

• Bridgman &

Bridgman

• Buckleys

• Calder Lead

• Danosa

• DEKS

• Eagle Insulation

• Essex Green Roofing

• Filon

• Flex-R

• Glidevale & Protect

Membranes

• Hambleside

Danelaw

• HCL Safety an

MSA Company

• InStar

• Institute of Roofing

• Kemper System

• Knauf Insulation

• Kytun

• LBS Products

• Marley

• Manthorpe

• MAK Fasteners

• Moy Materials

• MPW Insurance

Brokers

• NFRC

• Permavent

• Protan

• QBM

• Roof Consultancy

• SIGA Slate

• SPRA

• SR Timber

• Total Contractor

• Ultraflex

• Ubbink

• Versalift

• Wallbarn

* Correct at the time of going to print.

6 TC SEPTEMBER 2019
---
OLD TRAFFORD-2ND OCTOBER 2019

Contractor's Day heads North!

Roofing and

cladding uncovered

HEADLINE SPONSOR

REGISTRATION NOW OPEN!

www.contractorsday.co.uk

The ideal event for roofing and

cladding contractors operating

in the residential, commercial

and industrial sectors.

• Innovation & Products – Source new products

and materials from over 60 leading manufacturers

and suppliers to help you on your projects

• Industry Experts – Contractor-focussed seminar

and debates throughout the day

• NFRC CPD Content

• Free entry and parking

SHOW SPONSORS

BROUGHT TO YOU BY
---
Industry News

EDINBURGH'S THE VENUE FOR IFD EVENT

The international roofing industry will

converge in Edinburgh for the 67th IFD

Congress & Awards from 25-28th September.

Senior members of national trade federations,

contractors, manufacturers and consultants will

be attending the annual event of the International

Federation for the Roofing Trade (IFD), whose

members reportedly represent 18,500 contracting

senior international decision-makers and key

firms and over 135,00 employees, with a £22Bn

influencers, representing both private contractors

turnover.

and federations.

This year's Congress and Awards will feature an

James Talman, NFRC Chief Executive, said: "As

exhibition and evening networking event,

the UK's largest roofing federation across all

organised by the NFRC.

disciplines, NFRC is passionate about promoting

Co-located at Edinburgh's Radisson Blu Hotel, UK roofing to the rest of the world. As the UK

which is hosting the Congress, the special one-off renegotiates its trading relations following the

'Congress Exhibition' on 26-27th September will vote to leave the EU, this is a rare opportunity for

showcase the best roofing products and services companies looking to enter new markets and to

the UK has to offer to this international audience. re-establish themselves in existing ones, to meet

senior decision-makers from EU countries, China

Meanwhile, the Traditional Evening will give

and the US."

guests exclusive access to Edinburgh Castle,

where they can soak up the atmosphere and enjoy

an evening of food, networking and traditional To find out more and reserve your places visit

entertainment. Guests on the evening will include www.nfrc.co.uk/media-centre/ifd.

SAFETY AT HEIGHT STILL BEING IGNORED

Recent prosecutions reported by the HSE have and two companies who were fined £118,000

highlighted that even though a lot of good with costs of £29,000 between them after

work has been done with regards to

putting workers at risk whilst they were

promoting safe working practices when accessing a roof. In this instance The court

working at height, the message is still being heard how workers had climbed onto the roof

ignored by some companies in the

from a 'man-cage' lifted into position by a fork

construction sector.

lift truck. The 'man-cage' fell short of the roof

level by about three feet and there was a gap

In August, the HSE reported how it had fined four

between the cage and the roof which workers

construction businesses for a range of safety

needed to climb across. Once the workers were

failings, including a £35,000 fine plus costs for

on the roof, it was slippery and wet, with no

a Blackpool business who had failed to prevent

barrier in place to prevent a fall.

risks from falls at height and exposure to

asbestos; a solar panel company who was fined In all instances the HSE inspectors were at pains

£40,000 plus costs after a worker sustained to point out that the risks could so easily be

long-term injuries after falling through a skylight avoided by simply carrying out correct control

whilst installing solar panels on a fragile roof; measures and safe working practices.

DRYDEN'S MIND ON

CHARITY CLIMB

An intrepid member of the SIG Design

and Technology team is limbering up to

climb one of the world's highest

mountains, all in the name of charity.

Ian Dryden, National Specification

Manager for the roofing supplies

specialist, will be climbing Kilimanjaro,

the highest mountain in Africa, to raise

vital funds for the Samaritans and MIND

and to raise awareness of the huge

challenge of mental health issues in the

UK construction industry.

Inspired to sign-up for the climb after

learning of the construction industry's

mental health crisis, Ian was shocked to

discover skilled construction workers

were ten times more likely to die from

suicide than an accident while in-work.

Beginning his epic mission on Boxing

Day, which will see him climb more than

5,895 metres above sea level, Ian

commented: "There is a huge focus on

physical safeguarding in the construction

industry, which is crucially important,

but it's essential to look after your

mental wellbeing too.

"Approximately one in four people in the

UK are affected by a mental health issue

each year, and services such as the

Samaritans and MIND play a pivotal role

in getting help to those in need. Scaling

Kilimanjaro will be a mammoth

undertaking, but I can think of no more

worthwhile cause for which to do it!"

Ian's journey to Africa will begin on 26th

December and he is set to summit

Kilimanjaro on New Year's Day. To learn

more about Ian's mission, please visit:

https://www.justgiving.com/fundraising/i

an-dryden2.

8 TC SEPTEMBER 2019
---
Aluminium Roof Lantern

FROM THE

AWARD WINNING

ALUMINIUM SYSTEMS

FITTED

IN

MINUTES

FASTER - Glazed in seconds

No on-site cutting or drilling for ease of install. No silicone, single bolt fixings and clip

fit finishing caps – Search on YouTube to see the Korniche fully fitted in under 6 minutes

STRONGER - Performance Engineered

Ability to withstand 'Live' loads over twice that of the leading competitor. A 6x4m roof can

support up to 8 tonnes. Up to 3m x 2.5m with no rafters, No tie bars required

WARMER - Thermally Broken

Thermal PVC T Bar, Thermally broken eaves beam and industry leading Q-Lon Gaskets.

U Value from 1.2

SLIMMER - Uninterrupted Sight Lines

Patent pending end boss enabling hips to merge into ridge.

Traditional features in contemporary design give 'Timber' like looks suitable for all properties.

Narrowest external ridge profile

SUPPORT - The best trade lantern

Brand, point of sale and marketing support helping save time and maximise profit from sales

TM

and on-site. Online trade KwikQuote tool

5

ORDER TO DELIVERY FROM A FAST

Working Days

Lead Time

Email: sales@madefortrade.co

Call: 01642 610799 | Fax: 01642 615854

www.korniche.co.uk
---
Industry News

MARLEY EMBARKS ON

NEXT CHAPTER

Inflexion Private Equity has acquired

Marley from Etex. The investment is being

made by Inflexion Buyout Fund V,

Inflexion's dedicated mid‐market fund.

Paul Reed, Managing Director at Marley, said:

"This is an exciting and defining move for

Marley and is testament to the hard work the

team has put in transforming our business

model as well as investing in our brand. This

acquisition from our parent company will help

propel the business into a very exciting, fast

growth future.

"Inflexion's industry knowledge means it truly

understands our sector, while its experience

in helping expand businesses organically and

acquisitively make it an excellent fit for our

next stage of growth," Paul Reed added.

Simon Turner, Managing Partner at Inflexion,

commented: "The team at Marley have done

a phenomenal job in creating not only a truly

market-leading product, but also a resilient

and differentiated business model in an

industry with very attractive dynamics. The

brand is exceptionally well regarded, and we

look forward to drawing upon our industry

experience as we partner with management

to build on Marley's strong market position

and product range."

David Speakman, General Manager at Marley,

concluded: "We are extremely proud of our

long heritage and are very excited by the

opportunities to grow the company further.

Inflexion's industry knowledge gleaned

through its investment in builders merchants

Huws Gray means they truly understand our

sector."

CMOSTORES.COM SEES FURTHER GROWTH

Online construction materials retailer

"Online retail has revolutionised the high street

cmostores.com says it is continuing to see and the many benefits of internet shopping –

rapid expansion with 2018 sales increasing by including improved product choice as well as time

44%, continuing a trend of record growth. and cost savings – are increasingly being taken

into more traditional and trade sectors by

Consolidated group revenue rose 220% in just

forward-looking e-commerce businesses,"

three years from £12.1m at the end of 2015 to

explained Andy Dunkley, CEO of cmostores.com.

£38.6m in the year to 31 December 2018. The

"As a result, we're seeing phenomenal growth

business is now predicting further turnover growth

with our disruptive model already having a major

to around £50m in the current financial year and

impact on more traditional builders' merchants.

will soon be launching two new superstores.

"Over the last year, we've been continuing to

Over the last 12 months, the Plymouth-based

invest in developing our operational and executive

company has seen a 35% increase in visits to its

team to ensure that our business is scalable with

four online superstores which supply in excess of

further significant expansion expected as we

70,000 products across the build cycle to both trade

focus on enhancing our trade division. As a

and DIY customers. The business is also expanding

business, we are well on track with our plans and

its trade offering so that professional contractors

have an ambitious vision to establish ourselves

can now benefit from trade credit, exclusive

as the leading brand in online construction

discounts, rebates and rewards, in order to drive

products."

new accounts and sales from larger building firms.

VAT CHANGES NEED TO BE DELAYED

A coalition of the major trade

edge, particularly small businesses.

bodies in the construction sector

Brian Berry, Chief Executive of the

has demanded that the Government

Federation of Master Builders, said:

must delay the implementation of

"The fact that 15 of the leading

"damaging VAT changes" in the

construction trade bodies have come

sector in a letter to the Chancellor.

together to speak to the Government

The letter calls on the Chancellor to

push back the implementation of

reverse charge VAT, due on 1st

Above: Brian Berry, FMB.

with one voice on this issue shows

the extent to which we are concerned.

We urge the Government to rethink the

October, by at least six months due to the fact

that the timing of these changes could not be

worse given they are due to take place just before

the UK is expected to leave the EU, quite possibly

timing of these changes and announce a delay of

at least six months. With a potential no-deal

Brexit also due to take place in October, the

timing could not be worse."

on 'no-deal' terms; reverse charge VAT will be yet

Steve Bratt, CEO of the ECA Group, said: "The

another burden on construction employers on top

Government needs to urgently reconsider the

of other pressures facing the industry, such as

timing of their reverse VAT introduction. With

material price rises, increased pension

insolvencies already at such a high level, and a

contributions and skills shortages; and the

no-deal Brexit on the horizon, these changes

changes could lead to a loss of productivity,

could hit business cashflow at a pivotal time for

reduced cashflow and in the worst cases, lead to

industry."

a hit on jobs, tipping some companies over the

10 TC SEPTEMBER 2019
---
Handrails:- EasyGuard

free-standing Guardrails

*CurveyGuard – an aesthetically pleasing curved rail.

*EasyGuard – raked or straight legs dependant on

application. *FoldGuard – folding handrail.

Trip hazard reduction – long thin base-plates with

Counterweights used on un-secured ends only. Placed at 2m

centres maximum to enable use for leading edge protection.

Galvanised or powder coated finish. Protective mats 5mm

bonded to the base plates.

Standards – Exceeds Class A EN13374- Class A; For

leading edge protection HSE/SR 15, September 1988.

Nationwide delivery or contract installation. – Free material

quantifying service – info@safetyworksandsolutions.co.uk

Ladders:- Easy Fit

Compliant to both BS/EN 5395 and 14122 –

To comply with the standards for

permanent ladders all mild steel then hot

dipped galvanised to BS/EN 1461.

All typical ladders bespoke – email

info@safetyworksandsolutions.co.uk for a

survey check sheet.

Easy Fit, all ladder components are Easy

to assembly; in manageable parts Easy to

handle and install.

Rest Platforms and ladders with special

fixing requirements; solutions provided by

Safetyworks in house.

(All components for British Standard

compliant ladders require steel components

with timber and aluminium recommended

for temporary use only)

HANDRAILS

-

LIFELINES

-

WALKWAYS

-

FALL GUARDS

-

FLEXIDECK

-

DEMARKATION

-

LADDERS

-

STEELWORK

-

Tel: 01487 841400

www.safetyworksandsolutions.co.uk
---
Industry News

CHARITY RACE DAY

RAISES £52,000

Richard Soan Roofing Services announced

that its 2019 Charity Race Day event

raised an incredible £52,000 for Teenage

Cancer Trust.

Held annually

at Brighton

Race Course,

the event

included an

auction,

champagne

reception,

lunch and an

afternoon's racing, with all proceeds going to

the charity.

The marquee, perfectly located beside the

final furlong of the course, was bustling with

320 guests from the roofing and construction

industry, attending what has become a regular

highlight on their summer social calendar.

With a glass of fizz in hand, attendees settled

down to a sumptuous three course meal

punctuated by fundraising games before the

racing began. Richard has been hosting these

events now for many years and knows how to

work the crowd! As a seasoned auctioneer,

he created what can only be described as a

frenzy during the 18 auction lots held

throughout the afternoon. This became an

entertainment in itself, causing much hilarity

to those looking on. By the end of the day,

over £52,000 had been raised, which in the

words of Richard "blew him away". "It is the

most we have ever raised" he went on to

explain, "but I can only thank the amazing

generosity and support of all those who

attended. It is such a worthy cause and every

penny goes into making a difference."

www.richardsoan.co.uk/teenage-cancer-trust

CENTRE OF EXCELLENCE STATUS FOR CORE

The NFRC's Centre of Excellence (COE)

and leadwork.

scheme, which was launched in February

CORE Hereford will also play a key role in helping

2019, recognises training providers and

roofing installers to become RoofCERT accredited

colleges that are committed to excellence in

by delivering the required mandatory short

the delivery of roofing-specific courses.

duration courses and assessing their skills.

CORE Hereford now joins Leeds College of

Andy Rowlands said: "I believe that the Centre of

Building as the UK's only COE training provider,

Excellence scheme is critical in helping to ensure

an accolade that can only be achieved after

the quality of roofing-specific training is

passing a rigorous audit process undertaken by

consistent. On behalf of Hereford CORE, I am

the NFRC Technical Department. The COE audit

therefore honoured to receive Centre of Excellence

reviews both the training facility as well as the

status in recognition of our dedication to raising

qualifications and competency of the instructors

standards. Hereford CORE is committed to

to provide trainees with the highest quality of

providing roofers throughout the region with the

training possible.

necessary skills to consistently deliver excellent

The training centre was founded by Andy Rowlands, outcomes for customers and in doing so, to build

who can boast over four decades of experience in their careers and businesses."

roofing and a string of accolades to his name.

Bob Richardson, NFRC Head of Technical, said:

Andy Rowlands, who in his own right is a Roof "The NFRC is delighted to be awarding Hereford

Master for heritage and conservation work, has CORE Centre of Excellence status. Under the

also shown years of passionate commitment to leadership of Andy, who is a passionate advocate

improving skills among the existing workforce and of roofing excellence, I am confident it will provide

training the next generation of roofers, delivering a level of training that will raise the bar further

NVQ 2 Slating and Tiling, SAP Heritage Roofing within this region and further afield."

PROJECT POLICIES: ARE YOU COVERED?

ECIC is warning roofing contractors working have separate cover – which was not in place.

on major building sites and projects, that they This meant the contractor was liable for the full

may not be covered under the site's project cost of damage caused. The contractor in this

policy as they have been in the past.

case was due to appeal the High Court's decision

in early 2019 but instead settled out of court,

This could leave them exposed if they are found

prior to the appeal hearing.

to be at fault in an insurance claim. The warning

follows an out of court settlement which has left Ian Hollingworth, Technical Claims and

insurers and contractors in the dark about the Relationship Manager, ECIC, commented: "The

extent of cover offered by Project Policies in the out of court settlement has left insurers

eyes of the law.

supporting the UK's construction sector in need of

urgent clarity over policyholder and subcontractor's

rights under these policies, and

In 2018, a High Court decision found in favour of

a project policy insurer recovering their costs

where the sub-contractor needs to take out their

from the contractor who caused a site fire. The

own CAR/public liability insurance."

Court concluded that, under the terms of the

project policy, the subcontractor was required to Read more on project policies on p24.

12 TC SEPTEMBER 2019
---
Hazardous environments

Potential risk of high corrosion

H

Pollution Hazard

Moisture Content

!

Coastal Zone

EJOT Corremaks ® JA1 / JZ1

Developed specifi cally for use in environments that present a signifi cantly high risk of metal corrosion.

Manufactured from A5 stainless steel, these specialised self-tapping fasteners are highly resistant

to hazardous atmospheres such as swimming pools, tunnels, coastal regions and industrial

processing areas.

EJOT Cronimaks ® JZ7

For tapping into high strength steel, EJOT Cronimaks is manufactured using a unique alloy

composition creating a much harder thread fl ank and screw point offering corrosion resistance

equivalent to A2 stainless steel.

EJOT JT6

For applications in areas where corrosion is a known risk - typically coastal zones - EJOT's JT6 bimetallic

range is manufactured from Grade 316 stainless steel (A4) and engineered with a high quality

grade case-hardened carbon steel drill point, providing a much higher level of corrosion resistance.

EJOT® the quality connection

Call 01977 68 70 40 email: info@ejot.co.uk

www.ejot.co.uk
---
Industry News

READYFIX EXPANDS

ITS CAPACITY

Readyfix has further invested in a second

warehouse at its premises on Croft Street.

The business, which employs 35 staff, added

an extra 350 pallet spaces, equivalent to the

size of a football pitch, allowing the 27-yearold

firm to hold onto their 'huge stocks'

promise as they continue to grow.

Established in 1992 by Richard Burwood,

Readyfix supplies construction site

materials, fixings and consumables to some

of the country's largest housebuilders and

contractors, as well as sub-contractors and

independent tradespeople throughout the

North of England. The company says it sets

itself apart by offering impeccable customer

service and next day/same day deliveries by

their own drivers.

MD Greig Burwood, who runs the company

with his father and four brothers, added:

"Our primary focus is to keep to our

promises; prompt response, and on-site,

on-time deliveries. We have an excellent

team to enable us to do this and the

warehouse extension is proof that we are

willing to invest to make sure our customers

continue to be fully supported and their

needs met."

Sales Director Mark Burwood commented:

"This new warehouse extension will enable

us to offer an even better service throughout

the North of England. We're proud to serve

the construction sector with our

commitment to responsiveness. Our large

inventory now allows us to deliver orders of

stocked items even quicker to meet

customer demand."

RIDING4DREAMS TEAM'S HARSH REALITIES!

As if being overweight (their words not ours!),

50+ years old, and first-time cyclists with

less than 6 months to prepare for a 217-mile

3-day ride from Thorpe Park to Disneyland

Paris wasn't enough of a challenge, the UK

weather decided to get in on the act when the

Riding4Dreams team set off on Thursday 27th

July 2019.

Radmat's Mark Harris enjoys a well earned drink!

Officially the hottest day on record in the United

Kingdom, with the temperature reaching 38.7°C the support vehicles was less than 200 foot away.

(101.7°F) in the shade, this fundraising cycle ride

The rest of the day's 5 hours of cycling, and

in support of the Dreamflight charity's annual trip

3,000ft of climbing, continued with a mix of cloud

to the Orlando theme parks for 192 Children with

and rain; and nine more punctures alongside two

Disabilities, got off to a very warm start.

further tyre changes, with two of the bikes

With 'feels like' temperatures of 41°C, the 14 experiencing repeat punctures within 100 yards of

riders needed every one of the four 15-mile pit the previous one! A journey of 78 miles ended

stops on the 73-mile journey to refill their water with a much-needed beer and bike cleaning

bottles and rehydrate. After a gruelling 5 hours of session, followed by rider cleaning which resulted

cycling that included climbing over 3,500 feet of in a lot of grit and muck in the shower trays!

inclines up and over the Surrey Hills and the

The final day's 66 miles from Beauvais to

South Downs, the team arrived in New Haven

Disneyland Paris were almost uneventful, apart

feeling jubilant but drained. After loading up all

from another couple of punctures bringing the

the bikes into the support vehicles, and a much

total for the trip to 15. With nearly 3,500ft of

needed freshen up with wet wipes the team set

climbing bringing the team's total to over

off for Dieppe on the cross-channel ferry, enjoying

10,000ft, the downhill run into Disneyland Paris

a few much-needed cold beers.

was much appreciated, as was the jubilant

Friday was a massive contrast, starting very welcome from the five support crew. A quick

overcast and cool, and for good measure the first celebration, photo session and popping of

of three tyre changes due to punctures. The first champagne corks preceded the need to load all

15 miles ended with the French weather throwing the vehicles up, have a wet wipe and hit the road

as much water as it could at the team, including for the Eurotunnel trip back to a welcome home

a significant thunder storm that saw a lightning party in Shepperton where the team were met by

strike hit a metal roof less than 8 feet from three family and friends giving a hearty (if somewhat

of the riders! Fortunately, respite in the shape of off key) rendition of 'We are the Champions'!

With the fundraising now topping £30,000, the

team are very proud of their cycling achievement

and the money raised. Planning for next year's

challenge has already begun and in the

meantime, further donations are most welcome

and appreciated.

The Riding4Dreams team celebrate at Disneyland Paris after

their 217 mile, 3 day ride to raise funds for Dreamflight.

For further info and to donate please go to

www.riding4dreams.co.uk

14 TC SEPTEMBER 2019
---
BUY 5

ROLLS OF

TORCH ON FELT

AND GET THE

6TH ROLL

FREE!

Down at your local.

VISIT WWW.SIGROOFING.CO.UK FOR MORE INFORMATION

Terms and conditions apply visit website for more details.

ROOFING

ONE WARRANTY

O N E R O O F

1 5

•

Y E A R S

O N E PA R T N E R

•

O N E WA R R A N T Y
---
The Apex

CONSTRUCTION: A LICENSE TO BUILD

Extra paperwork can be a hassle – whatever industry you are in – but Jackie Biswell

(below), of Apex Roofing, explains why she's pleased plans to introduce a mandatory

licensing scheme for all UK construction firms is being widely embraced across the sector.

Cowboy builders; rogue traders; rip-off

roofers. They all give our profession a bad

name.

So much so, in fact, that last year a study by the

Federation of Master Builders revealed that these

charlatans are causing a third of homeowners to

put off making home improvements.

This came swiftly in the wake of another scandal

exposed by BBC journalists who were able to set

up a fake handyman profile on MyBuilder.com, a

website which helps consumers find tradesmen.

The reporter was also able to pretend to be one of

his customers, submitting glowing reviews to give

his profile extra credibility.

It's little wonder that the FMB, which estimates

that the UK economy is missing out on £10 billion

of work every year because of the problem, has

campaigned for the Government and industry to

back the introduction of a licensing scheme for

the UK construction sector.

What does it mean?

Currently, too few builders and contractors are

subject to meaningful checks to ensure

competence. This is because, unlike the gas and

electrical trades, anyone in the UK can set

themselves up as a builder.

On top of this, there are plenty of builders who

take on labourers – also known as their mates

from the pub – uninsured, untaxed and with no

scaffold or hoisting for cash in hand.

The proposal is to make licensing mandatory

across the construction industry – essentially

barring anyone shown to be incompetent or who

undermines the standards of the industry.

A report, Licence to build: A pathway to licensing

UK construction, which follows

independent research by Pye

Tait, was officially launched

at the House of Lords in June

explaining its implementation

and how it aims to improve

both the quality and reputation

of the sector.

The model put forward recommends that the

licence is administered by a central body and that

the licence itself would not be a prohibition in

terms of cost nor bureaucracy. The fee would be

set according to turnover, with the largest firms in

our sector paying something in the region of

£1,000 every three years and the smallest firms

would pay around £150 every three years.

Brian Berry, Chief Executive of the FMB, said: "The

vast majority of builders and homeowners want to

see the construction industry professionalised and it

is time for the government to act. It's unacceptable

that more than half of consumers have had a

negative experience with their builder. However,

we shouldn't be surprised by this given that in the

UK, it is perfectly legal for anyone to set up a

building firm and start selling their services

without any prior experience or qualifications.

This cannot be right given the nature of the work

and the potential health and safety risks when

something goes wrong. In countries like Australia

and Germany, building firms require a licence and

we want to see the UK government regulate our

industry in a similar manner."

What happens now?

Construction is often accused of falling behind

other industries – in terms of its uptake of new

technologies, its diversity record and its working

practices.

Some of this might be unfair. But what

has never been in dispute is that it

lags behind hugely in terms of

ensuring competence and

consumer protection.

This explains why it is

consistently shamed by widespread

media reports of rogue traders.

A mandatory licensing scheme is the only way to

stamp this out and a group of major construction

industry bodies has now joined forces to create a

Construction Licensing Task Force which will be

chaired by Liz Peace, former Chief Executive of

the British Property Federation.

On the board will be representatives from a series of

professional bodies in our industry which want to

transform our industry into a world-leading sector.

But it is not just the large organisations which are

striving for change here.

In an unusual display of support for additional

'red tape', almost 80% of small and mediumsized

(SME) construction firms want to see a

licensing scheme introduced.

And we are one of them...

We welcome advancements within the sector and

are proud members of the National Federation of

Roofing Contractors (NFRC), Safe Contractor and

CHAS, who all push for competency within the

industry. After all, by increasing consumer

protection and driving up quality, we can ultimately

improve the image of the whole industry.

Contact Apex Roofing

01502 537129

www.apexroofinguk.com

@ApexAnglia

16 TC SEPTEMBER 2019
---
Boost your year

round rewards

£40

€45

£40

Get £5-25 rewards with every VELUX

white painted roof window this

SEPTEMBER, OCTOBER AND NOVEMBER

Claim your VELUX Rewards at

velux.co.uk/rewards

Claim by 13.12.2019. Terms & conditions apply.
---
UK Construction Week

7 WAYS ROOFERS CAN NETWORK &

LEARN AT UK CONSTRUCTION WEEK

As any busy roofing professional will admit, it can be difficult to justify time away from the job. But

learning, networking and discovering are all essential to help keep on top of the latest industry

insights, research, services and products. At UK Construction Week (UKCW), roofing

professionals get the best of all worlds, with bespoke content on a selection of topical issues, but also

exposure to a wider range of construction, regeneration and specialist technical learning. So if you're

still not signed up, here are seven reasons why you should attend the largest construction event of the

year on 8-10th October, at Birmingham's NEC.

"This year UKCW is

shining a spotlight on

the serious changemakers

in

construction"

1Discover new products New products are

always being developed to meet different

and emerging needs. Staying up to date

with all the latest technology is essential to find

the right product for the job. So, if you need to

source new tools, or a new sustainable material,

or discover new roofing products then look no

further than UKCW. With over 10,000 products

being showcased at the event, it's the ideal

marketplace to source your new product. With

eight different sections ranging from build to

timber and from surfaces to civils everything you

need is right there under one roof.

Build, sponsored by Easy-Trim, covers all aspects

of roofing, cladding and insulation. Exhibitors

include Quinn Building Products who will be

discussing their concrete roof tiles, as well as

their high performance PIR and EPS insulation.

While Easy-Trim will be on hand to cover their

breather membranes and a range of other roofing

products.

2That lucky encounter Year

after year, visitors at

UKCW say they won new

work as a result of a planned

meeting or a chance encounter

at the show. People do

business with people – and with

35,000 visitors set to attend UKCW,

that is a lot of potential leads. Meeting face

to face is the most engaging way to do business

and UKCW can facilitate that. If you have spotted

a business that you want to connect with, contact

them through the exhibitors' portal and arrange

the meeting in advance. 4,000 business meetings

were booked by UKCW visitors prior to the show

last year, and exhibitors reported that they had

generated 70,000 new business leads at the

event. To help with meetings, there's a new

business and networking lounge with free WIFI.

3Genuine innovation, not

another widget You

could leave the future of

the industry as a surprise. But

where's the business sense in

that? Disruptors are now

present in many different

markets, so this year UKCW is

shining a spotlight on the serious changemakers

in construction. To aid the search, a new

Innovation Zone has been established in

partnership with the Construction Innovation Hub

(the Hub).

Another new addition for this year is the

Innovation Station in partnership with On the

Tools. This is a demonstration area specifically for

power tools, with all the latest biscuit jointers and

heavy-duty bench grinders from top trade brands

in action. Visitors can pick up tips from the

experts on how to get the most from their range,

try out the latest products, and cut a deal with

the manufacturers as show discounts will apply.

4Your own personal industry MBA

Condense your strategic business learning

into one, two or three days of insights.

UKCW brings together more than 300 expert

speakers including Mark Farmer who is

spearheading policy initiatives on Modern

Methods of Construction (MMC), Professor

Birgitte Andersen of the Big Innovation Centre,

Chandru Dissanayeke, Director of building safety

reforms at MHCLG, Keith Waller, Programme

18 TC SEPTEMBER 2019
---
Tapered insulation...

all routes lead to Building Innovation.

Building Innovation offer an unrivalled and complete tapered

insulation service, from initial consultation, survey, system

design and calculation, to site delivery and post sales support.

Contact Building Innovation for objective advice

on which solution is right for your project.

Tel: +44 (0) 1926 888808

Fax: +44 (0) 1926 888898

General email: info@building-innovation.co.uk

Design office email: design@building-innovation.co.uk

Find us on...

@BuildingInnov

building-innovation-limited

www.building-innovation.co.uk
---
UK Construction Week

Director at the Construction Innovation Hub,

Sarah Beale, Chief Executive of CITB and Sonia

Zahiroddiny, BIM Strategy Manager for HS2. The

UKCW main stage is the place to head to. It offers

a programme of keynote talks and panel

discussions on many of the big issues of the day

around Government policy, digital innovation,

MMC, sustainability, diversity, housebuilding,

productivity and skills.

And if that's all a bit too high level, get stuck into

the details at a wide range of workshops. This year

there will be more than 150 hours of CPD content

available, including Dr Mike Wiseman from the

British Board of Agrément, who will be covering

'Assessments of warm roofing systems' CPD Hub

2, in Hall 11. The programme will take on a

different theme for each day of the show, tackling

fire safety, health and wellbeing and sustainability.

There are mini-theatres covering regeneration,

MMC, digital construction, energy and HVAC,

surfaces and materials, timber and the workplace.

New for 2019, the Working Well Together Theatre is

covering a range of health and safety topics

including, changes to HSE Mild Steel welding

enforcement, pre-construction fire safety planning

and design, keeping people safe while working at

height, how to manage the issue of alcohol and

drugs effectively in the workplace and mental

health in the work place – an industry perspective.

There's a new Careers Centre too, offering

workshops on career progression,

apprenticeships, staff retention, diversity, career

change and new talent.

5Health and wellbeing Launching at UKCW

this year, the Mind Your Head campaign is

designed to promote mental wellbeing for

those working in the construction industry, with

particular focus on men who are at greater risk of

suicide. It is a straight-talking, no-nonsense and

accessible way to reach this target audience. As

part of the campaign, Carwyn Lloyd Jones, the

creator of the Tiny House at last year's UKCW will

be using his talents to create an artistic installation

of swings which has a mental health focus.

6A bit of myth busting on MMC Everyone

knows that MMC are back in vogue, but

what is the reality this time? MMC is a

strong theme at this year's UKCW. Full-scale

builds will be erected onsite with live demos of

MMC technology in action. Head to the MMC Hub

for other digital demos and simulations too.

Examples of the pre-manufactured structures at

the show range from a modular care annex for the

healthcare sector and a SIPS panel residential

building, to a factory-finished modular bathroom

pod for the high end hotel sector, and offsite

solutions for the education sector.

7Celebrations and a beer festival

Everyone enjoys a good awards night and

UKCW is no exception. The show hosts the

UKCW Role Model of the year, the new Building

Trades Awards with Fix Radio and the new UKCW

Construction Awards. Plus, to encourage young

people into construction, the iBuiltThis competition is

back and the winners will be announced at UKCW.

And if you're not involved in the celebrations, just

unwind each day with a beer, some street food

and a spot of music. The Fischer bar is in Hall 11

and the Rawlplug bar is in Hall 12. Don't forget

the Beer Festival, sponsored by NBS, and of

course the 'Rockaoke' on Wednesday night.

UKCW includes Build sponsored by Easy-Trim,

Building Tech, Civils, Energy and HVAC, Surface

and Materials, and Timber. It also features

Concrete Expo (8-9th Oct only) and Grand Designs

Live (9-10th Oct only). Single registration gives

access to all areas of the show. For further

information follow @UK_CW or search for the

hashtag #UKCW2019.

www.ukconstructionweek.com

20 TC SEPTEMBER 2019
---
Protan Domestic Roofing

Protan PVC single-ply membrane roof systems are only

installed by Protan domestic partner contractors.

Protan provides domestic waterproofing solutions for

both new-build and refurbishment projects including:

- Balconies and terraces

- Dormers and porches

- Conservatories and orangeries

- Extensions and garages

- Garden offices

- Green and turfed roofs

- Outbuildings

Installations are clean, easy and quick and do

not require the use of hot adhesives, naked

flames, resins, solvents, or tape.

"Protan roof membranes are environmentally

friendly, tried-and-tested materials, which are

designed and independently tested to last in

excess of 40 years and are supported by a

manufacturer's warranty."

For further information on Protan

Domestic Roofing contact:

sales@protan.co.uk

Or call 01925 658 001

Protan (UK) Ltd

256 Europa Boulevard, Gemini Business Park, Warrington, WA5 7TN

Tel: 01925 658001 Fax: 01925 899688 E-mail: domestic@protan.co.uk

www.protan.co.uk/domestic
---
Business Talk

TAKING A JAB & AVOIDING A VIRUS:

PROTECT YOUR COMPUTERS

Total Contractor takes a look at how you can protect your network of computers and

sensitive information from viruses and other forms of attack...

While computer viruses have been around since 1982, it surprises most that the first attacked an Apple computer. Put together by a 15-year-old who

was fuelled by interest, not malice, it was spread by floppy disk (remember them?) and was designed to be a simple prank. Moving to the present,

viruses now infect all types of computer-based device, but the majority are aimed at machines running Windows operating systems for one good

reason – they are in the majority of computers and offer more rewards for the criminally minded.

In recent years viruses and other forms of attack – trojans, phishing and so on – have caused havoc. From keyloggers (which secretly record keystrokes) to

ransomware such as CryptoLocker (which encrypts data and demands a ransom to decrypt), firms are at risk from what is collectively known as 'malware'.

At the end of January (2019), Kwik Fit confirmed that its network had been infected and its systems knocked offline for a few days. The company was forced to

cancel bookings and customers vented their anger on social media.

While the larger firm will – should – have processes in place to protect systems, what can an independent do to stay virus free? The answer is to follow a 10-

step guide.

Ten ways to stay virus free:

1Install protection Dealing with virus and

other threats is an unwelcome distraction

that takes time. The first sign might be a

computer running slowly or behaving peculiarly.

While some viruses are irritating others are a

serious threat. No form of inoculation can ever be

perfect but installing an anti-virus package from

a reputable software vendor is an obvious but

crucial step to take. Some firms charge but free

versions are available from the likes of Avast and

Microsoft (built into Windows 10 but earlier

versions need a download).

2Update and scan The key to success with

anti-virus is to keep the application

updated and to regularly scan computers

for threats. A computer virus is no different from

that which can infect a living organism; over time

it morphs as the designers seek to work around

the protections that security software puts in

place.

Regularly scanning a computer or network for

downloaded or installed threats is an absolute

must. It ought to be done daily but should be

carried out at least once a week. Scans are

intensive and can cause a system to grind to a

halt so scans should be timed for an off-peak

moment which, if computers are turned off at

night, is not then. Similarly, ensure that the

computer cannot go into sleep-mode.

Remember – anti-virus is only as good as the

database of threats it holds, so it should be kept

updated.

3Update the operating system Windows,

Mac or any other system you might be

running needs regular updating. These

systems are hugely complex and run to millions of

lines of code and are riddled with vulnerabilities

which are often being found; it's the reason why

developers perpetually issue software updates

and fix security issues.

4Your network is at risk One of the biggest

mistakes a user can make is to fail to

secure their network. When computers

were offline, and data was moved by floppy disk,

the threat was minimal. Now online devices are

permanently under threat. The problem is

exacerbated when devices – modem, router,

computer, printer or any other connected item –

are left with both default names and default

passwords. Any hacker worth their salt will see

what is connected and will know how to attack

what they've found.

It is therefore critical to change the device name

and password as soon as it's connected. WIFI

products should, once set up, not broadcast their

existence. This means turning off what is called

the 'SSID'. Passwords should be strong – select

at the minimum WPA or WPA2 encryption.

If visitors are to connect to your network, ensure

that they're using a router with a guest – discrete

– network which allows access to the web and

nothing else.

22 TC SEPTEMBER 2019
---
5Strong passwords Another huge risk for

anyone with a connected device, especially

in today's online world and the

proliferation of online banks and the move to

paperless interaction with HMRC, is their

password.

It is essential that the same passwords are never

reused. It's entirely understandable that we reuse

passwords or variants of them in combination

with the same email address or username. But

those that do and who are unfortunate enough to

have been compromised will find that any

account they have is also at risk.

As to how to create a strong password, avoid

names, places, pets or dates of birth. Use a long

mixture of upper case, lower case, numbers, and

symbols. Search for an online password

generator.

Lastly, change passwords frequently and

especially when any member of staff leaves.

6Put sites off limits Human error is the

biggest cause of security vulnerabilities so

it's important to ingrain caution within

staff, ideally by a policy that covers what they can

and cannot do online. This means detailing which

websites can be visited, that no software is to be

downloaded or installed (it could be pirated and

compromised), and that email with attachments

should be quarantined and scanned. Again,

having decent and current anti-virus software in

place will mean that anything that is downloaded

will be scanned before being opened or run.

7Be private Remembering that human error

is one of the biggest risks, staff should be

made aware of 'social engineering' and that

a plausible caller can get someone to give away

whatever is held precious. It's this that is behind

authorised push payment fraud – where a caller

tells an individual that their accounts are at risk

and that they should move their monies to a new

and 'safe' account. The harsh reality is that these

"At the end of the day, computers can and do get compromised so planning for disaster should be part of business housekeeping"

individuals have sent their monies to the fraudster

and so will get little help from the banks.

Never give any private information out without

being 100 percent certain of the person or

organisation asking. Be careful with what the

business (and individuals) post online or via

social media. Apply the same principles to paperbased

information. All someone needs to

compromise your systems is enough of the right

bits of information.

As the evidence shows, using social engineering

is much easier than expending effort on hacking

systems.

8Public WIFI It's so tempting to want to be

online at all times and it's just as tempting

to use public, or open, WIFI networks.

Partly because mobile data may be unavailable

but also because it may be free. The reason is

very simple – just as you can connect a laptop to

a free WIFI hotspot, so can anyone else. If they're

criminally minded, they can access your data and

plant viruses.

9Staff devices Another threat to counter is

one from staff who connect their own

devices such as phones, to company

network or their computer. Thought should be

given to limiting access to the firm's WIFI or

physical network. The same applies to USB

devices – it's a well-known trick for a fraudster

to drop a USB stick in a car park for an individual

to pick up and connect to their computer to see

what's on it.

up At the end of the day,

computers can and do get

10Back

compromised so planning for

disaster should be part of business

housekeeping. Backing up data onto several

separate devices, regularly (at least once a day)

and keeping them off site at different locations is

critical. Consider a combination of methods such

as external hard drives, a computer elsewhere

and cloud storage services such as Dropbox.

Remember to encrypt devices in case they fall

into the wrong hands.

To end

Assuming that you are unlikely to be attacked is a

foolish stance and one that will lead to disaster.

All it takes is a lucky find by a hacker combined

with easy access for the rest to be history.

See https://www.cyberessentials.ncsc.gov.uk for

more information.

SEPTEMBER 2019 TC 23
---
Insurance: Project Policies

THE PROBLEM WITH PROJECT

POLICIES: ARE YOU COVERED?

By Ian Hollingworth, Technical Claims and Relationship Manager, ECIC.

The High Court's decision last year that a

roofing firm that caused a fire at a high

school in London was not protected by a

project policy has raised some serious questions

over the worth of these types of insurance

policies.

Traditionally, employers on larger construction

projects take out a project policy to cover damage

to the existing structure and possibly the contract

works being undertaken by the sub-contractors

appointed to work on site.

The contractual chain

A project policy would usually provide protection

to named contractors and sometimes all

contractors in the contractual chain, in the event

of a fire or some other damage caused by

contract workers on site.

The project policy insurer would simply cover the

loss rather than each sub-contractor going to

their own insurers to recover the cost of their own

damaged contract works. This means lengthy and

costly litigation between sub-contractors can be

avoided and ensures the property and works are

adequately covered, preventing any delays in the

completion of the construction.

However, in Haberdashers' Aske's Federation

Trust Ltd v Lakehouse Contracts Ltd and others

[2018] EWHC 558 (TCC), the High Court found

roofing firm CPR wasn't protected by the project

policy because the terms of the sub-contract

required that they should maintain their own

insurance.

That's not unusual in itself. Usually a

construction contract would contain an insuring

clause requiring the individual sub-contractor to

take out insurance to cover their own contract

works along with Employers Liability and Public

Liability. This is even if there is a

project policy in place.

The key difference with this case

was that the project policy

insurer dealt with the property

loss, but then sought to recover

their outlay from the contractor that

caused the loss.

"It's essential,

therefore, that

contractors are aware

that a project policy

may no longer provide

the catchall cover they

have previously relied

on"

This was very unusual as a project policy is

usually taken out in joint names – the

policyholder and all sub-contractors. As such the

project policy insurer could not seek a recovery as

essentially all sub-contractors would be

considered a policyholder and covered under the

policy.

Not named at commencement

The Court allowed the project insurer to recover

the loss from the sub-contractor on the basis of

two key facts: the main contract had required the

sub-contractor to take out their own insurance;

and the sub-contractor was not named at the

commencement of the construction project and

therefore not factored into the cover by the project

policy insurer when the policy was taken out.

The contractor in this case was due to appeal the

High Court's decision in early 2019 but instead

Left: Ian Hollingworth, Technical Claims and

Relationship Manager, ECIC.

settled out of court, prior to the

appeal hearing.

This ruling has really called into

question the effectiveness of project

insurance. Roofing contractors and subcontractors

may no longer rely upon a project

insurer to pick up a loss in the event of damage

they have caused.

It's essential, therefore, that contractors are

aware that a project policy may no longer provide

the catchall cover they have previously relied on

and should try to take proactive steps to seek

confirmation of any cover available under a

project policy at the pre-commencement stage.

Working with their insurance brokers, roofing

contractors would be well-advised to take a fresh

look at their cover to ensure they are adequately

insured for their potential liabilities. In most

cases they may need their own Contractors All

Risks insurance in addition to public liability

insurance to ensure they have the right levels of

cover in place before starting work on a major

contract.

Contractors All Risks insurance provides cover for

physical loss or damage to contract works during

the course of construction and will often be

offered with a range of extensions to provide more

bespoke cover. Public liability insurance provides

cover in the event of damage or personal injury to

third parties.

Contact ECIC:

0330 221 0250

www.ecic.co.uk/

24 TC SEPTEMBER 2019
---
Introducing the Elite range

Revolutionary new outlets, uniquely compatible

with ALL flat roof waterproofing systems

REDUCES PROJECT COSTS PREVENTS COLD BRIDGING CONNECTS TO ALL

COMMON PIPE SIZES

Unbeatable flow performance

minimises downpipe

requirements

Incorporated PVCu pipe

connectors provide air tight

seal and thermal break

between outlet body and

connecting pipework

Our roof outlet range connects

to all common PVCu, HDPE

and socketless cast iron

pipework sizes

New online rainwater drainage design calculator

Ensure your flat roof projects are in full compliance with the

BS EN12056-3 rainwater drainage design standard

Go to www.marleyalutec.co.uk/calculators

For further information call 01234 321996, or visit www.marleyalutec.co.uk/elite

/marleyalutec @marleyalutec /company/marleyalutec
---
NFRC Tech Talk

SAFE2TORCH FOCUS: LPG CYLINDERS

Gary Walpole, NFRC's Health, Safety and Environment Officer, explains some of the main

points that installers need to consider when carrying out hot works according to Safe2Torch

principles. In part one, he focuses on handling and storing LPG cylinders.

In July 2017, the NFRC launched its Safe2Torch guidance for specifiers of waterproofing systems to recognise fire risks at the design phase and replace

these details with a torch-free alternative. We wanted to encourage the specifier to consider the whole process from design and planning through to

the installation of the actual work. The next stage of the Safe2Torch campaign is to support the contractors working with gas torches by providing them

with a Safe2Torch training module, which is supported by the Safe2Torch Safe System of Work and a pictorial checklist. This is available from

www.nfrc.co.uk/safe2torch. So, what are the main points that contractors involved in hot works need to consider in order to ensure safety? Below are

some key points from the Safe System of Work.

Handling LPG cylinders

When moving or handling LPG cylinders, it is

important to bear in mind the following:

1. Plan the lift: an LPG cylinder should always

be upright when lifted to the place of work.

2. Lift properly: always use the proper lifting

technique when moving LPG cylinders.

3. Know your limits: be aware of your personal

lifting limits.

4. Wear gloves: use suitable gloves to ensure

you have a firm grip when LPG cylinders are wet

and slippery.

5. Never roll: never roll LPG cylinders on their

side, throw them or drop them.

6. Use the correct trolley: move LPG cylinders

with a purpose-made trolley that has a chain

attached to secure the cylinder.

7. Never lift by the bottle cap – do not use the

LPG bottle cap, valve or shroud to lift the cylinder.

8. Test the 'empty' cylinder: it may still contain

LPG; rock it to feel the movement of the liquid.

9. Never open valve of an unconnected

cylinder: do not open the valve of an

unconnected LPG cylinder as there is still likely to

be some LPG left inside (even on cylinders that

appear empty)

"Never search for leaks

with a naked flame"

Storing LPG cylinders

It is important that LPG cylinders are stored in the

upright position and removed from the workplace

when not in use, and cylinders should be stored

in a lockable gas cage when not in use.

1. Keep upright: store and use the LPG cylinder

in an upright position.

2. Keep well ventilated: store LPG cylinders in

well ventilated places.

3. Keep away from heat: ensure LPG cylinders

are stored away from heat and ignition sources.

4. Keep Propane outside: avoid storing Propane

LPG cylinders indoors.

5. Keep away from access points: ensure LPG

cylinders are stored outdoors, away from building

entry/exit points.

6. Isolate from other material: keep LPG

cylinders away from any corrosive, toxic or

oxidant material.

Using LPG cylinders

The greatest hazard when working with LPG is

that when mixed with air, it can burn or explode if

there is a source of ignition. LPG containers are

liable to explode if they are involved in a fire.

1. Treat with care: when using an LPG cylinder,

you should always treat it with care, keep it

upright and read the instructions and labels

provided.

2. Return empty cylinders: ensure you return

the LPG cylinder when it's empty or not in use for

long periods.

3. Keep clean: remember to keep your LPG

appliances clean and have them serviced

regularly.

4. Avoid heat: do not subject the LPG cylinder to

heat as this could increase the pressure inside

and exceed the safe limit. This applies to empty

cylinders as it does to full ones.

5. Do not disconnect the regulator: do not try to

disconnect or unscrew a regulator from any

cylinder if the flame doesn't go out.

6. Use your senses: leaks may be identified by

smell, noise or an approved leak detection

solution or leak detector.

Contact the NFRC

020 7638 7663

www.nfrc.co.uk

@TheNFRC

26 TC SEPTEMBER 2019
---
New name,

serious roofing heritage

Moorhouse 1953

2019 see's BMI Redland celebrate 100 years of concrete tile production

and we're proud to look back even further to 1837, when our first

Rosemary clay tile was made. Ever since we've been delivering innovative

roofing and waterproofing systems. Now as BMI we continue this work

by providing shelter, protection and peace of mind for architects, roofers,

building and homeowners alike - through roofs that are designed to

transform the way people live and work.

bmigroup.com/uk

Providing total roofing solutions
---
The Next Step

FORD PLANS TO GET MOTORING –

BUT WHICH ROUTE WILL HE TAKE?

At 26, Matthew Ford has won one of the industry's top awards, the BMI Apprentice of the

Year 2019 in pitched roofing. So what now for this young roofer?

Afew months on from winning the pitched

roofing title at the BMI Apprentice of the

Year competition, Matthew Ford is still

keeping his head down, weighing up his next

move and doing his best with his job, while

attending Leeds College of Building.

He works for Incommunities, the Bradford-based

social housing provider, as one of eight roofers

working in teams of two. His main work is

carrying out repairs and approving the work of

roofing contractors, which he says can be quite

challenging.

"I can't pass a roof that isn't as good as I would

put on," he said, taking pains to point out that the

roof on which he has been photographed is not

Below: Matthew Ford works for Incommunities and won the

pitched roofing award at this year's BMI Apprentice of the

Year competition.

"I can't pass a roof that

isn't as good as I would

put on"

his handiwork, but one that he has yet to inspect

and approve.

Standards mean a lot to Matthew and one thing

that he knows for certain is that he wants to help

improve the image of roofing as a trade and to

raise professional standards. He is, for instance,

taking part in a trial for RoofCERT, the

accreditation scheme devised by the NFRC and

CITB, as a result of his award and a conversation

with Simon Dixon, Training Manager at the NFRC.

"The idea is it'll be like Gas Safe and let people

know who they can trust, and it'll eradicate the

cowboys who just rock up and offer to do the

roof," he explained.

"RoofCERT will shape the way that roofers extend

their skills in a scheme that continuously checks

that they're still complying to the relevant

standards and regulations."

Confidence boost

Matthew recognises that he would never have

thought of becoming involved with projects such

as this before he took part in the competition.

"It boosted my confidence no end. The

competition went into areas that just aren't

covered in college and it was never just about

simply putting on a roof. We learnt other skills

about presentation, relating to the clients and

looking at business plans.

"These are things that I use every day. I have to

meet eight to ten people every day, tell them what

repairs are necessary and why and then, if further

work is needed, produce a report for my manager

to explain why," he explained.

'The Fossil' plans for the future

At 26, Matthew realised that he was quite a bit

older than the other apprentices entering the

Apprentice of the Year competition. In fact, the

other students make sure he never forgets by

nicknaming him 'The Fossil'. But Chris

"The competition went

into areas that just

aren't covered in

college and it was

never just about simply

putting on a roof"

28 TC SEPTEMBER 2019
---
Roofglaze

Lighting, by nature.

Let the light into your home and living spaces with

Roofglaze's market-leading Flatglass rooflights

01480 474 797 rgrestimating@roofglaze.co.uk roofglaze.co.uk
---
The Next Step

Above left: Matthew Ford wants to complete his Year Three modules and take his education as far as it can carry him. Right: Tony Thompson, Training Manager at Incommunities.

Messenger, his tutor at Leeds College of Building,

and Jay Webster, last year's winner, encouraged

him to go in for it.

"Jay's doing his Level Three at the college and he

told us what to expect and how it was a lot to do

with business planning, not just putting on roofs.

We're good friends now and talk quite often about

the roofing business," Matthew recalled.

The competition was open to all roofing

apprentices who were enrolled with one of BMI's

participating colleges or training groups, with the

finalists competing over two days that comprised

a series of presentations and assignments. These

examined every facet of running your own roofing

business – including business planning, technical

skills and presentation. In particular, each

apprentice had to make their own, five-minute

presentation to the judges at the end describing

their motivation and future objectives in roofing.

'Hard work and sacrifice'

For Matthew, those 'future objectives' have yet to

be defined because, having completed his Year

Two course – six months ahead of schedule – he

now wants to complete his Year Three modules

and take his education as far as it can carry him.

His employer is also more than keen to assist. It

is a matter of policy says Training Manager Tony

Thompson. The policy of Incommunities is to train

its 1,000 strong workforce so they have all the

qualifications they need to reach the highest

ranks of the business.

"We celebrate success and this competition helps

us do just that. Apprenticeships require hard work

and sacrifice – they're not highly paid – and it's

right to reward that," he explained.

"We know that university isn't the right route for

everybody and apprenticeships can offer an

education that can take you right up to

management and degree level. This competition

raises the profile of apprentices and of roofing so

we're very happy to take part."

Incommunities is a large employer with 1,000

staff and manages 22,000 homes, mainly in

Bradford but also in Wakefield, Kirklees,

Rotherham and Sheffield. So, the opportunities it

can offer persuaded Matthew to change jobs. Up

until three years ago he worked with his father

Stephen in his roofing business but he wanted

qualifications, a steady job so he could get a

mortgage and better career prospects.

"I am ambitious and now, after winning the

competition, I can see that I could progress into

management, though that wouldn't be roofing as

such but would be more like asset management,

being a project leader," explained Matthew.

"Apprenticeships

require hard work and

sacrifice – they're not

highly paid – and it's

right to reward that"

"I would also like to look at wider roles in bodies

like the NFRC. I think entering the competition

means I've come out as a 'well-rounded package'

with all the skills to run a business."

Matthew also met Ceiran Peel-Price, another

former finalist, who now runs his own business –

a direction which Matthew is also considering.

"The competition definitely gives you the idea

that you could set up your own business and

Bradford would be ideal. You know that you could

make a difference and show how a roof should be

laid," he concluded.

Whether Matthew decides to go down the

managerial route or strike out on his own, it is

plain to see that he is determined to make his

mark on this industry and that this will not be the

last time we hear of him.

Contact BMI National Training Centre

01285 863545

www.bmigroup.com/uk

@_Redland / @Icopal_UK

30 TC SEPTEMBER 2019
---
FREE

Site Survey &

Quotation Service

enquiries@kempersystem.co.uk

KEMPEROL ®

Liquid Waterproofing

Long term protection for flat roofs,

buildings and critical structures

Warm roofs, inverted roofs, green roofs,

podium decks, walkways, balconies,

terraces, car parks...

• No hot works

• Sustainable

• Solvent-free

• Odourless

Whatever your

requirements, we have

a certified and proven

solution to meet your

needs.

Contact us to discuss

your next project.

KEMPER SYSTEM

Tel: 01925 445532

enquiries@kempersystem.co.uk

www.kempersystem.co.uk

Kemperol Liquid Waterproofing
---
Graded Battens

6 STEPS TO BATTEN SUCCESS

Jenni Forrest, Quality Manager for JB Red at Marley, answers contractor queries about

roofing battens.

Roofing battens are one of the most important parts of a pitched roof structure, acting as a

structural and load-bearing element. As well as supporting the dead weight of tiles and the

imposed wind loads, BS 5534 graded roofing battens can also be used as a secure foothold

during installation. That's why checking the quality and compliance of the roofing battens you are using

is so important.

Below we answer some common contractor queries about

choosing and installing roofing battens:

JB Red battens being loaded into the treatment vessel.

1What batten defects are allowed under

BS 5534? As a natural material, timber

battens will obviously have varied

characteristics but BS 5534 is very strict about

what is and isn't allowed, and our machine

grading process scans battens by the millimetre

to make sure they meet the requirements of the

standard.

Some knots are allowed, depending on their size

and position. If a knot appears on both sides of

the face, the sum of the knot on both faces must

not exceed the width of the batten. A knot

appearing on both sides of the batten which does

not appear on the face is only deemed

permissible if the knot on either side is one-fifth

of the depth or less.

BS 5534 also allows for a missing corner on the

batten, otherwise known as wane. However, it is

only permitted on one axis and should not exceed

one-third of the dimension of each of the faces

on which it occurs.

For a full list of permissible defects, we have put

together a free pocket checklist to help

contractors ensure they are using quality,

compliant battens. For your free copy, email

info@marley.co.uk.

If you have any doubts about a possible defect,

check with the manufacturer before you use the

batten.

2Do battens have to be completely

straight? Battens need to be straight, so

BS 5534 sets a tolerance on distortion.

Bow, spring or twist should each not be greater

than 5mm, measured over a length of 1.2m at a

reference moisture content of 20%. If your batten

is bowed more than this, then do not use it and

check with the manufacturer.

Battens cut from sideboards are less likely to

distort which is why JB Red battens are only

manufactured from kiln dried sideboards.

3Aren't all graded battens the same? If

you have two battens from different

manufacturers, both graded to BS 5534,

many people would assume that they are the

same. However, this may not be the case and just

like other roofing products, there can be

significant variations in quality and performance.

Indeed, it is surprising how many differences

there can be between similar looking roofing

battens – from the way they are graded, through

to the type of timber they are made from, the

quality processes they go through and the

preservatives they are treated with.

To make sure roofing contractors know how to

choose the best quality battens, at Marley we are

carrying out an education campaign to ensure our

customers know how to spot the differences

between graded battens. This includes the launch

of our new batten CPD which our sales teams will

be delivering to contractors across the country, as

well as the free pocket checklist.

4I've been told that all coloured battens

are BS 5534 compliant, is that true? No.

The issue of batten colour has caused

some confusion. Whilst the distinctive red colour

of our JB Red battens along with other coloured

battens from reputable manufacturers does give

peace of mind that you are using a BS 5534

compliant batten, this is not necessarily the case

for all battens. Please don't assume that just

because it is coloured that a batten meets the

required British Standard. It must also have the

correct stamps and supporting documentation.

5Do counter-battens need to be graded

to BS 5534? There has been some

confusion about whether-counter battens

also need to be graded to BS 5534. Counterbattens

do not need grading, providing they are

fully supported and are fit for their intended

purpose. The dimensions of counter-battens

should be sufficient to provide a ventilation gap

for close fitting roof coverings as recommended in

BS 5250 and/or to provide a drainage path

beneath the battens.

For more help with choosing and grading roofing

battens, request your free battens CPD training

session or pocket checklist by emailing,

info@marley.co.uk.

Contact Marley

01283 722588

www.marley.co.uk

@MarleyLtd

32 TC SEPTEMBER 2019
---
Complete Building

Envelope Solutions

featuring Kingspan RW

Pitched Roof System

Superior build

speed

Options for PV

integration

Precision extruded

daylighting

LPCB-approved membranelined

insulated gutters

Height safety and

fall arrest systems

Specialist support from

Kingspan Technical Services

Bespoke flashings and

fabrications for design flexibility

Kingspan's own complete range

of structural steel products

Kingspan Insulated Panels RW Roof system is a factory-engineered single

component system for very fast installation.

The system comprises a complete range of structural steel products, high performance panels,

insulated gutters, superior polycarbonate daylighting, height-safety systems and a bespoke

range of corners and flashings. As a manufacturer of the complete roof system including all

components, we're with you all the way with services to help save time and maximise project

value and performance.

The system can be protected by the Kingspan Warranty.

Kingspan Insulated Panels

Greenfield Business Park No.2, Holywell, Flintshire CH8 7GJ

Tel: +44 (0) 1352 716100 www.kingspanpanels.co.uk
---
An Inspector Calls

THE VERY SERIOUS CONSEQUENCES

OF DELAMINATION: CHOOSE WISELY

In our regular monthly column – 'An Inspector Calls' – Total Contractor has teamed up

with the experts at BMI UK & Ireland, leaders in pitched and flat roofing solutions, to

help you achieve roofing success and avoid the common pitfalls that can often cost you

both time and money.

This month the Inspector lifts the lid on clay

tile delamination and its consequences.

The quality of raw materials and the

manufacturing process largely determine

how prone clay roof tiles are to the defects

of surface spalling and delamination – the bane

of clay roof tiles. Lamination is where you have

weakly connected layers of material within the

body of the clay. When those tile layers begin to

separate, you have delamination. It is found in all

clay products but is more prevalent in poorly

mixed and/ or sourced raw materials.

Avoiding delamination is a solid argument for

choosing both high quality clay and

manufacturing credentials when selecting a clay

plain tile for the roof. After all, a clay plain tile

roof – at 60 tiles per m², laid at a broken bond

and double lap – is the one of the most

expensive and complex systems a customer

may choose for a roof.

Why then skimp on the materials?

Below: delamination Don't be the 'spall guy' by removing moss from the tile surface as the consequences can be catastrophic for the roof.

34 TC SEPTEMBER 2019
---
SLATE FOR ROOFING

Comprehensive product range

30 to 75 year market-leading warranties available

Reproduction & Fibre Cement ranges

Tailored ranges in stock in your area

Full support & guidance

Natural Slate Ranges

Excellence

Commercial

Classic

www.sigaslate.co.uk
---
An Inspector Calls

Above and below, delamination: Flaky situation – a complete re-roof is not far away...

"The removal of the

moss had helped drag

away the surface

material of the tile"

Flaky tiles

The death knell for the roof is if and when tiles do

start to delaminate. It occurs when water,

absorbed into the slate or tile during the winter,

freezes and expands, causing the fired clay

mineral layers to separate and ultimately flake

off. If you can see tiles delaminating on the

surface, then chances are that under the lap –

where the surface is darker and damper – you

will find even more.

At best and at least, it is a partial strip and reroof

as, at this point, the delamination is only

going one way – and that is towards complete

roof failure. Not to mention that the debris falling

down the roof will be obstructing the free flow of

water off it.

Don't assist delamination…

The thing we absolutely

should not do when the

first signs of

delamination

appear in the roof

is help it along!

The images show

an old clay roof

that had been

beleaguered with

moss and dirt.

As the moss fell away, it

was blocking the gutters and –

as nobody likes having to get up there

to clean them – a contractor was called in to deal

with the problem. A quick wash and a brush later

the moss was gone and the roof looking very

clean: yet very, very broken. The removal of the

moss had helped drag away the surface material

of the tile, and now the failure of the roof covering

was well underway.

Care should be taken when

making any alterations to

the surface of the

roof covering,

especially when

dealing with

an aging roof.

Often

attempts to

carry out

superficial

repairs can

result in bigger

problems.

The main issue here was that

the customer was not made aware of the

risk to the roof covering and what started out as a

maintenance job turned into the prospect of a reroof.

One could of course argue that the damage

was already done beneath, and the greater work

would need to happen at some point anyway, yet

forewarned is forearmed.

"At best and at least, it is a partial strip and reroof

as, at this point, the delamination is only

going one way – and that is towards complete

roof failure"

Contact BMI National Training Centre

01285 863545

www.bmigroup.com/uk

@_Redland / @Icopal_UK

36 TC SEPTEMBER 2019
---
Refurb & repair

problems – solved!

Replacement rooflights

to match any profile

Warehouse, Heathrow

GRP barrel vault rooflights

– perfect for

curved roofs

Distribution Centre, Kent

Fixsafe allowed

safer rooflight

replacement at

this warehouse

Monarch rooflights:

the ideal daylight

solution for curved

roofs

Lightweight GRP

over-roofing

Water company depot,

Yorkshire

Simpler, more

cost-effective roof

refurbishment

Industrial Unit, Wiltshire

Safer rooflight

replacement with no

roof access

Factory, Middlesex

Roof refurbishment

and canopies

Byker Wall Estate,

Newcastle-upon-Tyne

All these diverse, demanding refurbishment challenges have one thing in common. In each case, the

solution was a specifically designed GRP sheet or associated product supplied by Filon Products: the

building envelope refurbishment problem solver.

...please call us for details or to discuss your project, on 01543 687300

Filon Products Ltd, Unit 3 Ring Road, Zone 2, Burntwood Business Park, Burntwood, Staffs WS7 3JQ

www.filon.co.uk
---
Marketing Talk

THE SIMPLE LIFE: HOW A SIMPLIFIED

OFFERING CAN SPELL SUCCESS

Richard Kendrick, Marketing Manager for SIG Roofing, explores why it sometimes pays

to keep it simple…

Like much of the construction industry, the

roofing sector is an incredibly crowded

marketplace with specialists of all sizes

jostling for new business. Indeed, roofing start-ups

today are entering an industry which has 63,000

other professionals already plying their trade.

The outlook is particularly tough for smaller

roofing enterprises. Not only do they face stiff

competition within the market, but must also

weather a sometimes uncertain economic climate

– particularly impactful on the so-called 'one

man bands', which make up a significant

proportion of the construction industry.

So, when confronted with such a challenging

landscape, how can roofers stand apart from

their competitors and secure those all-important

new business wins?

Roofing 101

Like any business, a fundamental rule to

remember for your roofing business is – it's better

to do one thing exceptionally, than a number of

things poorly. While it might be tempting to

change-up your offering, providing an array of

services and add-ons that your competitors don't,

this could leave you stretched and unable to

complete jobs on time or to a high-standard.

At SIG Roofing, we advise roofers to carry out an

honest assessment of their offering before looking

to expand it. Do you have the right resources,

skillset or experience to be able to offer the

additional services successfully? Similarly, take a

look at your existing customer base and qualify

whether there is an appetite for the add-ons

you're looking to incorporate into your business.

While diversifying your service offering may make

you stand out from the crowd, there are a number

It might be a challenging marketplace right now, but there

are plenty of opportunities for you to still win new customers.

of simple considerations, which, if applied

correctly, can make a real difference to your

ability to attract new business.

Be professional

Did you know that referrals and word-of-mouth

from satisfied customers generate upwards of 35%

of all new business traffic for roofing specialists?

It sounds like a cliché, but first impressions do

count, so make sure when meeting with

prospective customers you turn up on time and

have a number of customer testimonials on hand.

Similarly, after your initial meeting, it's important

that you follow up promptly with a quotation – the

sooner that goes across, the sooner you can

(hopefully) get the job secured.

Stay connected

We covered this off in our last advice piece, but

it's worth reiterating – the modern roofer needs

to have an online presence to stand a chance of

securing new business.

For social media, we recommend both LinkedIn

(as a way of growing your presence within the

industry) and Facebook. Roofing is such a visual

business, so your Facebook page represents a

fantastic opportunity to showcase eye-catching

examples of your latest work. This links back to

the power of the testimonial – new customers are

more likely to want to work with you if you've

posted proven examples of your fantastic work.

When it comes to your website, treat this as an

extension of your sales brochure, so a great

platform through which to show off examples of

your work. What's more, the website doesn't need

to be complex – far from it. Indeed, the most

effective roofing websites enable customers to

find what they need in a matter of clicks. Make

sure that your contact details are easy to find, too

– there's nothing more frustrating for a potential

customer than being unable to find a phone

number or email address.

Be your brand

Finally, remember that there are several 'free

advertising' resources at your fingertips. Your

vehicle, for example, is likely to be seen by

hundreds of potential customers throughout a

working day, so consider including your signage /

contact details on the side.

Similarly, when you or your employees are out

and about, it's a good idea to wear branded

clothing – embroidered polo shirts, hoodies and

fleeces not only look professional, they are

inexpensive to acquire and are another way of

making your brand visible.

It might be a challenging marketplace right now, but

there are plenty of opportunities for you to still win

new customers. So, when considering your new

business strategy, have a think about the smaller

steps you can take to further boost your offering –

sometimes keeping it simple really does pay off!

Contact SIG Roofing

0845 612 4304

www.sigroofing.co.uk

@SIGRoofing

38 TC SEPTEMBER 2019
---
From vents and outlets to edge trims and cappings...

Areco are the UK's leading distributor of flat roofing accessories

With over 50 years experience of manufacturing and

distributing renowned brands such as Glasstrim,

Nutrim, V-Trim and Rofycom, Areco has over 40,000

metres of roof edge trim in stock for next day delivery.

A full range of Roof Drains, Termination Bars, Breather

Vents and Paving Supports mean we have the right

product for your project.

Areco also offer a bespoke metal fabrication service

for flashings and wall cappings.

www.areco.co.uk

• technical knowledge and advice

• nationwide express delivery

• competitive rates

tel: 01922 743553

t: 01922 743553 e: sales@areco.co.uk

ARECO, Unit 2A Coppice Park, Coppice Lane, Aldridge, Walsall, West Midlands WS9 9AA
---
Q&A: Metal Rainwater Systems

"ALUMINIUM AS A METAL SYSTEM

HAS A FANTASTIC FUTURE"

Total Contractor magazine talks common installation mistakes, project pressures for

installers and so much more with Karen Moulds, Marketing Manager at ARP.

TC: Please tell us a bit about ARP and its

offering for contractors and installers…

KM: ARP has been established for over 30 years,

providing metal roofline and rainwater products to

contractors and installers, offering a full range of

quality roofline and rainwater systems in both

aluminium and cast iron, at a competitive price

with short lead times.

In addition, having a network of Sales Managers

that cover the whole of the UK enables us to

provide a full customer experience offering full

site assistance.

TC: You offer both aluminium and castiron

options, what do you feel are the

benefits of these materials for both the

installer and the building owner?

KM: We like to work with our customers to ensure

that the products and services we supply are

suited for their needs. By working together we can

understand the particular challenges they are

facing and be in the best place to help solve

them.

Our products are designed to be fit for purpose

from the day they are installed for many decades

to come, with little or no maintenance.

So for the installer, a high quality product that is

easy to fit, which maintains its appearance, but

is also durable and long lasting.

For the property owner – they have peace of mind

they have a sustainable rainwater system and

decades of rainwater protection with little or no

maintenance. Both aluminium and cast iron are

made from an increasing element of recycled

material, which can also be recycled at the end of

its useful life, providing a sustainable cradle to

cradle product that will not end up as landfill

when the product is finished with.

Both aluminium and castiron

systems have long life

spans, much longer than

other materials such as

upvc.

Aluminium is a lightweight

malleable metal, which is

strong and durable, does not rust or

corrode and is non-combustible, so lends

itself to architectural elements such as fascias

and soffits, wall cappings and copings, etc.

Cast Iron rainwater systems are often used for

heritage, conservation or listed properties, and

have an expected lifespan of 100 years, if

properly maintained.

TC: The perception is sometimes that

metal systems are only used on higher

end projects, is this the case?

KM: No, not now – it may well have been.

Aluminium was considered much more of a niche

product, however, our experience tells us that it is

a much more regularly used material because of

all the benefits aluminium offers now as a longterm

solution.

We are working hard to change this perception

as the cost versus the durability of metal

systems can mean that it works out to be far

more cost effective to specify and fit a metal

system than plastic; metal systems can last in

excess of 60 years, whereas plastic may only

last for 20-30 years.

TC: Can you tell us a bit about your

Mustang and Alstream approved installer

schemes…

Left: Glenshee project, Legacy Aluminium

Gutter and Colonnade Downpipes

KM: ARP's Mustang®

system is the market

leader when it comes to

seamless aluminium

guttering systems, where it

is extruded quickly and easily

from an Ironman TM machine at

the site of the installation. As all the

preparation work is done at ground level, this

system minimises the length of time installers

spend working at height. Gutters can be run out

in lengths of up to 30 metres and because there

are no joints, it will not leak. Made from 0.9mm

aluminium coil, this is the only aluminium

seamless gutter system which is British Board of

Agrément accredited. We have a national network

of Mustang® Approved installers which are fully

trained by us, but are also inspected regularly to

maintain approved status. This means that the

property owner gets a gutter installation that

meets BBA guidelines.

Alstream Seamless Aluminium guttering offers

similar benefits to Mustang®, but is formed from

0.7mm coil and is not BBA accredited.

TC: The Mustang Ironman machines /

equipment look interesting, can you tell

us a bit more about these and how they

assist installers…

KM: Ironman TM machines are gutter forming

machines. They use a coil of aluminium sheet

which once fed through the machine quickly

forms an ogee profile gutter. The machines are

portable and easily transported from site to site

in the back of a transit van or on a trailer. The

machine extrudes the guttering and all the

40 TC SEPTEMBER 2019
---
Edgemere.

New anthracite available for

Standard, Duo and Riven.

The thin (18mm) leading edge of Standard, Riven

and Duo Edgemere slates, offers a range of low profile

and slate-like solutions, providing an affordable upgrade

to standard interlocking tiles, or a cost-effective alternative

to natural slate.

Now available across the range in Anthracite along with

comprehensive matching dry fix and ventilation systems.

Call us on 01283 722588

marley.co.uk/edgemere
---
Q&A: Metal Rainwater Systems

fixtures and fittings are added whilst safely on the

ground – therefore the only work at height is

offering the gutter up to the roofline to actually fit

it into place.

The coil means that the installer may have up to

130 metres of gutter in his van, the machine

allows him to only extrude the lengths he needs to

complete the job therefore there's no waste.

TC: What are some of the most common

mistakes that installers make when it

comes to installing rainwater systems?

KM: One of the most common mistakes made

when installing rainwater systems is the siting of

the gutter itself. If the gutter is positioned too

close to the roofline, the water can overshoot the

gutter and be more liable to get damaged in snow

conditions (geographically dependant). If it is

positioned too low, rainwater would simply

bypass the gutter and be completely ineffective.

We provide full installation instructions and a

detailed view of where the gutter should be

placed for optimum performance.

Other instances we are mindful of is the correct

use and type of silicone and having the right

tools/blades to make cuts on site.

TC: Lead times are very important to

installers – what sort of lead times can

you offer on your metal rainwater

systems?

KM: Depending on what products are required we

can offer a pick and paint option on our standard

stock, which means we can offer an almost

immediate delivery. Other products including

bespoke pressed products can be anything from

5-15 days depending on volume, colour and other

processes involved.

TC: Have your customers' demands

changed in recent years?

KM: As with all industries, customers' demands

are more intense and installers want products

quicker. We are continually investing in our

people, processes and products to be able to

meet these demands.

"If the gutter is positioned too close to the

roofline, the water can overshoot the gutter - If it

is positioned too low, rainwater would simply

bypass the gutter and be completely ineffective"

TC: What sort of in-house

base of the gutter until it

services can you offer

appears at the rim. You then

customers?

simply leave the joint to cure.

No excessive sealant for

KM: We offer a full range of

cleaning up or tooling off, it's

technical assistance from CAD

easy!

designs, free technical

estimates, drawing take-offs,

TC: Is there still room for

as well as a national team of

innovation in the metal

account managers who are

rainwater systems sector,

ideally placed to visit local

and if so, what sort of

sites for site measures and

issues will it address?

advice. We manufacture much

Will it be aesthetics,

of our products in house and

speed of installation,

even have in-house paint

capacity?

lines for both cast iron and

Above: The Sentinel Jointing System. KM: There is still plenty of

aluminium.

innovation that can be

TC: What's the biggest issue affecting addressed, in fact we have been developing a

your installer customers?

new range of rafter bracketry that are adjustable

to the exact pitch of the roof (+/- 1°).

KM: Probably the biggest issue facing our

installers is the time constraints. Traditionally our We're always planning and looking at what we

product is one of the last items fitted and there is can bring to the market which will make the

always pressure to get orders turned around in contractor/installer's life considerably easier.

time for the scaffolding to be dropped.

TC: How has the start of 2019 been and

Another issue is the safe working at height are you optimistic looking forward?

practices that need to be adhered to. Nothing is

KM: We know that there are a lot of construction

more important than people getting home from

projects around at the moment either started or

work safe.

about to start. We believe that the rest of the

TC: Can you tell us a bit about the Sentinel year will be just as buoyant and expect

Jointing system – what benefits does it continued growth. We strongly believe that

offer installers?

aluminium as a metal system has a fantastic

KM: Our new Sentinel beaded half round jointing

system is an exciting launch for us. It features a

quick, easy and mess-free sealant injection

system – an innovation we are proud off. The

Snap-fit system still clips into the brackets, we

have just updated how the joints are sealed with

unions and end caps fitted with EPDM gasket,

and then the sealant injected into the port at the

future.

Contact ARP

0116 281 5237

www.arp-ltd.com

@ARP_LTD

42 TC SEPTEMBER 2019
---
WE THINK YOU SHOULD

EXPECT MORE

FROM YOUR

MANUFACTURER

That's why with Ubbink you can expect the

very best in customer support:

Reliable, on-time deliveries

Excellent product availability

Responsive and accurate admin services

Friendly, expert technical support

...and of course, top quality products

Call us today, or visit our

website for more details.

• VENTS • TERMINALS • NON-LEAD FLASHING • ROOFLINE PRODUCTS • & MORE

Tel. 01604 433000

www.ubbink.co.uk
---
Marley Advertorial

EDEN – REWRITING THE BOOK

ON CLAY PANTILES

Marley is rewriting the book on clay

pantiles with a ground-breaking new

traditional pantile that incorporates

modern fixing methods for quicker and easier

installation. The new Eden tile will transform

pantile fitting giving contractors an easy-to-fix,

low pitch option when a traditional pantile is

required for aesthetic or planning purposes.

Unlike anything else on the market, the Eden

pantile combines the aesthetics and heritage of a

traditional pantile with time-saving features

previously only seen on Marley's Lincoln

interlocking tile, including a specially designed

SoloFix channel to make BS 5534's two point

fixing easier, a flat back on the rear of the tile so

it doesn't rock during installation and an enlarged

nib for easier nailing. It also has a low minimum

pitch of just 22.5 degrees.

Below: Marley's Eden tile will transform pantile fitting, giving

contractors an easy-to-fix, low pitch option when a

traditional pantile is required for aesthetic or planning

purposes.

"The Eden has a

traditional profile but

incorporates several

innovative features to

make it quicker and

easier to install to

BS 5534"

Stuart Nicholson, Roof Systems Director at

Marley, says: "In certain areas of the country –

for example Lincolnshire, East Anglia, Norfolk,

Yorkshire, Humberside, the South West and parts

of Eastern Scotland – contractors will need to use

clay pantiles to fit in with surrounding properties.

Yet, the last significant development in traditional

pantiles was the introduction of machine-made

tiles back in the 1700s; much recent

manufacturer innovation has focussed on

creating interlocking tiles due to the market need

for easy-to-fix products. Indeed, with the ongoing

time and skills pressures, modern clay

interlocking pantiles, like our Lincoln, have

become increasingly popular as a quicker, easier

and more cost-effective way of achieving a rustic

pantile aesthetic.

"However, on some projects, due to aesthetic

preference or planning, contractors still need to

use a traditional pantile, but up until now there

hasn't been an easy way of fixing these to the

latest British Standards.

"That's why we are launching a new type of

pantile – the Eden – which has a traditional profile

but incorporates several innovative features to

make it quicker and easier to install to BS 5534.

"It also comes in a weathered finish, so it is even

suitable for use on heritage and conservation

projects. Crucially it gives contractors a time

saving, lower pitch, traditional option, creating

the next significant innovation in the pantile's

timeline."

44 TC SEPTEMBER 2019
---
Eden test roof: Matt Timby

Traditional roofing specialist Matt Timby, from

Timby Traditional Roofing in

Gainsborough, installed a

test roof for the Eden

tile as part of the

development

stages and says:

"Working in a

traditional

pantile area

means we have

years of experience

of pantile installation.

Eden is great because it

brings a traditional pantile up

to modern fixing specifications and

standards.

"Not only does its uniform design make it easy to

lay but it also uses a clever clipping system

which

is quick

and easy

to install.

Some clipping

systems can be

quite intrusive on

pantiles, affecting the

way they lay but this tile

has been designed with a

special channel, so the clips

fit comfortably behind the tile

below. There is also enough play

in the clips to adjust the tiles slightly

after installation, if required.

"The tiles were a joy to

install and could easily

be used for new or

refurbishment

projects. They look

really good on the

roof because of the

very slight differences

in profile which was an

intentional part of the

design. Traditional pans vary

in shape and mimicking this gives

an authentic appearance when comparing

them to a standard machine-made tile, which

can be so "perfect" they're almost characterless.

The really clever thing about this tile is while

achieving an authentic look, it retains its

Matt Timby: "Eden is great because it brings a traditional

pantile up to modern fixing specifications and standards."

consistency in sizing, each laying to the correct

gauge and cover width making it incredibly easy

to lay. The Eden also has a soft leading edge which

helps with the overall look of the finished roof.

"With a pitch of 22.5 degrees, as opposed to 30

degrees for some other machine-made pantiles, it

does give roofers a traditional rather than an

interlocking option for a lower pitch roof. To me

personally, aesthetics are much more important

than time saving and Eden certainly fits the bill

as far as looks go. For roofers who are looking for

a faster, easier way to install traditional pantiles,

these new tiles could certainly save time because

the clipping system is a much quicker way of

installing to BS 5534."

The new Eden tile is available in three colours,

the traditional Natural Red, a weathered Rustic

Red and Matt Black for the East Anglia market,

with a full range of components and accessories

to complement the tile, including dry fix systems

or mortar-bedded security fixing kits. Eden can

also be purchased as part of a full Marley roof

system, including underlay, battens, fixings and

accessories, backed up by technical support and

a 15-year guarantee.

Contact Marley

01283 722588

www.marley.co.uk/edenpantile

@MarleyLtd

SEPTEMBER 2019 TC 45
---
Perfectly Pitched

THE CASE FOR CLAY TILES: A

MODERN OPTION FOR PROJECTS

Pitched Roofing Consultant John Mercer, writing on behalf of Edilians, explains why he feels

modern production techniques mean clay tiles are a great solution for many projects, but

stresses how important it is they are installed correctly...

Clay has been a material of choice for our

roofscapes for nearly 1,000 years; the

Romans are credited with introducing clay

roof tiles to Britain during their occupation from

43 AD until their departure in 410 AD, after which

the art of clay tile making was lost for a while.

Concrete roof tiles were first introduced into

Britain in the 1920s, though it was the huge

boom in housebuilding after the second World

War when they really found favour due to mass

production techniques and ease of installation.

Concrete quickly became the mass housebuilder

choice for roofing, accounting for around 60% of

all roofs, with 20% being slate and 10% being

clay. However, modern production methods and a

wide range of tile shapes and colours mean that

clay tile producers, such as Edilians, are now

challenging the dominance of the concrete

producers.

Thriving market

Good quality clay roof tiles can last well over 100

years, though it is more likely that other

components of the roof will require maintenance

or replacement well before the roof tiles, such as

battens, fixings and underlay. As we all know,

there is a thriving market in the UK for second

clay tiles.

When specifying roofing products, it is important

to choose materials that comply with current

British and European Standards to ensure a good

quality, durable roof for the client. Clay tiles

should comply with EN 1304 and must pass 150

cycles of the European test for frost resistance;

EN 539-2, to be deemed suitable for use in the

UK. Edilians' clay roof tiles are produced from

high quality French clays that achieve pass

results far in excess of the European Standard

test requirements.

Installation

With regards to installation, all tiles and slates

must be secured to resist predicted wind loads.

The security of a roof tile or slate very much

depends upon its fixings; e.g. nails, clips, straps

etc. Slates are 'double lapped' therefore each

slate is afforded some protection to wind up lift

by its neighbouring slates. By the same

reasoning, double lapped clay plain tiles also

provide an extremely secure roof covering through

their small size and coverage. So much so, that

in many locations in the UK, plain tiles only need

mechanical fixing (i.e. nailing) in every fifth

course in the local and general roof areas, with

the perimeters having each tile mechanically

fixed. Of course, wind load calculations must

always be carried out to confirm this for each

location – contact Edilians Technical Support for

a fixing specification for every project. The

methodology for calculating roof tile fixings is well

documented in BS 5534: the British Standard

Code of practice for slating and tiling and pitched

roofs should be fixed to withstand wind speeds

only likely to be exceeded once in 50 years.

If natural slate is beyond a project's budget, then

for an authentic slate appearance, Edilians has

developed its Beauvoise Graphite Slate, which is

the perfect substitute and it comes with other

advantages, such as the speed of installation, no

need for sorting and holing, as well as the

reduction in cost that only a single lapped roof tile

can bring. Being produced from clay, Beauvoise

Graphite combines the riven appearance of slate

with a natural clay material that will keep its rich

slate grey colour for the life of the tile and will

never fade.

Clay is much more than a great slate substitute;

over its 1,000 years' presence in Britain, clay has

introduced many of the great roof tile shapes that

are now such a part of our roofscapes; for

example, pantile and roman, as well as

Mediterranean-influenced bold roll. Indeed, many

popular concrete tile shapes are very much

influenced by clay tiles.

Modern clay tiles are pressed, which means that

it is possible to incorporate endless technical

features into the upper and lower surfaces of the

tiles to improve security and weathertightness.

Clay is also twice as strong as concrete, which

means that clay tiles can be thinner and therefore

lighter in weight than concrete tiles. All this,

combined with the fact that clay tiles keep their

colour for life, means that they remain a great

option, whilst modern production techniques

mean that clay is not far behind concrete in

terms of cost and ease of installation.

Contact Edilians / John Mercer

www.imerys-roof-tiles.com

@imerys

@johnmercer3

46 TC SEPTEMBER 2019
---
Rustic Red

Natural Red

Matt Black

EDEN

We've rewritten the book

on 12th century clay pantiles.

Start a new chapter at Marley.co.uk/edenpantile
---
Contractor's Qs

"THE LEARNING CURVE WAS A STEEP

ONE, PARTICULARLY AT THE START"

Neil Harrison is Pre-Construction Director at leading UK commercial roofing company

BriggsAmasco and has been working in the roofing sector for over 30 years. We caught up with

Neil to hear about his thoughts on progressing in the sector, changing perceptions (including his

parents'!) of roofing, and his pet hate – losing projects to cheaper, poorer solutions when you've spent

time working to provide technically sound solutions...

10

questions for Neil Harrison:

"My parents were less

than impressed and

that disappointment

grew when I started a

career as a 'roofer'..."

TC: What was your path into roofing and

to your current position?

NH: I started work in the summer of 1988 for a

local commercial roofing contractor as a trainee

estimator. I was 17 and had been at college the

previous year studying for my A-levels. It hadn't

gone well, and it was suggested by the college

that I didn't return for the new term.

My parents were less than impressed and that

disappointment grew when I started a career as a

'roofer'. However, over time they started to warm

to the idea. My Mother was impressed when I

was given a Barbour wax jacket as a company

Below: BriggsAmasco was involved with the Edinburgh City

Council building.

coat and my Dad cheered up when a

company car quickly followed.

I left in 2003 and joined

BriggsAmasco in the role

as Business

Development Manager.

Coming from a company

of 12 to a business with

hundreds of employees and

a big company feel, it was all

a bit of a shock. The learning curve

was a steep one, particularly at the start.

But I stuck at it, and with the support of a few

great colleagues, some great experiences working

on a huge variety of projects and a few different

roles along the way, it worked out.

Left: Neil Harrison is Pre-Construction

Director at BriggsAmasco.

At the start of the year I

accepted the role of Pre-

Construction Director. It

means embarking on

another steep learning

curve, which has

impressed my older

colleagues no end!

TC: If you had one piece of advice about

working and progressing in the roofing

sector, what would it be?

NH: A roofing contractor might, on the face of it,

not look the most exciting choice. However, there

is a career to be made here. My advice is start

with a good company and then work hard; it's

that Simple!

TC: Tell us about a current project you're

working on...

"There is a career to be

made here. My advice

is start with a good

company and then

work hard. Simple!

48 TC SEPTEMBER 2019
---
Join the Experts ...

TECHNICAL GUIDANCE

Gain Access to:

· Technical committee that keeps abreast and

influences legislation effecting the industry

· Private members area with market size data,

CPA updates and industry reports

· Network with suppliers to the industry to aid

product development

· Free guidance notes and codes of practice

· Free independent technical advice

For more information please contact us:

Email: info@lrwa.org.uk

www.lrwa.org.uk

COMBATTING CONDENSATION

Over 30 years' experience in roofspace ventilation

Glidevale offers a comprehensive range of slate and tile ventilators used to meet the

control of condensation requirements set out in BS 5250.

A choice of over 450 profile matched or universal

ventilators available

In-line ventilator range allows for an unobtrusive look

G-Range 'Cowl' profiles provide maximum airflow

Versa-tile G5 range is the ultimate universal tile

ventilator, fitting over 100 tile manufacturers' profiles

Perfect for new build or retrofit

STAND

31

Visit www.glidevale.com/slateandtile or e-mail

technical@glidevale.com for more information, or come

and see us at Contractor's Day on 2nd October.

A sister company to Protect and Passivent. A division of Building Product Design Ltd.

SEPTEMBER 2019 TC 49
---
Contractor's Qs

On frustrations:

"Winning the argument

technically, but losing

the project to a much

poorer solution

because the bottom

line is out by a few

percent"

NH: I wish it was only one… With any role in

pre-construction, the challenge is always how to

work on and manage many projects and bids

simultaneously.

Above: Neil described the Battersea Power Station project as "a true once-in-a-career opportunity and a privilege" to work on.

TC: You must have worked on some

difficult projects over the years. Is there

one that particularly stands out?

NH: Battersea Power Station: a true once-in-acareer

opportunity and a privilege to be involved

with such an iconic building. I pass near the site

most mornings on the train, and seven years after

my first project meeting I still glance across at

the site.

"People are more

important than tools –

they are our most

precious resource"

NH: Winning the argument technically, but losing

the project to a much poorer solution because the

bottom line is out by a few percent.

are our most precious resource.

TC: What's the biggest issue currently

affecting you as a contractor?

NH: Ah, we almost got to the end without a

mention of Brexit… But the uncertainty being

created over the EU situation is definitely holding

the market back.

TC: What about difficult customers? Any

situations that stand out that you can tell

us about?

NH: For 99% of the time the customers are great.

Occasionally you get a difficult one and have to

admit that it's just not meant to be. But in other

situations, with time and effort, that difficult

customer becomes the best customer, and that's

a great feeling.

TC: What's the most frustrating thing

about your job?

TC: And the most satisfying?

NH: When the business is given the opportunity to

get involved in a project at an early stage, with

the time to identify and find solutions to

problems, and then seeing those ideas taken

forward and worked into a successful project.

TC: What's your most important tool as a

roofing contractor, either in the office or

on site?

NH: People are more important than tools – they

TC: How has the start of 2019 been, and

are there reasons to be positive for the

remainder of the year?

NH: It's been great so far and the outlook for the

rest of the year is also looking really positive.

Visit Contractor's Corner at www.totalcontractor.co.uk

to read previous Contractor's

Qs and other roofing-related content.

"For 99% of the time the customers are great.

Occasionally you get a difficult one and have to

admit that it's just not meant to be"

Contact BriggsAmasco

0121 502 9600

www.briggsamasco.co.uk

50 TC SEPTEMBER 2019
---
QUALITY

YOU CAN TRUST

When you buy from Safesite's Supply Only range

of fall protection and safe access products, you're

not only buying superior products at extremely

competitive prices, you'll also benefit from

dedicated support and assistance. This includes

free technical advice as well as a complete

manual covering the assembly and installation

requirements for the product.

Our range of Supply Only products include:

• Guardrail Systems

• Mobile Man Anchors

• Skylight Protection

• Self Closing Safety Gates

• Step-Over Kits

• Fragile Roof Protection

www.safesite.co.uk

Tel: 01293 529977

Email: info@safesite.co.uk
---
EPDM: Top Tips

THE TOP FIVE BENEFITS OF

EPDM ROOFING MEMBRANES

Carl Bailey, from Firestone Building Products, discusses the benefits of choosing EPDM

for both domestic and commercial installations.

EPDM single ply roofing membranes have been used for both new build and refurbishment of flat

roofs for more than 40 years in the UK, and many decades-old installations are still going strong.

An extended service life is one of EPDM's key USPs but there are many more – here are

Firestone's top five benefits of EPDM roofing:

"An EPDM roof can flex

to cope with any

differential movement"

1Size Matters While bitumen-based felt

roofing systems are usually supplied as

1m wide sheets and thermoplastic singleply

membranes can be supplied at widths of up

to 2m, Firestone's RubberGard EPDM membrane

can be ordered in any width between 3m and

15m on a 30m roll. This is because the

manufacturing process for EPDM enables larger

scale sheets to be assembled during production,

rather than being limited by the size of the

extrusion line.

The roofing contractor can select a width that

offers the best solution for the size and layout of

each individual roofing project, which saves time

and supports improved roof integrity by reducing

the number of seams; the most time-consuming

and critical element of any installation.

2The Right Fix Along with varied

choice of membrane size,

EPDM roofing systems

also offer a varied array of

fixing systems, providing

greater design flexibility for

use with almost any

substrate or roof build-up.

Firestone's RubberGard EPDM

roofing system can be installed as

a fully-adhered or mechanically-fixed

system and can be used for inverted, ballasted,

green and modular roofs.

Adhesives are usually used with smaller widths

of EPDM and Firestone has developed a waterbased

adhesive specifically for use in factorybased

modular construction. This is also ideal for

Left: Carl Bailey, Firestone Building Products.

occupied buildings or any

environment where

nuisance odours may be

an issue.

For mechanically-fixed

roofs, which are always

advised when using a larger

width of EPDM, Firestone has

developed a fixing system that does not

penetrate the membrane, avoiding any

vulnerability to leaks around the fixing system.

3Fantastically Elastic EPDM is a naturally

and permanently elastic material, with over

300% elongation. As a result, EPDM roofs

are very resilient throughout their service life.

An EPDM roof can flex to cope with any

differential movement between building

components, avoiding the need for any complex

expansion joints unless required by building

regulations. EPDM does not crack or split at very

low temperatures, nor does it soften or melt at

very high temperatures and it can cope with

temperature shock from rapid temperature

fluctuation.

With an increasingly erratic climate, the U/V

resistance and long-term elasticity offered by

EPDM present compelling reasons to specify

systems like RubberGard EPDM.

52 TC SEPTEMBER 2019
---
4Environmentally Responsible Featured in

the Green Guide and contributing to a

BREEAM summary A+ rating over an

appropriate support, EPDM is an inert material,

containing no plasticisers, heavy metals or

chlorine, which means there is no change in the

material even when exposed for many years.

EPDM's extended service life significantly lowers

its environmental impact, and the membrane is

completely recyclable.

5Heat & Flame Free Installation is totally

heat- and flame-free, with all joints formed

using a self-adhesive splice tape. This

avoids any fire risk from the roofing project, along

with any fire-risk related insurance costs or fire

safety wait times for installation teams at the end

of a day on site.

As no electrically-powered tools are needed,

there is no requirement for any temporary or

permanent power source; a significant

advantage for both remote locations where

getting a generator to site may be onerous and

for residential areas where a generator could

create nuisance noise.

Specification Guidance

Firestone has an experienced technical team to

support contractors throughout the specification

and installation process to ensure that each

project maximises the benefits of RubberGard

EPDM.

To find out more, visit the Firestone Building

Products website:

Contact Firestone Building Products

01606 552026

www.firestonebpe.co.uk/en

@FirestonebpUK

BUILD TIGHT & VENTILATE RIGHT!

Solutions for the roofing industry

Protect Membranes offers a tried and tested product range to

meet all your needs under one roof, whether for new build or

refurbishment projects.

Wide choice of vapour permeable & impermeable underlays

Products to meet all wind uplift resistance zones 1-5

Hydrostatic head of water resistance >2.0m

Underlays independently certified by BM TRADA

Conformance to BS 5534 and BS 8612

Range of roofing accessories available ex-stock

STAND

31

Visit www.protectmembranes.com/underlays for more

information or come and see our latest products

at Contractor's Day on 2nd October.

A sister company to Glidevale and Passivent. A division of Building Product Design Ltd.

SEPTEMBER 2019 TC 53
---
Metal Standing Seam

STANDING THE TEST OF TIME

Gareth Holvey, Technical Manager SSR2 at Catnic, explains why he feels standing seam

metal roofing provides such a viable alternative to traditional roofing options.

Ease of Installation

For roofing contractors, ease of installation

is important to ensure projects can be

delivered efficiently and to schedule, and

that there is reduced time spent at height.

A standing seam steel roof is lightweight – in fact

seven times lighter than clay or slate tile

equivalents. This means that handling, carrying

and manoeuvring the material on site is much

easier, which is an important consideration when

working at height in order to improve overall safety.

Roofing contractors should also look for pre-finished

steel standing seam roofing systems that utilise a

simple locking design with pre-punched fixing holes

to aid installation. This will make the fixing

process much quicker and reduce the amount of

time required to deliver a project. Systems that

are not reliant on roll forming or seaming on site

can help ensure workmanship levels and product

performance both achieve a high standard.

Environmental benefits

With the government striving to achieve reductions

of carbon emissions, we have understandably

seen a drive from the construction industry to

improve the energy efficiency of UK homes and

buildings. Therefore, wherever possible, only

building materials that can demonstrate clear

environmental credentials, should be specified,

including the choice of roofing.

As such, systems with the highest BREEAM levels

possible are ideal – a Green Guide-recognised

system will deliver peace of mind when it comes to

environmental credentials. In addition, leading precoated

metal standing seam systems can easily

incorporate solar panels, further increasing the

energy efficiency of the project. A fixing bracket can

be screwed into the standing seam upstand to allow

photovoltaic panels to be installed without needing

to place holes through the roof. This can reduce

time spent installing the technology

whilst retaining roof integrity.

Guaranteed

performance

Of course, whilst ease of

installation and

environmental credentials

are a factor, these materials

also need to stand the test of time.

Consideration must be given to whether the

material can withstand British weather, as this

will affect the longevity of the product.

Proving confidence in its products, Catnic has

recently launched its free of charge Confidex

Home guarantee. Offered direct to the

homeowner, this 25-year warranty provides

complete confidence in the quality of the

advanced paint coating applied to the steel, and

is in place whether the SSR2 system is used

either as roofing or cladding, and regardless of

where the property is located – including coastal

regions. In addition, the guarantee is easily and

fully transferable in the event the property is sold

to new owners – an excellent benefit roofing

contractors can provide to their customers.

To ensure a robust specification – it is important

to ensure that the standing seam roofing choice

will meet all the relevant legislation. The SSR2

Roofing and Cladding System is manufactured

from Tata Steel's Colorcoat HPS200 Ultra prefinished

steel, and is CE Marked in accordance

with BS EN 14783:2013. It also meets Class 0

'low risk' fire classification requirements of the

UK Building Regulations.

When used as part of a roof cladding system, the

system has a Class AA /B roof (t4) performance

rating according to BS 476 Part 3 / EN1187 and

meets all UK roofing application requirements.

Training and education

Of course, no matter how long

roofing contractors have

been in the business –

taking advantage of

training and education will

always remain important.

Catnic now offers a new

CPD – a 45-minute session

that explores the performance

and aesthetic considerations of prerefinished

steel, including installation solutions, as

well as building methods and regulations.

Ensuring weekly CPD obligations are easily

satisfied, it is taught face to face and can provide

roofing contractors confidence in the product and

installing it.

A beautiful and versatile aesthetic

Loved by architects and customers alike for its

range of colours (including Anthracite, Terracotta

and Green Grey) that complement both traditional

and modern finishes, the tonal matt shades

integrate seamlessly between different facades

including glass, brick, wood, stone and render

delivering effortless modern finishes.

There are a range of factors to consider when

specifying a roofing system for a residential build,

whether it is for a new build or refurbishment. By

working with and recommending a pre-finished

steel roofing system, contractors can provide end

clients with a quick-to-install solution – that can

contribute to a sustainable build with a lasting

and beautiful aesthetic.

Contact Catnic

029 2033 7900

www.catnic.com

@CatnicUK

54 TC SEPTEMBER 2019
---
Let's LOGO!

Get FREE front logo printing

on your V-Gard® hard hat!*

Find out more at msasafety.com/customhardhats

V-Gard 950 V-Gard 930 V-Gard 520 V-Gard 500 V-Gard 200 V-Gard

*Conditions apply, contact us to learn more.
---
Common Mistakes

PITCHED ROOFING INSTALLATION:

COMMONLY MADE MISTAKES

We asked Pitched Roofing Consultant John Mercer to discuss some of the common

mistakes contractors can make when installing pitched roofing products and

materials...

Firstly, I want to start on a positive note;

there have been many advances in pitched

roofing during my career, in both materials

and installation techniques. These have been

driven by several factors, including revisions to

British and European design and installation

Standards, with these, in turn, being motivated

by organisations such as the National Federation

of Roofing Contractors (NFRC) and National

House Building Council (NHBC) as well as

building material producers.

However, new products and new practices can

sometimes introduce new challenges. There was,

for many years, a lack of awareness amongst

contractors of the requirements of BS 5534,

particularly relating to roof tile fixings. However,

persistent campaigns within the industry, coupled

with roof tile manufacturers' development of

software to make calculating fixing specifications

extremely quick and simple, has dramatically

raised awareness in the last five years.

Remember, a fixing specification should be

calculated for every roofing project.

Underlays

The introduction of 'breathable' underlays

brought with it several complications. Firstly,

even the word 'breathable' is misleading. Early

marketing campaigns and third-party certification

of some of these products led people to believe

that roof space ventilation was no longer

required, with confusion surrounding details such

as air and vapour control layers in ceilings. Even

the way lightweight underlays are installed can

cause problems. These were originally designed

to be installed over rigid sarking or insulation, but

here in the UK we traditionally lay underlay

"The important thing is for all industry sectors to

work together to develop, improve and overcome

the issues we encounter"

unsupported over rafters – not in Scotland, I hear

you say. It is more difficult to lay lightweight

underlay with a drape and the underlay does not

naturally seal around the batten nail holes.

Therefore, the combination of no drape and no

seal at the nail holes can result in water

penetration, whether it be from rainwater driven

through the roof tiling or condensation within the

batten cavity. To overcome these issues,

consider using a proprietary nail tape to seal the

nail holes and counter-battens in place of

underlay drape. It is important that the installer

obtains the correct installation advice from the

product manufacturer and is familiar with the

recommendations given in BS 5250 on roof

space ventilation.

Low pitch roofs

This leads me to another common installation

problem; that of low pitch roofs. For many years,

there has been commercial pressure on roof tile

manufacturers to reduce the minimum

recommended roof pitches for some of their

products. Manufacturers have responded through

vigorous wind-driven rain testing and

improvements to their tiles. This, in turn, has

encouraged designers and contractors to

construct buildings with lower roof pitches.

Low pitch roof-related problems often manifest

themselves on small, domestic, single-storey

extensions. Tiles, which perform adequately when

laid perfectly in a wind tunnel, may not perform

so well when they are laid around, for example,

roof windows, where the flashings cause the tiles

to lift and not seat as well as they should. A

common mistake is to shed water onto a lowlevel

extension roof from a higher roof through a

downpipe or valley. This volume of localised

water can overwhelm the roof tiles, causing

leakage. Similarly, where a roof has a low pitch

combined with an overly-long rafter length, the

tiles in the courses close to the eaves can be

flooded due to the volume of water from higher up

the roof slope.

It is important to avoid shedding water onto lower

roofs and to follow the roof tile manufacturer's

advice on minimum roof pitch/maximum rafter

length. Seal all penetrations, laps, and junctions

in the underlay layer.

In summary, yes, of course, roofers make

mistakes, but I hope I have demonstrated here

that the important thing is for all industry sectors

to work together to develop, improve and

overcome the issues we encounter through good

design, improved products and correct

installation.

Contact John Mercer

@johnmercer3

56 TC SEPTEMBER 2019
---
Rolled Lead Sheet

The Truth - Not Fiction

The Facts

1 100% made in Great Britain.

Calder

Lead Sheet

Alternative

Flashing Products

2

3

4

Manufactured to an industry accepted

standard - BSEN 12588.

Fitted by specialist contractors following an industry

recognised installation guide - the lead sheet manual.

Carries a high perception of quality throughout the

building industry.

5 High quality product with proven long life.

6

Will not fail or require maintenance or replacement

over the lifetime of a building.

7 Carries a 50 year guarantee.

8

Retains its value and can be recycled with no loss

of performance.

9 Can be fitted safely in damp and cold weather conditions.

10

Highly malleable and can be fitted to most surfaces,

including complicated structures.

11 Has a A/A+ BRE green guide rating.

12

13

14

Is sourced 100% from recycled material and is

100% recycled at the end of its life – an ideal material

for the circular economy.

Not made from unsustainable petrochemical materials

that cannot be re-cycled and end up in landfill.

Doesn't require chemical adhesives for fitting that have

poor environmental credentials.

Calder Industrial Materials Ltd,

Chester West Employment Park, Jupiter Drive,

Chester. CH1 4EX

Calder Helpline: 01244 393710
---
Common Mistakes

HANDRAIL, GUARDRAIL & SAFETY

BARRIER INSTALLATIONS

Christian King, General Manager at Kee Systems, points out some of the common mistakes

made when installing safety systems.

Not following the design calculation that

provides the compliant upright tube

specification, correct spacing between

uprights, the required anchor embedment to

achieve the required design load: Correct

planning is vital, otherwise the barrier won't

achieve what it's being designed to do, which is

to protect people. For example, barriers, handrails

and guardrails must meet minimum height

requirements and be able to withstand various

forms of load, as required under Building

Regulations and BS6180. Pedestrian handrails

need to be designed to achieve 740 Nm design

load. If the system isn't designed correctly, then

you will find that the system does not withstand

the correct loading. Correct design calculations

can also help to save money, as you'll be able to

calculate the spacings accurately. We often find

that systems are installed to what a company

thinks is the safest specification, but in fact, they

have often overcompensated on the spacing

between uprights and as a result, the railing

system has cost more.

Don't assume you know how to install the

systems correctly and to a compliant

standard: Safety barrier systems can be

installed quickly and easily using fittings such as

Kee Klamp, but you still need

to know what you're

doing. Common

mistakes can often

be seen on stairs or

ramps where the

handrail may be

below the required

900 – 1100mm

height or the handrail

has just been installed on

one side of the stair or ramp

instead of both sides as required. You

can also find that where there is a drop off, a

curb or curb rail has been omitted to prevent

wheelchairs from slipping out from under the

railing. In some cases, a mid-rail will provide

sufficient protection.

"If you are going to

install a handrail,

guardrail or safety

barrier using

components, always

speak to a company

that understands the

complexities of

installing these

systems first"

Wrong fixing detail used: We have seen cases

where a base flange has been fixed to brickwork

with non-suitable anchors or not cored, or where

wall fixings have been used as base flanges. It

won't be long before these safety railings or

handrails start to become unstable and either

wobble or work loose from the brickwork or

substrate it's fixed to,

making the system noncompliant

and

potentially a hazard.

When fixing a

pedestrian handrail

to brickwork, we'd

recommend using a

78mm diameter

diamond core drill,

250mm deep for each

upright and then resin fix the

uprights into position to achieve the

required strength and durability.

Trying to save money by installing a

galvanised DDA compliant system and then

painting it instead of having it powder-coated:

Painted systems will scratch or flake within

weeks, if not days. Polyester powder coating the

tube and components will provide a finish that's

chip, scratch and fade resistant and will also

comply with the requirements of the Equality Act

by providing a finish that's not cold to the touch.

General comment: The benefit of using tube and

fittings is that if a system is incorrect, it may

simply be a case of adjusting it or replacing a

section, which you can't do with fabricated

systems. However, in all cases, we'd say that if

you are going to install a handrail, guardrail or

safety barrier using components, always speak to

a company that understands the complexities of

installing these systems first to make sure that

what you are proposing is correct.

Contact Kee Systems

0208 874 6566

www.keesystems.co.uk

@KeeSystems

58 TC SEPTEMBER 2019
---
Looking for safe rapid

access on fragile roofs?

Then get our

Board-Walk system

F or everyone settling for nothing but the

best when it comes to performance and

precision. Ideal for roofers.

Looking for safe rapid access?

The Easi-Dec Board-Walk system is an open

mesh walkway which complies with EN 12811-1.

The system allows access from the eaves to the ridge,

whilst spreading the load onto the support battens

to provide the user with a safer working position on

fragile roof surfaces.

Board-Walk is a modular system which features 2m,

3m and 4m sections that are easily linked together

and, an integral length work positioning line.

For further information visit our website

at www.easi-dec.co.uk

Hot air tool

HG 2620 E

• 2300 W / 50 – 700 °C / 150 – 500 l/min

• Brushless motor: 10,000 h

• Air pressure: 4,000 Pa for more power

• Suitable for construction site use

• LCD information display

• 4 user-selectable programmes

• Easy to operate by joystick

• Heater and power cord easy to change

• Including fine dust filter

www.steinel-professional.de

Call 01767 691812

or email info@easi-dec.com
---
Protan needs you

WE ARE RECRUITING DOMESTIC PARTNER ROOFING CONTRACTORS

All-year-round application

Quick, clean and easy to install

No naked flames or hot adhesives

Full training and technical support

Manufacturer's warranties - 15 to 25 years

BBA certified - service life in excess of 40 years

Protan (UK) Ltd 256 Europa Boulevard | Gemini Business Park | Warrington | WA5 7TN

Tel: +44 (0)1925 658 001 E-mail: domestic@protan.co.uk www.protan.co.uk
---
Global experience requires

local knowledge

PROTAN PROVIDES DOMESTIC WATERPROOFING SOLUTIONS FOR BOTH

NEW-BUILD AND REFURBISHMENT PROJECTS

BALCONIES AND TERRACES

DORMERS AND PORCHES

CONSERVATORIES AND ORANGERIES

EXTENSIONS AND GARAGES

GARDEN OFFICES

GREEN AND TURFED ROOFS

OUTBUILDINGS

Protan PVC single-ply membrane roof systems

are only installed by Protan-approved domestic

partner roofing contractors.

Installations are clean, easy and quick and do not

require the use of hot adhesives, naked flames,

resins, solvents, or tape.

For further information:

Call 01925 658 001

E-mail domestic@protan.co.uk

We look forward to working with you.
---
Cold Applied Liquids

ADDITIONAL SPACE CHALLENGES

By Justin Pitman, Sales Director for Proteus Waterproofing

The growing movement towards building

more apartments and community housing

has seen a major change in the way that

many of us now live, but with that trend comes

new challenges for the waterproofing industry.

Increasingly, balconies, flat roofs and service

areas including walkways and stairwells have

grown in importance. Such structural features

provide endless opportunity for residents without

gardens to create places for drying washing,

growing plants and flowers, or simply to enjoy

well-earned fresh air.

Sooner or later, however, those roofs, balconies

and other communal areas need refurbishing or

waterproofing, and by their very nature in such

confined spaces it can cause massive problems

for residents who have to contend with significant

disruption, pollution or in some cases, the

prospect of having to leave their homes.

It could be why cold applied liquid solutions are

rapidly becoming the waterproof membranes of

choice – particularly for local authorities and

housing associations that are frequently faced

with the dilemma of delivering essential

refurbishment without upsetting tenants and

other residents. Cold applied also ticks all the

boxes for local authority landlords understandably

anxious to keep fire risk to the minimum.

Refurbishing an apartment block is not just simply

a case of overlaying a new waterproof membrane

in a few hours. The old decking or waterproof

layer frequently has to be removed and when the

new membrane is applied the devil is in the

detailing – which is both time consuming, very

disruptive and depending on the product you use,

creates a lot of offensive odours.

Fortunately there are now waterproofing solutions

for roofs, balconies and walkways that both

residents and building owners will welcome. They

are virtually odour free, can be

installed and ready to walk on

in under two hours so

minimum disruption and

best of all – they are

less expensive – a total

win, win.

The secret is in the

seamless application for

so long enjoyed by Mastic

Asphalt and hot melt products.

While both are excellent for most types of

flat roof and walkway applications, many

landlords are now unwilling to accept molten

products, even though the risk of fire is negligible.

Higher costs, particularly with mastic asphalt, are

also a factor.

A seamless solution

Cold-applied systems have taken the lead by

offering other advantages over traditional types of

waterproofing. As well as offering a 'safer'

application, the liquid coating can be used to

deliver a seamless finish as it forms a

permanently elastic, seamless membrane. Ideal

for the long-term waterproofing of complex roof

details around pipes, upstands and gutters, the

system is a popular specification for

contemporary roofing projects where penetrations

are becoming ever more prevalent.

In recent years we have seen more and more

projects requiring intricate detailing works around

rooftop penetrations. Cold-applied systems

minimise the element of risk associated with

torch-on applications with no naked flames or

boilers involved at any time with the installation

process. Many liquid applied systems also exhibit

extremely low odour, making for a quick, simple

and safe-to-apply waterproofing solution,

particularly when you have an application in

confined spaces such as balconies, walkways or

other hard-to-reach areas.

Other factors such as the time

to complete a contract also

have to be taken into

consideration,

particularly with budgets

under increasing

pressure. This particularly

applies to new build.

In the past some of that down

time, particularly the need to wait 28

days for green concrete to cure, has been

unavoidable – or at least that was the case –

until now. All that has changed following the

launch of new types of waterproof membrane –

which some believe will revolutionise the

construction industry.

Getting other trades on site as quickly as possible

is frequently delayed until the building has been

waterproofed and conventional wisdom has

always dictated the 28 day rule for green concrete,

but the new cold applied systems can be laid

within three days of the concrete being installed

allowing the building to be waterproofed some 24

hours later. This will help to significantly reduce

costs in the public sector as the Government

releases more funds for social housing.

So whether it's new build or refurbishment, I

believe cold applied liquid solutions are leading

the way, and as we build more and more flats and

apartments and renew existing buildings, then we

are going to need waterproofing solutions that can

rapidly deliver with the minimum of disruption –

the future is liquid.

Contact Proteus Waterproofing

(0)1268 777871

www.proteuswaterproofing.co.uk

@Proteus_UK

62 TC SEPTEMBER 2019
---
The same great

quality expected

from

now available in a range of

Weep & Peep Vents • Telescopic Underfloor Vents • Brick Vents • Vertical Extension Sleeves • Cavity Sleeves • Plus a huge range of associated products

t 0845 034 6008 f 0845 034 6010 w www.easy-trim.co.uk

12B Metcalf Drive, Altham Industrial Estate, Altham, Lancashire, BB5 5TU, Great Britain
---
Pitched & Flat Roofing

THE SHAPE OF THINGS TO COME:

SIGNIFICANT YEARS IN BMI'S HISTORY

With BMI UK & Ireland's iconic BMI Redland brand celebrating 100 years of concrete tile

manufacture in the UK, ahead of its formal celebrations later in the year, the company

continues to look back over its 180-year heritage.

While 1919 – when Redland was formed

as the then Redhill Tile Company in

Reigate, Surrey – was an important

moment for pitched roofs in the UK, representing

the start of domestic concrete tile manufacture,

1923 proved to be almost as important for flat

roofing when Icopal, then known as D Anderson &

Sons, relocated from Belfast to Stretford,

Manchester.

At the time, Anderson was the first factory to

make the area its home in what was then fields

as far as the eye could see. Today, the factory,

which is still the company's main manufacturing

plant for its BMI Icopal ranges, is in the heart of

Manchester's Trafford industrial district – with

other global names such as Kellogg's, Adidas and

L'Oréal for neighbours.

Some of the site's original buildings remain and

true to its reputation of creating roofs that last,

one of the buildings features a rare engineered

timber roof structure known as a Belfast Truss –

designed, according to Construction History Vol.

17, by Anderson-founder David himself.

The industrial revolution brought about the need

for clear span industrial buildings, which in turn

inspired the development of a variety of timber

truss types. And although so-called bowstring,

barrel-form and other 'chord and lattice' truss

roofs had been built since medieval times, the

first "true" Belfast Truss – a clever laminated

construction, designed to maximise the use of

scrap timber – was fabricated by Anderson &

Sons in Belfast in 1896.

A few years later, after Anderson's Manchester

move, the general strike struck in 1926 and had

a profound and positive impact on the popularity

"One of the buildings

features a rare

engineered timber roof

structure known as a

Belfast Truss"

of concrete tiles – owing to a resulting shortage

of clay tiles; yet not so profound an impact as the

Second World War.

While the WW2 blitz wrecked a large number of

British cities, it was London that bore the brunt

with one million of the total estimated loss of the

two million homes destroyed. The urgent need to

replace these in the post-war period saw a huge

surge in house-building and the Redland 49

medium-format interlocking cambered tile

became the roof covering of choice. Launched in

1949, it was the first single-lap concrete tile and

its use is still widespread throughout the city.

Redland 50 Double Roman

In slightly les -pressured circumstances, 1950

saw the launch of the Redland 50 Double Roman.

The first variable headlap tile, as the name

suggests Double Romans hark back to the Roman

invasion of Britain in 43 AD. The tiles are based

on their imbrex and tegula tiles and modern

Double Romans come as interlocking concrete

Old Anderson and Redland adverts.

tiles, mimicking the effect of the original ancient

profile while being compatible with a wide range

of fittings and accessories.

In 1954, Redland invested £6,000 in a small

German company, Braas GmbH: a name to become

significant in the ultimate destiny of BMI's much

loved Redland brand. It was by now called Redland

Tiles and, having purchased the Moorhouse Brick

and Concrete Tile Product Company near

Westerham, was publicly floated and quoted on

the London Stock Exchange in 1955.

As November's concrete tile centenary

approaches, BMI UK & Ireland will be highlighting

more pitched and flat roofing key dates,

innovation and achievements in its development,

leading to the present day.

Contact BMI UK & Ireland

Pitched: 03705 601000 Flat: 0843 224 7400

www.bmigroup.com/uk

@BMIUKandIreland

64 TC SEPTEMBER 2019
---
Roofing Updates

For further info on all these updates and more, visit www.total-contractor.co.uk

MARLEY HELPS REIMAGINE RURAL

A development in the village of Waddesdon, which has been devised and managed by the Rothschild Foundation,

has used Marley's Double Acme Camber tile to create a striking aesthetic that is reimagining rural living.

Made up of 75 homes, the residential project has used over half a million of Marley's Acme Double Camber tiles in Burnt

Flame. With the tiles used not only on the roofs but also applied vertically, they were able to perfectly complement the

project's Scandinavian inspired design. Marley's technical team worked closely with the project's architects, C.F. Møller, to

assist with CAD drawings to ensure a suitable build-up and ventilation of the roof.

Marley's tiles were used on this project which

won 'Best Conceptual Design' at the 2019

Sustainable Architecture awards.

Andrew White, Area Sales Manager at Marley, said: "C.F. Møller was clear from the outset on the type of development it wanted to create. Turning away from

traditional design, instead favouring an approach which reflected modern living, to deliver a contemporary appearance which complemented the historic village

setting. Seeking a crisp, clean look, it was therefore important that the roofs of the homes also reflected this vision. Marley's Acme Double Camber in Burnt Flame

was the ideal choice. As it is suitable for vertical applications it was able to deliver a finish which meant the transition from roof to exterior wall was seamless. In

addition, the tile was also able to interact with other exterior elements of the build including window reveals, cladding at the gables, and guttering, which was a

significant challenge on the build." www.marley.co.uk

ZINC-ING OUTSIDE THE BOX!

You can now buy Zinc Box profile gutters on the Rainclear Systems website rainclear.co.uk.

If you are unsure which size gutter best suits your project,

call 0800 644 44 26. www.rainclear.co.uk

The Quartz Zinc rainwater system is also available in a half round profile with simple to install

fittings for the average domestic project. But the two systems are aimed at different projects and

skills-sets. The Box profile system is more suited to a large house with a high-pitched roof or small

commercial buildings and designed to be soldered (at gutter joints and patch outlets). The preweathered

zinc used to manufacture the rainwater systems will not discolour, distort or become

brittle over time. Cut edges will not corrode as the metal develops a natural self-protecting patina.

BREEAM HELP FROM ABOVE

A quantifiable means of achieving BREEAM points is being pioneered by Hambleside Danelaw,

via its Zenon GRP rooflights.

Above: Zenon's EPD applies to a range of site-assembled

and composite panel rooflight configurations. "The

concept of rooflights being able to quantifiably contribute

towards a BREEAM rated project in this way is a major

innovation for the market."

Zenon GRP in-plane rooflights have attained an independently assessed Environmental Product Declaration

(EPD). The accreditation enables a contribution of 1.5 points towards a building's BREEAM rating.

"Rooflights have always been acknowledged as contributing towards BREEAM, but it has always been an

intangible element," explained Paul Hanratty, Hambleside Danelaw. "The EPD makes that contribution

tangible, quantifiable; it gives reliable evidence." www.hambleside-danelaw.co.uk

GOAL ACHIEVED WITH SAFESITE ASSIST

Safesite has provided a safety solution for Wolverhampton Wanderers FC's training grounds.

Rooftop safety solutions at

Wolves' training ground.

Using KeeGuard, Kee Walk Step-over and a Bespoke Access Platform, Safesite offered security for the team to be able to film the

club's training sessions from the building's rooftops. Following a thorough site survey, a Kee Walk Step-over was put in place from

the office balcony and led onto a Kee Walk walkway which provides a safe, demarcated route to the flat roof area. This proved to be

the perfect solution as it is anti-slip and suitable to walk on in various weather conditions. Safesite also recommended that a

Bespoke Access Platform be constructed on the roof to allow training sessions to be filmed from multi-angles in complete safety.

Lastly, KeeGuard has also been installed to provide edge protection to the exposed edge on the roof. www.safesite.co.uk

66 TC SEPTEMBER 2019
---
ROBUST ROOF FROM BMI

Students at George Hastwell School, an academy in Barrow-in-Furness, are now sheltered by a roof that is built

to a specification from BMI UK & Ireland that is guaranteed to withstand the harsh coastal climate for 20 years.

The school commissioned Cunliffes, working with BMI, to draw up the school's Capital Funding Application to the Schools

Funding Agency to replace the original roofs. Wind uplift calculations were required to find the best application method.

George Hastwell School.

The roof details were sent to BMI to complete the calculations and determine the correct fixing for the location. In this case

it proved particularly important as the calculations showed that both the membrane and the insulation beneath would be subject to windloads of up to 2.79 kN/m²

(kilonewtons per square metre) at the corners. This meant that the insulation had to be bonded separately using TPI insulation adhesive – a foaming, odourless, VOCfree

two-part rapid curing polyurethane adhesive manufactured from bio-renewable materials. The 1050m² project, installed by BMI's IMA approved contractor

Pendlebury & Sons, consisted of a number of roofs with either concrete or plywood decks. For the non-flammable concrete substrates, BMI Icopal Tecnatorch Sand

and Siplast Primer were applied as the vapour control layer. For the plywood decks, the vapour control layer comprised BMI Icopal TorchSafe TA VCL Sanded and SA

Primer. Thermazone Torch On Insulation was then bonded to both vapour control layers with TPI Insulation Adhesive. Total Torch Vapour Dispersion Layer was installed

as underlay, followed by Firesmart Thermaweld Capsheet in Charcoal to complete the waterproofing system. www.bmigroup.com/uk

THE BIT BETWEEN THEIR TEETH!

SikaBit, the Safe2Torch reinforced bitumen roofing system from Sika, has been used to

upgrade the roof of a social housing block in the London Borough of Southwark.

Hambro Roofing used the SikaBit system at Castlemead

House after seeing the advantages of the SBS/APAO

hybrid technology.

Craig Smith from Sika explained: "The client was keen that any roof refurbishment should be carried out

using a Safe2Torch reinforced bitumen membrane, but it was clear that there was an opportunity to

upgrade the existing system with more advanced bitumen technology. SikaBit's best-of-both-worlds SBS

and APAO hybrid bitumen technology provided the ideal solution to achieve consistency of specification

while enhancing the roof build-up. https://gbr.sika.com

SL8: ACCELERATE AND RENOVATE!

Forticrete is meeting the increasing demands of the roofing market with its innovative large

format, thin leading edge roof tile, SL8.

SL8: "We've created SL8 as we saw a need in the market

for a thinner edge tile, that is up to 50% thinner than large

format varieties, allowing roofing contractors to achieve a

unique minimum pitch of 17.5 degrees."

Combining the visual aesthetic that replicates real slate with technical features of an interlocking tile, SL8

provides both superior coverage and a better-looking roof. The tile, which is 420mm by 390mm with a

hanging length of 396mm, offers excellent coverage requiring just eight tiles per m². SL8 has been

granted patents to cover the camber of the tile, interlocking design and features and dry verge design,

meaning there is no other tile like it in the marketplace. www.forticrete.co.uk

ROOFLIGHTS MAKE THEIR MARK

Ikon Rooflights – a new brand from industry leader Sunsquare – has brought BSI-Kitemarked

rooflights to the reseller market for the first time.

Above top: Air from Ikon Rooflights. Below: Pureview from

Ikon Rooflights.

With two pioneering flat-roof skylight designs, the new range offers verified quality and unbeatable

margins, with prices starting from just £445. Mark Lambert, Sales Director at Ikon Rooflights, said: "For

a long time, prohibitively high pricing has made Kitemarked rooflights completely inaccessible for the

reseller market. This has left distributors having to compromise, unable to offer top-quality products at

a margin that makes commercial sense. We've developed Ikon to change all this."

SEPTEMBER 2019 TC 67
---
Roofing Updates

For further info on all these updates and more, visit www.total-contractor.co.uk

SIKA TO THE RESCUE!

The Scottish Fire and Rescue Service depot in Newbridge, Edinburgh, has been equipped with a

new training centre.

The 800m² 'TSB' building required a waterproof roof system that not only offered long-term protection

against the elements, it needed to be quick to install and flexible enough to accommodate a number of The Scottish Fire and Rescue Service depot in Newbridge.

roofing details. Sika-Trocal's fully-bonded SGK membrane system proved more than ideal for the task. Main contractor Robertson Construction appointed Reid

Roof to carry-out the flat roof's installation. Work initially involved applying Sika S-Vap 5000E SA, a multi-layer, self-adhesive air and vapour control layer, to

the low-pitched roof's concrete substrate. Comprising polymer-modified bitumen, glass-fibre mat reinforcement and an aluminum foil as top layer, S-Vap's

superb strength enables simple, rapid installation and exemplary, airtight roof construction. A layer of Sika-Trocal INNObond, a durable, easy-to-apply, highperforming

insulation board, provided a quality thermal base for the SGK membrane. As well as supplying high tensile strength, Sika-Trocal SGK provides

outstanding weathering and excellent flexibility in cold temperatures, which along with its easy-fit benefits make it the ideal membrane for exposed flat roofs.

The light-grey membrane was affixed using the Sika-Trocal spray-adhesive range and Sika-Trocal SG, a 1.5mm multi-layer, synthetic roof waterproofing sheet,

provided the aesthetically-pleasing solution for the roof's various vertical upstands. https://gbr.sika-trocal.sika.com

MARLEY ALUTEC'S FLYING HIGH

Marley Alutec's aluminium Aligator Ogee 46 gutter system and Traditional downpipes were specified for the renovation

of Reymerston Hall, previously home to James Bond stunt man and Wing Commander, Sir Ken Wallis.

Marley Alutec's systems

were used on the renovation

of Reymerston Hall.

Marley Alutec's Aligator Ogee No 46 gutter system was used on the majority of the house due to its internal joints and

concealed brackets offering a sleek and unobtrusive solution for the building's traditional architecture. Traditional 102mm

downpipes were installed on the rear of the property, to match the building's existing but refurbished cast iron hoppers.

Both systems were selected in white to match the colour of the original rainwater systems used on the property.

www.marleyalutec.co.uk

PRO-TECTA & SERVE METAL ROOFS

Sika Liquid Plastics has launched the Sika Pro-Tecta range of systems; a complete solution

for metal roof refurbishment.

"With the Sika Pro-Tecta range, we have developed a

range of refurbishment coatings for metal roofs, from the

treatment of cut edge corrosion, through to full

waterproofing systems."

The new range includes both a cut-edge corrosion treatment option and a full roof sheet encapsulation

system, backed by guarantees. Gavin White, Sika Liquid Plastics' Product Manager for Liquid Applied

Membranes, explained: "As a market leader in liquid applied roof membranes, Sika Liquid Plastics has

developed the Sika Pro-Tecta range to provide a choice of two solutions, depending on the condition

and design of the roof, to extend its service life." https://gbr.liquidplastics.sika.com/

HISTORIC DAY ON CURRENT PROJECT

A new housing development in the heart of Ashbourne, Derbyshire has benefitted from Russell

Roof Tiles' popular Lothian tile, helping to ensure the scheme remains in-keeping with the

characteristics and natural local architecture of the area.

Russell Roof Tiles specified its Lothian concrete pitched

roof tiles in Slate Grey slate for this housing development

in Ashbourne, Derbyshire.

Planning requirements stipulate that any roof tile must replicate the slate, stone materials used in

this area. Therefore, when Chevin Homes, based in Derby, began a 35 detached and semi-detached

housing development, they worked closely with leading roof tile manufacturer, Russell Roof Tiles to

achieve the right roofing solution, sympathetic to the local area. www.russellrooftiles.com

68 TC SEPTEMBER 2019
---
Whatever your flat roofing requirement,

you will be safe in the knowledge that a

RubberBond FleeceBack installation will

provide you with the highest quality,

long term flat roofing solution.

n Strength of FleeceBack Single Ply EPDM

n Speed of Factory Applied Tape

n Clean - No mixing of chemicals or liquids

n Versatile - Install on new build or

refurbishment projects

n Smooth, slate grey finish

n Simple application - No heat or welding

Contact us for:

Contractor training or to

request your sample pack.

Tel: 01494 448792

Email: enq@flex-r.co.uk

Flat Roofing Solutions
---
Pre-coated Aluminium

A COMMERCIAL ADVANTAGE

Simon Gregory, Sales Director at Proteus Facades, explains why he feels offering pre-coated

aluminium rainscreen cladding can offer real benefits for installers.

In recent years, rainscreen cladding systems

have evolved to a stage where they now

provide architects and designers with the

freedom to create truly eye-catching structures.

Most of these advances have centred on how

aluminium is presented, such as pre-coat

aluminium, which is where the material is coilcoated

with a tough, flexible paint system. What

really makes pre-coated aluminium popular with

architects and designers is that it is suited to

larger building facades where it provides a value

engineered solution and striking aesthetics. It is

for this reason that a growing number of

installers are adding it to their portfolio.

Pre-coated aluminium is available in a wide

range of colours (in addition to any RAL or BS

colour), finishes and textures, which elevates it

above 'flat' finishes such as PPC. It is this

characteristic that allows the creation of similar

aesthetics to materials such as stainless steel,

anodised aluminium, copper, zinc and brass.

That's because pre-coating aluminium offers

"Offering pre-coated

aluminium rainscreen

cladding can give

contractors a real

commercial"

advantage"

much more scope, with the ability to recreate a

wide range of metallic finishes to give the façade

a cutting-edge futuristic look. Manufacturers of

pre-coated aluminium have extended the range

and offering to include metallic, coloured,

woodgrained and textured finishes. These are

suitable for use as rainscreen cladding, flashings,

fascias, rooflines and other metal fabrications.

Advances in the quality of pre-coating ensures a

uniform paint layer and consistent colour. And,

because pre-coated aluminium can be bought in

large quantities and with a consistent finish it

minimises shade variation between panels.

However, you have to factor in that pre coated

aluminium does have a fairly high minimum order

quantity for a single order, which is why for

smaller quantities, a PPC finish is the only

method commercially available. PPC finishes

tend to work best if you are looking for solid, flat

colours, meaning it is fairly limited when you

need something slightly different.

An electrifying facade

These benefits mean that offering pre-coated

aluminium rainscreen cladding can give

contractors a real commercial advantage. Take

the new European IT headquarters for global

electrical wholesaler, City Electrical Factors

(CEF), for example (see below). Architects

FaulknerBrowns designed the £10m Data, IT and

Marketing headquarters based just outside of

Durham, using a pre-coat aluminium façade,

along with a variety of other materials including

copper and ceramic, which represent the

components found within an electrical cable,

CEF's staple product.

The brief set for the design of the RIBA award

70 TC SEPTEMBER 2019
---
A NEW COMPOSITE

CLADDING SYSTEM

THAT'LL IMPROVE

YOUR BOTTOM LINE

coastline®

LIGHTWEIGHT COMPOSITE CLADDING

MINIMAL EXPANSION/CONTRACTION

BBA CERTIFIED SYSTEM

INDEPENDENTLY FIRE TESTED (UK 2018) TO BS EN 13501-1

PATENT PENDING COMPOSITE MATERIAL

Find out more about the new coastline ® lightweight

composite cladding range. Call us on:

0800 988 7318

or visit: eurocell.co.uk/coastline
---
Pre-coated Aluminium

Above: Janet Nash House. "The panels were fitted by installer Topside, in between vertical and horizontal aluminium anodised fins to create a sheer façade."

winning building, known as Janet Nash House,

was to create a contemporary workplace solution

which embodies and reflects CEF's drive and

commitment for innovation. The structure is split

into two areas, each with unique spatial qualities

to support the requirements of the different

departments across the company.

The southern 'L' shaped block features a striking

façade executed in Proteus HR Euromax AluNatur

Elox Anodised Brushed pre-coated aluminium, for

which FaulknerBrowns took inspiration from the

foil shield of a coaxial cable. This is a lightweight,

strong and versatile cladding panel that provides

aesthetic screening to building facades. The

cladding panels feature an aluminium honeycomb

core, structurally bonded between two thin

gauges of lightweight metal skin to create an

optically flat panel.

The honeycomb cladding panels fabricated for

Janet Nash House using Euromax AluNatur outer

skins with an Elox Anodised Brushed pre-coated

finish recreate the coaxial pattern found within an

electrical cable. The designers specified a precoat

finish because it offered a value engineered

method of recreating the granular appearance of

stainless steel but still within the client's budget

expectations.

Euromax AluNatur material consist of semitransparent

clear-coats applied on brushed or

transparent lacquered aluminium surface,

highlighting the natural character of aluminium

substrate material, and re-creating the

appearance of stainless steel in the process. The

pre-coat finish also minimises shade variation

between panels and we worked with the project

specifiers and installers to ensure consistency of

grain direction at Janet Nash House to guarantee

high aesthetic detailing.

The panels were fitted by installer Topside, in

between vertical and horizontal aluminium

anodised fins to create a sheer façade, whilst

giving a nod to the company's core product range

with the 'coaxial' pattern. The cladding panels

were fixed between the fins with bespoke

brackets utilising the curtain wall mullions as the

primary structural point.

In contrast to the aluminium finish of the

southern building, the northern block features

large format porcelain panels, which are fitted

throughout as a reference to the traditional use of

ceramics as an electrical insulation material.

The way forward

Where your client is seeking a solution for a large

façade that will make their building look good but

still within a defined budget, I believe pre-coated

aluminium is the way forward. The material

allows longer panels to be produced too, with the

ability to roll form sections in excess of the typical

bench press limitations of PPC options. This

ensures a superior aesthetic and unquestionable

advantages in corrosion resistance, durability and

sustainability. So, if your next project involves a

large façade and your client likes the look of wider

cladding panels then pre-coated aluminium can

provide an effective solution.

Contact Proteus Facades

0151 545 5075

www.proteusfacades.com

@ProteusFacades

72 TC SEPTEMBER 2019
---
ADVERTORIAL

FORM & FUNCTION: NEW CAVITY

SYSTEM FROM SPSENVIROWALL

SPSenvirowall is bringing a new Cavity External Wall Insulation System to market that not

only provides the aesthetic appeal that architects and specifiers want, but also delivers

significant benefits in lightweight construction with building regulation compliance for

buildings up to and over 18 metres, and an extensive range of brick and render finishes.

Leading external wall insulation and façades

supplier SPSenvirowall has announced its

latest fully tested and accredited addition to

its expanding range of innovative systems – The

Cavity System.

Extensively used on lightweight structures, cavity

systems create a drainage void between the

cladding and the sheathed framed structure.

SPSenvirowall Cavity Systems 1 & 2 are the next

generation of this solution.

The speed at which the LSF and insulated

cladding can be erected and weatherproofed

provides extensive benefits to developers, often

removing the cladding from the critical path,

bringing forward the internal trades and thereby

shortening the contract period, thus eliminating

the problems associated with brick and

blockwork construction.

This modern method of construction has proven

extremely popular over recent years and dominates

the build method used for mid to high rise

structures, which is an ideal scenario to specify

and install the new SPSenvirowall Cavity Systems.

The SPSenvirowall Cavity Systems consist of

EuroClass A1 components, which are

mechanically fixed back to the inner sheathing

board to create the designed cavity width, with

either the insulation board fitted directly to the A1

"The Cavity Systems

benefit from a KIWA

BDA certification and is

accepted by leading

building warranty and

insurance providers"

fillets (CS1 system) or a secondary A1 sheathing

board and insulation (CS2 system).

A proprietary base coat render is applied to the

mineral wool insulation boards with a reinforcing

plastic-coated glass fibre mesh prior to the

application of the required finishes.

The Cavity Systems benefit from a KIWA BDA

certification and is accepted by leading building

warranty and insurance providers. In addition, the

new system from SPSenvirowall is compliant with

approved document B and Technical Handbook

section 2, and has a minimum EuroClass

Reaction to Fire classification of A2 –s1, d0. With

an A-rated fire classification, the Cavity System

meets the requirements of the building

regulations for buildings over 18 metres in height.

The system can accommodate a range of

finishes, including SPSenvirowall high

performance textured finishes – Silicone, FlexiSil

and Enviromin, as well as brick effect facades –

SpeedySlip and BrickStick, offering the traditional

appearance of brick which is extremely durable

and lightweight.

Kevin Mangan, Innovation Manager, said: "We are

pleased to introduce our new Cavity (CS) System

into the market. Providing a fully accredited

external wall insulation system accepted by most

building warranty and insurance providers, it's

quick and easy to install and is an extremely

cost-effective solution to providing brick and

render finishes to lightweight fast track

construction up to and above 18 metres."

Contact SPSenvirowall

01535 661633

www.spsenvirowall.co.uk

@SPSenvirowall

SEPTEMBER 2019 TC 73
---
Sheeting & Cladding

A ROBUST PLAN FOR FRAGILE WORK

Matthew Bailey, Divisional Manager for Inspection and Certification at HCL Safety, looks at

some of the factors that need to be considered when planning work on fragile roofs and

sheeting, and shares some best-practice guidance to ensure workers stay safe.

According to Health and Safety Executive

(HSE) data, falls through fragile surfaces,

particularly fibre-cement roofs and

rooflights, account for 22% of all falls from height

fatal injuries in the construction industry. In 2017

alone, falls accounted for 35 (28%) of all UK

fatalities in the workplace, and over 43,000

nonfatal accidents. The Reporting of Injuries,

Diseases and Dangerous Occurrences

Regulations (RIDDOR) note that over the last five

years, falls from height have accounted for an

average of 37 fatal injuries per

year; over 60% of these deaths

involve falls through fragile

roofs, roof edges, and from

ladders, scaffolds and working

platforms.

What is 'fragile'?

HSE concerns around surfaces

where rooftop fragility may

present an additional risk to

workers relate to several

common hazards. These include

old rooflights, old liner panels,

non-reinforced fibre cement

sheets, corroded metal sheets, rotten chipboard,

non-load-bearing glass, and aged slates and

tiles.

For safe working practices, the assumption

(echoing HSE guidance) must always be: fragile

until known (or verified via certification evidence)

otherwise. When planning access, competent

persons – in conjunction with the building owner

or facilities manager – should recognise and

record when and where a roof may be fragile. The

rise in use of rooflights on buildings creates

particular challenges. Some designs may, over

several years of weathering and exposure to UV,

Above: Latchways walkSafe raised rooflight

covers.

start to lose their structural strength. Certain

rooflights are manufacturer-certified to be safe to

walk on; but, since sunlight can degrade many

substrates over time making them brittle, this

loadbearing capability is only certified for a

defined period of UV exposure. In contrast, many

other rooflight manufacturers do not warrant this

capability, and so their rooflights must always be

deemed fragile. Remember, too, that rooflights

may be difficult to see clearly in certain light

conditions.

Consider all options

When preparing to

undertake routine

maintenance like cleaning or

repairs at height, avoiding or

eliminating risk is always

the preferred option. Is there

really a need to work on or

near the fragile surface? Is

there another access

method, such as a cherrypicker,

that could provide

the necessary access to the

work area in a more

controlled environment? Alternatively, can the

work be completed from the underside of the roof,

perhaps via a tower inside the building? Some

rooflights, for example, are designed to be taken

out from the underside of the roof when they need

to be replaced due to degradation or age.

If there is no alternative but to access the roof,

fragile areas and the roof edge should, if possible,

be protected. For example, the surface can be

covered with a protective system, guard rails or

scaffolding can be erected. Where workers need

to manoeuvre around rooflights, for example set

within a parapet, safety netting can be put in

place underneath in addition to a fall arrest

system to mitigate a fall due to collapse. In this

scenario, in the event of an accident, a clear

rescue plan also needs to be in place.

Special protection measures

In terms of equipment to protect workers at height,

HCL installs a range of guardrails, fall arrest

systems and rooflight covers manufactured by MSA

Safety which can help to prevent workers from

falling through a fragile rooflight in the event of an

accidental trip or fall.

It's important to remember, however, that all

equipment specified and how it is installed is

always subject to the specific nuances of

individual projects and roof surfaces. When it

comes to fall protection there's no such thing as a

'one size fits all' approach. To help ensure that the

very best and safest solution for the job at hand is

put in place, installers should always be consulted

at the earliest stage possible.

Learn more. Stay safer.

As a company, we are committed to educating

customers and raising awareness of the unseen

hazards that fragile roofs pose during works. For

example, guard rails may be in place to allow for

gutter cleaning, but there may be no rooflight

protection for workers when traversing into the

central roof area. One of the most effective

opportunities to highlight these dangers is during

competency training, and I'm proud to say HCL

competency training for working at height

specifically deals with fragile roof risks. Never

forget: awareness saves lives.

Contact HCL Safety

0845 6000086

www.hclsafety.com

@HCLSafety

74 TC SEPTEMBER 2019
---
Cladding Updates

For further info on all these updates and more, visit www.total-contractor.co.uk

BIG HIGHS AT LOWER MILL

The Lower Mill Estate, a development of holiday homes in the Cotswolds, offers holiday homemakers the

best in bespoke, energy efficient properties thanks to the Kingspan TEK Building System.

The diverse selection of residential properties have benefited from the Kingspan TEK Building System's scope

for individual design and off-site construction, which has improved construction efficiency. Lower Mill Estate,

constructed by Conservation Builders, is a community of beautiful holiday homes which has continued to

produce exemplary models of sustainable construction with each new phase of development. The Habitat First Group's vision was to create a residential

nature reserve that would provide security and the freedom to escape the demands of urban life. The resulting development, immersed in the idyllic woodlands

of the Cotswolds, offers residents tranquillity and relaxation through fully customisable, energy efficient properties. The Kingspan TEK Building System has

enabled clients to enjoy a truly bespoke experience, where they can be involved in the very early stages of designing their property. The latest phase of the

ongoing development makes use of Kingspan TEK panels for the walls and roofs of the new units. The Kingspan TEK Building System, which comprises a highperformance

insulation core sandwiched between two layers of OSB/3, was selected as it allowed a high level of design flexibility and exceptional out-of-thebox

fabric performance, as well as creating minimal site waste as kits are designed and cut off-site. www.kingspantek.co.uk

RCM HAS PLENTY TO SHOW AT NEC

RCM is exhibiting alongside sister company SPSEnvirowall at this year's UK Construction Week.

RCM & SPSenvirowall are exhibiting at this

year's UK Construction Week which takes place

at the NEC Birmingham from 8-10th Oct.

The collaboration will see huge product offerings ranging from building boards, facades, insulated render systems and

rainscreen cladding to complete through wall solutions. The shared 50m² exhibition stand will showcase 360-degree

interactive displays from both RCM and SPS. A certified 120-minute fire-rated through wall solution will also be on

display. Ian Quinton, MD at RCM, explained: "We are using this occasion to also promote a product launch with a

drinks reception on day two of the show. At this stage I can reveal that it is in fact an A1 'scribe-and-snap' external

sheathing board, which will add another great product to our building boards portfolio." www.buildingboards.co.uk

HUSK HELPS CREATE TOBOR THE GATE!

Husk Architectural worked with the residents of an area in South East London to create a unique gateway to the

past with the manufacture of a perforated panel featuring a little-known movie character.

The 2.3m x 1.4m screen on the

gate at Langtry Court provides a

glimpse into the area's past.

Sci-Fi character Tobor the Great features prominently on the gateway to Langtry Court in Brockley, South East London,

thanks to specialist machinery used to create a perforated picture on an aluminium panel. Part of the Langtry Court area

was once occupied by a cinema building; The Ritz, which was demolished in the sixties. The last film to be shown at the

cinema was fifties Sci-Fi movie 'Tobor the Great'. The concept and design of this panel was the work of Sam and David at

Selencky Parsons architects, also based at Langtry Court. www.husk-architectural.co.uk

GOLD STANDARD FOR HUB

A new cantilevered community hub, which acts as a local educational facility, shines bright at

the centre of a new residential development near Bath, thanks to a combination of Proteus

perforated and solid TECU Gold cladding panels.

The £10 million Community Hub designed by architects

BDP sits at the heart of Mulberry Park, the renovation of

the former Ministry of Defence site on Fox Hill in the

village of Combe Down on the southern fringes of Bath.

www.proteusfacades.com

The building features Proteus SC perforated TECU Gold panels with a PPC coated aluminium support frame

on the school hall and the third floor cantilevered above the main entrance and Public Square. This

section, installed by Cladanco, acts as an enterprise space and was inspired by the temporary floating

Mulberry Harbours once used for the Allied invasion of Normandy during the Second World War.

76 TC SEPTEMBER 2019
---
New name,

serious roofing heritage

This 1919 advert in The Builder is a testimony to BMI Icopal's flat

roofing heritage, and we're proud that we can look back even further to

1849 when we manufactured our first tarred flax felt. Ever since we've

been delivering innovative roofing and waterproofing systems. Now as

BMI we continue this work by providing shelter, protection and peace of

mind for architects, roofers, building and homeowners alike - through

roofs that are designed to transform the way people live and work.

bmigroup.com/uk

Providing total roofing solutions
---
Cladding Updates

For further info on all these updates and more, visit www.total-contractor.co.uk

CUTTING OUT THE WASTE

With statistics regularly quoted about the amount of waste we are all sending to landfill, businesses are looking to

play their part in reducing waste and operating more efficiently.

As such, Freefoam has recently helped Key Partnership Homes do exactly this at their new site at Caleb Close, Luton.

Freefoam supplier Willmott's of Reading identified during the specification process that the standard five-metre cladding

board would be uneconomical and an inefficient use of materials. George Petts, Willmott's Business Development

Manager, explained "With many of the units requiring three metre lengths we quickly estimated that a six-metre cladding

board would work much better for this development and considerably reduce waste. We work closely with Freefoam and

with the volumes specified for this site they were happy to manufacture this bespoke order."

The first 25 properties of a 224-unit site have now been completed, featuring Freefoam Fortex embossed cladding and white roofline range. The mix of

affordable rent and shared ownership tenures, built on behalf of Paradigm Housing Group, features the popular Double Shiplap board in Argyll Brown on both

house and apartment units alongside white PVC fascia and soffit. www.freefoam.com

MAJOR PROJECT OPTS FOR Y-WALL

RCM is currently supplying a regeneration development in Canning Town, London with

100,000m² of its A1 non-combustible BBA-certified fibre cement building board.

RCM was appointed to supply 100,000m2 of its A1 Y-wall

sheathing board to Errigal Contracts through Walls &

Ceilings International for the Brunel Street Works project.

The project is one of RCM's largest Y-wall orders to-date. The Brunel Street Works is a project by Opal,

a joint venture between Galliford Try Partnerships and Metropolitan Thames Valley Housing. It is one of

the largest regeneration sites underway in London. Ian Quinton, MD RCM, explained: "Through RCM's

continued growth of supplying fabricated products, we are pleased to be working alongside our strategic

partners and being supportive by delivering to such a major project." www.buildingboards.co.uk

MODERN MAKEOVER ON THE FARM

When the residents of a rural Farmer's House set in the South Downs National Park were

looking to achieve an elegant extension to provide further space for their growing family, they

opted for Cembrit Patina BBA certified cladding to complement the building's existing heritage.

Farmer's House, set in the South Downs National Park:

The A2 non-combustible fire rating according to EN13501,

make Patina ideal for new build and over cladding

rainscreen applications. www.cembrit.co.uk

Cembrit Patina is an autoclaved, through-coloured board in 11 pastel coloured impact resistant boards

characterised by an attractive matt finish and a faint directional grain. During the production process,

Patina undergoes a unique impregnation treatment, which effectively protects against water staining and

dirt, ensuring that the façade retains its attractive appearance in both dry and wet weather conditions.

CPD SHINES A LIGHT ON SSR2

The new SSR2 CPD from Catnic provides a practical and informative overview of the prefinished

steel system for roof and wall cladding.

Manufactured from Tata Steel's Colorcoat HPS200 Ultra

pre-finished steel, the SSR2 Roofing and Cladding System

is a lightweight and durable solution.

The 45-minute session explores the performance and aesthetic considerations of pre-finished steel,

including detailing and installation solutions, as well as building methods and regulations. There is

also a useful section on how to include renewable technologies and meet sustainability

requirements.

To request the new CPD visit: https://catnic.com/products/ssr2-roofing-and-cladding/request-a-cpd

78 TC SEPTEMBER 2019
---
The Eurofast ® Adjustable Screw (EAS)

combined with our tube washers, is the

mechanical fastener for tapered insulation

The EAS / tube washer combination offers full

confidence in a correct fixation of the roofing

system, by means of visible clamping of the roofing

membrane.

NOW AVAILABLE !

SCAN FOR

MORE INFORMATION

www.eurofast-uk.com

info@eurofast-uk.com | T +44 (0)771896 2129

Eurofast ® is the trade name of Van Roij Fasteners Europe B.V.

SEPTEMBER 2019 TC 79
---
Fire Safety

FIRE SAFETY REGULATIONS –

YOUR QUESTIONS ANSWERED

Rob Firman, Technical and Specification Manager at Polyfoam XPS, answers frequently

asked questions relating to fire safety regulations and flat roofs.

1What document should I refer to for fire

regulations? National Building Regulations

in the UK regulate fire safety. Guidance on

complying with the regulations is set out in

accompanying documents, published by the

Government of each country. The aim of each

country's regulations are all broadly the same,

but solutions presented in the guidance

documents may vary.

England and Wales each have their own version of

Approved Document B, Volumes 1 and 2. In

Scotland the guidance is found in Section 2 of the

Technical Handbooks, while in Northern Ireland it is

Technical Booklet E.

2What does the guidance cover? The

guidance covers external and internal fire

spread, as well as access for fire and

rescue services, means of escape, and the fire

performance of internal linings. Solutions for any

given project will differ depending on the building

type, its use and occupancy, layout, height and

construction, as well as the distance from

surrounding buildings.

When using construction

products to comply with the

regulations, contractors should

be aware of the reaction to fire

performance of individual

components, and the fire

resistance of a complete element

build-up or system.

3What is reaction to fire? Reaction to fire is

a measure of how a product behaves when

exposed to a fire, and how it contributes to the

fire as it decomposes as a result of that exposure.

"BS 6229:2018 provides

useful guidance and

depending on the level

of complexity, advice

may also be sought

from a fire engineer or

other specialist"

Left: Rob Firman, Polyfoam XPS.

Products are classified according

to EN 1350. From best to worst

performing, the Euroclass

system is: A1, A2, B, C, D, E

and F. For classifications from

A2 to E, a designation for the

production of smoke and/or flaming

particles are added.

European classifications should be the standard

method of declaring performance, but it remains

common to see national designations used, based

on testing to BS 476-6 and -7.

4What is fire resistance? Fire resistance

has three aspects, all measured by the

number of minutes that elapse during

standard tests. 'Resistance to collapse' (R) applies

to loadbearing elements only, 'resistance to fire

penetration' (E) is also referred to as integrity, and

'resistance to the transfer of excessive heat' (I) is

otherwise known as insulation.

A construction element may need to meet all three

aspects, in which case the performance would be

written REI 30 (or 60, 90 or 120, depending on the

period of resistance achieved/required).

'EI' relates to an element that is not loadbearing,

and sometimes E alone is required – again, both

are followed by the number of minutes.

"Applying general

principles to buildings

where specific

provisions are required

risks compromising

fire safety"

80 TC SEPTEMBER 2019
---
"Fire safety is a sensitive topic and

a lack of confidence about how

materials work individually and

when combined in a system is

understandable"

5How is resistance to fire spread declared for roofs? A roof's

resistance to external fire exposure, in terms of fire spread across the

surface and penetration through the construction, is classified

separately in accordance with EN 13501-5. A roof can be rated one of the

following, from best to worst: BROOF(t4), CROOF(t4), DROOF(t4), EROOF(t4), or

FROOF(t4).

EN 13501-5 refers to four separate roof tests, detailed in ENV 1187. The (t4)

refers to the use of test 4, which is the only one sufficiently rigorous to

demonstrate compliance with UK fire safety requirements. The performance

rating of a roof typically dictates how far from a boundary or another building

the particular construction may be used.

6How should fire performance declarations be applied? Fire safety

is a sensitive topic and a lack of confidence about how materials work

individually and when combined in a system is understandable.

The more complex the building, the more specific the requirements in terms of

fire safety and performance. Applying general principles to buildings where

specific provisions are required risks compromising fire safety.

Where flat roofs are concerned, BS 6229:2018 provides useful guidance and

depending on the level of complexity, advice may also be sought from a fire

engineer or other specialist. Some projects, meanwhile, require consultation

directly with the local fire service.

'All Inverted Roof

Insulation achieves the same U value at a given

thickness...'

In the past this may well have been the case. There were fewer

manufacturers, using similar blowing agents and much less

challenging U value targets.

However, environmental pressures led to a required change in

blowing agent technology from CFC's and HCFC's to Recycled CO 2 ,

which although greener and cleaner led to higher lambda values and

consequently greater thickness required to achieve the same U values

as before.

Pressure continued, with ETAG 031 and other regulatory legislation

leading to the assessment of the effects of rainwater cooling and freeze

thaw cycles. The industry began looking at design lambdas which

addressed these issues and through new technologies such as the

introduction of water reducing layers, the lamination of thinner more

addition of new constituents such as graphite manufactures, over time,

achieved thinner solutions.

Which leads us to the latest and perhaps greatest innovation in

Extruded Polystyrene (XPS) technology to date. Ravago, have launched

XENERGY TM ULTRA TM . Developed to deliver improved thermal

thicknesses of the past.

So what does that mean to our original question? Does all Inverted

Roof Insulation still achieve the same U value at a given thickness?

If we look at 0.15 W/m 2

TM

TM ULTRA

achieves this target in only

175mm, 30mm thinner than Ravago's own previously best solution

TM SL) and almost 50mm thinner than most other XPS

Solutions and at 0.1 W/m 2 TM ULTRA

TM is only 260mm

(2x130mm), 60mm thinner than most alternative XPS solutions and up

to 95mm thinner than most EPS (Expanded Polystyrene) Solutions.

Then the answer is now emphatically NO!

With a design lambda of 0.028 W/mK and U value targeted

thicknesses

TM ULTRA TM has radically changed

how we look at product comparisons. We can no longer make price

comparisons based on cost £/m 3 , we now need to look more closely at

price £/m 2 of any product to achieve any given U value!

Next month's QI by QI:

'The myth about non-combustible insulation being required in

inverted roofs...'

Contact Polyfoam XPS

01429 855120

https://polyfoamxps.co.uk

@PolyfoamXPS

SEPTEMBER 2019 TC 81
---
Construction Tapes

TALE OF THE TAPE: SEAL THE DEAL

Construction tapes: accessories or essentials? The experts at A. Proctor Group discuss...

The phrase "a chain is only as strong as its

weakest link" is completely appropriate to

use when describing a building envelope

that is designed for longevity and constructed

with integrity.

Considering the small format size and the total

relative amounts used on a building site

compared to other building materials, the

importance of construction tapes are easily

overlooked. Often classified as an accessory, tapes

can mistakenly be thought of as an optional,

interchangeable or a "nice-to-have-but-notnecessary"

item. In fact, because tapes are used

for things like sealing the connections between

insulation boards and building membranes –

arguably the weakest points of any building

envelope – tapes should be thought of as an

indispensable component of the total building

system.

Uncontrolled air movement through poorly sealed or

punctured membranes and gaps between rigid

insulation boards reduces the energy performance

and internal comfort of new and refurbished

buildings alike. Whether or not the building uses the

highest specification membranes and modern

insulation may not matter if air leakage pathways

are not properly sealed off. Heat will simply bypass

these materials and their energy and thermal

benefits will not be fully realised as a result.

Not all tapes are created equal

If remembering to include tape into a construction

specification is important, then making sure to

choose the right tape for the job is absolutely

essential. Construction tapes should complement

the performance of the system they support, be

strong enough for the job, adhere well to the specific

surface they are applied to, and tolerate the shortand

long-term environmental conditions of the

building site without substantial loss of function.

Choosing the right tape for the application can make

the difference between success and failure of a

building system.

Ideally, there would be one product that could be

used in all areas of a building site that requires

tape. Unfortunately, there isn't a single tape solution

that is practically or technically viable to do every

kind of taping job well. This means the contractor

will have to be knowledgeable of the role tape plays

in many different taping scenarios.

Some of the questions contractors should ask when

deciding on which tape to use can generally be

grouped into two categories:

"What is the function of the tape?"

• Sealing gaps? Fixing other materials temporarily

or permanently?

• Does the tape need to be airtight, breathable or

reflective?

• Does the tape need to be reinforced, transparent

or flexible?

• Which material edges are being sealed i.e. do you

need single-sided or double-sided tape?

"Where is the tape being used?"

• Will the tape adhere to the substrate? Is a primer

required?

• What is the expected working temperature and

humidity range?

• Does the tape need to have water or UV

resistance?

• Does the tape need to be solvent or VOC-free (i.e.

interior applications)?

Tape System Component Collection:

With so many options out there, it is handy to have

a collection of high-performance tapes all in one

place. To enable contractors meet the guidelines set

out in Building Regulation documents and help them

A Proctor offers a range of tapes.

make the right decisions regarding tapes, the A.

Proctor Group supplies a wide range of tapes that

complement building envelope systems. Designed

specifically in response to the evolving demands of

the industry, their collection of construction tapes

ensures the performance, resistance and reliability

of the full gamut of internal and external

construction systems.

• Wraptite Tape: Vapour permeable and airtight for

external membrane detailing and sealing the

exposed joints of rigid insulation.

• Flextite Tape: Scrim-reinforced elastic tape for

internal and external applications with high

adhesive strength, water resistance and UVstability.

• Procheck Multilap Tape: Solvent-free scrimreinforced

double-sided vapour barrier tape with

easy release liner and high adhesive coating weight

(can bond to rough surfaces).

• Reflectafoil Tape: Air- and vapour-tight flameretardant

30um aluminium foil tape used for sealing

joints in vapour control layers, especially lowemissivity

membranes.

• Façadeshield UV Tape: A permanently UVresistant,

tear resistant exterior membrane with a

matte black finish making it ideal for use behind

open cladding and façades.

Contact A. Proctor Group

01250 872 261

www.proctorgroup.com

@proctorgroup

82 TC SEPTEMBER 2019
---
Insulation

Your technology is getting thinner...

...so why shouldn't your insulation?

The Kingspan Kooltherm ® K100 range of products

feature an advanced, fibre–free insulation core, with

an outstanding thermal conductivity of 0.018 W/m·K.

As a result, the products can enable buildings to be

built to the upper levels of fabric performance with

minimal thickness.

Find out more at:

www.kingspaninsulation.co.uk/k100

Further information on the Kingspan

range is available on:

+44 (0) 1544 387 384

literature@kingspaninsulation.co.uk

www.kingspaninsulation.co.uk

Pembridge, Leominster, Herefordshire HR6 9LA, UK

®

Kingspan, Kooltherm and the Lion Device are Registered Trademarks of

the Kingspan Group plc in the UK and other countries. All rights reserved.
---
Insulation Updates

For further info on all these updates and more, visit www.total-contractor.co.uk

OLYMPIC WIN FOR OPTIM-R

The Kingspan OPTIM-R Balcony and Terrace System has been installed as part of the award-winning Here East

development, a stunning repurposing of the press and broadcasting centres at the Queen Elizabeth Olympic Park.

Here East provides over 110,000m² of flexible studio, work and retail spaces. The design adds warmth and creativity to

the once windowless, monolithic façade of The Broadcast Centre. The building has been opened up with a new

projecting unitised curtain-wall system and recessed balconies helping to add depth and interest to the building.

Operatives from Kingspan Insulation's

OPTIM-R design service ensured the optimal

ratio of OPTIM-R VIPs to infill panels.

Lakesmere, now owned by Kaicer Building Envelope Solutions, were appointed to deliver the curtain-walling which wraps three sides of the building. The design

called for three large recessed balconies running up to 13 metres in length. A pedestal floor construction was chosen for these areas and to ensure the space below

was effectively insulated, whilst also maintaining a level transition from the adjoining space, the Kingspan OPTIM-R Balcony and Terrace System was chosen.

Unlike conventional insulation materials, Kingspan OPTIM-R panels feature a vacuum insulation core with an innovative microporous structure. This design allows

them to achieve a declared thermal conductivity of 0.007 W/m∙K – up to five times lower than commonly used insulation materials. Rigid insulation infill panels of

the same thickness are also included within the system. These are fitted around the perimeter of the balcony and can also be cut to allow for penetrations through

the insulation layer or to fill spaces between the Kingspan OPTIM-R vacuum insulation panels (VIPs). www.kingspaninsulation.co.uk/optim-r

INSULATION MOVE FOR AVONSIDE

Avonside Group has acquired the BillSaveUK Housebuilding Insulation Division.

The acquisition means Avonside's existing insulation operation will now be incorporated into the new

Division. Tony Burke, Chief Executive of Avonside Group, explained: "BillSaveUK have garnered a

reputation of being the country's leading installers of cavity wall insulation and loft insulation, and have

built fantastic relationships with their loyal customer base. As part of Avonside Group's long-term growth

strategy, we are pleased to have the opportunity to build on BillSavesUK's legacy and are looking forward

to delivering the high standard of service customers have come to expect." www.avonsidegroup.co.uk

SIPS' STRUCTURAL STRENGTHS

The Kingspan TEK Building System has been used to construct five luxury villas at the Porth Veor

Manor Hotel near Newquay – providing the perfect seaside spot for holiday makers.

Porth Veor Manor Hotel: "In order to create a curve, the roof

panels were spanned horizontally and faceted then

battened and lined with plywood."

The Kingspan TEK Building System of SIPs was specified for the project for a variety of reasons, as Mike

Burke, from Sip Hus, explained: "The design of the units, their location, size and performance

requirements meant that the Kingspan TEK Building System was the best choice for the structural shells.

The excellent thermal performance of the panels allowed us to maximise the internal spaces within the

given footprint without having to compromise on thermal efficiency." www.kingspantek.co.uk

FABRIC GAINS FOR MILL PROJECT

Kingspan Kooltherm K7 and K107 Pitched Roof Board have helped transform a former Victorian

mill into CAT B office space for Manchester Metropolitan University.

Kingspan Kooltherm K7 and K107 Pitched Roof Board can

achieve thermal conductivities as low as 0.020 W/m·K

and 0.018 W/m·K, respectively.

The design team for 6 Great Marlborough Street prepared the fit-out using the Royal Institute of

Chartered Surveyor's SKA Rating environmental assessment method – targeting a Silver rating

certificate. As part of this process, they identified an opportunity to upgrade the thermal performance

of the poorly insulated pitched roof. To minimise heat loss through the roof, a construction combining

Kingspan Kooltherm K7 and K107 Pitched Roof Board was installed. www.kingspaninsulation.co.uk

84 TC SEPTEMBER 2019
---
• Experts in Insulation –

Quantum Insulation brings

together over 100 years of flat

roof insulation expertise to aid

roofing contractors to select the

right product for each individual

application; supporting this

process with thermal and tapered

design services, contractor

friendly purchasing and delivery

options, and comprehensive

compliance documentation.

• Calculation Services –

thermal calculations to BS

5250:2011+A1:2016 Code

of practice for control of

condensation in buildings and in

accordance with ETAG 031.

• Design Services – comprehensive

design service for tapered and VIP

insulation schemes, including site

assembly drawings.

• Customer Focused – helping

you deliver a professional roofing

service to your customer.

• Bespoke Delivery Packages –

designed and priced to your site

requirements.

• FORS Deliveries – Bronze,

Silver and Gold delivery options

available.

T: 01858 456018 E: sales@quantuminsulation.com
---
Exposure

SPONSORED BY

to Dust

EXTRACTION PLAN!

The experts at EJOT UK discuss a new solution to protect

against airborne concrete dust and debris contamination.

The airborne distribution of dust and debris

created from a variety of construction site

activities has become a priority focus for

the UK Government's Health and Safety Executive

(HSE). For example, the HSE's CIS69 document

provides guidance on choosing, using and

maintaining on-tool extraction to control

construction site dust. This dust may contain

some very fine dust called respirable crystalline

silica (RCS) and exposure to

RCS dust can be the cause

of varying levels of health

1

problems – many serious.

This and other documents

also highlight the legal

responsibilities for

employers to either prevent

or adequately control

'worker exposure' to high

levels of dust created by a

variety of tasks that include

cut-off saws, grinders,

breakers and sanders.

Logical then, that SDS

drilling into concrete, brick

and block substrates

presents the same potential

hazards.

What is SDS drilling?

Our German colleagues will

Modularity makes sense

Optional

Vortex Vacuum

say that SDS stands for "Steck-Dreh-Sitz" or

"Plug in-Twist-Take-up device". Internationally,

the abbreviation means "Special Direct System",

whilst in the UK "Slotted Drive System" is also

commonly used. Whichever version you favour,

the SDS design utilises these slots to allow the

drill's hammer action to thrust the drill bit

forward whilst being retained by ball bearings

seated within the slotted indentations. The

bottom line is that a standard SDS Plus drill is an

2

4

6

DUST-FREE

DRILLING

into dense concrete

brick and block

Standard SDS drilling into concrete, brick

and block substrates

Standard SDS drilling sends dust and debris into

the air while correct installation requires necessary

time to clean the drill hole.

EJOT vortex-SDS drilling virtually eliminates dust

at source, reducing hazards and

saving site time.

!

Dust hazards on site

EJOT® the quality connection

Call 01977 68 70 40 email: info@ejot.co.uk

3

5

7

essential piece of kit for any professional who is

regularly drilling into dense concrete, brick or

block substrates.

EJOT vortex-SDS: solutions-driven R&D

Significantly, global fastener manufacturer EJOT

acquired the Liebig 'metal anchoring into

concrete' brand in 2017. This has naturally

contributed to EJOT's R & D team in the UK

having a heightened awareness

e,

POWERFUL

DUST

REMOVAL

AT

T SOURCEE

Instant t dust extraction at source

EJOT vortex-SDS drilling components have

specially ly designed carbide tips, specifically

for SDS S extraction systems. Dust is drawn

inside the drill bit and directl

ly to the H-class

vacuum. The drill trigger automatically

powers the vacuum and extraction continues

for a full 10 seconds once re

eleased.

Cleaner er air

, cleaner installation

The four-cutter design creat tes a cleaner,

more precise drill hole, drastically reducing

time spent removing dust for metal anchor

installation. ation. Virtually no dust means less

friction leading to faster drilling.

Job done!

Best practice means safer practice.

Virtua ally dust-free drilling and a more

efficient ent installation process.

www.ejot.co.uk

EJOT has produced this handy infographic that

talks through the process of its vortex-SDS tool.

of the HSE's focus on airborne

concrete dust contamination.

Working alongside industry

partners, the company has

developed 'EJOT vortex-SDS'; a

modular drilling system

engineered from high quality

materials, and providing instant

dust-removal drilling, at source.

The modular nature of EJOT

vortex-SDS provides drilling

options from 8 to 20mm

diameter and appropriate depths

up to 440mm, with obvious

replacement and inventory

advantages.

Dust extraction at source

The vented four-cutter design of

each carbide drill tip initiates the

powerful 'vortex' dust extraction

force that is created within each

operating component, drawing dust and debris

directly through the system and into the industrial

vacuum cleaner. An integral 16amp socket

connector means that the vortex action is instant

and occurs as soon as the drill is activated and

continues for ten seconds after drilling has

finished.

The removal of dust lessens friction between the

substrate and drill bit, thereby speeding

The vortex-SDS kit comprises:

• 4 x standard carbide tipped drill bits.

• 8mm, 10mm, 12mm and 14mm diameters.

• 70mm, 95mm, 120mm and 145mm

lengths.

• 1 x special drill-to-bit connector.

• 1 x modular extension bar, 220mm length.

• 3 x modular carbide tipped drill bits, 40mm

length.

• Choice of 16mm, 18mm and 20mm

modular diameters.

• Optional extra extension bar offers 20mm

diameter holes at 450mm depth.

• Components available individually on a

replacement basis.

installation and creating a cleaner, more accurate

drill hole. For example, that can drastically reduce

time accrued removing dust from the drill hole

when installing mechanical anchors, virtually

eliminating the need to blow the hole clean of

dust.

EJOT vortex V Industrial Vacuum

The EJOT Vortex-SDS drilling system can be

attached to any H-class industrial vacuum

cleaner. As part of the system offering, EJOT

partnered with international manufacturer Addex

to provide a customised version of the MV-DV20

VAC. The vacuum can be used on a variety of

surfaces and can withstand the toughest of

treatment.

Contact EJOT

01977 687040

www.ejot.co.uk

@EJOTUK_Building

86 TC SEPTEMBER 2019
---
Our mission:

" To provide

standards and

guidance to our

members, which

raises confidence

among businesses

and householders,

and promotes

roofing as a skilled,

professional

sector within the

wider construction

industry."

Find out more

www.nfrc.co.uk

@TheNFRC
---
Workwear

SPONSORED BY

& Protective Wear

DON'T RISK IT: DRESS APPROPRIATELY

By Peter Dummigan, MD of the Hultafors Group UK, owners of Snickers Workwear.

The Personal Protective Equipment at Work

Regulations 1992 stipulate that: 'Every

employer shall ensure that suitable

personal protective equipment is provided to his

employees who may be exposed to a risk to their

health or safety while at work, except where and

to the extent that such risk has been adequately

controlled by other means which are equally or

more effective.'

What does this mean for Workwear?

Workwear as a form of PPE generally includes

safety glasses, face shields, hard hats, safety

shoes, insulating (rubber) gloves, plus clothing

more commonly known as Protective Wear.

As working clothes go, there's a big difference

between conventional Workwear and specialist

Protective Wear. Over the years, workwear has

evolved to make your working day more

comfortable and efficient, with built-in

functionality for tools and fixings, as well as

protection against cold, rain and the effects of

warm weather.

Protective Wear, which can have one or more CE

(European Conformity) marks, is significantly

more specialist and has been developed to

protect the wearer from serious risks such as

heat, flames, mechanical hazards, electric arcs,

hazardous chemicals – and even the weather!

Protective Wear has to be certified against

Regulation (EU) 2016/425, which determines the

fundamental safety and protection requirements

with which clothing has to comply.

The product certification process for this

regulation includes the independent testing and

accreditation of a product's functionality and

performance. This is carried out against a predetermined

set of standards and technical

specifications that are designed to ensure a

user's safety and security.

It's a complex process that requires a

considerable investment in time, resources and

money on the part of the product developer who,

on successful completion, is required to affix the

CE mark to the product as a visible indication of

conformity with the fundamental accreditation

requirements.

The types of testing vary from one certification to

another. For protective wear, the higher the

protection category, the more complex the testing

process, which for protective wear, primarily

focuses on garment fabrics.

For instance, Snickers Workwear's new,

ergonomically designed ProtecWork clothing

manufactured for welding and allied processes is

tested to measure the ability of the garment to

protect against ignition from various heat

sources, such as open flames, molten iron splash

and contact heat. The ProtecWork clothing that

safeguards against the thermal hazards of an

electric arc is tested and certified to eliminate

second-degree burns in the event of an electric

arc flash.

Risk environments and CE protection

categories

In order to meet the protective requirements of a

specific risk area, protective wear is divided into

three categories – the higher the category

number, the higher the level of protection.

Category I covers exposure to minimal risks, and

for this category there are CE standards such as

EN 343 (rain protection) and EN 14058 (cold

protection).

Category II includes exposure to medium risks, for

instance EN 20471 for high visibility clothing.

Category III covers exposure to serious risks,

which include major hazards such as electric

arcs and molten metal splashes or liquid

chemicals.

CE protection for selected categories for

ProtecWork Protective Wear

EN 14404 - Knee protection.

This standard stipulates the size, force

distribution, penetration resistance and user

testing of kneepads. "We use Type 2 knee

protectors for our products" explained Peter

Dumigan. "The knee protection is integrated with

the trousers, which means that wherever you go,

your knees are always protected. The knee

protectors and the trousers are co-certified,

ensuring safe and secure protection."

EN 342 - Protective clothing against cold

EN 342 specifies the requirements and

performance of clothing designed to protect

against cooling of the body in cold environments.

Wearing several layers is a great way of

increasing insulation and enhancing protection

against the cold. A layered outfit also makes it

easy to adjust to rapid temperature changes.

Remember that sweating should be avoided

during continuous cold exposure, since moisture

absorption will progressively reduce insulation.

EN 343 - Protective clothing against rain

Rain doesn't only make you wet, but also cold,

hampering your work performance. EN 343

specifies the performance and requirements of

clothing protecting against rain and vapour. The

standard defines the water penetration resistance

of the garment's fabric and seams and water

vapour resistance.

EN ISO 20471 - High visibility clothing

EN ISO 20471 specifies requirements for clothing

capable of signalling the user's presence visually.

Performance requirements are included for colour

and retro reflection as well as for minimum areas

and for the disposition of fluorescent and

reflective materials.

88 TC SEPTEMBER 2019
---
EN ISO 11612 - Protective clothing against

heat and flame

EN 11612 specifies performance for clothing

designed to protect from heat and/or flame (not

including protection for firefighters and welders).

The standard indicates protection against ignition

from various heat sources – flames, molten

splashes and contact heat for instance. To ensure

full protection, the head, neck, hands and feet

must be covered with other approved protective

clothing.

EN ISO 14116 - Protective clothing against flame

EN 14116 specifies the performance of protective

clothing for workers exposed to occasional brief

contact with open flames with no other thermal

risks.

EN 388 - Protective gloves against mechanical

risks

This standard applies to all kinds of protective

gloves in respect of physical and mechanical

aggressions caused by abrasion, blade cut, tear,

puncture and, if applicable, impact.

EN407 - Protective gloves against thermal

risks

This standard specifies thermal performance for

protective gloves against heat and/or fire.

EN 511 - Protective gloves against cold

This standard applies to any gloves to protect the

hands against convective and contact cold down

to –50 °C.

Avoid injury – work safely, ensure your

whole outfit offers proper protection

"Working in high-risk environments involves, as

the name implies, high-risk levels", explained

Peter Dumigan. "So it's vital that you – the buyer

– carry out a proper risk assessment from which

you'll be able to choose the right protective wear

to ensure the safety and well-being of you and

your employees on site.

"To be able to properly identify what protection

you need, you have to know what risks you, your

employees or your workmates face. Importantly,

each working situation will have its own required

minimum protection depending on the risk

situation.

"Never assume that a Category I garment will

protect against the more serious hazards and

risks defined in Category III. It won't and you'll be

putting your employees at serious risk if you think

it will.

"That means understanding the hazards and

risks of a specific working environment or

knowing the risk level before starting work, and

therefore providing appropriate clothing and PPE

accessories."

Contact Snickers

01484 85 44 88

www.snickersworkwear.co.uk

@SnickersWw_UK

For furt

ther inf

ormation

or a hire quotation call

01858 410372

SEPTEMBER 2019 TC 89
---
Updates

For further info on all these updates and more, visit www.total-contractor.co.uk

TRUE TOOL THEFT IMPACT

A Screwfix survey has found tradespeople who have been victims of tool theft are having to replace up to £5,000

worth of tools and can lose up to two days of vital earnings, impacting both their professional and personal lives.

46

of tradespeople

have had their

tools stolen

%

39 %

of victims have had

their tools stolen

at least twice

The true cost of tool

theft to the trade...

UK tradespeople who

have their tools stolen

have to replace

£5000

worth of tools

After conducting research amongst their customers, 46% of respondents stated they have had their tools stolen, and

39% said they've had them stolen at least twice. When it comes to protecting their tools, the majority of tradespeople

said they take measures to keep their tools safe, with the most popular methods being 'removing tools from the van

overnight' (26%) and 'installing CCTV' (18%). There was also a strong feeling reflected by 56% who believe more

should be done to help protect tradespeople's tools and vans. One way in which Screwfix is showing its support is

through tool marking. Local authorities are hosting events across Screwfix's 630 stores to help prevent tool theft,

LOCK & TRACK

YOUR TOOLS

driving awareness and providing tips to prevent future thefts. To further support, Screwfix is constantly working with its suppliers to

enhance its range, and the latest addition is Milwaukee ONE-KEY. ONE-KEY is a digital platform that has been integrated into several premium products and

enables you to easily pinpoint missing tools quickly. The tool can be remotely locked whilst in range of the ONE-KEY app, making it unusable, even if taken out

of range. Screwfix's survey showed that 60% of tradespeople surveyed would be interested in buying power tools with this type of functionality installed.

www.screwfix.com/brand/milwaukee-one-key/

60 %

MAXIMUM COMFORT & MOBILITY ON SITE

With a range of new AllroundWork stretch trousers available throughout the UK, there's plenty of flexibility

for every professional craftsman and woman to stretch their performance on site comfortably.

The new stretchy work trousers for men have a loose fit for a classic Snickers Workwear look and feel, with

stretch Cordura for increased durability as well as improved ventilation and close quarter mobility. What's more,

the new slim-fit work trousers for women are shaped to fit the female anatomy. The ergonomic 'women's fit'

includes wider hips and a narrower waist for a street-wise, fashionable look with optimal comfort and freedom of

movement built-in. www.snickersworkwear.co.uk

would be interested

in buying tools with

increased security

features

Lock your

tool and disable remotely

Track your tool's location from anywhere

56

would

like to

see more

done to

protect

against

tool theft

%

TALE OF THE TAPE FROM TESA

tesa says it not only understands that using the wrong tape can have expensive repercussions, but

has responded to the industry's need for quality in all conditions, temperatures and environments.

Consequently, the company has produced tesa 4621, a pressure sensitive adhesive tape based on a

polyethylene layer reinforced with a polyester fabric.More robust than most paper grades, this

multipurpose, outdoor cloth tape is 130µm thick and provides high initial adhesion on various

surfaces, but can also be re-positioned as required. Easy to write on, it is suitable as a repairing tape

in most environments. www.tesa.co.uk

STEP INTO COMFORT & PROTECTION

Combining maximum comfort and protection with a robust and durable design, Solid Gear's Onyx

is available as a shoe or a boot and ideal for different types of on-site work.

Above: Solid Gear's Onyx is available as a shoe or boot.

This EN-accredited footwear has a modern-looking style that integrates a seamless upper and Cordura

reinforcements with a poured polyeurethane midsole, a breathable footbed and strong rubber outsole for

maximum grip on slippery and uneven surfaces. Metal-free protection comes from the fiberglass toecap

and penetration board for extra personal safety. The BOA Closure distributes the pressure of the fastened

shoe evenly across your feet for maximum comfort and protection. www.solidgearfootwear.com

90 TC SEPTEMBER 2019
---
All the benefits

of lead but

without the wait

Wakaflex

Save time with Wakaflex lead-free

flashing. 50% faster to apply than lead.

Wakaflex looks like lead, is weathertight

like lead and lasts like lead. It's been

tried and tested to ensure it'll stand up

to the worst of British weather (unlike

many other low-cost lead alternatives)

and comes with a 20-year guarantee.

But it's non-toxic, self-welding, and won't

be stolen. It could be just what you've

been waiting for. It's fast. And lasts

Don't trust luck, trust Klober.

UNDERLAYS DRY VERGE TILE VENTS DRY FIX LEAD-FREE FLASHING

WWW.KLOBER.CO.UK
---
Extreme pitch

Extreme strength

Extreme performance

Now even easier

New Permo® extreme in a smaller

37.5m 2 roll. That's easier to work

with, less waste on smaller jobs

and lower costs. But there's nothing

smaller about the performance.

Wind resistance of over 300N,

pitches down to 12.5°and tough

enough to act as a waterproof layer

for 8 weeks.

Don't trust luck, trust Klober.

UNDERLAYS DRY VERGE TILE VENTS DRY FIX LEAD-FREE FLASHING

WWW.KLOBER.CO.UK
---
Klober. Designed to

make your heart beat

a little slower.

Don't trust luck,

trust Klober.

You don't want roofing accessories

to be exciting, you want them to fit

easily and to last - year after year.

We've made sure all our products

will do just that. They're tested

in simulated weather conditions

worse than anything you're likely

to find in the UK. Which is why

we can guarantee them against

manufacturing defects for ten years

and why, once you've fitted Klober,

you can relax.

Don't trust luck, trust Klober.

UNDERLAYS DRY VERGE TILE VENTS DRY FIX LEAD-FREE FLASHING

WWW.KLOBER.CO.UK
---
METAL RAINWATER &

ROOFLINE PRODUCTS

COLONNADE ALUMINIUM DOWNPIPES

SWAGED CAST COLLAR FLUSHJOINT

SECURITY

CAST & PRESSED

HOPPERS

Colonnade cast and extruded downpipes are the ideal accompaniment to our aluminium

guttering systems. Made from high-quality aluminium, we have a number of styles to suit your

system. All Colonnade downpipes, hoppers and components can be polyester powder coated

to your choice of RAL/BS colour.

• Four Profiles in both square and round

• Sizes ranging from 63mm to 150mm.

• Lightweight and easy to install.

• Competitive Prices

• Expected life span 60 years plus.

• Short lead times.

ALUMINIUM RAINWATER CAST IRON RAINWATER ALUMINIUM PRESSINGS

ALUMINIUM RAINWATER CAST IRON RAINWATER ALUMINIUM PRESSINGS

Call us today on 0116 298 6783

or visit www.arp-ltd.com

RAINWATER • SOFFIT • FASCIA • COPINGS • CAPPINGS • FLASHINGS