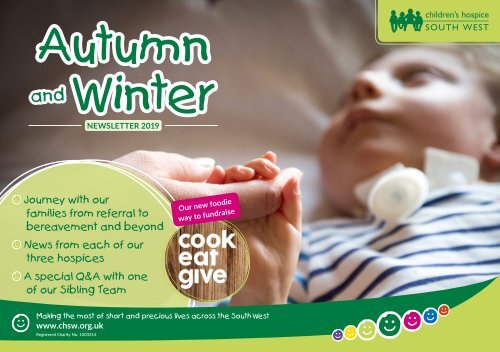 Autumn/Winter 2019
In this edition, we focus on the journey our families take here at Children's Hospice South West. Hear from a family who are creating new memories in one of hospices, meet Laura, one of our Senior Sibling workers, and find out all about our latest news and events.
In this edition, we focus on the journey our families take here at Children's Hospice South West. Hear from a family who are creating new memories in one of hospices, meet Laura, one of our Senior Sibling workers, and find out all about our latest news and events.
SHOW MORE
SHOW LESS
You also want an ePaper? Increase the reach of your titles
YUMPU automatically turns print PDFs into web optimized ePapers that Google loves.
NEWSLETTER 2019

Journey with our

families from referral to

bereavement and beyond

News from each of our

three hospices

A special Q&A with one

of our Sibling Team

Our new foodie

way to fundraise
---
Inside...

Page 2 Creating new memories at

Little Bridge House

Page 4 News from Charlton Farm

Page 6 Cook Eat Give, our new

foodie way to fundraise

Page 8 News from Little Harbour

Page 10 Here for as long as they need

us; our families' journey

Page 12 Myth busting

Page 12 A celebration of life

through music

Page 13 What will your legacy be?

Page 14 News from Little Bridge House

Page 16 Meet Laura, our Senior Sibling

Worker at Little Harbour

Page 18 Supporting our new shops

Page 19 News from our

corporate partners

Page 20 Dates for your diary

Page 21 Raise a Smile Weekly Lottery

It isn't simply

the quality of

the environment that

makes the hospices what they

are; it is the love, friendship

and smiles found inside thanks

to the specially selected

staff who are quite

simply amazing.
---
A very warm welcome to our newsletter

In this edition, we want to focus on the journey our families take here at Children's Hospice

South West (CHSW). Every step of the way, we provide invaluable support, from referral to

bereavement and beyond, to make a real difference to families like the Gibbs...

"Our daughter Sarah was 16 years old when

she was diagnosed with a brain tumour

and cancer. At 17, she was offered a referral

to Little Harbour and so began, what was

to become a hugely important part of our

family life.

Sarah juggled chemo with studies and

radiotherapy with exams. From time to time,

she would pop into Little Harbour for a

well-earned break to recharge her batteries

and to be surrounded by the best care, but

it wasn't just Sarah who enjoyed visits to

Little Harbour. The whole family immersed

themselves in the support from the hospice,

with Sarah's brother Steve going on a siblings

adventure weekend, Jane becoming part of

the mum's support group and myself playing

golf with other dads. We were able to put

our complete trust in them.

The Care Team were with us every step of the

way, guiding and supporting us as a family,

through palliative care and preparing us for

end of life care. It's during this immensely

difficult time that you realise just how skilled

and talented the Care Team really are. At the

age of 24, Sarah passed away peacefully, in

the very best place for her, surrounded by her

family and large collection of cuddly toys.

Sarah had seen a lot of doctors and other

health professionals. The one constant

through all of this was Little Harbour and

the enduring care from the amazing team

we had developed such a special bond with.

As a family, we now receive bereavement care

from Little Harbour and are most relieved that

this can continue for as long as is necessary.

We are eternally grateful to the whole team

at CHSW and people like you who help to

raise money for families like ours.

Thank you one and all."

Tim, Jane and Steve Gibb

Sarah

enjoying

time in the

kitchen

Page 1
---
Creating new memories

at Little Bridge House

Emma and Mark Smale recently returned

to Little Bridge House for a stay with their

daughters, Evie and Amelie, to show them

why the hospice was such a special place for

their first daughter, Imogen, who died in 2016.

Page 2

Imogen was born in July 2011 with a

condition called Microcephaly, which left

her blind, unable to swallow and with

polymorphic epilepsy. She needed round

the clock care, physiotherapy and multiple

medications, and the family was referred

to Children's Hospice South West in March

2012. The hospice provided Emma and

Mark with support, advice and the chance

to enjoy some much-needed sleep, while

ensuring Imogen received the highest

quality of care and plenty of fun too.

When Imogen died in hospital in 2016, the

family brought her to Little Bridge House

to lay at rest in the hospice's special

Starborn room, so they could say their

goodbyes in the place she loved the most

in the world.

Losing a child is the hardest thing a parent

has to endure. We offer bereavement

support for the whole family for as long

as they wish. For many families, this can

be several years, and our Care Teams are

always happy to share memories or talk

with a family about their child. Families are

offered a bereavement stay or visit and are

invited back to our Remembering Days and

other activities. Our mothers' and fathers'

support groups also offer bereaved parents

the chance to gather together and share

experiences with others who have been

through a similar journey.
---
An incredible and emotional 48 hours, jam-packed

with so much fun in the most beautiful place ever.

Emma had some mixed emotions about returning to the hospice with

Evie and Amelie. She talks about her visit in her own words:

"After Imogen died, we were told we could come back at a time of

our choosing, to spend a weekend creating some new memories,

while remembering the beautiful memories we already have of

Imogen. We decided now would be the perfect time to visit while

Evie and Amelie are still young and can take part in all of the

activities their big sister used to love.

I felt apprehensive about going back to Little Bridge House, and

to say this weekend didn't bring up some real heart-wrenching

memories and thoughts would be a lie. However, these two little

ladies can't fail to make me smile and seeing them having so much

fun just reminds me of why Imogen loved her little holidays at

Little Bridge House so much. This is genuinely the only place I feel

we will truly feel connected as a family of five."

The two girls had fun creating some wonderful keepsakes in our art

therapy room, as well as spending time in soft play and the sensory

room, dressing up, Music Therapy, and even roller-skating and riding

a tricycle in the gardens. They each made a beautiful leaf to hang in

Imogen's memory on our special tree. Evie's said simply:

"To Imogen, I love you so much, love Evie."

Thanks to the generous support of people like you, we are able to welcome back bereaved families like Emma's to

remember and make new memories. To learn more about our bereavement support visit: www.chsw.org.uk/bereavement

Page 3
---
News from Charlton Farm

Friends Group hold

12th annual dinner

A dinner by Weston-super-Mare Friends

Group held in May at Weston College

was attended by 110 people, including

the College Principal and Eddie and Erika

Farwell. The Town Crier of Wells was

guest speaker and it was declared the best

yet with wonderful food and excellent

entertainment, raising £2,942 for CHSW.

Team CHSW at Bath Half

2019 was the biggest yet!

This year, CHSW was chosen as the Local

Charity of the Year for the Bath Half. With

a team of 240 CHSW runners, we had

more runners than ever before and the

encouragement on the route was amazing!

If you were inspired and would like to run

for CHSW in Bath Half 2020, why not sign

up today at www.chsw.org.uk/bathhalf

Page 4

Get involved!

Get in touch with your local

Community Fundraiser, details

are on the back cover, or visit

www.chsw.org.uk/supportus

Exceptional fundraising

After visiting Charlton Farm, pupils from

Abbeywood Community School took on

our £20 Challenge. Using their £20 to buy

goods for a cake sale, they then used the

profits to host another cake sale and finally

a summer fair, raising an amazing £1,046.11.
---
Bringing the outside in

The Somerset Ornithological Society (SOS)

kindly gifted Charlton Farm with a bird

feeder camera, allowing staff, children

and families to observe the variety

of birds that visit its grounds.

Everyone visiting the hospice is

really enjoying watching the birds

close-up taking seed from the

feeder. The screen is set up in the

large communal dining room so it's

accessible to all.

SOS Treasurer Eve Tigwell, Chairman Roger

Dickey and Membership Secretary Dick

Best were given a tour of the hospice once

the equipment was in place. Roger said:

We are delighted that the hospice is

already getting so much value from

the bird feeder camera. It's great to see

the camera working, with plenty of bird

visitors, and to know the children

and their families enjoy watching it.

to everyone

Bristol City Football Club help make special memories

Melanie and her family have been having respite stays at Charlton Farm for several

years as her son, Arthur, has Bilateral Vocal Cord Palsy and Bilateral Perisylvian

Polymicrogyria/Worster Drought Syndrome and requires round-the-clock care.

Thanks to CHSW's relationship with Bristol City Football Club, Melanie and

her family have been able to create special memories when the club gave

Charlton Farm a season ticket for families to use.

Melanie, her husband, Arthur and one of his

sisters, Evie, went to the match against

Ipswich Town in March. Melanie said:

We were excited we had been given

tickets to the Bristol City game.

Arthur is a massive football fan, so it

was a dream come true for him! We had

brilliant seats near the front and had

a great view of everything. There was

a special steward on hand which gave

us peace of mind; he was so kind and

gave the kids flags to wave. The whole

atmosphere at the stadium was really

uplifting and we all enjoyed it

as much as Arthur to be honest.

Page 5
---
Welcome to our new

foodie way to fundraise

Food is very often a constant feature in our hospices; siblings

baking their favourite treats in the kitchens, families joining

together around our large dining tables, our cooks preparing

home-cooked meals for children with special dietary

requirements or simply a biscuit and hot cuppa.

Our services are free to our families, but we need your help to

continue this support. Cook Eat Give is a simple way you can

raise money around your own dining table; every meal however

large or small will make a big difference to local children with

life-limiting conditions and their families.

Ingredients

A bunch of family/friends/neighbours/colleagues

One dining area of your choice

A drizzle of creativity

A dash of competition

Page 6

Method

Cook Whip up your chosen menu. What will impress your guests

and raise the most? Wow them with your creativity!

Eat Once you've whisked up your culinary delights, serve to your

invited guests to enjoy.

Give Invite your guests to make a donation for their meal towards

your fundraising for Children's Hospice South West.
---
Your foodie fundraising will help raise a smile for children like Sophia who visits for short

breaks with her mum Becki and sisters. Here, Becki explains how Charlton Farm helps

them to have special time together as a family, especially around the dinner table.

"When we are staying at Charlton

Farm, Sophia is supported by the Care

Team and both Laila and Olivia are

looked after by the Sibling Team. Olivia

especially loves it and the whole Sibling

Team is fantastic.

When we're at home, if I take Olivia

out for the day, Sophia of course has

to come too, and my focus still has to

be on her. A family outing has to be put

on pause because I'll have to stop to

give her meds or milk, but when Olivia

goes out with the Sibling Team, she

can just be a child again. They offer

a sense of normality that other

people take for granted.

I come for a rest and a break,

but at the same time, Sophia

isn't whisked away by the Care

Team, she's a part of everything

we do. I enjoy activities that

most people get to do every day

with their children, but I just can't

because I need to look after Sophia.

At the hospice I can play, have fun

and focus on Olivia and Laila, knowing

a nurse is concentrating on Sophia."

Dinner at home is when the girls want it and I'm holding Sophia,

eating with one hand because I can't put her down. At the hospice

I get to eat with a knife and fork, which feels like a luxury! We all

sit around the table as a family. That time means such a lot to me.

Becki, Sophia's mum

Join us and host a Cook Eat Give to support your local children's hospice.

Visit www.chsw.org.uk/foodie or call 01271 325 270 to sign up today!

Page 7
---
News from Little Harbour

Wacky

Wardrobe Day

fundraiser

Following a talk at

her school, Trevithick

Learning Academy,

Keira aged 11 was

really moved by how

Little Harbour helps

so many families. She

organised a Wacky

Wardrobe Day with a

prize for the wackiest

outfit and raised a

whopping £351.25.

Well done, Keira!

Flower festival is a

blooming success!

A massive thank you to the organisers of

this year's Festival of Cornish Daffodils at

St Erth Parish Church in Cornwall, which

raised a fantastic £4,000. Well done to

everyone who organised such a beautiful

event and to the 1,000 people who visited.

Page 8

Get involved!

Get in touch with your local

Community Fundraiser, details

are on the back cover, or visit

www.chsw.org.uk/supportus

Southern Troopers celebrate

10 years of fundraising

Southern Troopers are a volunteer Star

Wars costuming group that attends events

across Devon and Cornwall to raise money

for CHSW. This year, they celebrate 10

years of fundraising for our special charity

and have raised more than £16,500!
---
Opening our doors to

businesses for a cream tea

Little Harbour recently gave local business

people the opportunity to visit the hospice,

hear about hospice life from the Care Team

and enjoy a cream tea in Little Harbour's

dining room. The afternoon included a tour

of the hospice and its facilities, giving a real

insight into, and understanding of, the care

and support CHSW provides and how their

fundraising supports this.

We offer bespoke opportunities for

local businesses to visit our hospices

throughout the year. If this is something

you and your colleagues would be

interested in, simply get in touch with

your local Corporate Fundraiser who

can keep you informed of future dates

and opportunities.

Creating memories during 'Dream Night at the Zoo'

This June, several families from Little Harbour were treated to a special evening

at Newquay Zoo as part of their annual 'Dream Night at the Zoo' experience. The

weather was perfect, and our families got to enjoy an amazing evening of fun, animal

encounters, face painting, great food and even a silent disco, all free of charge.

Sibling Worker Lisa said:

A big thank you to Newquay Zoo for

hosting us, and congratulations to

them for being so accessible for our

children and families with their

new 'changing places' facilities.

If you know of a local attraction,

activity or entertainment

centre that would like to

help our families

make memories,

like they did during

'Dream Night at the

to everyone Zoo', please contact

your local hospice.

Page 9
---
Here for as long as they need us; our families' journey

Many think a children's hospice is a sad place and only for end of life care. But we are so much more...

While end of life is a large part of our work, the close relationships

we form with our families on their journey with us are built over

many years and lots of time is spent making lovely memories.

On average, our families spend around six years with us, from

the moment of referral through to bereavement and beyond.

That time is very much focused on making the most of every

moment, and our hospices are often full of fun and laughter.

Our dedicated Carers and Sibling Teams give our families the

support they need to get the most out of life and prepare them

for the hardest part of their journey.

Don't just take our word for it, our families explain it perfectly...

Meeting other mums was a real benefit. I was

able to talk about a huge range of subjects,

both laughing and crying. I felt comfortable to express

my feelings and realised

I was not alone.

I am a twice bereaved

parent who would have been

lost without their emotional and

practical support. We made many

memories over the years and then

when needed, they supported

us through the very tough,

dark reality of losing a child.

I shall never forget that first visit. I left feeling my batteries

had been fully charged ready to take up

the fight and face whatever challenges lay ahead.

to th

she

bea

hea

a ra

bea

Page 10

It costs around £10 million each year to stay open, and we're unable to do so without the

generosity of people like you. Every donation received, every penny raised, every moment of

volunteering, every shop donation makes this all possible, thank you. www.chsw.org.uk/donate
---
The first time we

took our daughter

e sensory garden

had a heart-stopping,

utiful reaction to

ring the chimes,

re and

ming smile.

Caroline Jenner has been Bereavement

Coordinator at Little Bridge House for over

20 years. She describes the journey we take

with our families to ensure that even in the saddest

times, we can support them every step of the way.

"Support starts very early on, and

quite often it's when families first

come through the front door as we

show them around. I always encourage

staff to show them the whole hospice

including Starborn; a very special place

where families can say goodbye to their

child when they die. A place they wouldn't

otherwise have access to, providing time

to just be with their child, time to adjust to

what's happened and time to make plans.

A lot of families are under pressure to do the

funeral in a certain way. When it's a child, it

needs to be very special so we encourage

families to celebrate their life and not to do

something that's expected of them.

One family got all the foliage

from their garden to decorate

the coffin themselves while

another painted cherry

blossom all over their

child's coffin. Ultimately,

we help to enable the

families to plan the

funeral their way.

We put the right

kind of help in

at the appropriate

time as all families are

different and need varying kinds of support.

Some grieve publicly and some privately; we

just try to respond to how they are feeling.

Sometimes, there's pressure to get better; it

is unrealistic to expect a parent to recover

fully from the death of their child. It's about

accepting and living alongside the grief.

Most of our bereaved families do return to

the hospice and in all different ways. Some we

don't hear from for a long time; it could be 10

years later that we get a call, "I just want to

come back, I need to talk, to be able to talk to

somebody." Sometimes one visit is all it needs,

whereas some people just don't want to leave

and come to every bereavement event offered.

I think for many the value is often in coming

back to where their child was happy and

where they were cared for. There is

always an opportunity for families

to return should they need to."

of

Page 11
---
Myth busting

Some things that may surprise

you about our hospices...

Myth: we only care for the poorly child

The whole family can stay,

and our dedicated Sibling

Teams offer a listening ear

to brothers and sisters. They arrange

a variety of fun activities including day

trips, residential teenage weekends

or crafts, baking and games in-house.

All creating opportunities for siblings

to form friendships and parents to

enjoy a break.

Myth: our hospices are like hospitals

Our hospices are designed to

be like a home-from-home

offering facilities in a relaxed

but supportive atmosphere including

hydrotherapy pools, games rooms, art

therapy rooms for art and crafts, and

much more! The inviting lounge areas

and large dining rooms offer space to

relax and feel at home.

A celebration of life through music

On 15 May, CHSW held a celebratory event at Bath Abbey. Supported by the Abbey and

The Joyce Fletcher Charitable Trust, the event sought to raise awareness of, and insight

into the care and support provided by Charlton Farm.

A VIP reception was held before the

event courtesy of St John's Foundation

at its function room; The Bubble, and

sponsorship from the Charter Trustees of

the City of Bath. This was attended by civic

dignitaries, families supported by CHSW

and long-term supporters of the charity.

Television presenter Jamie Breese hosted

the event and guest speakers including

our Co-Founder and Chief Exective Eddie

Farwell, Music Therapist Paul Morgans

Evans and bereaved mum Clare Toller,

spoke passionately about CHSW's work.

By way of thanks, Bath Abbey's musical

director Shean Bowers, Andrew Fletcher

from Joyce Fletcher Charitable Trust and

Jamie Breese were presented with artwork

by children who stay at Charlton Farm.

The support received from

the city of Bath has been

remarkable and we want to give

thanks to our guests for

sustaining the work we do.

Ann Juby,

Major Gifts, Trusts and Grants Officer

Page 12

Visit www.chsw.org.uk/open

or call us to arrange a visit and

find out for yourself.
---
What will your legacy be?

Our hospices are often full of fun, laughter and happy times, offering an opportunity

to create treasured memories. We are also there at the most difficult of times.

Our Care Team supports children with life-limiting conditions and their families along the

most impossible journey imaginable. You can help them to be there for as long as they are

needed, into bereavement and beyond.

After you have remembered those closest to you, a gift in your Will, of whatever size,

could help to ensure we can continue to support families and make the most of short

and precious lives. Your gift could be part of our future by:

Would you like to find out more

about leaving a gift in your Will?

Or would you like a tour of one

of our hospices to find out the

difference your gift could make

before making your pledge?

Simply contact Rob Emery, our

Legacy and Remembrance Officer

on 01271 325 270 or

email wills@chsw.org.uk

Helping us to improve our services, maintaining the fabric of

our buildings, creating new initiatives or investing in our staff.

Creating kaleidoscopes of colour by funding Art Therapy materials.

Paying for day trips full of fun-filled activities to raise a smile.

Supporting our Music Therapy, filling our hospices with the

sound of drums and cymbals, singing, melody and expression.

For more information visit: www.chsw.org.uk/legacy

We rarely have the opportunity to say

thank you during a person's lifetime, but

please know we are, and always will be, grateful

for the incredible gifts we receive in Wills,

as a lasting testament to a person's life.

Rob Emery, Legacy and Remembrance Officer

Page 13
---
News from Little Bridge House

Mark's three-legged

100 mile challenge

Mark Edwards took on his fourth, and

perhaps most testing, fundraiser for CHSW.

He walked three-legged for 100 miles

non-stop around Bideford's football ground

between Good Friday and Easter Sunday.

Friends and family took turns to be tied to

him but Mark alone completed the full 100

miles and raised an amazing £1,770.94.

Old Men Go South cycle

1,000 miles for CHSW

This May, Pete Robinson and his 12 fellow

'old men' embarked on a 12 day Old Men

Go South cycle challenge to celebrate his

50th birthday. The friends, aged 50 to 59,

cycled an average of 80 miles per day from

John O'Groats in Scotland to Land's End in

Cornwall, to raise thousands of pounds for

CHSW. A huge thank you to you all!

Page 14

Get involved!

Get in touch with your local

Community Fundraiser, details

are on the back cover, or visit

www.chsw.org.uk/supportus

Sidmouth Lions Club

A huge thank you to the Sidmouth Lions

Club for raising £1,000 for CHSW which

we have put towards the new conservatory

blinds at Little Bridge House.
---
Narnia garden made even more

magical with mosaic mirror!

Our very special Narnia sensory garden has

been given a fabulous new look thanks to

two talented local craftspeople and a host

of generous CHSW supporters.

Alison hangs

up her apron

This March, one of the longest serving

members of our staff retired after nearly a

quarter of a century at the charity. Alison

Vogler, Senior Cook at Little Bridge

House, was one of the original

Care Team members when

the hospice opened in 1995.

Nearly 24 years later, she has

hung up her apron after more

than two decades providing

to everyone

families at the hospice with

delicious home-cooked meals.

I've worked alongside many

dedicated, caring, kind and multiskilled

colleagues who make Little Bridge

House what it is for our families, a safe and

welcoming home-from-home. I will miss it

all, but I know that Little Bridge House and

CHSW will continue to support

families for the next 24 years.

In March, Little Bridge House Maintenance

Manager, Gary Hatch, and his team were

able to install a stunning new stained

glass mosaic mirror designed and created

by glass artist, Sue Smith. The colourful

mirror was paid for with donations from

Bideford, Barnstaple, Lyn and Holsworthy

Lions Clubs, the Barnstaple Rotary Shop,

Taw and Torridge Friends Group and a

personal supporter.

Mike Hayman of MA Engineering made

the stainless steel frame and Lorraine Ashley

donated the fused robin, butterflies and dragonfly.

Cornwall Glass kindly donated the safety mirror.

In May, thatcher Ian Rose kindly re-thatched the roof of

Mr Tumnus' hut. Ian, who thatched the original roof, spent

two days giving the

hut a tidy new covering.

The magical Narnia garden,

based on the C S Lewis book 'The Lion, the Witch

and the Wardrobe', is full of features to stimulate

the senses including crystal icicles, a

wardrobe door and even a roaring Aslan! Page 15
---
Meet Laura, our Senior Sibling Worker at Little Harbour

Siblings often have lots of questions when they stay at our hospices. Here, Laura

took part in a Q&A and gave an insight into our dedicated Sibling Teams...

How long have you worked at Little Harbour?

I have worked here for two and a half years. Times flies when you're having fun!

Can I talk to you about

my brother/sister?

Of course, we're here to listen and

provide support. If there's anything

medically we don't know or aren't

sure of, we ask the nurses, carers

or doctors for advice. We also love

hearing stories of family adventures

and what you've been up to.

What's your favourite thing

to do at Little Harbour?

My favourite place is the garden.

I love exploring outside, whether

that's completing a treasure hunt,

spending time in the sensory

garden, whizzing around on

the bikes or just chilling in the

sunshine with the siblings.

Page 16

To find out more about

our Sibling Teams, visit:

www.chsw.org.uk/siblings

Can we have a day out to somewhere fun while I'm staying here?

We always try to plan one outing during your stay, depending on the weather

and what's going on in the house! We like going to places such as the beach,

Eden Project, Lost Gardens of Heligan, the cinema and the woods. If you have

any special requests, please let us know and if possible, we will try to facilitate.
---
What's your favourite meal at the hospice?

The roast dinner is the best! It's nice to all sit around the table with the families and

enjoy food together. There is always yummy pudding too!

Kind donations from our supporters

means we are able to offer services

like our dedicated Sibling Teams at

each of our three hospices.

Are you a nurse?

Nope! I qualified as a primary school

teacher and used to work for another

charity running respite breaks for

children and young people who

needed a break from home.

If I'm allergic or don't like

a certain food, will the cook

make me something else?

The kitchen staff are always very

accommodating! Just let us know as

soon as possible if you have an allergy

or spot something on the menu

you don't like. I make a really good

sandwich!

Tell me three things that I

don't know about you.

I've jumped out of a plane!

I love cheese and peanut butter

sandwiches.

My dream is to go on safari one day.

When I go home again, can I keep in contact with you?

Of course! You are always welcome to phone in, email or even write to us if you

prefer. We are always happy to get back to you when one of us is next in. We can

answer questions, provide support and advice or just have a friendly chat.

Page 17
---
Supporting our new shops

Over the last few months, you may have noticed

CHSW charity shops opening in towns near

you and thanks to your continued support,

we are pleased to announce there are

still more to come!

Page 18

Our Ashburton and Okehampton

shops have already opened, and

by the time this newsletter reaches

you, we will have also opened new

shops in Thornbury and Bradley Stoke.

And to top all this, our successful shop

in Nailsea has undergone an expansion

and is set to generate even more funds

to support the care we provide to local

families in each of our three hospices.

Whether you live near one of our new shops

or already visit your local CHSW shop, we are

always delighted to welcome you as a customer,

donor or both. Our shops couldn't prosper for

the charity without the fantastic support from

people like you.

We look forward to seeing you

in one of our shops very soon!

Find your local shop by visiting:

www.chsw.org.uk/shops

Having an end of

summer clear out?

Please don't forget about us here

at CHSW. Clothing, accessories

and shoes are in particularly high

demand in our shops, but we

always need bric-a-brac, books,

and household items as well

to keep raising money for

our families.

Be sure to sign up to our

Gift Aid scheme so we can

claim 25p extra for every

£1 that your goods sell for!
---
News from our corporate partners

We receive amazing support from our corporate partners who raise funds and awareness in

a variety of ways. To find out more about charity partnerships contact your local Corporate

Fundraiser, email corporate@chsw.org.uk or visit www.chsw.org.uk/fundraiseatwork

The Exeter choose CHSW as it's

Charity of the Year for 2019!

CHSW is delighted to have The Exeter's support in

2019 as Charity of the Year partners. They kickstarted

their year by being the headline sponsors of this year's

Exeter Rainbow Run, manning the yellow paint station!

Becky Penrose, Chairman of The Exeter's community

and charity committee, said that the company was

throwing its support behind the charity this year:

We are keen to arrange lots of our own fundraising

events but also to support the charity's events too.

A huge thank you from everyone at CHSW for your generous support.

to you all

Dave's charity golf day

Dave Fear and his wife Hillie have

been raising funds for CHSW since

1992 by organising and hosting

Charity Golf Days at Henbury

Golf Club, where they are both

members. To date, they have

raised over £270,000, a staggering

amount that has helped us

continue to provide vital services

to families across the South West.

This year's event saw 40 teams

play golf, take part in a hole-in-one

competition to win a new car

courtesy of Wessex

Garages, and

enjoy dinner

along with an

auction. The

day raised

an incredible

£70,000.

Record year for CHSW golf day

This year, a record number of 40 teams took to Carlyon Bay Golf Club on 17 May for the seventh

annual Charity Golf Day and raised an incredible £17,400. This event is organised by a dedicated

supporter of CHSW, Ian Warne, Branch Manager at HSBC St Austell, and has raised over £90,000

for CHSW over the past seven years! Thank you to Ian for his hard work and time organising

such a brilliant event and to everyone who helped make the day such a great success.

Page 19
---
Dates for

your diary

Here are a few key dates,

visit our website for more

www.chsw.org.uk/events

September 2019

£50 Challenge month

7 September Thames Path Challenge

13 September Three Peaks Challenge

15 September Cruise on MS Oldenburg

15 September Great Bristol Half Marathon,

Truro Half Marathon, Skydive Dunkeswell

and Skydive Perranporth

Cook Eat Give month

Jail and Bail month

16 September Charlton Farm Corporate

Breakfast

20 September Mount Kilimanjaro Trek

28 September Banger Rally Challenge

October 2019

29 September Exmoor Open Water Swim,

Barnstaple Marathon and Half Marathon

4 October World Smile Day

6 October Plymouth 10k

12 October World Hospice and

Palliative Care Day

13 October Exeter's Great West Run

14 October National Baking Week

21 October Little Bridge House

Corporate Breakfast

Don't forget you can support us at any

time by holding your own event!

Our fundraising teams are always on

hand for ideas, inspiration and support.

Page 20

November 2019

4 November Little Harbour

Corporate Breakfast

7 November F i r e w a l k P l y m o u t h

December 2019

3 December Giving Tuesday

8 December Santas on the Run

13 December Woolhanger concert

March 2020

15 March Bath Half

Can you help to raise

a smile for CHSW?

If you have excellent communication

skills, want flexible working to

fit your lifestyle and wish to

represent our charity within your

local community, then this role

could be for you! CHSW is looking

to grow our team of Lottery

Canvassers across the South West.

Visit www.chsw.org.uk/jobs to find

out more or call 01271 325 270
---
Playing is easy

A single play costs just £1 each week

(£4.34 per month) and you can play

up to five times per week.

To play:

Complete the form and send us a

cheque or set up a standing order

or

Sign up online:

www.chsw.org.uk/lottery

or

Purchase one-off play tickets at

our CHSW shops

Only persons aged 18 years or over and

resident in Great Britain are eligible to

play the CHSW Lottery.

Join our Raise a Smile Weekly L ttery

Simply complete the form below and overleaf in BLOCK CAPITALS and return to:

CHSW Lottery, Little Bridge House, Redlands Road, Fremington, Barnstaple, Devon EX31 2PZ

How would you like to pay?

or

Standing order - complete option 1, sign and date Regular cheque - complete option 2, sign and dates

Option 1: Standing order

Please tick entries per week below.

1 entry 2 entries 3 entries 4 entries 5 entrie

£4.34 monthly £8.68 monthly £13.02 monthly £17.36 monthly £21.70 monthly

£13 quarterly £26 quarterly £39 quarterly £52 quarterly £65 quarterly

£26 six monthly £52 six monthly £78 six monthly £104 six monthly £130 six monthly

£52 annually £104 annually £156 annually £208 annually £260 annually

Bank name:

Name(s) of account holder(s):

Bank sort code:

Bank account no:

or or or or

NOTE TO BANK

Please use the ref no indicated

OFFICE USE ONLY Ref no:

Standing order to

d d m m y y y y until further notice

start ASAP or from:

Please pay: Barclays Bank PLC Sort code: 20-51-14 Account no: 20569453 Crediting: CHSW Lottery

The CHSW Raise a Smile Weekly Lottery (CHSW

Lottery) is regulated under the Gambling Act 2005

and licensed by the Gambling Commission,

www.gamblingcommission.gov.uk

The CHSW Lottery is promoted by Children's Hospice

South West (Registered Charity No 1003314),

Little Bridge House, Redlands Road, Fremington,

Barnstaple, Devon EX31 2PZ, 08456 888 911,

lottery@chsw.org.uk. The responsible person for

the CHSW Lottery is Mark Knott.

Full T&Cs can be found at

www.chsw.org.uk/lotteryterms

Option 2: Regular cheque

Please tick entries per week below. Minimum six monthly sign up required.

or or or or

1 entry 2 entries 3 entries 4 entries 5 entries

£52 annually £52 six monthly £78 six monthly £104 six monthly £130 six monthly

£104 annually £156 annually £208 annually £260 annually

Please enclose a cheque made payable to: CHSW

Purchaser's signature:

Date:

Please complete your personal details overleaf
---
Our Raise a Smile Weekly Lottery

Your details All players must be aged 18 years or over and resident in Great Britain

Title: First name: Surname:

Home address:

Date of birth:

Postcode:

Email:

Daytime tel no:

www.chsw.org.uk

enquiries@chsw.org.uk

We take your privacy seriously. We will store your details securely on our database(s) and we will only use your personal

information to provide the services you have requested from us. We will never share your details with third parties for

marketing purposes.

Children's Hospice South West would like to keep you updated with news about our hospices, fundraising activities and

campaigns and other ways you can help make a difference to short and precious lives. Please let us know below, if and how

you would like us to contact you. If you change your mind in the future, you can opt out at any time.

Please confirm if you are happy for us to contact you by:

Post: Yes please No thank you

Email: Yes please No thank you

If yes, please make sure you have provided your email address above

Telephone: Yes please No thank you

If yes, please make sure you have provided your daytime tel no above

For more information about how we use your personal details, please see

our Privacy Policy www.chsw.org.uk/privacy or call 01271 325 270

I couldn't believe it

when I received the

call to say I had won £1,000,

I think a week later

I am still in shock!

Tell your friends and family about us!

We need to raise around £10 million every year to keep our

hospices open, and we know local support is vital to help us

reach this target. You can help by telling friends and family

about us; they can sign up to receive this newsletter at

www.chsw.org.uk/preferences or by calling 01271 325 270,

and join CHSW in helping families across the South West.

Redlands Road, Fremington, Barnstaple,

Devon EX31 2PZ 01271 325 270

Charlton Drive, Wraxall, North Somerset

BS48 1PE 01275 866 600

Porthpean Road, Porthpean, St Austell,

Cornwall PL26 6AZ 01726 871 800